First impressions are funny things; in mere seconds our minds subconsciously develop lasting opinions. While these initial judgements are easily formed in moments, they take much longer and are exceedingly more difficult to change. When you come across a car covered in a brilliant red chrome it's pretty hard not to take notice and, subsequently, form a pretty strong opinion.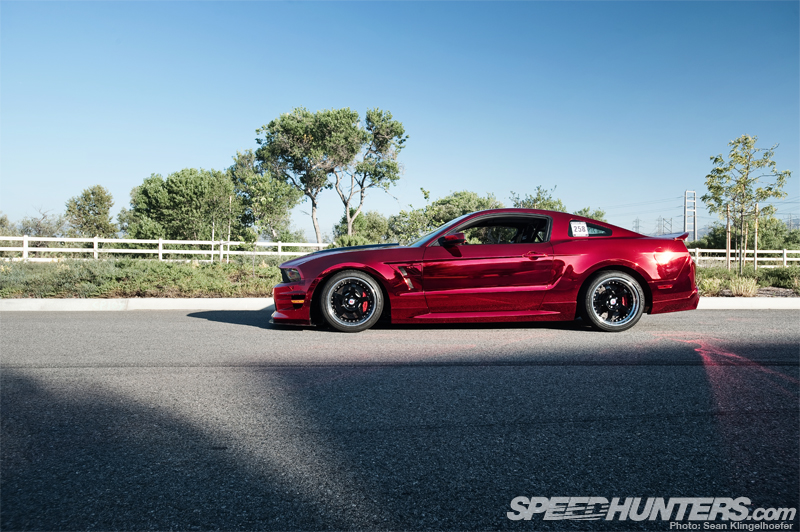 As a child we are told to never judge a book by its cover, but we're only human. When it comes to something you're truly passionate, in our case cars, it's even easier to make a snap judgement which is precisely what I did with the Boy Racer Mustang. Likely you formed a pretty quick opinion of the car as well, and if you've made it to this second paragraph I can only presume that you liked what you saw on the home page.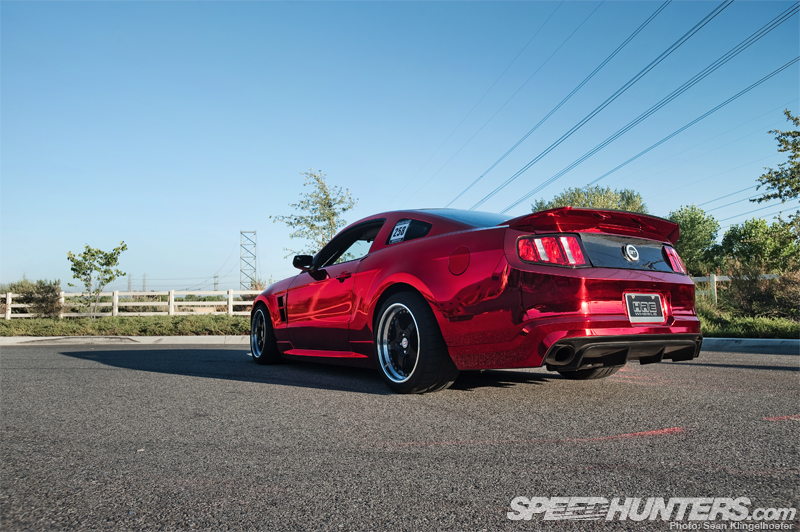 If it were me however, I would have never made it this far, and that's a shame. You see I had seen this car, in person, twice before this very shoot but I never bothered going in for a closer inspection. That's right, in my own flawed and jaded "been there, done that" mindset, I walked right past this car at SEMA and the Mojave Mile. I thought "wow, a new Mustang with some carbon fiber and some type of Christmas paper wrap – how great could it be?"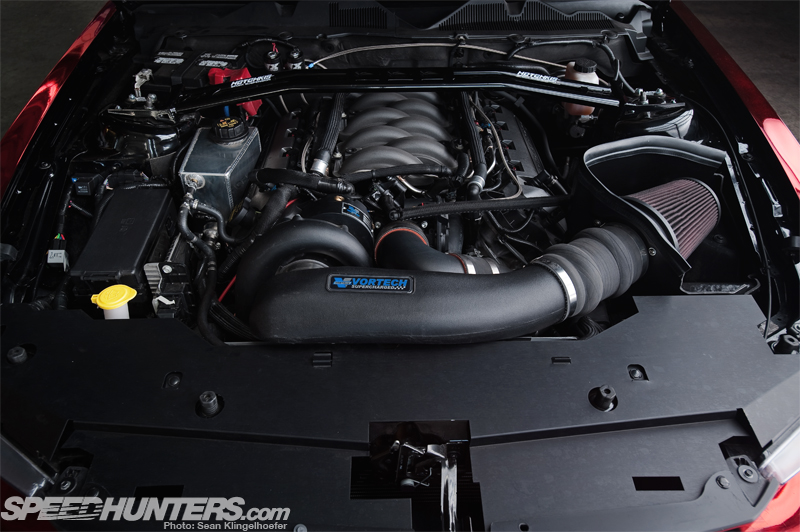 As it turns out, very. I'll be the first to admit that, while I consider myself to have a rather wide automotive pallet, open-mindedness can occasionally be on short reserve. Fortunately fate would give me another chance to get up close to this 'Stang and after the recommendation from a friend I did a little web mining.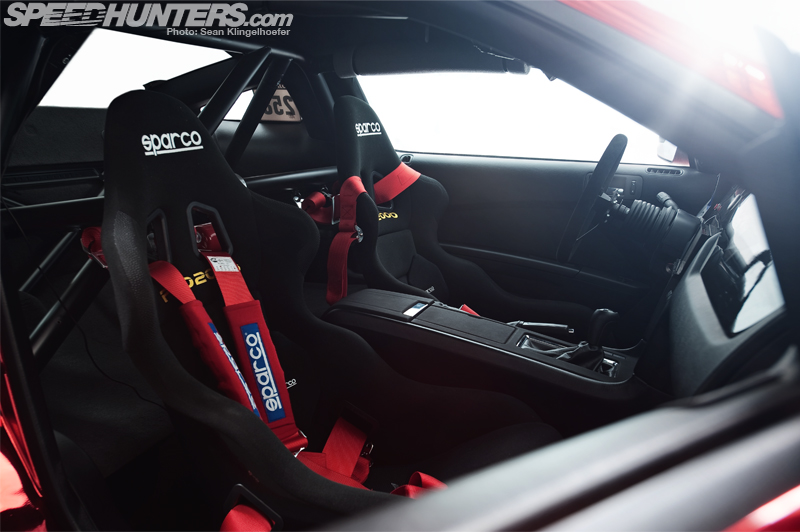 What I had originally thought to be an all-show-no-go build was really anything but the sort. The more I discovered about the car the further my foot traveled into my mouth. One quick glance through the spec sheet revealed that this was one serious Pony Car. When I finally finished off my last slice of humble pie I realized that the only acceptable way to right my wrongs would be to head out to Creations n' Chrome in Valencia to get the inside scoop.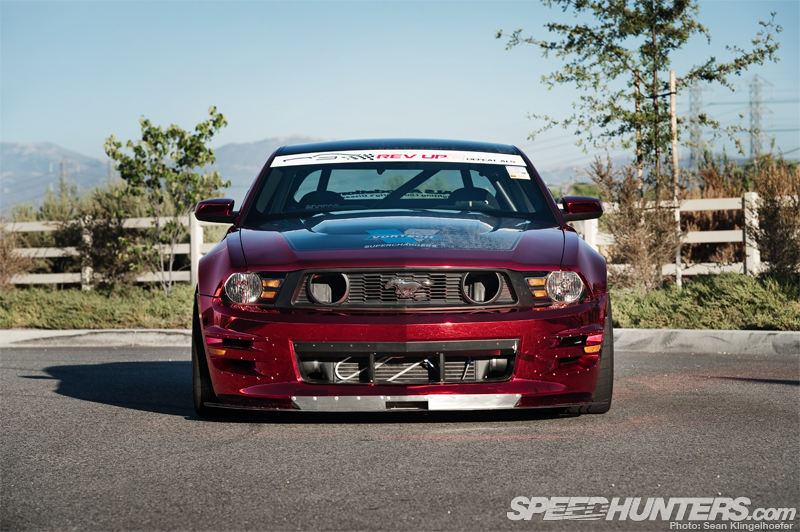 When I arrived at the shop I was greeted by the owner Gary Watson and marketing director Chris Matye, undoubtedly gear heads both. Gary gave me a quick tour of the facility which is primarily a paint and body shop. The daily bread and butter work revolves around chroming of objects big and small, hence the name. But there were some interesting bits, including a dyno, that showed the extremity of Gary's passion.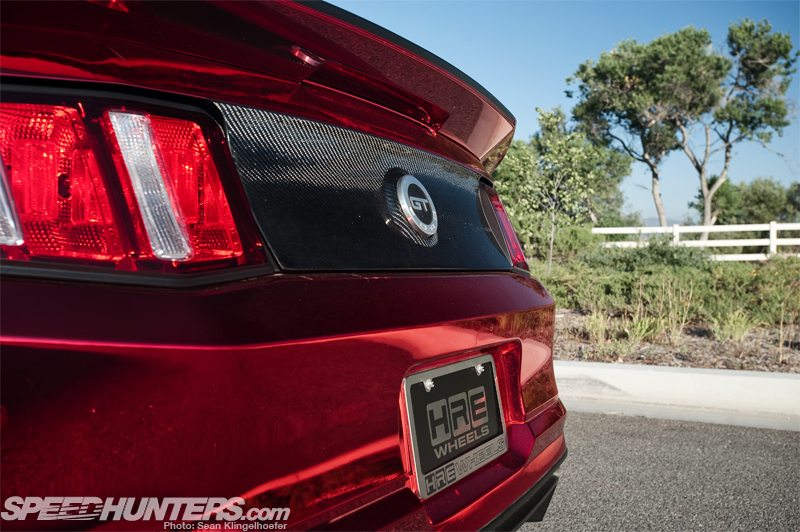 When I first saw the car, for the third time, it was still shocking how shiny it was. For starters, it's painted not wrapped. I'm told it's a question Gary and Chris are asked whenever they take the car out, but who can blame them. Even with my "vast knowledge" of all things automotive I thought it was surely a wrap, I mean who paints an entire car chrome!? But that's just another item we can add to the "things I was wrong about" list.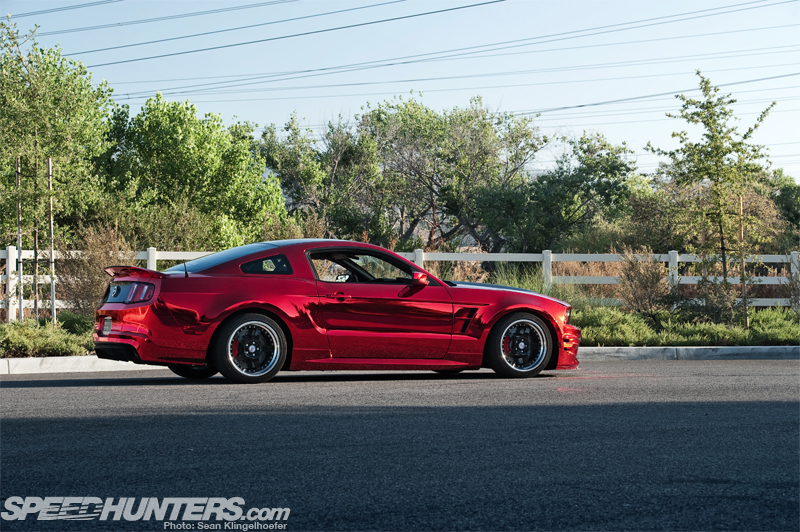 The finish is called Spectra Chrome and it is, as Gary describes it, "a layer of metal sandwiched between two layers of automotive paint." The car is prepared as it would be for a normal paint job and a base coat is applied. When the base coat is cured a metallic layer is then sprayed and finally it's finished off with a top coat, in this case a candy red. Finally the finish is completed with a normal clear coat and can be treated and cared for like any typical automotive paint job.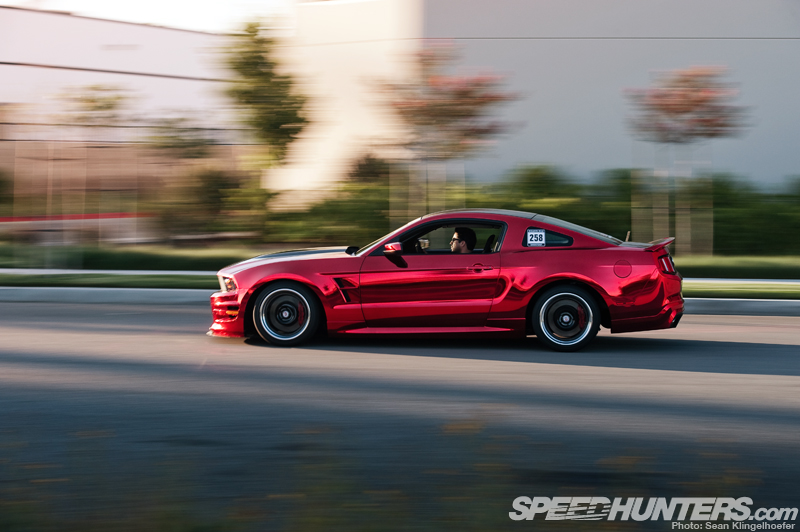 The advantages of this process compared to conventional chroming are vast, primarily the ability to chrome virtually anything. Chroming an entire car is extremely flashy and even Gary admits he doesn't foresee many people wanting to refinish a complete vehicle. However by dowsing the entire Mustang in chrome it not only catches attention, but demonstrates the flexibility of the product as it covers carbon, ABS, steel and aluminum equally well.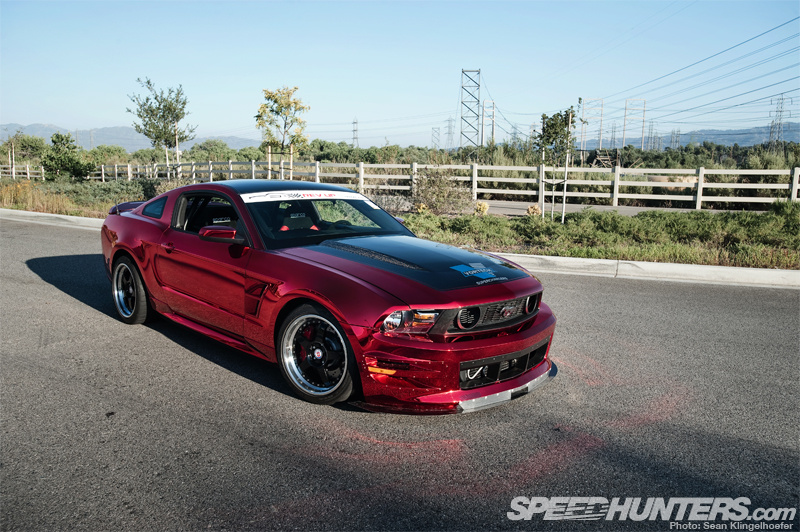 I've been around some serious head turning cars before but I have to admit nothing stops people in their tracks like a chrome car. In the brief amount of time I spent shooting the car I don't think there was a single passerby that didn't stop, gawk and ask about the car. But as easy as it is to get carried away by the impressive exterior of the car, there's more to it.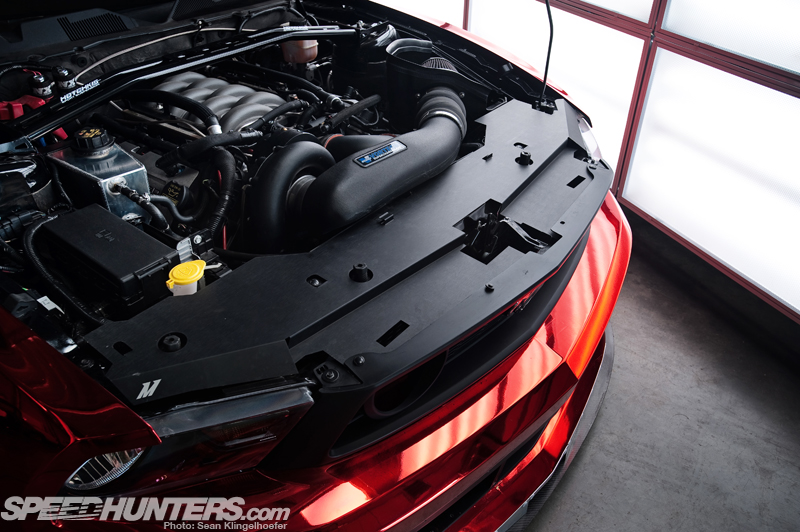 The Boy Racer certainly isn't a one-trick pony, if you'll pardon my ridiculous pun. Under the hood is a standard 5.0L "Coyote" Mustang GT engine, capable of churning out just a hair over 400hp and very nearly that same amount in torque in stock form. The engine hasn't been torn down and reassembled, but it has been given a kick in the pants.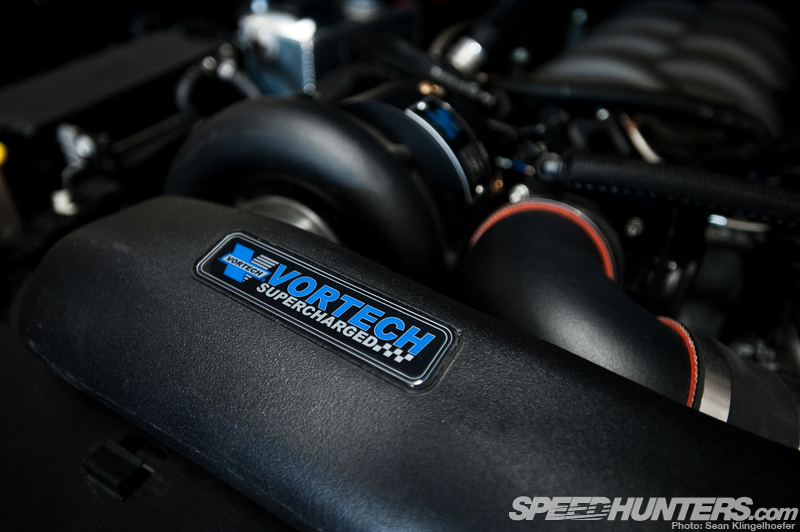 I later found out that Chris used to work for Vortech Superchargers, which likely explains the V3-Si under the carbon hood. At only 8psi this setup provides a good bump in power while retaining excellent drive-ability. Despite the low boost the blower adds roughly 250hp to the wheels and another 150lb-ft dollop of torque.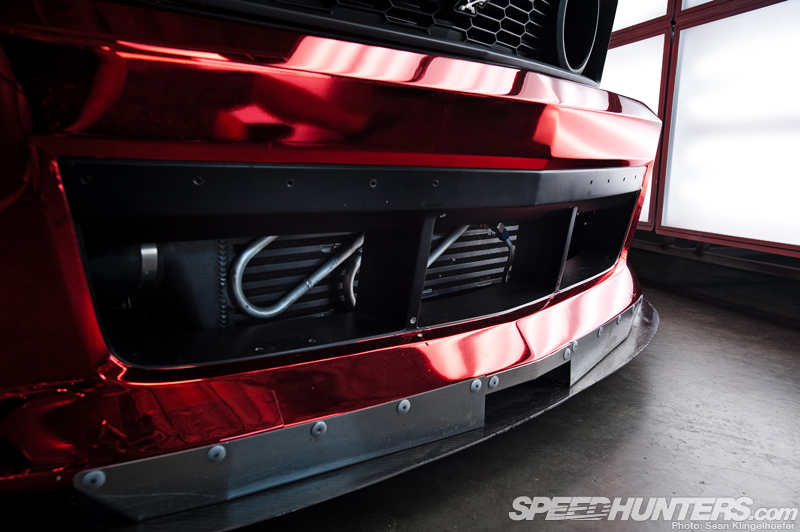 The kit also utilizes a front mount air-to-air intercooler along with an N-Tercooler sprayer setup from Nitrous express for a additional cooling. To keep up with the new induction system the injectors have been upgraded and the ECU has been reflashed. It's a simple setup good enough to push this GT to 182mph at the Mojave Mile.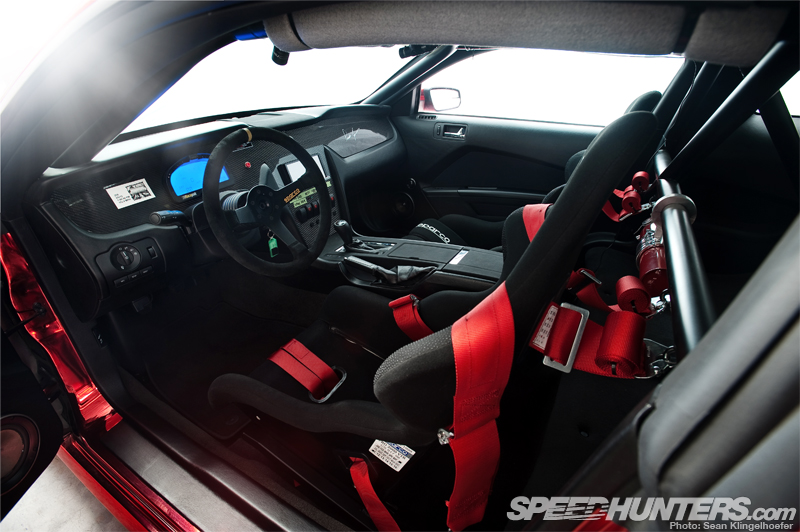 Nobody in their right mind would want to do those kinds of speeds without proper safety equipment which is exactly why the cockpit has been completely decked out. The rollcage is very slick and about as stealth of an install as you can find anywhere; in fact I didn't even notice the front downbars until they were pointed out. All of the stock paneling remains and have been precisely trimmed just enough to clear the cage.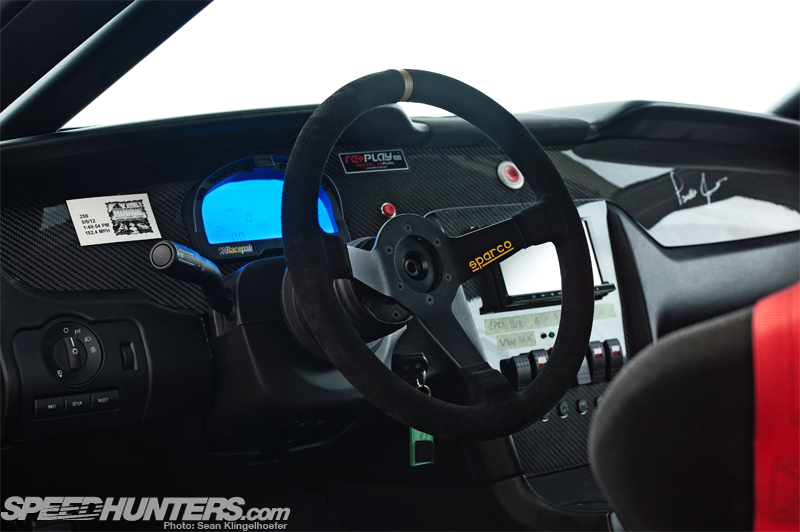 When it comes to a street / track compromise this is about as good of an interior as you can hope to find. Everything is simple and clutter free, functional and solid. There's just the right amount of race equipment to hit the track hard but just enough creature comforts that you won't drive yourself insane getting there.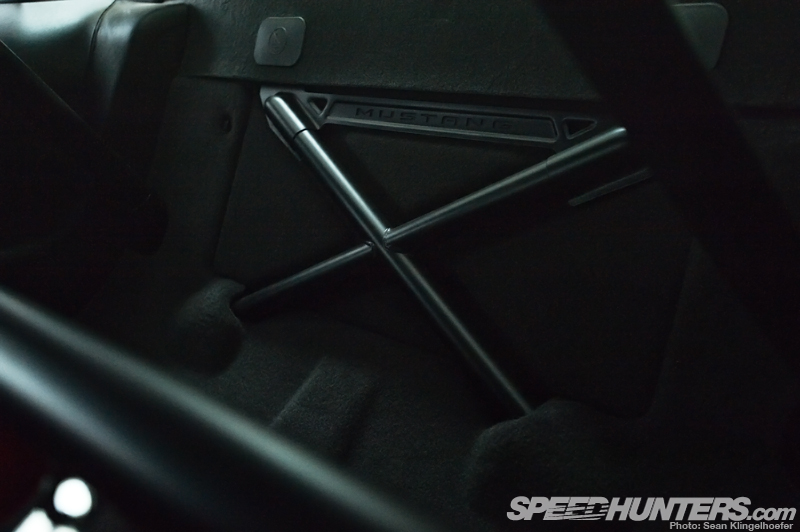 The only compromise I could find inside was the removal of the rear seat. Considering the car is now fully caged the rear seat really shouldn't be occupied anyway so I certainly don't count it against them. If the back looks particularly clean it's because the seat delete and rear X-Brace are actually factory items borrowed the Boss Laguna Seca model.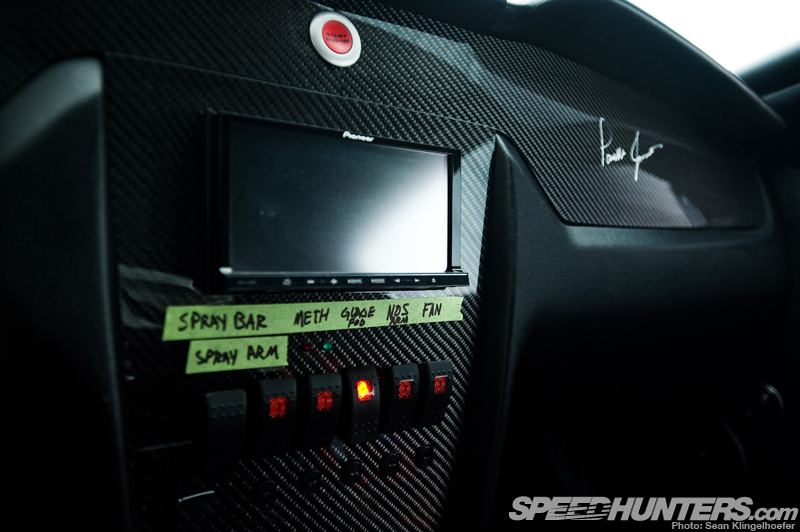 You can never go wrong with carbon fiber, it's lightweight, strong and it looks really cool. Here we see it replacing the cheesy factory plastic dials and cubbyholes with an elegant no-nonsense switch panel and a double-din Pioneer source unit.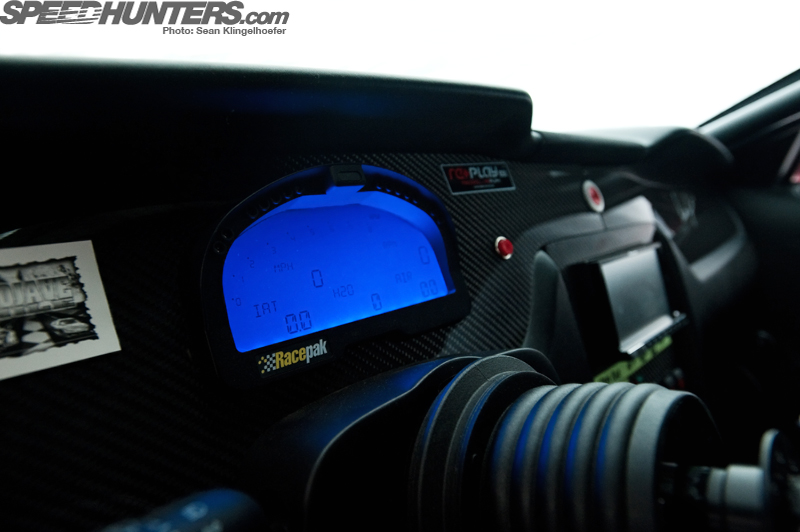 The OEM instrument panel has also been removed and covered with another sheet of the woven stuff. All of the factory gauges have been superseded by a Racepak IQ3 digital dash which monitors all important parameters, including OBD2 data from the ECU, in a tidy compact unit. This allows the driver to spend less time hunting for information and more time driving hard.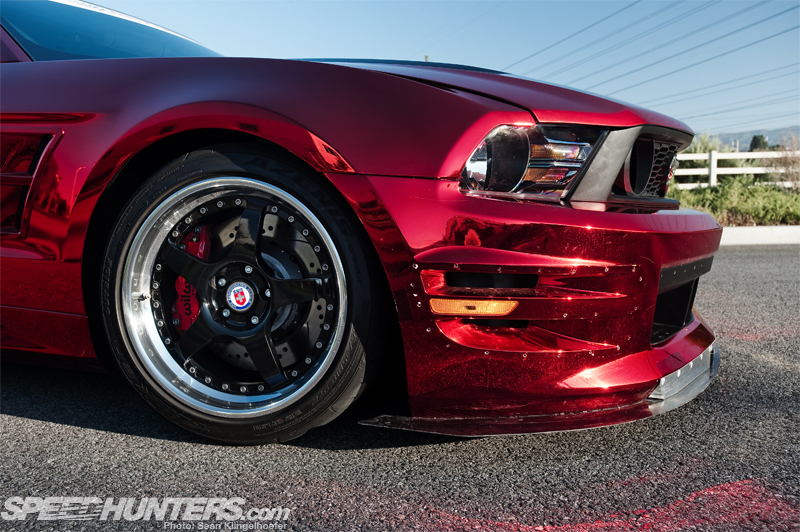 Speaking of driving hard, that's exactly what the guys have been doing with the car. I actually think that the holes left in the front bumper from the Mojave Mile block-off plates look rather mean. There's nothing I like more than a car that's been scuffed up a little and I'm sure this is only the beginning. In fact this weekend the car will be taken to Streets of Willow to test some new prototype Hotchkis suspension components.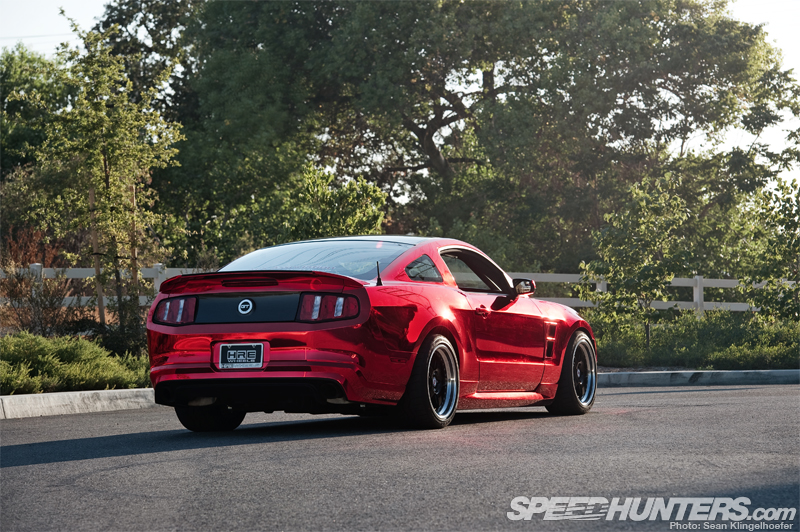 In addition to tweaking the suspension Chris was telling me that they are hoping to sort out some new brake ducting and redo the metal bit above the splitter in carbon. From the sound of it the guys have no intentions of slowing down development anytime soon. Aside from getting the car to tackle the corners they plan on returning to standing mile competition with some new gearing and possibly a bit more power.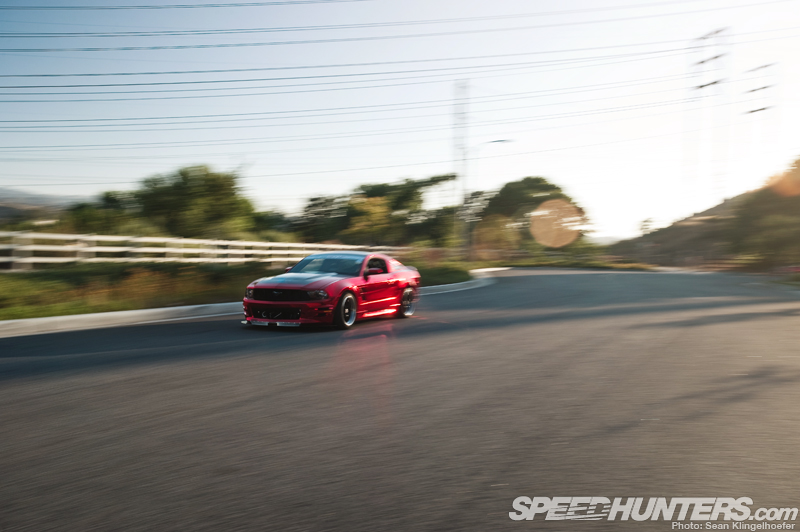 I must say it's been a while since I've misjudged a car so badly, but certainly there is a lesson to be learned. What I had thought to be a run-of-the-mill SEMA car is really anything but and my first impression has now been well and truly erased. It's not some undriveable harebrained concept and it's not sitting around in a warehouse collecting dust, it's doing exactly what a car should be – it's being driven.
Creations n' Chrome 2012 "Boy Racer" Ford Mustang
ENGINE
Supercharged 2012 5.0L Coyote engine; Vortech V3-Si trim centrifugal supercharger, air to air intercooler; Nitrous Express plate system & N-Tercooler spray ring; Injector Dynamics 72 lbs. fuel injectors; Kenne Bell Boost-A-Pump; Blowby Racing 3"X-pipe; Corsa axle-back Extreme exhaust system; Mishimoto aluminum radiator; Creations n' Chrome fan shroud w/ integrated Spal fan; Canton Racing Products expansion tank
ENGINE MANAGEMENT / ELECTRONICS
Stock computer tuned with SCT software by Lance Keck @ Creations n' Chrome; Racepak IQ3 cluster and OBDII interface module; RePlayXD, XD 1080 cameras w/ hardcore billet chassis mounts; Pioneer head unit, speakers and amp
DRIVELINE
Standard 6-speed transmission; stock 8.8 rear end housing w/ Detroit Locker Diff, 31 spline Currie axles; 3.73 gears (track) / 3.08 gears (standing mile)
SUSPENSION / CHASSIS
Creations n' Chrome "Overkill" rollcage constructed of 2" chromoly tube, seat brackets, adjustable panhard bar; KW Variant 3 coilovers; Hotchkis front sway bar (38.1mm, 4-way adjustable), rear sway bar (25.4mm, 3-way adjustable), prototype adjustable rear trailing arms, adjustable upper trailing arm, K-member brace, strut tower brace, subframe connectors; Ford Racing Boss Laguna Seca rear seat delete kit and X-brace
BRAKES
Wilwood 14" W6A Big Brake Kit w/ Six-piston calipers (front),  Wilwood 14' W4A Big Brake Kit w/ Four Piston calipers (rear)
WHEELS / TIRES
18×9 (f) / 18X11 (r) HRE Comp 95 wheels; 256/35R18 (f) / 315/30R18 (r) Falken Azenis RT615K tires
CABIN
Sparco Pro 2000 seats, 5-point harnesses, steering wheel
BODY
3dCarbon Boy Racer 7-piece body kit (front bumper, rear bumper, sideskirts, rear wing, and fender vents); APR Performance carbon fiber front splitter; Autosport Dynamics Inc. carbon fiber hood, carbon fiber roof, carbon fiber decklid; standing mile aero package (not pictured) Creations n' Chrome built front bumper block off panels, radiator ducting, carbon fiber mirror block off plates
More stories by Sean Klingelhoefer on Speedhunters
More car features on Speedhunters
-Sean