Most professional photographers spend all our days in a seemingly lifelong pursuit for the perfect image.  Personally, I know I'll never shoot a "perfect image", but I think the other Speedhunters and I are getting pretty darn close at Gatebil. I've spent the better part of today trolling through literally hundreds of photos, only to arrive at the above shot, which in my opinion is one of the best photographs I've ever shot. I think it looks like a painting.
The process to reach this image was a long one though, and involved both myself and my cameras leaving my comfort zone of track-side photography, to be strapped into and mounted on several different drift machines.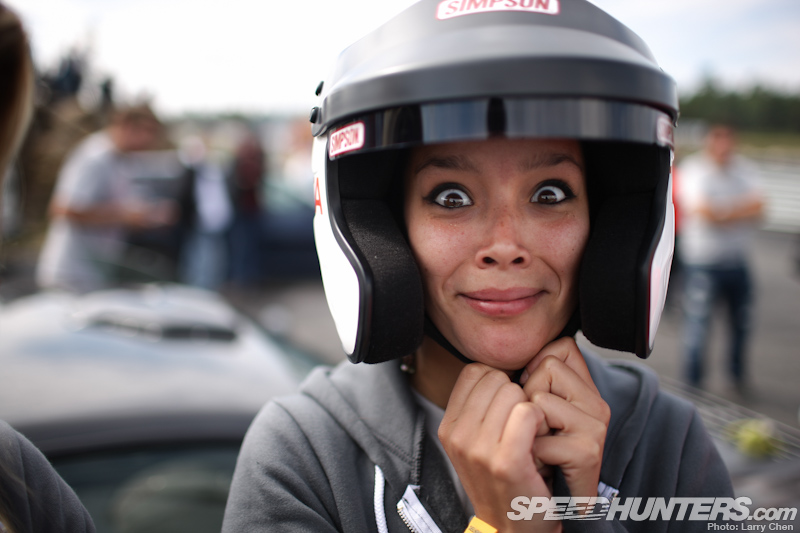 I started my day setting up to document Speedhunters' spokemodel, Camille's first ride in a drift car. She was not scared one bit. In fact, she seemed really excited.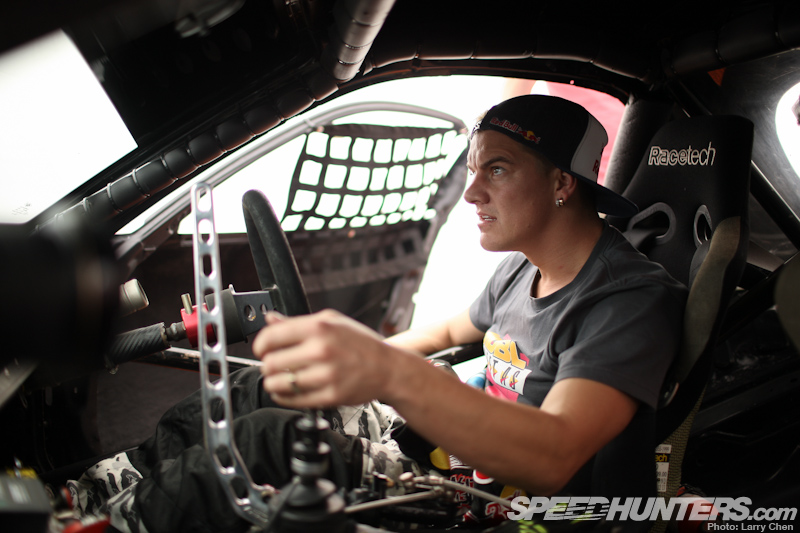 However, Mad Mike was a bit tense. For the last 24 hours he and his team have been working on trying to quiet his car down.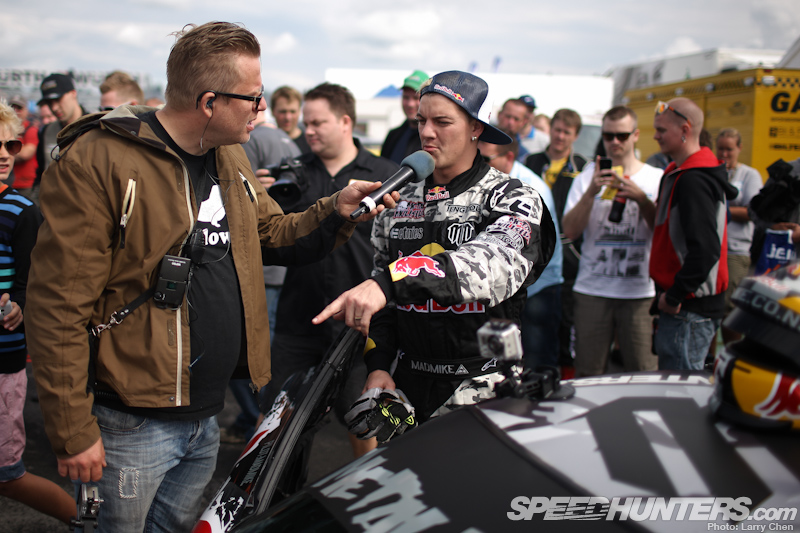 The decibel limit for the track was 114db and Mike's quad-rotor FD was just too loud for its own good. As the day started he had one more chance to test out his car and prove it was safely below 114db.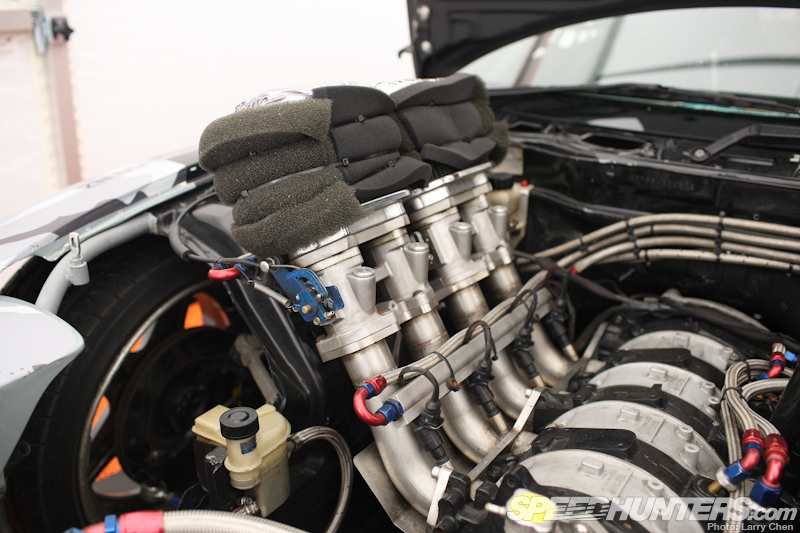 So he wrapped his intake with foam and he added a 90-degree turn to his tail pipe to deflect the sound away.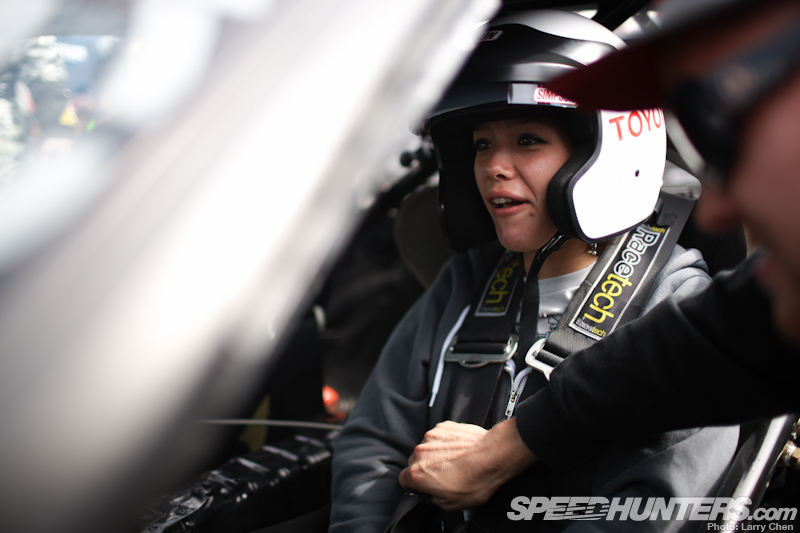 As Camille was getting strapped into the Madbul, she was starting to feel butterflies in her stomach.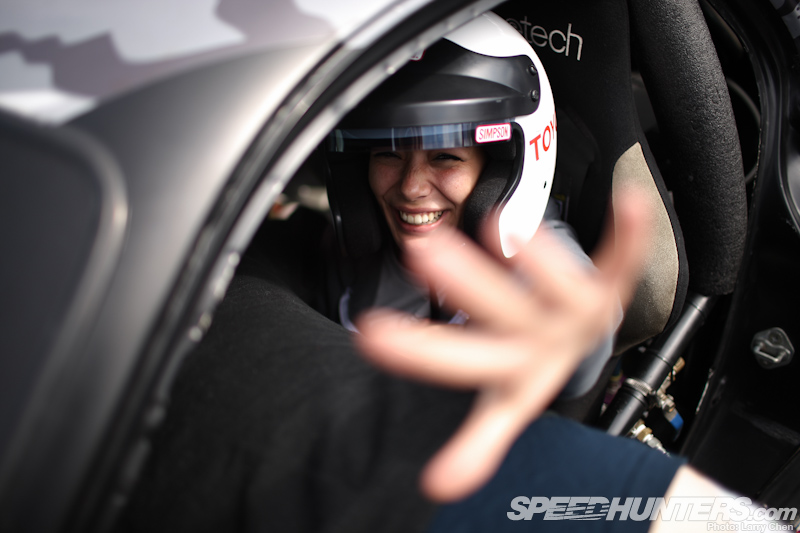 She cried for help, but I just sat there and photographed her. Even I couldn't help her at this point.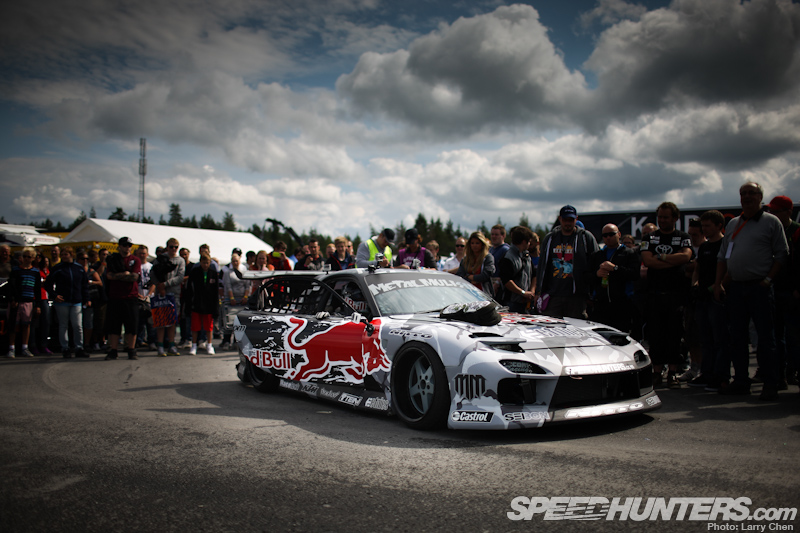 A large crowd gathered up as Mike had but a single lap to prove his car was quiet enough to run the rest of event.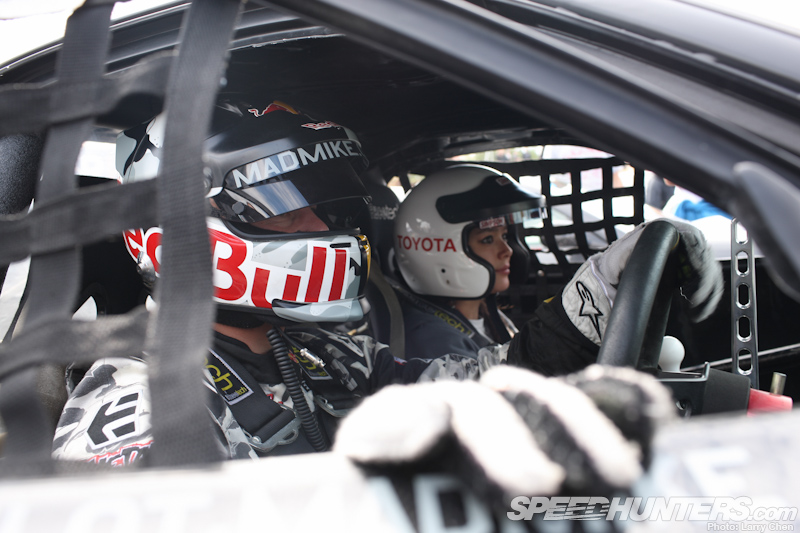 This was common fare for Mike as his car is usually the loudest one at any track event. Taming the scream of a rotary engine is a pretty difficult task!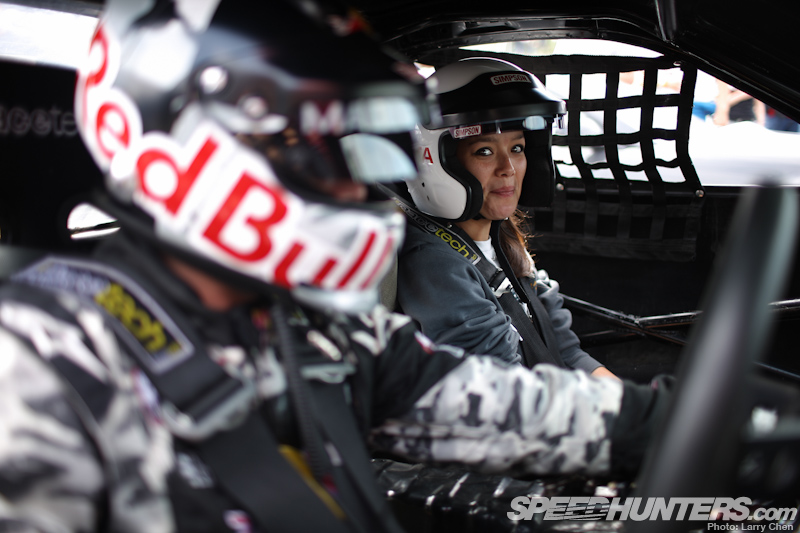 Camille looked at me once more, begging for help with those puppy dog eyes. How could anyone say no to that? I hid behind my camera once again.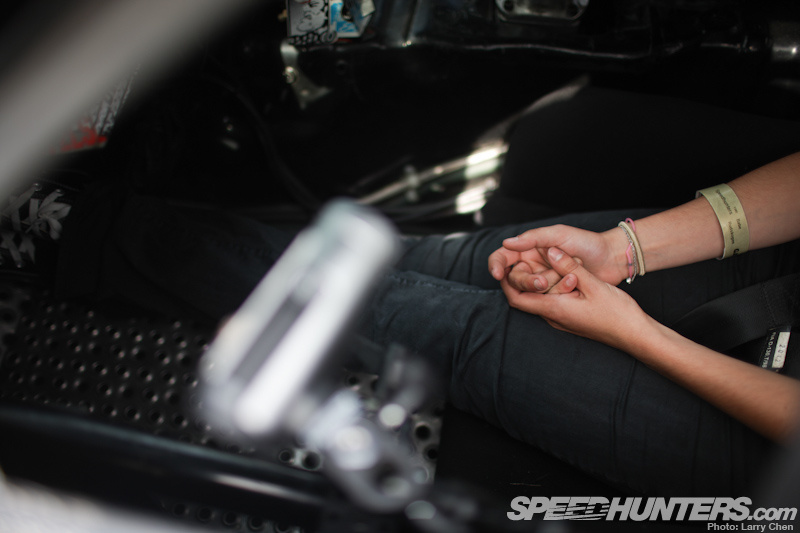 I could tell she was really feeling the pressure at this point.
And wouldn't you know, Mike was feeling the pressure too. If his car was still to loud he wouldn't be able to compete in the main Gatebil Breisladd drift competition.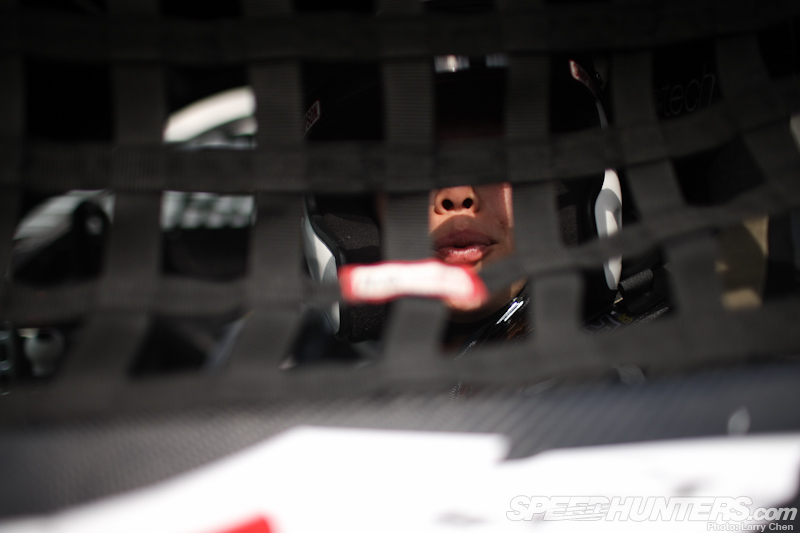 Camille blew a good bye kiss and the two were off.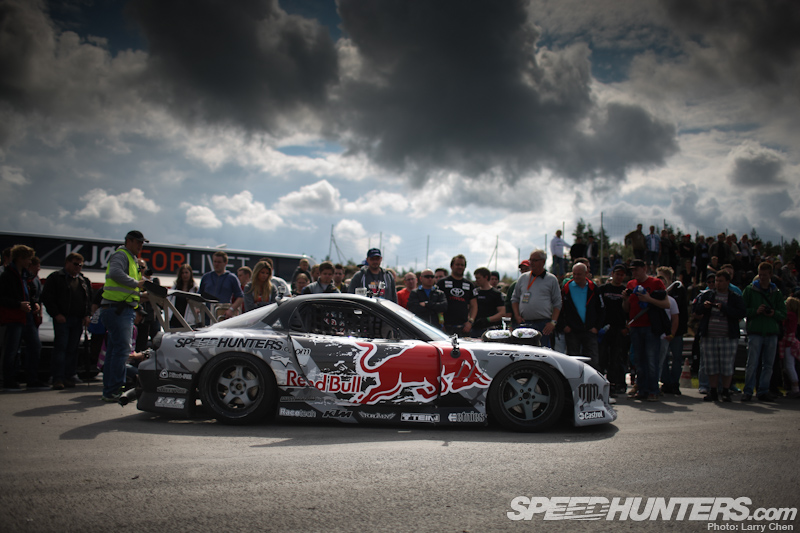 I wanted to try to get as many angles of the Mad Mike experience and my in-car camera shooting the Mike and Camille was nice, but I wanted to take things a step further.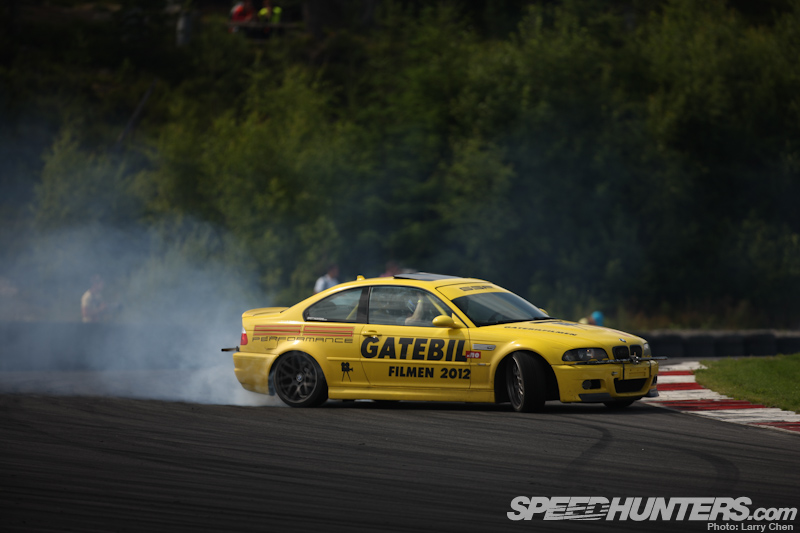 The Rudskogen officals cater so much to the media it's insane. We're allowed to cross a hot track as long as there are no cars coming and can go, well, pretty much anywhere we please. So how can you top that kind of access?
Enter the Gatebil film car. BMW E46 M3 of awesome. I rigged this drifting camera car up with my remote cameras and followed Mad Mike on his test run.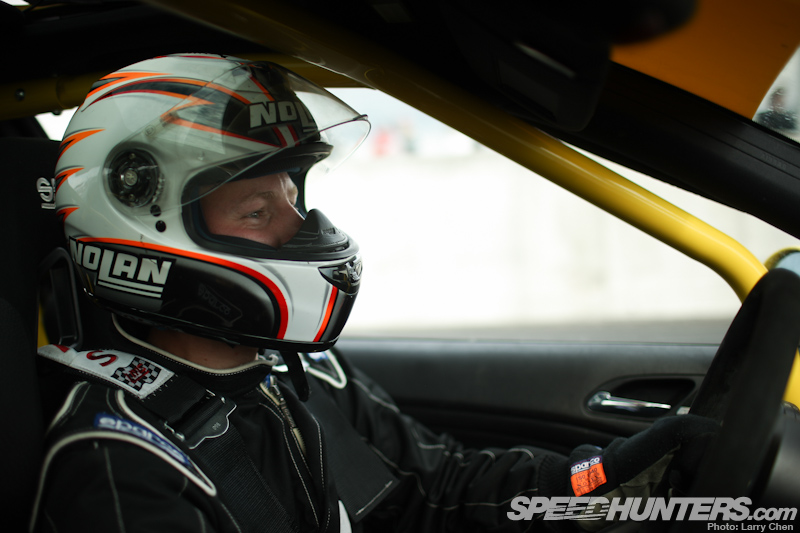 My driver was the Stig of Norway, only known to the public as "Kim." He piloted the same exact car last year, so he was already used to me directing him with my shouting, pointing and my motion sickness.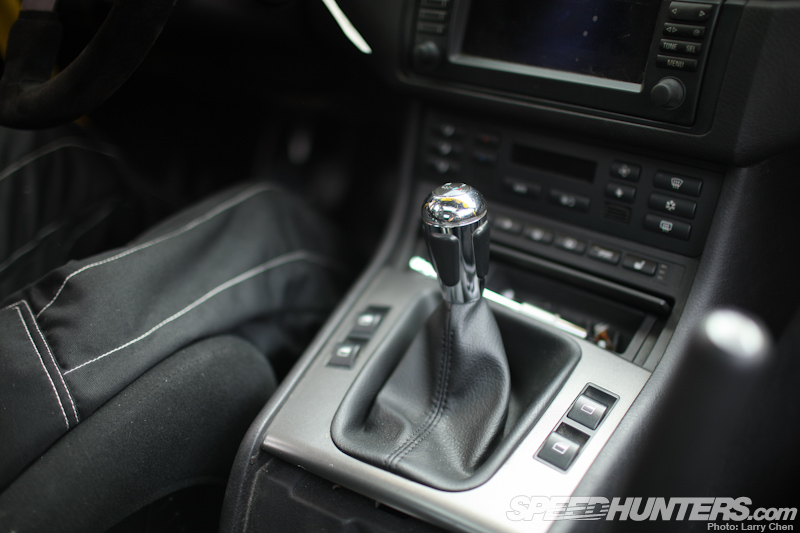 Last year the M3 was all stock and it had an SMG transmission. Over the long Norwegian winter he swapped out the gear box for a manual.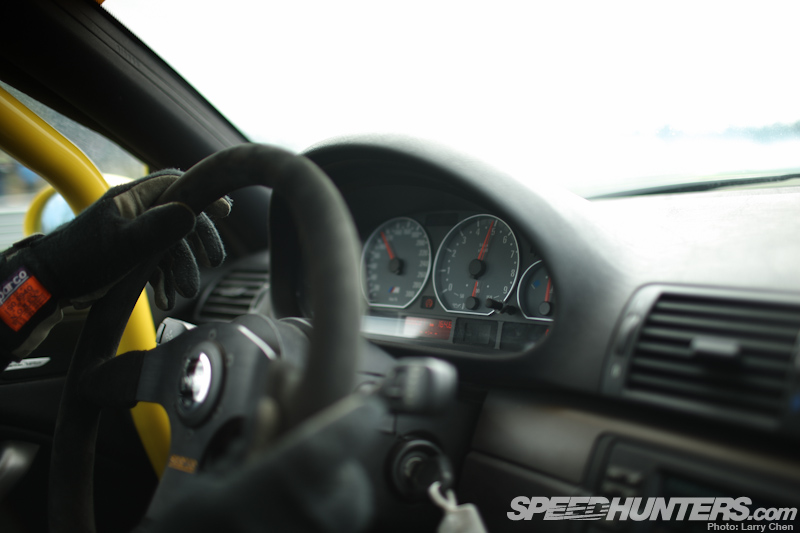 He even removed the steering wheel with the built in paddle shifters.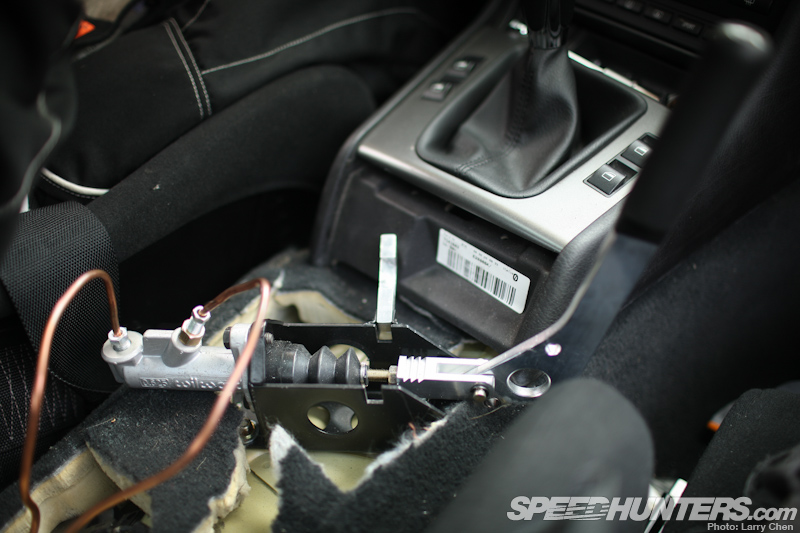 And why not add a hydrolic e-brake since this WAS a camera car for drifting.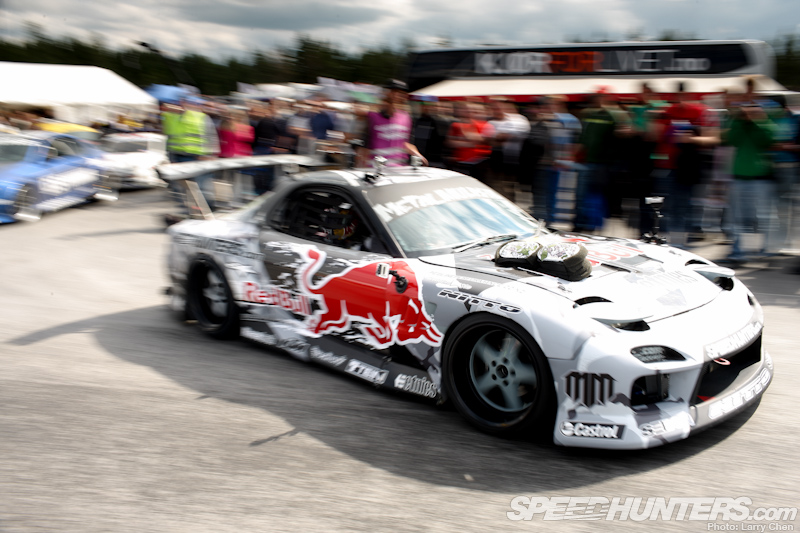 When the track cleared Mike was given the green flag and the Madbull charged out of the pits.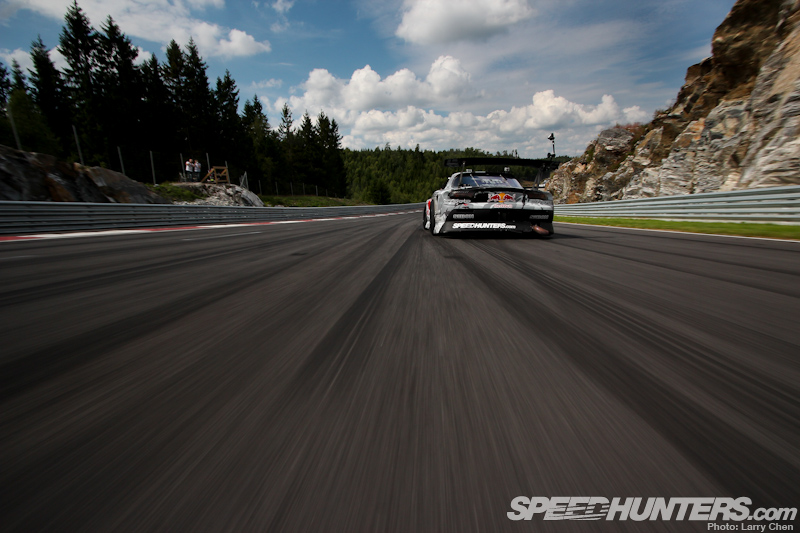 We had to chase at full throttle just to keep up with this four rotor monster.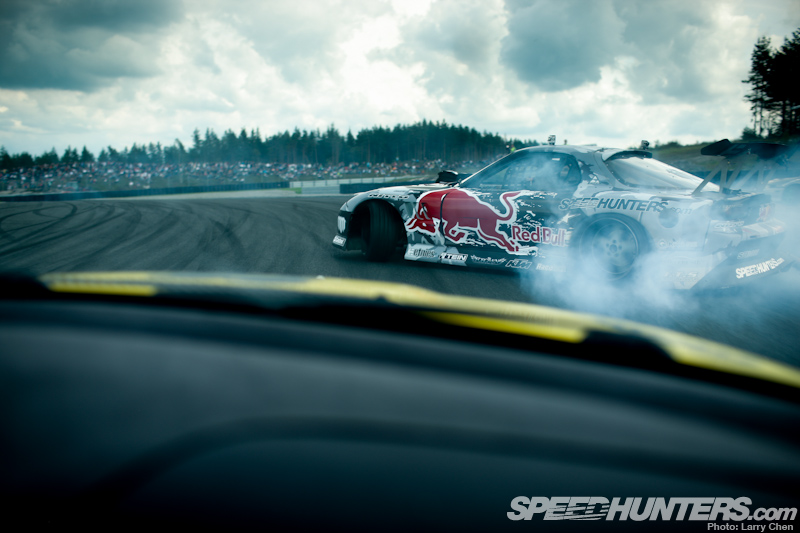 With a quick flick the RX-7 got sideways and stayed sideways. I thought it sounded awesome watching it from the outside, but following a few feet behind it while at full throttle is mind blowing.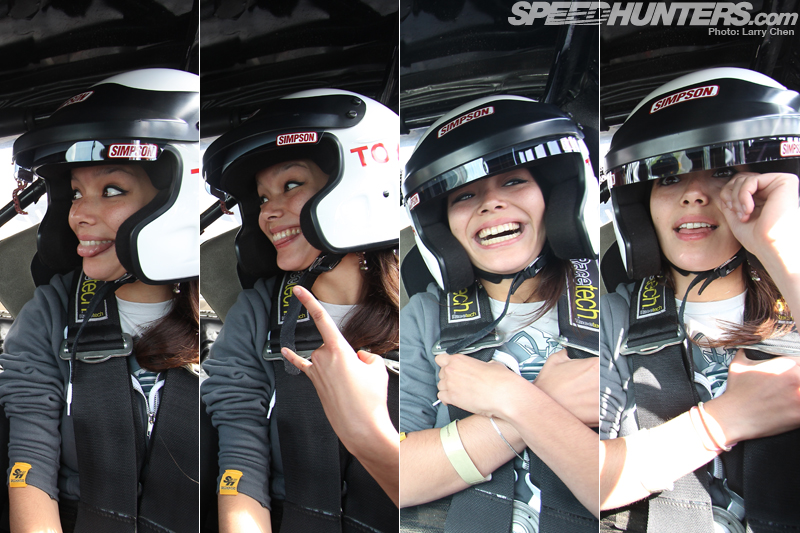 So I sifted through the photos of  Camille and this was the progression as Mike got crazier and crazier. She seemed to be enjoying it very much at first, then she held on for dear life, but lastly it looked like she was crying.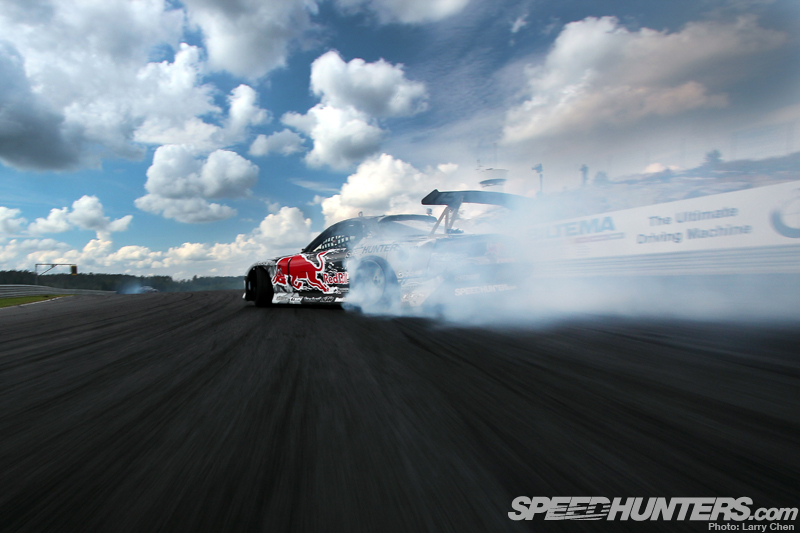 I have a feeling it was the ride of a lifetime. I was jealous as I have not even ridden with Mike.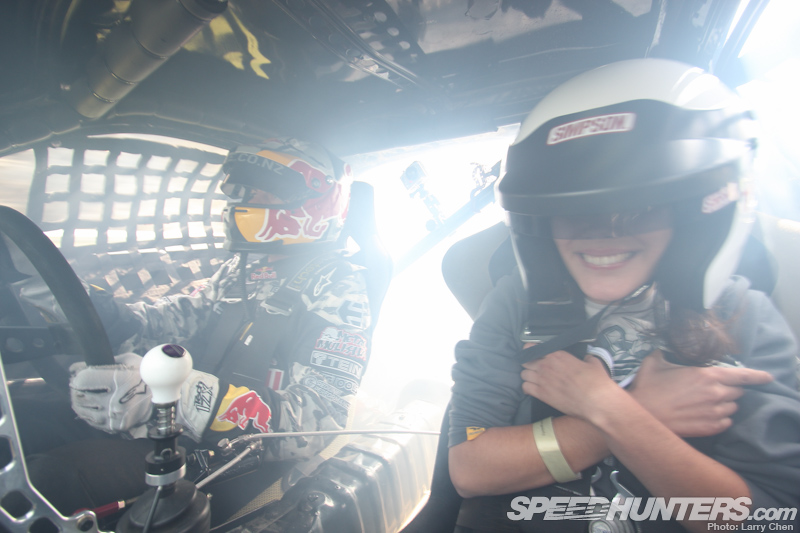 It looked like they were drifting into another dimension or somthing. They must have gone into overdrift. Either that or the cockpit was filling up with wonderful smelling tire smoke.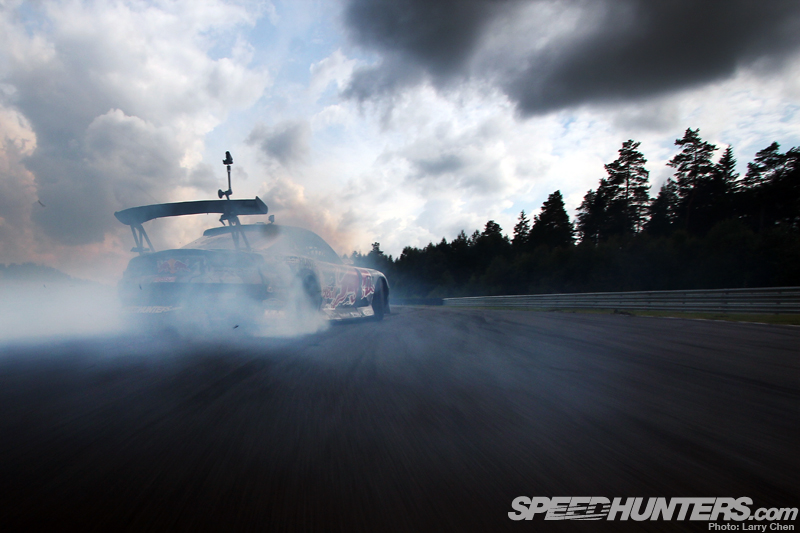 After one full lap of drifting he was not Black flagged, which meant his car had satisfied the track officials. I cheered for joy and Mike continued to flogg the Madbull around for two more laps.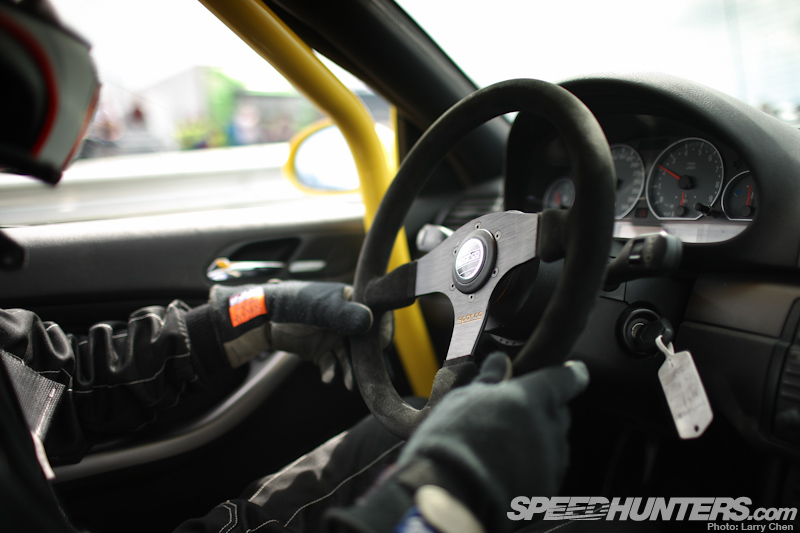 My crack racing driver shadowed the crazy drift cars every move.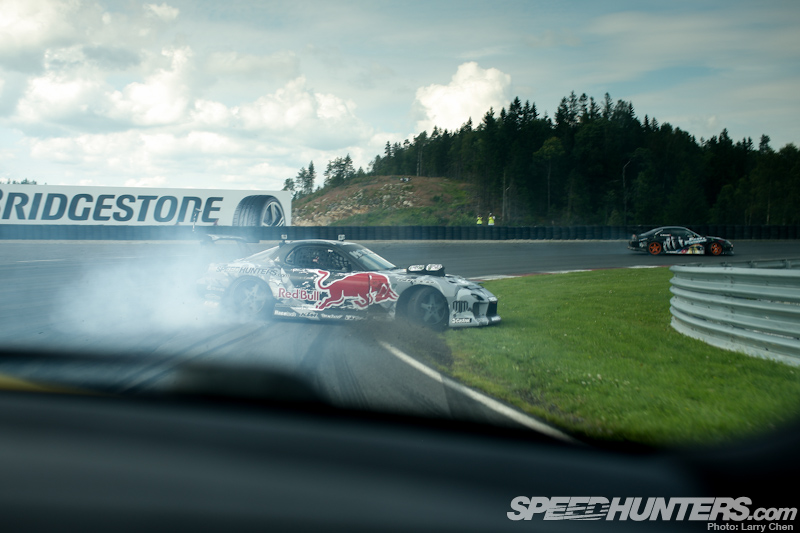 A few corners before we had to pull in, Mike decided to throw it in backwards. He actually did not spin out from this, he recovered and just kept on drifting.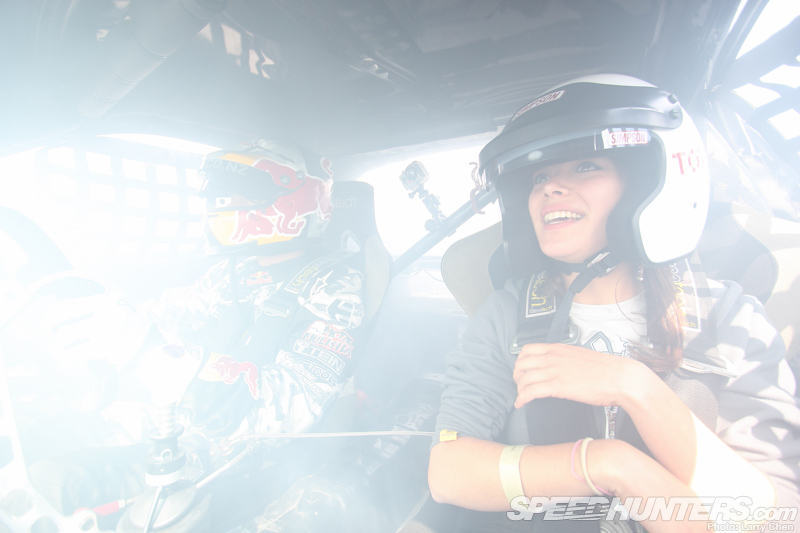 I think Camille lost a few months of her life after injesting all that rubber vapor.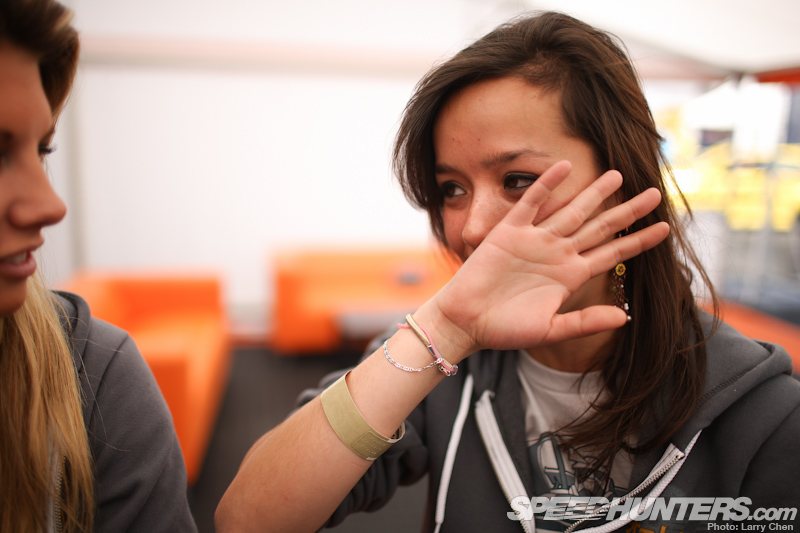 She had tears of joy as she got out and everyone crowded around…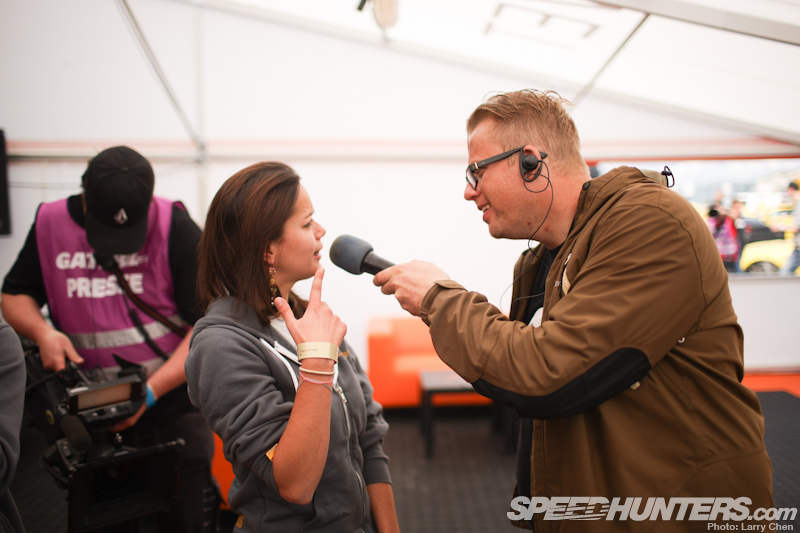 …as the announcers wanted to know what it was like to ride in the big bad bull. Her feedback was broadcast out to all 50,00 plus on-site fans.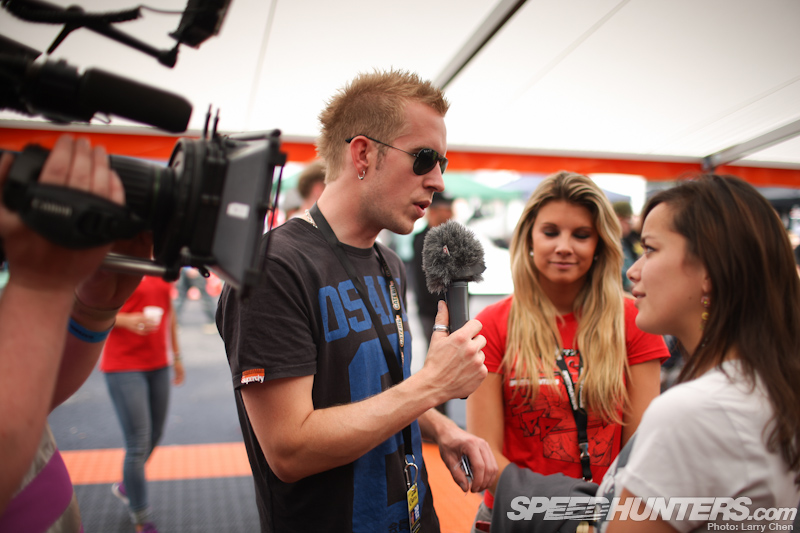 She said she loved every single minute of it and she can't wait to ride in another drift car.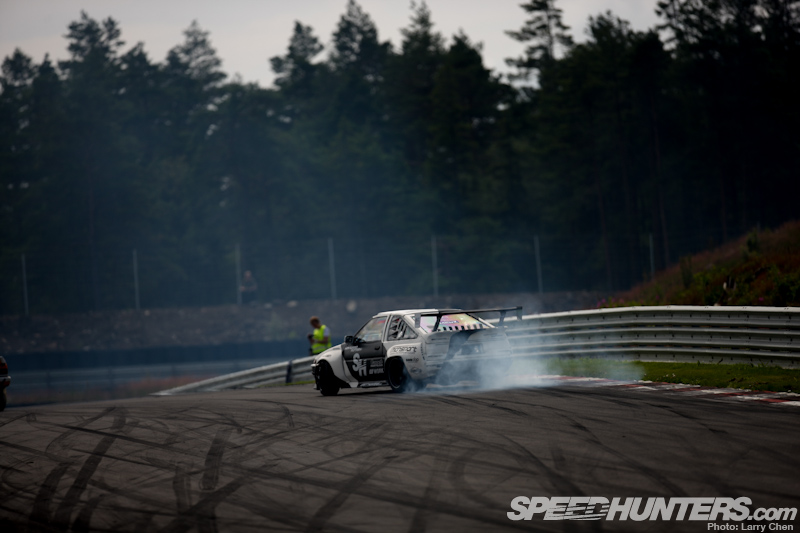 Darren McNamara has been having a fuel delivery issue with his AE86, but he seemed to have patched up the problem enough to be able to make the Breisladd drift competition.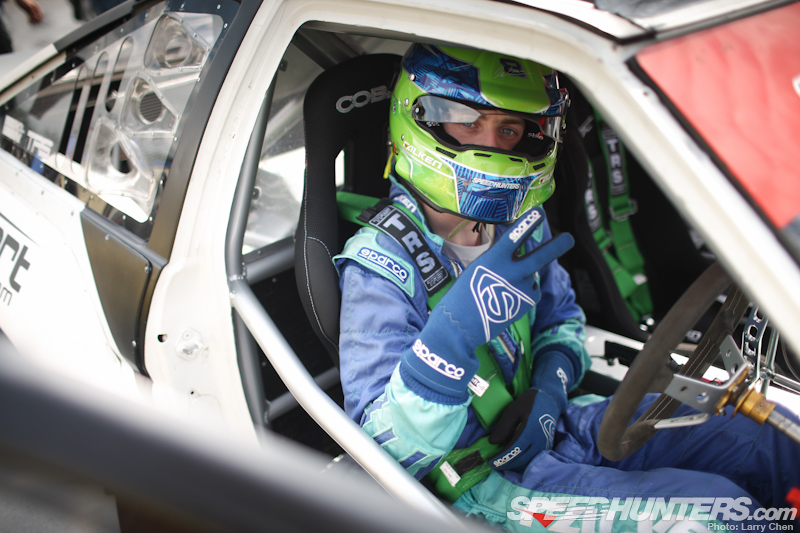 He was ready to go out and I wanted to show his car some love too. So once again, I rigged up the camera car and we followed the rotary powered Hachi monster out on the track.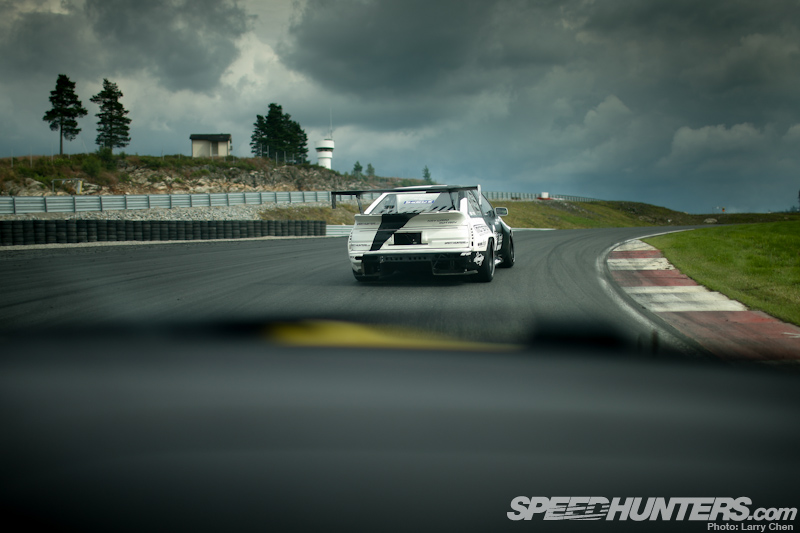 Driving behind this thing is so intimidating. It looks so mean without taillights. I could not belive how fast that car is in a straight line. Dmac was still testing to see if they fixed the fueling problem, so he gunned it down the straightaways. It took a few corners to catch up to him.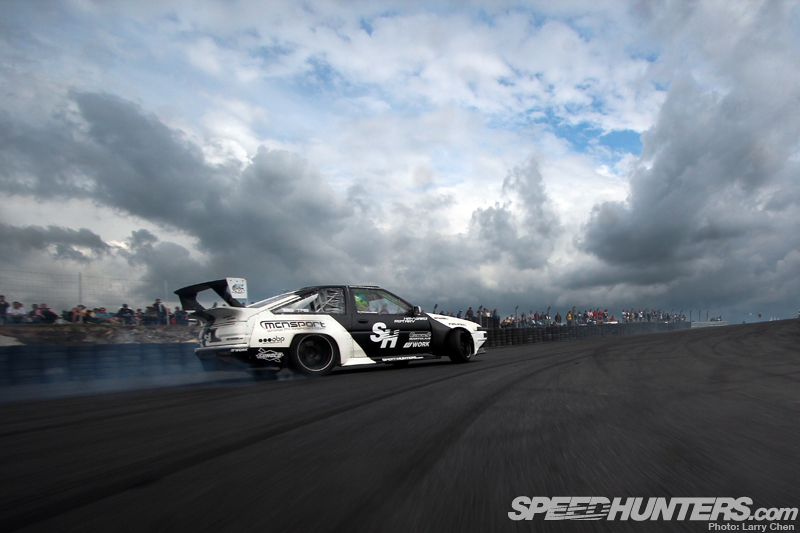 Eventually he pitched it sideways, but unfortunately he could not hold the drift for very long. Dmac brought it back to the pits and they figured out the issue was the placement of the fuel tank. They have moved it already and if everything goes to plan, will be ready for Sunday's competition.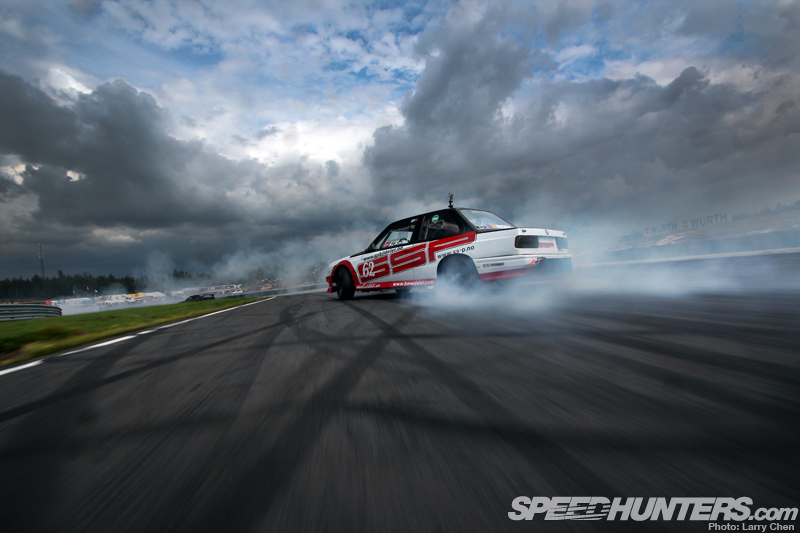 Kim and I stayed out for a little longer and followed some more un-suspecting drifters for a few laps before we ran out of tires ourselves.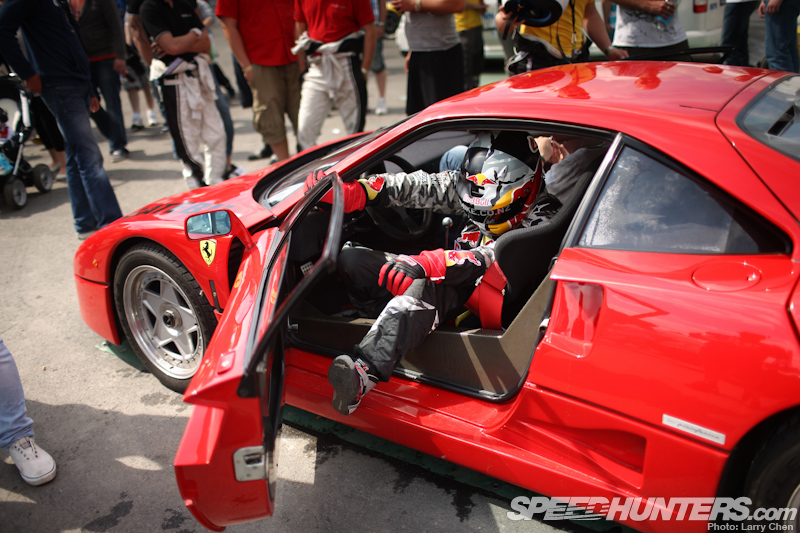 Later on in the day, I found Mike crawling out of a Ferarri F40.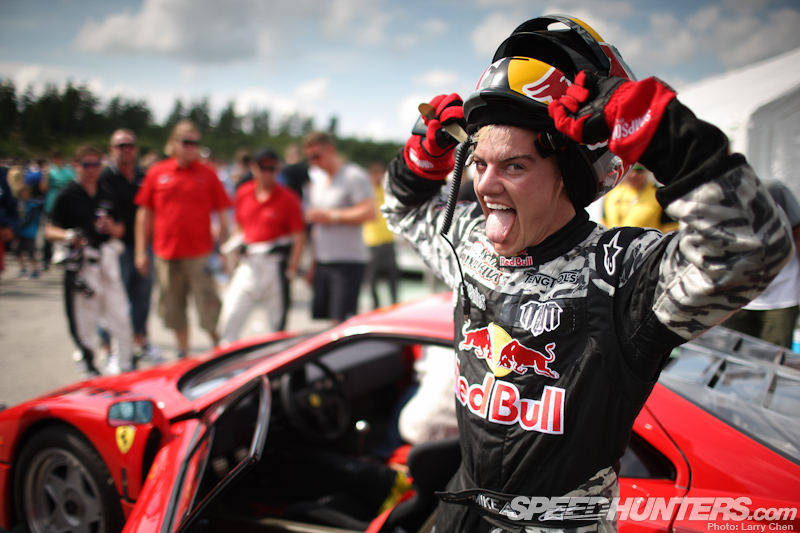 I mentally kicked myself when he told me the owner let him drive it and he even got to drift!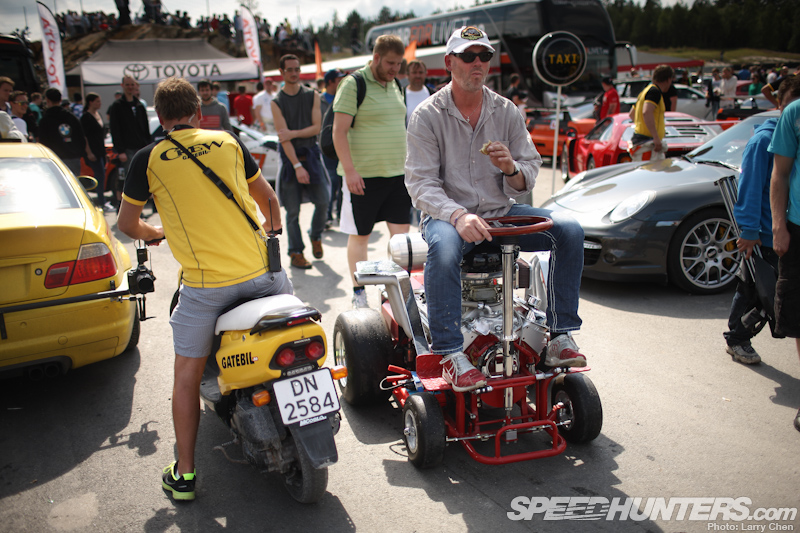 This guy has all the cool toys, but Mike was very happy and he decided to return the favor.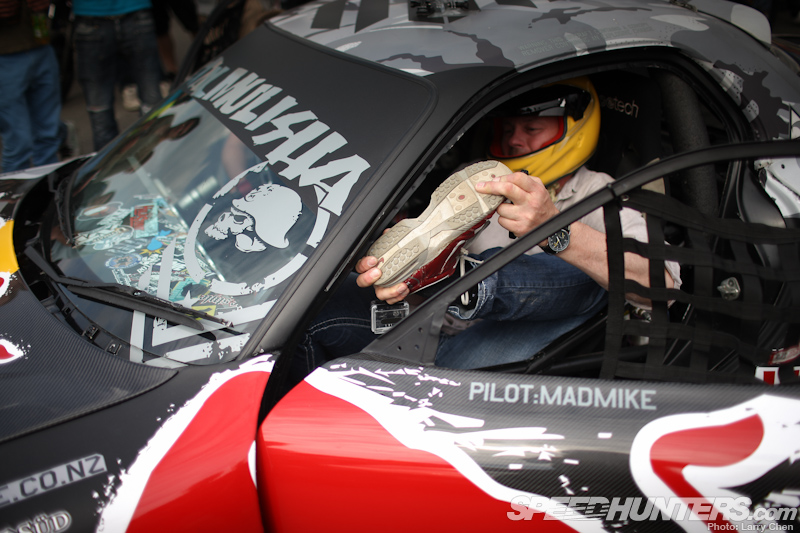 The thing is, I'm 5'10 and I have to look up at everyone over here when I am talking to them because It seems like everyone is taller than six feet in Norway. This guy was exceptionally tall and he could not fit in Mike's car.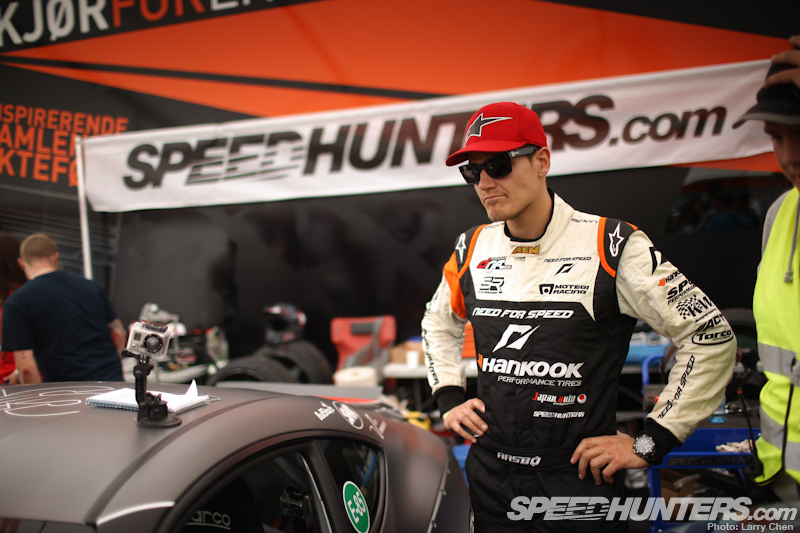 Back at the Speedhunters pits, Fredric was looking a bit worried.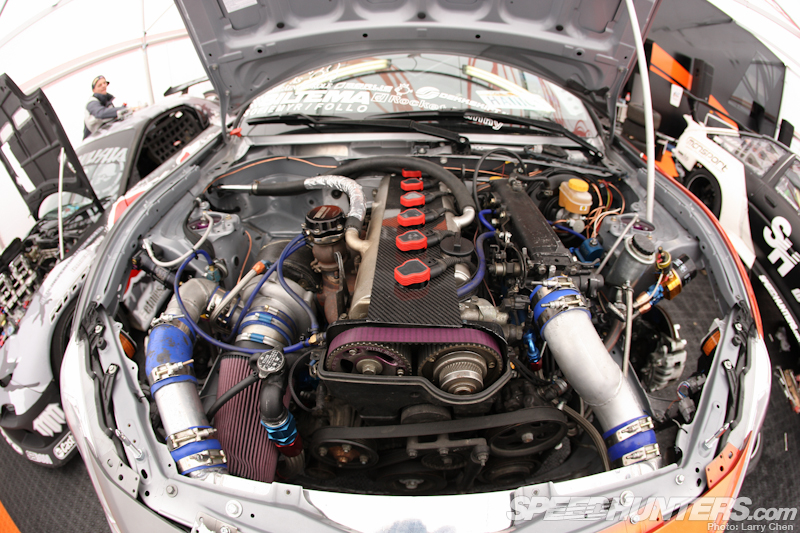 The 86X was built in four weeks and it still had a few bugs that needed ironing out.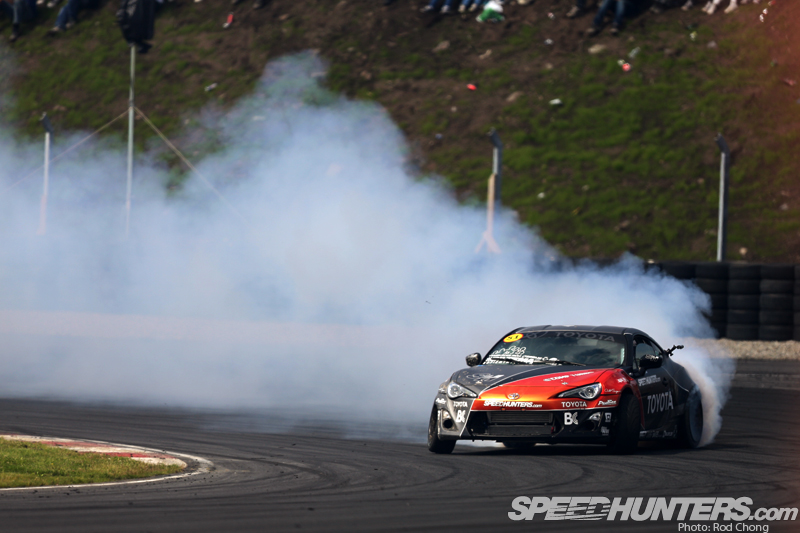 I don't think he should beat himself up too much considering it was still an amazing feat. Not to mention he is automatically qualified for the  Breisladd drift competition as the 2011 defending champion. He still had a chance to burn some rubber though which Rod Chong captured beautifully.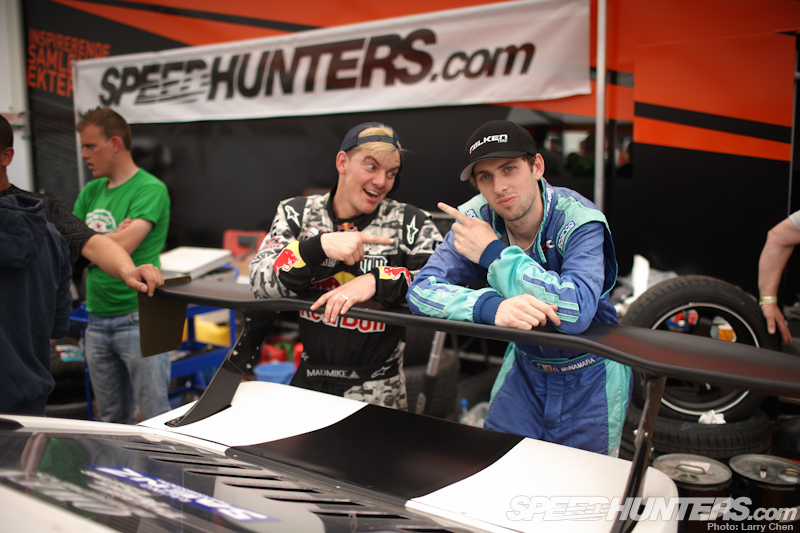 Well tomorrow is a big day for all the Speedhunters and I am in need of rest. Expect to see some insane car features from Dino and Sean, but for now you guys can download some desktops.
-Larry Chen
larry@dev.speedhunters.com
More stories from Gatebil on Speedhunters