Lost In The Smoke
I guess you could say Formula Drift Orlando was kind of lost in the smoke. That was definitely the case for most of the drivers competing in Round 3 of the Formula Drift Pro championship series, and also the case for fans and teams alike, as the judging calls were pretty confusing. Regardless, it was a certainly a spectacle; one of those events that will be remembered for a long time.
As always, I was on the front lines, and for this post I've gathered up my favorite images from the event. They may not be the most technically amazing or the most well composed shots, but to me every one of them tells a story. I live to give a little bit of insight on each one and they are also in no particular order.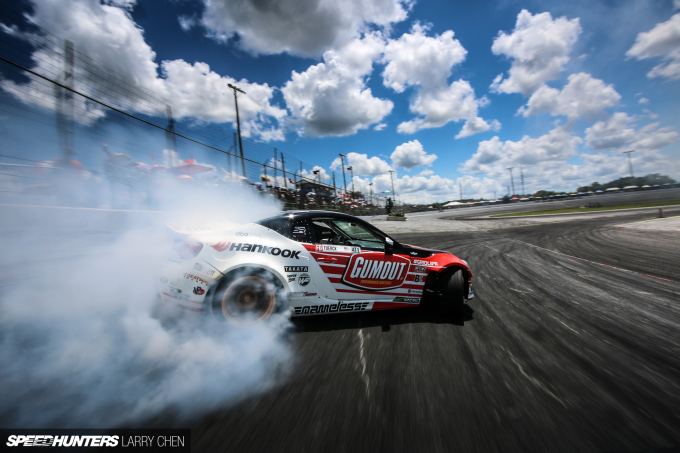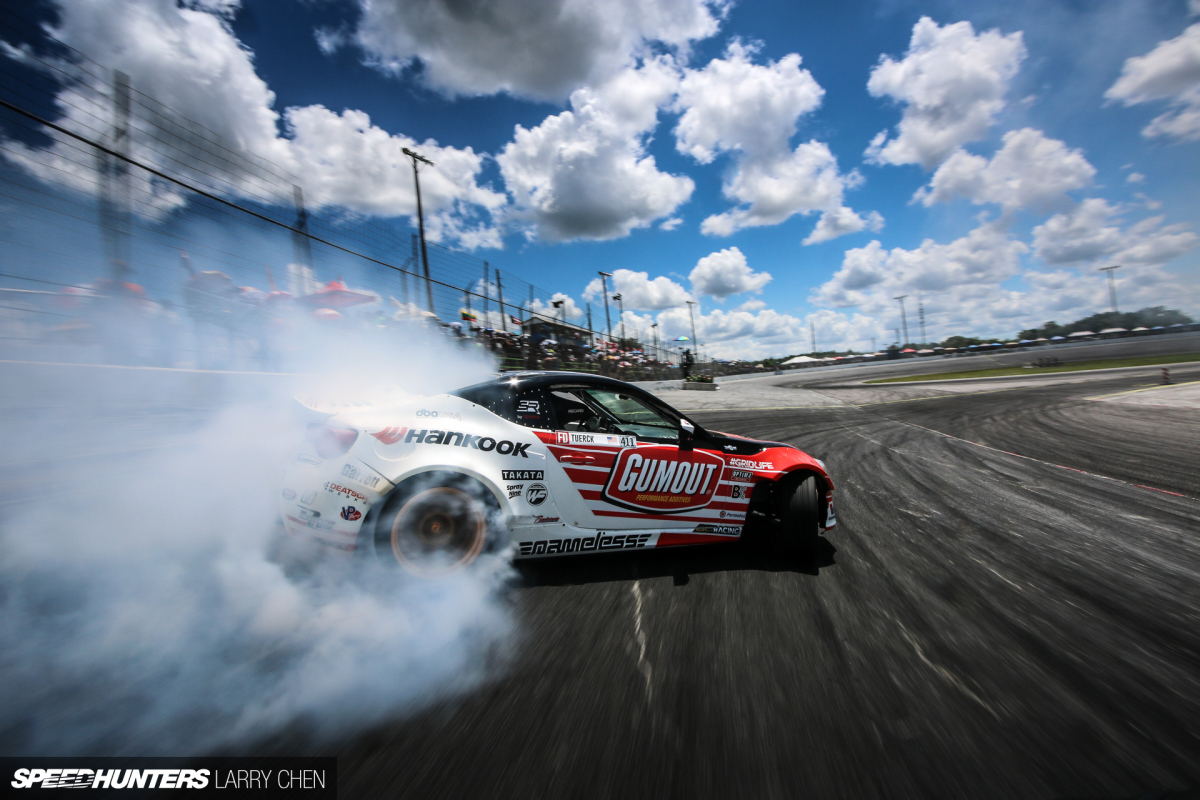 At Round 2 in Atlanta, Ryan Tuerck's team re-wrapped their FR-S black, and now it's back to the red Gumout livery. While the red pops more, I actually did not mind it in black, even though I normally can't stand photographing black cars.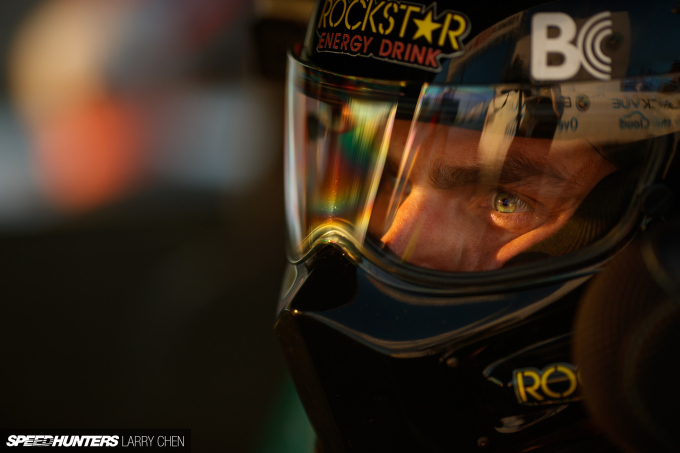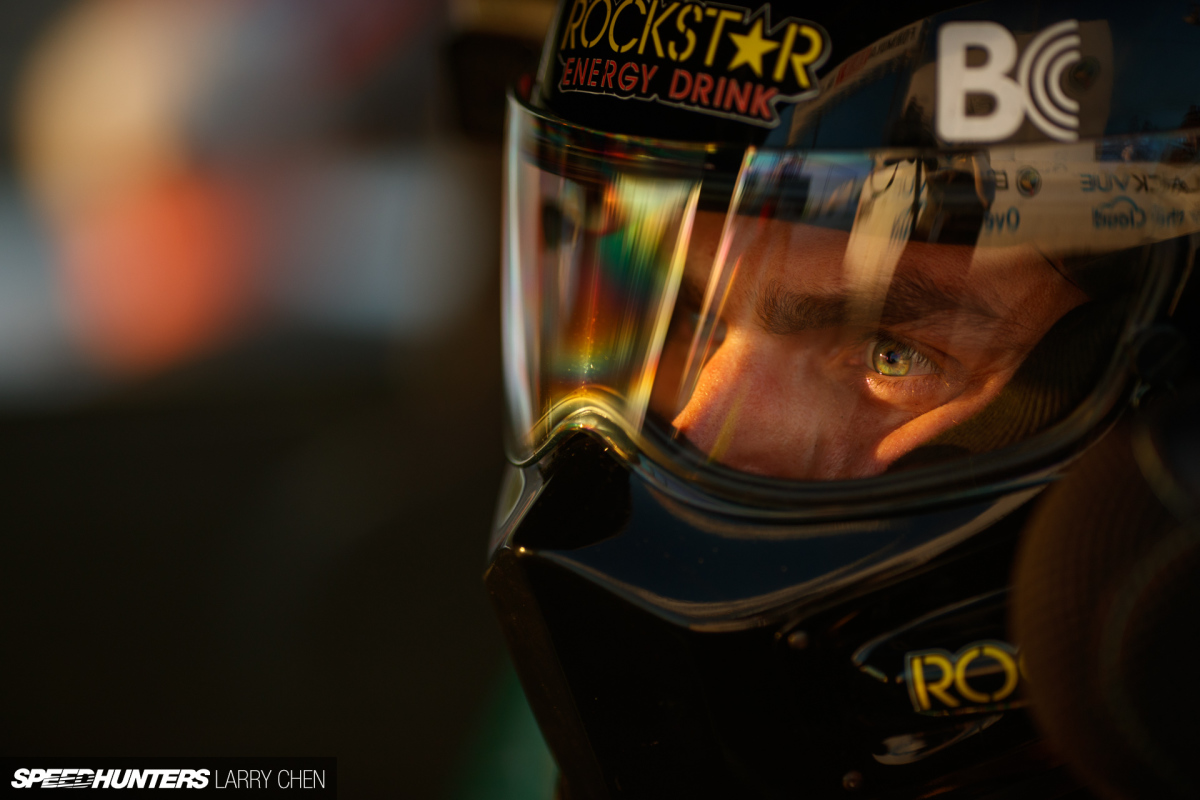 Just mere seconds before Fredric Aasbø launched into the final battle against Kristaps Bluss. He was looking at the start light when I snapped this photo.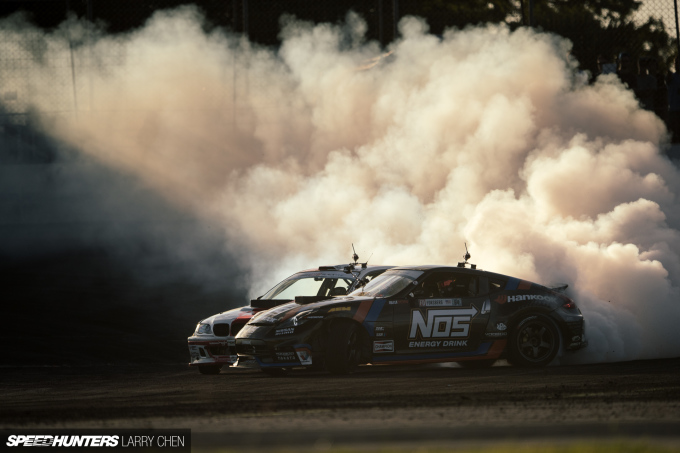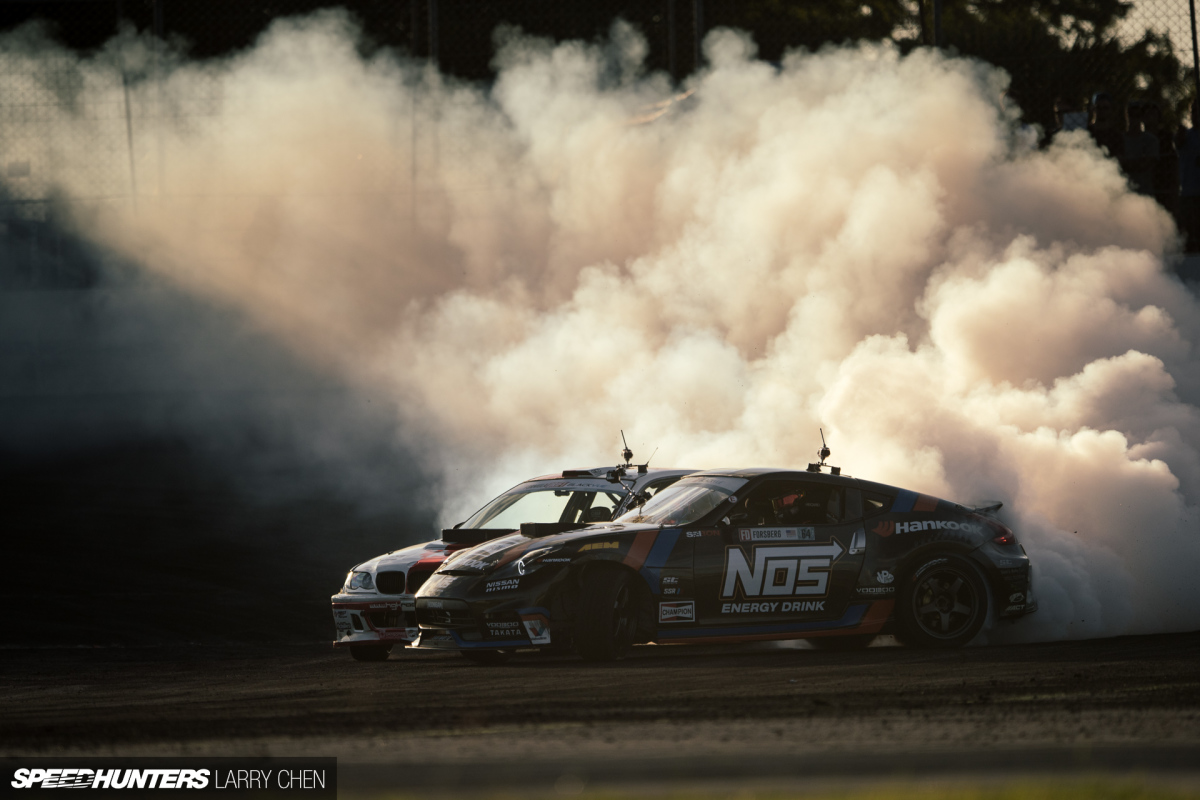 Last year was Formula Drift first time at Orlando Speed World, but it was raining, so photographs like this one were not possible.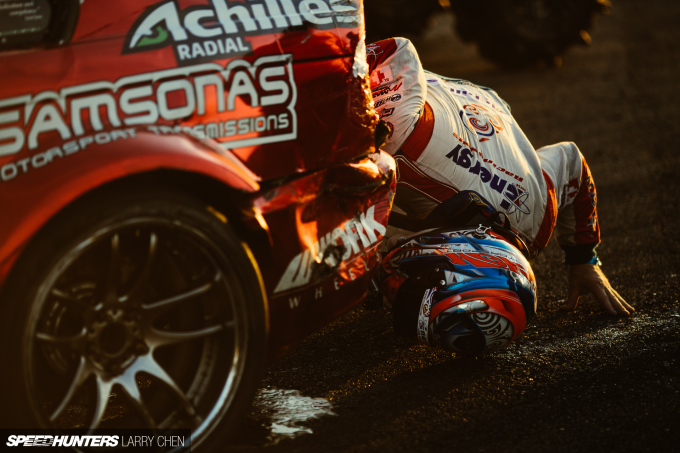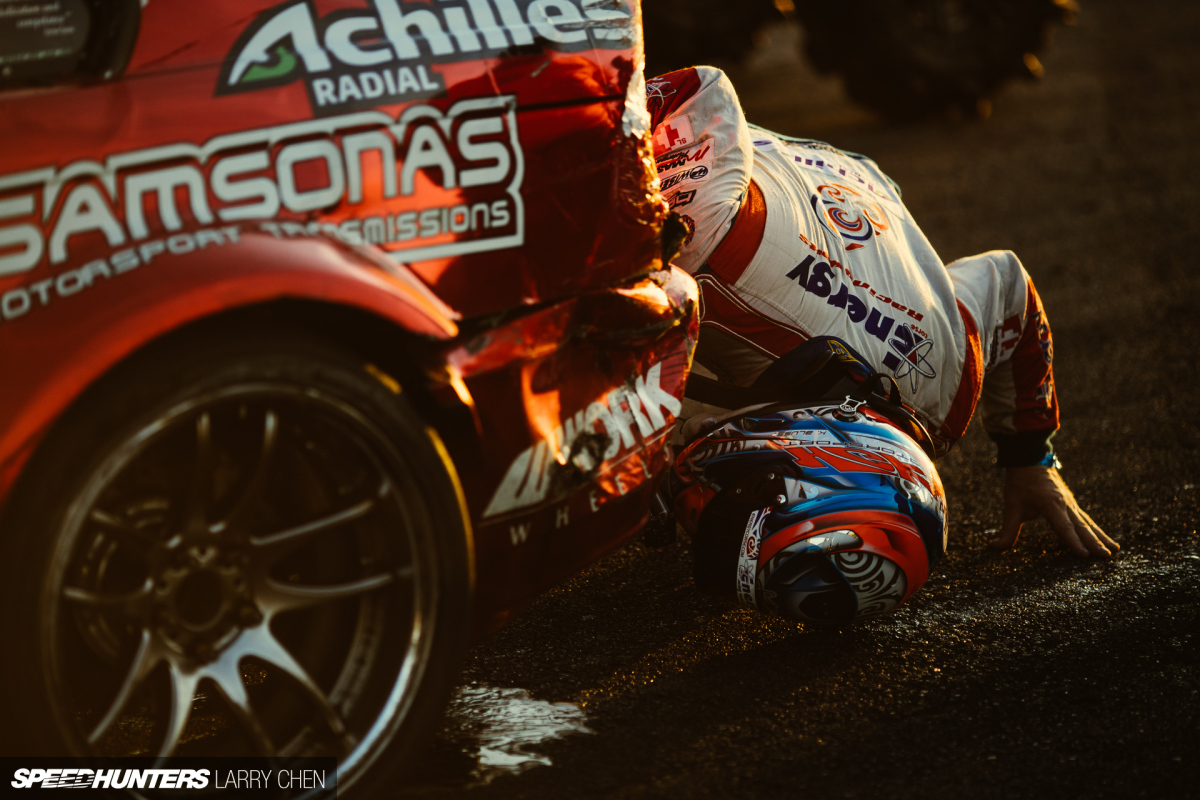 Kristaps inspects the damage done to his car after Fredric ran into him during the final battle. The Latvian driver over-rotated, which caused the incident with FD's defending champion.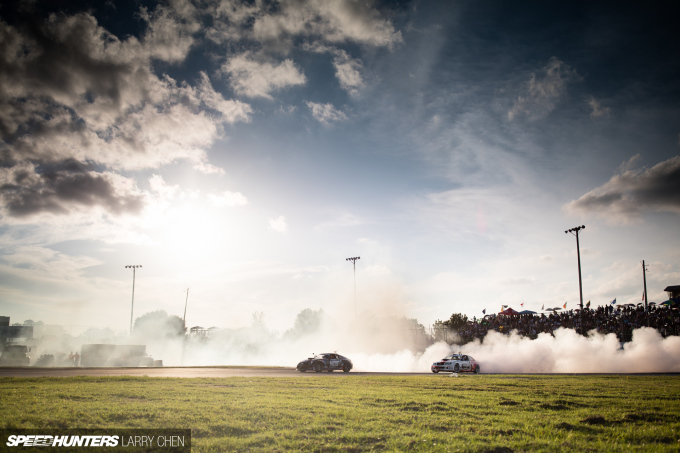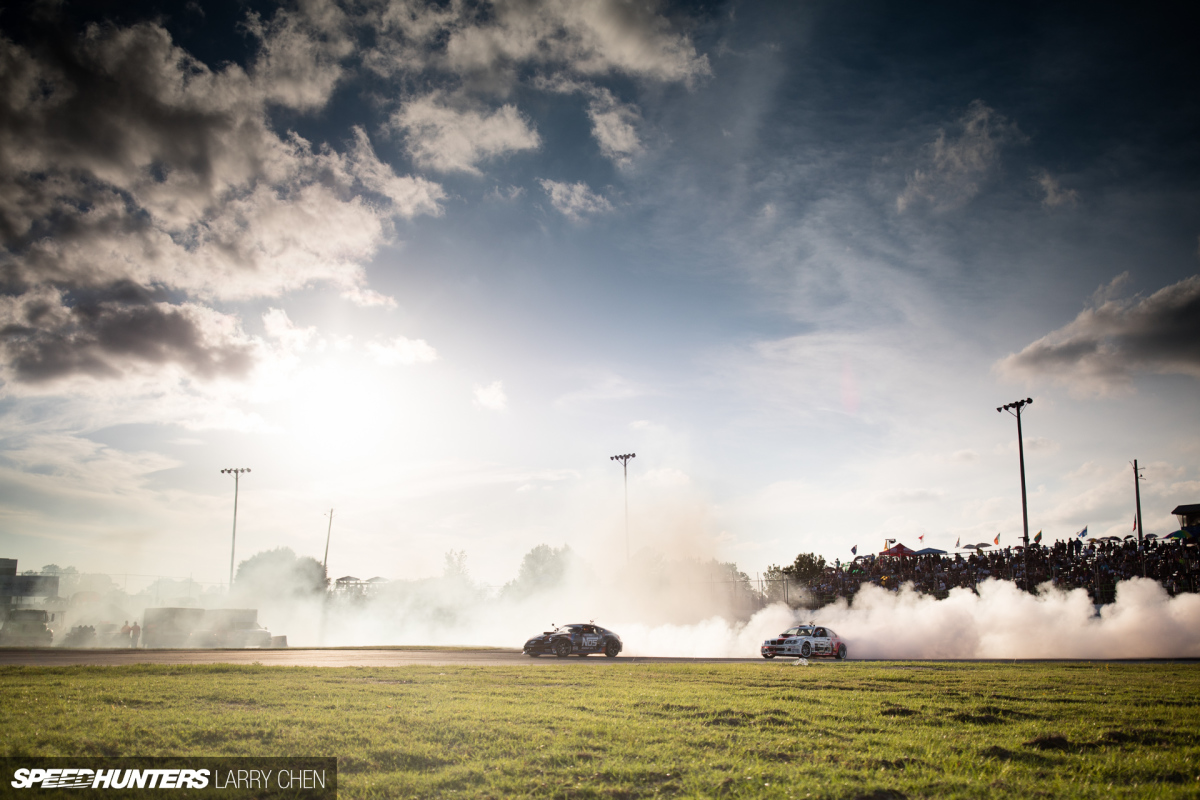 While the weather was very hot and humid, the Florida skies provided an awesome backdrop.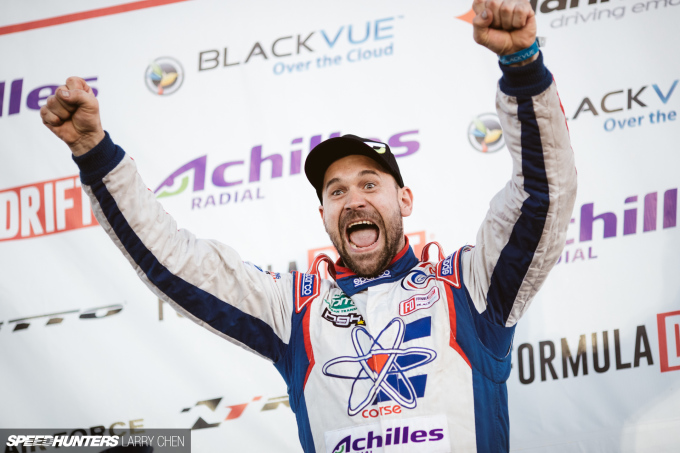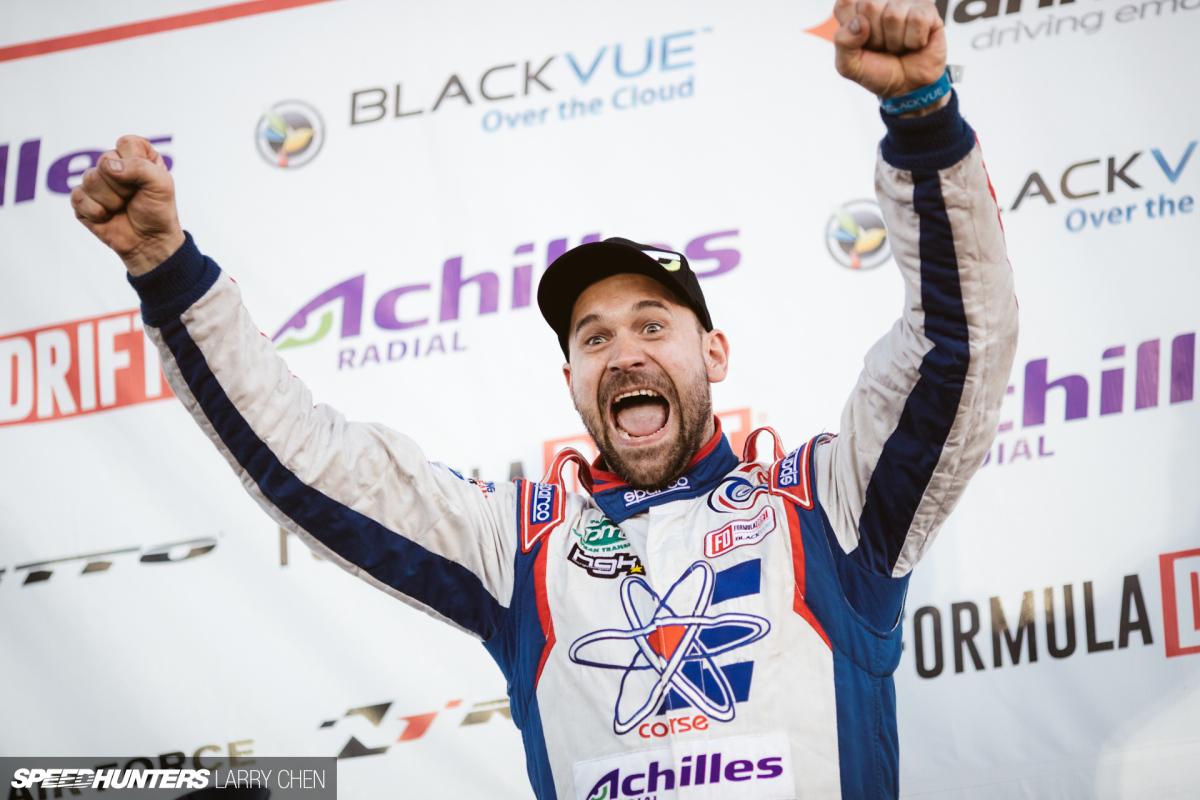 Happy as can be. This was the first Formula Drift podium for Kristaps.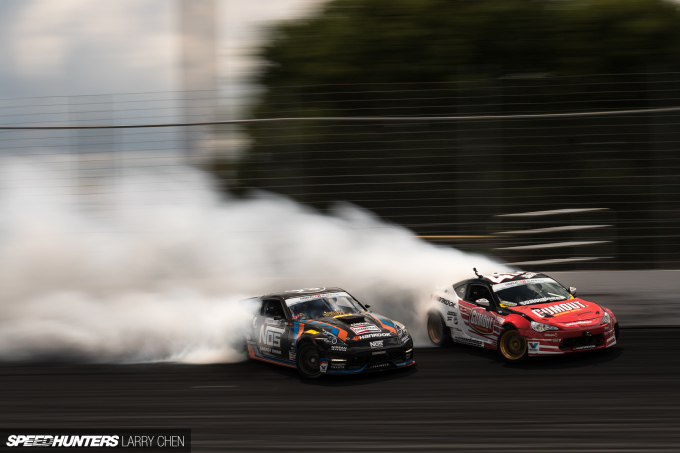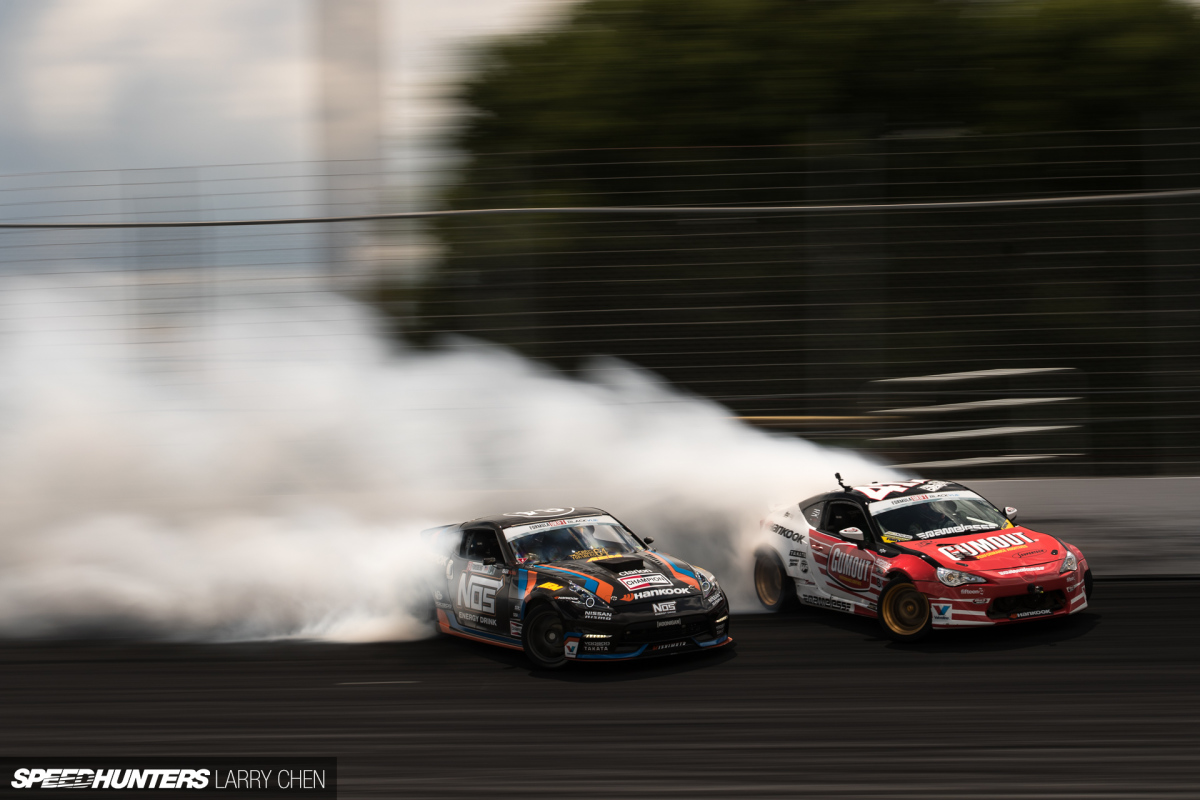 Brothers in battle. It's rare to find such clean battles during practice, but Chris Forsberg and Ryan Tuerck run against each other all year around outside of the FD grid, so they're very familiar with each other's driving style.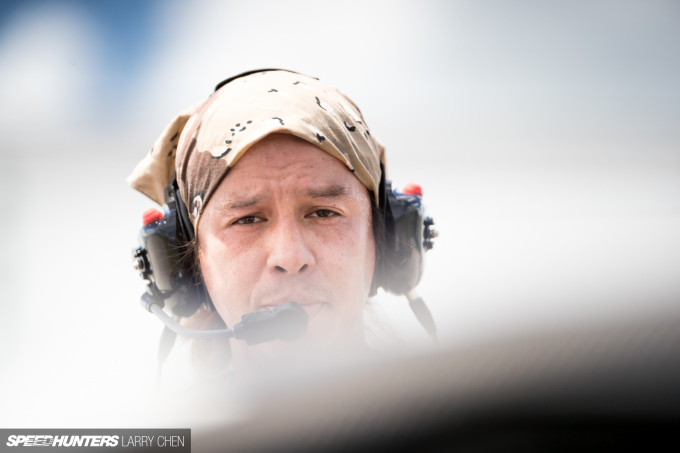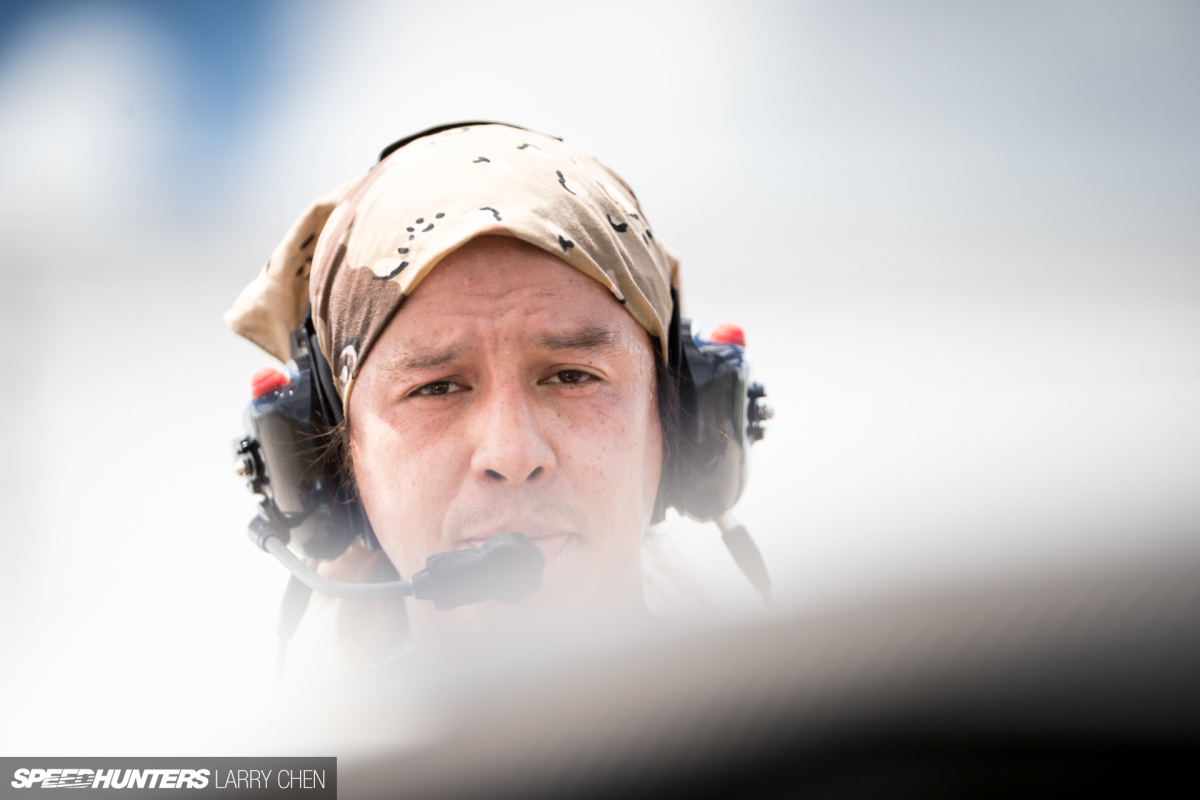 Pretty much everyone not sitting in the air conditioned comfort of the judges tower was miserable. If you were in the sun you were basically melting, which my buddy Ray Shake was doing here.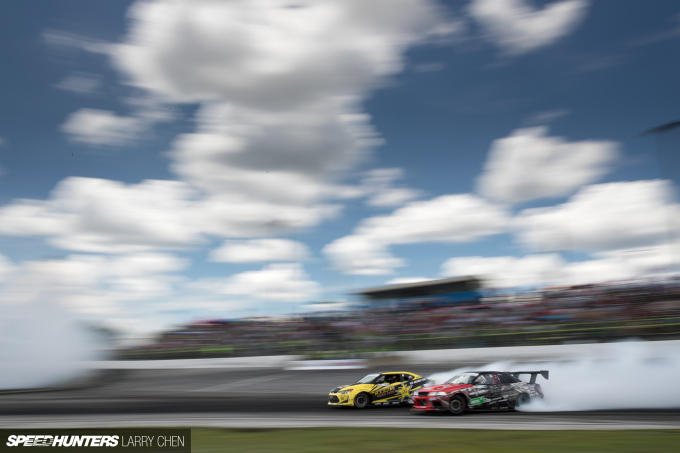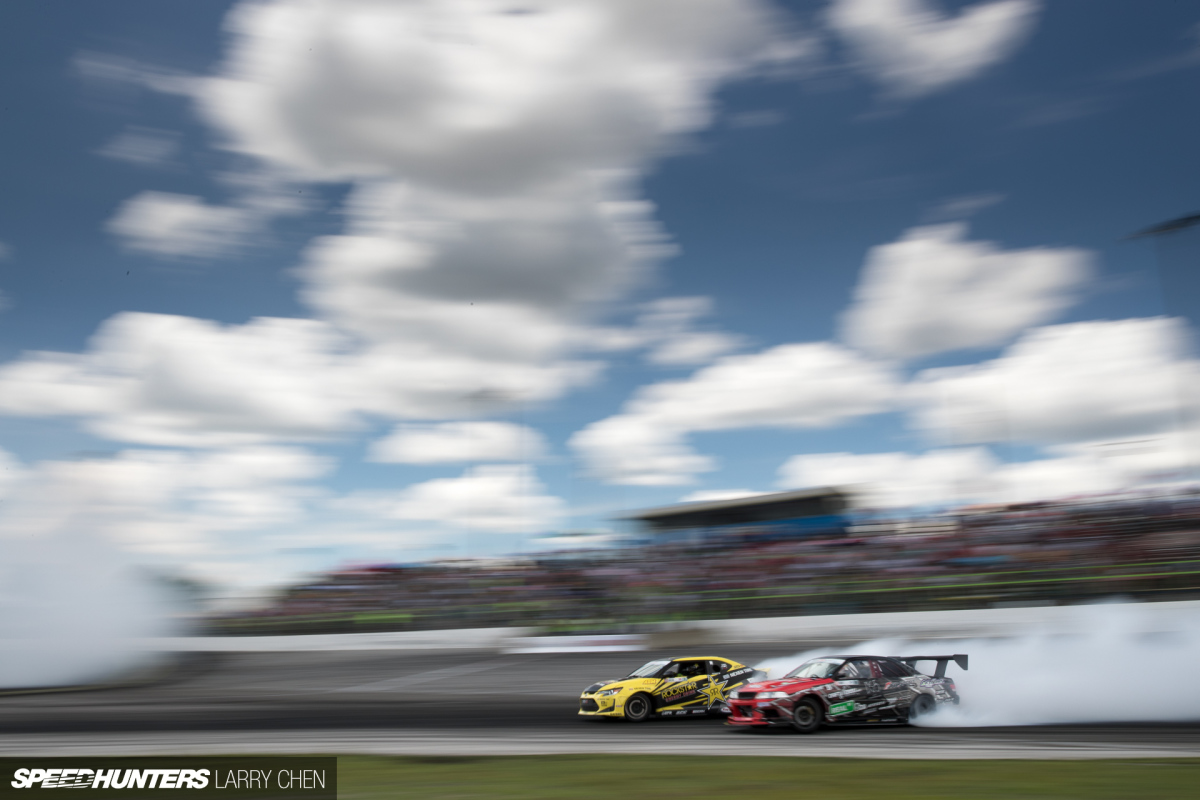 This was probably one of the most controversial battles of the weekend, which you can watch here. What do you guys think the outcome should have been?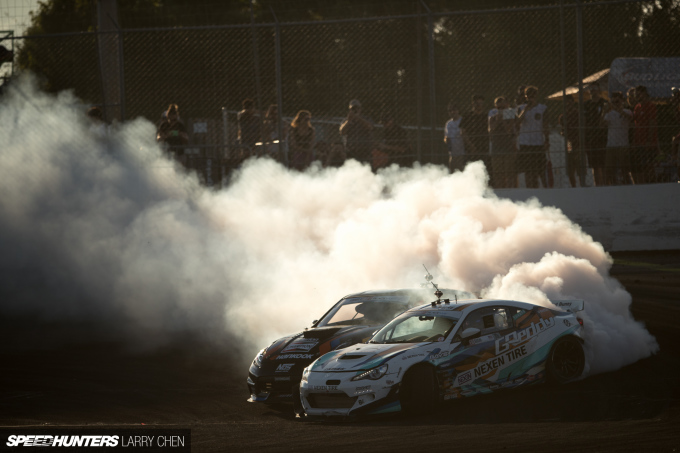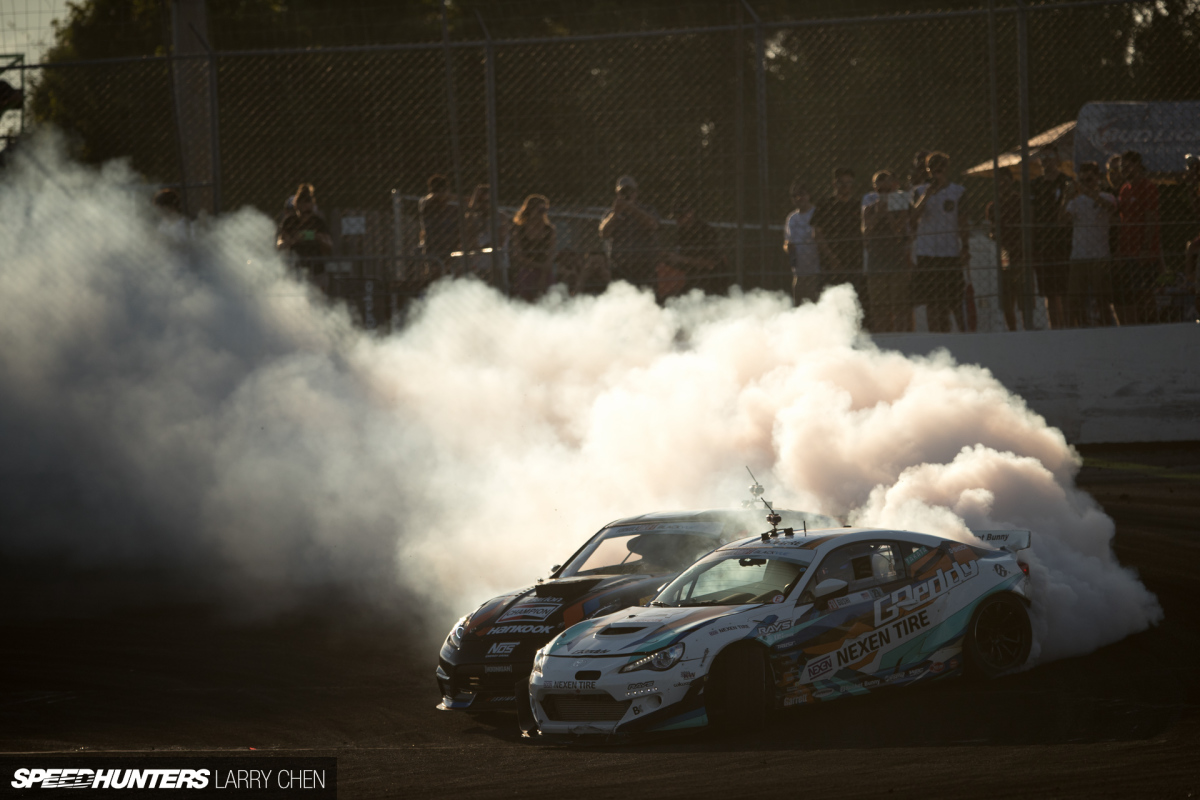 2015's Orlando battle between Ken Gushi and Chris Forsberg completely changed the outcome of the event. Chris came out on top this year, though.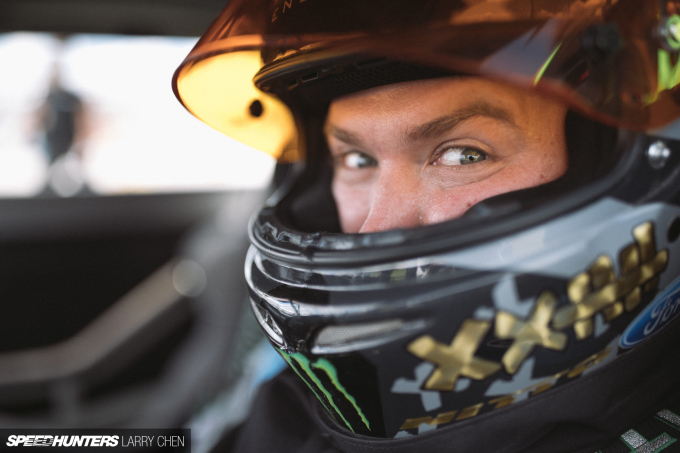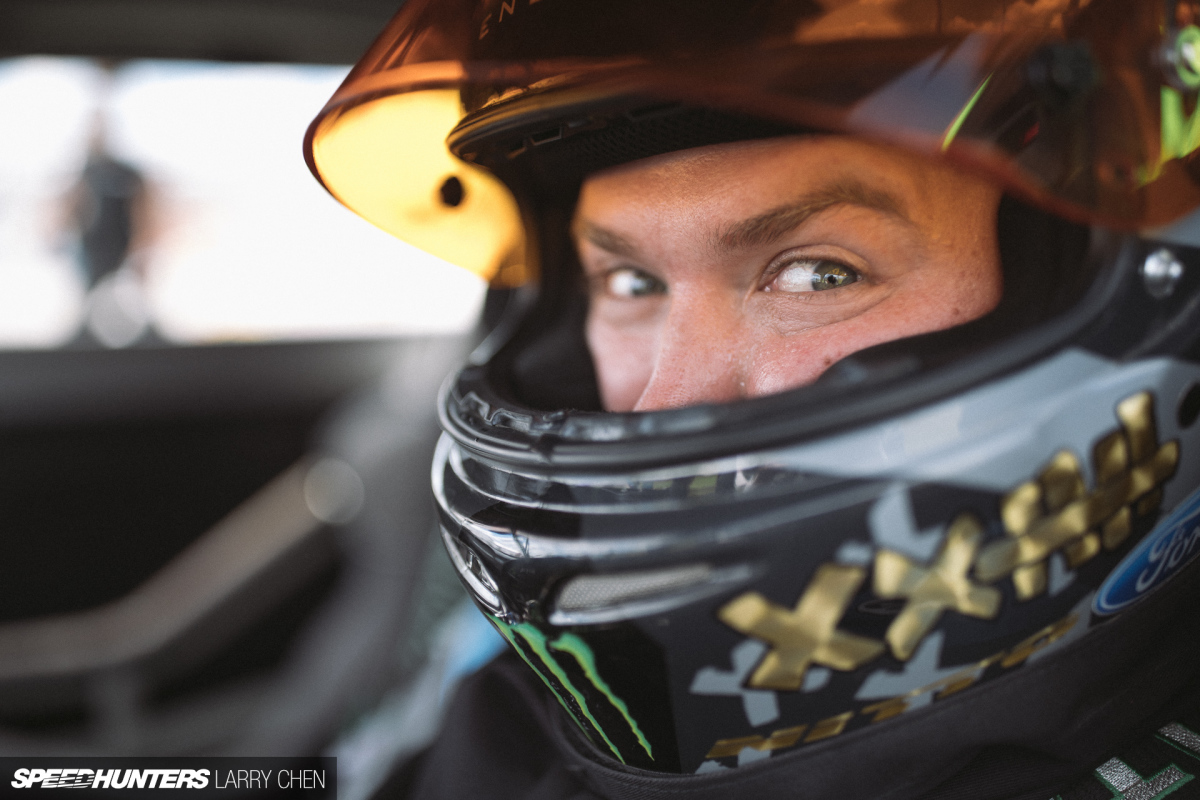 Even with a cool suit on, Vaughn Gittin Jr. was still sweating profusely just sitting on the hot grid waiting for his turn to run.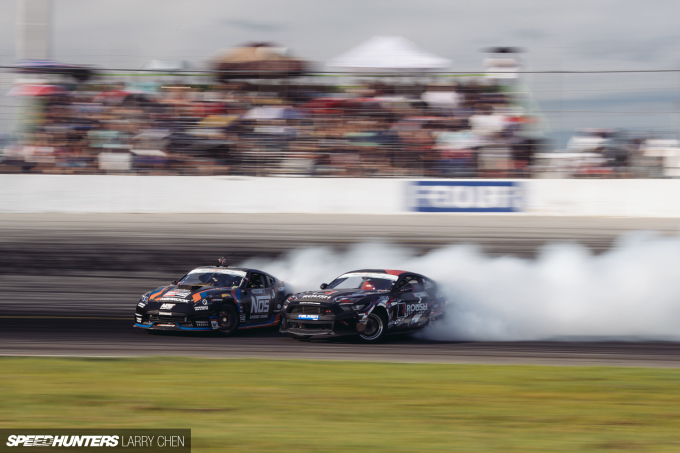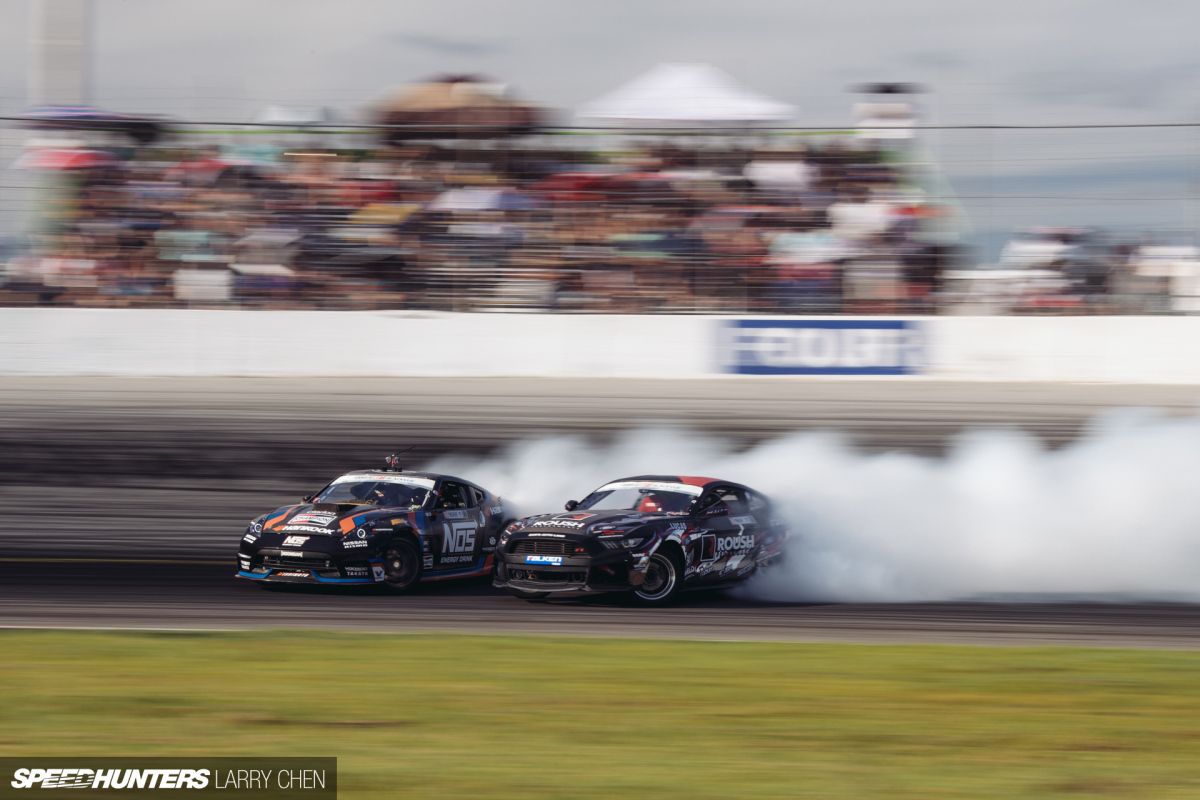 Another major battle within the 'Deflategate' drama. Justin Pawlak was allowed to compete with a completely deflated tire that was still on the bead.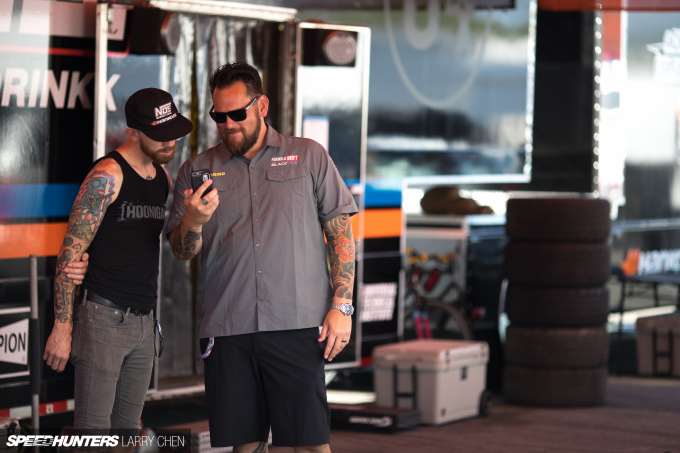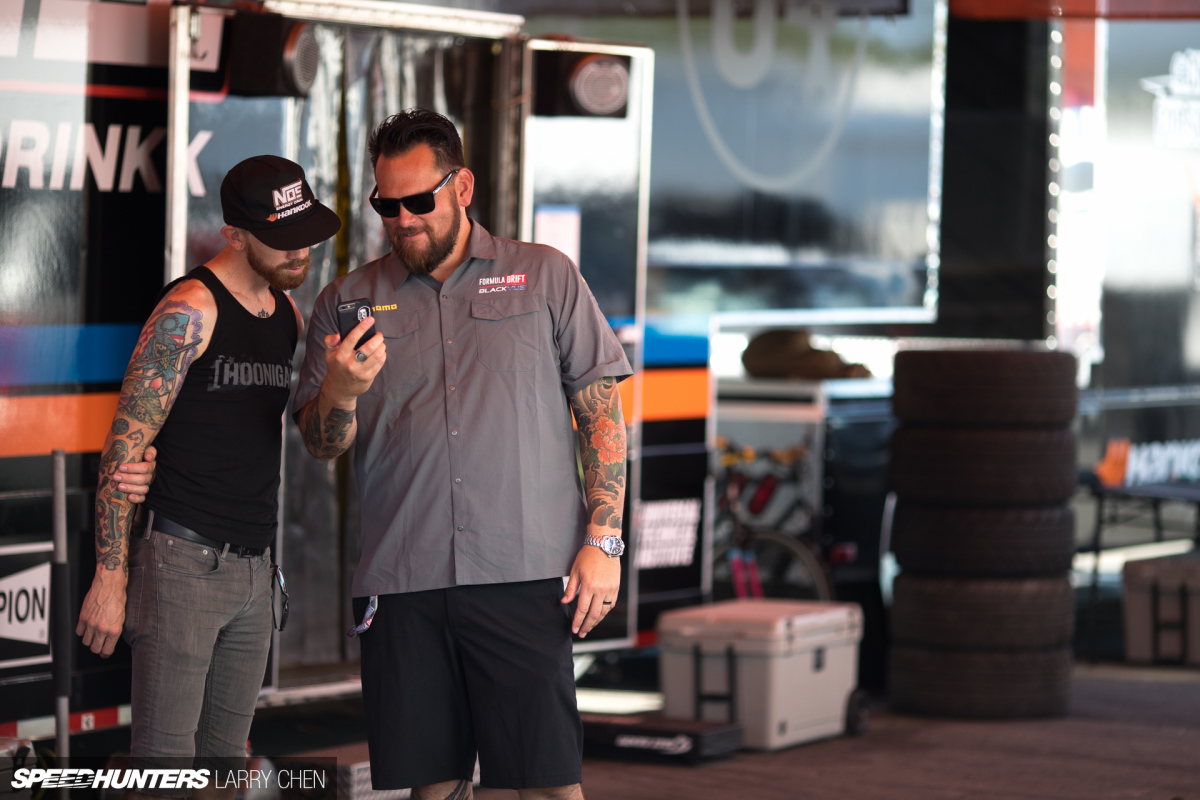 Snapchat – it's what we use all this advanced technology for, right?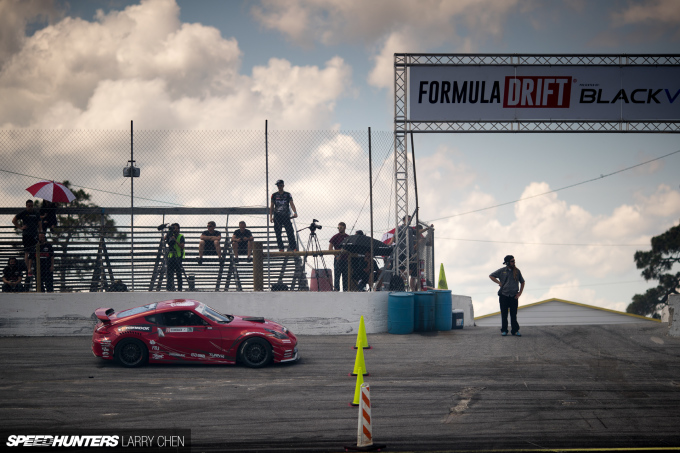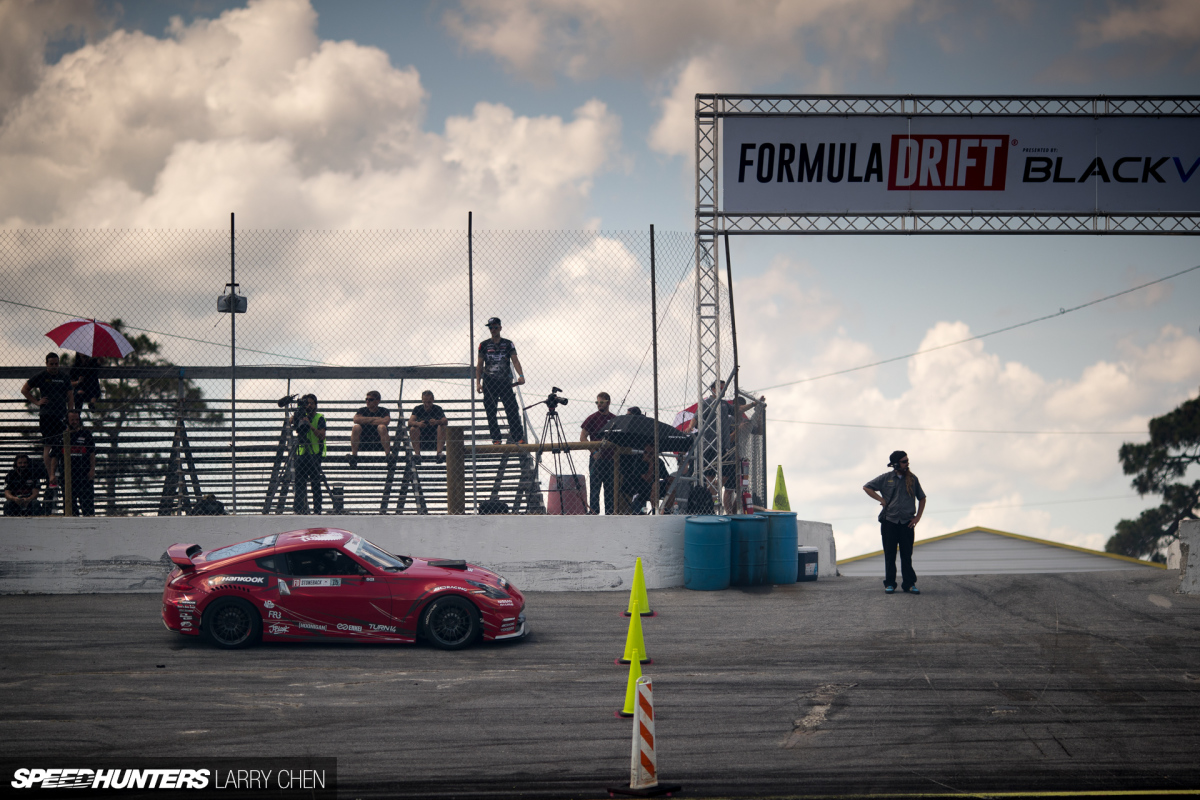 The design of the track was a bit limiting in terms of how many runs the teams could get in during practice, mainly due to there being only one entrance and exit.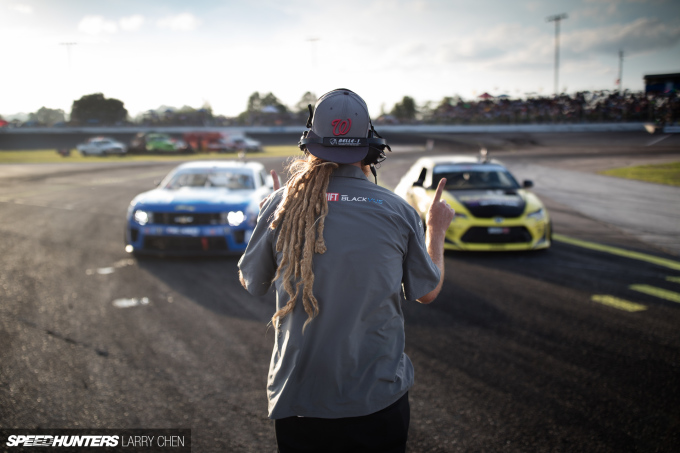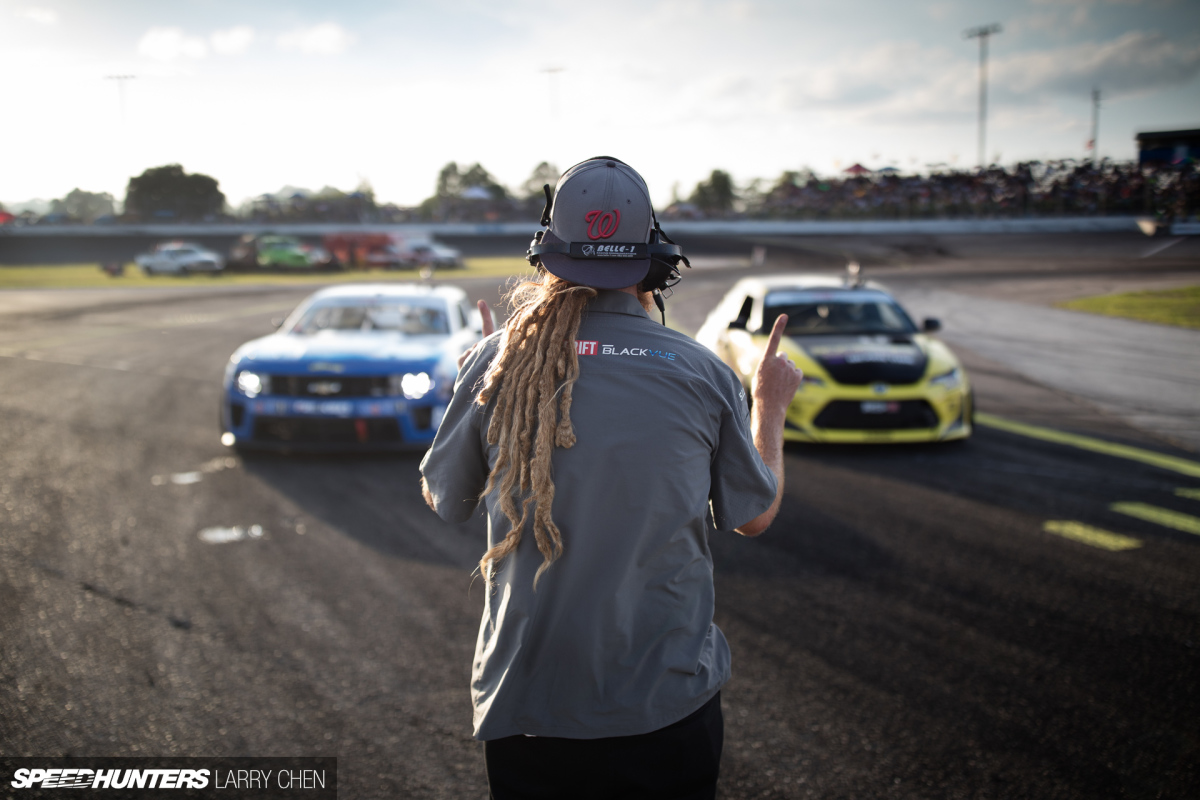 One more time was the name of the game; the judges handed them out to quite a few battles on competition day.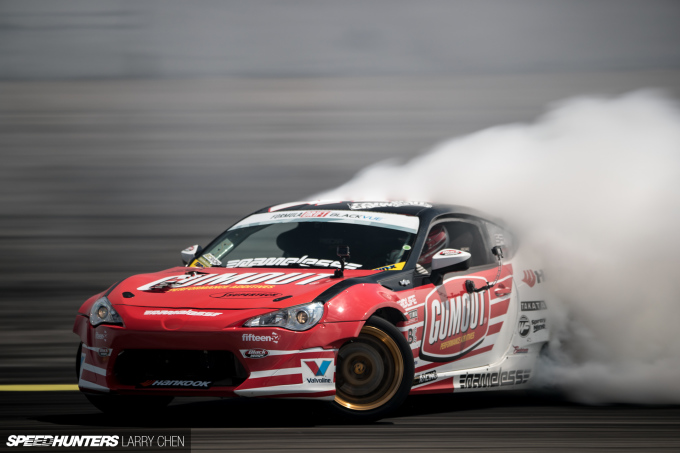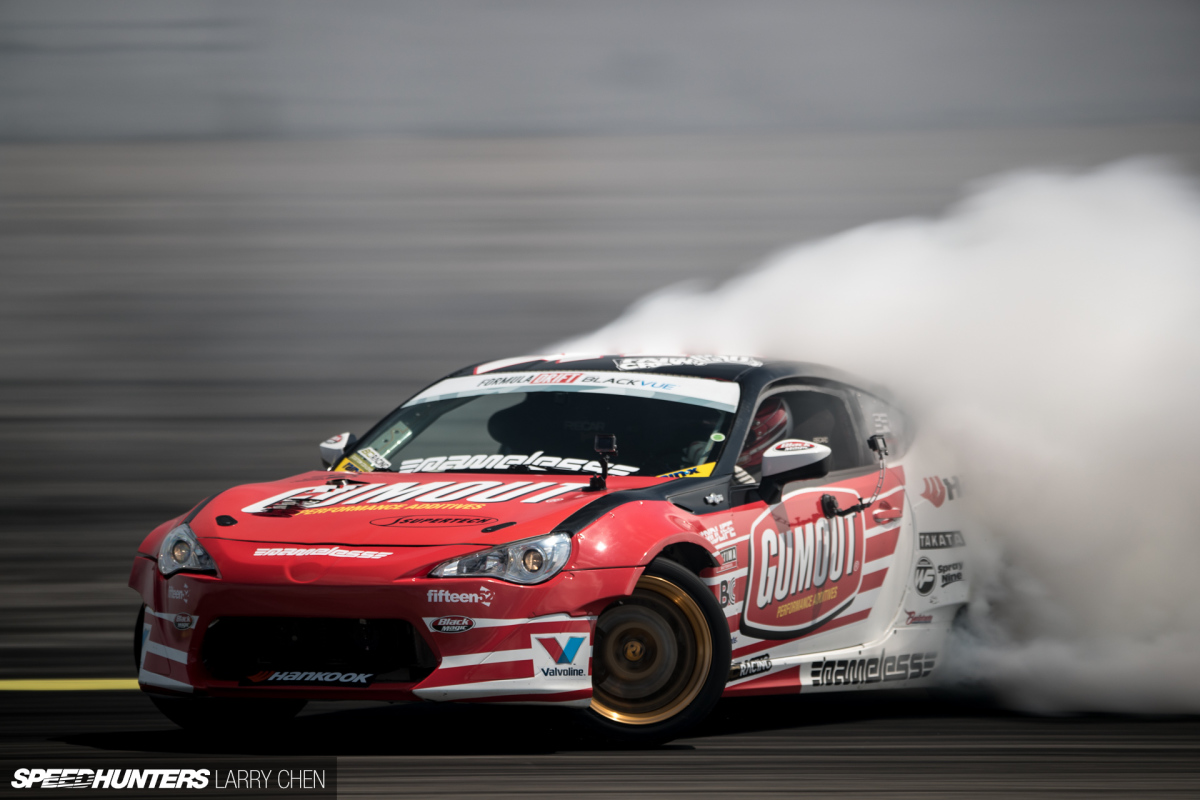 No wonder teams are running into the issue of barely completing two runs with a set of tires. The cars are making more tire smoke than ever now.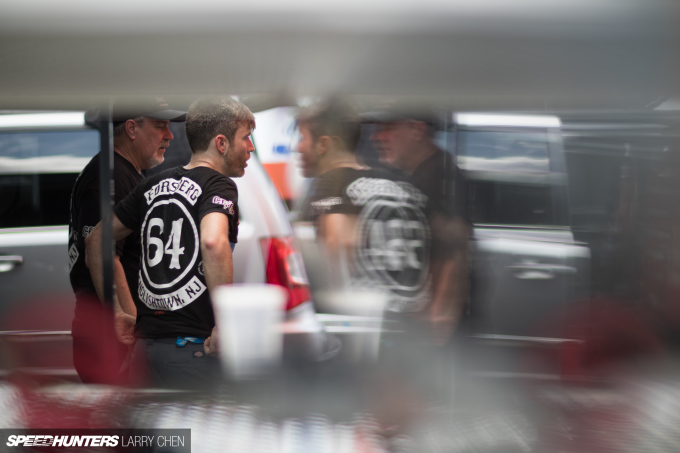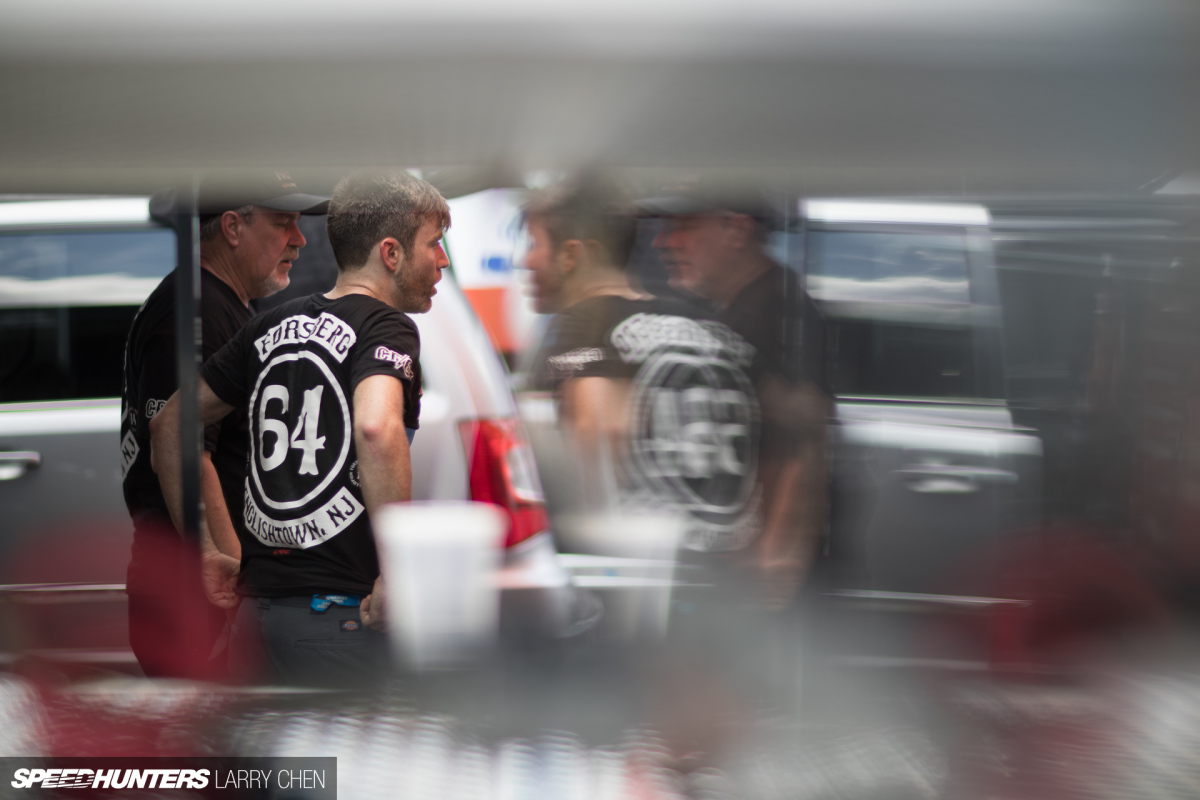 Since I have to photograph the same people and things all year round, it gets tougher and tougher to come up with new shots. Sometimes you just have to look harder, as there is always something new to photograph.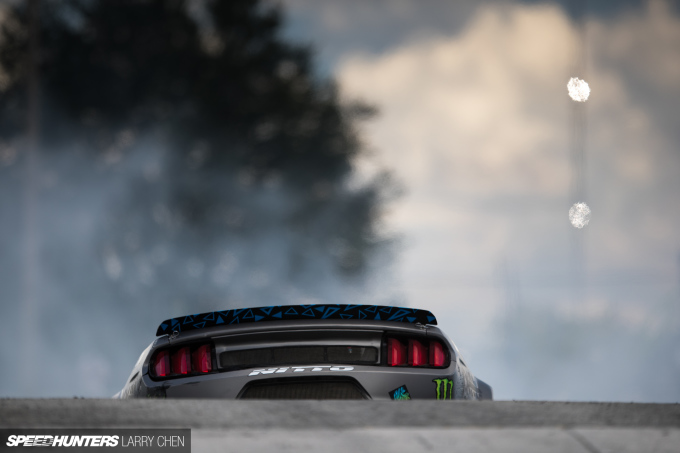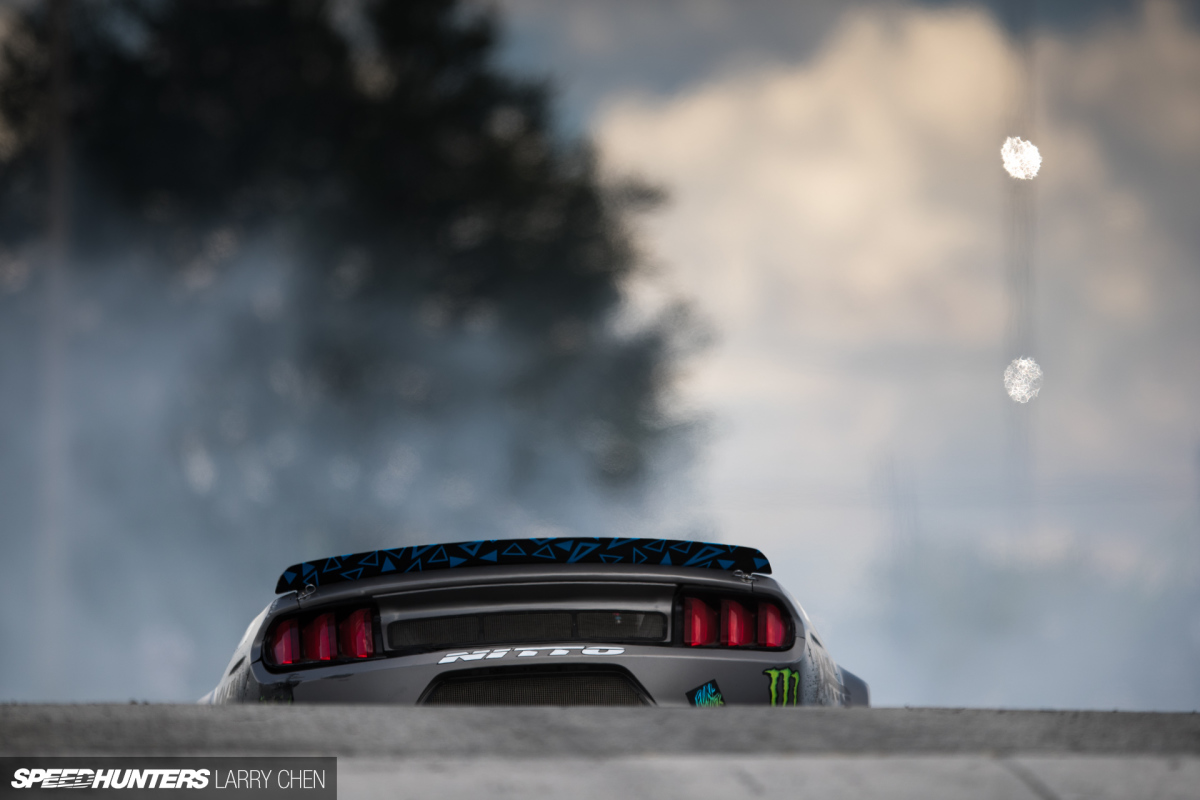 This is one of my favorite places to shoot on the Orlando track. It's the drifting equivalent of a gladiator entering the Colosseum for battle.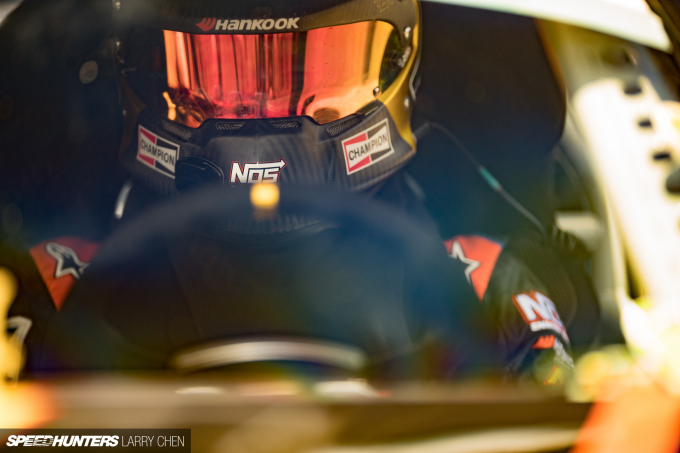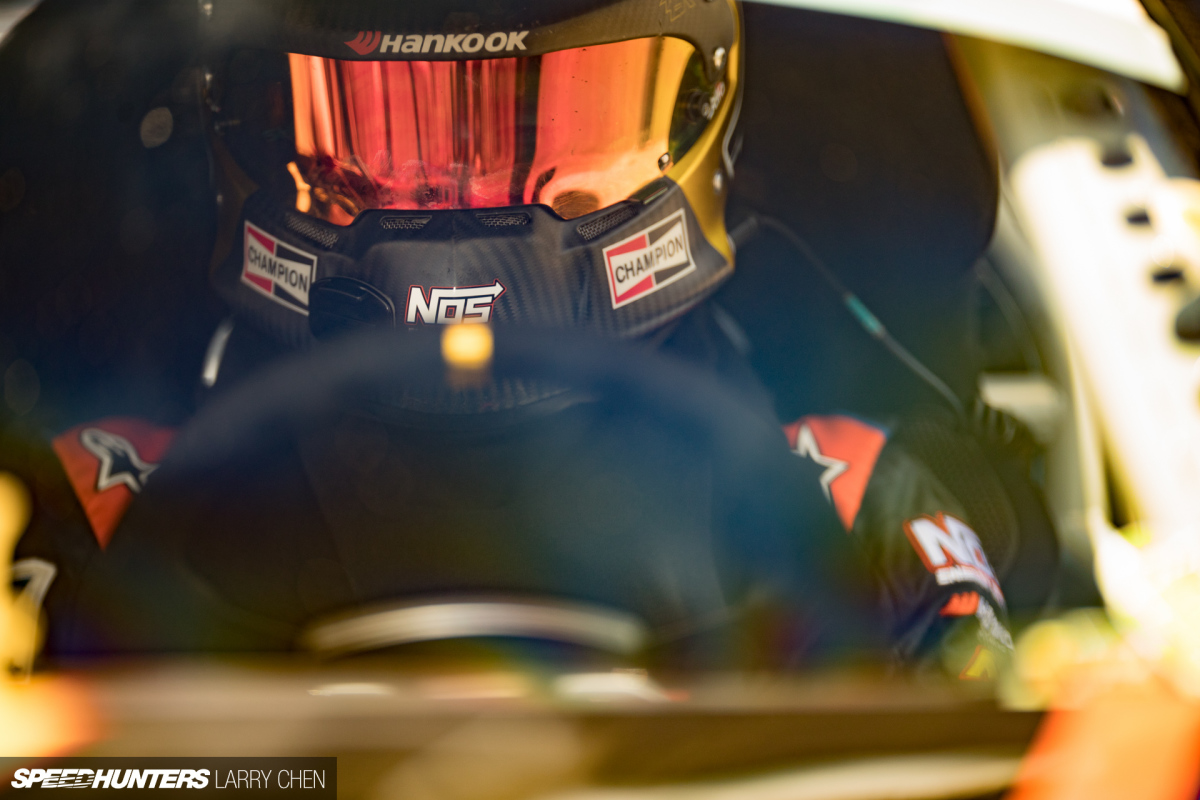 Do you ever wonder what sort of funny faces these guys and gals are making under their helmets?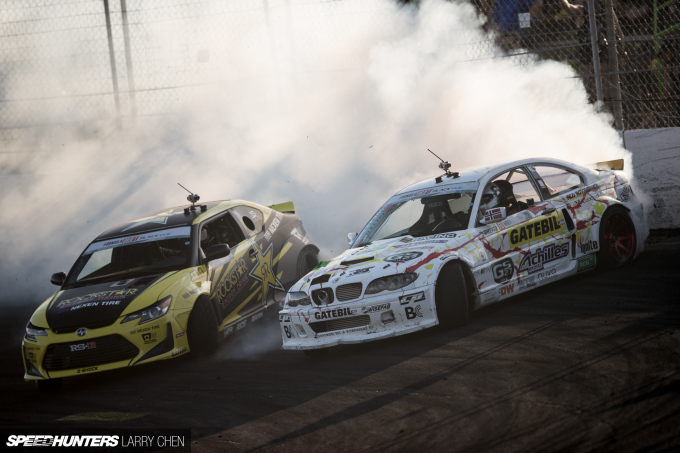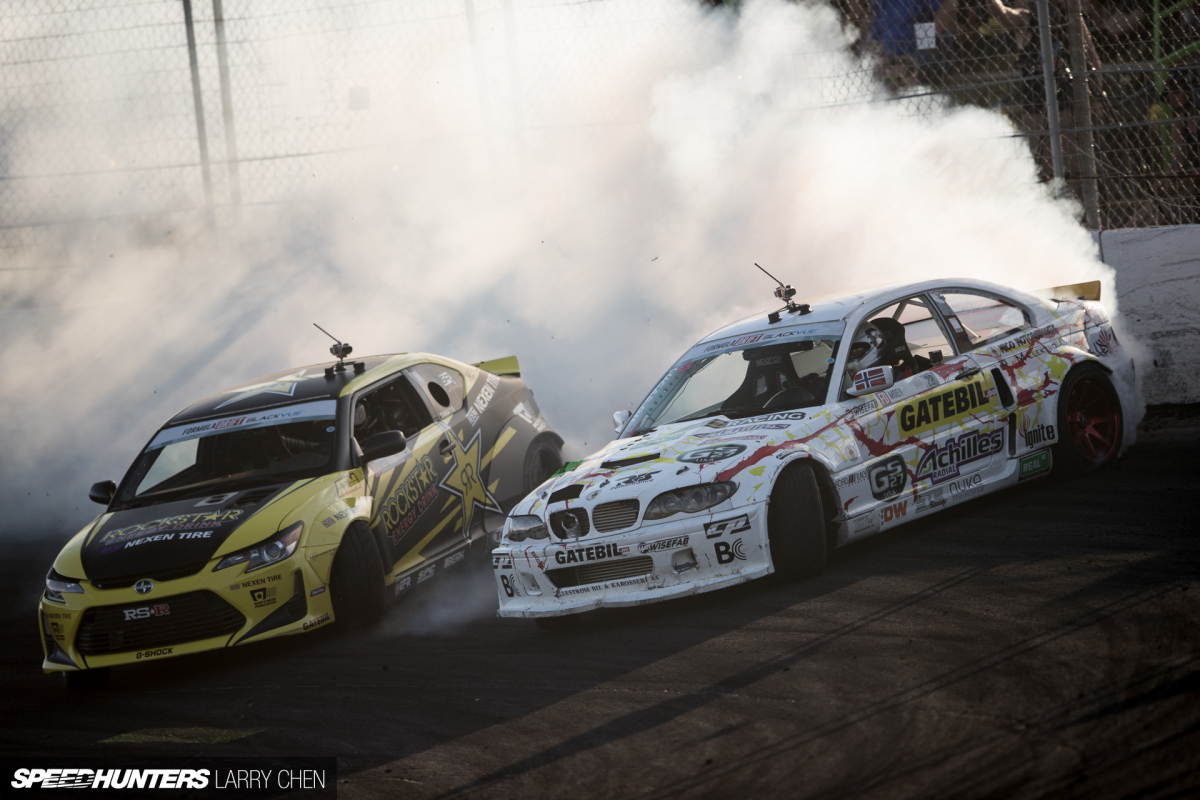 The battle of Norway. Two of the greatest drifters from Scandinavia going toe-to-toe. This was a battle I was looking forward to.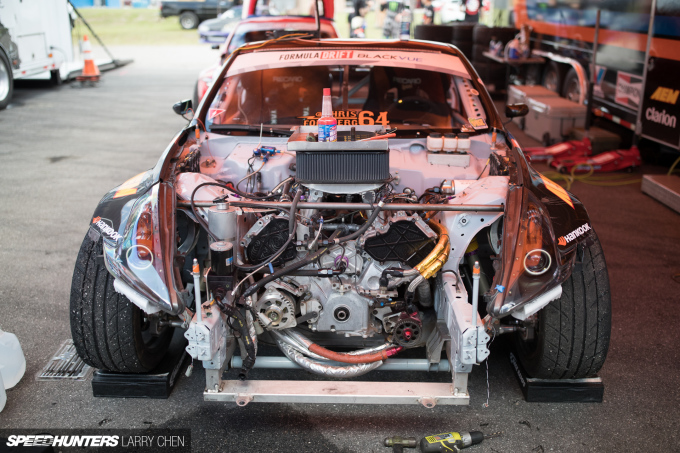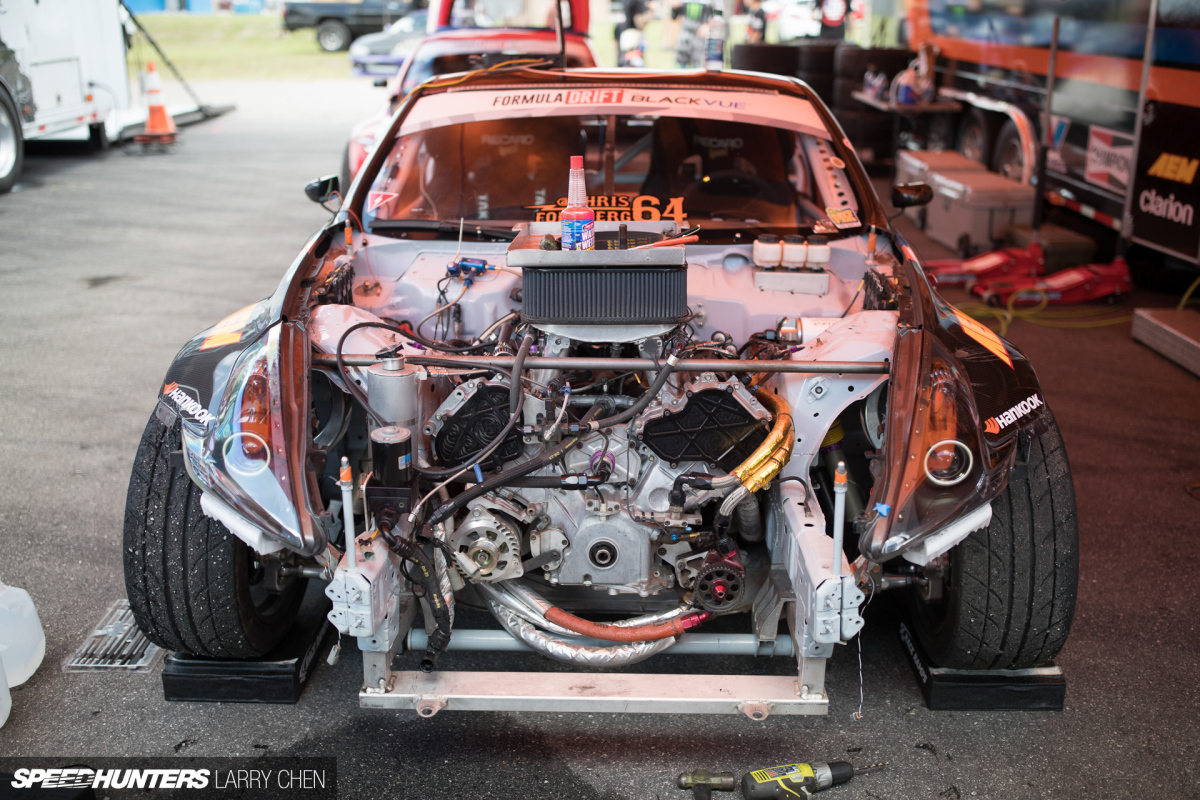 It's never a good sign when the front bumper support panel has to come off.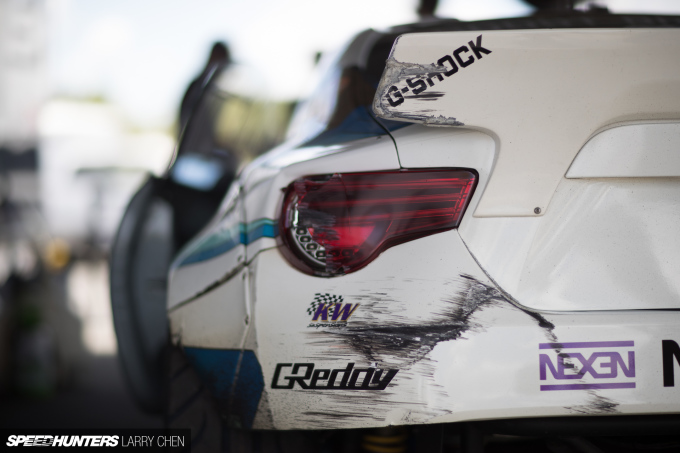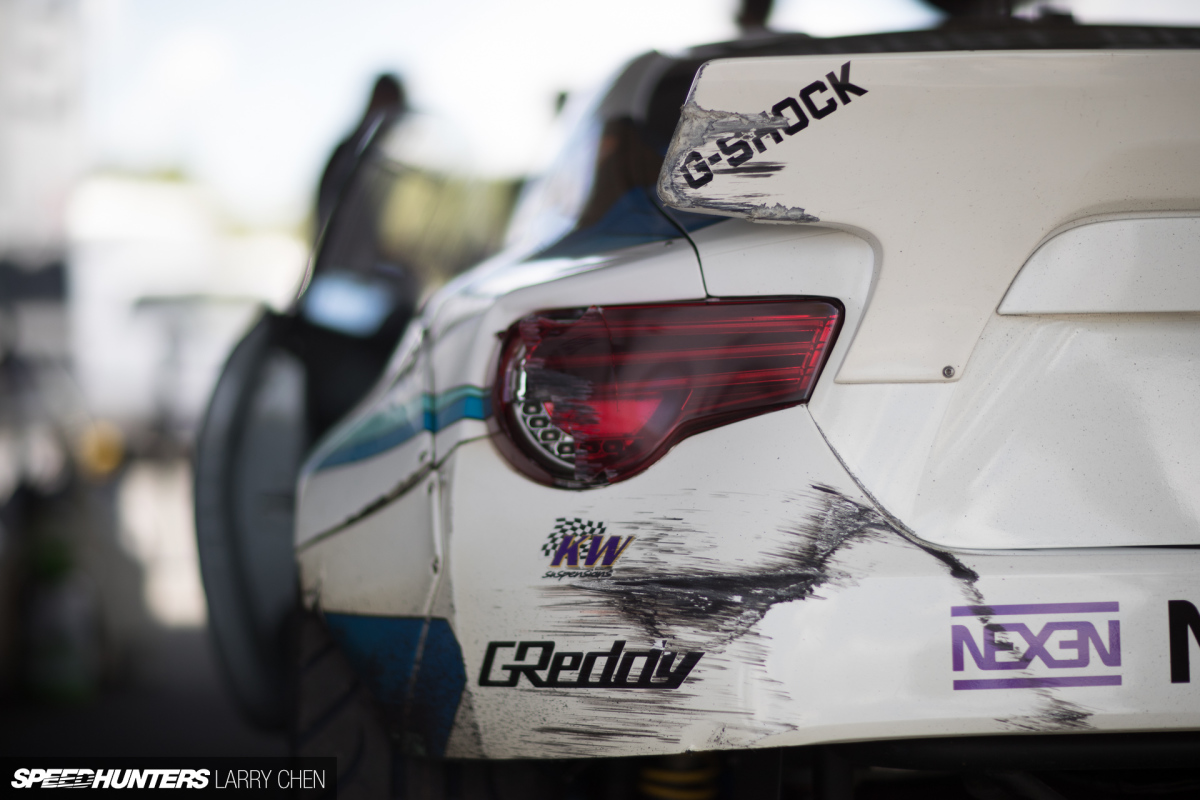 Ken Gushi wrote 'Wall Love' on a photo that I took 10 years ago, and it still hangs in my house to this day. Not much has changed since then it seems.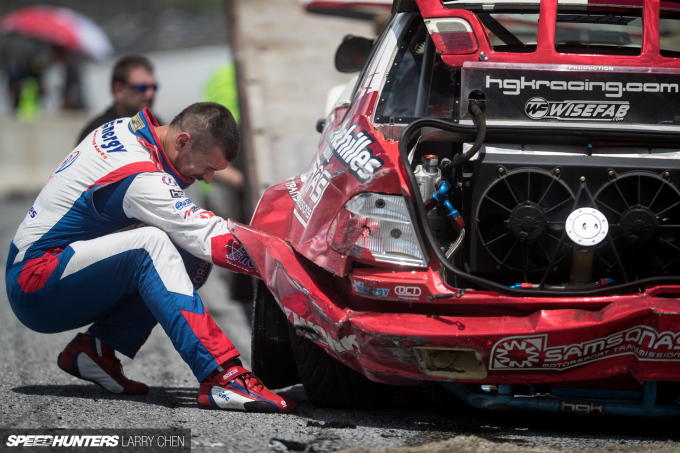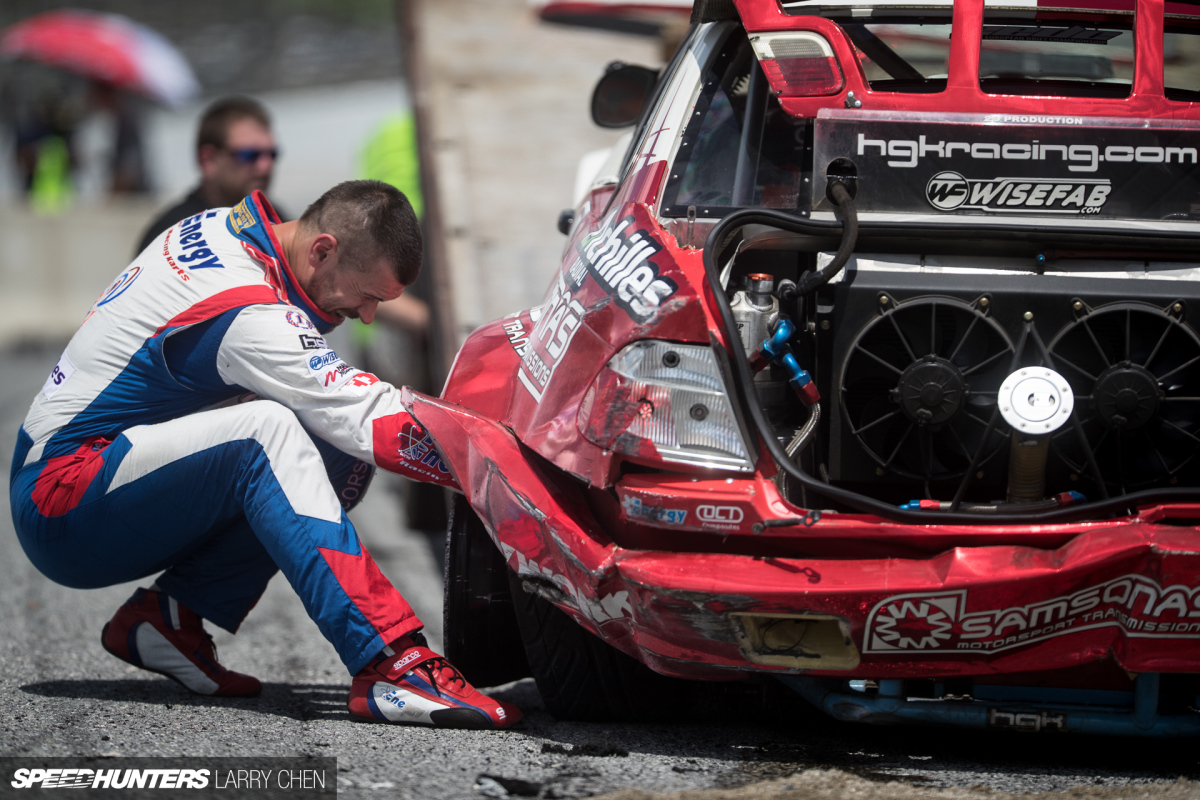 While the Latvian driver ended up on the podium, things were looking pretty grim for him at first. In fact, Kristaps cut his hand pretty badly trying to manually put the tire back on the rim.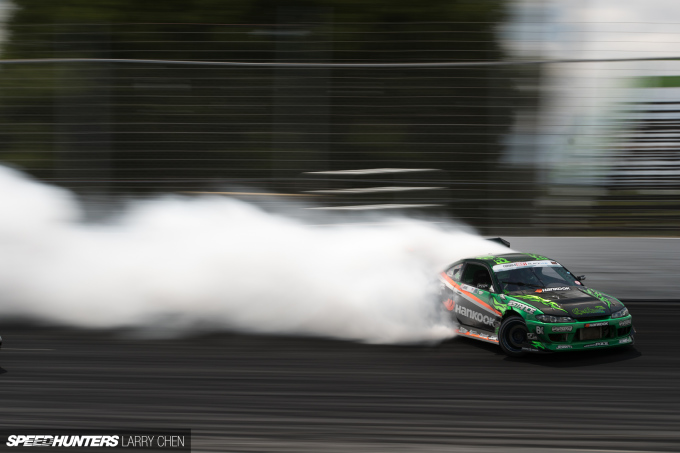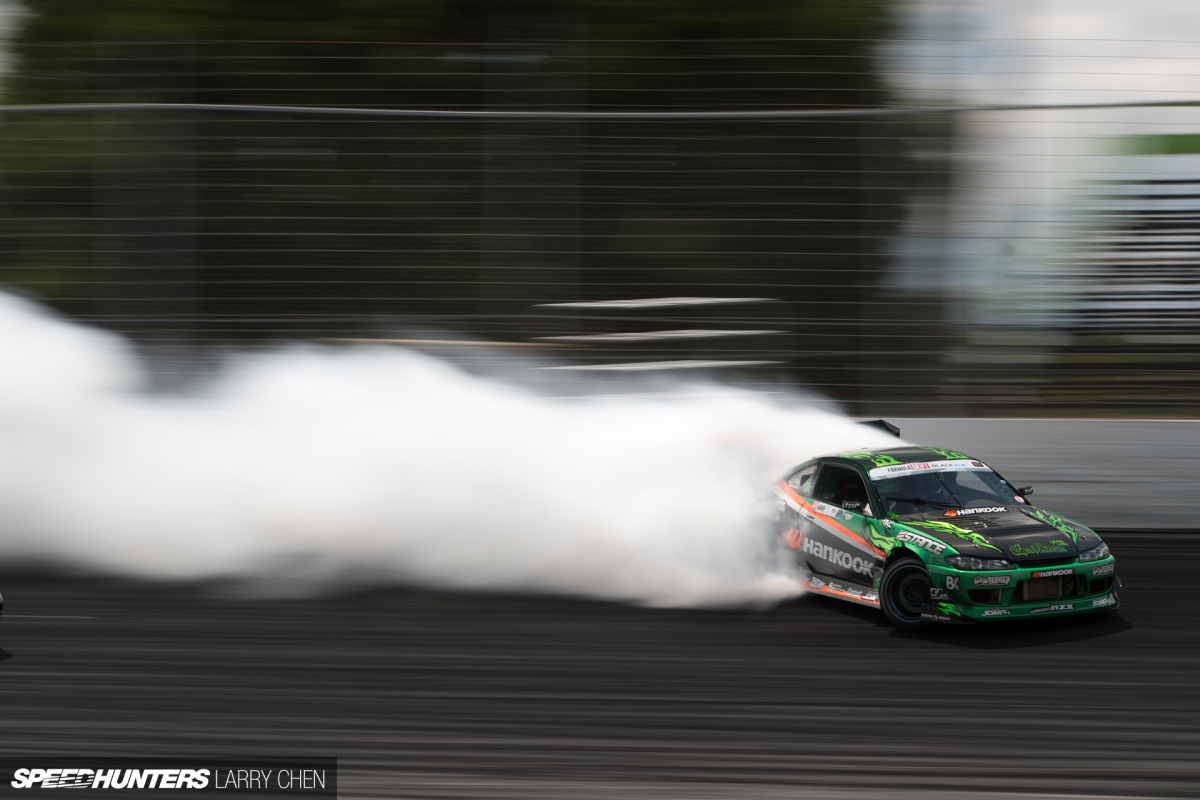 Still one of the most beautiful machines on the grid. Forrest Wang just oozes style with his car and driving.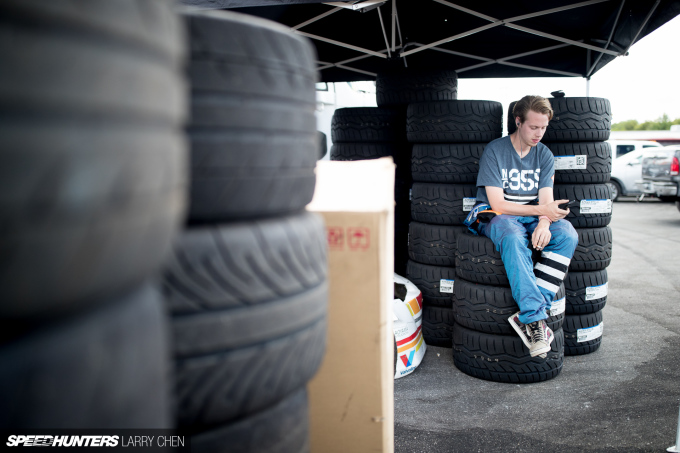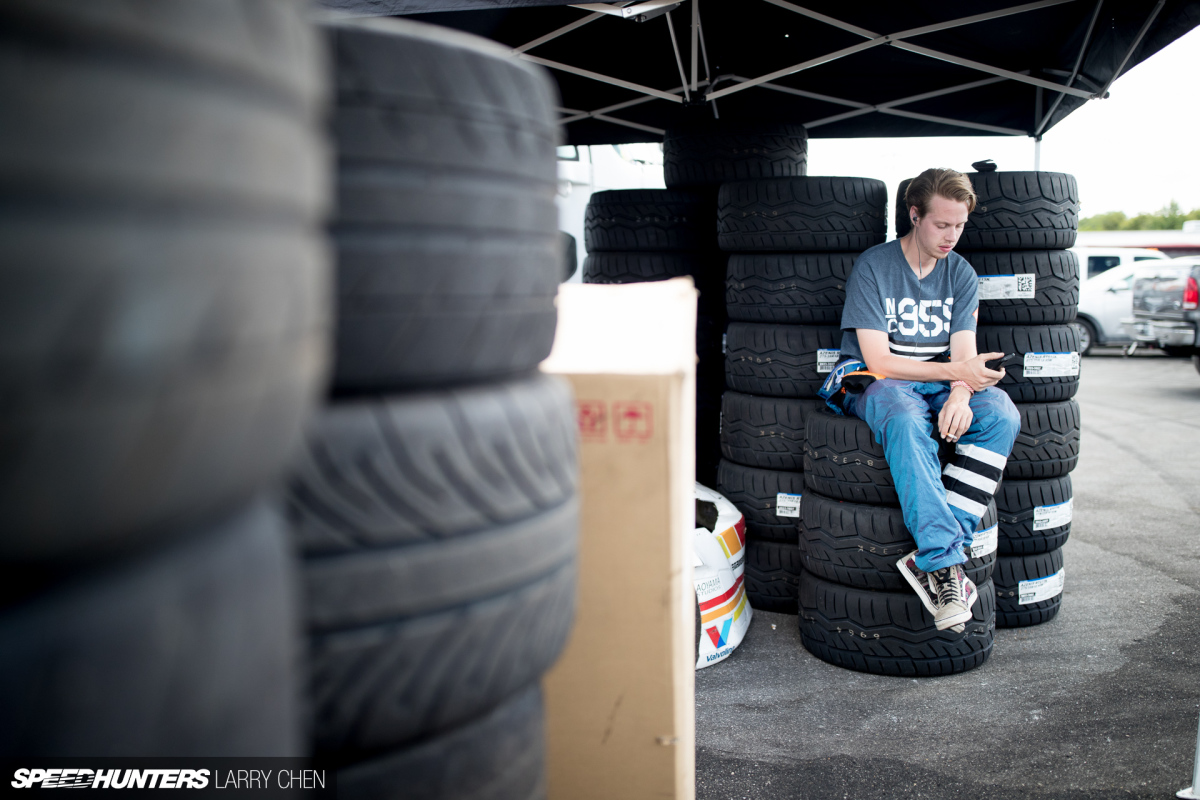 One of my favorite shots from the event. Matt Coffman just zoning out while listening to some music in between sessions.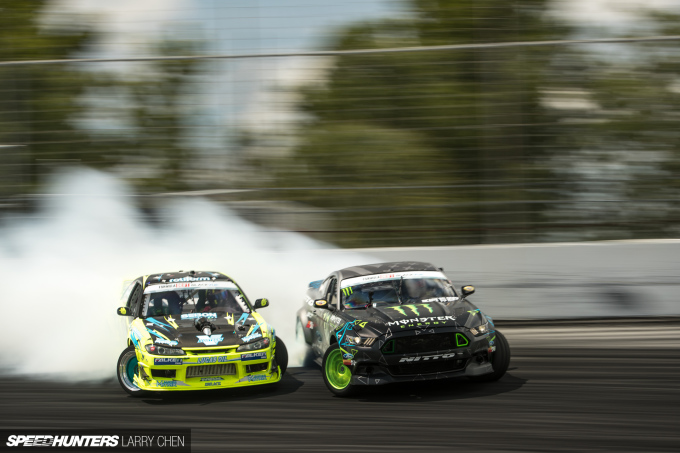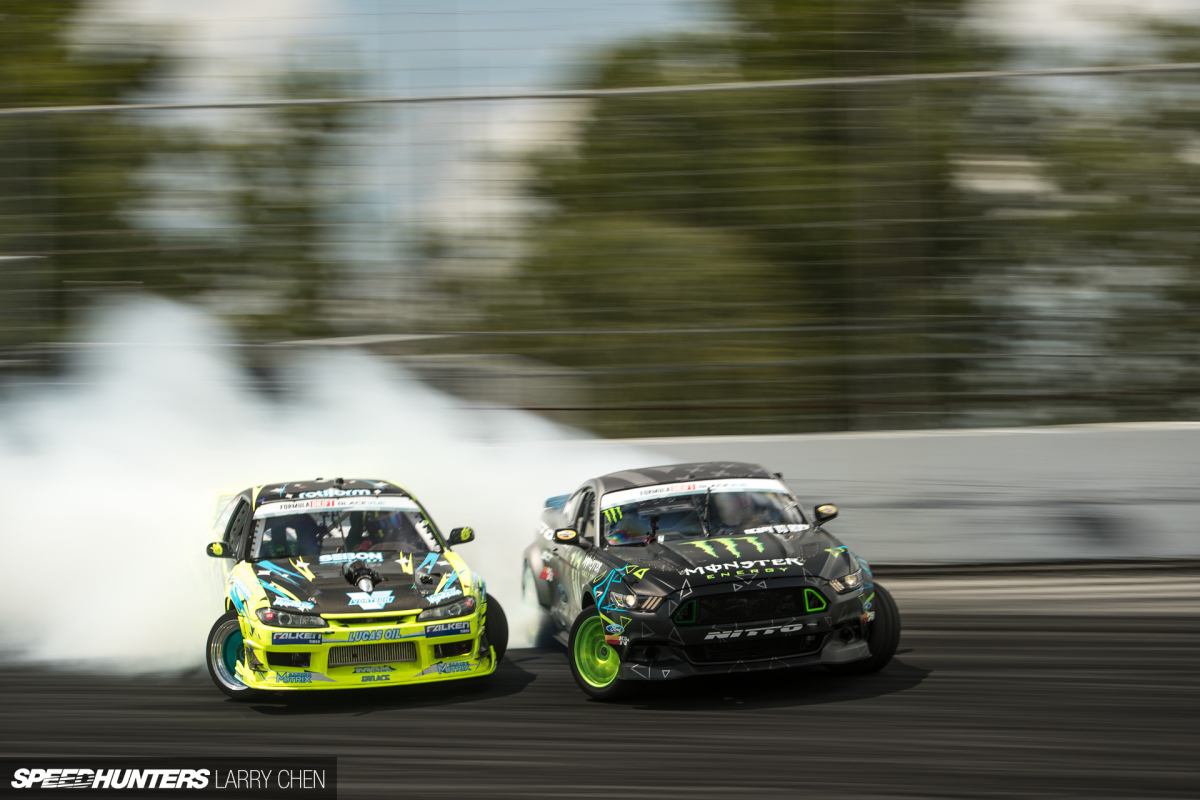 Battle like it's the finals. This was probably one of the first two or three runs of the day; Matt Field taking the opportunity to show off a little bit of door-to-door action, as he knows Vaughn can handle it.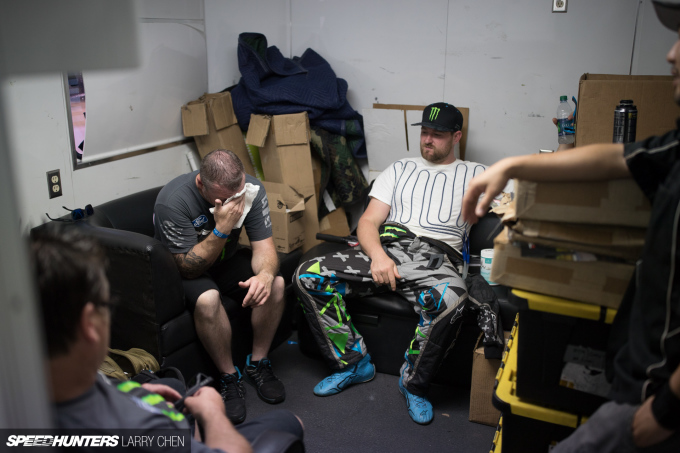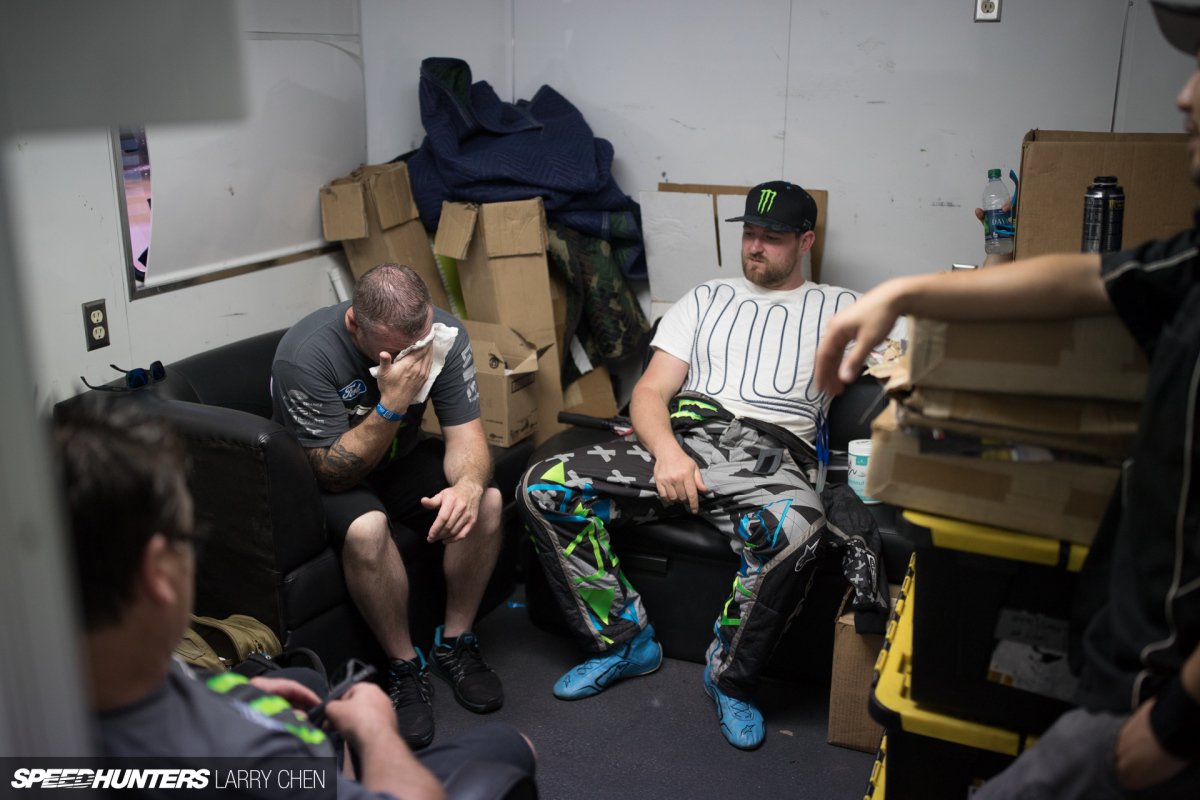 A little team meeting. I'm lucky in that I am close enough to most of the teams that I can capture private moments like this. Life on the road is definitely tough, and just being able to escape for a moment means the world to these guys.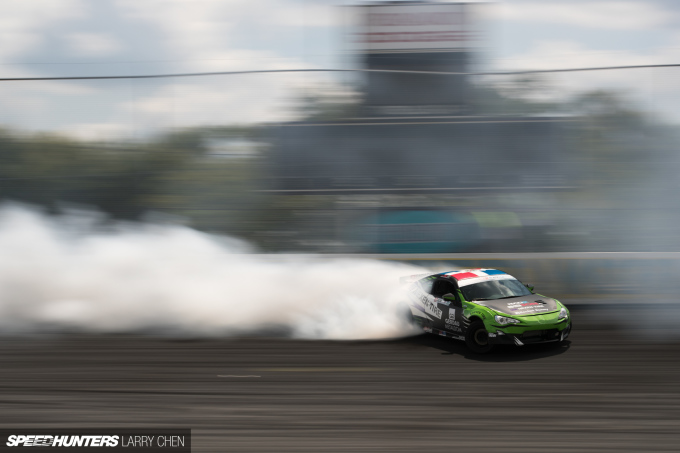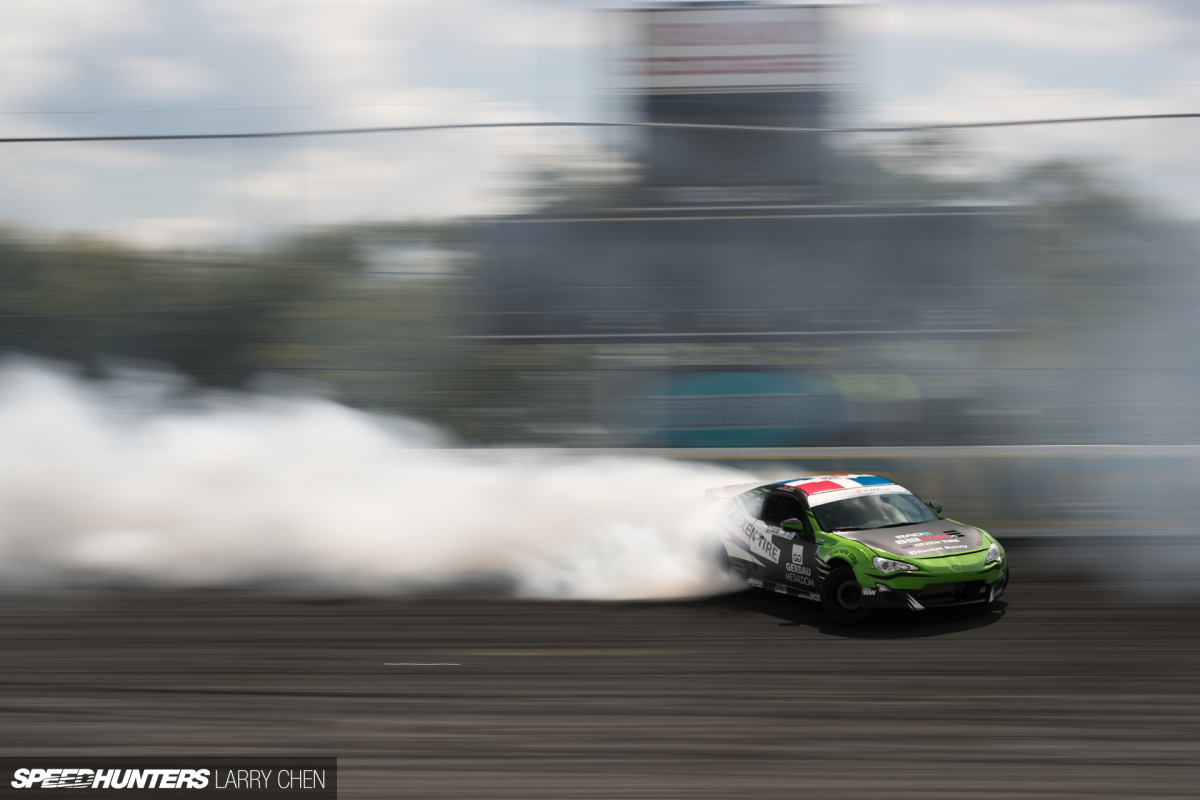 Jhonnattan Castro is having a breakout year, and he's looking great while doing it.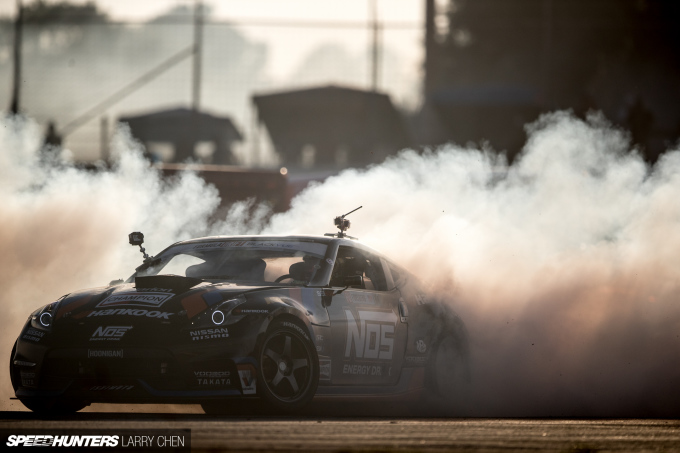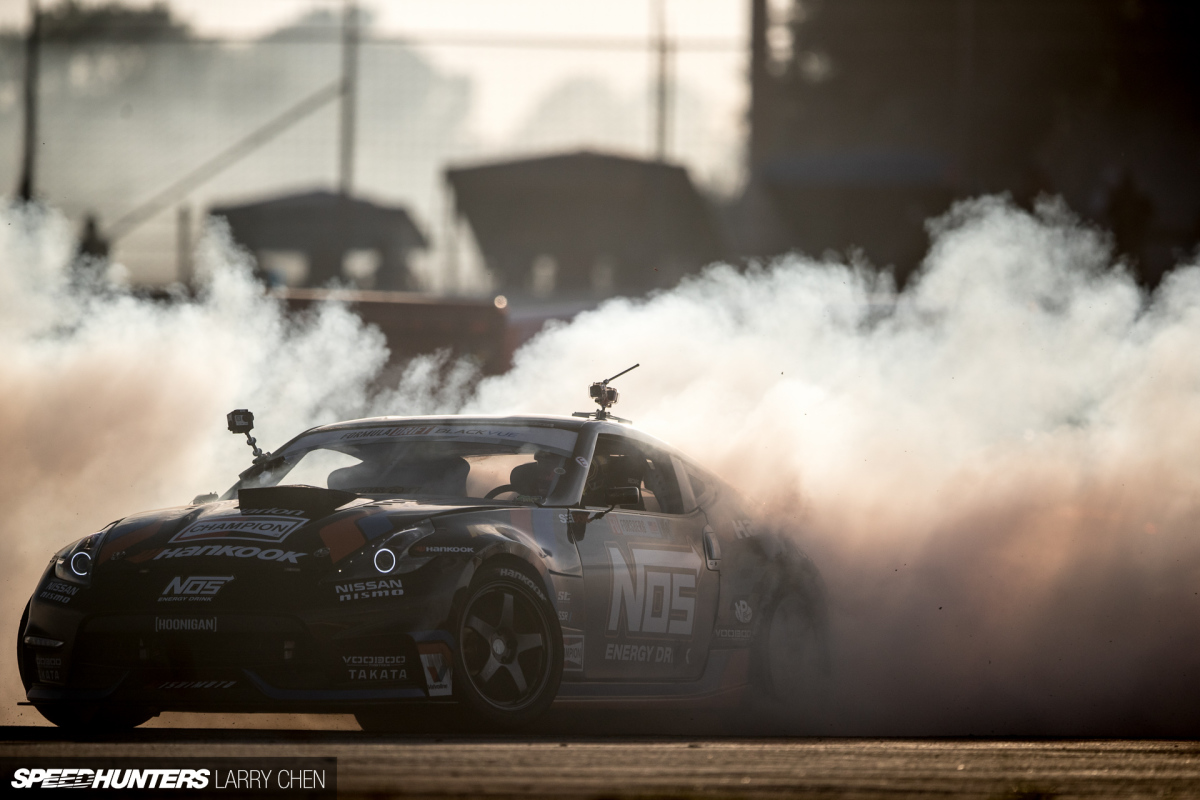 Orlando is probably one of the worst tracks on the FD series in terms of drivers getting lost in the smoke; it's just the way it flows I guess. In a way it's interesting to see it used as a lead driver advantage.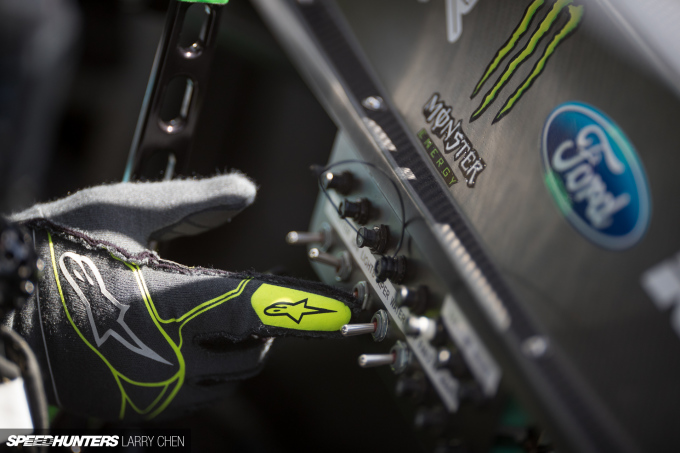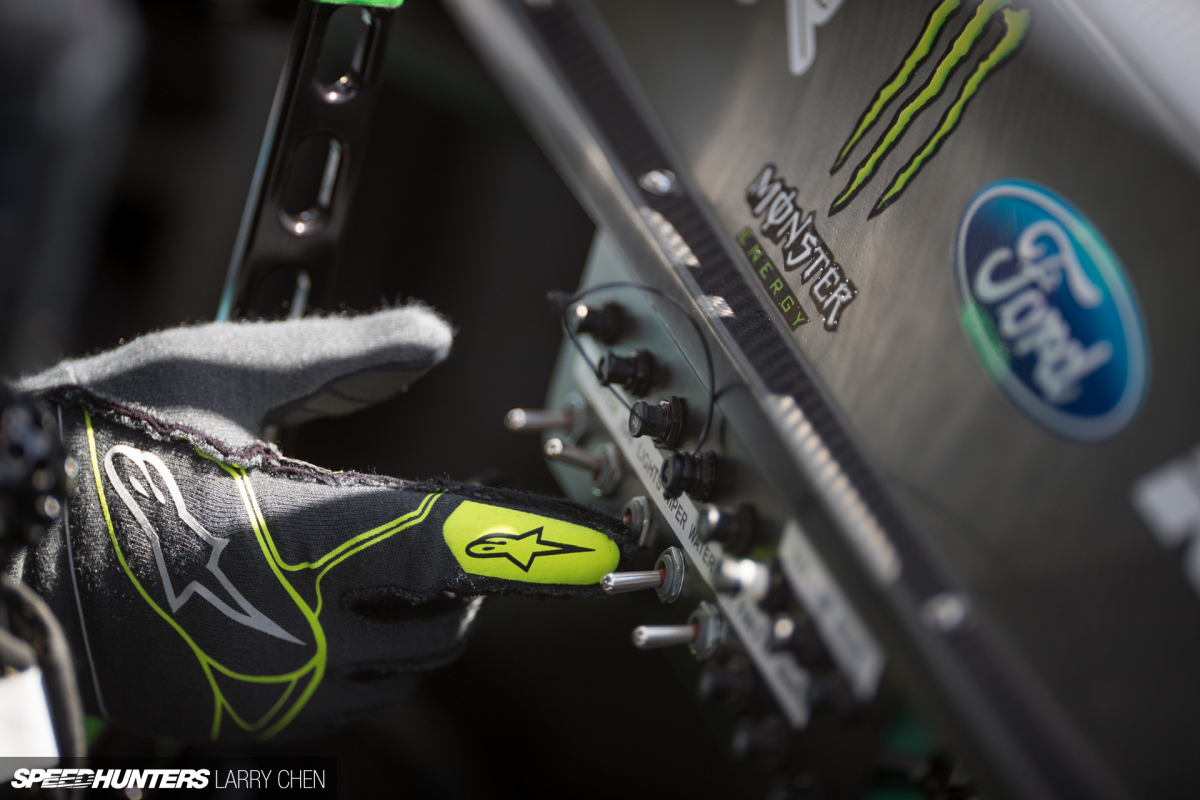 Lock s-foils to attack position. If I built a drift car I would have so many switches just because they're the cool thing to have.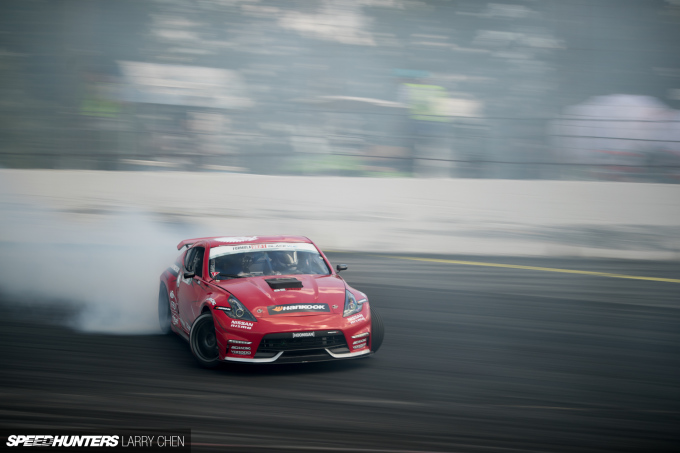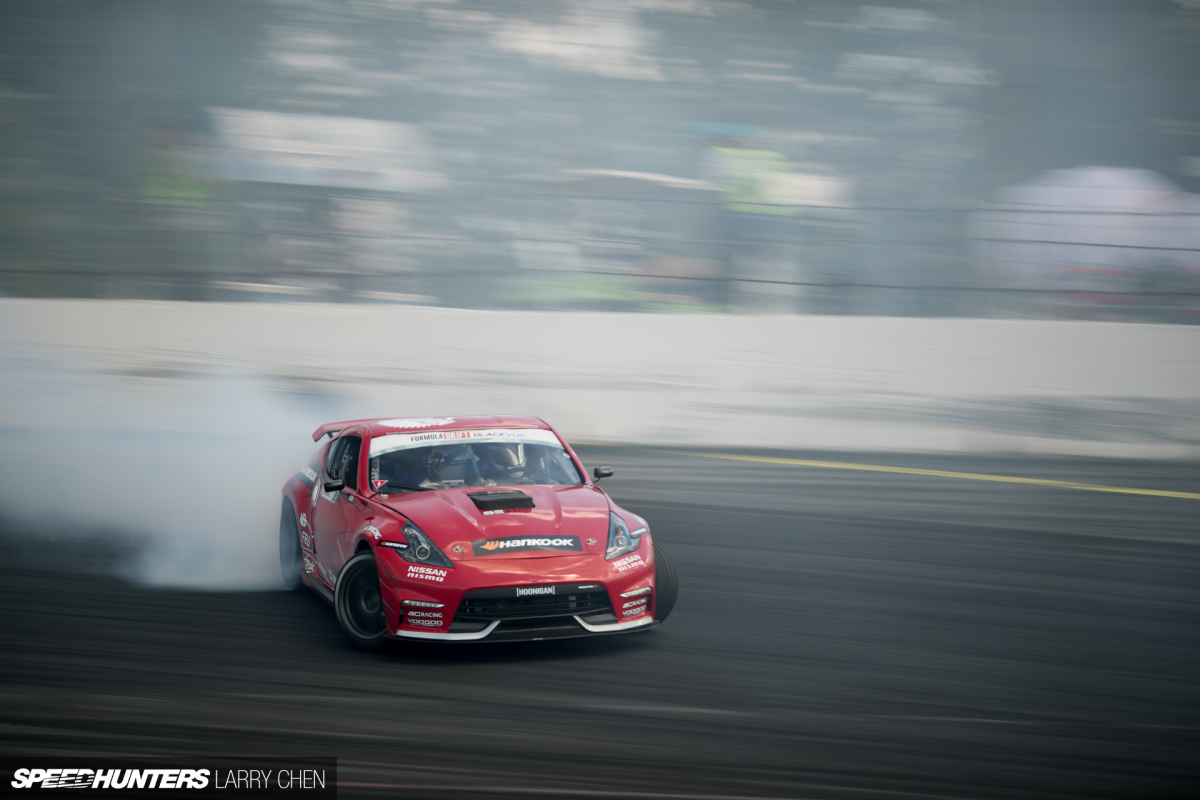 This is such a simple shot, but I just love how clear you can see Geoff Stoneback as he is about to transition coming off the Orlando bank.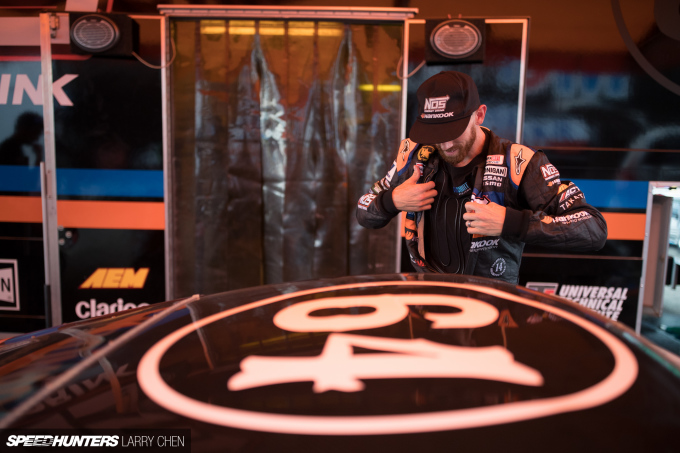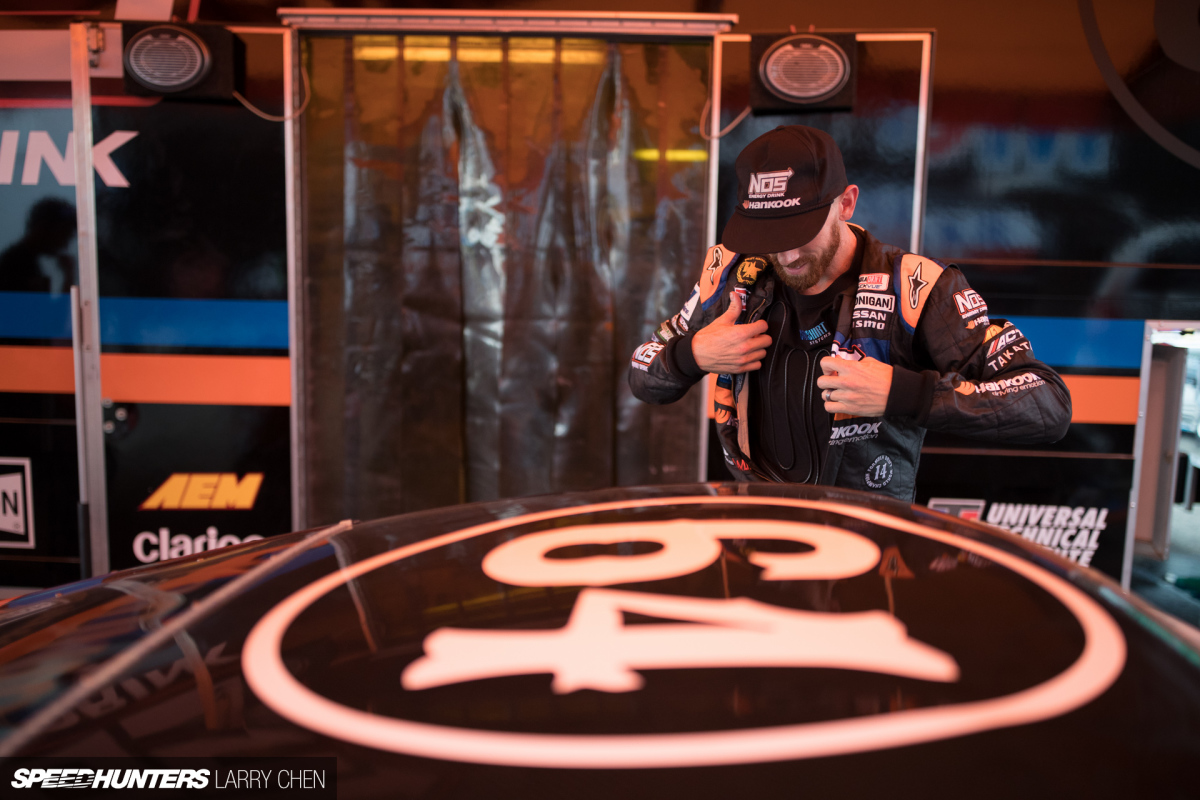 Suiting up for battle. It's funny to me, because when I was going to China for the WDS series, the local drivers thought it was the coolest thing to be in a driver's suit, so they would wear them everywhere they went – even to the nightclub. In Formula Drift it's the complete opposite; the drivers can't wait to get out of their smelly race suits and put on t-shirts and shorts. Different worlds for sure.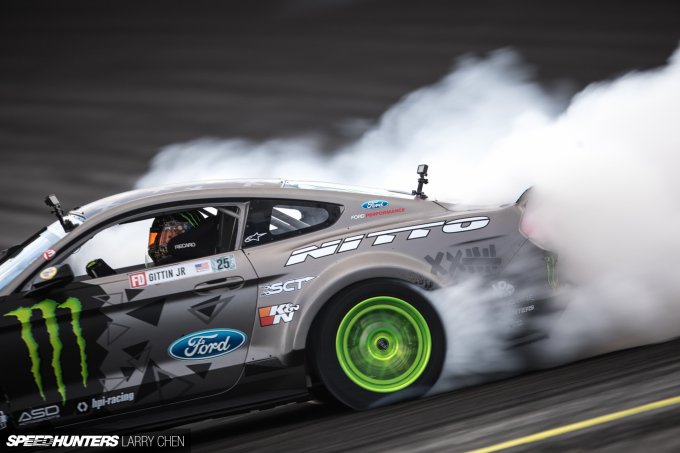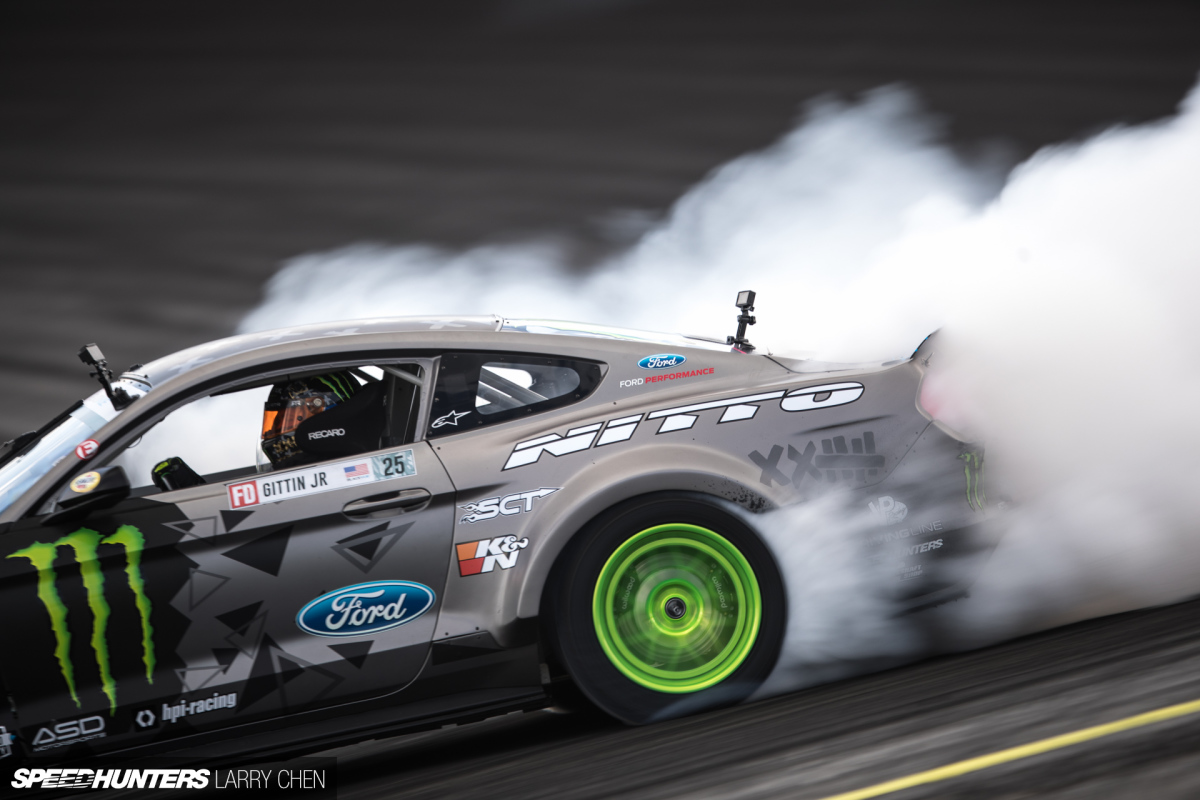 With the way things were going, it looked as if Vaughn was going to have two perfect events in a row. He qualified 1st in Atlanta and won the event, and he qualified 1st in Orlando as well. But ultimately, he got knocked out in the Top 16.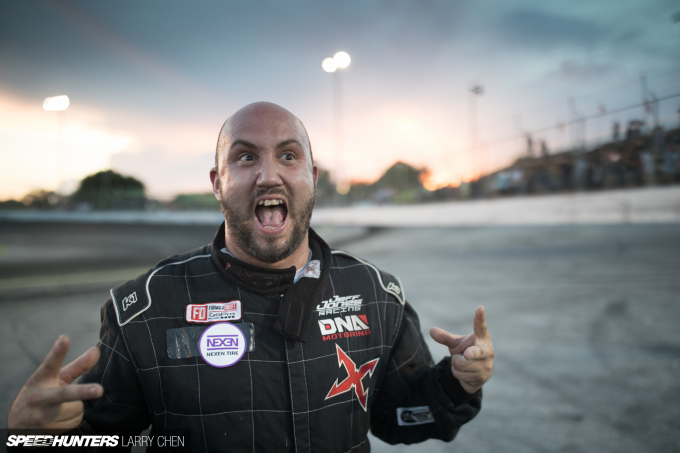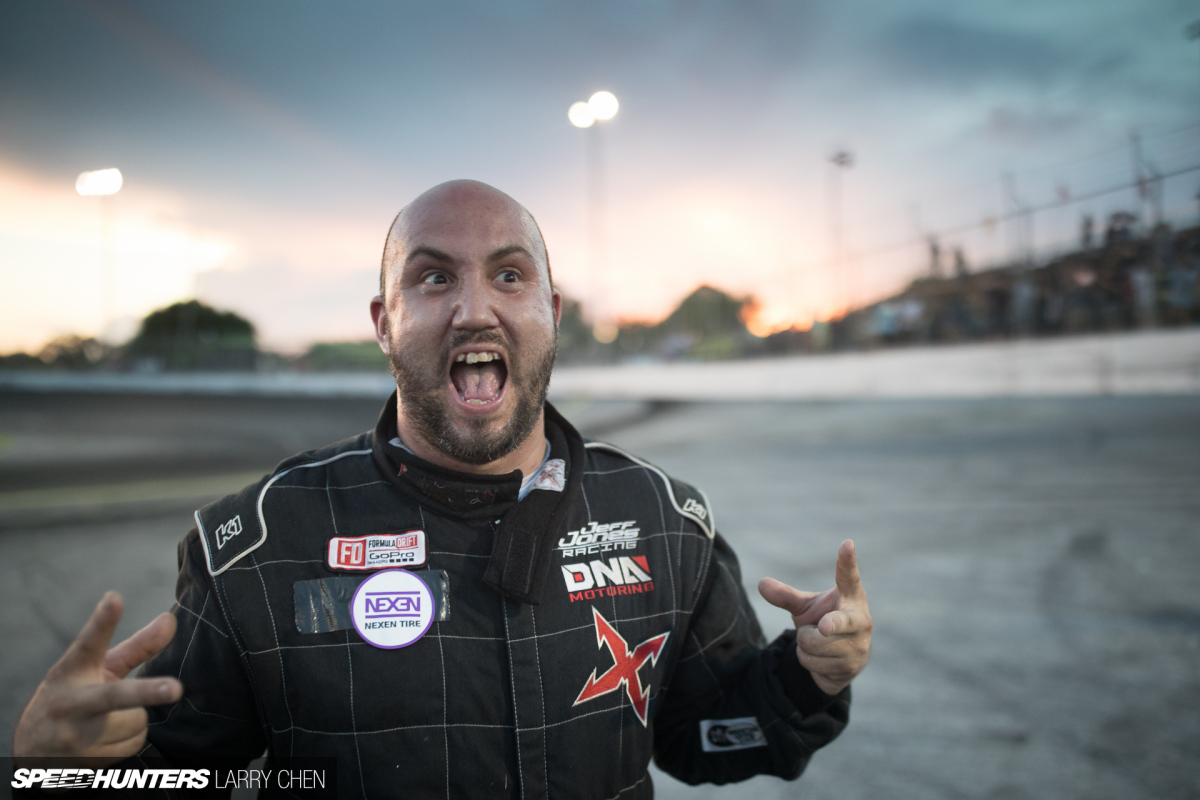 One of my favorite drivers on the grid, Jeff Jones, celebrating his 2nd place finish in Pro2.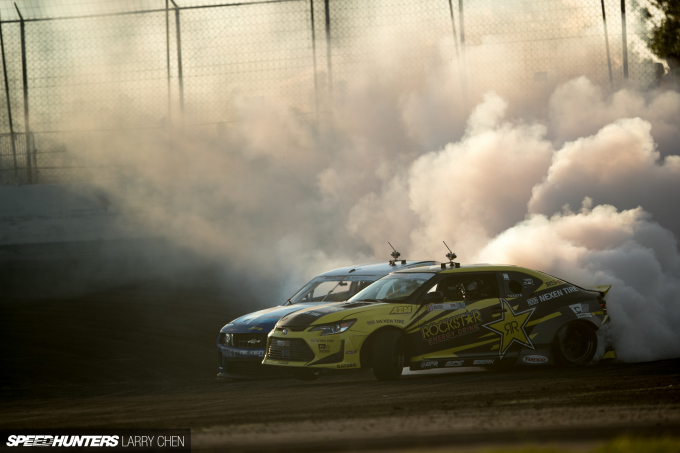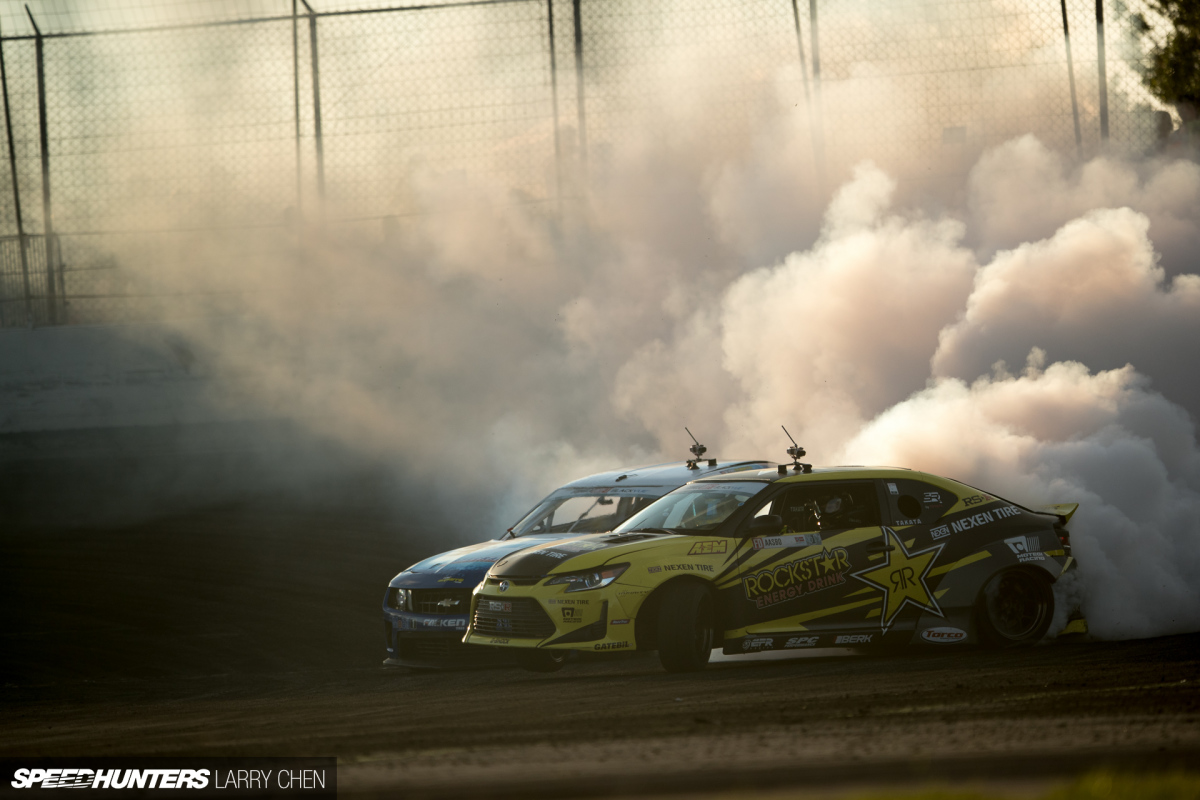 The professional drift car has evolved so much; just look at Fredric's inside tire lifting off the ground. So awesome.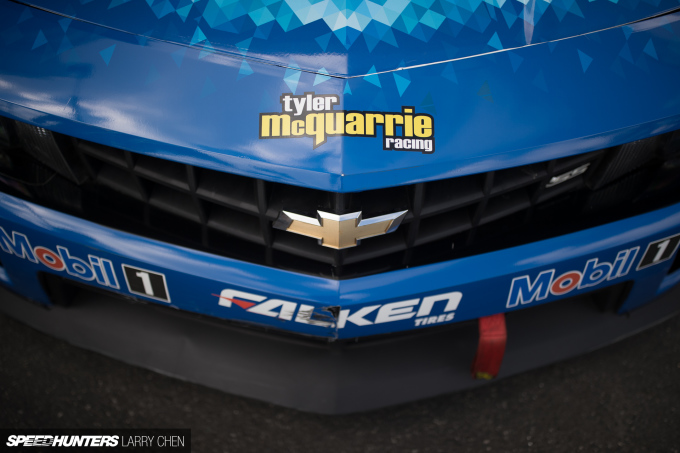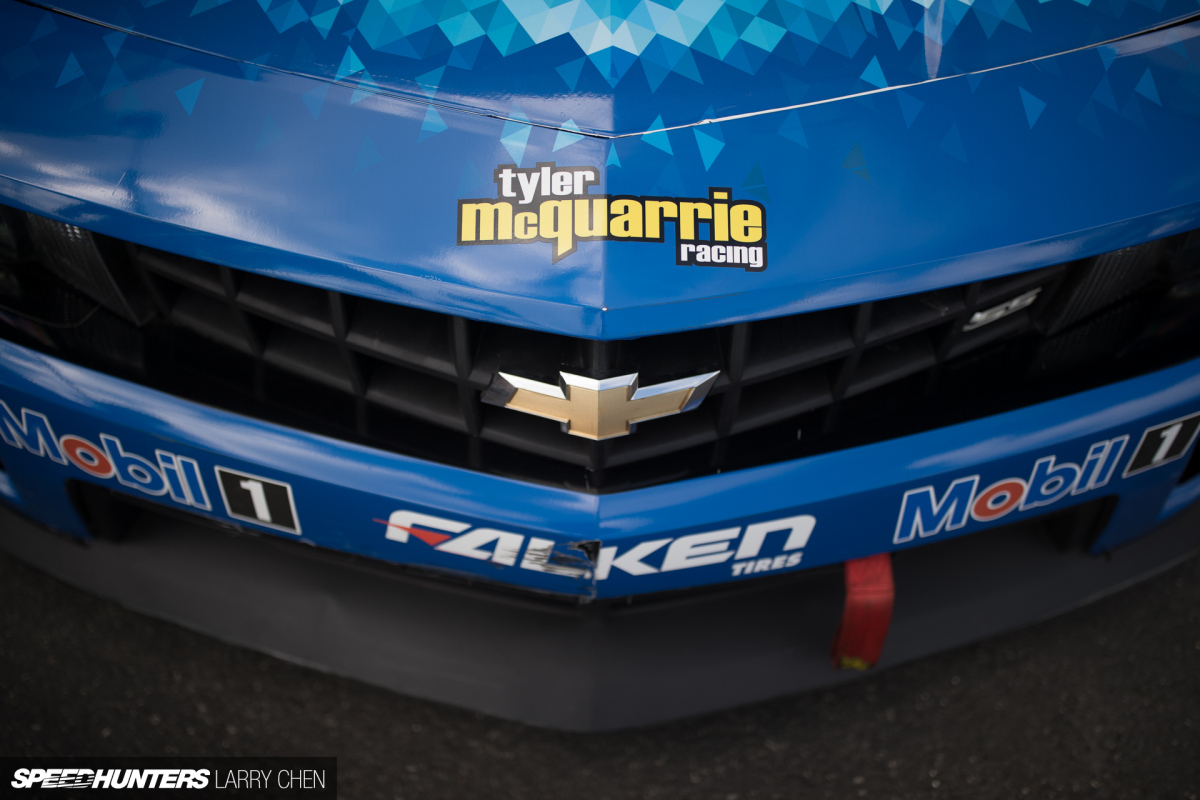 Tyler McQuarrie recently told me that it's such a weird feeling to run a team that is basically as large as Falken was back when he was a factory driver for the tire manufacturer.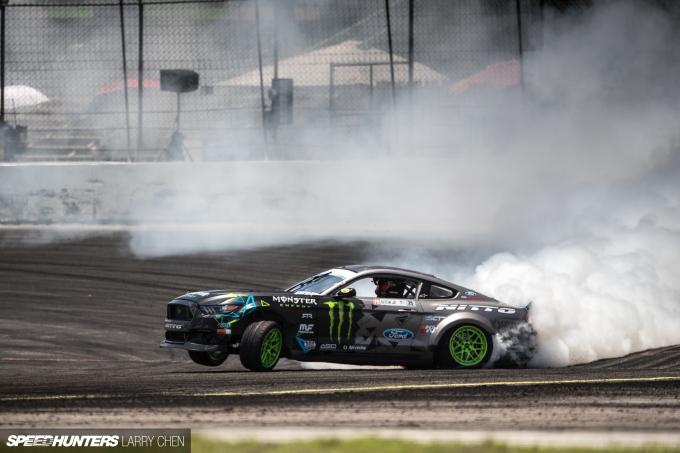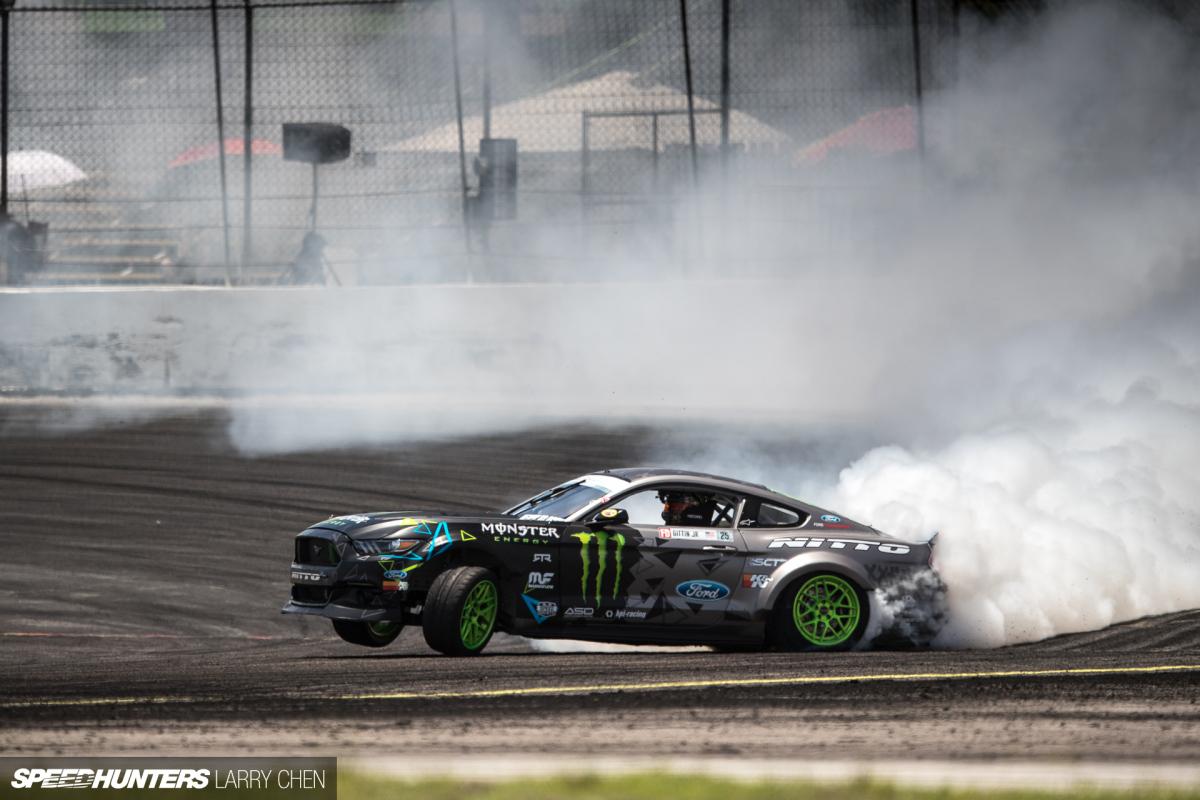 Three-wheel action and sometimes almost two. I just love how dynamic this Mustang is. It almost looks as if it's pulling a wheelie.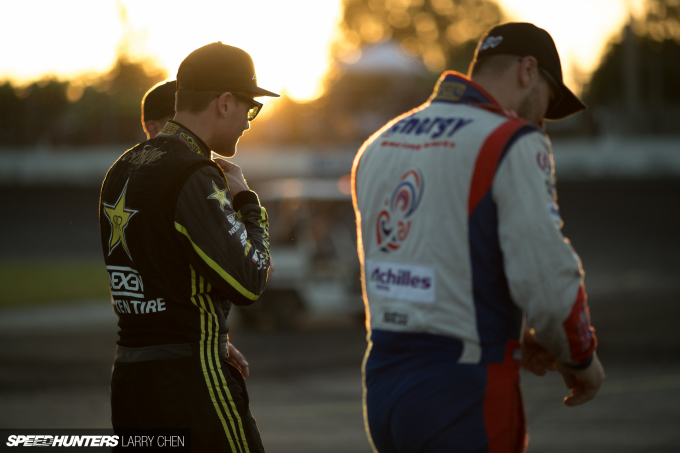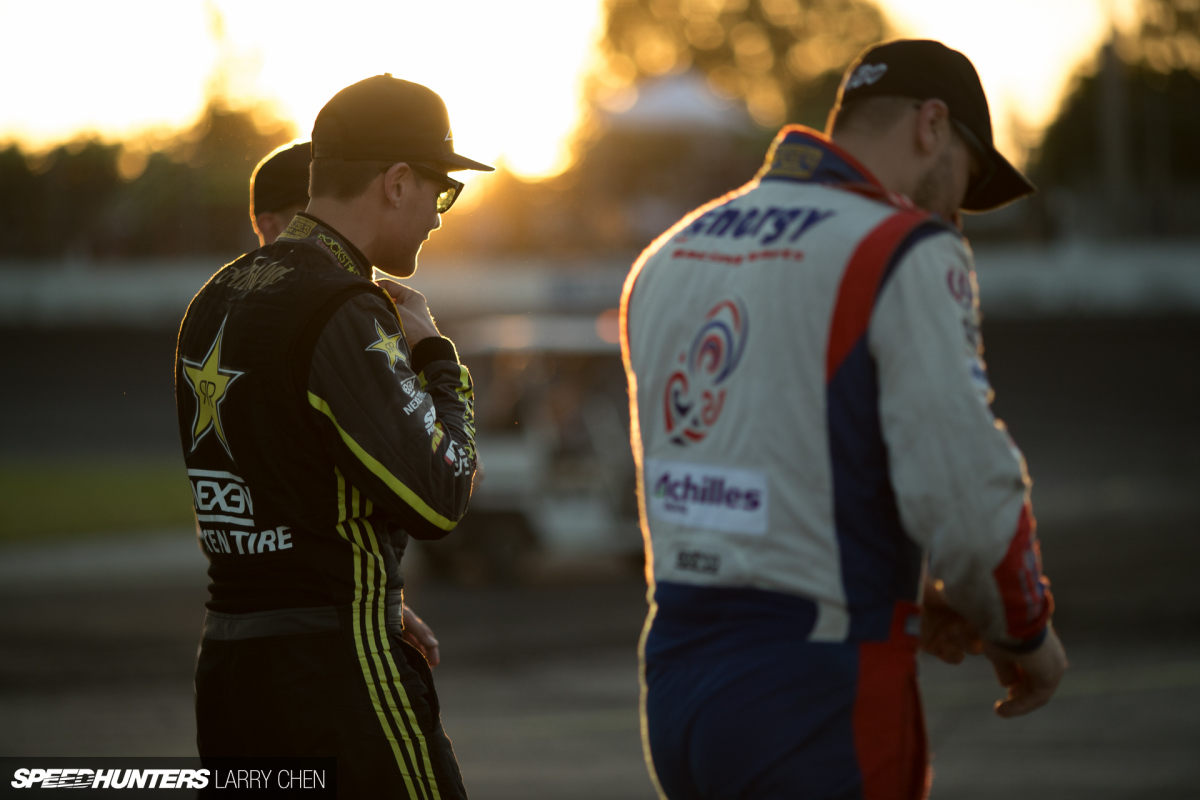 Normally the top three finishers drive their vehicle in front of the main grandstands, but this time two were damaged so the drivers just walked. It was such an interesting moment as you could hear them banter about the day's battles.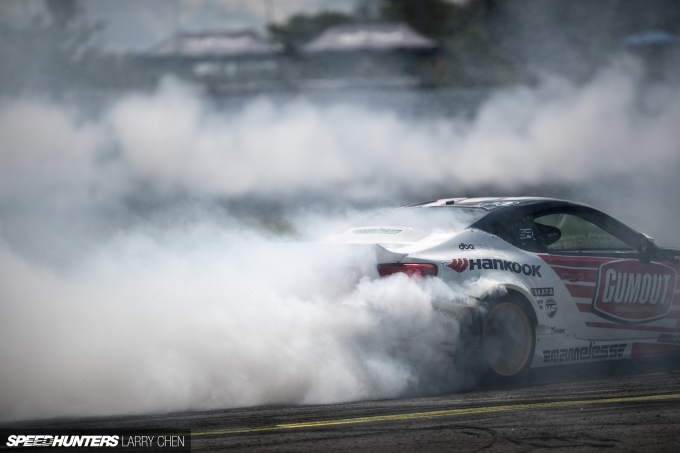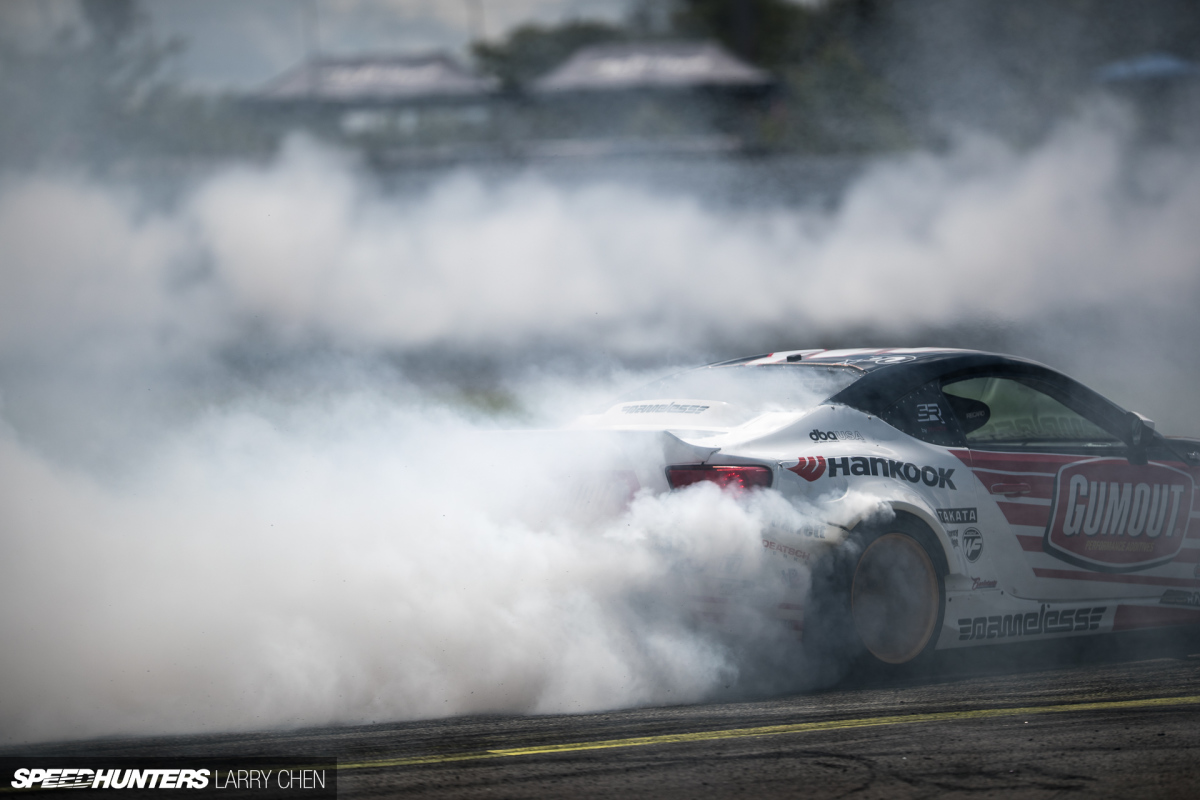 While there are many ways to shoot drifting, one issue is getting a shot through the smoke. Not a second later than this, the car disappeared into the cloud never to be seen again.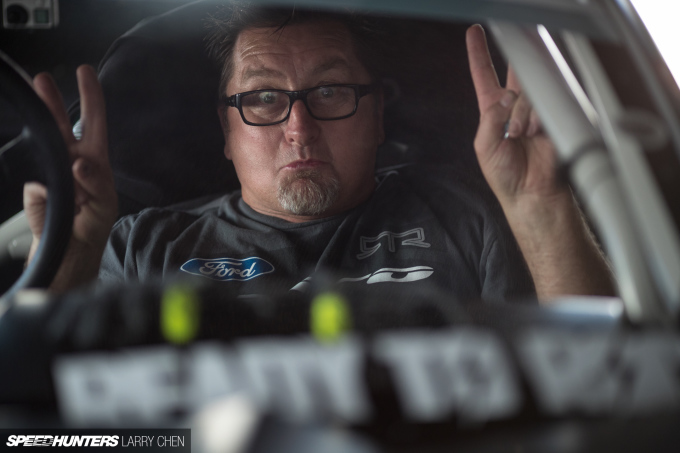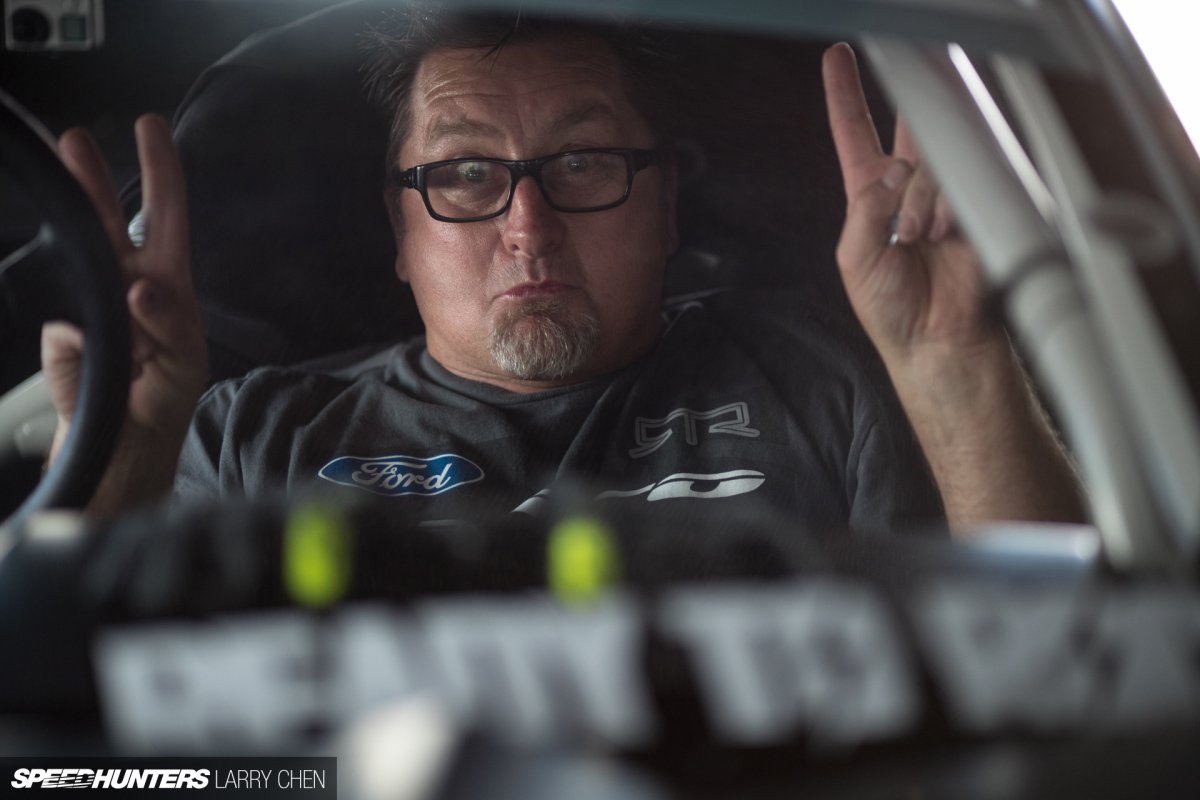 Dean has been Vaughn's head mechanic for a very long time, but this was his first event as crew chief.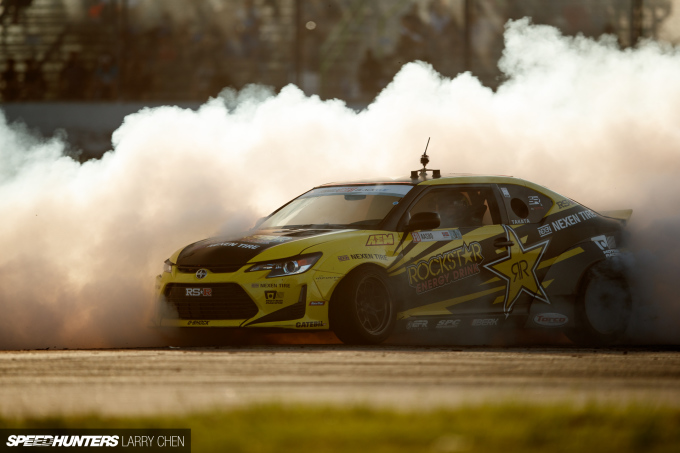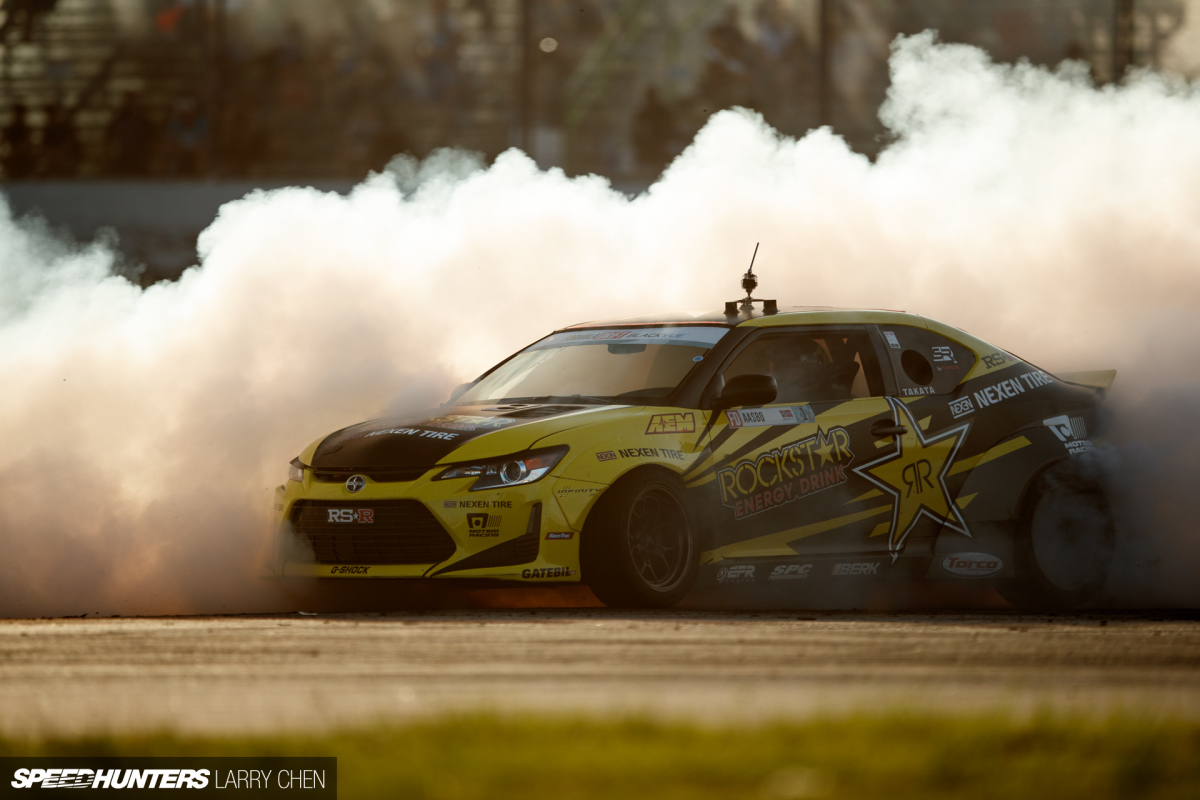 Spoken like a true champion. Fredric admits that he had a few lucky breaks on the day. Whether we like it or not, it's all part of drifting.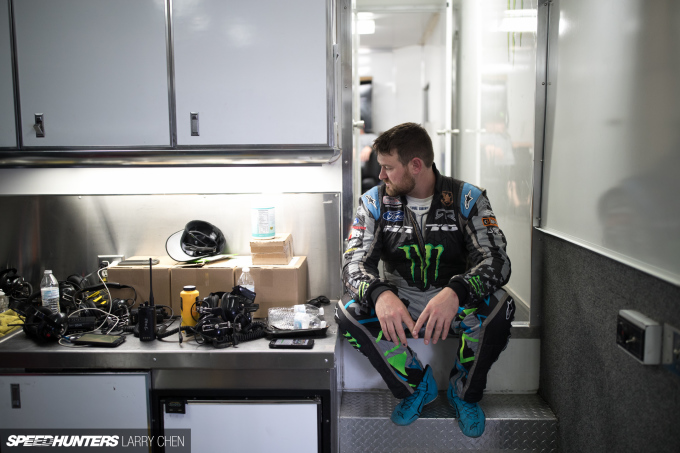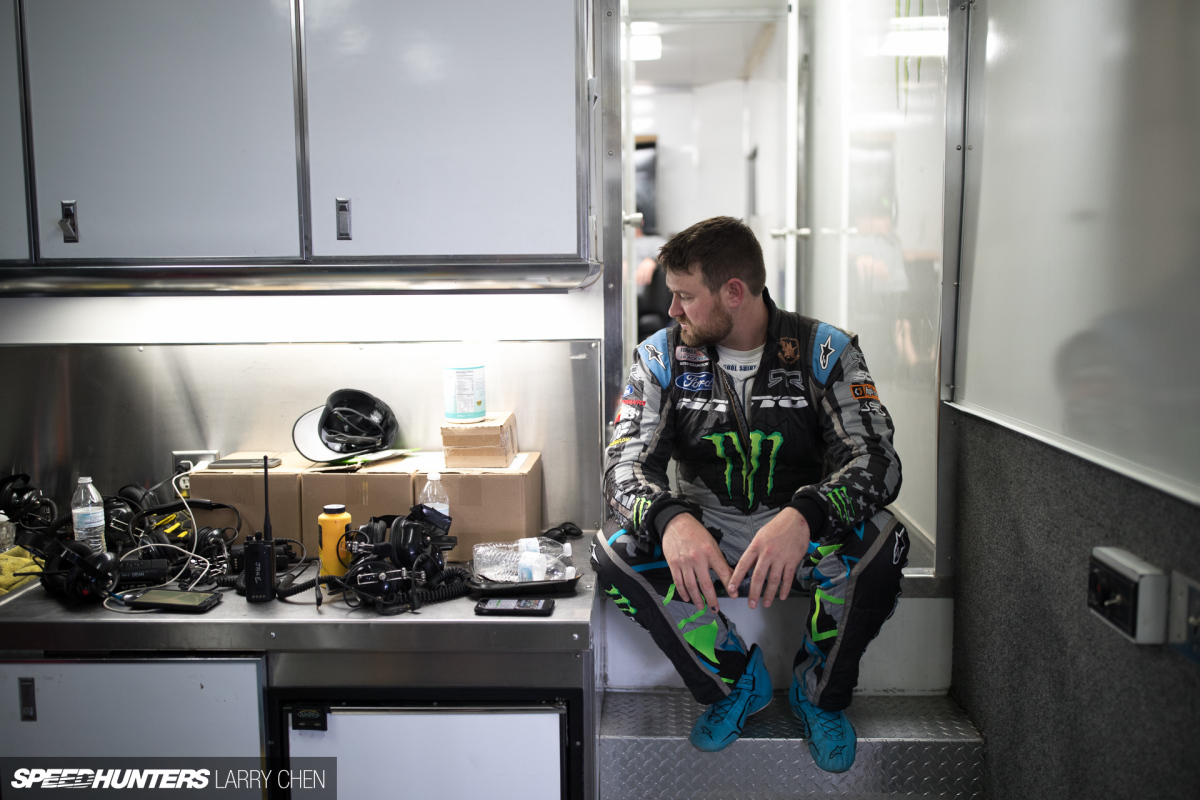 In recent times there's been so much hate aimed at the top drivers of the sport, and while I think it's great that these fans care enough to be passionate about voicing who they dislike, everyone should take a moment to read this retrospective piece I did on Vaughn a few years back.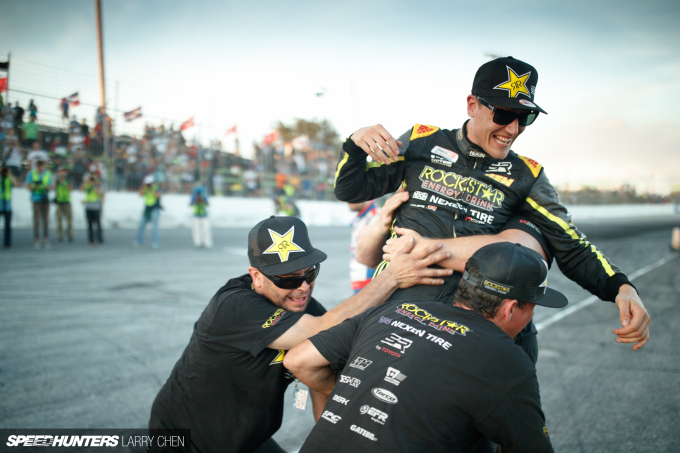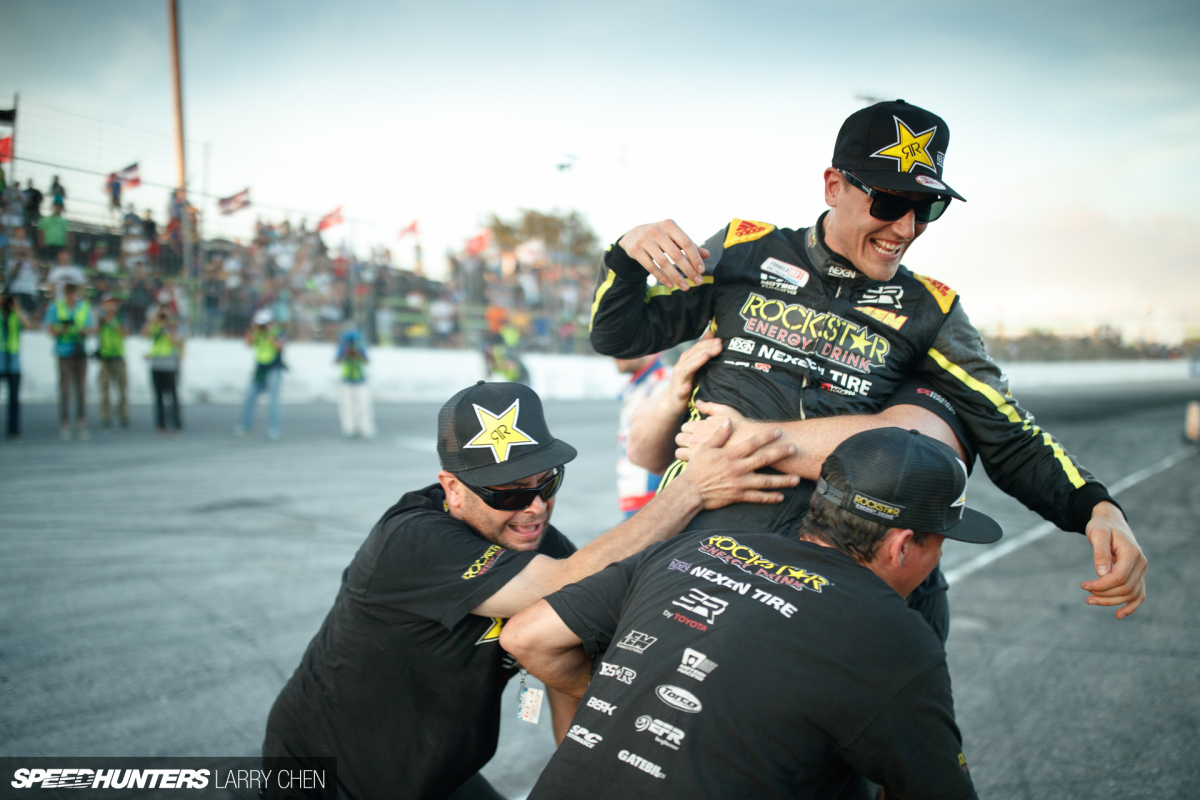 The first thing Fredric said to his team when they hoisted him up was "We're back, guys!"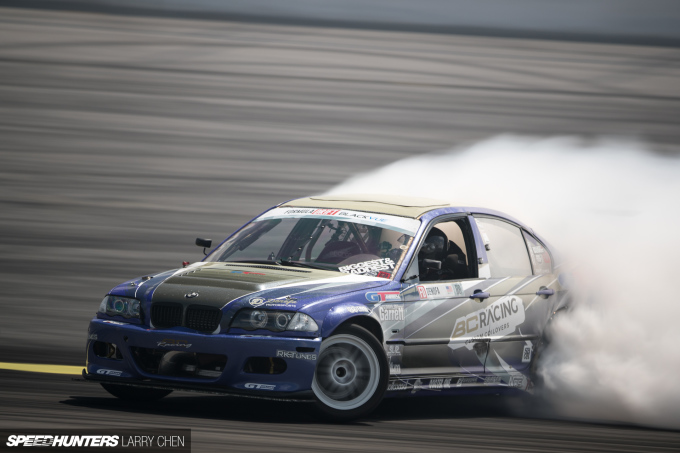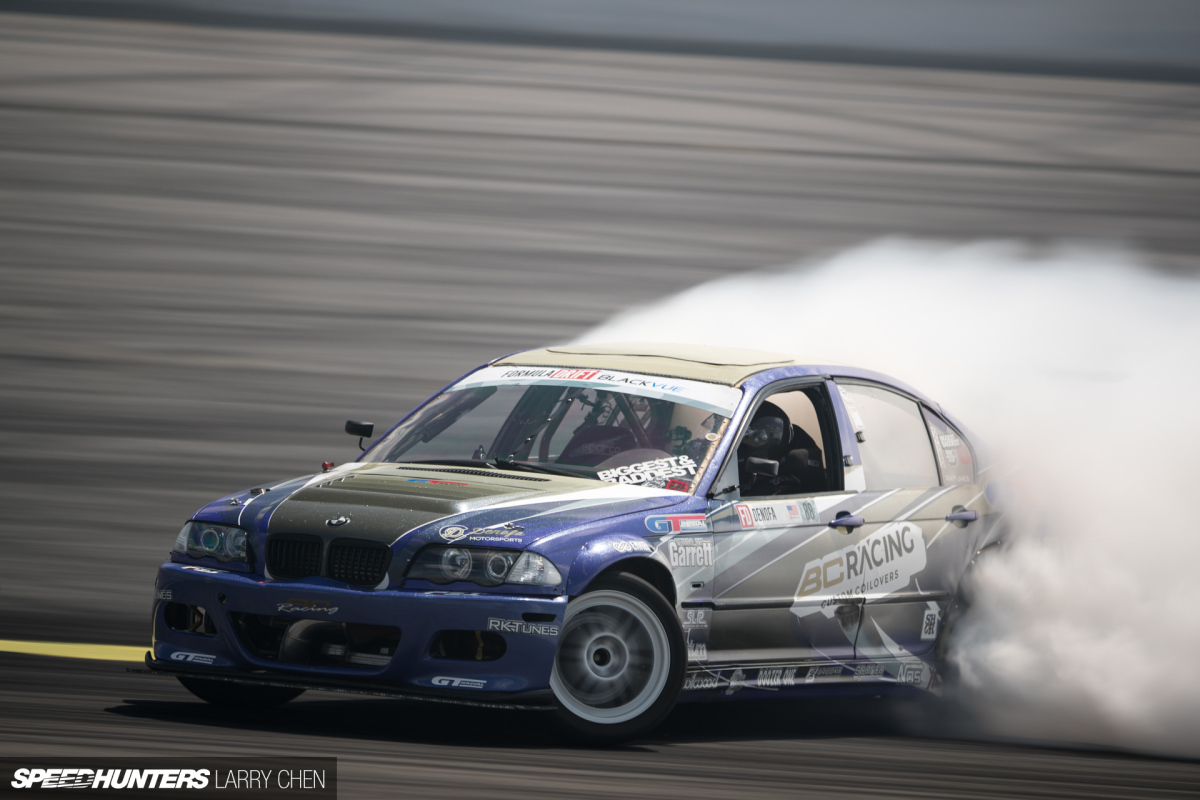 You may have already heard, but there was quite a bit of drama surrounding Chelsea Denofa's program. You can read about it here.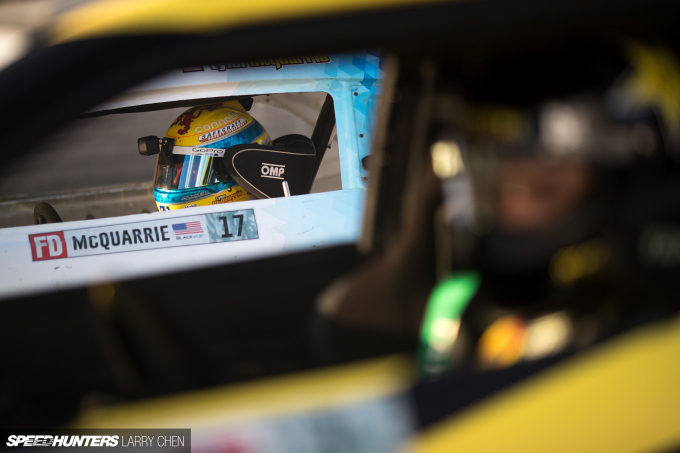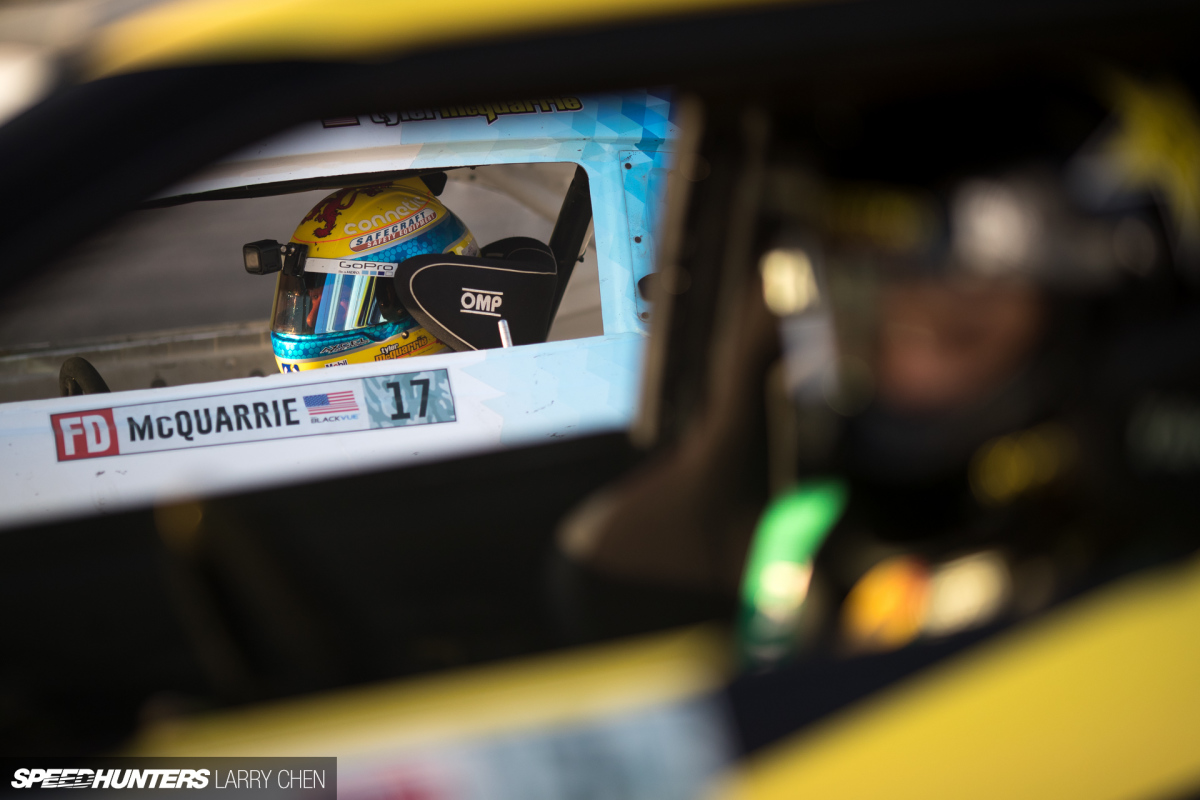 Is there any better natural frame in drifting than a car window frame?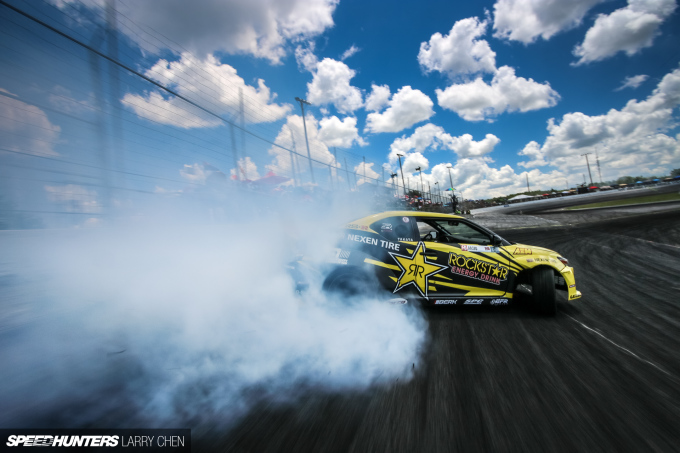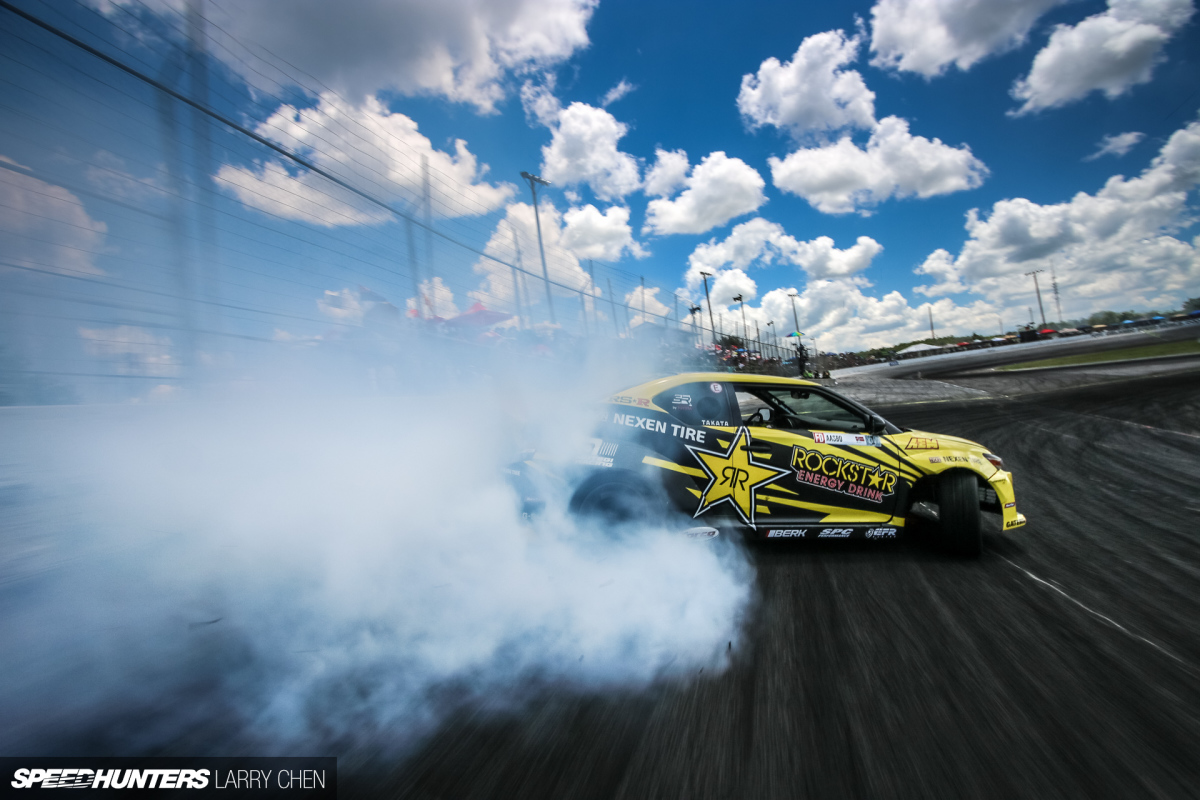 Even though I suffered physically and mentally at this event because of the weather, it was all worth it in the end when I end up with photos like this. Perfect for cloud hunting.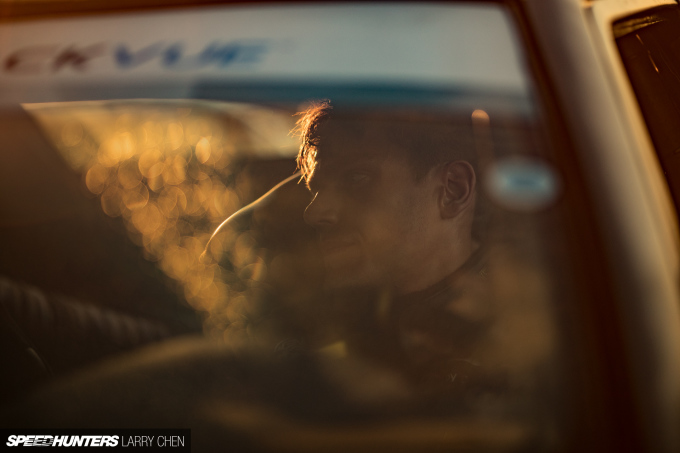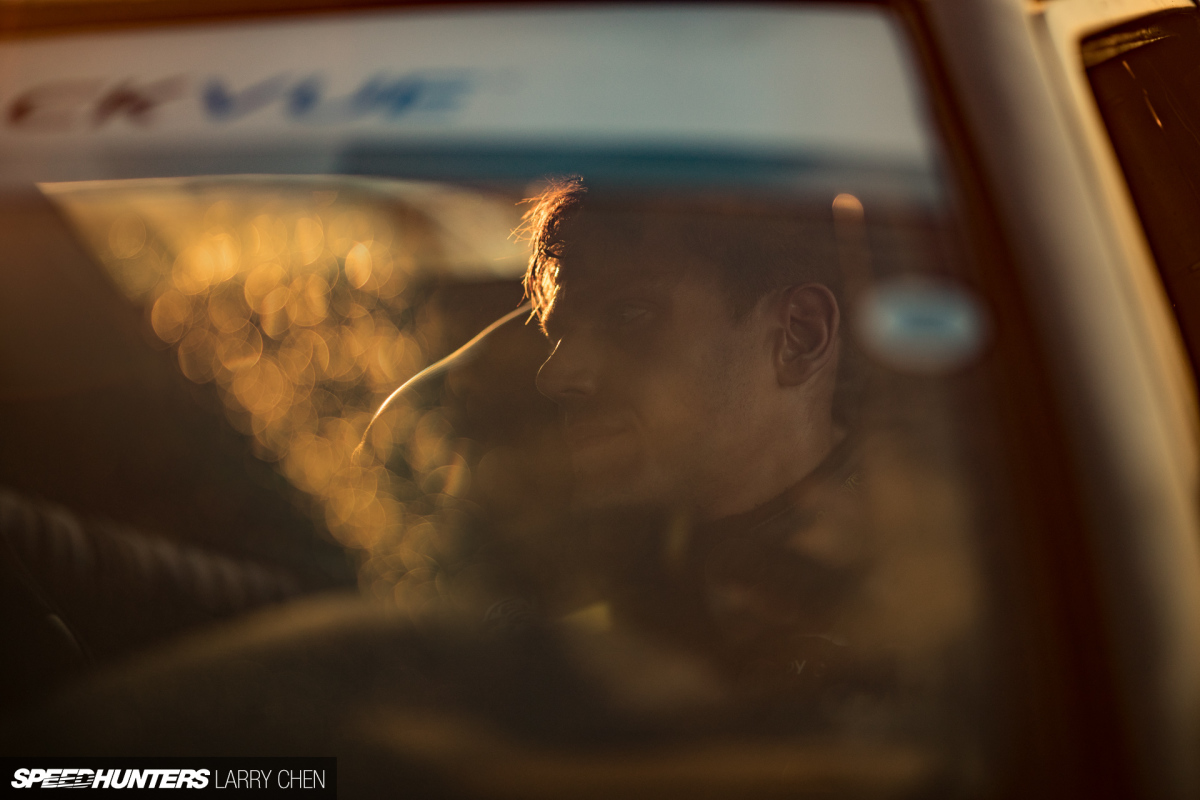 If you guys are wondering what that glowing stuff is, it's coolant from Kristap's car. It sprayed all over Fredric's Scion tC when he rear-ended the BMW in the final battle.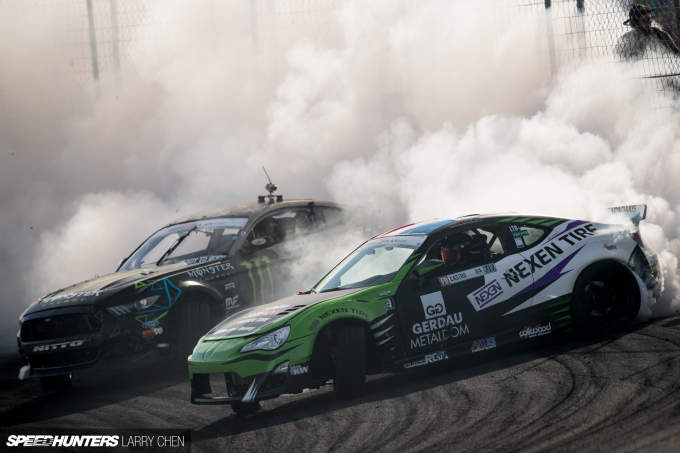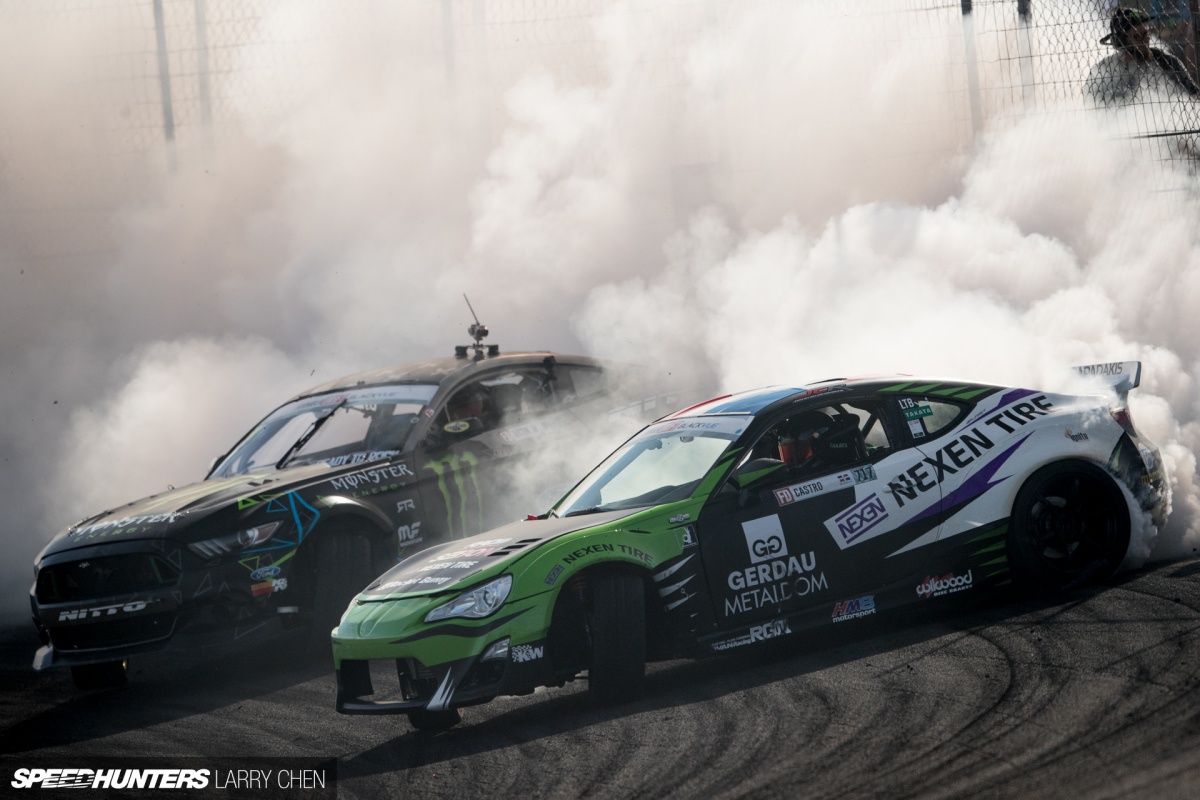 Battles like this is exactly why I love drifting. You can never discount an underdog, because anything can happen.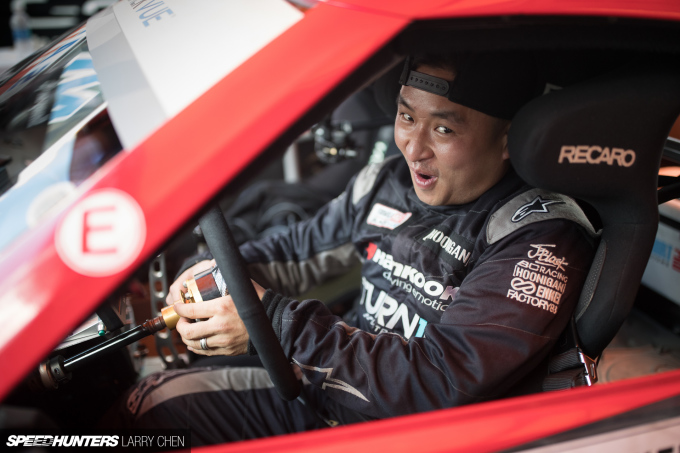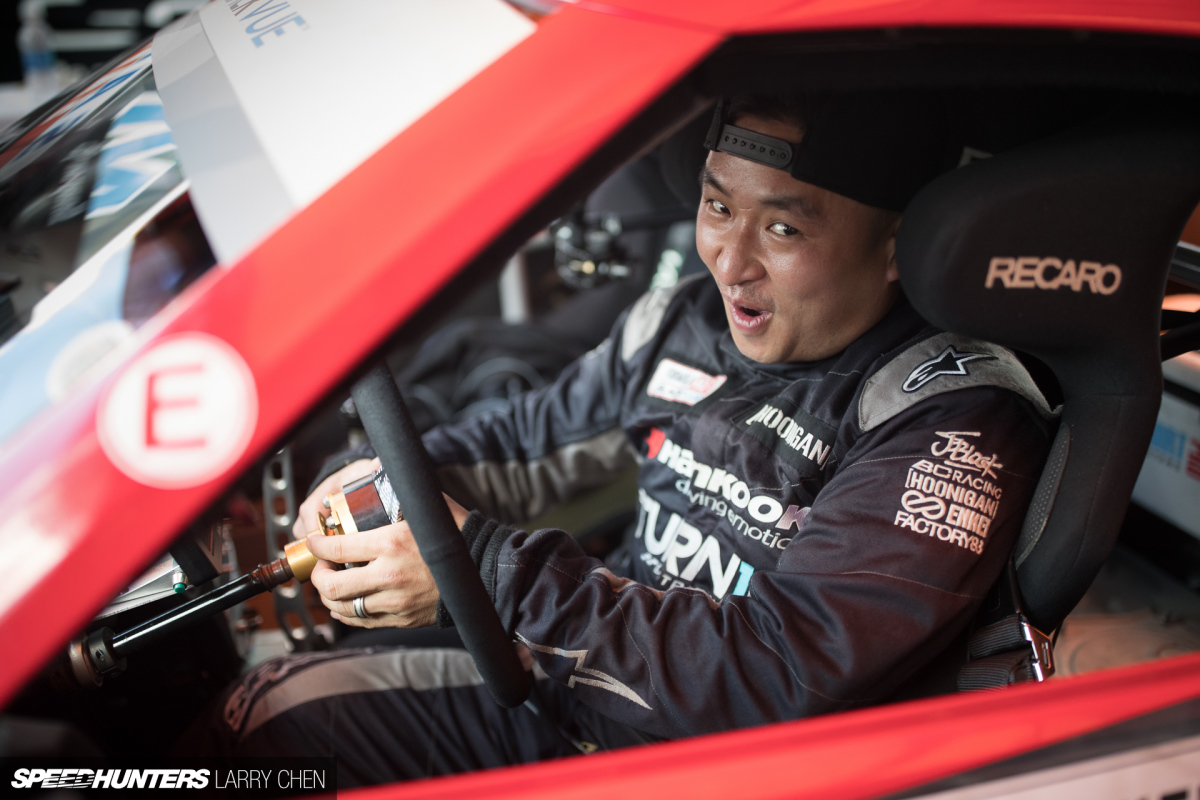 Geoff Stoneback gives me the daily dose of comic relief that I need in and around the paddock. He has so many funny faces.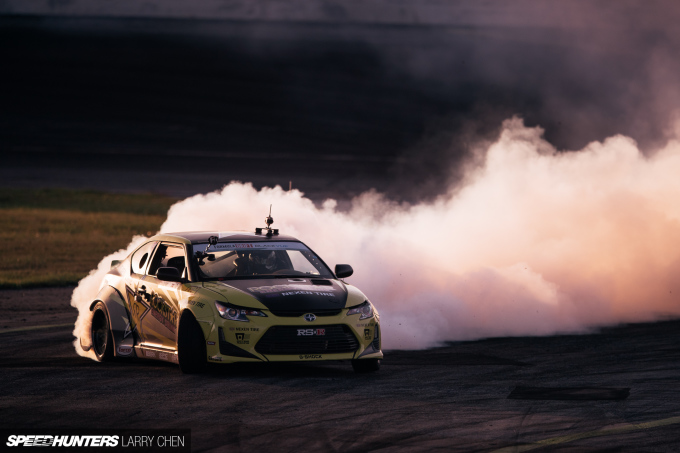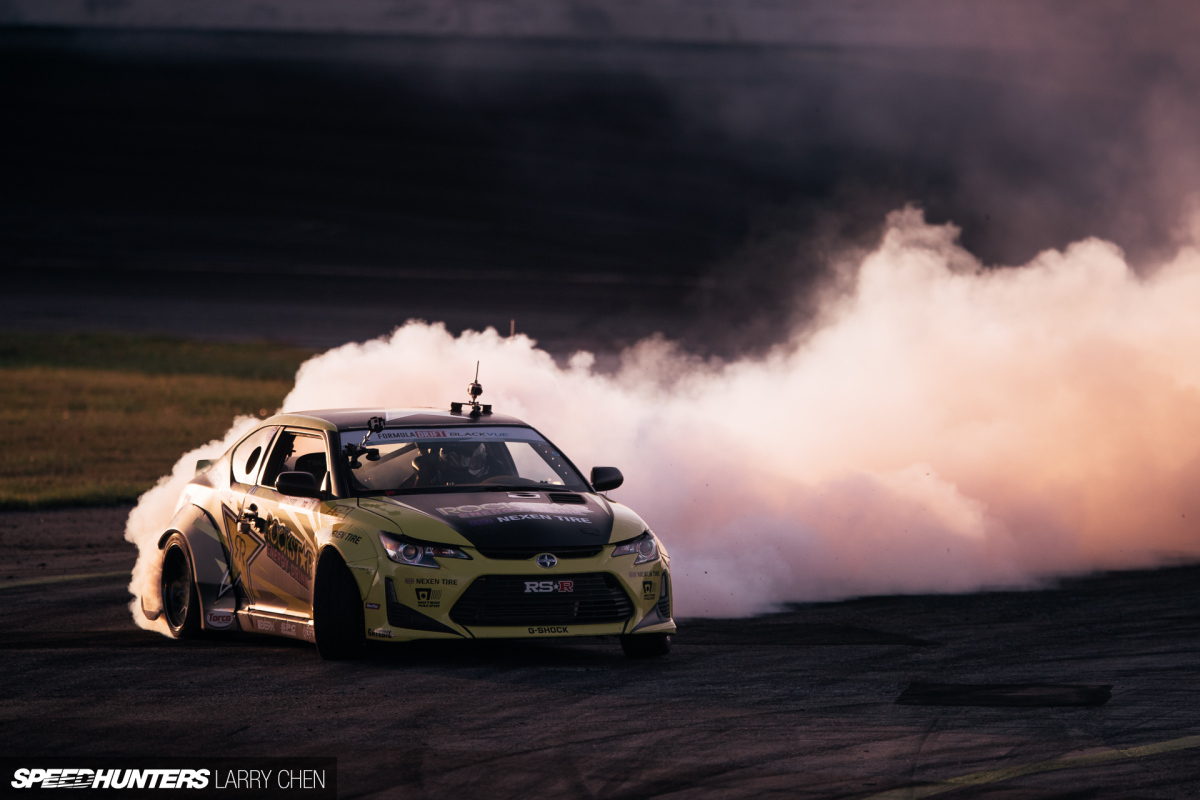 Well that's it for FD Round 4 Orlando. Next stop is one of my favorite tracks to shoot at: Wall Speedway, New Jersey. It's so gritty and the perfect drift track.
Larry Chen
Instagram: larry_chen_foto
larry@speedhunters.com
Cutting Room Floor