Japan Never Fails To Impress
Rewind to one year ago, when I along with others in attendance at an epic meeting in Sagamiko Pleasure Forest, were sure the event would never happen again. The exhaust noise, the donuts and the blaring of air horns as the gathering was coming to a close did not impress the owners of the venue, leaving an overall assumption that for 2016 a new meeting place had to be found.
Well, all I can say is that the organizers of this annual Skyline meeting might well be the best negotiators out there, as this past Sunday I found myself back at the theme park and shooting a massive convoy of kyusha making their way into the parking areas.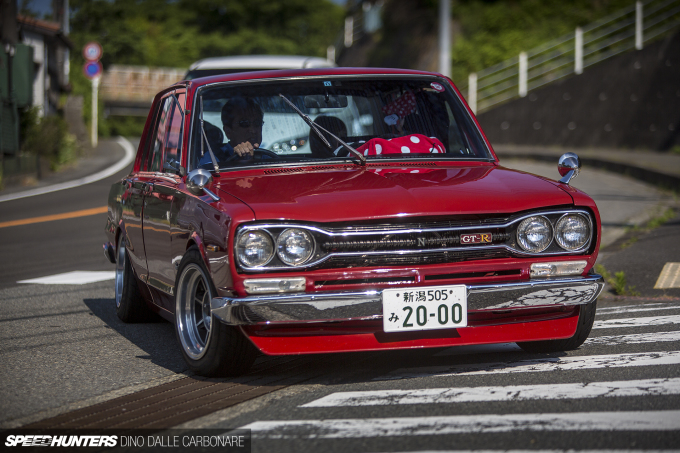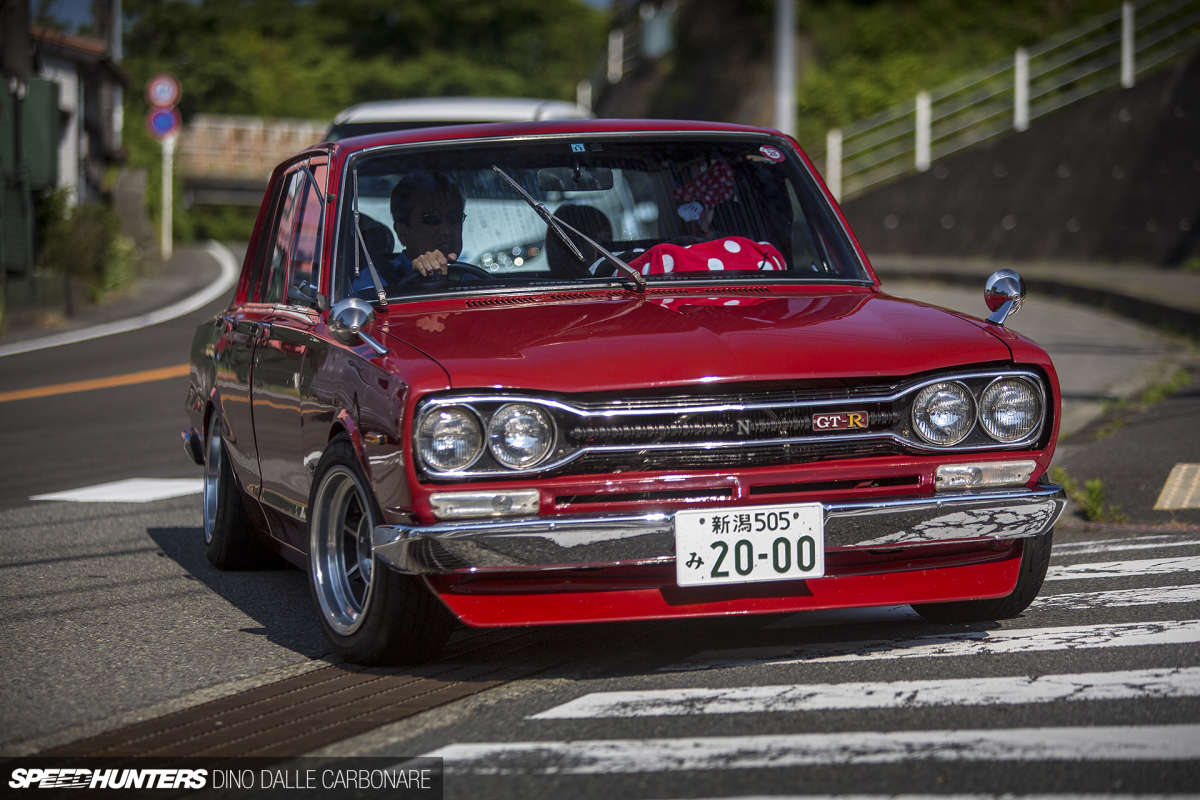 As I'm sure you can gather, the emphasis is on Skylines of every generation, but that doesn't necessarily mean that other cars would be excluded. It's very obviously a 'the more the merrier' kind of event, and you know that's always a recipe for awesomeness.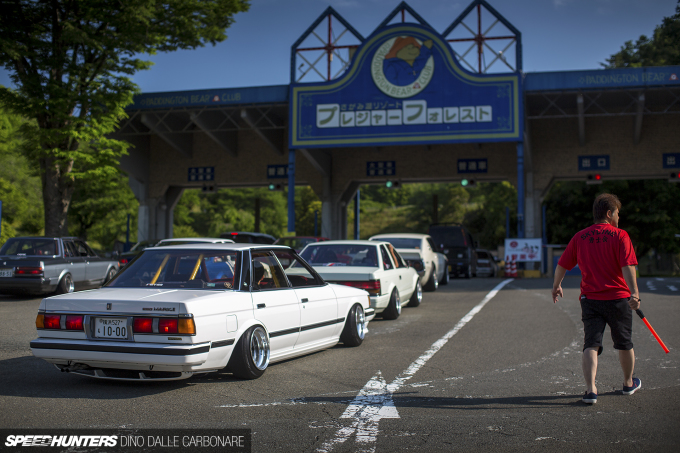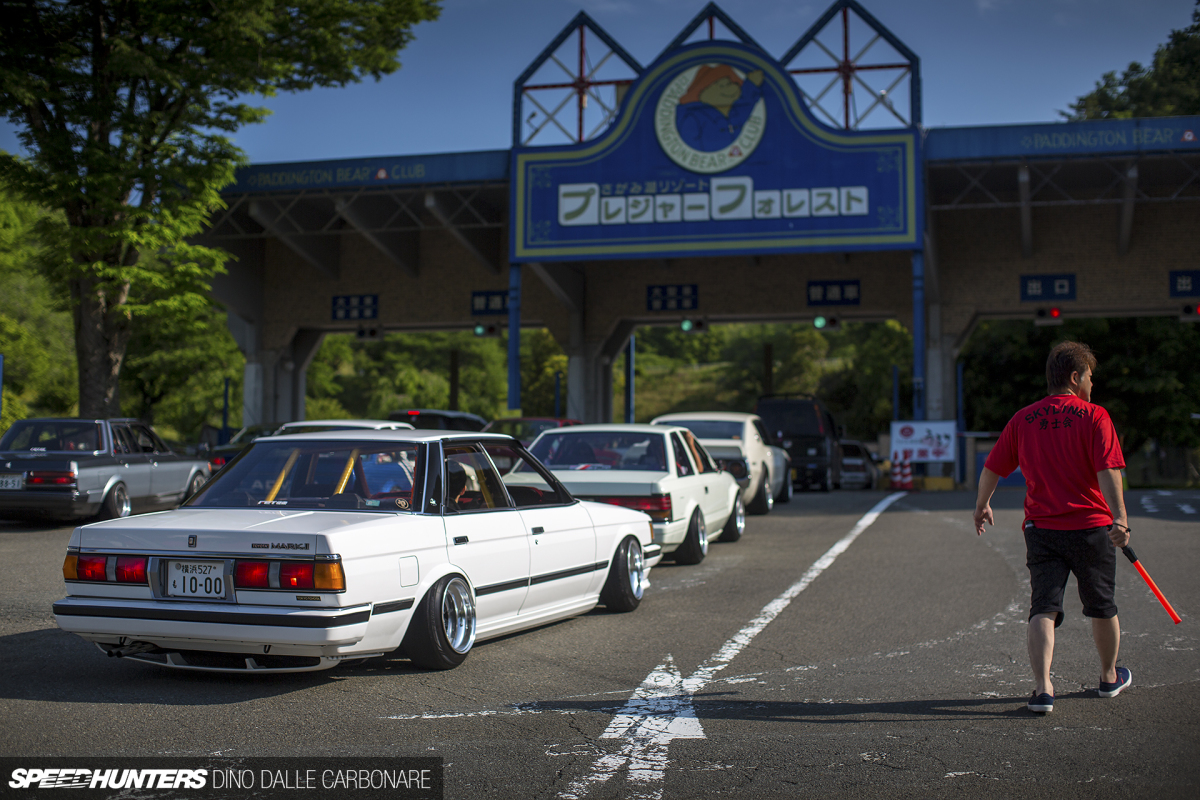 On my arrival, I found all manner of Toyotas lined up at the gate. Think Mark IIs, Crestas, Chasers and Soarers…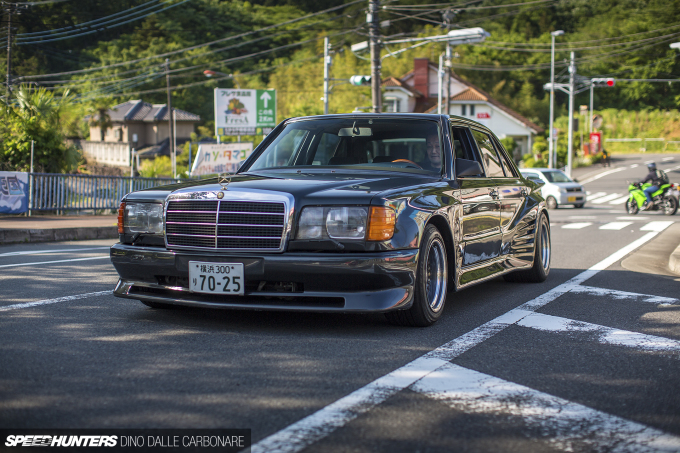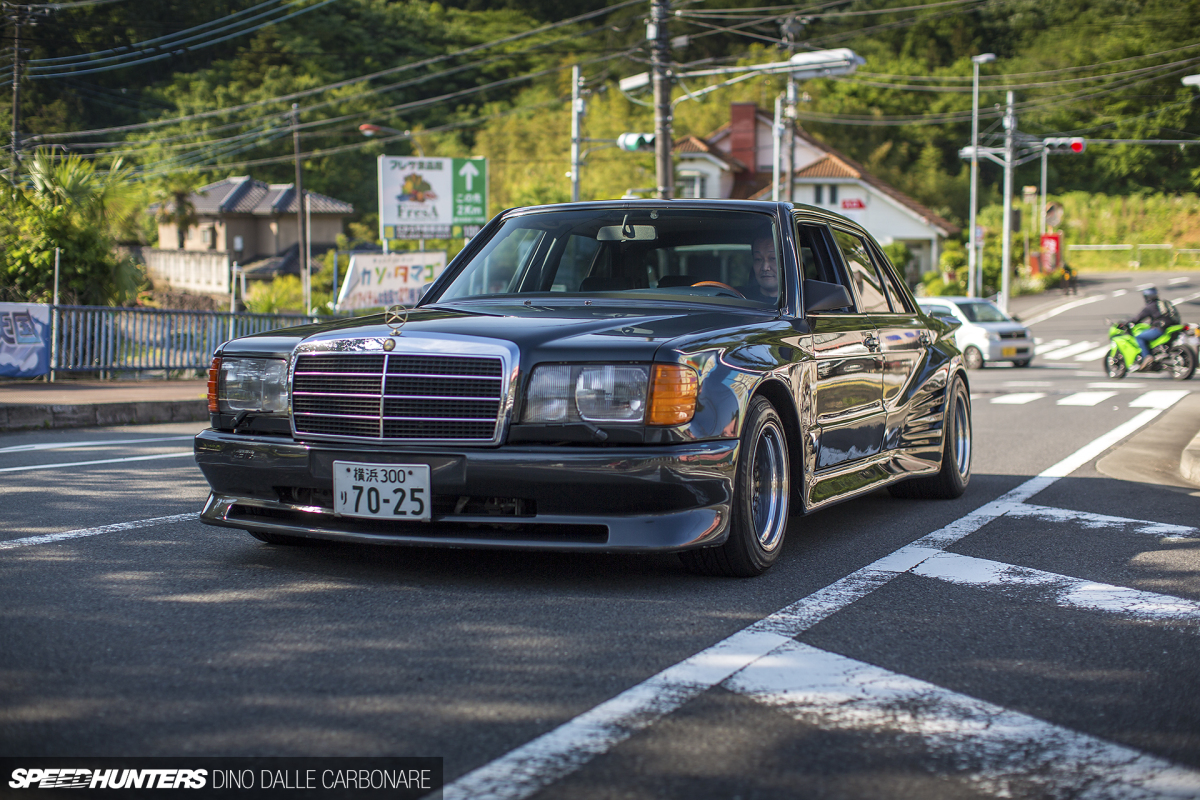 There was even a surprise visit from a customized import left behind from Japan's bubble economy era.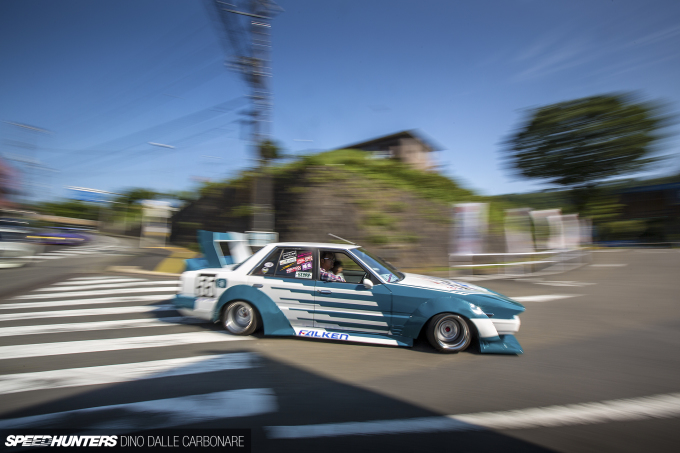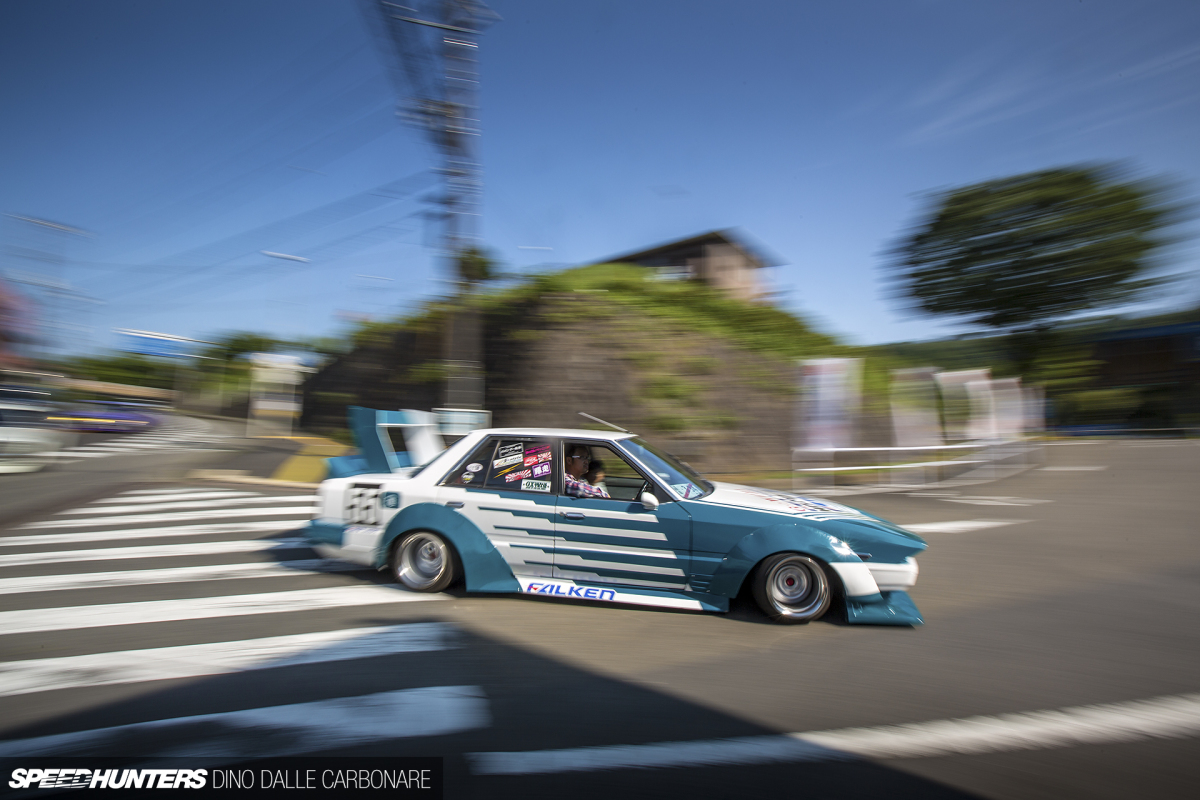 One of the biggest spectacles at a unique event like this is coming face-to-face with rare cars, including the much loved and often misunderstood Grachan or Kaido Racer. These massively overfendered and spoilered creations were initially inspired by the Group 5 Super Silhouette racers of the '80s – the Grand Championship cars, which is where the term comes from.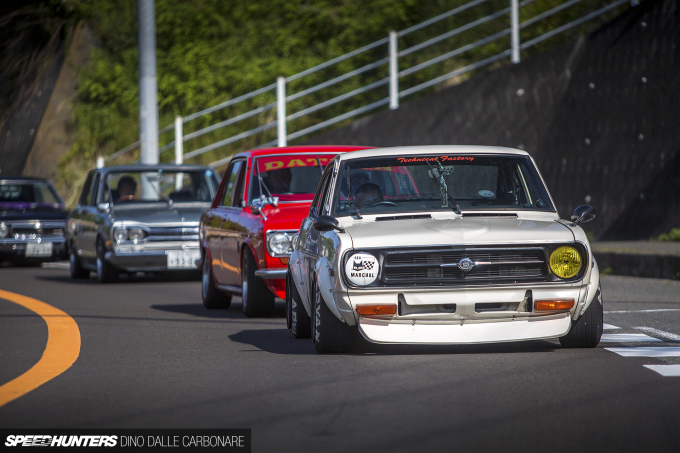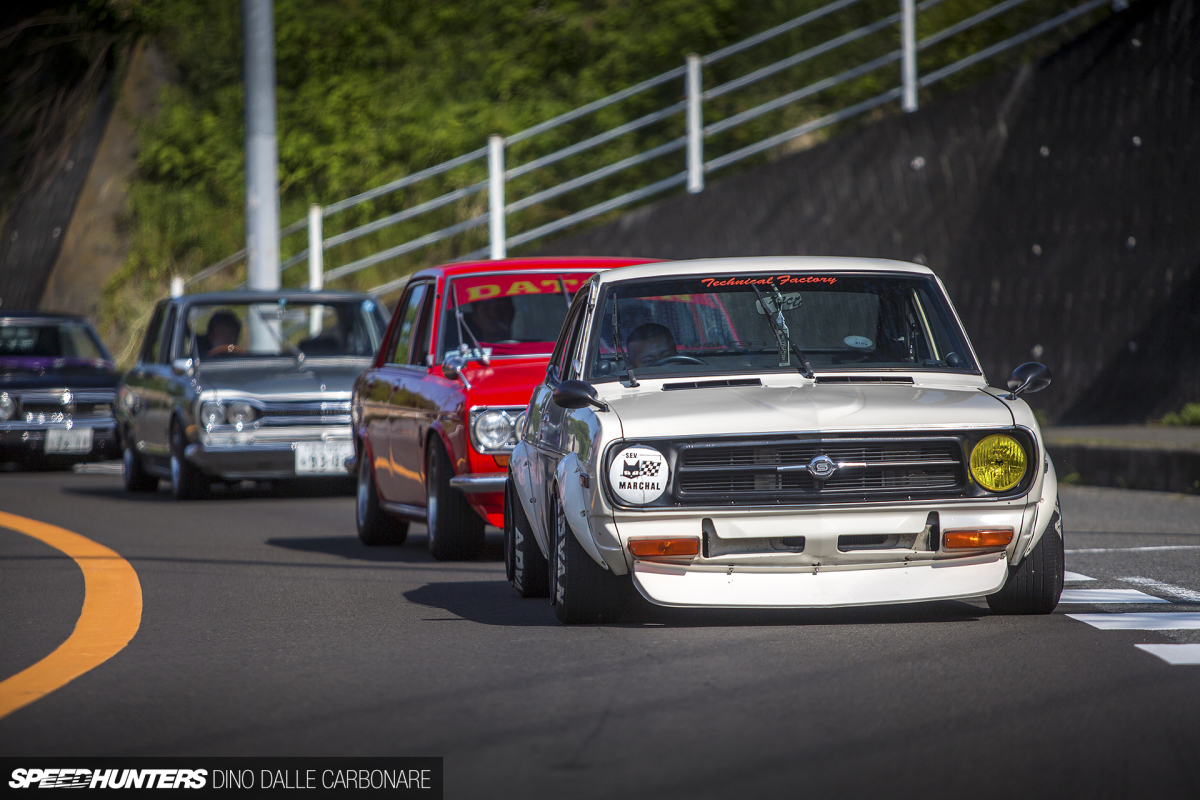 The procession seemingly had no end to it, and as you can see, also included little a Sunny delight that's been seen on Speedhunters a few times before.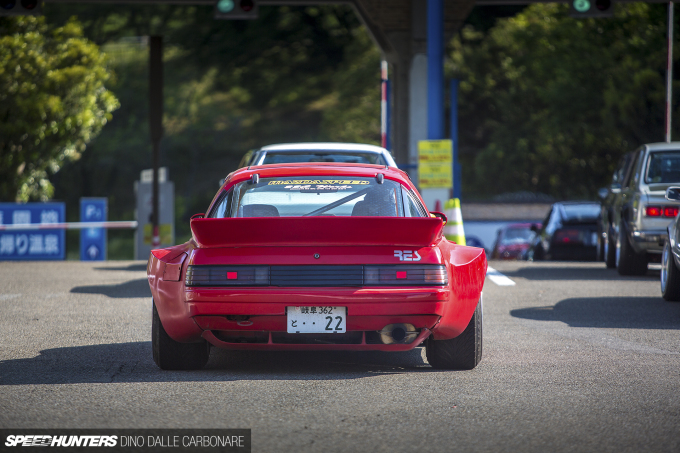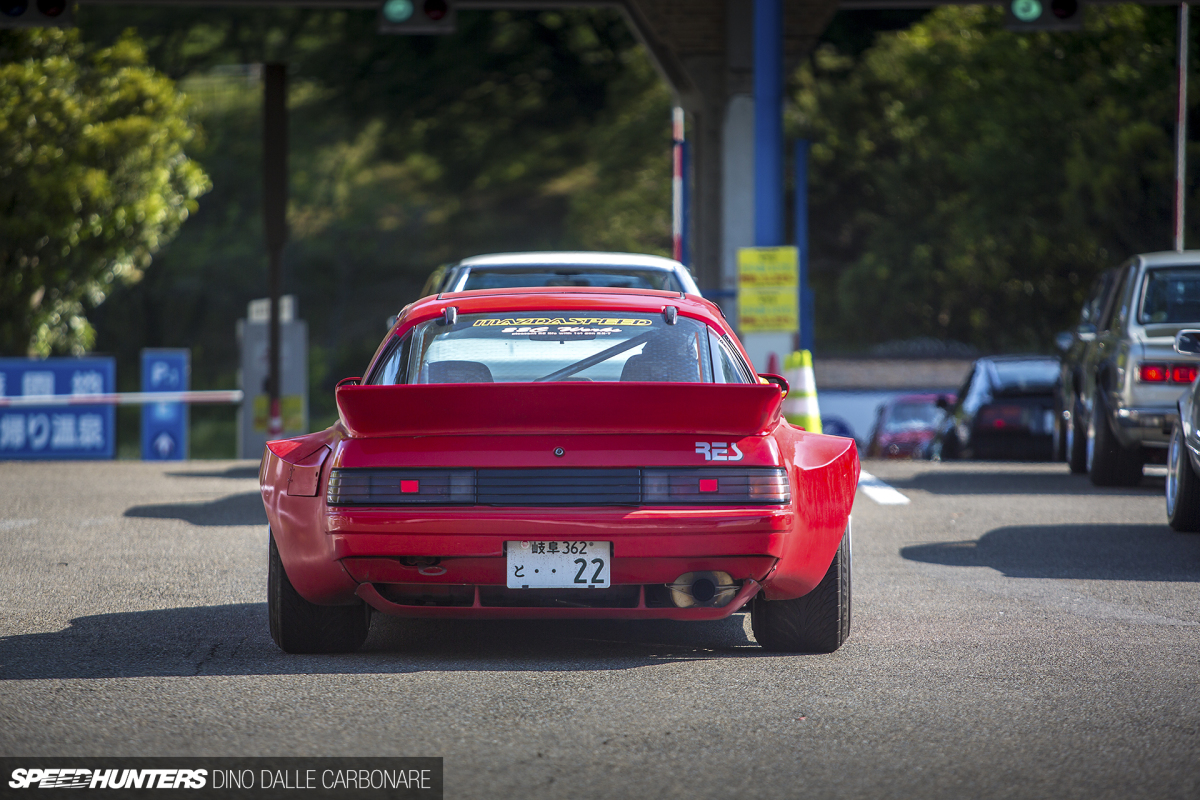 Into rotaries? No problems there, the kyusha otaku had it covered with a nice selection of SA22s, including this massively widened example.
Extraordinary In Every Way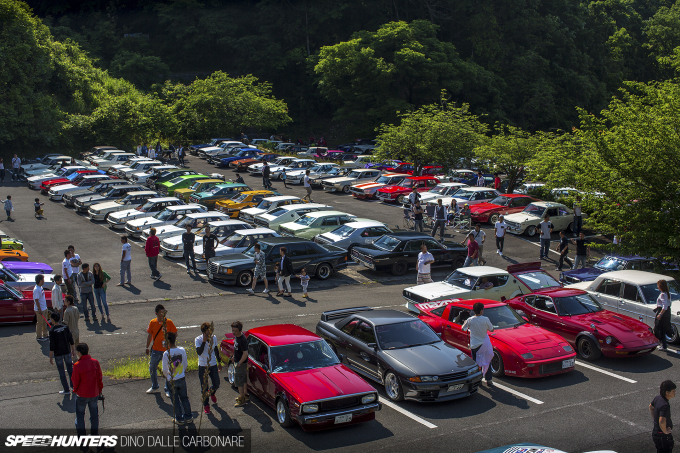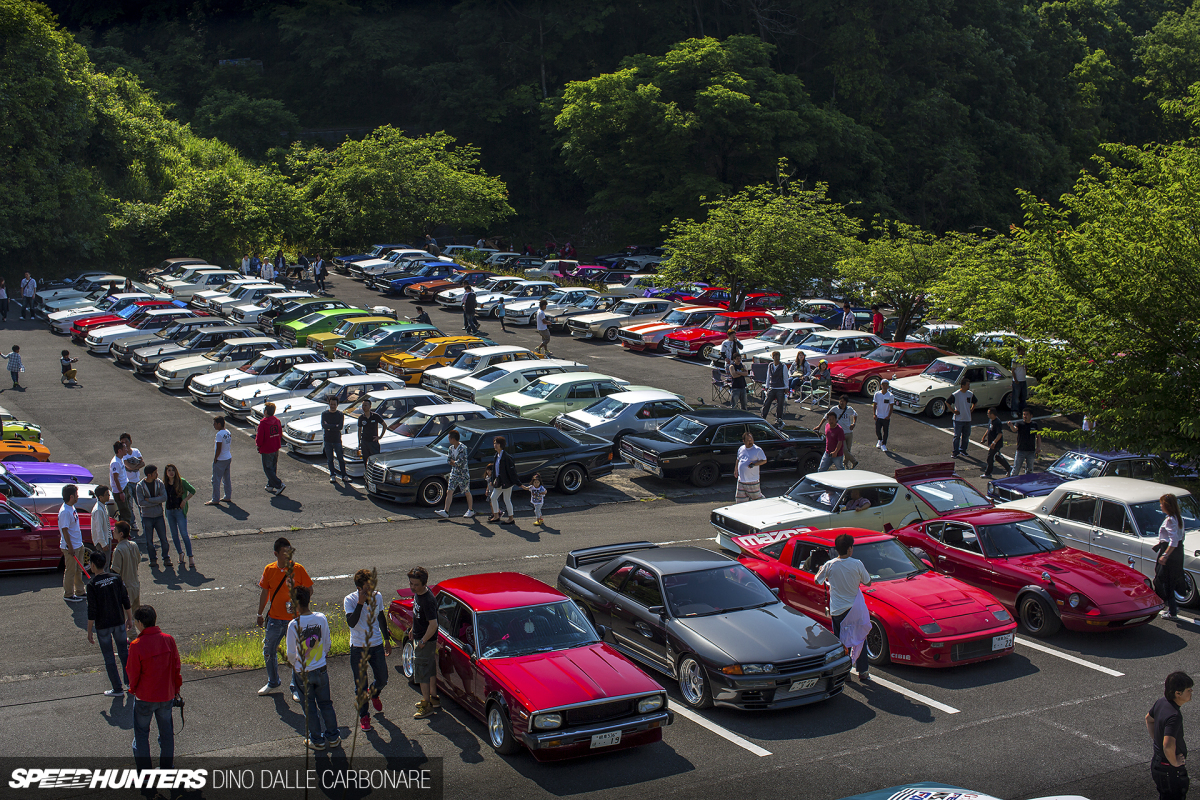 As much as I enjoyed hanging around outside it was hard to resist heading inside where the real show was taking shape. With the event held about a month later than last year, there were no pink cherry blossoms to set the mood, but the lush spring foliage made for a nice backdrop all the same.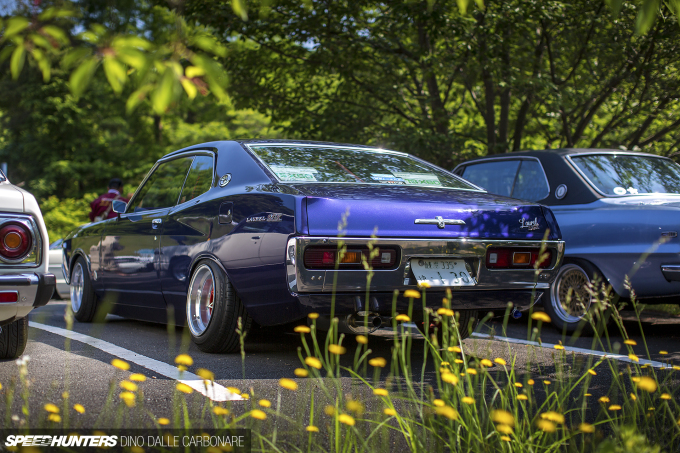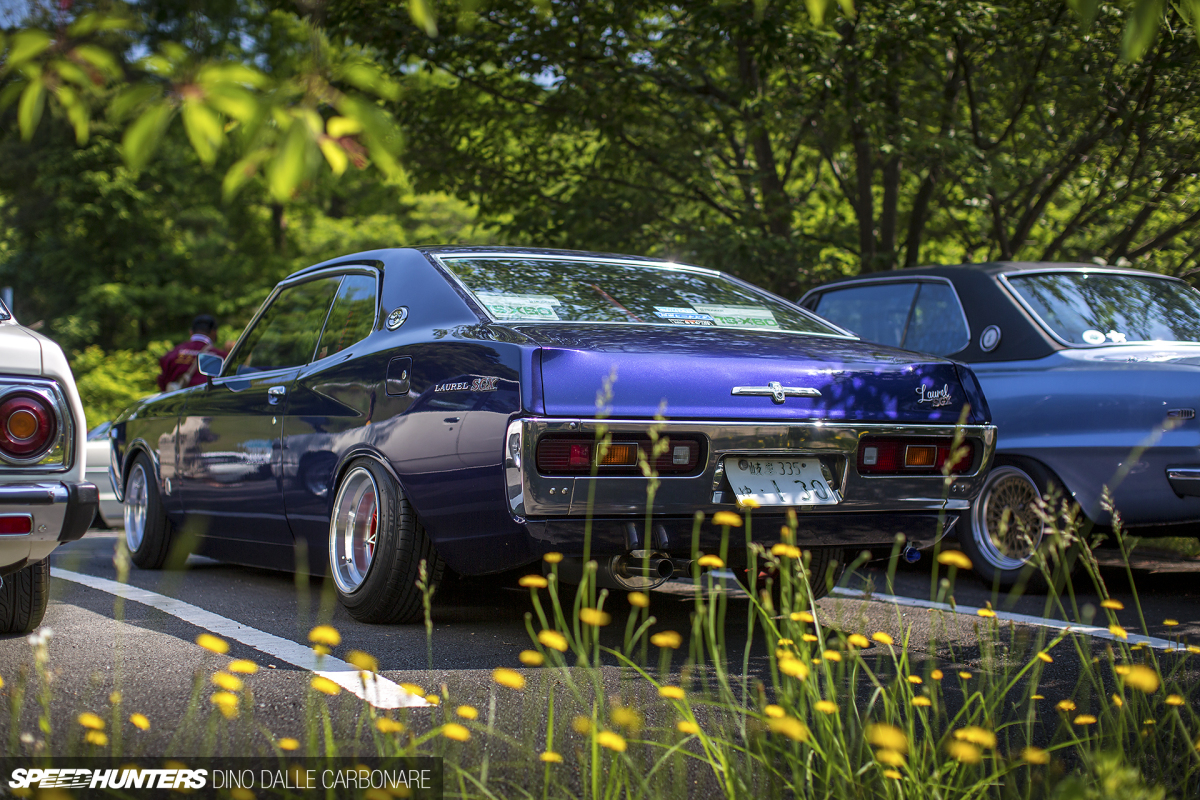 There were so many cars that I really didn't know where to start, and in every direction I turned I was presented with a stunning photo opportunity. It was almost overwhelming, but with a bit of deep breathing I got on with the job of hunting out the best that I came across. This butaketsu C130 Laurel, one of my favourite '70s cars of all times, was among the first that I took some to admire; the way it had been executed was nothing short of perfect.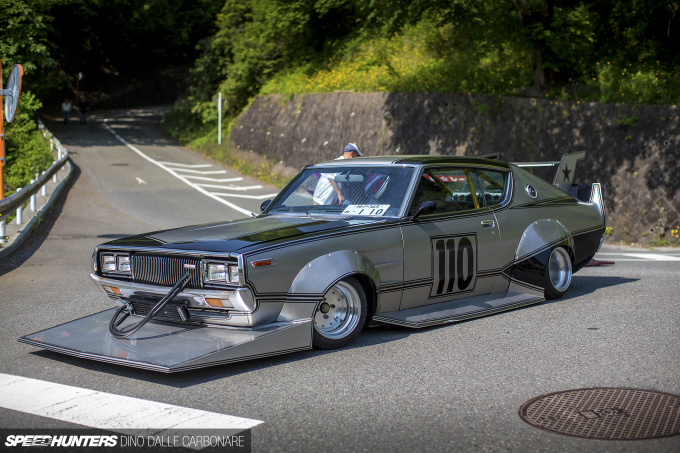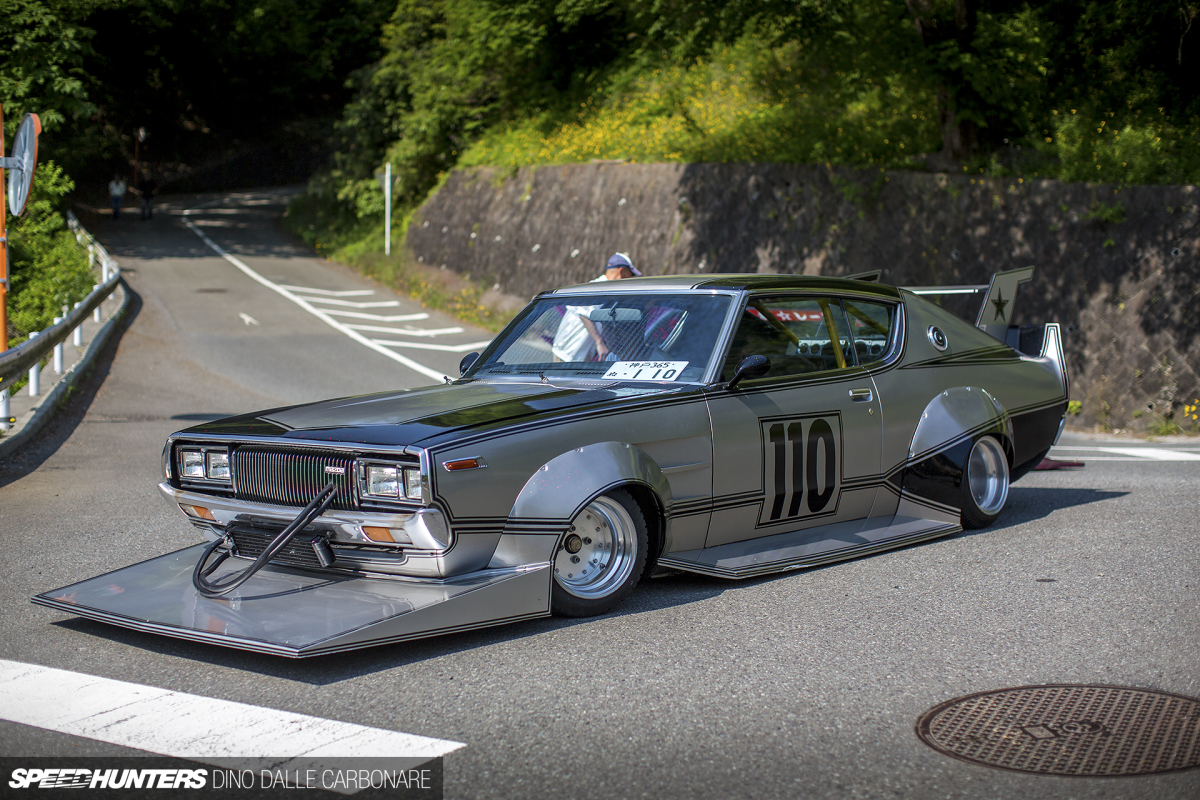 The Grachan cars kept coming, but those that arrived late didn't make it into the main parking lot, so had to turn back and park elsewhere. Doing a u-turn with such a huge front spoiler – or deppa – isn't the easiest thing to do!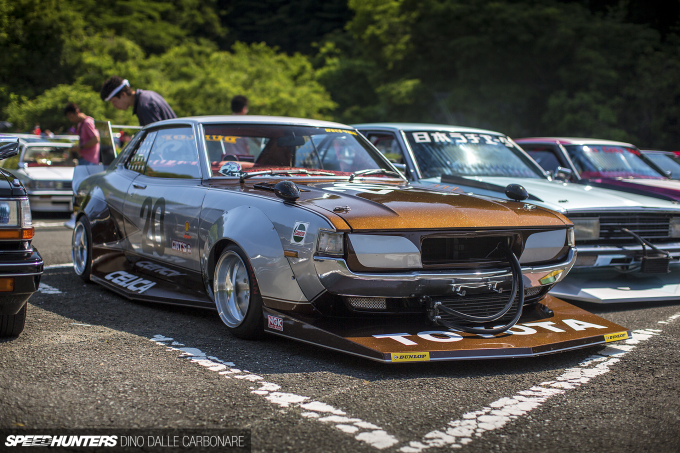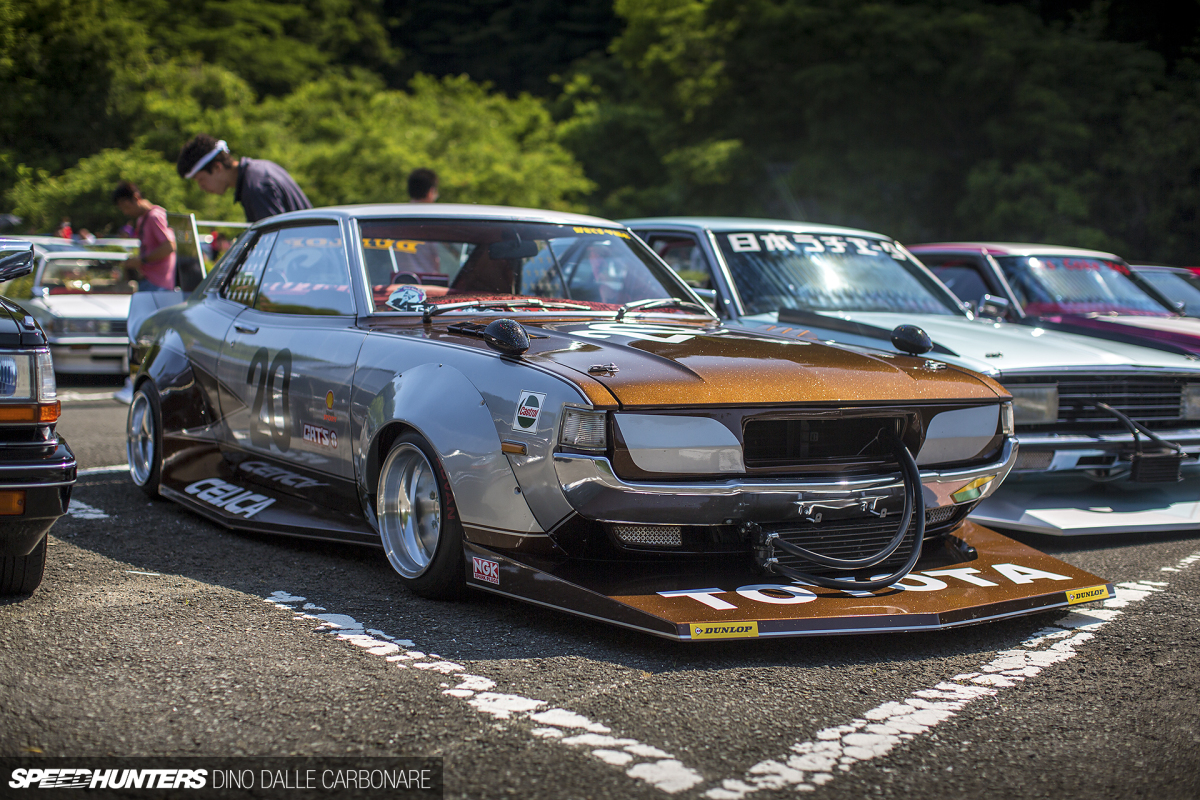 A Skyline club may have organized the event, but there was plenty of Toyota presence to drool over. In the mix was this RA22 Celica sporting all the right sort of Group 5-inspired touches, plus that must-have exposed oil cooler, which is more of an early '70s touch rather than a Super Silhouette type detail.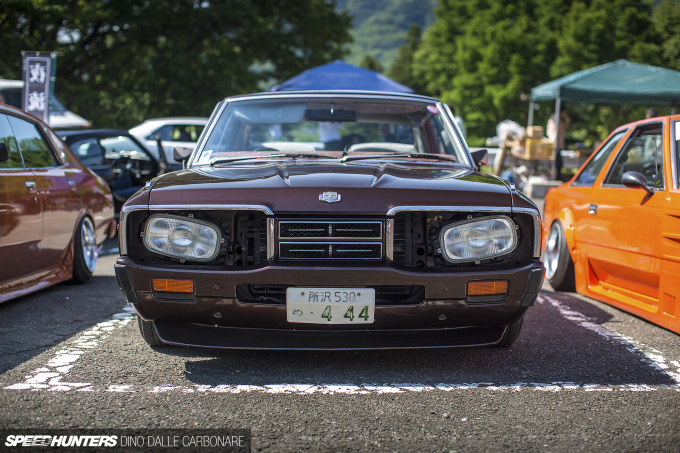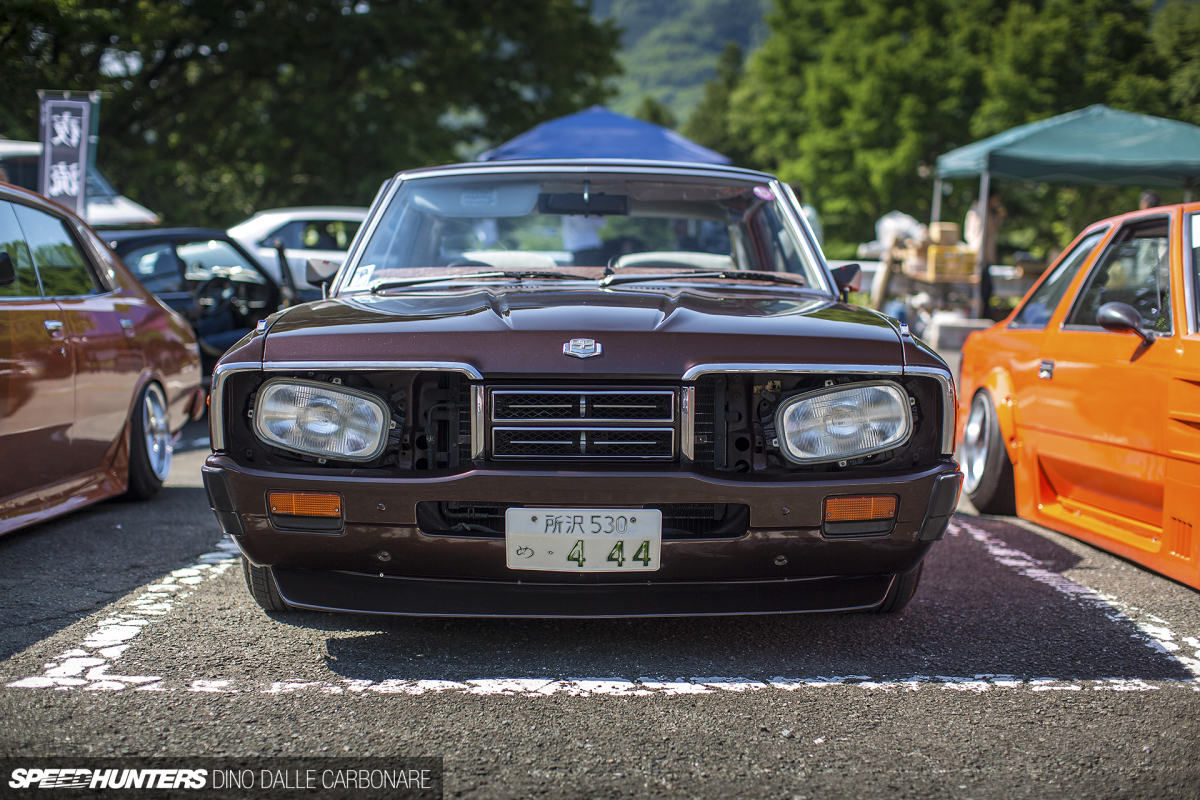 Within the kyusha scene there's a vast variety of styles and takes on styles, and the most fun part of being present at a gathering like this is seeing the various ways in which people try and come up with something unique. I like things simple, so this slammed 330 Gloria with a de-chromed front end, shaved headlight housings and tilted lights really did it for me.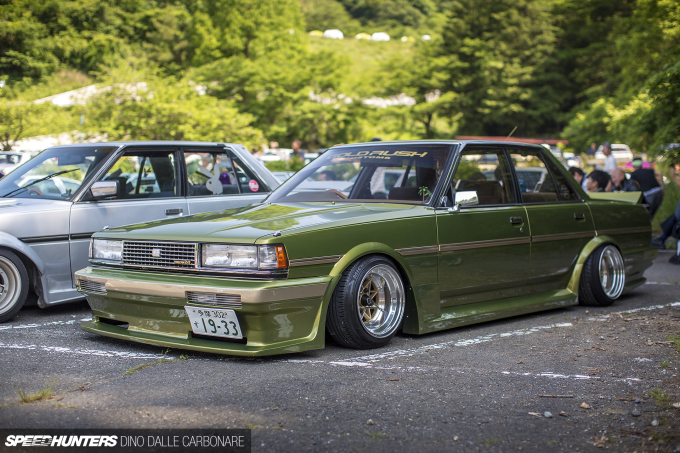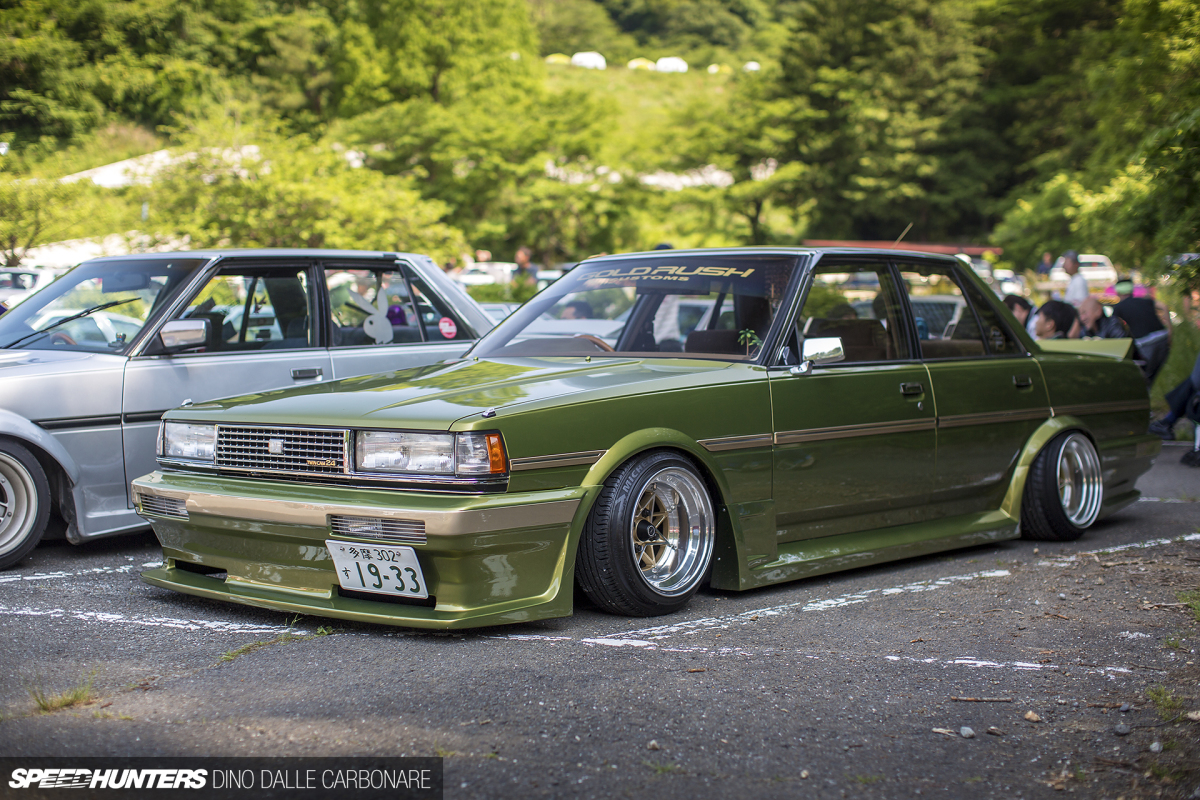 I like the clean and spotless way in which Goldrush Customs builds its cars, too. This GX71 Cresta belongs to the company's owner and is on my 'must feature' list. In fact, it's sitting right at the top!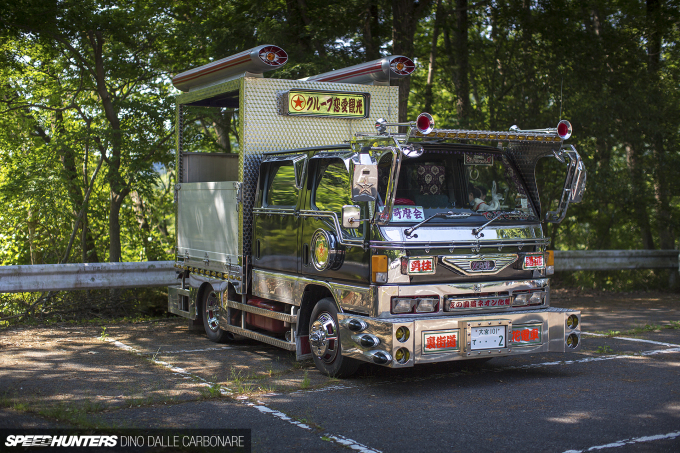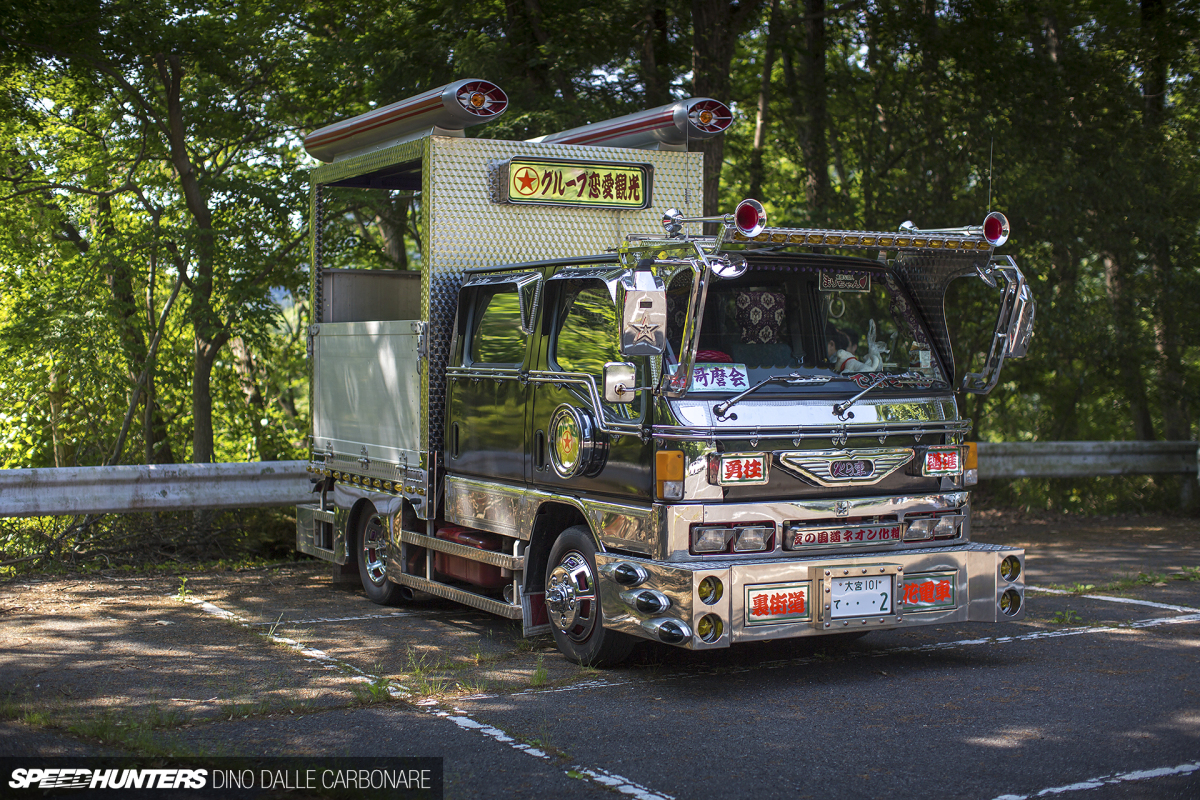 While this general scene does bring in a lot of people from different walks of life, through it I've met a rather high number of guys and gals that drive trucks as their daily jobs. So it was not strange at all that parked in one corner of the lot was a little twin-cab dekotora, boasting all those stainless steel and custom touches that make these things so damn unique. This is Yankee culture at its best.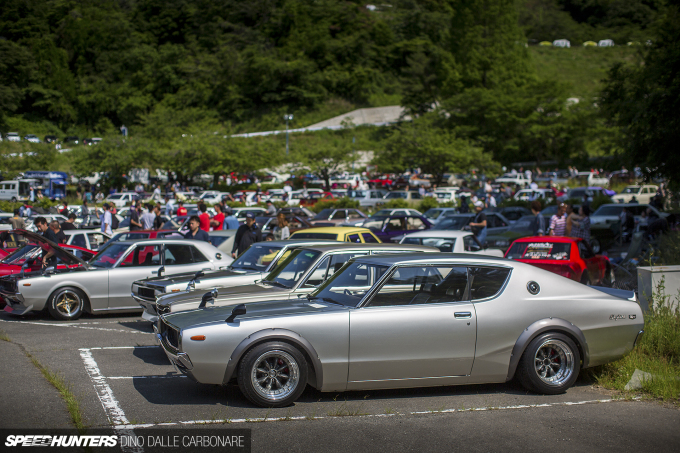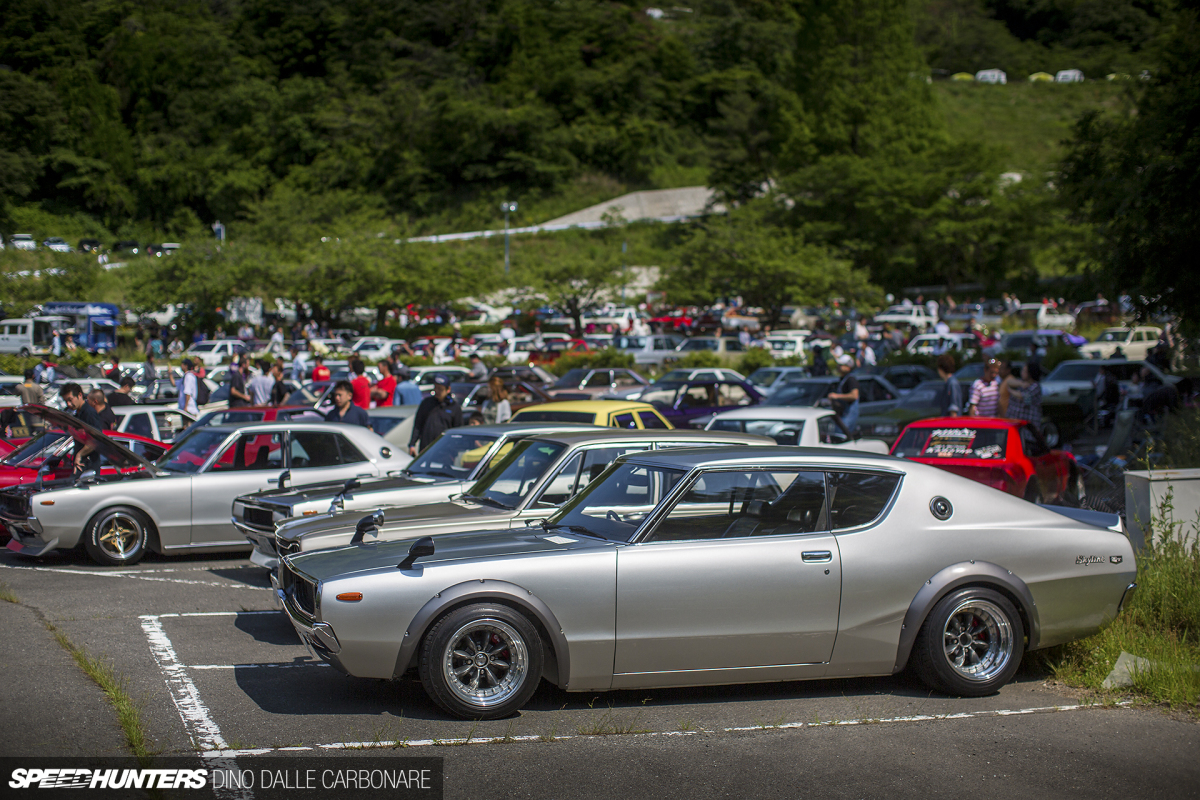 Within the rows of old school Skylines it's always nice to come across one that keeps it quite simple and goes for the proven and tested GT-R replica look.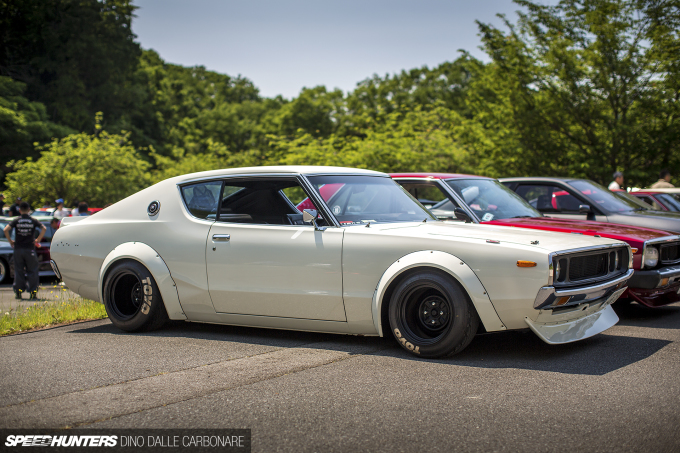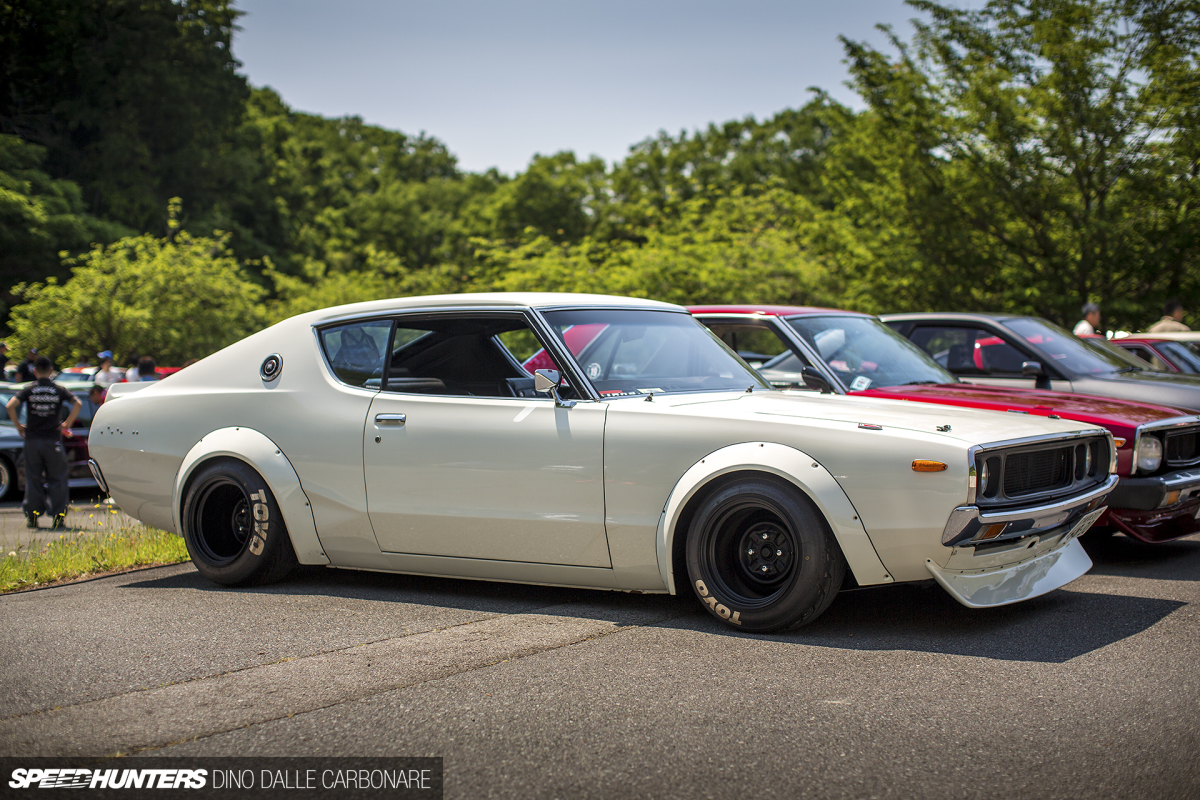 But in this sort of company, it makes it look – dare I say it – almost boring; a Kenmeri executed in a slightly more daring way made so much more sense. I'm sure Kato-san at Liberty Walk would approve of this one.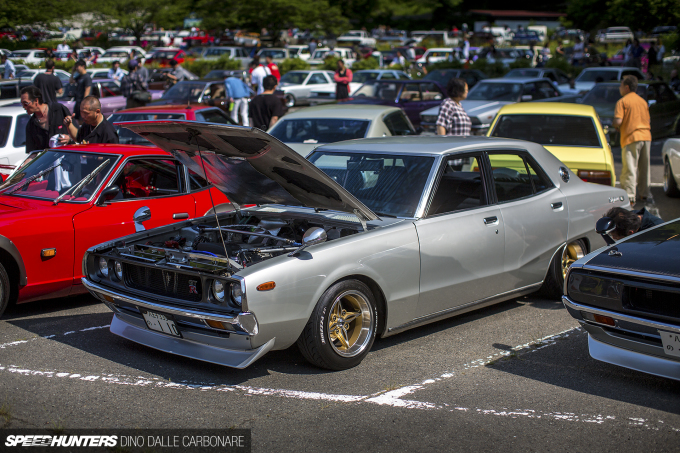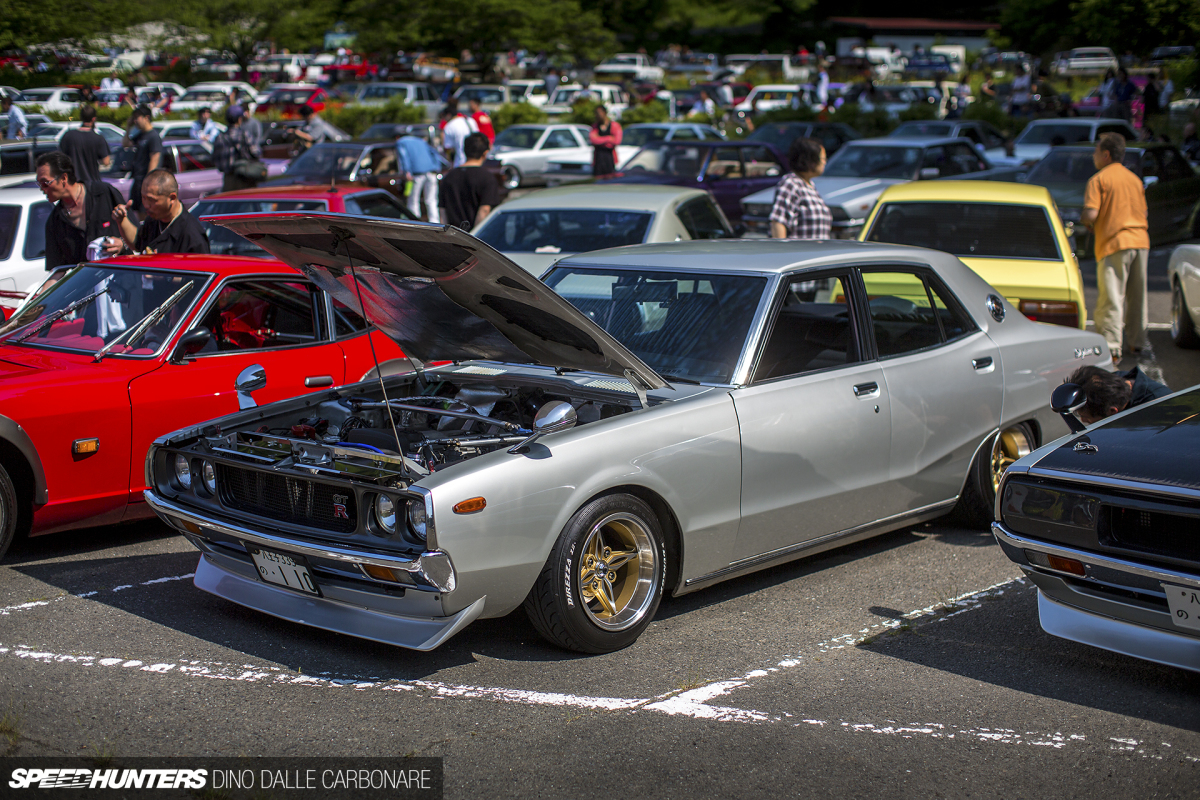 And while we are talking about Kenmeris, how about its slightly longer and bigger Yonmeri four-door brother. I love the Riverside Riverge wheels and that little front spoiler here, but it was what this example had under its bonnet that was really generating interest.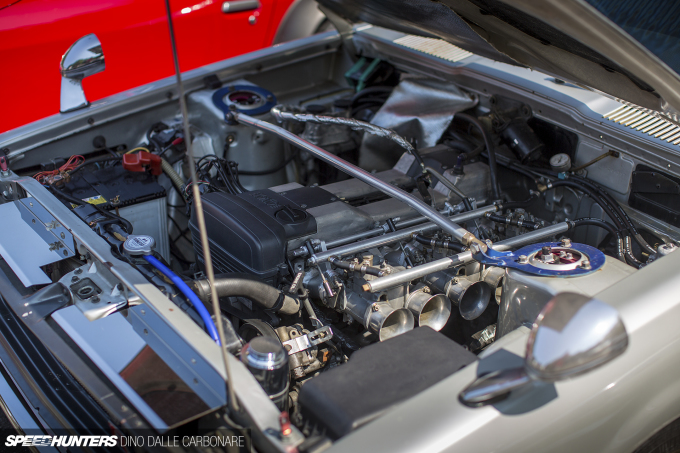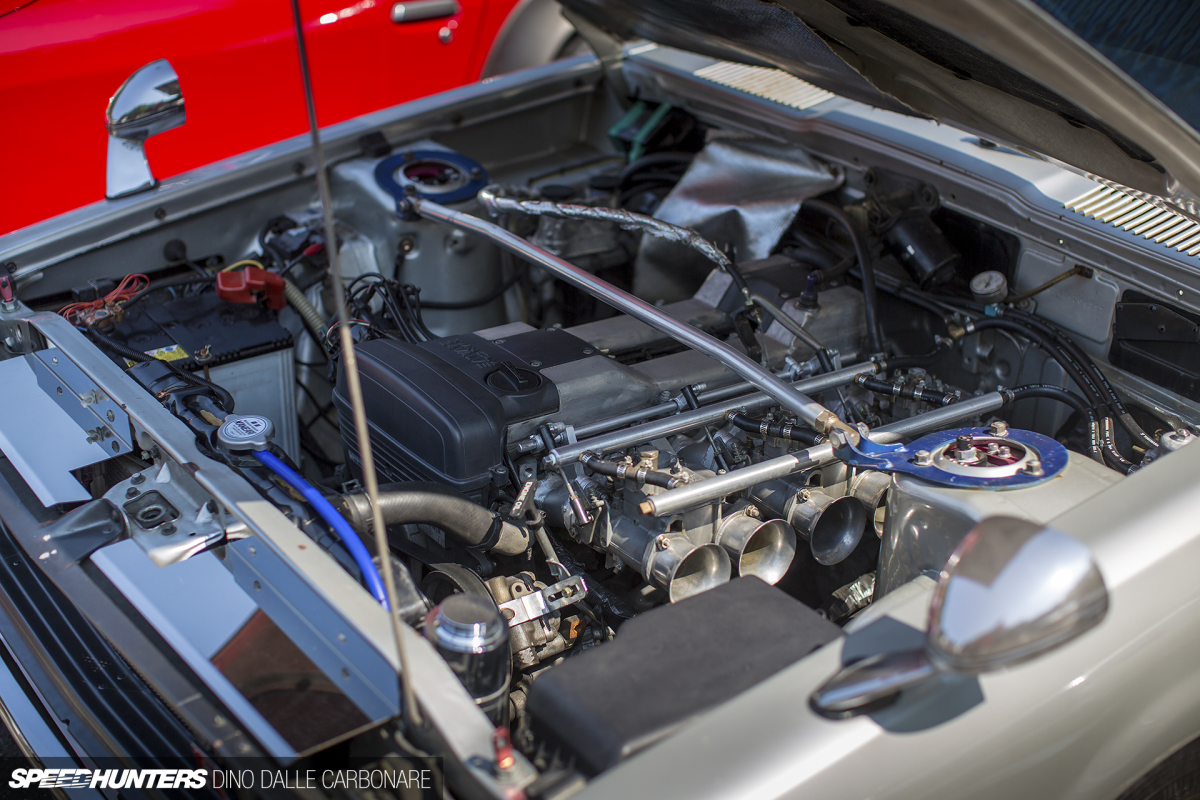 Taking the ever popular resto-modding approach, it's not uncommon to find more modern engines repowering these mid-'70s cars; powerplants like Nissan's great RB25 and RB26. But a Toyota 1JZ-GE? In a Skyline? This will give Nissan guys nightmares for weeks!
This Is The Real Stance Scene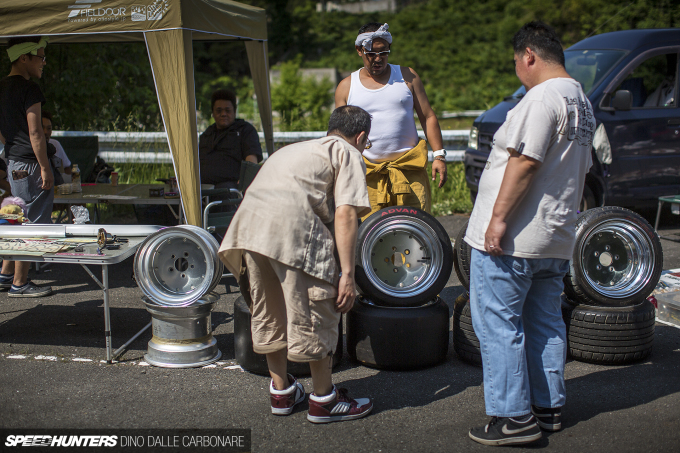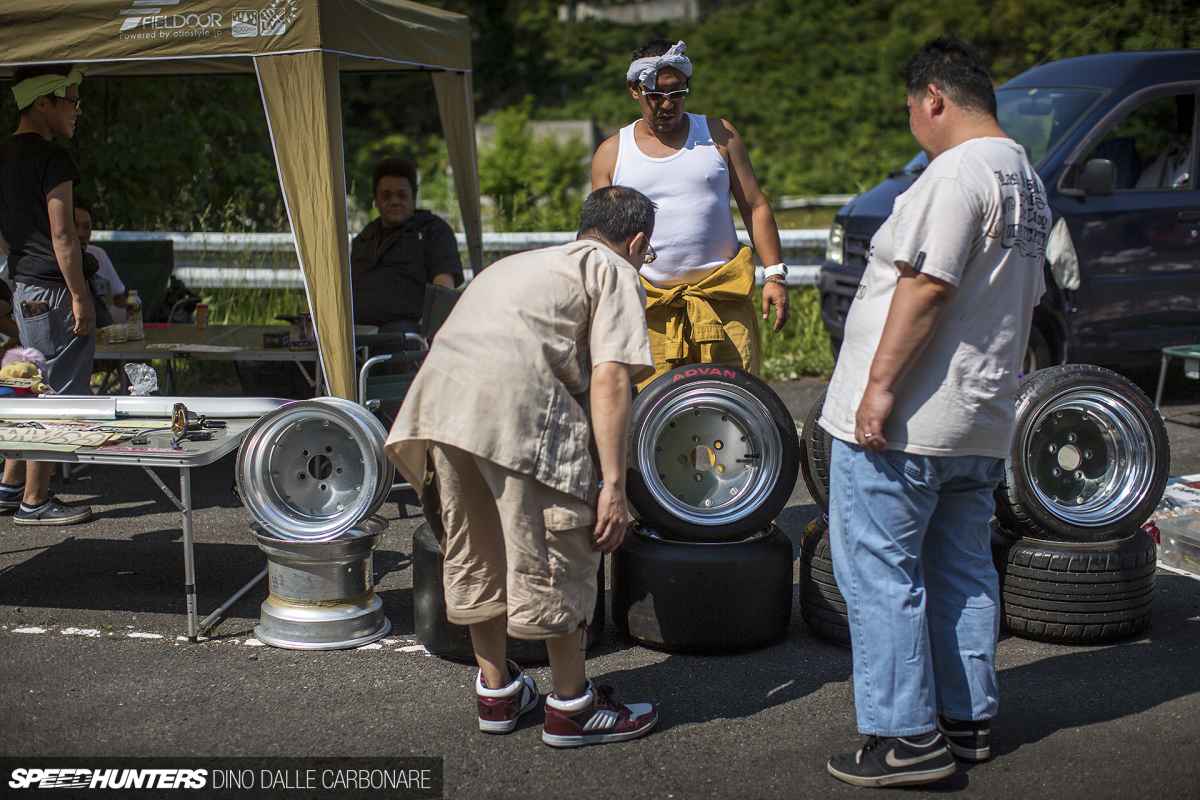 One thing that brings a lot of people to these meets is the chance to find some rare and obscure parts for their cars. These guys were having quite a colourful conversation about wheels and costs, and I just couldn't help but enjoy their banter.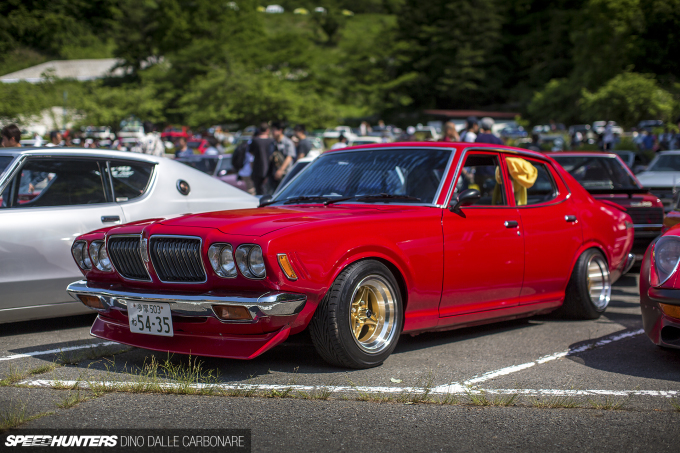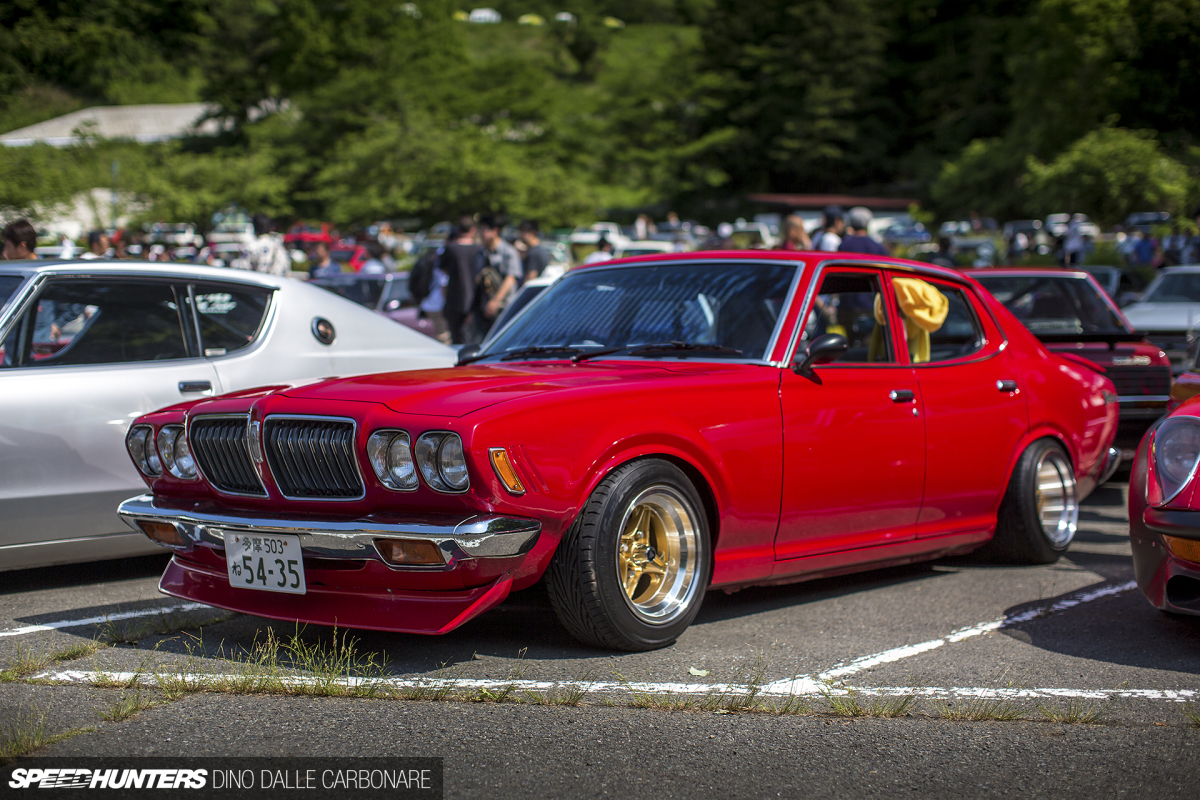 Walking through gatherings like this, it's hard not to reflect and draw comparisons with today's cars and cultures. It sort of always ends up depressing me at how manufacturers like Nissan, and to some extent Toyota, have lost the coolness factor. Back in the day a four-door 610 Bluebird may not have been anything too special in the grand scheme of things, but what it did have was a distinct look; one you couldn't possibly confuse with any other car. That's not really something you can say about modern day offerings.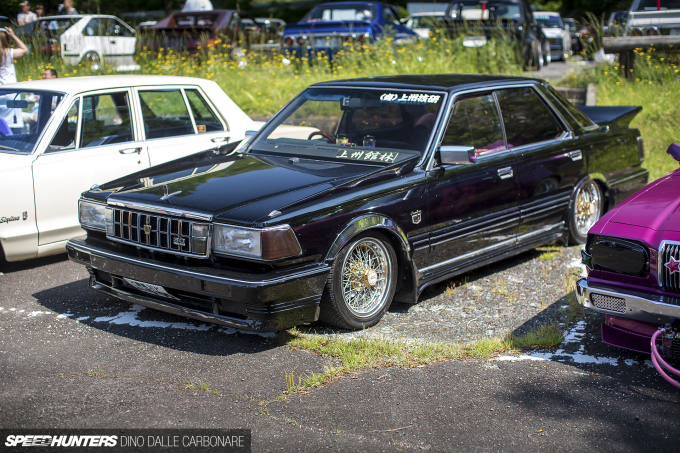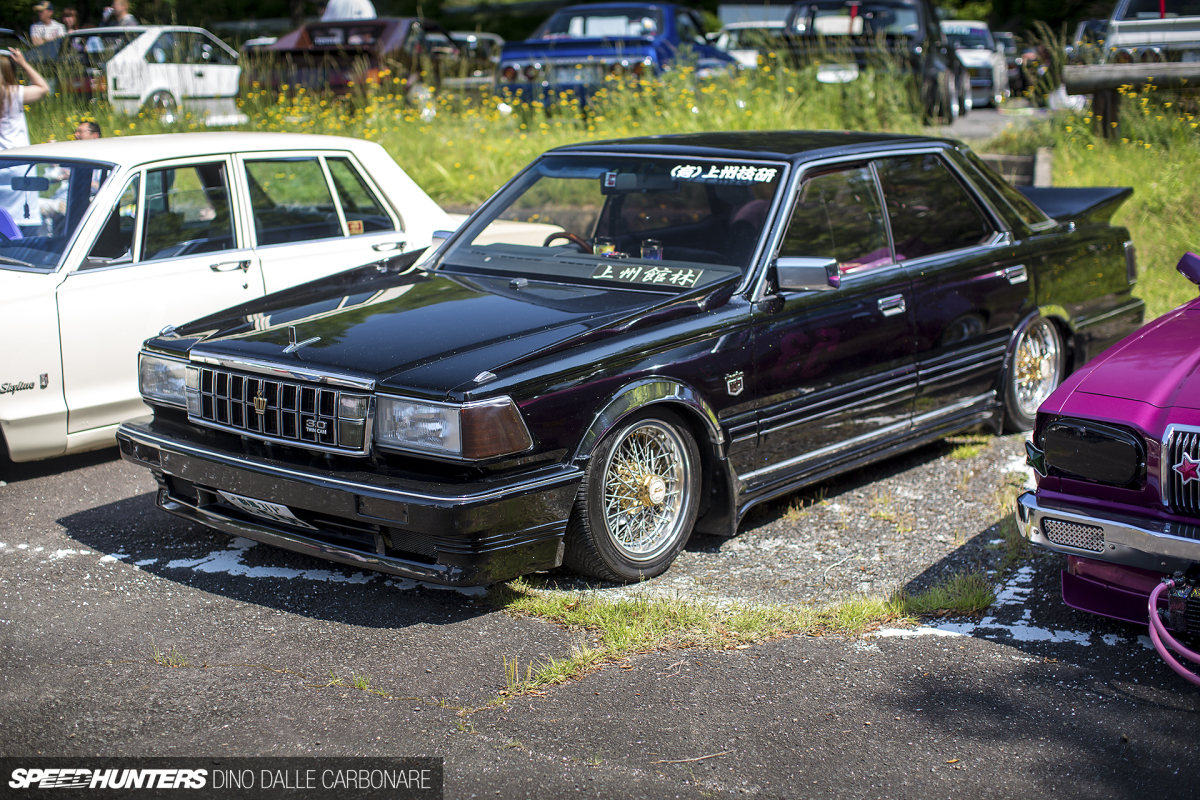 Then of course there are cars like this older Y30 Cedric which has a style of its own. It mixes various VIP, and Grachan even, with the addition of a massive custom trunk spoiler and bonnet fins; but the wire wheels are very much in line with what you'd expect to see on an American lowrider. I'm honestly still not sure what to make of it, and that's including the confusing S120 Crown grill swap!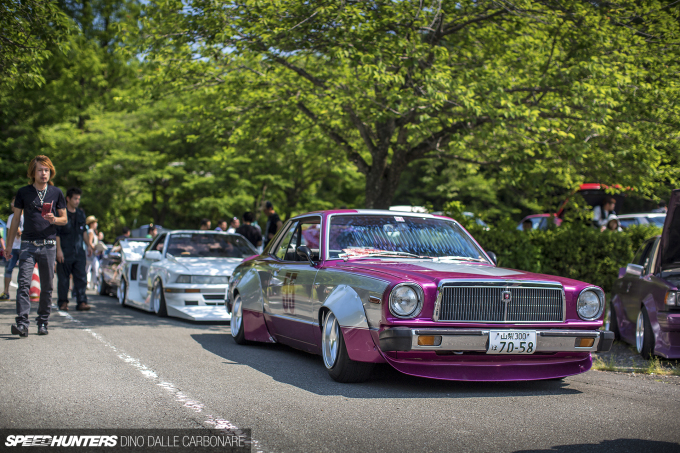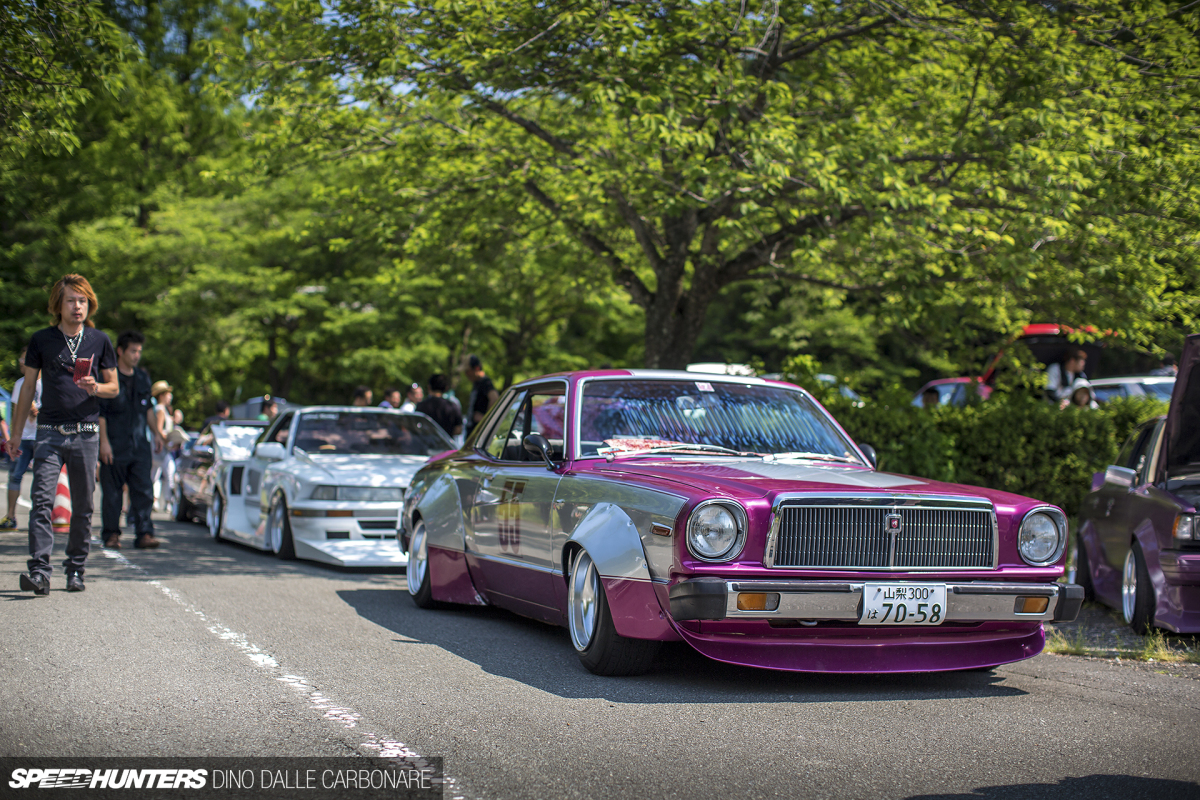 If I really have to go for it, you can't beat good old Works-inspired overfenders. In a vastly exaggerated form, they transform the look of this X30 Chaser.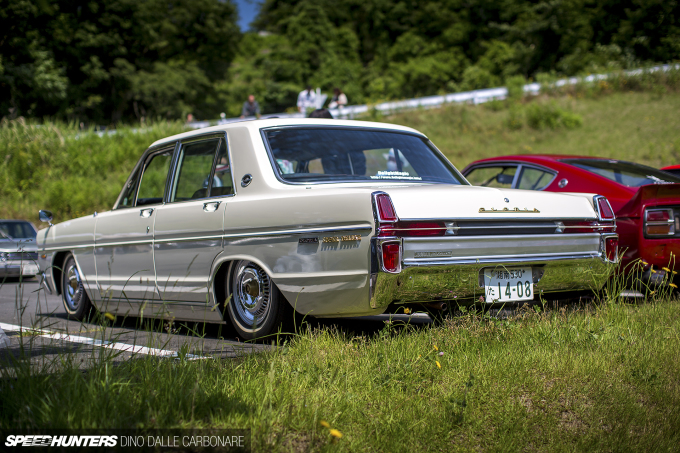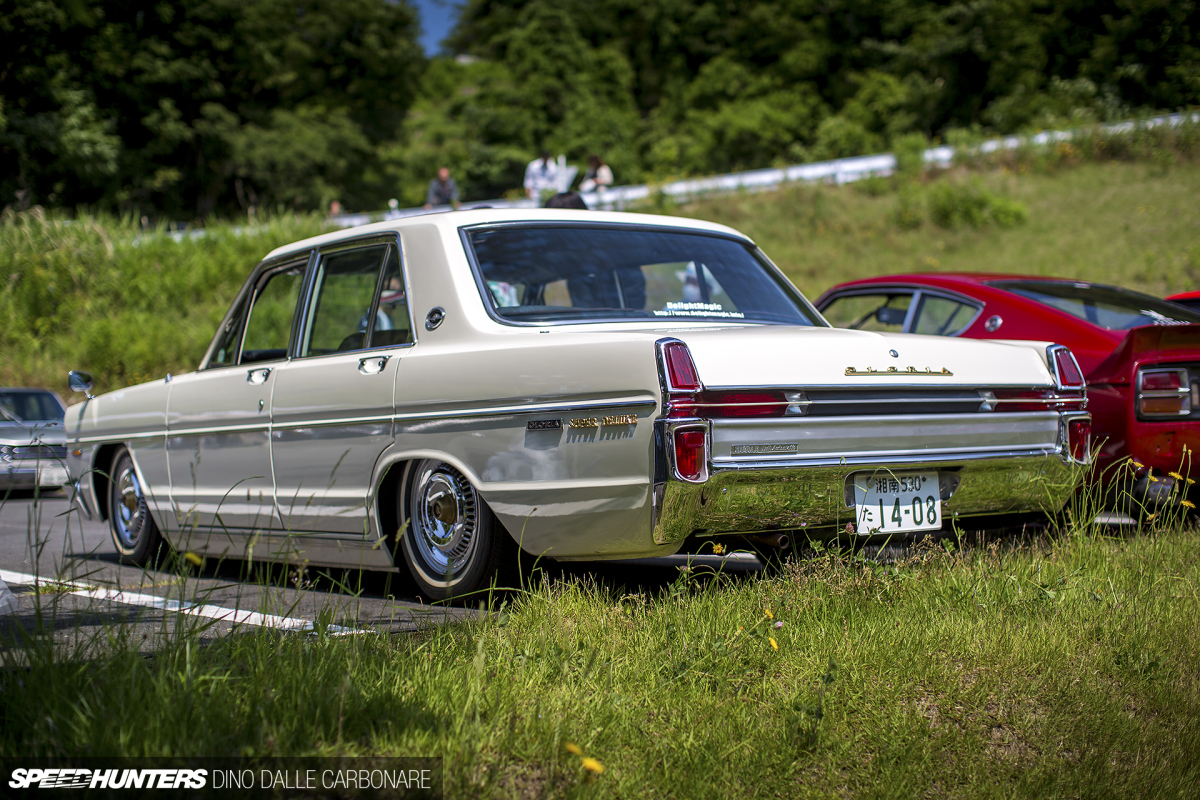 Sometimes you don't even need to do anything other than lower a car – something I saw a lot of the previous weekend at the Mooneyes Street Car Nationals. Seriously, how cool do these old Glorias look?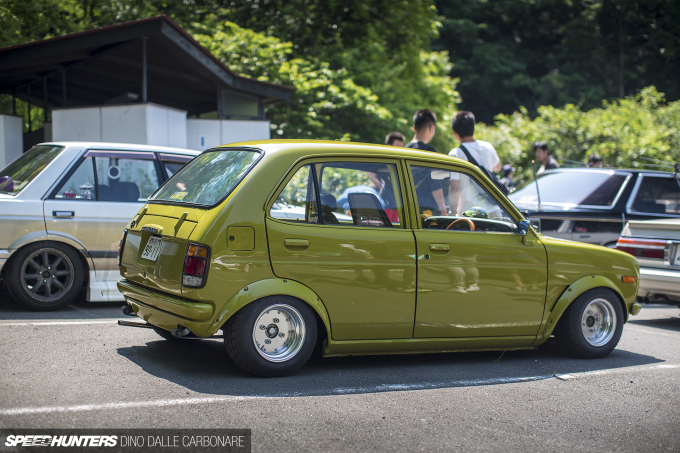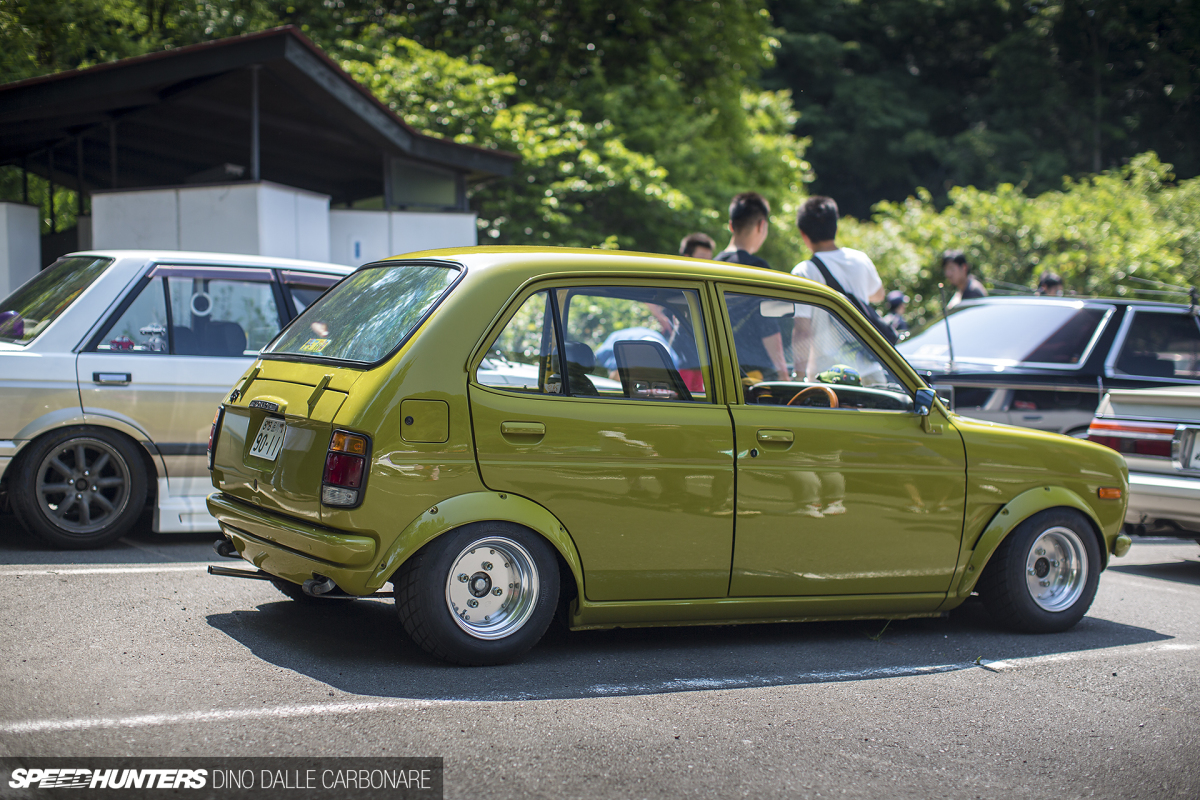 The Honda Life may well be nothing more than an unimaginative little kei van these days, but back in the day it had its own distinct style; it made a statement and stood out from the crowd. It's such an oddball little choice that it truly deserves a full feature; so that's what I'm doing with this one. Make sure you don't miss it!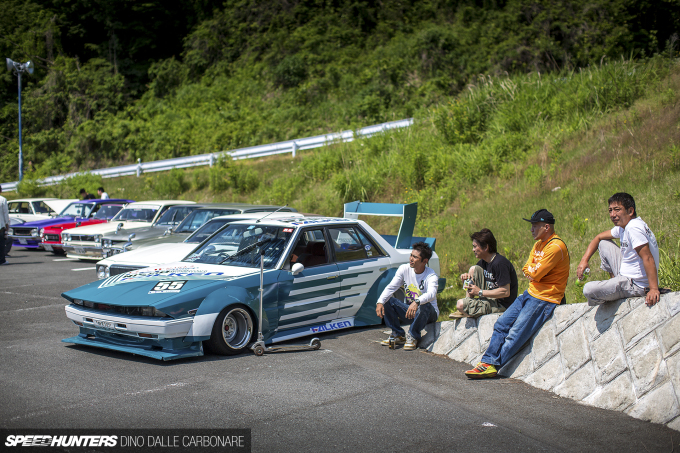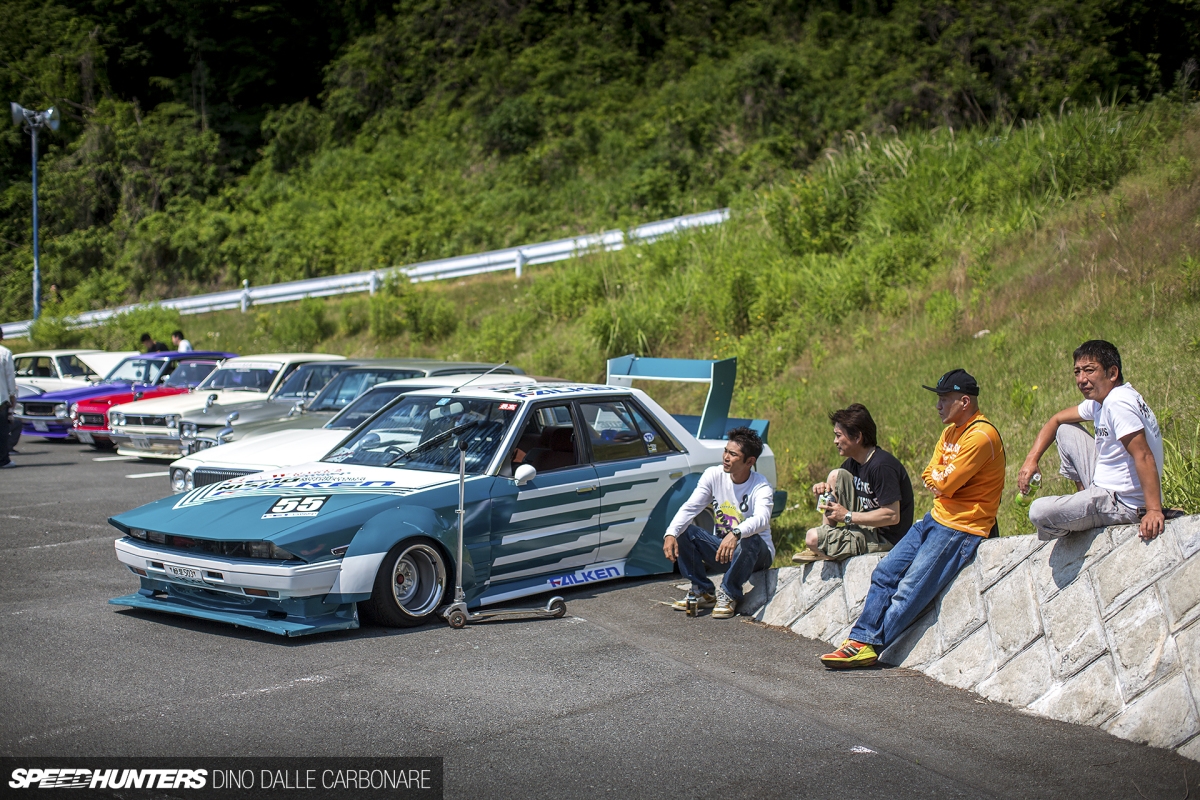 The sunny skies added to the overall atmosphere; everywhere you looked people were relaxing with their friends, chatting and just hanging out admiring the mind-blowing turnout of cars.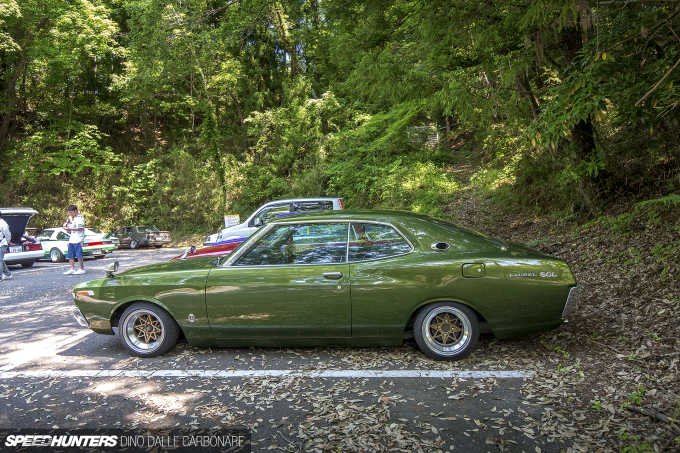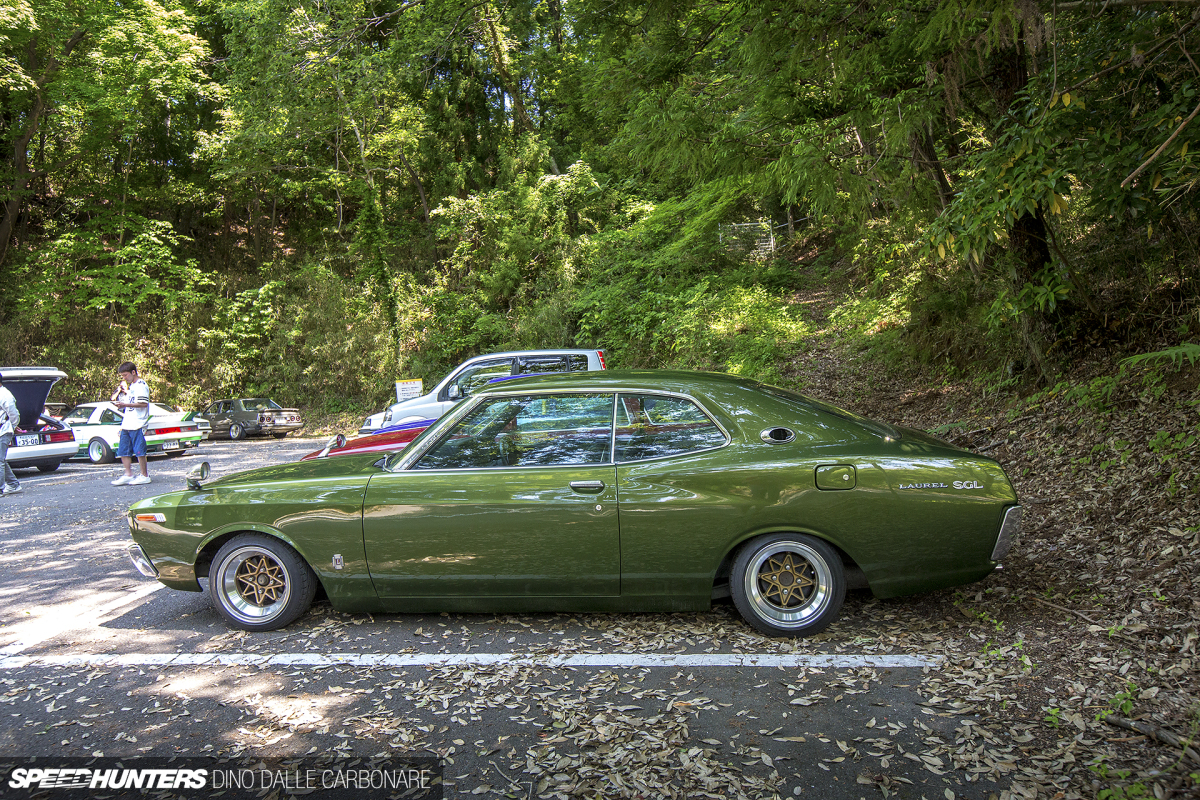 But as is always the case with this particular event, people don't end up staying long. By 10:00am cars began to leave, so to ensure I saw as much as I could, I went hiking up to the few other parking areas that had been filled up. Green butaketsu Laurel? Hell yes!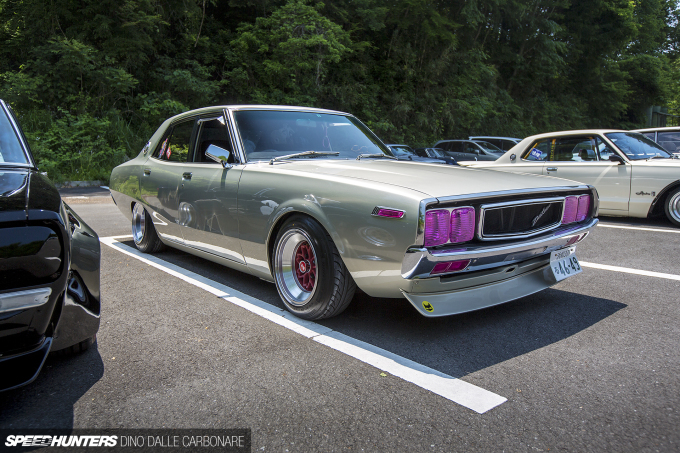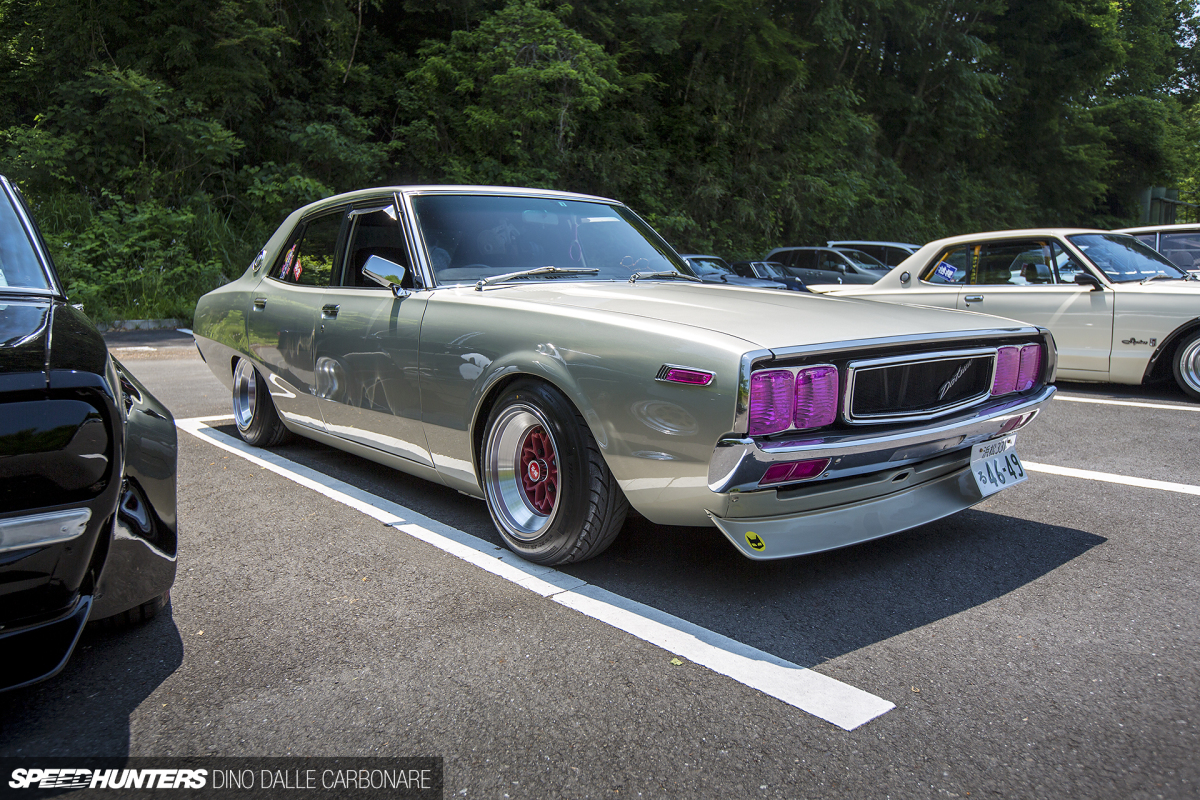 This scene in particular revolves a lot around wheel choice, and selecting the right sort of rim for your project can be the most important alteration to the car, often because nothing much else is done. This Yonmeri is a great example; the Hayashi Racing Team Yayoi 'sakura' wheels setting a pink theme that's carried over to the headlights and side markers.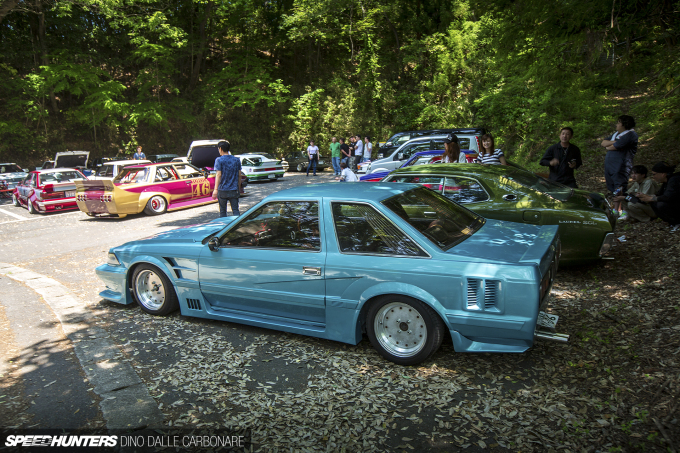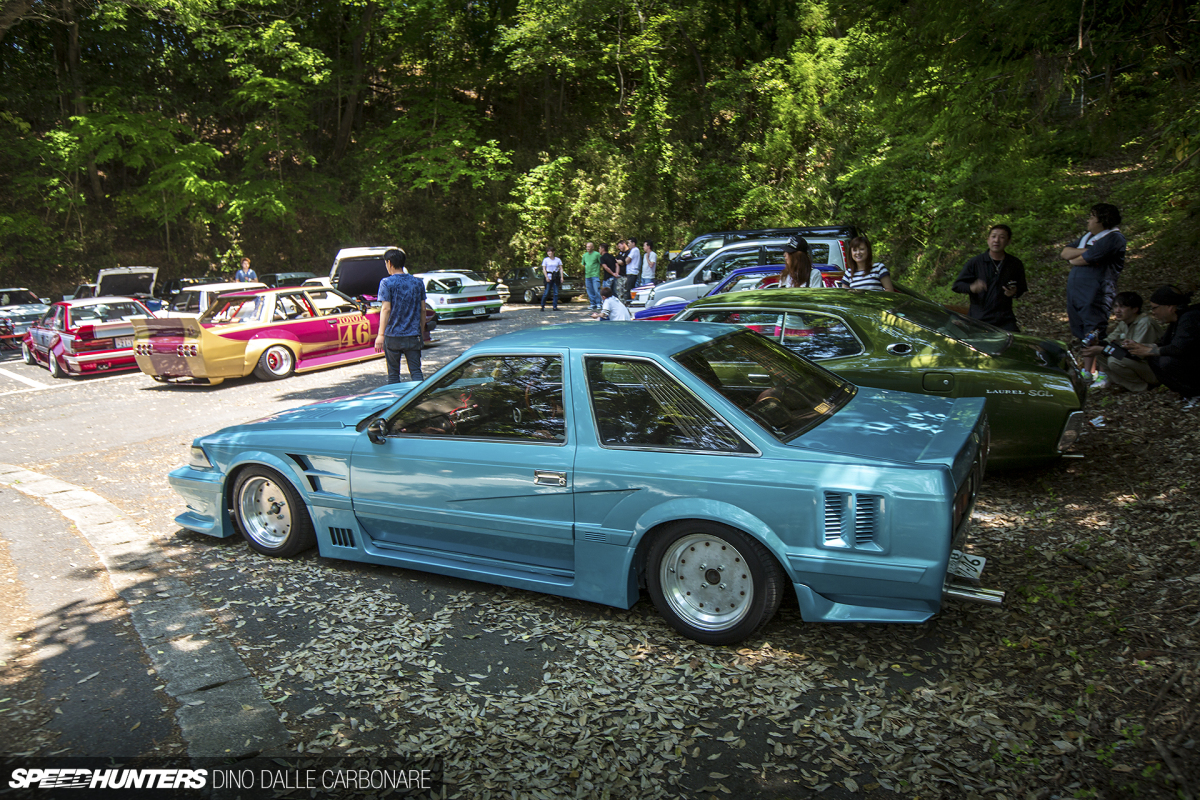 And from not doing much at all to a car, to doing pretty much everything, as this Z10 Soarer with Z20 face and a ton of other body alterations shows. Is that an AW11 MR2 side intake I spot there in the bumper-less rear end?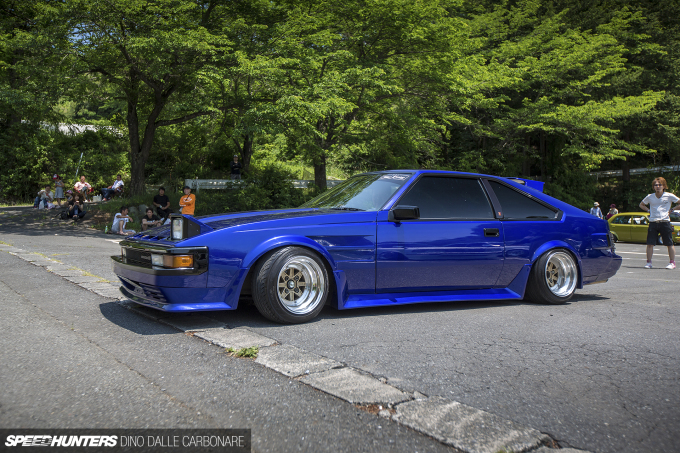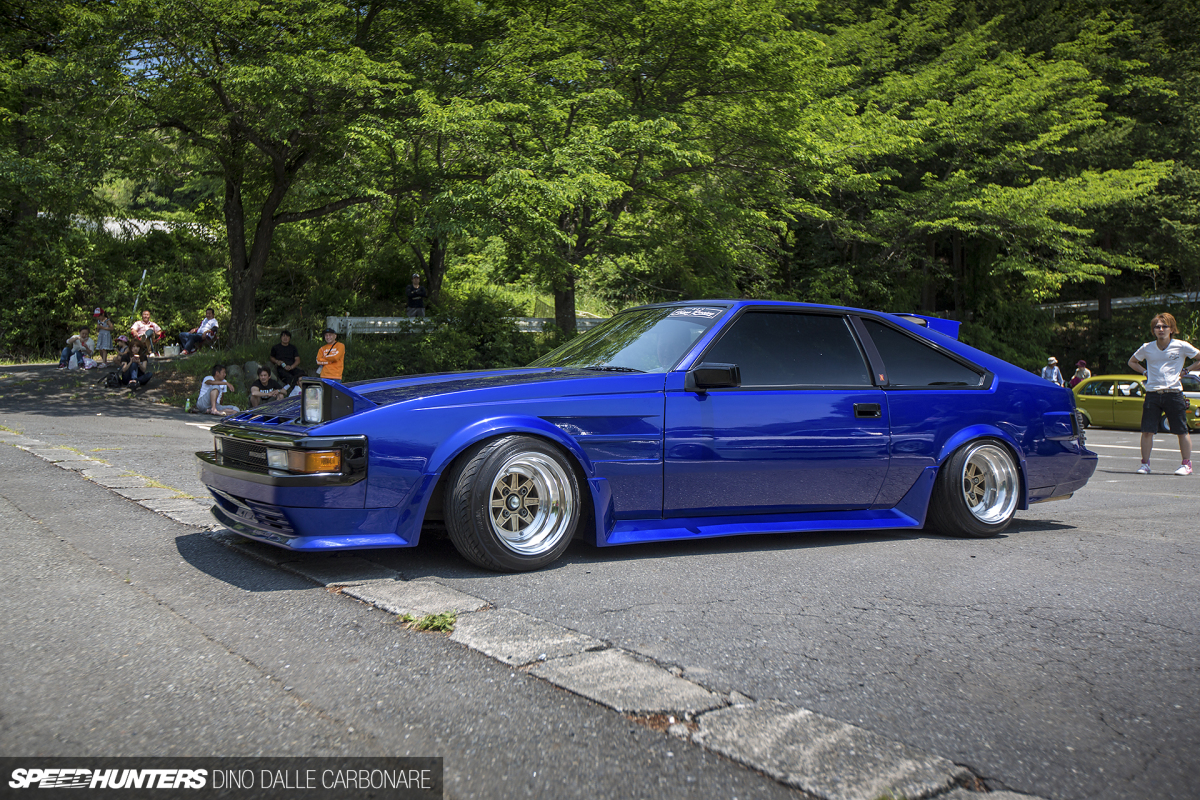 And how about this Celica XX that instantly makes you wonder why Toyota no longer produces this model.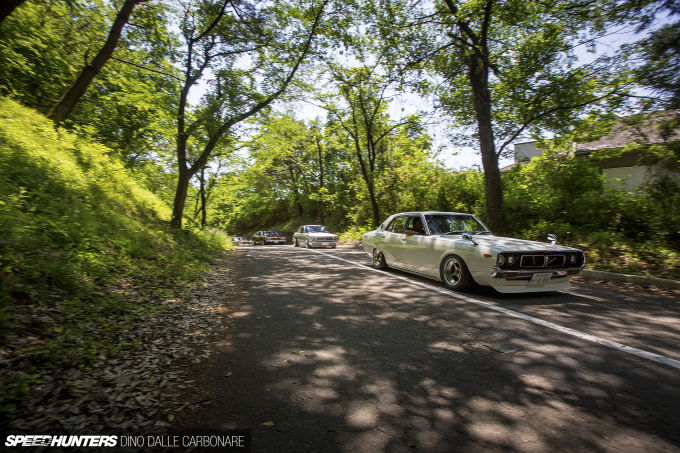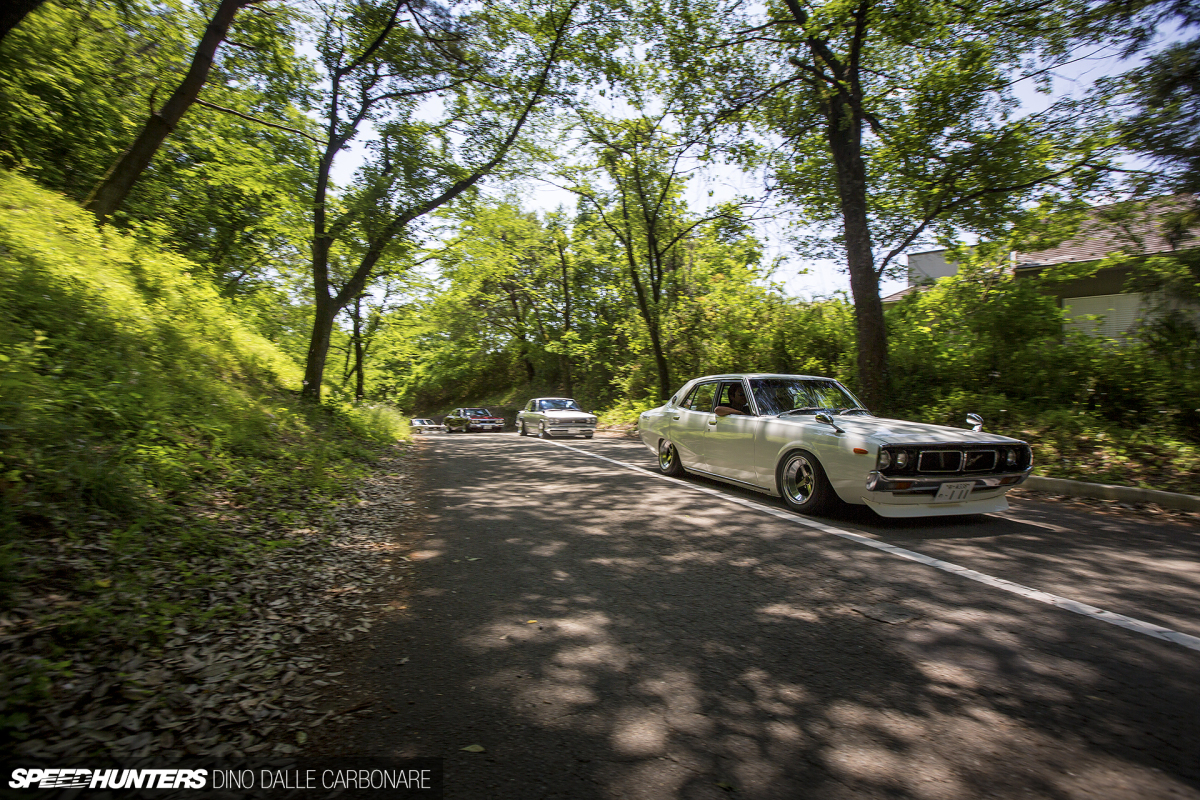 It didn't take much longer for the entire lot to empty out, and I ended up catching up with a lot of the cars on the Chuo Expressway as I made my way back to Tokyo. Thankfully, I managed to grab enough cars to bombard you with spotlights over the coming weeks, so your shakotan fix is just about to begin!
Dino Dalle Carbonare
Instagram: speedhunters_dino
dino@speedhunters.com