Making The Right Choice
Having driven four hours to get to Nagoya for the recent Tuning Car World Showdown, finding out that pretty much nobody would be showing up on Sunday with their cars due to the closure of the massive parking area was little disappointing. Typically, this particular weekend in Nagoya would see a turn-out of untold Kyusha rides as well as the colorful appearance of some Kaido Racers. It's something I've always looked forward to, but for a moment it seemed like it was just not going to happen this year…
I was talking to Inoue-san of Star Road about my predicament – he was at the show with his orange S30 project car – when he said, "Hang on a second, I'll call my friend and ask if people are meeting elsewhere." After a few minutes on the phone he turned to me and replied, "It turns out there's a meeting tomorrow in Sagamiko – over 300 cars are expected."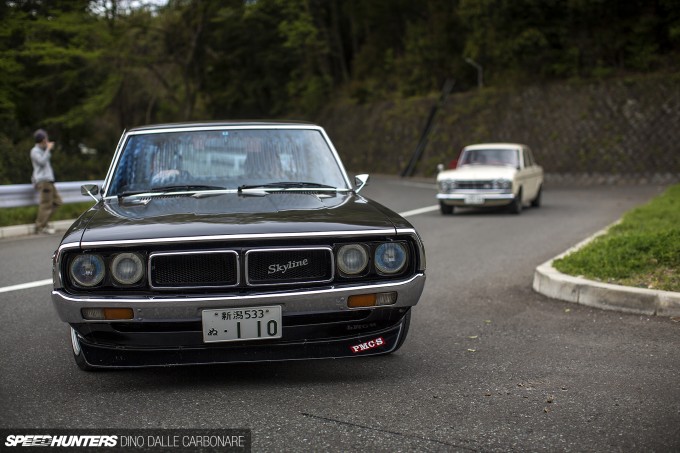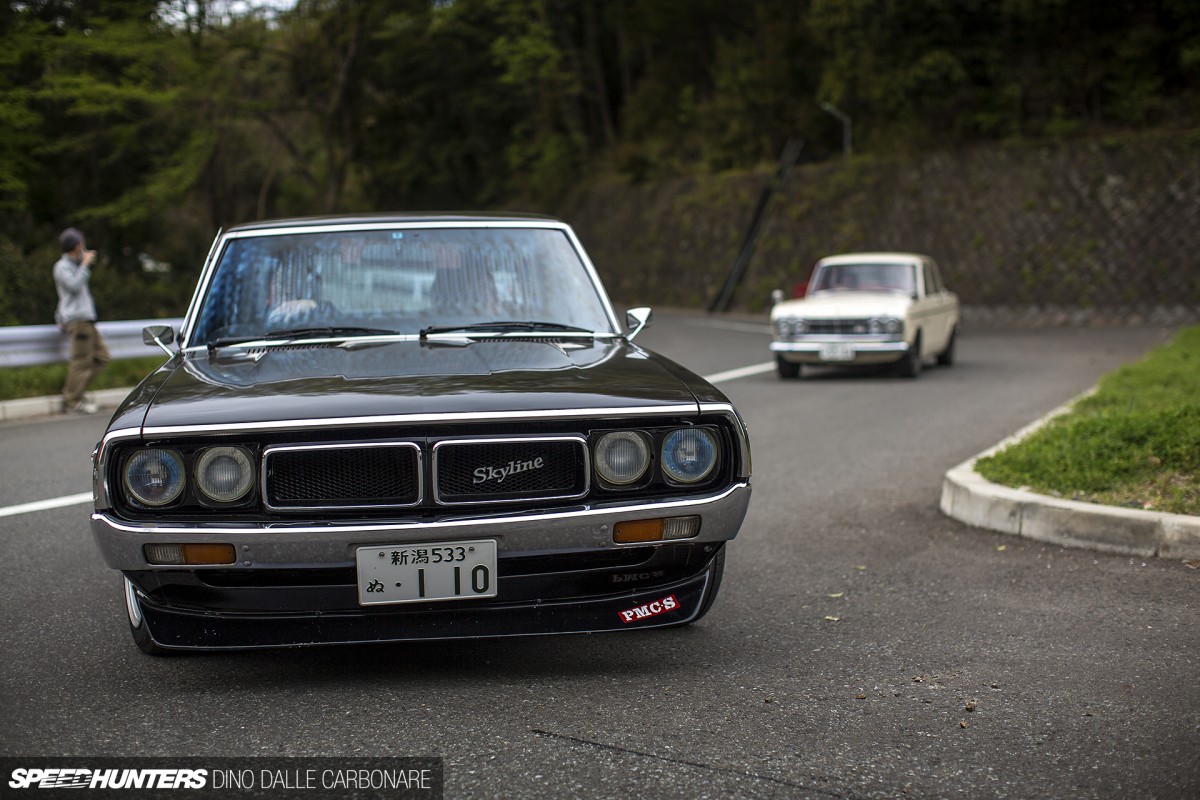 Awesome! Sure, that meant I'd be pretty much driving all the way back to Tokyo when I need to still be in Nagoya that night for a shoot in Kyoto the following day, but with the prospect of a few hundred cars – including the potential showing of a few Kaido Racer teams – there was no way I could pass up the opportunity. And boy am I glad I got up at 4:00am that morning to drive to Sagami Lake…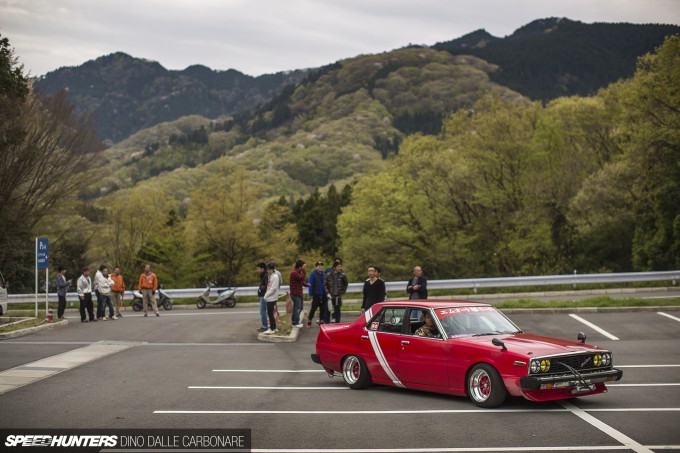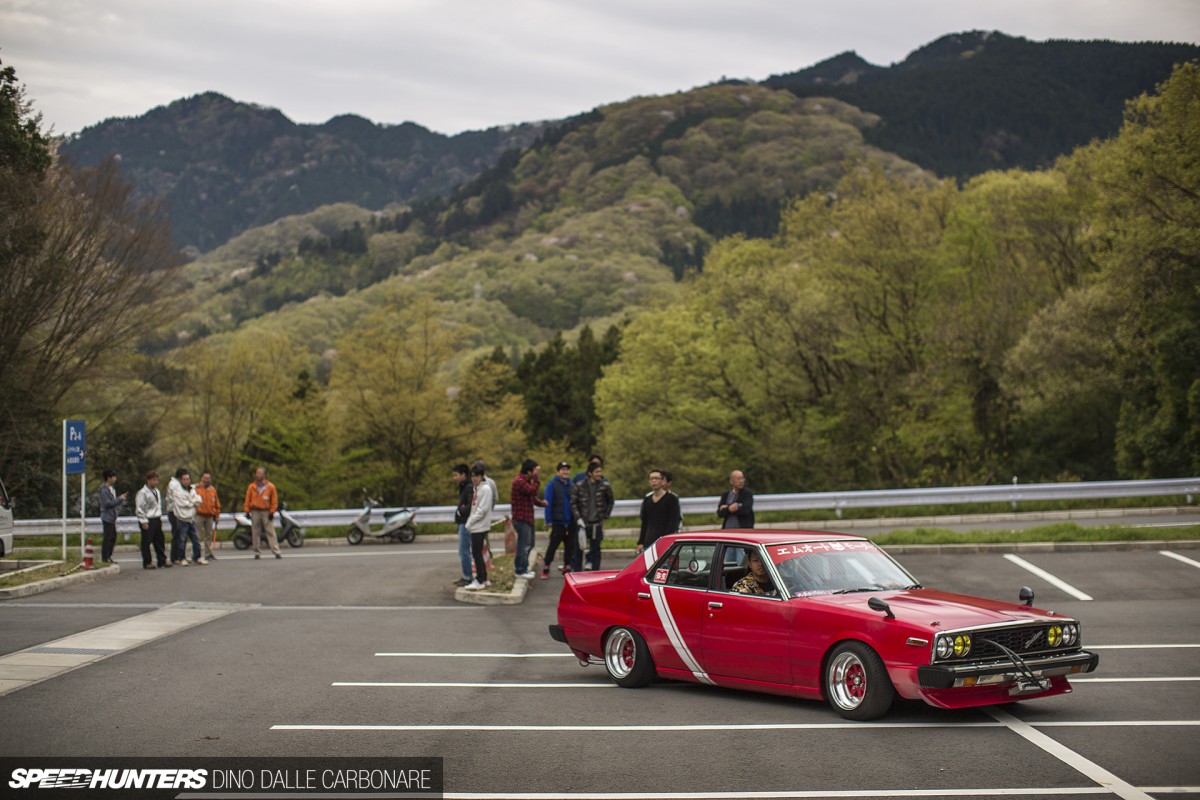 I spotted some cool old cars on the way up the highway – each car-sighting reassuring me that I was doing the right thing. And once I arrived at the Sagamiko Pleasure Forest gates – the same place where I covered the Hachirock Festa in 2012 – I was grinning from ear to ear.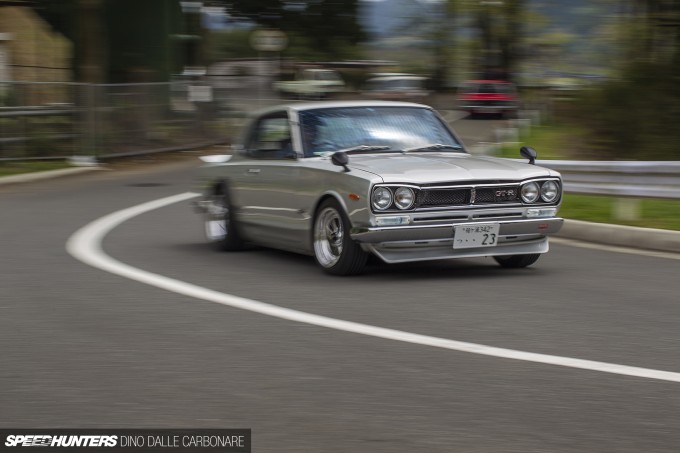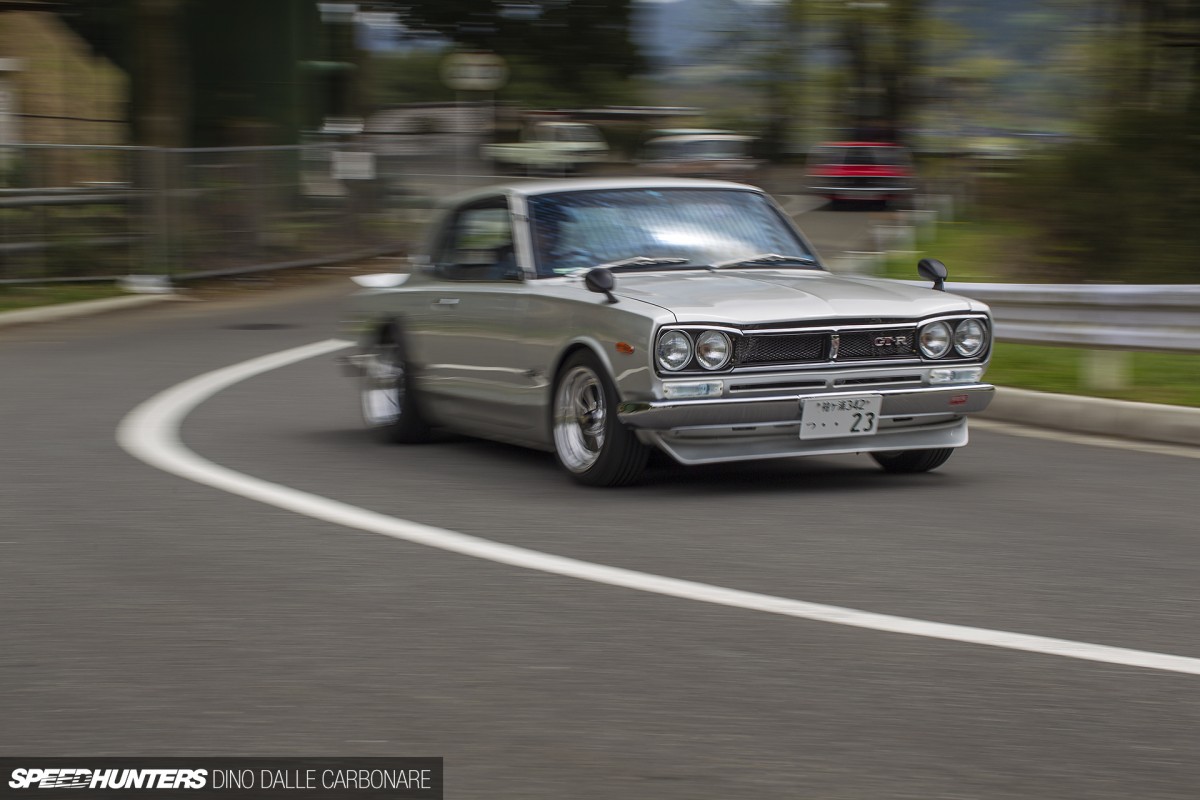 There was a steady flow of Japanese classics making their way inside, and after queueing up for a while I managed to drop off the car and get out to enjoy the spectacle.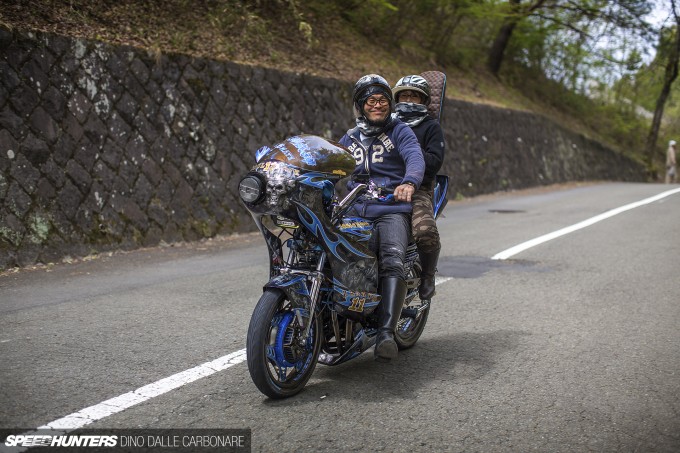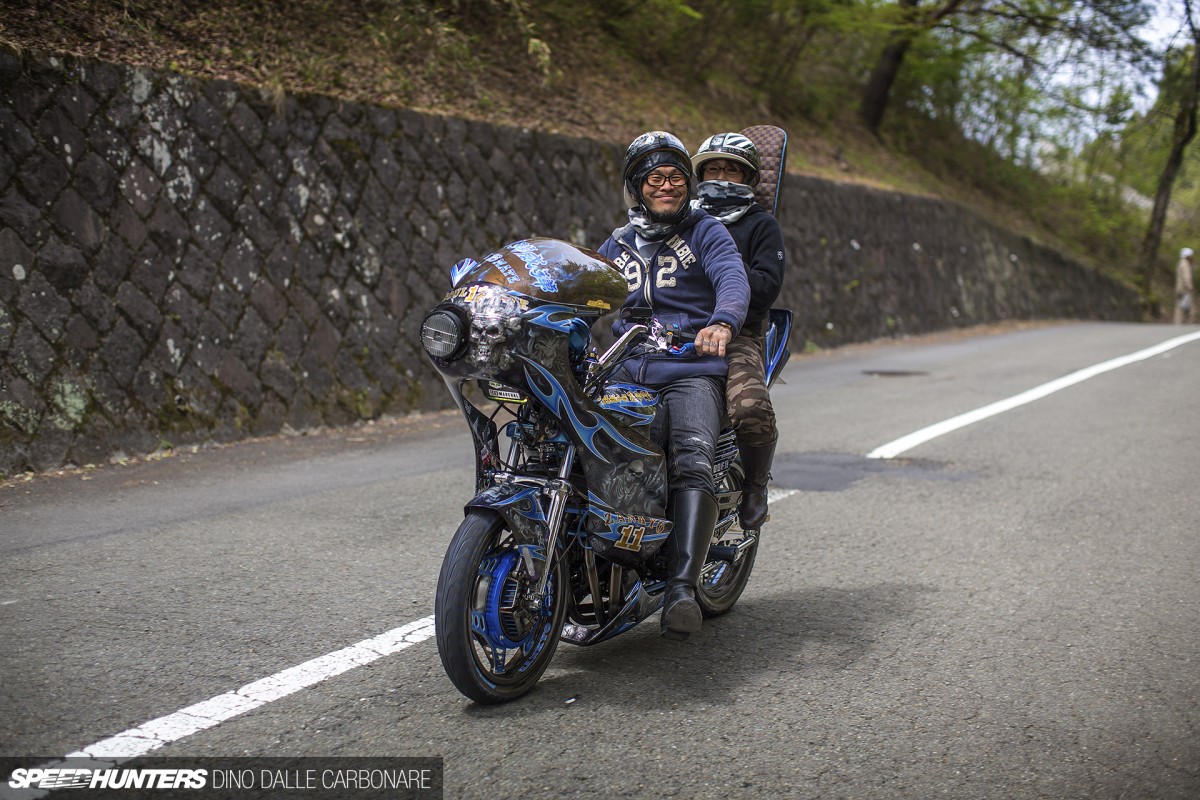 I even saw a few people rocking in on fully-fledged Boso bikes. They looked super-happy to be enjoying a day out with their friends, even if this meeting was all about machines of the four-wheeled variety.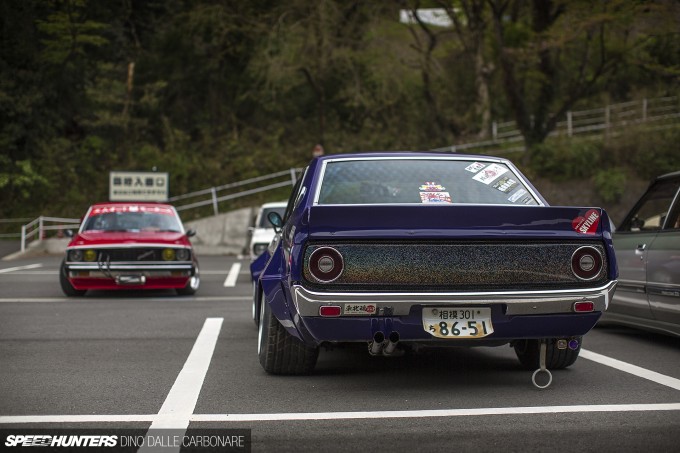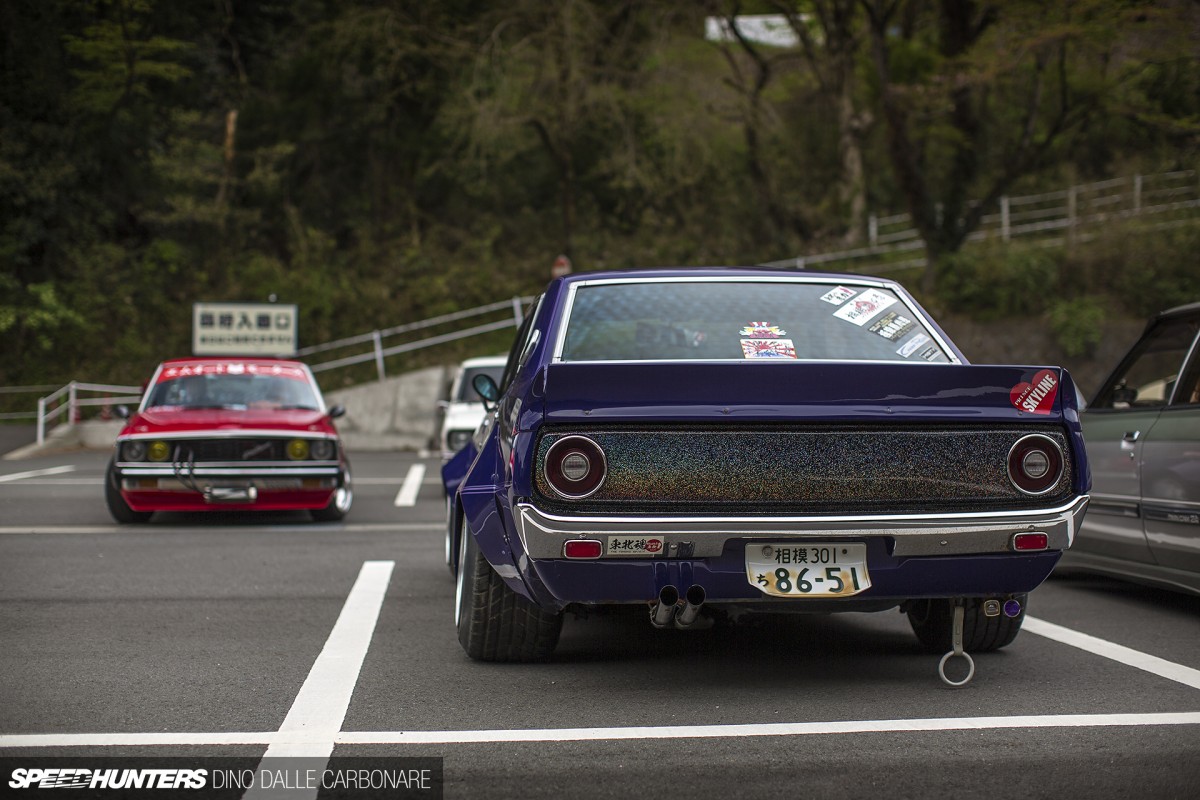 The event was organized by a Skyline club so it was no surprise to see many generations of the iconic Nissan model present. It was in no way only limited to these cars though, and in the main meet area there was a huge variety of cars to feast your eyes on.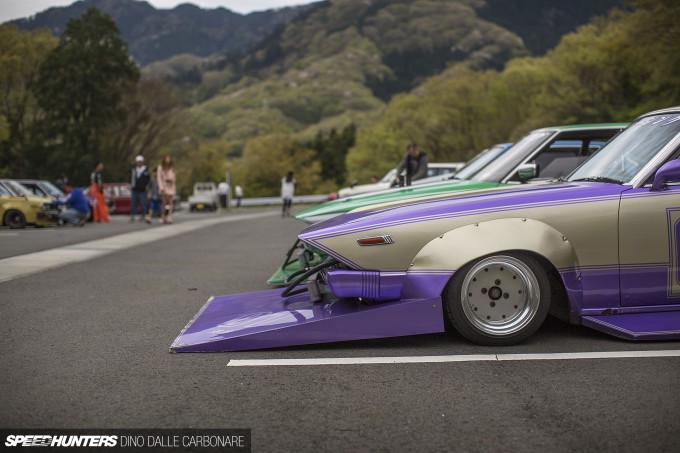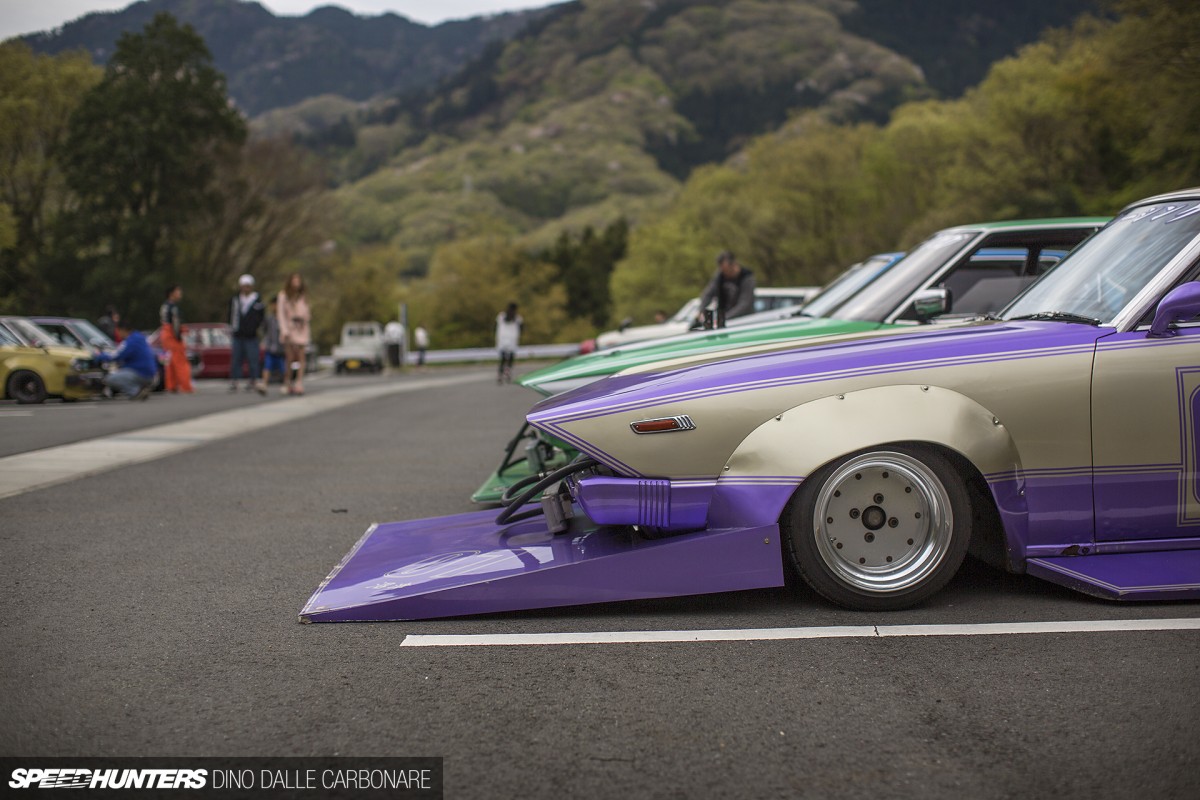 And then the Kaido Racers arrived! This was awesome as I don't get to see as many of these now as I used to in my travels.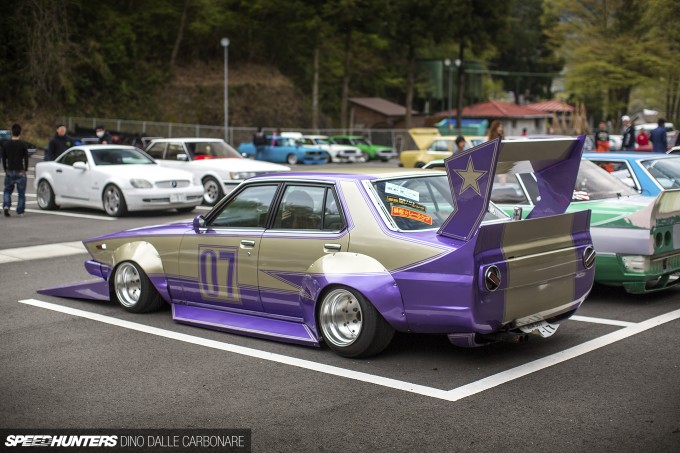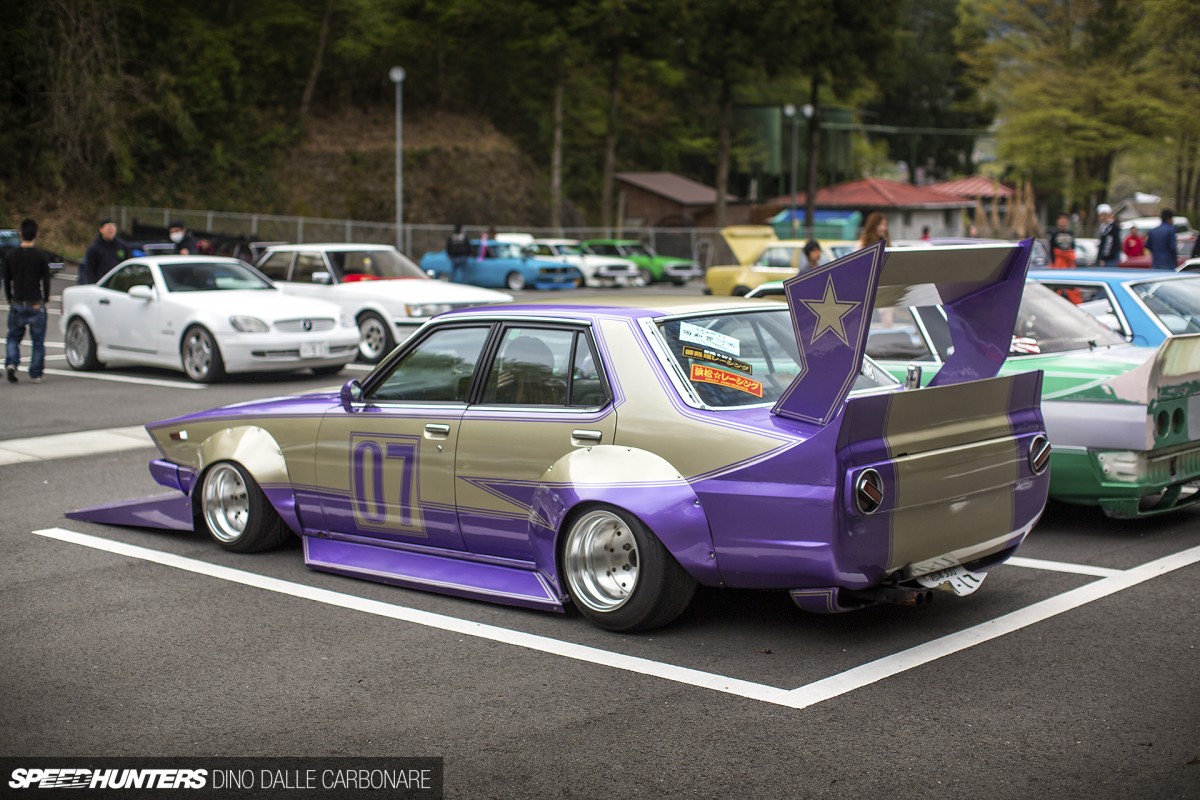 This team from Numazu in Shizuoka were super-cool and friendly and I definitely plan to drop by their area to maybe feature one of their cars. That is, if you guys would be interested in seeing what it takes to build one of these Silhouette racer inspired creations?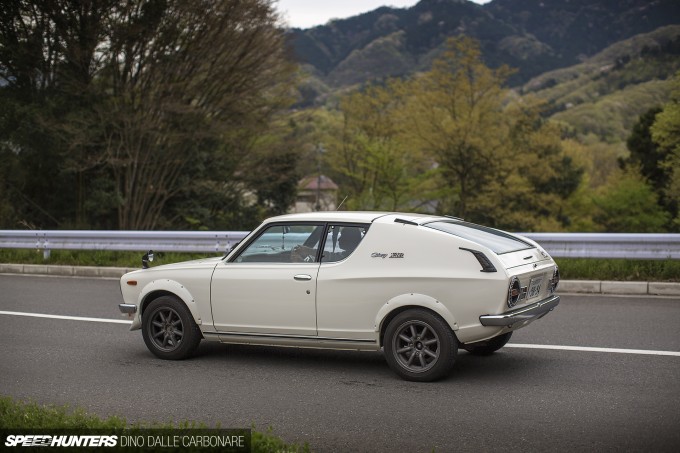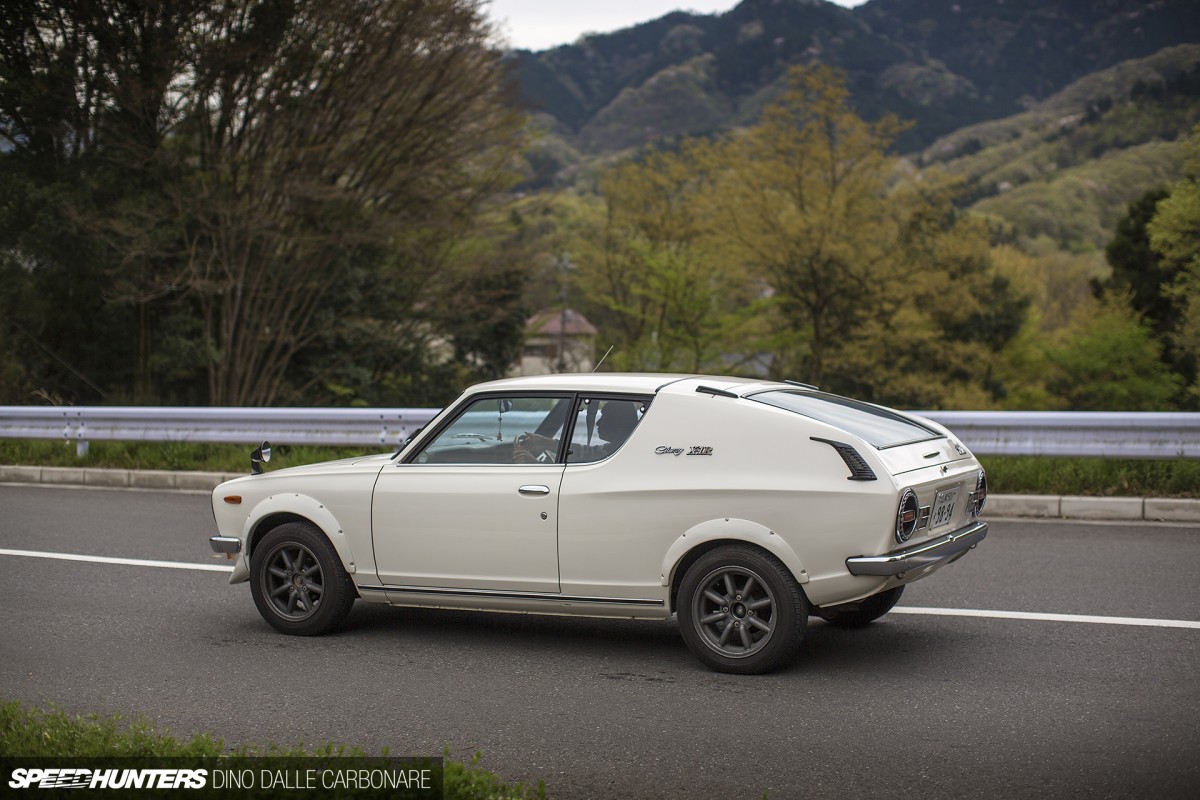 With so many Skylines in this scene using Cherry taillights, it was actually cool to see a Cherry in person – let alone one with body-coloured fender flares and tiny Watanabe wheels.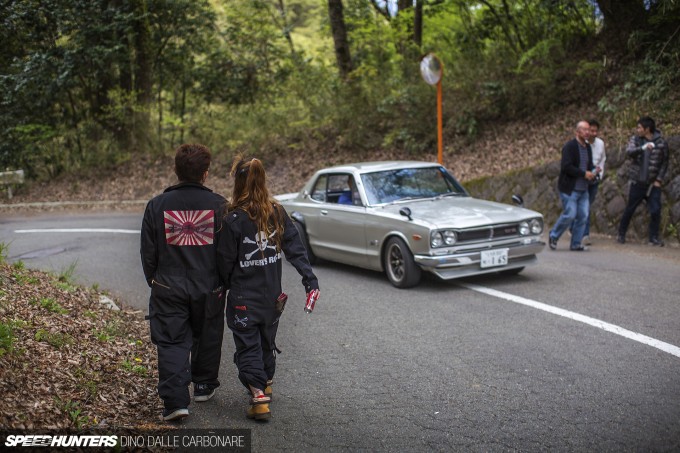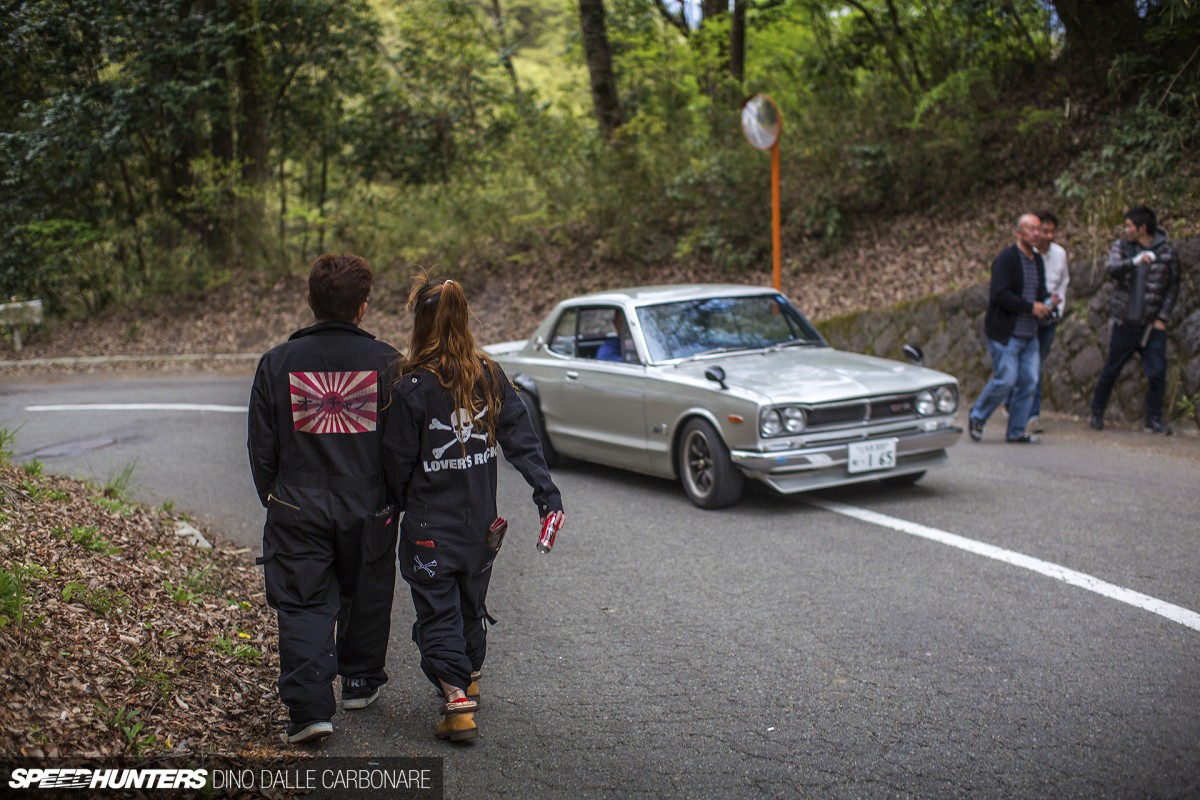 With the majority of the cars grouped in the main parking lot it seemed everyone was heading in that direction, so I followed suit, wanting to see for myself if the rumoured 300-odd cars had actually materialised.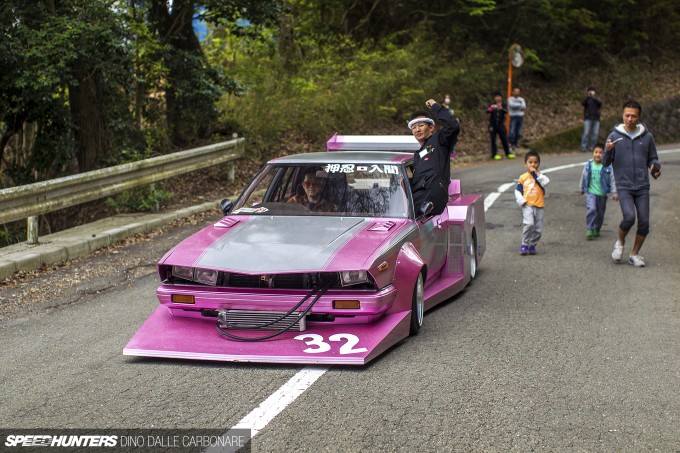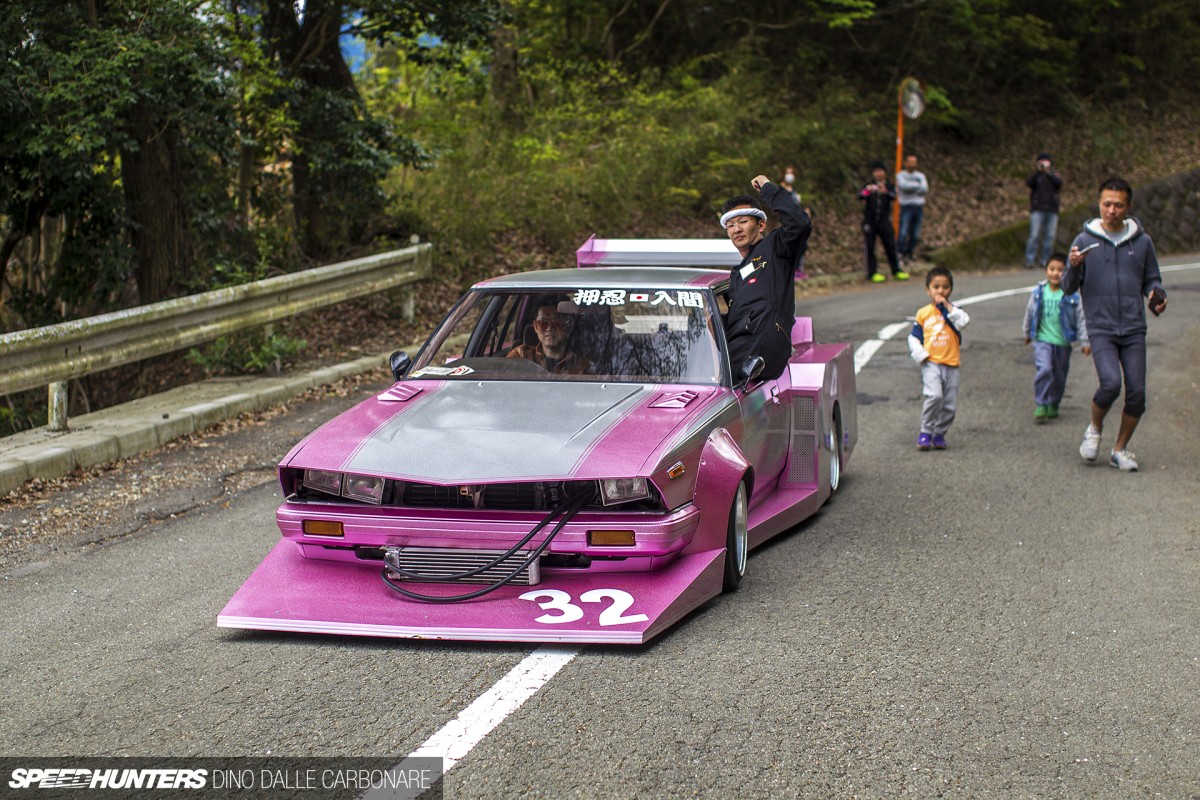 You'll notice that all the Kaido Racers were missing an important detail of the style:  takeyari pipes. That's because the vertical 'bamboo-spear' exhaust extensions were banned from the event, as the organisers didn't want things to get too loud. Owners respected that (for a while) and did their best to enjoy things in other ways.
What A Sight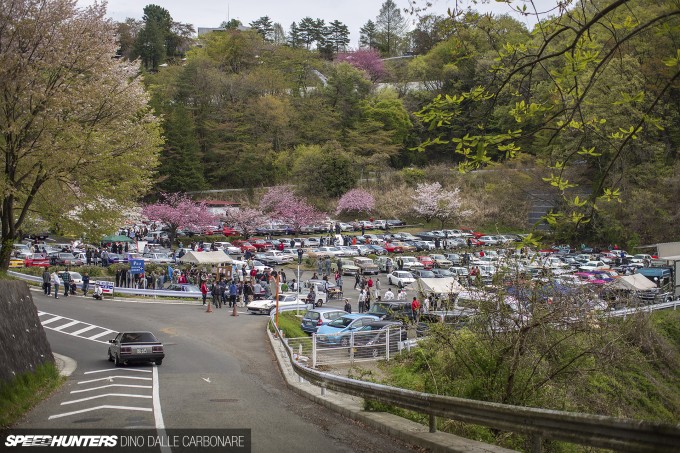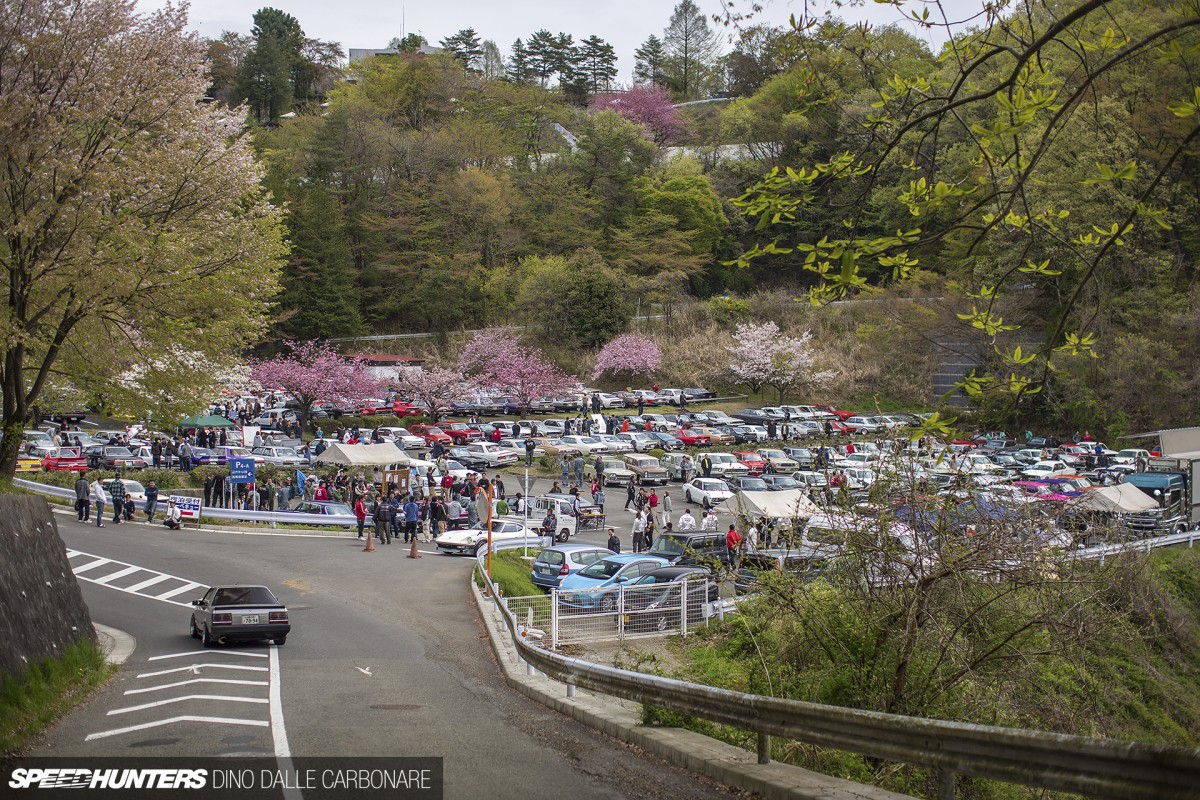 As soon as I caught a glimpse of the big parking lot, it was pretty obvious that this was the biggest Kyusha meeting I had ever come across. Everyone was talking about the sheer size of it too.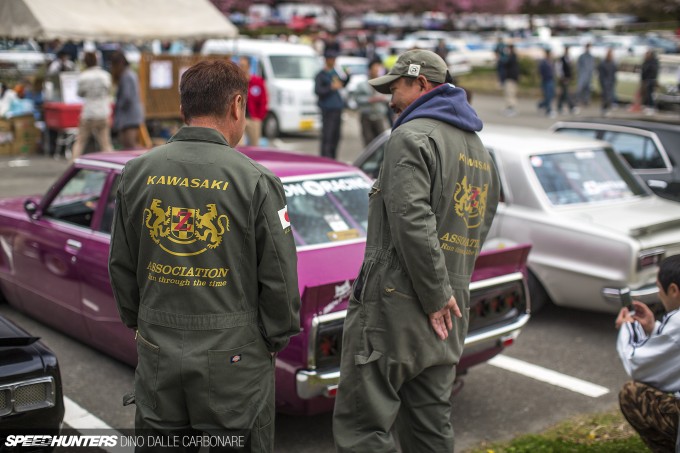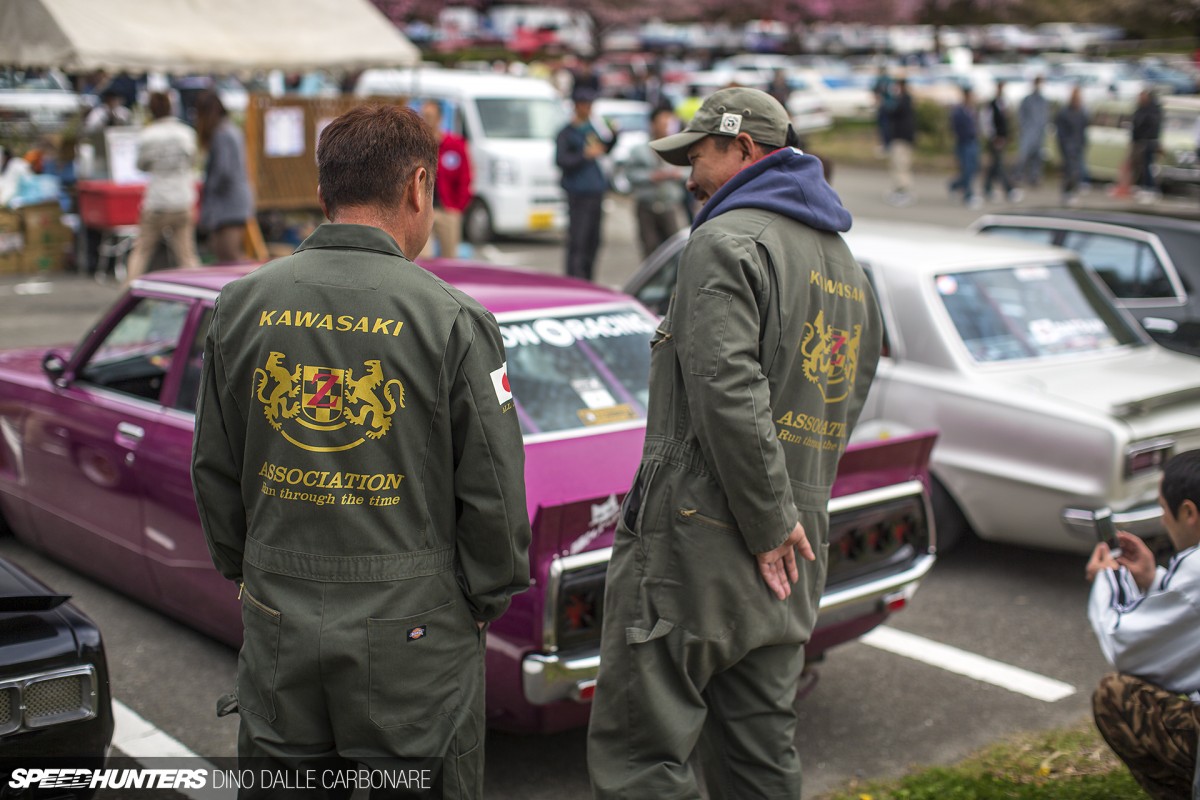 So many well-known teams and clubs were present, and photographers from Champ Road – a magazine specifically dedicated to this scene – were running around attempting to capture all the cars that had shown up.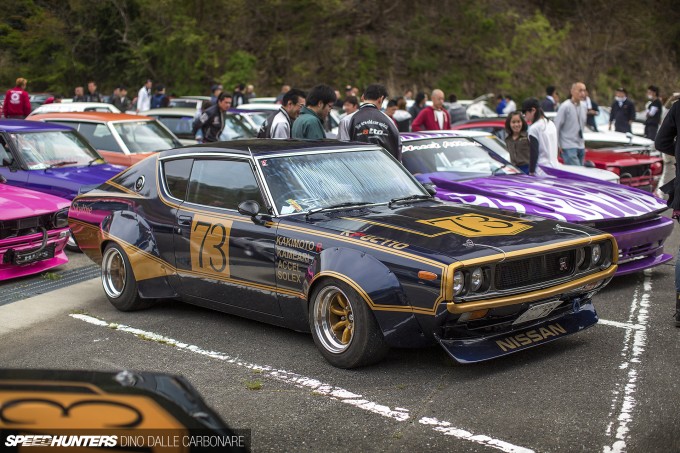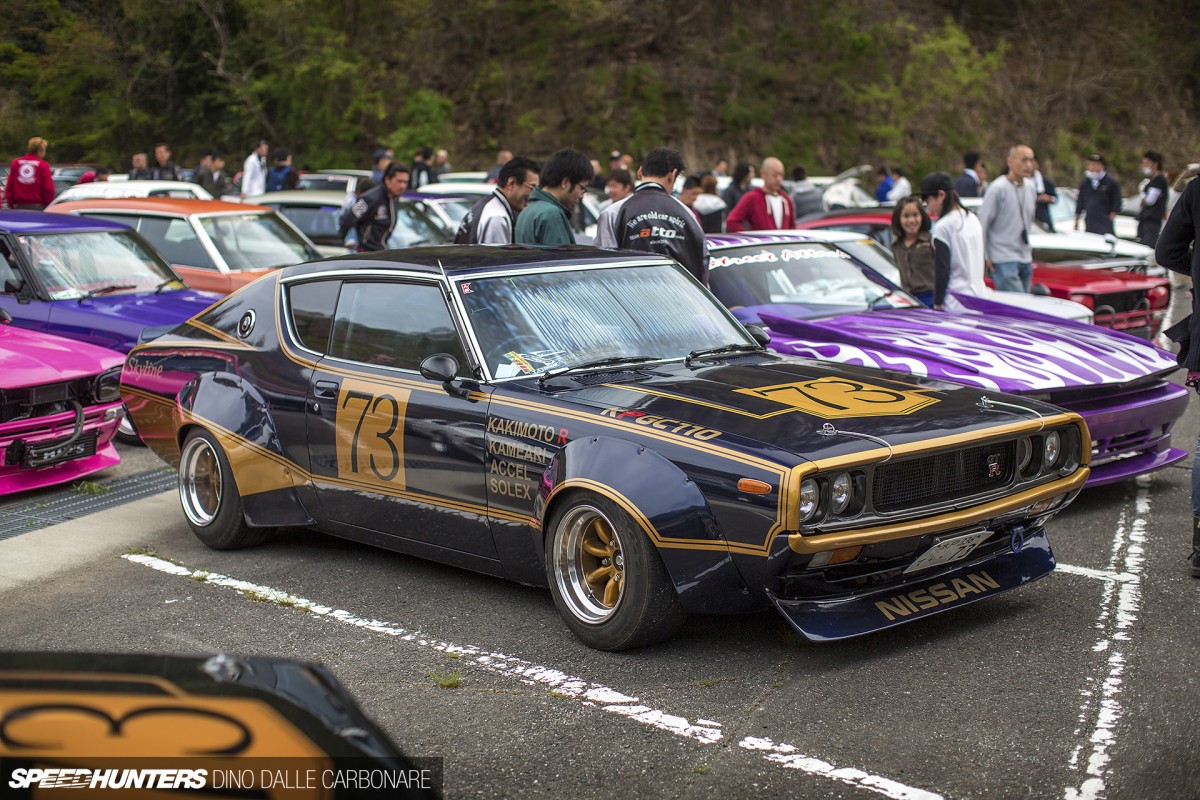 Being in the middle of this awesome gathering really blew me away. I may come across as being a touch jaded at times – it's part of this line of work I suppose – but my adrenaline was pumping like it hadn't pumped in a long time.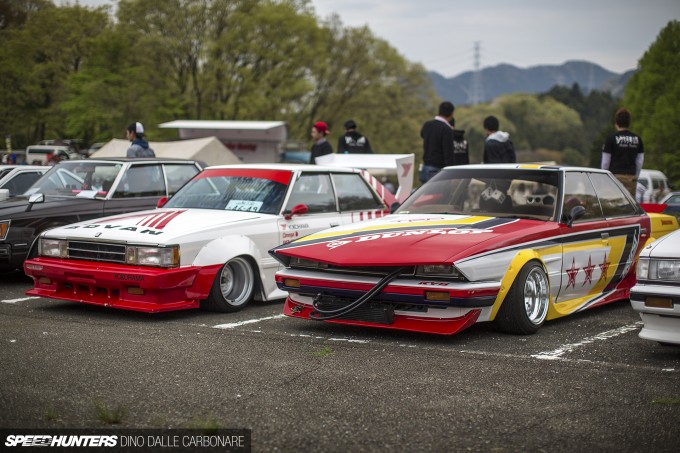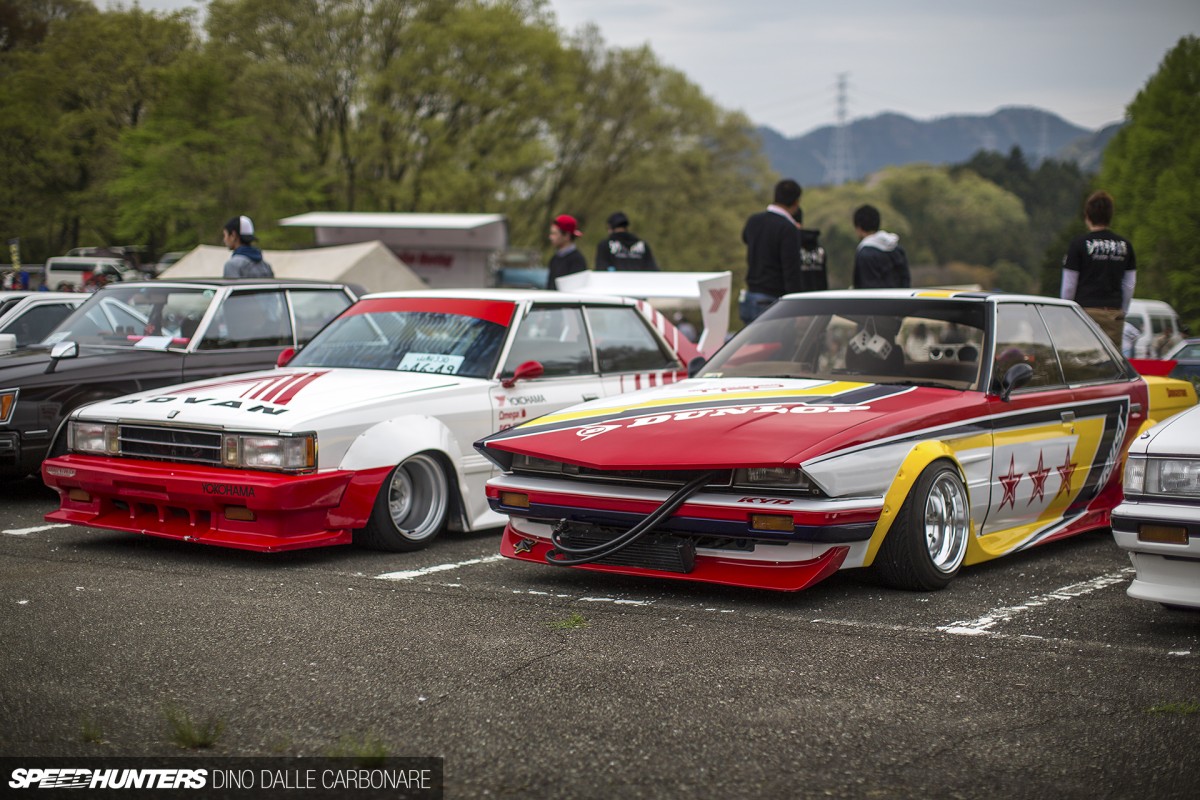 I was frantically running around trying to get as many shots as I could, as I knew this wasn't something that occurs on a regular basis!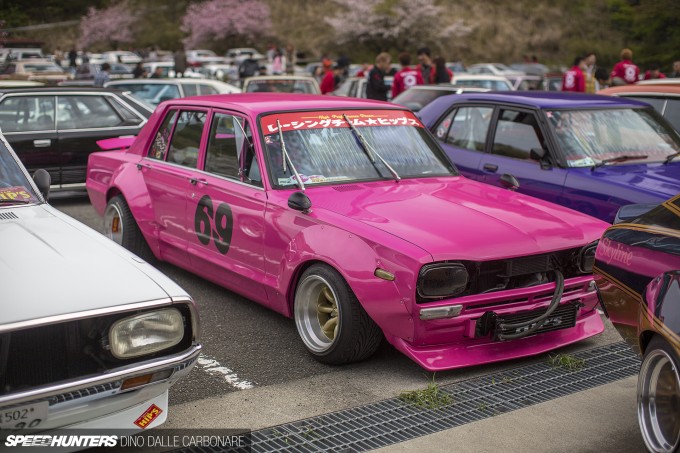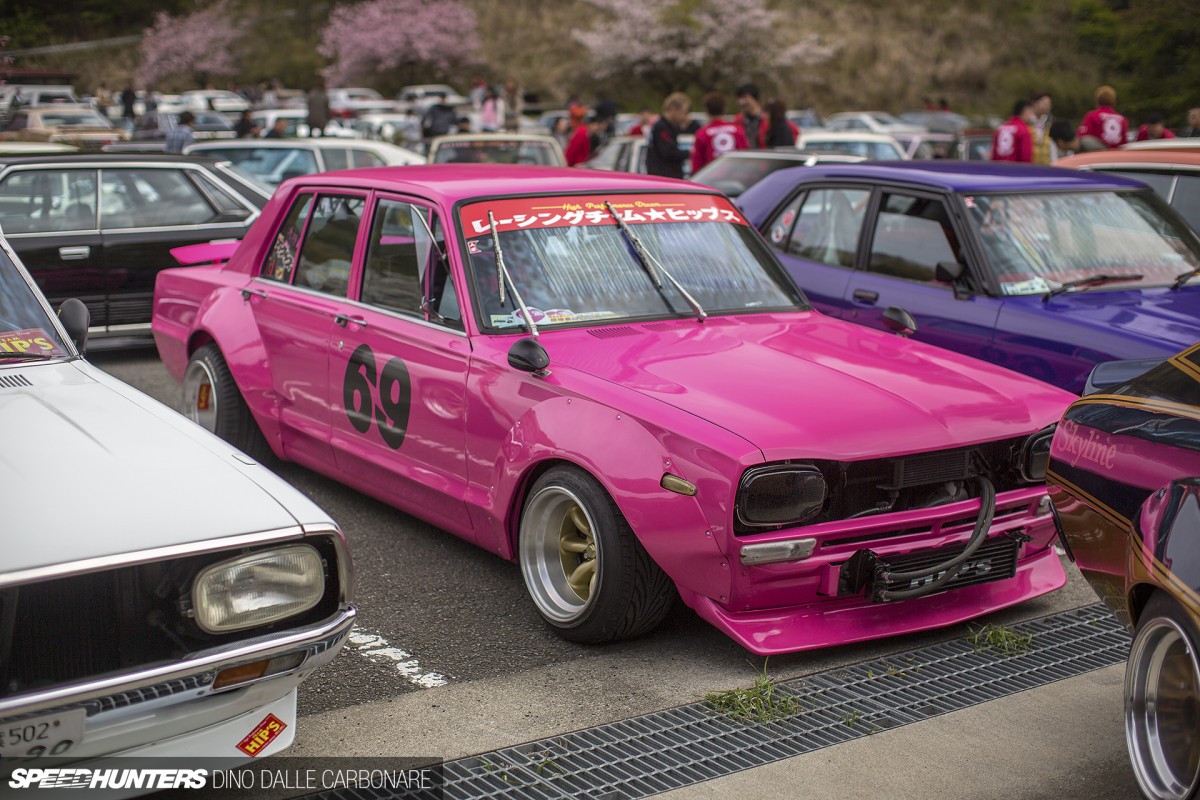 I mean, come on, they even had a pink Hakosuka! I know Taryn will probably faint when she sees this!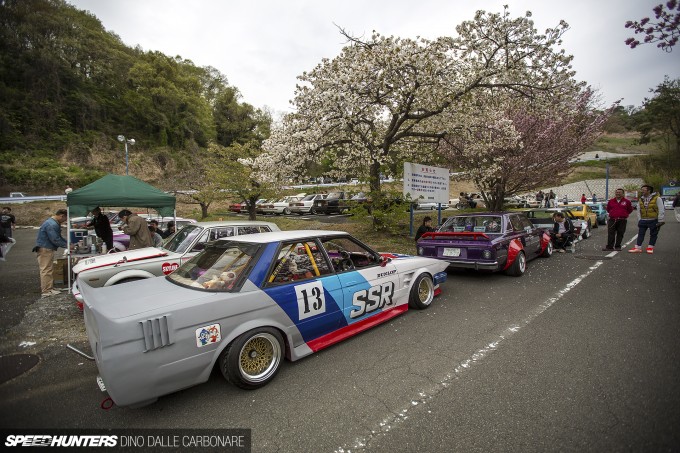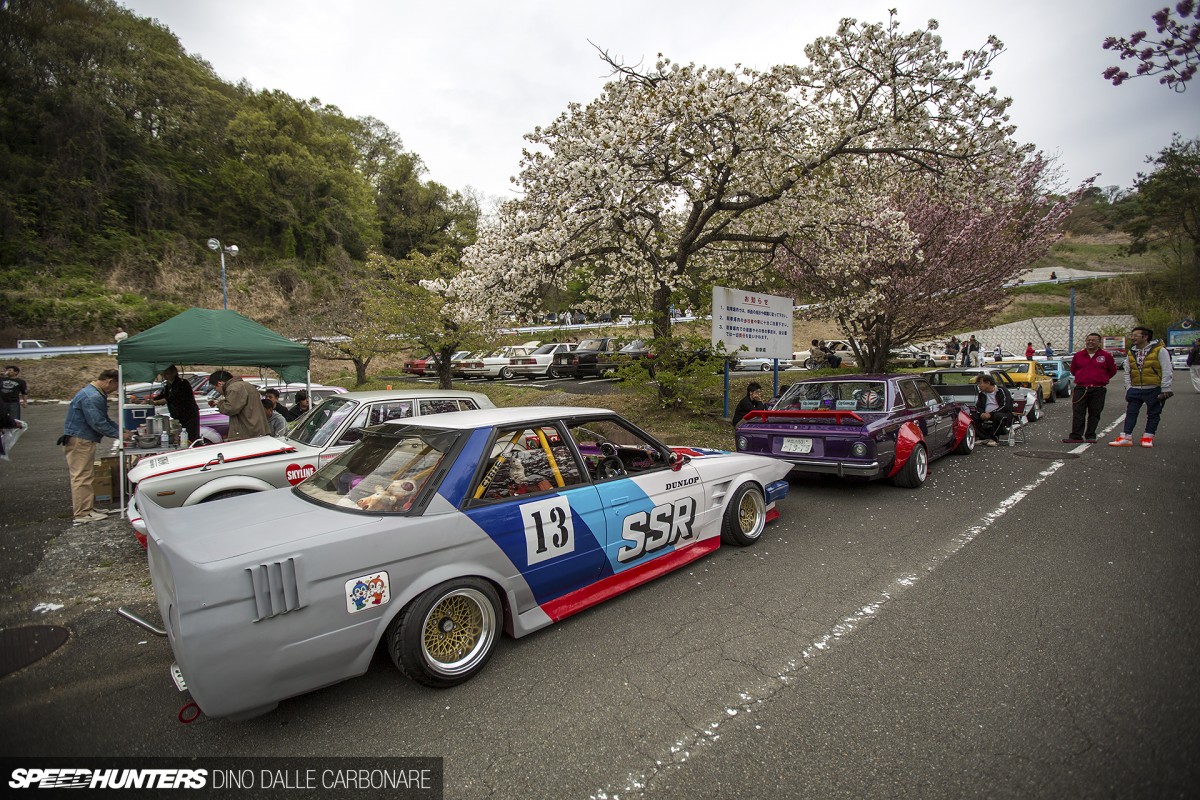 With cherry and peach blossom in full bloom, the whole setting for the event couldn't have shouted 'Japan' more. It was almost surreal.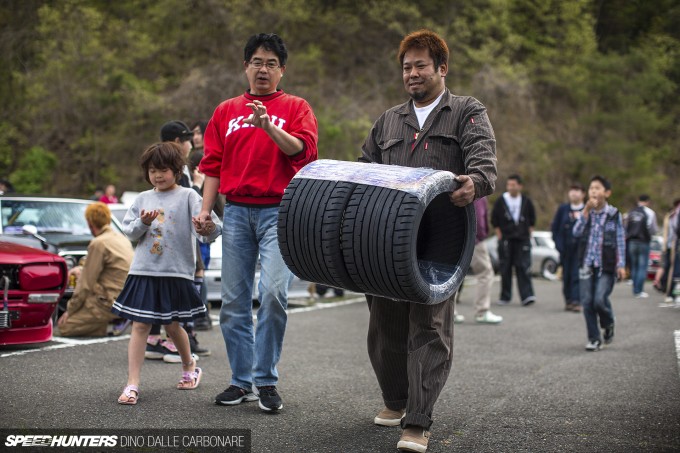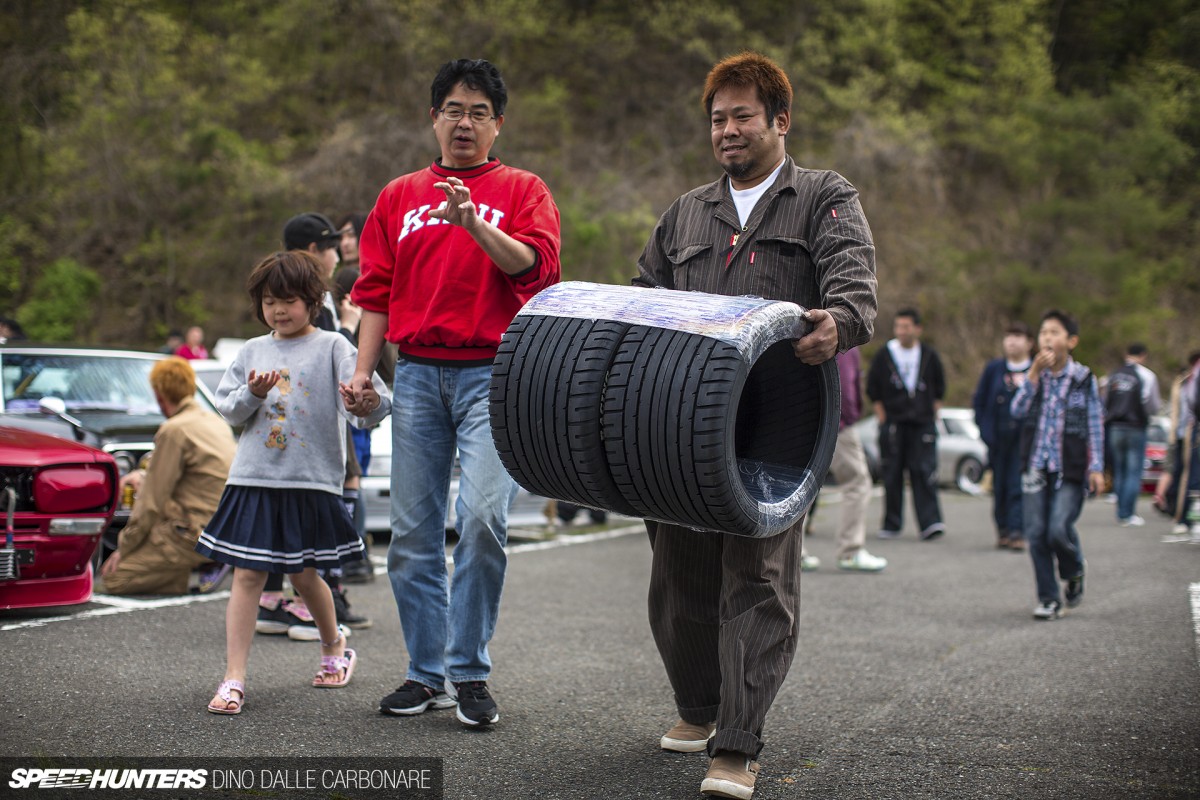 After a quick walk around the lot just to gauge the size of it, I wanted to check out what the vendors had up for sale, as you can bet there is always something cool to check out. This guy was looking super-pumped for having picked up a set of Liberty Walk's new tyres. With the lack of appropriately sized 14-inch rubber around and brittle old race rubber from the '70s and '80 not exactly a safe option, Kato-san has really managed to provide for a scene that still remains so close to his heart. Time to stretch those babies onto some stupidly-wide vintage race wheels I guess!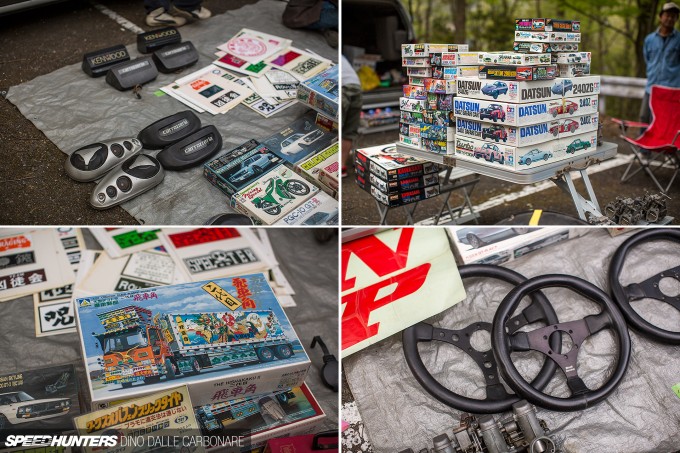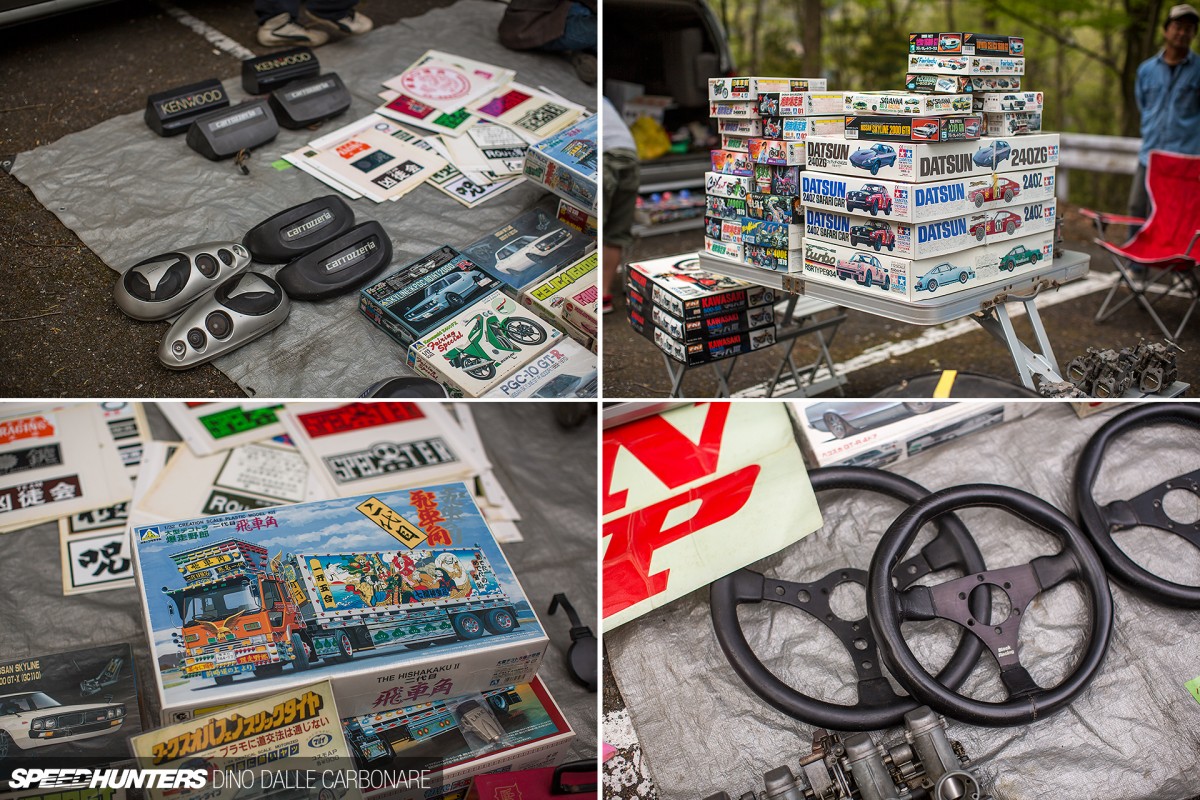 I'm glad I got a few images of the vintage awesomeness that was up for sale, as it quickly disappeared throughout the day.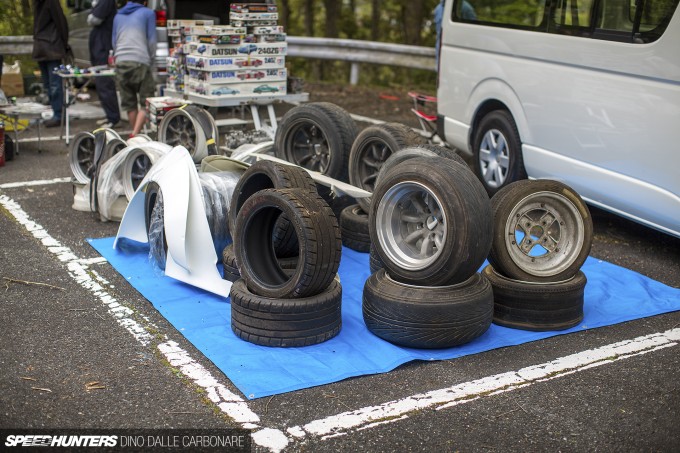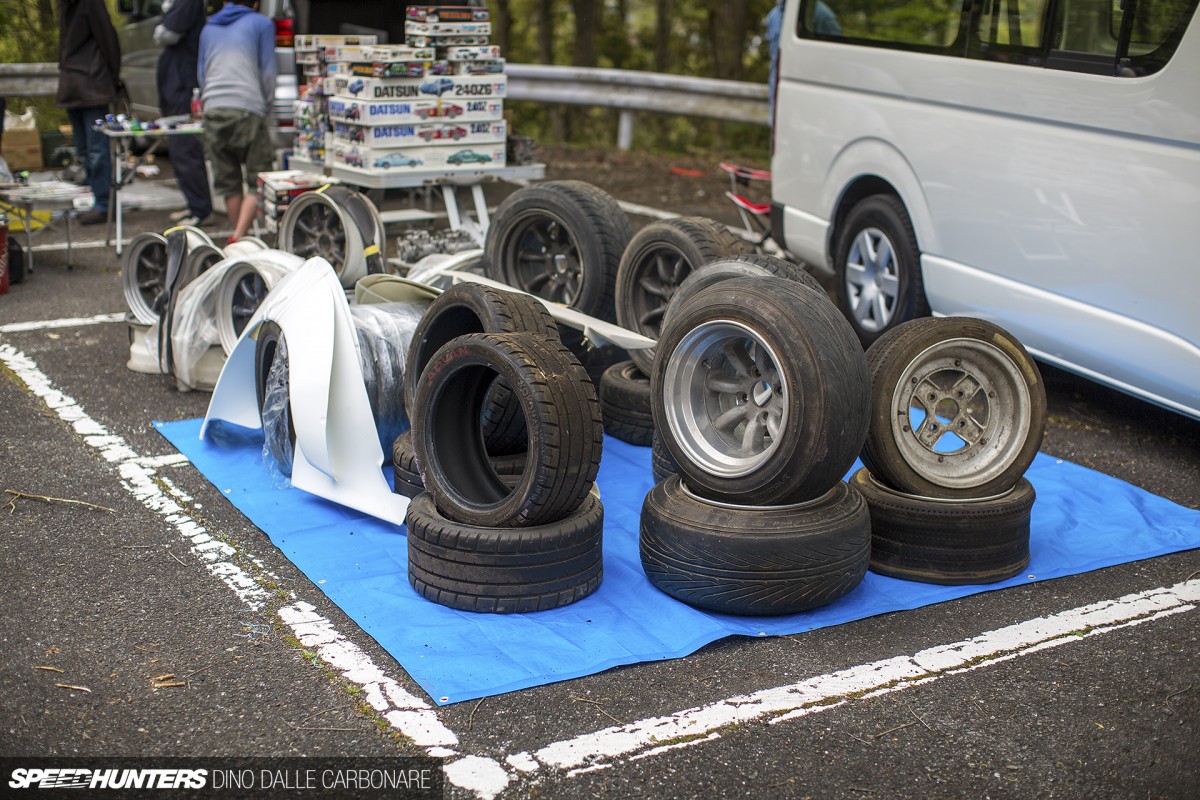 Wheels, tyres and over-fenders – this is a pretty good place to start if you are looking to convert your old JDM ride.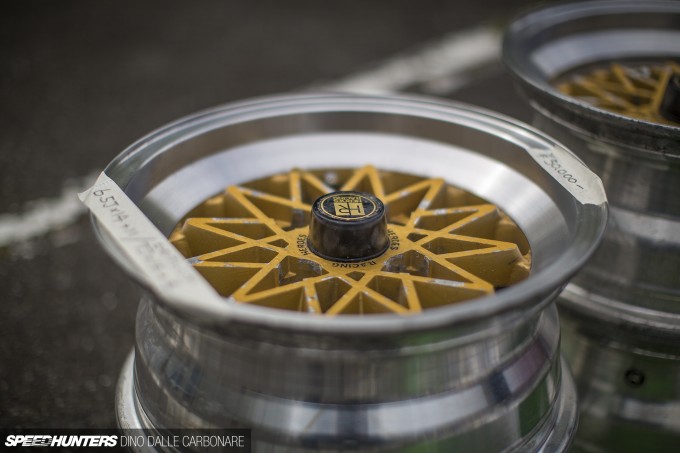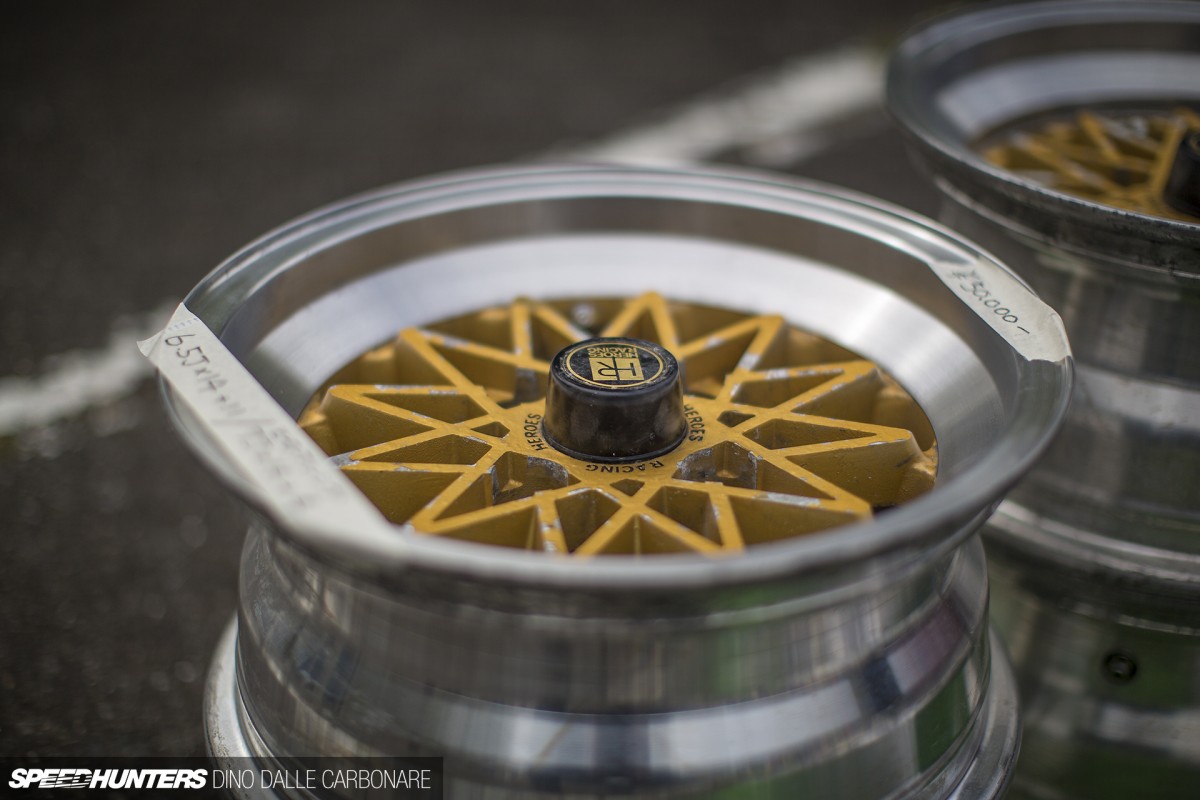 Despite a few paint chips, this vintage set of 14×6.5-inch Heroes Racing wheels were in really good condition. It's just another example of the cool stuff you come across at an event like this.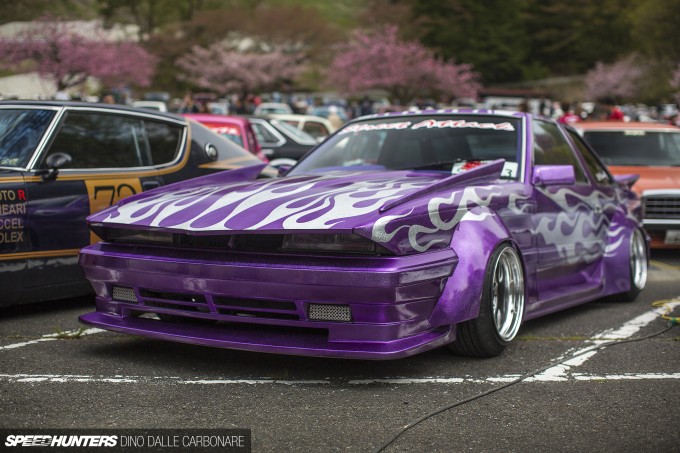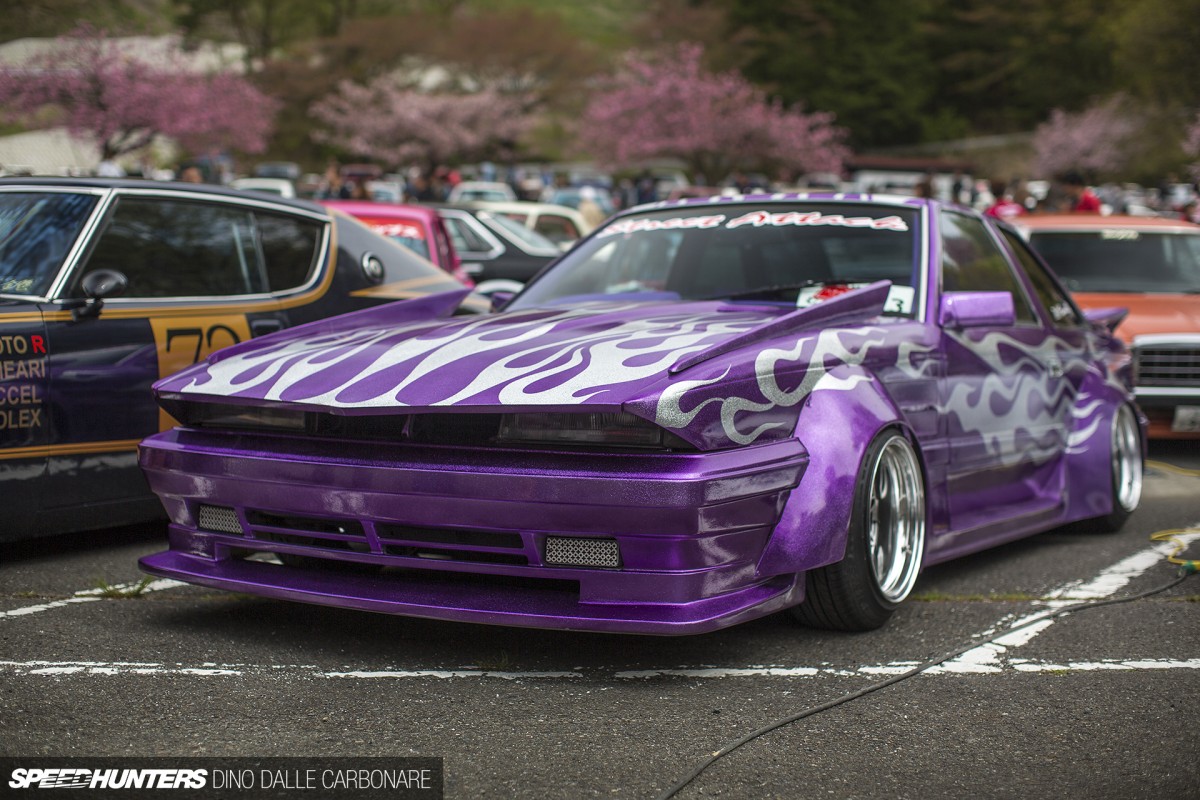 There seems to be a variety of takes on the Kaido Racer style and not all are super-extreme like that Skyline Japan we saw earlier on from Numazu. This Soarer has a few must-have touches, like the extended hood, the bonnet fins, and of course the bulbous over-fenders. There was no deppa chin spoiler present, although it would be a lot easier to drive around like this.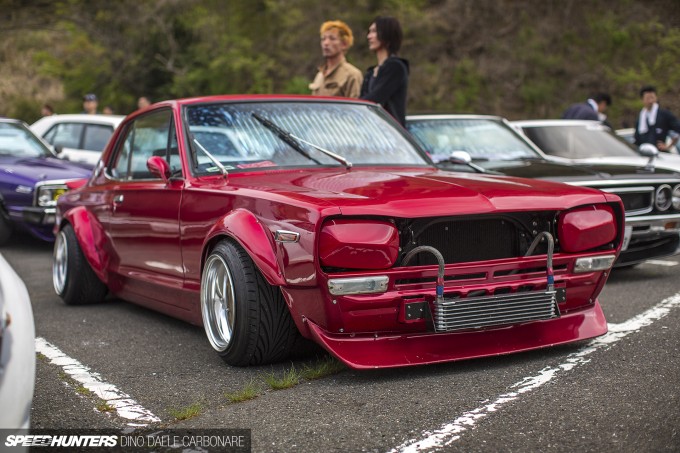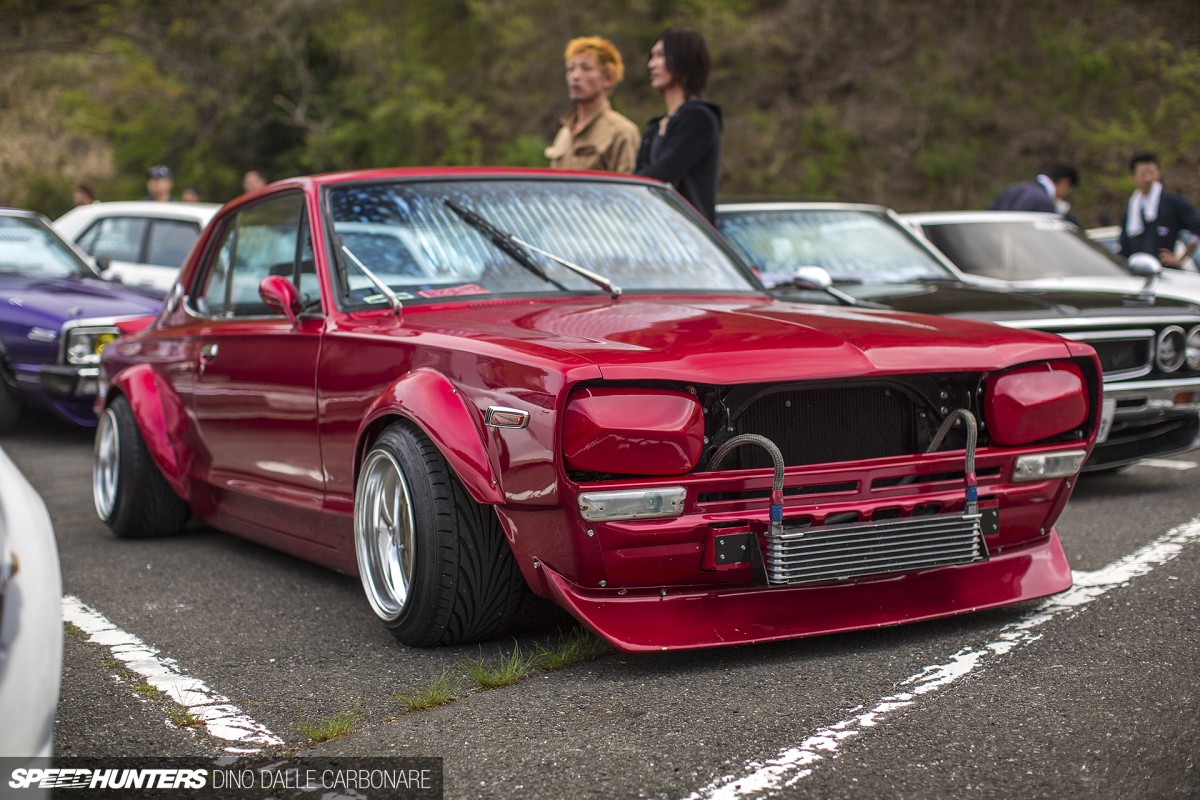 There's more race car inspiration going on here. Just like the race KPGC10s that dominated at the Fuji endurance races, this example has the fender flares, the front-mounted oil cooler, headlight deletes and a bucktooth splitter. The candy red paint could possibly been seen as too modern for an early-'70s car, but it just fits in beautifully with the Yankee subculture that all these cars fall into.
When In Doubt, Over-fender It, Or Not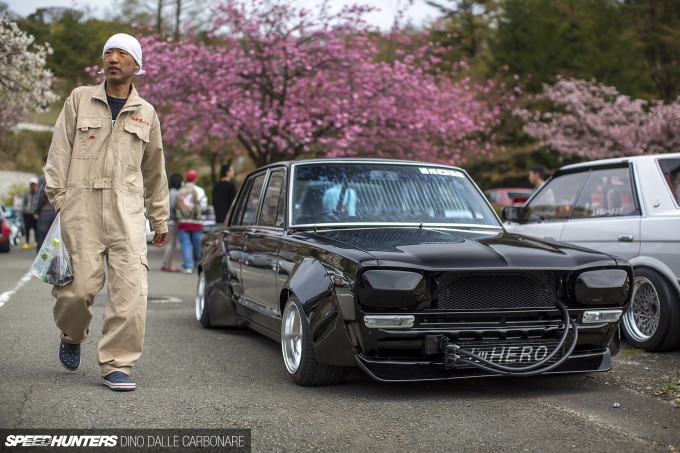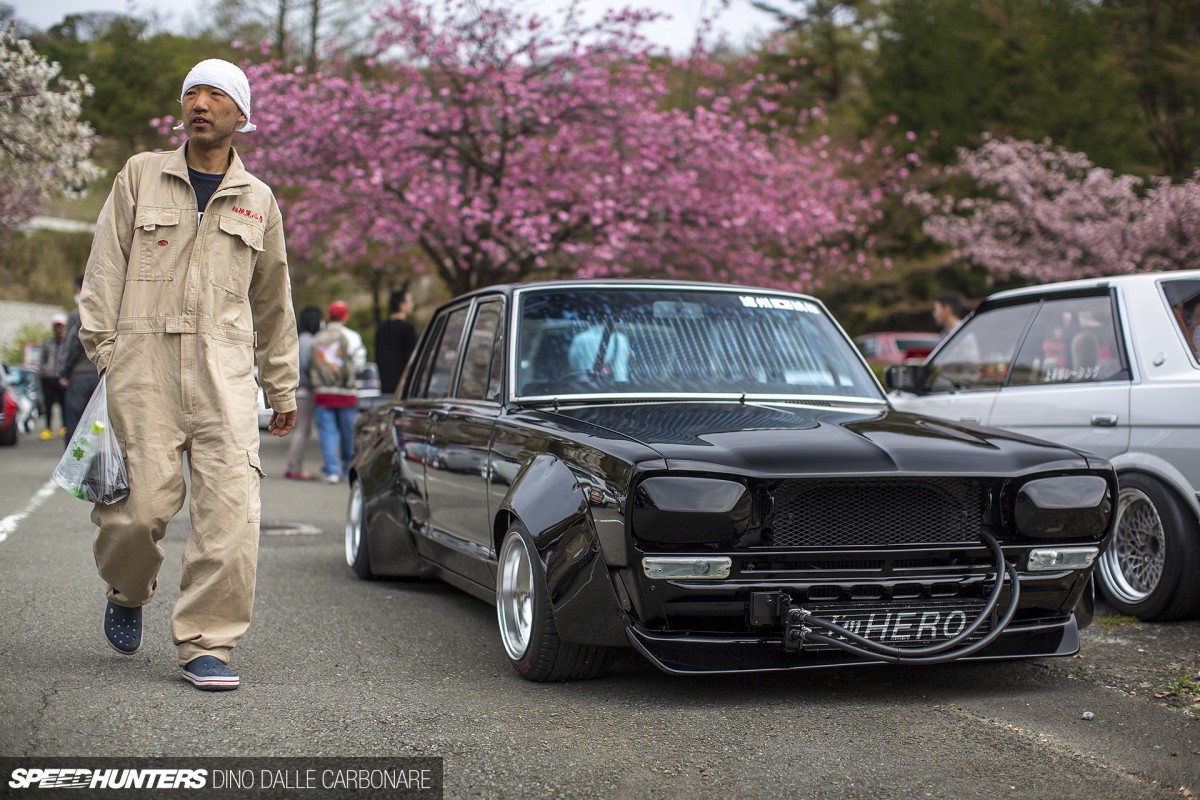 This black four-door was all kinds of mean and definitely one of my favourites at the event.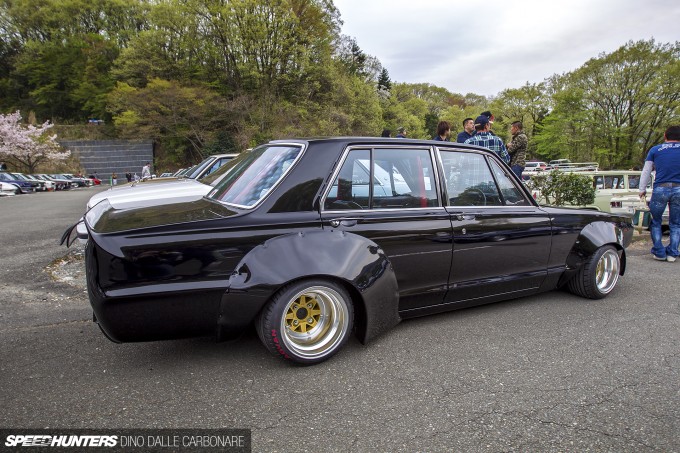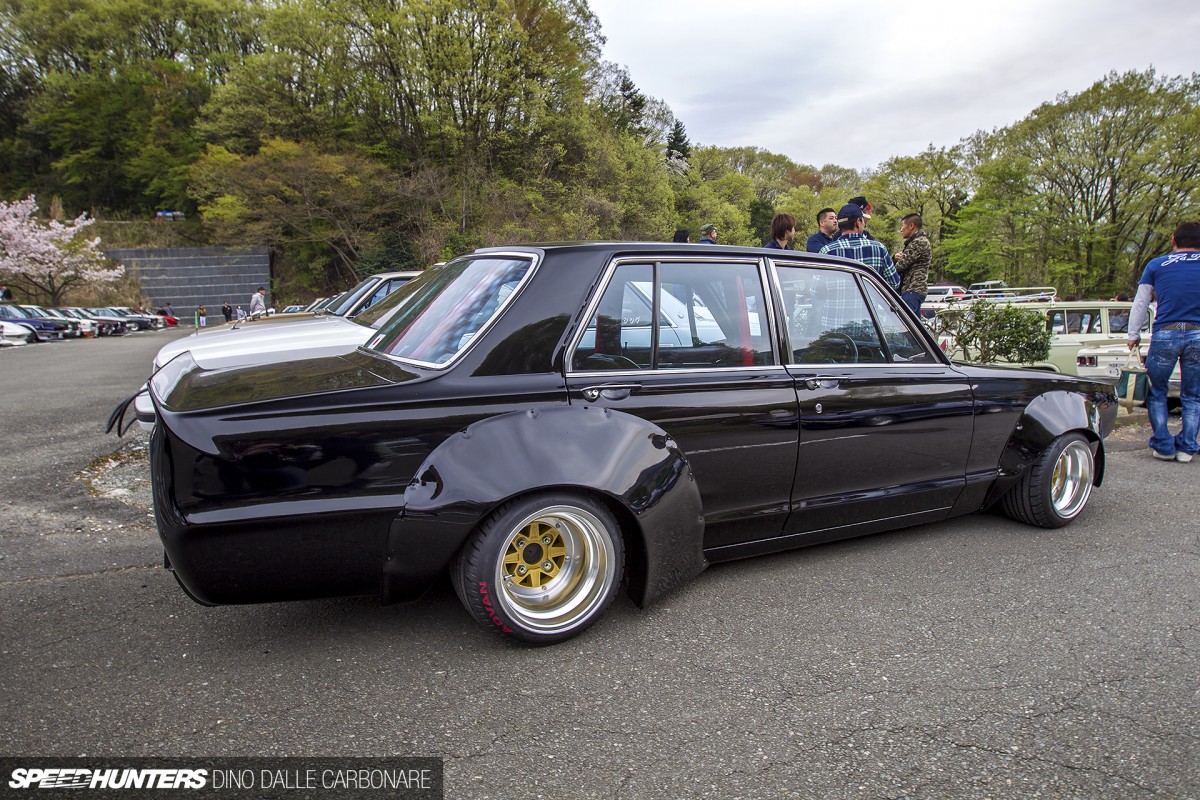 Here's a side shot so you can get the full effect. Just look at the size of those over-fenders! And yes, those rear doors ain't opening…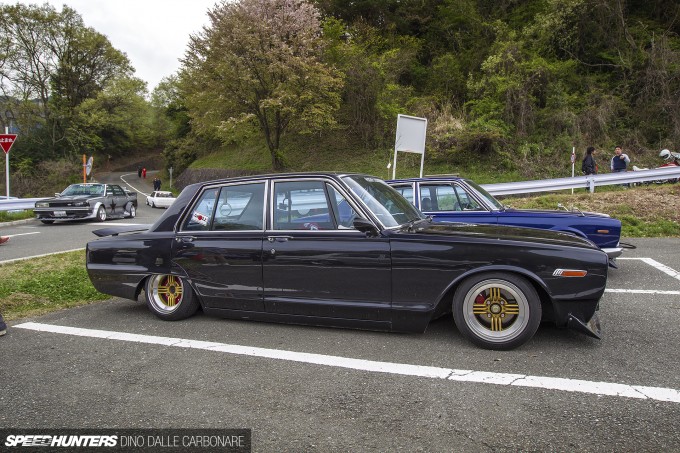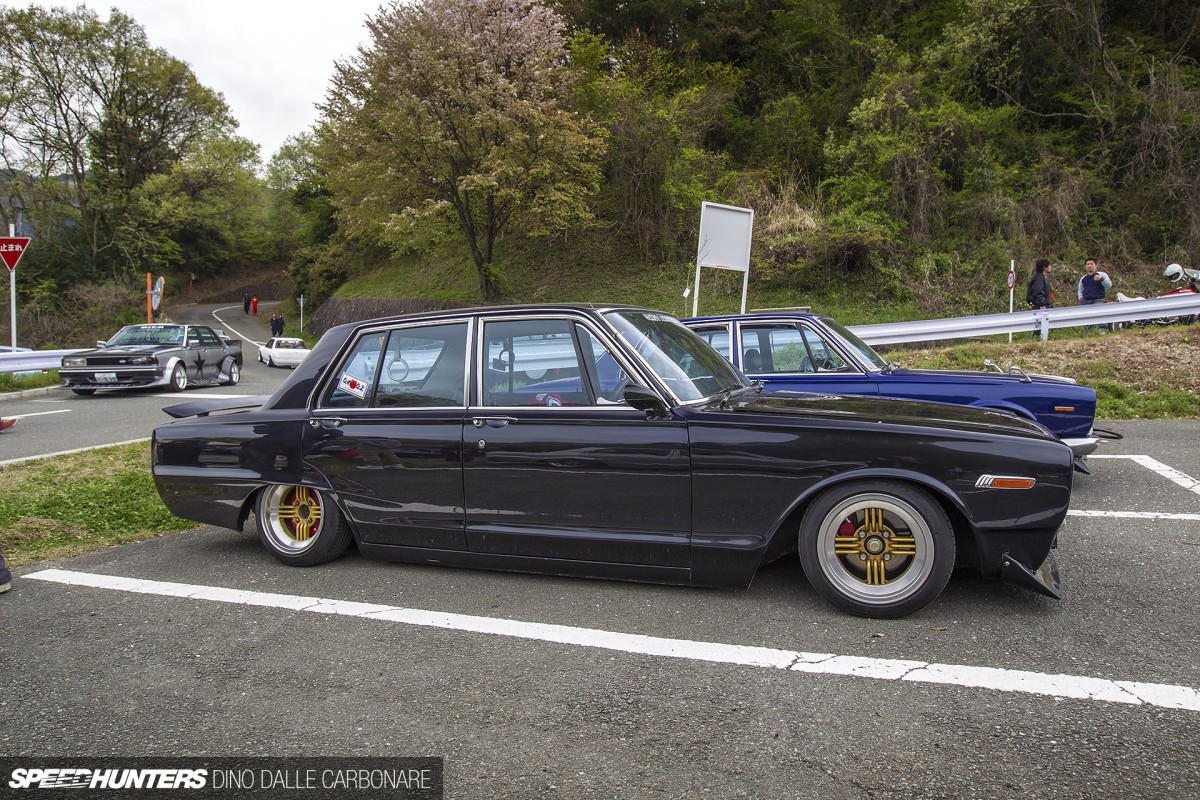 Of course, in this scene the narrow look does the job too.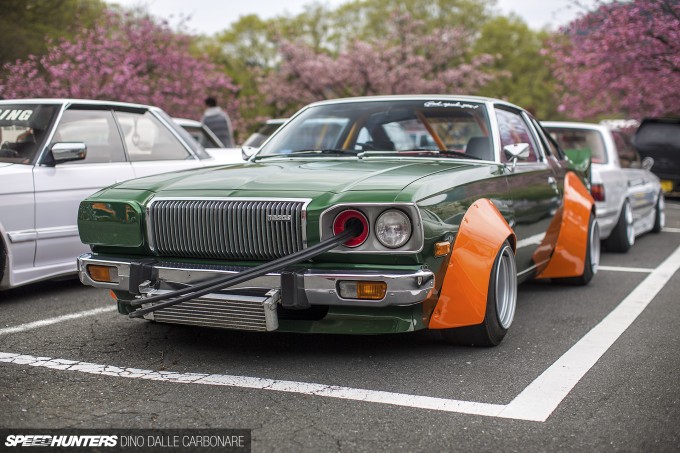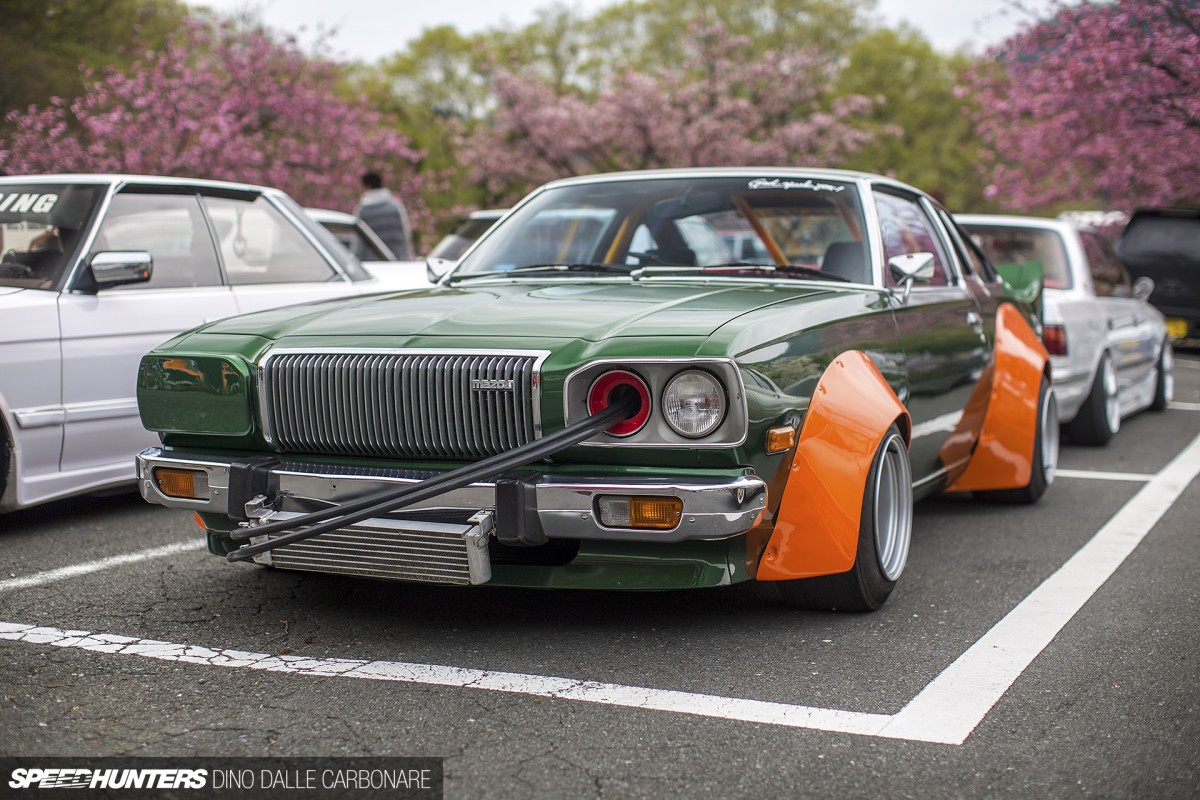 If wild over-fenders are your thing, then take a look at this CD Cosmo! The style is pretty wild, but the base car is what makes all of this so special. You definitely don't see many old Cosmos modified like this, so it's no wonder that a constant stream of people were checking it out in detail.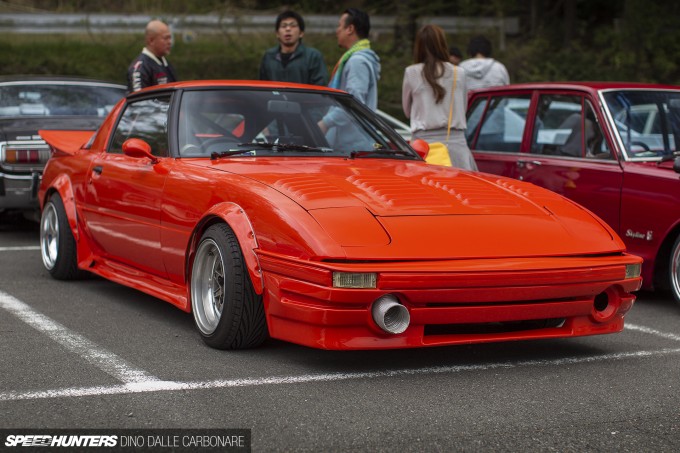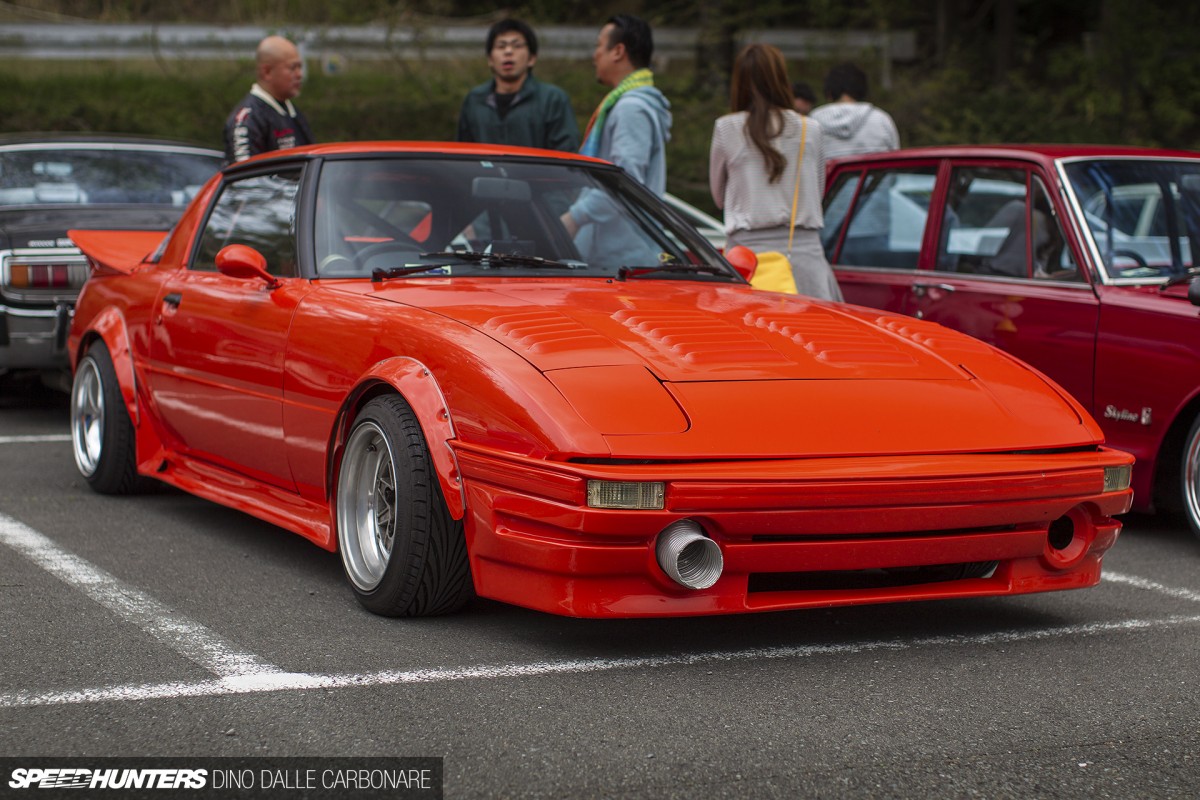 Here's another superb rotary find, this time an SA22C RX-7 with a somewhat more sedate, albeit very authentic and period-correct look.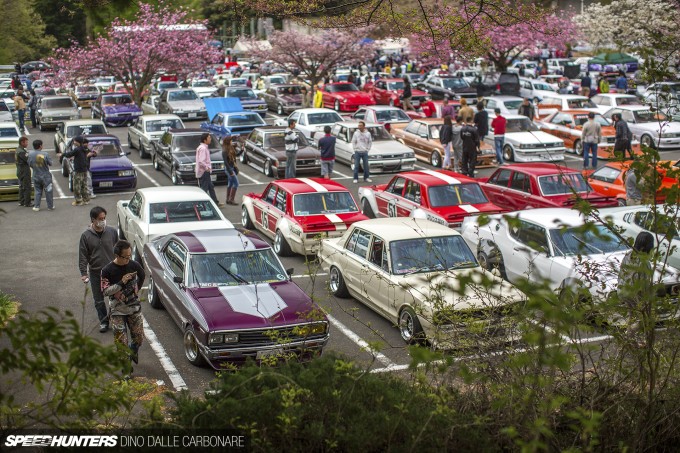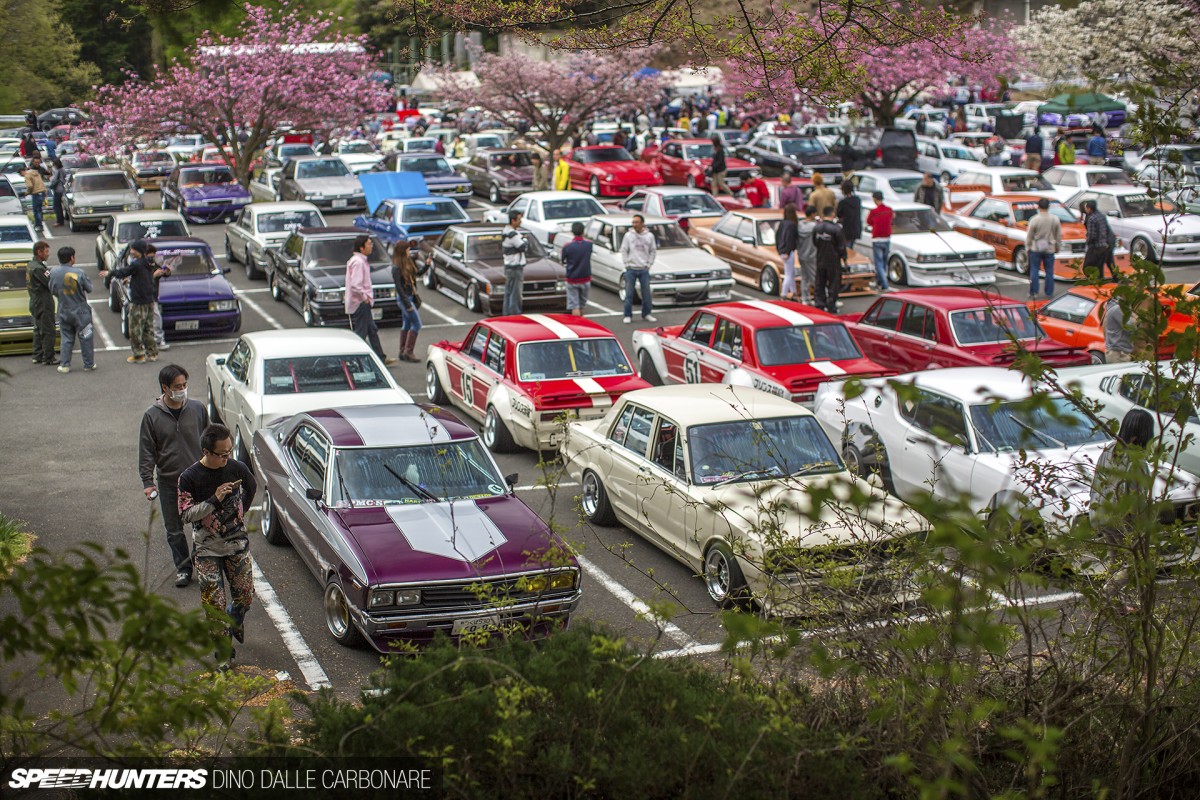 I was almost overwhelmed with the size of it all, but the best thing to do in a scenario like this is to step back, lift up your head and just take it all in.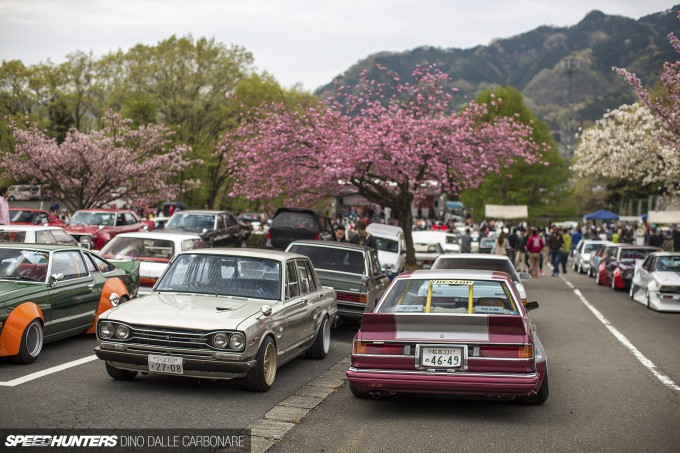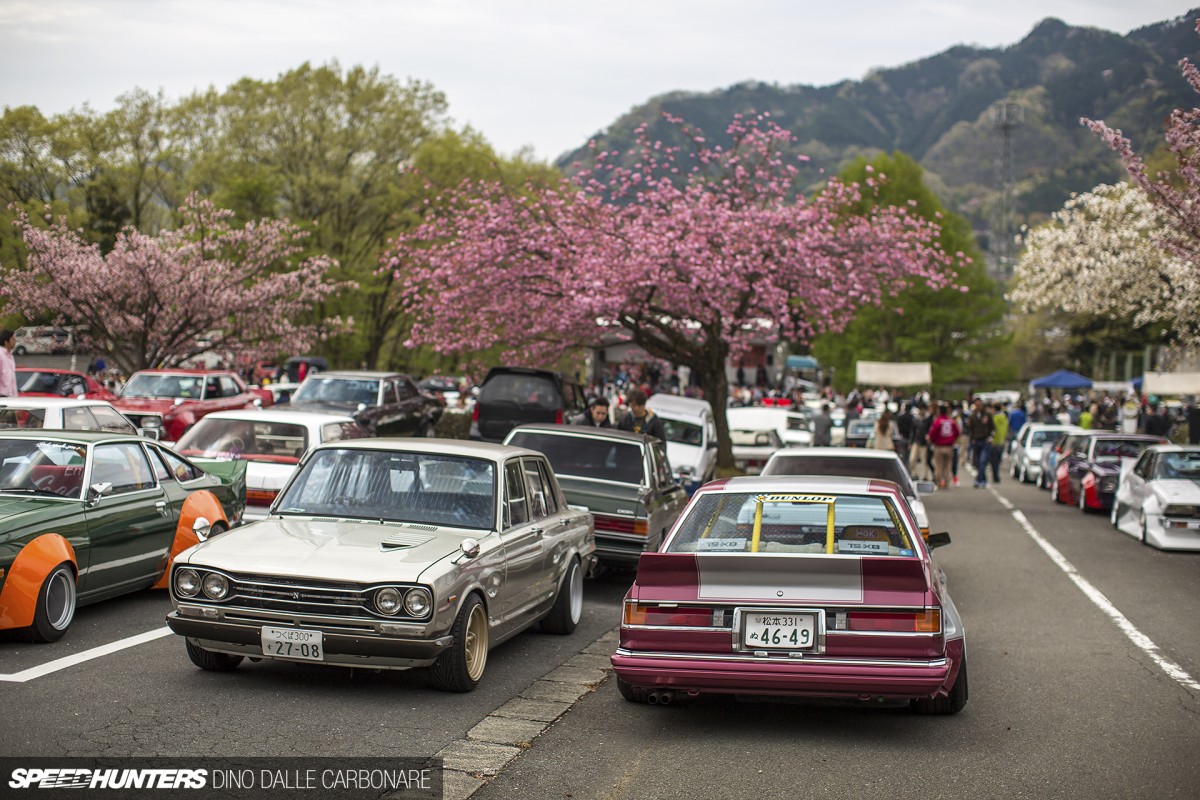 Rather than trying to capture a ton of pictures that I just know I wouldn't be able to share with you (500-photo posts would be awesome, but they aren't going to happen), I shot a few spotlight features on cars that I knew you'd like. Expect to see those coming up over the next couple of weeks!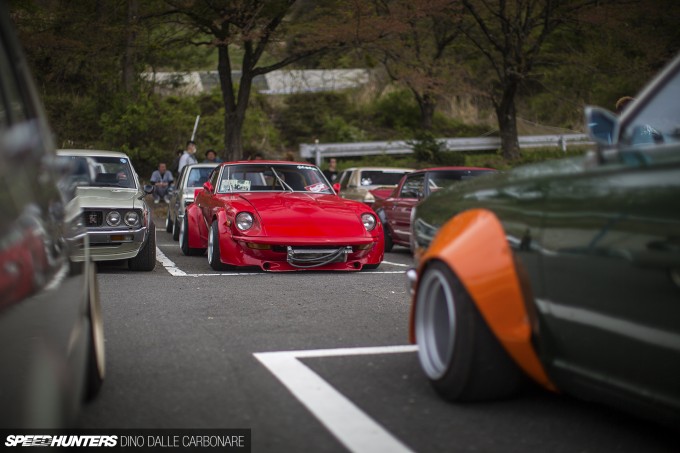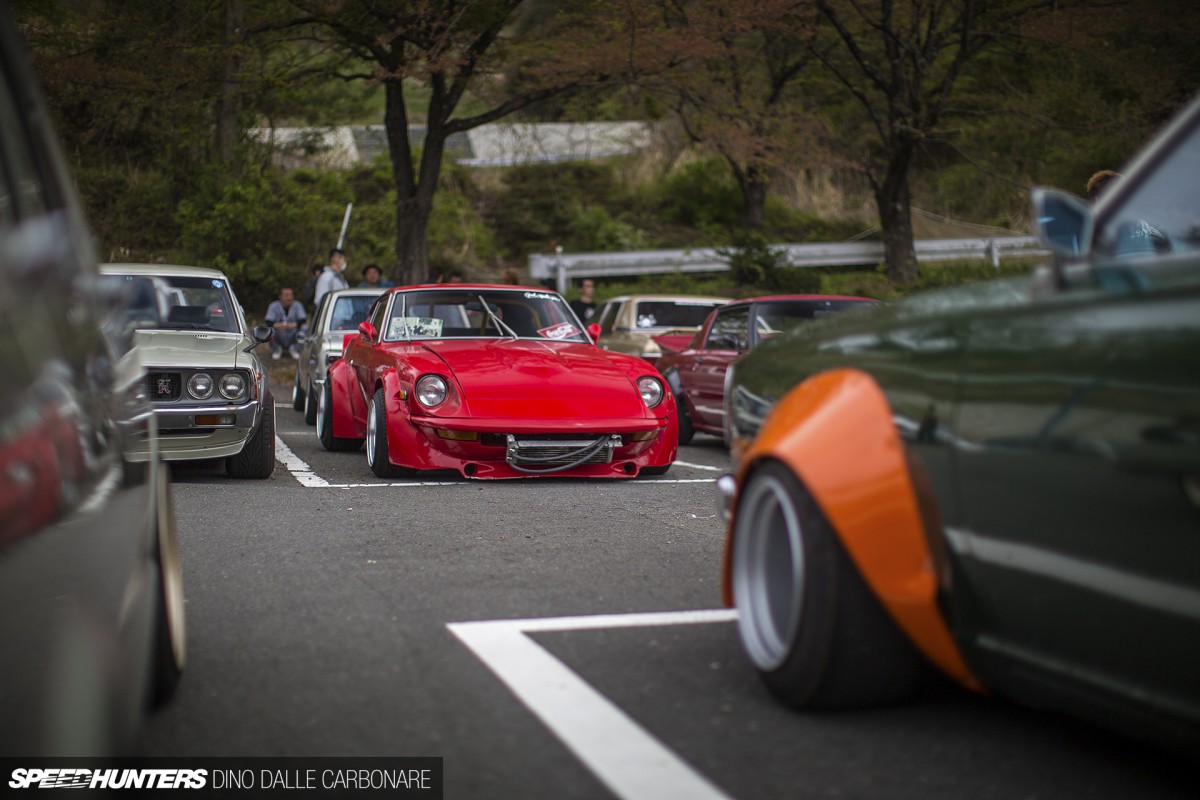 On top of that I met a lot of owners who I exchanged phone numbers with, as I'm itching to do a few full-on features with some mind-blowing cars I found.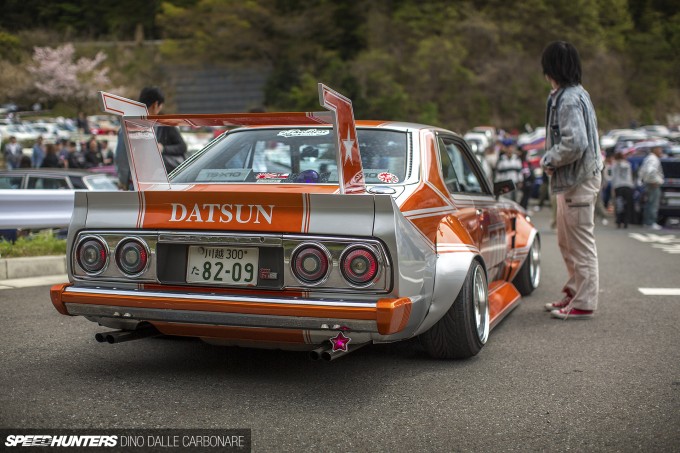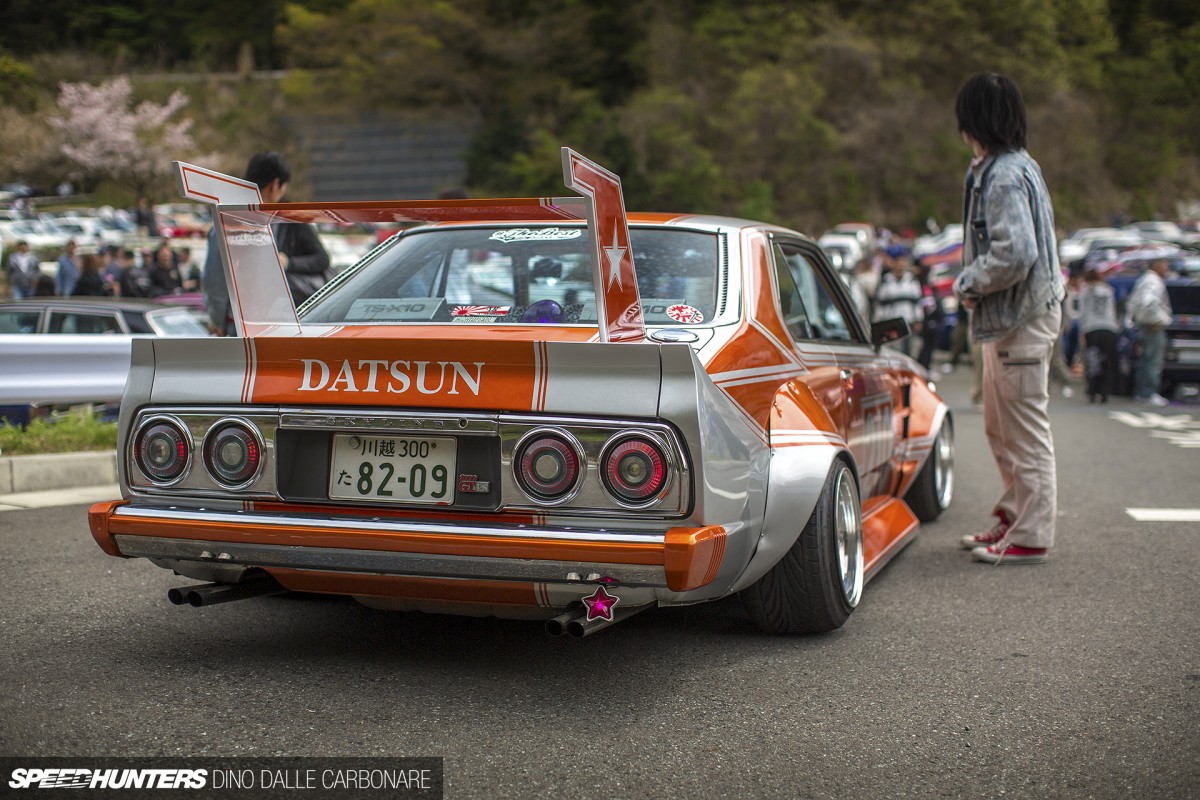 As I watched it all unfold I just couldn't help but fall on the same train of thought that always passes though my head when I find myself at any type of Kyusha event. The Japanese sure know how to enjoy their old cars. Anything goes – no matter how weird or whacky – and it all nicely slots into a scene where nobody gets judged.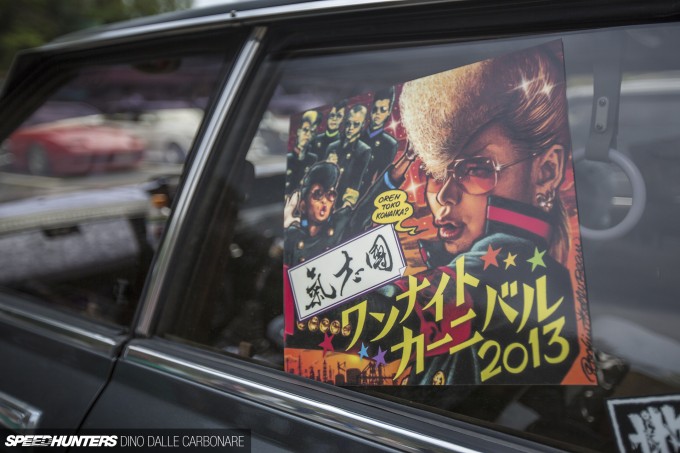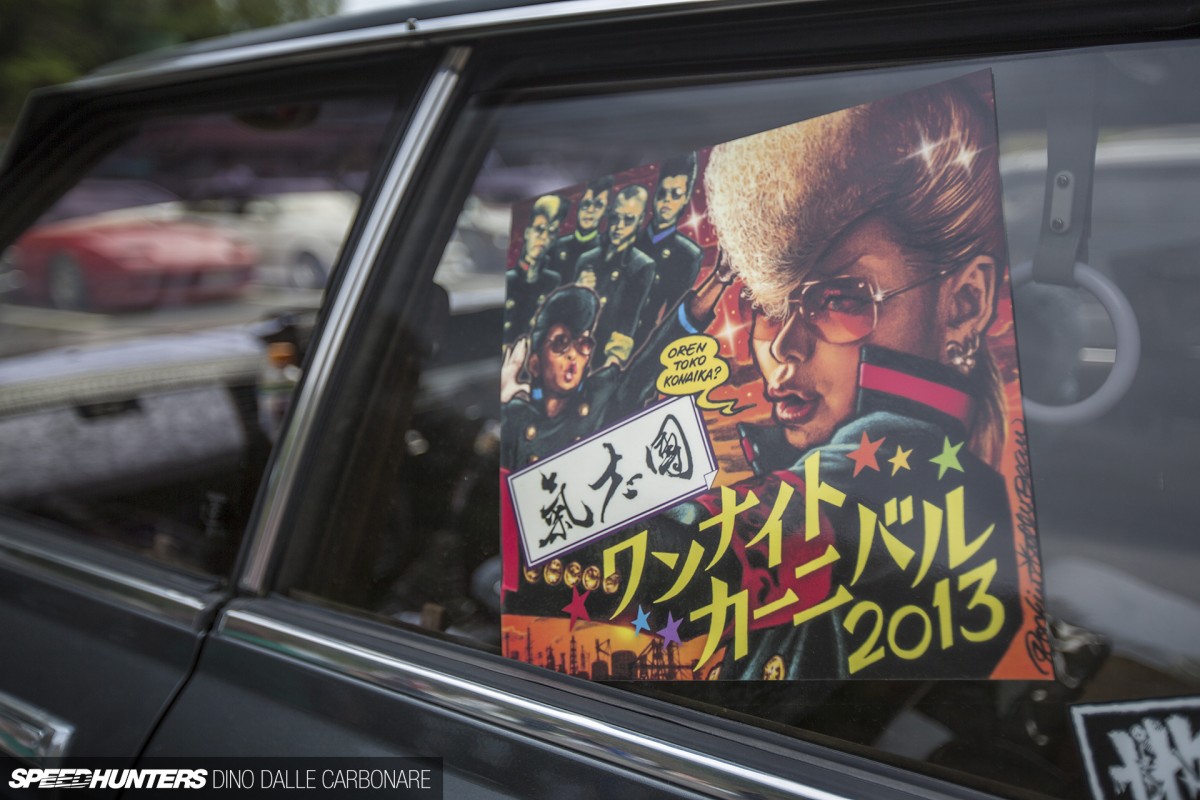 Well, maybe they all get categorised as Yankees, but nobody cares – instead it's embraced. As one guy told me, "I'm a professional Yankee and proud of it!"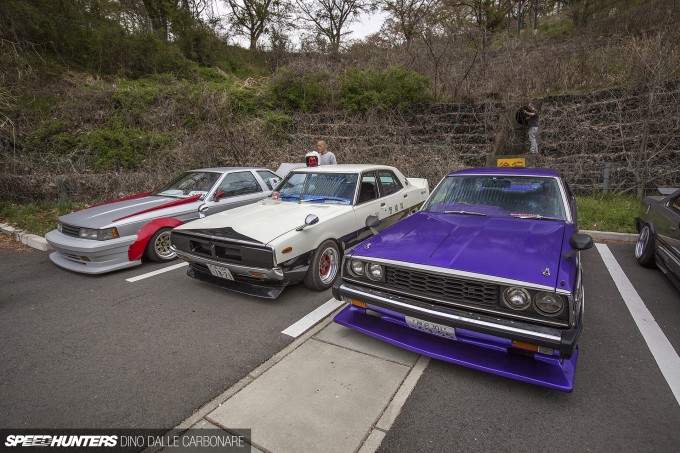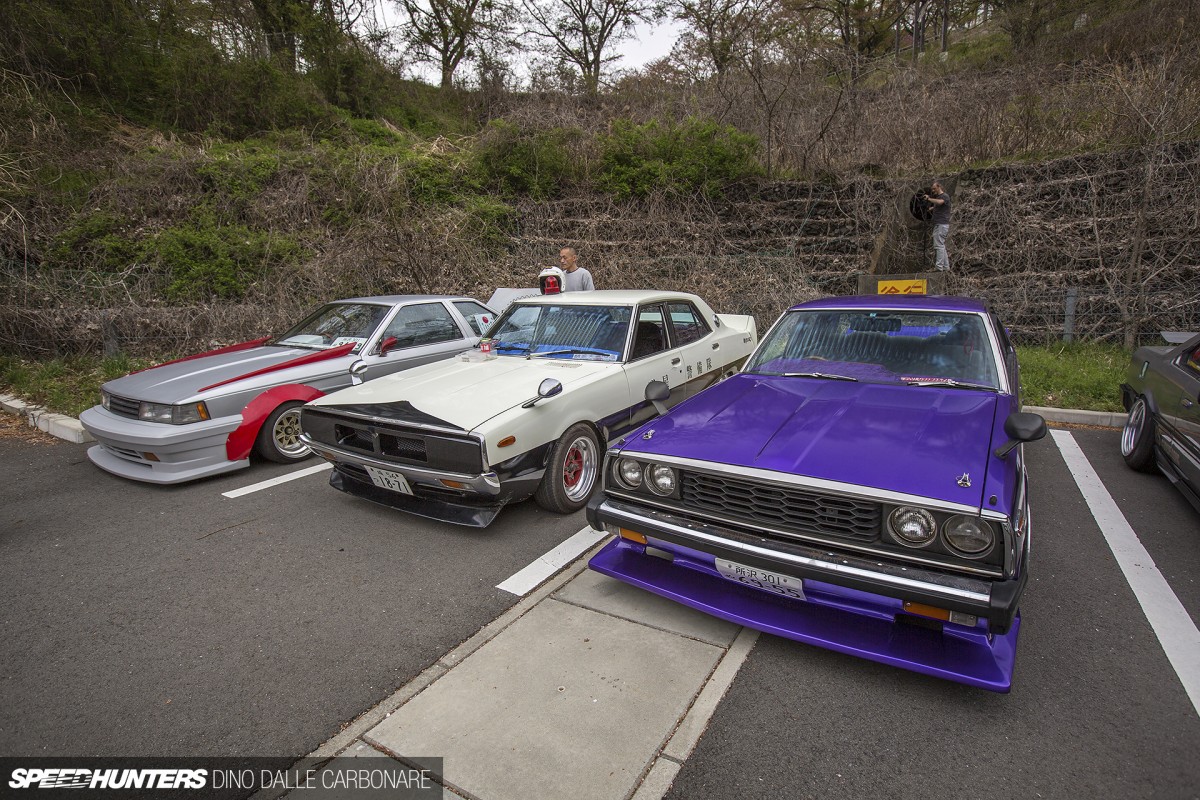 During the day I was updating Speedhunters' Instagram feed as well as my own, and noticing that these cars were generating thousands of comments.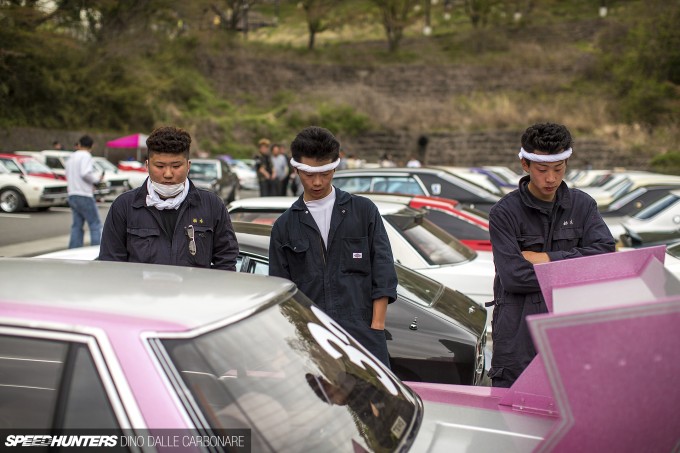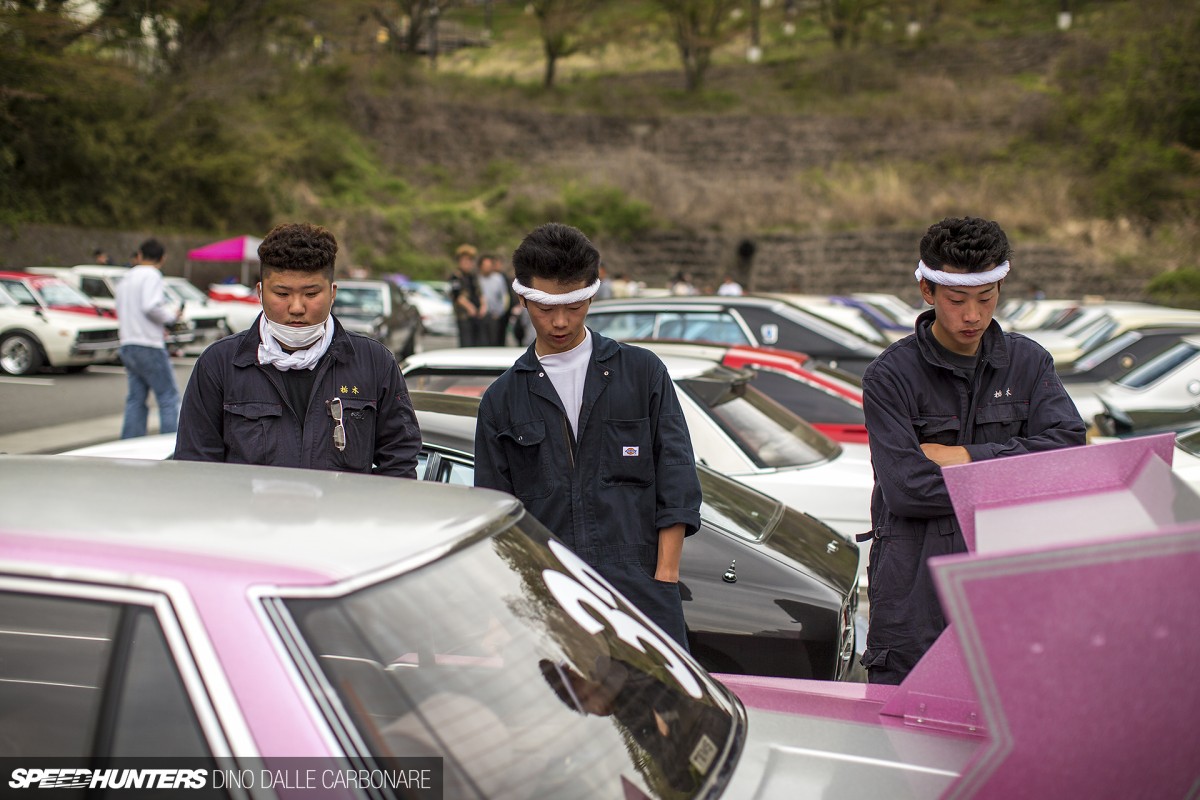 But given that this is one of the most interesting Japanese subcultures around, that's not surprising I guess.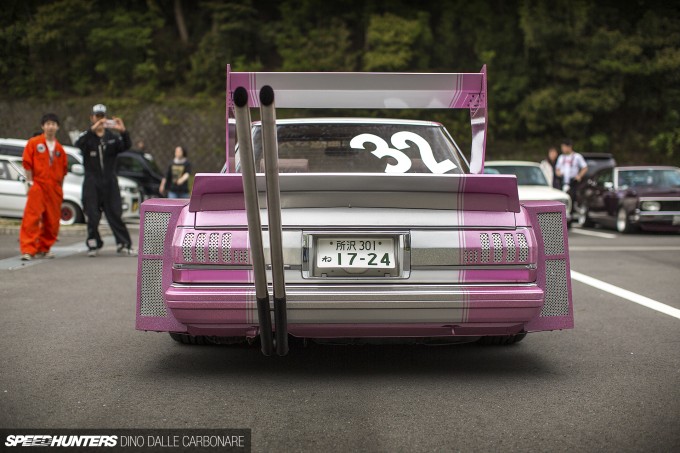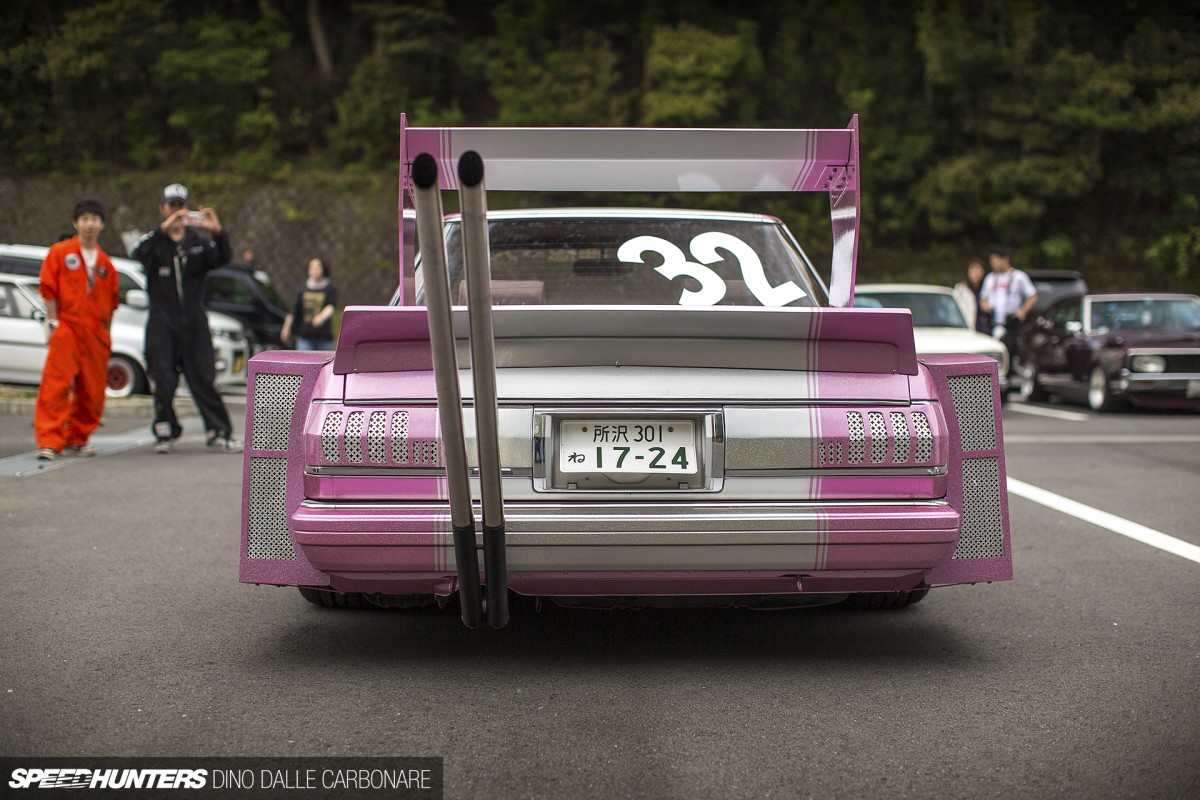 Towards the end of the day takeyari pipes started being fitted, and as some of the cars began leaving things got pretty rowdy.
Keep The Noise Down!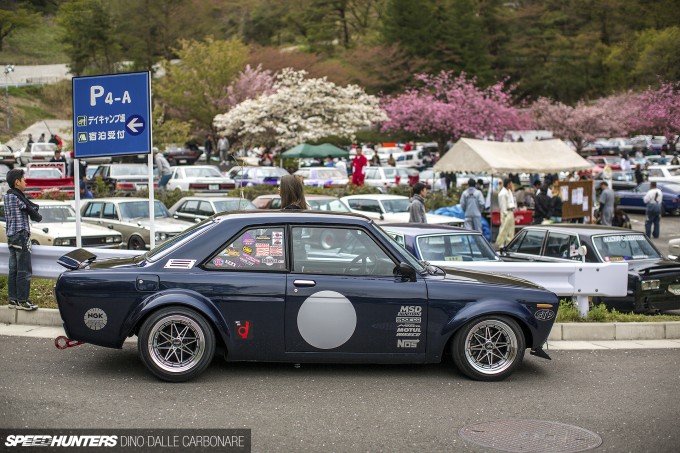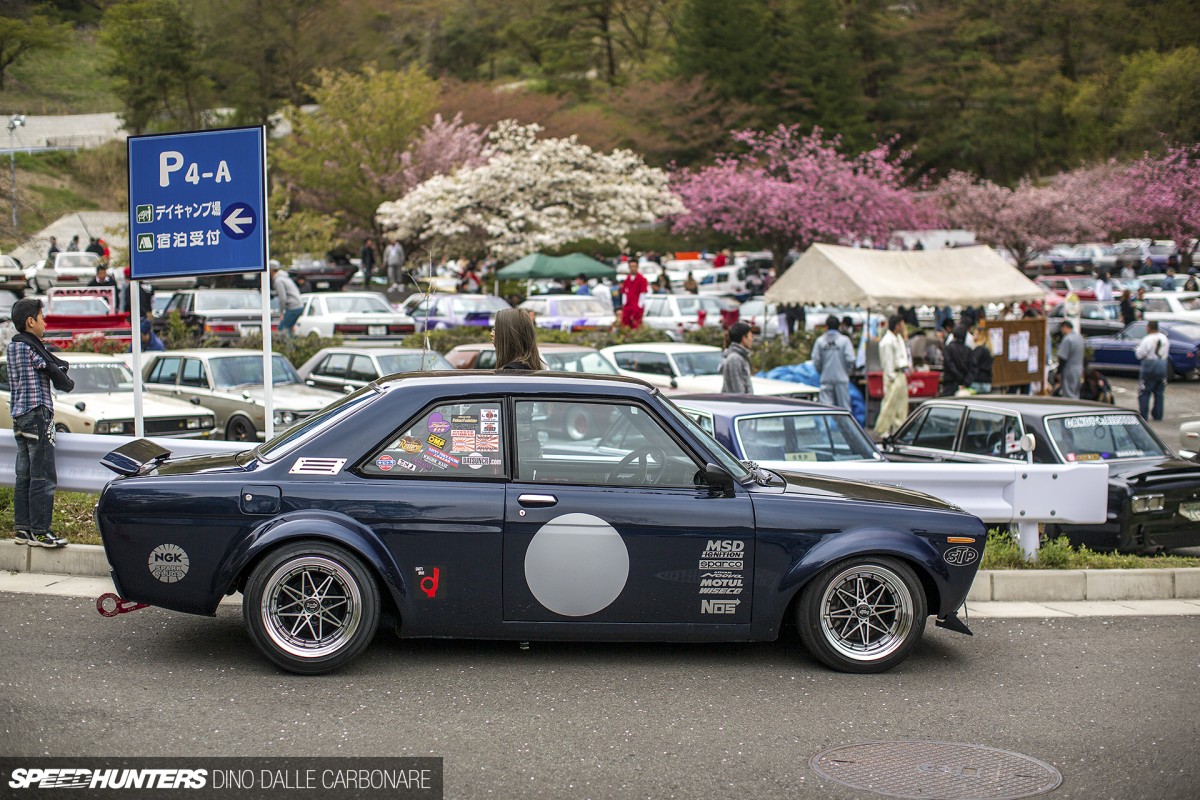 I had to laugh when one of the organisers went out on the stage and announced over the mic, "We know your cars are loud – we get it – but can you please try to keep the noise down as this is one of the last venues that we have managed to get." Not that anyone really took notice…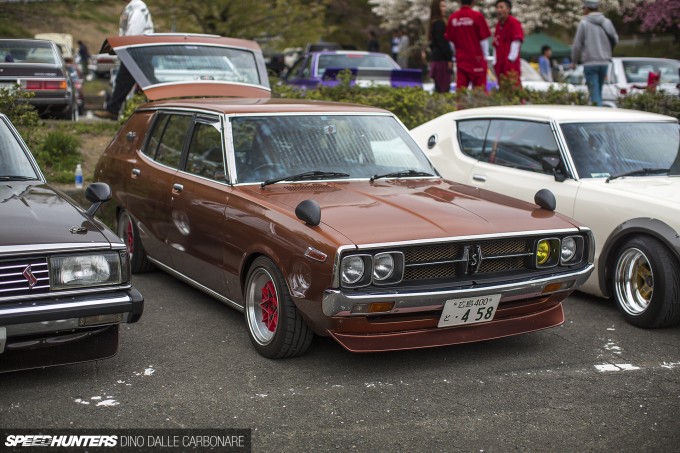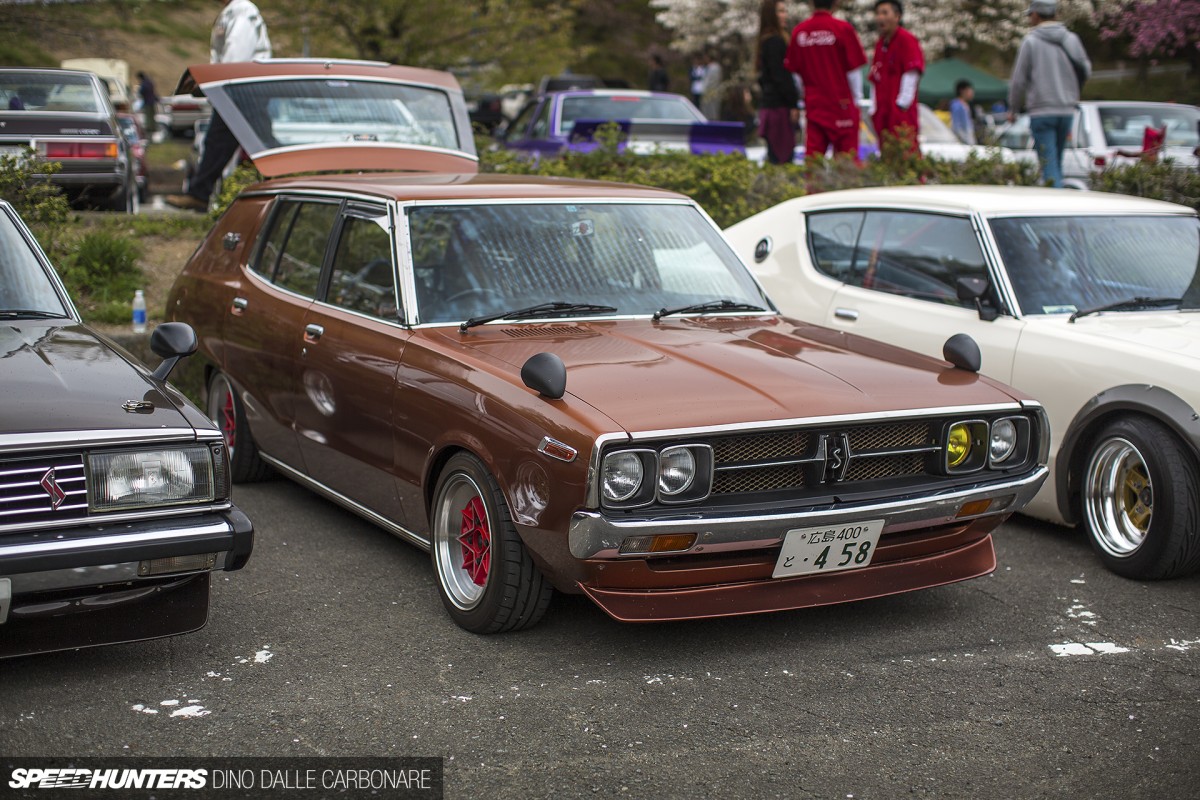 C110 Skyline wagons are pretty rare, so I spent quite some time looking over this one in detail. It came all the way up from Hiroshima, which is a 2,000km round trip, for a chance to make a showing at this big meet.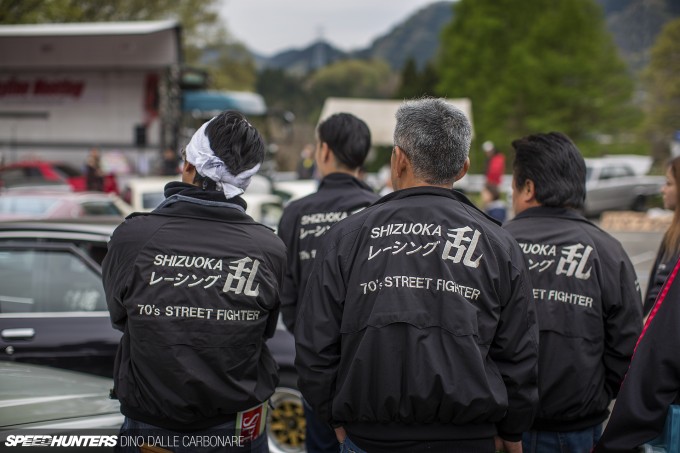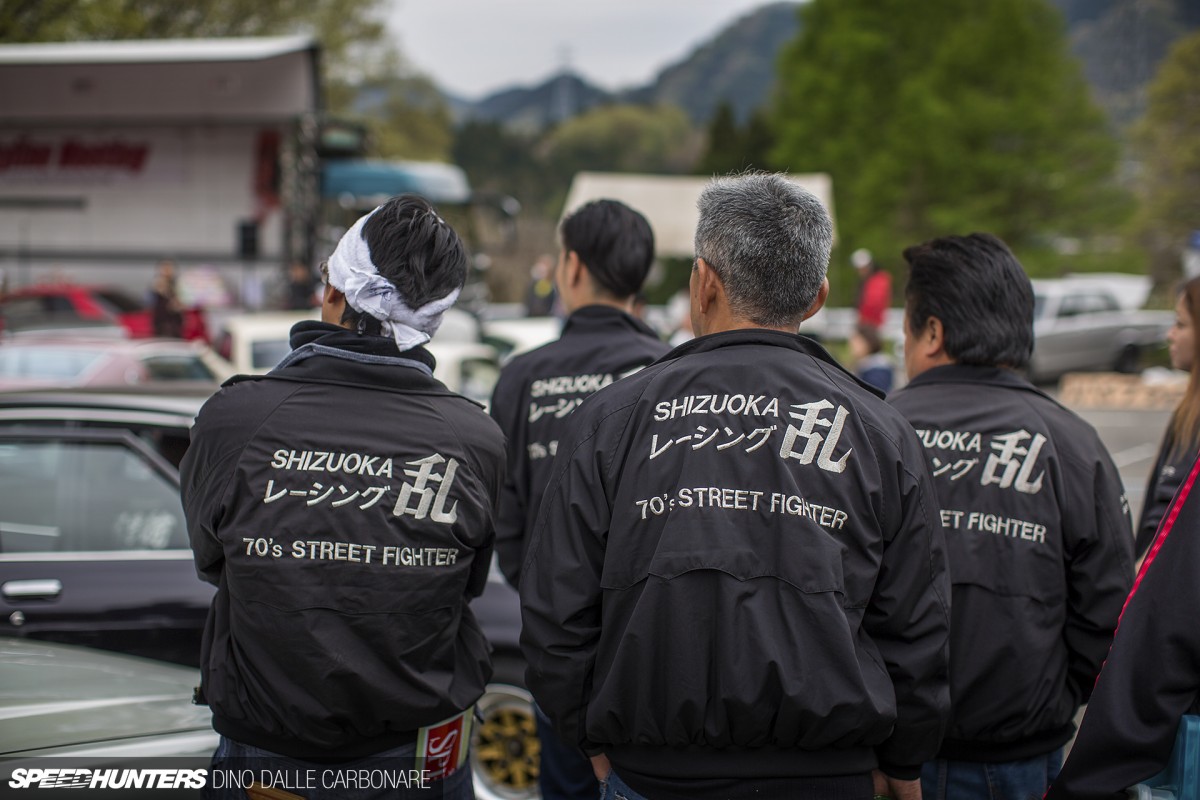 I love how most of the teams rock cool jackets with their club name and insignia embroidered on the back. The 70's Street Fighters from Shizuoka Racing are a group we have seen before at the Nostalgic 2days, and I'll be paying them a visit in the near future to chat about vintage cars, their style, and to feature the best machines from their group.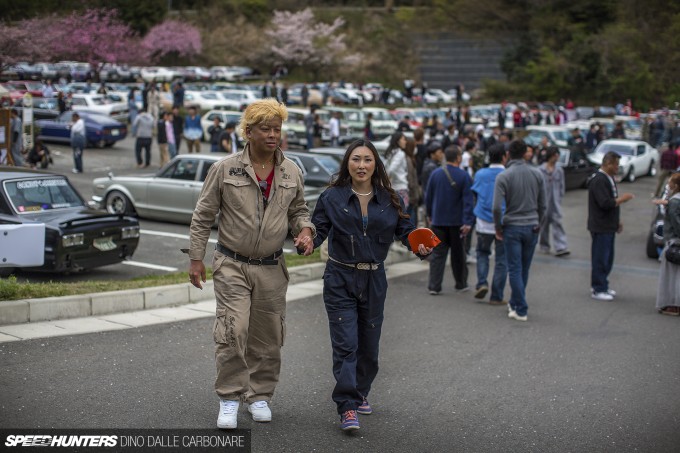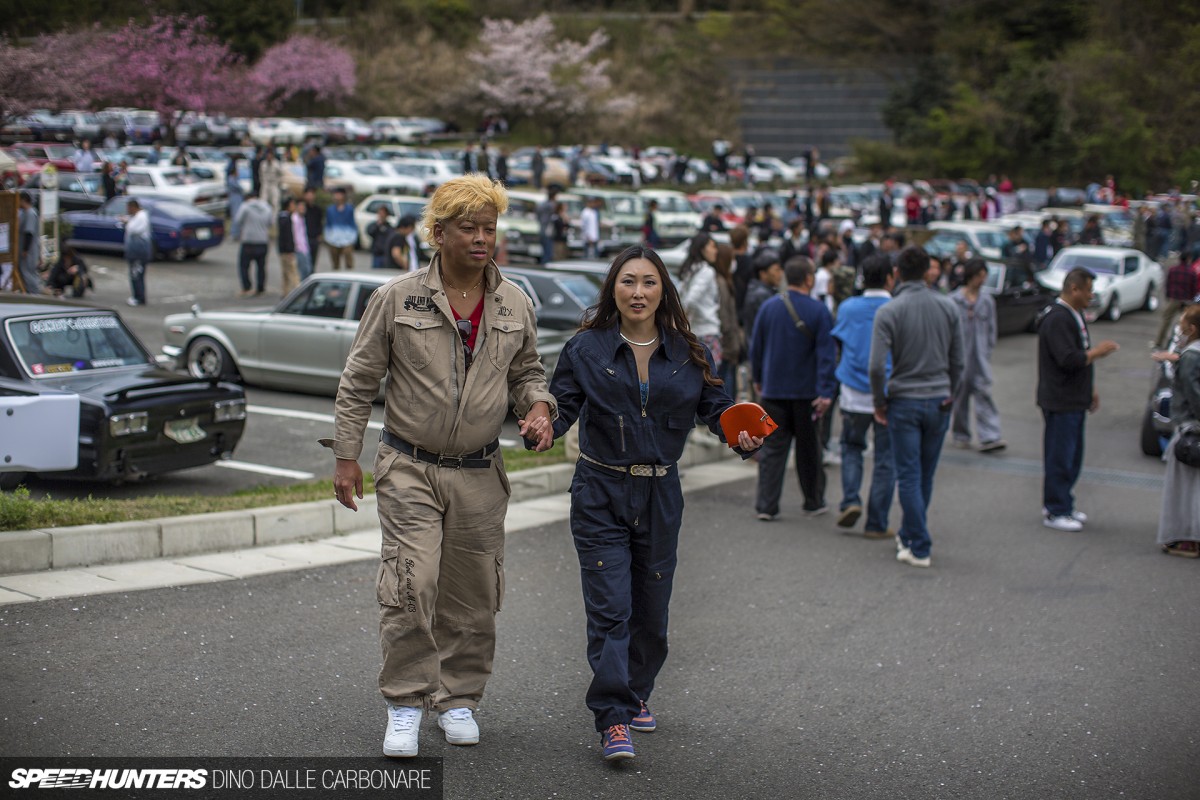 If you don't have team jackets, overalls are always a good alternative.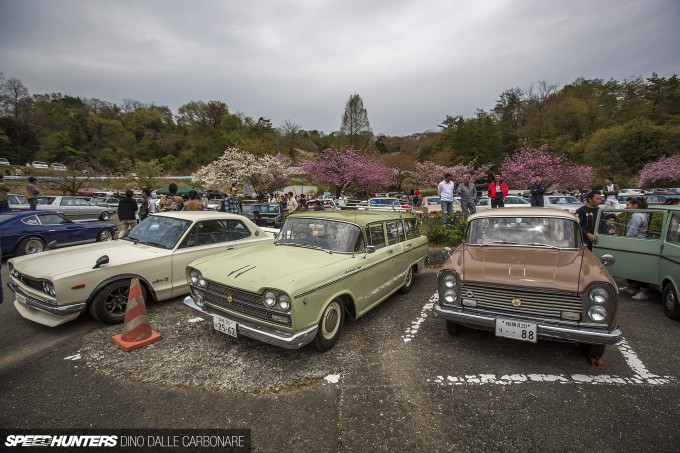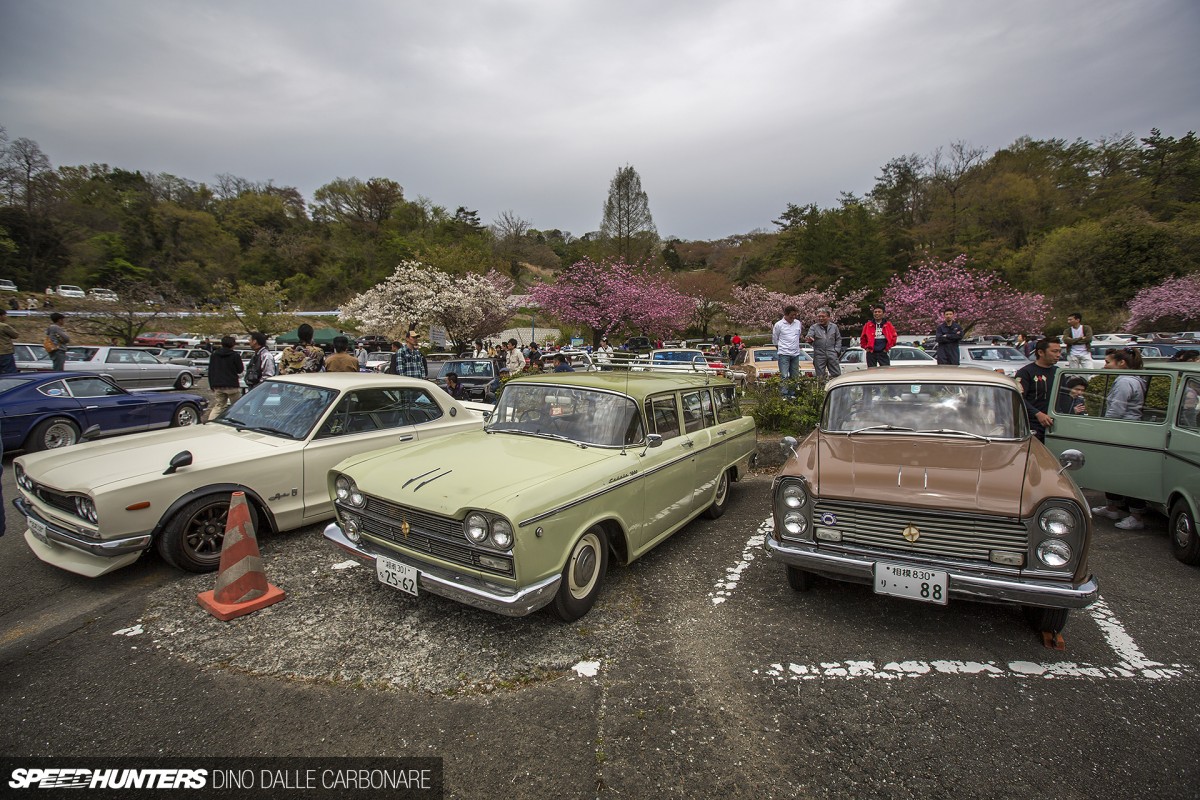 Closer to the stage area people had brought out some proper classics. This was a more collector car oriented display, which was also made up of tiny Kei vans from yesteryear.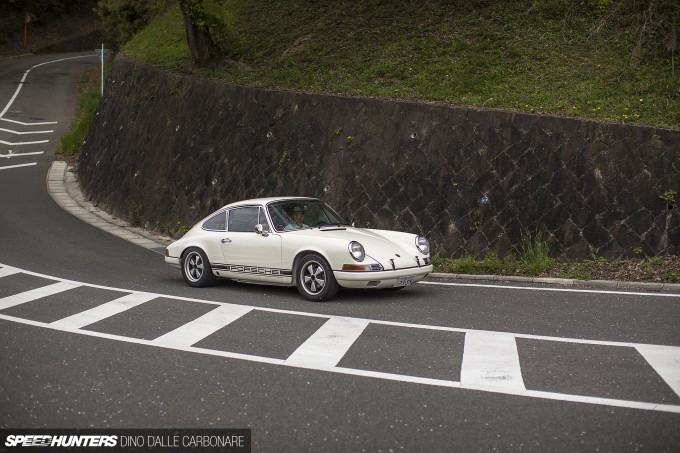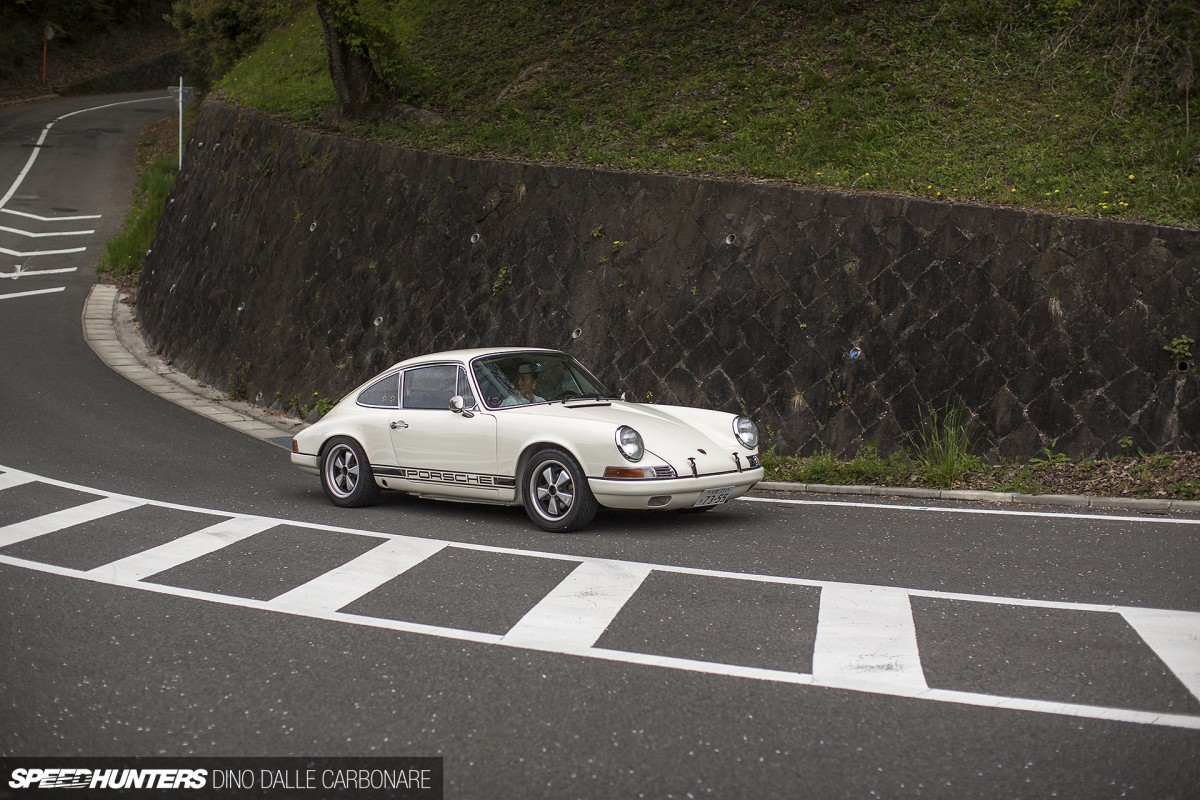 Now, I'm a sucker for older 911s, but seeing one cruise into the venue left me thinking that this guy must have got the wrong event.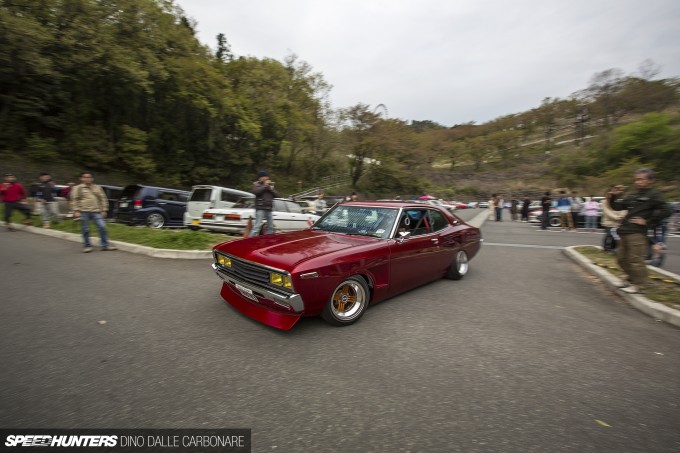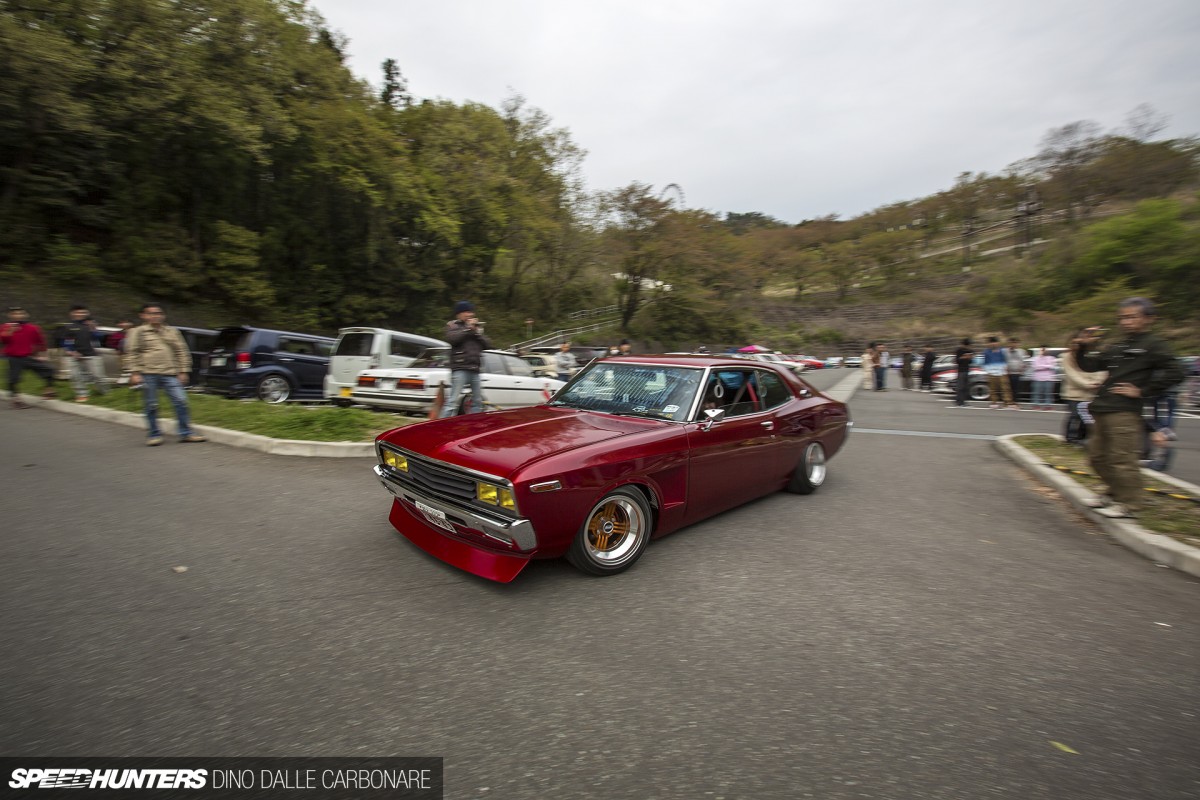 Butaketsu anyone? Look out for a spotlight feature on this Laurel soon. Trust me, you will love this one!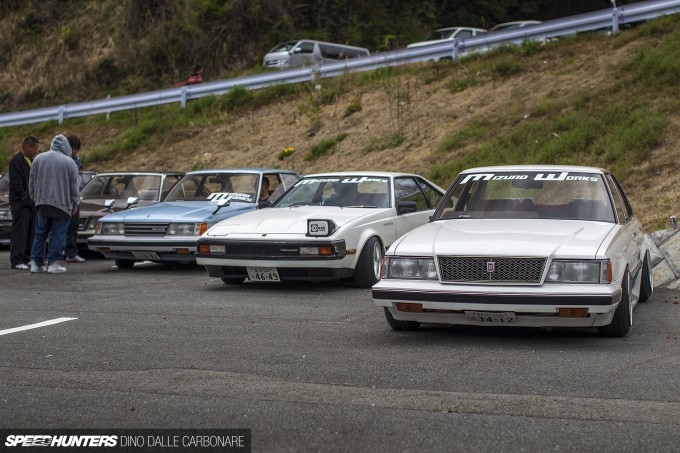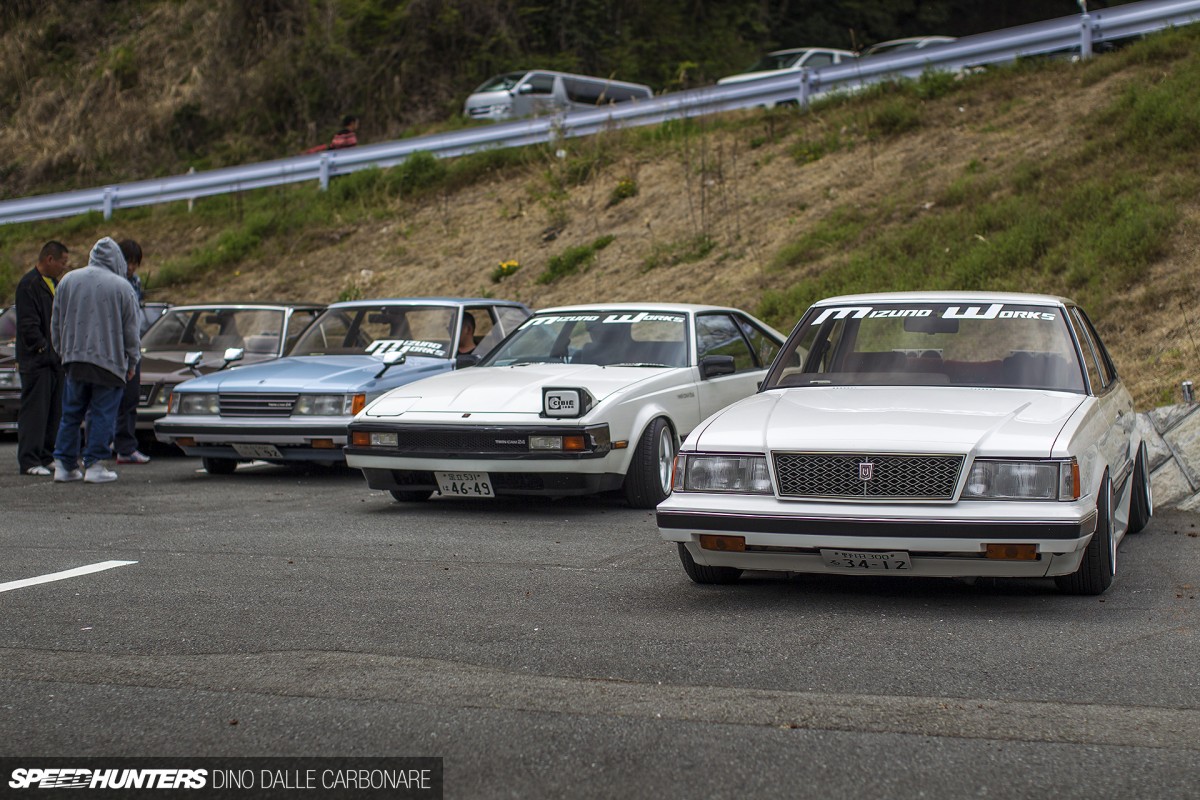 High on the top section of the main parking lot was the Mizuno Works crew with their Toyotas. Check out that collection of appropriately-stanced perfection. Man, the Japanese do things so right.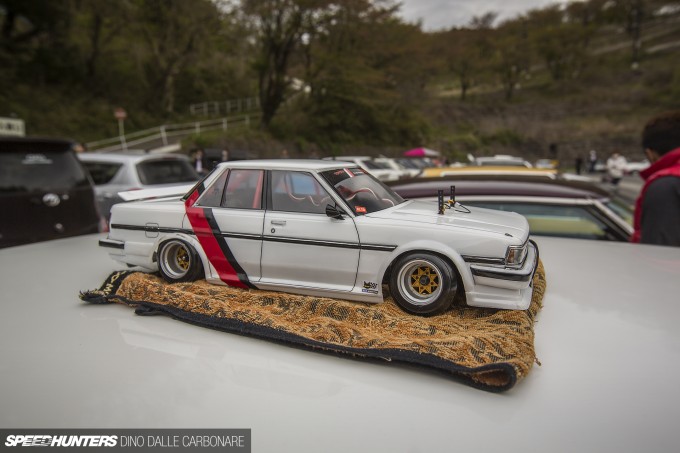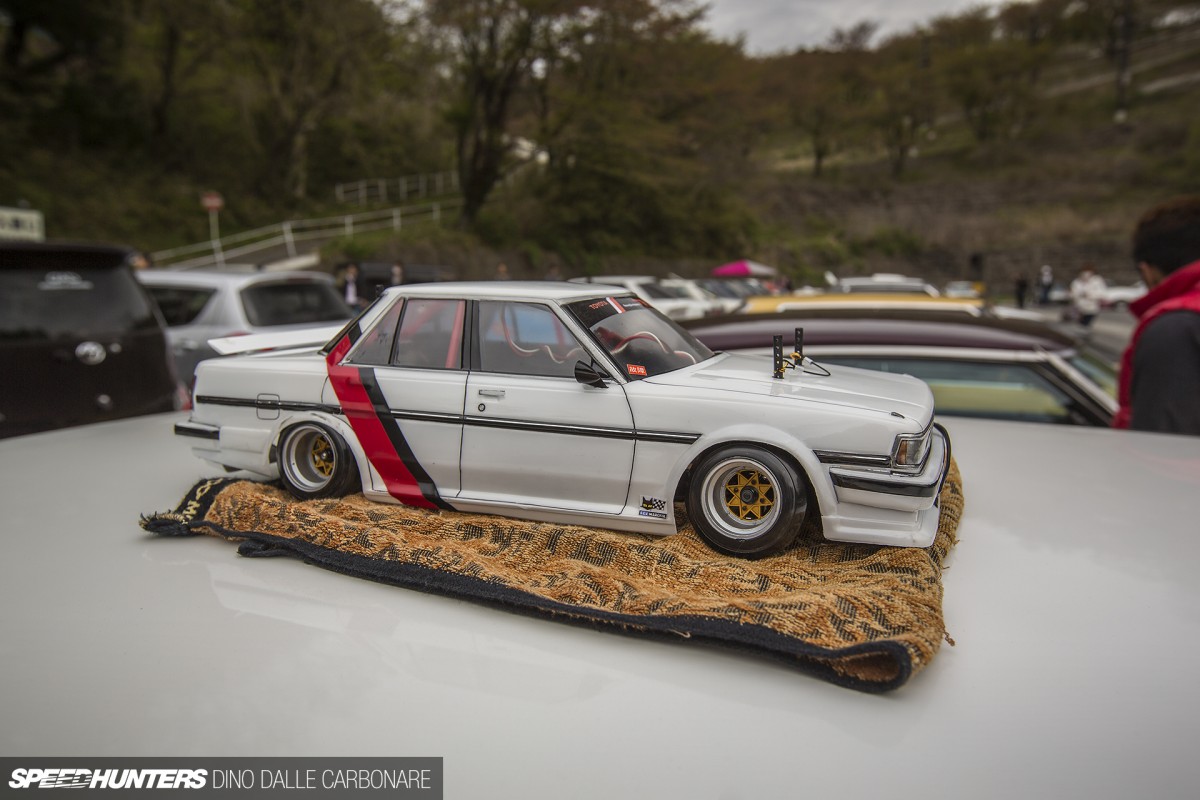 Like at any car event in Japan, you know you are bound to come across someone that has made a scale replica of their car from a RC drift car body. I had no idea they had scale vintage '80s rims for these cars though.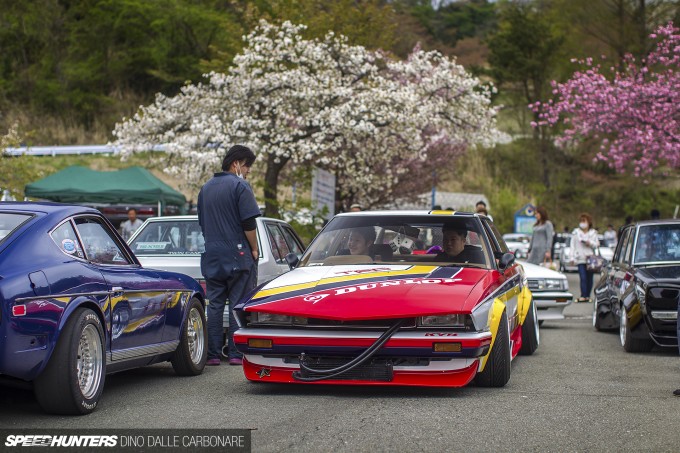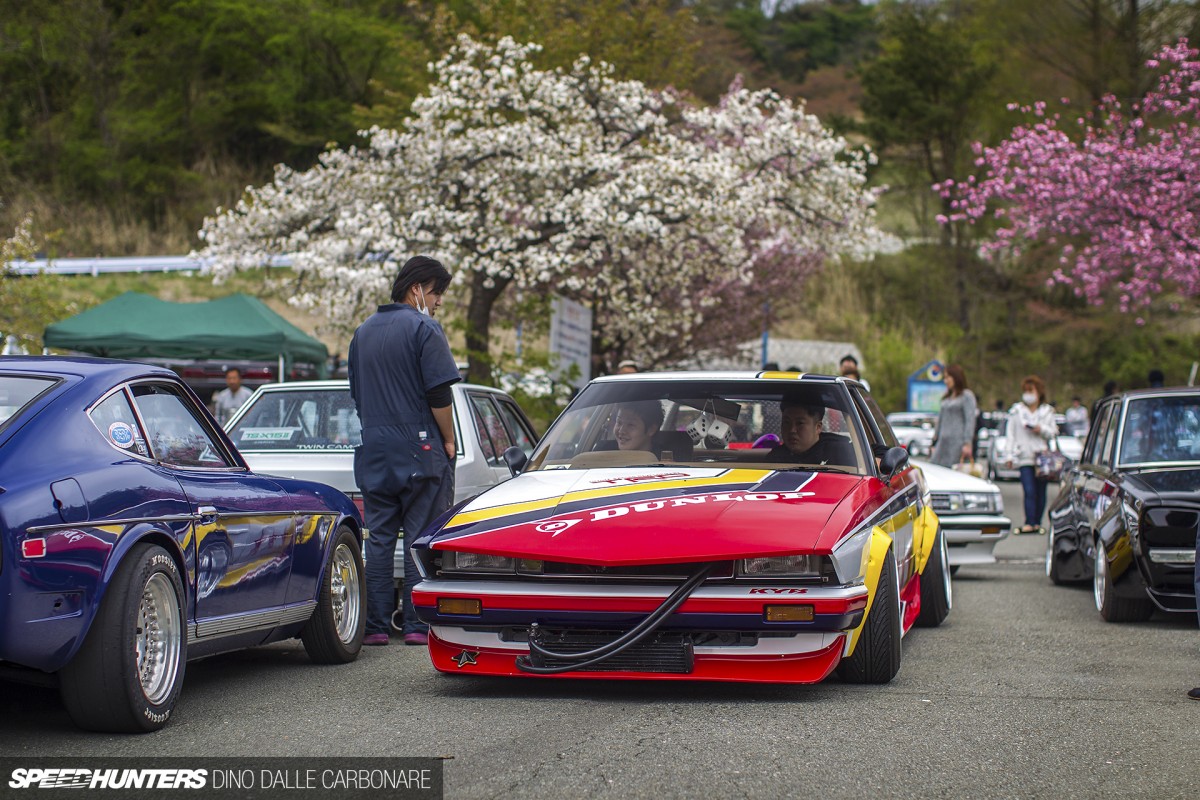 With many people having come from a long way away, some began leaving early, and the mayhem of raspy exhaust notes began.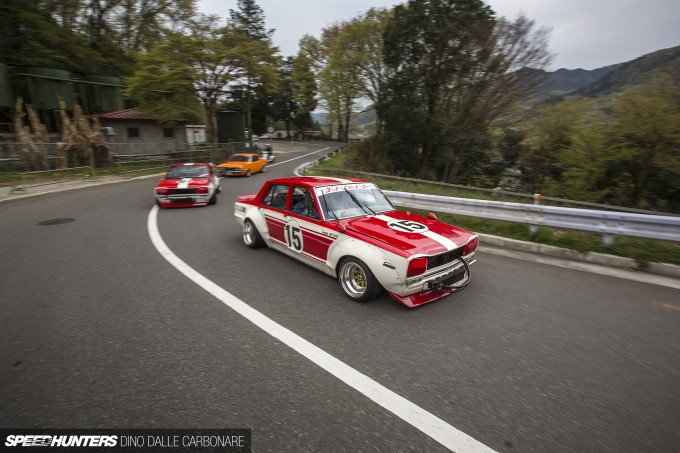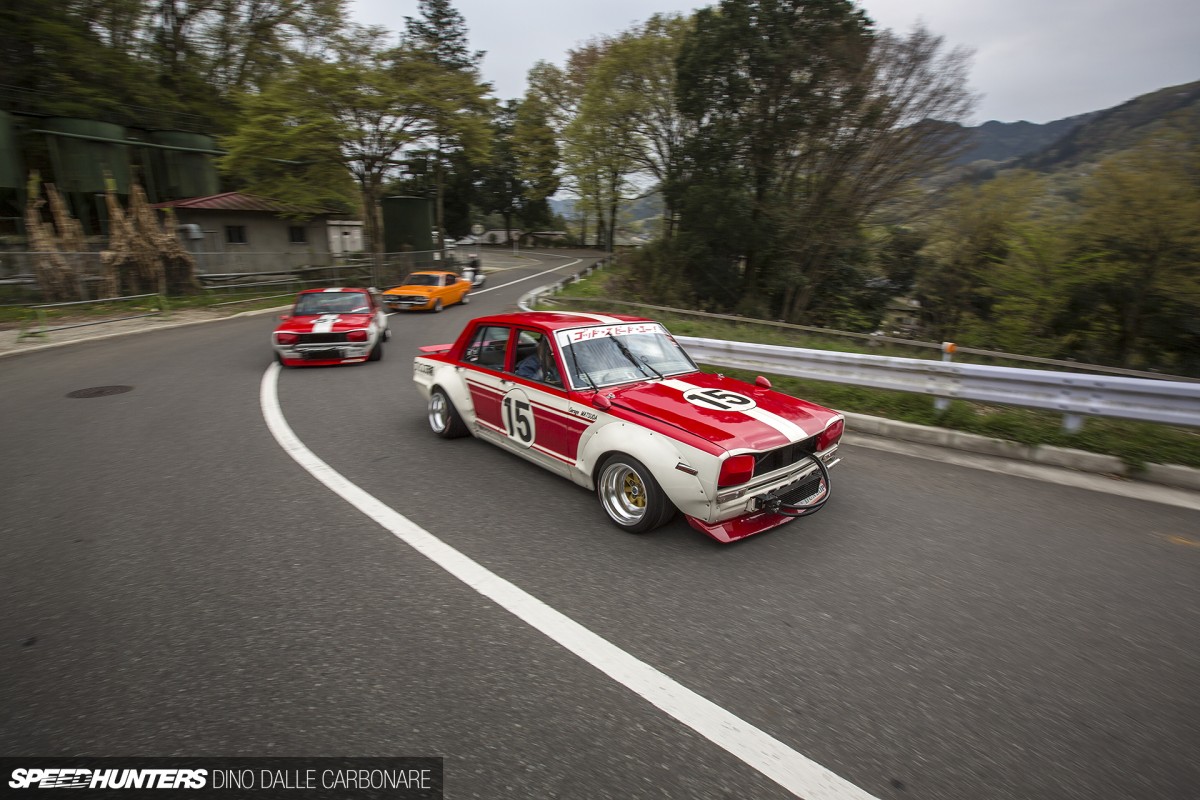 Even if every attempt was made to keep people from revving out their engines too much during most of the day, that all pretty much went out the window as the cars left.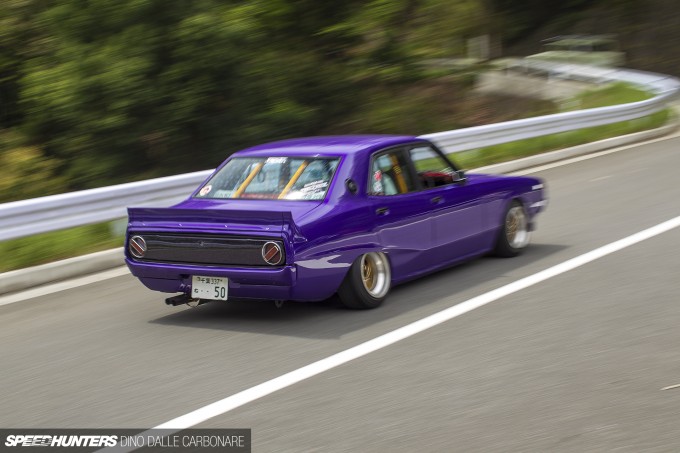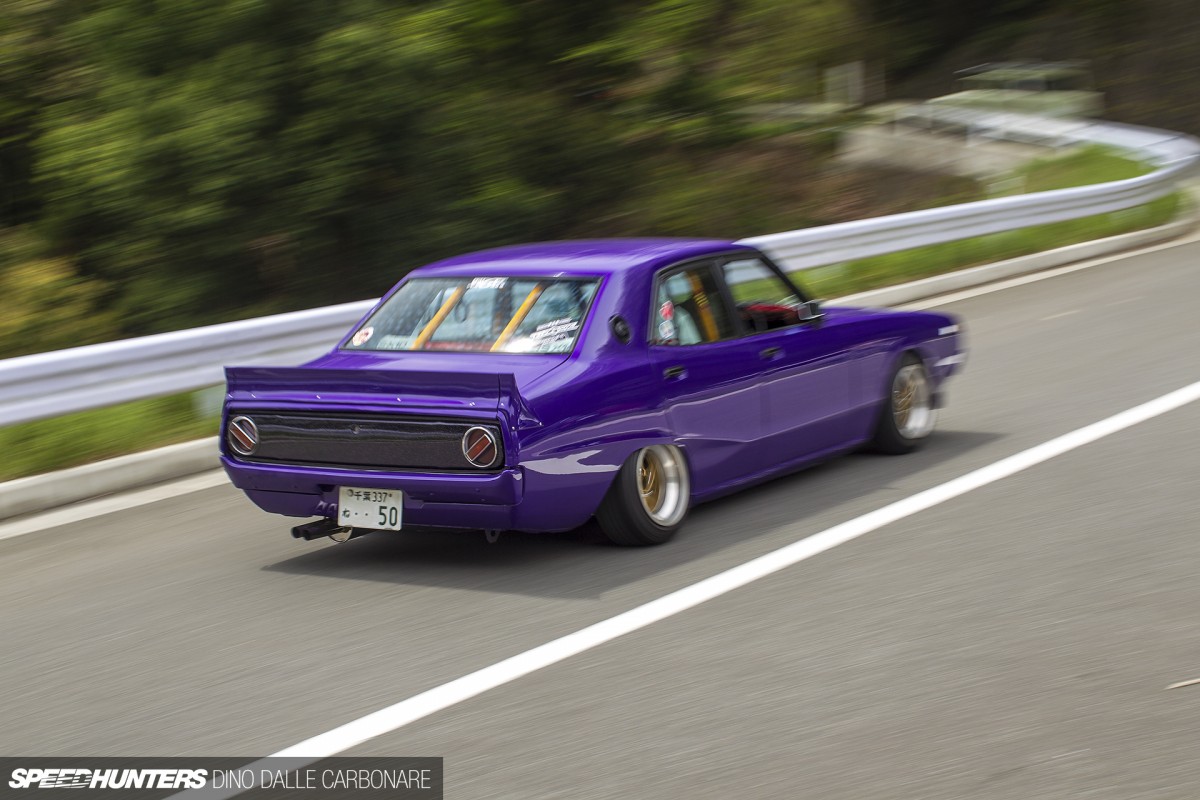 With a ton of bystanders lining up on the sides of the access roads to check out the convoy of cars leaving, many owners wanted to make their outing a memorable one, which pretty much meant a loud one!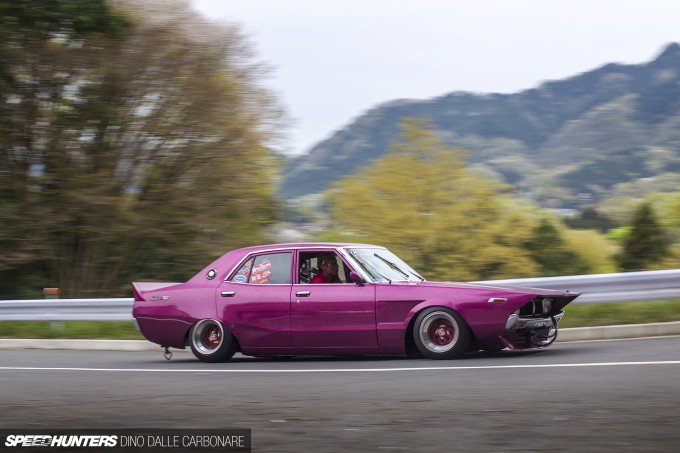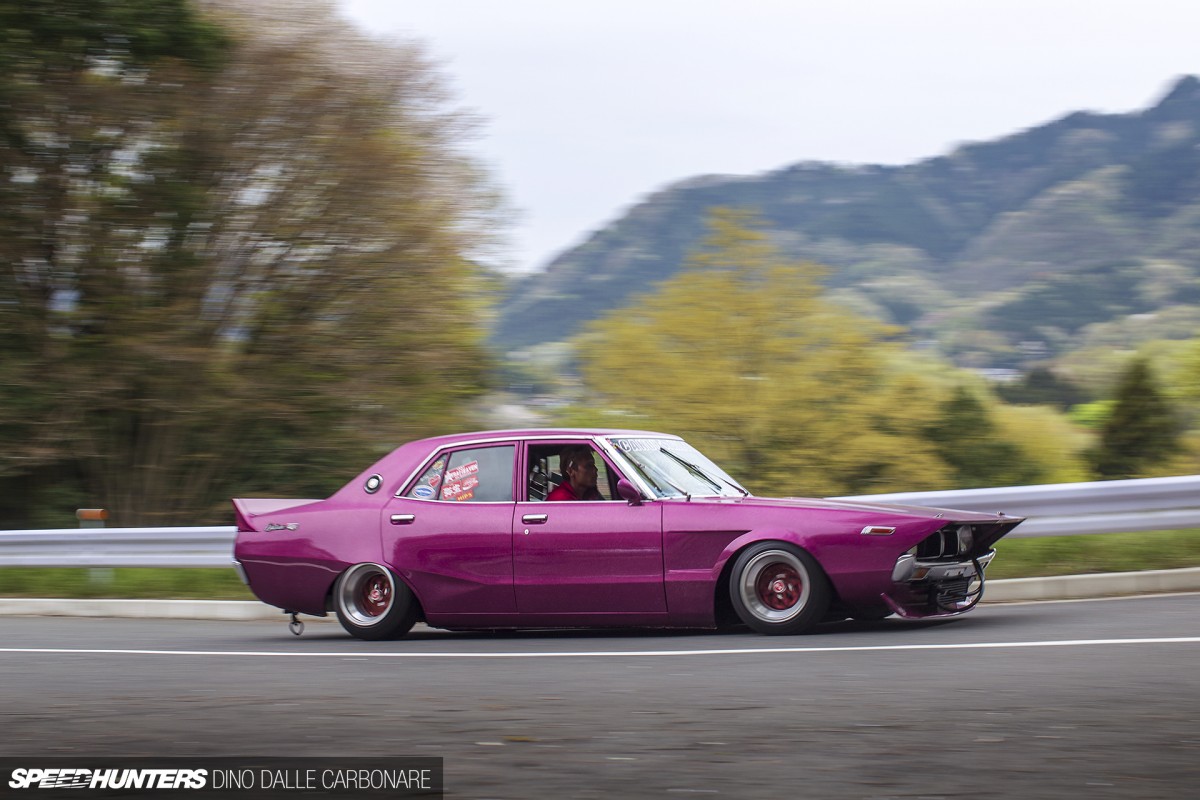 Needless to say this Kyusha meeting at Sagamiko Pleasure Forest is never going to happen again. Ever. The guards at the gates were far from happy hearing the commotion of revving straight sixes destroying the tranquility of the venue. Some owners even started doing donuts in front of them just to finish things off all together.
I'm very happy I chose to make the 800km round trip that day, as it seems nobody is sure when something of this size is ever going to go down again…
Thank you Japan, you are awesome!
Dino Dalle Carbonare
Instagram: speedhunters_dino
dino@speedhunters.com