To New Beginnings
There was a feeling of change this past weekend in Nagoya. As the saying goes, not all good things last forever, but at least you can look back at the good old days and be happy that they happened, and that you were there to experience them.
The Exciting Car Showdown has been one of my favourite events to attend in Japan, but its recent rebranding to the Tuning Car World Showdown isn't the only change happening. It's long-time home, the Port Messe Exhibition Center dome, is due to be torn down soon. It's not the end for the event though, and Mamina Inada, daughter of the great Daijiro – Option magazine's founder – told me that they have found a new venue closer to Tokyo that is perfect for future Showdowns.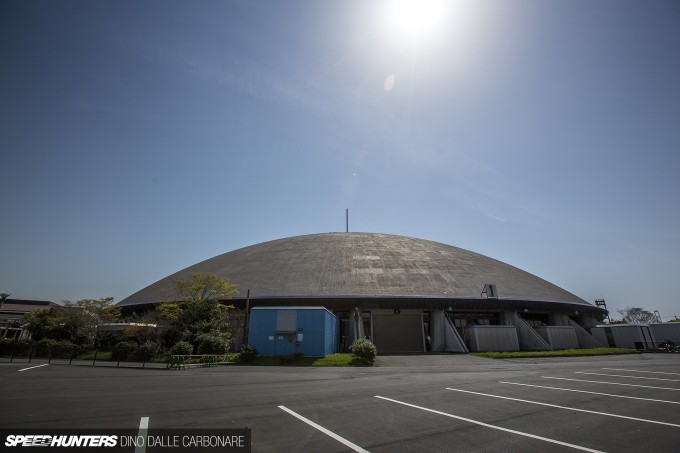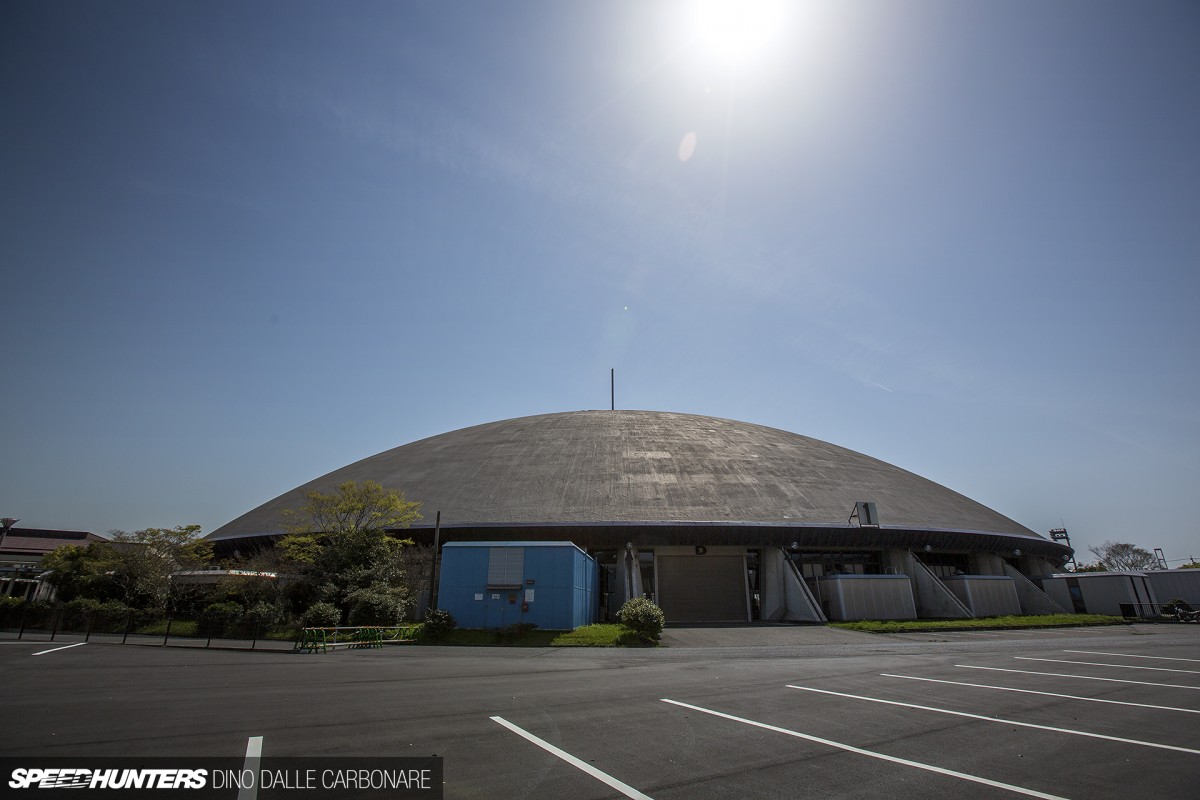 As I arrived in Nagoya on Saturday morning I couldn't help but take a look at the big dome one last time. It's going to be sad to see this cool structure knocked down, as it's been home to many car events over the years.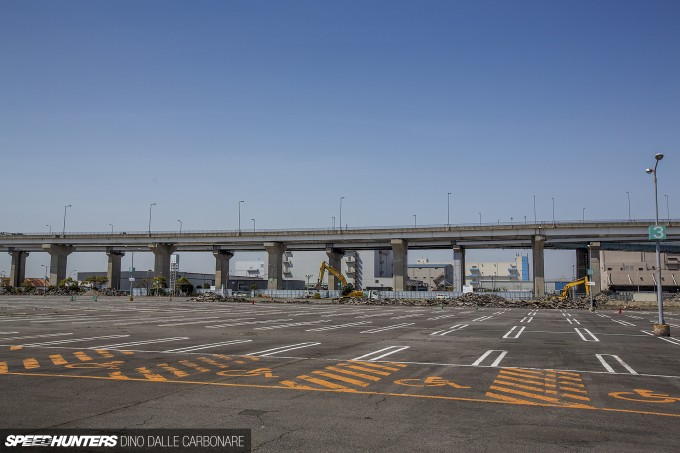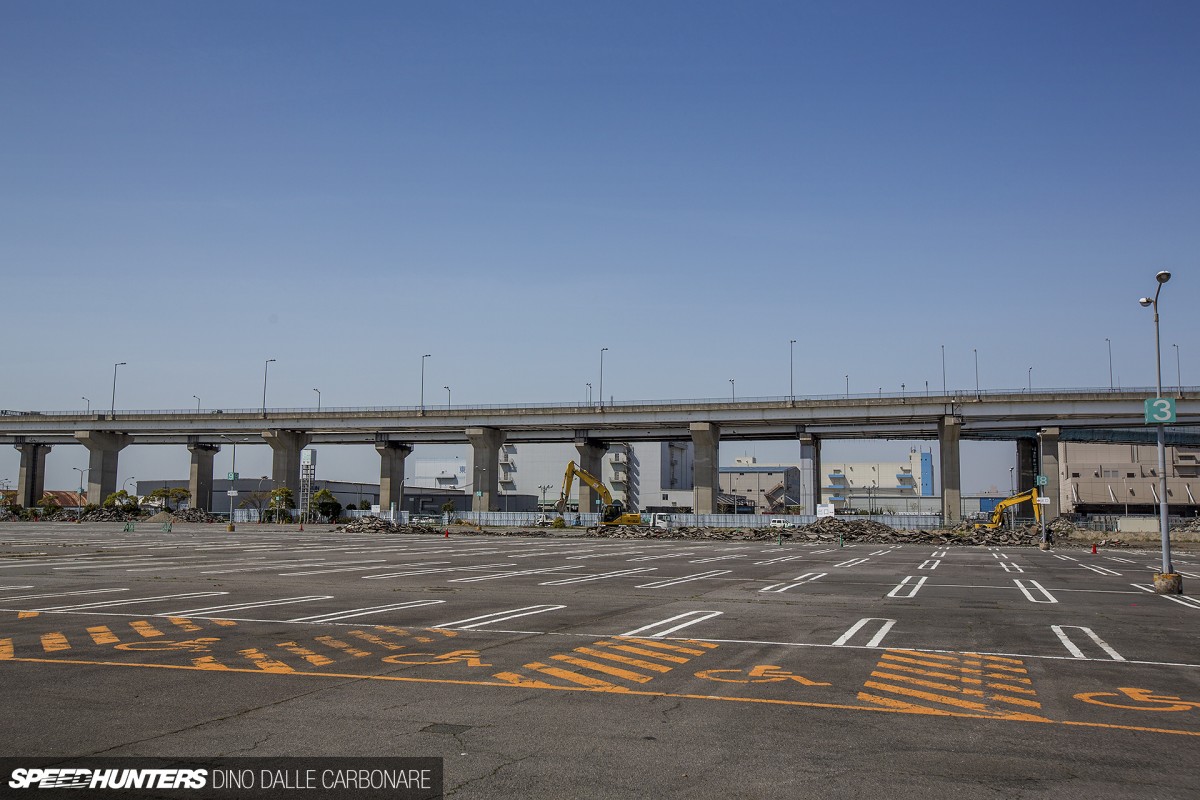 Along with it, the massive parking lot is being torn up too, and work has already started on that. The Showdown, Wekfest and Auto Legends have all utilised this area in the past, and at each event hundreds of cars would show up and create an additional spectacle. What you see here will soon be turned into Legoland Japan.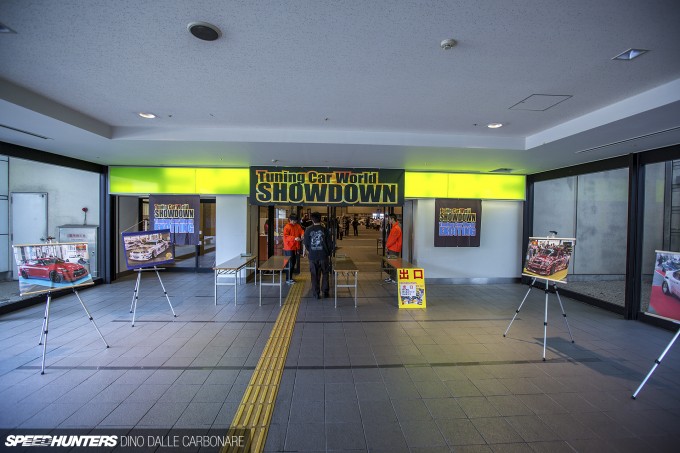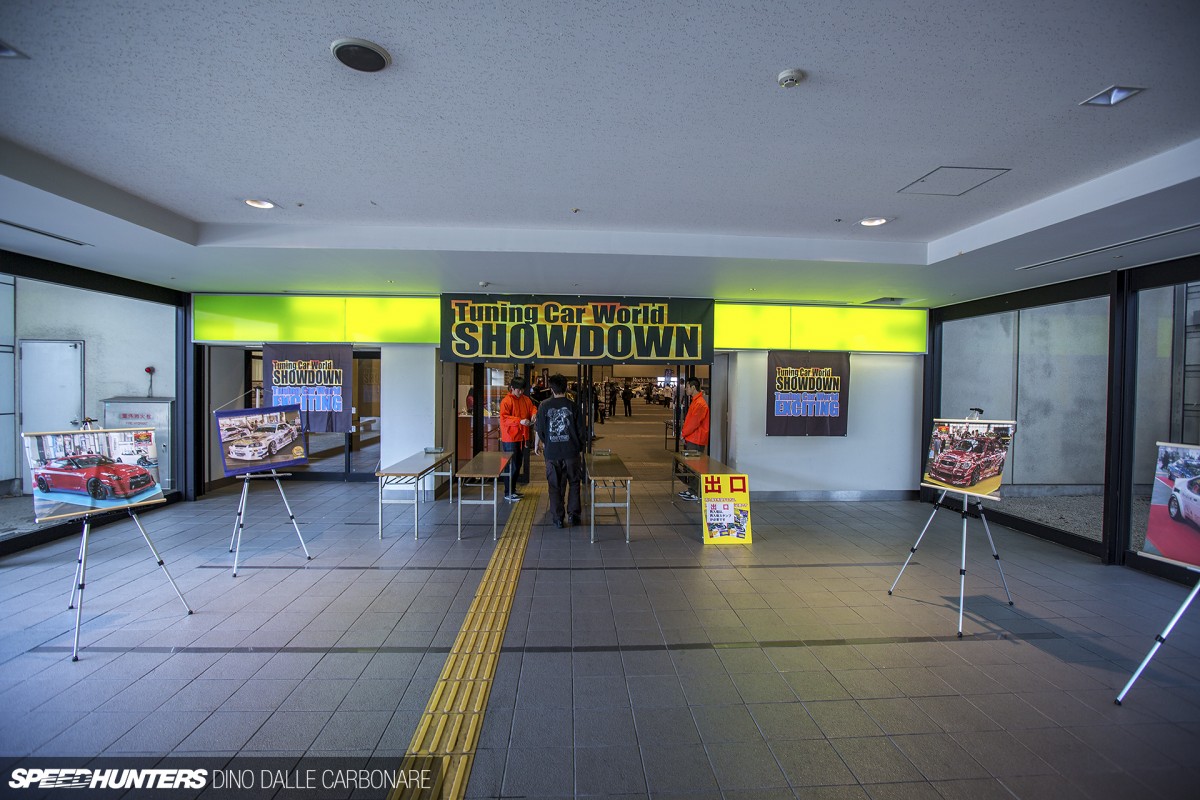 But not to worry as the other more conventionally-designed halls of the exhibition center will continue to hold shows for years to come, and last weekend it was the Showdown's turn. This is by no means a big show, but what it lacks in physical size and spectator numbers, it more than makes up for with its cars, people and atmosphere.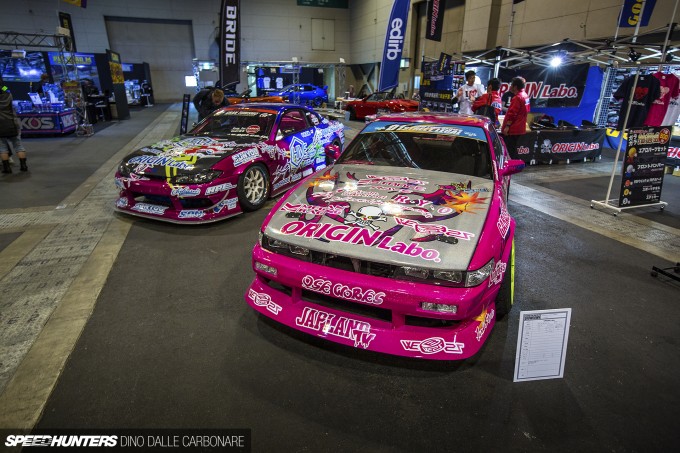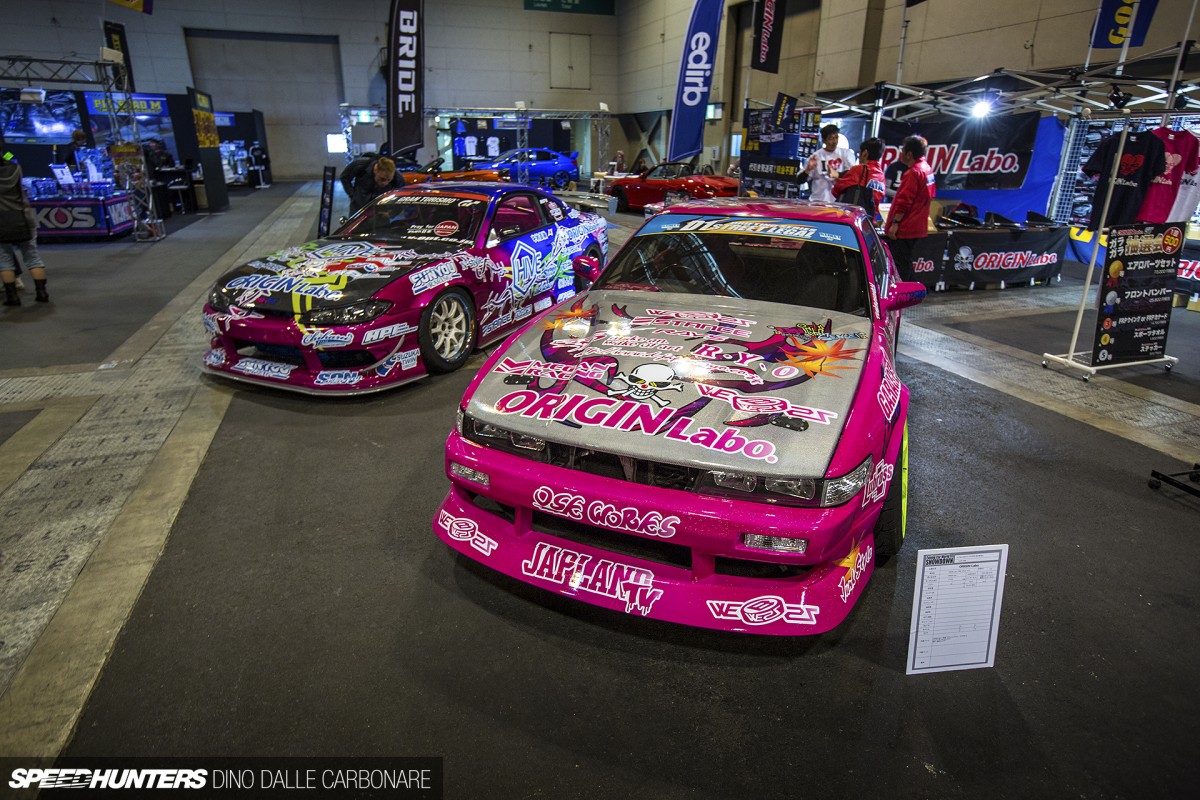 This show was set up by Daichan years ago to give smaller shops and owners located far from Tokyo an event to show off their cars and styles. It quickly became the place to go to get a real sense of what was happening in the JDM scene, and that's one of the main reasons why we've always loved it. This year the show was smaller than it's been in the past, firstly because of the size of the smaller venue, and also because the first round of the 2015 D1 Grand Prix series was kicking off in Odaiba. That said, I still knew there'd be plenty to see and uncover, and I wasn't wrong.
My first port of call was the Origin Labo booth where I checked out Nakamura's car. It's a real pity this amazing driver is not competing professionally right now, because if there is one guy that defines drifting, it's Nakamura. I for one would love to see him take his unique style to Formula D in the US .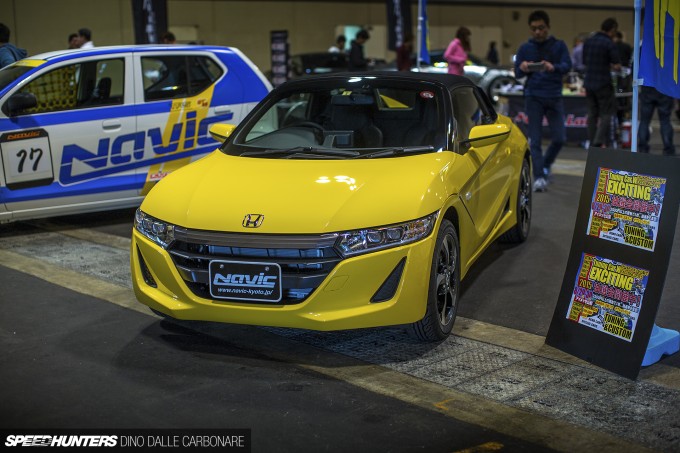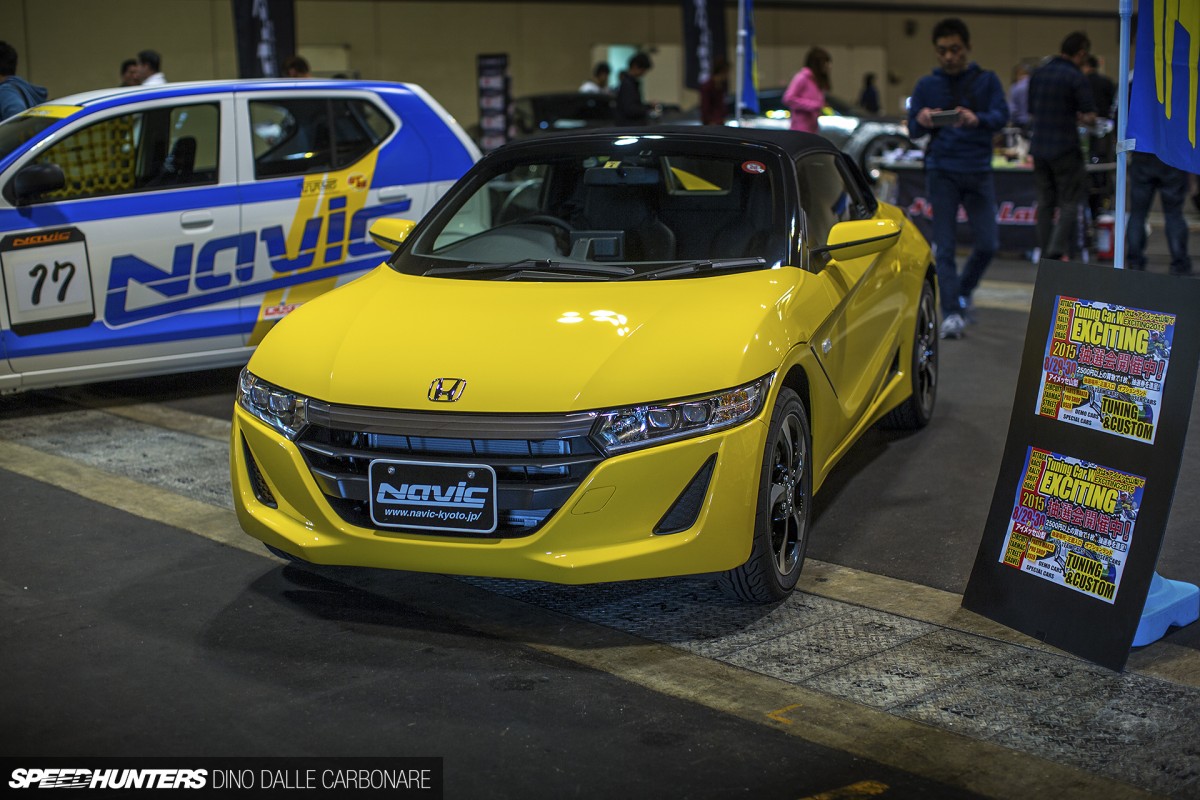 I normally wouldn't be drawn to stock cars at an event like this, but the newly-released Honda S660 just oozes a ton of presence, despite its compact size. This is one chassis that we will be seeing a lot of in the next few months as tuners begin to get their hands on them.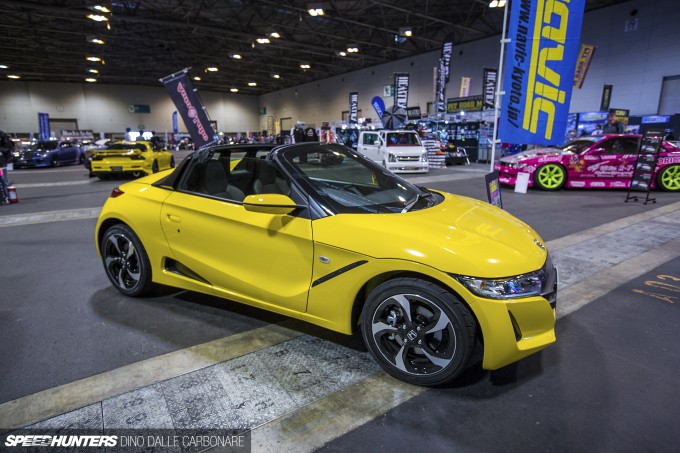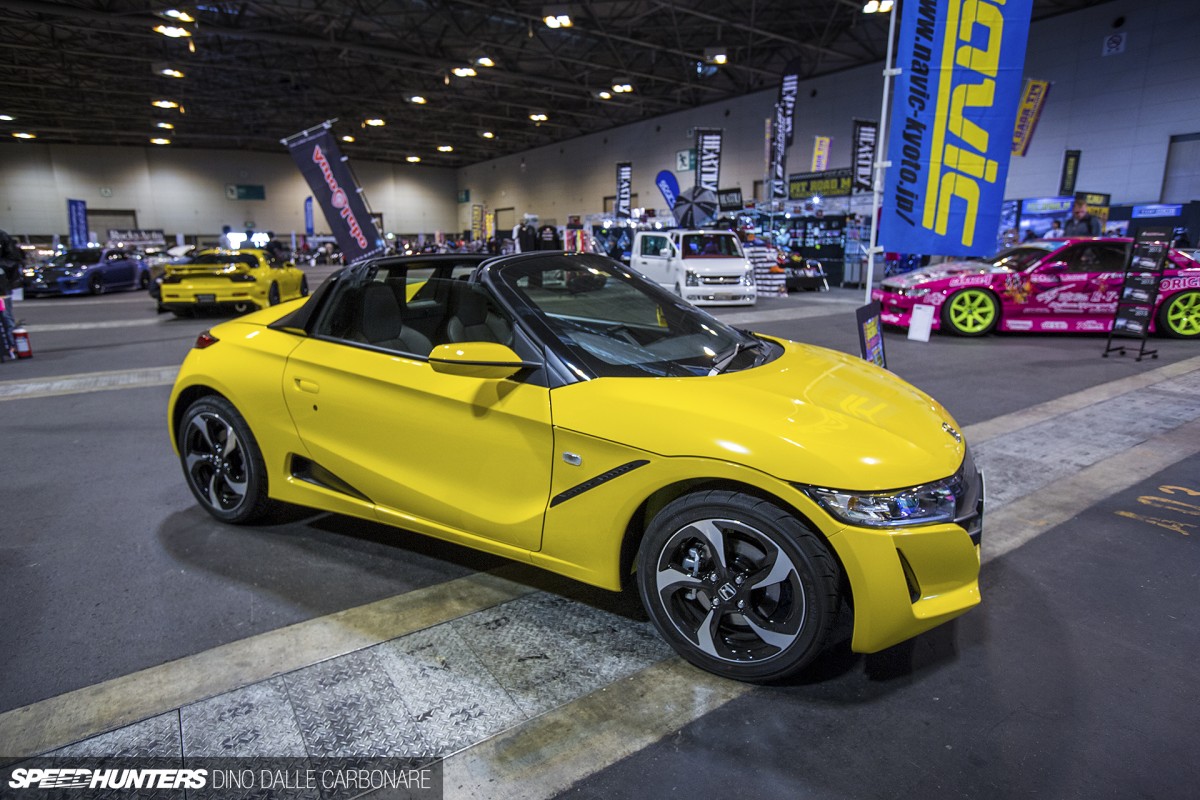 It's affordable, fun, quirky and most of all – tuneable. They're the qualities that made sporty Kei cars fun back in the '90s, and this is exactly what we need to see in Japan right now. The best thing is, there are other cool cars like this coming out now and in the not too distant future!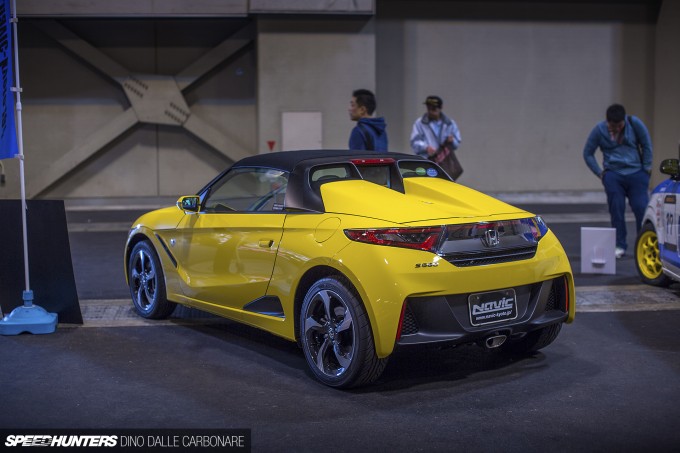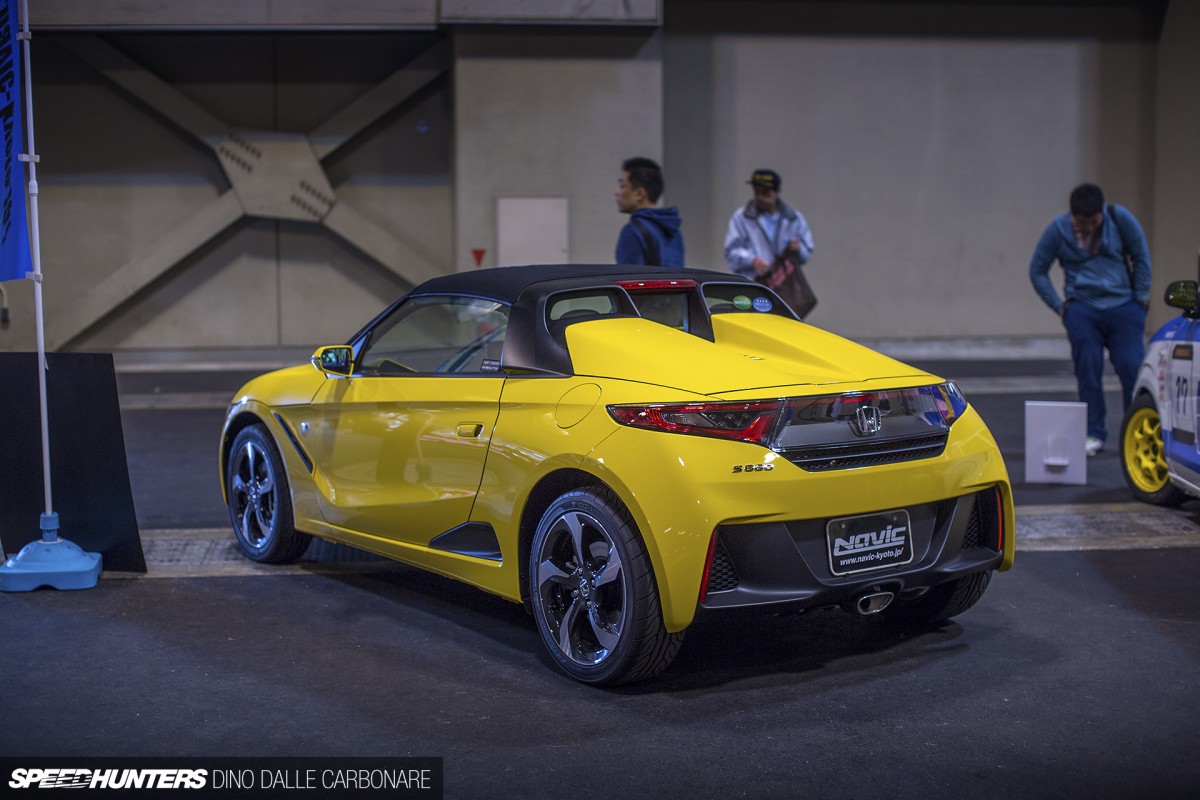 If you picked up one of these things, what would you do to it?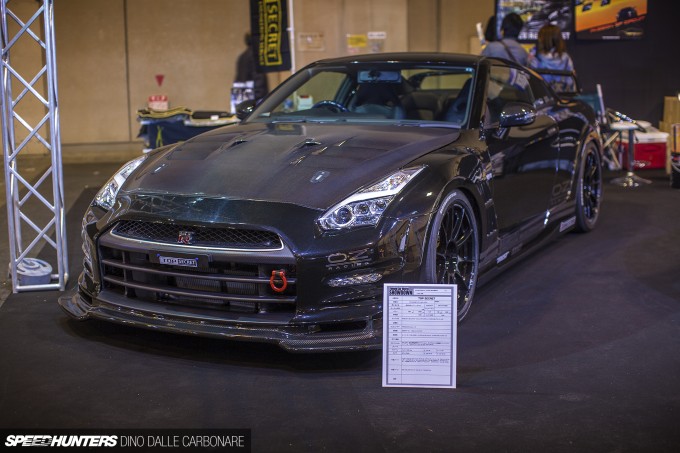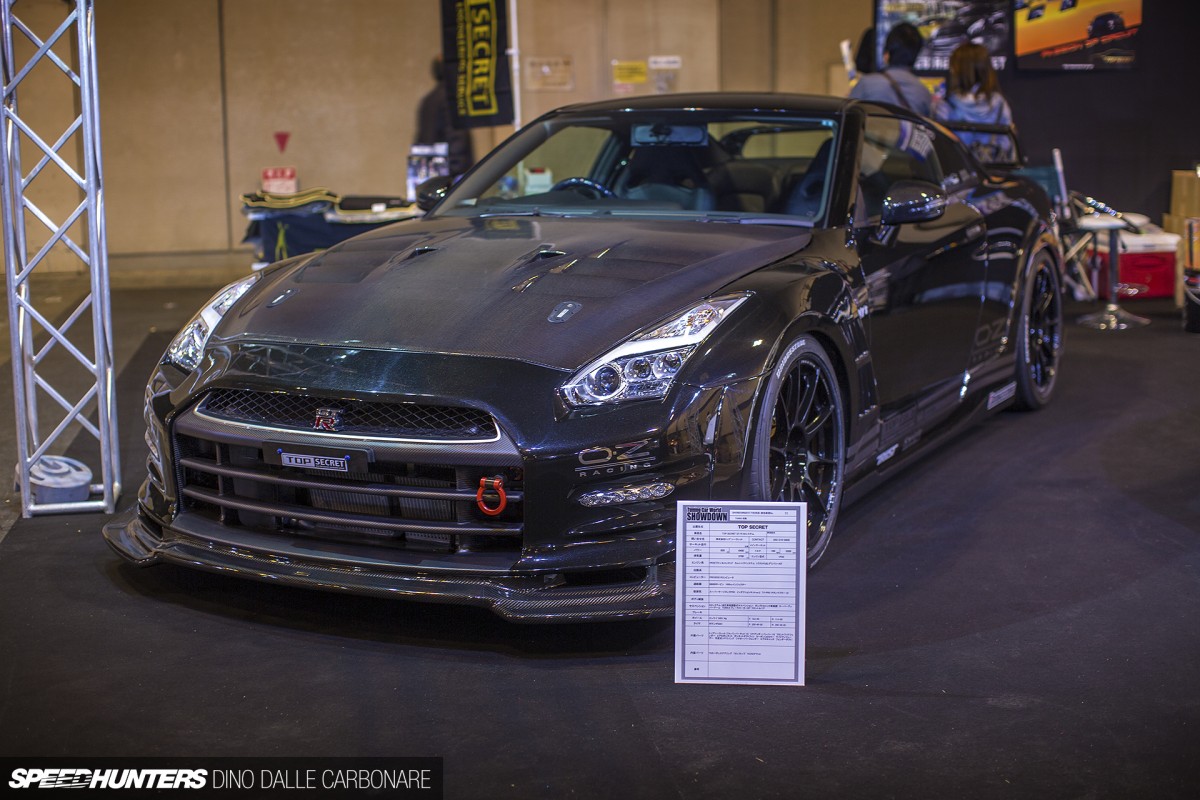 Top Secret was present at the show with a couple of cars, including this freshly-completed 800hp customer GT-R. Aside from the obvious and indisputable performance this tuned R35 offers, I was really feeling the black-on-black and carbon look, and it was even cooler seeing Top Secret team up with O.Z. Racing wheels for this project.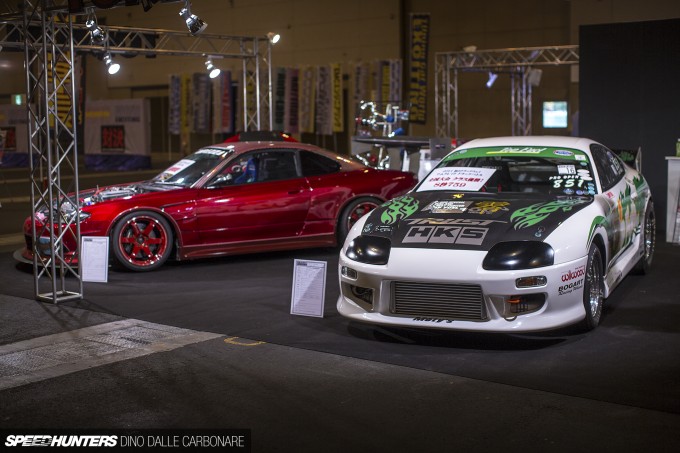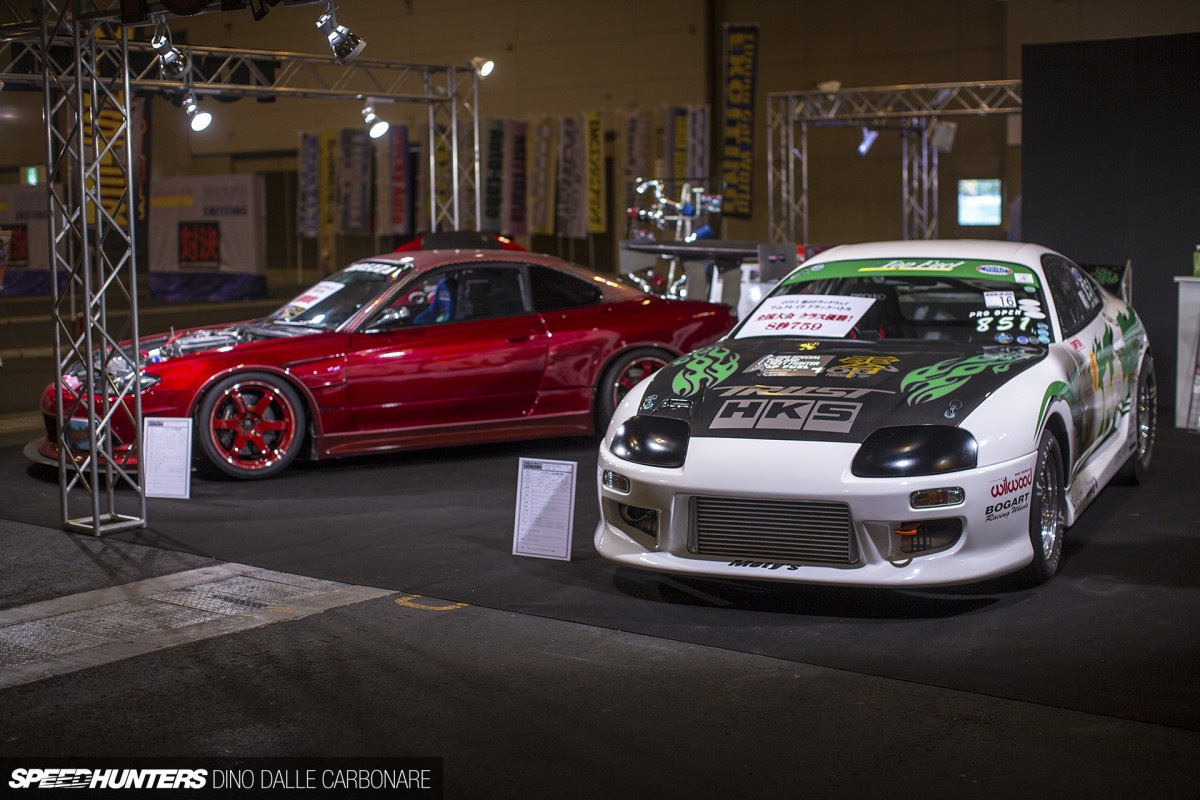 Seeing the 8-second Top Fuel Supra reminded me of the state of drag racing in Japan. It's obvious that the once-massive zero-yon scene is now a shadow of its former self, but since Sendai Hi-Land closed there is only the front straight at Central Circuit to race on. It blows my mind that nobody out there has thought about building a proper drag strip in Japan!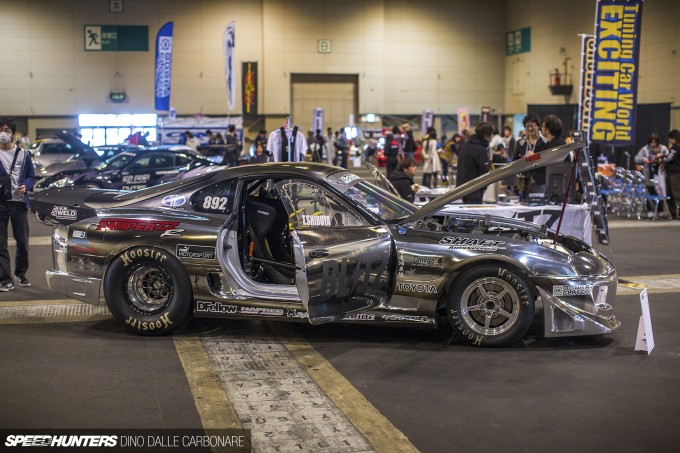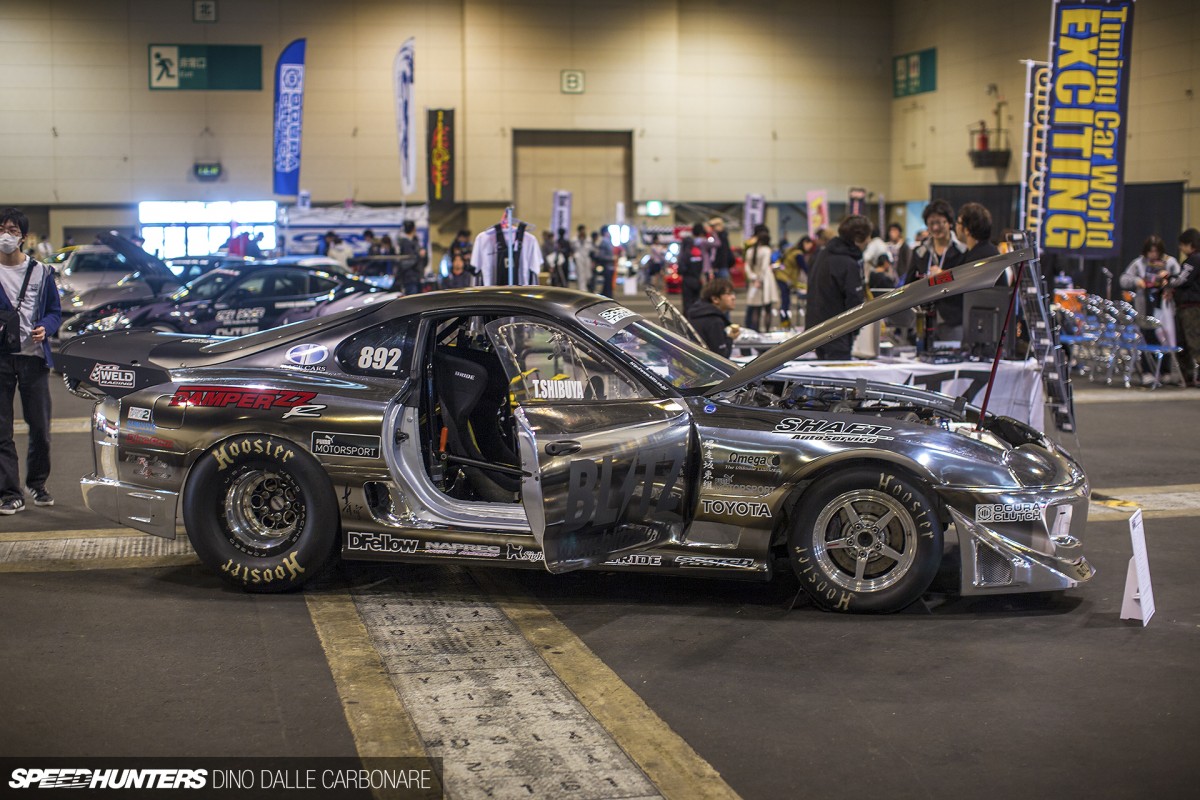 It would not only give cars like the Blitz/Scorch Racing JZA80 a facility to prove their true capabilities, but also provide a safe and accessible place for the general public to do some racing of their own.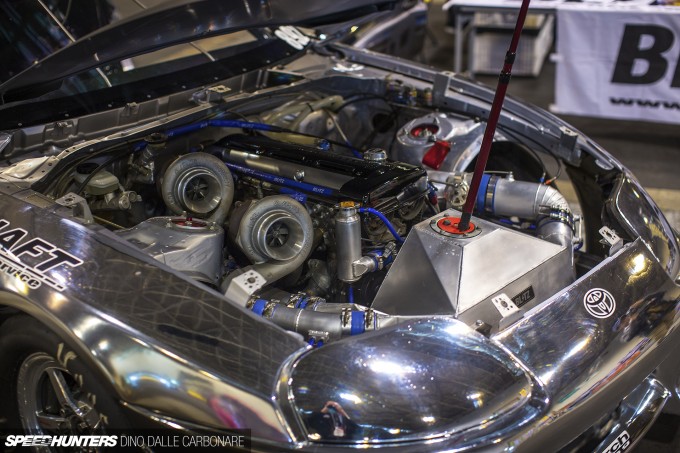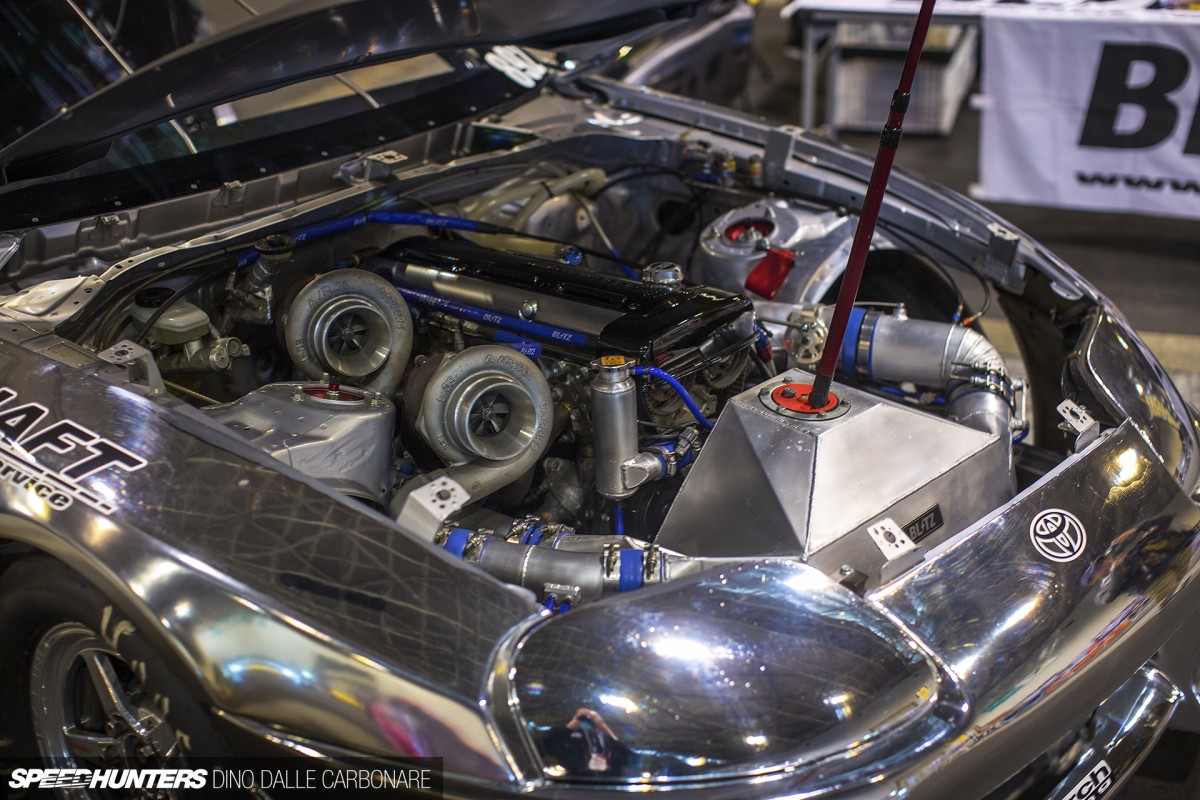 Here's a quick look under the bonnet of this beast: 1200hp, a big charge cooler, and from memory a sound which will blow your ear drums!
Keeping It Fresh With Swaps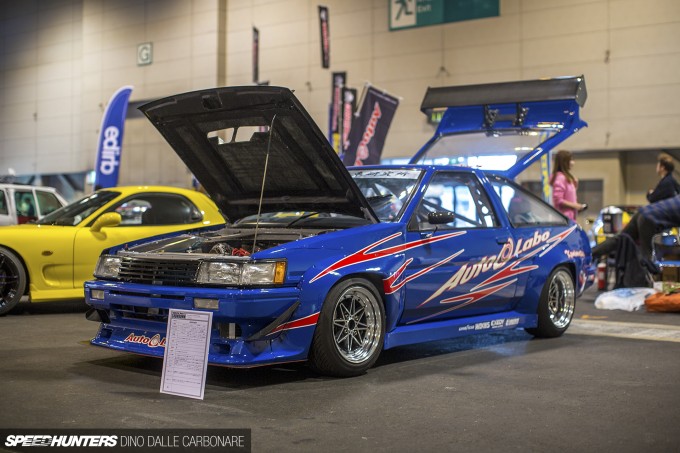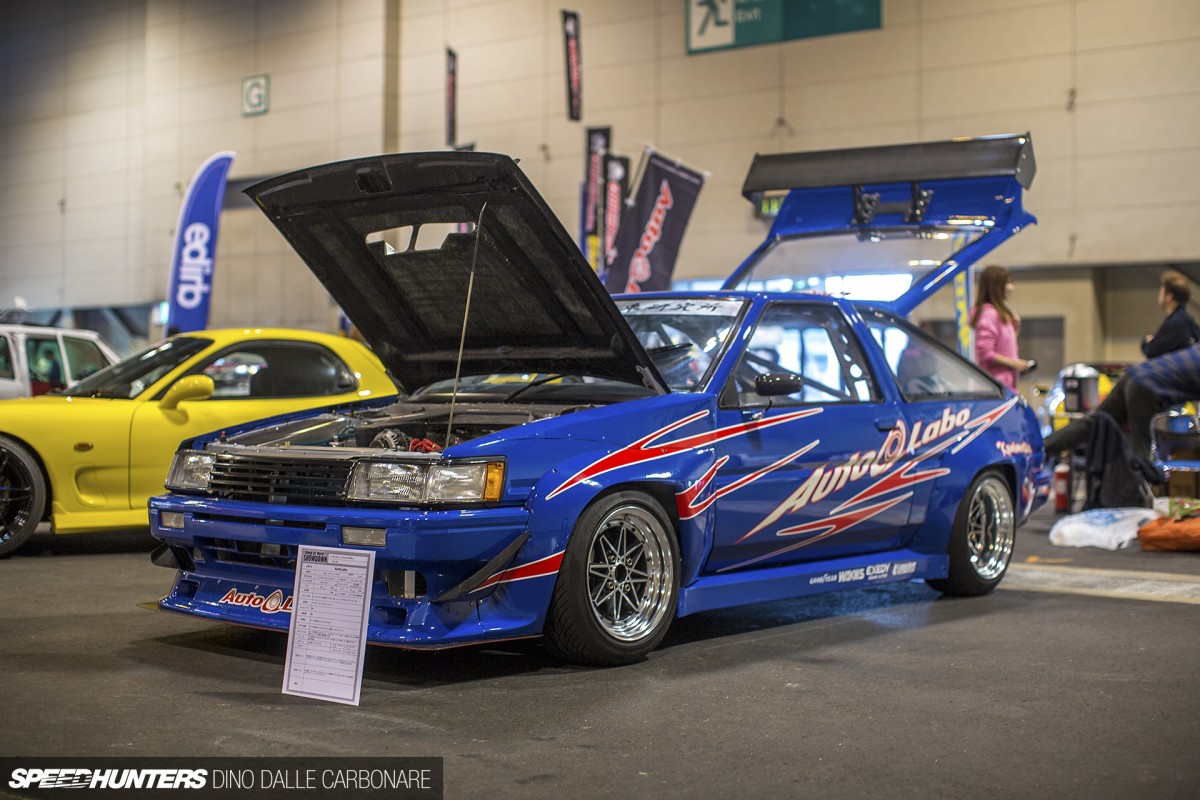 We all love a nicely-executed engine swap – especially ones that make us take a closer look at a chassis we see a lot of.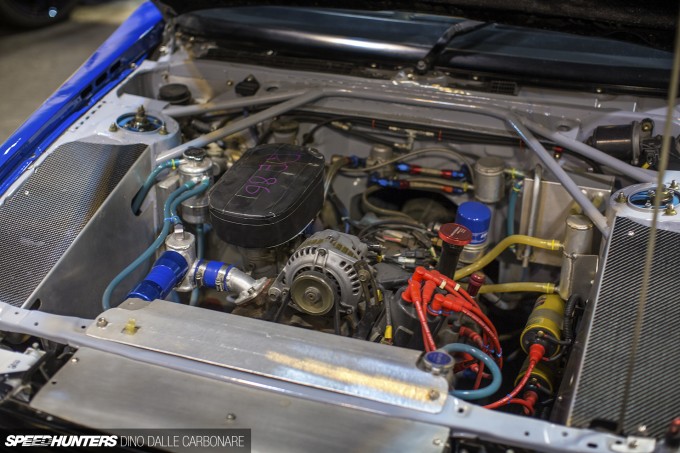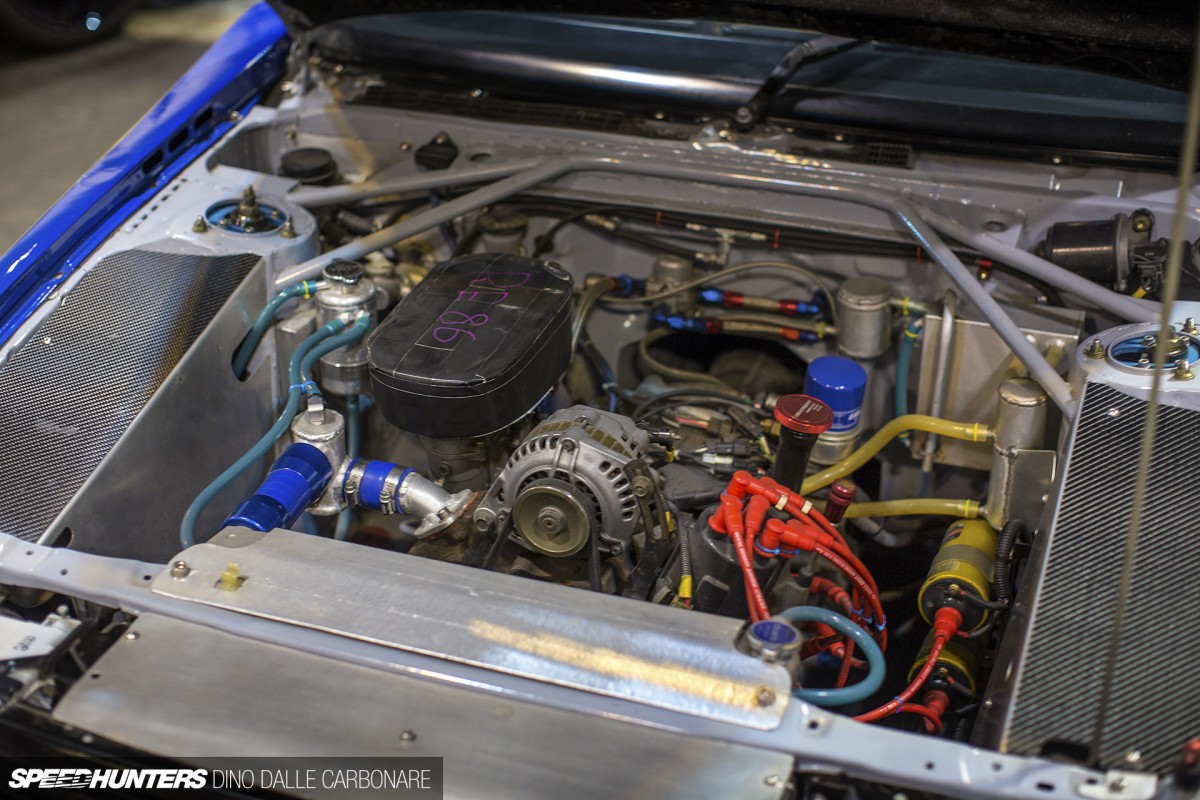 And that's exactly what I did with the Auto Labo AE86 – walked past it, took a glance at the engine bay, and then doubled-back once my mind realised that what I was seeing was not the norm. The naturally aspirated 13B that sits low in the Levin's engine bay may only develop 230PS, but in this car it would be pretty much spot on. Not only that, but the linear nature of a rotary's power delivery makes it a great choice for this lightweight chassis. The coolest thing of all is that it revs to a screaming 10,000rpm.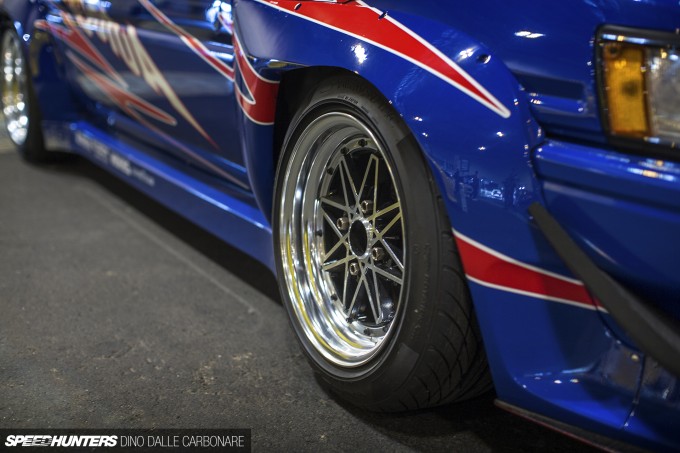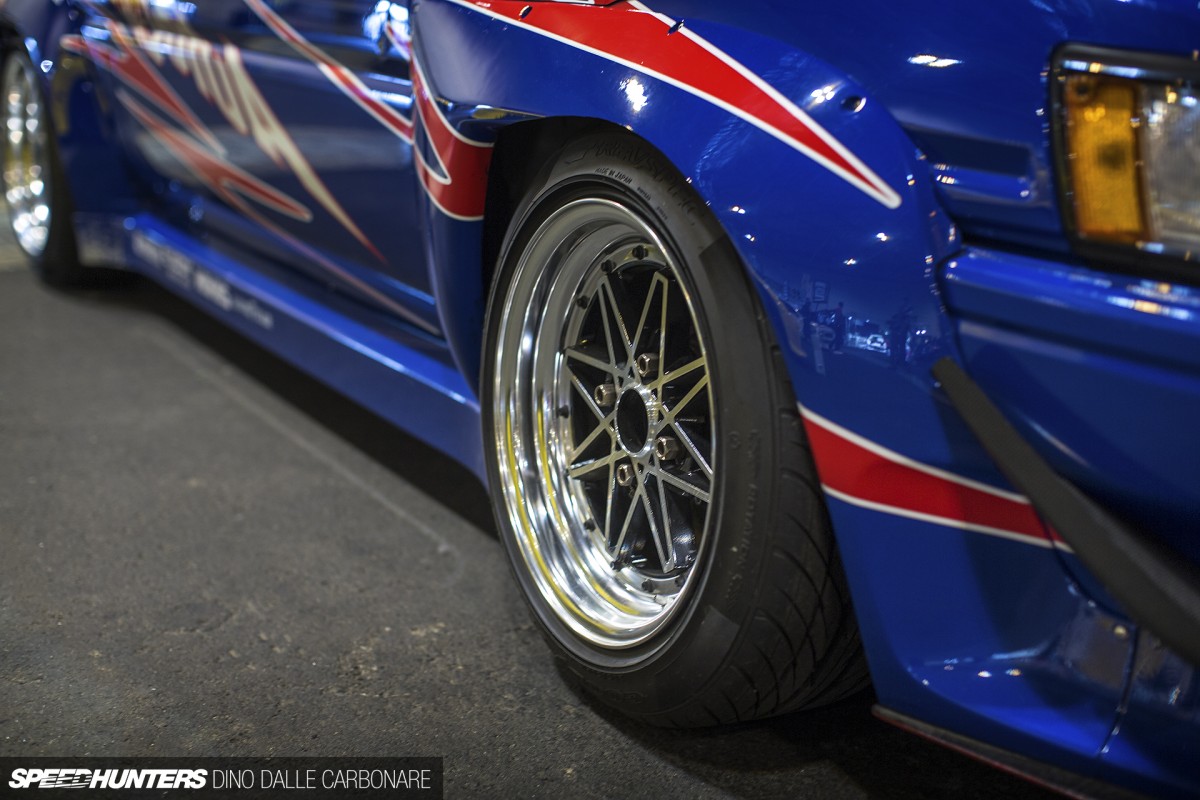 The Hachiroku runs TRD N2 fenders and a set of Work Equip 03s to finish things off.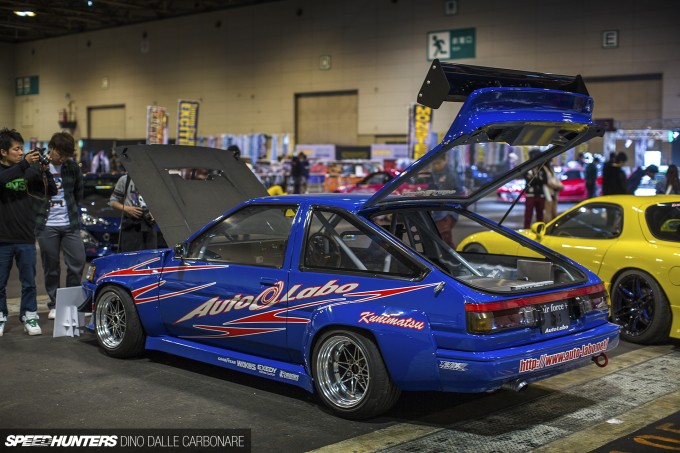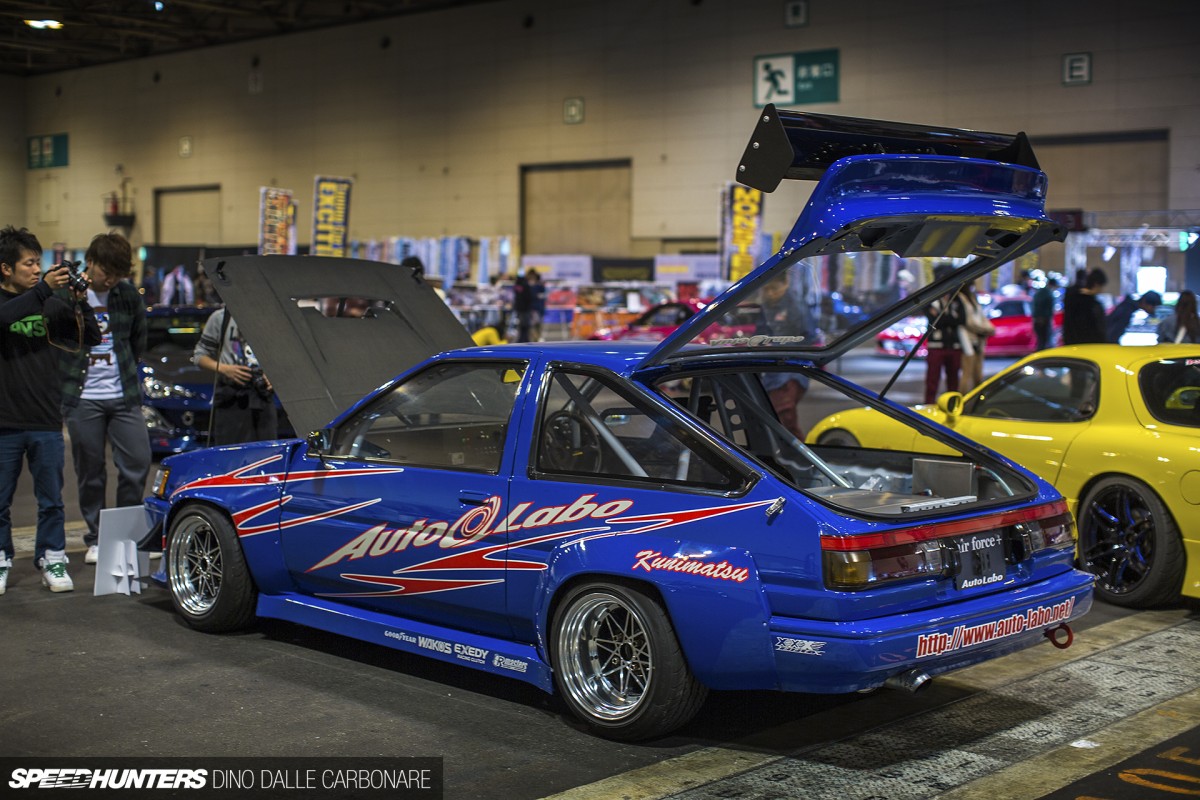 This is a very clean and well-executed build, of which we are seeing a lot more of in Japan these days.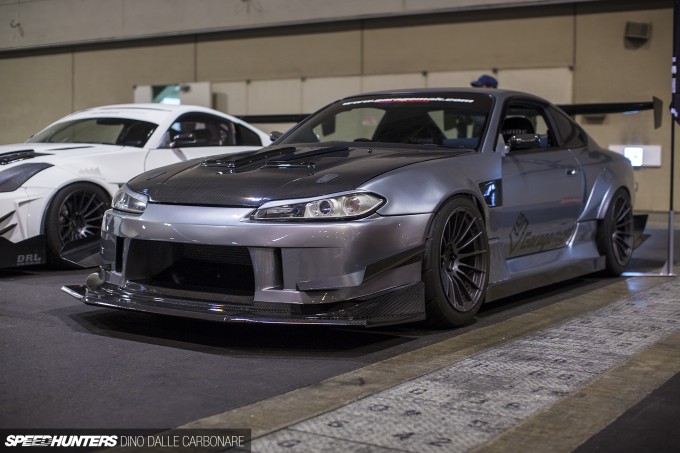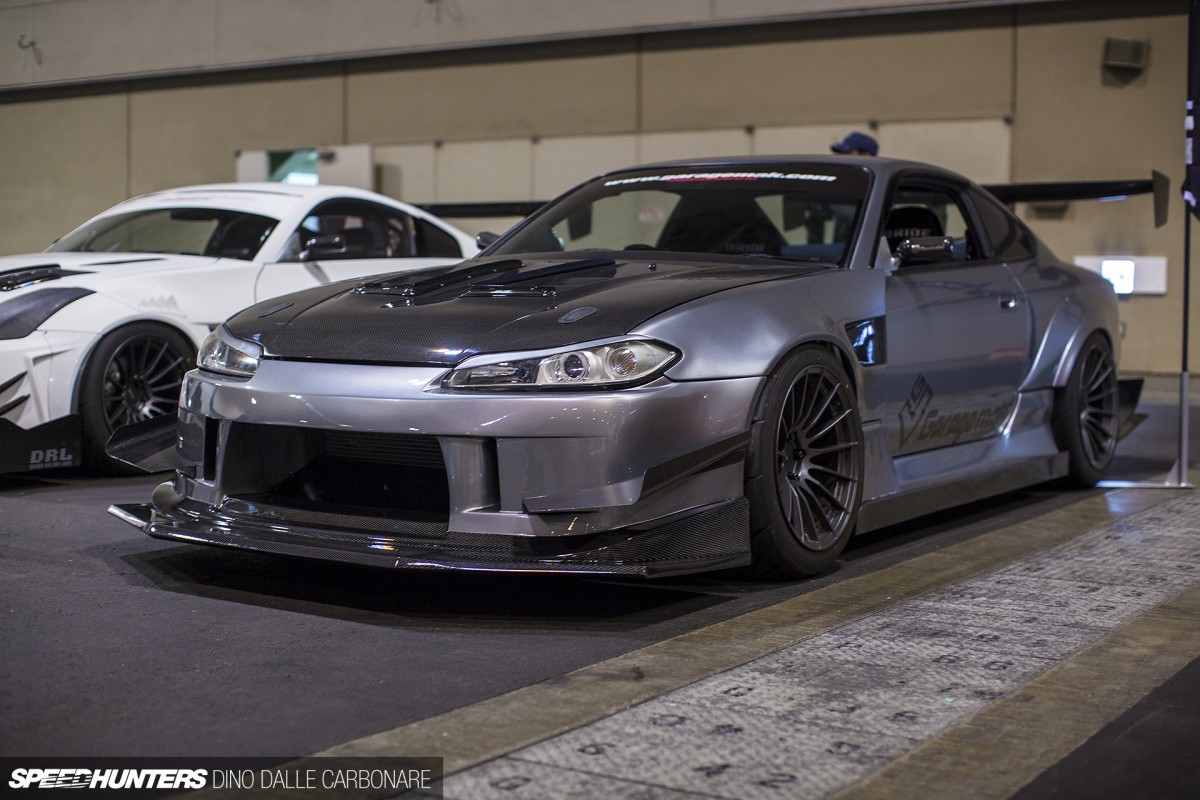 Garage Mak came all the way down from Nagano to display the car that they've been working on over the winter. This S15 showcases their latest refreshed aero kit which sports a few subtle differences over the last – a new front bumper and longer carbon under spoiler included.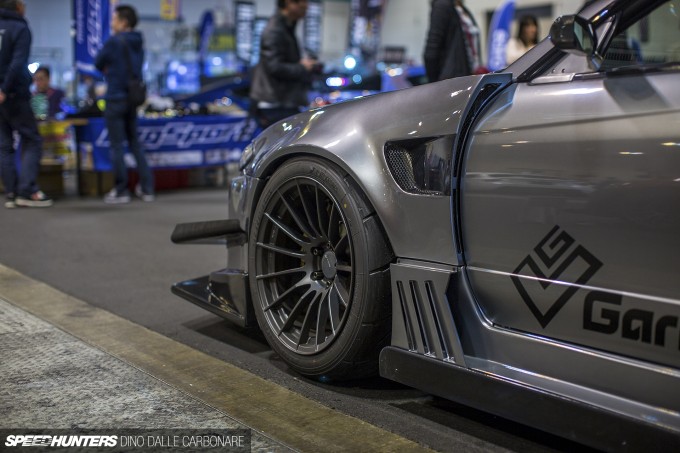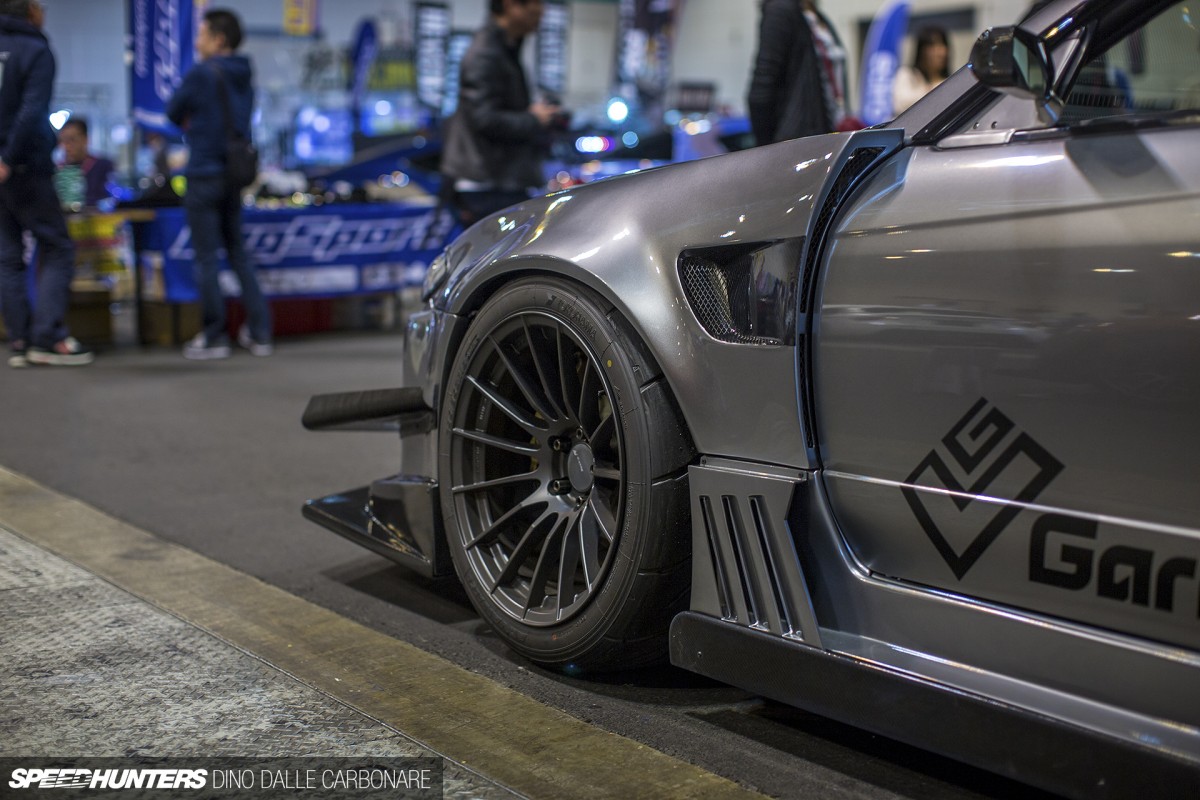 There's also new vented front fenders for all you S15 owners out there, but they really need to be mated to Garage Mak's side skirts for full effect.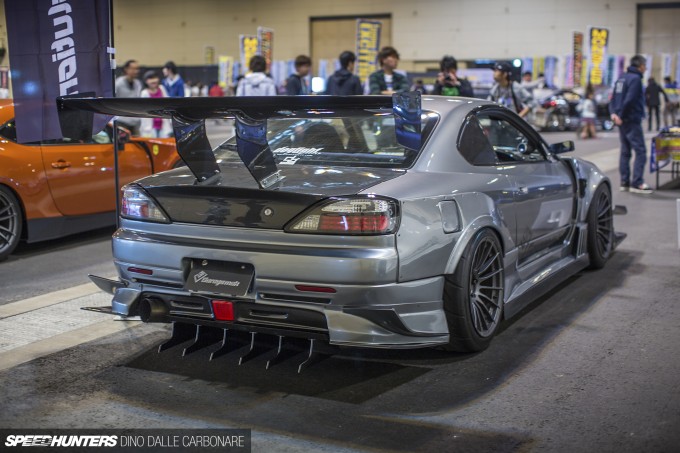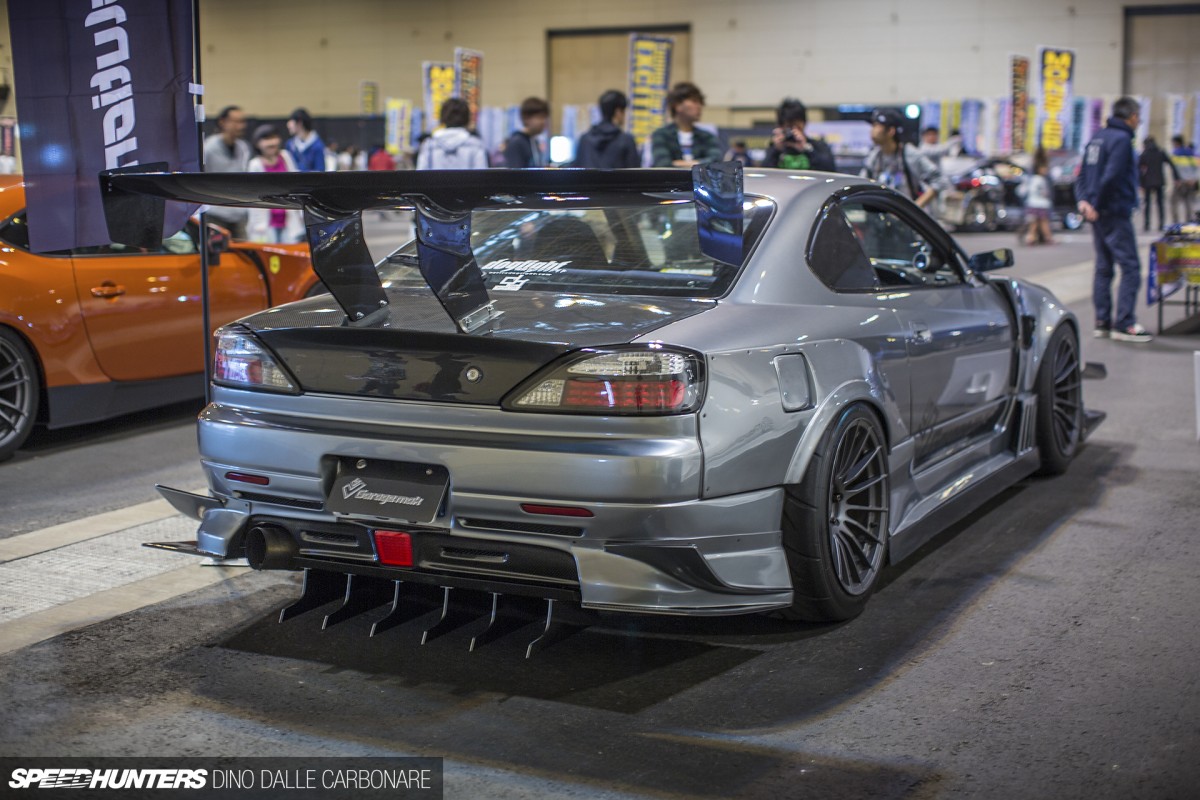 Most people however, were taking a closer look at the rear diffuser – or more specifically the number of fins they managed to fit onto it!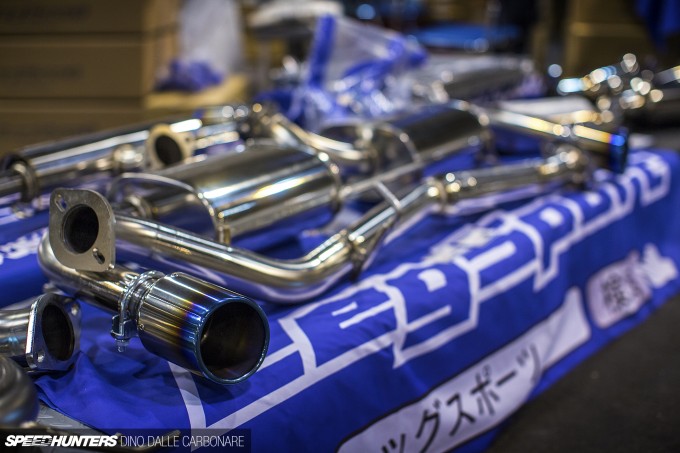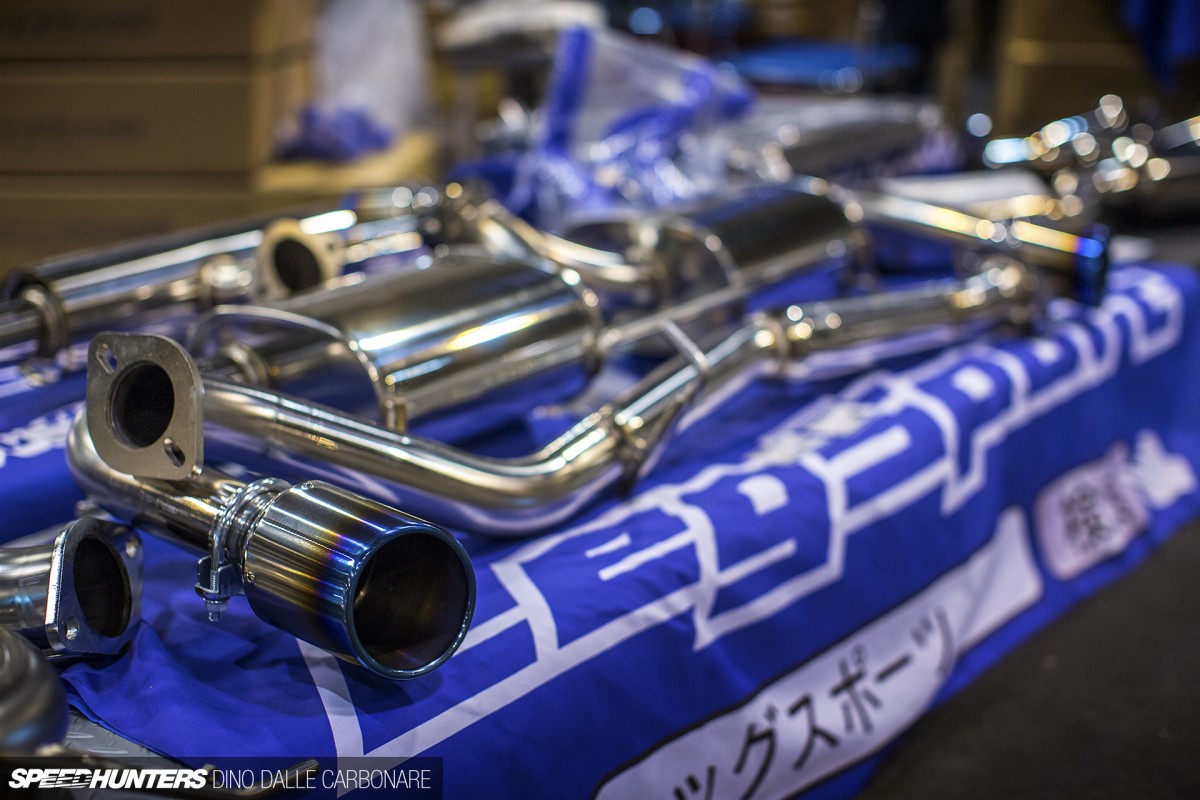 The Showdown, like any other show, has its fair share of parts displays too. It's always a good opportunity to see what new things are being released by shops and to chat with them and ask questions.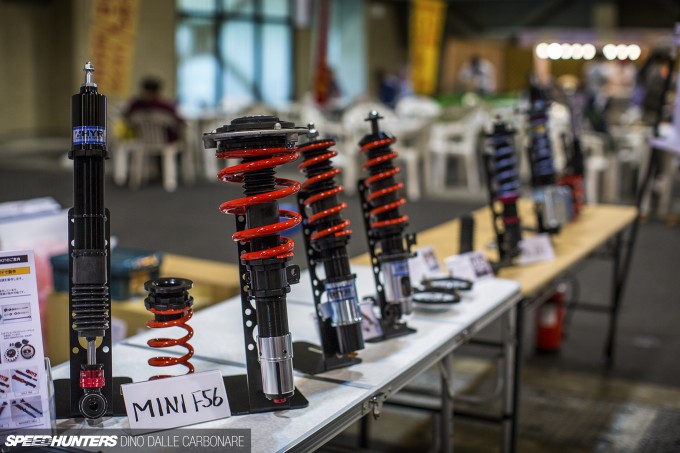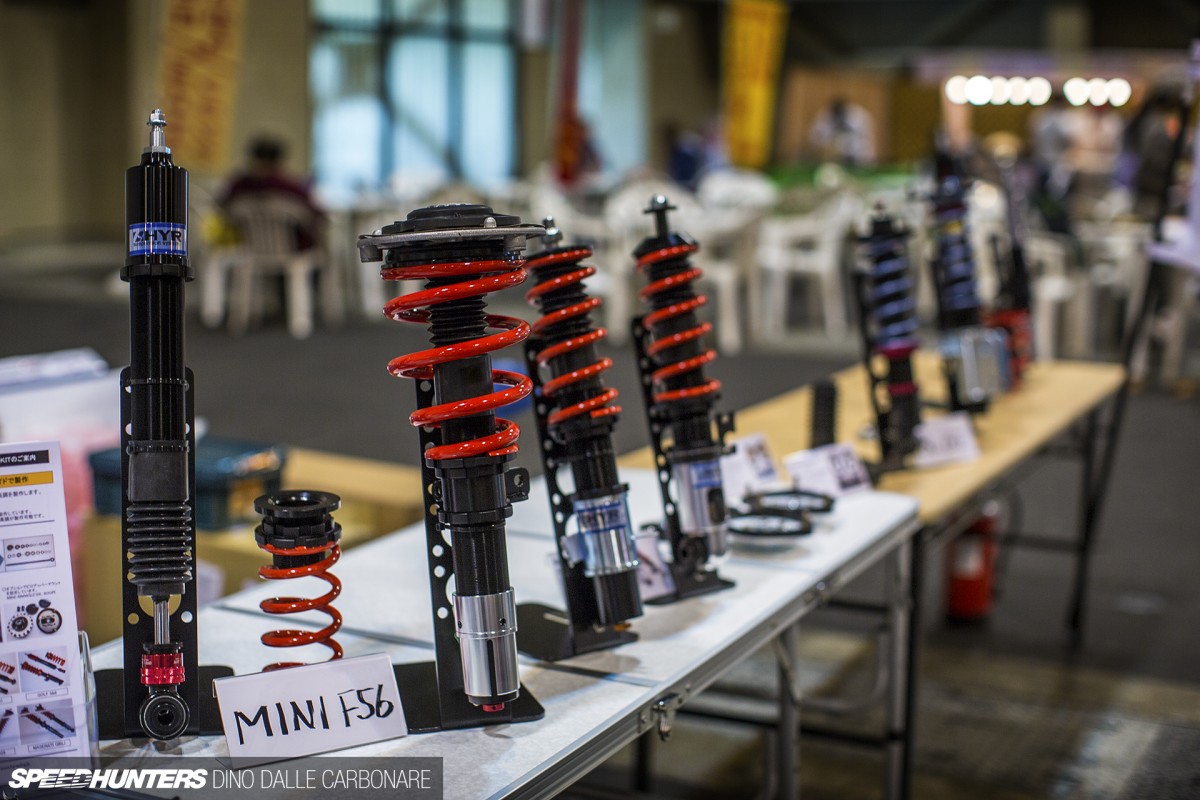 As trends shifts and evolve, new cars become more popular, as this HYR suspension kit for the MINI Cooper shows.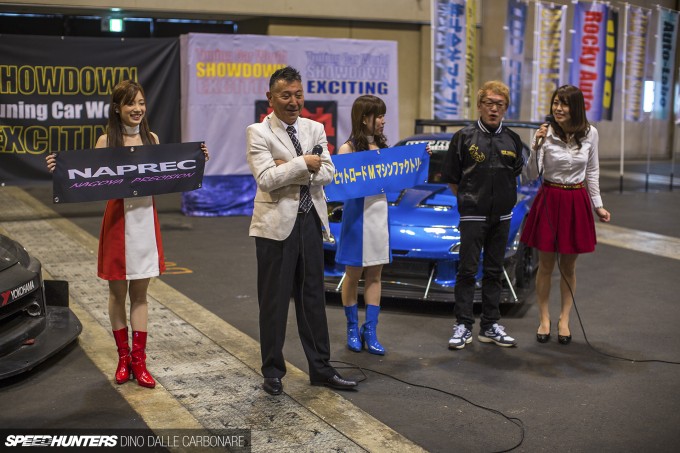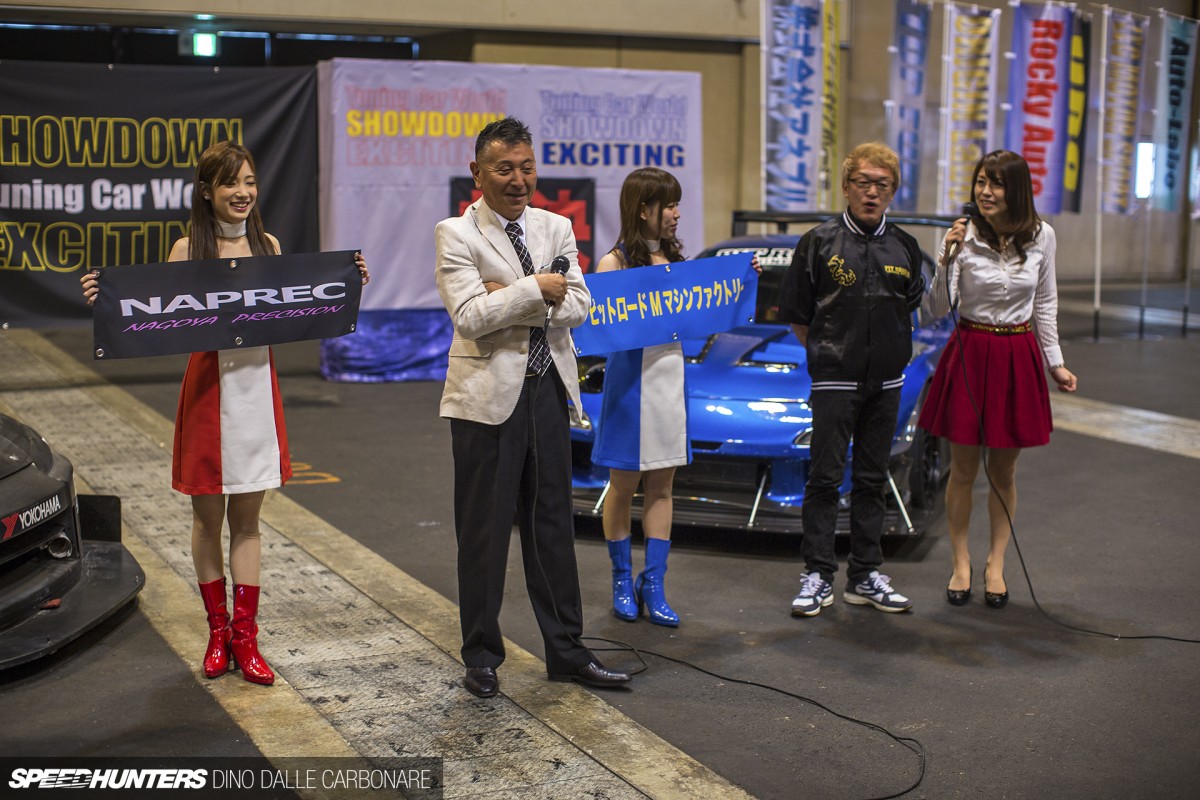 Daichan always serves up some entertainment on the side, and during the prize award ceremony he invited tuners over to the stage area with their cars to chat about them. I'm keeping the coolest cars from the event for a series of spotlights – one of which will be the blue FD3S RX-7 from Pit Road M that you see above.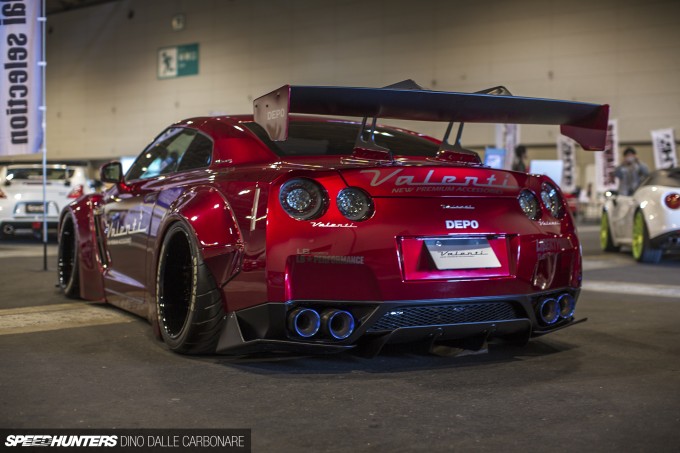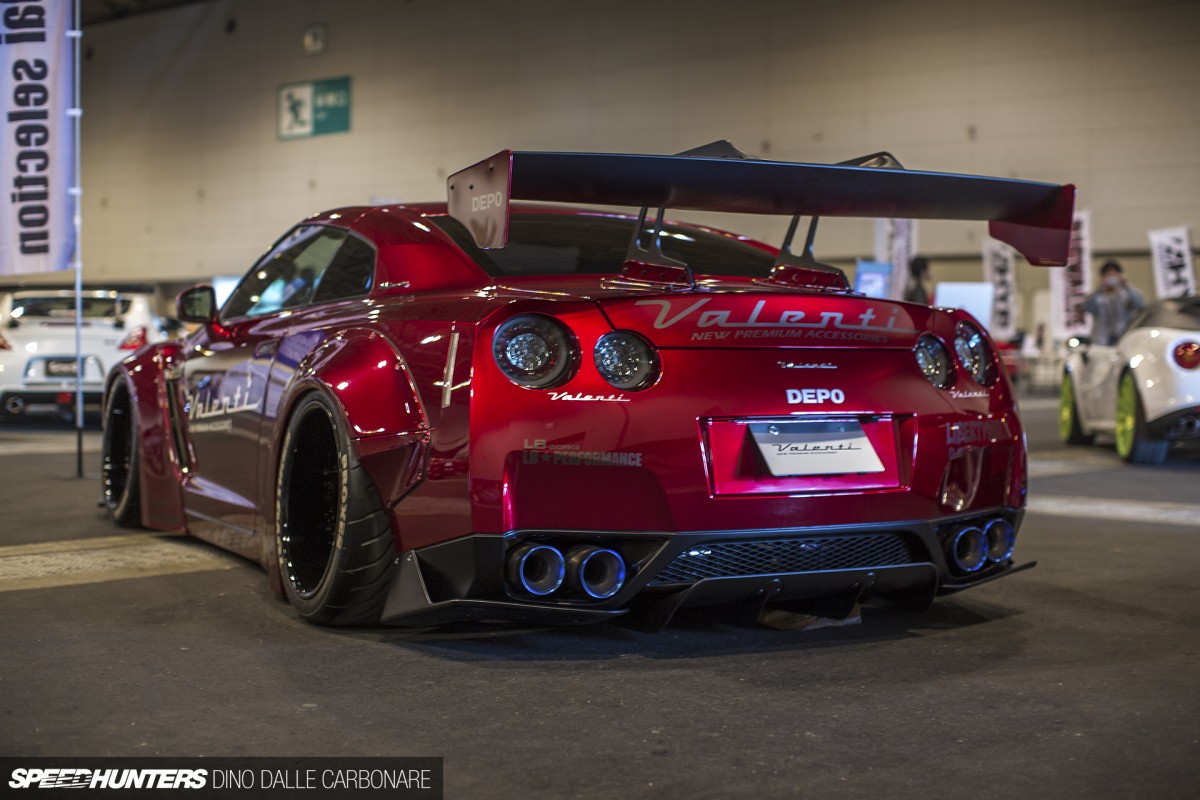 Of course, at events like this you do come across cars that you have seen before, like this Liberty Walk kitted R35 GT-R from Valenti. But that's all good with me as this thing is pretty easy on the eye – especially with that catchy candy red paint.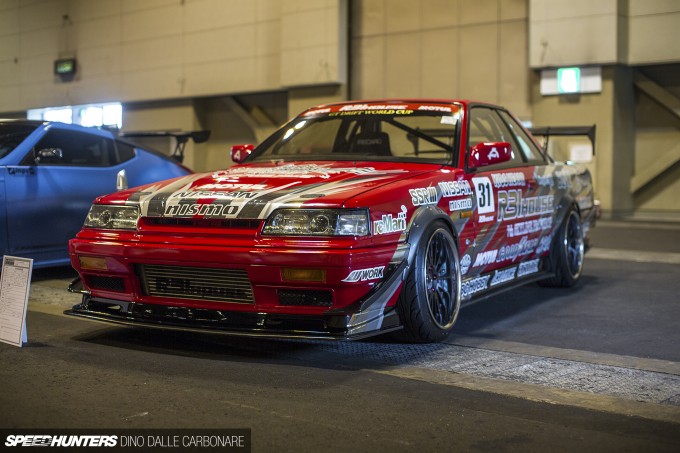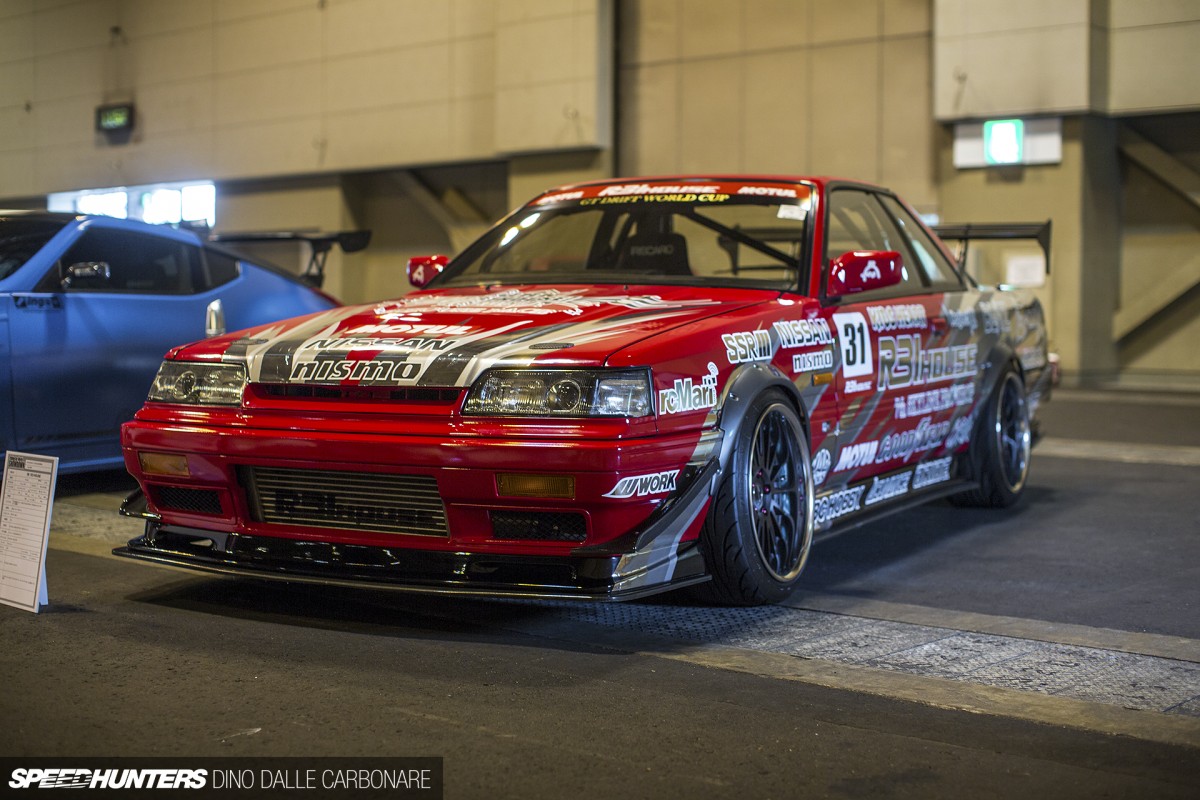 R31 House never misses this event, but given its smaller size they only brought out one of their demo cars this year. It did, however, add just the right twist of classic presence in the Nissan-oriented display it was a part of.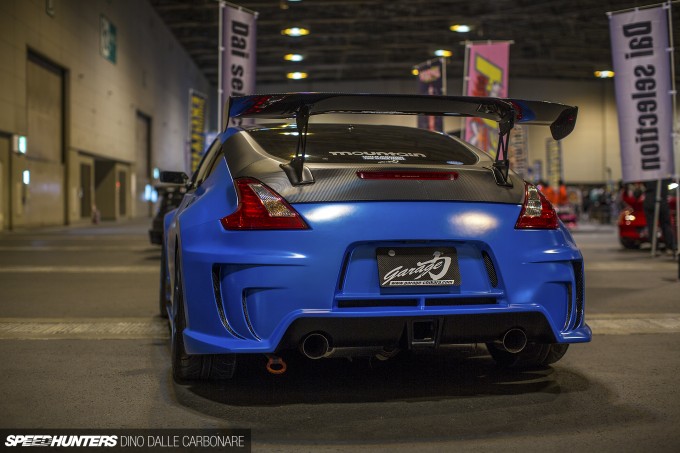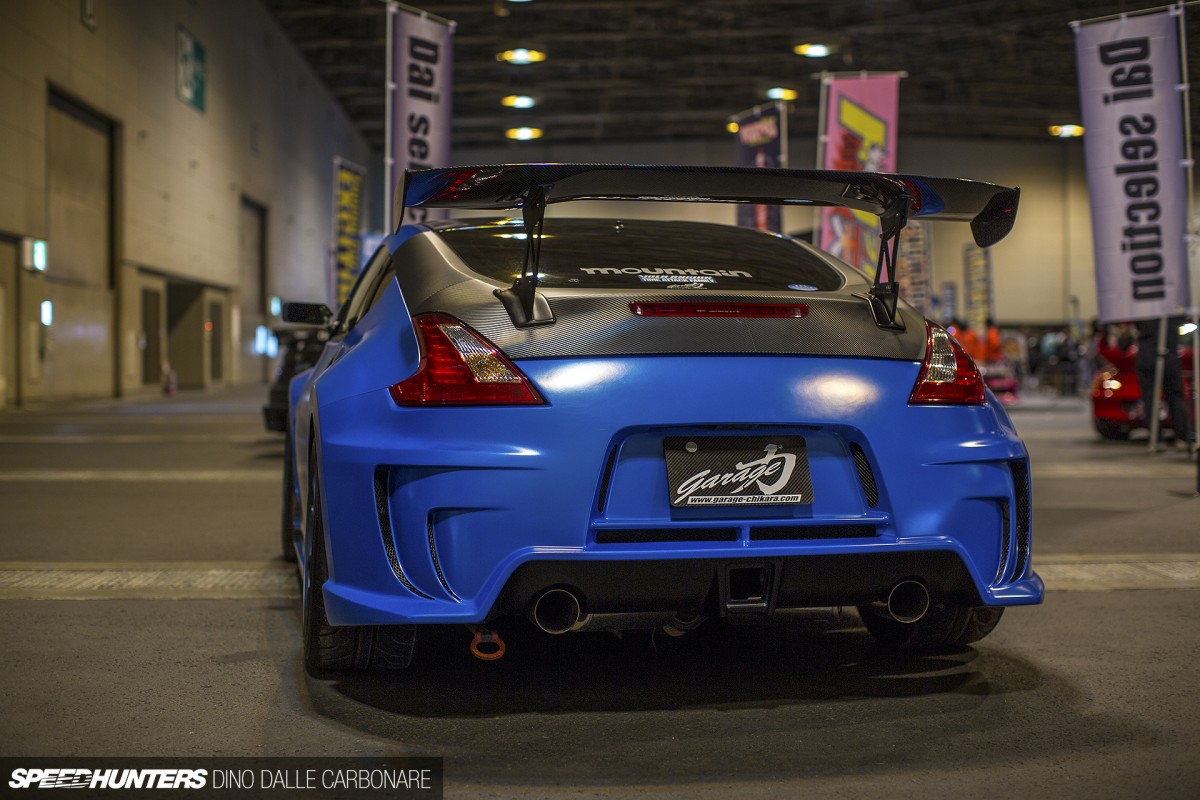 Next to it was an Z34 from Garage Chikara – a place that I came to hear of years ago when I first saw the owner entering his Z in the Super Battle. I love function-oriented workshops that strive hard to squeeze the maximum performance out of a specific chassis.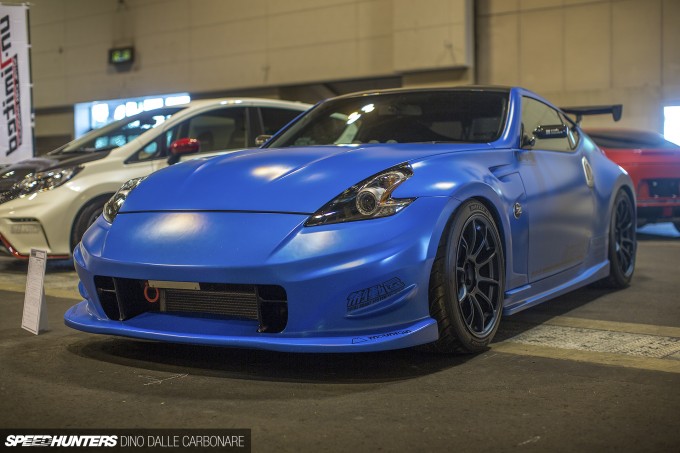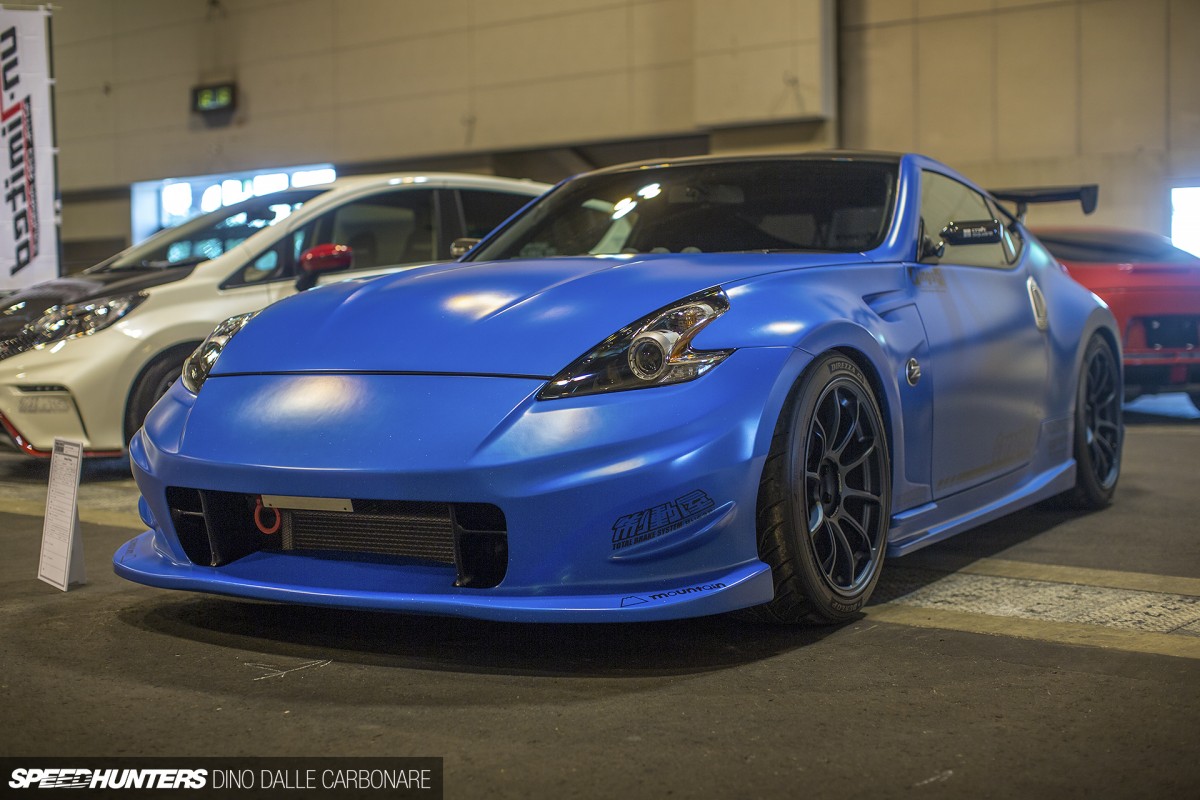 Garage Chikara have worked wonders at extracting power and speed out of the Fairlady Z, but while chatting with the man behind the operation, he did tell me that the VQ37 has proven notoriously hard to perfect compared to the old VQ35. Like all Z tuners, he is patiently waiting to see what Nissan will do with the new Fairlady, which is still a couple of years away.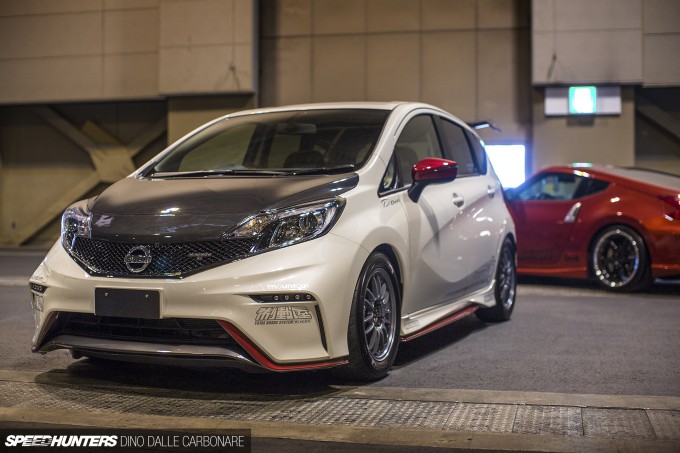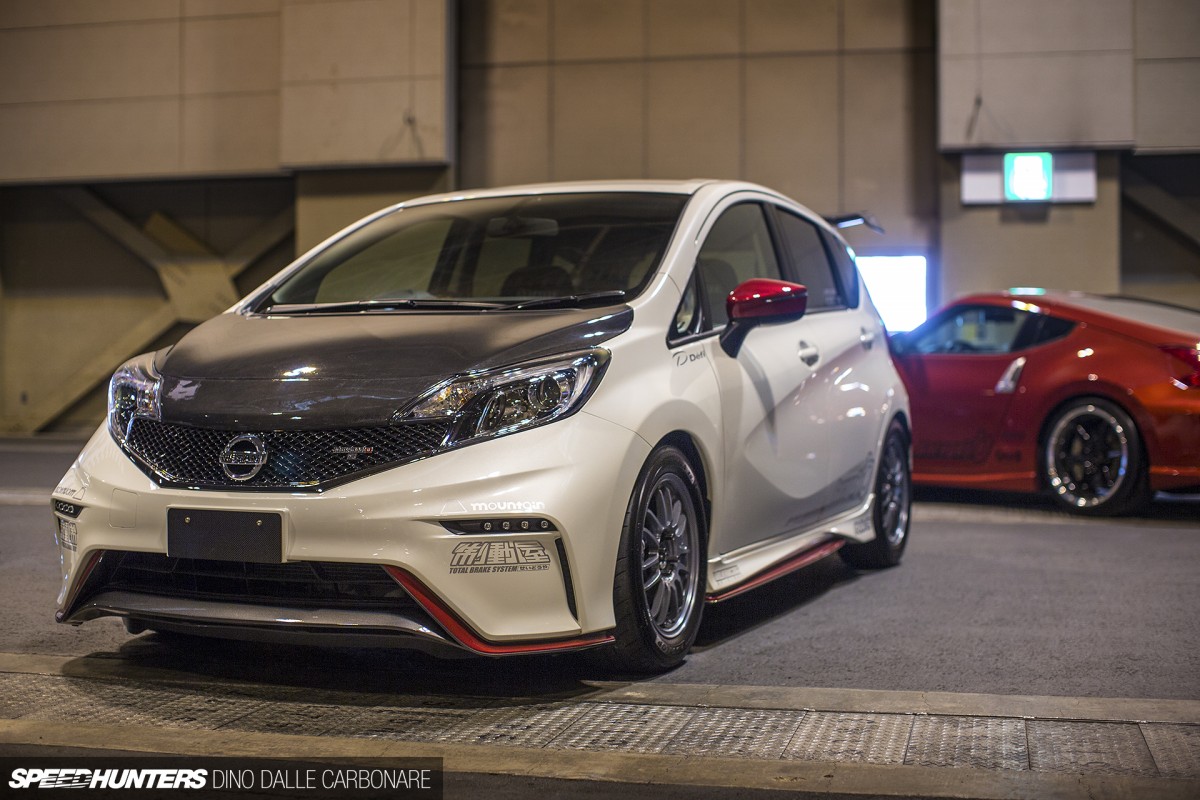 In the meantime, Garage Chikara have picked up this Nismo Note, which has proven to be a fun car to throw around tight mountain roads.
Making The Best Out Of The Old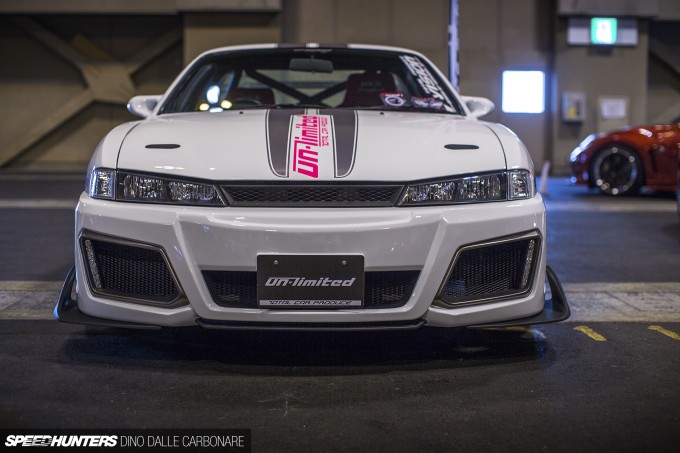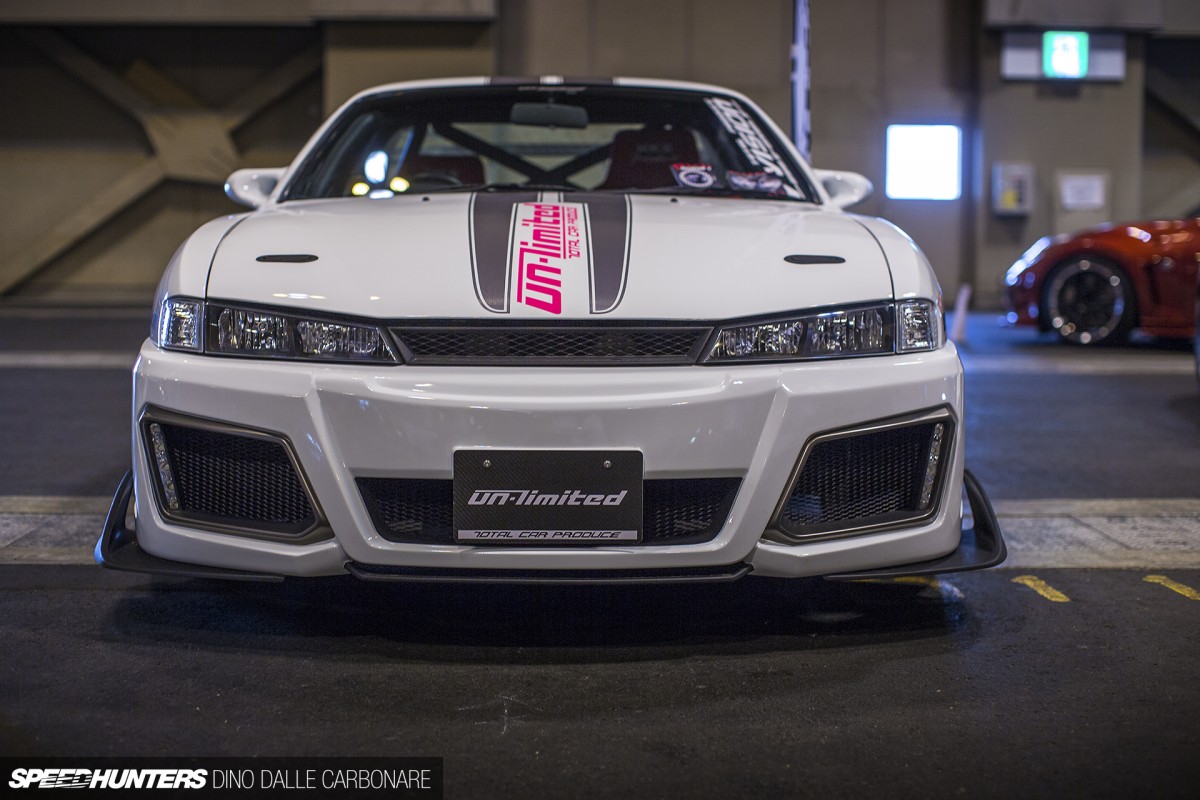 As enthusiasts continue to look to old cars for their performance fix on a budget, it's great to see how shops are working hard to keep those models looking current. I think Un-limited have done an awesome job of making this Kouki S14 look far more modern than it actually is.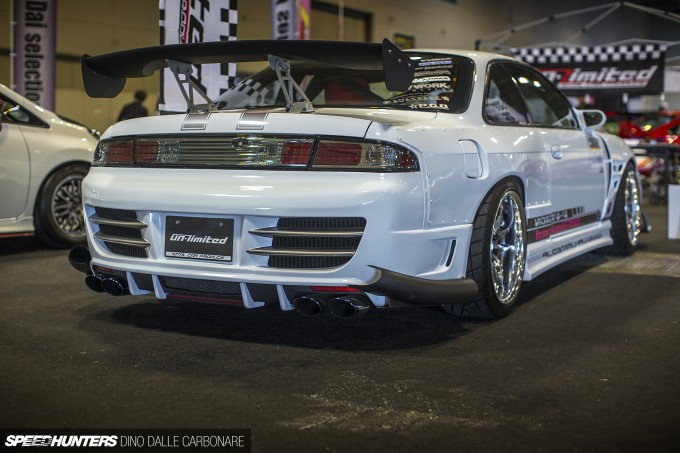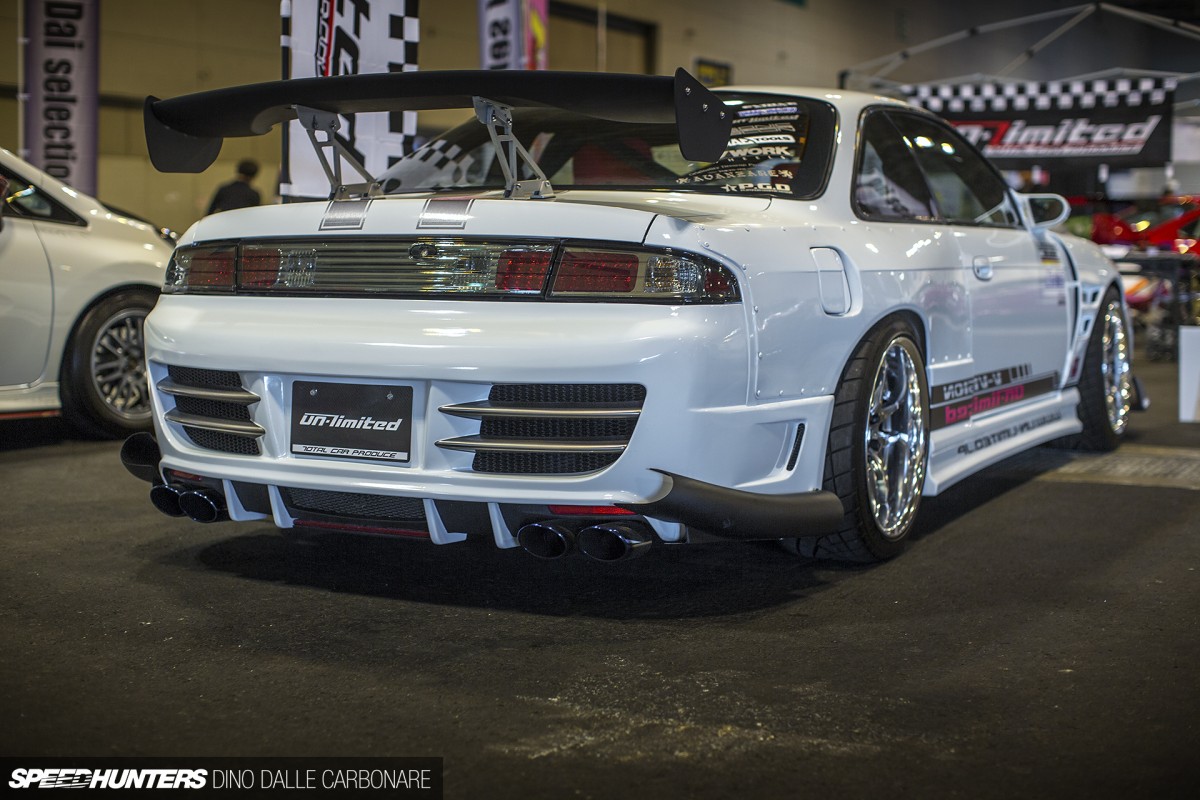 Along with the angular front bumper there is much happening around the rest of the car with wider fenders and plenty of venting at the rear. I thought there was a touch of Audi R8 styling in some of the details.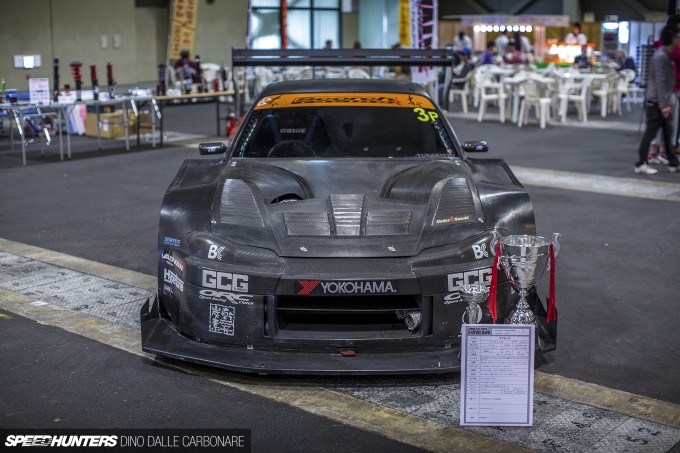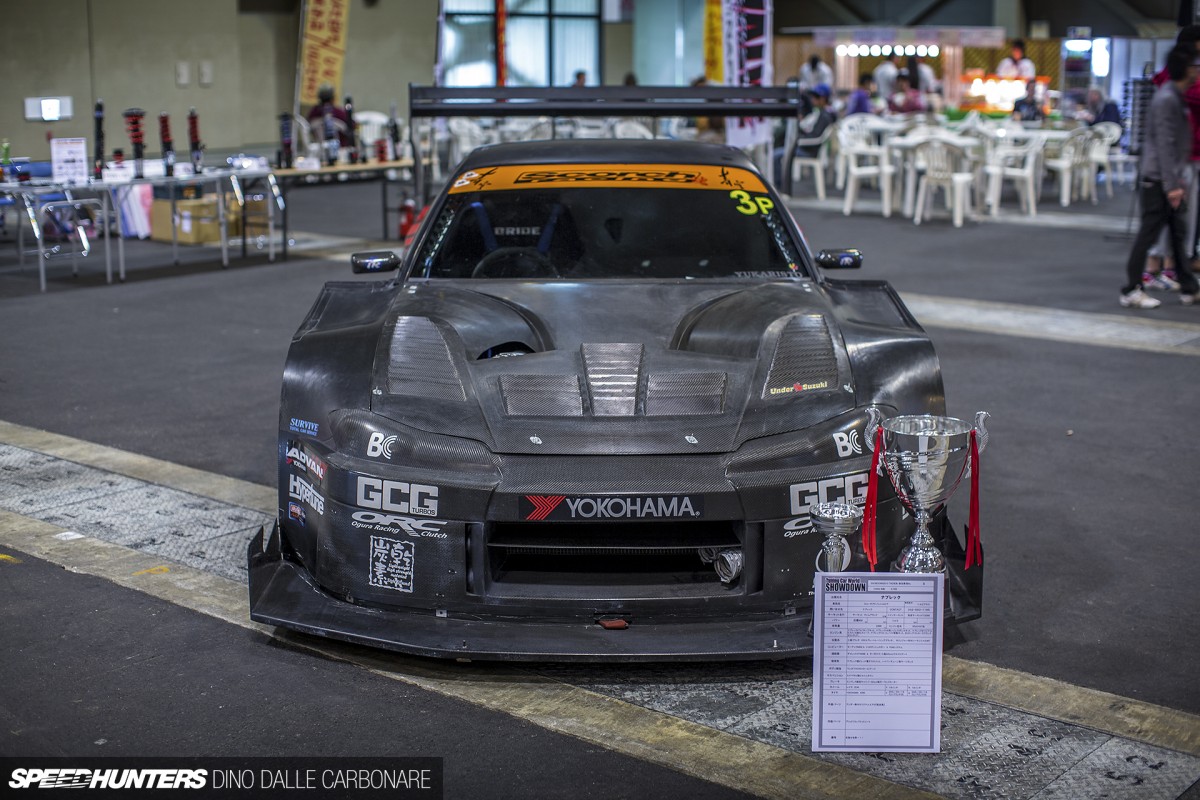 Under Suzuki's S15 continues to pick up awards wherever it's shown, and you know that the next time you see it there's a very good chance it'll be sporting some experimental new addition. I always make sure I check out Suzuki's blog at least once a month to see what he's up to, and I'm sure we're only going to be seeing quicker times from this wild machine in the future.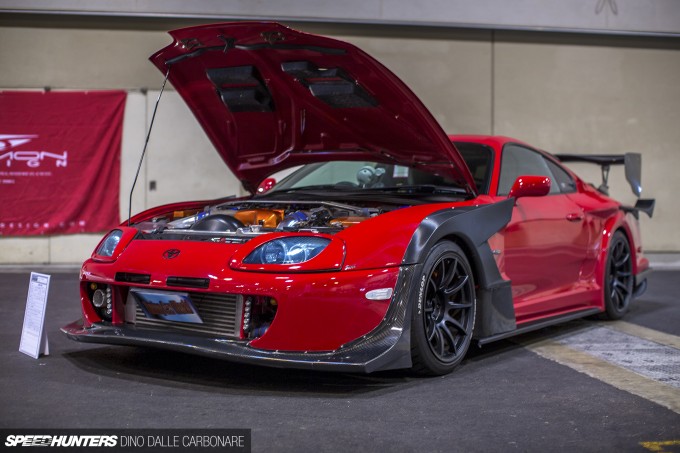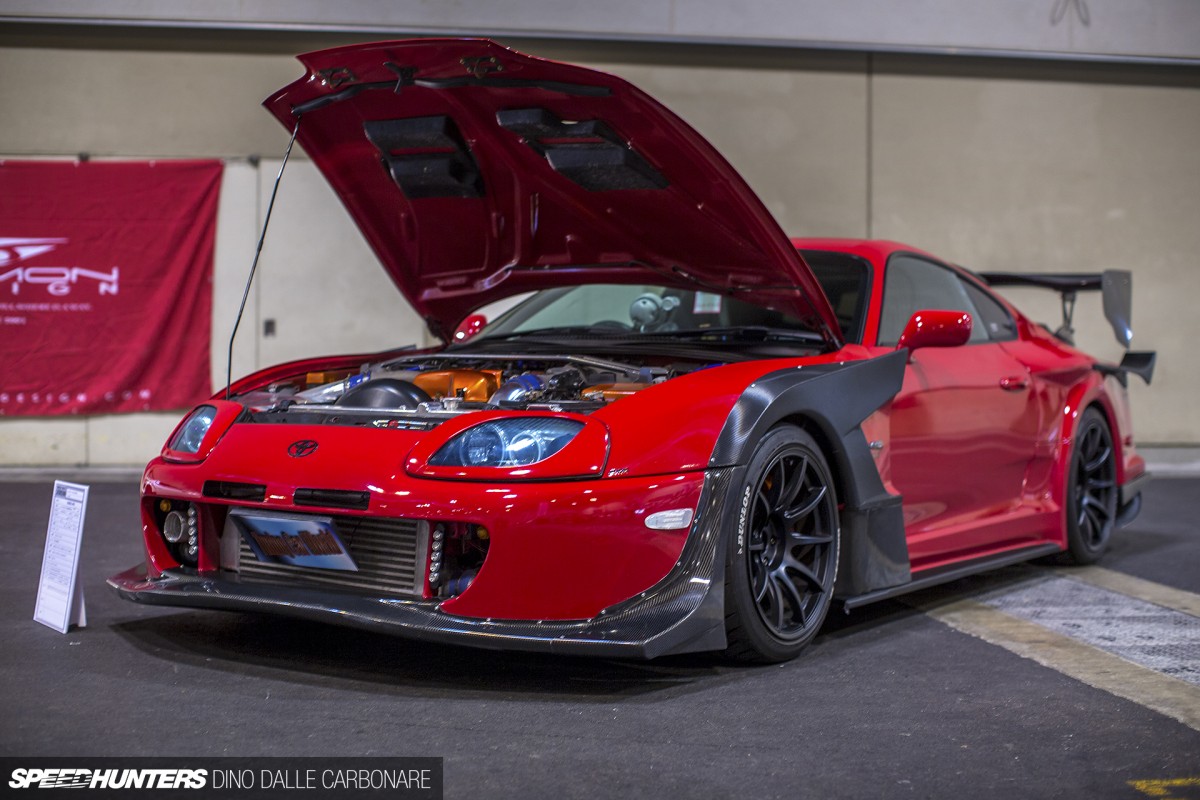 Tamon Design has obviously been rather busy over the winter months, coming out with not one, but three new aero kits for the JZA80. When it comes to aesthetic tuning, I have to say that I'm patiently waiting to see what the next 'big thing' is.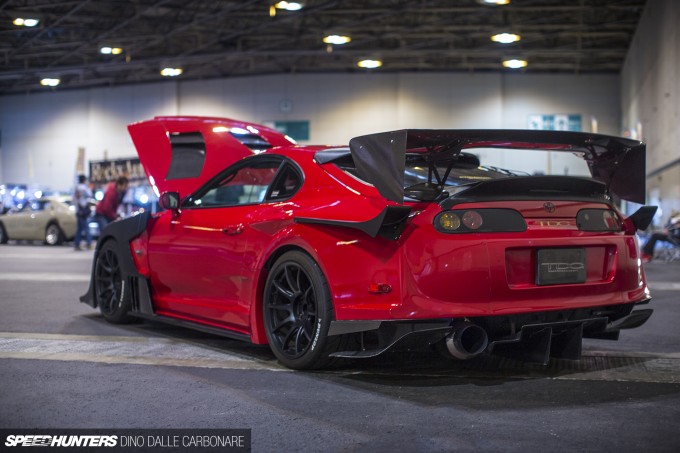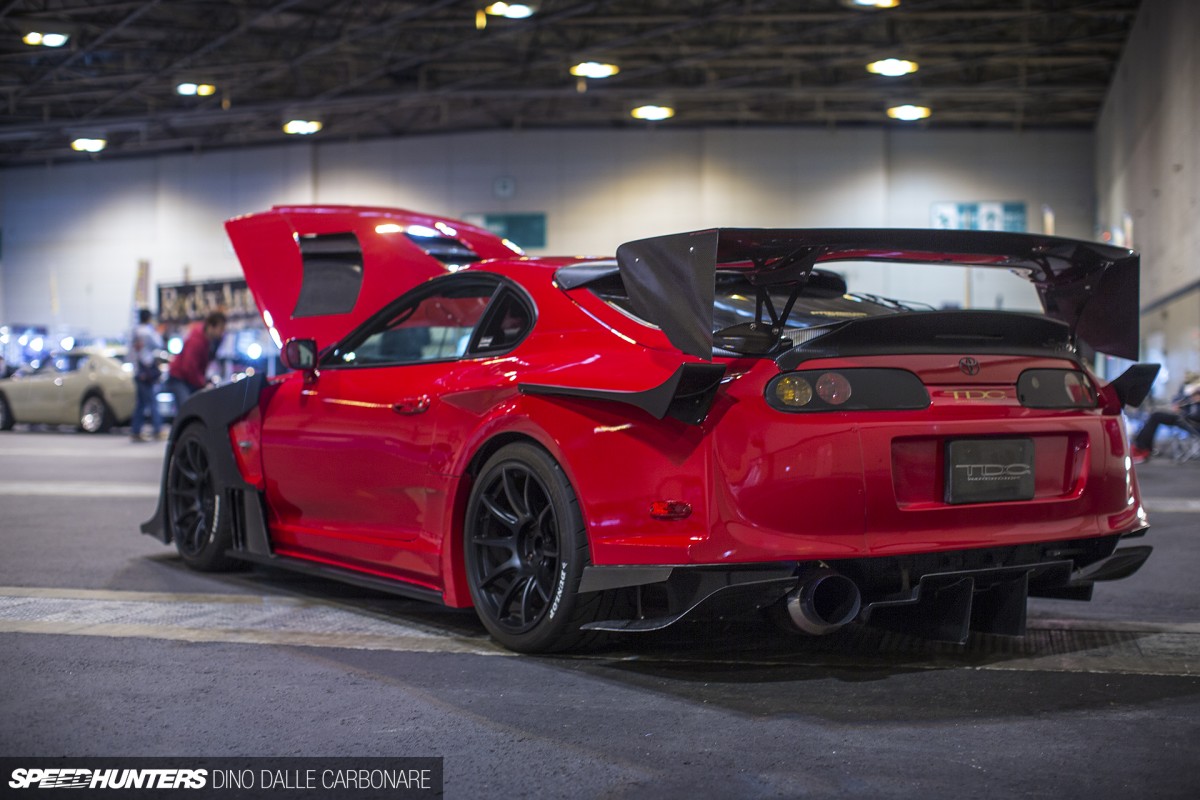 Maybe Tamon are onto something here? It's obvious that wider and more aggressive fenders will continue to dominate, but the design and execution doesn't necessarily need to stay the same. Looking at their Supras, one thing became strikingly obvious: the overall quality of Tamon's parts.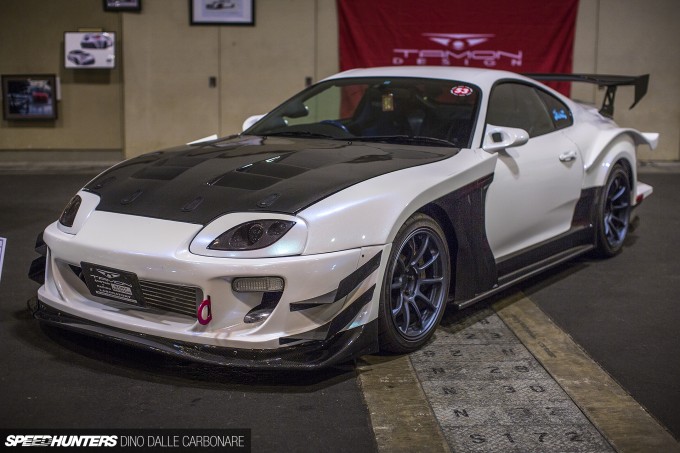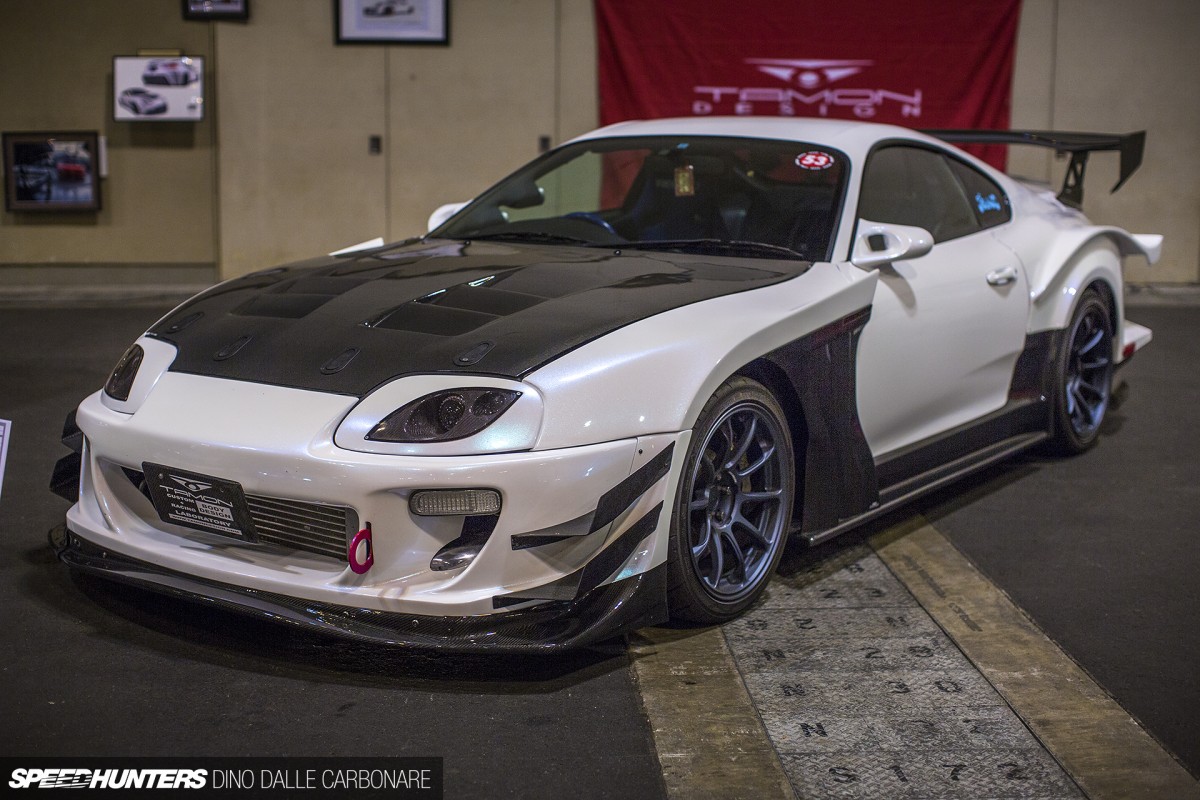 Maybe the rough, screwed-on or riveted look will fade away, giving way to accurately contoured and constructed replacement body panels. What do you guys think?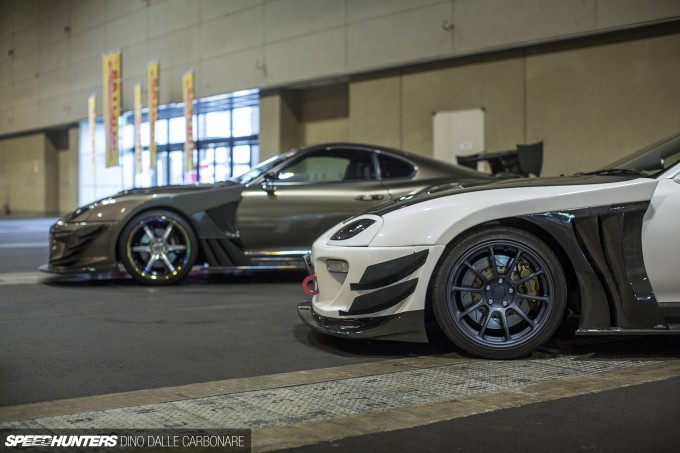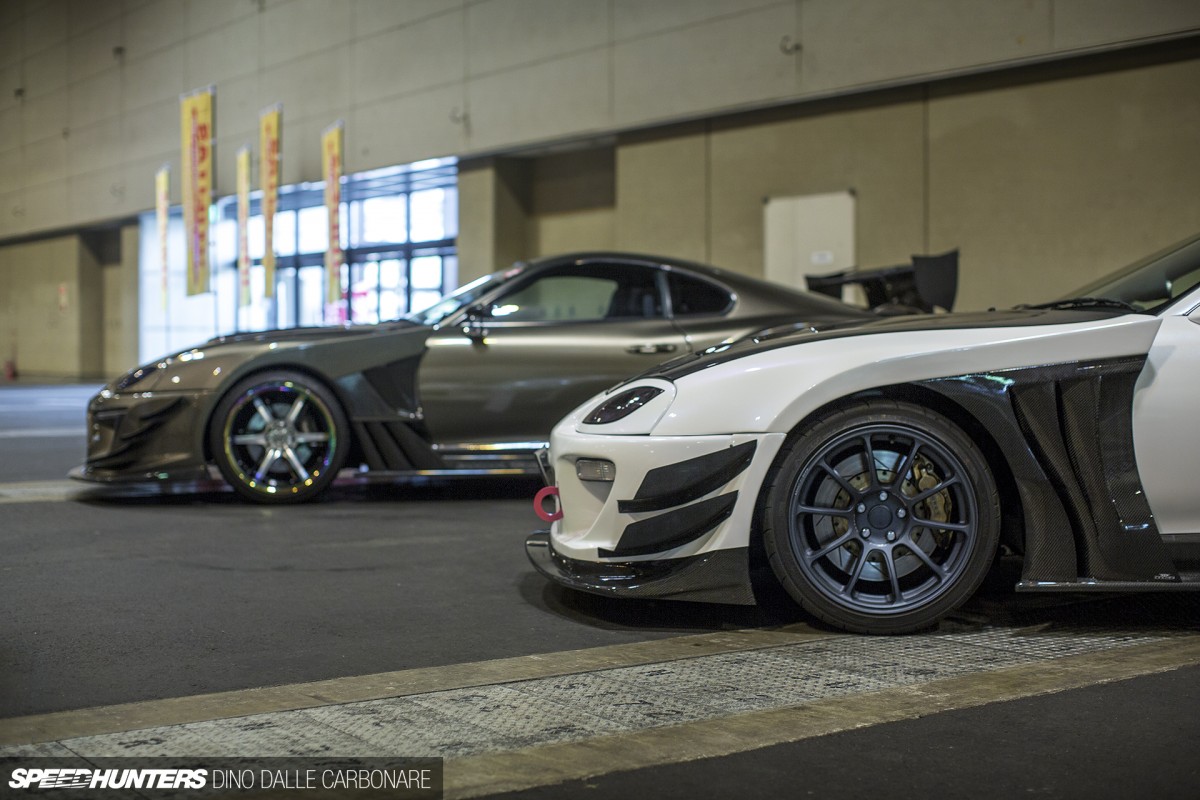 If you're into Supras, Tamon is really spoiling you with choice! I'm putting together a spotlight feature on one of these cars, so you can judge for yourselves their style and production quality.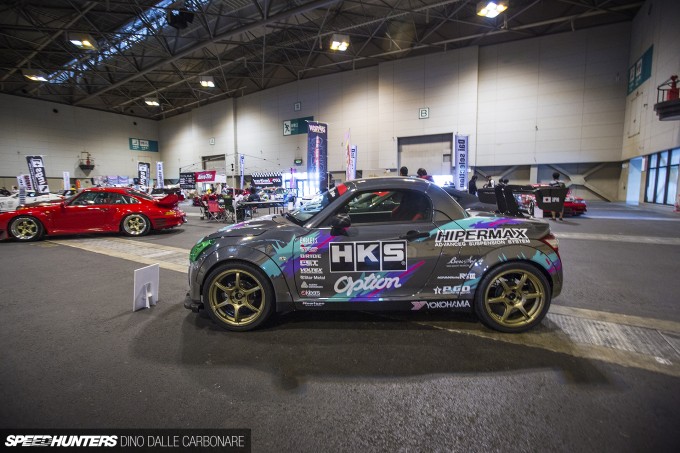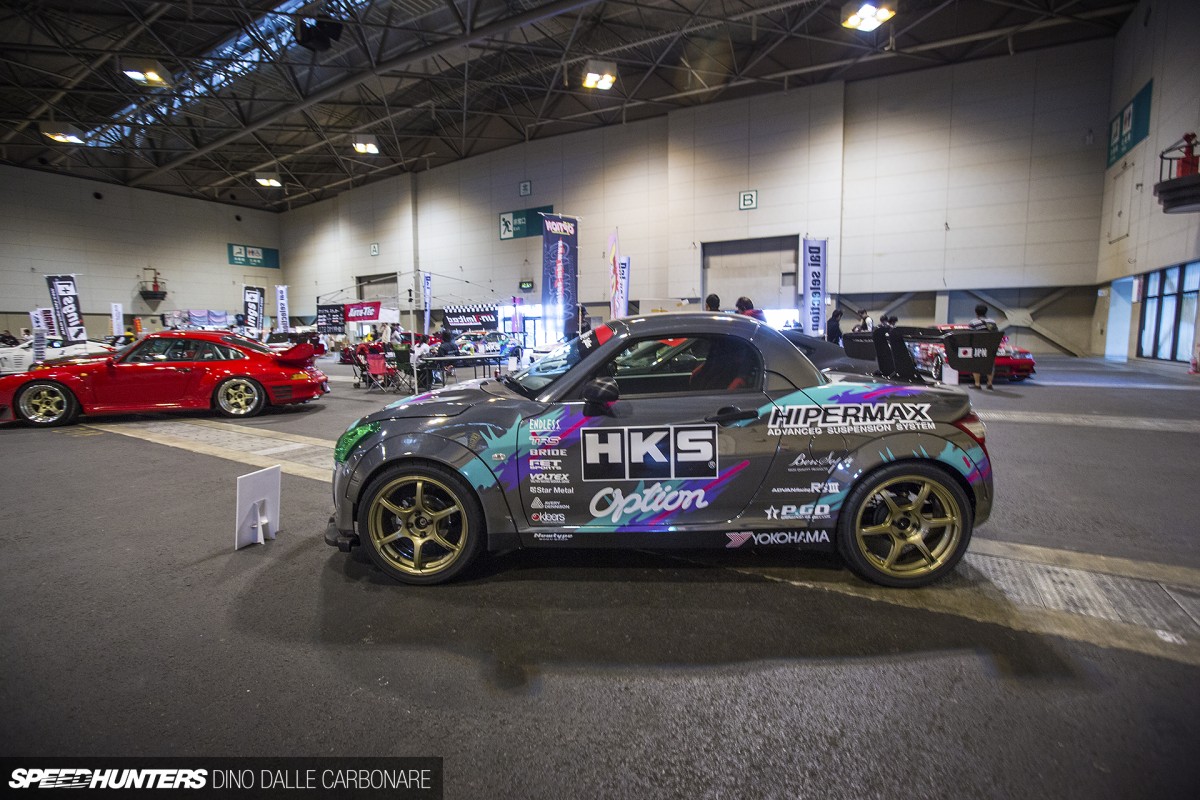 I'll close up with another Kei car – this time HKS's little compact time attacker based on the new Daihatsu Copen. I chose this car because I think 2015 will be remembered as the year that performance-oriented Kei cars made a comeback, and I'm looking forward to seeing what levels of performance are able to be extracted from these things.
As I mentioned, I do have lots of spotlights coming, but before I get to those I want to share a quick look at the event I covered the day after the Showdown. I hope you guys are into all things Shakotan. Stay tuned for that next week!
Dino Dalle Carbonare
Instagram: speedhunters_dino
dino@speedhunters.com