Kicking Ass & Chewing Gum
Whilst stalking the halls of this year's Ultimate Dubs I noticed a few interesting liveries that pay homage to retro race and rally cars from days gone by. It's a trend that's been on the show scene for a couple of years, and one that I first remember seeing on a pair of UK-built TRA Kyoto E36s in Austria. Personally, I love it. It can add that extra element of design that makes all the difference when you want to stand out.
A word of warning before we go on – I literally cannot resist a good pun. I'll do my best to restrain myself, but I'm making no promises. You'll grant me the title though, I'm sure?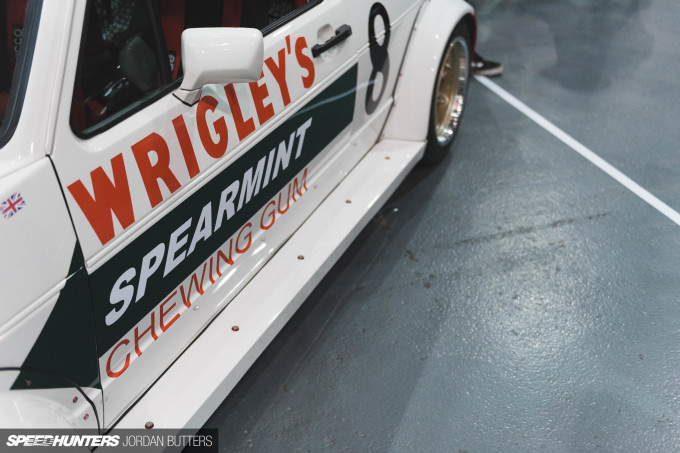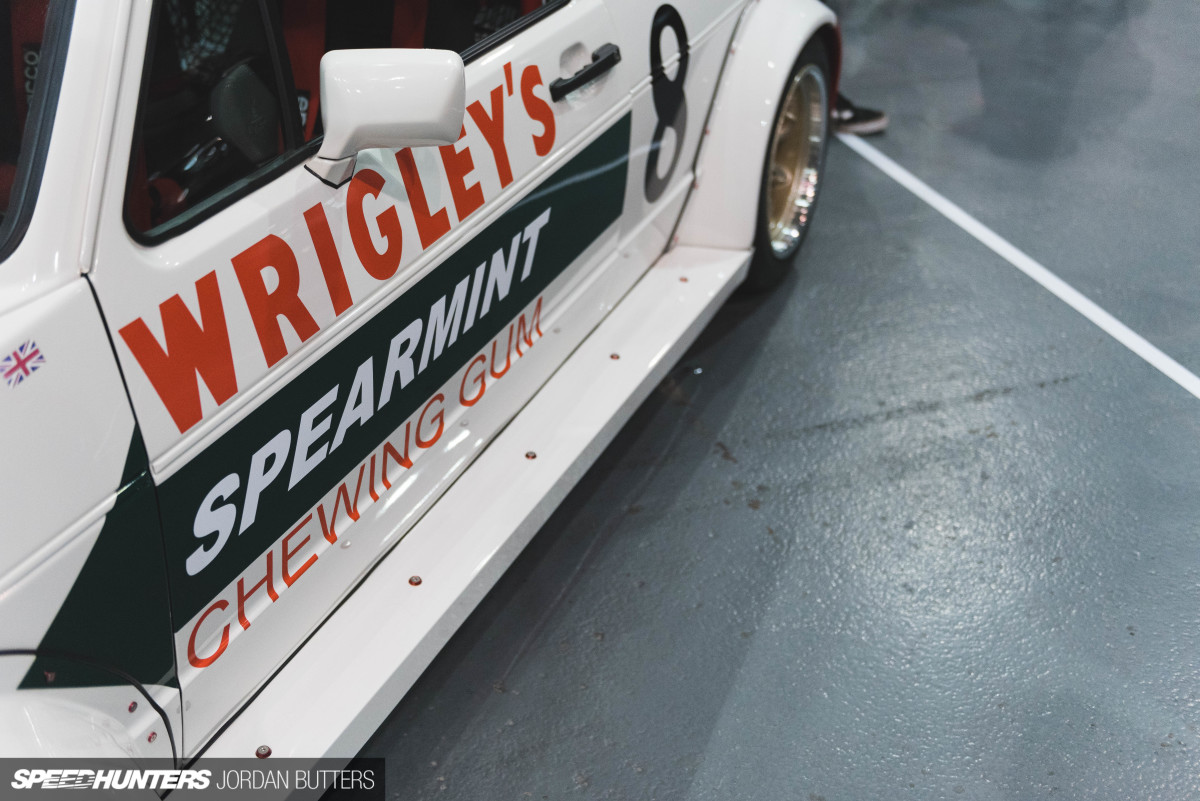 The Mk1 VW Golf is a popular choice at present in the show scene, and there must have been a dozen or so gleaming examples that I could've brought you from this year's Ultimate Dubs. However, Dan Guirey's striking white Berg Cup-inspired example stood out amongst the crowd, so I had to take a closer look. It turned out to have further appeal than just some fancy stickers too; peel away the wrapper and you soon realise there's a lot more to chew over (sorry) than first meets the eye.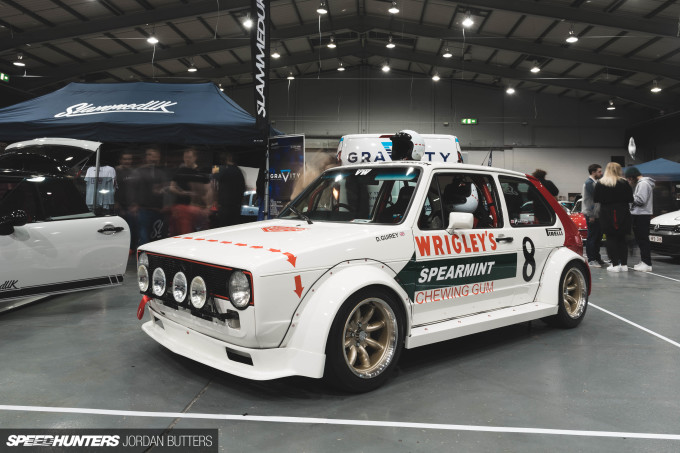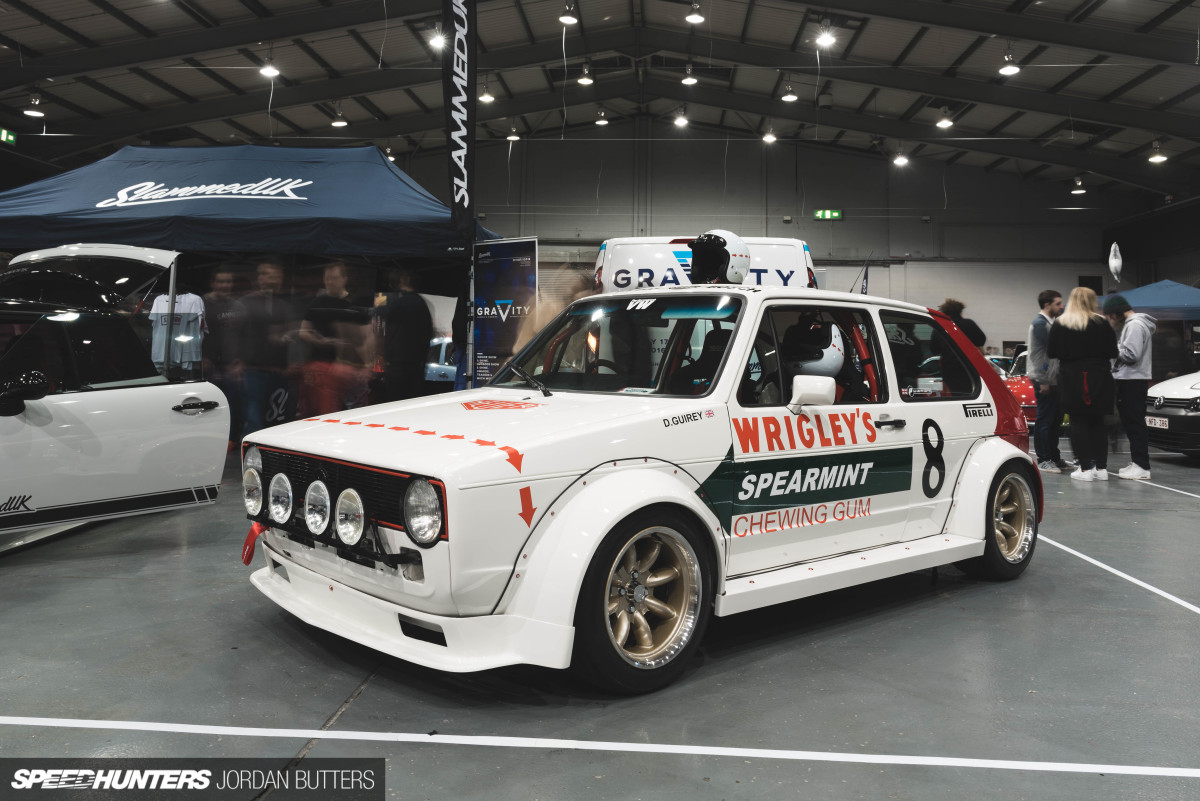 Dan's owned this car for around 3.5 years and it's actually been wearing the Wrigley's 1977 rally car livery since 2014. At the time it was relatively stock-bodied and running a rare 8v Callaway turbo kit from the US, so it was pretty cool already. However, it wasn't until recently than Dan decided to evolve the Golf into something truly special by beefing up the motor, interior and exterior all in one go.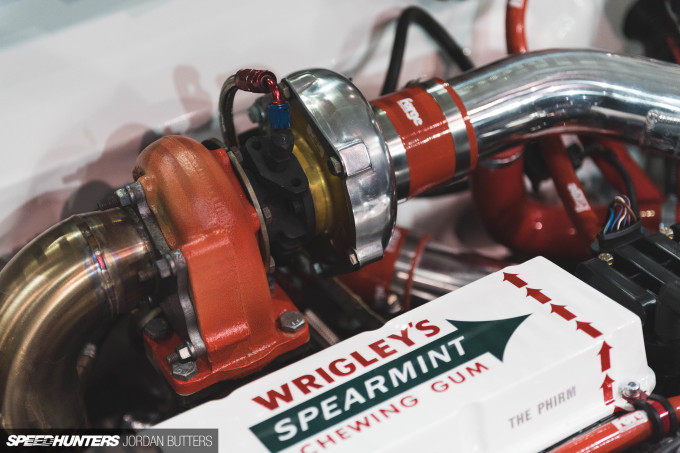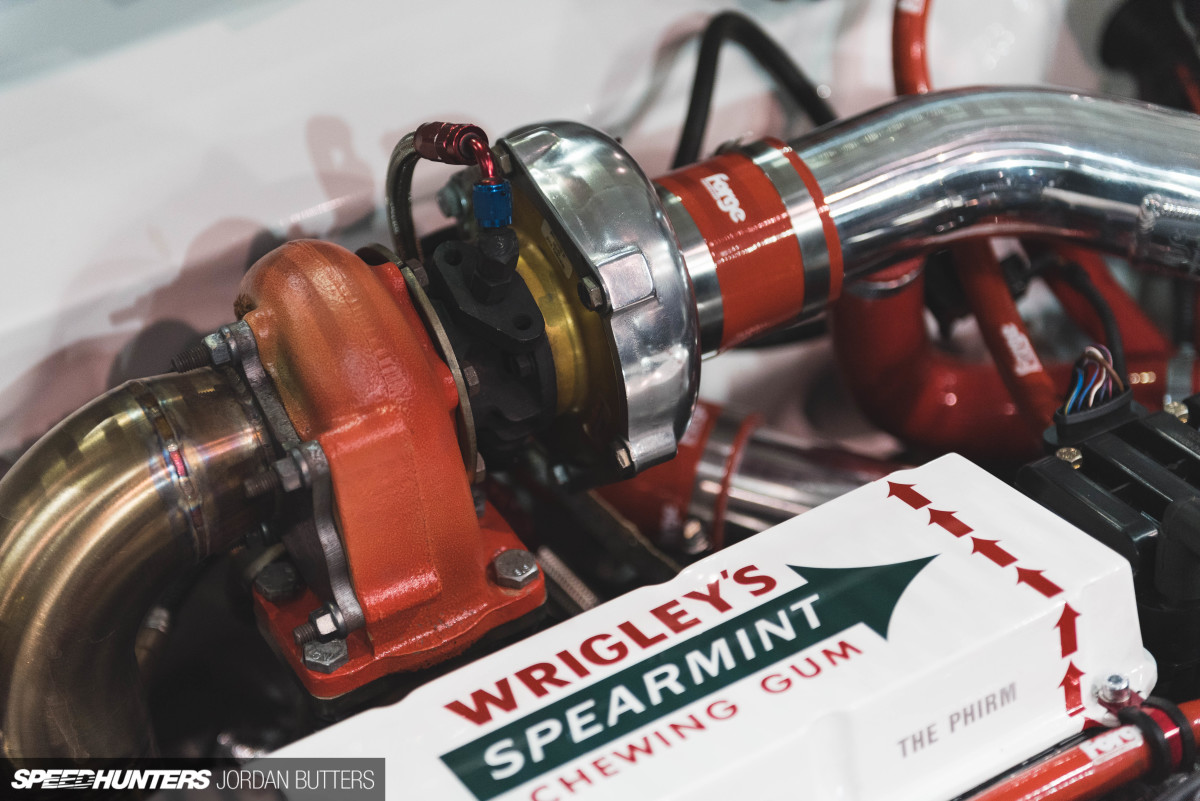 A lot of work has gone into the engine in particular. Lift the bonnet and you're now greeted by a 1.9-litre G60 block running a 2.0-litre 8v Beetle crossflow cylinder head and forged pistons. Inside, the engine has been fully ported and polished and there's a Kent cam and valve train. Power is boosted by a Turbonetics T3 60 Series turbo which is top mounted on a custom manifold. Spent exhaust gasses are expelled via a custom stainless system which has been fitted with an electronically-controlled diverter valve operated from inside the cabin. This allows Dan to switch between a more civilised full system or a raw hidden side-exit exhaust at the flick of a switch. Dan thinks the magic number is circa 300bhp and, now that the car is almost finished, he is looking forward to driving it as much as possible on the road, track and quarter mile.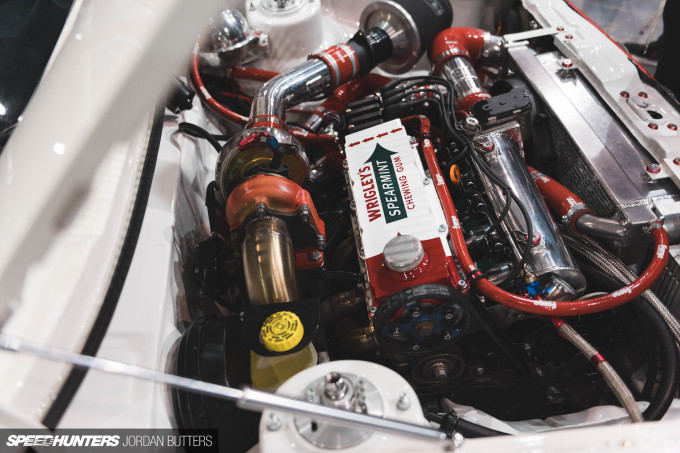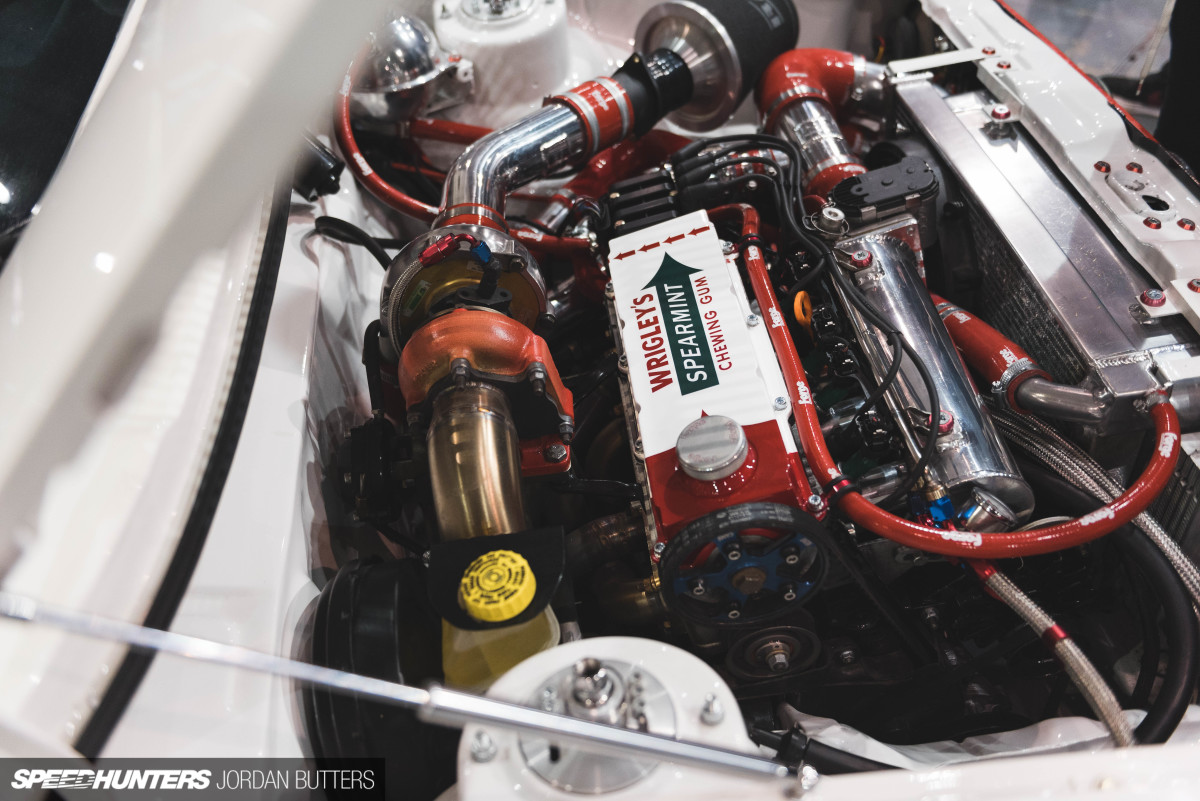 A custom inlet manifold was fabricated to accept the fly-by-wire throttle and the car runs off 20vT management firing a 2.0-litre 8v single coil pack. The ignition system was designed and fabricated by Tim at VW tuning specialists The Phirm; he mounted a 20vT cam sensor on top of the distributor and fabricated a 20vT trigger wheel to fit to the crank pulley, allowing Dan to run a crank sensor. It's a very clever amalgamation of parts which works well. Meanwhile, Dan took on the task of welding up all of the unnecessary holes in the engine bay for a tidier look, and relocated the brake servo so that it sits in direct contact with the pedal.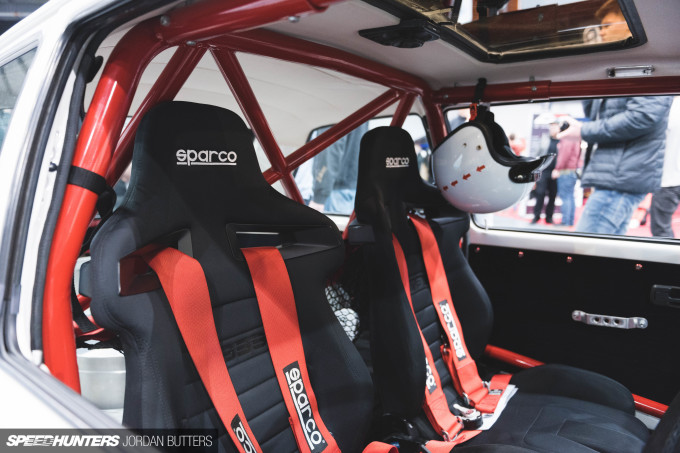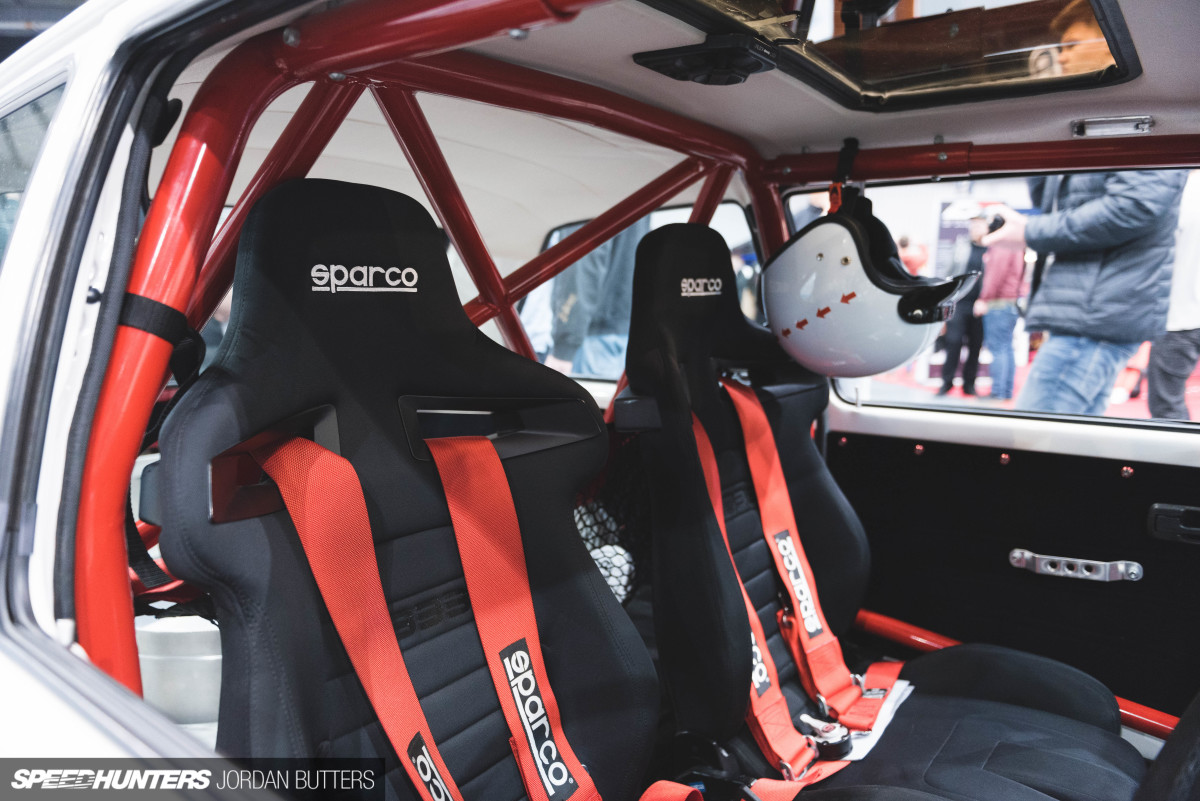 Inside the cabin, a full cage and pair of Sparco R333 seats and Sparco harnesses keep everyone safe. A custom dashboard houses a Race Technology display alongside all the relevant knobs, switches, dials and buttons.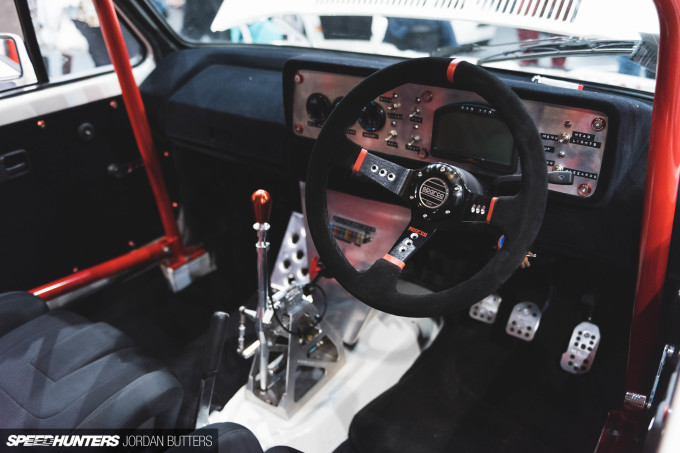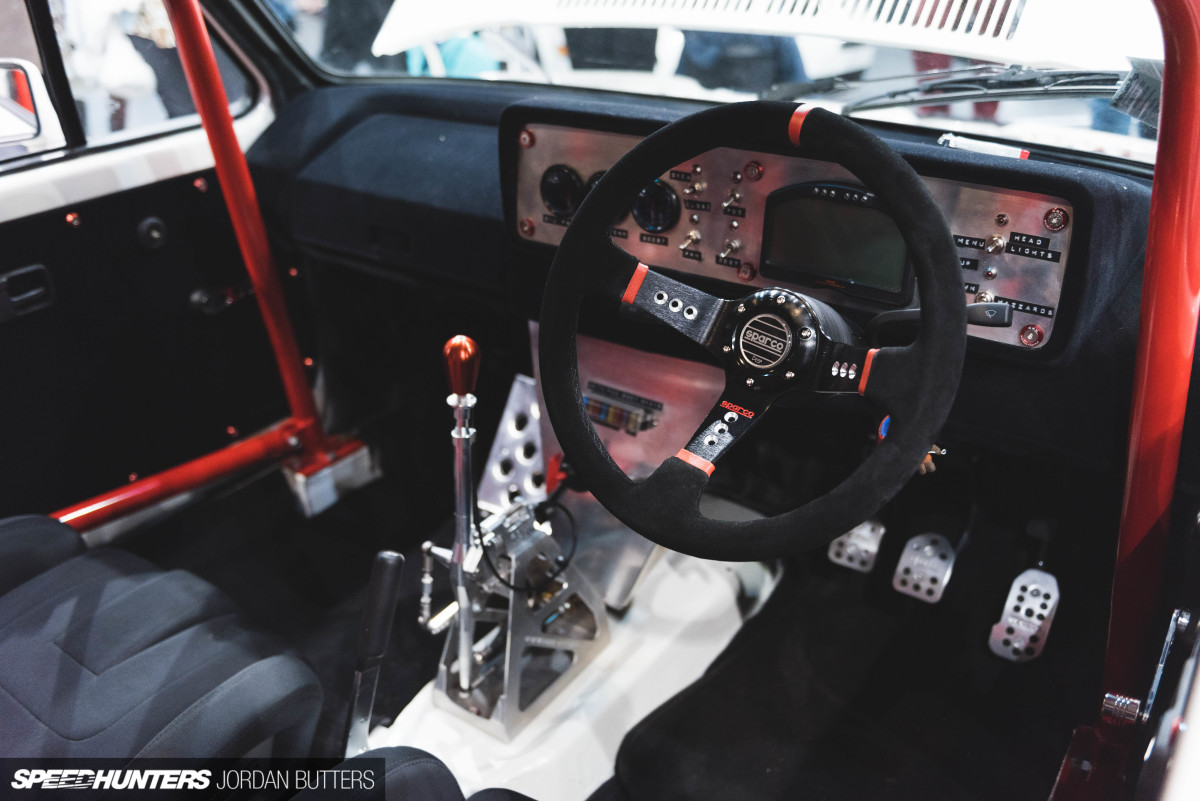 The Golf features an 02J gearbox from a Mk4 1.8T, feeding a Peloquin differential. Dan stirs the 'box via an imposing but beautifully-crafted CAE Ultra Shifter, and there's a hydraulic handbrake too. In the boot, a custom Forge Motorsport aluminium fuel cell fills the spare wheel well.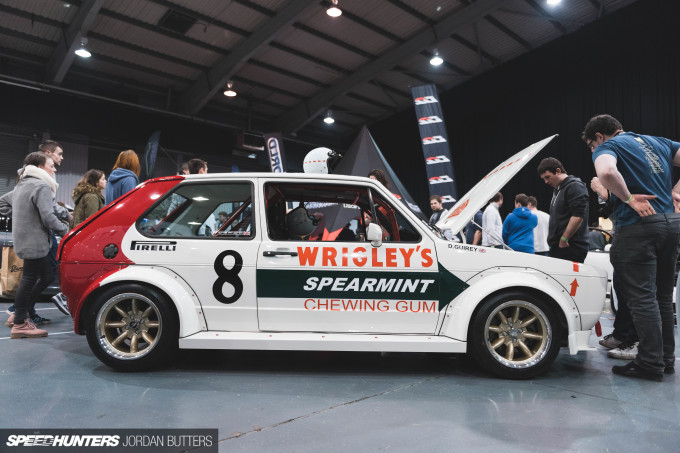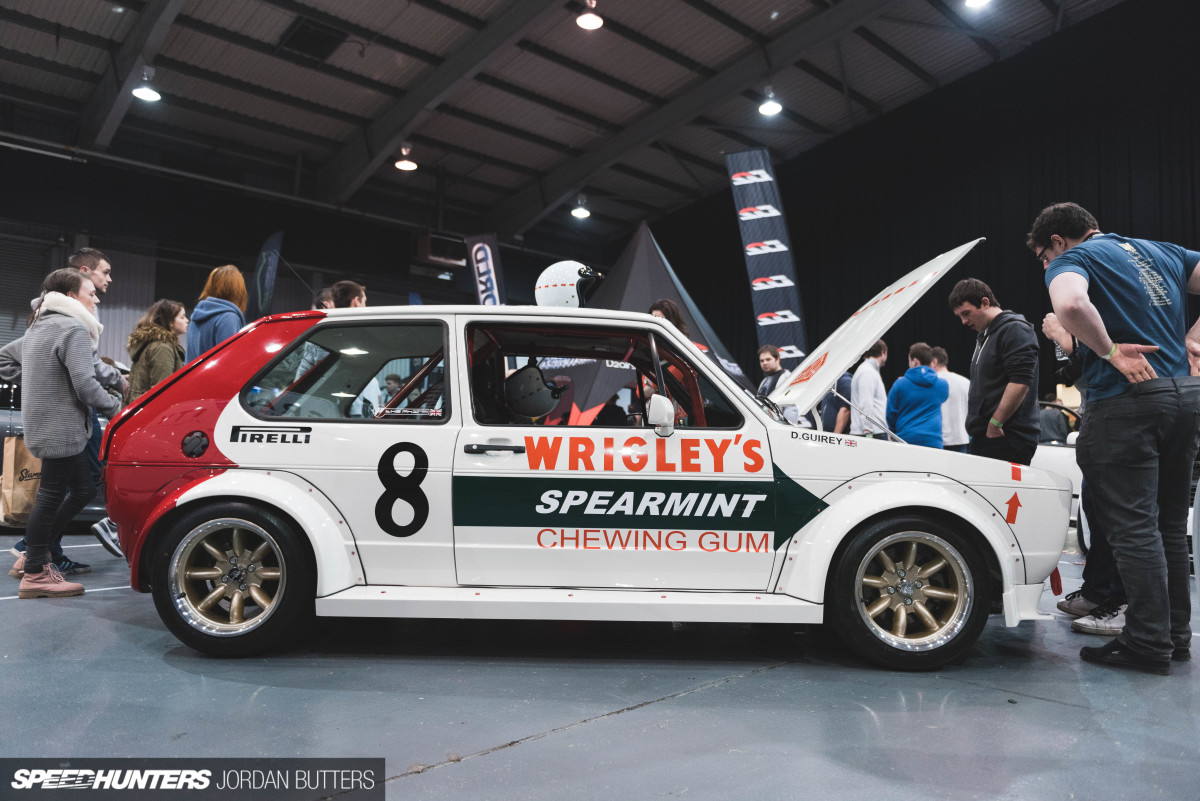 Recent changes saw the Golf's previously slim lines bulk up thanks to a full Berg Cup kit. The car was in mint (I can't help it) condition beforehand, so Dan said that the initial cutting of the arches was daunting, but he's glad he did it now.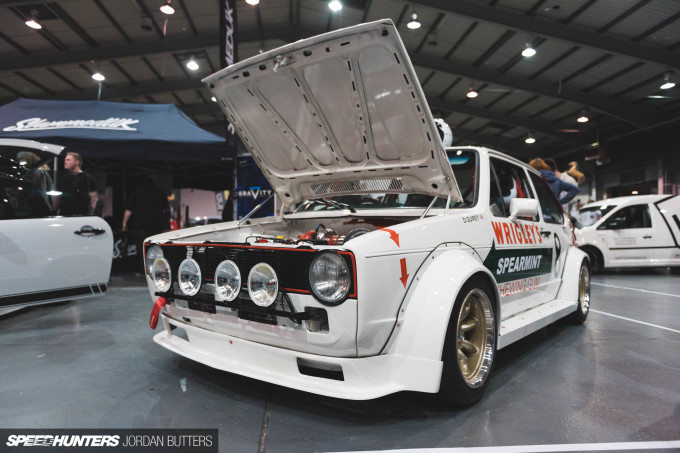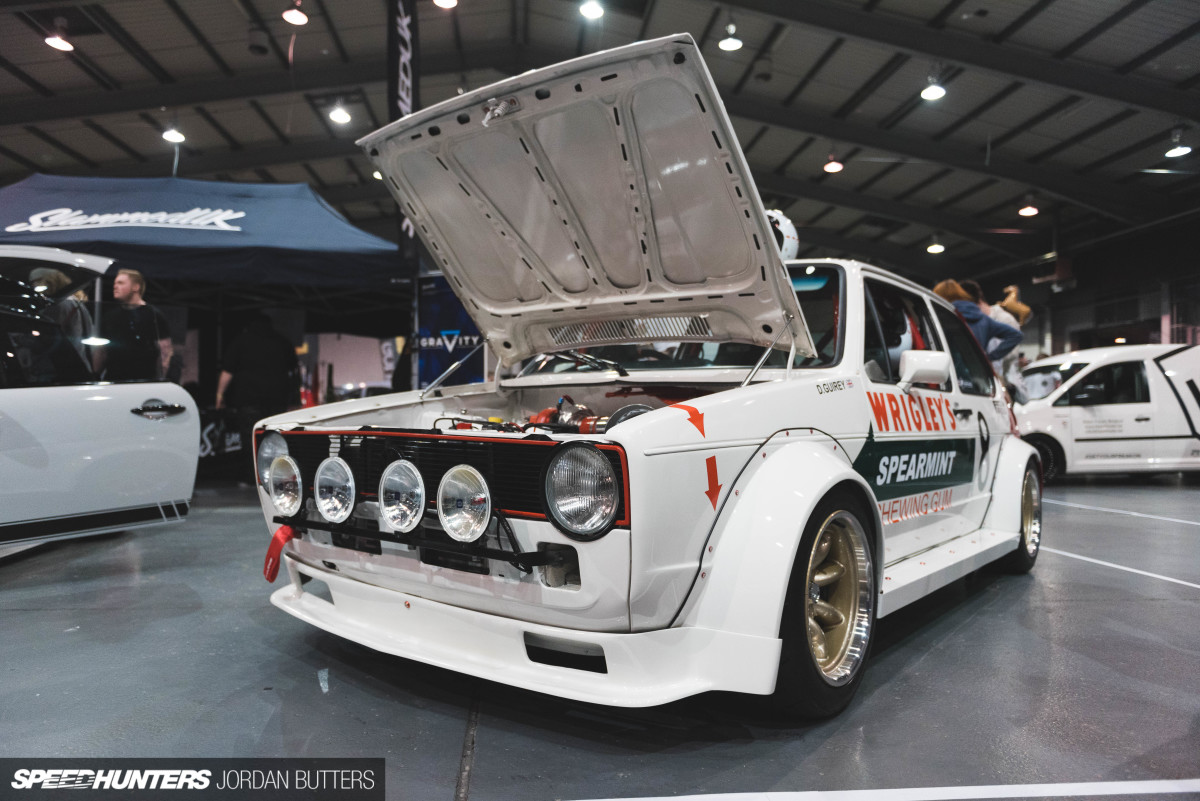 The quad Hella spotlights on the front add to the retro rally vibe. Sitting over a set of Compomotive wheels, the car has a wide and purposeful stance – not too low, just right. Sadly, I didn't hear it running at the show, but I can only imagine it sounds epic – especially switched to the hidden side-exit.
And then of course there's that livery. It's pretty fresh, right?
Jordan Butters
Instagram: jordanbutters
jordan@speedhunters.com
Cutting Room Floor