Keeping It Real
Right now, it feels like fixing up old cars is more popular than it's ever been. If you take a walk around the SEMA Show or any other global auto event that focuses on modified and custom cars, you're guaranteed to see lots of heavily modified vintage machinery.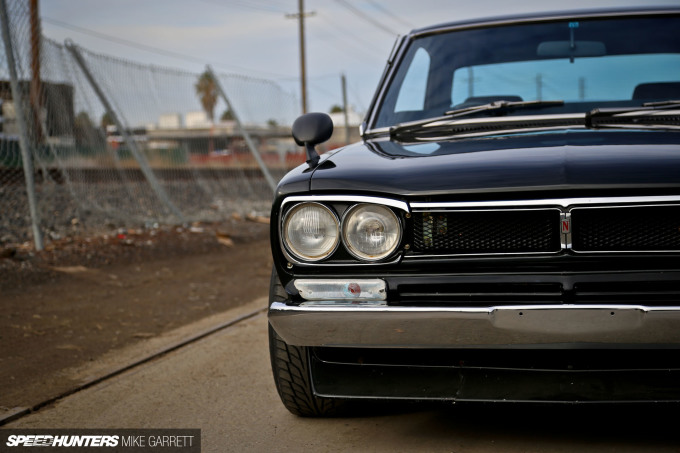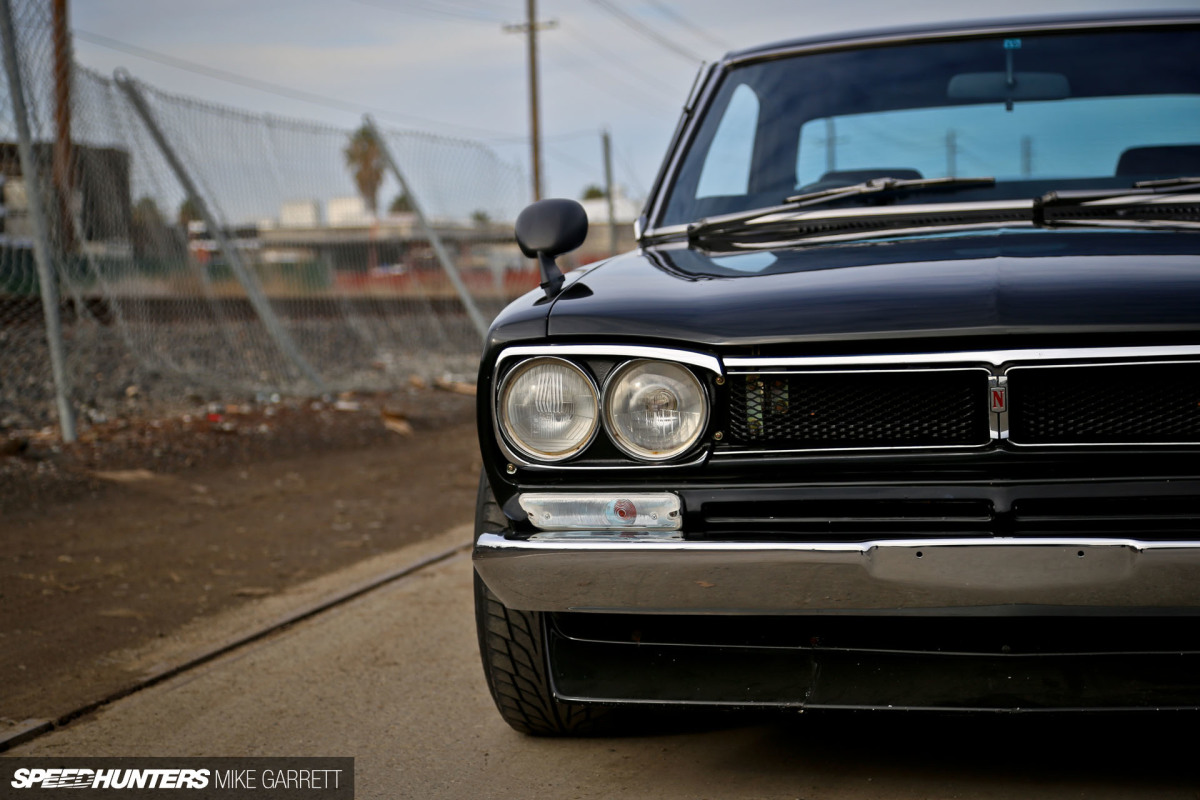 But how 'vintage' are these cars actually? Is a '69 Camaro with advanced coil-over suspension, steam roller tires, giant brakes and a high-tech fuel injected engine under the hood actually a '69 Camaro? Or is it just a modern car with an old body on top? With the exception of the basic body shape, there's nothing really 'old' about those sort of cars.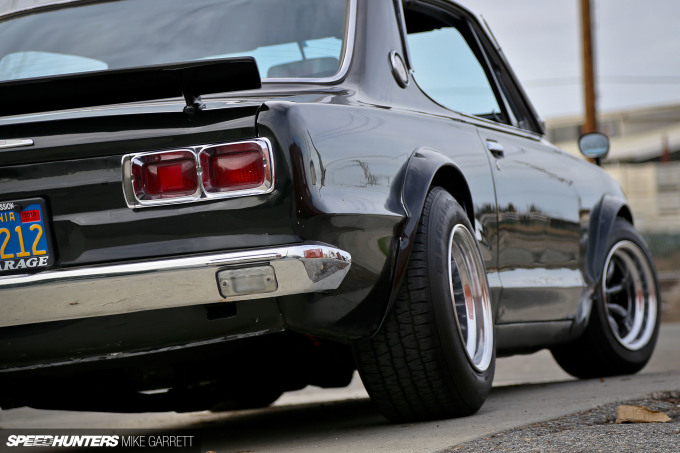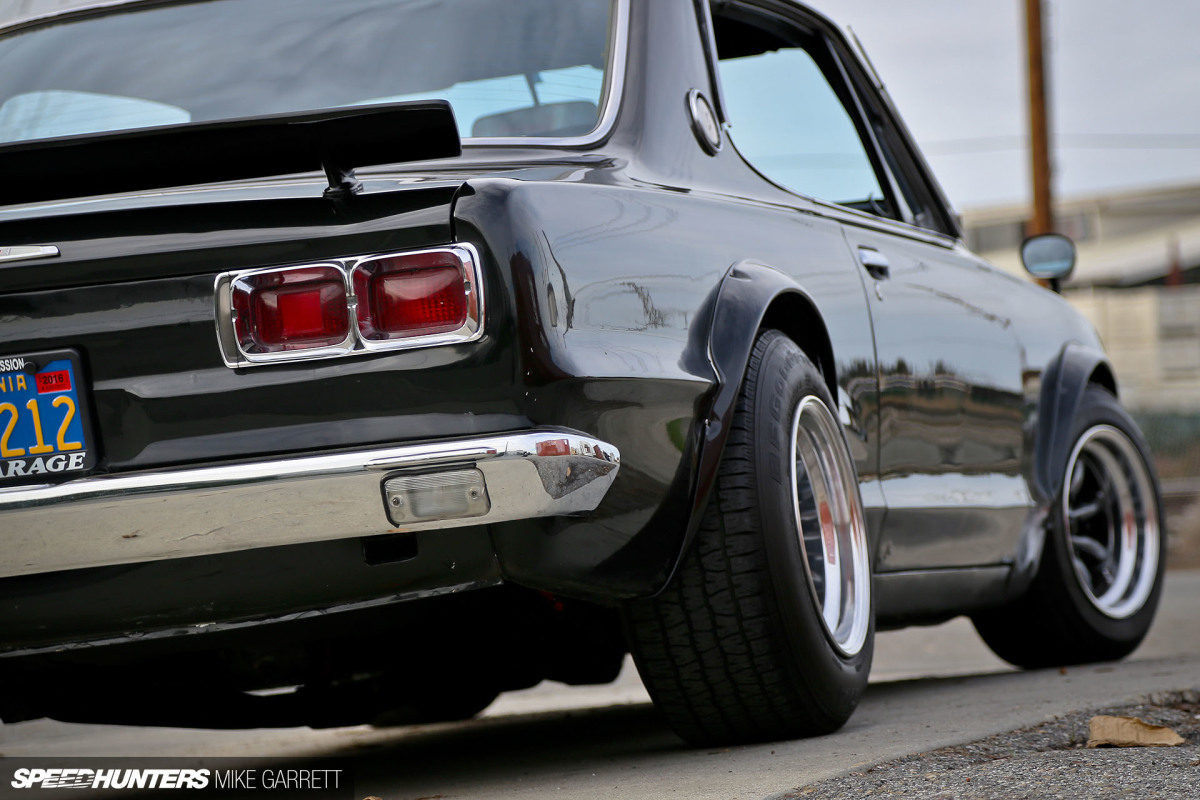 Don't get me wrong, I love high-end restomod builds as much as anyone, but there's always something to be said for the actual old cars. The ones with carburetors, small wheels and of course that lovely smell that only time can provide.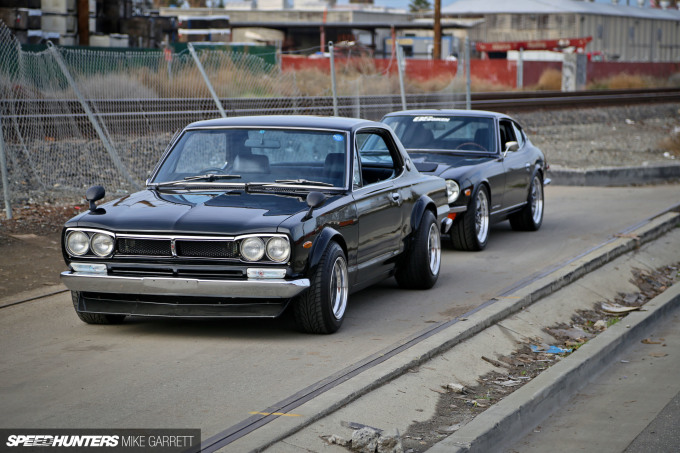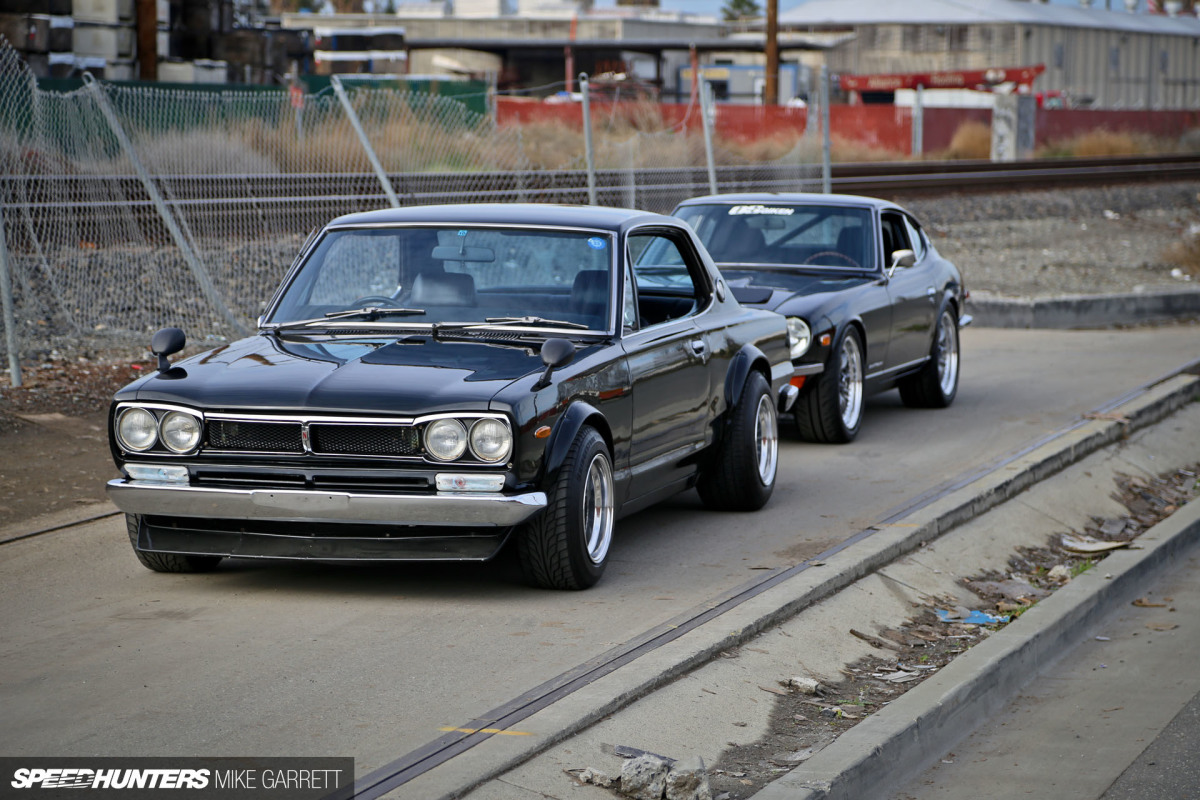 And that brings me to a 1971 KGC10 Nissan Skyline owned by Gary Stephenson and built by our friends at Z Car Garage in San Jose. Gary, as you might remember, is also the owner of the OS Giken TC24 240Z we featured recently, as well as other several other Japanese performance cars.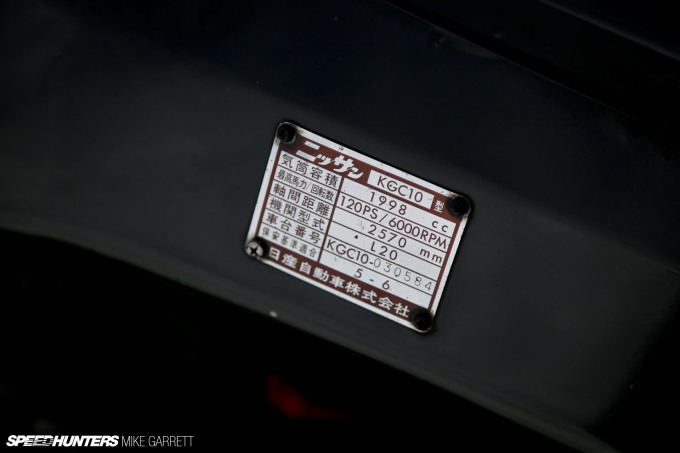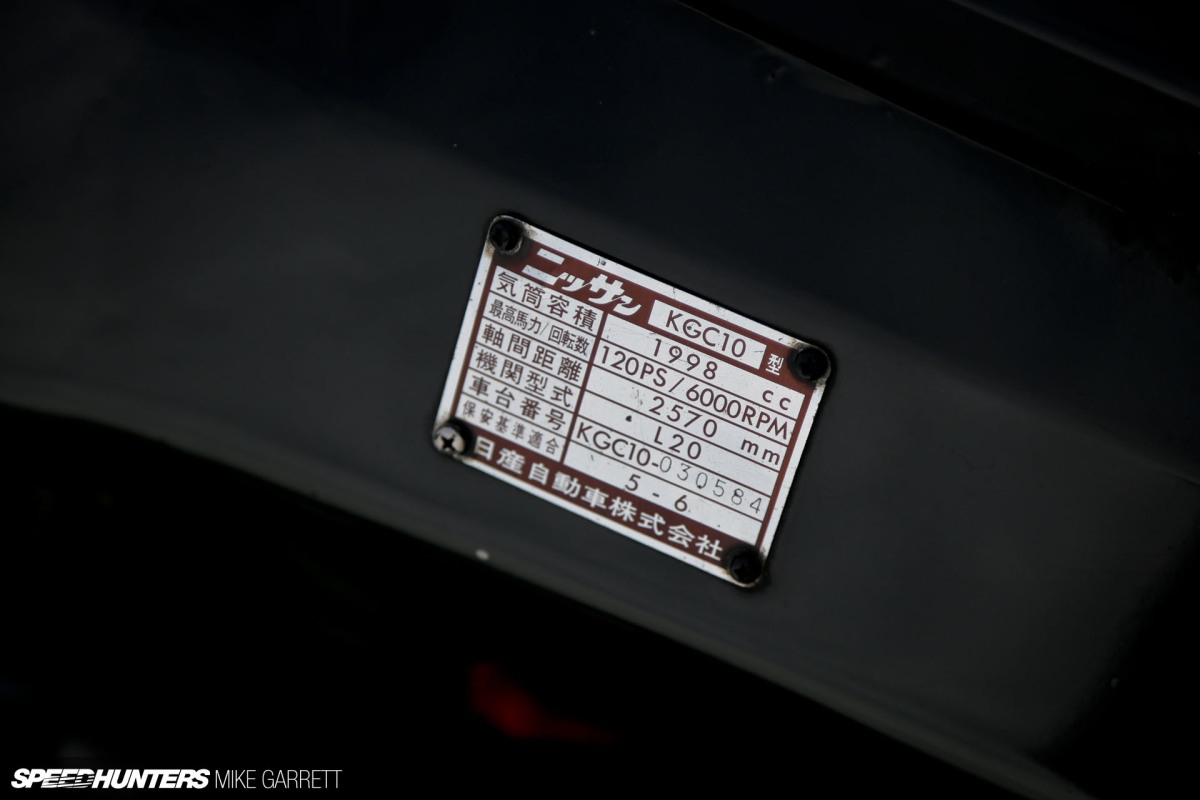 But the black Hakosuka you see here is all about the joy of driving; a unique and stylish automobile built purely in a 1970s style. Gary first started looking for a C10 chassis Skyline to bring to the US back in 2010, and he found this car in Japan in 2011.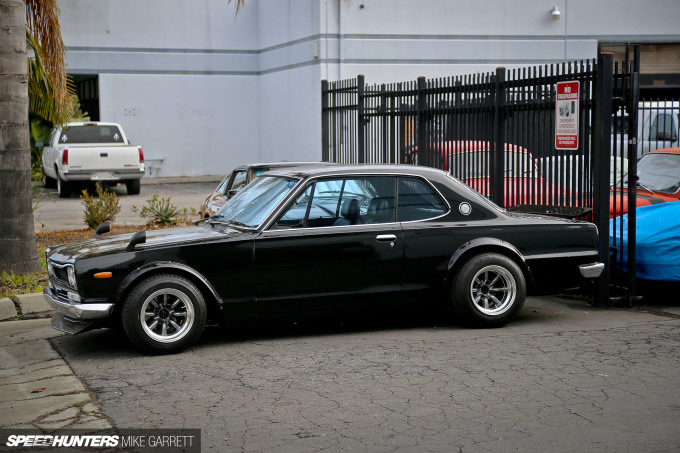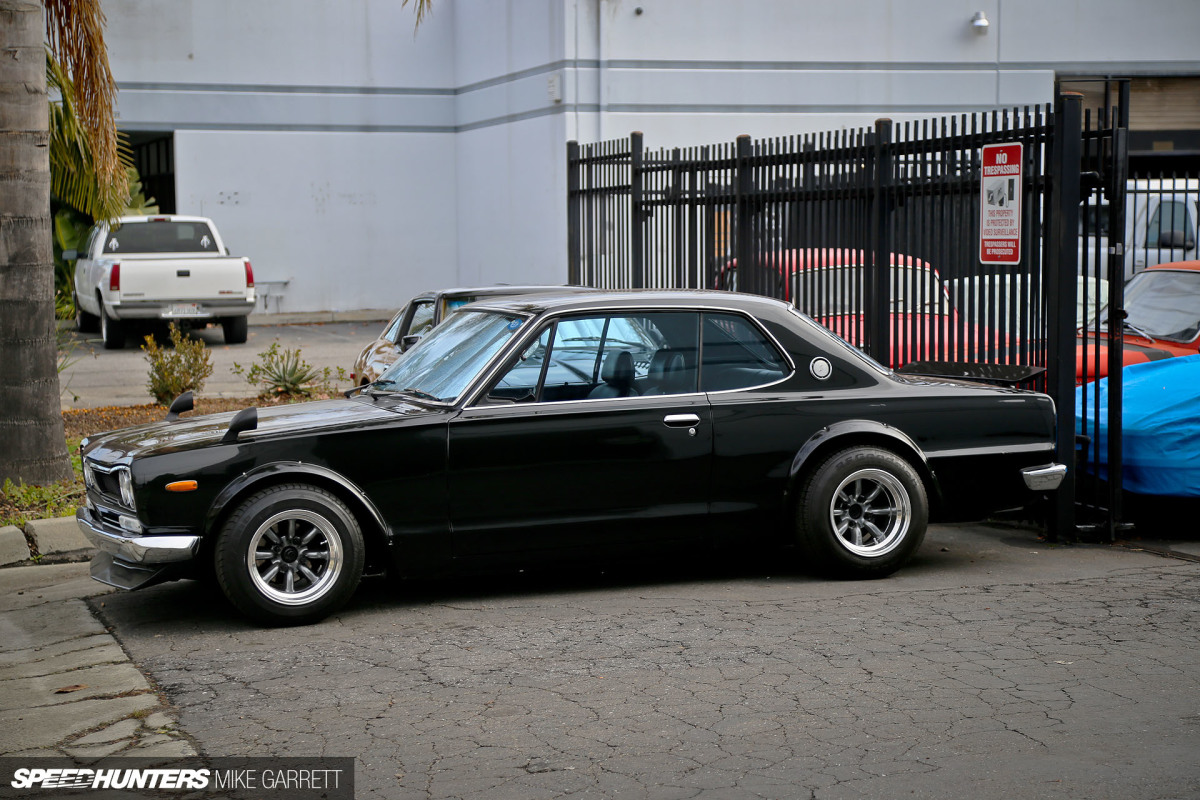 Like many Hakosukas that have been imported stateside, the Skyline was a good base car; slightly rough around the edges, but able to be improved upon without having to be completely rebuilt.
The Spirit of 'L'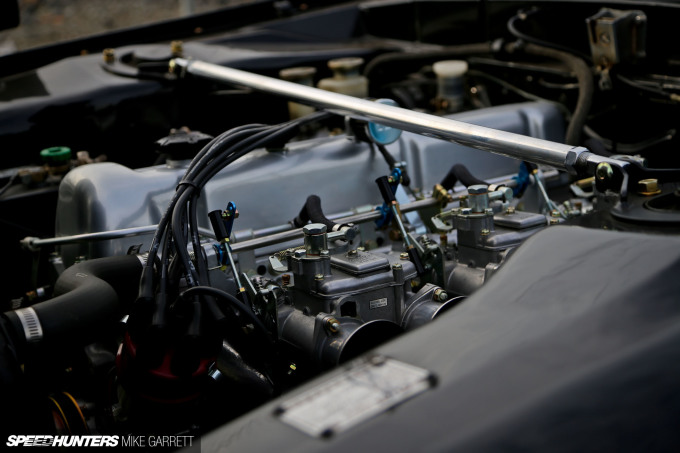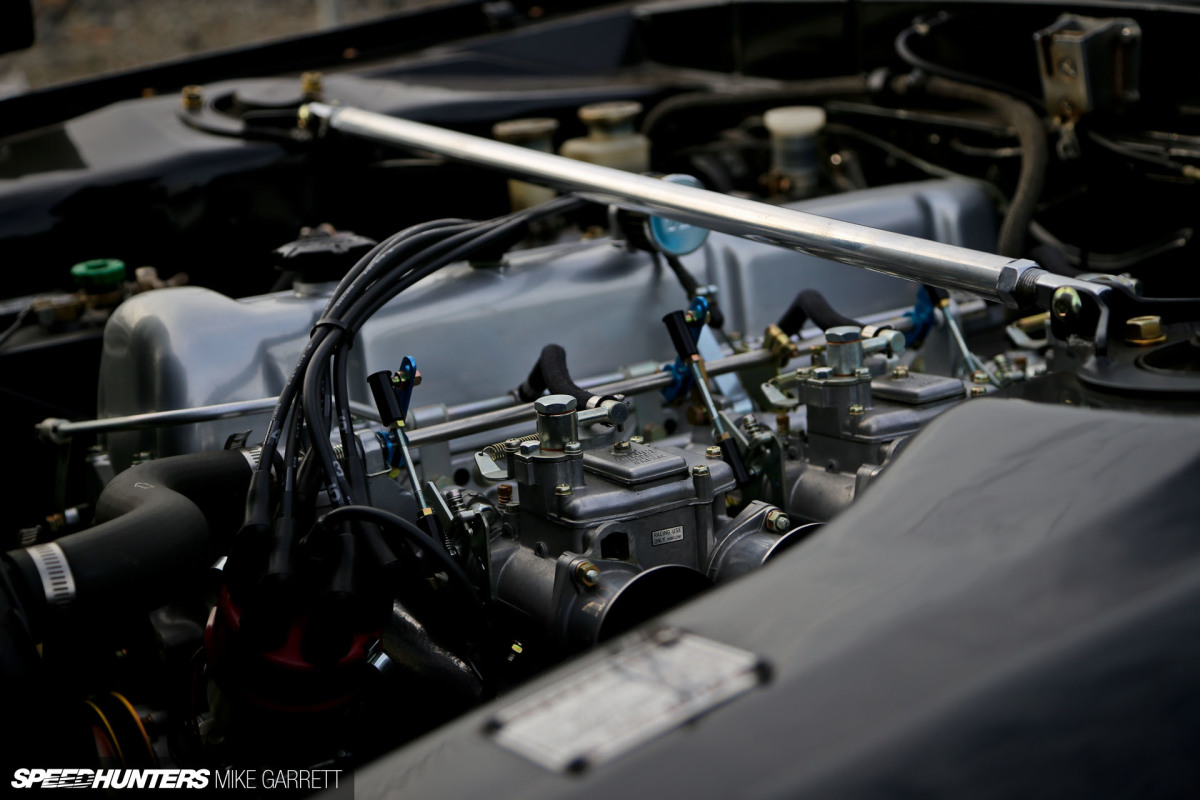 Under the hood sat a well-used L28 engine with a triple carb setup. It made a respectable 160 horsepower to the wheels on the Z Car Garage dyno, but Gary wanted to improve the power output without foregoing the character and sound of the naturally aspirated L-series engine.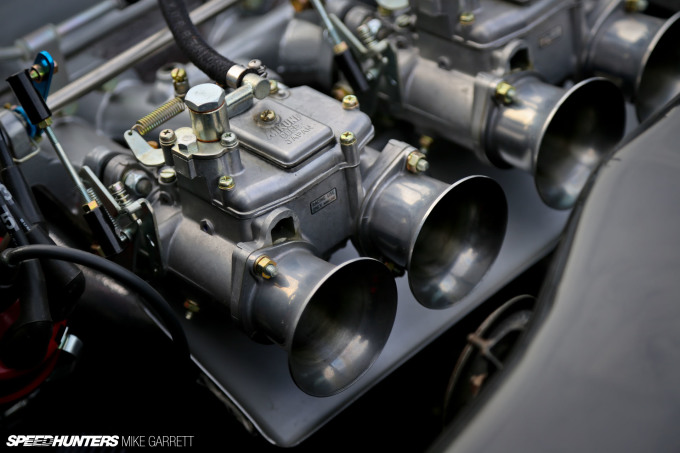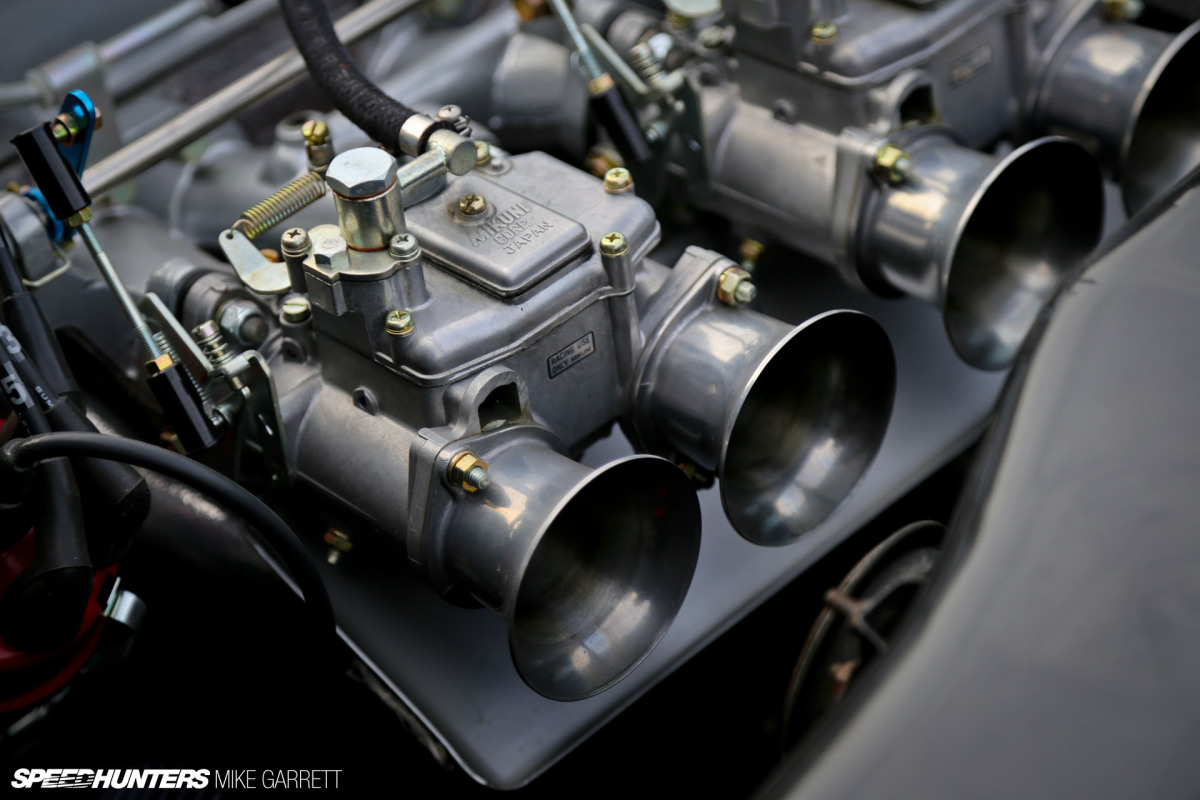 The solution then was to fully rebuild the L-motor. Massaged by the engine masters at Rebello Racing, the inline six now displaces 3.1 liters and breathes through a trio of Solex Mikuni 44mm side-draft carburetors.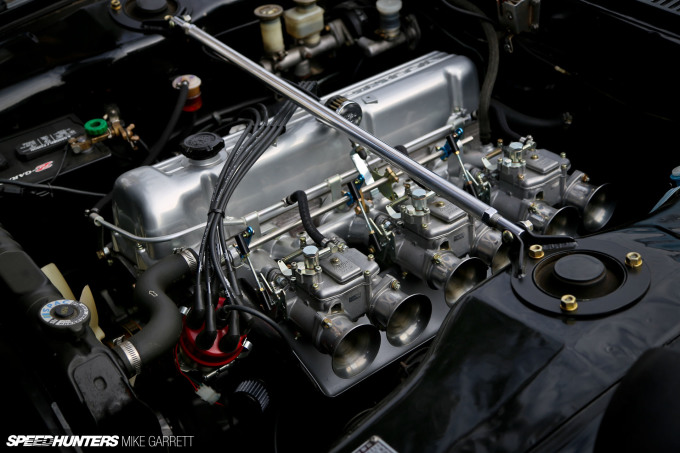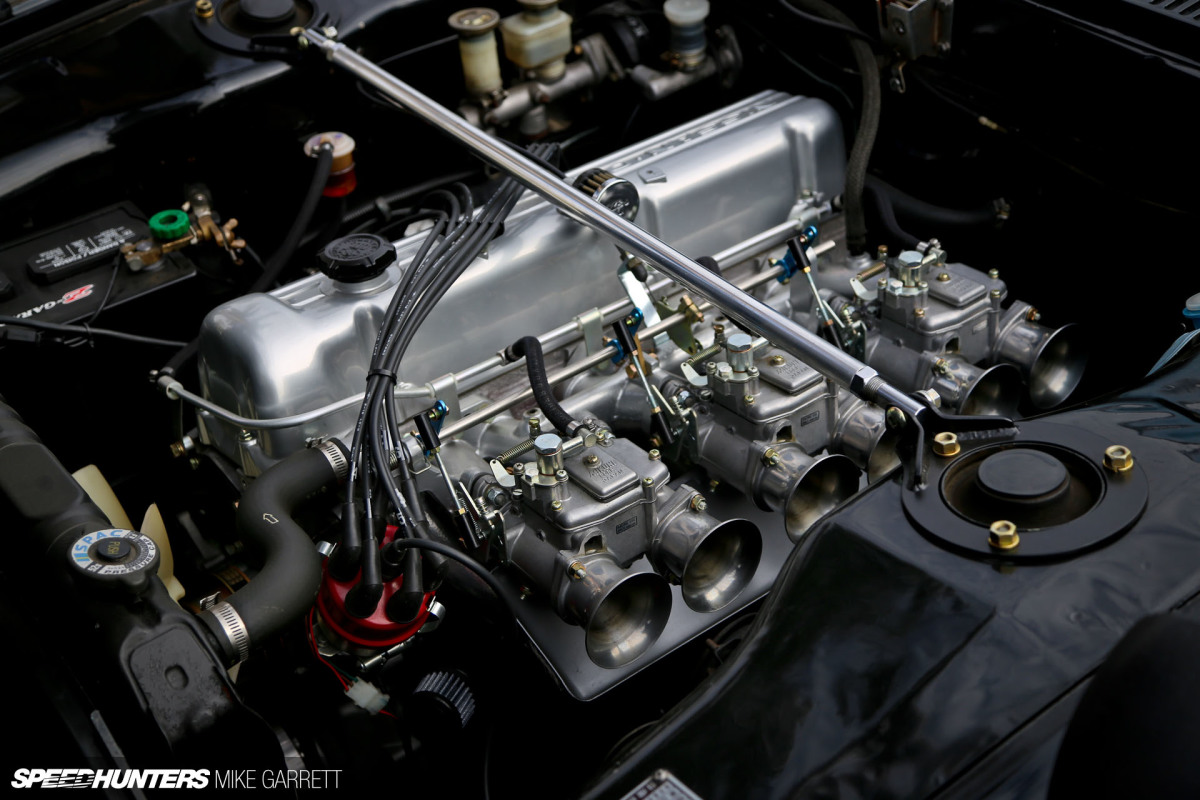 There's also a Fujitsubo FGK exhaust manifold and a full FGK exhaust system that gives the Skyline an absolutely beautiful sound; from the aggressive, lopey idle, to the intoxicating wail at full throttle as it's joined by the sound of the carbs sucking air.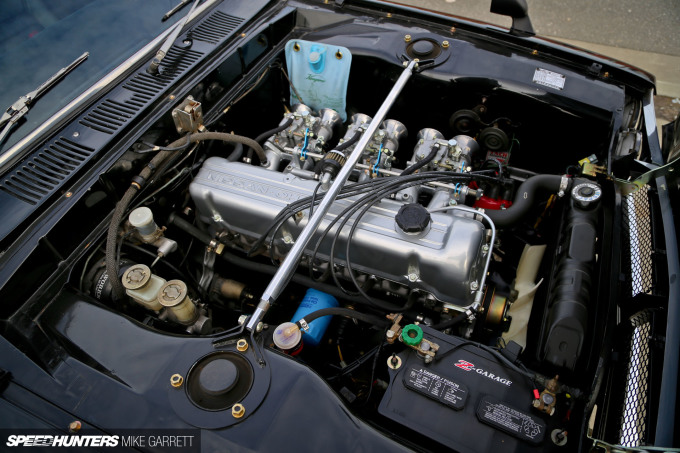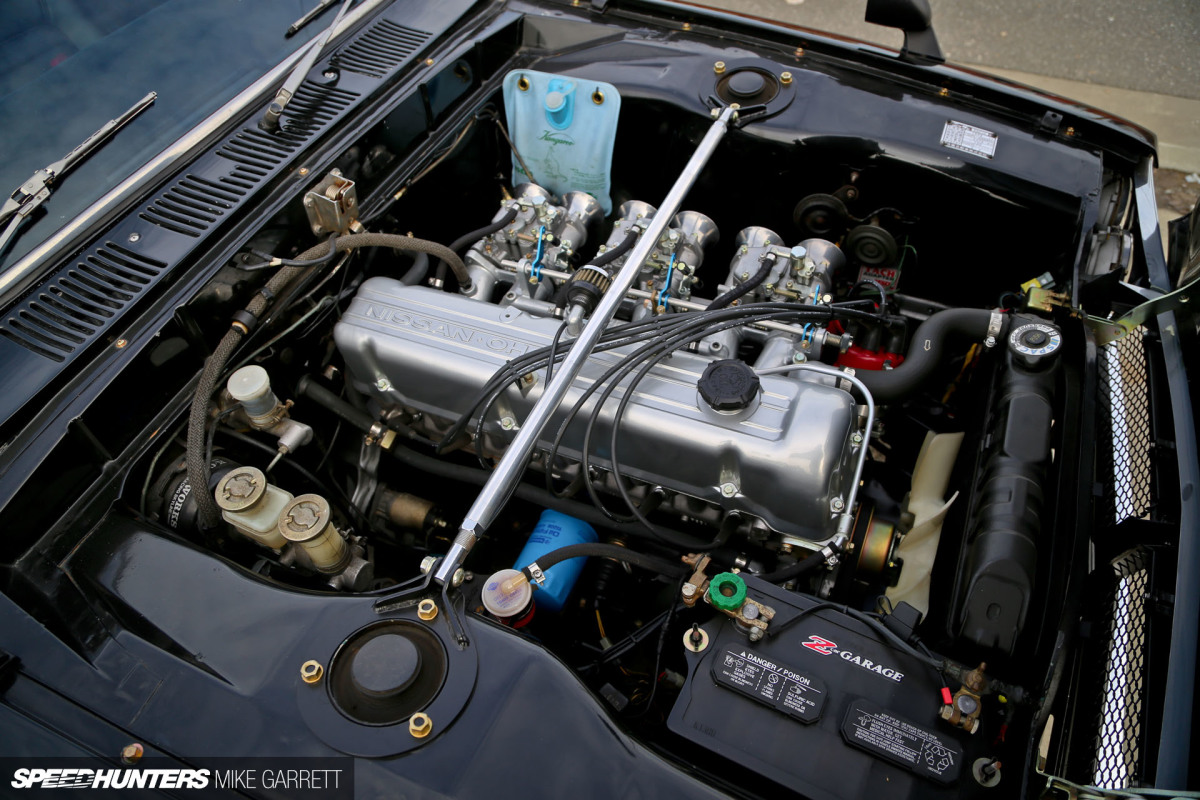 On the dyno the new motor put down a very impressive 272 horsepower to the rear wheels along with 249 pound-foot of torque. That's an improvement of over 100 horsepower from when the car first arrived from Japan.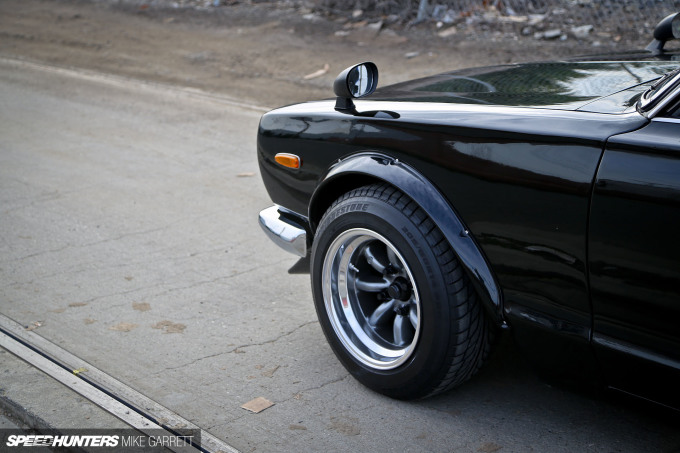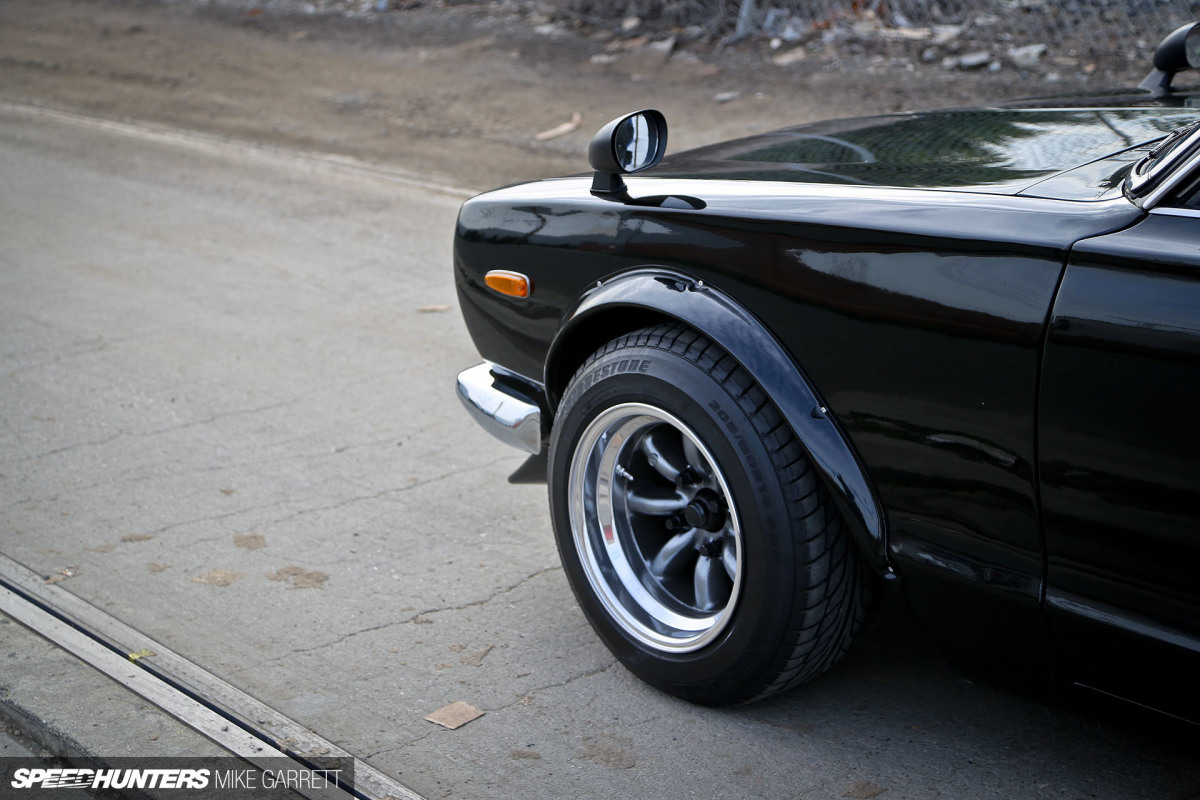 Elsewhere on the car you'll find a set of Ground Control adjustable coilovers to keep the Skyline stiff and sitting nicely, and up front the guys have also fitted a set of the 4-piston brakes that were used on Skyline race cars of the '70s era.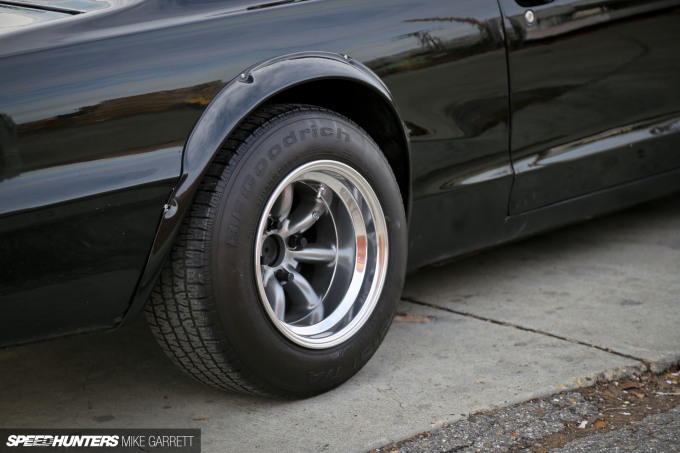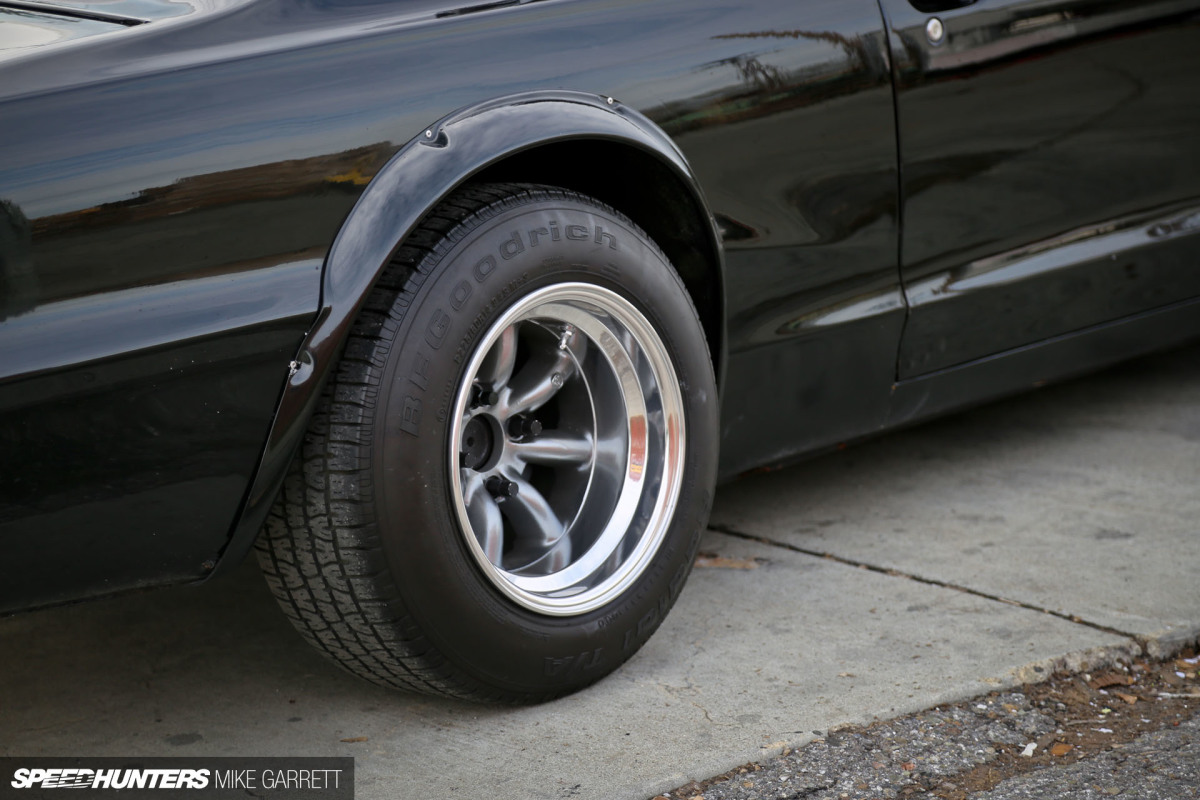 The car came from Japan wearing a staggered set of 14-inch RS Watanabe wheels, and rather than swapping them out for something else, Gary had the wheels completely refinished in gray with polished lips. How can you not love that fat tire look?
Sketchy, In A Good Way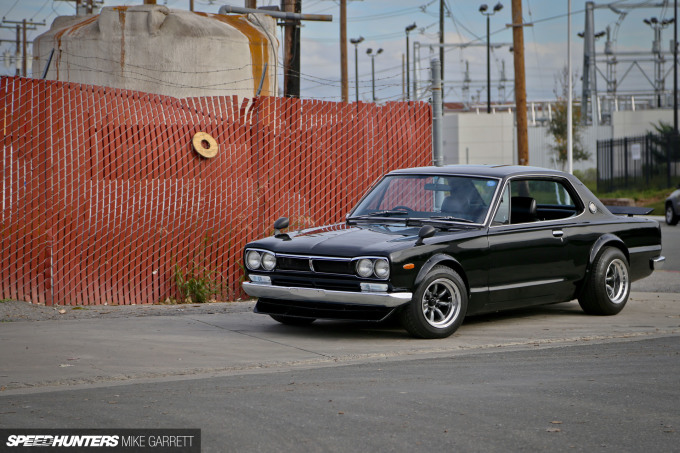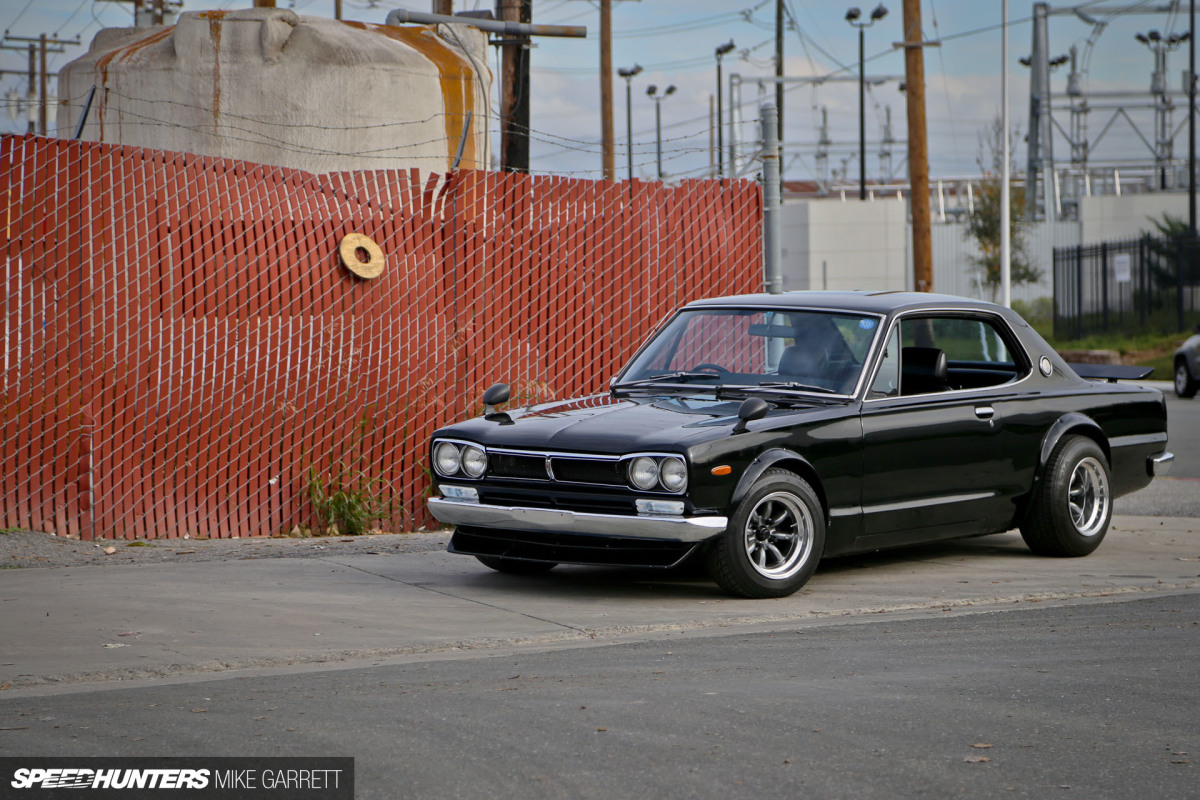 As for the body, the Hakosuka remains largely as it was when it arrived from Japan. Soon after it got to California, the grille, bumpers, and other trim pieces were pulled off the car and re-chromed, and the engine bay was also cleaned up and simplified for better presentation.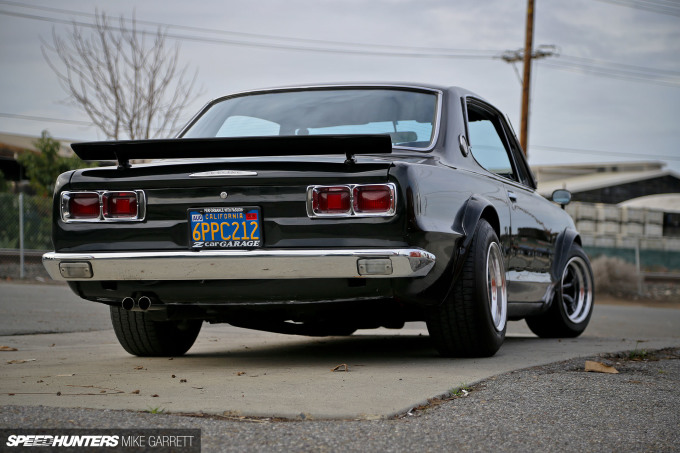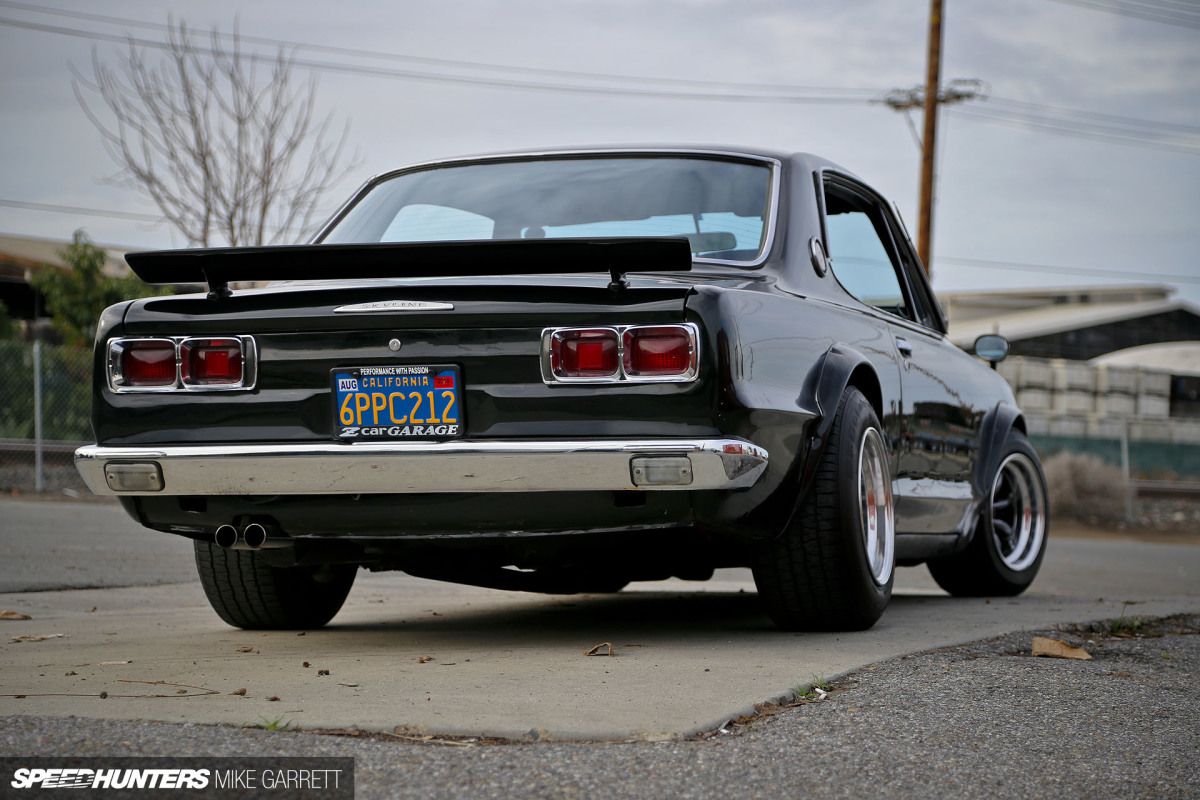 You certainly don't see too many black Hakosuka Skylines out there; it has to be said that the hardtop body style looks great in the dark color with the subtle fenders and tires gently protruding from the wheel wells.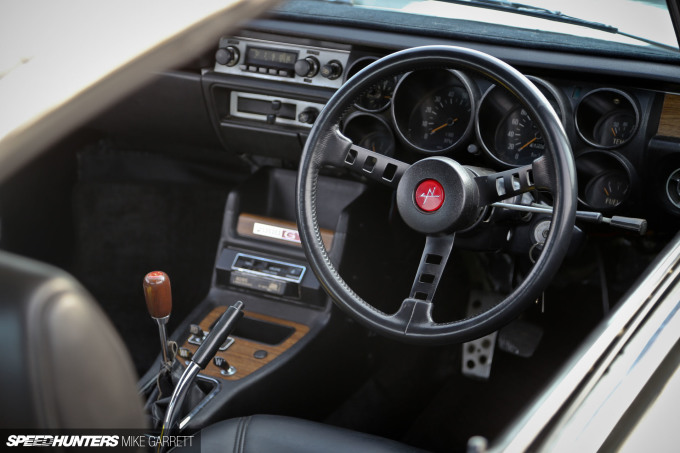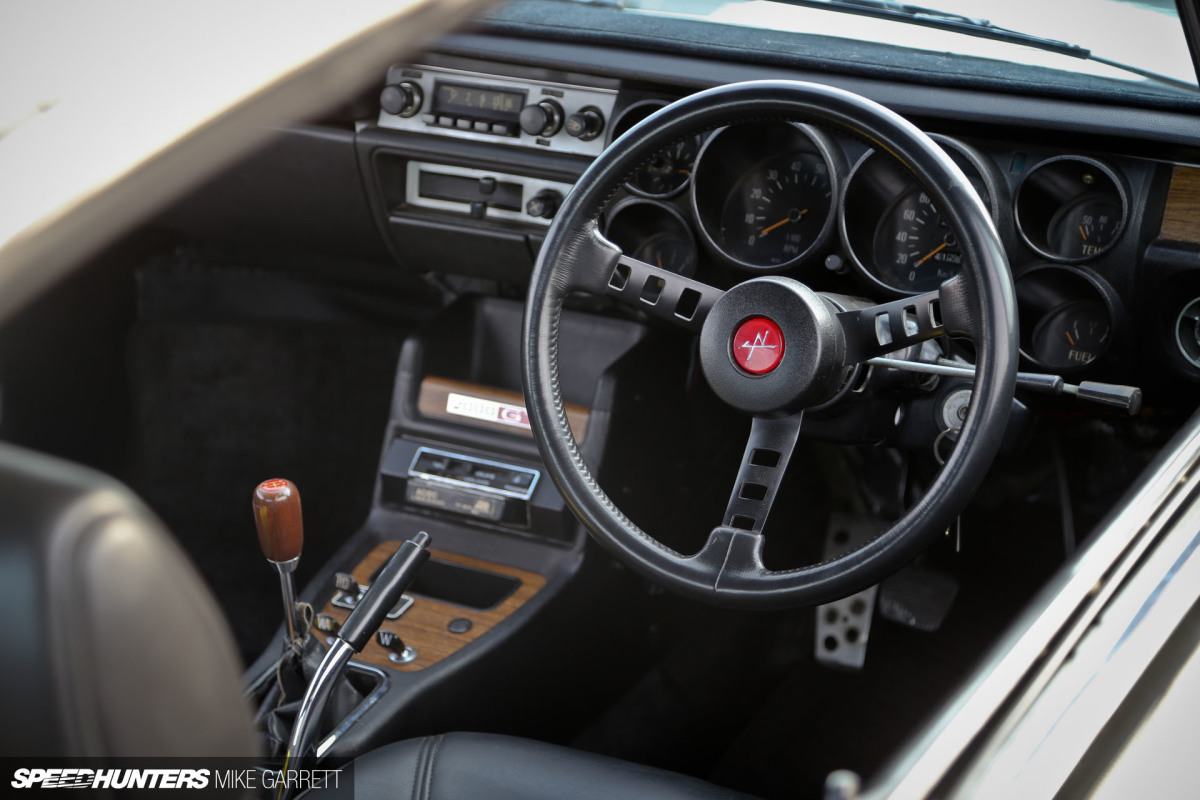 Inside, the interior has also been refreshed but not fully restored. Most of the stuff was on the car when it arrived, including the lovely period steering wheel and set of old Clarion shelf speakers in the rear which Gary has restored to keep the vintage look.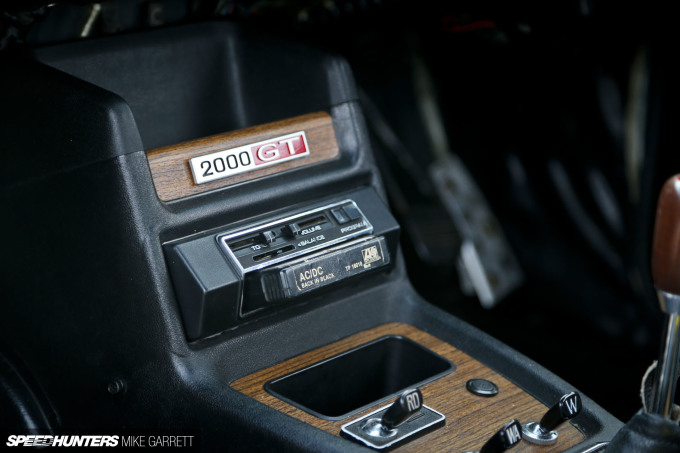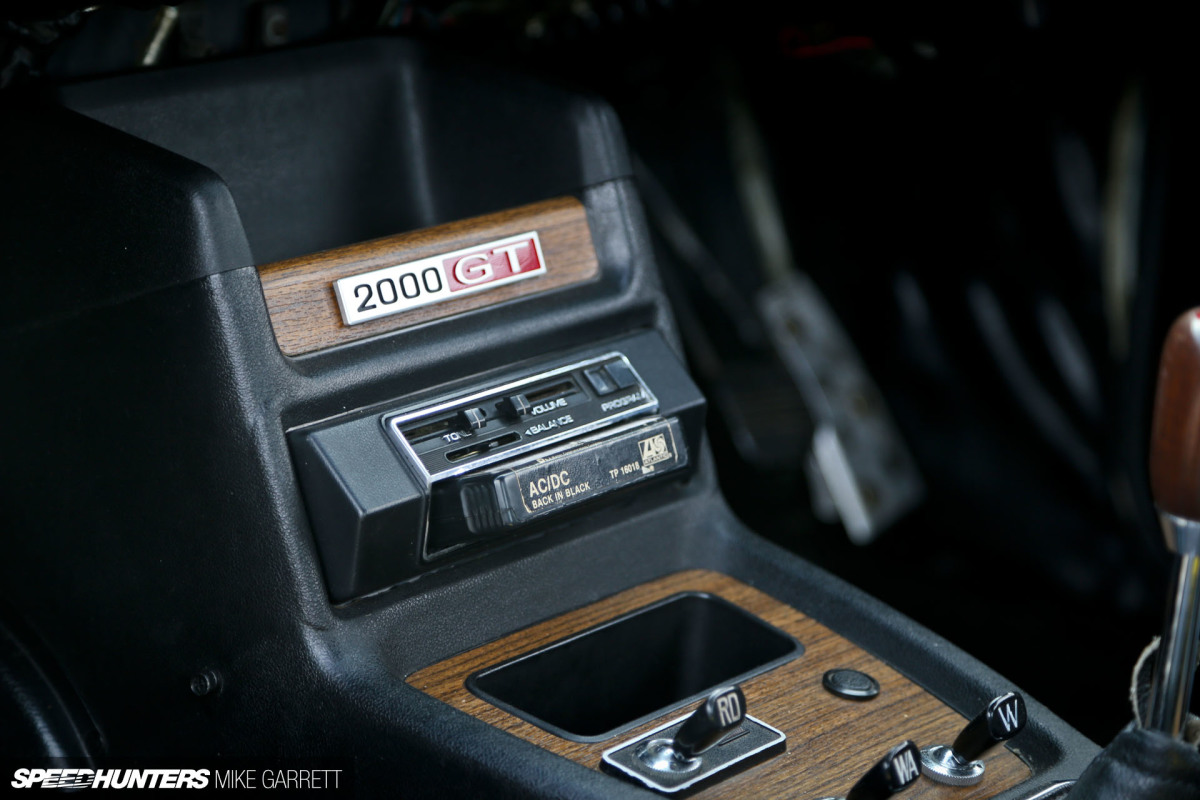 And don't forget the overtly '70s eight-track stereo system either, and the very fitting rock album that stays loaded at all times.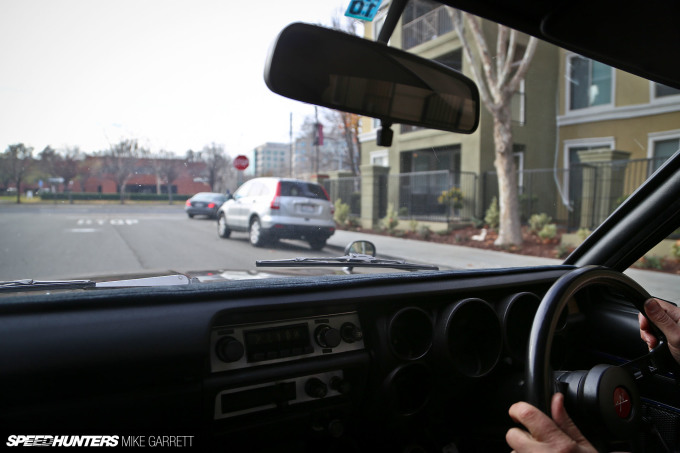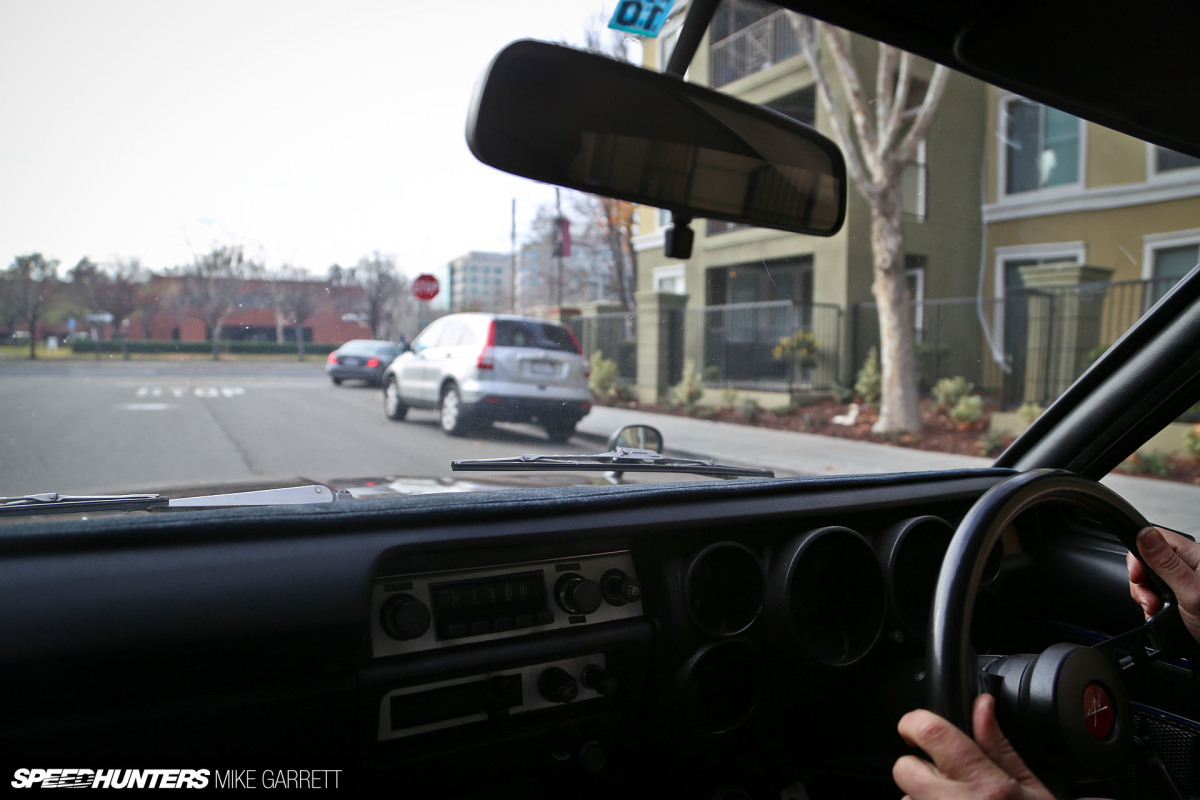 Having a chance to go for a ride in the car, I can say that it's absolutely great – and also a little sketchy. Sketchy in that special way that only old cars with a lot of power can be. It's basically a Japanese hot rod.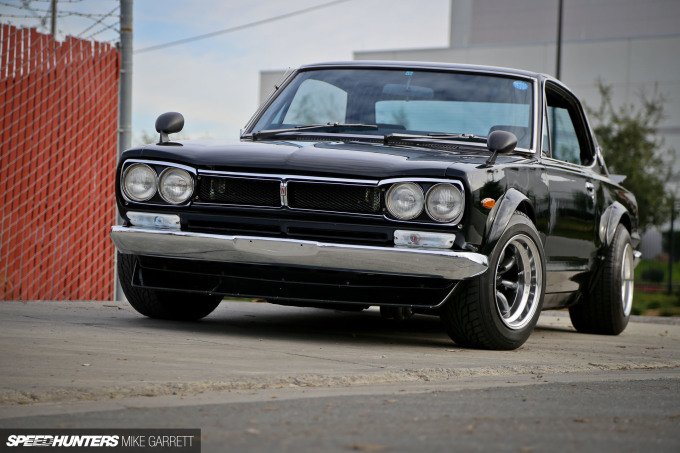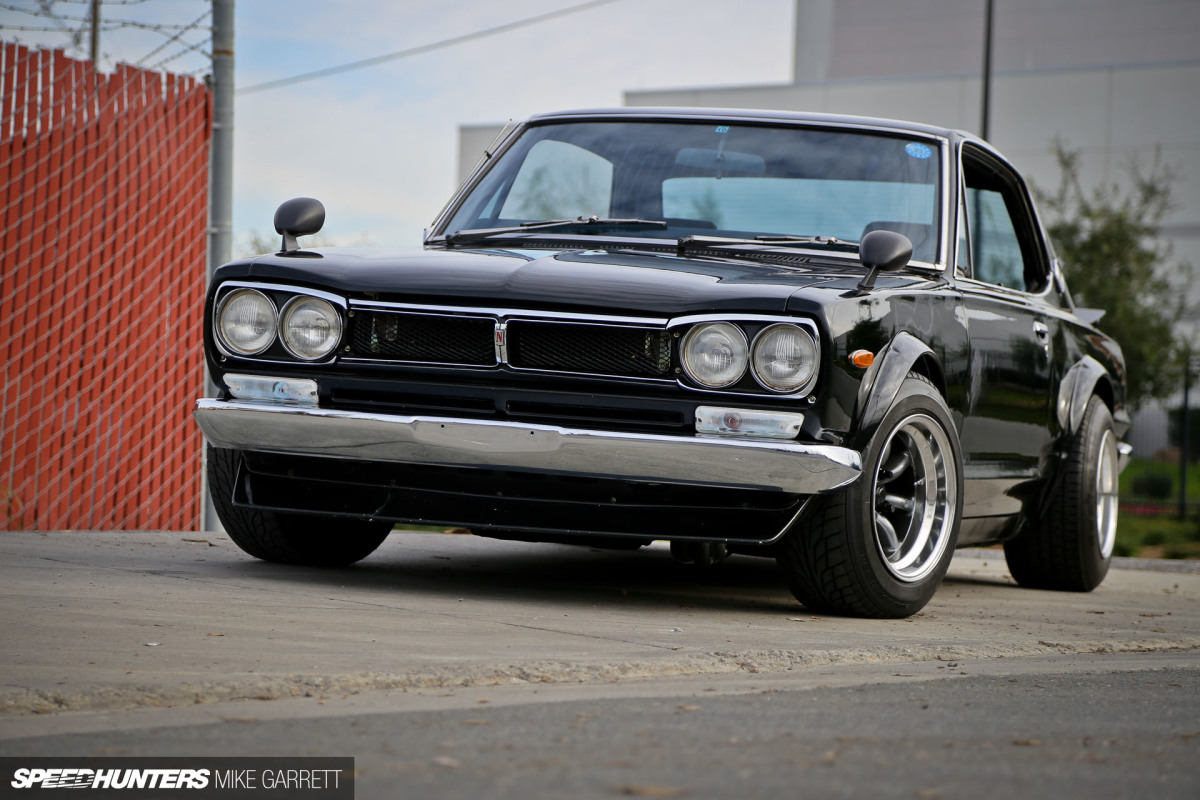 Sure, you could very easily set up the car with giant grippy tires and huge brakes like Gary's S30 has, but there's also something fun about feeling the little 14-inch tires break loose as the L-motor hits its power band, and then getting hard on the 1970s-era brake setup to bring it to a stop – all while the guy in the Prius next to you looks over in total confusion.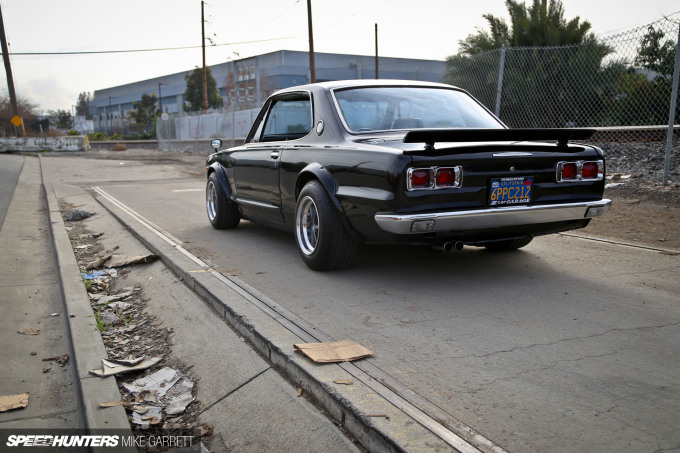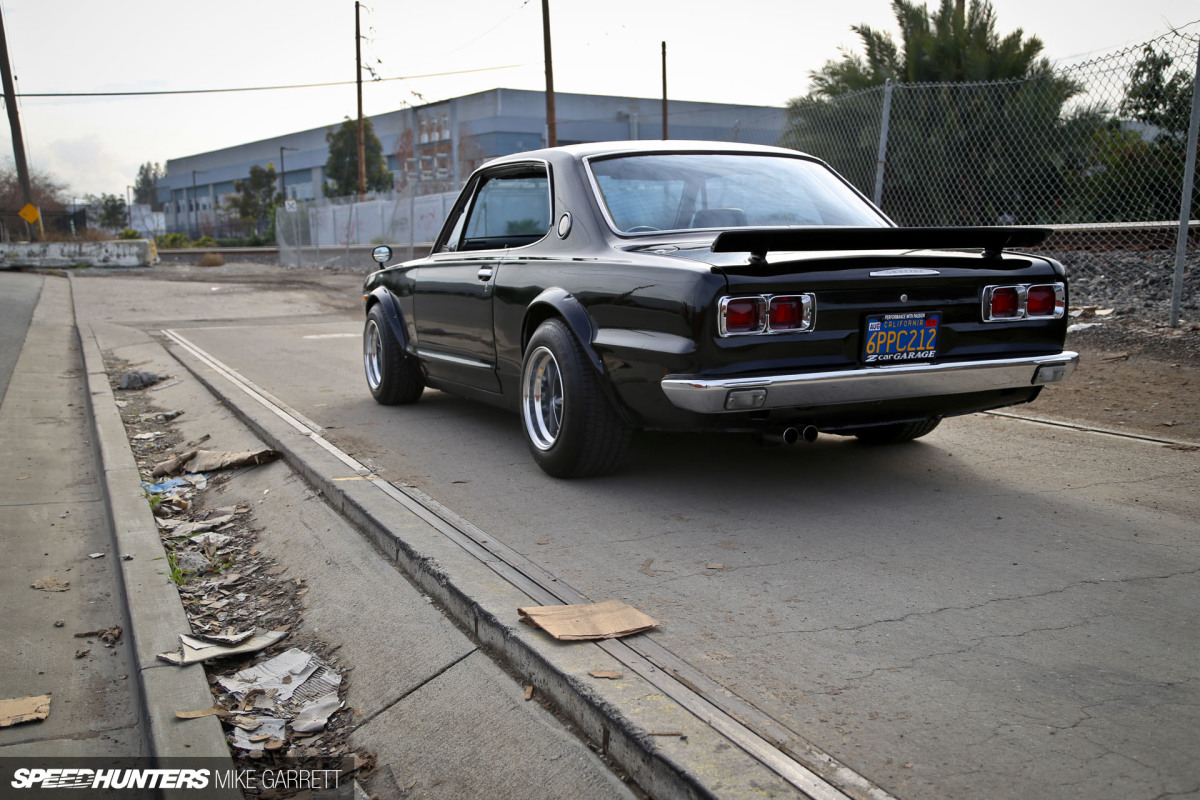 Is this a perfect fully-restored Hakosuka, or a build that completely transforms a vintage Skyline into something more like a modern car? Nope. And it's not supposed to be on either count.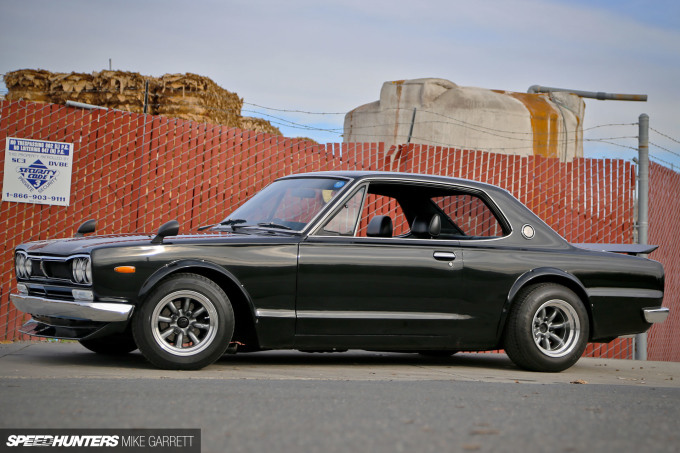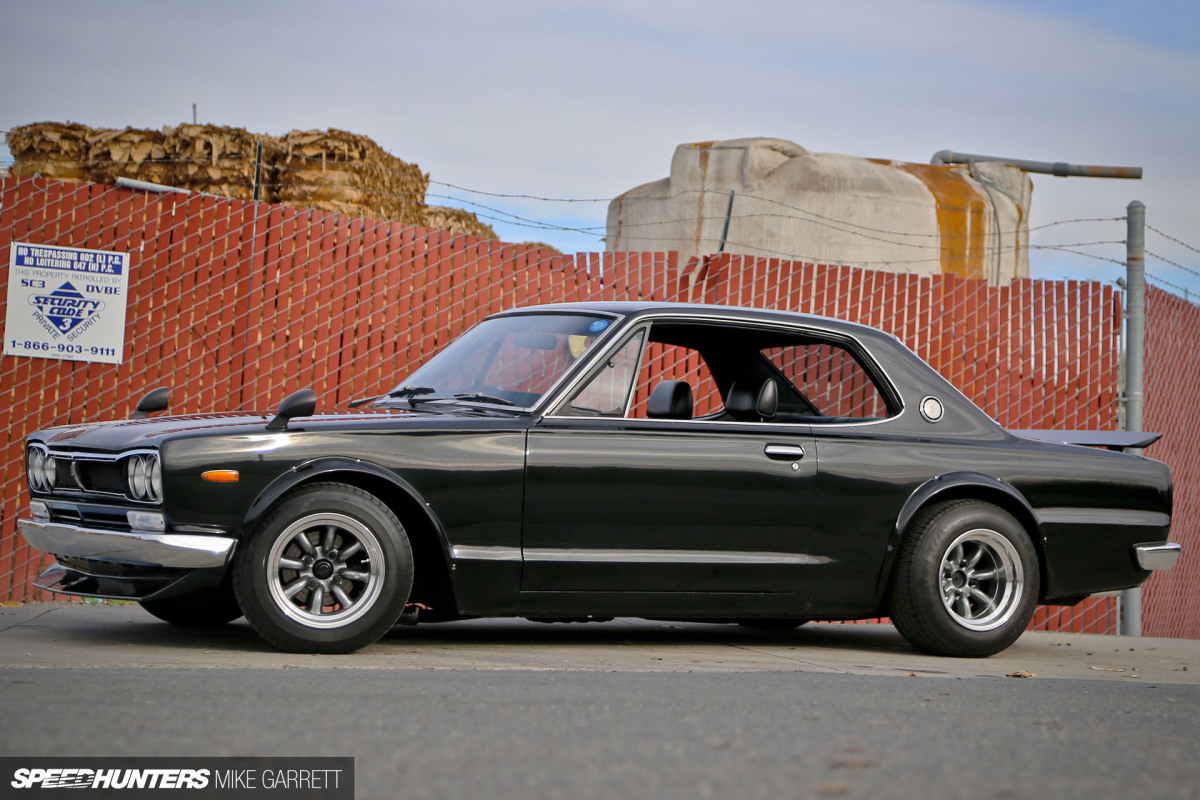 This a driver through and through, and a vehicle that reminds us just how fun, visceral – and yes, even sketchy – an old car can be.
Long live the old school.
Mike Garrett
Instagram: japanifornia_media
mike@speedhunters.com
Gary Stephenson's 1971 Nissan Skyline 2000 GT
Numbers
Max Power: 272rwhp, Max Torque: 249lb-ft
Engine
Rebello-built 3.1-liter Nissan L-series inline-six, triple Solex 44mm side-draft carberators, Fujitsubo FGK exhaust manifold, Fujitsubo FGK exhaust system, MSD coil
Driveline
Nissan 5-speed manual gearbox, R180 LSD rear differential
Suspension & Brakes
Ground Control adjustable coilovers, front strut tower bar, Nissan MK63 front brake upgrade
Wheels & Tires
Refinished 14-inch RS Watanabe wheels, Bridgestone/BFGoodrich tires
Exterior
Stock body, re-chromed grille, bumpers & trim, aftermarket front chin spoiler, rear spoiler, retrofitted H4 headlights
Interior
Reupholstered stock seats, Prince horn button, vintage Clarion shelf speakers, eight-track tape deck
More Skyline related stories on Speedhunters
Cutting Room Floor