Let's Get Weird
Last month, we decided to spend three solid weeks living right next to Ebisu Circuit in Fukushima, Japan. The idea was to do as much driving as possible, upskilling behind the wheel in one short sharp mega-session of burnt rubber and opposite lock. As it turns out though, between general life, running Speedhunters and having to actually pay for tyres, fuel and spare parts, it's a lot harder to spend three solid weeks drifting than you'd think. So, in one of those downtime moments when the emails weren't coming through and the new tyres were still sitting in a courier truck somewhere between Tokyo and Ebisu, I had a hankering to shoot a car for a quick spotlight. Something fun, something interesting, something maybe even a little weird – and I knew just the man to see; Andy Gray, who along with wife Emily, run Power Vehicles, based right at Ebisu Circuit.
Anyone that has been to Ebisu or has seen shots of the Power Vehicles workshop will know that the surrounding area is a carpark of interesting machines; from ultra-clean JZXs, to ex-top speed Wangan racers, a caged drift-ready Nissan Crew and plenty more. Popping my head through the office door, I asked for the keys to something 'rad' on the yard. "Anything in particular?" Andy asked. "Surprise me," I replied.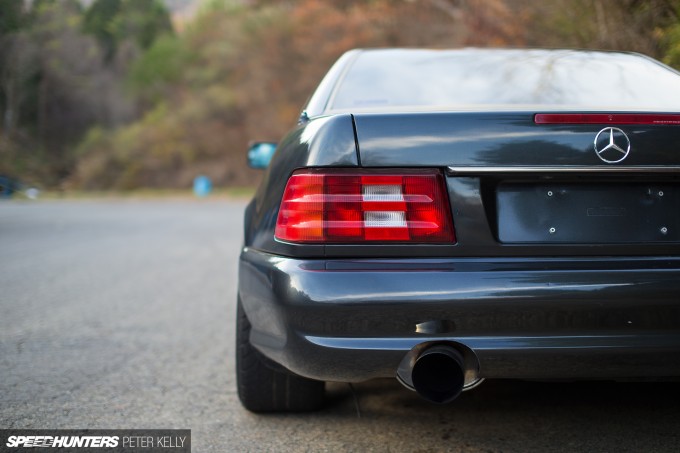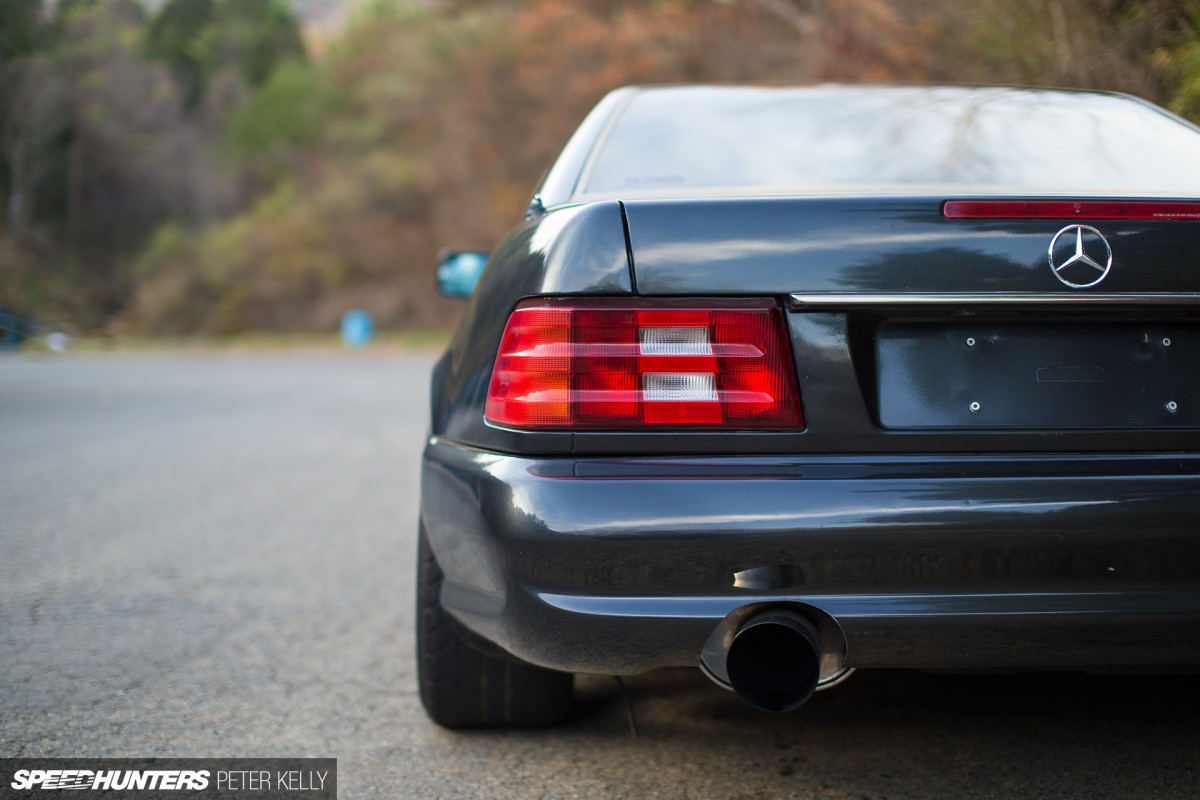 A few seconds later, I was walking out the door with a set of Mercedes keys in my hand. Not really what I had expected, but interesting nonetheless.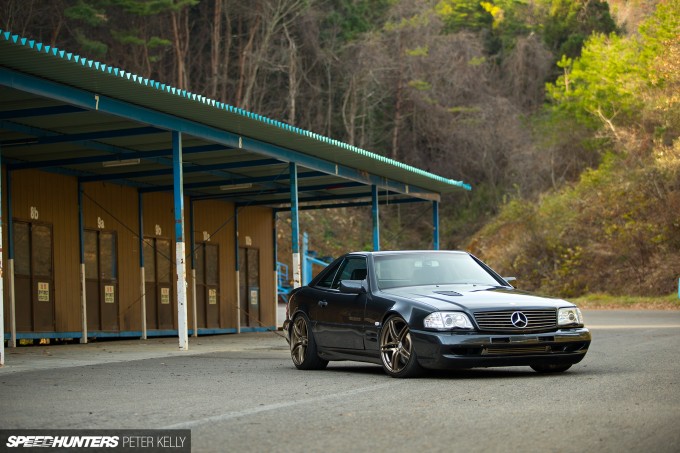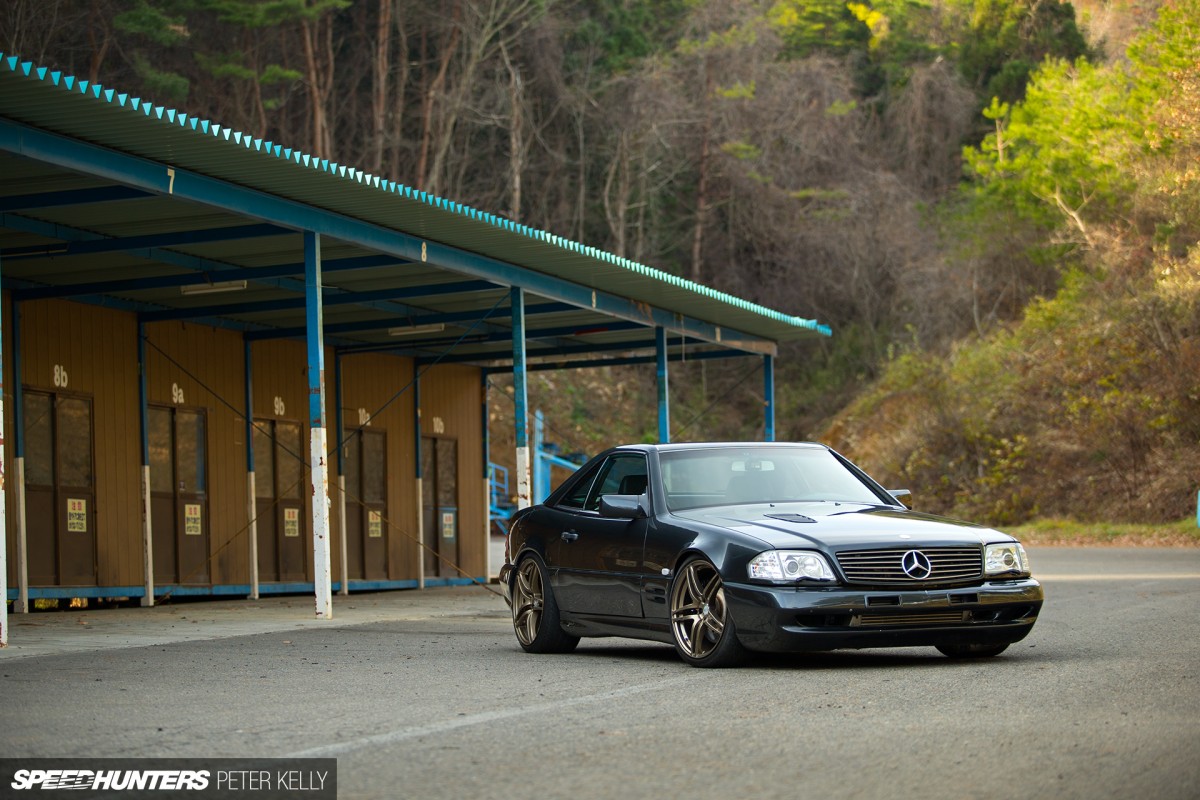 The car in question was a R129 Mercedes-Benz 500SL, a sharp, angular mid-'90s convertible luxury sports car.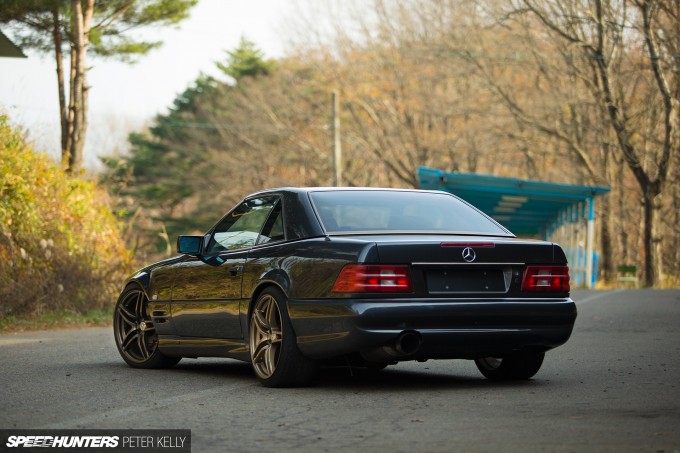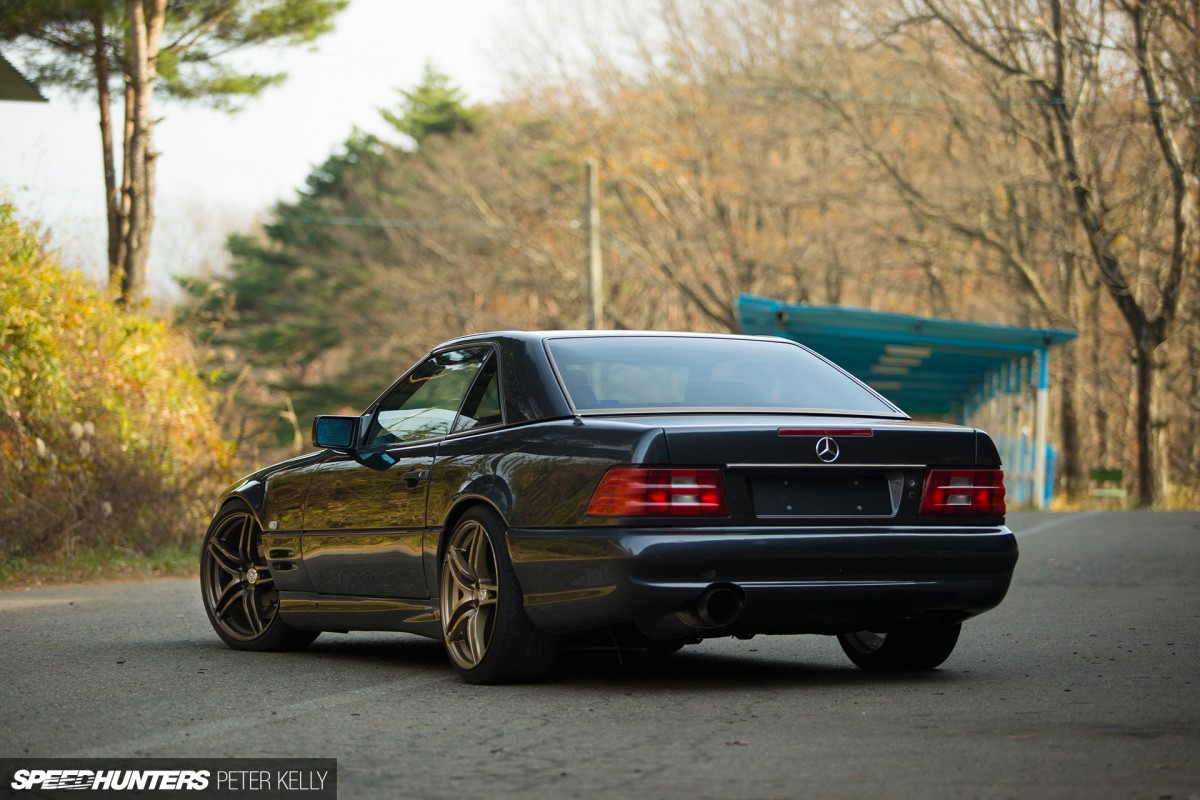 I've always liked how just 'German' these cars look; cold, severe and yet somehow still beautiful. Especially the hardtop version, like this example.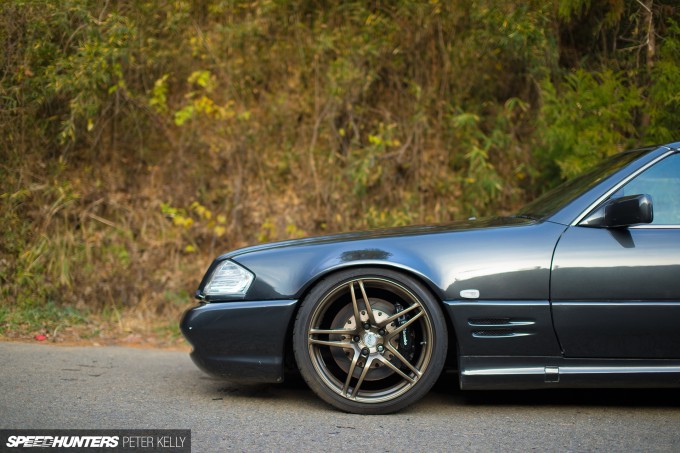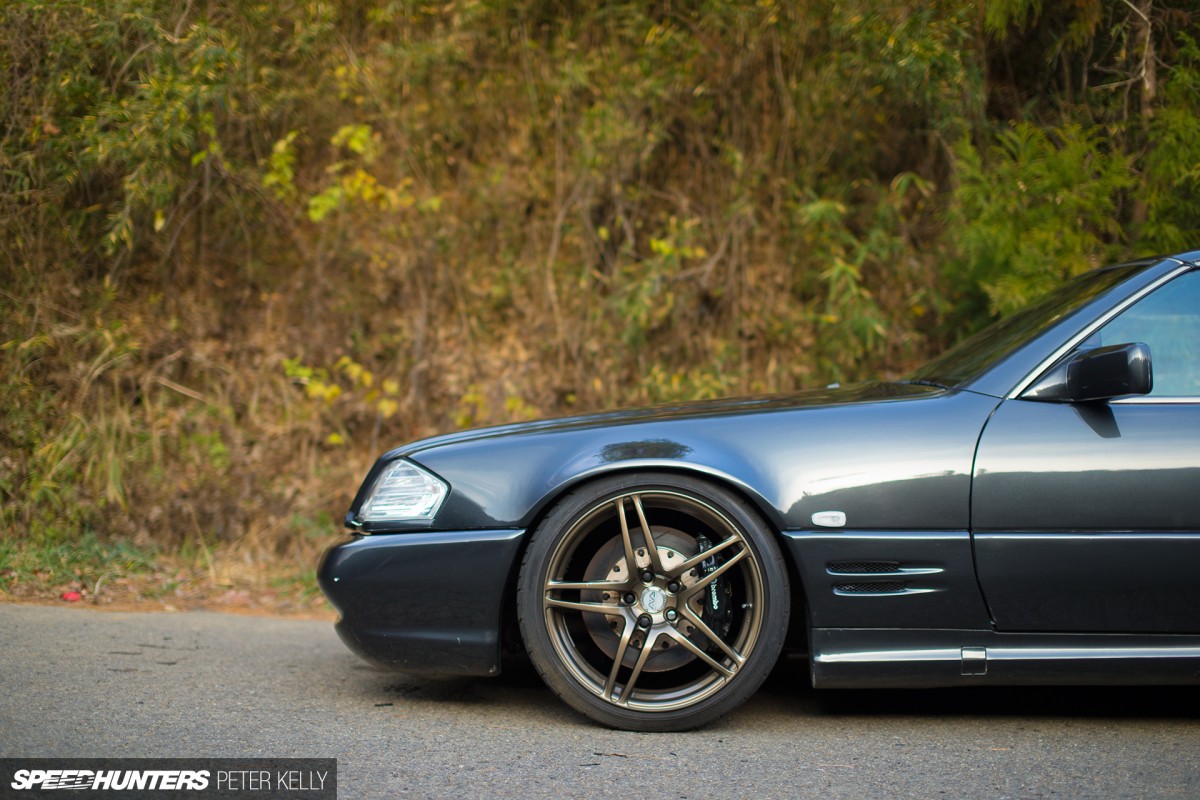 This particular 500SL has a decidedly Japanese vibe on all fronts. Firstly its exterior; simple, but effective. The Merc sits low on Bilstein suspension, allowing the subtly blistered arches to sit nicely over the top of 19-inch Yokohama AVS Model 5s…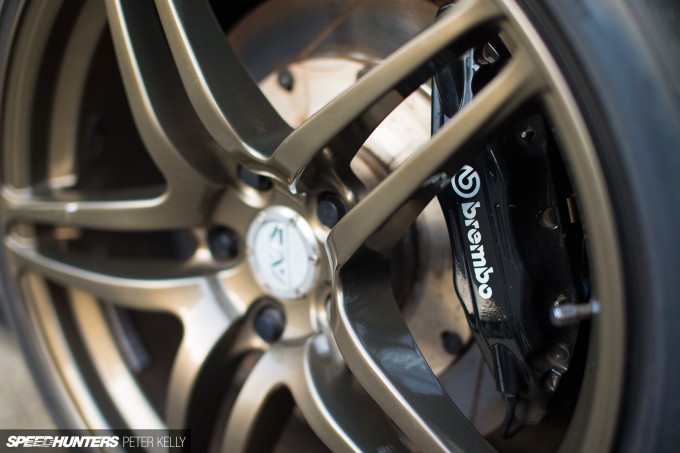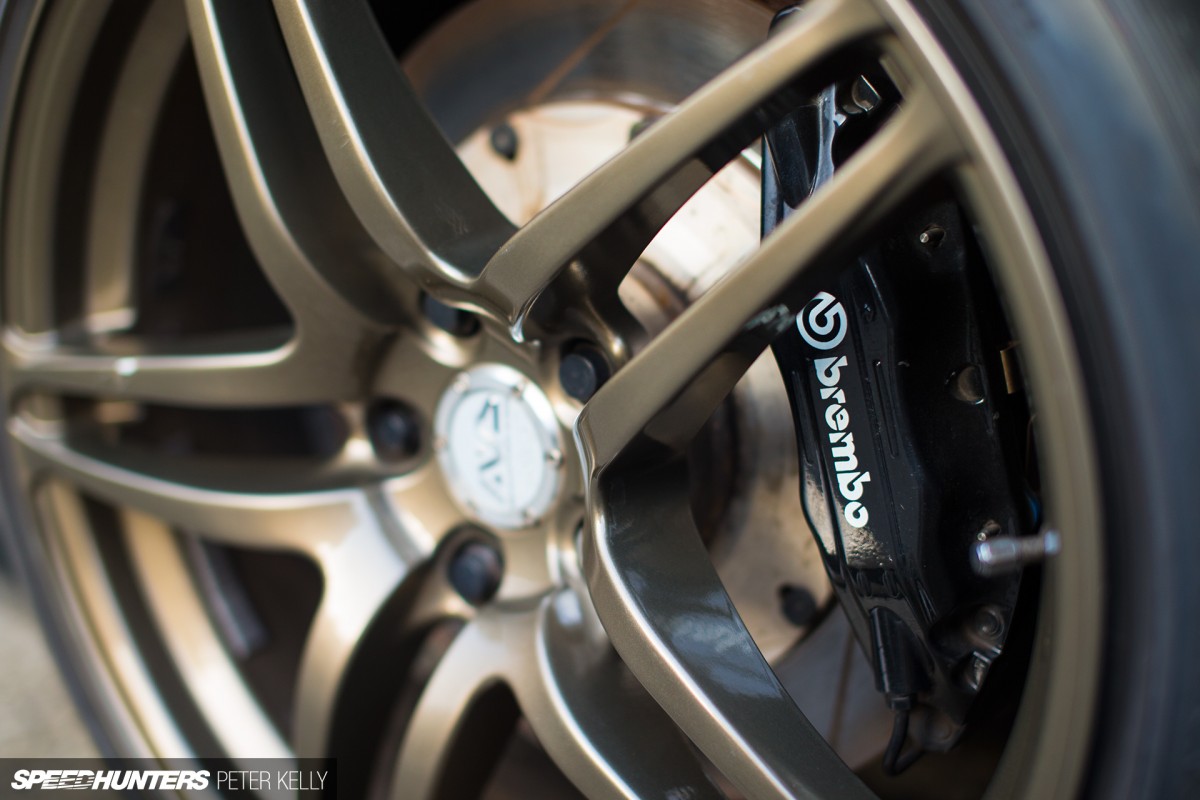 Which, on a very related note, do absolutely nothing to hide the big Brembo Ferrari F50 brakes.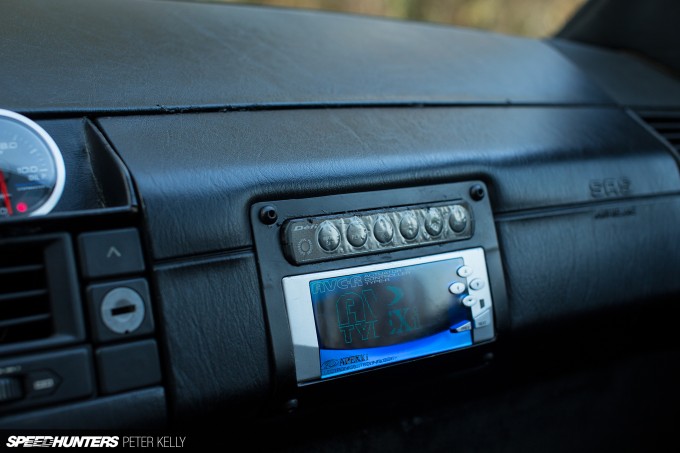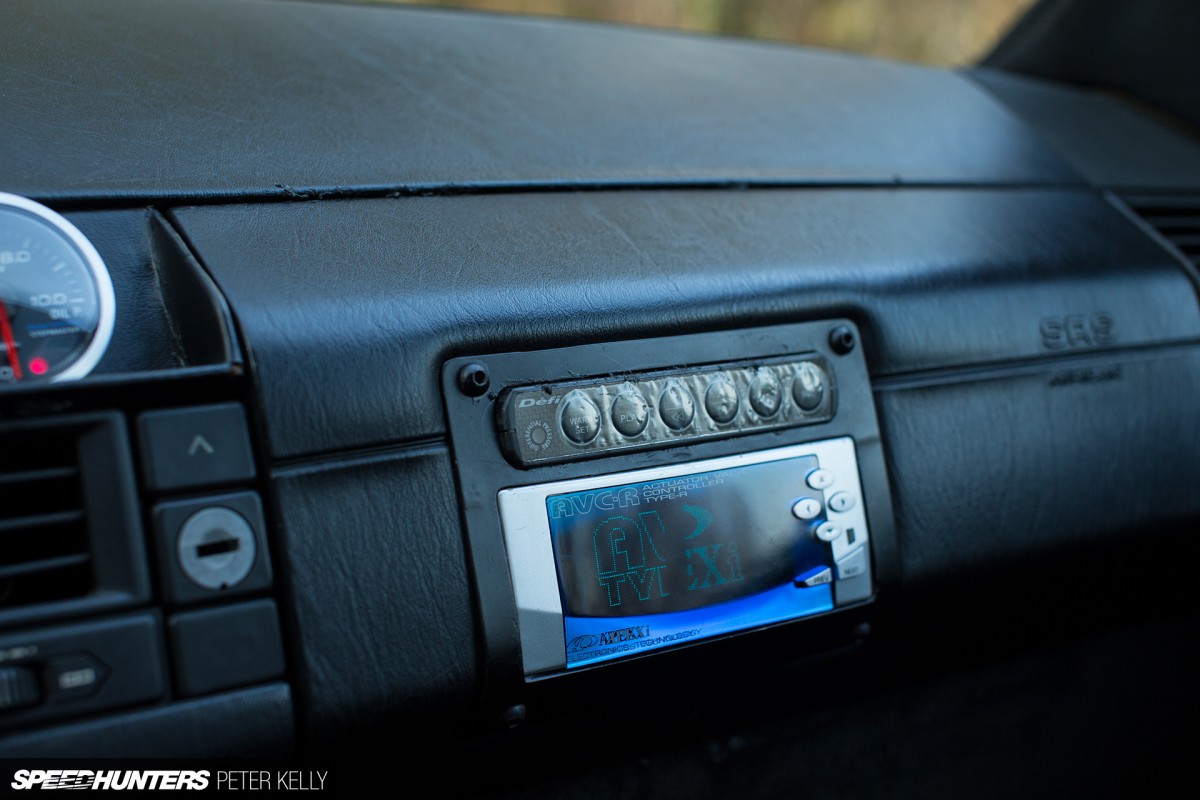 The interior has plenty of JDM flavour too, with all the classic goodies you could ever want. Every Defi gauge imaginable is accounted for, and there's no shortage of A'PEXi gadgetry assisting an A'PEXi Power FC engine management system.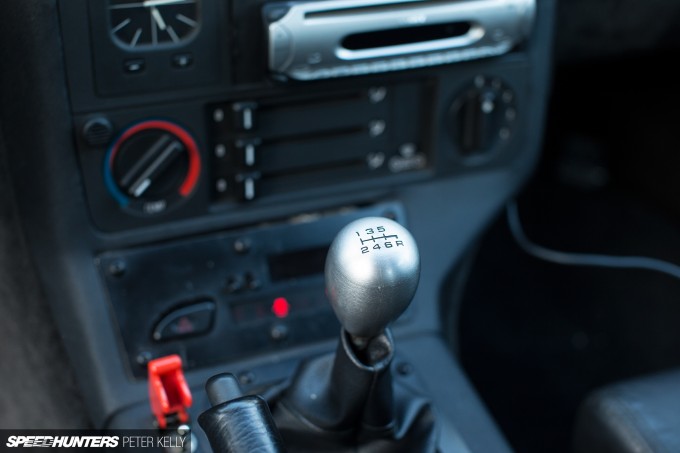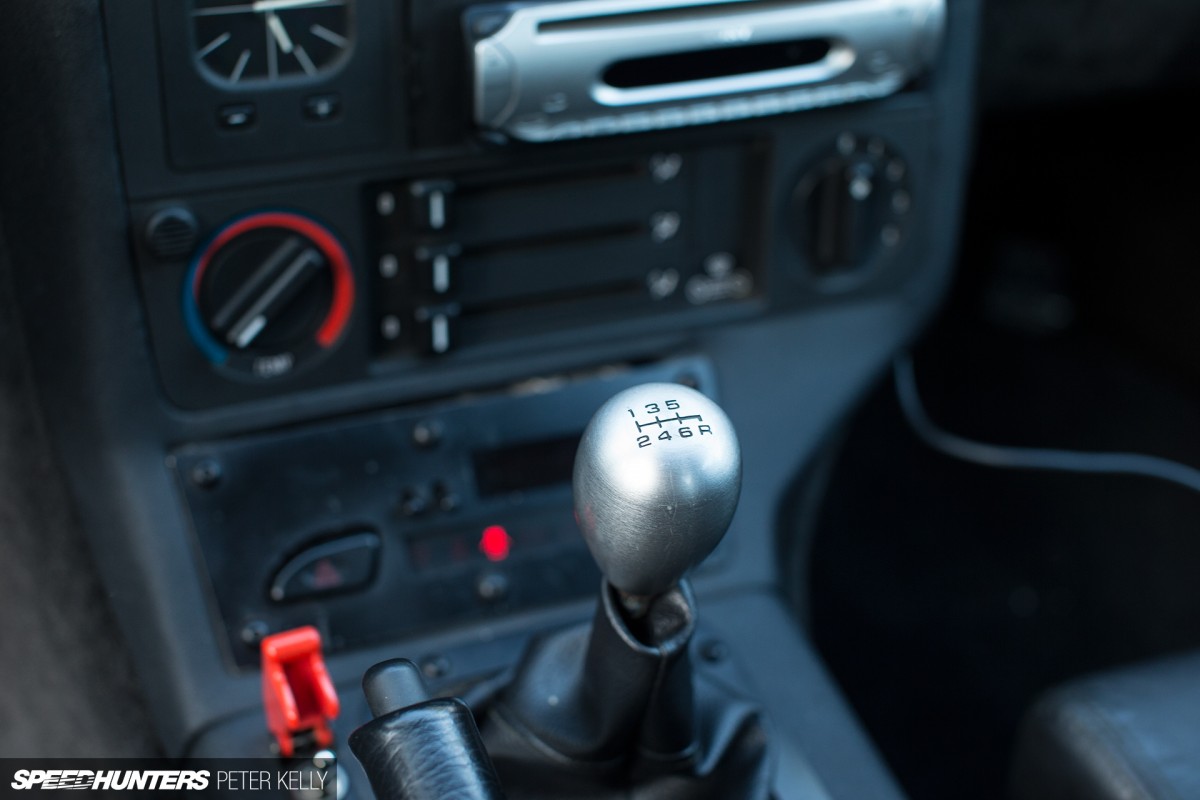 If the Power FC didn't make you suspicious, then the telltale 6-speed gear knob, which looks to have been lifted from a Honda, is a dead giveaway that something isn't quite right.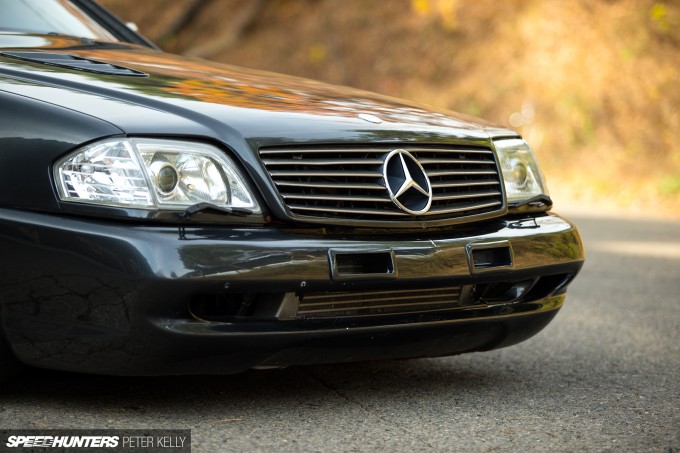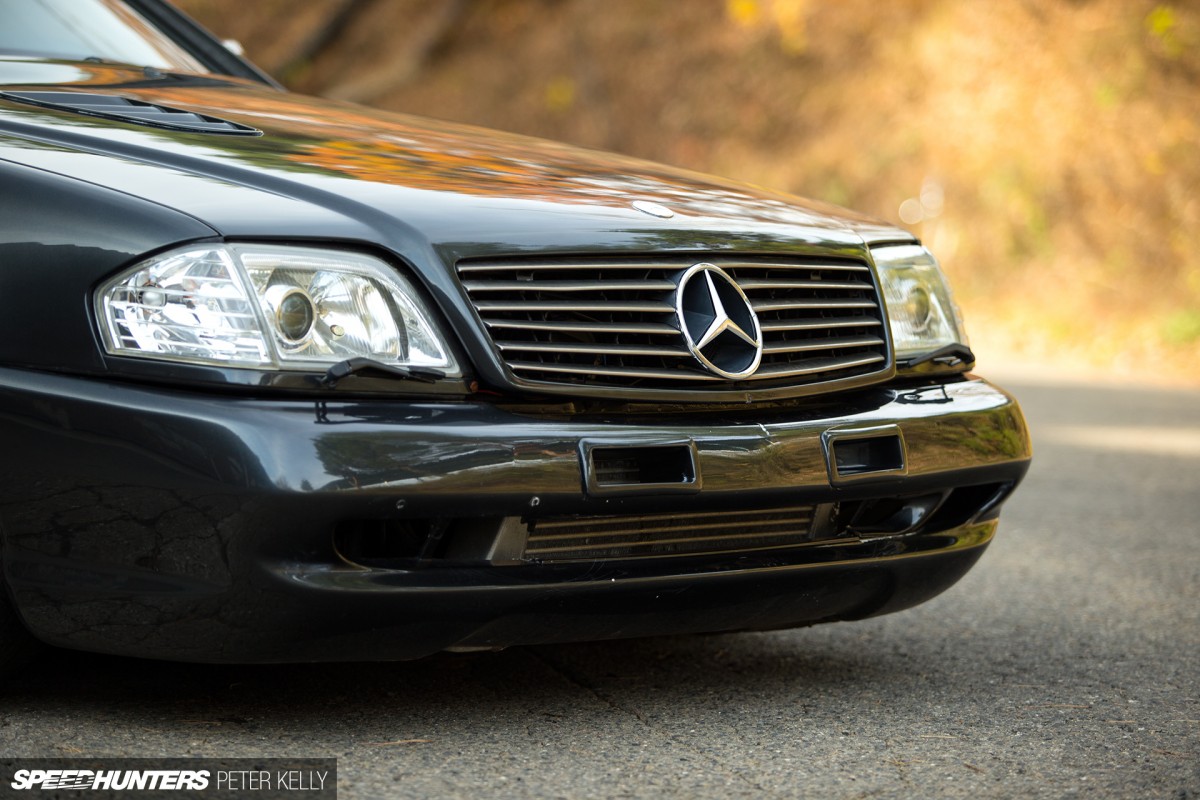 Or maybe it's the sneaky intercooler you've already spotted hiding behind the AMG-vented front bumper…
…No Sh*t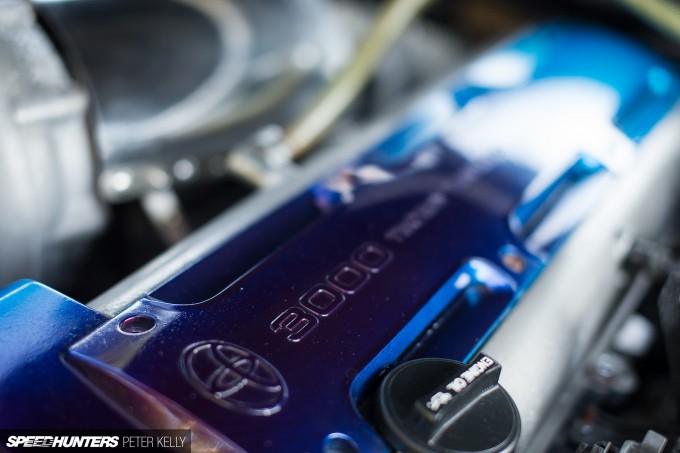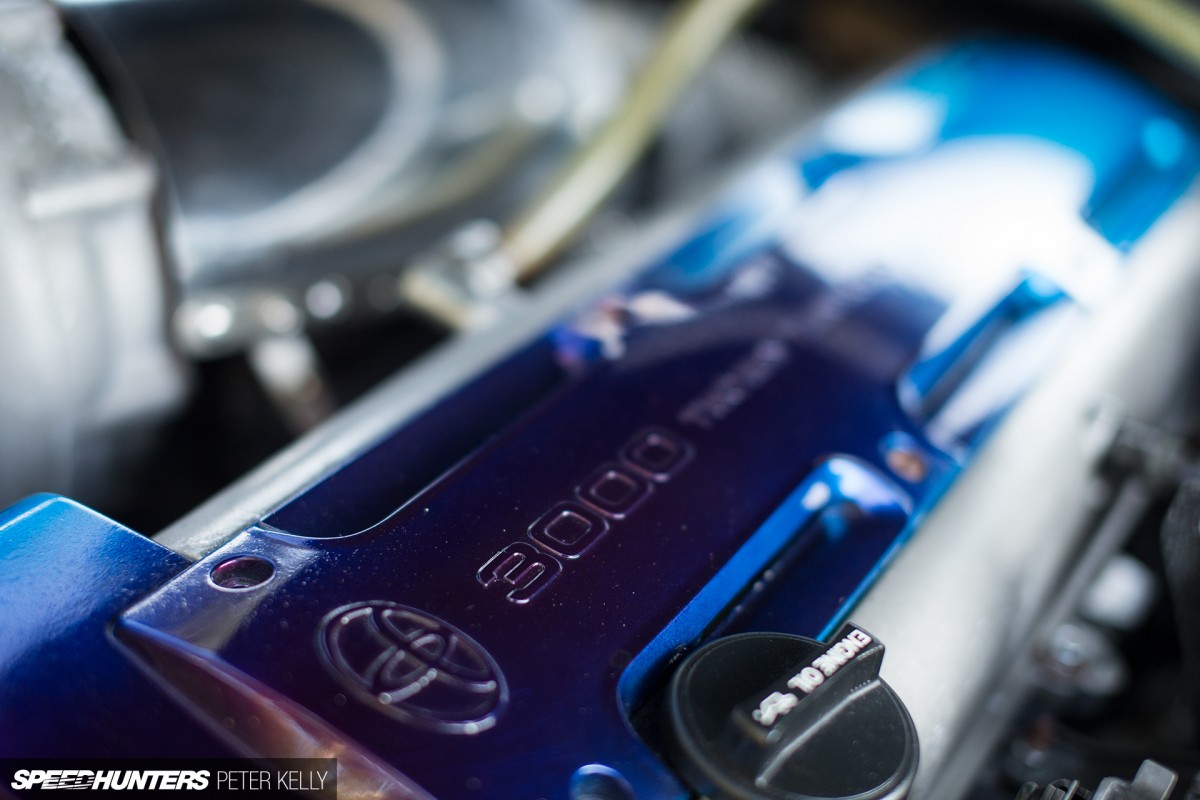 Yep, the factory 5.0-litre Mercedes-Benz V8 is long gone, now replaced by Toyota's finest piece of '90s engineering – the 3.0-litre straight six 2JZ-GTE. Backing it up is a matching Getrag 6-speed gearbox.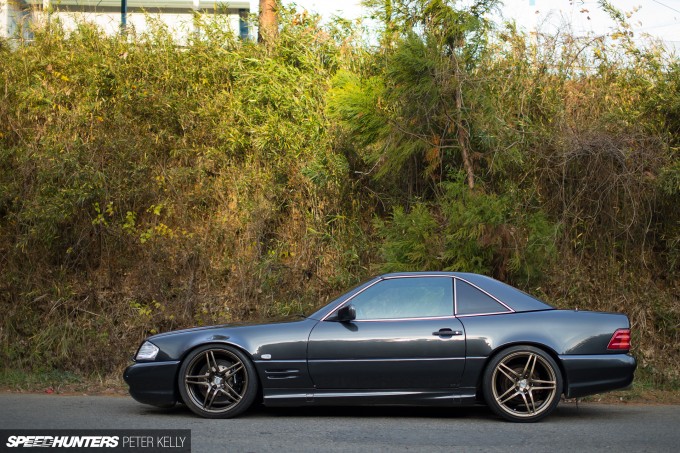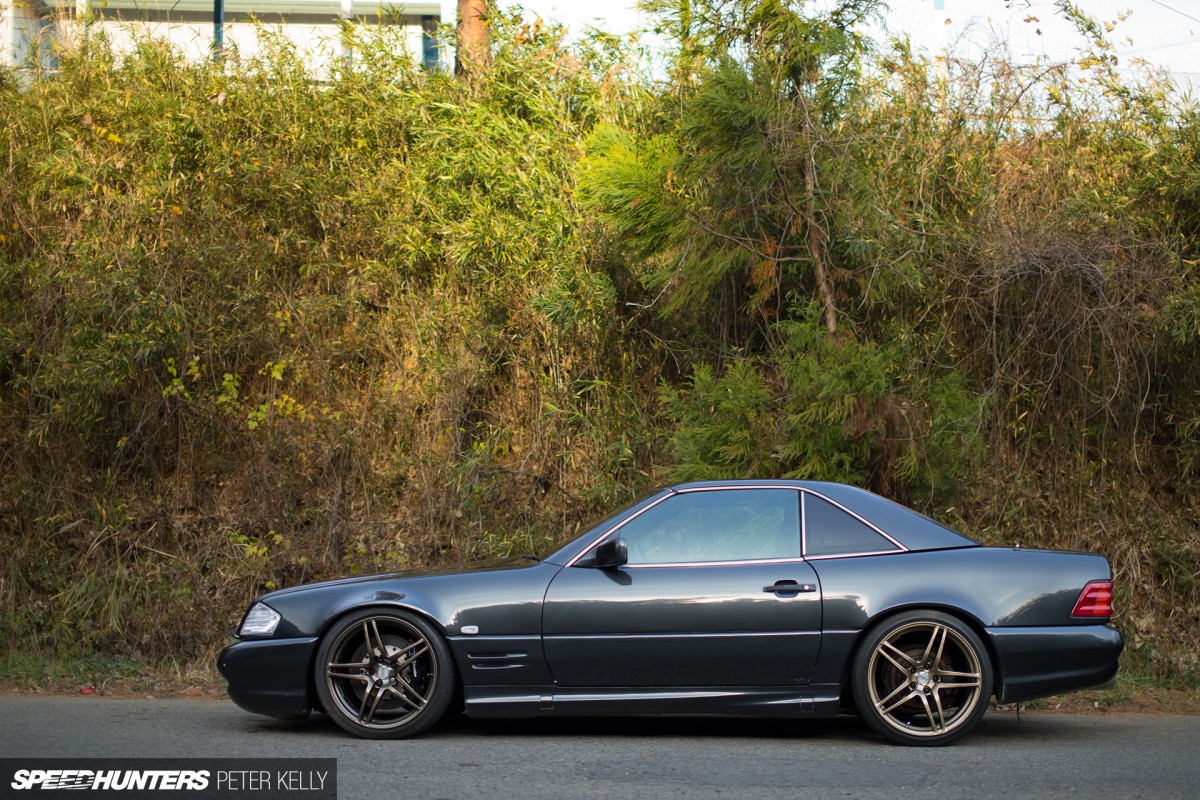 Suddenly, the car takes on a whole new form, and seems less like a lazy comfortable long distance tourer, and more like an angry machine with a purpose.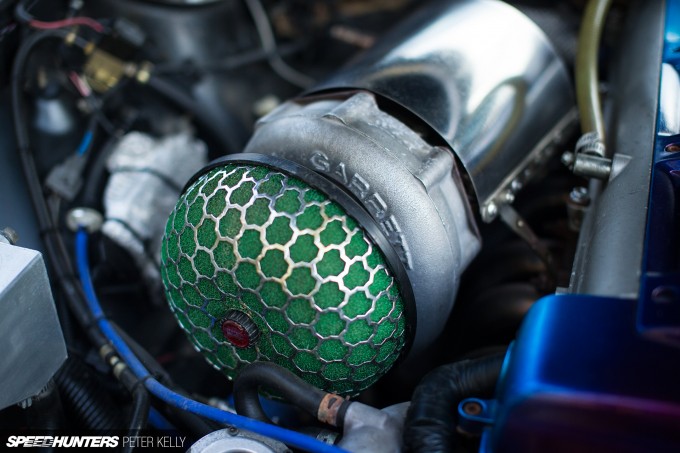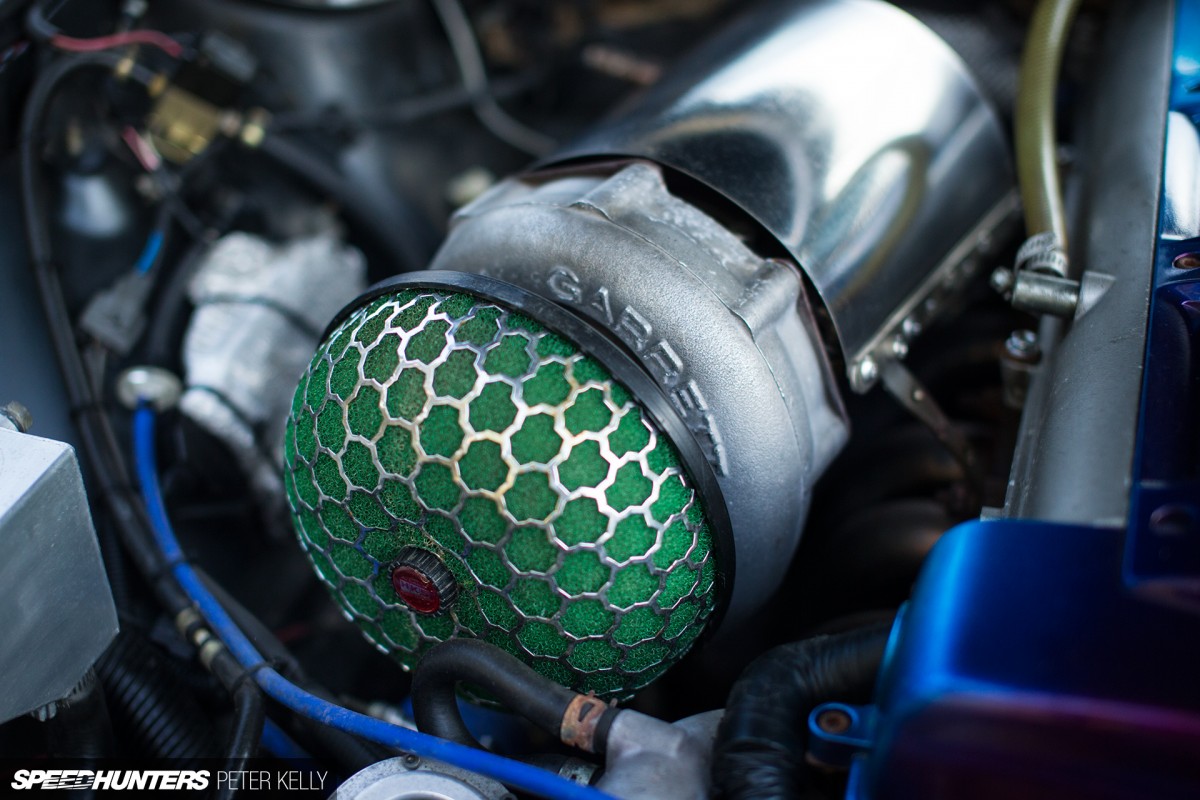 This of course might have something to do with the dirty great HKS T45S/Garrett T51 turbocharger bolted up to an HKS manifold and kept company by a pair of HKS external wastegates.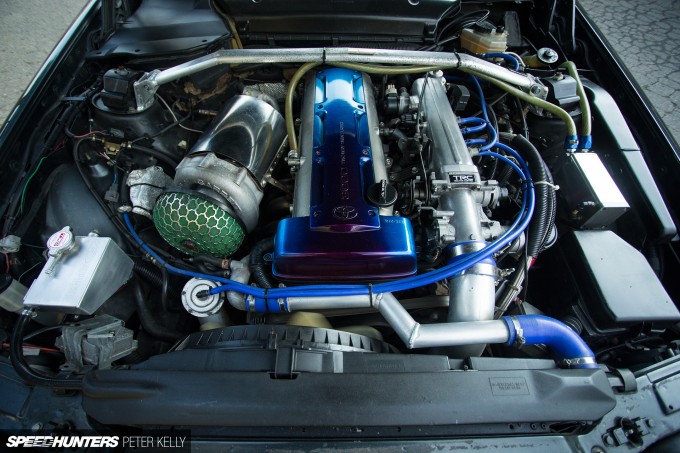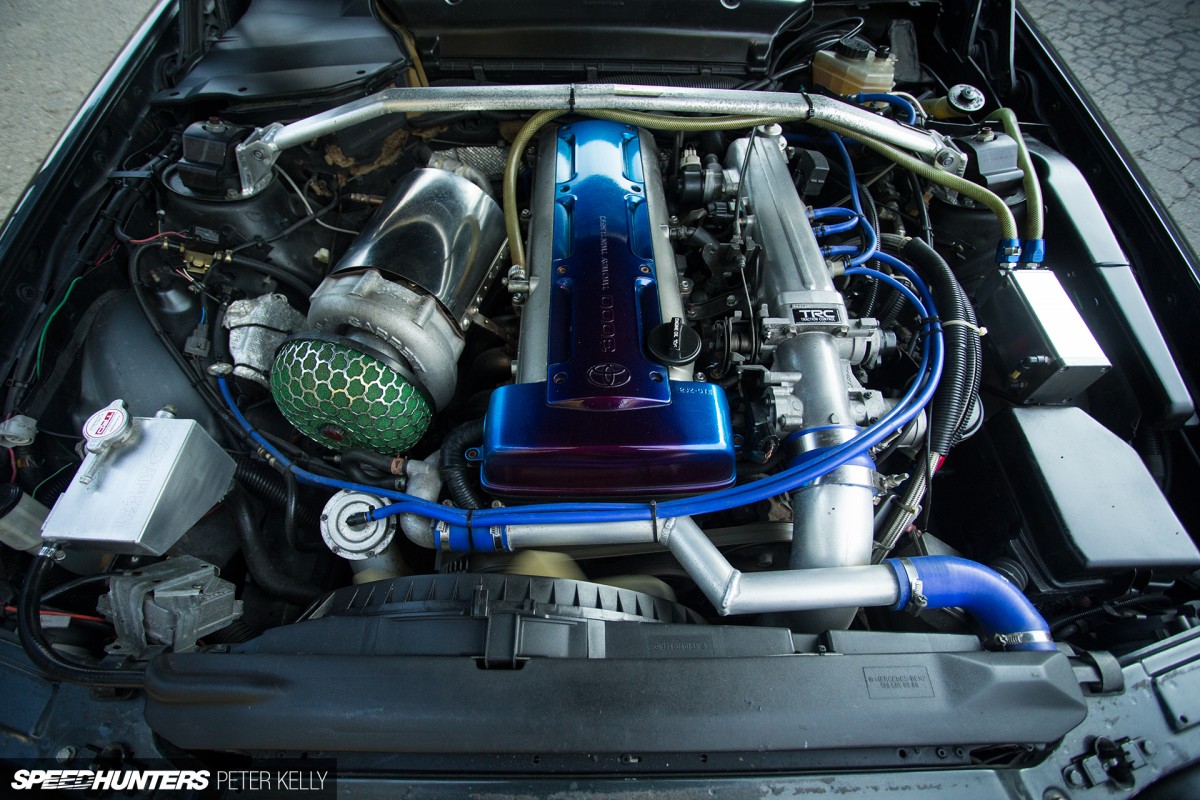 The 2JZ retains its stock bottom end, but with a set of 264-degree cams and plenty of fuel from a simple Bosch pump/Sard injector setup, the straight-six pushes over 600 horsepower out to the stock Mercedes limited slip diff via an OS Giken twin-plate clutch and custom driveshaft.
Because I was simply handed the keys by Andy and told to go take it wherever I wanted, I had the advantage of experiencing this car first-hand from the leather Ferrari F355 driver's seat. As soon as I fired the raspy 2JZ up via the button-start ignition, I was grinning. This thing sounds angry.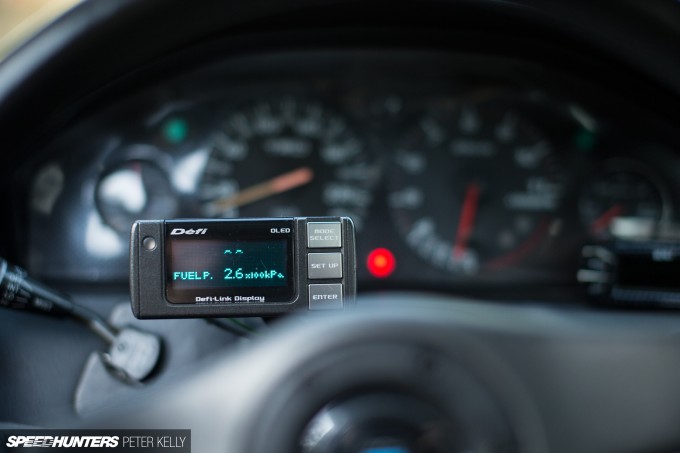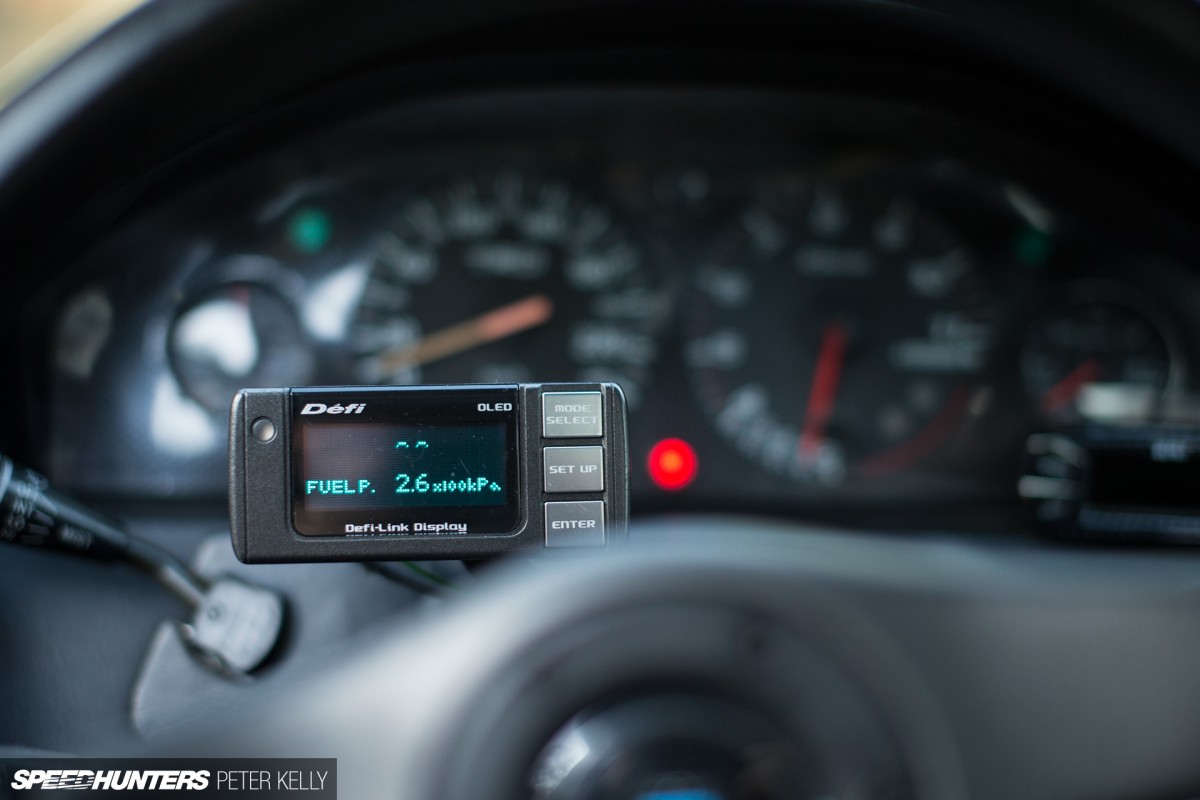 Although the Benz doesn't have current Japanese street registration, it doesn't really matter – we're at Ebisu after all, and at this time of year I had full reign of the place during a deserted weekday. While I certainly wasn't going to be thrashing someone else's car, especially one that's currently for sale, I couldn't resist getting it on boost on Minami circuit for a few brief squirts.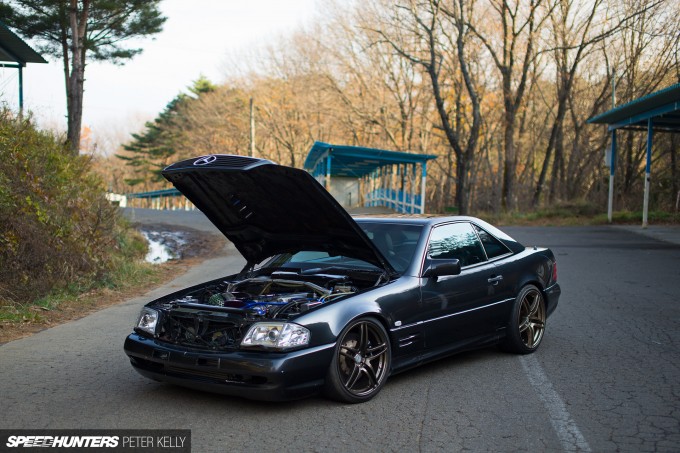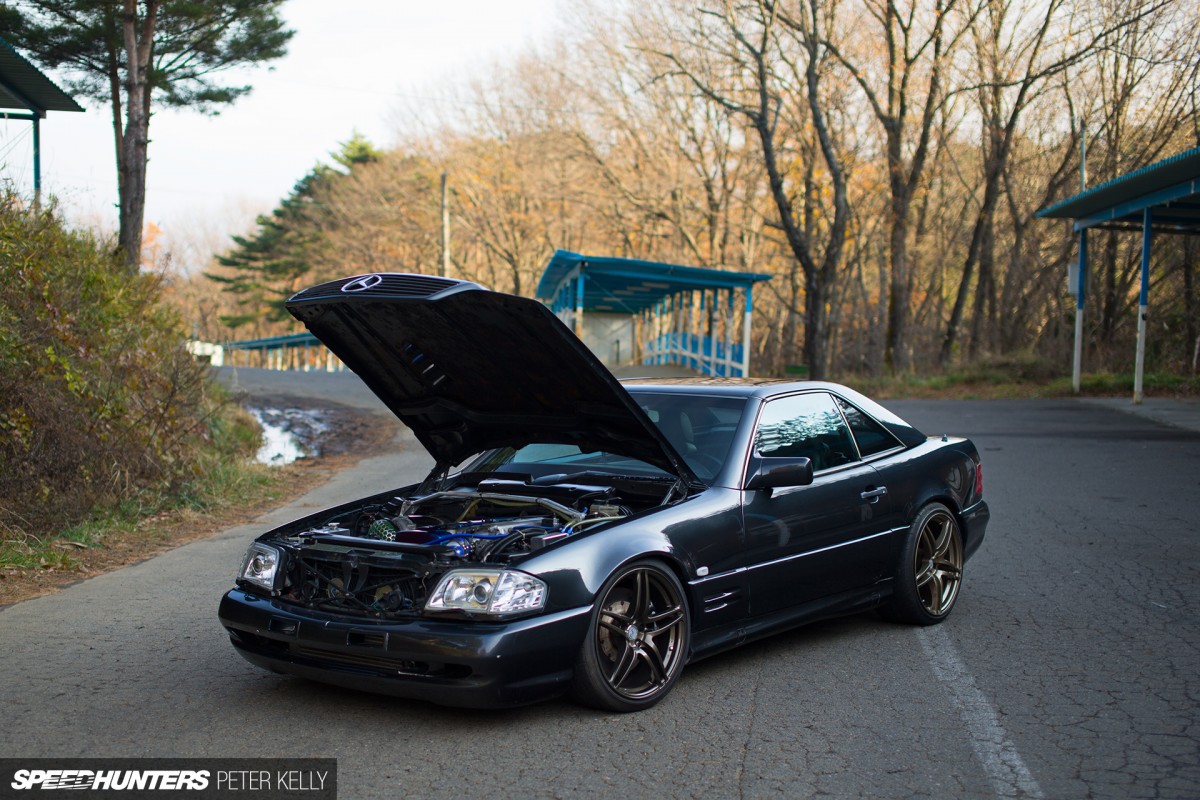 I can confirm that this car is absolutely vicious. Once it hits boost, the 500SL is a lairy monster, a heady mix of turbo spool, exhaust bark and brutal acceleration.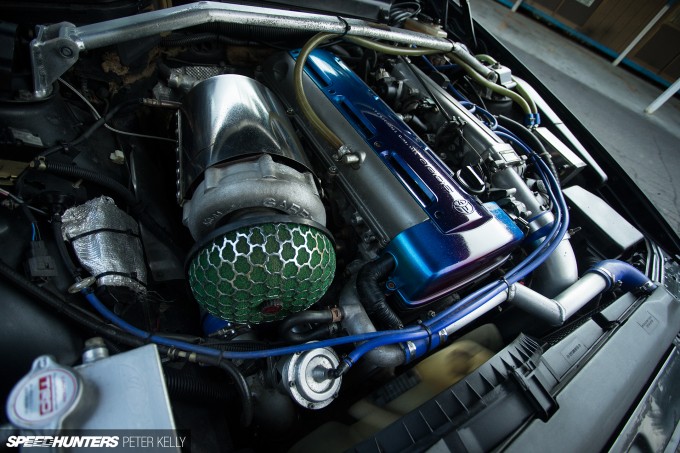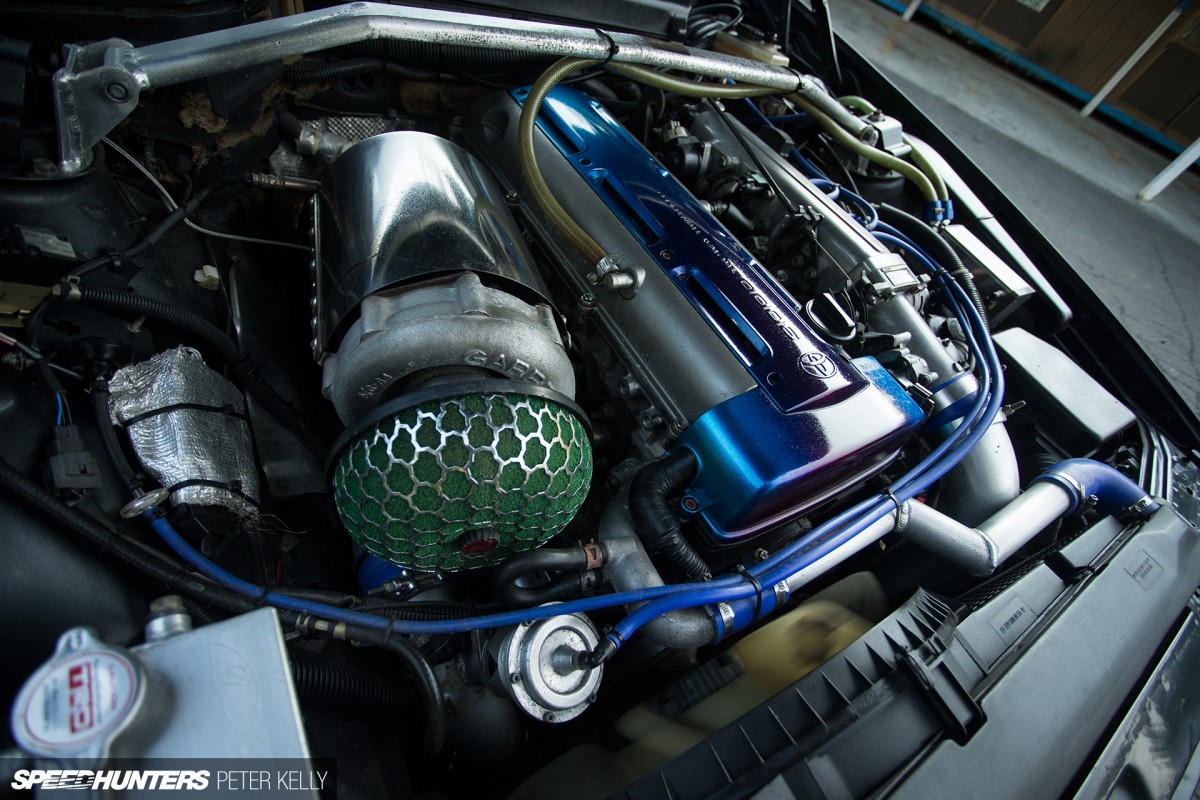 If I'm honest, I found the setup to be a little on the laggy side, and while that is of course to be expected with such a large and somewhat outdated turbo, if I were to buy this car, it'd be on my list of things to eventually update.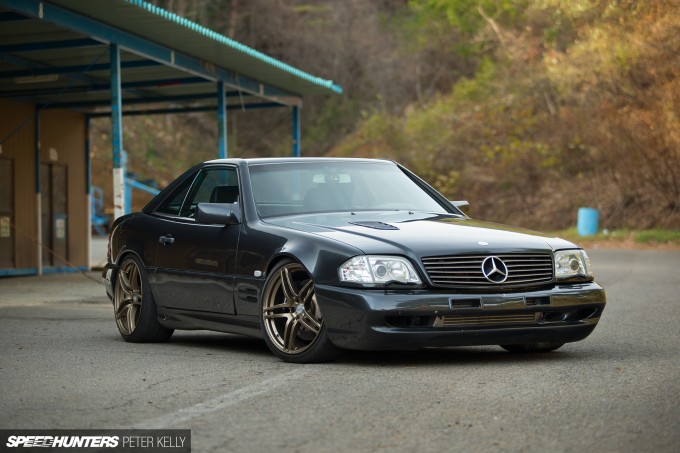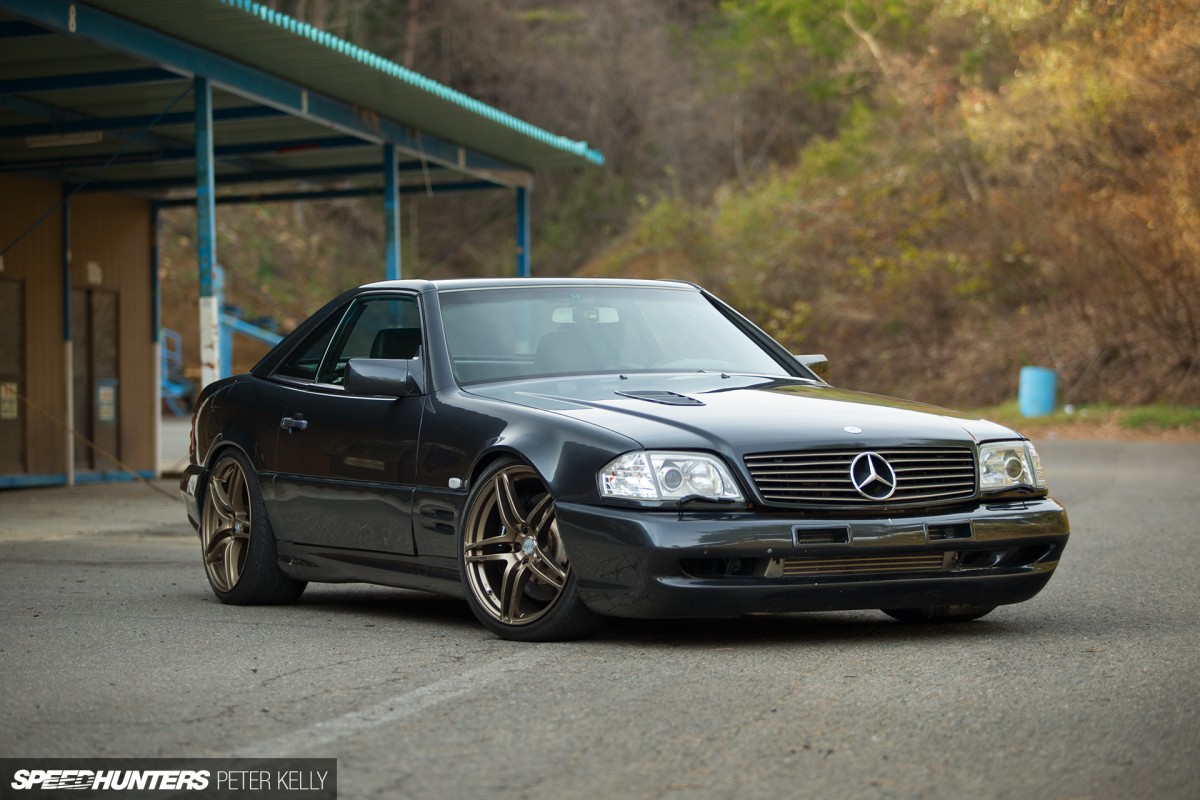 I've always loved the aggressive look of the R129 generation SL Mercedes-Benz, but at the same time I've always been turned off a little by the no doubt competent, but uninspiring factory V8 or straight six in the 300s and 320s. This car then, for me, makes for a much better marriage between cold, hard, Germanic styling and angry, shouty and all-round boot-to-the-face 2JZ power. You can't really call it a sleeper, but whoever ends up buying this car is going to have a hard time wiping that smarmy, holier-than-though smirk off their face every time they pull up to a set of traffic lights.
If you want to know more about the 500SL and see more videos, check out this link.
Peter Kelly
Editor-in-Chief
Instagram: speedhunters_pedey
pedey@speedhunters.com