I used to prefix stories about British cars with, well, almost excuses. It almost felt like I had to have a good reason to feature such an uncool car as a Morris, a Hillman or a Rover when outrageous international fare seemed to be centre stage. But no more.
With a new generation realising the potential of domestic models, there's an explosion of exciting machinery being built that needs no justification. One of the cars that I think is on the front-line is the humble Hillman Imp: a perfect platform for some reworking of the classic mod scene. They've always had a special place my heart. When I was young, one of my dad's best friends was car mad, and was always running around in something insane. The car that really sticks in my mind was his Imp, complete with a lightweight alloy engine and lowered suspension.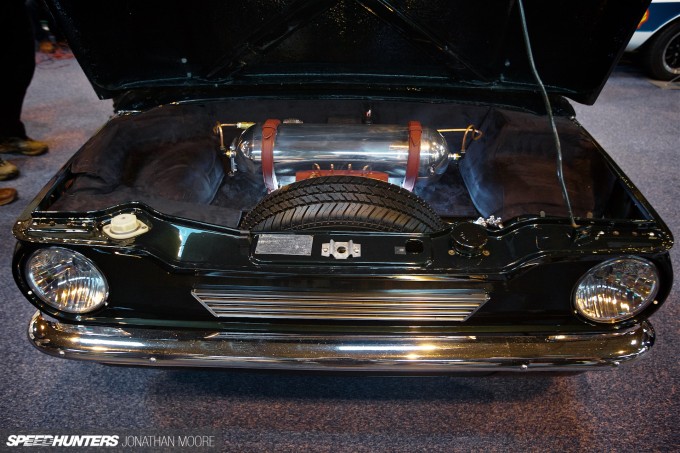 It was cramped inside; the driving position from the racing bucket seat knees-into-elbows even for people of regular size. As for the back seat, thank god I was small. But it felt like a rollerskate crossed with a rocketship. It was so tiny, so low to the ground and just so quick. It held the road like it was glued to it, but then Imps do weigh next to nothing and have the perfect layout for go-kart style handling.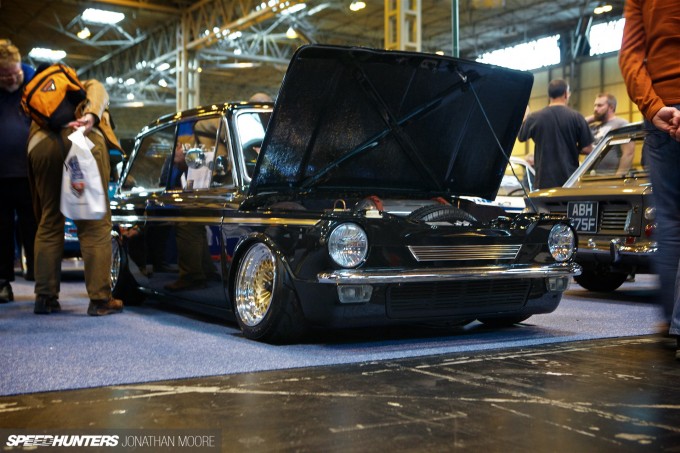 Robert Cumberbatch's 1966 Super Imp took pride of place on the Imp club stand at the recent Classic Motor Show. It's been beautifully built, with modern tech used elegantly without impinging on the classic original lines. I admired its previous iteration back at the 2014 edition of Retro Rides at Shelsley Walsh, so I've included images of it from there to show the car off in less apocalyptic lighting conditions…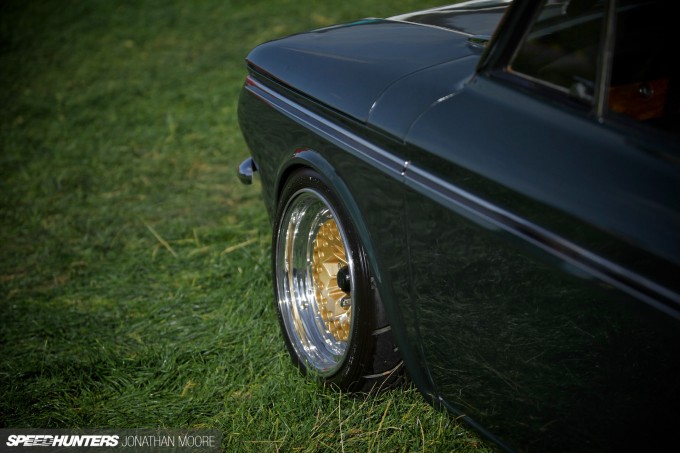 A family love affair with Rootes Group cars made this project almost inevitable. Starting with a base Super Imp found in a shed, it's been incrementally upgraded and improved, completely resprayed in this shimmering green with a full interior refit and fibreglass boot and bonnet panels replacing steel originals.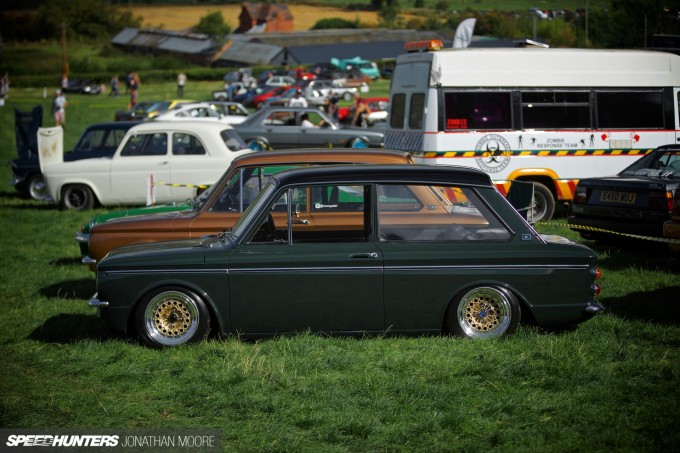 It's all about the shape: three box in the literal sense, the flat deck line dividing the minuscule front and rear overhangs from the visually oversize greenhouse. Simple at first, there's actually so much detail.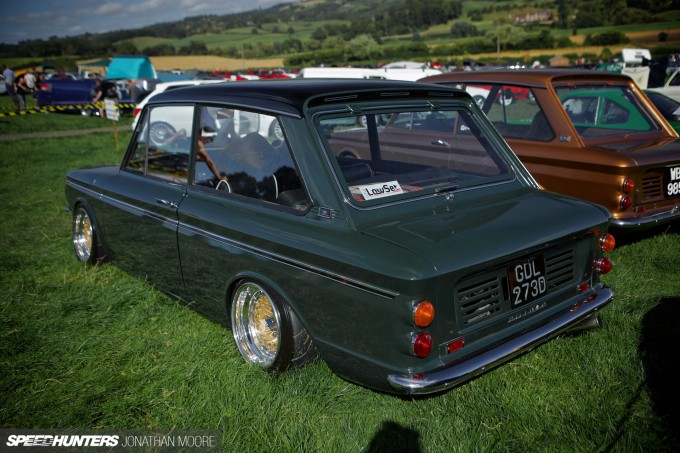 The straight line flash that defines the side profile is misleading, and is actually awash with subtle curves, from the raised eyebrows over the headlights through the subtle arch flares to the slightly tapering rear boot line. The racer-style ventilation slats just add to the raw look. The tiny Imp was a stalwart of the racing scene back in the '70s, utilising grip and handling to humble bigger, more powerful machines. It's what they've always been great at, on the road or track.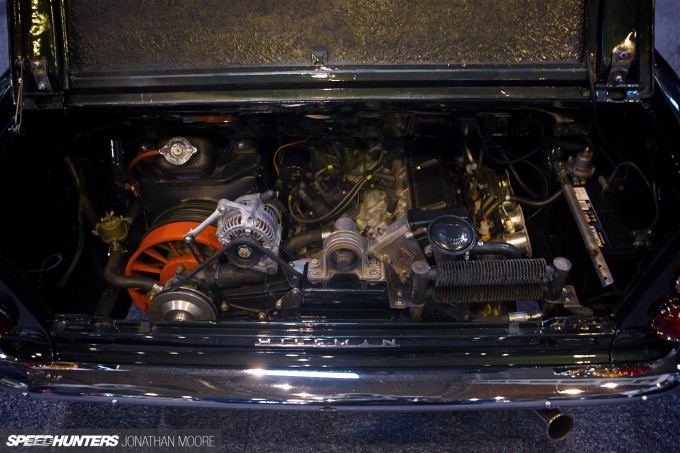 Engine-wise, this Super Imp has everything a right and proper hot Imp would aspire to: a featherweight 890cc sits in the wire-tucked and smoothed engine bay out back. With such a compact engine, there's actually quite a lot of space in the bay and the engine sits impossibly low, further aiding the balance of the car. It's been uprated with new valves, a GE2 race cam for lower down pull, mapped ignition, a Ford Edis coil pack, CBR600RR Honda throttle body with custom ram pipes, and DTAfast S40 ECU with Innovate wideband controller.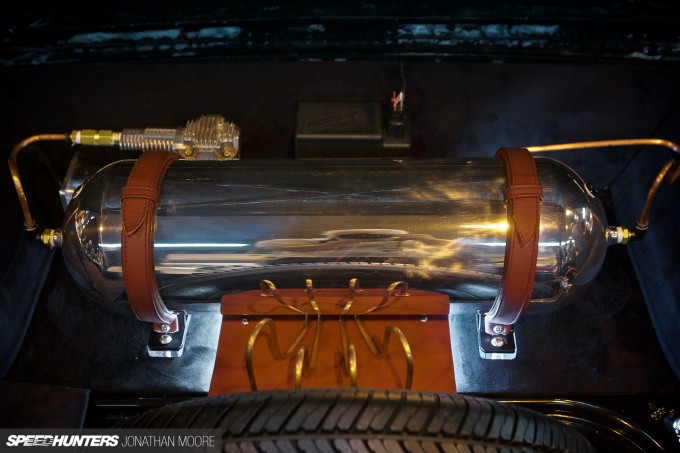 Banging down Imps is, of course, no new thing, but air-ride gives so much more flexibility. The Imp's shape lends itself perfectly, whether utterly on the ground and cambered-out as at the CMS, or with that fraction of clearance that was on show at Shelley Walsh. A custom Air Lift Performance setup is at its heart: struts at the front and bags out back manage the height, controlled from a beautifully finished four-gallon tank mounted under the bonnet. With such small diameter wheels, there's even still the space for the spare up front alongside all the paraphernalia for the air system.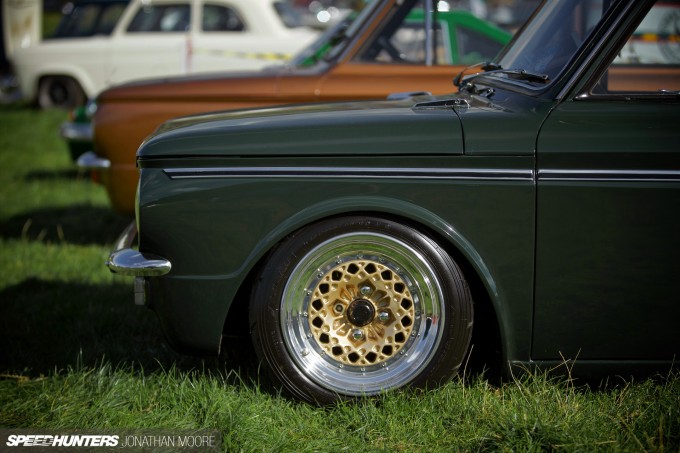 The wheels – three-piece mag-alloy Ronals customised to fit the confines of the Imp's arches and axles – match the classic look perfectly.
Small in size Imps might be, but if you want big presence these are cars to be seen in. It was a definitive highlight of this year's Classic Motor Show for me, and the perfect example of the vibrancy of the retro scene.
Jonathan Moore
Instagram: speedhunters_jonathan
jonathan@speedhunters.com