Smoke On The Horizon. And Below. Generally, Smoke
The UK's annual Retro Rides Gathering brings together more than 70 clubs and a thousand cars from all over the UK and Europe for a free-form celebration of 'post-teen' cars. That means if your car was born before 1991 then you're wanted – no matter the make, model or modifications.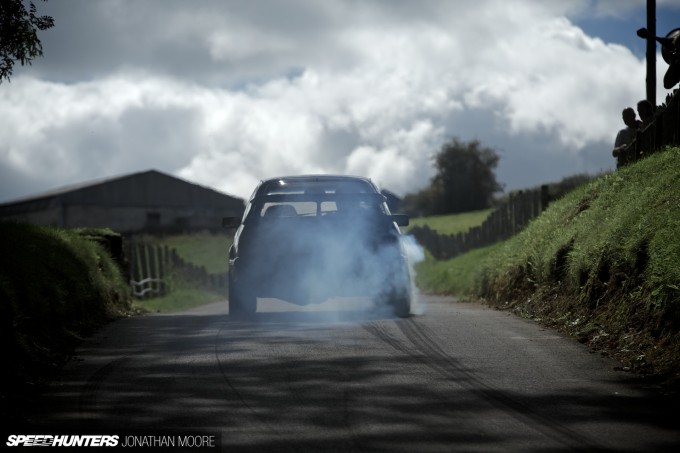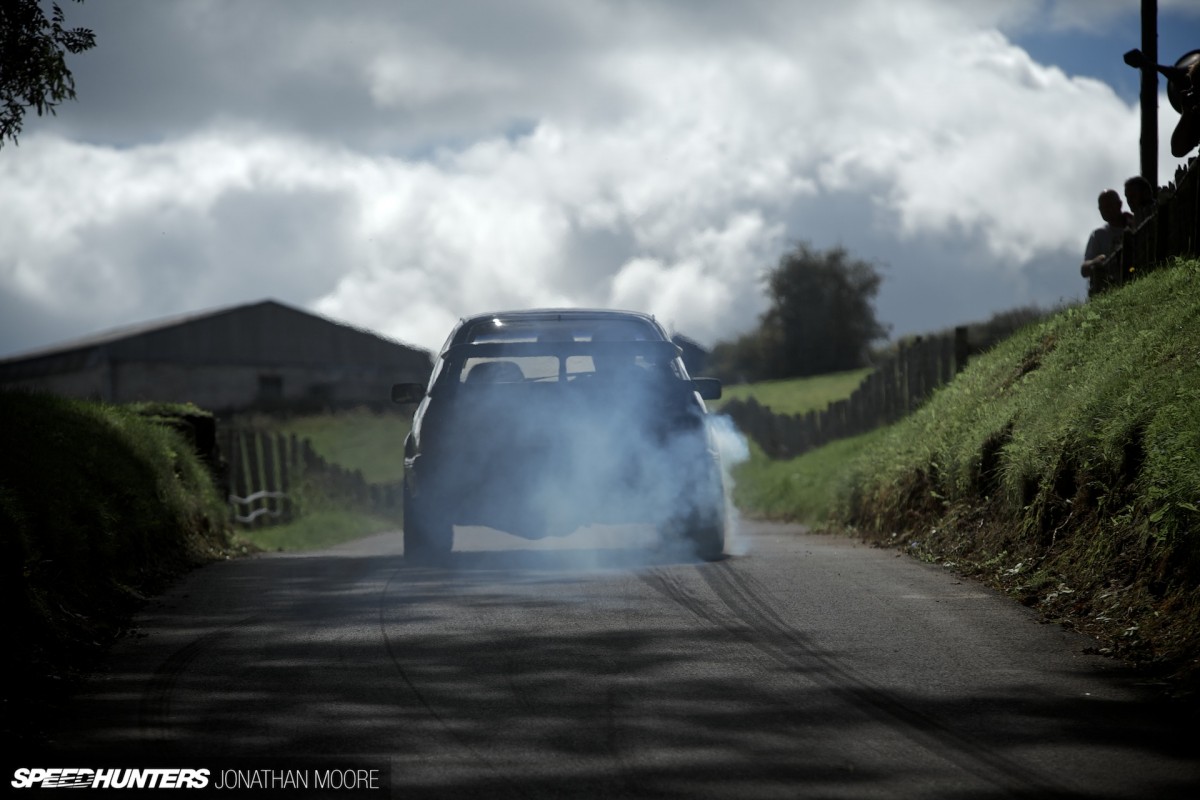 Here's a ride through some of the many highlights of the show: get yourself a virtual 99 cone (one of Britain's great inventions of course) and follow me around the club stands and up the hill…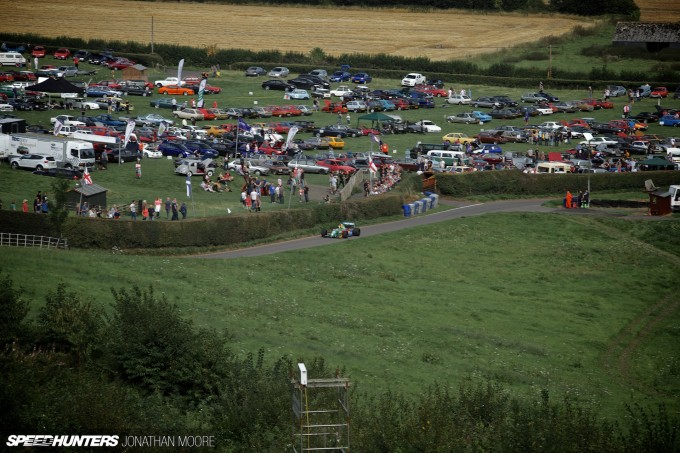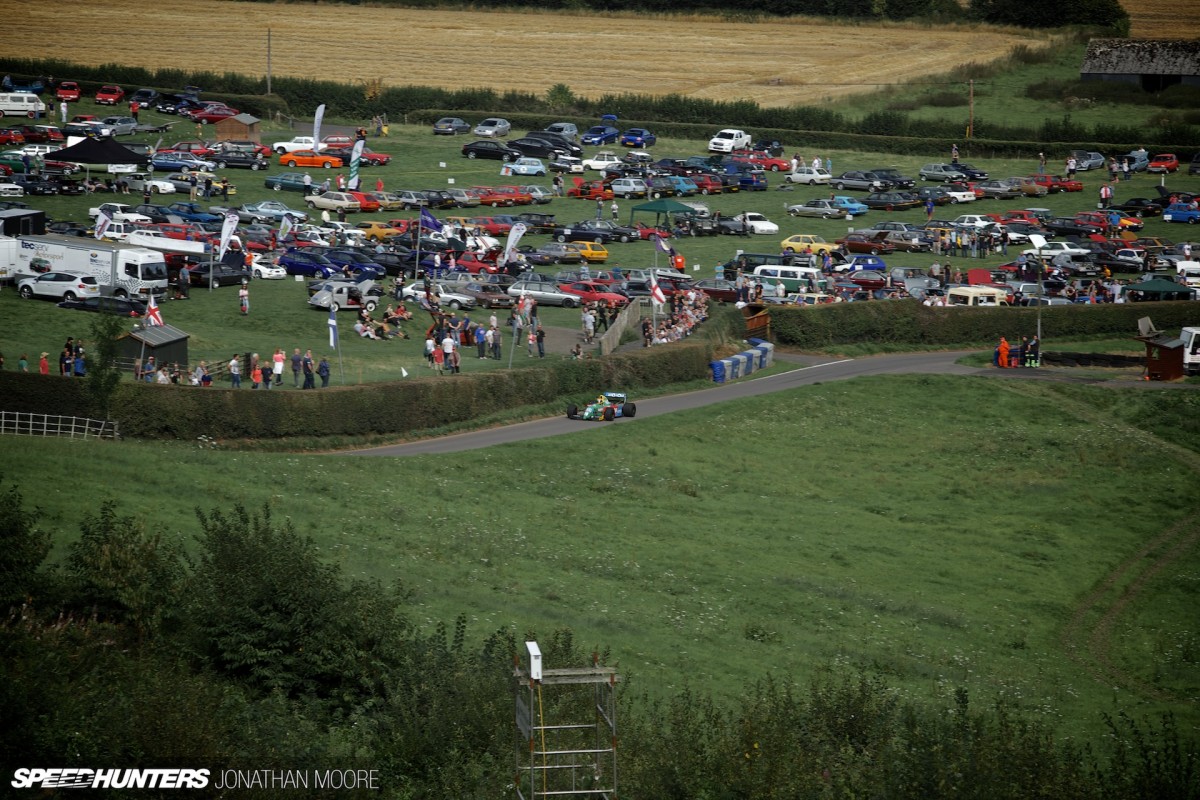 The venue for this year's Gathering was again the legendary Shelsley Walsh hill climb in the West Midlands region of the UK – 'legendary' as it's the oldest motorsport venue in the world, having been in continuous use, on an unchanged course, for 109 years. It was the perfect backdrop for Retro Rides, and the weather gods even decided to sprinkle a little welcome sunshine on proceedings.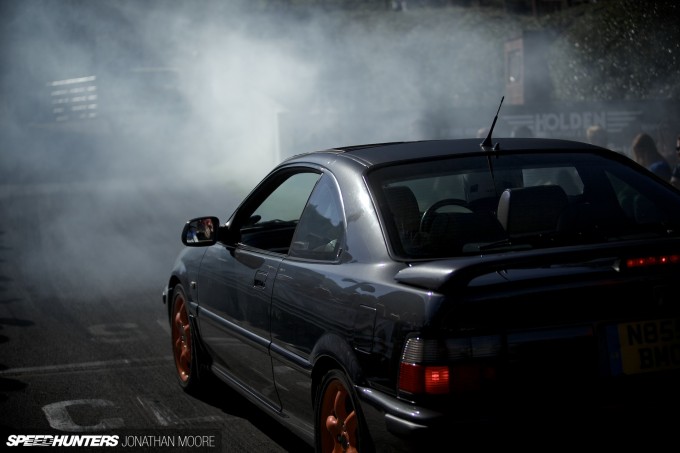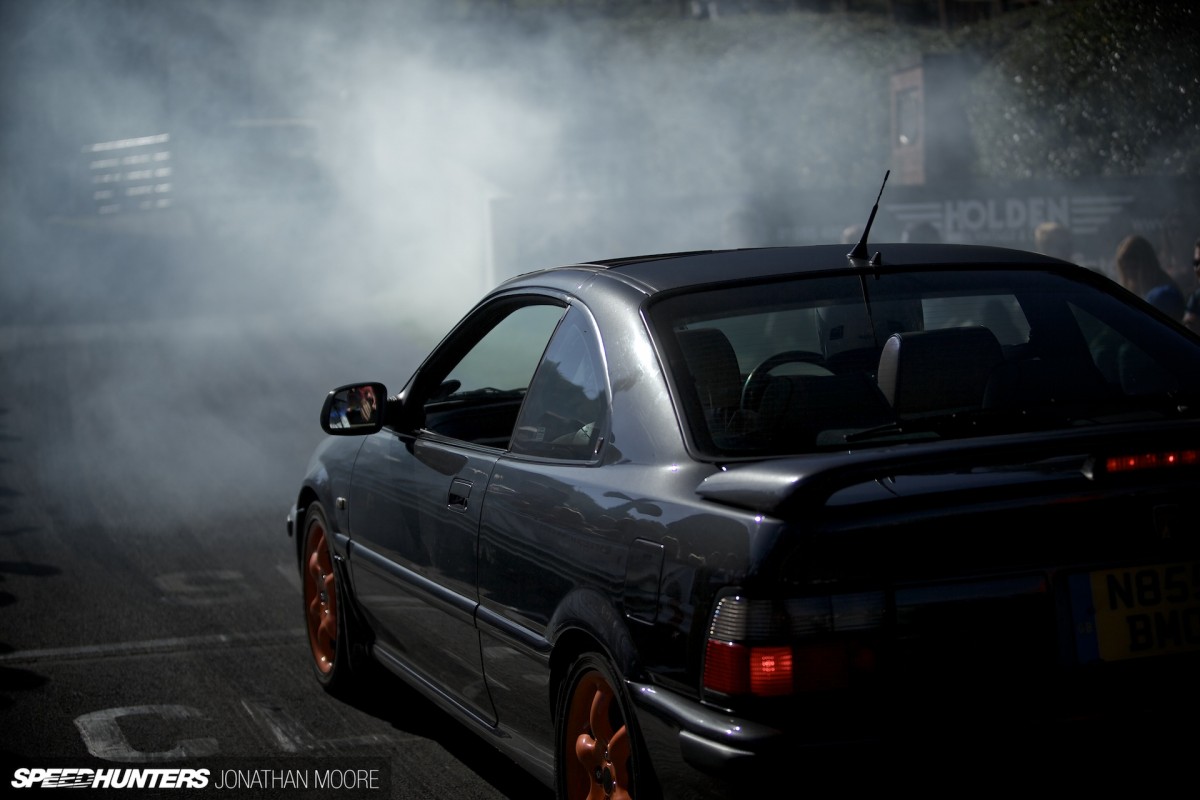 To jam in all the cliché terms available, at the Gathering you get all the styles – with substance thrown in for free. Every form you can imagine, combined with any kind of function there was, is, or possibly will be. And yes, here's a picture of a turbocharged Rover 220 on Speedhunters. I win! Disappearing somewhere in the smoke, a whooshing Volvo sleeper estate snaked its way up the hill. It's a place where you can take nothing for granted.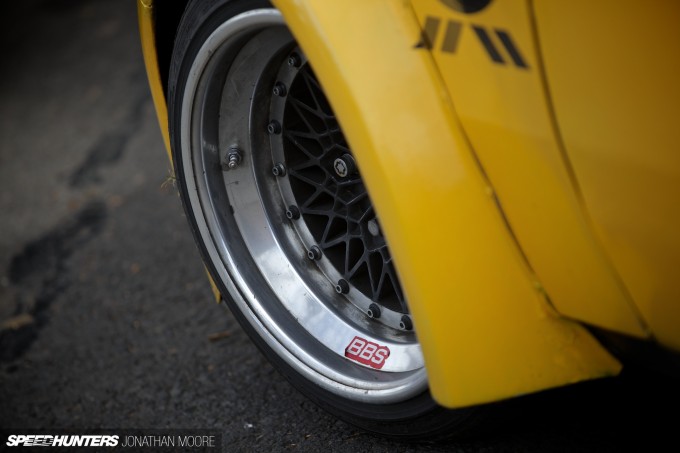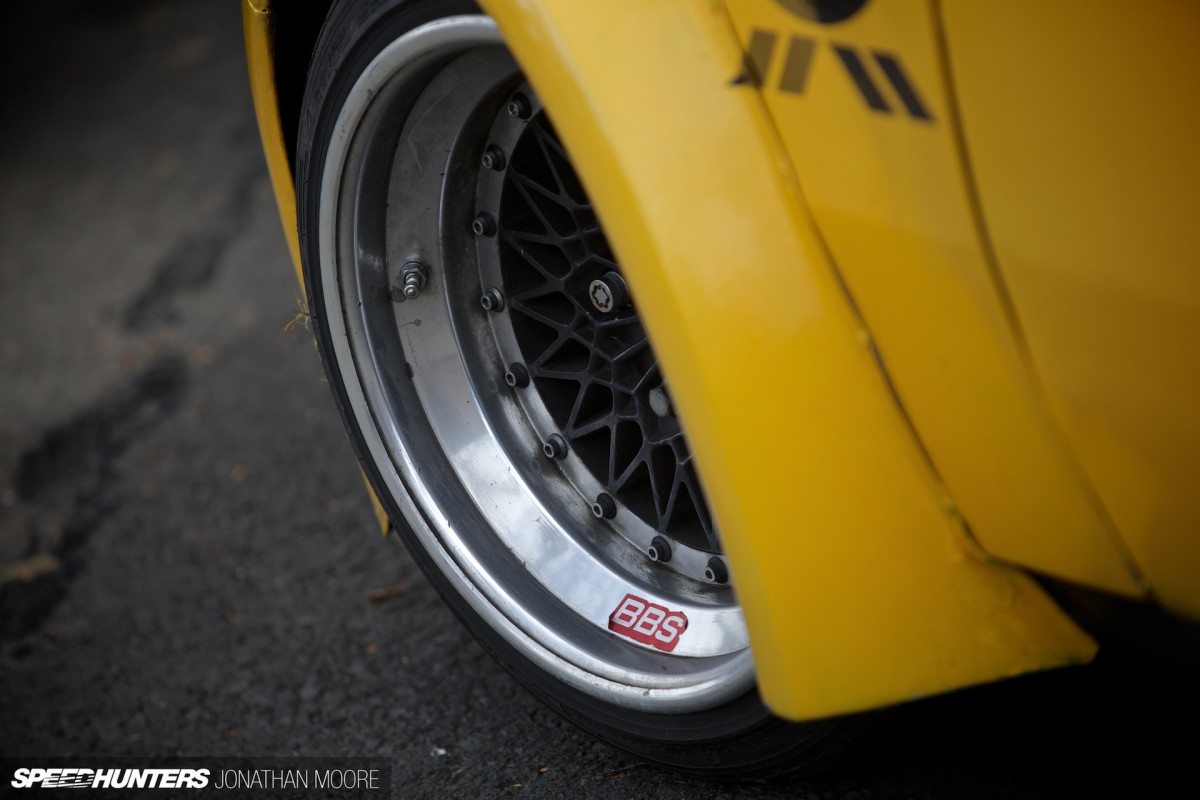 Focus in on any one car and you get glorious detail. The beautifully ornate, pristine gold and white engine bay of an immaculate Renault 5 GT Turbo; the high-ride and massive red mud-flaps on a Toyota Celica GT-Four Group A rally car; iconic BBS split rims mounted on a BMW Neue Klasse.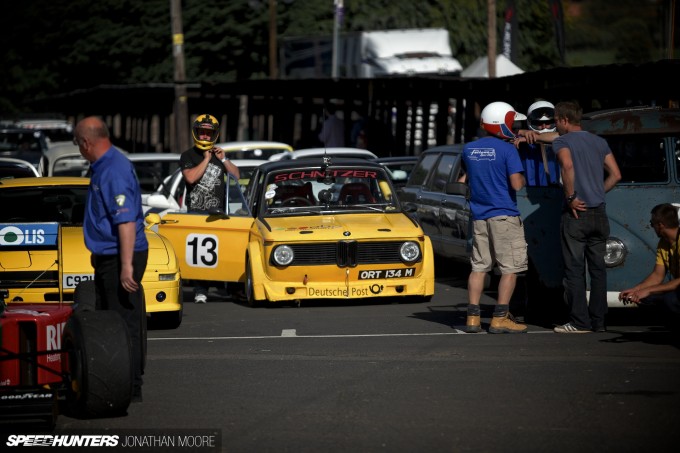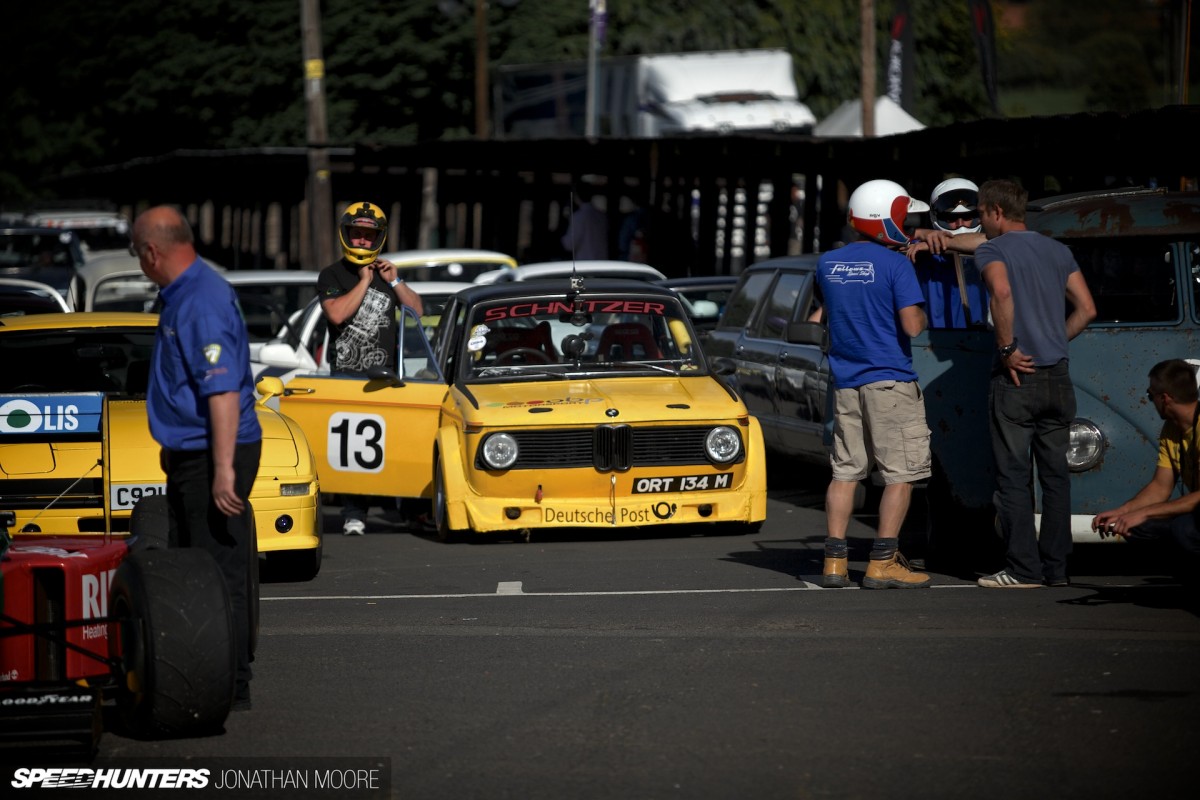 Pull back and you get the idea. Every scene was represented and more. German, British, Japanese, French, Swedish… Hot hatches, customs, racers, vans, saloons, even Formula 1 cars. One big friendly mash-up, everyone side-by-side in the paddock and parking areas, then one-by-one up the hill.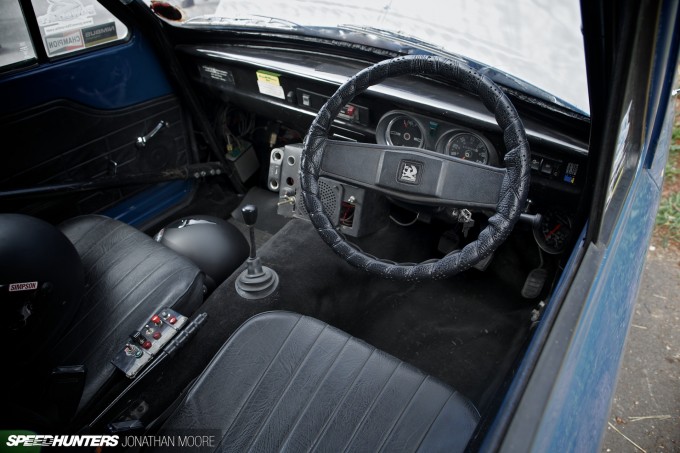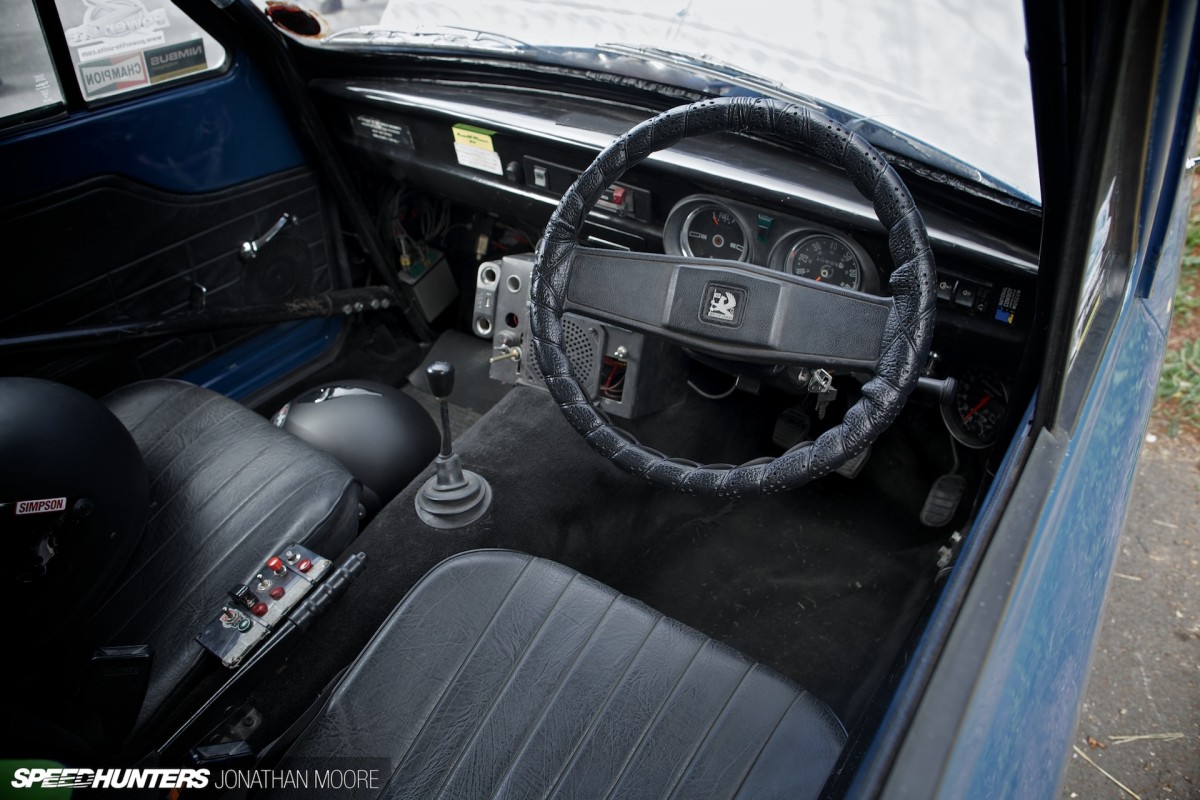 I want to start with a van. It's a blue van. It's a blue Bedford van. Built by Vauxhall. Say hello to Bluebell.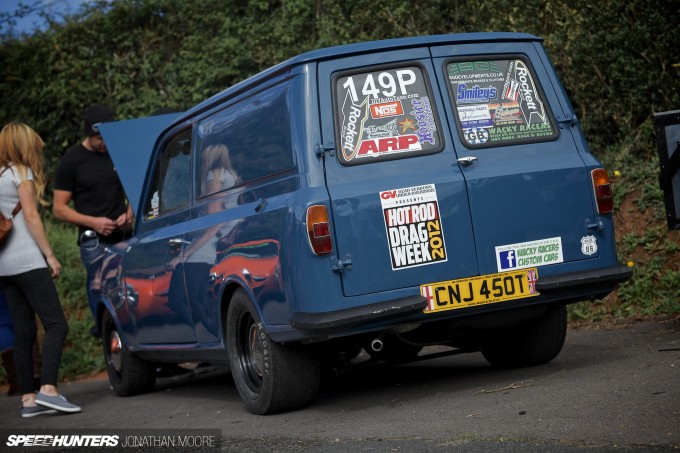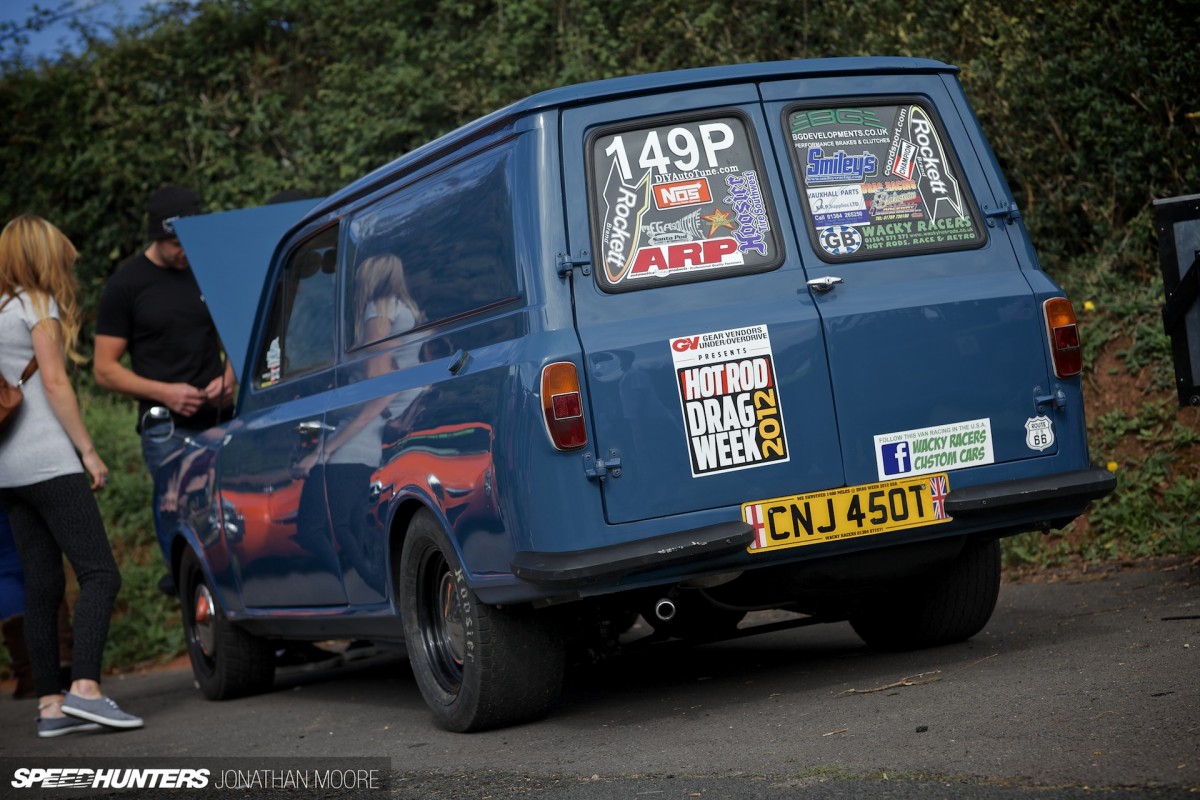 Excited yet? You should be. On the outside, there's not much to suggest what this is capable of. Where boys would put a can the size of a chimney, Bluebell has an exhaust that wouldn't look out of place on, well, a Bedford van. It's fake. At the touch of a pedal this flowery-named van turns into a snarling rottweiler that will tear the heels off a Porsche. But then Mick 'Wacky' Wilkes doesn't really seem to do normal. You have to lift the bonnet to get an idea of why this van is such a monster, though the fact the emblem on the nose says Badford helps things along.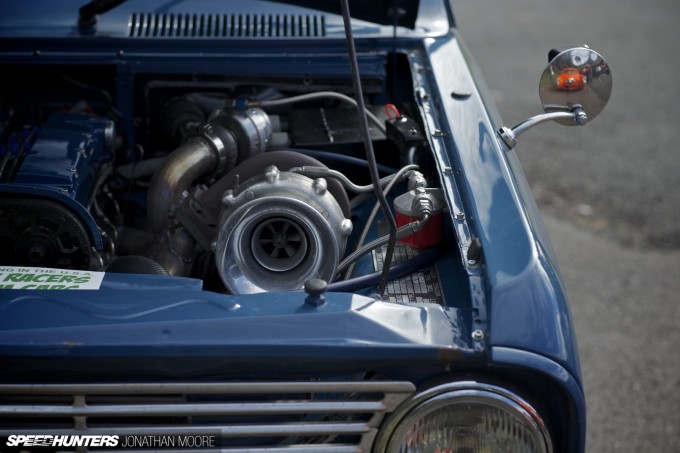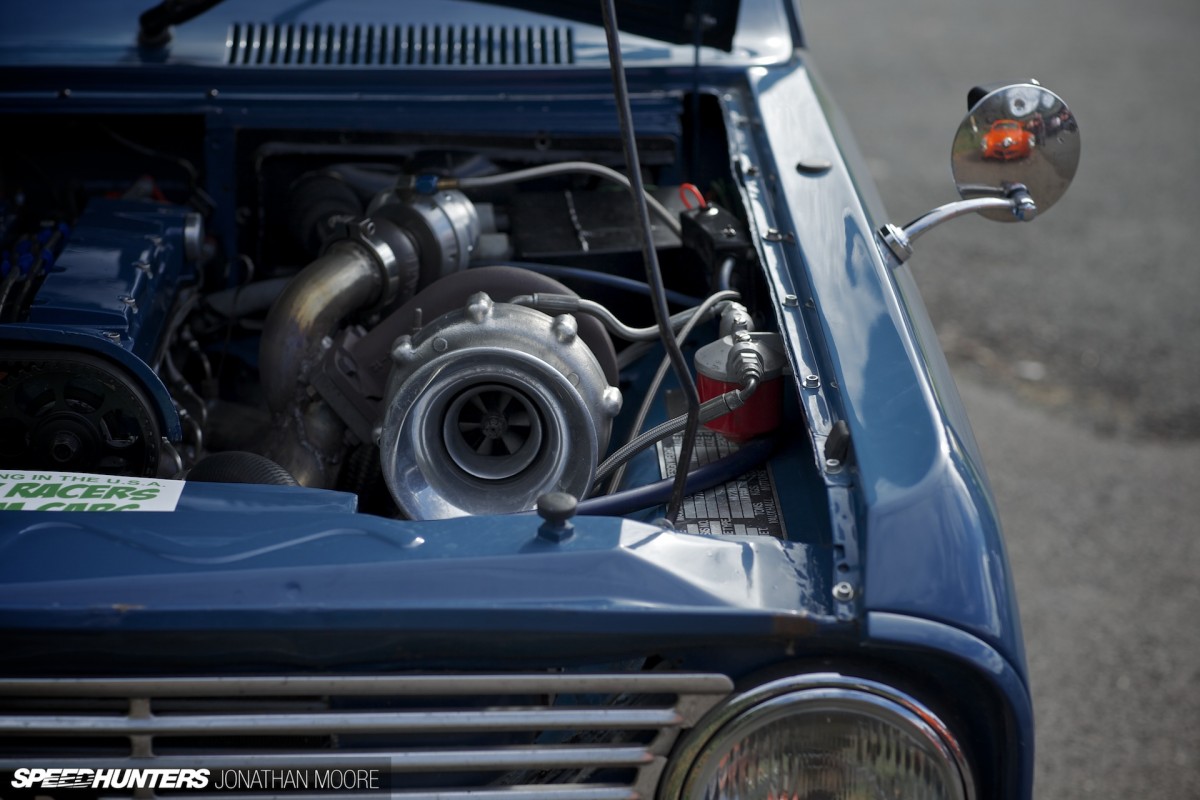 Oh yes, it's this.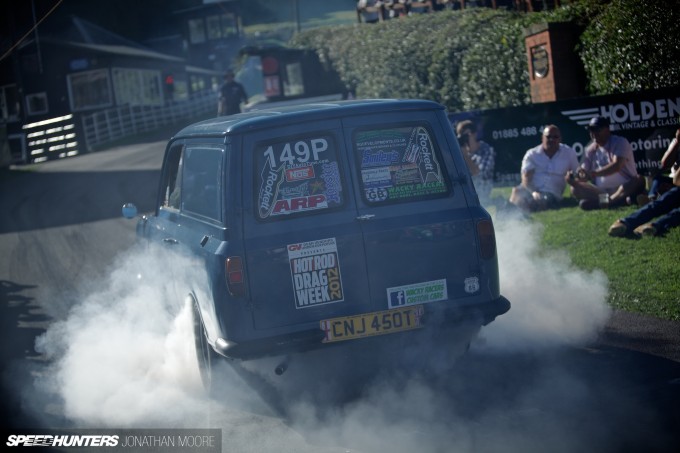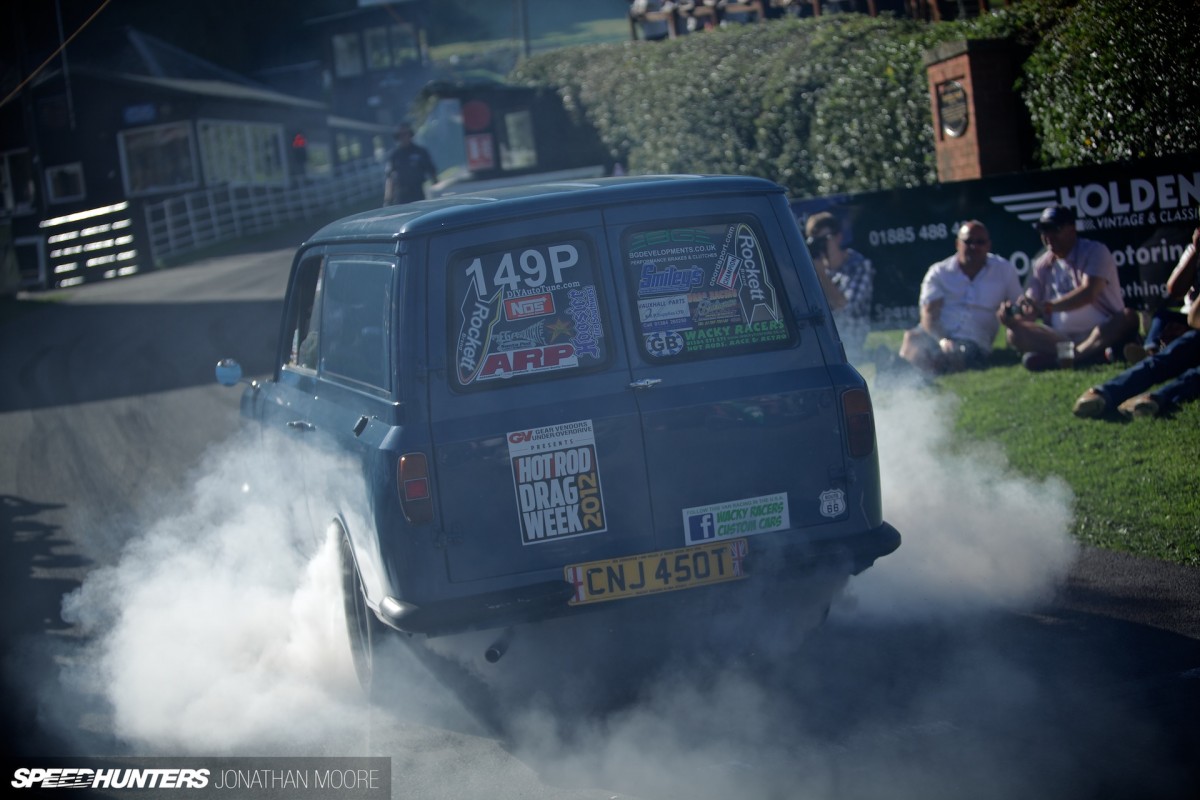 Which means this. And a world of sonic overload as the poor Hoosiers were ground down against Shelsley Walsh's hallowed asphalt. Cue wide eyes and wild cheering from everyone who witnessed it. No wonder he won the Spirit Of Drag Week award a couple of years back when he shipped the Badford over to the US for the road trip of a lifetime.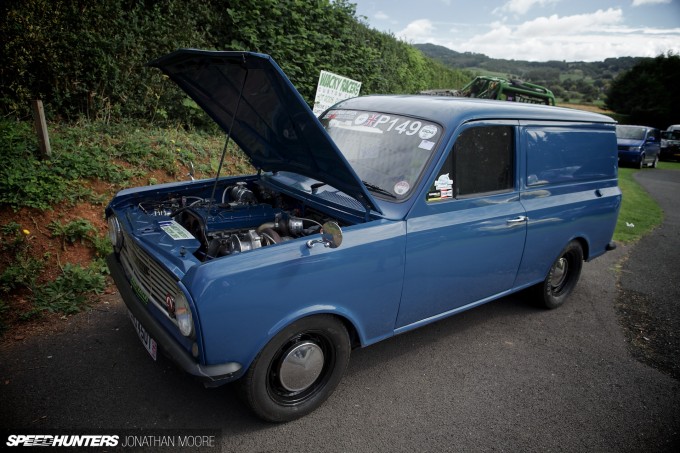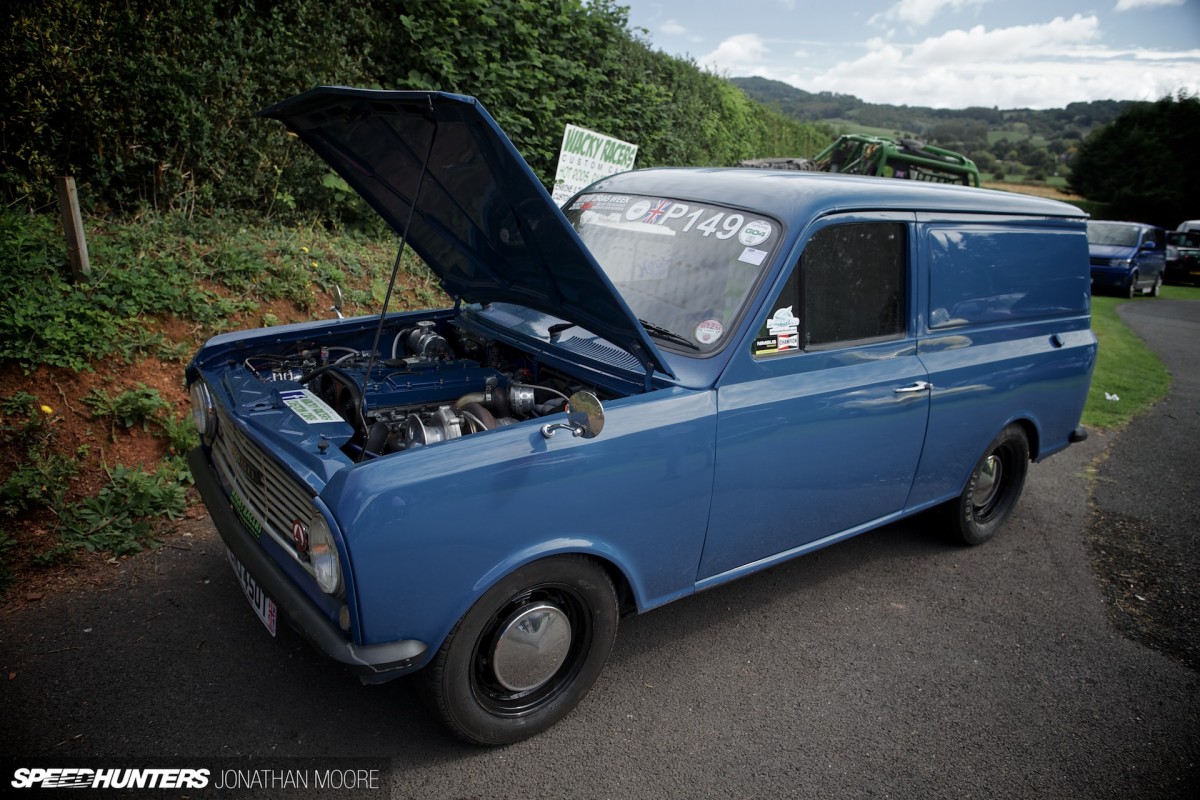 The latest engine, a mongrel of parts lying around Mick's workshop, replaced the race engine that he blew up after returning from the States, but it's barely less powerful. The big diesel truck turbo is hardly the most efficient, but mated to a Calibra XE/LET engine it helps the Badford to over 550hp. Oh, and the original weight of the van was 770kg. I think you get it.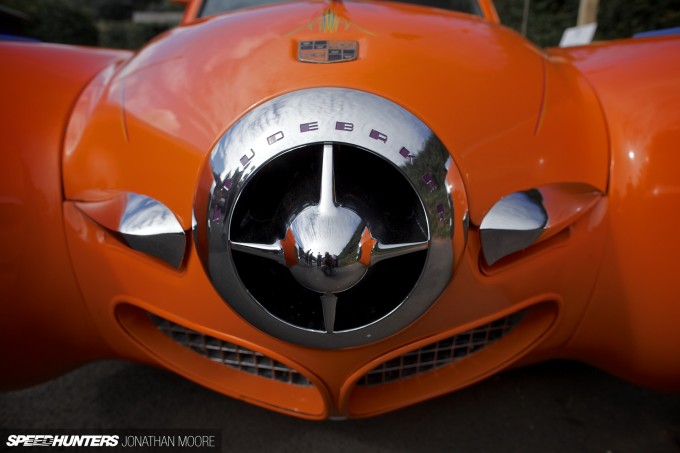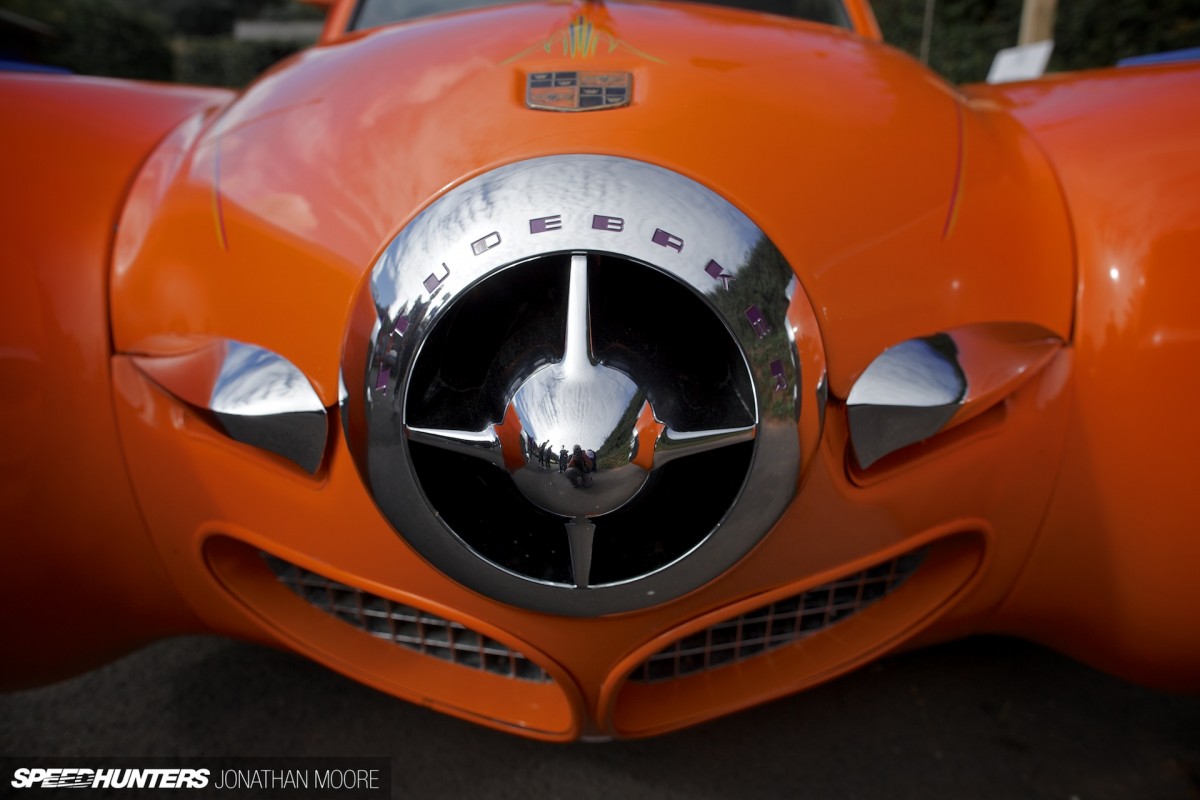 It turned out that a whole bunch of cars I loved at the Gathering had involved the same deranged mind. Mick had pooled a variety of cars that he was either involved in working on in some way, or were owned by friends.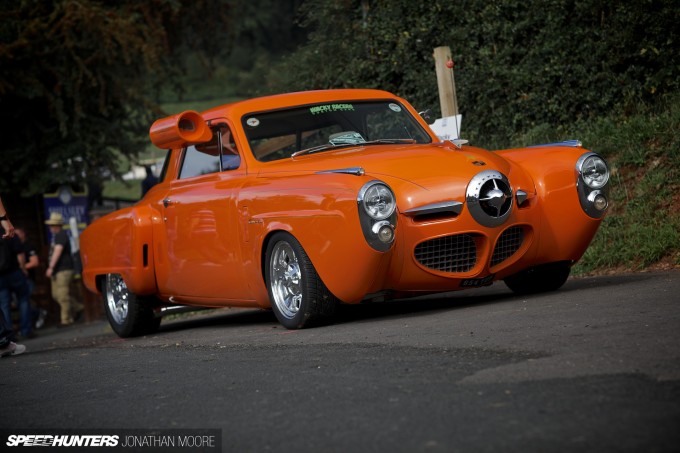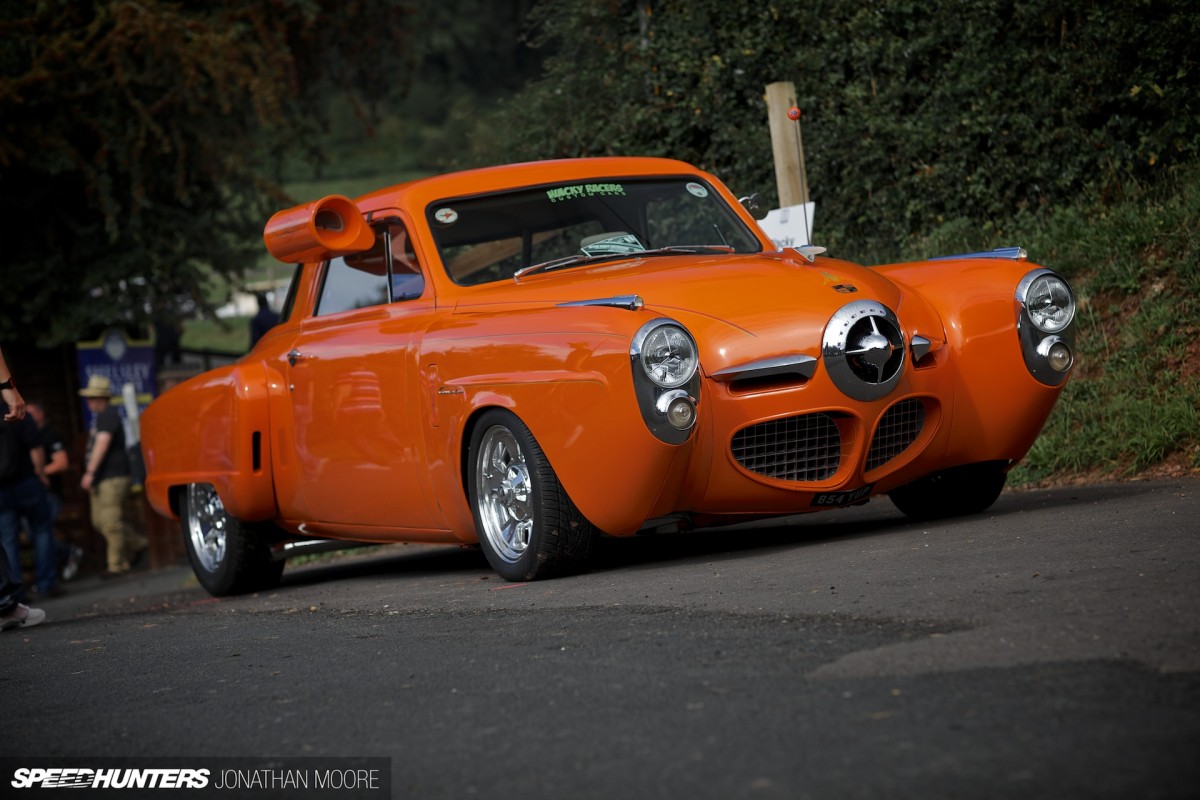 This 1950 Studebaker Commander Starlight Coupe oozed custom class and provided a stark contrast to Mick's van parked opposite. Imported from the US by Sean Rooney, its running gear and engine are from a 1984 Chevrolet Corvette.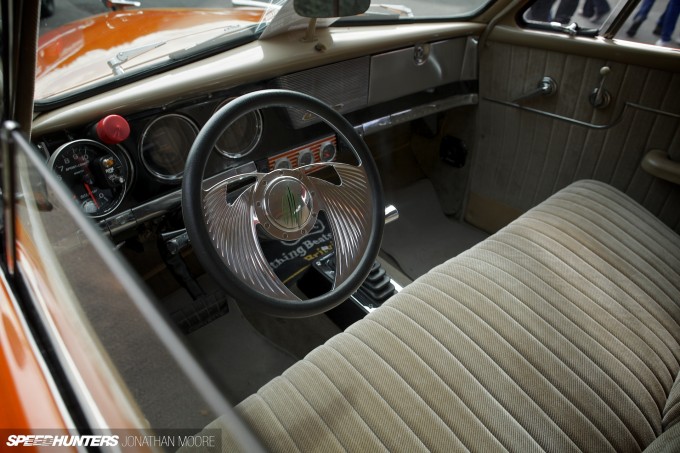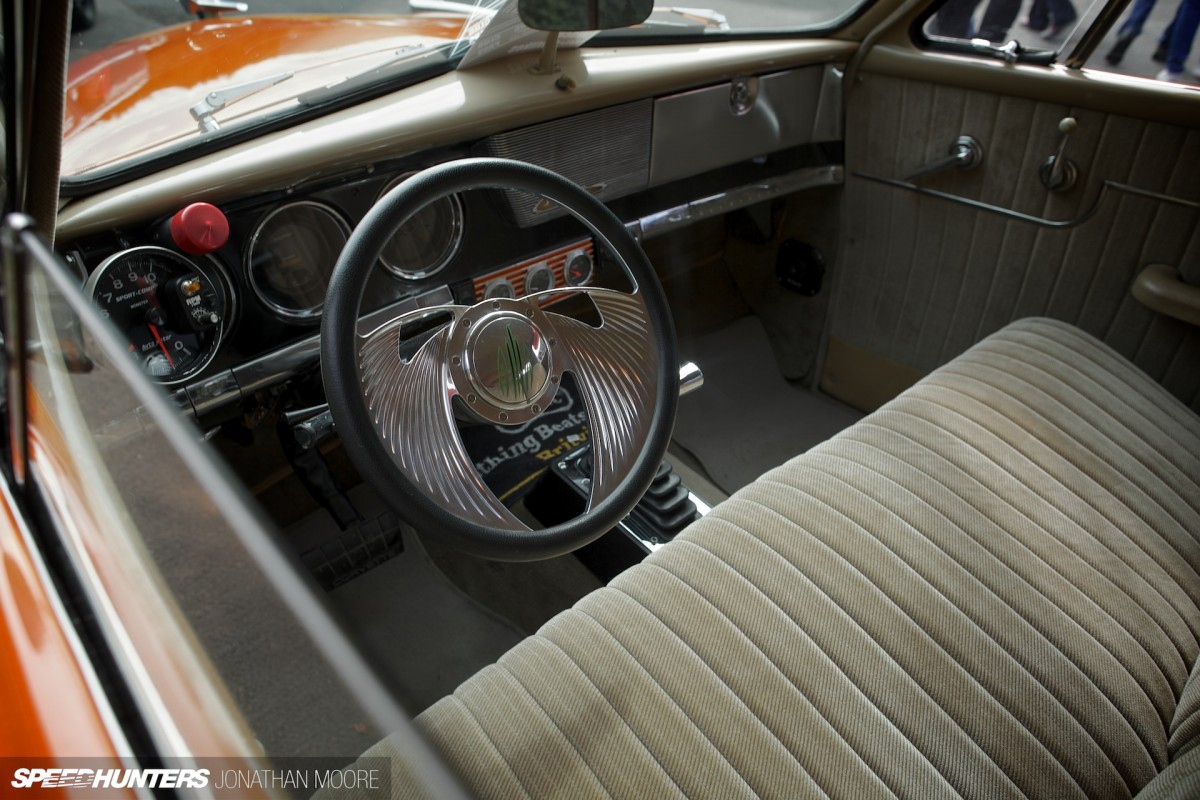 Inside the cockpit, a plush interior with a frankly awesomely ornate wheel.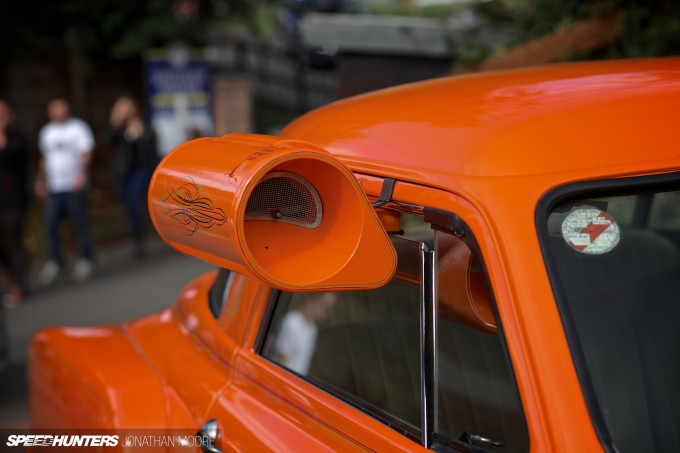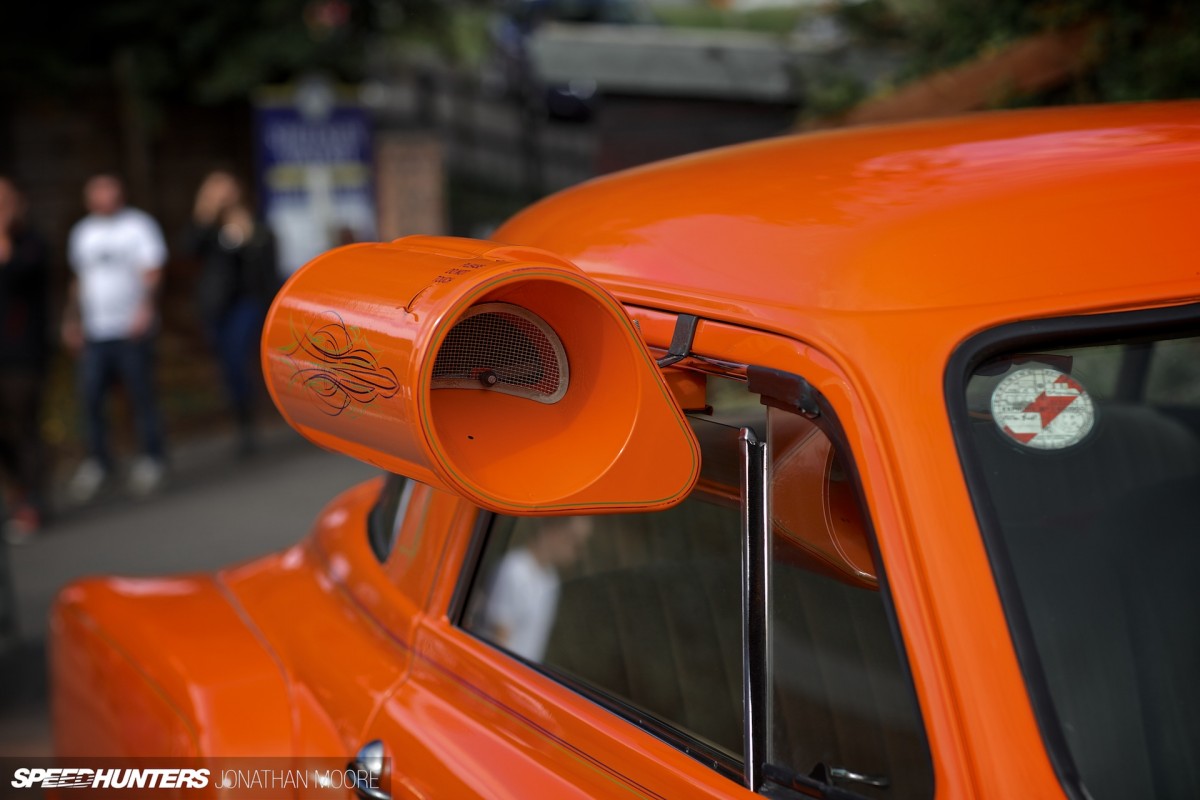 An interesting addition to this Starlight was the ram air tube mounted on the passenger side. Known as a swamp cooler, it's like proto air con: you drop cold water – or preferably ice – into it, put your foot down and the force of air hopefully pushes a nice cooling breeze into the cockpit.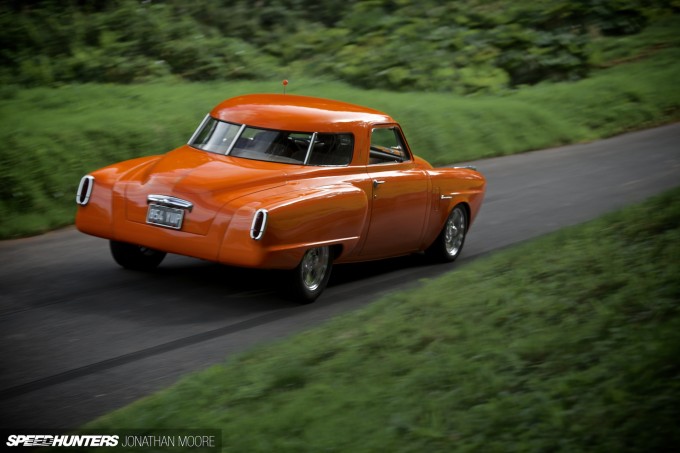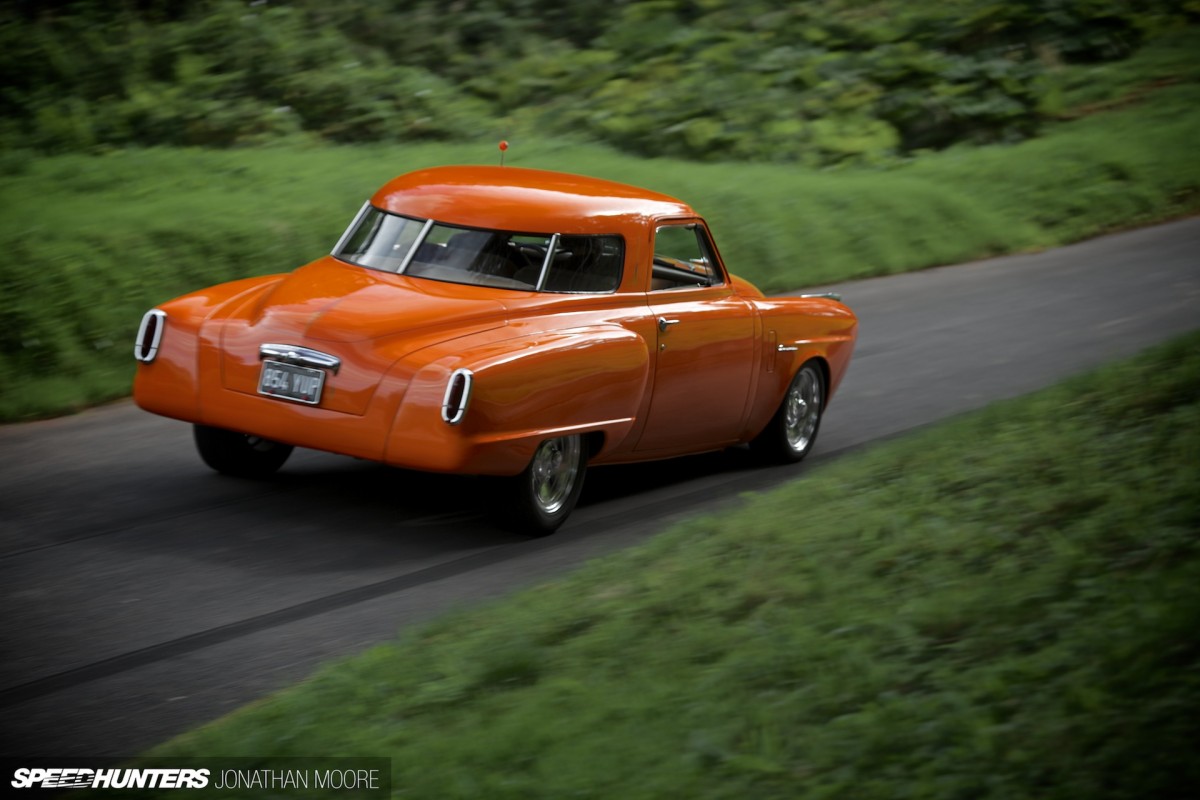 The Stude isn't short of power, but attacking the hill at #MaximumAttack wasn't really a sensible plan. It's Sean's daily driver, so keeping it in one piece was the priority. But the V8's soundtrack and the Starlight's contrast to the predominantly European machinery meant that the push-but-don't-shove approach was more than enough entertainment for us on the hillside.
Major Morris To Mega Mini & Scarred Skyline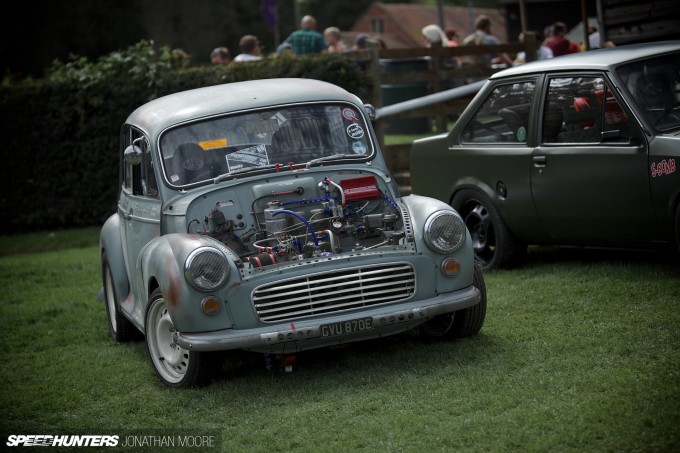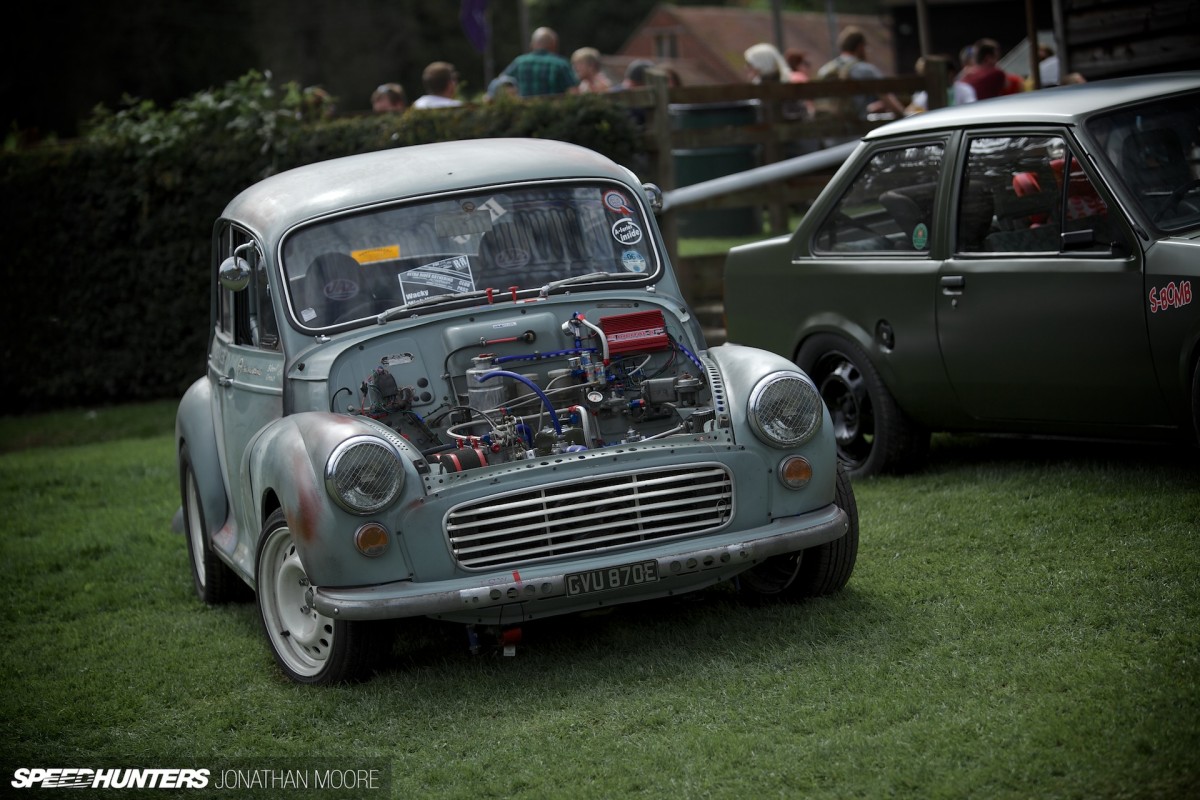 Morris Minors were Britain's answer to the Beetle, and I'm always glad to see them getting their fair share of love – especially when that love involves a healthy dose of nitrous oxide.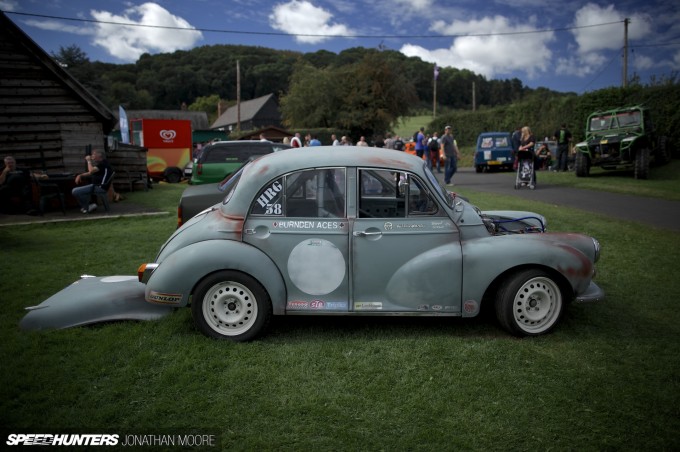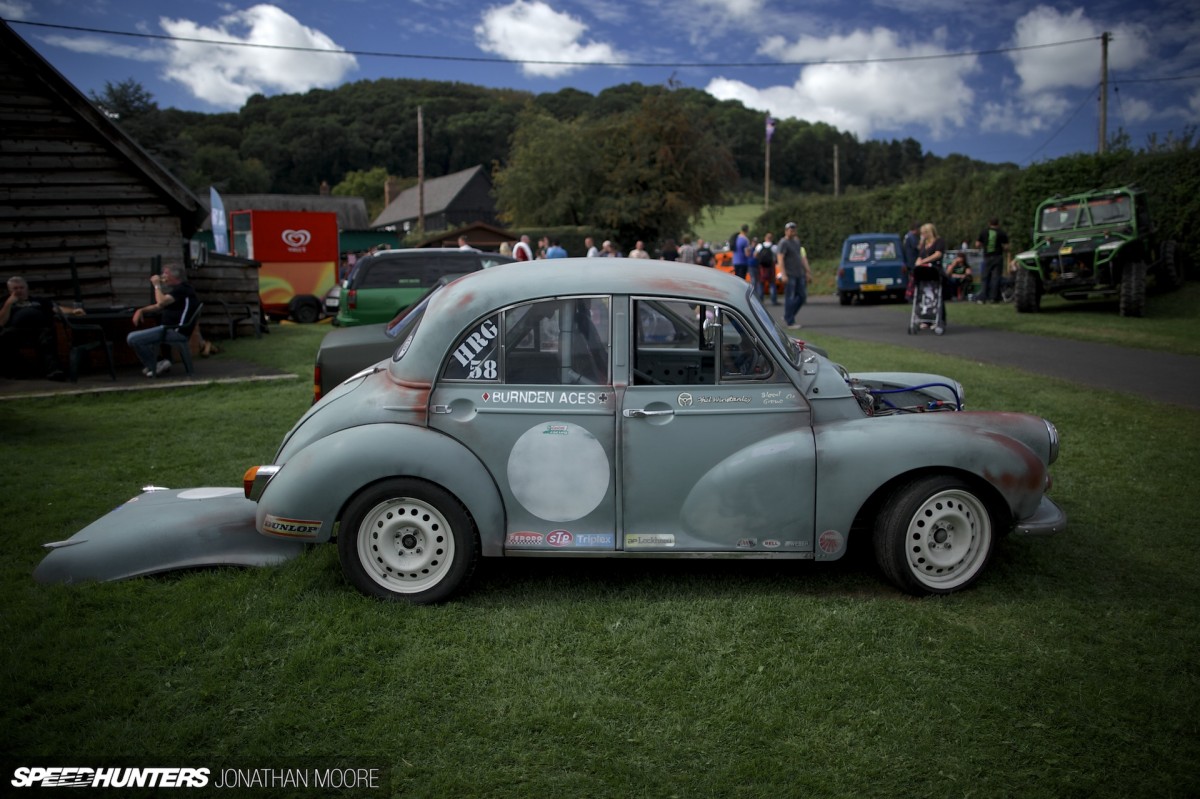 Phil Winstanley's 1967 Morris has mutated from a stock rescue through being a championship-winning drag beast and now into this.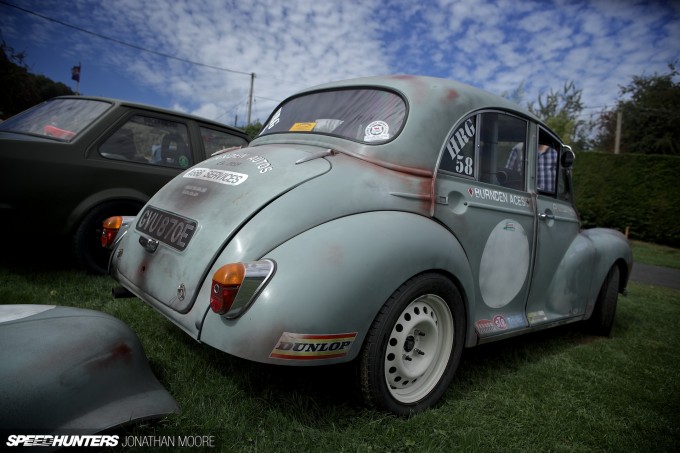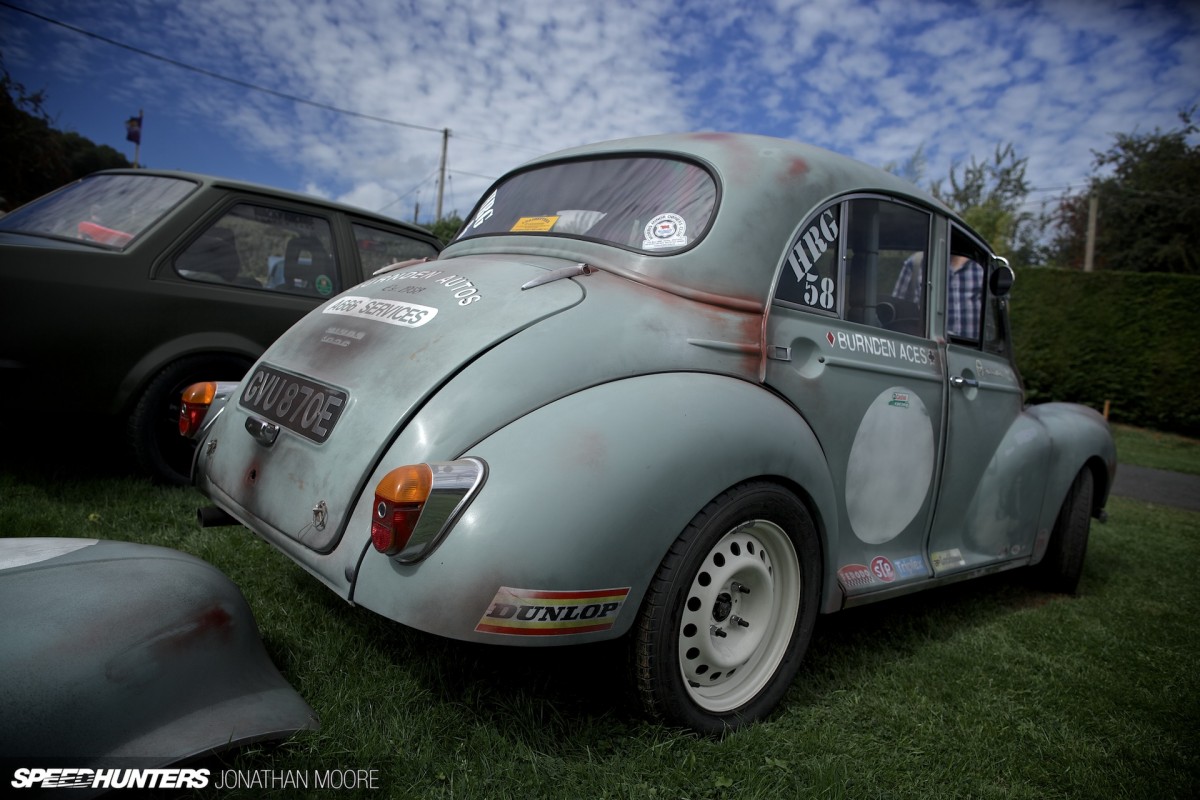 The major parts of the Minor look are retained with the steel rims and standard-looking panels, but the weathered paint and stickers and its subtle nose-down stance hint at its less than stock performance.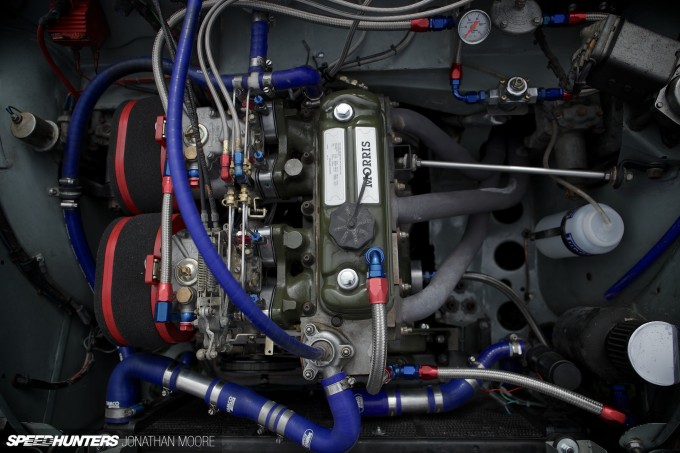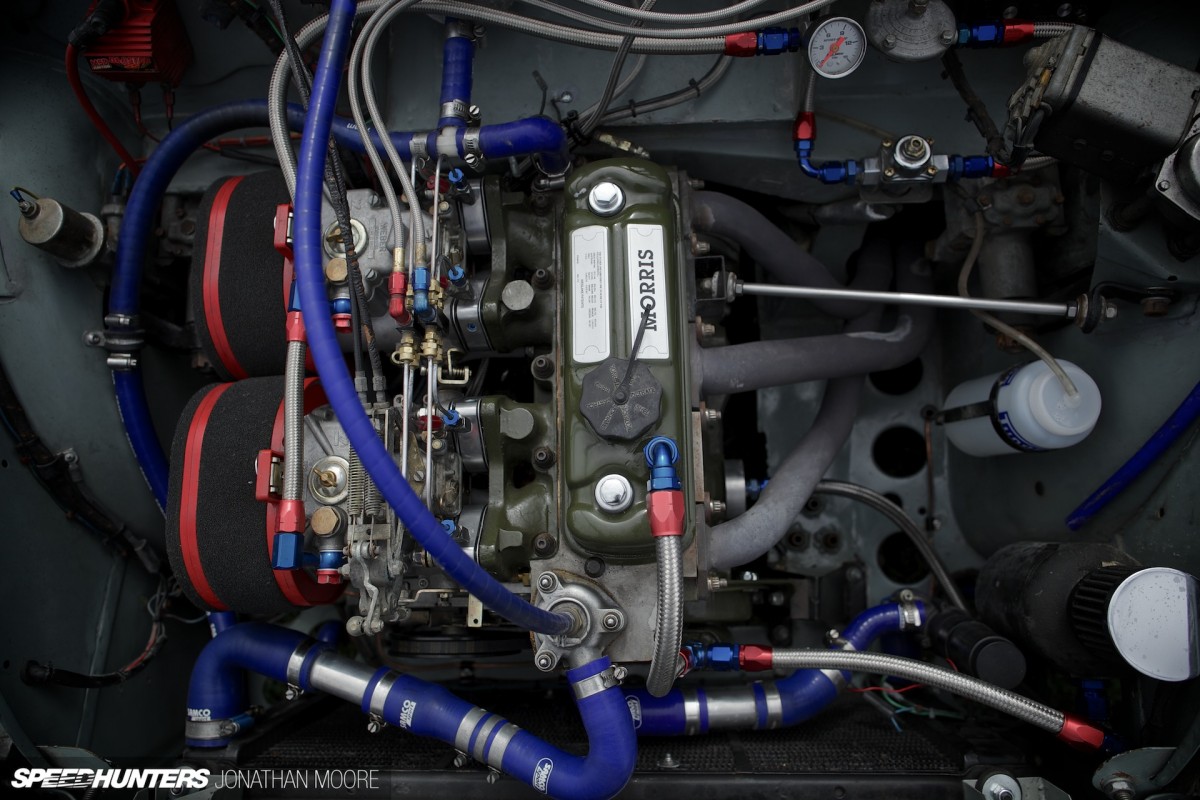 Its original A-Series engine has been bored out to a heady 1400cc – but that shot of nitrous then adds the punch.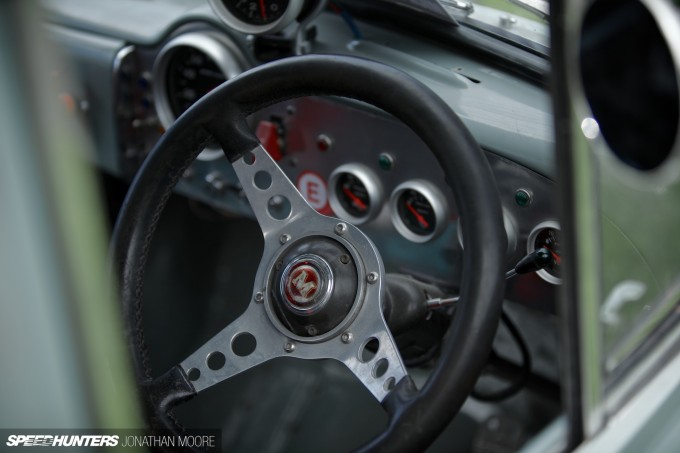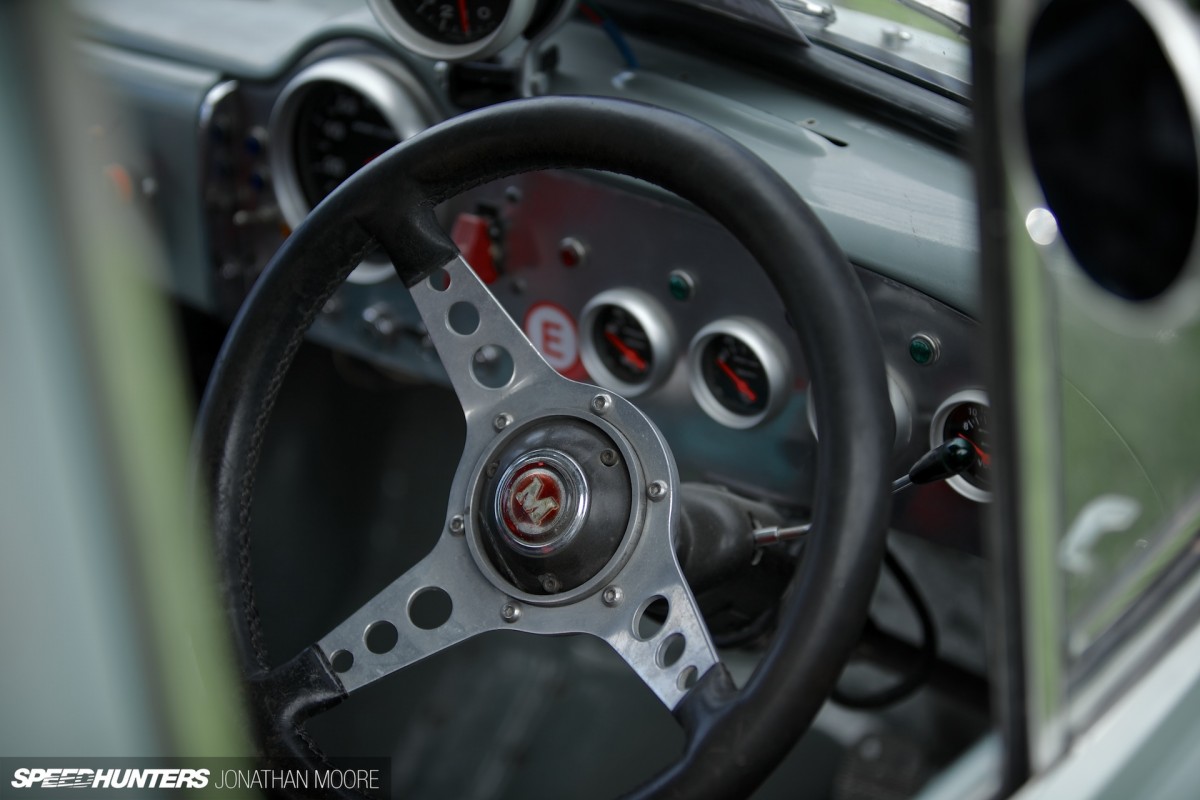 I don't think an original Minor had this kind of cockpit either. The wheel boss isn't fooling anyone.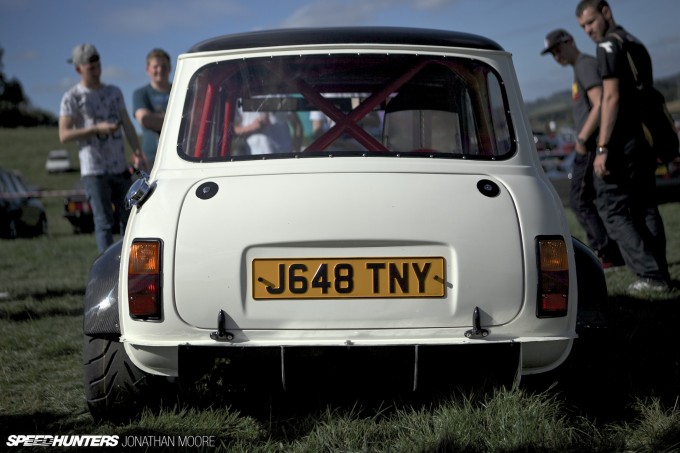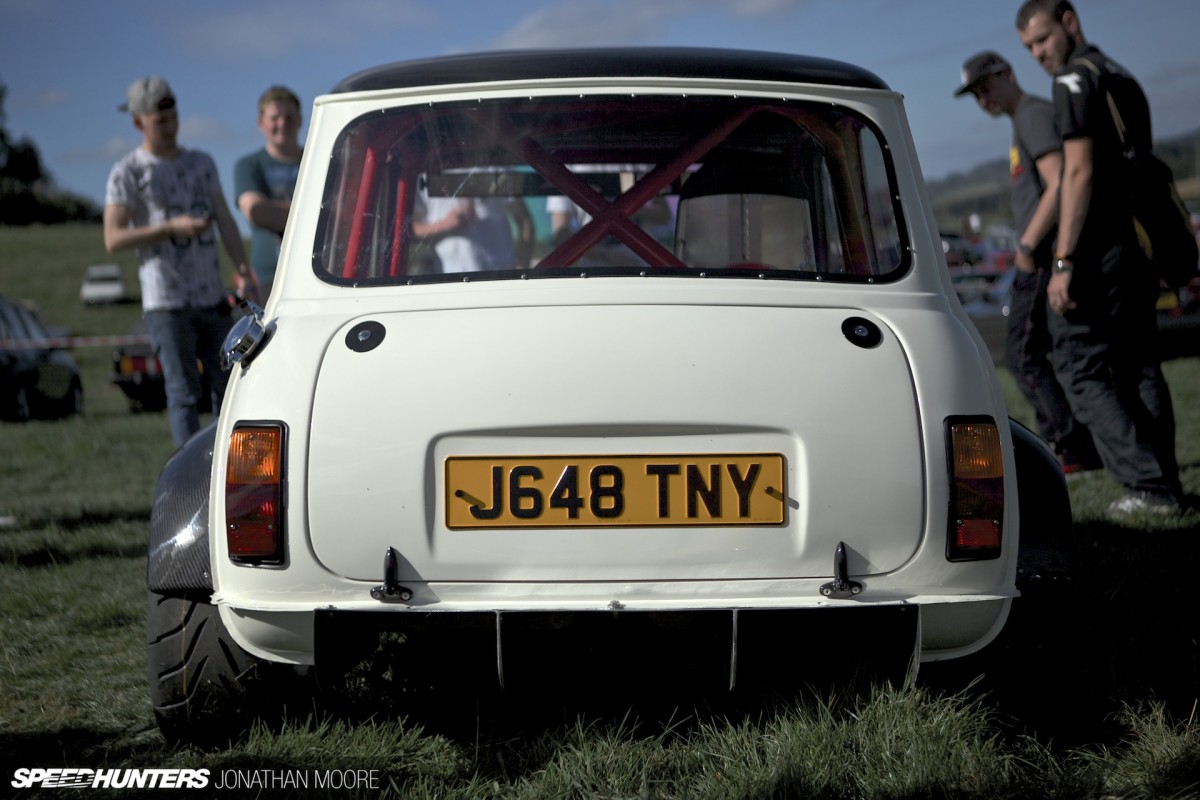 There were plenty of Minis at the Gathering, and some seriously quick ones. One of the Mini's advantages in racing terms has actually been their lack of power – you nail the throttle and go pretty much the same speed through a corner as you do down the straight, annoying plenty of bigger cars in the process. This Mini might prove the exception. From the rear, so far so subtle.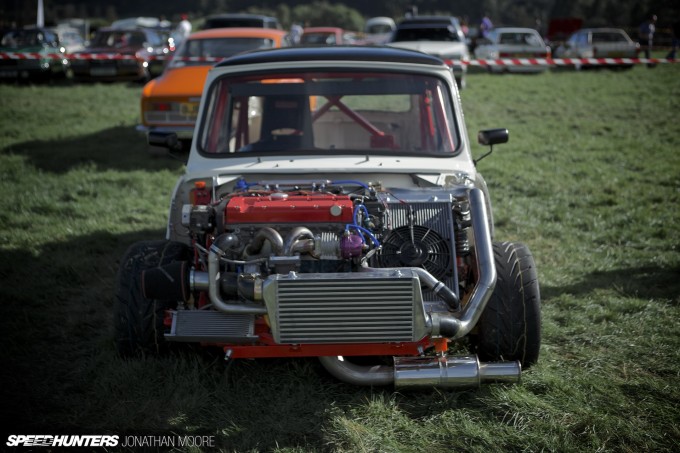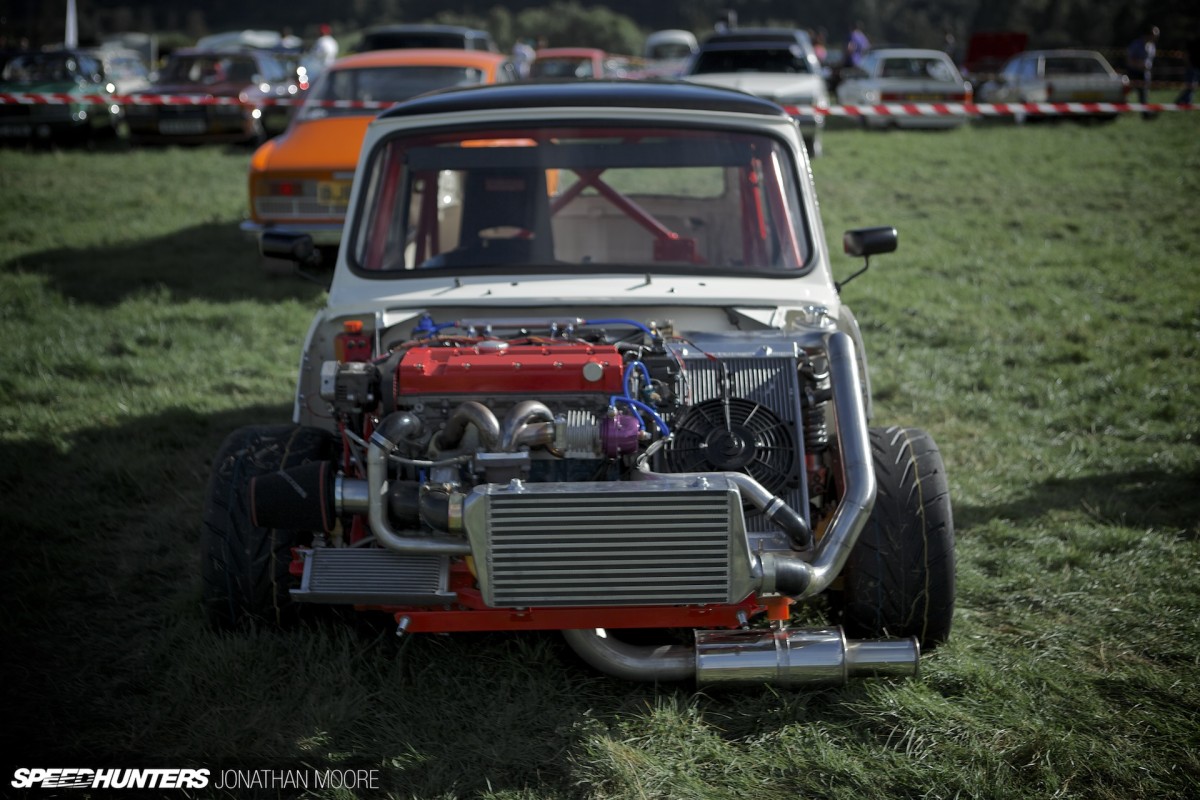 But strapped on up front was this the C20LET engine from a Vauxhall, somehow packaged up with all the ancillaries in some kind of TARDIS-like magic.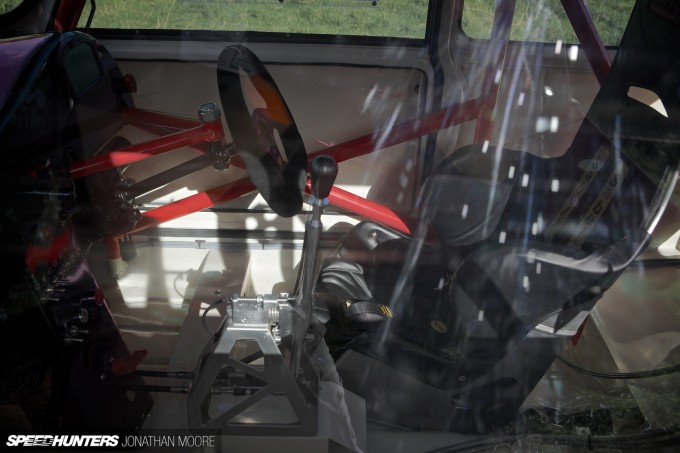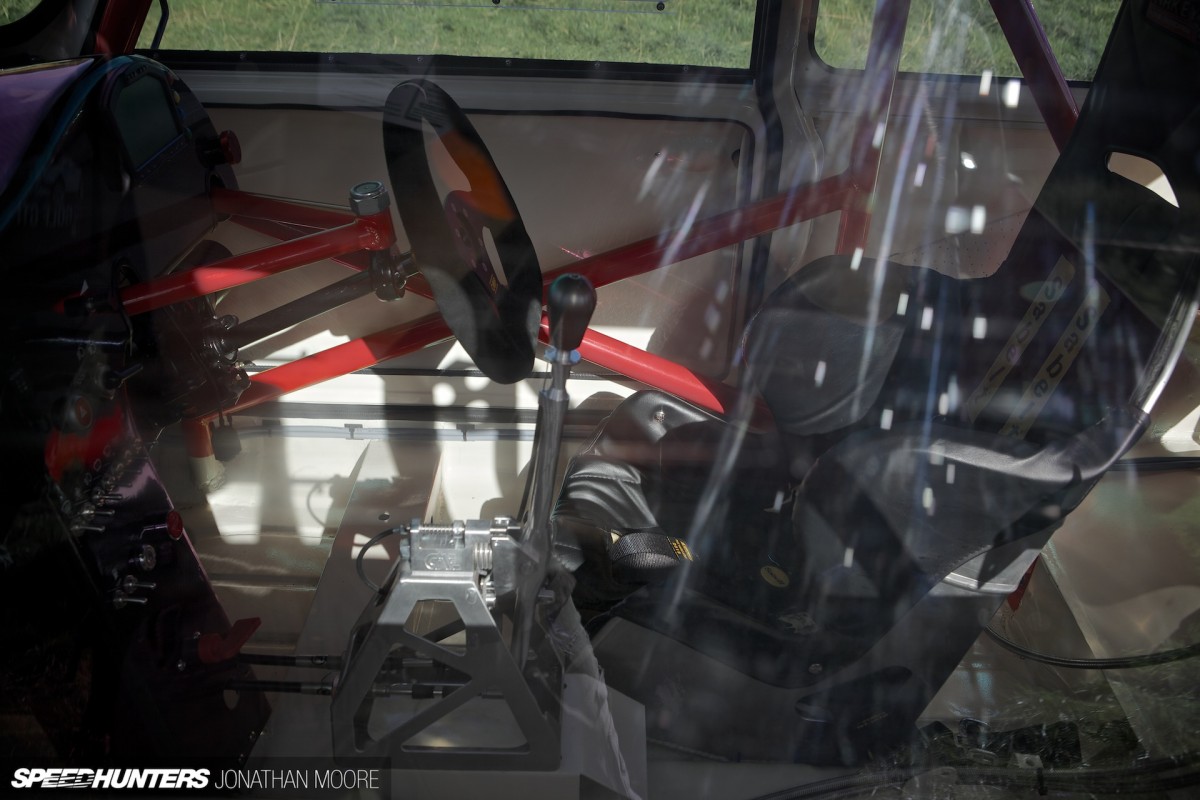 Jason Gwynne's magnificent Mini unsurprisingly won the Best Engineering award at the Gathering: everything about it was perfectly executed. An awful lot in an awfully small package.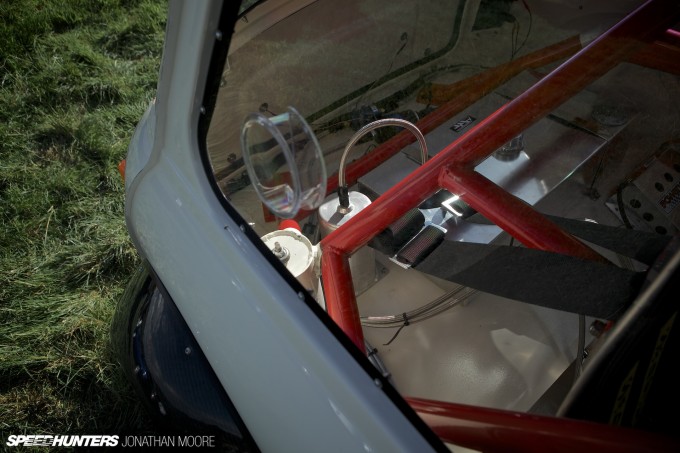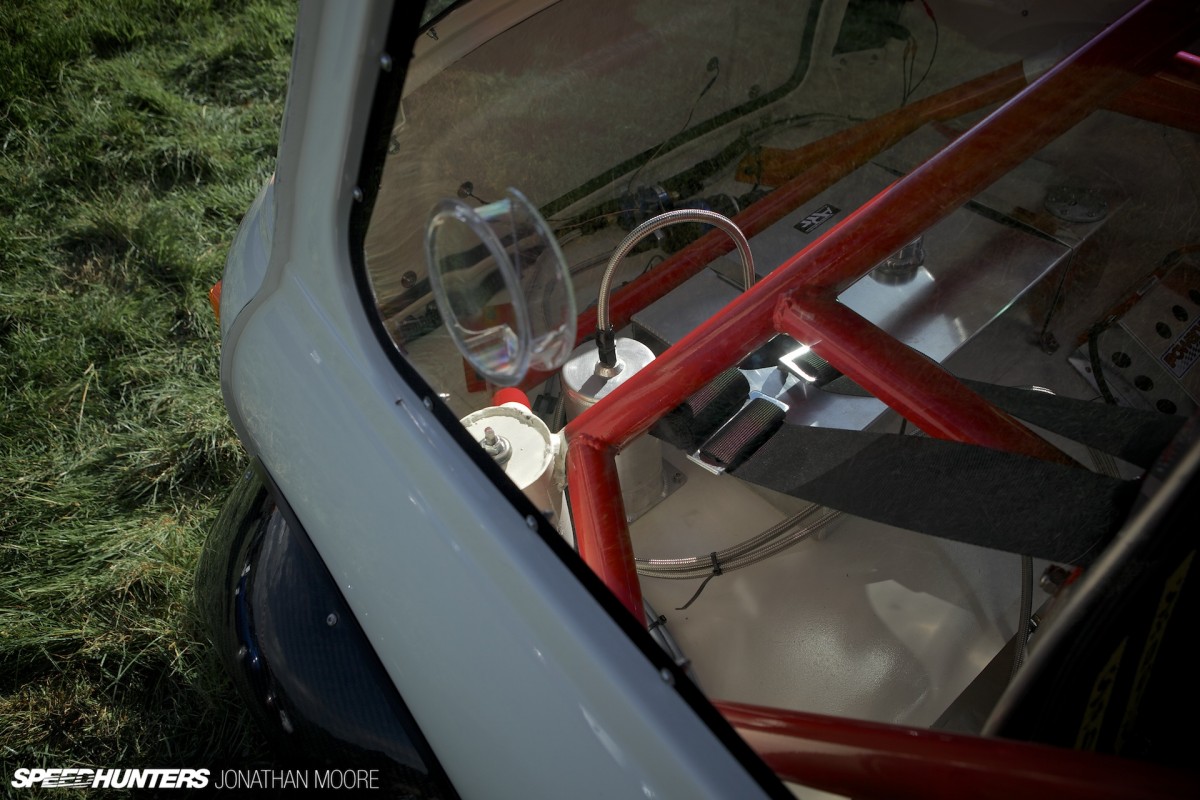 The build quality was top-notch; picking out the tubing and subframes in red a perfect aesthetic choice. It's amazing that with so much packed in at the nose that the rest of the car still had plenty of room inside.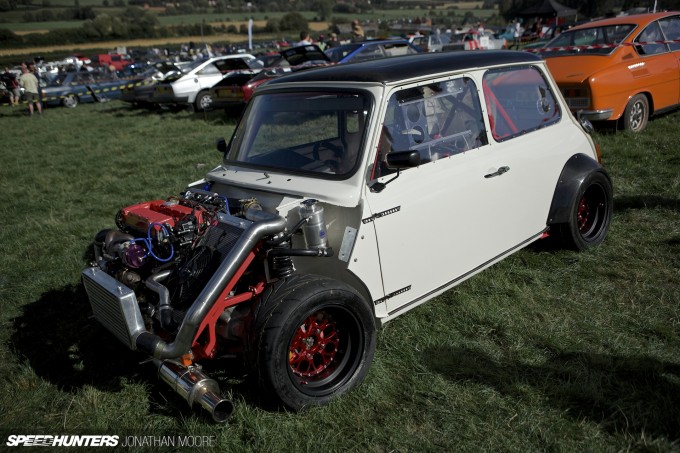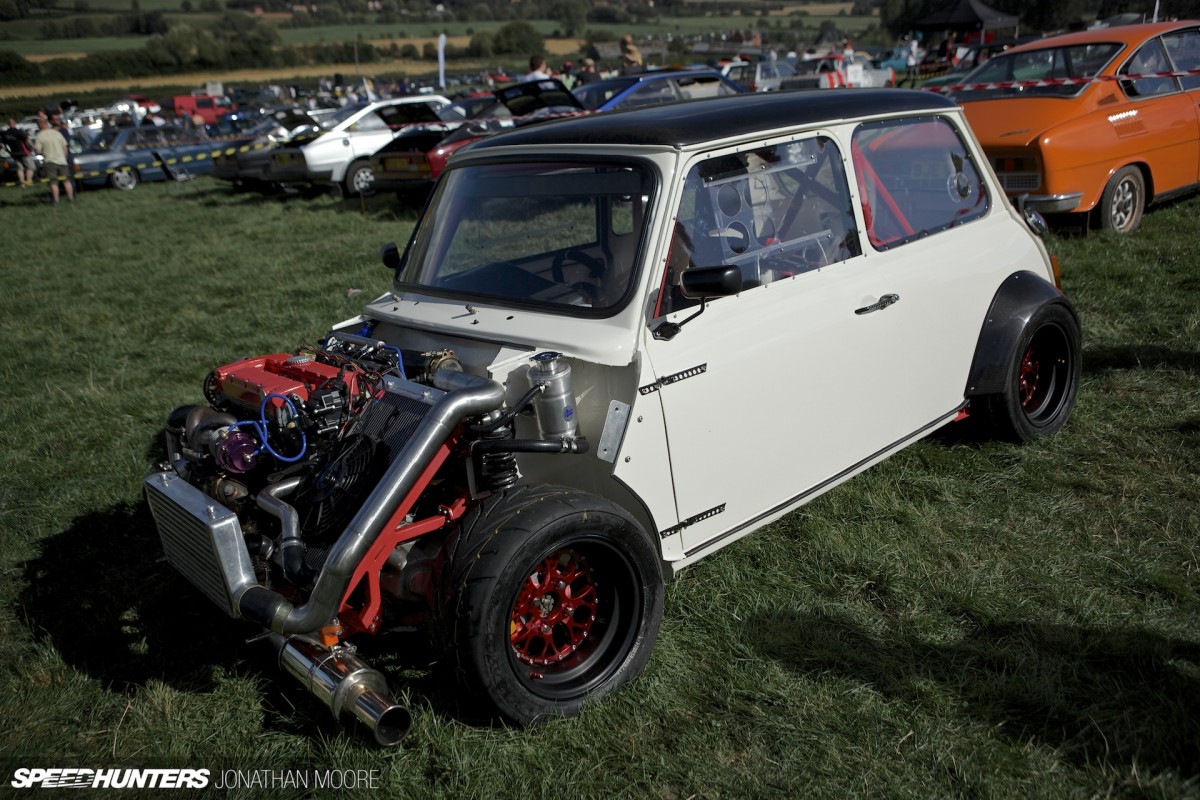 What's particularly great is that the body still looked relatively stock: the performance is hinted at rather than shouted, with that lovely carbon detailing and beautiful two-piece red rims. With well over 350hp, it must be like bolting on a fighter jet to the front.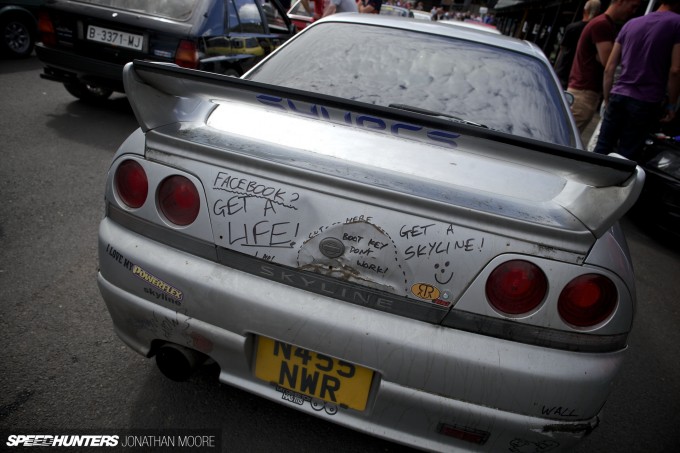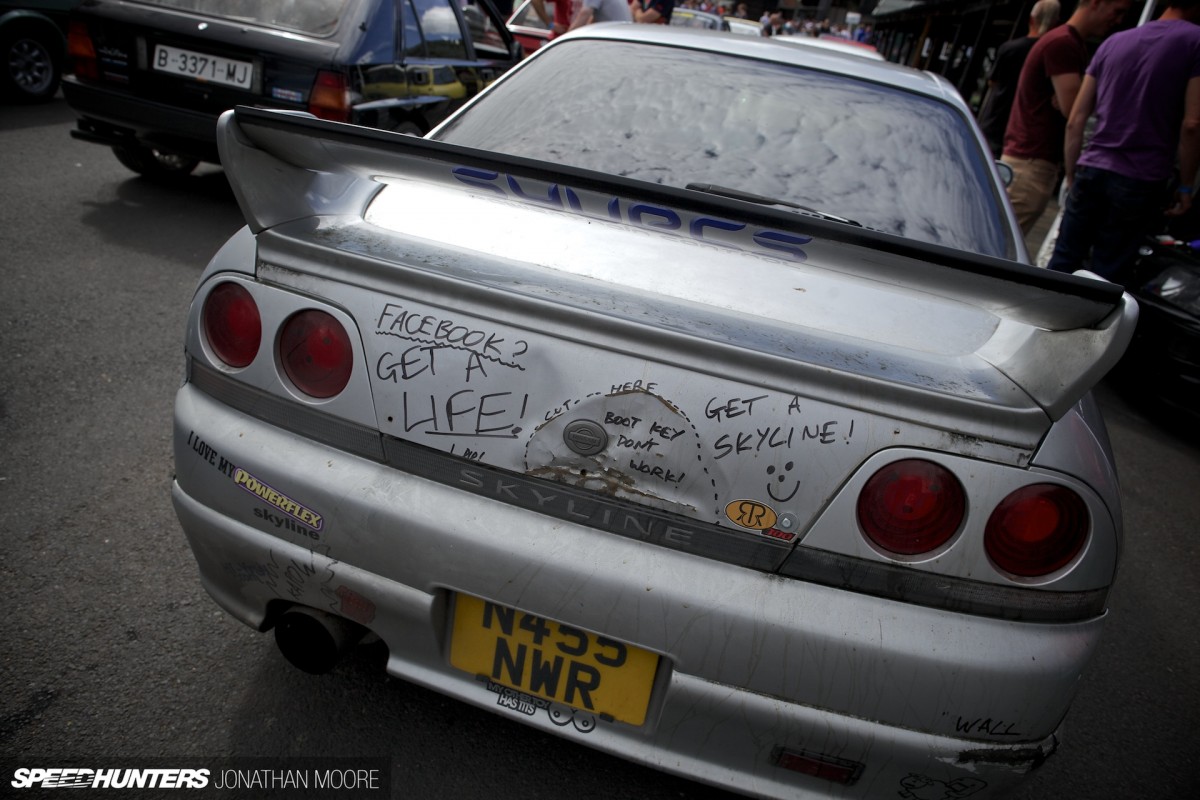 So many cars, so much trouble over what to choose. And why choose this one, a frankly battered Skyline? Well, I reckon owning a car should be about spirit and passion – but you shouldn't take life too seriously…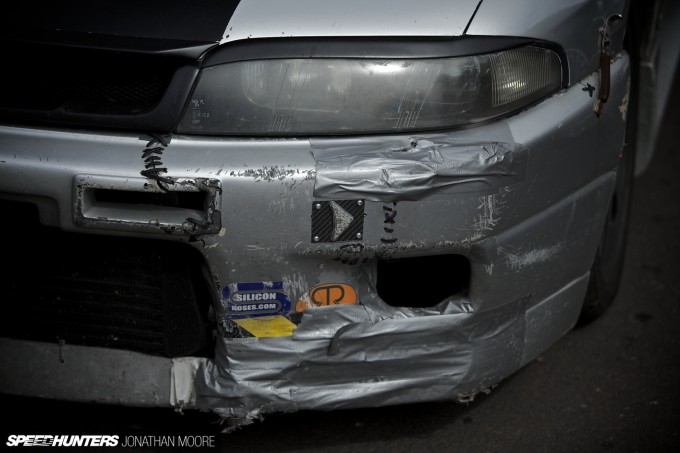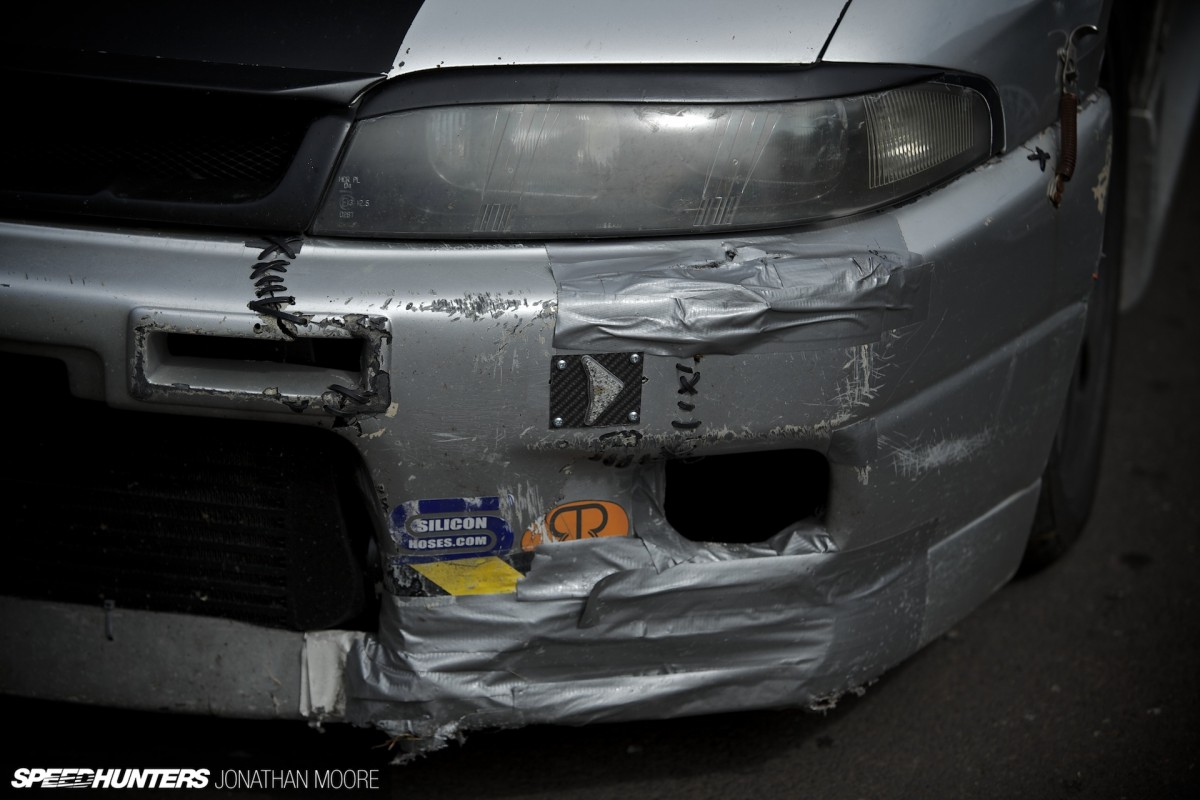 Some people might see this as Skyline sacrilege: I see it as a celebration of a car well used – and well loved from behind the wheel. The most important part of car ownership, surely?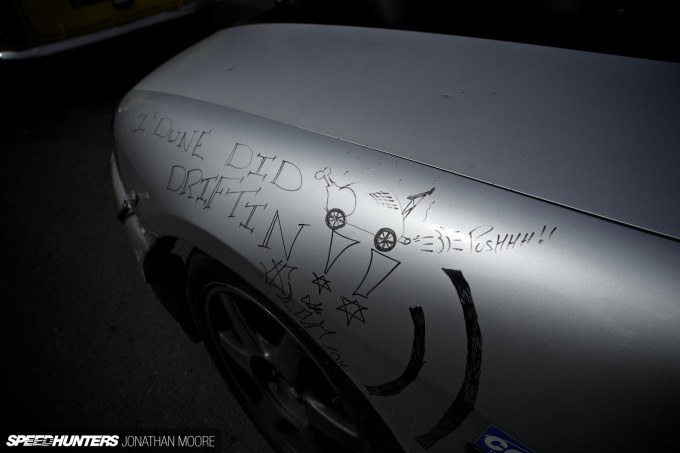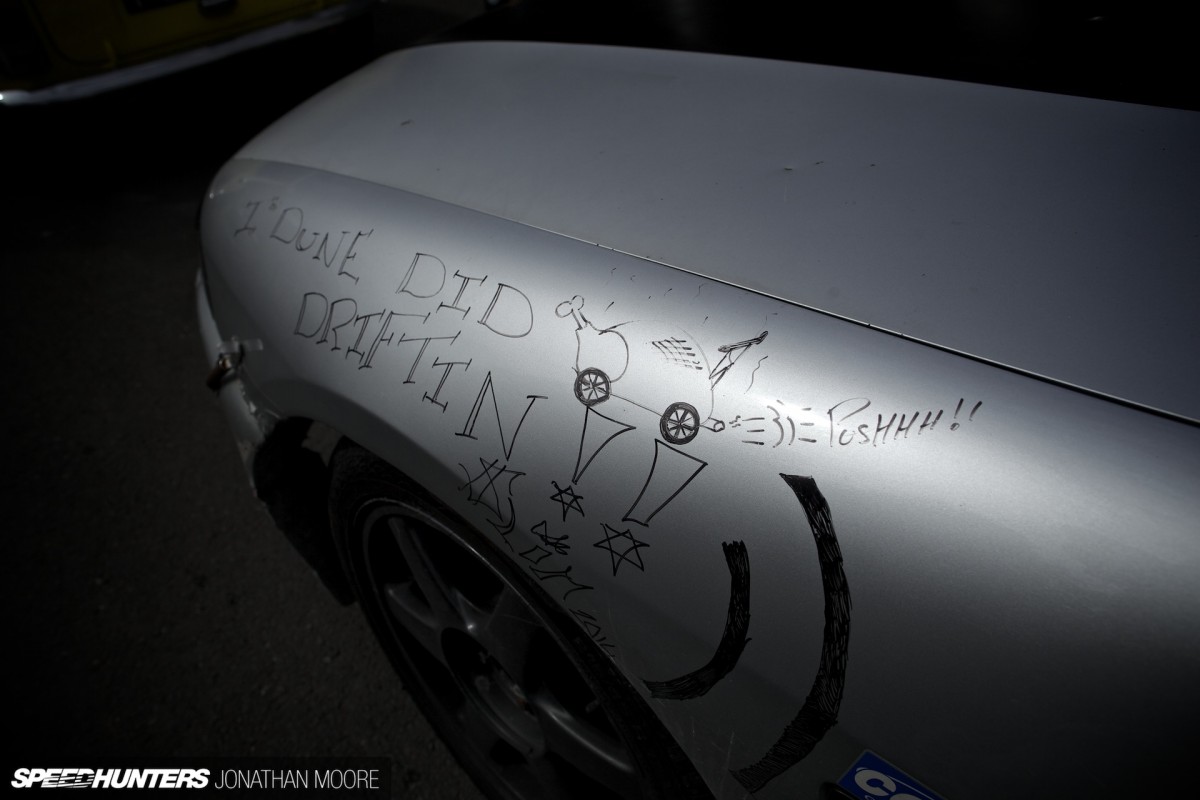 The owner shouted to me that his Skyline had a bigger turbo than the F1 car I was then gawping at (well, it had a turbo, maybe more to the point). As we see a lot of Skyline love in general, I wasn't necessarily looking out for one, but the graffiti-riddled car struck a chord.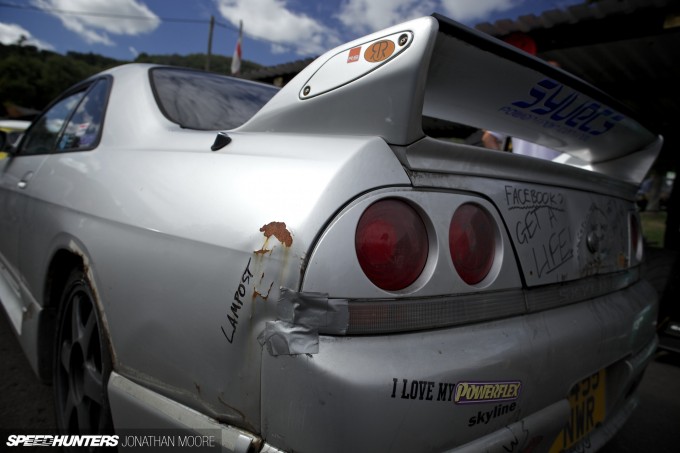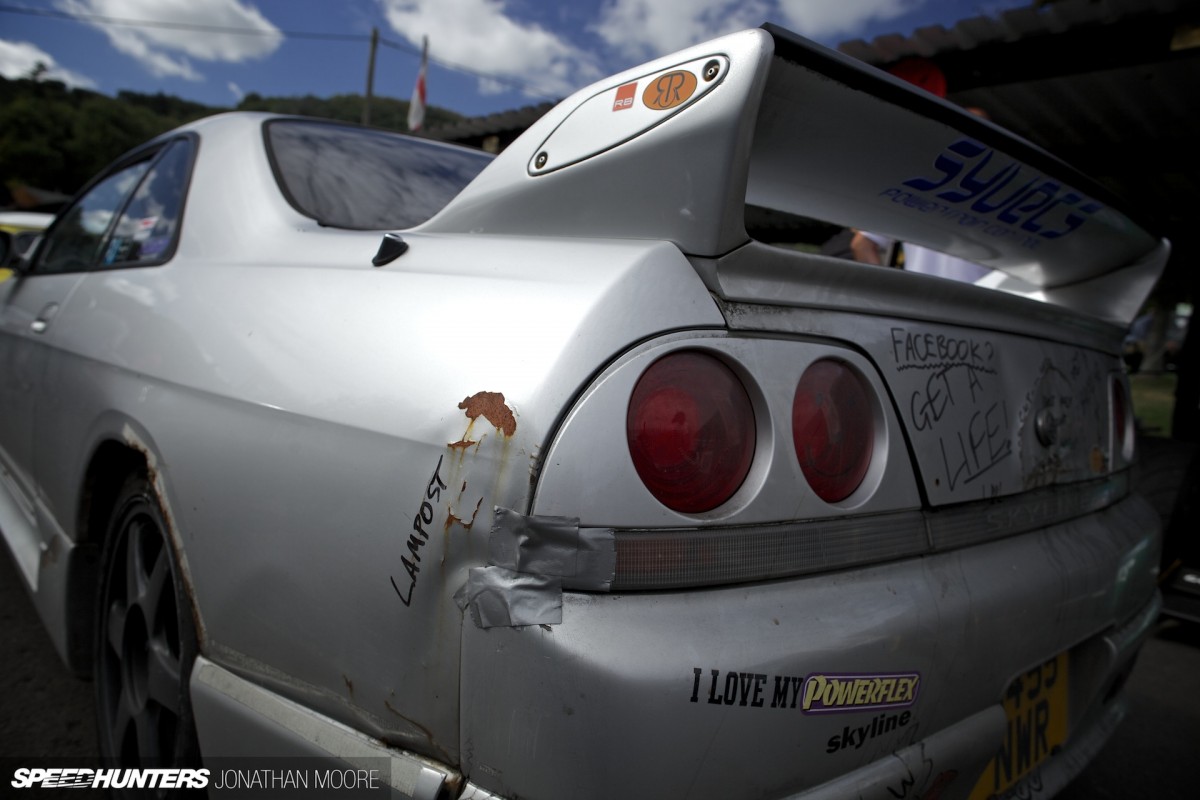 It's a diary in metal, every ding and scratch recorded for posterity – along with some extra comments for good measure.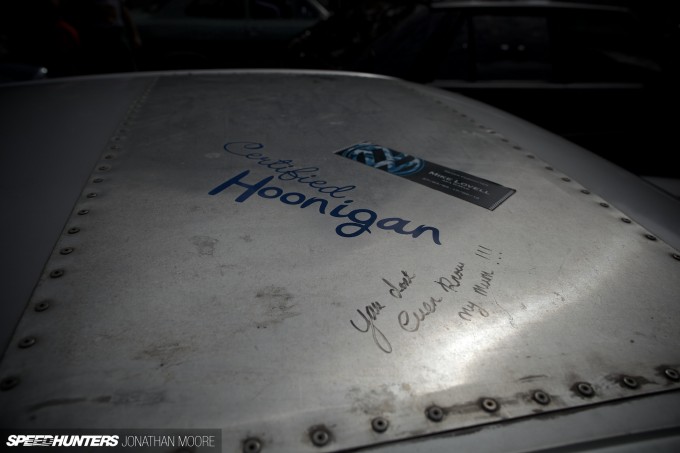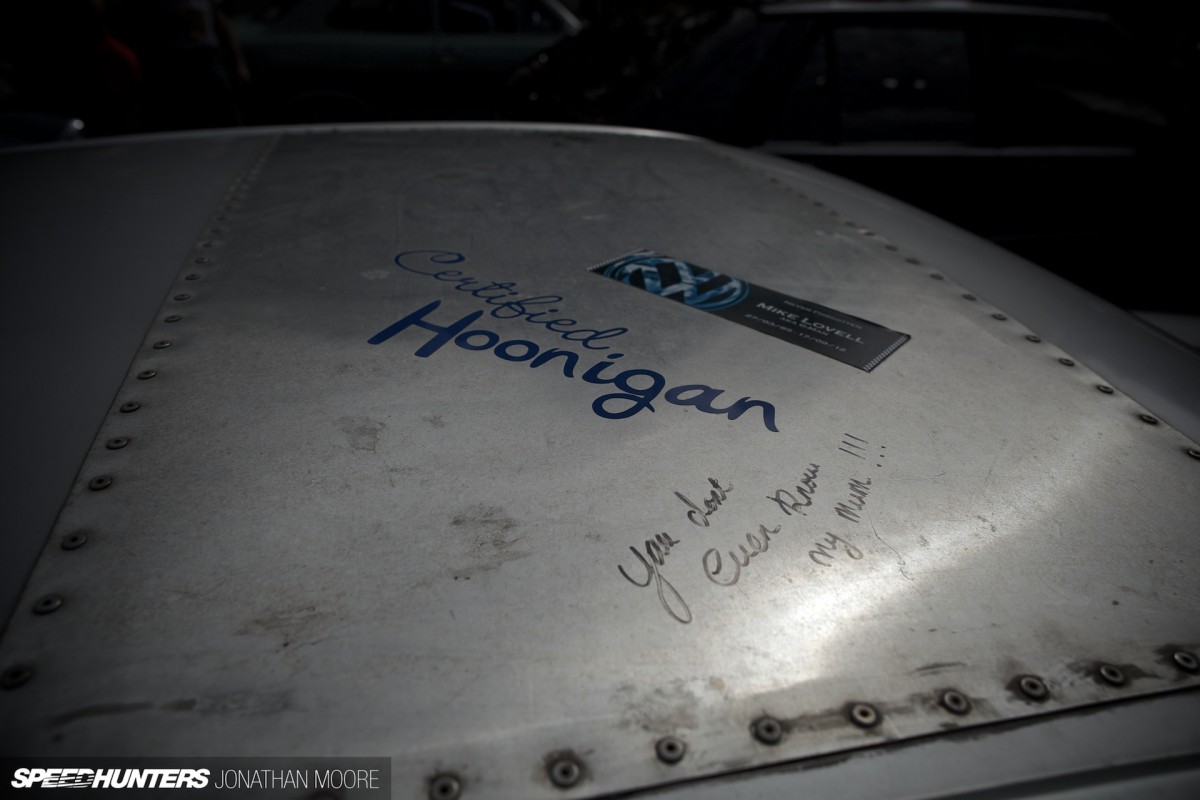 The roof graphic summed it up – and for me justified the state of the car!
From Blue Ovals To The Lowest Of The Low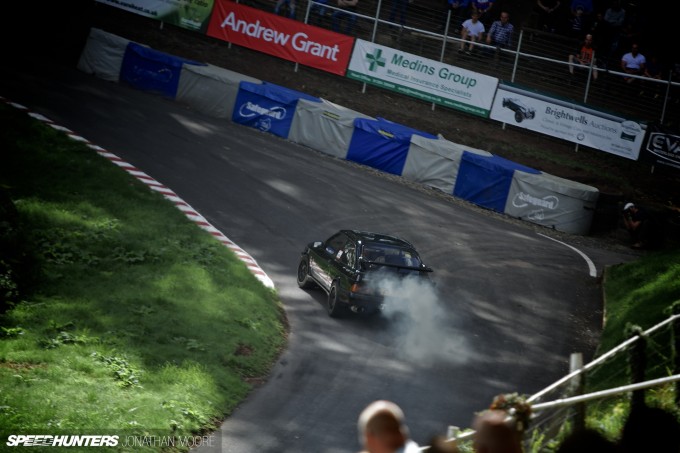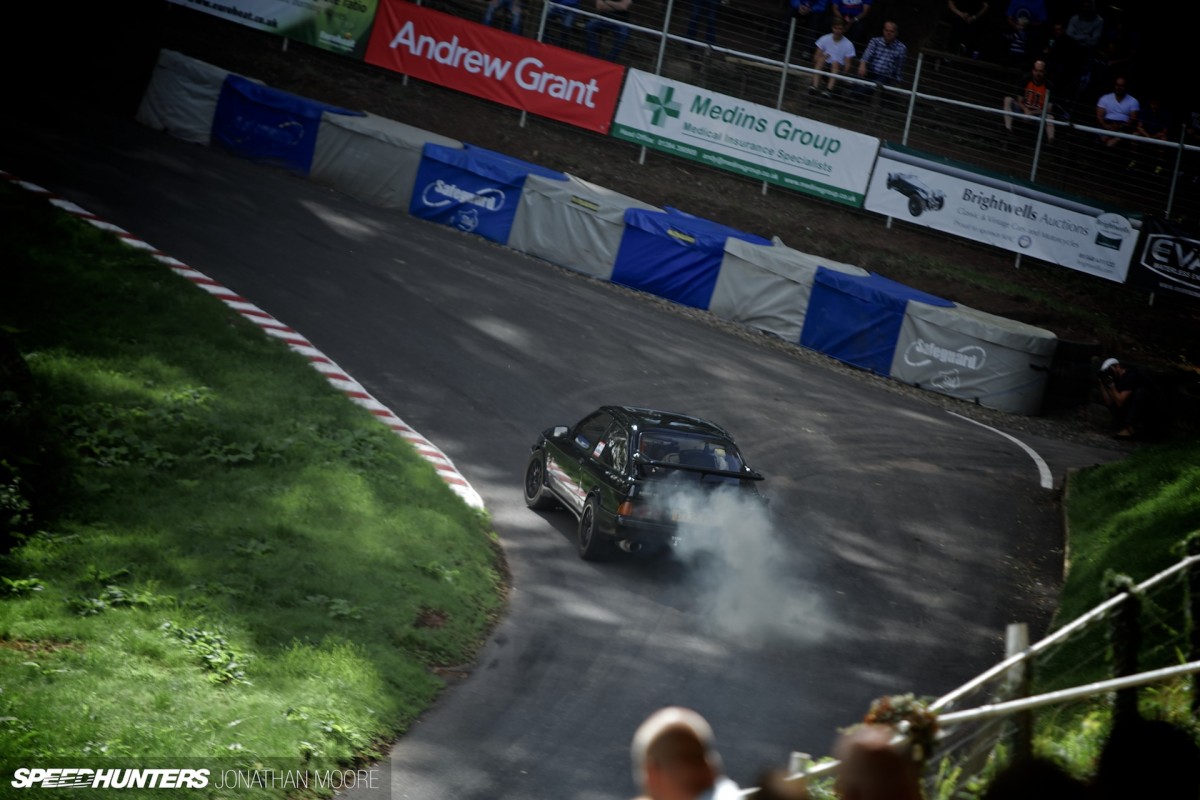 Every year the Retro Rides guys put together an impressive set of demo cars to run up the hill every couple of hours, breaking up the run-what-you-brung hordes. This year saw the Badford smoke its way up the hill, the Formula 1 car, our own Peter Pentell and his Lancia LaSupra – and Richard Brant's 600hp Sierra RS Cosworth, which currently competes in the British Hillclimb Championship. It basically ripped its tyres up to the delight of the crowd. This was just one of a predictably large contingent of Fords.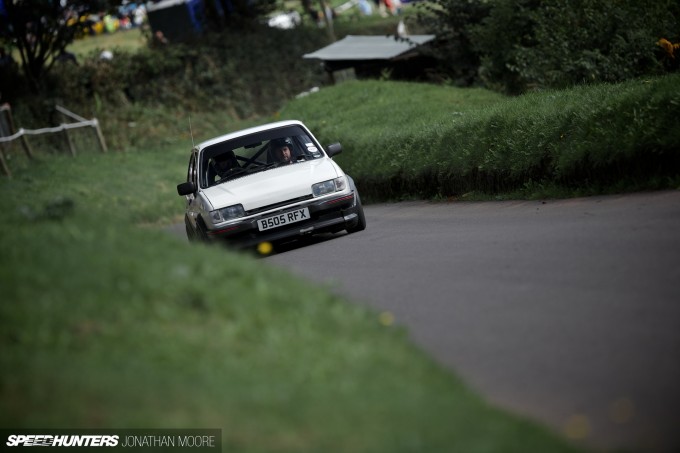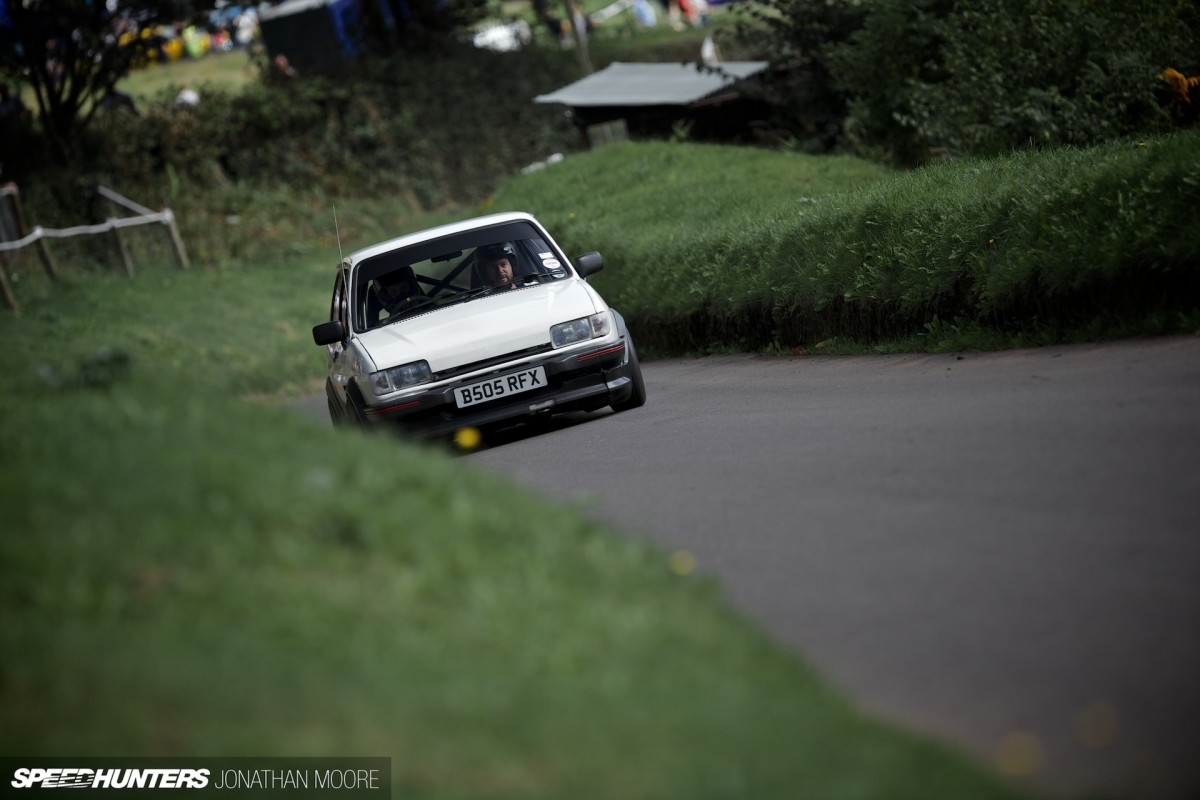 Not all were face-melters like the Sierra. Humble Fiestas tackled the uphill challenge, with some more capable than others. This XR2? Definitely capable. Stripped out and dropped down, this was one serious machine, making use of what was always a great chassis. I learned to drive in an XR2, which gave me a very unrealistic idea about cornering speeds.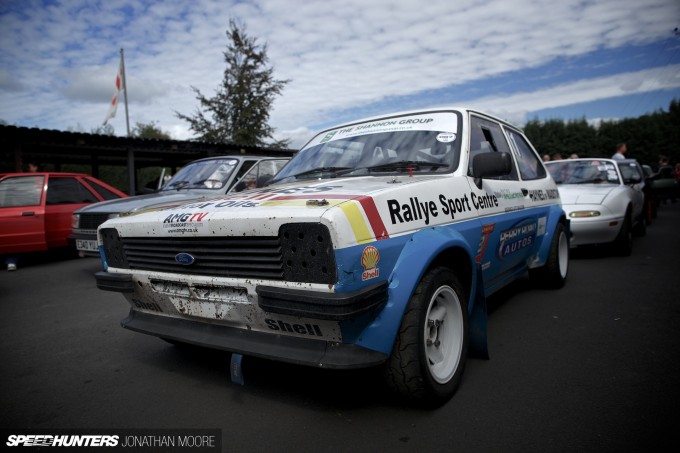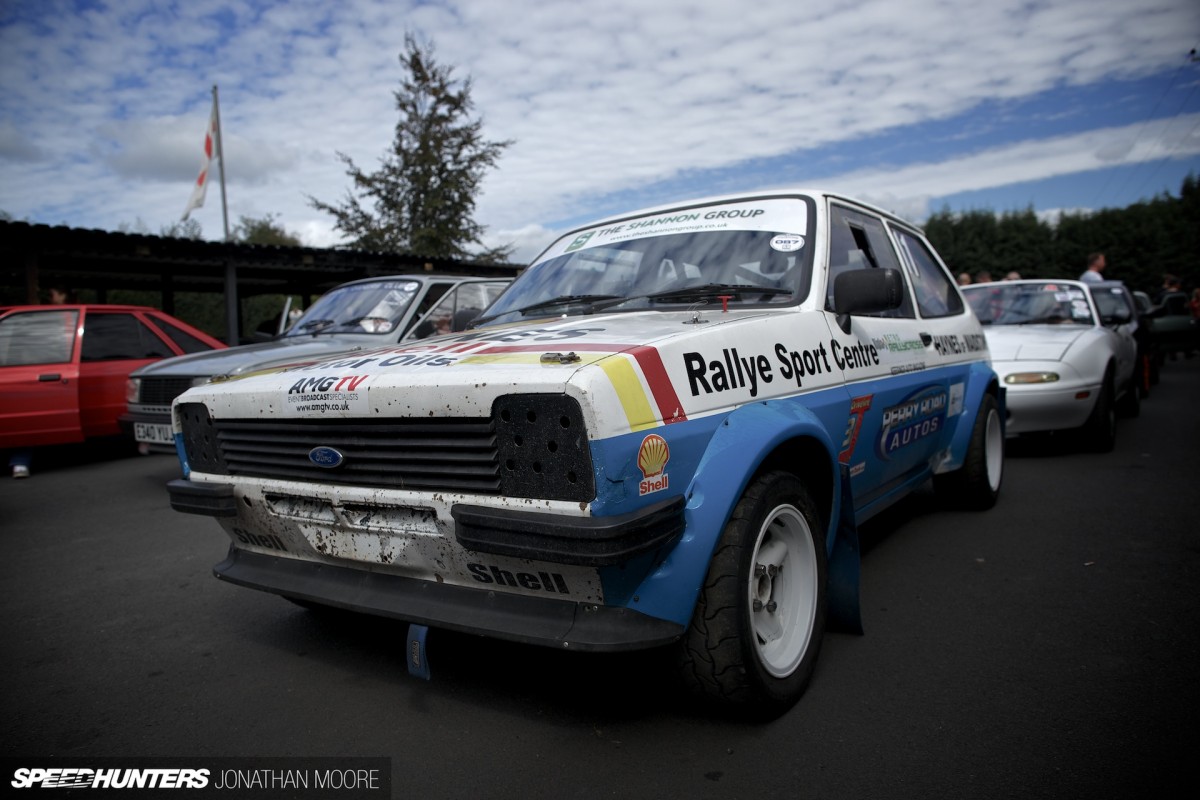 This replica rally cross Fiesta made me yearn for some retro rally cross action: I just haven't made it to any of the events this year. This particular car is also a great example of a build on a budget: it's not concours, it's not all that pretty – but it does exactly what it should do, mostly sideways.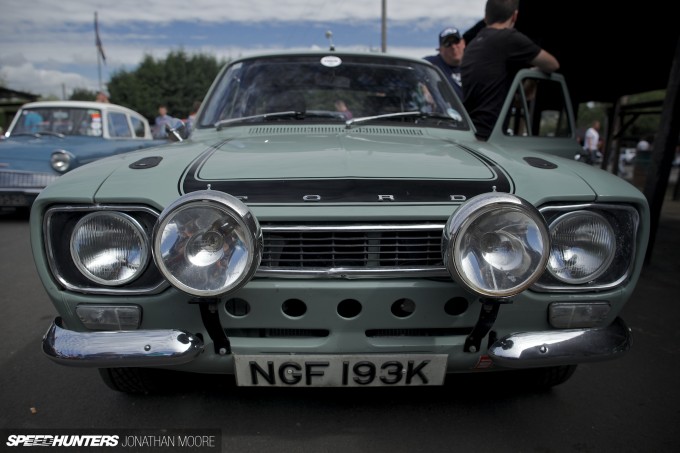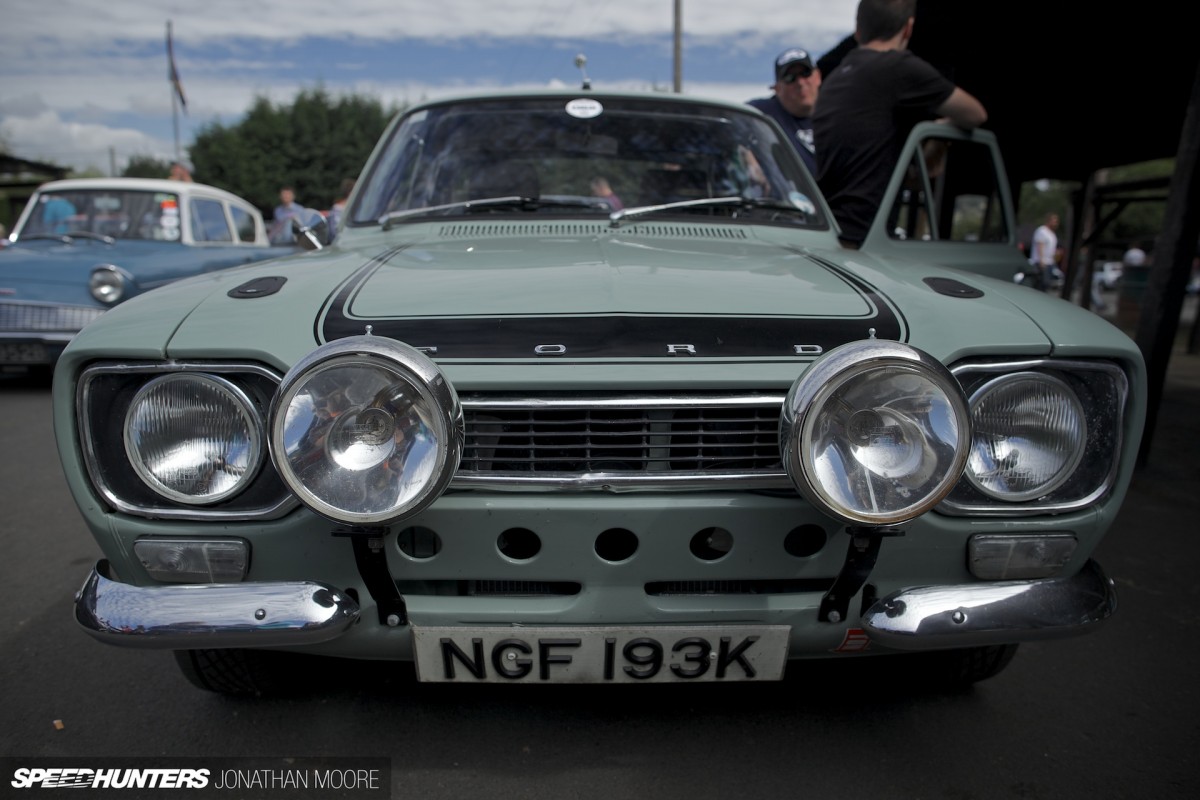 Retro Rides is definitely not all about power, and is all the better for it. Sometimes you just want a beautiful restoration, and this perfect Mk1 Escort ticked that box.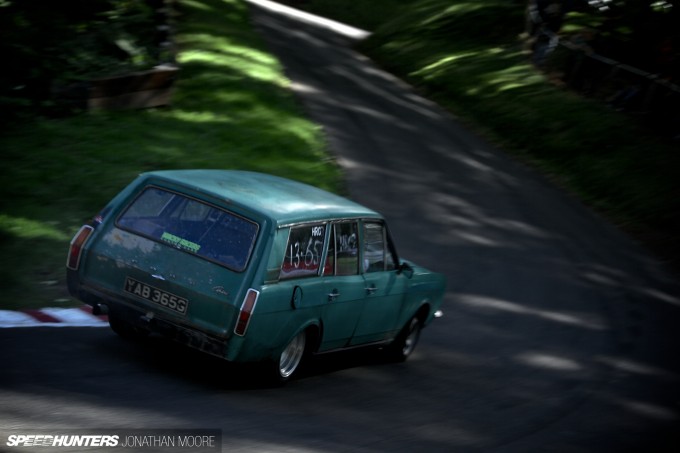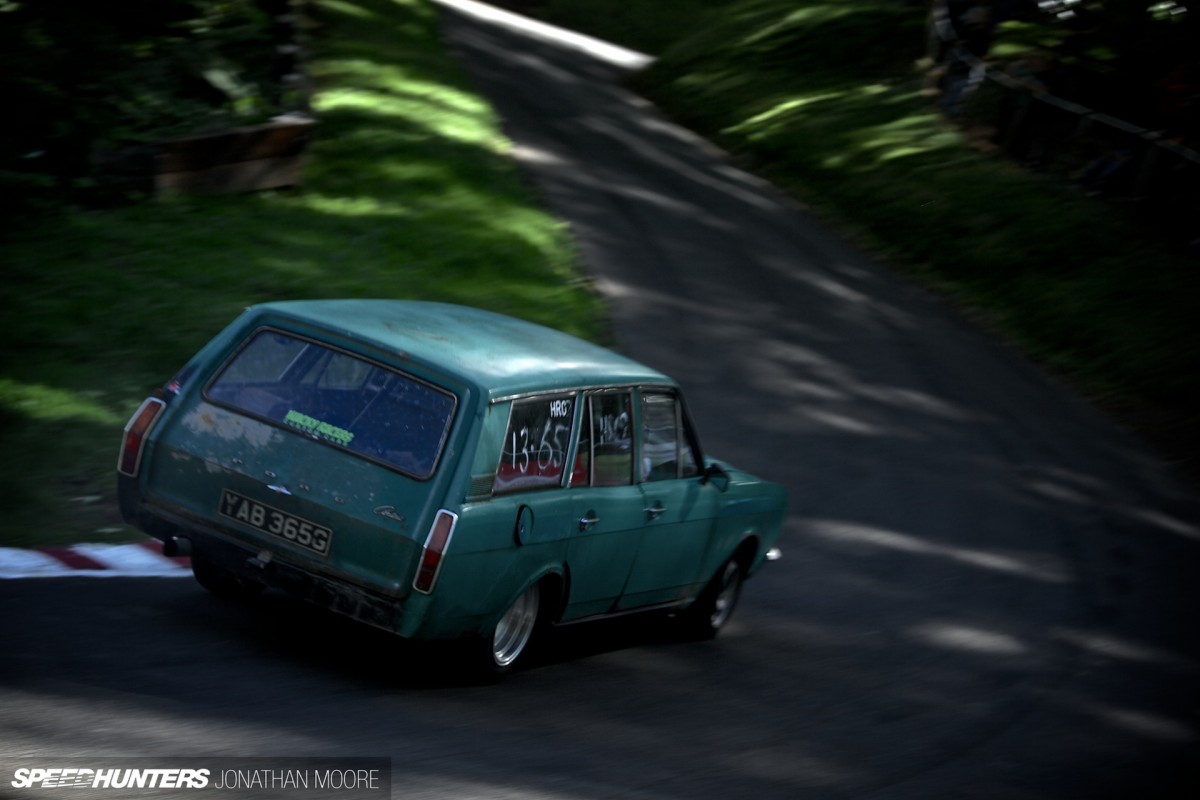 That said, if you did want power… This Cortina was one of many cars that many wouldn't necessarily look at twice without wanting to get the number of a good scrap merchant. Every time that would be a mistake – normally because as the car approached a corner there would be the sound of tyres shredding and the growl of a V8 or turbo. James Murray's Mk2 Cortina was such a car, with its V8 and dual-stage nitrous. Epic!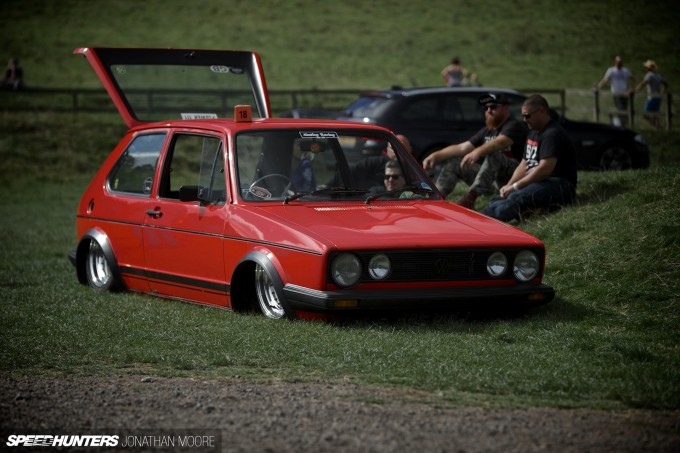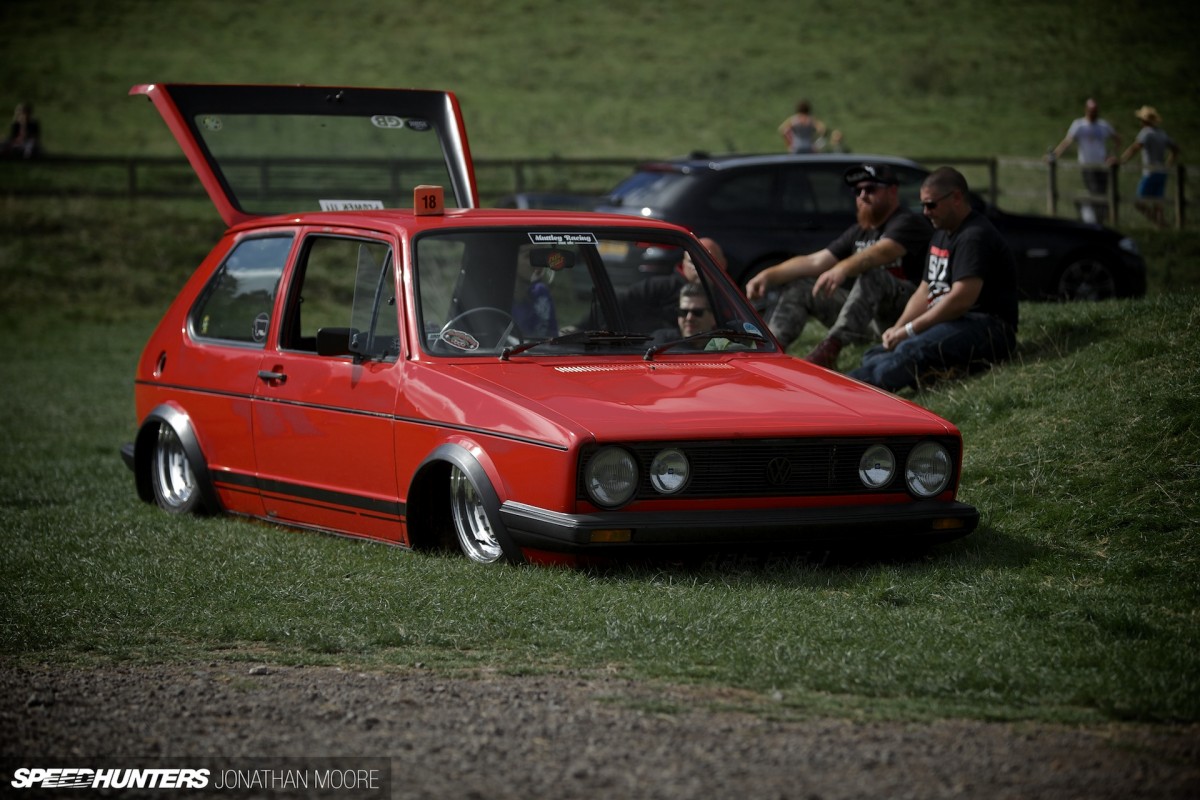 I'll next turn to something that can't be avoided about this year's Retro Rides Gathering: the lows. There were many lows. So many they'd need a spotlight of their own, but instead I'll try and pick out some of the most grass-cutting machinery in attendance. Starting with this sunken Golf…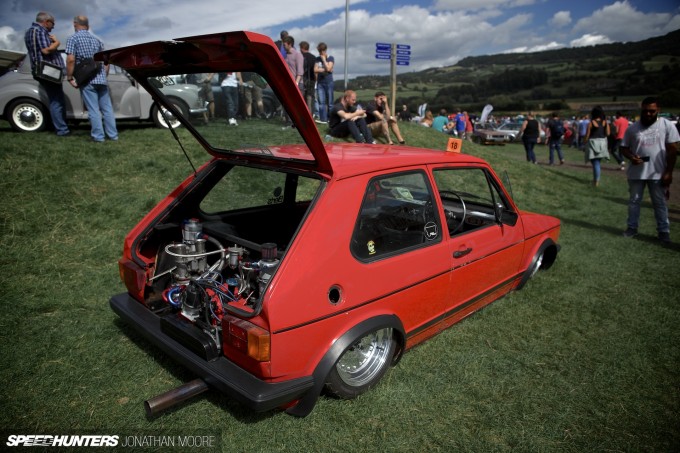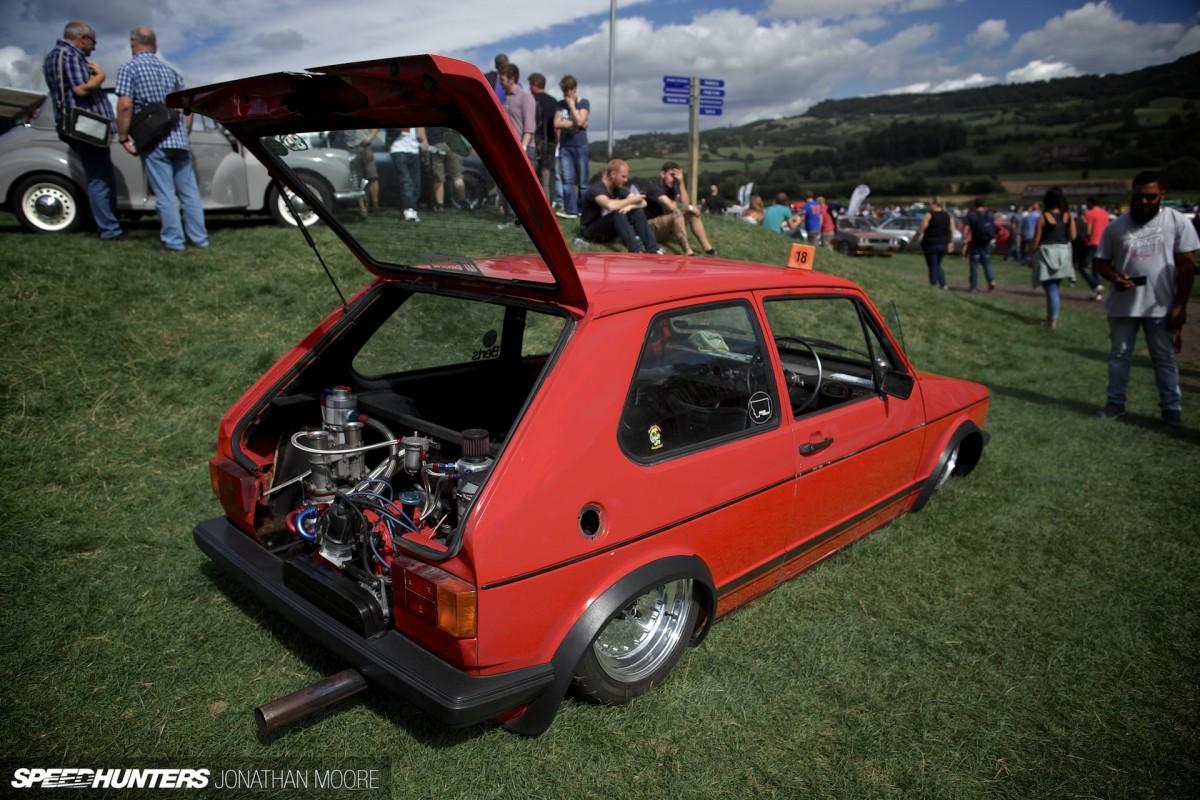 Crazily low, it then took it all up a notch by showing off its Mazda rotary motivation out back. Completely out there, completely awesome.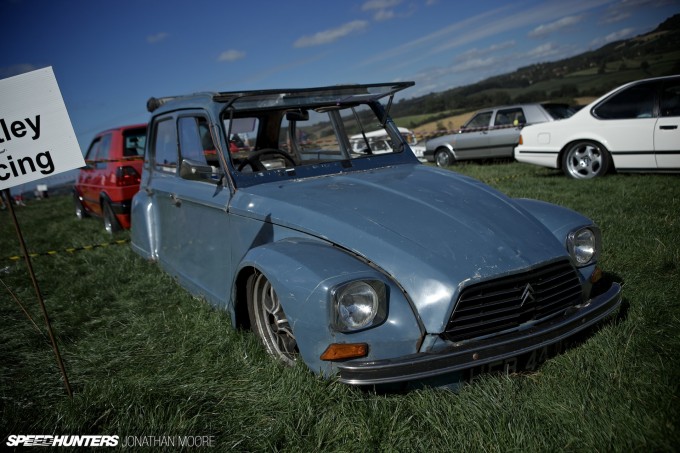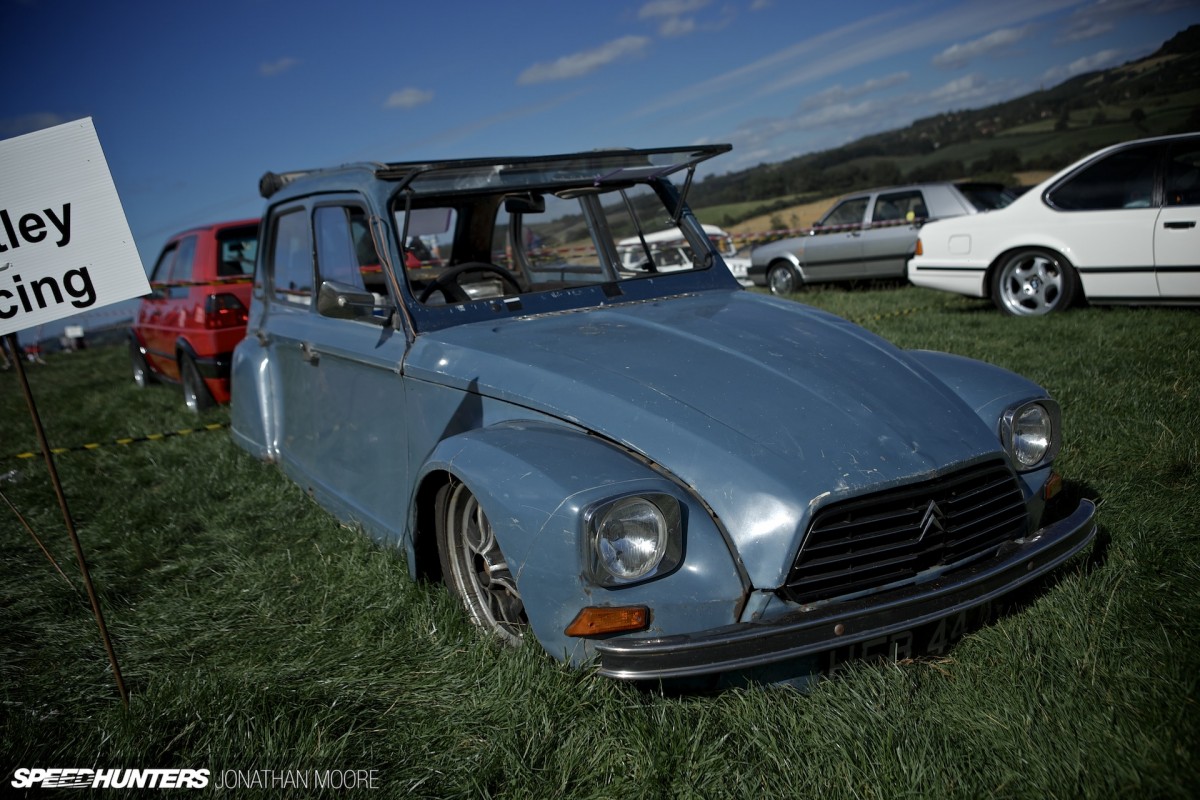 Now, if there's one car that could always be accused of being just a little too high off the ground for the sake of its own stability, it's the Citroën Dyane, the posh version of the 2CV. This one had been flattened onto a Beetle floor plan, but carried off the down-to-the-ground look rather well. Battered? Loved, I'd say.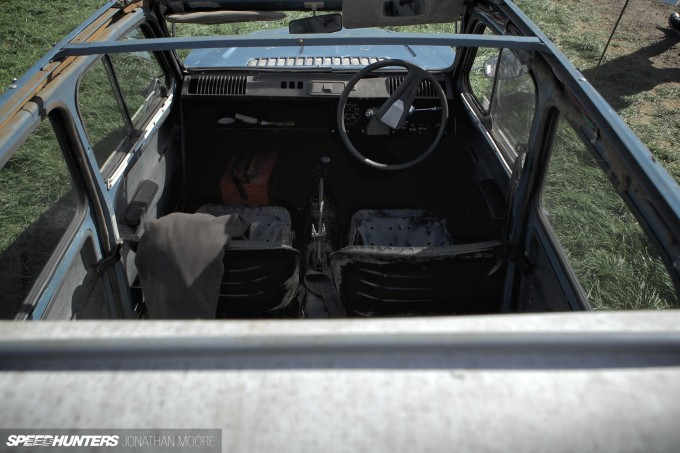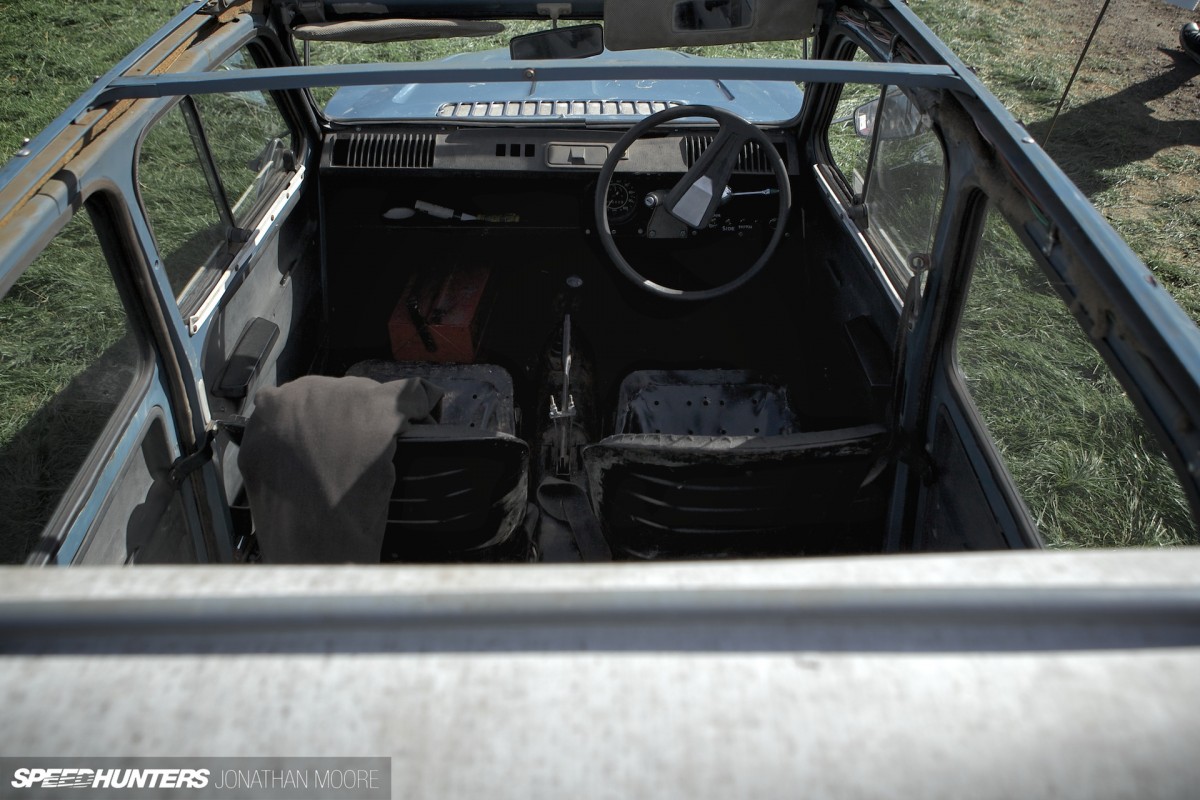 It still retained its original and frankly lethal full open top. I had an uncle who owned one, and have happy memories of being very young and standing on the back seats, arms in the air, as the car lurched round corners at obscene angles. At least there was less chance of this one falling over…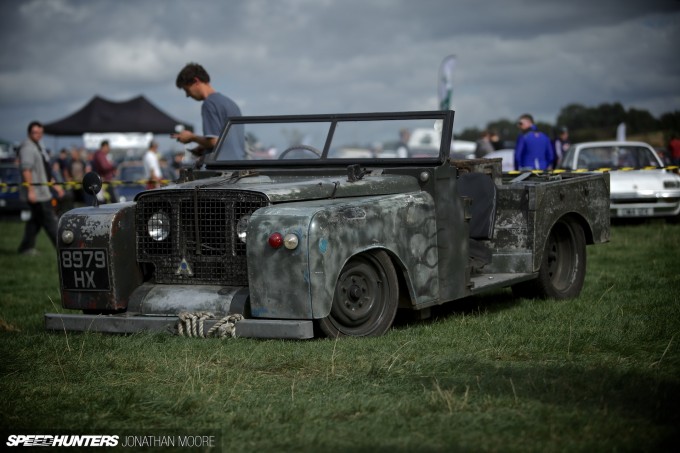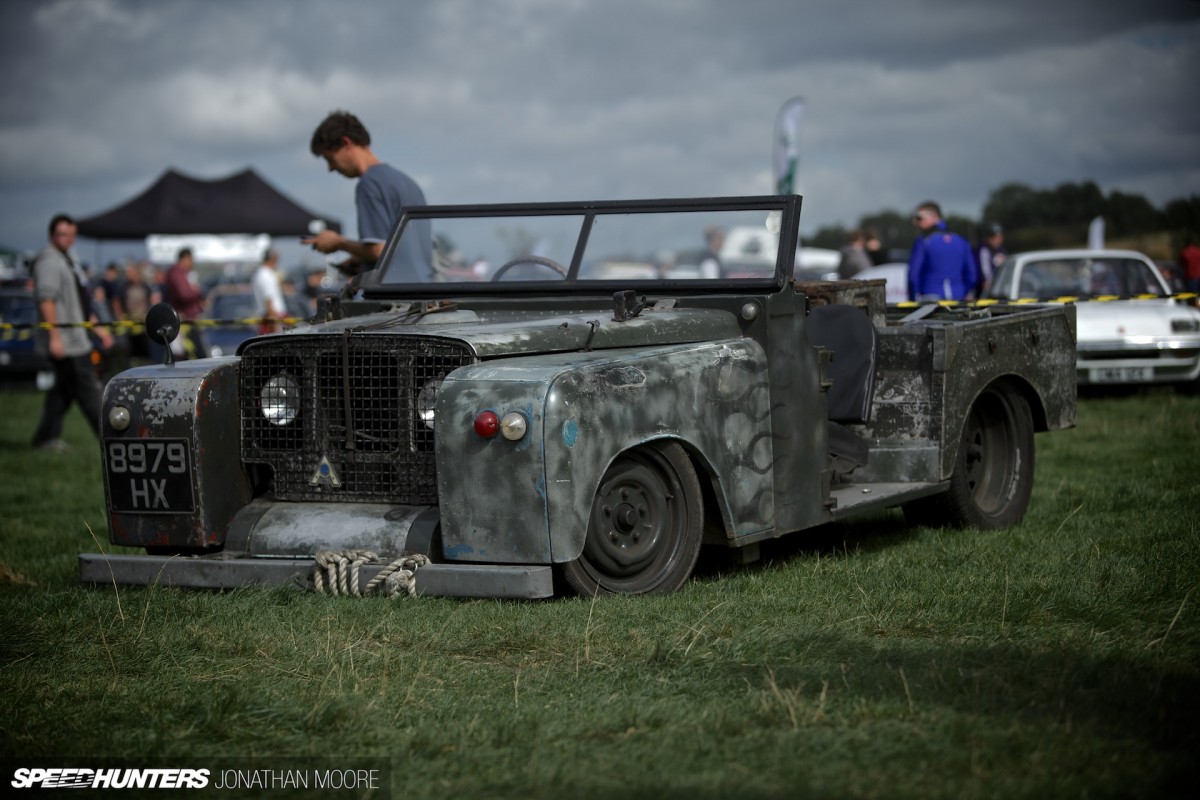 Then there was this Land Rover Series One, a 1948 model and one of the first off the production line. Was is the operative word. Now, it's banged down to the ground and mounts a 3.9L Range Rover V8 (running LPG!) and uses a Discovery back axle and the chassis from a P4… It's all kinds of Rover, and all barmy.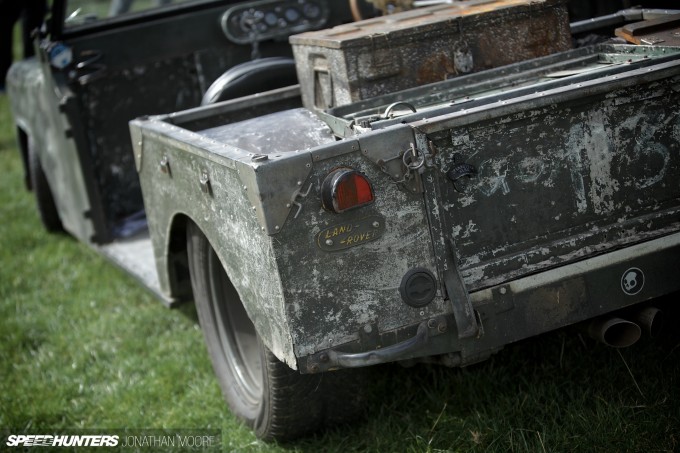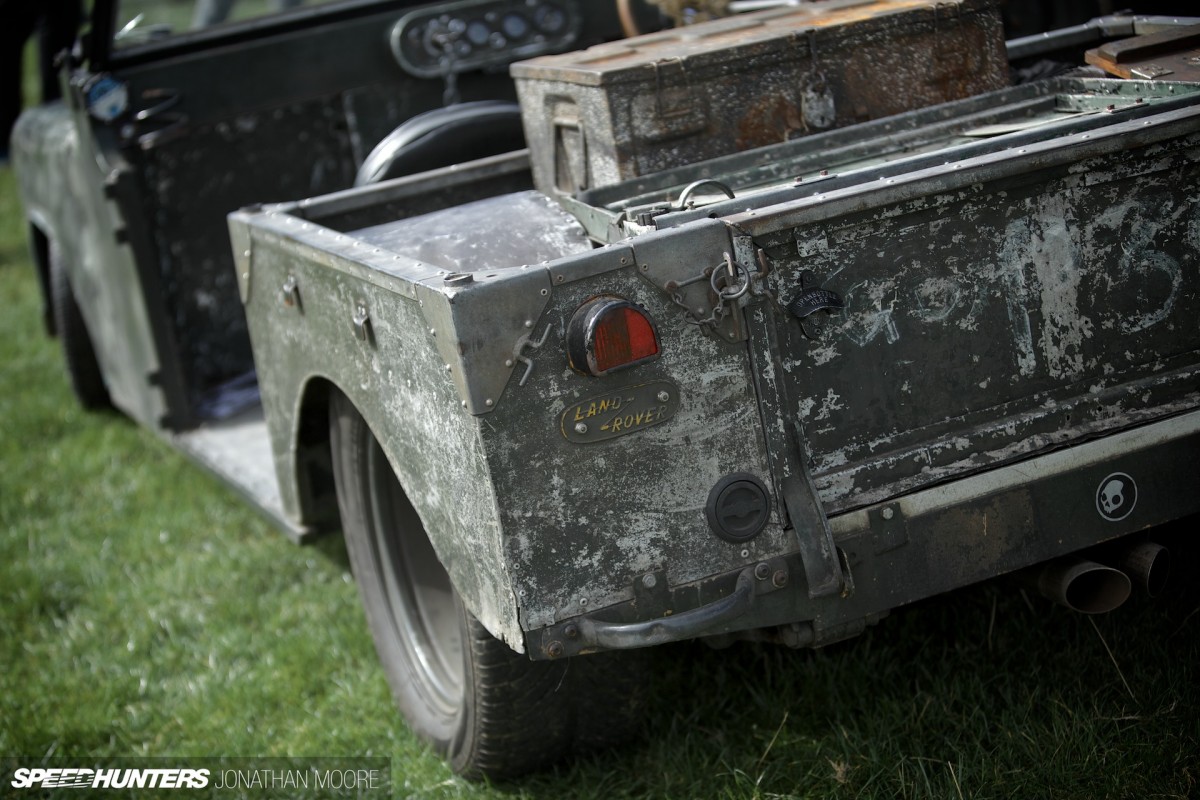 That V8 rumble cranks through a ZF 'box, and seeing it zoom around the site was like witnessing a Land Speeder from Star Wars. Our own Mr. Musselwhite has been a previous owner of this wacky machine. Bryn, why did you part with it?!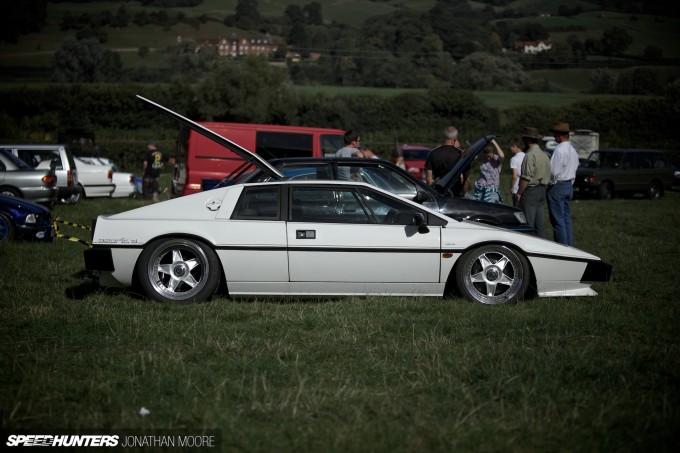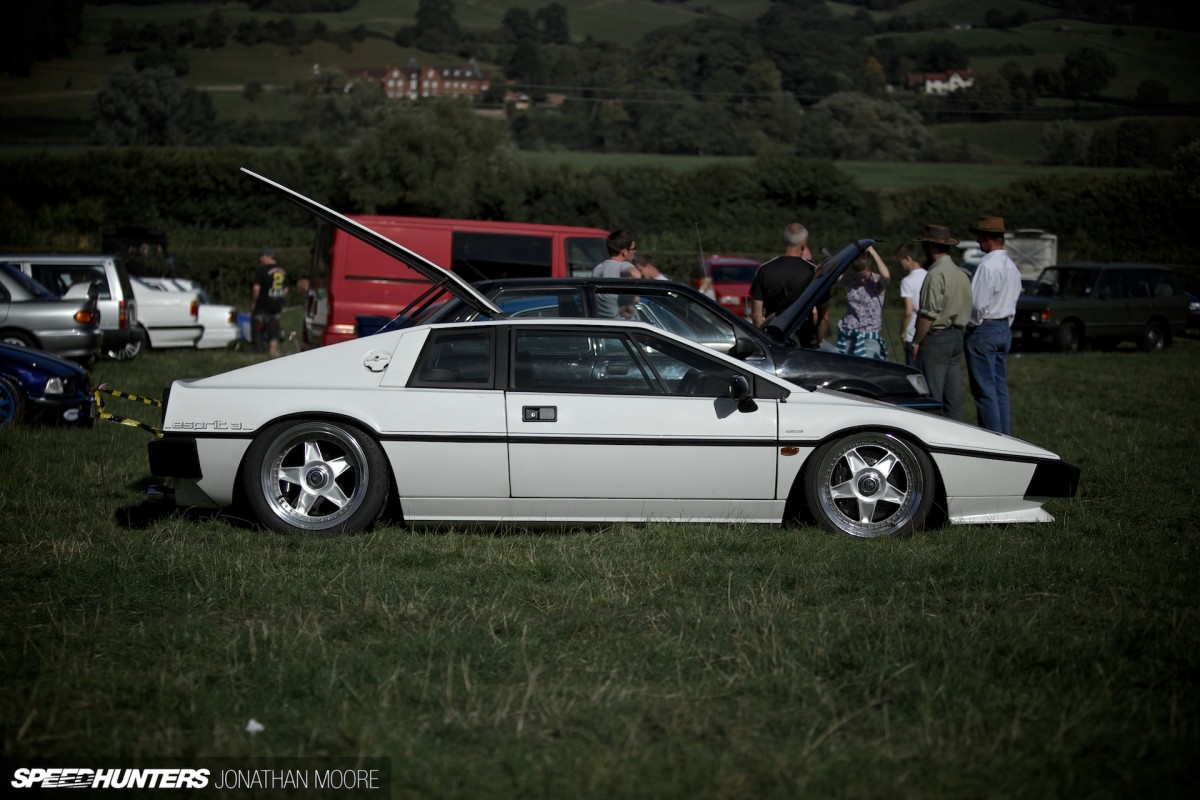 Penultimately, a car that makes me go weak at the knees… This pristine Lotus Esprit epitomises the wedge-shaped chic of 1980s super cars, and as we've seen before with Esprits, the best thing you can do to them is not a lot.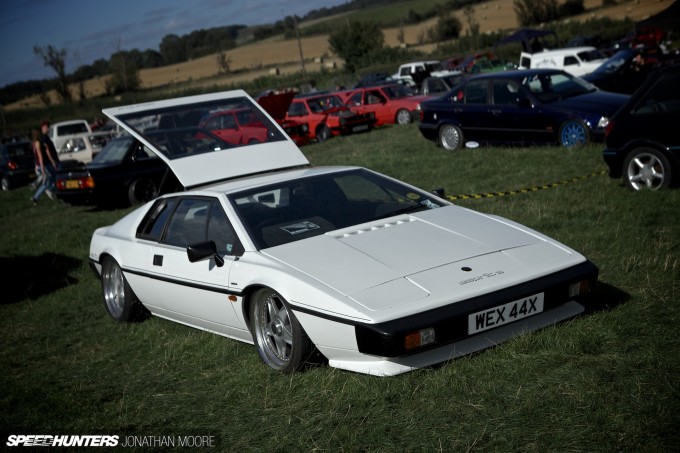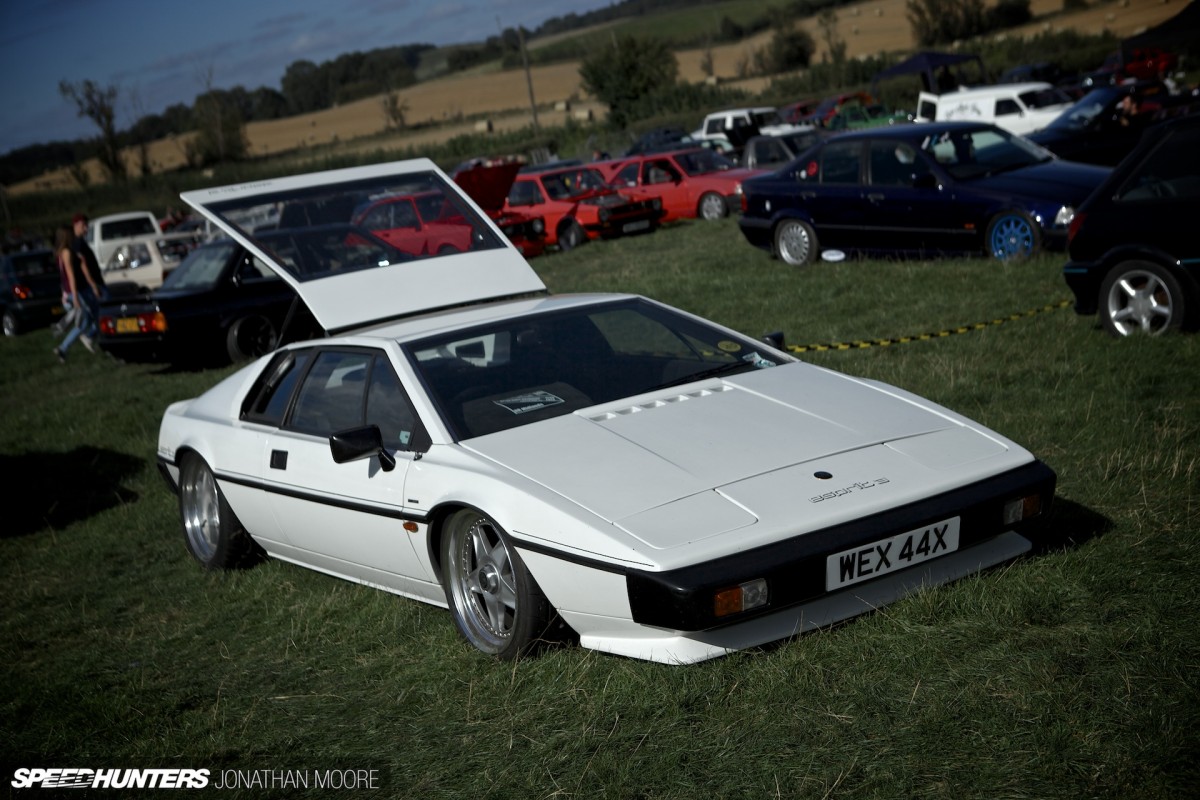 Giugiaro's design is still frankly beautiful, and it's just the addition of air-ride that gives this Esprit even more poise without detracting from that shape. Modifying the body? Blasphemy!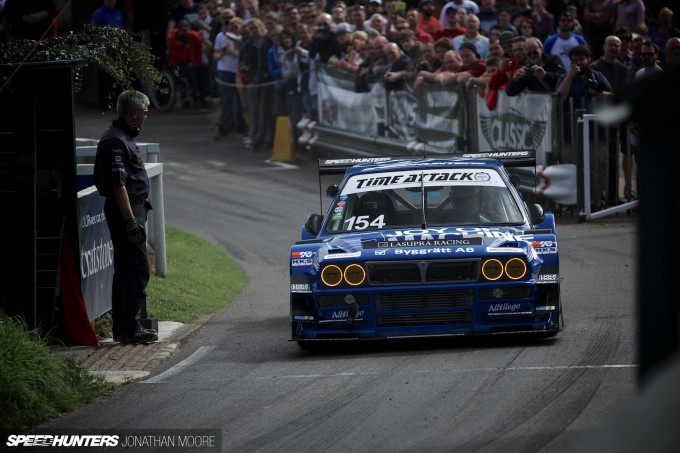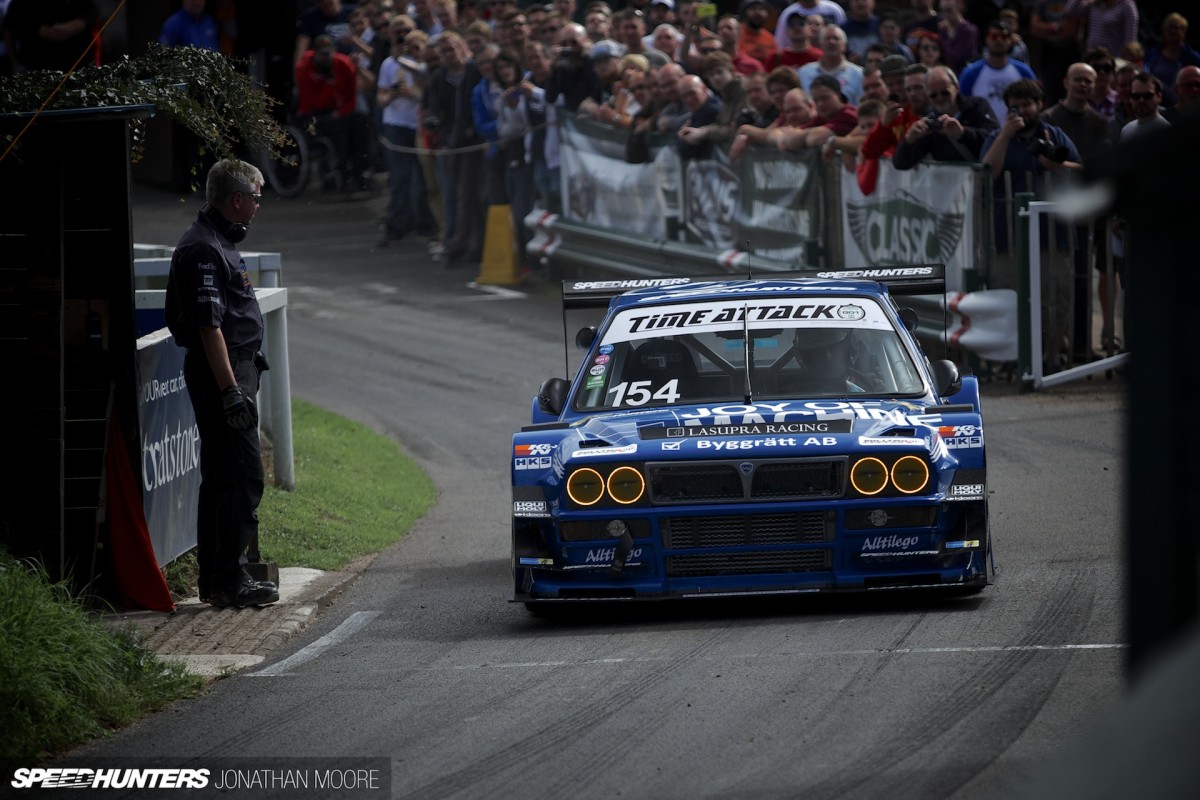 I was particularly pleased to get my first glimpse of the epic LaSupra on UK shores. The Lancia hybrid (can I say that?!) is just as impressive in the flesh as it is in pictures: a truly remarkable machine.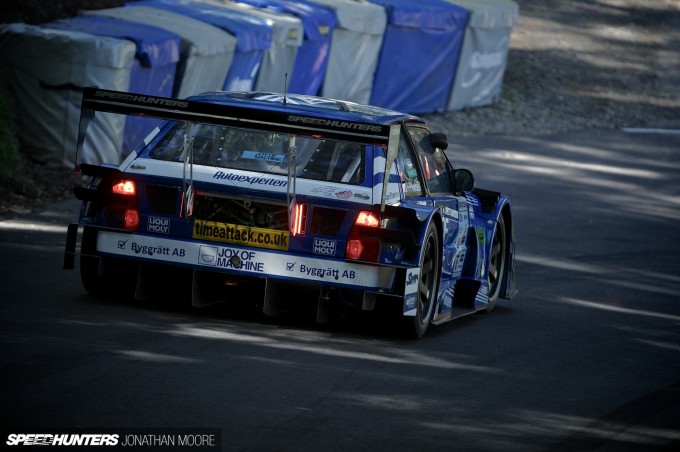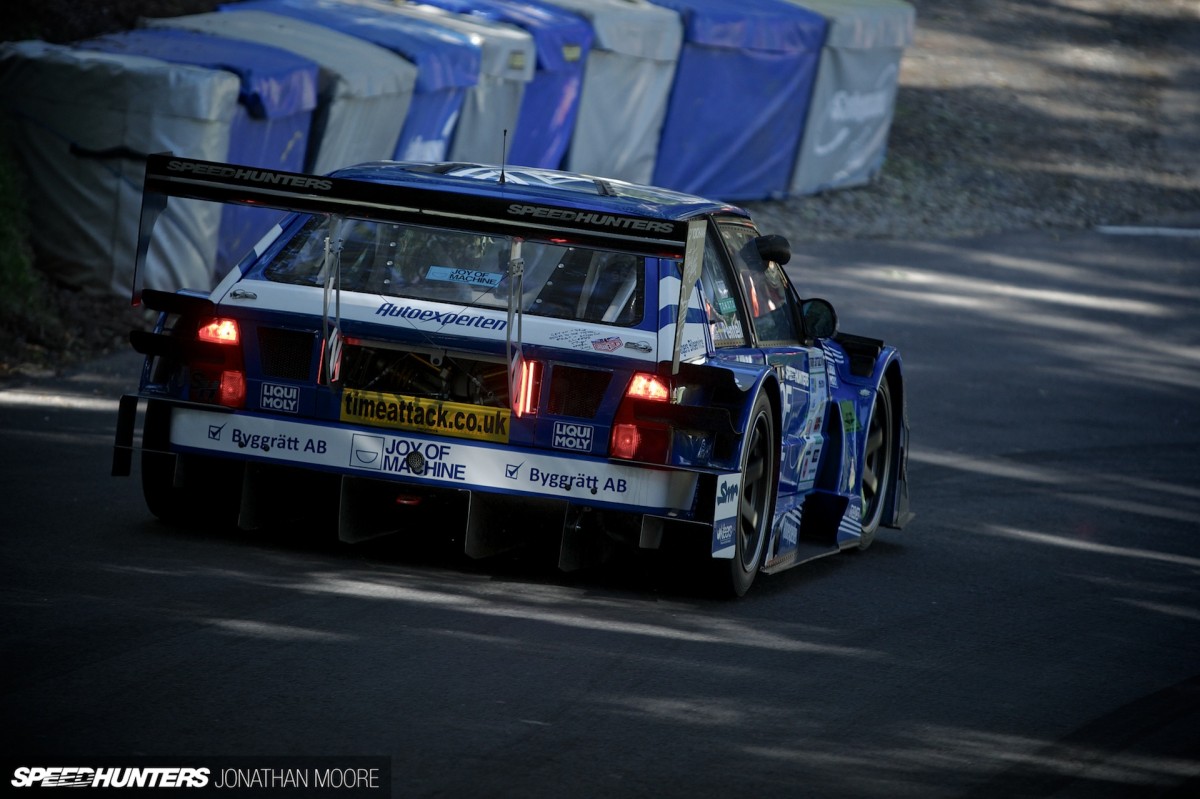 Firing it up the hill with gusto, Peter might not have been able to push to the limit (as ever, the quicker the car, the more the issue with tyres and temperatures), but it still lived up to expectations. The fact the car was run by just Peter and his dad made me appreciate it even more.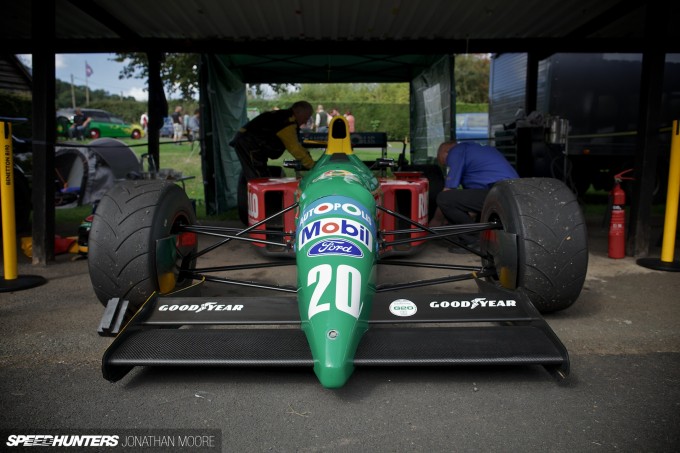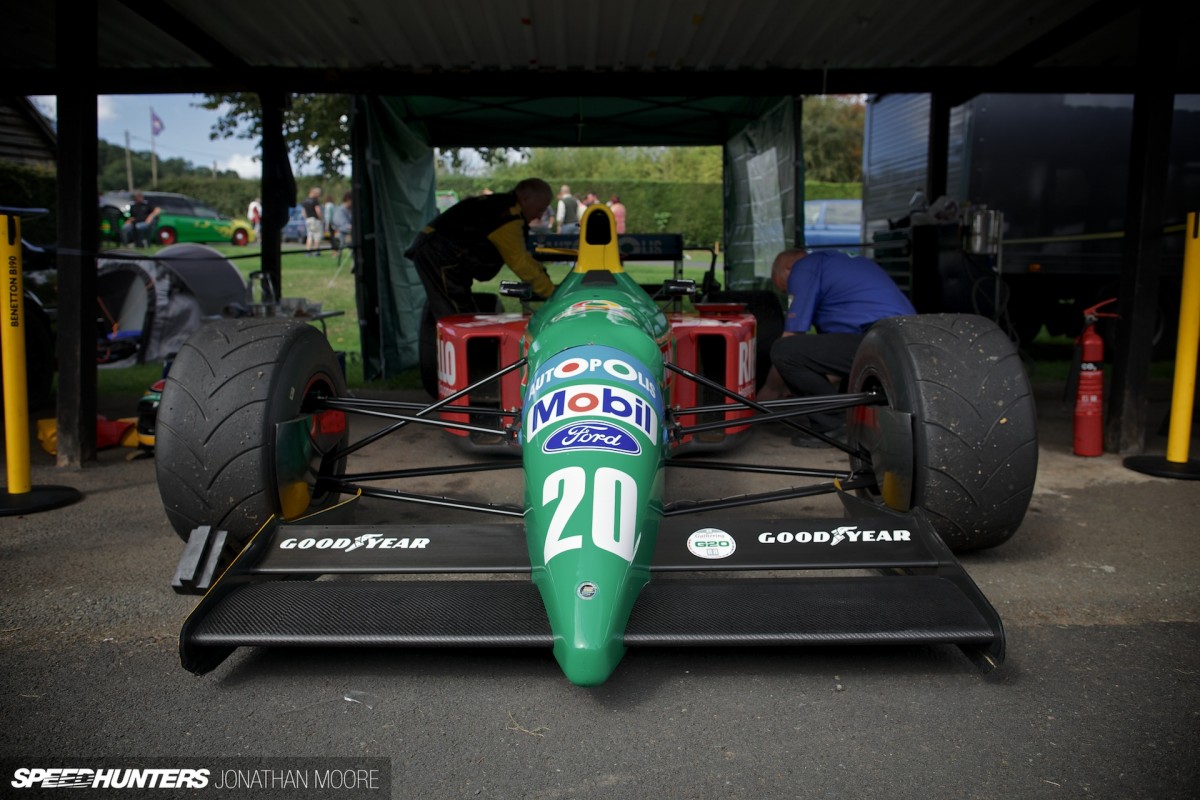 Finally, a tip of the hat to the Gathering organisers for also getting this machine out to entertain the crowds: Nelson Piquet's B190 Benetton Formula 1 car from 1990. John Reaks is a frequent attendee of events around the country, giving us all the great opportunity to witness a thoroughbred F1 machine up close.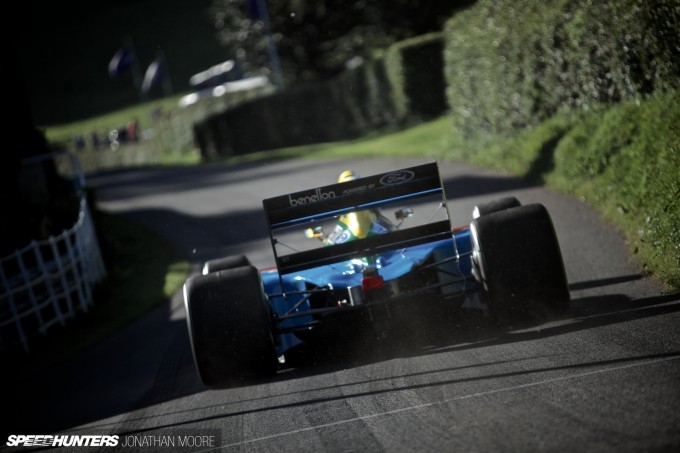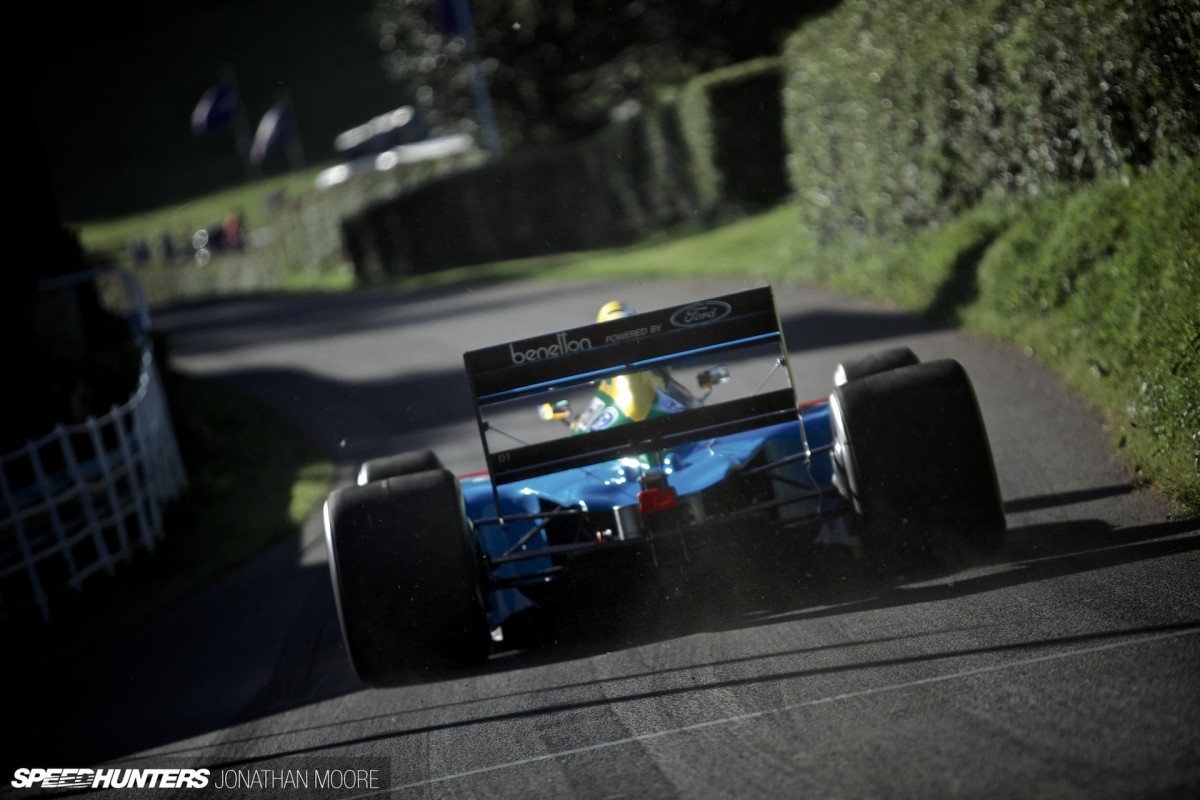 Repeated standing starts off the line weren't on the cards for the sake of the clutch, so instead we were treated to lightning rolling starts as John eased the Benetton off from the warm-up apron. As with the LaSupra, cold and grooved tyres meant that entertainment rather than times were the priority, and the shrill howl of that Cosworth HB is still echoing round my head.
As eclectic and inclusive as ever, this year's Retro Rides Gathering delivered another dose of enjoyment and entertainment for the thousands of attendees. Picking out highlights is futile: it's the kind of show that has a breath-taking quantity of must-see cars from around the automotive spectrum. A day's not long enough though, that's for sure.
Jonathan Moore
Instagram: speedhunters_jonathan
jonathan@speedhunters.com