Mirroring Nostalgic 2 Days over in Japan, the UK has also just held its own vintage racecar event. Race Retro is the UK's premier meeting for historic racing and rallying: it's the pre-season gathering place for the vintage racing community – the time-travel version of January's Autosport International show, if you will. Like Autosport, it comprises static displays, club stands, racecar and spares sales and live demonstrations, and it's an absolute mecca for anyone who loves their classic racers – both big and small.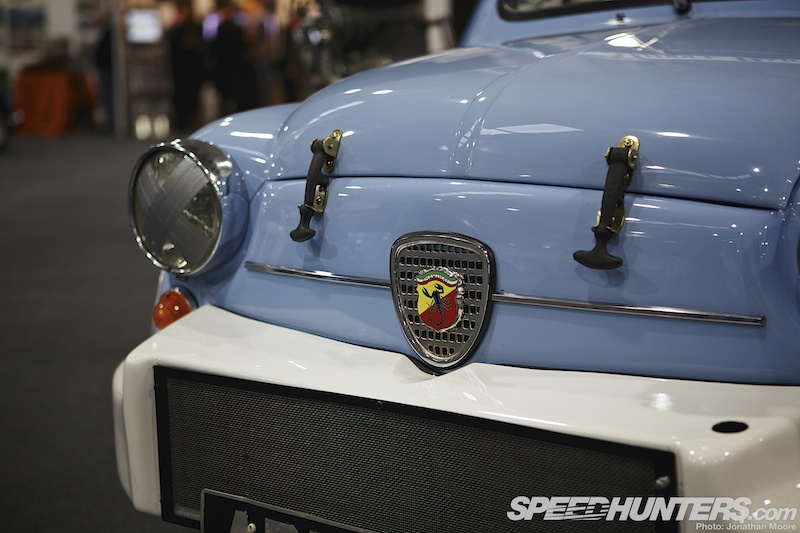 Tomorrow I'll take a look at the halls and displays in more detail, but I'll kick off here by turning a mini-spotlight on some classic marques that were represented at Race Retro. The first three produced small cars that put in giant-killing performances in their day.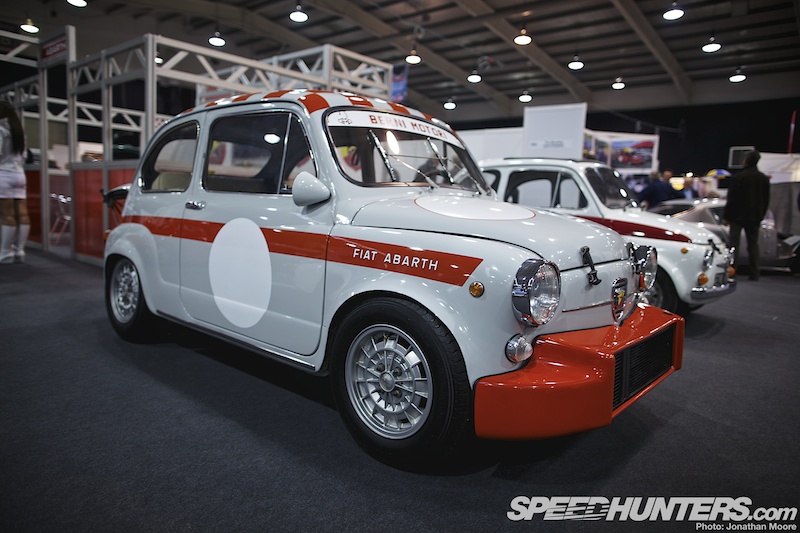 Abarth. An iconic name in rallying and racing, who, like Mini and several other marques of the '60s, took on the big-banger, factory supported opposition and gave them a serious run for their money. The Abarth stand at Race Retro featured four classic Abarths, starting with this line of three Fiat-based terriers.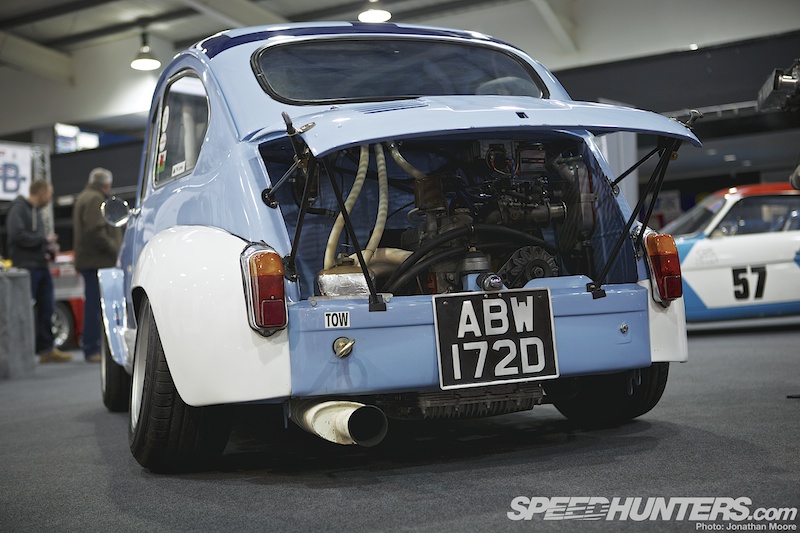 With flared bodywork, obscene camber on the rear wheels and the main mechanicals and engine buried down low right over the rear axle line, the 1000 TCR lived up to the Abarth reputation of being 'small but wicked'.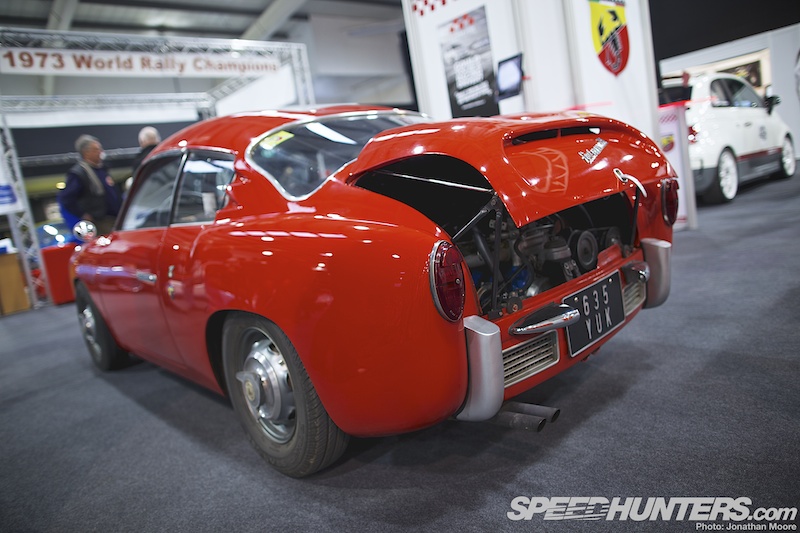 Abarth also branched out into extended coupés, like this Zagato-bodied Fiat Abarth 750. It's a Group 2 racer from 1970, featuring the classic tail-up, engine-on-show look of all Abarths.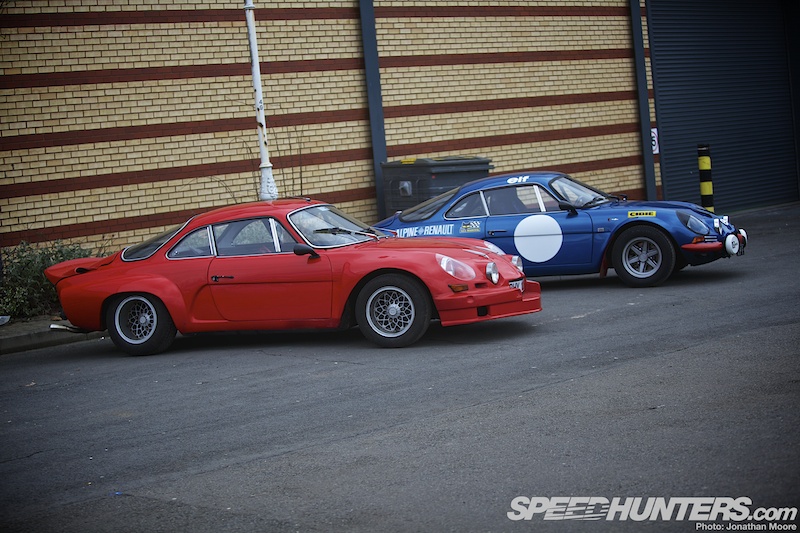 Next up, the French Alpine brand. A pair of Alpines acted as gate guardians over the weekend…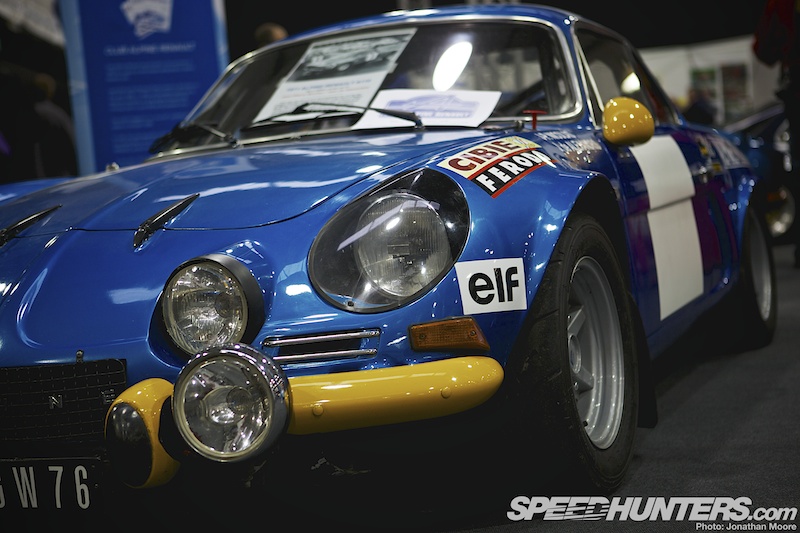 …with a sister to the red-detailed A110 sitting inside on the main Alpine Club stand. These diminutive racers are just gorgeous, with their aggressive lighting packs and raked, curvaceous bodies making them look larger than they really are.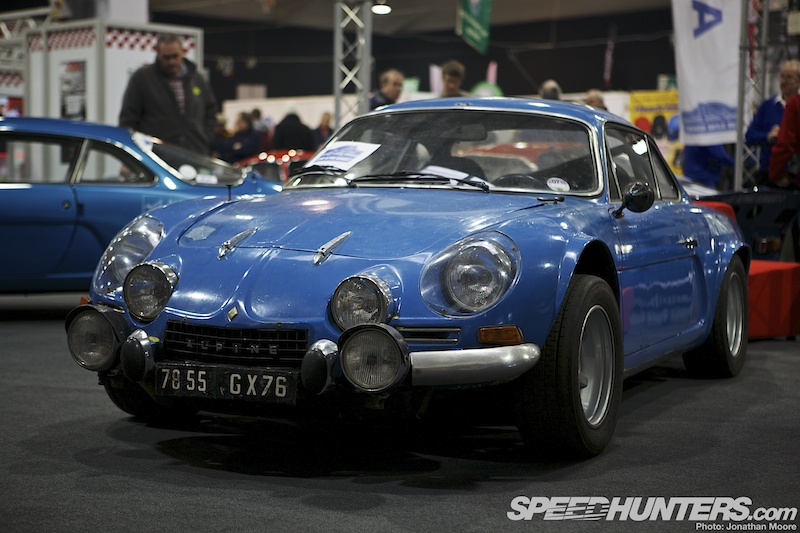 Sometimes condition isn't everything: it's the history that counts. And provenance doesn't come much better than for this A110 Berlinette: it was driven by Stirling Moss' talented sister, Pat.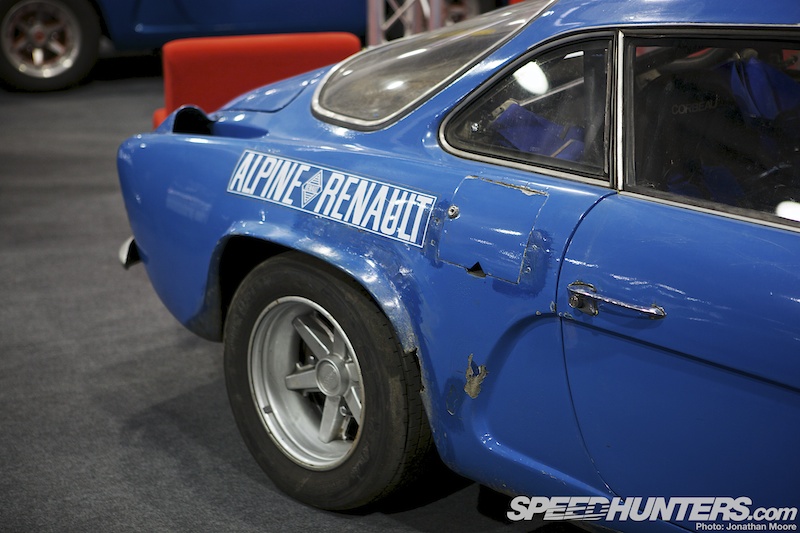 Appropriately nicknamed 'Ratty', this ex-works Group 4 A110 was prepared by Roger Clark and Renault UK for Pat to compete in 1973 RAC Rally Championship. It was then put on display by Renault before going into hibernation for over 20 years; it's now been brought back to life, though it deliberately retains the battle scars from its last competitive outings all those years ago.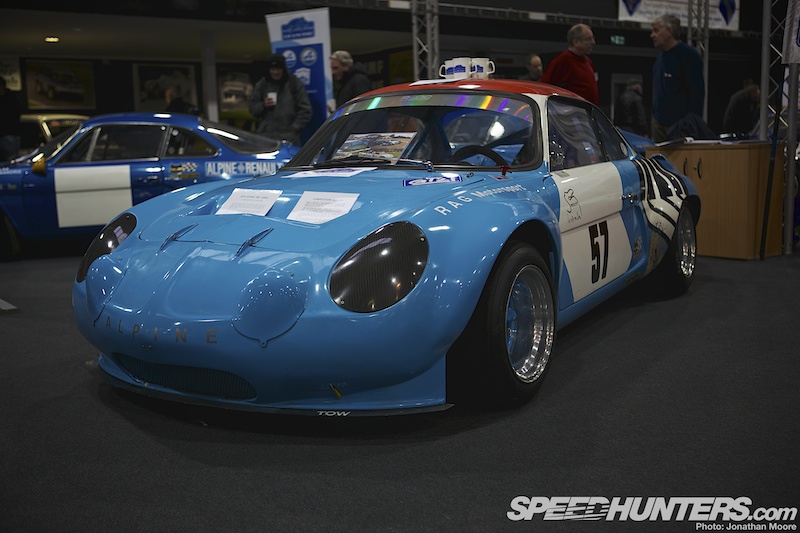 Alongside the svelte lines of the A110s was this bulbous 1973 V8S, fitted with flared Group 4 arches and a Renault R5 Gordini 1,397cc engine. It's now achieved over 100 class wins in 40 years of competition, with small nods to modernity courtesy of the carbon headlight covers, boot-lid and air-scoops.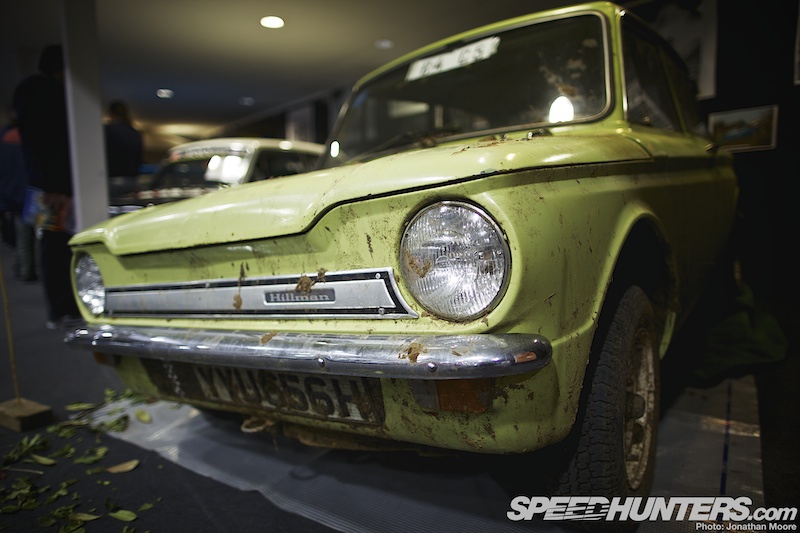 The final of the trio of Davids who took on Goliaths is the Imp: the demon British hot hatch of the '60s. It was built by the Rootes Group to take on the Mini, and like its nemesis saw great success both on tarmac and gravel. The Imp is celebrating its 50th anniversary this year, after going into production back in 1963.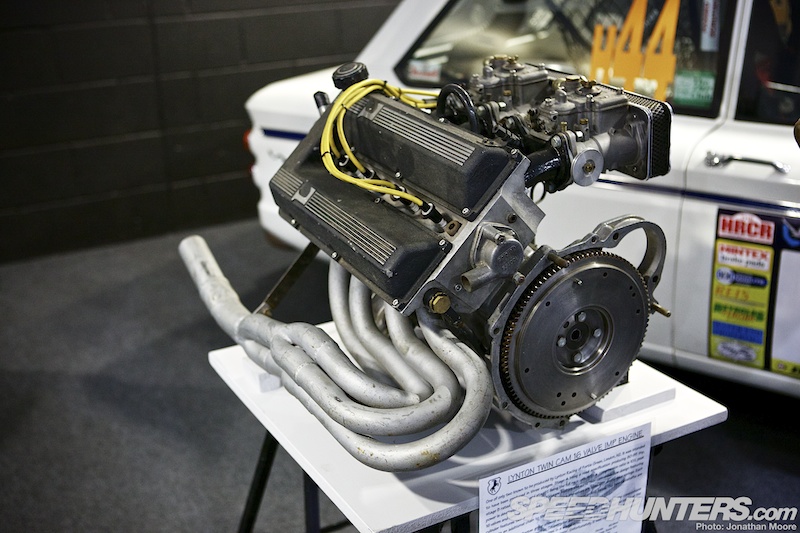 Screaming one-litre twin-cams mounted at 45 degrees provided the grunt in these great little cars: 16-valve units with twin inlet/exhaust ports joined at the manifold faces and twin camshafts driven by an additional chain to the standard Imp drive. Peak power was delivered at a startling 10,000rpm!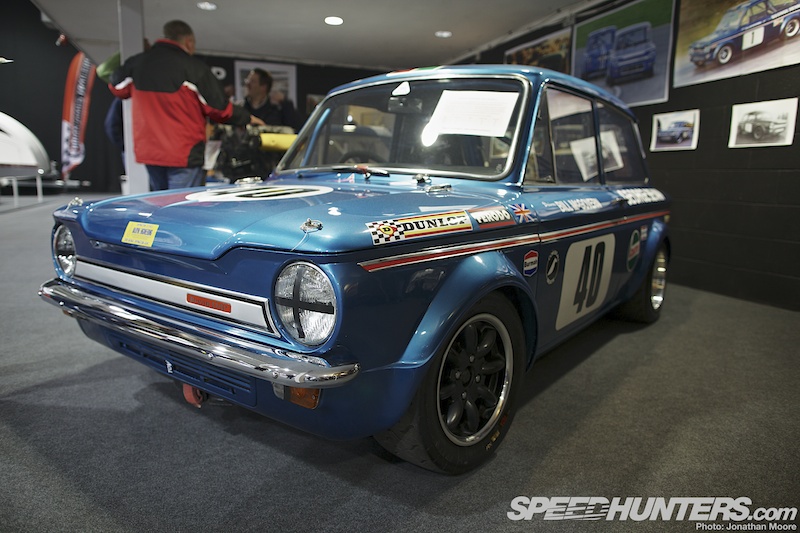 An Imp won the British Touring Car Championship three times in a row between 1970 and '72, with Bill McGovern's Bevan-prepared Sunbeam Imp taking 28 class wins on the way to his three titles.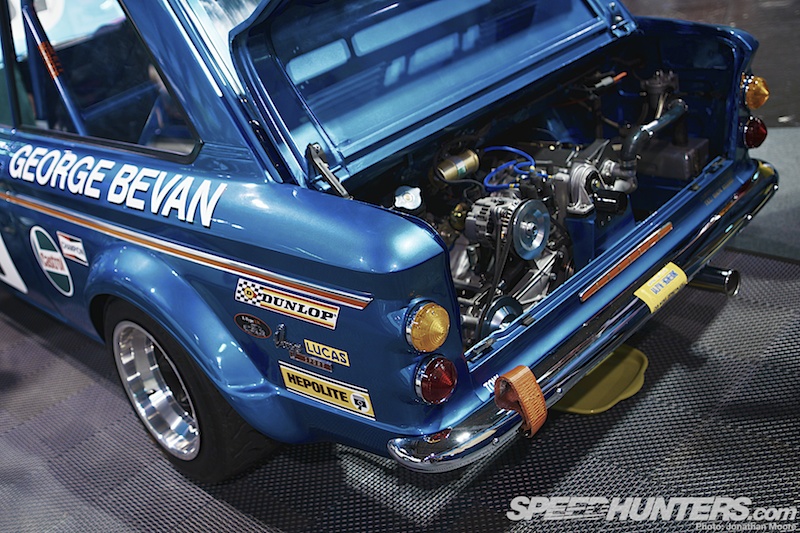 This replica has been built up by George Bevan's son and grandson to celebrate the 40th anniversary of the hat-trick of championships, using original engineering notes from the team.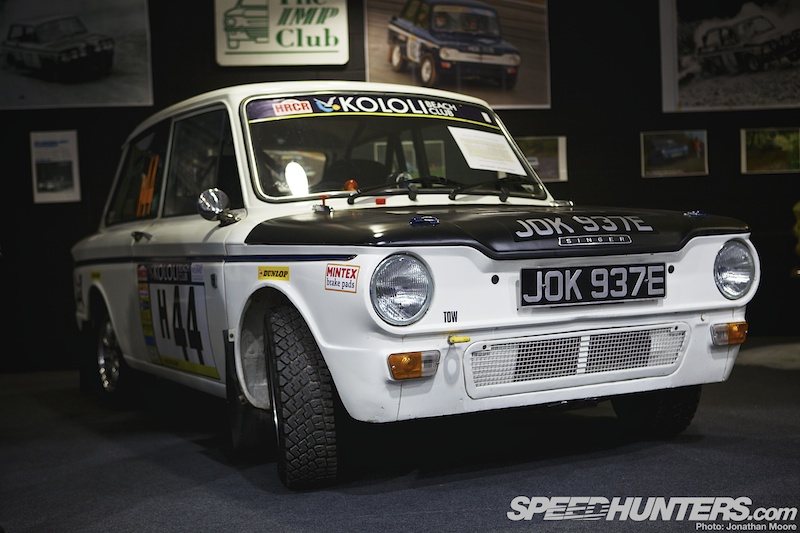 Fellow Rootes Group firm Singer also built Imps: this is the Singer Chamois variant, which has been built up to take part in the 2013 Imp Cup, part of the MSA British Historic Rally Championship. Using period preparation specifications, the 998cc engine has been beefed up with twin Weber DCOE carbs, disk brakes and four-speed Jack Knight dog box.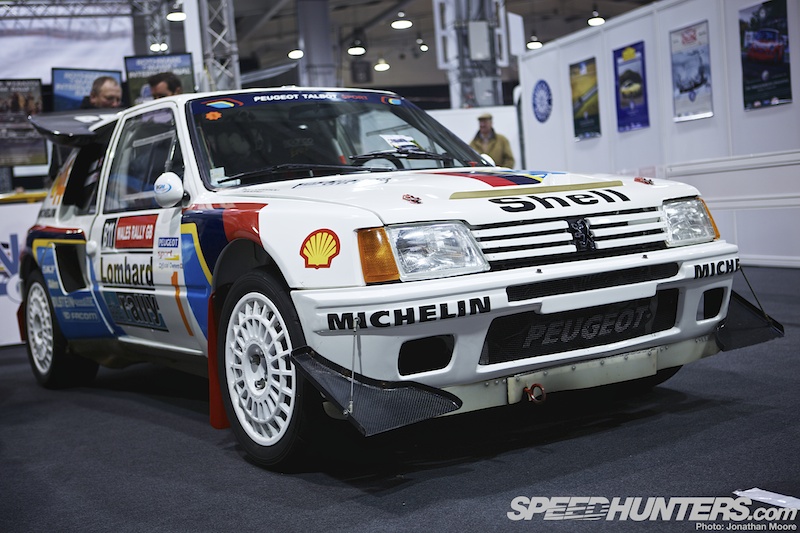 Next up, a hot hatch that was anything but a plucky underdog. The Peugeot 205 T16 was a factory-prepared sledgehammer aimed at the Group B-rules World Rally Championship.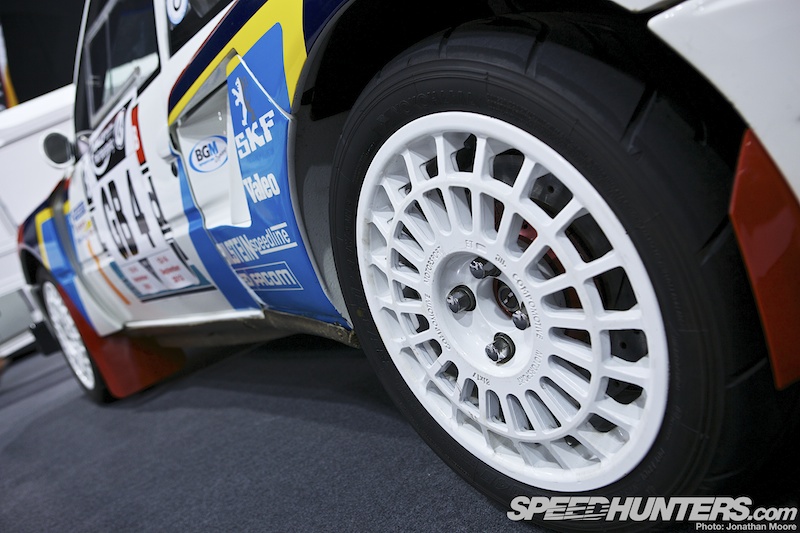 The 205 it was theoretically based on was nowhere to be seen except in the silhouette shape. A four-wheel drive system provided phenomenal traction, which was more than necessary due to what was out back.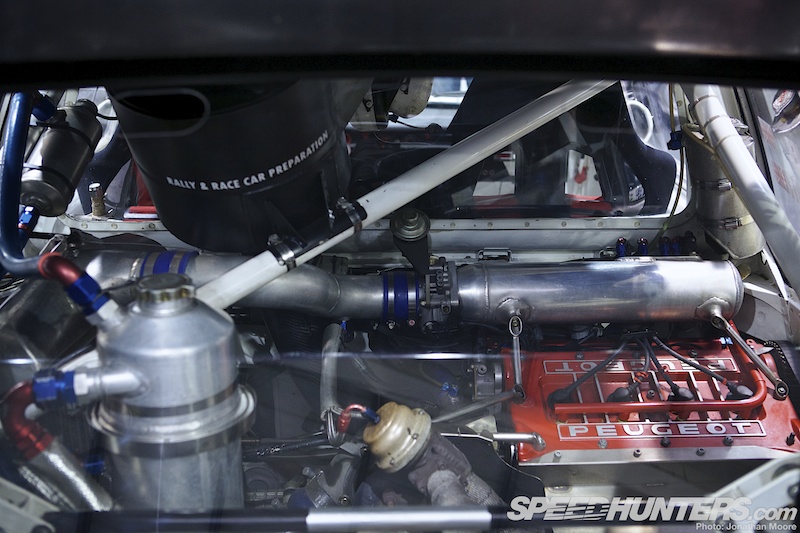 The mighty, transverse-mounted 1.8-litre engine pumped out over 450hp thanks to its Bosch K-Jetronic fuel injection and Garrett turbocharger, in a car that weighed just 910kgs.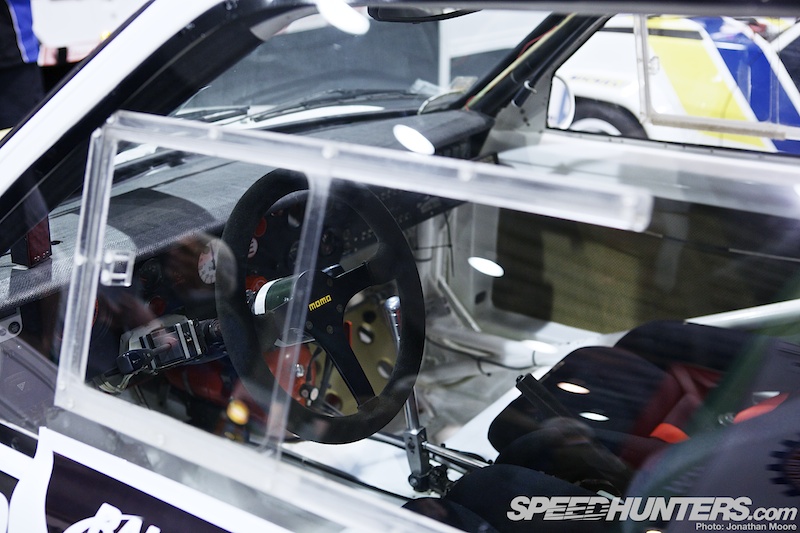 Inside the cockpit, drivers such as Ari Vatenen, Juha Kankkunen and Timo Salonen somehow tamed these beasts, taking on and beating the might of Audi's Quattro in the 1985 WRC season – Salonen took the title that year.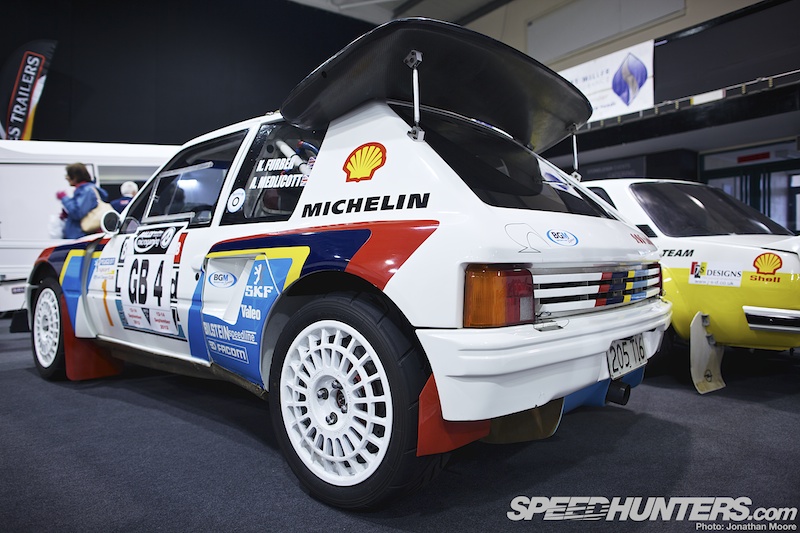 Aerodynamics were important but also agricultural-looking, with big shovel-shaped carbon dive-planes supplemented by the huge ski-slope rear wing. The current owner is Kevin Furber, who rallied Peugeots in the '90s and would be out in a more stock 205 rally car on Race Retro's Live Rally Stage, upstaging even the Audis and 6R4s!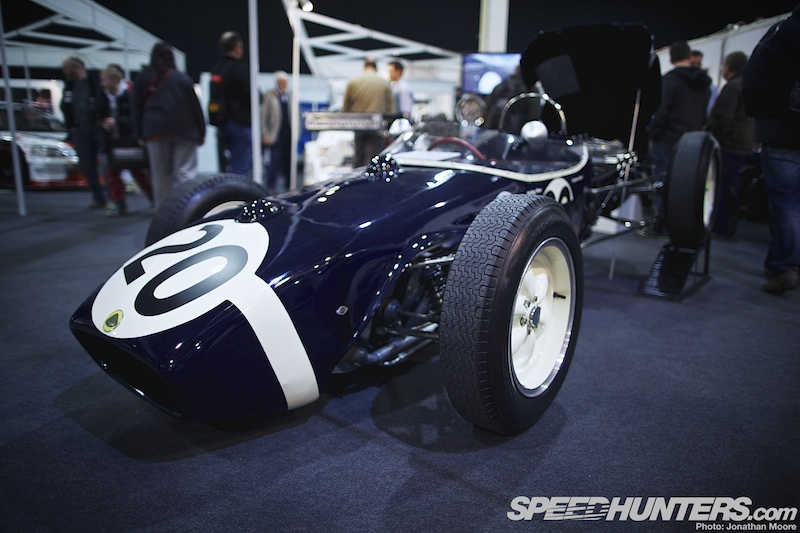 Talking of Stirling Moss, his Lotus 18 from 1961 was also on display. This car is from the 1.5-litre period of Formula 1, where these smaller F2-based cars had moved up to become the main category.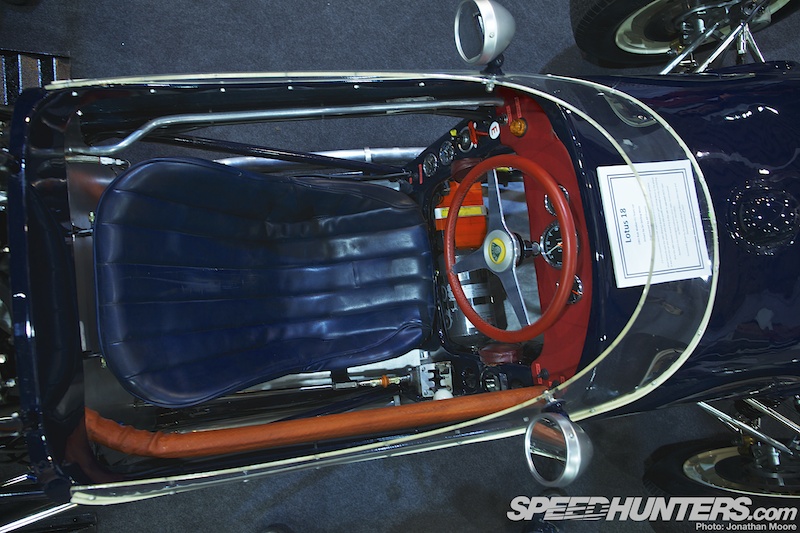 This car famously won the 1961 Monaco Grand Prix, with Stirling at the wheel. Cockpits of the time were incredibly basic places. Serious attempts at safety were some time off, and the term 'deformable crash structure' basically meant 'the car'.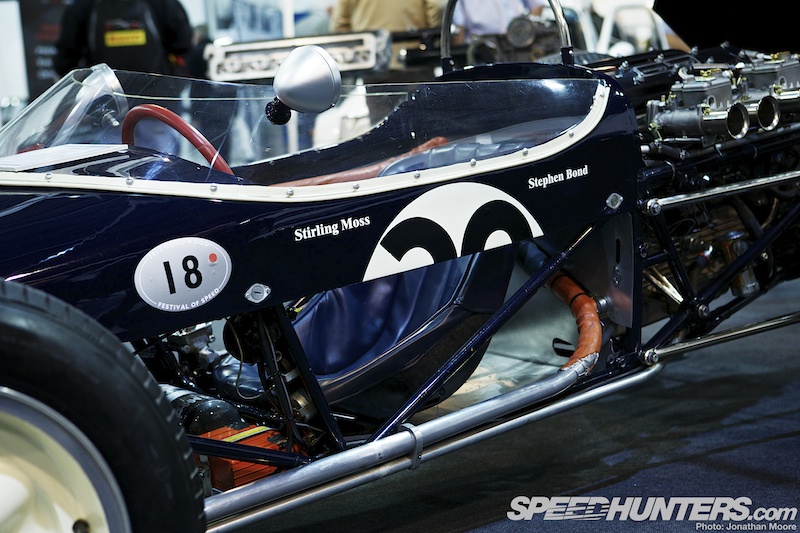 What makes this car so special are the cut-outs along the side of the cockpit. Not for show, but sections that were deliberately removed at the request of Stirling himself to help keep him cool in the Mediterranean heat.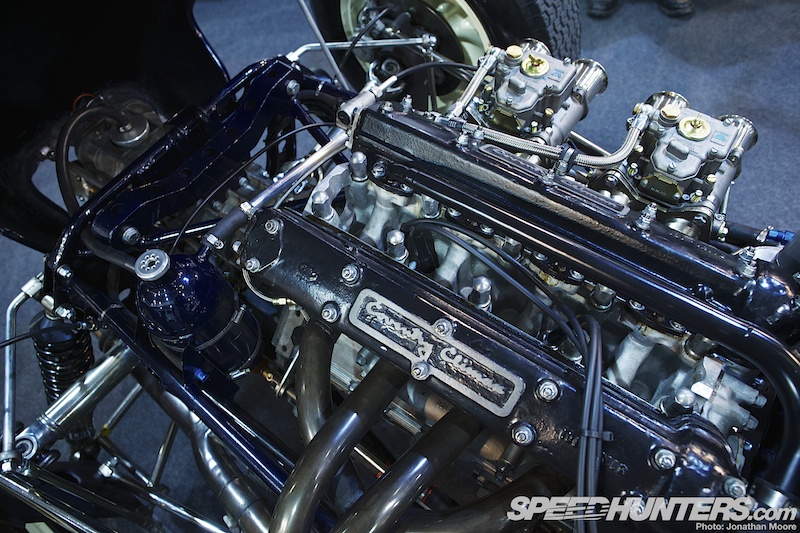 In 1961 the Lotus was powered by the ubiquitous 1.5-litre Coventry Climax FBF engine, mated to a five-speed Colotti gearbox. This had replaced the original 2.5-litre engine used the previous season.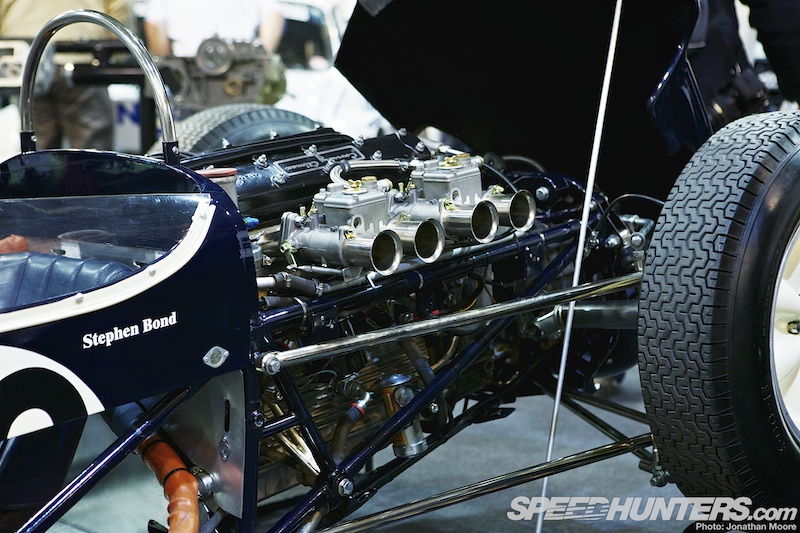 The 18 gave Lotus its first ever F1 win at the non-Championship Glover Trophy at Goodwood in 1960, with Moss' Monaco win coming just six weeks later. The car used a lightweight tube-frame chassis with the engine mid-mounted – it was the first Lotus to use that configuration.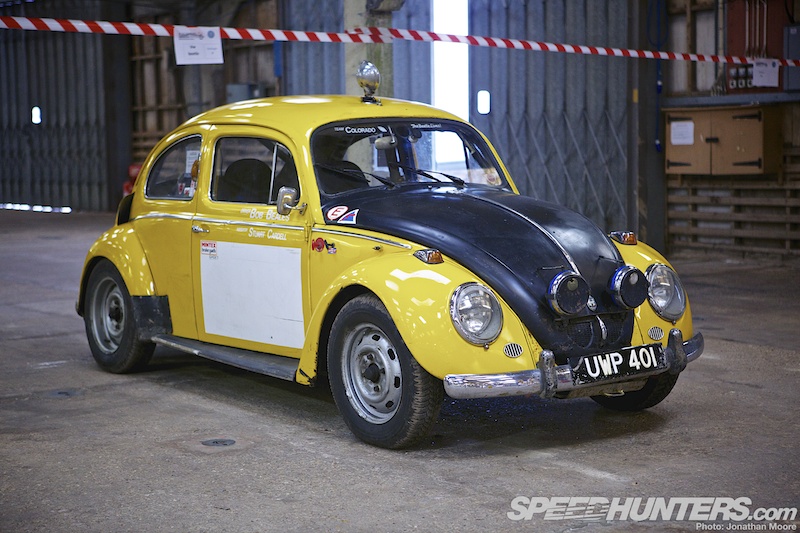 I'll finish up with some unashamedly hooning images of the car that provided some of the best entertainment and put a huge smile on everyone's face. One of Race Retro's most popular draws is the Live Rally Stage: an impromptu course laid out using the surrounding park's roadways. But would a Beetle seriously fit the bill?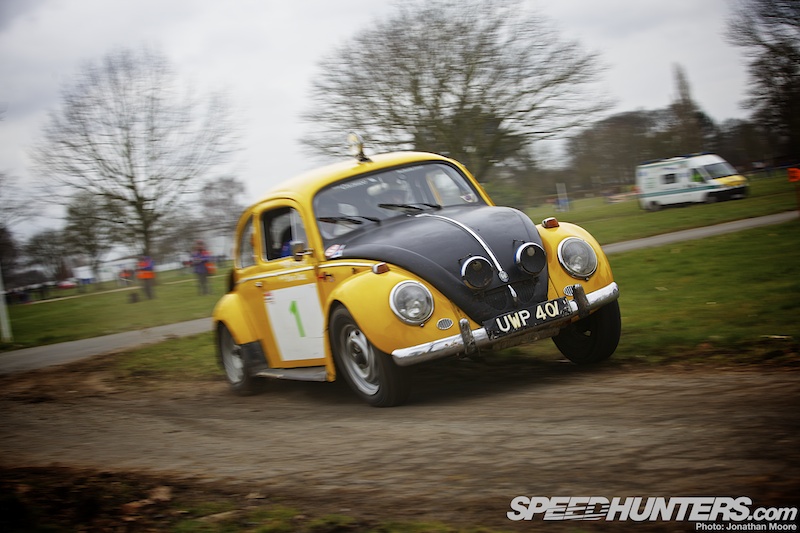 I had bumped into the owned of this 1300S Beetle, Bob Beales, in the car park as he was sorting out his trailer. He'd said that he expected to be seriously out-performed by the other cars out there, but he was being far too modest. Bob put on an absolutely first class display, throwing the Beetle into corners like it was a Quattro (and with more panache than the three actual Quattros that were there!).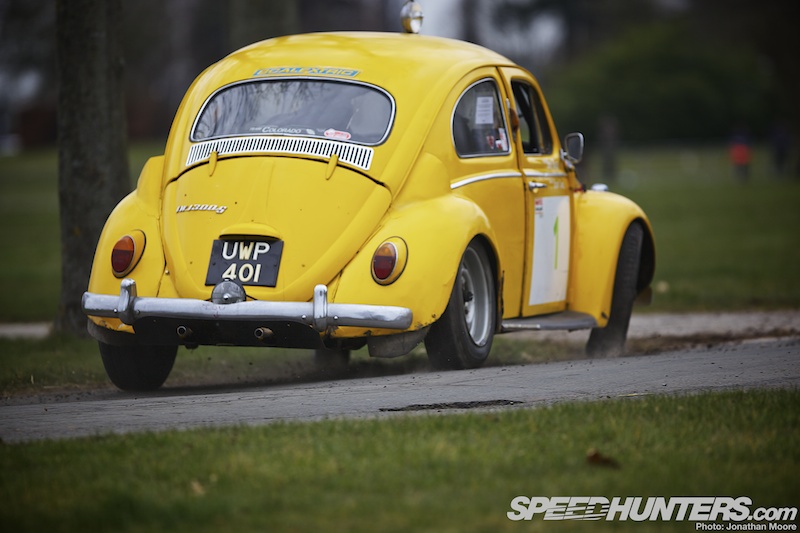 With the tyres barely hanging on, Bob powered around the course like a yellow banshee, completely at odds with the idea of how a Beetle should be driven.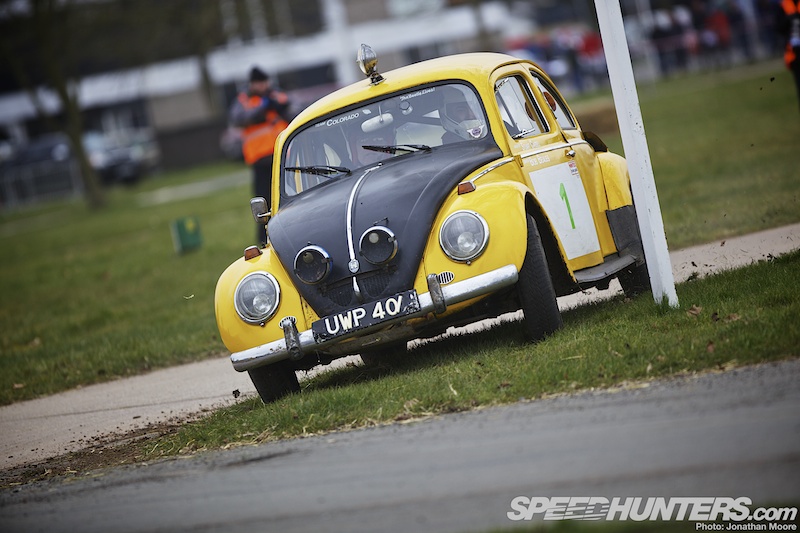 He was one of the first to take the tarmac right-angles as a guide only, and instead headed further and further in-field – basically making as tight an apex as obstacles allowed!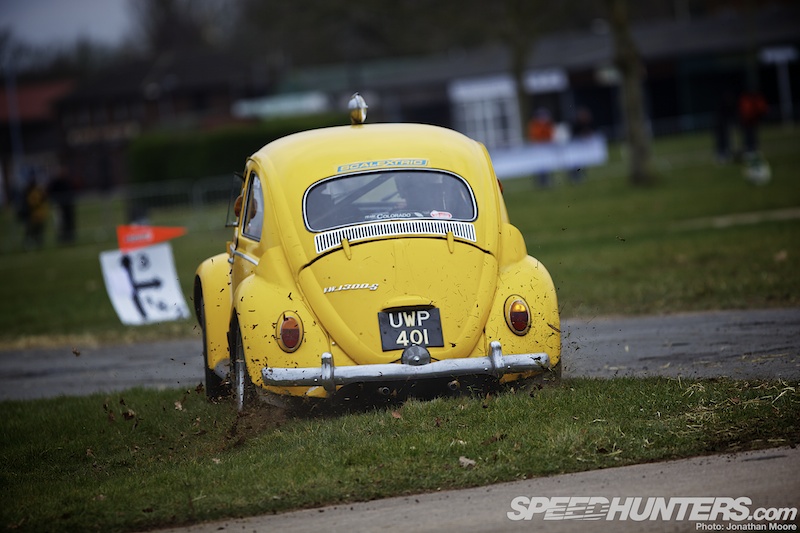 Heeled hard over on entry, and mud-spraying on exit, the Beetle was one of the highlights of the day. Naturally, it had no standard Bug engine under the deck: it now mounts a hefty Okrasa 34RSGT unit. Owned and rallied by Bob since he bought it in 1965, it's a perfect example that you don't need a thousand horsepower to have fun, and one of the hundreds of reasons why Race Retro is such a popular event.
Jonathan Moore
Race Retro 2013 on Speedhunters
---
---
---
---