Sideways, Airborne & Iconic
Let's say you've just started drifting, and someone – a genie maybe – decides to reward you for all those puppies you saved and grandmothers you helped cross the street by offering a day of drift tuition from any driver in the world, on any circuit in the world. Who and where would you choose? It's hard to answer, I know. Aasbø, Saito, Whiddett… Irwindale, Long Beach, Rudskogen – the list goes on. The possibilities are almost endless, but for me, despite the huge respect I have for so many international drivers and circuits, I'd have a clear choice: Masato Kawabata and Ebisu Circuit's Minami Course.
Of course, this wasn't really something I had ever thought about until a few months ago. I'm not going to pretend like I've been walking around with that hypothetical question floating around in my head; no, I only figured out what my ultimate choice would be after that exact thing was offered to me in an email from Toyo Japan's Morikuni-san back in June.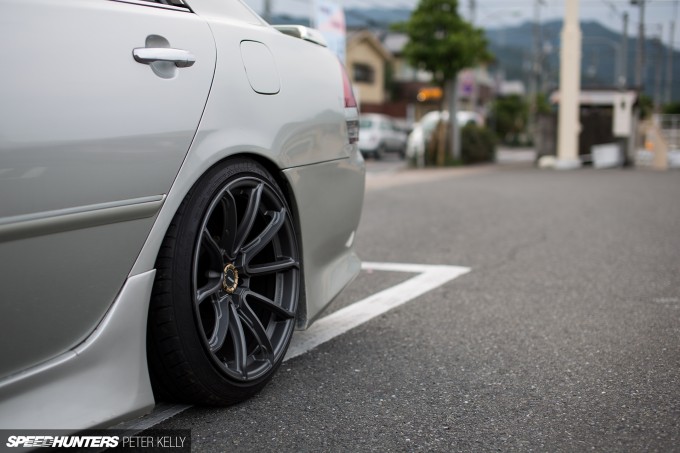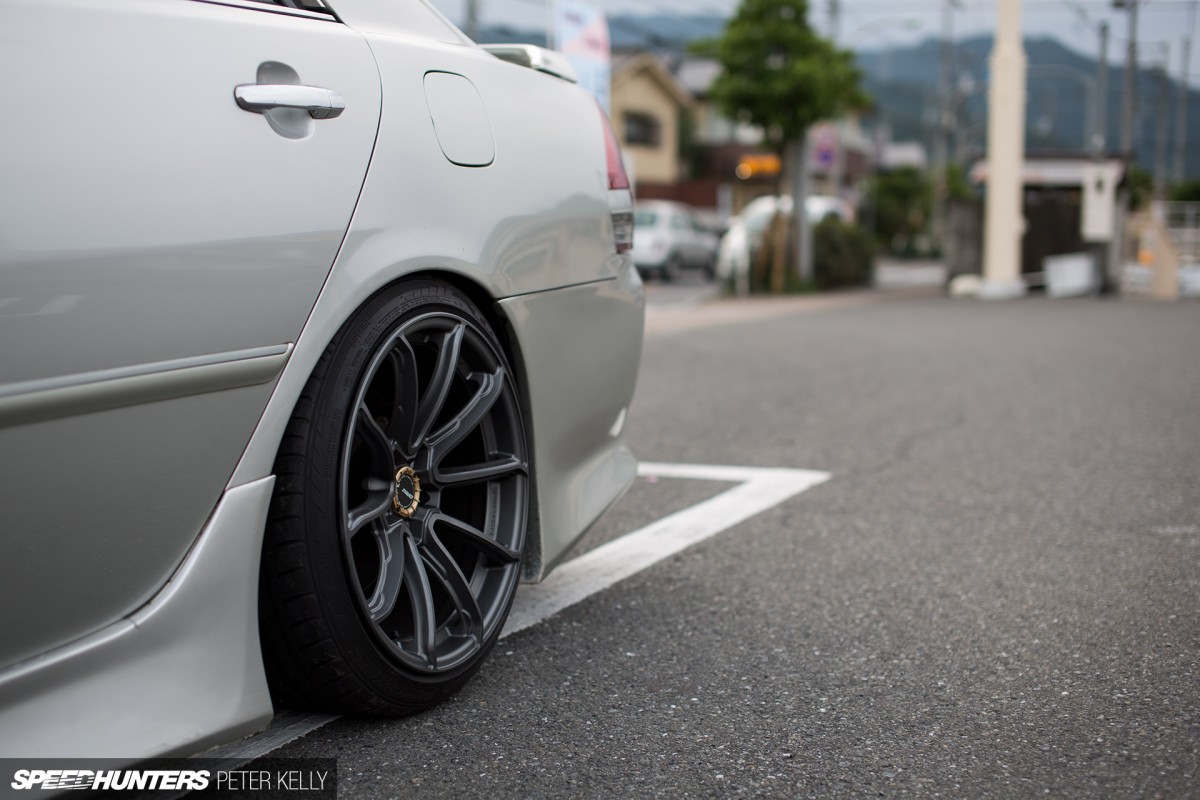 I had been talking with Morikuni-san about getting a set of super-sticky Toyo T1S street tyres to throw on our Project X's new RAYS Gram Lights 57Getter wheels, and in the middle of talking widths, profiles and compounds, he suddenly extended what I consider to be the ultimate invite: "Would you like to come to Ebisu for D1GP in August, and then go drifting with Masato Kawabata the day after?" It was at that point that I answered the question that I'd never really asked myself… Kawabata. Ebisu. It was the dream combo.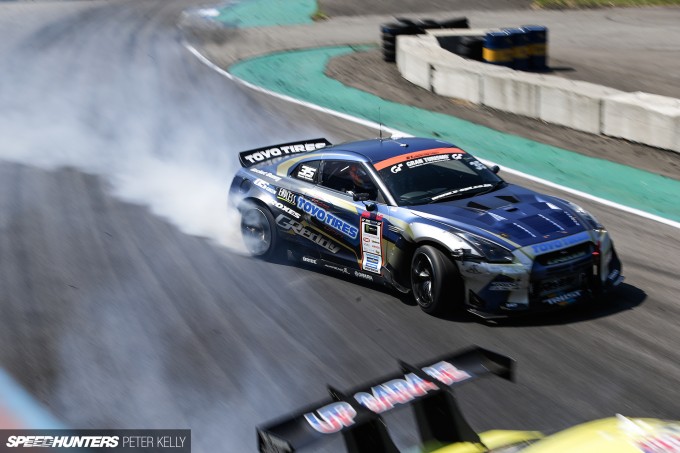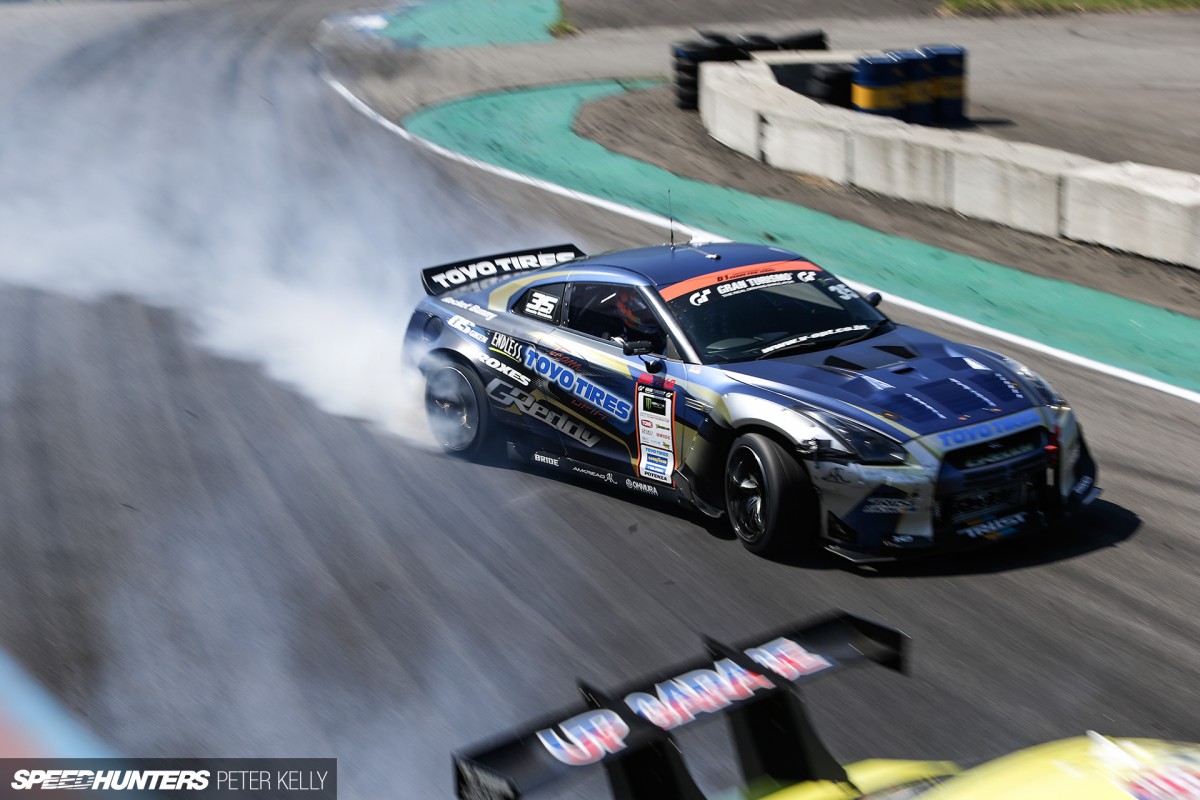 Being a Japanese driver that doesn't do too much driving in the west, like many of his fellow D1GP competitors, Kawabata has always been a bit of a mystery to me. But over the years – probably ever since he won his first championship back in 2007 – I've followed the wheel man and his driving exploits more closely than the rest. From his famous reverse entry that really brought the technique into the mainstream, to his brutal tangle with Saito at Fuji, to the absolutely insane attack on Motorhead magazine's hillclimb at Hakone, I've always appreciated the three-time D1GP champion's (2007, 2013 and this 2015 season just finished) hyper-aggressive driving style, which to me, seemed a stark juxtaposition to what appeared to be a very chilled, relaxed and seemingly unfazed-by-anything demeanor.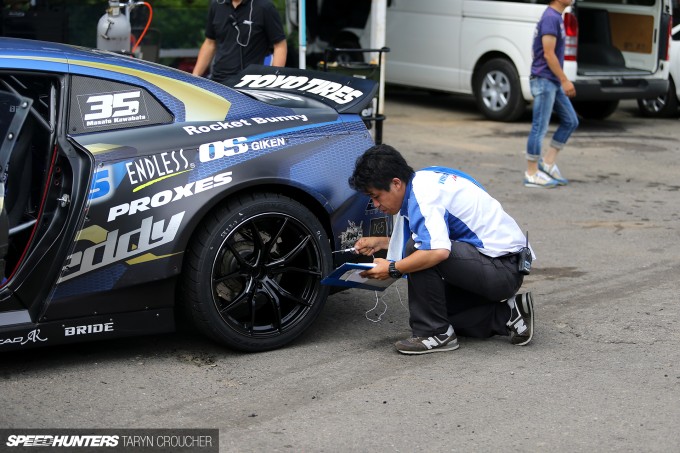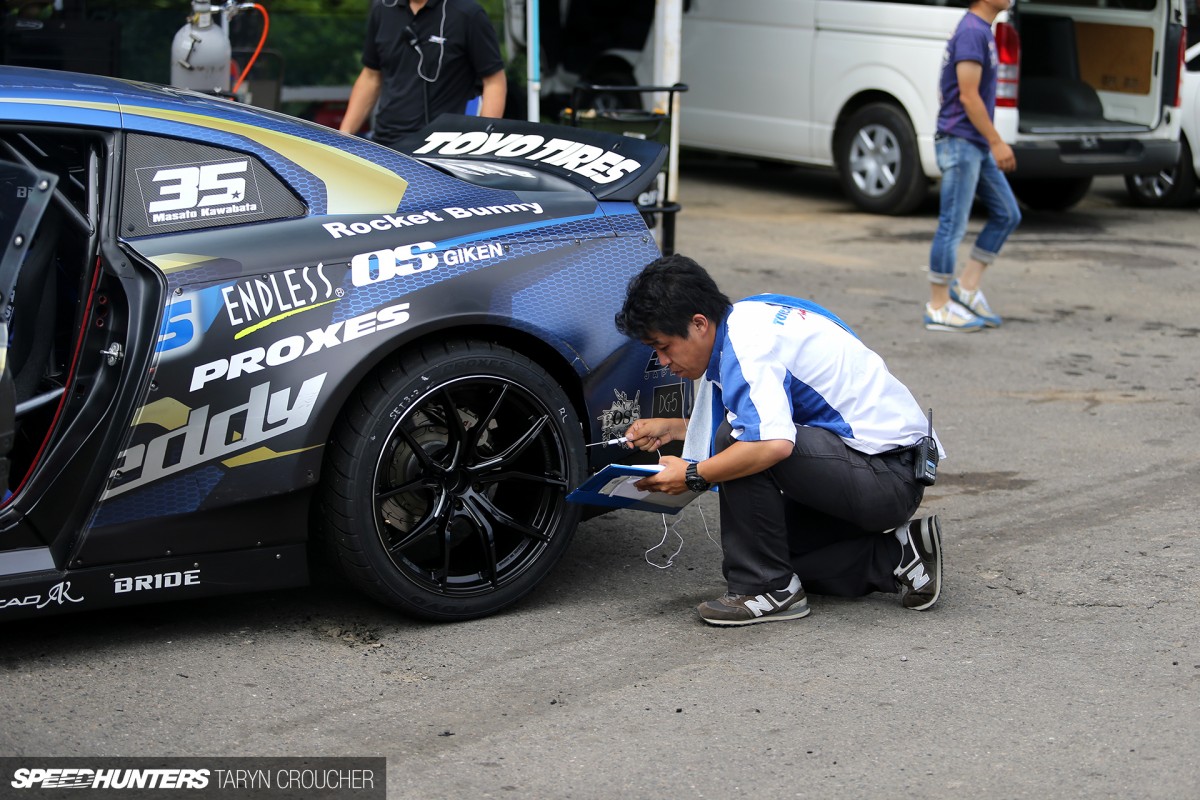 After a couple of solid months worth of anticipation, we were finally jumping in our trusty Project X JZZ30 Toyota Soarer and crawling out of Tokyo in the early hours of the morning on the second of August. Arriving at Ebisu around 11:00am, we pushed our way into the crowds of people and eventually found our way down to the pits. Here I was able to put a face to the name and meet Morikuni-san and his team, including Kawabata-san – though I figured it best to let him focus on the event itself, which was just about to kick into qualifying. Instead, I spent a little time looking over the team's 1000hp, carbon-clad GReddy 35RX Spec D steed.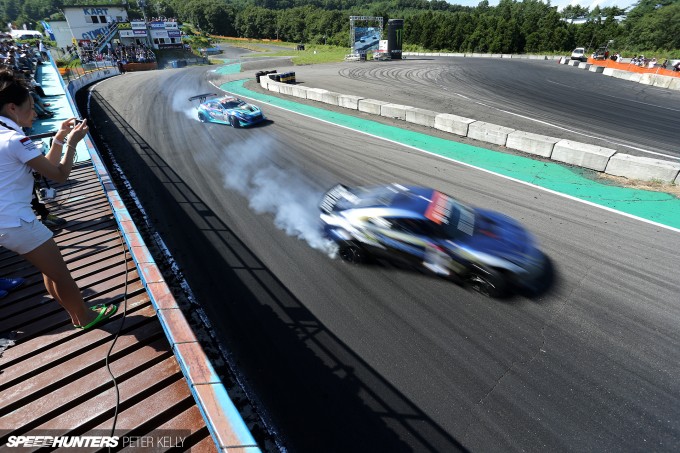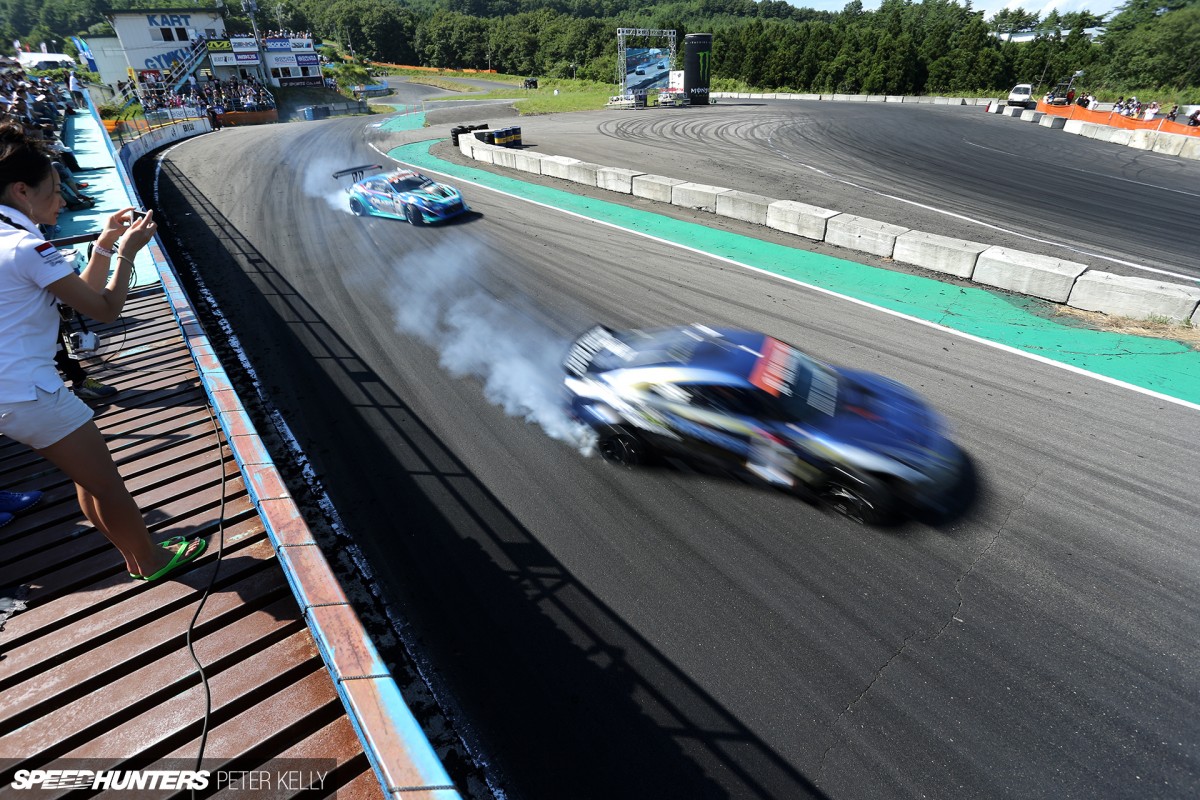 With the battles firing up, for once I decided to politely decline the media vest and enjoy an event from the stands, but of course, I couldn't resist breaking the camera gear out for a few cheeky snaps from my interesting viewpoint above the track.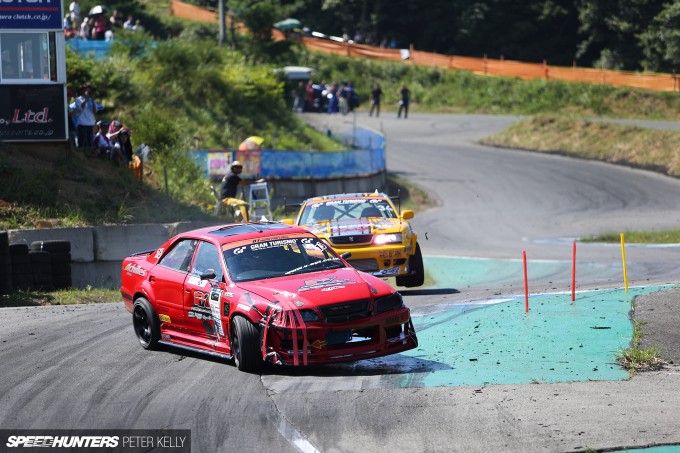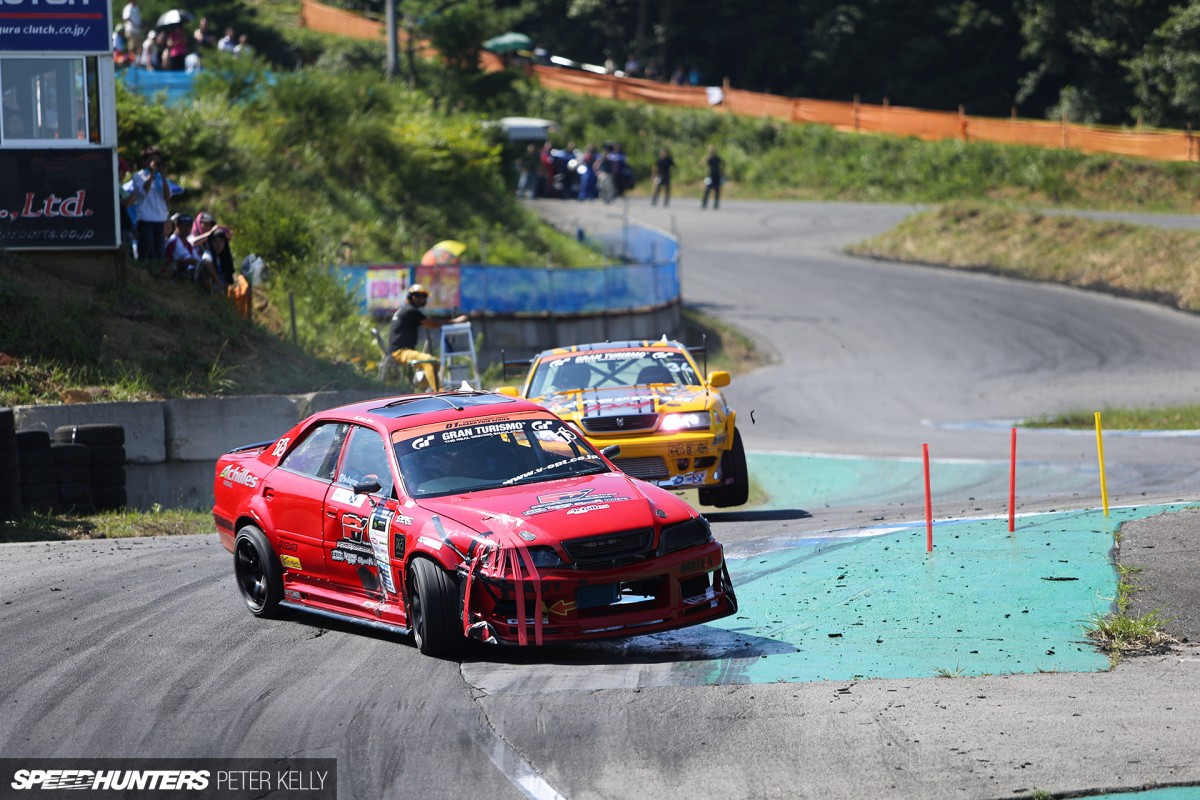 I had the perfect view of the section, and I can confirm that Ebisu Minami's famous jump is even wilder in person. Check out Andy Gray's 100 per cent entry leading an airborne Tsuyoshi Tezuka – so good!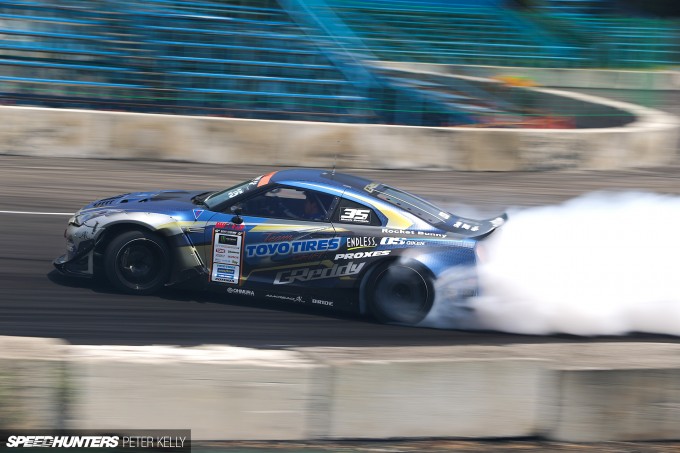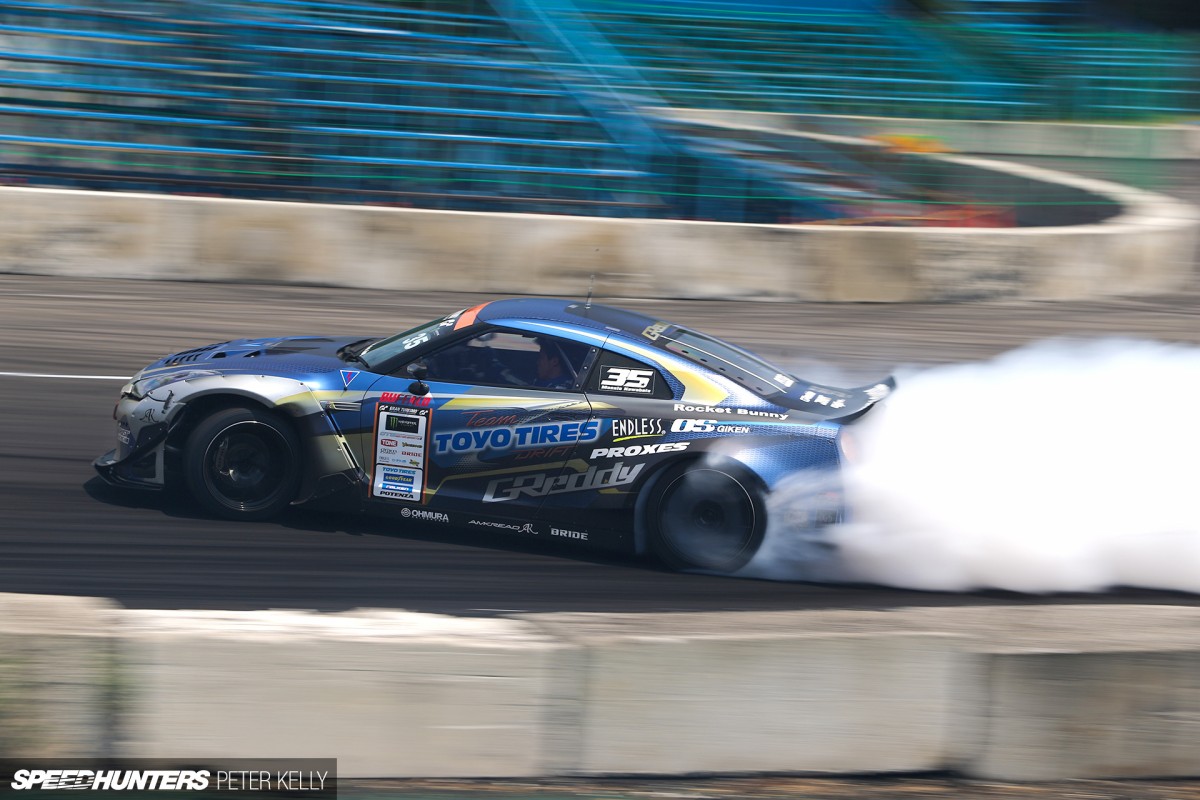 I have to say, next to the first Red Bull Drift Shifters in my home city of Auckland, New Zealand, this was by far the coolest drift competition I've ever witnessed. The level of driving, the entertaining battles and the pure atmosphere of the track, lined with screaming fans, is something else. Perhaps it's because I'd never been to Ebisu before, maybe it was the wild jump, or maybe it was the ridiculous heat and humidity; but this event just had a strangely powerful, somehow pure vibe to it that I've never experienced before, not even at other Japanese drift competitions.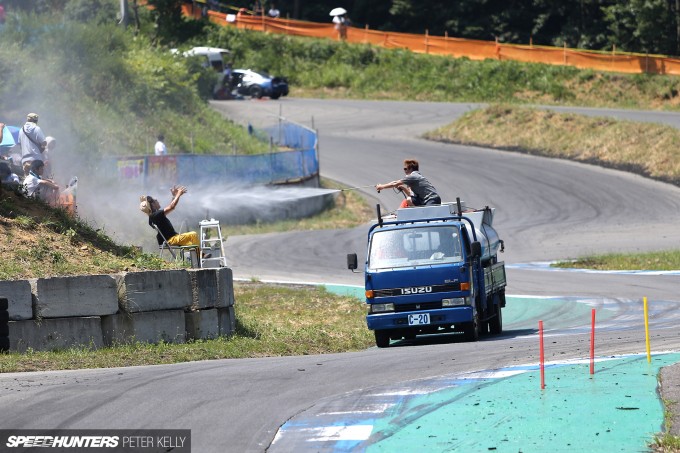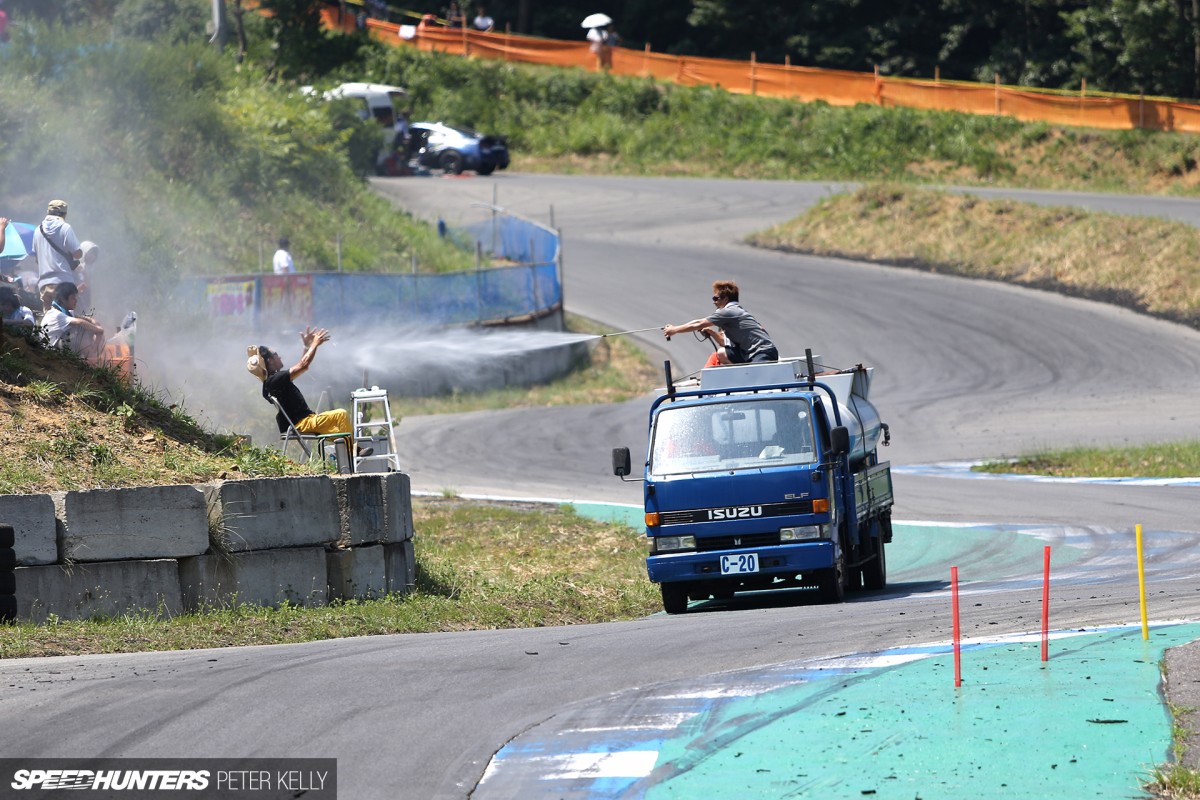 I can't quite stress enough how oppressive the heat was… It was so brutal that every 20 minutes or so, a truck would drive around the track hosing the crowd down. Have you ever been so hot, you actually asked for a waterblaster to the face?
After a full afternoon of battles, the final came down to Kawabata versus Tezuka and his JZX100. Kawabata eventually lost the top spot, but second place was more than good enough to keep him at the front of the championship standings. This wasn't the end though. After the champange was sprayed, a bunch of new cars rolled out onto the track – it was team battle time and things were about to get very interesting.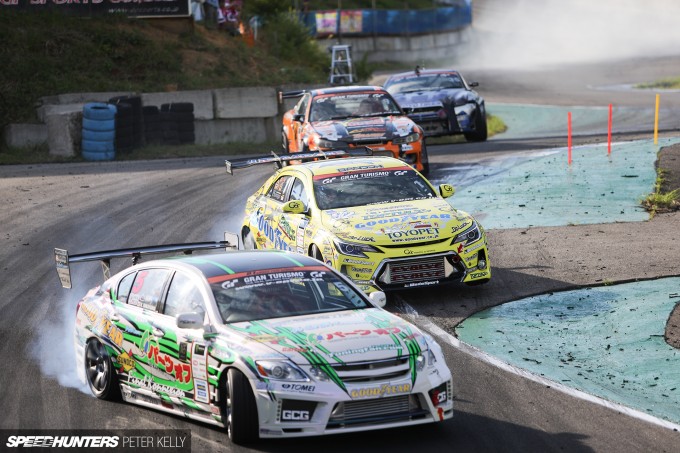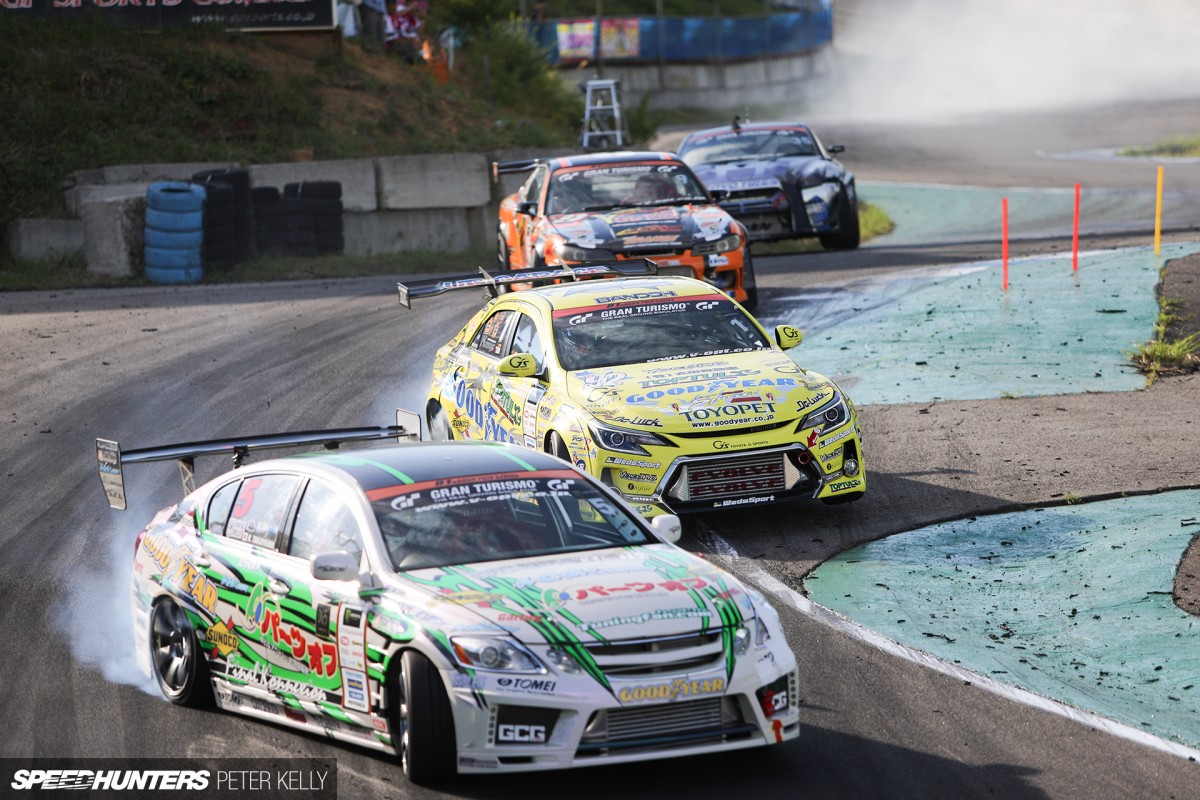 I'm trying to keep these shots to a minimum so as not to bore you, but damn was this a seriously impressive half an hour of driving. Some of the teams, including 'Team 1000hp', were made up of top D1GP competitors, including Kawabata, and they absolutely nailed the section like a wastegate-screaming, smoke-billowing death train. I can't get enough of both Kunny'z Toyota Mark X and Kenji Takayama's Lexus GS350 big-body sedans leading the pack in this shot.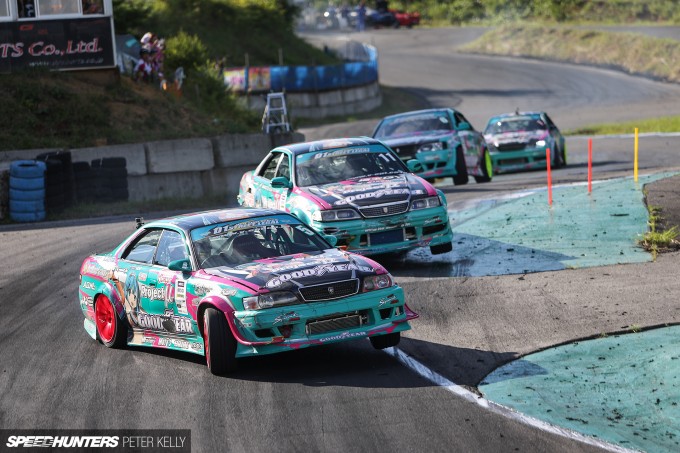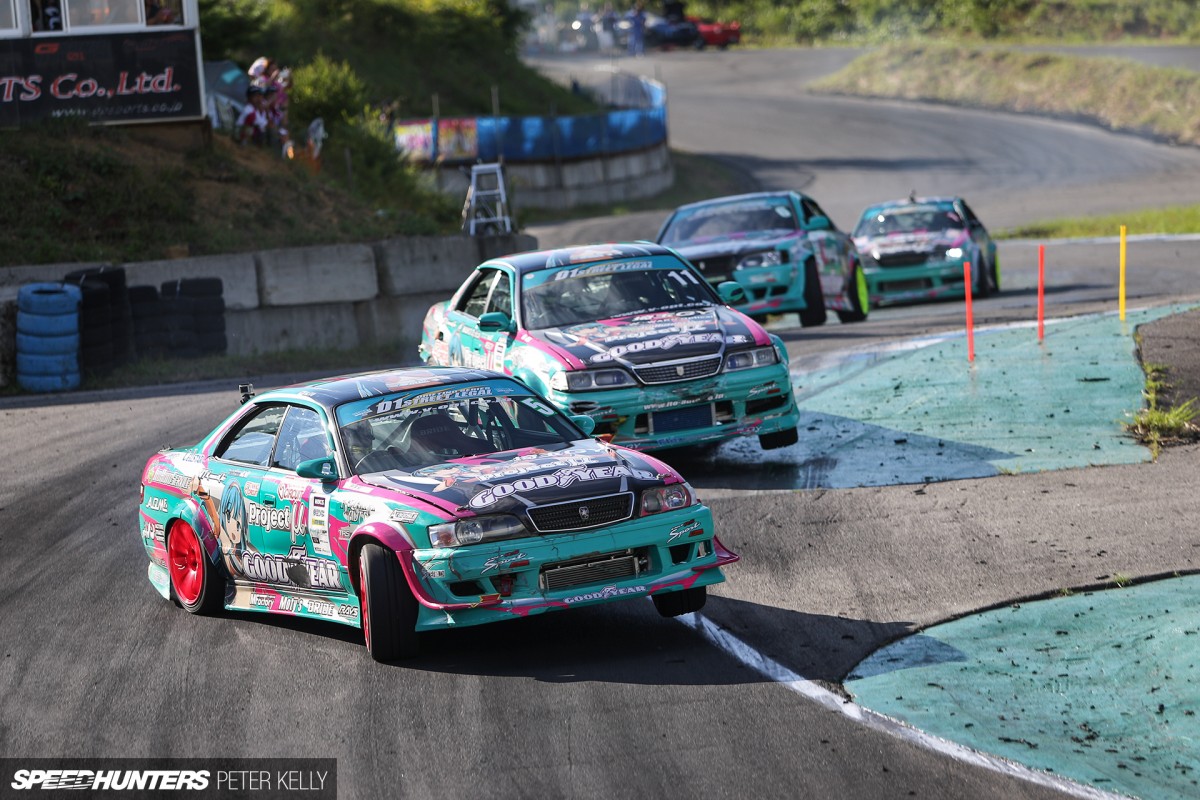 While other squads from D1 Street Legal impressed equally.
This quartet of JZX100s make up Team Ito Auto, and their drivers are some of the best in the D1SL series. How good do these screaming four doors sound as they rip underneath my viewing spot?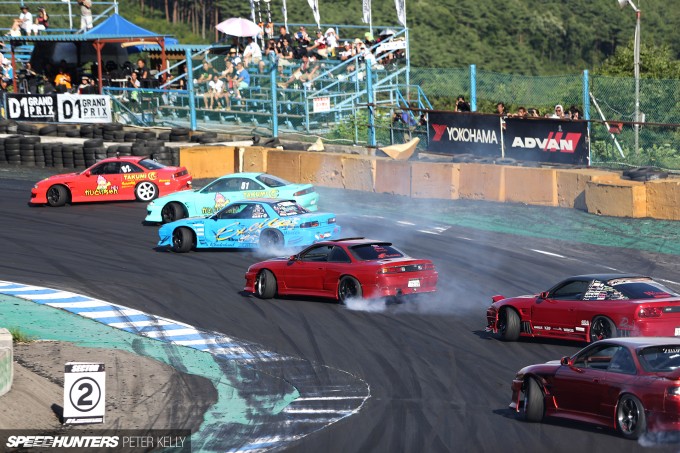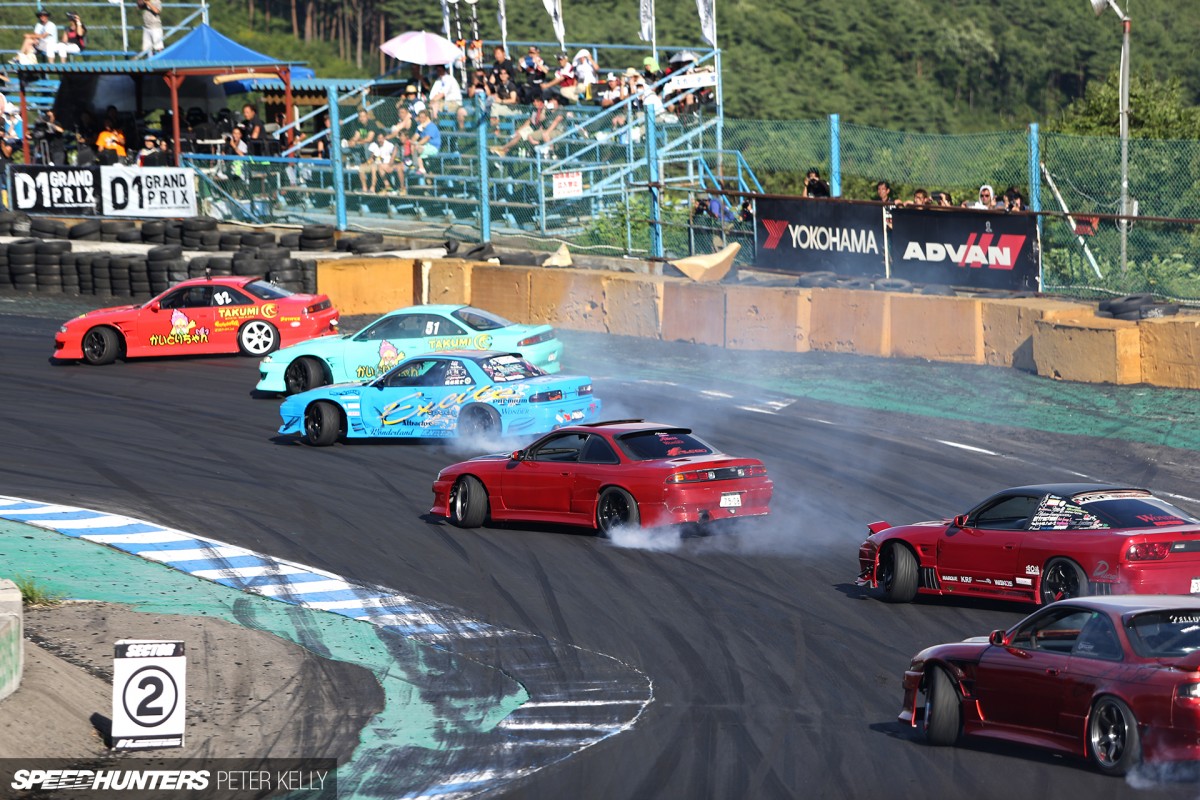 The most entertaining of the lot was this huge train of amateur S-chassis drivers (I only managed to capture about half of them in this frame). It was all noise, smoke, and chaos – perfect! It was a great way to kick off our Ebisu experience, but as cool as D1GP was, it wasn't what I was here for, and I headed back to the hotel too jazzed to sleep, despite the near heat exhaustion.
So This Is What 1000hp Over A Jump Feels Like?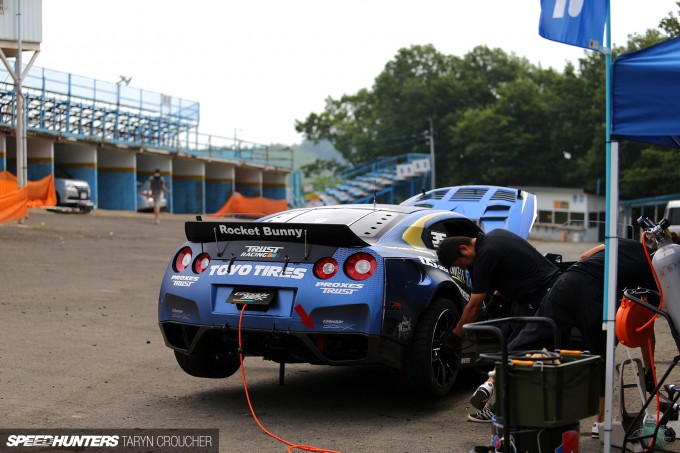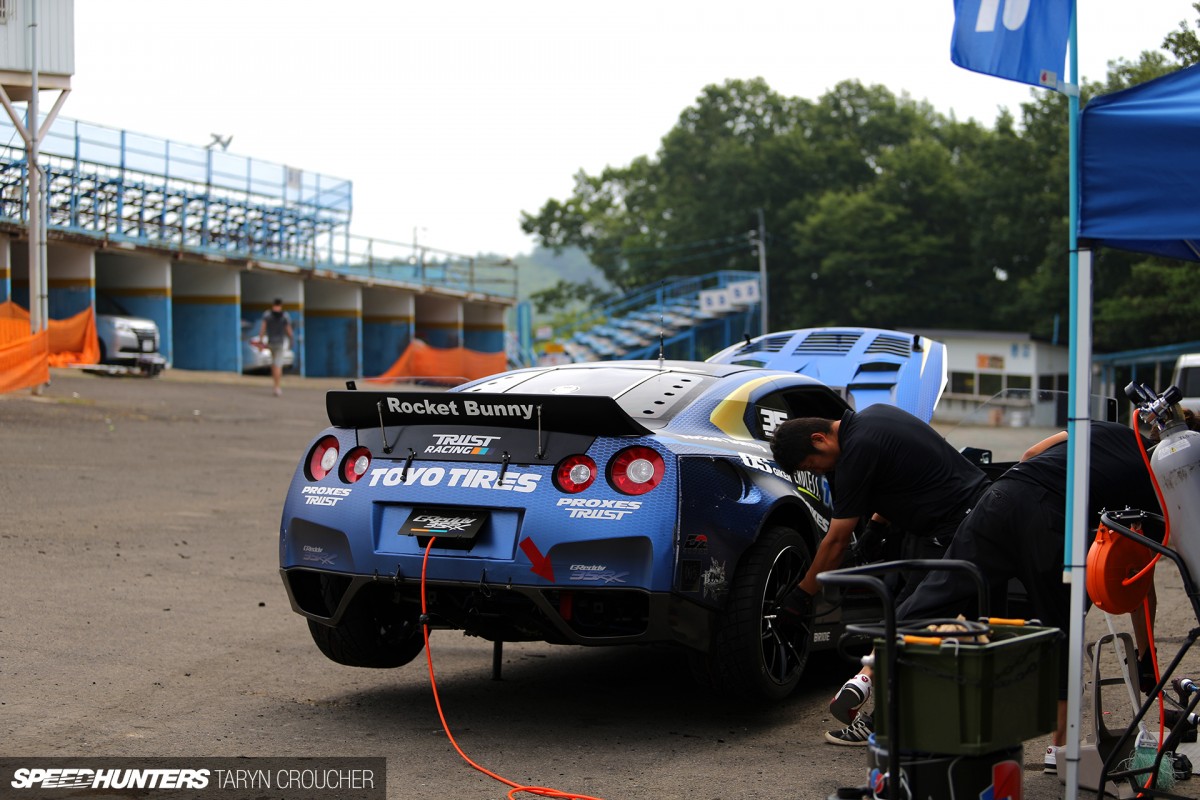 Yes, the next day was guaranteed to be awesome, but I'll admit that I still spent much of the night worrying about how the Soarer's dicky power steering system would affect my driving, and thinking up game plans for how best to not make a complete knob of myself out on the track come morning. But, to be honest, I'd already thoroughly explained to Kawabata-san and the guys at Toyo that I was a beginner, so I figured that I'd sufficiently undersold myself and my best bet was to keep my mouth shut, not make excuses and try to absorb all the wisdom one of the world's best drifters had to offer.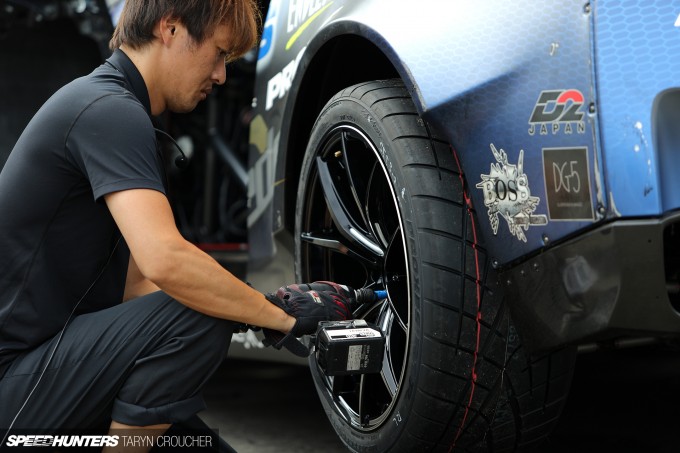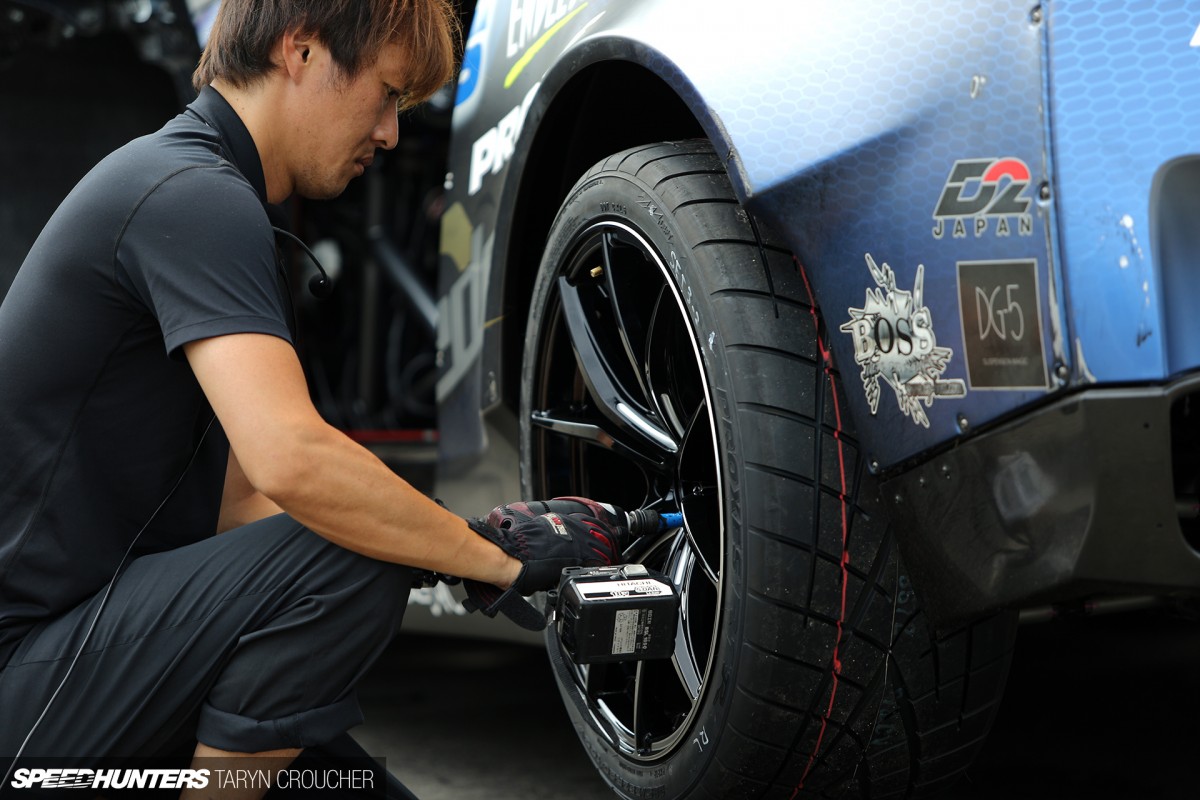 Before any lessons were to take place, though, the team needed to do some tyre testing in the R35 – swapping to a few even wider sets of rear Toyo R1Rs, wrapped around 20-inch RAYS Gram Lights 57FXX rims.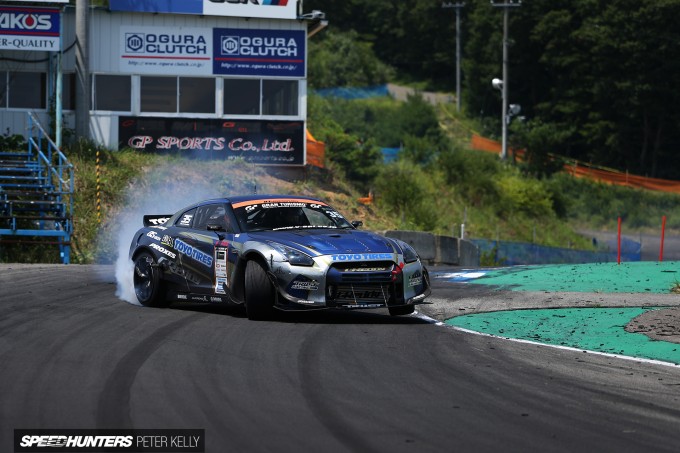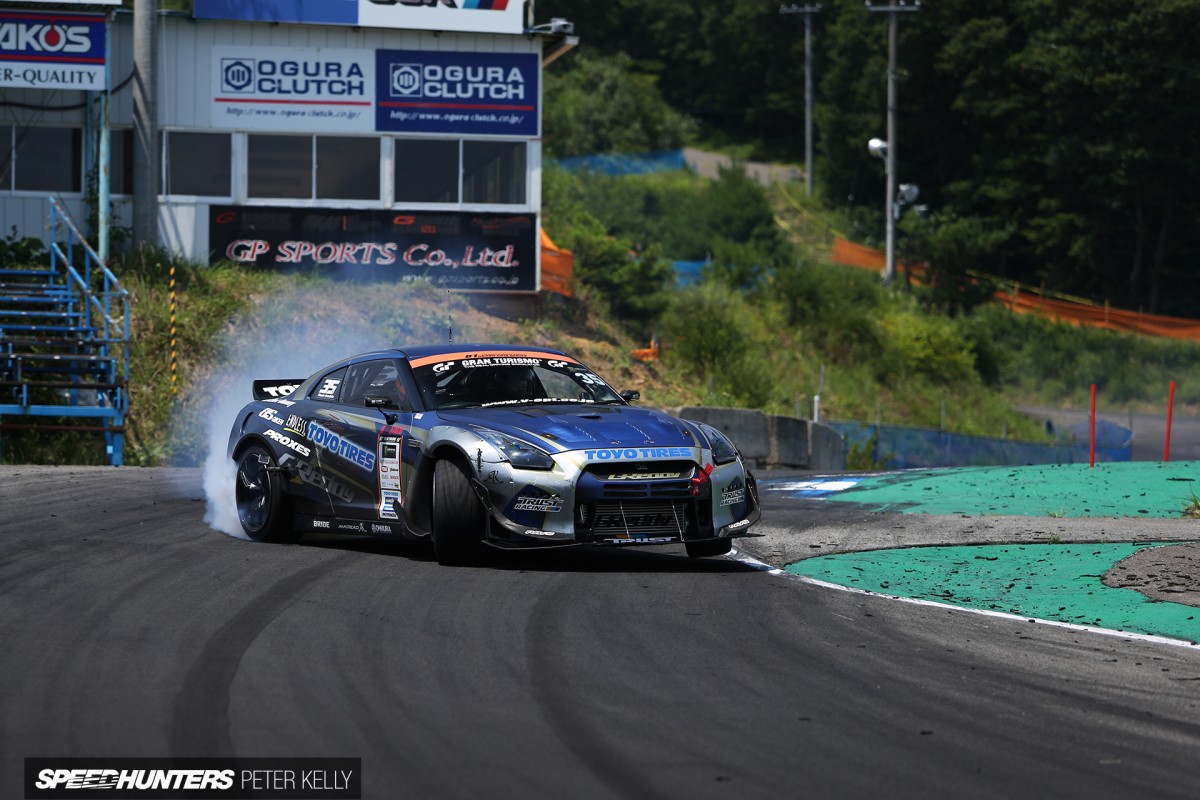 It probably wasn't the best way to jump-start my confidence, but man was it awesome to stand right up against that wall and watch the 1000hp-plus GT-R fly over the jump and come screaming directly towards you. I couldn't resist capturing some Instagram gold, even if it probably wasn't the smartest thing I've ever done and I'll happily confess that holding my phone on the wall to get this clip gave me a serious case of the willies.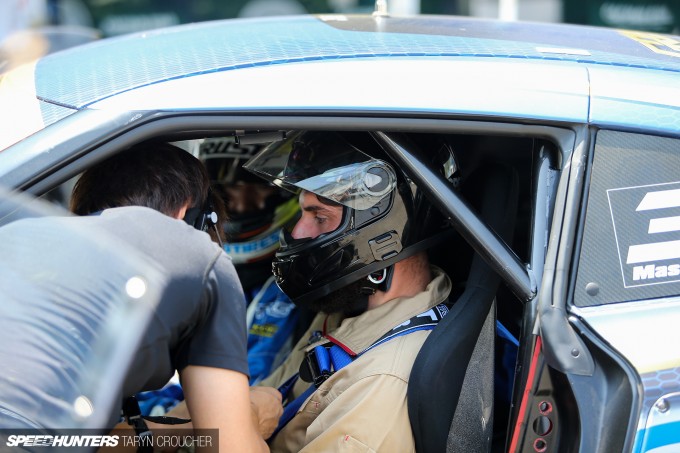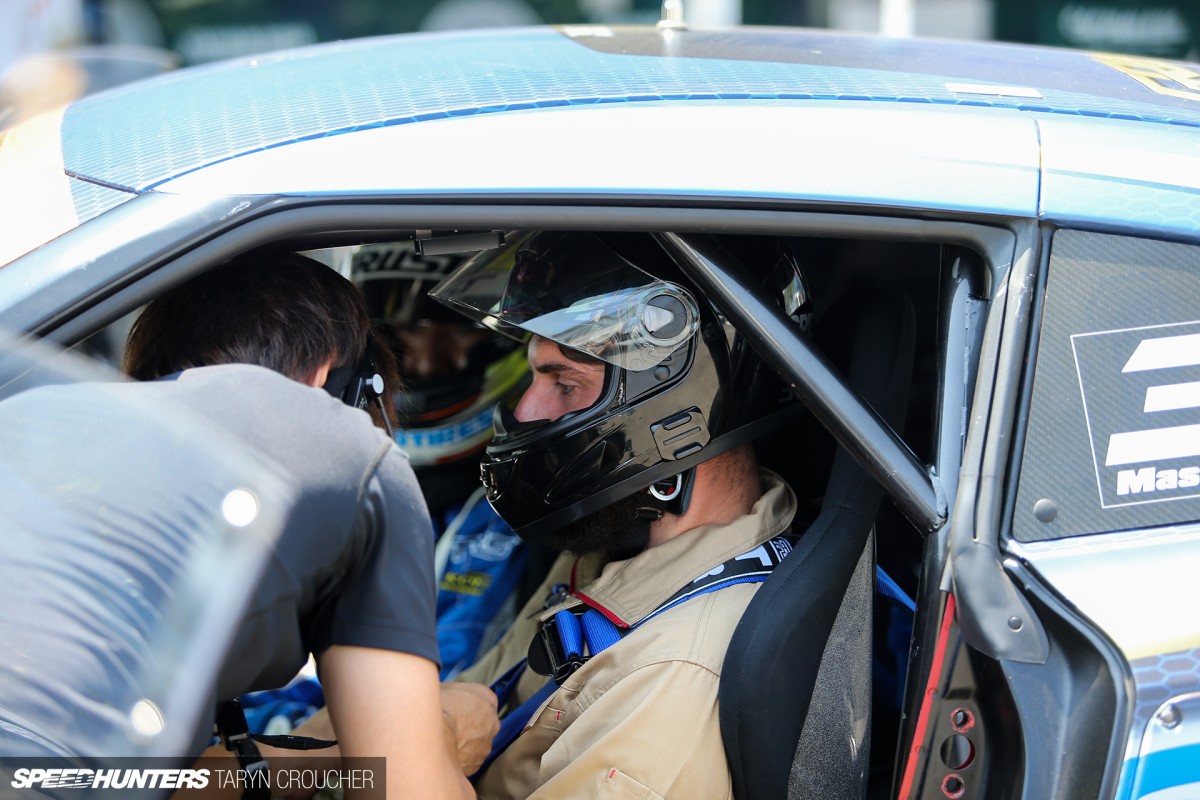 To further get me sweating about my own performance, Kawabata-san pulled into the pits and motioned me towards the passenger seat. Sure, I've been in powerful cars before, but generally they're not going backwards, let alone getting airborne.
Taryn, who was shooting for the day, was also able to go for a ride. In the video above you can see how casual she is compared to what seems to be my own subconscious nut-protection strategy.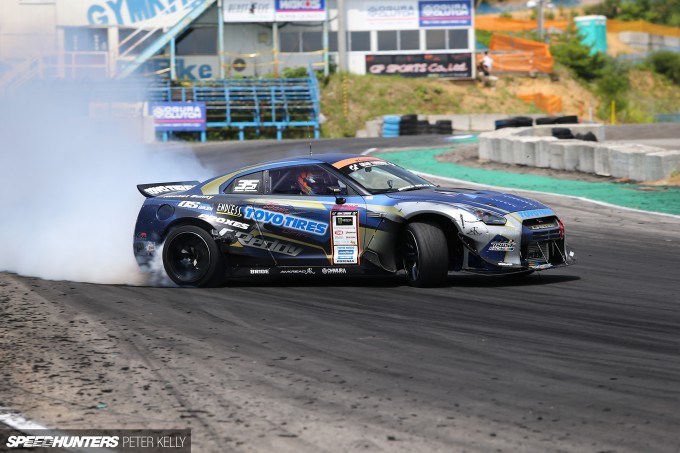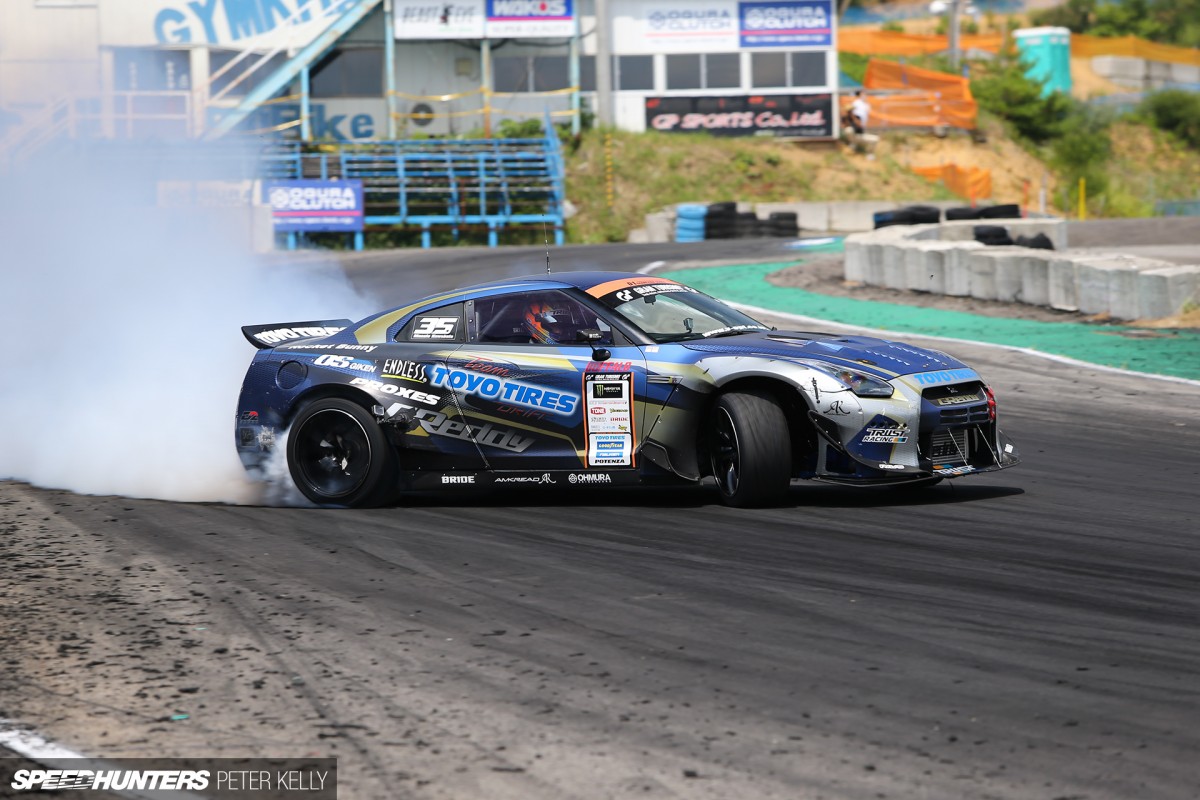 The GT-R is ruthless and Kawabata knows how to get absolutely everything out of it. Watching the video, it's quite interesting that you don't really get a feel for just how backwards the car gets as it heads down into the first tight left-hander, or even how much of a drop there is on that famous entry.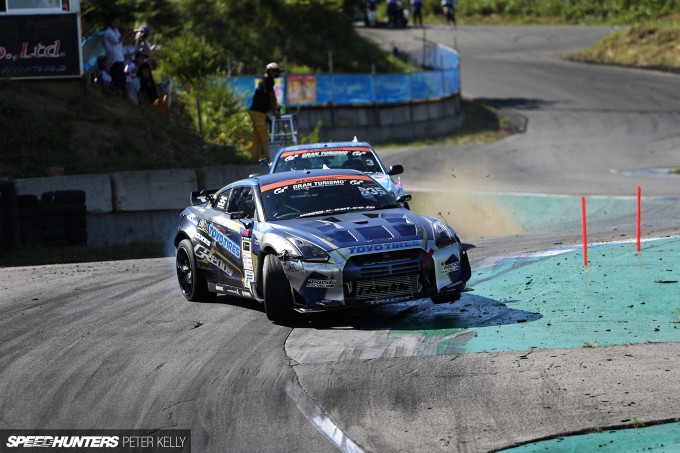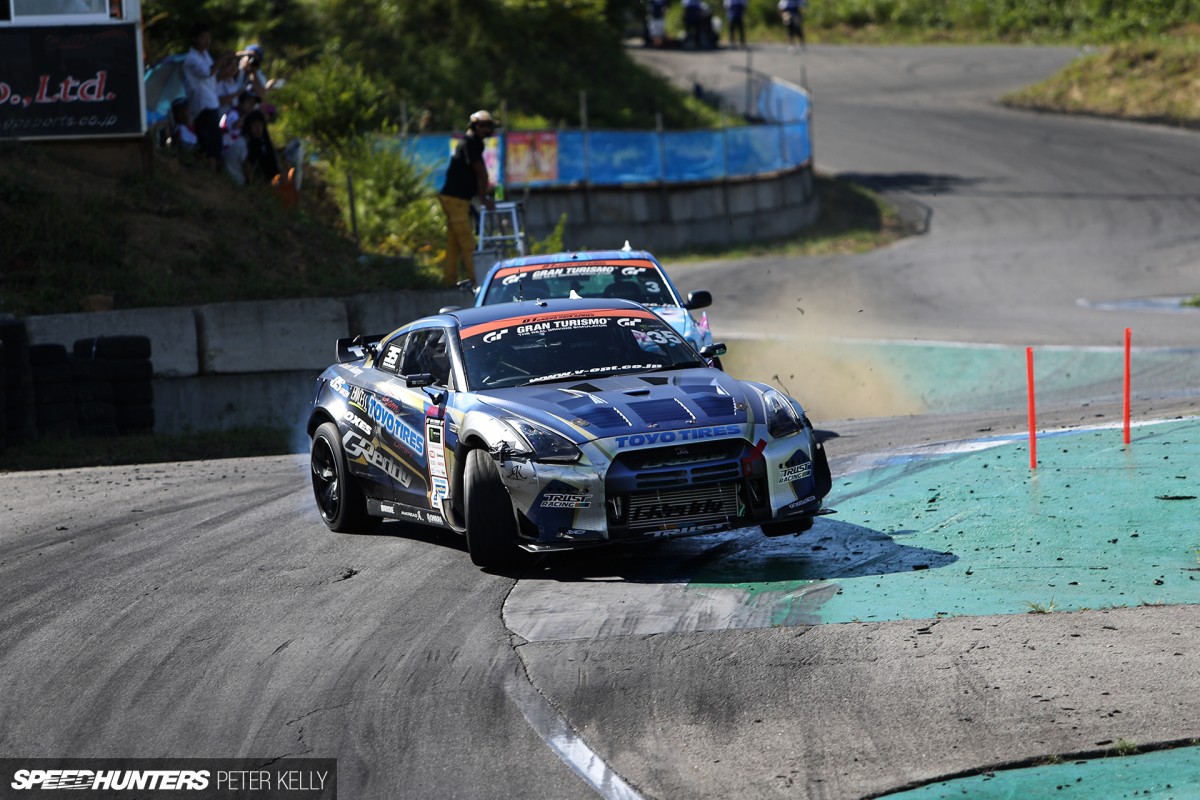 The GT-R handles it with ease. I was surprised at how settled and calm the car felt as it hit the crest, especially after I've seen what it looks like from the outside…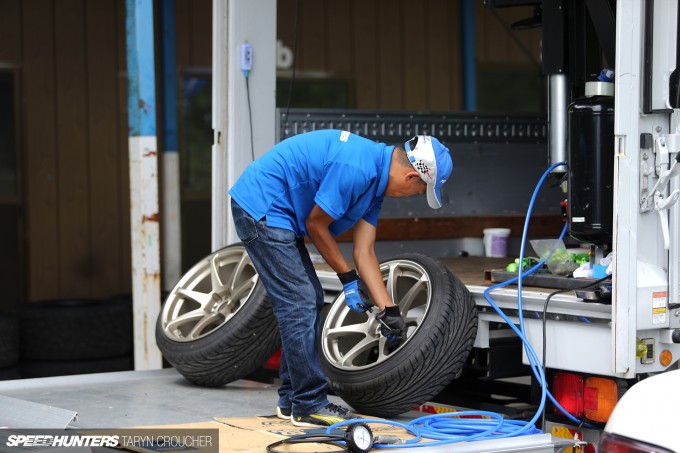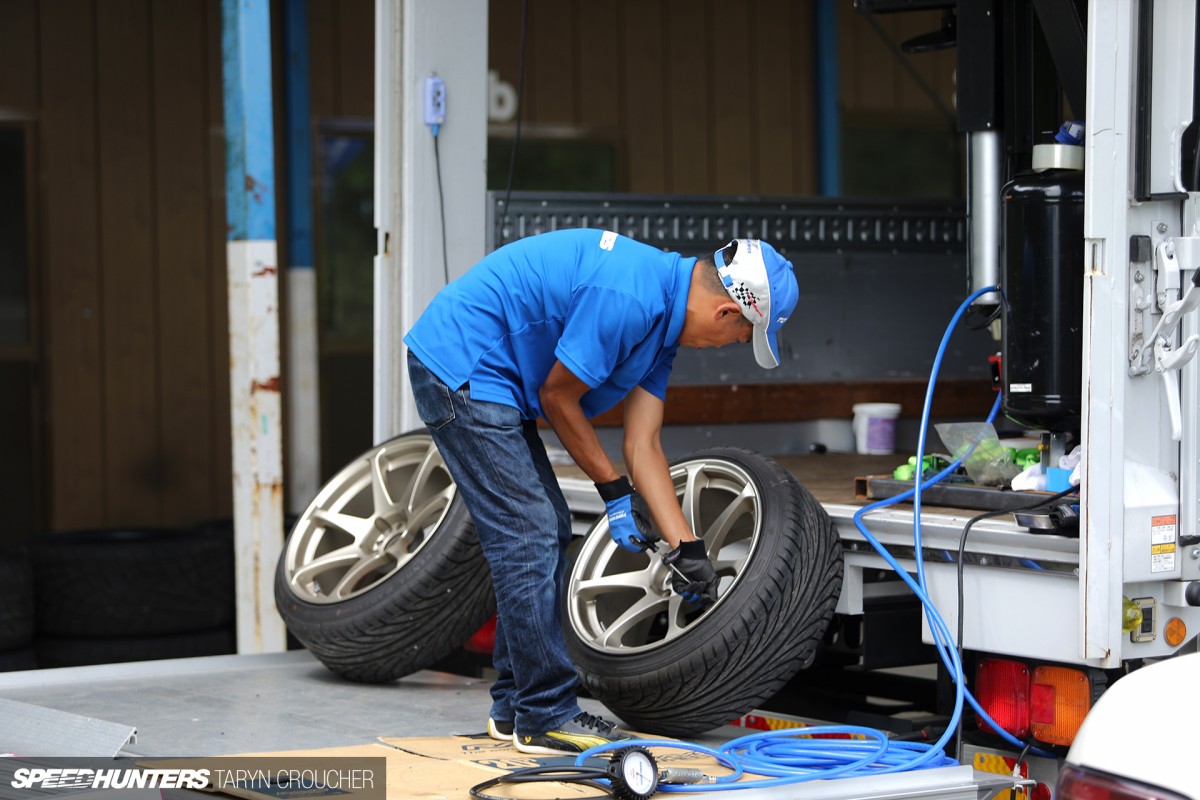 While all this was happening, the Team Toyo guys had nabbed the keys to our Toyota, and were busy stripping off the burner tyres I had shod to my spare cheapie skid wheels, and replacing them with a pair of Toyos. So this must be what it's like to have a full team and a literal truckload of equipment backing you up…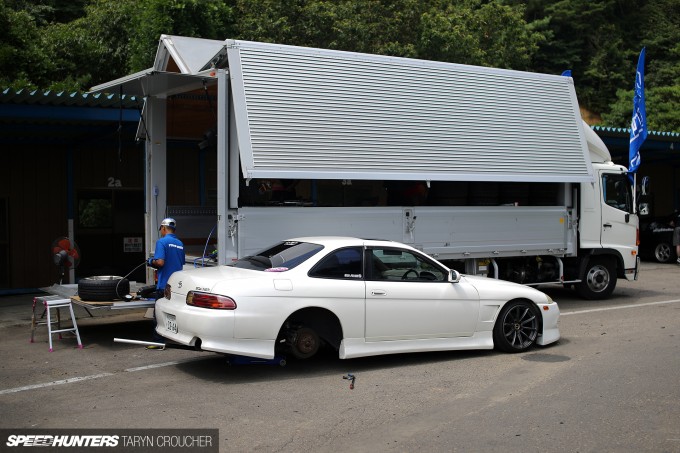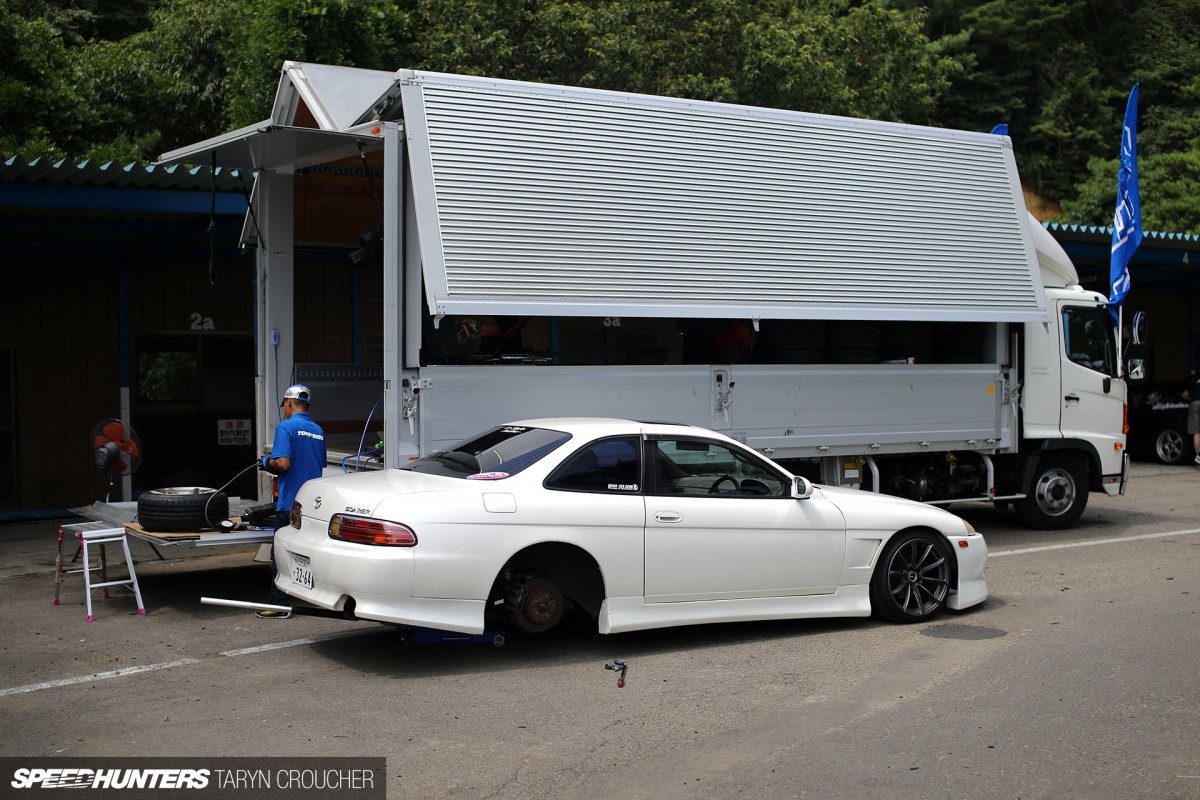 As the GT-R lurched back into the pits and I loosened up the harnesses, I saw our humble Z30 receiving its fresh rubber by the support truck. It was time for me to give Kawabata-san a few passenger laps, and perhaps scare him as much as he did me – just maybe not in the exact same sense…
Bureki! Bureki!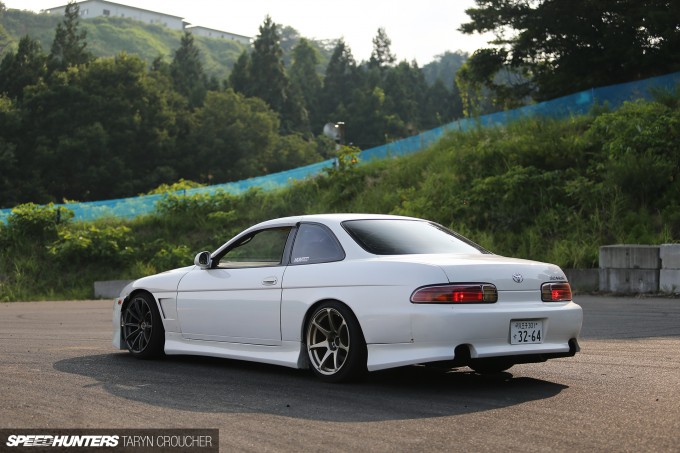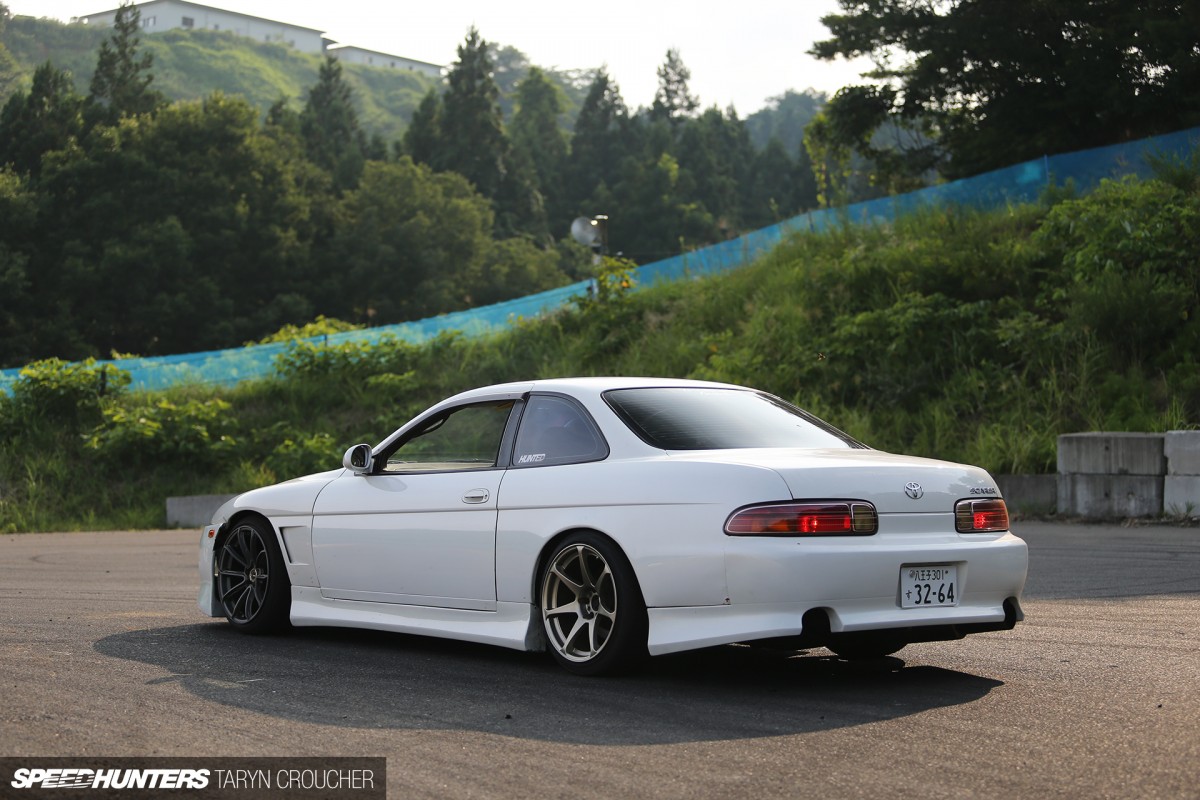 The contrast between the R35 and the Soarer couldn't be more pronounced. We're talking about hopping out of a perfectly set-up, extremely well-engineered 1000hp, lightweight race car and into what is essentially a stock 1650kg street barge with some coil-overs, a 2-way LSD, a bit of extra steering lock and maybe 320hp if I'm lucky.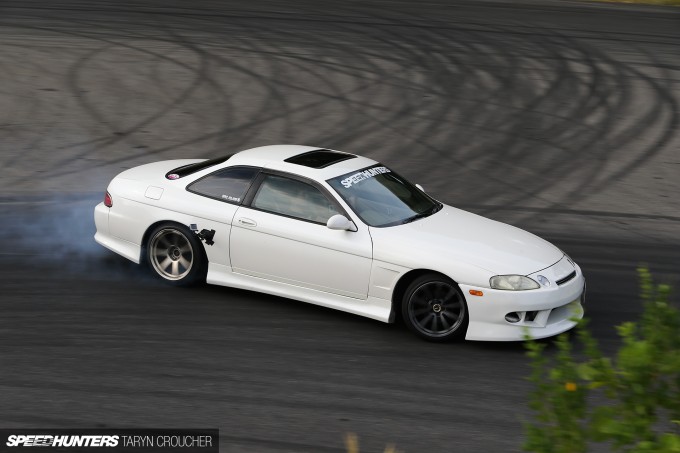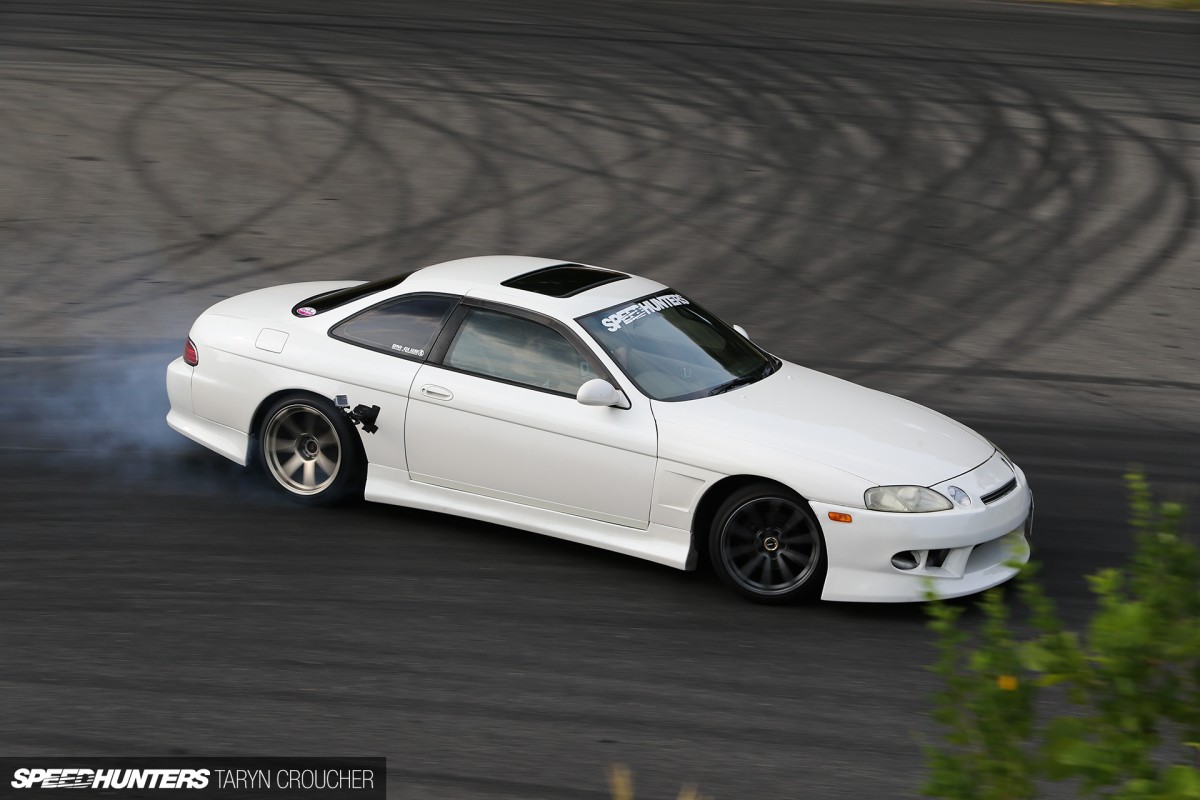 Kawabata-san took the car for a quick drive, and decided that it probably had a little too much grip, too much lard and not enough power to be really effective as a teaching tool on the extremely fast bottom half of the Minami course. Instead, he suggested we focus on the more technical, winding section at the top of the circuit, higher up on the hill.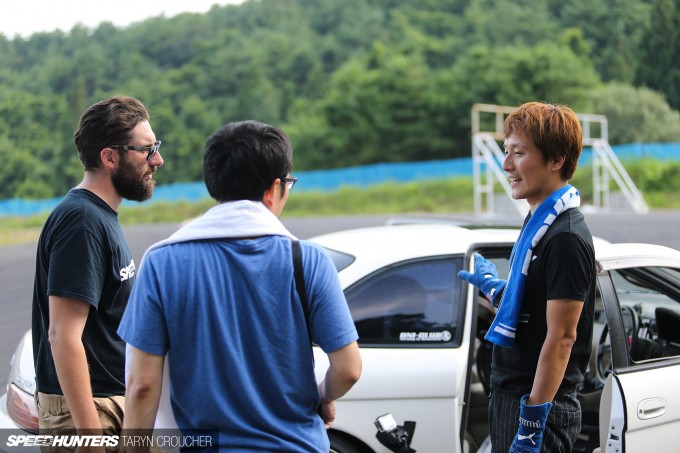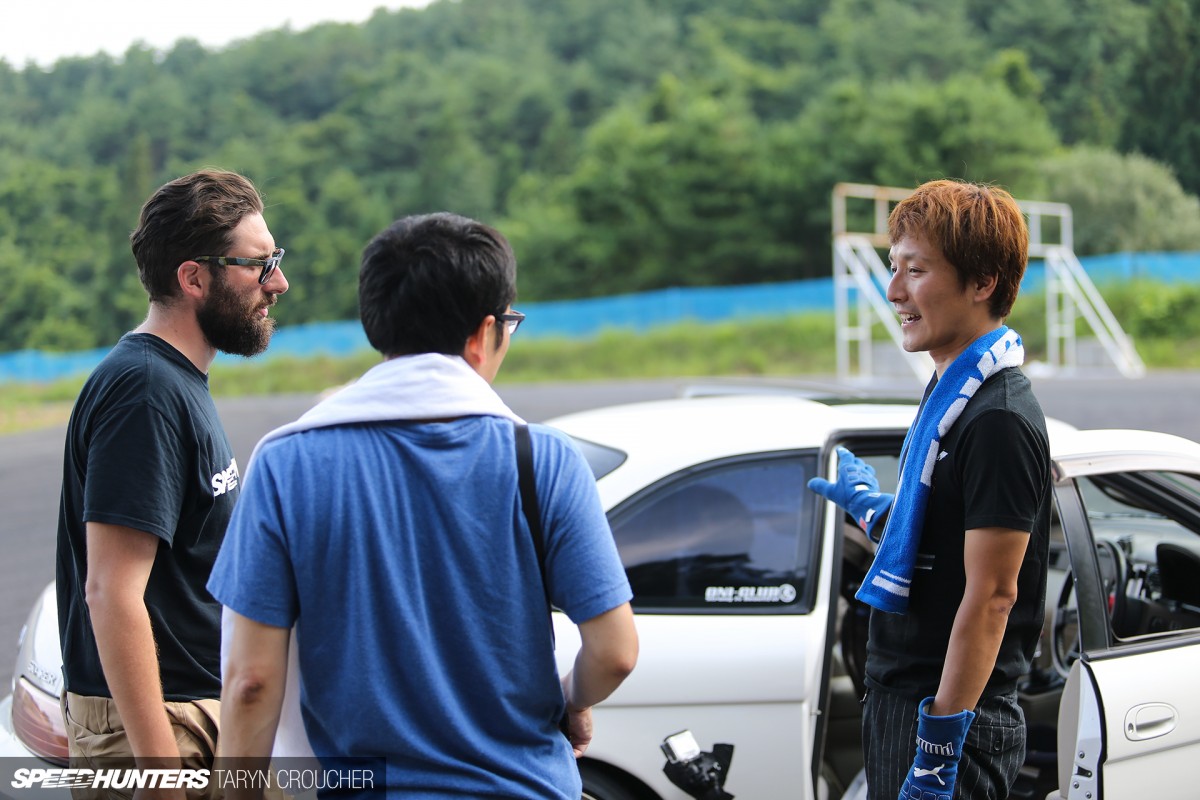 Kawabata-san also thought the car was a bit too low for the rough nature of Ebisu. I had to laugh, because it was actually a lot lower only a few days earlier, but we decided to raise it a good 20mm to make getting around Tokyo a little less of a nightmare. The slower speeds suited me fine, although the section is still not without its risks – fast in some spots, very tight in others with banks on either side and plenty of elevation change. In other words, super fun!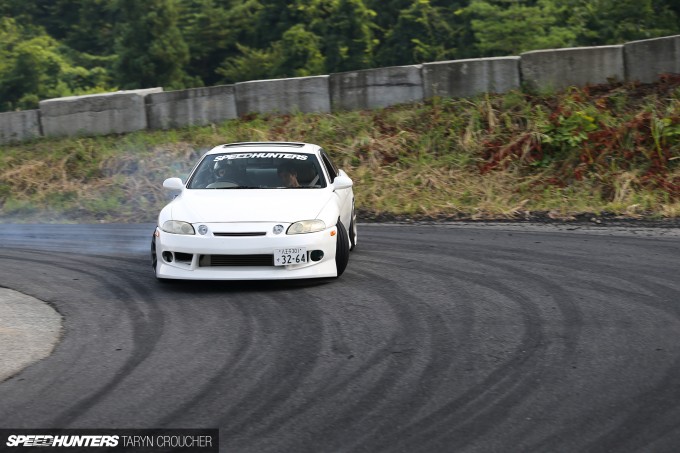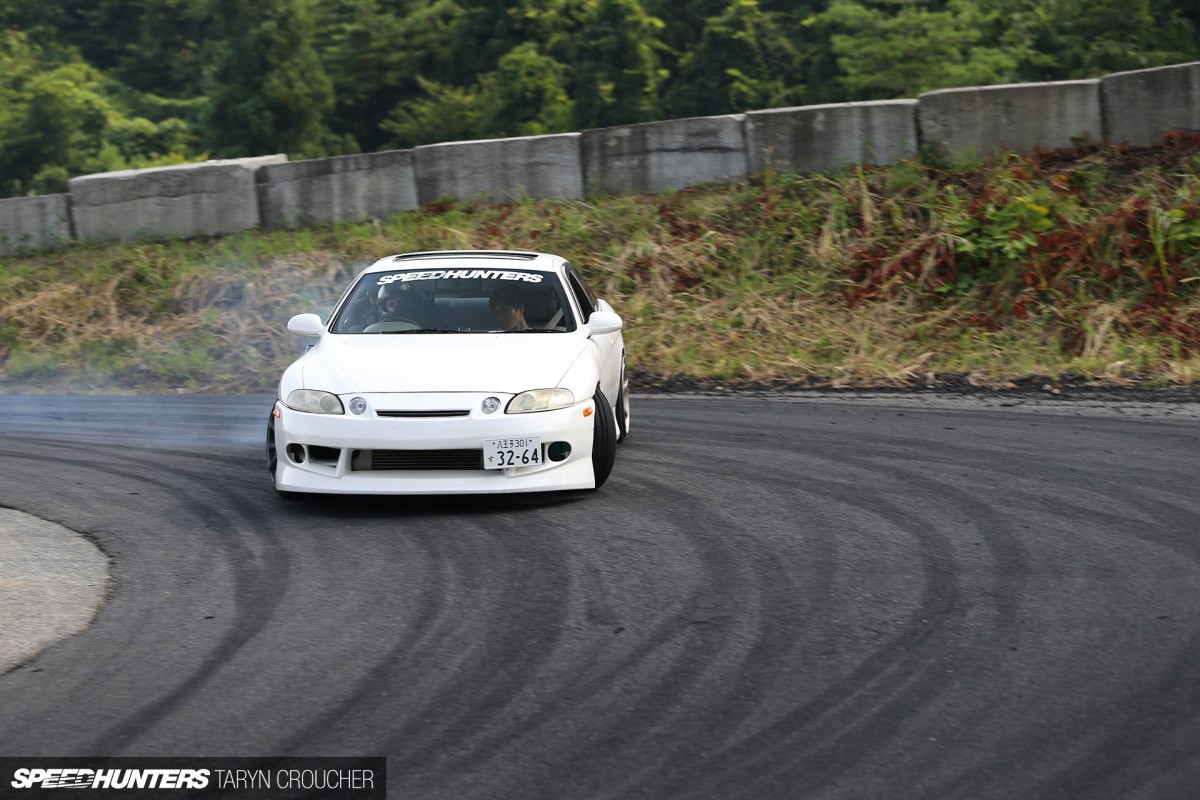 First, we hit the section in the normal, downhill direction – the easiest option. It was pretty damn messy, but I managed to get down the hill in one piece three or four times with Kawabata-san carefully observing from the passenger seat. Before the next run, he motioned for me to stop, and then proceeded to explain exactly what I was doing right and wrong.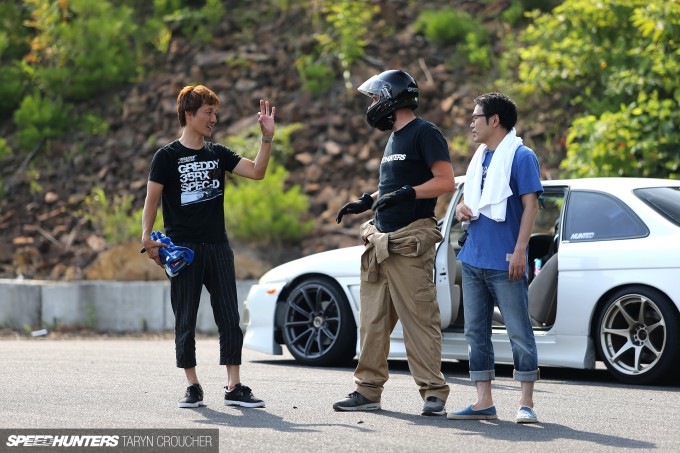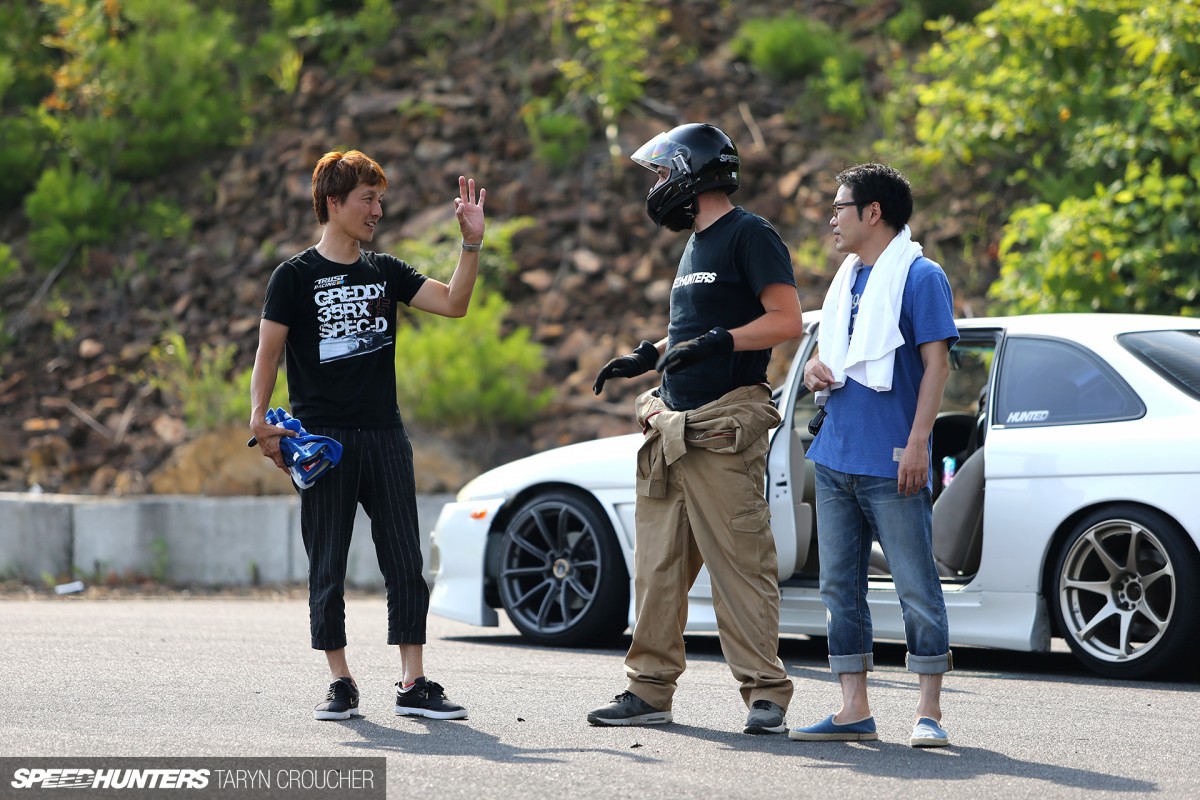 To think that I had been concerned about the language barrier in the months leading up to this day. As it transpires, Kawabata-san and I quickly figured out that most car talk is universal. If it hasn't already been borrowed from english (hoīru: wheel, or hando-bureki: handbrake, for example) most sentiments can be communicated with a mix of miming and car noises. In the shot above for example, I simply took his gesture to mean something along the lines of; 'Pedey, mate, you should enter the next D1GP event, that's how good you are right now.'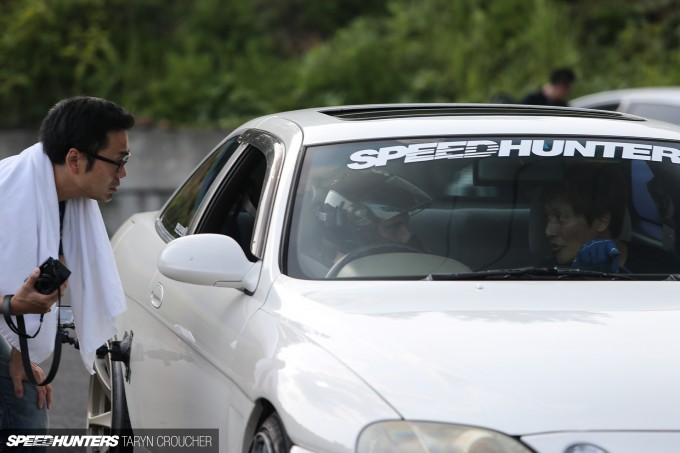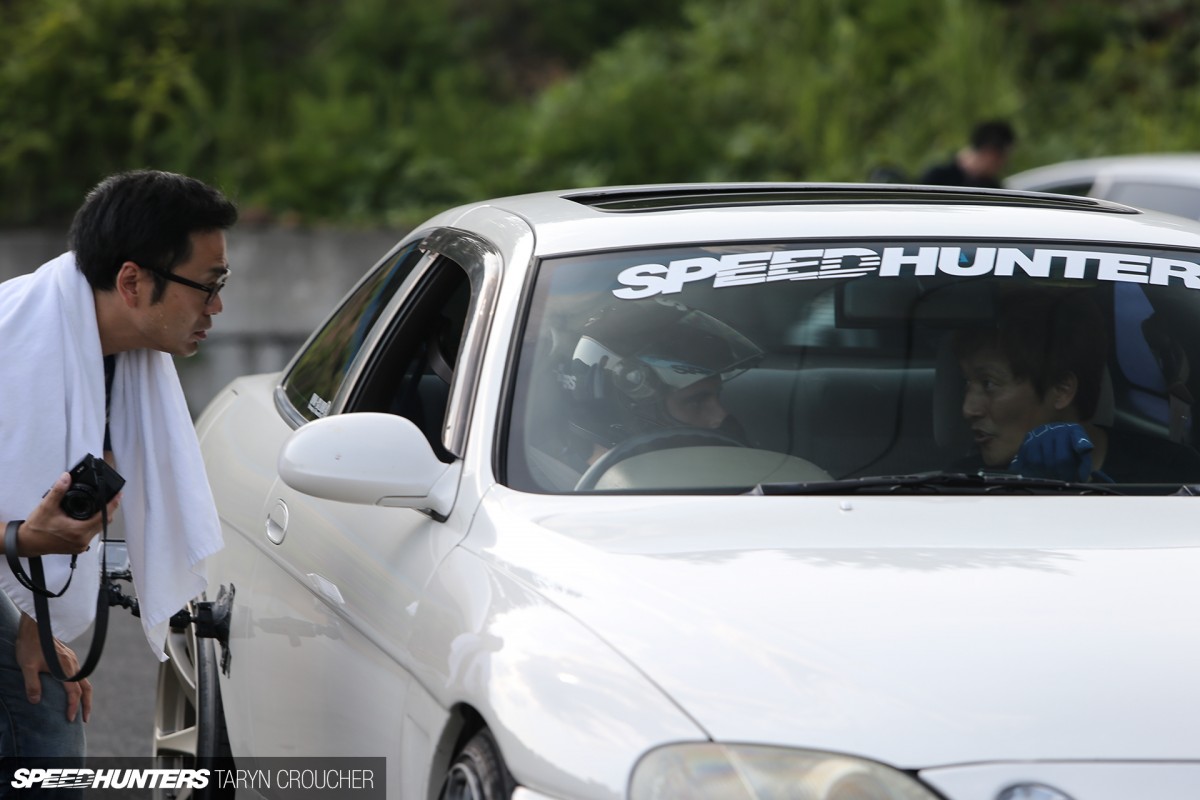 For anything else, my man Morikuni-san was there to translate and get the point across.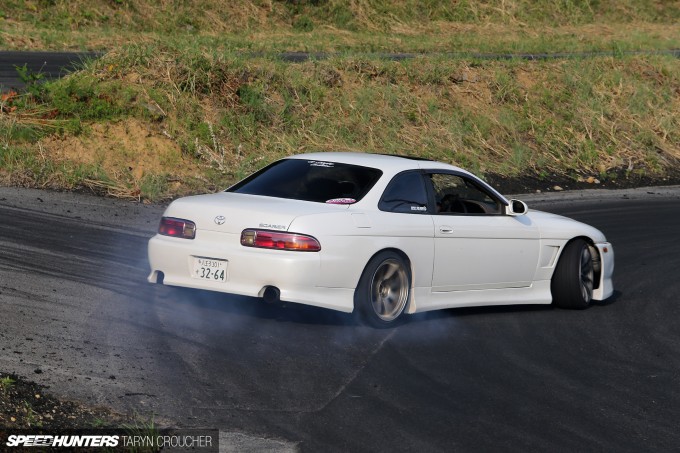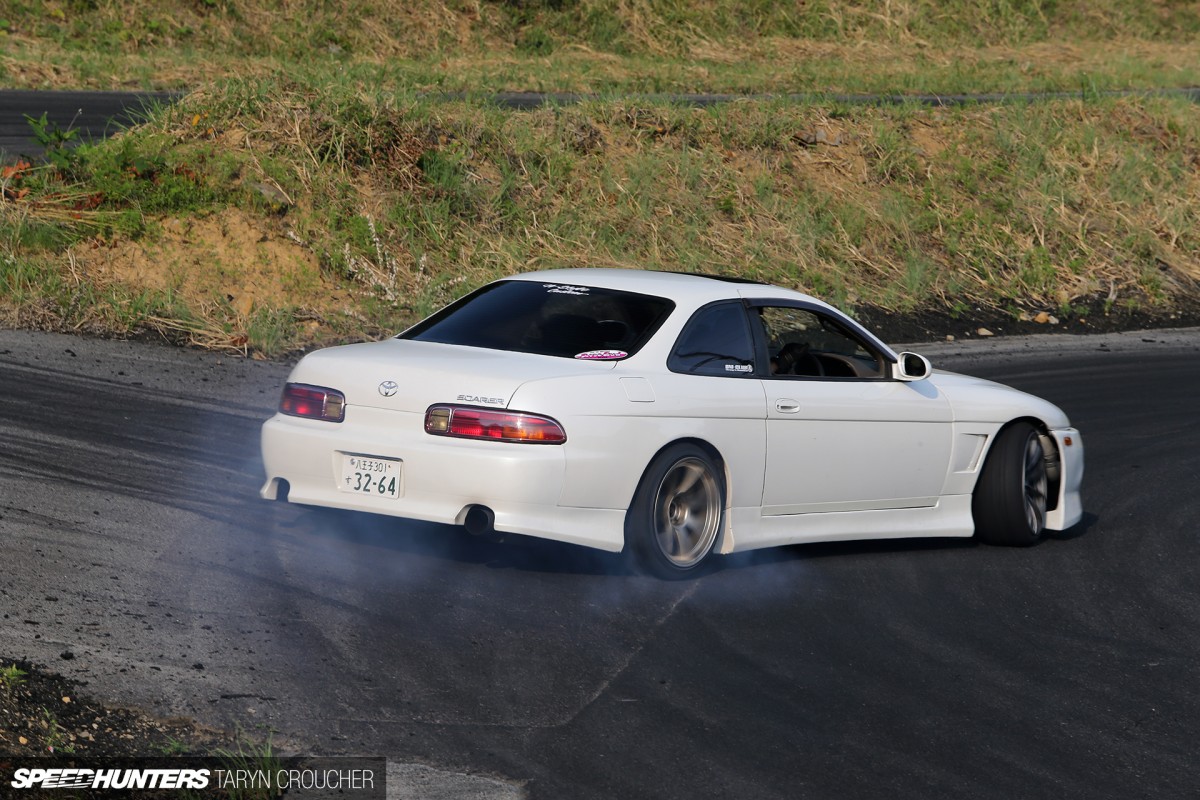 For the next wee while we worked on the downhill section, and sure enough, I soon began to correct my errors – including two very important things that Kawabata-san had pointed out to me.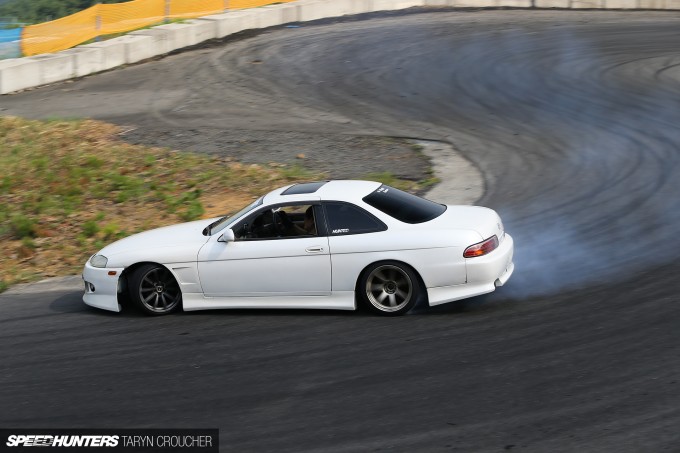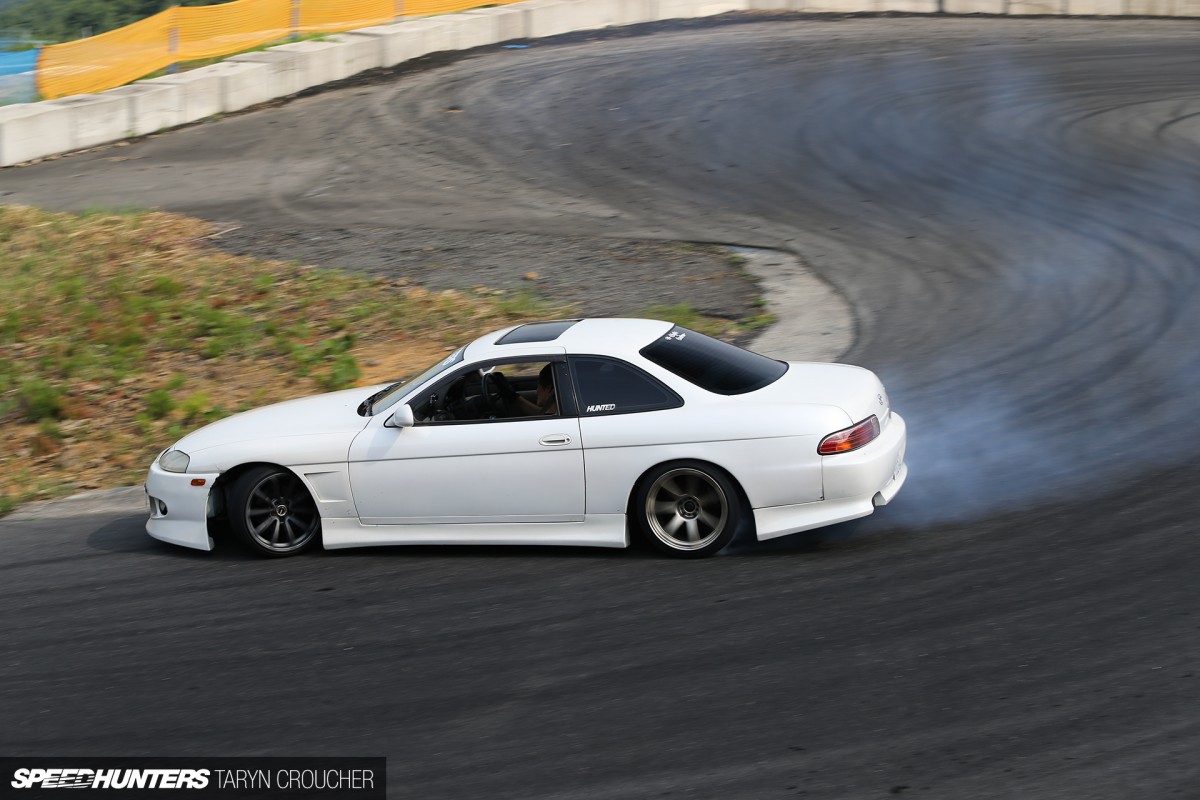 First, I was way too handbrake-happy. Although there's nothing wrong with using the e-brake to get around tight spots or drag out a corner, I was using it when I didn't need to, perhaps simply because subconsciously I wanted to make things look as technical as possible for my passenger. Once I stopped thinking about that, I became smoother and more consistent through the middle corners of the section.
The other big revelation came in the form of the foot brake. To be honest, I had never really thought about using the brakes much whilst drifting, but with Kawabata's "bureki bureki!" instructions as I came to the very bottom of the section before swinging left to head back up the hill, I learnt it's the perfect tool to transfer the weight forwards and settle the car as you prepare to switch, especially on a downhill slope.
Next was the trickier reverse format. With a fast, dragging downhill handbrake entry and the following uphill gradient requiring more effort from the Soarer and more speed and commitment from the driver, it was definitely a bigger challenge. But first, I had to just get through the first damn corner, which I struggled to get my head around with the changes in gradient, the high speed and the requirement for a long entry on the handbrake. Eventually, Kawabata got it through my head that I wasn't counter-steering quick enough, causing me to repeatedly tighten up too much and loop out.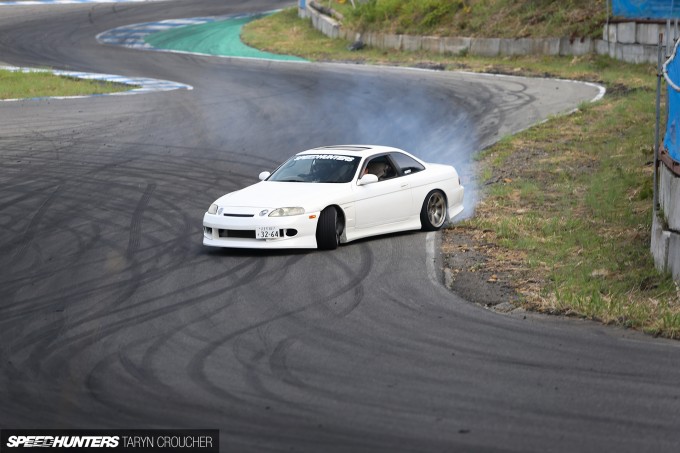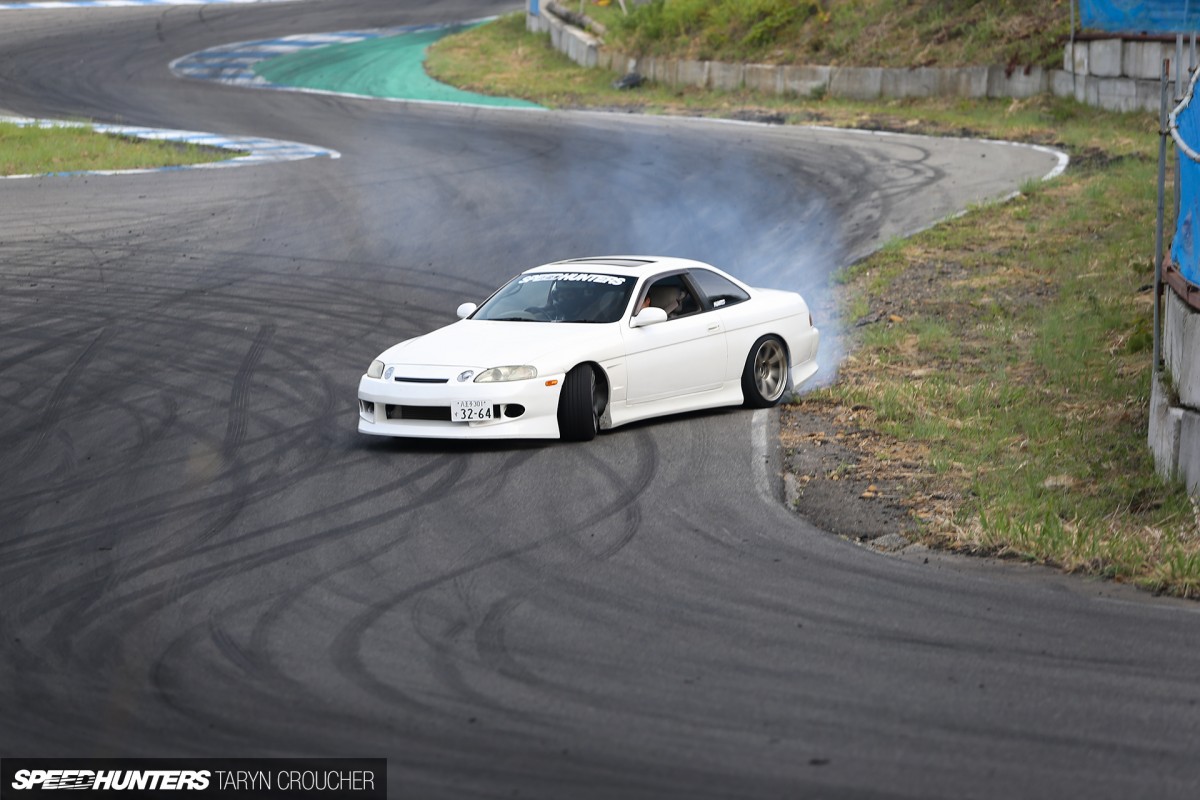 Once I had that down, and instead headed out towards the outside wall…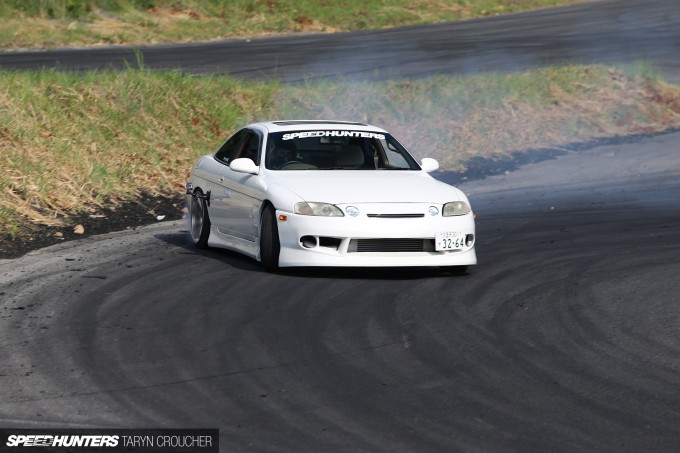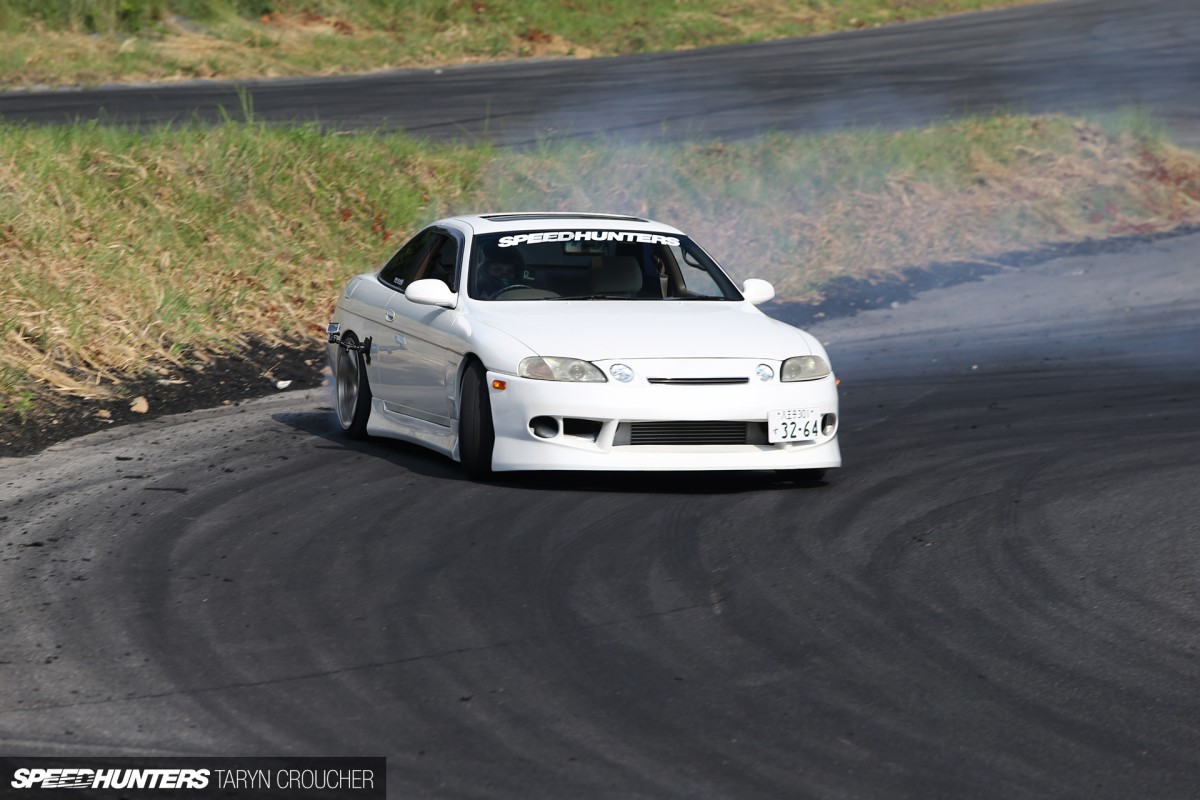 It allowed me to carry the necessary speed and angle up the hill at the top of second gear, pushing way out towards the outside of the increasingly tight left -hander.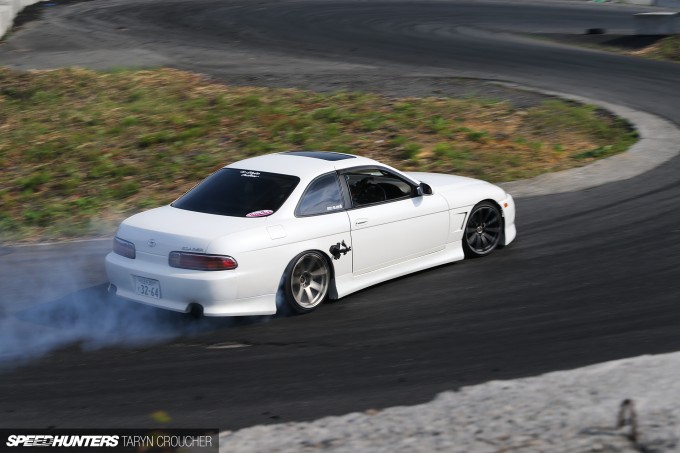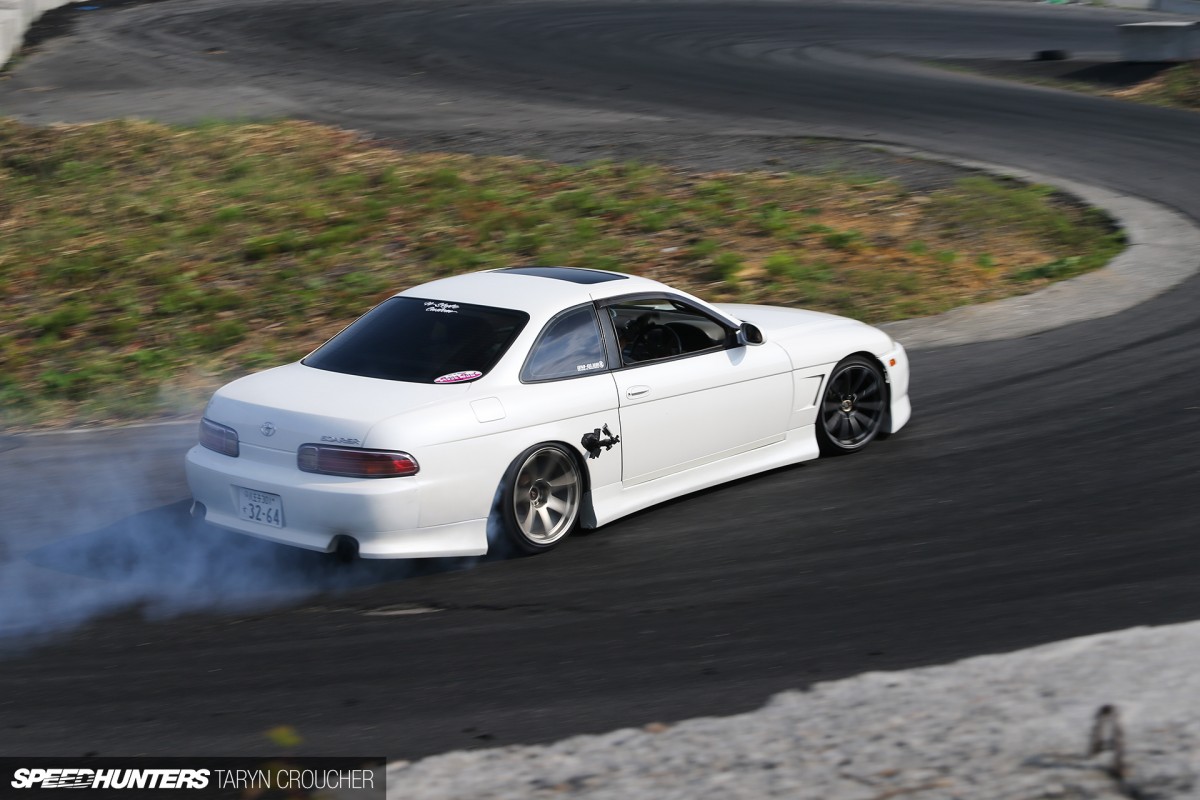 It was then a case of slowing the car up to hit the inside clip and then quickly switching back for the final right-hand bend that climbs up to the end of the section.
It was in trying to get this section right that I realised you've really got to plan ahead with your driving, and get the speed and the line set up right from the very start. If it's just a little bit wonky, it's going to become very tricky to rectify later on when it comes to getting right to the outside of the corner at the right speed, or the inside of the next corner at just the right angle.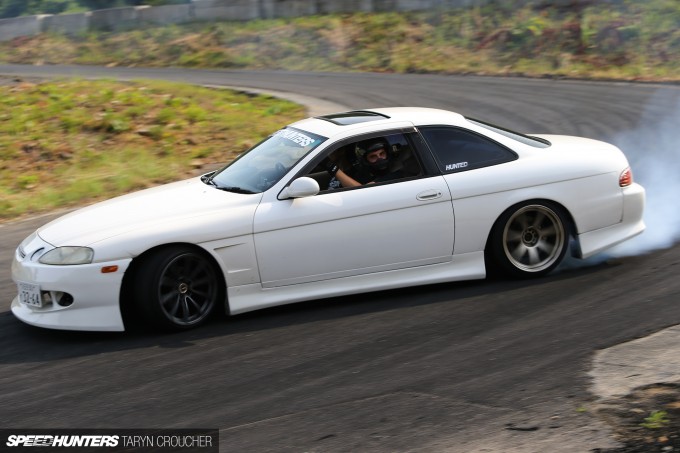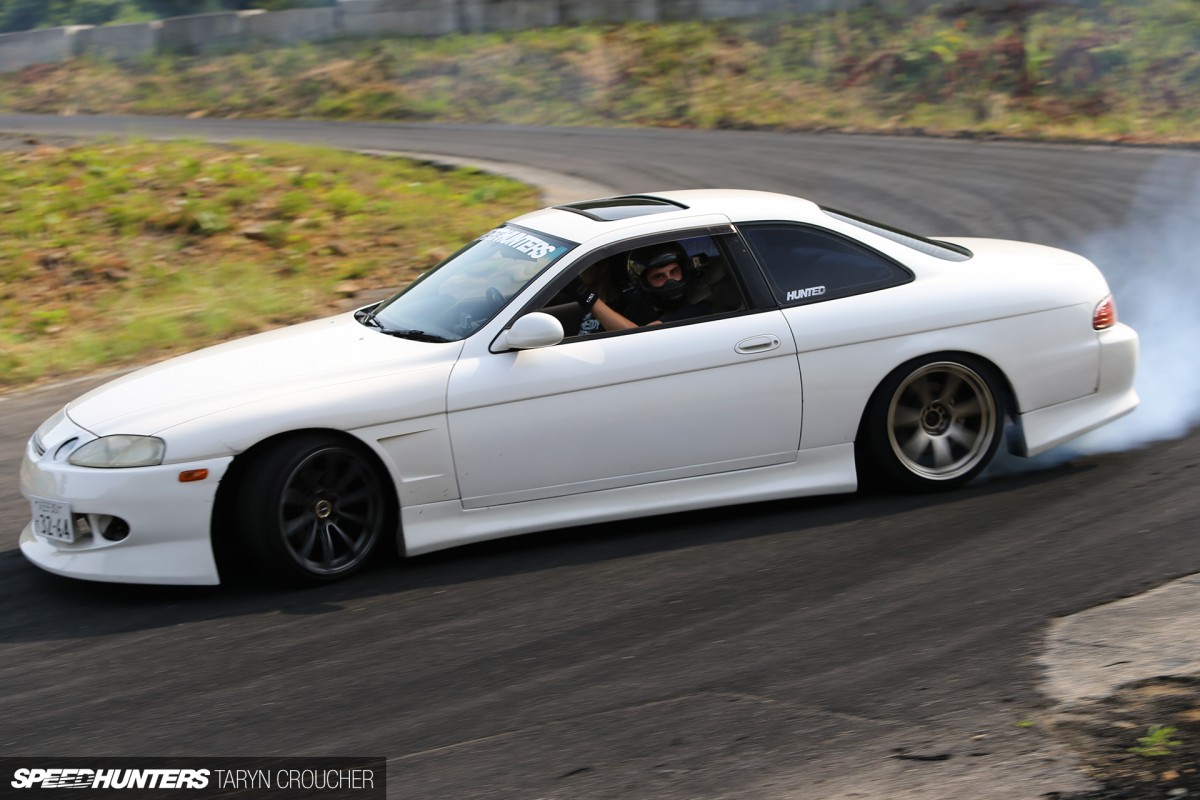 With some more practice as the afternoon turned to early evening, I have to say that I was more than happy with the super-intensive lessons and accelerated learning that went on. After all, I was lucky enough to be the only guy out on track, sitting next to one of the most qualified people in the world to teach me, and I'm extremely thankful for that… I know Kawabata was showing me the correct technique when this photo was taken, but I couldn't resist a quick 'Remember that time' pose for the camera as we came past.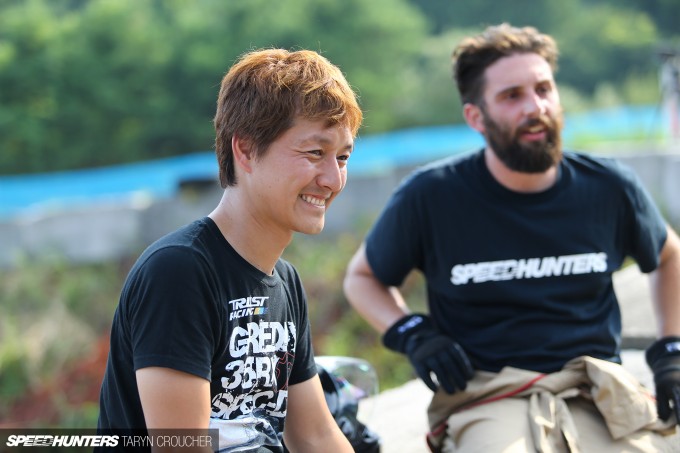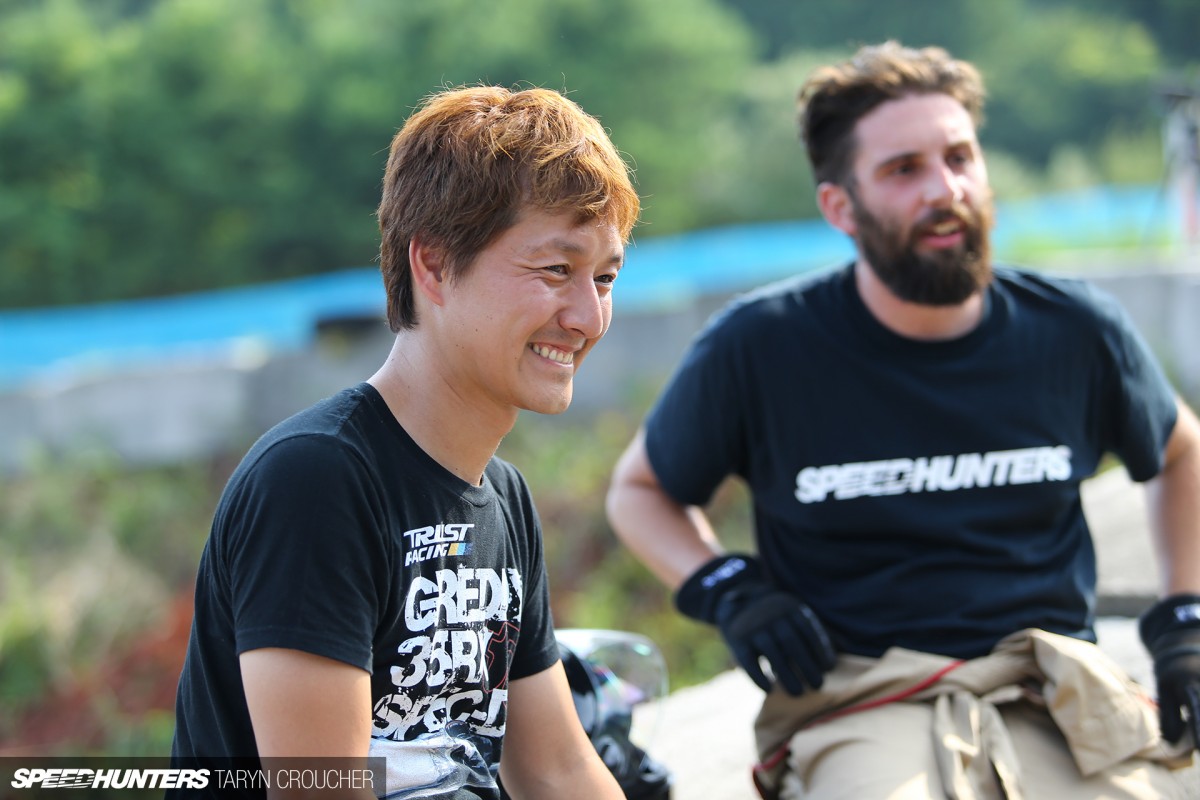 I know that this isn't the sort of opportunity that many people get, and there's no way I'm taking it for granted. To have a driver like Masato Kawabata not only put my car through its paces himself, but also show me how to get the most out of it on what I consider to be the Shangri-La of drift destinations is truly a highlight for me. I really can't thank Kawabata-san, Morikuni-san and all the team at Toyo Tires and Trust/GReddy for this once-in-a-lifetime day. I'm quite aware as I write this that I sound like a massive fan boy, but I really don't care. This was awesome and I am a massive fan boy. It's why I do what I do for a living.
Toyo Tires Japan also brought a film crew along for the day, so make sure you check out this rad little video that they produced, including a very tired, very sweaty me trying and failing to get my shit together for the camera.
Now to add some power to the Soarer's 1JZ, strip out some weight and start going faster!
Peter Kelly
Editor-in-Chief
Instagram: speedhunters_pedey
pedey@speedhunters.com
Additional Photos by Taryn Croucher
Instagram: taryncroucher
Twitter: @taryncroucher
taryn@speedhunters.com
Cutting Room Floor