Concave Spelunking
As promised in my last, admittedly slightly whiny Project X story, I'm back again with far more positive news – news that would come in the form of a friendly knock at the door from a predictably super-efficient Japanese courier standing next to a stack of big boxes.
Finally something to get excited about! A couple of weeks ago our friends at RAYS and Toyo Tires, perhaps feeling a little sorry for Taryn and I, got in touch and offered to help shod the troublesome JZX110 Toyota Mark II with a fresh set of rollers. The timing was great too, as the 19s that the car came on were fairly horrible (by Japanese standards, anyway), and the 18s that we have been using to get around for the last month were only ever loaners from a friend.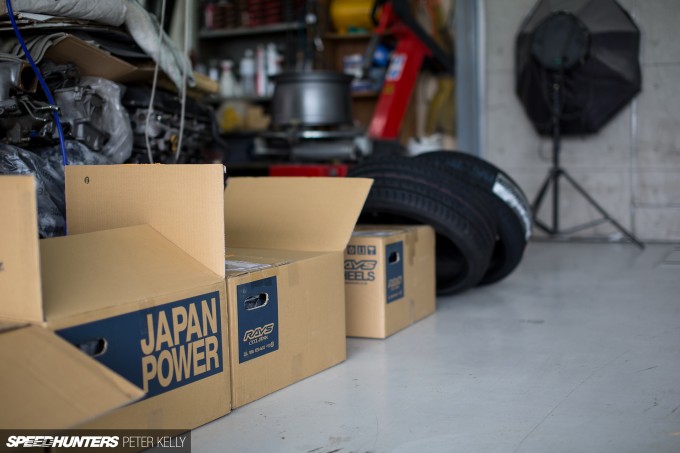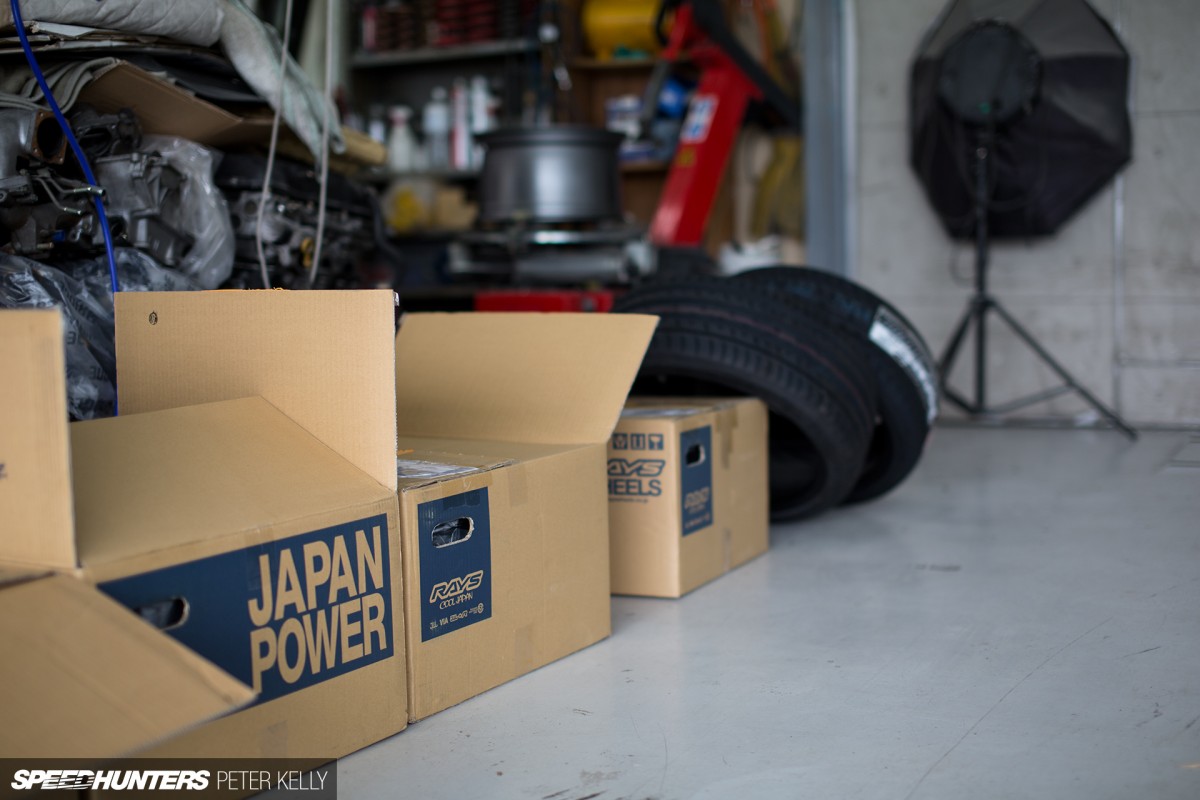 After working out the perfect sizes and offsets – 18×9.5-inch +30 up front and 18×9.5-inch +22 in the rear – we got talking to the folk at RAYS about exactly what model of wheel we should run. Of course, when I think RAYS I immediately think TE37 or similar, but what was suggested was something a little left of field… Something a little different… Something which might just suit the modern lines of the JZX110 perfectly: the Gram Lights 57Getter.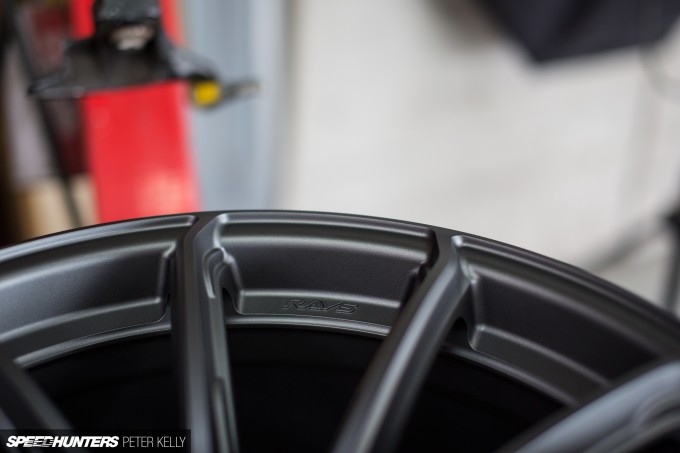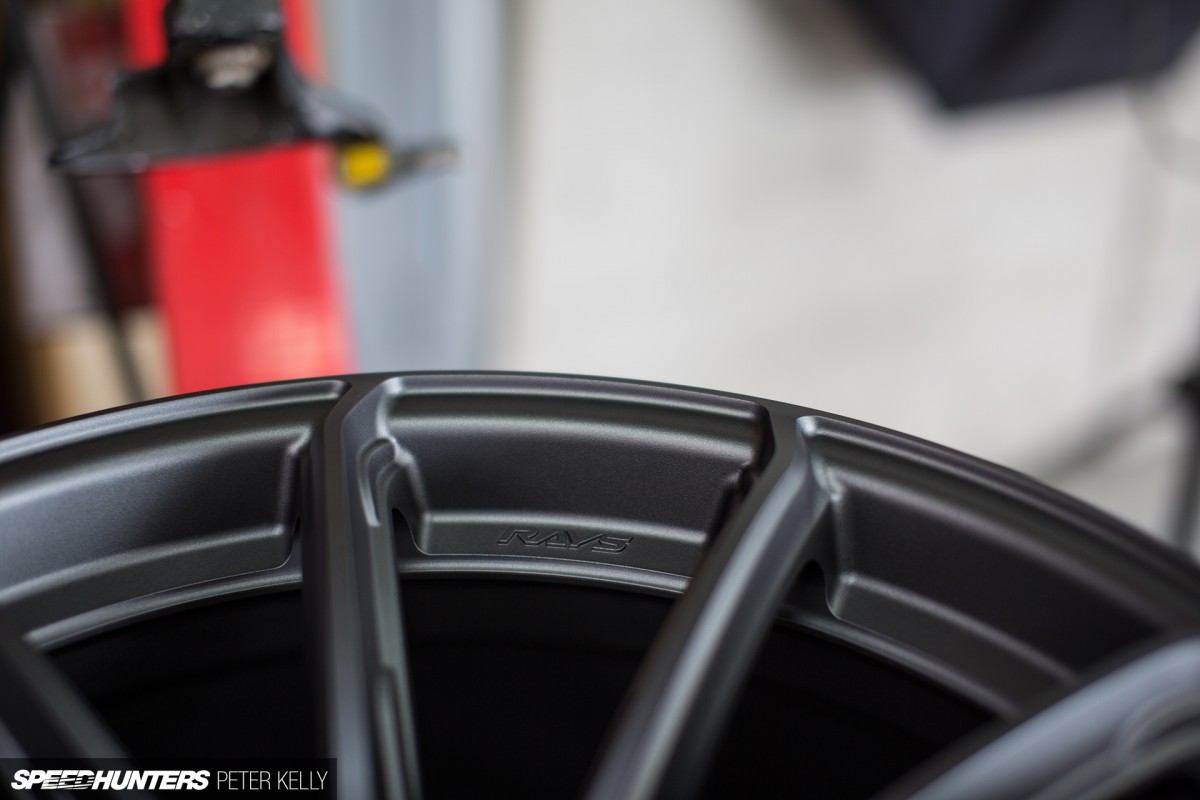 "Sorry, 57 what?" I had asked. "57Getter," RAYS' Wakana-san replied. "Very light, very strong and very cool looking – perfect for drifting". After a quick Google search, I have to say that I wasn't quite convinced. Sure, they're a very angry looking wheel, but at the same time the design is pretty out there, and I wasn't sure just how adventurous I was feeling at that point in time. In the end though, I figured RAYS knew exactly what they were talking about, so we agreed.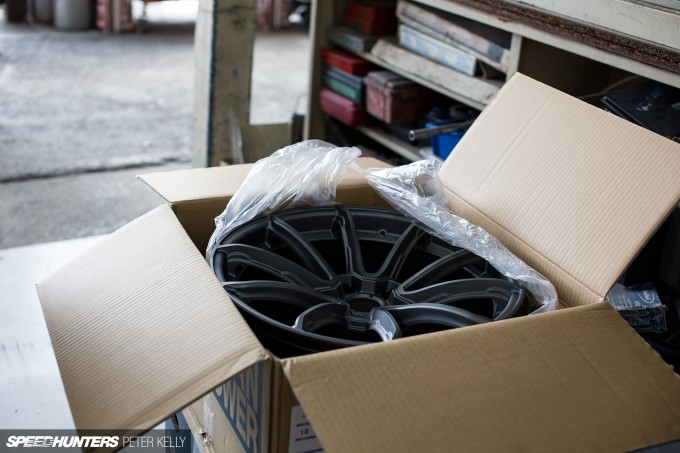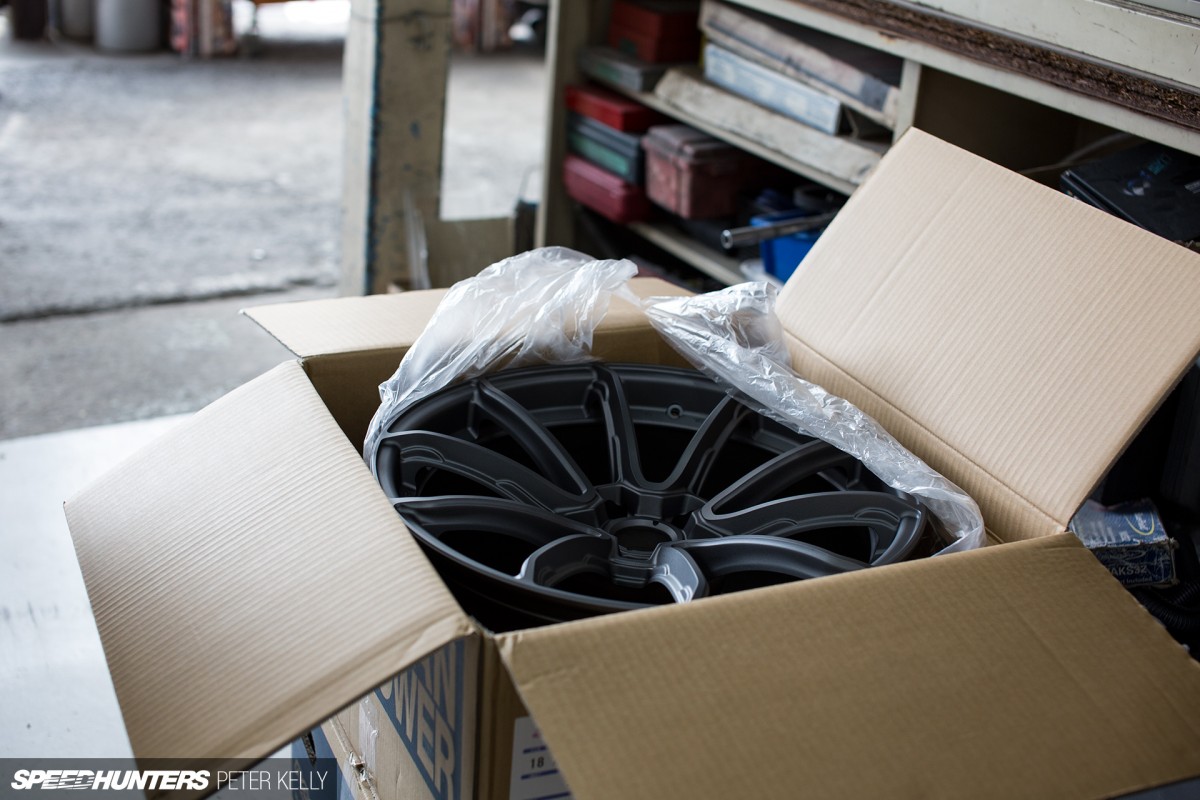 As soon as Koki-man down at Mercury sliced open the first box and pulled aside the plastic wrapper to reveal the face of the deeply concave wheel, I knew we had been right to trust in Wakana-san's choice.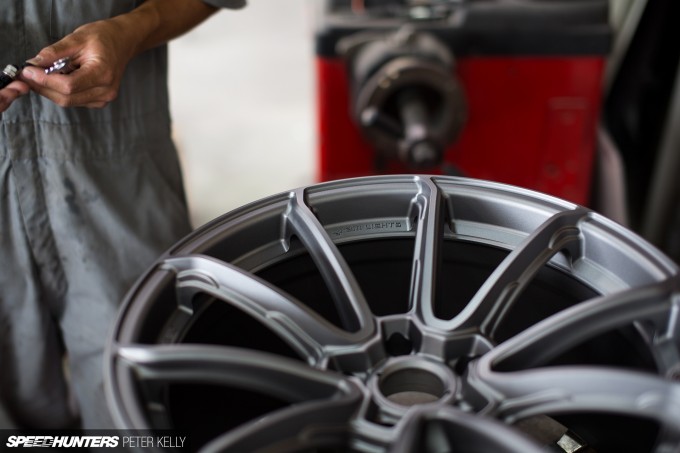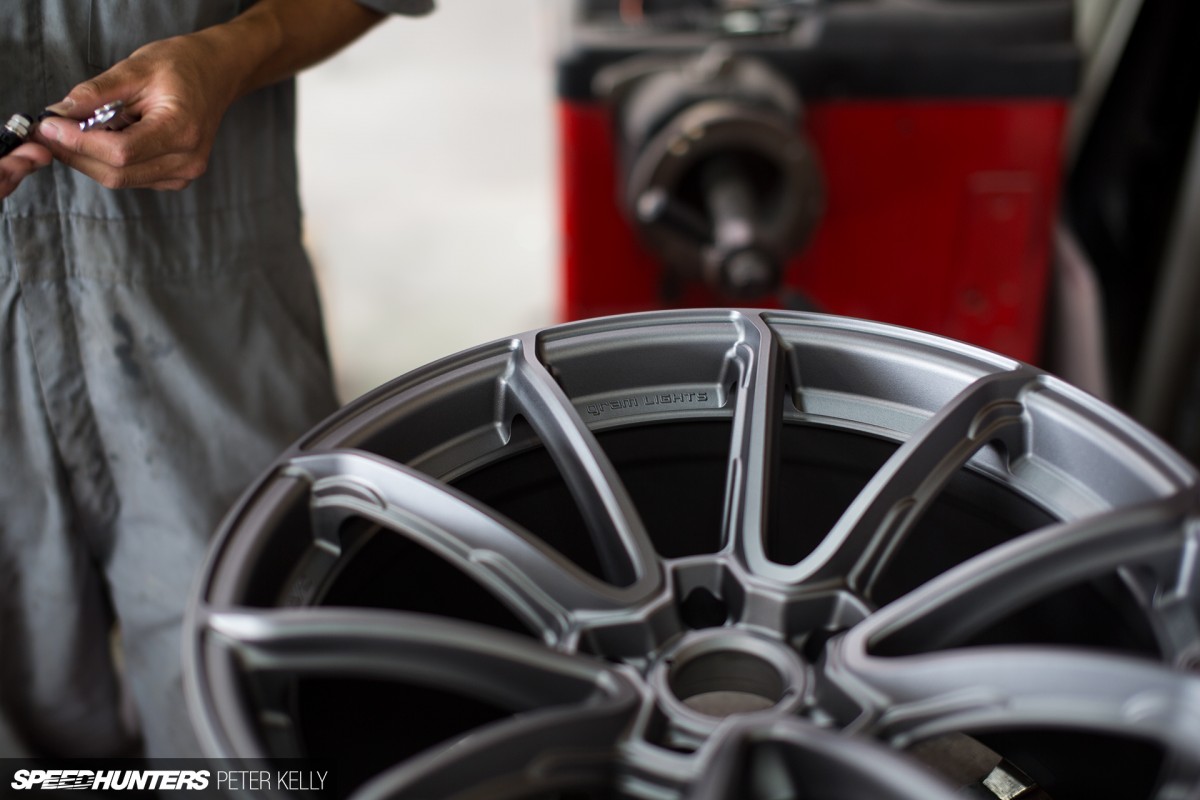 These things are badass!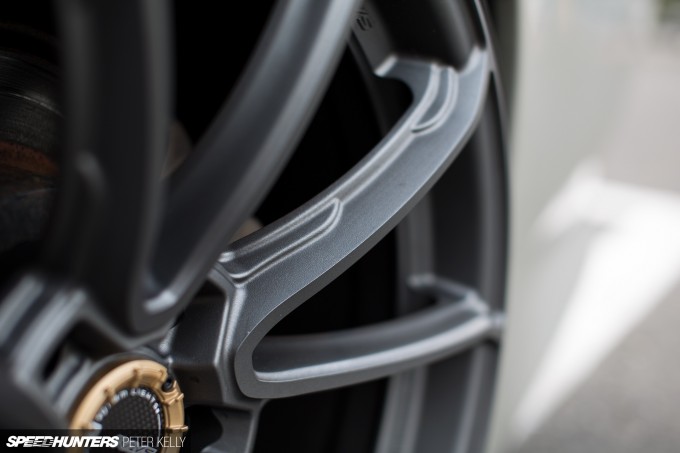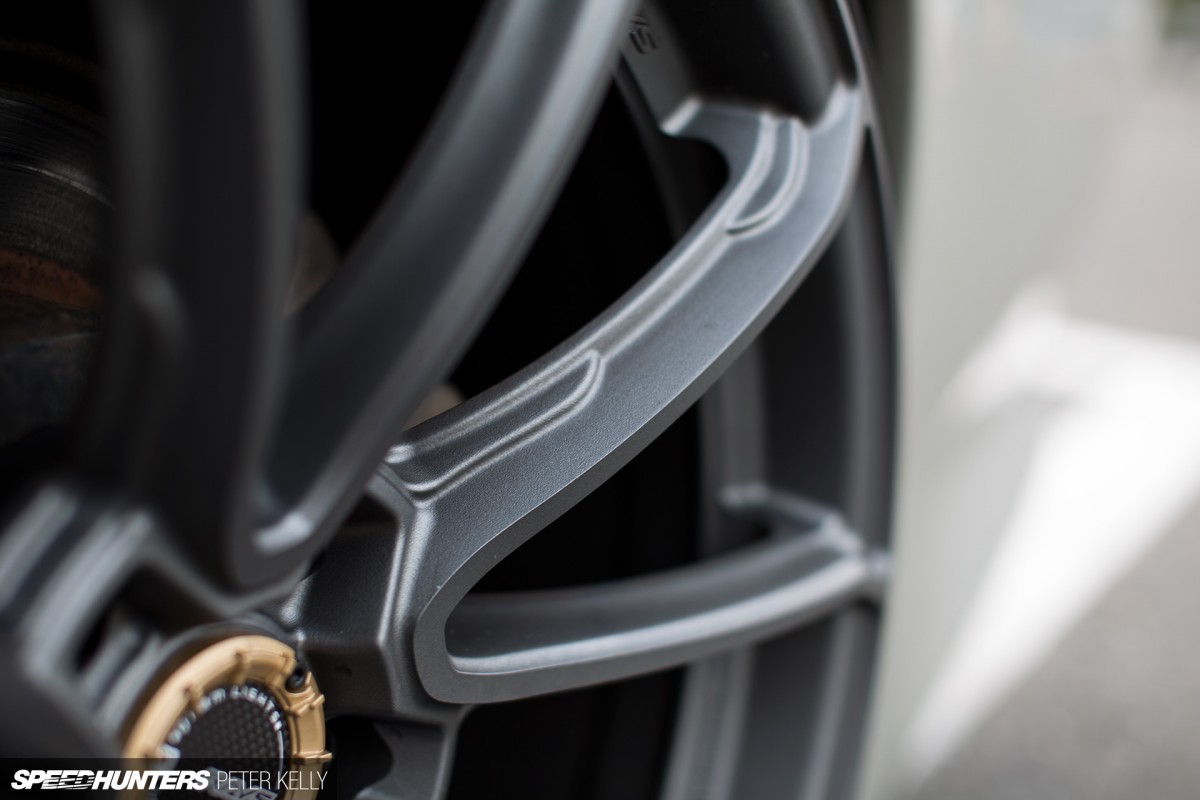 I'm really digging the 57Getter's futuristic yet aggressive style, and I especially love how the spokes have this interesting step lip…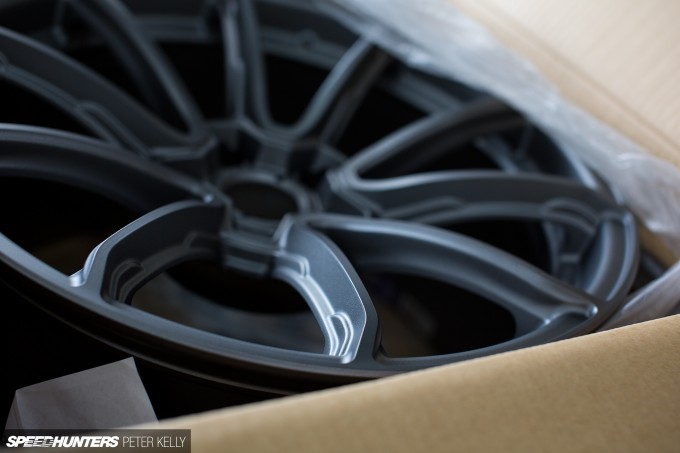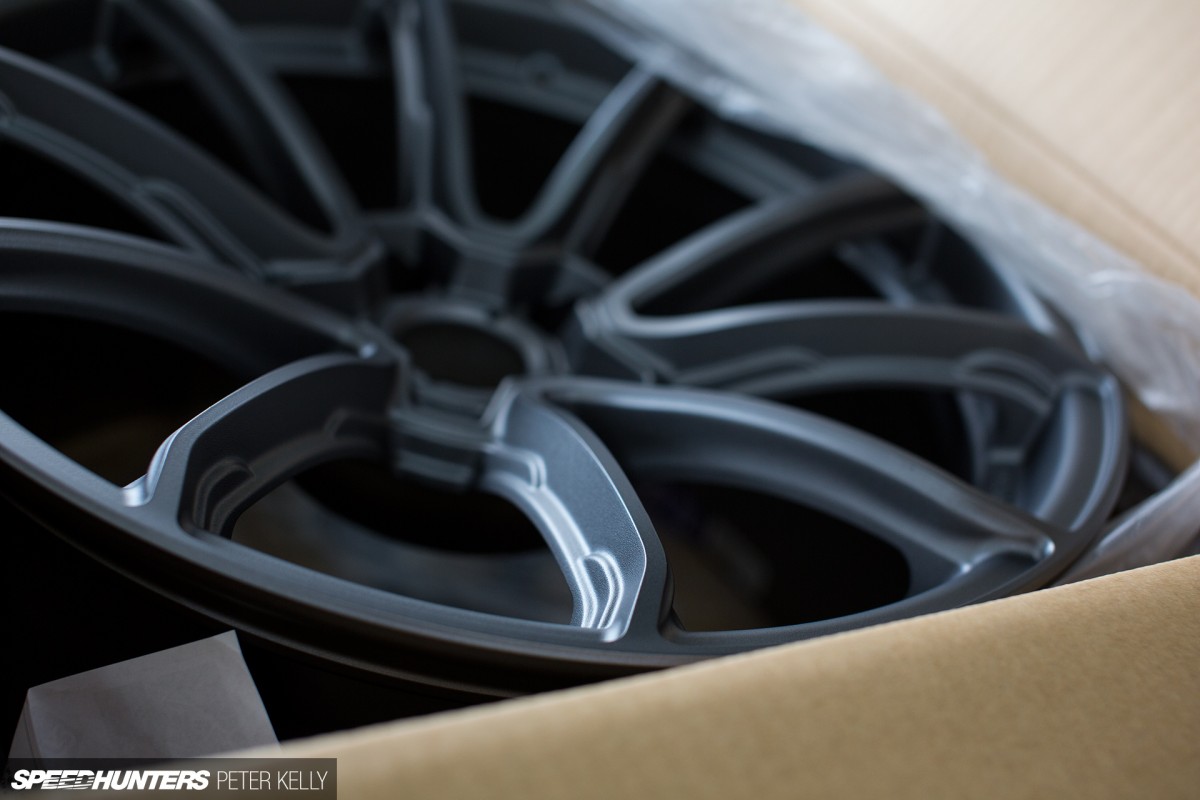 And this kink as they meet the rim. Amusingly, these are the two aspects I liked the least about the design when I was first researching the 57Getters online.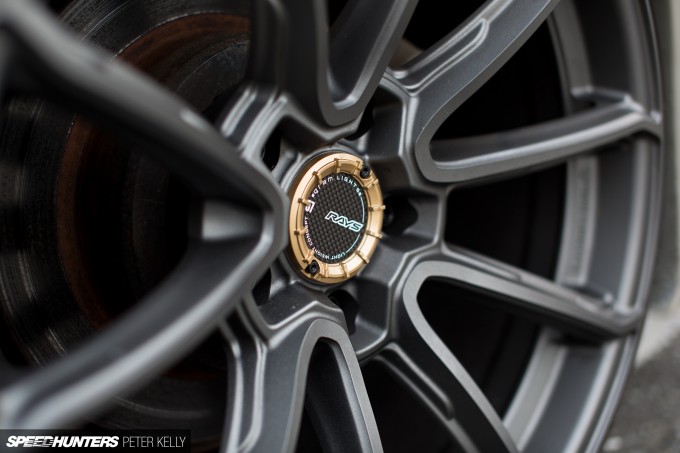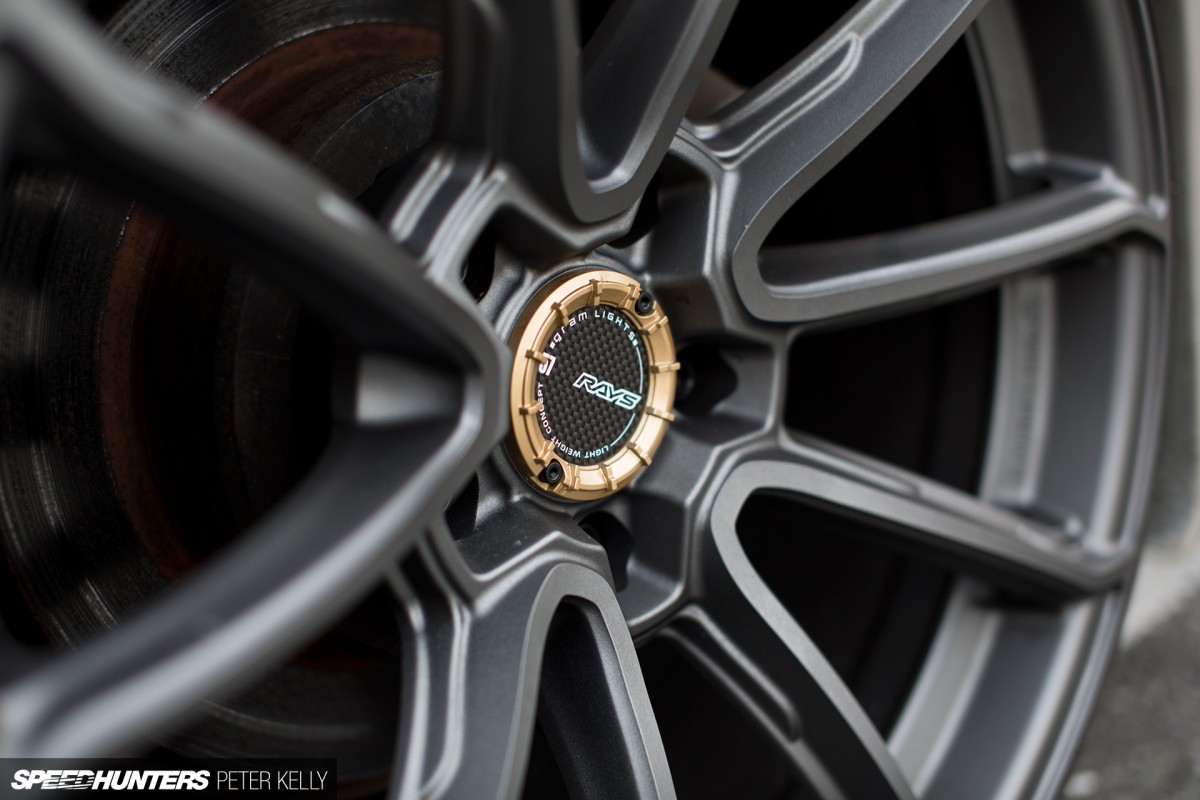 The final touch – these contrasting gold centre caps.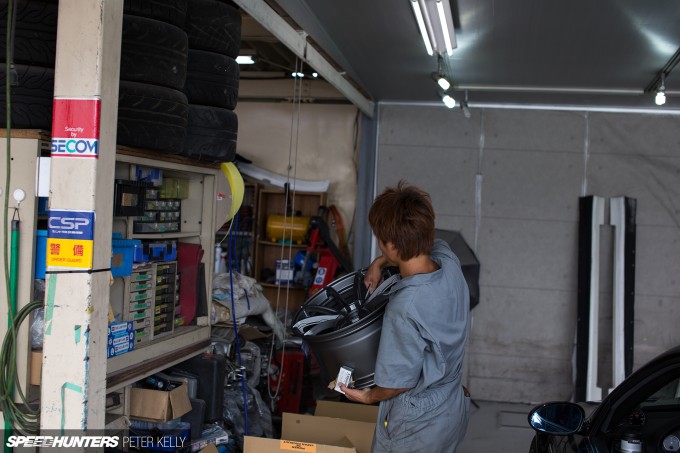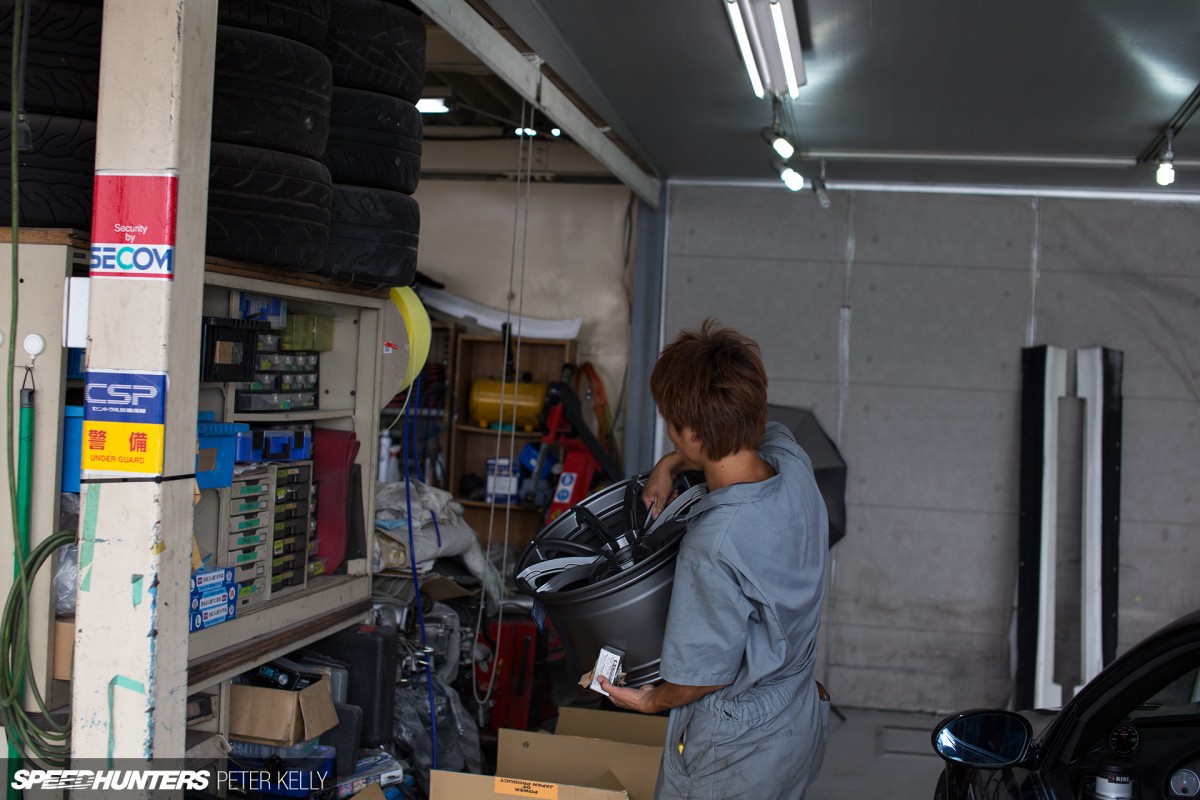 I guess seeing things in person can shed new light, and whilst I know this is going to out me as the massive nerd that I am, there's a real Tron-like quality to the 57Getter that I really dig.
It's Toyo Time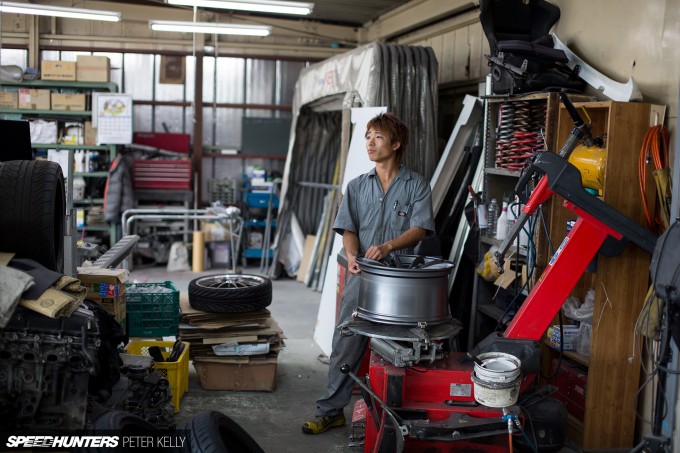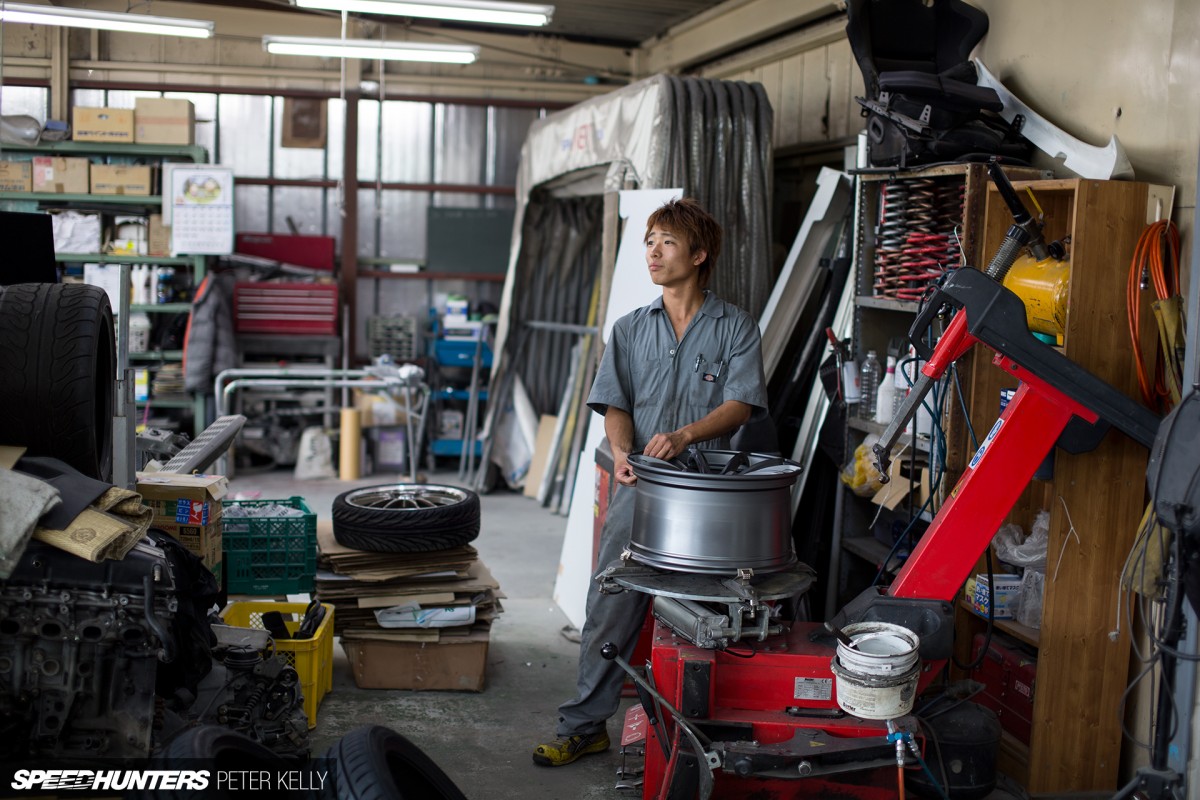 As I mentioned earlier, we had also been in contact with Toyo Tires, and after much discussion with the team at Toyo HQ, a set of sticky 'ultra high performance' Proxes T1 Sport street tyres turned up at exactly the same time as the wheels.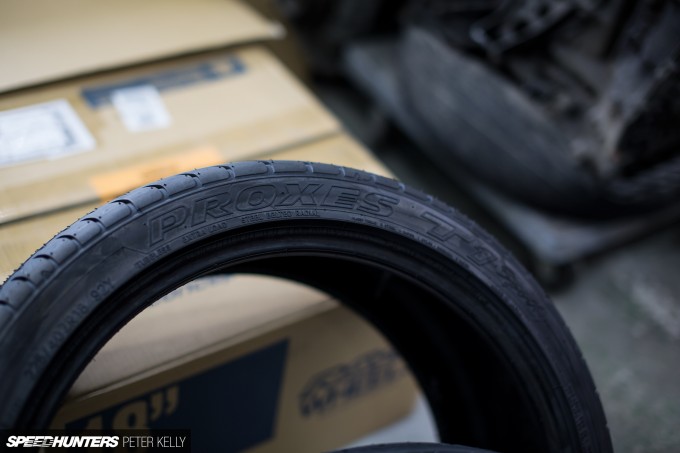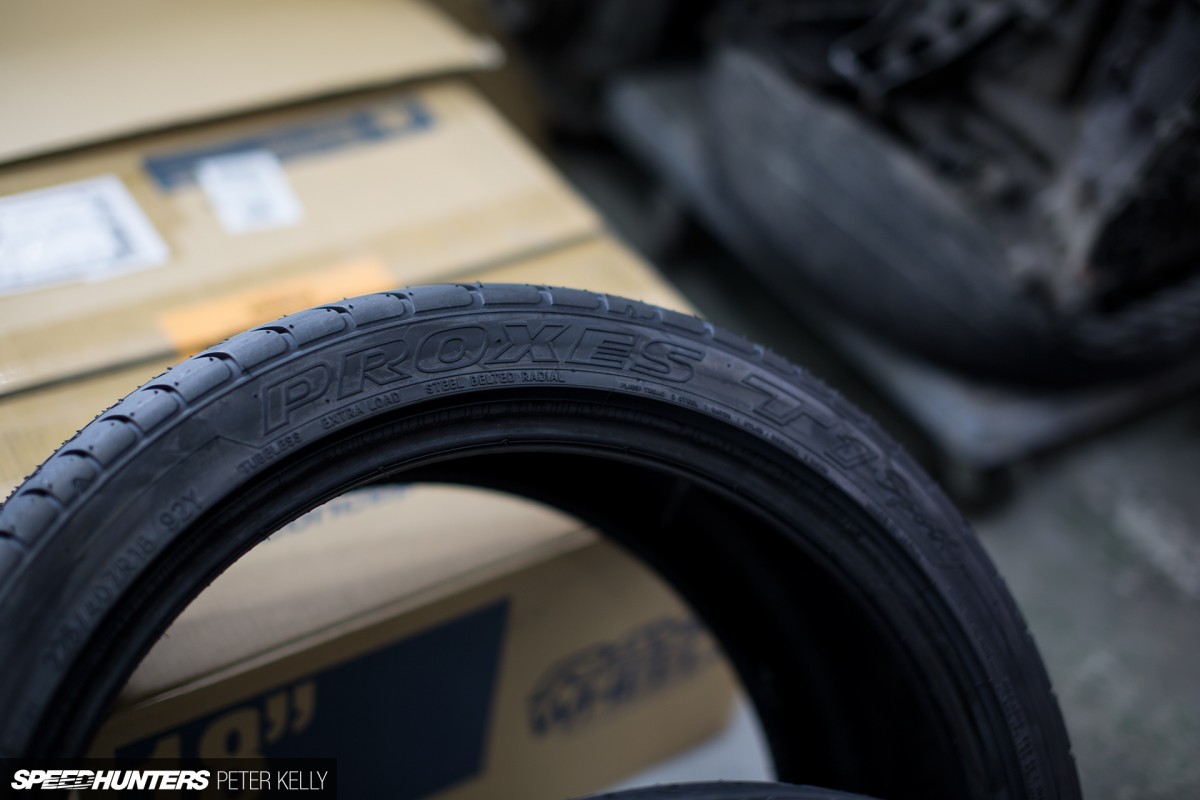 The Proxes T1 Sport is a replacement for the excellent T1R, which Taryn runs on her Project Z back home, but provides substantially better performance – especially in the wet. This is ideal considering we arrived in Japan smack-bang in the middle of the rainy season.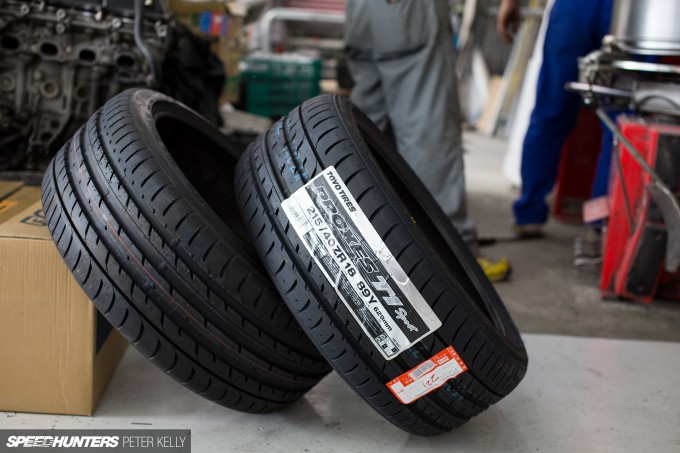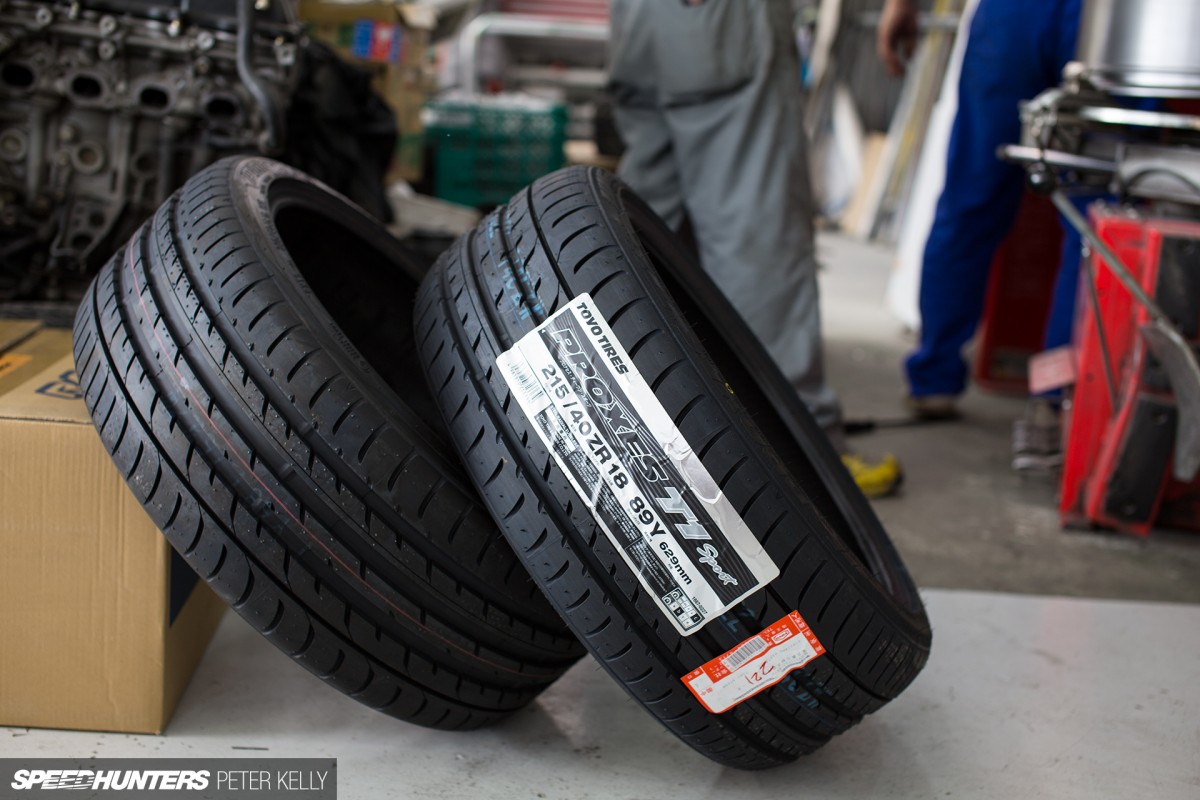 Originally we had intended to run 9-inch and 9.5-inch wide wheels, so when talking to the good folk at Toyo, we ordered 215/40R18 and 225/40R18 rubber. But since we ended up running with 9.5s at both ends, we were a bit concerned that the fronts might be stretched a little too much.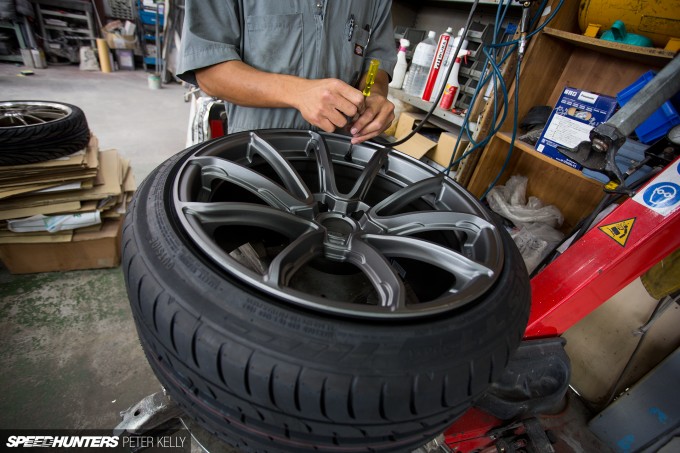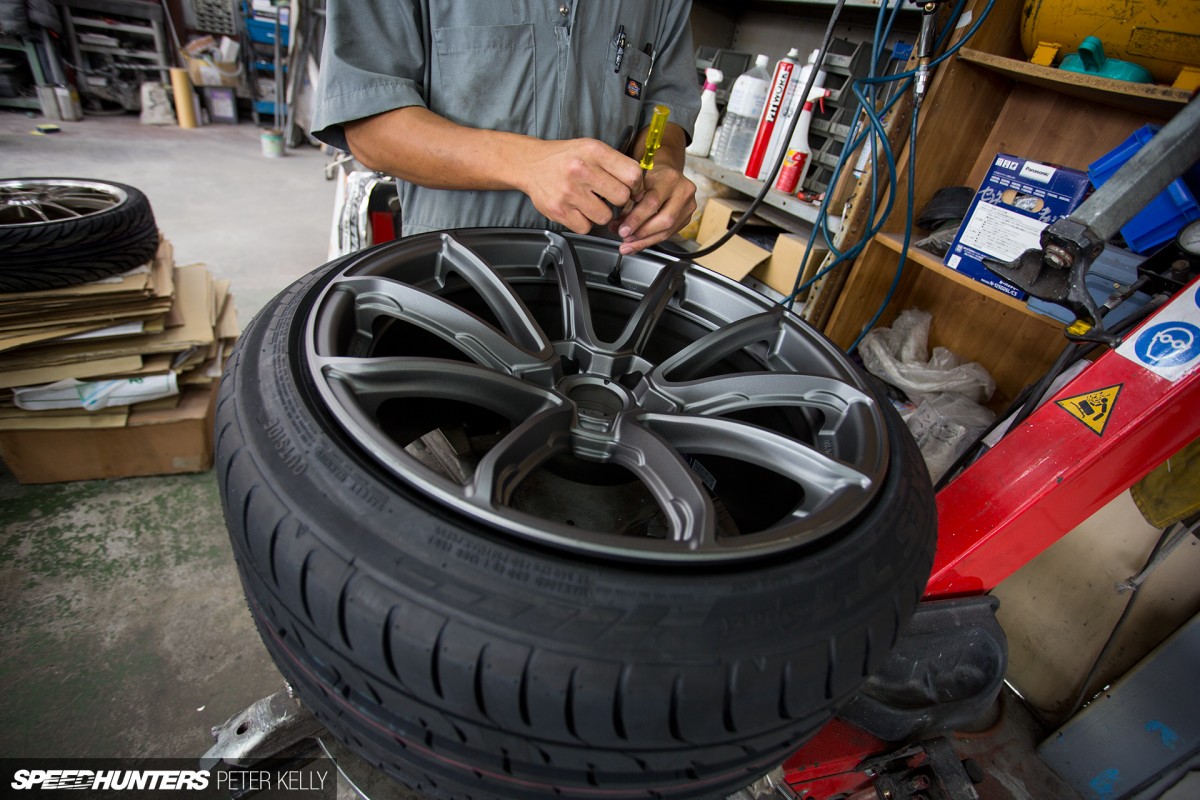 We needn't have worried though. The tyres beaded up with ease, and while I will certainly remain conscious of the stretch, it does look more extreme than it is due to the design of the sidewall with its huge rim protector.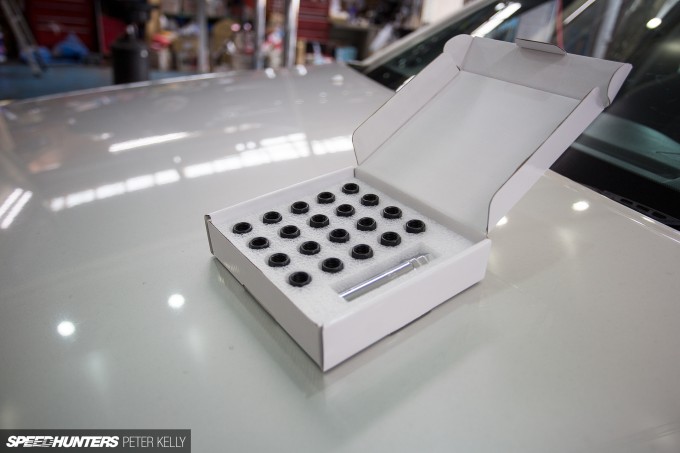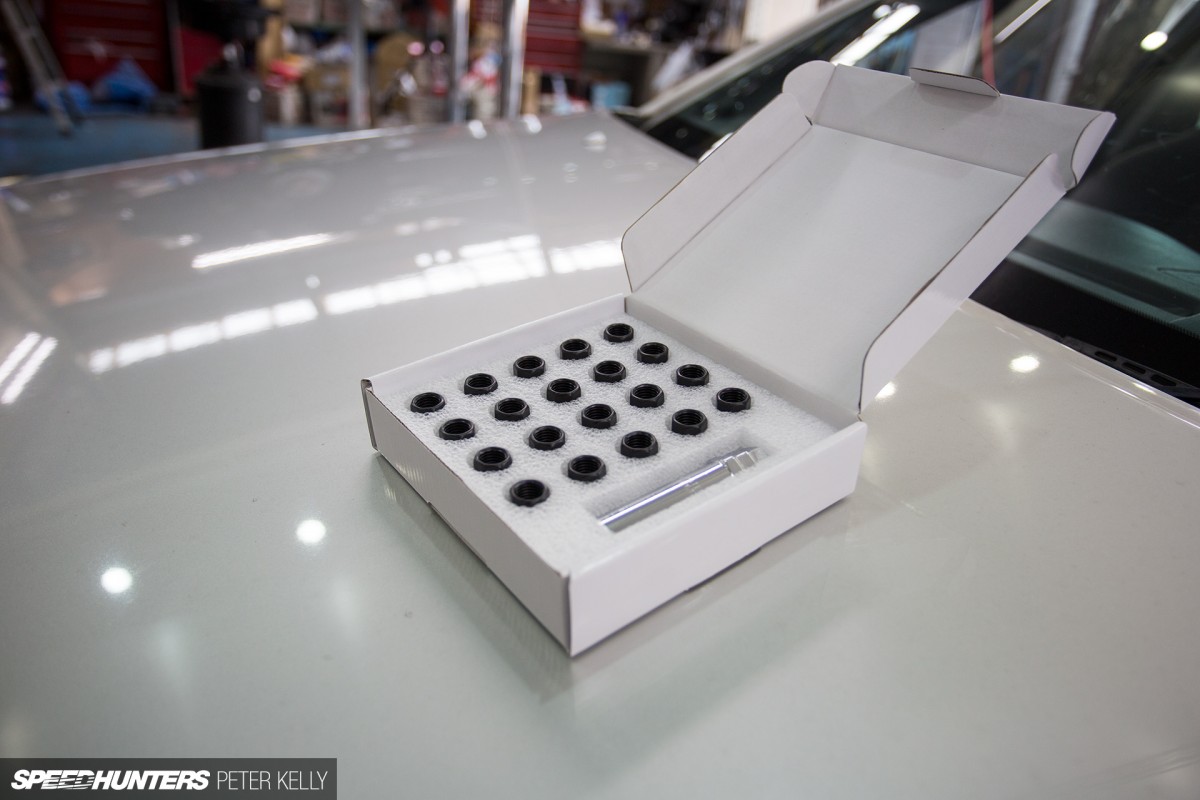 With the tyres all fitted and balanced, it was time to bolt these bad boys up (using RAYS Duralumin nuts, of course) and see how they looked on the Mark II.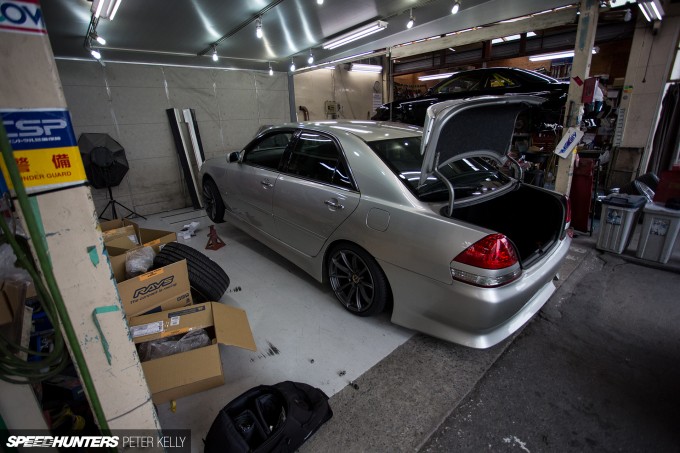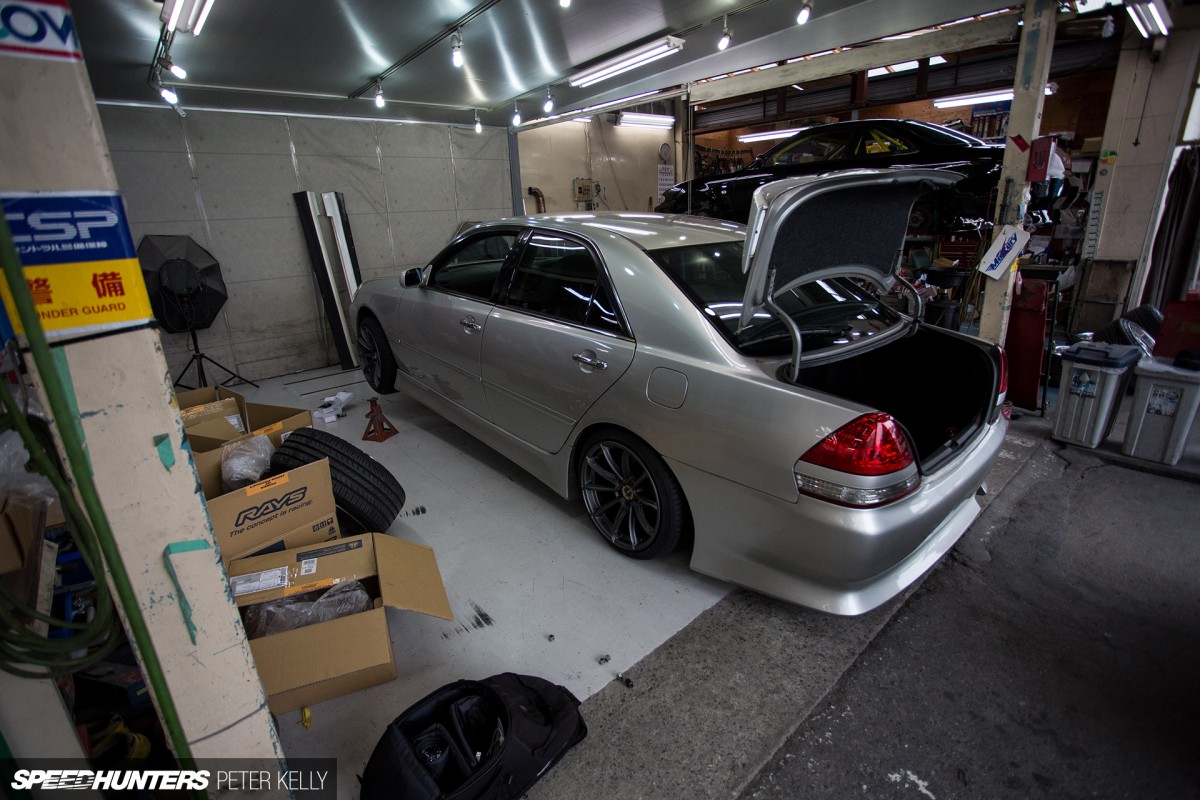 It was at this point that we started to realise this might just be the perfect choice of wheel and tyre combo for the big JZX.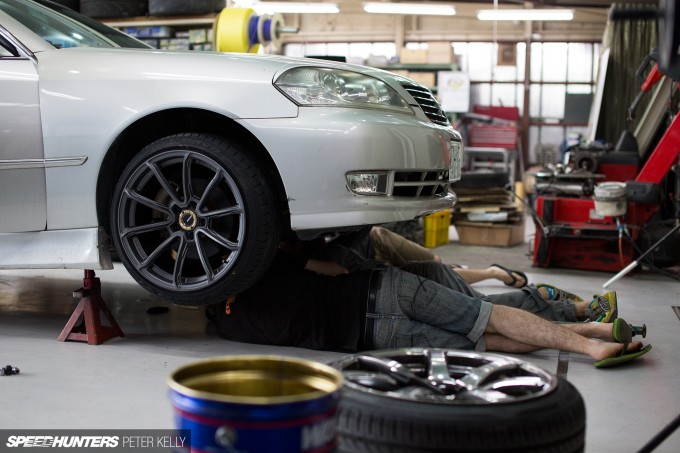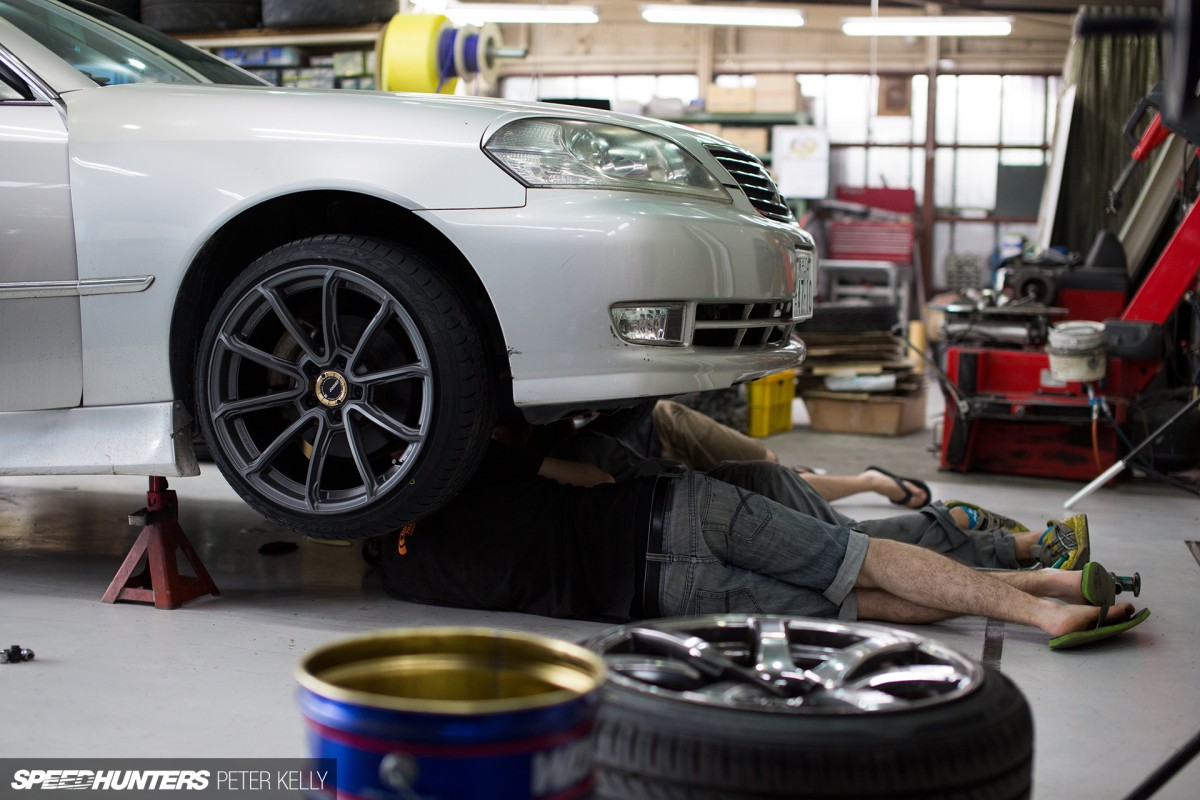 But of course this is Tokyo, and before dropping it back down, you'd be silly to miss a chance to climb underneath your car and diagnose some issues whilst it's actually in a workshop and on jack stands.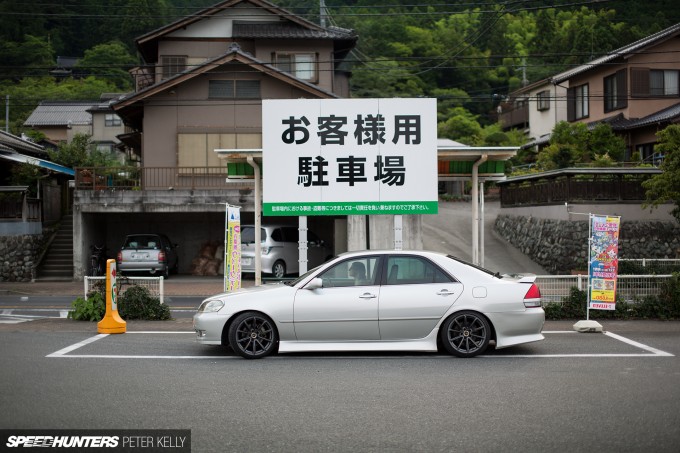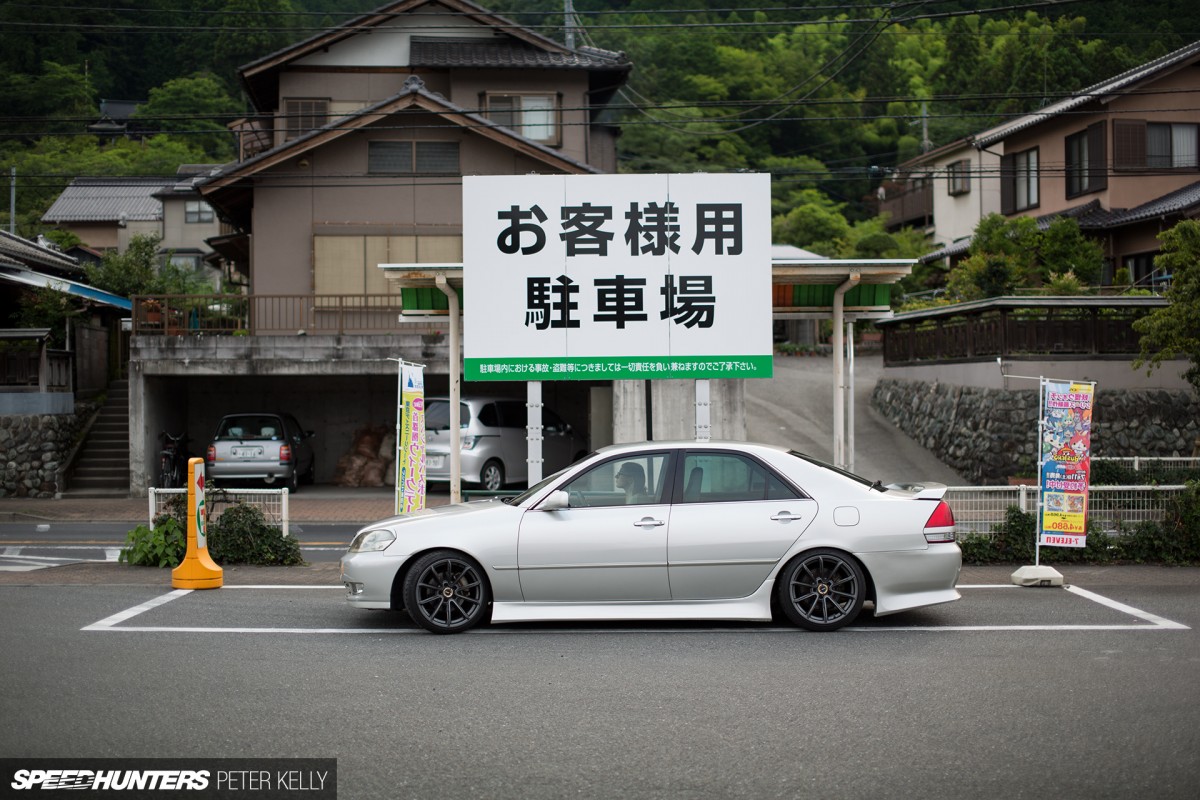 Pulling out of Mercury, we headed for the hills on the outskirts of Tokyo where we have been staying since we arrived, and stopped just short of home to stand back and take the new look in.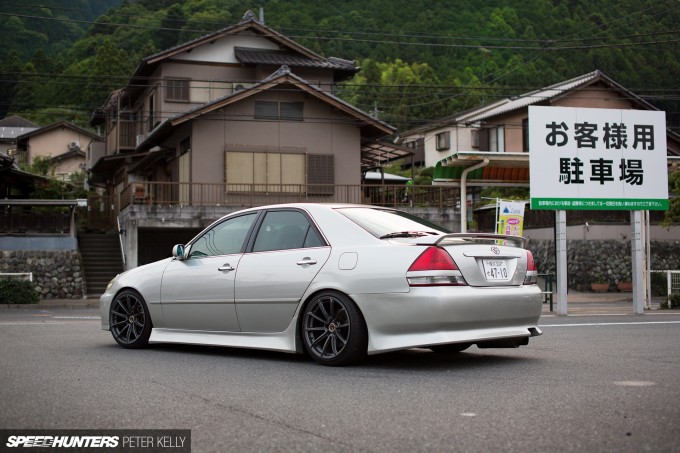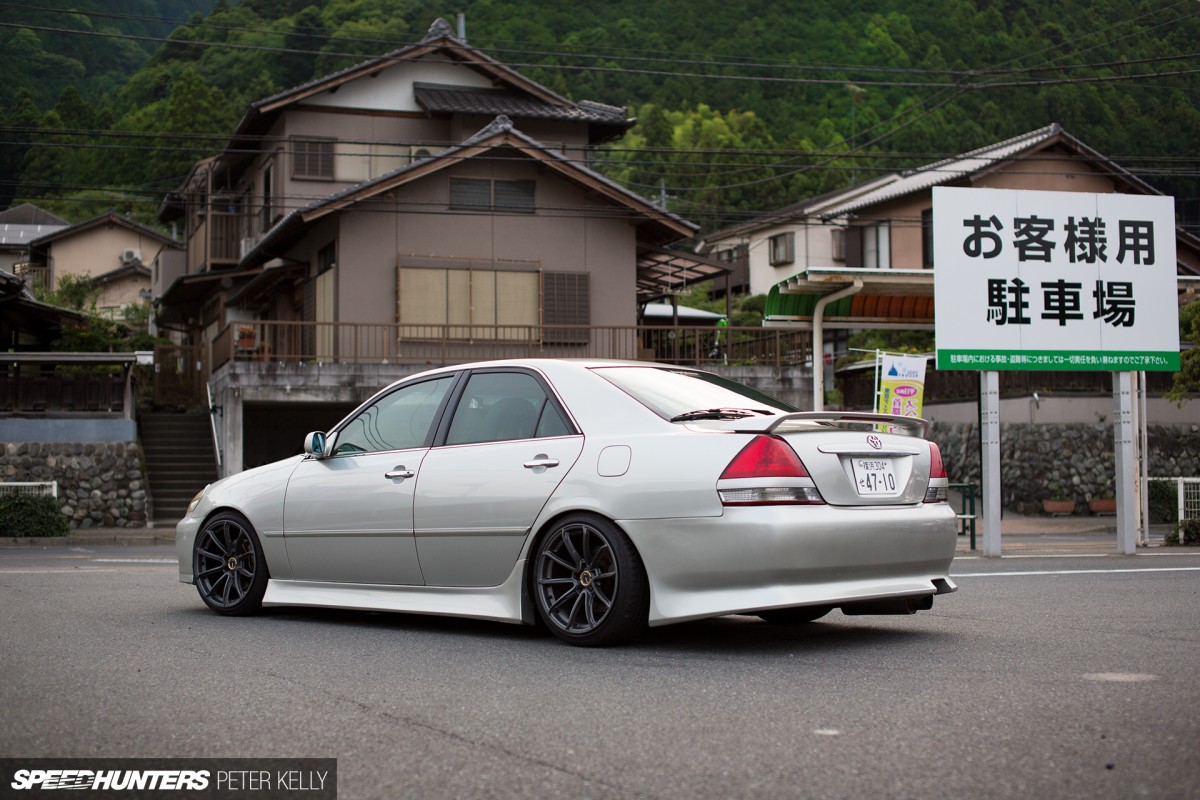 I think the Matt Graphite (MF) finish and edgy, futuristic look suits the car really well. I have to say that my original choice, which probably would have been some variation of the TE37, just wouldn't have worked as well; they would have been too 'race' for the look of the JZX110.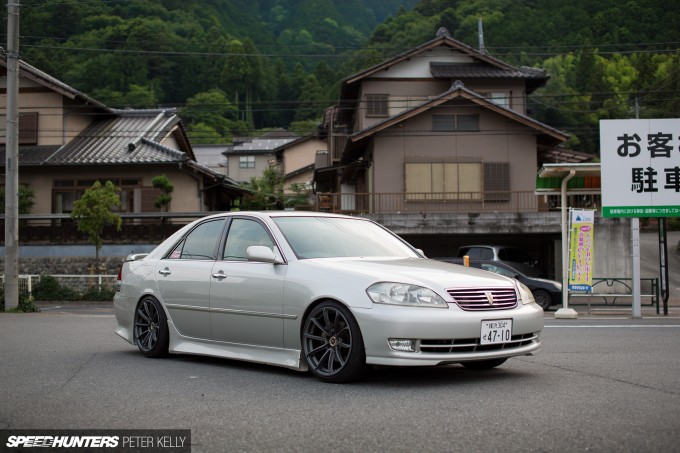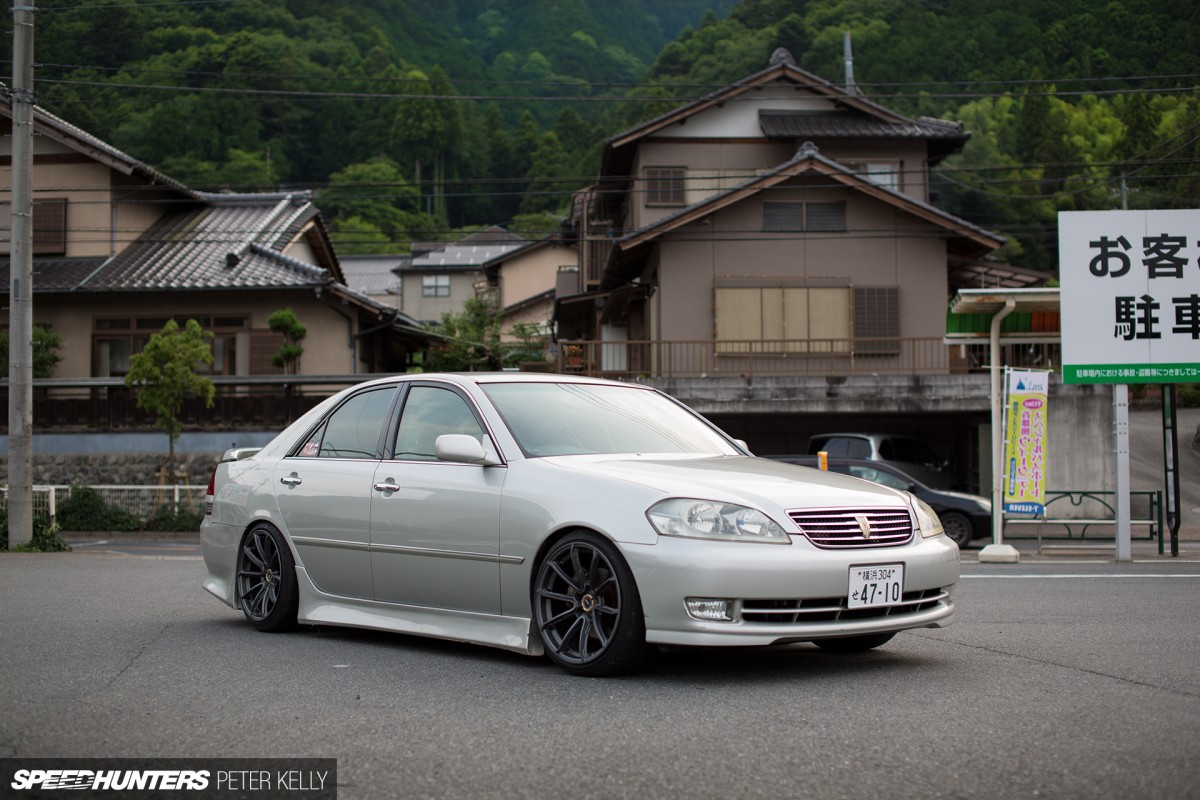 On a related note, you probably get just as annoyed as I do looking at the front of this car without its lip. We do have a brand new Vertex bumper to match the skirts and rear, but it hasn't been painted just yet. To be honest, it sits so low to the ground that I've been procrastinating about getting it sorted, because knowing my luck, as soon as it's fitted I'm going to smash it to pieces on a combini entrance!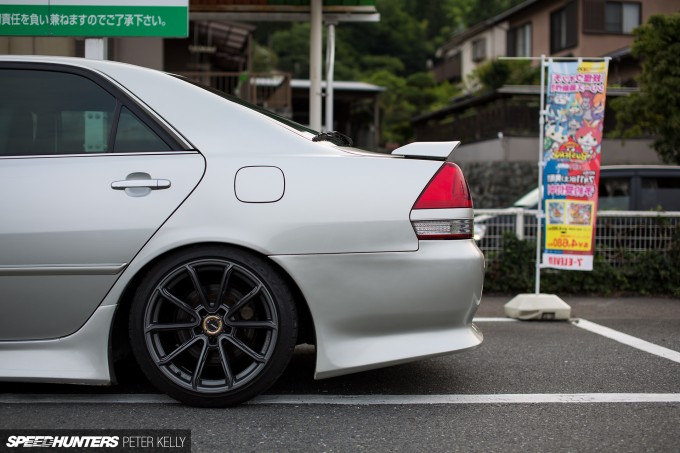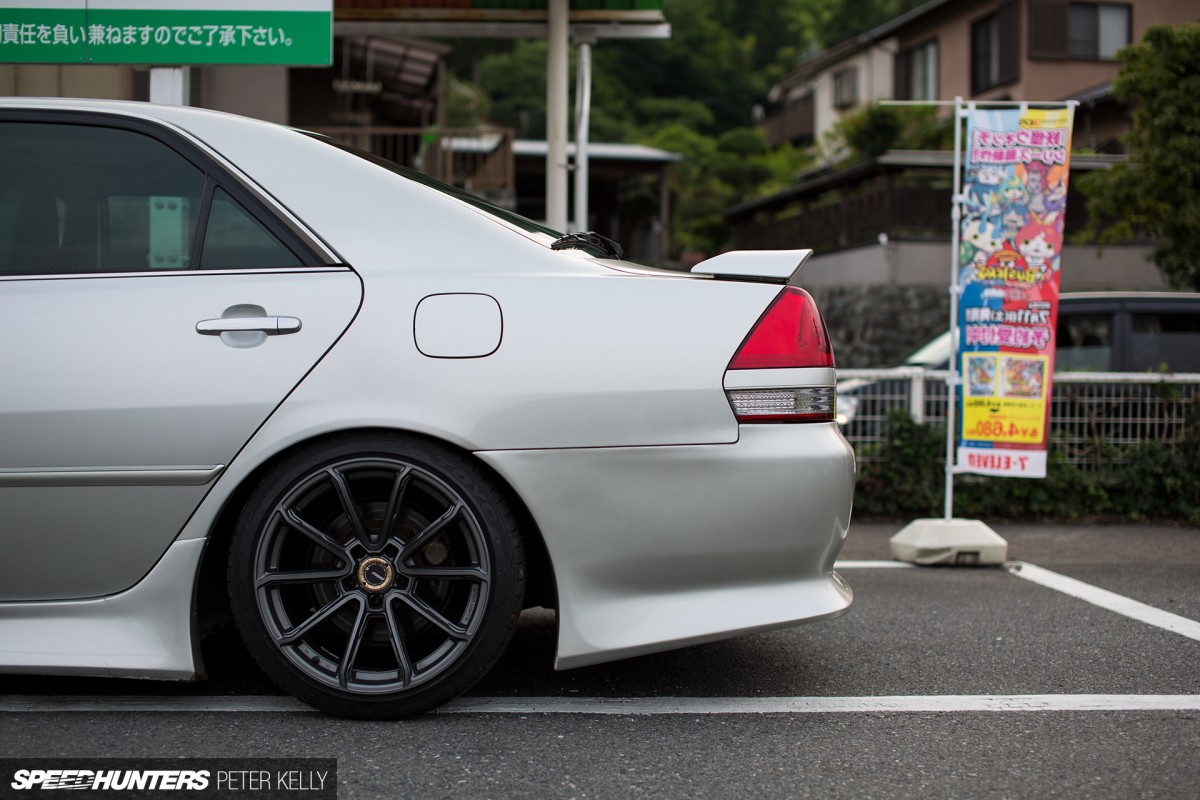 I need to extend a huge thank you to both RAYS and Toyo Tires for their help with Project X. Seeing the Mark II on these wheels definitely helps keep the energy up when it's late at night and we're trying to solve some of the problems we inherited when buying this car. Read all about these latest issues, and hopefully our first attempt at a local track day, in the next Project X story in a few week's time.
Peter Kelly
Editor-in-Chief
Instagram: speedhunters_pedey
pedey@speedhunters.com