It all boiled down to this. After years of thought and months of planning, a dozen pro-spec drift machines rolled out of their makeshift pit bays and onto a closed-off section of downtown city road in Auckland, New Zealand. In front of a huge crowd gathered at the free-to-watch event, the Red Bull Drift Shifters had arrived.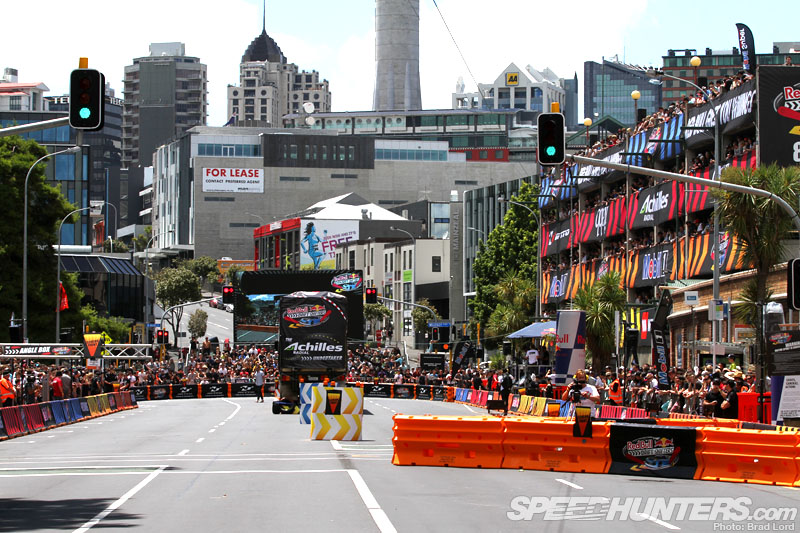 The new event set out to achieve a few things. First and foremost it was about bringing drifting to the people with a custom-designed course in the middle of the city. It was about putting a fresh new spin on drifting rather than trying reinvent it. It was about removing the subjective nature of judging by using digital technology. And it was about packaging the action into a non-stop three hours with an easy to understand pinball theme complete with sound effects, flashing lights and a digital scoreboard to update running totals in real time.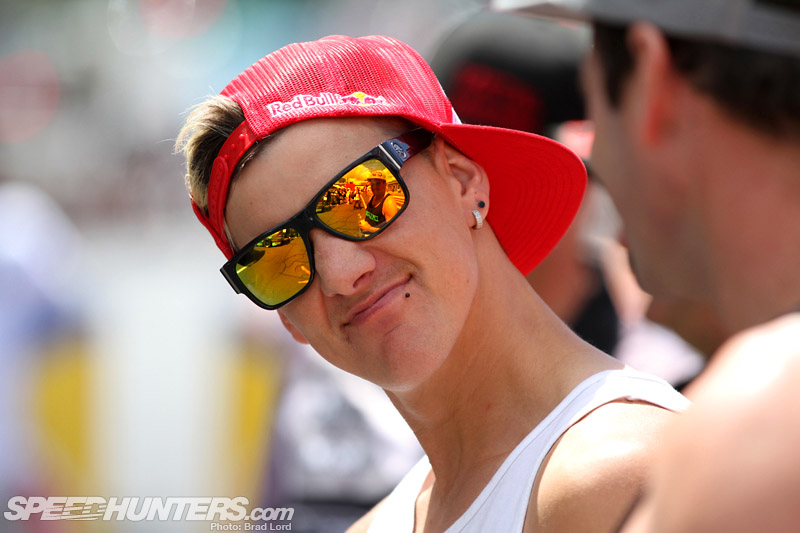 As you might have read in my preview post last week, the brains behind the event was our own MadMike Whiddett. I think it's safe to say that Mike would have been feeling the pressure as every vantage point around the urban arena began filling up on Saturday morning. But with a huge team behind the event and all the hard yards done, all he really had to do was watch as the Red Bull Drift Shifters dream took shape before his eyes.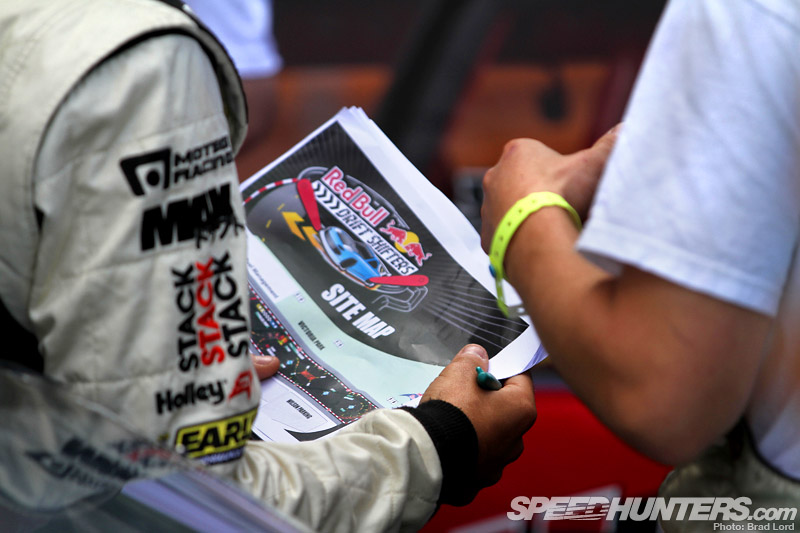 One of the first things on the agenda before the event kicked off was for the drivers was to familiarize themselves with the course. Everyone had previewed the plan view of the layout the day prior, but until they got to see to see it in the flesh it was hard to gauge just how much room there was to play with. As it turned out, while the custom layout had tight and technical sections, there was more than enough room for cars to reach third and fourth gear speeds.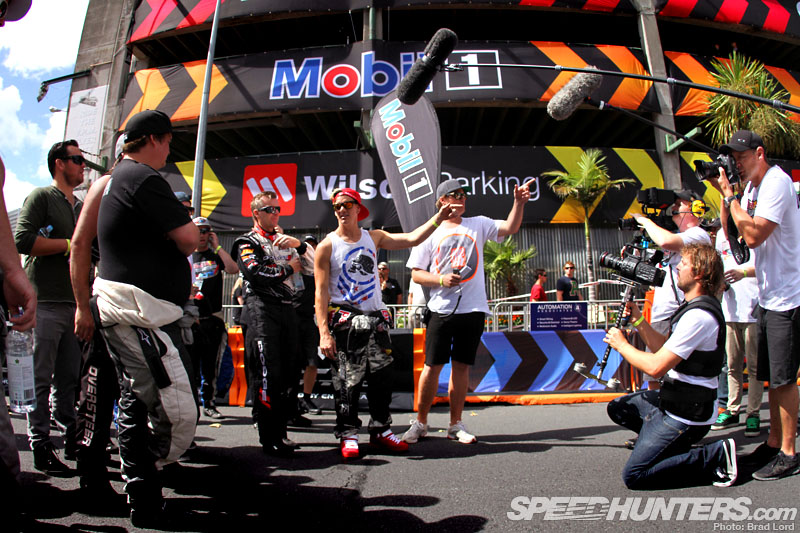 The walk-around allowed Mike to point out the best lines based on his testing and for drivers to really get their heads around the obstacles, and what they needed to do if they wanted to put big numbers on the scoreboard.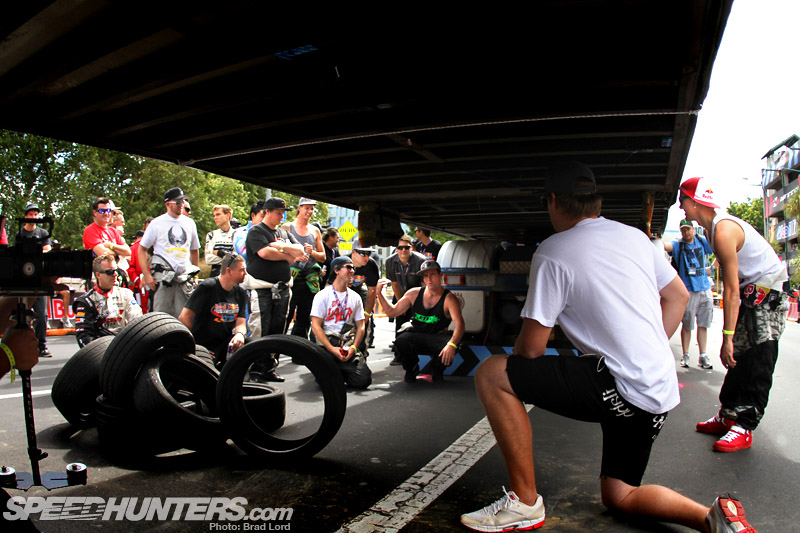 The most exciting element was the Achilles Radial 'Undertaker': essentially a parked truck with a semi-trailer attached. All of the drivers knew it was there to be drifted under and that there was enough roof clearance on the right line, but there were a few nervous faces within the ranks when they saw just how little margin for error there actually was.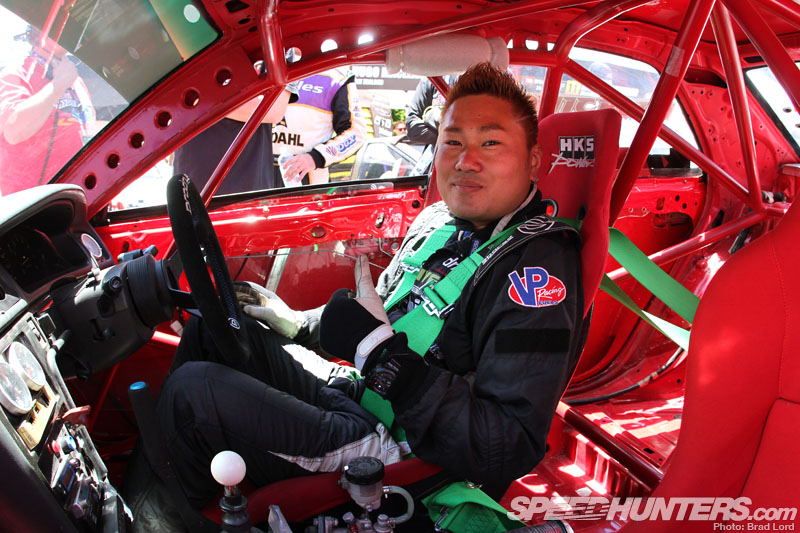 One of the coolest aspects of the event was having three international drivers in attendance. If I remember rightly, the last time a pro drifter competed in New Zealand was back in 2006, when the D1 Grand Prix ran a driver search and Youichi Imamura and Michihiro Takatori ran some demo laps. For Red Bull Drifters, Formula D USA and Asia champ Daigo Saigo was representing Japan, and back behind the wheel of his legendary flying 2JZ Toyota Chaser JZX100.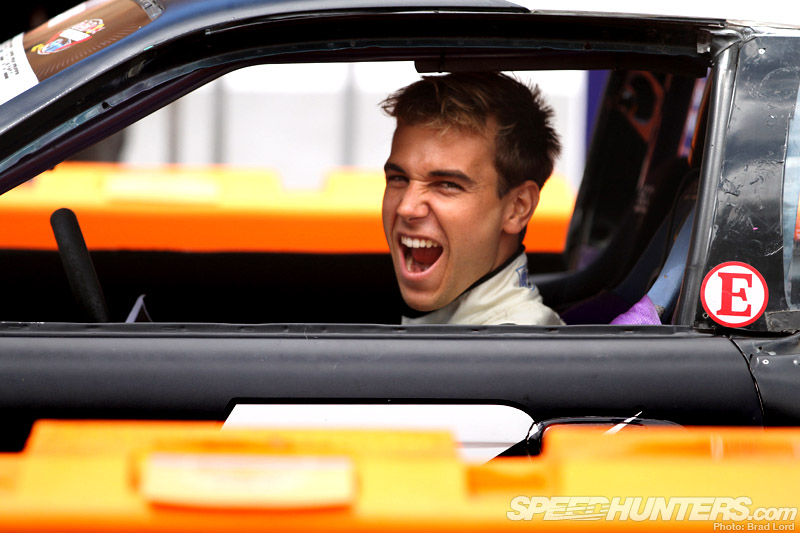 Matt Powers was ready to bring the drift party in one of his Chevy V8-powered Silvia S14s.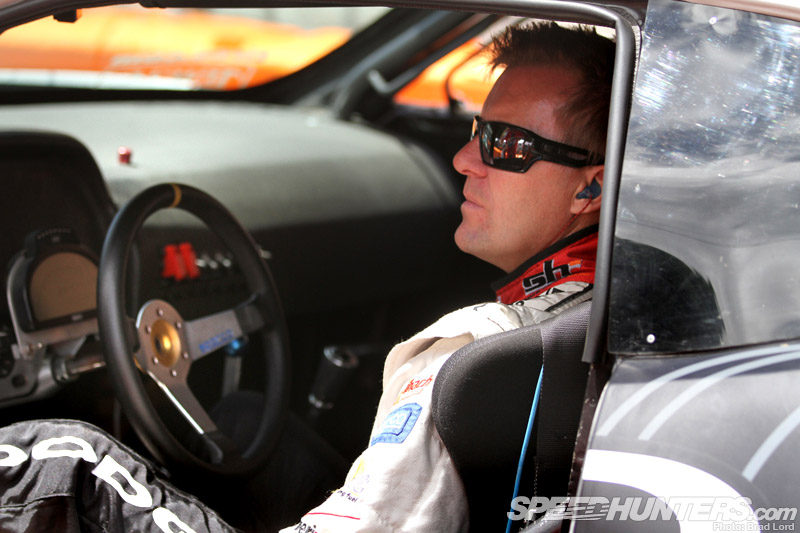 And Samuel Hübinette – driving his factory-backed Dodge Challenger – was geared to show Auckland why he's regarded as one of the best stunt drivers in the business.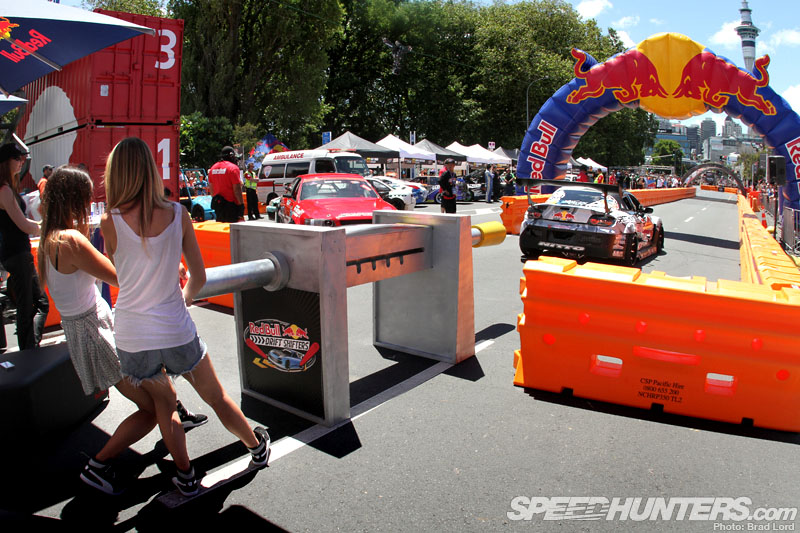 The course covered an area 200 meters long and over four lanes wide; and being pinball-inspired featured a faux plunger to get the ball – or in this case, car – rolling.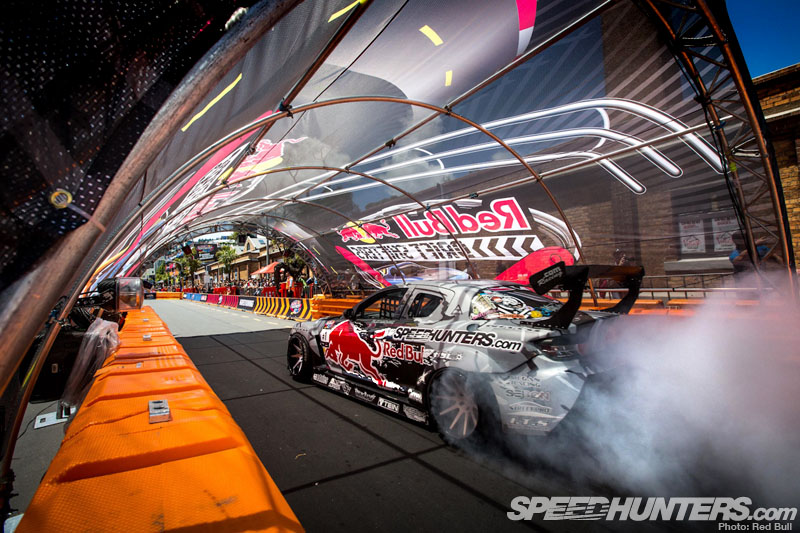 With just 50 seconds on the clock to rack up as many points as possible drivers didn't muck around getting out onto the course.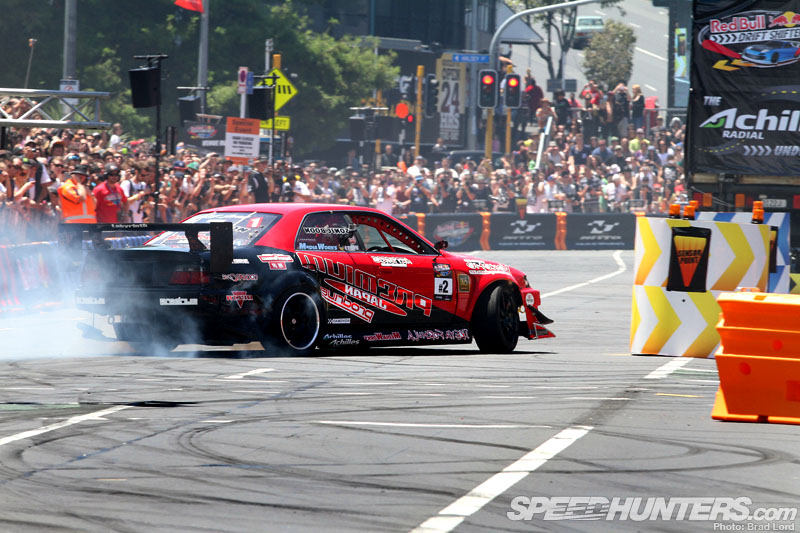 A slight left-hander helped set up for the first sensors which measured drift angle as drivers flicked their cars sideways and crossed over to the right-hand side of the arena. The fastest guys were reputedly hitting speeds of up to 130kph (80mph), so the pace definitely wasn't slow.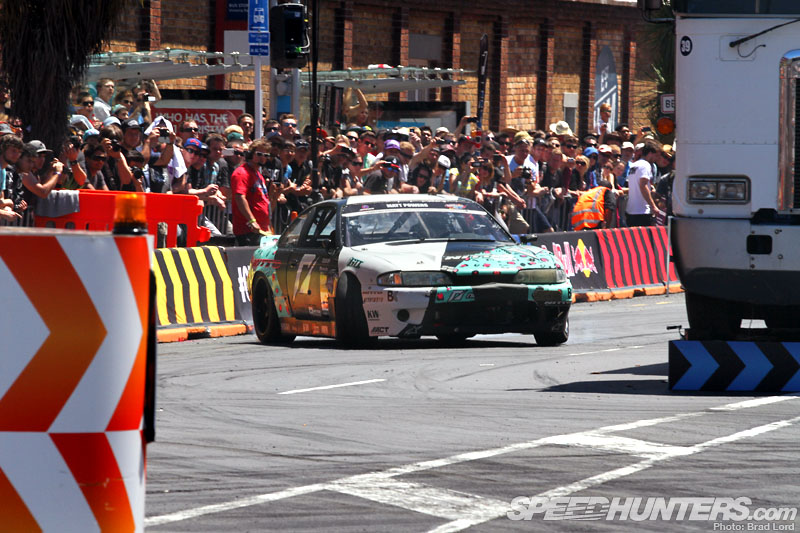 From there drivers were asked to switch back across in front of the parked big rig…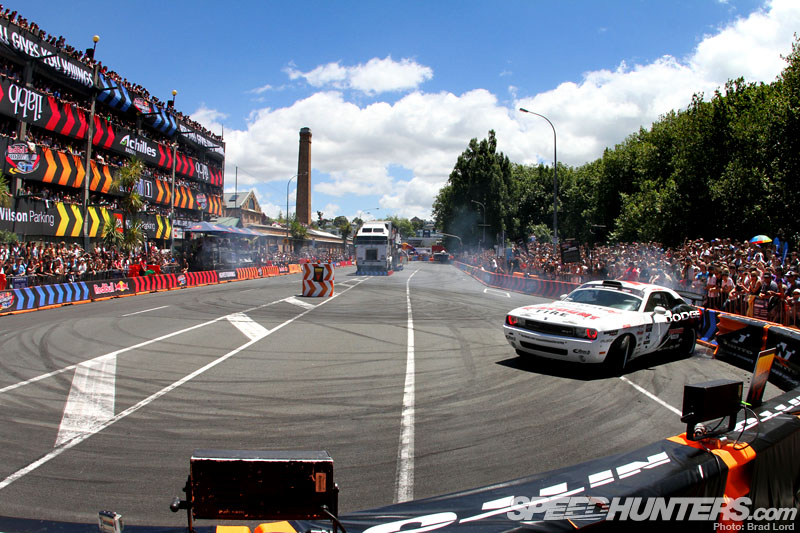 …which led them towards the 'Wall Ride' at the far end of the course. Multiple proximity sensors were positioned evenly along the sweeping 180-degree hairpin, so if drivers got close enough and managed to fire them all they were in for a good combo points haul.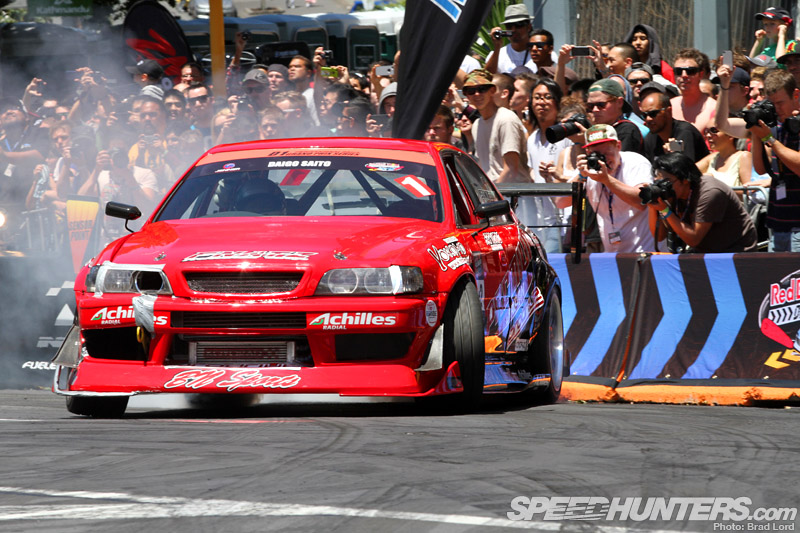 From here on in it was totally up to each driver what they wanted to do for the remaining 40-odd seconds of game play.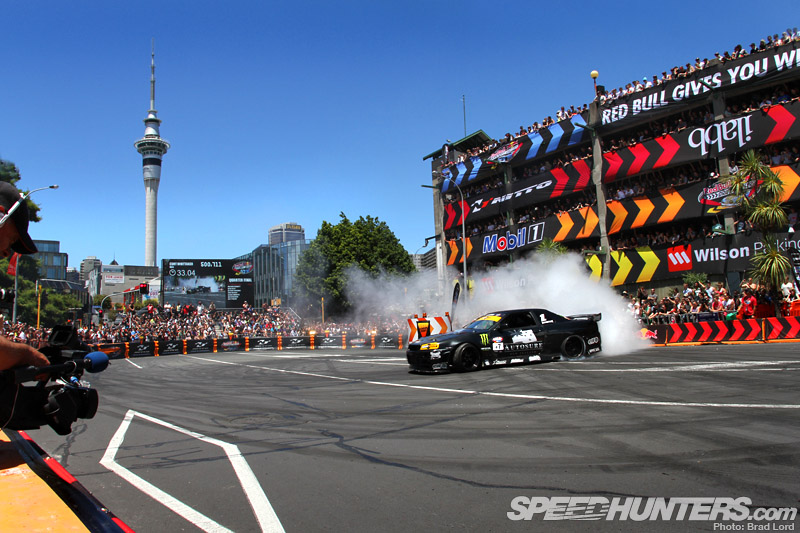 Some clocked up points with one or two loops around the far-end bollard (one of a few peppered throughout the course)…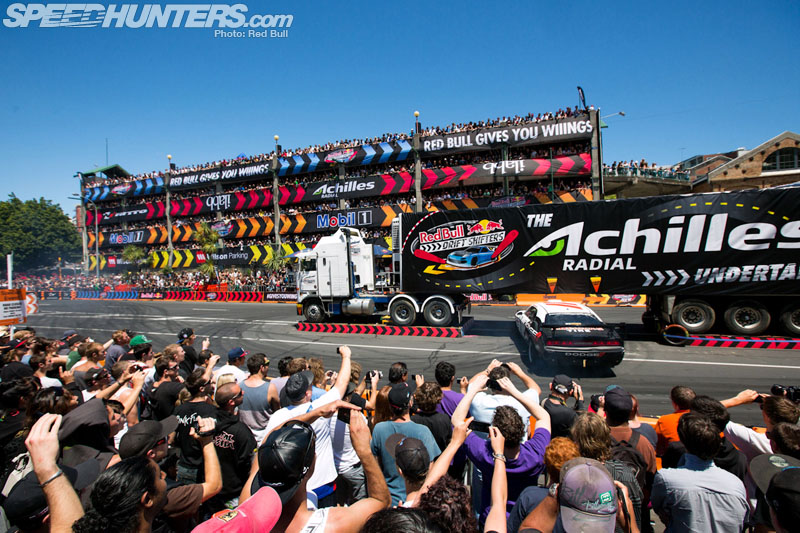 …while others made a beeline straight for the big-point obstacles.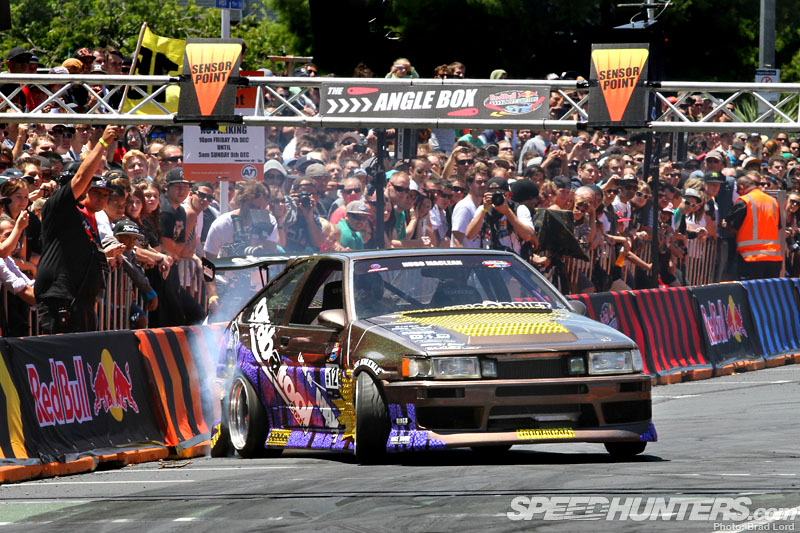 When 15 seconds was left on the clock yellow flags were raised by race marshalls stationed around perimeter, alerting drivers to the fact that they needed to hot-foot-it back to the top end of the course…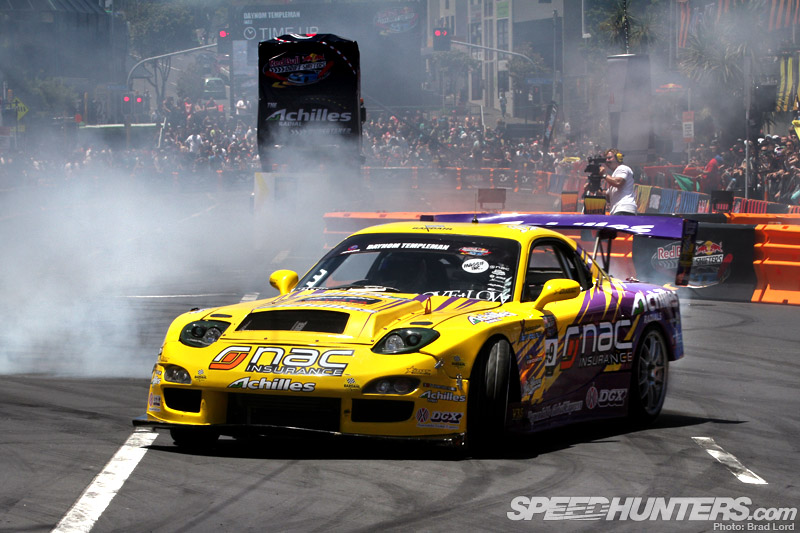 …and pitch their machines sideways for the finale obstacle…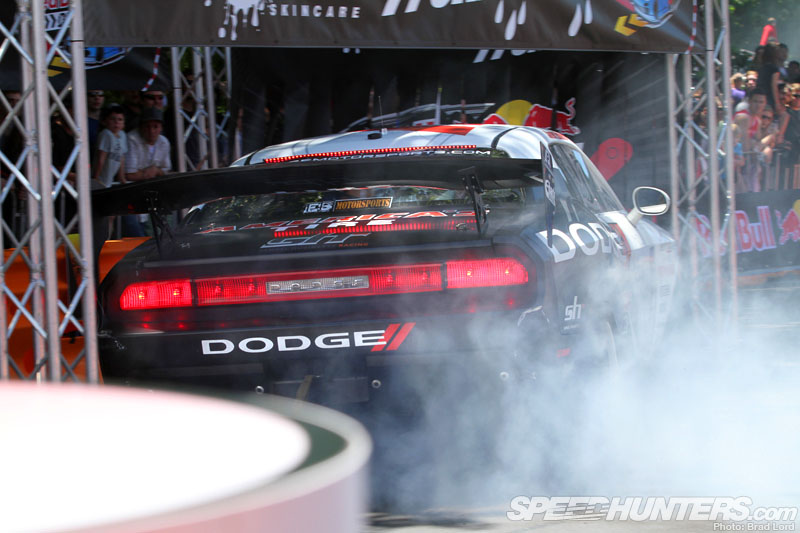 …the 'Car Wash', which basically required a 180-degree spin to stop. There were a lot of bonus points to be won here, especially if you got your car in straight and close to the barriers. In one of the biggest cars out there, Hübinette made it look easy.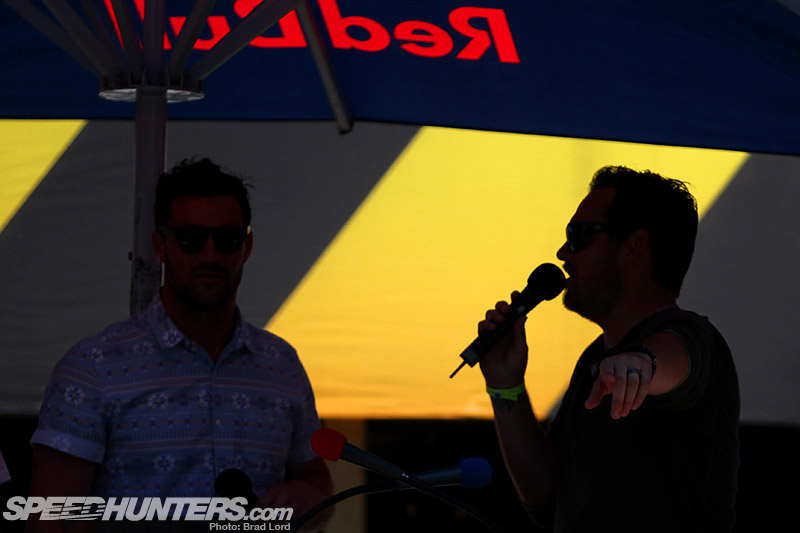 With no shortage of action and a quick-fire format, there was plenty of talk from the commentary box. As I'm sure anyone who witnessed the event live will agree, having 'Voice of Formula Drift' Jarod DeAnda in New Zealand and on the mic was a real bonus too.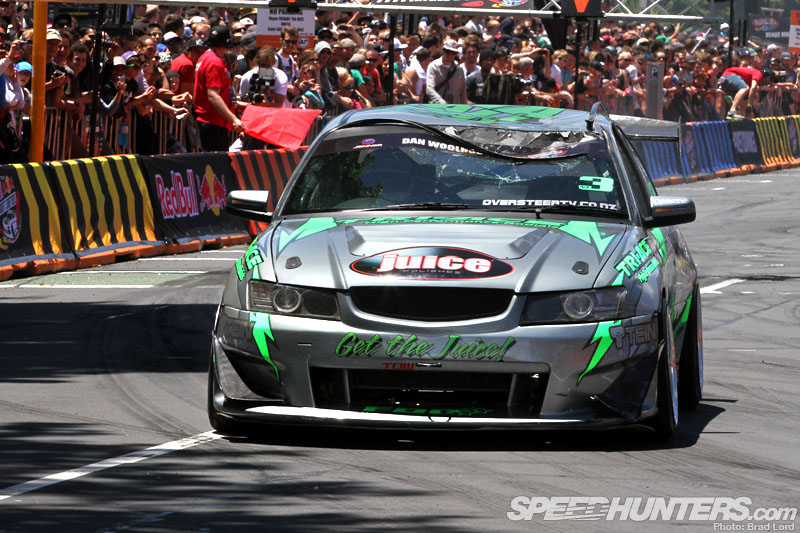 Of course, along the way there was quite a bit of carnage. Early on in the piece, current D1NZ 2012/2013 championship points leader 'Fanga' Dan Woolhouse got a bit out of shape under the semi-trailer, resulting in his Holden Commodore's roof and windscreen meeting with a low-hanging part of the rig's chassis.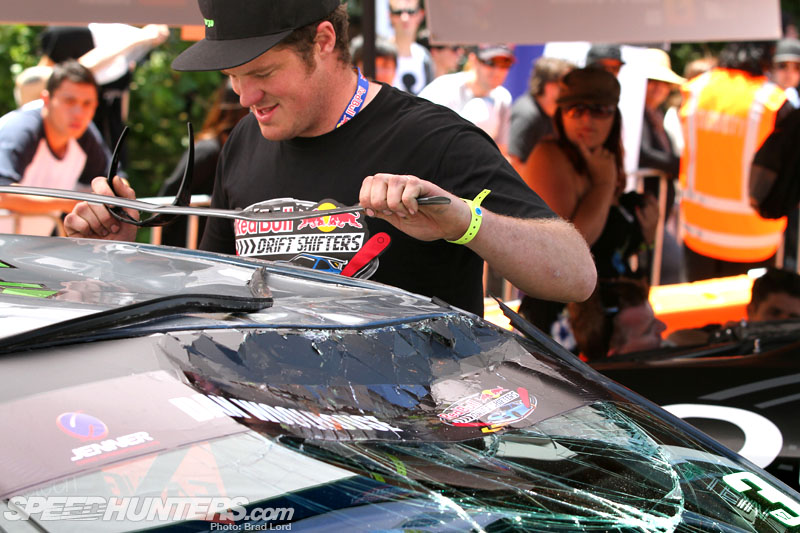 But because the glass was still held together by its laminate he was able to get straight back out there after a quick race-tape fix.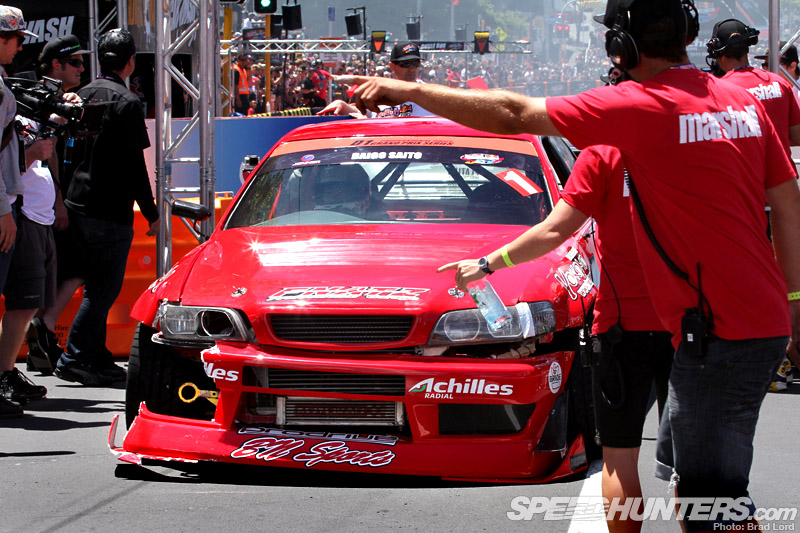 Daigo Saito was another driver who pushed a little too hard.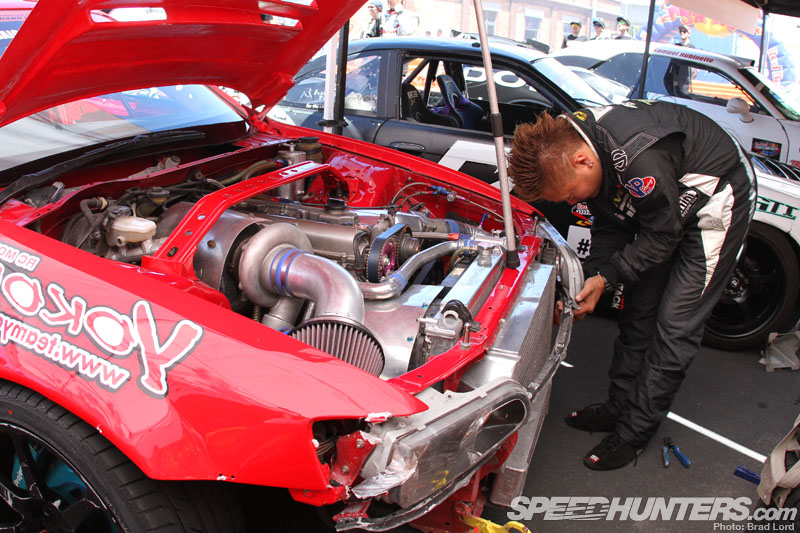 But luckily the damage to his beautifully presented JZX only extended to cosmetics.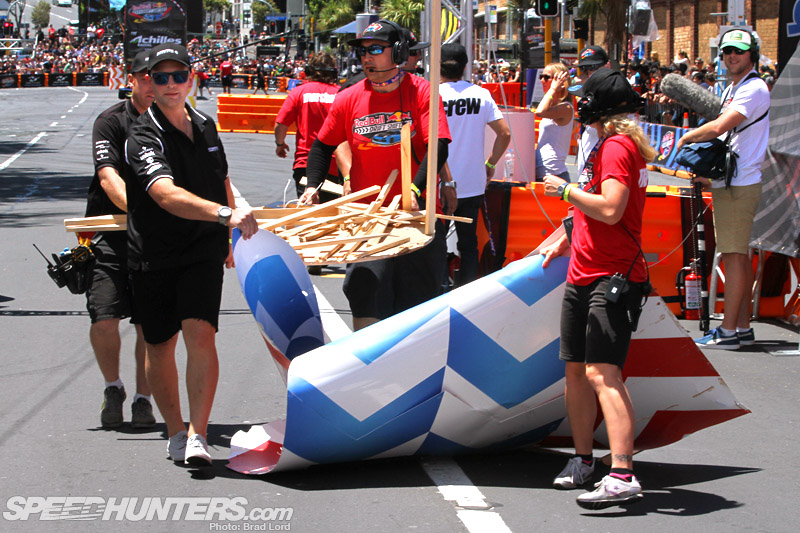 Meanwhile, Matt Powers did this to one of the bollards. J-Rod said he must have mistaken it for a piñata.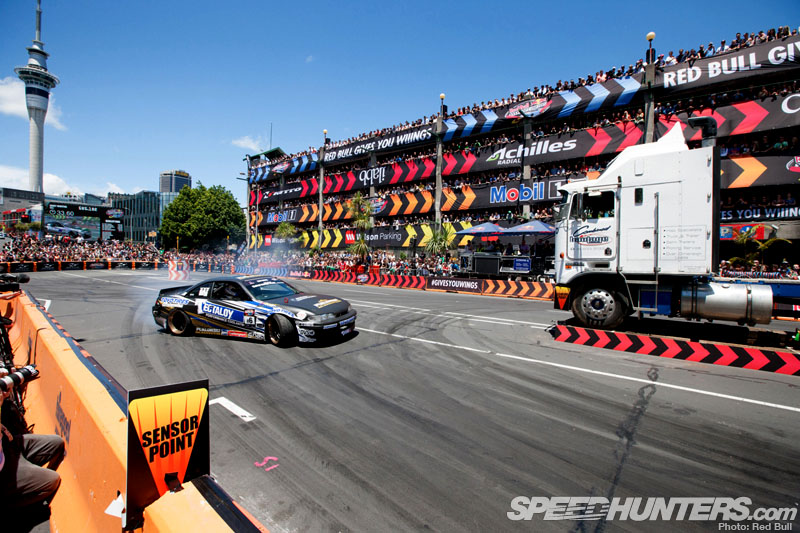 Red Bull took over the multi-level car park building immediately adjacent to the course, which provided pretty cool viewing for those that managed to nab themselves a spot.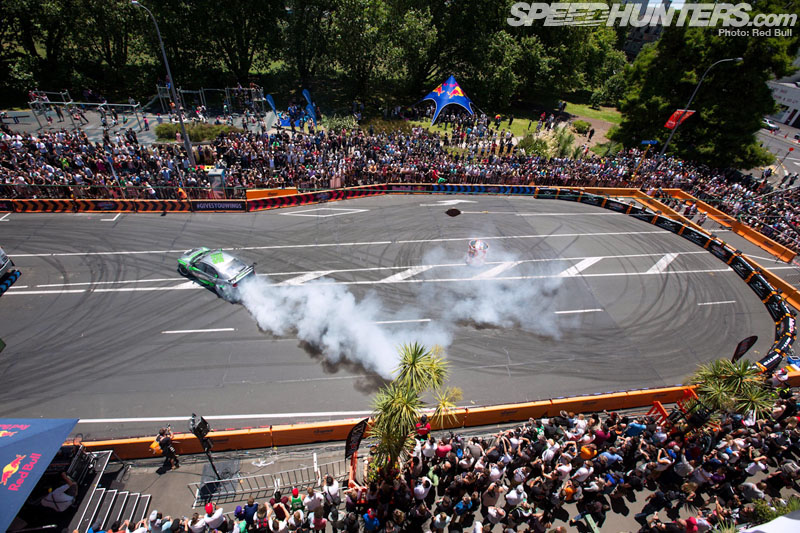 Because of the confined space, however, those below had little choice but to become one with the action.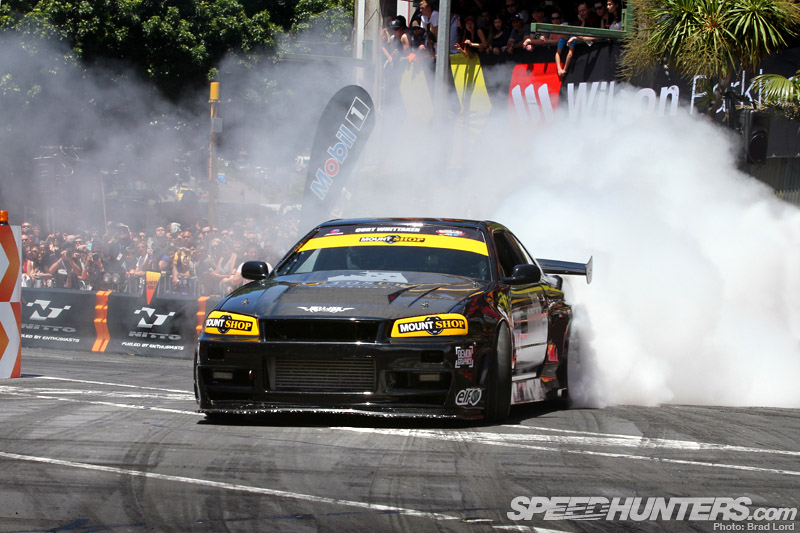 At street level you didn't just get to see the cars at close range – you felt their noise and became immersed in their power too. Talk about sensory overload.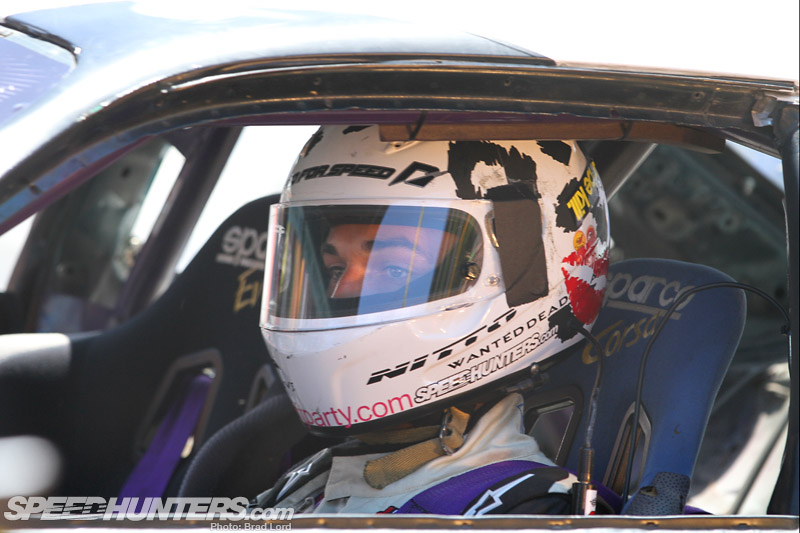 Matt mentioned afterwards that it was unusual – but also pretty cool – to be able to see and hear spectators as he drifted by. On the flip-side it was also quite unusual to be able to see drivers' faces as they slid past within arm's reach.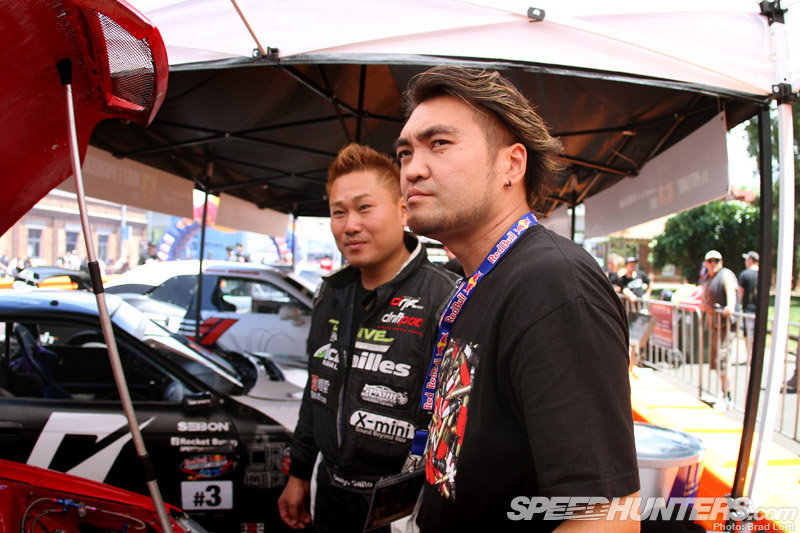 It's fair to say that each and every one of the competitors had a good time and would sign up again in a heartbeat given the chance. Daigo – seen here with Formula Drift teammate Robbie Nishida, who was acting as his translator – just missed out on a spot in the Top 4.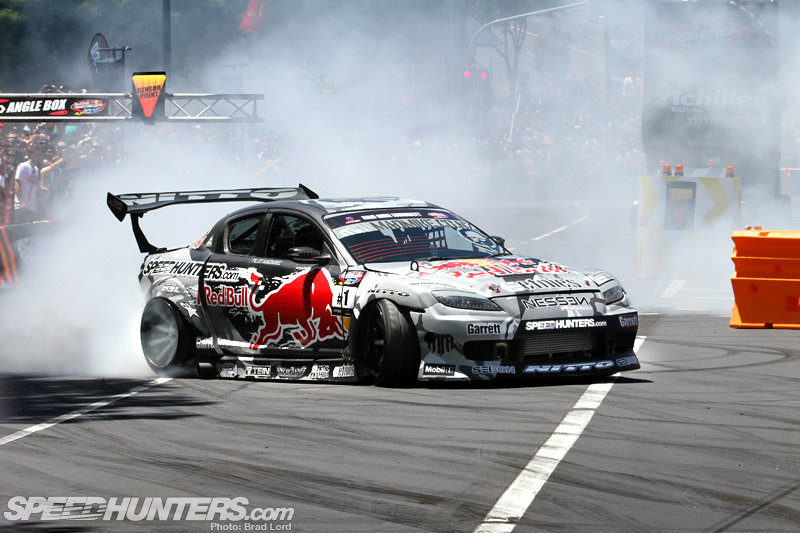 Mike on the other hand made it through, but that was as far as he'd go in the competition.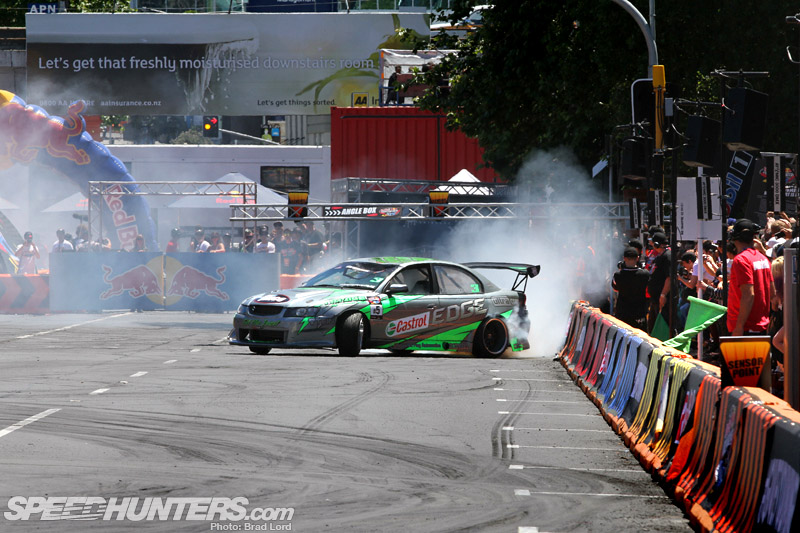 Fanga Dan bounced back from his earlier collision and laid down some solid runs through the eliminator rounds to end up with third place on the podium, and the honor of being first Kiwi.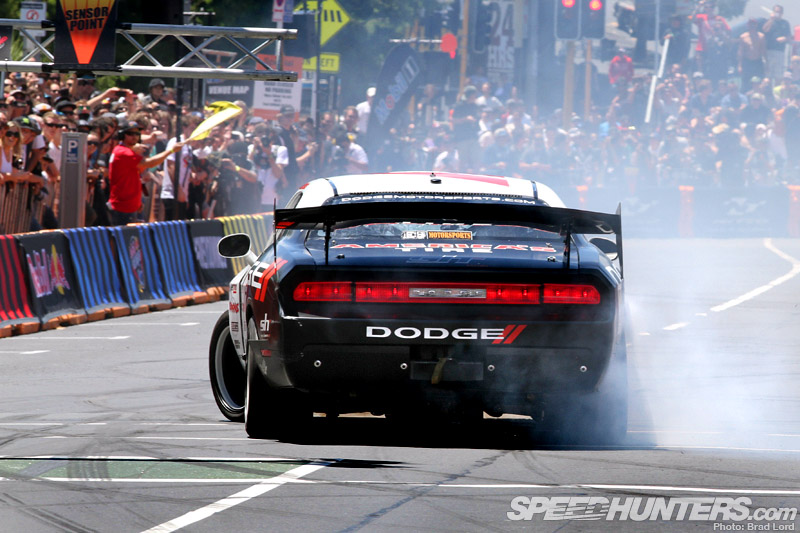 After a pretty faultless drive throughout the event I thought 'The Crazy Swede' had it in the bag, but during the final Sam's Challenger stalled mid-run, which didn't help his chances. He told me afterwards that there had been a slight miscalculation with fuel and that the 410ci Mopar USAC sprint car engine had run out of gas! Bad luck aside, the big Dodge stole the show with its musclecar stance and angry V8 soundtrack. This thing sounded every bit as powerful as its advertised 865hp output, and Sam did things with it that I would have deemed impossible had I not seen them with my own eyes.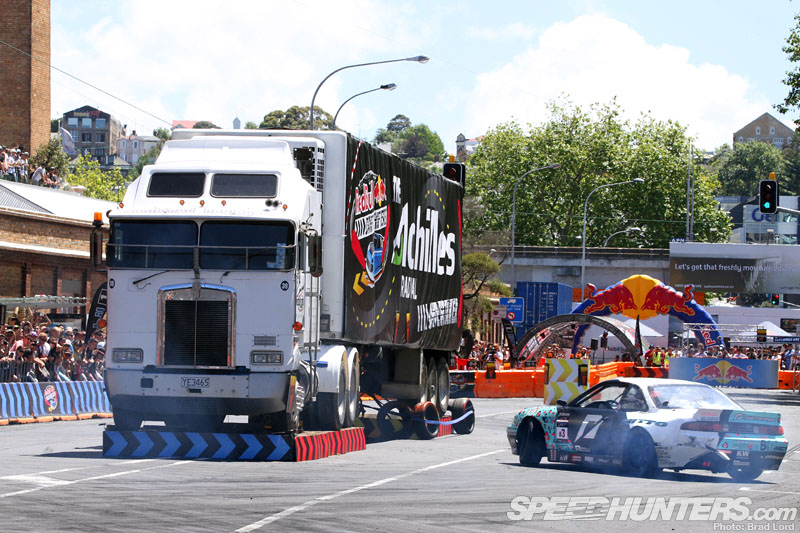 Powers absolutely deserved the win though, because apart from the bollard incident his driving was absolutely on-point. He spent much of the downtime between runs watching the other drivers out of the course, and that seemed to really help him in seeking out the high-scoring combinations. On one run even managed to crack the 2,000,000 point mark – the only driver to do so.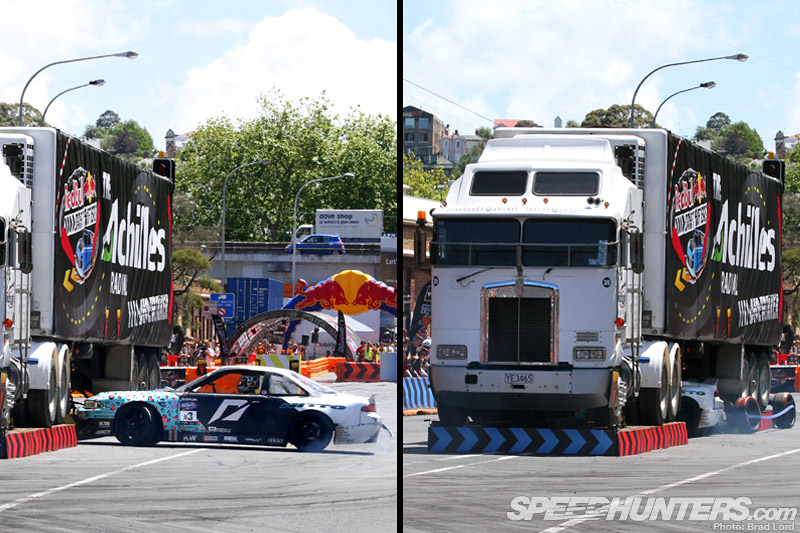 By the end of the event he was running an inch-perfect line beneath the 'Undertaker'…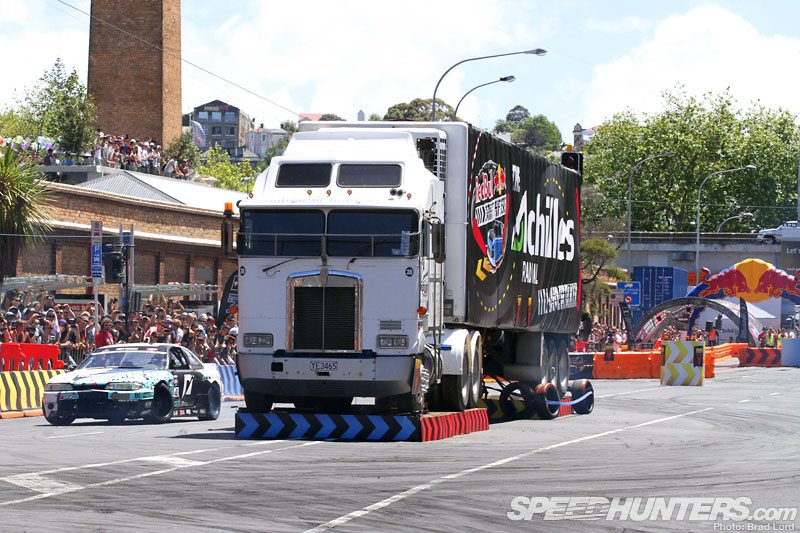 …and proceeded to drive his battle-scarred Silvia home to victory.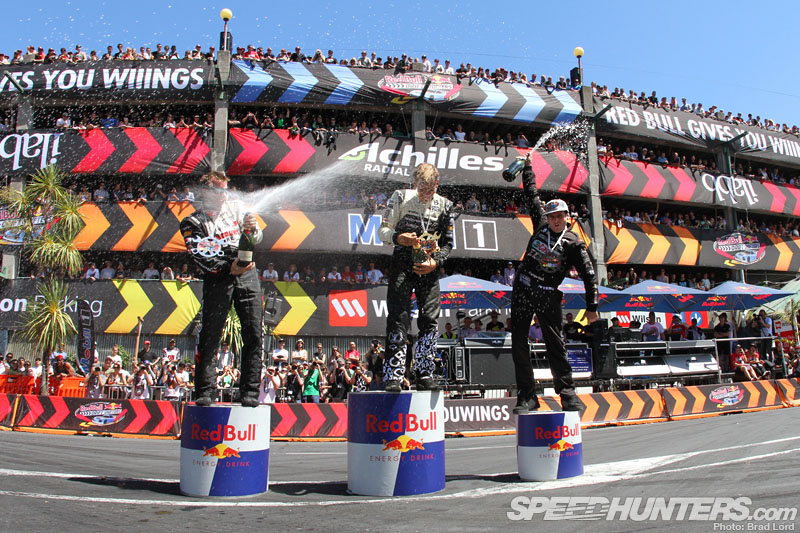 All that was then left to do was pop a few champagne corks and toast an event that didn't just live up to the hype but exceeded it.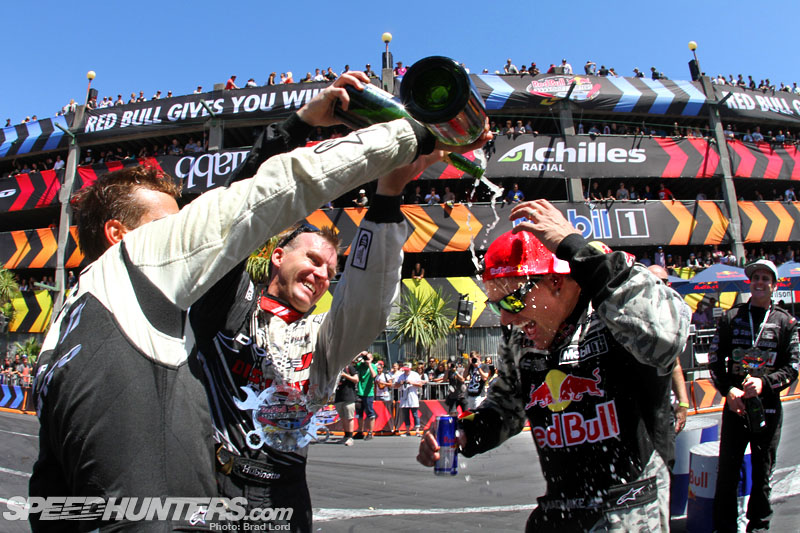 While Mike just missed out on a podium spot he still got to taste victory, both figuratively and literally. It was reported that 10,000 spectators were on hand to witness the action, and there's absolutely no chance that anyone would have left feeling like they hadn't been entertained! Based on its success it now seems likely – reading between the lines – that Red Bull will take Drift Shifters global. I just hope it happens again in Auckland…
Brad
Desktops