An Abundance Of Style
I like grassroots events because they serve two very distinct purposes. First off, they're a perfect and ever-evolving view into car culture, and secondly, to a certain extent they're still immune to the over-regulated nature of most other forms of motorsport. And guess what that gives you? Fun, and lots of it, for the drivers, the spectators and of course us folk who are there with our cameras attempting to catch all the atmosphere.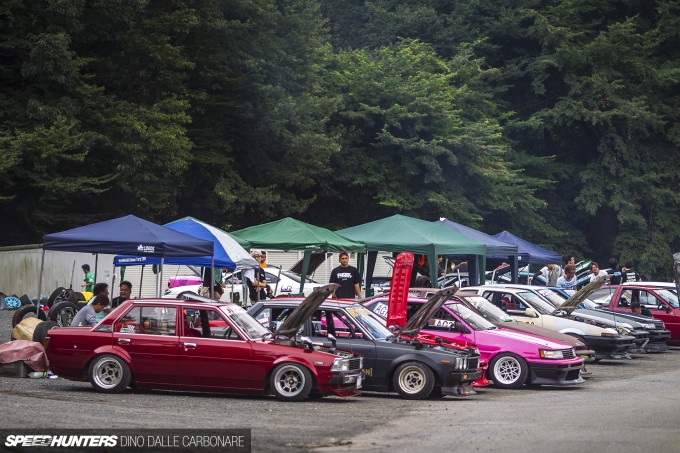 And when it comes to grassroots, Japan does it best. Regardless of the discipline, in setting the mood there really is no other place. The cars, the skills and the locations are all coupled to what can only be described as total dedication by those that partake.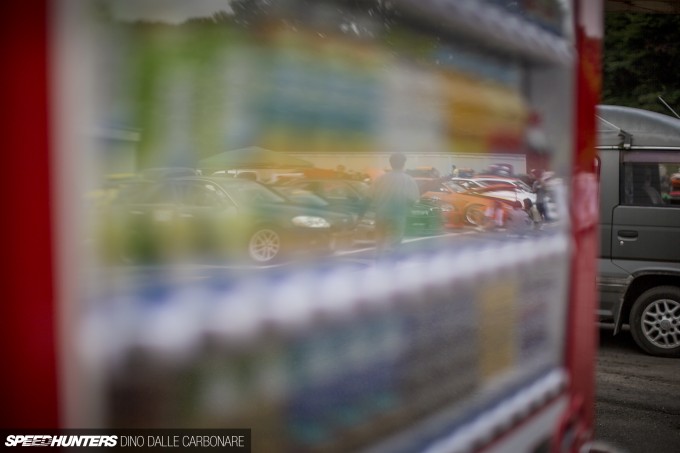 No matter how many times I cover an event like the Black Mark Day, which was held at Nikko Circuit this past Sunday, it's like a whole new journey of discovery. If you take into account how many times I've been to events like this over the years, I should be pretty jaded by now. But I'm not.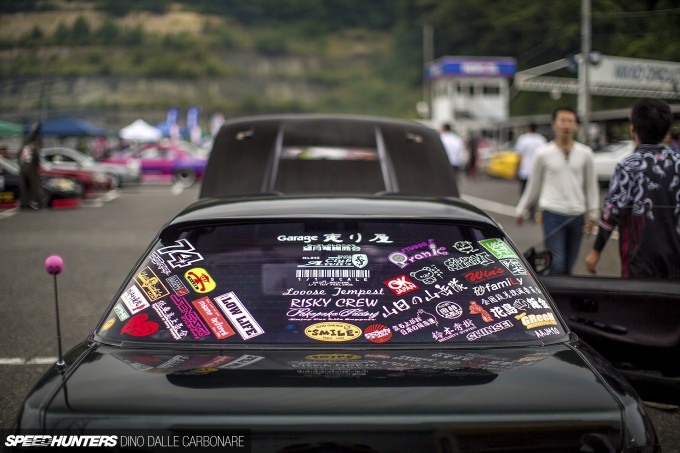 It's all down to the way people strive to stand out. They push the style, the driving and the lifestyle, and in the process keep us further entertained. If you love cars, you can't help but want to be a part of it all.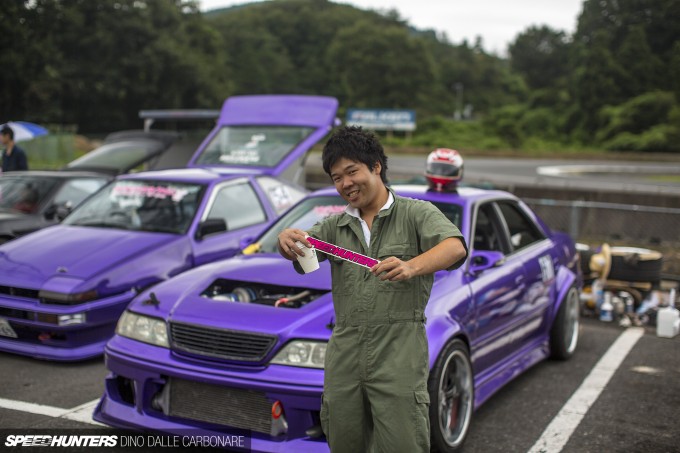 Then of course there's all the support and love that we get. It's humbling to say the least, and at the end of the day it's what keeps us going, keeps us pushing, keeps that mutual respect alive. On a side note, I was pretty surprised how popular the new pink Speedhunters stickers were – they're what everyone wanted! You might also recognise Keigo Nakayama and his JZX100 from our recent spotlight feature.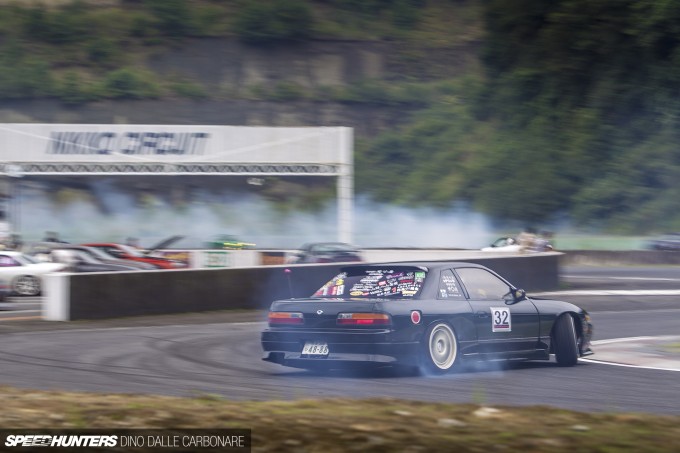 But as much fun as it is to bask in the atmosphere, joke around with old friends and meet new ones, at the end of the day the main thing that truly captivates me is the driving.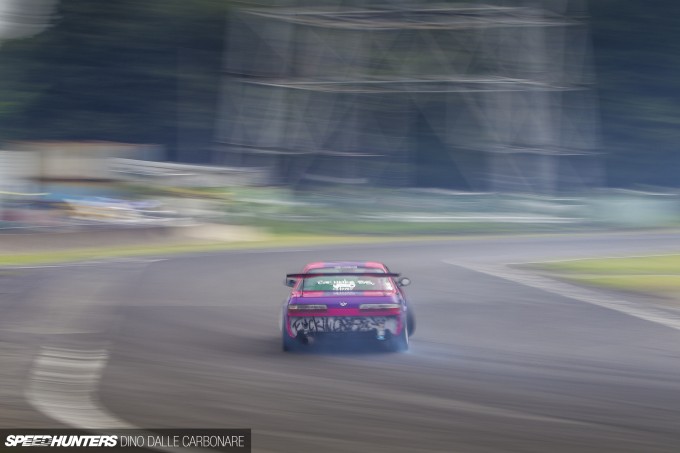 Nikko has always a big favourite for drifters, and ever since it had a few paved run-offs added some years back it's become far more forgiving, allowing everyone to really push hard. It may have sort of dulled the wheel-in-the-air antics on turn one…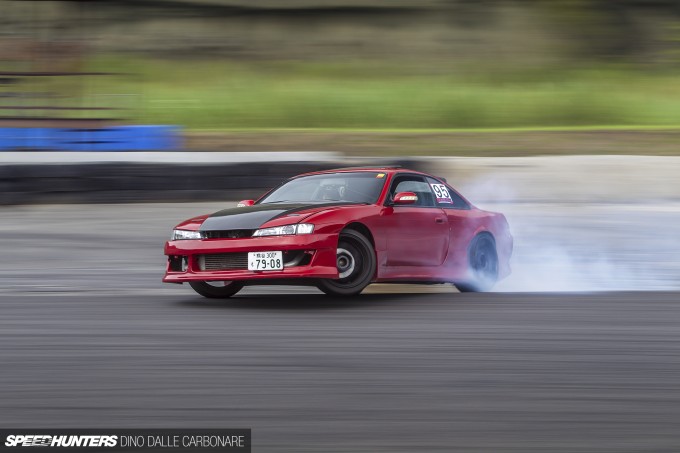 But those that know what they're doing can still pull off this sort of thing by taking a wider line with a ton of speed piled on.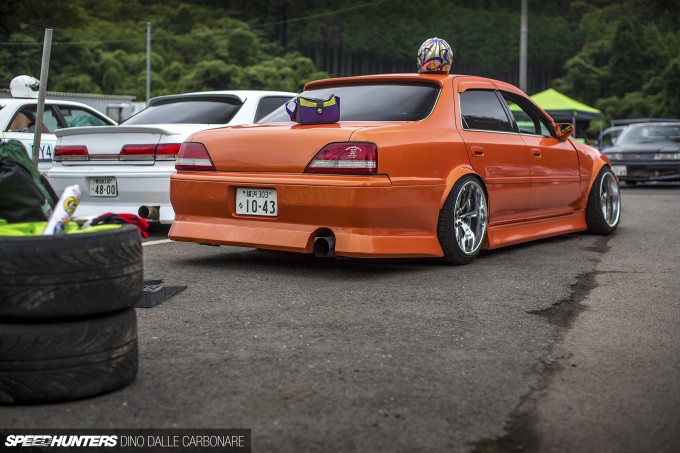 Then of course there are the cars. As the event was organized by the guys at N-Style there was a big showing of JXZs and anything 4A-G powered, as you'll see in a couple of my upcoming spotlights. But that said, there was actually a good mix of everything else too.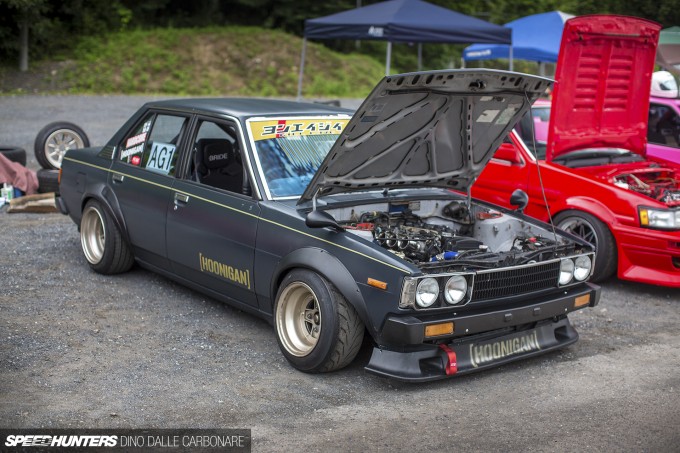 You might recall me featuring a matte white AE86 sporting N2 over-fenders and a carb-fed 4A-G at Nikko earlier in the year. This matte black KE70 is owned by the same guy, Taku.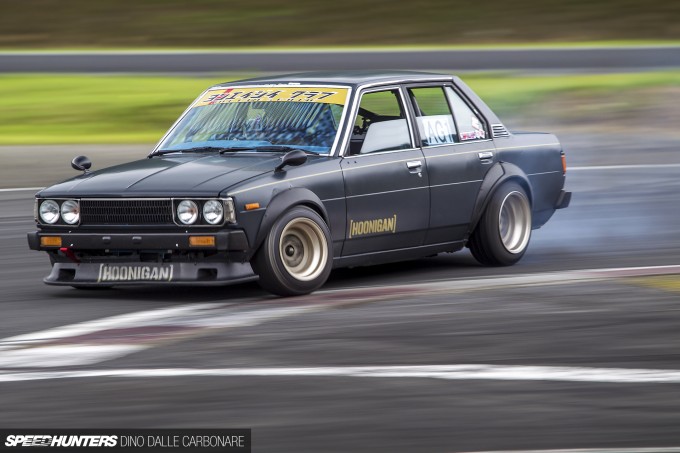 He was one of the best drivers out there, and watching him use the momentum of the car as he initiated, and then violently throw the car into each turn using the power to keep the angle for as long as possible was truly impressive. When most AE86s appeared to be running out of puff, he was always still sideways.
A Variety Pack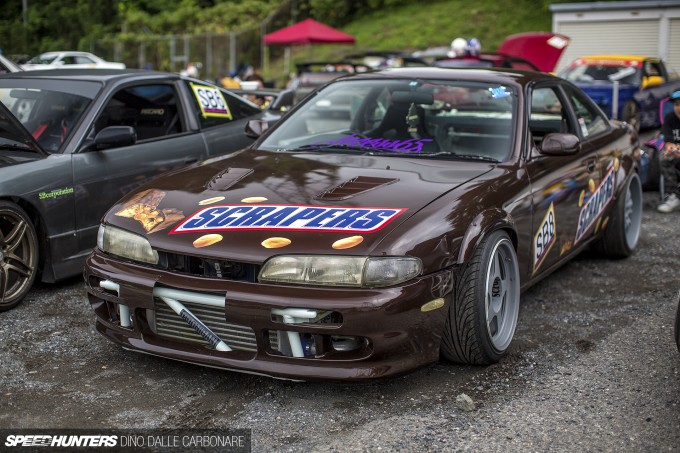 S-chassis machines are still very popular in Japanese grassroots drifting, but it's obvious that more owners are experimenting with different styles. Aside from the chocolatey goodness of the exterior, check out the impact bar behind the front bumper of this S14 Silvia.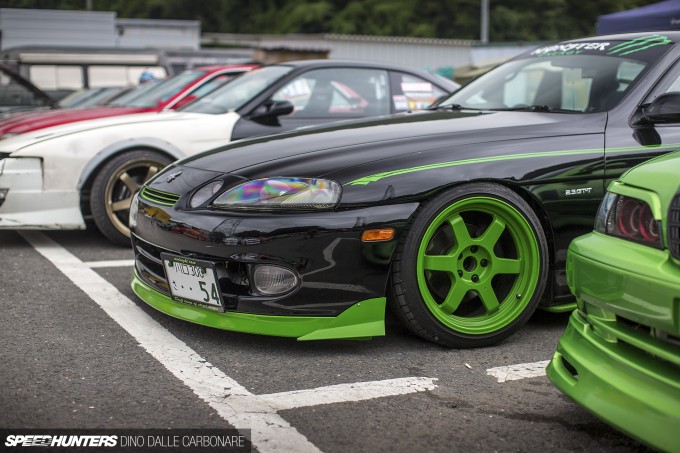 I'm not a big fan of excessive color-matching on cars, but for some reason this Z30 Soarer seemed to rock just the right number of details.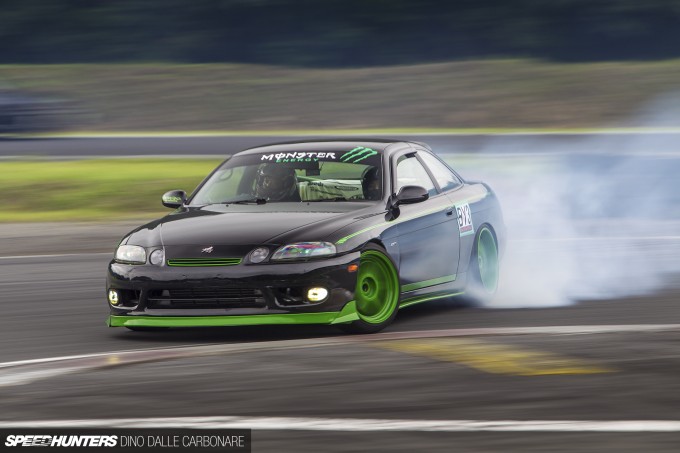 Out on track it looked like a big can of Monster energy drink!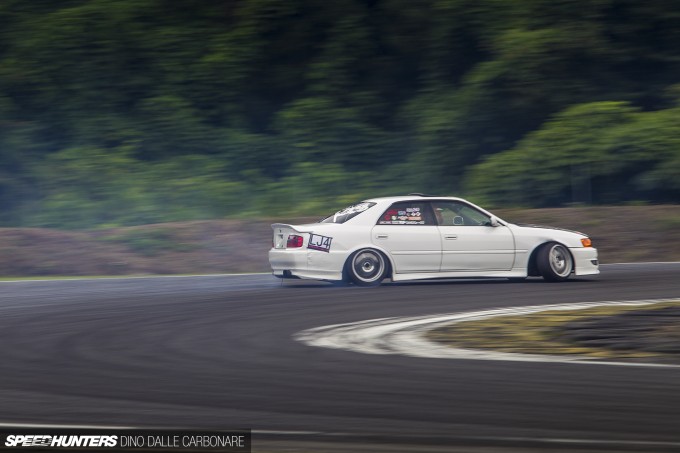 This time around I spent a lot of time looking at the action from Nikko's final corner. It's definitely not where the most exciting driving happens, but I love seeing big powerful cars like this Chaser continue drifting this section of the track.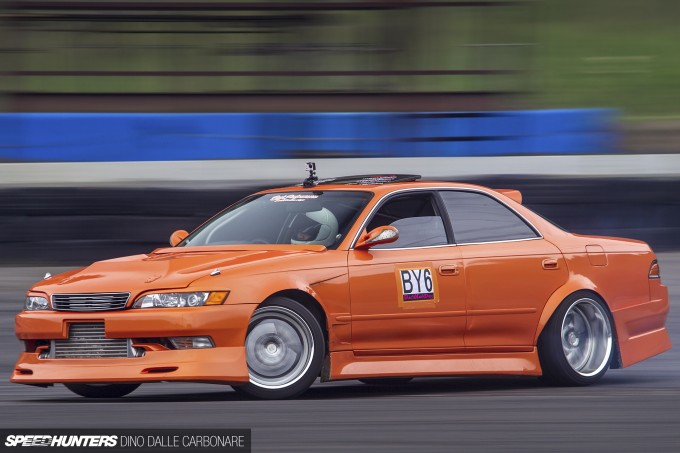 To attempt this you really need power, as momentum alone won't allow you to carry your drift that far. Big 1JZ-equipped sedans take it all in their stride though, and some drivers actually manage to drift the entire track without ever breaking their slide. Amazing.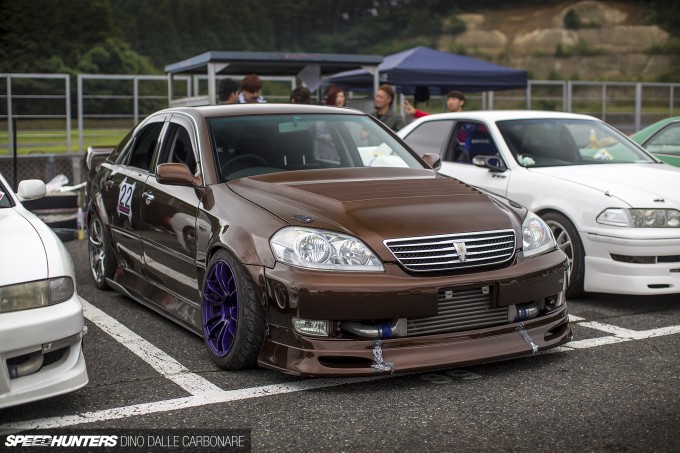 It doesn't really matter what generation the car is, most – like the orange JZX90 Mark II you just saw and this seriously evil-looking JZX110 Mark II – are decently tuned.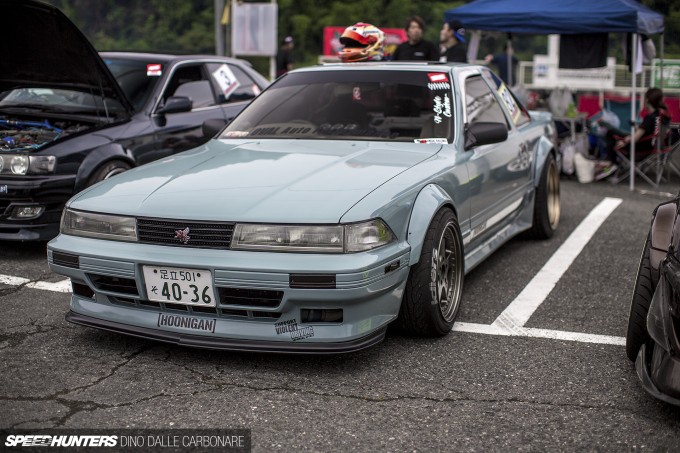 Aside from the four cars that I chose to spotlight from this event, this was another big favorite of mine. I'm not sure if it was the simplicity, the color or the subtle fender flares and aggressive stance, but this this Z20 just looked right.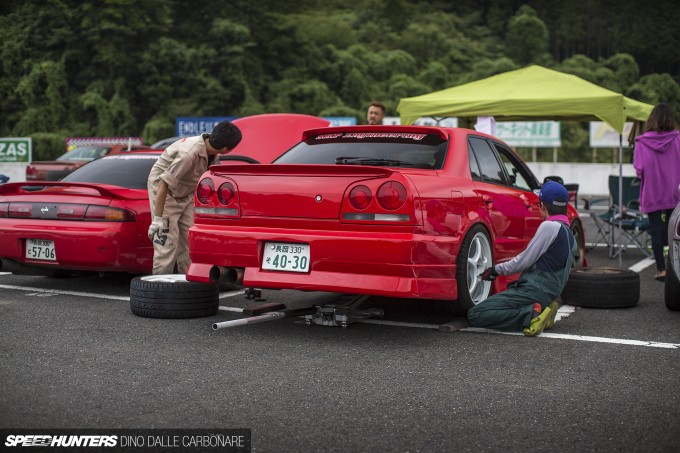 I was pleasantly surprised to see plenty of Skylines out at Black Mark Day this year too.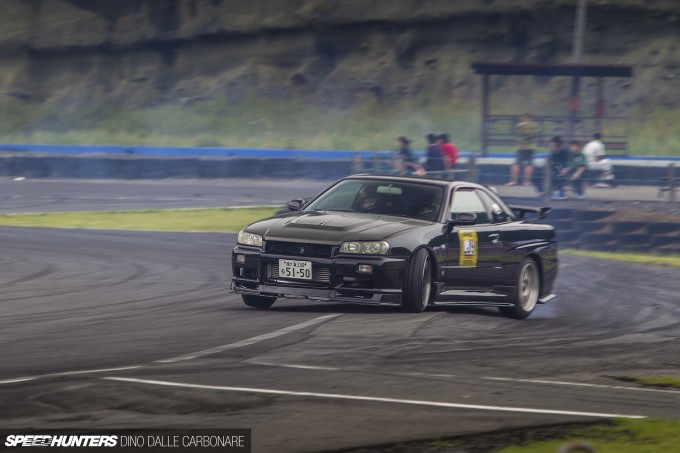 And with prices dropping quite considerably now, both the coupe and four-door version of the ER34 are becoming popular drift platforms.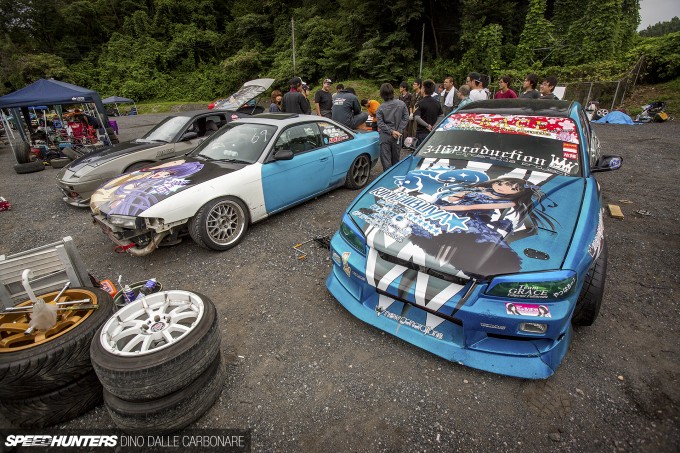 I even spotted one sporting the full itasha treatment!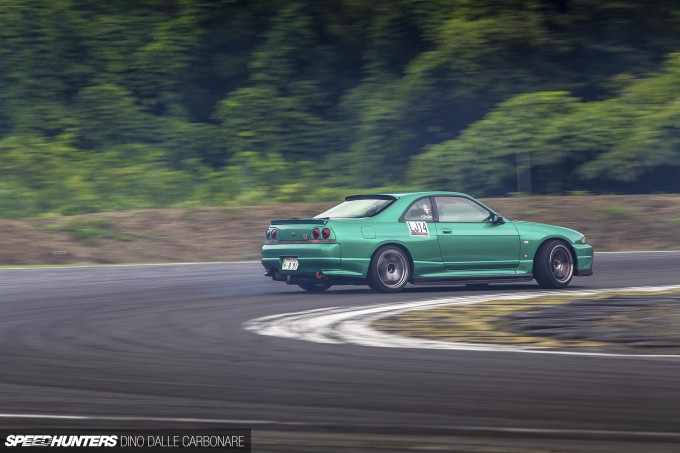 This was one of two san-san GT-Rs doing the sideways thing. It's not something you see every day, but you can get them to drift by either removing the AWD fuse (bye-bye transfer box) or pulling the front driveshafts.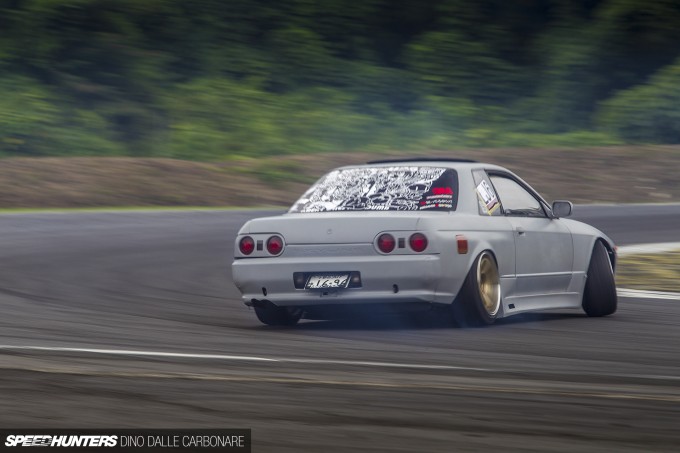 R32s of course are far more common and don't stand out quite as much.
FF Drifting, Why Not?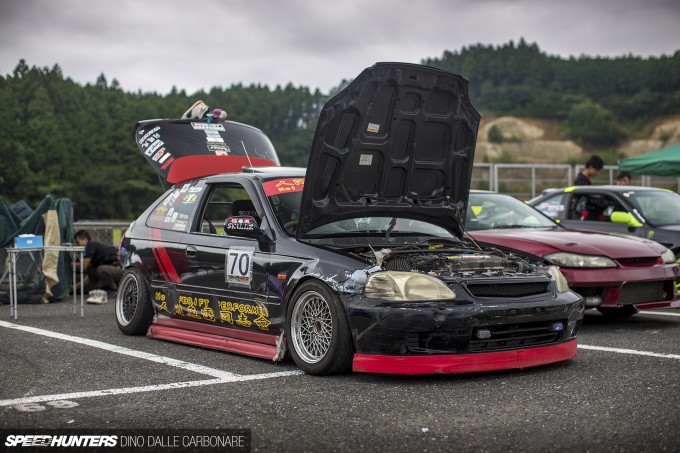 Remember the drift Civic that Mike showed us earlier this year? Well, Hirata-san didn't miss the chance to sign up for the event and get busy with his handbrake. It was amusing to see, and with the way he's set up the suspension, the car actually stays sideways for quite a while after he releases the lever. I'm glad I finally got to see this unique EK4 in action.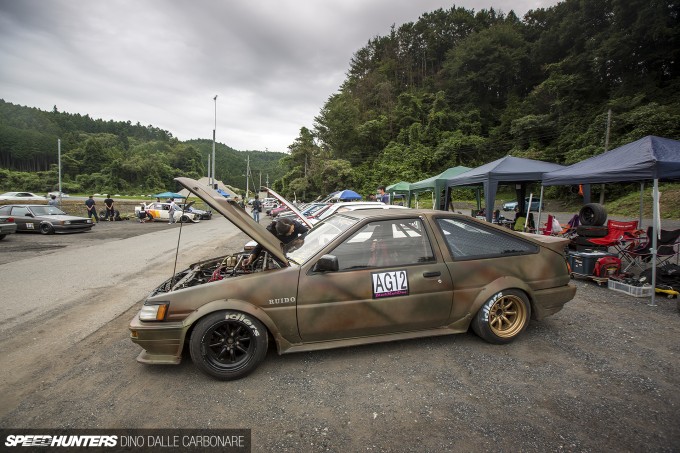 In the big 4A-G group I came across a car that could have only been painted by one man.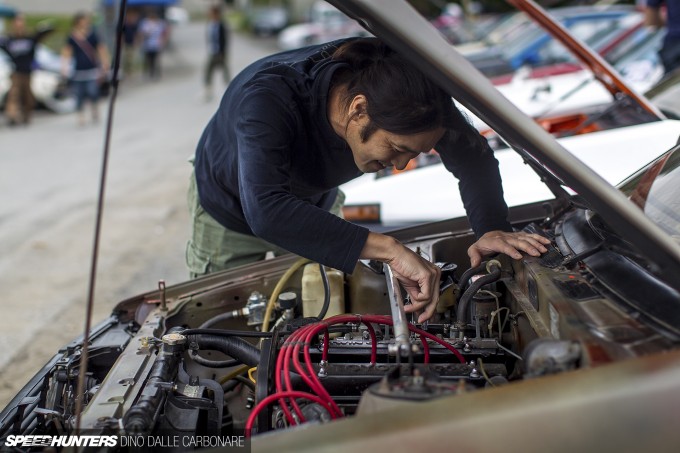 The Nojireal logo sort of gave me all the confirmation I required, but as I was looking at the AE86's engine, Nojima-san showed up out of nowhere and started fiddling with the carbs on what is one of his customer's cars. I asked him if it's hard to get the camo look right, to which he replied, "just paint it drunk and it'll work out fine!" I don't think he was joking either!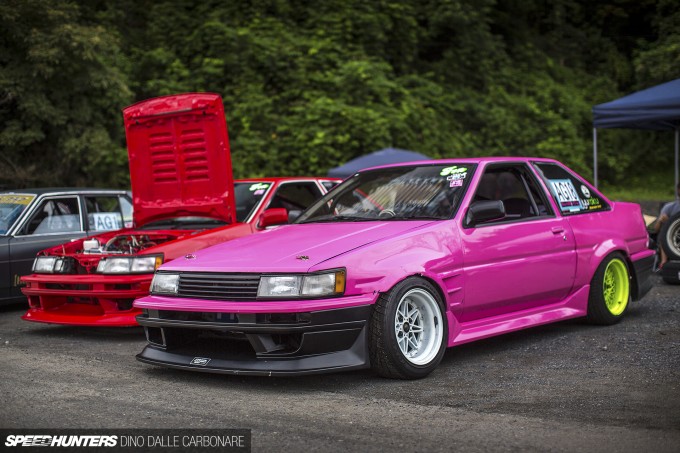 In a recent post from Offset Kings Japan, I talked about Hachiroku owners really pushing the envelope, so I had that in mind when I picked out one of the Corollas to spotlight. Stay tuned for that coming up soon.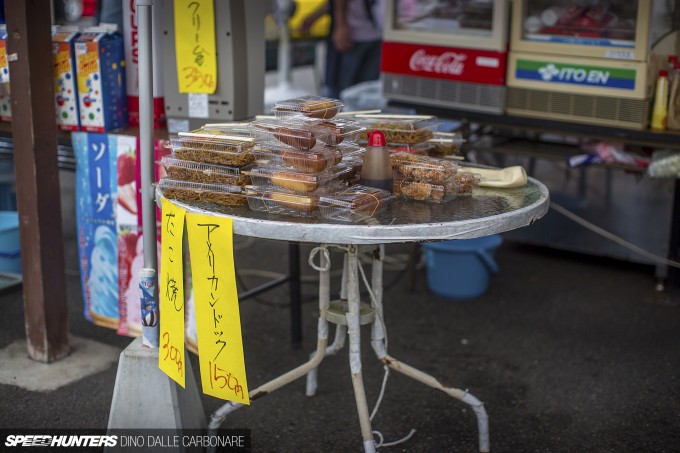 What would a Japanese grassroots drift track be without a constant supply of deep fried food? If you aren't feeling that brave, there's always the yakisoba option which you can never really go wrong with.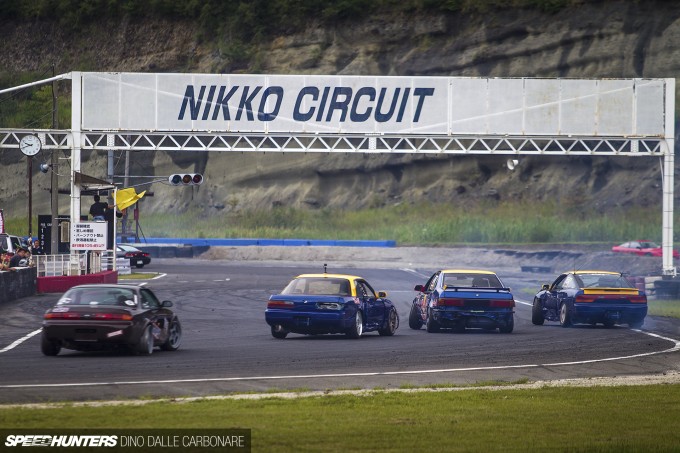 The action on track never really stopped during the course of the morning while I was there, and at this point these four cars drifted in a train formation for a few laps. It was quite a spectacle to say the least.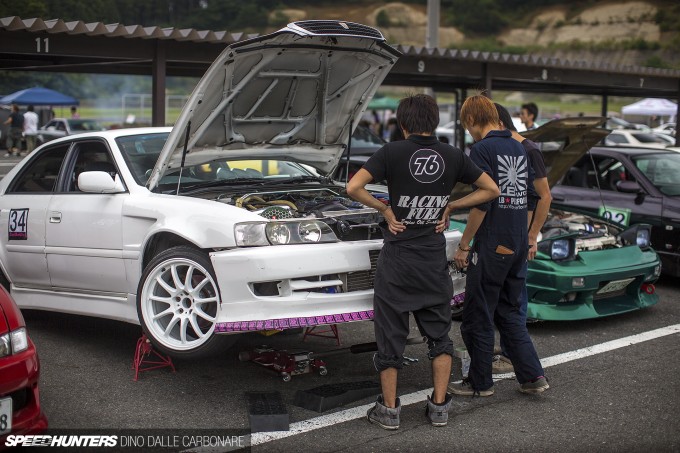 Ah, the inevitable side of drifting – breaking stuff. But it's usually the same things that end up going, so most drivers come prepared with spares and enough knowledge to get it all fixed in time for the next outing.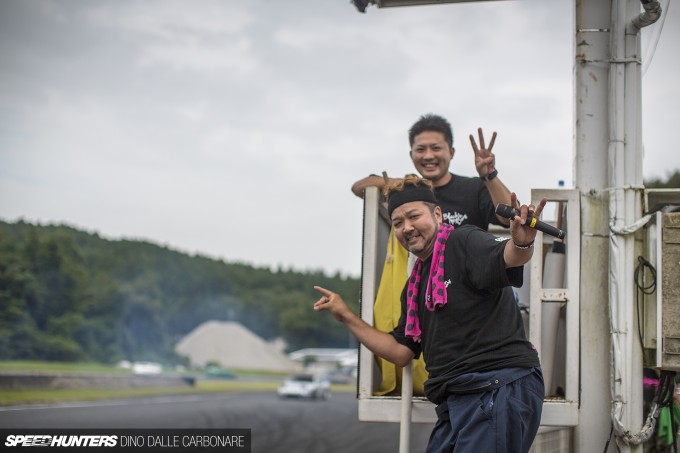 The N-Style guys are always a fun bunch to hang out with, but they sure had their hands full making sure the event ran smoothly. Black Mark Day was another success for 2015!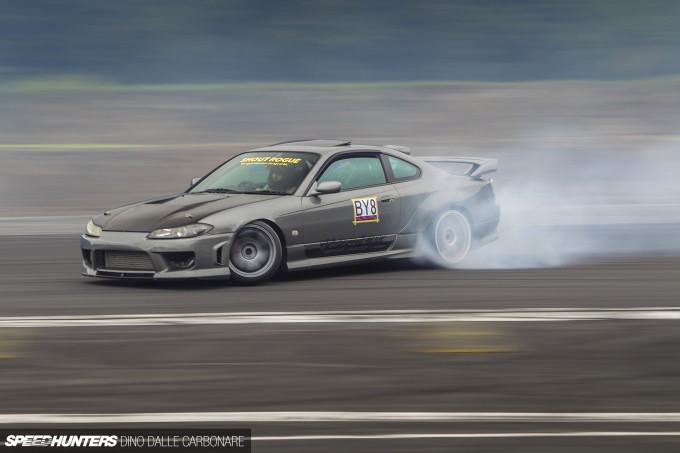 As for the driving itself, I was pretty blown away. Even the beginner group was decent and it's always good to see new people coming into the sport.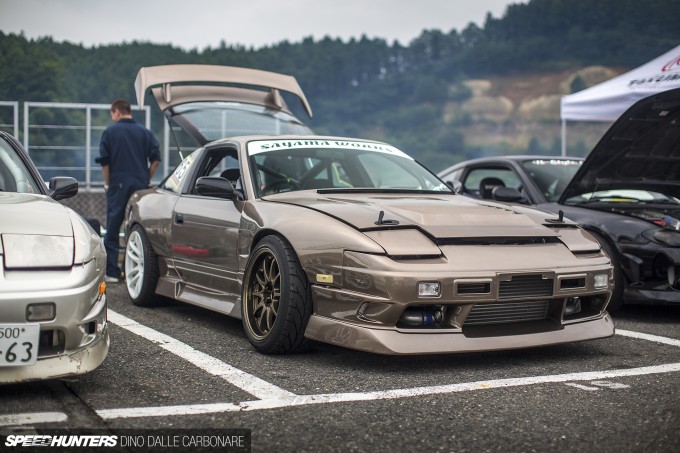 With that, more people get into cars and spend time fine tuning and getting the best out of them.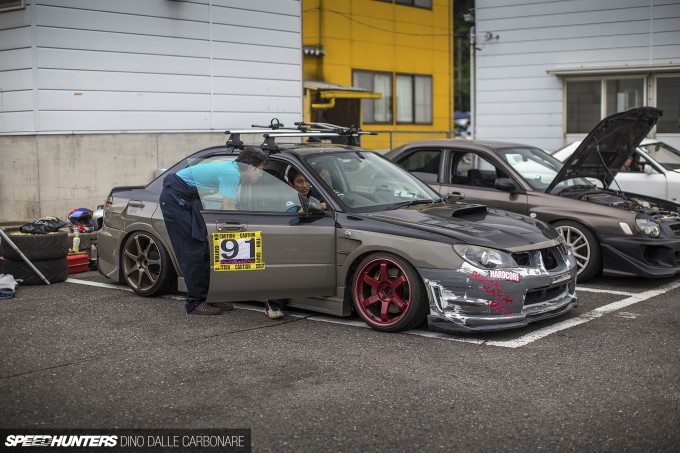 The owner of this GDC Impreza previously had an older generation wagon that we've seen a few times at Nikko and other stance events. This is his new ride and it was looking rather cool sitting on RAYS Volk Racing TE37RTs. The GDA next to it was another one converted to rear-wheel drive and both showed that it doesn't really matter what you use to have fun. Hell, even a Civic works!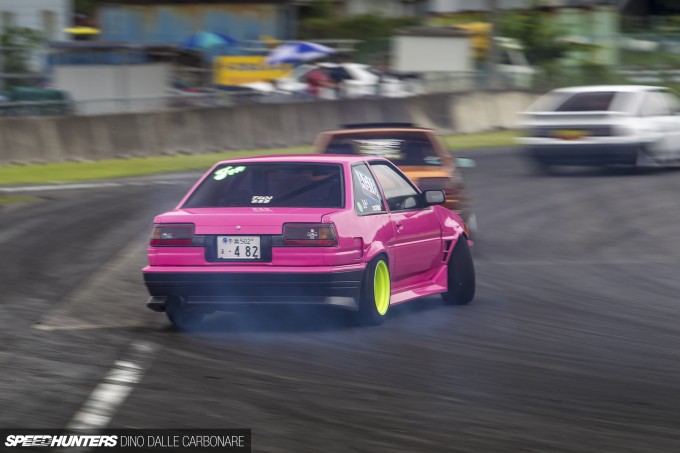 These sort of events are why the rest of the world looks towards Japan for inspiration. It's not only the cars, but everything else – most importantly an abundance of respect and lack of negativity and prejudice. There is something there for each and every one of us to learn a little from.
Make sure you don't miss the Nikko spotlights I have coming up soon!
Dino Dalle Carbonare
Instagram: speedhunters_dino
dino@speedhunters.com