While a car is not a living or breathing creature, for many, driving a vehicle – especially a personally customized ride – is when we feel most alive.
Keigo Nakayama shares this passion with his JZX100 Mark II Tourer V. Our Editor In Chief Pedey recently met Keigo after stopping by Japan's Tsukuba Circuit for an idlers event. Although Pedey didn't intend on shooting anything that day, after checking out the build in the pits he couldn't resist grabbing a spotlight of Keigo's car, as it's a perfect example of a cool, well-styled and well-modified street legal drifter, typical of the top level private cars you find at circuits all over Japan every weekend.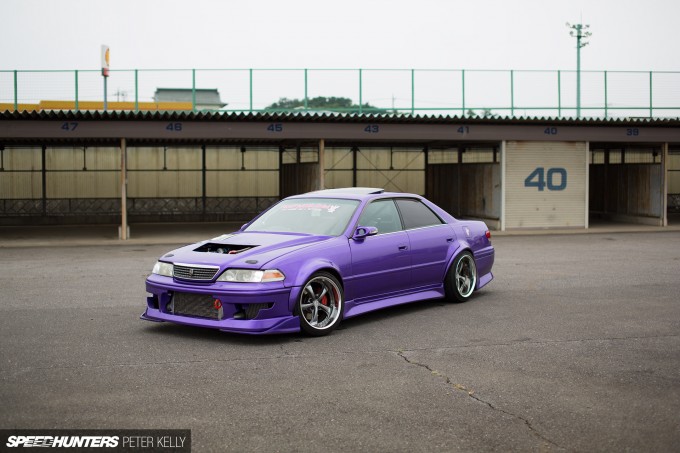 Catching the drift bug while living in the US and attending early events such as the now famous D1GP Irwindale round back in 2003, Keigo's heart was set on owning a fine machine of his own as soon as he acquired his driver license. That dream became a reality soon after he permanently relocated to Japan. After earning his right to drive at age 18, he found a pristine, low-mileage white Mark II.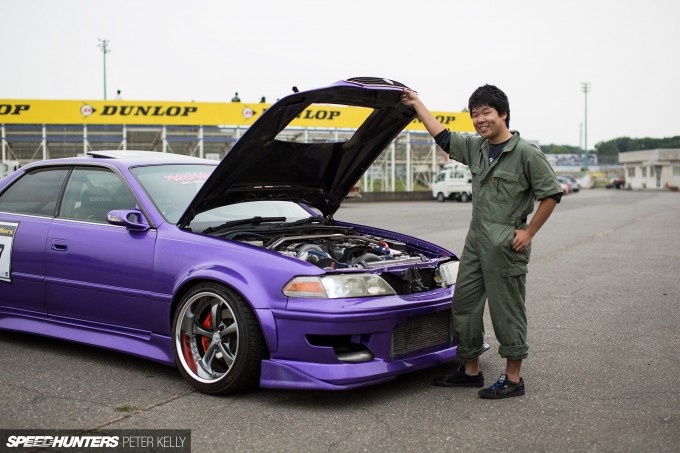 The Tourer V has gone through many transformations over the eight years that Keigo has owned it, with the original paint changed to black with rainbow flakes and finally the purple hue you see here. Wanting to save as much cash for parts as possible, the majority of the work was initially completed by Keigo himself, including the first color change. As a member of his university's car club, he had access to a great facility at the school, equipped with lifts, welding machines and a painting area.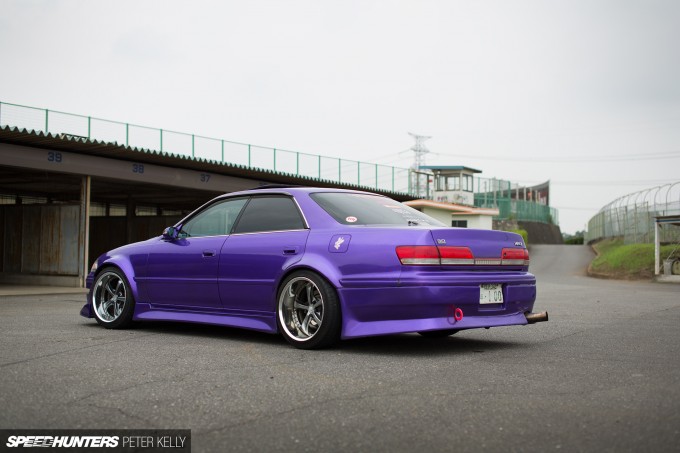 Clean, flowing lines with just the right amount of aggression – that's how I see Keigo's JZX. The big four-door runs an M Sports front bumper, Vertex side skirts and rear bumper, with a combination of Ito Auto V1 front fenders and N-Style fenders at the rear.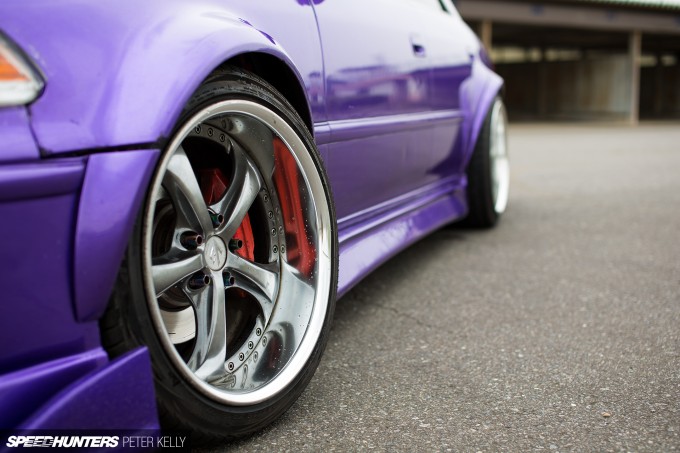 Then there are the wheels – a set of 18×10.5-inch Work VS-KFs wrapped in 265-wide Achilles ATR Sport rubber at all four corners. GP Sports G-Master suspension gives the JZX a purposeful stance and the perfect balance of handling for the drift circuit, while remaining enjoyable for the drive to the 7-Eleven or the many fishing trips it sees.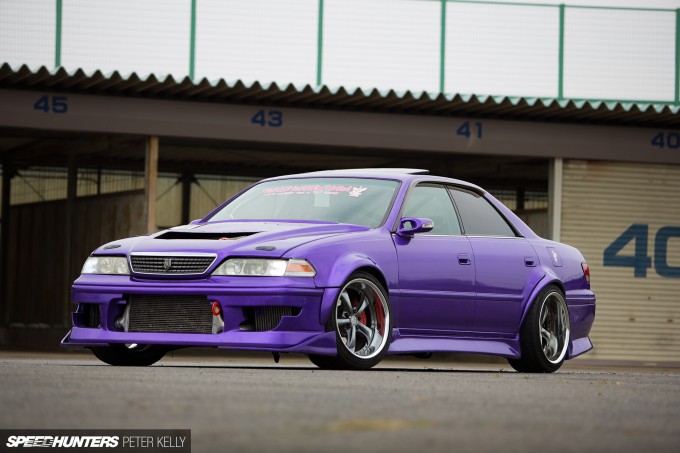 The underside also sees a whole lot of development, with custom short knuckles, 20mm extended lower arms, Ikeya Formula tension rods, 30mm roll center adapters, URAS tie-rods, JZX110 tie-rod ends, and big UCF20 brake calipers – and that's just up front! Under the rear end you'll find Megan Racing tie-rods, Hardrace lower arms, Cusco stabilizers and the excellent Projectμ D1Spec handbrake shoes.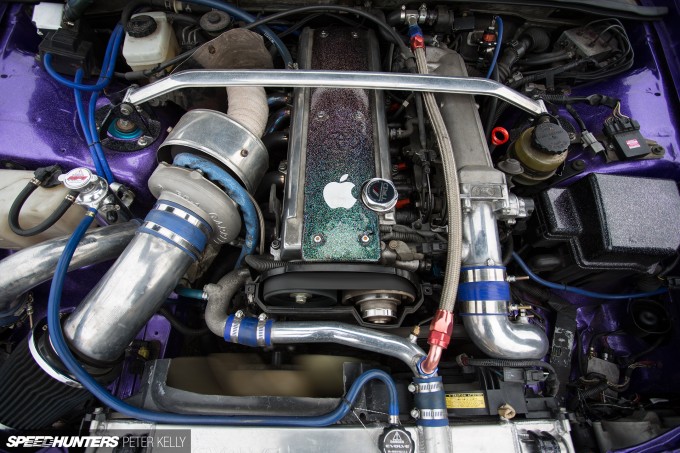 The JZX100 has gone through a number of turbo upgrades, with each snail being larger than its predecessor. But after seven years worth of pushing the original 1JZ block to its wear limit, Keigo decided on replacing it with the 3000cc 2JZ-GTE block and retaining all the other 1JZ parts, creating a 1.5JZ engine.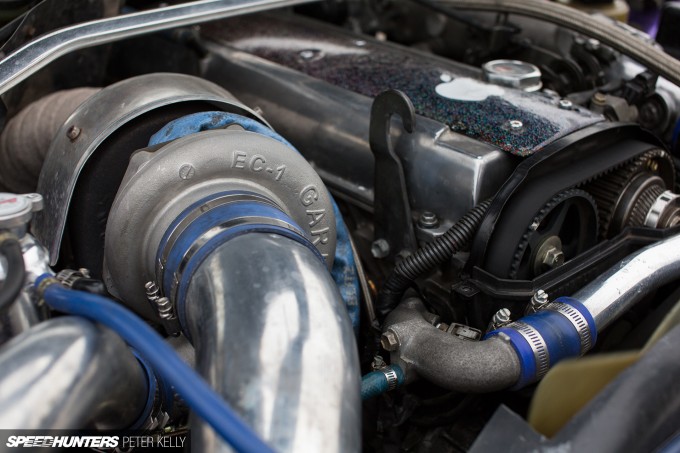 Forced induction is now handled by a Garrett GT3582R turbo unit, along with a number of HKS components, including the camshafts, an oil cooler and an F-Con V PRO 3.3 engine management system. Boost is controlled via a Blitz Dual-SBC controller, while power is sent to the wheels through an ORC twin-plate clutch, Tomei 2-way LSD and a 3.9 final gear. The major work was handled by Garage Vanna and is good for 616hp to the wheels on 1.5bar boost (21psi), which is enough to light up the wide rears easily at the track or the occasional night meet-up at Gyu Kaku BBQ with his drift buddies.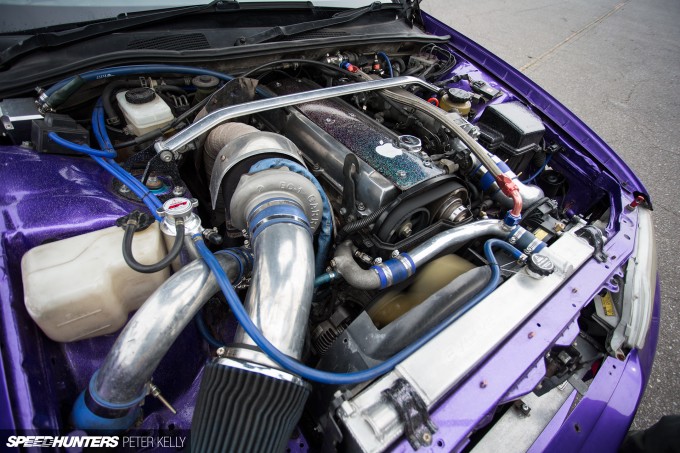 Curious about the custom painted valve cover? It's the exact same black with rainbow flakes that graced Keigo's Mark II before its current reddish-violet metallic, which was applied by Garage T.N.R, who also handled the body modifications. While the idea of treating the JZX100 to yet another fresh color had crossed Keigo's mind more than once, three of his crew members recently treated their cars to similar purple hues, leading him to stay with its current tint, for the sake of team spirit. And if you're wondering about the Apple logo on the valve cover, it's simply a reminder to think different when it comes to building his Tourer V.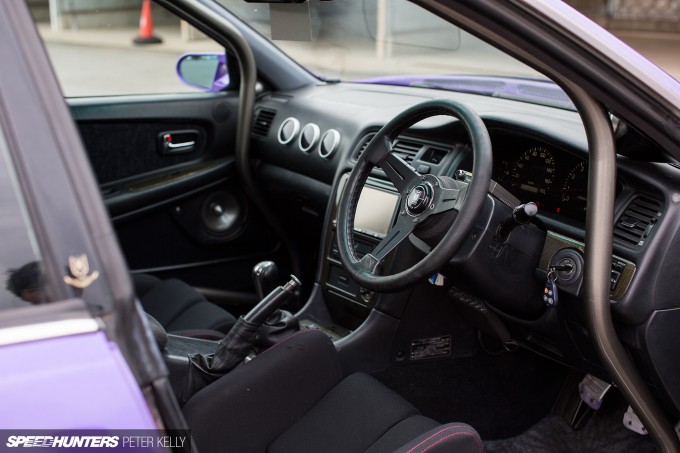 Inside, a Saito 10-point rollcage increases safety and stiffness to the chassis, with a Nardi Classic 33 wheel manning the ship. A Cusco tower brace, TOM's front member and trunk brace, in additional to some custom work throughout the Mark II aid in increasing stability while tearing the asphalt when going sideways.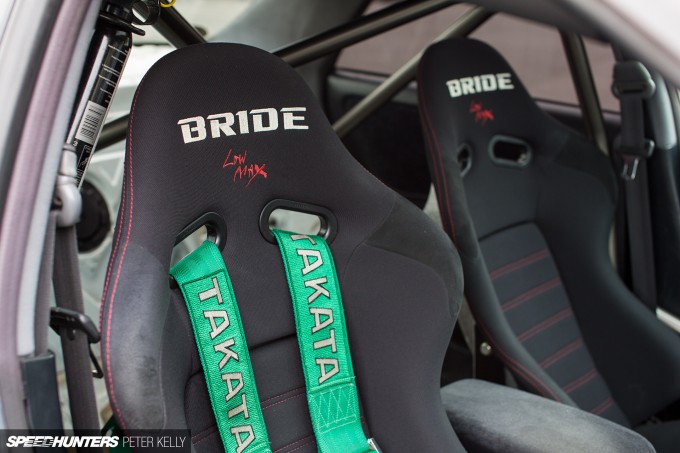 A Bride Gias Sport and Takata harness lock Keigo down during those heavy side G moments, with the passenger side having a slightly more civil Bride Stradia Sport. Since this is a daily driver, Keigo opted to go with the practicality of reclining seats as opposed to full buckets.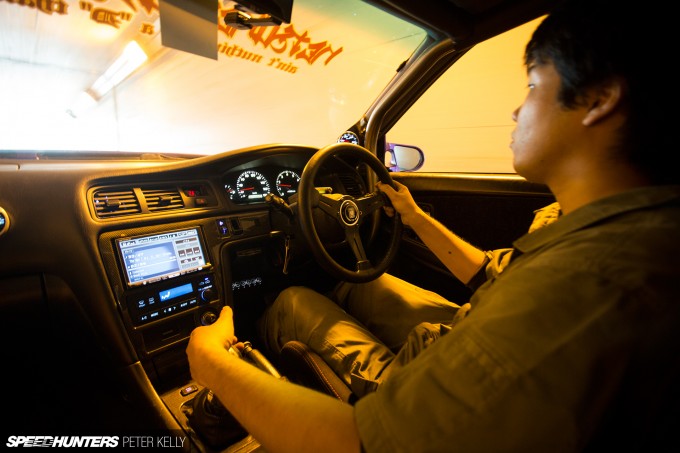 Keigo often drives his car long distances to attend track days, so it retains all the creature comforts it was specified with from factory. On the day we shot this car, for example, the JZX100 had traveled up to Tsukuba from Nagoya – a six-hour drive. After a full day of drifting under the hot summer sun, Keigo then packed up all his gear and drove home again that night. Brutal!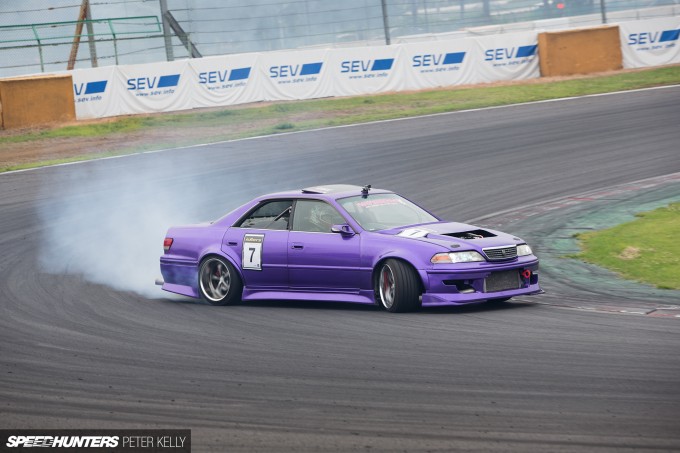 The purple JZX100 looks and sounds awesome on the track with the front VS-KFs on full lock, custom straight pipes wailing, and plenty of fresh tire smoke to inhale. Keigo will continue to attend drift events all over Japan, in addition to local circuits like YZ and Suzuka Twin, always driving his Tourer V from home to the track and back.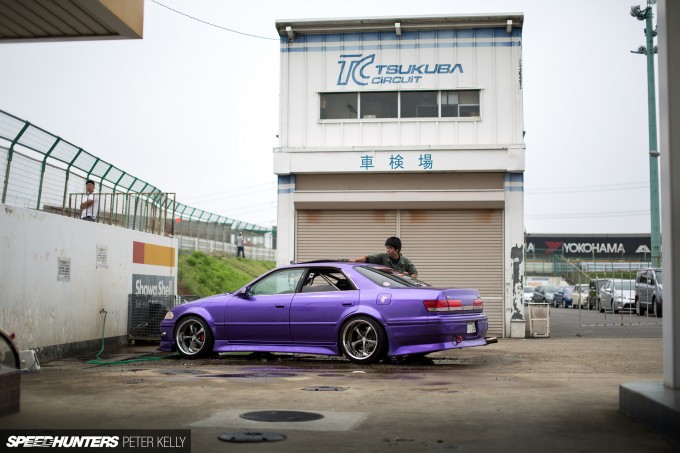 As a car enthusiasts we have our dream cars, our favorite form of motorsports, our preferences between FWD, AWD and RWD, and even our debates on where the engine should be placed in a chassis. Yet, we can all agree on the enjoyment we have working on and driving our own personal ride. Whether it's a little family-hatchback-turned-dragster or a luxury-sedan-turned-drift-machine – there is something about seeing and feeling the results of one's own work, both stationary and in fluid motion. A sentiment that is gained as we slowly connect with our ride, as the miles increase both on its odometer and our own lives. Keigo and his Mark II share this relationship or, what I simply like to call, the joy of man and his machine.
Jorge Davila
Photos by Peter Kelly
Editor-in-Chief
Instagram: speedhunters_pedey
pedey@speedhunters.com