Rotor-heads Will Never Give Up
How can you ever get tired of this stuff? Every year in Japan, the seventh day of July has always meant one thing for the tuning car community: 7's Day. I can't even remember how many times I've attended this legendary celebration of all things rotary-related at Daikoku PA – but it's been many! Similar meetings happen up and down the country on 7/7, but this is the one that I've always stuck to, for year after year it continues to impress with an amazing turnout.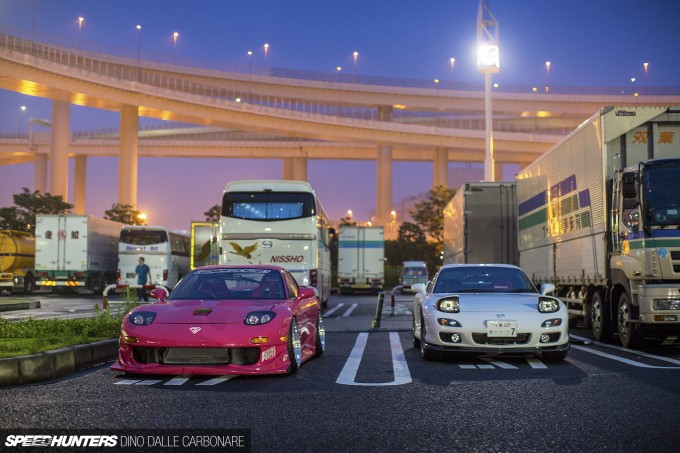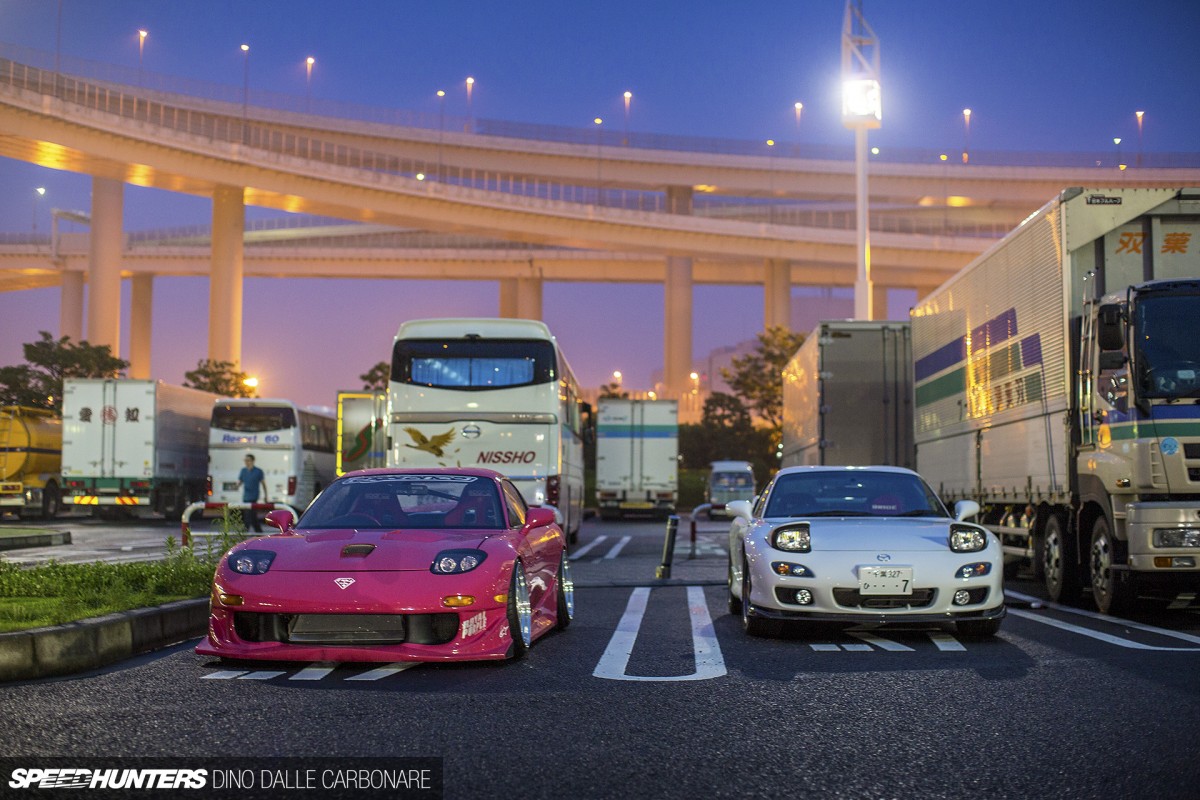 But as I was driving down to the world famous parking area in Yokohama on Tuesday evening, I started to get a little bit worried. That's because I hadn't seen, passed or been overtaken by one single RX-7 on my way from Tokyo, and with the crappy weather we've been enduring over this rainy season, I couldn't be sure anyone would actually bother coming out.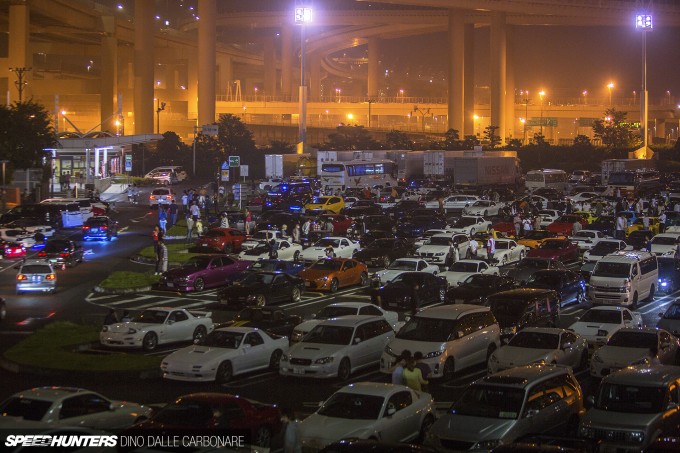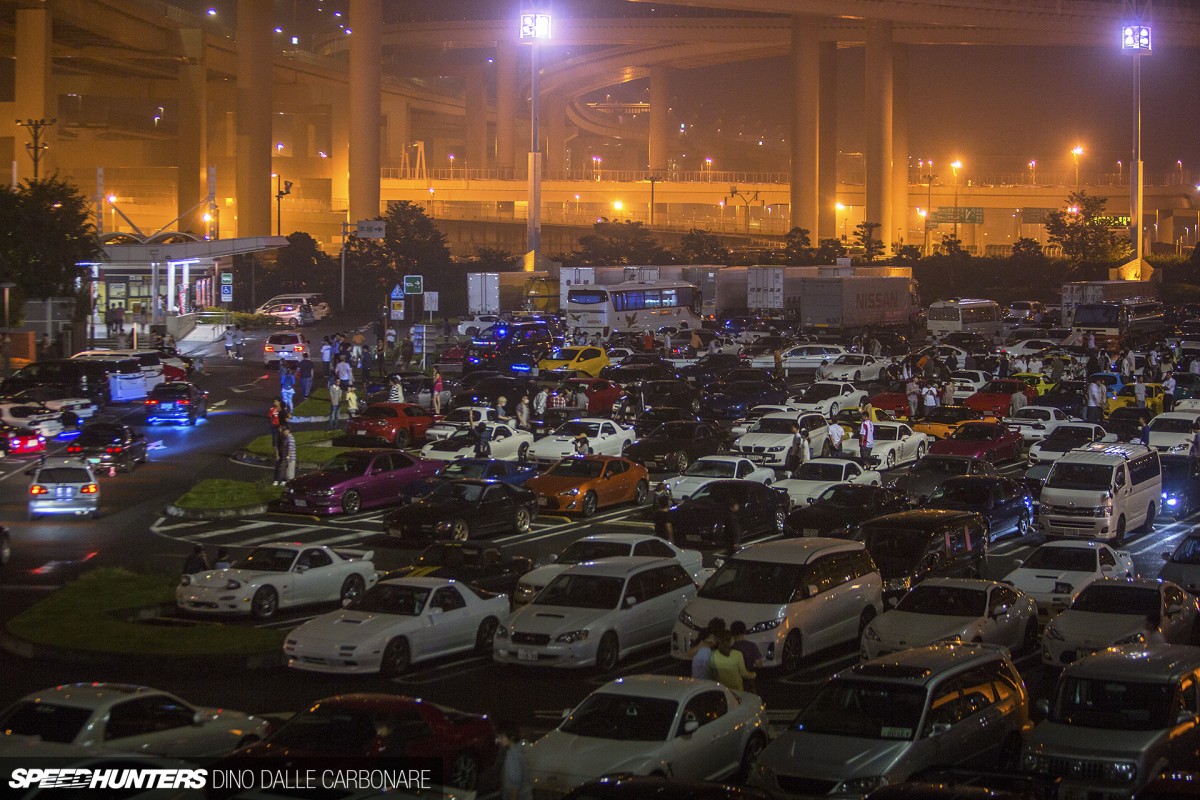 Talk about worrying about nothing though! As it turned out, the reason I hadn't seen any rotary-powered Mazdas on the Wangan was simple – by 6:30pm a ton of cars had already arrived; many people in attendance obviously either taking the entire day off work or leaving early in order to make it to the mother of all rotary meets.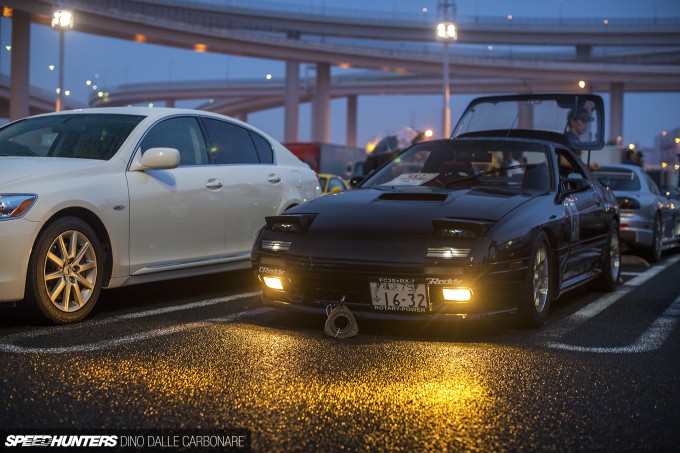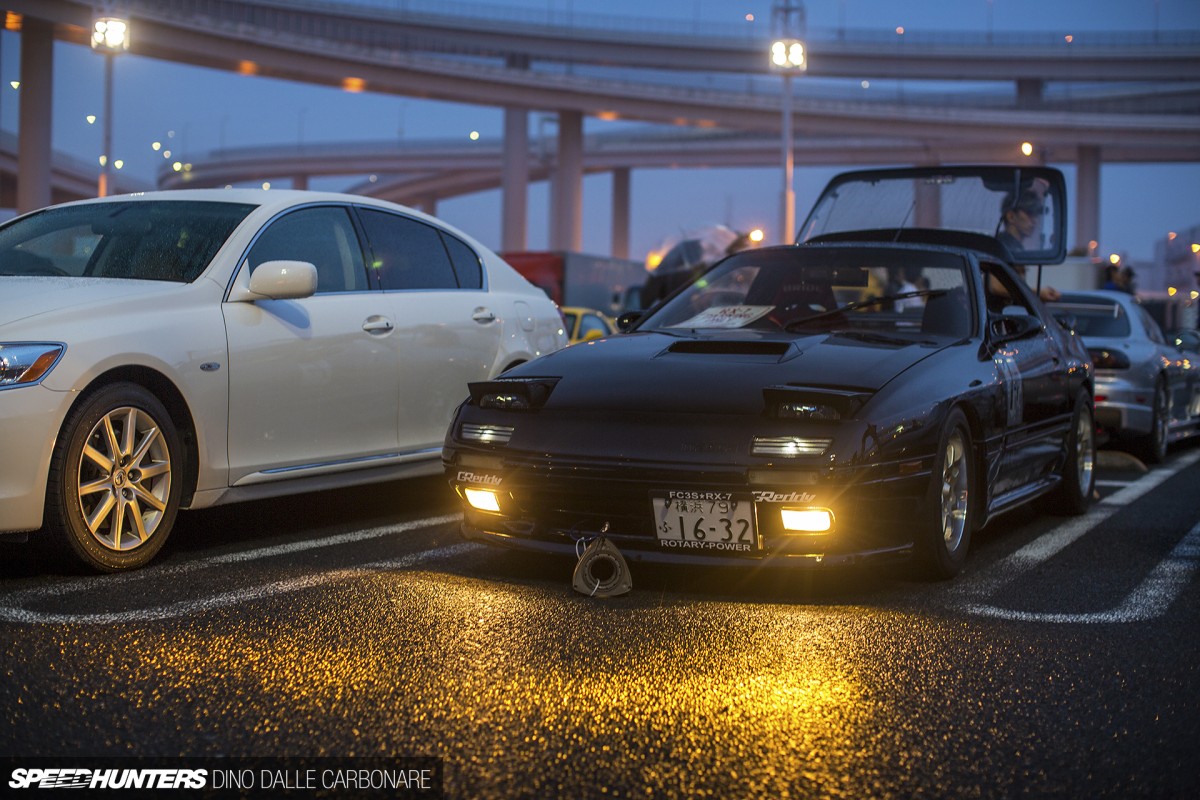 With ominous-looking rain clouds around, I grabbed my camera and wasted no time making my way through the hundreds of cars that had taken over the majority of the parking area.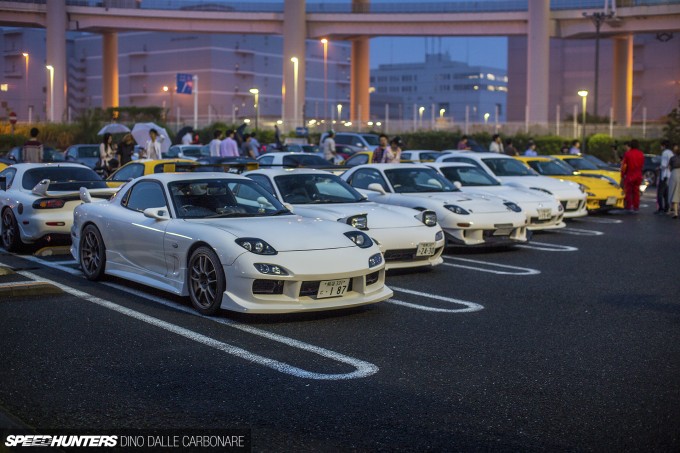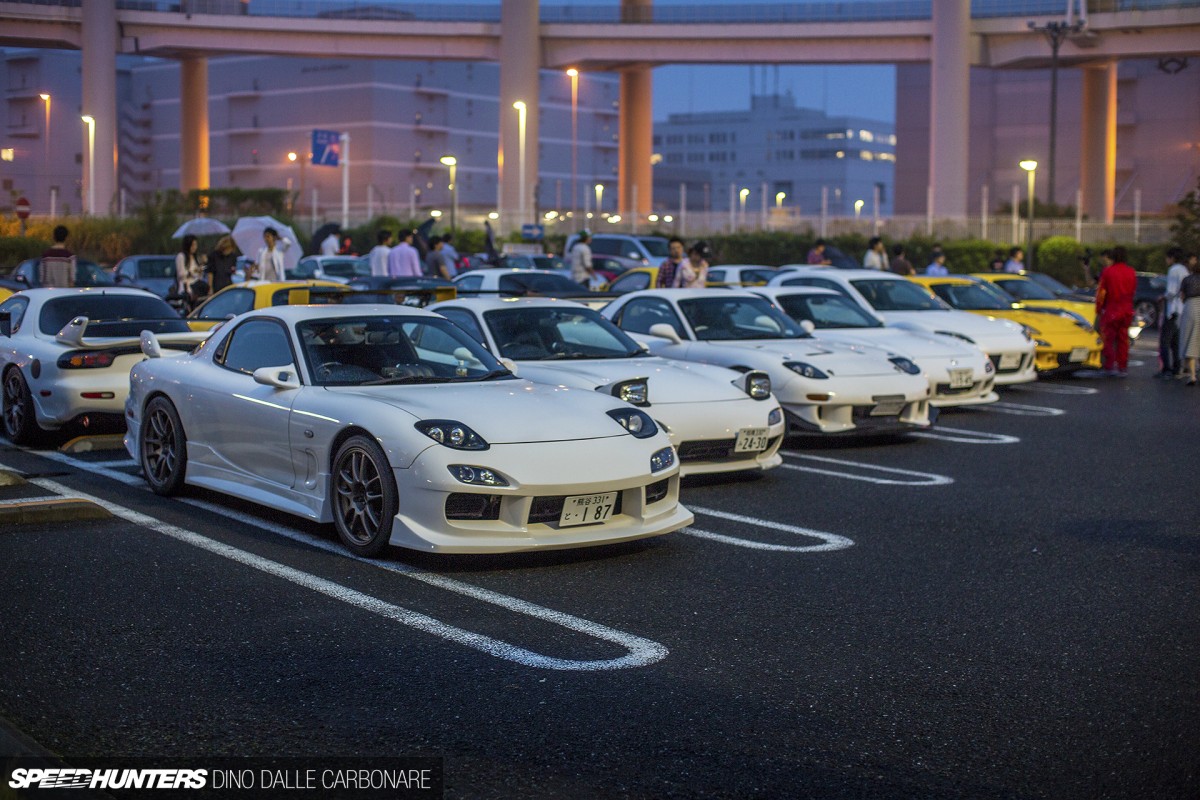 The selection was as vast and as varied as we have come to expect from this annual event, which always makes it interesting to see how people modify their cars.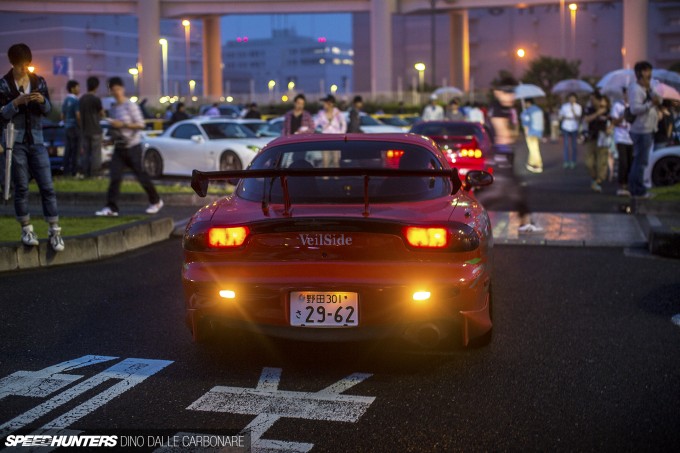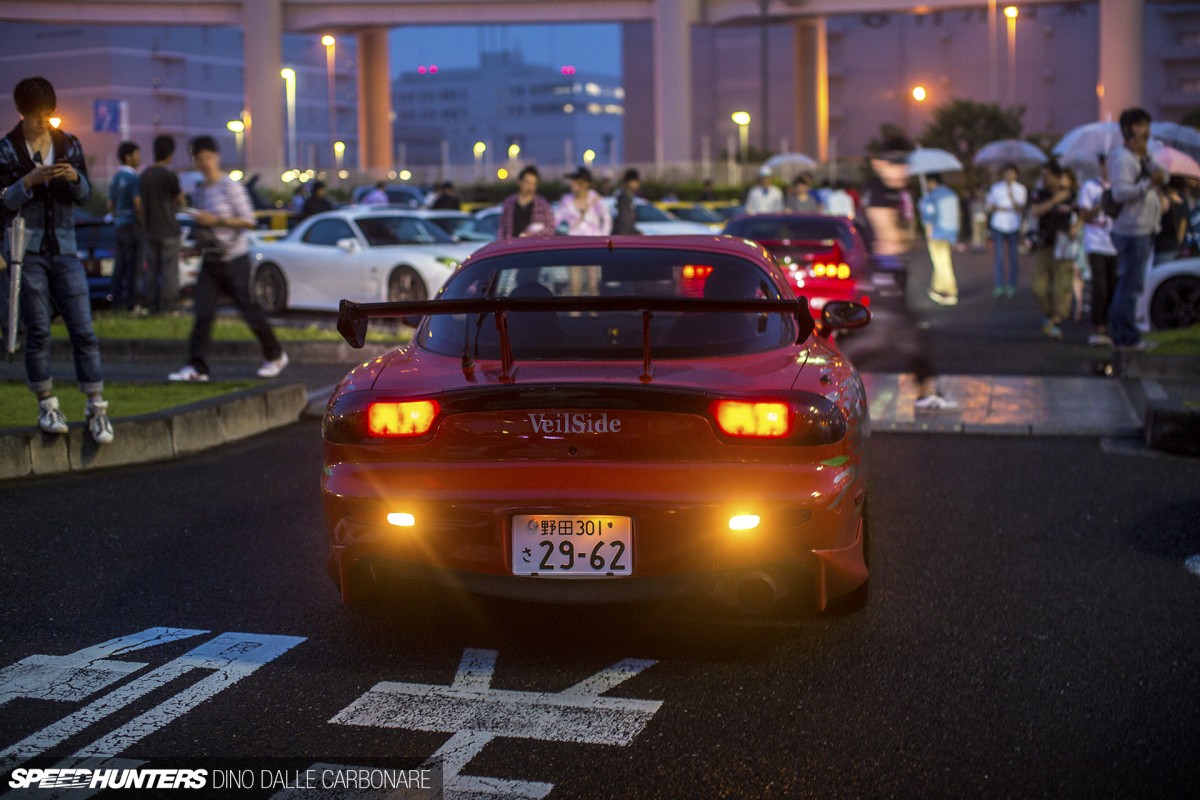 And it's pretty safe to say that both the FC3S and FD3S generations of the RX-7 are some of the most customisable and tuneable cars to ever come out of Japan; most owners treating their cars as blank canvases to go wild on.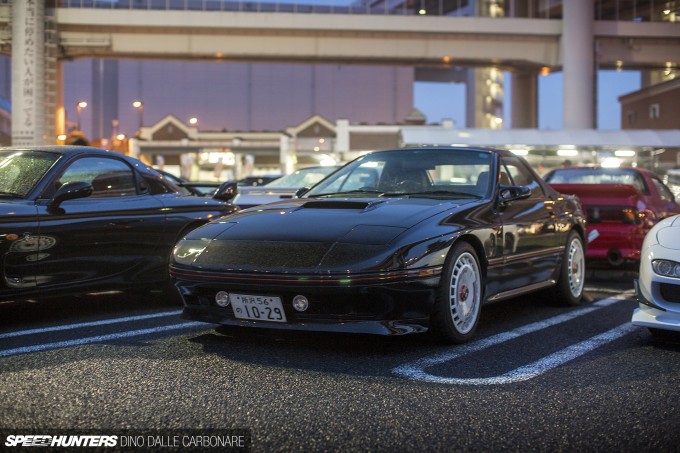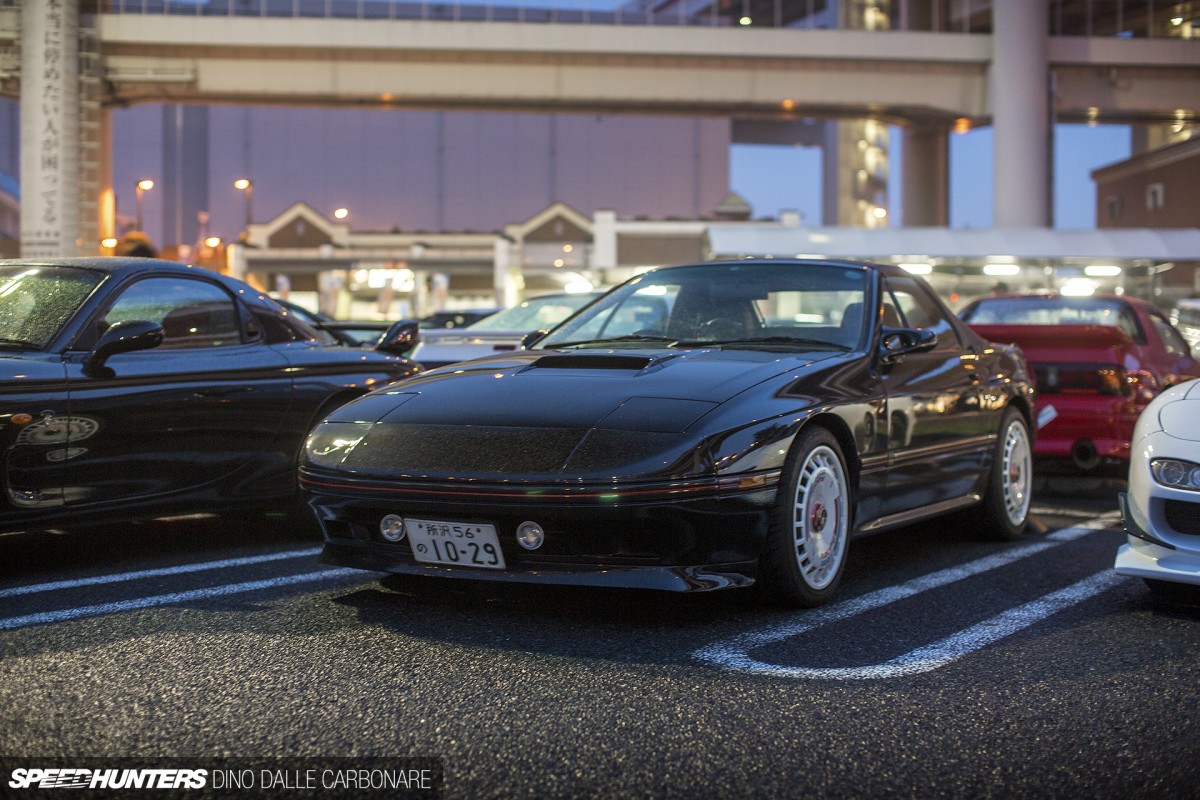 Among the masses were some very cool examples, and one that I spotted straight away was this convertible FC3S. To me, the ultra-clean exterior with its pointy front bumper and Racing Beat version Racing Hart D Spec Superlative wheels with dummy single nuts had a real Bonneville Salt Flats racer feel to it. I've always loved this style!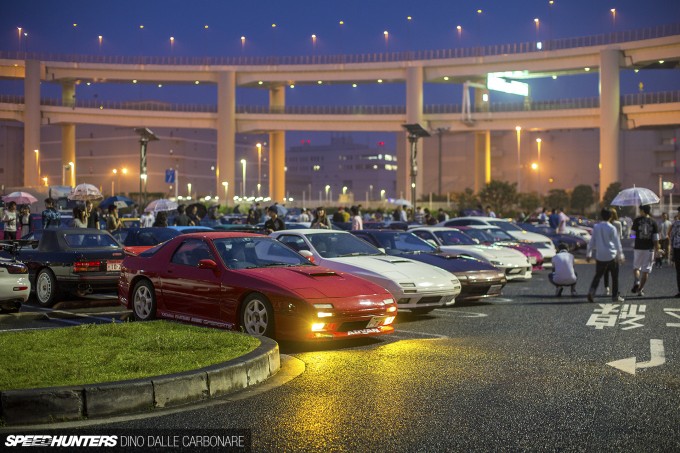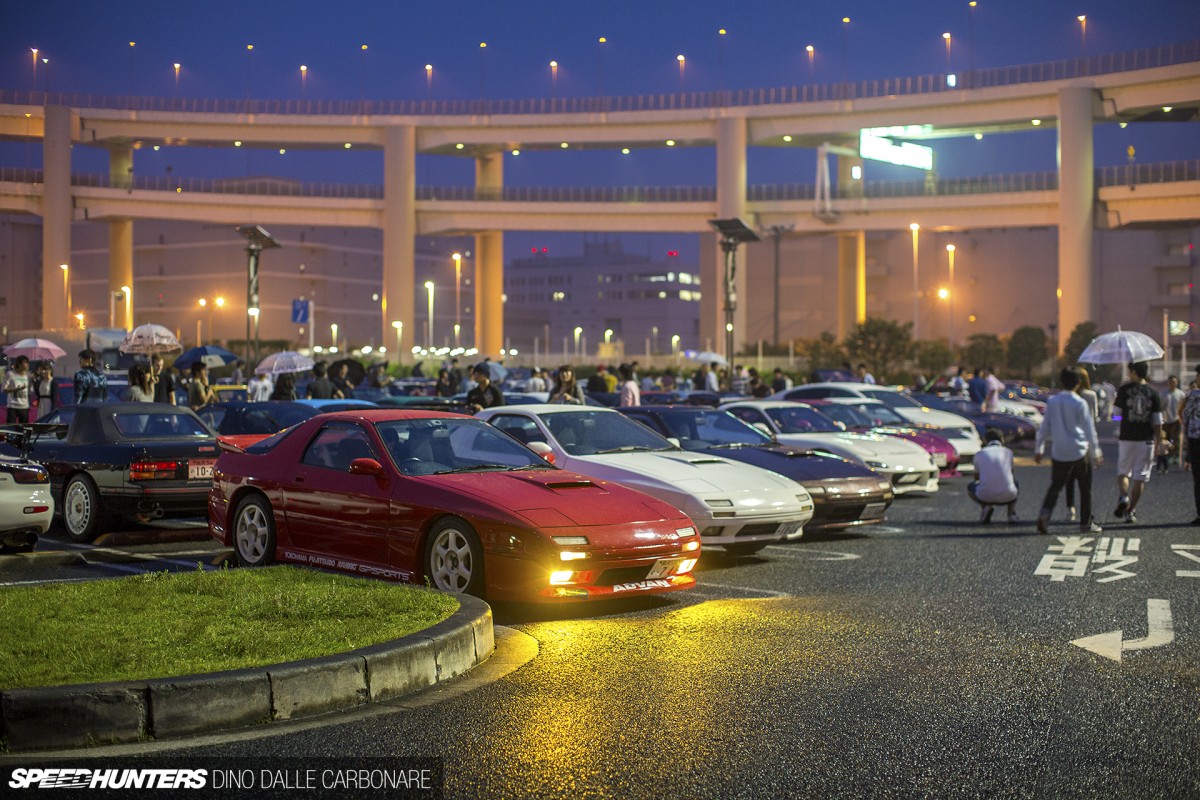 I swear that as the years go by more and more people are getting into the FC3S as a tuning base.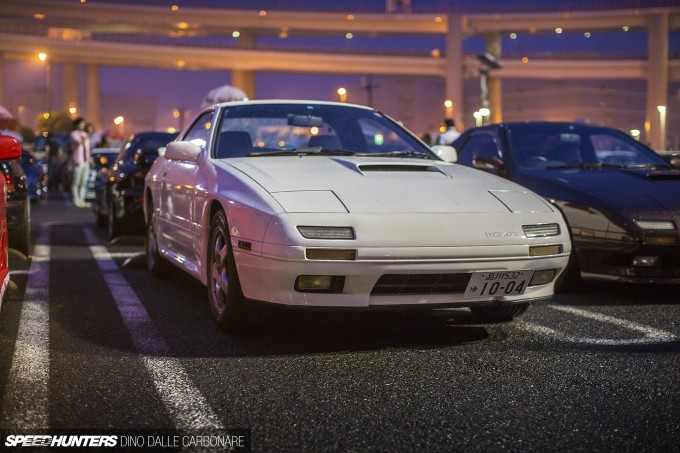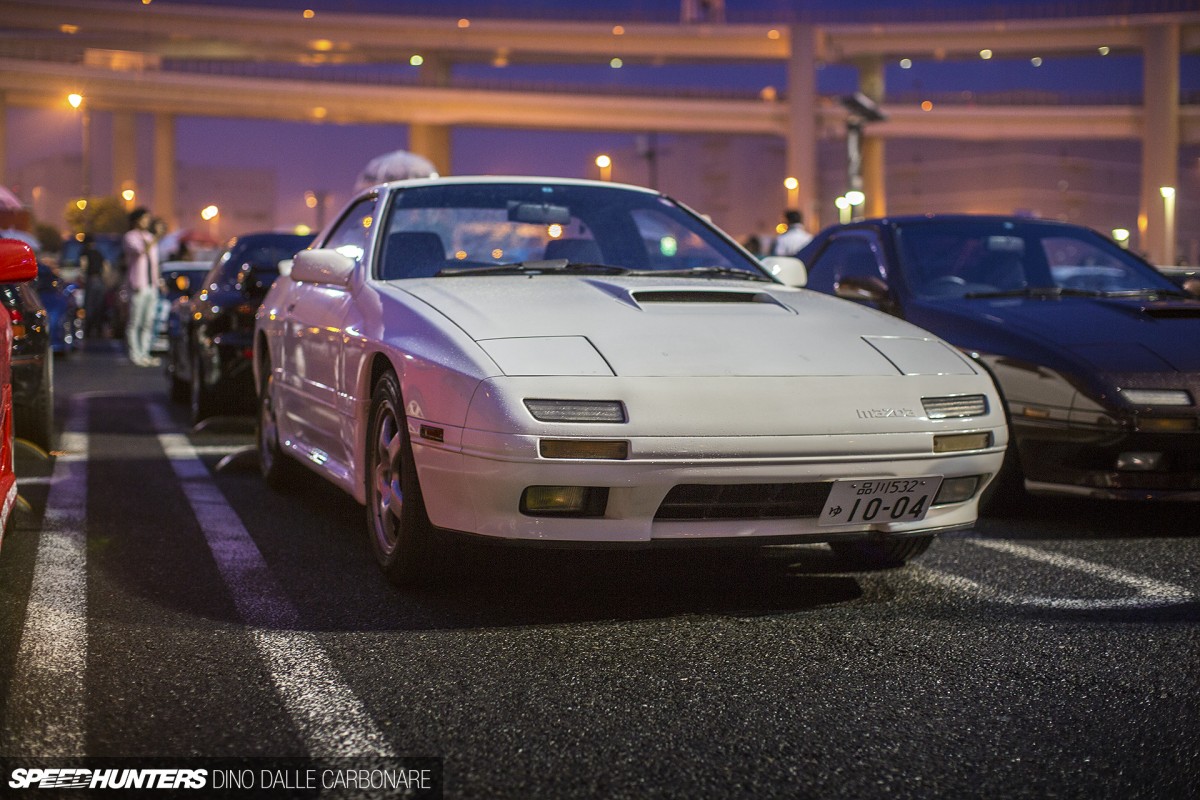 I have a real attraction to this particular chassis too. I love its Porsche 944-ish lines, its pointy front end and the amazing overall potential that the engine and chassis have. But then again, isn't it the same with all successful sportscars? It's cool to see that among all the tuned FC3S RX-7s that this meet attracts, there were still close-to-original examples in attendance – a look that's just as badass in my book.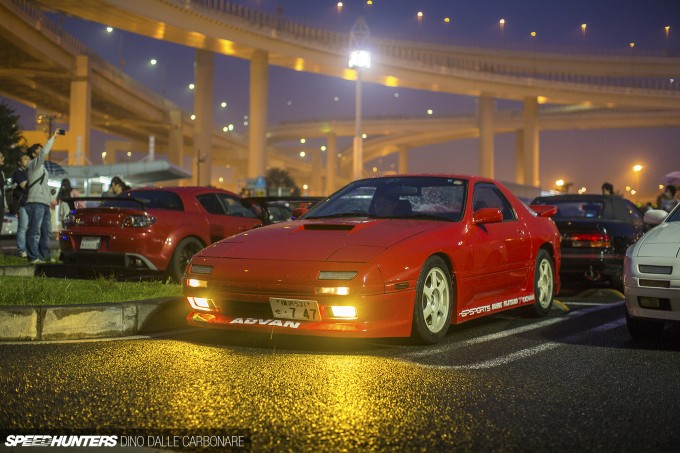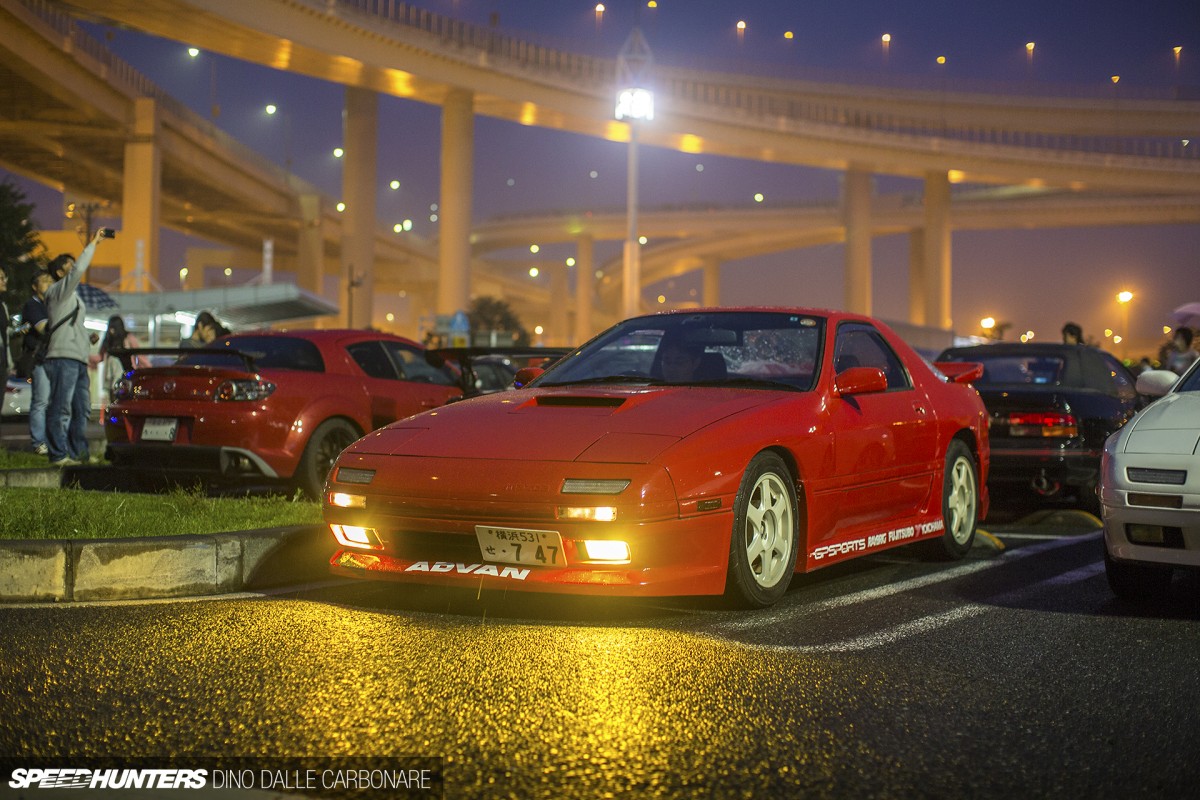 I'm not sure if it was the weird hazy humidity or the pollution emanating from Kawasaki's industrial precinct, but with crazy purple and yellow colours in the dusk sky, Daikoku PA was looking even more photogenic than it usually is.
Daikoku PA Still Rules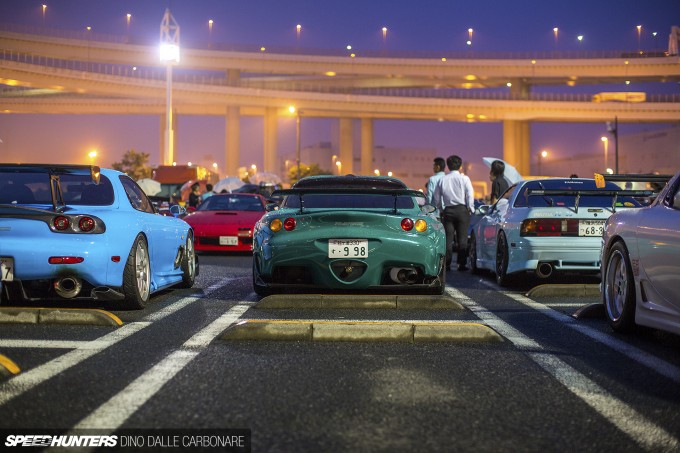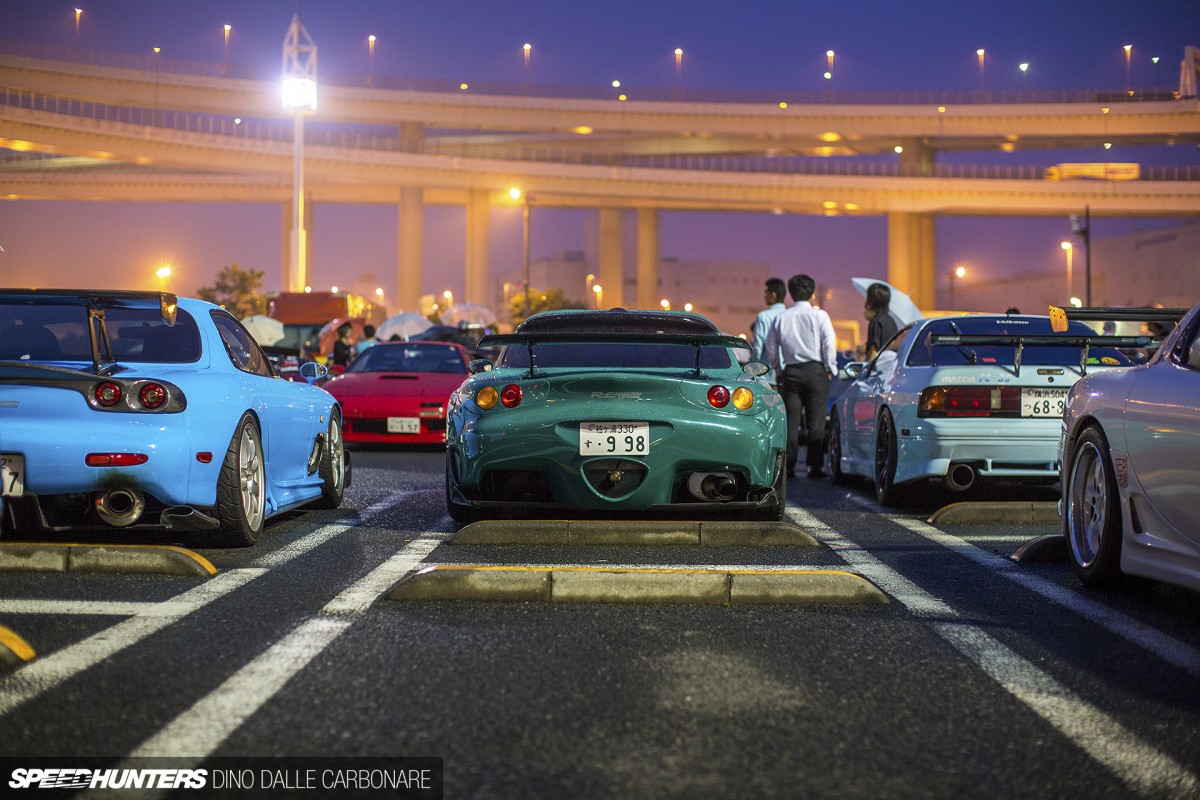 The colourful backdrop provided an ambiance that was so much magical than every other time I've been here over the years.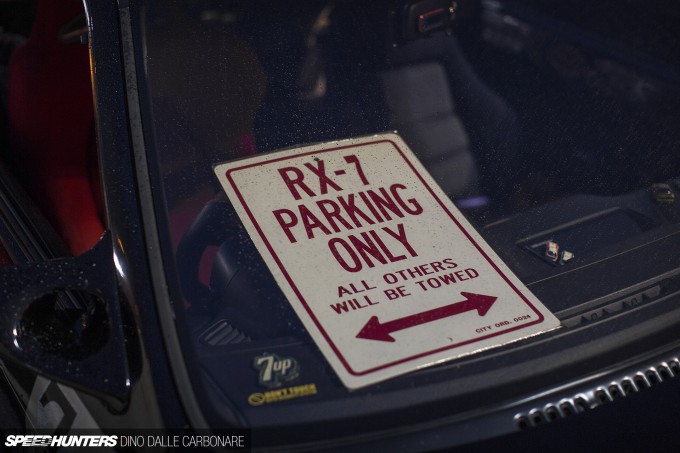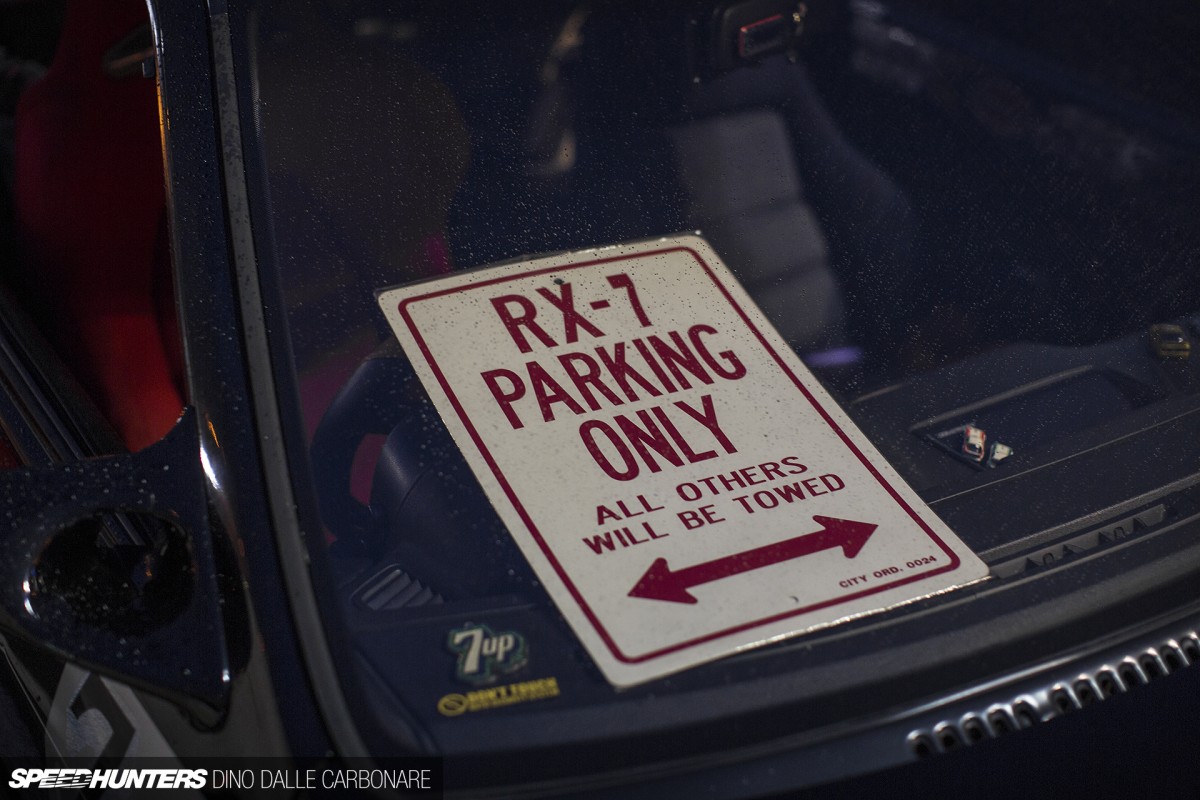 And as always, the rotary faithful really impressed for the way that they were able to throw an informal meeting of this magnitude, but keep things totally under control with no stupidity going on.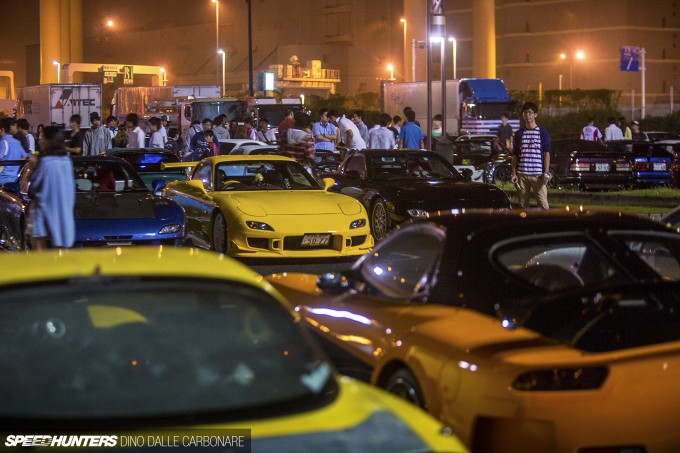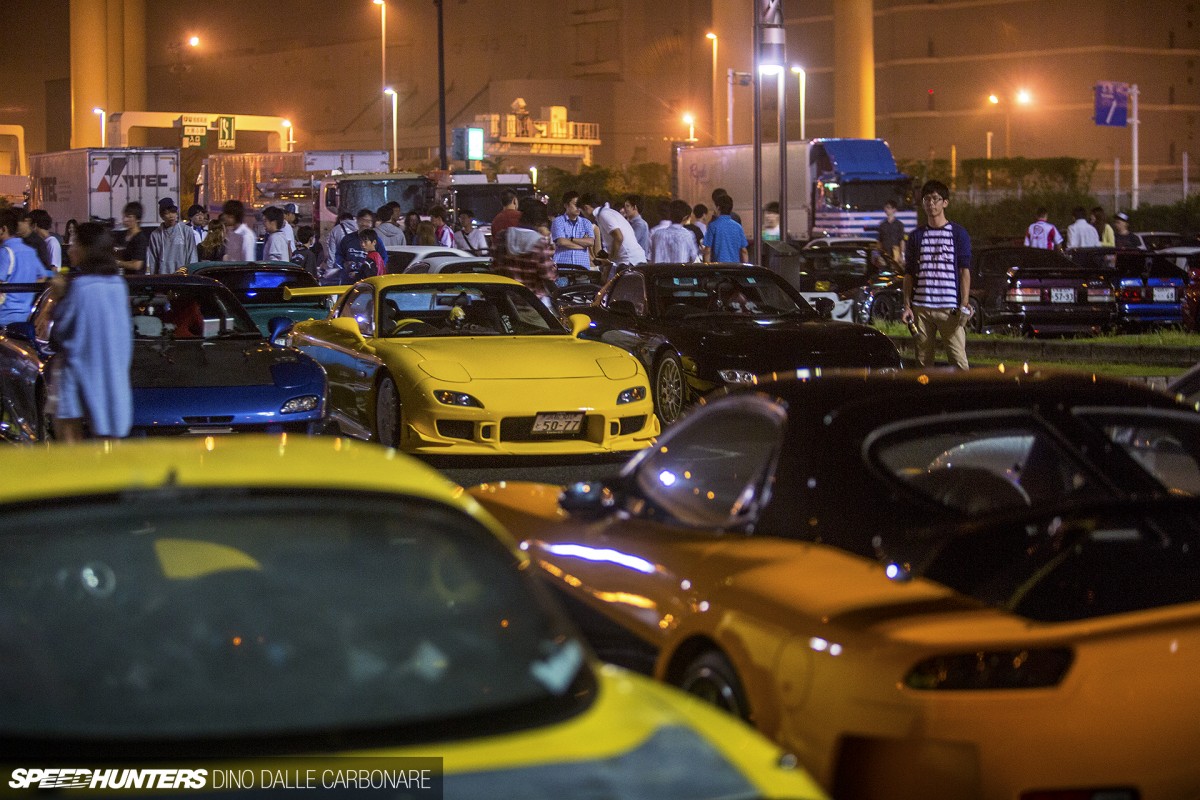 As luck would have it the rain subsided pretty quickly, and with a steady stream of cars entering the parking area, the gathering was growing in size by the minute.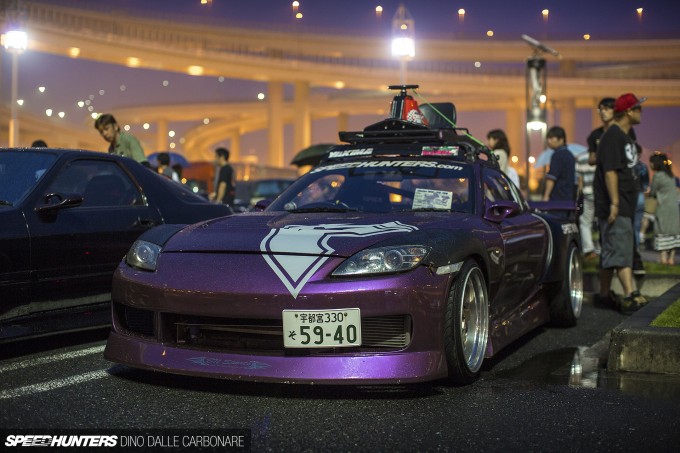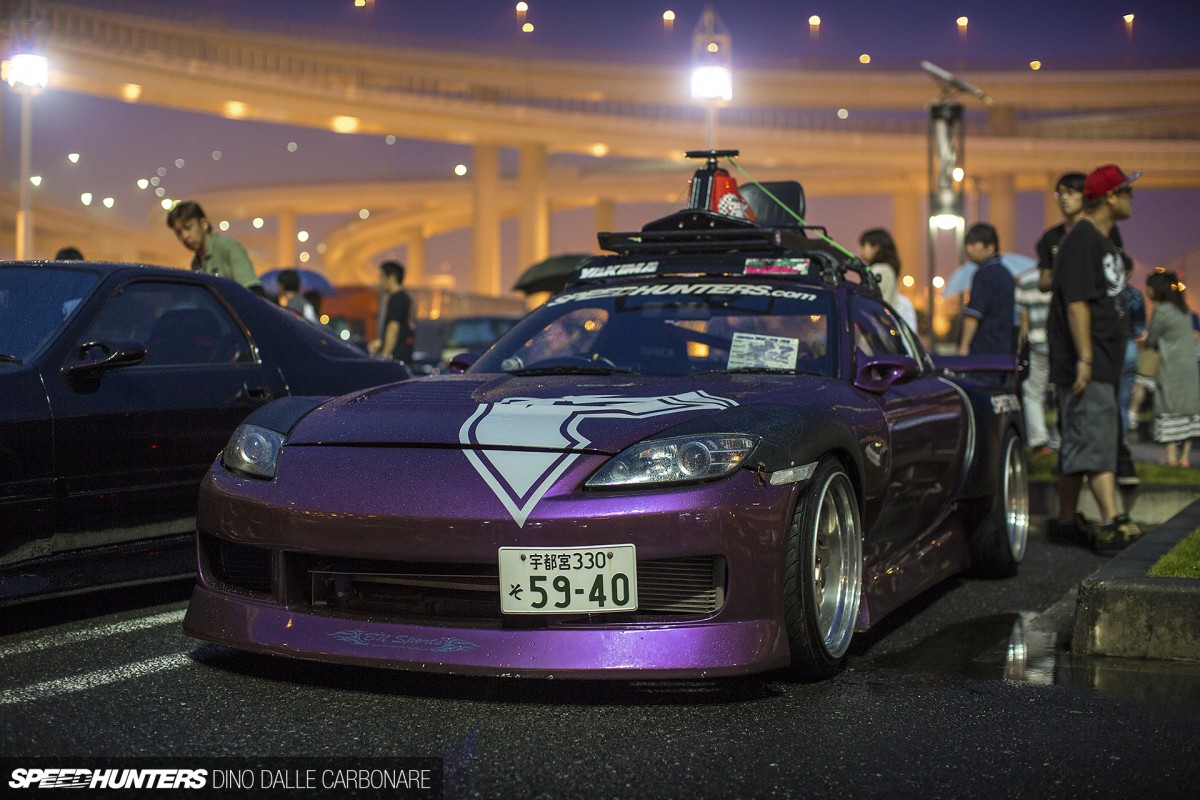 Annual meets like 7's Day provide a great opportunity to catch up with people that I may not have seen for a while, and one of these guys is Kenji-san from Tochigi who has built up this crazy FD3S running an RX-8 front end conversion. Kenji is a big fan of Speedhunters and is always evolving his Mazda – this year adding even wider front fenders to boost its appearance. It's easily one of the most recognisable modified cars in the country.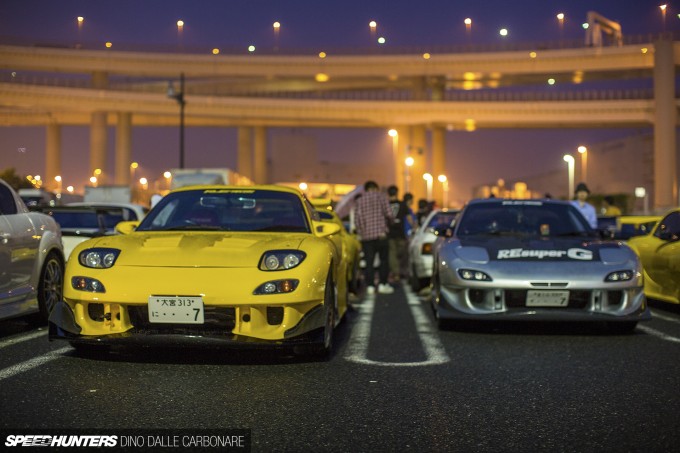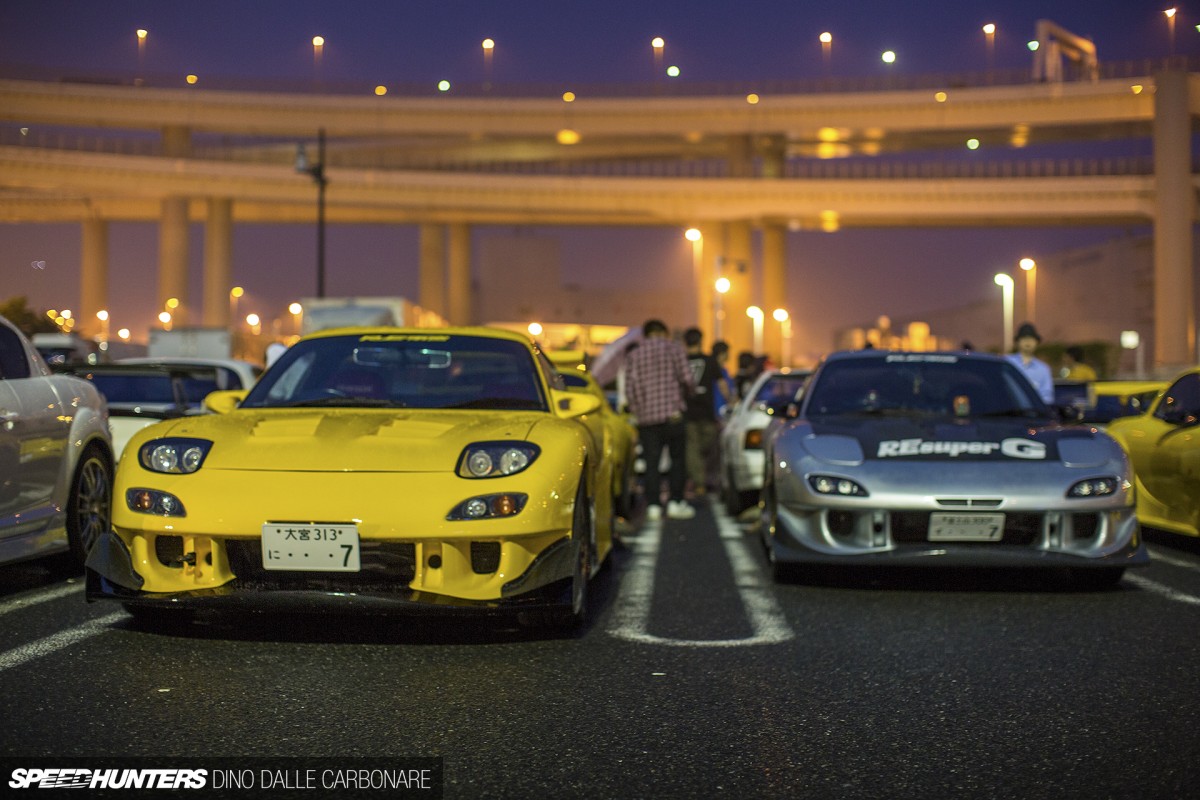 It's not until you are confronted with so many RX-7s in one place that you realise just how much of an impact RE Amemiya has made in the aesthetic tuning of this model.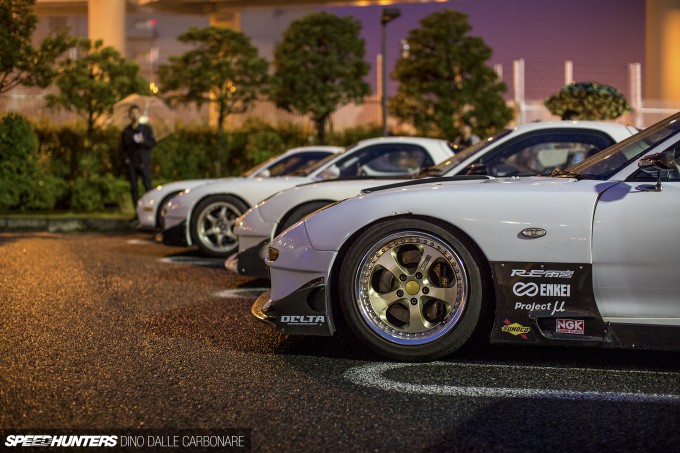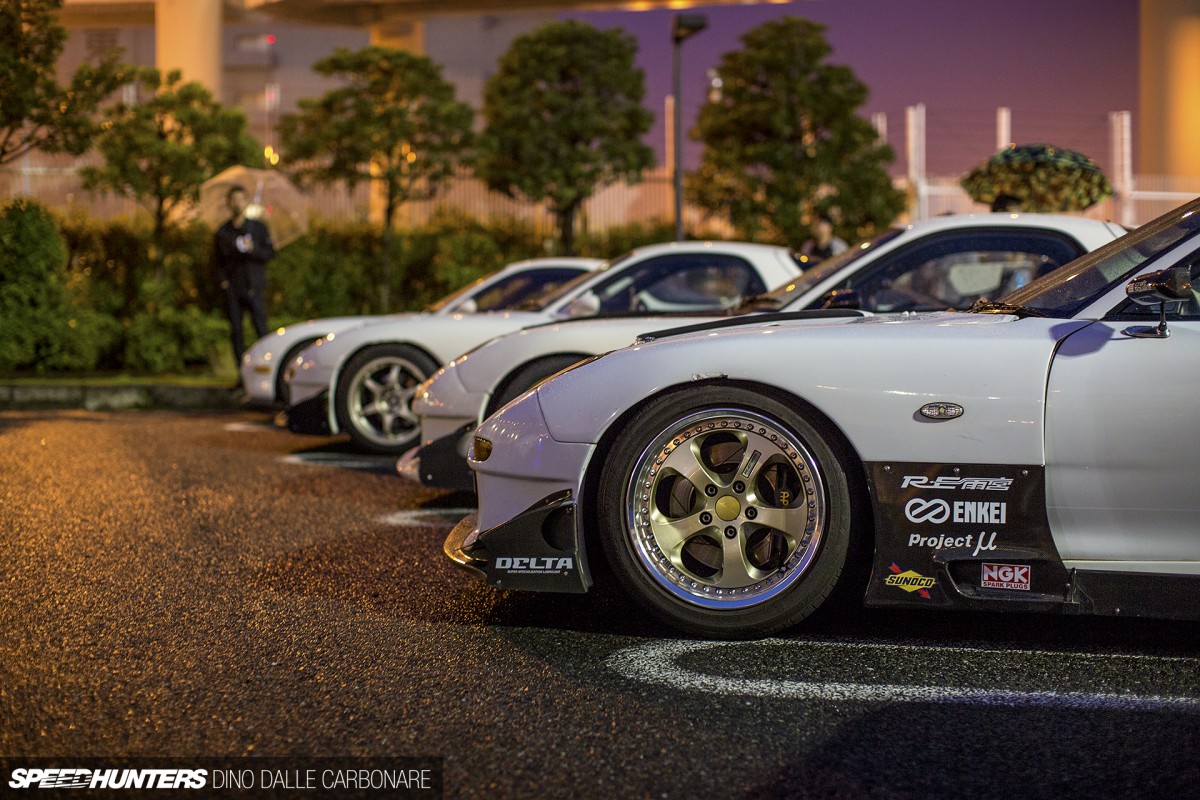 No matter where I looked, I was greeted by all the different conversions and body additions that the legendary rotary tuner has created, as well as numerous sets of its iconic AW7 wheel.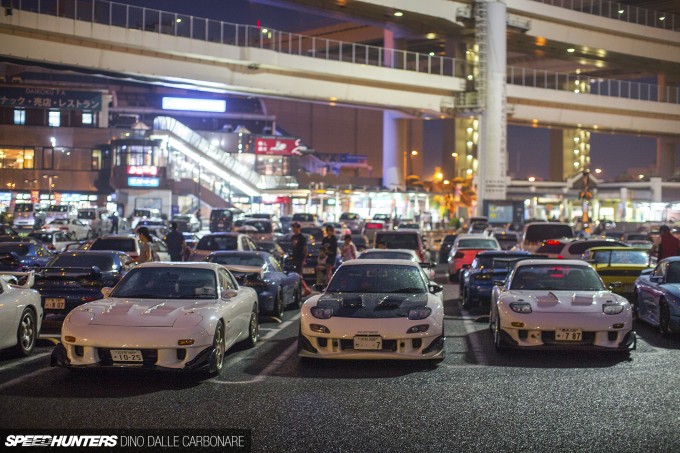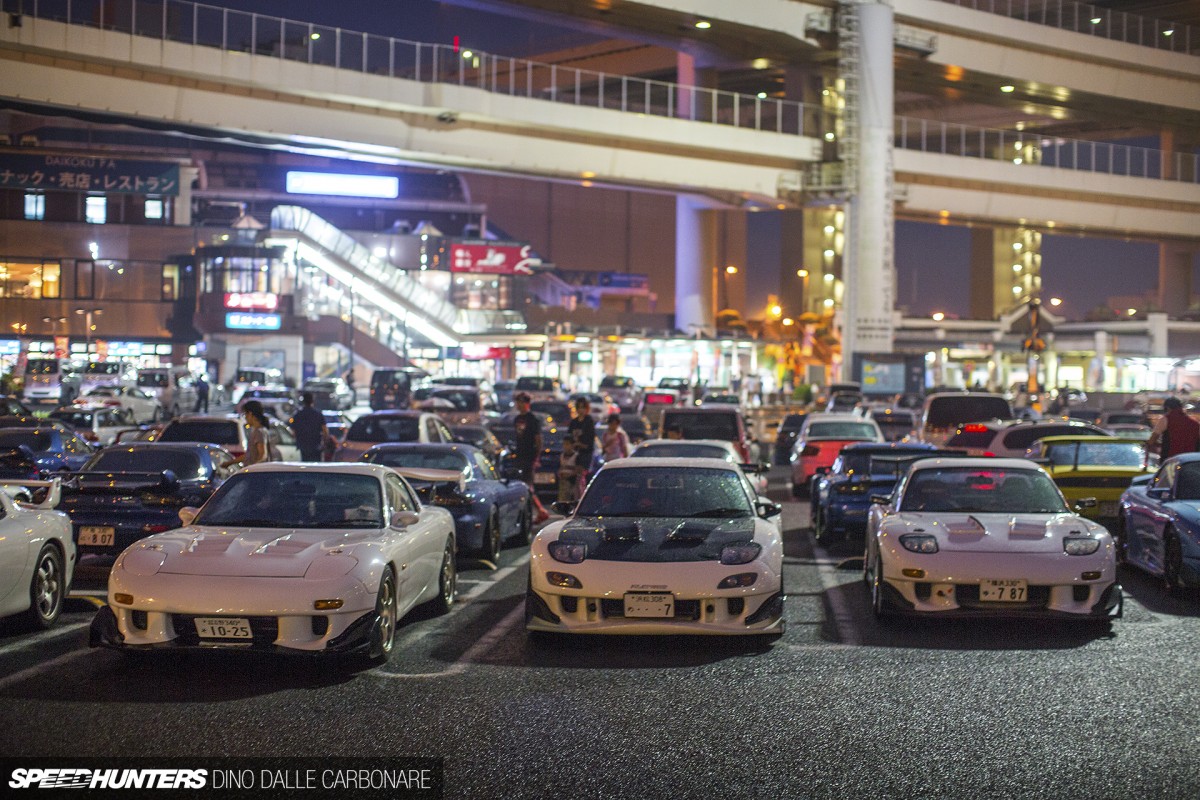 It's always so difficult to choose a favourite, but one thing's for sure – the FD3S is one of the few cars with pop-up headlights that I would convert to fixed units in a heartbeat if I owned one.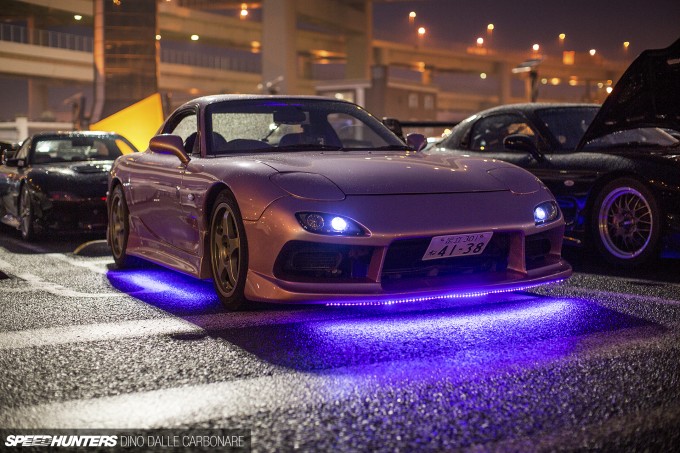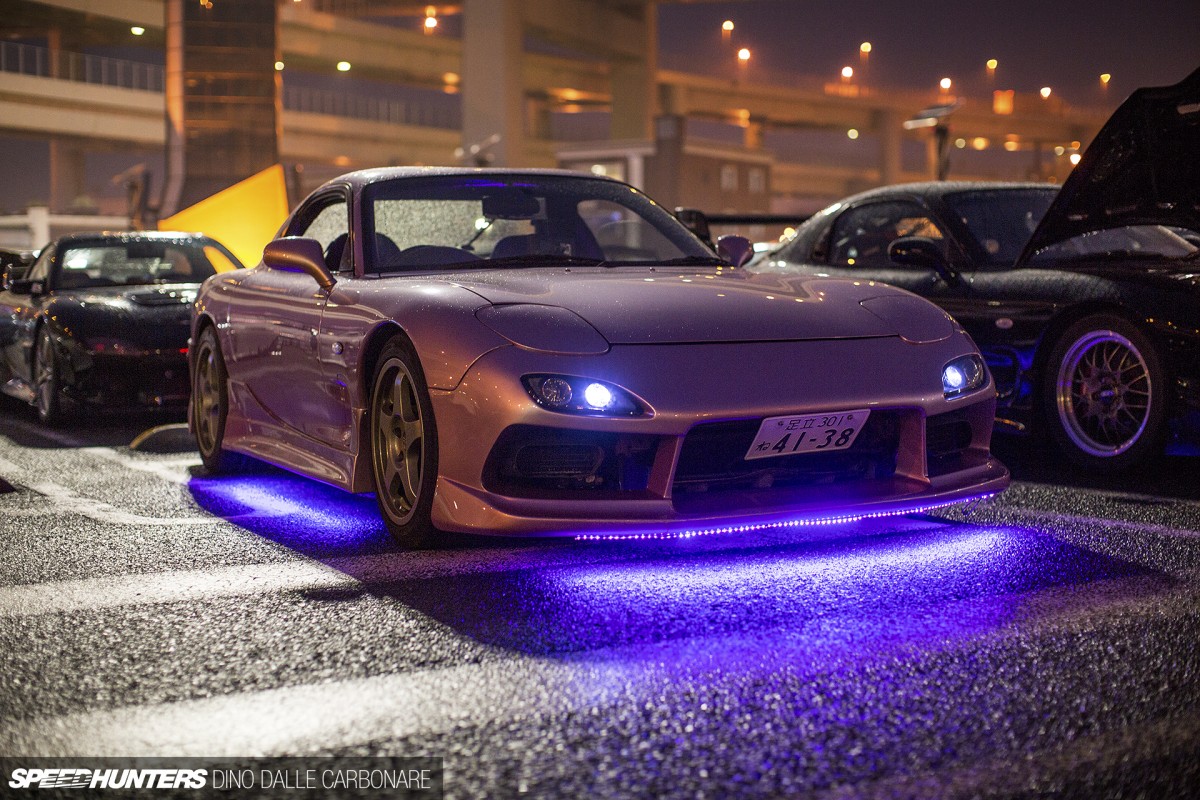 Styles come and go, and every year at this event you get to see how owners personalise their cars. This RX-7 had a real Back To The Future vibe with its undercarriage LED treatment.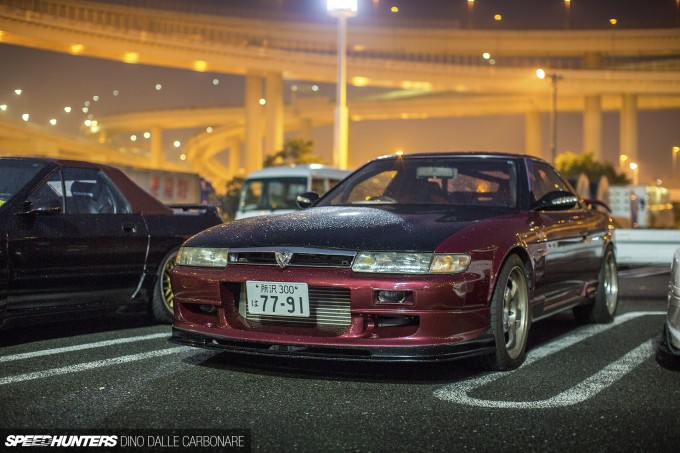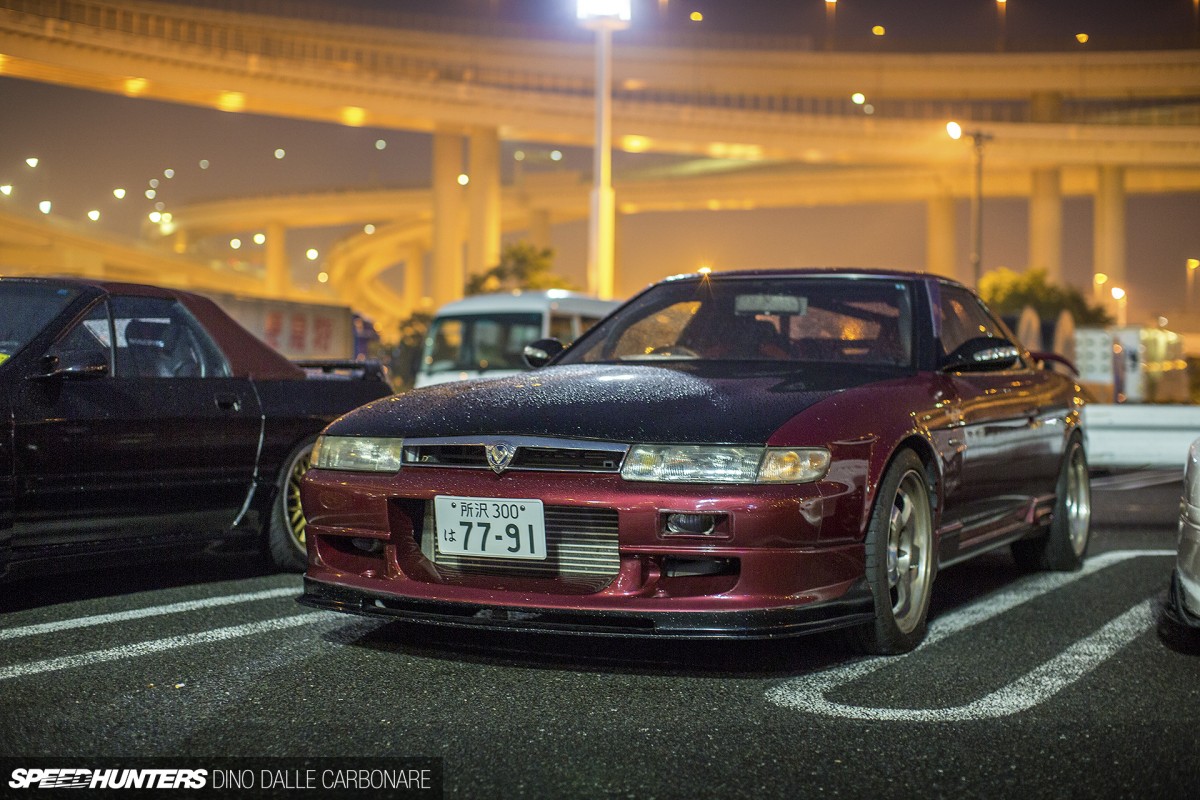 Let's not forget one of the most unique and impossibly-cool cars that Mazda created in the early '90s – the JC Cosmo. Words can't describe how much I love this model, and I can remember drooling over them as soon as I arrived in Japan in 1993, which was halfway through its new car production period. This 3-rotor 20B-powered version was rocking a few additions like a front lip spoiler, carbon bonnet and a set of mirrors with integrated turn signals. It was quite a coincidence that I came across this car – the only JC Cosmo at the meet – as earlier in the day I was looking to see what they're fetching on the second hand market, via Car Sensor – a website I turn to when I'm in a 'I wonder what project car I should pick up next' kind of mood. And yes, are cheap… If only I had the damn space!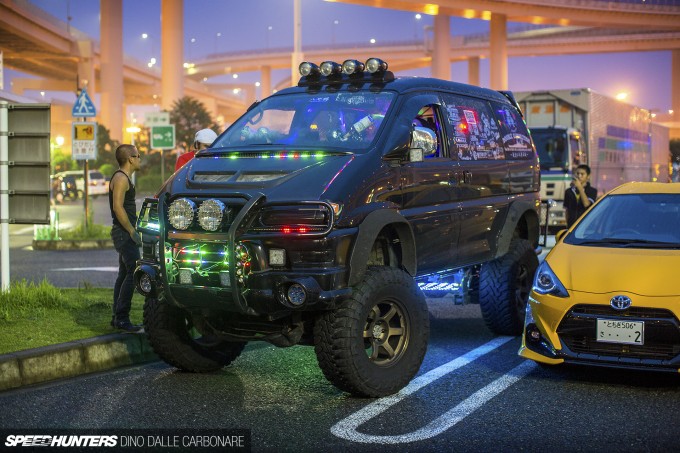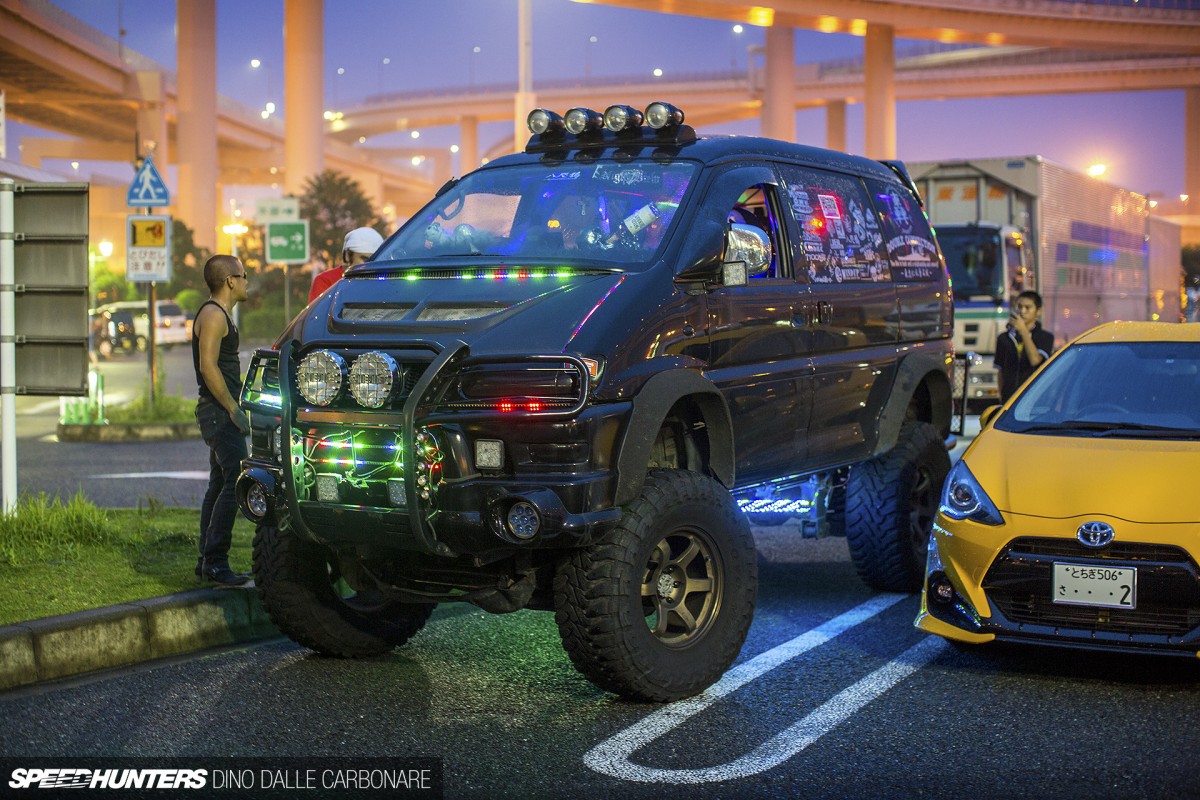 WTF? Yep, that was pretty much everyone's reaction to this lifted Mitsubishi Delica. I'm not quite sure what to make of this thing, but it was bizarrely interesting and I thought I'd share a pic for entertainment's sake. Plus it was riding on RAYS Volk Racing TE37s!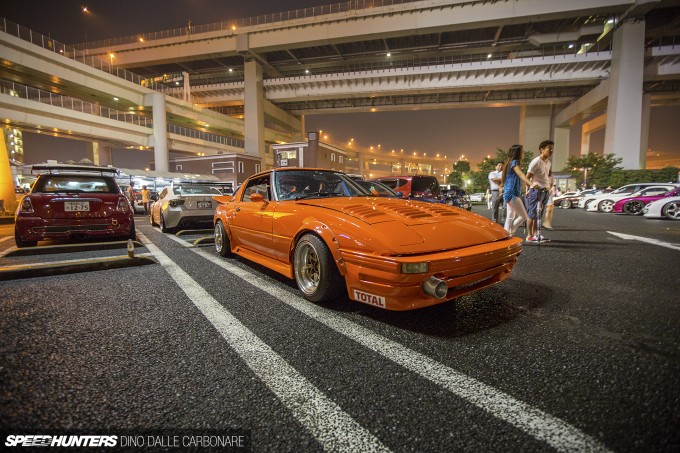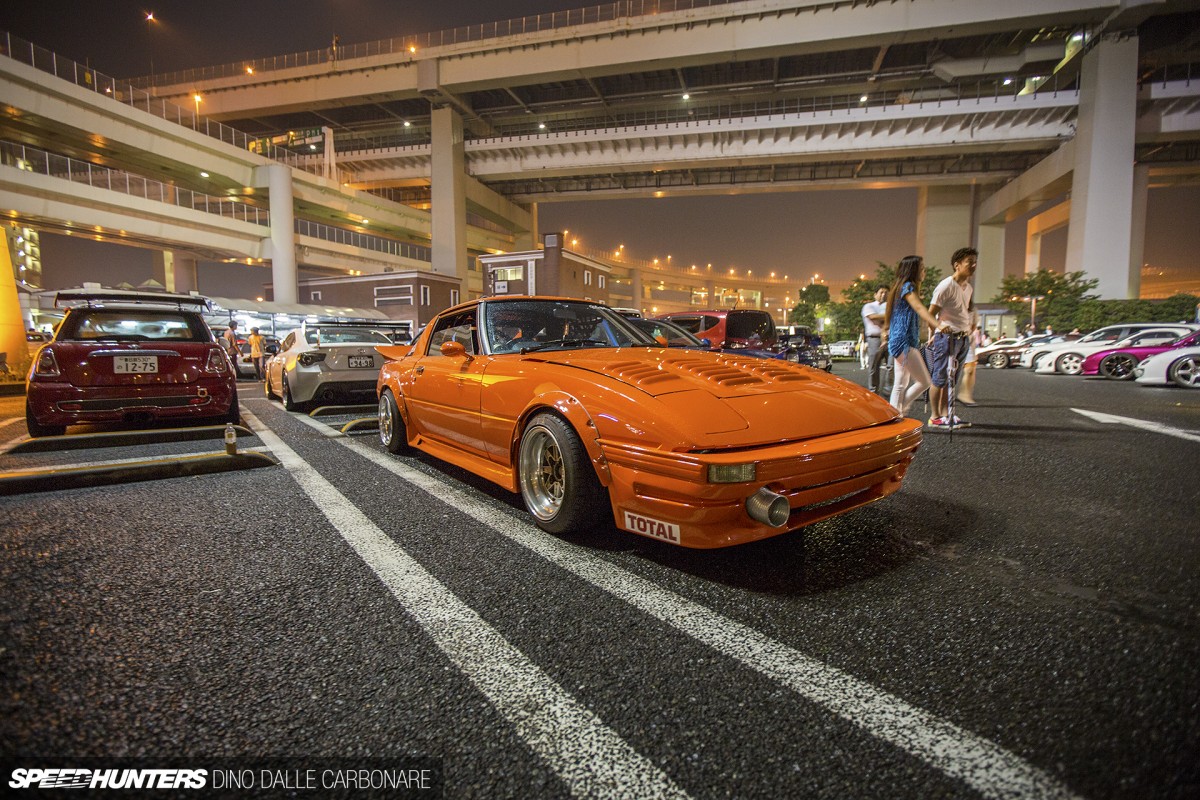 Prefer your rotary metal of the more vintage variety? Fear not, because Japan never disappoints in this department, as this SA22C RX-7 – and the one hiding behind it – prove.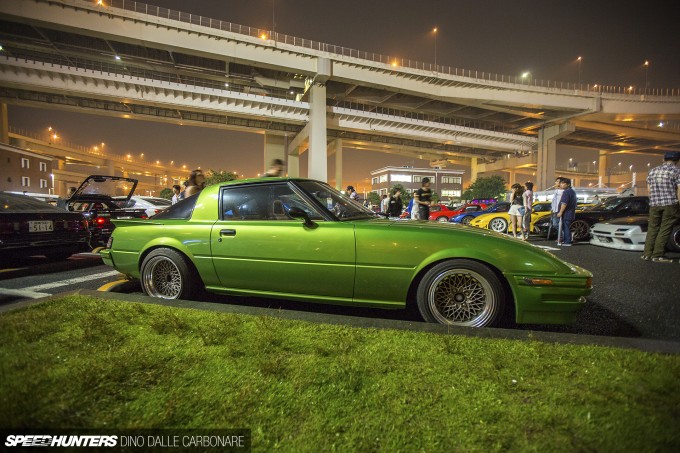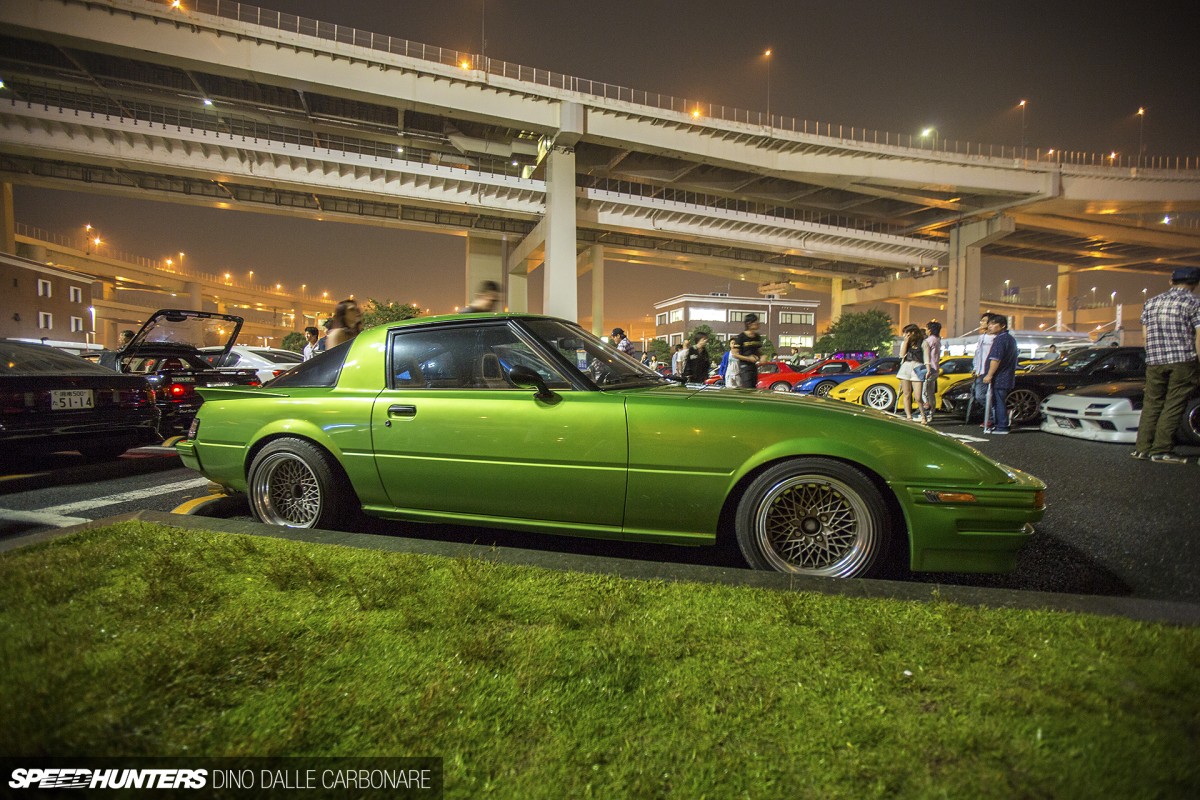 Old school Mazdas were extremely outnumbered at this meet though, something I find quite interesting. I would really love to see more of these naturally aspirated classics in Japan, but these days you're more likely to find first-gen RX-7s, RX-2s and RX-3s in other places around the world. Australia is the first that pops into my head, but after my overseas excursion last month, Malaysia too.
Full House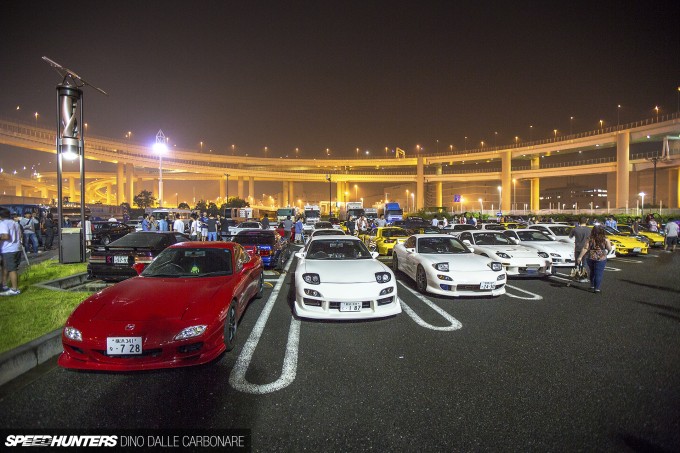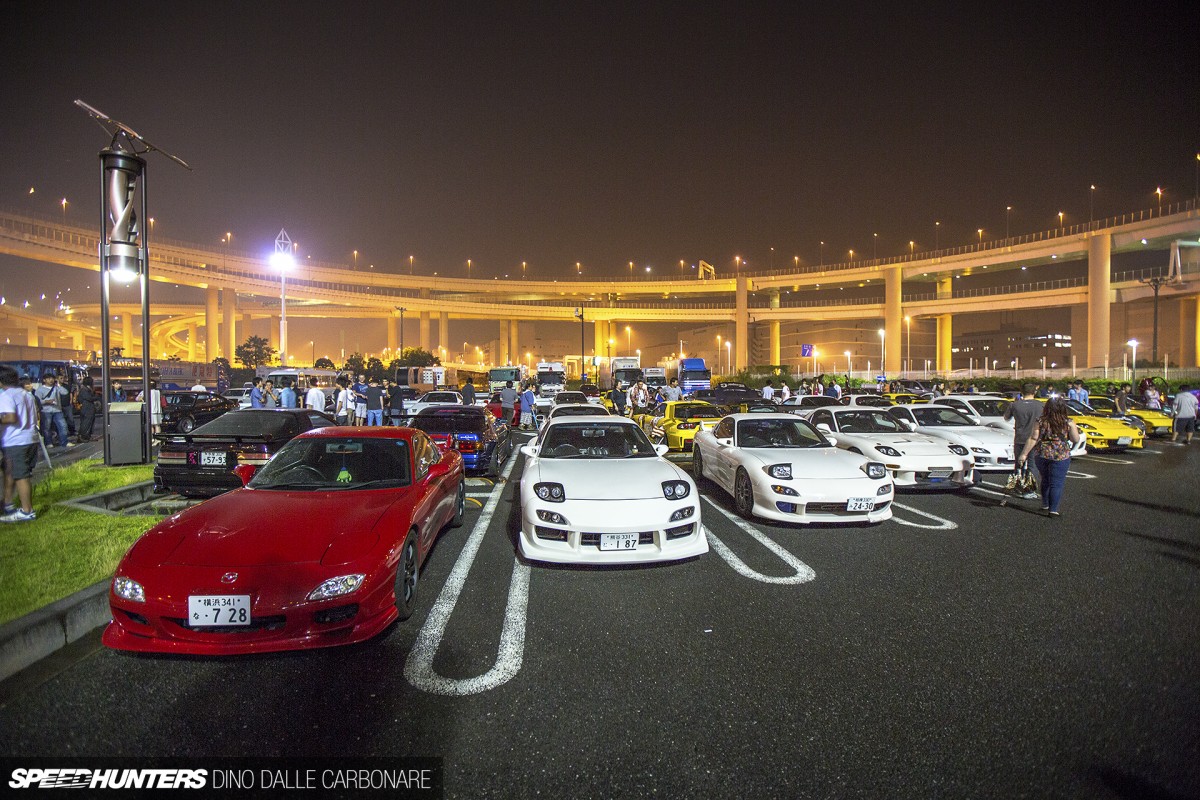 FDs as far as the eye can see! But seriously, what an epic backdrop Daikoku PA always is with that organized mess of roads circling above it.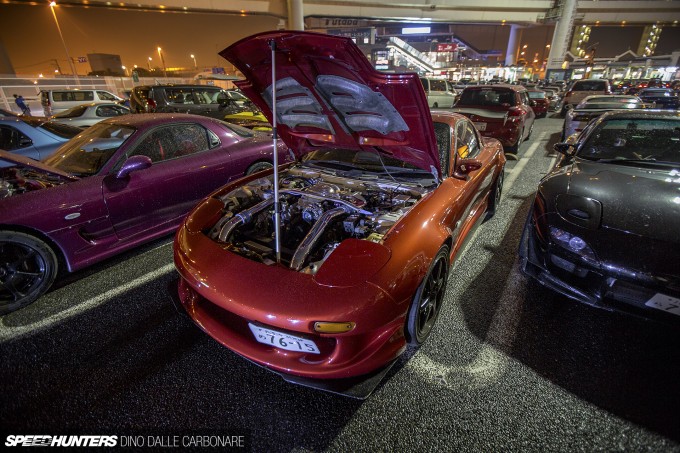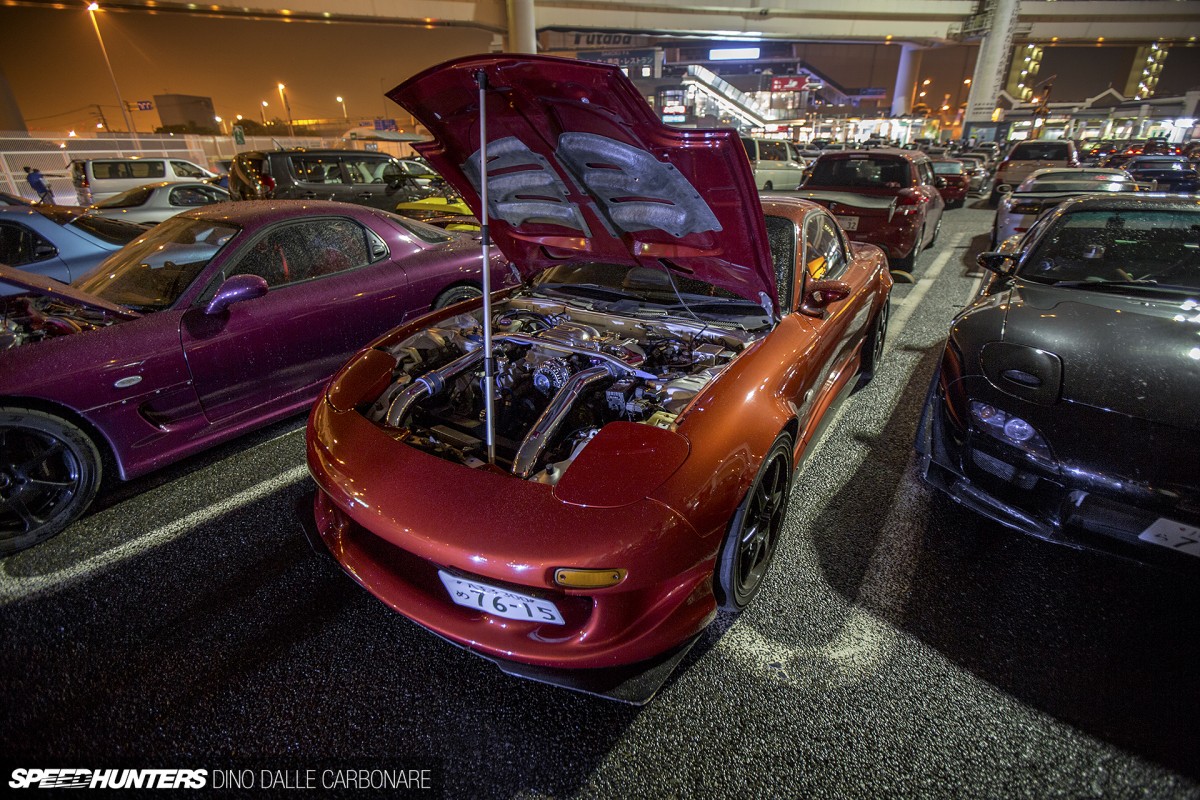 When the rain stopped, bonnets were popped and owners showed off what they had done to their little Wankels.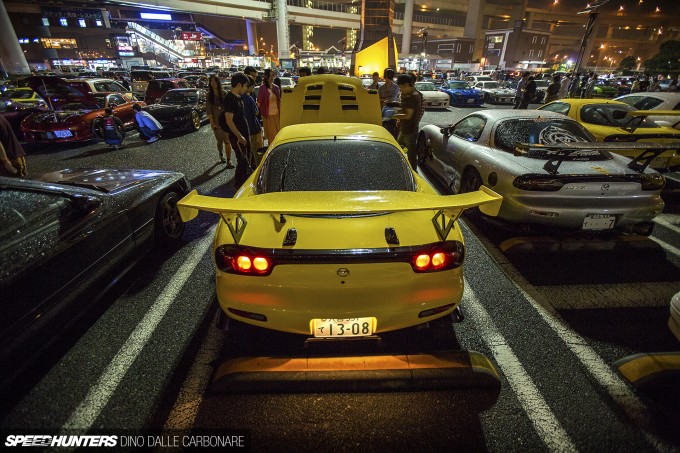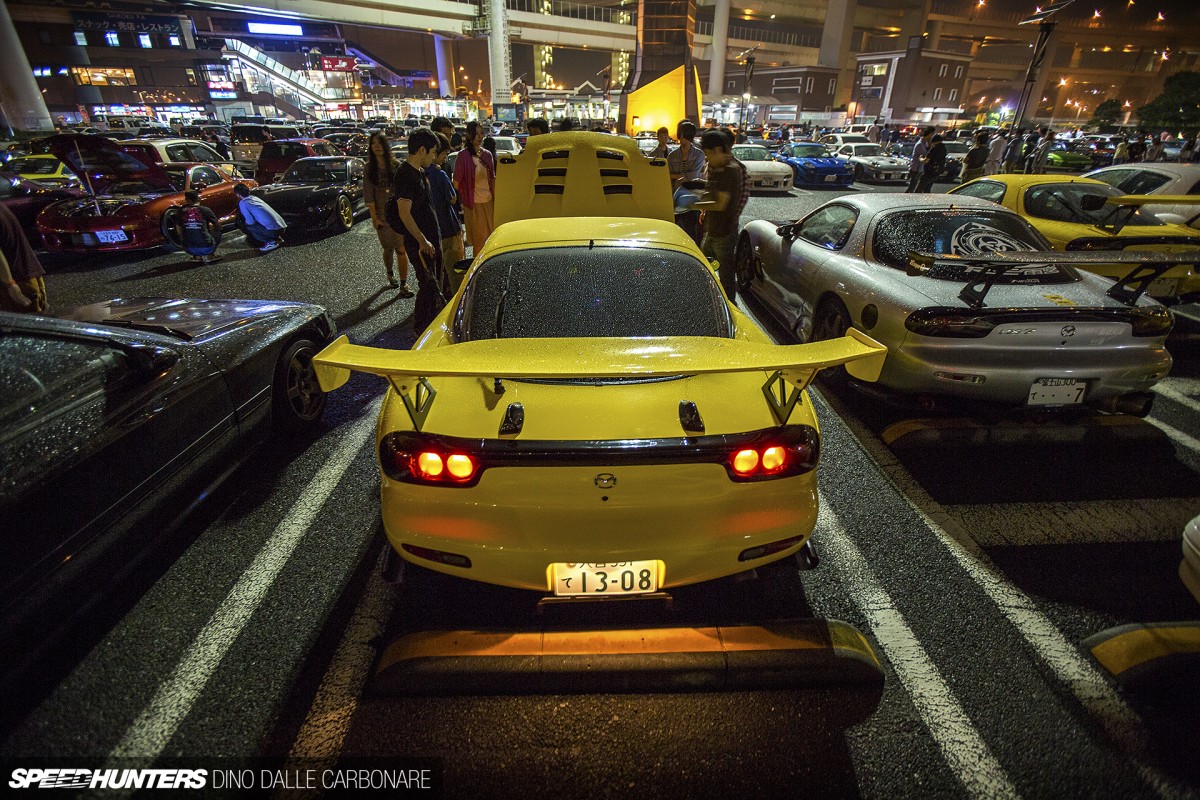 And when that happened crowds soon started gravitating towards the more heavily-tuned machinery.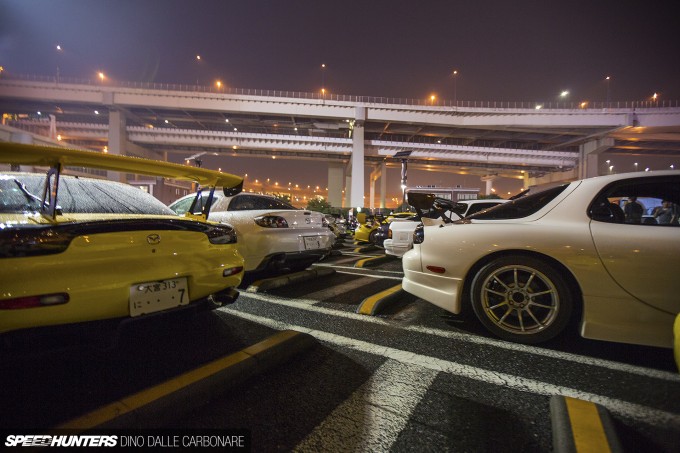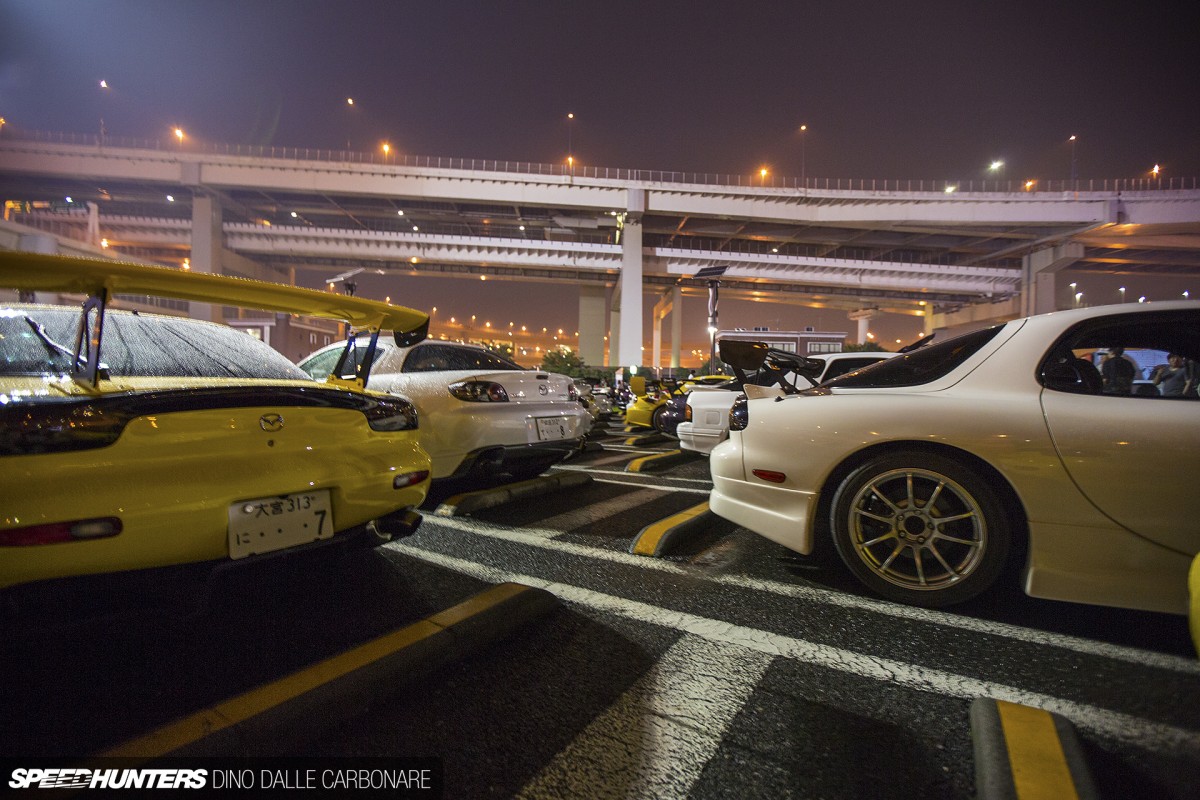 What surprised me this time around was the impressive turnout of foreigners that had ventured to Japan to check out the annual celebration. I met rotor-heads from as far away as Germany, Australia and the US.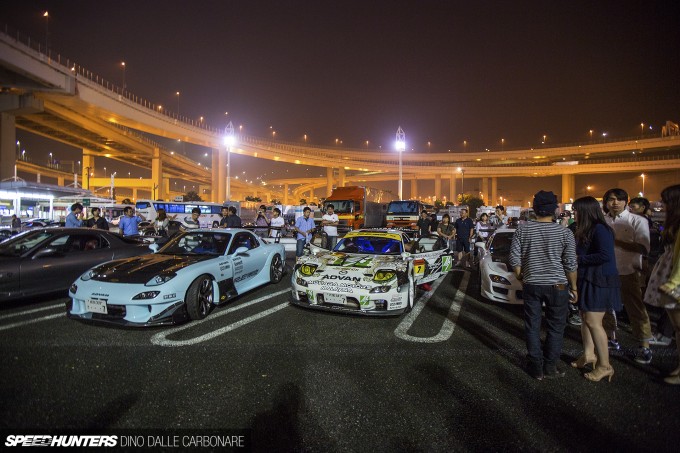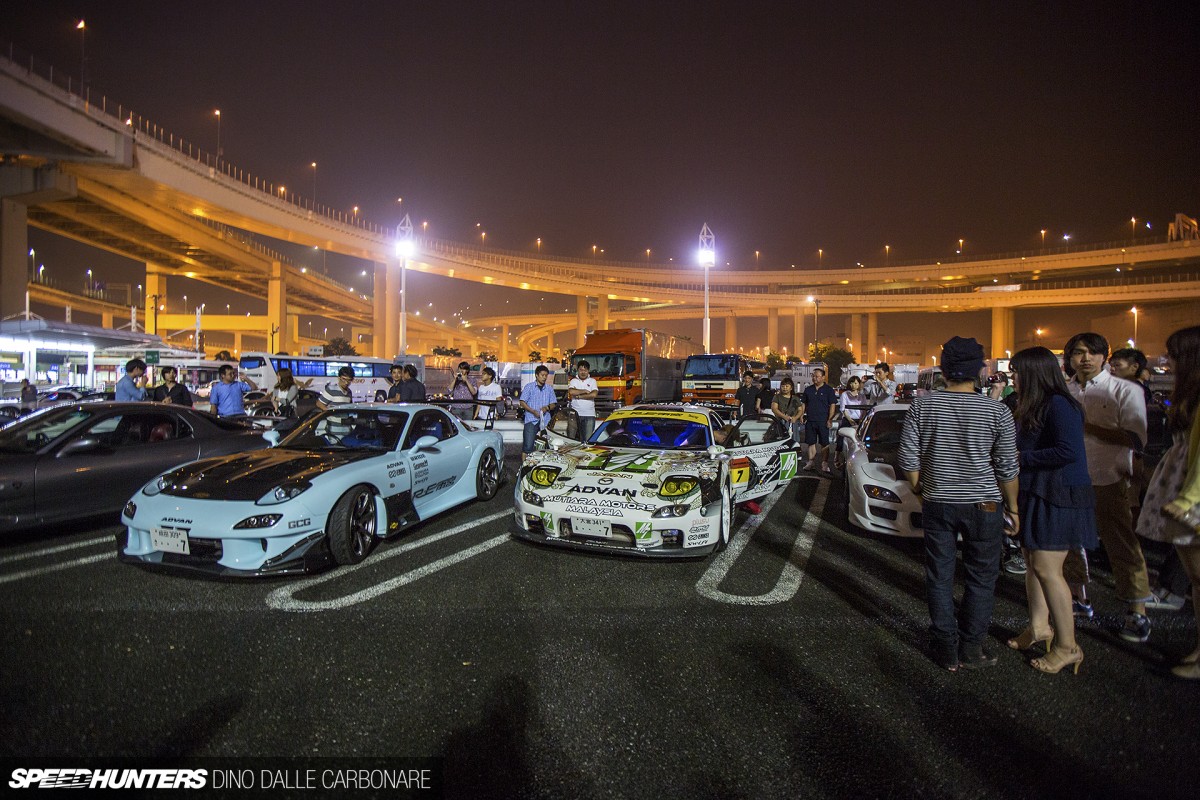 By around 8:00pm the meet began spilling over into the truck parking section of the PA, and as usual the resident police officers that work out of the Highway Patrol station at Daikoku began to take an interest in what was happening.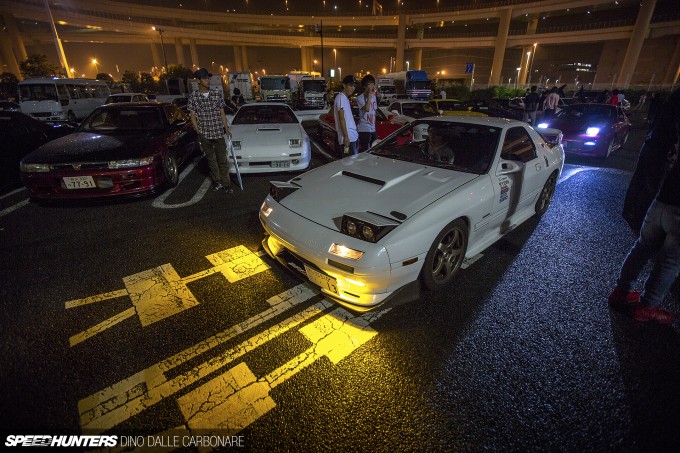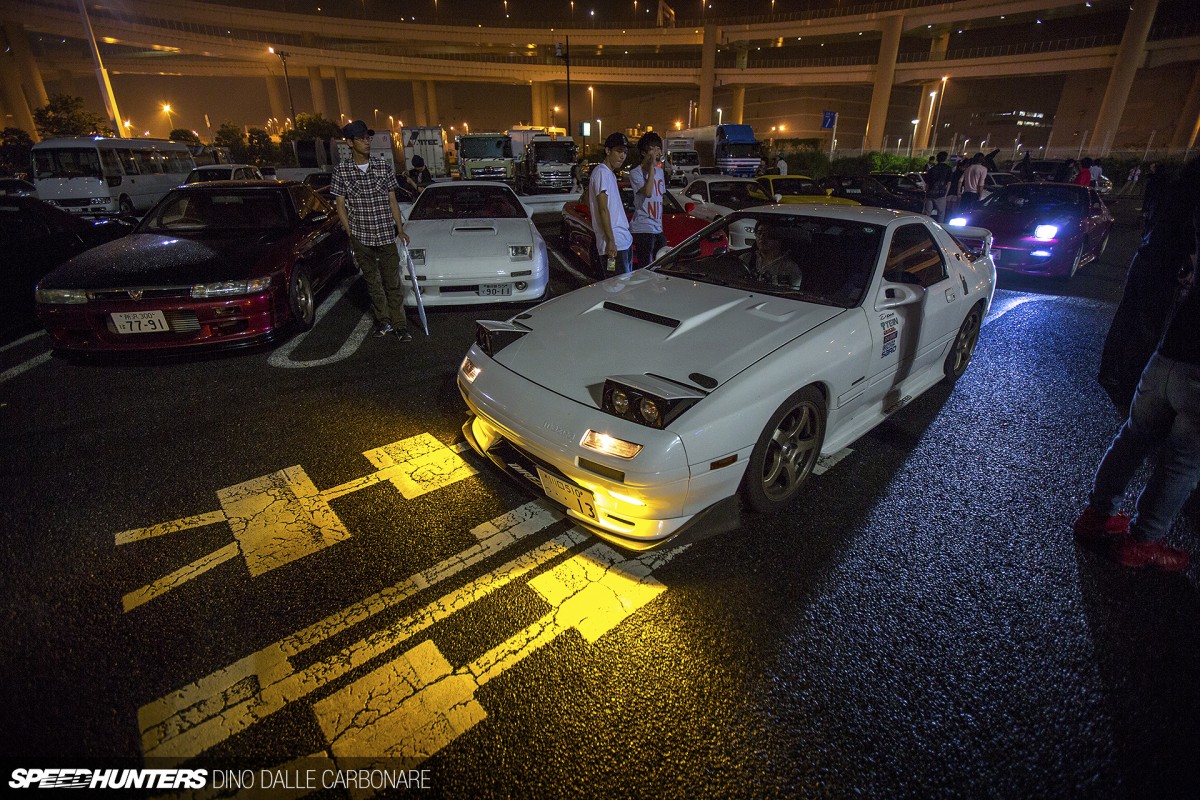 It wasn't long before the first warning over the pubic address system was given, encouraging people to start thinking about leaving and freeing up the parking spaces for those that wanted to use the food and rest stop for its intended purpose.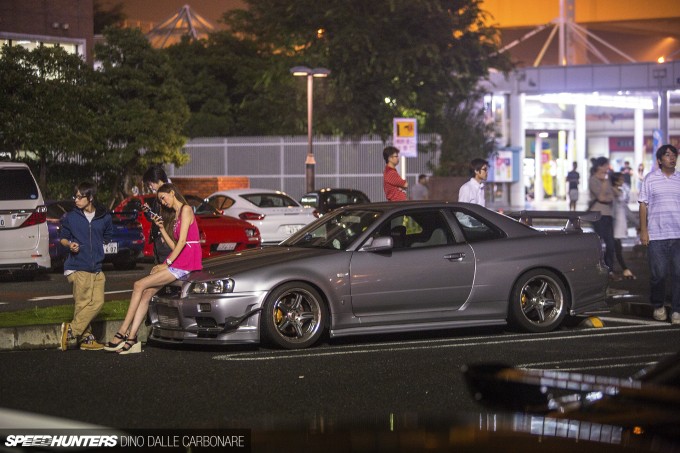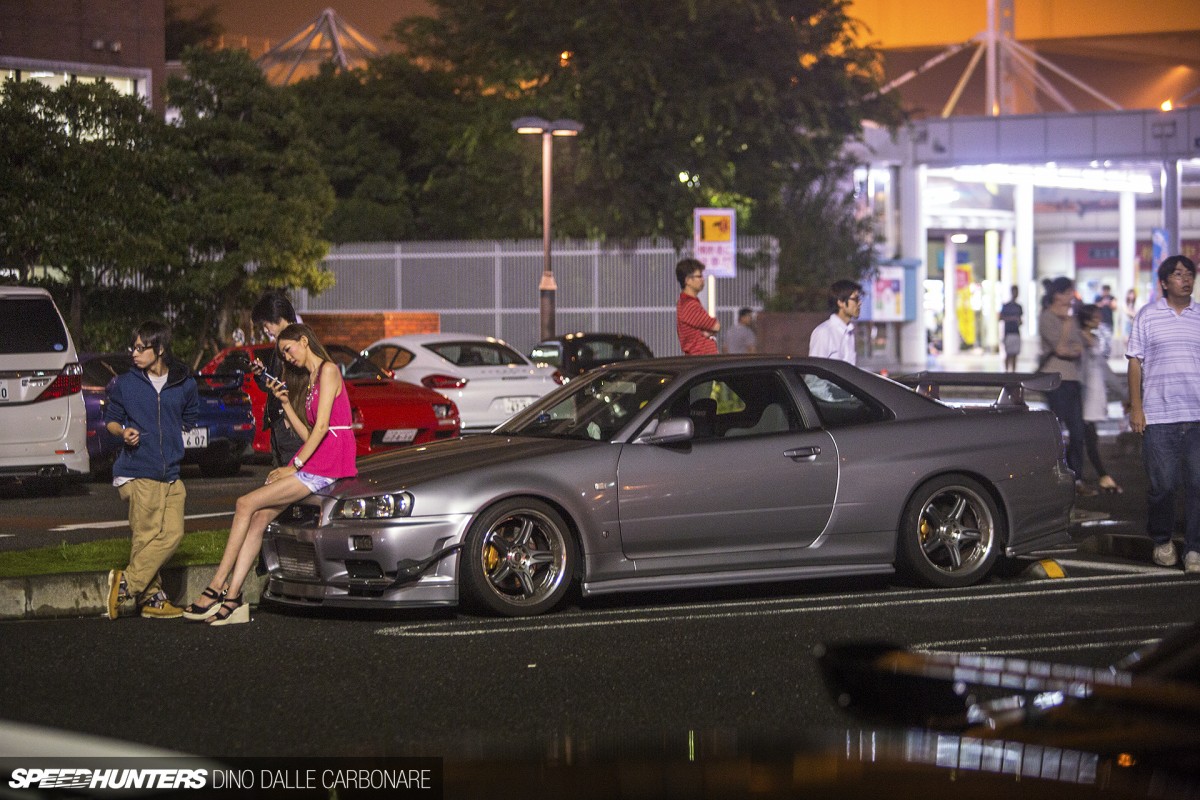 And as always, that first warning was completely ignored by every single person there. Patience is definitely one of the Japanese police's virtues, and I'm pretty sure that if it was any other country the approach would be a little more forceful.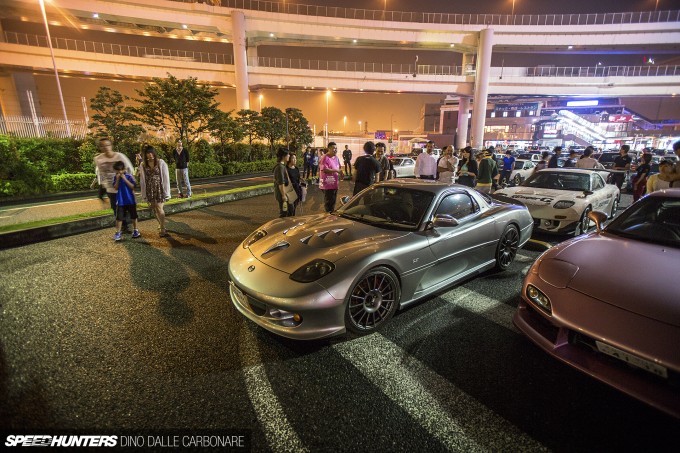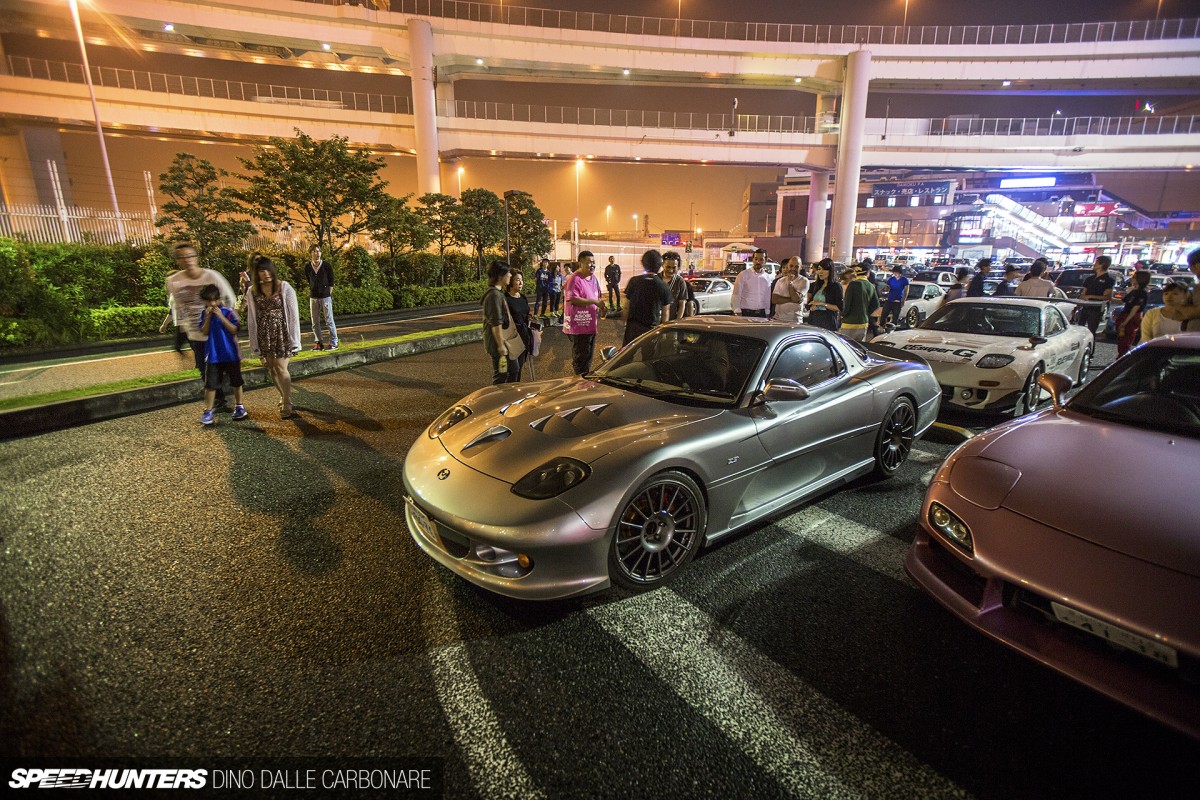 It was about this same time that I heard a very familiar noise buzzing around the parking area – Koseki-san's 4-rotor Scoot FD3S had rocked in, followed by a few other Scoot customers. It's been over 10 years since I first shot and featured this RX-7 for a few magazines, and it's impressive just how current it still manages to look. The sound from the naturally aspirated 26B is to die for!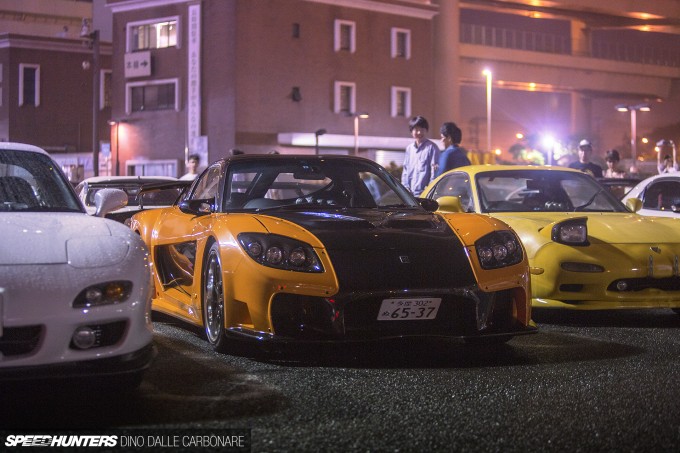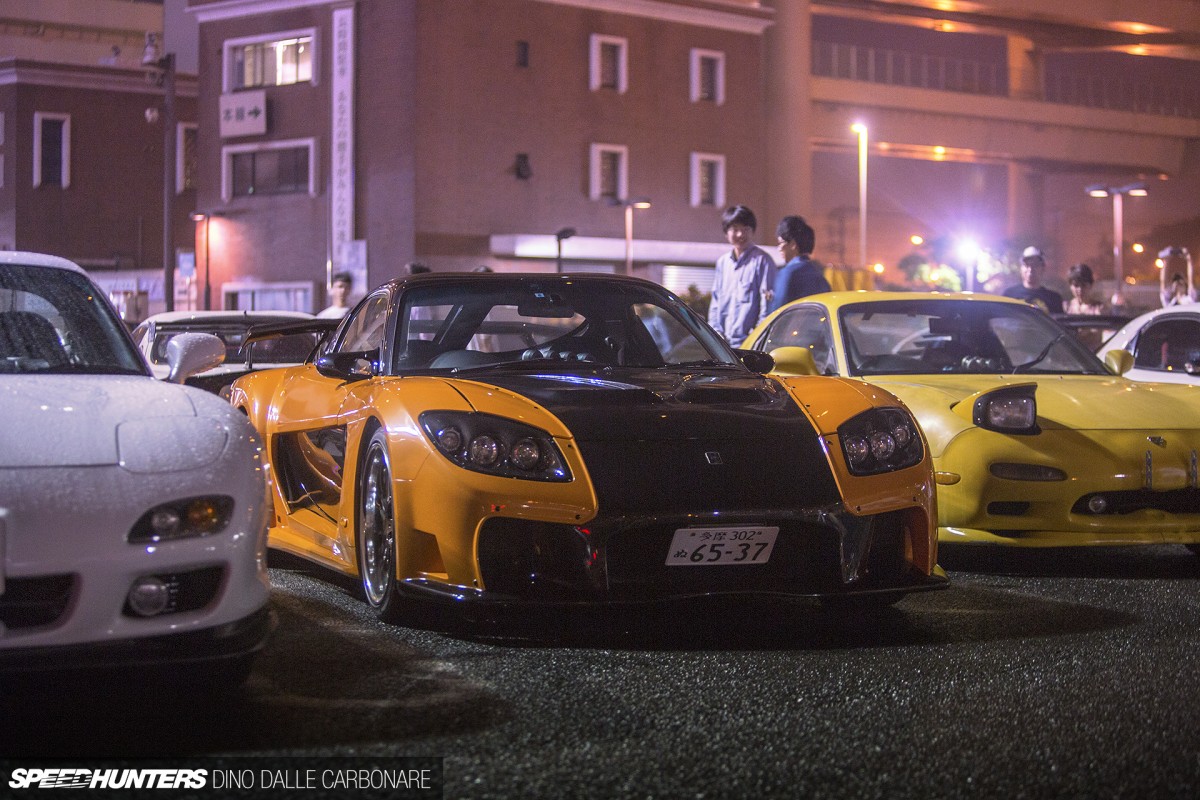 I'll just put this right here and let the F&F references flow…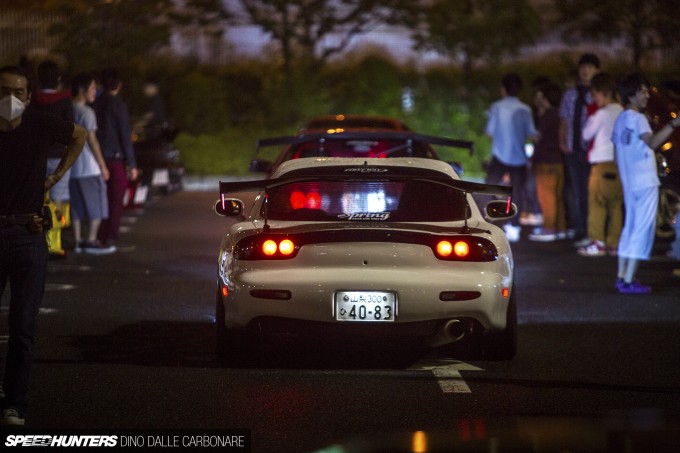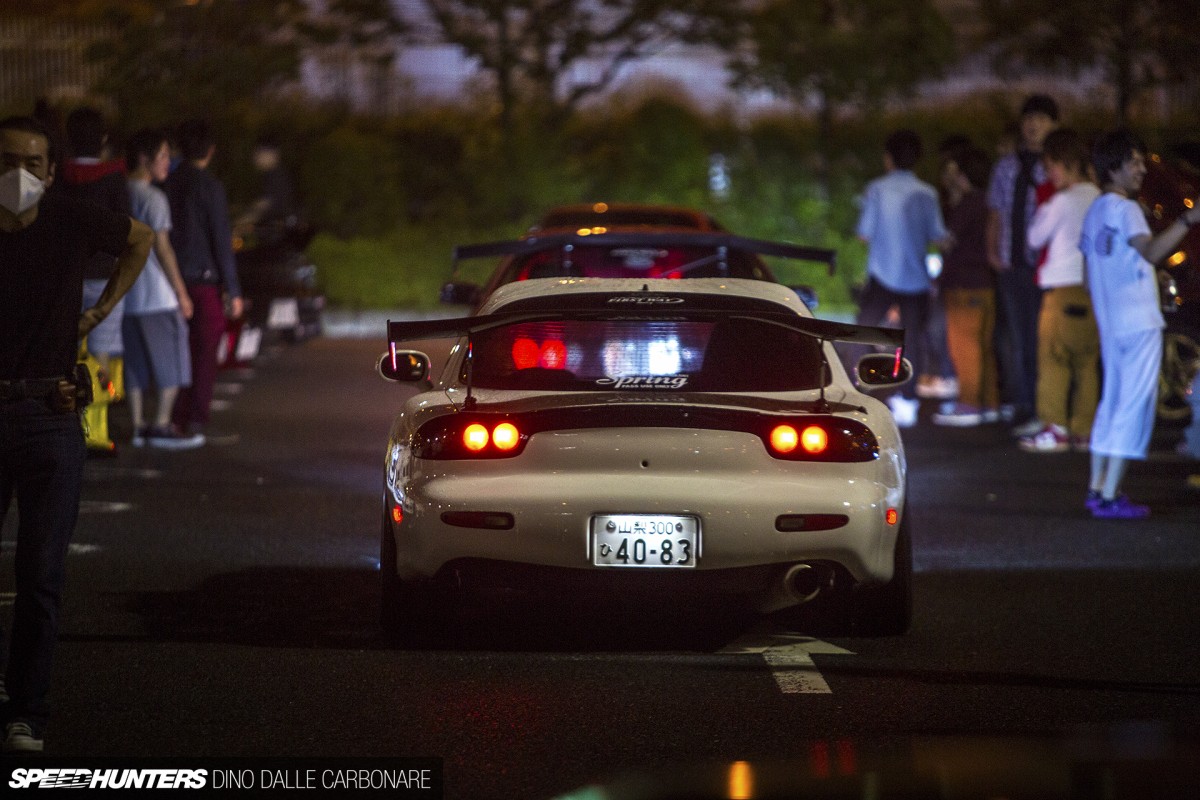 It would have been another hour before anyone bothered to leave, and like every year the next port of call was Umihotaru PA, right in the middle of Tokyo Bay.
On To Umihotaru PA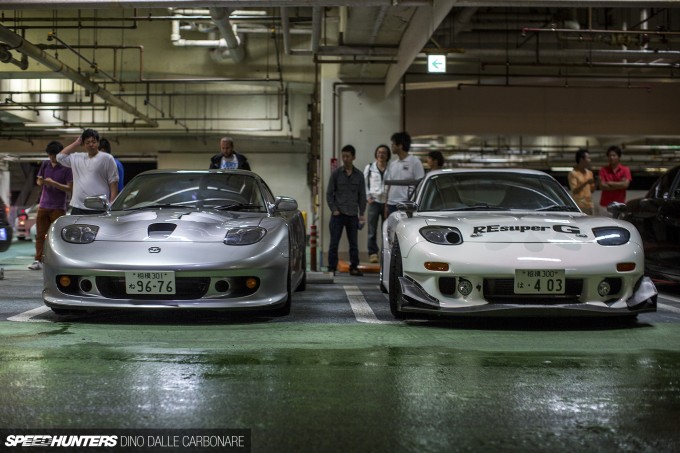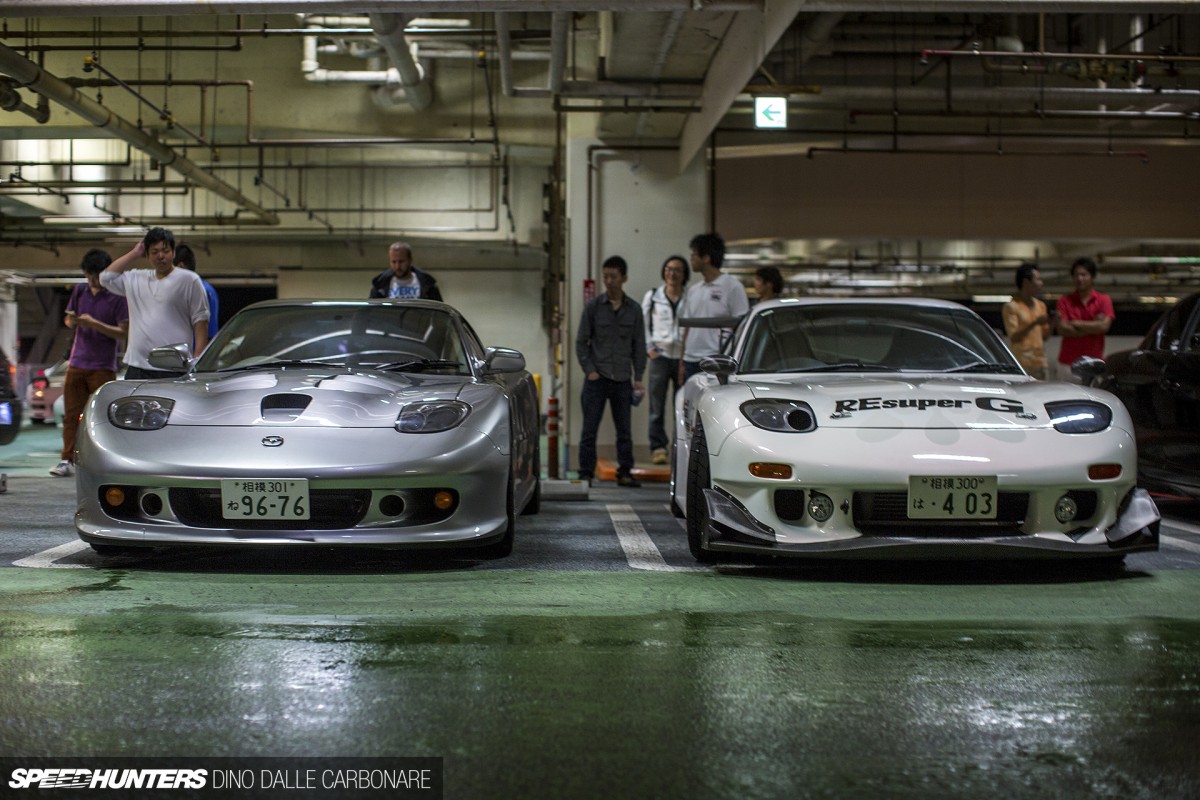 Fast forward 20 minutes and ¥800 later, and most cars had made, or were in the process of making their way over to the covered carpark location.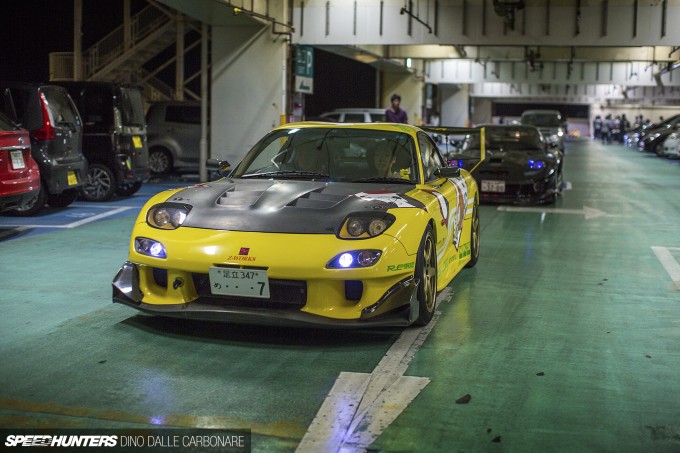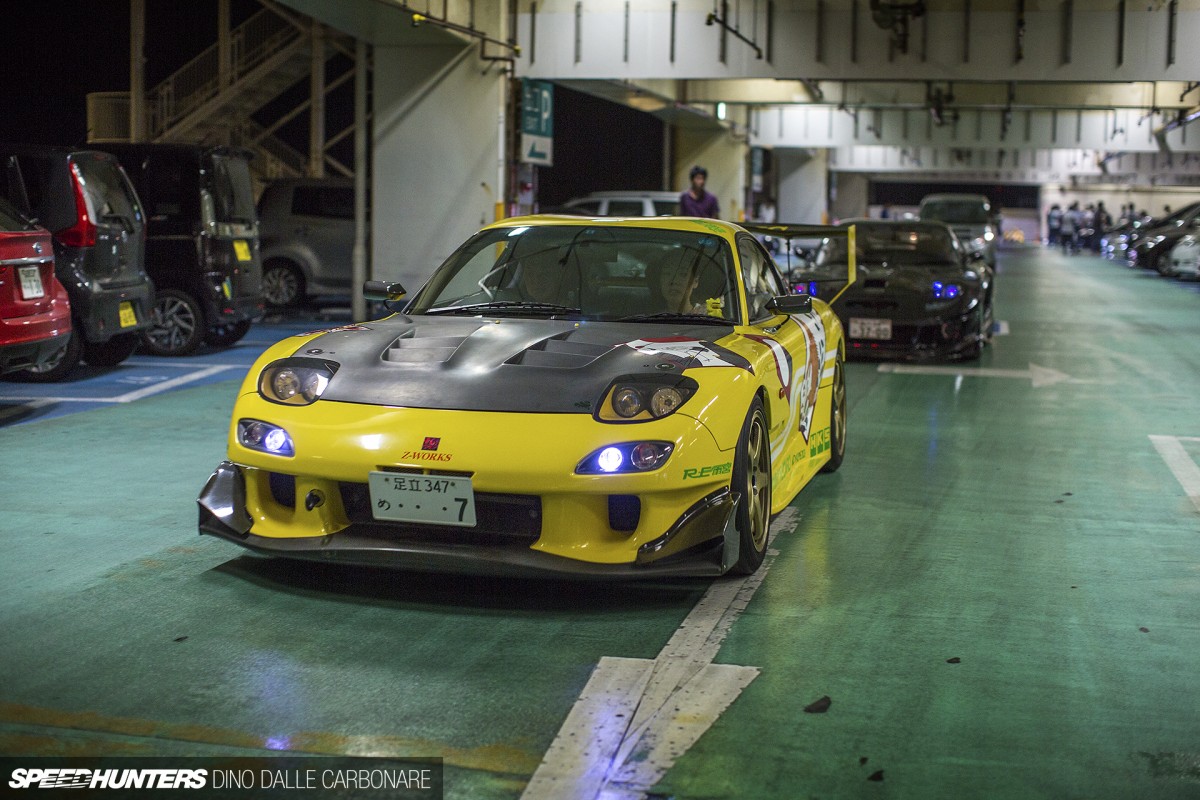 There were a few more cars that were not present at Daikoku here too; maybe those belonging to people that had to leave work a bit later.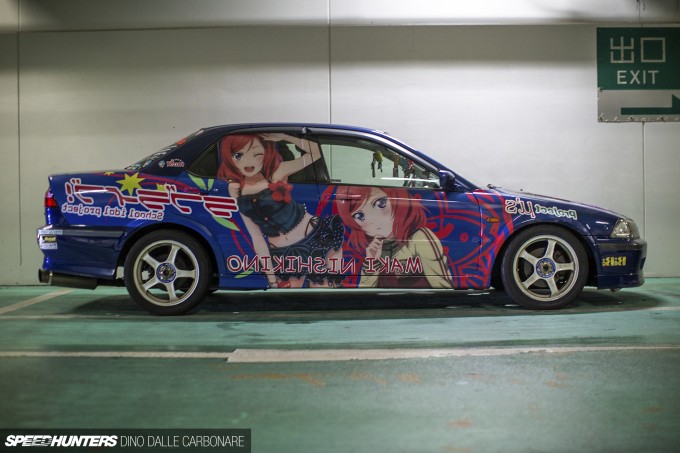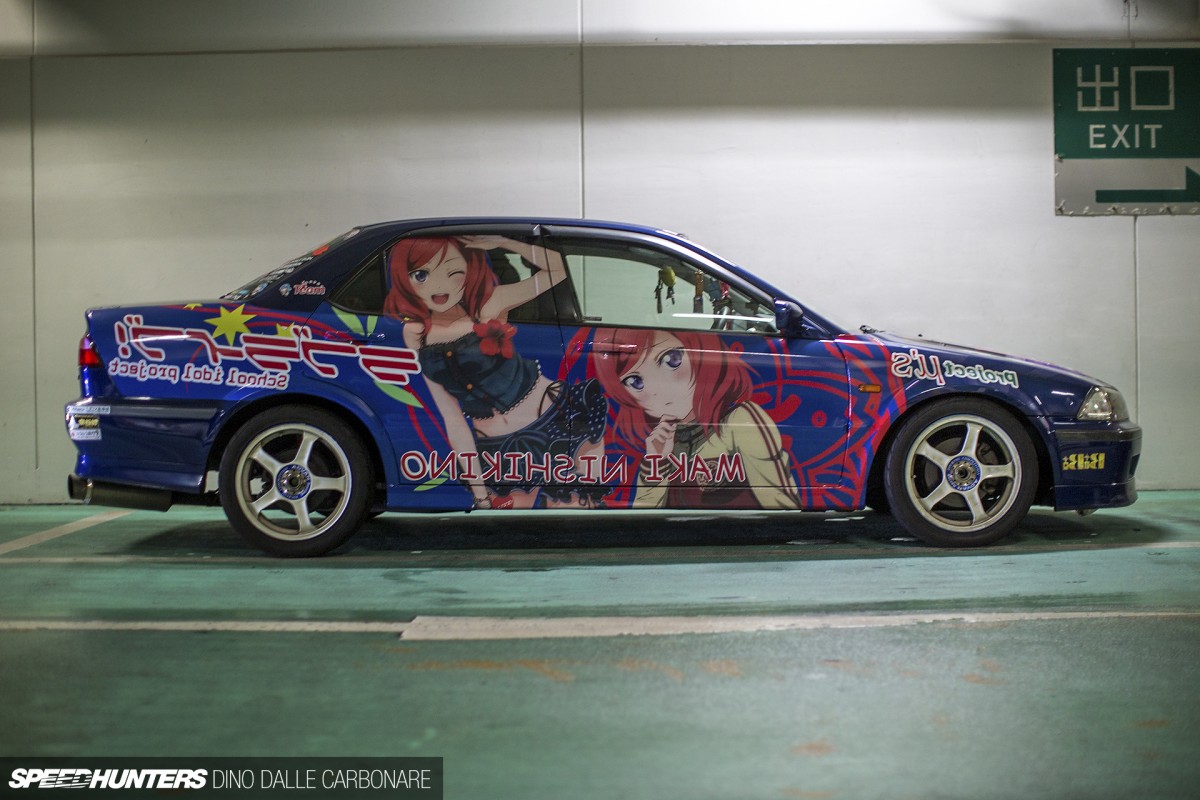 The party continued, and on top of the Mazda-oriented selection, there were a few other curious additions – like this itasha-themed Honda Accord. Itasha is a style I have never have understood, but like a lot of the things I come across in Japan it's something I'm glad exists.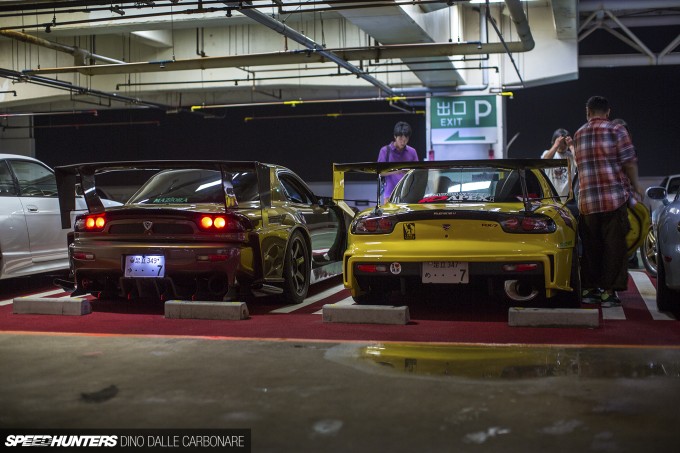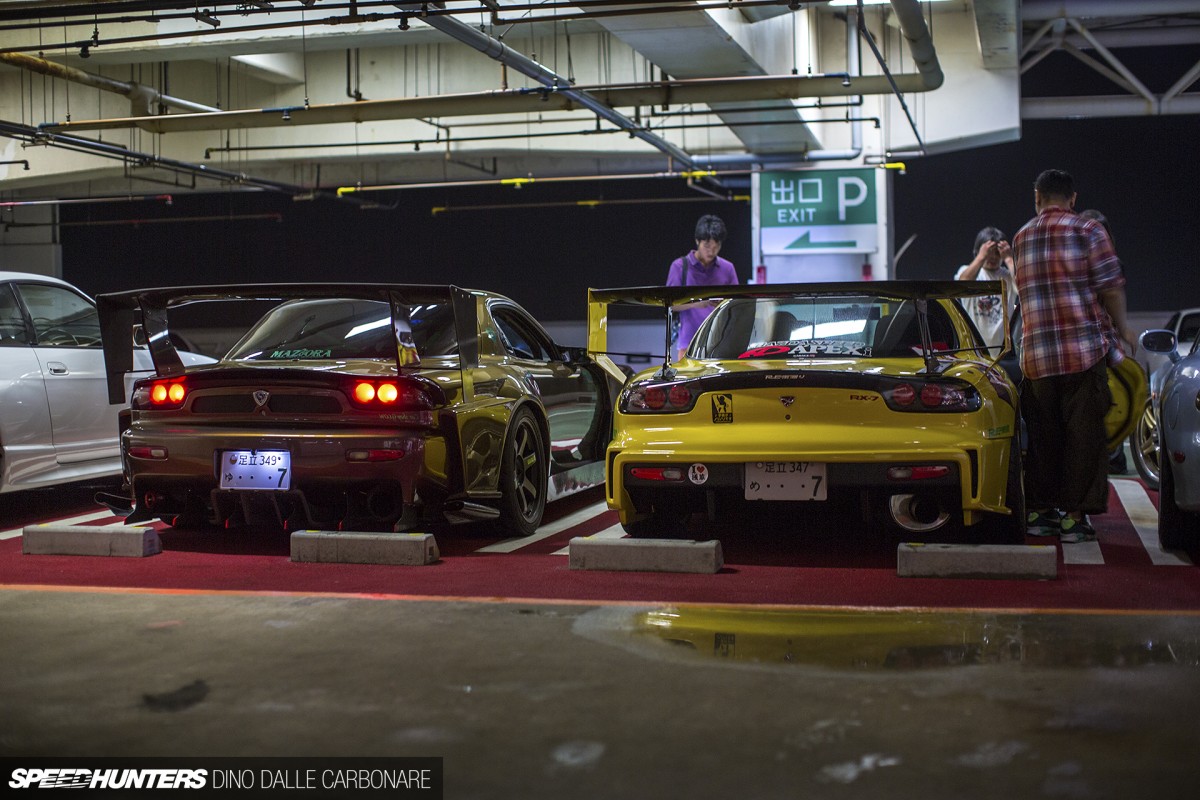 Spot the • •   • 7 number plates – a must-have addition to complete the otaku treatment on any RX-7, or Lotus 7 for that matter. In fact, while we were in rotary heaven at Daikoku and Umihotaru, the Caterham crew were having their own little get together, beginning at T-Site in Daikanyama and then moving to Tatsumi PA. It's just another example of how much car culture related stuff is happening in Japan at any one time.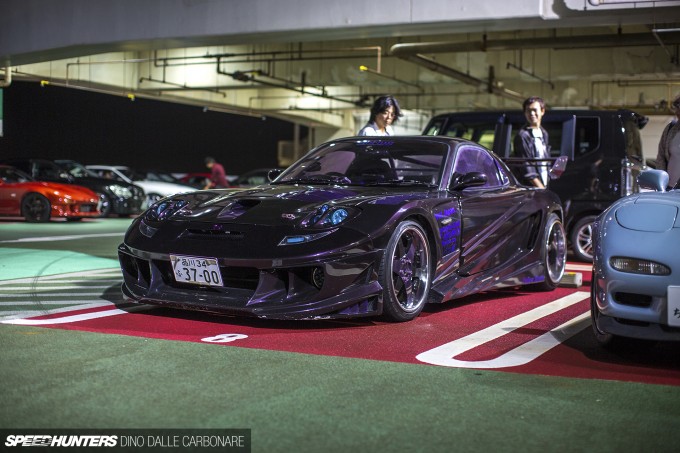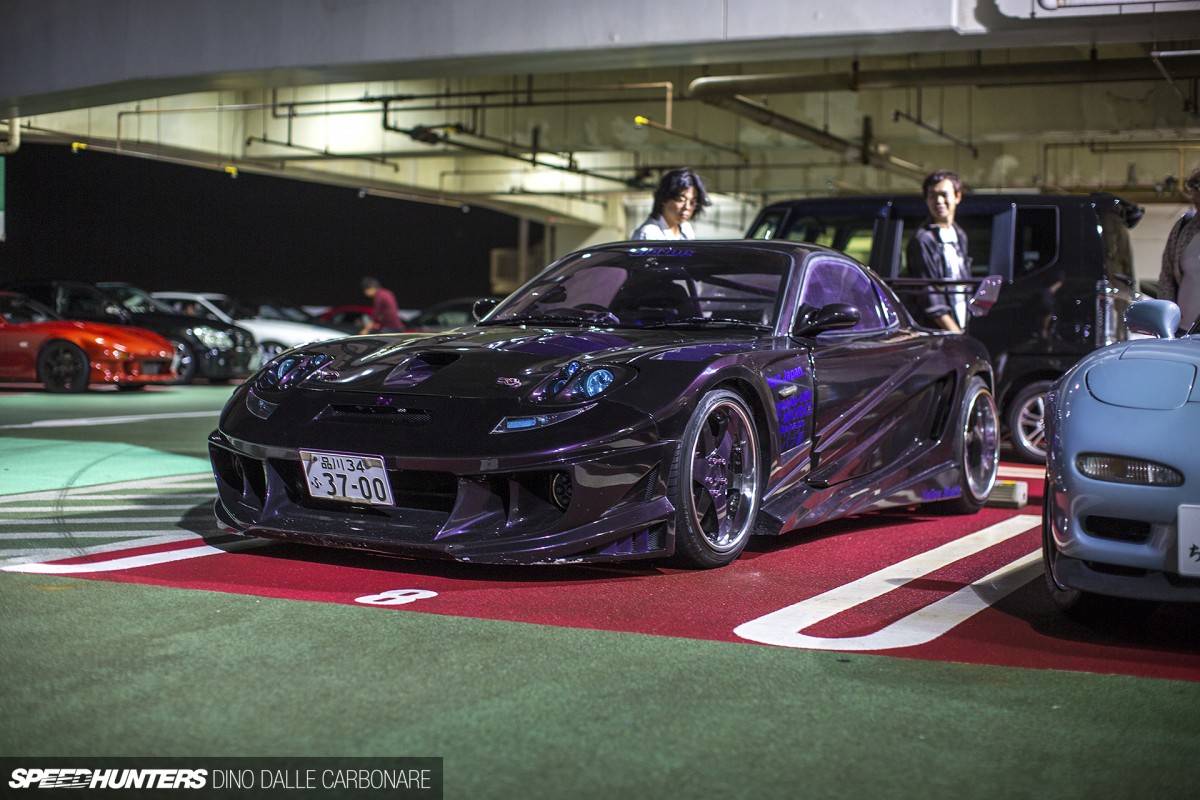 Abflug's FD kit is one of the most extreme out there for the Mazda chassis, and much like the Tamon Design kit that the Scoot car is fitted with, even the doors get modified.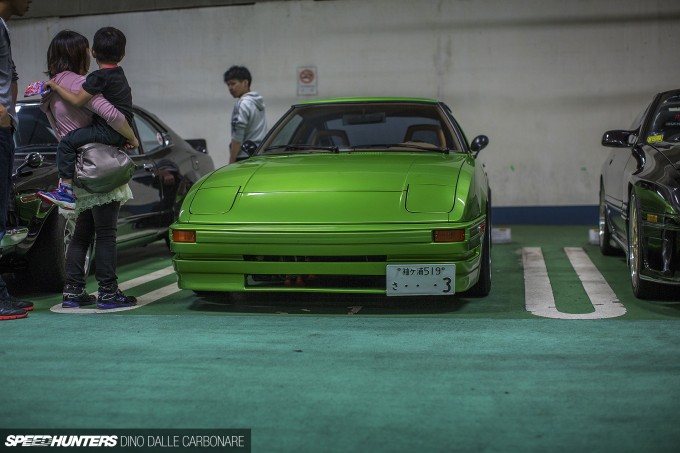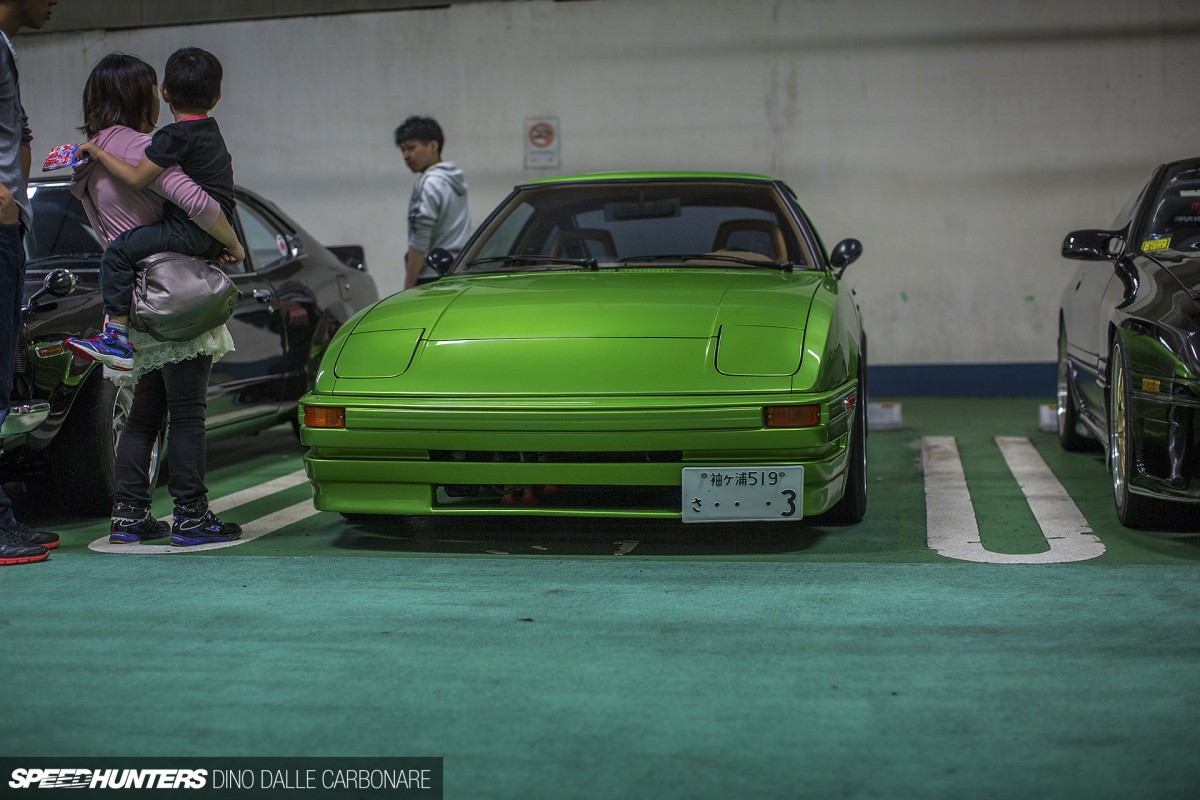 The spotless SA22C that I had previously drooled over at Daikoku also pulled up shortly after I arrived, joined by another vintage rotary I had totally missed earlier…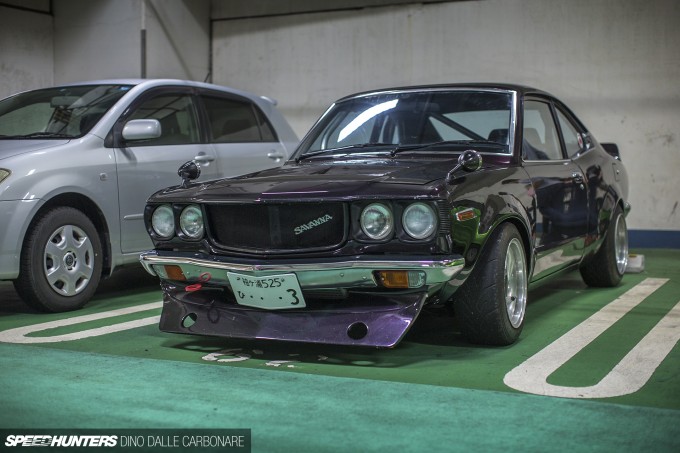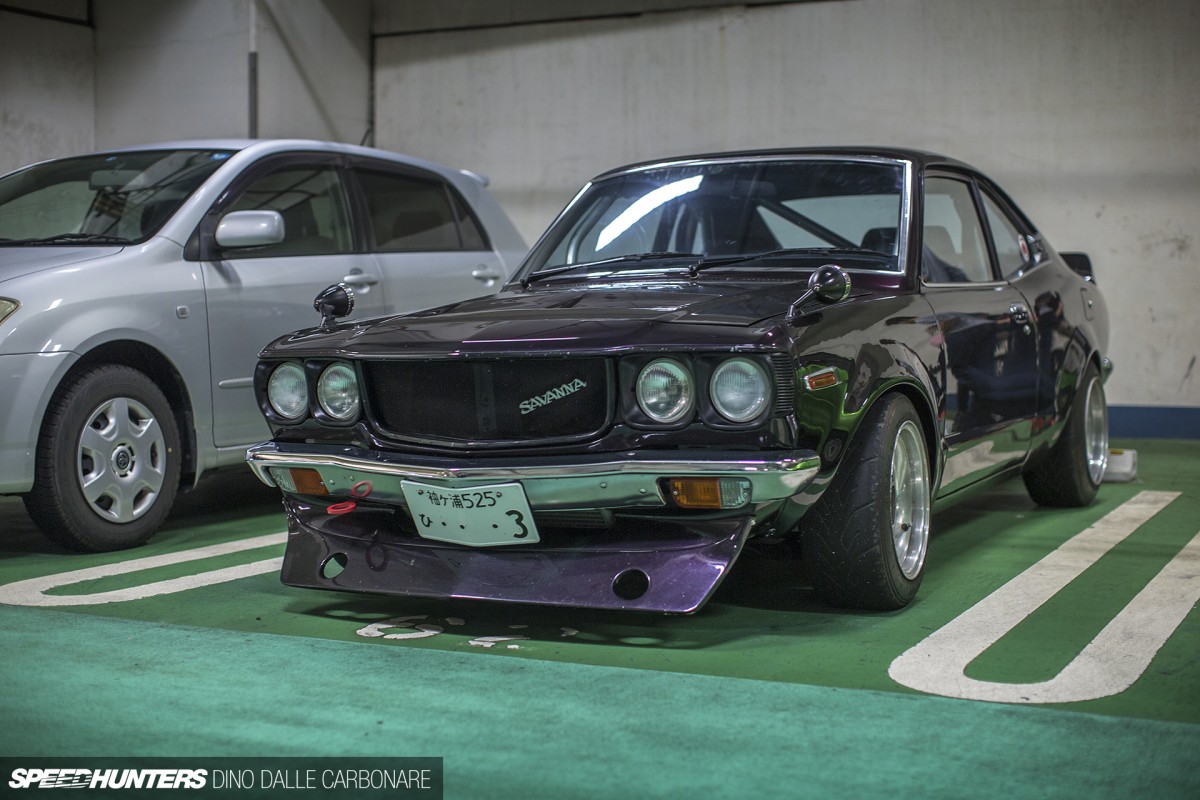 This track-spec Savanna RX-3. I have to say, the owner of this car was pretty brave driving around in the wet conditions on semi-slick rubber. It reminded me of the time I finished off my track tyres on the street and was literally drifting everywhere. For me, the old school coupe was the perfect last addition to the night's celebration – a superb looking machine, hinting back at the Works cars of yesteryear that used to battle it out in endurance races at Fuji.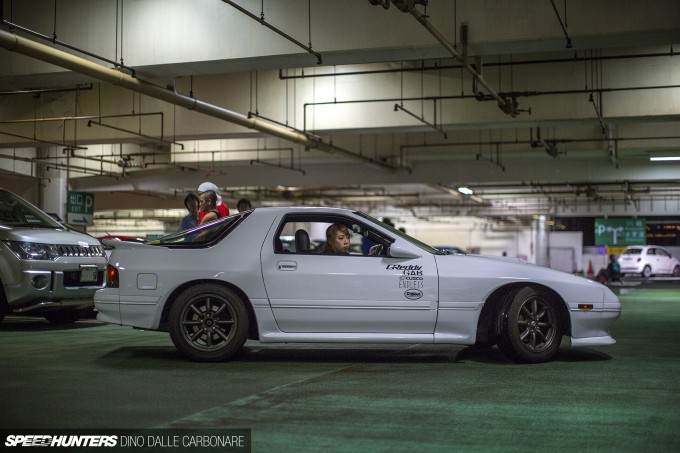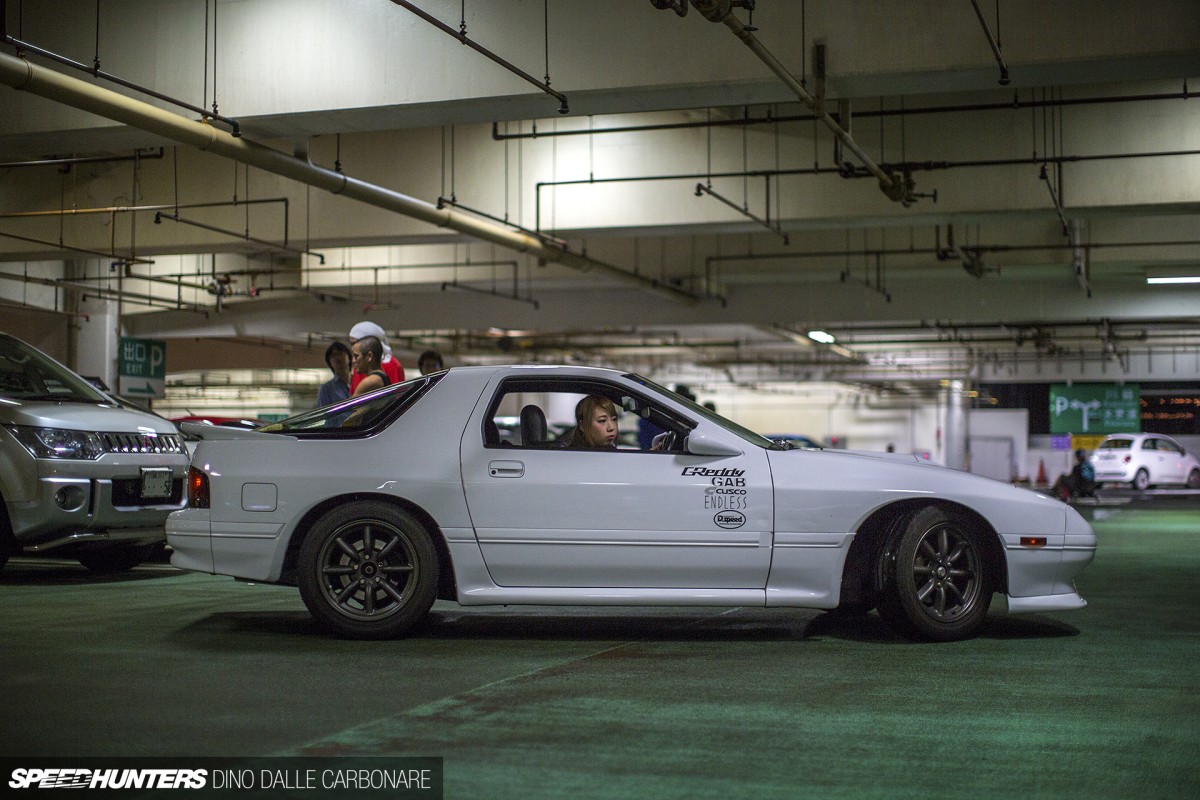 I think I met about five females who brought their RX-7s to the meet too – this girl being the last arrival in a clean FC3S sitting on a rather well-matched set of RS Watanabes.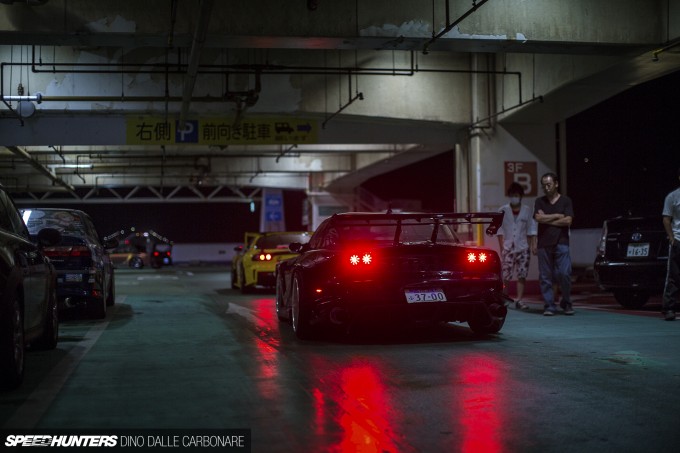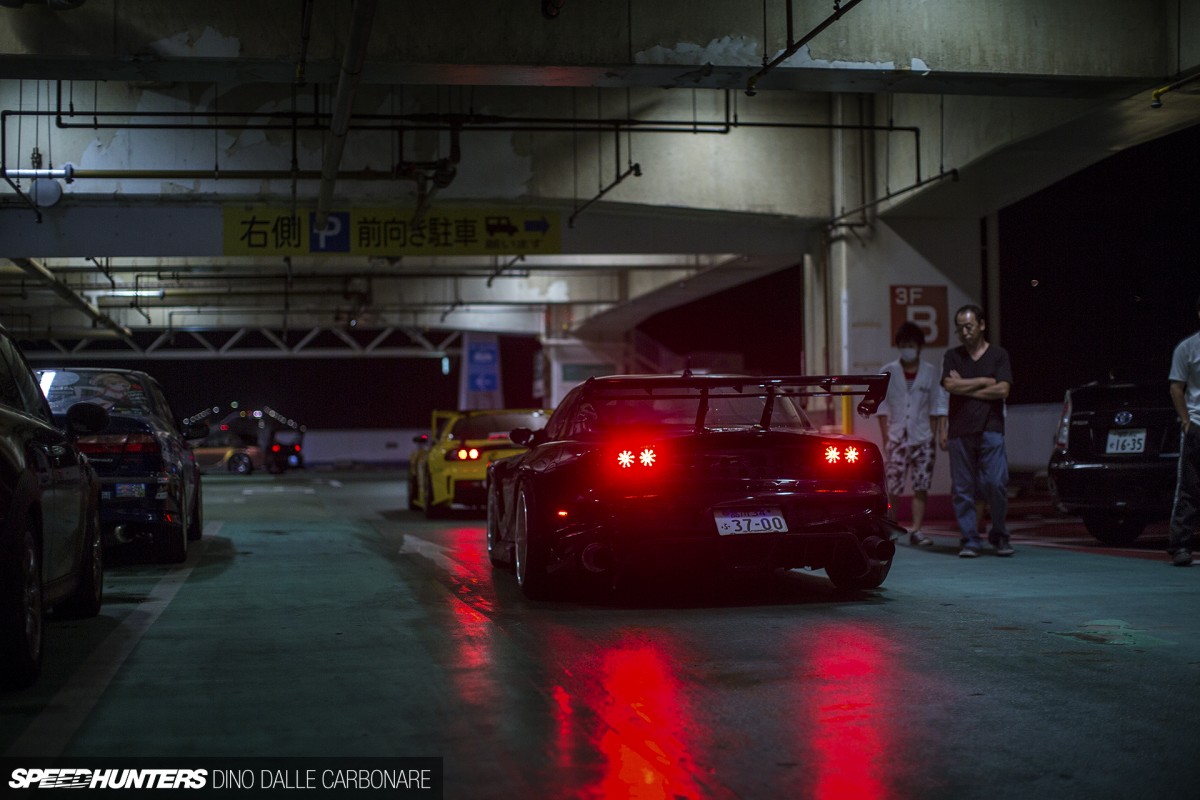 For another year, the rotary celebrations end here. As ever it was a very cool way to spend an evening – these rotary boys and girls once again giving us the perfect example of how it should be done. I do wonder if this time next year we will still be wondering whether Mazda will continue on with the rotary, or if we will be looking forward to an all-new future model. What do you guys think?
Dino Dalle Carbonare
Instagram: speedhunters_dino
dino@speedhunters.com