Wait, What?
Things have gotten a little weird since the last time Project X checked in with Speedhunters… At the end of last month, we'd simply had enough of our JZX110 Toyota Mark II. We'd come to Japan for three months to go drifting (and work for Speedhunters too, of course), and after four entire weeks, we had barely been able to limp the car around the streets of Tokyo for more than a day without a new problem arising, let alone even think about going anywhere near a circuit. After cancelling on track day after track day, the final straw came when trying to diagnose an intermittent, but very loud rattle. Apparently, besides all the other problems we had been sold, we had also inherited an unhealthy gearbox.
We'd already spent thousands getting the car up to scratch, and now, here we were at a fairly serious roadblock. Toyota R154 gearboxes aren't exactly cheap, even in Japan, and even if we decided to replace the trans we'd still have what is essentially a factory JZX with stock steering, a stock torsen diff and completely destroyed diff mounts. At some point at times like this, you just have to swear a lot – maybe even brew up a few words that have never existed prior – and then be realistic with yourself.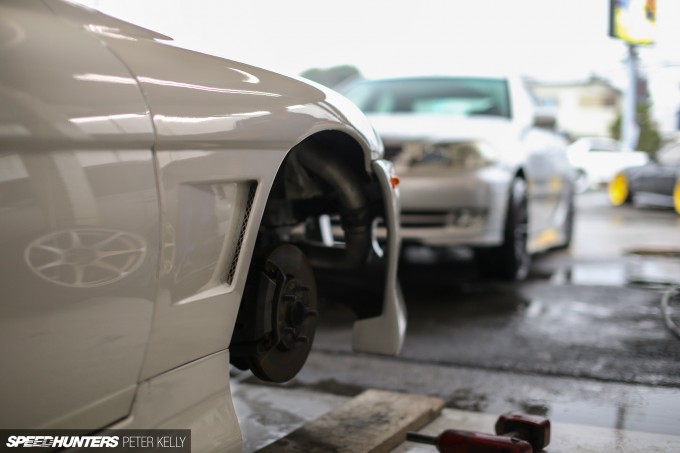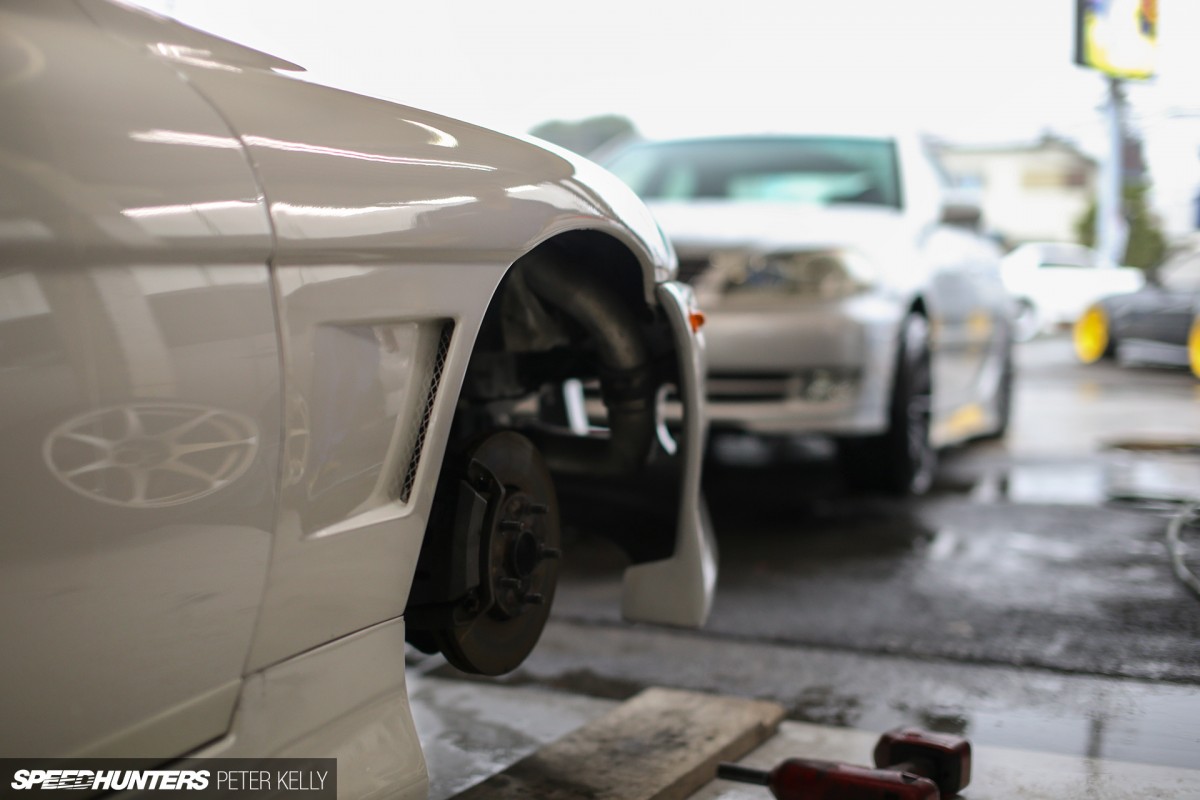 With the dream fading by the day, we were faced with some tough choices. We could either A) continue spending all our money and time trying to fix the JZX to maybe get an average track day or two in while fighting a sh*tty diff, poor steering lock and no doubt more problems, B) cut our losses and sell the car and give up on the dream, or C) cut our losses and sell the car, pucker up and start fresh with a new car that's ready to go drifting the next day.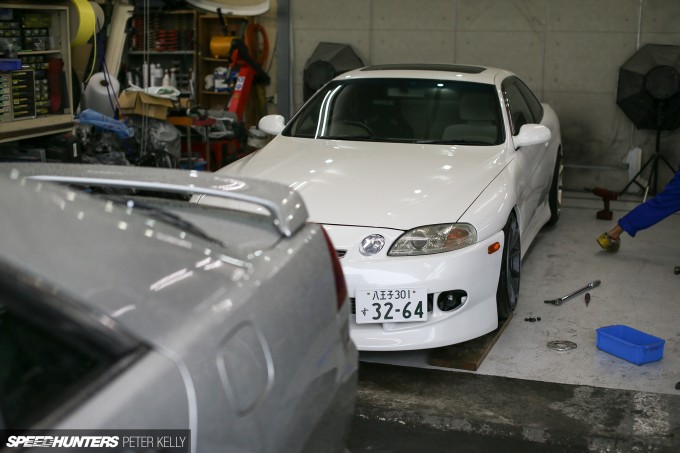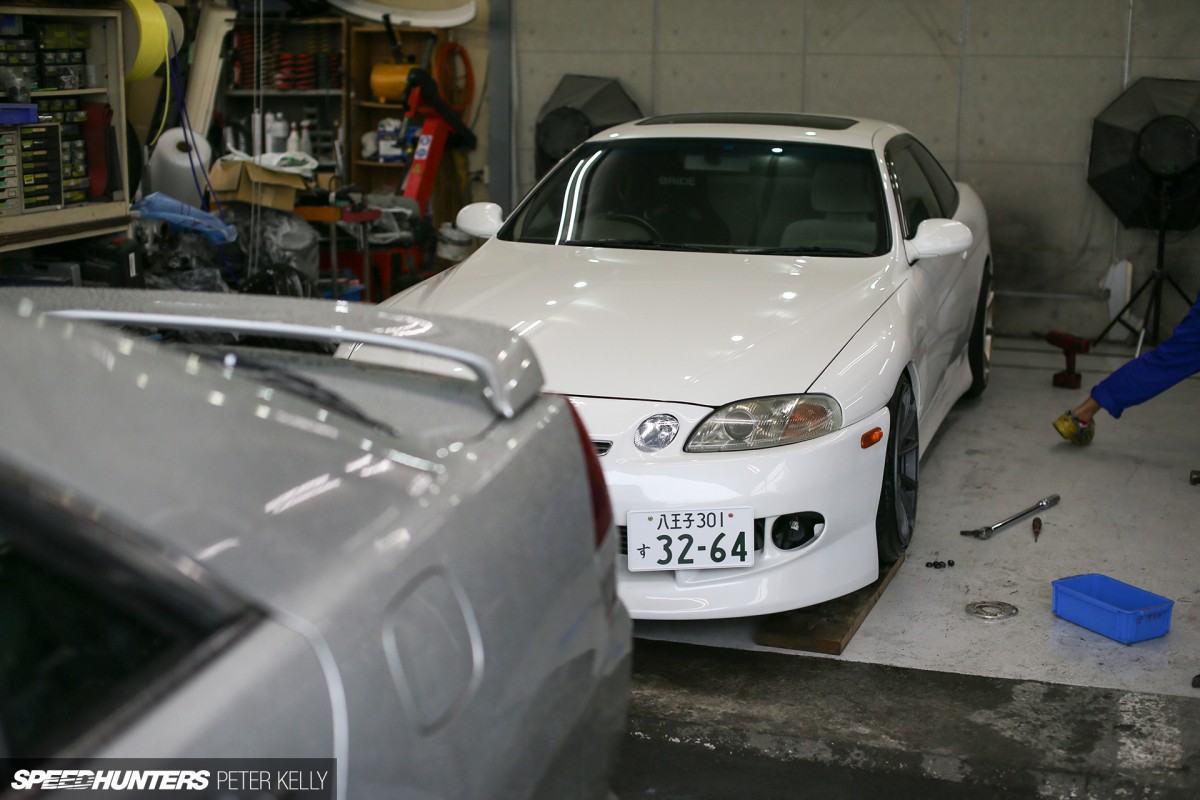 You've no doubt already guessed which option we went for. In traditional car guy (and girl) fashion, we picked the least sensible option of the three. After all, we came to Japan with the intention of learning car control and the art of oversteer as well as we possibly could. If we didn't want to miss another single track day, we were going to have to buy another car – specifically, a street legal, turn-key package.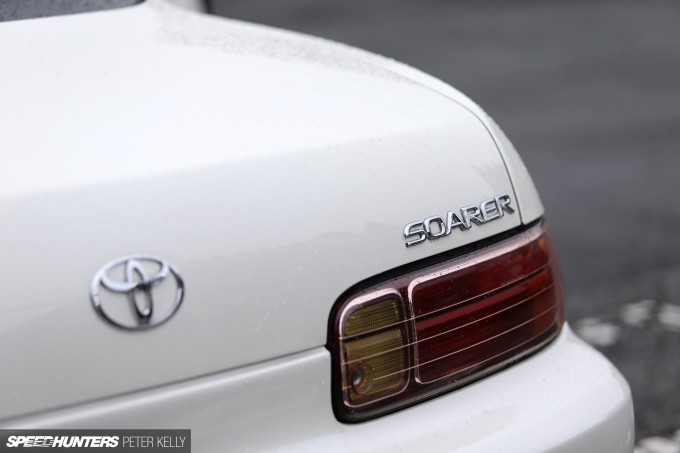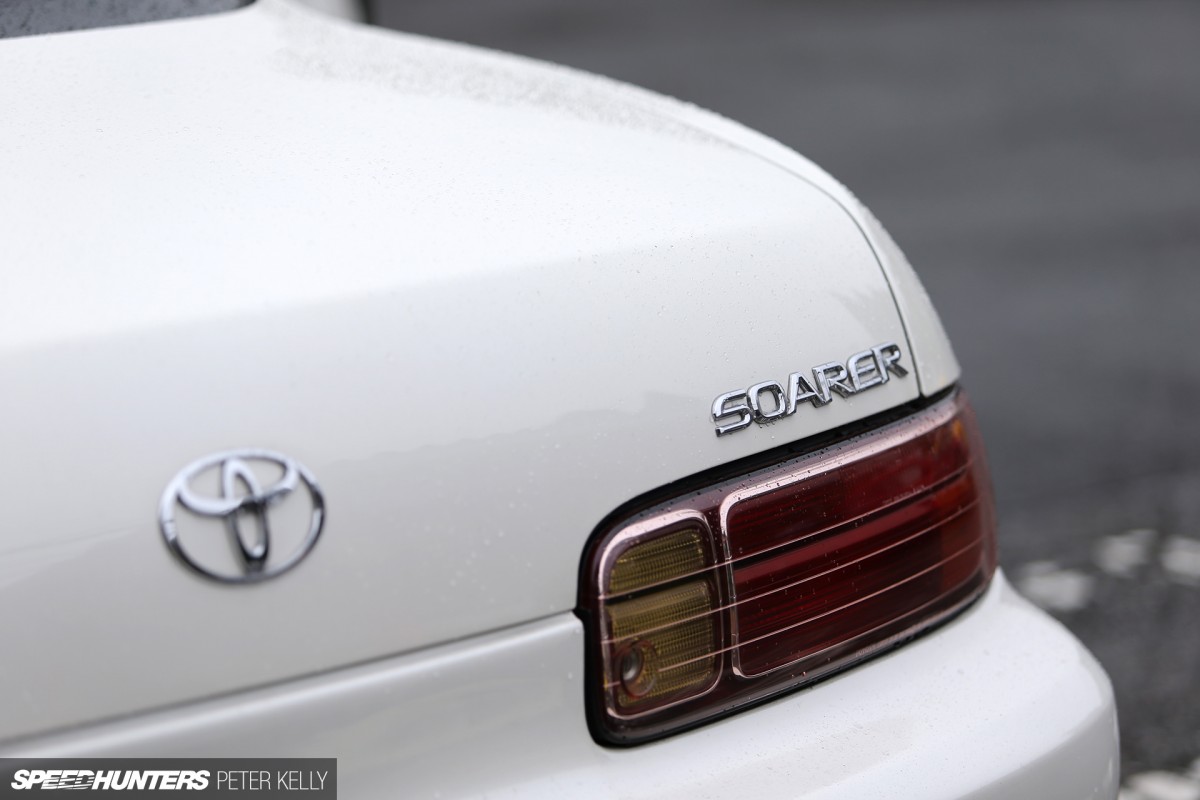 That car actually presented itself to us a few days before we found out about the gearbox issue. On one of our many trips back to our local workshop Mercury to try and sort out the JZX110, we saw a new car on the lot – a late-model JZZ30 Toyota Soarer. Of course, it wasn't much more than a passing comment of 'nice Soarer' at the time, but fast forward a few days, and the guys at Mercury were handing me the keys for a test drive. An hour and many more swear words later, we owned a 1999 Toyota Soarer.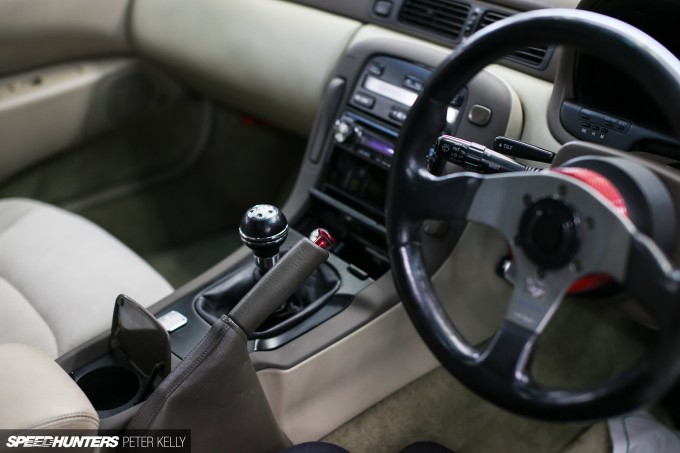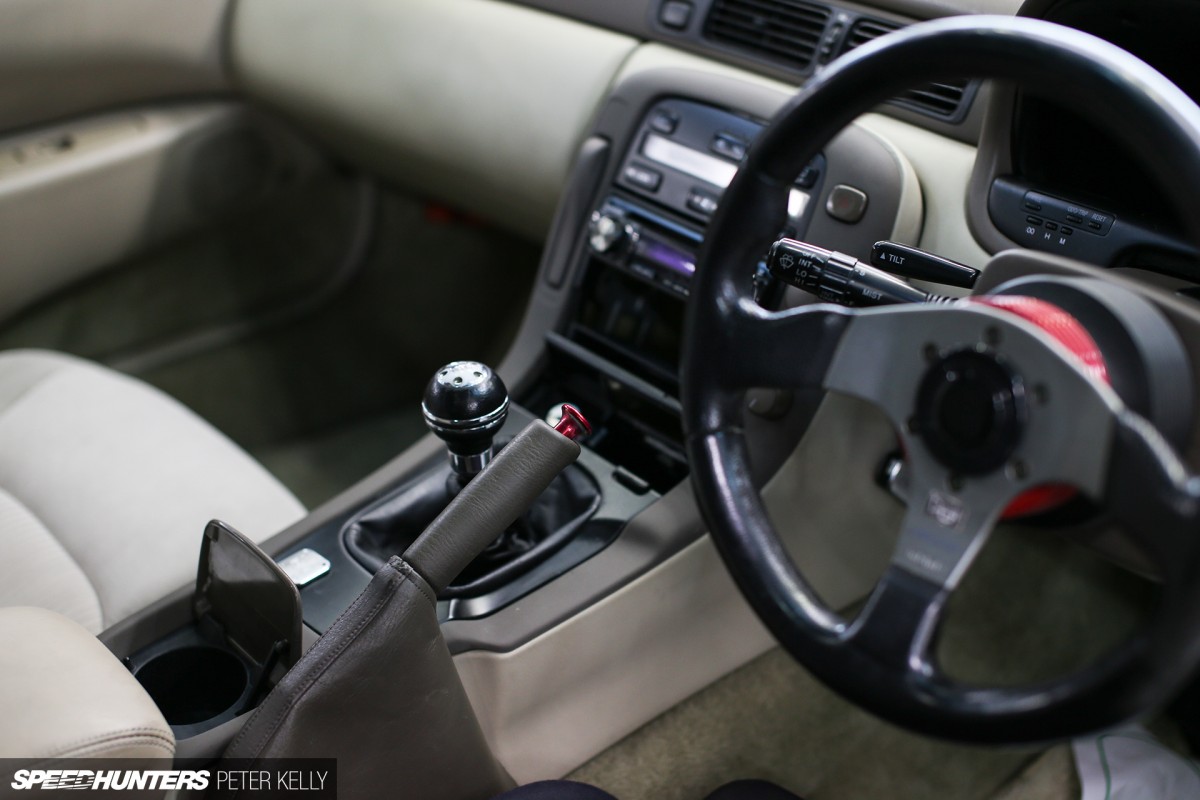 Despite previous experience, I still really wanted to stick with Toyota and the 1JZ-GTE powerplant, and this series 3 Z30 Soarer has the same late-model VVTi single turbo 1JZ as the Mark II, along with the same factory-fitted R154 5-speed manual gearbox coupled to an aggressive Exedy clutch. The engine itself is fairly stock, with only an exhaust, filter and intercooler, but that's perfectly fine with me.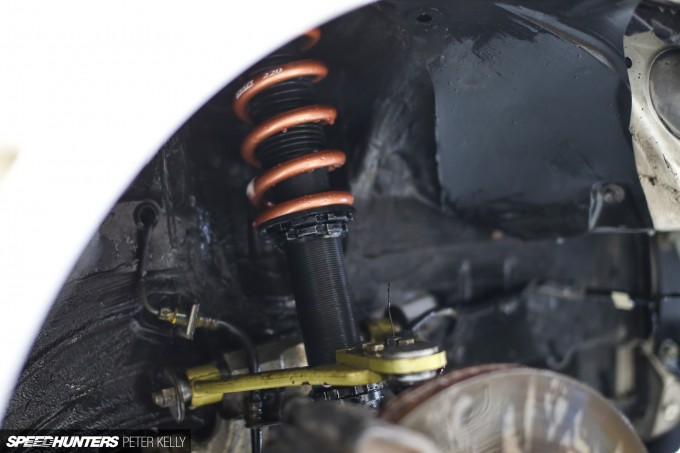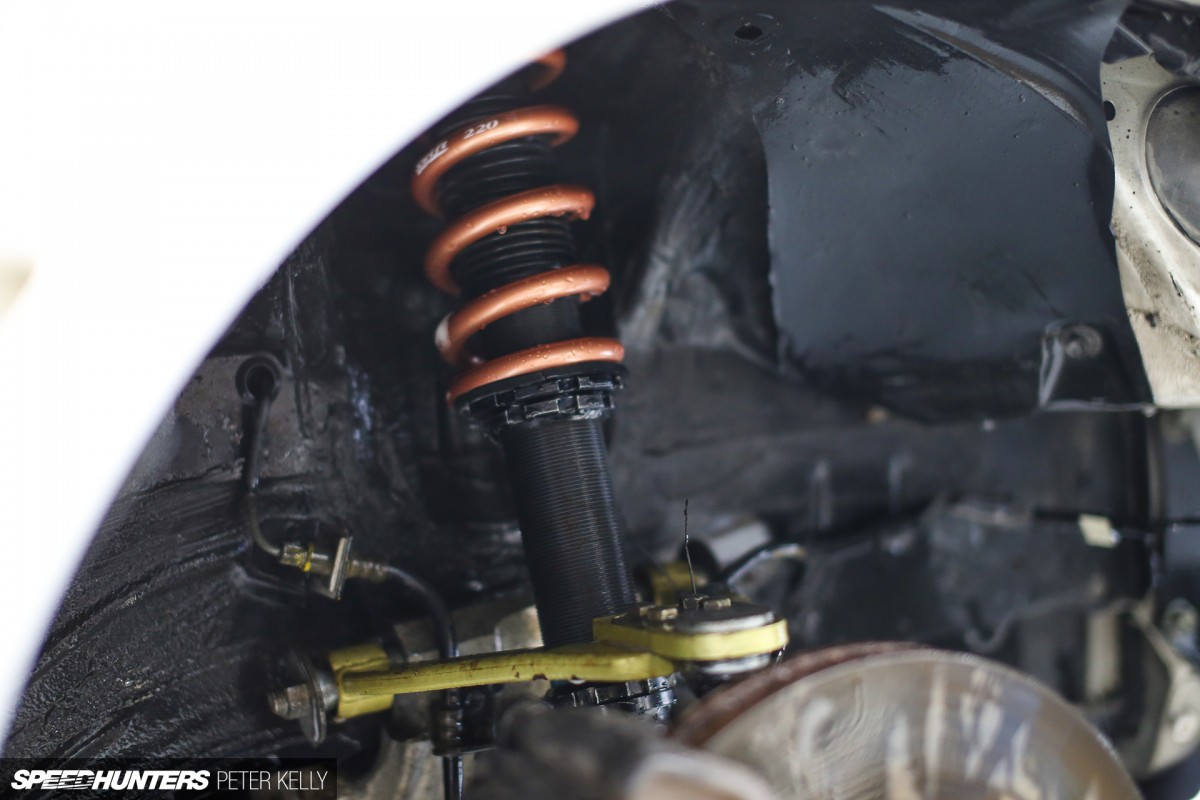 It's what's underneath that interested me the most. The Soarer was already set up and very much ready to go with super-nice (and expensive) DG5 coilovers, Hey Man steering knuckles for extra lock, Ikeya Formula front arms and a 1.5-way LSD out back.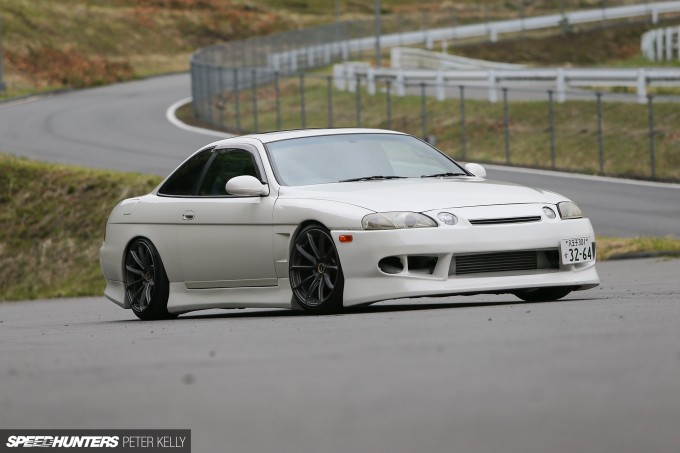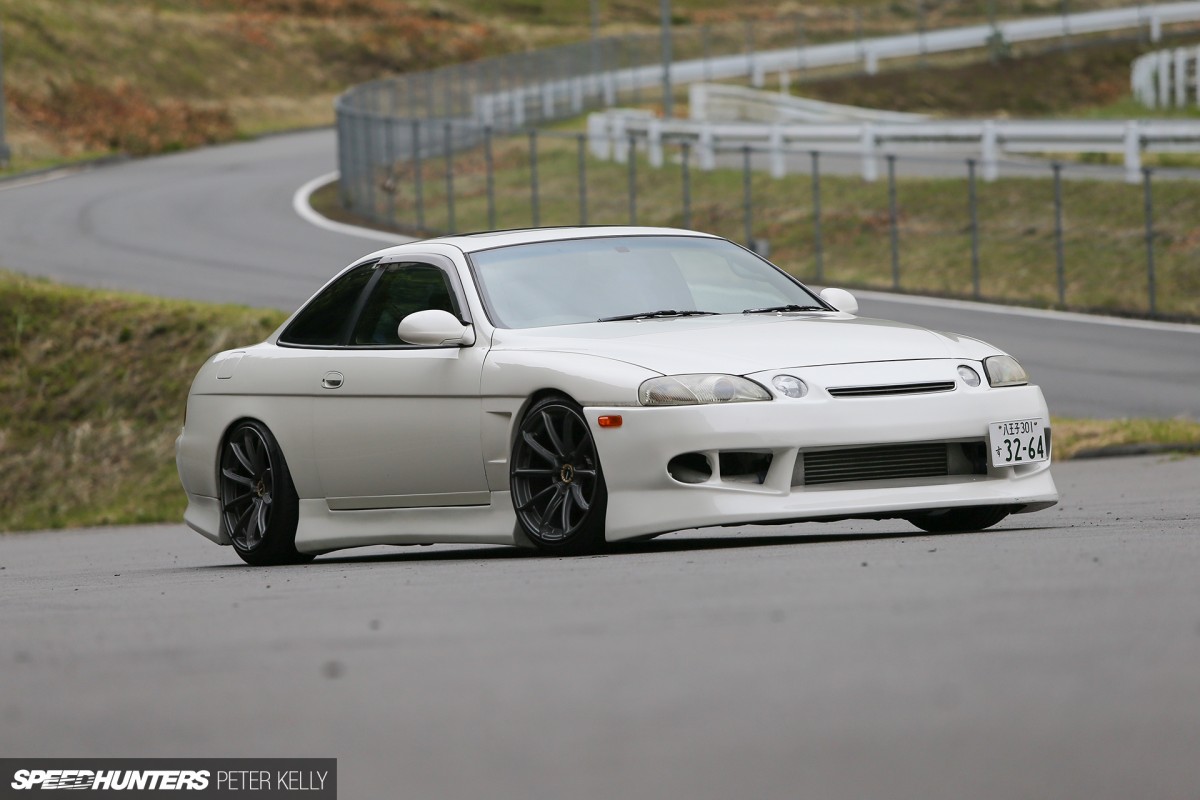 I've loved the shark-like look of the Z30 ever since I first saw one as a teenager parked in a McDonalds car park back in my home town. This one is further enhanced with a full Vertex body kit and front fenders, and I think it looks pretty cool…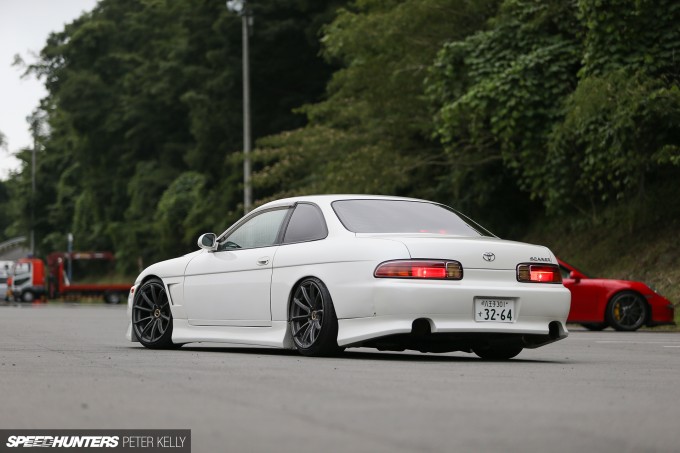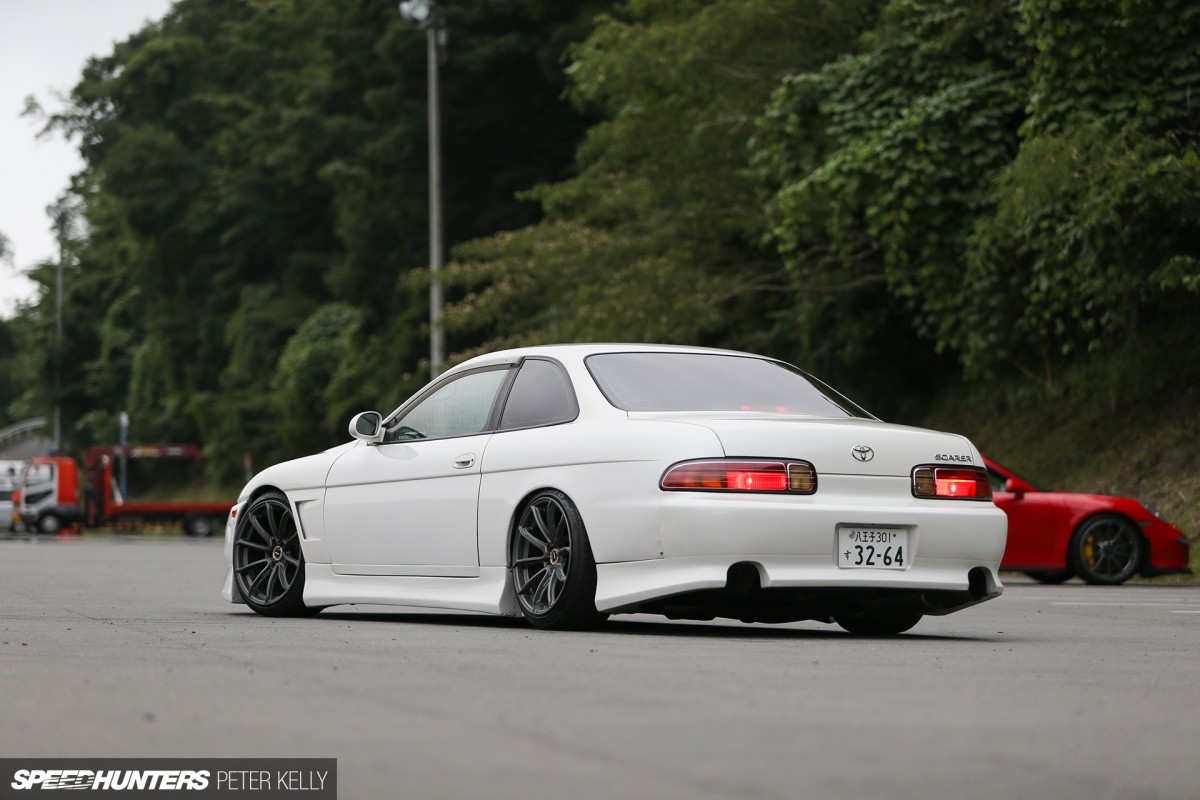 Although, a small trunk lip and roof wing would go a long way towards sharpening up that big ol' behind.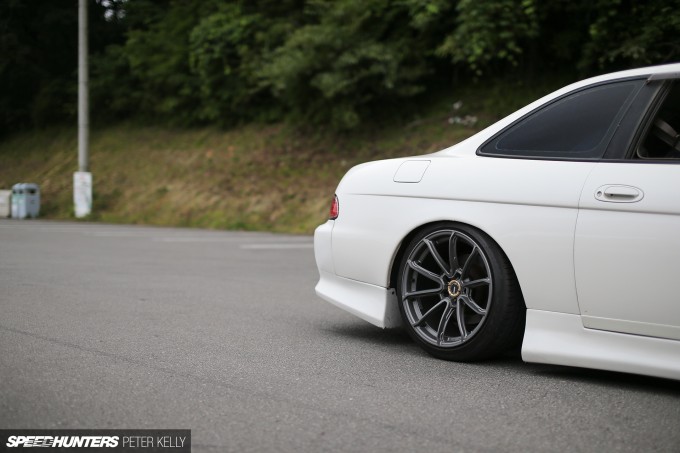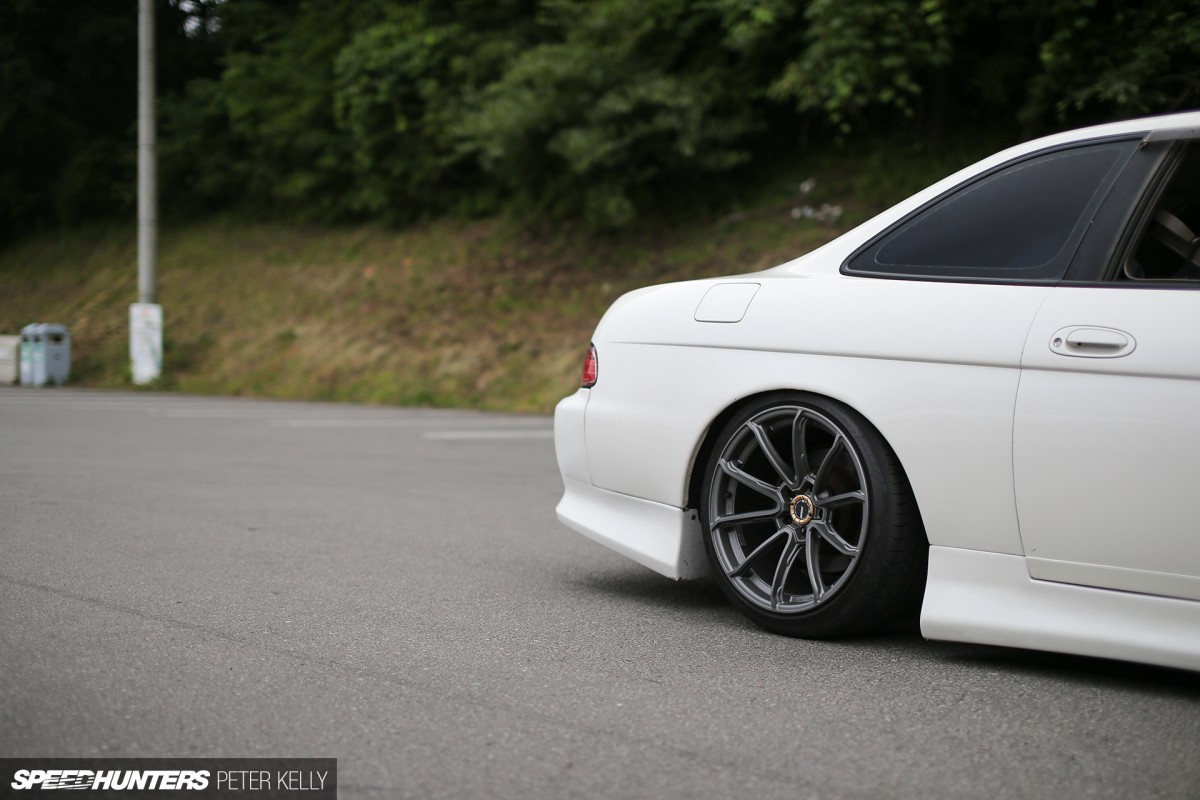 Fortunately, the wheels and tyres we recently received from RAYS and Toyo for the JZX were also a near-perfect fit. I've got to say that they look even better on this car than they did on the last.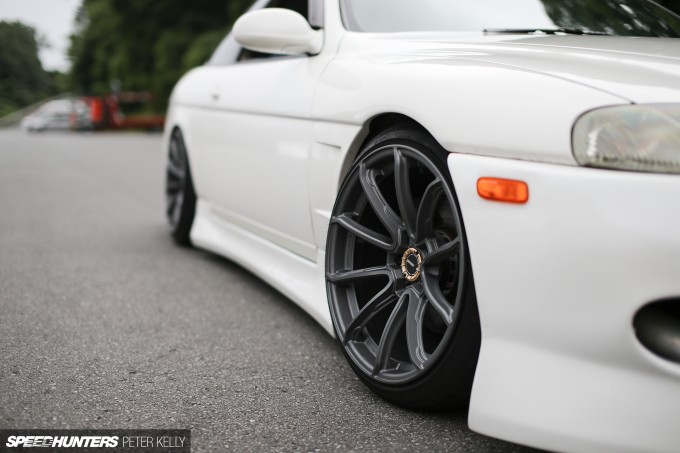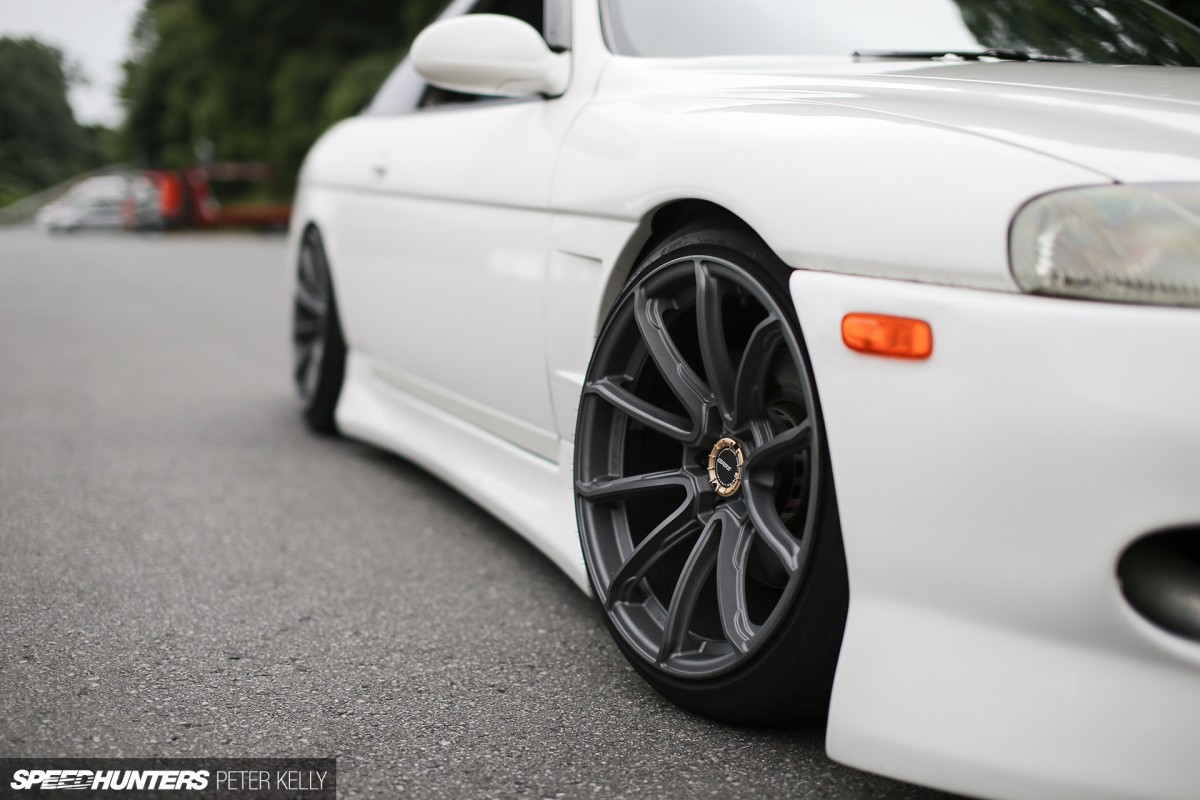 We did need to purchase a pair of spacers to fill out the wider Vertex front fenders though.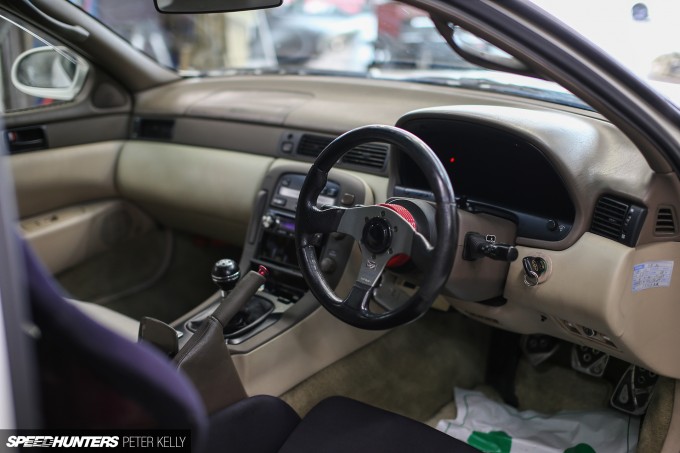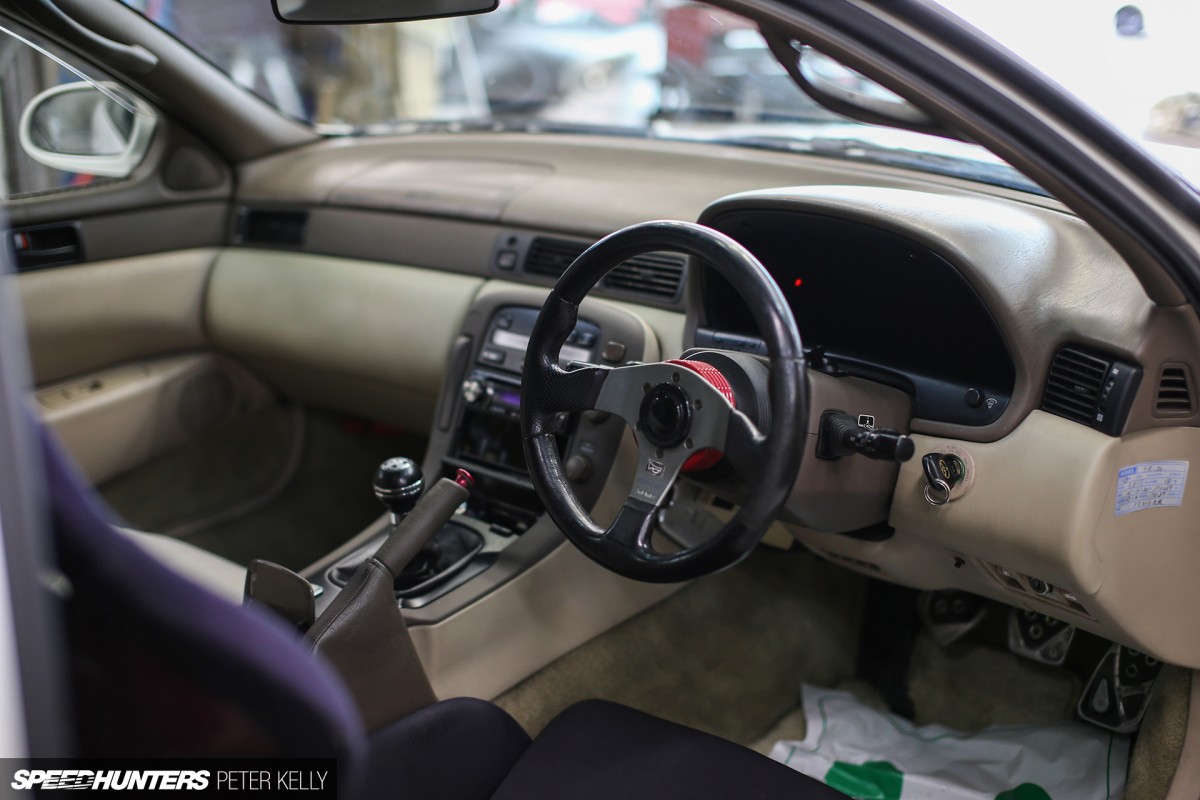 Inside, there's simply a tired old Bride seat, a Momo wheel and a whole lot of brown, which, for some reason I can't get enough of.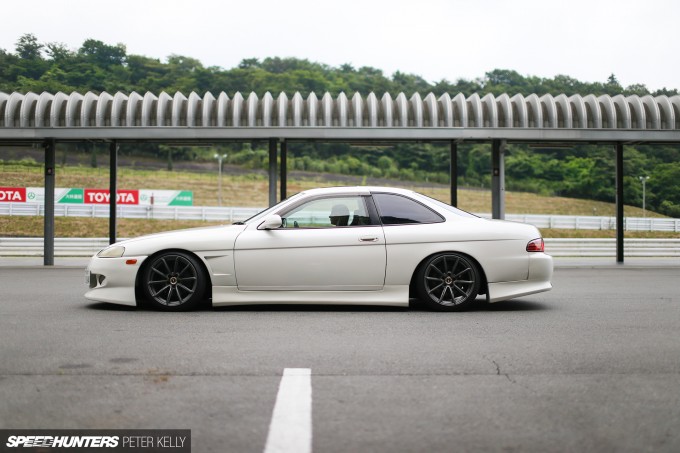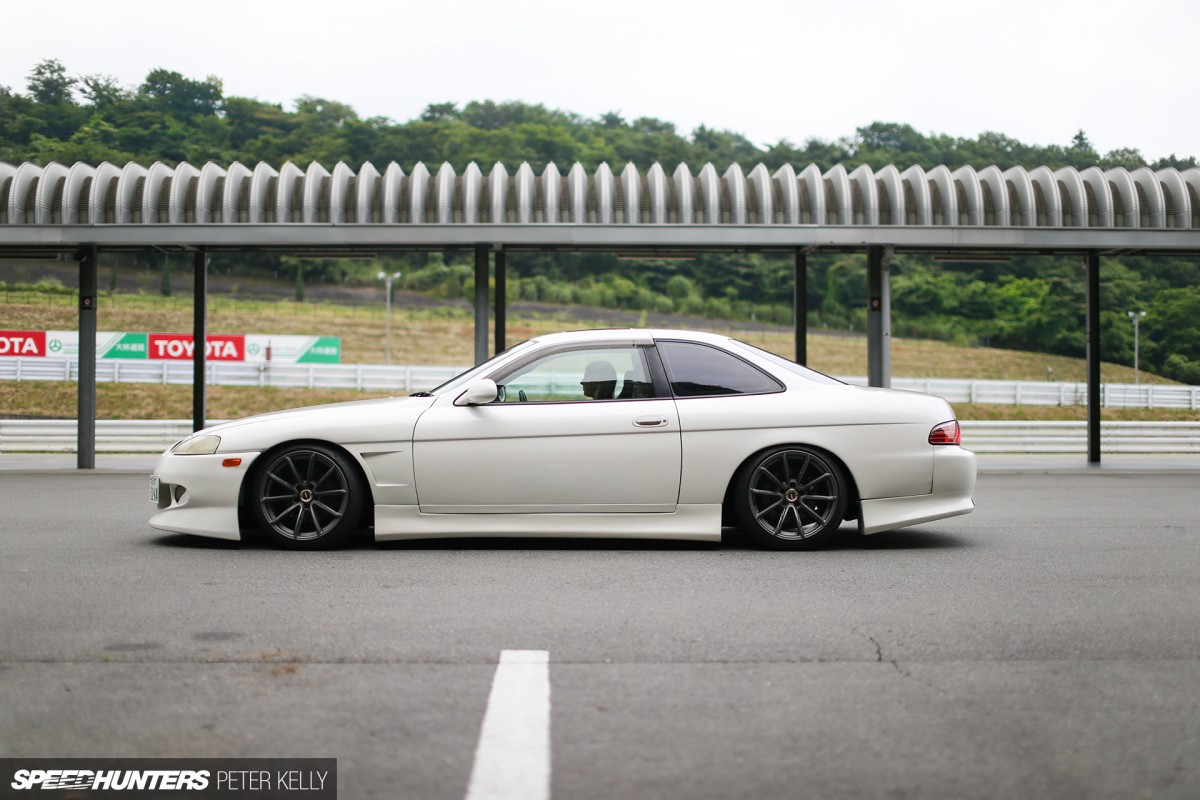 We'd already wasted so much time, so the morning after picking the car up from the yard, we were sailing our big white boat down the Wangan expressway on our way out of Tokyo.
Joining The Local Community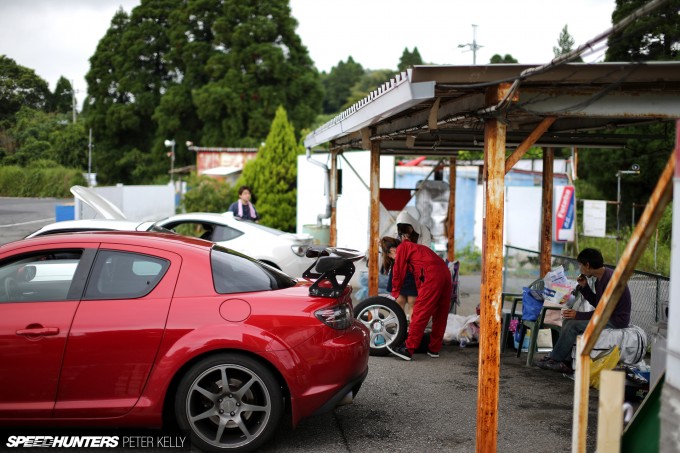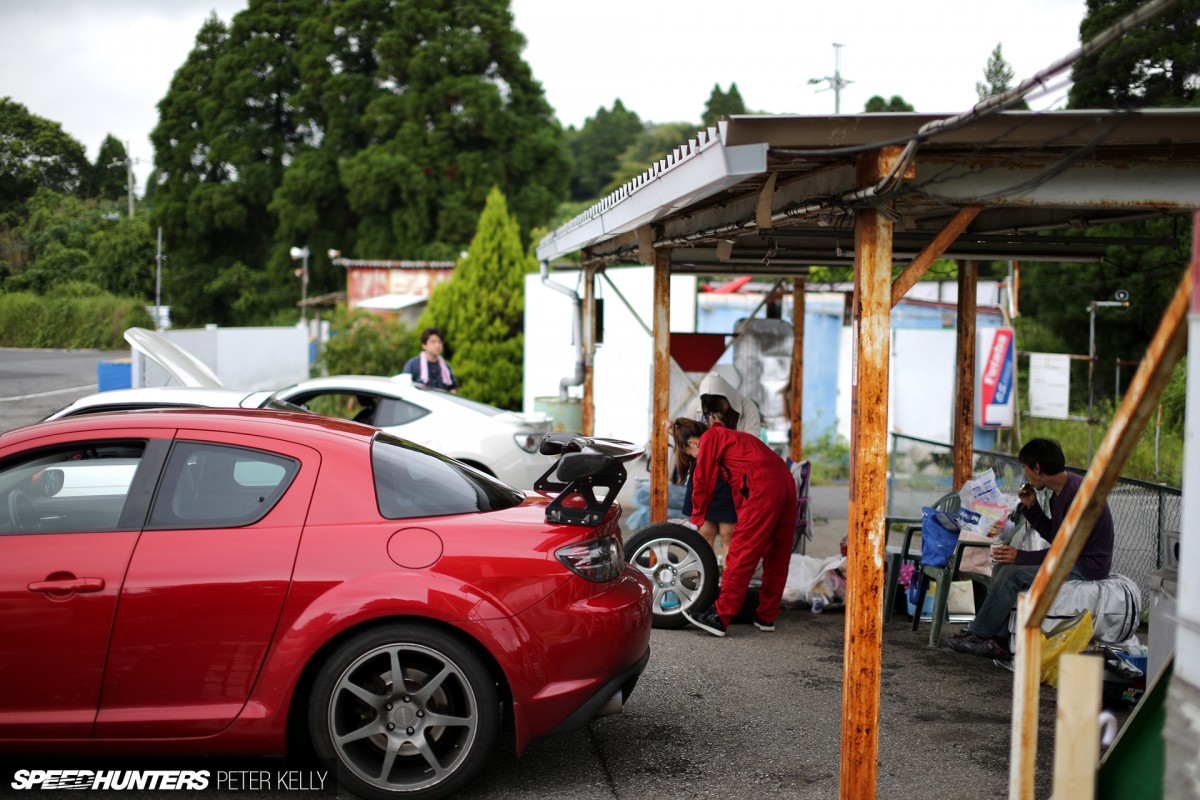 We were headed for Minami Chiba course, a small, low-key facility that allows you to simply show up, pay some money and do some skids, seven days a week (unless there's an event on, of course). We grabbed ourselves some all-day passes to one of the bigger areas and pulled into the pits where there were about five or so other drivers who had done the same thing.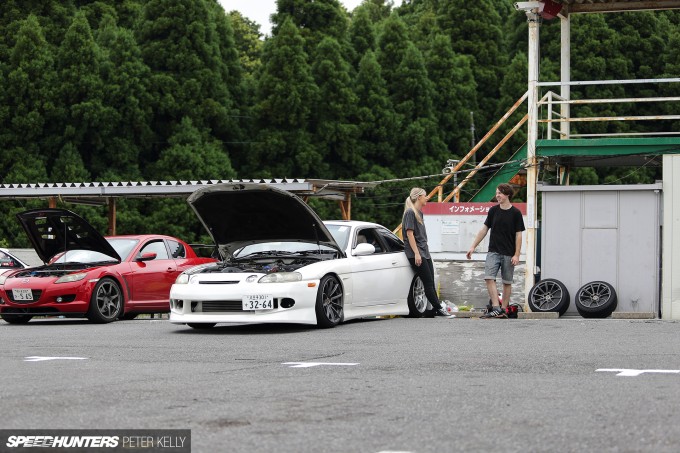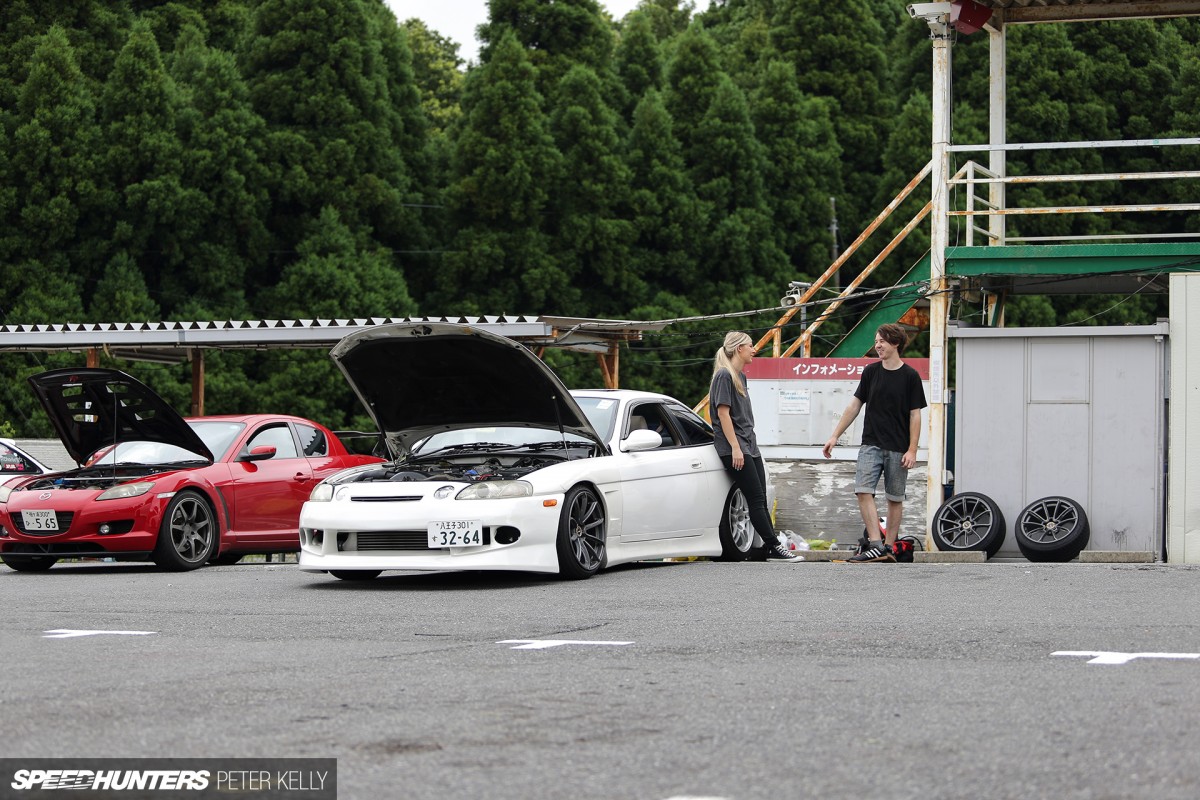 This was the perfect venue for two inexperienced drivers to test an unfamiliar car. Essentially, each participant is assigned a number and then you simply head out for a five-minute session when your turn comes up. This continues all day long, and when there's only a handful of drivers out there, it equates to a whole lot of track time.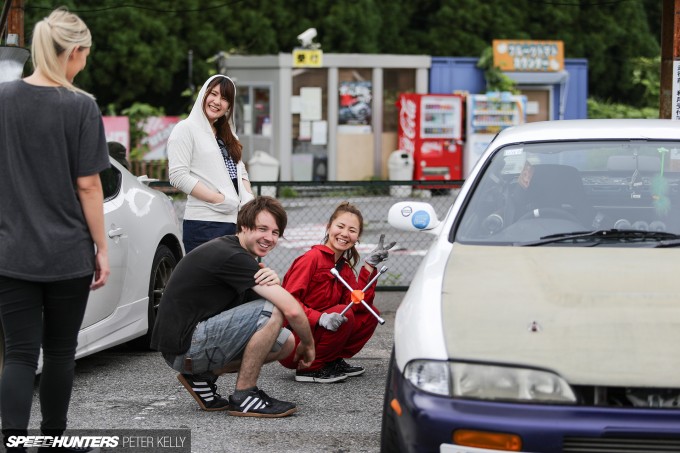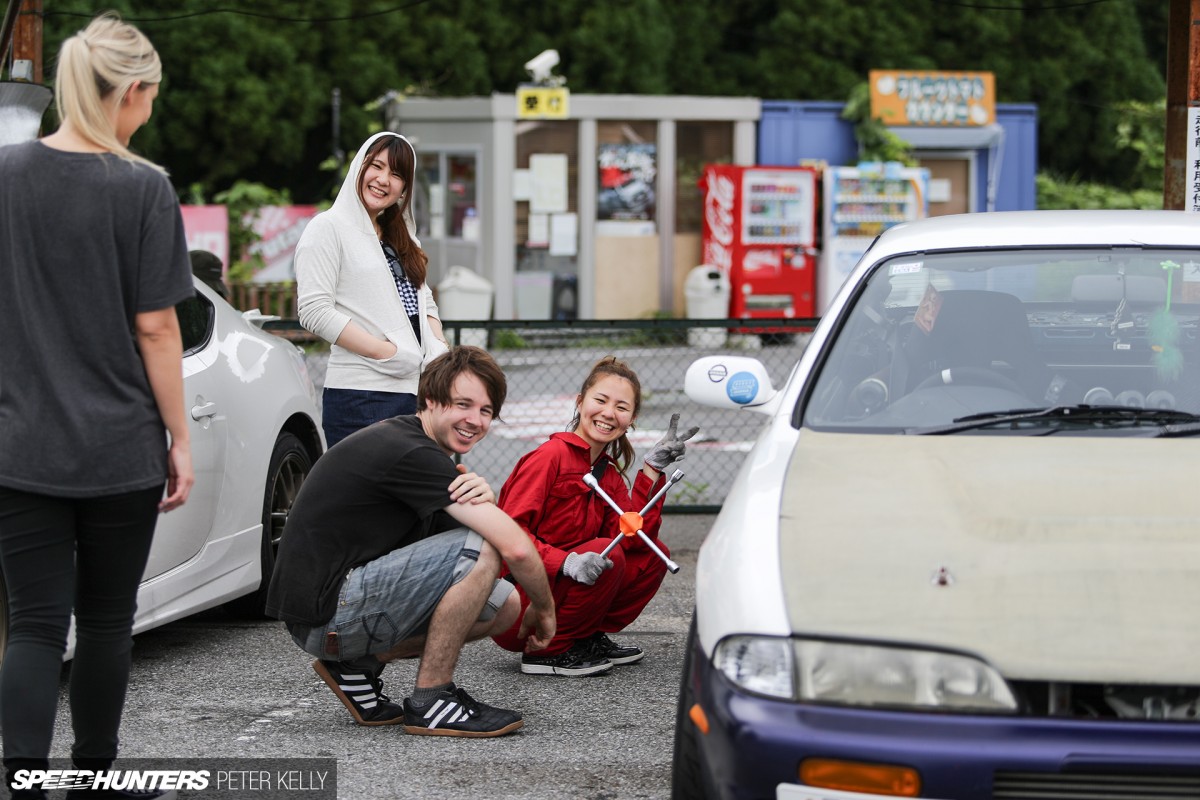 Our Kiwi friend Toby, who has been an absolute legend and helped us out considerably over the past month, came along to check out the car, provide the tools and give us a few pointers. We also made quick friends with some of the other drivers, like Yuka Tsukakoshi, who was hammering the snot out of her S14.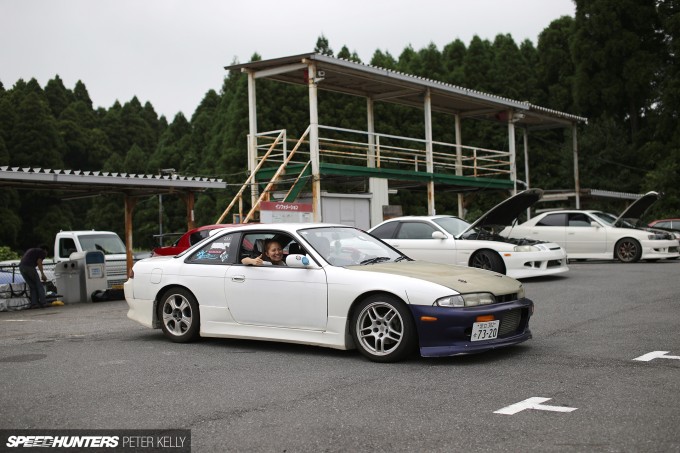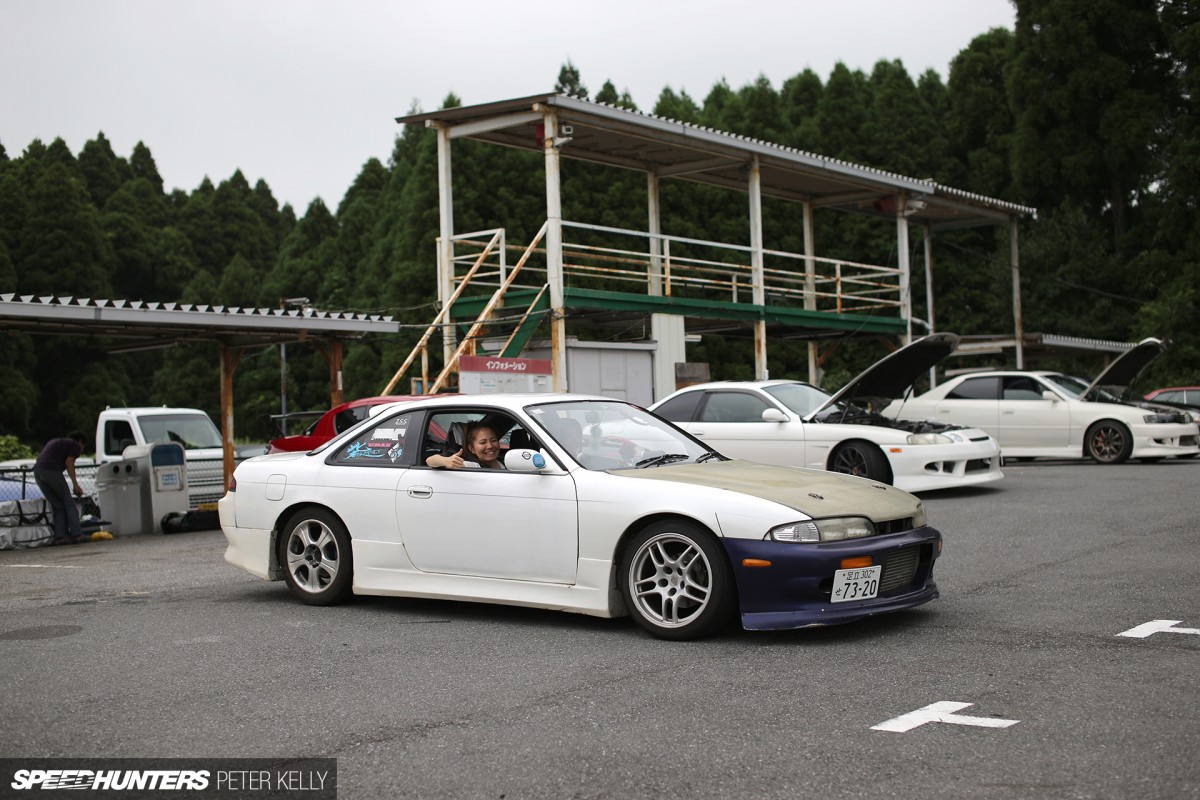 I know it sounds kind of trivial, but I couldn't help but love the fact that she was just there with a female friend – there was no dude in the background helping her change wheels or encouraging her to push her driving skills further. This is a fairly common sight at Japanese tracks, but as a foreigner, I still get a kick out of it every time.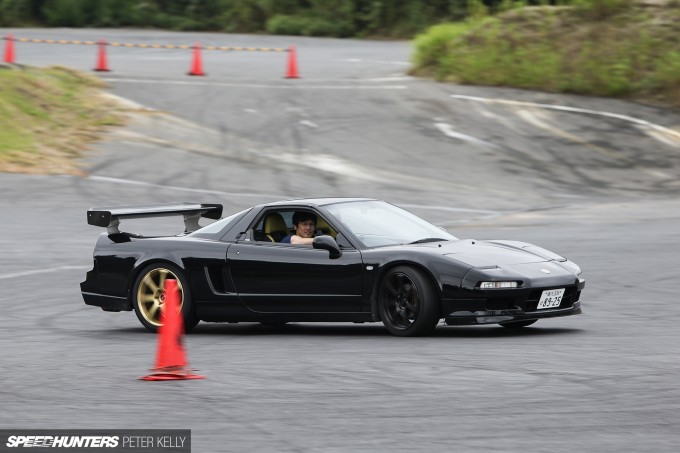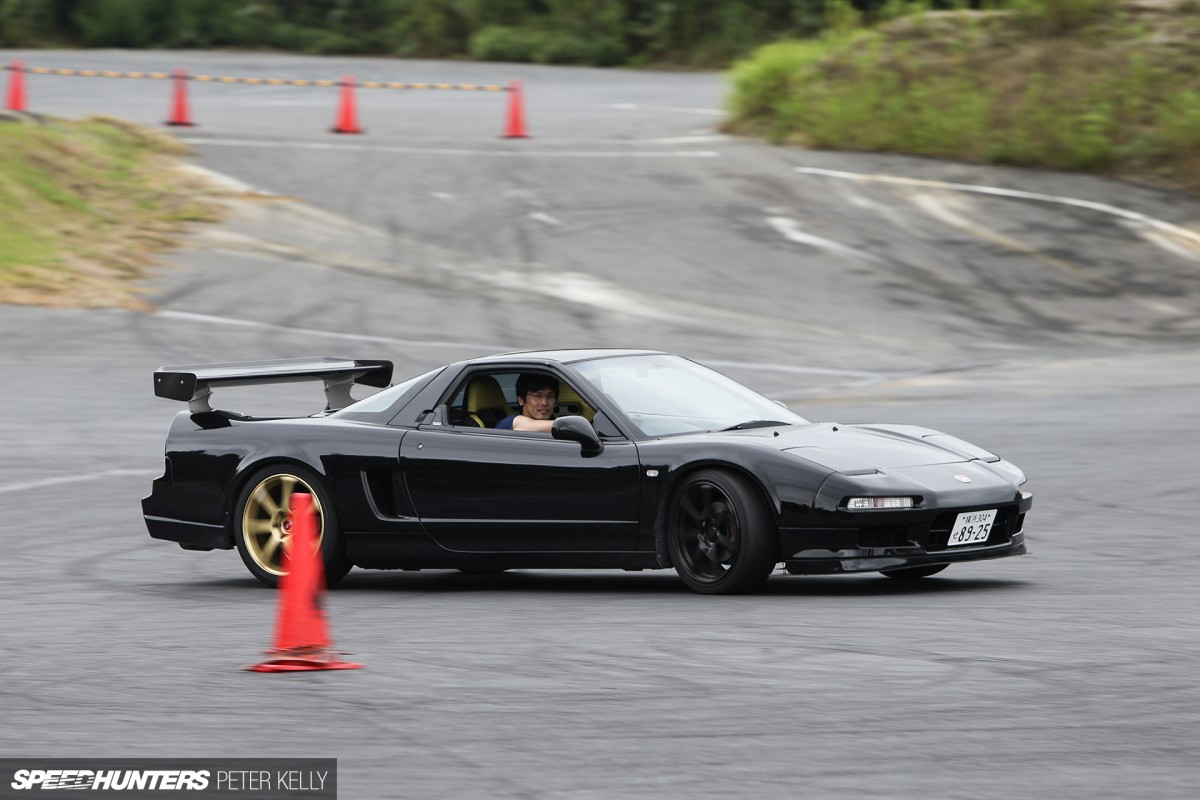 Our other pit neighbour was Taizo Hatakeyama, who had swung down for the day to slide his beautiful Honda NSX around the course. A quick chat revealed that Hatakeyama-san, besides working in real estate, was also a highly competitive motorcycle racer.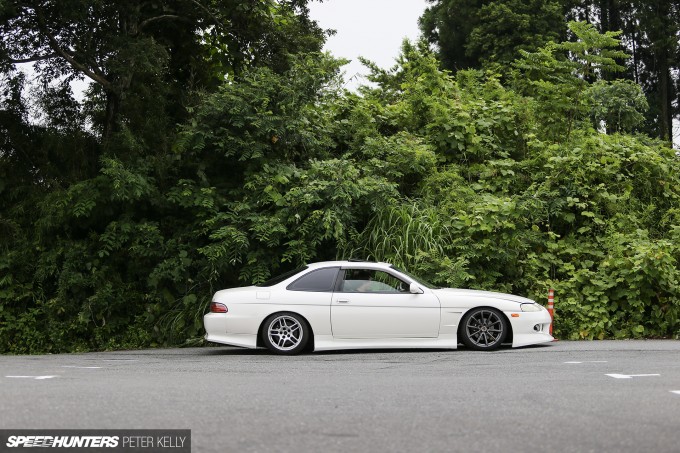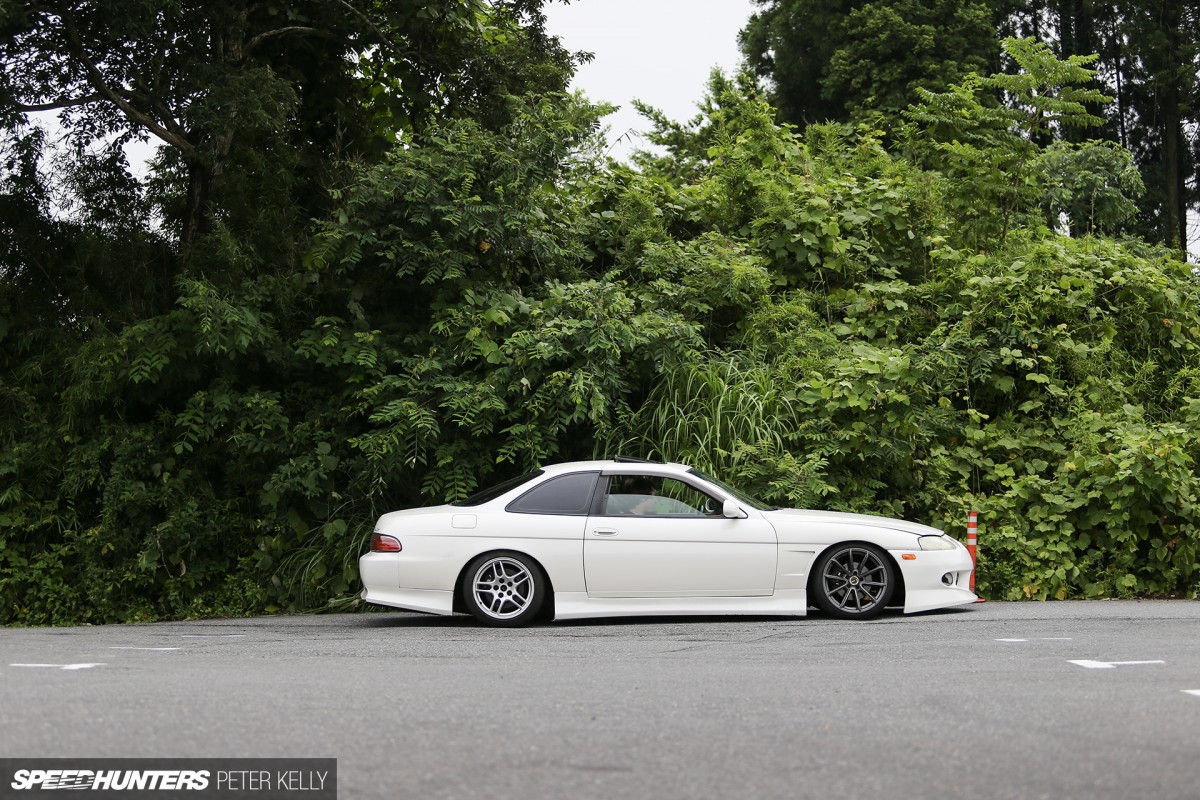 This is what I love so much about grassroots motorsport in Japan – every venue and event I've ever attended, there's been nothing but cool, friendly people to meet. Sure, they might have a tendency to at first simply smile and nod politely, and then go back to what they are doing, but it's usually because they're not confident with English, which I completely understand – I'm not exactly what you'd call a master of the Japanese language!
Test Time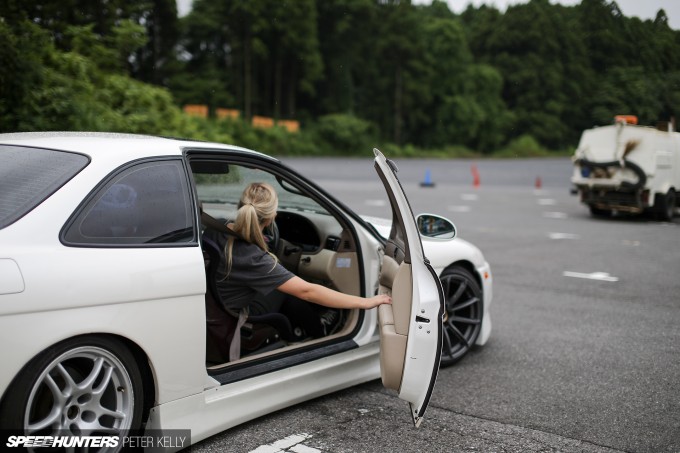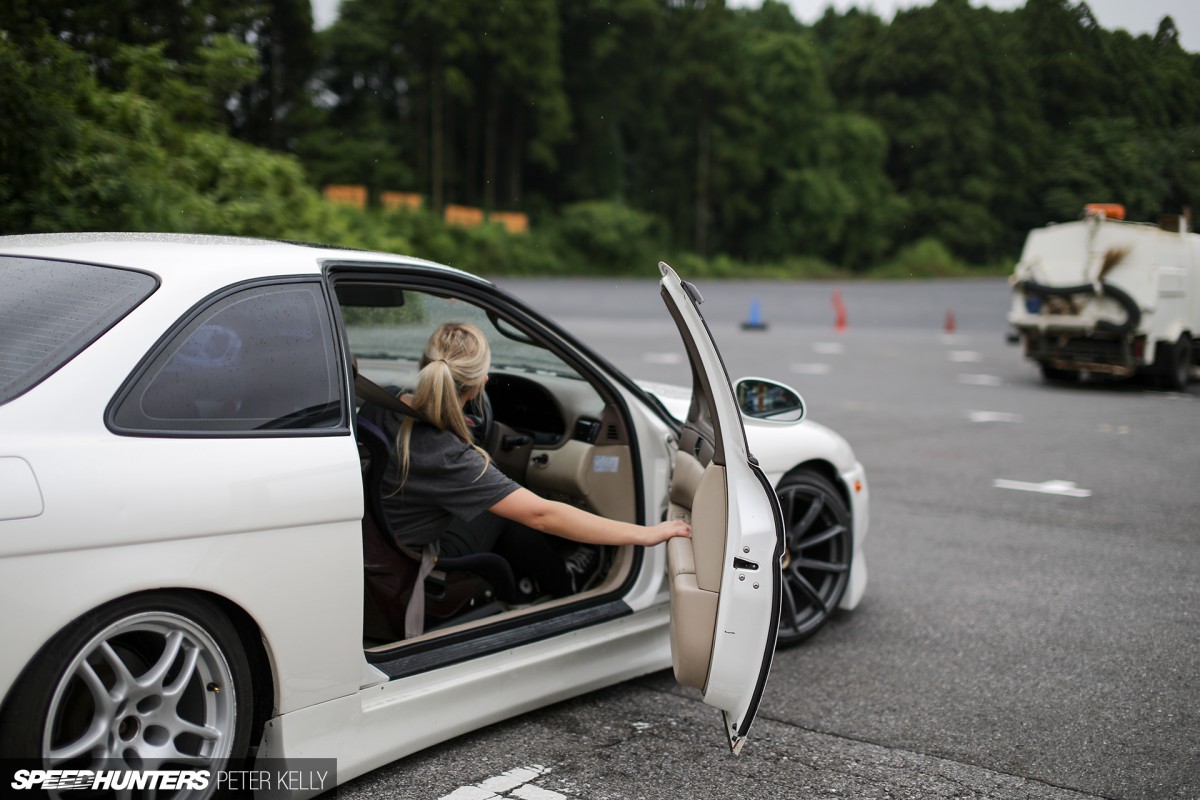 Of course, we weren't here to socialise – it was skid time.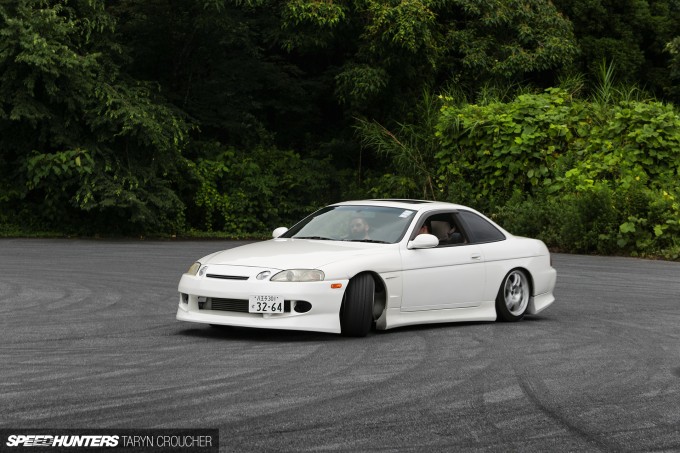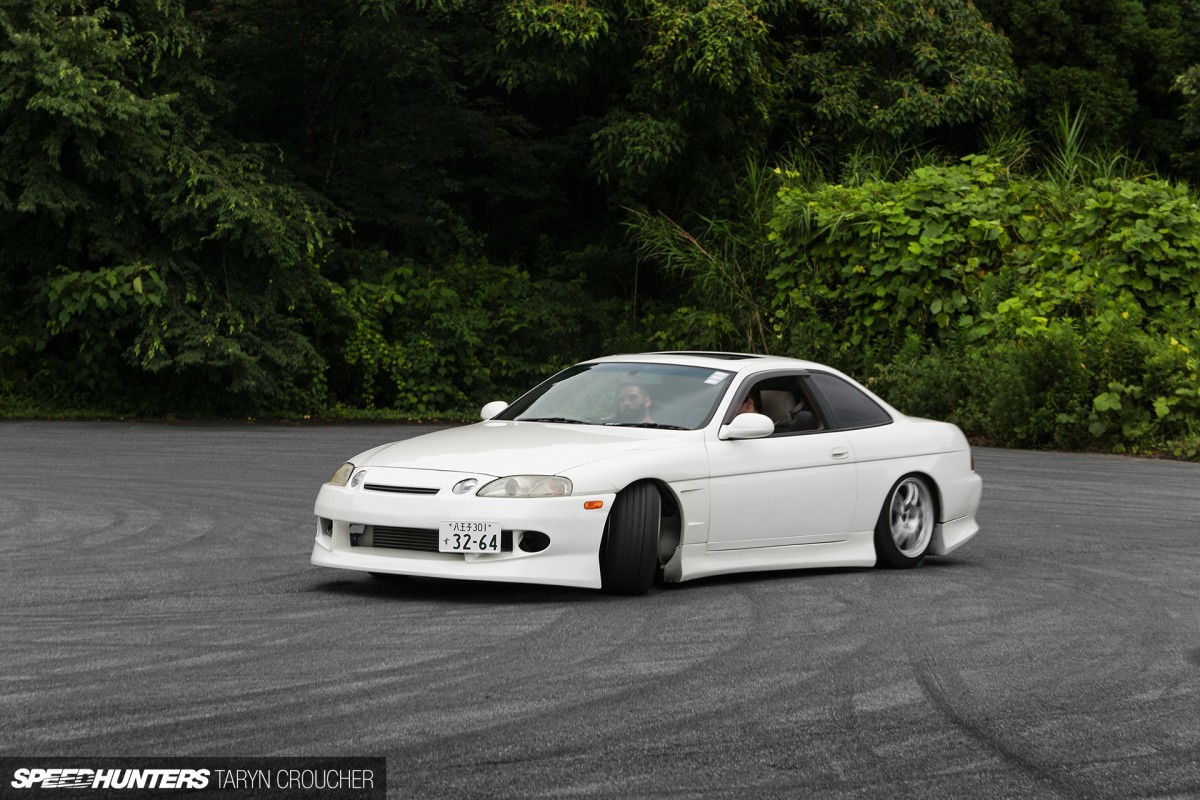 At 1,600kg, the Soarer is not what you'd call nimble. It's big, it's lazy and it feels planted, but as I've always driven big cars in the past, that suited me just fine. Despite my inexperience, right from my first lap in the car, I felt surprisingly comfortable behind the wheel of the gliding whale.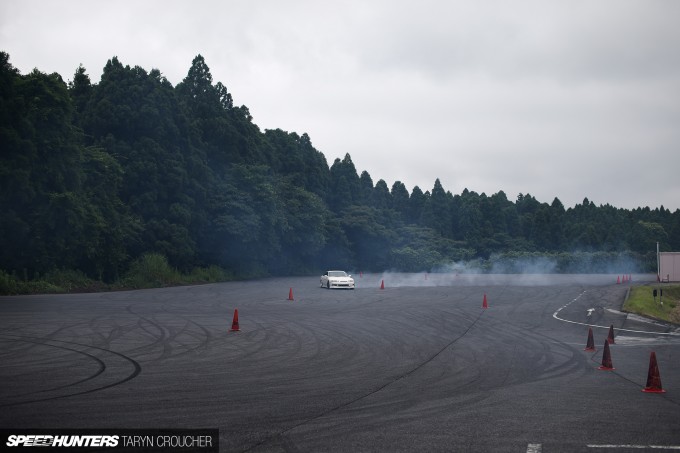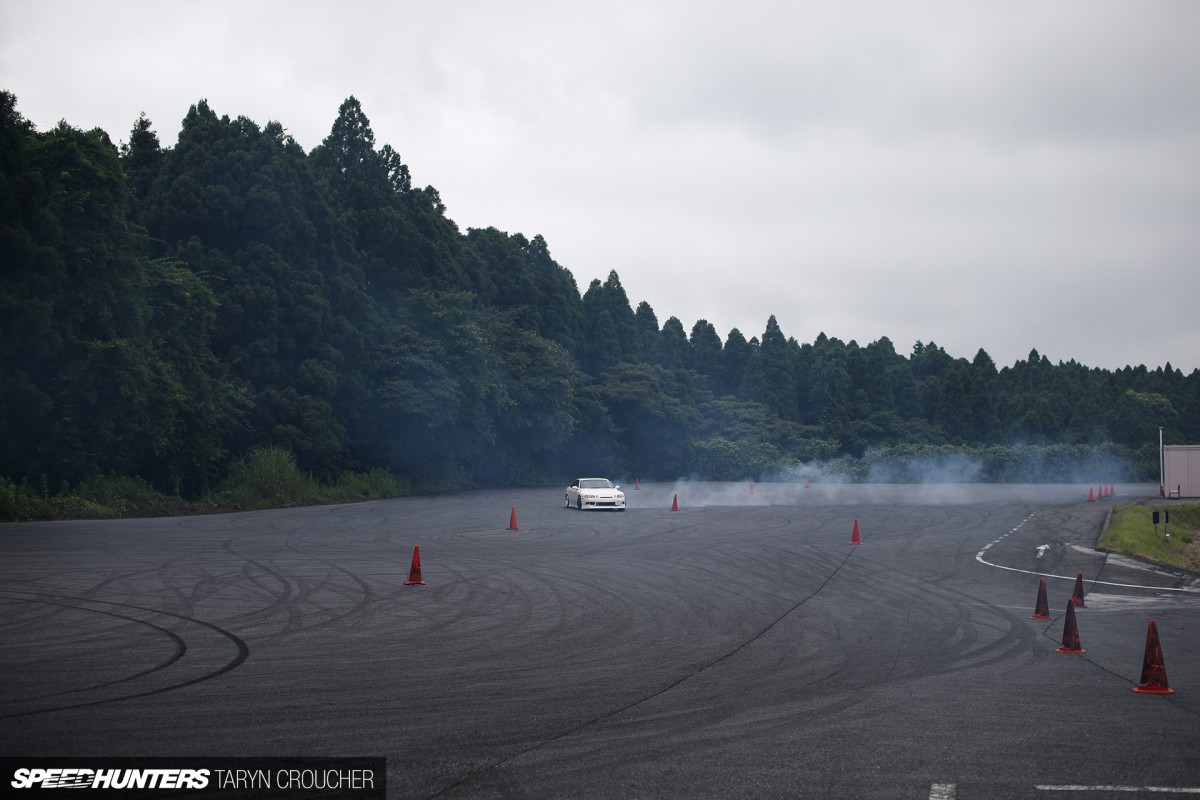 The lazy switches, the ample 1JZ power delivery and the extra lock provided by the Hey Man knuckles really inspired a lot of confidence, and I was soon swinging my way through the entire course with the biggest grin on my face.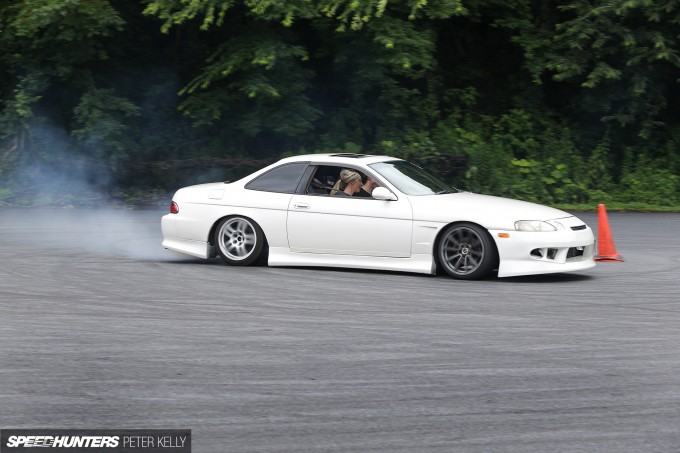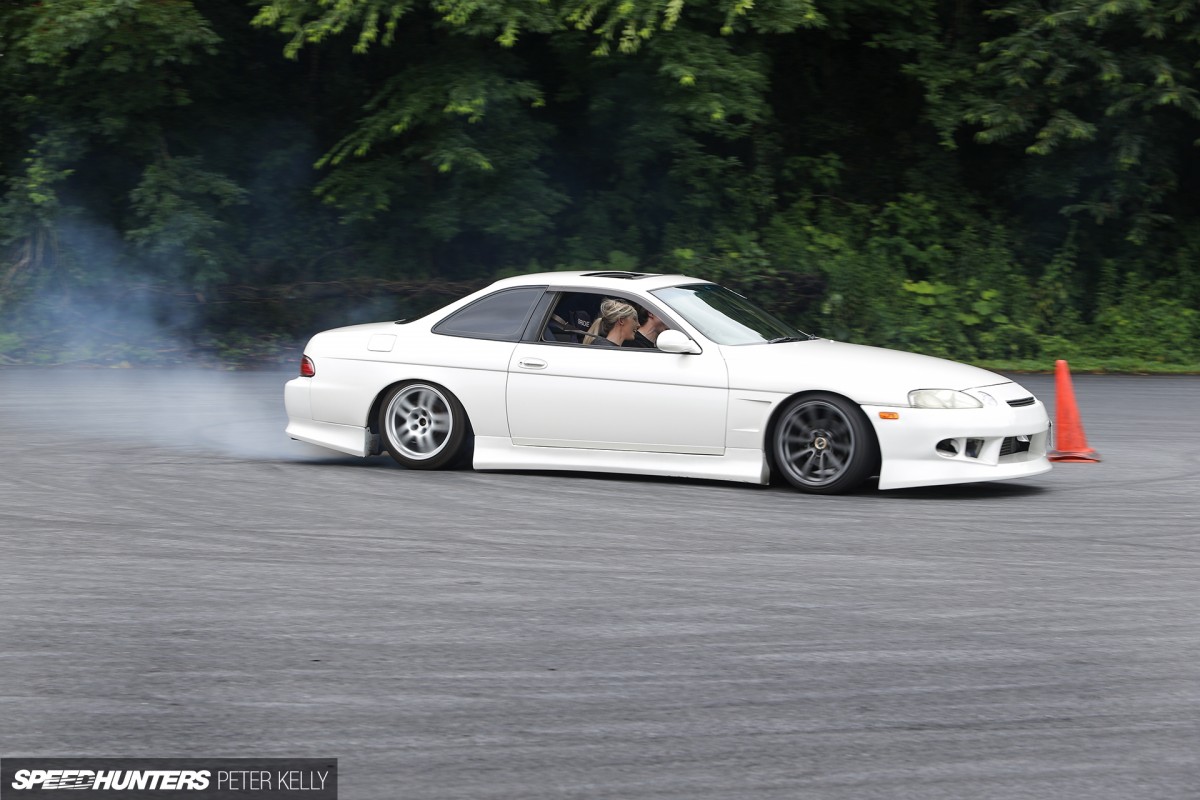 Taryn was having a blast too. Like me, she's in no way claiming to be an expert behind the wheel, but unlike me, she's never actually drifted a car before besides the occasional loss of traction in her old MX-5 at track days back in New Zealand. So for her it was a case of starting from scratch – and the Soarer was perfect for the job.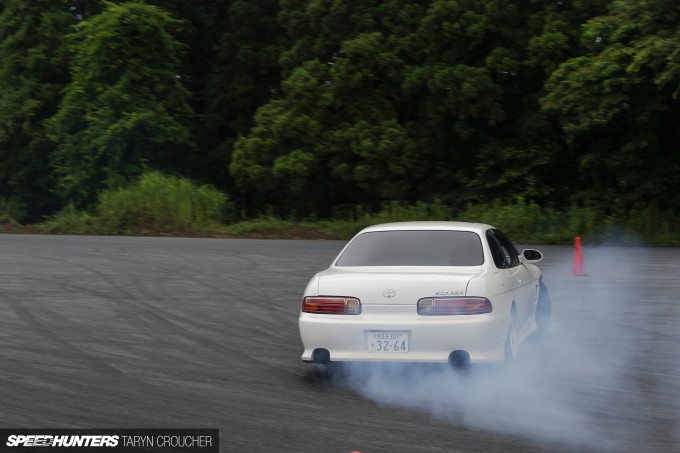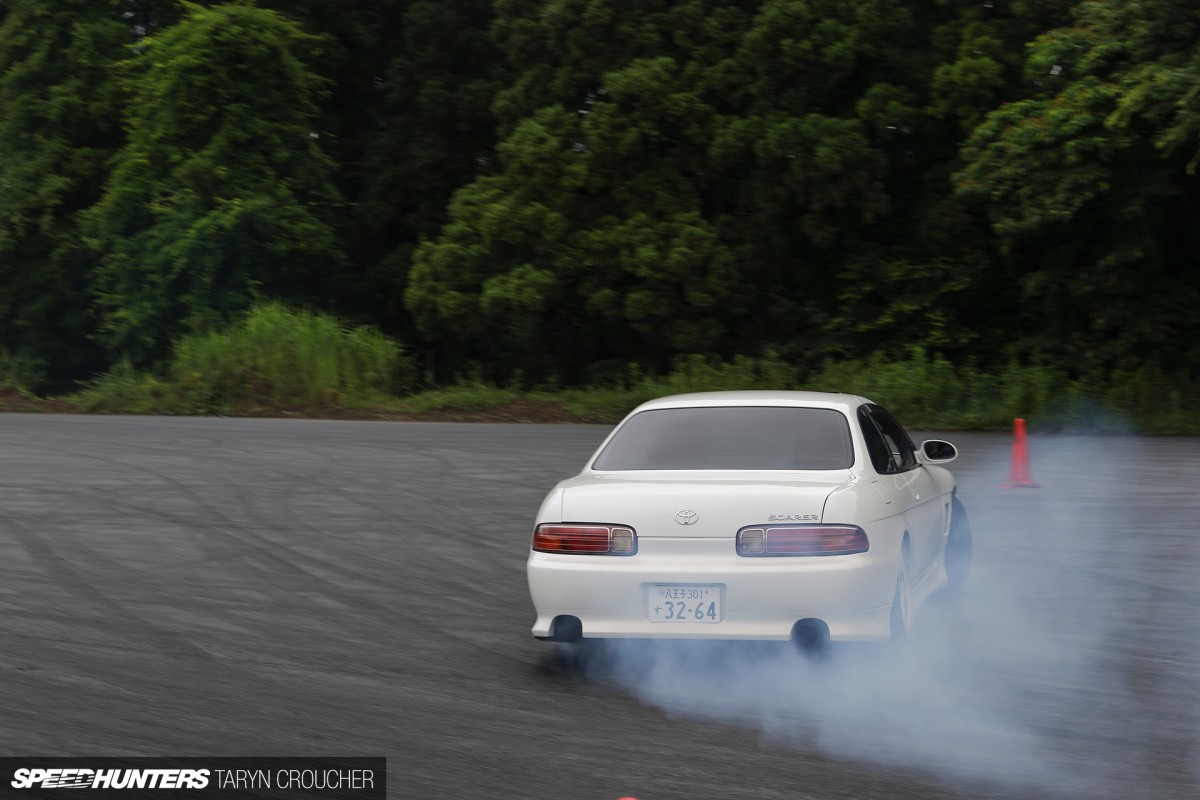 Taryn quickly mastered the basics, while I was trying to push for more angle and more speed, which didn't always work out in my, or a few unfortunate cone's, favour.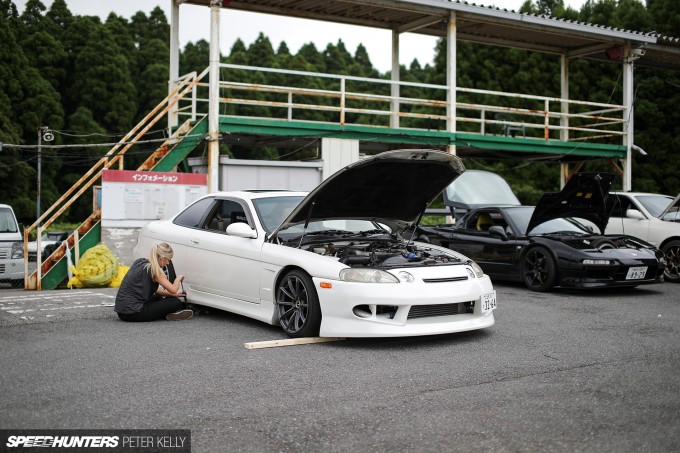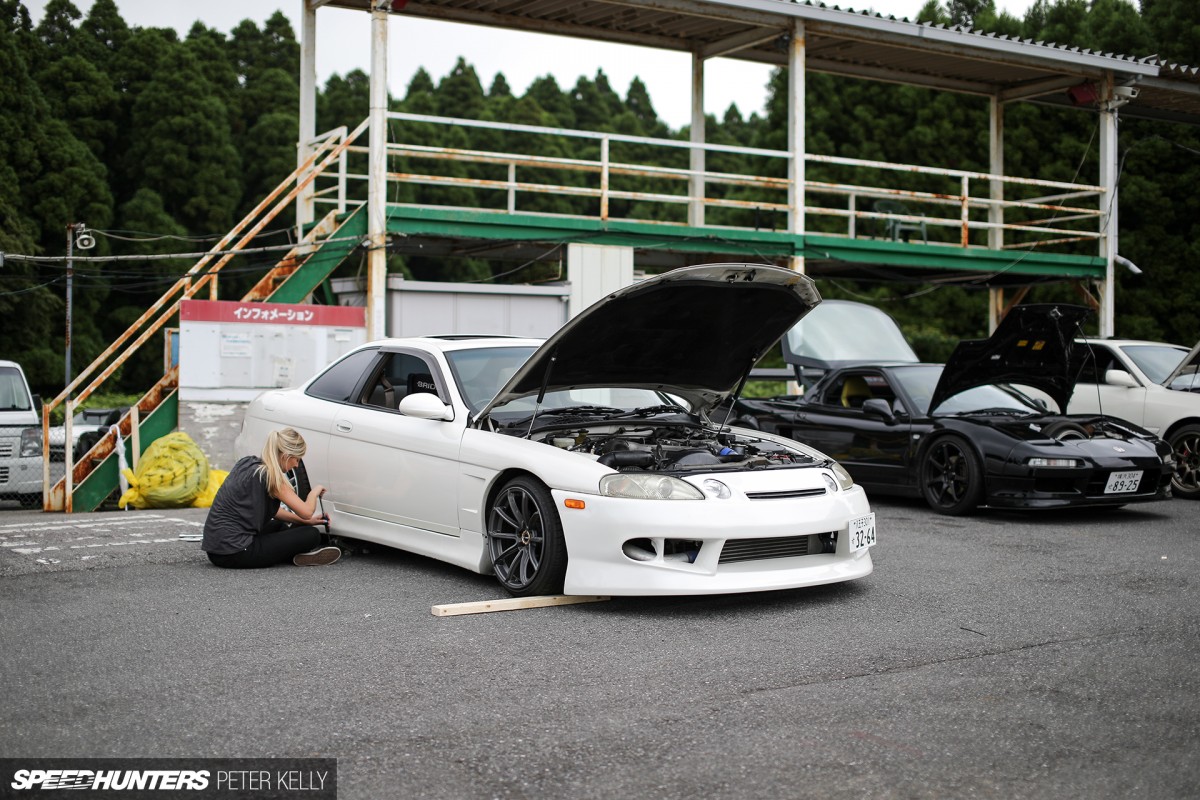 As per the law of the land (which I may have just adapted from the timeless family trash can rule), if you pop a tyre, it's your responsibility to break out the jack and fire some fresh rubber on the car.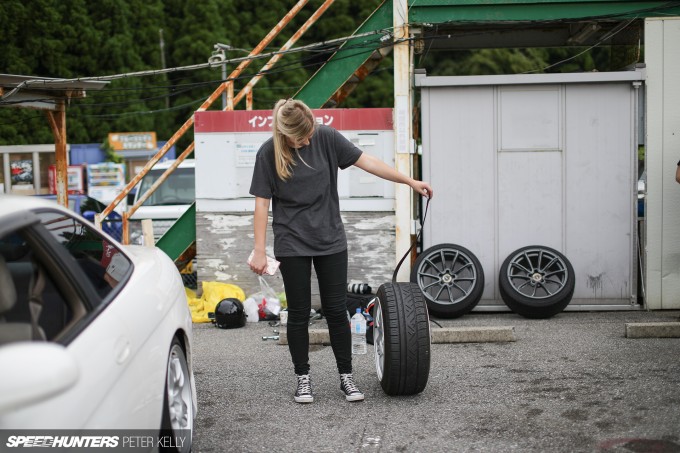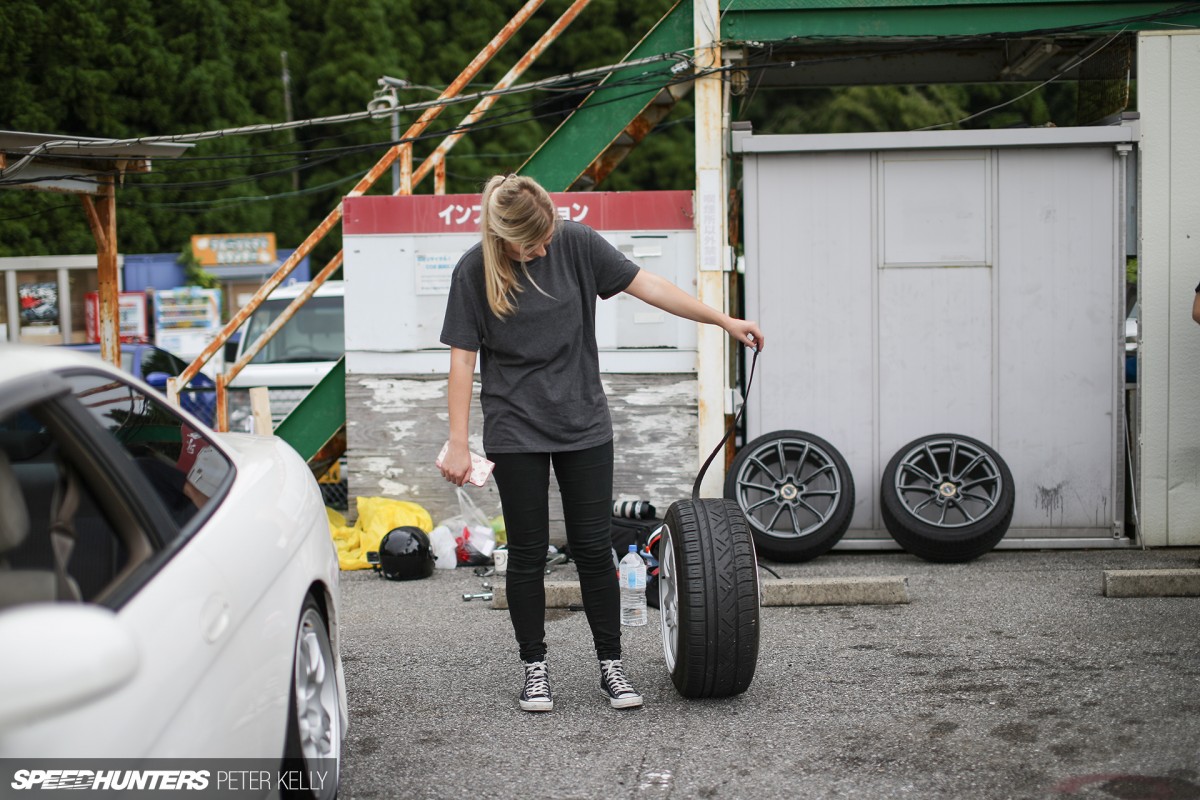 This will have to go on the Speedhunters HQ wall: 'Taryn's first tyre delamination'.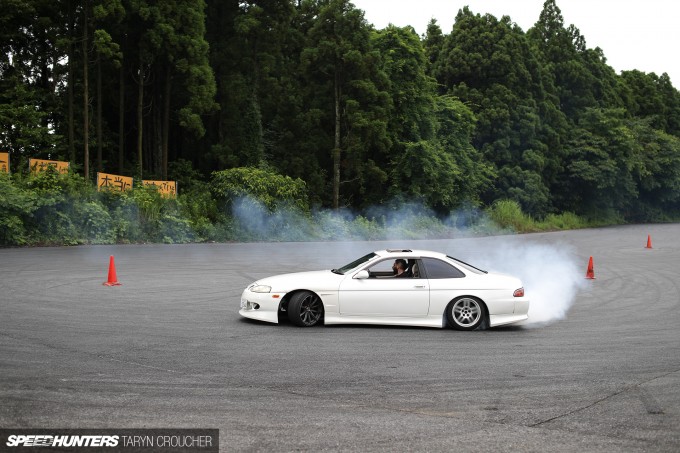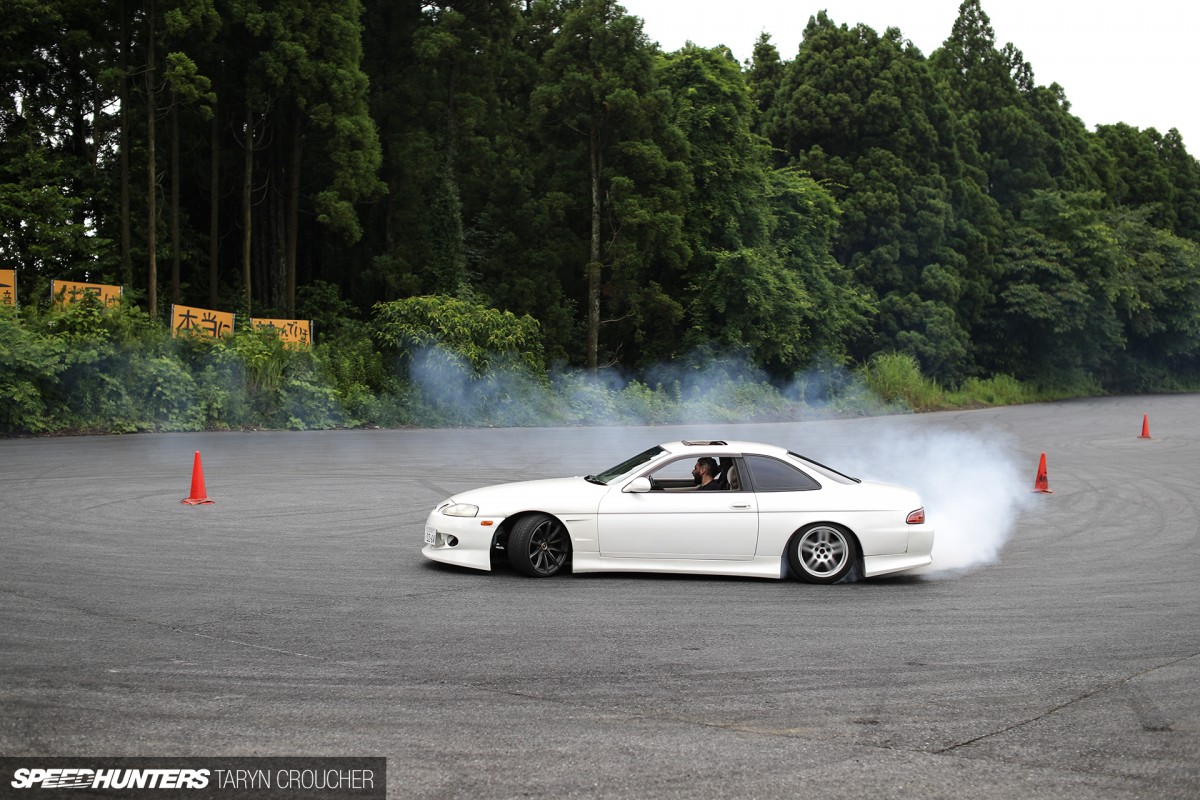 By mid-afternoon we were really coming to grips with the car, and then the rain started to fall.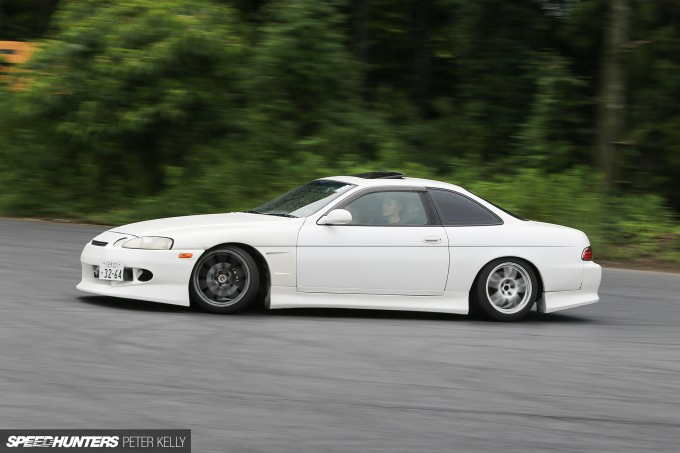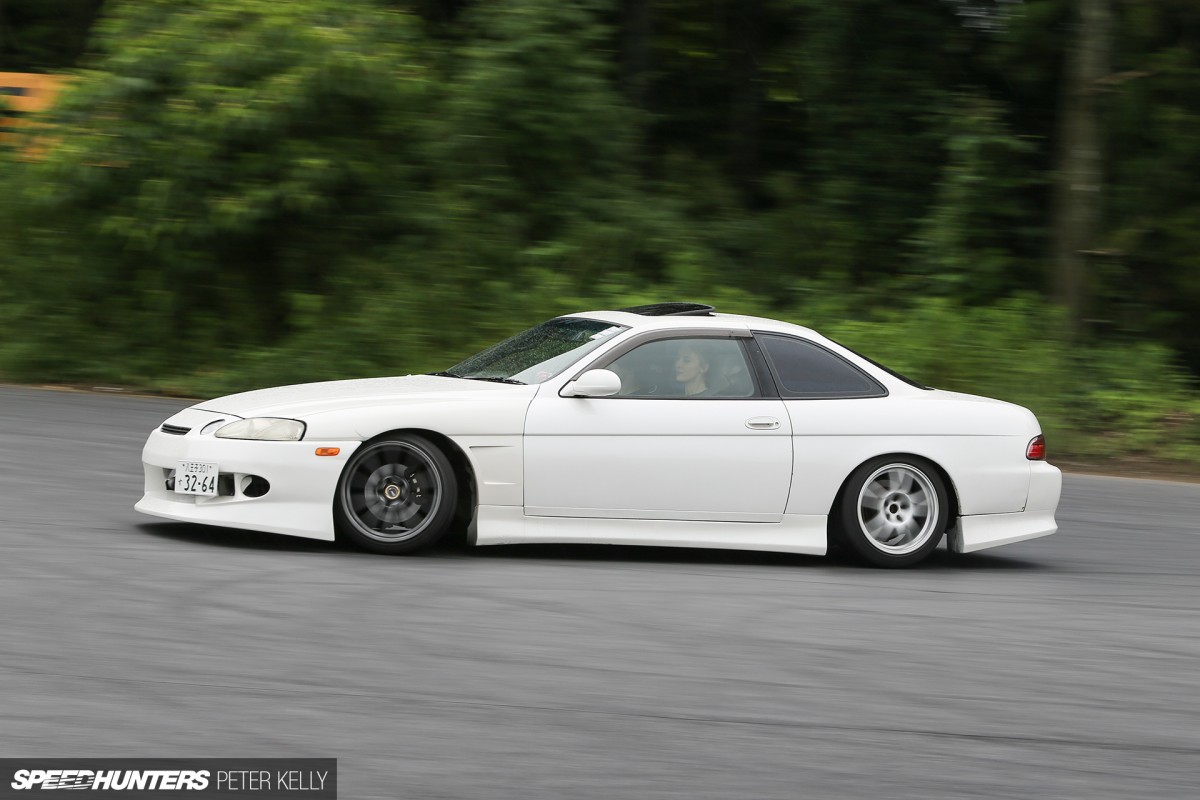 I was secretly stoked, because it would give us an idea of how the Soarer behaves in the wet before we have to find out at a more intense track like Nikko, as well as go easier on tyres, fuel and mechanical stress. That's scroogey of me I know, but with everything that's happened recently, you've got to take your fiscal victories when you find them!
You can see how hilariously lazy the Z30 is in the wet in this quick Instagram video – especially at Minami Chiba where the surface is basically rubberised from the year's worth of skidding. The water simply sits on top and provides no grip at all.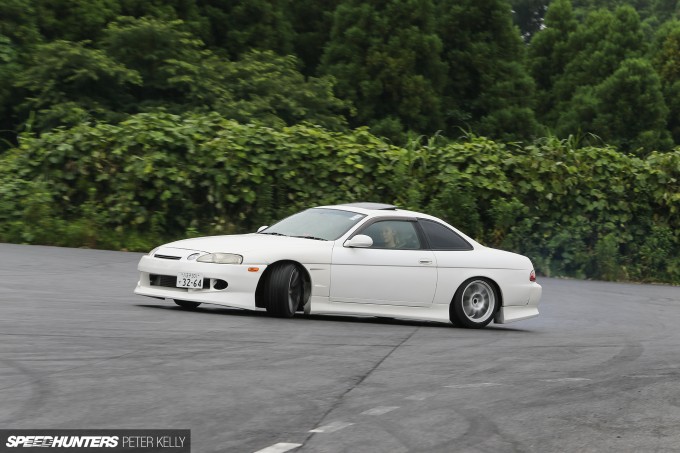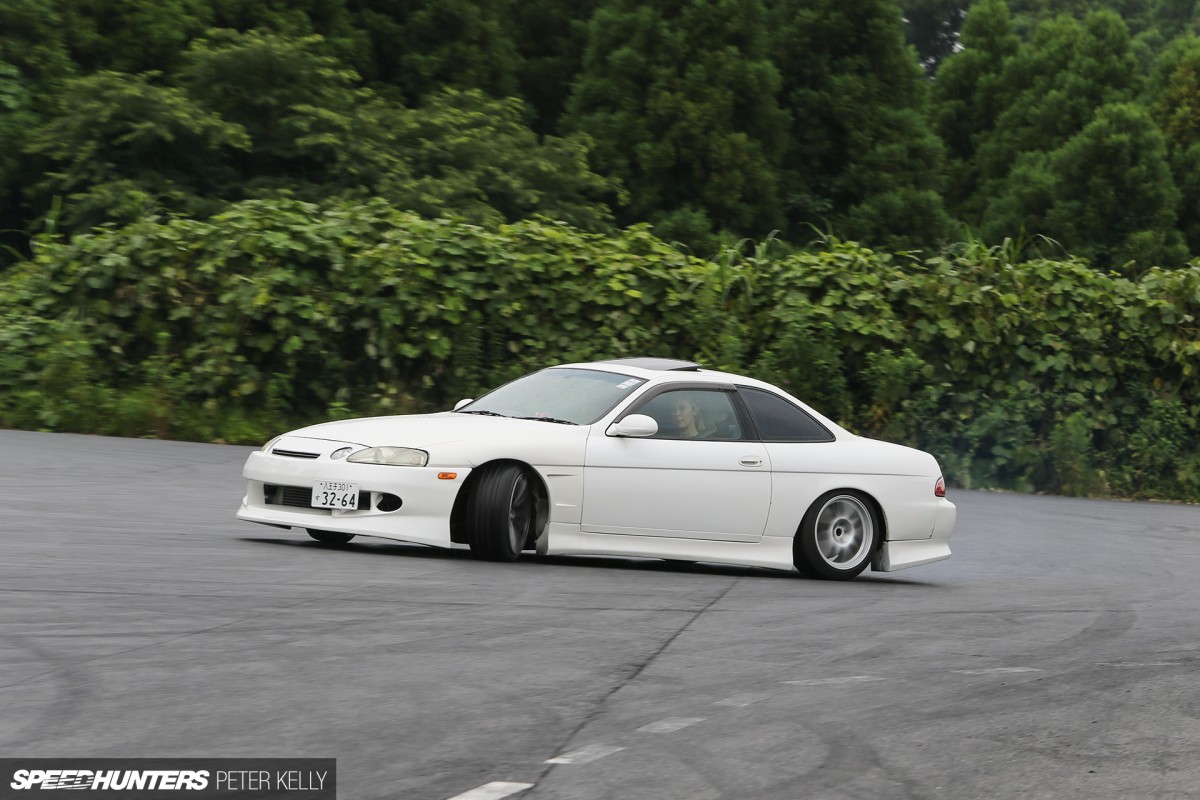 We weren't complaining though, it was huge amounts of fun and a chance to finally let off some steam after all the headaches of the past month.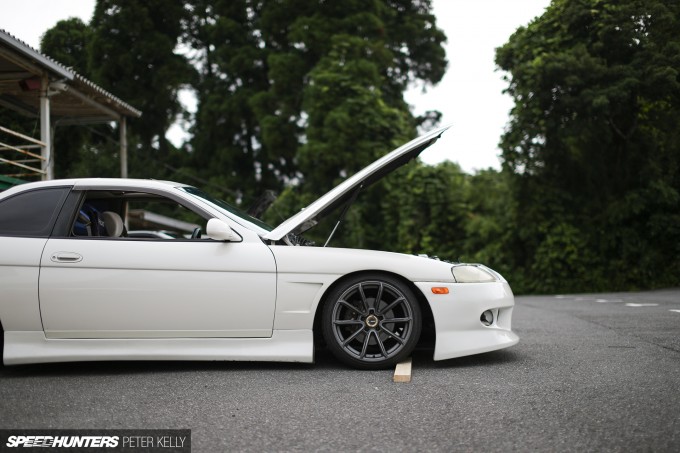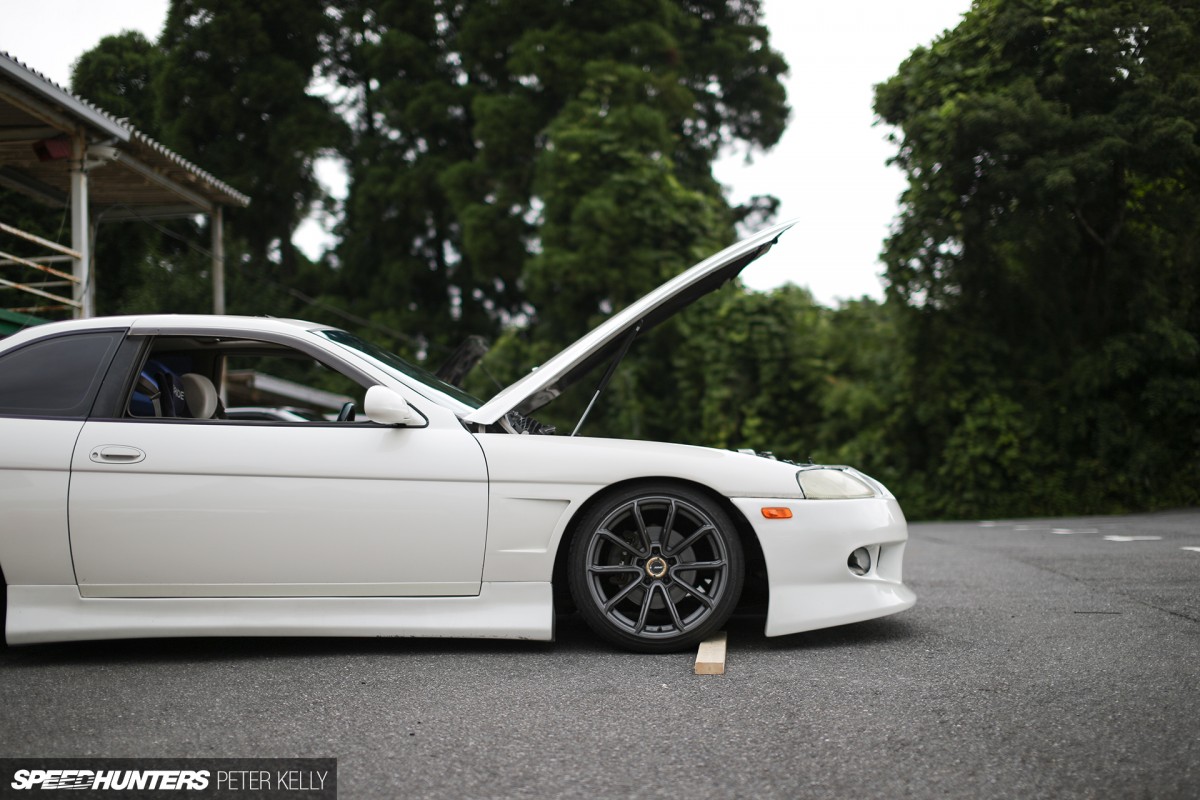 At 4:00pm the day was officially over, and we set about packing up our purring, solid-as-a-rock, unbroken car for the trip back home. What a shock to the system…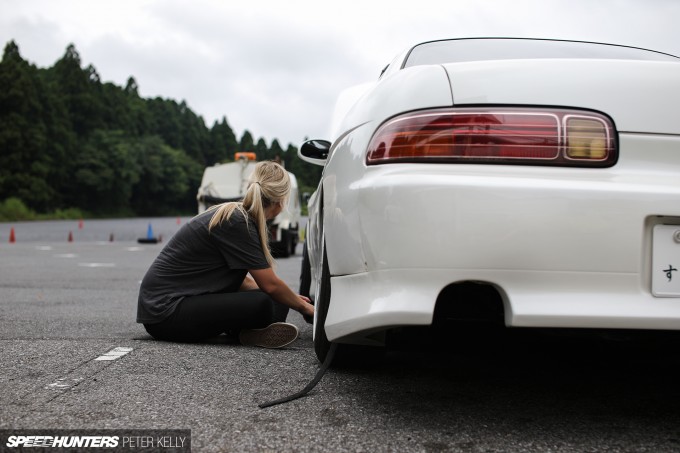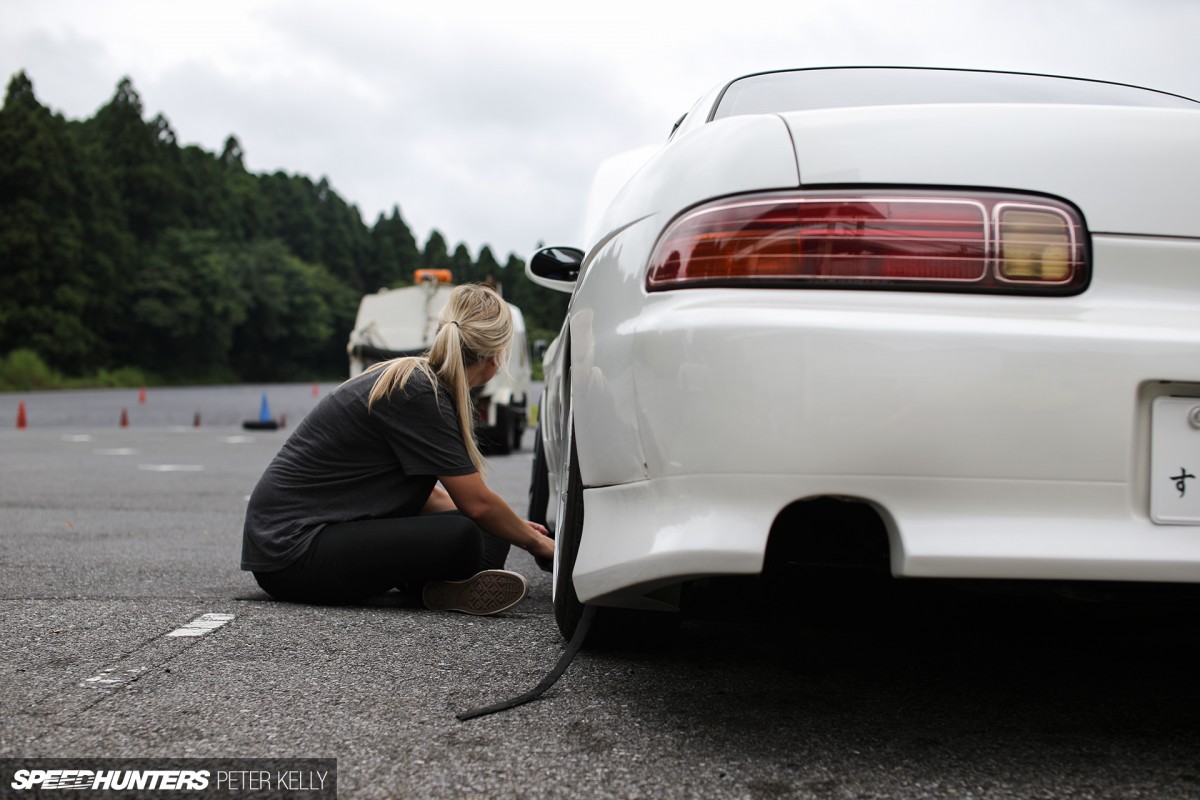 I have to ask myself, if I hadn't published this Project X saga on Speedhunters for the world to see in the first place, would we have put ourselves in financial harms way and still purchased the Soarer? Or would we have just given up quietly and bought ourselves a pair of train passes, safe in the knowledge that we hadn't been talking a big game on one of the world's biggest online automotive publications.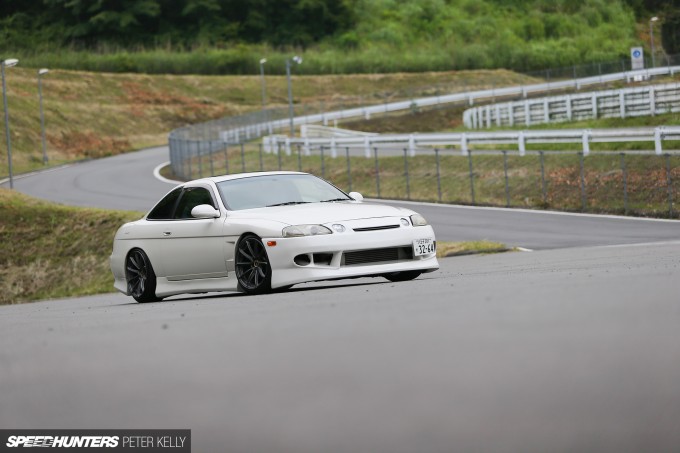 I like to think we still would have picked option A. We've never been motivated by a fear of losing face and looking like we wimped out – we've been wanting to do this for a long time. Whilst it might have been one of those decisions that my dad would most definitely shake his head disapprovingly upon hearing about, and one that I'll admit kept me up for a few nights in a row, we just couldn't let a sour deal hamstring our goals.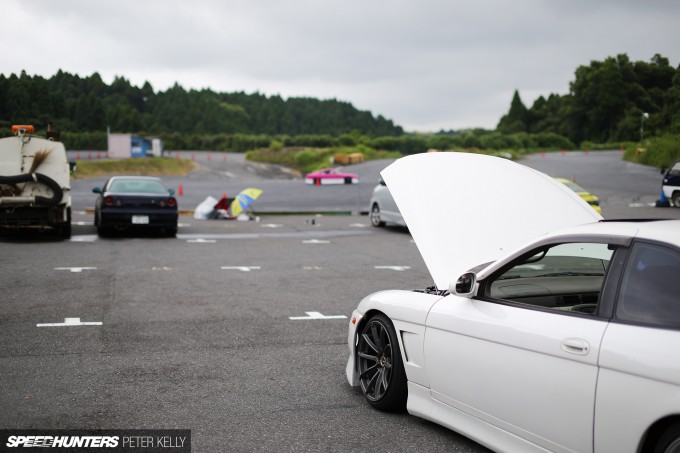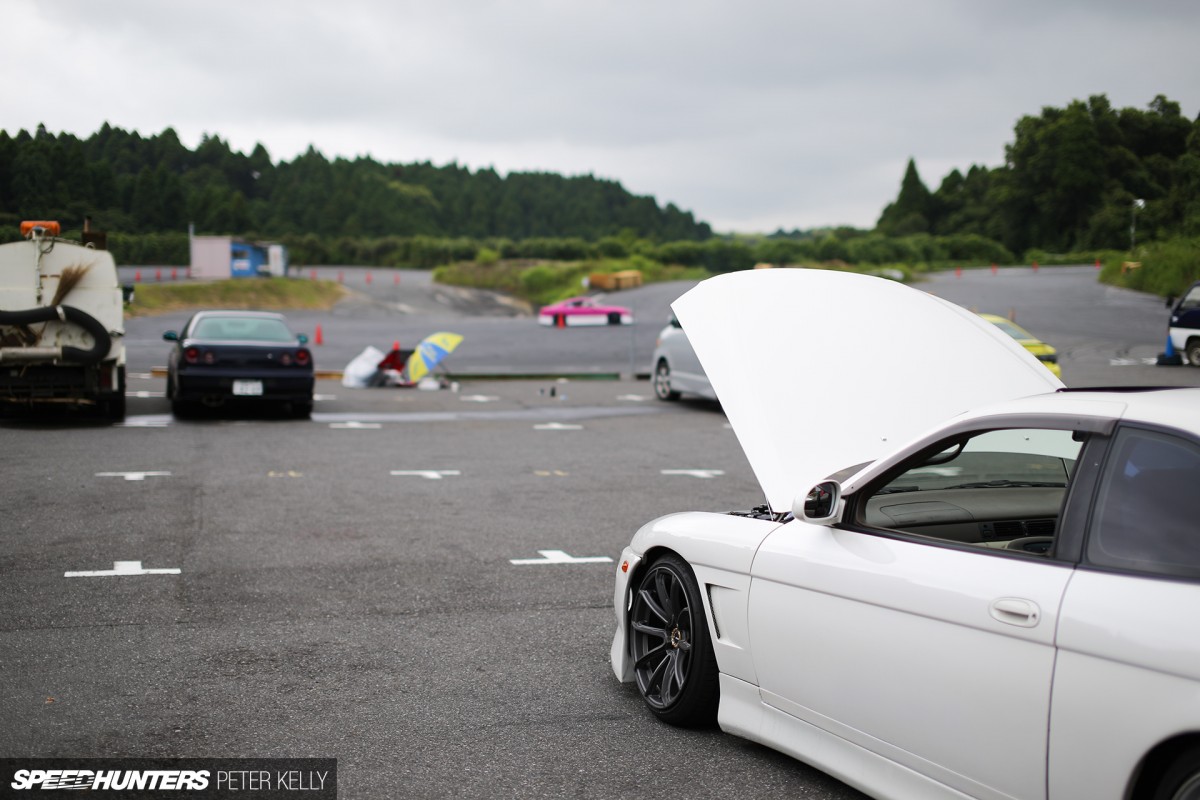 Regardless, a day's worth of sliding around at Minami Chiba has pushed those money worries right into the back of my mind – and it's only the beginning. We've got a bunch of track days at various circuits around Tokyo lined up over the next month, as well as a few plans to head to some of the country's best touges for a closer look.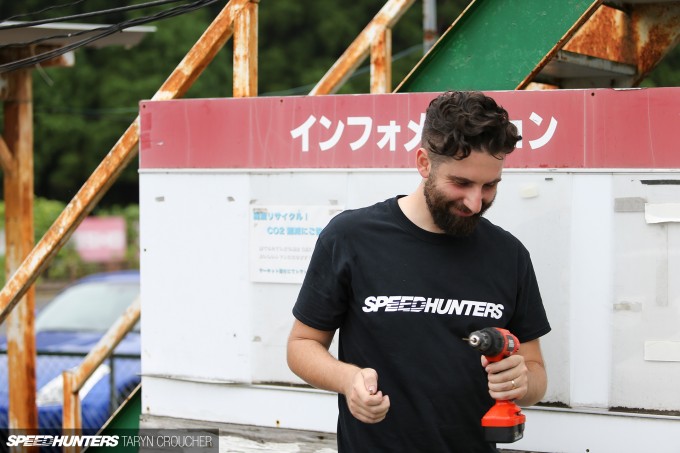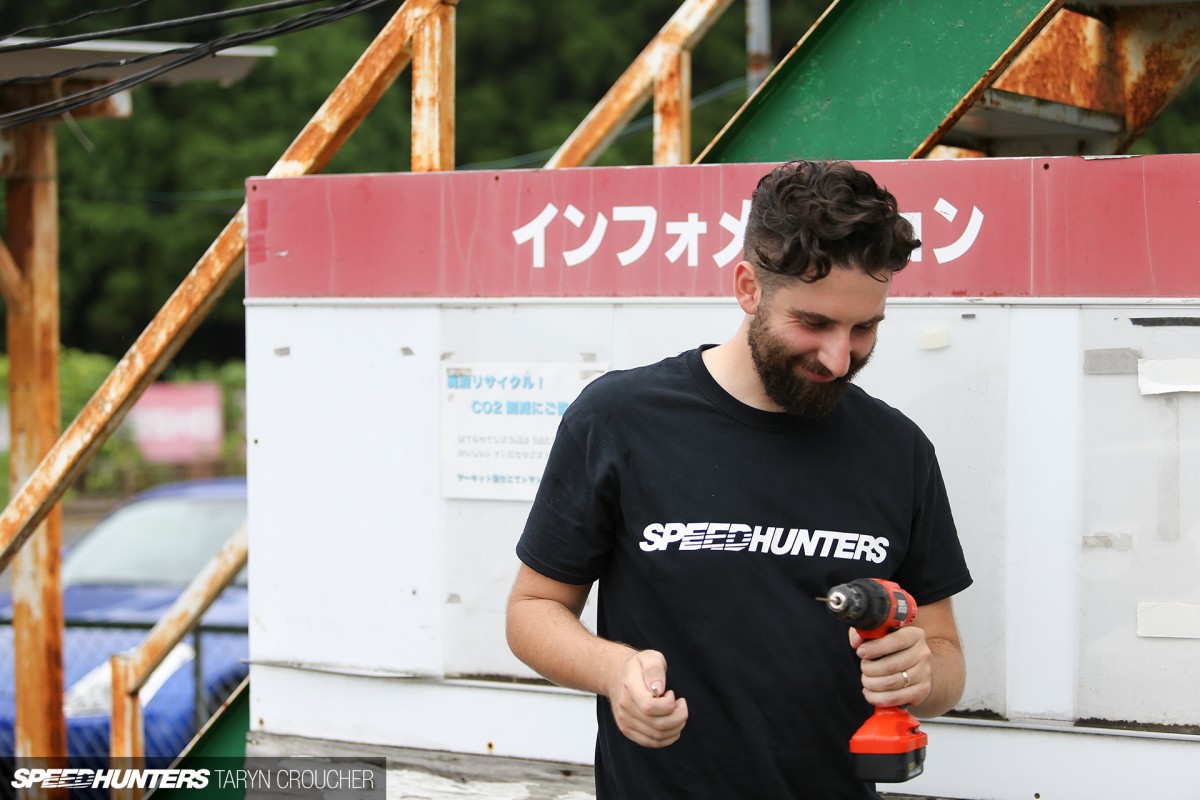 Of course, there's a big difference between sliding around a cone course and hitting a proper circuit, but whatever happens, as always I'll be documenting it in full – win or lose. See you then!
Peter Kelly
Editor-in-Chief
Instagram: speedhunters_pedey
pedey@speedhunters.com