I bet when you see a 2JZ sitting in an engine bay like this, the last car you are probably thinking about is a big Toyota sedan marketed torward senior citizens. But then again, when an old man's car like the Crown Majesta can so easily accept one of the best turbo straight six engines ever made it's not difficult to see why these older models have become a prime choice for drifters and the VIP faithful across Japan.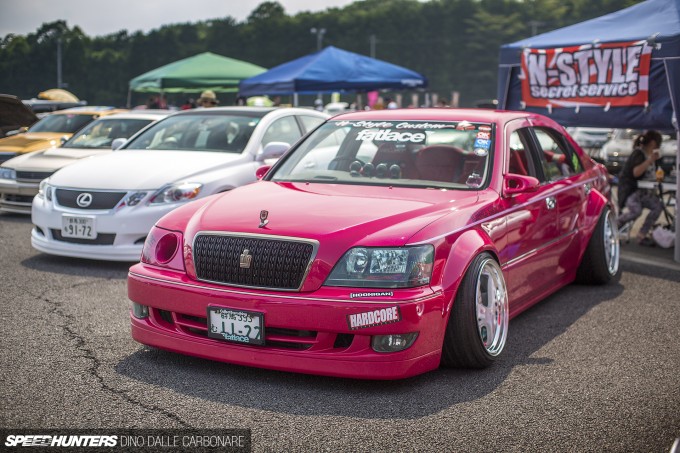 And you take extra special notice when they are painted bright pink!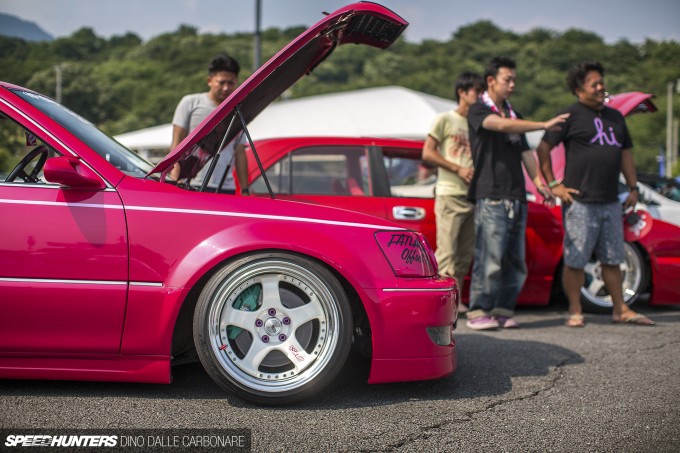 Spotted at Offset Kings Japan the weekend before last, this particular car has been in the works for some time and is owned by a customer of Nagahama-san at N-Style. You might also remember his JZX100 Chaser I spotlighted last year. I guess the lure of Toyota – or the 2JZ in particular – is what keeps these guys coming back to the popular big-body sedans time and time again.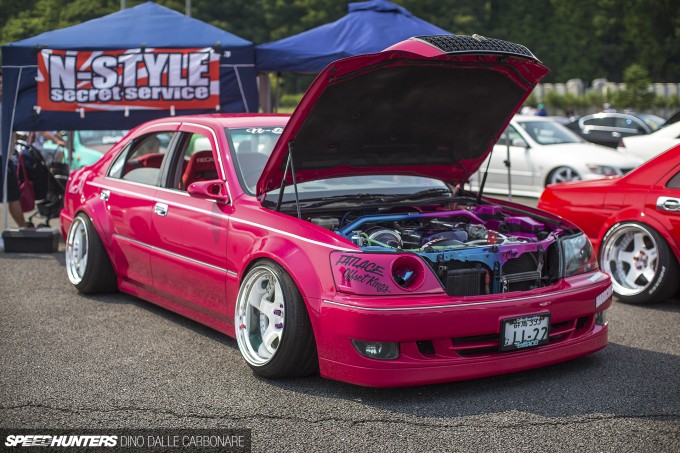 What sets this build apart from the many others we've seen from N-Style though, is the fact that it sits and looks like a really well-sorted, modern-day VIP car. Except then you notice the omission of the driver side headlight and the air intake that's replaced it!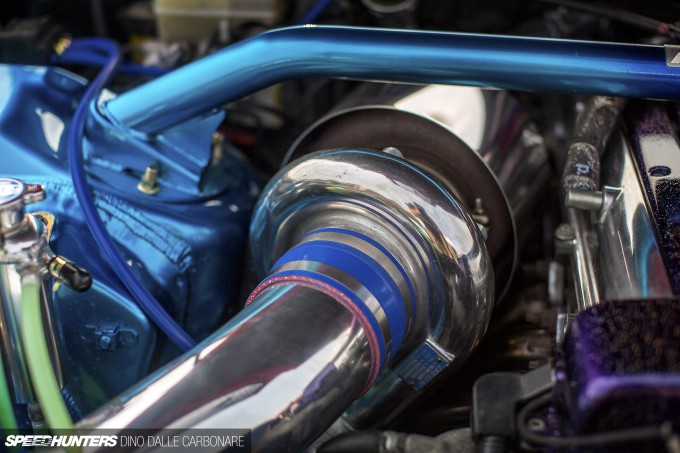 That's because, sitting in the two-tone engine bay is a 2JZ breathing through a Trust T78 single turbo, good for 600hp. It's a far cry from the somewhat less exciting, naturally aspirated 2JZ-FSE that the Majesta came with from the factory (although the 1UZ V8 was also an option).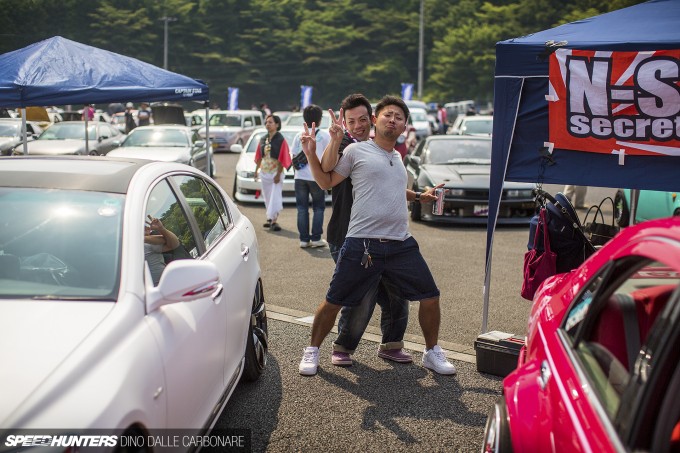 The guys and gals that make up the N-Style crew are just as cool as their crazy selection of cars. They're always welcoming, and as you can see, happy to joke around.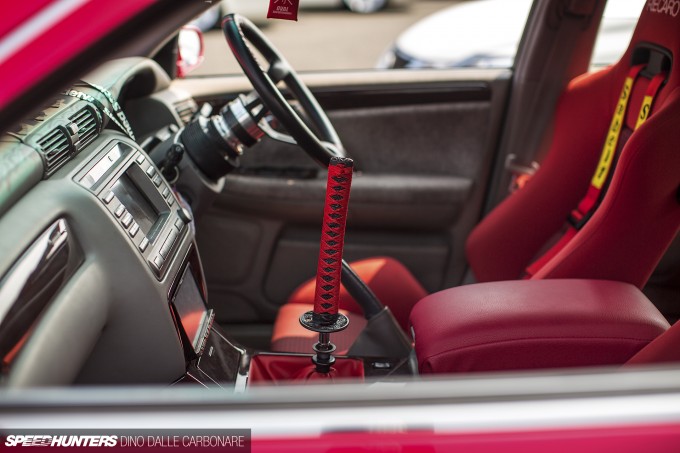 But they take their driving very seriously, organising and participating in a ton of drift events at their local track – Nikko. They have a soukoukai coming up pretty soon, so I really can't wait to drop by and see them all in action! But back to the Crown Majesta…
Inside there are a few neat touches, including a 6-speed manual conversion from a JZA80 Supra. The Samurai sword handle shifter looks perfectly at home in what has to be one of the most JDM VIP-spec drift machines I've seen in a while!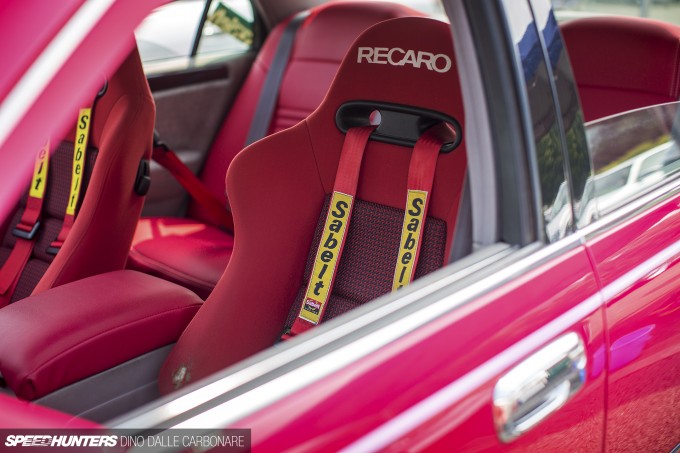 Supportive seats are a must in any drift car, as are a decent set of harnesses to make sure you don't get flung around the cabin during your transitions.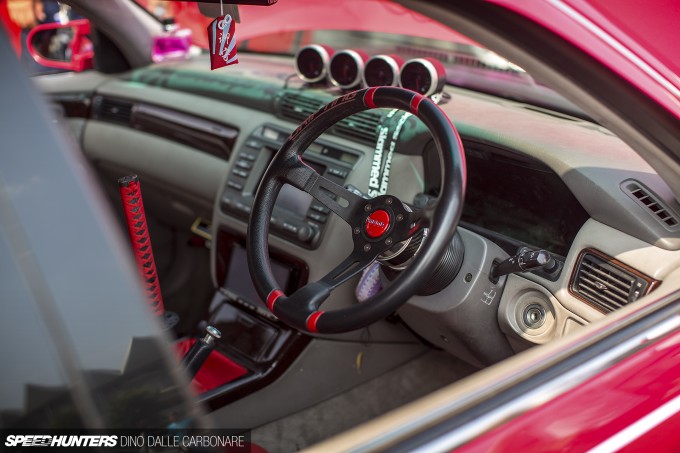 The big Toyota airbag-equipped steering wheel has been thrown out and replaced with something a little more suitable from the Momo catalog, and joined by the must-have assortment of gauges stuck crudely onto the dash in a very JDM way.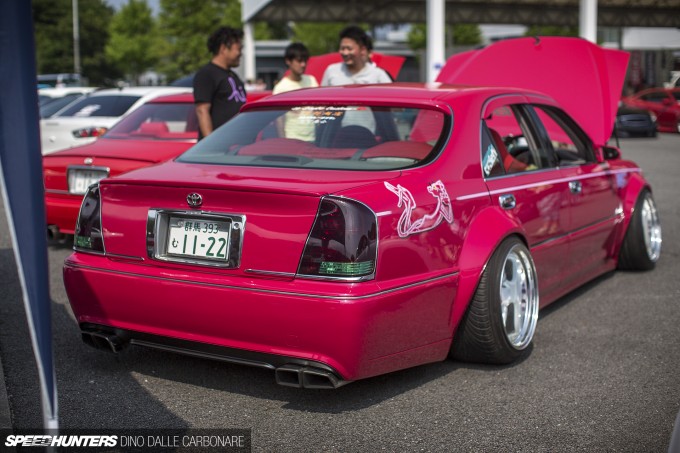 The more I looked at this Majesta, the more impressed I was with the amount of work that has gone into flaring out both the front and rear fenders. In typical N-Style fashion, it's an all-metal affair. SSR Professor SP1s are always a favourite and they suit this VIP drift sedan perfectly well.
Stay tuned for another spotlight from Offset Kings Japan coming up soon – this time something completely different!
Dino Dalle Carbonare
Instagram: speedhunters_dino
dino@speedhunters.com