I still can't believe how many awesome cars Larry and I managed to shoot during our one-day visit to N-Style, but to mark my final spotlight I've chosen a slightly different machine from those that I've shown you so far. First up, this Toyota JZX100 doesn't have the instantly-recognisable Nagahama-Style look; the owner having preferred to do away with the metallic beige colour that the Gunma-built cars usually feature, and run with something a little brighter. The JZX100 platform is one of the most popular ones for drifting, spawning cars like the Mark II and this – a Chaser.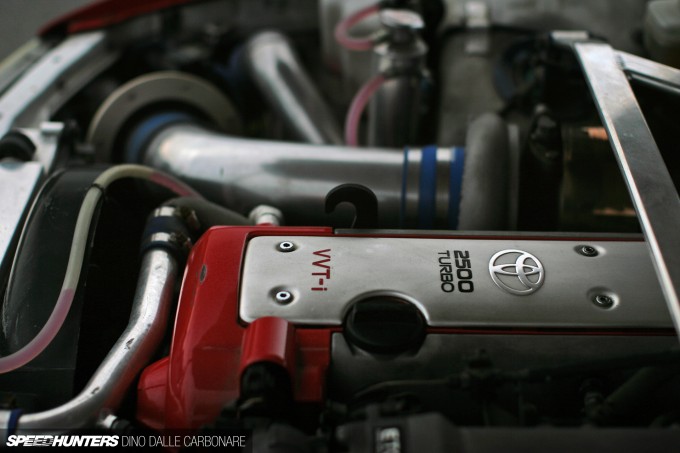 So what is it that makes these former grandad-spec sedans so popular? Well, for starters, in the higher specs they came equipped with the 1JZ-GTE, which makes them an attractive proposition for those looking for plenty of potential for power, comfort and street-ability. Drifters love them for this fact, and – due to their weight – they are quite easy to slide; allowing drivers to make full use of the momentum to glide them through corners and transitions.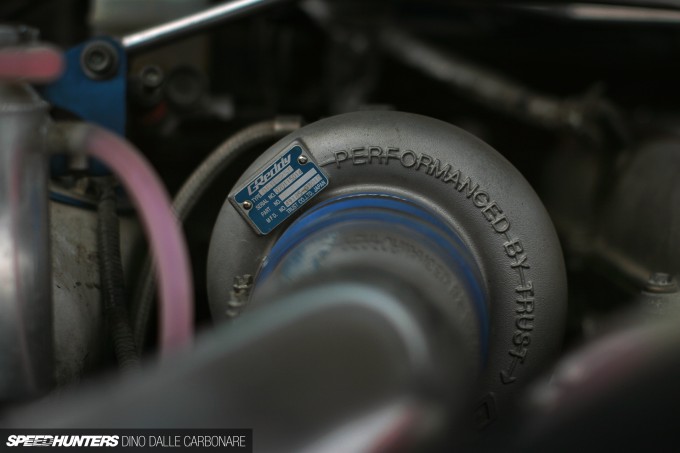 This particular car has been built up to a pretty high level, so replacing the stock CT15B turbo is a Trust/GReddy TD06-25G mounted on a high-mount stainless steel manifold. You can consider this turbo a mid-size application for upgrading Toyota's 2.5L straight six, offering up a good balance between response and punchy mid-range. Power is rated just shy of 500hp, but torque is what counts on a set-up like this. Along with the engine modifications, a Getrag six-speed transmission from a JZA80 Supra was swapped in, along with an ORC twin-plate clutch and a Cusco LSD. The broader spread of ratios the gearbox offers makes the big Chaser a hoot to drift, regardless of the track.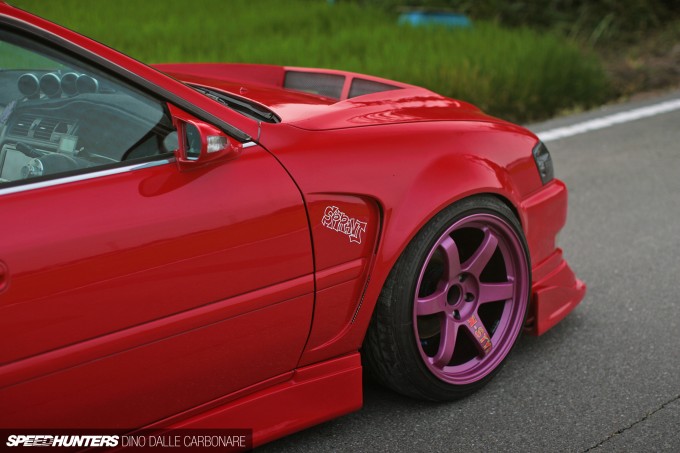 Nagahama-san only had to blister the rear fenders as the fronts run wider, vented BN Sports items. RAYS Volk Racing TE37s are the wheels of choice for many N-Style cars, but here they have been painted in a custom shade of metallic purple and finished off with one of Nagahama's most colourful of stickers. GP Sports dampers along with TRD anti-roll bars and KTS rear arms take care of the drift-specific handling, while the Car Shop Labyrinth knuckles introduce the sort of steering lock that all drifters of JZXs want on their big, long wheelbase sedans.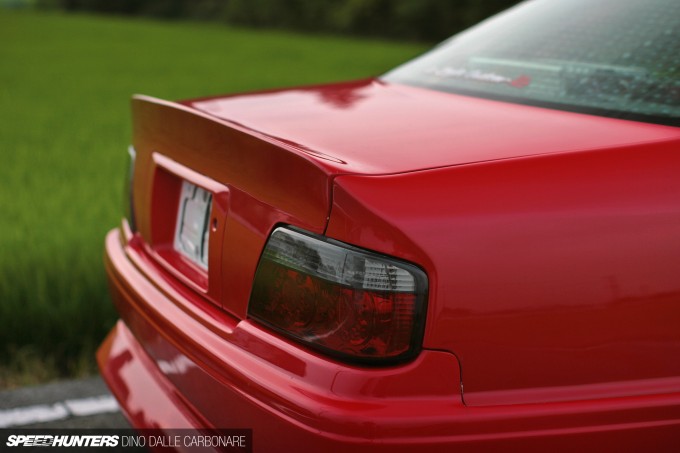 The integrated trunk lip – custom made by N-Style and all metal of course – is an almost graceful touch on what is otherwise an aggressively-kitted car.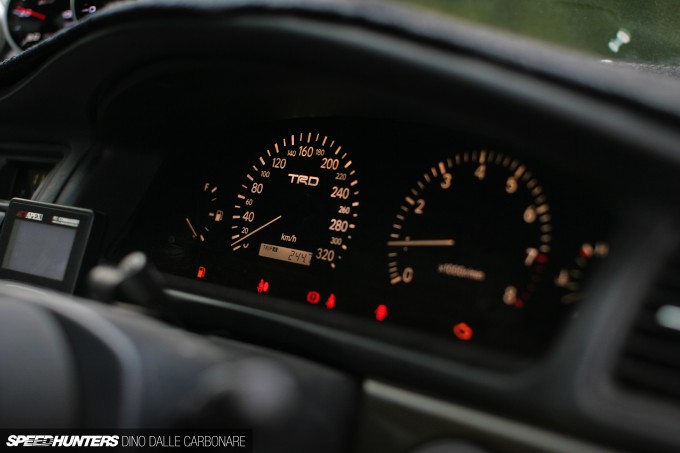 Along with supportive Recaro seats, the interior has a few nice additions too. That starts with a TRD 320km/h meter unit fitted into the stock instrument cluster.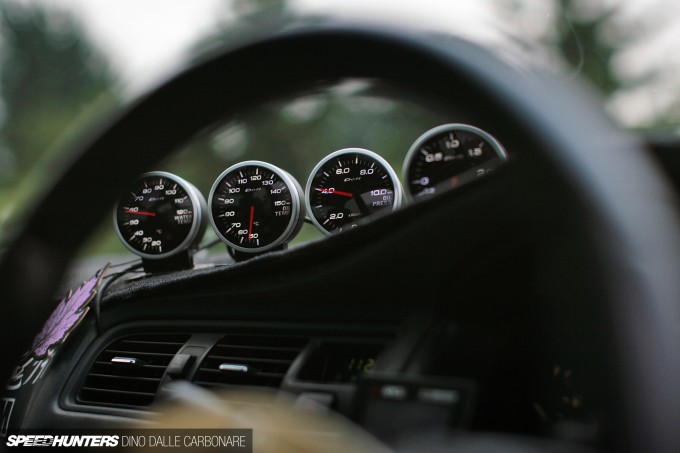 When you are out on track drifting it's important to keep a close eye on engine vitals, and this is where the quartet of Defi gauges come in handy. These along with the FC Commander for the A'PEXi Power FC engine management system, supply all the feedback you would ever want at your finger tips.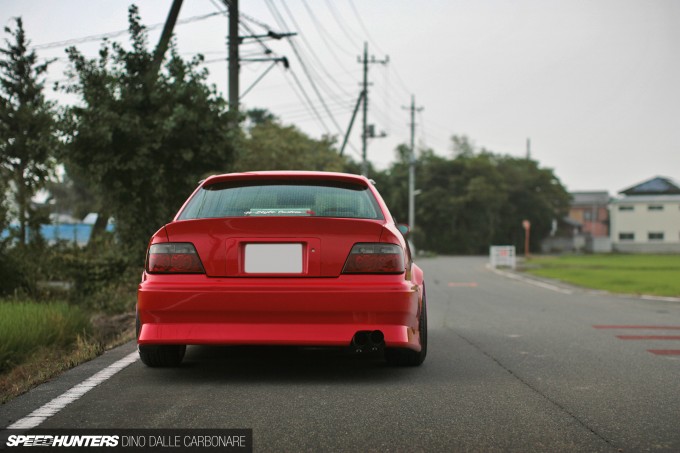 It took years to fun and enjoyment to get the Chaser to just where the owner wanted it. However, it's now up for sale and he's already starting on something even more special. We'll have to wait until I catch up with the N-Style crew next to see exactly what that is though…
Dino Dalle Carbonare
Instagram: speedhunters_dino
dino@speedhunters.com