A Higher Envelope Of Speed
A race car, by definition, is the epitome of the performance car. It's the purest form of functionality, carefully designed, planned and in continuous evolution to chase a higher envelope of speed. While street-registered supercars and hypercars must conform to a long list of safety, comfort and homologation requirements – racing machines are raw expressions of what talented engineers can create while sticking to a specific series' rules. While there are so many forms of motor racing out there, it's the GT-based series that have always captivated enthusiasts, and for the sole reason that the cars that compete within them have links back to the street cars that you and I can buy.
That's why the Japanese Super GT series – previously known as the JGTC – has always been my favourite championship to follow. And despite it having been brought more in line with the European DTM series through centralised FIA regulations, it certainly hasn't lost any of its wow factor.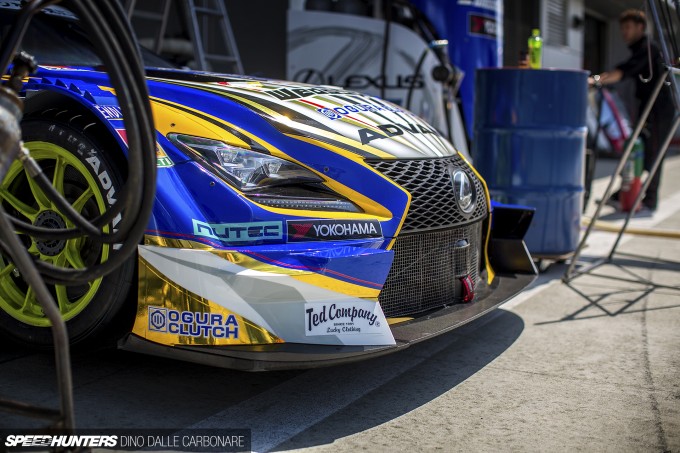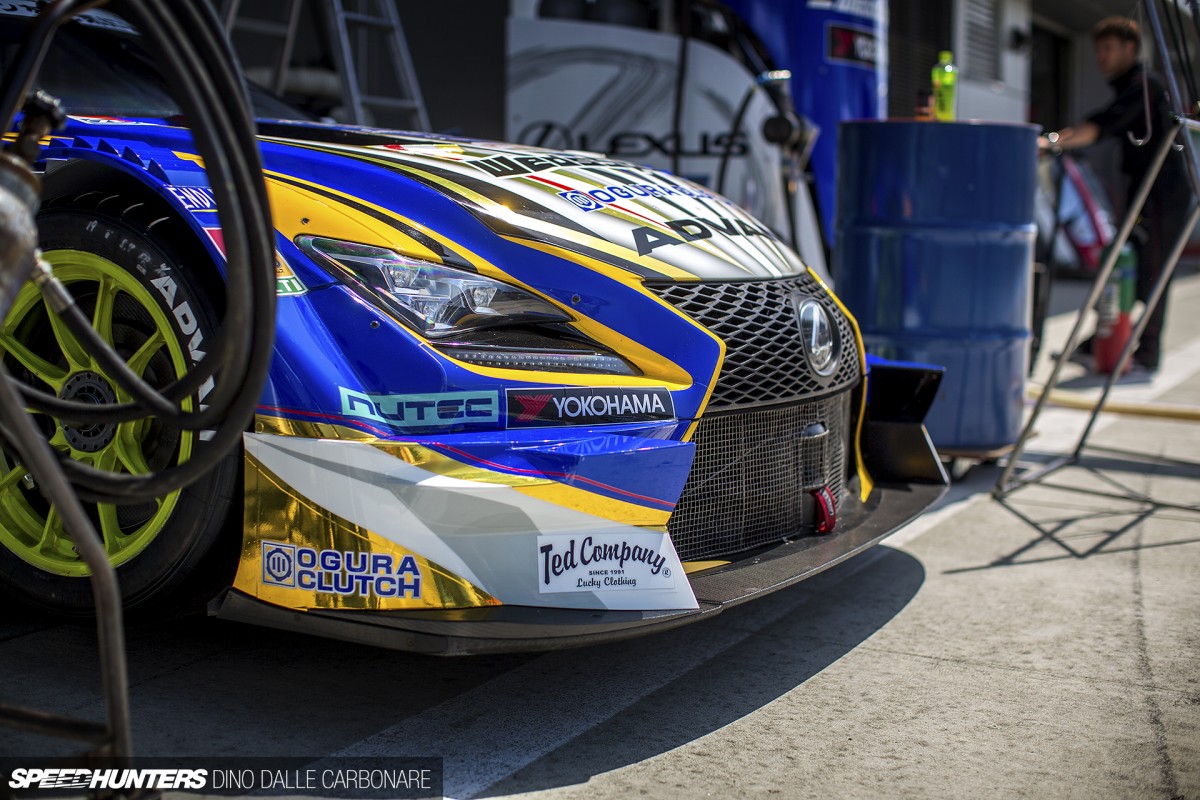 Although the racing is among some of the closest you will see these days, my fascination – as ever – revolves around the cars that compete in Super GT's ranks.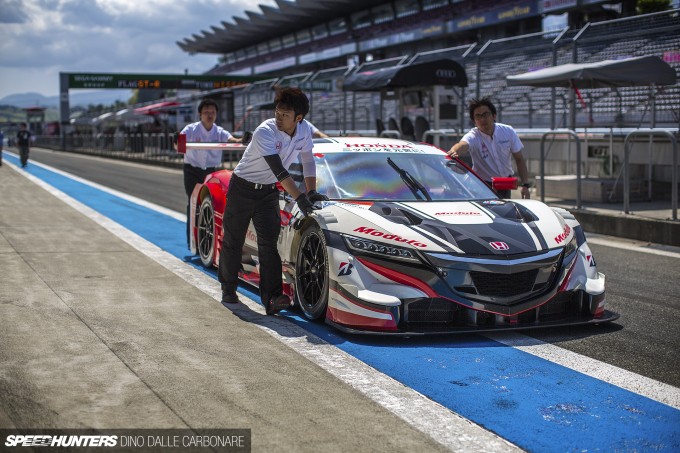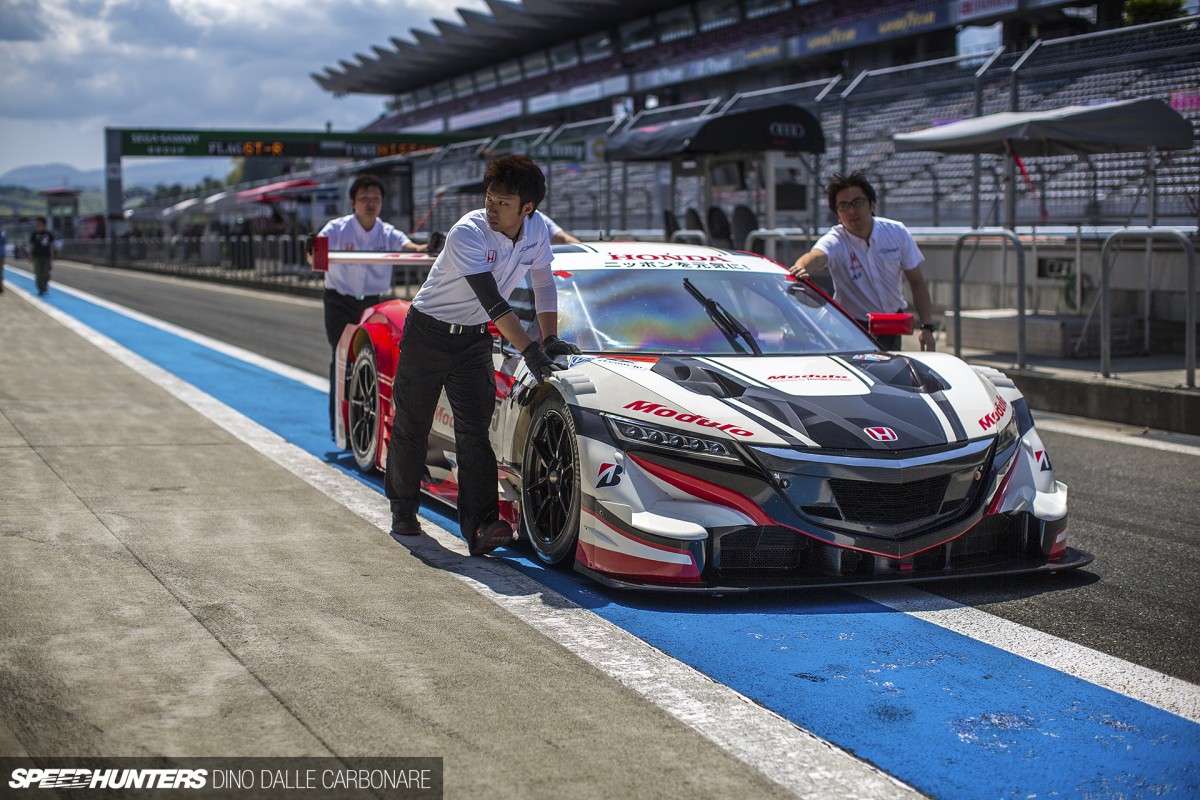 That's why, during a visit to Fuji Speedway last Friday for a few meetings, I made sure my camera was at my side as I made my way up and down the open pits during the afternoon. It was the set up day prior to Sunday's 500km race, and the energy in the pit garages was electrifying to say the least.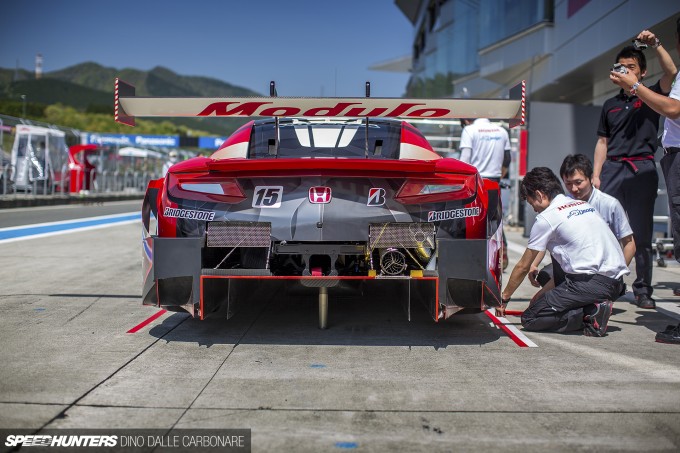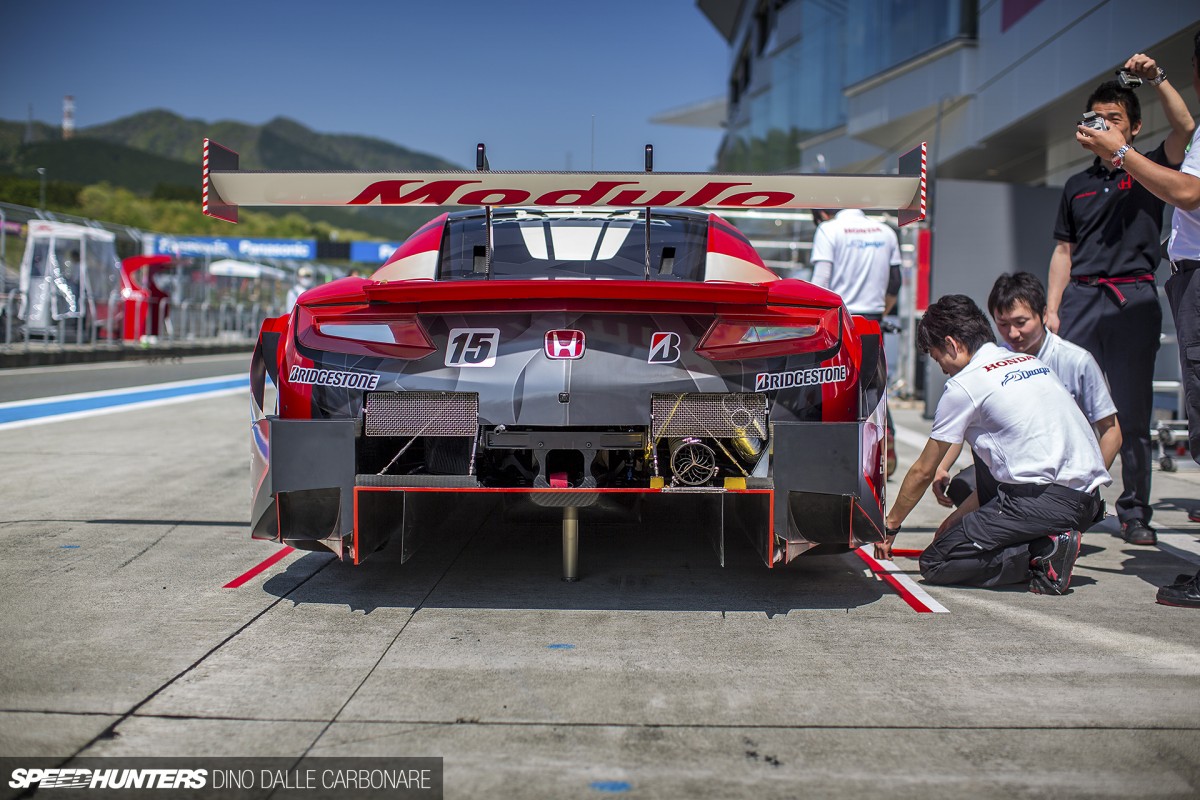 While it's hard to ignore the fact that the GT500 class has been massively watered down with every car now having to run with a 2.0-liter, four-cylinder turbocharged powertrain, the actual 'models' that the three Works-entered Japanese manufacturers campaign is quite interesting.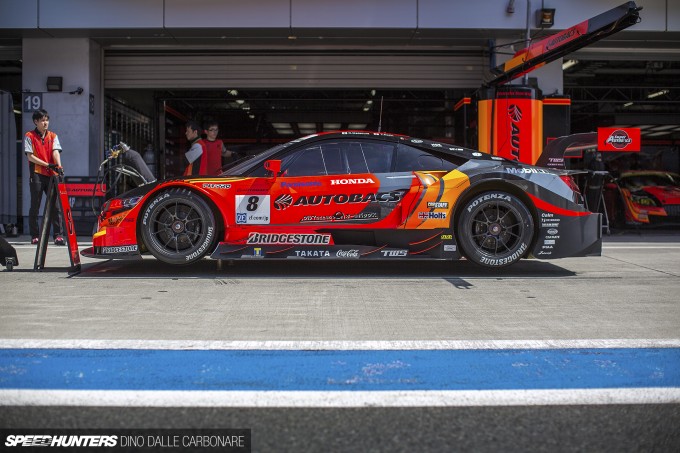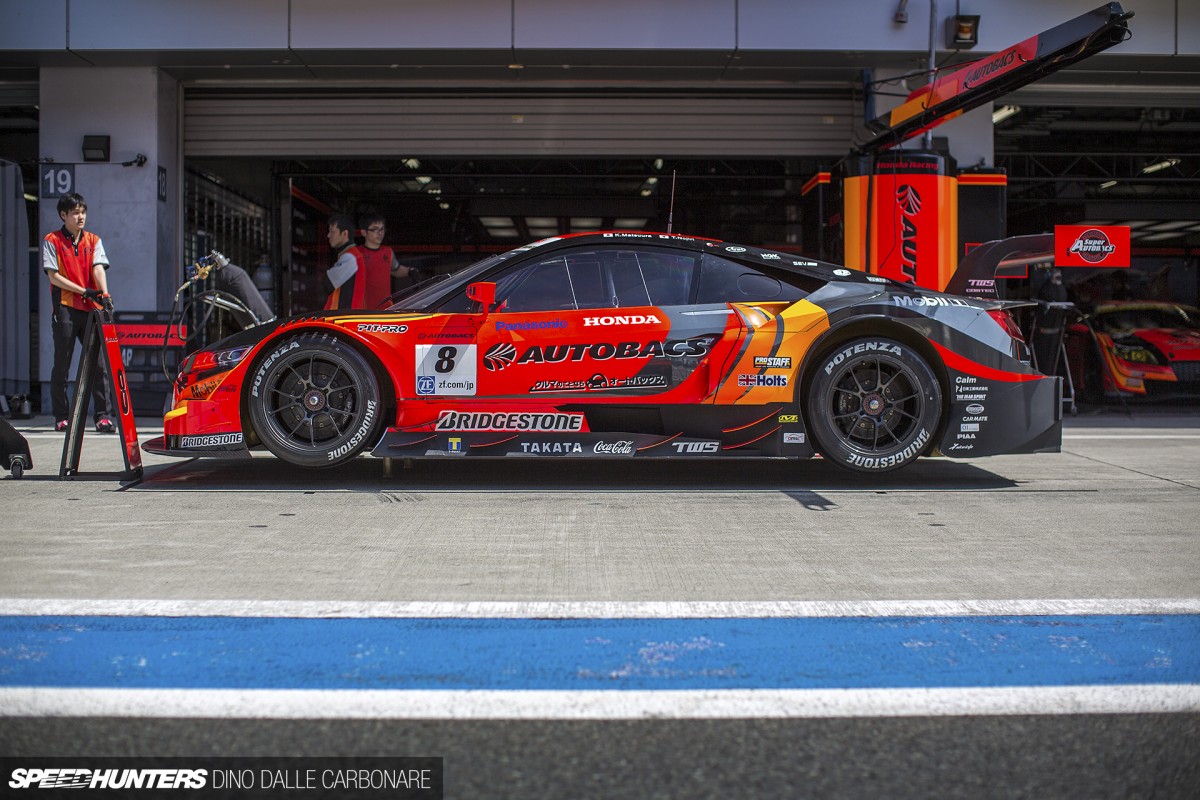 Take Honda for example. Once new front-engine regulations came into play in 2010, the NSX's long and mighty history in the series came to an end; replaced by the HSV-010GT and then this – the NSX Concept. So that makes it two cars in a row that aren't actually based on a road car as the rules for Super GT have always stipulated. Confused? Me too… But I guess the new NSX will actually make its debut soon, so it was only the HSV that really stretched the rules.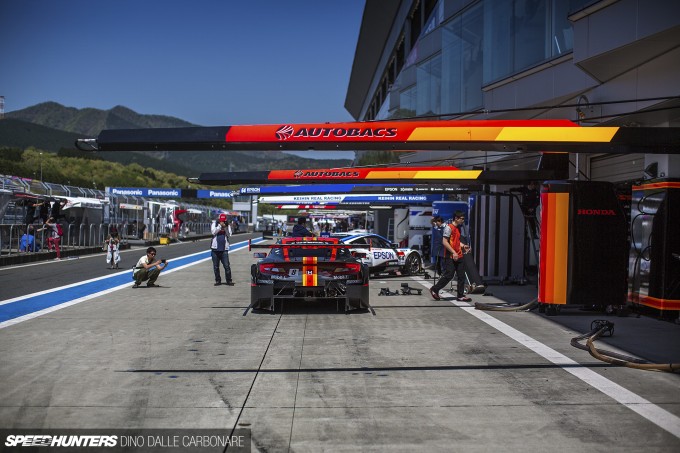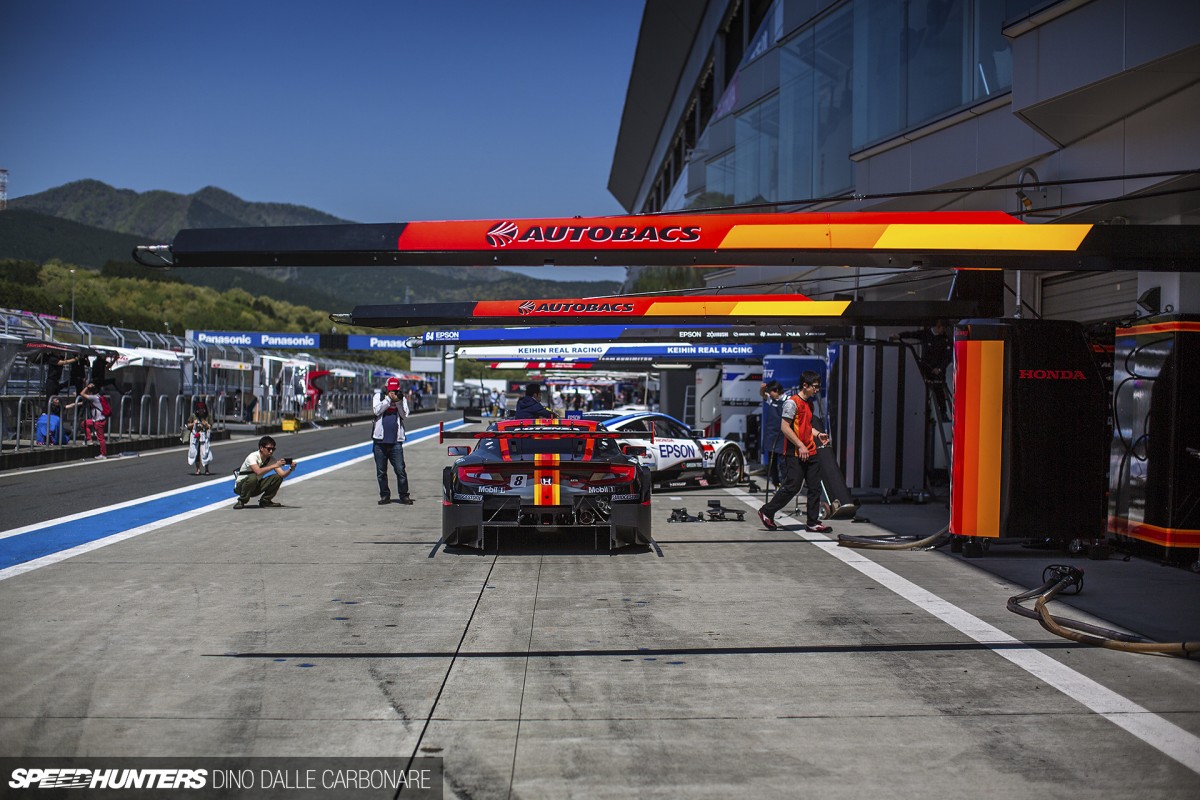 Of course, it was all in an attempt to keep Honda in GT500, and honestly, I'm not sure where Super GT would be today had the Japanese manufacturer left. But twisting and bending of rules aside, cars like the HSV-010GT and NSX Concept never made Super GT any less interesting. In fact, you could say those Hondas have added to the appeal, as we've got to see crazy race version of concepts battling out with the likes of the Nissan GT-R and the Lexus SC.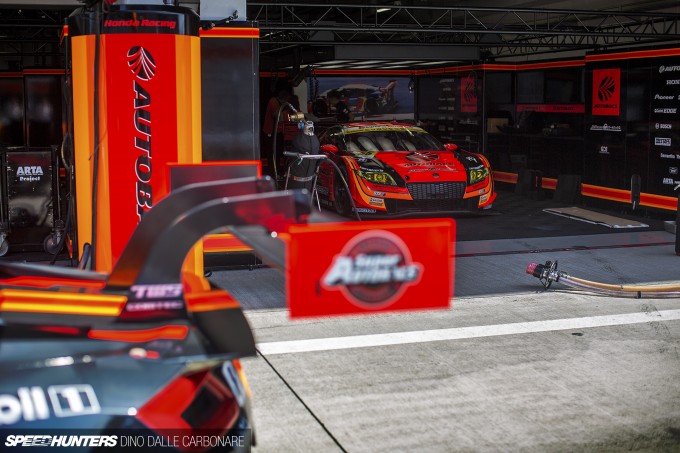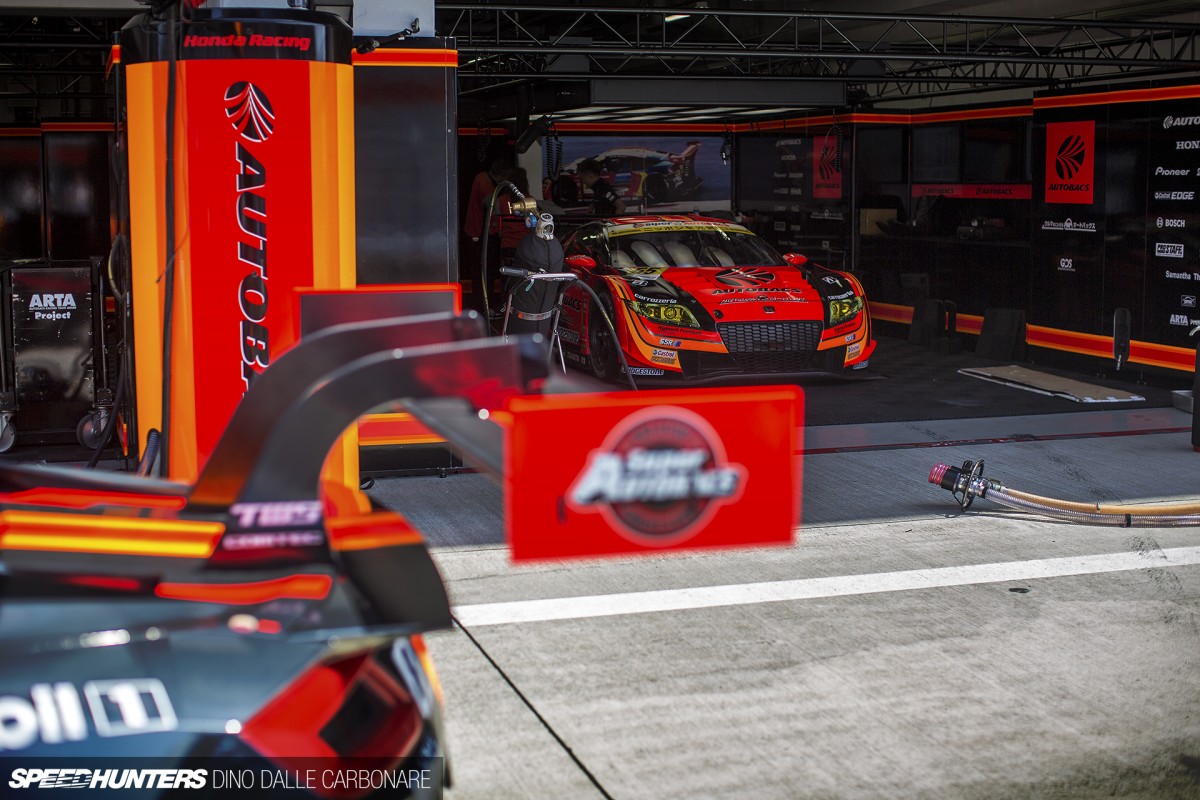 The Autobacs Racing Team Aguri had another entrant sitting in the pits behind their GT500 NSX Concept.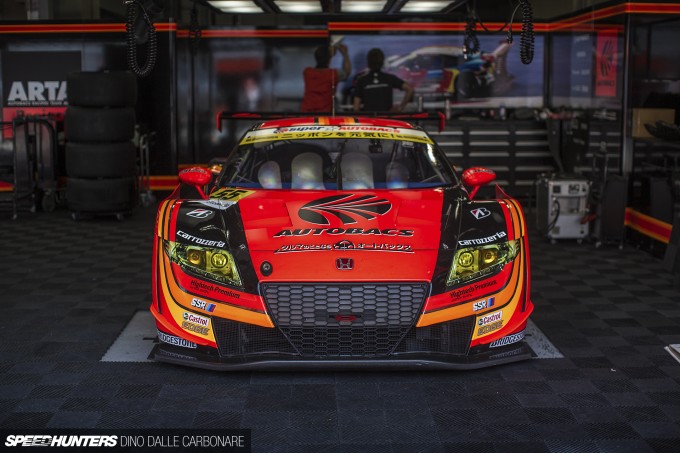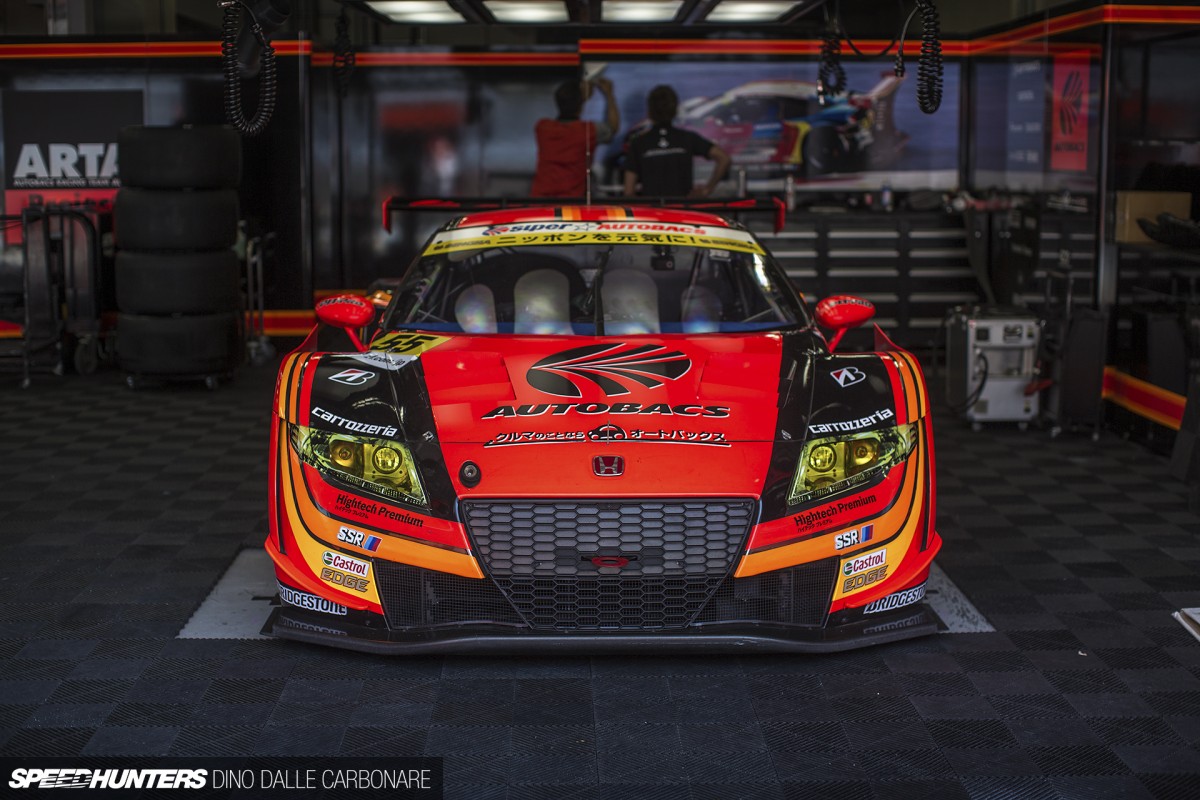 Their CR-Z that's entered in GT300 hasn't been regulated by the rules that have changed the GT500 landscape, so it's still running a twin turbocharged J35A 2.8-liter V6 engine in the rear mid-mount position, mated to a Ricardo 6-speed sequential.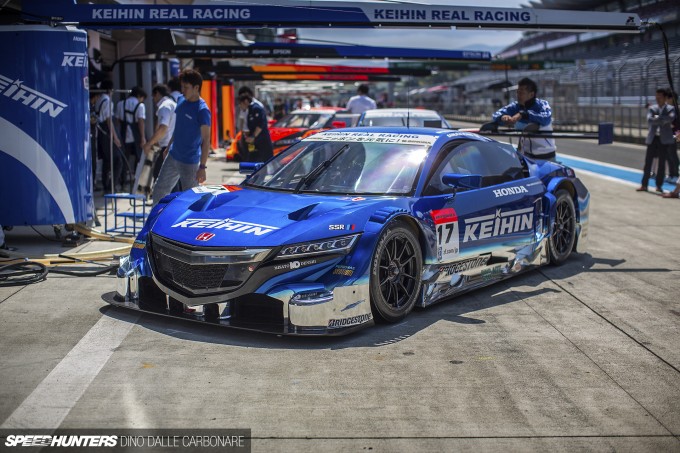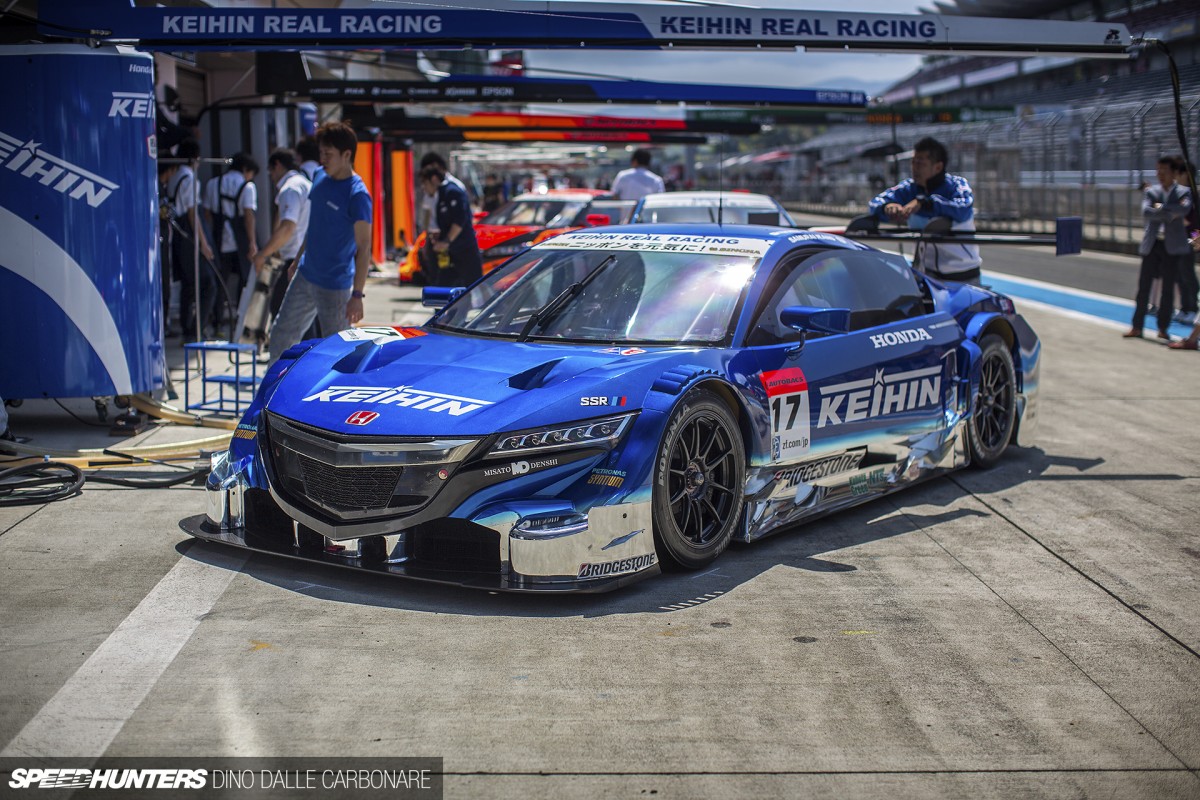 Despite their standardised drivelines, there's no stopping the lure of a GT500 car though.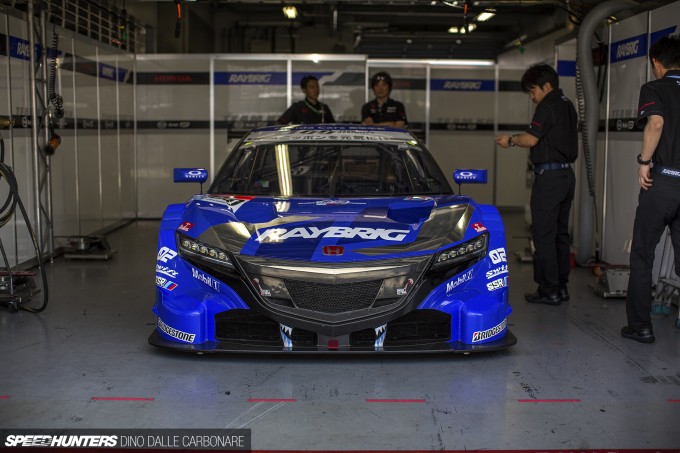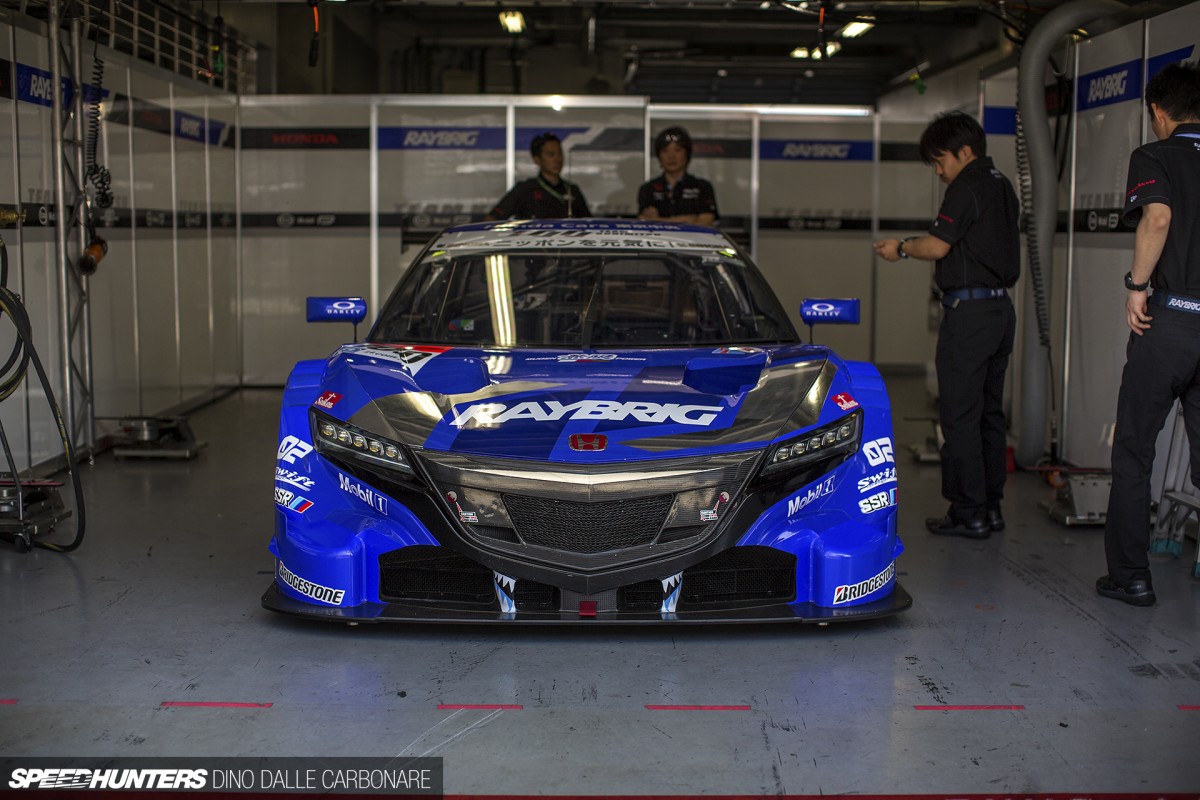 Throughout the morning cars were being pushed out in front of the pit garages so that each team's crew could mark down with coloured tape the precise pit-in position.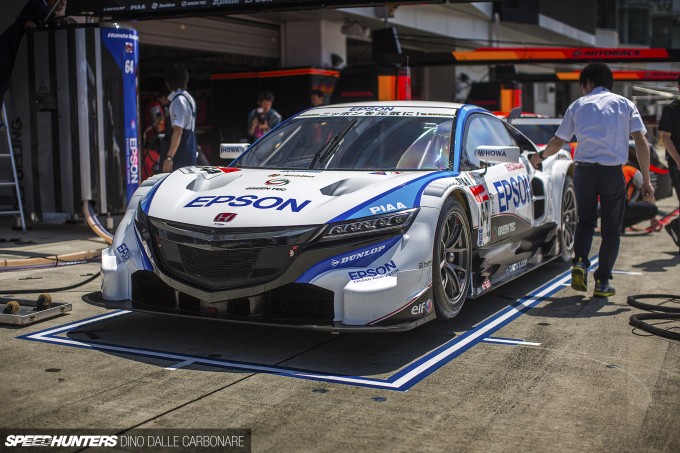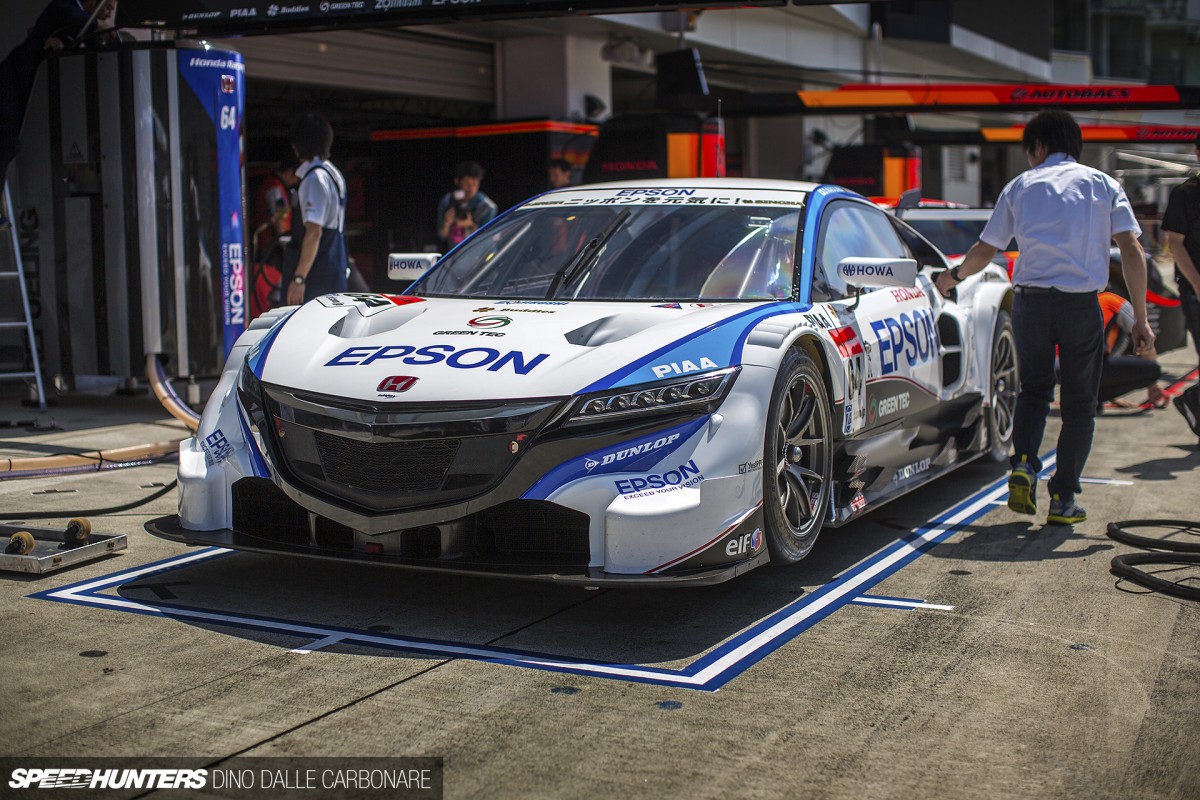 This then allowed them to set up their equipment, further marking off wheel position outside the garage so that the tyre changers and those on refuelling duty would know exactly where they needed to be during a frantic stop.
It's All In The Mix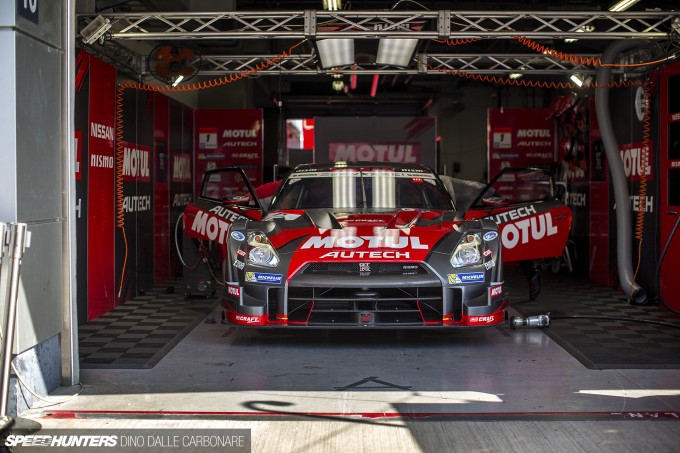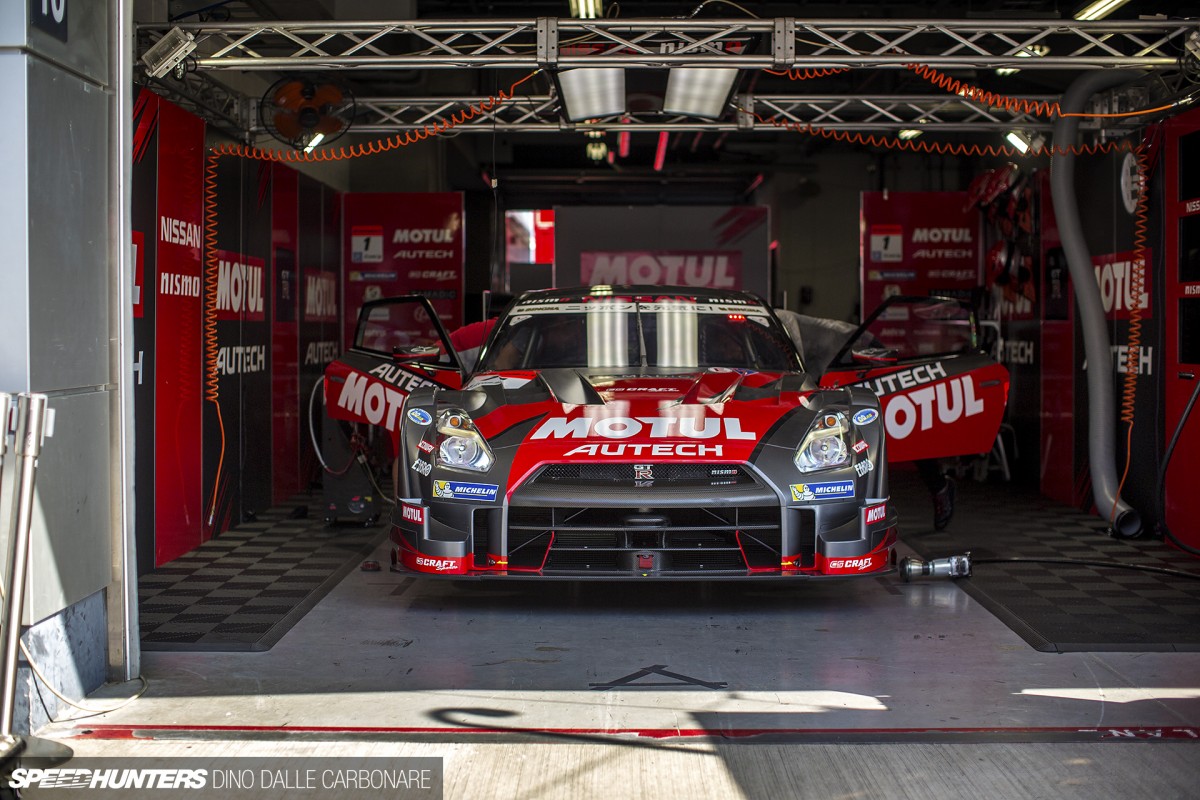 The Nismo R35 of Ronnie Quintarelli and Tsugio Masuda took the win on Sunday, pushing the team up in third position in the championship behind the Impul GT-R in second place and the TOM's Keeper Lexus RC F of Andrea Cladarelli and Ryo Hirakawa in first. Two Italians in the top three teams – just thought I'd put that out there…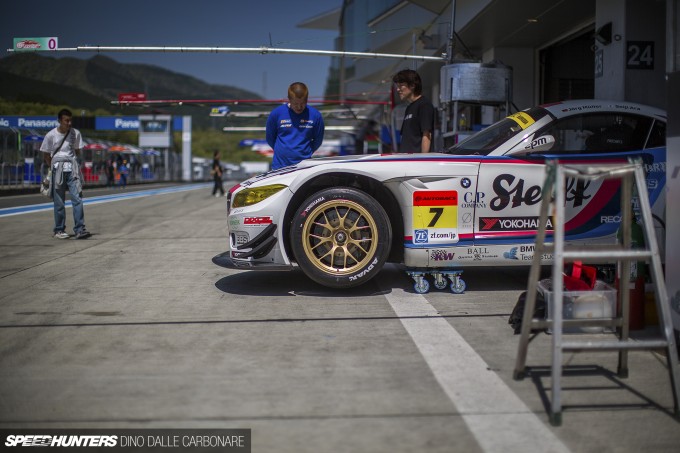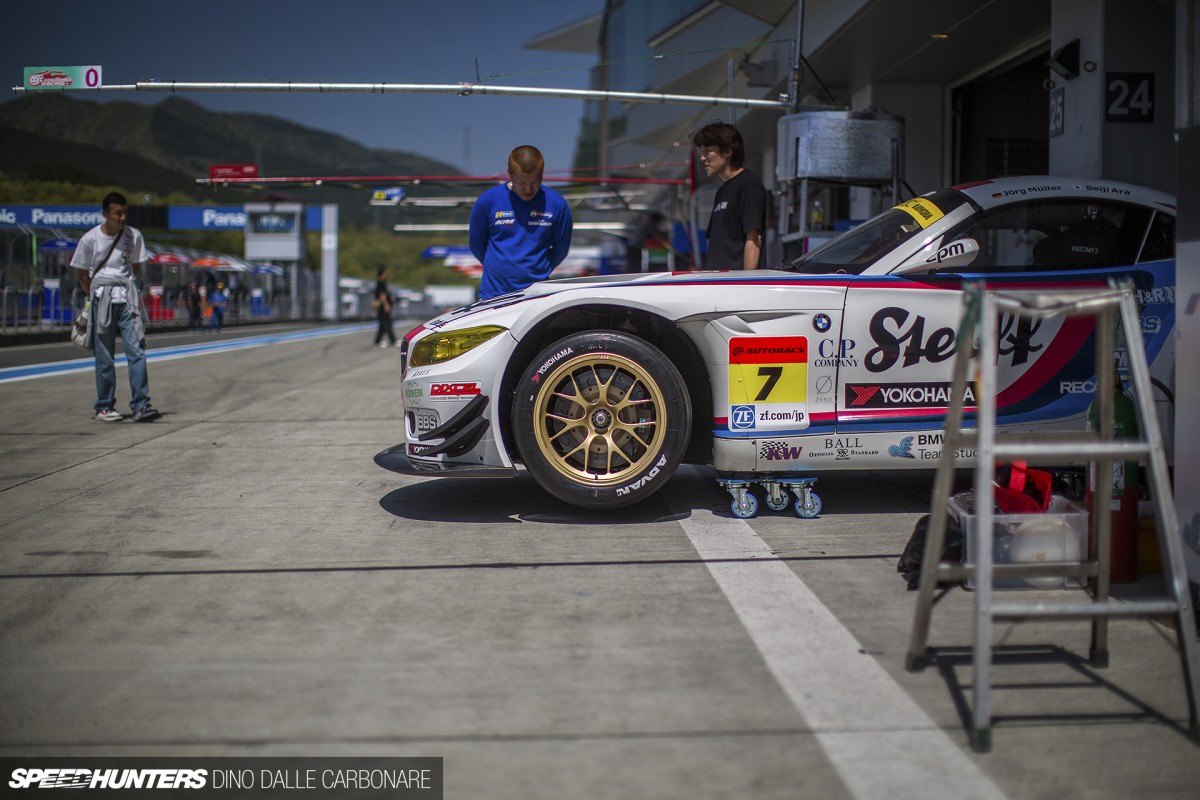 One of my favourite cars from the last few years of Super GT competition is the Studie BMW entry. Seeing it again brought back memories of shooting trackside at the Hakone Hill Climb event that Motorhead magazine organized last year. What a beast of a car!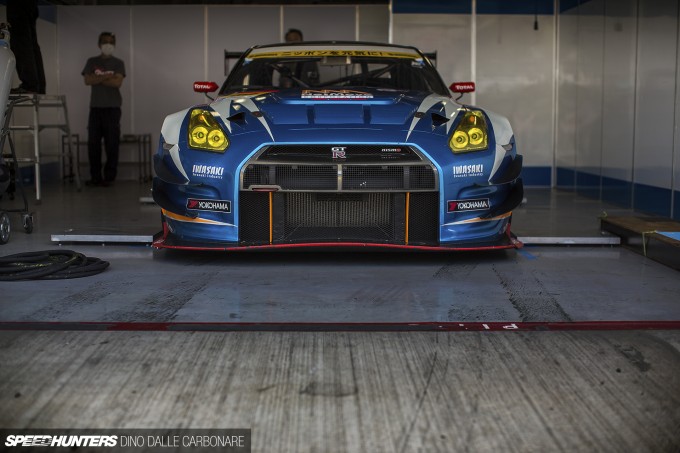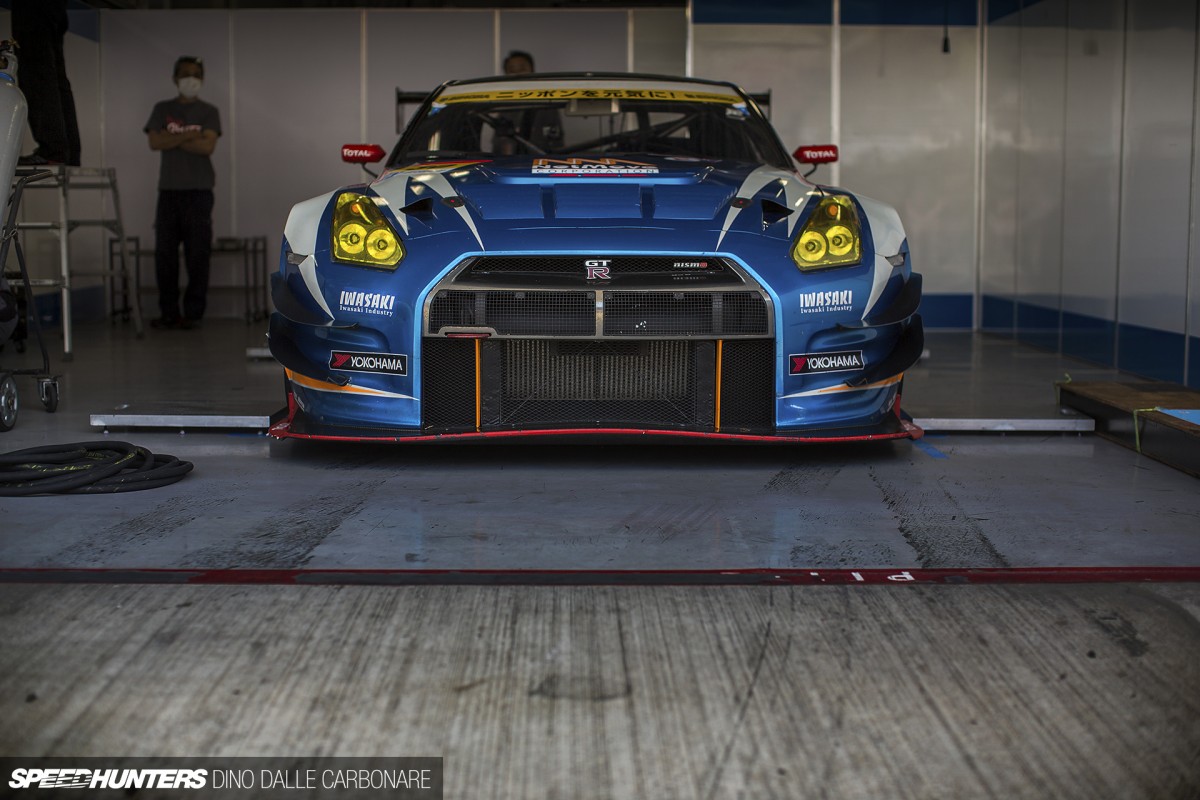 While we're on the subject of race-ready, factory GT3 racers, in my opinion the R35 is still the best looking of them all. Seriously, just look at this thing! At the risk of sounding like a broken record though, Nissan and Nismo are absolutely bonkers not creating a limited edition GT3 version of the car for the street. Maybe it would have to run slightly less pumped fenders, but if they ever decided to make, say, 50 of these cars, I'm sure they'd all be snapped up in less than an hour. So come on Nissan, live dangerously for once. We don't need a Nismo March or Note, we need a rear-wheel drive, stripped-out GT-R GT3! Is anyone else with me on this?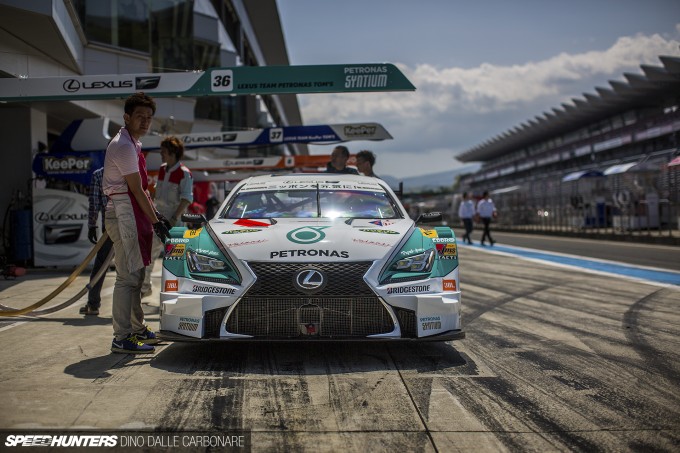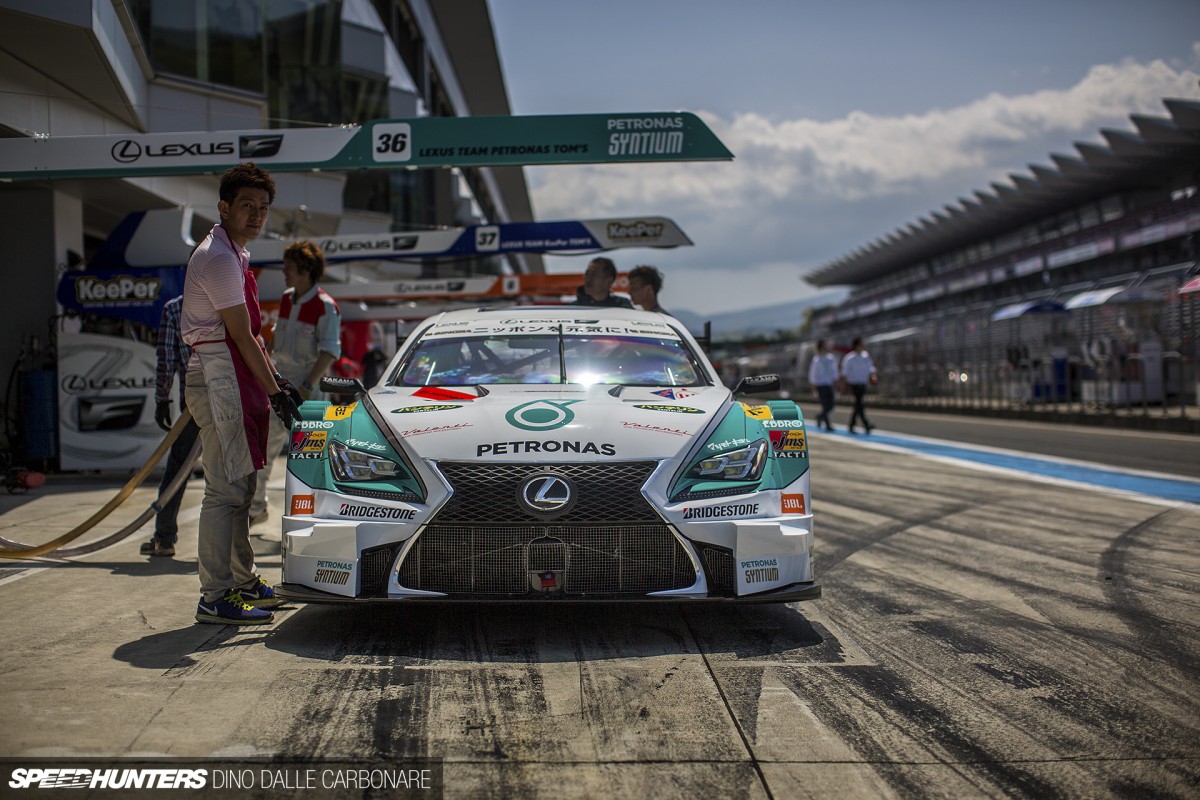 For how hot the GT-R still manages to look, there's no denying that visually it's getting a little long in the tooth when compared to entires like the Lexus RC F.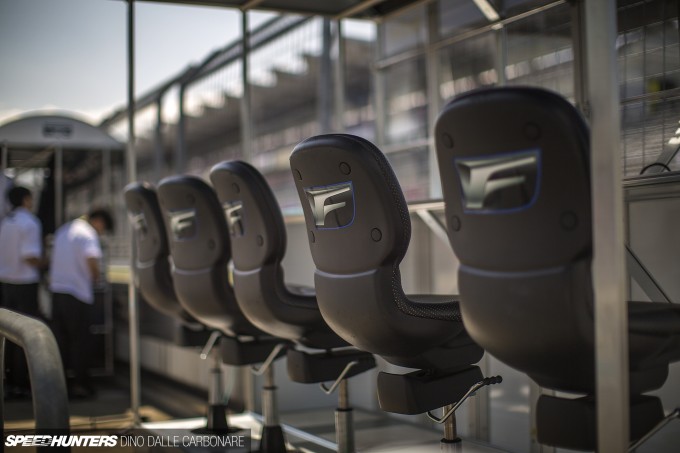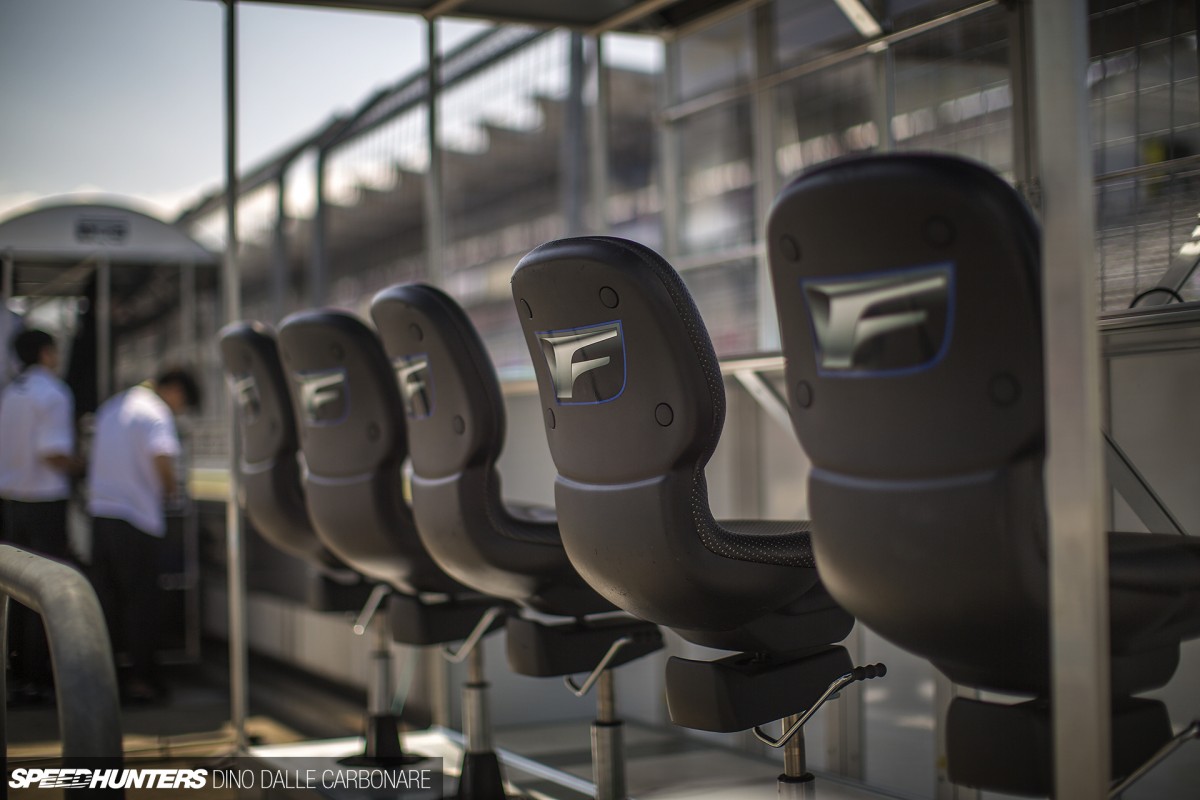 'F' of course stands for Fuji – how appropriate!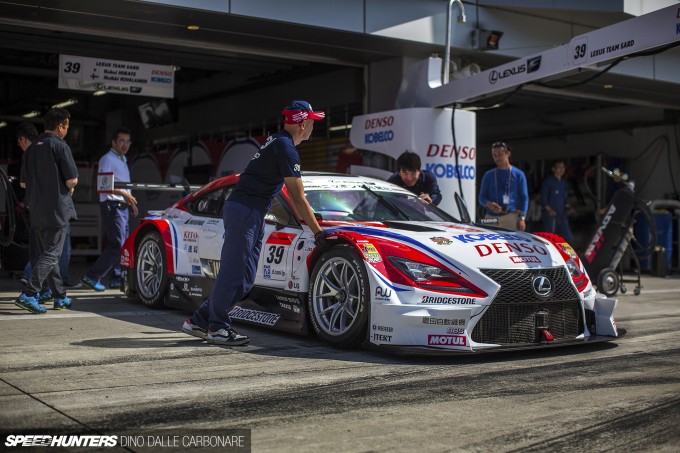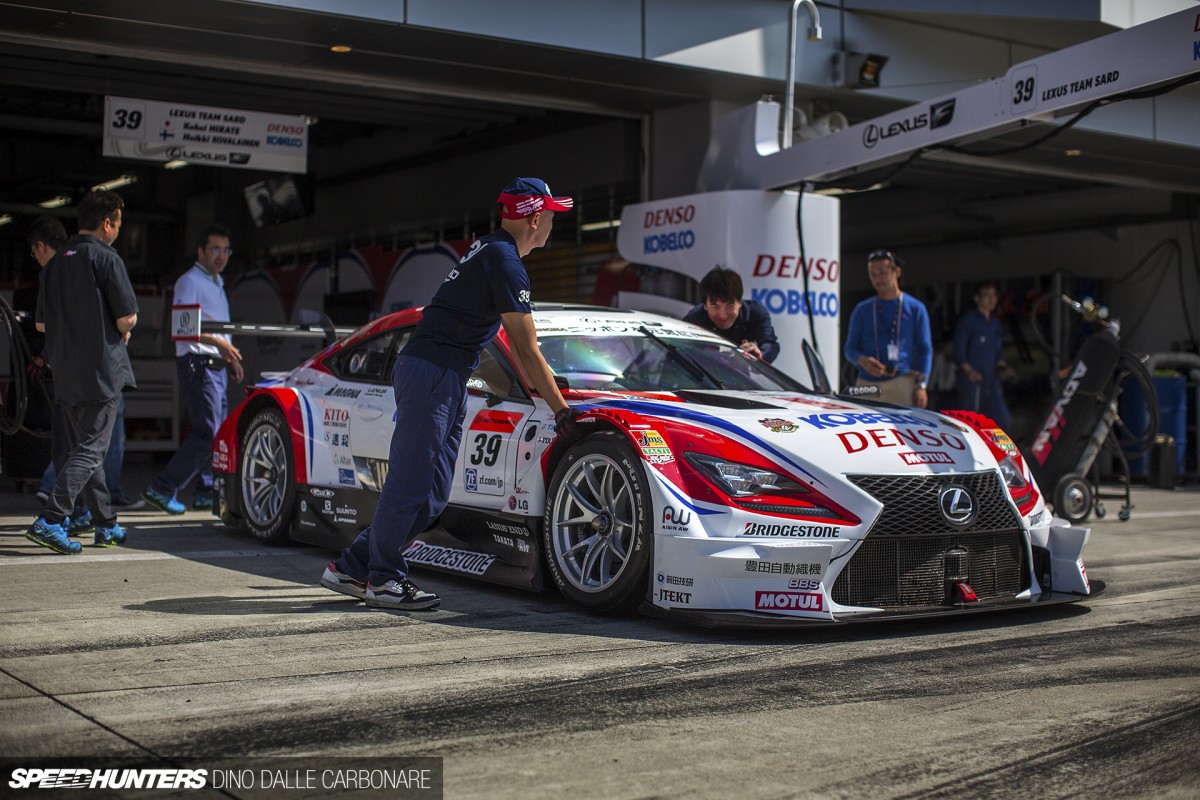 It really looks like this car has come from the future – a combination of the flowing and organic design that can be found in the street car it's based upon, and a massively-wider stance that's dropped right down to the ground so that the front wheel arches sit higher than the bonnet. It spells aggression from every angle, and I was lucky enough that Team Denso Sard allowed me to shoot their car right then and there in pit lane. I only had what seemed like two minutes to get it done – and for obvious reasons wasn't allowed to grab any shots of the engine bay – but you can expect a feature on this car coming up very shortly.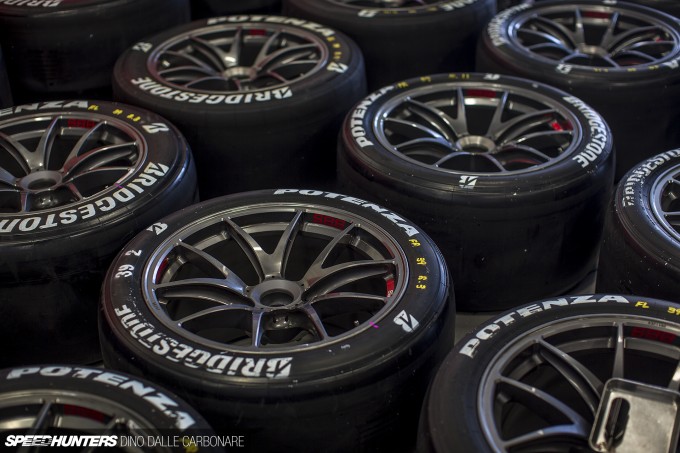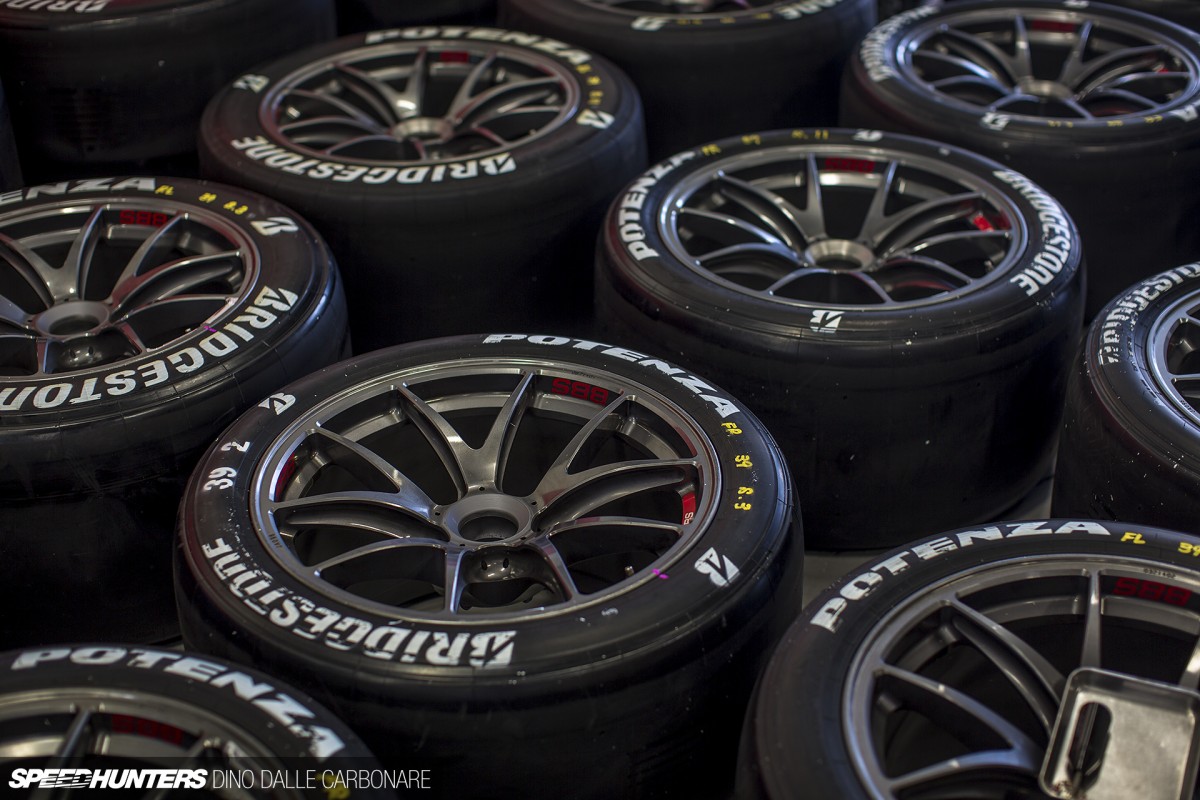 After the impromptu shoot I couldn't help but drool at the sea of Bridgestone-shod BBS rims sitting in Team Denso Sard's pit garage. The RC F, like all GT500 cars, runs 18×12-inch wheels with 300/680R18 rubber at the front and a monstrous 18×13-inch and 330/40R18 combo at the rear. There are three other tyre manufacturers competing in GT500: Yokohama, Michelin and Dunlop – and like Bridgestone they all run their own specific tyre coding for the 12J and 13J widths.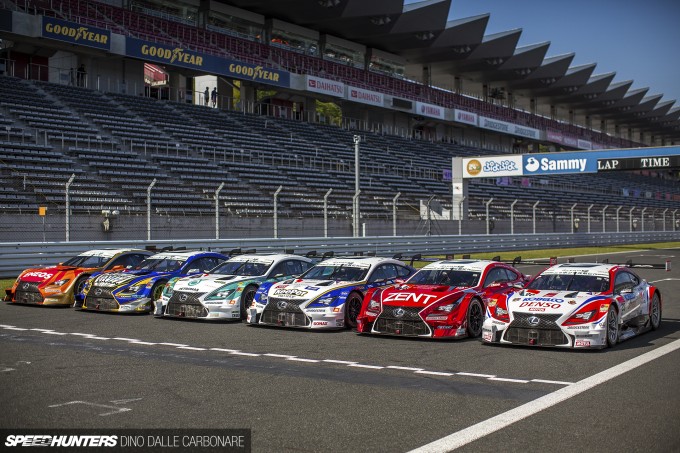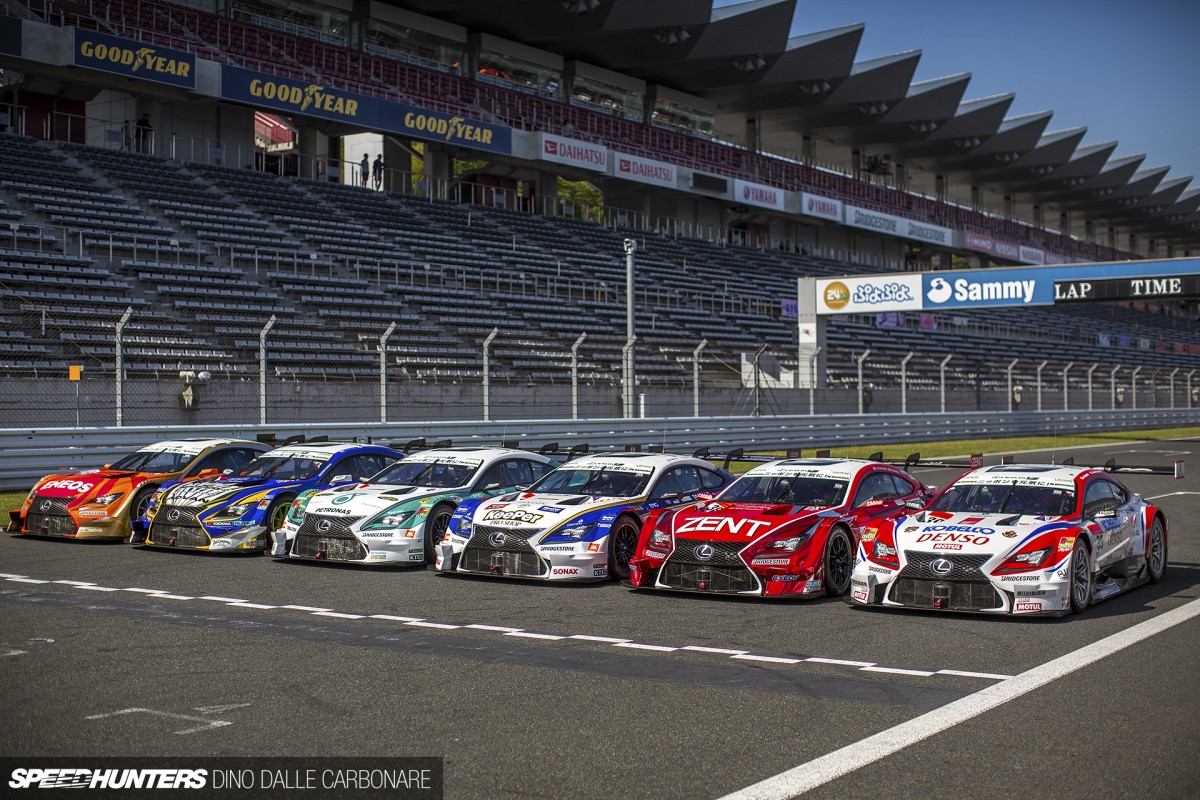 Of the 15 cars battling it out in GT500, six of them are RC Fs, five of them are NSXs and four are GT-Rs.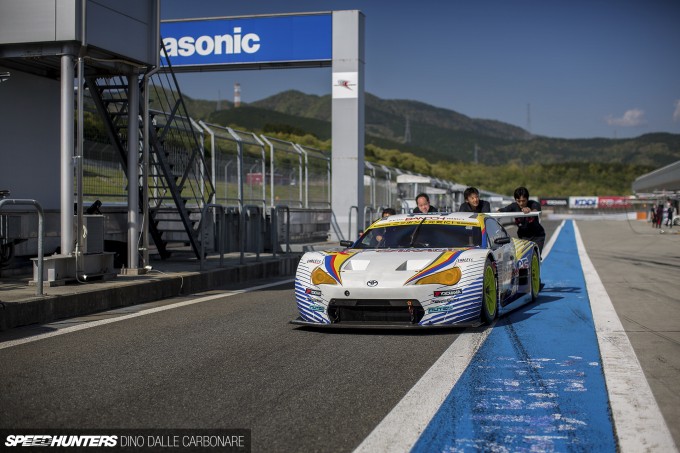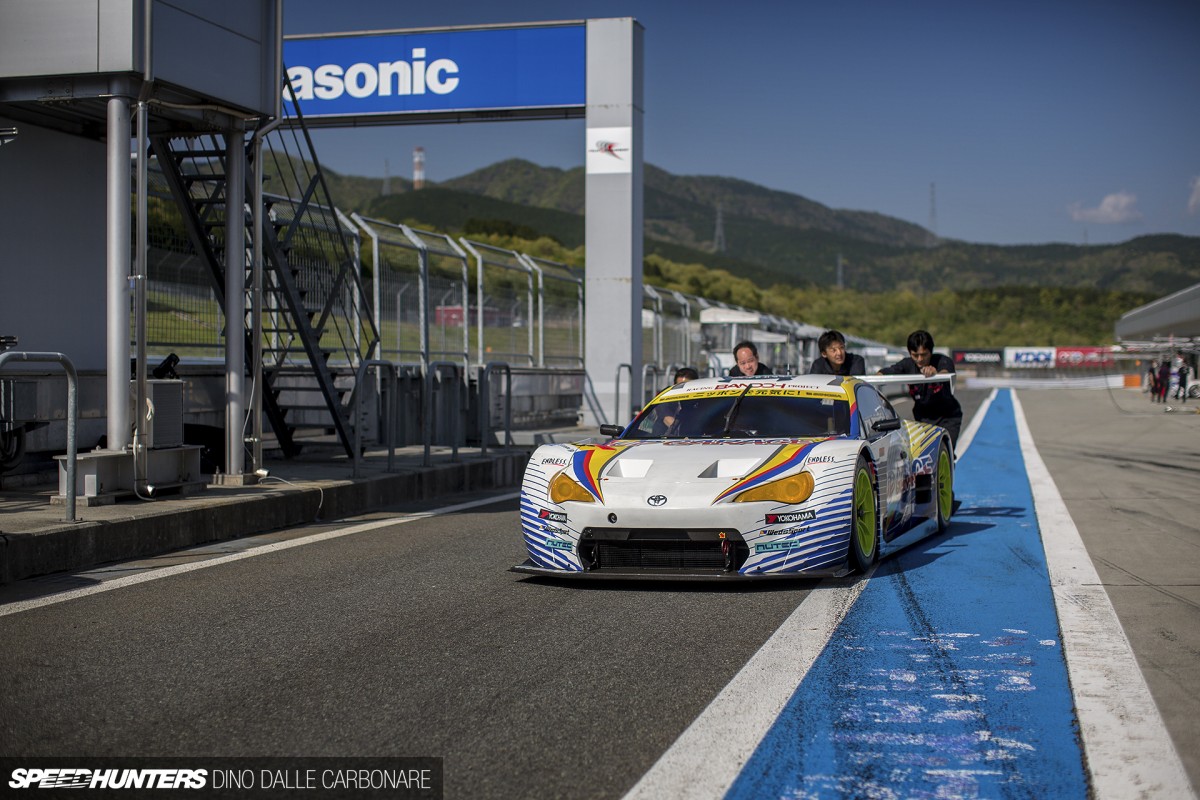 In comparison, the GT300 class had 29 cars competing at Fuji, and there's greater diversity too. While the Audi R8s, 911s and SLSs are cool, the one car that I've really wanted to get a closer look at is the Toyota 86 MC that teams like Bandoh have started using.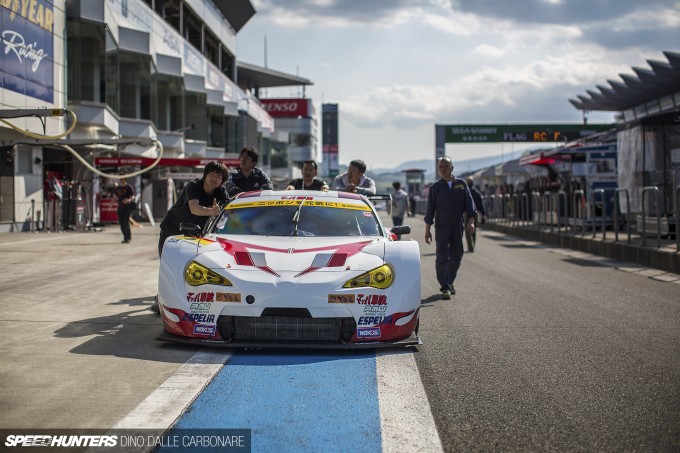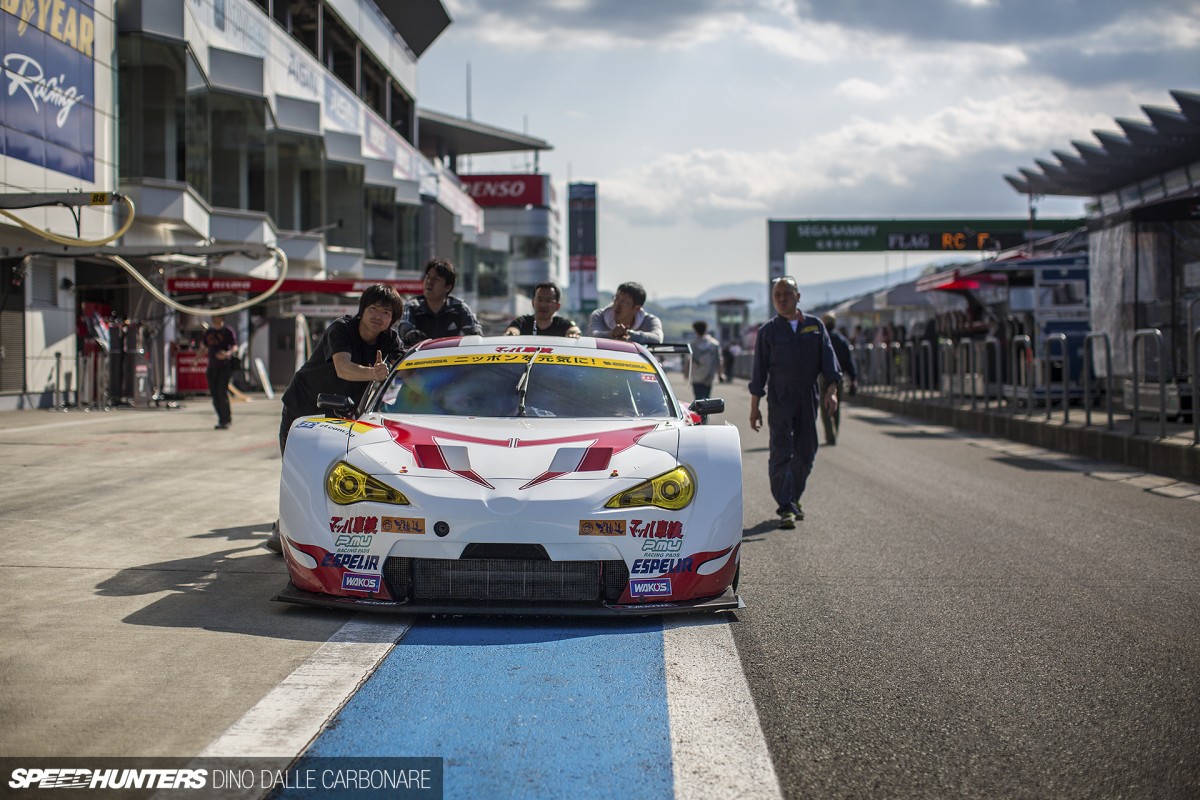 It's another example of how the modern day Hachiroku lends itself to so many racing disciplines.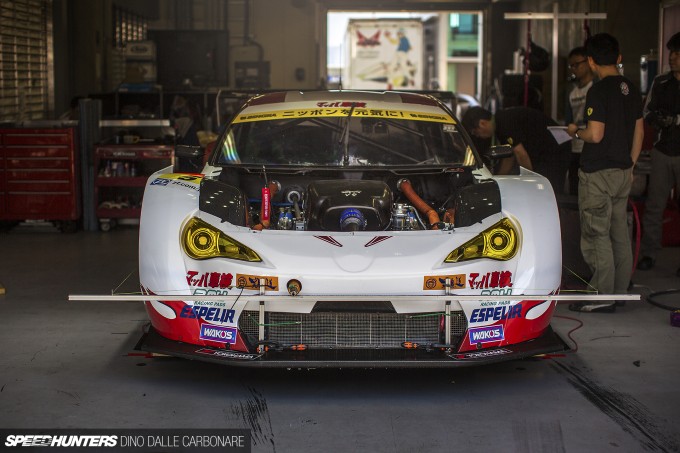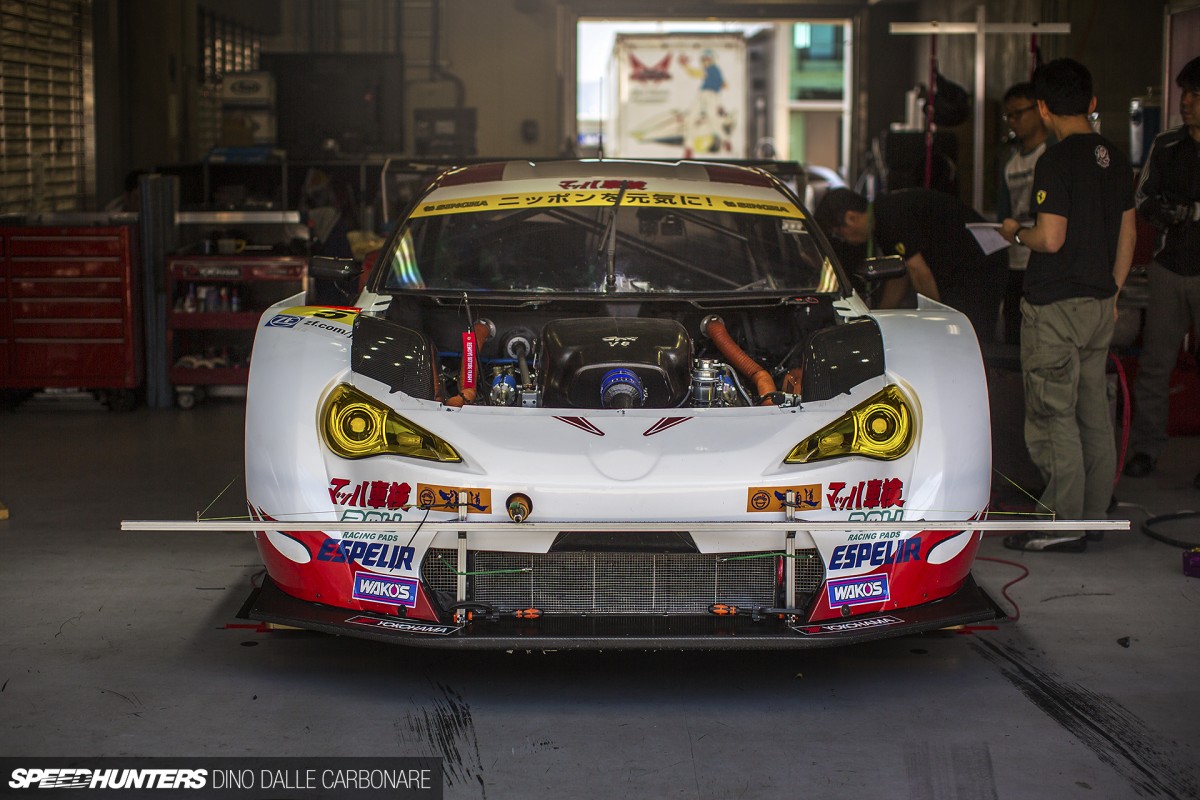 Luckily Team Mach had their car sitting in the pit without the bonnet in place as they were finalising the alignment.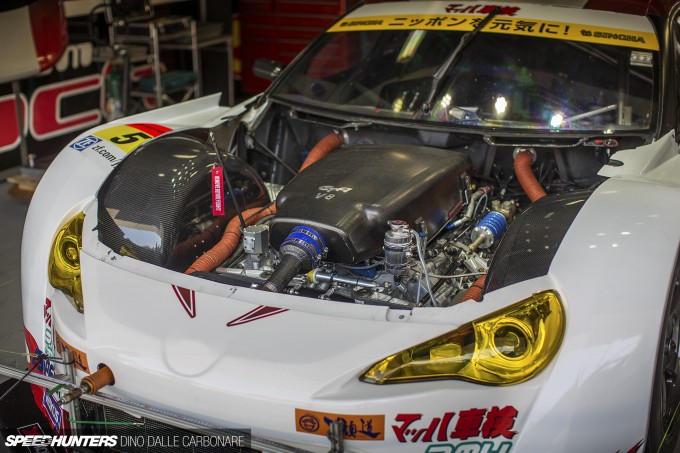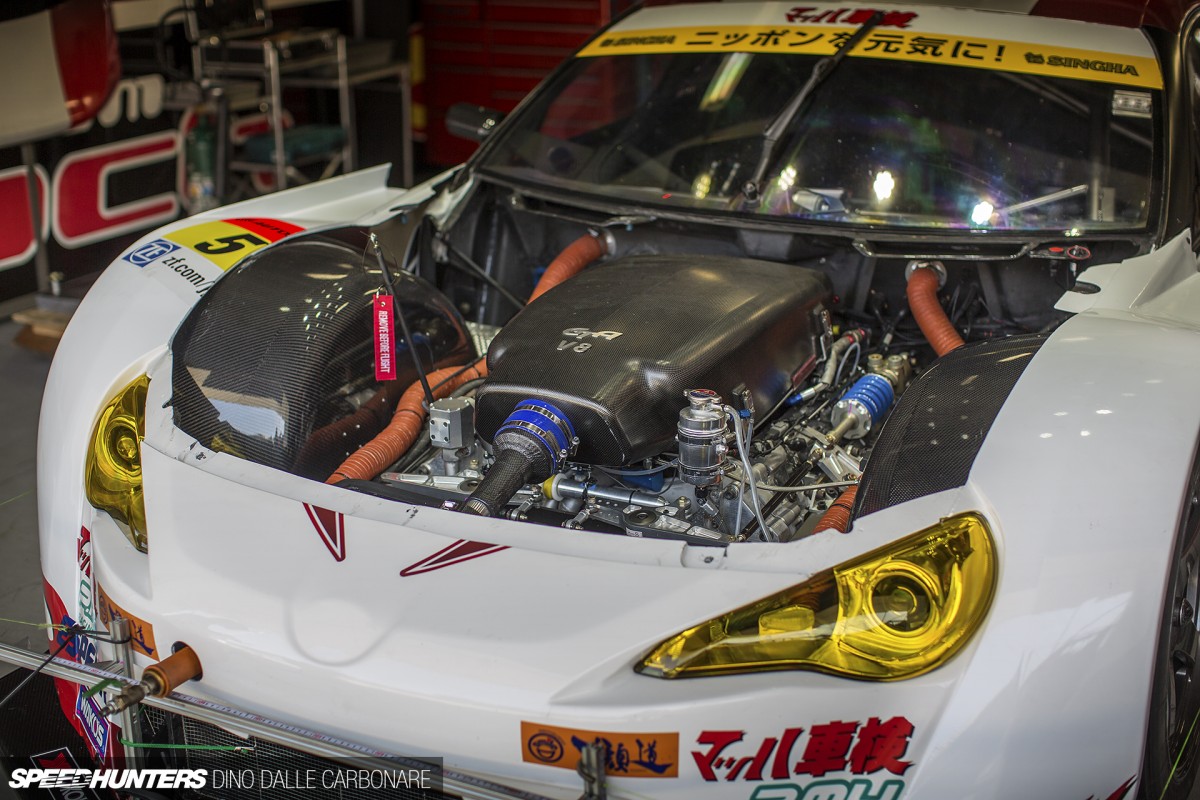 Like all GT cars, the engine sits as low as possible in the chassis for optimal weight distribution. In this case it's a 4.5-liter naturally aspirated V8 that develops over 450hp and 500Nm, albeit restricted to 300hp to meet class regulations.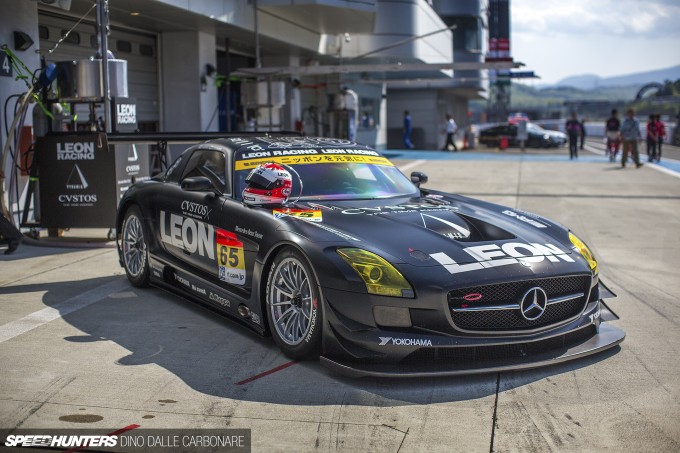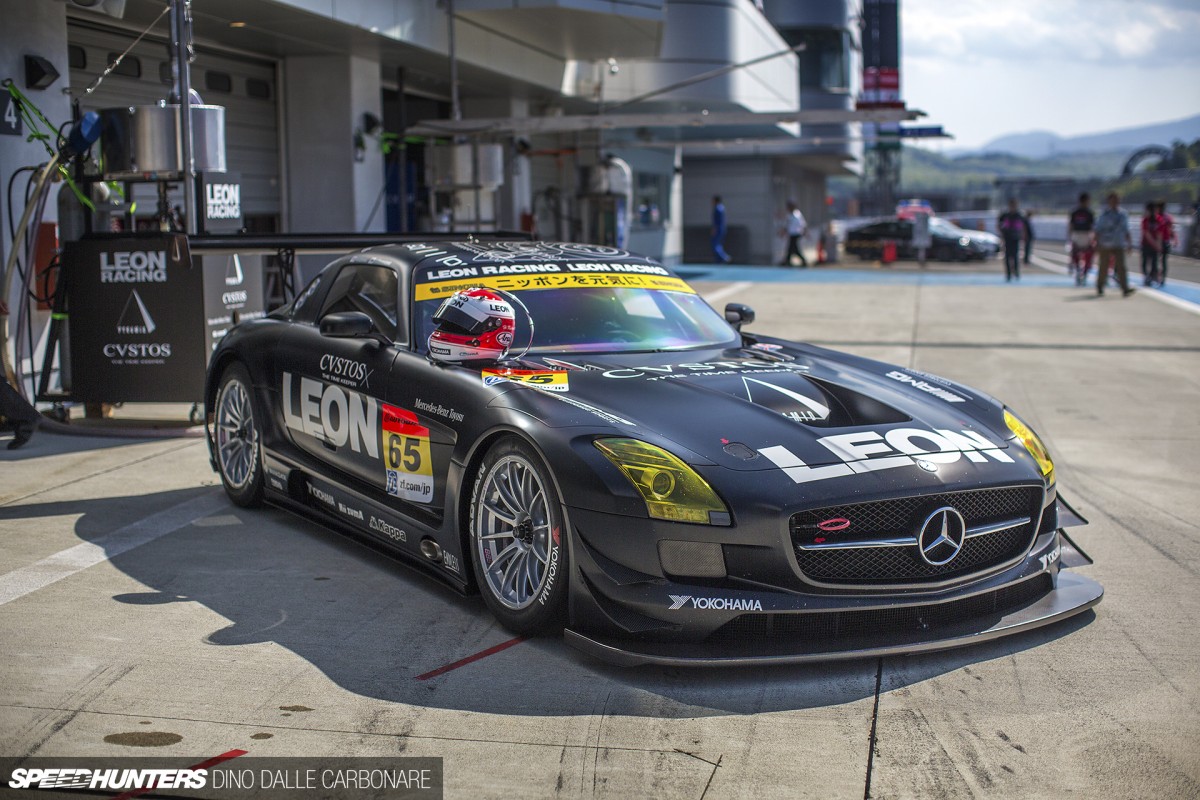 It joins cars like the SLS AMG GT3 and Studie Z4 GT4 in bringing that unmistakable V8 roar to Super GT.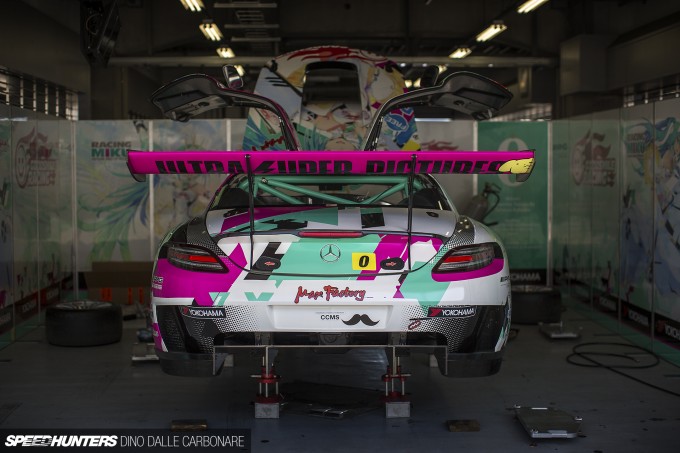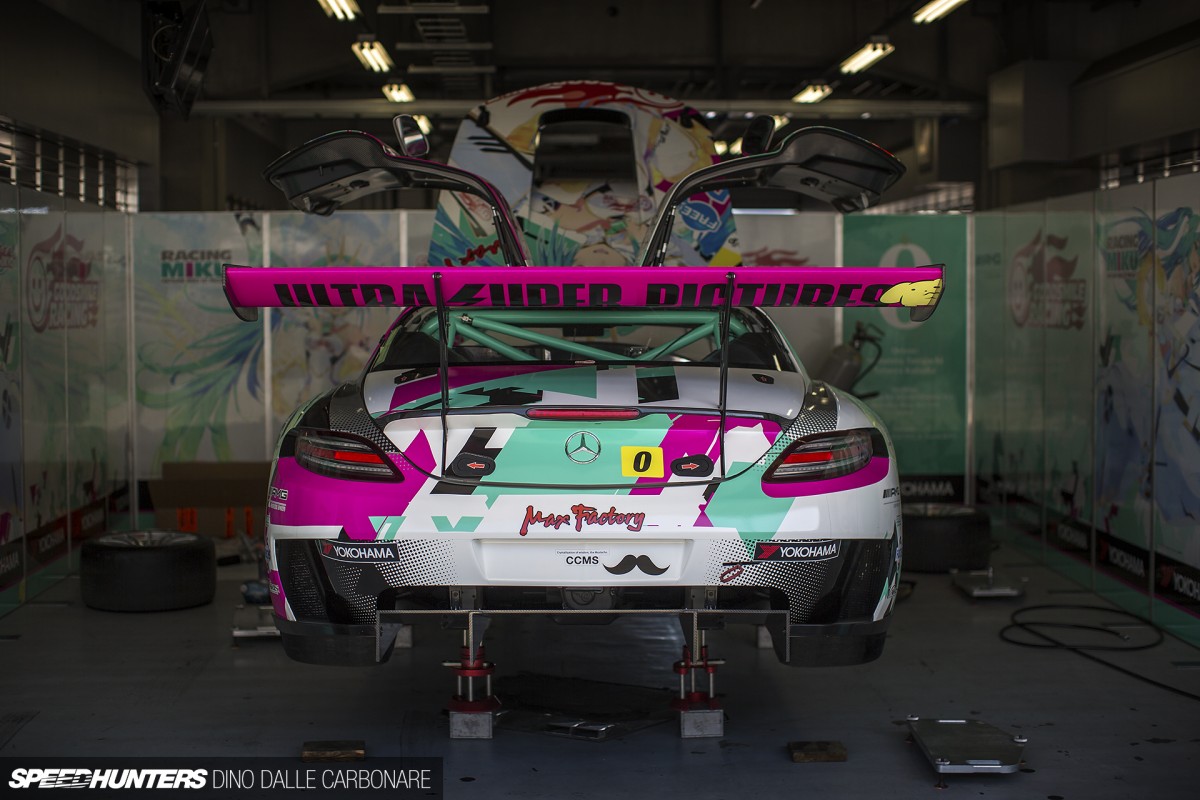 I still can't believe Mercedes dropped production of the SLS so quickly to move onto the recently-released AMG GT. It'll be cool to see how many teams switch over to the new platform next year, but I'll be sad to see those gull-wing doors go!
GT300 Rules!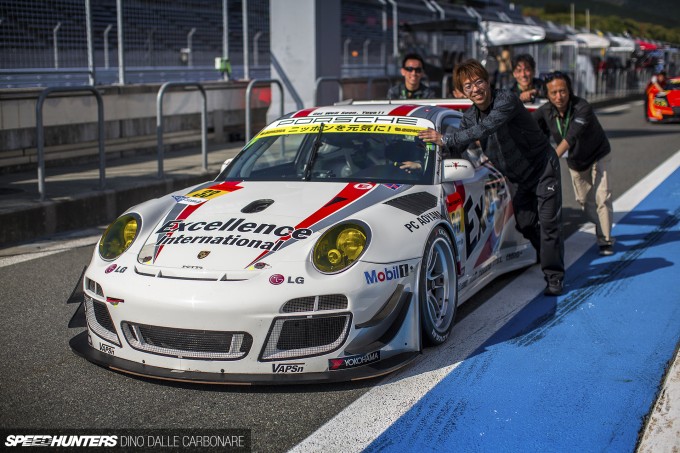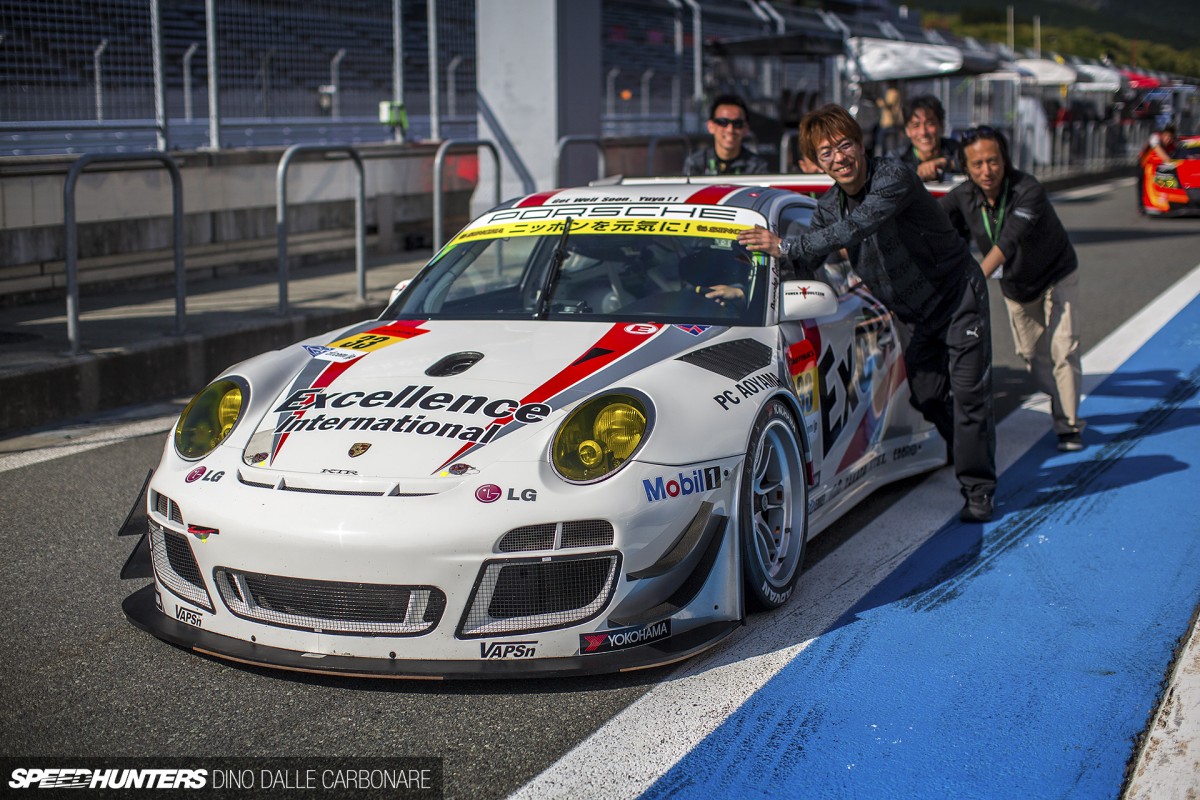 As is the case with pretty much all race-spec Porsches, it's hard to ignore the beauty of a purposely built 911 race car. Case in point: the Team KTR 997 GT3R.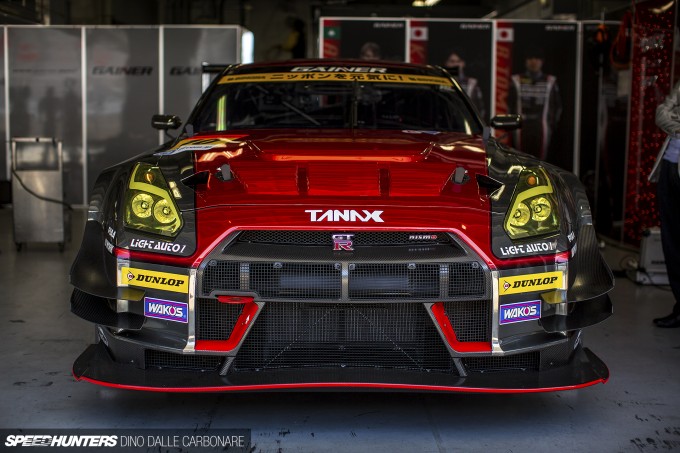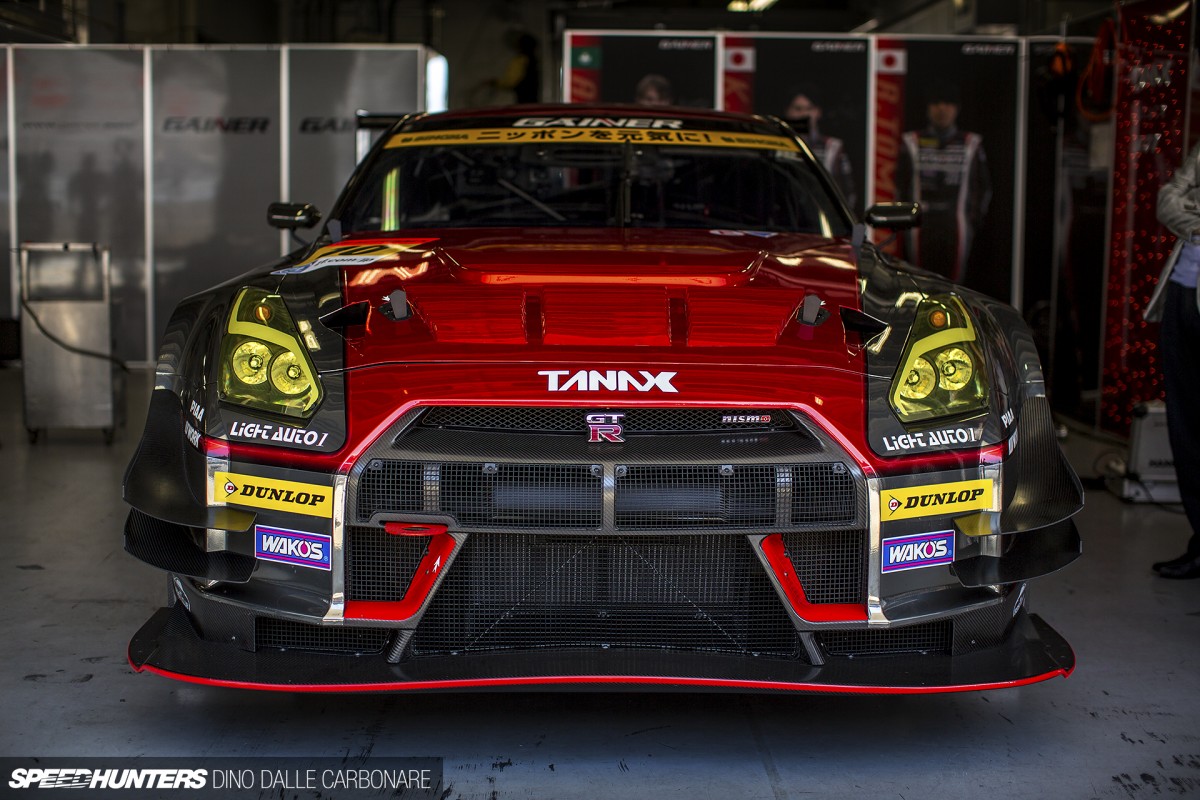 Andre Couto and Katsumasa Chiyo took the GT3 class win on Sunday with their Garner GT-R GT3, proving that despite the car's age, it's still very much at the top of its game.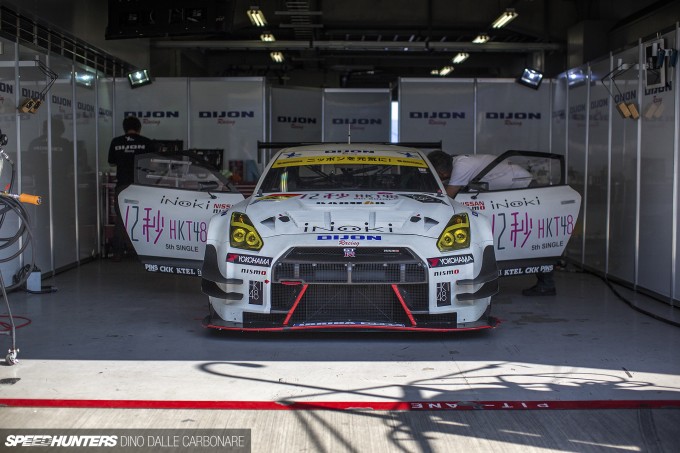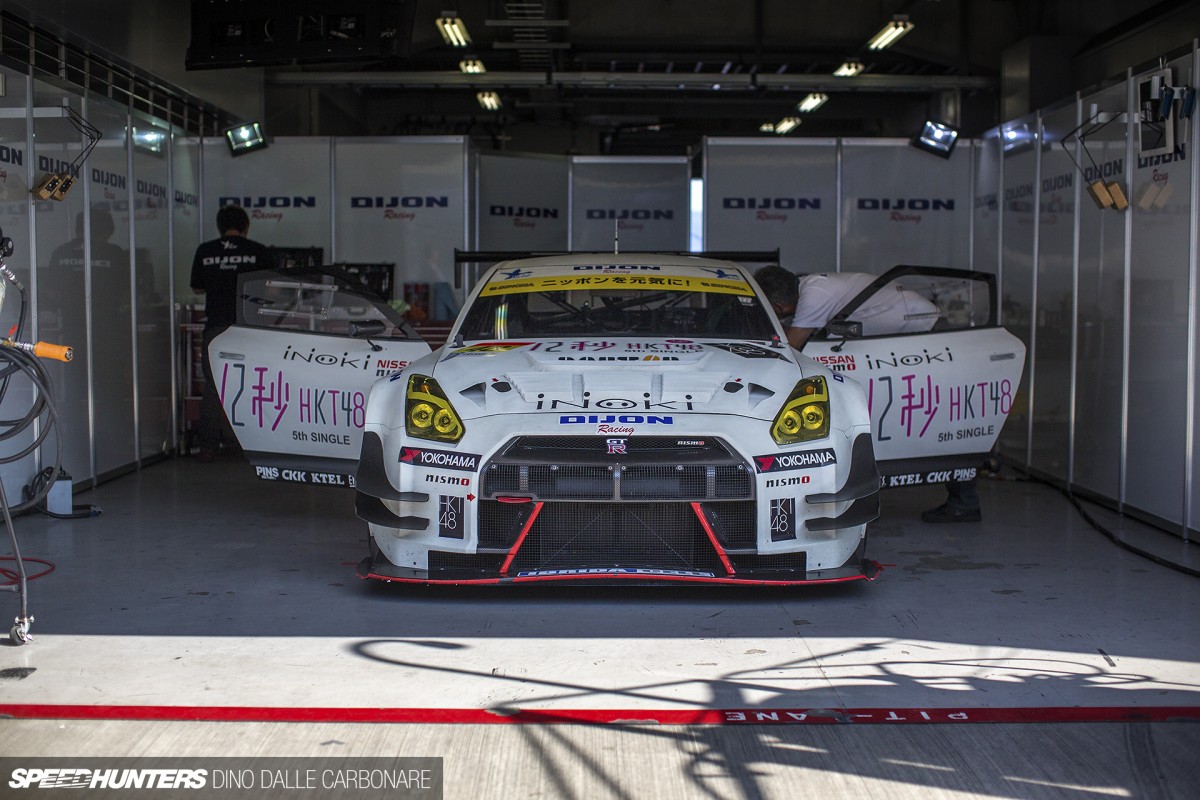 As in GT500, there are five GT-Rs competing in GT300 – this particular example being the Dijon Racing car of Takamori and Tanaka.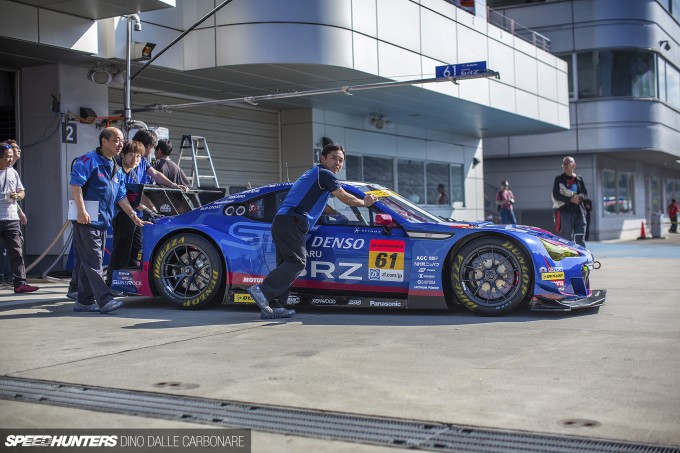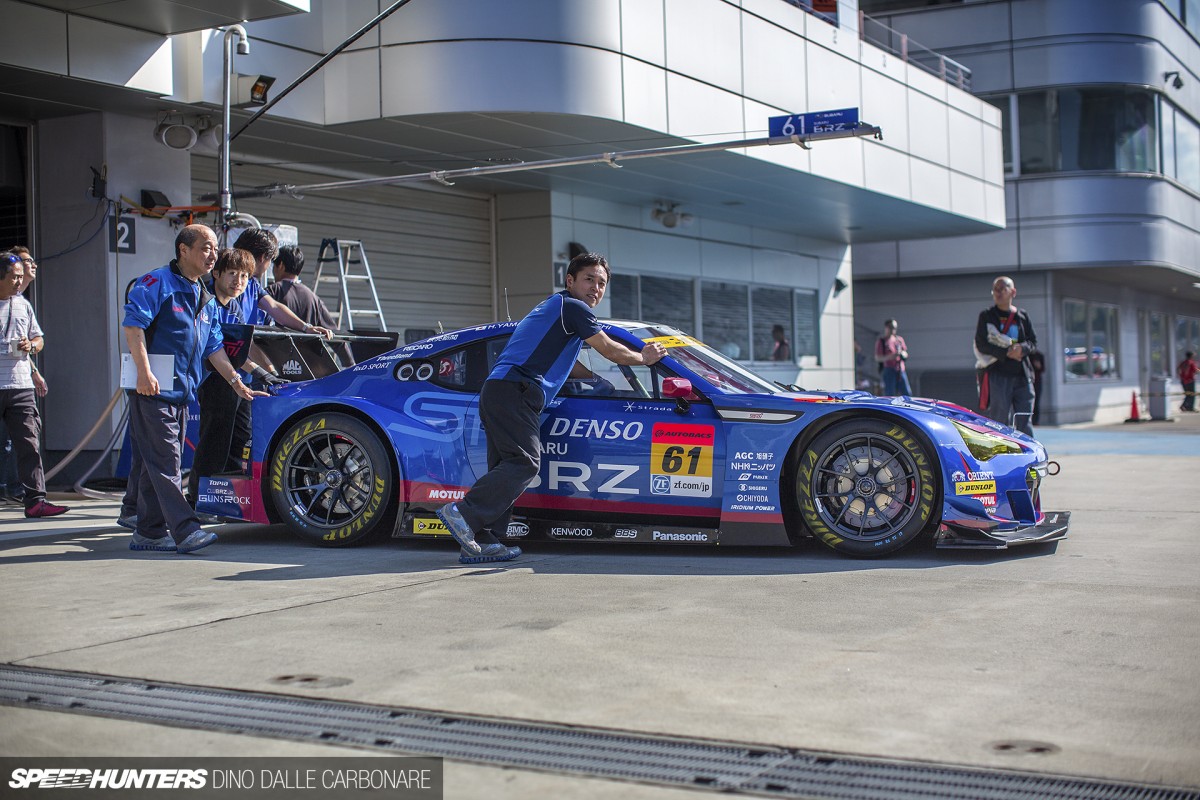 The R&D Sport BRZ that I featured a few seasons back hasn't had too much success over the years. At Fuji this past weekend however, it finished up in 8th position, which is a decent result for a team that's always been struggling. The car continues to run R&D Sport's EJ20 race motor; the team preferring to stick with a compact motor rather than switching to a V8.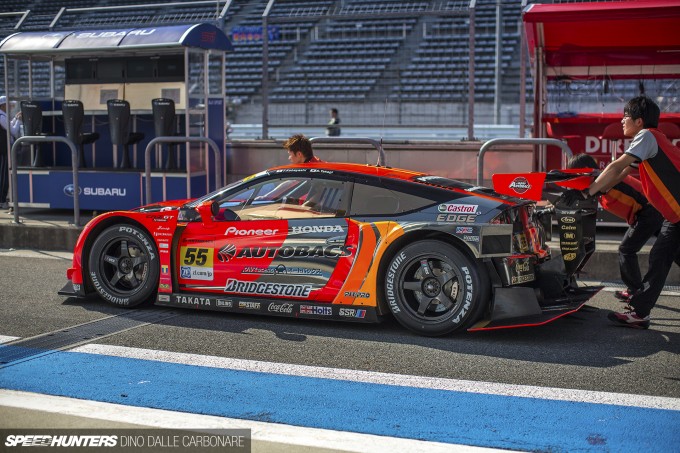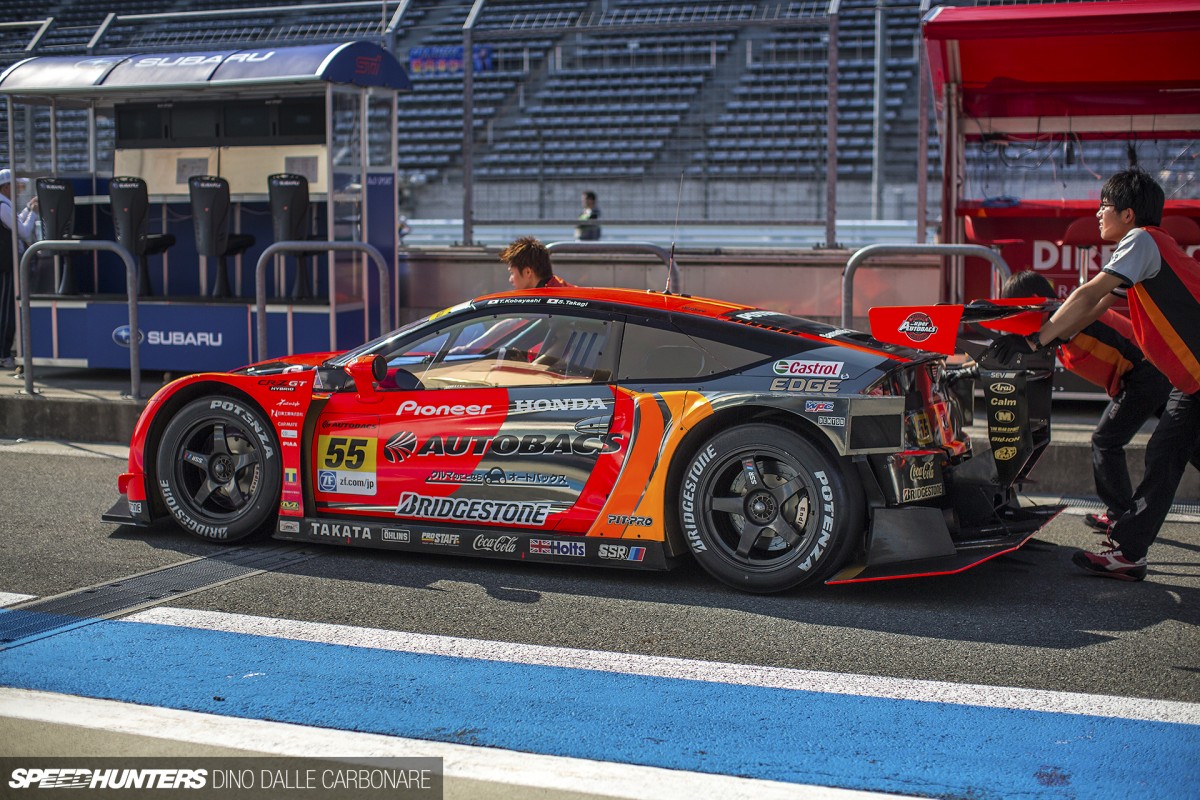 Every time I see the GT300 CR-Z I can't stop wondering what an amazing little car the street version could be. Will Honda ever give the compact chassis the powertrain it really deserves though – that's the question!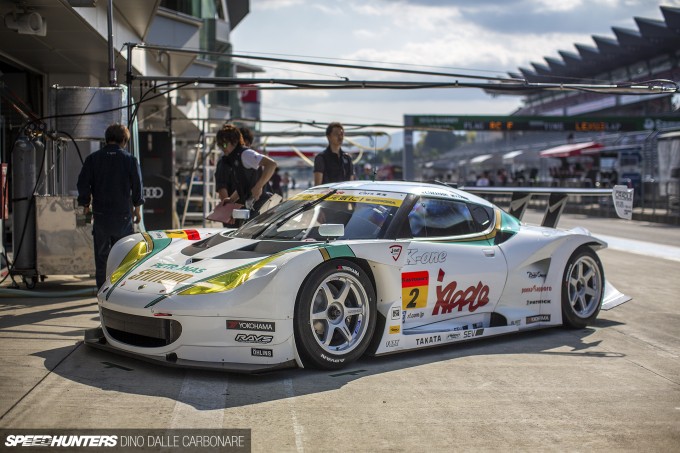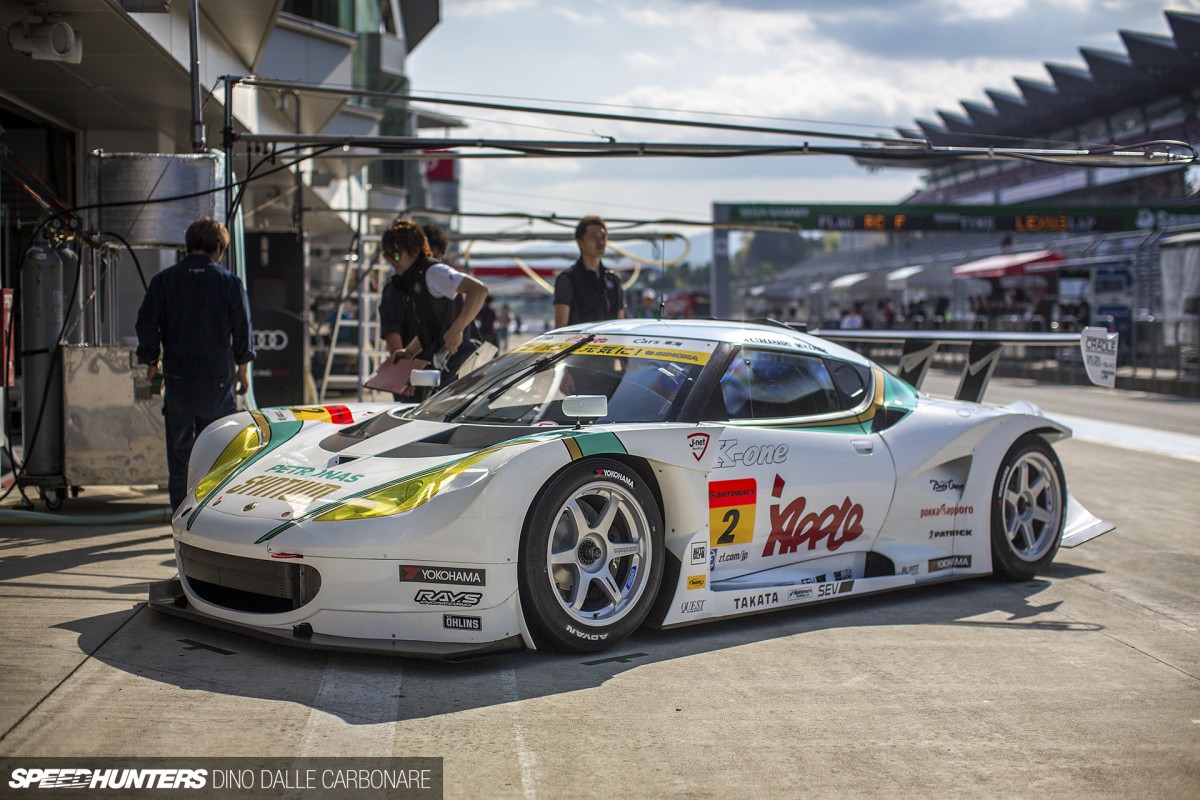 We first saw the Cars Tokai Dream28 Lotus Evora at the Tokyo Auto Salon earlier in the year, but it looked far better in the pits at Fuji than it did artificially lit inside a car show! Being a completely new build – and a private entry – understandably it hasn't proved to be super-competive yet, but given how hard the drivers and crew work I think it's only going to be a matter of time.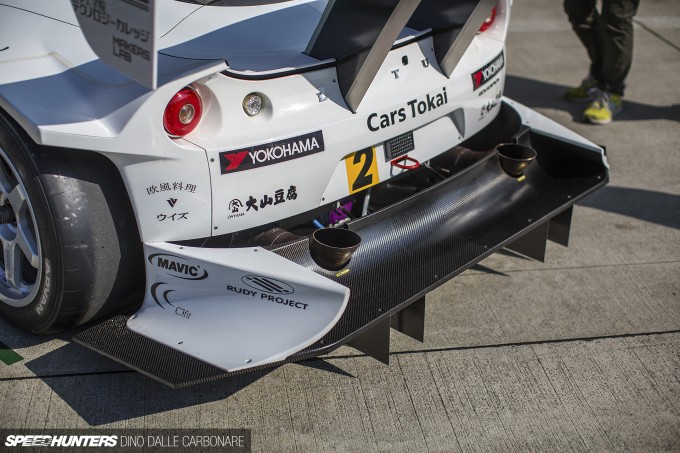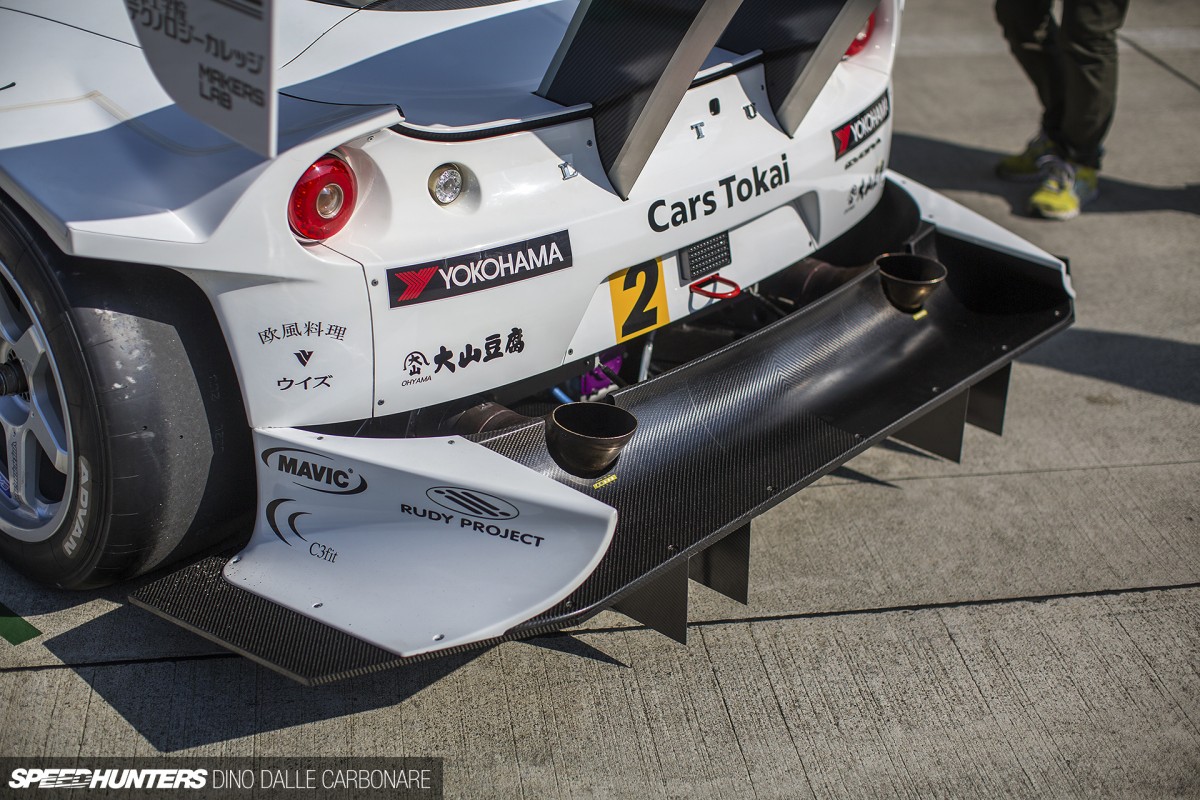 If anything, it's been one of the most inspiring cars in the Super GT Championship this year. One thing I noticed was how the rear diffuser/extractor and exhausts have been changed since we saw them last. Up-turned exhaust tips have also been added, along with curved top section for the diffuser.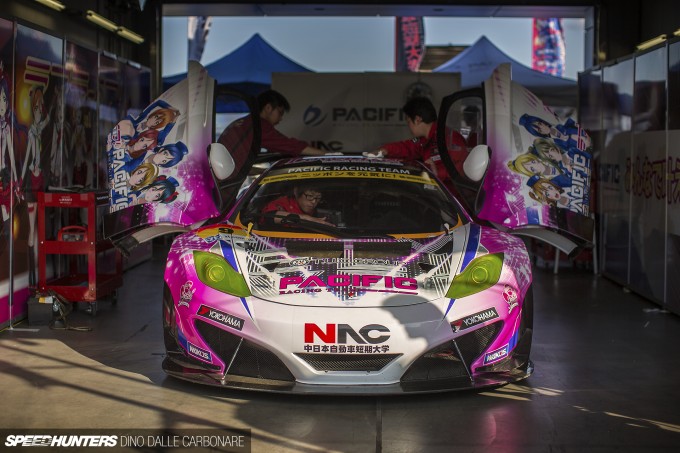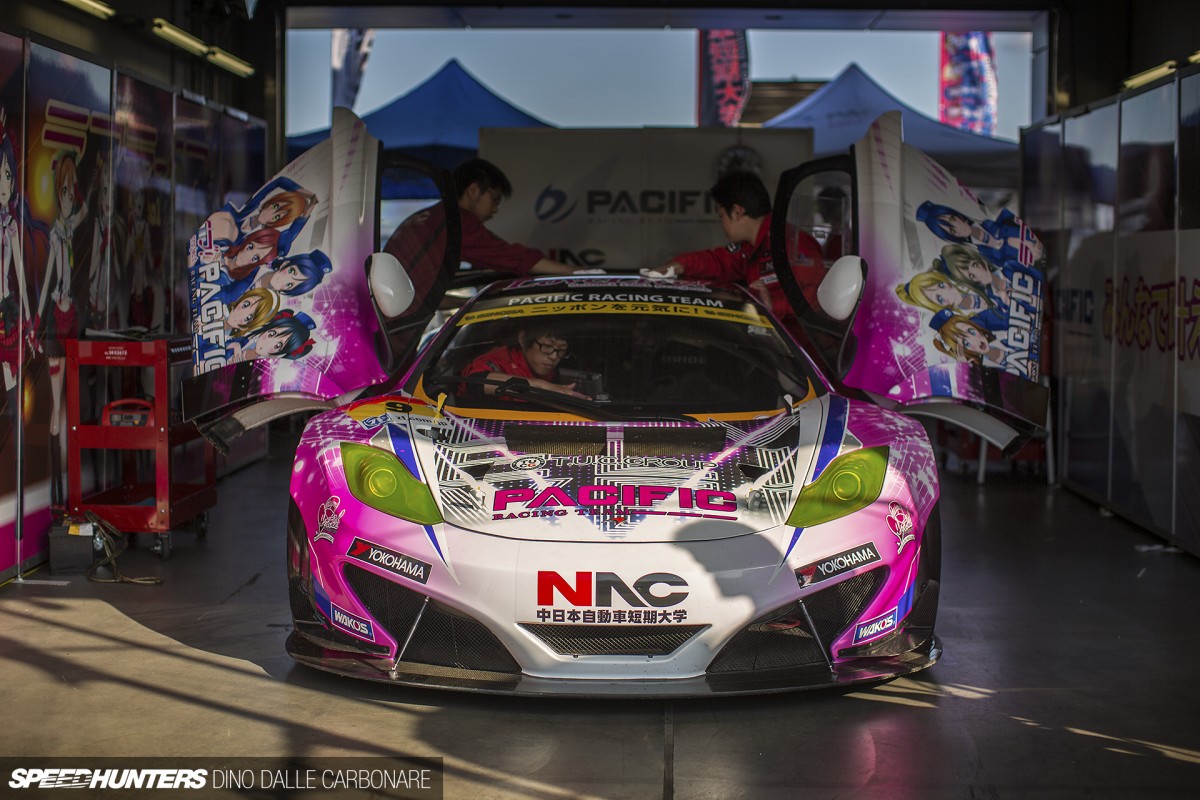 Itasha McLaren MP4-12C GT3? But of course, this is Japan after all!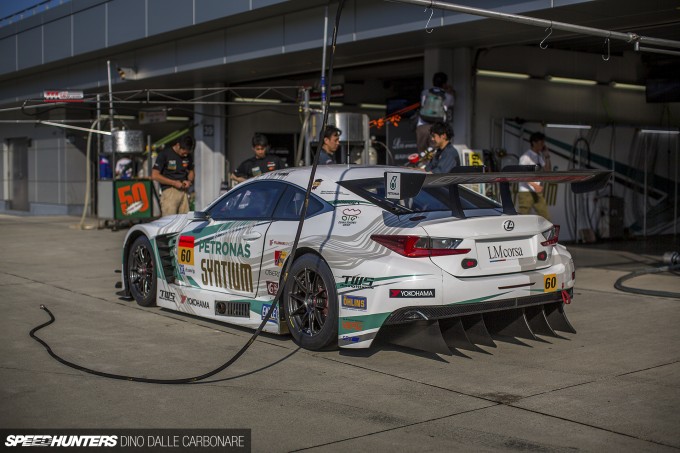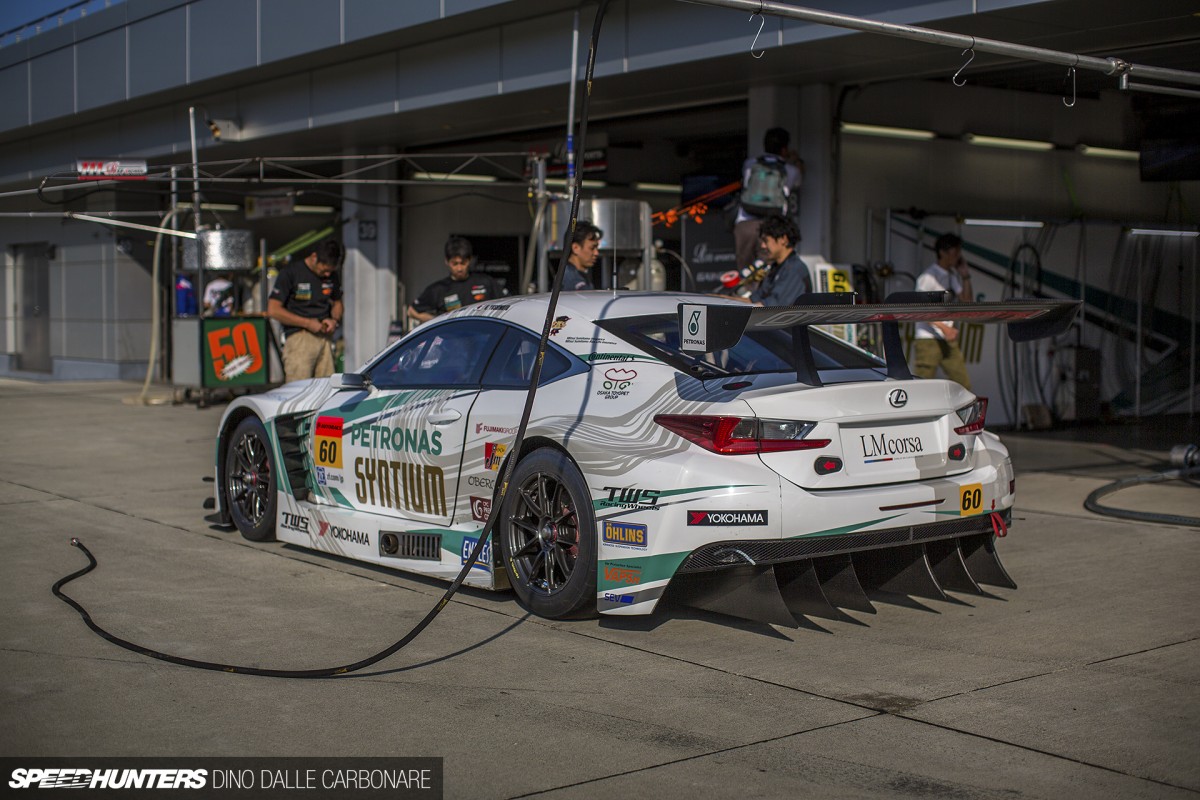 There was at least one RC F in the pit that day that sounded, well, like an RC F really should! The LMcorsa RC F GT3 runs a restricted version of the 2UR-GSE and is piloted by the legendary Akira Iida of Chockets. It's also run out of OTG Racing, who you might recognise as the shop that dropped a NASCAR V8 into Imamura's D1 LFA.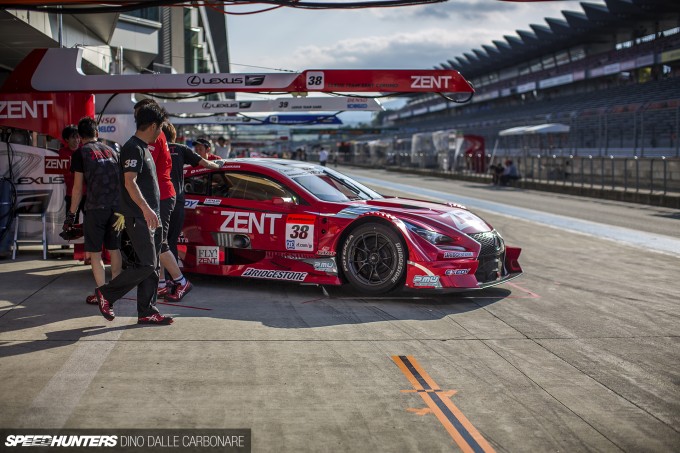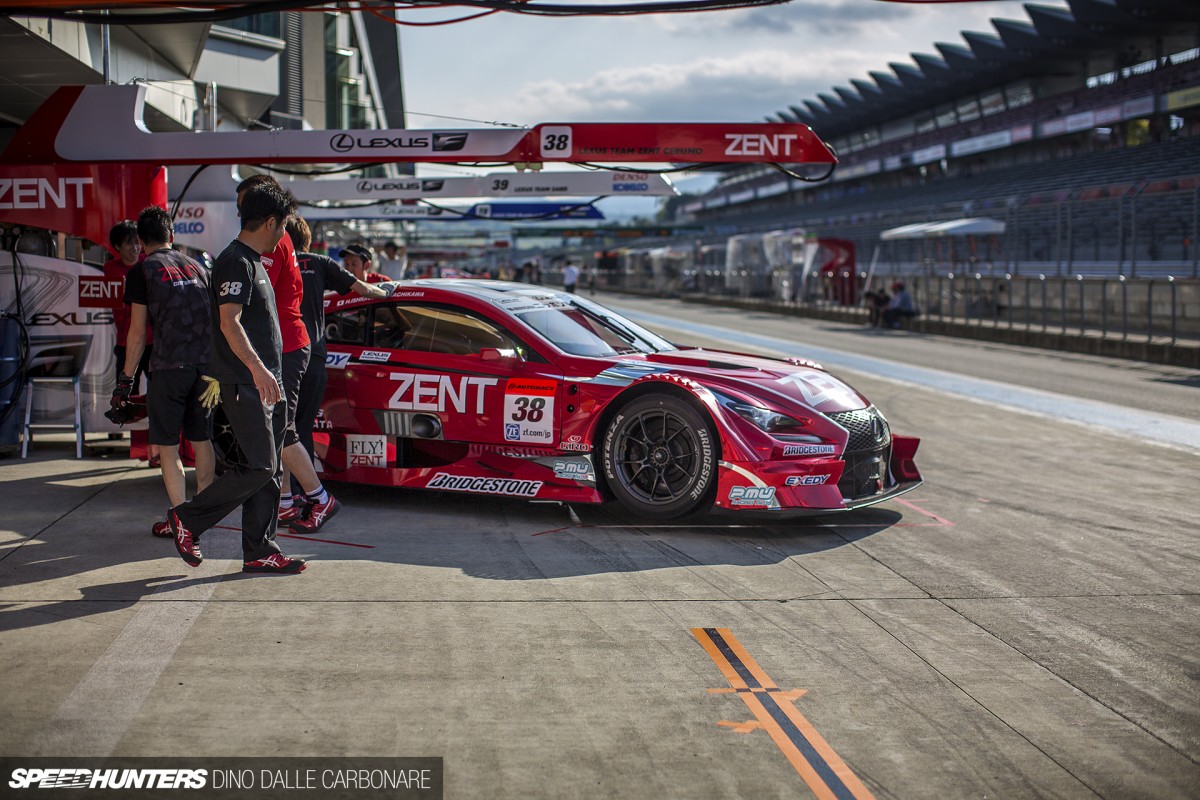 So there you have it, a pit walk that I hope has given you a taste of this year's Super GT grid. I plan to cover the final race in Motegi this autumn – an event that I haven't shot at since 2004. Now that will bring back some memories!
Be sure to  check out the Super GT website for more info on the series and continuous updates throughout the season.
Dino Dalle Carbonare
Instagram: speedhunters_dino
dino@speedhunters.com