Mind-Blowing Scale Auto Art
In my first story from the 2015 Shizuoka Hobby Show, I gave you guys the basic rundown of this very special event. If you read that, you'll remember I said I was actually saving the really cool stuff for the next story. Well, this is that post.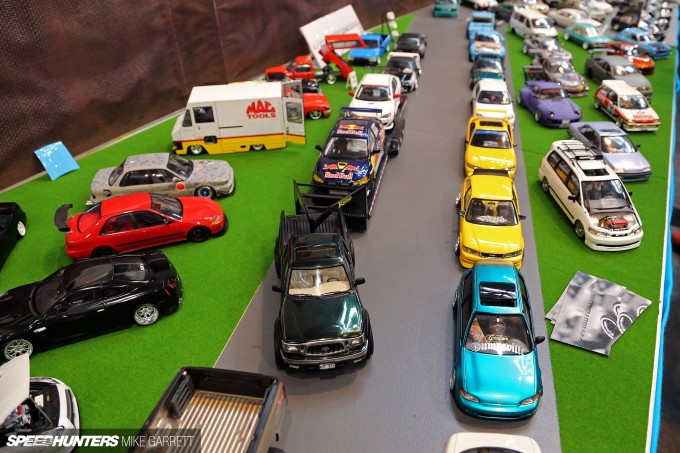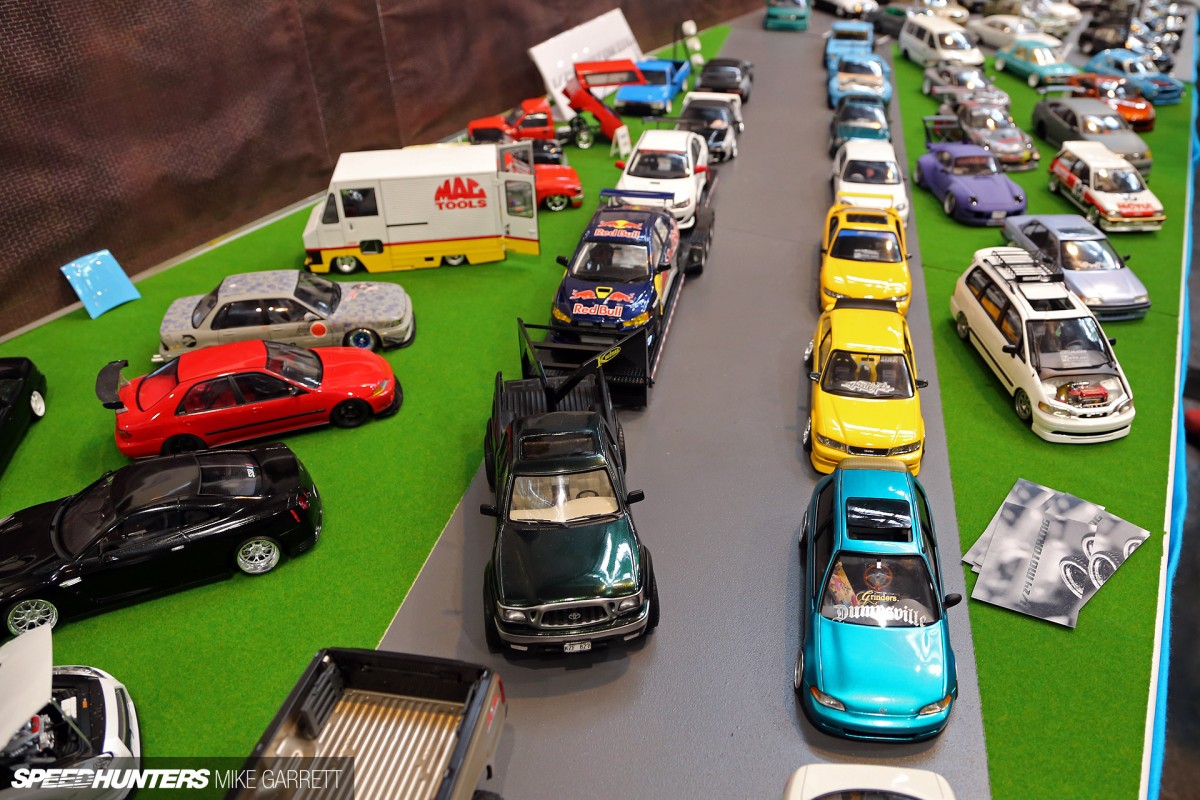 I'm talking about the modeler's club displays – a huge area where modeling clubs and organizations from all over Japan brought out their expertly-built models and custom projects to share with the thousands of showgoers who came through the Shizuoka Twin Messe over the weekend.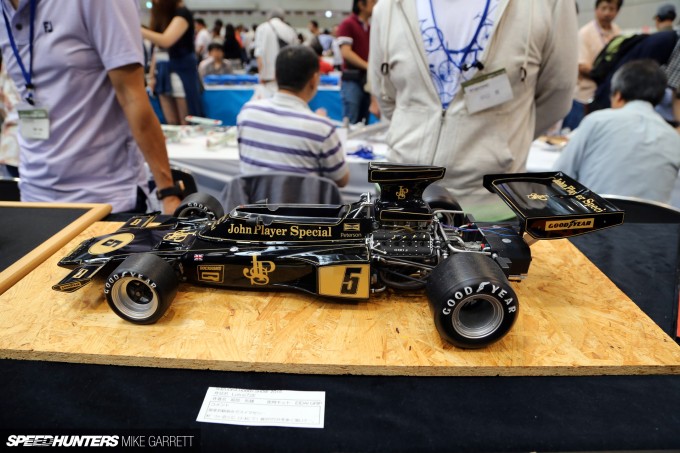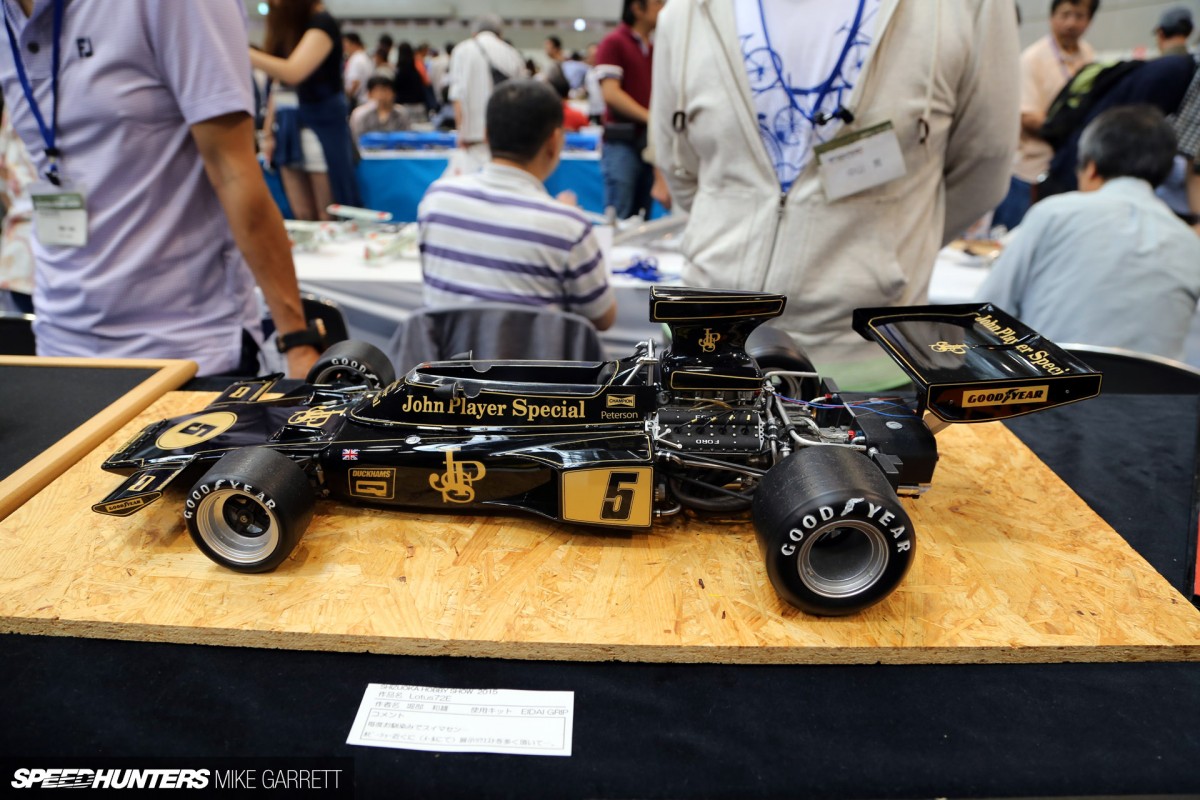 Sure, these might have been scale replicas rather than real vehicles, but I'm not exaggerating one bit when I say this was legitimately one of the most impressive things I've ever seen while working as a Speedhunter.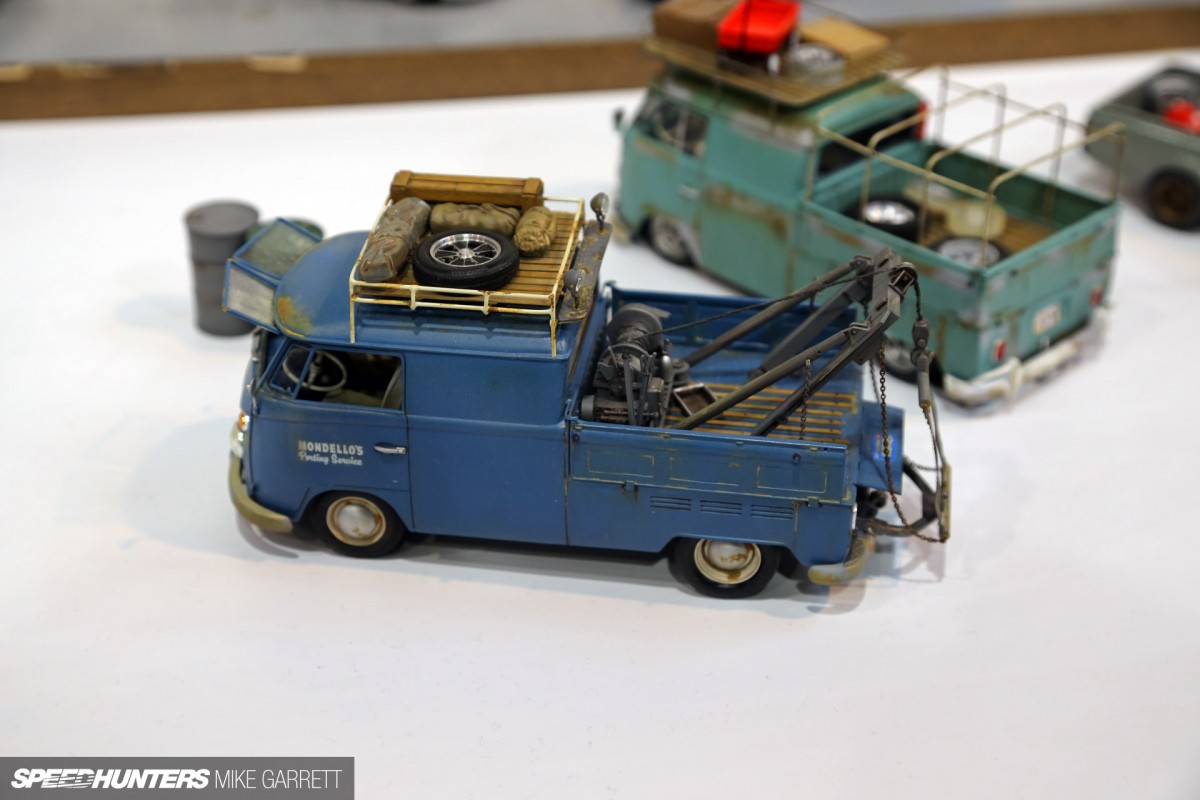 It doesn't matter whether you're into building or collecting models yourself, the stuff being shown here was jaw-dropping. In fact, for someone like me who struggles to build models without getting glue all over the place and screwing up the decals, it was all the more impressive. There's a lot to show here, so let's not waste any time in getting started.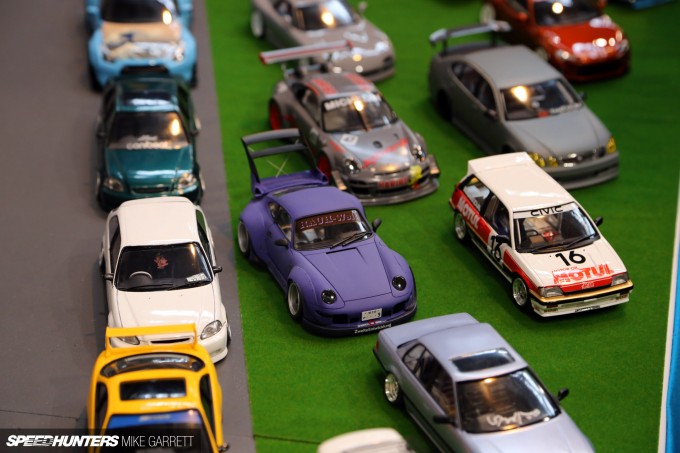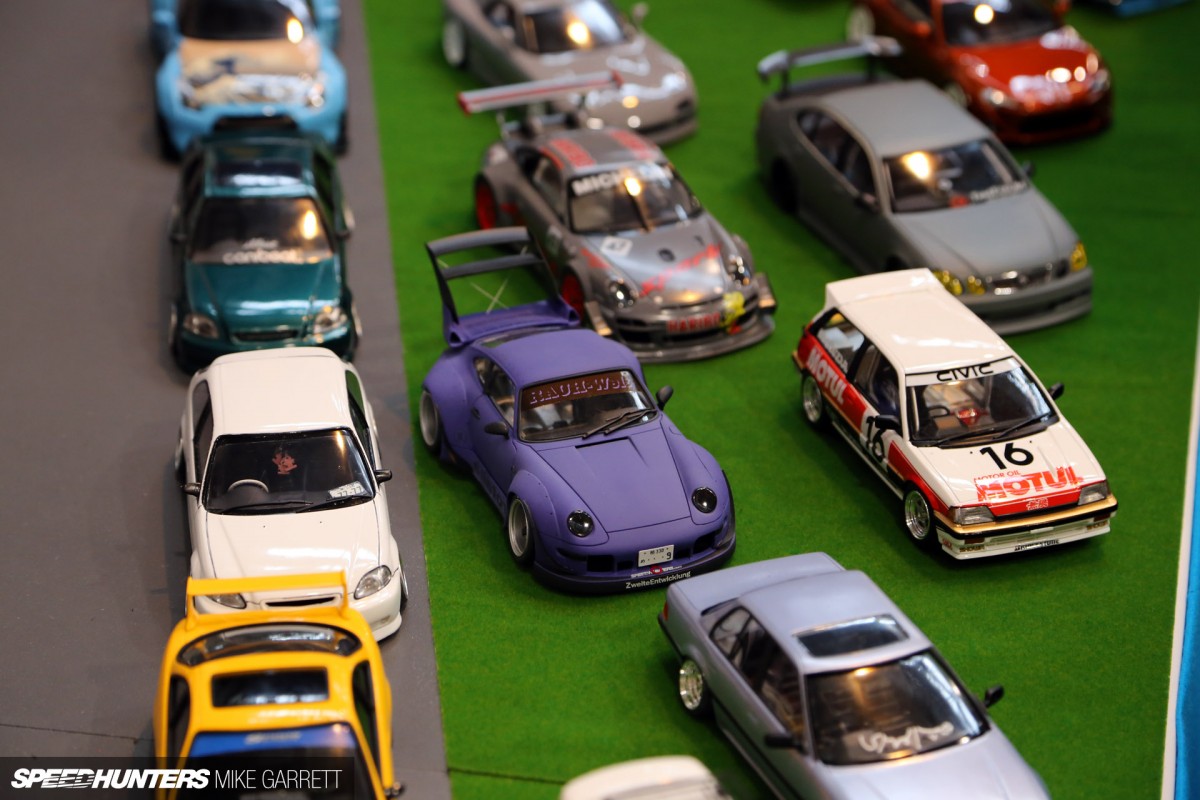 Let's begin with a modeling club called 1/24 Motoring. These guys have a their fingers firmly placed on the pulse of car culture both in Japan and abroad, and their highly-detailed, custom-built models perfectly replicate what's going in the world of real cars.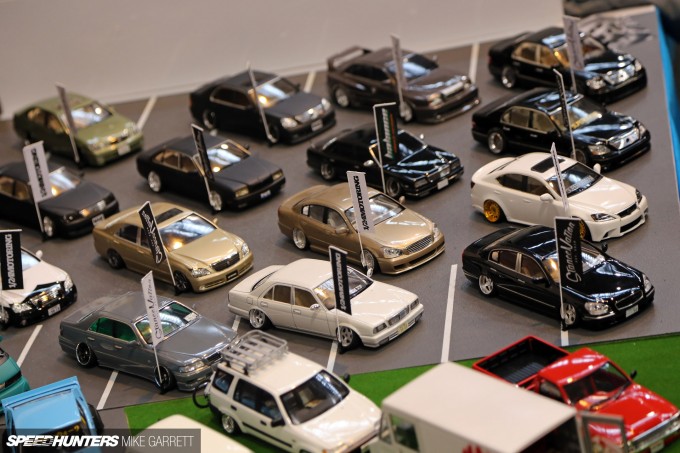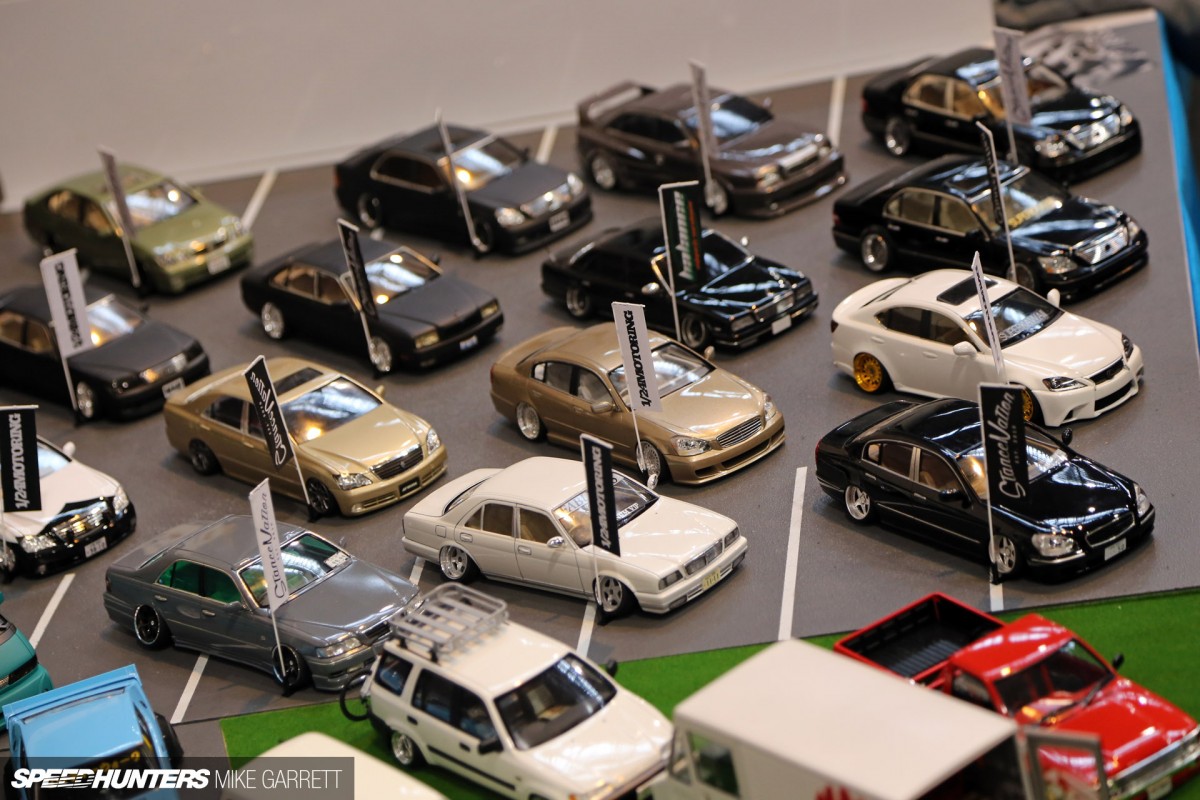 Among their large display of models was an amazing diorama of a VIP car meet, complete with Nobori flags and models representing several different styles of custom luxury sedans.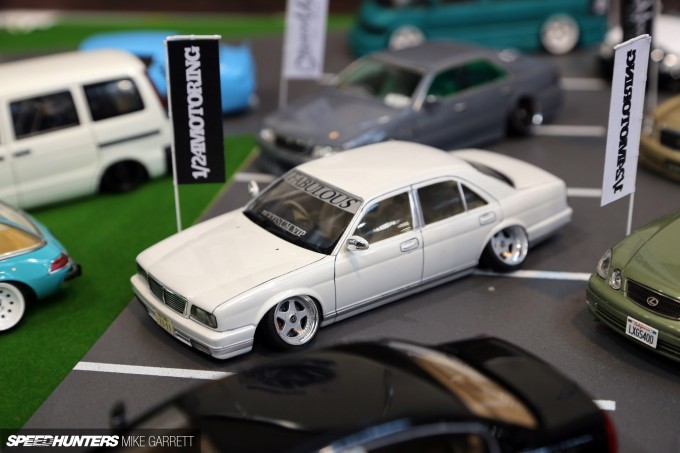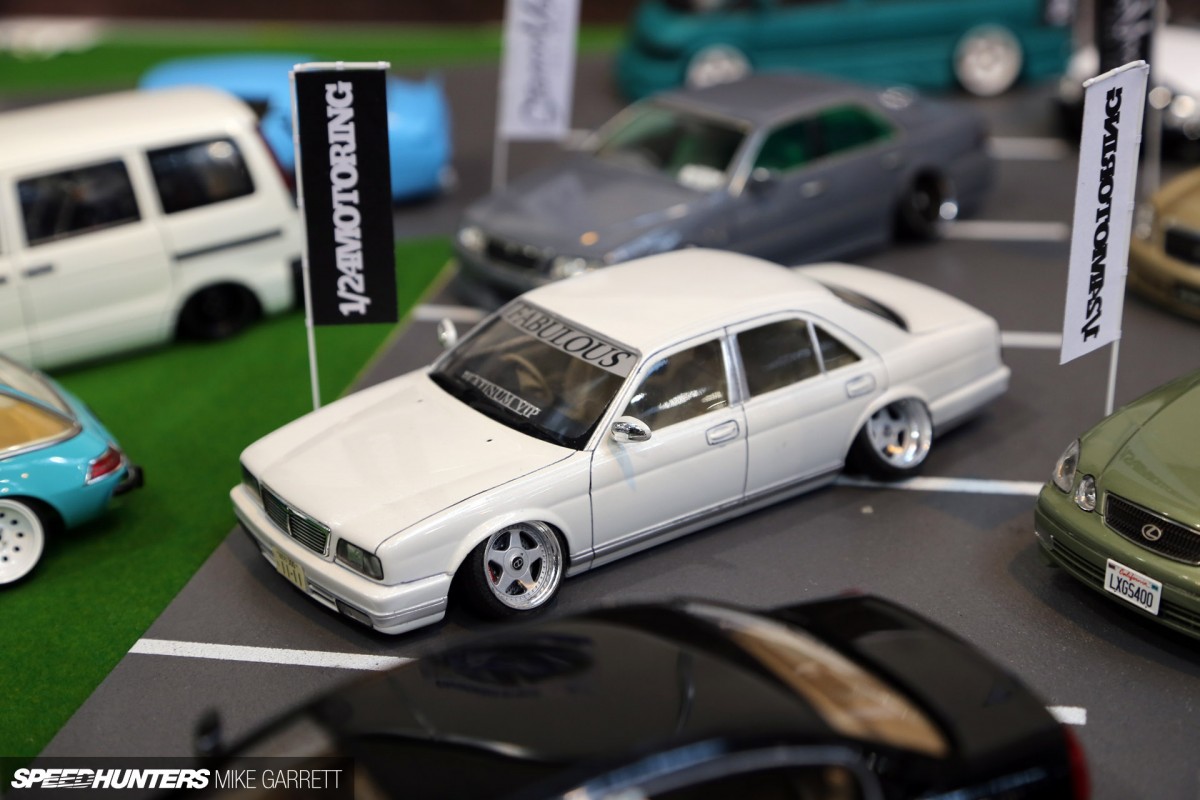 Each and every car was perfectly modeled after the actual VIP machines you'll find at an event. Check out that camber!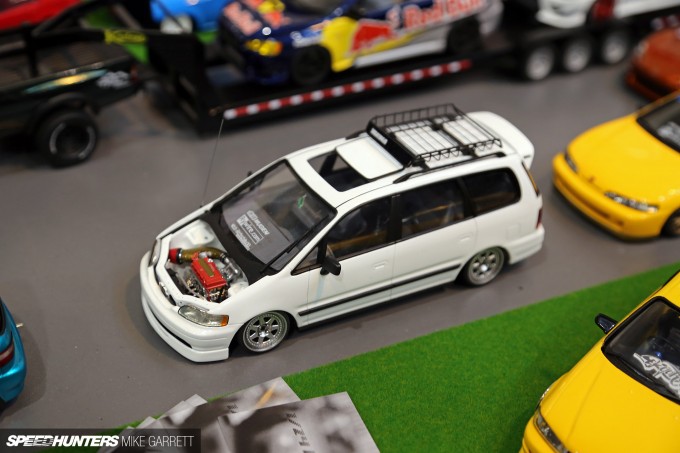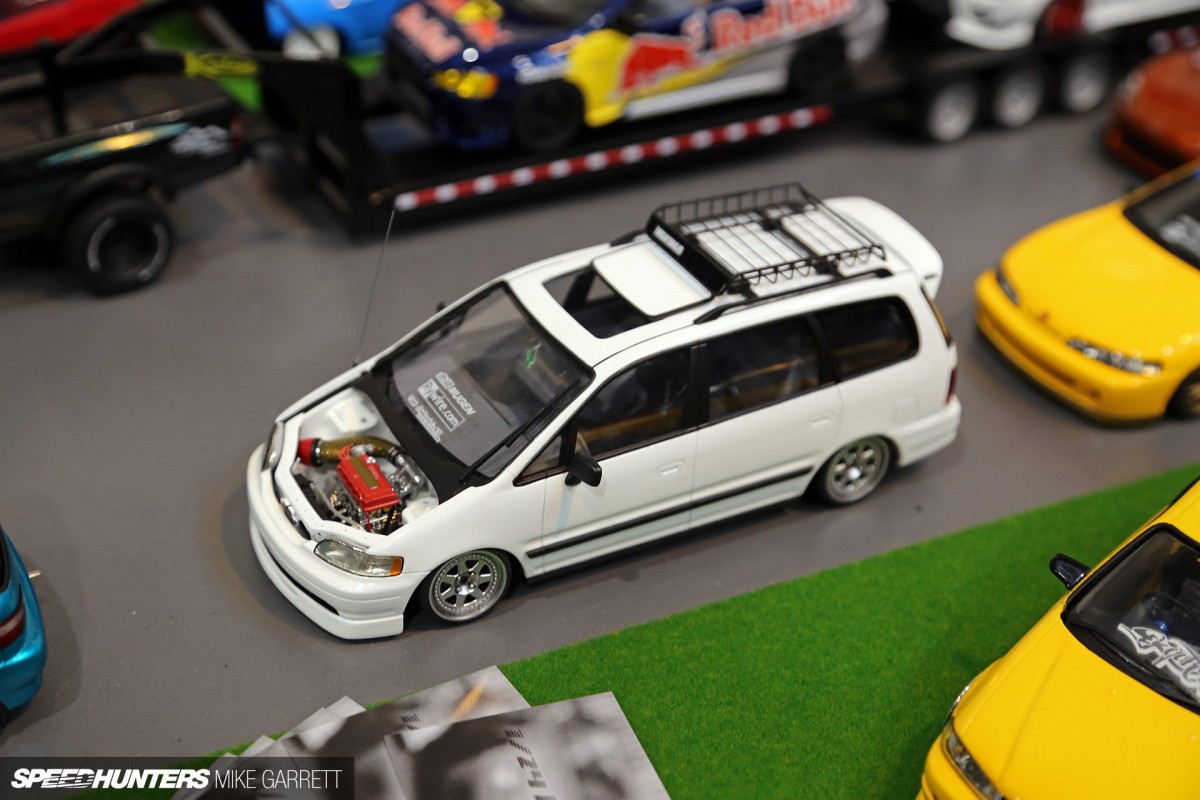 Hmm, this thing looks quite similar to the Odyssey I spotted at Wekfest Japan earlier this month. Many of the cars that 1/24 Motoring build are actual replicas of specifc cars from Japan and the US.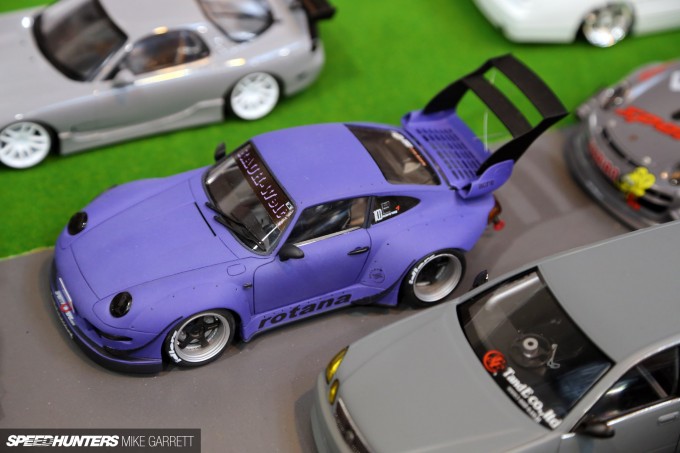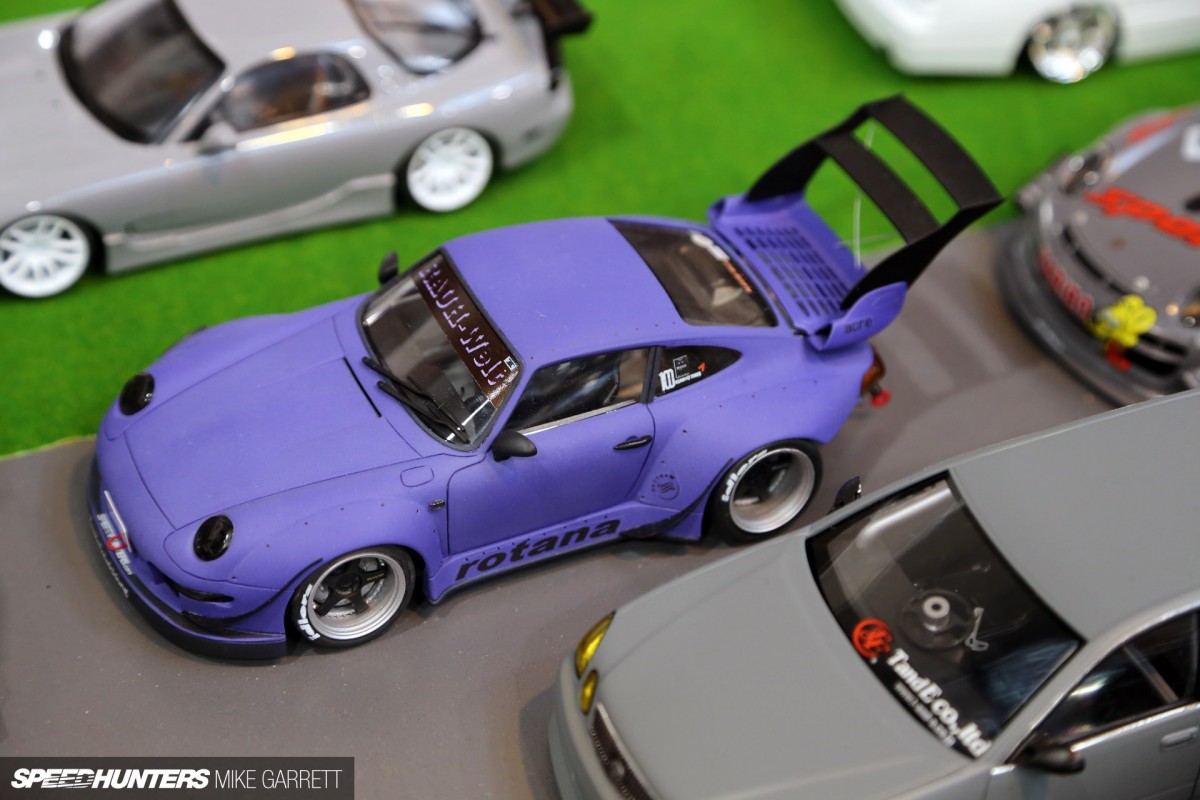 This one should be immediately recognizable as Akira Nakai's RWB Rotana Porsche 993. Every last detail was present and accounted for.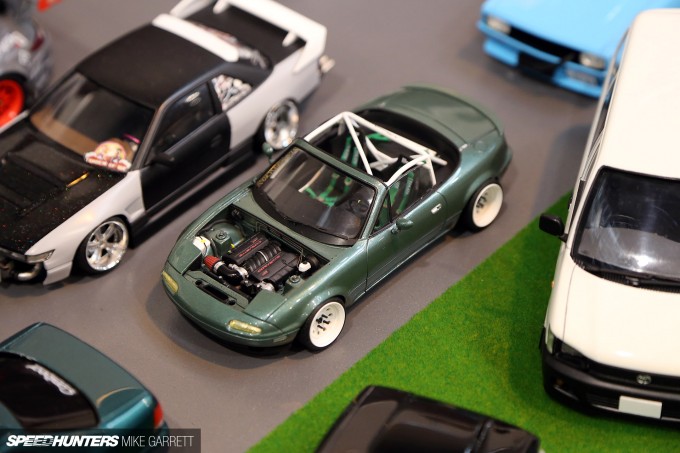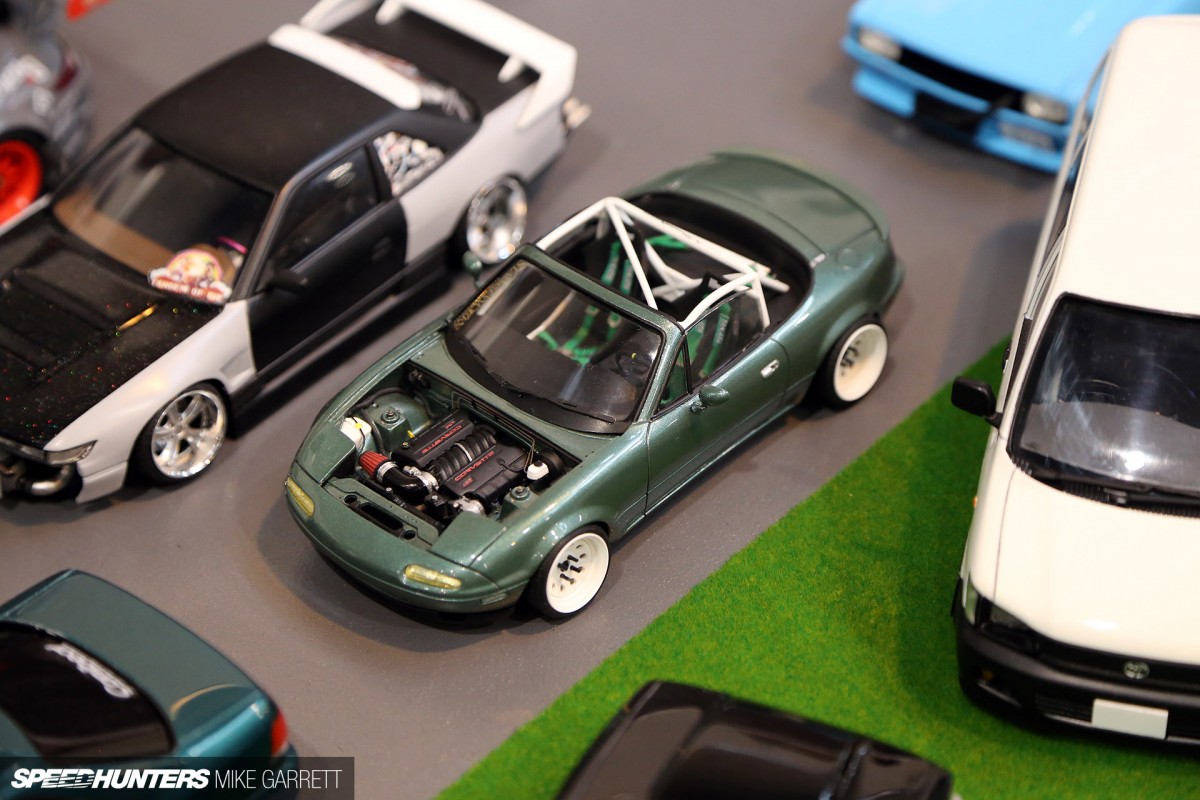 And just as we like to swap engines in our real cars, these guys like do it with their scale models. Check out this Miata with a GM LS V8 sitting in its engine bay.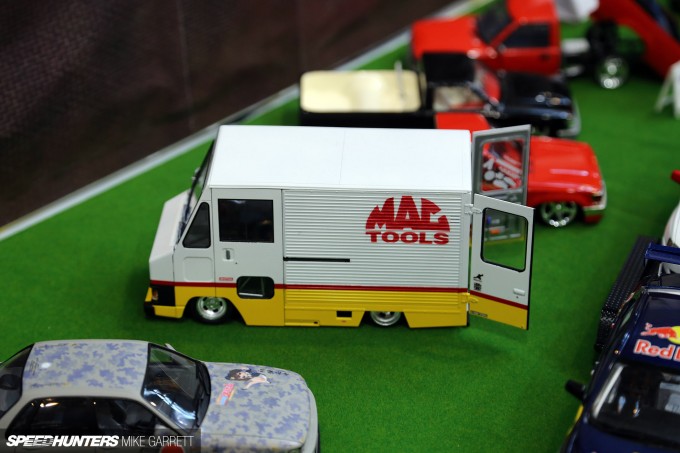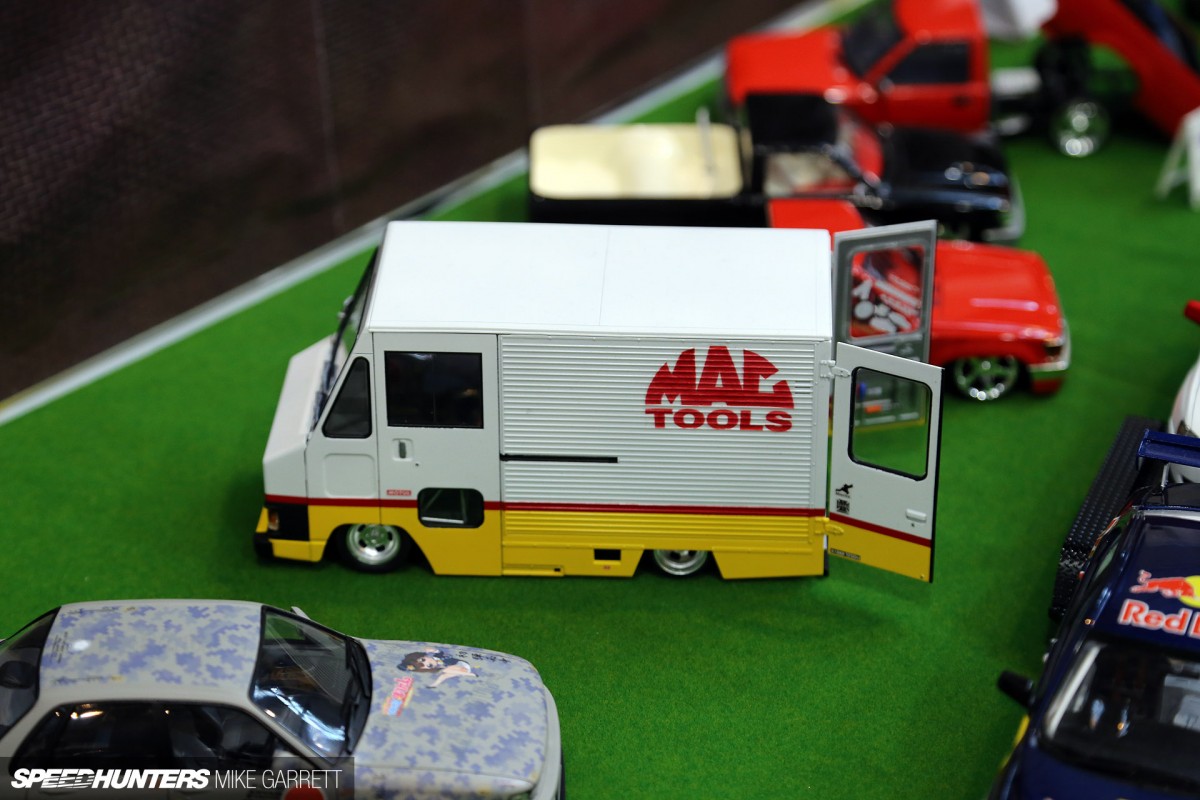 Modeling also gives builders a chance to play around with different ideas and build things that might not be possible in real life. A slammed Mac Tools delivery van for example.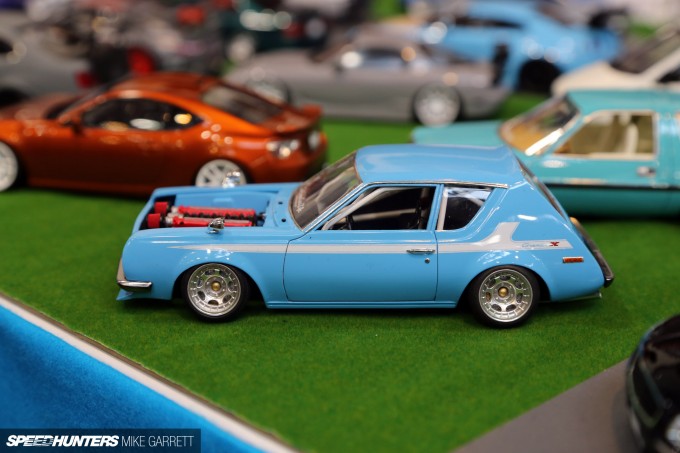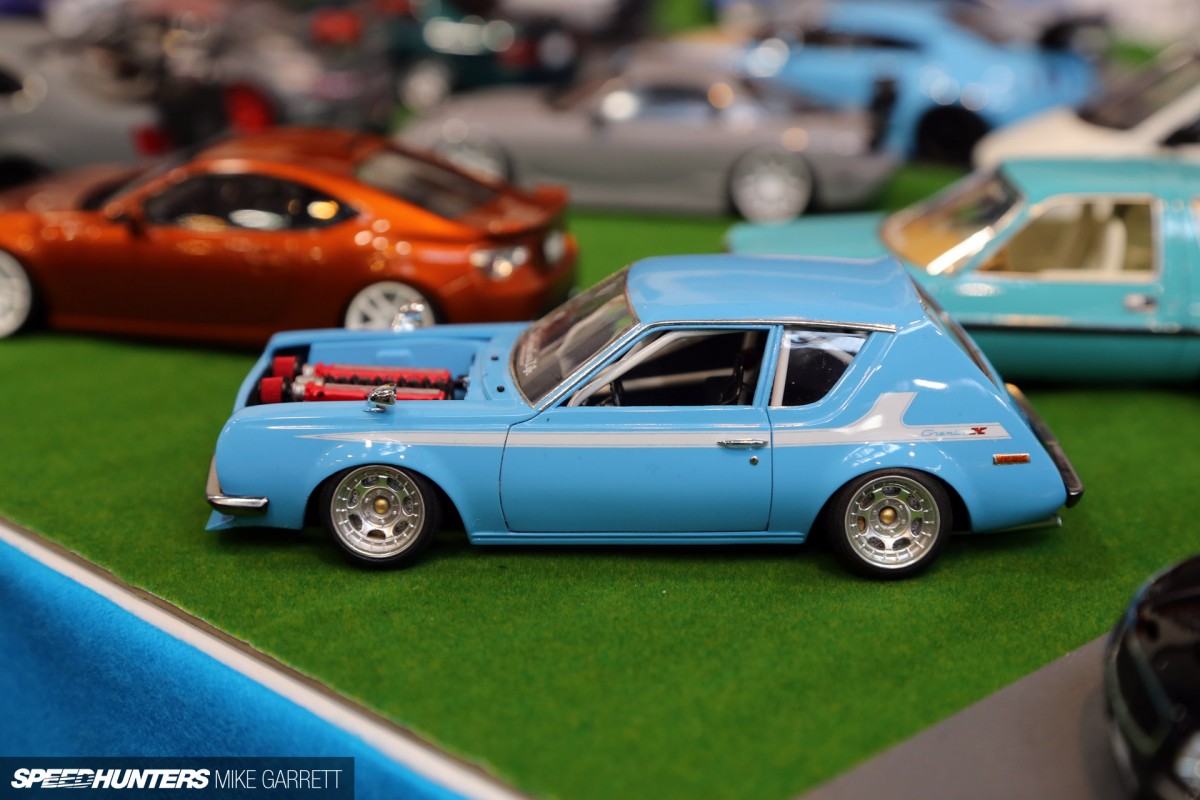 Or how about an AMC Gremlin with a shakotan ride height, wide wheels, a full rollcage and a Dodge Viper V10 wedged into its engine bay. This stuff is amazing!
Setting The Scene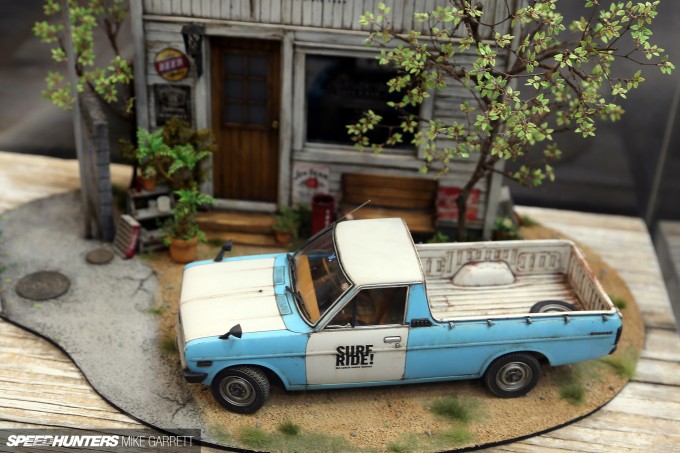 In many cases, the modeling went beyond just highly detailed cars and trucks. Some builders chose to make their vehicles parts of dioramas that represent colorful vignettes of car life.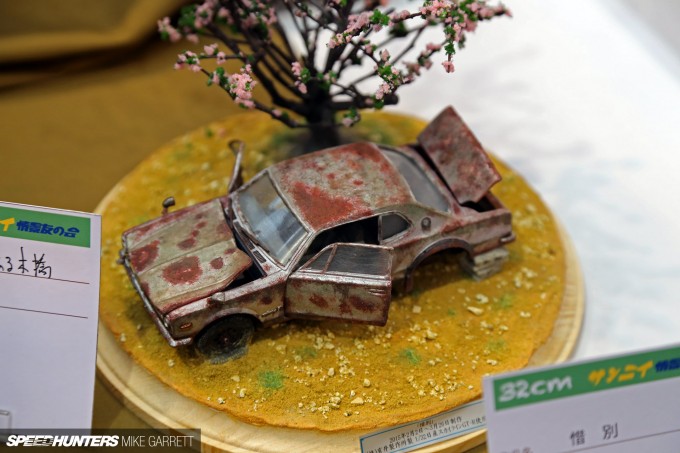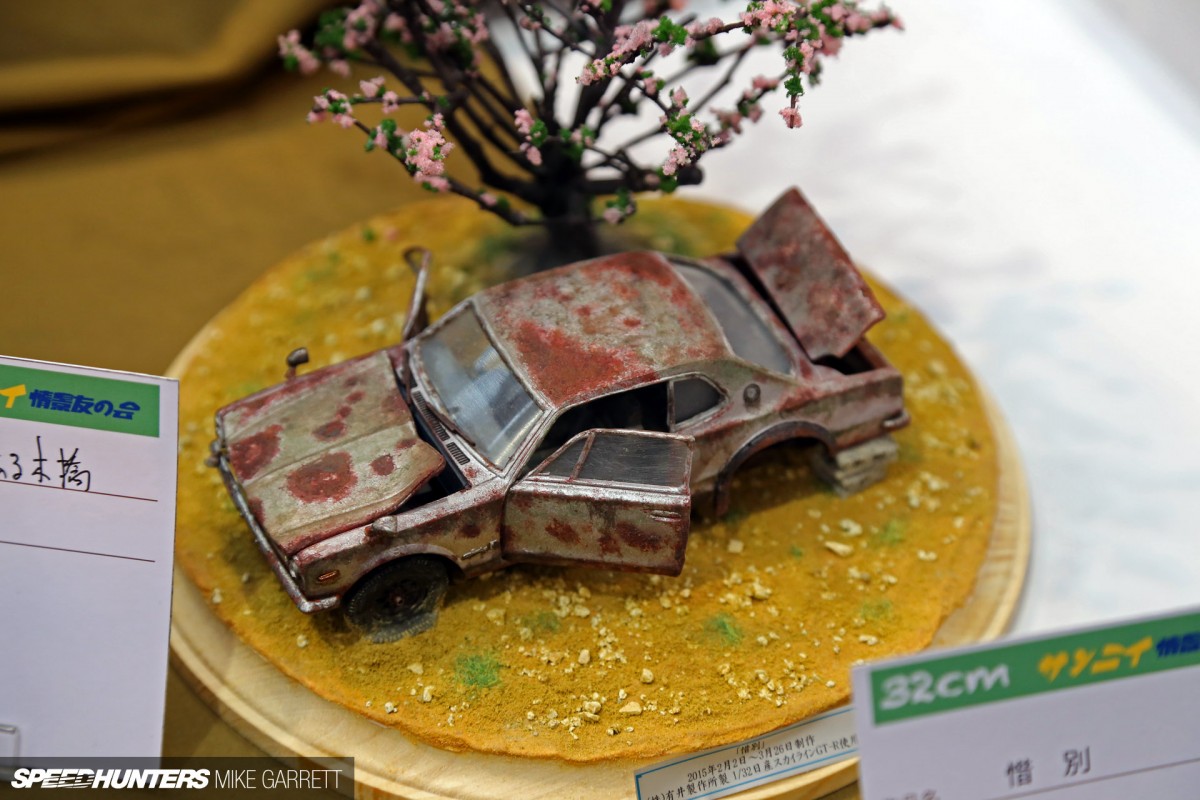 Here we have a Hakosuka Skyline rusting away beneath a cherry blossom tree. Check out the details like the bent hood and bricks holding up the rear end.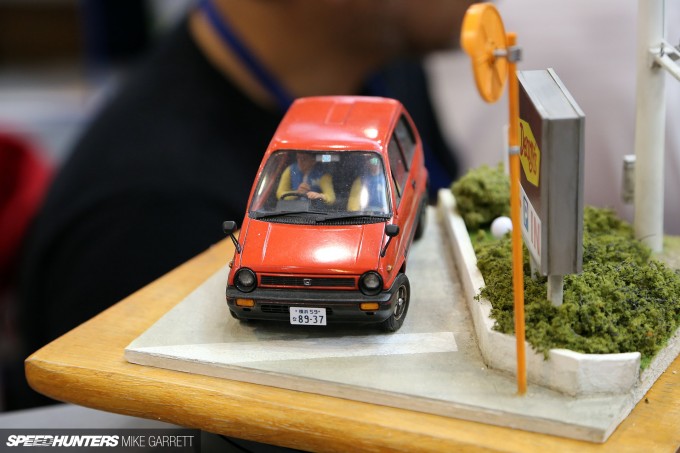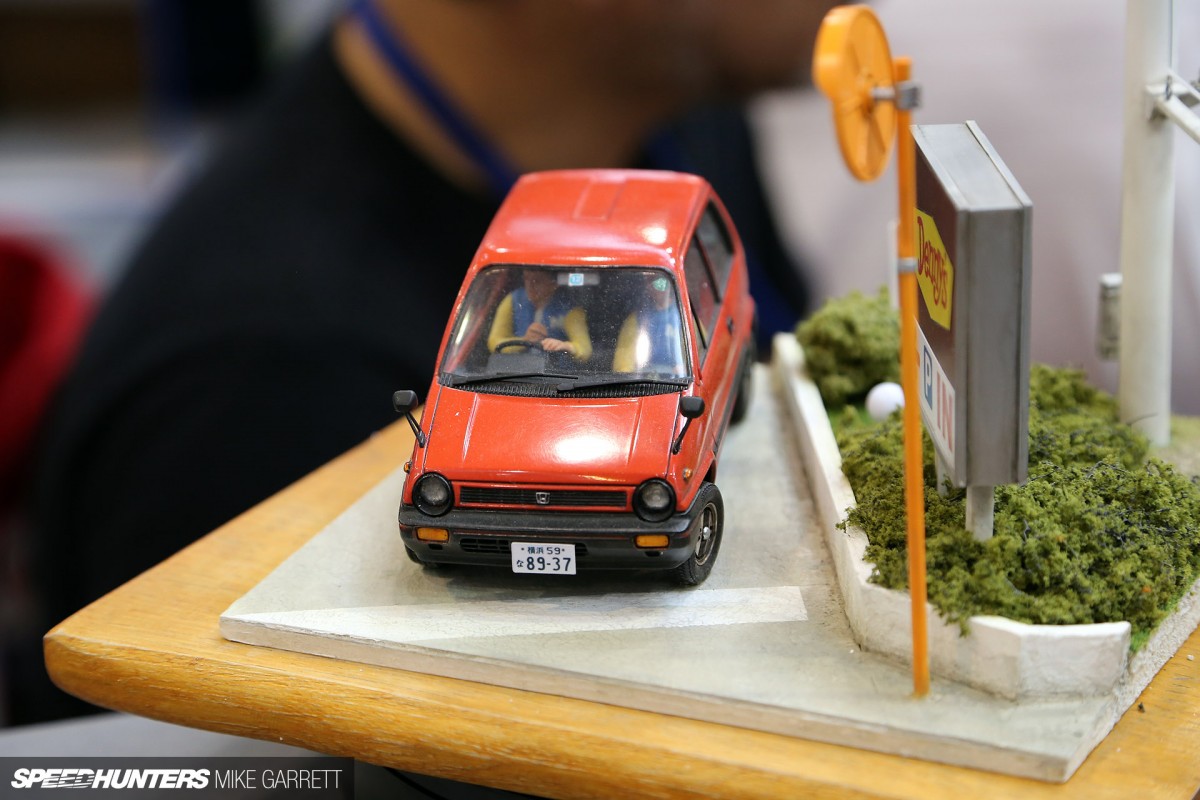 The great thing about these dioramas is their simplicity. As basic as it is, this scene of a Honda City sitting outside a family restaurant will surely spark many nostalgic recollections of 1980s Japan.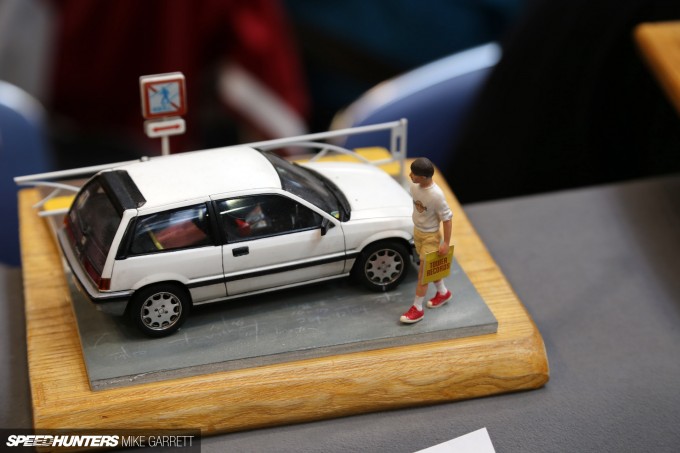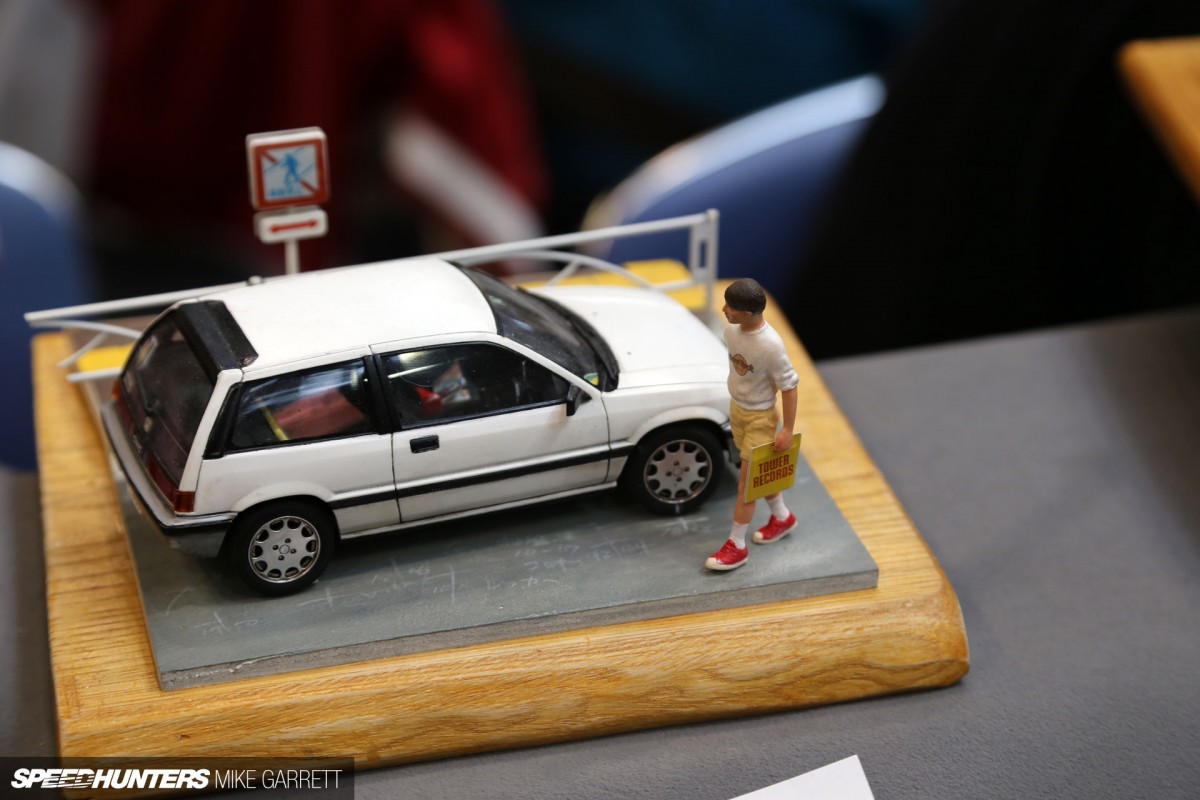 The builders have gone as far as modeling the cars to be dirty and worn, and if you look at this one using Presentation Mode, you'll even notice pieces of trash in the interior. I'm guessing the owner of this Civic is a college student.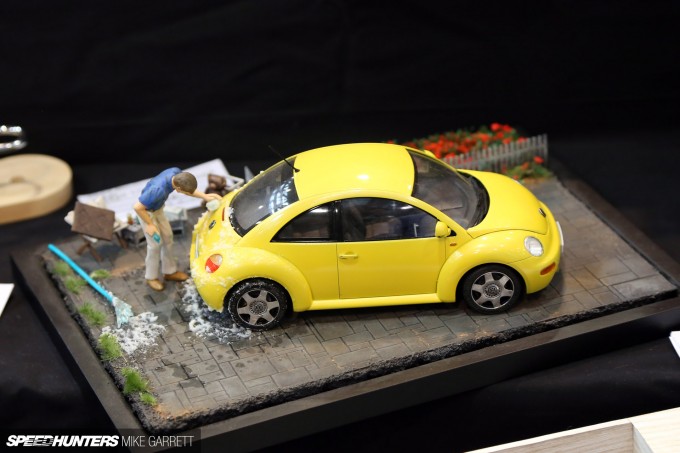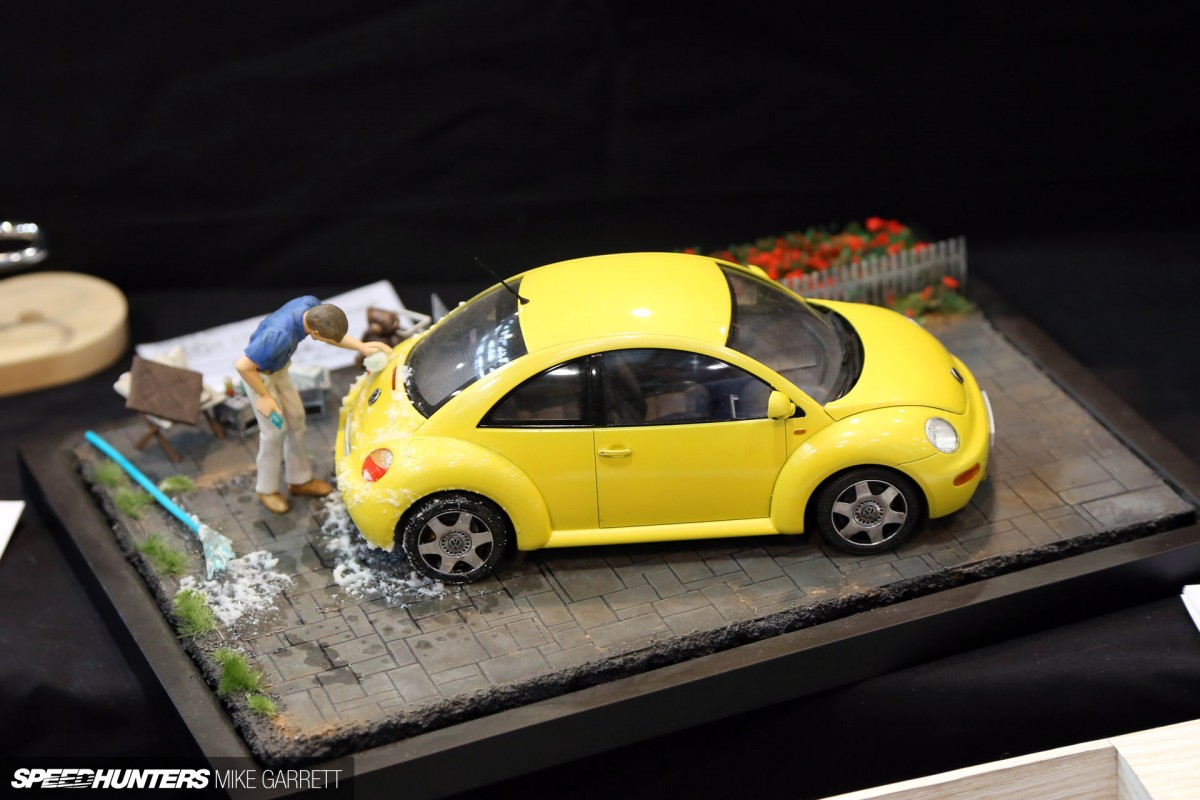 Even a scene as simple as a guy washing his Volkswagen Beetle can inspire awe when you see it painstakingly modeled in 1:24 scale. You can't help but smile.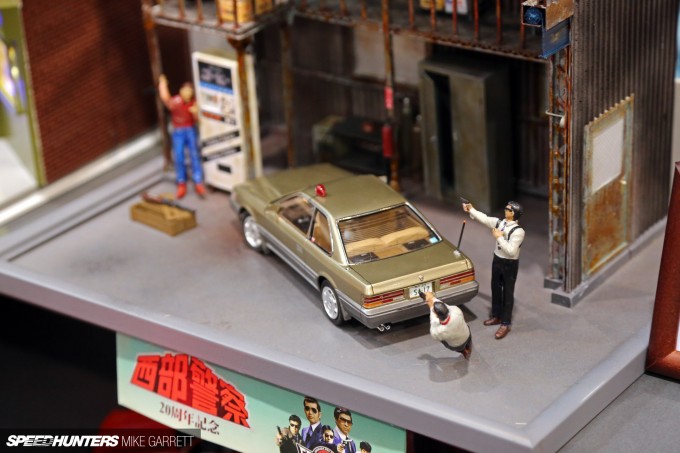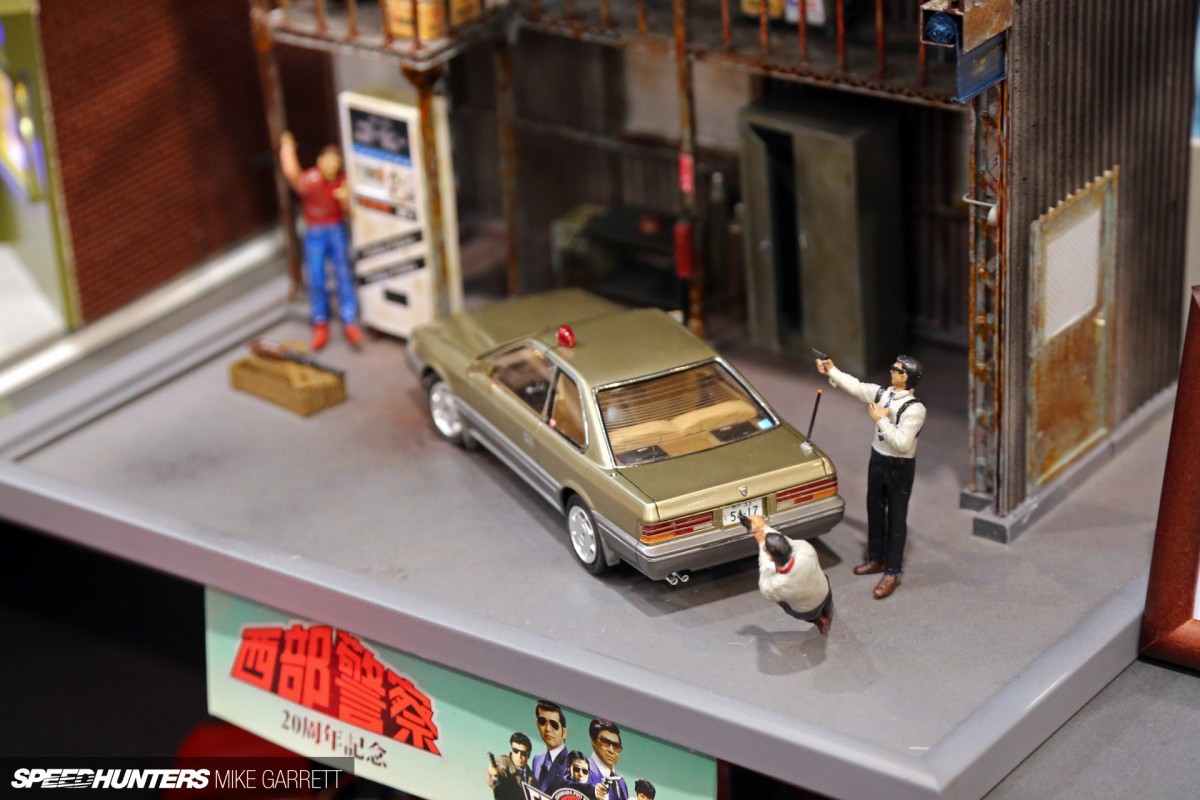 Here we have a scene from the Japanese cop show Abunai Deka, with badass detectives Takayama and Oshita chasing down a perp' with their F31 Nissan Leopard.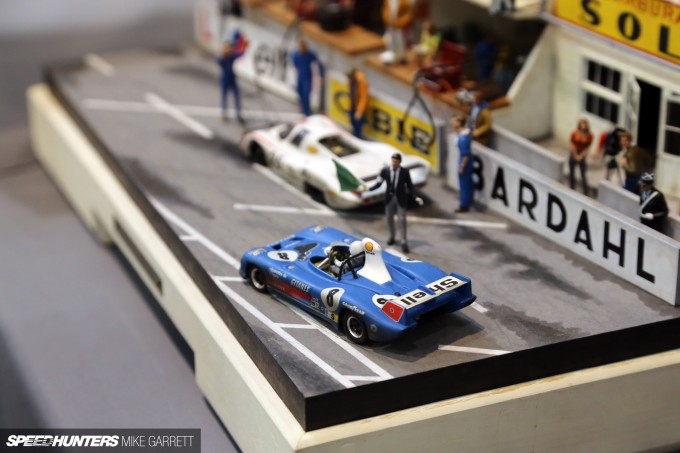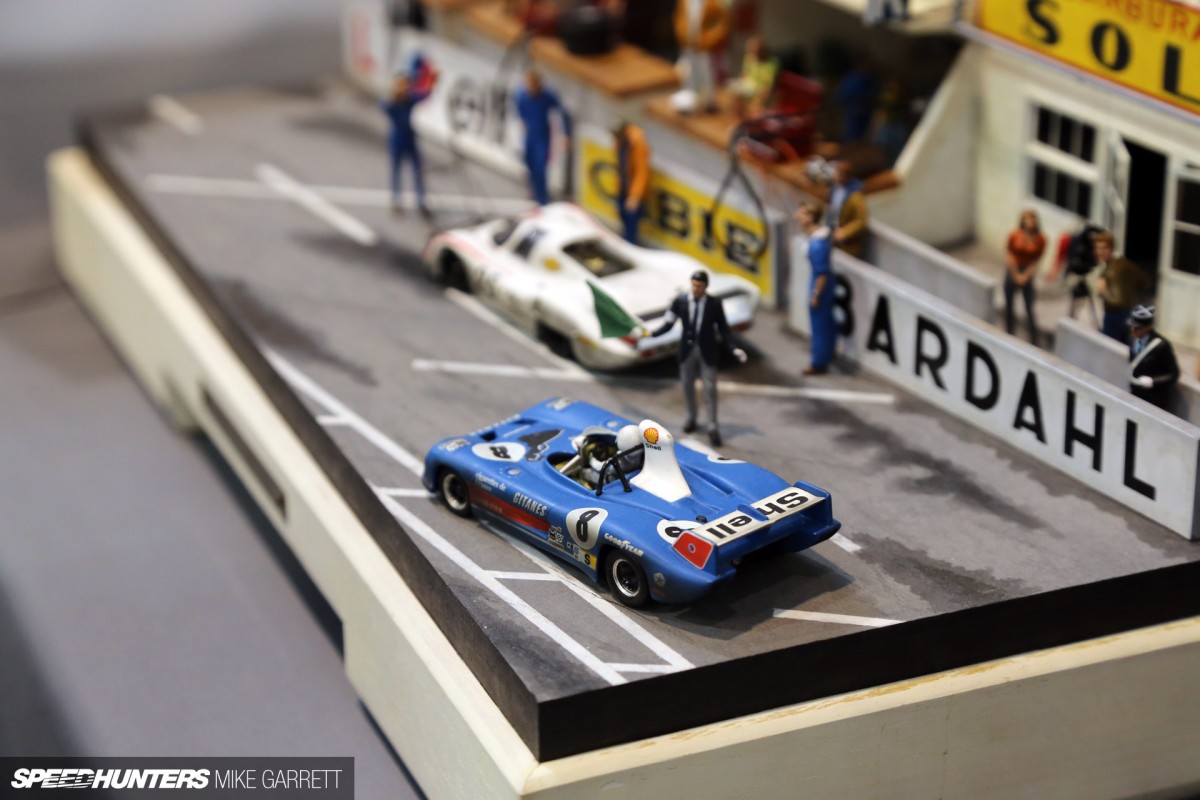 Motorsports dioramas were also popular, with some builders choosing to recreate classic scenes from racing history – like this grid scene complete with a Porsche 917LH and a Matra.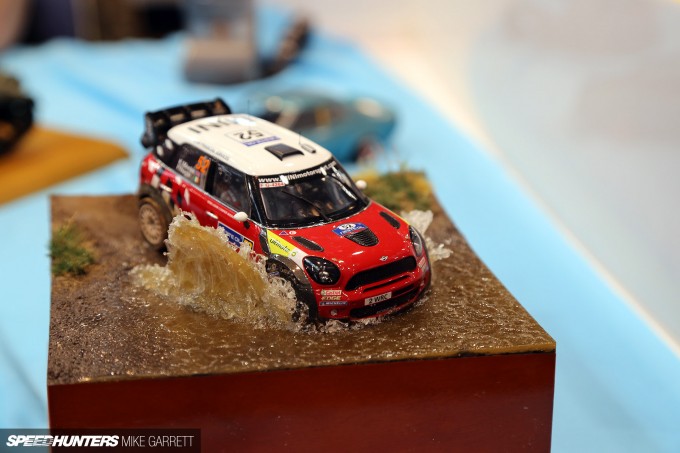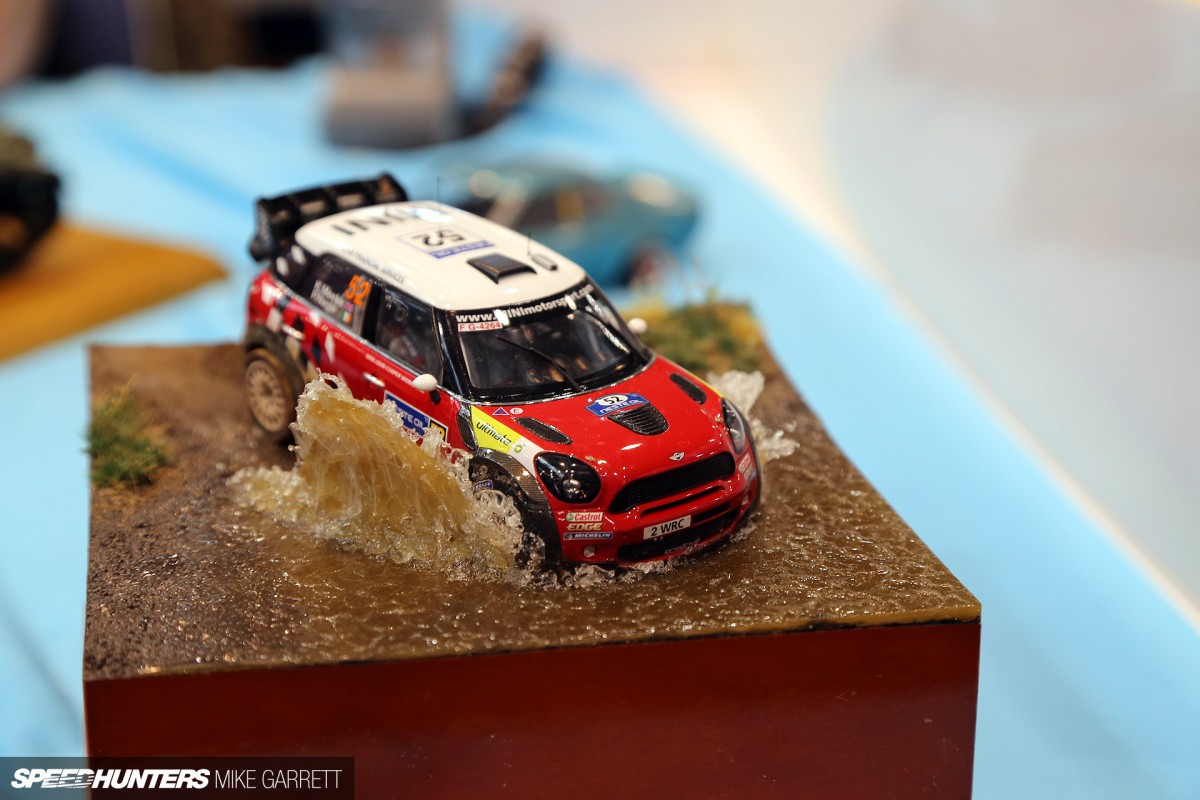 It was especially cool to see people applying techniques from military diorama construction into motorsport scenes, like this World Rally Championship MINI splashing across a river.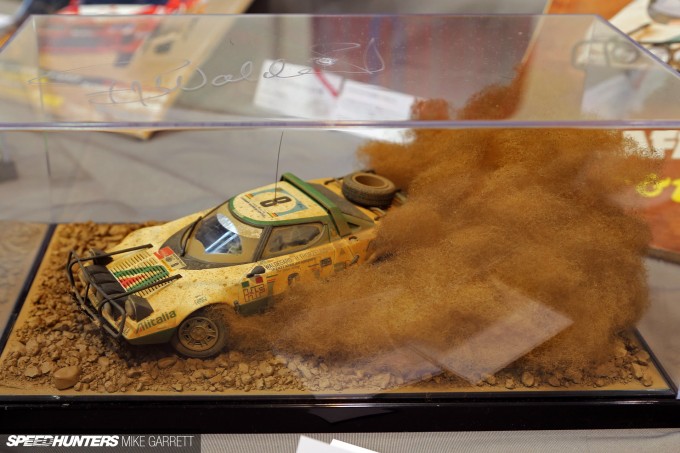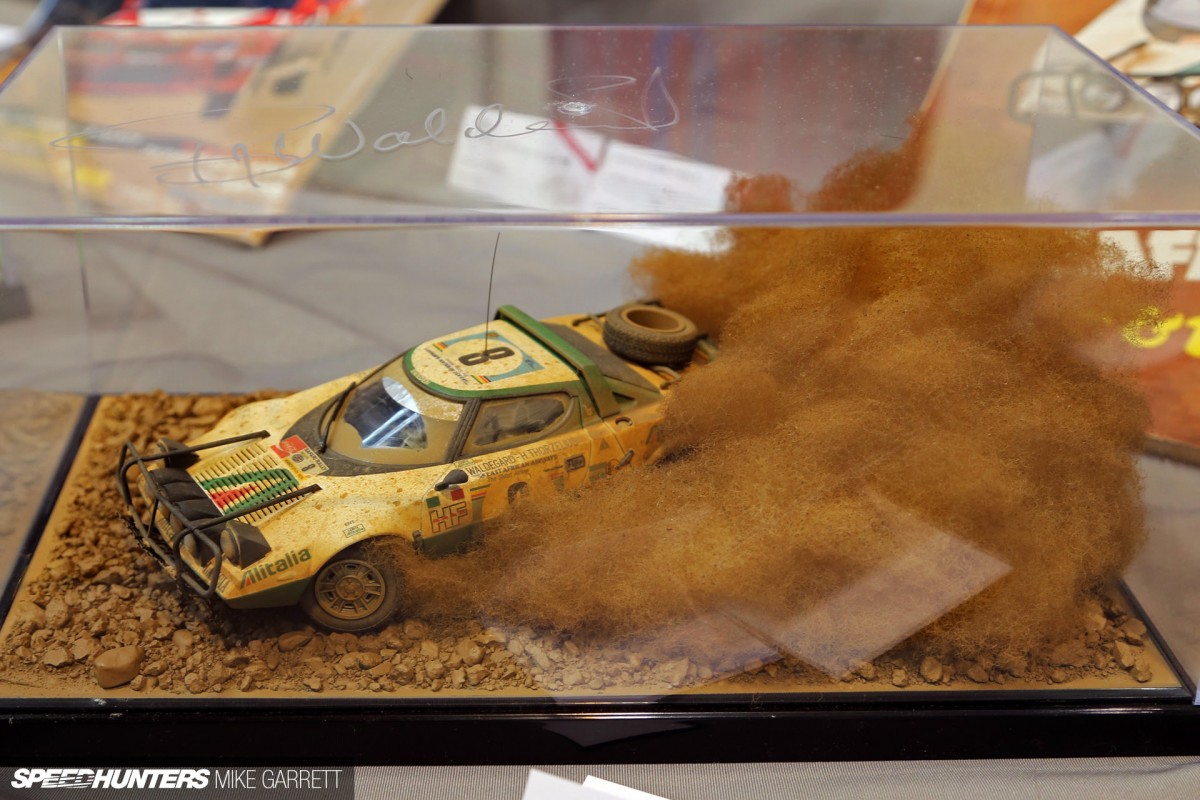 And how about this stunning scene of a Lancia Stratos ripping across the gravel during the 1975 Safari Rally in Africa. From the dirt caked on the windshield to the massive cloud of dust out the back, it was one of the most impressive miniature recreations I've ever seen.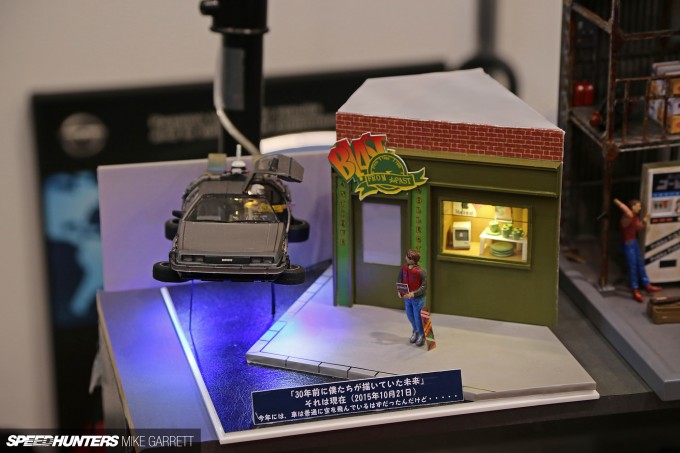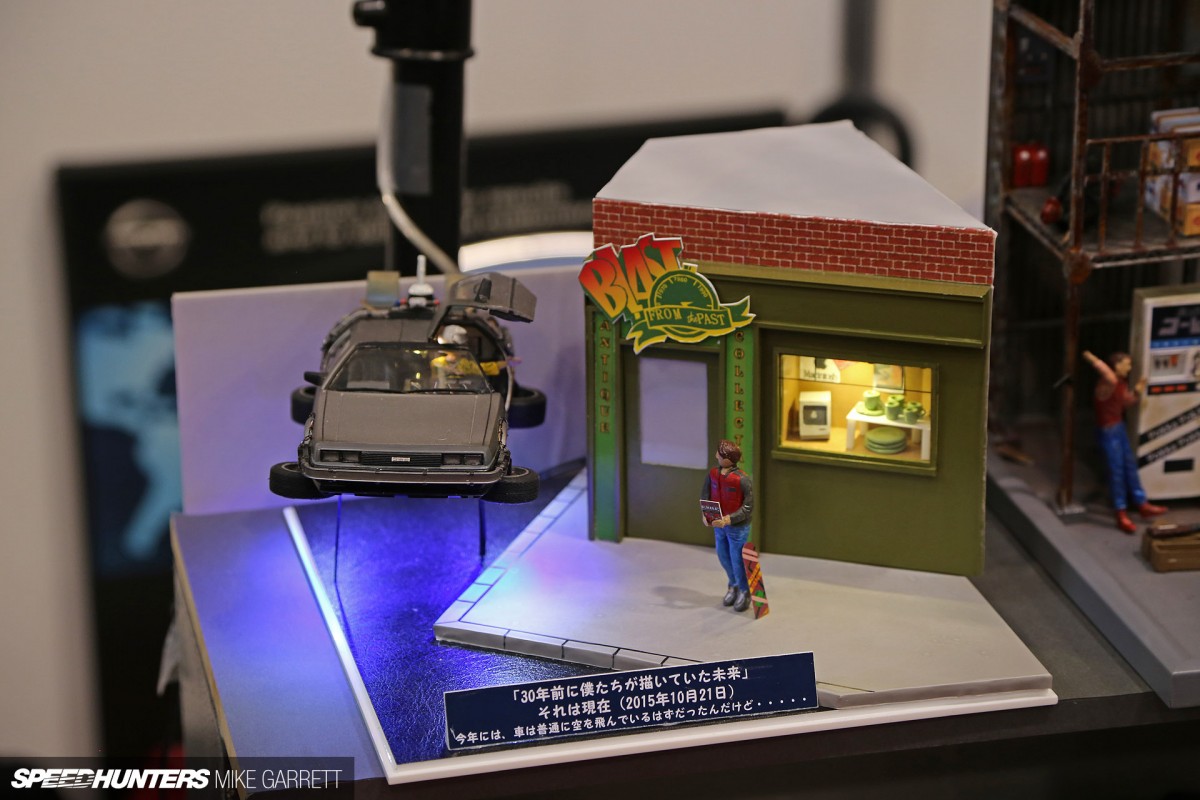 Since we are officially living in the future now, it was only fitting to have this diorama showing Marty and Doc in Back To The Future II's 2015.
Anything Is Possible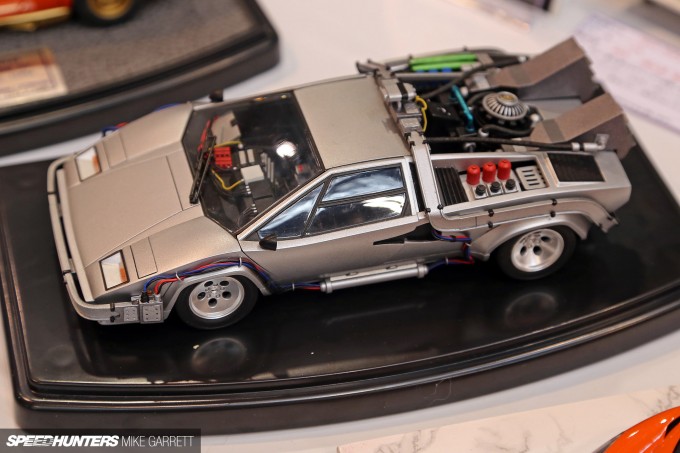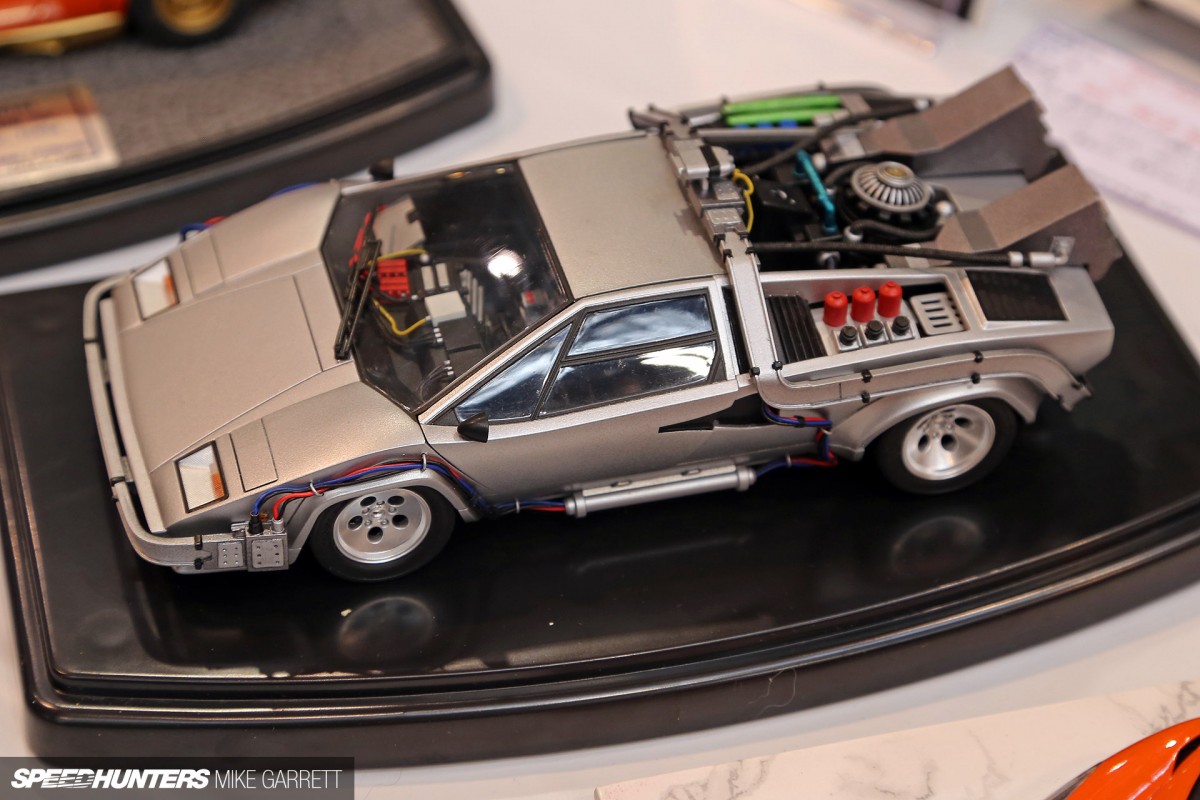 It wasn't the only BTTF model on display either. I also found this vision of what might have happened if Doc Brown decided to build his time machine out of a Lamborghini Countach rather than a DeLorean DMC-12.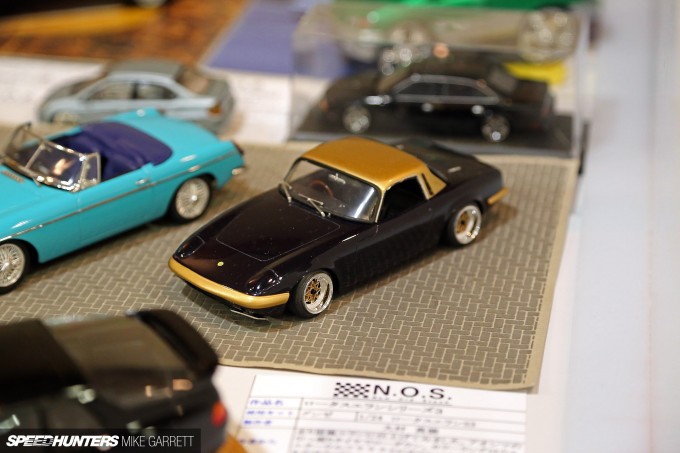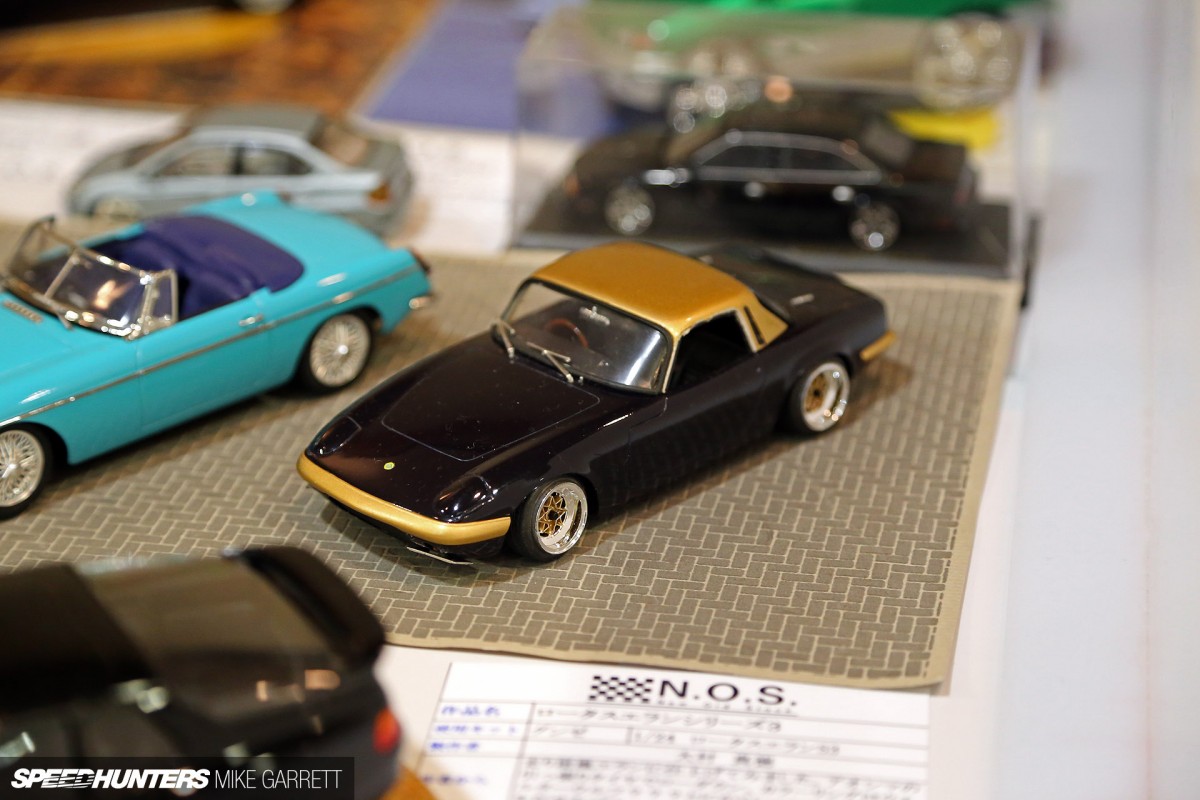 Again, one of the coolest things about car modeling is how you can do stuff that would be difficult, or perhaps even impossible to pull-off in real life. A Lotus Elan slammed over a set of SSR Star Sharks for example.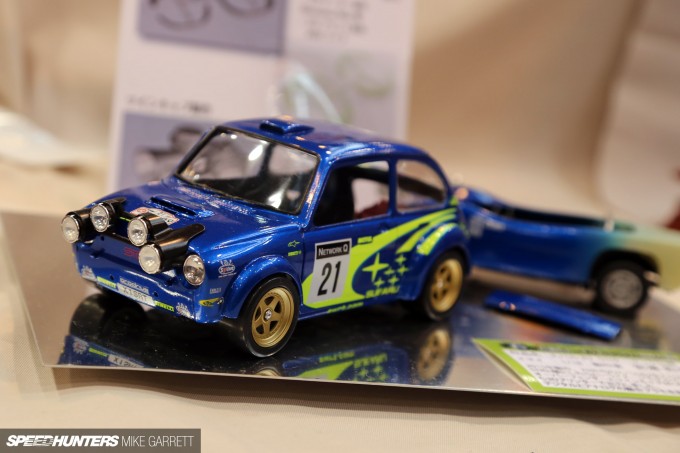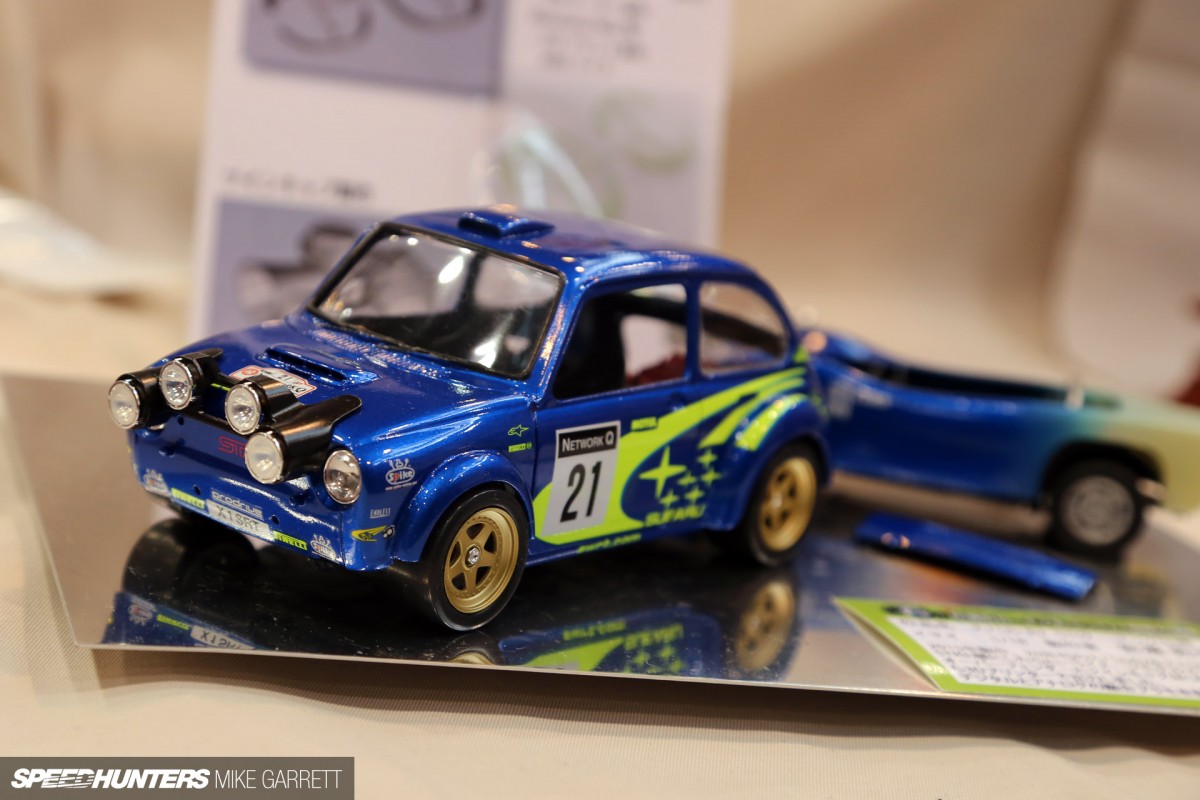 Or how about this? It's a 1:18 scale 1970s Subaru R2 built in the style of an Impreza STI works tarmac rally car.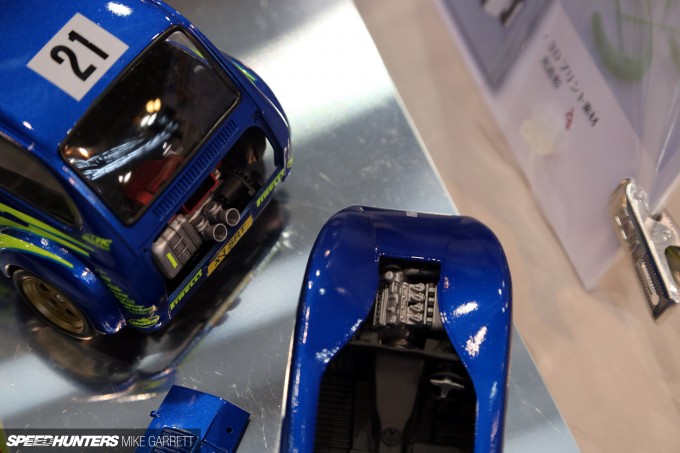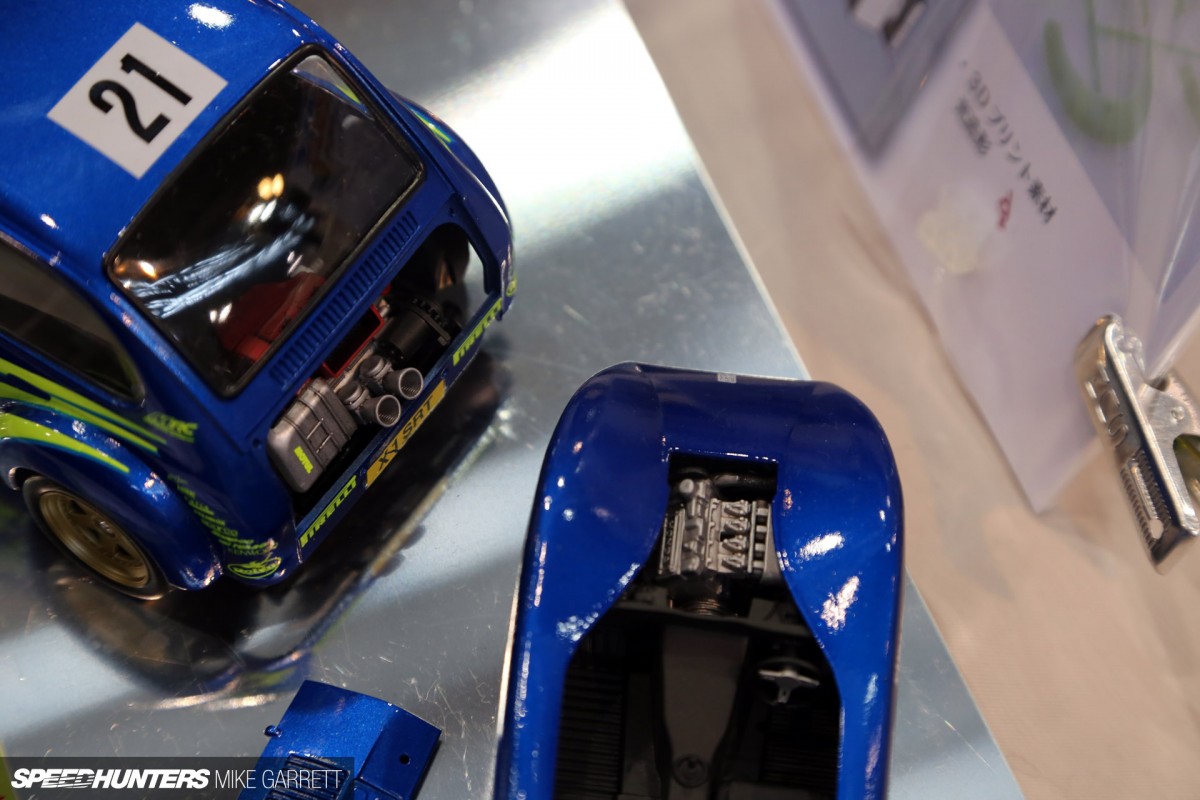 The over-fenders and the custom carb setup were CAD modeled before being manufactured using a 3D printer. A nice peak at what the future might have in store for custom model building.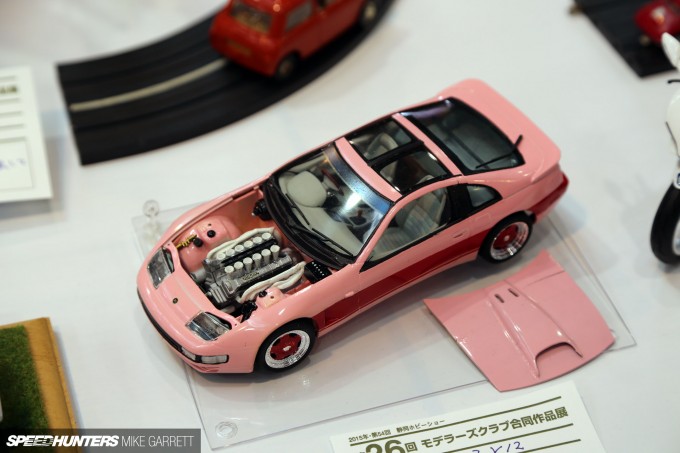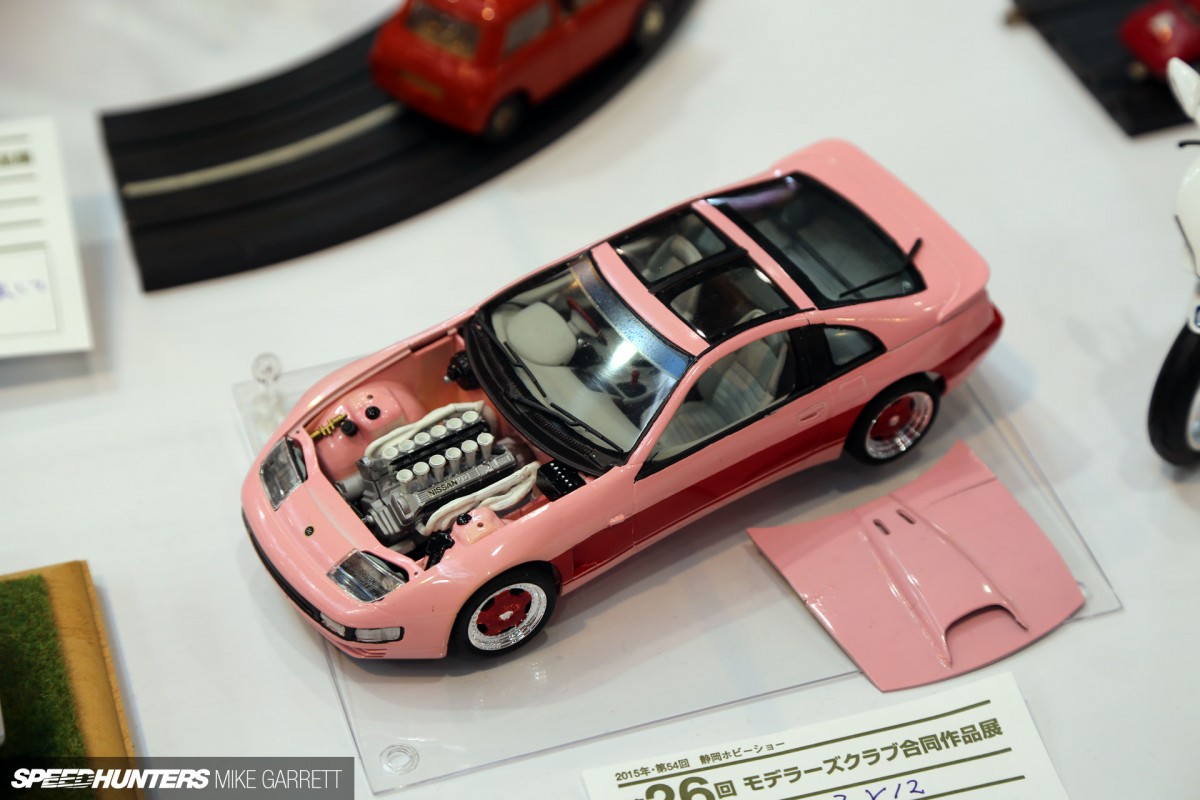 A Fairlady Z32 with a Nissan race V12 swap? It's probably not likely to happen in real life, but in scale form, nothing is off limits.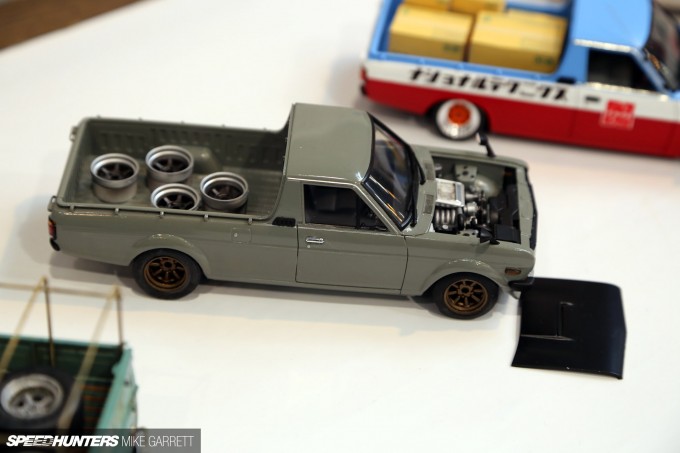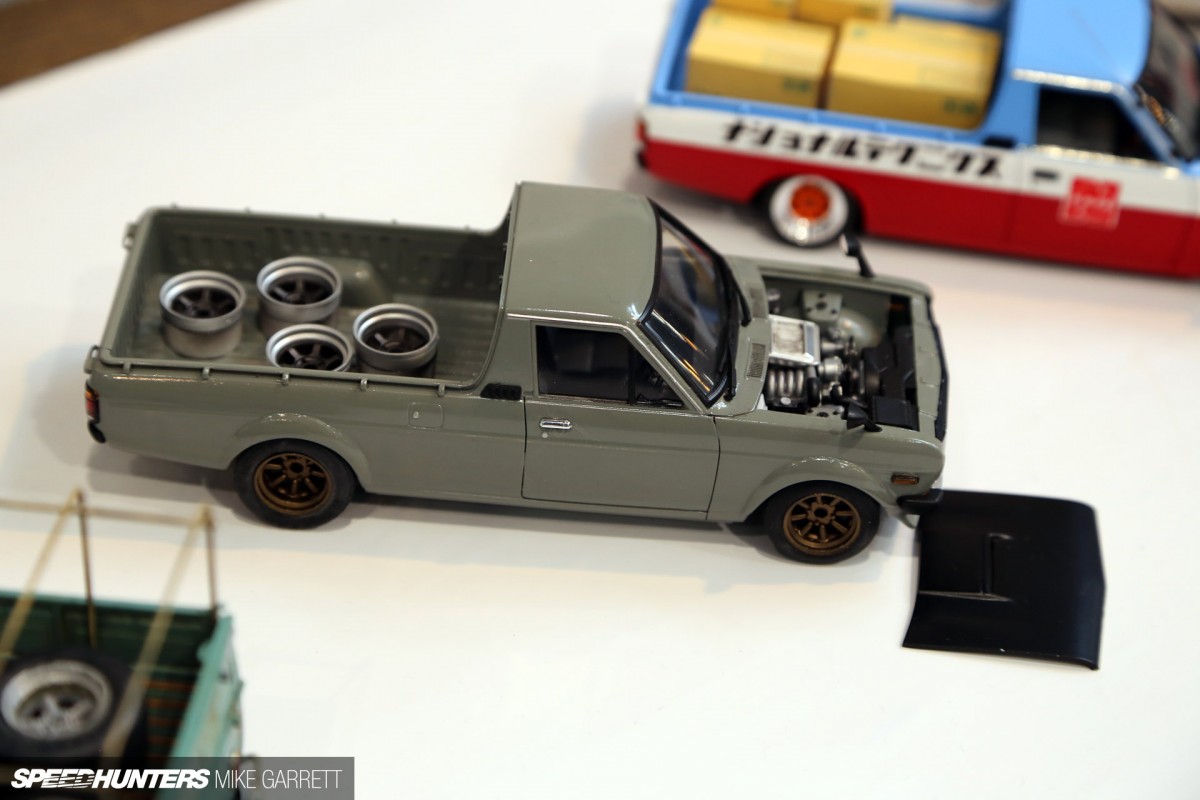 Check out this Nissan Sunny Truck on RS Watanabes with a turbo rotary engine swap and a set of TE37s in the bed for good measure. Love it!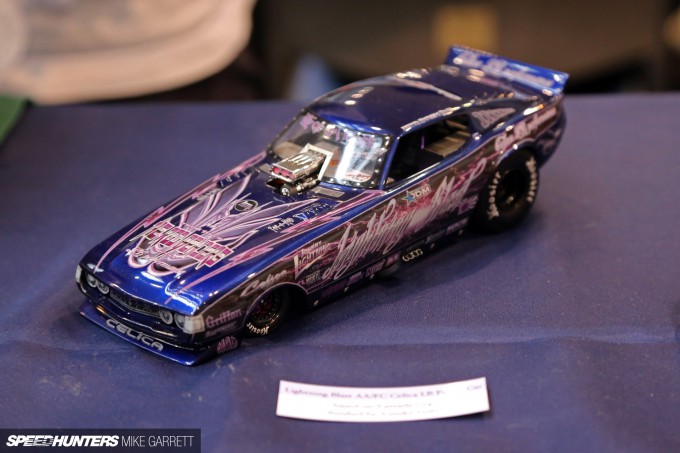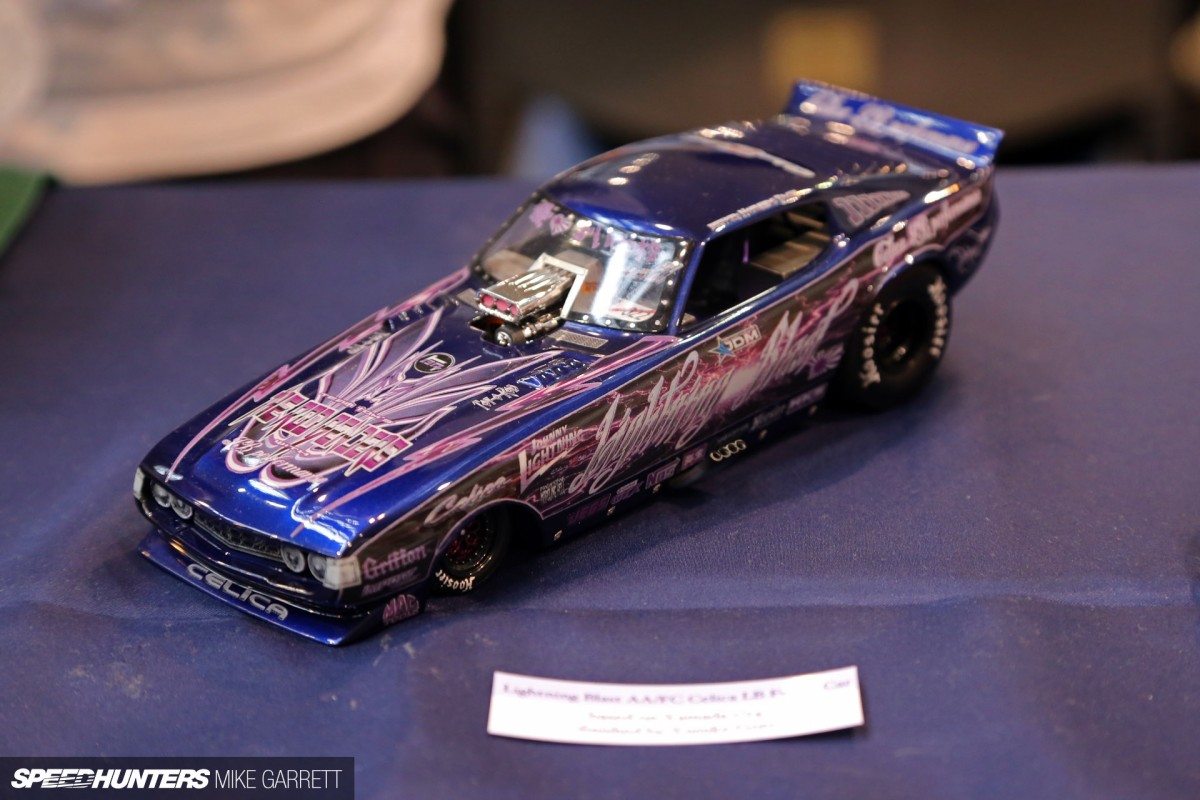 Another super-cool build was this nostalgic funny car with Celica liftback bodywork. Of course, the body flipped up to reveal a fully-detailed nitro V8 powertrain.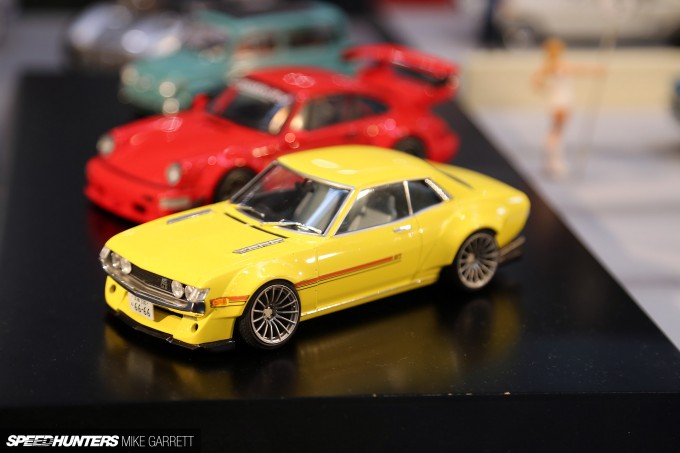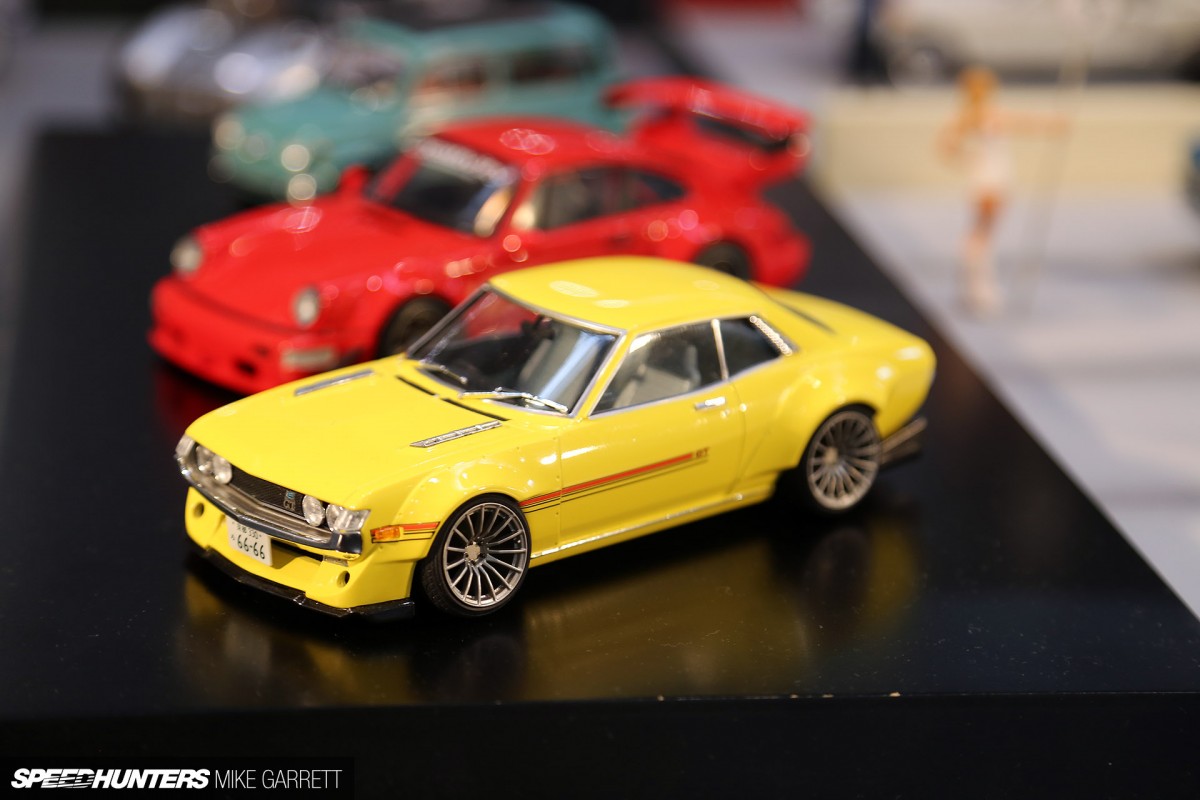 Ever wondered what a first generation Celica coupe would look like with a Rocket Bunny kit? Well, wonder no more…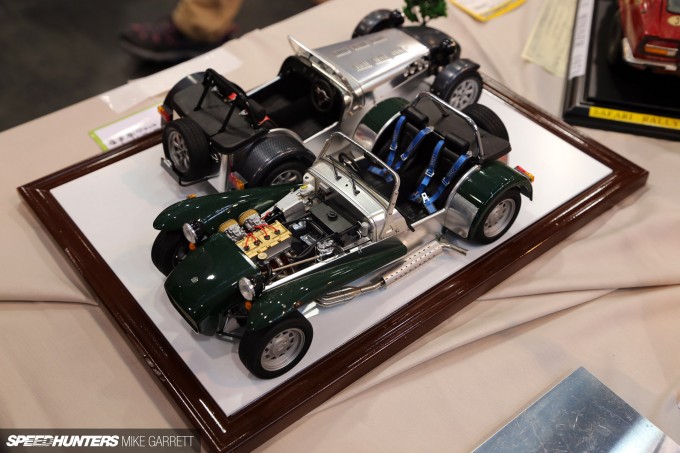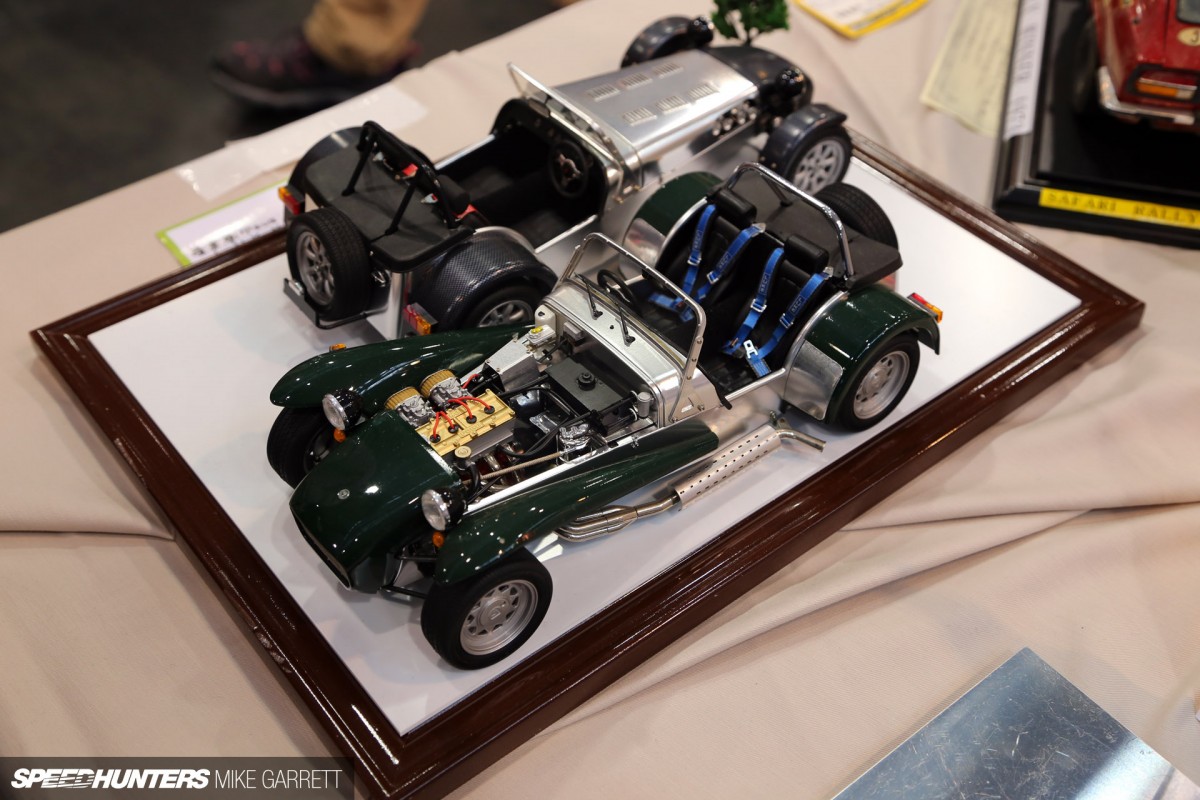 While some models impressed with their imaginative and unusual designs, others wowed by having incredible amounts of detail. It's hard for photographs to do them justice.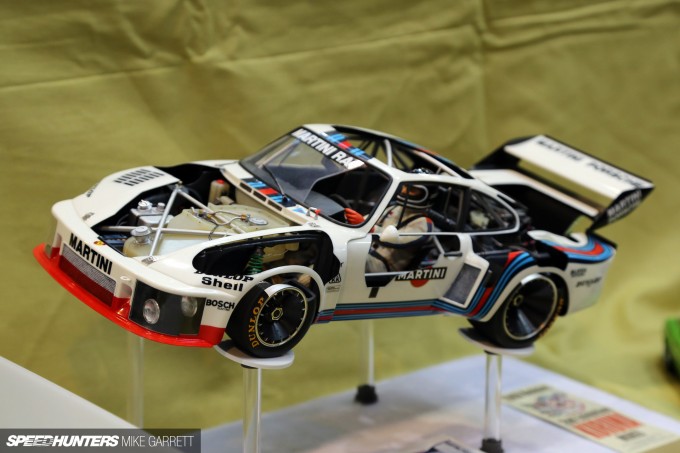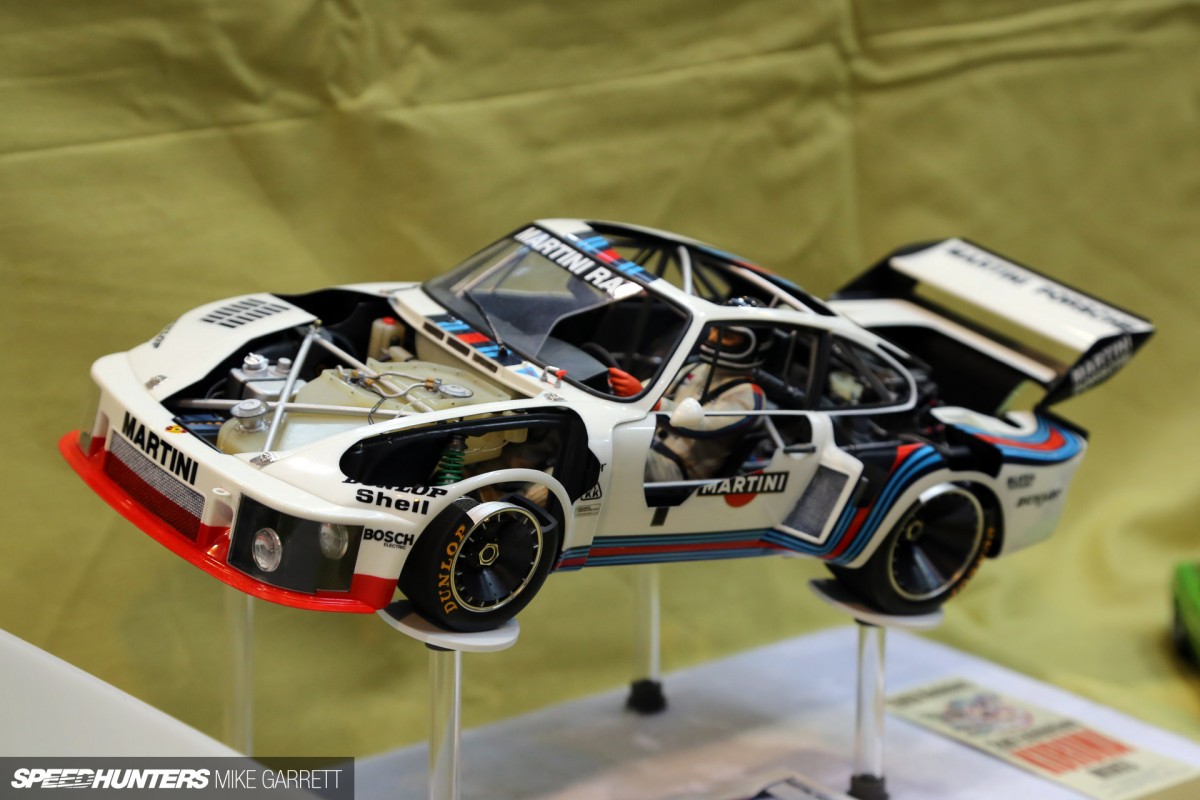 This 1:12 scale Tamiya Porsche 935 Turbo had insane detail, and even featured cut-away body panels to fully expose the amazing craftsmanship inside.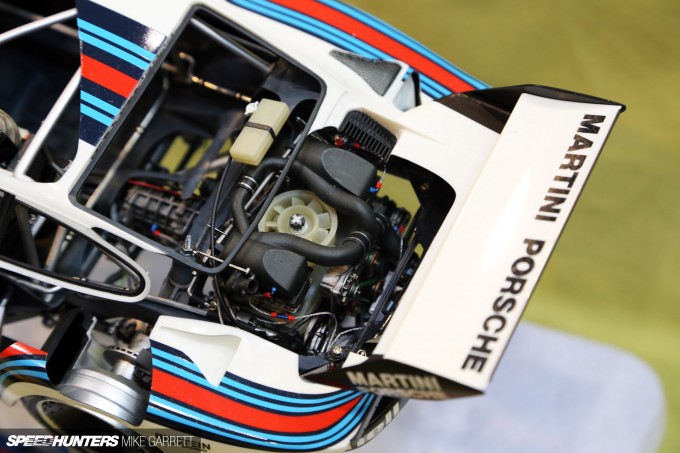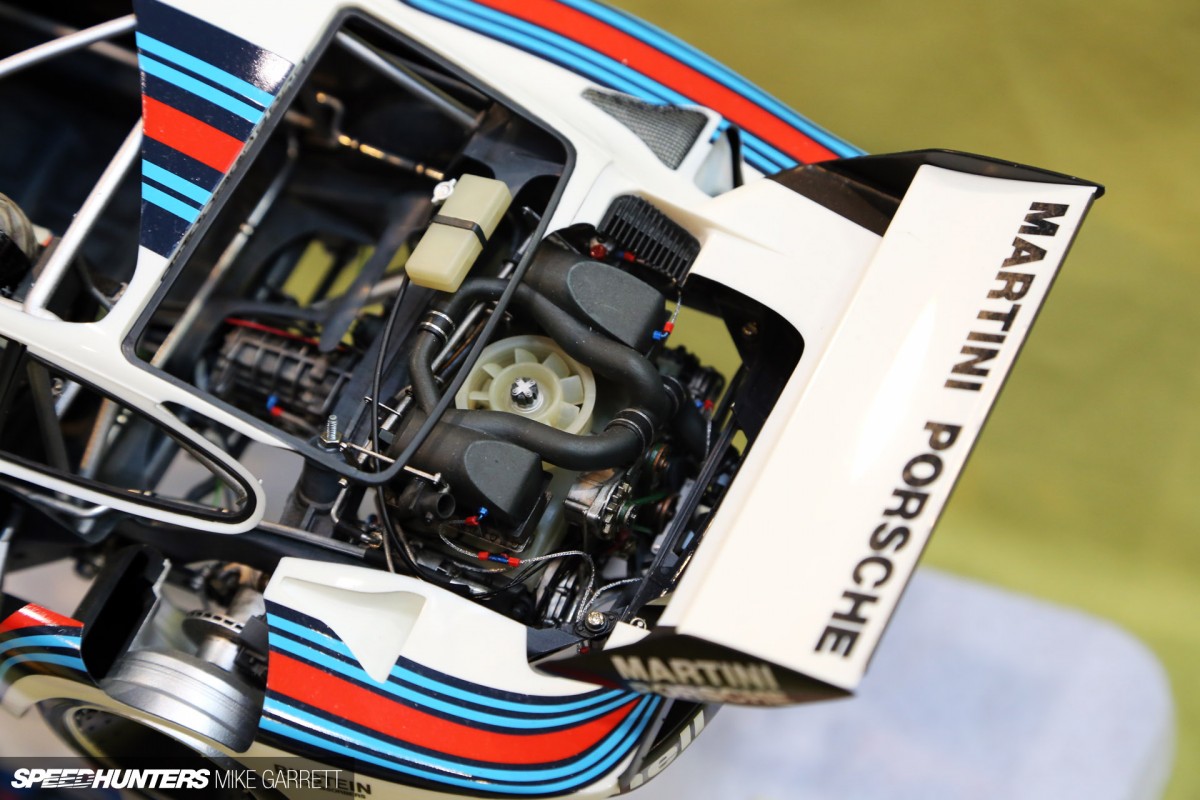 Just as I know I'll never be able to hit a baseball out of an MLB ballpark or dunk on an NBA hoop, I know I'll never be capable of modeling like this. It's unreal.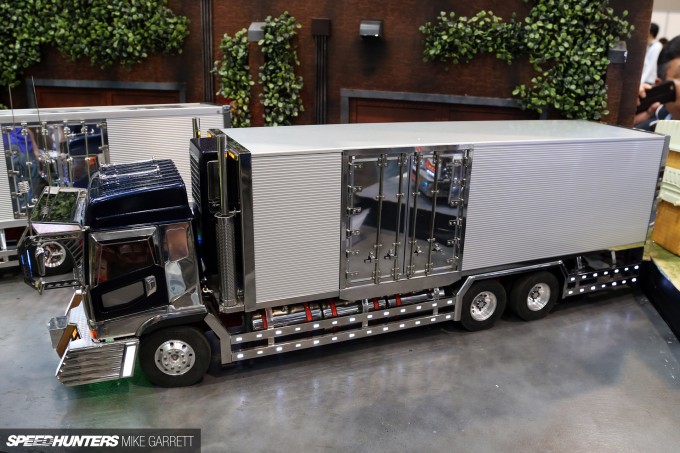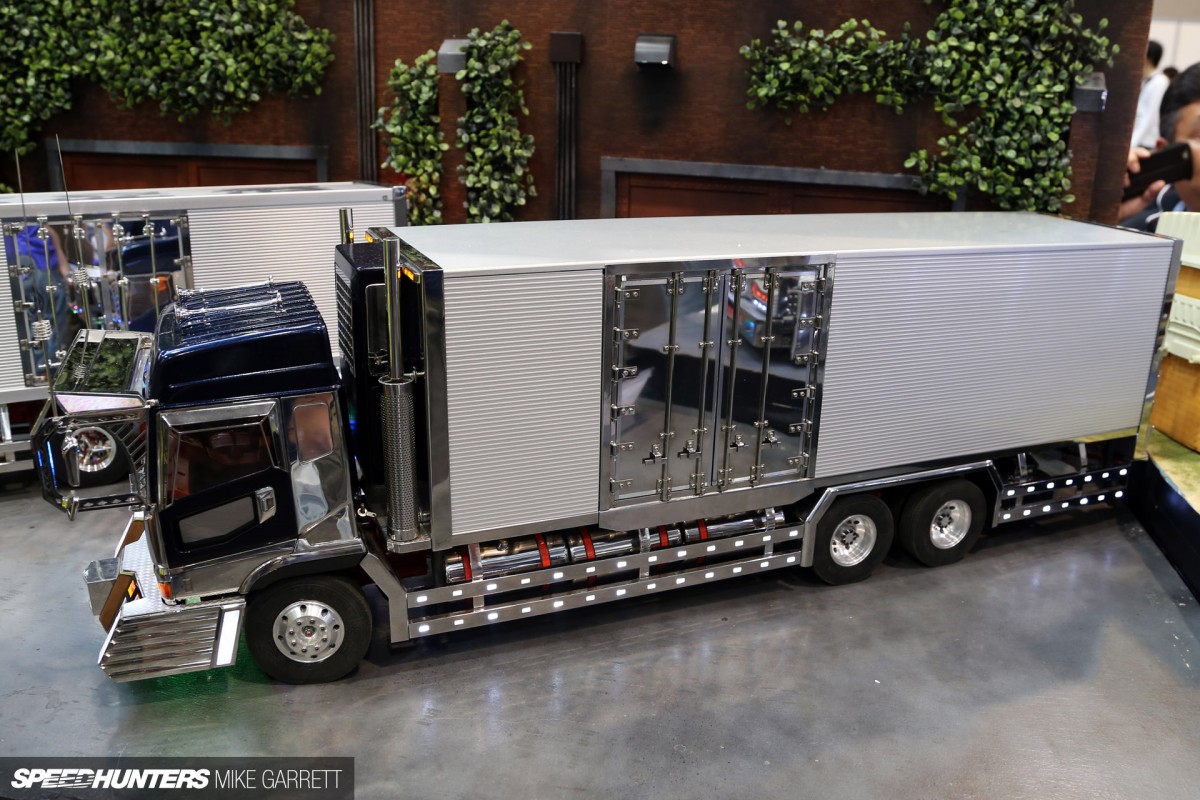 Scale examples of Japanese Dekotora also had a strong presence at the show, with the most impressive being these huge models with onboard sound effects, LED lights, fully modeled interiors and more.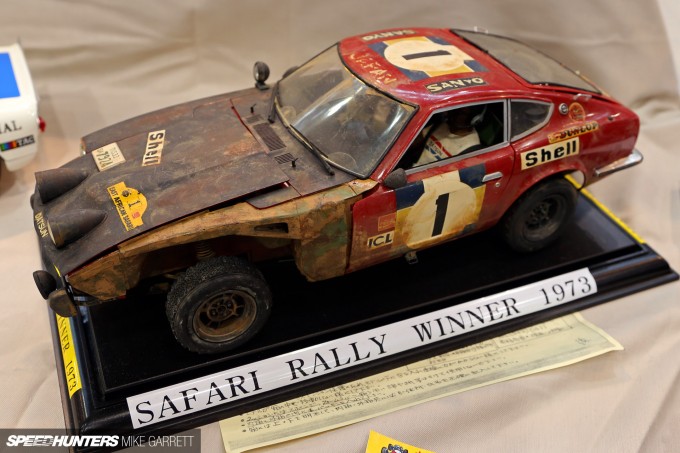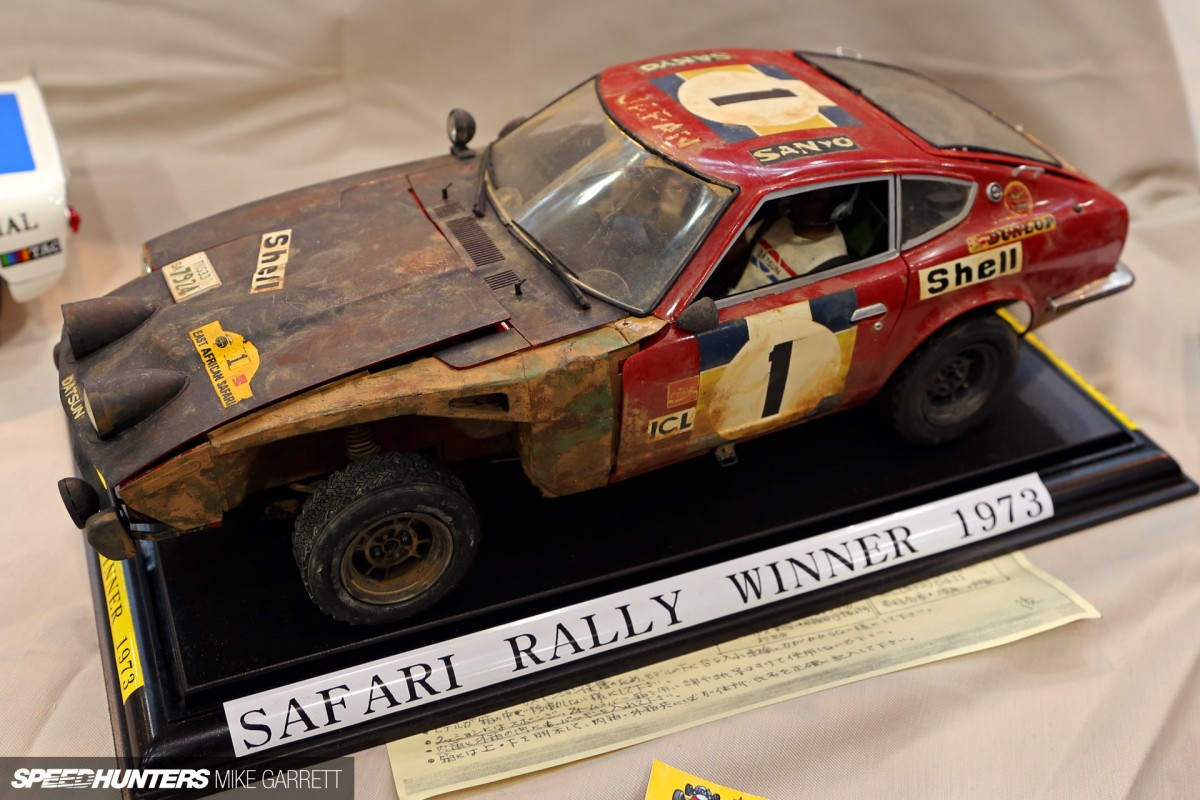 I know this really just scratches the surface of the amazing craftsmanship and artistry on display at the Shizuoka Hobby Show this year, so I've included an extra large selection of bonus images in the next chapter that will hopefully convey just how great this was.
Next time I'll be back with a look at some of the incredible Kaido Racer and Kyusha models that were being shown.
Mike Garrett
Instagram: speedhunters_mike
mike@speedhunters.com
More Collectables stories on Speedhunters
Cutting Room Floor