Who Cares About The Rain
It might have been a gloomy and slightly damp morning on Saturday, but in no way did it make the turnout at Fuji Speedway for the Track & Show event any less impressive. Organized by The Check Shop, this is one gathering that I've been meaning to attend for quite a while, and as the name suggests, it attempts to combine a little bit of everything to keep everyone happy. And 'everyone' is indeed the operative word here, as the spots for both the track day event as well as the show area were open to pretty much anyone that wanted to take part.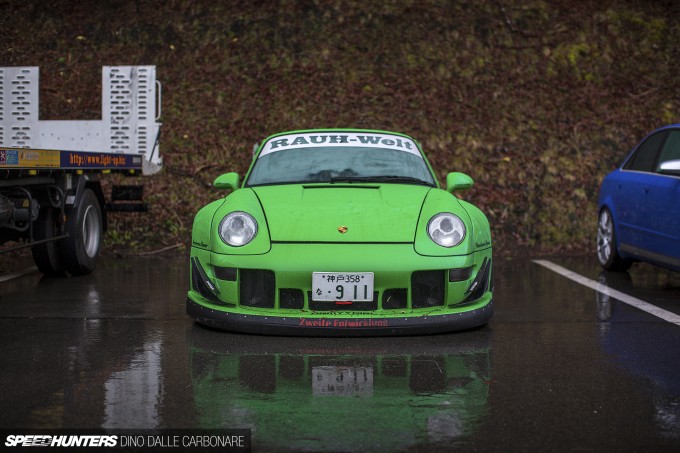 The emphasis was more on German cars, seeing that is what Otsuka-san at The Check Shop primarily deals in, but it wasn't brand specific, which meant that every step you took on the Fuji Short Course paddock where the soukoukai portion of the event was held, turned up more surprises. It was good seeing Toshi-san bring his Rough Rhythm 993 all the way up from Kobe, and as you can see in the opening shot, he was going hard at it despite the slippery conditions on track.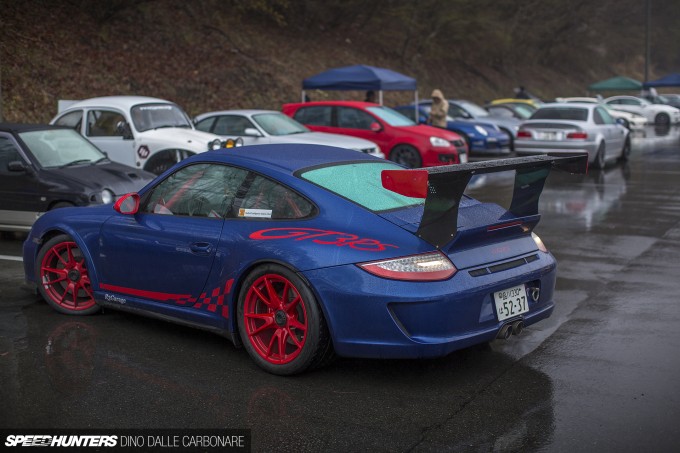 The 991 GT3 RS may be the Porsche that everyone is talking about right now, but let's not forget what came before it. The 997 RS still looks very current – not too mention hot and purposeful – and of course it came with a proper manual transmission! It's a true collectable, that's for sure.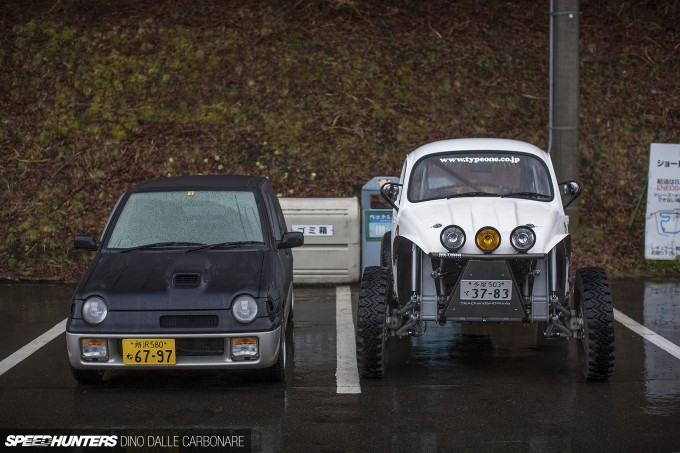 What the hell do we have here? A Baja Bug next to a kei car – I wasn't joking when I said there was variety at this event. Yes, the Bug was driven on track, and it was a real hoot to watch it lean over through the corners too!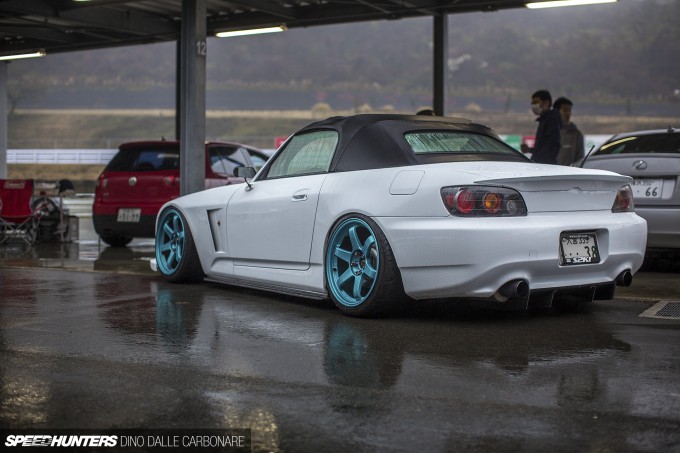 Half of the covered pits at the Short Course were filled up by Hondas, from older cars to more recent models – like this slammed S2000 on a custom painted set of RAYS Volk Racing TE37s. You can never go wrong with TE37s!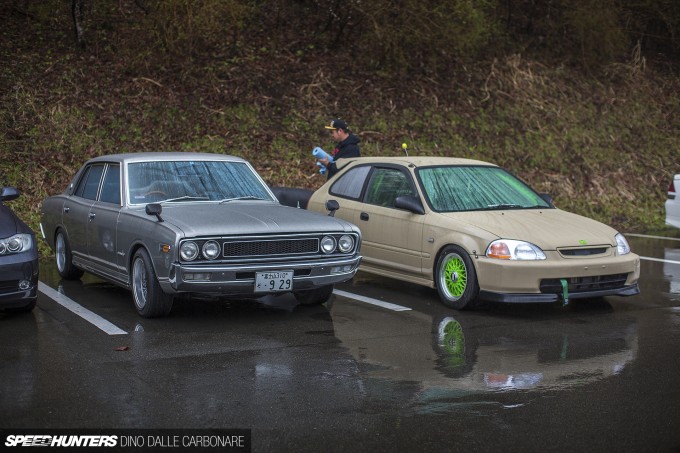 If you guys like this old school Cedric I might put together a separate Spotlight on it, so let me know in the comments section! It might not be an Hakosuka, but to me it has a similar '70s allure that Nissans from that era do.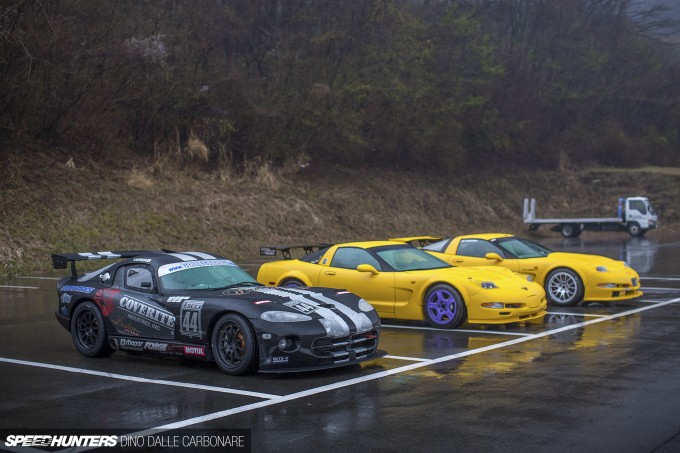 While this was primarily a German and Japanese car populated event, a little slice of Americana could be found over on the far side section of the parking lot. It wasn't until later in the morning, when the drizzle ceased, that the owners of these machines could really get the most out of their big engines, digging deep into their torque reserves and having some proper fun around the tight and technical course.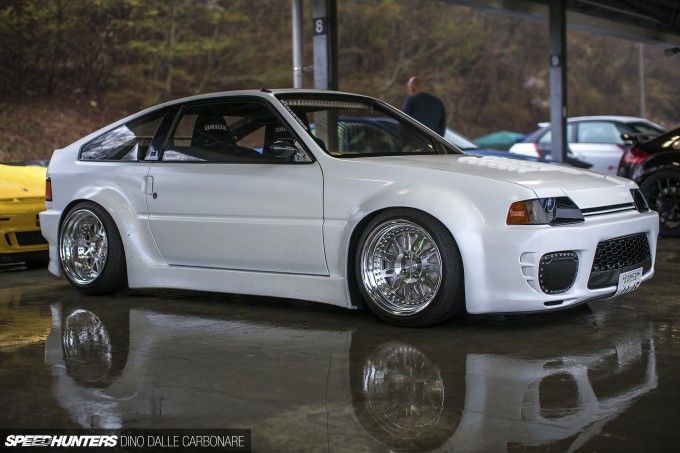 This is the second time I have run into this customised CR-X. The first time was at the Nostalgic 2days last month, but here at Fuji Speedway it was proving that it gets properly driven. But what on earth is that plate behind the wheels? Where are the brakes?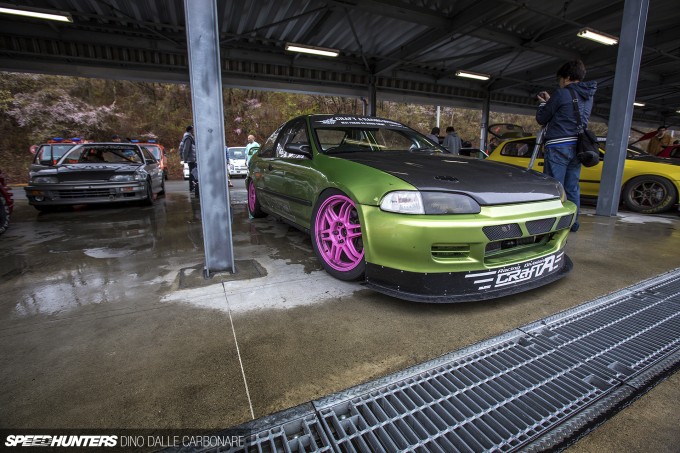 Craft A is a Civic specialist that I've been meaning to take a closer look at for a while now. They have their very own recognisable take on styling and setup, and while many of their cars may look like they are built for shows, they almost all get driven hard at track days. In fact, the first time I ran into Craft A was at an event at Honjo Circuit many years ago.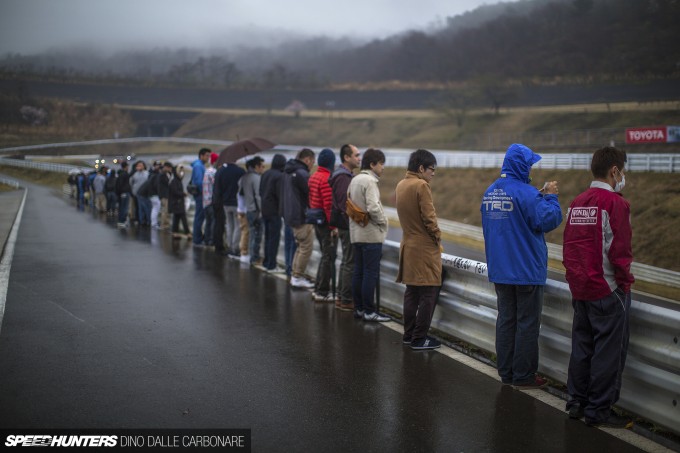 8:30am was when the track opened for the first session and the constant spins and slides brought everyone to pit wall to check out the slow moving action. It took a good hour for the track to start drying out, so up until then almost everyone was being very cautious.
Proceed With Caution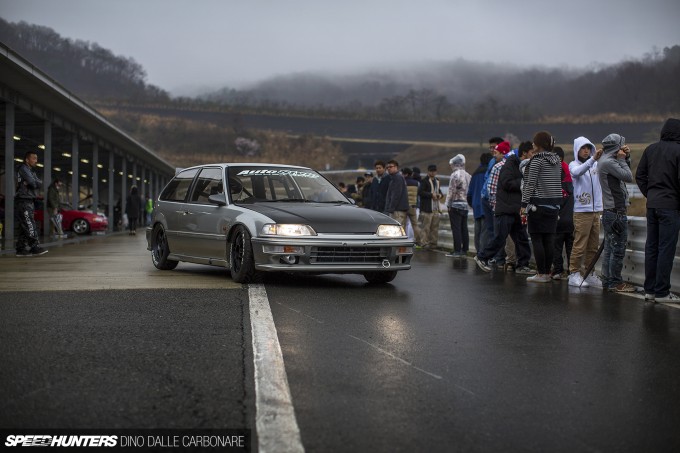 Of all the cars on the wet track, the front-wheel drive Hondas were having the least amount of issues. You could tell they were having minor traction problems, but many of the drivers used the opportunity to make the most of their cars' lift-off oversteer tendencies, and threw their tails out wide for a giggle.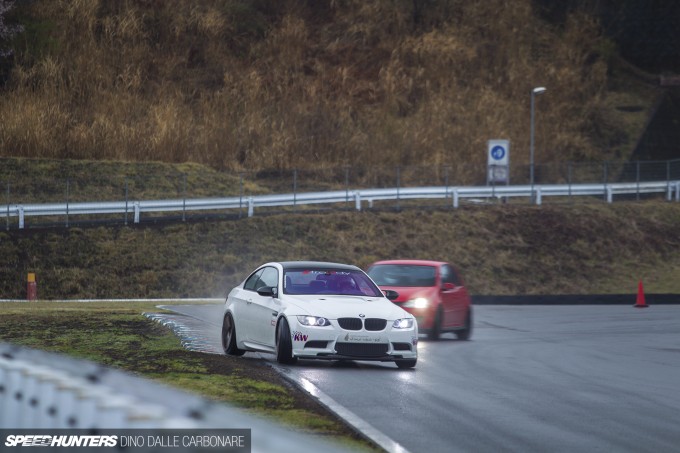 Those with rear-wheel drive and the right skills – like this M3 driver – were having a blast. This guys was sideways at every corner for the entire 15 minute session, and I didn't see him make one single mistake. Hats off and all that…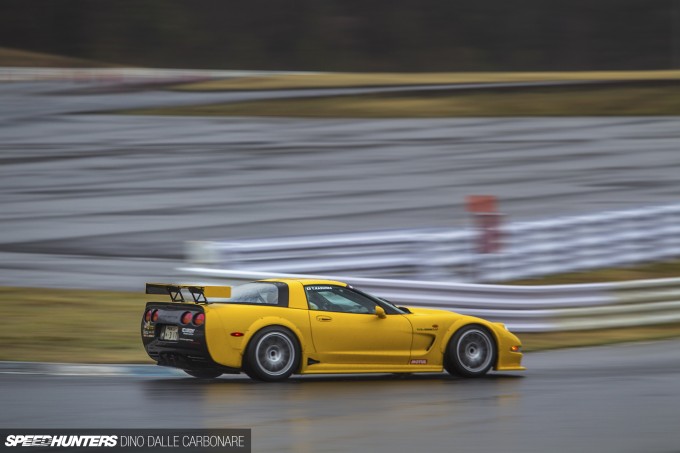 Check out the fender flares and wild hood on this modded C5. It sounded amazing at full chat too!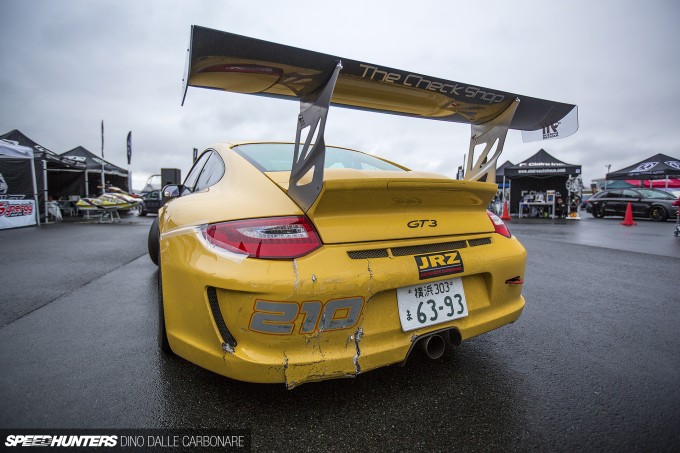 Otsuka-san took out his shop demo car – this 997 3.6 GT3 – which over the years he's been honing into the perfect Fuji Speedway time attacker. Previously he's lapped as quick as 1'49", which is seriously fast, however Otsuka-san had a bit of bad luck on the Short Course this particular morning when he was rear-ended. It goes to show how quickly things can turn bad out on track, but at least damage was only aesthetic.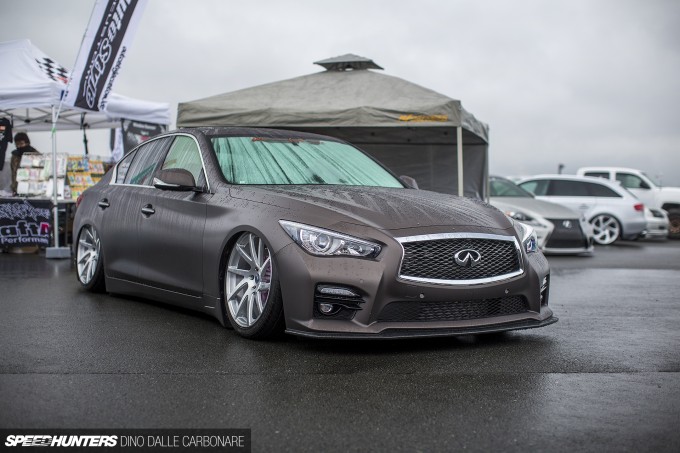 A short walk from the track in a big area usually used as a parking space, the show portion of the event was happening. The assortment of cars here was even more varied, and it made for one of the most interesting 'stance' oriented shows I've attended in a while. The new-gen Skyline – which, of course, is sold under the Infiniti brand in Japan for some odd reason – isn't selling so great over here and you don't really see many of them on the street. But that fact made this car even more special, and emphasised just how good the sedan can be made to look with the right touches.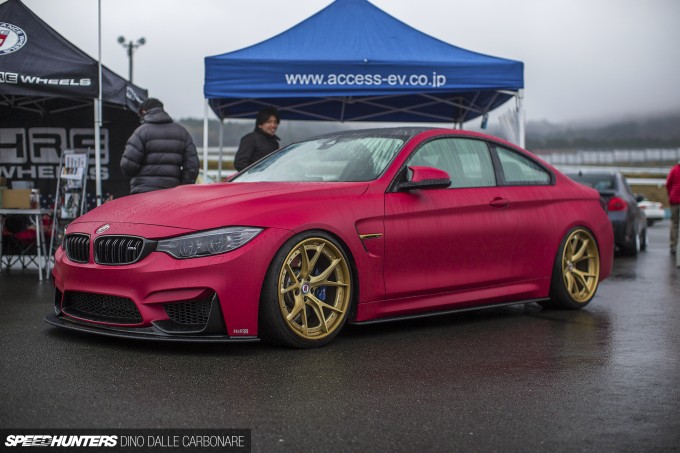 If you're into more practical and functional lowering, this flat red M4 on gold HRE S101s would be hard to turn down.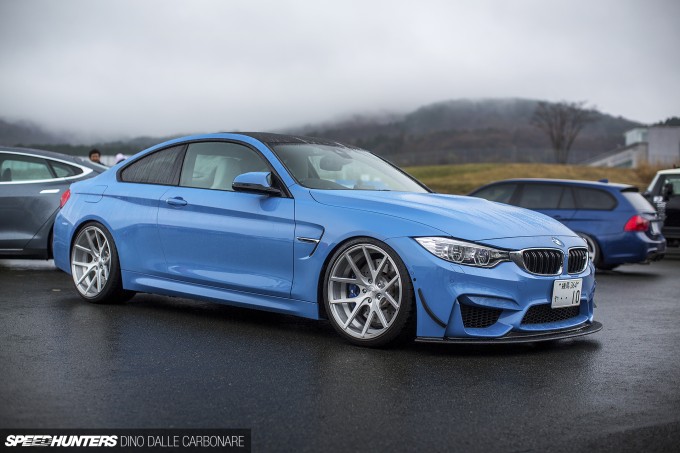 The display area was definitely not short on BMWs, and it's obvious that the new M3 and M4 models are the ones that everyone is trying to add their twist to. Taking a closer look, and being more in touch with the whole JDM Beemer world is something I've been wanting to do for a while now, and one of the reasons I recently picked up 'Project Drop Top', which you'll be reading all about later on in the month.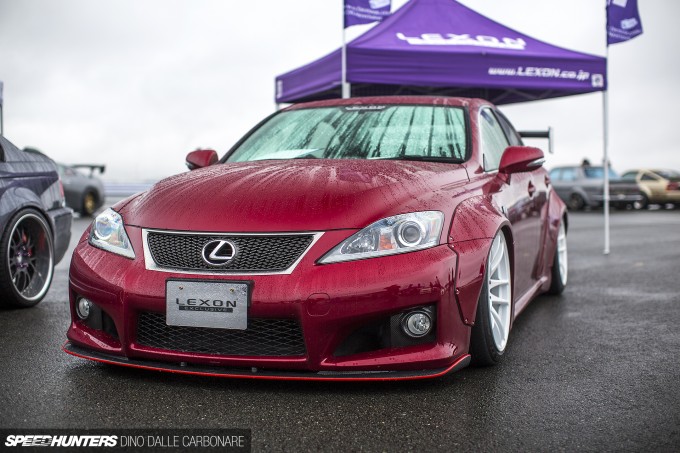 We first saw the Lexon IS F at Tokyo Auto Salon this year, but seeing the car out in the open really does it a lot more justice. This is one hot conversion for a car that is becoming very affordable in Japan.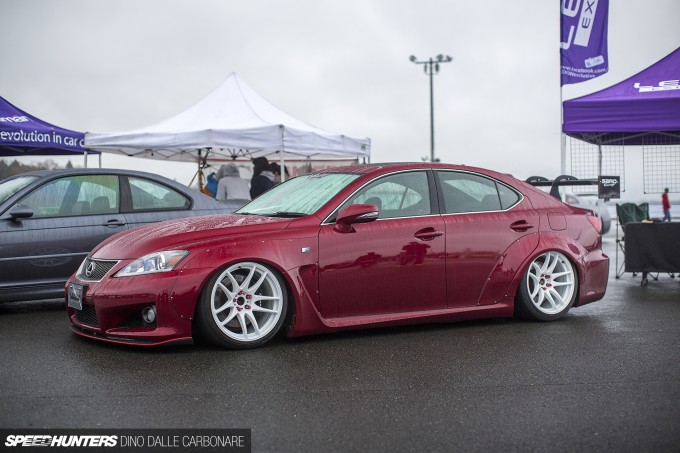 Takemi-san at Lexon called in the help of Miura-san at Rocket Bunny to create this wild set of over-fenders, and he'll soon be releasing a more compact version for the normal Lexus IS models too. I'll tell you more when I get around to running a proper feature on this car…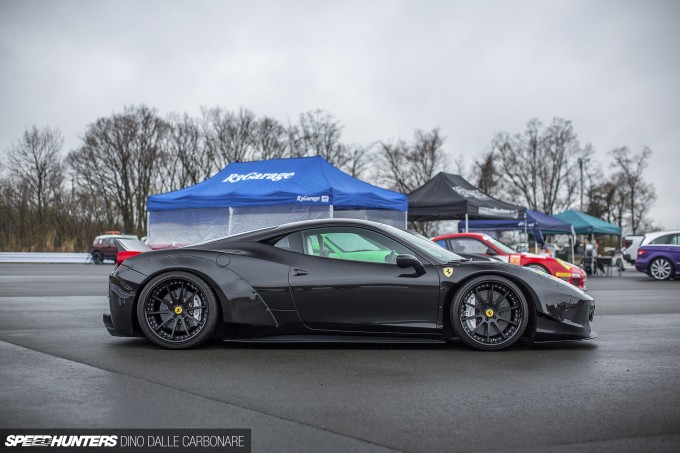 Did I mention over-fenders? This Liberty Walk creation is one we saw a few times last year, and it's famous for being owned by one of the original members of the Mid Night club. If you go on our Instagram page you can hear what the Exart exhaust it's fitted with sounds like.
Slammed Countach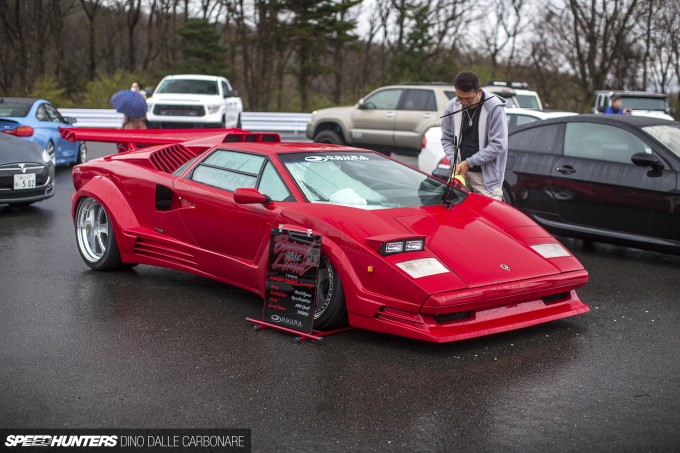 I didn't really know what to make of this Countach. I'm a great fan of the simple original Bertone design of the very first car that came out in 1974, but never really appreciated how they changed the design over the 16 years it was in production – especially with the Anniversary version they came out with to celebrate the 25 years of the company. So I'm not going to pretend that I'm saddened to see an iconic shape like this messed with, as it has been here. The fenders the owner had Ogura Body Works custom make actually do a good job of modernising the look. What do you guys think?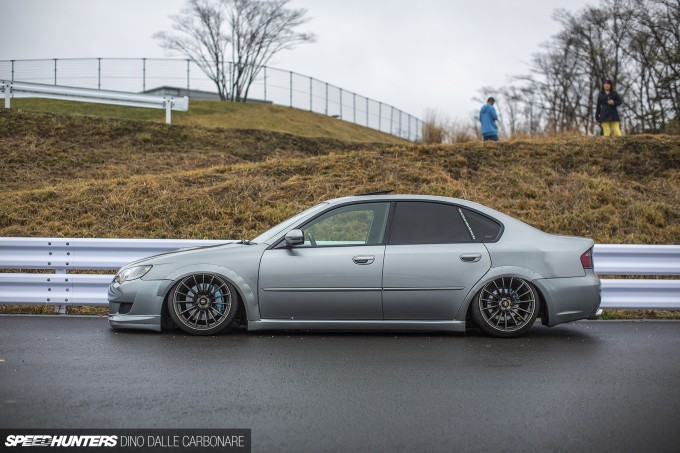 Ah, the good old BP generation of the Legacy – the last one that still had an air of sportiness about it, as well as a shape that was loved by many. This sedan has been dropped on air bags and the owner has created his own fender flares for it. I often see this at shows and meets and it's always fun to see how it keeps evolving.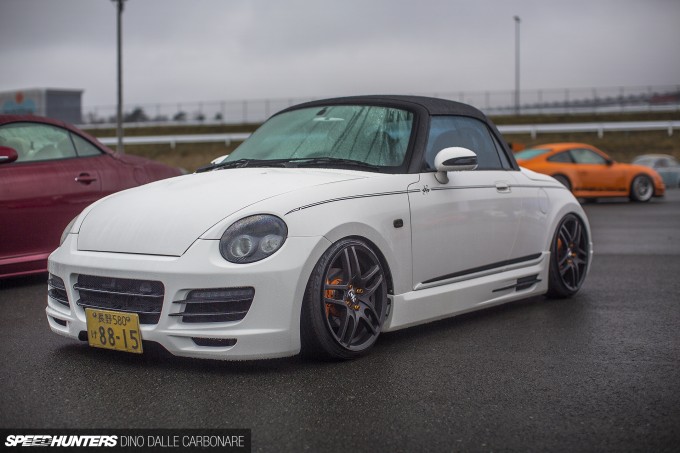 There is nothing quite as Japanese as seeing an aggressively lowered and customized kei car, like this tiny little Daihatsu Copen!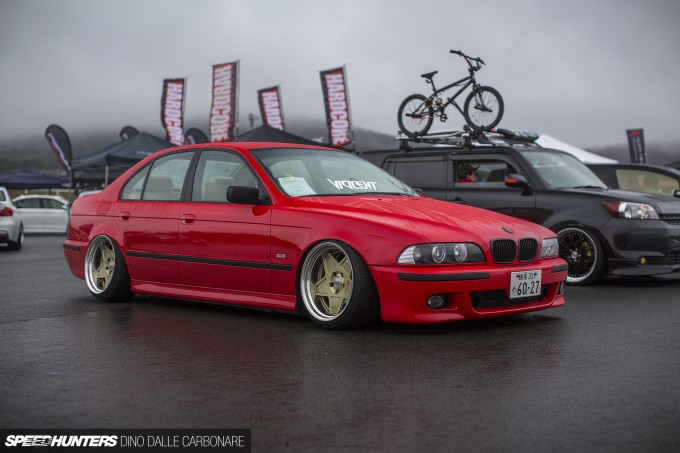 The Japanese do the whole German car thing so well, don't you think? I still have a very soft spot for the BMW E39, so seeing one given proper attention like this example sitting on Work Seeker SX wheels is great. Keep the exterior simple with just a few touches like the blacked-out kidney grilles and you've got yourself a true looker.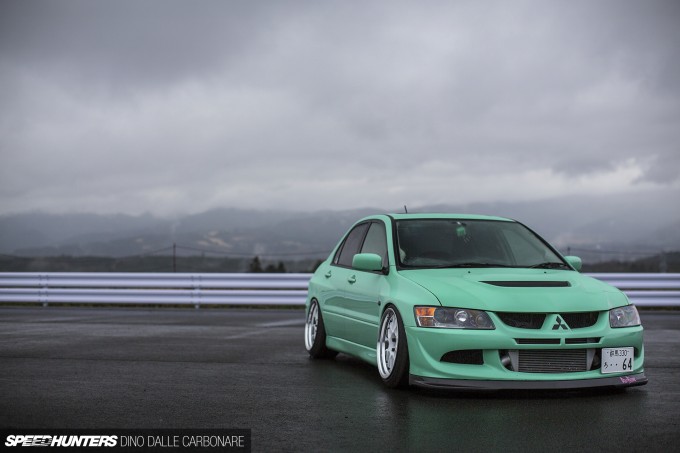 I'm sure this Mitsubishi Lancer Evo will irk a lot of people, and I'm guessing that is precisely what its owner wanted to do by taking a car made famous by its performance and handling abilities, and turning it into a showpiece. Are you upset?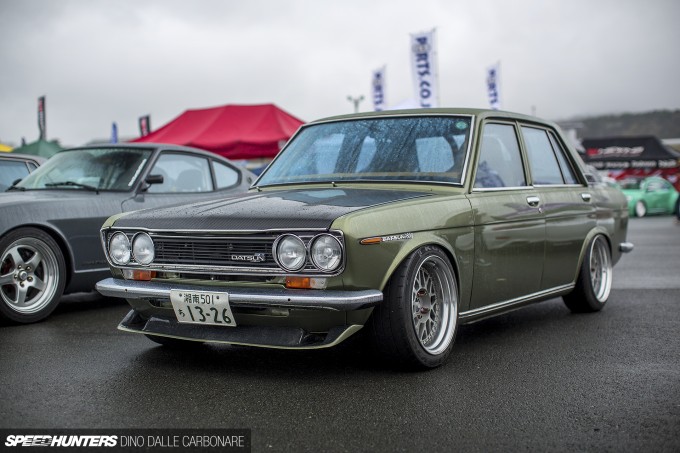 An impromptu Datsun meeting had generated behind the main booth display area with a few cool Zs lining up along with some tuned 510s, like this beautifully customised four-door.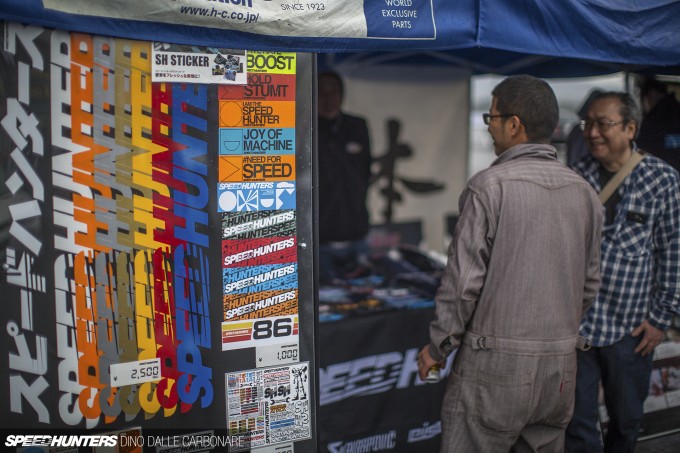 We had our booth at the event too. It's always a great place to catch up with readers that seem to know everything about all the feature cars and event coverage we run on Speedhunters! The best thing however, is seeing our stickers on cars and owners wearing our t-shirts and hoodies. I always feel I need to give a big thank-you to everyone for all their support!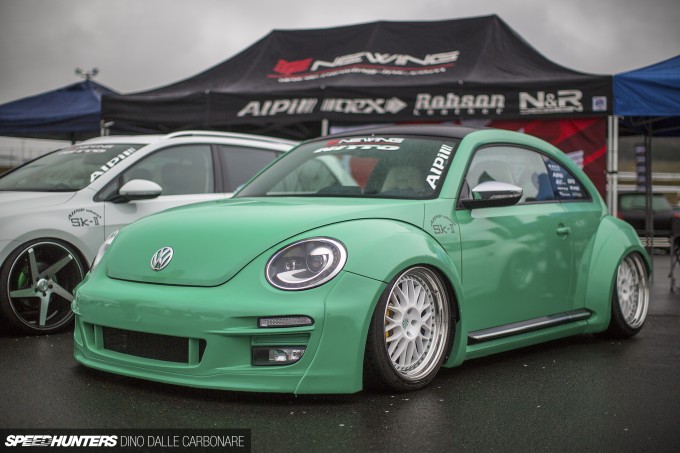 A slammed and over-fendered Beetle? But of course, this is Japan after all!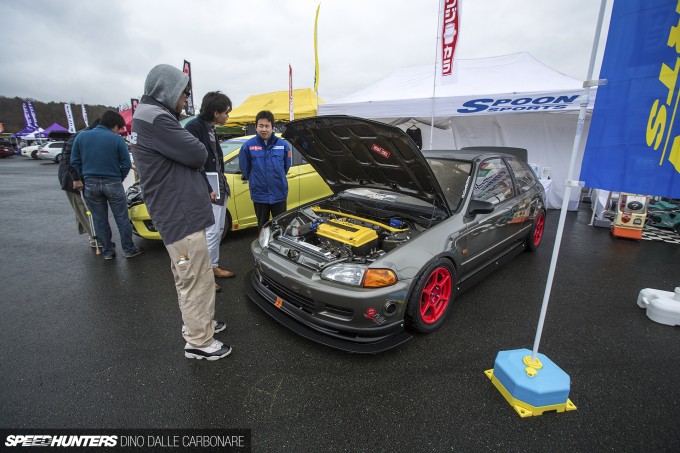 Even Spoon was out at the event and showing off an EG Civic they have collaborated on. Can you spot where the exhaust is exiting from? Yes, I must investigate further!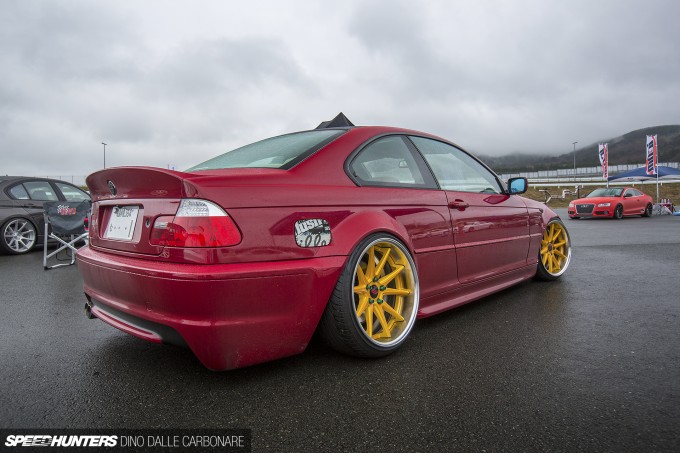 From slammed Beemers and Lambos to racing Porsches and Hondas, it's fair to say that The Check Shop organised a really unique event.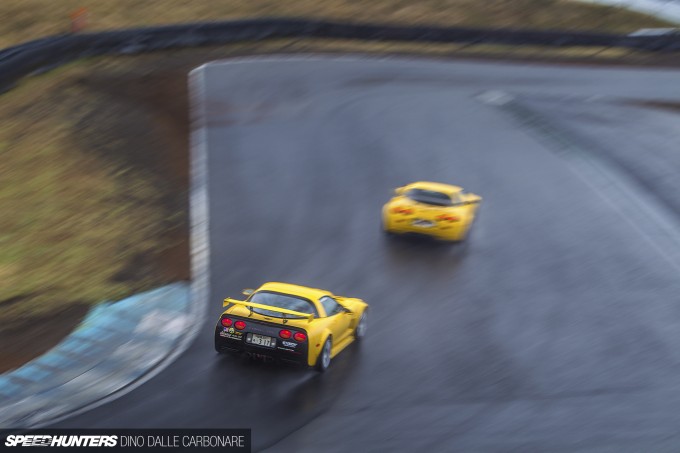 And it doesn't end here though. I've saved the best for last, so make sure you check back to see what cars I chose to Spotlight. Variety will also be key here, so there's bound to be something for everyone!
Dino Dalle Carbonare
Instagram: speedhunters_dino
dino@speedhunters.com