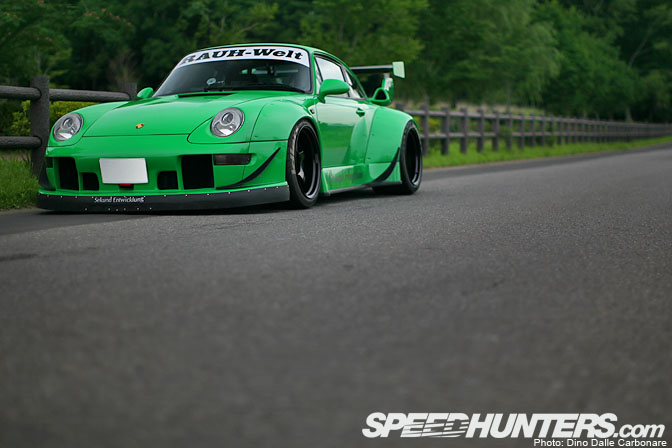 Sleep deprived form the previous night's 7's Day in Daikoku and Umihotaru PAs I was up nice and early once again on Friday morning last week. My destination for the day was going to be the Rauh Welt workshop in Kashiwa where I would finally get the chance to shoot one of Nakai's greatest creations to date, Rough rhythm.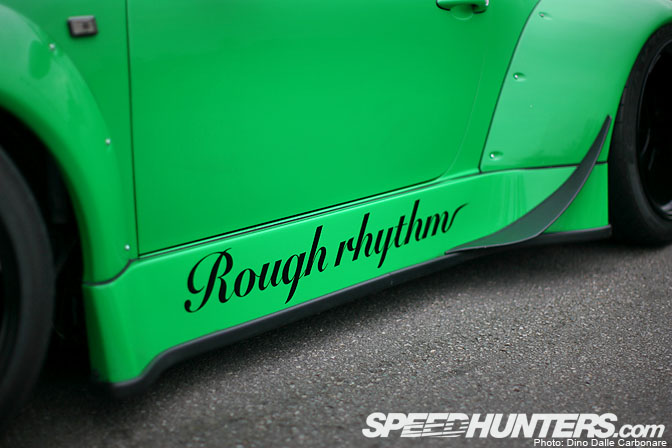 The owner, Toshiya Ichiraku, is the man behind Rauh Welt Kansai and responsible for helping Nakai develop his brand overseas. He had come all the way up to Chiba-ken from Kobe city with is 993, giving me the perfect opportunity to spend a couple of hours with the car.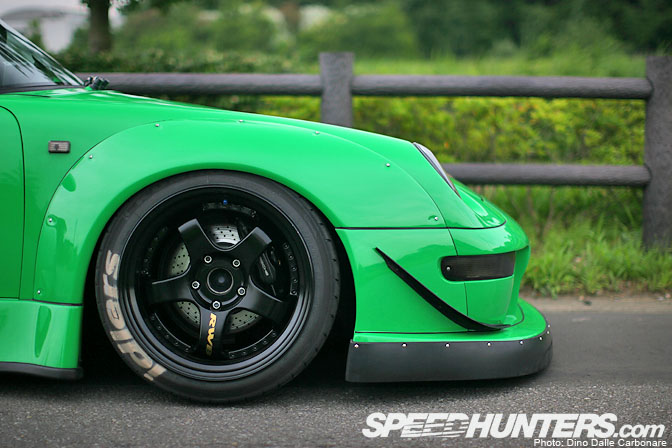 So after a quick lunch with Toshi and Nakai we were off to hunt down a suitable location, something that didn't prove to be as easy as Toshi and I had initially anticipated. Not being too familiar with the area we were in, we ended up driving around in the Porsche for quite a while, before settling for a more countryside oriented venue.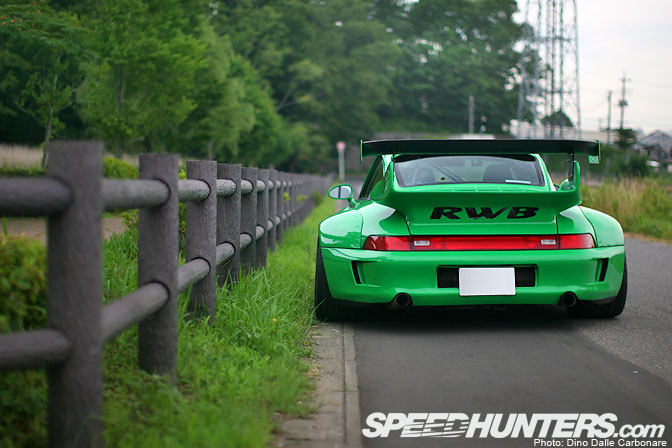 Toshi's 993 shares the same fender treatment as Nakai's Tunerhaus, previously known as the Royal Montegobay, giving it the widest rear end ever to grace the back of a RWB Porsche. It measures 2,080 mm across, making it a top-notch fat-ass!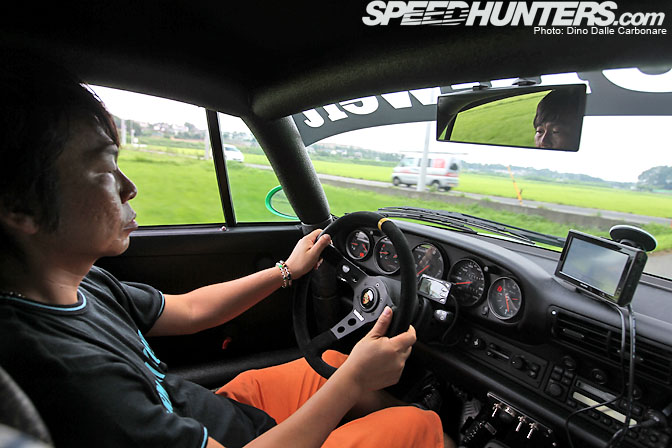 Driving around for close to an hour I was impressed at how civilized Rough rhythm really is, something you would never guess from its menacing exterior. The Bilstein dampers it rides on are stiff, but never really make you feel uncomfortable…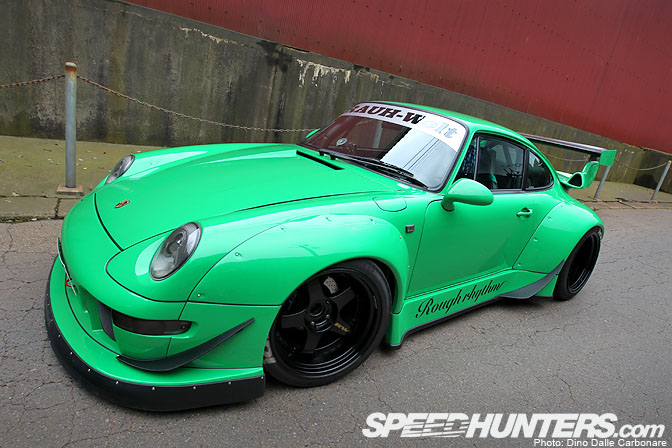 …while there is only very light rub on the front fenders under compression.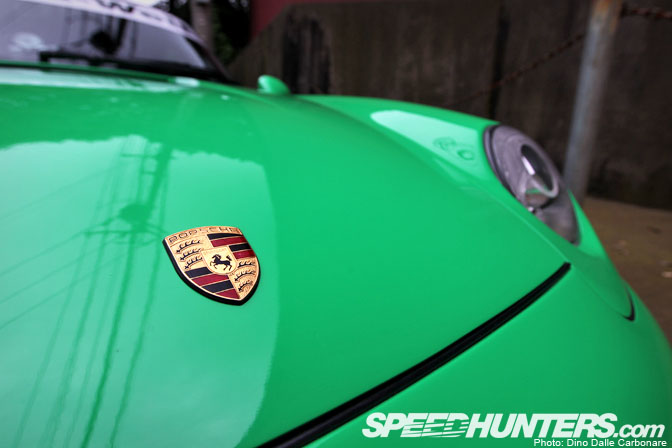 Toshi met Nakai-san at the track over ten years ago, before the actual RWB movement had began. At the time they were both driving 930s and that is where their mutual interest sparked a friendship. Toshi, who is also a Super Taikyu race car driver, was intrigued with Nakai's "rough" style and once RWB had become a reality, had his then recently acquired 964 converted. He still owns the green 964, a car that last year graced the cover of eurotuner magazine…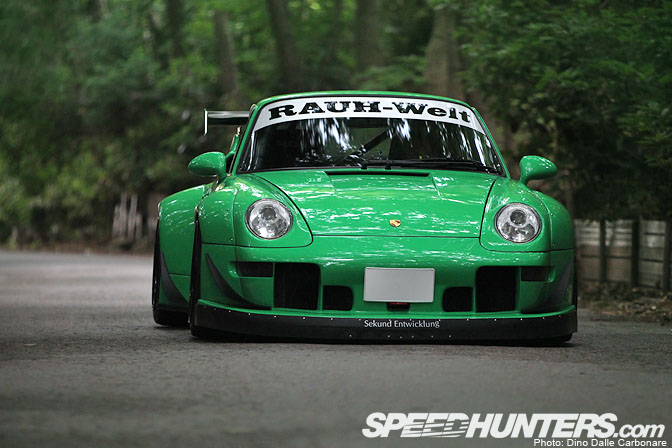 …and still enjoys driving when he can. But there was a need for something a little easier to live with, a car that he could use as a daily driver and go and pick up his kids from school in, a job the 993 can do without any problems. He liked the original concept of his 964, where he had Nakai give it a modern 997 GT3 RS look; so the same was done to Rough rhythm.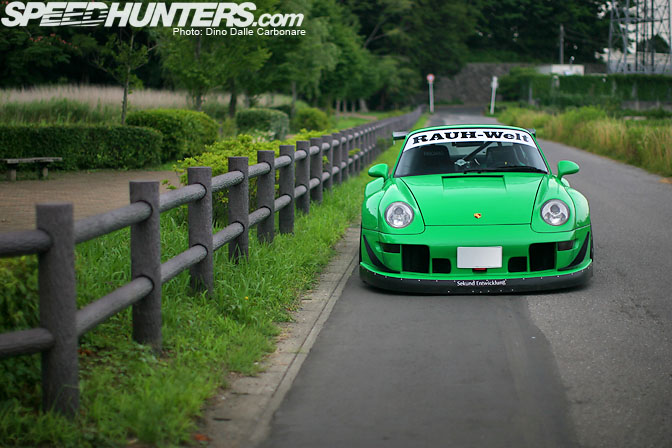 The result, as I'm sure you'll agree, is nothing short of breathtaking!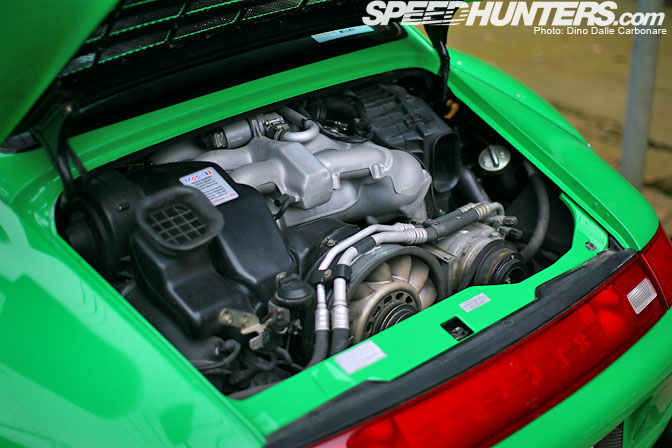 The car is based on a 1996 Carrera 2S and what makes it so easy to live with is it's standard 3.6L flat-6, developing just over 310 HP and running only light modifications like the custom exhaust system and the RWB "Tunerhaus" ECU which has been set up by Gary from Powerflash Japan.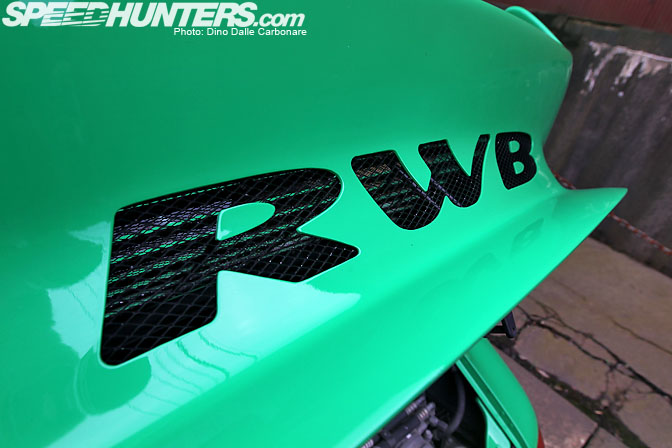 The cut out RWB letters on the rear trunk lid are backed with mesh and allow the tightly enclosed engine to shed some of that trapped heat.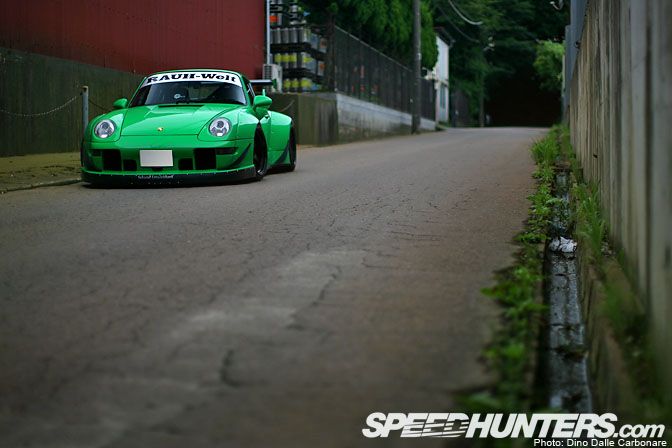 Seriously, have you ever seen a tougher looking 993?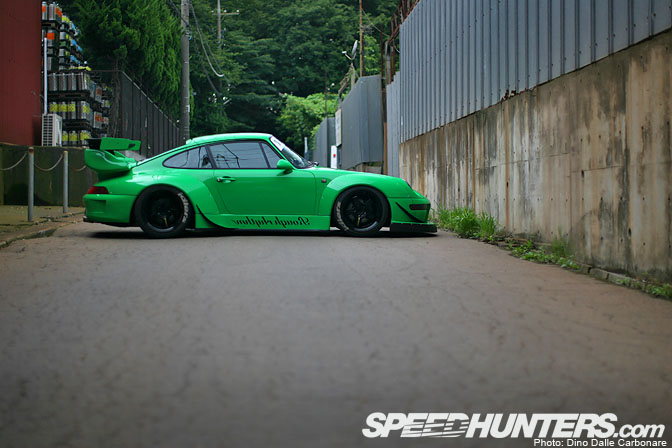 Along with the adjustable Bilstein dampers Toshi has swapped out the anti-roll bars with slightly thicker ones to keep lean through the corners in check. Stance, like on all of Nakai's cars is extremely important, but even if the car looks like it rides millimeters off the ground it never causes problems for Toshi. The front rubber lip spoiler helps a lot in this respect as it can fold, allowing the car to access steep inclines.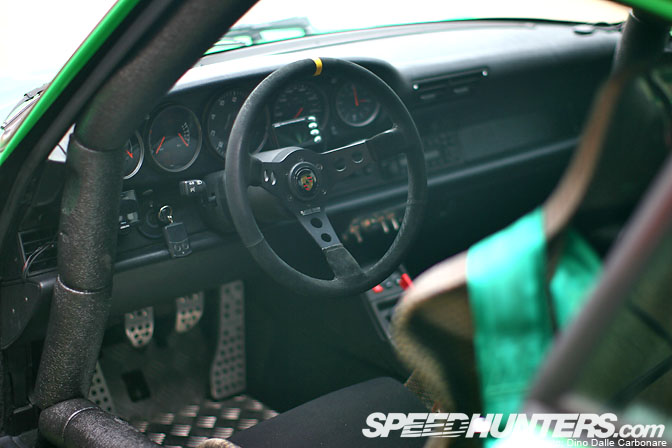 The interior has been kept quite civilized seeing that Toshi likes to enjoy the car as much as possible. The steering wheel has been replaced a deeply cupped RWB alcantara item…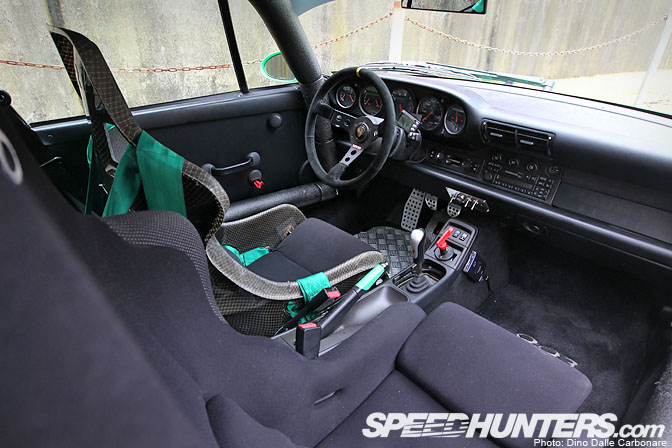 …and a bolt-in 10-point roll cage fitted along with soft protective padding.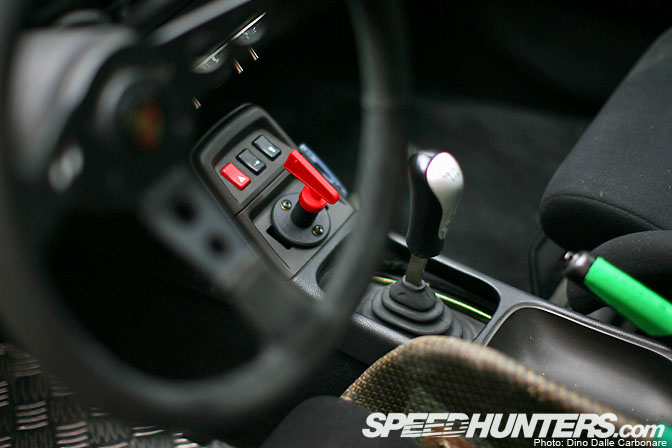 Toshi has been working on fitting this cut off switch, that when functional will allow the car to be turned on using the starter button fitted in the little switch panel under the headunit.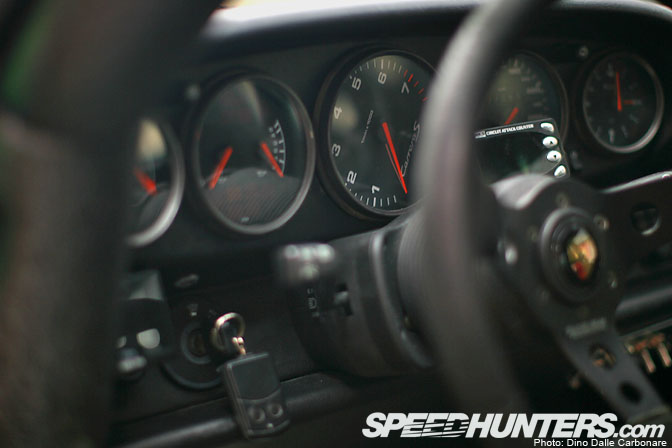 A little touch from Nakai's Rough World days is the rotated RPM counter, positioned so that the "exciting part" of the scale sits right at the top, for easy consultation. An HKS Lap Counter module is permanently fixed in position for when Toshi hits the track.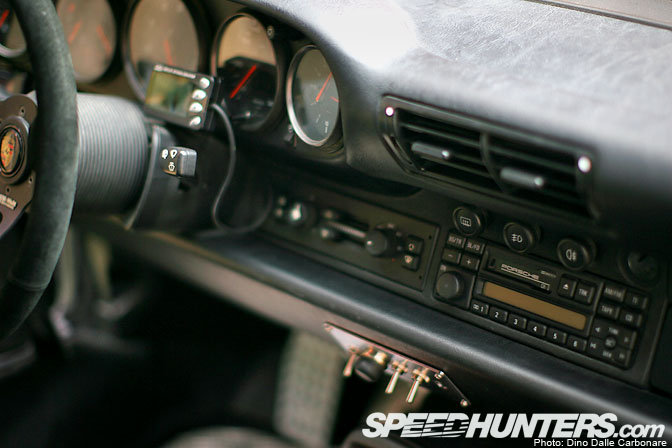 The stock Porsche tape headunit remains along with the A/C. Having air conditioning in the scorching Japanese summer is a must!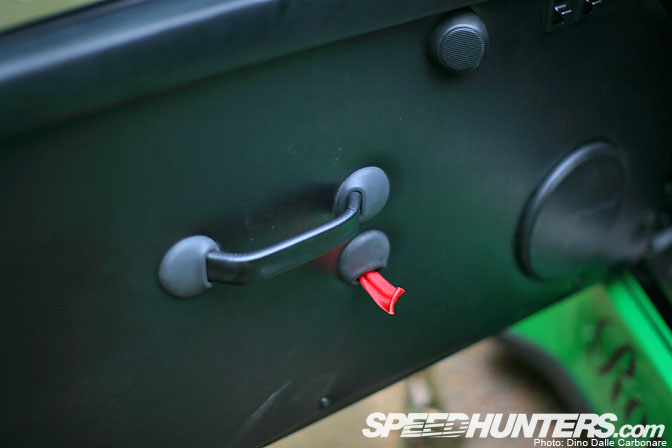 Carrera RS door cards replace the leather-clad stock units and feature a very simple red strap to open the door.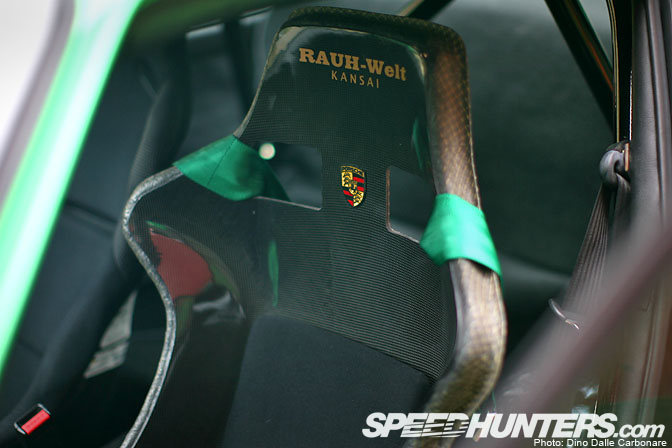 Toshi's connections with the world of Japanese motorsport allowed him to score this Arta Racing carbon-Kevlar bucket seat for the driver side. The shell is unbelievably thin and some padding has been added for a little comfort. Takata belts are obviously the only choice when it come to racing harnesses for Rough rhythm, they are green after all!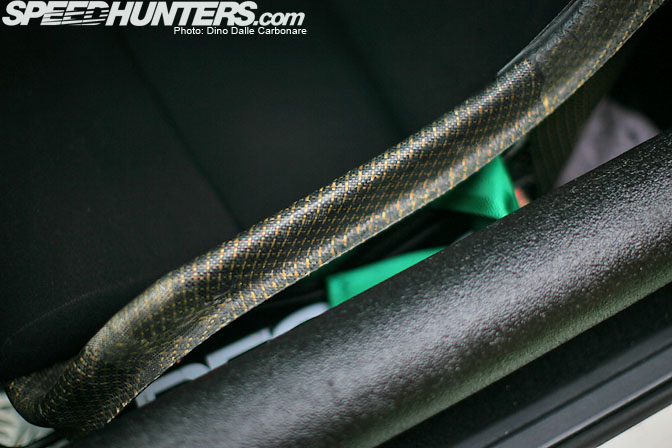 Little close up of the featherweight Super GT seat. The passenger side gets a slightly more comfortable Recaro SPG.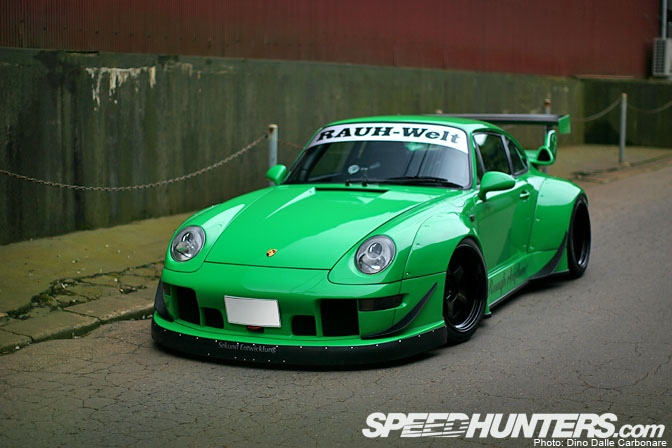 Up front the GT2 Evo style front bumper is joined by a pair of downforce developing canards, the same that are used on the rear overfenders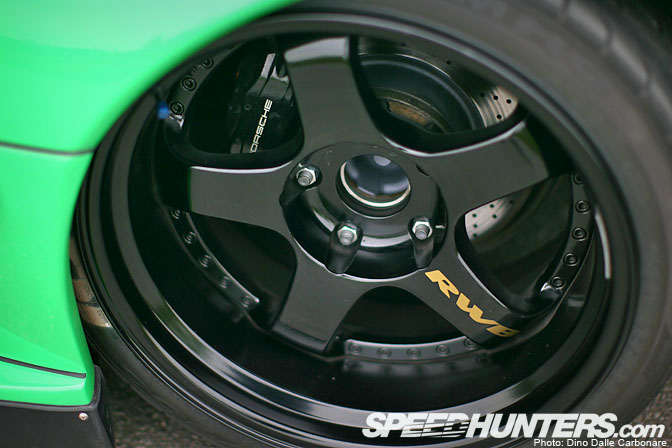 The 18-inch SSR Professor SP1s measure a rather wide 10.5 inches at the front (-13 offset) and a massive 13 at the rear (-19 offset) and are shod in Khumo Ecsta V700 rubber, 265/35 and 355/30 respectively. The stock Porsche brakes remain but are fitted with higher friction pads all round.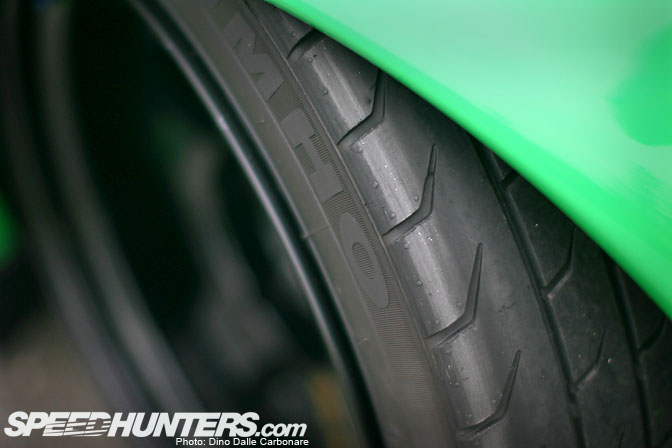 There is a little rubbing at the front, but considering you won't be able to fit a ¥100 coin between the fenders and tires, this is more than acceptable…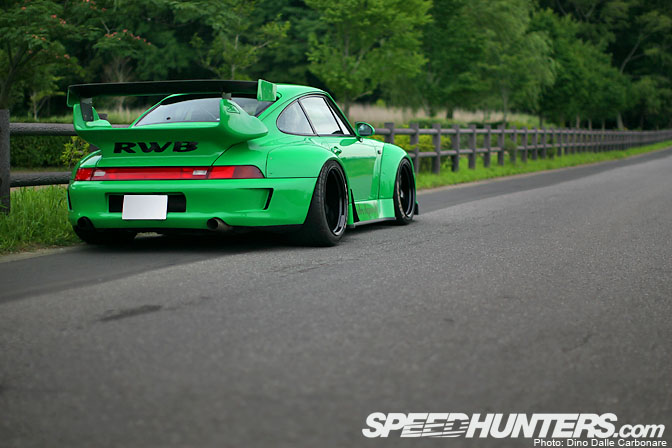 …when you can boast looks like these.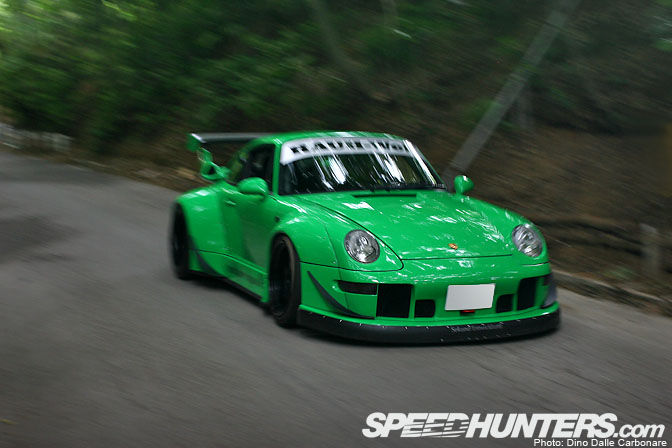 Like all of Nakai's works of art it's individuality that dictates what the end product will look like. Each owner and each car have a different story behind them and it's this that Nakai uses to determine their final appearance, color and of course name. "Rough rhythm," as Toshi explains, was chosen because he and Nakai share the same taste for what a Porsche should look and feel like, a unique "rhythm" that follows the "rough" way.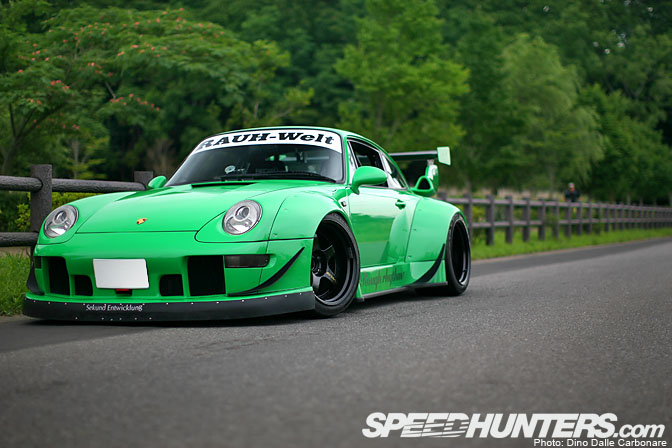 Nakai has really killed it with Rough rhythm, and in the short time Toshi has had the car it has already flooded all corners of the interwebs. If this isn't a modern work of art, I don't know what is.
Stay tuned for more from RWB as I spend some time in Nakai's workshop. After all it's been since Rod and Mike's initial visit back in 2008 that we haven't had a look in possibly one of the coolest garages around!
-Dino Dalle Carbonare