The Vintage Boom
Saying I look forward to Nostalgic 2days would be the greatest understatement ever. I don't think any other JDM scene could rival what the Japanese have created with their classic cars; both the shops and owners taking a simple love for cars to a whole new level of dedication and development. This is a group of vehicles that have really sculpted their own genre – at least that's the way I look at it. Sure, you've got the period-correct machines where everything is stock, but 90 per cent of people can't help but add a touch of personalisation to their classics, and in pretty much every case awesomeness is created. The results are some of the most unique vintage cars you are probably going to find anywhere in the world, and some of the best examples were neatly presented under the Pacifico Yokohama roof this past weekend.
Let's take a little wander around…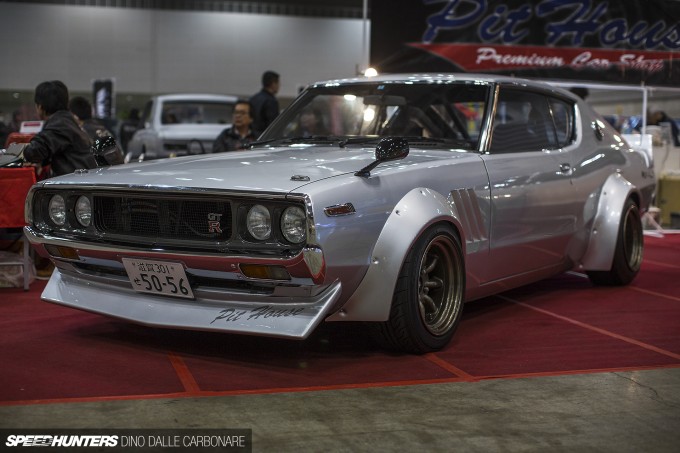 One of the things you really have to appreciate when it comes to older Japanese cars is how the industry around them outdoes itself every year. It's always coming up with fresh new ways to build up and modify cars in order to extract a little more performance, or simply modernise the older parts that just don't cut it in this day and age.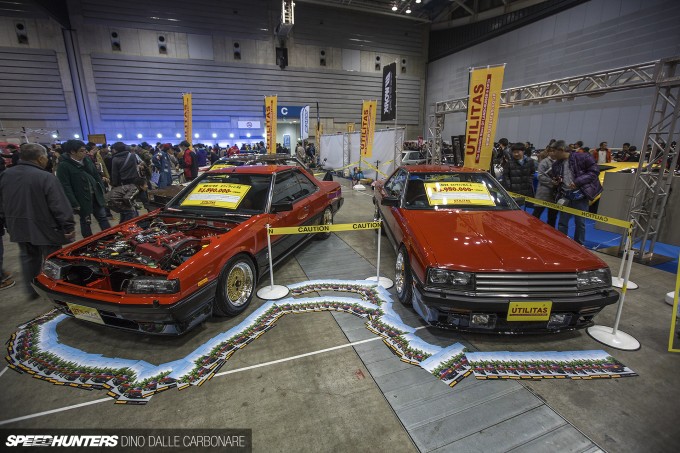 Every year there's a model that seems to become a new 'modern classic,' and no matter what it is there's always a specialty shop ready to sell you a perfect example. Utilitias does precisely this, specialising in old DR30s as well as older Land Cruisers, which are all the rage now in Japan. It's too bad they didn't have a truck to show at the event given how amazing this pair of Skylines were.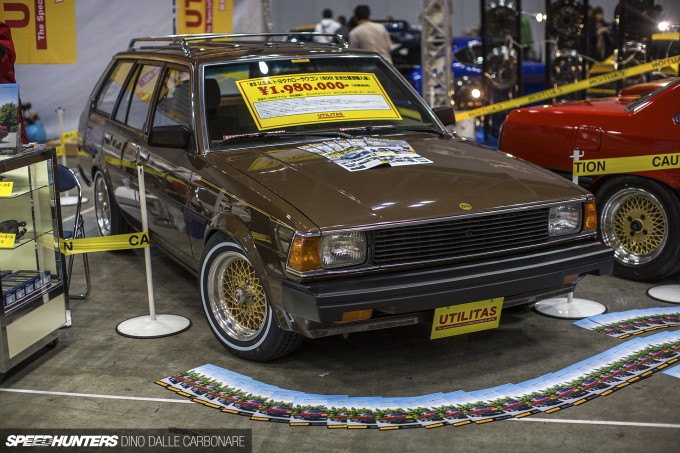 What they did have however was this USDM Corolla Wagon from 1983 on display. It seems that the need to stand out and be different will fuel this scene for many years to come.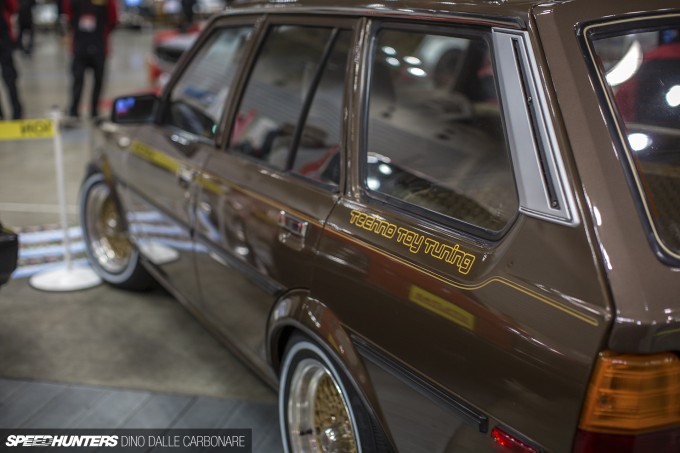 Before the car was shipped out of the US it looks like the guys at Techno Toy Tuning got their hands on it.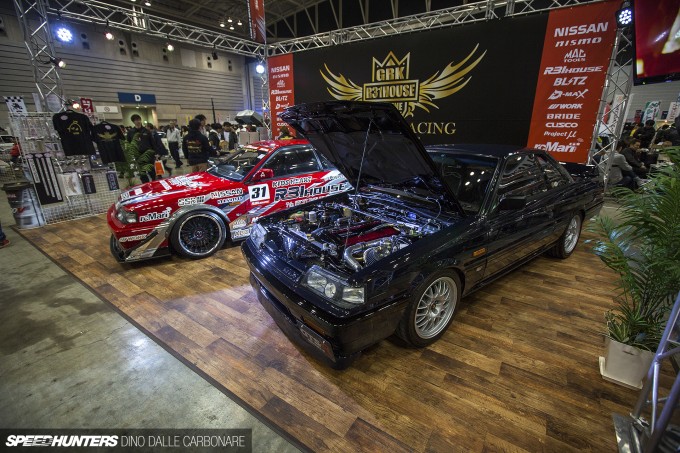 Oh, and since I've mentioned R30 Skylines, it would be sacrilege to not at least show you one image of the R31 House stand at the show. I hadn't seen these guys at Nostalgic 2days before, but I guess these '80s cars are well and truly collectables now, and this outfit sure knows how to get the best out of them. The R32 is next in line of course, but we all know how collectable that is already getting and how prices are shooting up. If you're in the market for an R32, you might want to get one right now!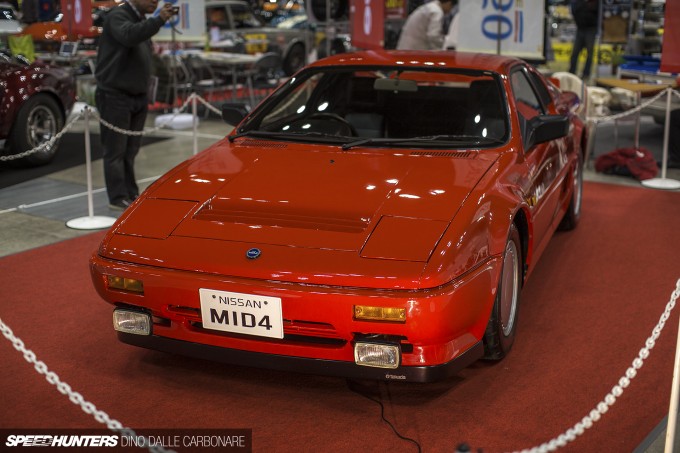 Nostalgic Hero, the kyusha magazine that organises this event has a very good relation with the folks at Nissan, which means that every year there's something cool on display from the automaker's private collection. It wasn't legendary race cars this time round however, but rather a pair of concept cars form the mid '80s, including the MID4. First displayed at the 1985 Frankfurt Motor Show, this mid-engined machine was built around an ingenious all-wheel drive system and a new four-wheel steering system. Sound familiar?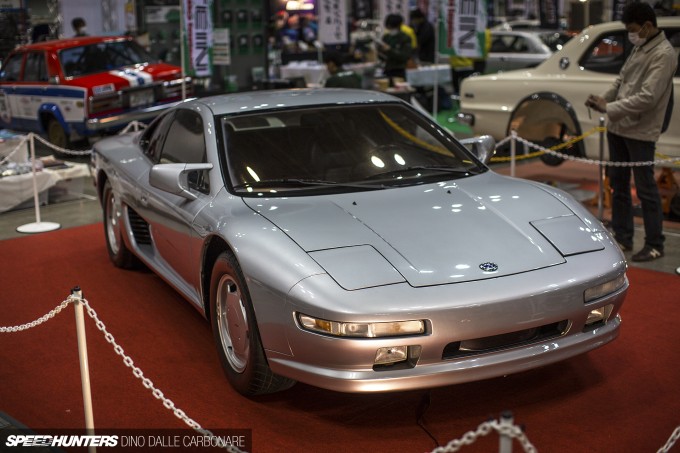 Two years later at the Tokyo Motor Show the MID4 was refreshed with new look, and featured a turbocharged version of its VG30 along with more advanced driveline and steering systems.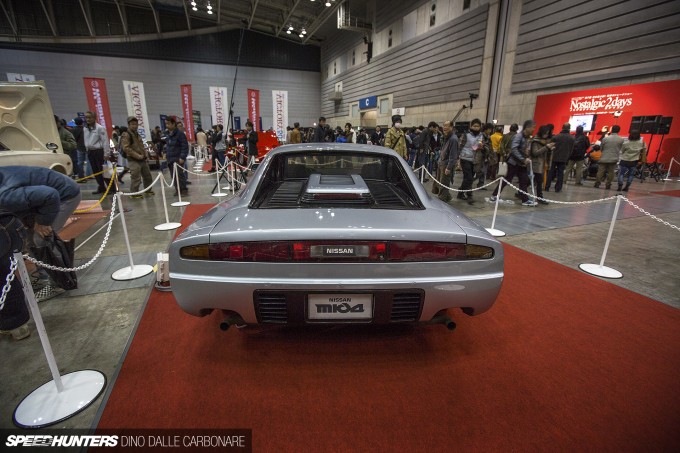 The car never made it into production, but those systems were implemented on quite a few Nissan production cars, and were later named ATTESA and HICAS and used in the R32 Skyline GT-R.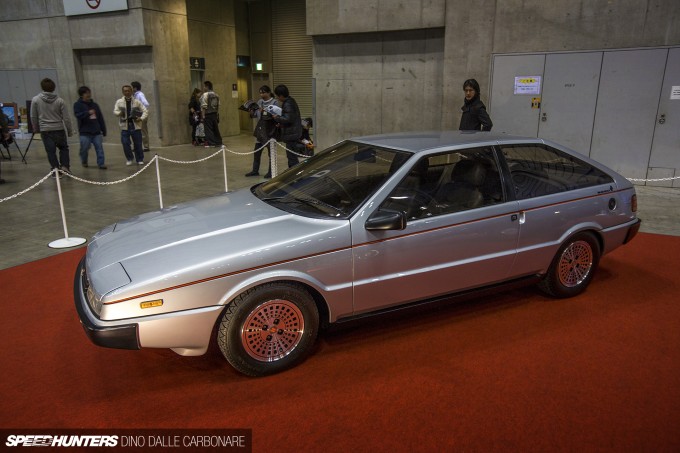 Since we're on the subject of concept cars, this was also present. The Isuzu Asso di Fiori was a car that Giugiaro designed for Isuzu when asked to style a successor for the 117 Coupe. It was shown at Tokyo in 1979 and the following year introduced as the Piazza. I wonder what sort of cars we would get these days if more Japanese manufacturers had Italian design houses pen new models? Would we still have the Nissan March or the Toyota Vitz as we know them today?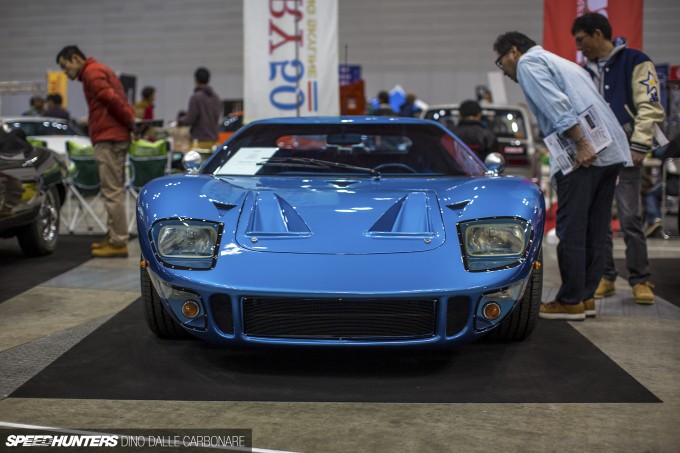 A Ford GT40 in electric blue? Yep, you guessed it – this replica car build by Garage La Scala was stealing a ton of attention away from the Japanese cars at the show.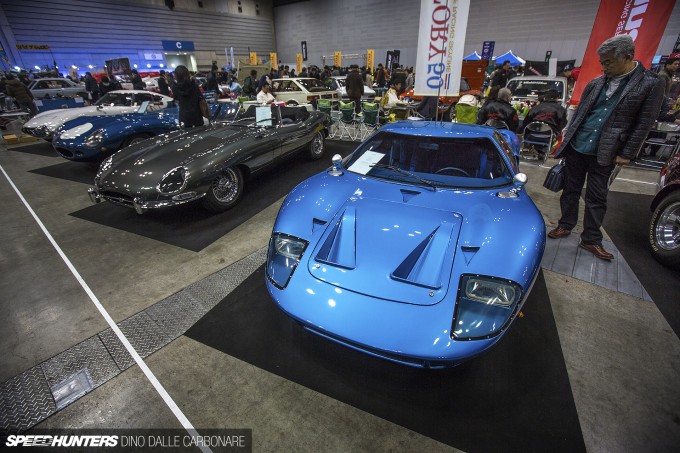 It was a stunning machine and part of a larger display which included a pristine Toyota 2000GT.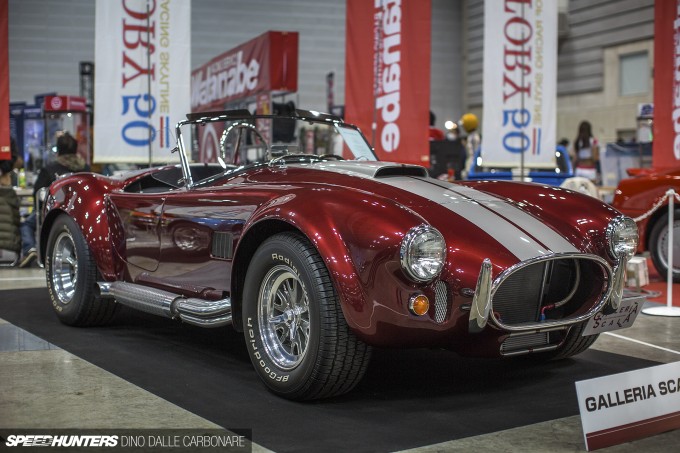 I'll be heading over to Garage La Scala this year to take a look at the operation, and, if I'm permitted, photograph the owner's car collection. It will blow your mind!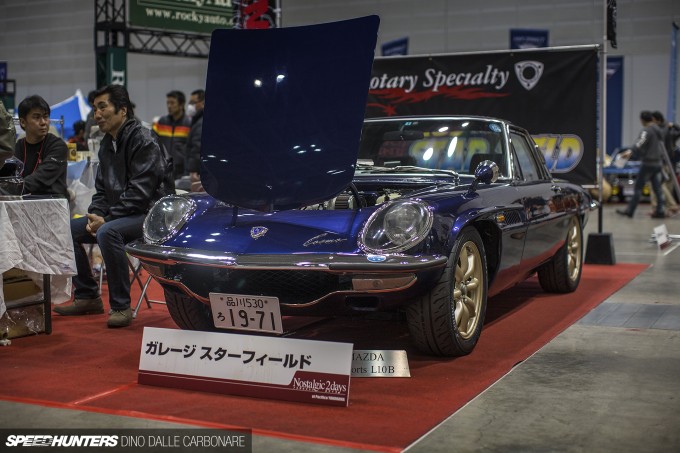 While La Scala will pretty much work on any classic you show you up with, most other shops that had a booth at Pacifico Yokohama specialise in either one specific model or engine type. Garage Star Field is one of them – a rotary specialist that will take an old Cosmo in any condition and turn it into utter perfection.
Don't Forget The Parts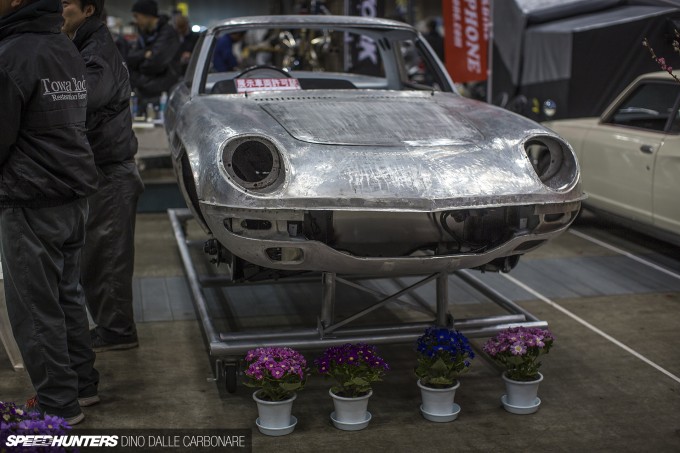 It's often hard to truly comprehend the amount of effort and time it takes to complete a ground-up restoration on a car, so what better way to showcase that than to bring along a work in progress. This Cosmo body had been taken right down to metal inside and out, and had rust patches redone with fresh steel. It sure takes a lot of dedication to do things the right way.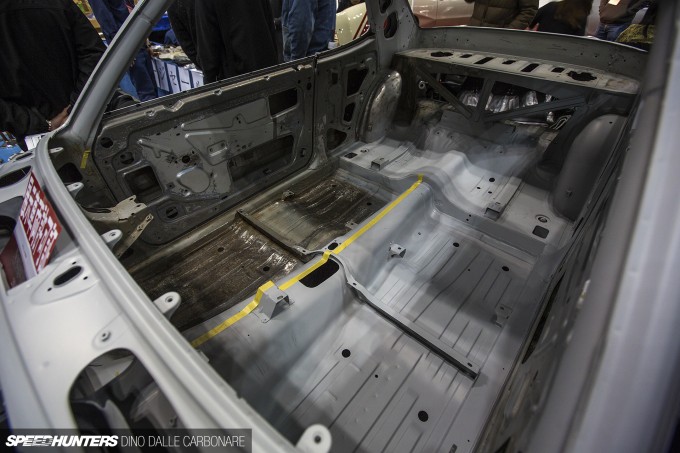 At a booth selling a ton of vintage Nissan parts was another fully gutted shell on display – this time an original 1971 KPGC10 Skyline 2000GT-R. It had purposely been half restored so people could visibly see the difference between the two sides of the car.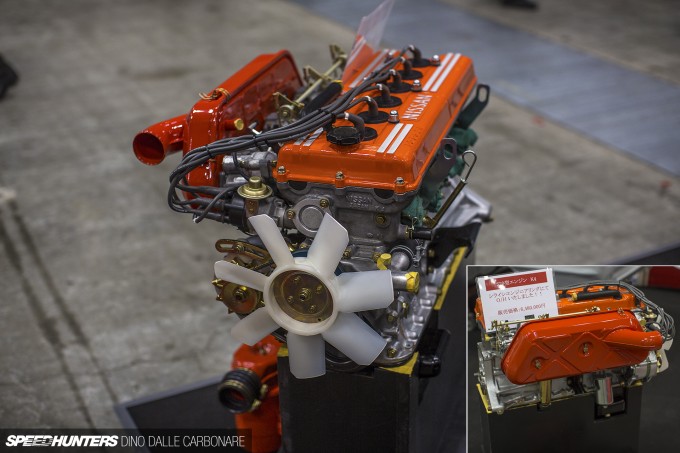 While the KPGC10 chassis was far from finished, its S20 on the other hand was all ready to go. The engine display showed what sort of work the shop does and the costs involved.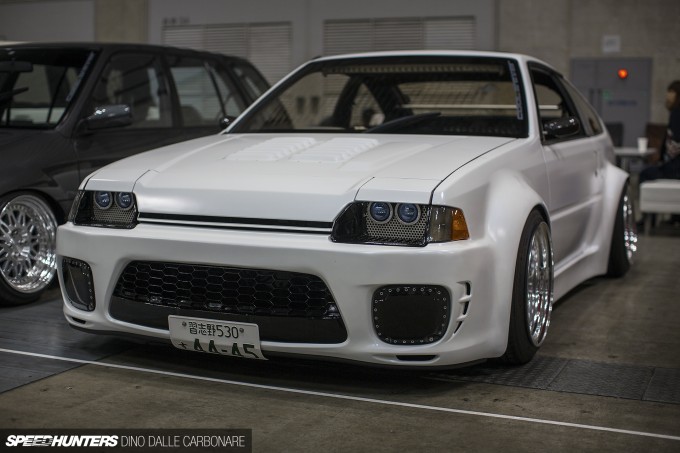 There are always some pretty interesting cars at this event, and this year a customised CR-X was right up there. I'm not sure if I was the only one thinking that it looked slightly out of place though…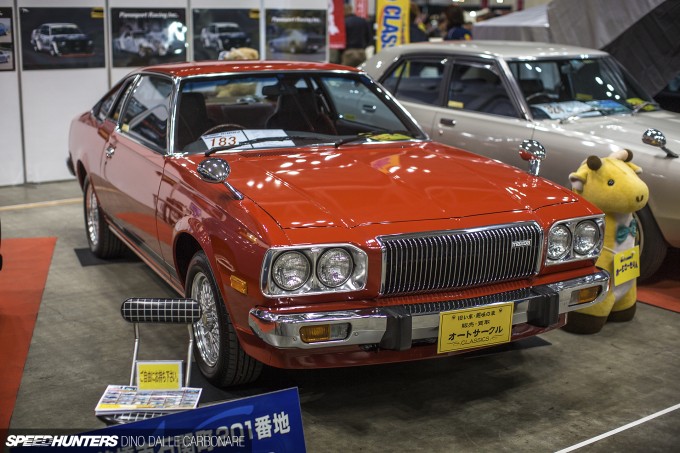 Ah, that's more like it – pristine Japanese vintage goodness in the shape of a 13B CD Cosmo for sale on the Auto Circle booth.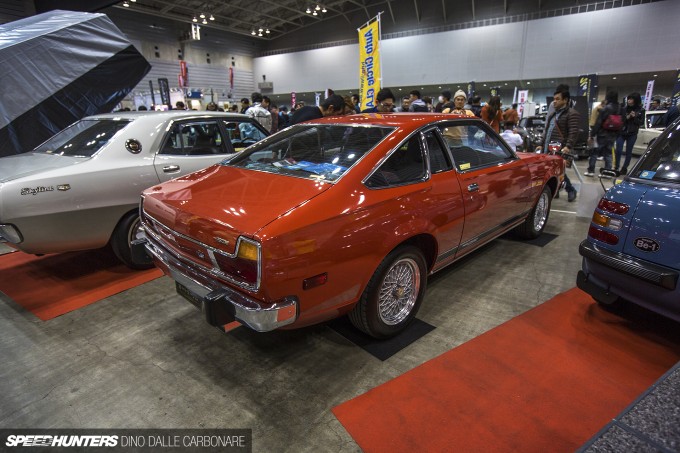 This second-gen, rotary-powered Cosmo was sold all over the world as the RX-5, and in lesser spec was even offered with a regular piston engine as well. It certainly has character!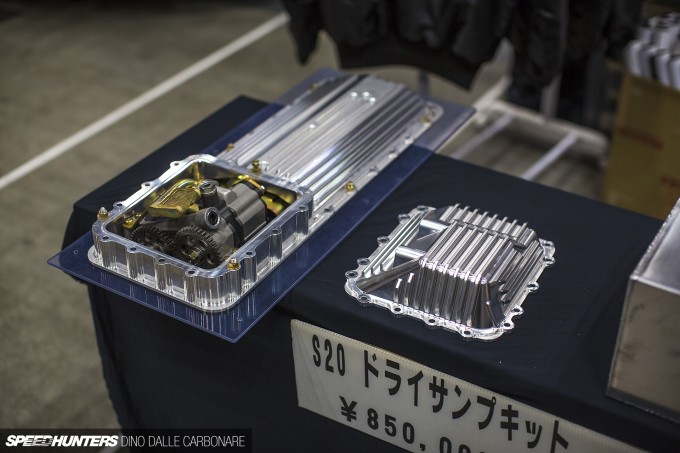 For most owner of vintage cars, Nostalgic 2days is a great place to pick up parts – be it OEM all the way to crazy upgrades. I even came across a dry sump kit for the S20 engine that powered the Skyline GT-R and the 432Z. Check out that billet pan!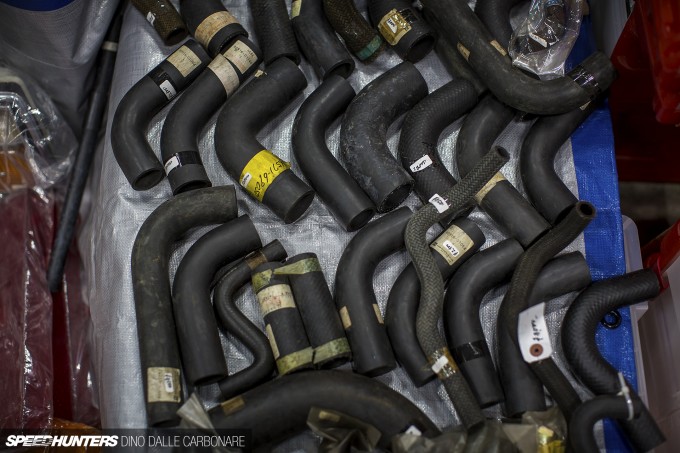 Got hoses?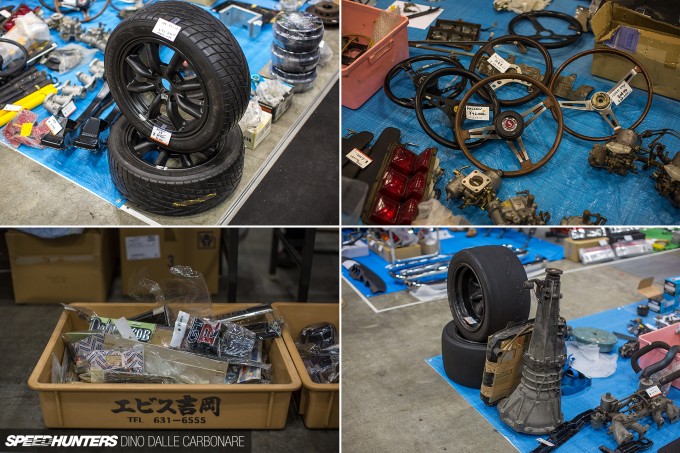 If you can't find everything you need to fix up or restore your classic JDM car at this place, I'm sure any of these shops will track it down for you and deliver it by takyubin (super efficient Japanese courier) the following morning!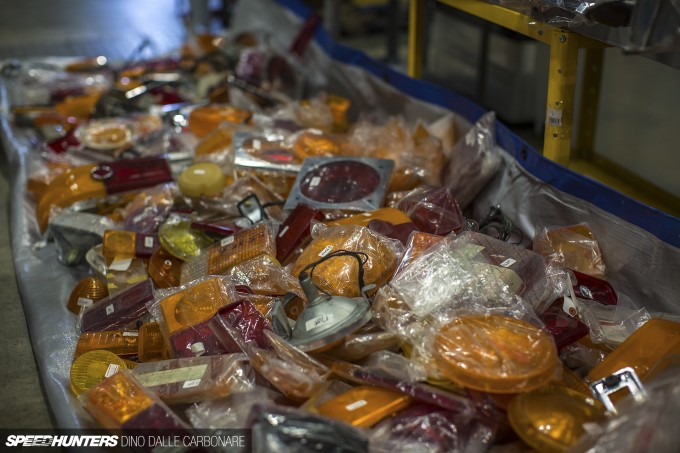 And there is no excuse to put off fixing that cracked indicator lens – especially after I checked how well priced all these bits and pieces were.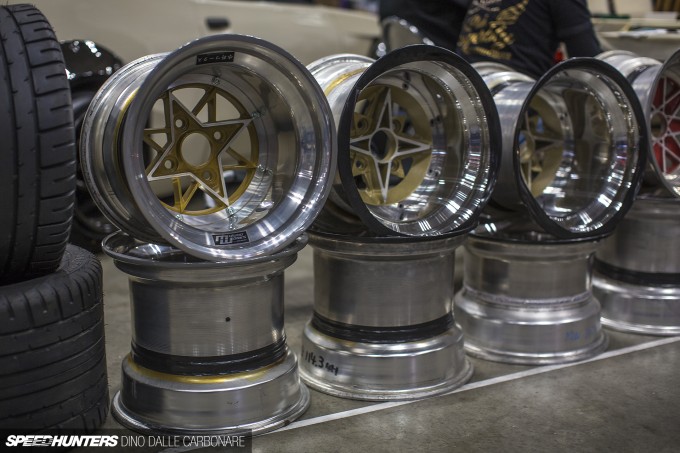 Mizzen Works had their usual cool selection of vintage rims on sale, but this time around it wasn't the wheels that people were taking a closer look at…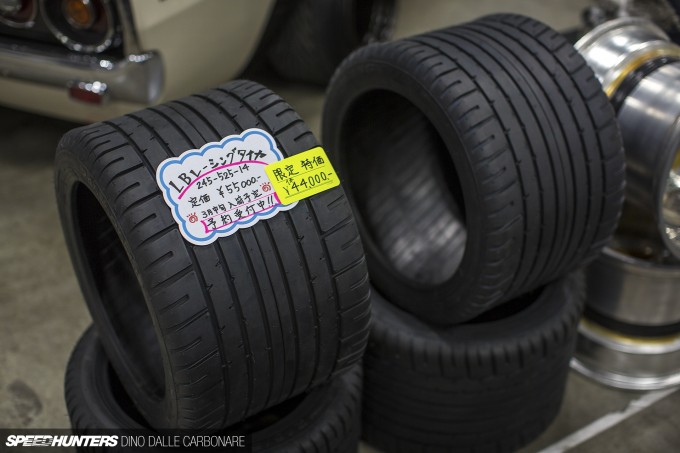 No, it was the tyres. You see, when you run 13 or 14-inch vintage rims with massive width, you have very little choice for rubber. In recent times your best option was sourcing old race tyres, but now Kato-san at Liberty Walk has the answer. As of this month Liberty's own race tyre will be on sale – a 245/525-14 sized item that retails for ¥44,000 apiece. This is exactly what enthusiasts have been looking for!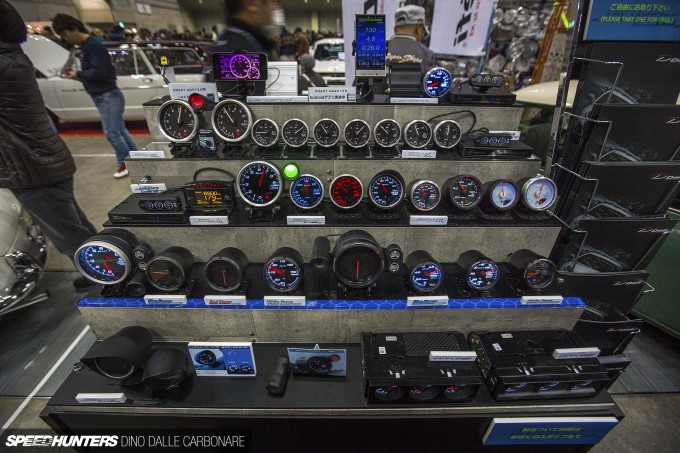 Just like the muscle car scene in the US, the Japanese love to resto-mod their cars in every way they can – something made possible by parts makers that strive to come out with cool products to allow everyone to do so. Take Defi for example – along with their latest-gen instrumentation for modern cars it has a pretty comprehensive line up of gauges that work really well on older cars too.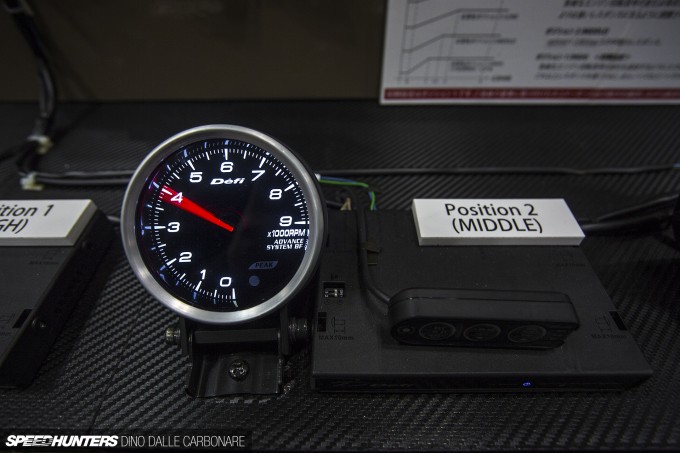 And if all the available colors don't do much for you, there are plenty of simpler designs to go for as well, including triple-gauge combos for single DIN spaces.
Do You Like Swaps?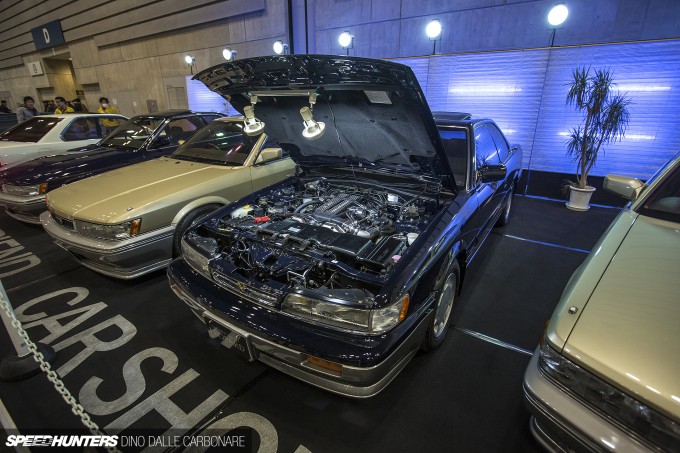 I say this every time I go to Nostalgic 2days, but the price of Nissan Leopards still blows me away. And they seem to be getting more expensive too.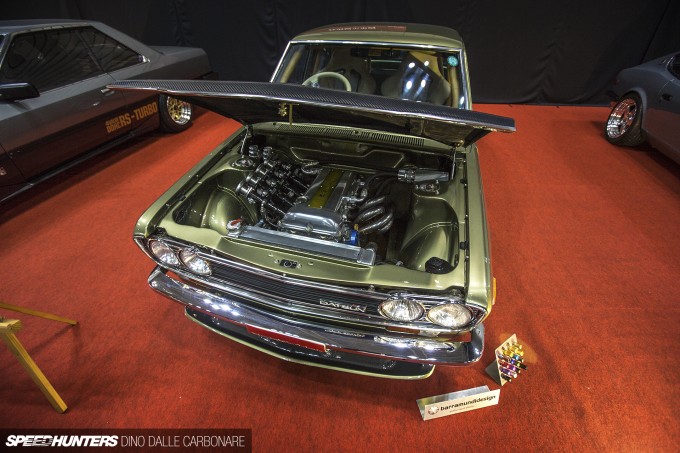 This SR20DE-powered 510 belongs to one of the Nostalgic Hero photographers, and I first saw the car at the Hot Rod Custom Show in December. Now that it's looking very much complete, the attention to detail really made it stand out – a feature car for sure! What do you say Hirano-san?!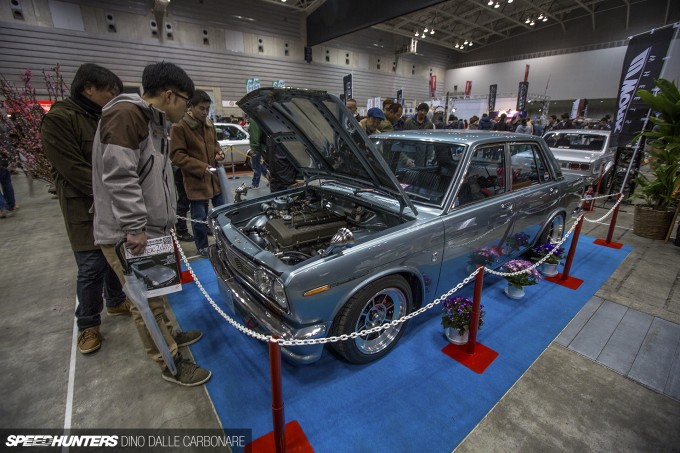 We all love 510s in their various styles, but when it comes to the most original engine swap, this particular car wins hands down.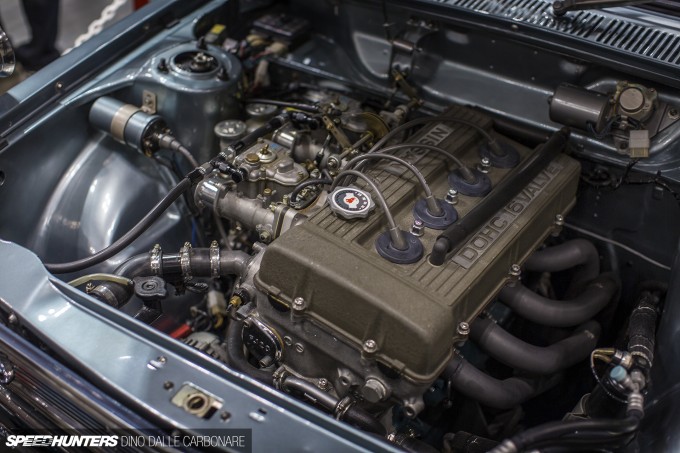 An FJ20 on Weber carbs. Outstanding! What else can I say!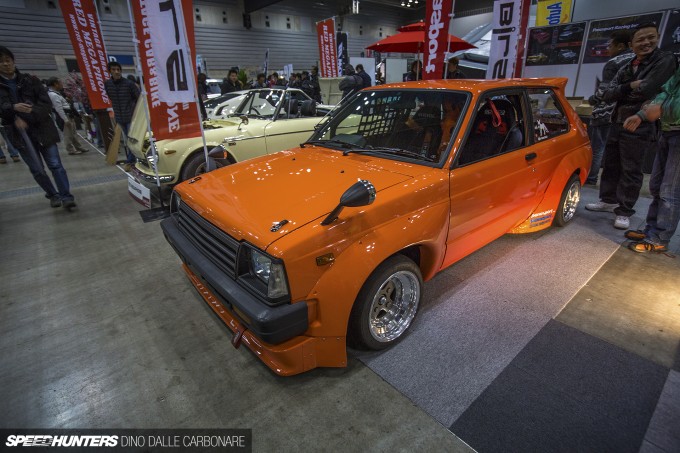 Not too far away from the little Datsun was this Toyota Starlet built by Uchida Techno Service, looking positively ready for action. We all know any Japanese vintage car looks so much better sporting a set of overfenders, but for some reason when fitted to a hatchback they seem to look even more aggressive.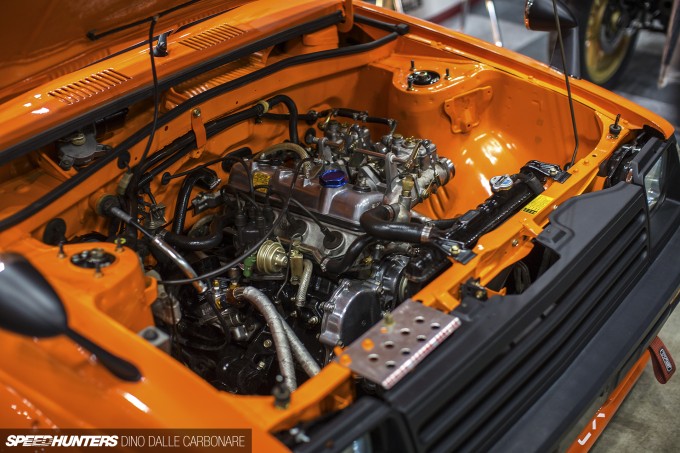 No engine swaps here, just a good old fashioned refreshed factory motor with a few select upgrades.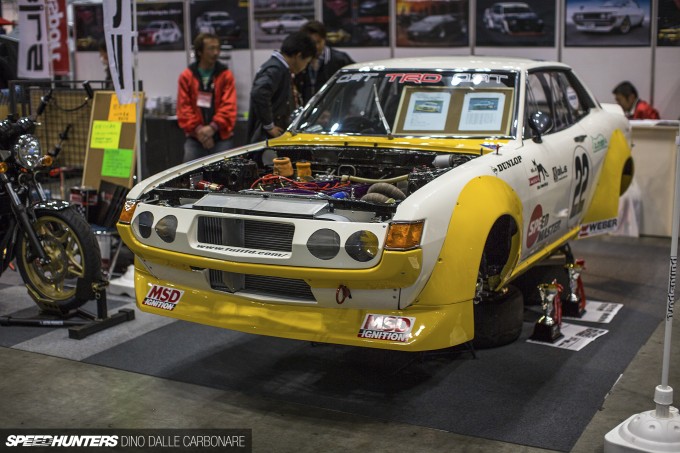 I couldn't possibly ignore the other Toyota that Uchida Techno Service has built – a race-inspired version of the TA22 Celica.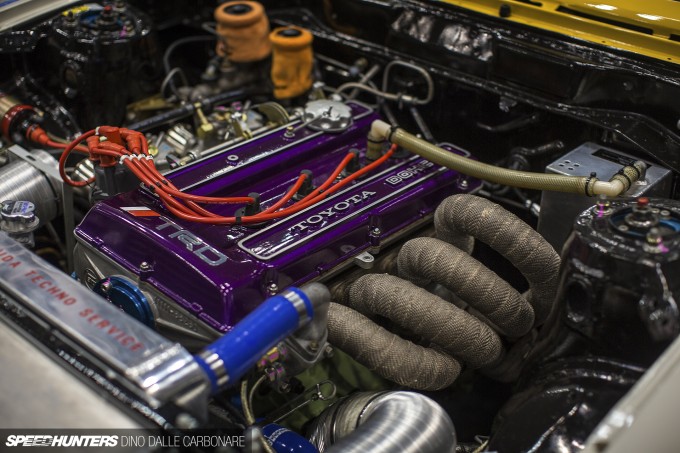 And the 2TG that powers it was tuned up with plenty of verve to say the least.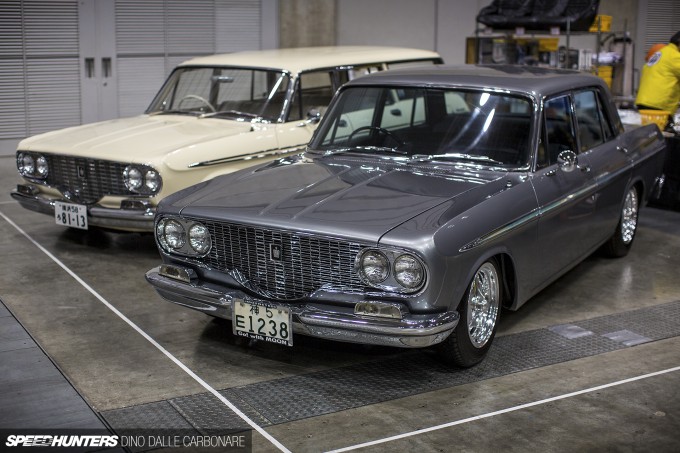 I'll leave you with one last image, that of this pair of Toyota Crowns – a wagon and a sedan that the guys from Mooneyes had brought over. I think these classics are a nice note to end on, and hopefully along with the rest of the post will keep you content while I prep some Spotlights from the show. Trust me, this is only a sample of what's to come!
Dino Dalle Carbonare
Instagram: speedhunters_dino
dino@speedhunters.com