Grassroots Love
Last month, when I wrote about my experiences at the NHRDA all-diesel drag event at Famoso Raceway, I talked about how rewarding it can be to step outside your comfort zone and experience a new side of car culture. Well, over this past weekend I again found myself venturing into uncharted Speedhunting territory when I headed to Madera Speedway in Central Valley for some good old fashioned Saturday night short track racing. Before I go any further, let me say that I absolutely loved it. I may even be hooked.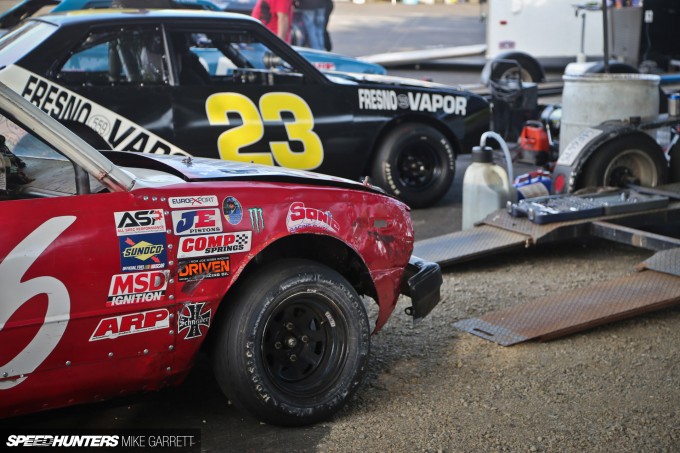 While all-diesel drag events are a relatively new phenomenon, Saturday night short track racing most certainly is not. It's been happening across the USA since forever, and it can be considered a crucial part of American motorsports culture.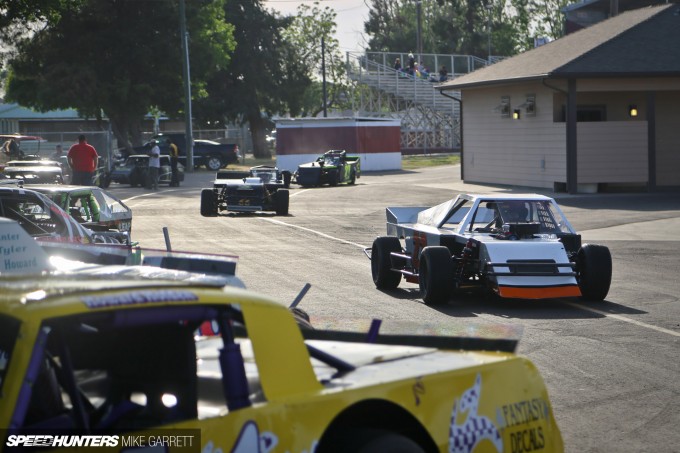 Within moments of arriving at Madera Speedway on Saturday evening, I wondered to myself why I hadn't done so sooner. This was going to be a fun and fascinating bit of Speedhunting.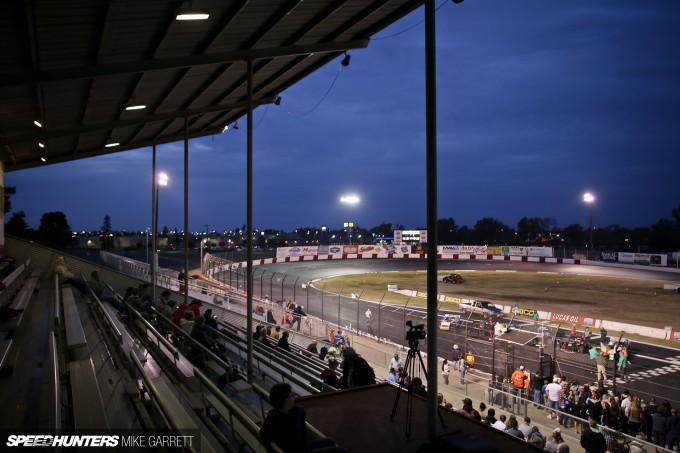 Madera Speedway originally opened in 1972, and since then its 1/3 mile paved racing surface has been the site of some of the West Coast's best grassroots circle track racing. In fact, much of its action is unique to the Central California region.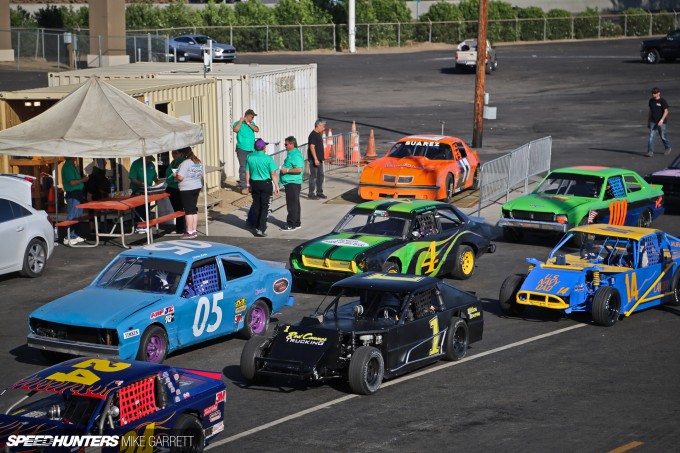 On most Saturday nights between March and November, you'll hear the sound of race cars at Madera. The event that I attended last weekend was one of the track's regular meetings with several different race classes set to battle on the pleasant spring evening.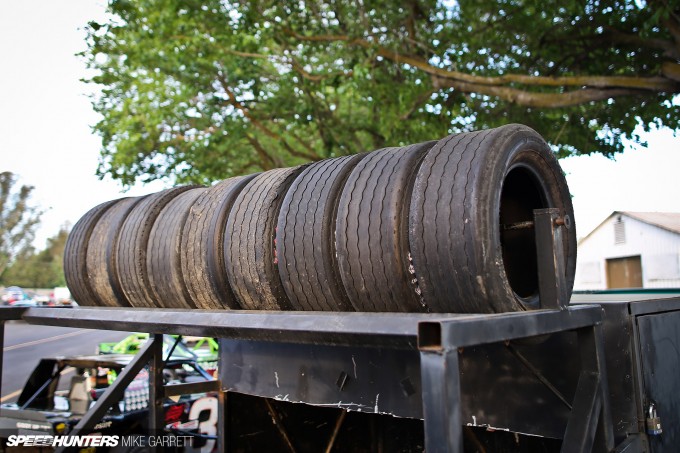 After receiving my wrist band and heading into the pits, it became obvious that racing at Madera is a very grassroots affair. There were no massive transporters or luxury RVs to be found, only pickup trucks and simple trailers.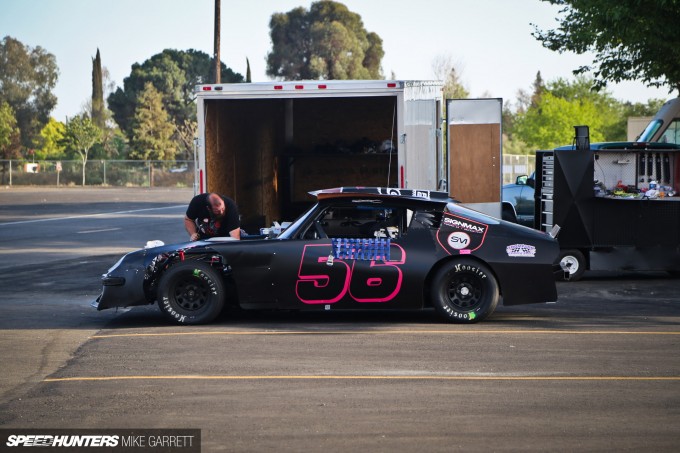 In this level of non-professional racing, driver and mechanic are often one in the same, with the crew usually made up of friends and family members. In fact, the whole event from the pit stalls to the grandstands had a very family-like atmosphere to it.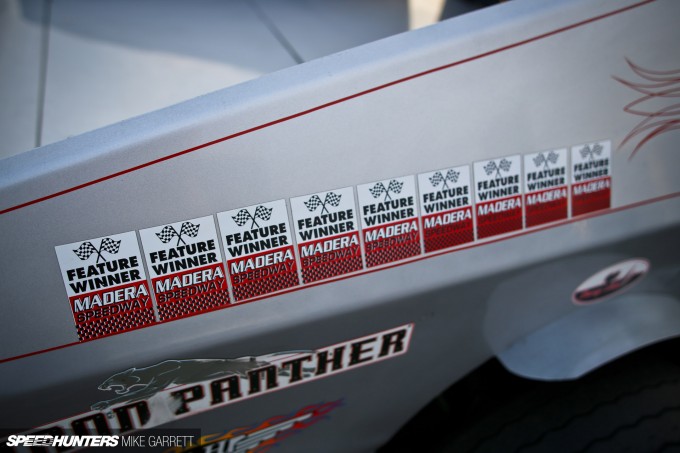 While the Madera Speedway regulars were most interested in who was going to win the evening's race events, being a newcomer I was particularly interested in checking out the race machines themselves.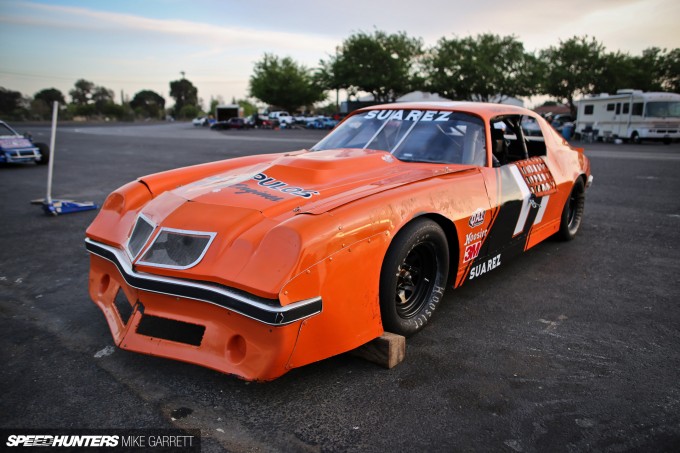 On this particular night there were five different race classes competing in their own separate events. Representing the traditional word of stock car racing, there was the Madera Late Model class along with one of my favorites, The Madera Hobby Stocks.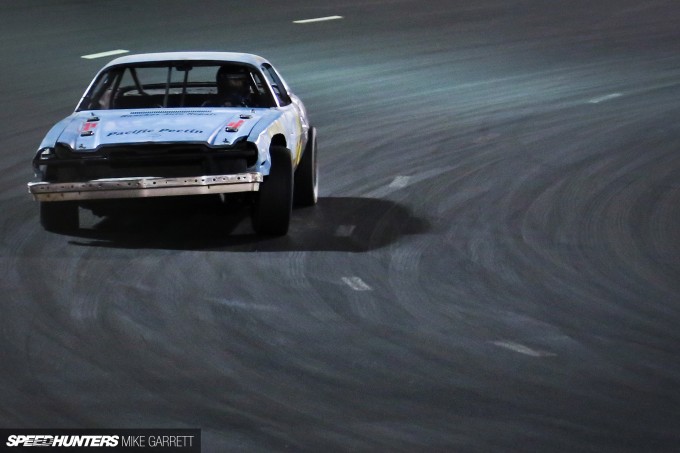 These are low-budget machines often built out of classic platforms, and they run a lot more factory parts than you might expect. Simple and affordable, it's cars like these that hark back to the days when the 'stock' in stock car racing actually meant something.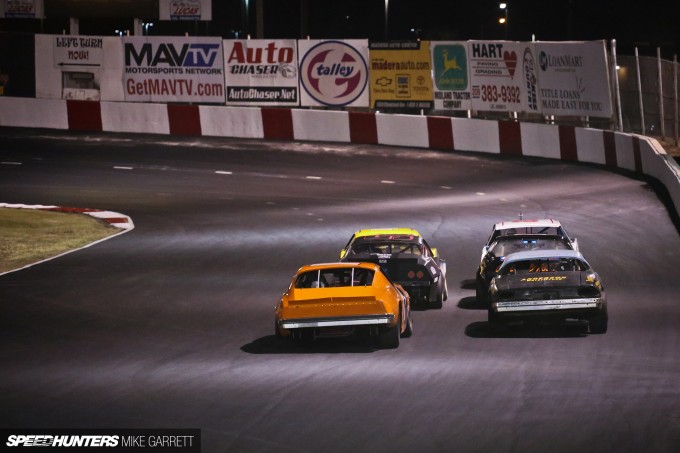 While there wasn't a large field of Hobby Stock drivers in attendance, the racing was tight with drivers battling side by side for the entirety of the 30-lap main event.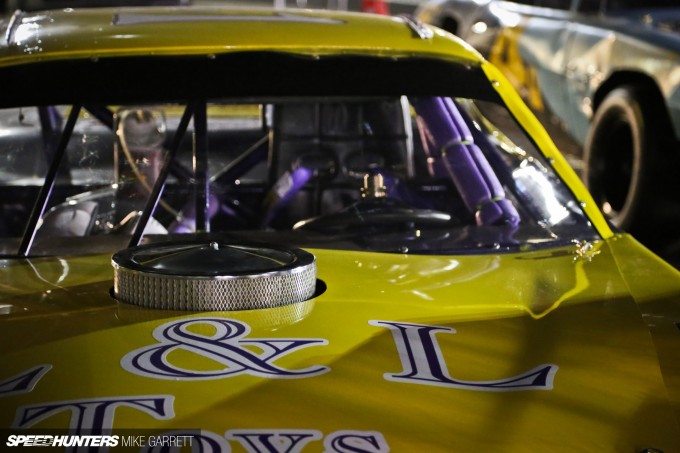 One of things I love about stock car racing is how competitive it is. Despite the fact these are weekend warriors in budget race cars rather than professionals, the battles were every bit as exciting as those you'll find in the best Sprint Cup events.
Four Cylinders Rule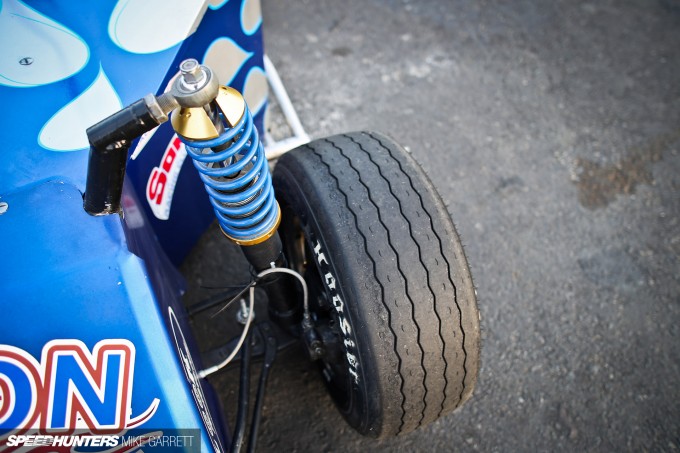 Given this is a grassroots circle track event in the USA, you might expect to hear nothing but the sound of pumped-up V8s. But the truth is, only two of the five race groups featured cars with V8 engines – the aforementioned Late Models and the Hobby Stocks.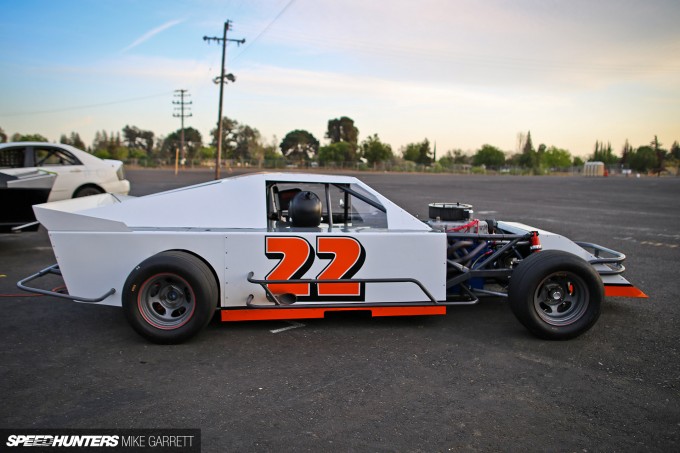 The other groups? Well, they were all made up of race cars powered by four cylinder engines. These four-banger machines have been part of the West Coast short track scene for decades.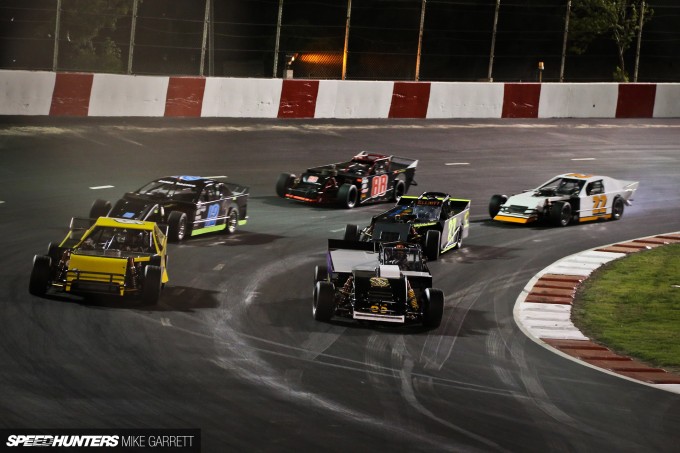 Making an appearance at last weekend's event was the Northern California Pro-4 Modified series, which opened its 2015 championship with a battle on the Madera 1/3 mile.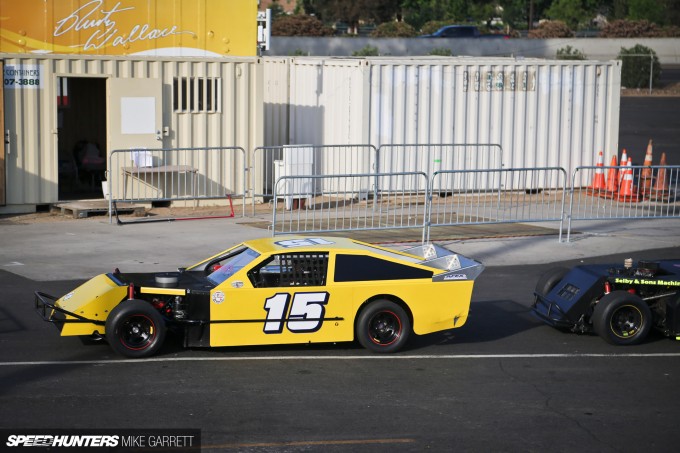 The cars in this traveling series feature custom-fabricated chassis with varying types of body work, and all are powered with single overhead cam four cylinder engines with single carburetors.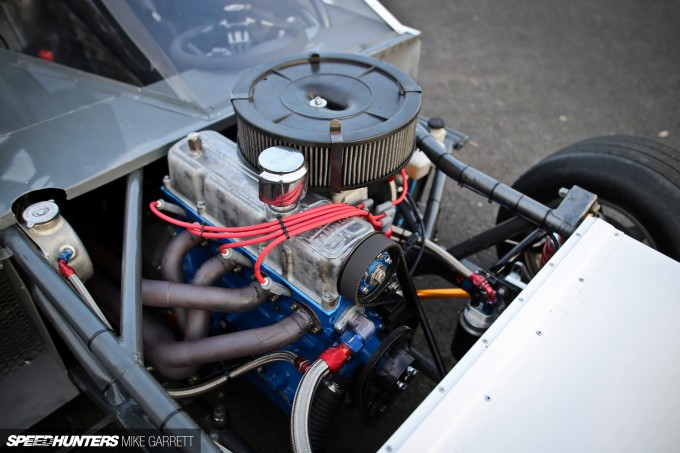 While the series rules don't specify a certain engine brand, most of the cars I took a closer look at seemed to be running Ford Pinto engines. No matter what type of engine a team chooses though, it must be backed to a factory transmission.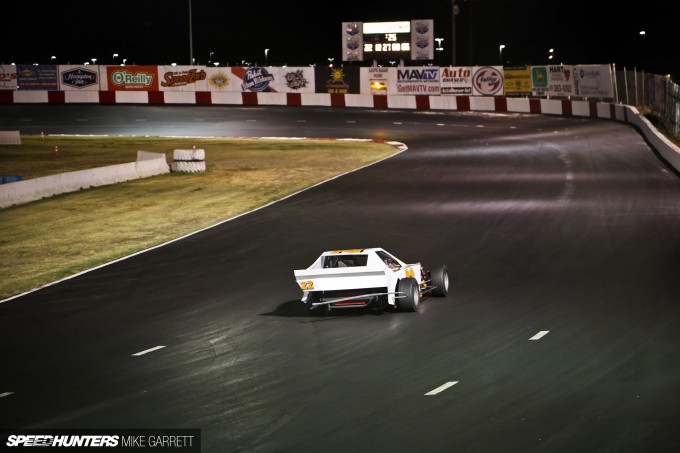 Not only were the Pro-4s a lot faster than their humble little engines would suggest, the 35-lap main event was one of the night's most exciting races. It was eventually won by a driver named Chris Straka who battled through the field despite having a car that was banged up in the opening laps.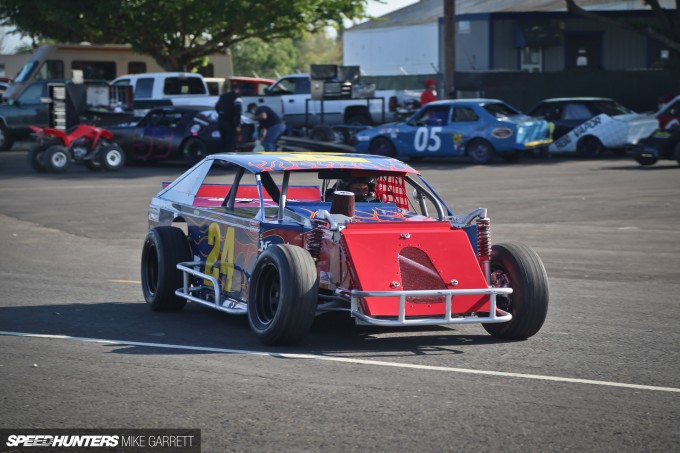 Also joining in the Pro-4s was a local series called the Modified Super Toyotas – one of two local Madera Speedway race classes based on production Toyota models.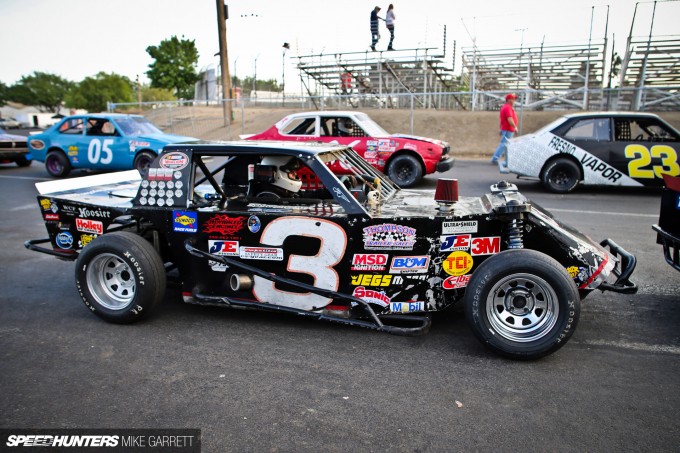 Despite the unrecognizable look, what you are looking at is actually an E30 chassis Toyota Corolla from the mid '70s – albeit one that's been stripped of its original body work.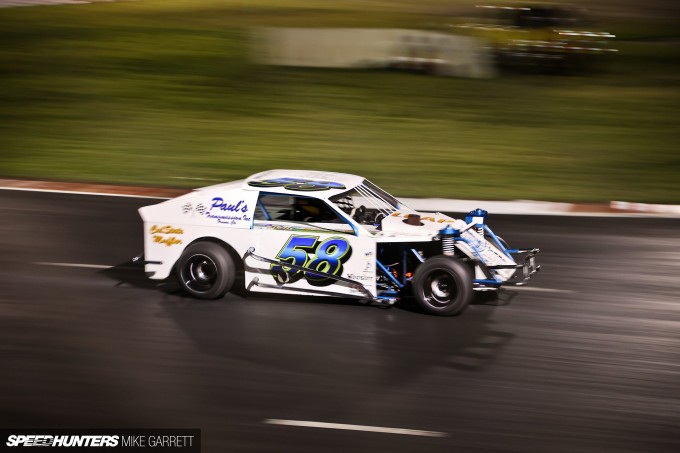 While they don't look much like Corollas, the MSTs actually are pretty stock underneath, with lightly modified suspension, stock-based engines, factory rear ends and the original brakes. You can think of them as smaller, lighter and cheaper versions of the Modifieds that populate short track events across America.
A Disappearing Art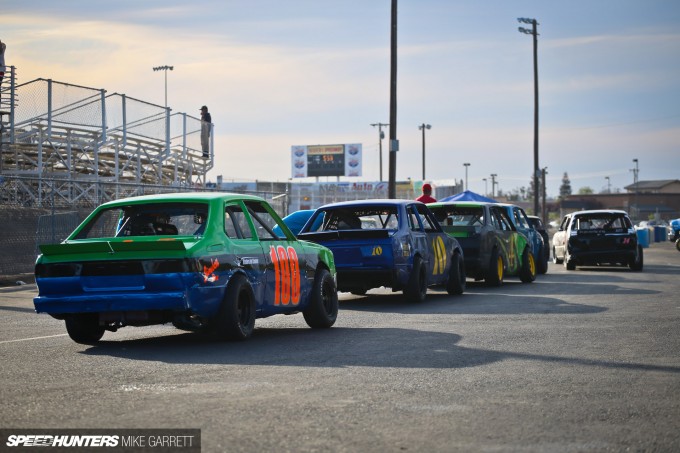 Even with all that, I haven't got to my favorite part of the Madera Speedway experience yet – the Toyota Sedans. This is essentially a spec stock car series that uses lightly modified E30 Corollas exclusively, and it's one of the most fun forms of grassroots circle track racing out there.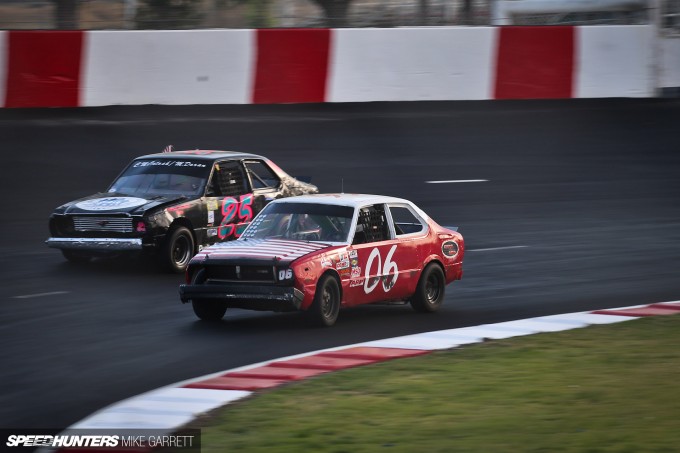 In fact, I find this local Central California tradition of Toyota Sedan racing so interesting that I'll be dedicating a separate post to it, so look for that very soon.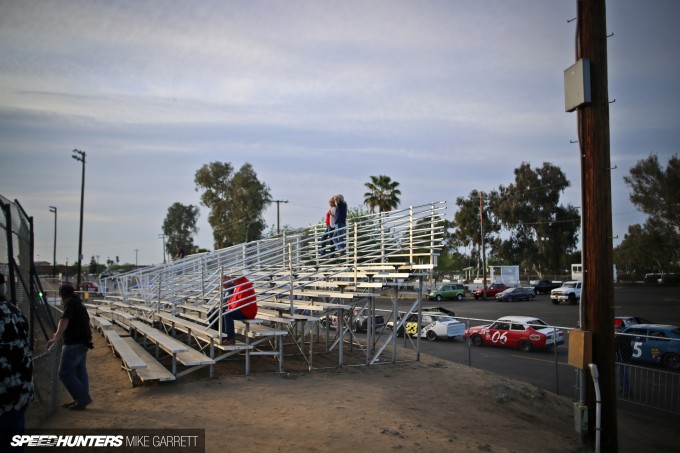 You can say what you'd like about circle track racing, but the truth is, this some of the most exciting motorsport action you'll find anywhere.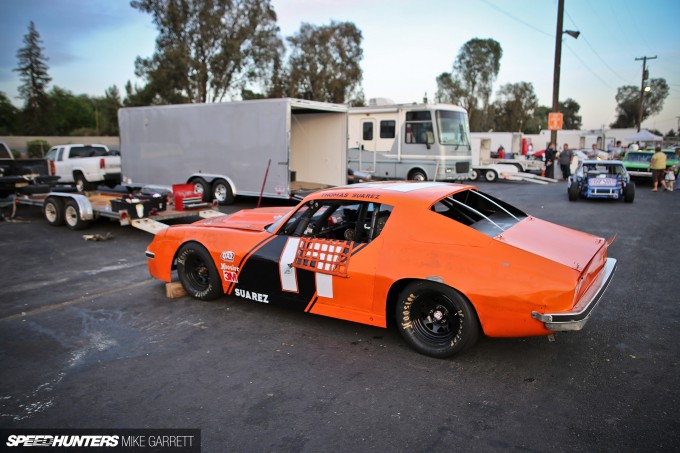 Not only is it fun from a spectator's point of view, I can only imagine the kind of rush that the drivers get out of this.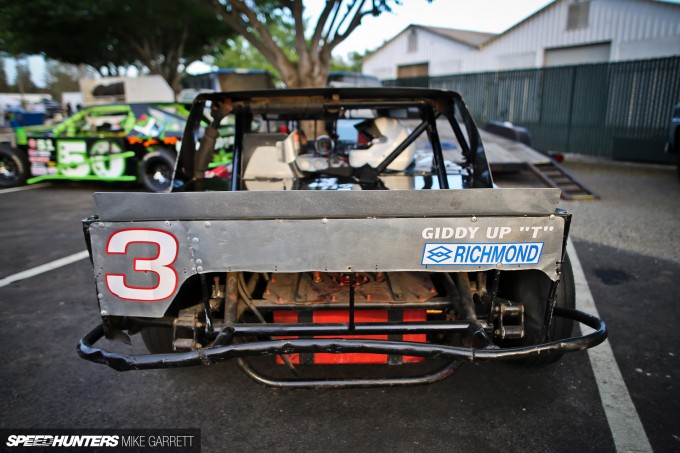 I've had the chance to experience a lot of grassroots racing events, including time attack, autocross, drag racing and even drifting. But from a driver's perspective, if you want to enjoy competitive motorsport on a budget this just might be the way to go.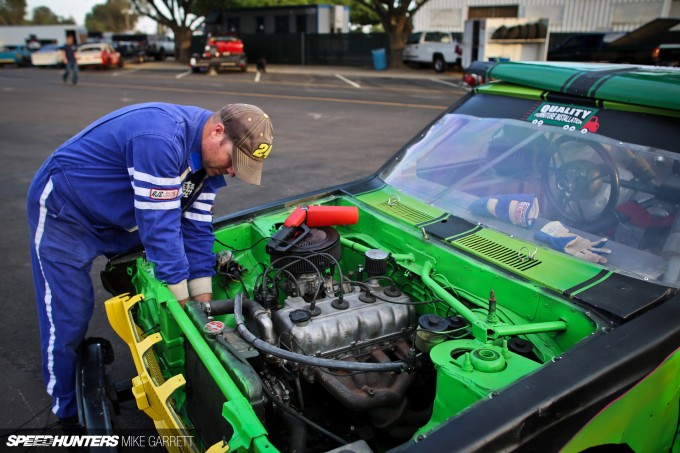 Not only do you get a ton of track time for your investment, the wheel-to-wheel competition makes for an adrenaline rush you might not be able to get in other forms of motorsport. Hell, you don't even have to wake up early to participate!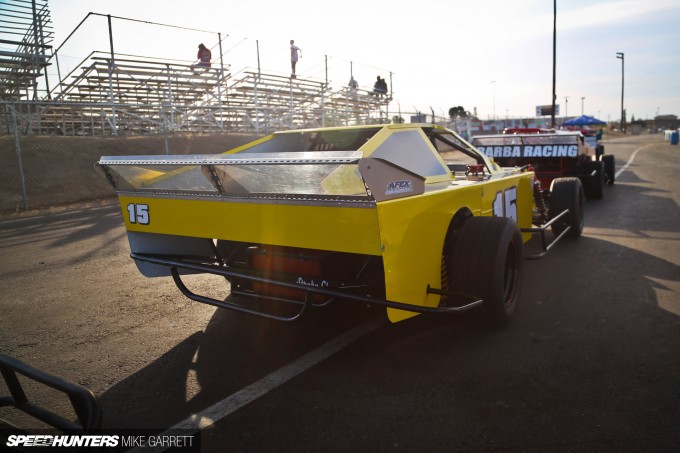 As I stood trackside on Saturday night watching the three-wide action, the beating and banging, the passing and the rush of the checkered flag – all I could think was 'damn, that looks incredibly fun.' I was hooked enough to start looking at used race cars for sale online.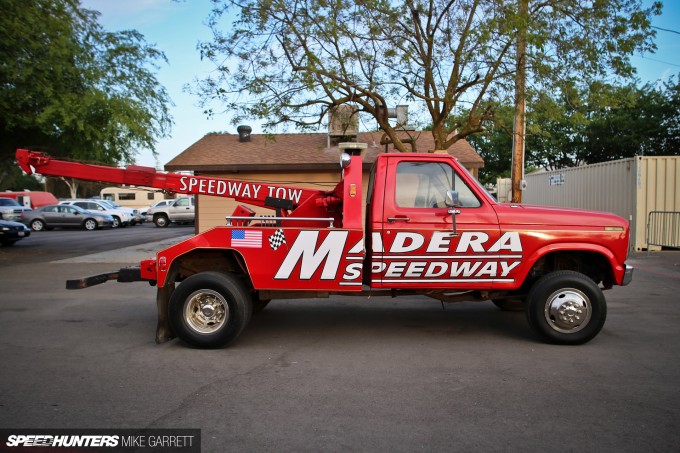 Unfortunately though, the local short track is something that might not be around forever. Lately tracks like this across the country are facing unrelenting pressure from real estate developers, environmentalists and good old economics. Even the big venues aren't safe, with the recent news that LA's iconic Irwindale Speedway will soon be torn down and replaced with a shopping mall.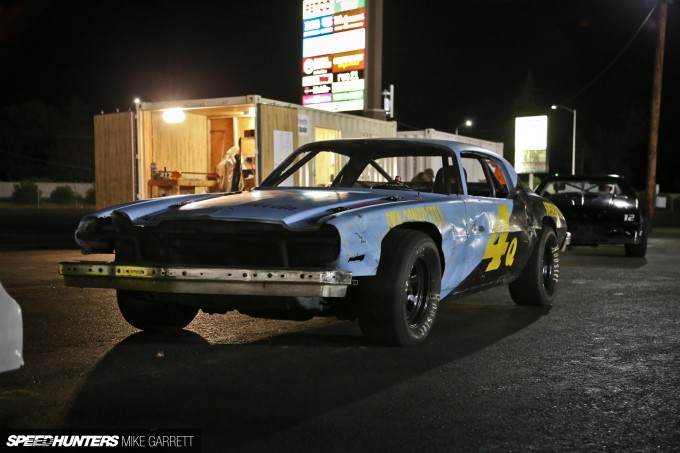 Thankfully though, here in Central California the tradition of Saturday night short track racing is as healthy as ever, and I'm grateful this quintessential part of American motorsports culture can still be regularly experienced.
If you are fortunate enough to live in a place where a track like this exists, do yourself a favor and get out there while you still can. You might just fall in love.
Mike Garrett
Instagram: speedhunters_mike
mike@speedhunters.com
Cutting Room Floor