Opinions Divided
There's always something exciting about the coming of April and the start of a new Formula Drift season with the traditional Streets of Long Beach opener.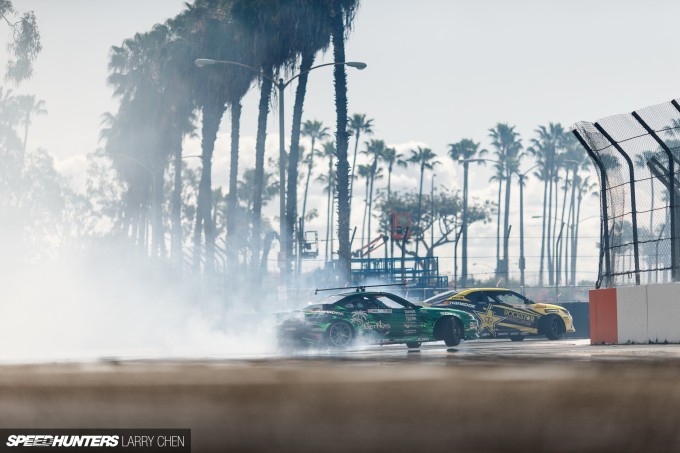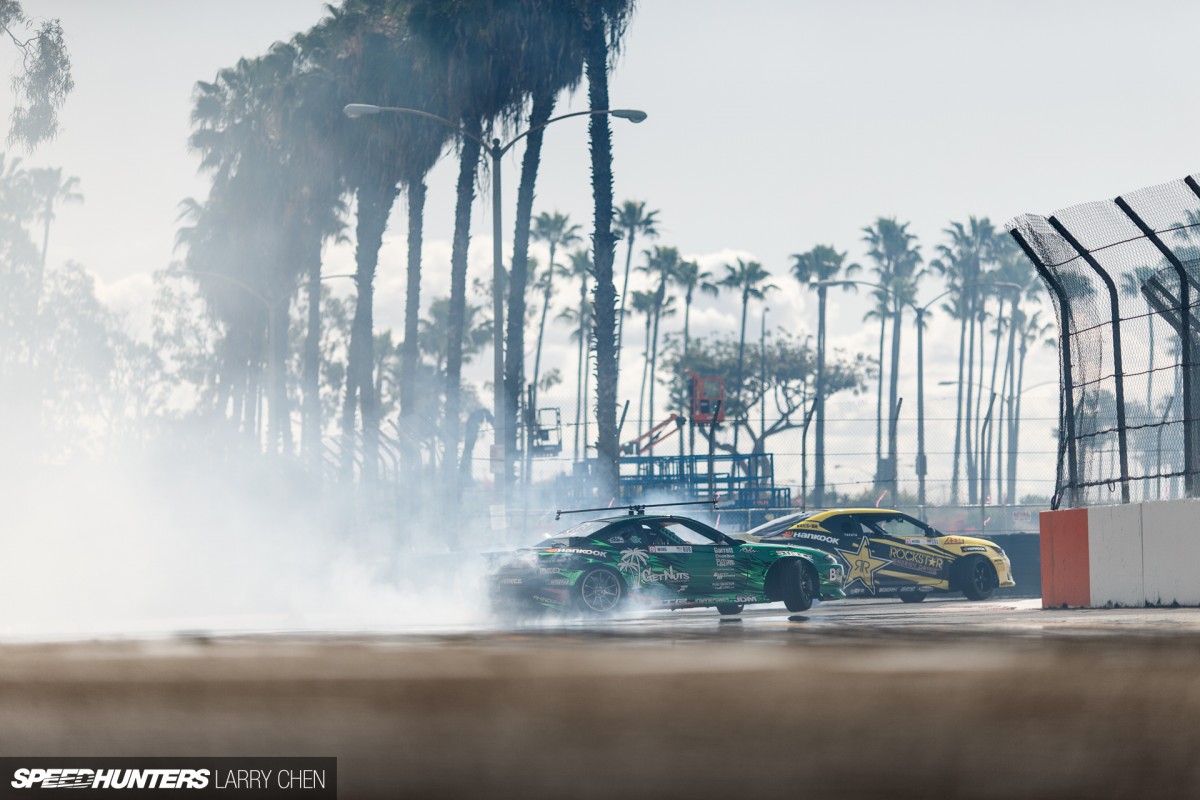 For many, the thing that makes the first Formula Drift event so interesting is the debut of all the new vehicles. You can say what you like about the state of pro drifting, but there are few motorsports that bring such a diverse group of machines to the grid each year.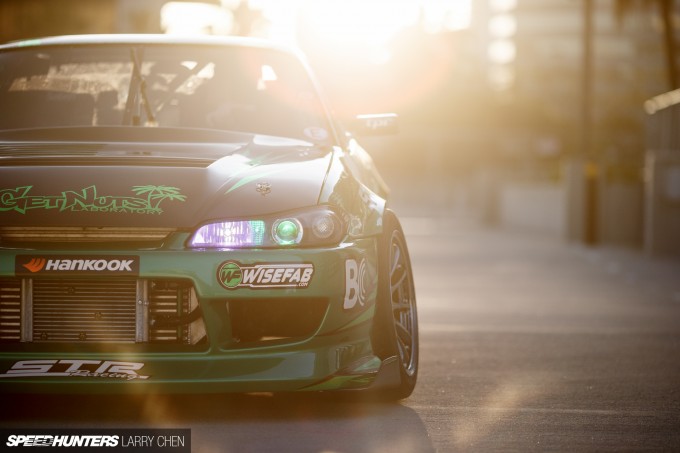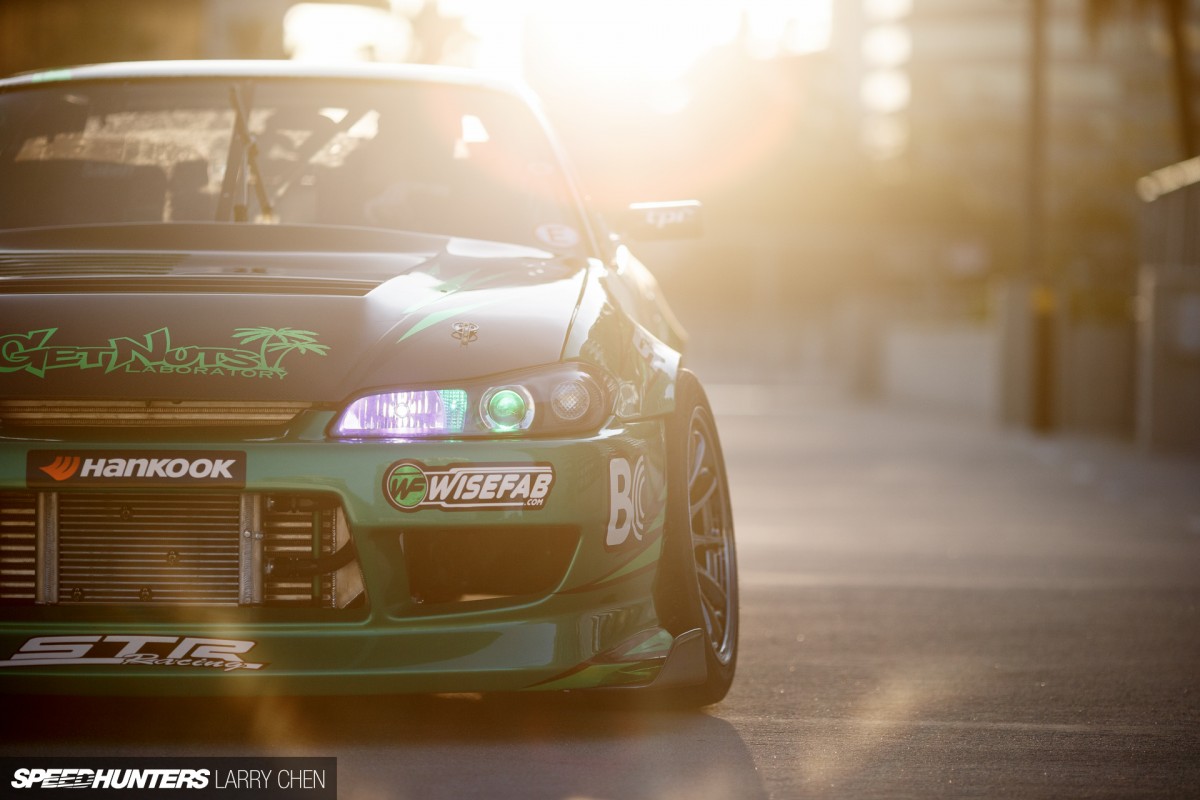 And every time one of these new drift cars makes its debut, vocal fans of the sport will cast their opinions about its looks, its technical specifications and its overall philosophy. It's something we saw first-hand earlier this week when Tanner Foust unveiled the new Volkswagen Passat drift car he'll drive at select events this season. Being a front-wheel drive sedan converted to rear-wheel drive and packing a high-powered V8 engine, Tanner's VW is as far from your traditional drift machine as it gets, and the strong reaction to our story on the car reflected this.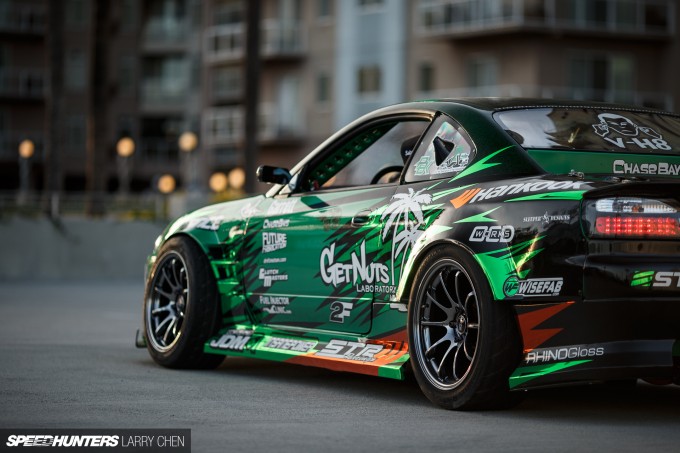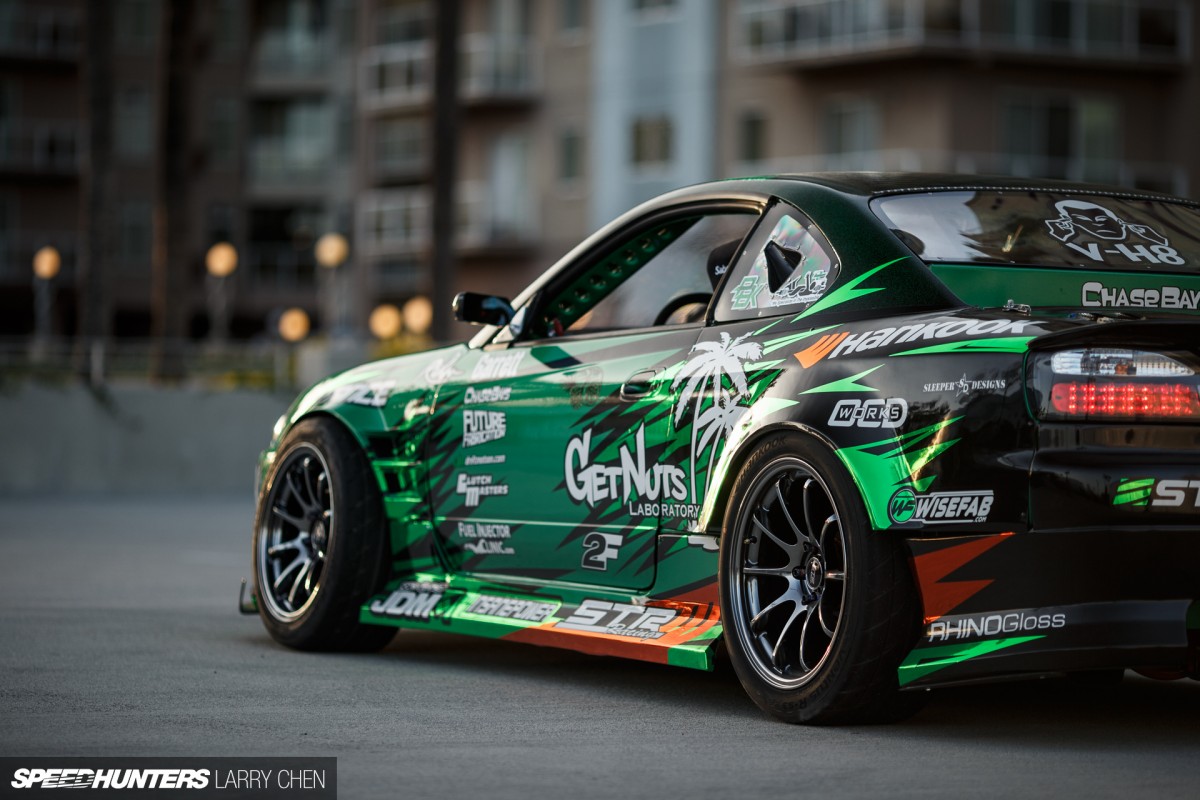 To me it's all part of the craziness that is modern professional drifting. Some people love the idea of Tanner dropping smoke clouds in a VW family sedan while others thing it's absolutely sacrilegious to the roots of the sport. I really don't think there's another motorsport that brings such polarized opinions about its cars. And as someone whose been watching pro drifting evolve over the last decade, I can understand both sides of the debate that seems to pop-up with the coming of every new FD season.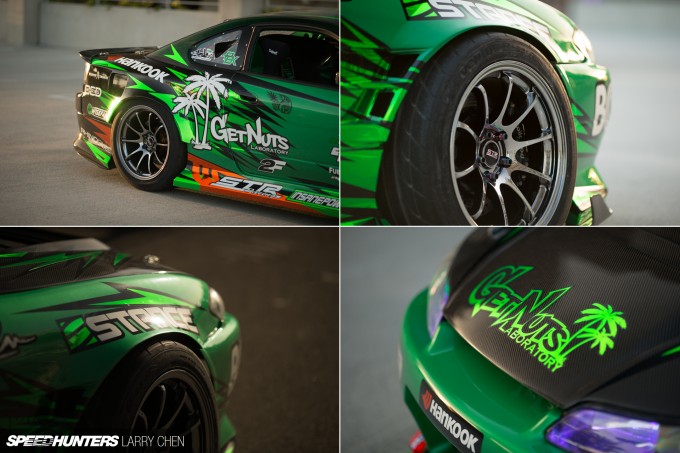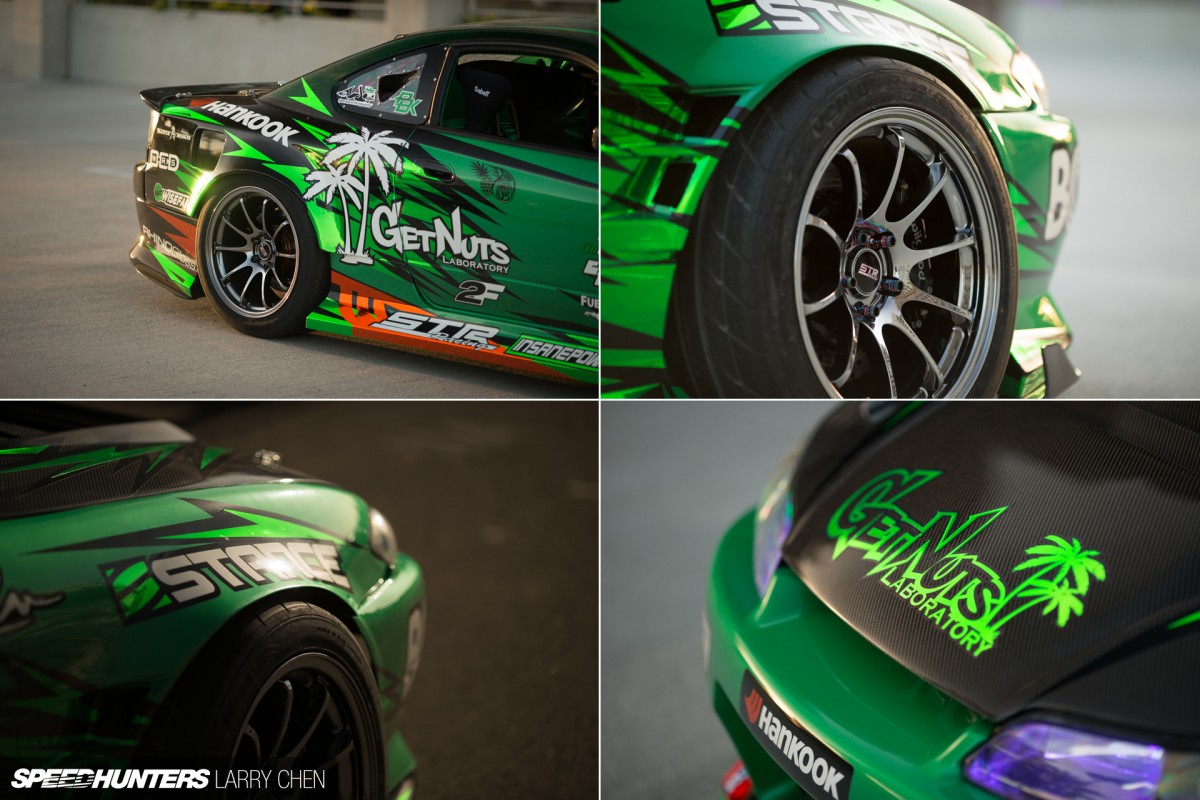 On one hand, drifting is, by its nature, a nontraditional motorsport, so it's fitting for competitors to keep pushing the limits with cars that slide longer and drift faster than before. As drivers and builders to continue to crank out crazier machines, it's only expected that these cars will end up quite far removed from the simple vehicles drifting's foundations were built on.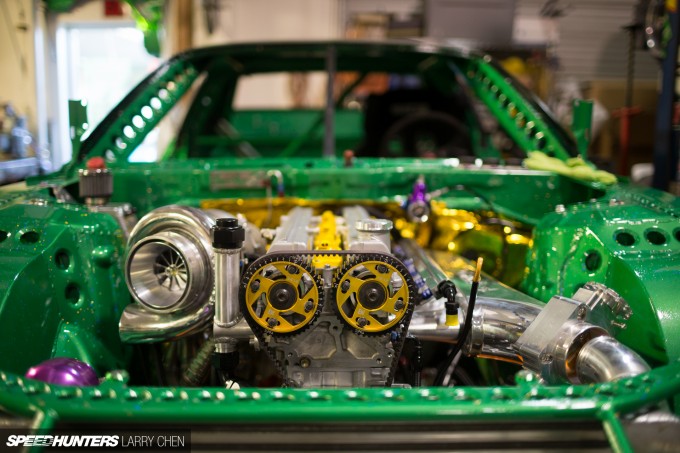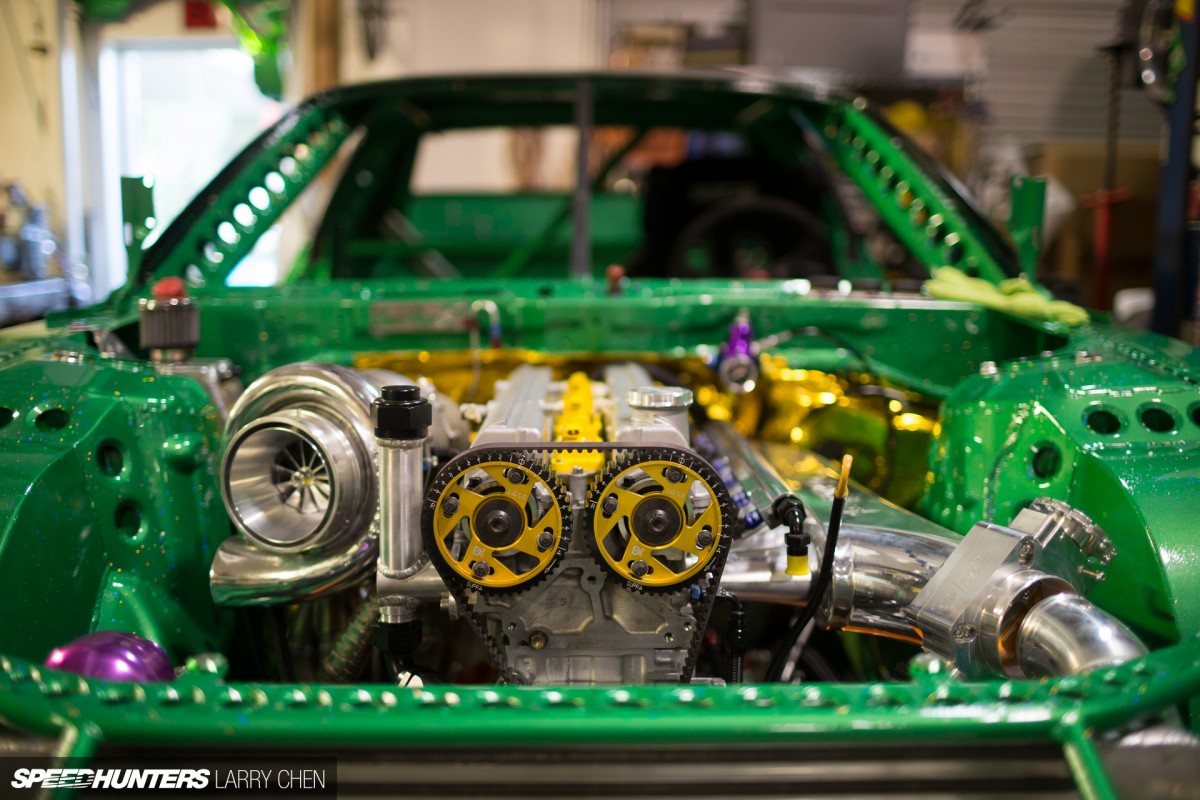 On the other hand, if you grew up with an image of drifting as a sport dominated by underpowered naturally aspirated AE86s and Nissan Silvias making turbo noises, then I can certainly see how you might lament the way the professional drifting continues to move further and further away from its roots.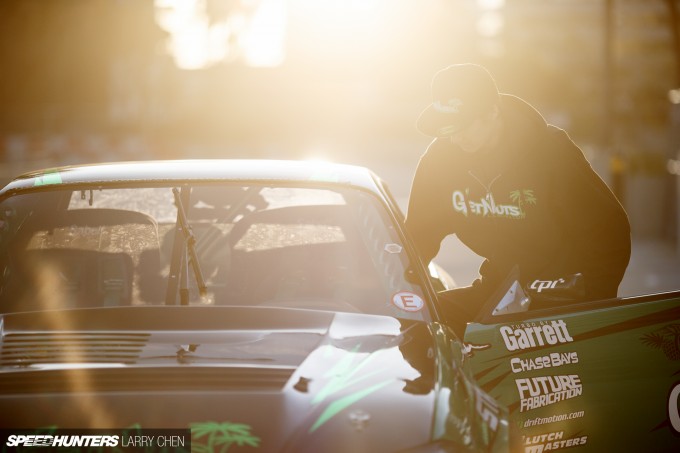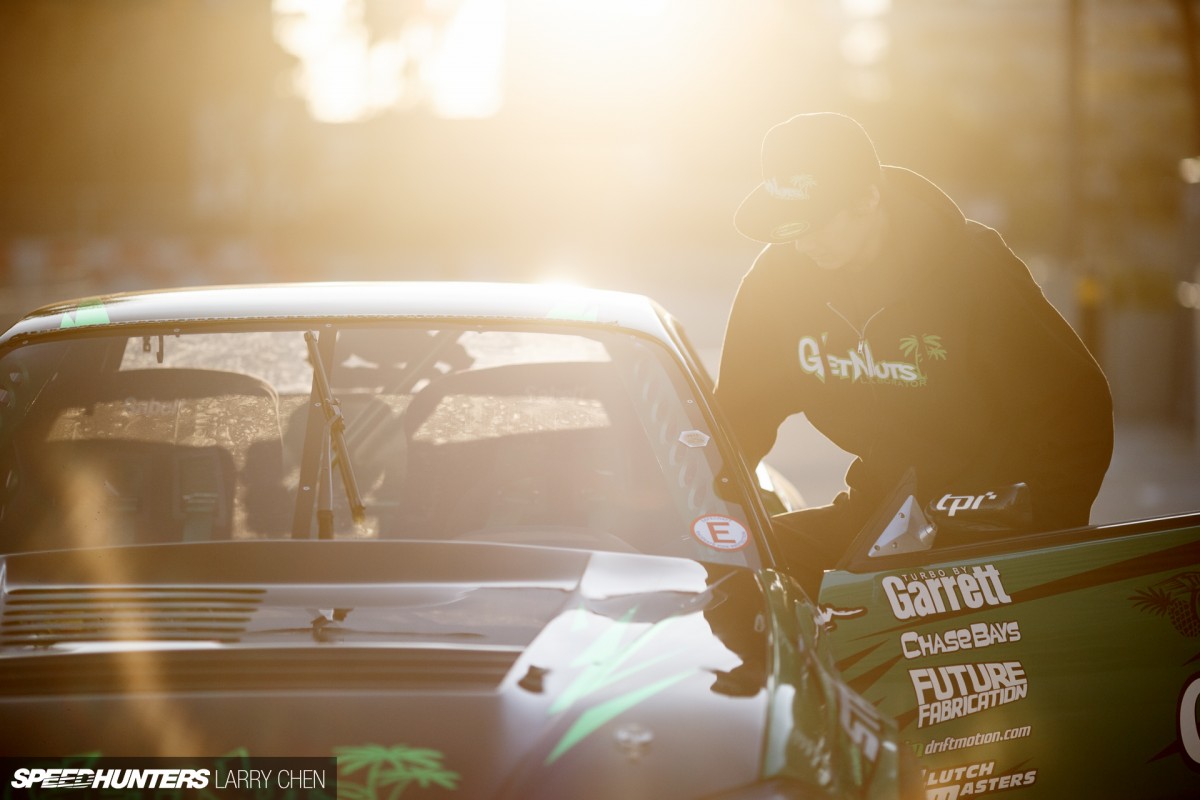 Fortunately for those people, there still exists a small group of cars that fall in line with what many purists would consider true to the origins of drifting, and one of them debuted in Long Beach this week. That machine just happens to be piloted by fan favorite Forrest Wang, who some might consider an underdog when it comes to the current crop of Formula D personalities.
Tradition Rules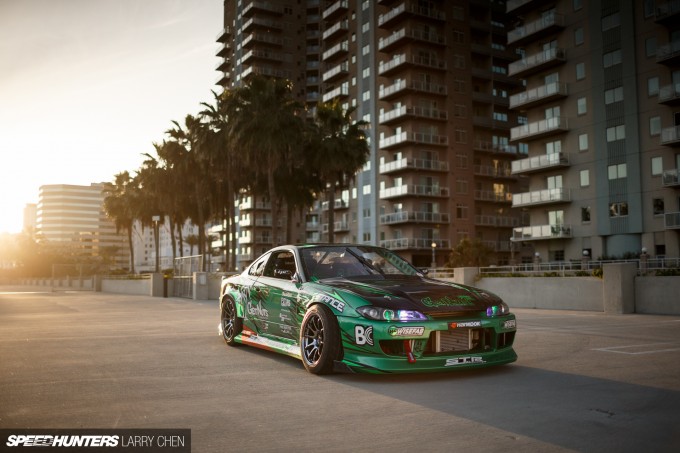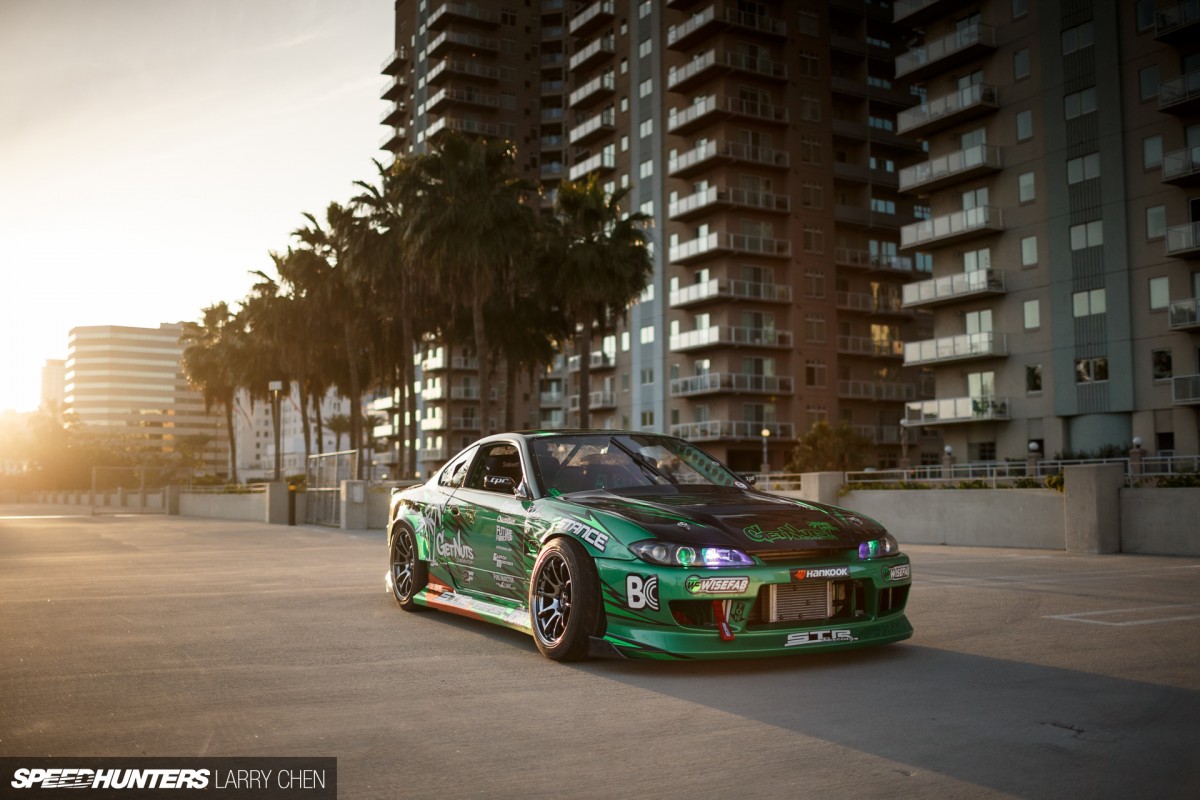 Underdog or not, Forrest can always be counted on to bring something fresh to the Formula Drift grid, and these days 'fresh' actually means rolling out a car that stays true to the underground origins of the sport, while at the same time being able to compete with the high-powered monsters that now dominate FD.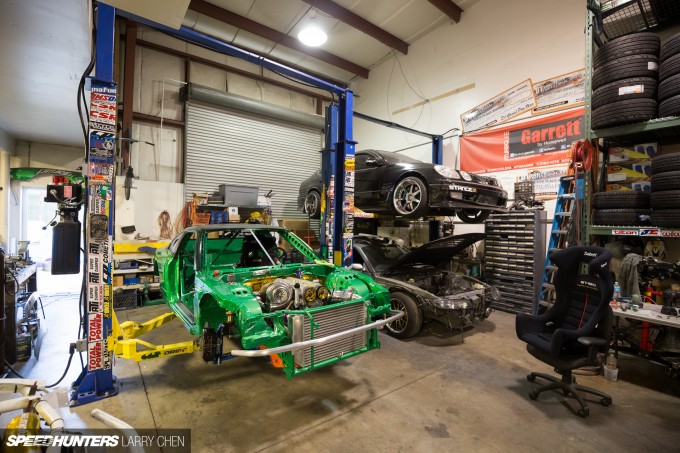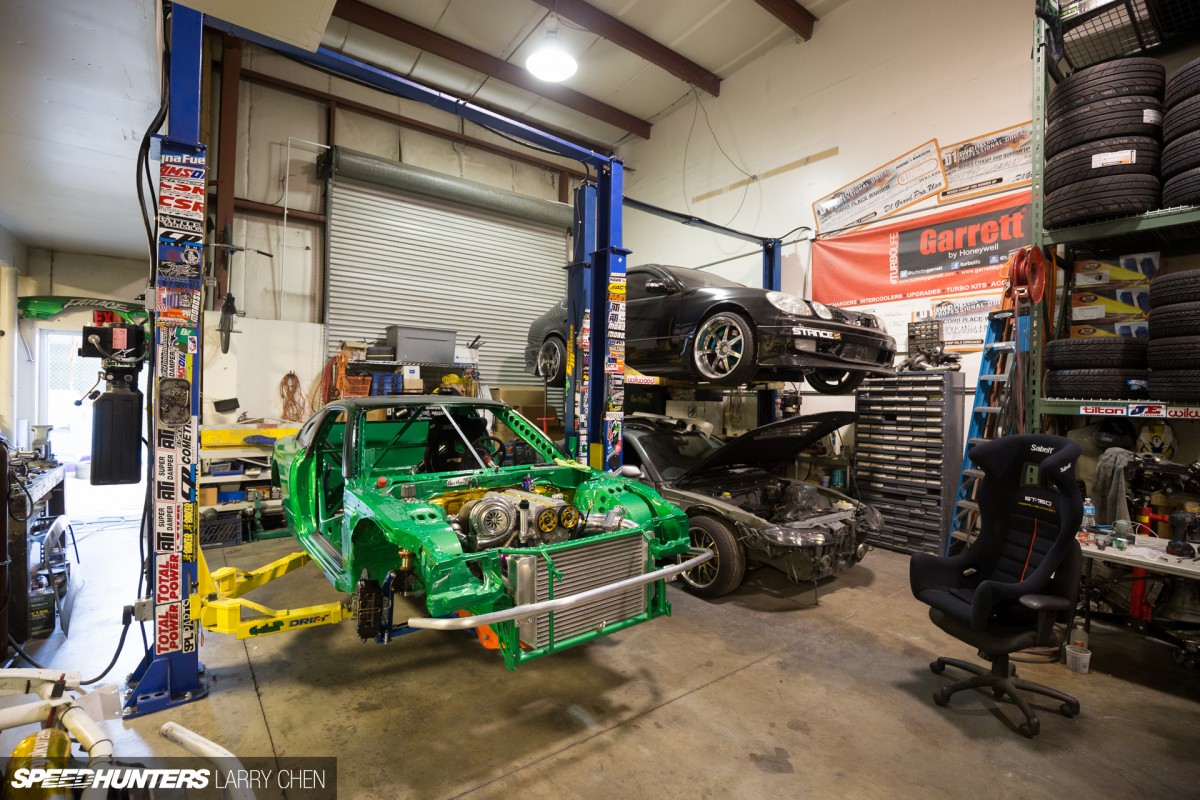 For nearly all of his drifting career, Forrest has been found behind the wheel of the venerable Nissan S-chassis, and you'll likely remember his 2JZ-powered S14 which we featured in 2013. His new car seems even more impressive than that one.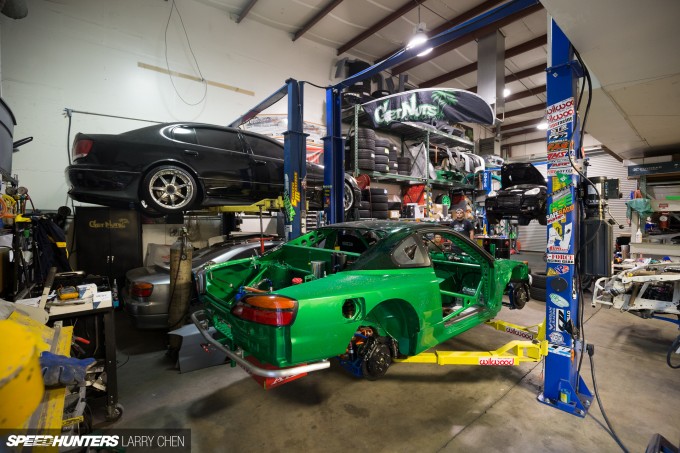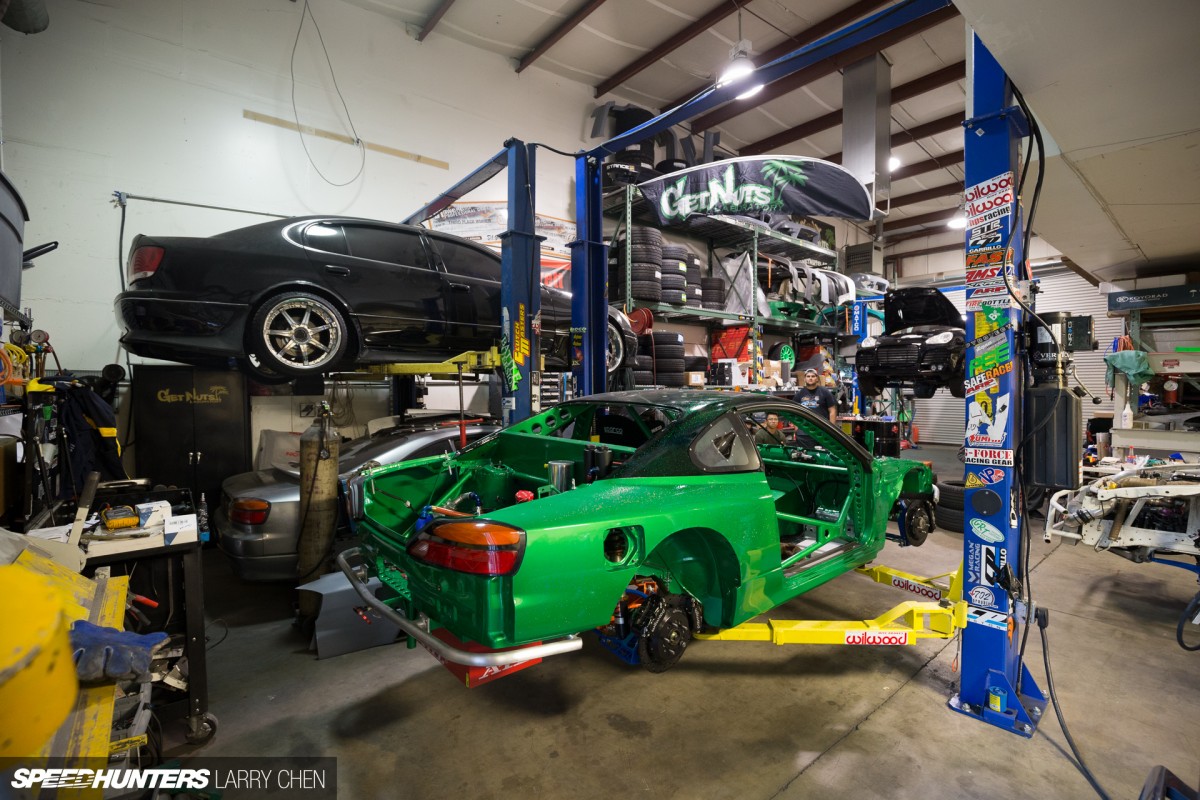 Forrest and the crew at his Get Nuts Laboratory workshop in Las Vegas have been working hard over the last six months to have the car ready for Long Beach, and now that the finished product has surfaced he's ready for another year touring the country and driving sideways.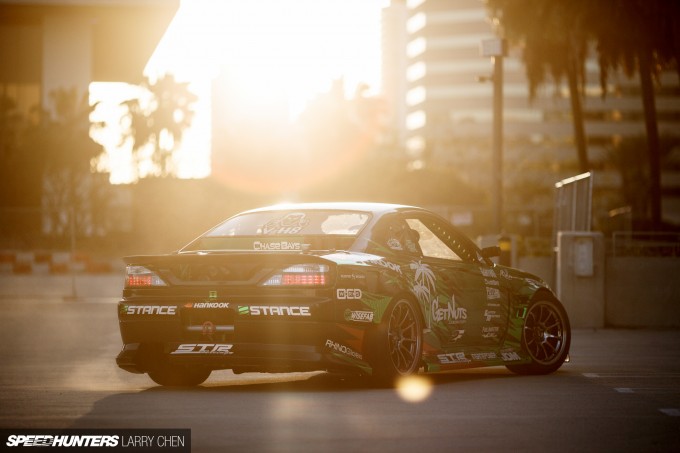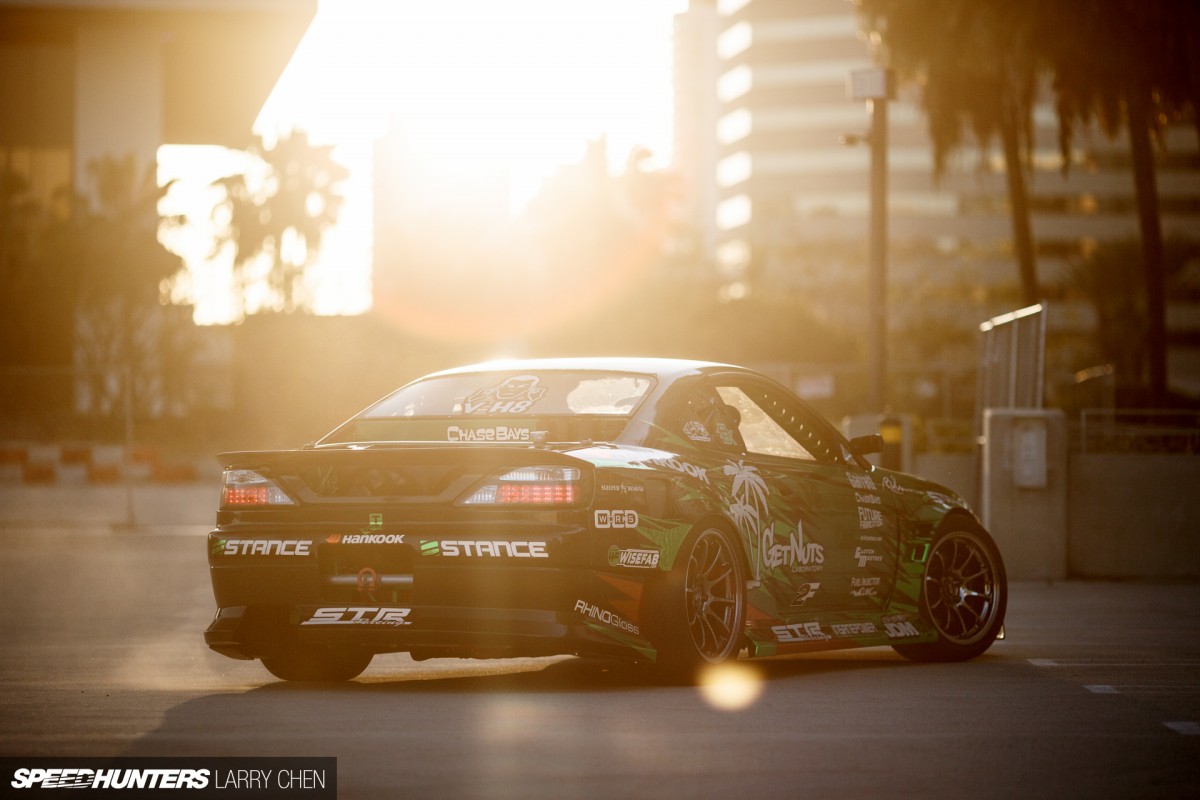 First off there's the fact that Forrest decided to base his latest car on the S15 Silvia – a model which will always carry exotic appeal on American shores because of its rarity. But really, the choice of platform is just the beginning…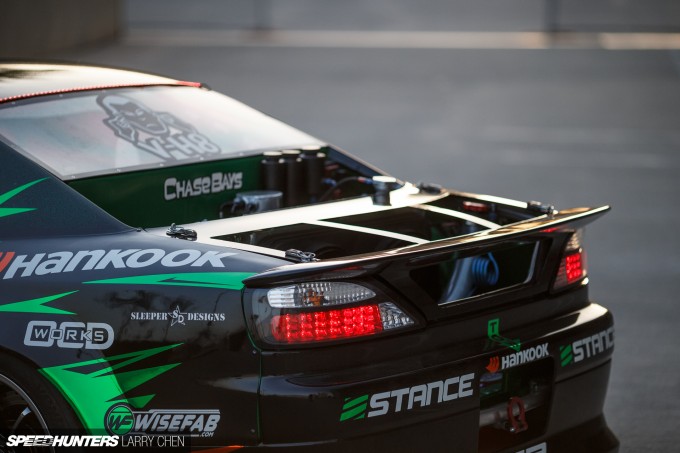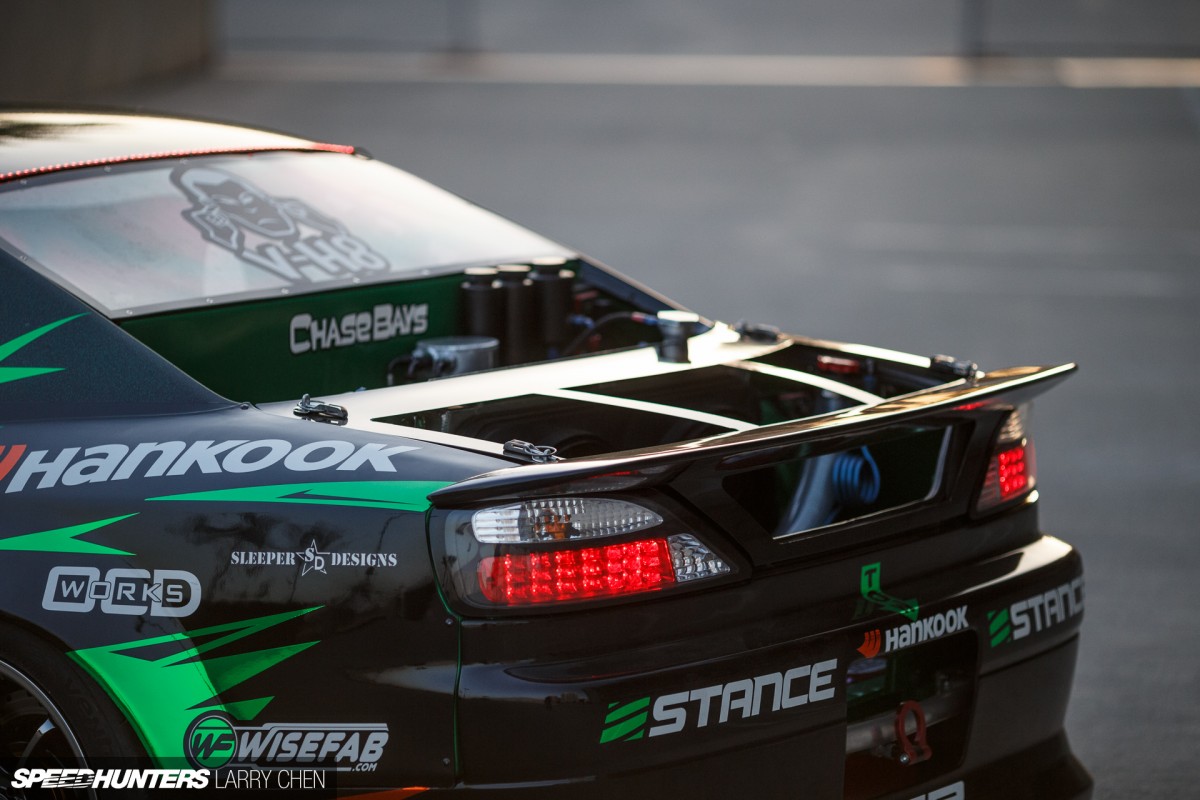 Forrest could be considered the S-chassis king of the American drift scene, and his new car is a testament to his years of experience building and drifting Silvias and their 240SX-badged counterparts. Beginning with his signature green and black livery, the 2015-season S15 has everything we've come to expect from a Forrest Wang build.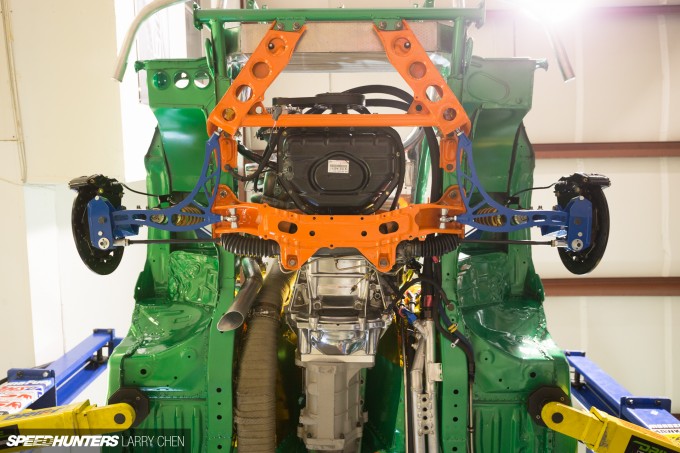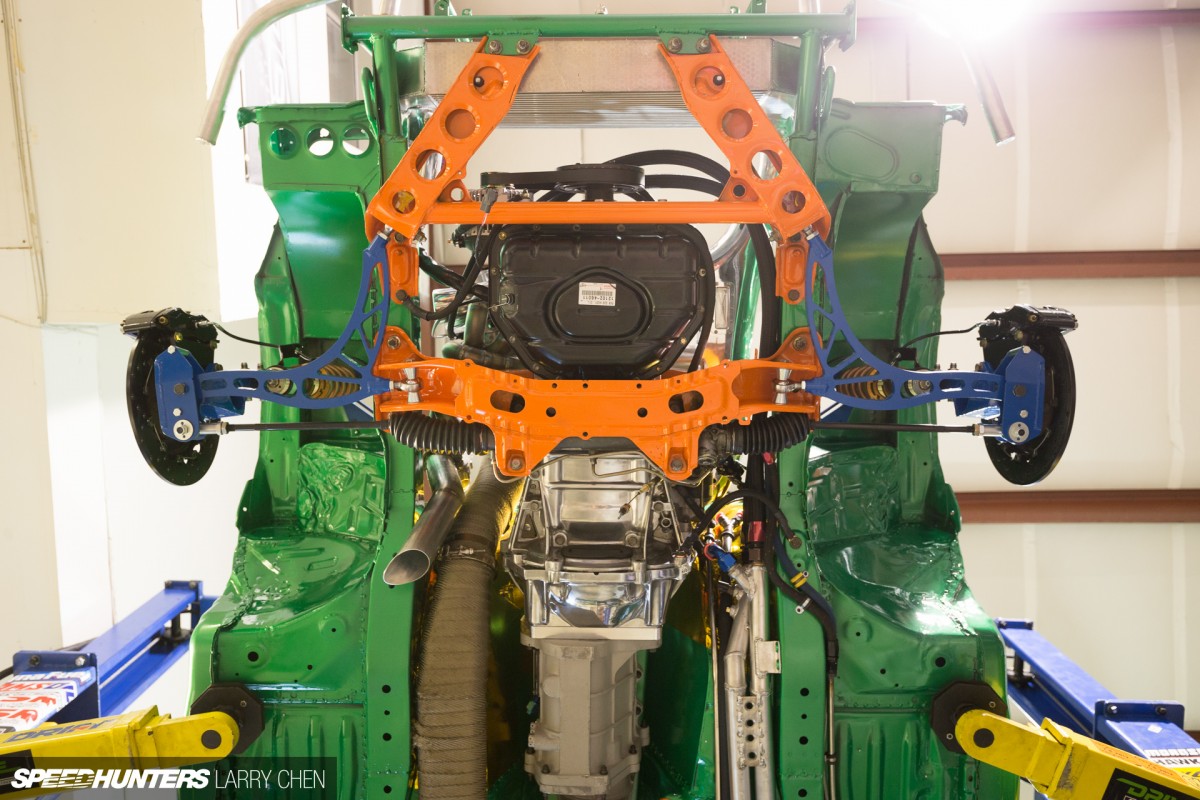 Long gone are the days when one could build a competitive pro drift car with basic upgrades, and over the off-season Forrest stripped the Silvia down to a bare chassis in preparation for its transformation to legit FD competitor.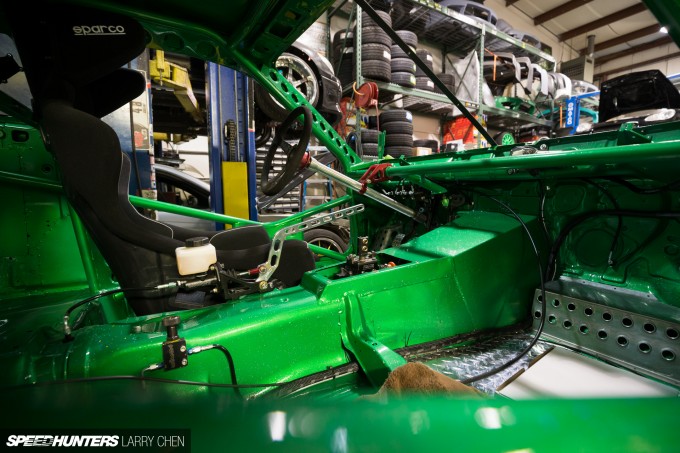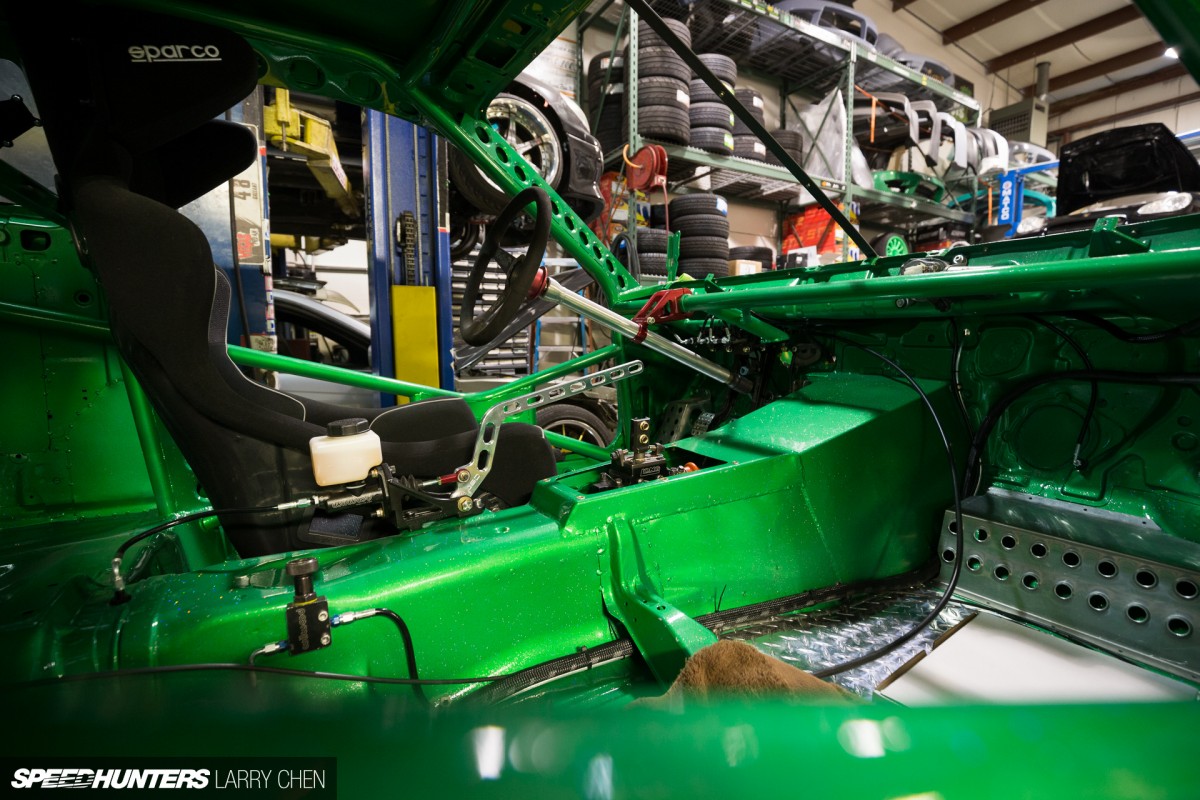 Needless to say, during the process of chassis fabrication inside the Get Nuts Laboratory, the S15 was fitted with all of the necessary safety equipment for Formula Drift competition.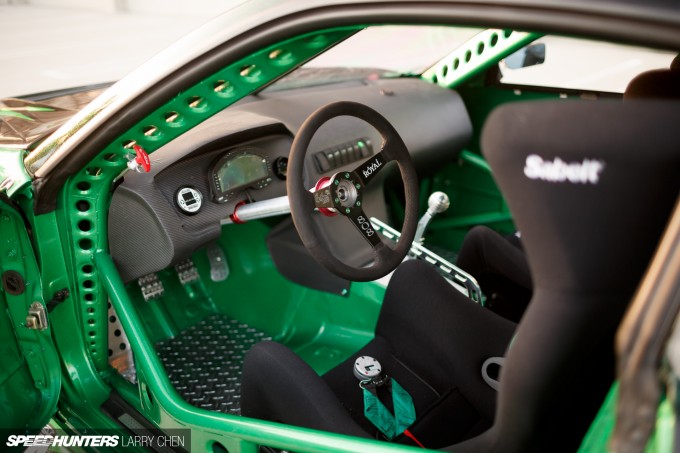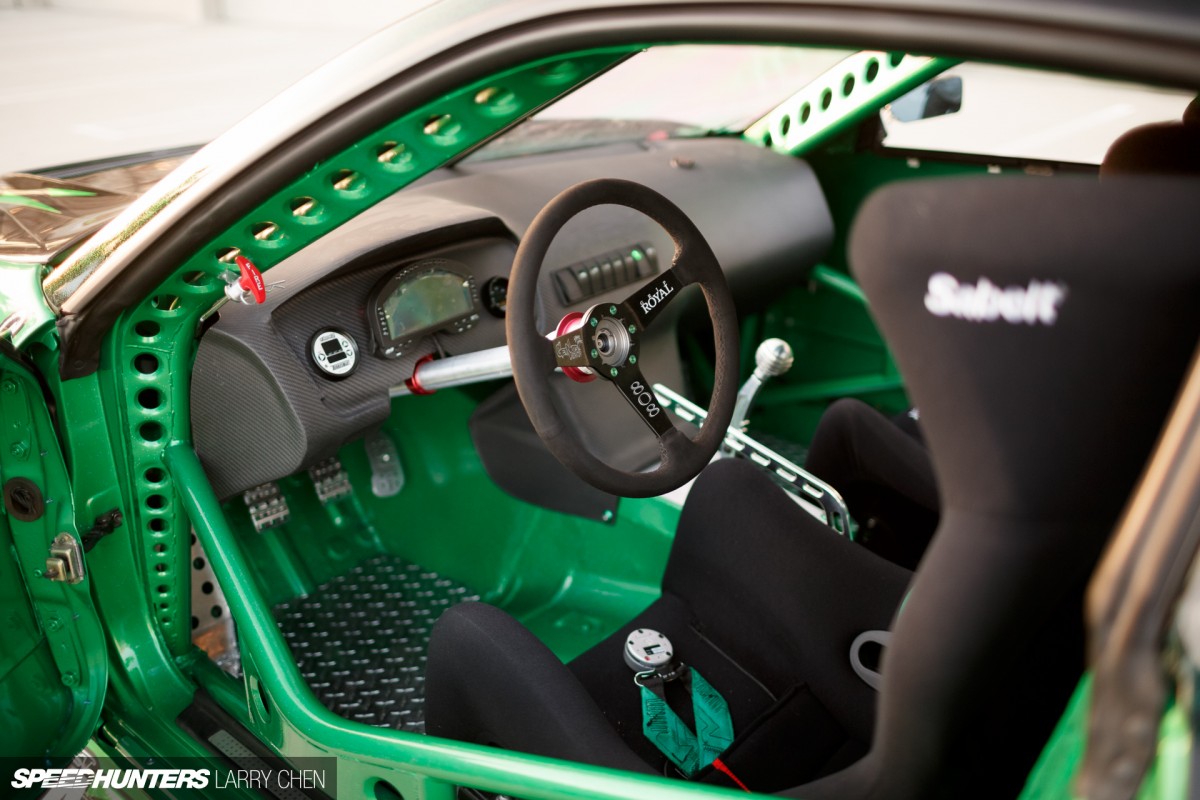 And you can bet that when it came time for final assembly the cockpit was treated with the same sense of detail and cleanliness as his previous car. Presentation-wise, pro drift car interiors don't get much better than this.
No V8 Here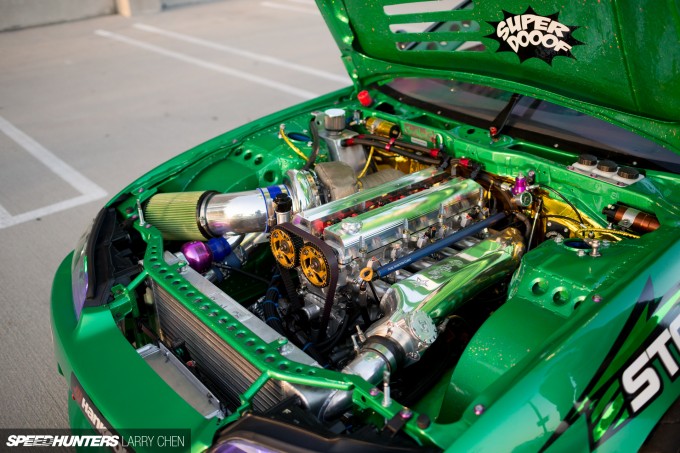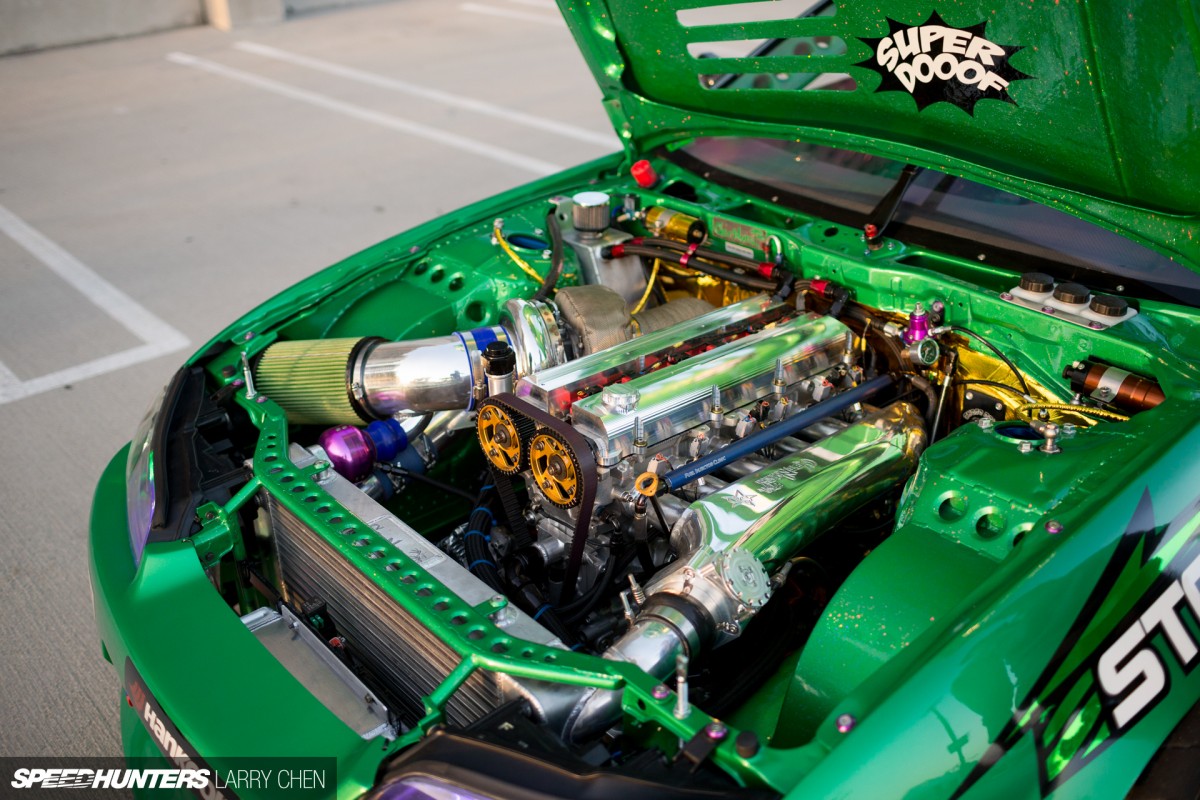 As for power, Forrest once again went with a Toyota 2JZ setup with this build. While it might not be the SR20 that originally came in the Silvia's engine bay, the radical sounding six cylinder stays plenty true to the sport's Japanese roots, while still making enough power to run with the big boys.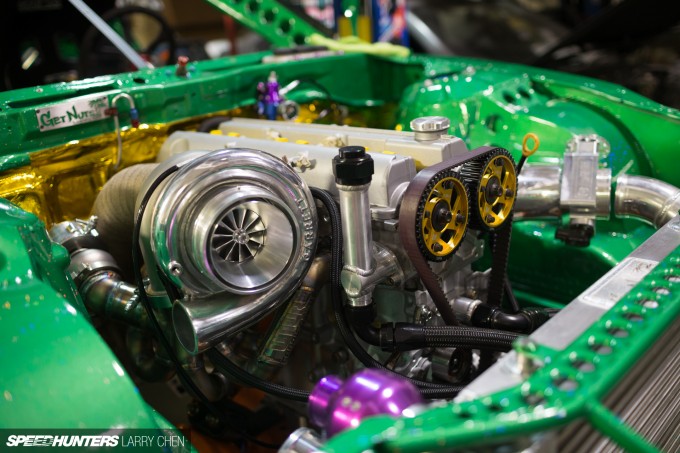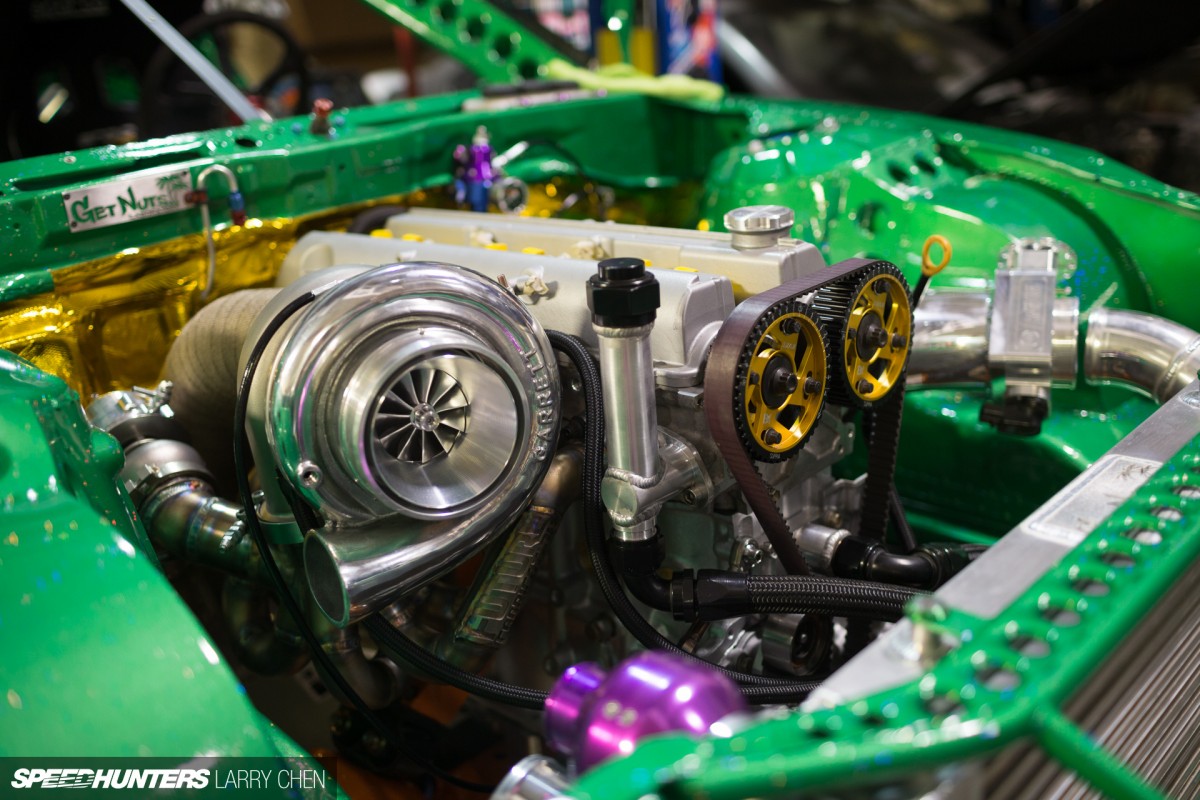 And what exactly is needed to build a pro-level 2JZ in 2015? Well, Forrest's motor was built by Insane Power and Pineapple Tune, and it's running a full Brian Crower stroker kit that ups displacement to 3.4 liters. The turbo is a single Garrett GTX4294R mounted on a Future Fab turbo manifold. The intake manifold comes from Sleeper Designs, fuel flows through 2,150cc Fuel Injector Clinic injectors and engine management is handled by an AEM Series 2 system.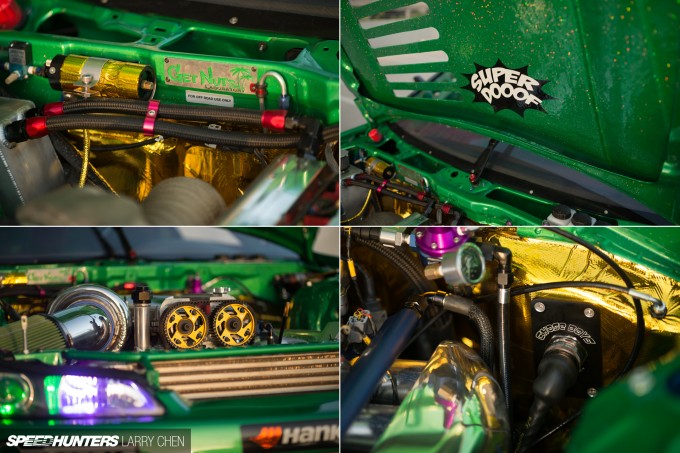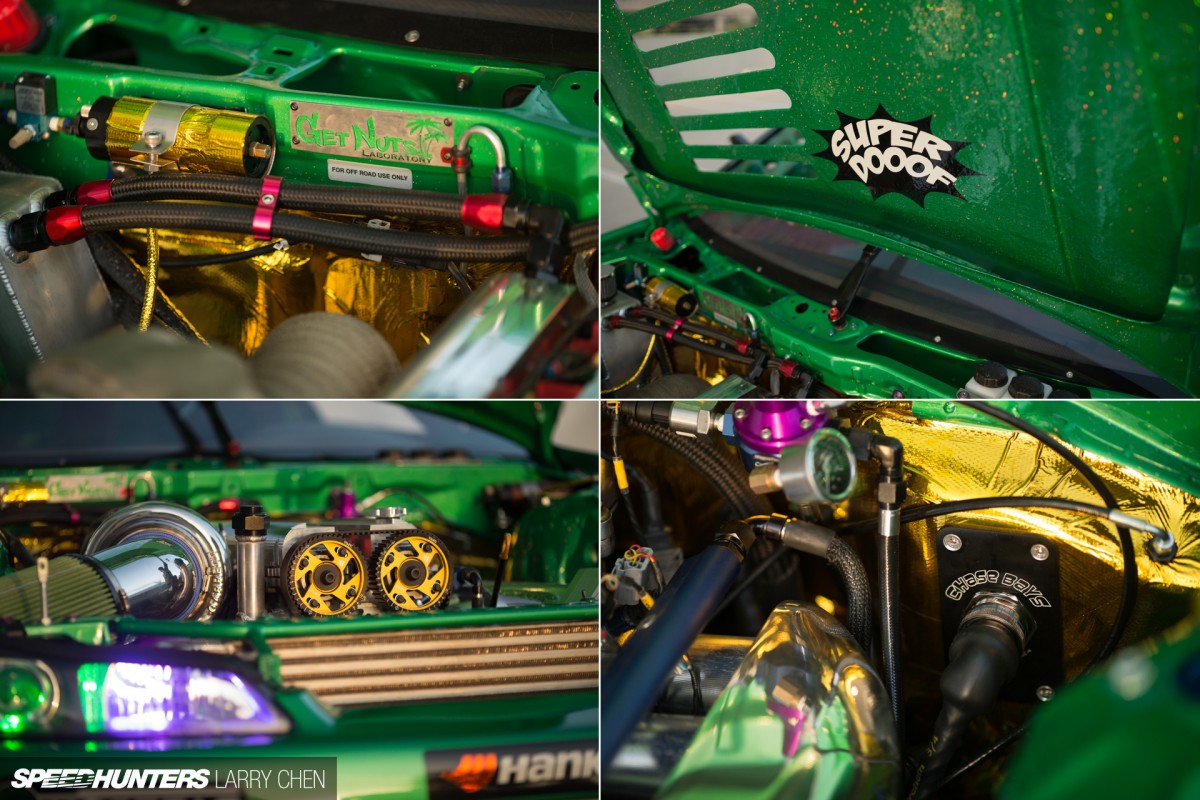 The result is a solid 900 horsepower, which gives the Silvia enough power to rival any V8-powered machine it might meet on the start line. Its inline six turbo noise should also keep those drifting traditionalists in the crowd quite happy.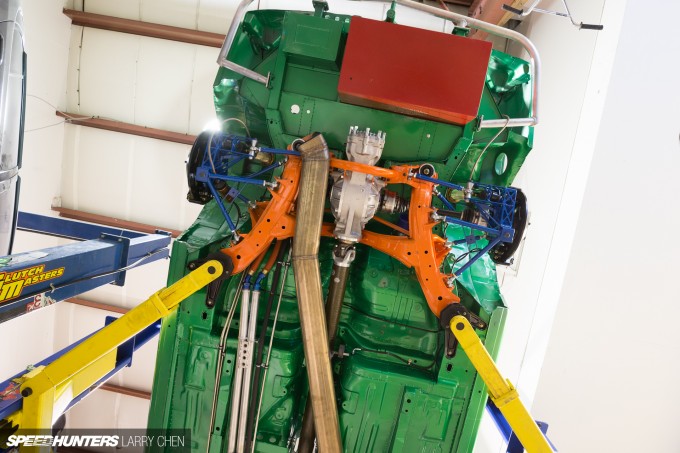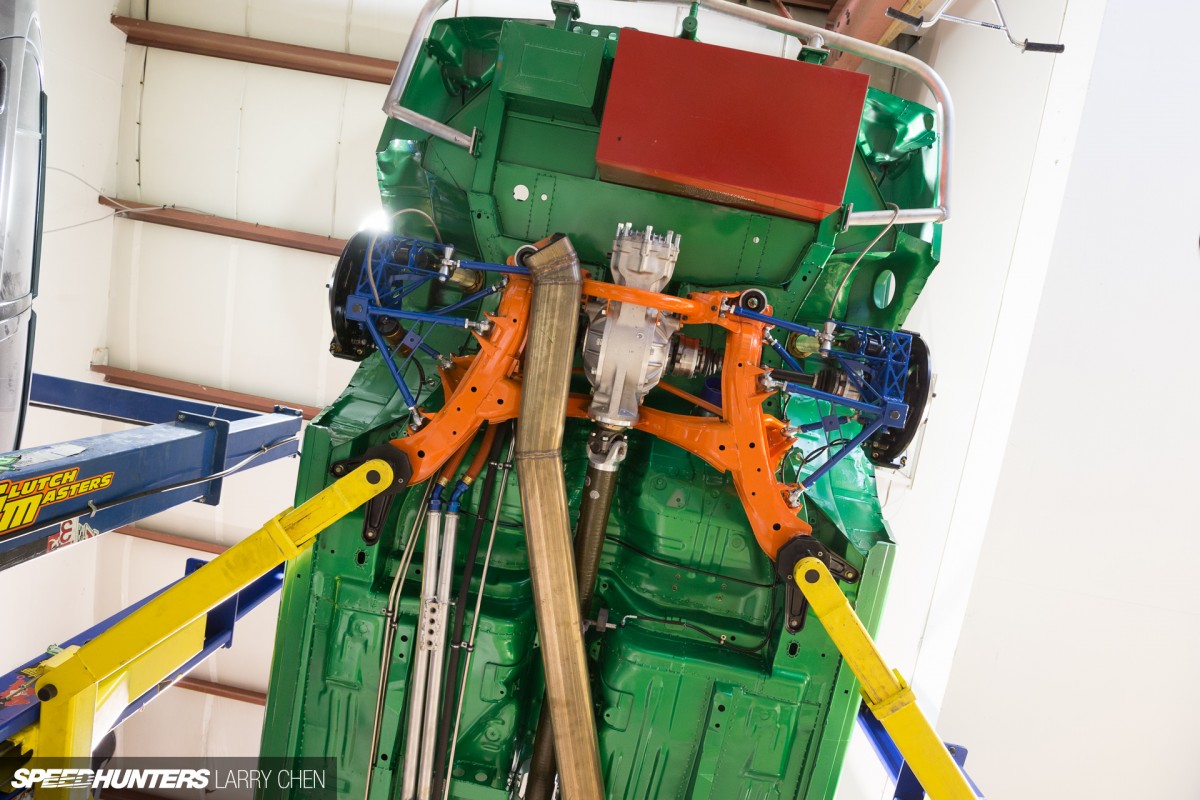 The boosted Toyota power is sent to the ground through a G-Force GSR 4-speed dogbox to a custom carbon driveshaft, and the differential is a Winters Performance Quick Change unit with upgraded axles.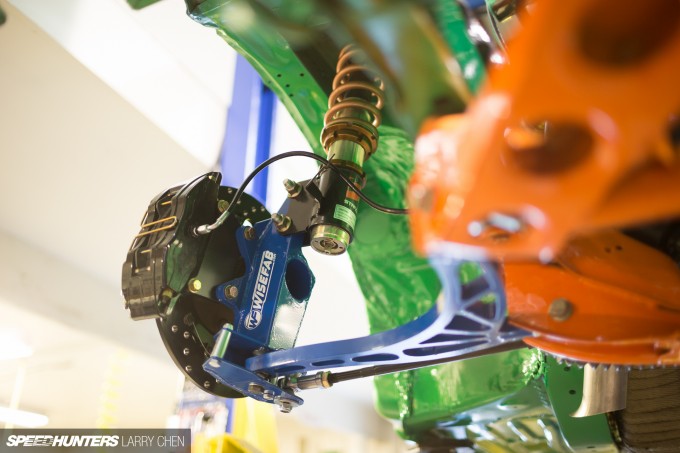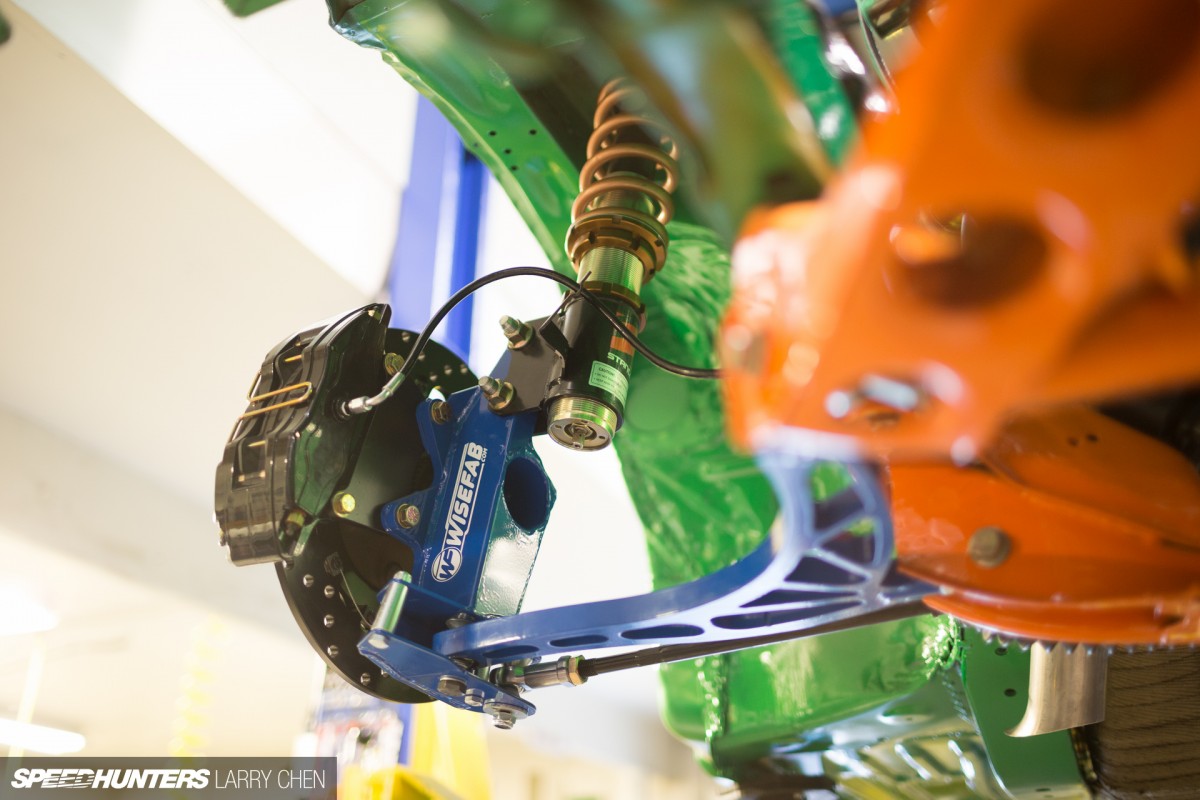 As for footwork, aside from the chassis prep work at Get Nuts, the car is running Stance GR+ 3-way adjustable coilovers and a full suite of adjustable arms from Wisefab. Braking is handled by 6-piston Wilwoods in the front, twin 4-piston Wilwoods in the rear, and the essential hydraulic e-brake was supplied by ASD.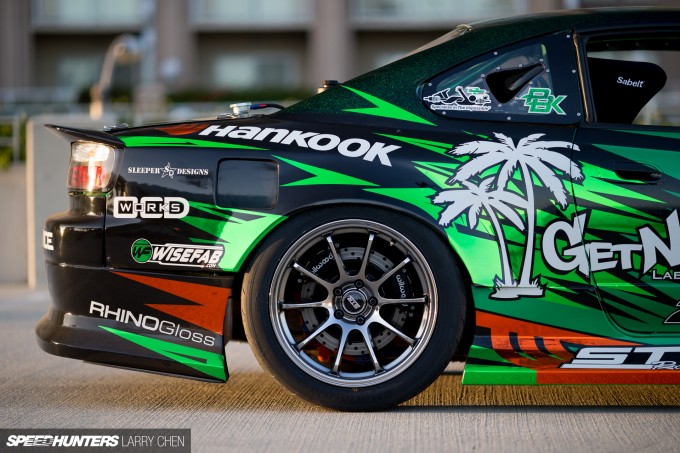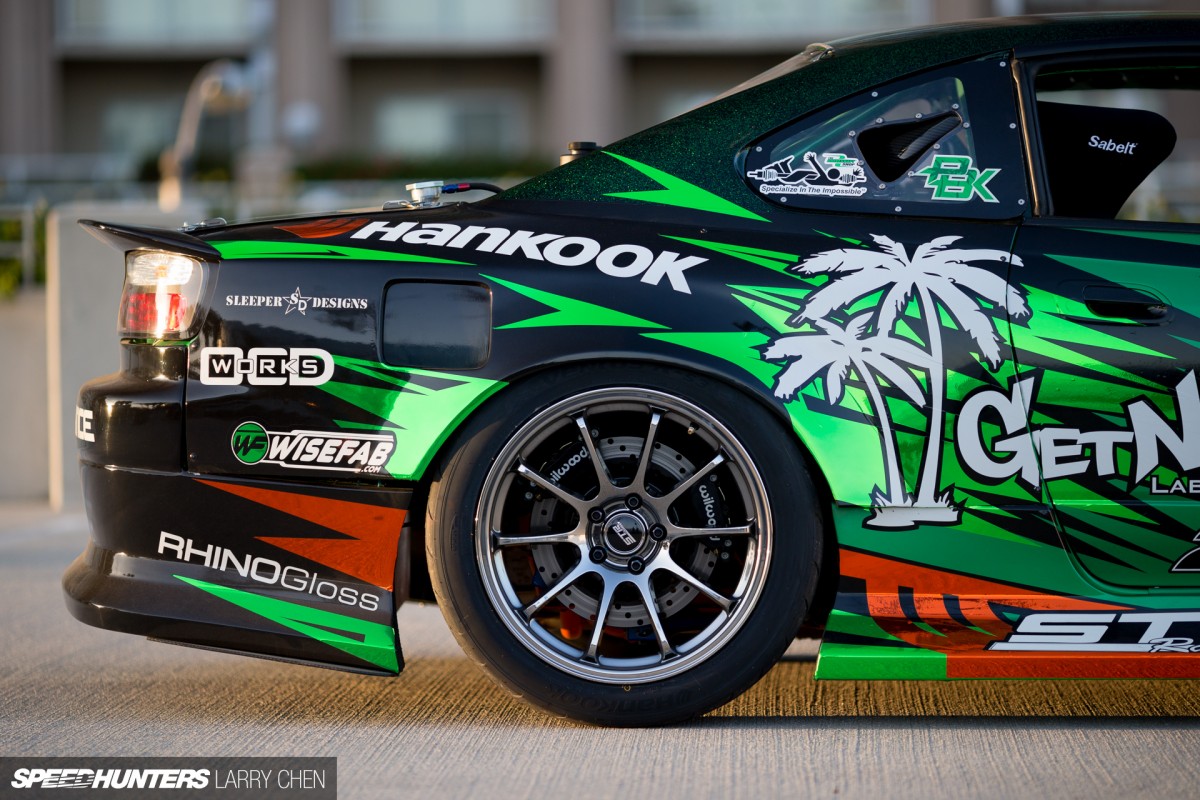 The brakes can be seen behind a combination of STR Racing wheels and Hankook RS-3 tires – both from companies who jumped on board to support Forrest's Formula Drift campaign this year.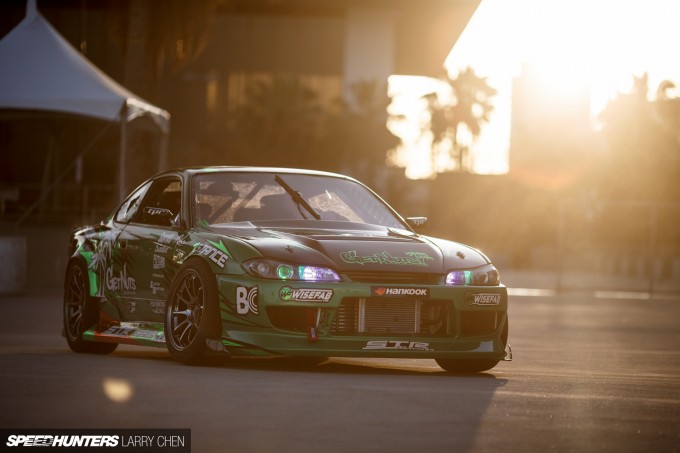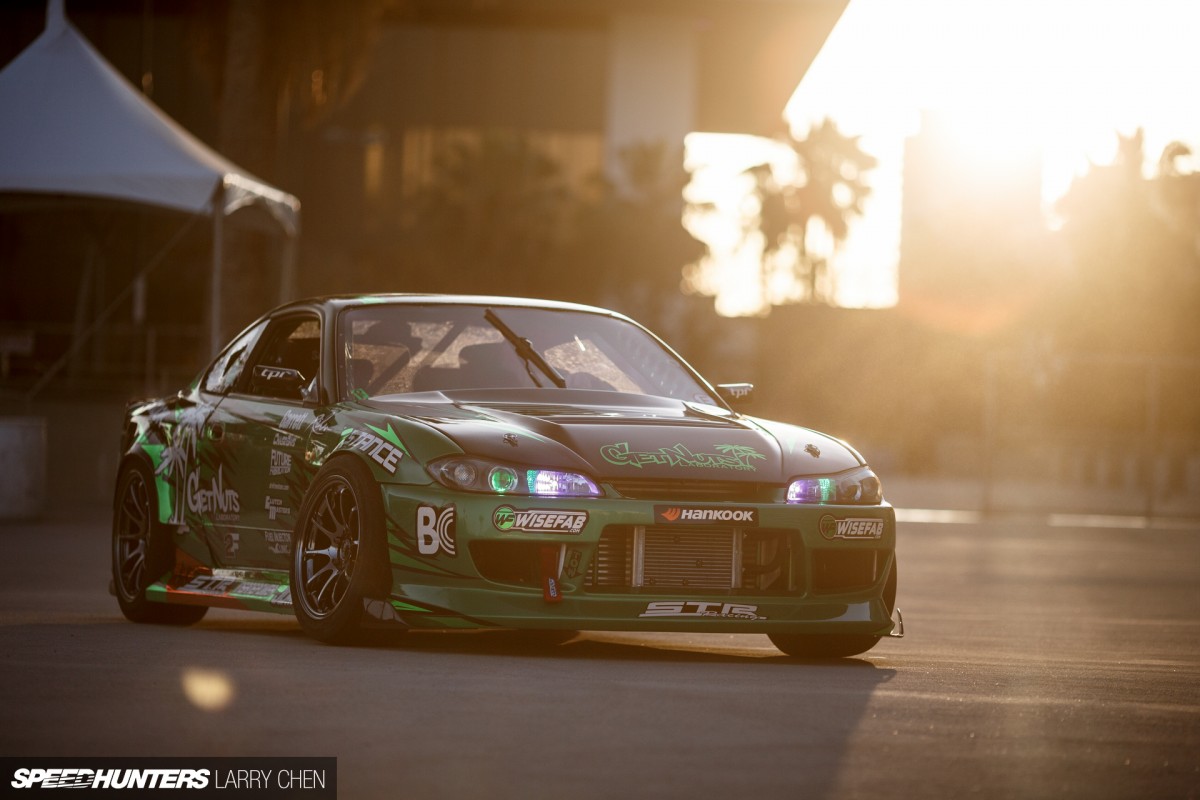 Forrest has never been one to forego good style on a drift car, and his S15 continues that tradition. The body features Get Nuts/ 2F Super Doof parts, along with Origin Type 3 fenders, a D-Max trunk spoiler, a Seibon carbon hood and Craft Square mirrors.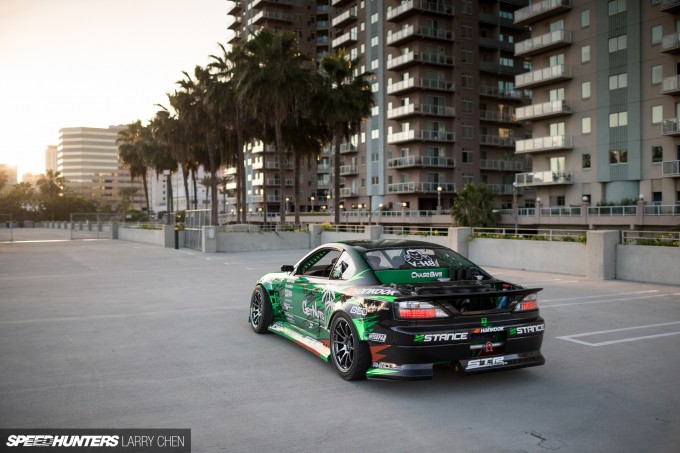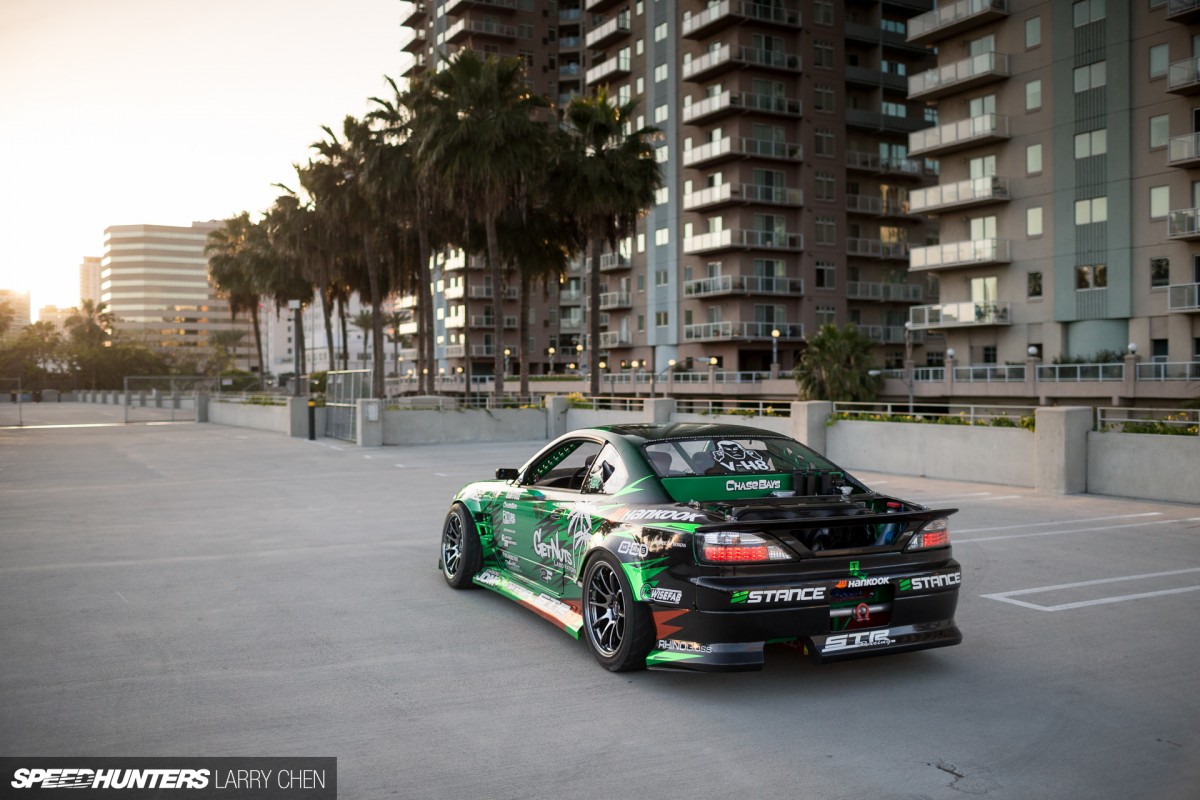 The livery meanwhile is something that brings to mind drift cars of Japan, with heavy application of 'Get Nuts Green' both inside and out the Silvia.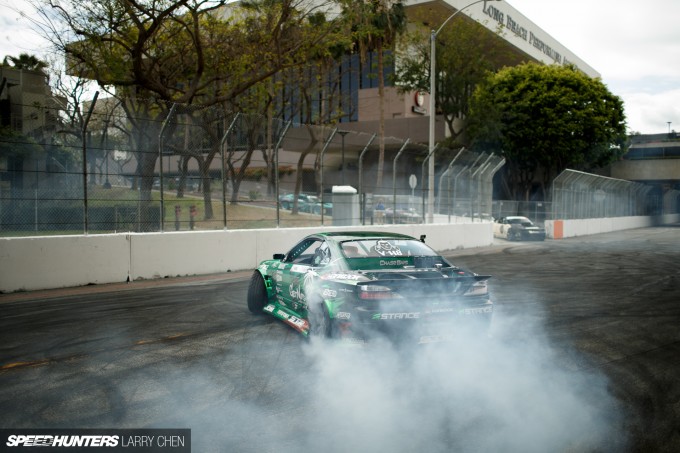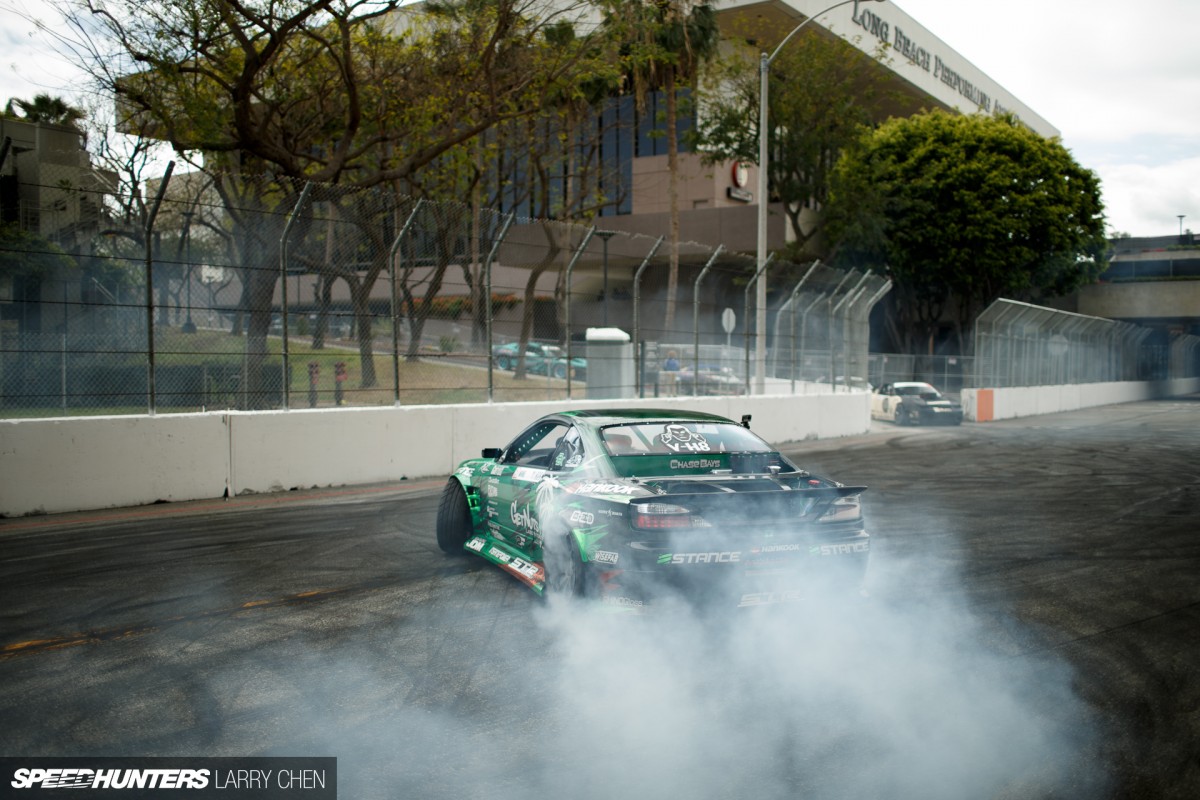 Not only has Forrest come out with what's sure to be one of the cleanest and most stylish cars on the Formula Drift grid this year, his S15 once again shows that you don't have to ignore the roots of drifting to have a modern, competitive machine.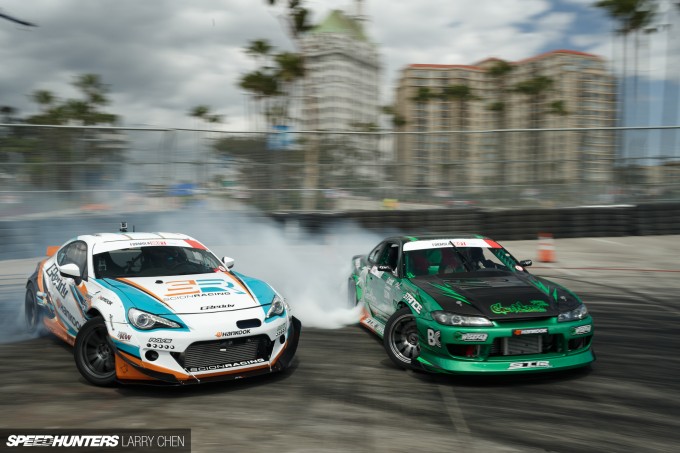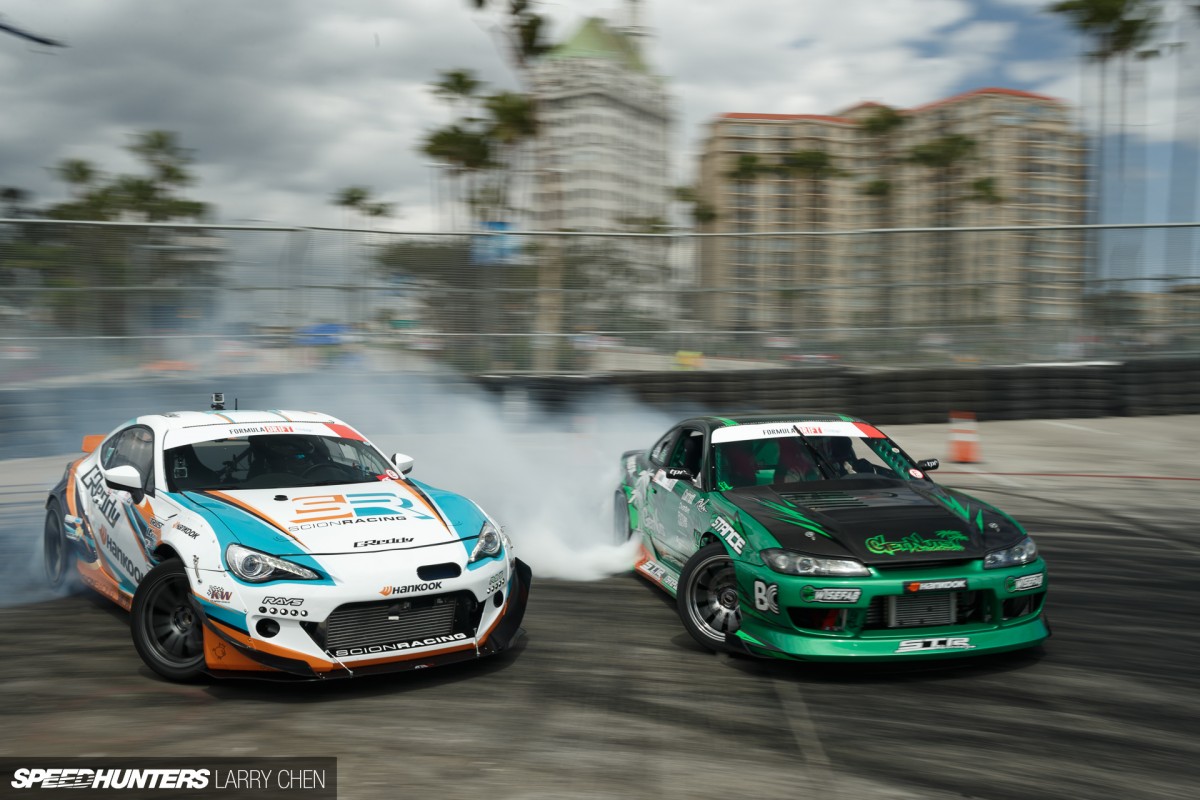 Whether you fully welcome the extreme builds like Tanner's VW or think all drift car's should be more like Forrest's Silvia, we should be happy that both can coexist alongside each other. Nowhere else in motorsport will you find a group of cars with this much individual personality, and that's just one the reasons why fans continue to pack the seats at Formula Drift events year after year.
Mike Garrett
Instagram: speedhunters_mike
mike@speedhunters.com
Photos by Larry Chen
Instagram: larry_chen_foto
larry@speedhunters.com
Cutting Room Floor