The Real Drifters
It's been 14 years since I began covering various aspects of drifting in Japan. And you know what? There is one thing about the Japanese drivers that I can vouch for: no matter how much success, how much prize money they bring home, and how big of a sponsorship deal they manage to score, nothing seems to really change them. Most of them got into drifting because that's what they were doing at night out on the streets, and they became so good at it they entered pro competitions just to see how far they could go. Many have full-time jobs and businesses – often tuning shops – that they run as their main gig, so drifting has always remained a way to have fun on the side, regardless of the level.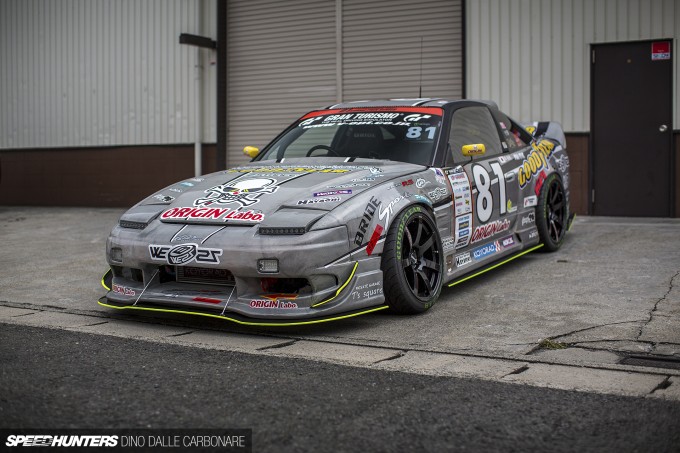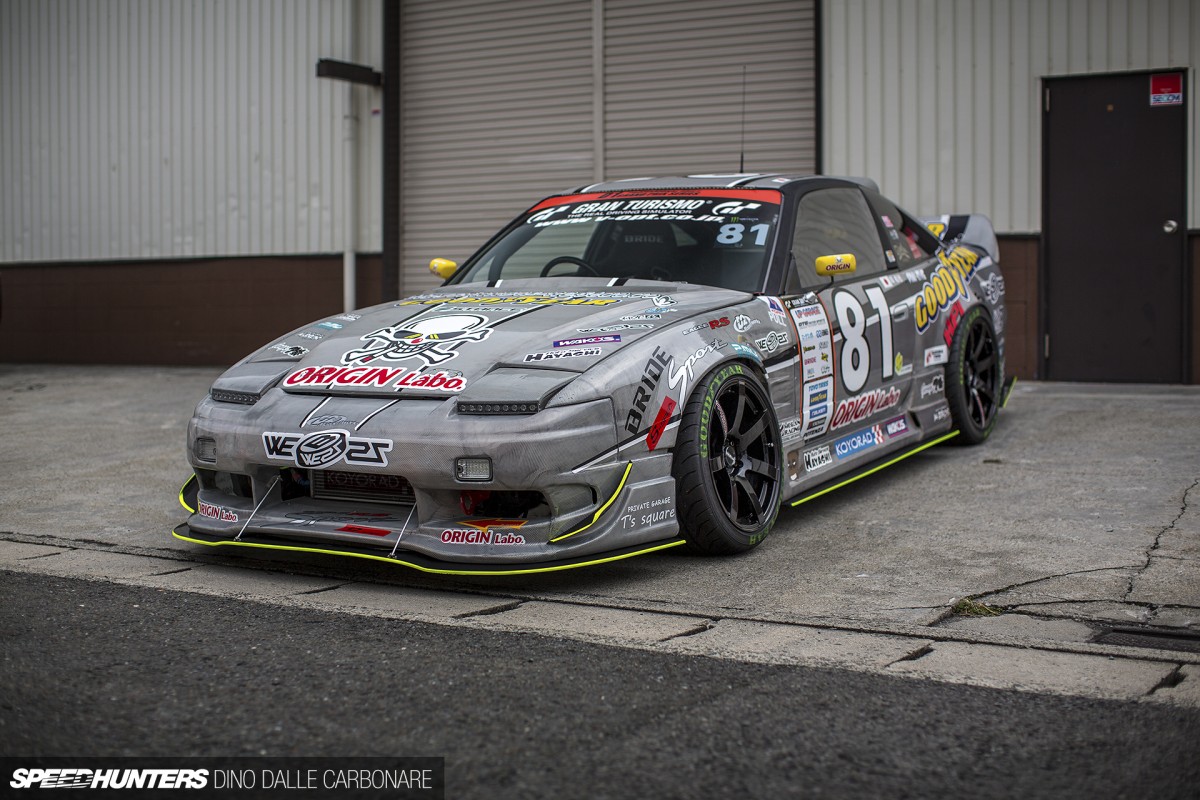 And let's be frank here, it's not like winning a D1 Grand Prix title is going to change your life. Yes, you'll be able to afford a few more tyres and maybe a new turbo, and perhaps even use the winnings to pays off the loans that you had to take out to be able to afford the series' entry fees in the first place!
But as cool as professional competitions are, you all must know that nothing will ever interest me more than the cars themselves. Not only that, but in the way that they have all evolved in the last decade and a half since drifting become popular at an international level. Which is why the other week when I was in Osaka, I decided to take a closer look at one of the coolest 180SXs on the planet: Chunky Bai's ORIGIN Labo kitted RPS13.
In case you don't know, Bai is one of the original drift OGs. Like many of the top drifters who have come from the Kansai region of Japan – and there have been plenty – he cut his teeth on the docks of Osaka Bay, alongside his long-time buddy, the late Atsushi Kuroi, who built and drove the coolest S13 Silvia Japan has ever seen. Above is a video clip from 2006 that was filmed with help from Signal Auto, back when Kuroi and Bai were drivers for the famous Osaka shop.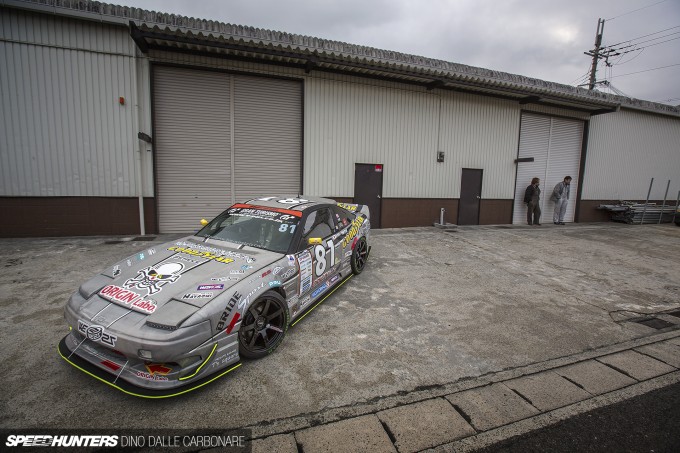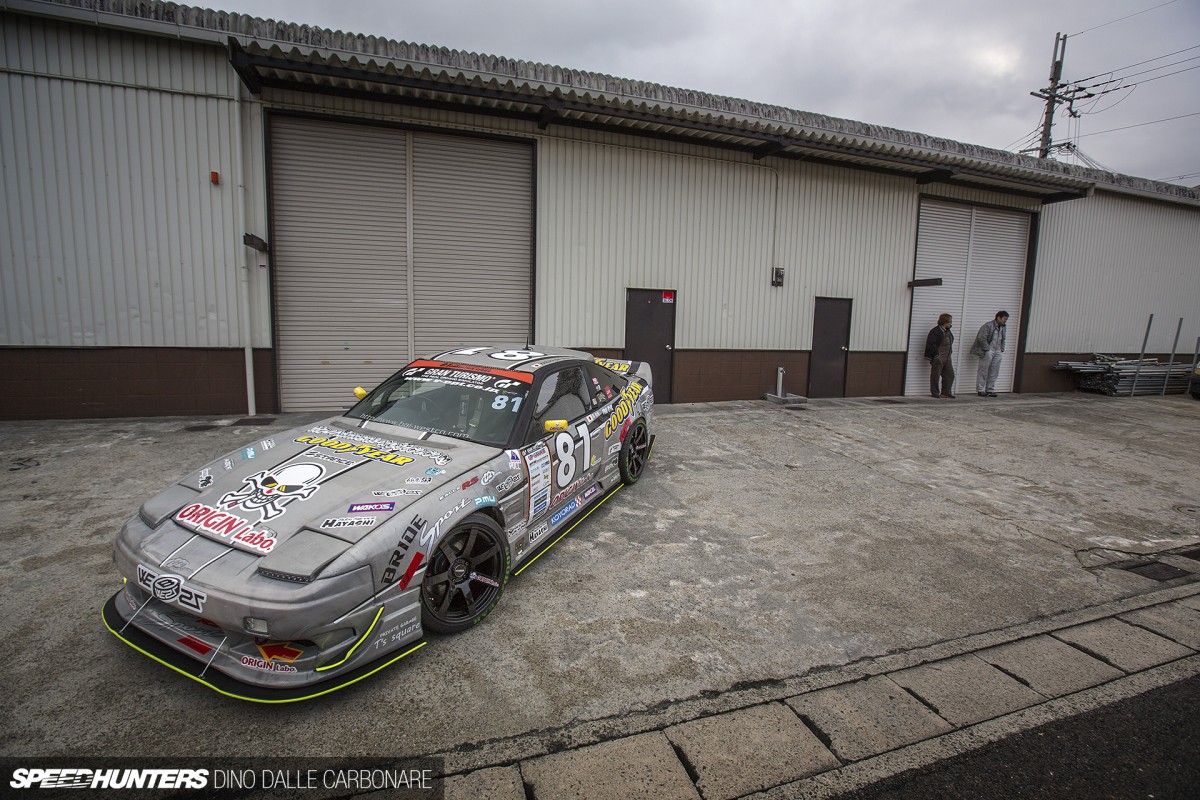 Almost a decade has passed since those days, and although Kuroi-san is sadly no longer with us, do you think much has changed for Chunky Bai? Of course not. The guy still eats, sleeps and breathes drifting, and on top of running his own tuning outfit, Bai-West, he has continued to compete in D1GP with the car you see here.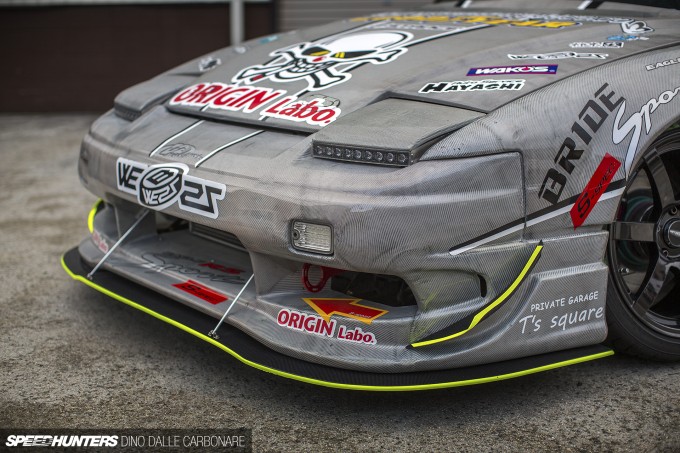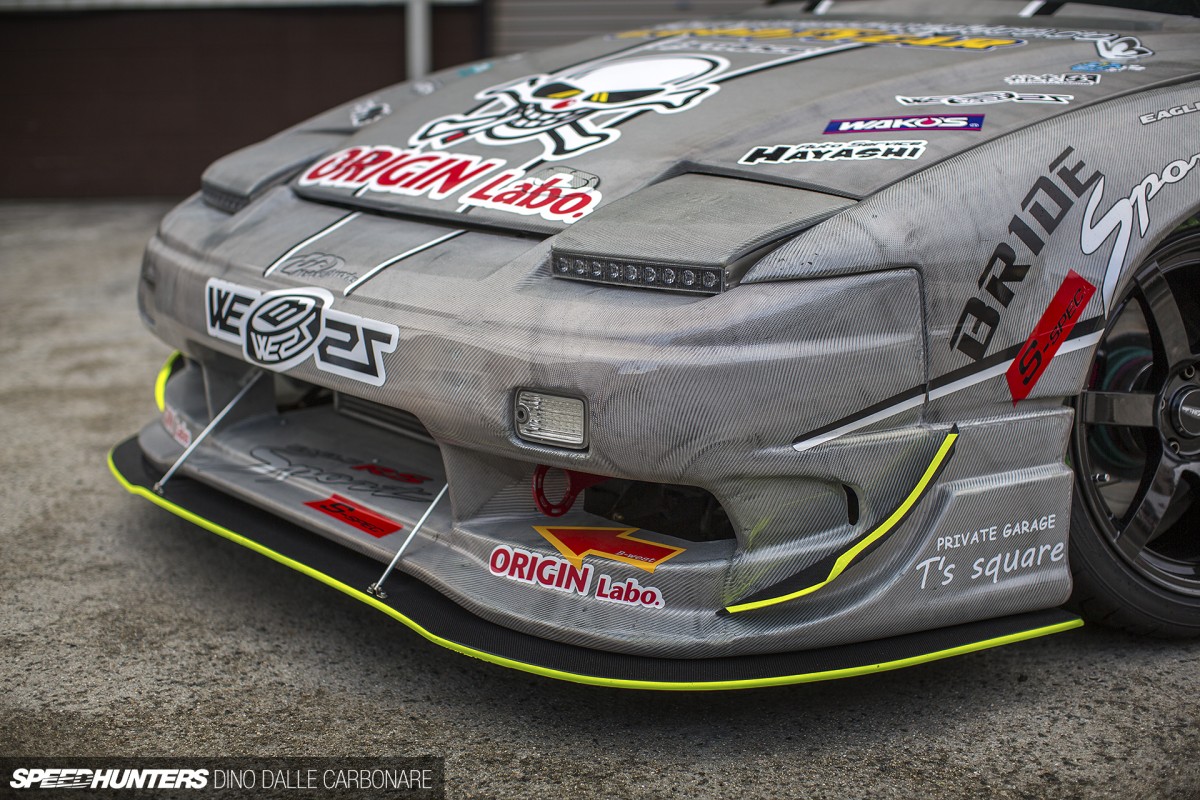 I'm going to call Bai's RPS13 the ultimate evolution of the JDM pro drift car. It's so right – the perfect amount of flashy looks combined with pure function. And it's his collaboration with the guys at ORIGIN Labo that has made his car instantly recognisable to anyone in the know. The Nissan's one-off silver wet carbon Racing Line aero isn't a new thing, and has actually been on the 180SX for a few years now, but in readying the car for the new season the kit has been taken to the next level with some further modifications.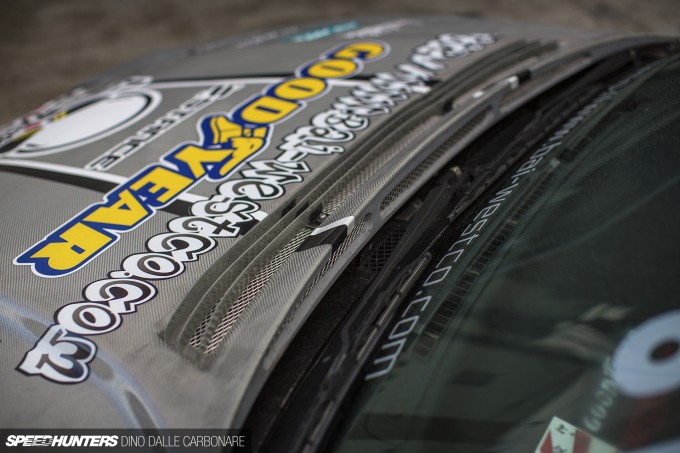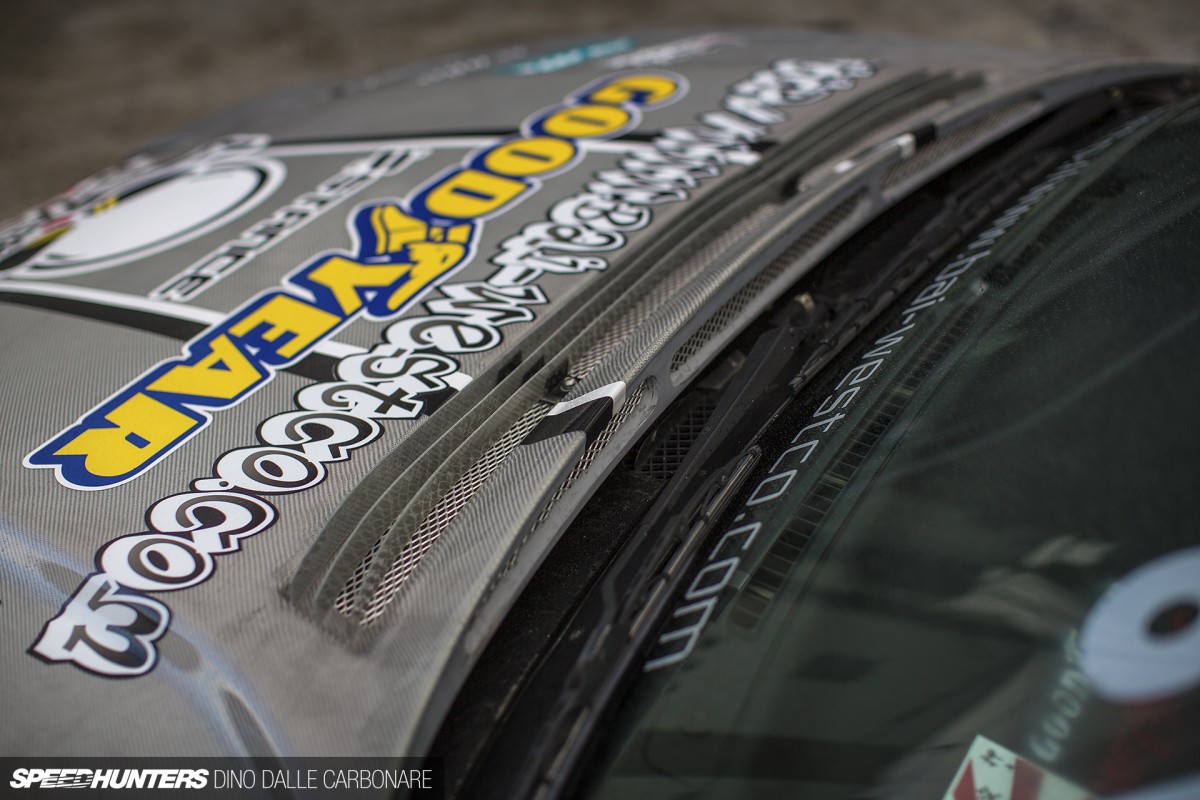 This car oozes details, like the aero bonnet which channels heat away from the engine through a pair of openings up towards the windshield – the horizontal one louvered for extra effect; the vertical one split in three sections so as to retain rigidity in the hood's structure.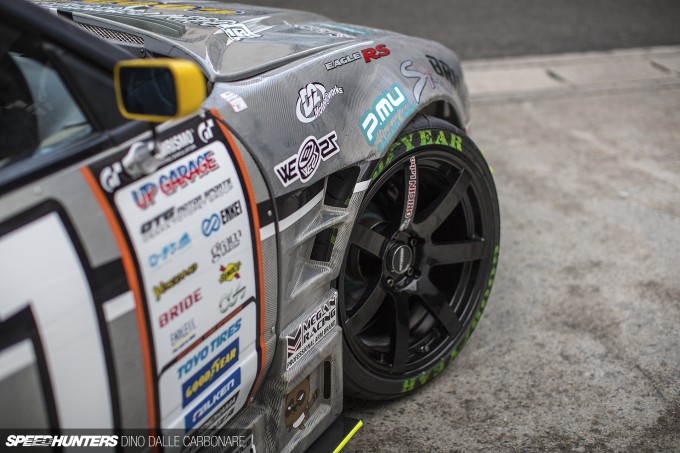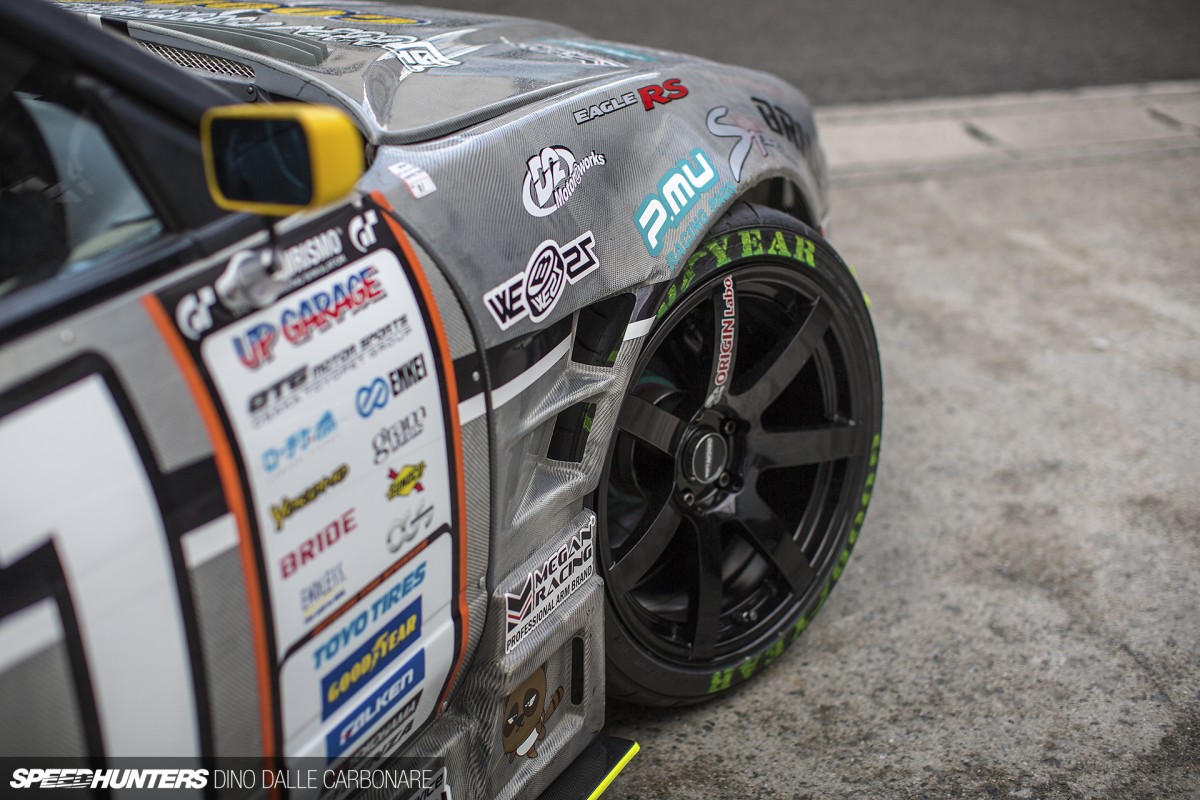 No self-respecting drift car would be seen dead these days with stock fenders. Because, aside from the fact that a car needs to look good out on track, there's also the need to fit bigger and wider wheels and tyres – not to mention the increased steering lock, and negative camber and caster that these guys dial into their geometry. Here it's taken care of by a pair of ORIGIN Labo vented fenders which are 55mm wider on each side, giving the somewhat narrow 180SX some much-needed extra girth.
Silver Carbon & A Ducktail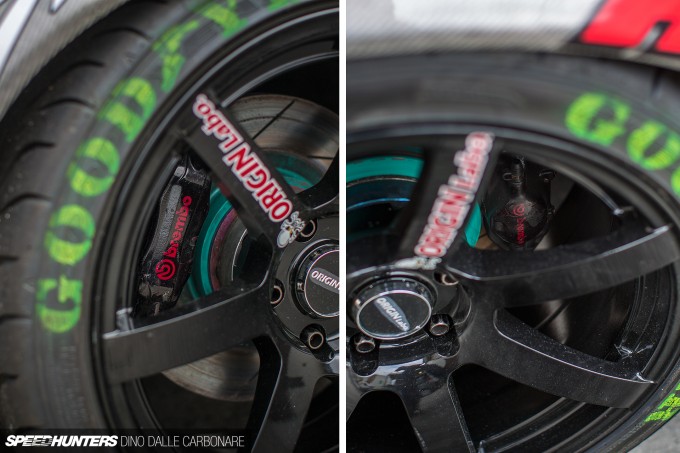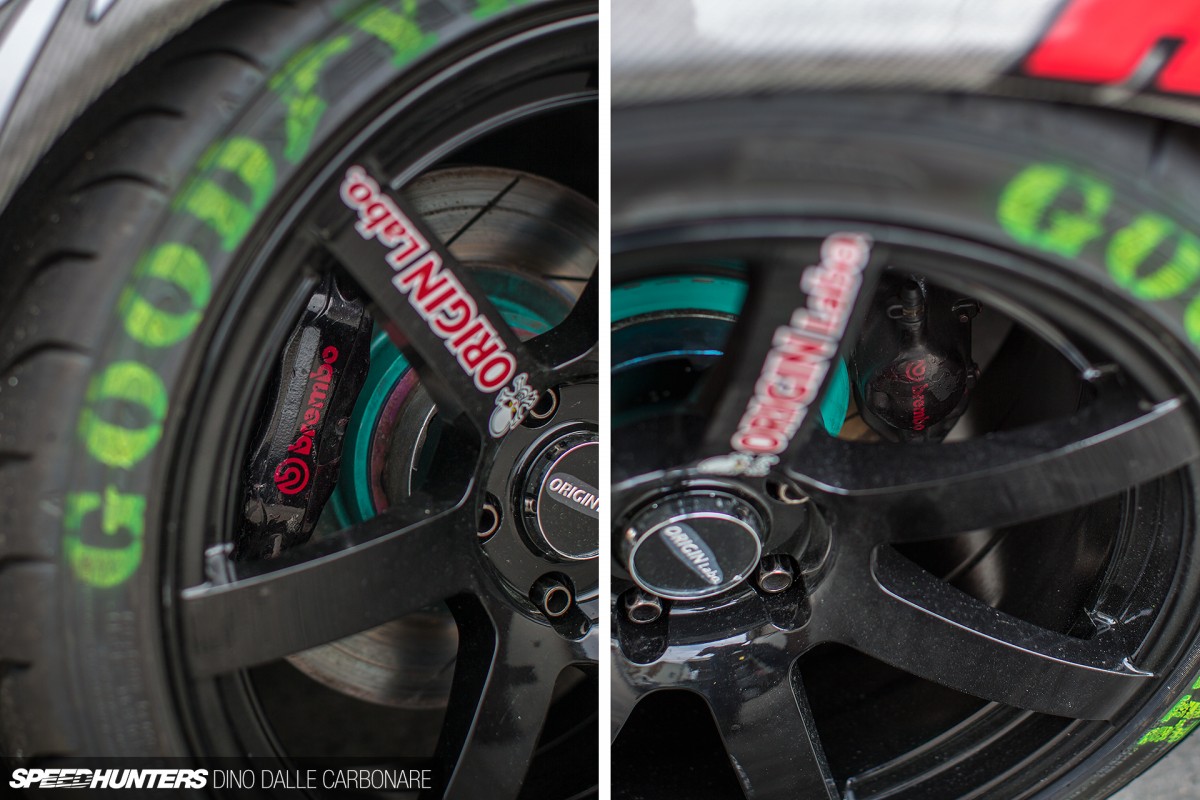 The car also runs ORIGIN Labo DRF-S7 wheels, and if you take a closer look behind their seven squared-off spokes you'll find a Brembo braking kit borrowed from an R34 GT-R. To get them to perform better however, the setup uses Project µ discs and pads.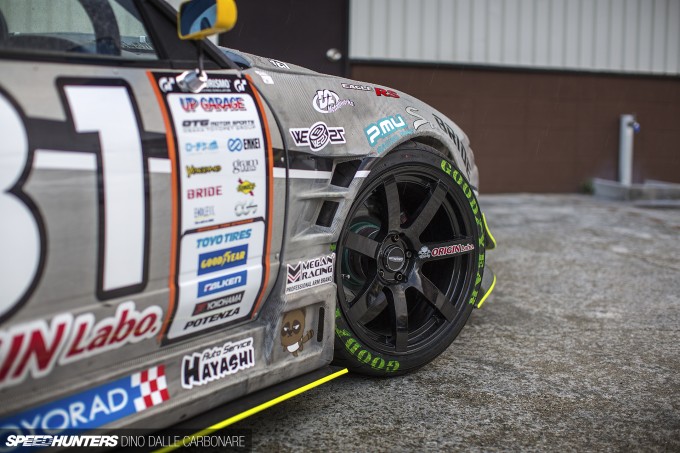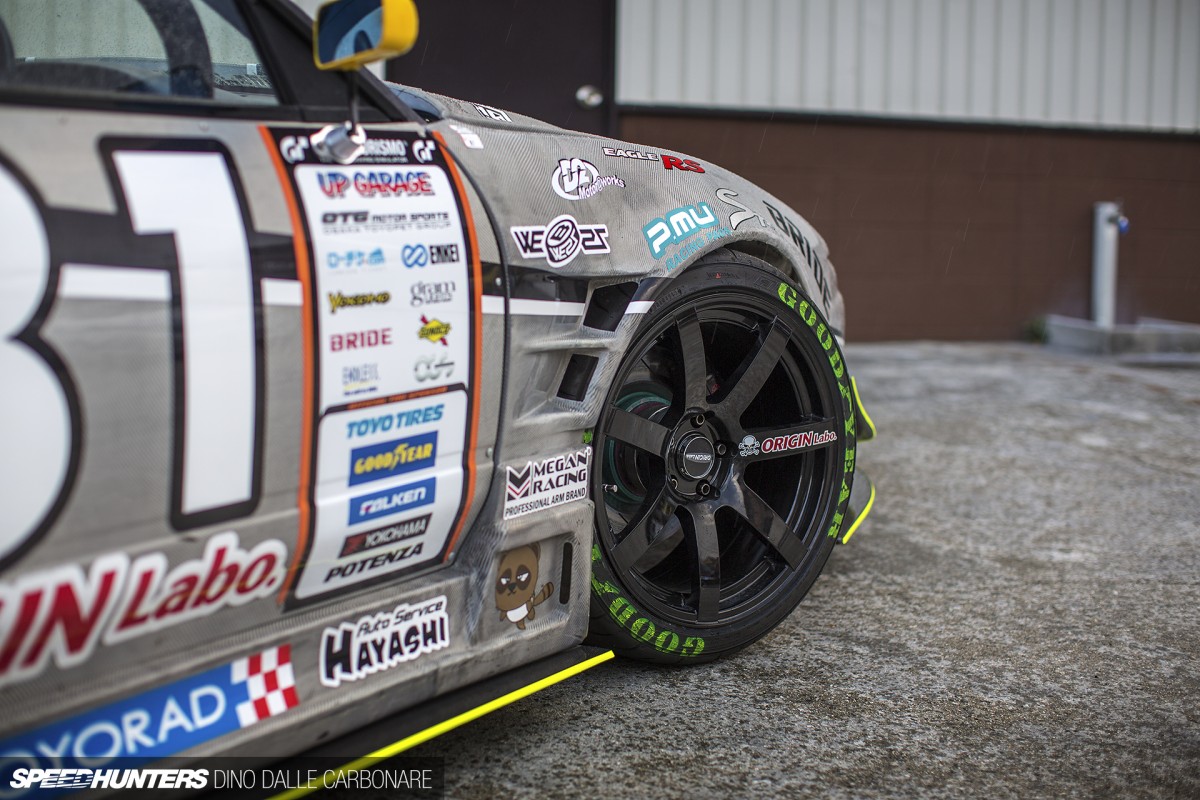 The wheels measure 18×9.5-inch with a +15 offset at each corner, however, the Goodyear Eagle RS Sport S-spec tyres are slightly wider at the rear – 265/35R18s versus the narrower 255/35R18 fronts.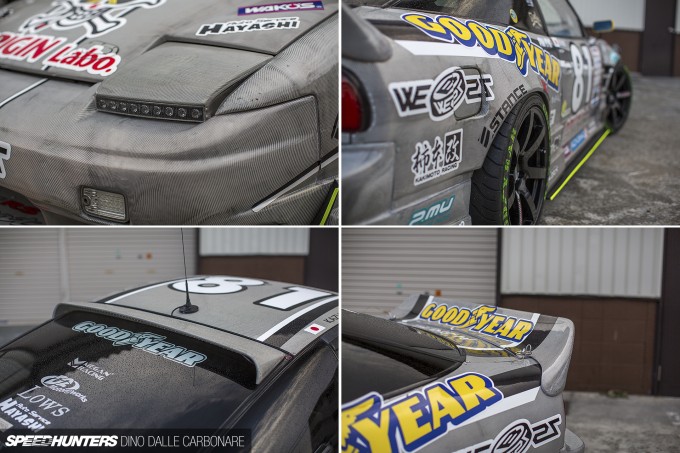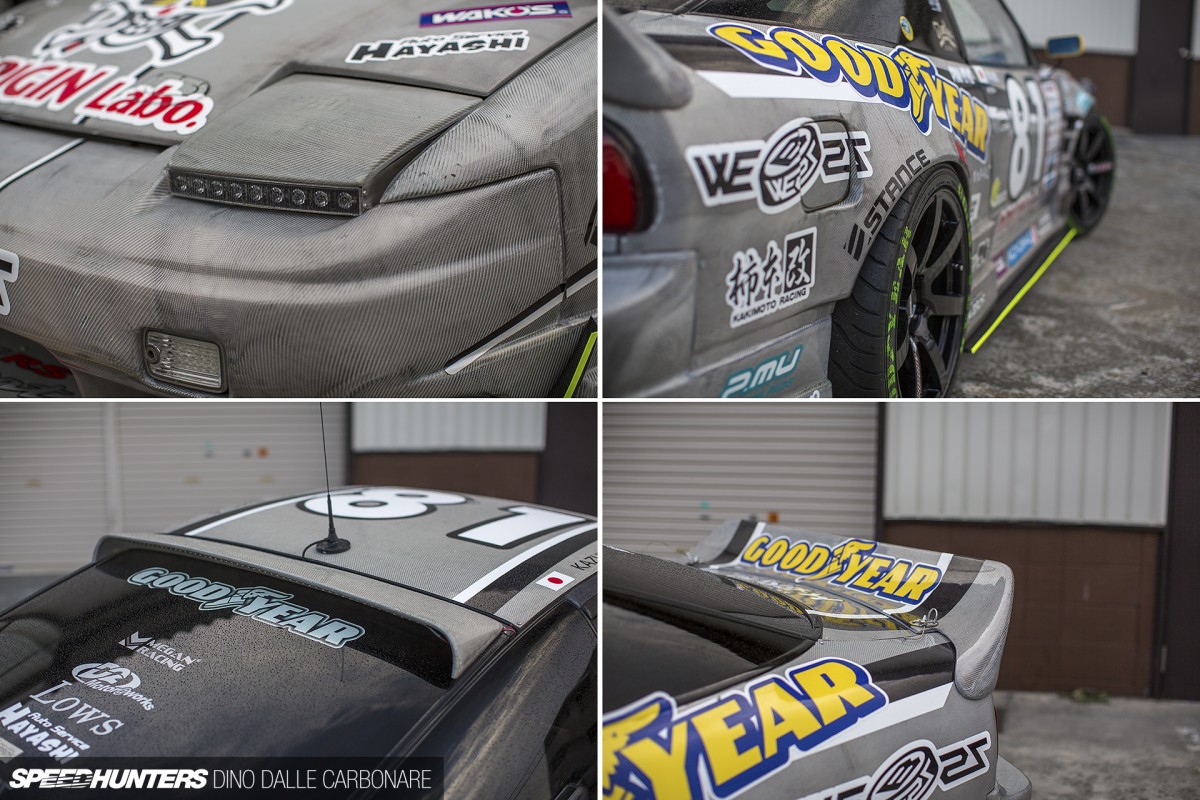 The car is dressed up with the entire ORIGIN Labo parts list for the RPS13, as well as a few custom touches, including the roof which is finished in the same silver carbon material as the rest of the body. Using a pair of over-fender panels bolted onto the stock – but cut – arches, the rear fenders are also widened 55mm to match the fronts.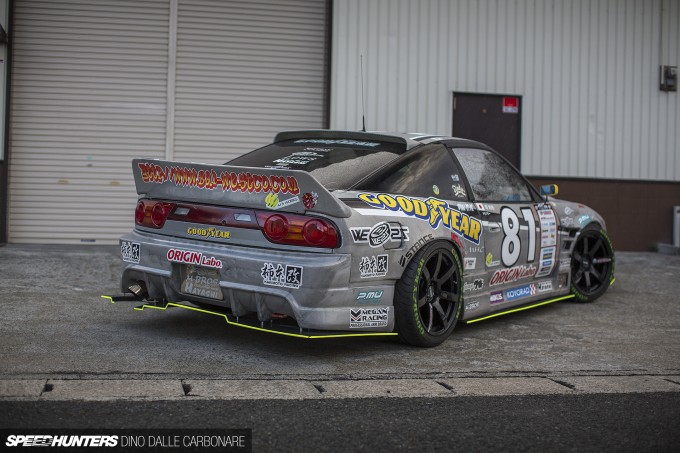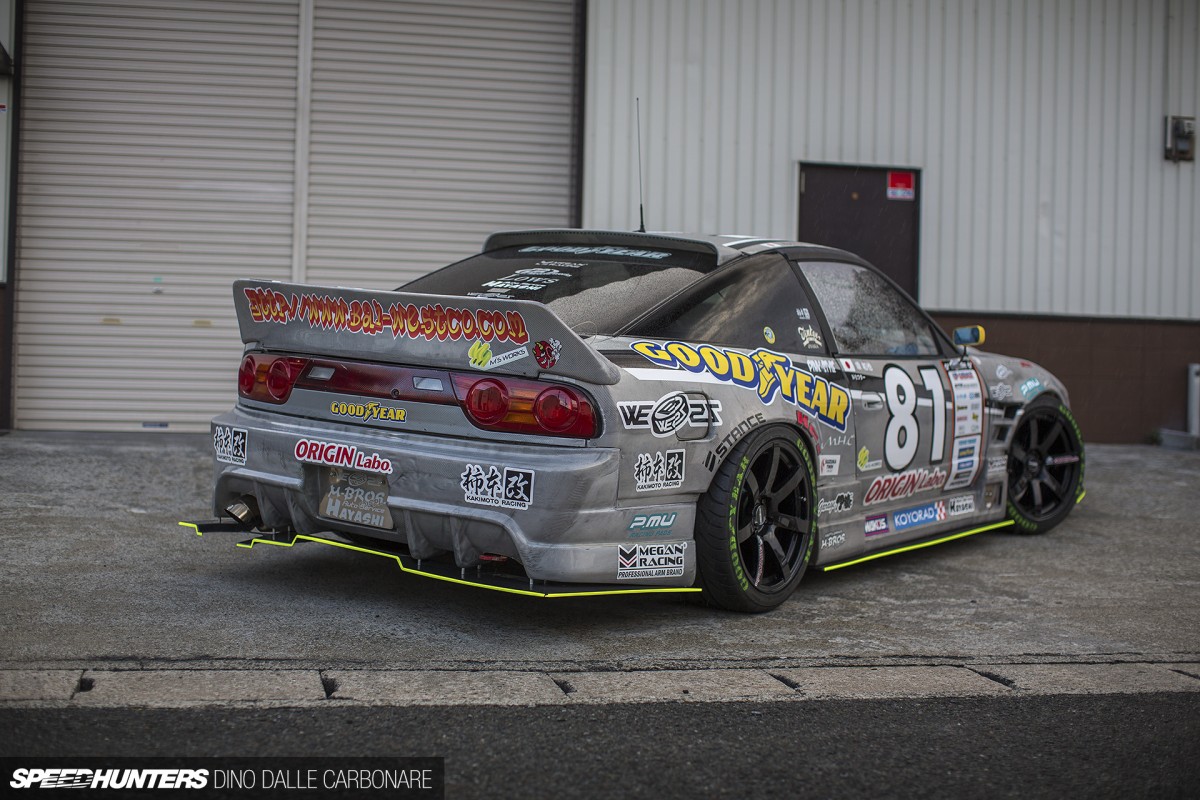 The latest additions this year are a series of carbon under panels. There's a front splitter, under-skirt strips and a rear diffuser – all highlighted with fluro yellow borders. It's definitely a fresh look!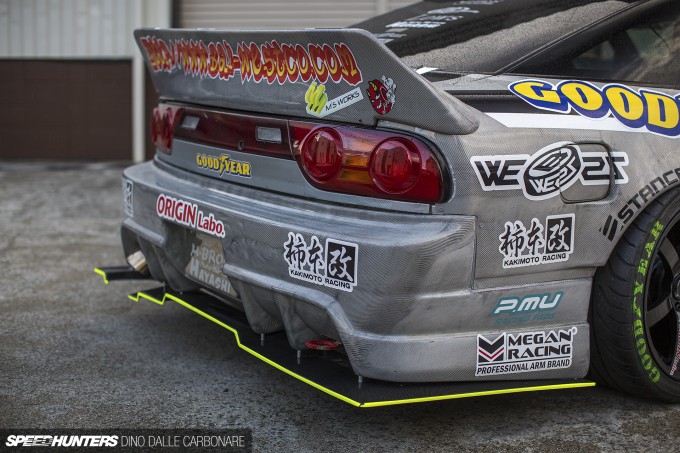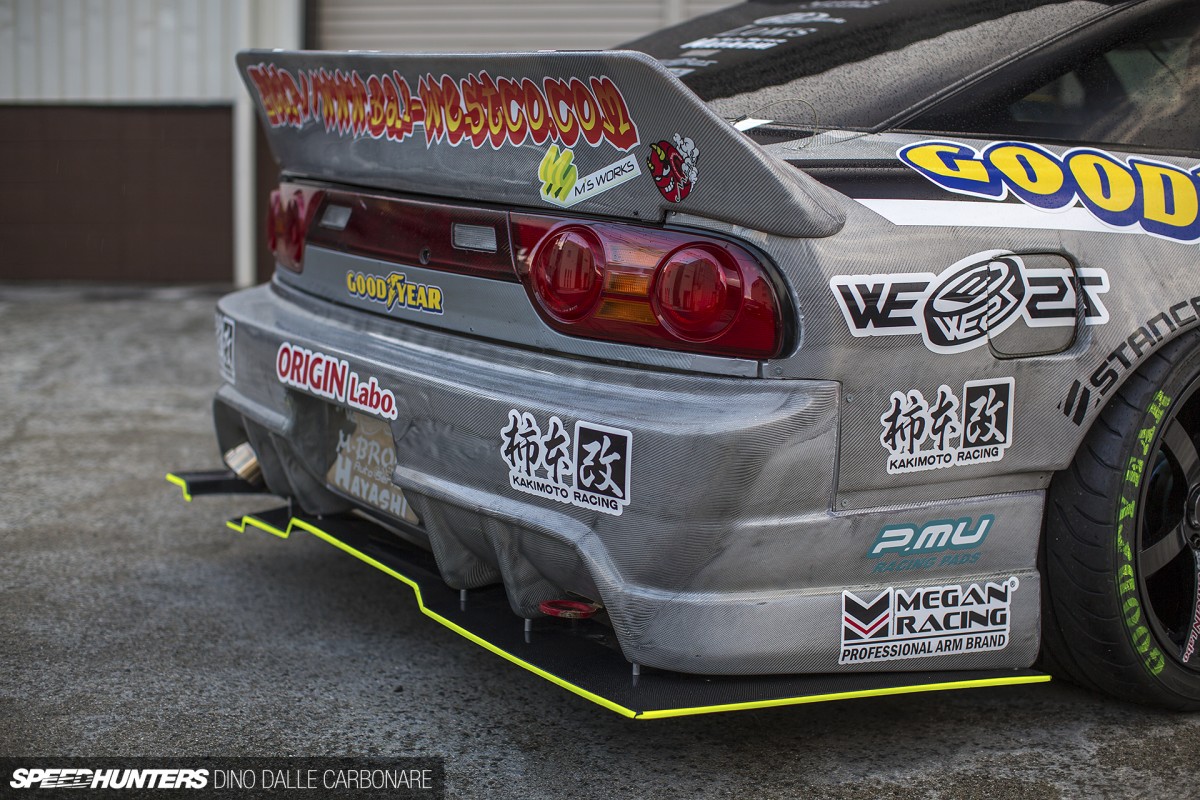 I'm a sucker for ducktail spoilers – depending on the car of course – so my favorite addition is the ORIGIN Labo Type 3 trunk spoiler. It's so exaggerated and upright, and fits the lines of the 180SX deck so damn well.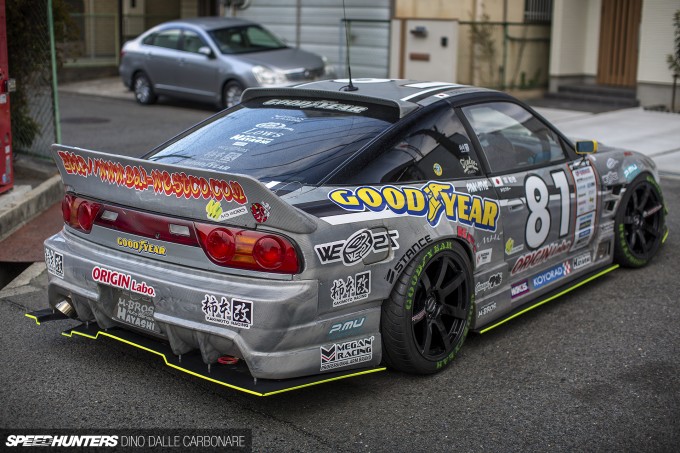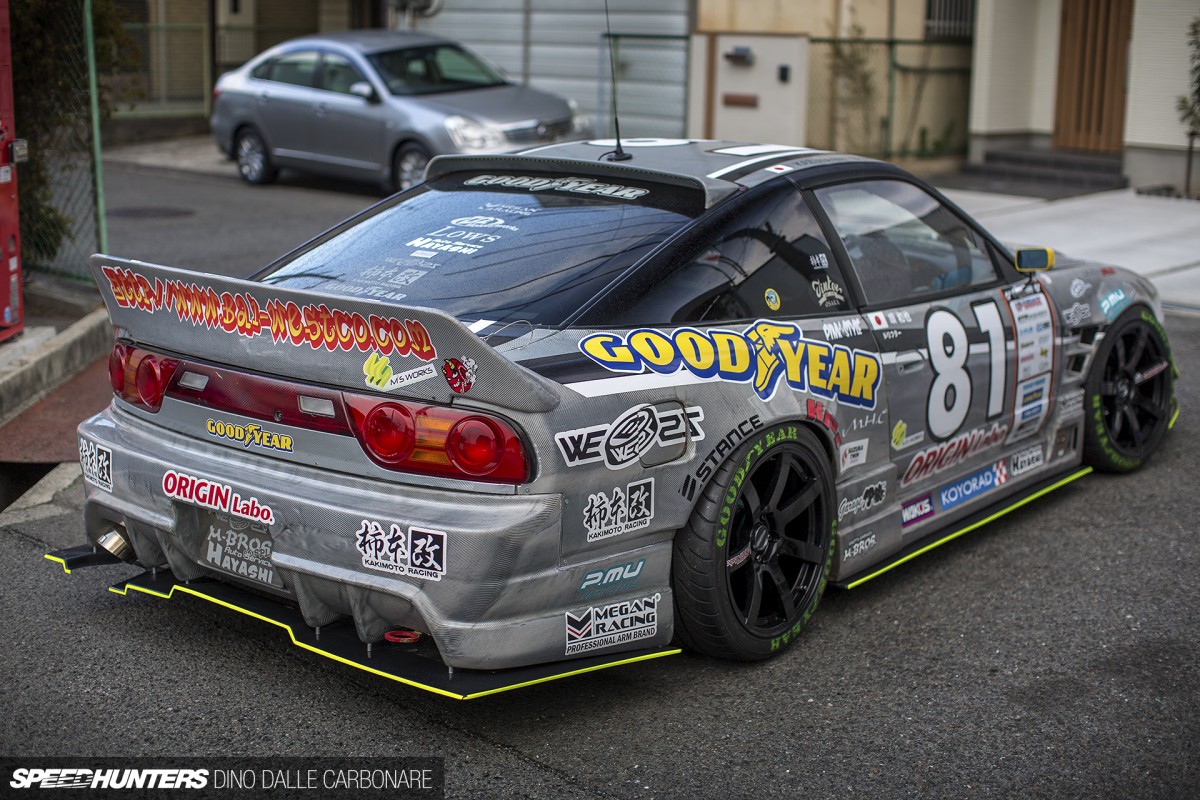 Being a fully-fledged drift car we know the looks are always going to be a big part of it, but what about the mechanical bits?
750PS & 9,000rpm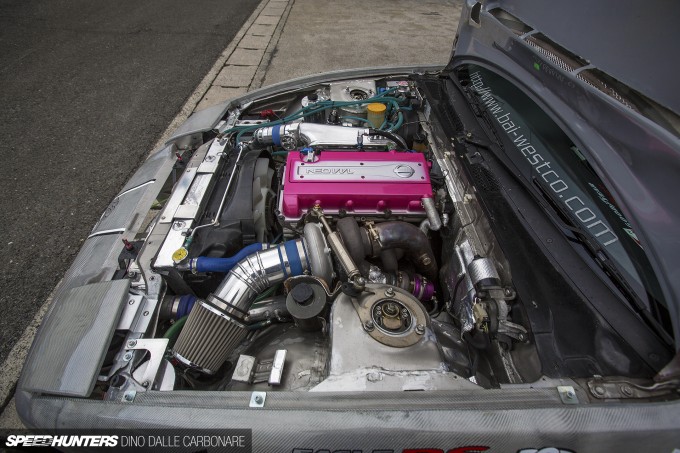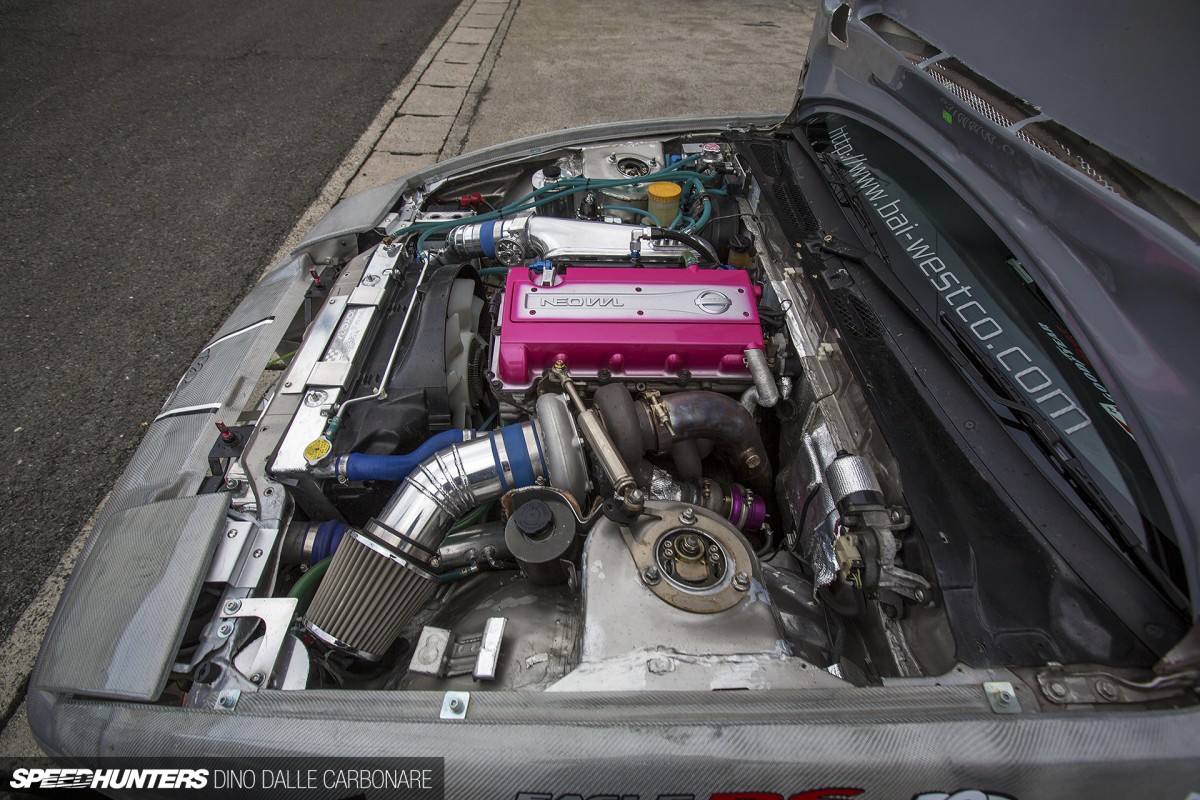 Well fear not, because Chunky Bai wasn't going to let himself fall behind in the horsepower race that professional drifting is experiencing right now. That said, he was never going to get rid of the SR – an engine that has served him well over the years, and one that he knows inside and out. So when the time came to generate the power level required to stay competitive in the D1GP pro ranks, there were quite a few things to think about.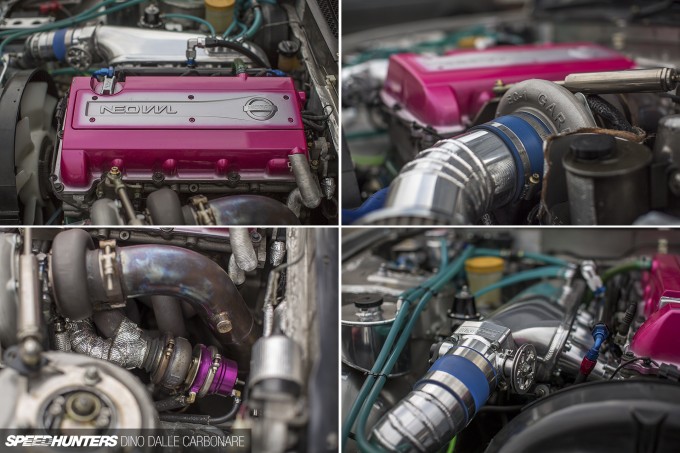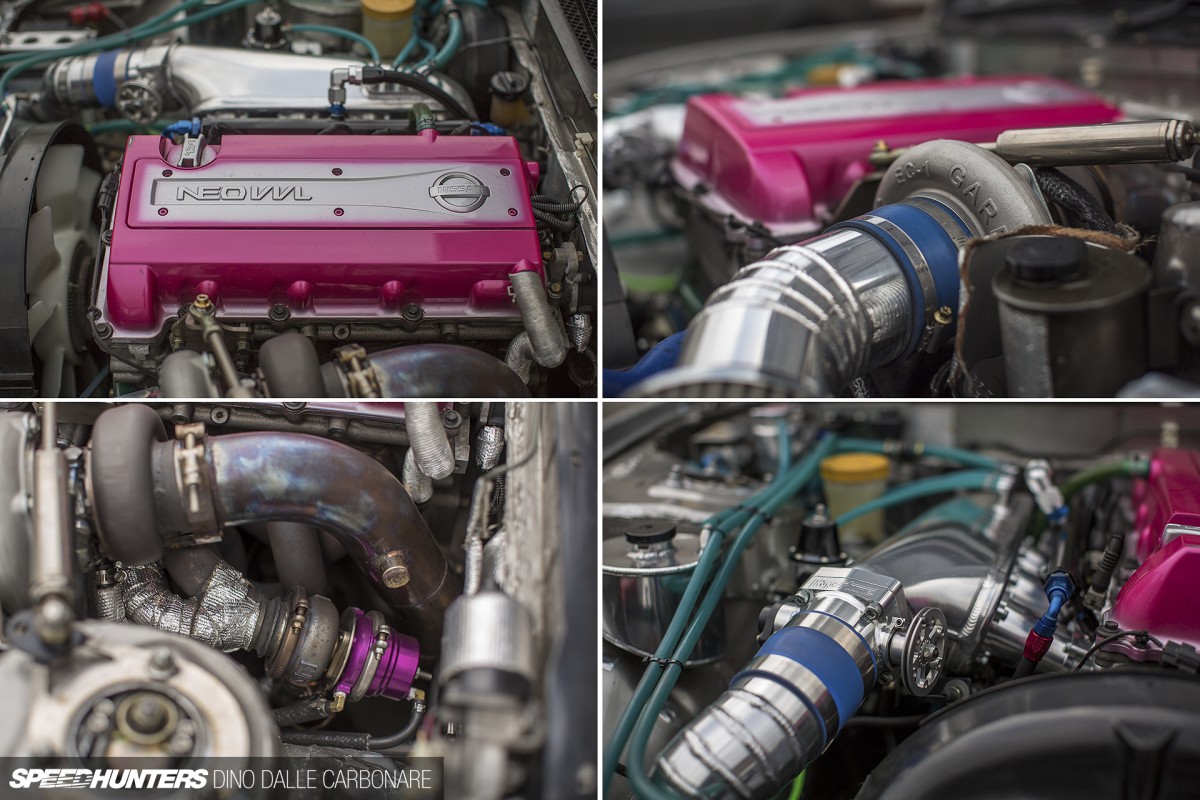 Capacity would definitely have to be bumped, which is why the bottom end was upgraded with a complete HKS 2.2L stroker kit. This would guarantee that the approximate 2.0bar (29psi) boost he runs through his GCG3582 turbo wouldn't cause any issues. Getting power out of an SR is not too difficult if you choose the right parts, but retaining a decent amount of accessible torque through the mid-range is always a challenge. That said, the choice to fit an SR20VE head with variable valve timing was an easy one, with all the work being carried out by engine specialists D2Motor@Works over on the other side of Osaka. While they were at it, they gave the 16-valve head a proper port and polish job and fitted a custom set of cams and some secret-spec valve gear. After all, making the 'VE'  head work just right on an SR20DET requires a little bit of black magic!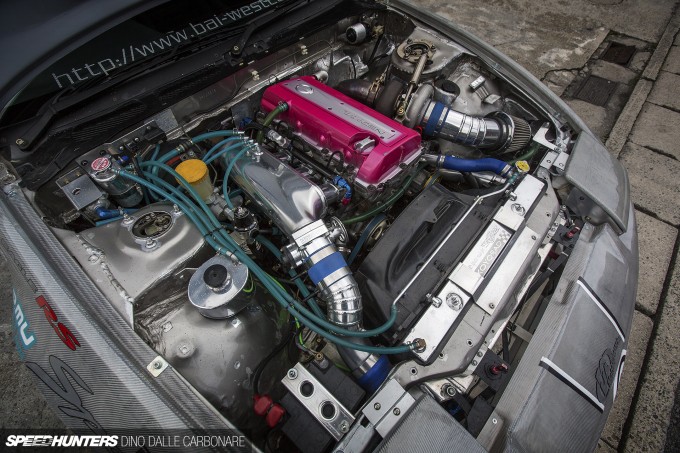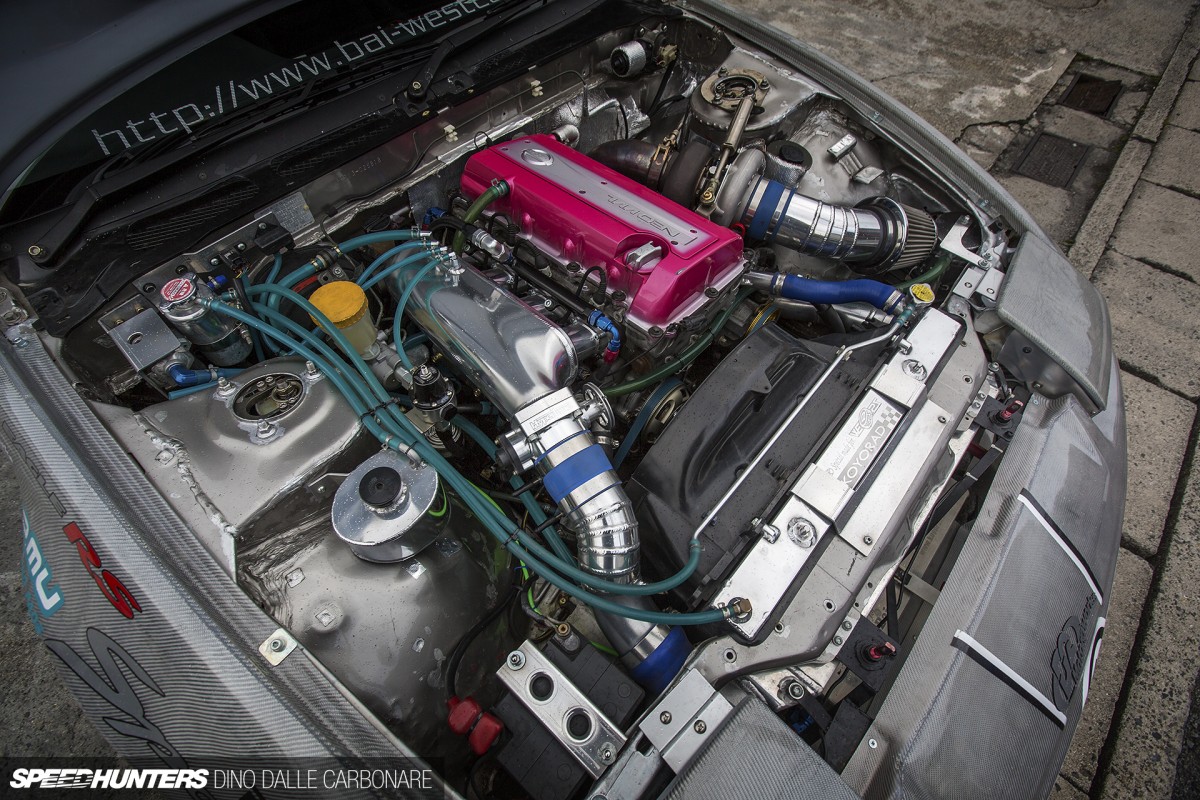 Hypertune from Australia were called in to supply one of their beautifully machined intake plenums as well as a large diameter throttle body. Everything was then plumbed together with a custom Koyo intercooler, which was also supplied with a custom oil cooler and radiator all etched with 'Special Made for Bai-West' insignia. SARD 900cc/min injectors were thrown in together with an in-tank fuel pump upgrade to ensure the motor's thirst is well quenched.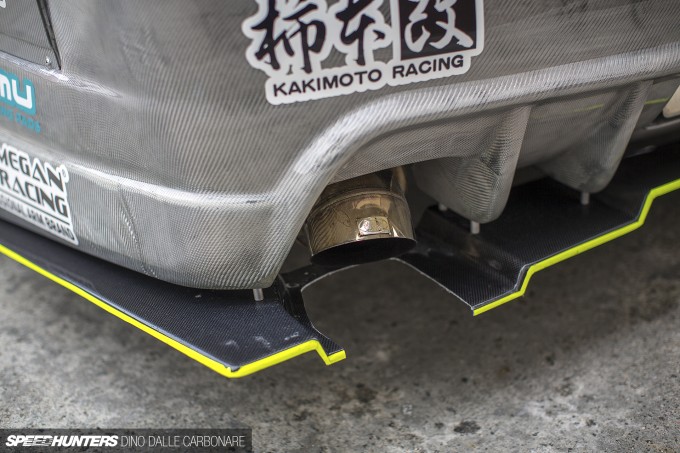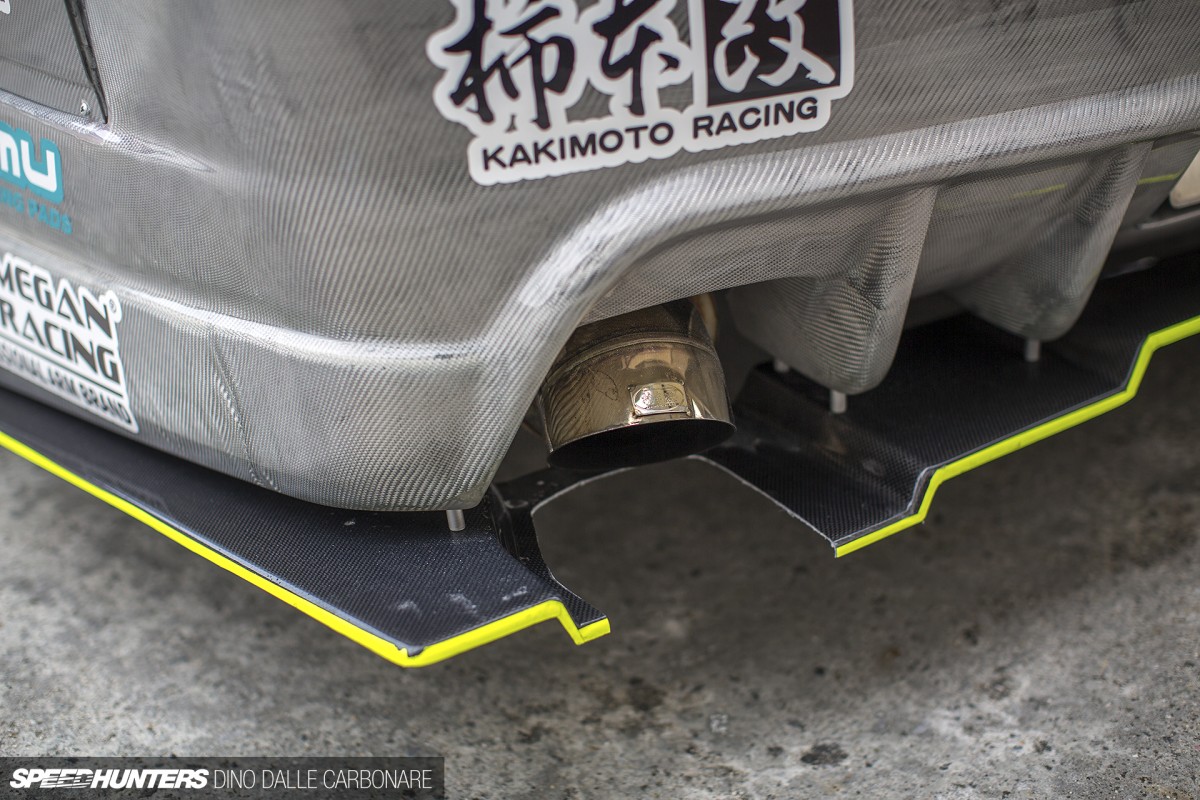 The guys at Kakimoto Racing fabricated a custom front pipe and exhaust system, and once everything was fitted Chunky Bai was a very happy man. He was even happier once he finished setting up the HKS F-CON V Pro engine management system – the result, a solid 750PS and 765Nm. On top of that, the upgraded head and valve gear allows the engine to rev to 9,000rpm without any issues.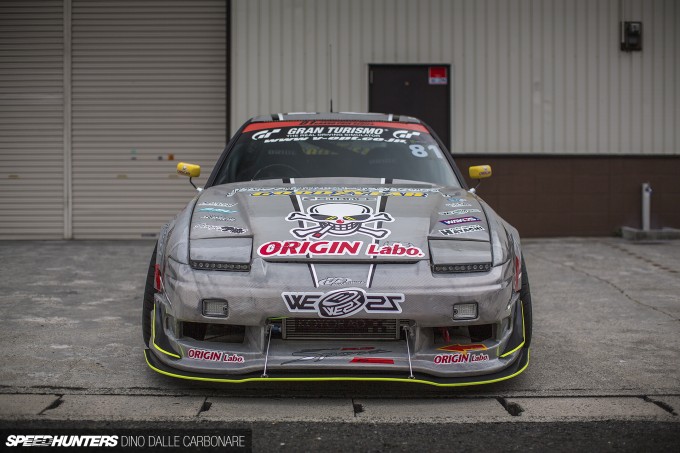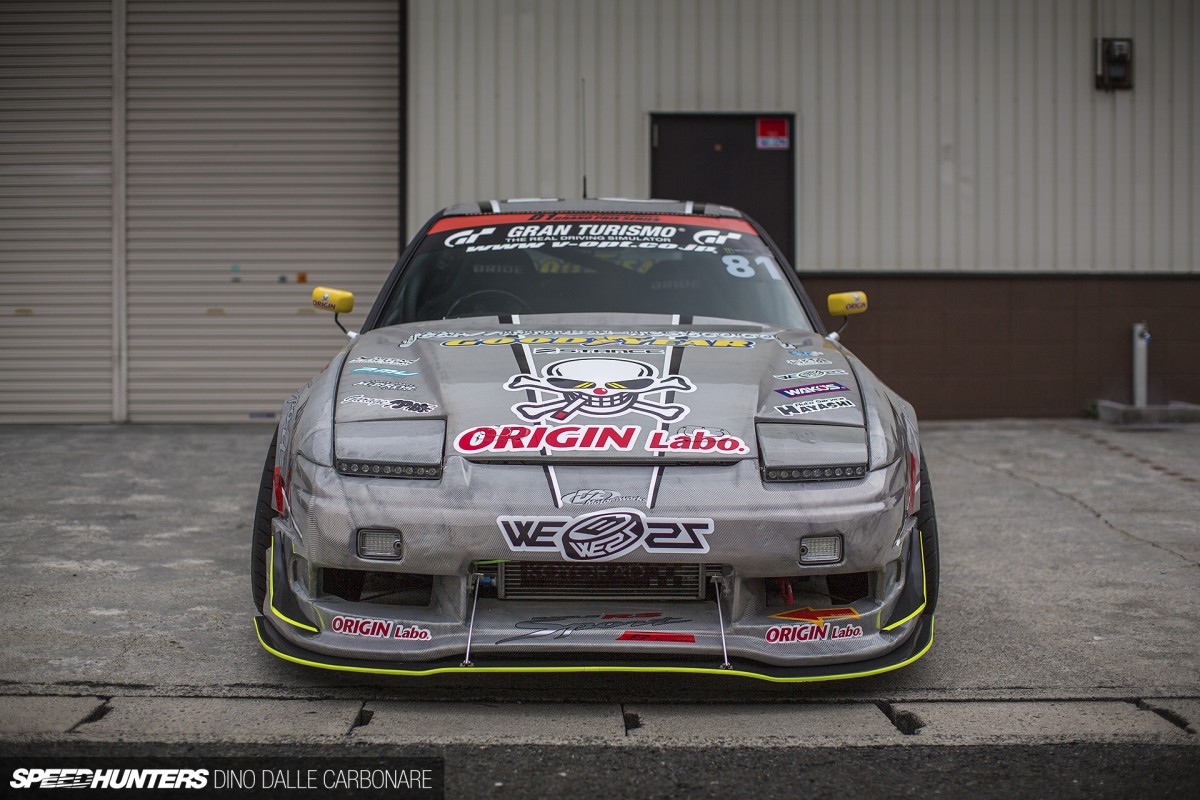 While ORIGIN Labo has always been known for their 'bunny' logo, they have since dropped that and gone for an all-new smoking skull – the new face of the brand if you will. I think it suits Bai's 180SX rather well!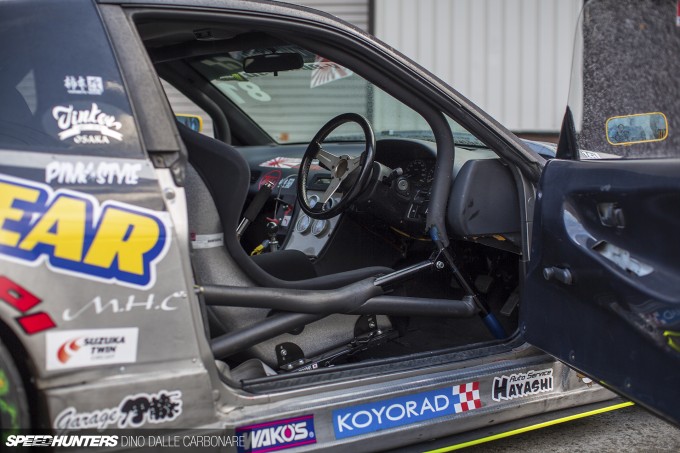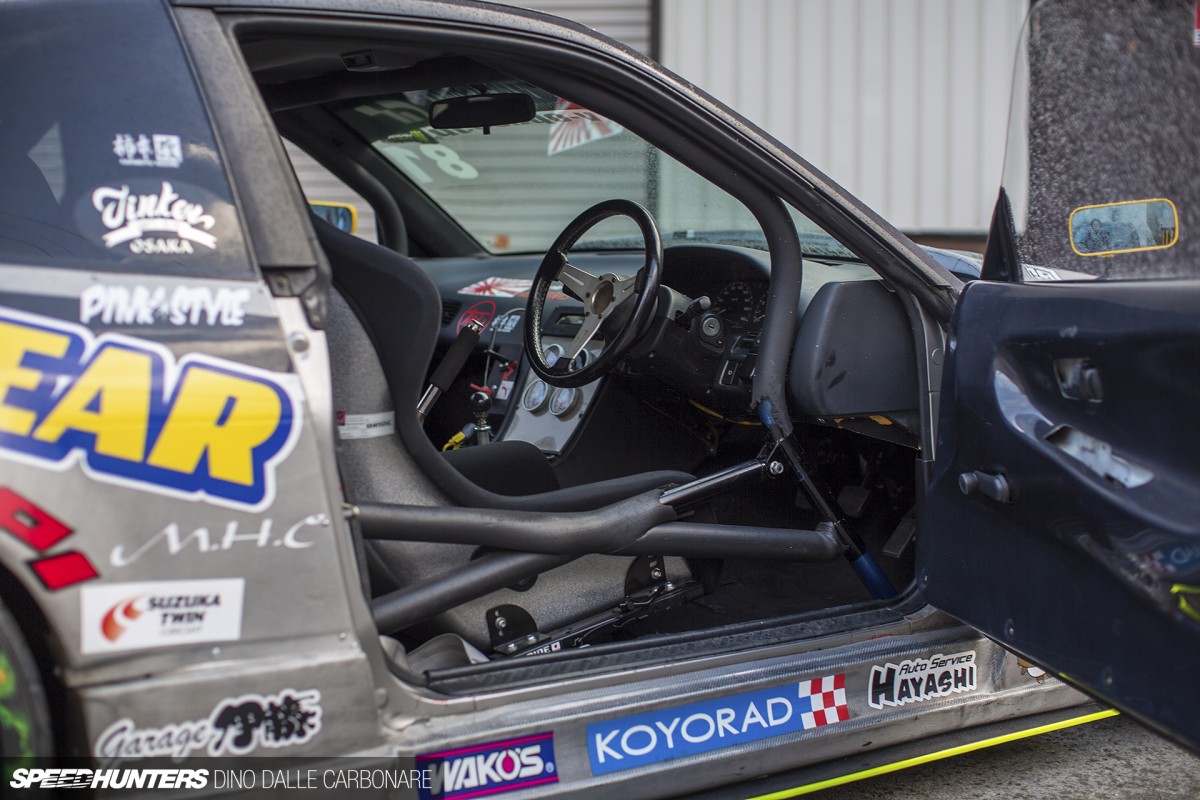 Since the base car has seen its fair share of hard use, Bai actually stripped it right back to a bare chassis before it was rebuilt. Where required it was straightened out, spot welded and fitted with bars and plates to keep things as stiff as possible. For safety's sake a Cusco rollcage was welded in place and fitted with cross bars on each side, just in case Bai finds himself in a tsuiso run that goes bad. Because the gutted doors with carbon cards won't do much in the case of a side impact.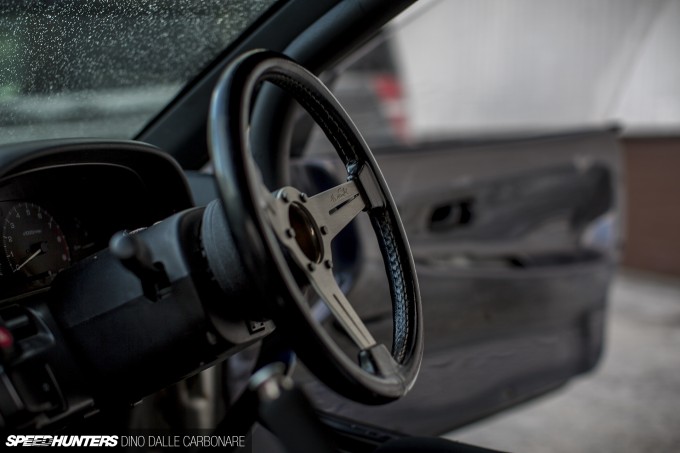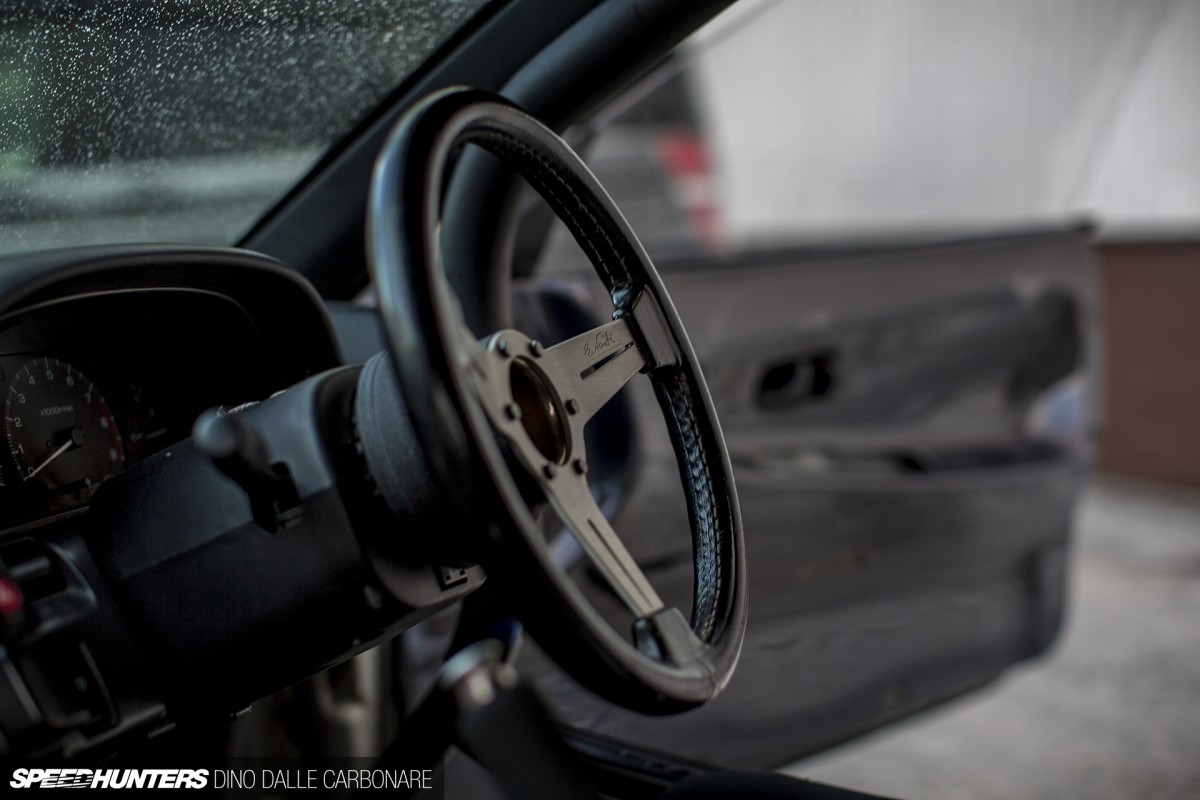 On competition day, this is Bai's office – a flat-faced Nardi steering wheel at the center of it all.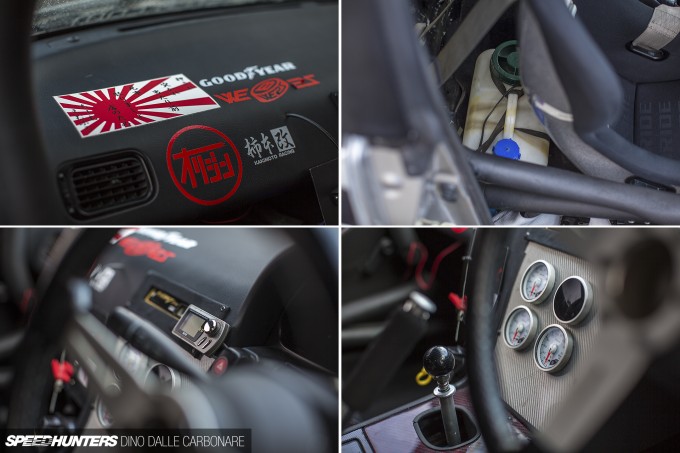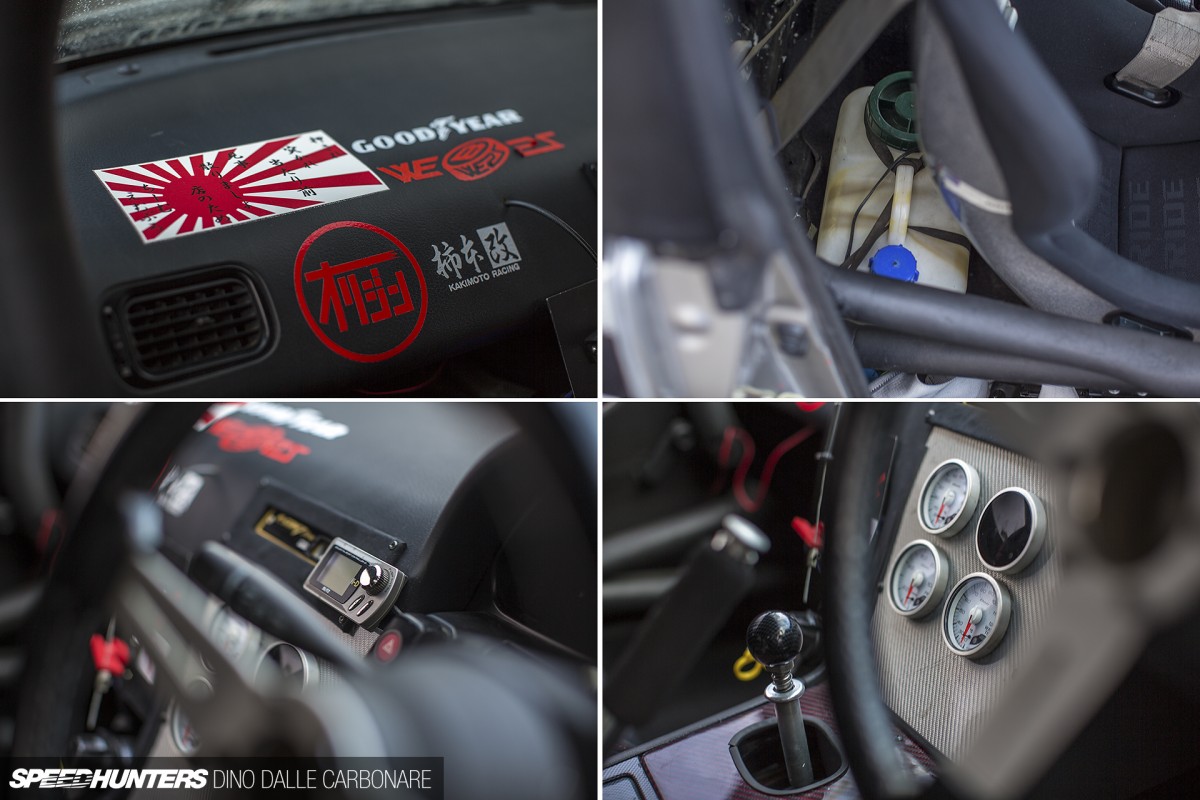 What remains of the stock dash has been dotted with various instrumentation, from four Defi gauges to the Blitz boost controller. Behind Bai's Bride Zeta III fixed-back bucket seats sits a 15L plastic container which holds the water for the intercooler sprayer – a drifting must-have for hot Japanese summer days – especially when you are running a couple of bar boost and 750PS!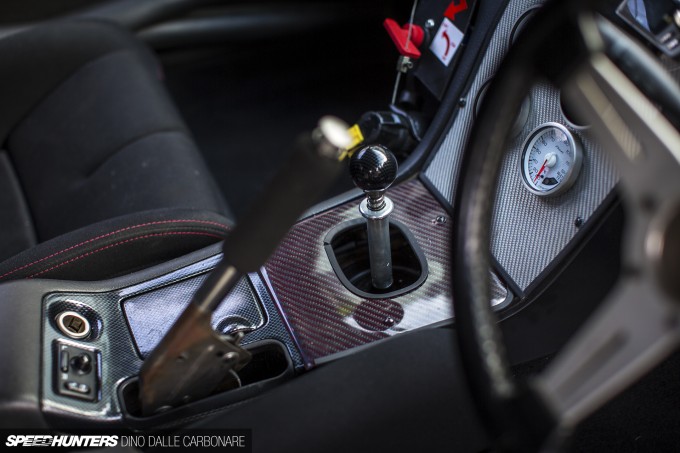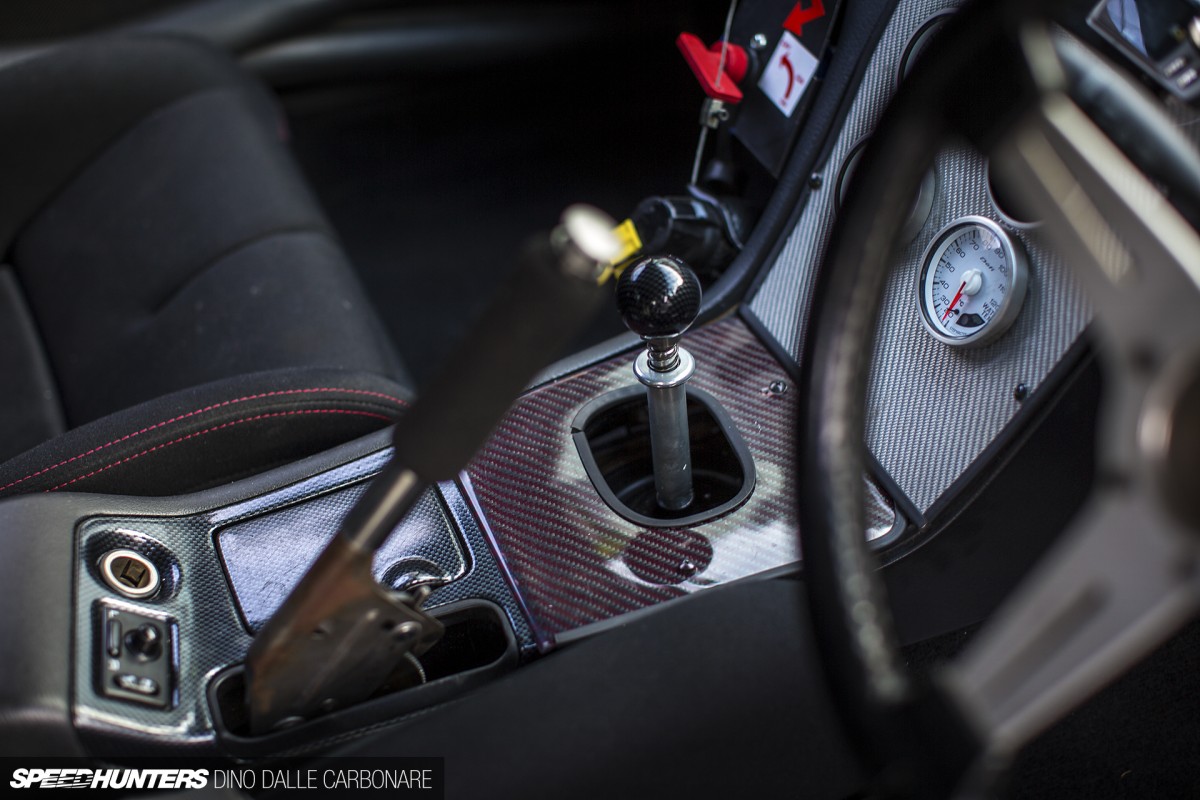 With big power always comes the need for a serious transmission and that's why an HKS 6-speed takes the place of the Nissan's factory 'box. This is in turn is mated to a triple-plate ATS clutch and then a 2-way LSD from the same maker.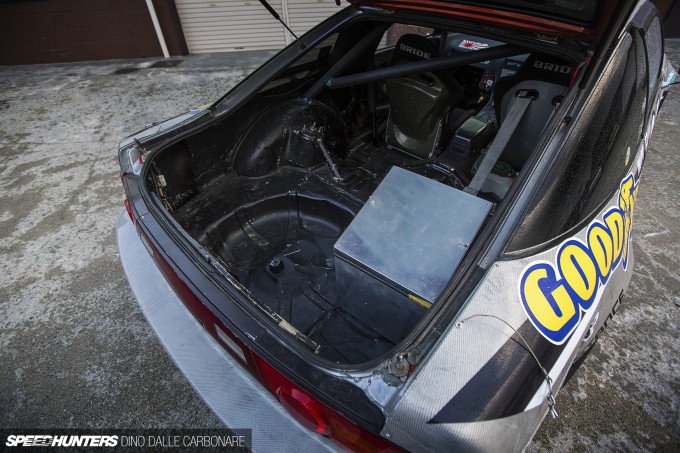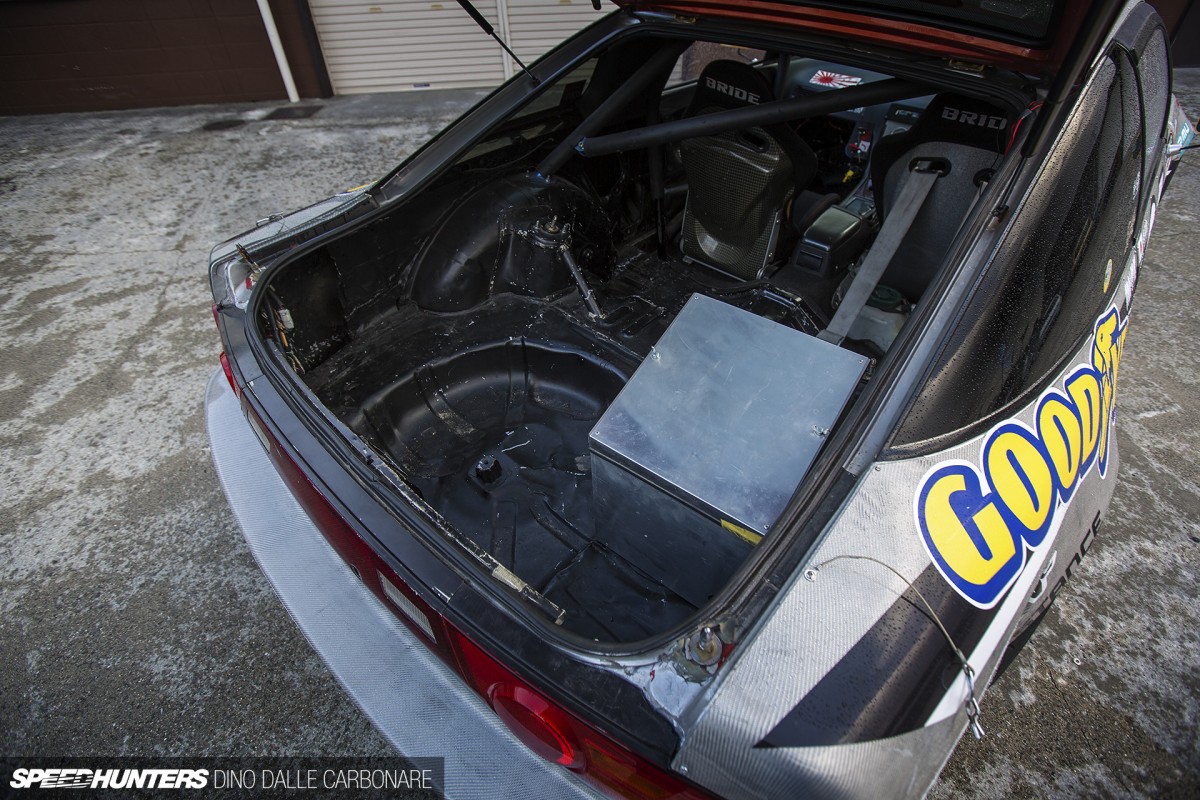 Aside from the rollcage and the aluminium box which houses the battery, there's not much to see in the trunk area. If you enlarge the image to full-size in presentation mode you'll get a better look at the bars that were added to stiffen up the rear suspension turrets.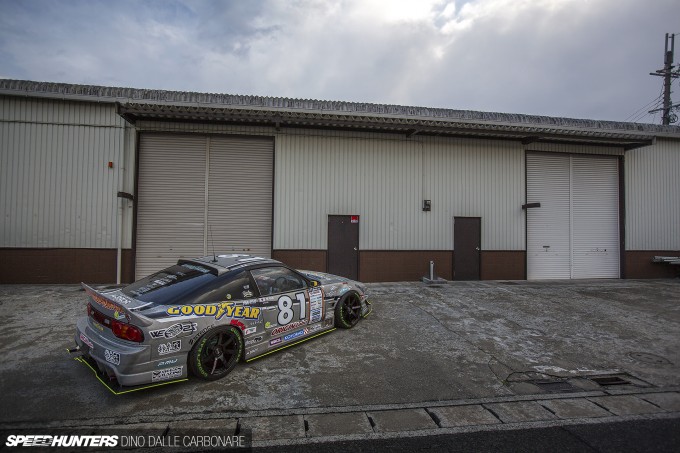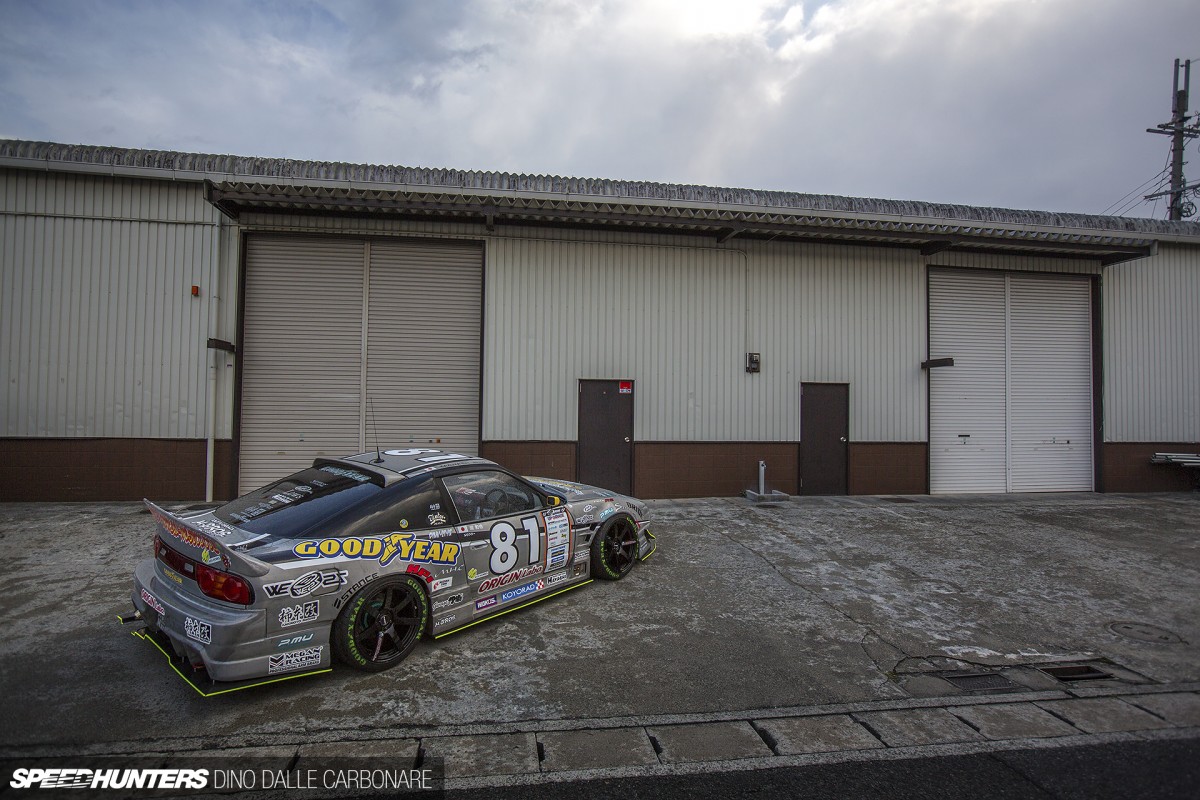 And on the subject of suspension, the 180SX sits on a drift-specific set of adjustable Stance coilovers, fitted together with a host of Megan Racing arms and knuckles which allow it to be set up just right. and Chunky Bai to be able to unleash hell in D1GP.
Ah yes, Osaka and its car culture never ceases to impress me. No scratch that, it captivates me, which is why I'm doing my best to head back down there as soon as I can. The question is though, now that we've seen one of its finest drift machines, what else would you guys like to see from the wild Kansai region of Japan?
Dino Dalle Carbonare
Instagram: speedhunters_dino
dino@speedhunters.com