A Demo Car With A Difference
If, like me, you assume that Advance is a name synonymous with NSXs, you'd be half right. But it's not the full story for this Yokohama-based tuner.
You see, while Advance has always catered to Honda's supercar icon, they haven't restricted themselves exclusively to that make and model. Seeing a ton of brand-specific, or even car-specific tuners struggle to sell stickers these days – let alone their modifying and tuning services – I'd say it was a rather good choice to have taken. But as I had never actually visited Advance's shop before, it was a surprise to find a wide variety of cars being worked upon, which made me look at this outfit in whole different light. But more of that when I bring you a proper tour of the place soon..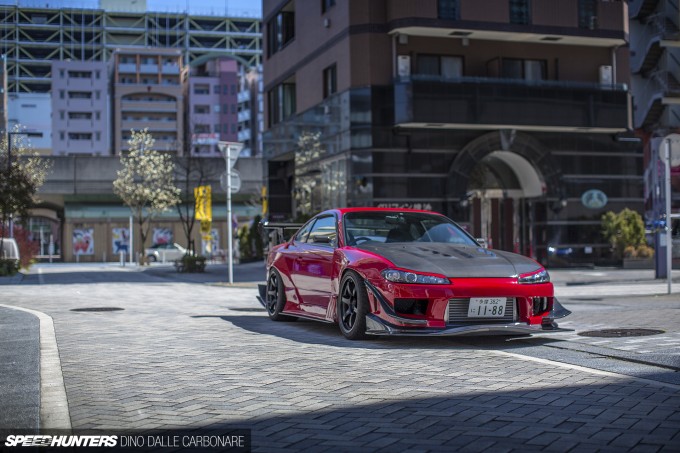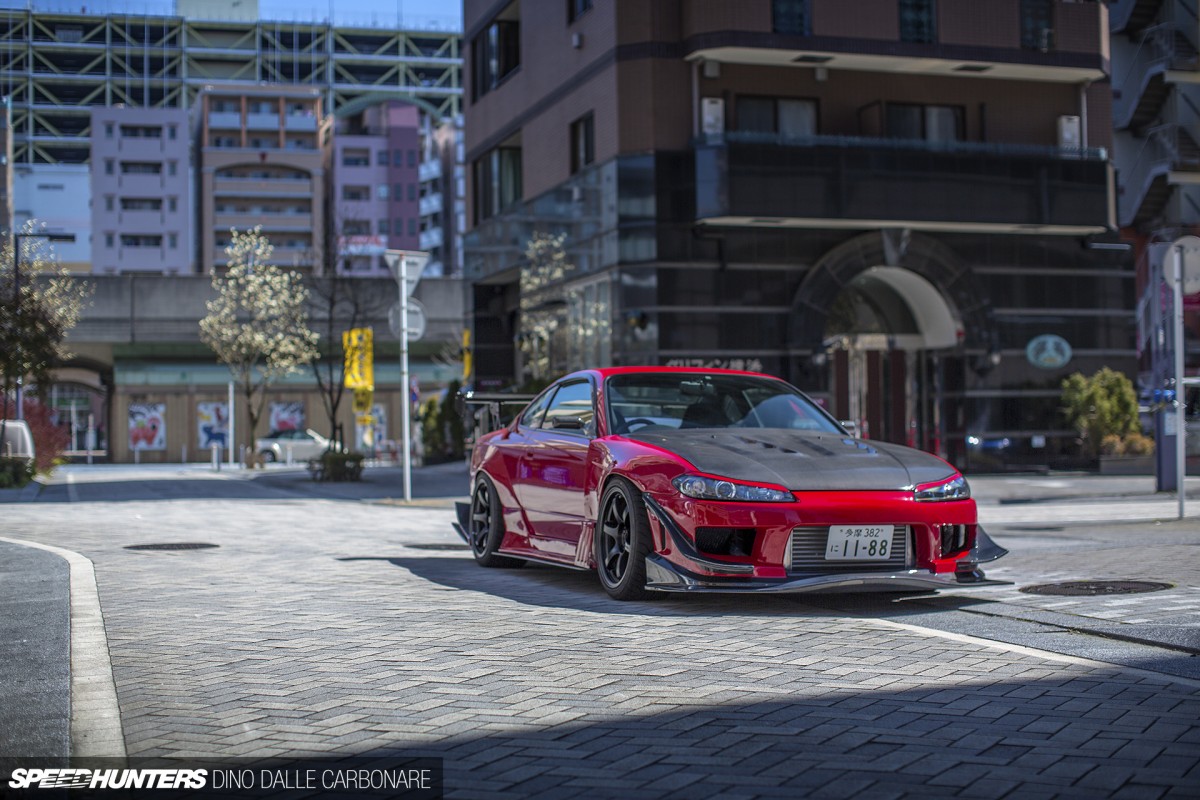 Because we've got this to focus on first – a car that just screamed 'look at me' when I spotted it sitting next to Advance's yellow NSX demo car.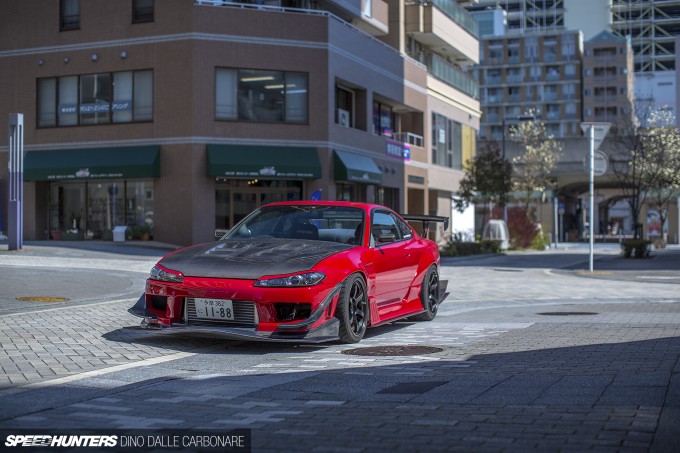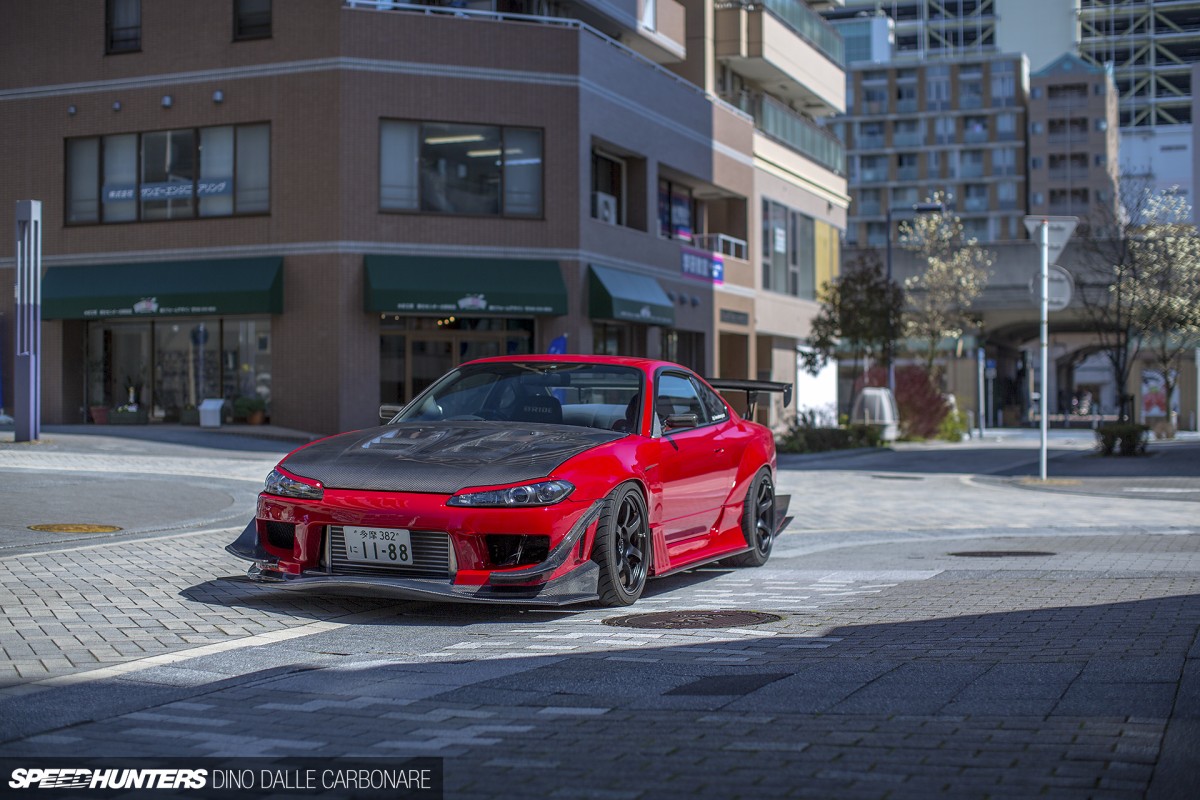 The original plan for the day was to shoot the shop's NSX and another customer car, but given how cool the S15 looked, there was no way I was going to leave without photographing it too. And I'm glad I did, because after seeing far too many beaten up ichi-gos at drift events, a well cared for example is as refreshing as it can possibly get.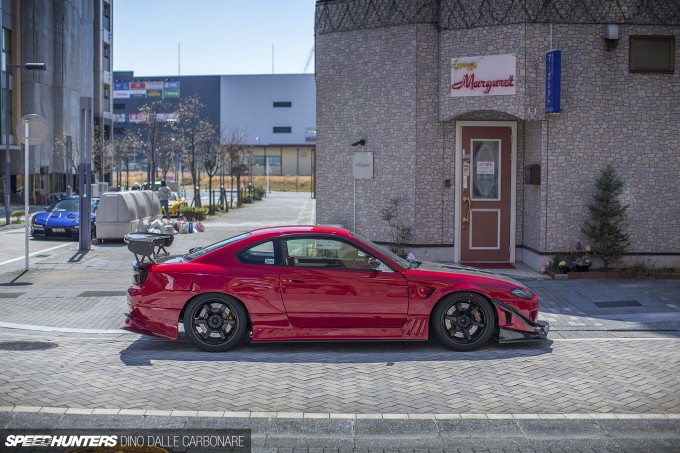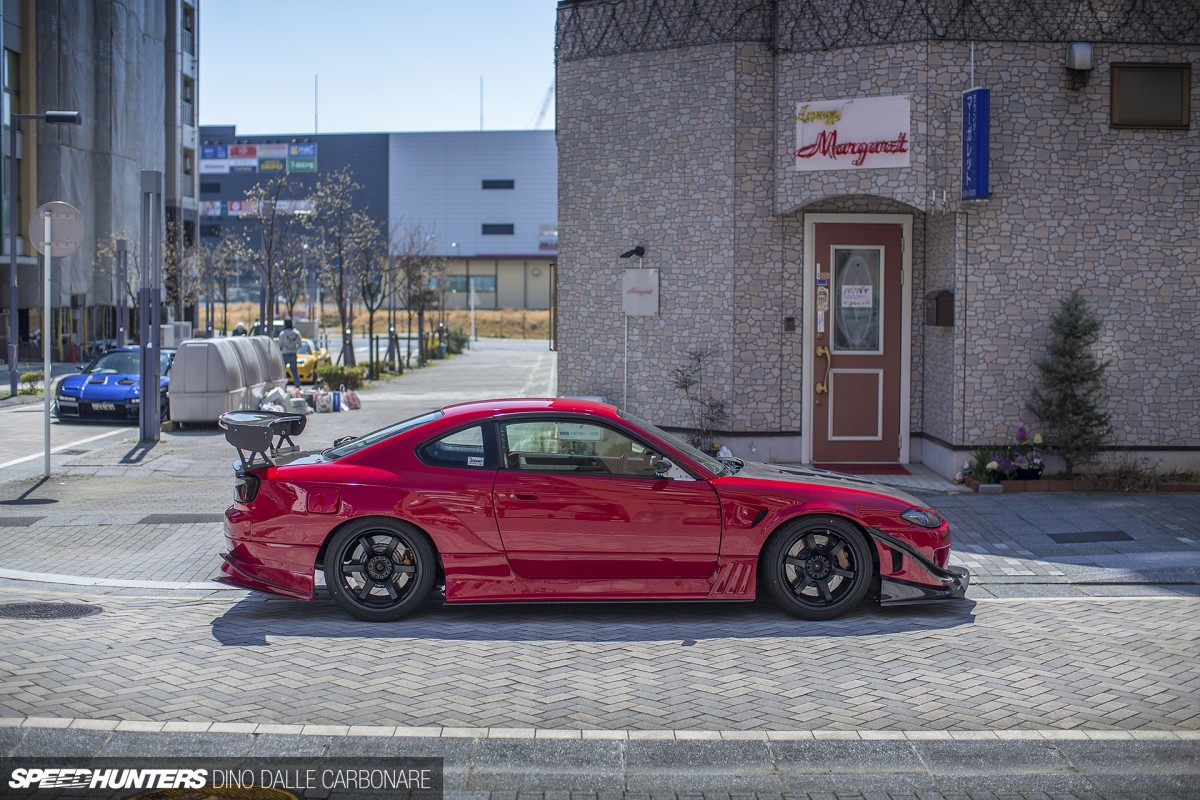 Driving around in a pair of rather loud NSXs slammed to the ground and a fire-red S15 that doesn't make much less noise is a sure-fire way to grab a lot of attention. Finding suitable locations to shoot cars is always tough in Japan's cities, and although I thought I had found the perfect spot for this Silvia in a narrow paved road, it proved to be a tad busier than we had all initially anticipated, so the hunt continued.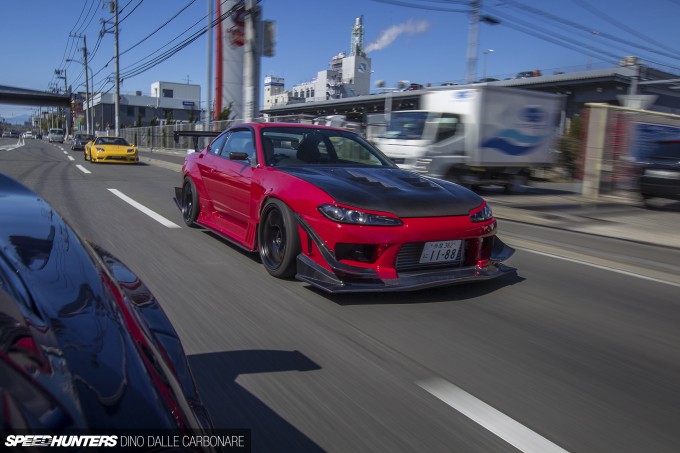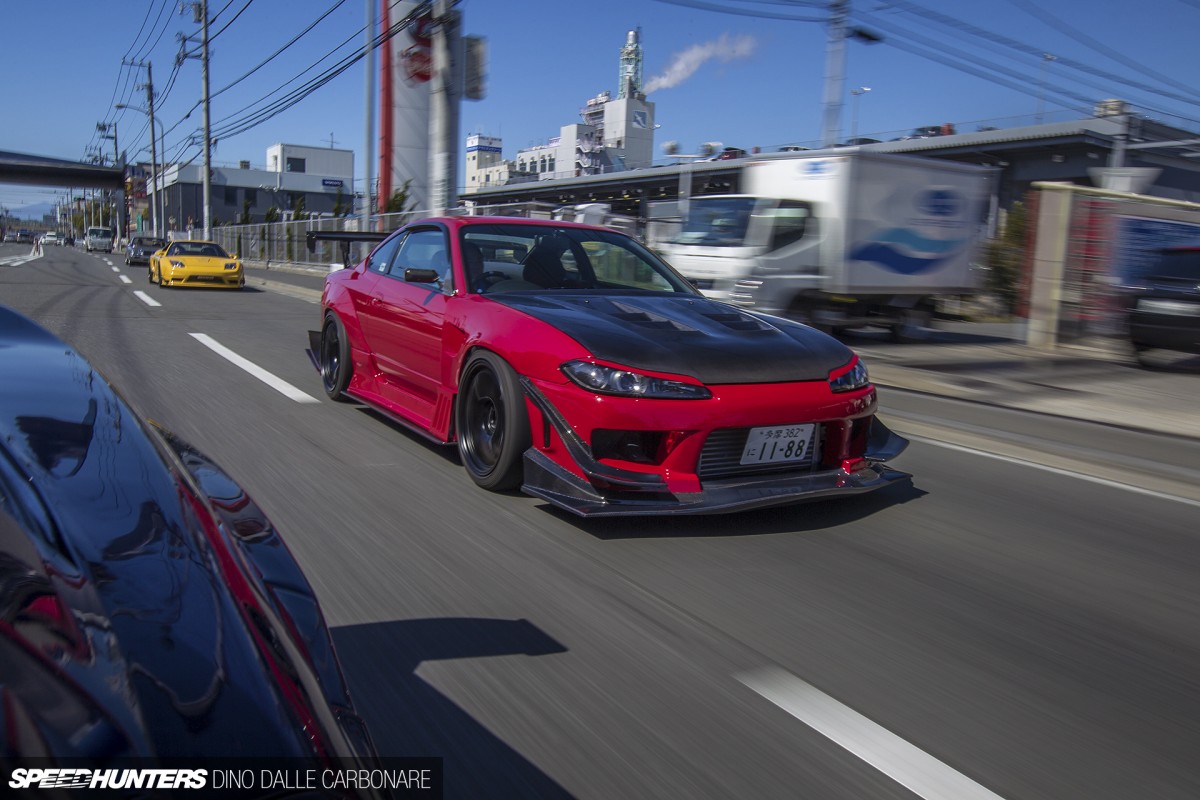 We drove around for a bit, but on weekdays this particular industrial area of Yokohama is packed with traffic and very busy. So we took the safe and reliable option in Japan and dived underground.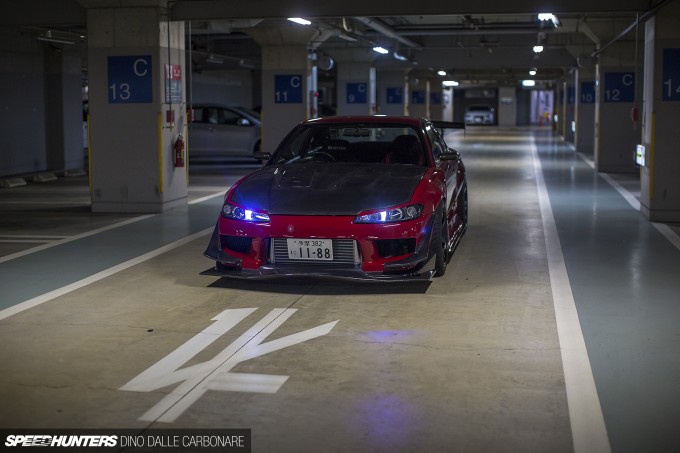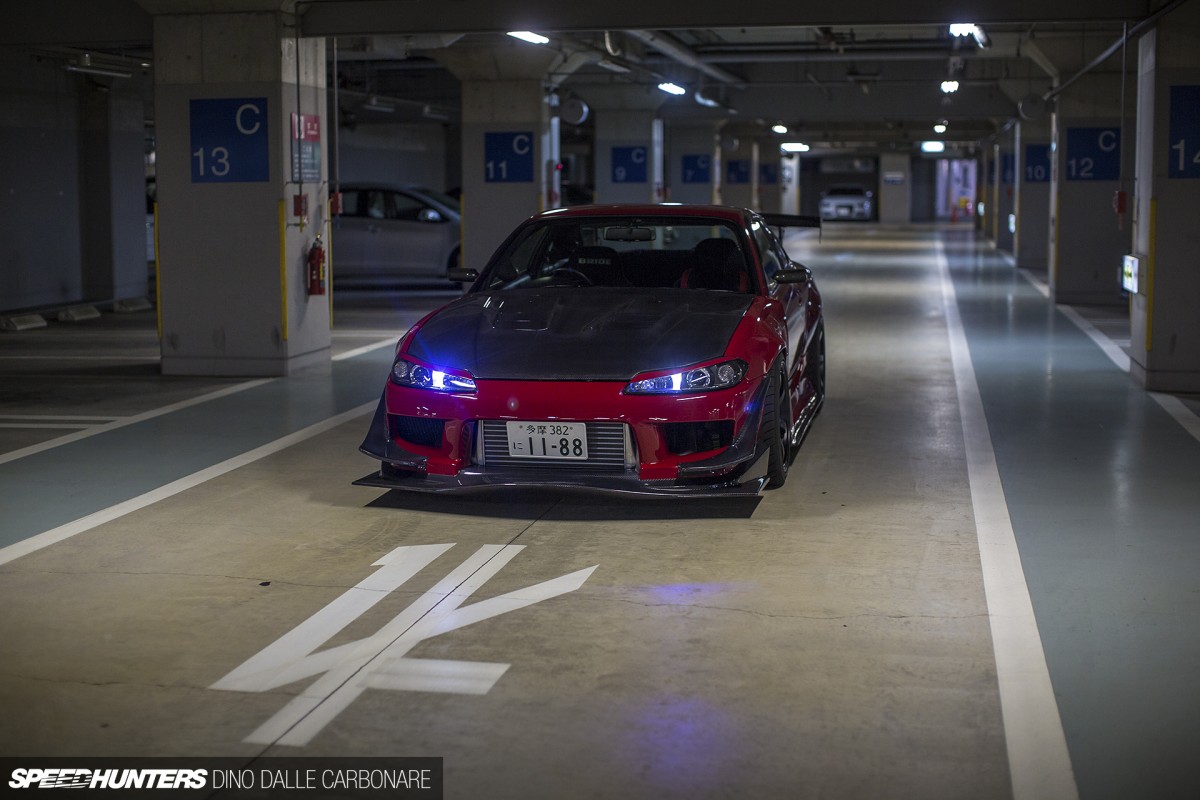 Masa from Advance knew of quiet parking garage nearby where I'd be able to take a proper look at this Garage Mak kitted S15 Silvia, which actually belongs to Yagi-san, one of the mechanics at Advance. A few things make this particular car special, first of which is the fact that it was sourced directly from Garage Mak in Nagano.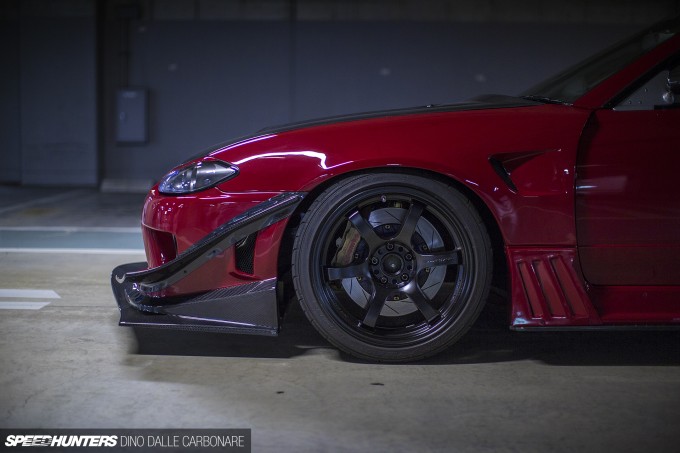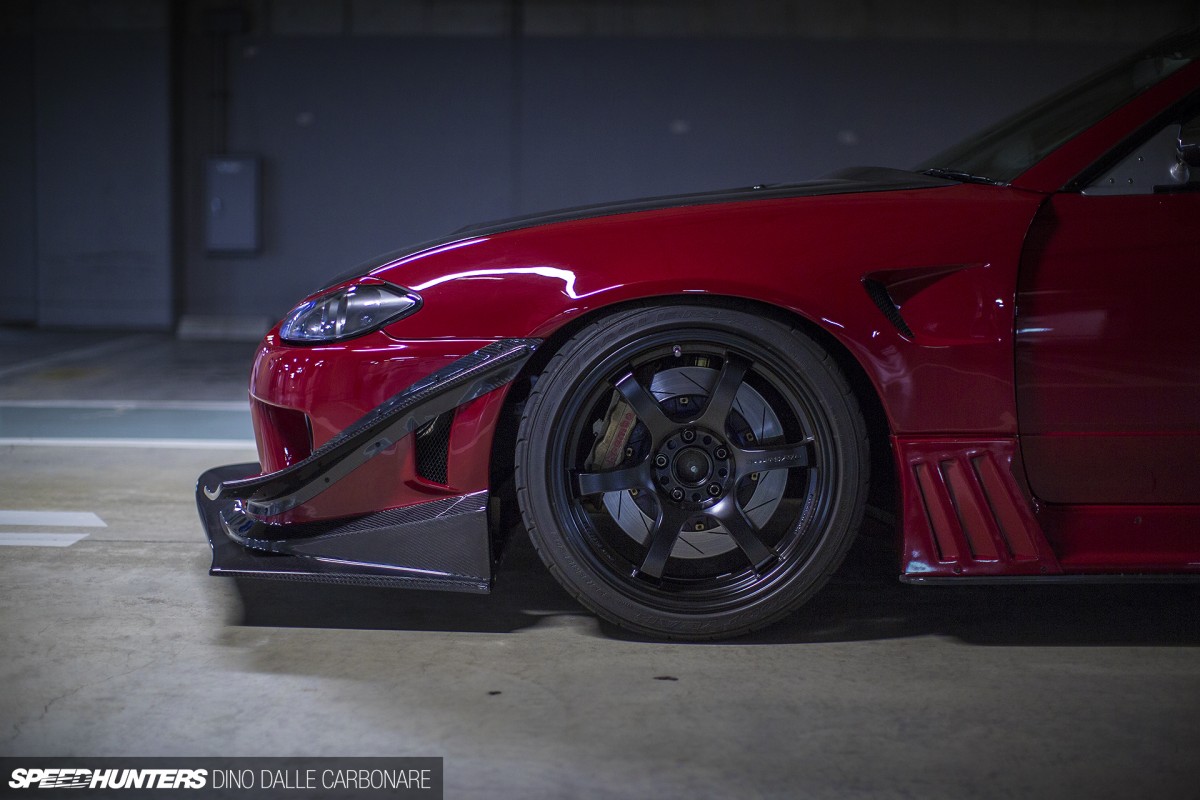 That explains why it's wearing Garage Mak's complete Revolution wide-body aero kit complete with all the optional carbon fiber bits that only add extra aggression to the aesthetics. Like every car that Advance builds, this S15 has been modified for dual purpose: to be a great performing street car as well as a fun and fast weekend track toy. Another thing that makes this car rather special is that it's Yagi-san's daily driver and also doubles up as the family car – proof of which will come when we take a look at the interior.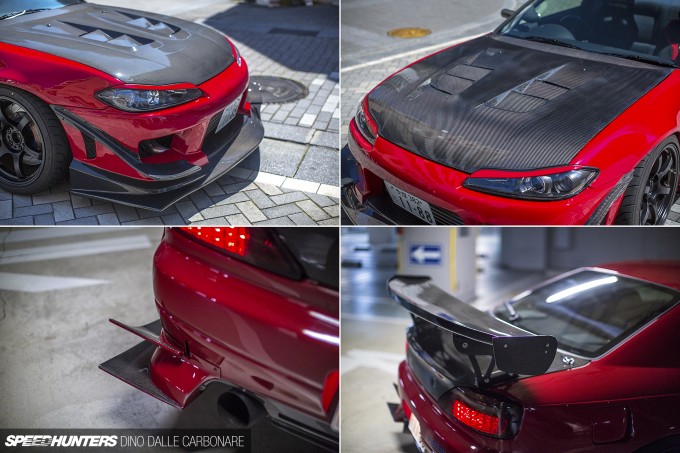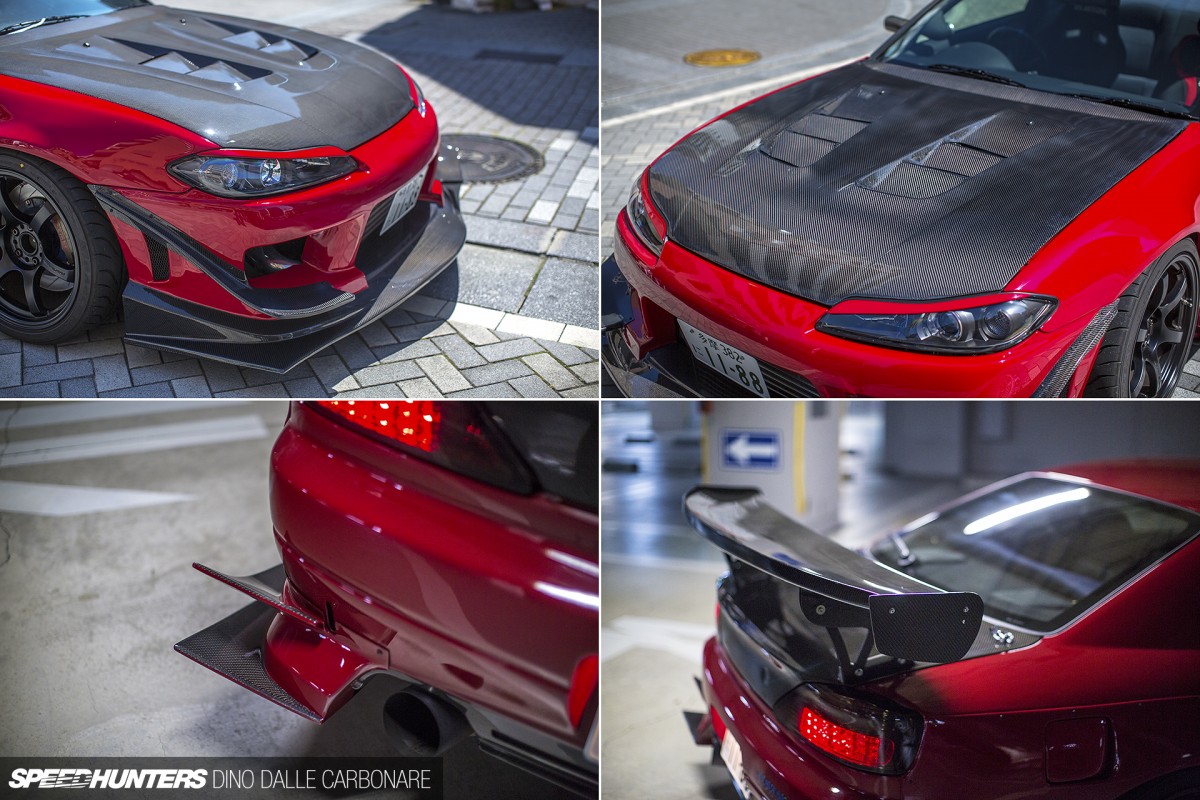 Garage Mak's Revolution aero parts are some of the best designed and constructed on the market – especially when it comes to the S15. This car wears their Type 1 front bumper mated to their massively protruding carbon fiber diffuser section. More carbon comes in the way of the large canards added to the side and the vented hood, and as you can see there's even more at the rear with the trunk lid and GT wing. There's also a pair of canards fixed at the corners of the rear bumper to add more visual drama.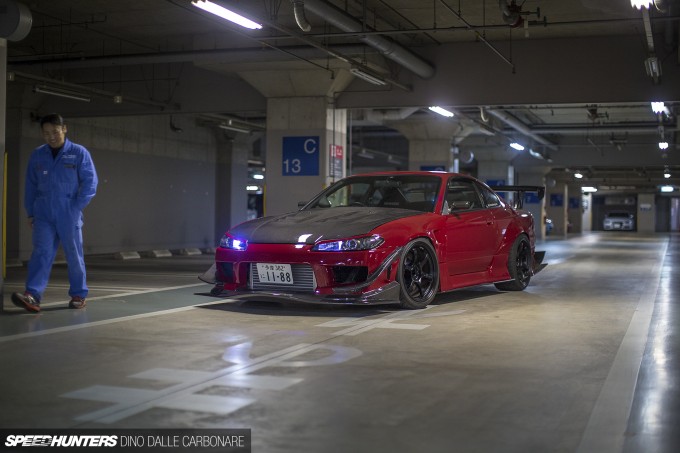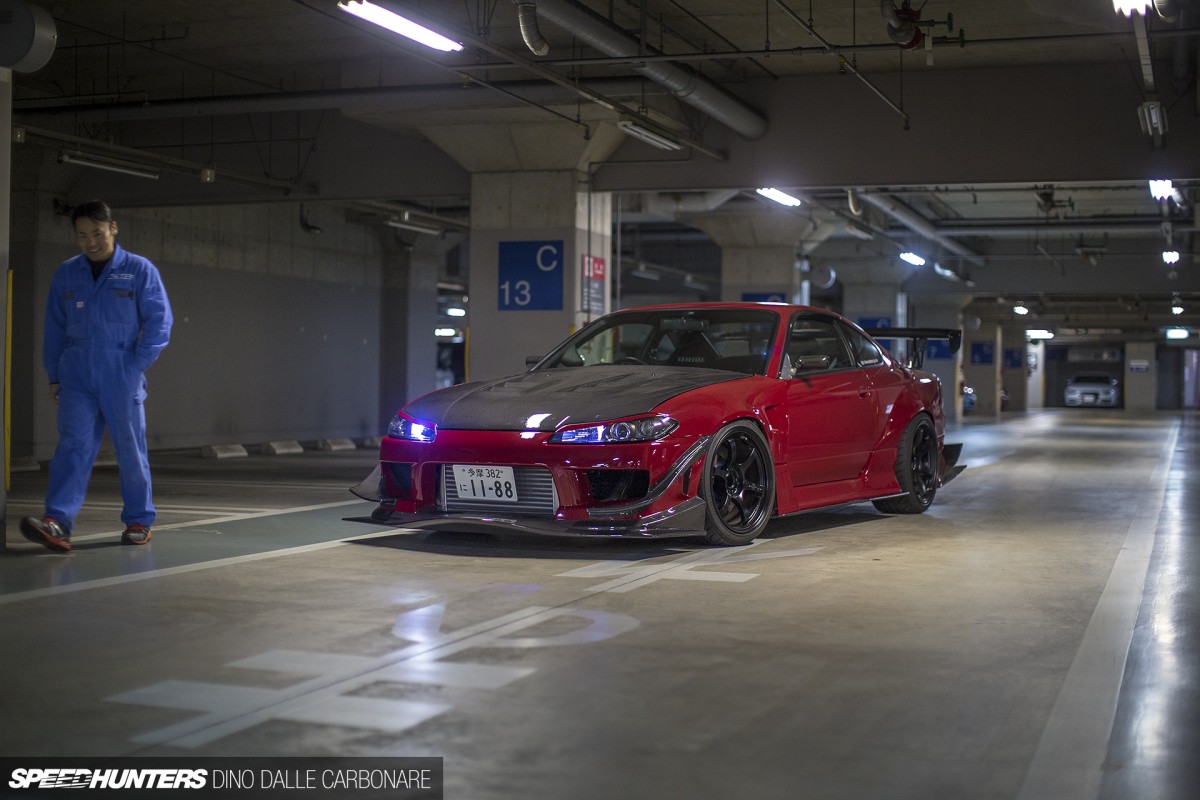 It all combine to create an imposing interpretation of Nissan's final Silvia.
Performance For The Street & Track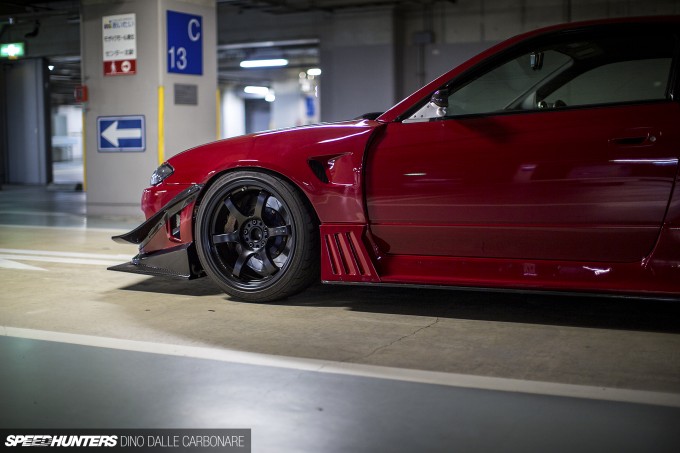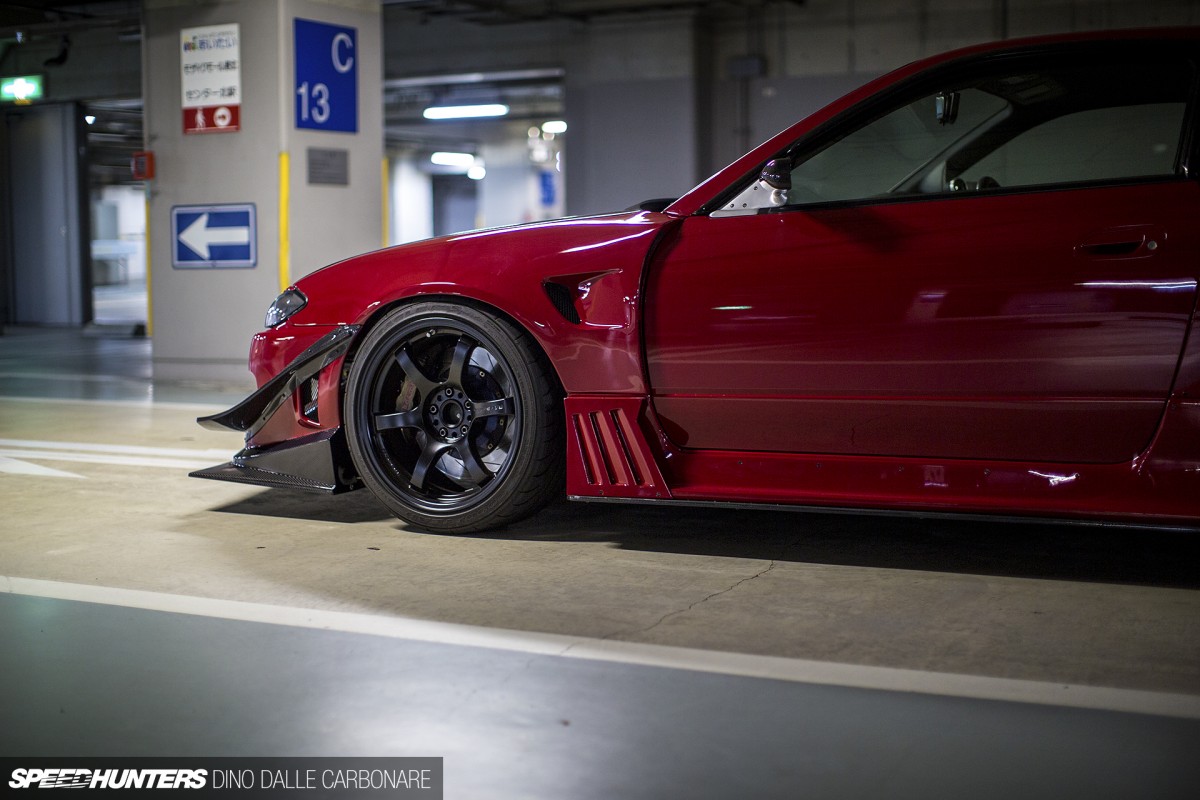 To give it more menacing proportions the S15 also runs Garage Mak's vented and widened fenders – an excellent choice when you're building a car for drift or circuit work. They allow a lot more space to play with, be it wider wheels and tyres for grip, or more lock for drift. The Garage Mak side skirts have been further joined by that louvered section right under the fender, which is another GT-inspired addition.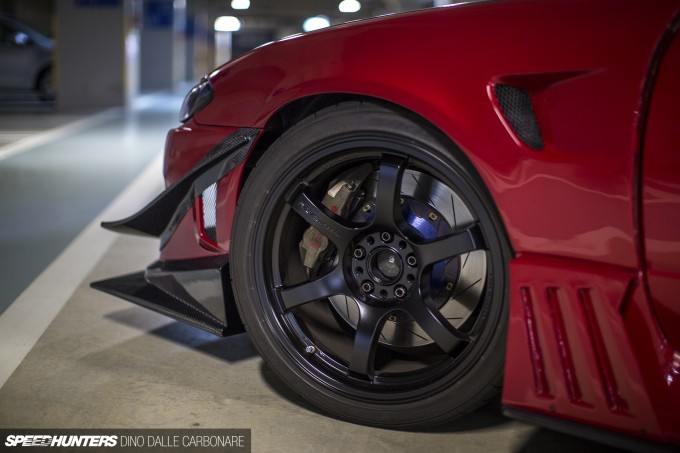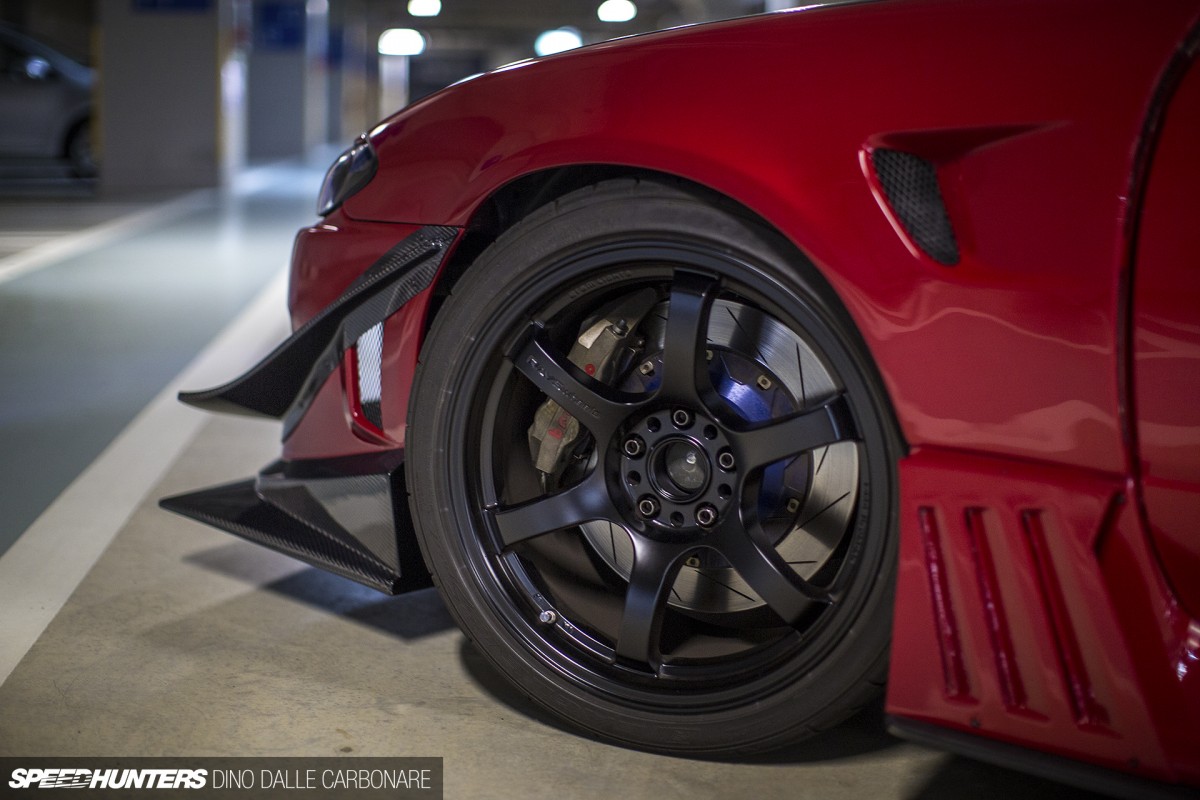 Just like the Advance NSX I recently featured, the S15 rides on a set of 18-inch satin black RAYS Gram Lights 57DR wheels for maximum contrast, wrapped in Goodyear RS Sport tyres. As you can see, no corners were cut when it came to the brakes either – a race-spec package featuring forged Brembo 4-pot calipers and large, slotted 2-piece rotors taking care of that.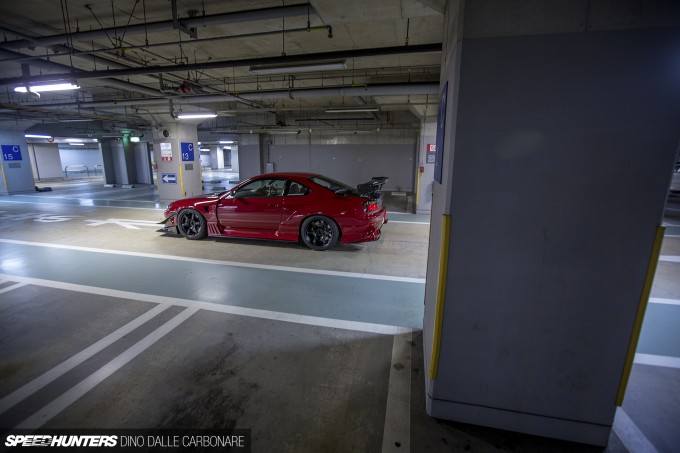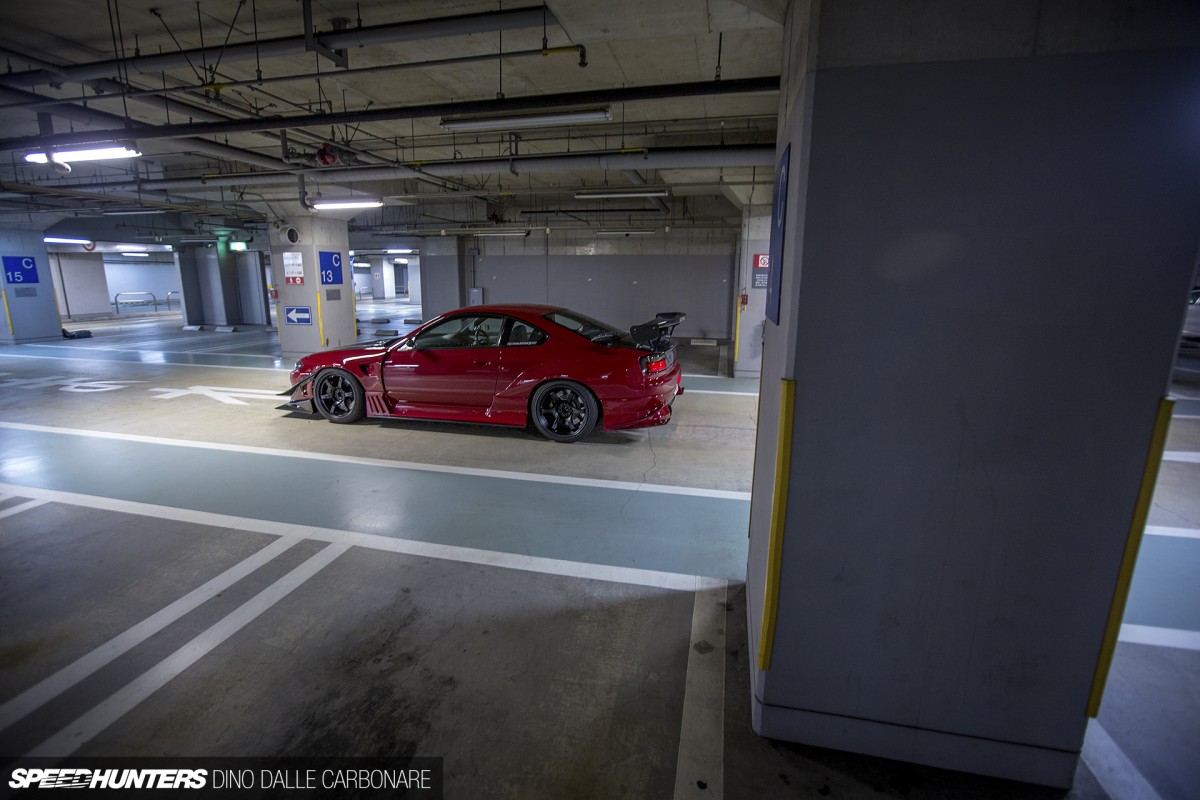 What really sets the Garage Mak S15 kit apart from others is the design of the rear bolt-on over-fenders. The widened section begins low and curves up to meet with the upper shoulder line of the car, adding a little roundness to the S15's somewhat flat flanks.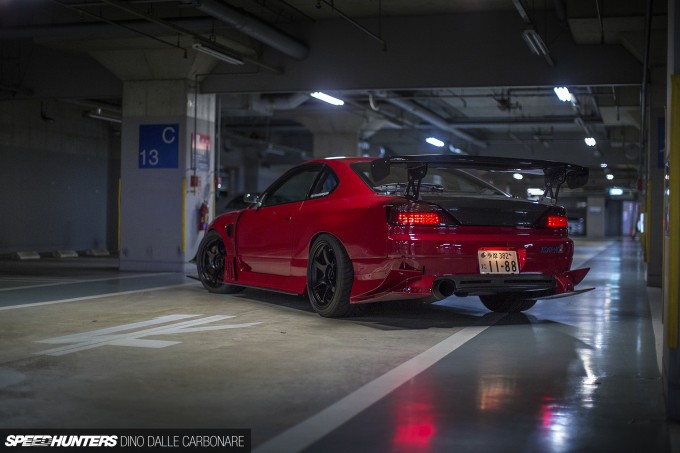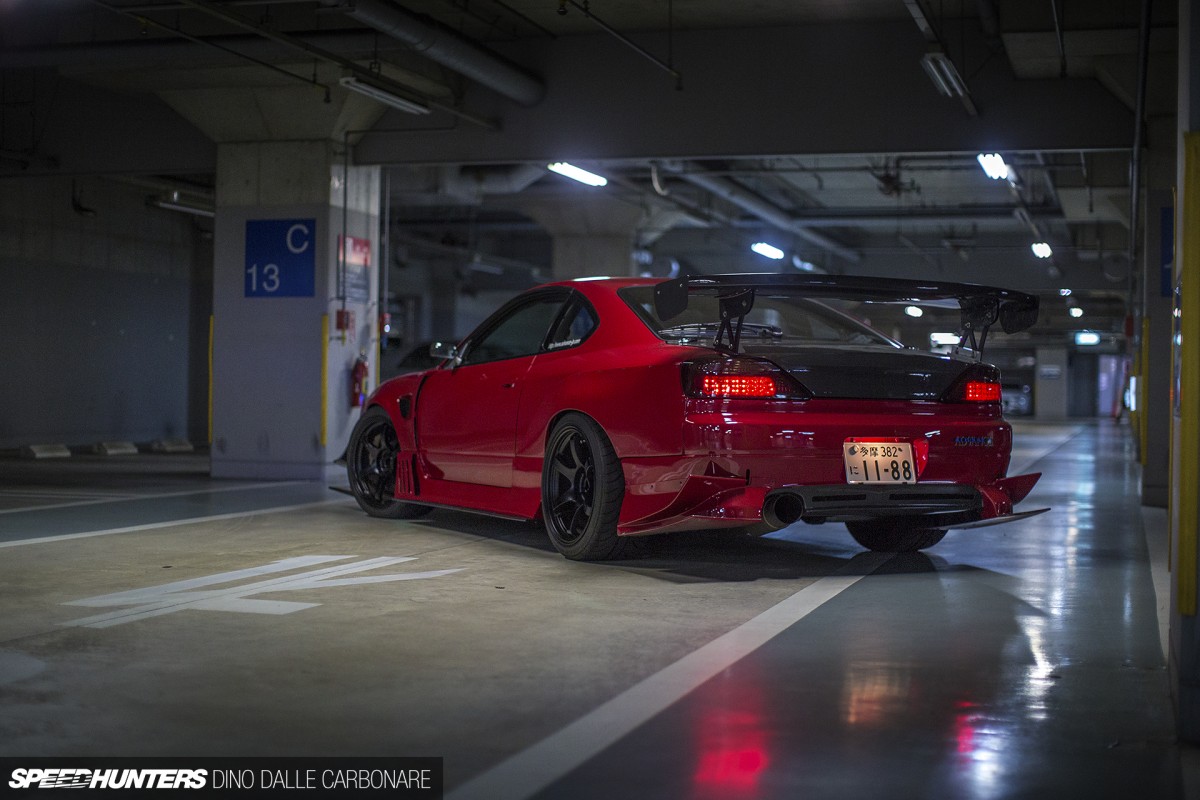 You don't get the full effect of the rear canards until you take a step back and view the whole kit in its entirety – satin black wheels, carbon bits and all.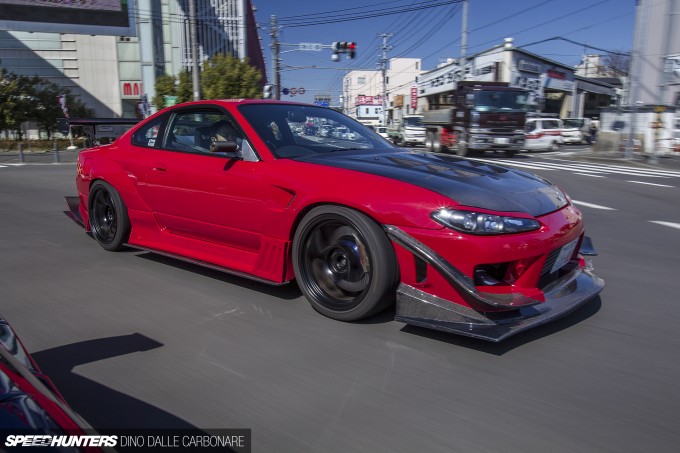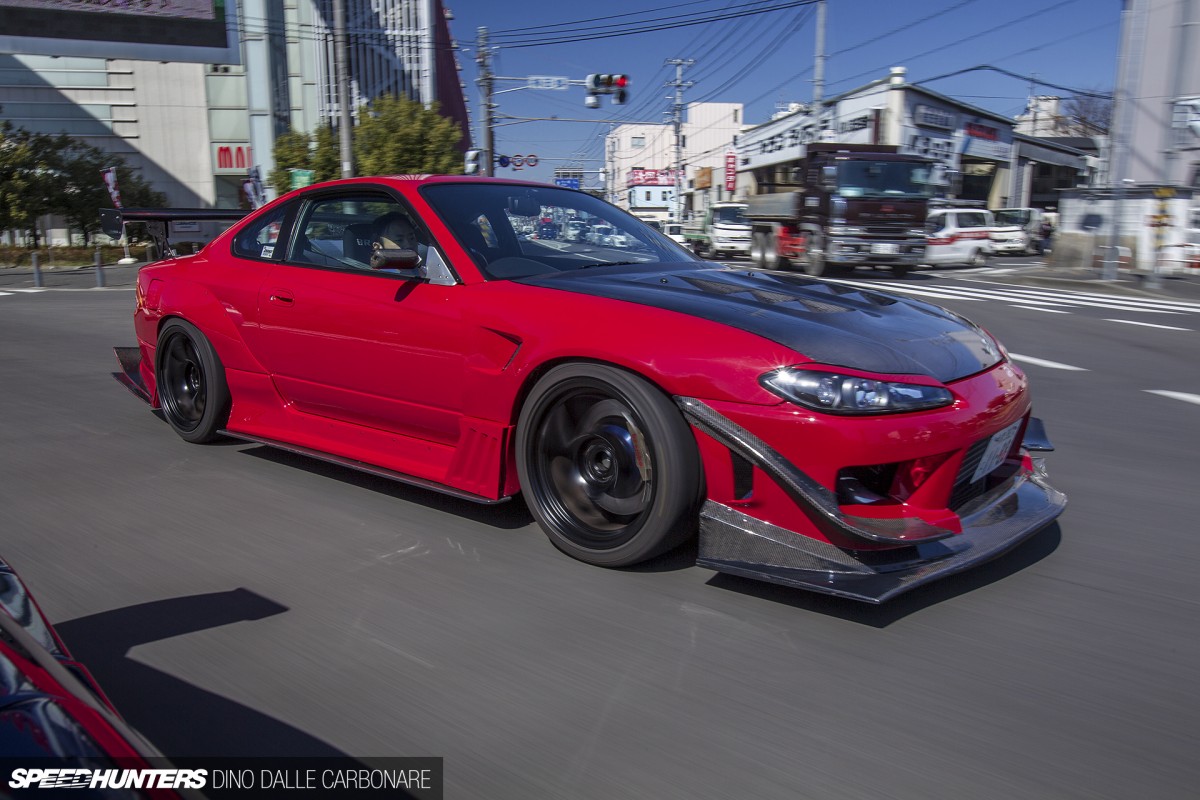 It certainly turned heads while we were en route to the location – and that's saying something in Japan!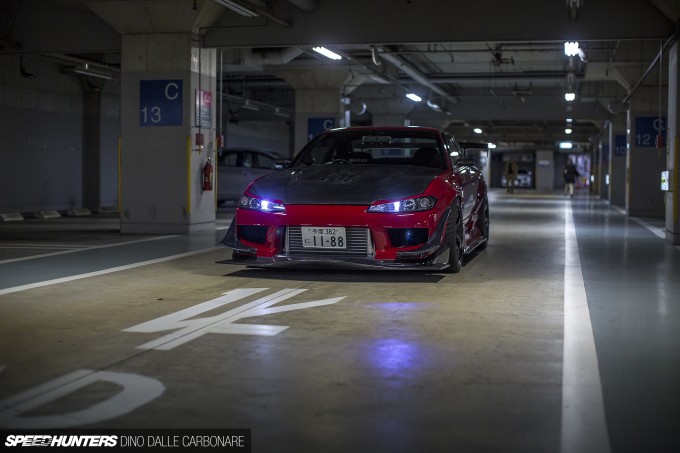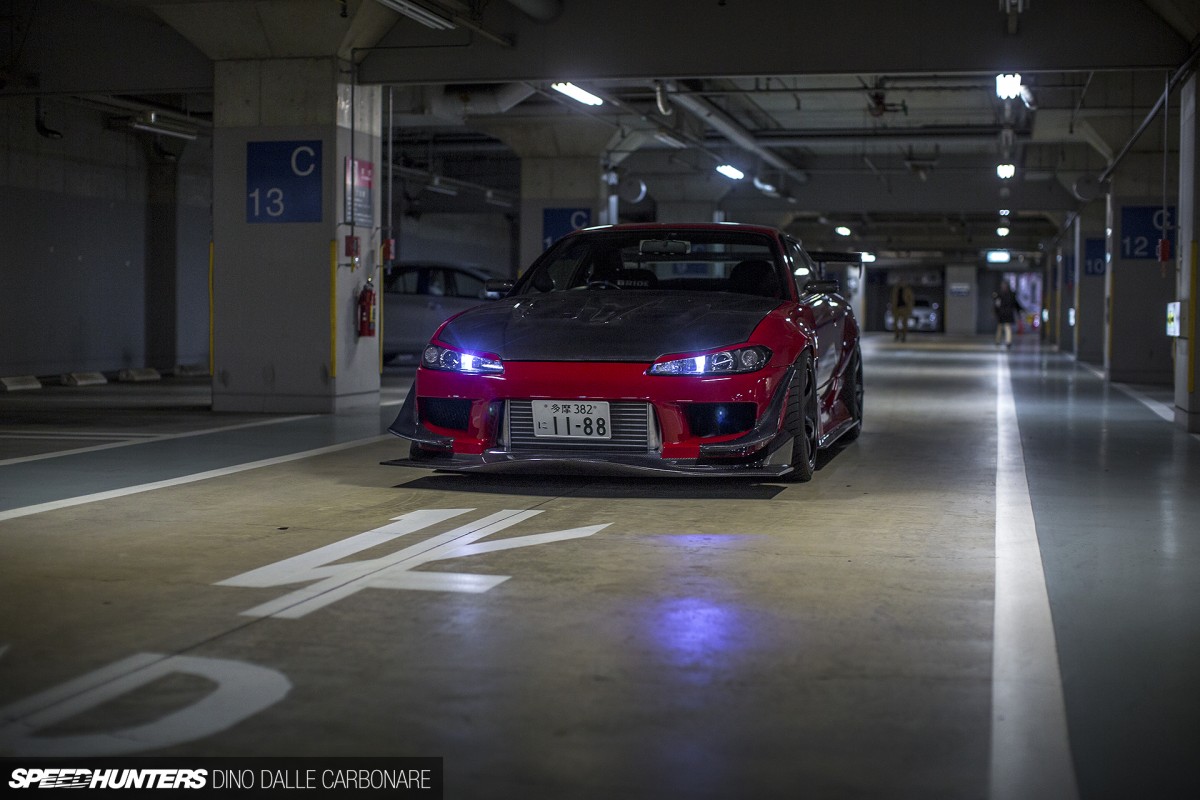 The car is a relatively new project for Advance, but quite a lot of work has already been carried out on the SR20DET that powers it.
A New Turbo Lurks Beneath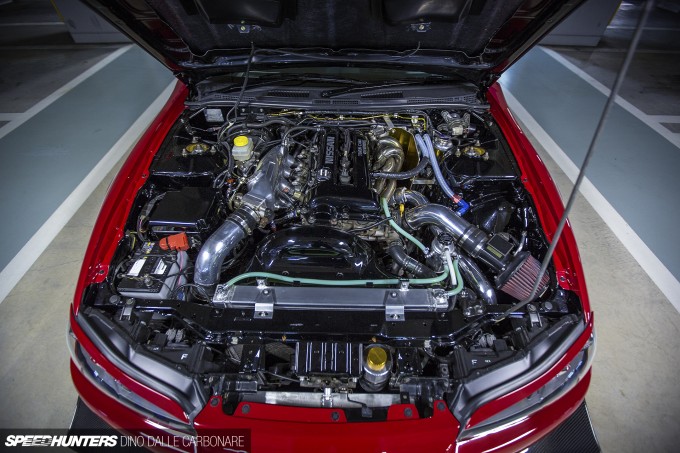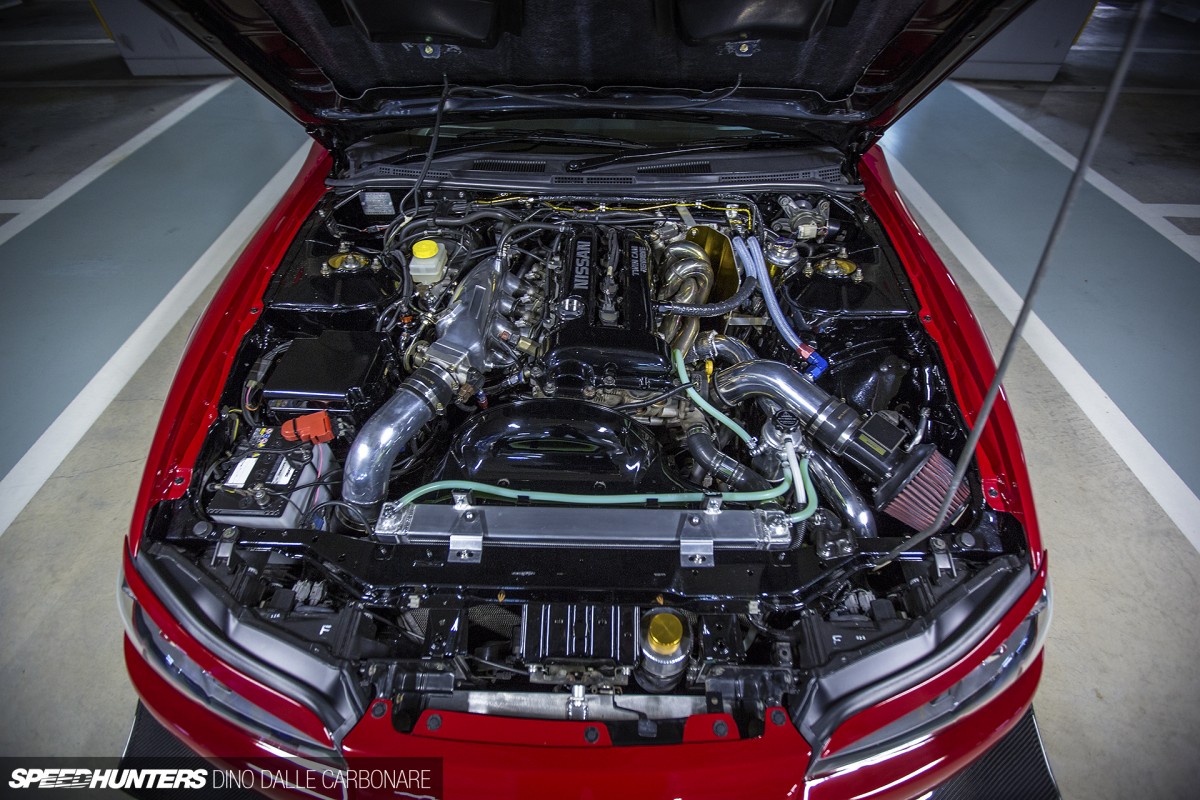 A quick look under the lightweight hood reveals a pretty lengthy list of mods starting off with the parts that stand out the most: shiny aluminium intercooler piping and the GReddy intake plenum.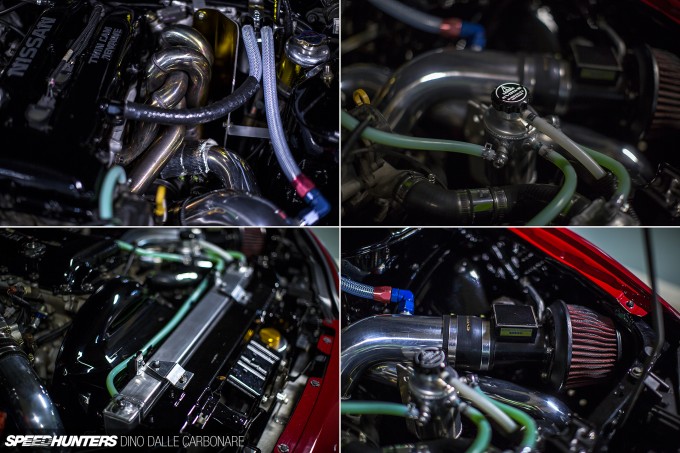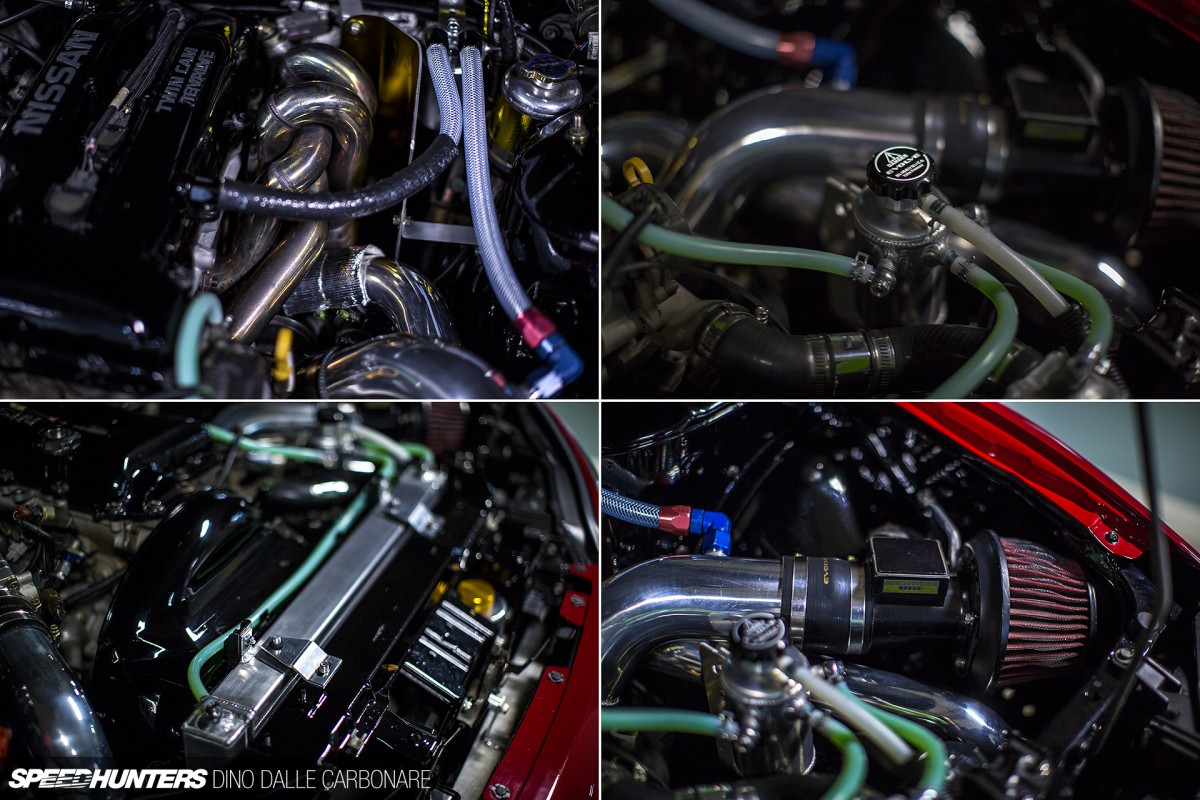 There's a pretty complex looking equal-length stainless steel manifold which connects up to the low-mount YP turbo turbocharger – an interesting unit developed by two of Japan's most well known SR20 specialists: Yashio Factory and GP Sports. Depending on camshaft choice, the turbo is able to supply enough boost to deliver anywhere between 400 and 430hp – the lower number reflective of where this setup sits at the moment.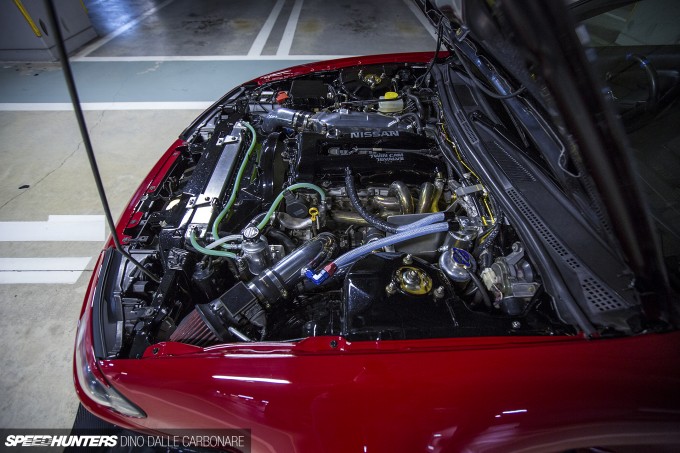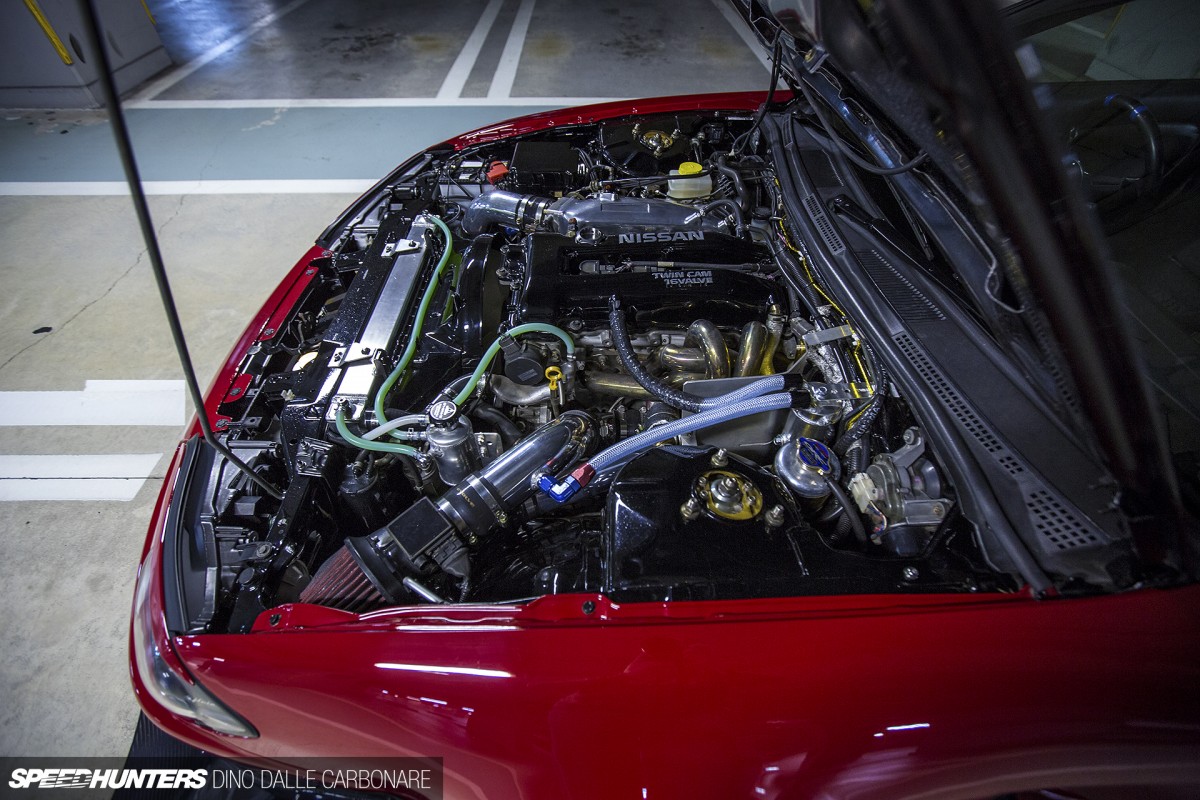 While the engine itself has remained stock, all the right upgrades to keep a simple turbo upgrade like this nice and reliable are present, like the oil cooler and racing radiator.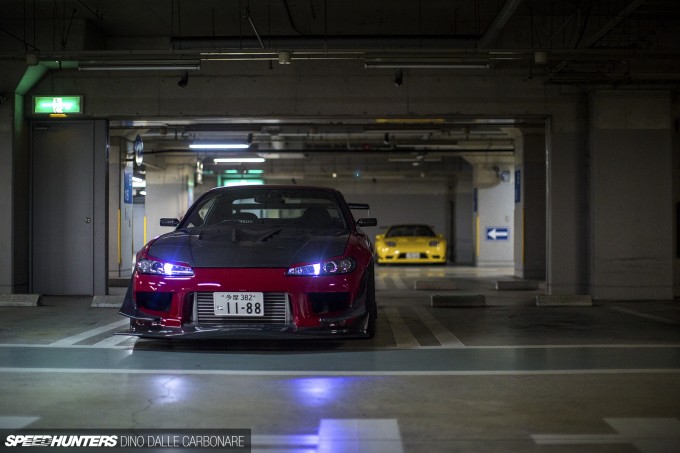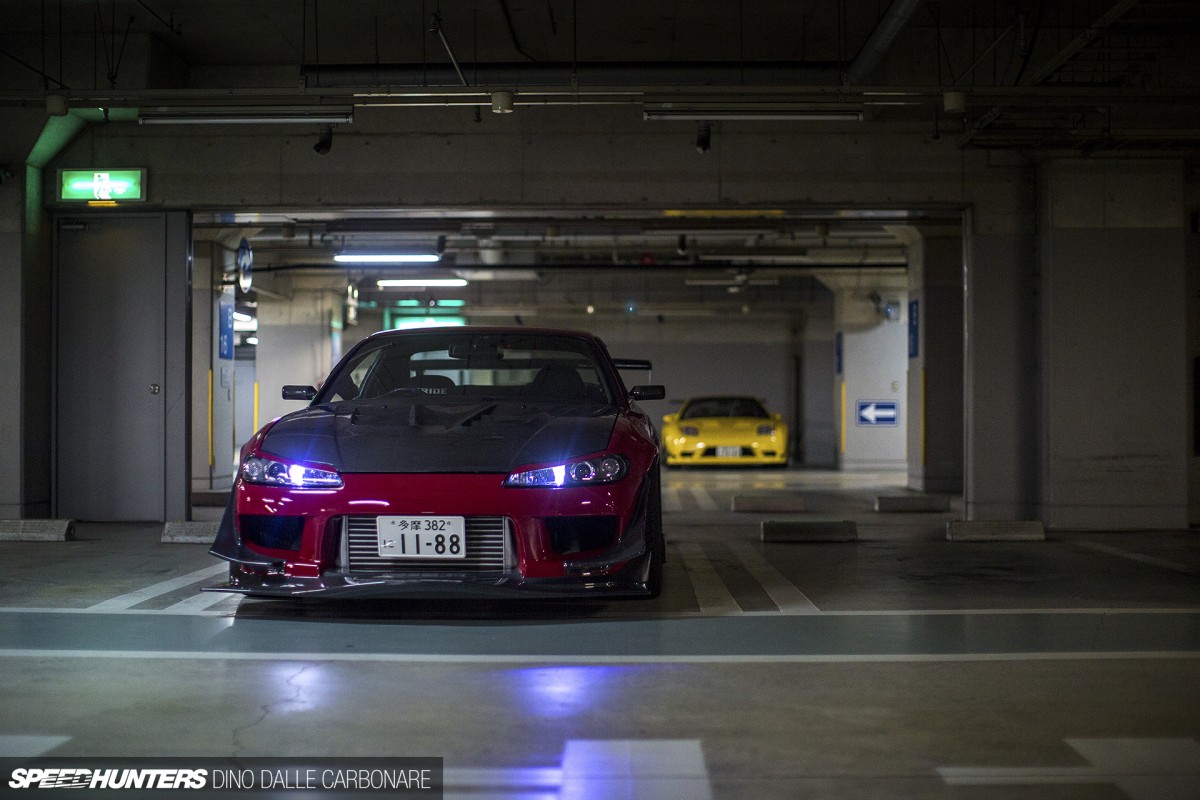 For the half hour or so that we were there, Advance pretty much took over the top part of this underground parking garage.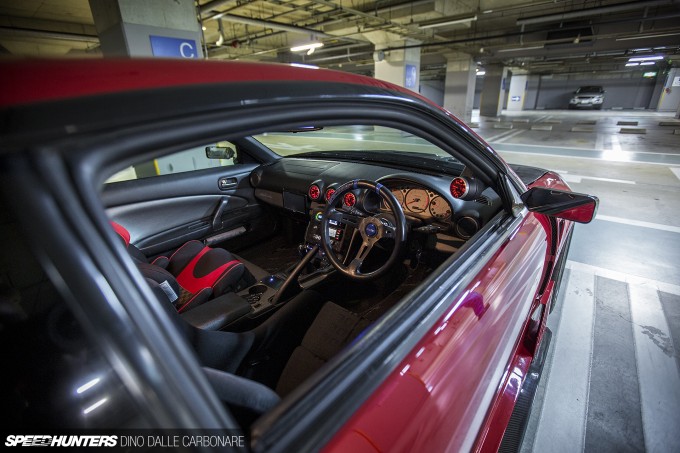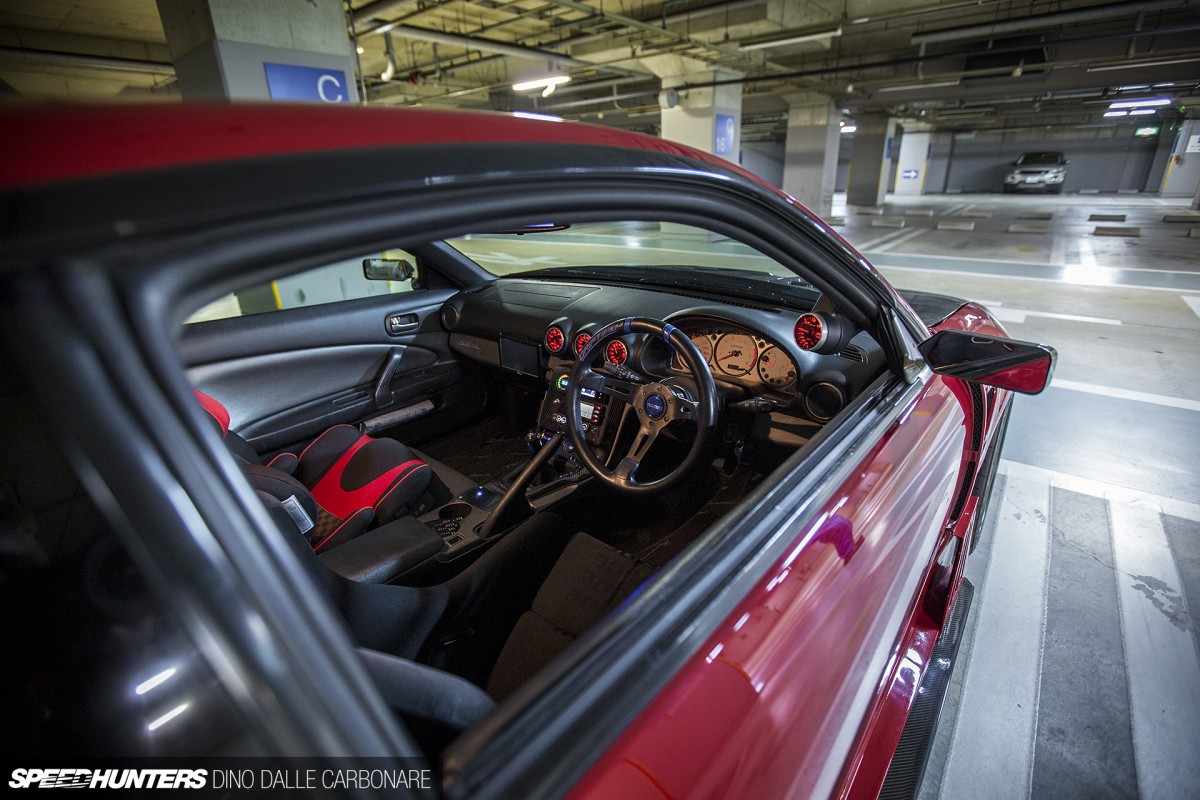 The attention to detail that can be found outside is mirrored in the interior, which hasn't been stripped out in any way, shape or form. It's daily driven after all, remember…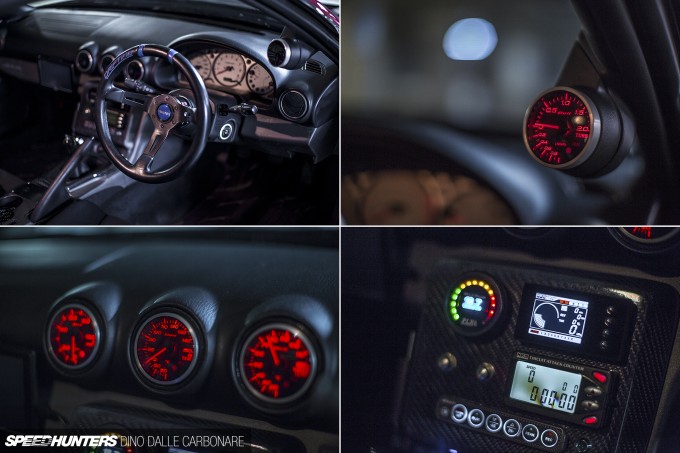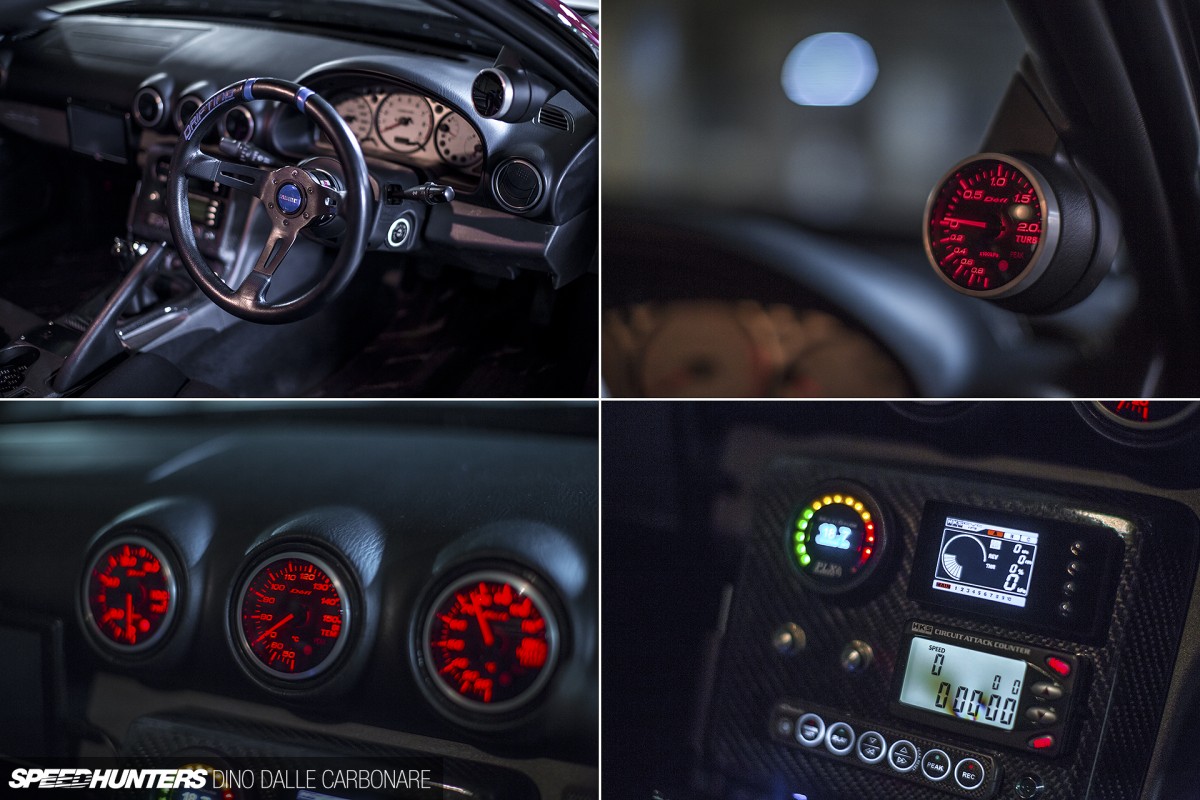 In fact, it's more about additions than anything else, and every upgrade is clean and well executed – like the integration of Defi gauges into the three round air vents on the center portion of the dash. Below these a neat carbon fiber enclosure houses the HKS boost controller and lap timer, as well as the Defi Link control unit and a PLX air/fuel ratio meter.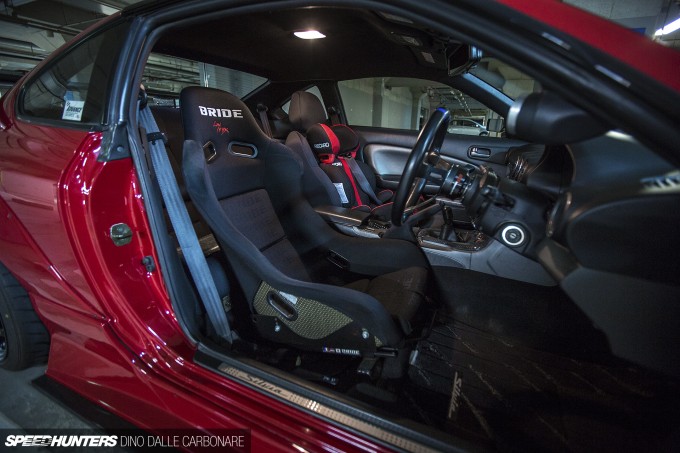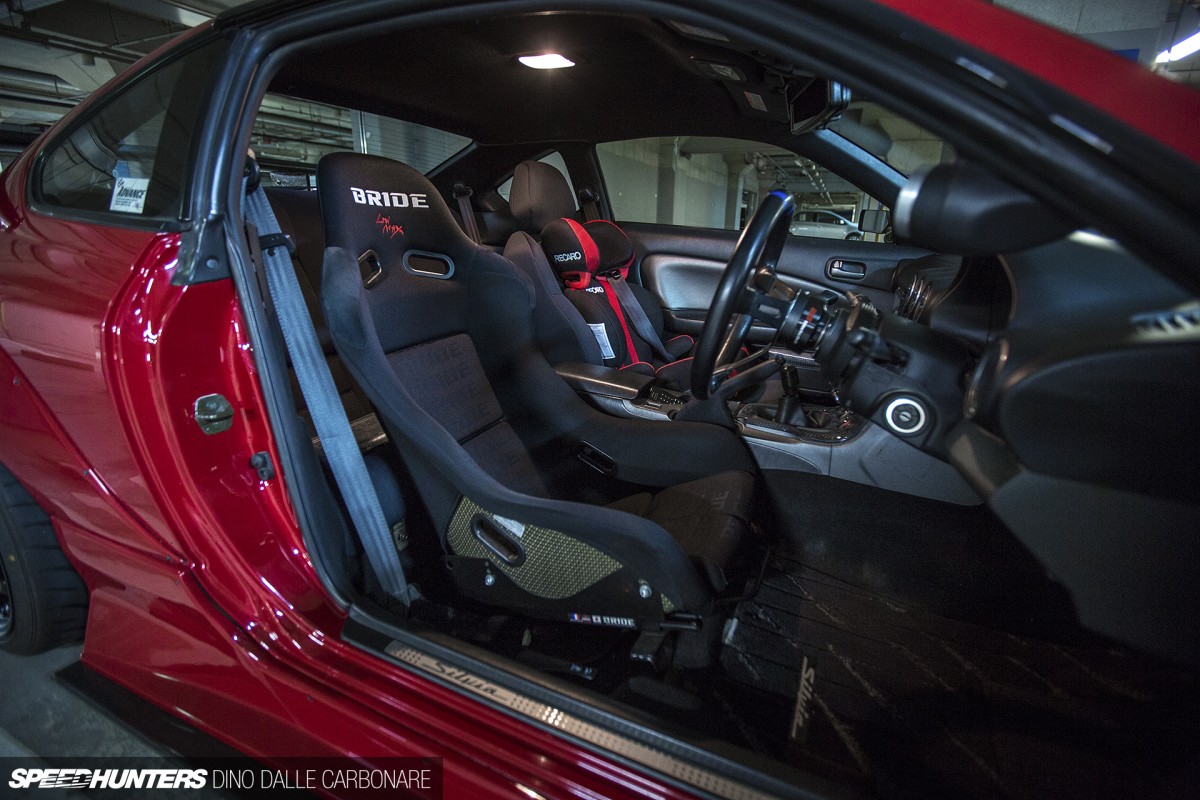 The driver's side seat has been replaced with a Bride carbon-Kevlar bucket mounted low on a set of Bride rails, and next to it is a Recaro baby seat, hinting that this Silvia indeed has double duties to fulfill on a daily basis!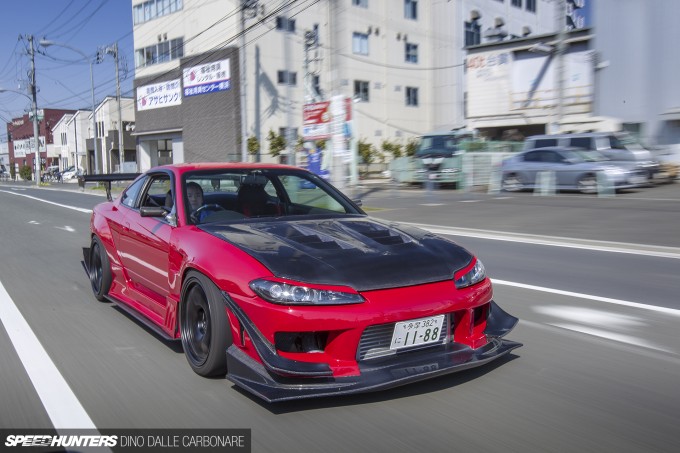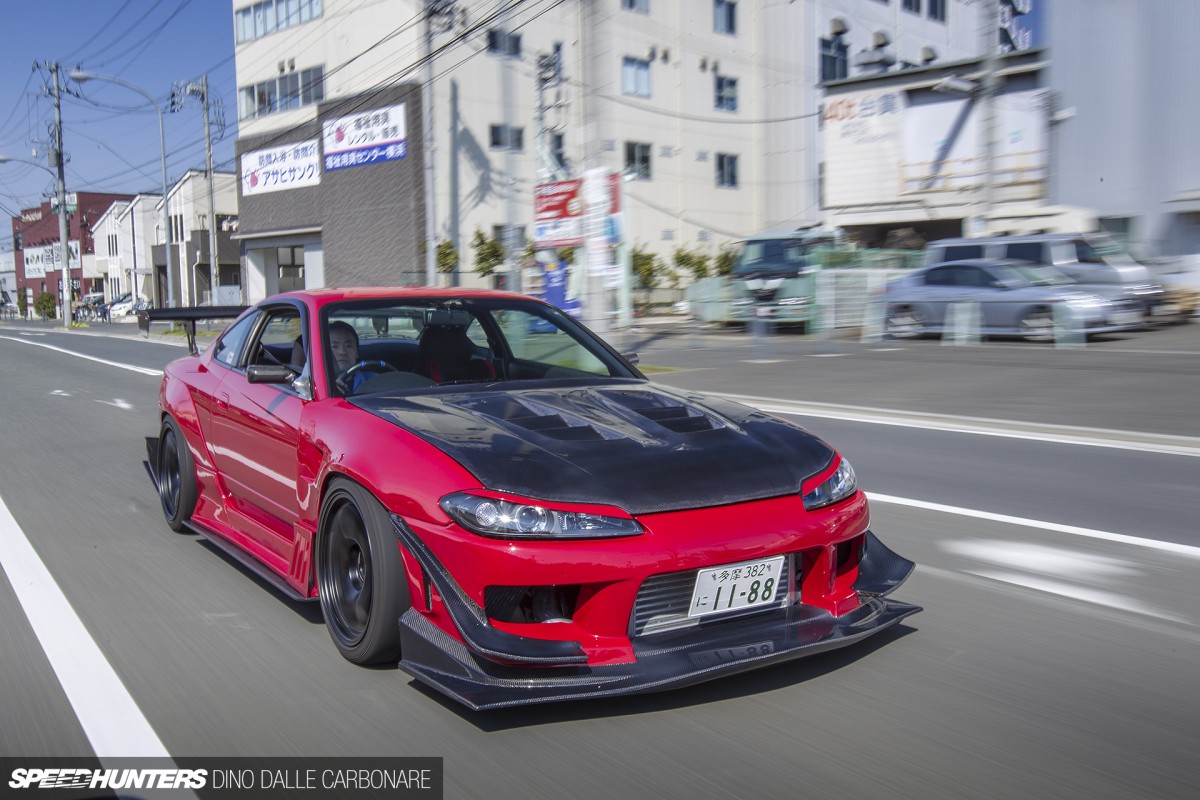 Like all of the cars in Advance's demo fleet, the plan is to continuously improve and evolve, and this S15 will be no exception. As it stands now, it's already a member of the Advance Under 2-Min Club for Fuji Speedway lap times – an impressive feat for a bona fide street car.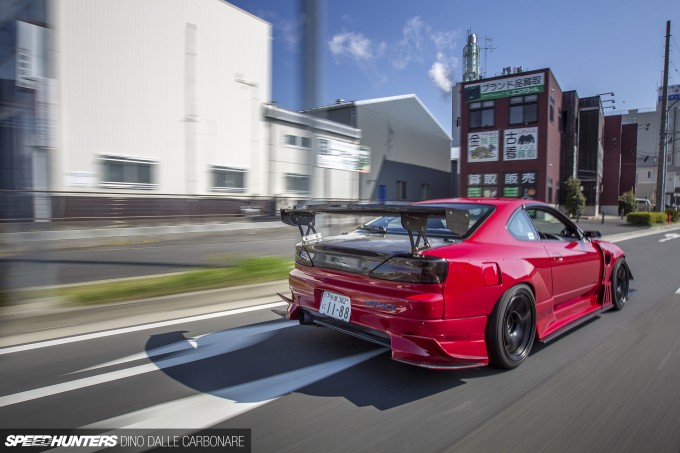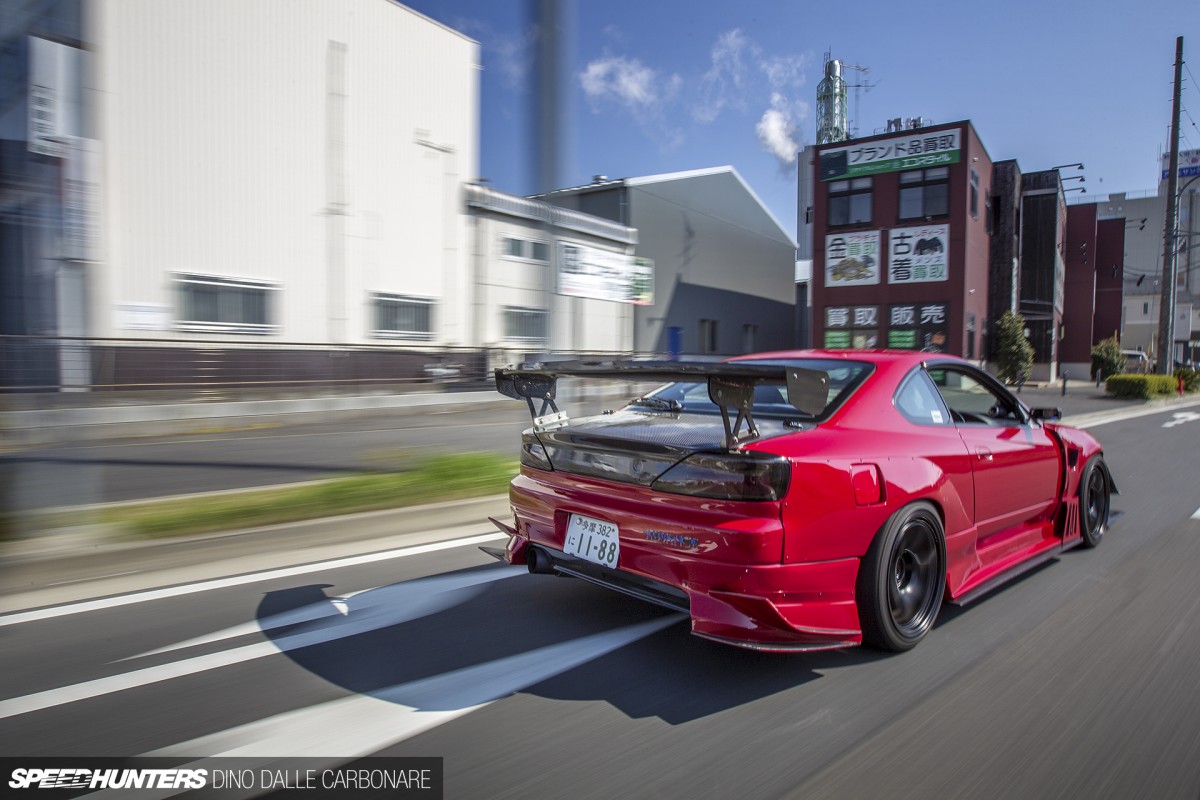 And pretty much every other car in the Advance workshop on the day I visited belongs to the club too – something, that with a shop tour, I'll be sharing with you guys very soon…
Dino Dalle Carbonare
Instagram: speedhunters_dino
dino@speedhunters.com