THIS is the NSX
How do I say this without angering too many people… Okay, so you know the new Honda NSX that just made its debut at the Detroit Motor Show? Yeah, that futuristic, somewhat anonymous-looking supercar that many people have been lusting over. That, my friends, is not an NSX.
While it's the best, and probably the only answer that Honda needed to come up with to meet the current trend of turbocharged, direct injected, all-wheel drive hybrid monstrosities that we now refer to as hypercars, they simply had no choice in the matter. Sure, they could have come up with an all-alloy and lightweight carbon fiber sportscar with a high-revving, mid-mounted V8 engine driving the rear wheels through a 6-speed manual transaxle. It could have possibly even been the most accurate expression of a modern day driver's car. But come on, let's be serious – who the hell wants a car like that these days? The NSX has always stood for unadulterated driving perfection, and while it may be old, no matter which way you look at it or try to argue it, it will remain the best sportscar to have ever come out of Japan.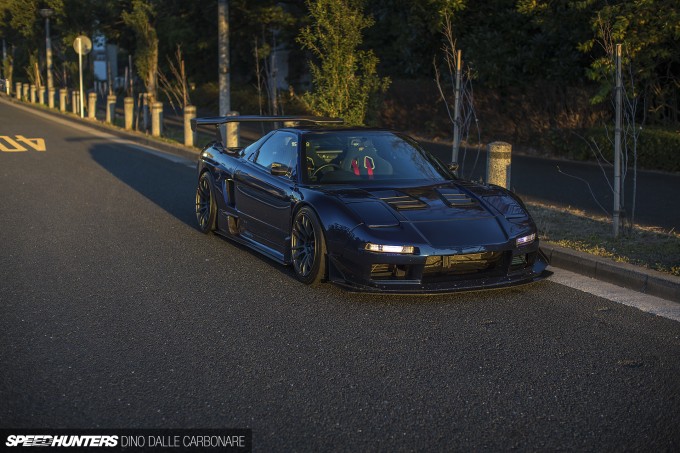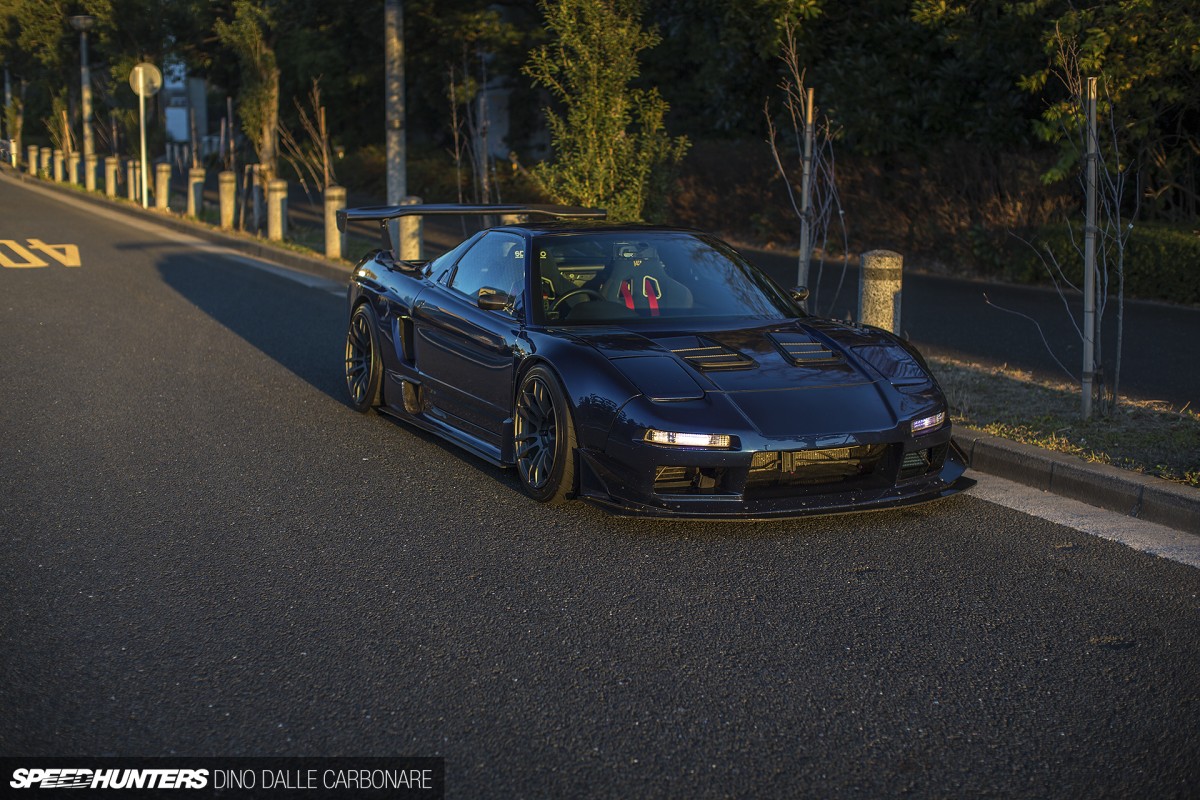 So how do you improve on perfection? Well, one thing is for certain, it won't be via that car they are calling the new NSX. No, while that will be stupidly fast and ridiculously easy to drive, those seeking true driving satisfaction will still be looking at the original car. Which is exactly what our friend Jun-san did. His search for a serious driver's car is what led him to the NSX initially – the timeless looks and the ability to fulfil both sportscar duties as well as hold its head high at race tracks like Fuji and Tsukuba the main attractions.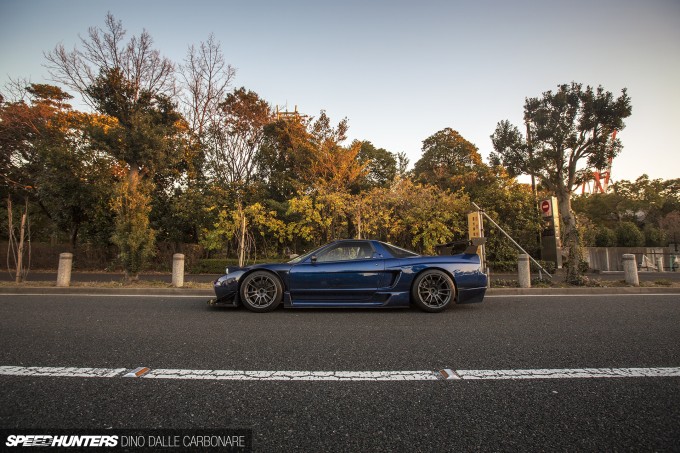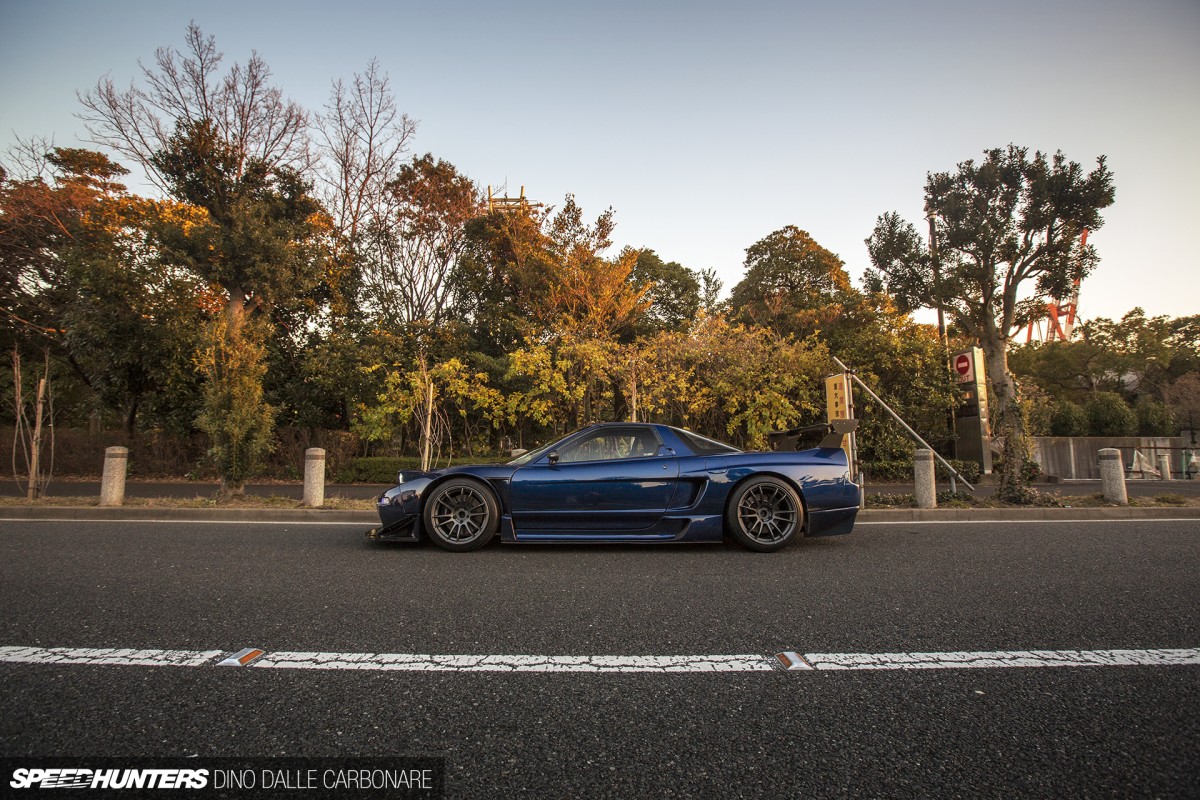 But his search for the perfect NA1 was just the beginning. After living with the car in its standard guise for years, Jun eventually began tinkering, and that's something that has never stopped. In its current state, it's a superbly executed interpretation of what Jun's ideal NSX is, and upon initially seeing it and meeting him at Daikoku PA, I knew it was one car that you guys would love to see.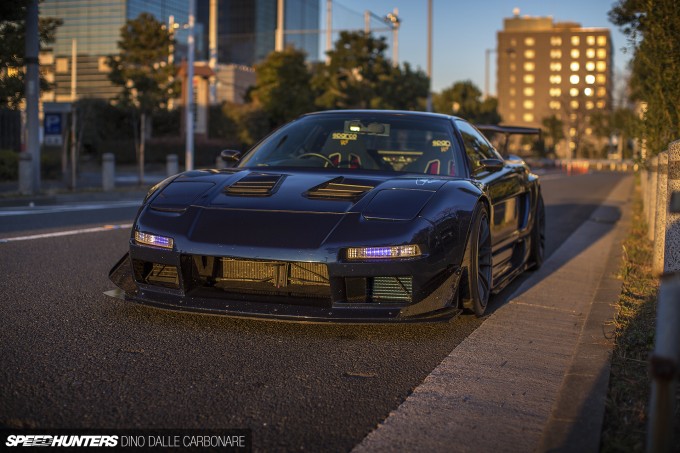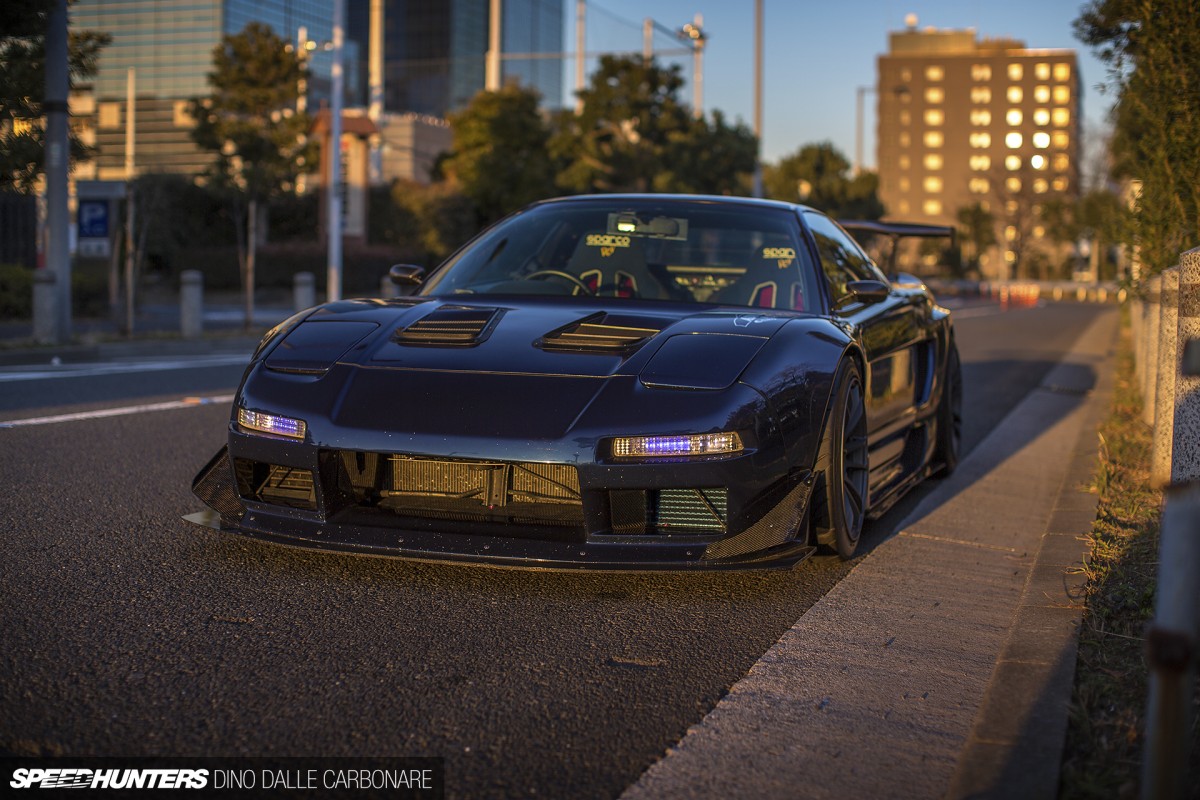 There's no question that the zenki version of the NSX with the pop-up lights is the one to have. It's so beautifully simple in its design and can really look the part when you start playing with the aesthetics. The idea here was to add function by helping the NSX body to slice through the air, while making full use of the air passing over and under it.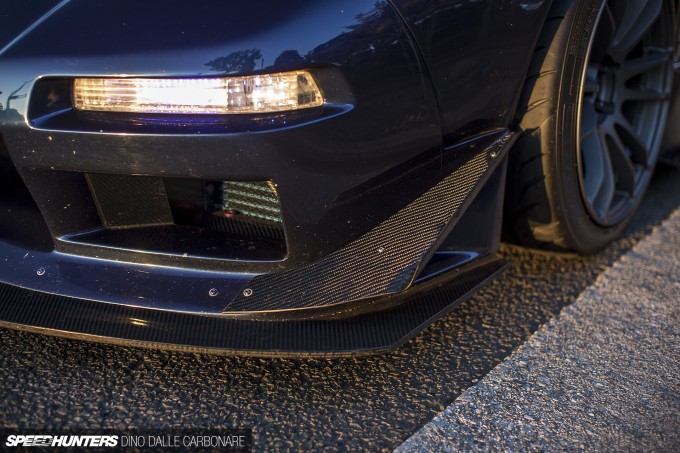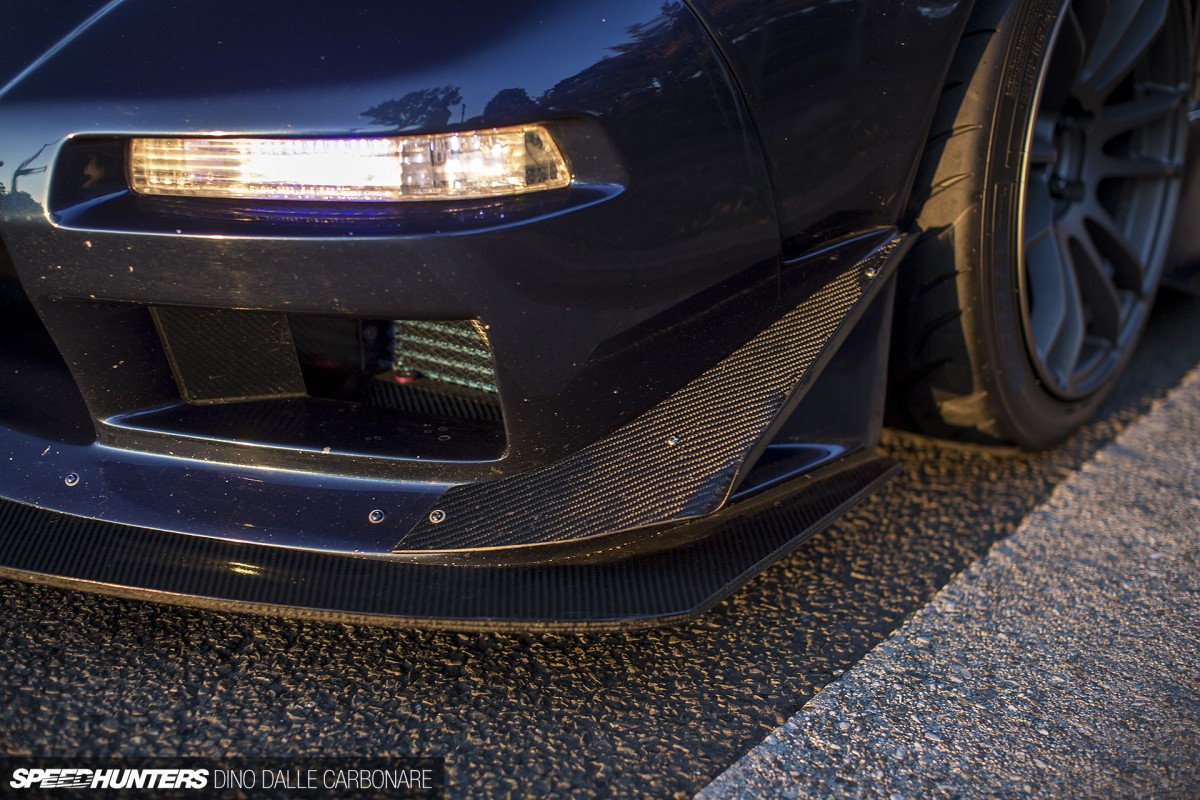 So on top of large openings to boost cooling, the Marga Hills front bumper has been modified to accept a pair of carbon canards, as well as a carbon splitter and an undertray that Jun made himself. It extends a long way down the car and seals up against the rest of the underbody covers that help smooth airflow beneath the chassis.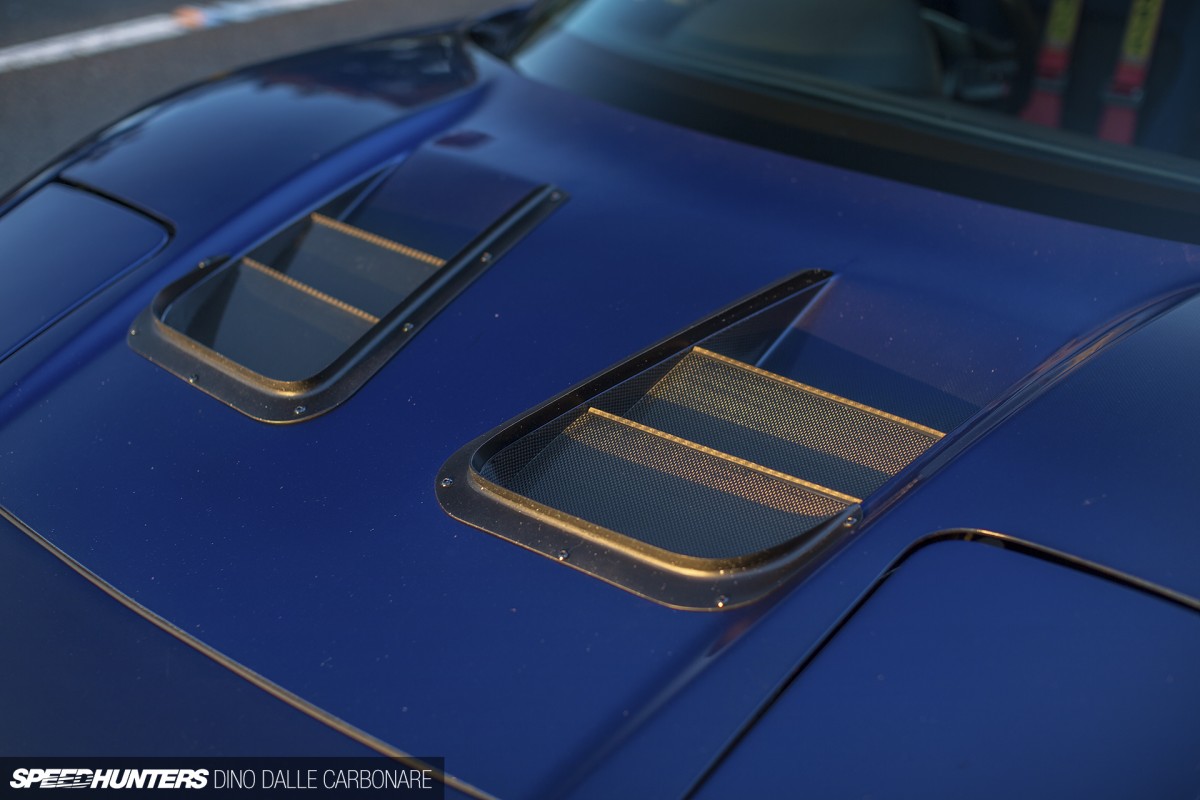 An Advance vented bonnet helps air passing though the radiator and oil cooler escape, and in the process looks extremely menacing thanks the raw carbon fiber louvers.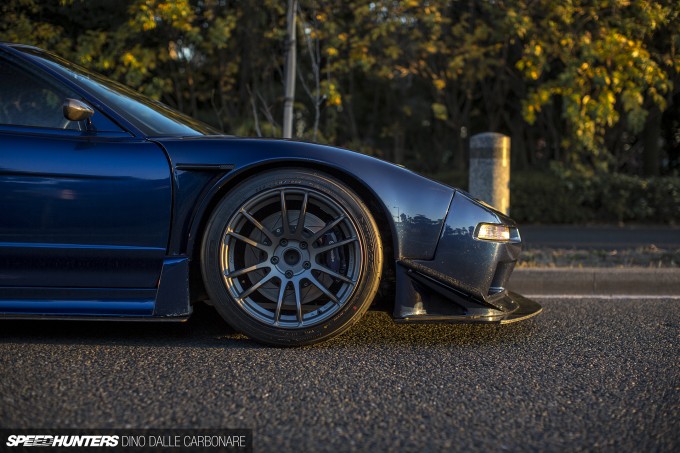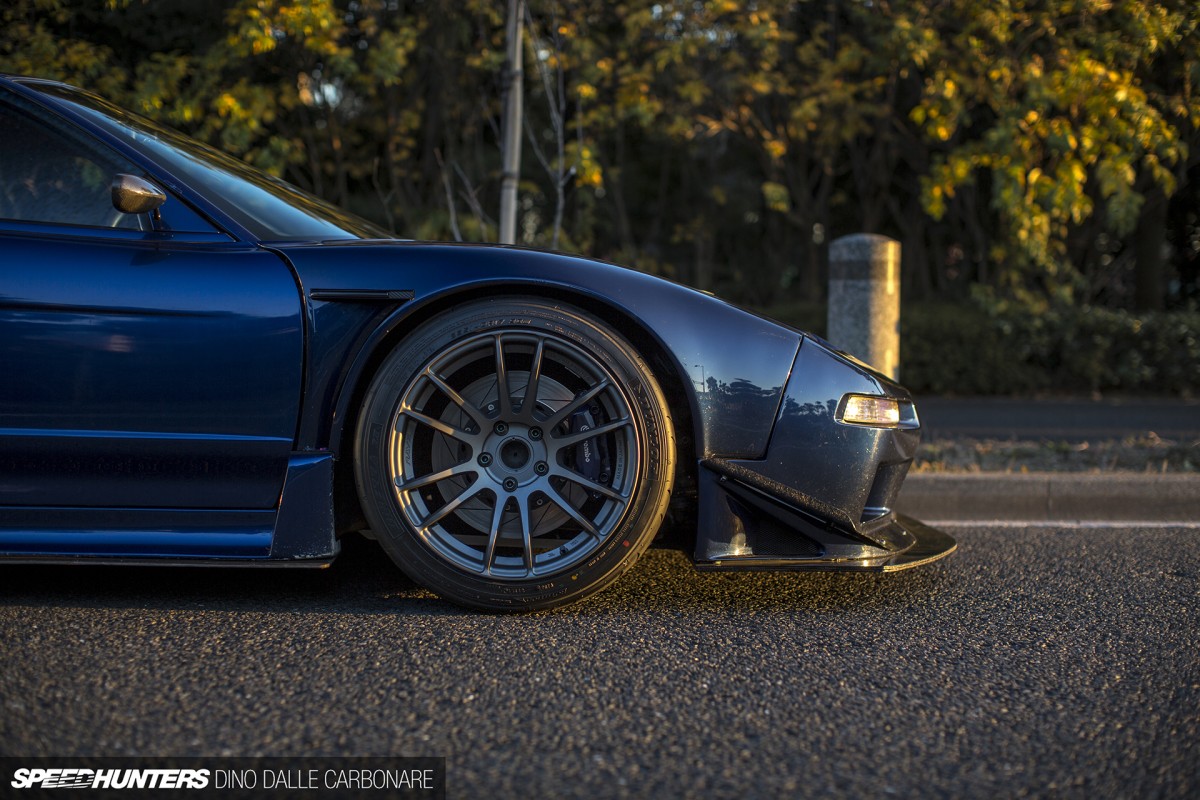 A set of wider Marga Hills front fenders followed, helping the NSX look broader and lower to the ground. In turn, this has allowed Jun to run a wider front track to help boost grip and cornering feel through the turns. A set of staggered RAYS Gram Lights 57Extreme wheels measuring 17×9-inch in the front and 18×10.5-inch in the rear with Dunlop Direzza Z2 tyres all around is the chosen street setup As for the brakes, if you hit the presentation mode button you can enlarge the picture and check out the 4-pot Brembos hidden behind the thin spokes. The rear gets the same package, given that's where much of the car's weight is found.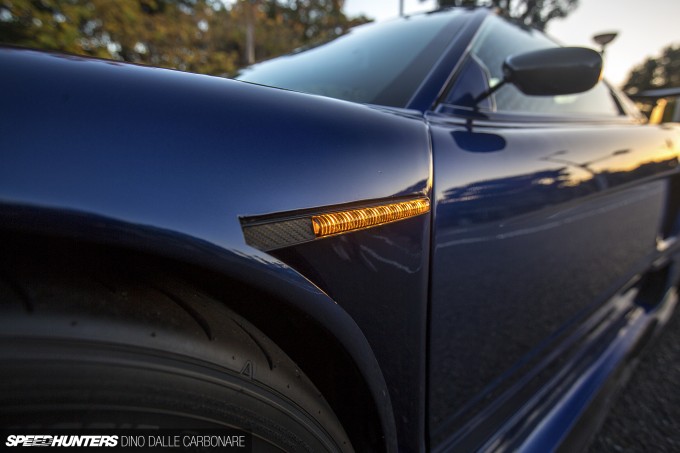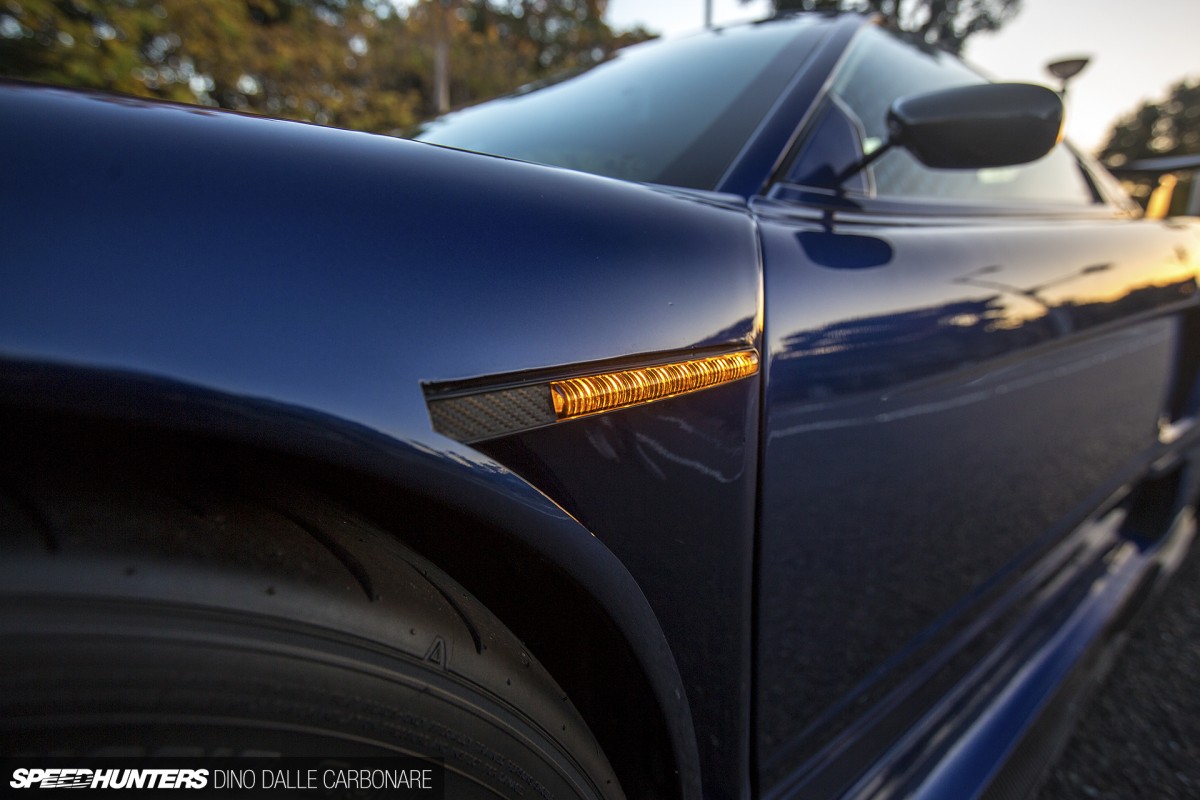 Since Jun is quite handy when it comes to DIY, he went ahead and created his own LED side markers, which he fitted in the appropriate position on top of the fender's vent section.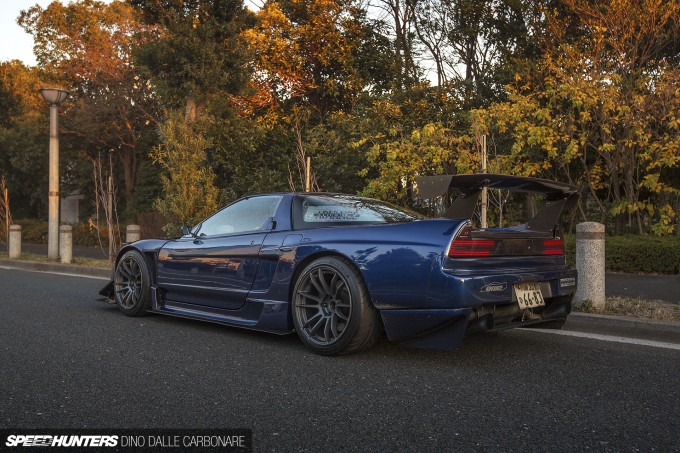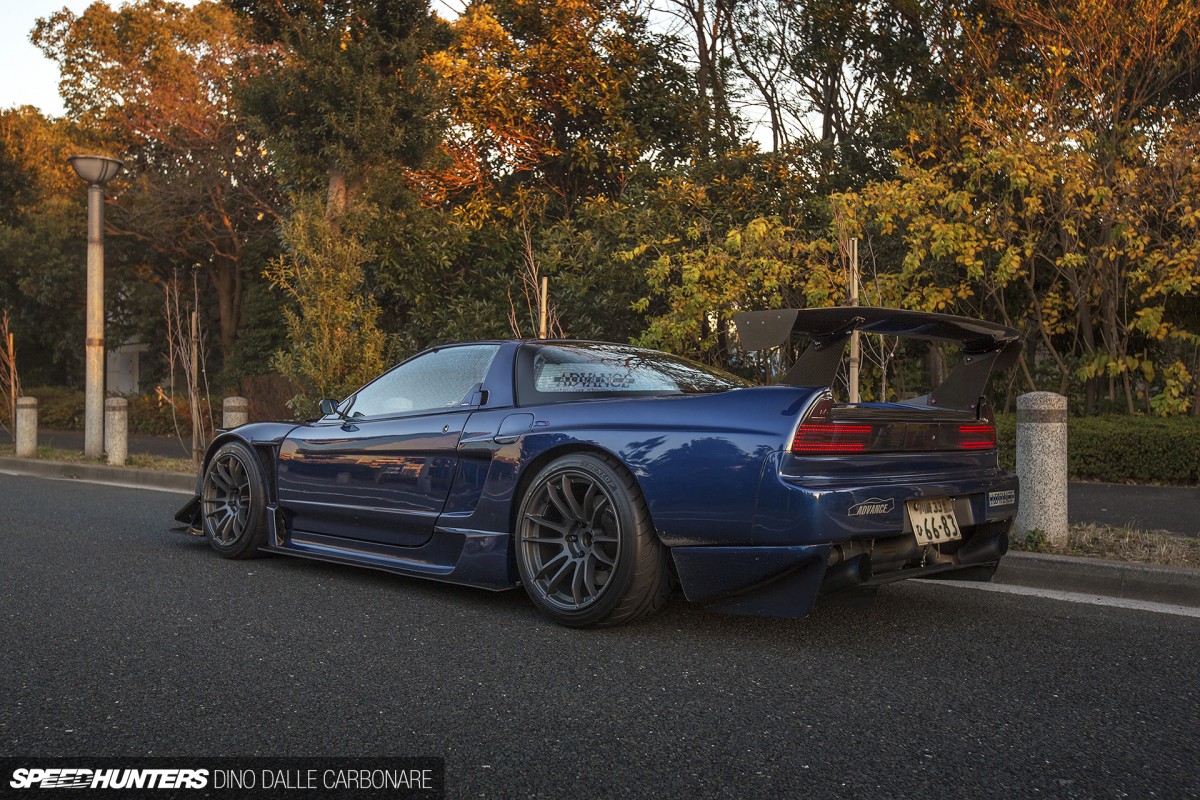 The JGTC-inspired look of the Marga Hills aero kit continues along the profile; the side skirts really pulling the front and rear end treatments together. The steps feature second sections in the form of carbon fiber underskirts that help define the bottom edge of the car and giving the illusion that it's sitting even lower.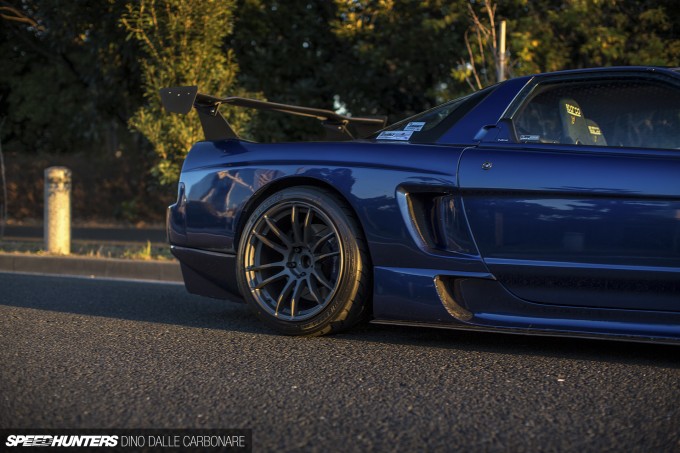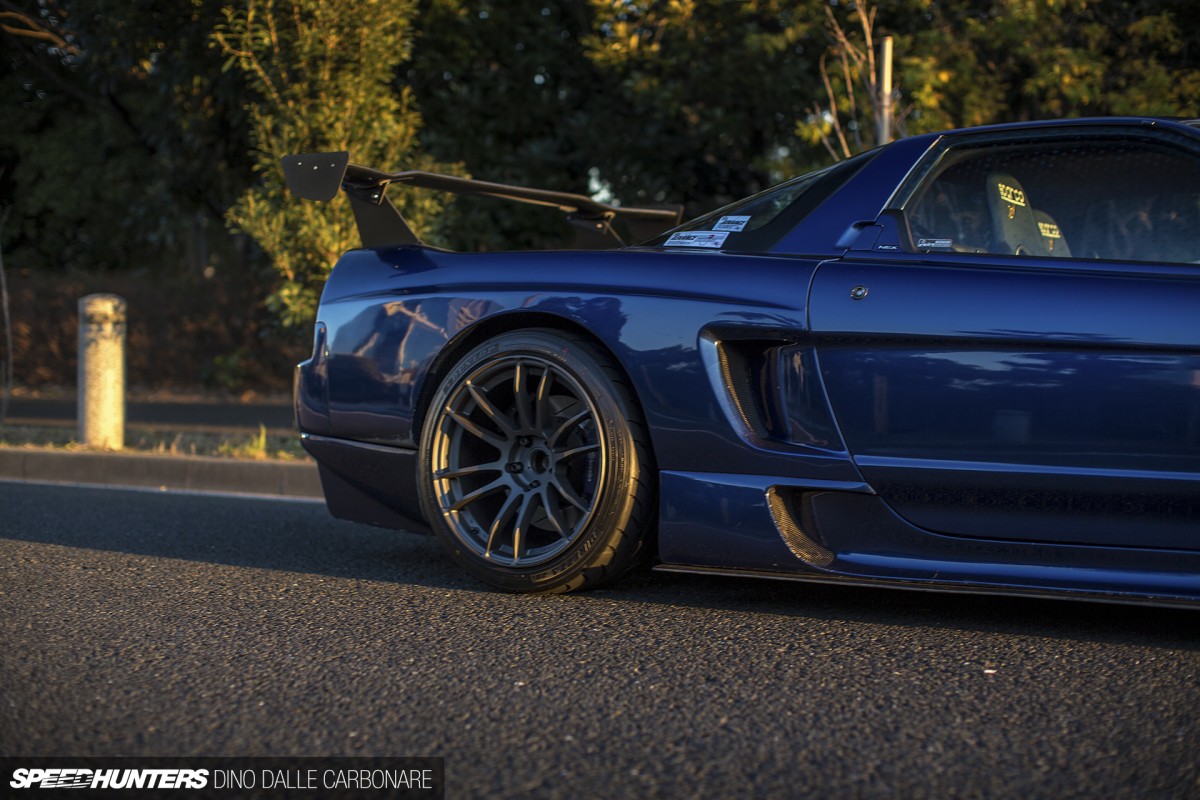 It all culminates at the rear with integrated Marga Hills pumped fenders for a seamless look. From the way the aftermarket aero has been fitted, to its design, which improves on the NSX's underlying DNA rather than altering in an unnatural way, it's all very nicely executed.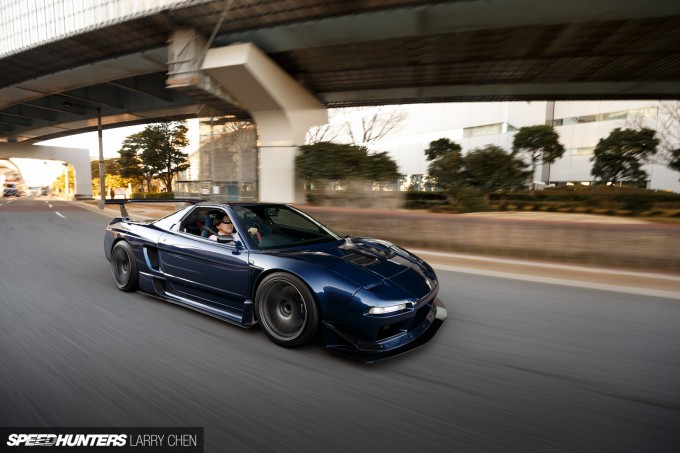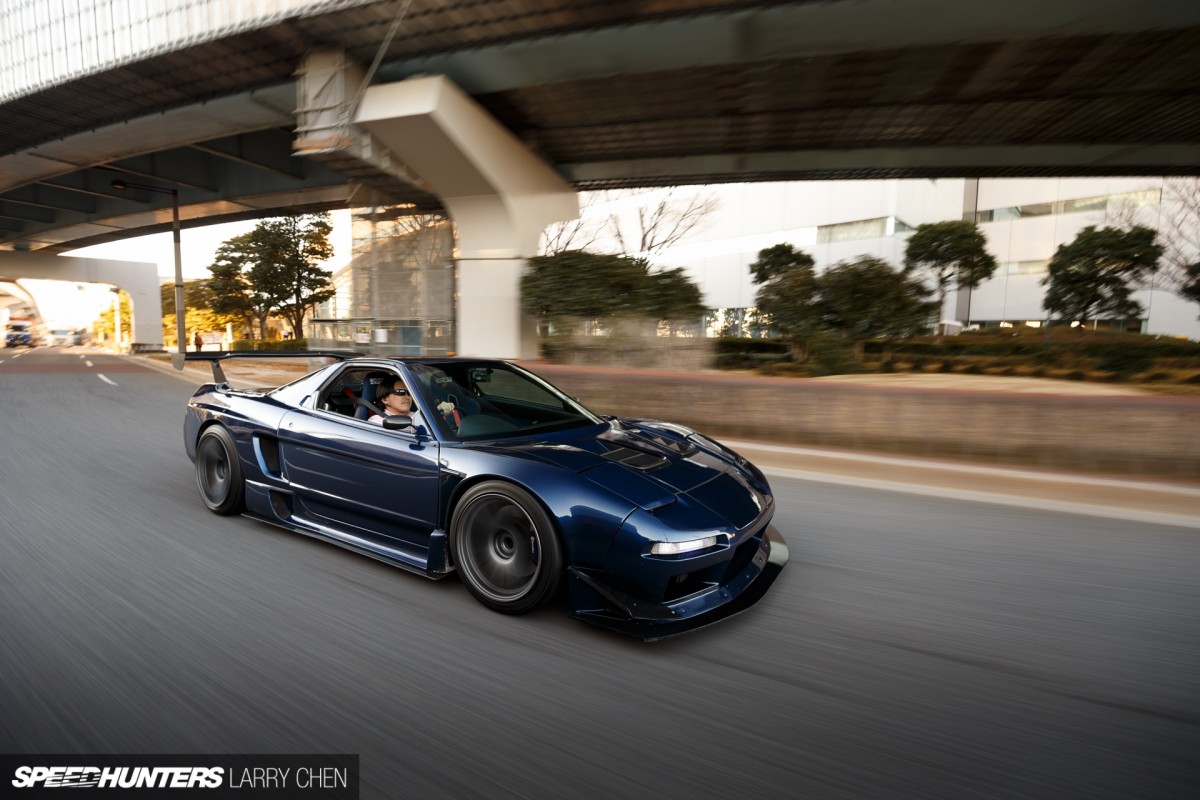 Seeing the NSX cruising around Odaiba that afternoon made me fall in love with the NA1 all over again. I mean, just look at this thing – it's like the Takata JGTC GT500 racer has been unleashed on the streets of Tokyo! How the hell is this car over 20 years old?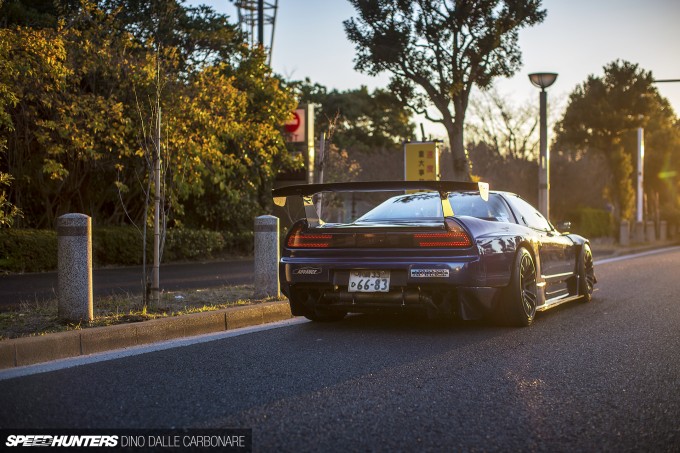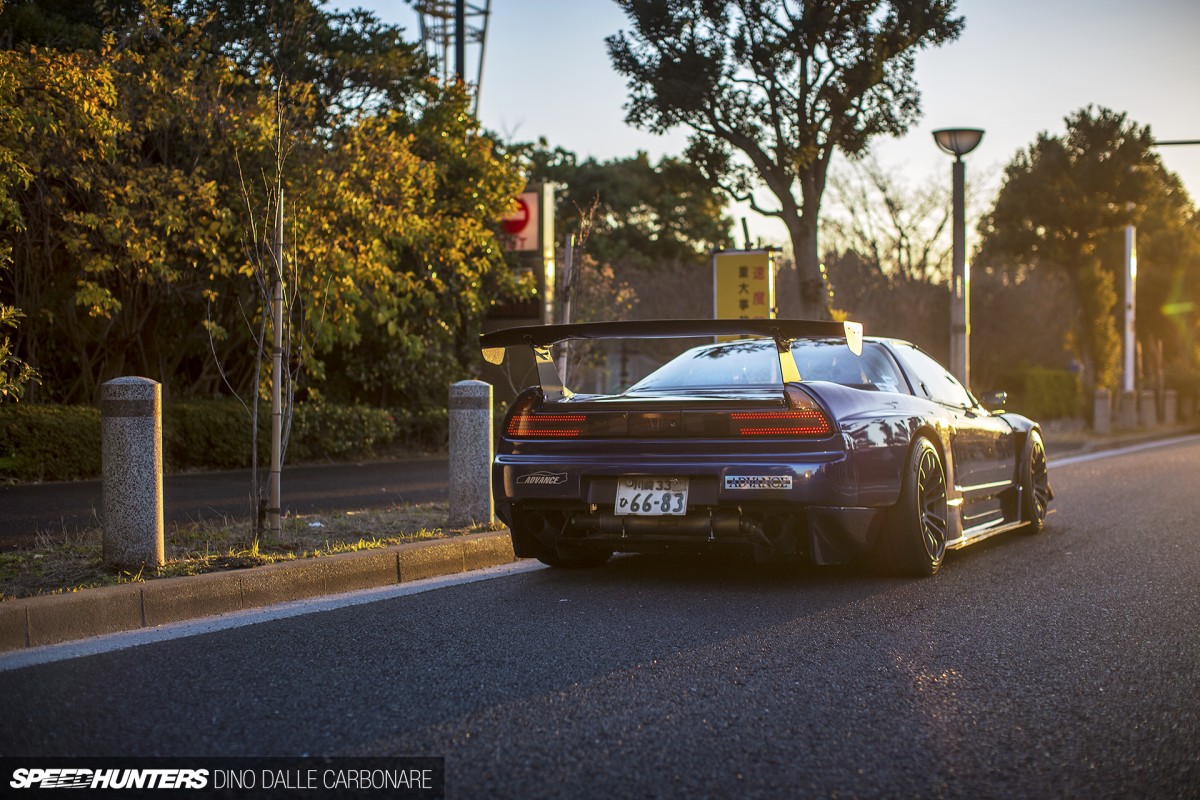 But wait, I'm not quite done yet. You see, once you take a look from the rear, more of Jun's handiwork comes into play, starting off with the GT wing. It's comprised of a Garage BB main wing section with a set of carbon Matric stays fixed onto the factory wing mounts.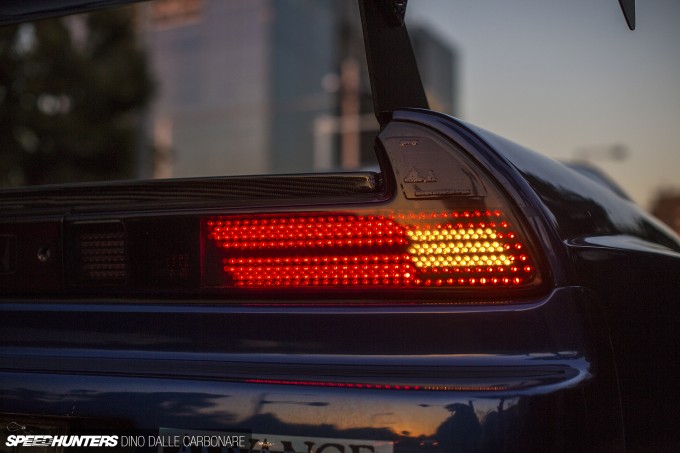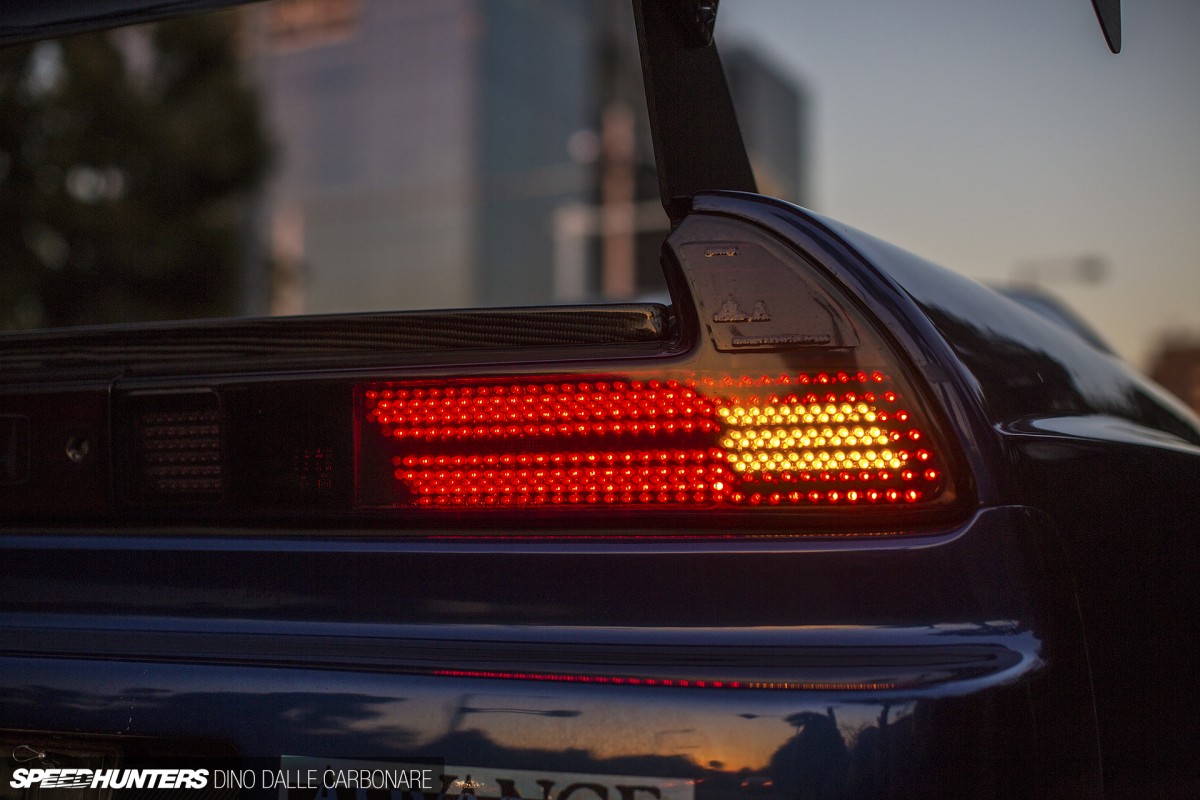 There's more custom LED work to be found too. Since the idea behind the build was to bring the NSX into the modern era style-wise, Jun designed his own pattern for both the taillights, brake lights and indicators.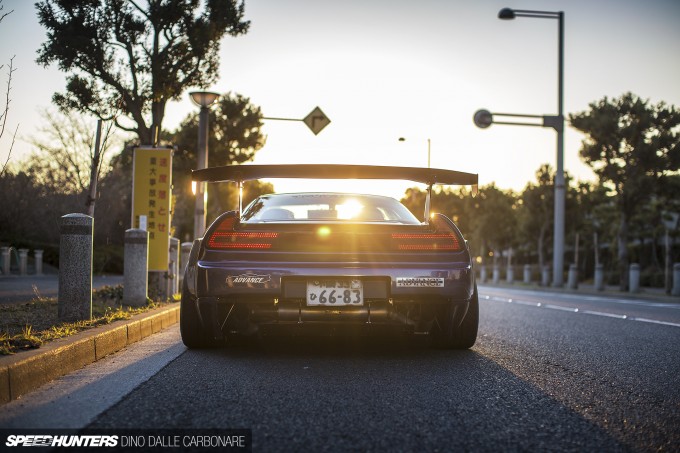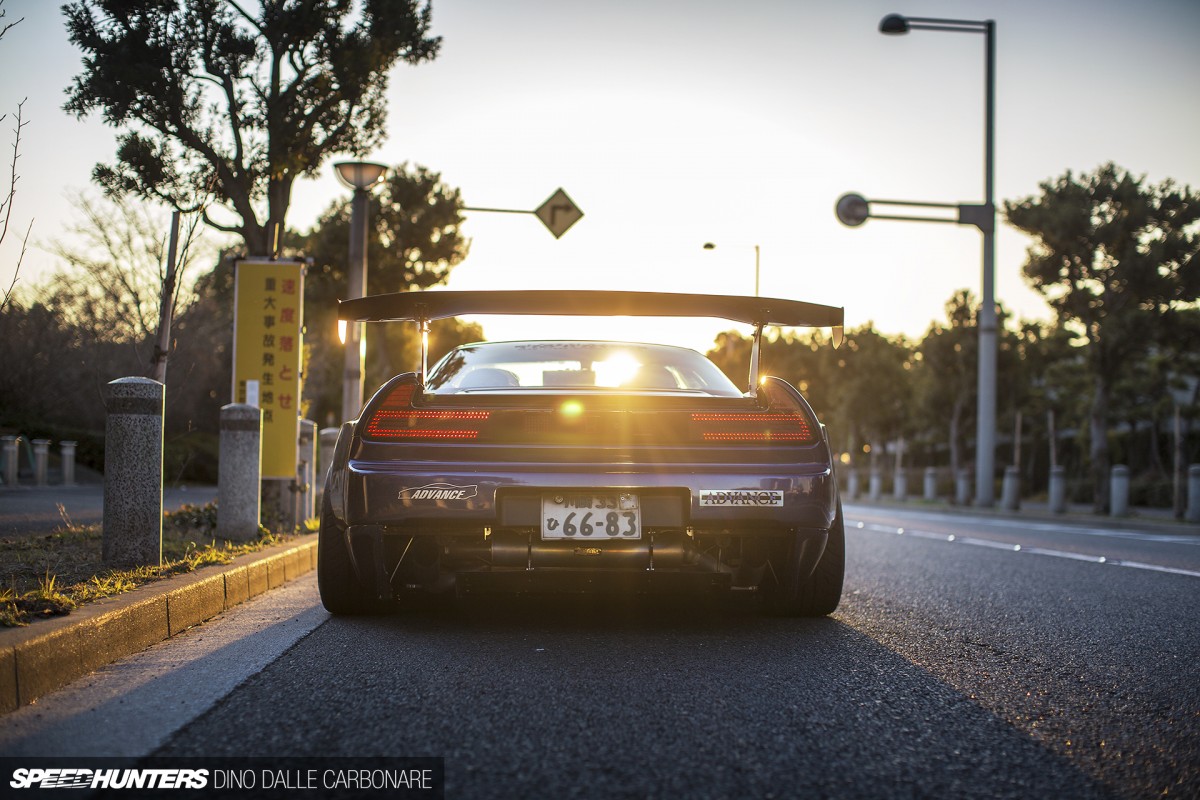 It makes the NSX look so damn sick when sitting behind it in traffic. More one-off work followed, this time with a custom rear diffuser, which just like the front extends to connect up to the sealed-off underbody.
Toda Racing Meets Advance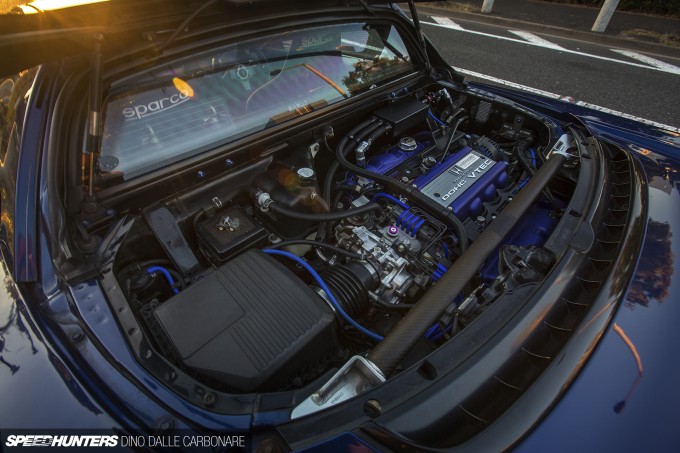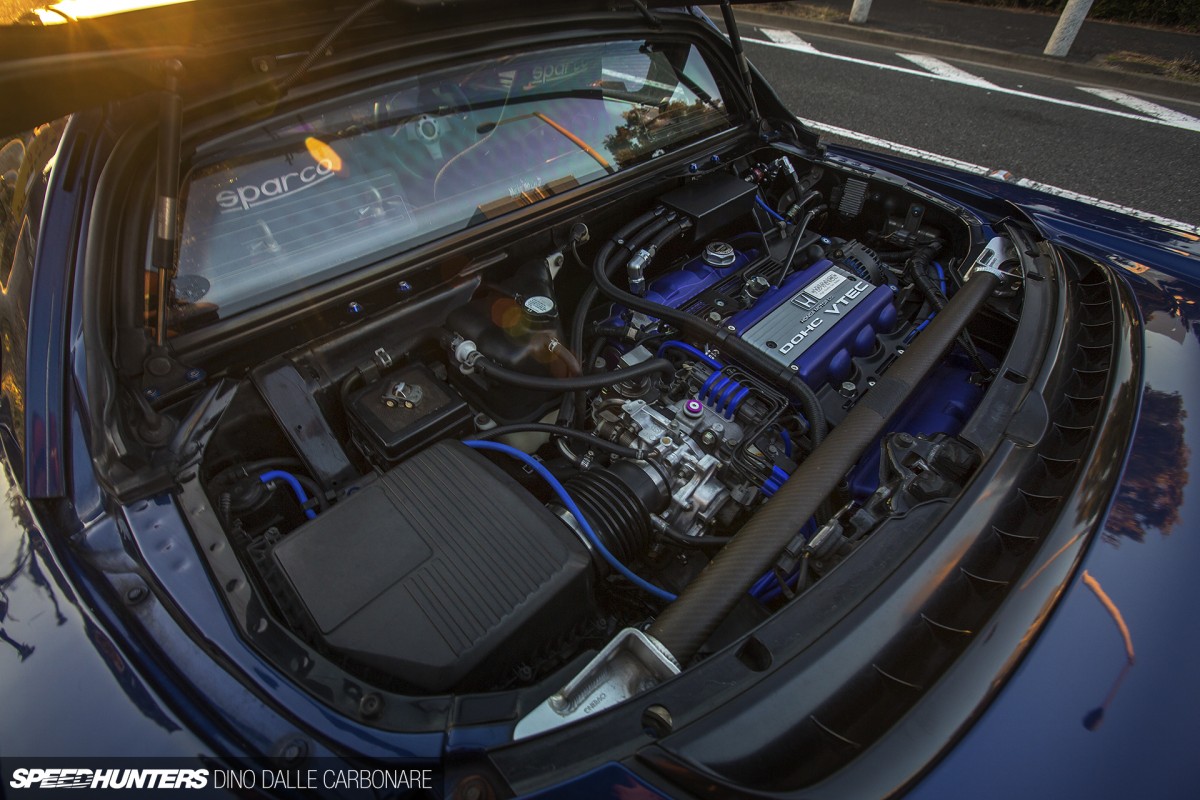 Jun was more than happy with how his car was coming along, but after years of use and abuse both on the street and at the track, the time eventually came to freshen up the engine. And what's the point of doing that without throwing in at least a few upgrades, right?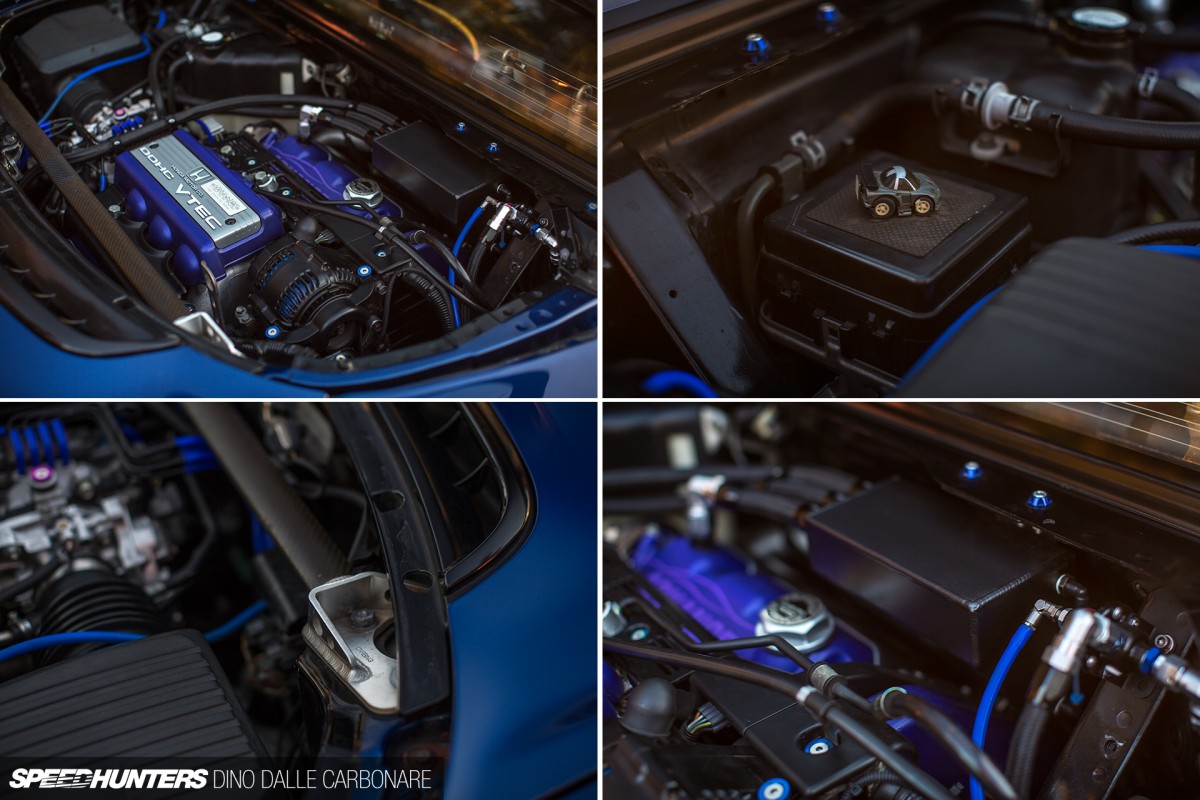 Well, he might have gone a little over the top here, but since the engine had to come out it just made sense. Aside from Advance's signature deep blue cam cover, there isn't too much that hints at how special this C30A actually is. Just by looking in the engine bay you would never know that this engine pumps out 110PS per liter – but that's exactly what it does. It comes courtesy of a Toda racing 3.1L stroker kit, comprised of a special crankshaft and a set of high compression pistons built to GT specifications.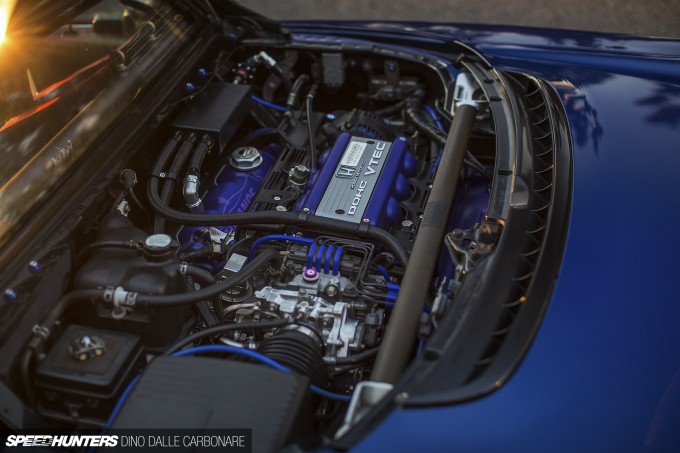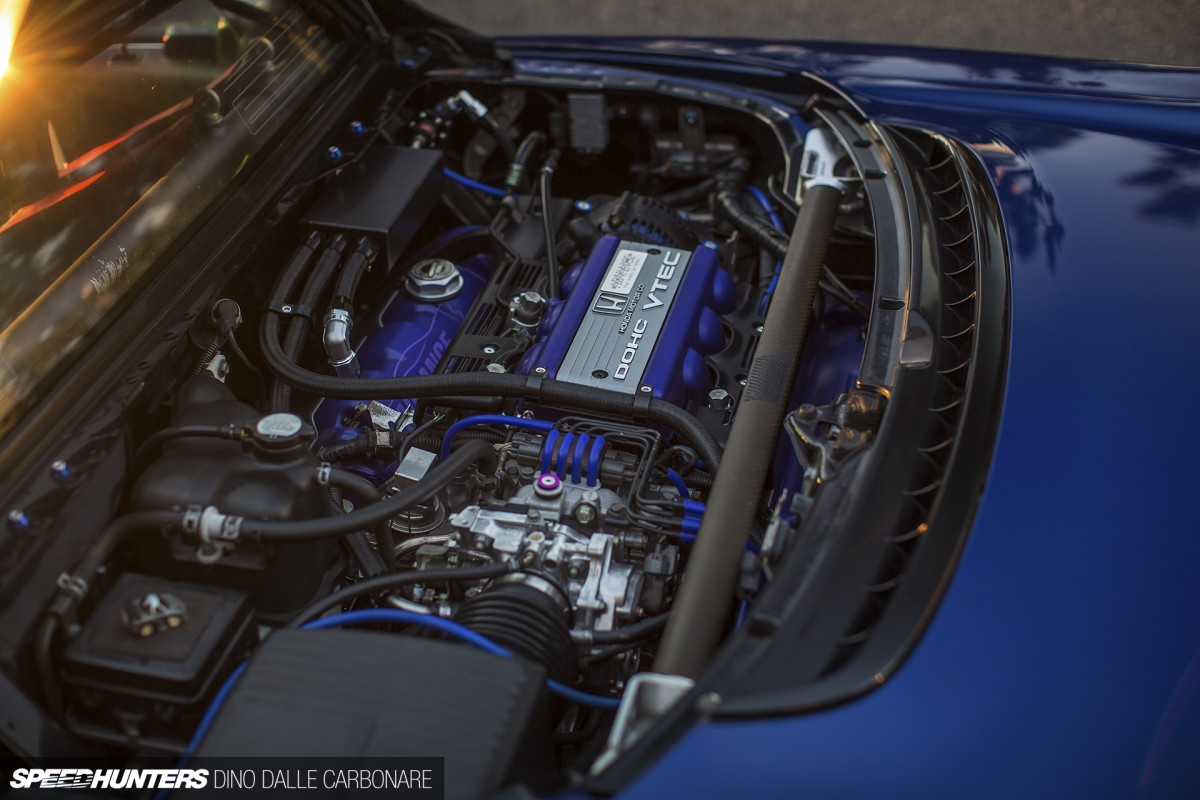 There's Toda Racing billet camshafts in the mix too, and with Advance's race engine building knowhow the Honda V6 was transformed into a rev-happy and responsive powerhouse that just begs to be used properly at all times! 350PS might not sound like much, but in a car that tips the scales at just over 1,200kg, it's plenty of power to play with.
Jun's lap times are testament to just how fast a well setup NSX can be. Hit play above and you can see his 1'01' lap from Tsukuba circuit from a few weeks ago.
And this is a video of his best lap at Fuji Speedway – a 1'55". That's pretty damn impressive and easily puts a lot of modern day supercars to shame!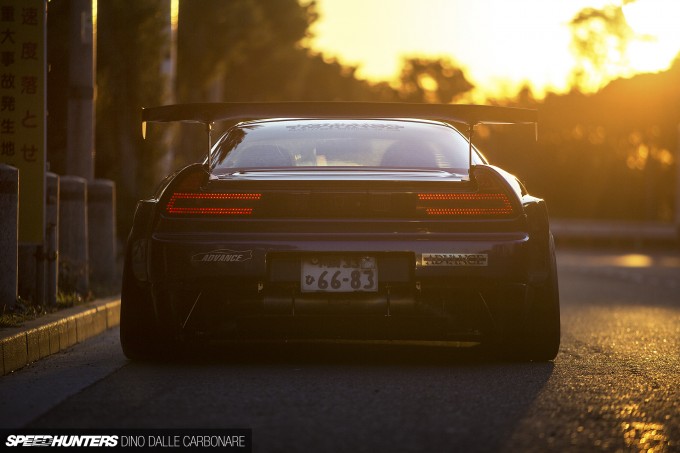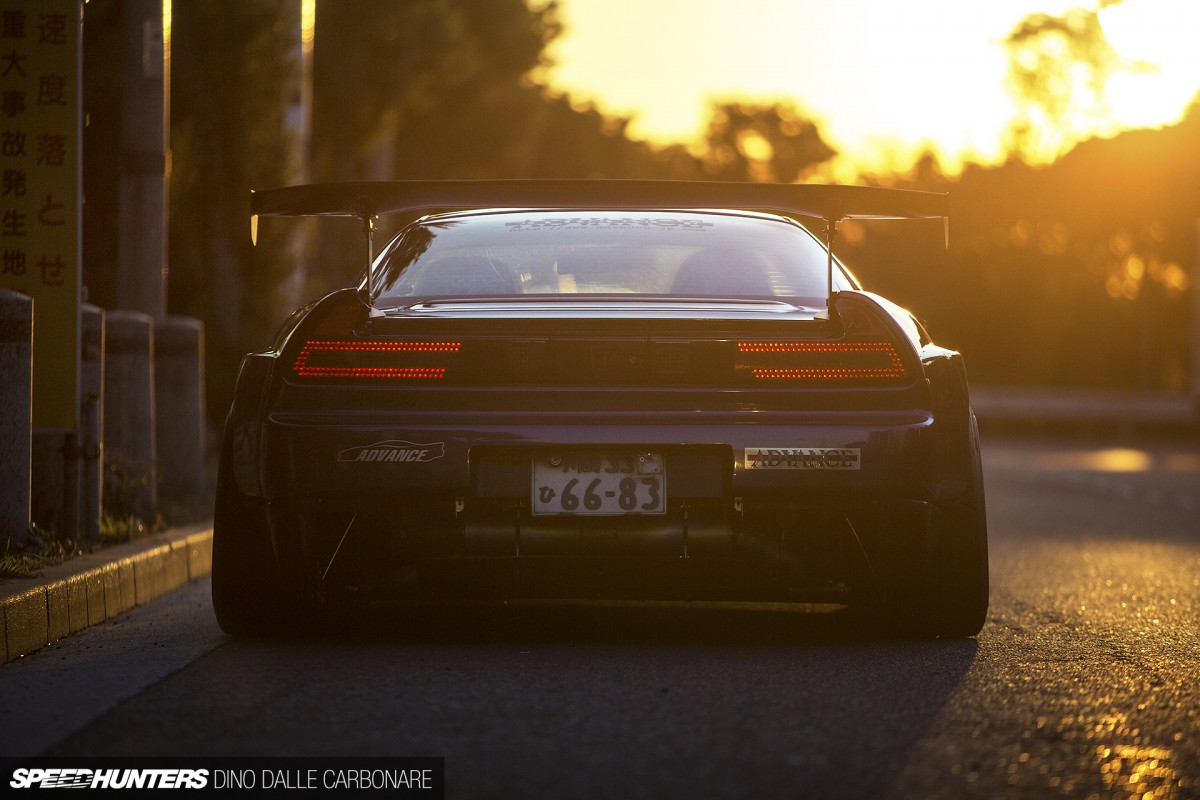 I bet you are looking at this NSX in a whole different light now, right?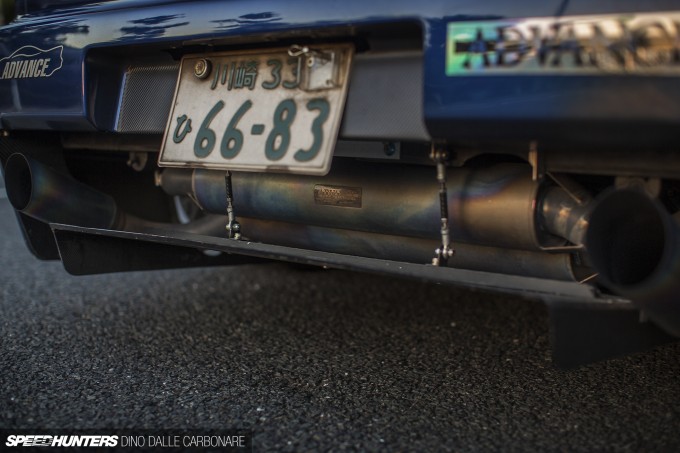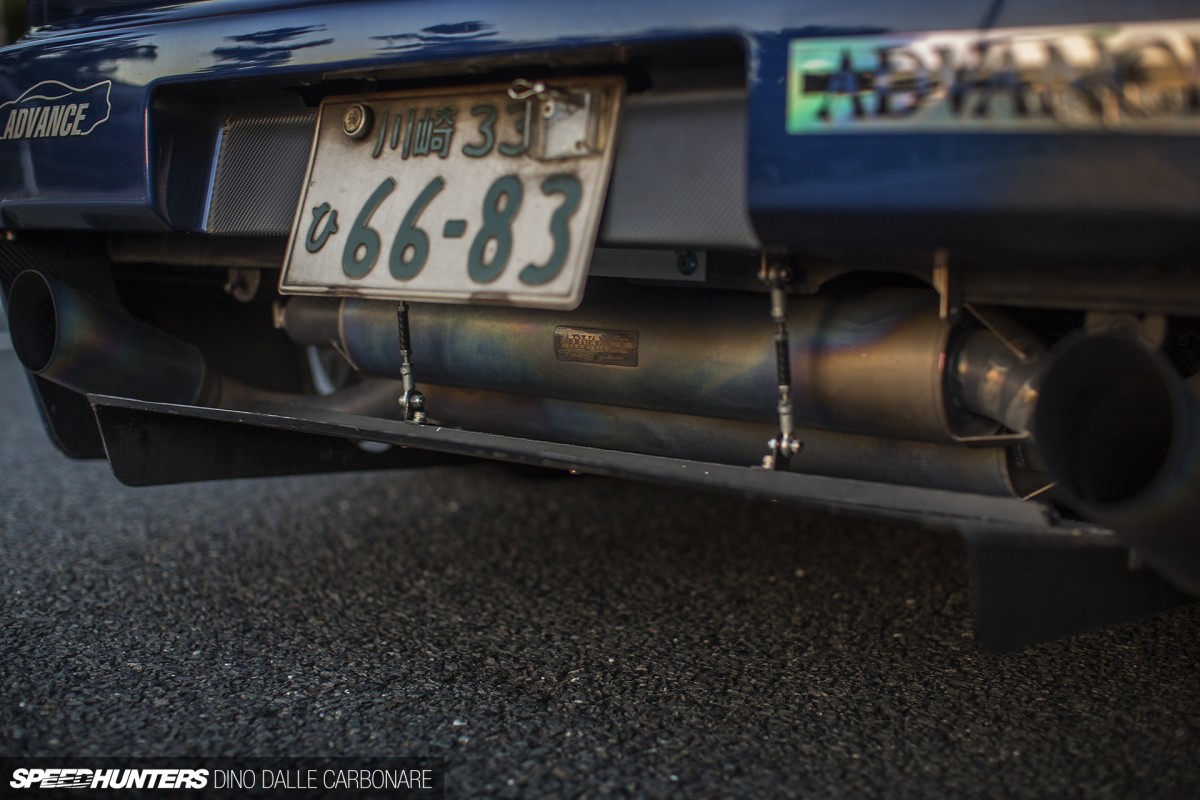 The Advance-built motor channels exhaust gasses through a set of high-flow Fujistubo manifolds before passing them onto an Advance titanium exhaust, which as you can see here runs a pair of transversely laid out silencers that help quieten the blaring V6 soundtrack. It sounds, well, glorious – a perfect mix of raspiness that intensifies as revs rise to an almighty naturally aspirated racket! The engine is managed through an HKS F-CON V Pro piggyback ECU running a custom map that Advance fine tuned over a series of dyno and street tuning sessions. All it needs now is a Toda Racing sports injection kit with a sexy set of velocity stacks – what do you think Jun?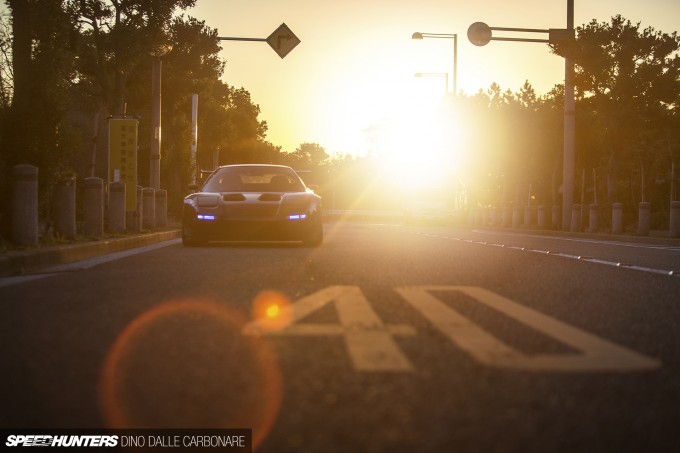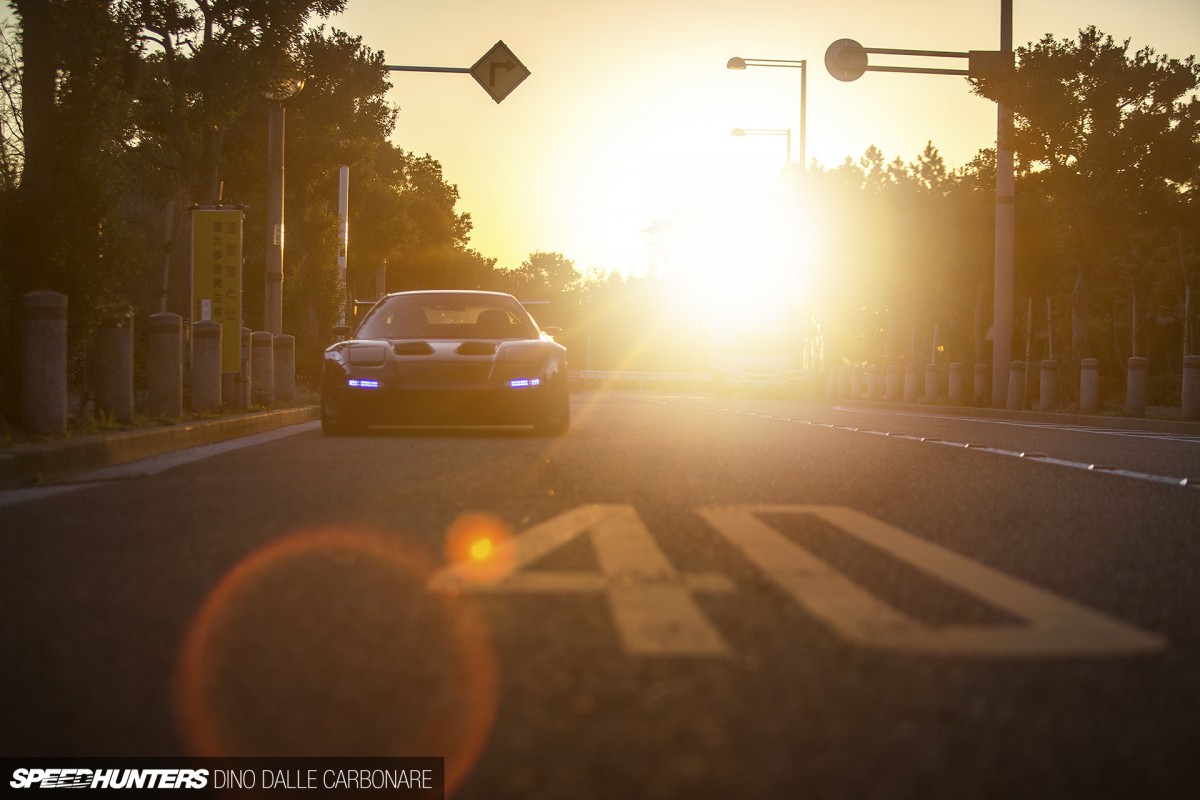 Advance proceeded onto the driveline with an Exedy twin-plate Carbon-R clutch mated to a lightweight flywheel. That sends drive to an OS Giken 1.5-way LSD with a 4.4 final to help bring the gears closer together.
Say Hello To Digital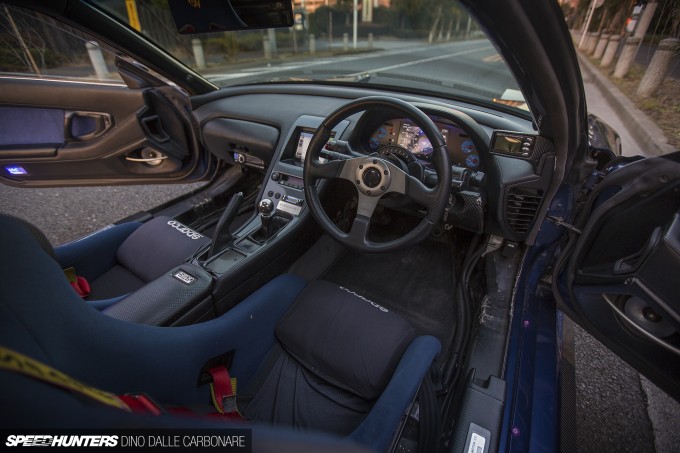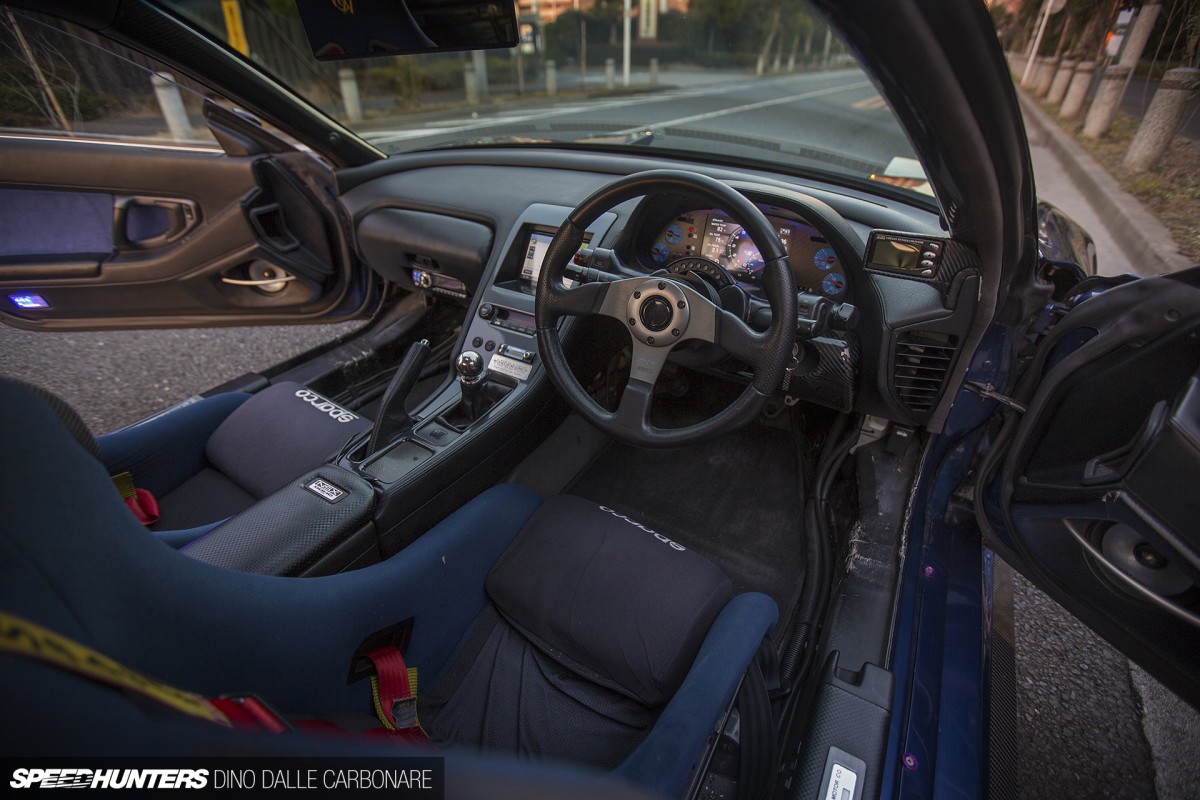 Jun has spent a serious amount of time personalising the cabin of his NSX.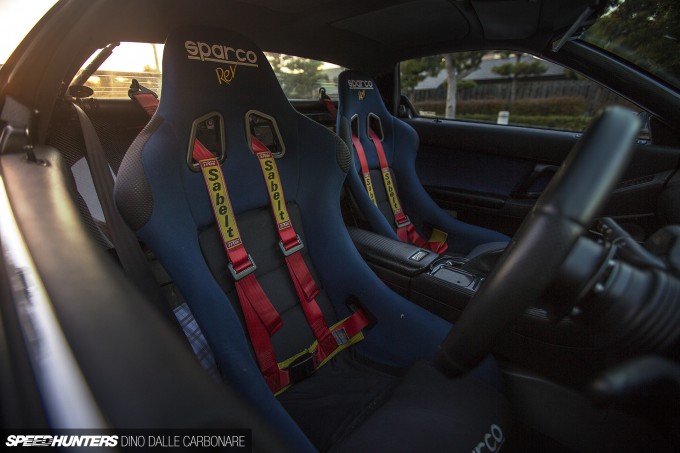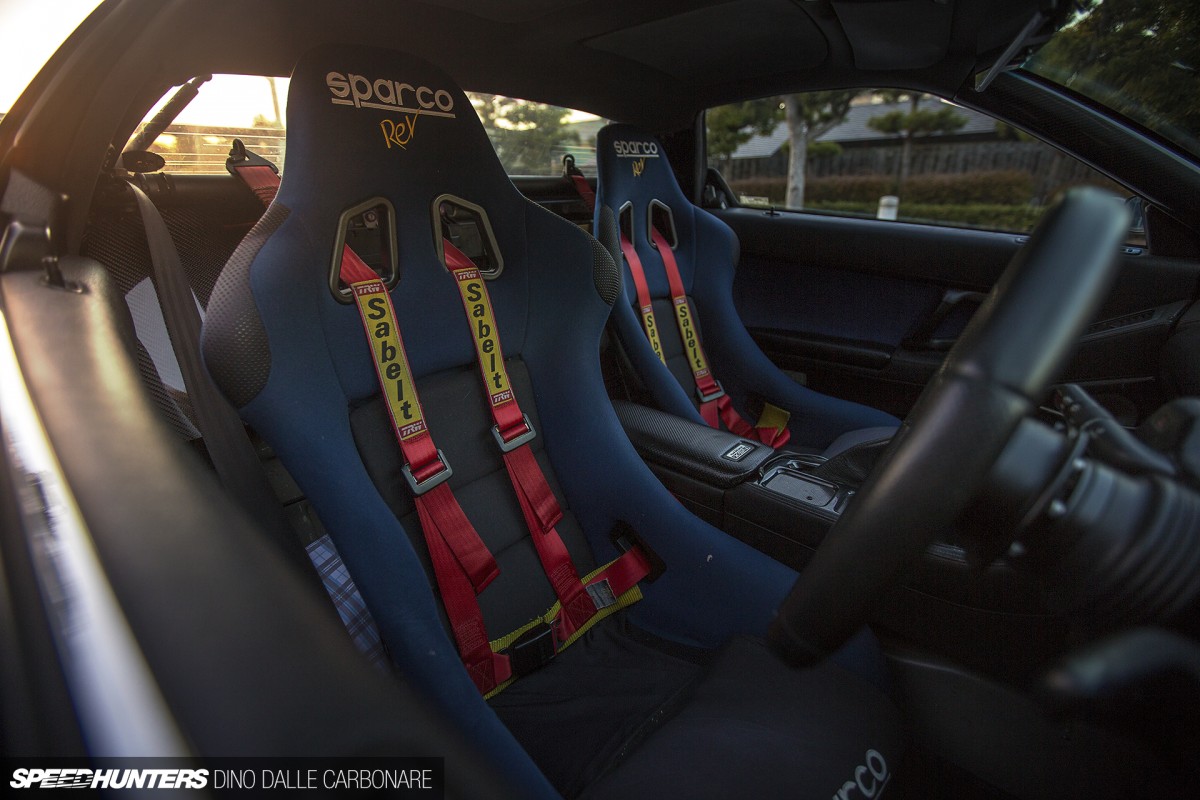 Along with a Momo steering wheel mounted onto a quick-release boss, he's replaced the stock seats with a pair of Sparco REV2 fixed buckets flanked by Sabelt harness belts.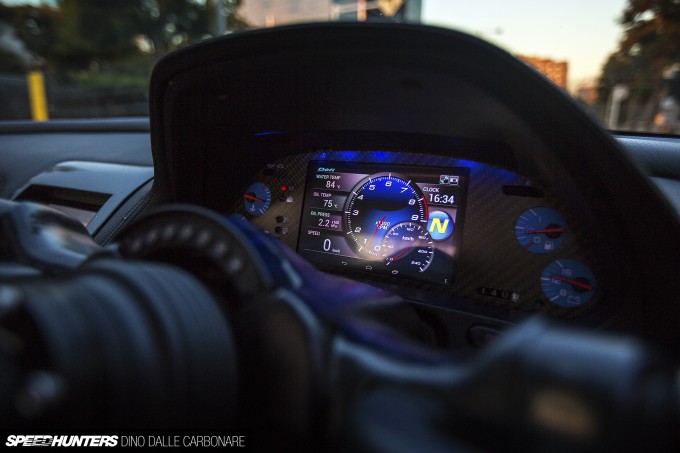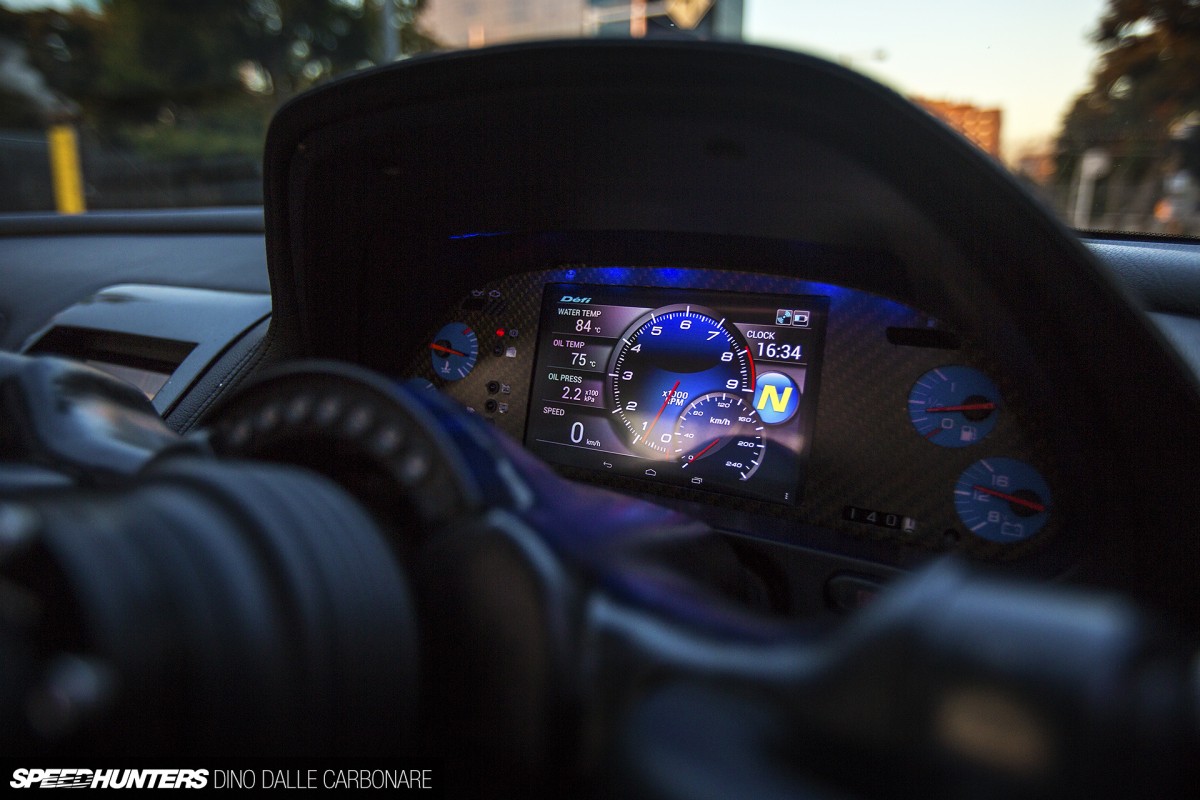 But the real party trick resides in the instrument binnacle… With the release of the Defi Smart Meter there has never been an easier time to create your own racecar-type digital display. The way Jun went about it was to retain only the NSX's fuel, volt and water temperature gauges, and create a carbon fiber backing on which the LCD display was fitted.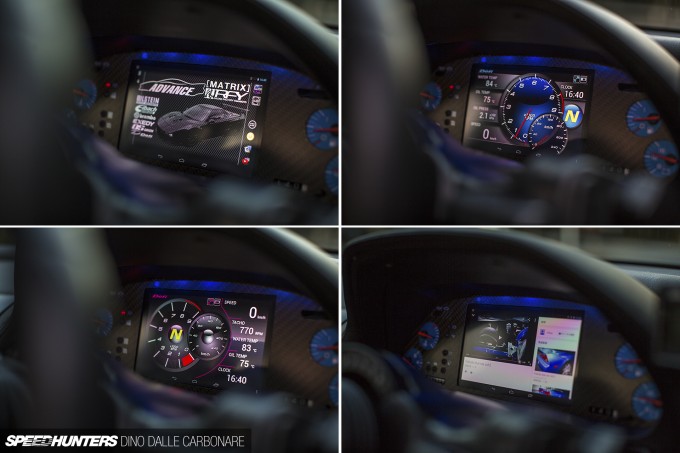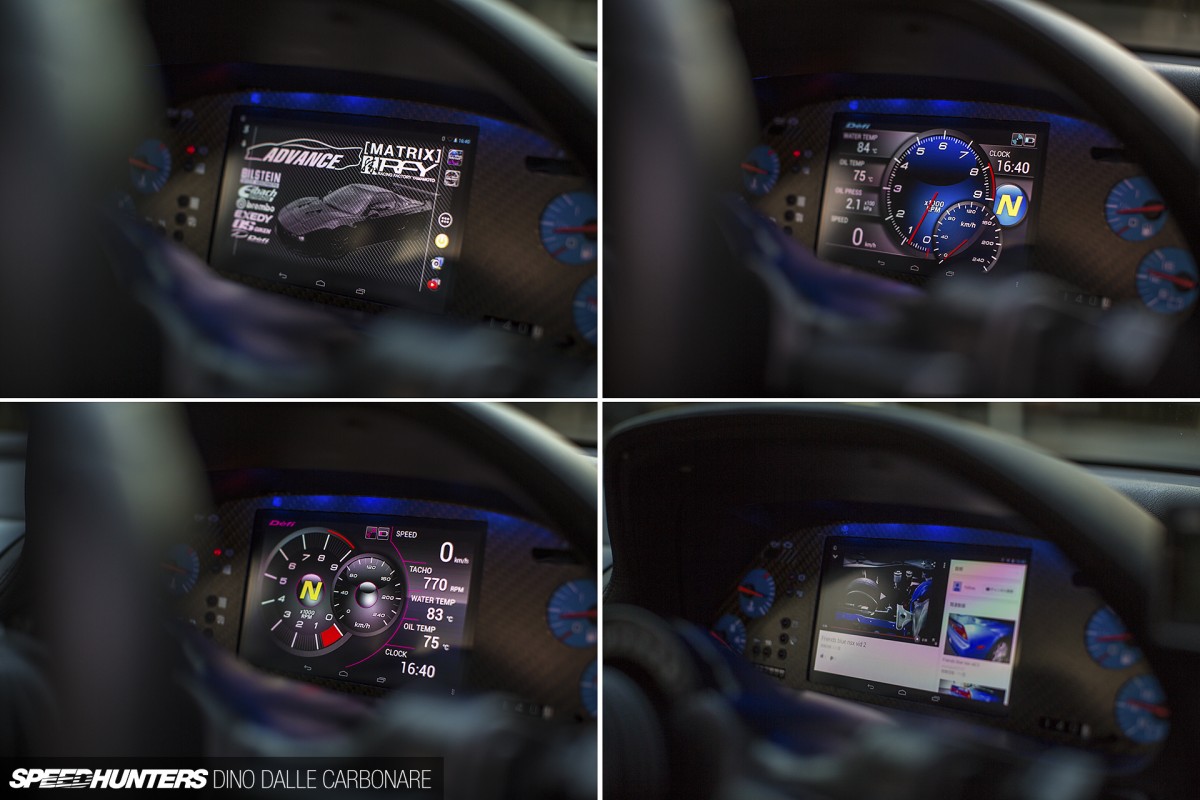 The Defi unit interfaces with the Honda's ECU and relays information wirelessly via Bluetooth to the screen, which is simply a Google Nexus tablet. This of course means it's a touch panel, and by swiping a finger across you can toggle through the different display screens, or, if you are feeling like it, watch some movies on YouTube and reply to some emails! It's pretty damn cool, right? I think Defi are onto a big thing with this little gadget.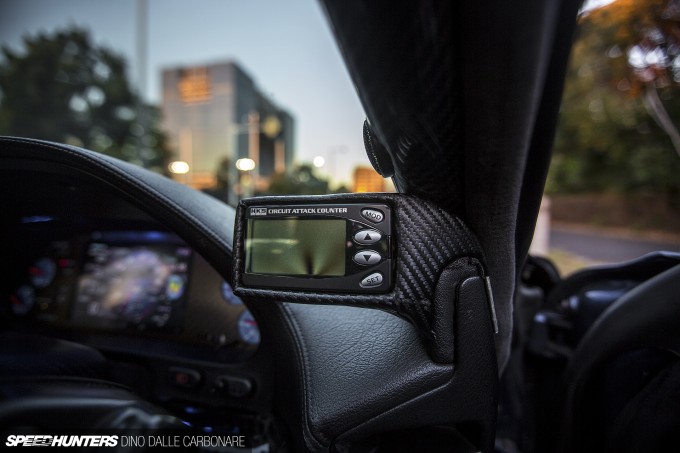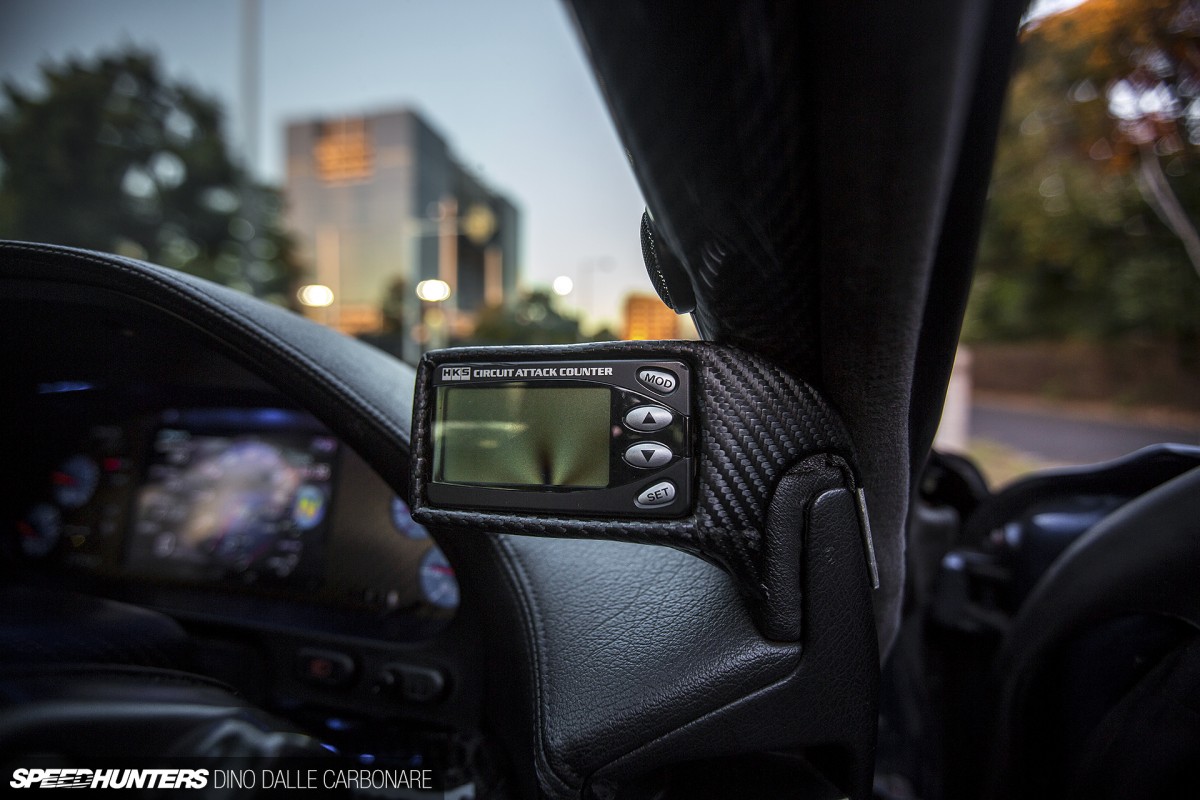 Seeing that Jun hits the track quite often he decided to permanently fit an HKS Circuit Attack Counter (lap timer) into a carbon fiber leather trimmed, custom-made pillar mount. Of course, he did all the work himself!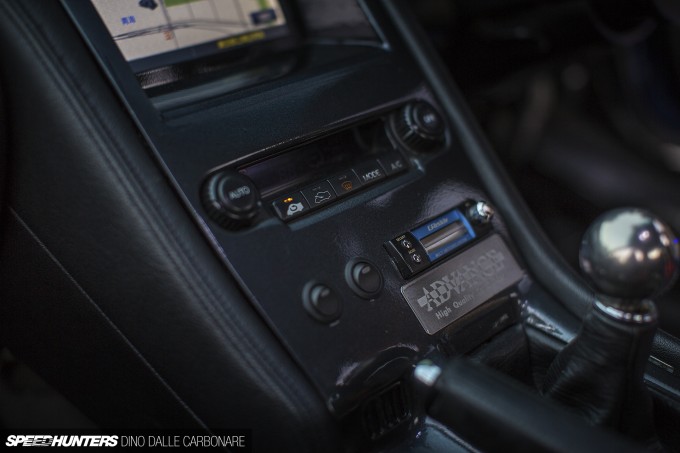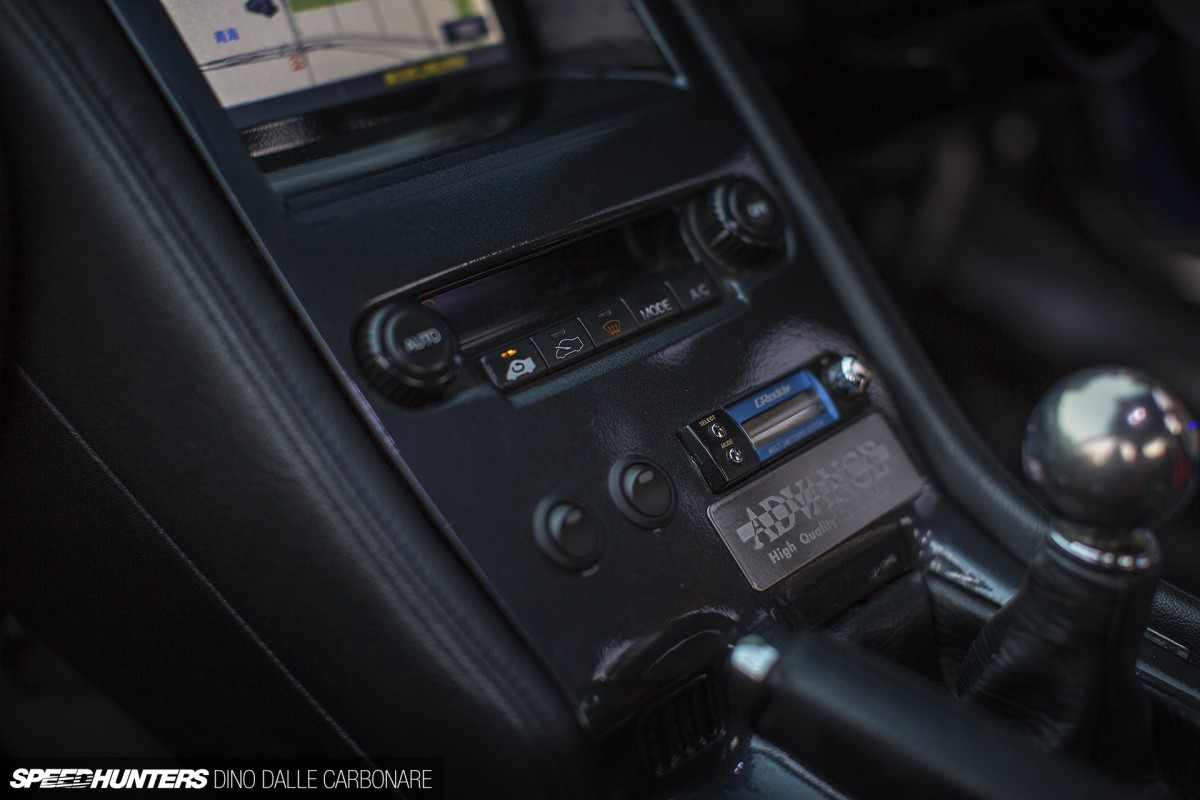 More DIY work can be found in the center console with a custom-mounted touch screen navigation unit and a GReddy Multi Switching System controller. The audio headunit has been relocated to the passenger side to keep things uncluttered.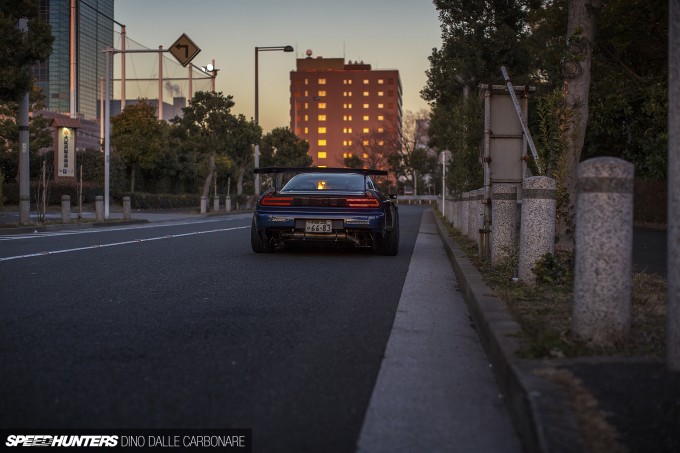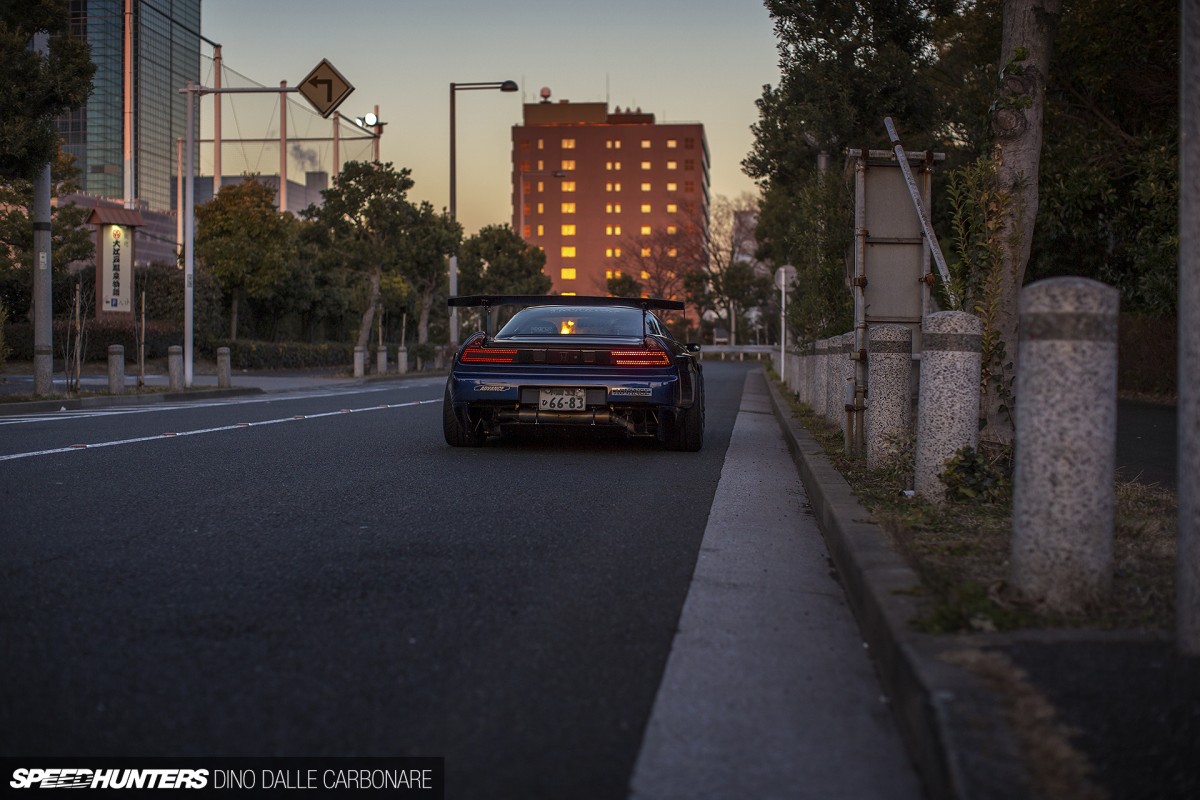 Advance also took care of the NSX's handling, fitting their original Bilstein dampers along with a set of appropriately chosen Eibach springs, and topping it all off with pillow bushings to eliminate any possible slack. It all makes for a very well setup time attack machine.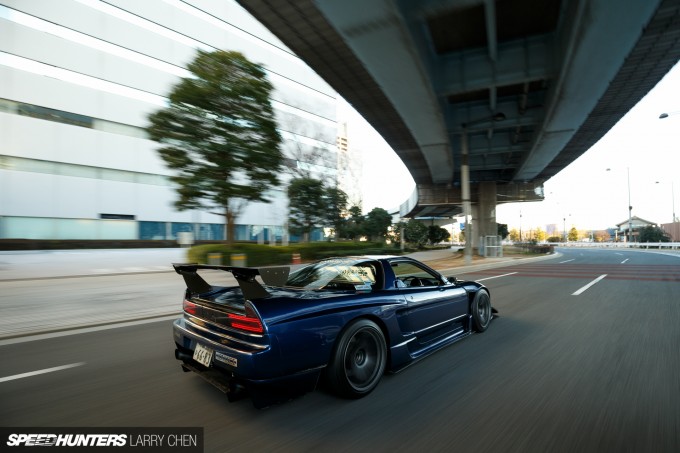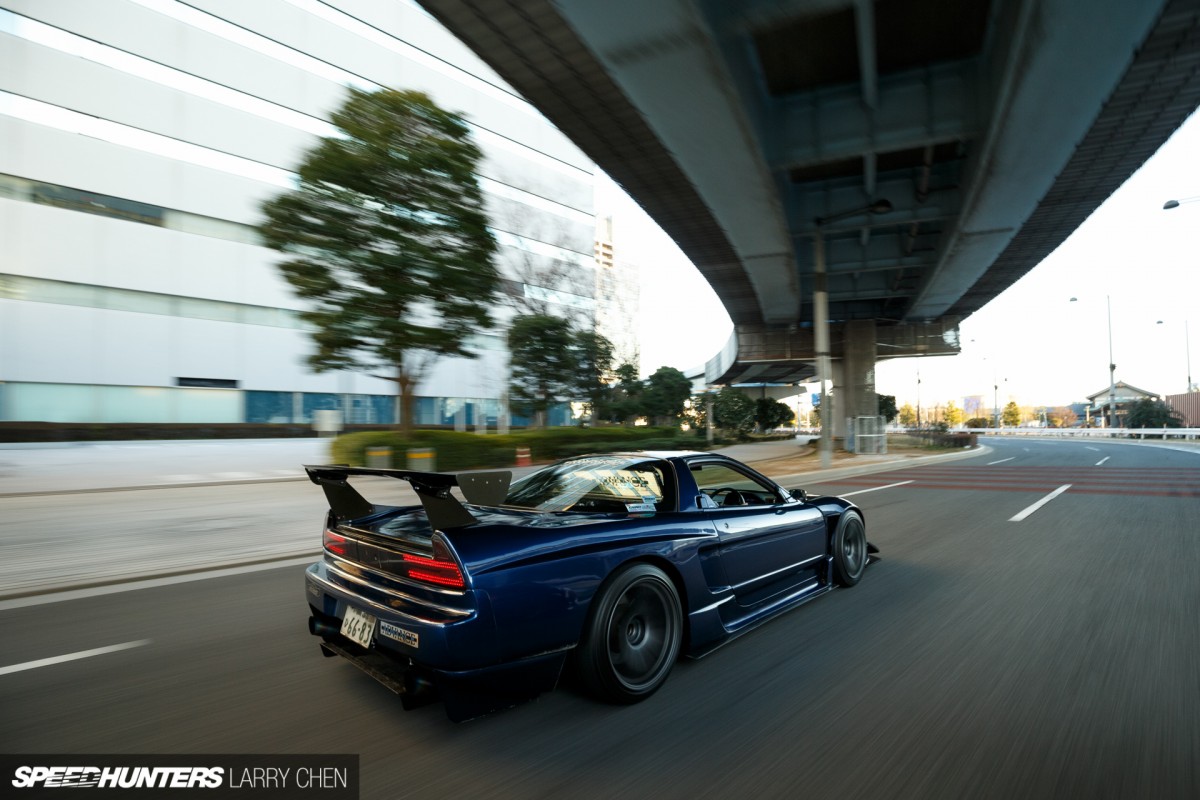 Jun has pretty much taken the perfection that is the NA1 NSX, and perfected it further.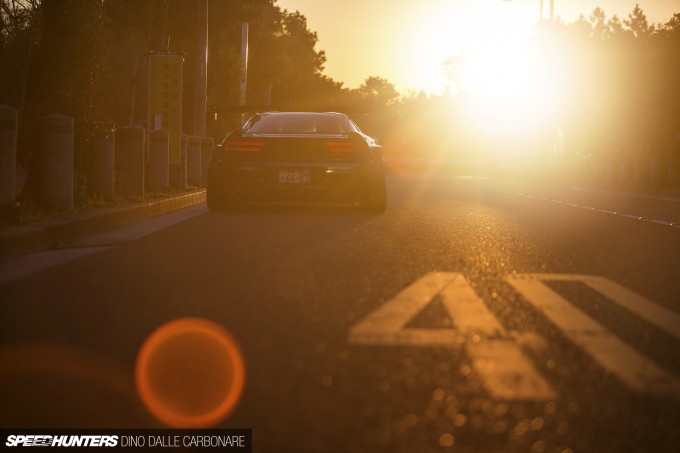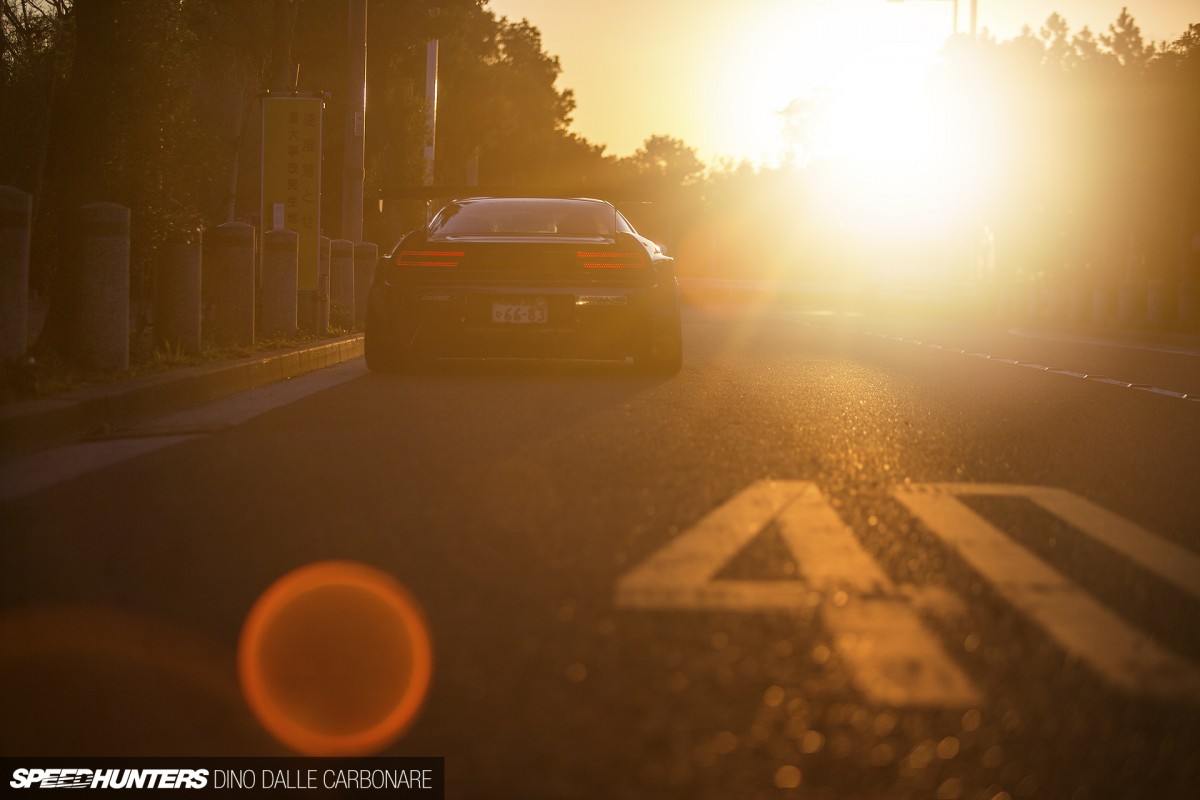 It's these sort of cars that continue to define what Japanese car culture is all about. It's all about perseverance, following a dream or an idea, and slowly but surely turning it into reality. The best thing of all for me is that there are never any ulterior motives. This is a car build by an enthusiast for the sole purpose of satisfying his need to create the best possible interpretation of the car he loves so much. It's the essence of what we all strive to do: no need to fish for kudos or attention – just personal satisfaction.
Dino Dalle Carbonare
Instagram: speedhunters_dino
dino@speedhunters.com