Stand Out With Style
Owning and modifying a popular car like the Nissan S13 be both a curse and a blessing. On one hand there's something great about quickly and easily finding any part you need and having a endless sea of information available at your fingertips.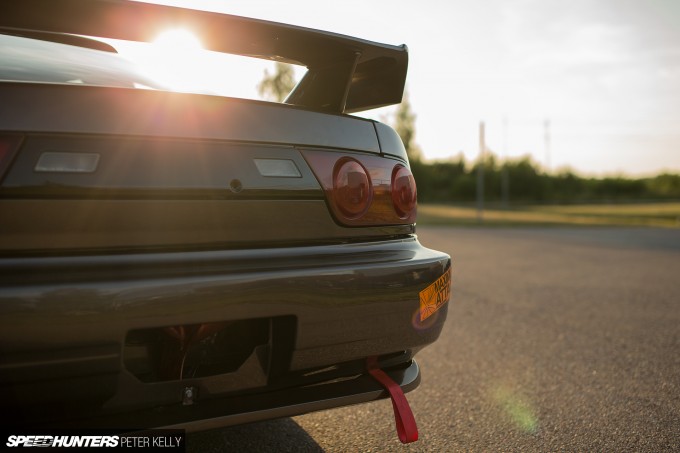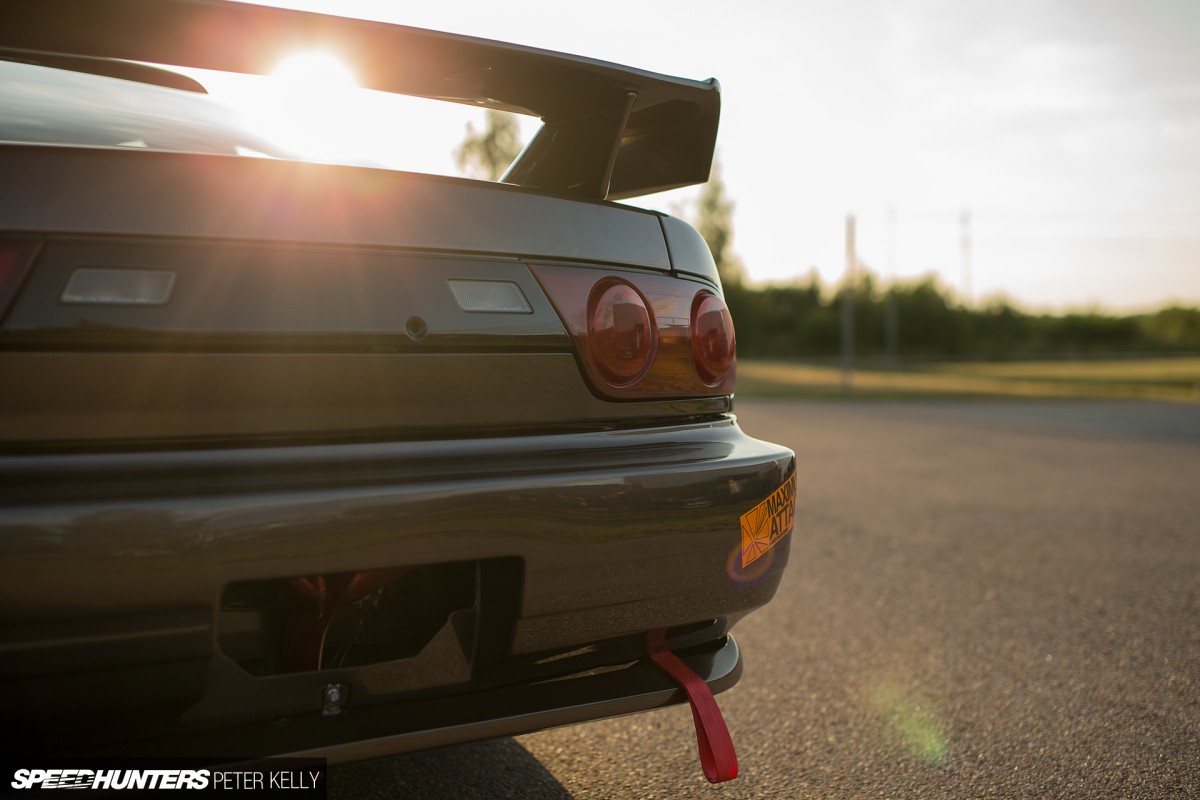 Looking to install a particular component or perform a certain modification? Chances are there are thousands of others who have tried the same thing, and you can learn from their experiences exactly what works and what doesn't.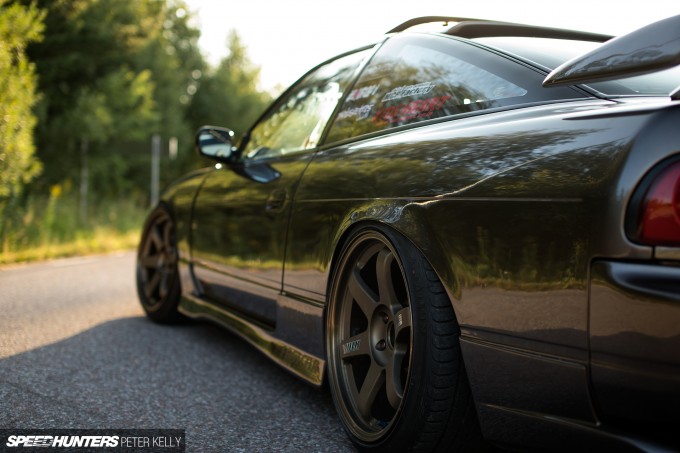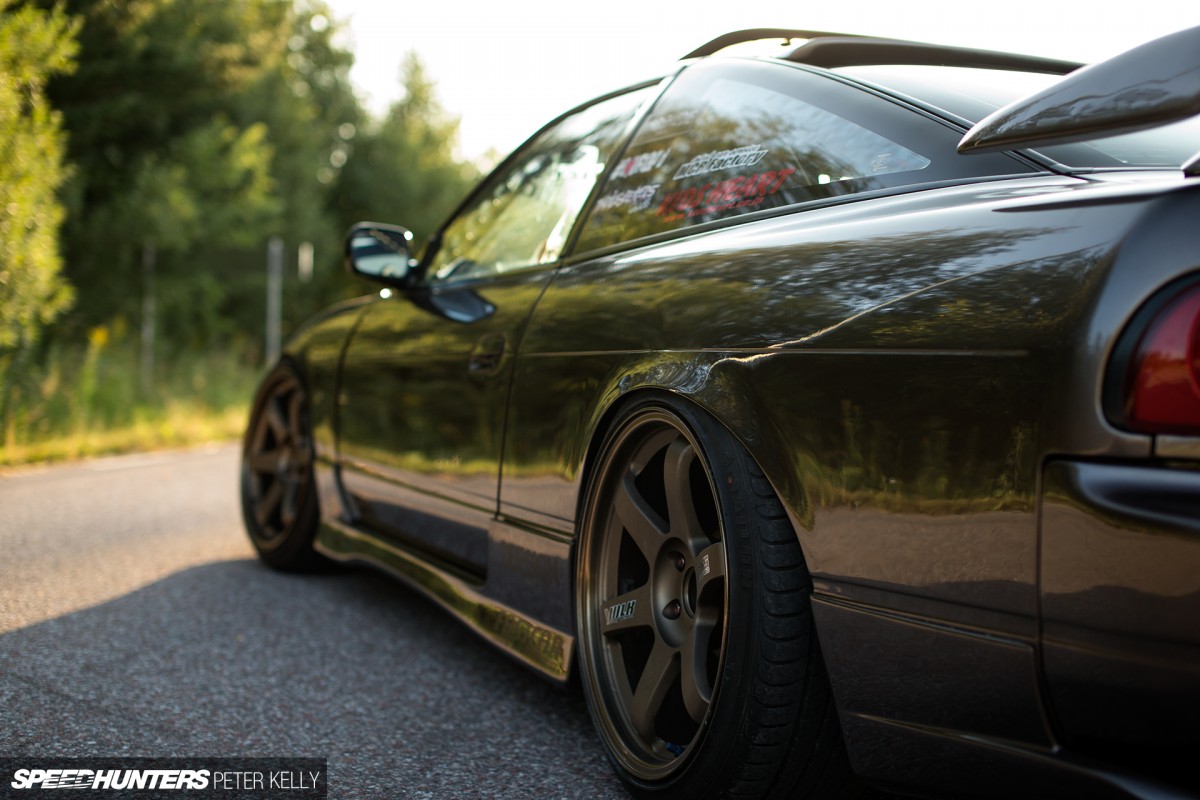 But on the other hand, some people don't want to have the same car as everyone else. They see a car's popularity as a drawback rather than a benefit. Because, what fun is it to do the same thing that everyone else does, right?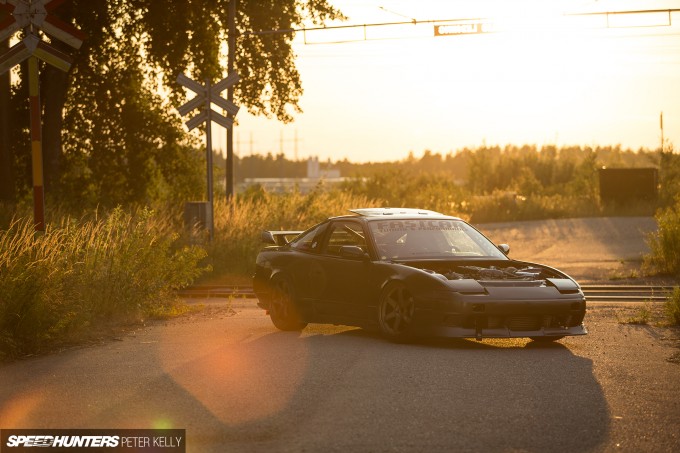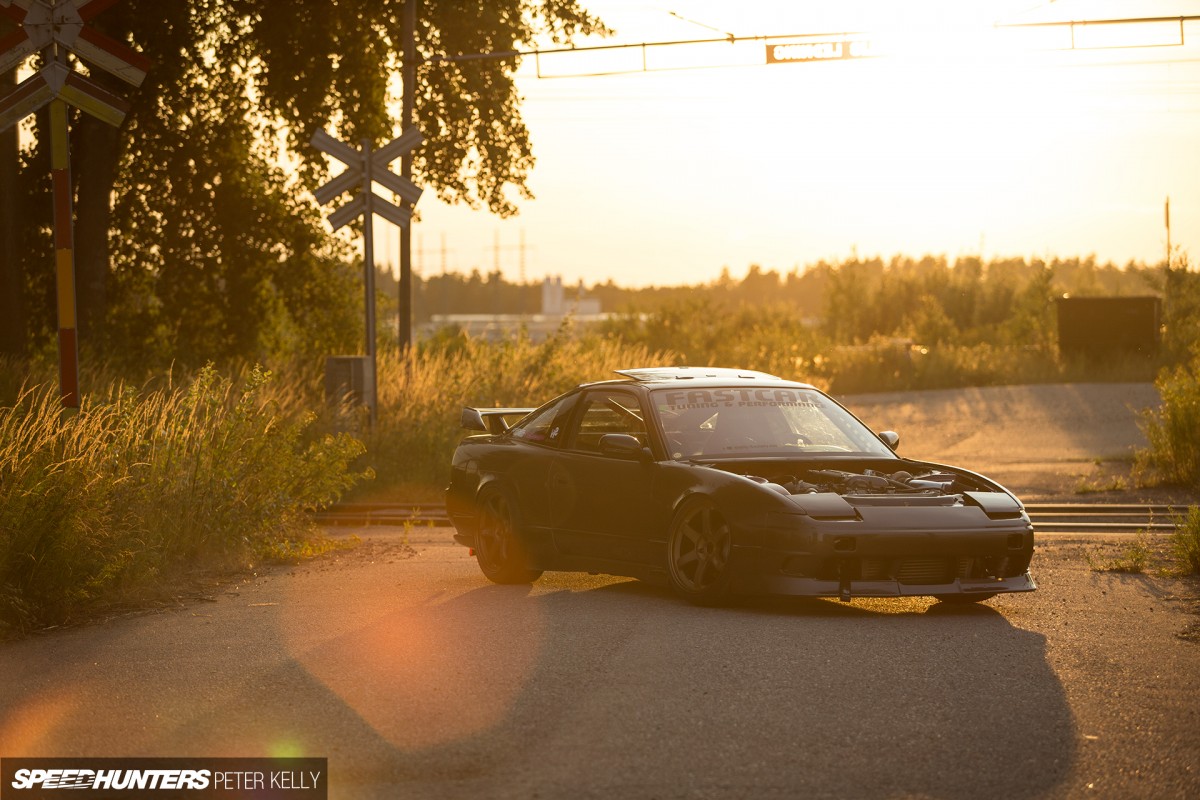 So the question is, if you have a popular car and you want to stand out, what do you do? Well, there's a number of ways you can attack it. Perhaps most easily, you could paint your car some crazy color or do some other gimmicky things to get attention, but I wouldn't recommend that.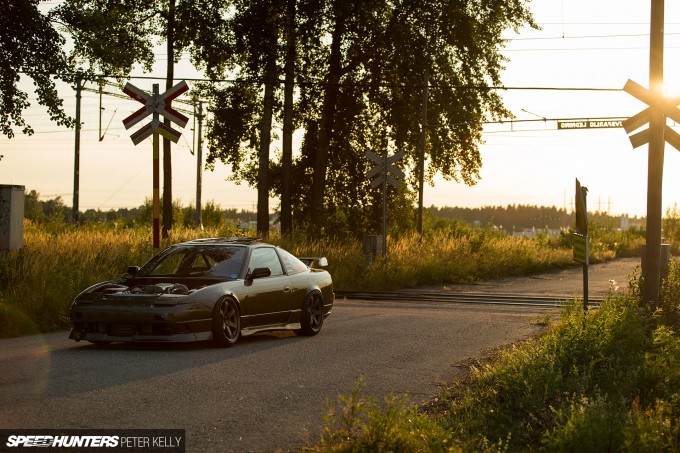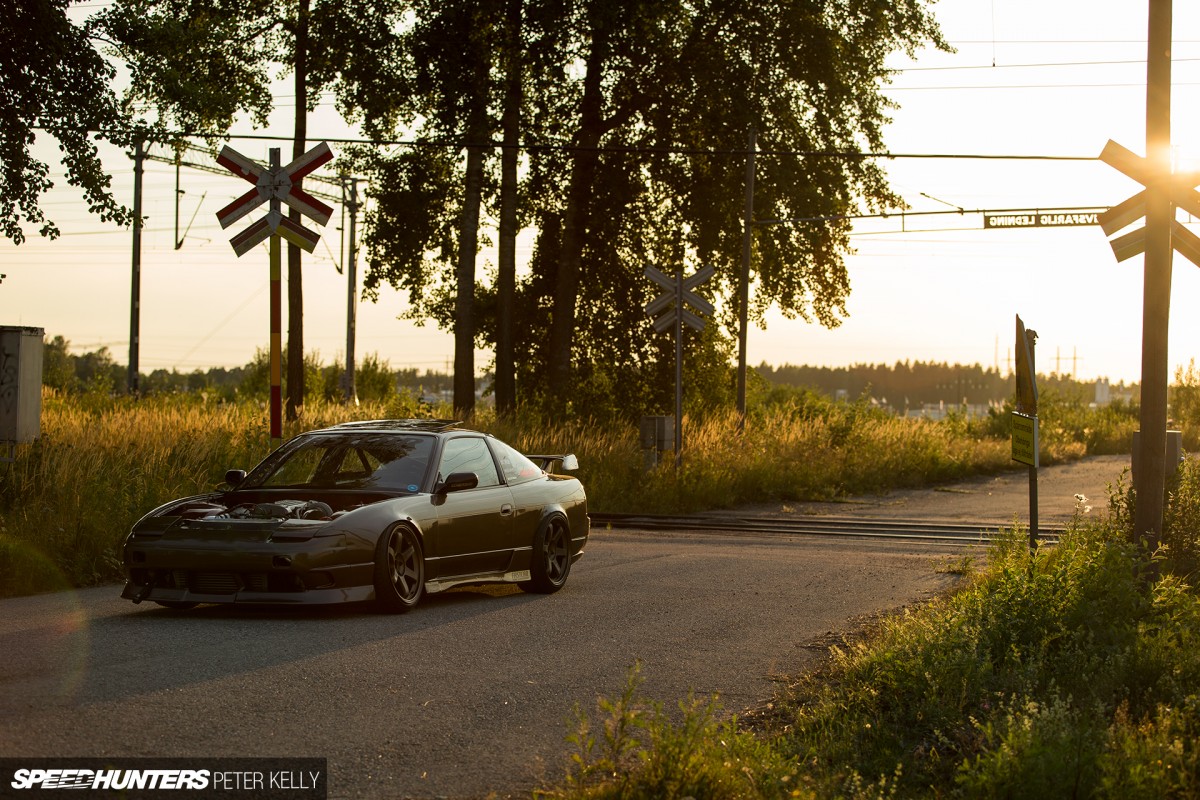 Another option is to take a familiar platform and build it in a way that's unexpected. A unique engine swap, for example. Or an aesthetic theme one might not associate with that type of car. If all else fails, you can just add a whole lot of horsepower and scare the crap out of people.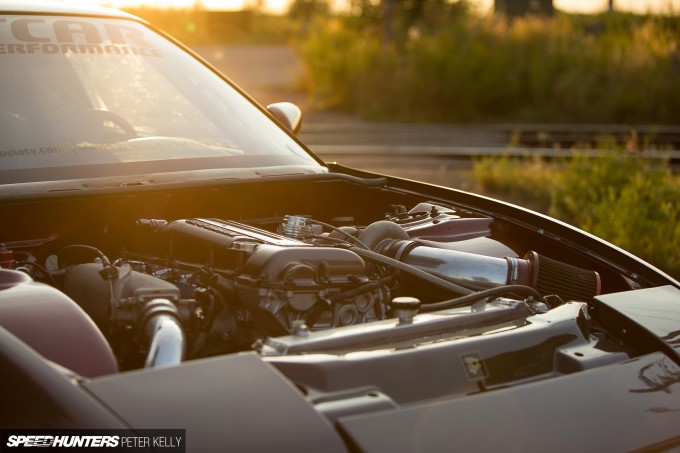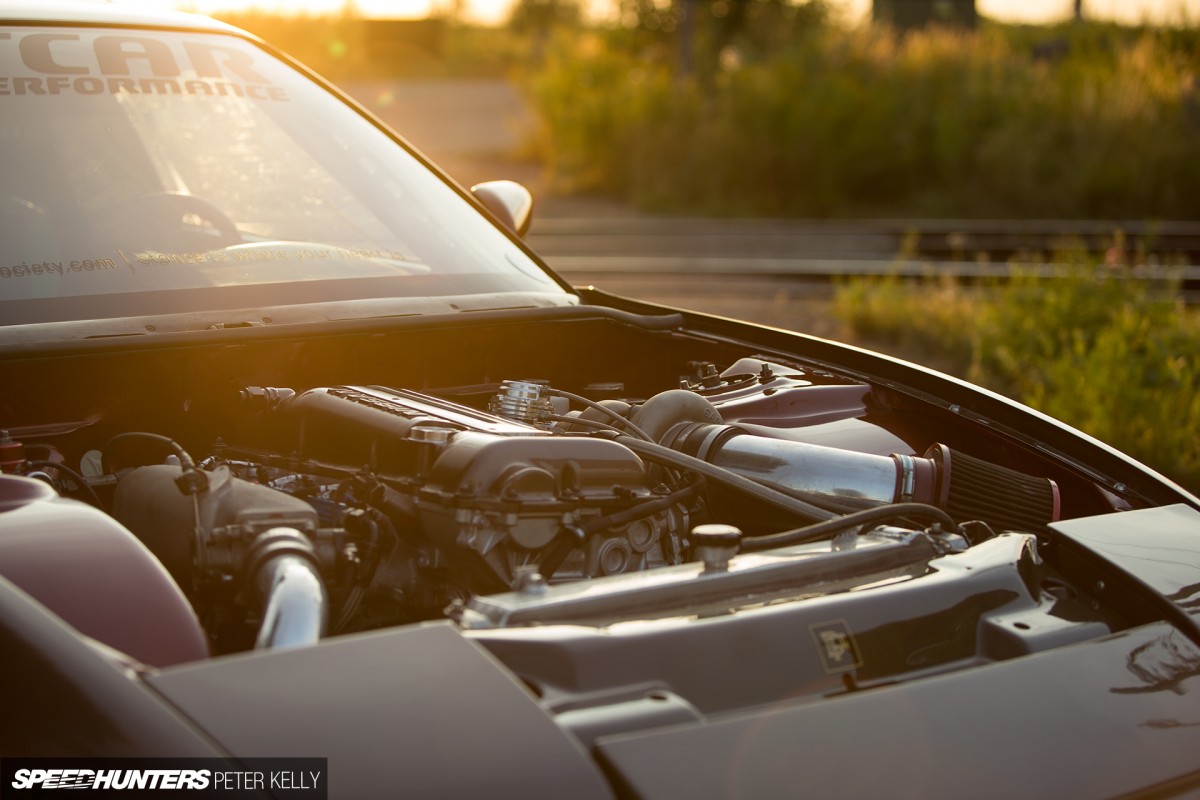 But there's a third way to make a common car stand out, and while it might sound easy it's actually much harder to execute. With this method, rather than trying to do too much, the key is focusing on the details – nailing the little things to create something that stands on its own.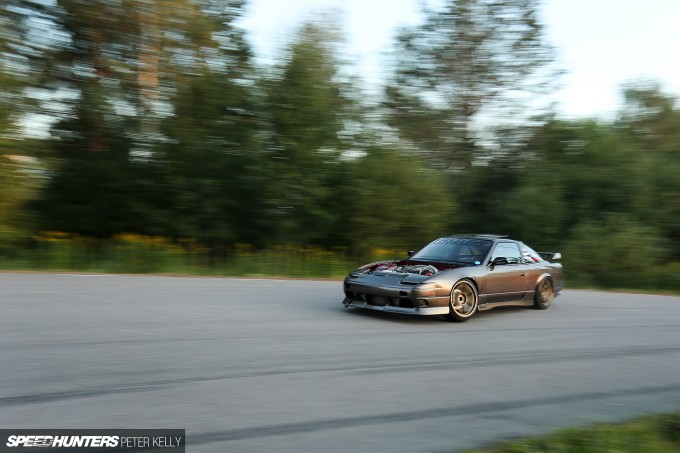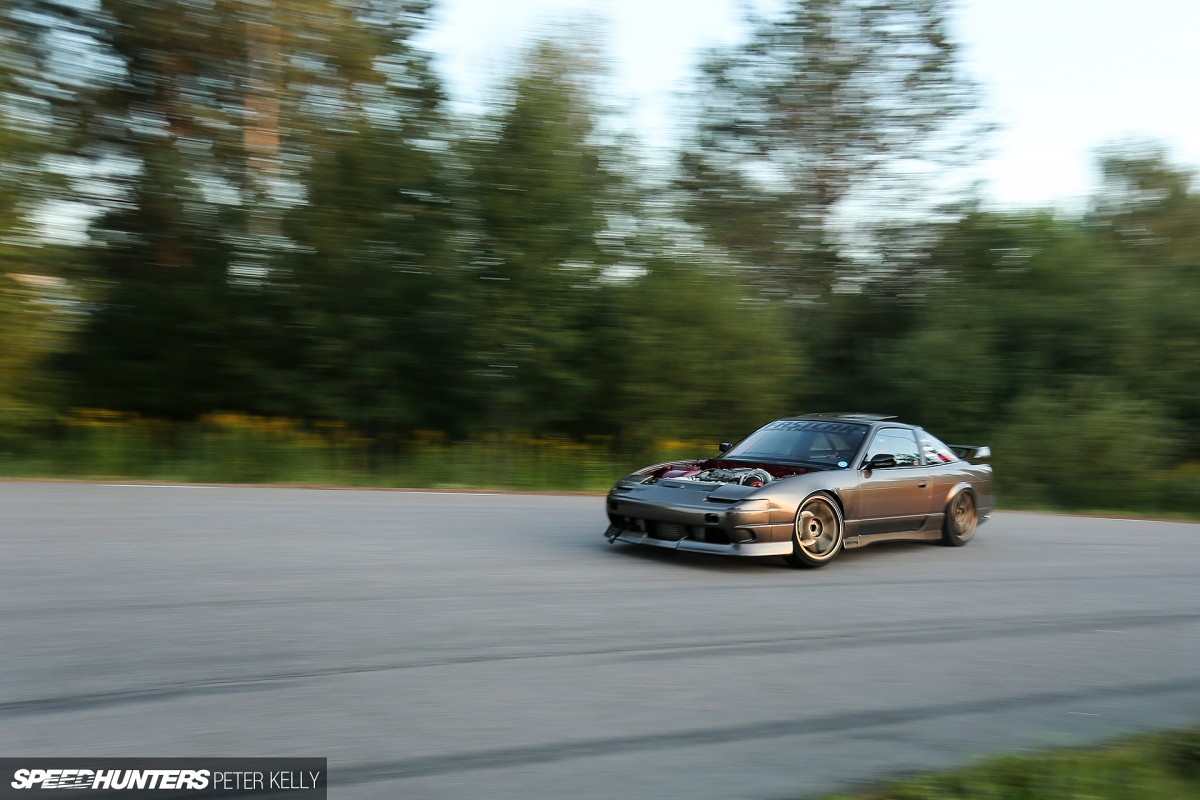 The S13 you see here is definitely one of those cars. It's owned by Sweden's Christoffer Pettersson and it represents the street-inspired 180SX drift car at its very best.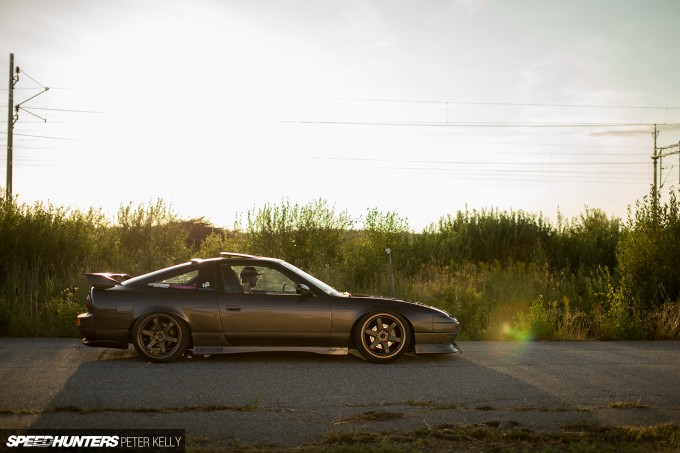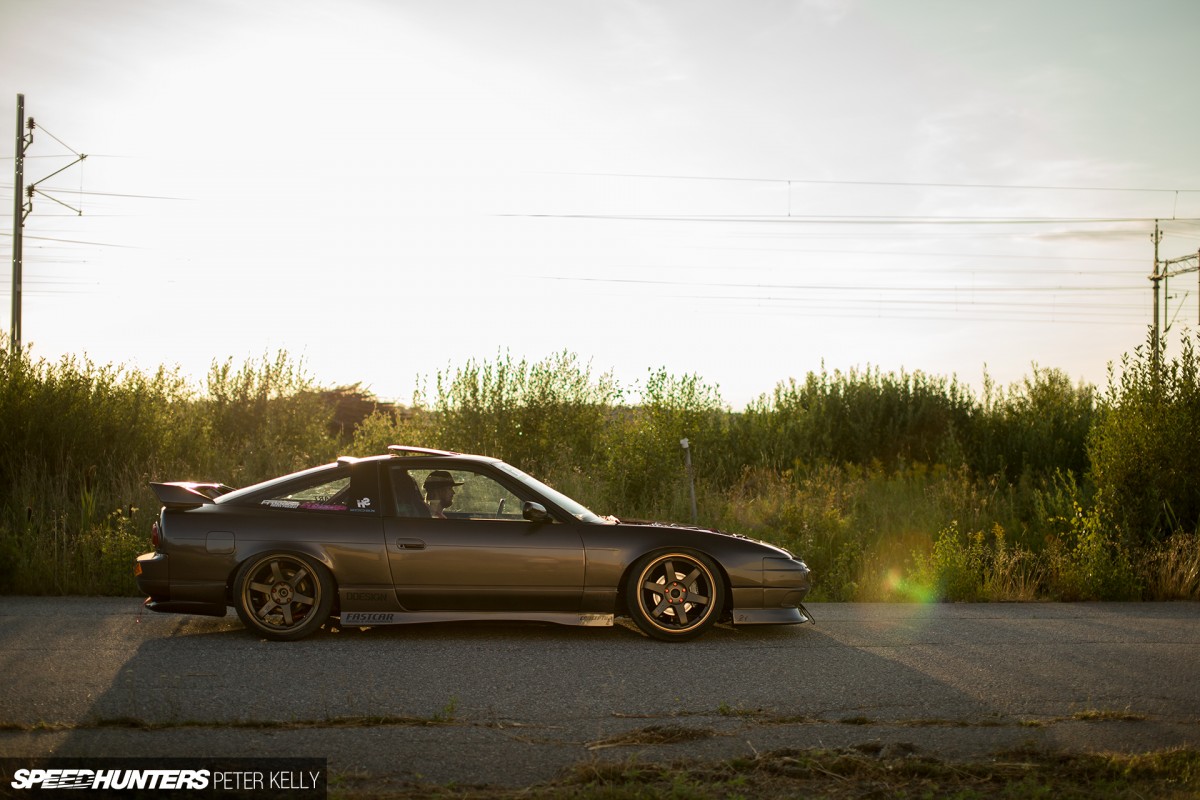 Christoffer grew up watching his dad build and race Volvos, and his first car was an '04 Impreza STI, which he proceeded to fit with some bolt-on upgrades – wide wheels and a heavily dropped suspension. He enjoyed the 'stanced' Subaru for a while, but he soon found himself yearning for something FR that he could drive sideways.
Back To The Basics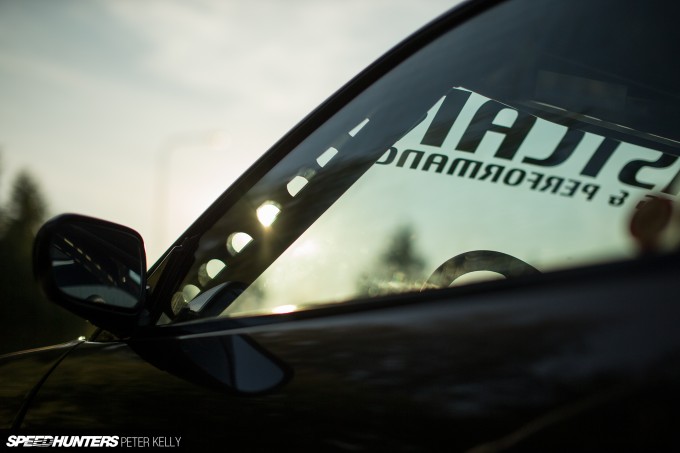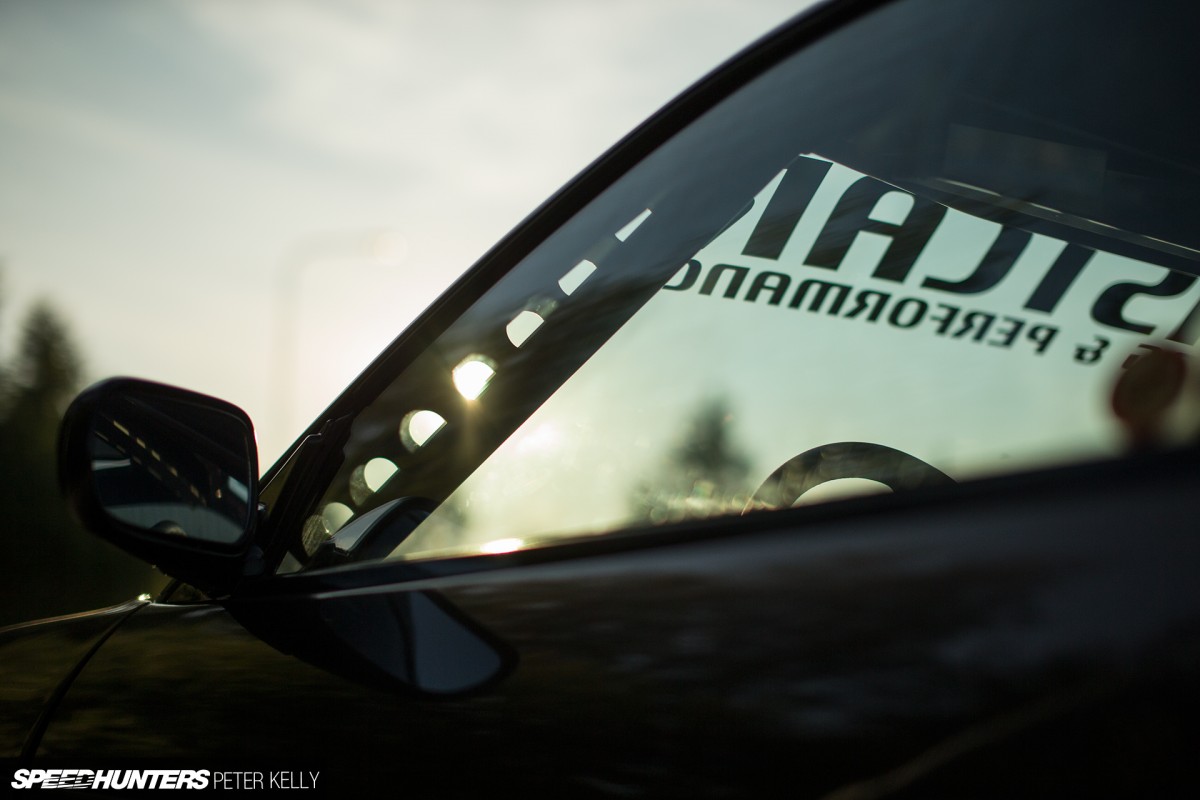 Even before he got the Impreza, Christoffer was a drifting fan. Not of the high stakes competitive world of pro drifting though, but rather at the roots of the sport – the stylish and simple cars pioneered on the streets and circuits of Japan.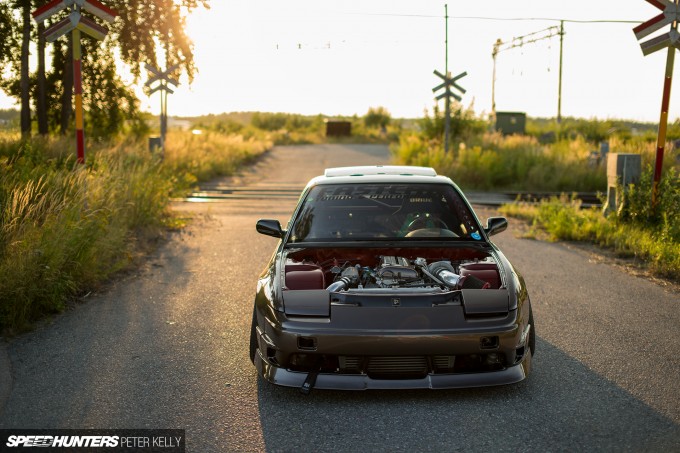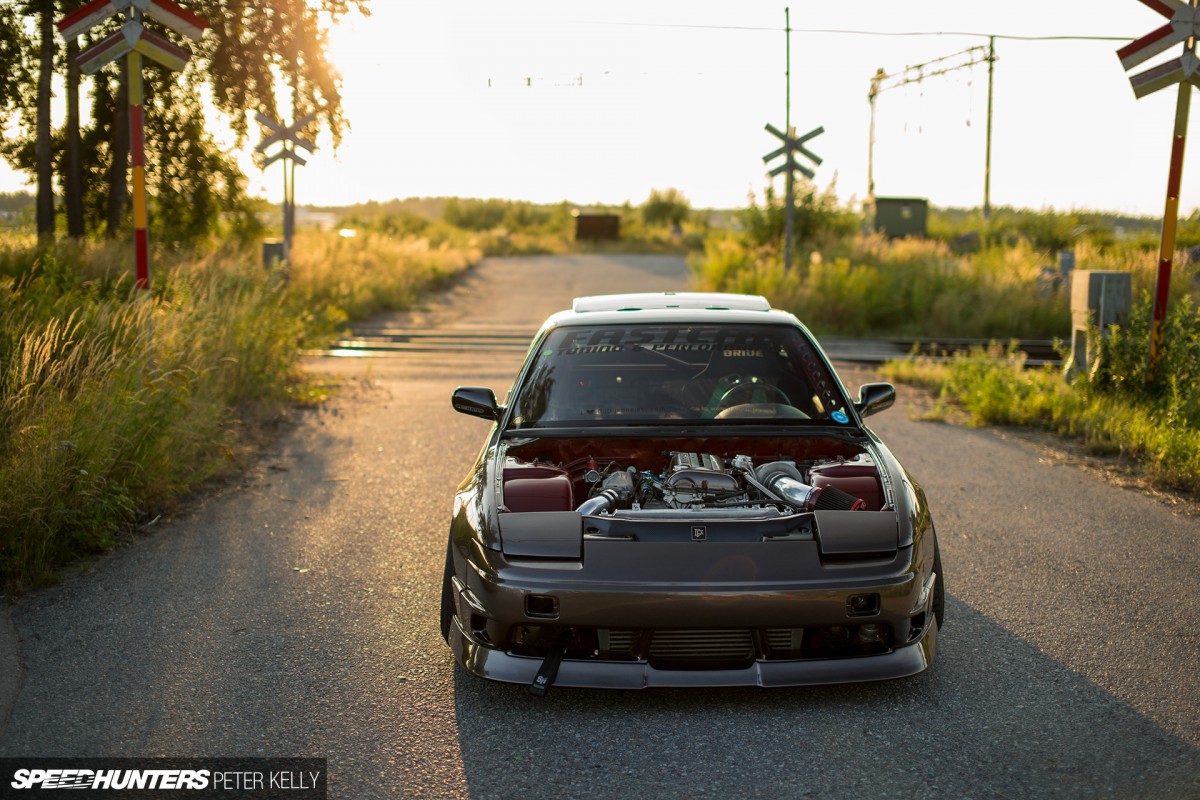 If there was one car in particular that inspired Christoffer it was the C's Garage 180SX Type X, and in October of 2012 he purchased a bone stock '89 S13 hatchback hoping to capture the spirit of that car.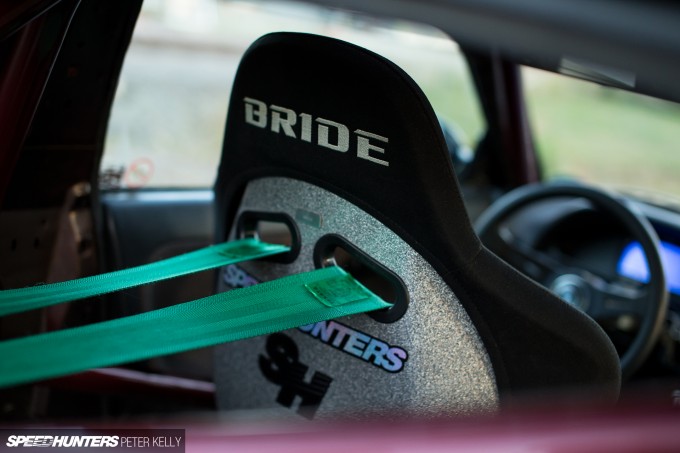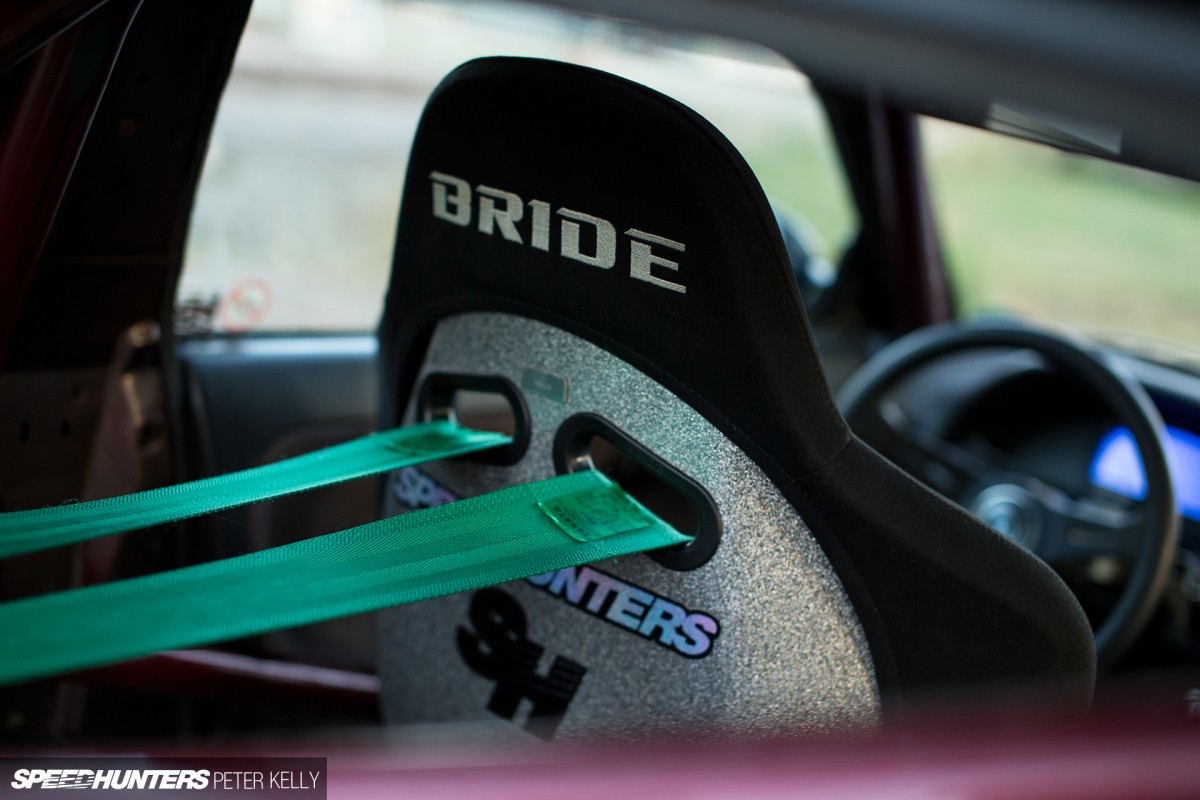 At the same time Christoffer was studying to become a metalworker/auto painter, so the first thing he did when he got the S13 was to tear down the old car for some rust repairs and a basic refreshing.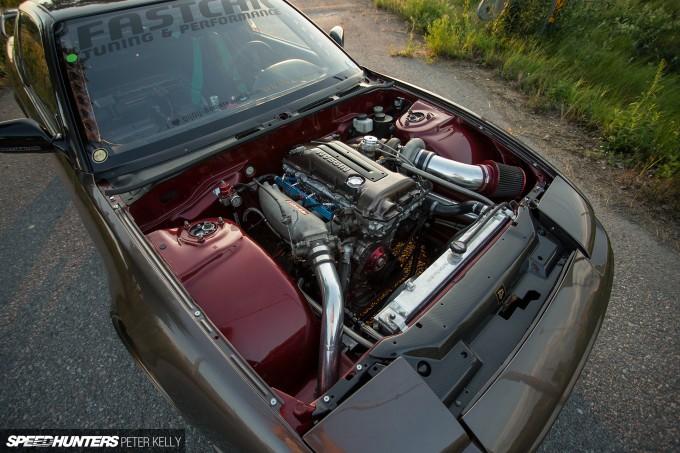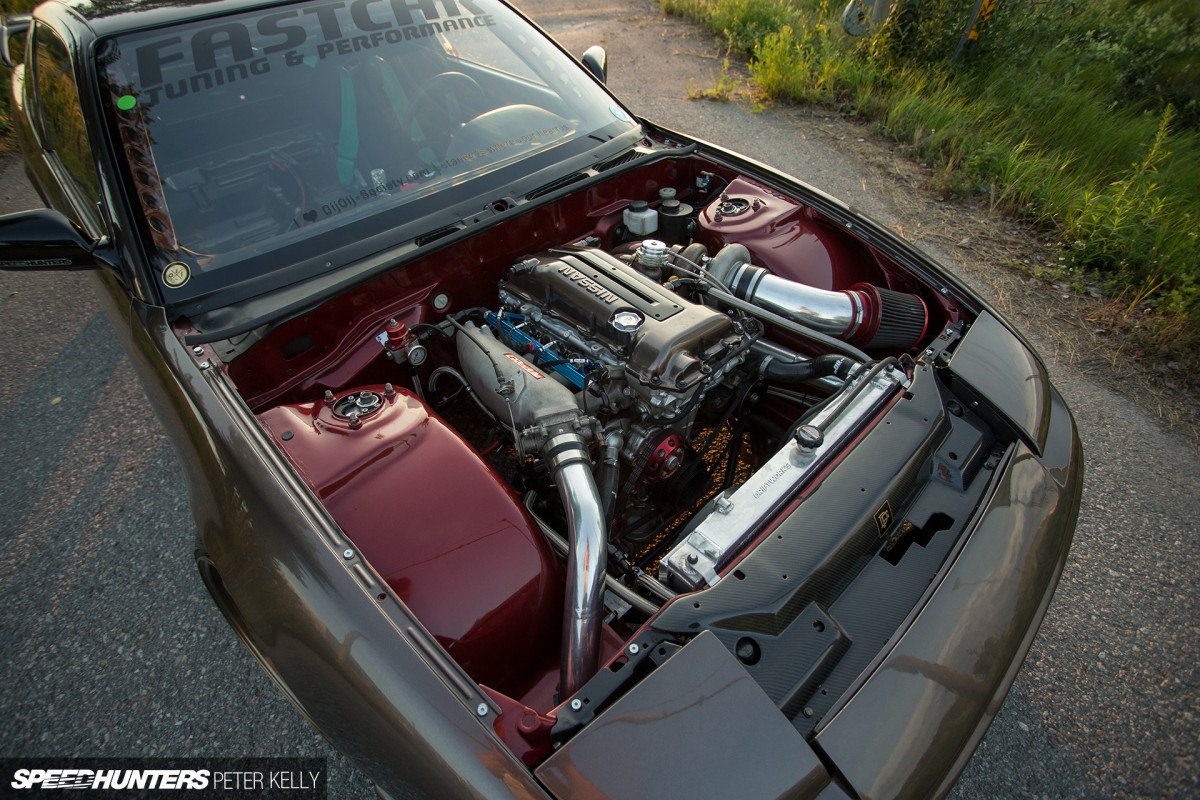 Next it was time to address the motor. While the S13 is a blank canvas that can seemingly accept any type of motor under the sun, Christoffer knew he wanted to stick with the traditional SR20DET setup. He wasn't big on the V8s that have come to dominate pro drifting and he knew the SR would be the right choice for his roots-themed build.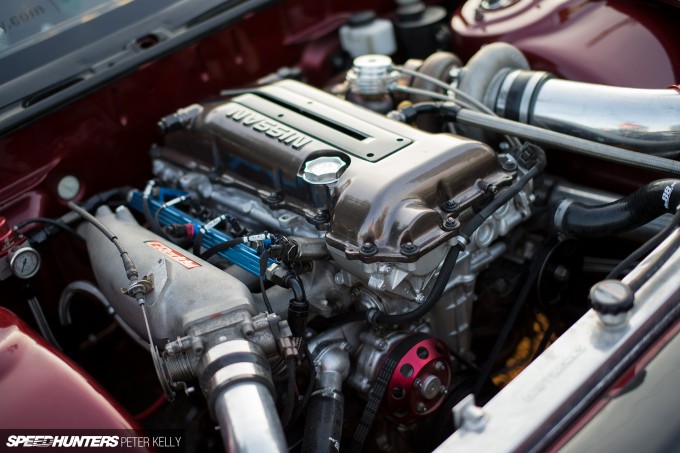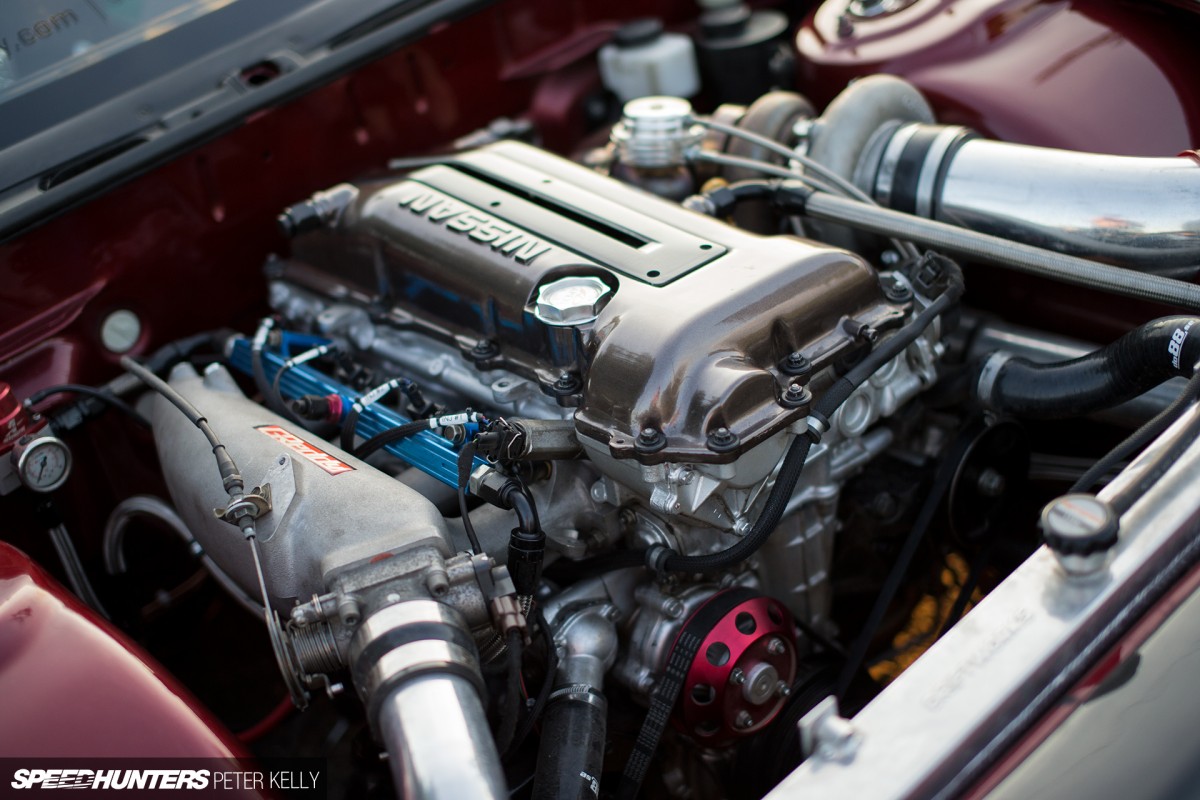 It just so happens he had a friend who was selling a complete SR20DET motor setup from a zenki S14, and Christoffer knew that installing this motor would be a straightforward way to get the power he was looking for. Remember what I said about the benefits of building a popular car?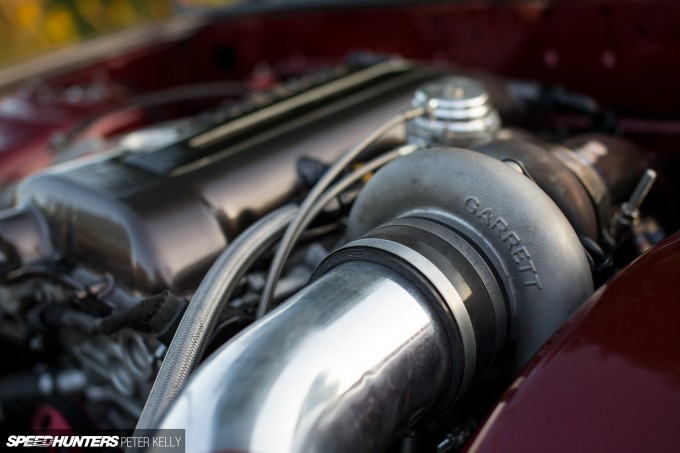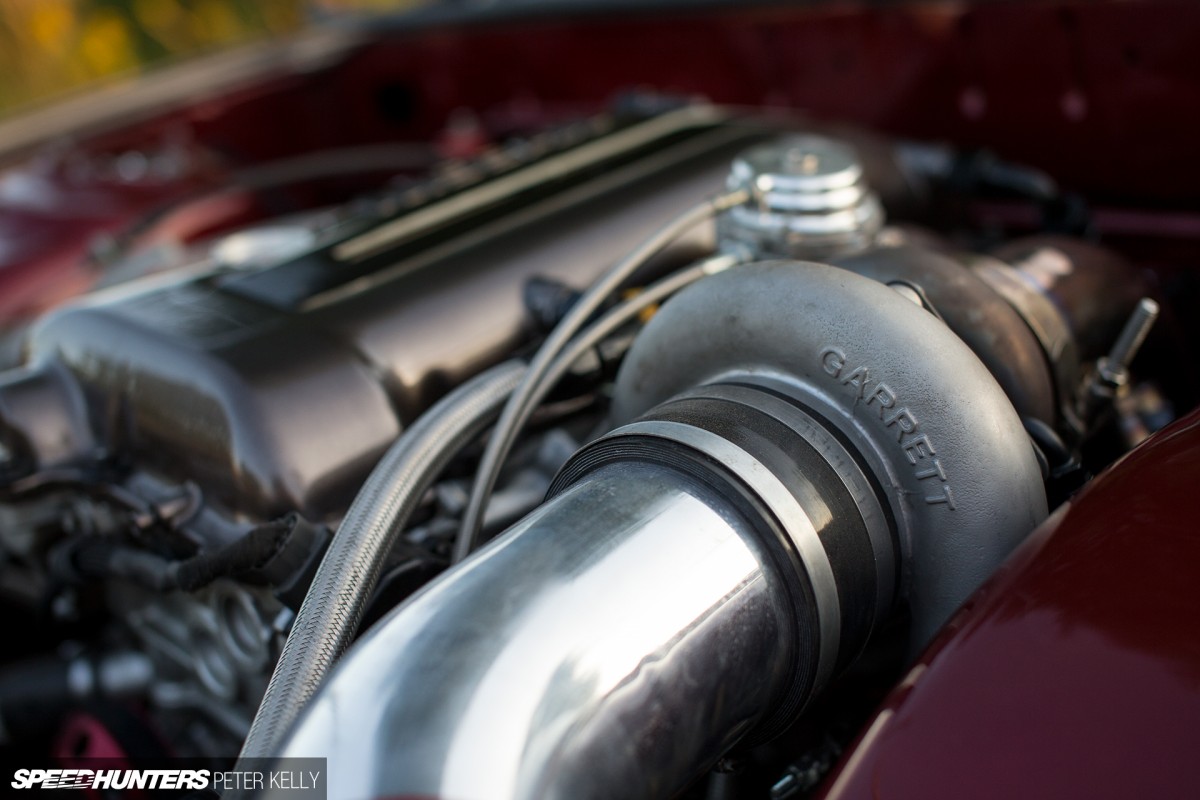 While this SR was not a full race engine, it was thoroughly upgraded for both power and reliability. The bottom end was strengthened with ACL bearings, Eagle rods, and CP pistons, and up top are Brian Crower cams and valve springs, along with a GReddy intake and fuel rail with 1,680cc E85 injectors. The turbo is a Garrett GT2540 with a TiAL exhaust housing and a TiAL 38mm wastegate.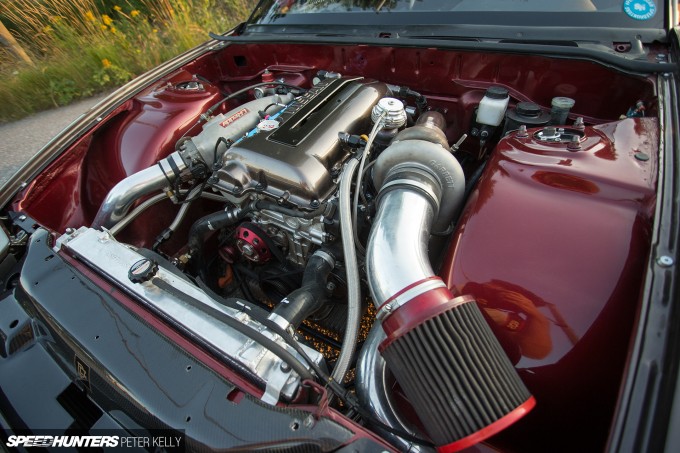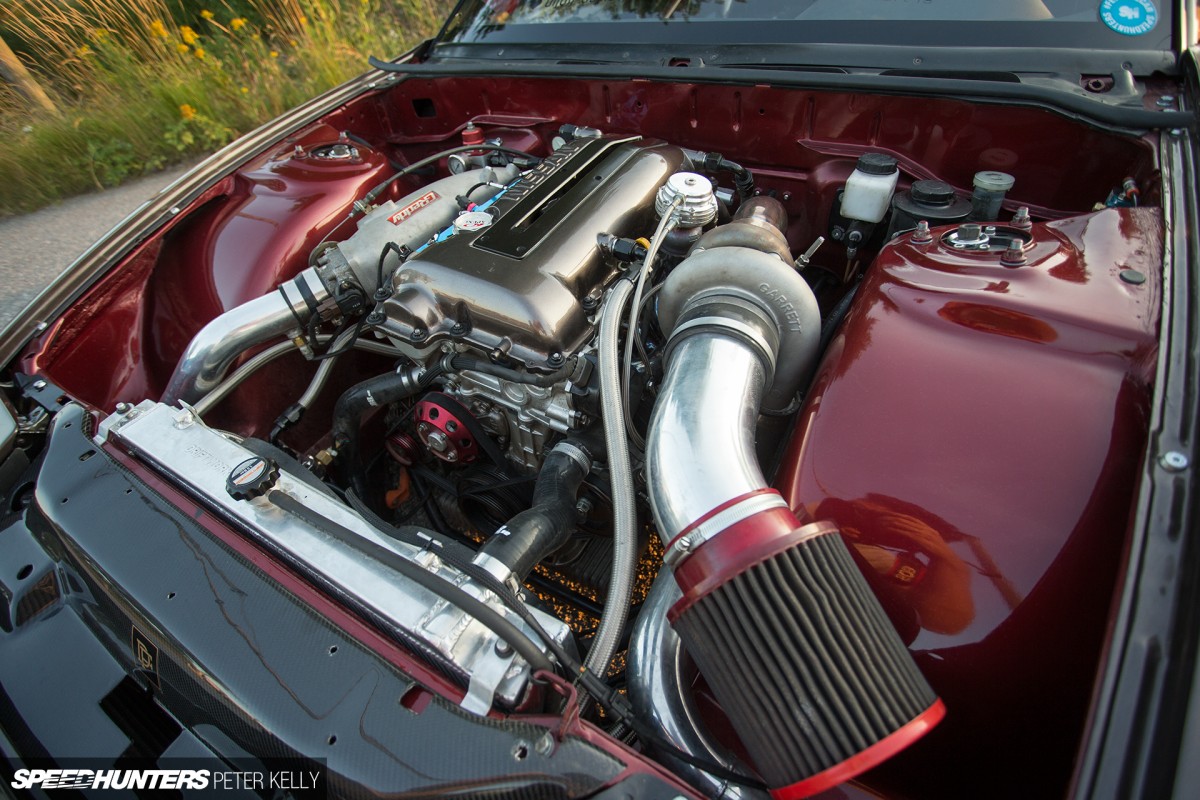 The setup is good for about 410 horsepower to the rear wheels, and given the fact that Christoffer isn't trying to become the world's next pro drift champ, that number should more than suffice.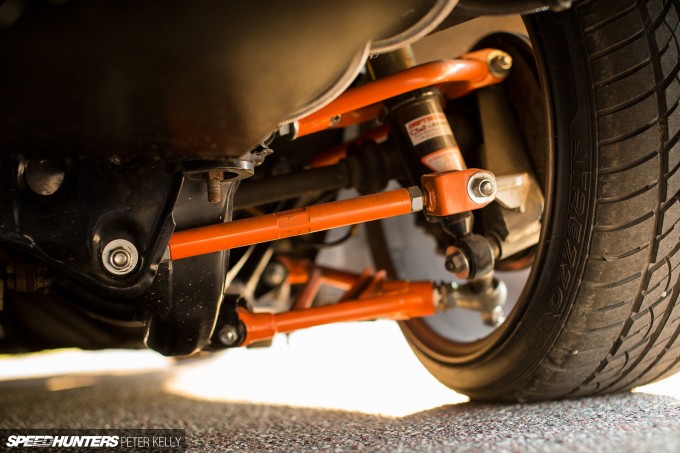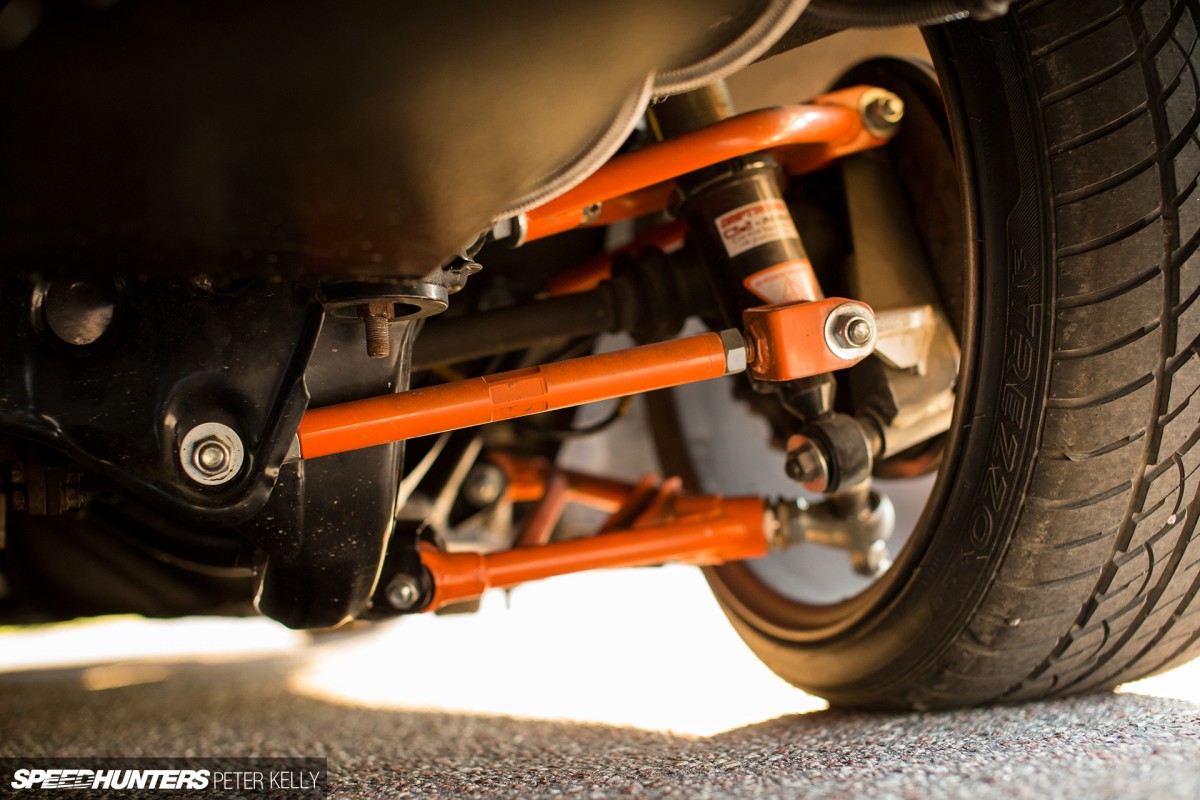 When it came time to sort the car's suspension, Christoffer got in touch with Driftworks in the UK who supplied CS2 coilovers, Geomaster knuckles, lower control arms, toe and traction rods and more.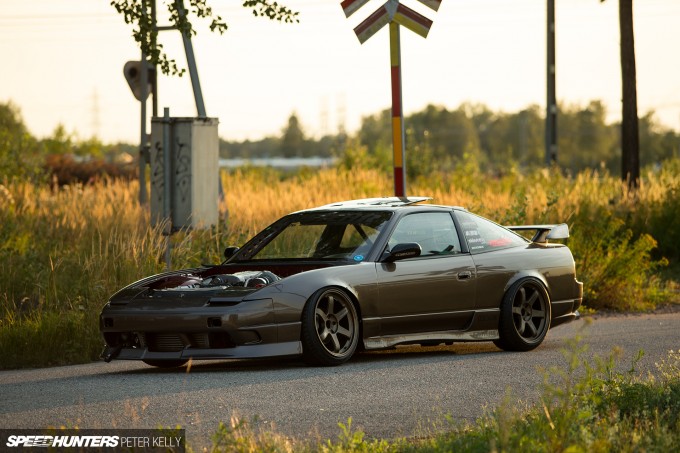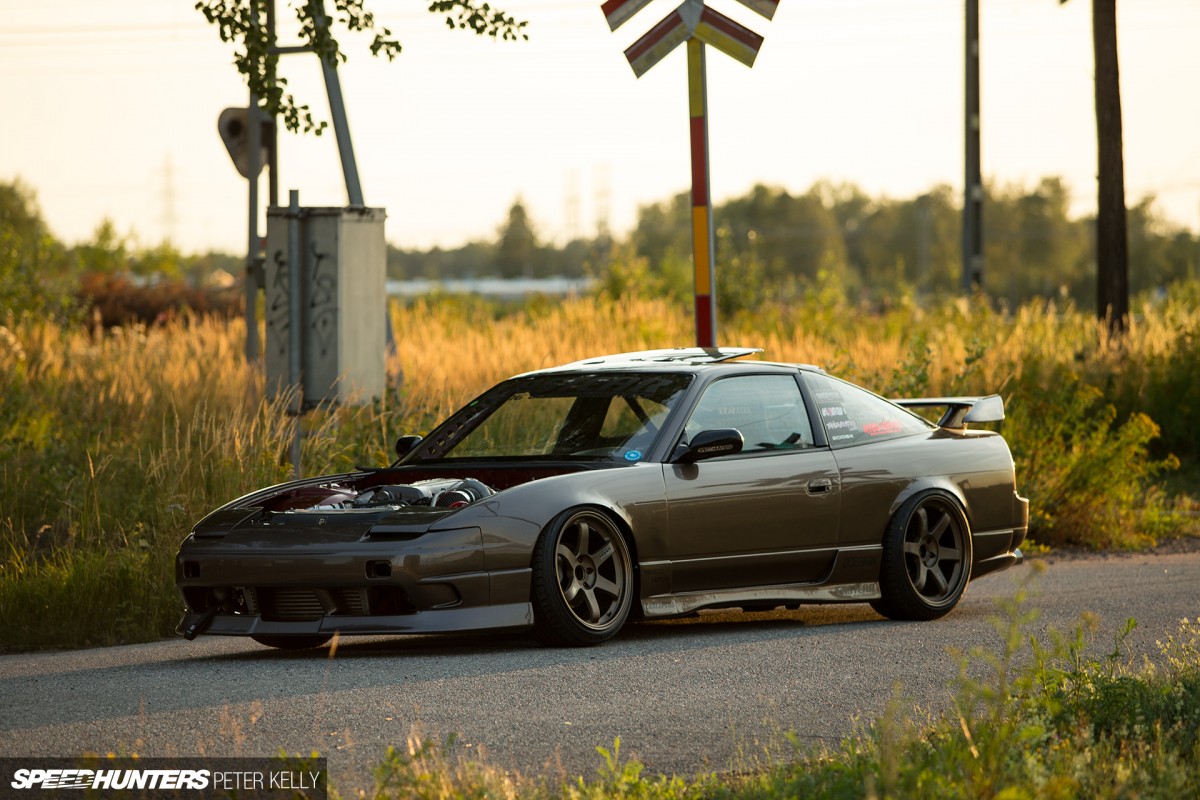 With the powertrain and footwork taken care of, the next step was to plan out the S13's exterior. As mentioned a moment ago, one of Christoffer's primary inspiration was the C's Garage 180SX Type X, so when he chose his aero setup it was easy to go with Magic Aero Club.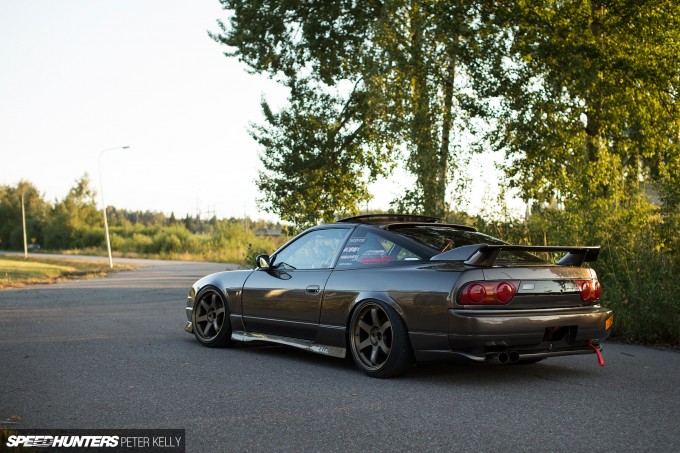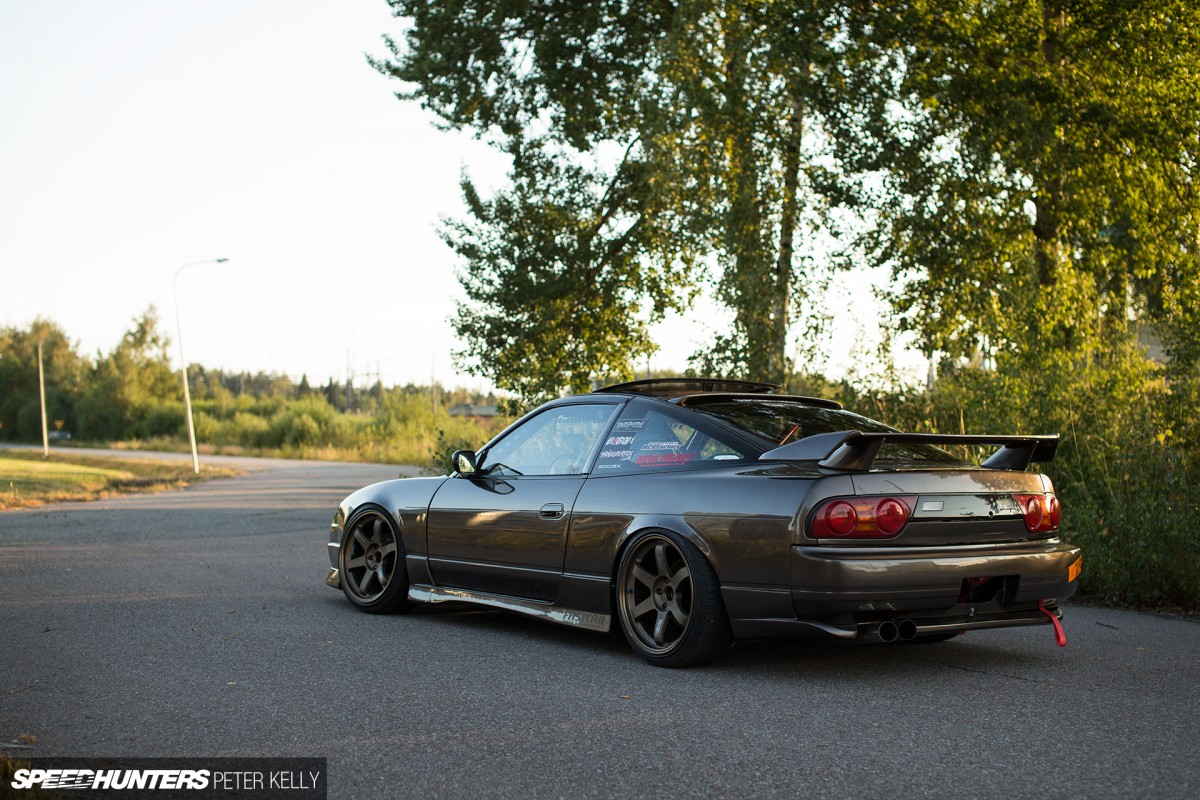 The Magic Aero Club Series 1.0 kit is based heavily on the OEM Type X parts, and when it comes to styling a 180 the Type X look will never go out of style.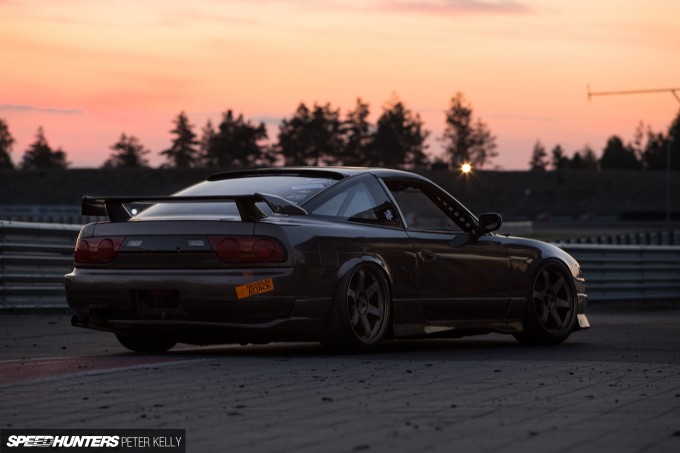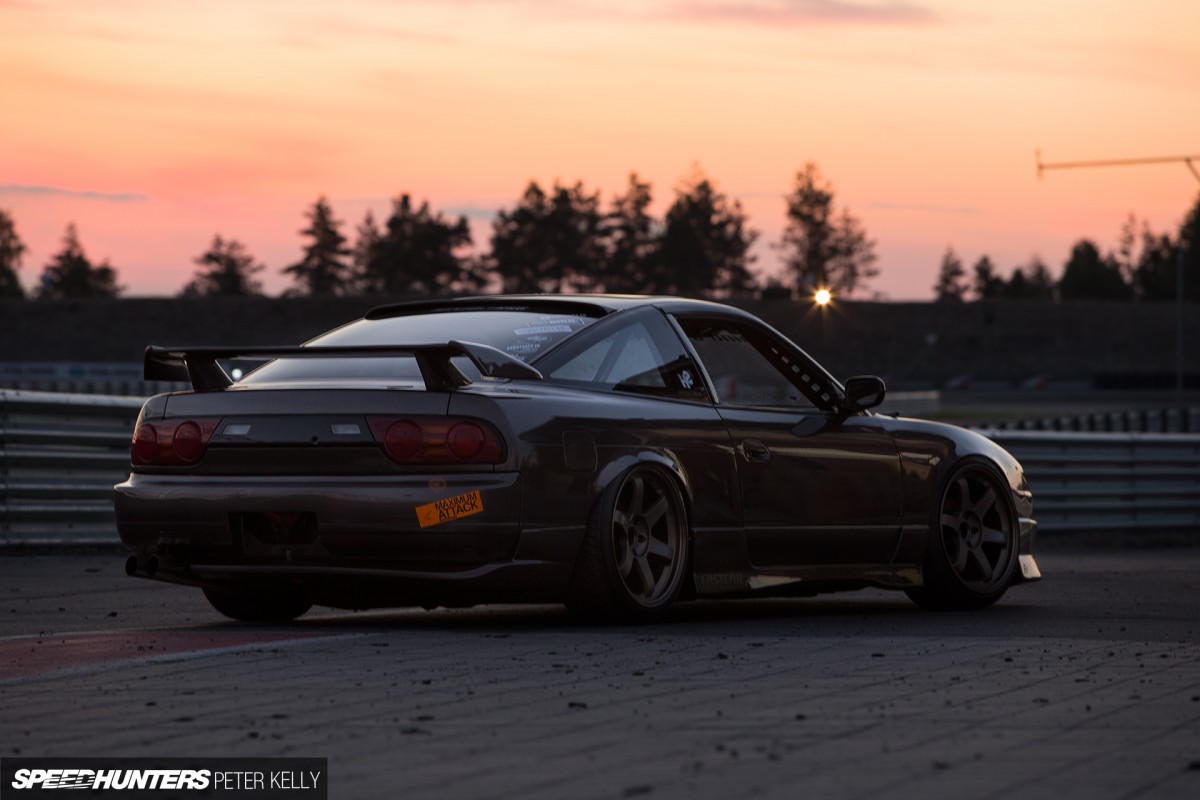 The kit on this car has also been accented with a Magic Aero Club roof spoiler, lower light panel and the essential set of kouki 180SX taillights.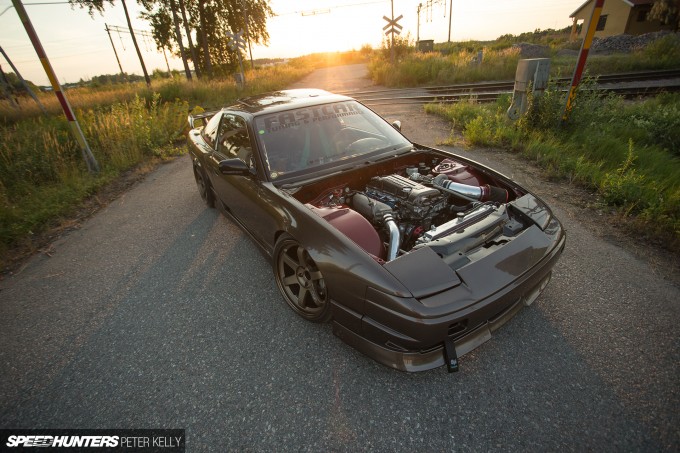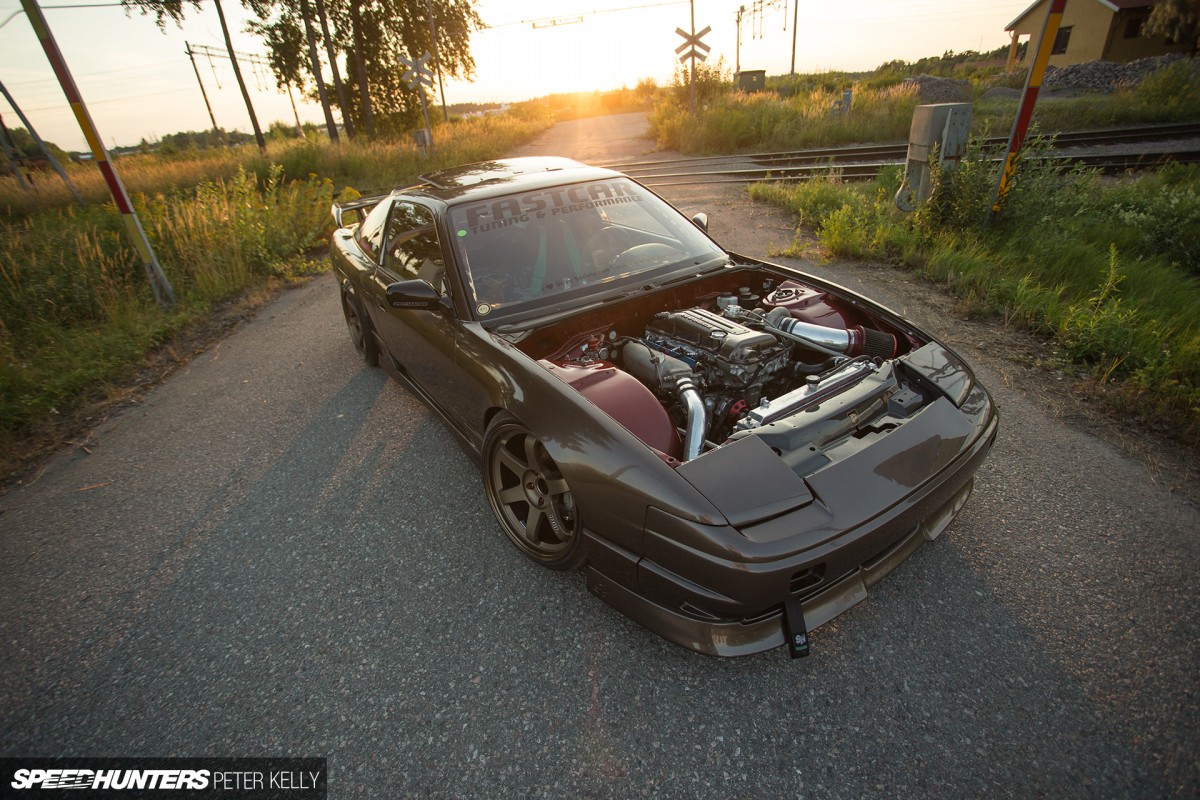 Rather than going for a bright exterior hue, Christoffer went with an understated bronze color that nicely accents the subtle body work. There's also a dark red engine bay for a bit of contrast.
Style + Enjoyment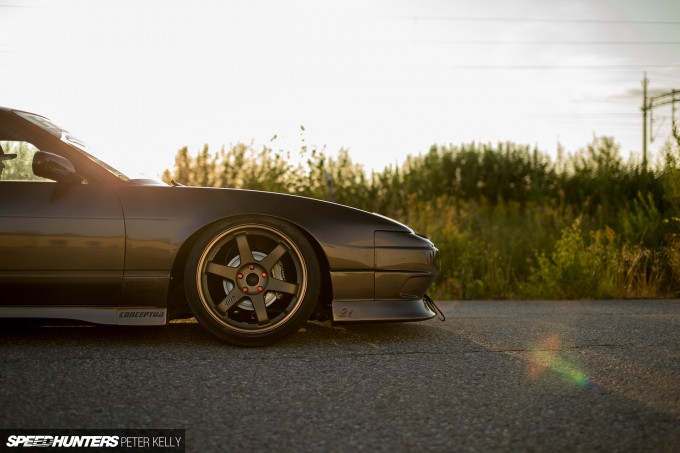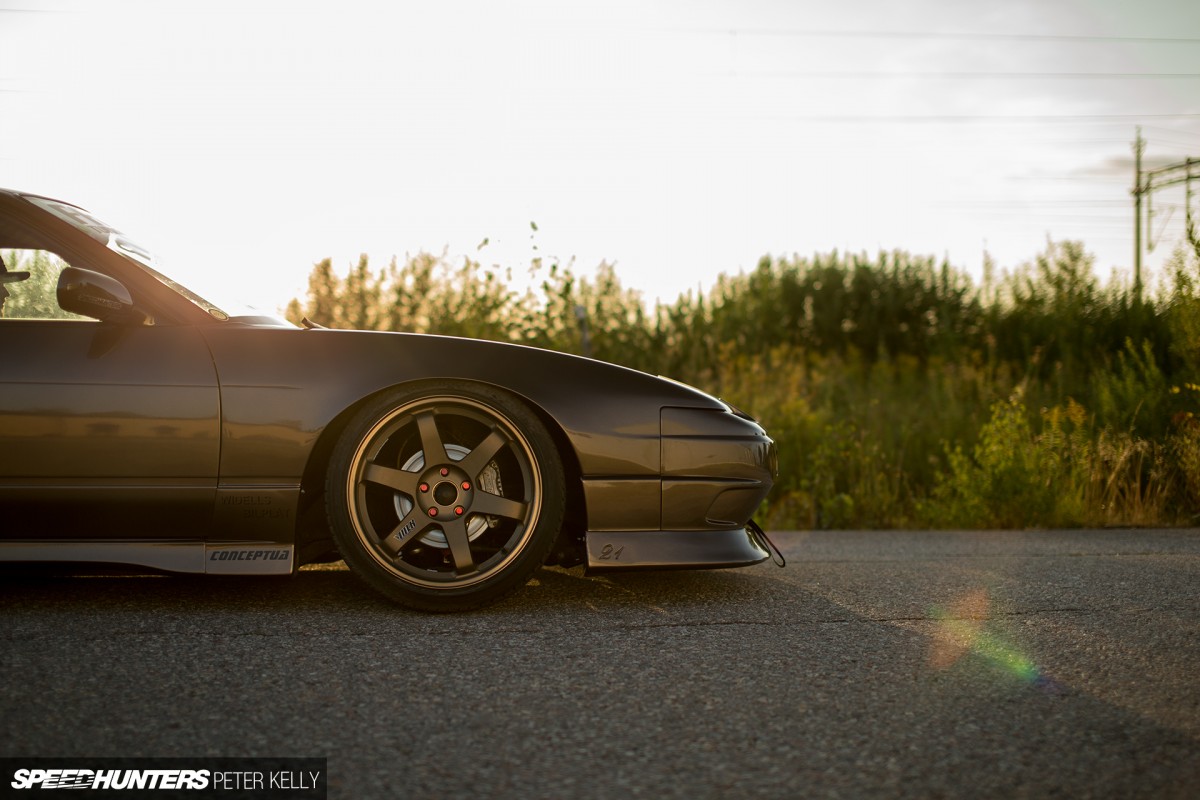 Many consider the 180SX Type X look to be timeless, and it's hard to think of a better wheel to complement this car than the equally timeless RAYS Volk Racing TE37.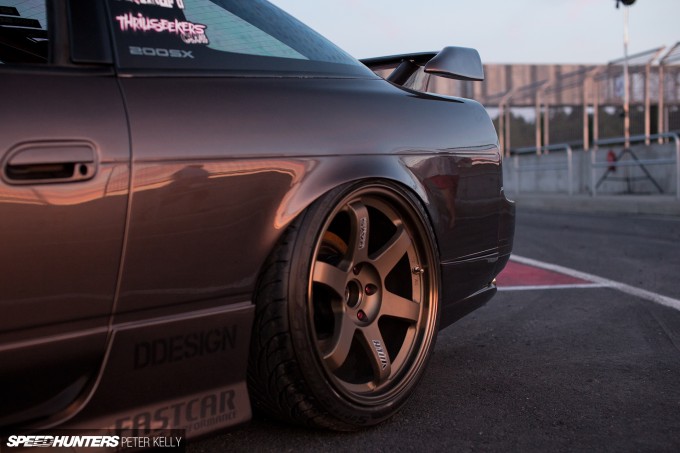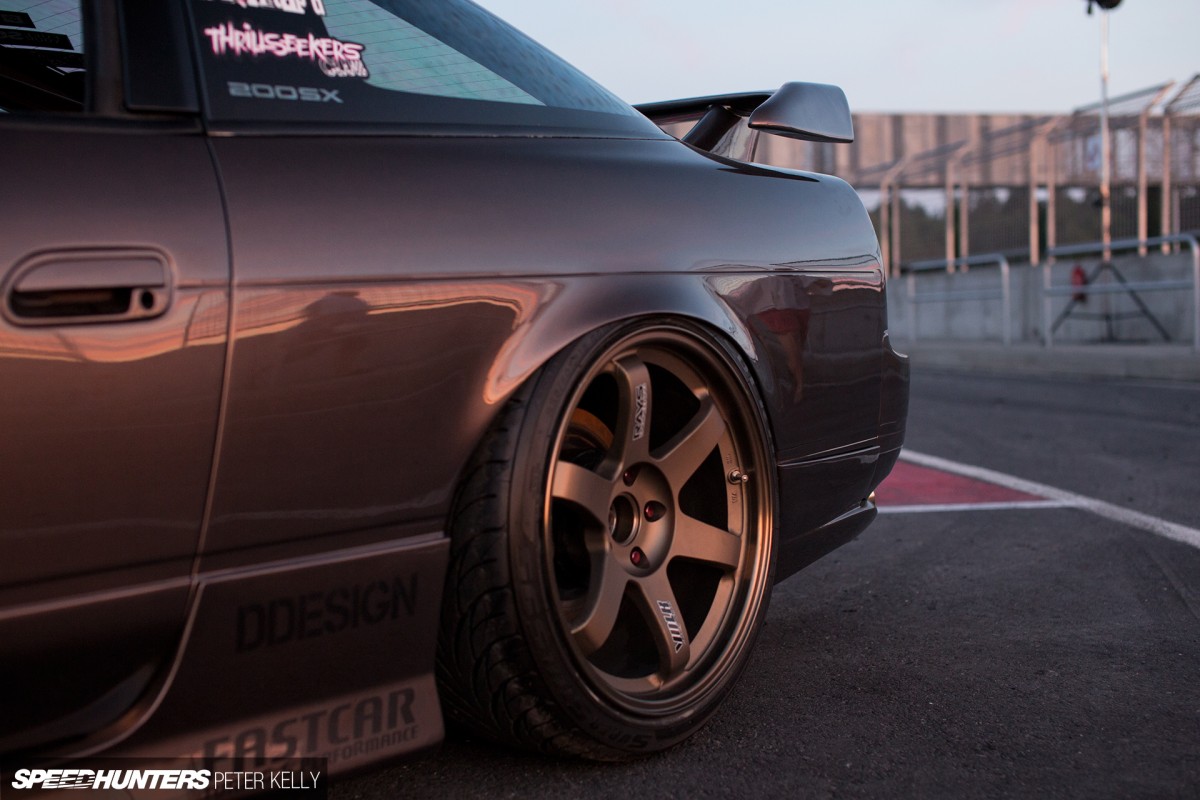 The bronze TE37s on Christoffer's car measure 18×9.5-inch all around with an offset of +12.  Tires are 215/40R18 in the front and 225/40R18 in the rear.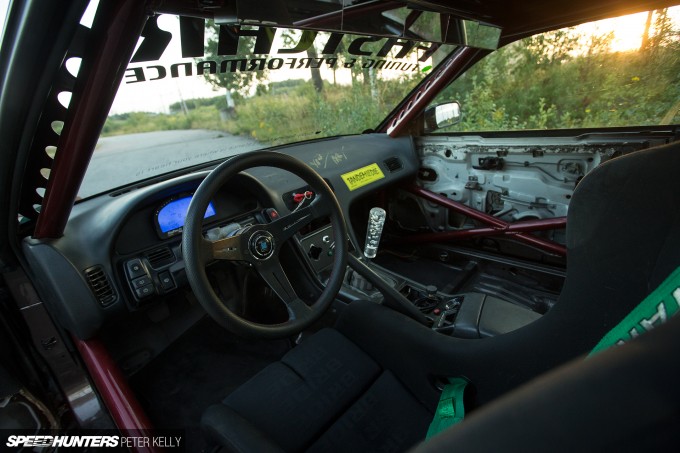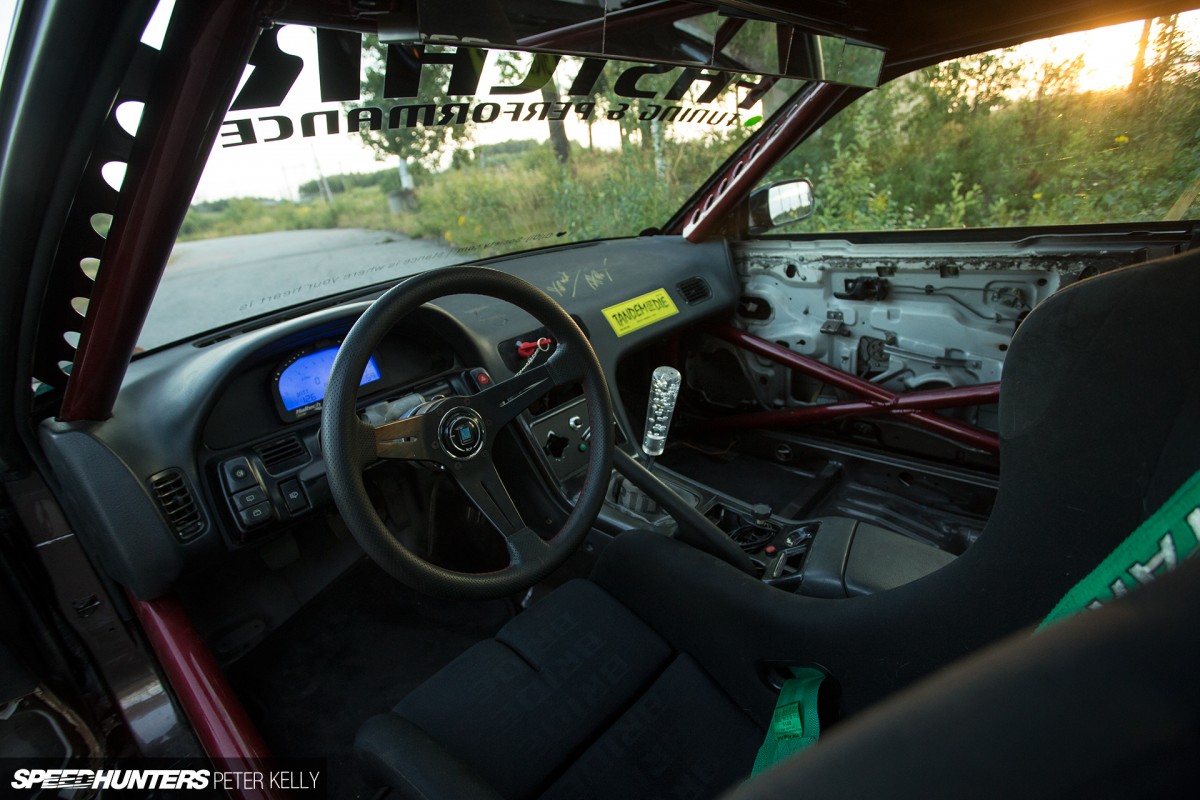 Because the car has been built primarily for drifting, the interior has been stripped of all the non-essentials. There's a full weld-in rollcage from Custom Cages UK, finished in the same red color as the engine bay.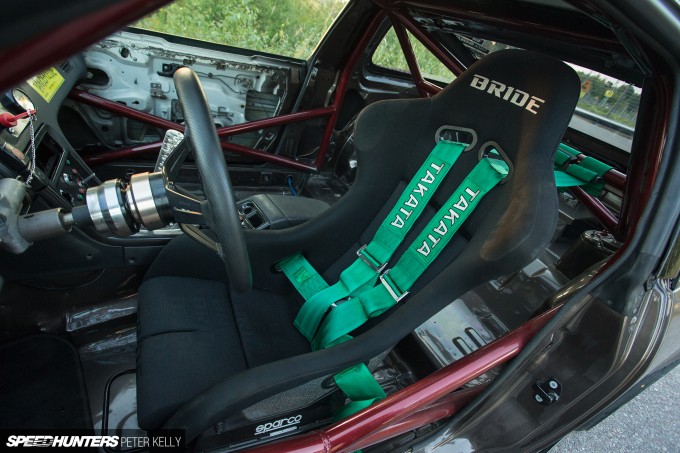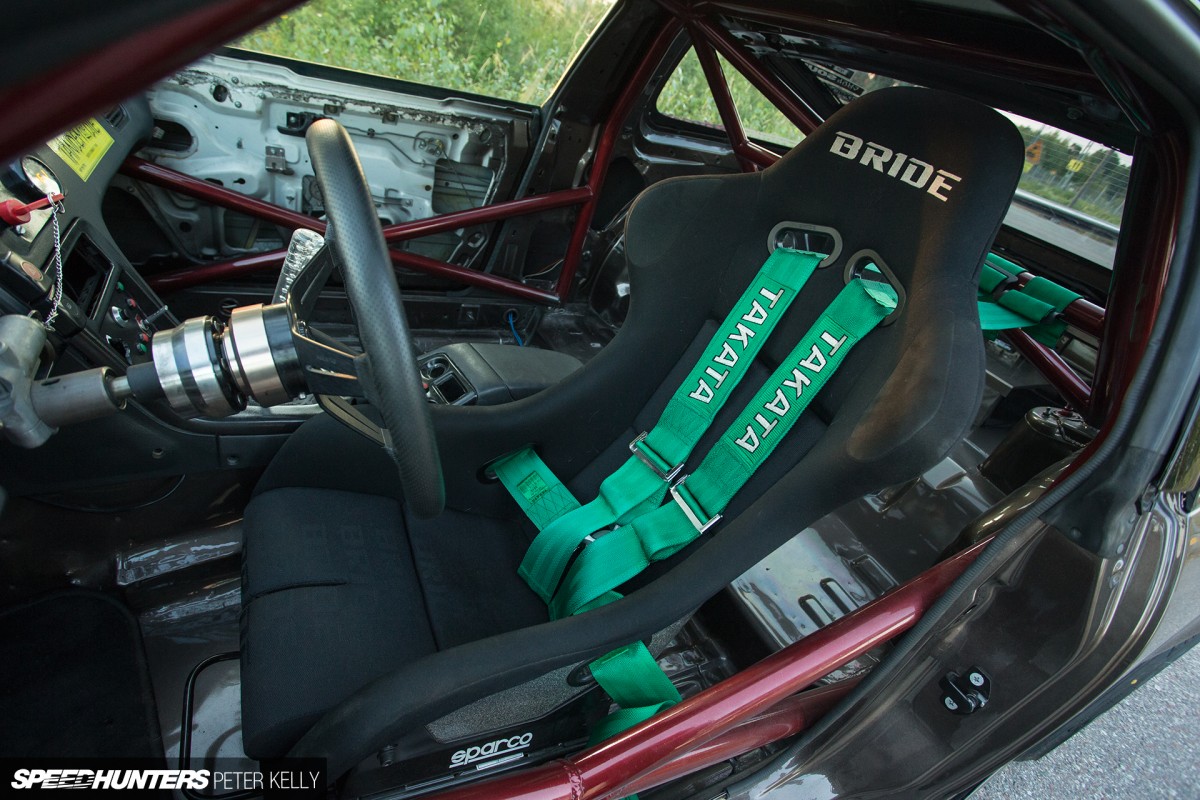 The lone seat is a Bride full bucket with a Takata harness and the steering wheel is a Nardi Deep Cone.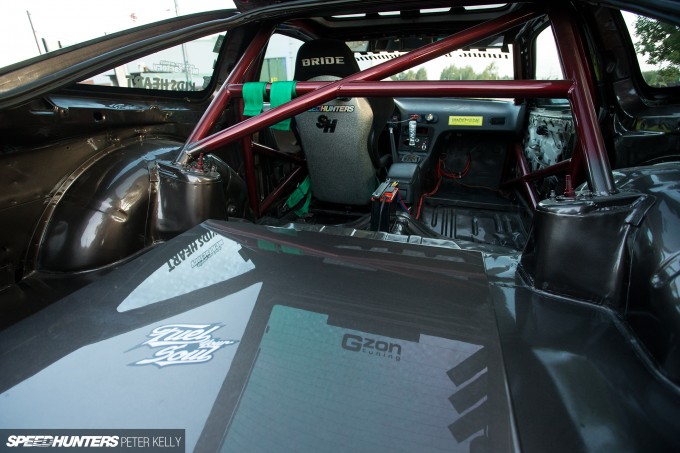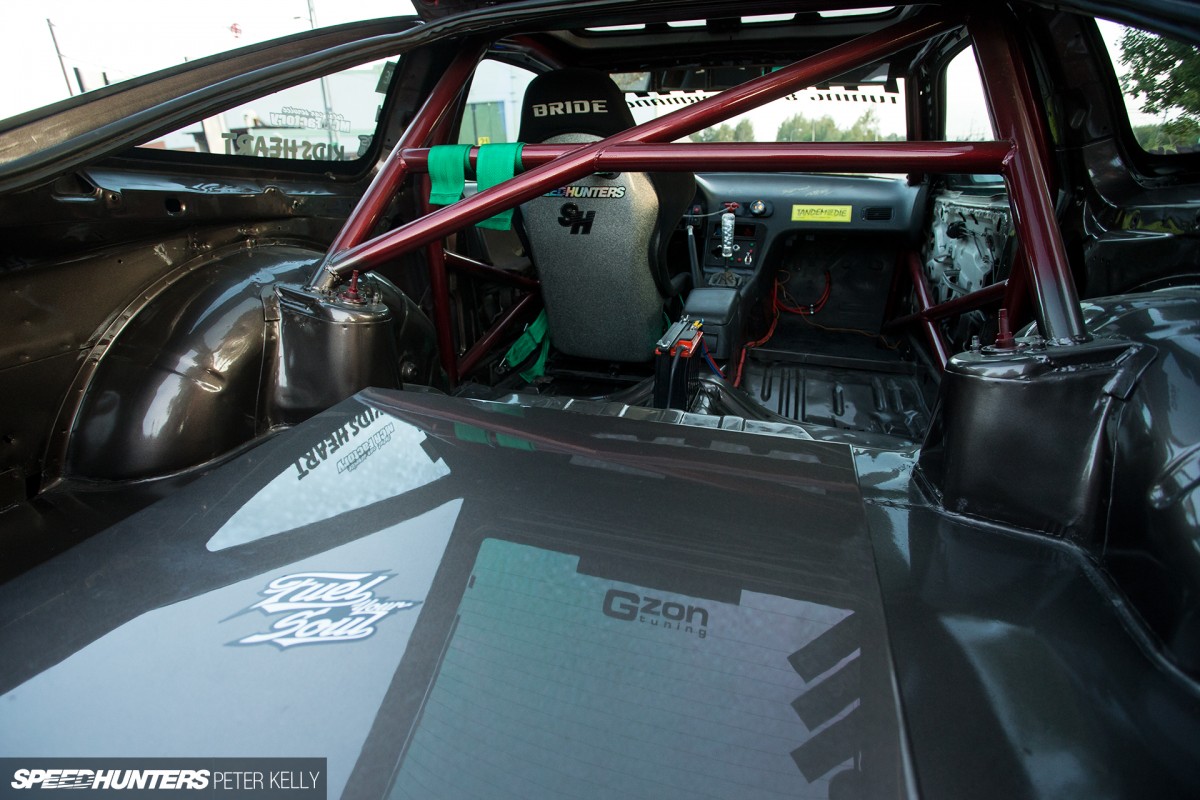 The rear of the car has also been stripped out, but Christoffer wanted to make sure the battery and fuel cell were set up cleanly.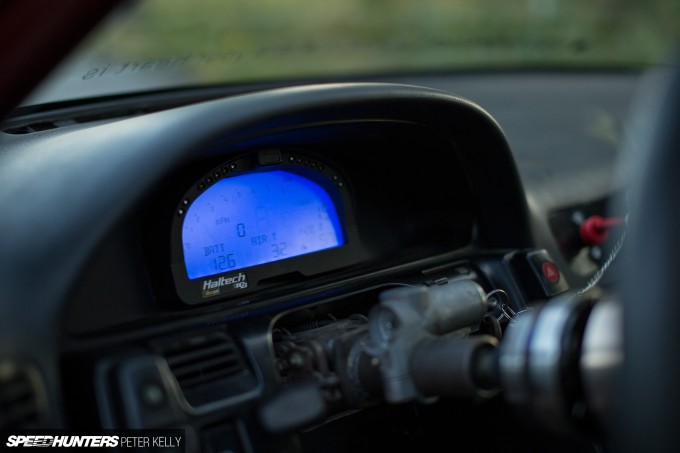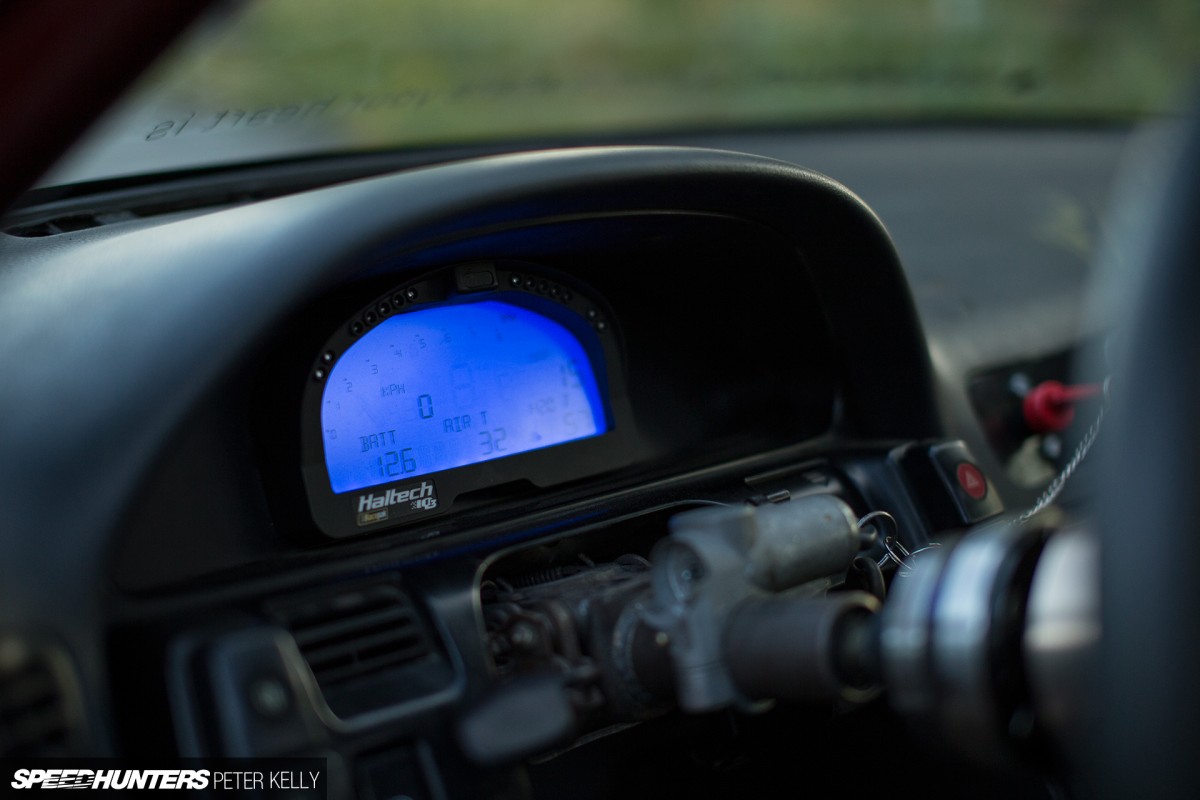 You'll also find a Haltech Racepak IQ3 digital dash unit mounted in the factory location, handling all of the car's instrumentation.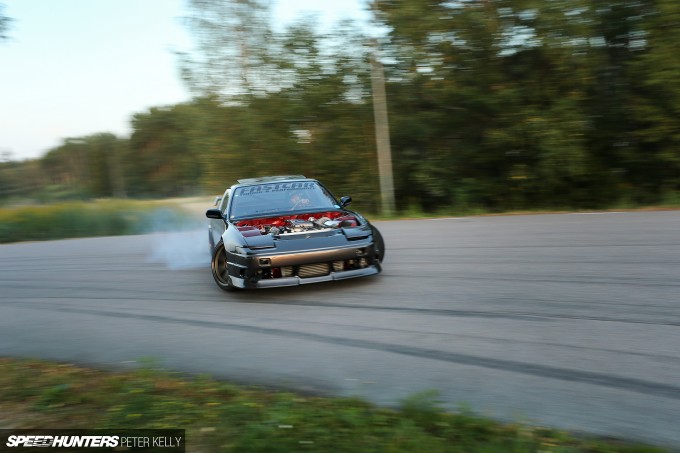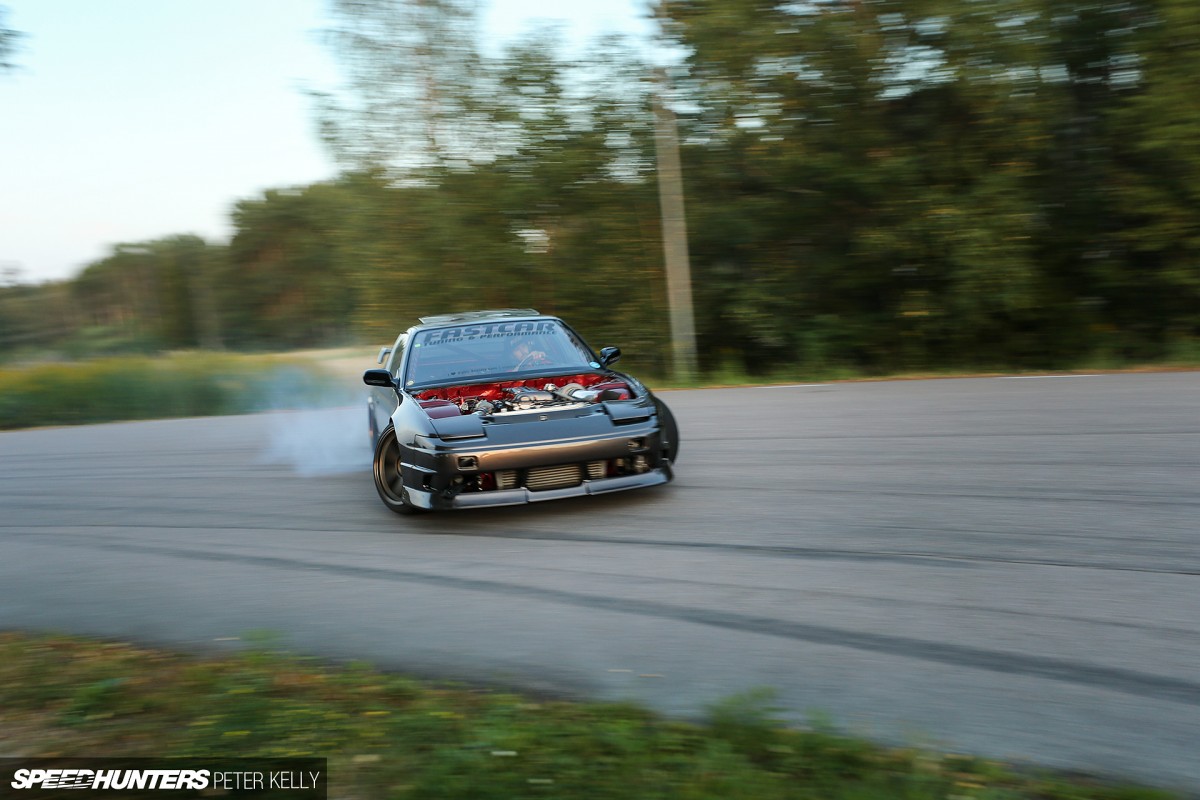 Once he completed the build last spring, Christoffer got as much seat time as he could during the second half of the season at events like Gatebil. After going through two gearboxes and a diff, he's realized that the drivetrain is the next area he needs to upgrade.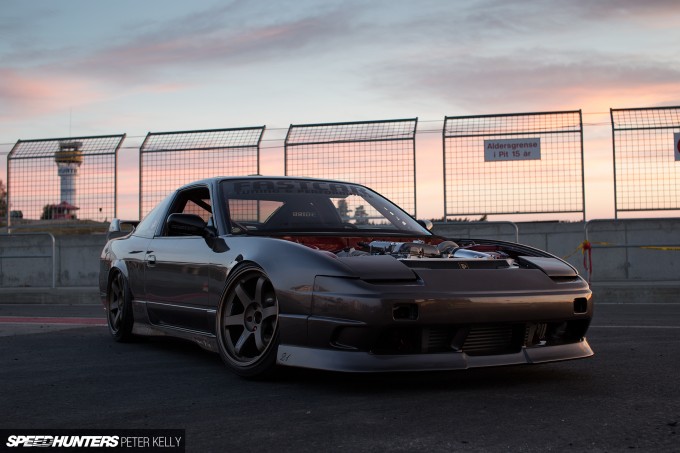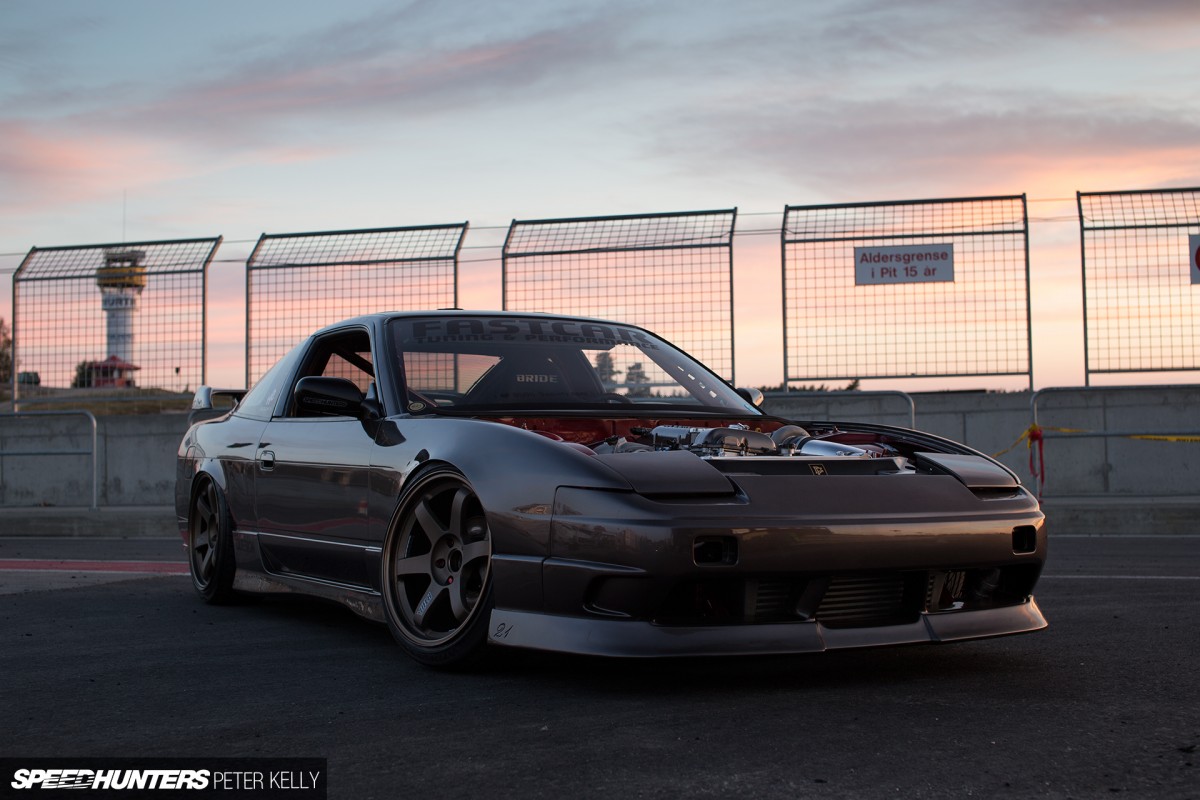 Along with swapping in a stronger gearbox, he's also planning on going with a more aggressive aero setup with deep-lipped Weds wheels and a D1 Street Legal-inspired livery.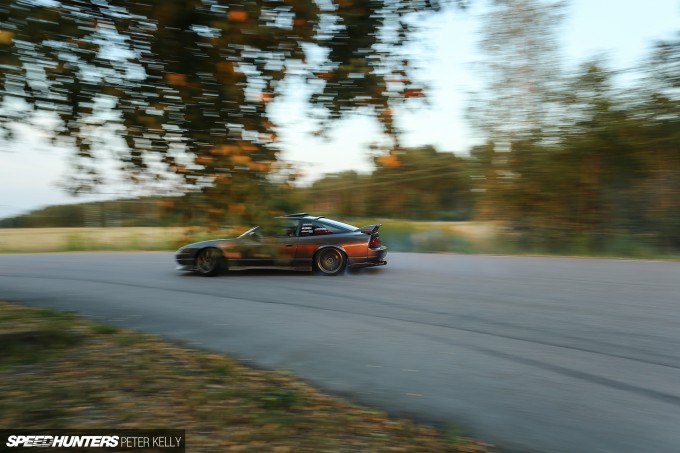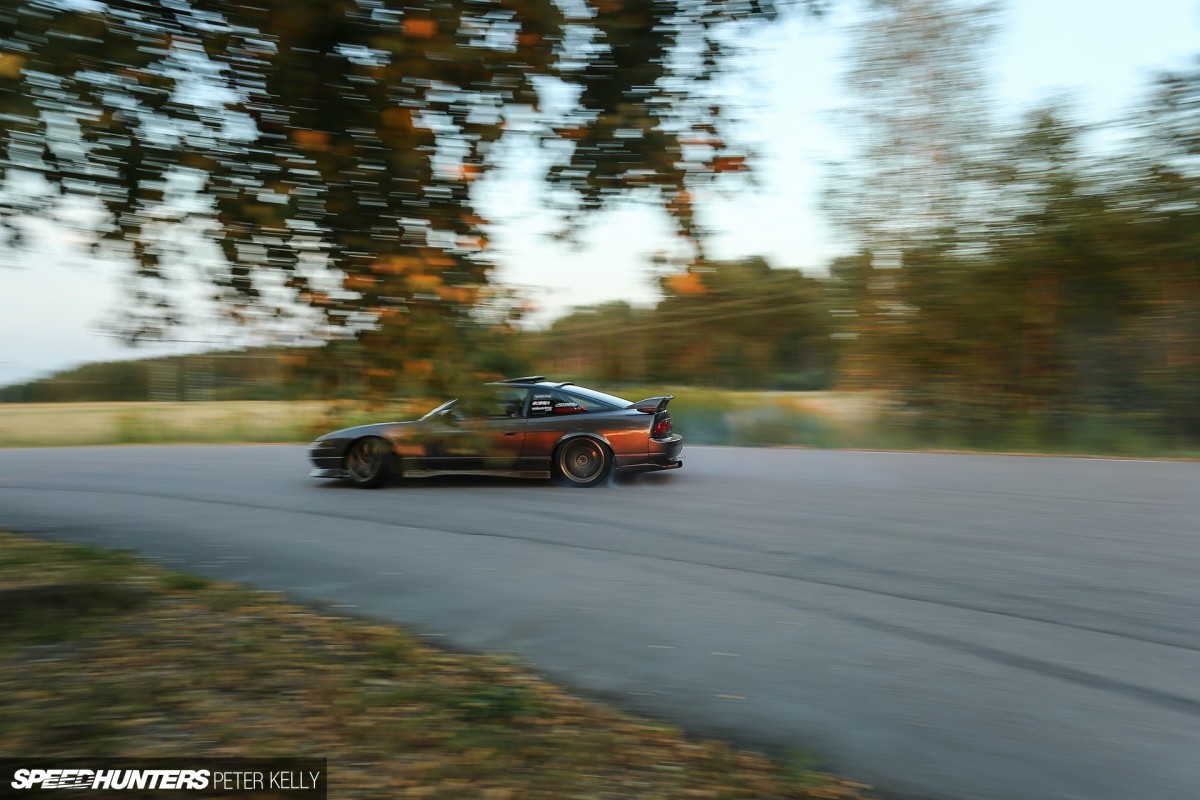 This summer Christoffer plans on competing in the Swedish Drift Championship, hoping to show that a stylish SR-powered car can still hang with the big boys. Whatever happens, he plans on having fun and not taking things too seriously.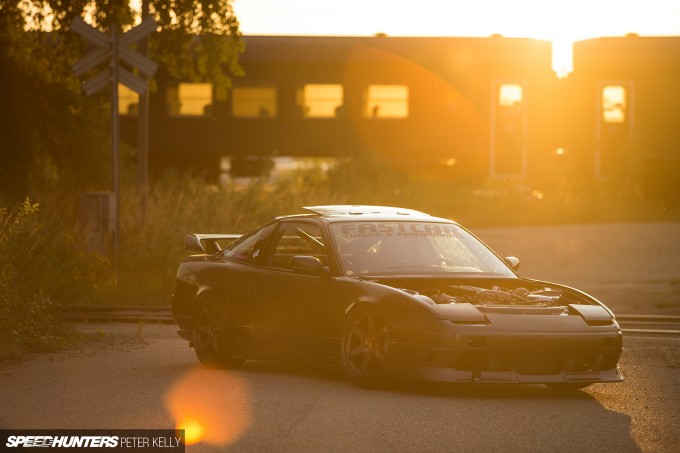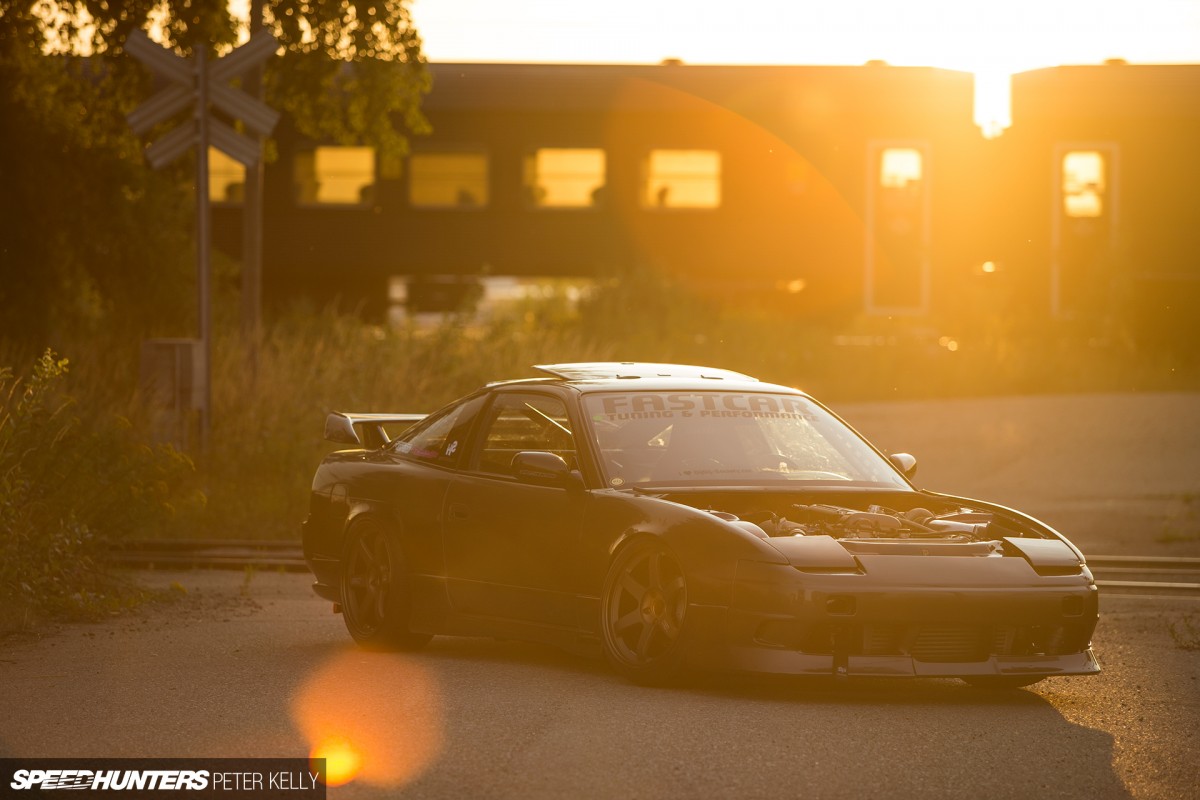 Christoffer's car might not be the most powerful or exotic S13 in the world, but it doesn't need to be. He's nailed the basics, and with a keen sense of detail and style he's built a car that can still stand out in a very crowded field.
What more could you need?
Mike Garrett
Instagram: speedhunters_mike
mike@speedhunters.com
Photos by Peter Kelly
Instagram: speedhunters_pedey
pedey@speedhunters.com
Christoffer Pettersson's Nissan RPS13
Engine
Nissan SR20DET Blacktop from S14, stress-bored block, ACL Calico rod bearings, ACL Calico main bearings, ARP head studs, CP 86.5mm pistons, Eagle rods, GReddy rocker arm stoppers, Brian Crower Stage 2 264-deg camshafts, Brian Crower valve springs, 1.5mm Cometic headgasket, Hardrace engine mounts, 1,680cc injectors for E85, GReddy fuel rail, GReddy short runner intake manifold, custom stainless exhaust manifold, Garrett GT2540 turbo with a TiAL exhaust housing, TiAL 38mm wastegate with screampipe, 3-inch exhaust by Halvarsson, Driftworks radiator with dual fans, XS Power intercooler, 2.5-inch aluminum intercooler pipes by Halvarsson, oil coolers for both engine and steering, Haltech P1000 engine management system, custom engine harness by Karel
Driveline
Nissan S14 5-speed gearbox, Xtreme Clutch Stage 5 clutch, Nissan S14 diff
Suspension/Brakes
Driftworks CS2 (HSD) coilovers, Driftworks Geomaster 2 knuckles front and rear, Driftworks Geomaster offset rack spacers, Driftworks lower control arms front and rear, Driftworks camber, caster, toe and traction rods, Driftworks solid rear subframe bushings, Tein extended tie rods, Skyline R32 GT-R discs and calipers, stock S13 handbrake with upgrades from Conceptua Tuning
Wheels/Tires
RAYS Volk Racing TE37 18×9.5-inch +12 wheels, 215/40R18 (front) 225/40R18 (rear) tires
Exterior
Magic Aero Club Series 1.0 bodykit, Magic Aero roof wing, Magic Aero lower light panel, kouki taillights, widened and strengthened metal fenders
Interior
Custom Cages (UK) welded rollcage, Nardi steering wheel, Bride seat, Takata harness, Haltech Racepak IQ3 dash unit, bubble shift knob, full 3M/Peltor intercom system
More Drift-spec Feature Cars on Speedhunters
Cutting Room Floor