This Is JDM
Stance? Form over function? Yep, this is pretty much the complete opposite. Welcome to our annual look at the Tsukuba Super Battle, an event that has been going on for 25 years, put on by the guys at Rev Speed magazine.
I've been going to this track event for half of that time, and it's always been a reference for everything that is and should be JDM. 'JDM', as the Japanese scene has always been popularly referred to, is not about cars dumped on air suspension and sporting sticker-bombed panels – it's about guys obsessed with performance, who initially started to improve their street cars to make them handle and go, better but somehow ended up turning themselves into hunters of speed. The best example is Under Suzuki, a national hero to those that know he exists. Along with him, Super Battle has always been populated with shops that prioritise performance over style.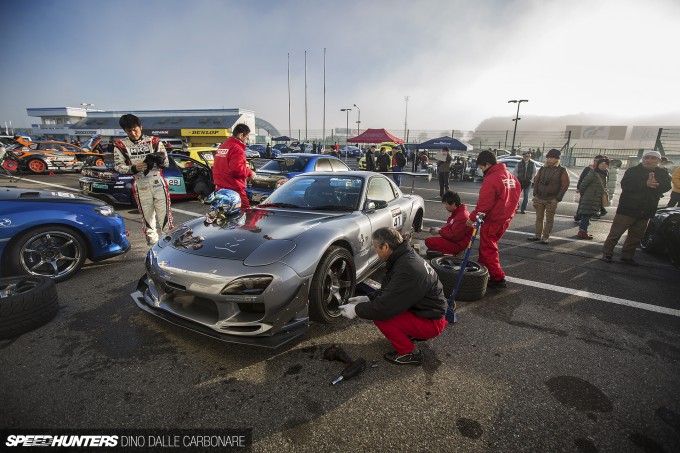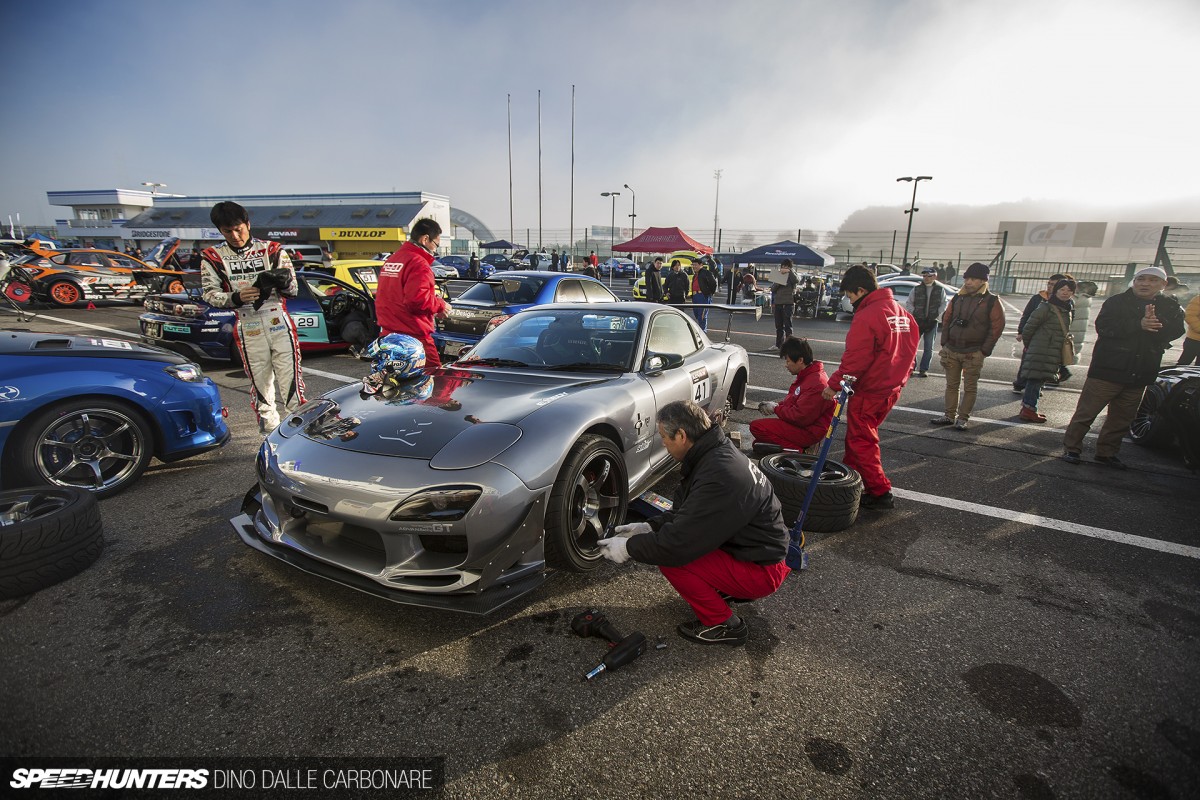 That's why it's the first event I always put down on my calendar when I plan out my year, and one that couldn't come quick enough in 2014. But popularity in this scene isn't quite what it used to be – things change, interests evolve and vary, but just like fashion it just cycles through and there has been a positive vibe over the last few years that these lap time based events are here to stay. Which is good. Very good in fact.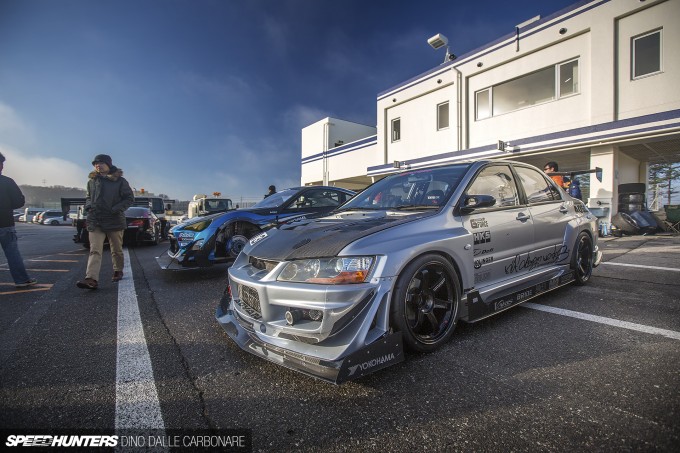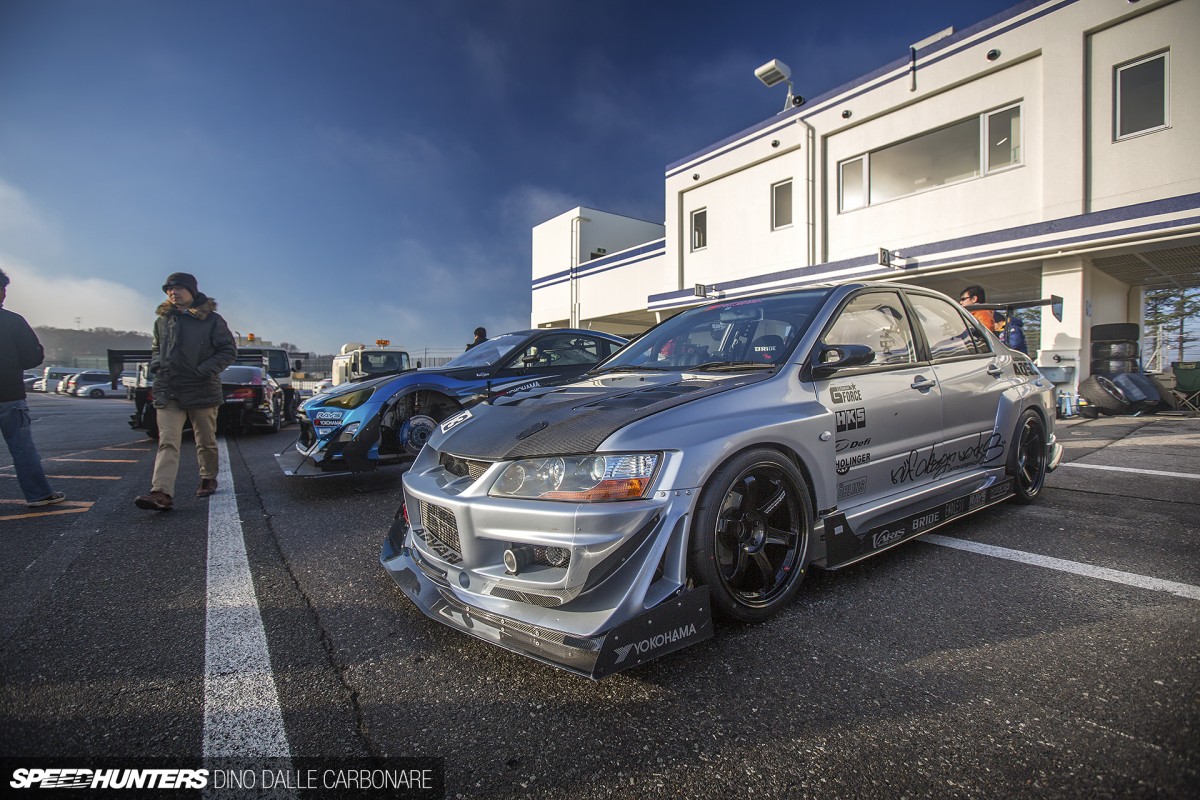 We've been seeing newer cars built to enter the event and have a go at setting an impressive lap time, which given the hard financial times that Japanese tuners have had to endure over the last few years is another good thing to be seeing. I was over the moon that Garage G-Force showed up with an all-new entry for this year. Built sporting a ton of aero from Varis the car looked sensational out in the early morning light that slowly warmed up the Tsukuba paddock last Friday.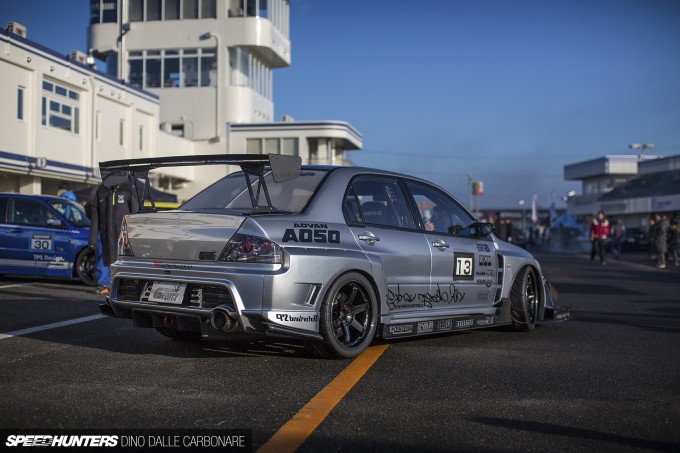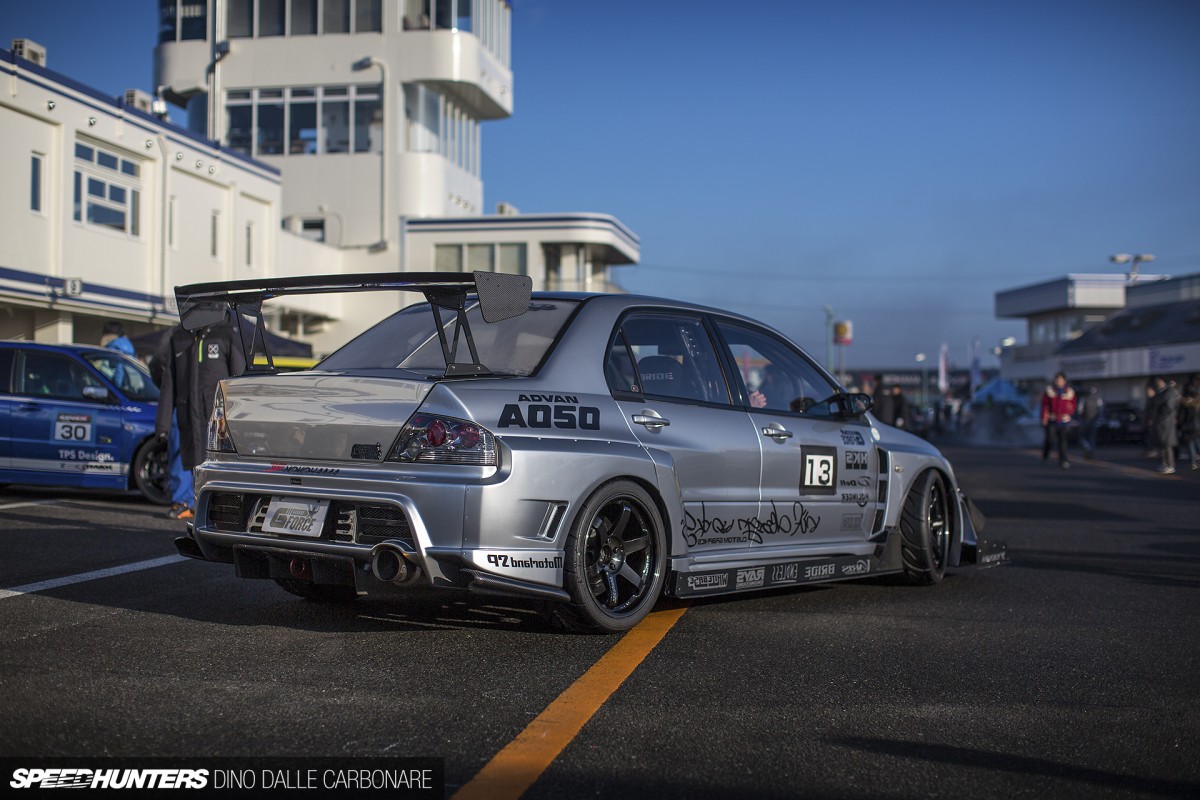 Nob Taniguchi was called in to steer the silver widebody CT9A around the track, and the best they managed to do on the few sessions the car went out was a 55.528 second lap. That's a very decent time for a new car.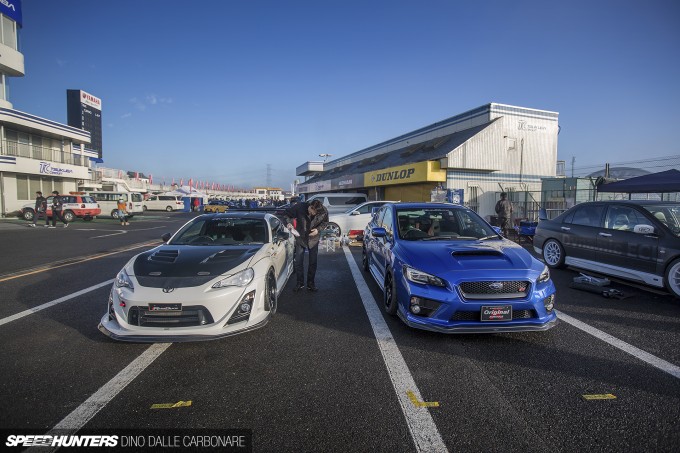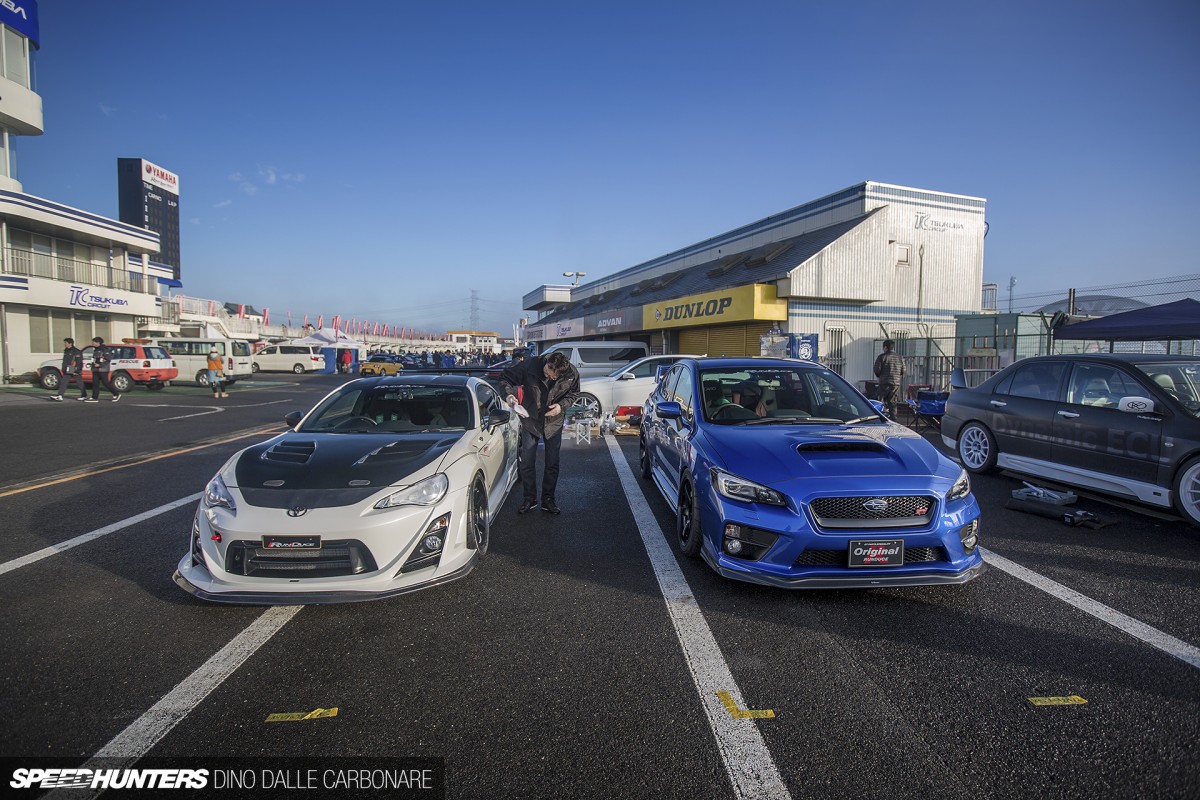 So many famous and important tuning shops and brands that helped shape Super Battle in its heyday have abandoned participating in the event. I've asked these shops (and you all know the names I'm thinking) why that is, and the answer is always the same – they don't see a use for it now. They don't get anything from it, a quantifiable bump in sales if you will, but to me that is the wrong way to think about it. This event – as well as any other time attack event held at Tsukuba or Fuji – does so much more for a brand name than just help it shift more bolt-on upgrades. It's about strengthening an image, instilling the idea into potential customers that if a shop is able to build and create a car that posts impressive numbers at a track, it's those parts that will help them better their own cars. It's very sad that these shops don't get that and that they no longer invest time and money into it as they used to.
One shop that never skips the Super Battle is Original Runduce, showing up this year with their further-improved ZN6 as well as their latest project – a new-gen Impreza STI. With just a few basic mods the Impreza managed 1:03.565, which is a rather good starting point to improve from.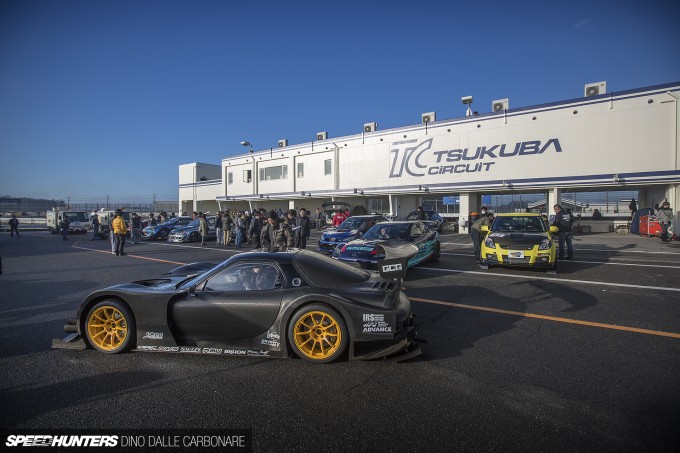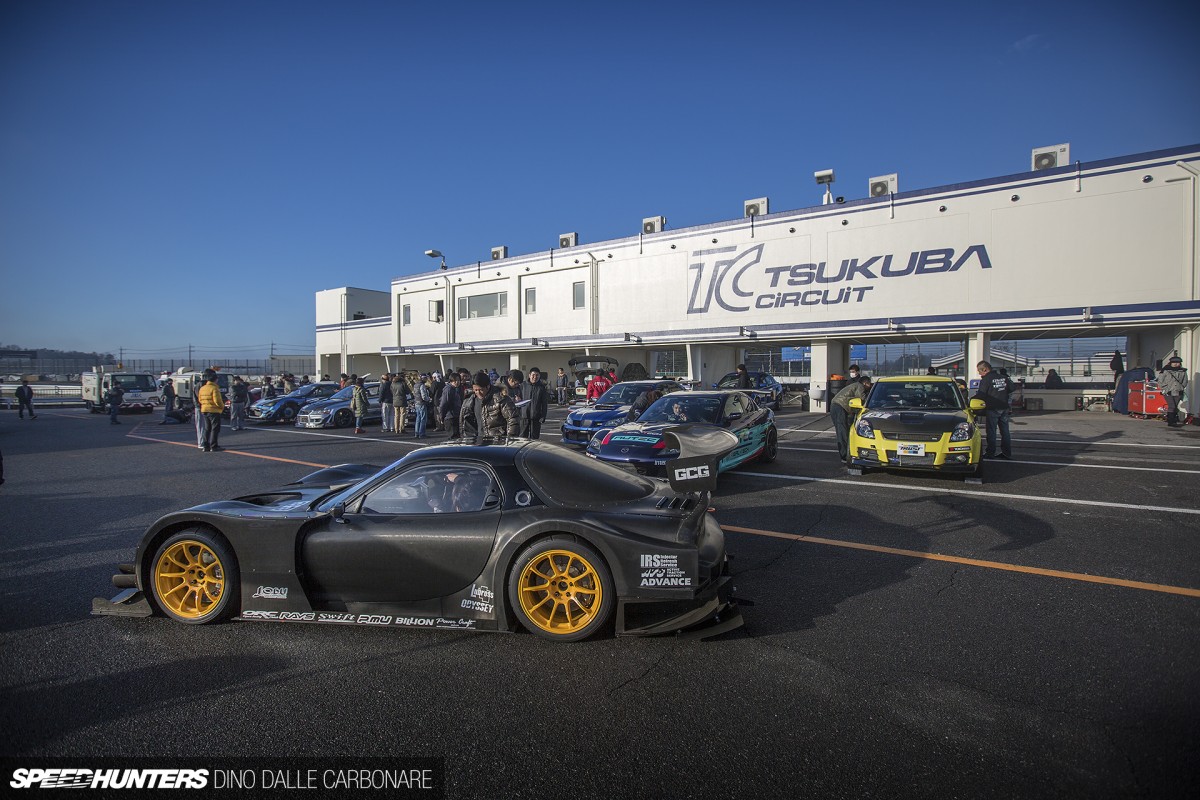 The biggest surprise of all was seeing the back-to-raw-carbon Revolution FD3S hit Tsukuba again. This instantly put a big smile on my face as I always thought this car defined what this event is all about, and that it was a great pity when they announced its retirement. But that's not happening anymore obviously – everyone's favourite rotary time attacker is back, now sporting a custom-colored set of RAYS Volk Racing ZE40s and running on Yokohama rubber.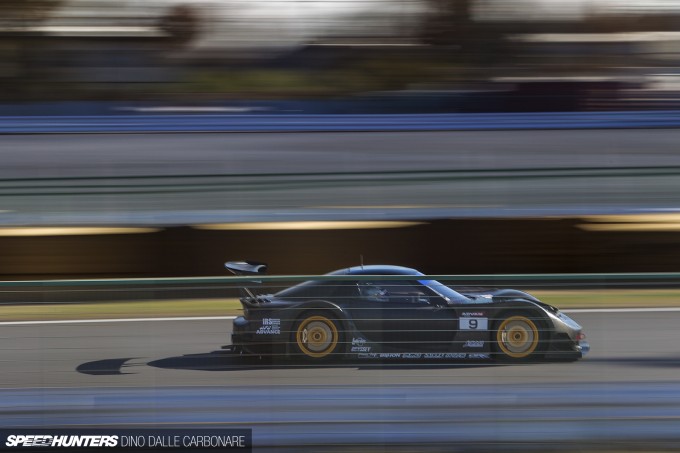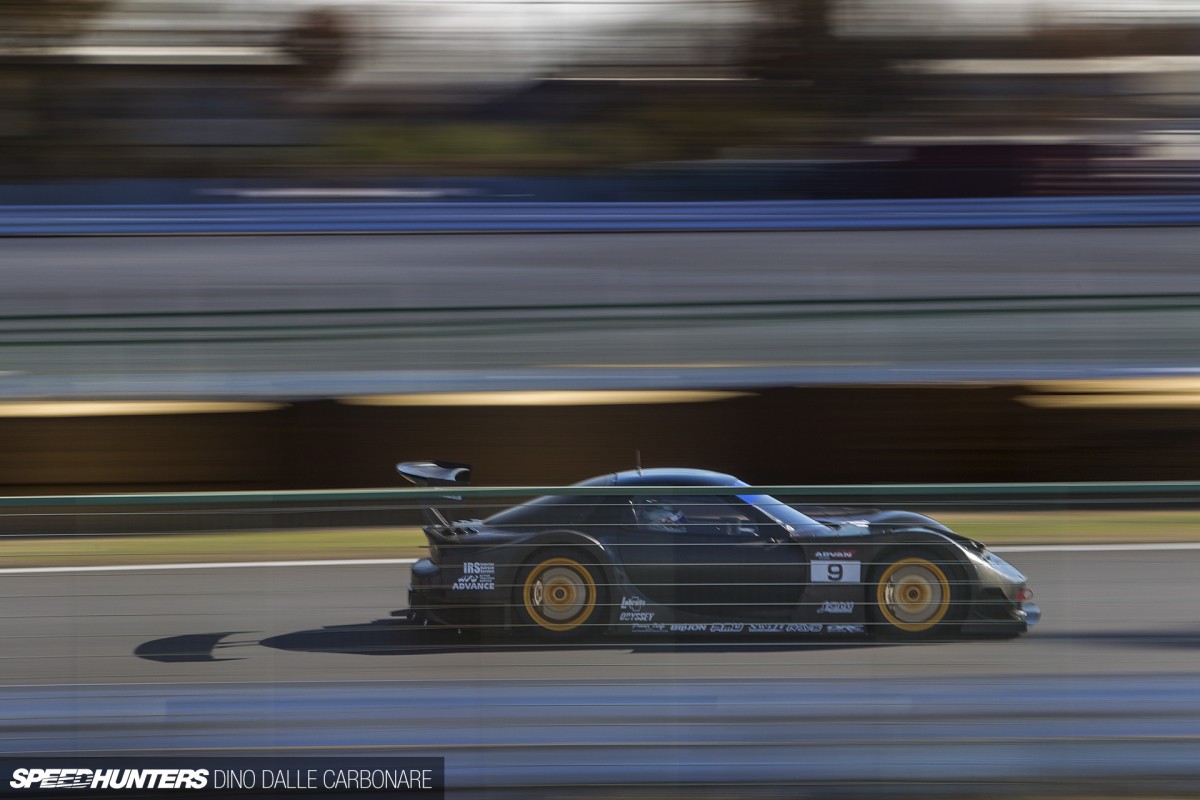 54.808 seconds was the RX-7's best time – a good second off what it's achieved here in the past. But more is coming from it, so it's only going to get quicker…
Getting Ready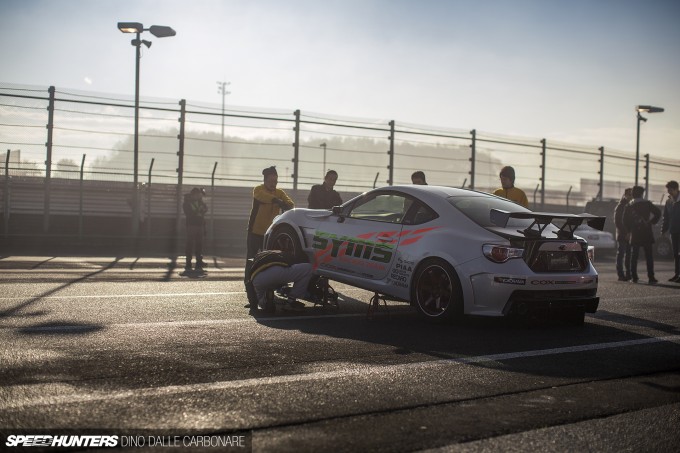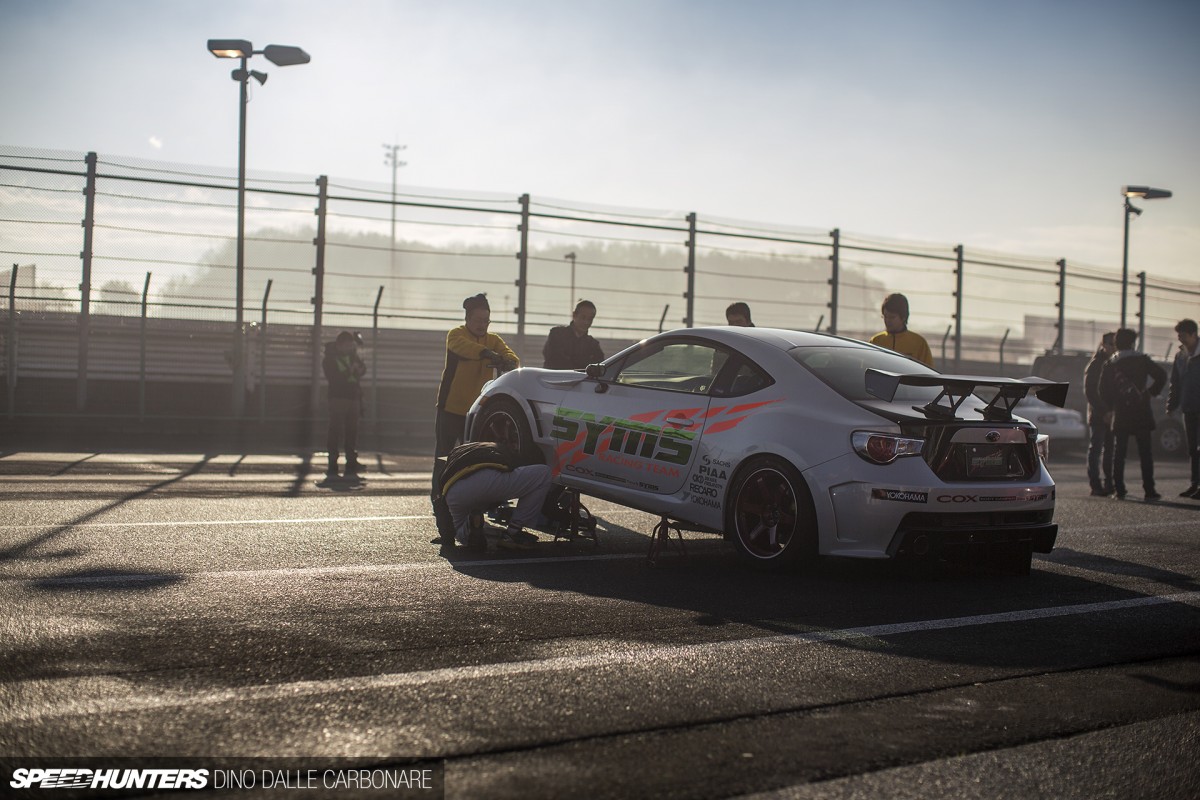 Since its release in 2012, the 86 has helped keep this event relevant to the general public. And as ever, the paddock was filled up with the things, some built to compete in the street class running radial tyres, and others – like we will see in the next post – built to see just how much potential really exists within the platform.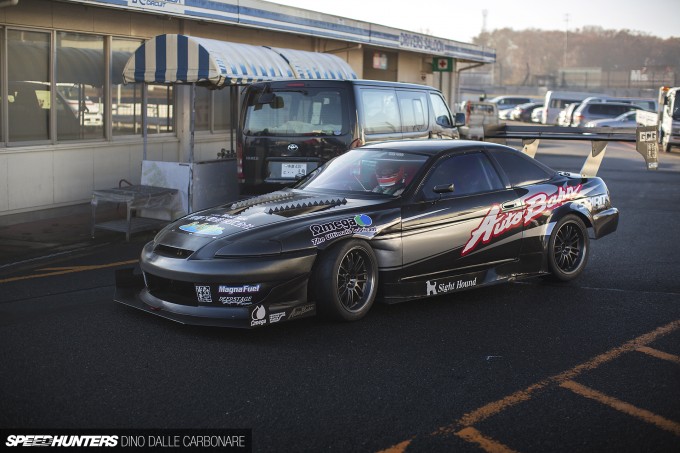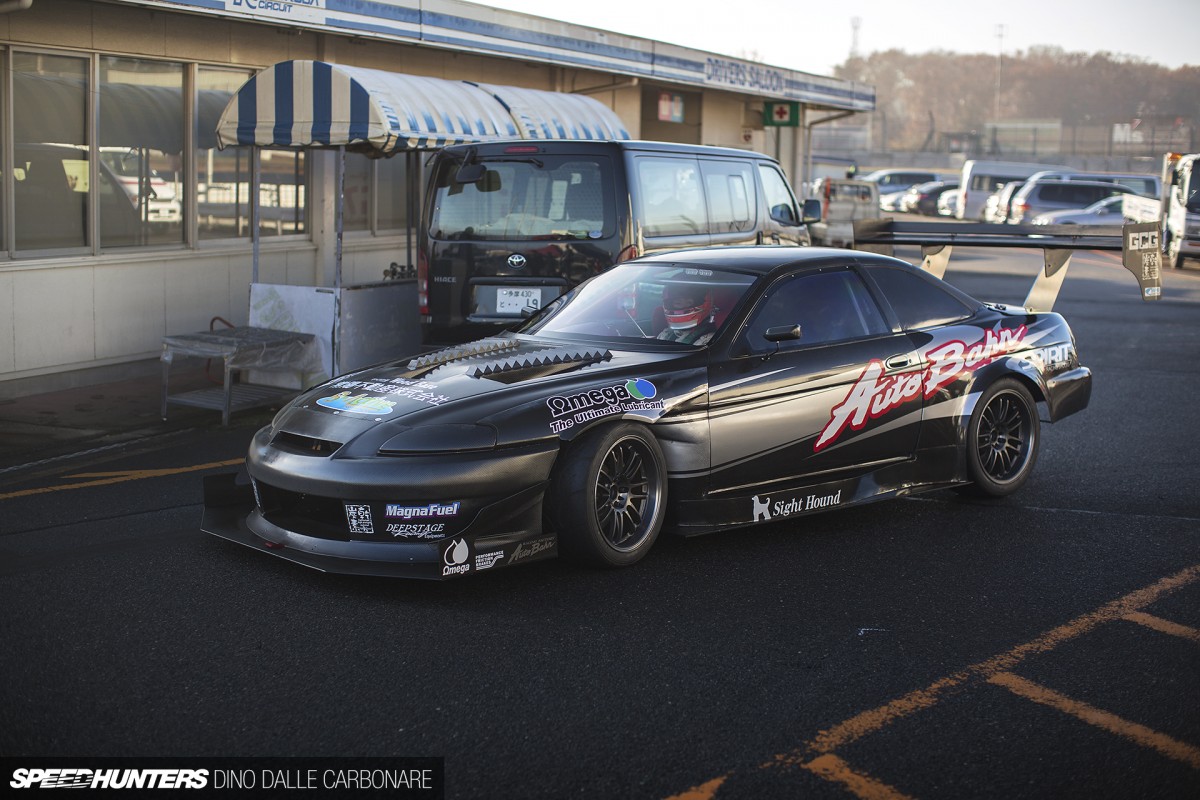 Just like Under Suzuki's car, the Auto Bahn Soarer is a car that I will need to re-feature for you guys. It's evolved so much since I headed out into the Ibaraki-ken countryside to shoot it in detail, that it's essentially a completely different car now. It keeps getting faster and is now down to a 58.096 – a whisker away from the 57-second lap its owner and driver has been chasing for all these years. The main reason I love it so much is that it packs beastly power and that it's always struggling for grip, such is the violent delivery of the 2JZ and massive GCG turbo that powers it. Bad-ass all the way!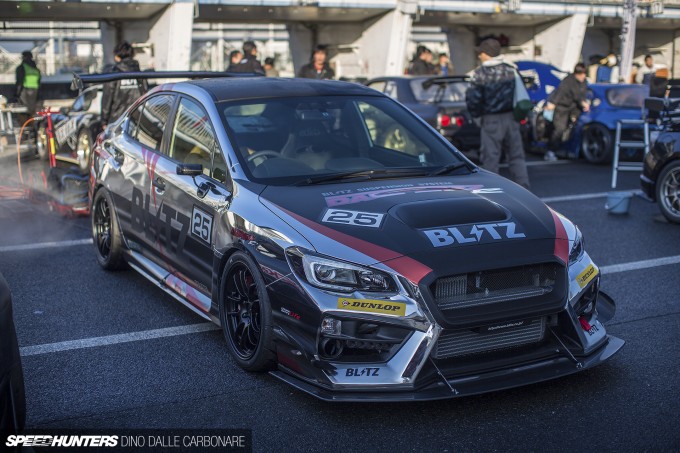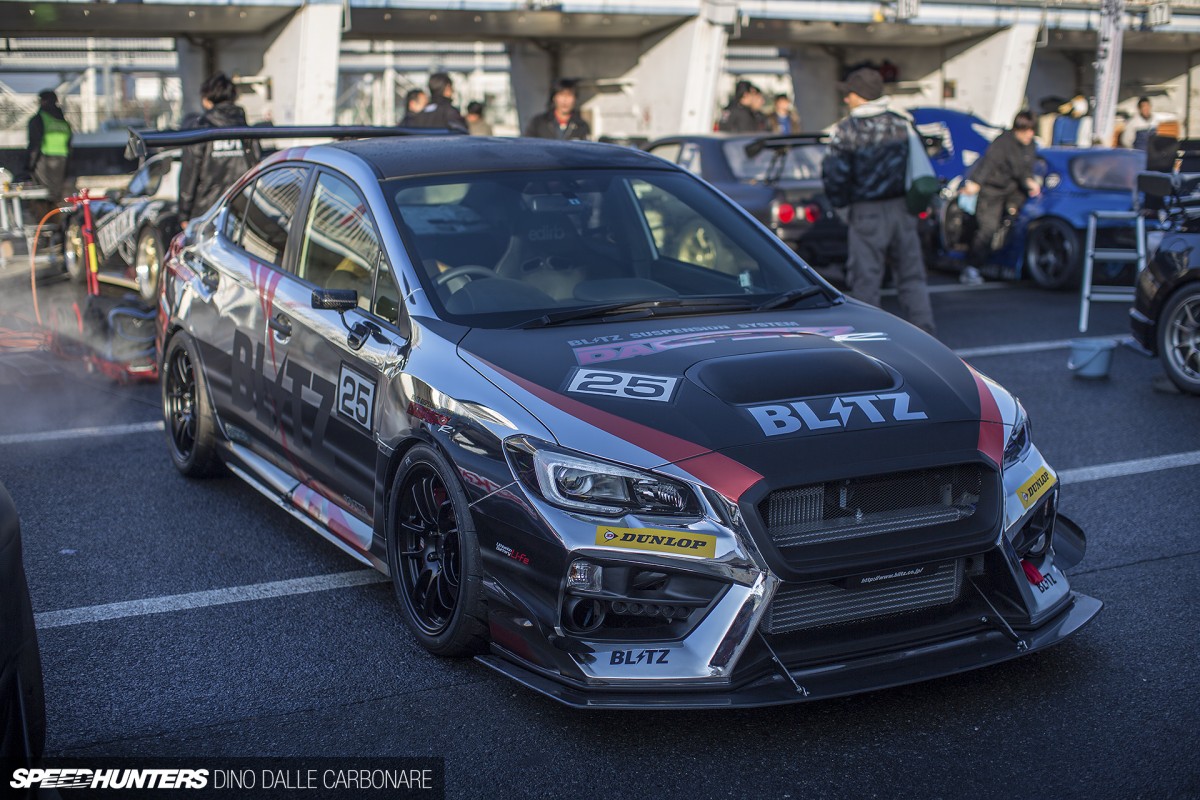 Blitz and GReddy are the two big brands that have always supported this event and they were both out at the Super Battle. GReddy had their little Suzuki Swift project and Blitz brought along their brand new VAB Subaru Impreza STI. With Kinoshita taking care of the driving, Blitz managed to smash the 1-minute barrier with a 59.045 lap, which is just amazing considering that this model has only been on sale for a month! I'm sure that 58 and possibly even 57-second laps aren't all that far away for this machine.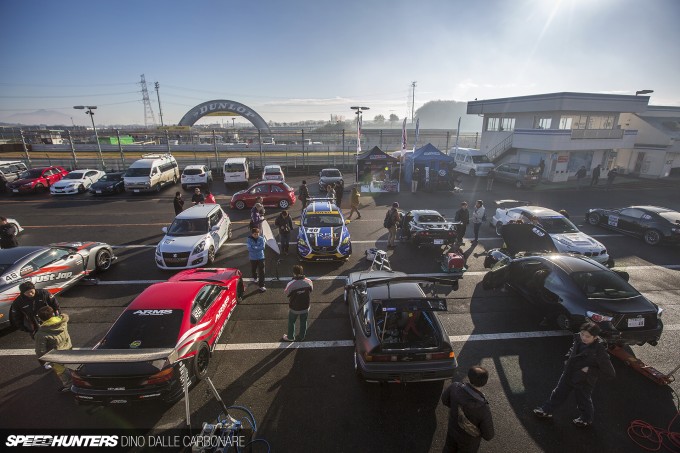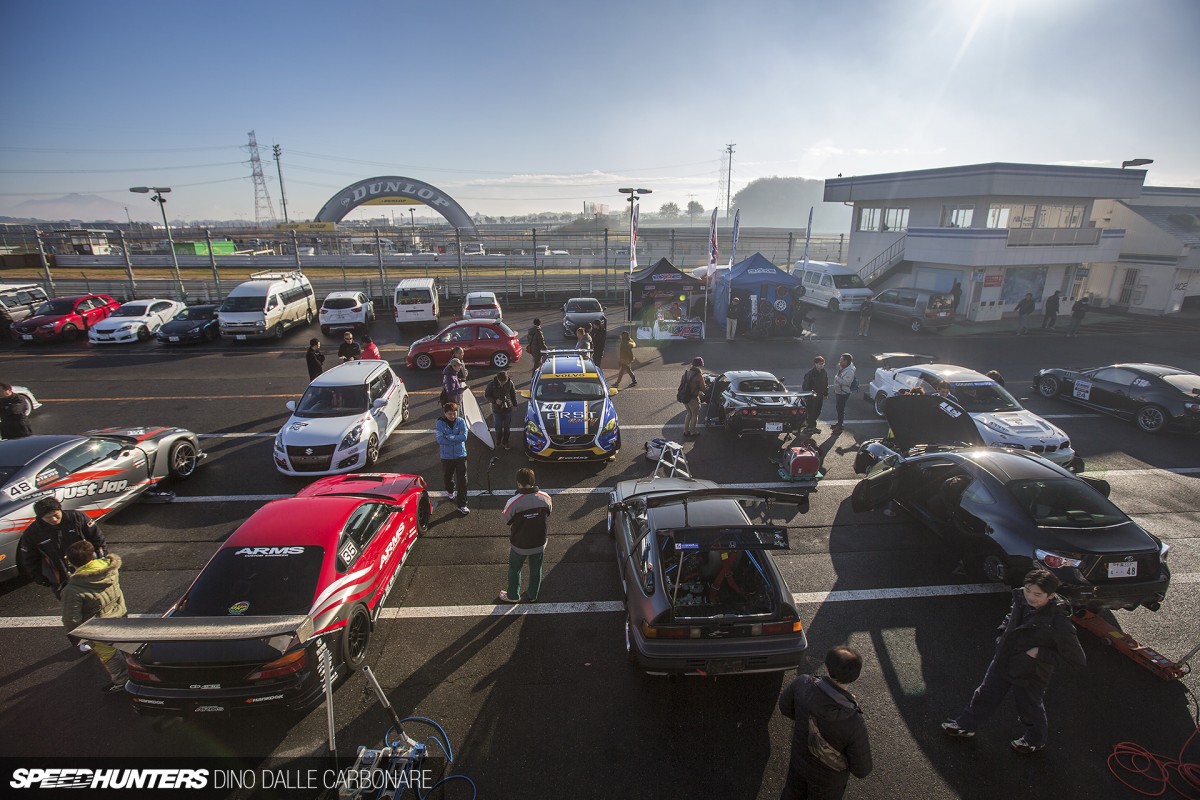 Attendance was visibly low compared on the massive turnout that the event has enjoyed in the past, but remember what I said – it all seems to go in cycles. It's just really cool to see that there are still a lot of shops out there that are not giving up on time attack. They may cater to tuning customer cars to make a living, but their passion is not so much about making money, but rather achieving lap time goals. That's why I respect each and every one so much, and I really hope that these words will help bring more tuners up for the next one.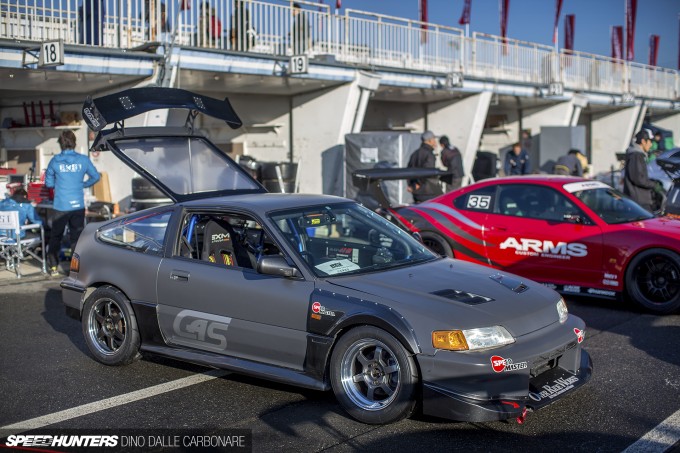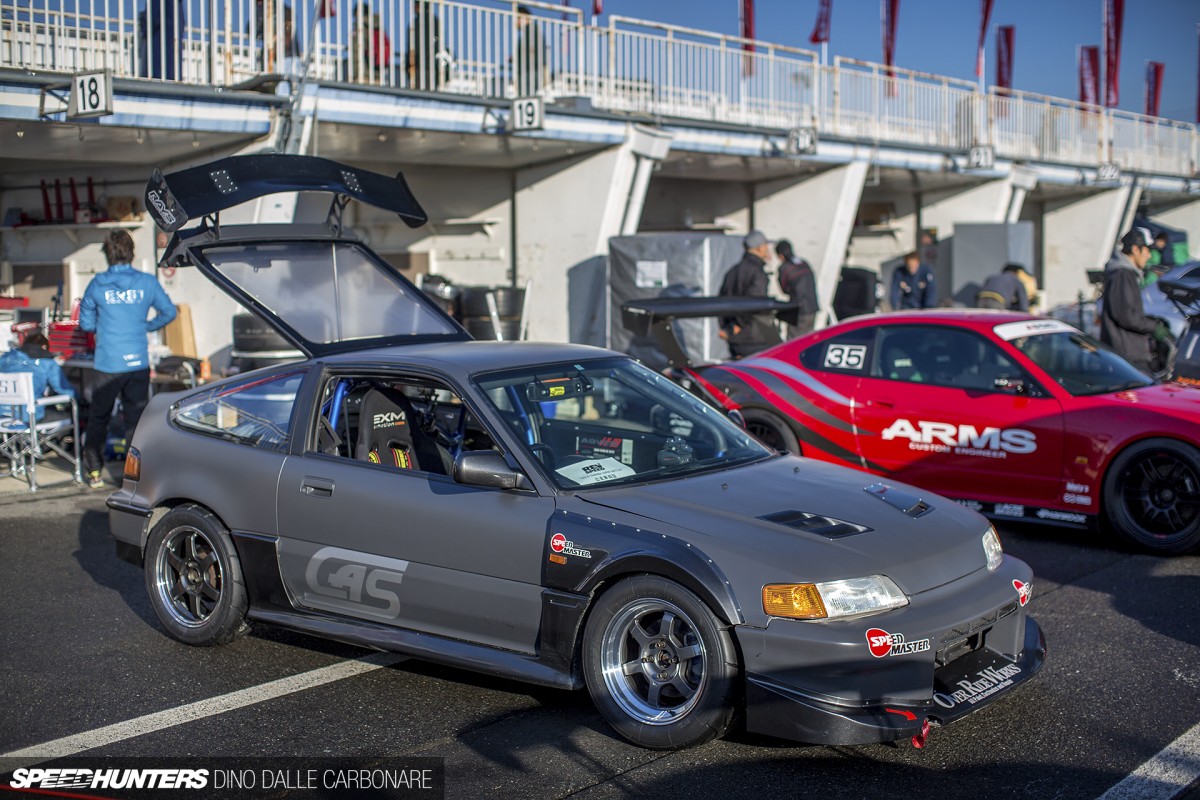 As always it's a pleasure to see these sort of cars out there too – not the fastest, but representing what the time attack scene is, and should be all about. It doesn't matter where you place – the point is to build cool cars that are driven by function and the need to perfect a specific chassis to its limit.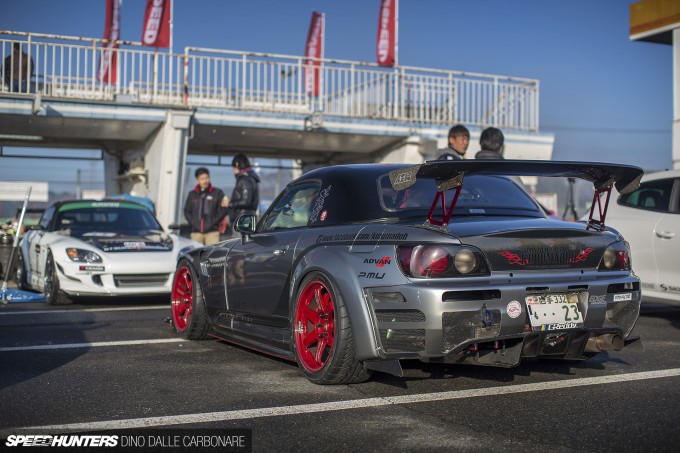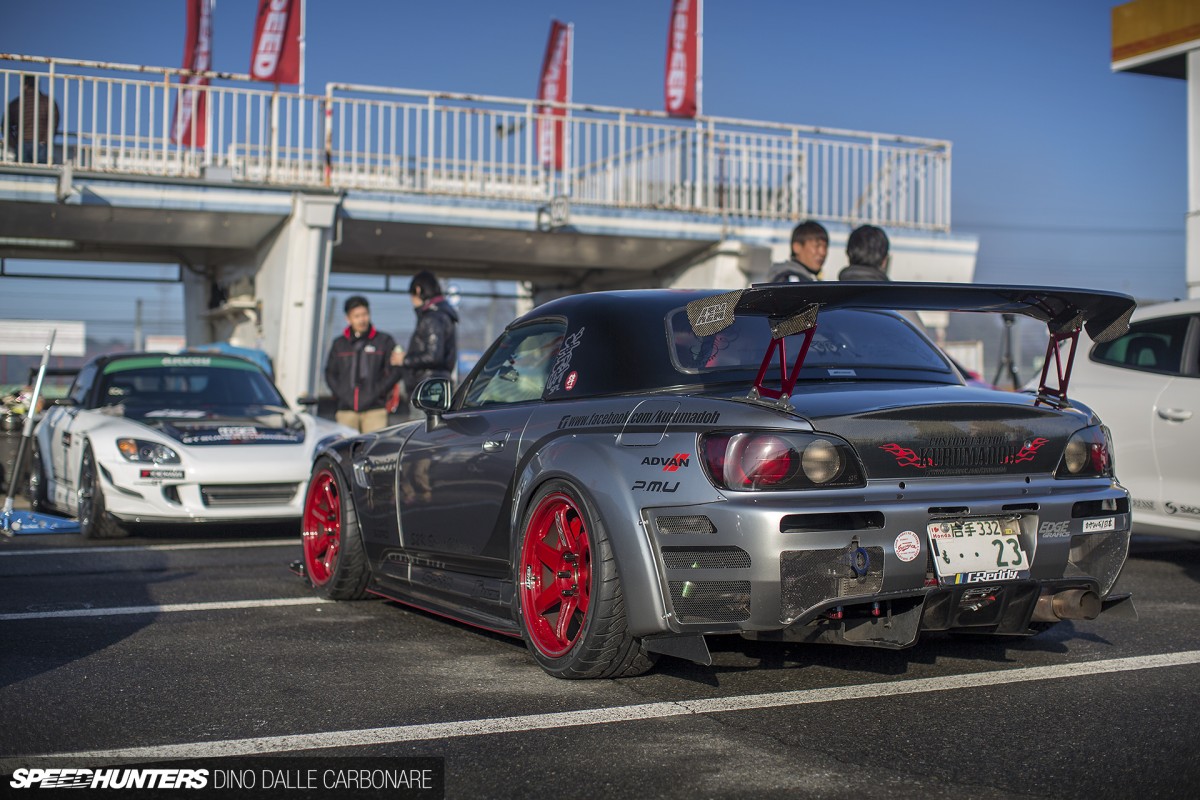 The guys from Kuruma Doh came all the way down from Iwate to enter their S2000 into the event. 1.02.447 was its fastest time, which was a superb result for a car running in a street specification and on radial tyres. Oh, and the wheels were spot on too! It makes me want to refit the RE37RTs to my GT-R soon…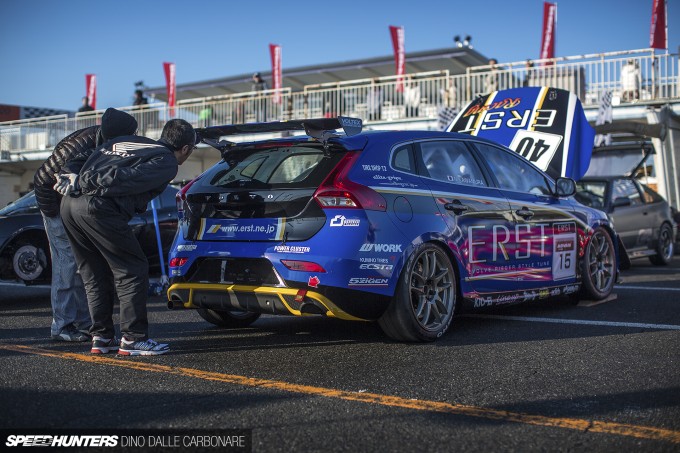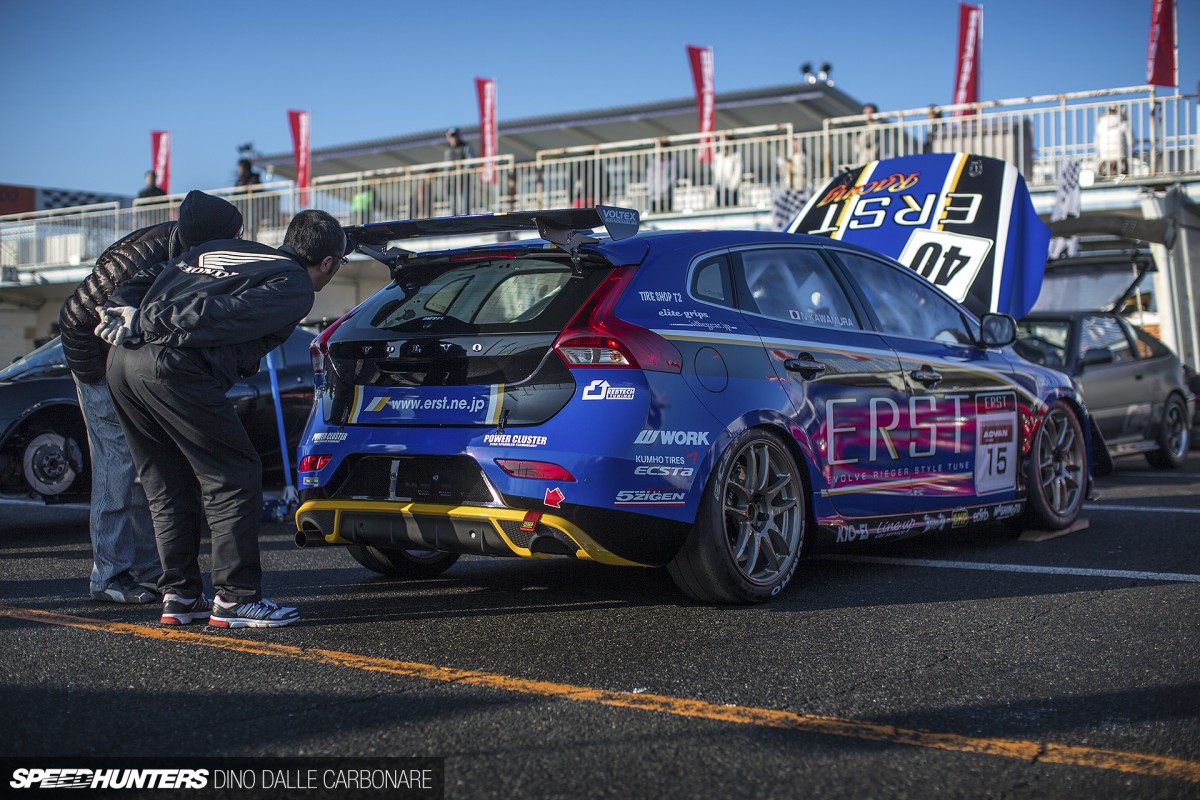 Volvo specialist Erst showed up with the most confusing car in the paddock. I thought I was looking at a BTCC car or something, but their V40 is based on a regular street model. It's fully gutted and sports a pretty serious roll cage, but apart from a few simple additions the engine remains stock. Super Lap Battle was only its second outing at Tsukuba, and the team managed to better their initial time set a few months back running 1:07.441.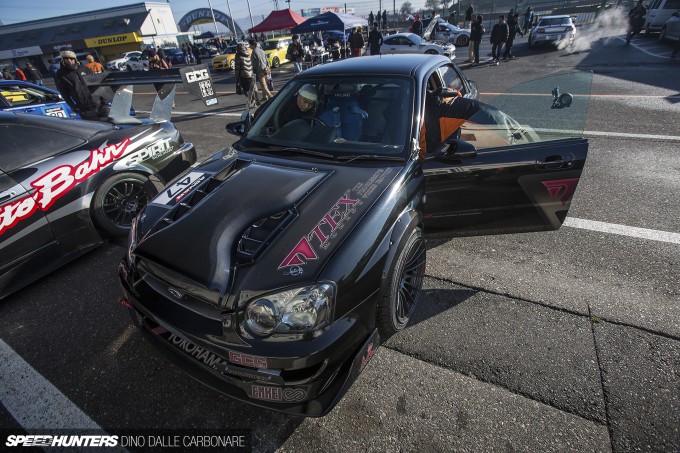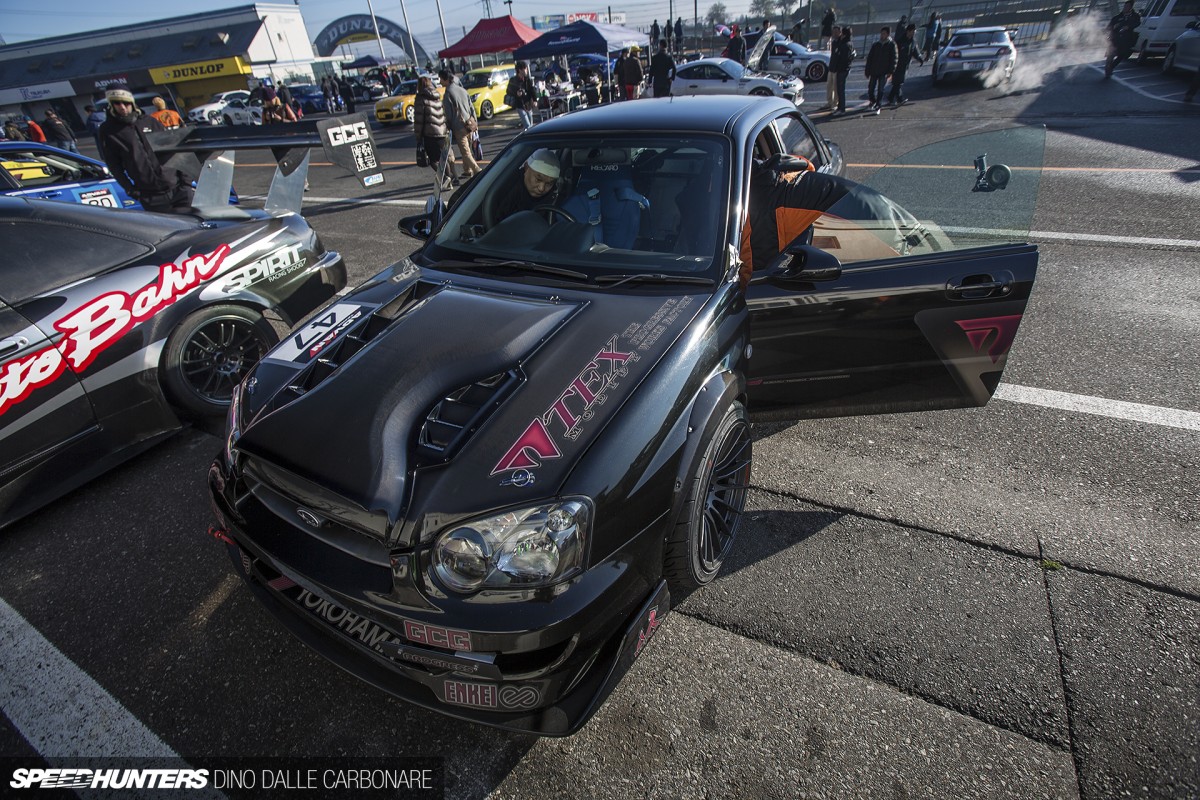 It was cool to see Tex Modify back out at Tsukuba and continuing to upgrade their Impreza time attack project they enter in the Street 4WD class. Aside from that curious bonnet scoop that we first saw last year, the engine is pushing out slightly more power thanks to the use of a GCG turbocharger. The fastest time for this GDB was 1:01.561.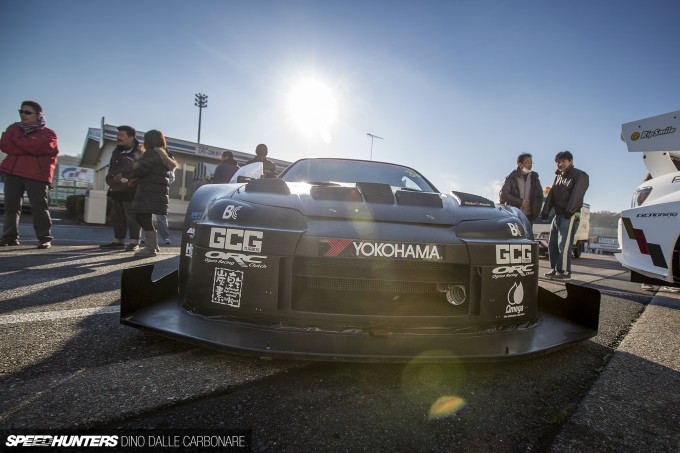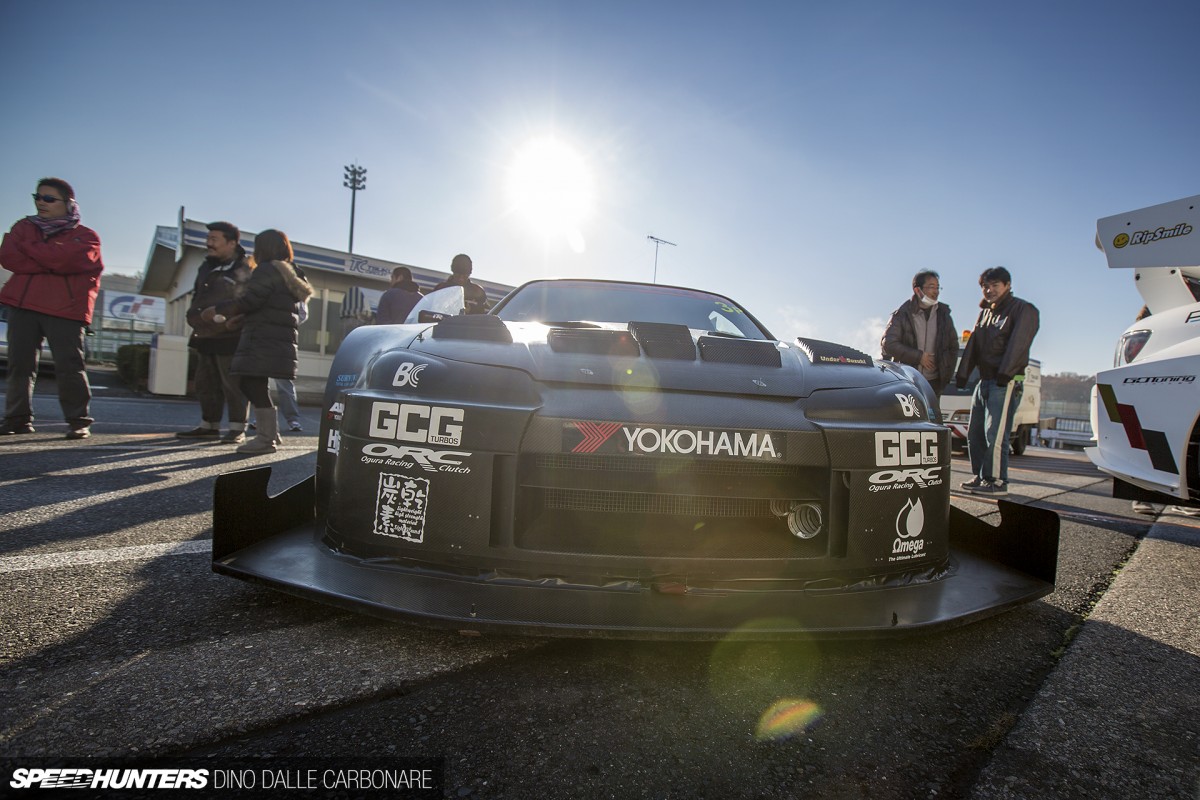 Of course, all eyes were on Under Suzuki and his ever-evolving S15 – the current Tsukuba record holder. This was actually the first time I had seen it up close after its latest round of aero and mechanical mods that were made for this year's World Time Attack Challenge in Sydney, Australia.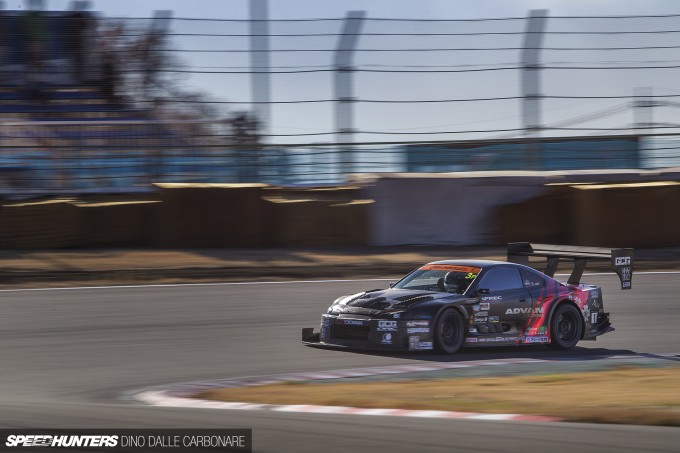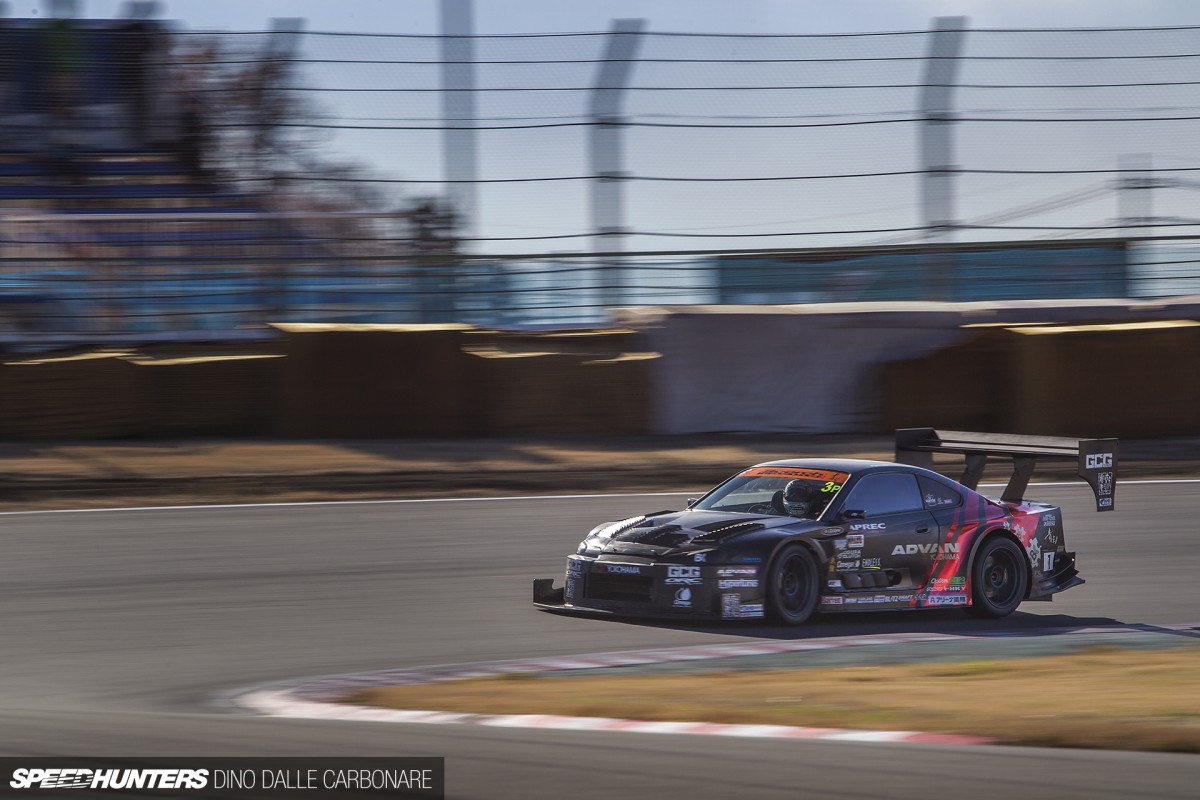 The new aerodynamics, developed in collaboration with Andrew Brilliant of AMB Aero Design, are pretty wild and include a redesigned front splitter, front and rear fenders and a rear end which has blown away everyone who has seen it.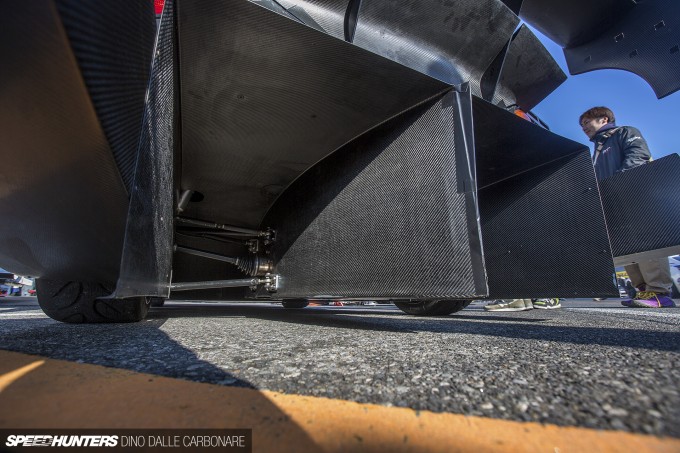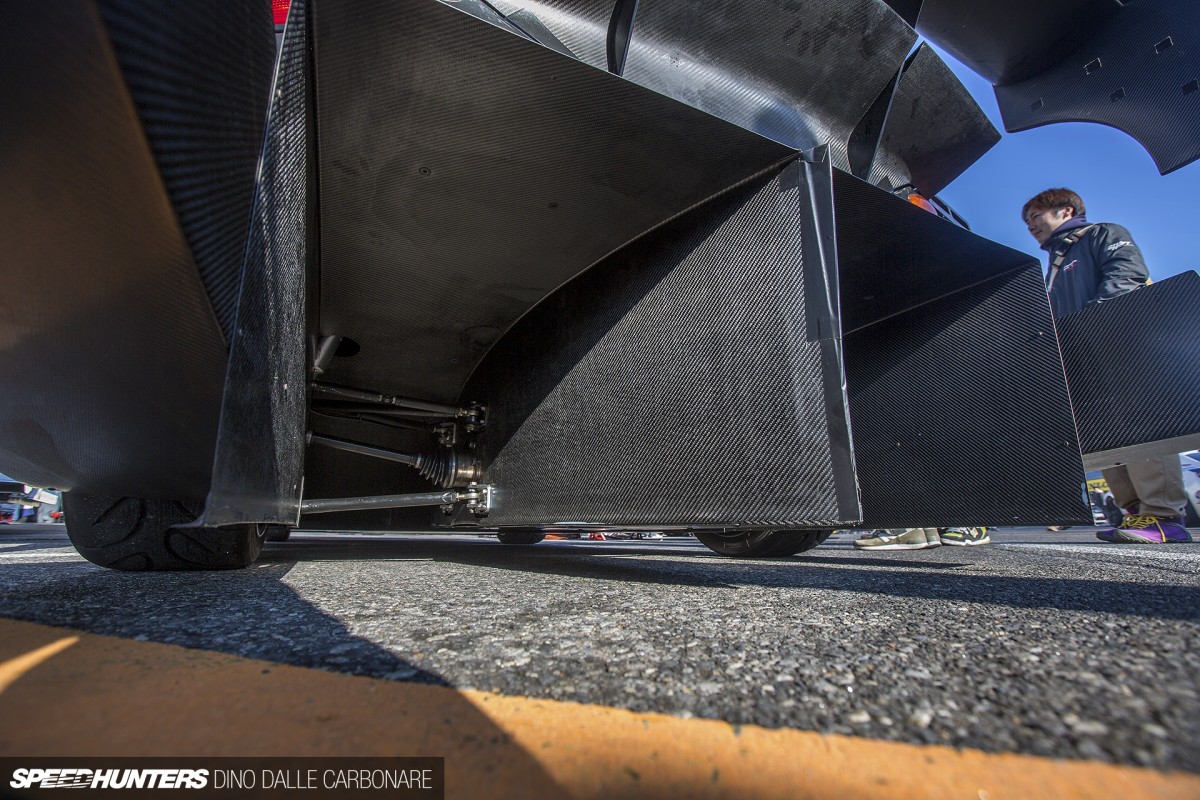 These tunnels allow the car to develop serious amounts of downforce, and coupled with more power from the highly-tuned SR20 the potential for serious record-breaking has never been stronger.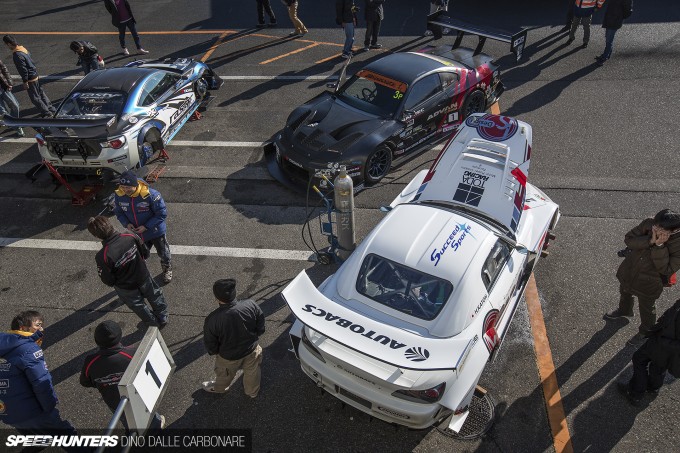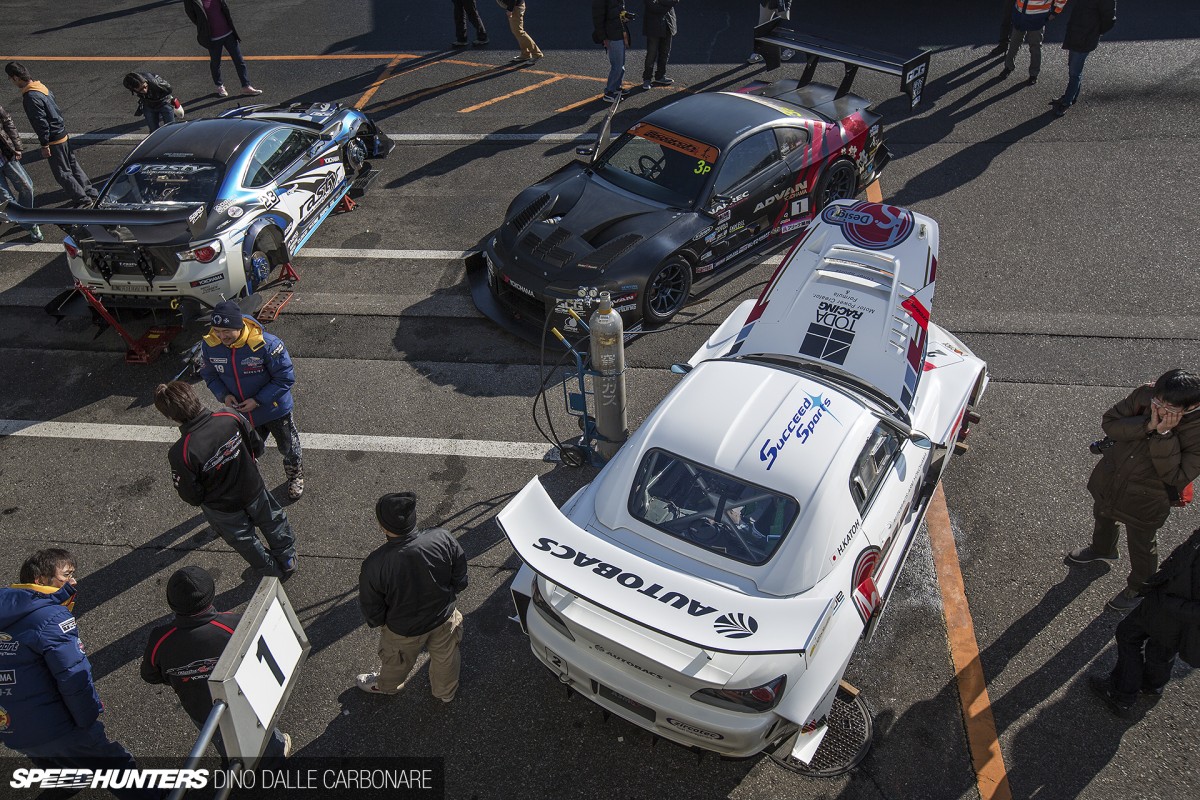 Suzuki-san's S15 was kept company in the paddock by the ASM Yokohama S2000 and the Rasty ZN6.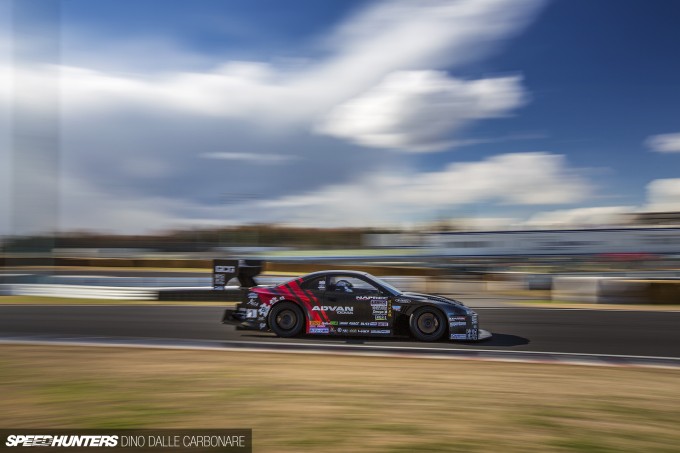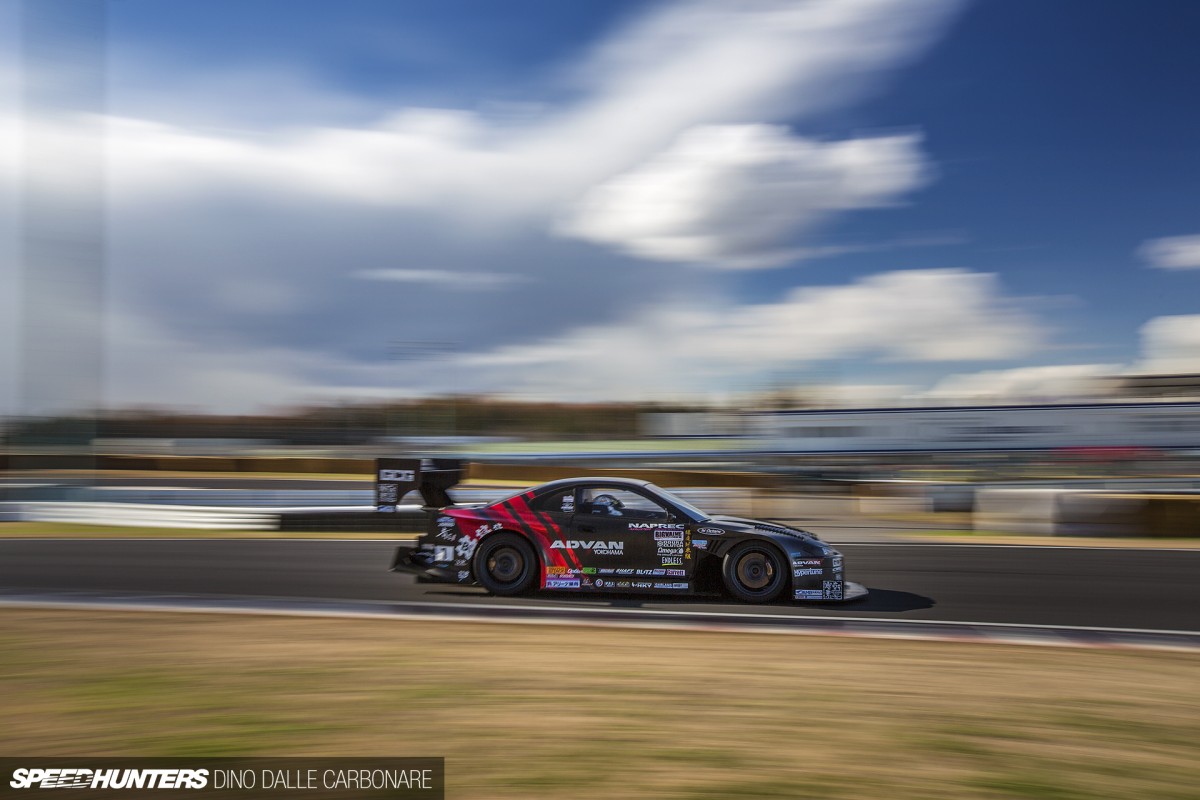 A few weeks prior, Under Suzuki had already managed to break his old Tsukuba record and with conditions pretty much spot-on for laying down the perfect lap he did it once again at the Super Battle. The new Tsukuba Circuit lap record for a tuned time attack car is now 52.363 seconds. With the cold winter months ahead of him Suzuki-san will be out at Tsukuba time and time again in an attempt to get into the 51-second bracket – which is just silly-fast if we all think back what sort of times the top cars were achieving only a few years back. Under Suzuki is also the reason that a lot of big names are put off by time attack these days. Many say that these are not tuner cars anymore, and while that may be true in some ways, it's all about the evolution of the scene. Plus, if a privateer can achieve this in a few years of dedication, surely a slightly better funded shop should be able to get closer, or even surpass him? Am I wrong here?
The Best Of The Rest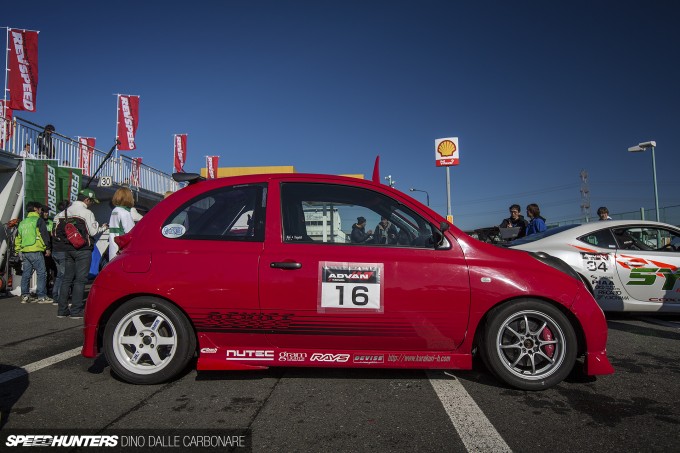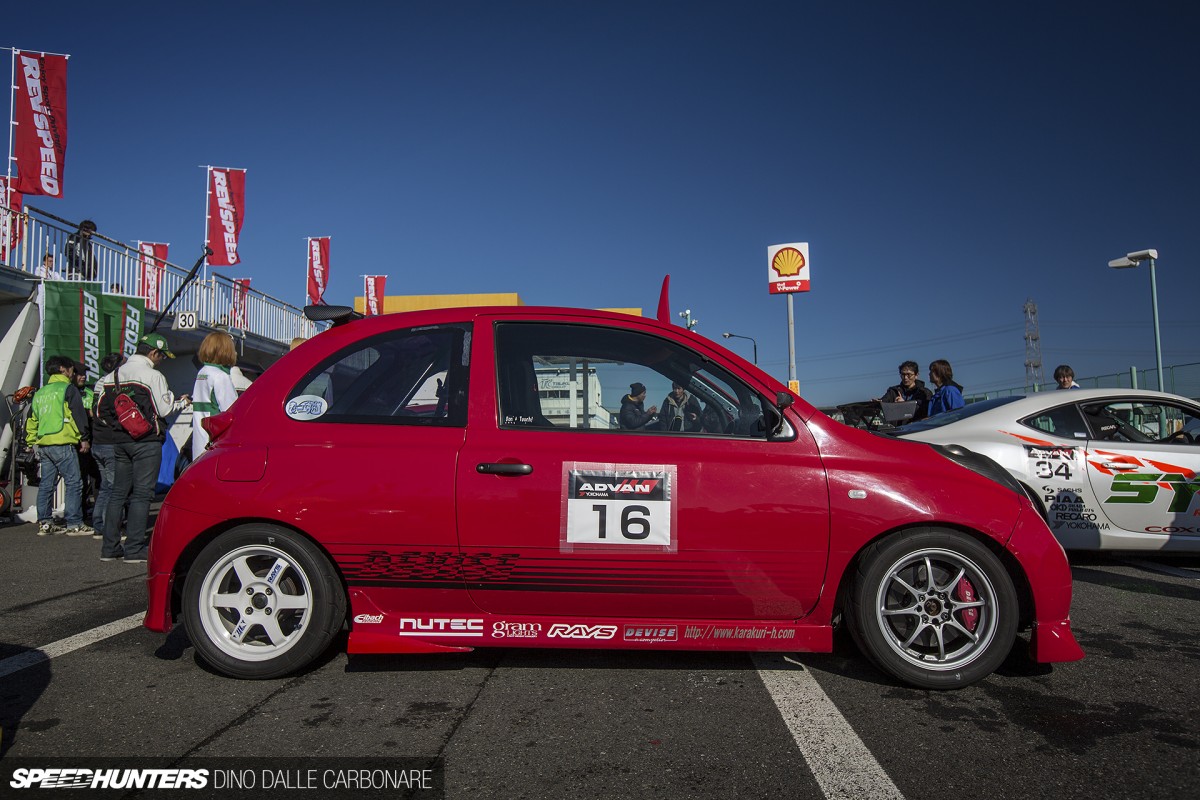 On the opposite side of the spectrum I spotted this cool track-spec K12 March in the paddock. It may have been running close to 20 seconds behind Suzuki-san's time, but it's still a fun car to throw around. I love the mismatched RAYS wheels and the tiny red brake calipers too!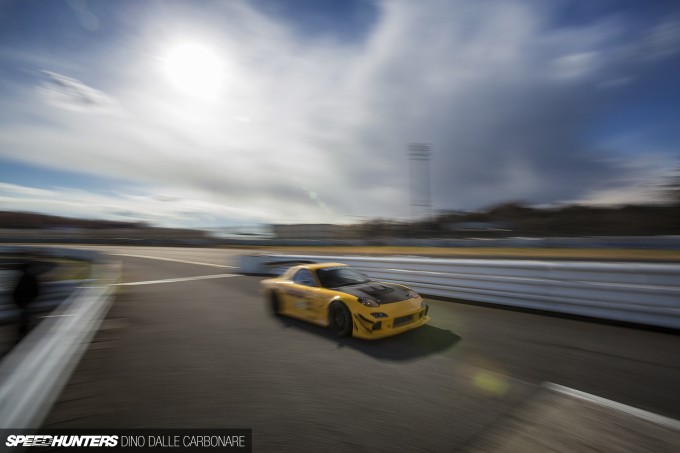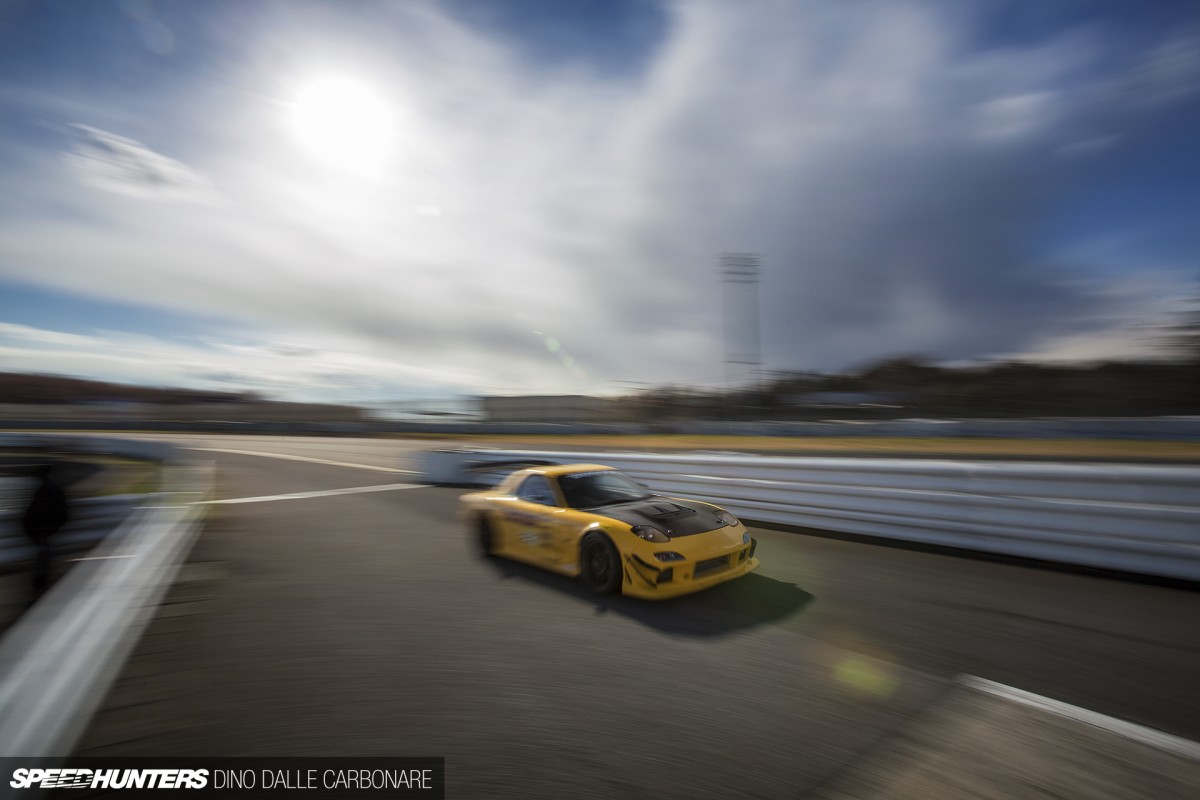 It's sad to see that Pan Speed have retired their FD3S Open Class car (for now at least), but they are still chasing time with their street-tuned car which runs in the 58-second zone.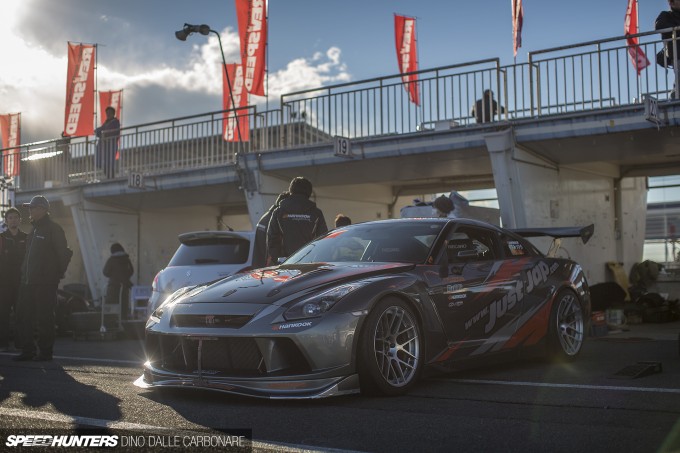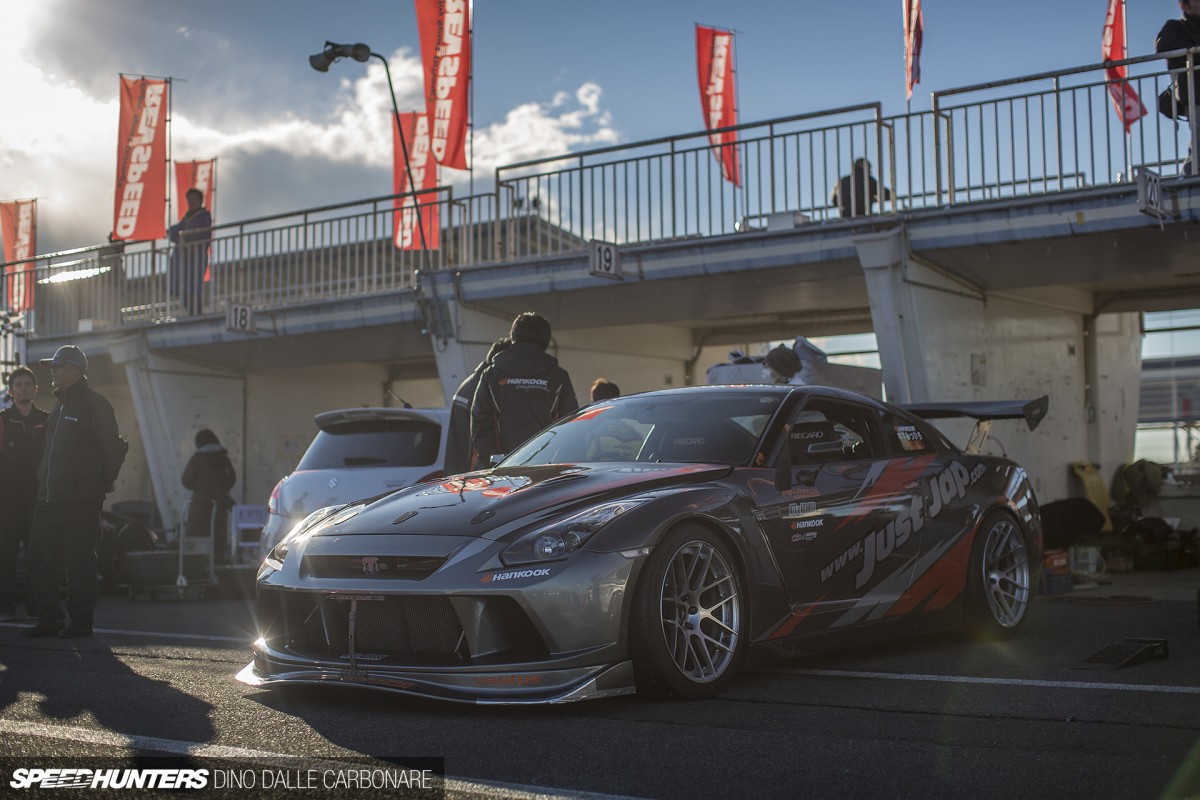 Another car in the 58-second bracket is the ATTKD and Just Jap R35 GT-R – the only san-go at the event. Again, it's pretty sad to see that companies like Mine's and Top Secret aren't interested to show what their cars are able to do against other tuner cars. I'm really hoping this is going to change, but in the meantime a big thumbs up to Tsukada-san for keeping the time attack flame alive and burning!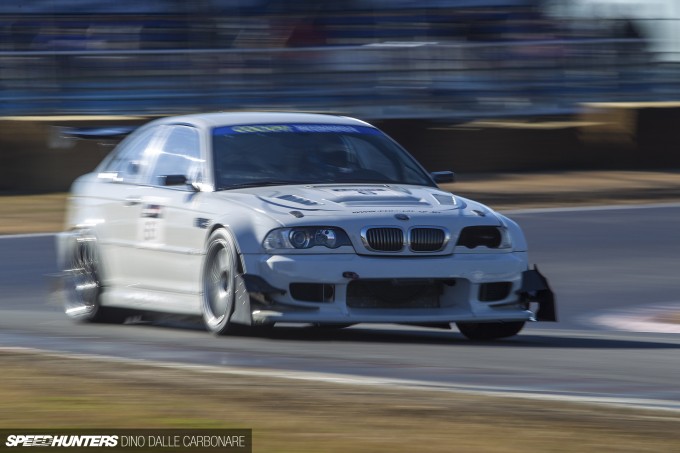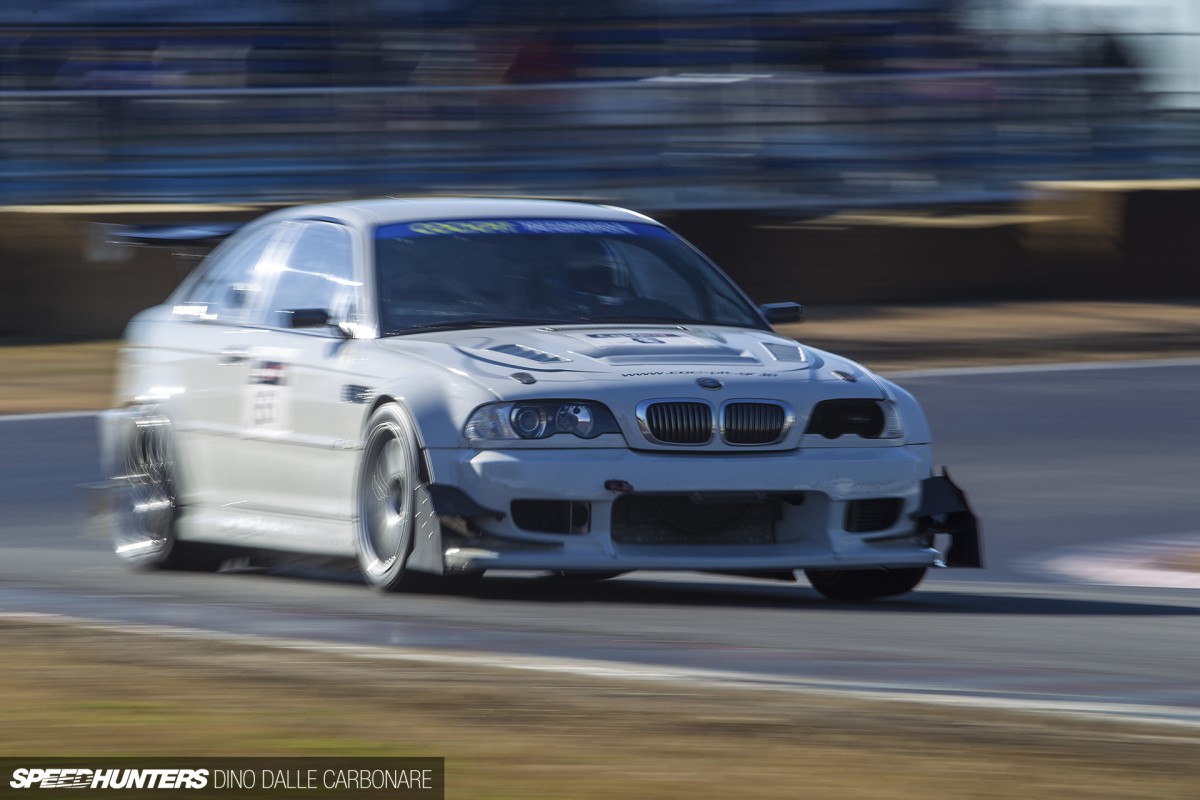 Imports were a little down compared to other years but there was still some cool cars around the paddock and out on track. One of them was the Cockpit Tatebayashi BMW E46 which was looking positively mean. It sounded great too, and managed a best time of 1:01.822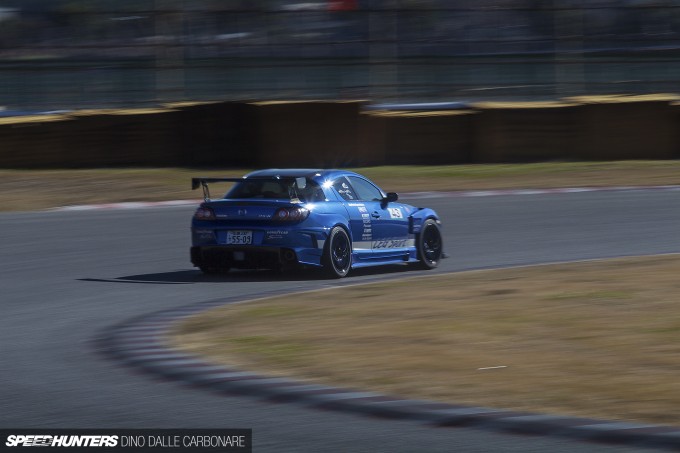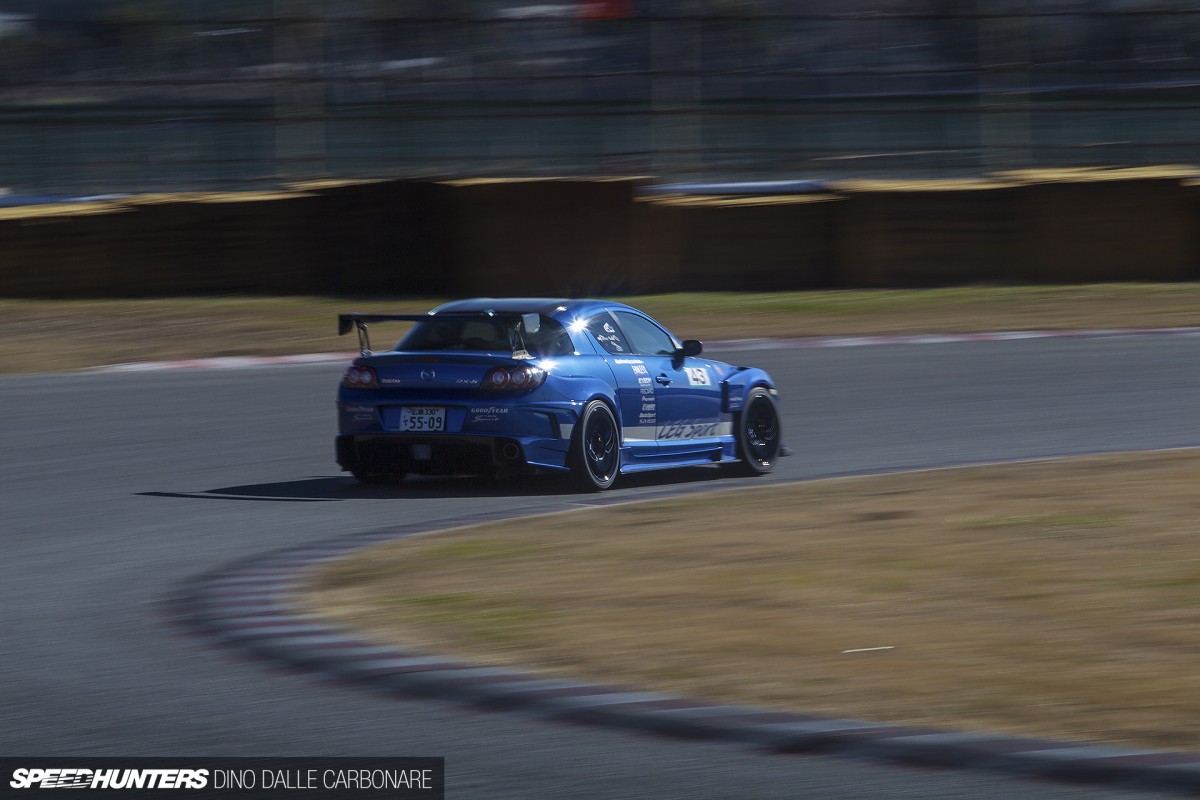 Leg Sport are continually working on making their RX-8 that little bit faster, and it took home a best lap of 1:03.366 this year – a result that emphasises how power is not necessarily a must to get decent times at this tight and challenging track.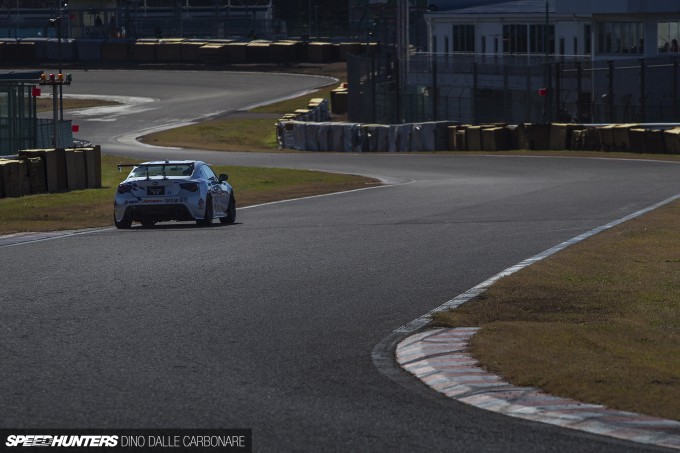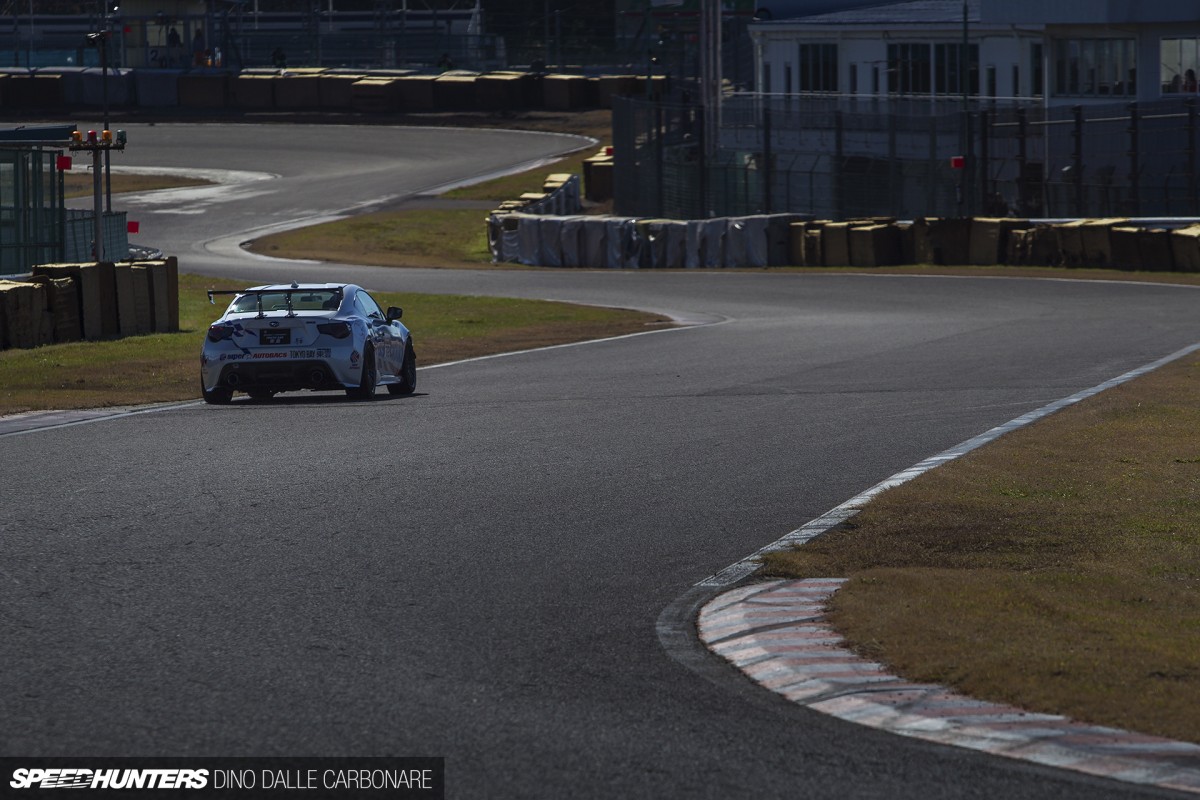 Of course, the 86 proved this too. Be it naturally aspirated, turbocharged or supercharged, there is so much you can do and achieve with these cars.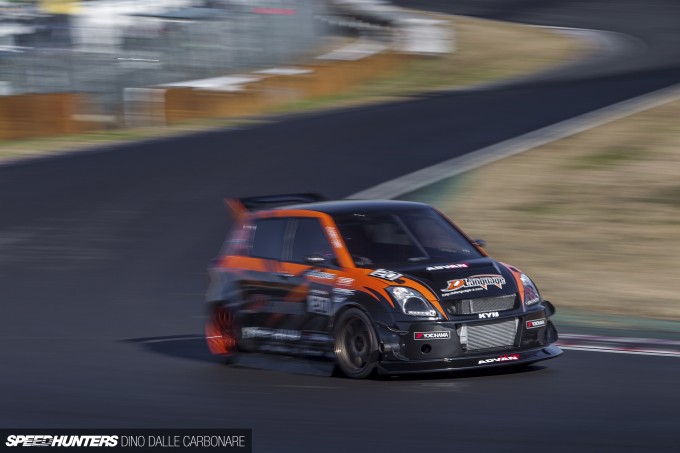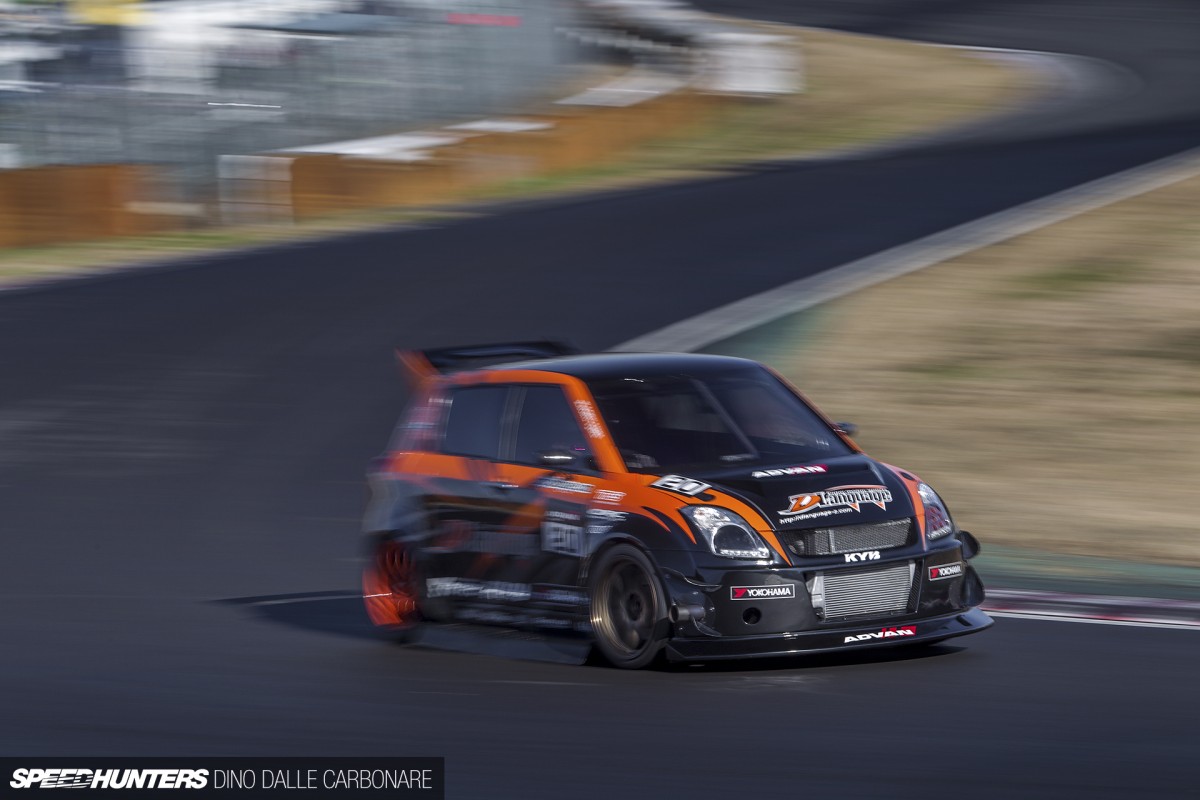 One car that really surprised me this year was the new and improved D Language Swift. I didn't take much notice of it – until it hit the track that is. All I heard was heavily turbocharged fury coming towards me and machine-gun gear changes achieved through the obvious use of a sequential transmission. Check out the exhaust exiting front the front bumper!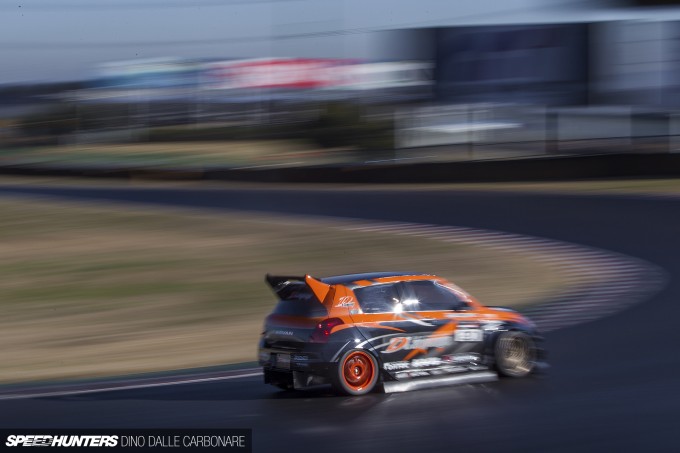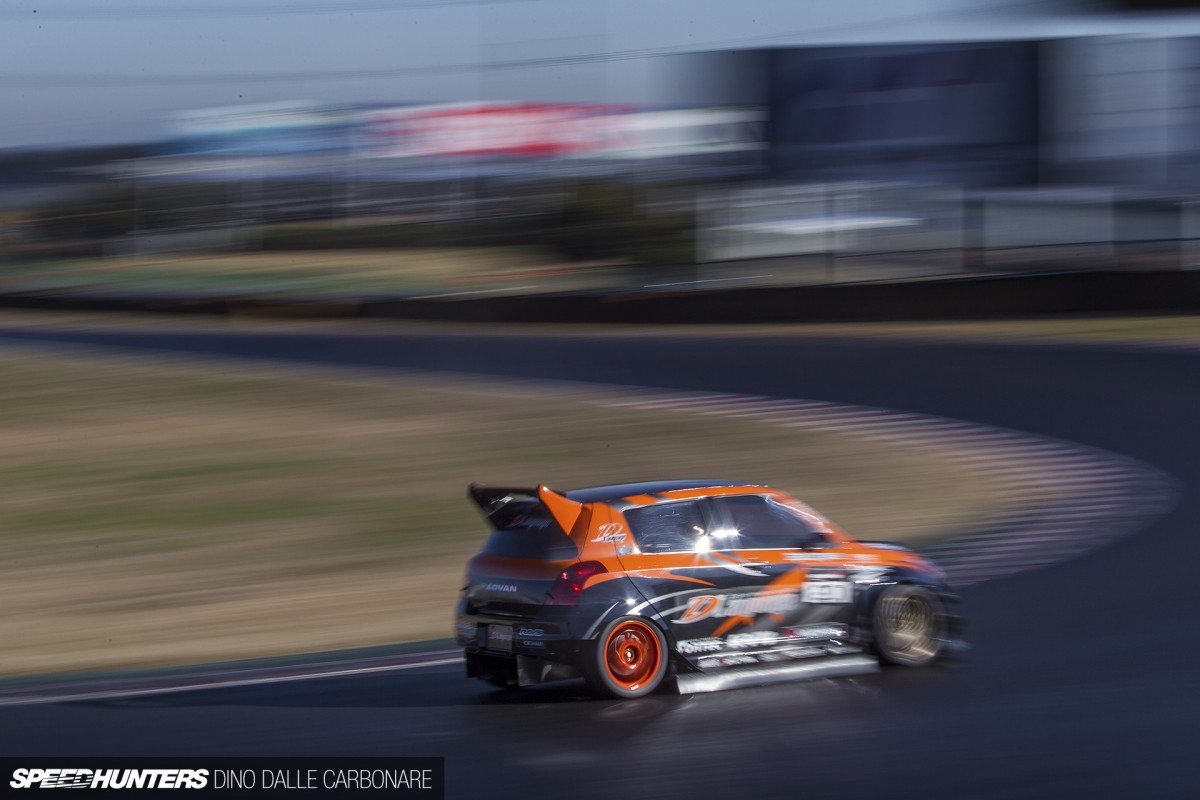 The car posted a 59.446 second lap time. A Swift – under a minute. Absolutely crazy! I've got a spotlight on this car coming up in the second part of my Super Battle coverage.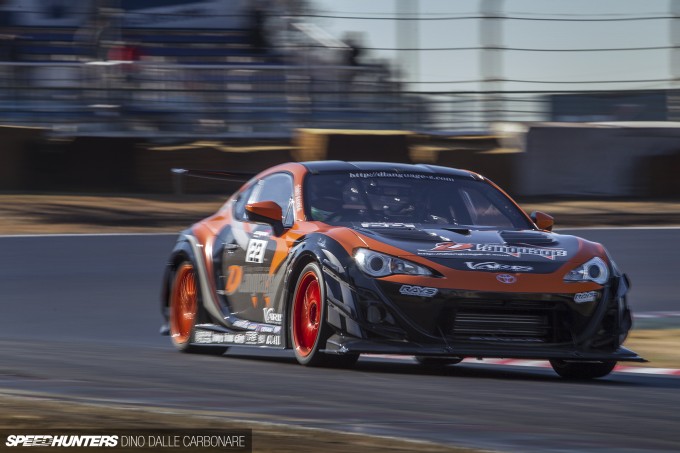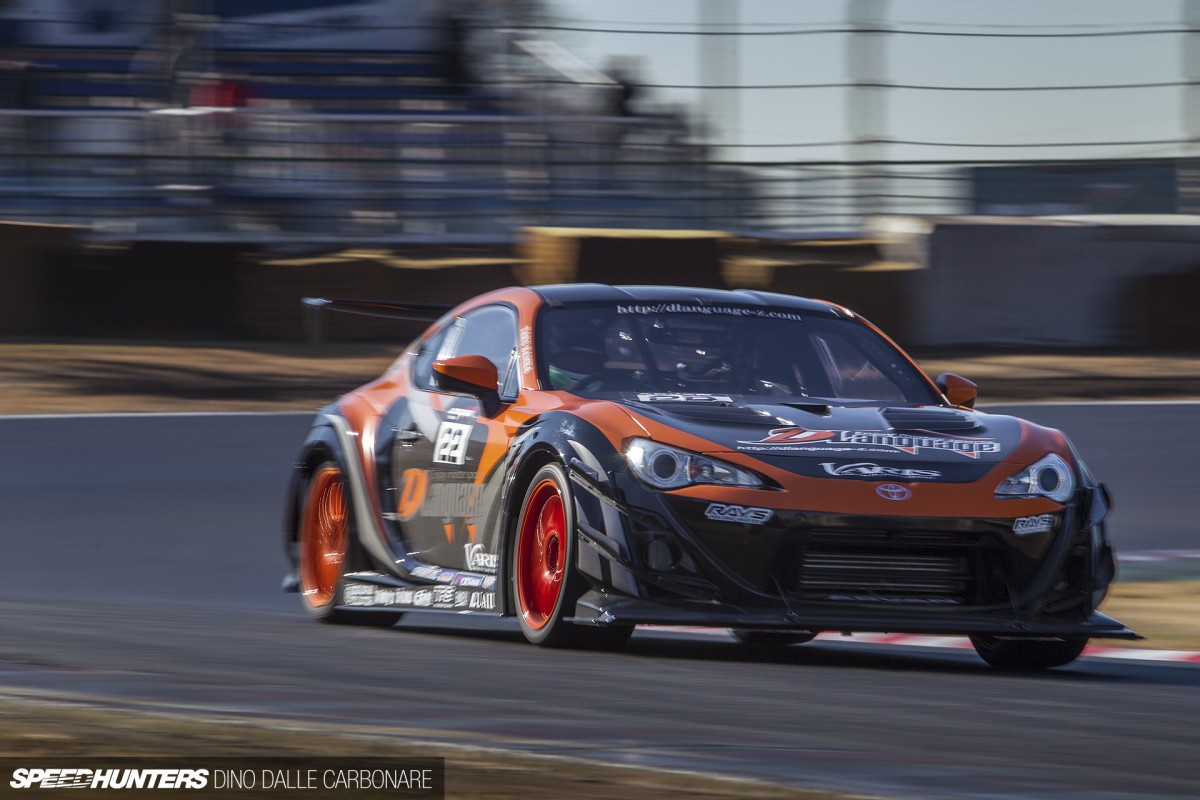 And again from D Language was this ZN6. It was blisteringly quick running a best time of 57.939 seconds – one of only a few 86s in this bracket.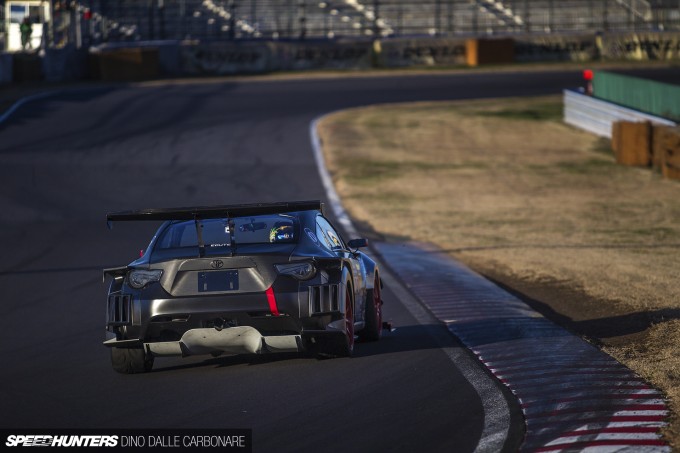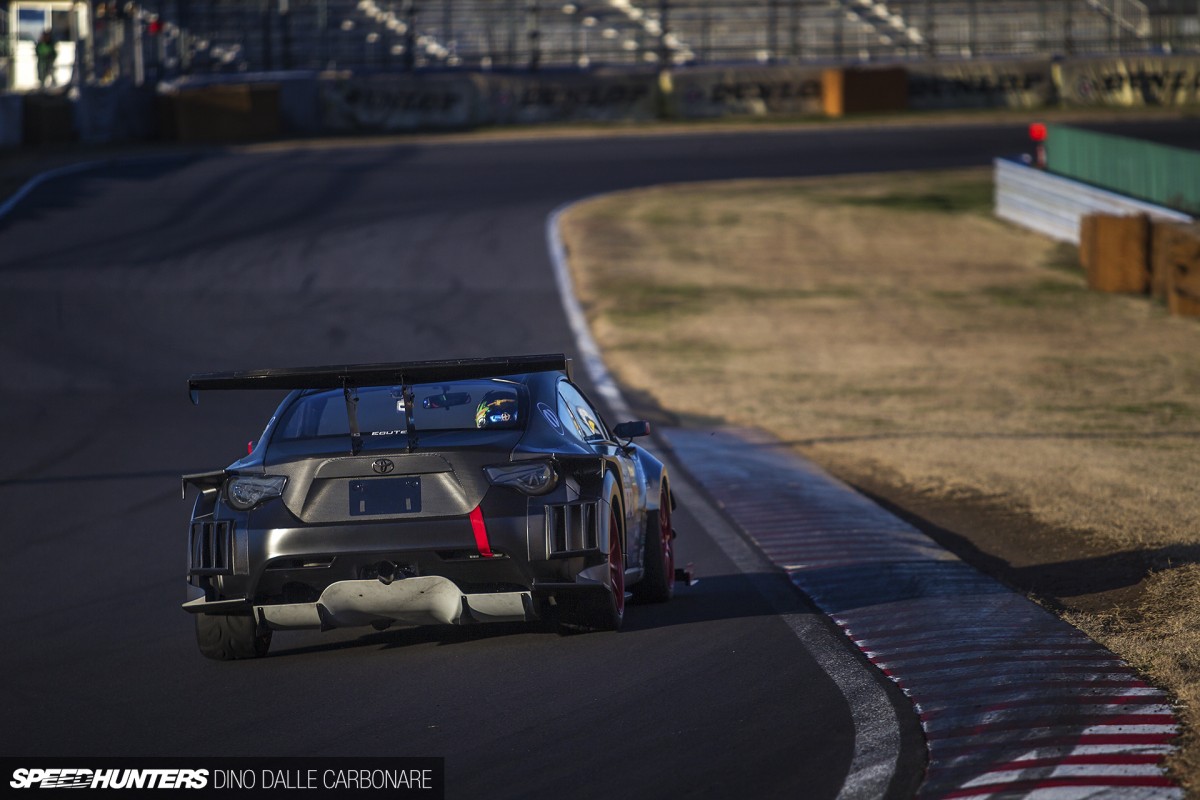 The Racing Project Bandoh 86 is another big ZN6-based time attack project, and one that is looking far more complete than the last few times we've seen it. With Max Orido at the wheel it managed a best time of 57.725 seconds, which makes it the fastest 86 around. Since I'm sure you'll want to see more of this one too, I'll add it into the spotlights post as well… That's all from Tsukuba for now but check back soon for more!
Dino Dalle Carbonare
Instagram: speedhunters_dino
dino@speedhunters.com
Time Attack related coverage on Speedhunters
Other Tsukuba related posts on Speedhunters