Community Car Culture
As I mentioned in my story about car culture in the city of Nagoya and Aichi Prefecture itself, the community in this region of Japan is extremely tight knit. Even the shops and builders you'd expect to be rivals are all good friends who get together and go cruising on weekends – then go drinking afterwards. When so many places have their own cliques, the harmony and brotherhood that exists in Central Japan is astonishing.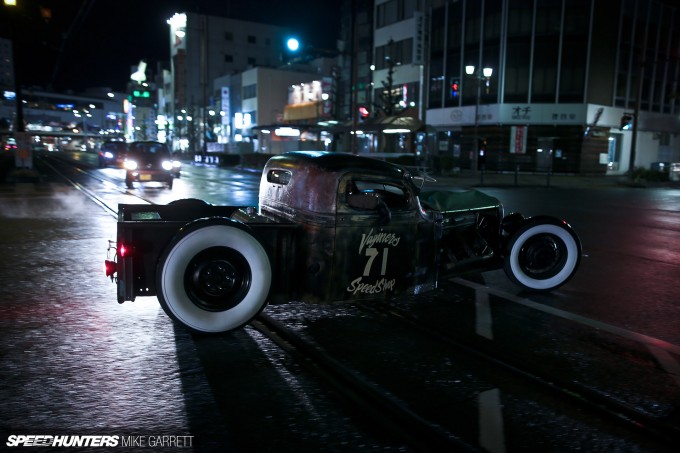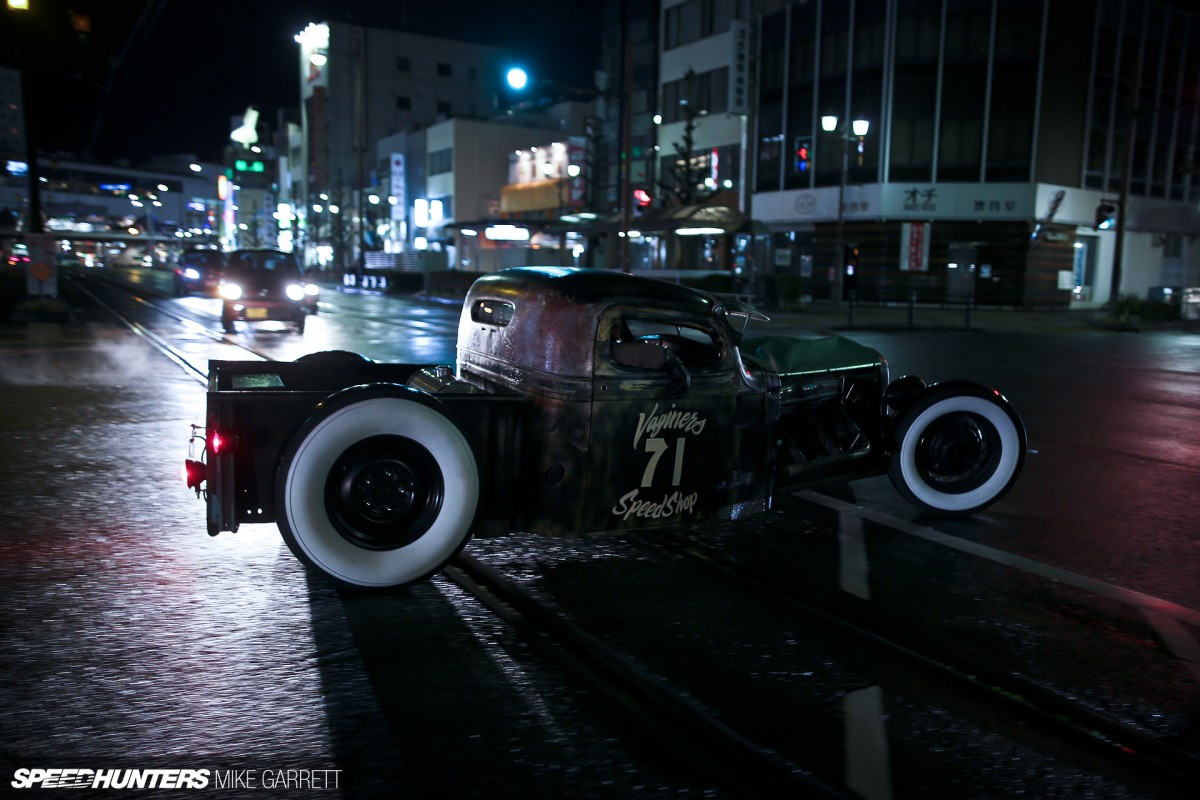 I've also talked about how the hot rod and custom scene in Nagoya has many different shops, each of which seems to specialize in one genre. For example, Cholo's Custom has you covered for lowriders, Border's can handle all your lead sled needs, Arts Body builds bad-ass hot rods and Kool Garage Fellows turns out some of coolest '60s-style customs in the world.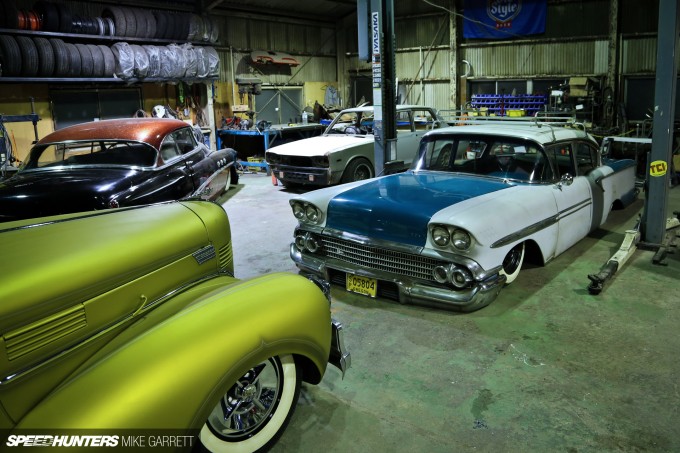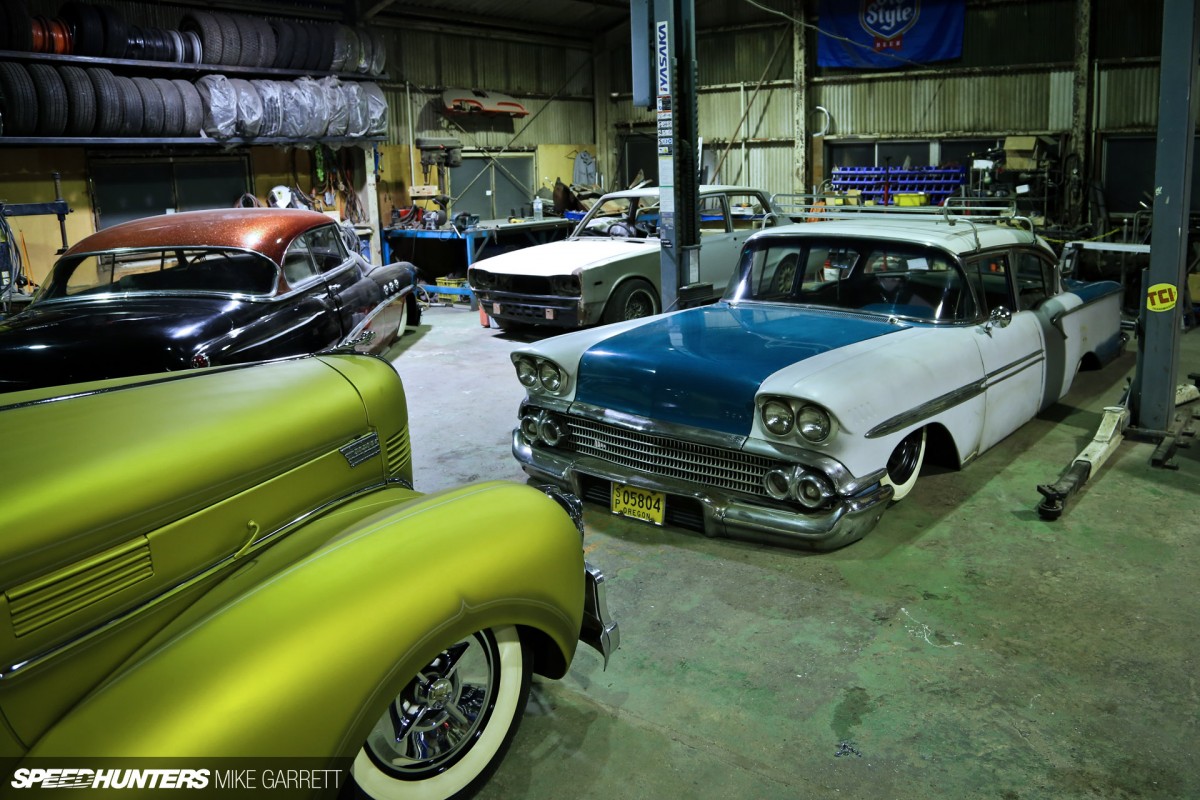 With that said, one of the most well known shops in the area is bit harder to categorize. It's called Square Kustoms, and one wet night during our action-packed visit to Aichi we stopped by to visit its owner Hiroki Hosoda and the rest of the Square crew.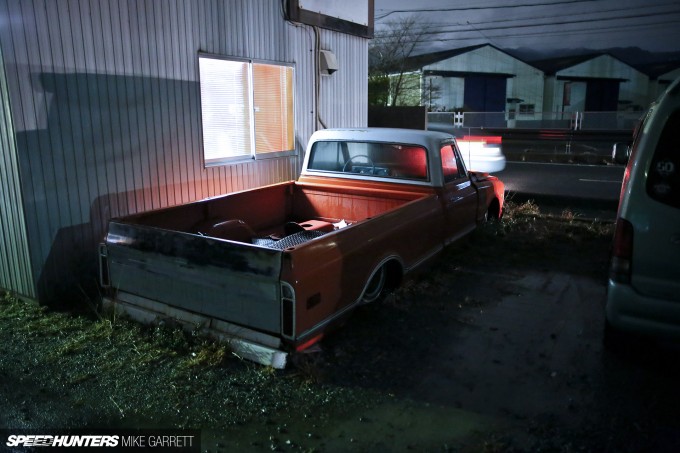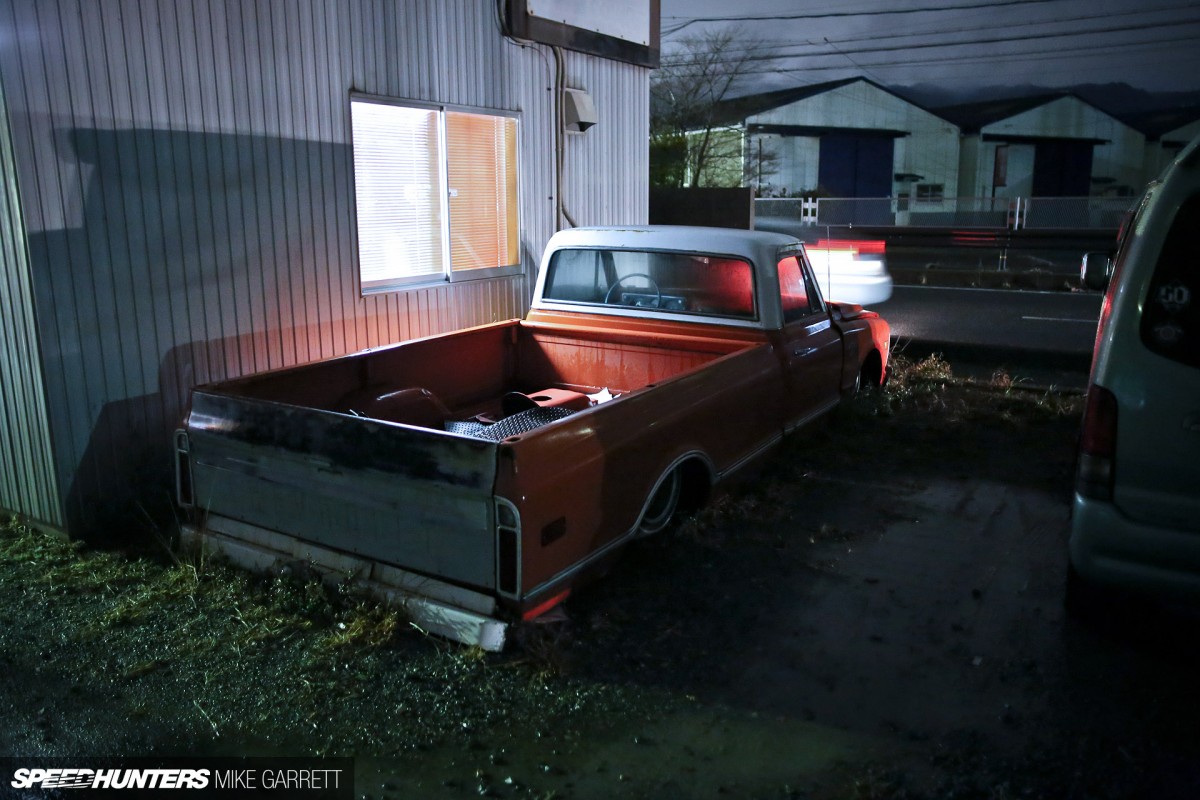 If had to limit Square Kustoms to just one genre, it would have to be 'slammed'. There were all sorts of vehicles parked around the shop, but the one thing they all had in common was a dropped-to-the-ground ride height. In one corner sat a bagged and body-dropped Chevy C10 pickup.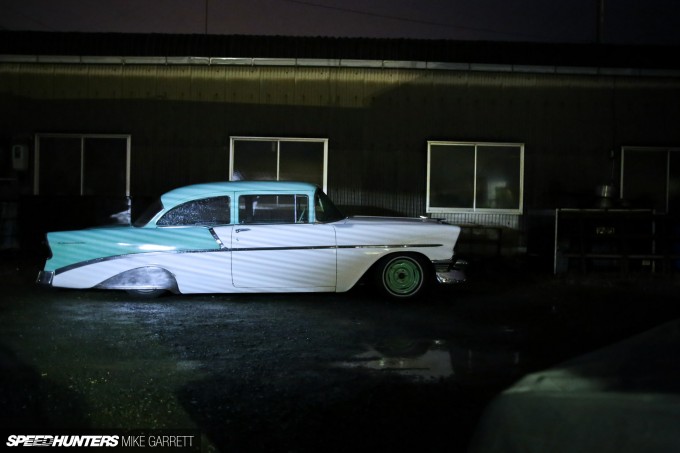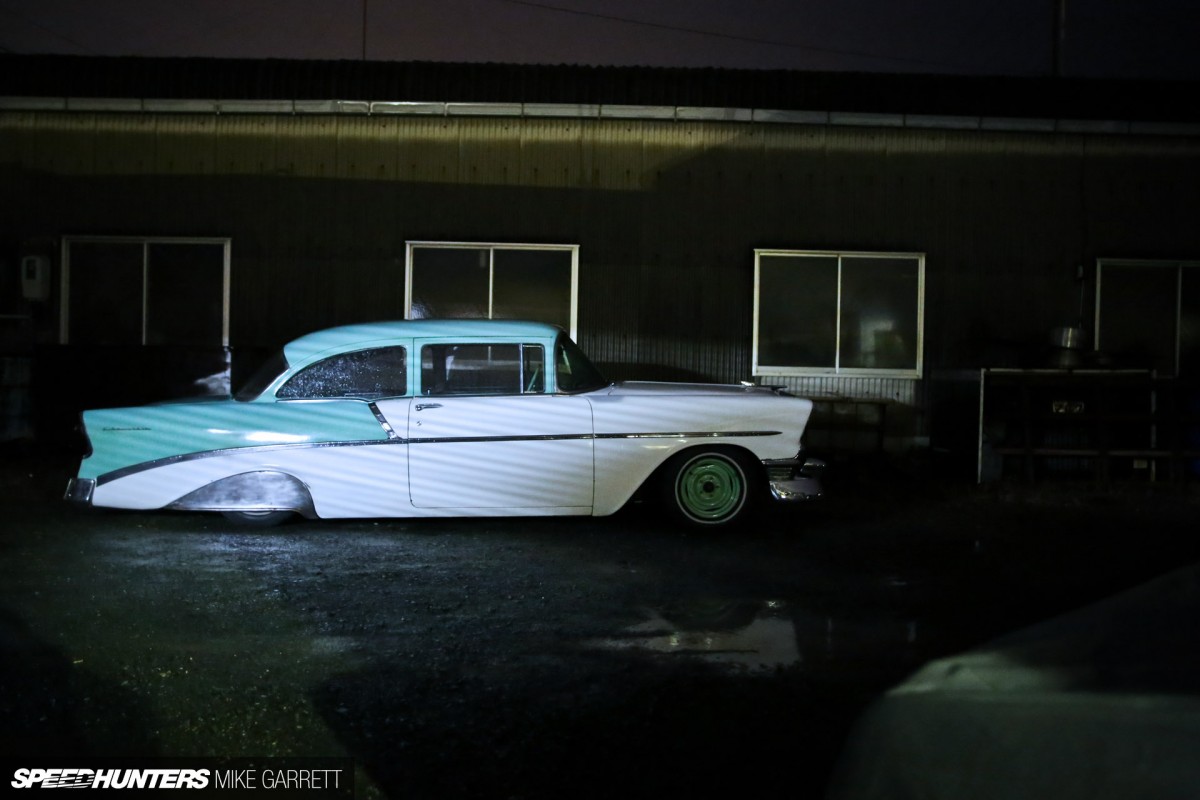 In another I spotted this '56 Chevy project car with two-tone paint and full fender skirts for a cool '50s custom look.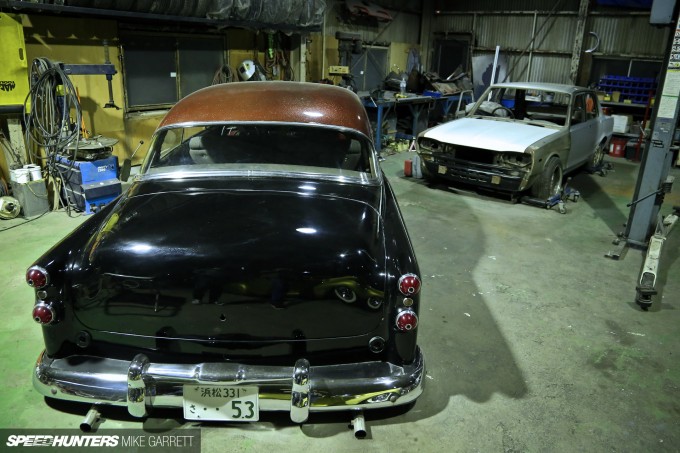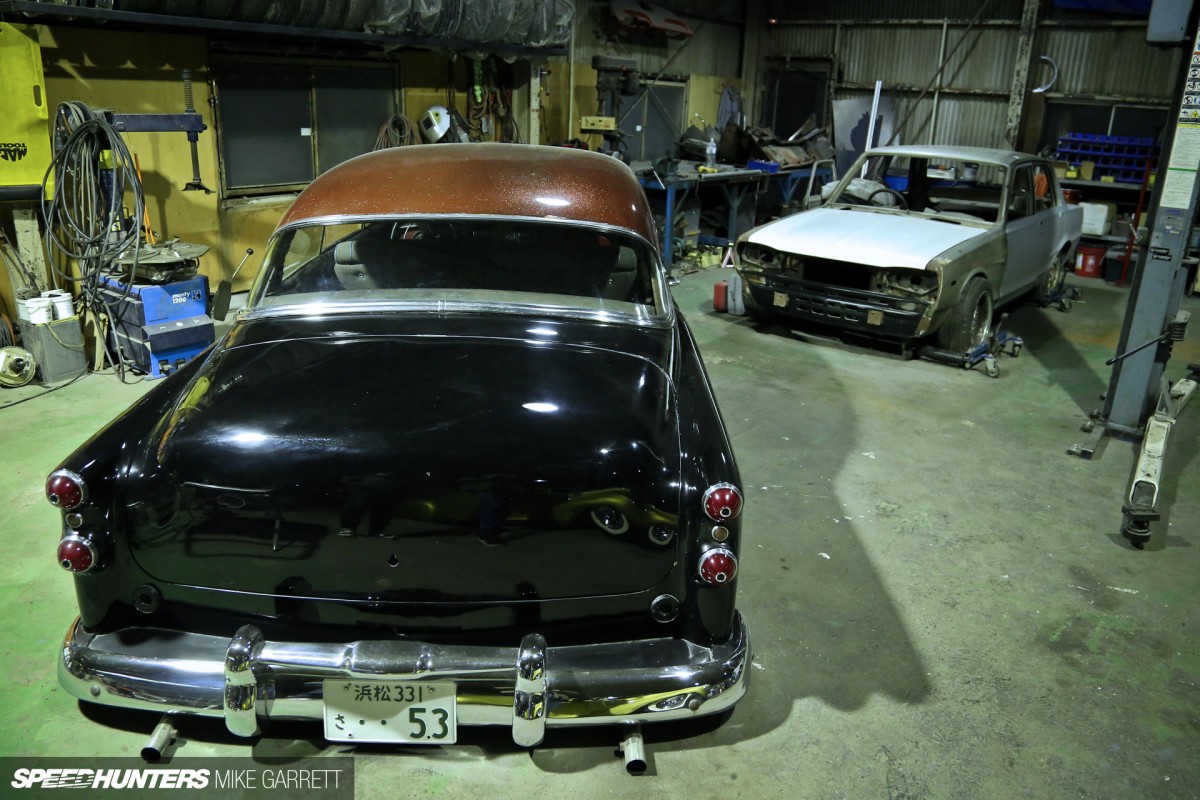 It was the same story when we headed inside to the (relative) warmth of the workshop. Here there were several different cars in various states of completion, but all of them were completely on the deck. You can consider Square Kustoms to be Aichi's Shakotan masters.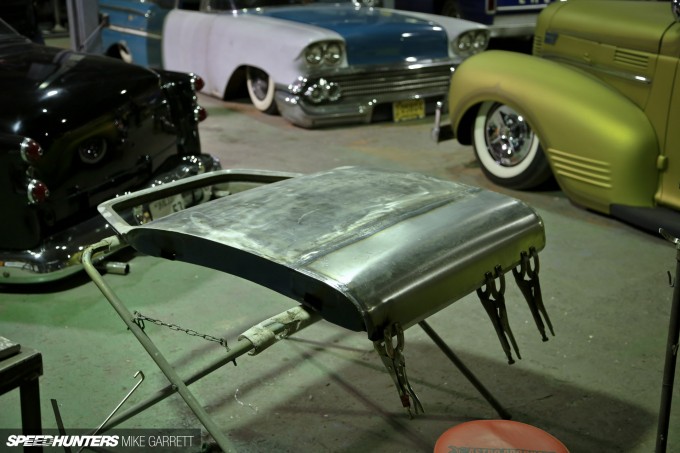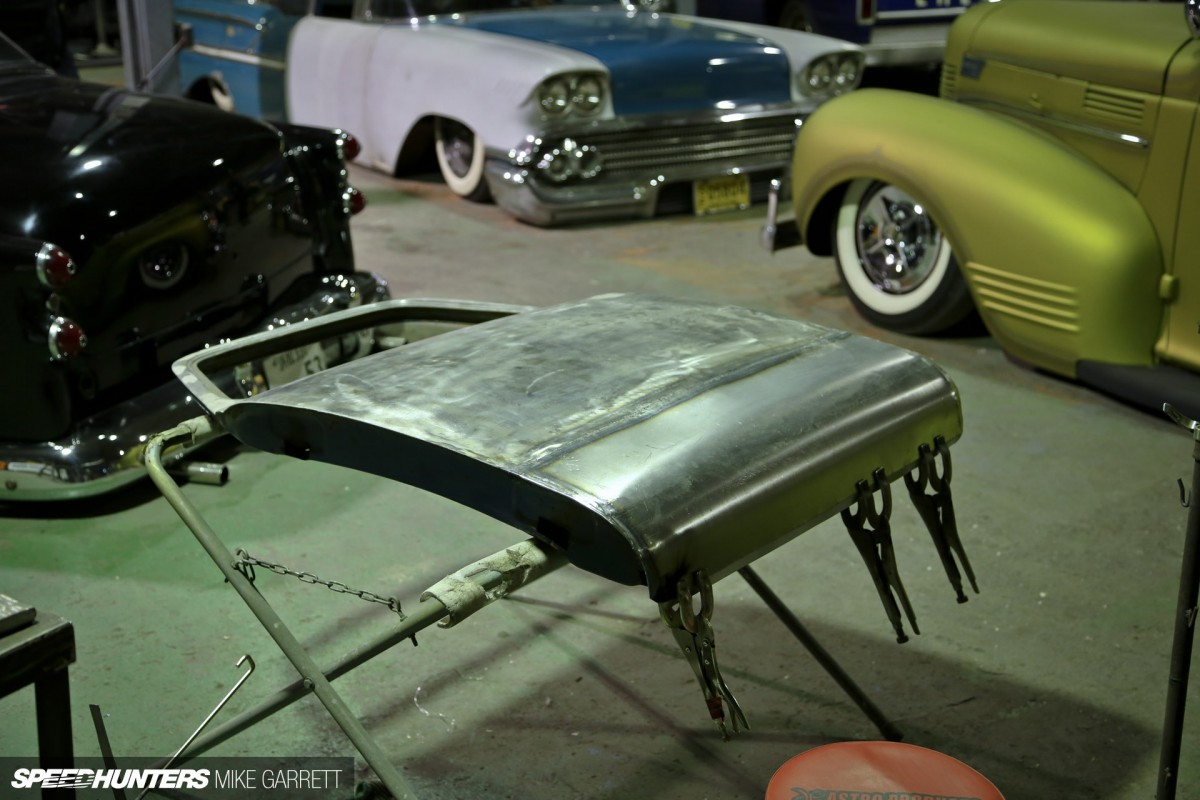 The shop does just about everything, but Square Kustoms' true specialty is metal crafting and fabrication, and more specifically custom chassis work. There was actually a lot about this place that reminded me of Stone Fab here in California – only I was on the other side of the world.
From Skyline To Bowtie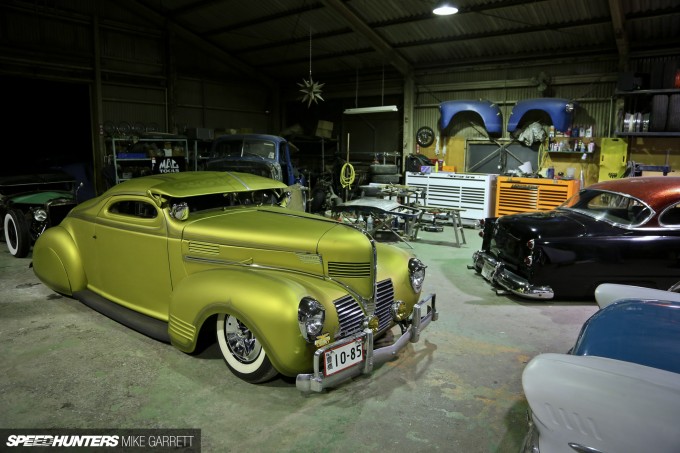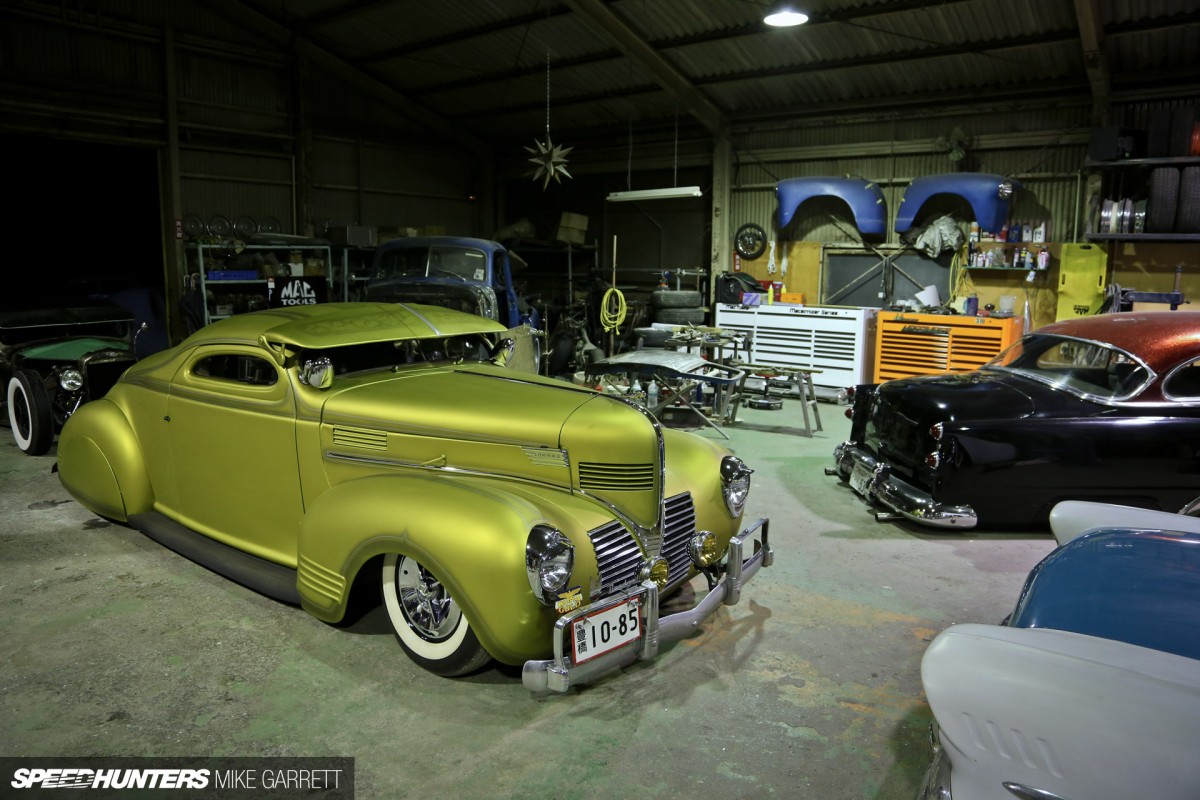 One of the centerpieces of the garage was this heavily modified Dodge, built like a radical version of a traditional custom. In typical Square Kustoms fashion, the old coupe has been fully channeled and dumped to the ground.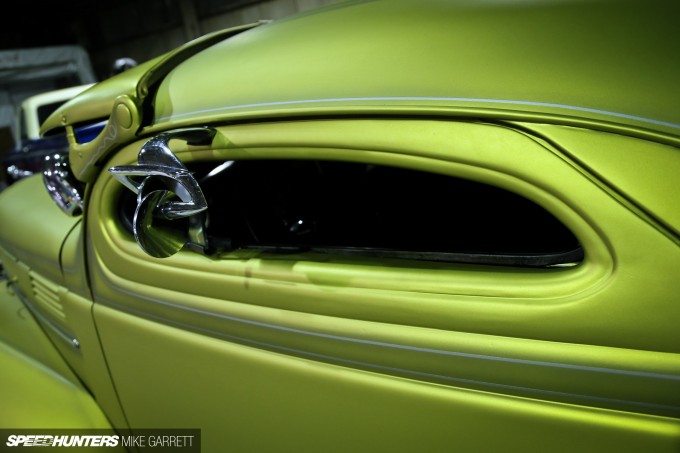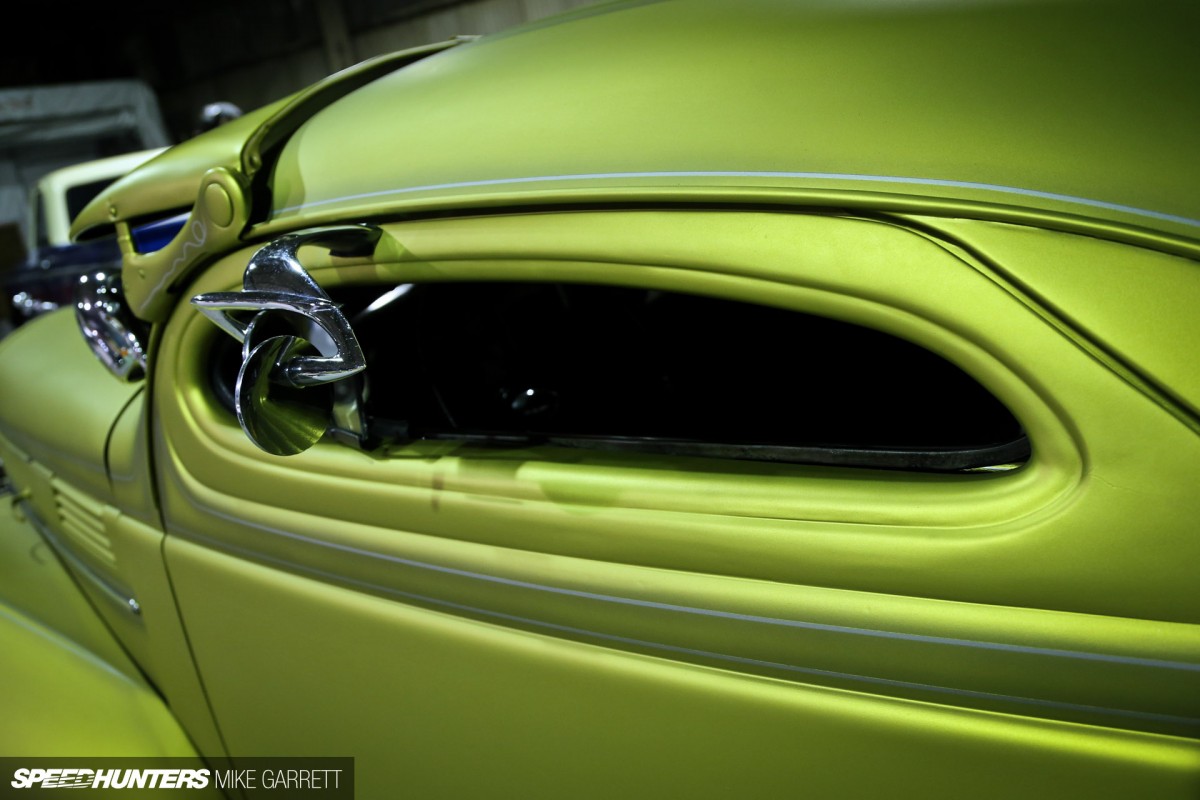 But that's just the beginning of it. The most outstanding feature on the car was easily the heavily chopped roof with gun slit windows and a sweeping fastback roofline. It's a nice testament to the type of work that Square Kustoms is known for.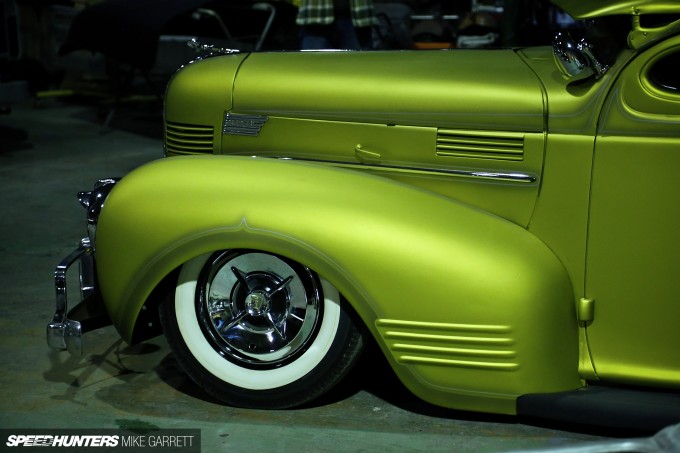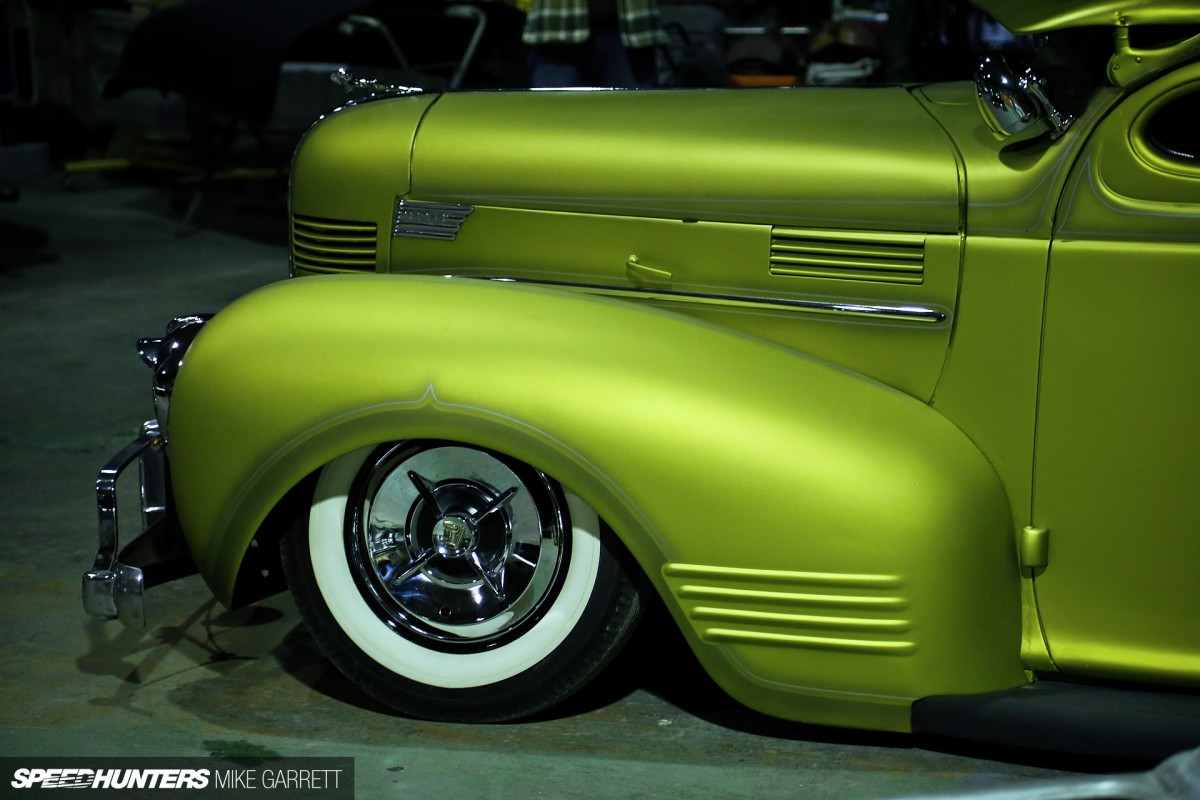 Then there's the paint job – brilliant matte gold with some subtle fading and striping around the body lines. A wicked piece of work no doubt.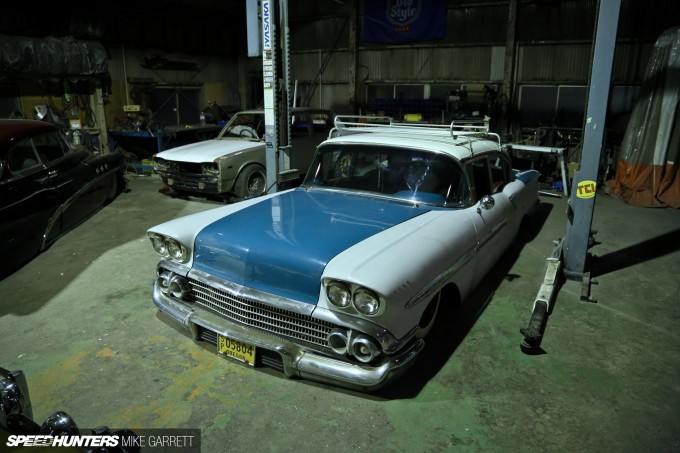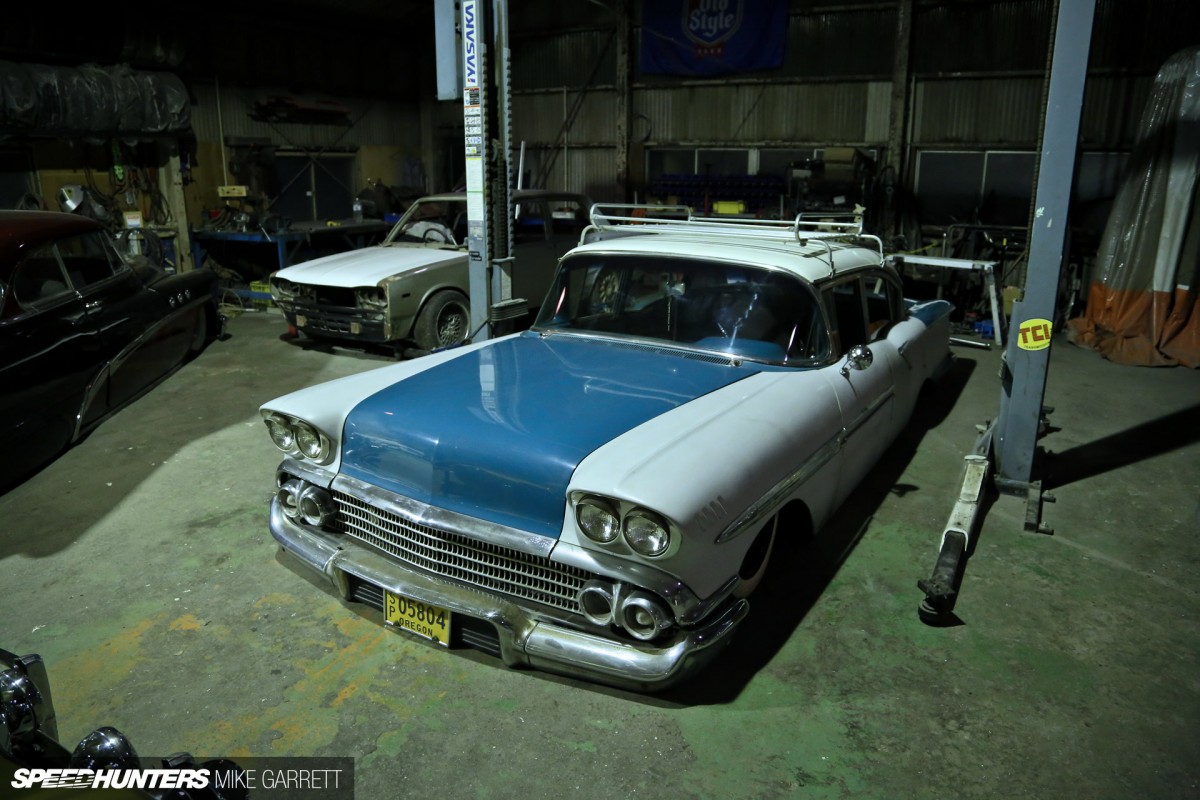 But as cool as the Dodge was, I actually found myself gravitating toward this '58 Chevrolet four-door. Sure, it wasn't nearly as polished as the Dodge, but I thought it was just as cool.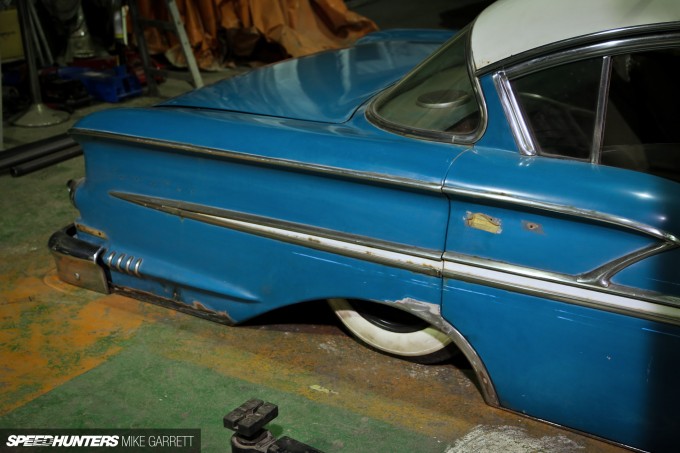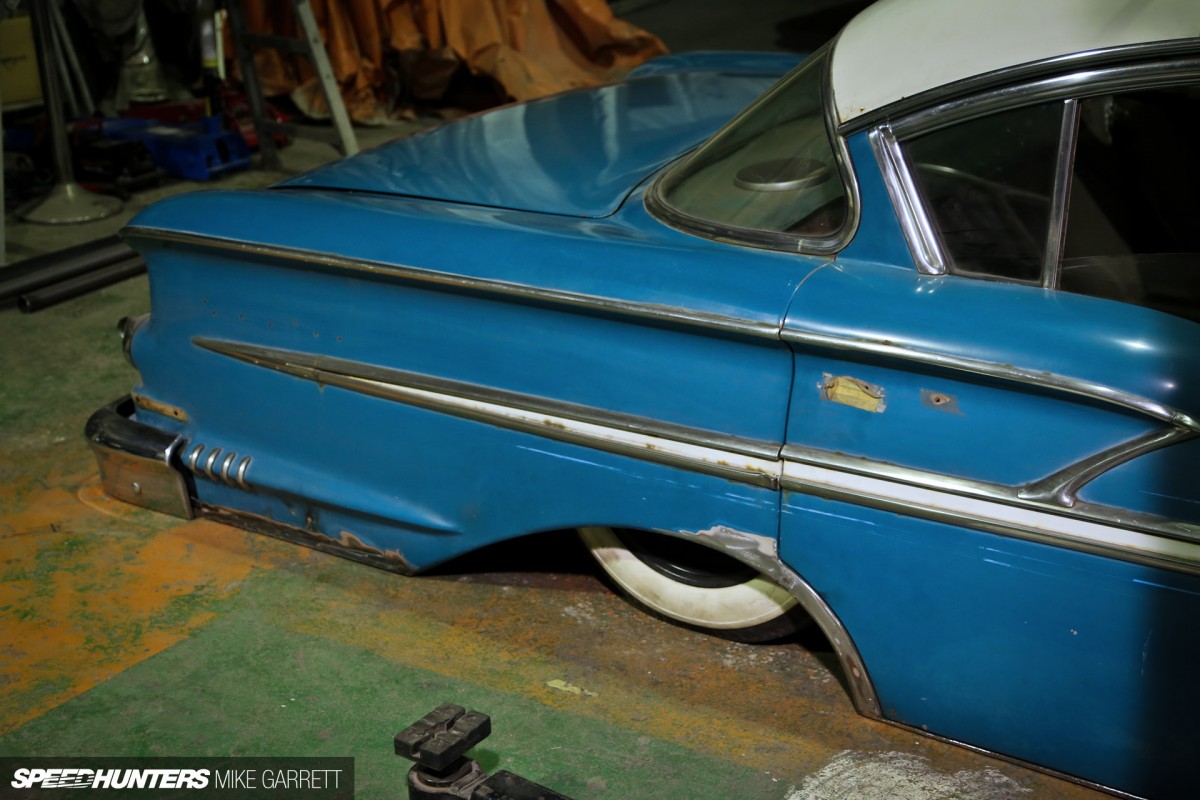 I've always had a thing for '58s, and with its stock body lines, ridiculously low ride height and a roof rack up top for good measure, there was just something so cool about this one.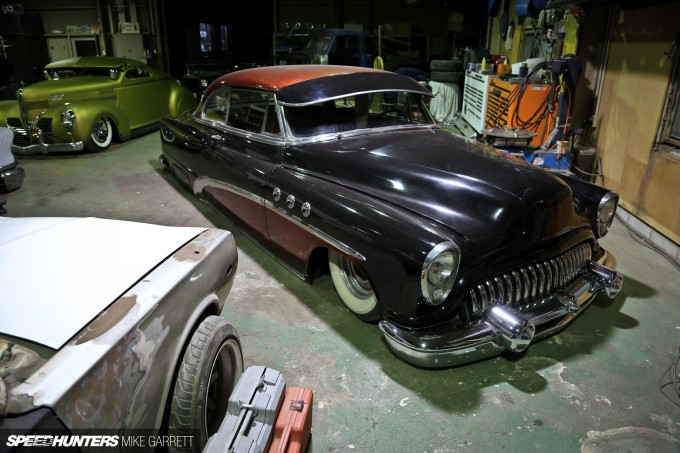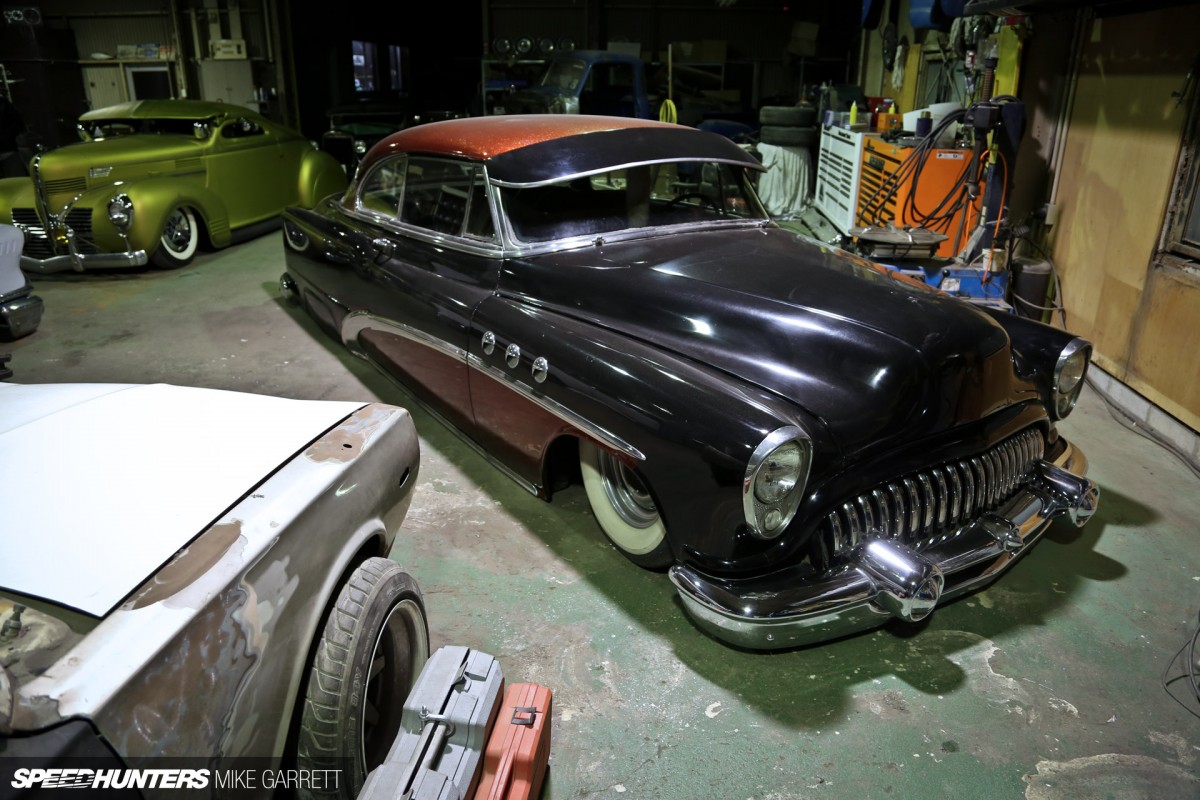 Check out this lovely black on red '53 Buick. This one's also been fully channeled and has a later model Chevy small block under the hood. And what's that peeking out in the bottom left corner?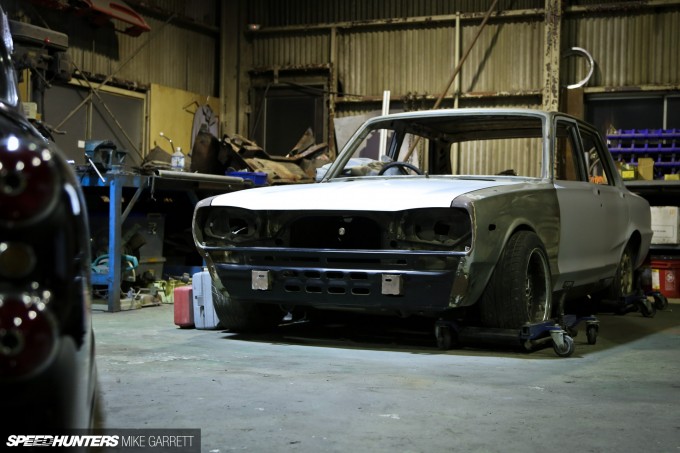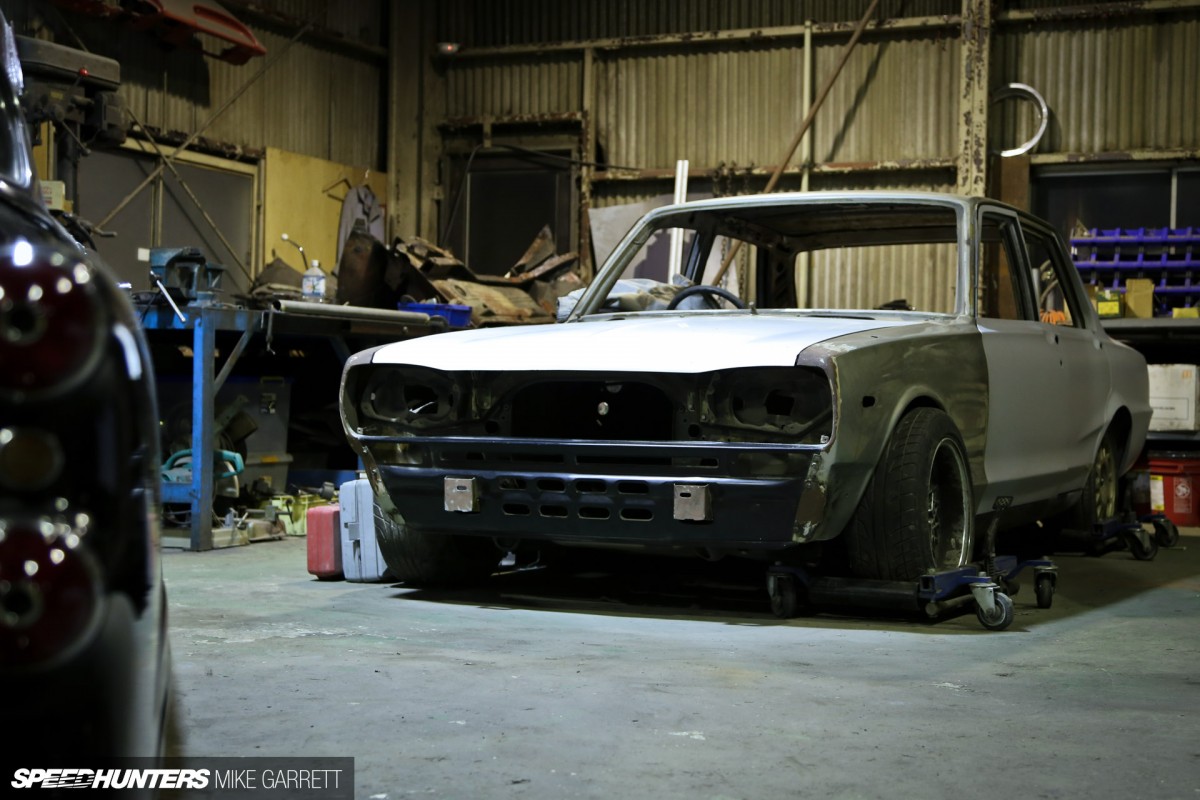 Yep, it's a Hakosuka Skyline – a customer-owned vehicle that was in the shop for some paint and body work.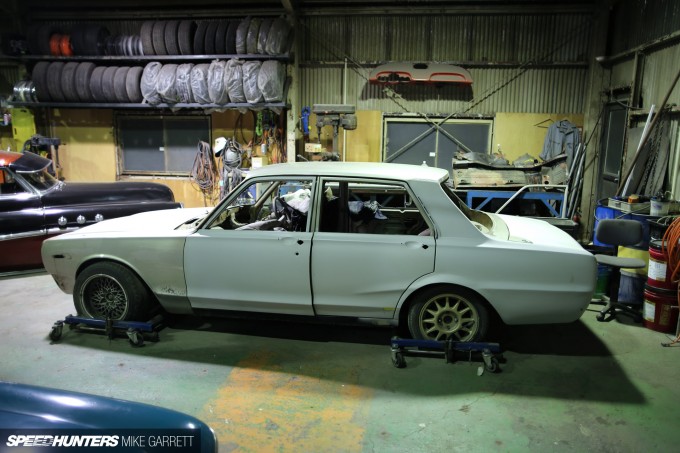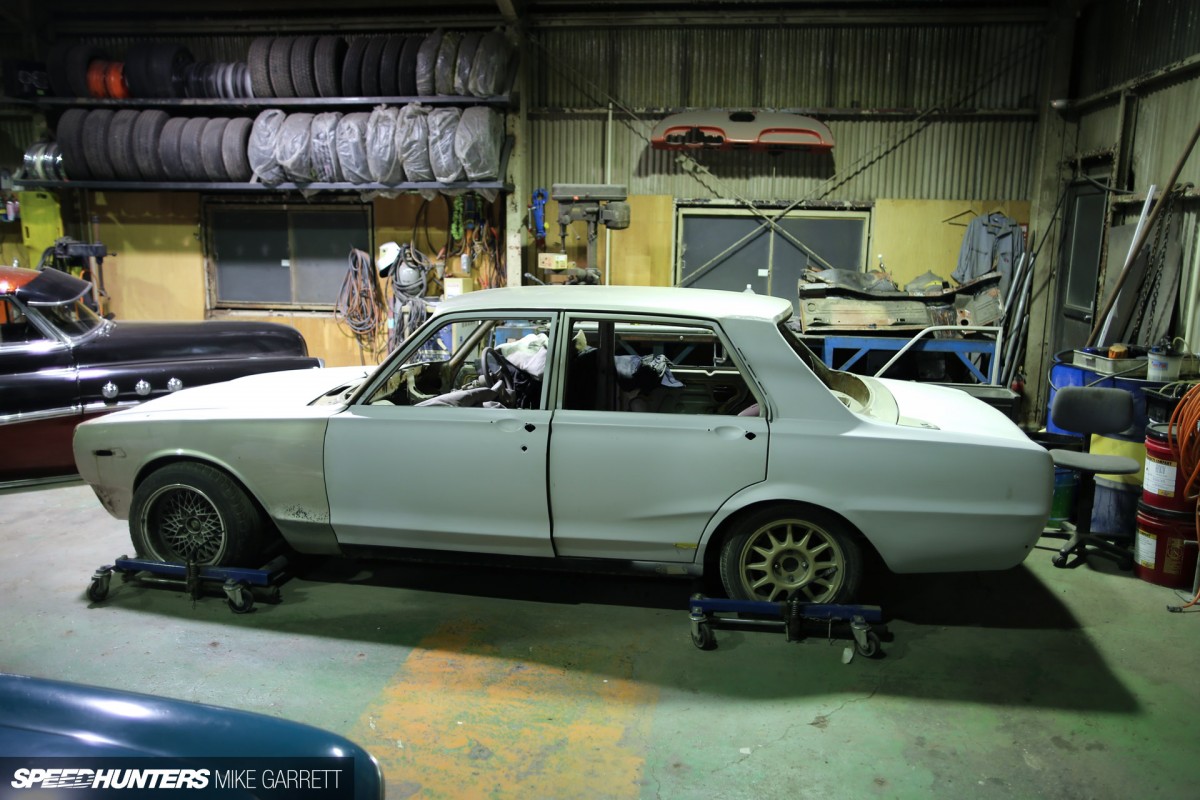 I've actually found out that a lot of these rod and custom guys drove Skylines, Zs and Laurels in their younger days, so it's not unusual to see the occasional domestic vehicle among the customized American imports.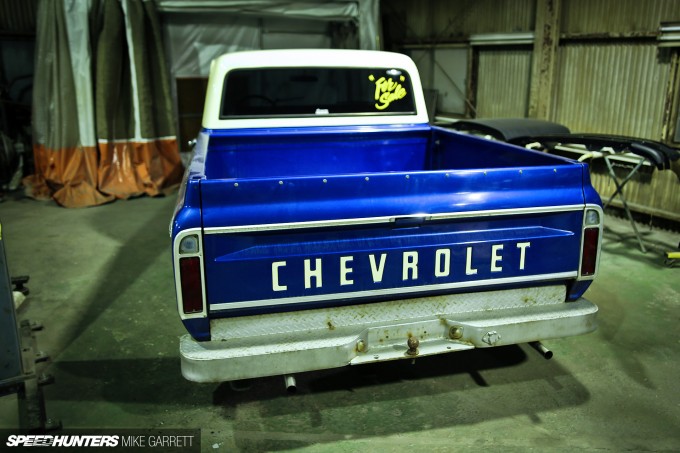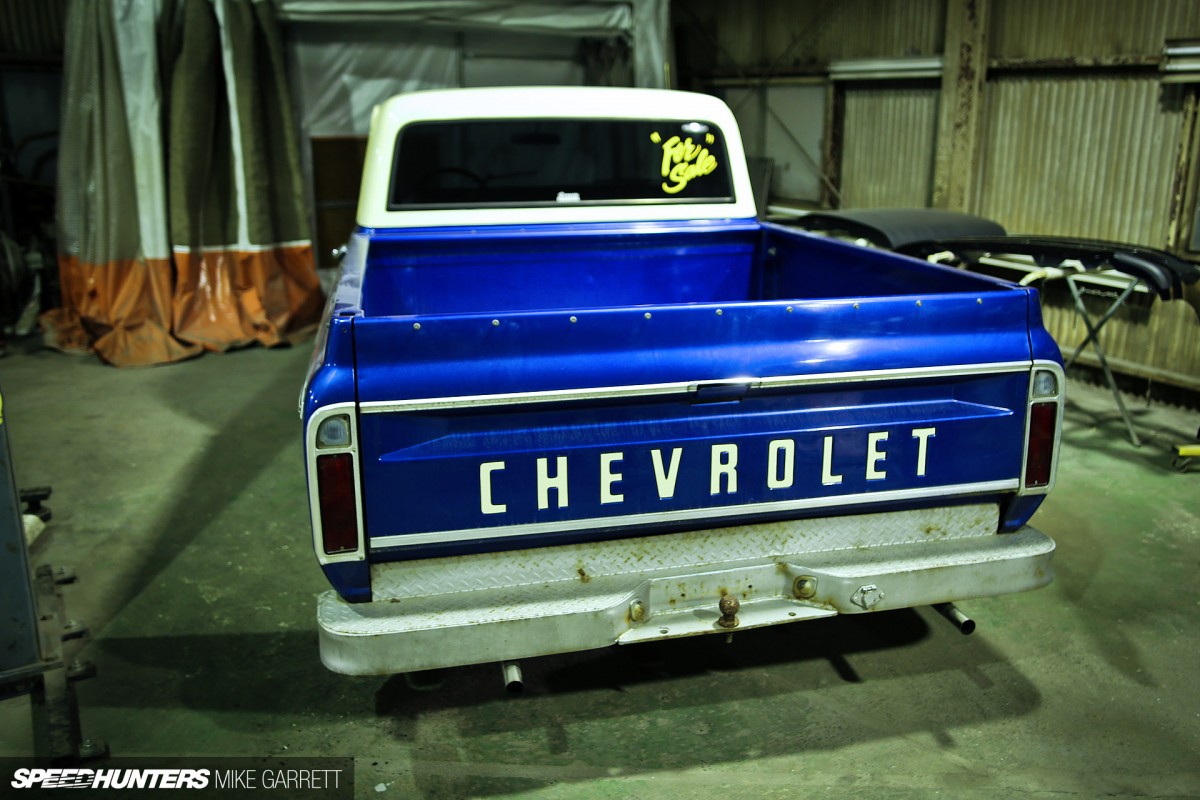 Here we have another C10 Chevy pickup which was easily the most factory-original vehicle I saw that night. I've got a feeling it won't be that way for long though…
A Little Night Cruise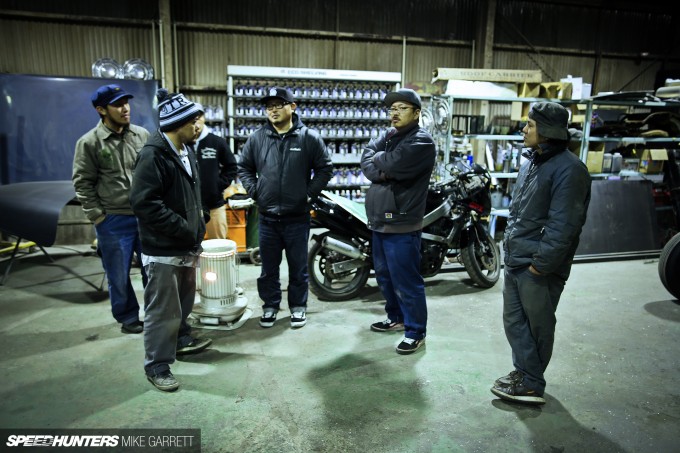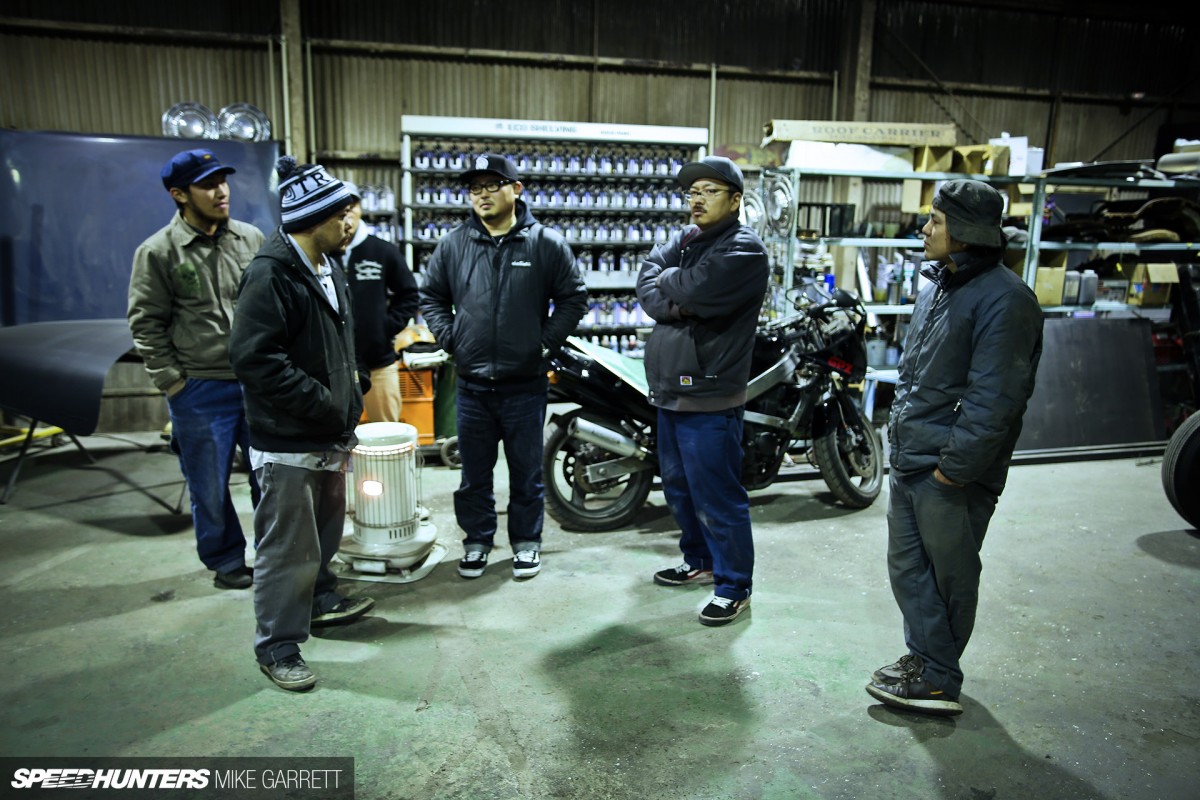 Here's a pretty common scene at any garage during the winter time – a group of guys standing around a space heater talking cars. These casual gatherings are something that happen often at Square Kustoms, which has become a popular gathering spot for local rodders around Toyohashi City.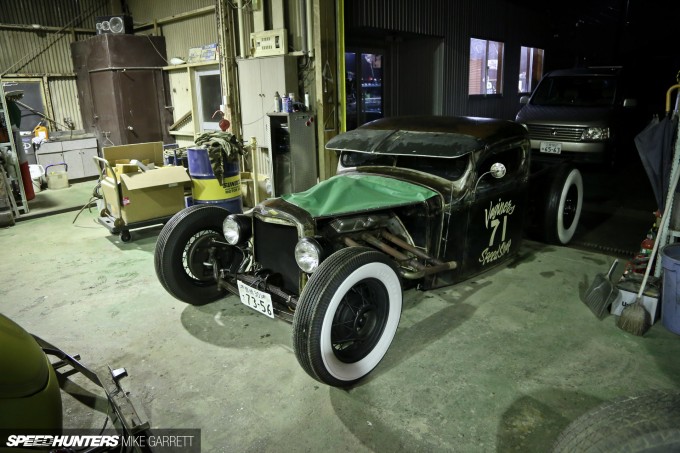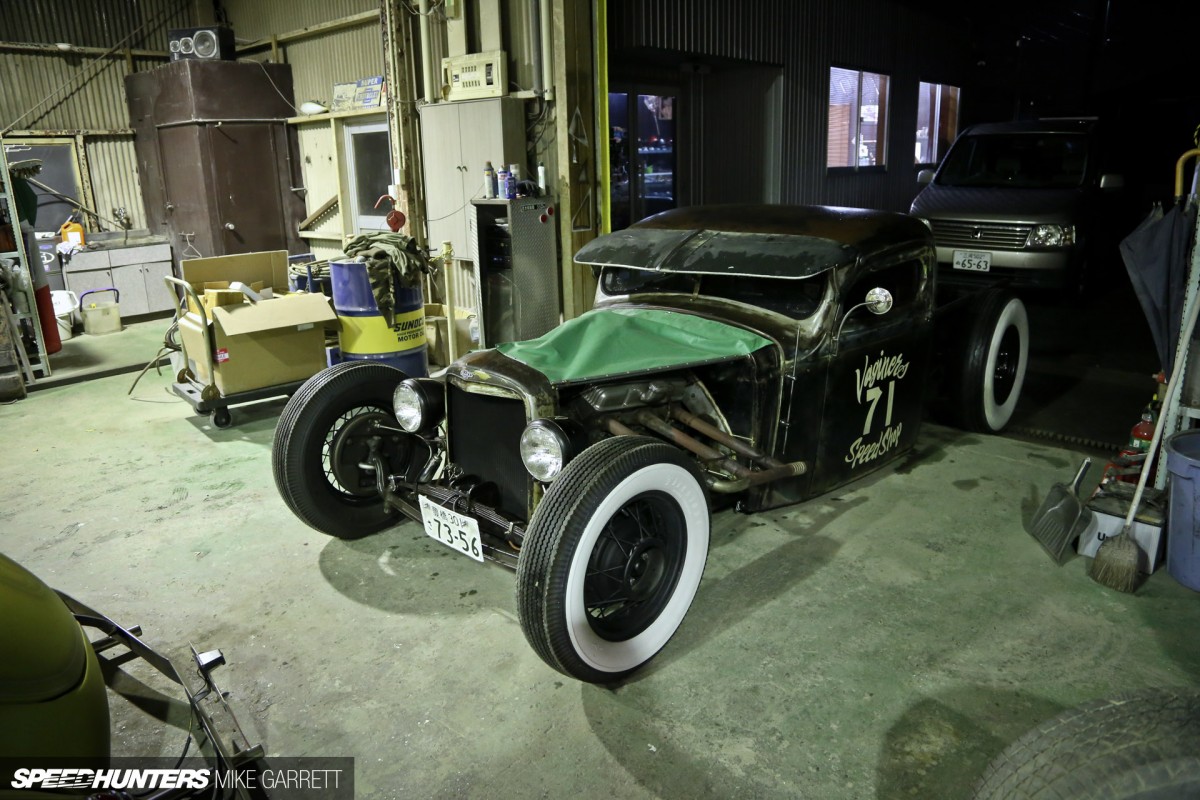 One guy that came to hang out was Takuya Oda, better known as 'Odachan'. His ride of choice was this patina-covered '34 Chevy pickup.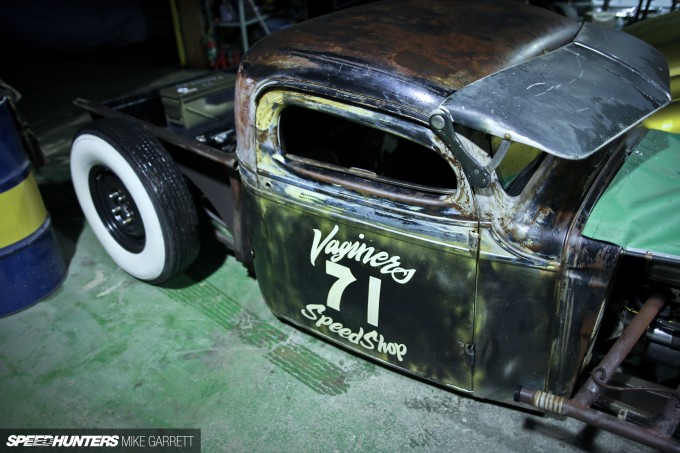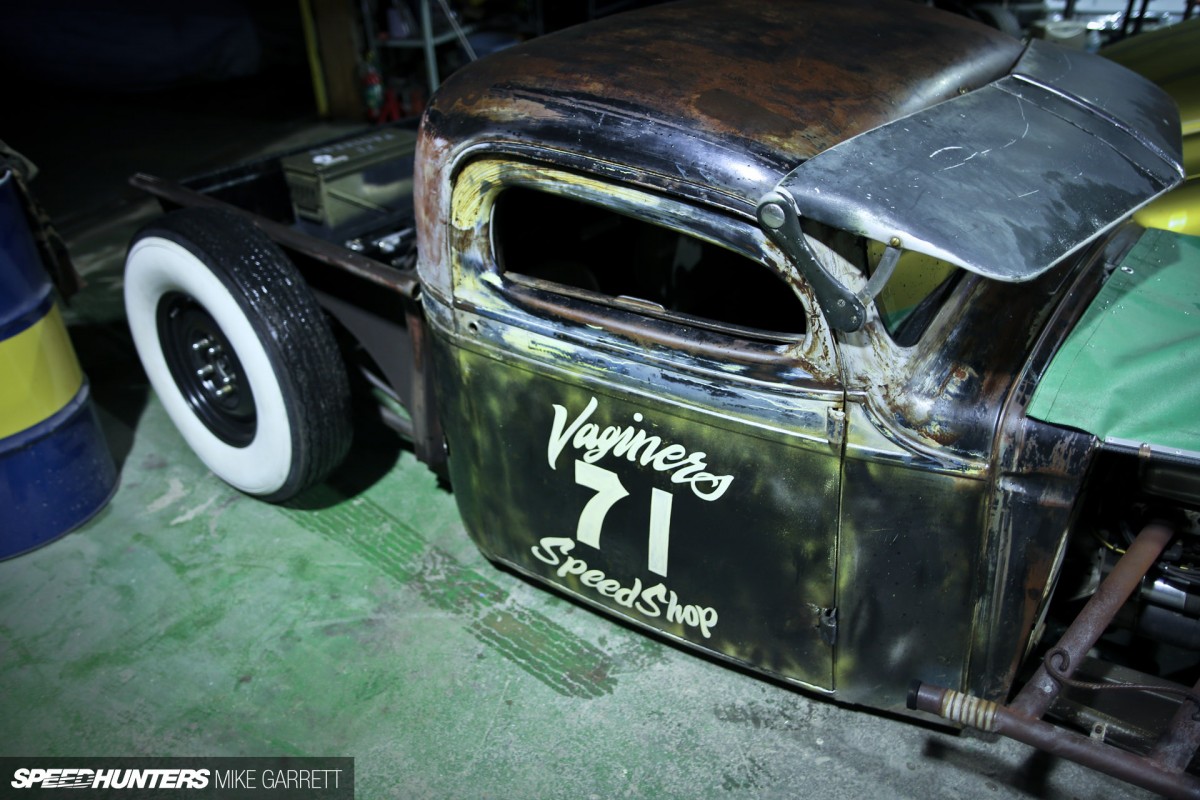 Sure, it might have been a rainy evening, but that didn't stop Odachan from bringing out his radical truck. Who needs windshield wipers or a hood anyway?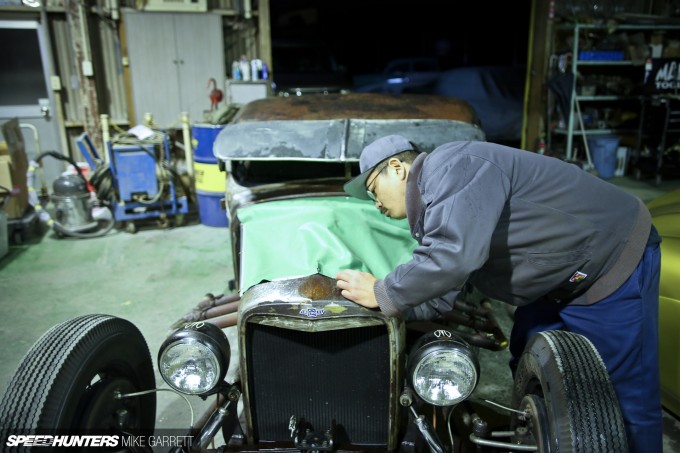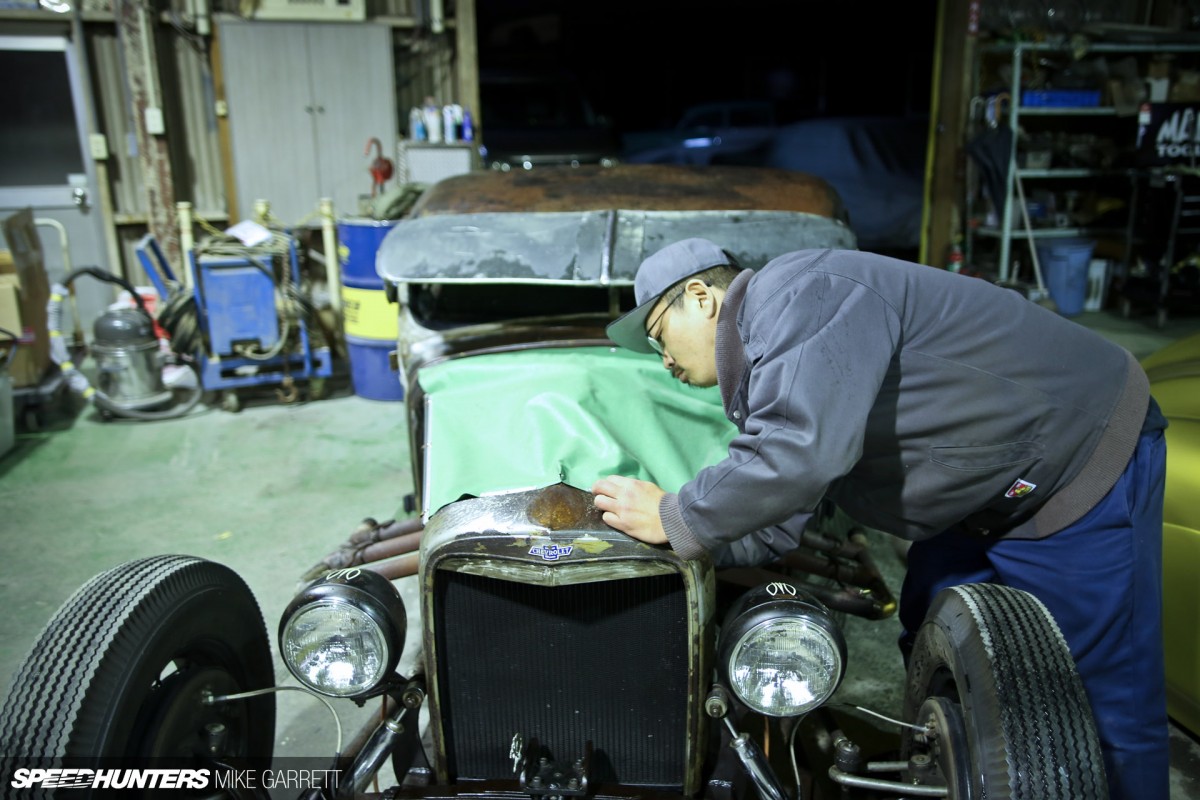 He did have a makeshift cover to help keep water out of the engine bay, although his buddies were calling him a wimp and telling him to take it off because it didn't look cool. Nothing like some friendly jabbing.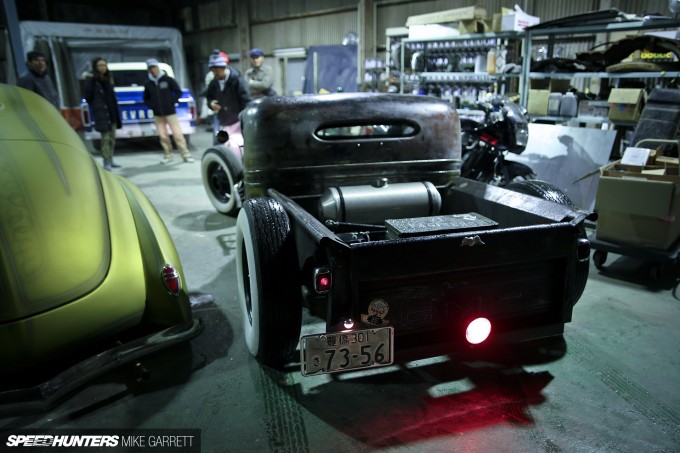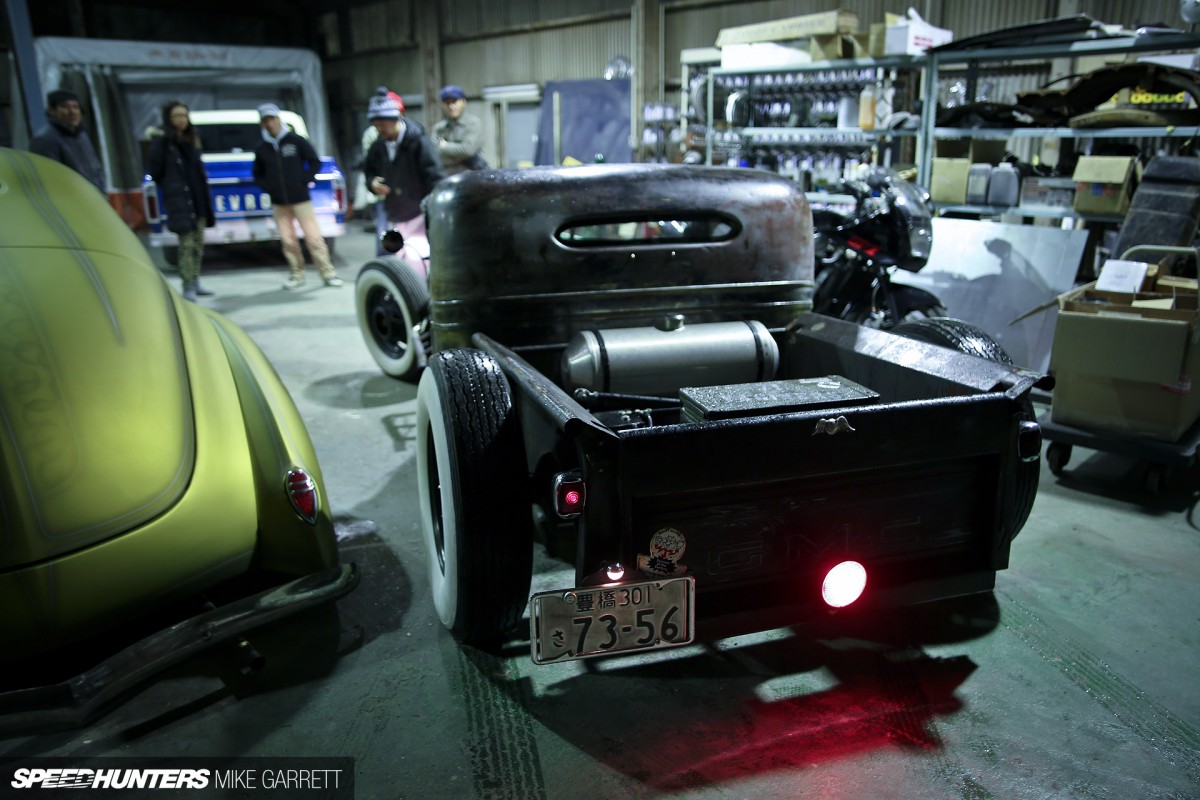 Engine cover or not, we decided that we'd go and get some shots of Odachan rolling around town. The old small block rumbled to life, we said goodbye to Hosoda-san and the rest of Square crew and headed out into the night.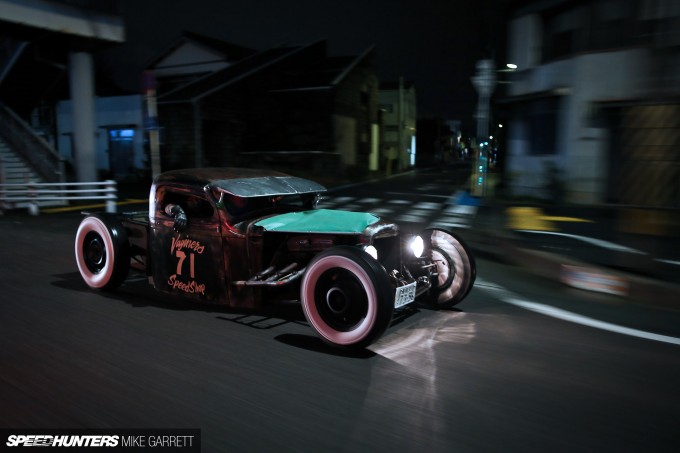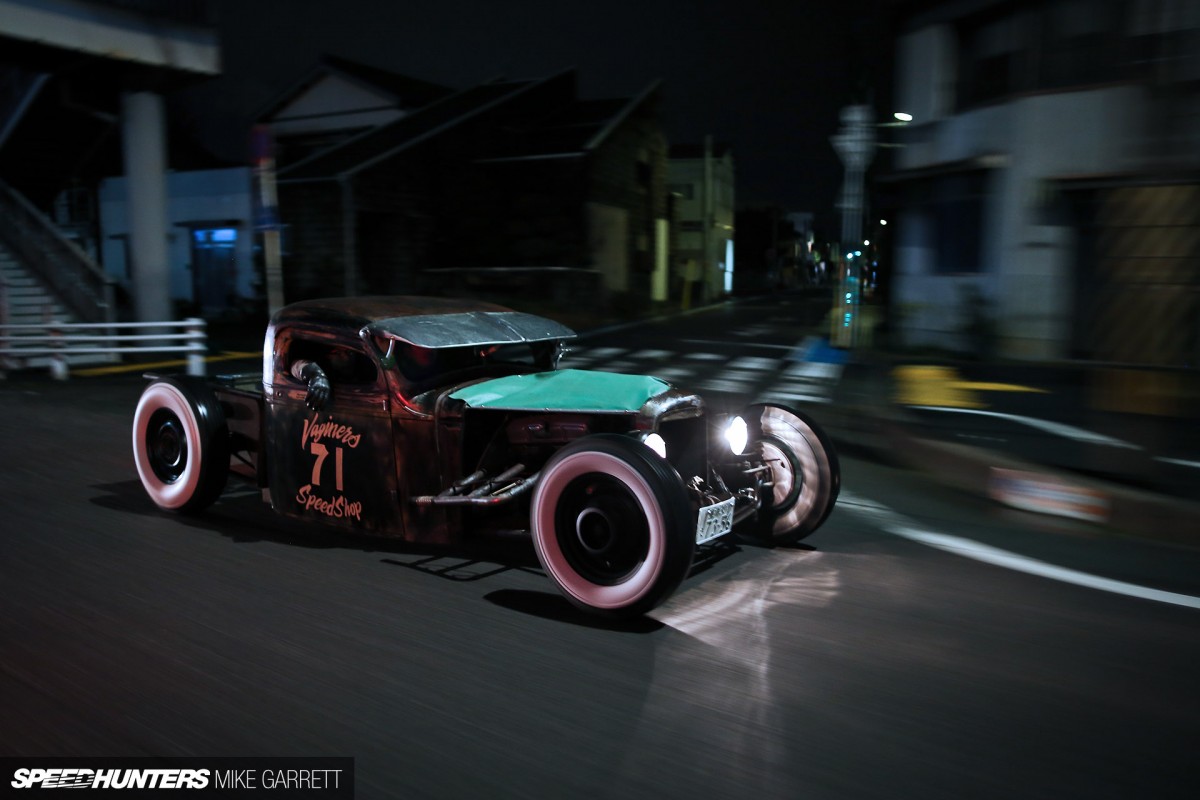 Out on the road, the '34 looked absolutely boss as it navigated through town with its open headers expelling an ear-busting symphony of V8 music.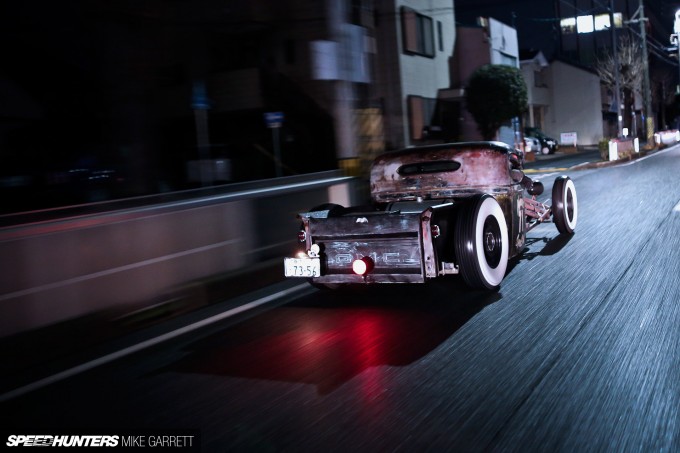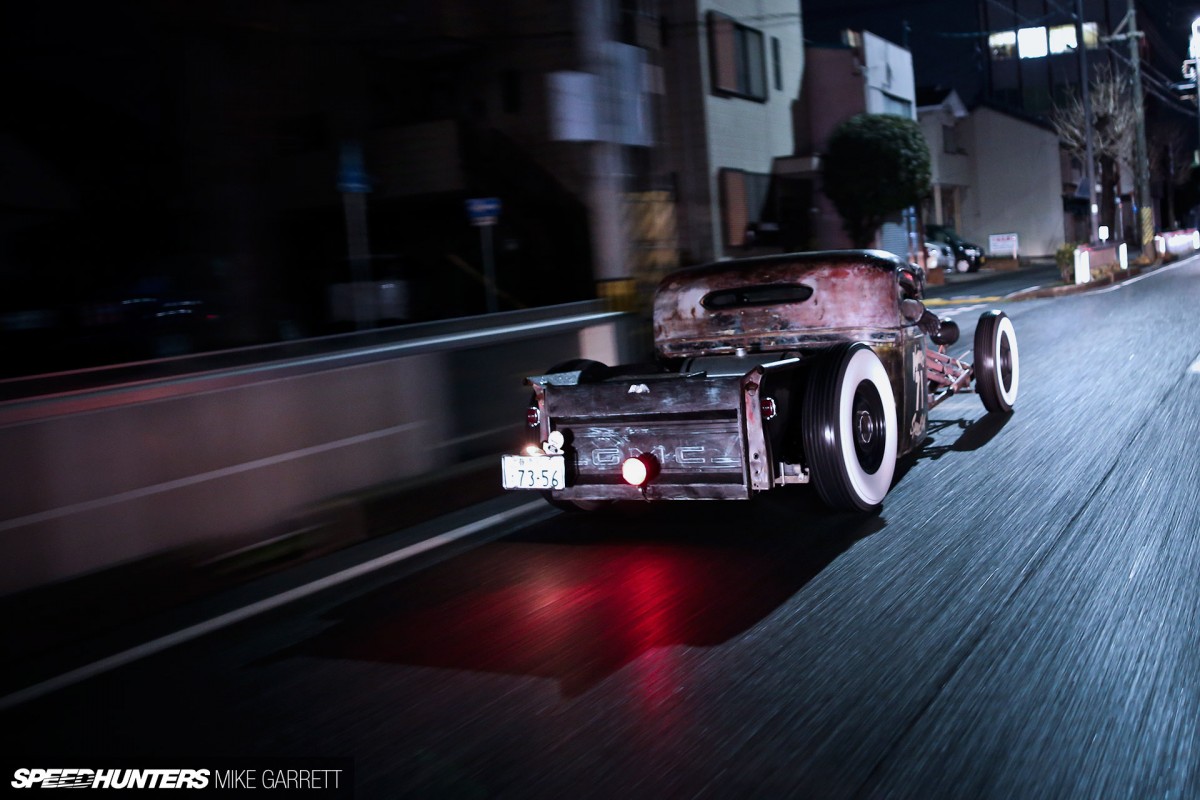 By this point the rain had stopped, but the slick streets made for a more dramatic look as the pickup rolled past apartment buildings and convenience stores.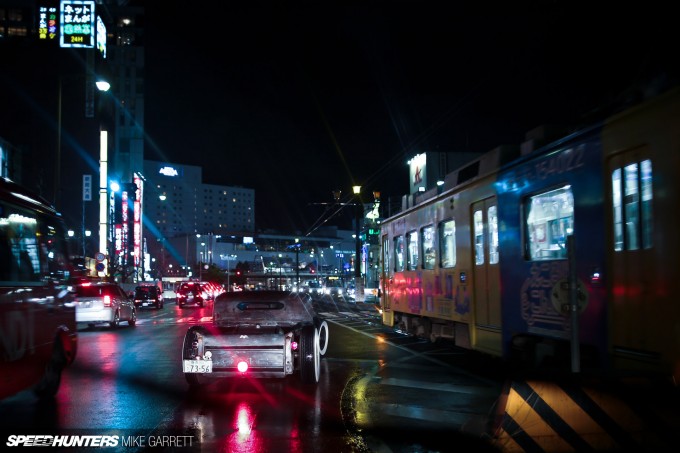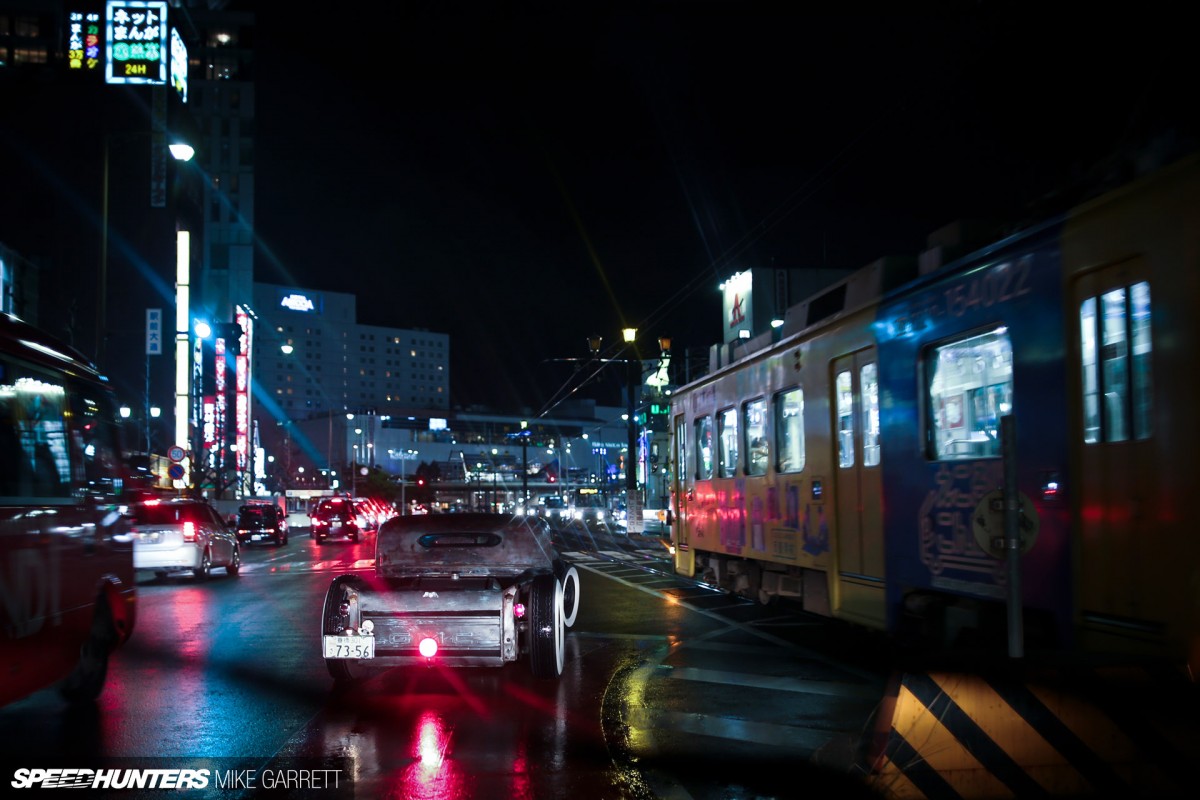 It was certainly a wild sight to see the slammed Chevy making its way through the lanes of kei cars and buses in the middle of the city. There were even street cars running down the middle of the road which made the whole thing even more surreal.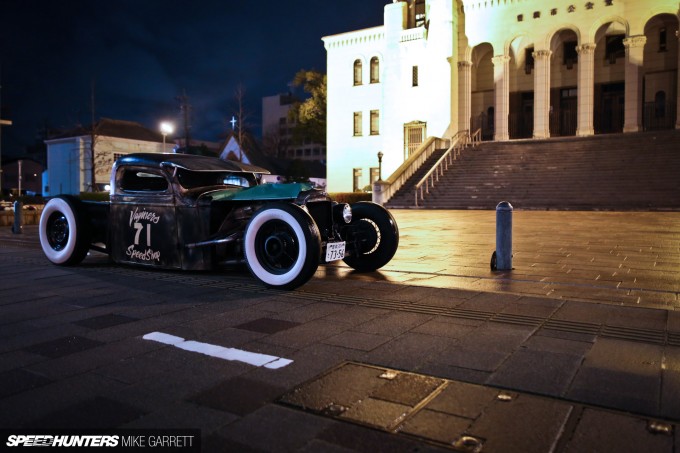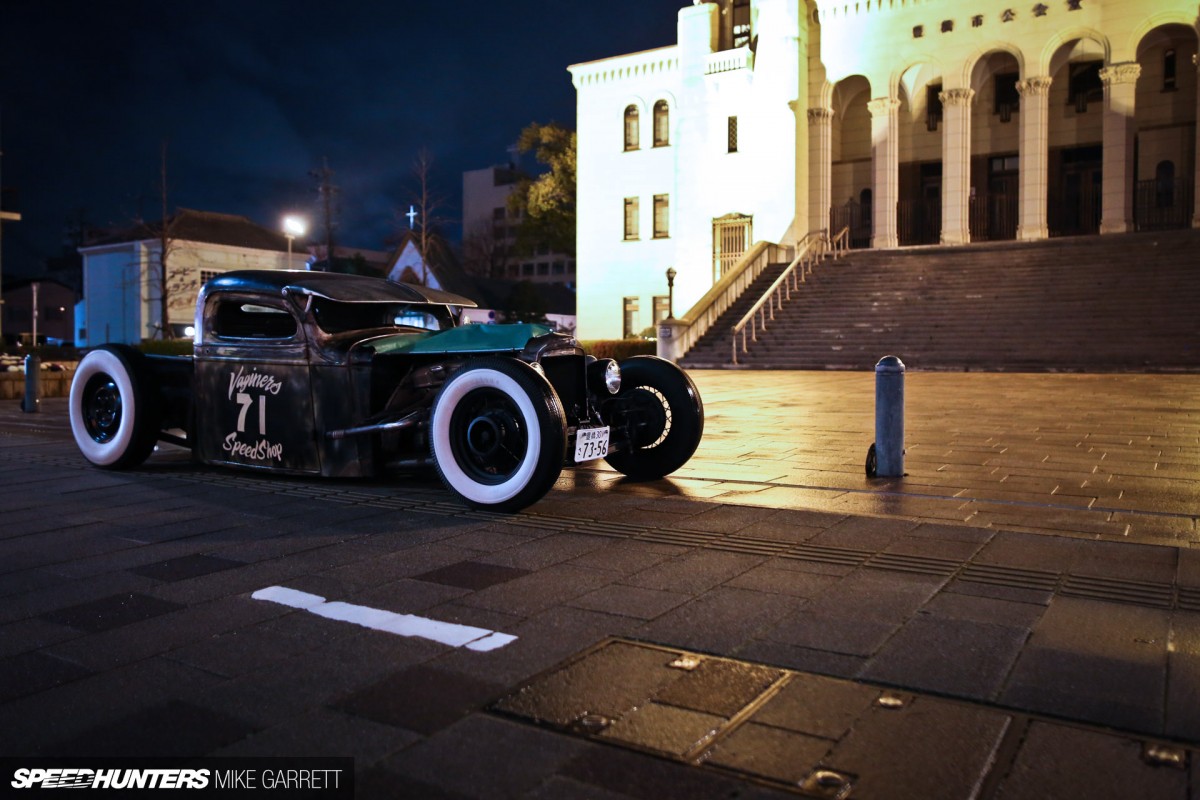 After cruising around for a bit longer, we pulled off the side of the road to grab a few more shots. Odachan actually got rid of the '34 pickup recently to get something a bit more practical – a slammed and shaved '51 Chevy.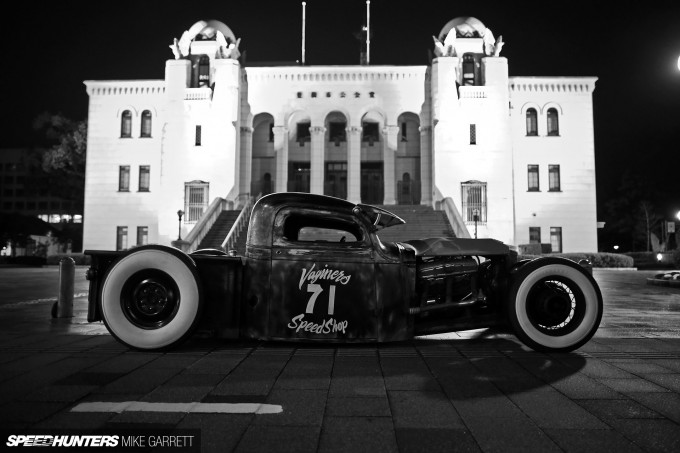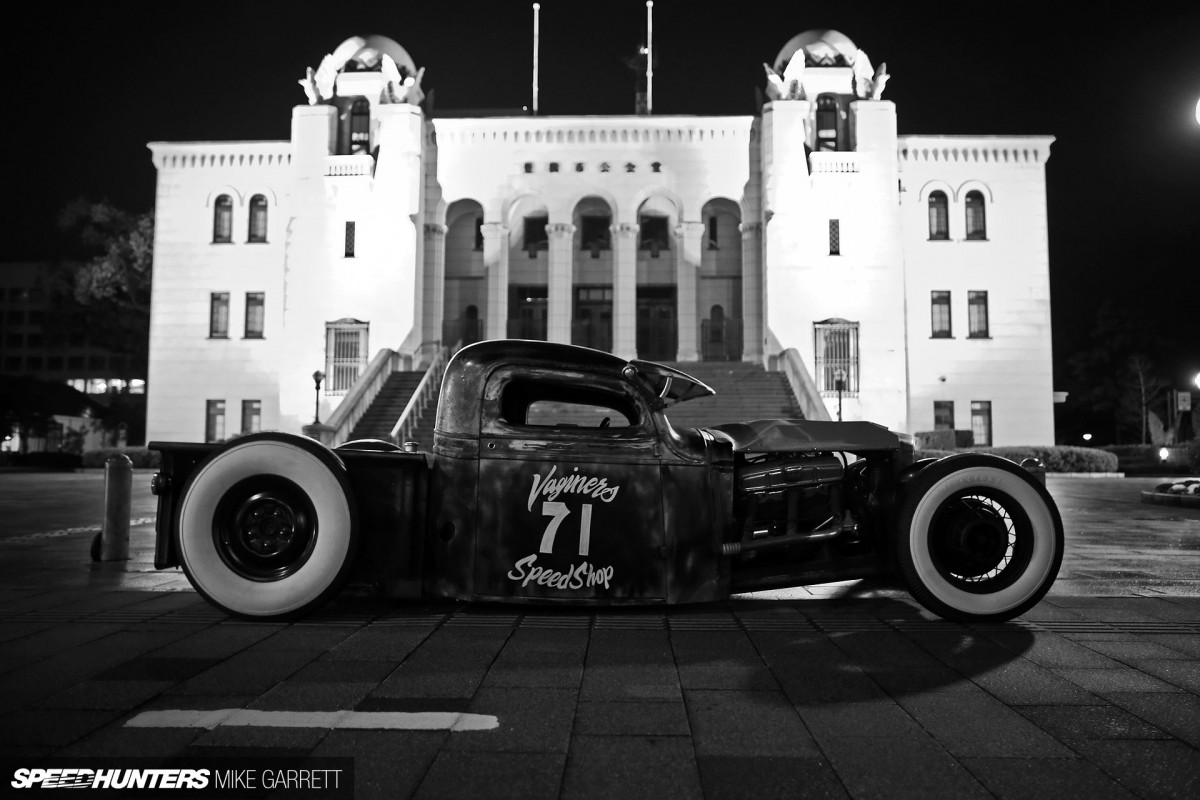 I snapped a few more pictures, and then we said goodbye to Odachan and hopped in the van to head to our next destination – the Kaido Racer rendezvous I chronicled last month.
Rat rods, slammed lead sleds and kyusha all within the span of a couple of hours. Just another night in the magical land that is Japan…
A big thanks go to Hosoda-san, Odachan and the rest of the Square Kustoms crew for their accommodations on this cold, but very memorable evening.
Mike Garrett
Instagram: speedhunters_mike
mike@speedhunters.com
More stories from Japan on Speedhunters
Cutting Room Floor