Golf Soul, Civic Type R Power
Hello Speedhunting friends. As promised, here's the next installment of our Kleers Golf build story – and I have so much to tell you since my first post. Although I introduced you to both the cars and the project last month, there were some details I decided to omit. Well, sort of anyway, because although I didn't mention them directly, there were clues in the pictures that pointed to a pretty major aspect of the build.
So, before you continue to read this installment, maybe you should go back and visit the introduction post. See how many clues you can spot and then come back here and see if you are correct!
To recap on the build – we are building a one-off Golf that will be used for a number of things in 2015 and beyond, including a role as a track-ready Speedhunters x Kleers x KM4SH camera car. It's being built in the UK and we have thrown away most of the sensible and easy ideas in favour of some mental ones. Here we go then…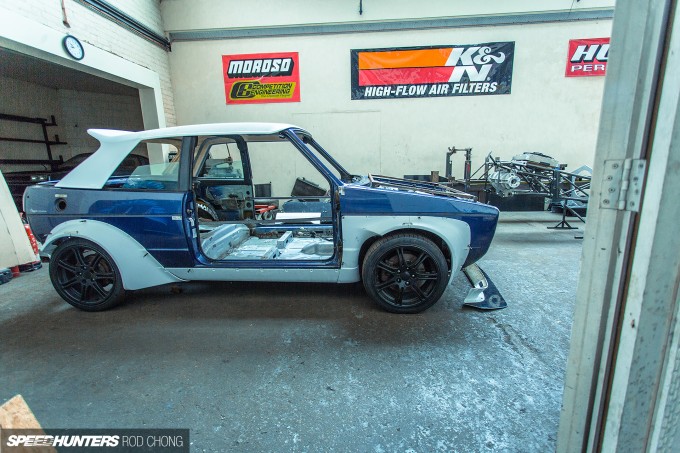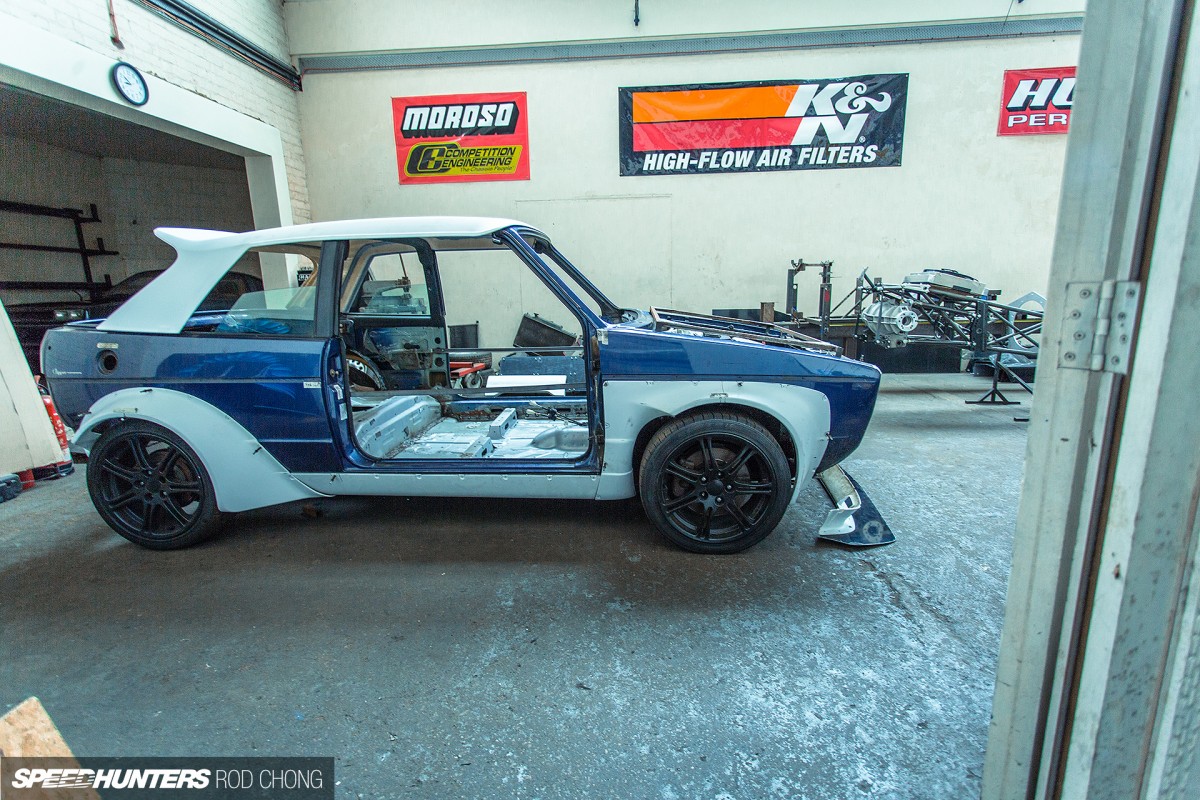 So as you can see from this picture, the aero kit has been test fitted for now and we can finally see the major lines of the car coming to life – including the hard top roof, which when this picture was taken, was just sat on the car awaiting some fabrication work. Now, if you know your cars you'll see that the wheels on our little Golf have come straight from the EP3 Honda Civic Type R. If you look closely though, you may see the crucial part of this project that I purposely left out last time. Can you spot it? Let's come back to that in a moment…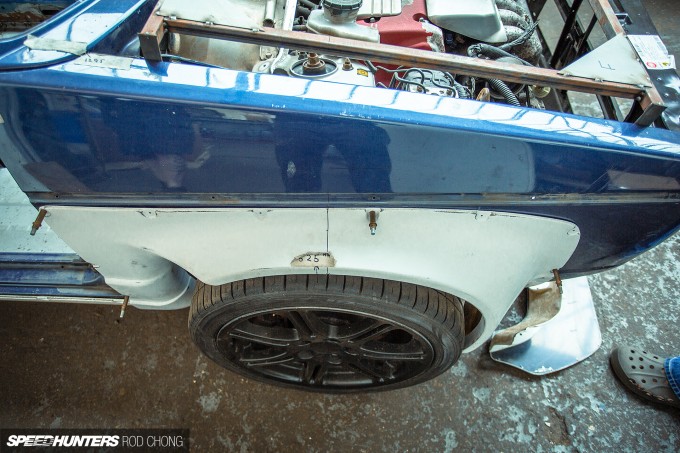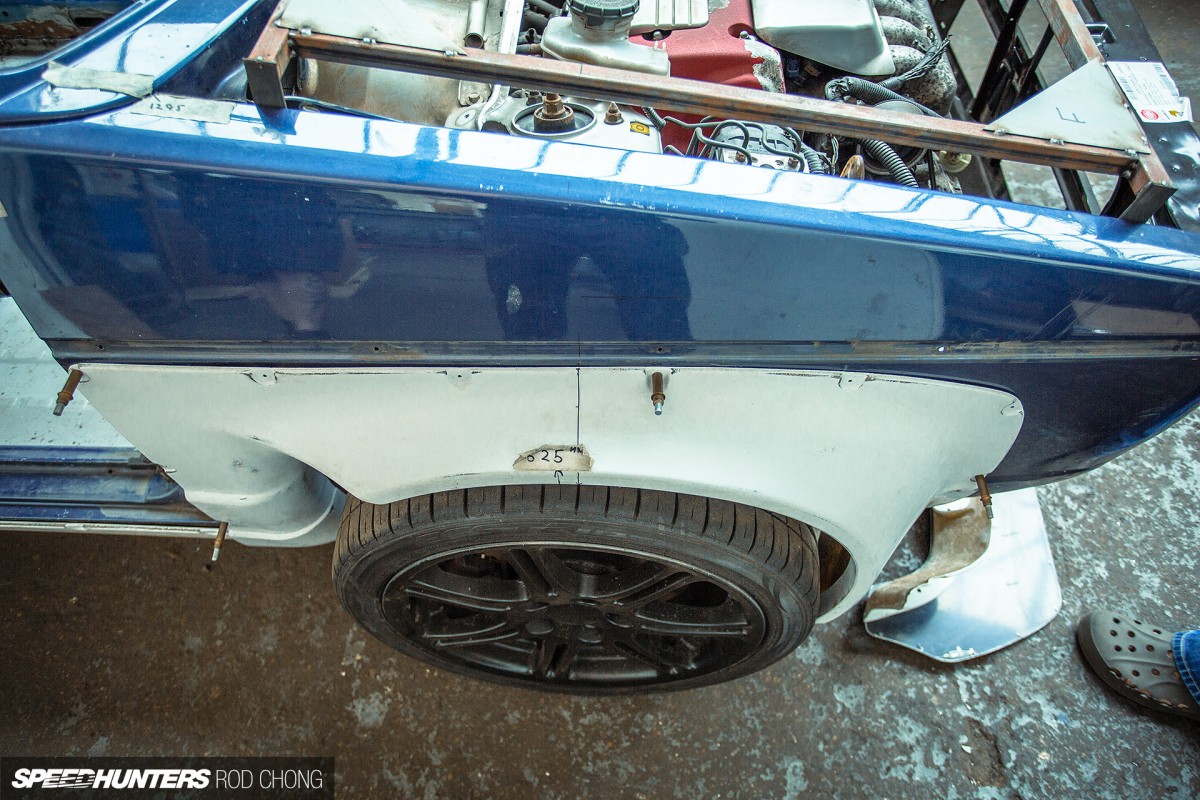 The KM4SH kit is a chunk wider than the original Golf body, which means that we are able to run a much wider track on the car. That's a good thing considering we are keeping it front-wheel drive and it will have in excess of 600hp when complete. The front wings of the Golf needed some prep-work before the over-fenders could be fitted – specifically the area just behind the front wheels. It required the removal of some of the original panel, but I'd certainly call it a DIY job you could tackle yourself with a bit of spare time and some basic tools. You can also see a centre-line mark on the fenders from all the measuring and remeasuring that's been going on. Measuring is playing a major role in this project. If you know your VWs, something in the engine beyond the tell-tale red cam cover must be troubling you by now…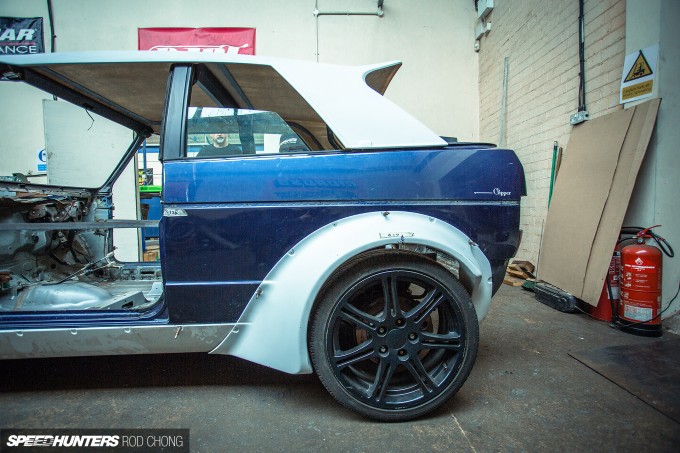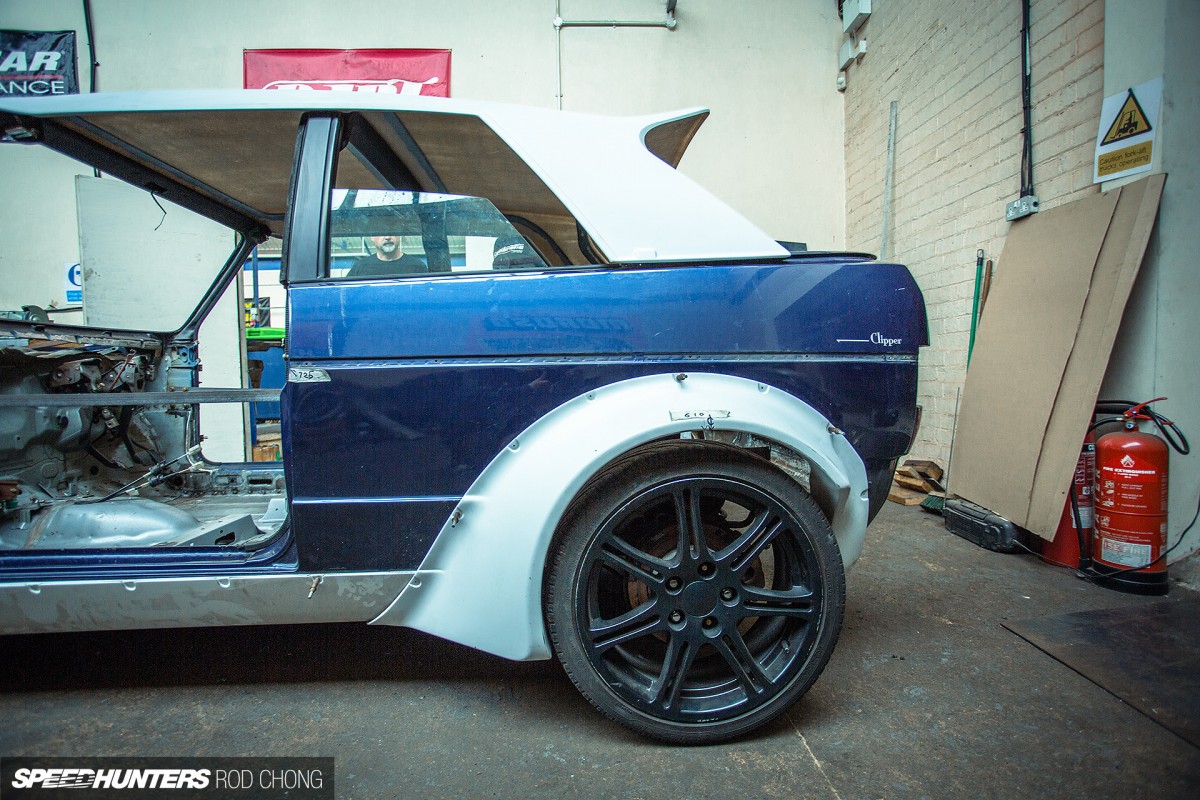 At the rear end the kit and the side skirts were a near-perfect fit. We have a little bit of bodywork to adjust to make it absolutely spot-on, but considering it just bolted on first time, I was quite happy. While I had seen renders of the aero before it was physically made, now seeing it on the car my favourite part so far is the side skirt sections. They're very simple and when painted it's going to be hard to notice them as they are certainly not as aggressive as rest of the kit, that's for sure. The roof went straight on out-of-the-box, but as we are chopping around a lot of the rear end of the car we are fabricating special sections to ensure we can bolt it down firmly and also remove it with ease. The car is completely jacked up off the floor in this picture and I can't wait to see it sat at its intended track-friendly ride height. Just for the record, there will be no tucking of wheels or tyres and no air as this car will be hitting the track – and hitting it hard.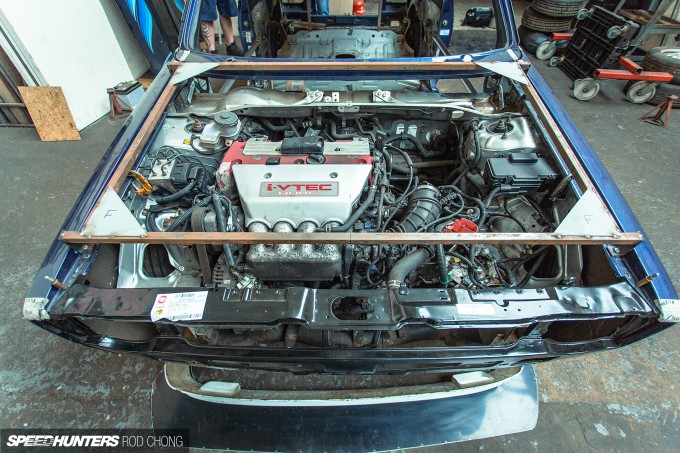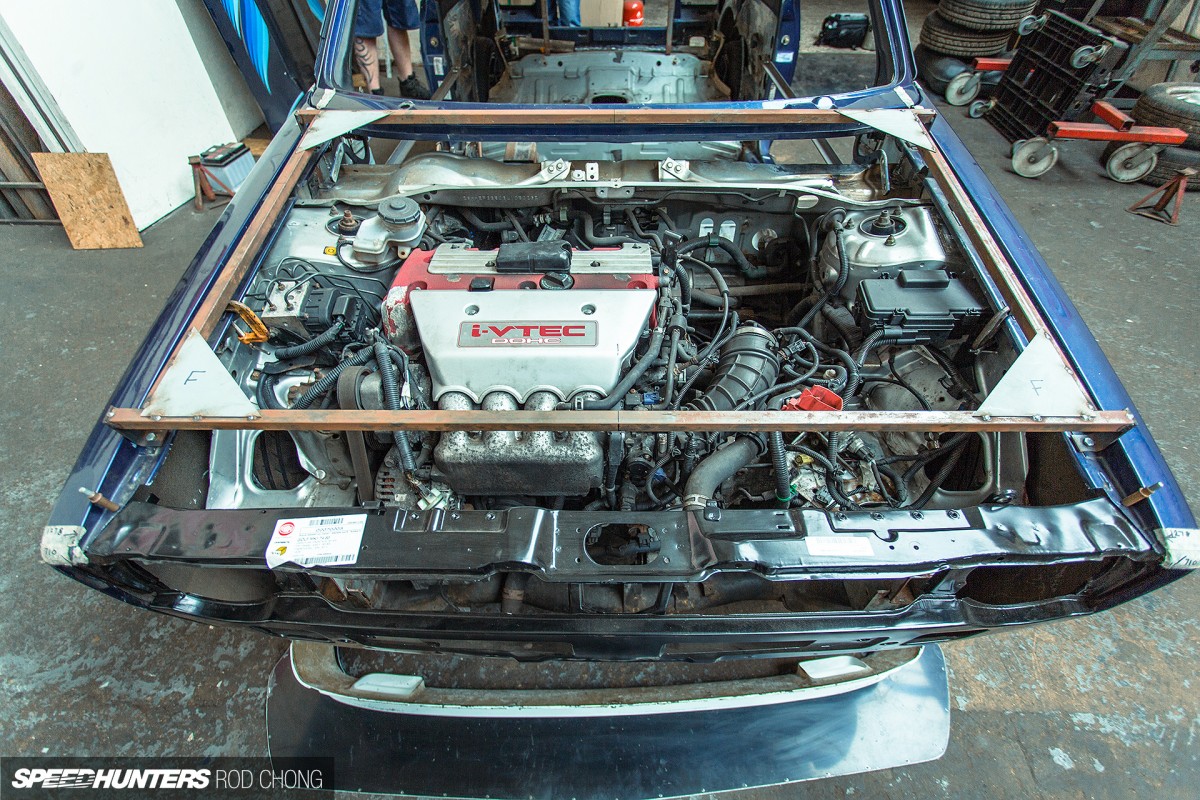 Okay, let's give the game away. If you haven't noticed it already, now the guessing can stop. You know I told you we were putting in a 2.0L DOHC i-VTEC K20A? Well, we did, but along with it we also installed the entire Honda Civic Type R EP3 chassis that came with it. That's right folks, what you are looking at is a Honda Civic chassis – minus the top, mated with a VW Golf top – minus the chassis. In the picture, what is blue is VW and what is silver is Honda. For now I'm calling it the VW Golf Type R – continuing our mash-up theme for the whole project. You like?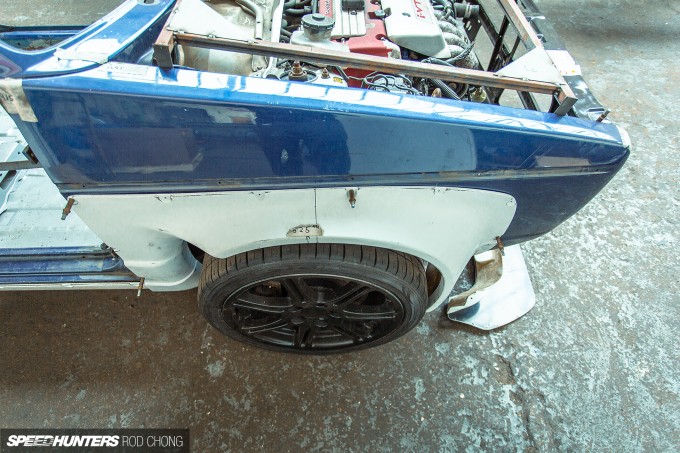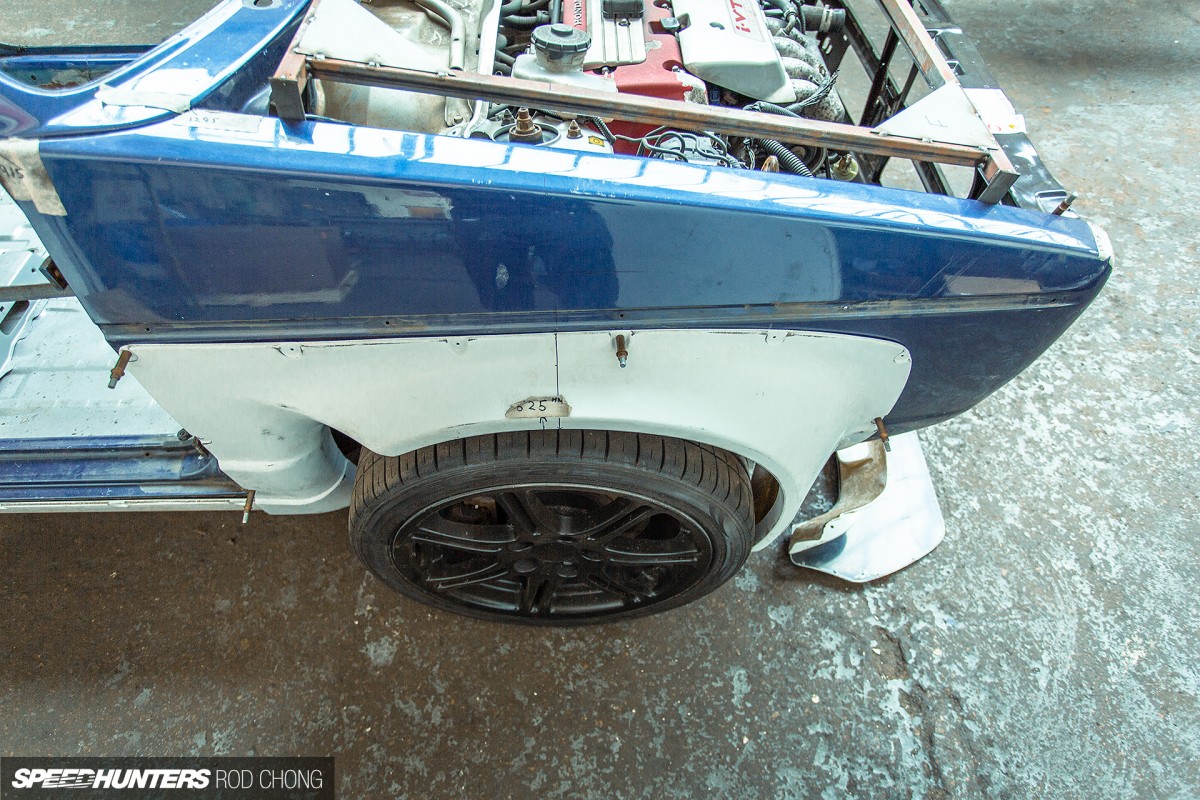 Now you can understand the relevance of it sitting on Civic wheels right? Freakishly, the wheel track of the Civic – when mated to the Golf body – fitted almost perfectly to the width of the new KM4SH aero width. Although this picture would have you believe otherwise, it's actually almost flush from rim to arch. I could say we measured it and made sure before both chassis were cut, but actually it wasn't that scientific – I just asked the boys at Hauser to hack-up both cars to see if it could work, and we got lucky on the front. The rear, however, is somewhat a different story, which I'll get to shortly. As you can see in this picture, all the Civic's suspension turrets and running gear remain and the front section of the Golf was braced to keep it aligned using the frame you see here, and then cut off and realigned once the chassis swap was complete.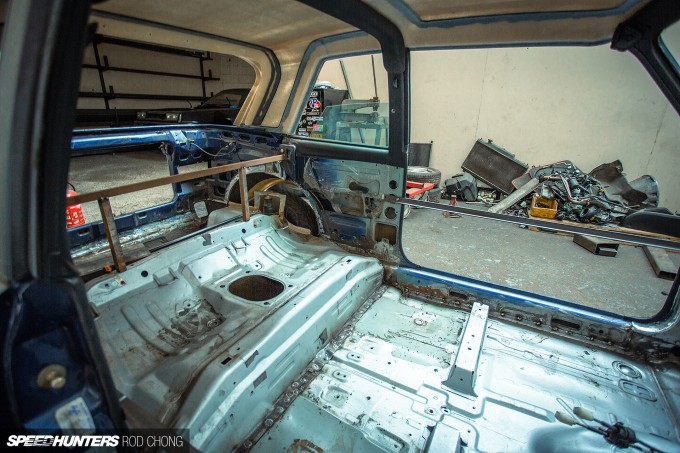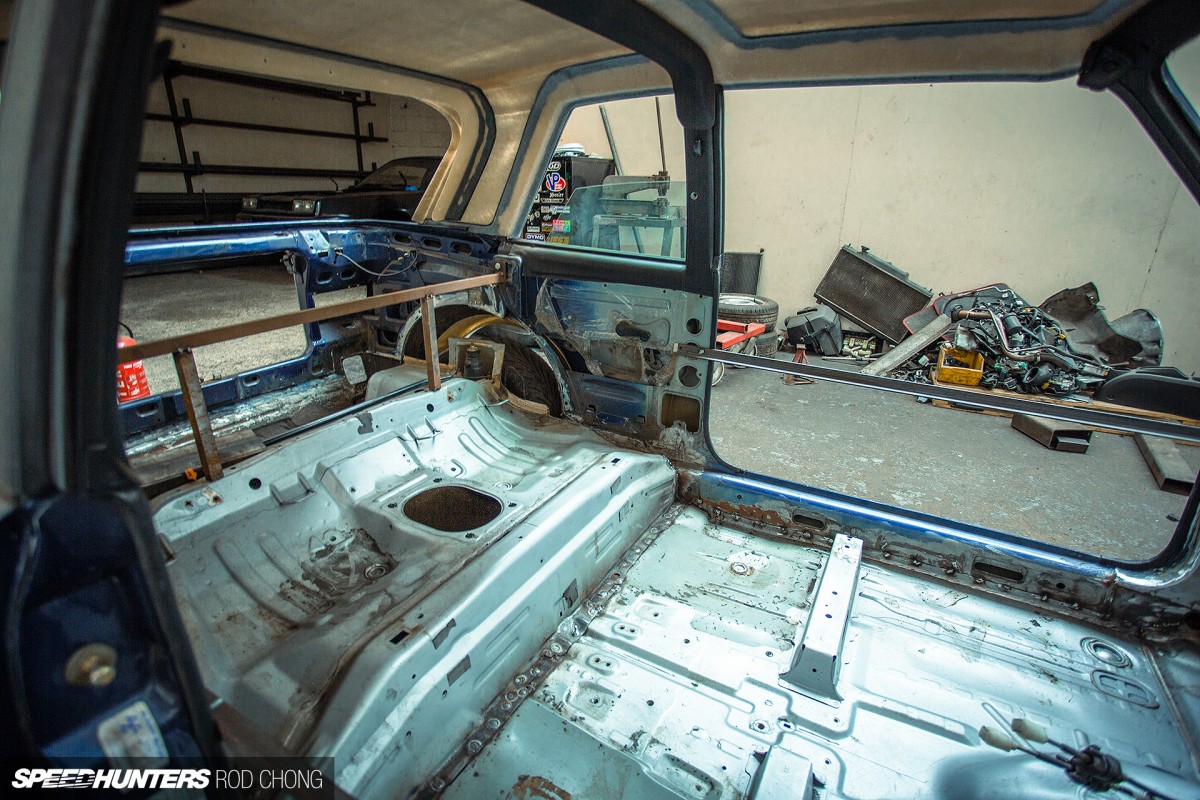 You could argue that cutting and shutting a car is pretty easy, and I am sure that if you didn't intend to mate two cars together to a show quality and to a fraction of an inch, it probably is. However, at this point in the build more than 200 hours of labour had already gone into our little car. For starters, the Civic was six inches longer and eight inches wider than the Golf body and needed adjusting. To do the job correctly, a jig was made and then the factory welds holding the front of the car to the rear (you can see them at the base of the rear seat section) were un-stitched, six inches were cut off, and then it was re-stitched. Once painted you would never be able to tell that this floor didn't come from the factory in this way. Likewise, four inches either side were trimmed off and then retacked to the Golf's inside sills.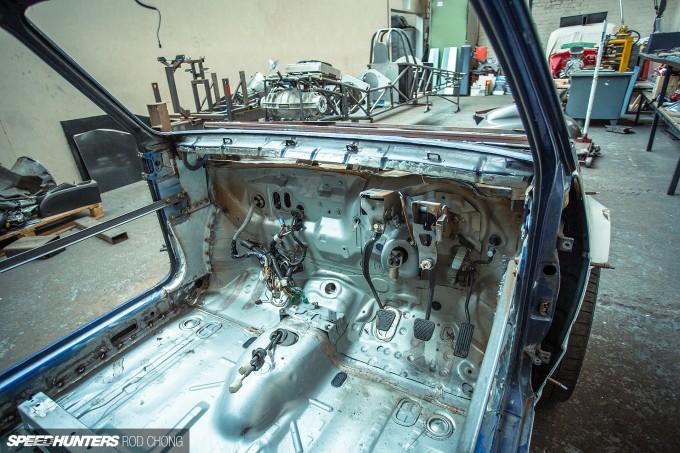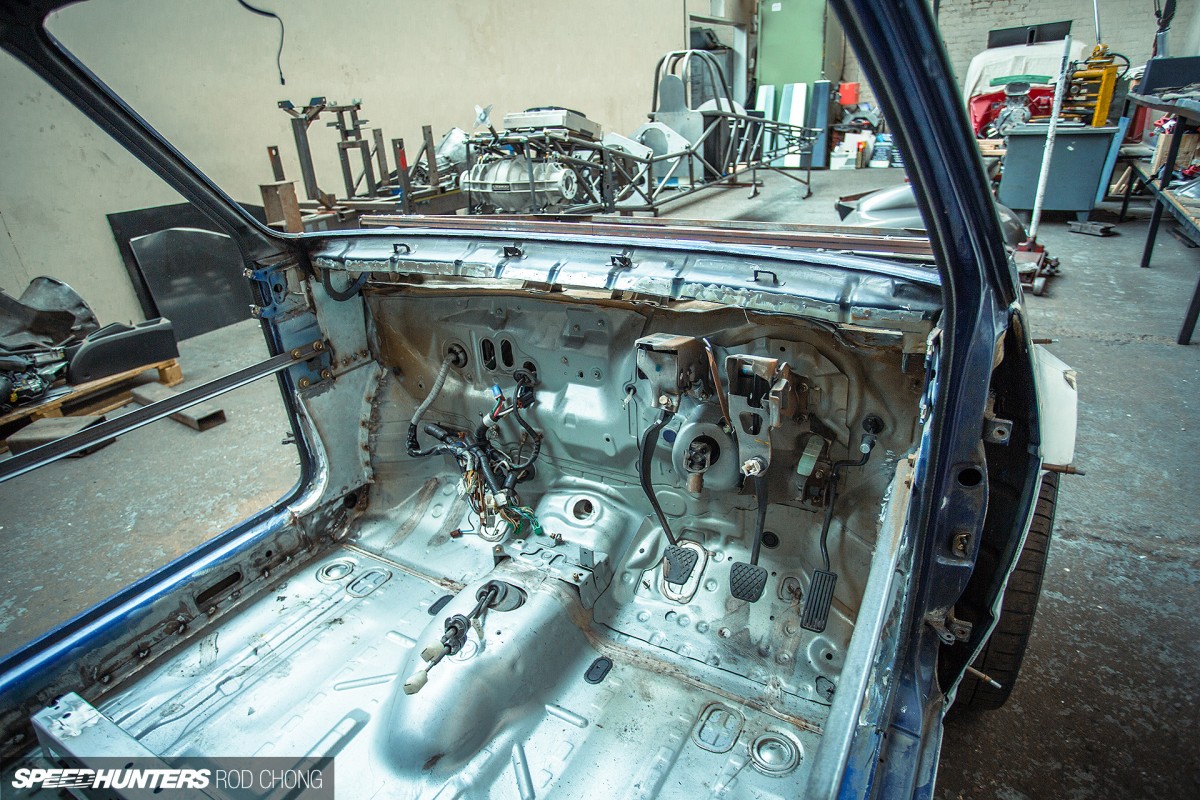 From another angle you can see some of the work going on to match the bodies together while retaining the bulkhead and positioning of the Civic steering column and associated bits and pieces, which we intend to keep. Of course, as the car is UK-registered and made in England, we drive on the correct side of the street – unlike most other people in the world… The next thing that needs to happen inside are the ergonomics, including the sourcing of good race seats and mounts from somewhere. Any decent seat people out there fancy getting involved with our little car?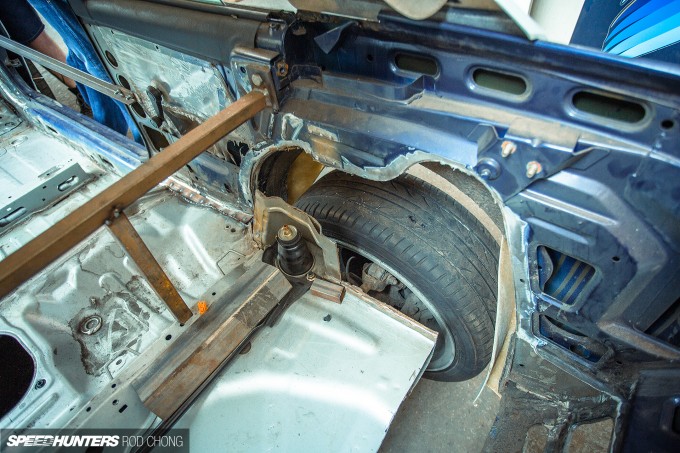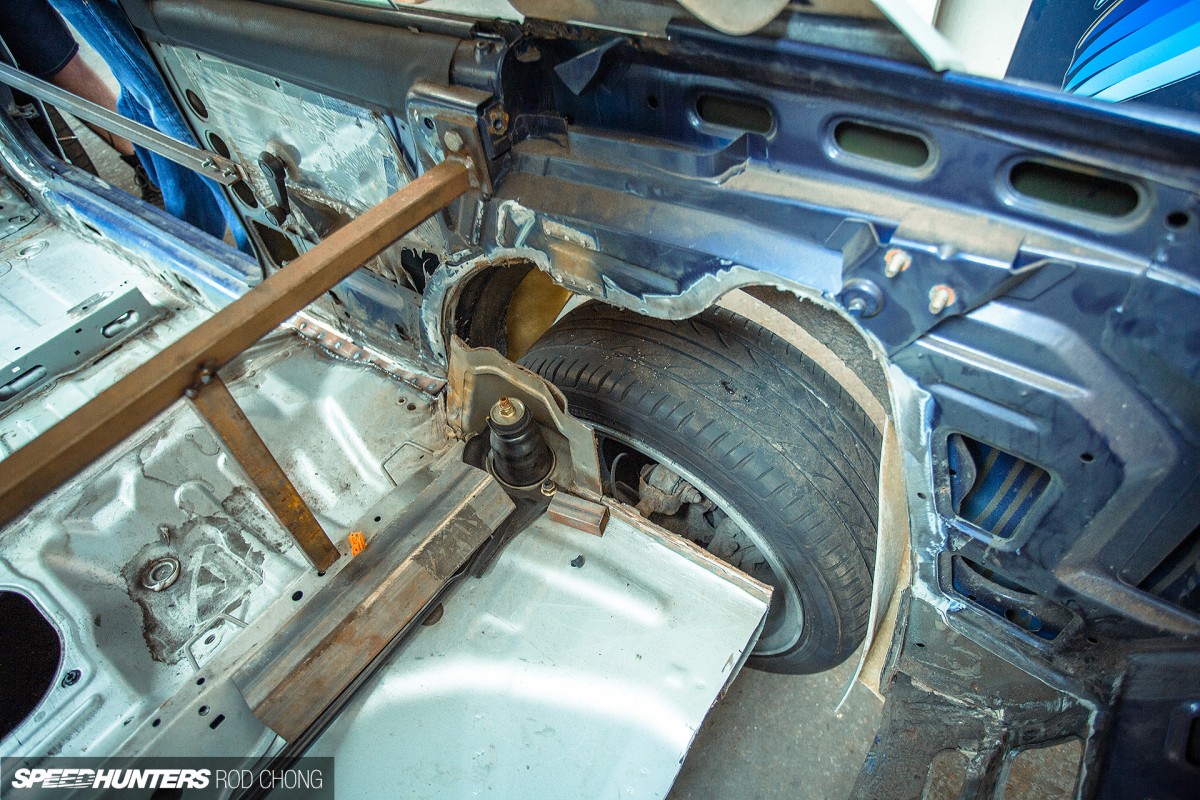 This is a great shot, as so far a lot of work has gone into the front of the car but at the rear work was only just starting when Rod and I visited the shop. The track at the rear needs to be a lot wider than that of stock Civic to accommodate the wide fenders of the KM4SH. As we won't be reinstalling any interior panels – which means everything will be on show – the rear inner arches will be remade using a combination of factory-like angles from both the Golf and the Civic in an attempt to make them appear something close to normal when finally complete.
Getting KM4SH'd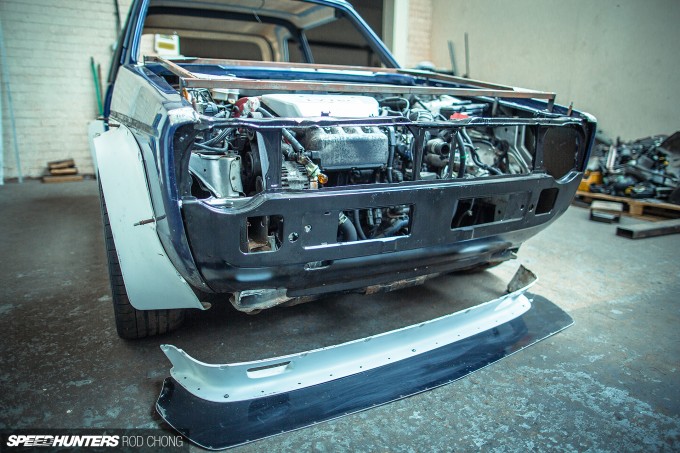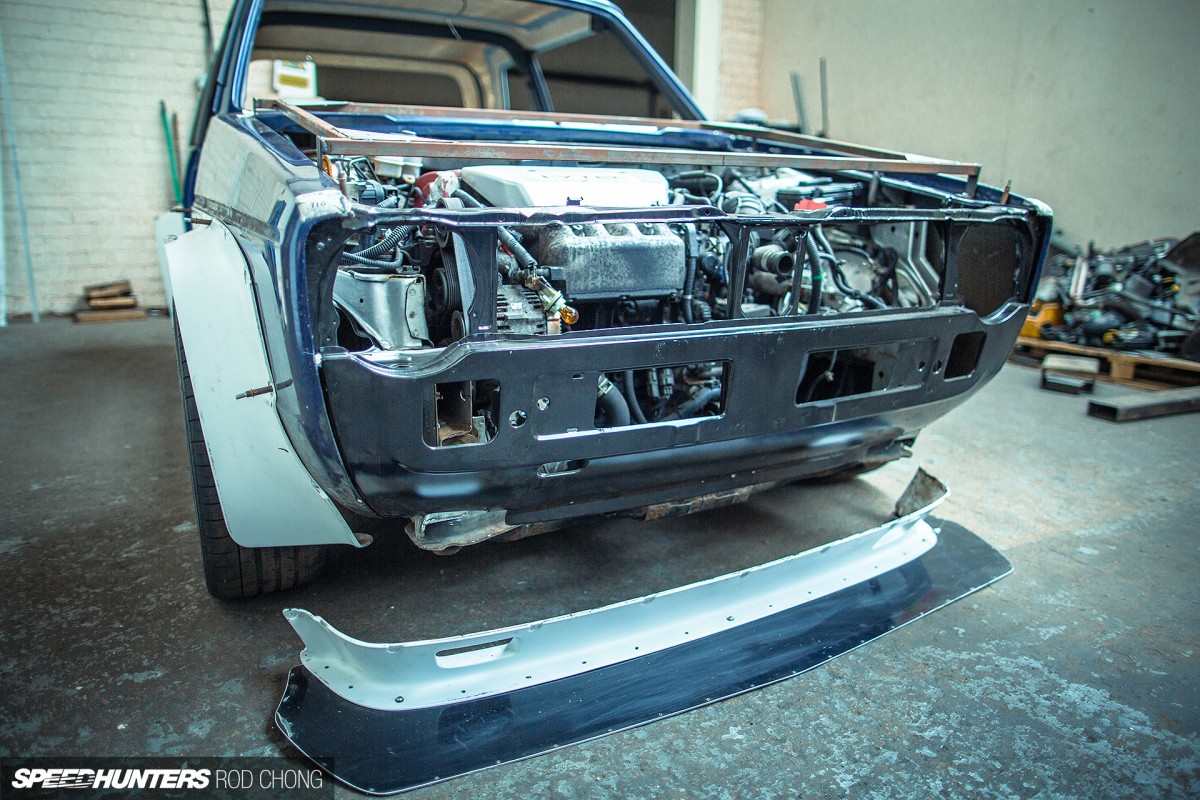 With the front end bolted up for the first time, we could finally have a look at the front splitter arrangement that is part of the KM4SH kit. As we kept the overall outside of the Golf body, the kit is fitting where it should and we are yet to find any dramas as a result of the Civic mash-up. Seeing the front like this also gave me some interesting ideas as to what should or shouldn't go in the holes at the front end. Hmmm, I'm not sure I want a sleeper, retro or OEM look, so maybe something else is in order for its face… Which reminds me – I need to call the guys at CSF Radiators.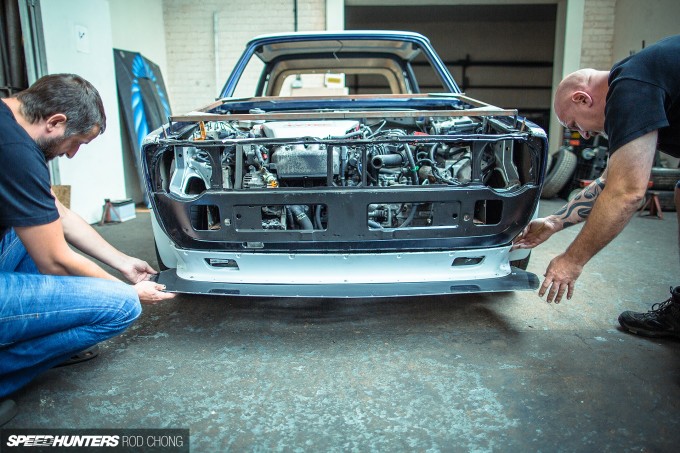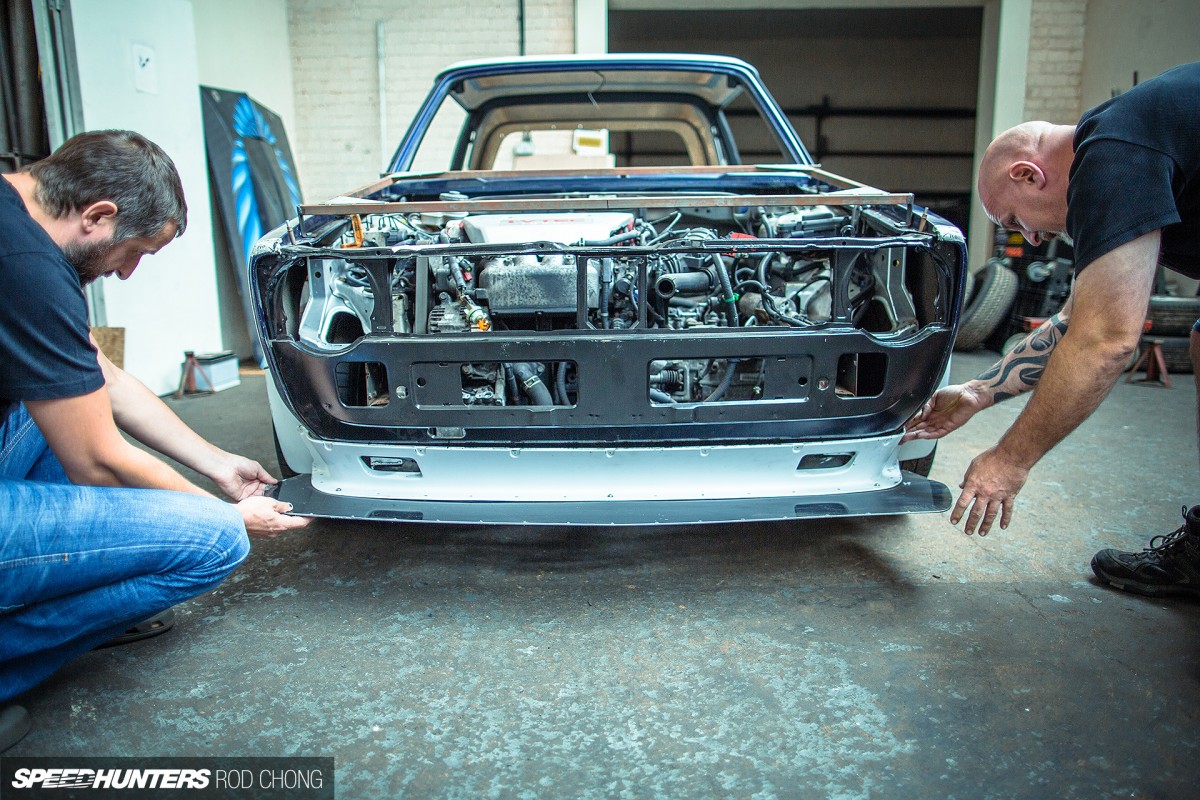 If you have ever built something, anything, then you can understand what we are doing here. Despite me always asking camera folk to avoid taking pictures of me side-on, and therefore showing just how big my nose really is, Rod managed to capture this shot in all my glory doing what everyone in my position at this stage of a build wants to do. 'Let's just offer that up and see what it looks like'. Good times…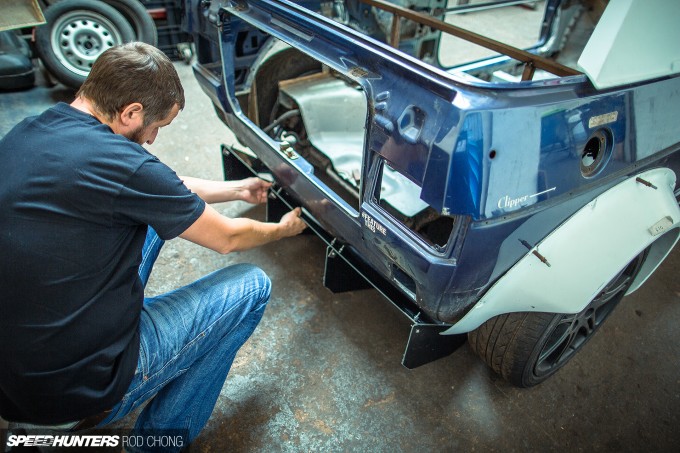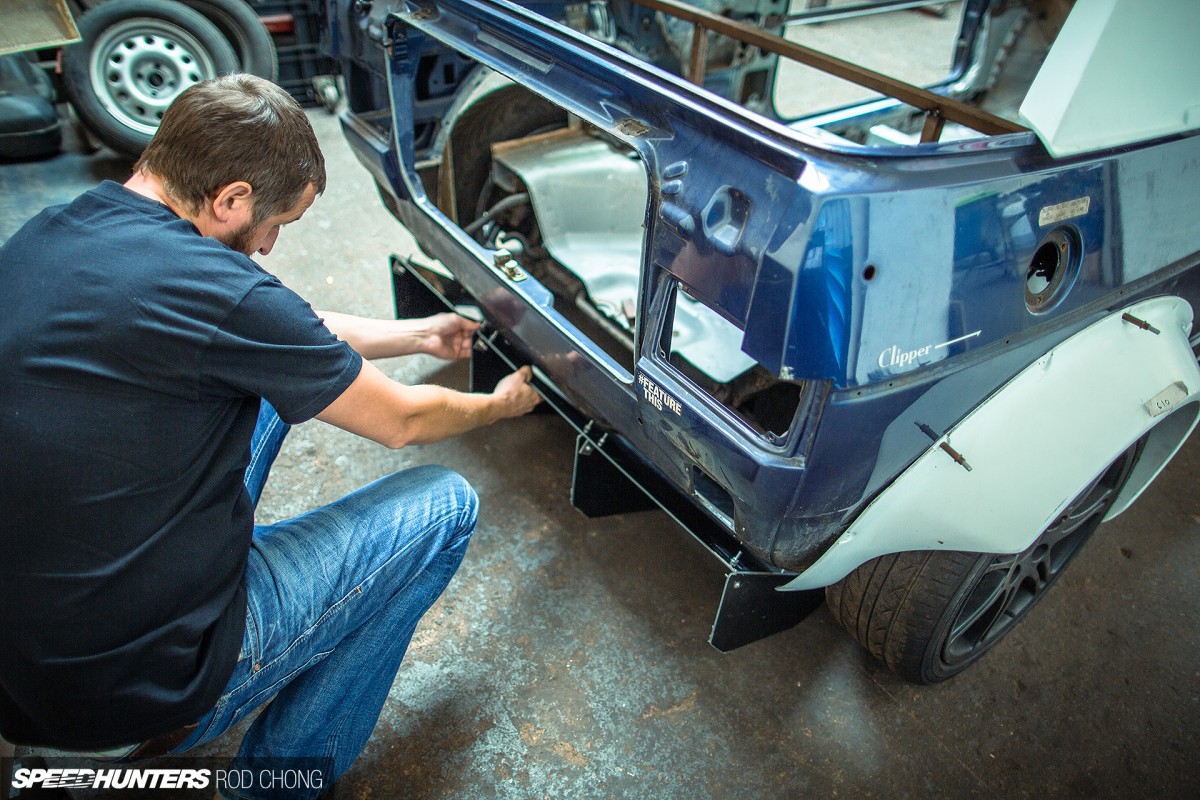 Of course, we did the same thing at the rear. The KM4SH kit comes with a diffuser, but if I am to be honest I'm undecided on it. I just can't visualise it properly without the correct wheel fitment and ride height, so I'm not quite sure if we will install it on the final build or not. We'll see… It's an exciting little piece but I can feel some mods coming on to personalise it a bit. You can also see here just how much slimmer the Civic track is against the wheel arches. We'll definitely have some wheel fitment issues to contend with, and – because of effectively running a wider track in the rear – eventually some handing, setup and balance challenges to work through too. I'll worry about those later.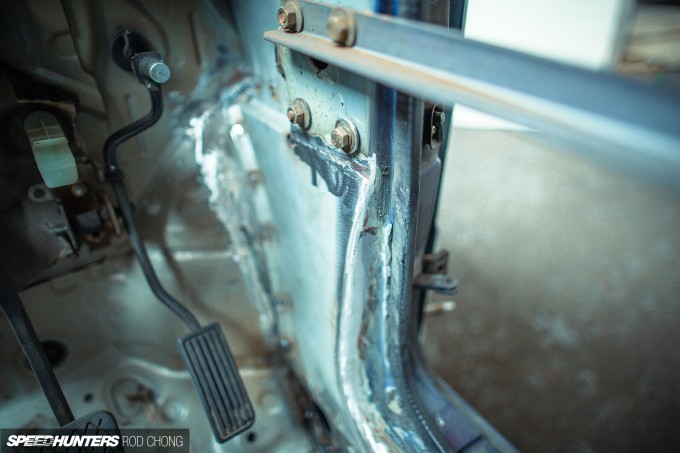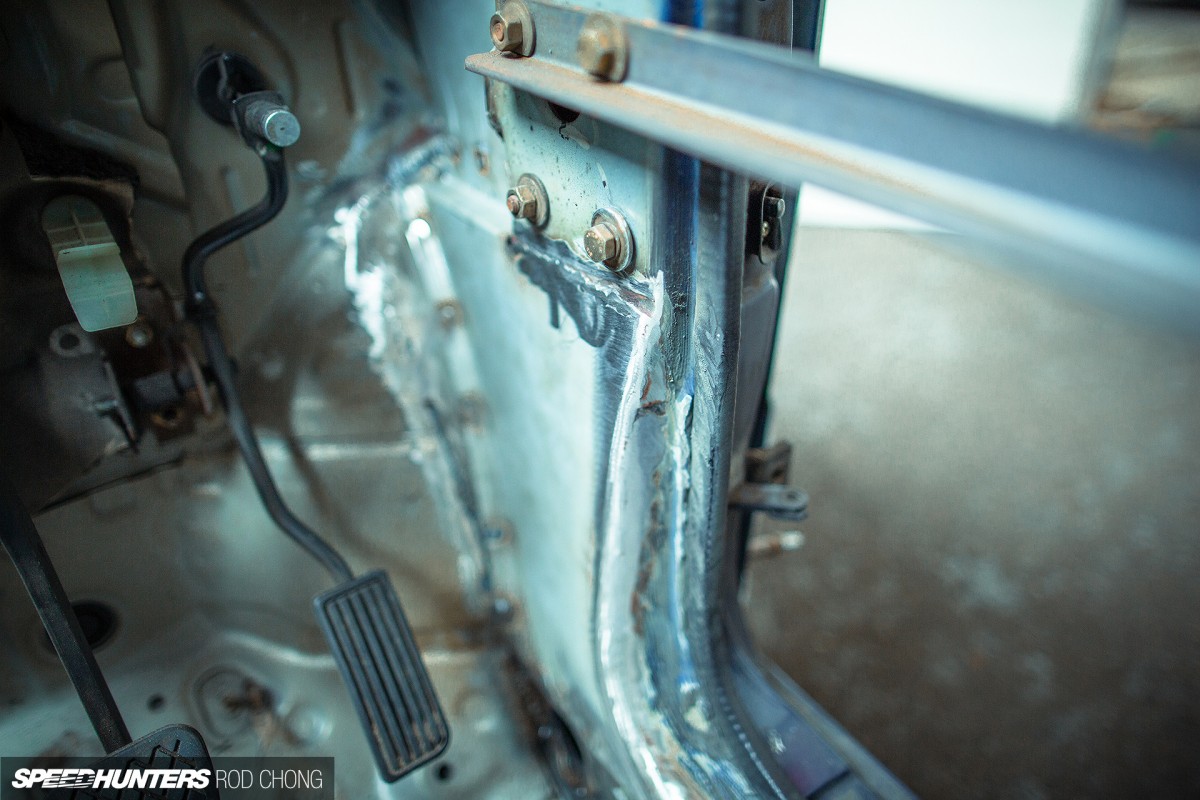 Here's a shot of some of the filleting work that has been going on to match the bodies together. We're trying to keep the panels looking as standard as we can, as we won't have carpet, trim or anything like that – just painted metal. The standard pedals are still there but I plan to ditch those in favour of some sort of pedal box arrangement.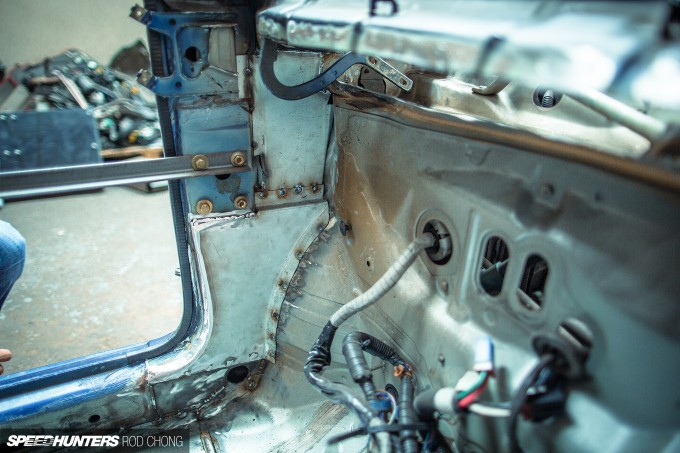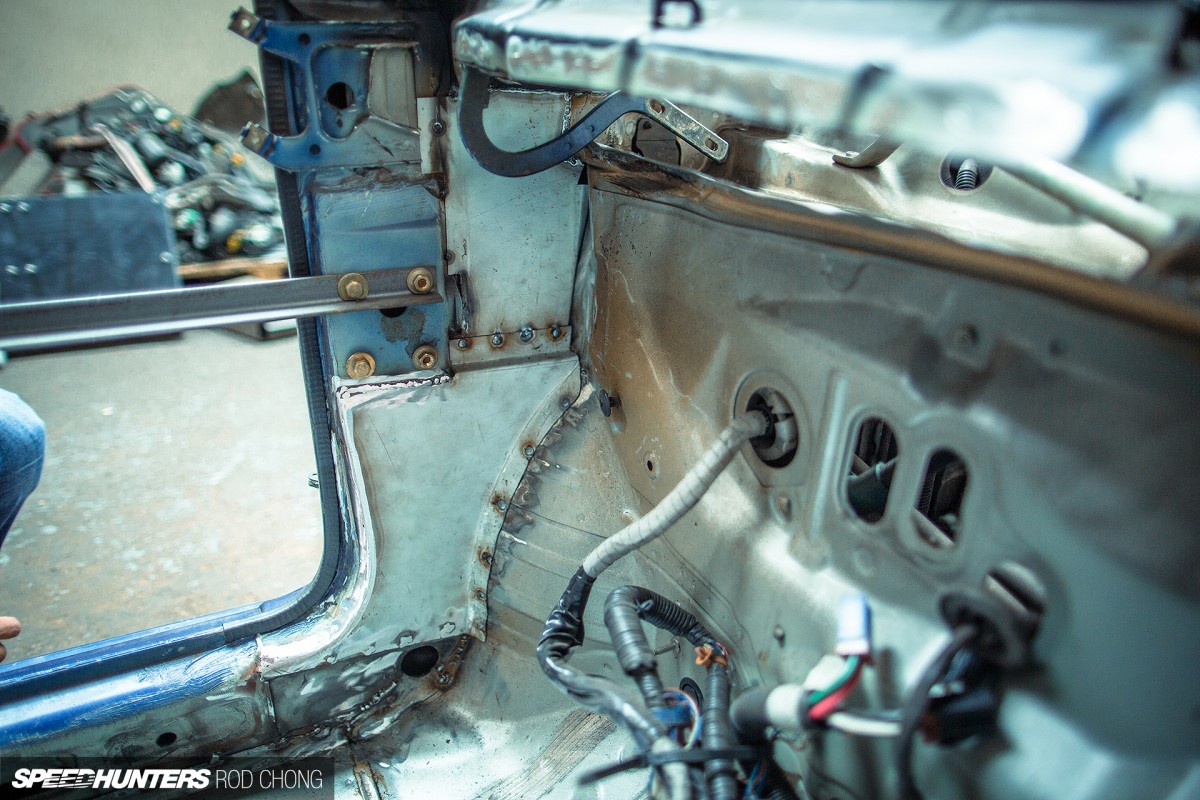 And here's a better picture showing more of that hard-labour detail, albeit half finished.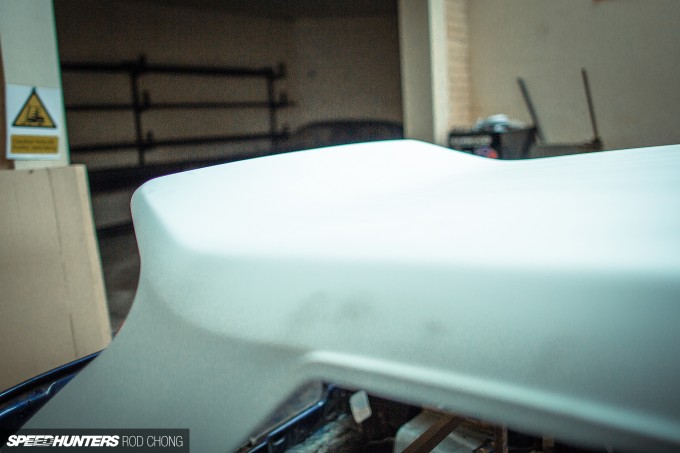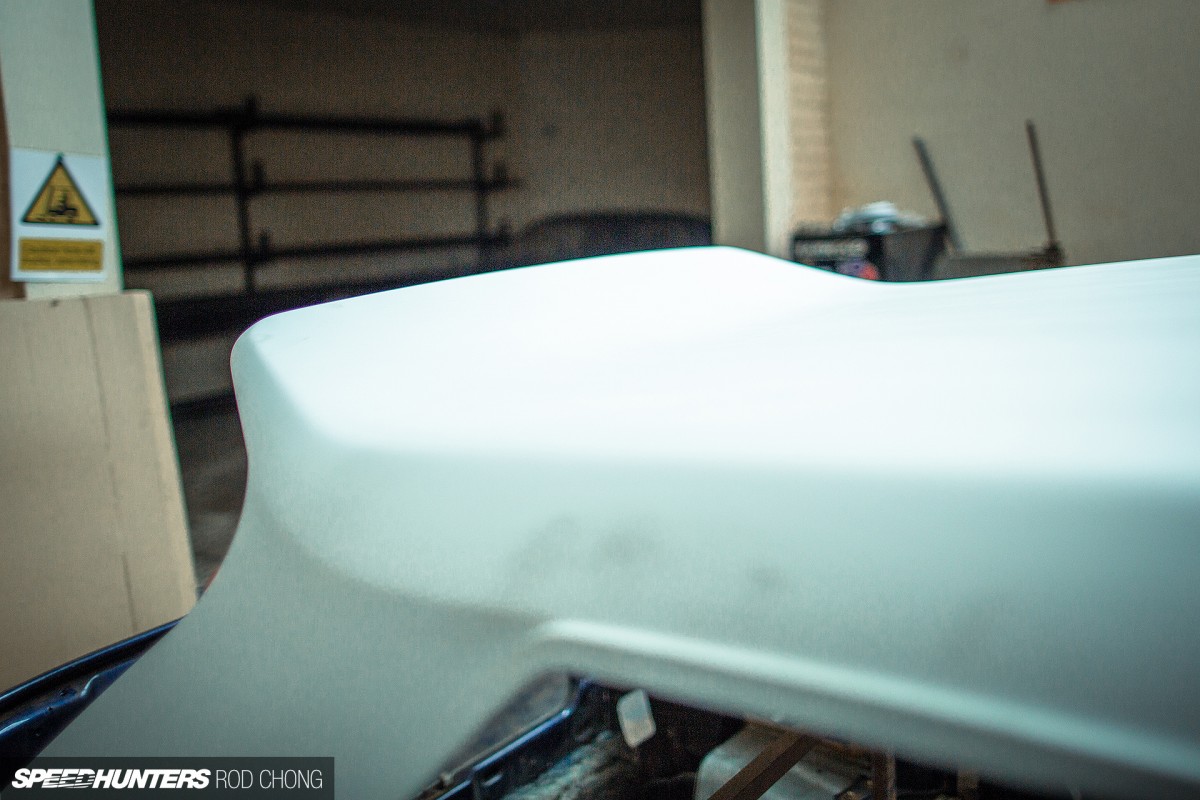 The roof is an odd bit of kit. It's one of those panels that depending on what view you take and where from, presents all sorts of different angles and looks. From this particular viewpoint you can really see the elevation of the ducktail section.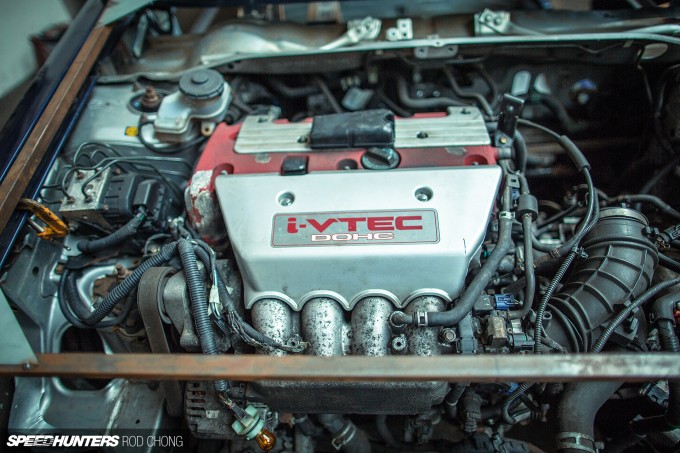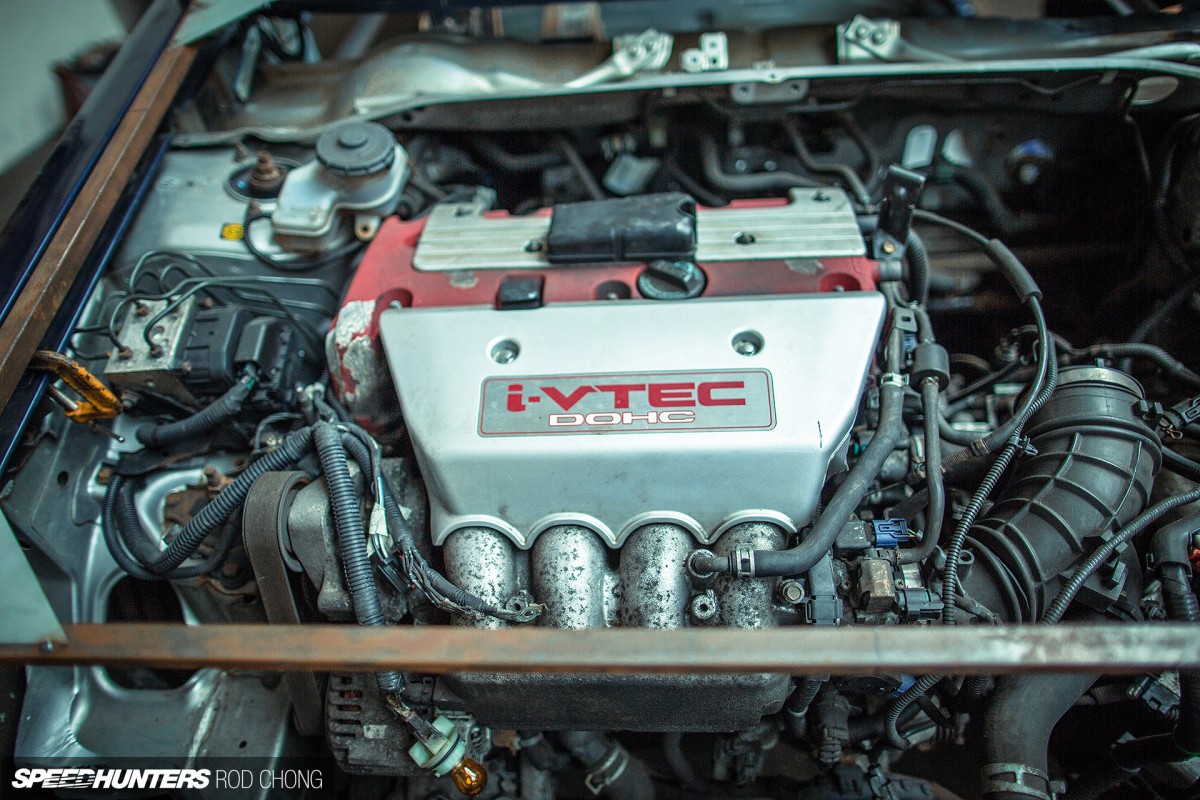 For now, the work continues to match all the silver bits of Civic to the blue bits of Golf, but the cool bit I like – and reason for doing what we are doing – is that a lot of the original Honda dimensions remain intact. I could literally order any number of aftermarkets parts: turbo combinations, supercharger combinations, other upgrades, and know they would fit as we've kept the chassis original. I don't intend to do that fully, but at least it makes light work of some of our decisions as not everything will be one-off. In the meantime the stock engine can sit there while we work around it, but it's all about to change.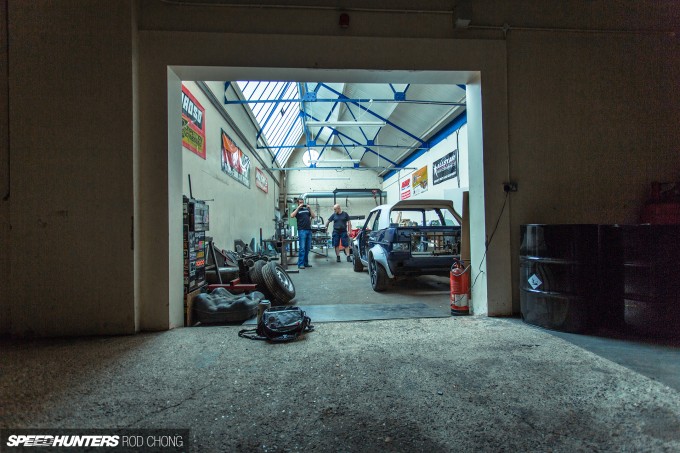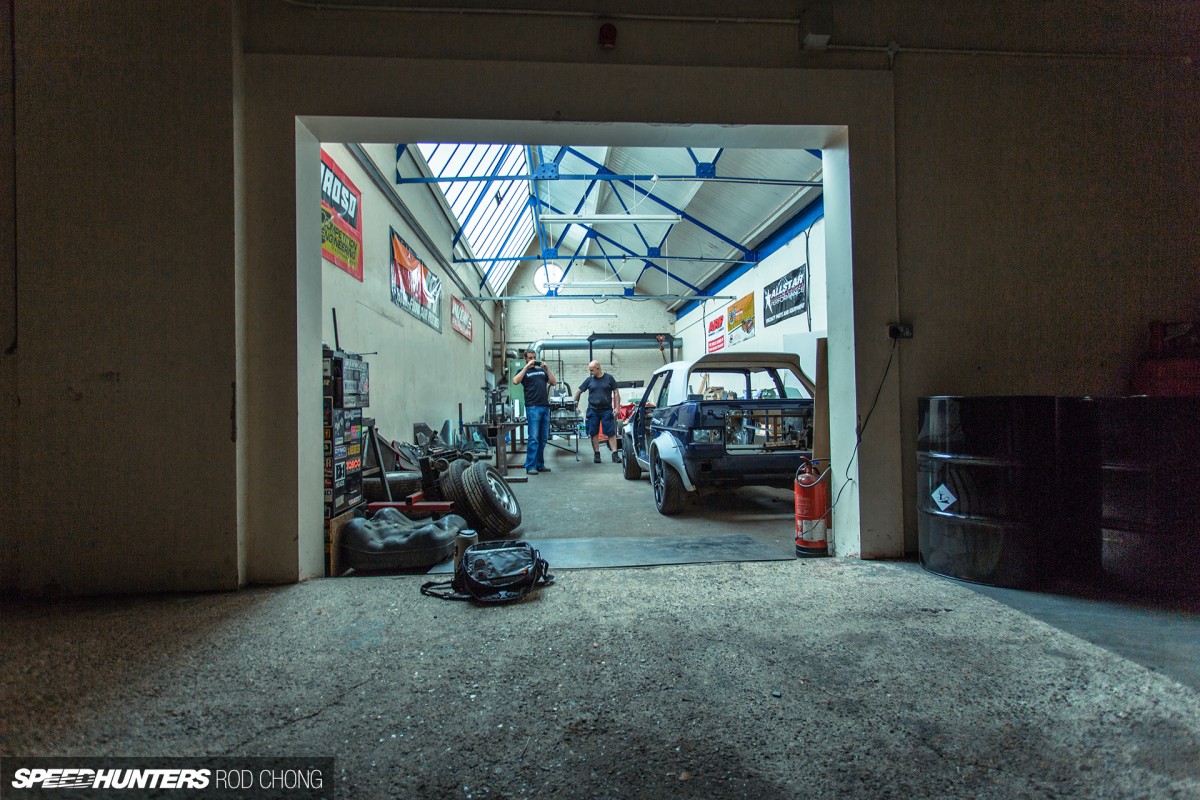 Progress on the car continues and it's already moved on from these pictures. The project is one of keeping things simple where we can, and also turning things on their head here and there. I like the idea that when it's finished, if you saw the car parked up, you could look at it and think, 'Ah, a Golf with a body kit'…
Now that you know a bit more about the car and the plans, I'd love to hear your thoughts and ideas to help us on our way. There are also a ton of parts we need for the car so if you make decent stuff we could use – sorry, I'll rephrase that: we would want to use – here and there, and fancy being part of our project, do get in touch.
Until next time…
Andy Barnes