Is The Joker Behind This?
What have you got here then? The Brands Hatch Indy circuit, a short, sharp shock of a 1.2-mile speedbowl. You've got November in the UK. So, yep, it'll be cold. And likely rain. So, how can we make this more challenging? How about throwing in the first ever official round of Time Attack in the world to be held in the dark. Right. UK Time Attack crew, your happy pills are ready. Drivers who have signed up for this, form an orderly queue for psychiatric treatment. Hope you had carrots for dinner and have waterproof underpants…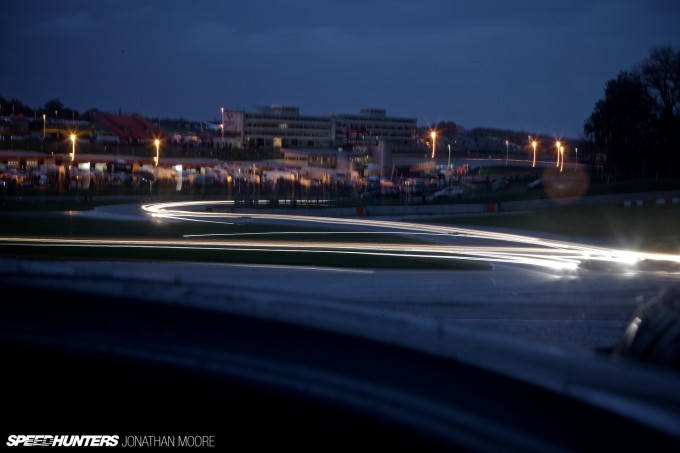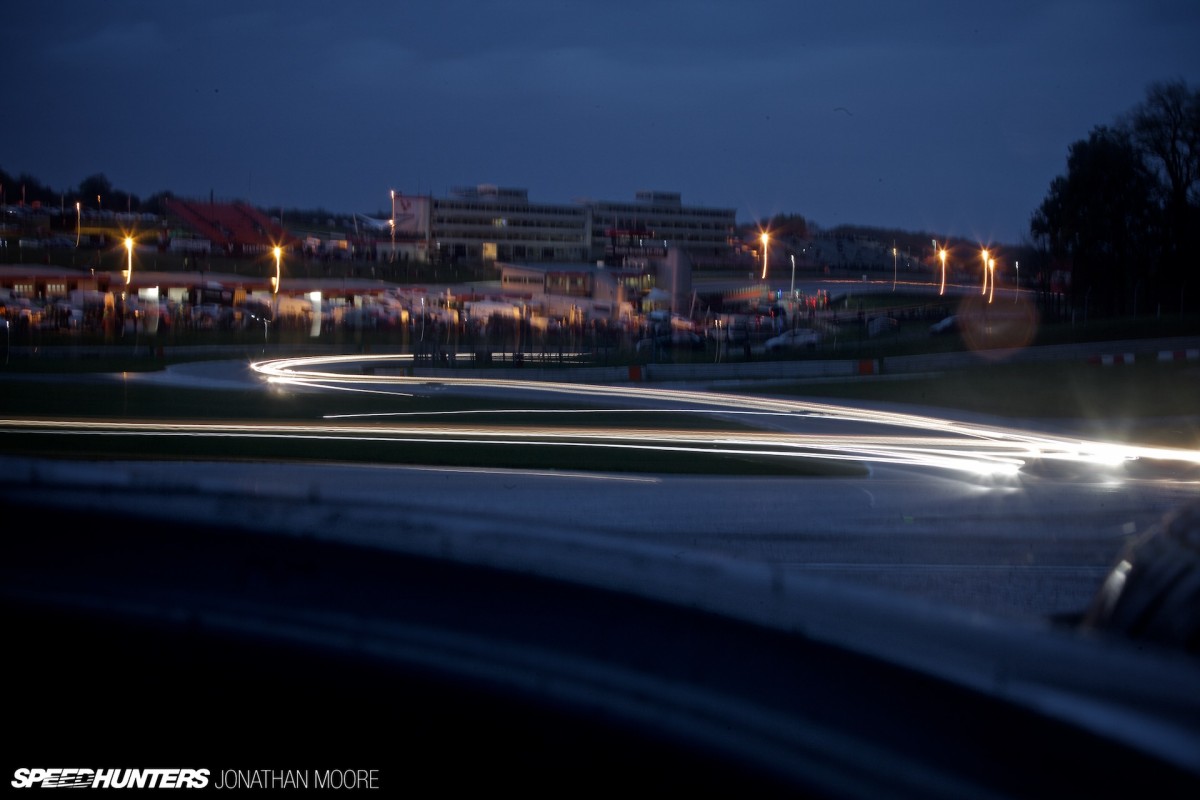 What an idea. The November Saturday was to bring the sixth and final round of the 2014 UK Time Attack season to a close with something radically different.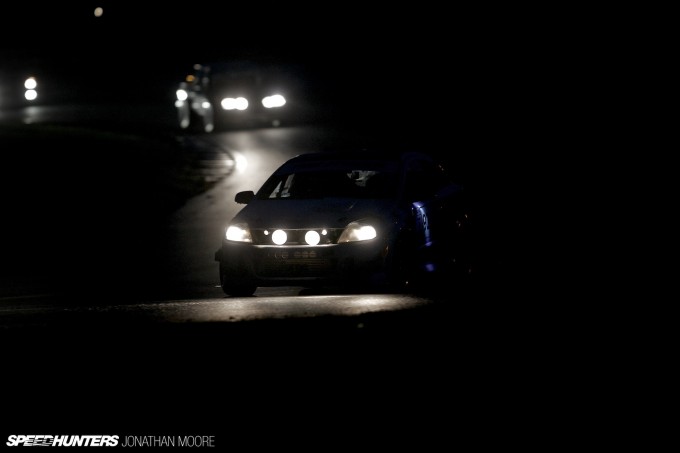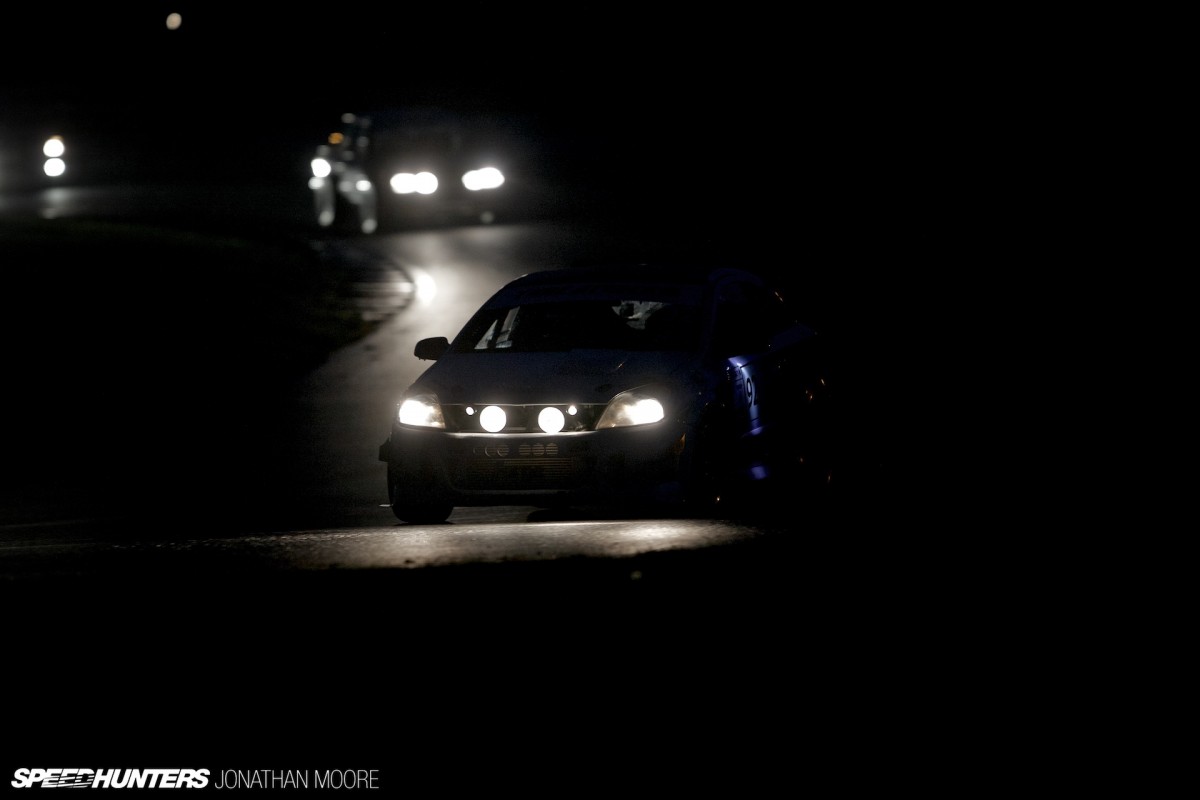 This was going to be a Jekyl and Hyde day: two hours of straight daytime Time Attack to officially complete the 2014 points battle, but then once the titles had been decided and the trophies lifted, drivers would be getting strapped back in for an hour and a half of eyes-on-stalks, white knuckle/black night action.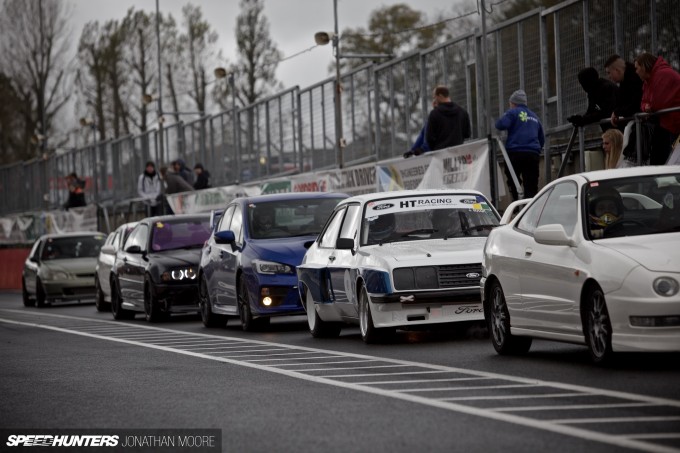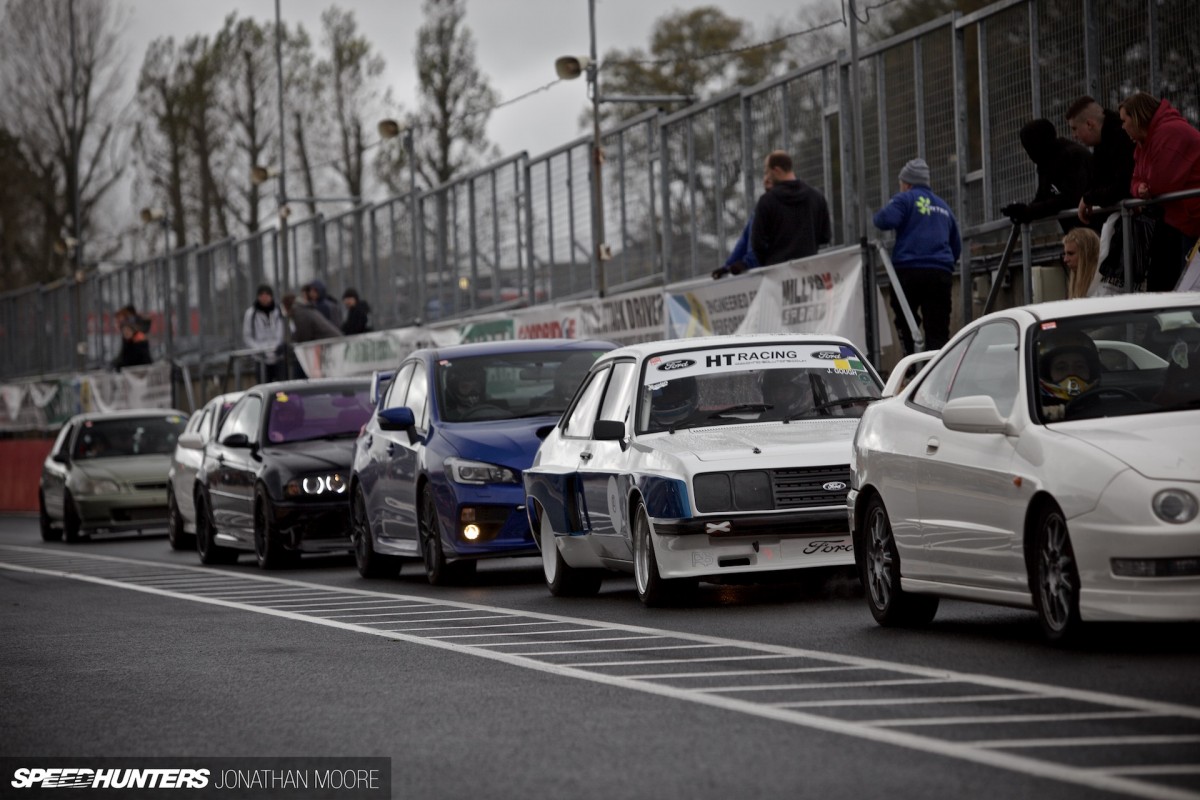 Time Attack was naturally the big draw on track, but it was just part of a jam-packed schedule that saw constant action around the crucible of Brands Hatch. I typically try and programme in timings to my phone, but basically gave up on this one. There was just too much going on. I'd have to go rogue and see what happened…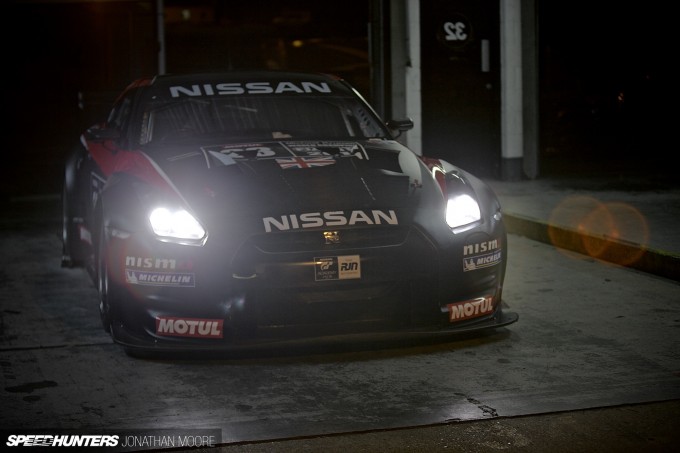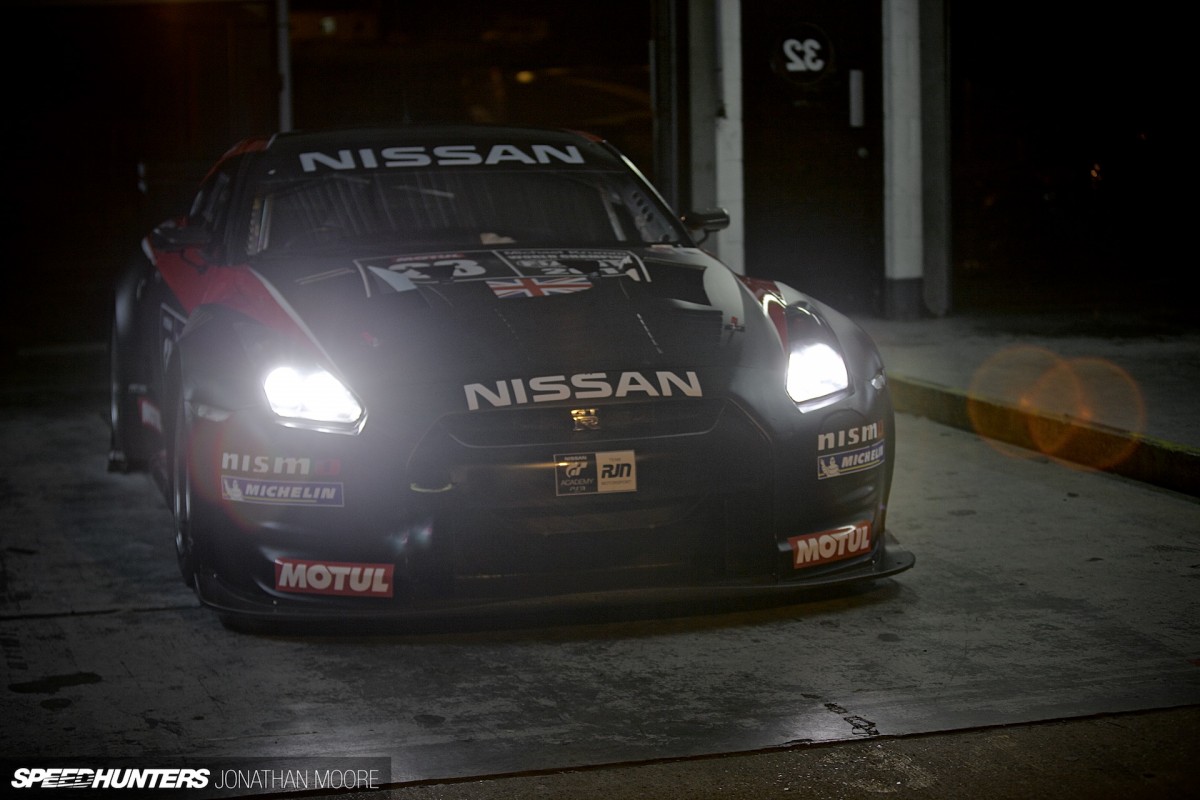 As if three and a half hours of Time Attack sessions wasn't enough, we also had even more demos, public track time and taxi rides than normal to keep Brands slammed from the minute the circuit opened at 9:00am all the way through to the dark curtain of early evening.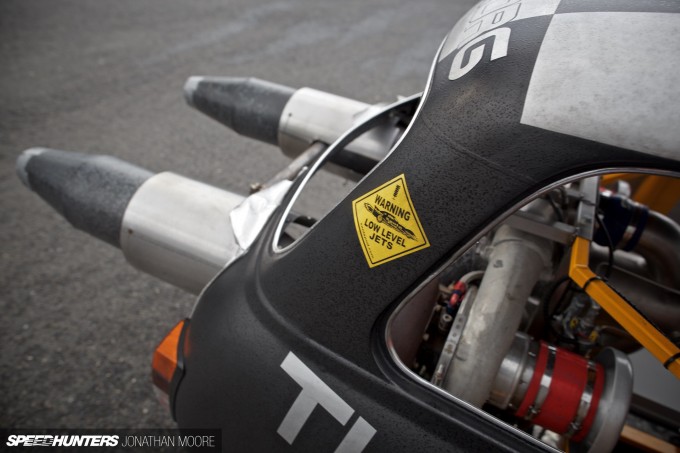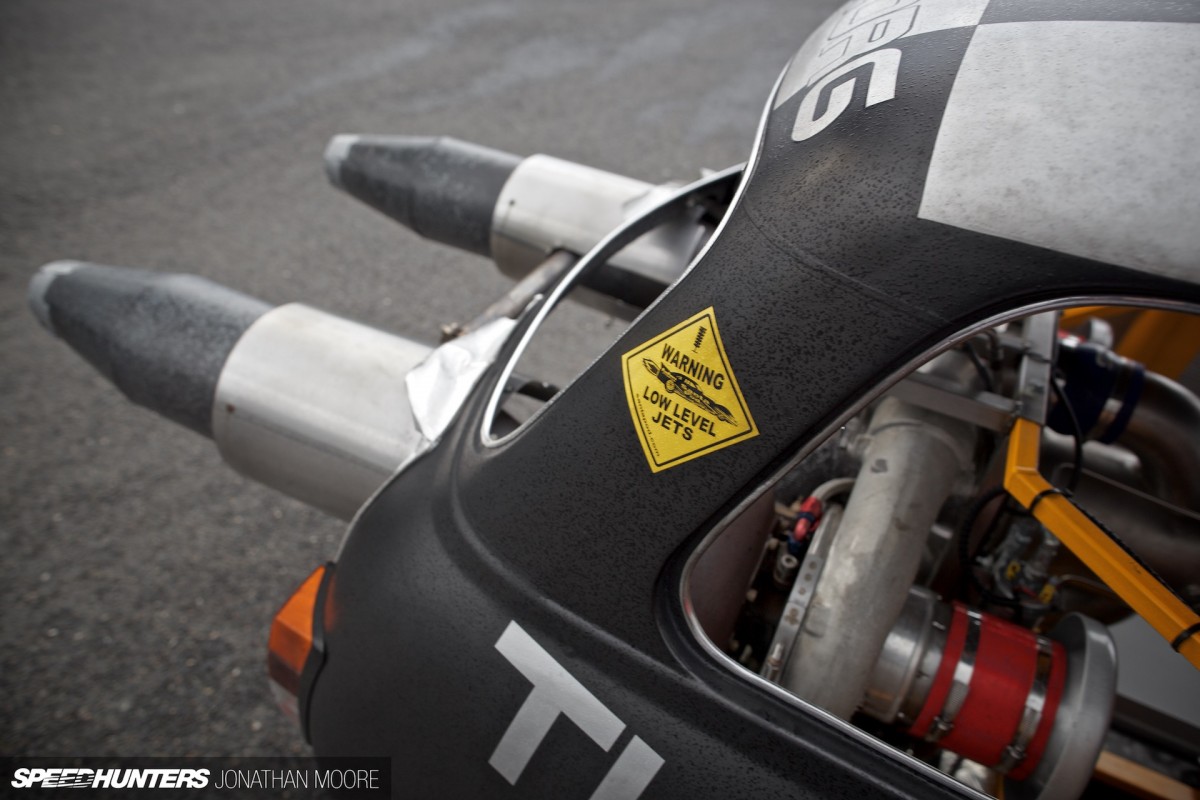 Even the number of demo cars was unexpected – as were the cars themselves. I say cars. Some were definitely products of deranged minds.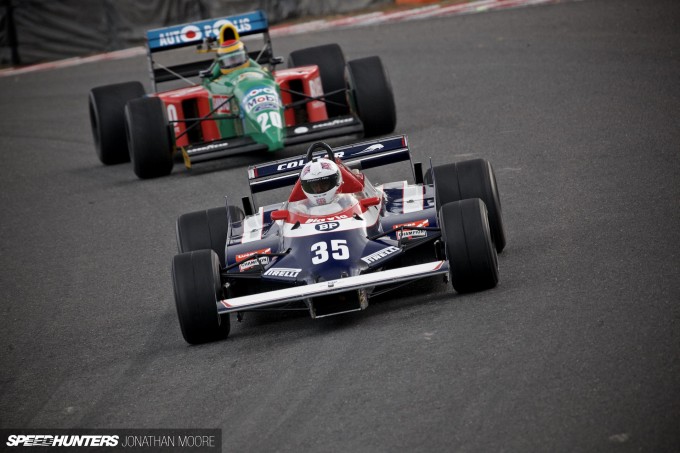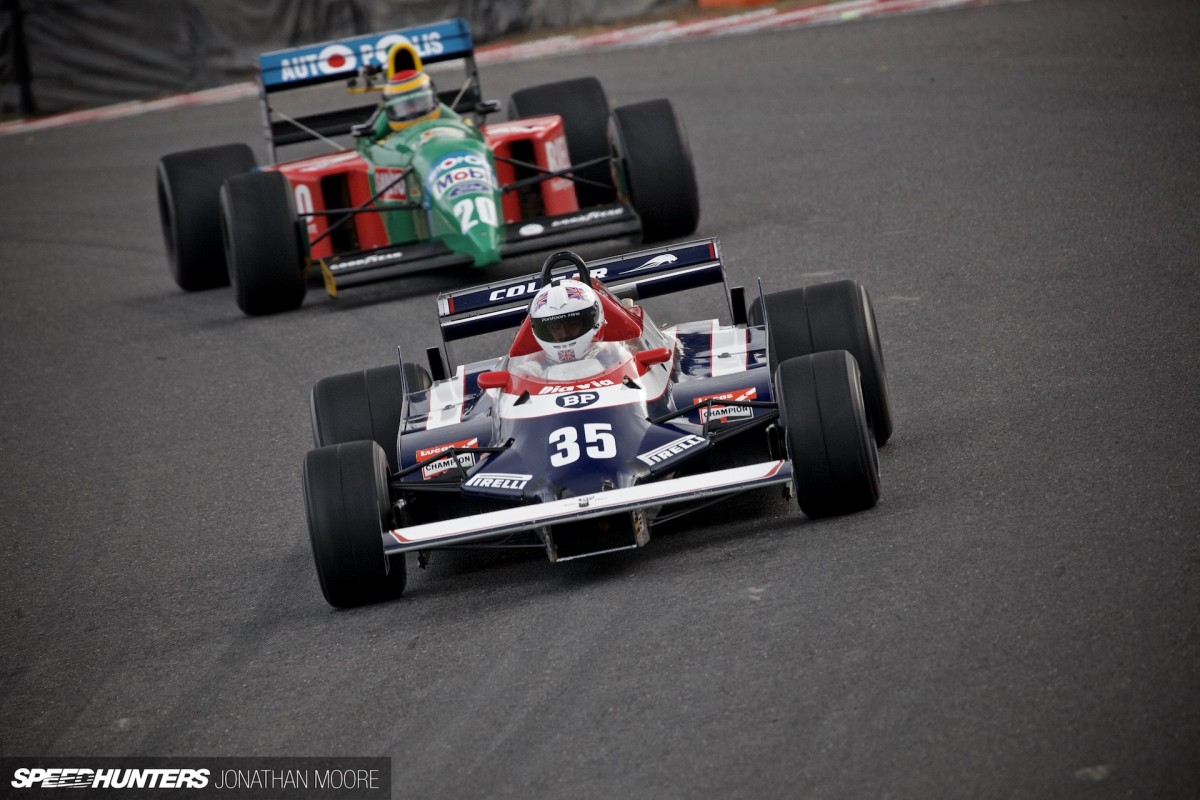 Three Formula 1 cars howled round Brands in a pack, which included a rare early turbo car from 1981 – this Toleman-Hart TG181, which was designed by Rory Byrne.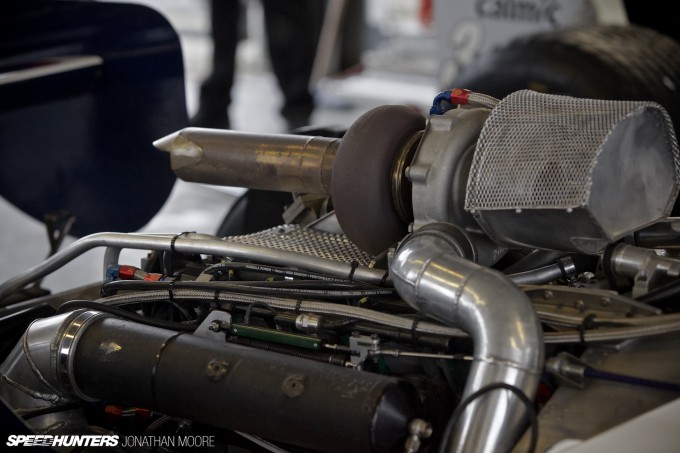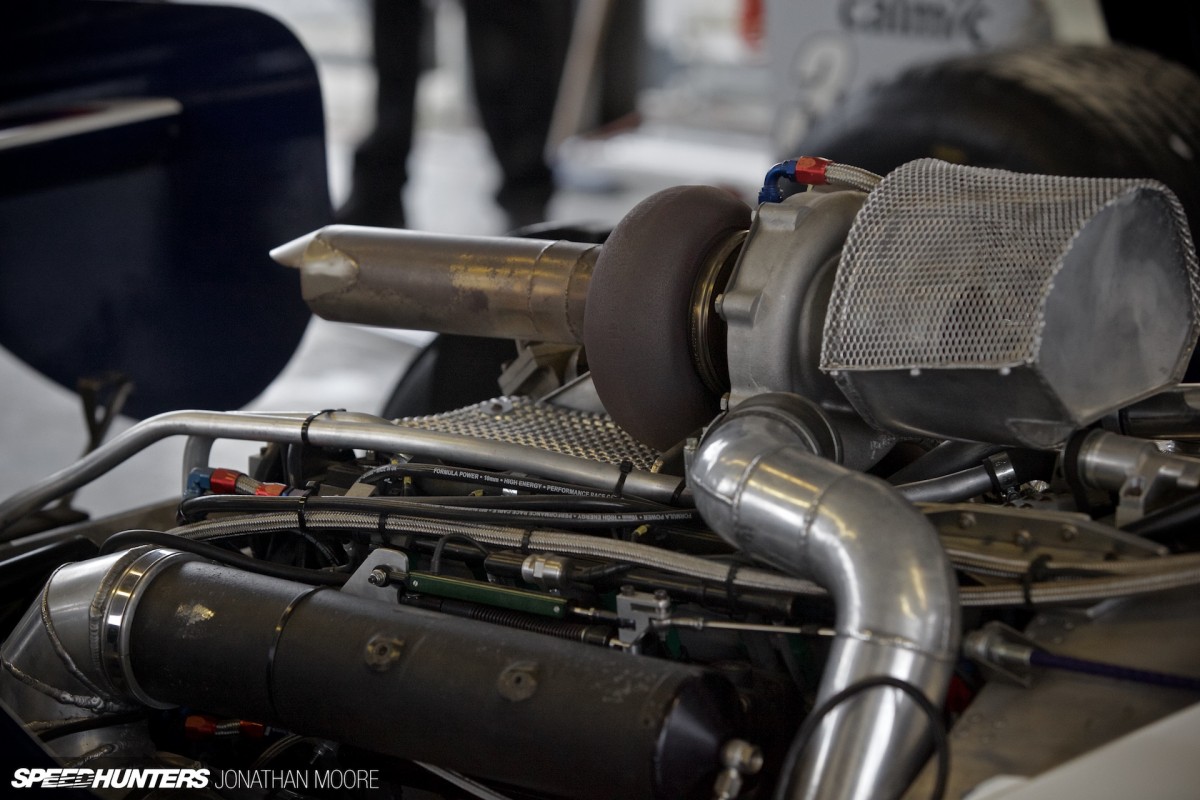 A template for modern F1 engines, with its high-mounted turbo and single exhaust shooting out of the back, cannon style? Okay, maybe minus a lot of electronics… Surprisingly the driver reported that it wasn't so bad out on the damp track, with not much lag.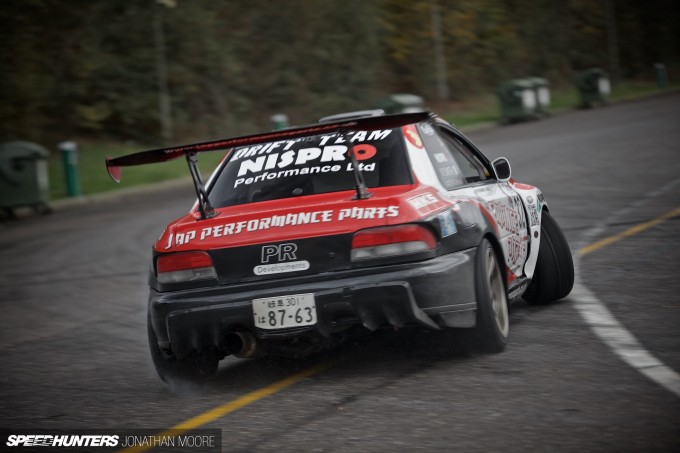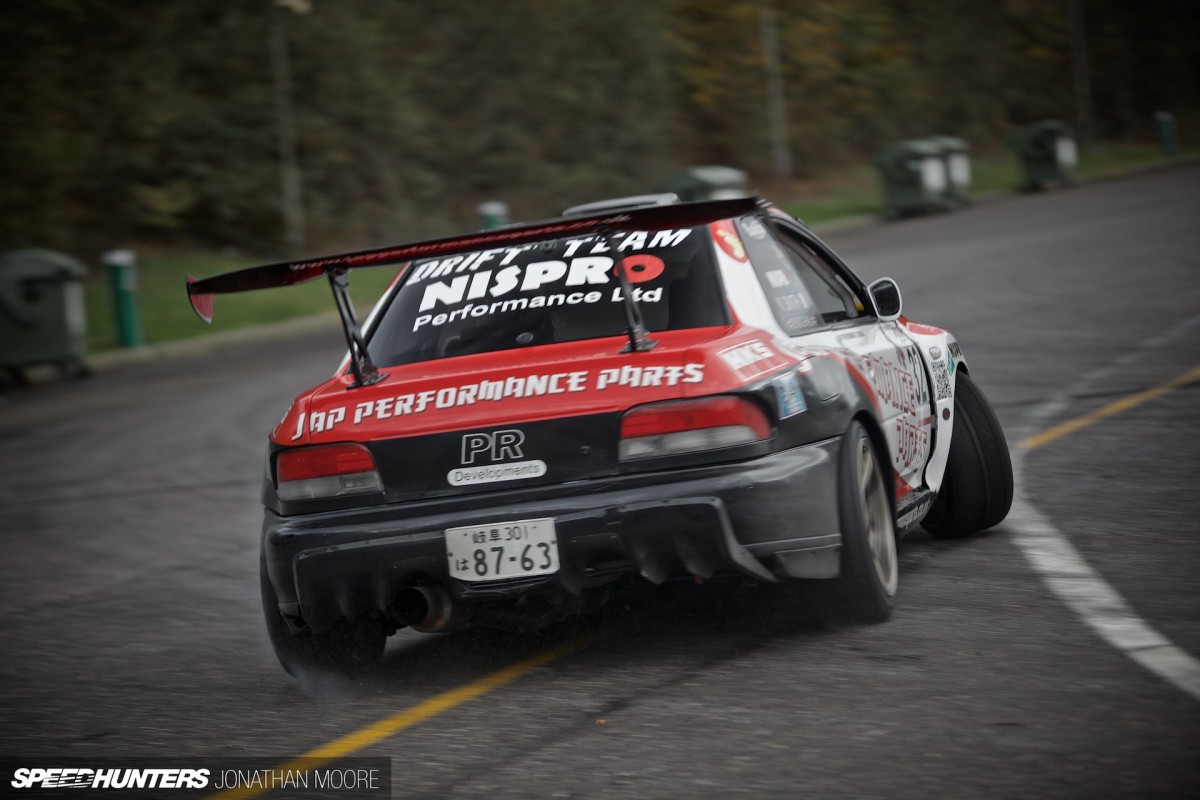 Those damp conditions didn't help the drift taxi guys, who threw everything at the track – but water and tyre smoke just don't go together…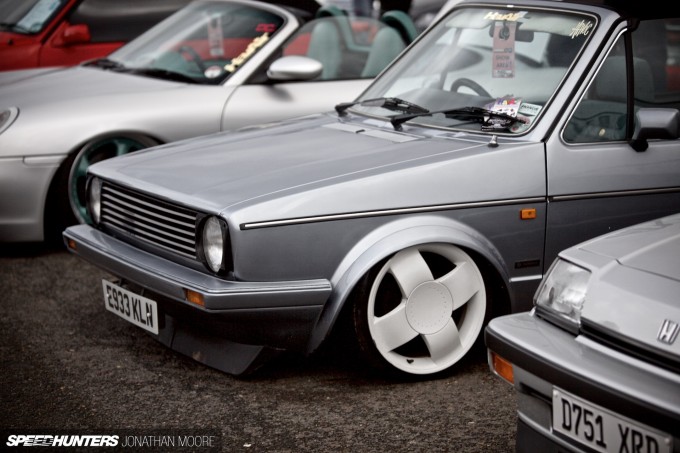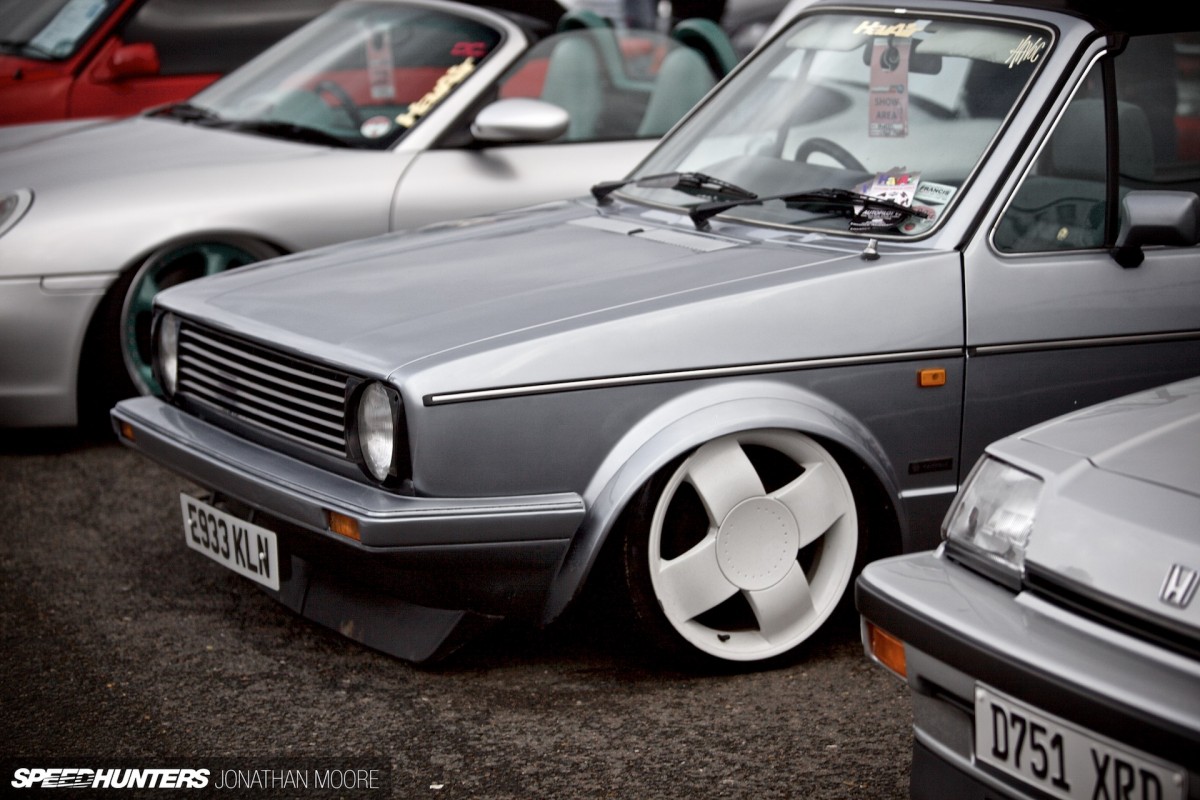 Just to throw something else into that mix, filling up the car parks and paddock space around the track was this year's final edition of Modified Live, the UK's top tuning show.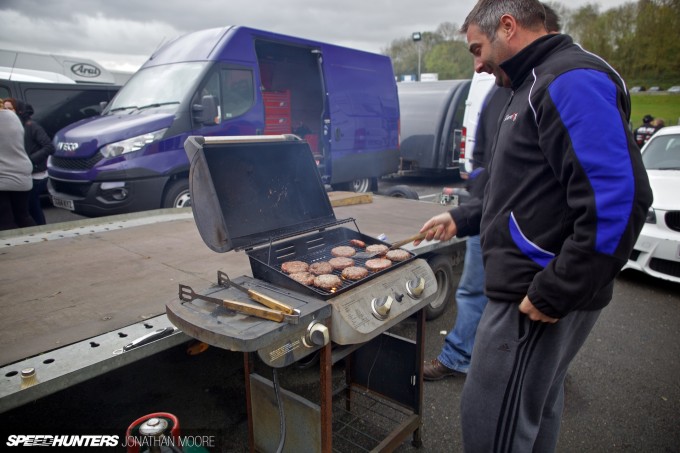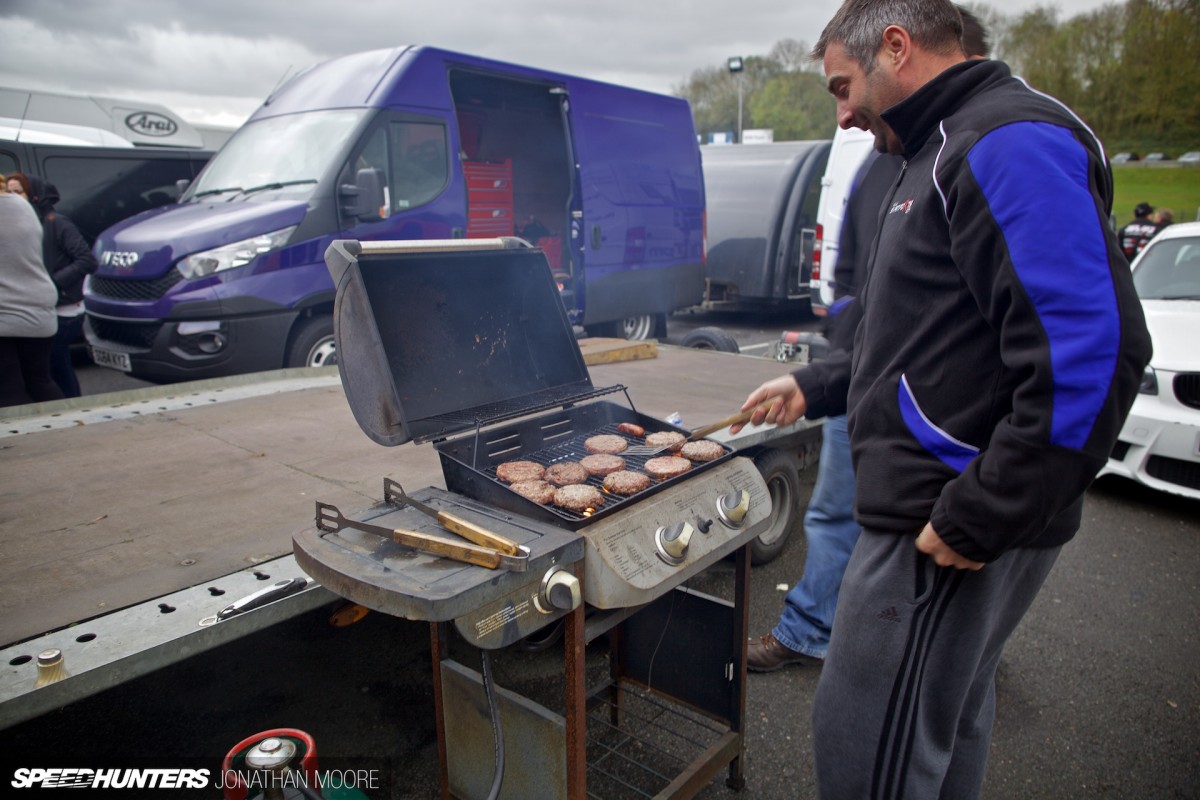 So Time Attack, Night Time Attack and Modified Live. A three-for-one deal we were all very happy to take up. The fourth thing thrown in for free, the rain, well, that wasn't going to stop the great British tradition of having a barbecue no matter the weather.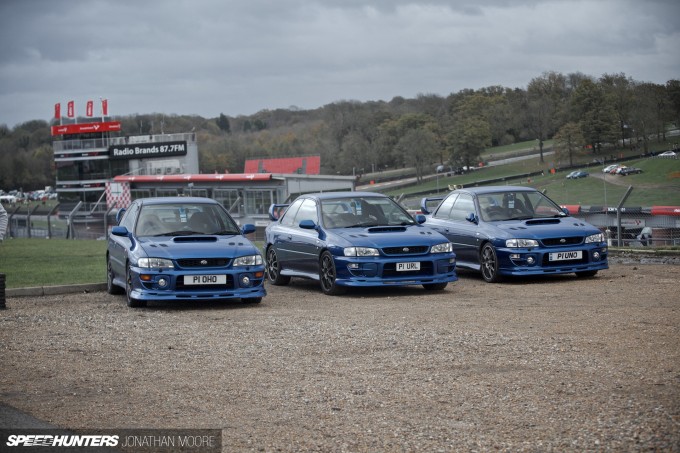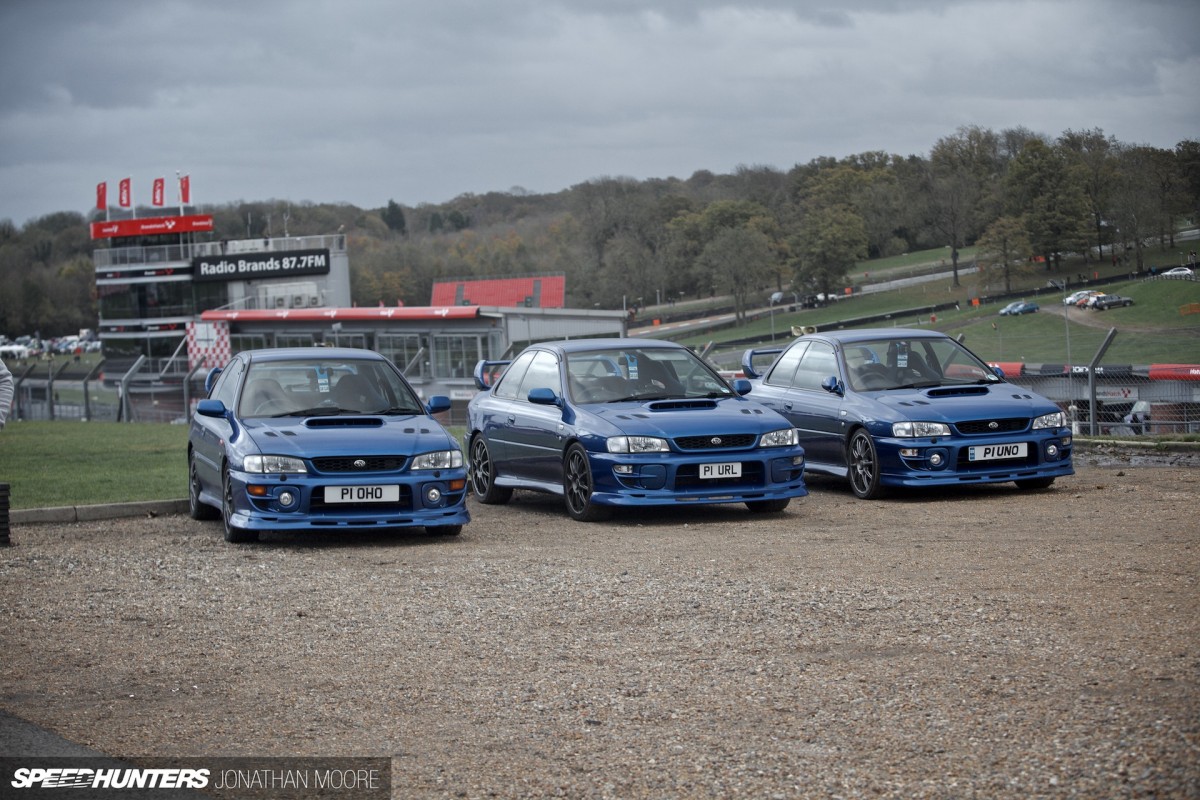 The day's problem wouldn't be what to go and see, more to work out how to possibly see it all… 21,000 footsteps and 15km of walking was what it took. It's amazing how long Brands Hatch can turn out to be. I think I must have taken the long way round.
Gobstopping Action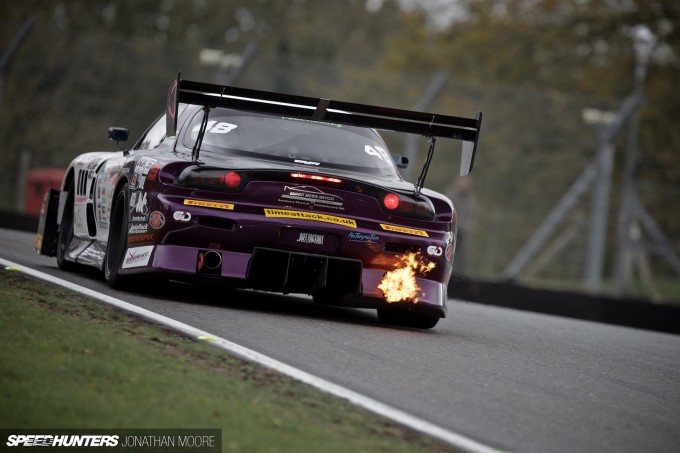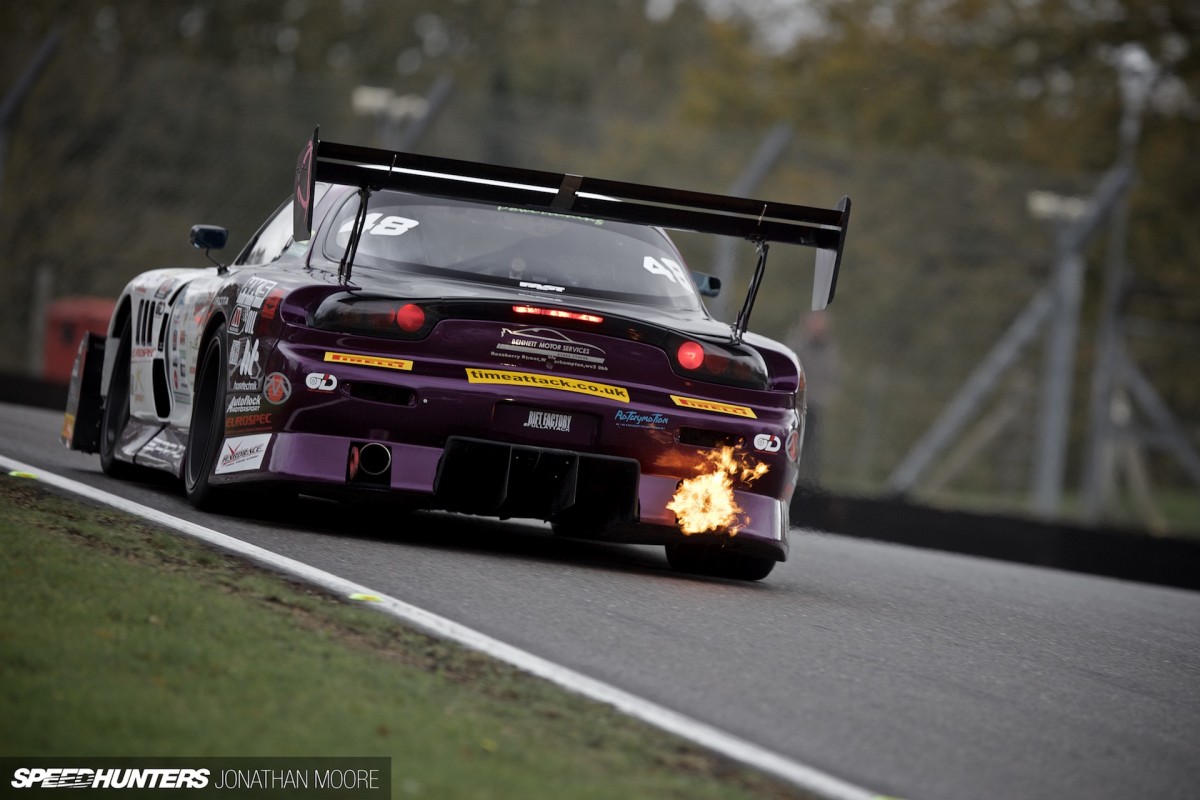 The idea of not getting Time Attack as a sport seems a bit strange in retrospect. I watch F1 qualifying (okay, more as a ritual than out of undying love) but Time Attack is always far more exciting, plus has far more cars in both quantity and diversity. Anybody uninitiated at Brands would have been rapidly converted when they saw the weaponry employed. After all, firepower always wins.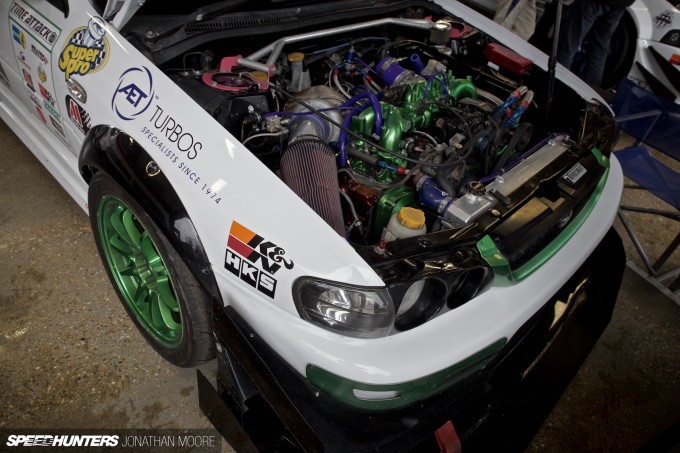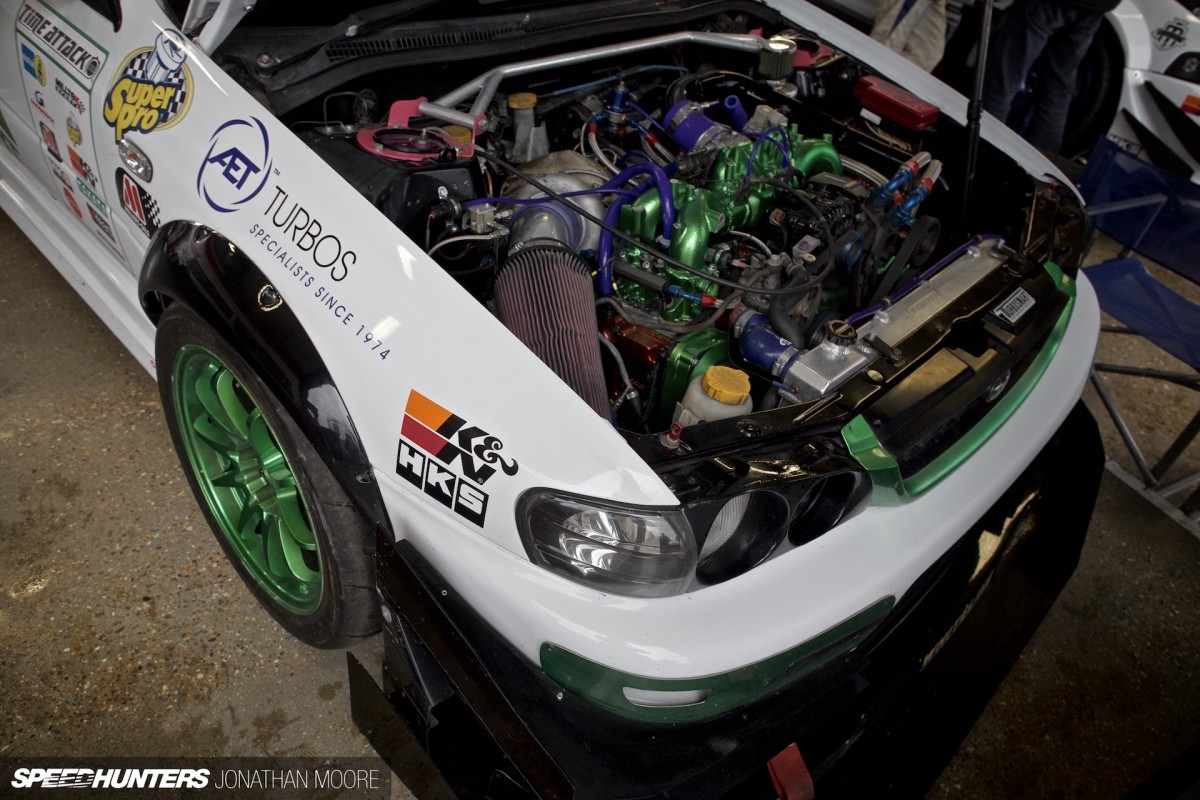 With race series being increasingly controlled and limited, it's just amazing to see a welcoming home for people who just want to build the most stupid fast car they can, whilst limiting the danger of some other guy putting you in the barrier whilst attempting a ridiculous overtaking move.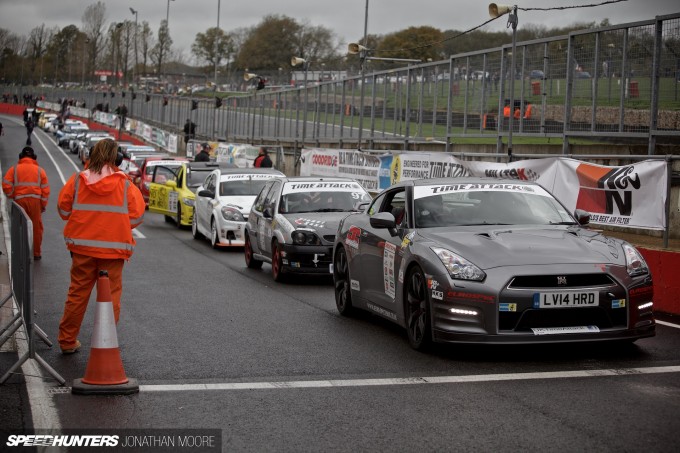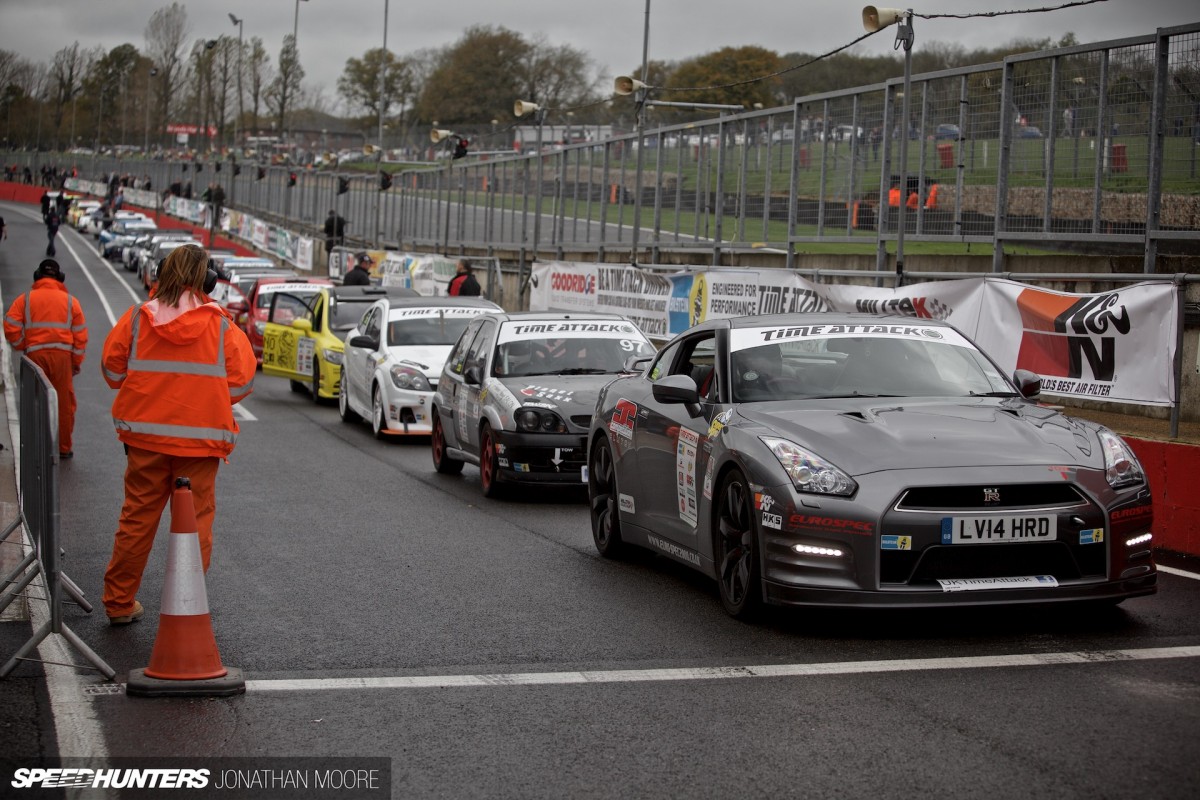 Even better, it's one of the most democratic forms of competition there is. With the Club class to tempt you in from virtually stock and the One Hit Wonder category allowing drivers to drop in on rounds as they fancy, there can't be an easier entry point. When my mythical IMSA-themed Alfa 75 gets built, I know where I'd want to take it…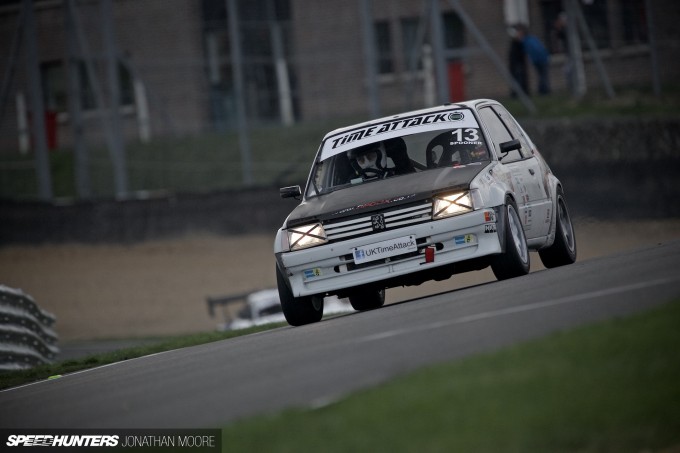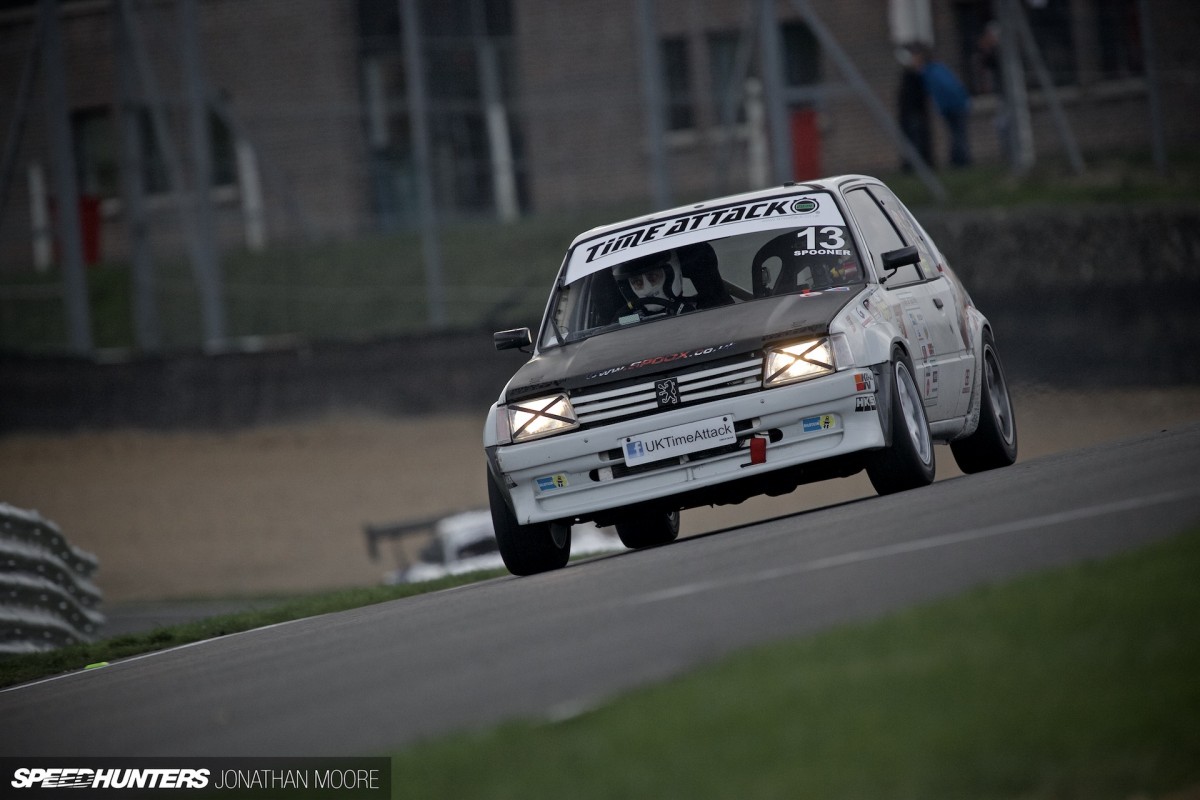 Even though I've been to UK Time Attack rounds before, I was really taken aback by the breadth of cars taking part this year. The norm is to focus on the hardcore Pro Extreme monsters at the top of the time sheets, but I really did love watching the Club class.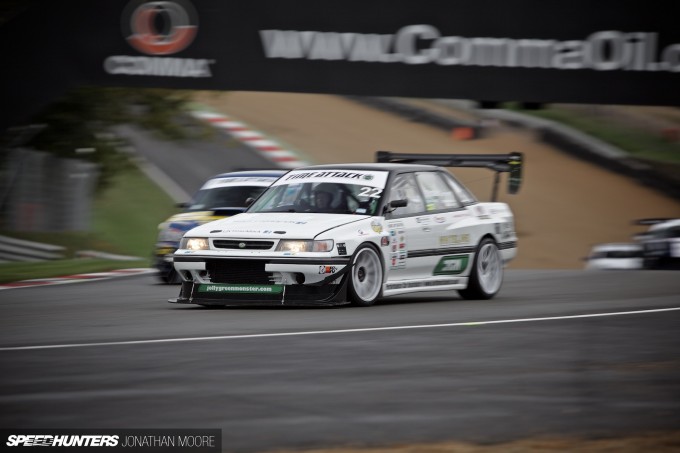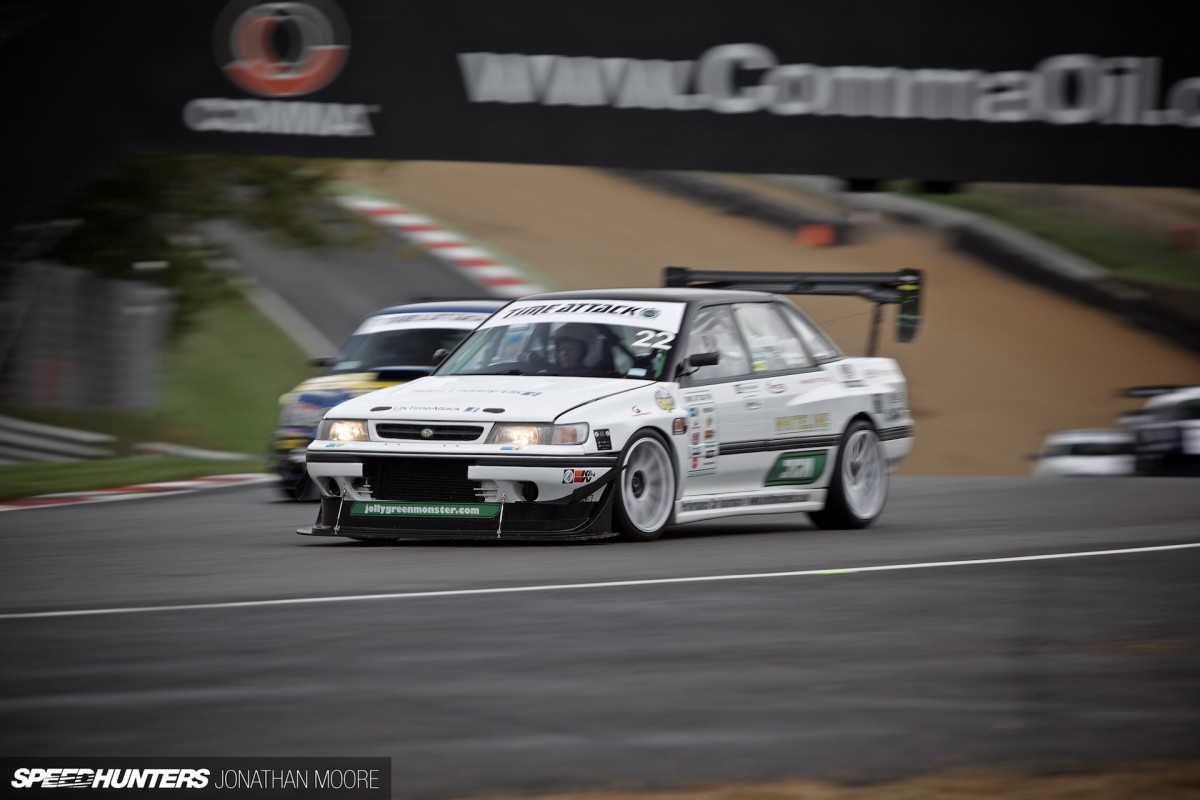 There's just an insane assortment: one minute you get a supercharged Citroen Saxo with a Peugeot 205 for Gallic company, the next a trick Legacy hammering past.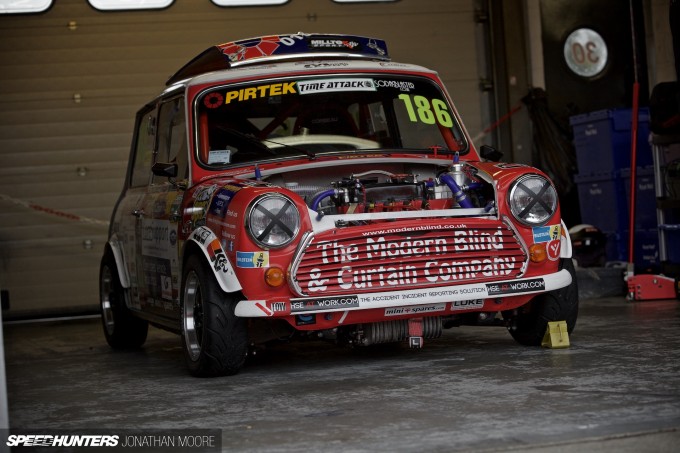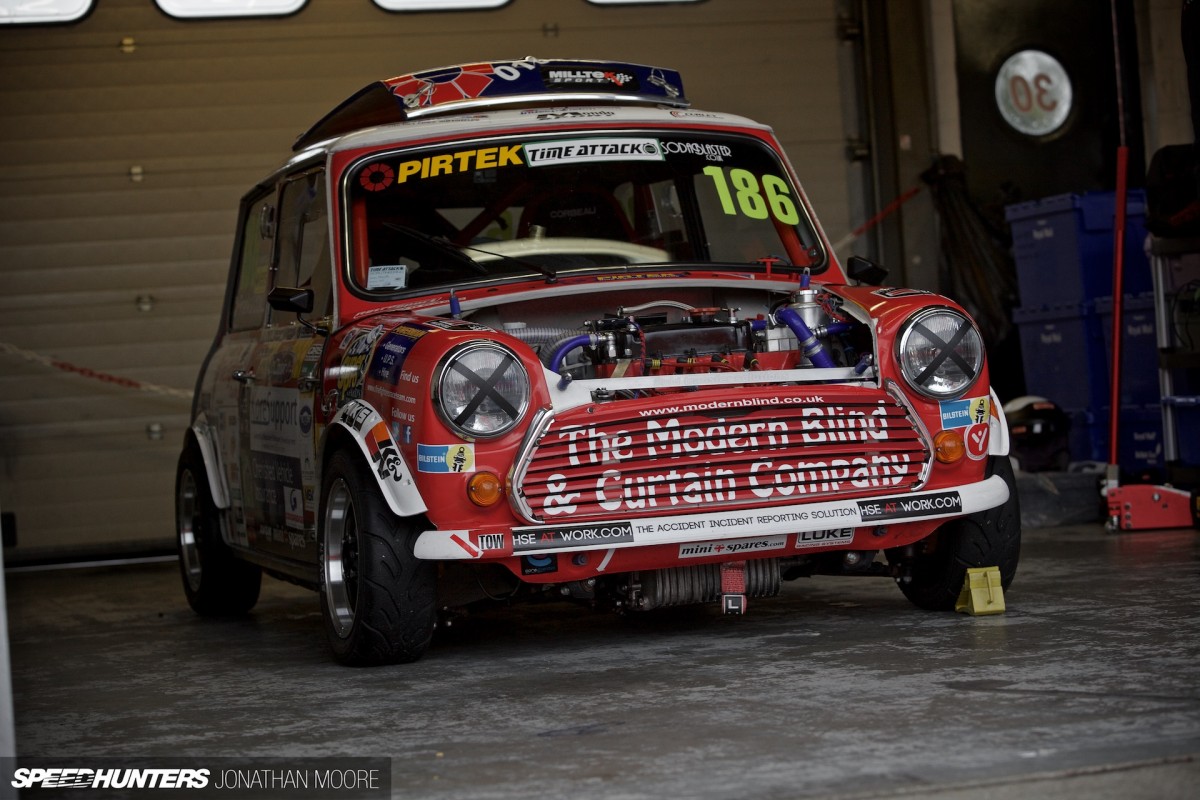 The Classic category has been growing in popularity, and Time Attack have really hit the mark by welcoming in older cars. At the same time, I didn't expect to see a classic Austin Mini out at Brands! It was doing what Minis always do: being eaten on the straights, but then scrabbling back past into corners. Never bottom of the time sheets, despite what else was out there!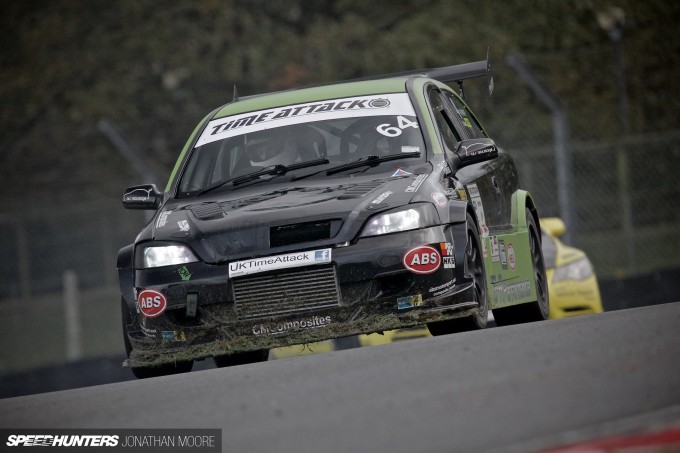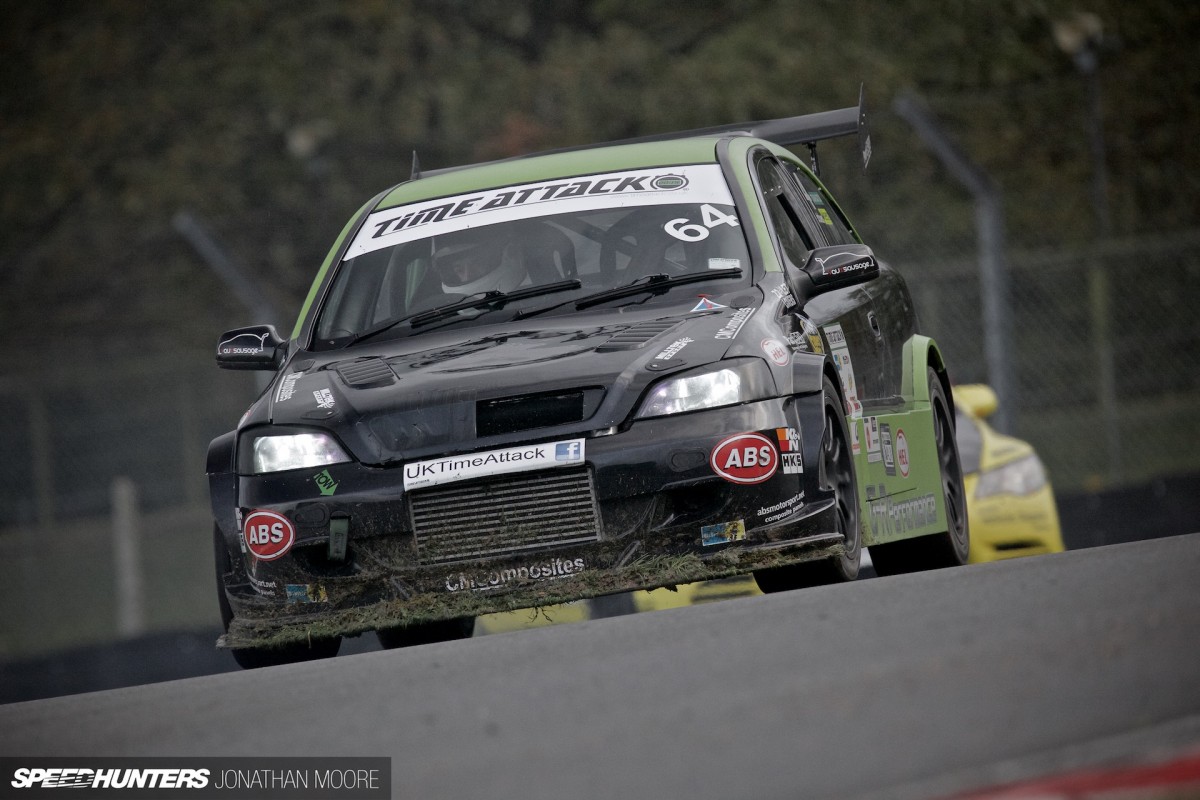 There were also what looked like some British Touring Car Championship Vauxhall Astras out there, of various vintages, who were pushing seriously hard – as the splitter attests.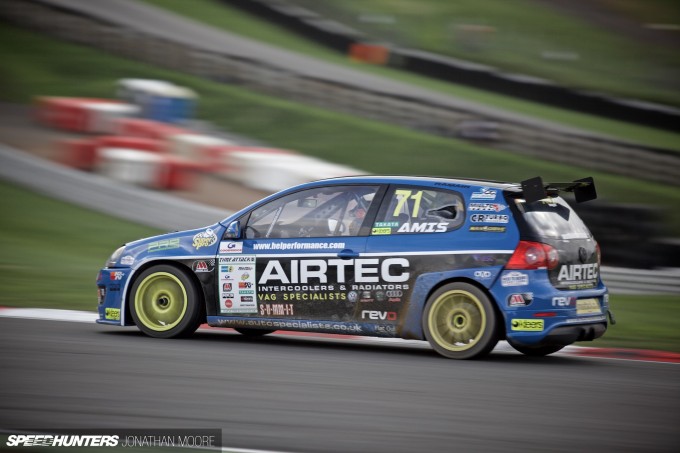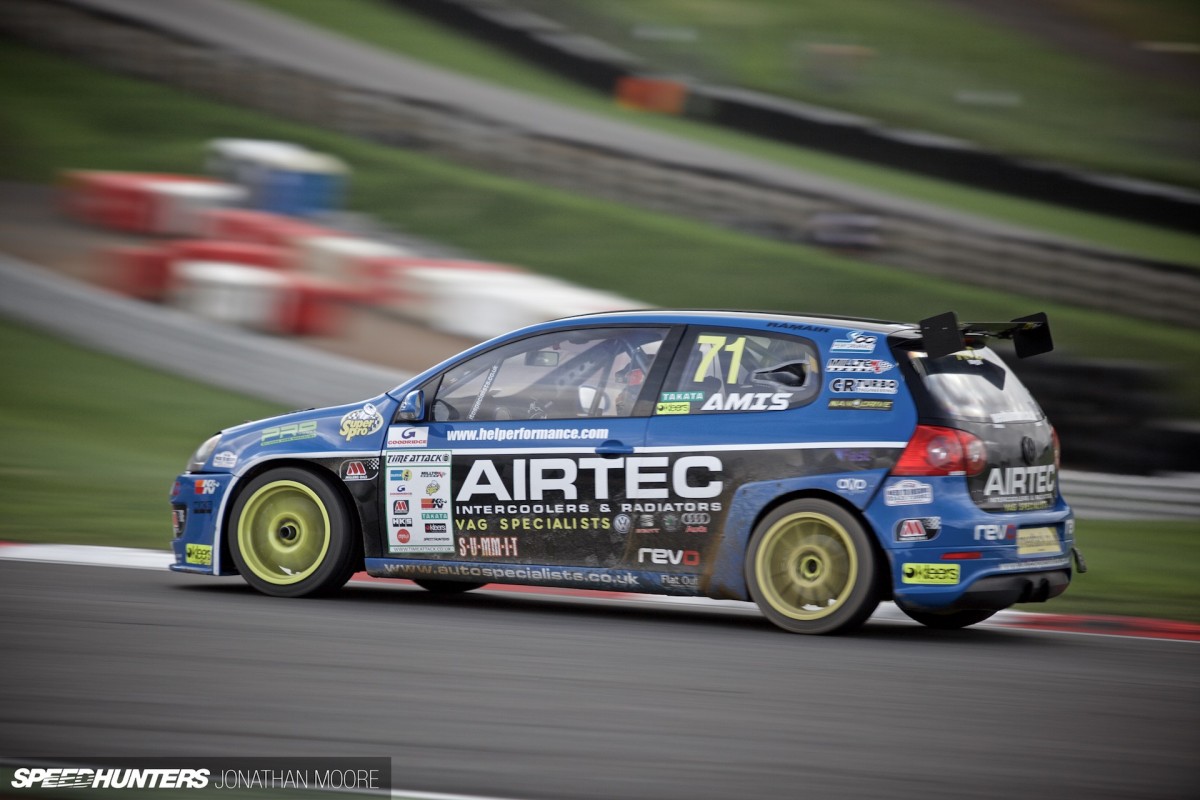 One car that was definitely ex-BTCC was Ronnie Amis' VW Golf: it was campaigned last year by AmD, so it's a car I know well!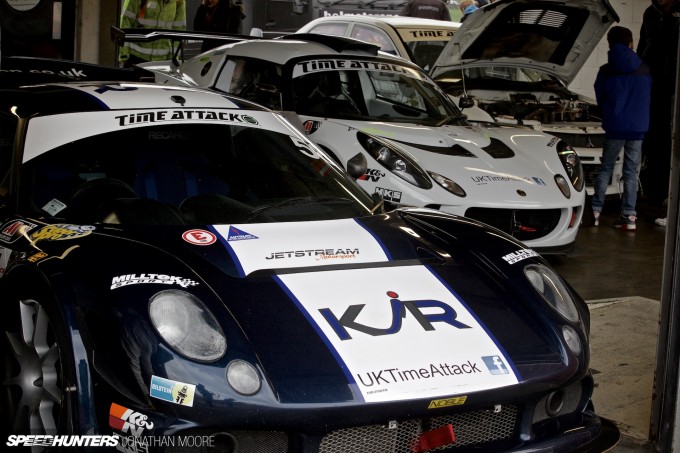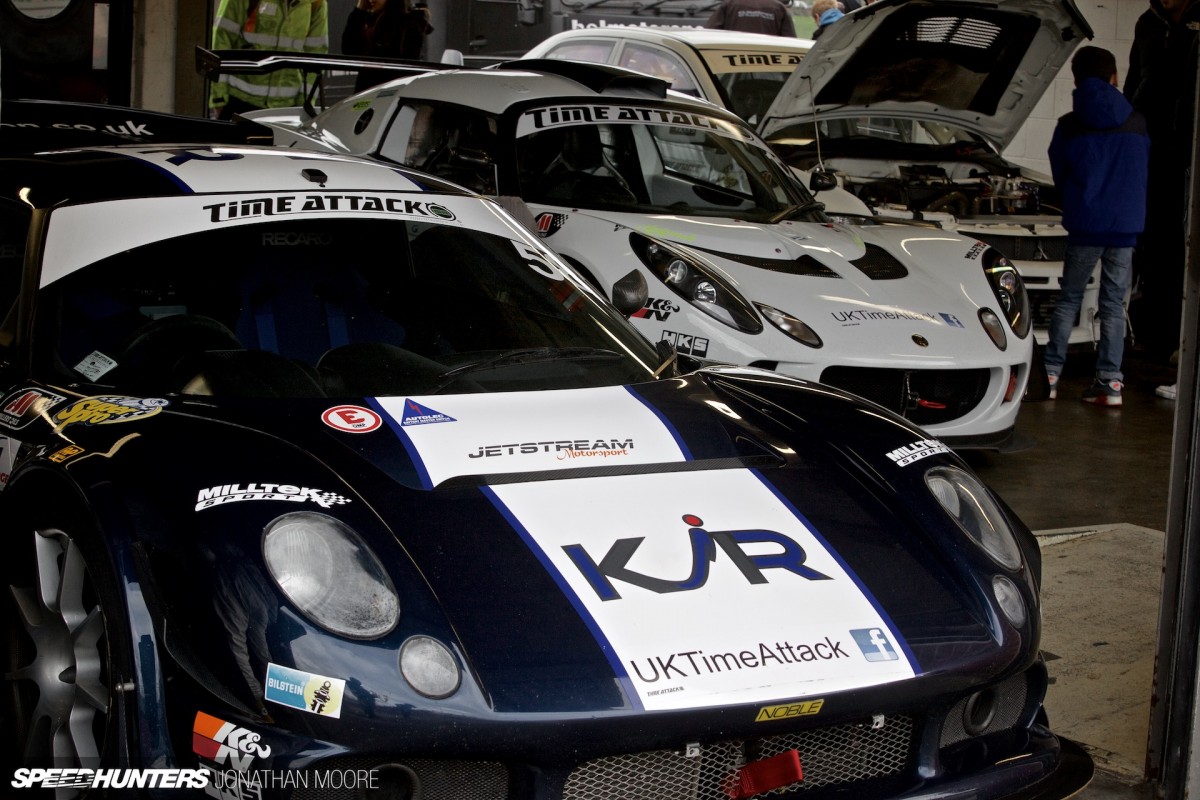 Club also sees some British metal. This Jetstream-prepared Noble M12 swept the RWD class this year, and the Elise was in as a One Hit Wonder for Brands.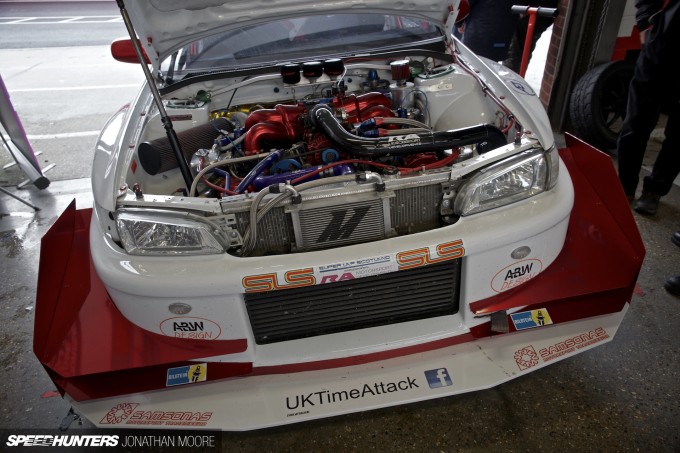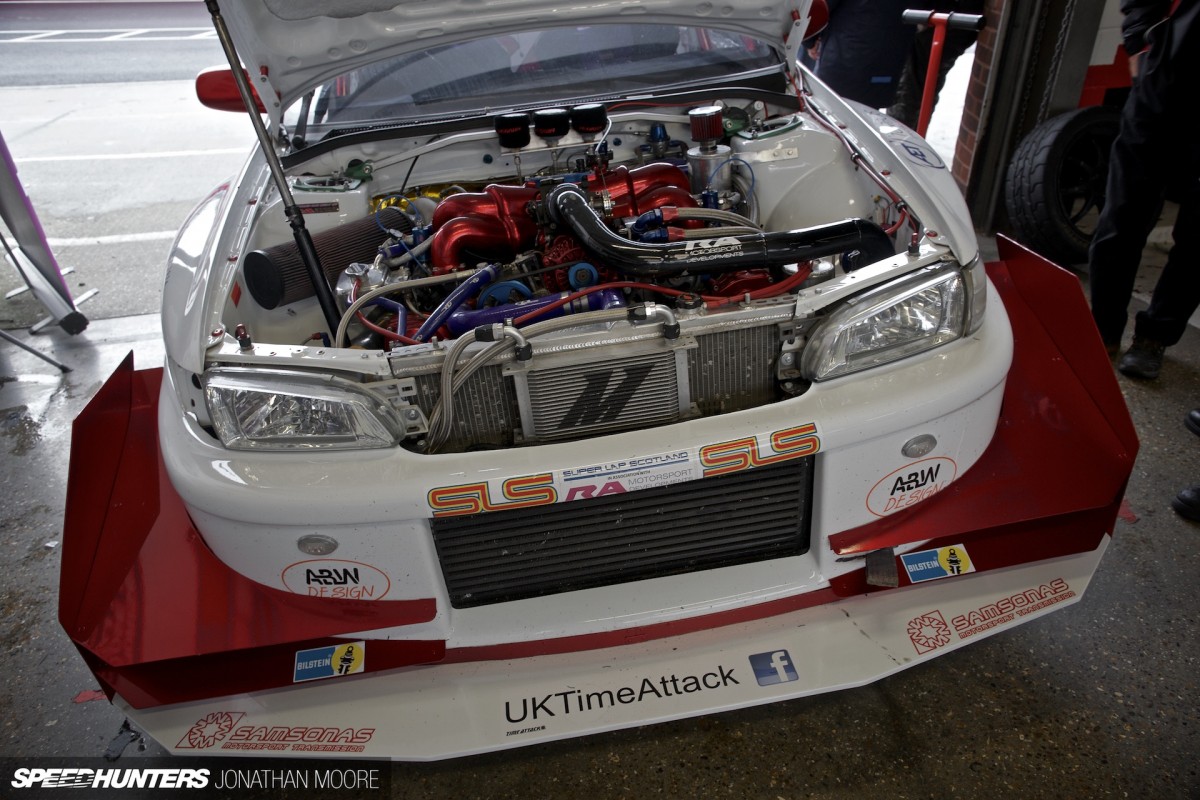 But then there's the Pro class, the make-you-weak-at-the-knees class, the 'my turbo actually isn't that much bigger than your turbo because your turbo is enormous' class. A case in point is the immaculately-prepared Impreza of RA Motorsport Developments; they also have a barely less aggressive sister car running in Club Pro (second shot in this chapter), the gateway drug between the main classes.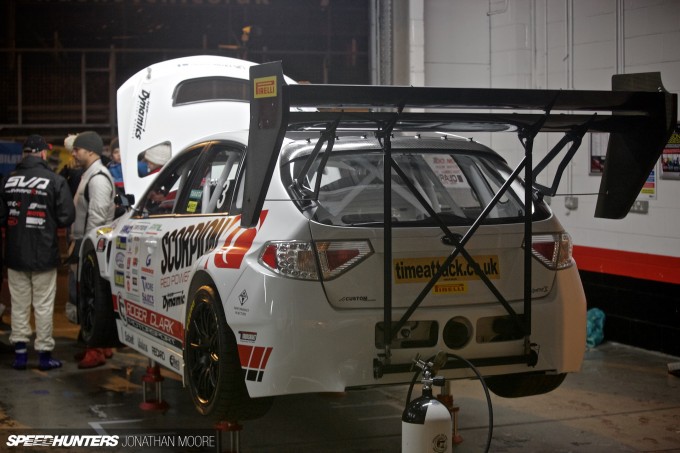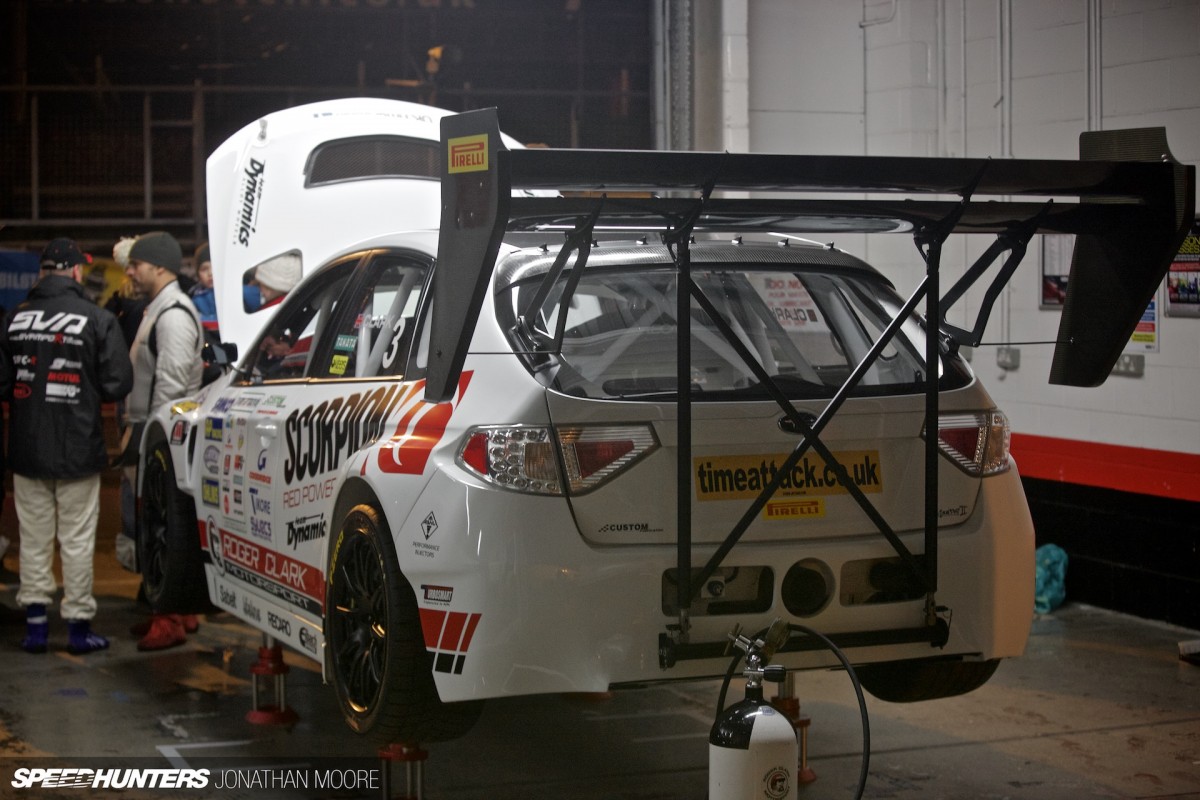 The Pro Extreme car that I was particularly looking forward to seeing in the flesh was the Roger Clark Motorsport-built beast that is Gobstopper II. Bryn previewed the build last autumn, and my first view of it back at this year's Autosport show wasn't near satisfactory, no matter how awesome it looked even standing still. Dropped off the jacks would be even better, I knew.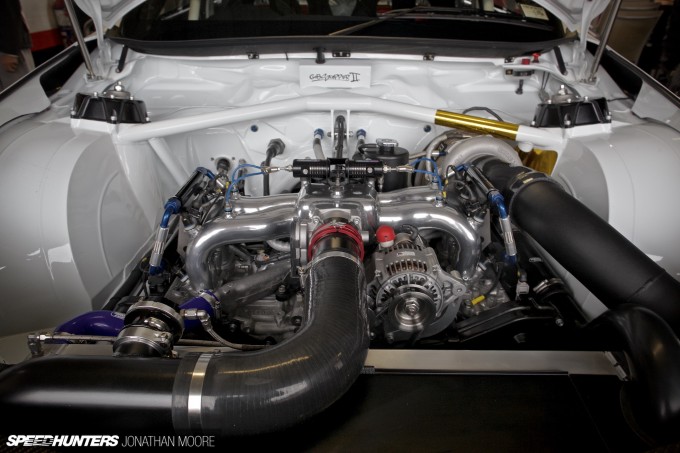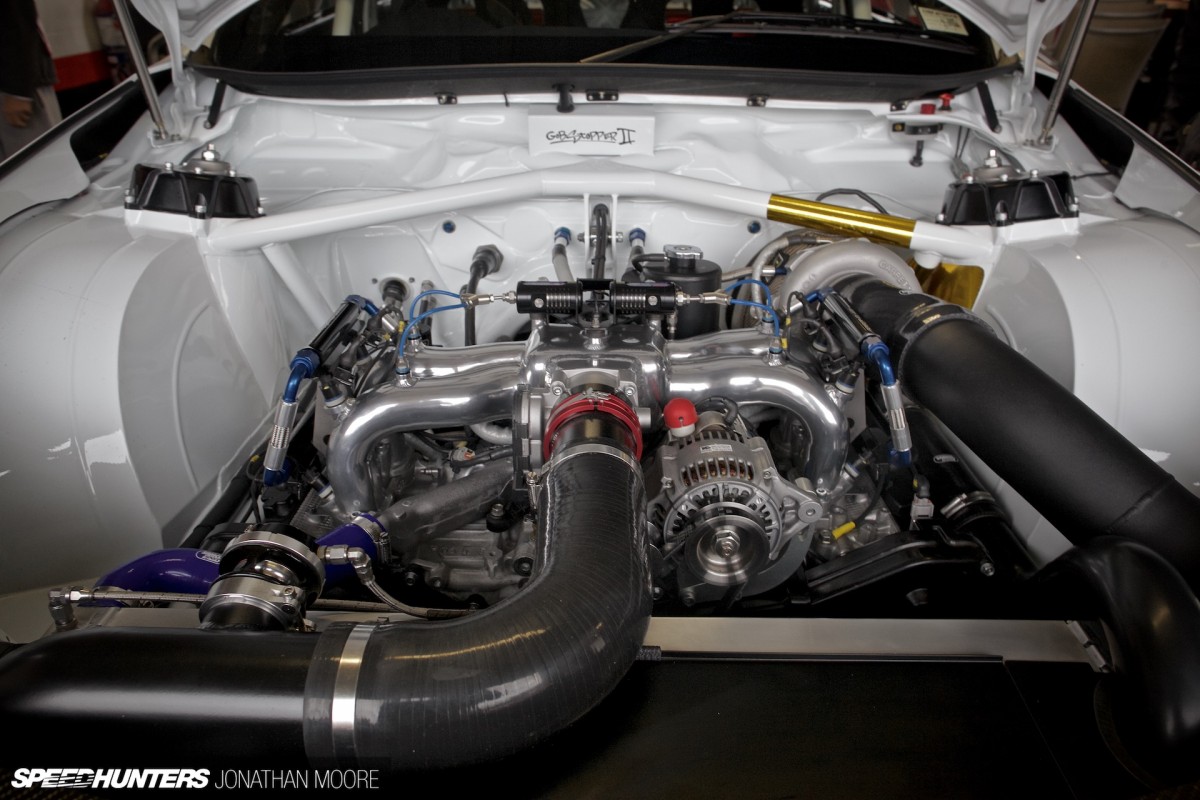 Even after a season of hard competition – and a championship-winning one at that – the engine bay and its turbocharged two-litre EJ20 were still looking immaculate, showing the level of preparation put in by RCM.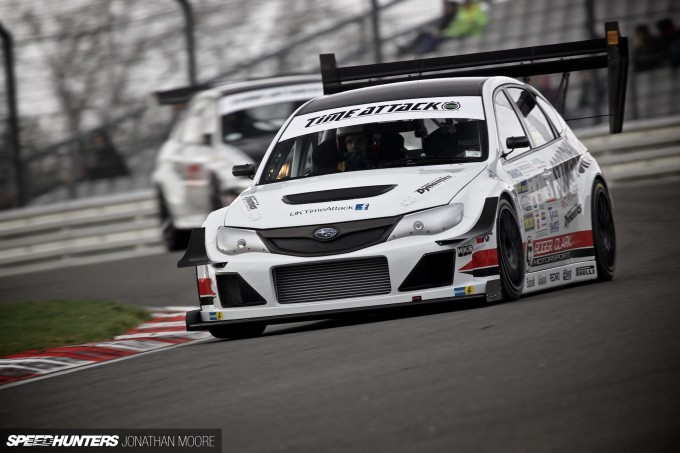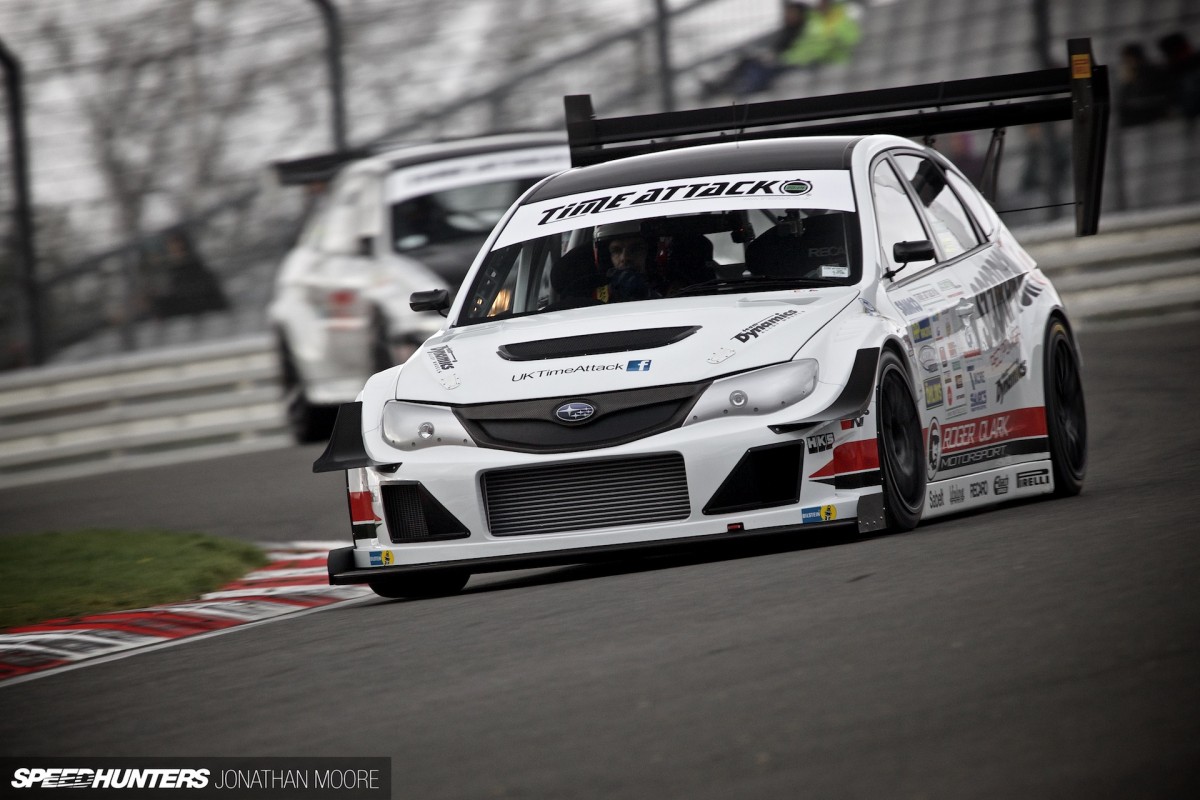 With WRC-derived shell and CFD-crafted aerodynamics, Gobstopper II is just as awesome in the flesh as you'd expect, nailed to the track, cornering like it was on rails. No wonder it won the Extreme Pro class this year.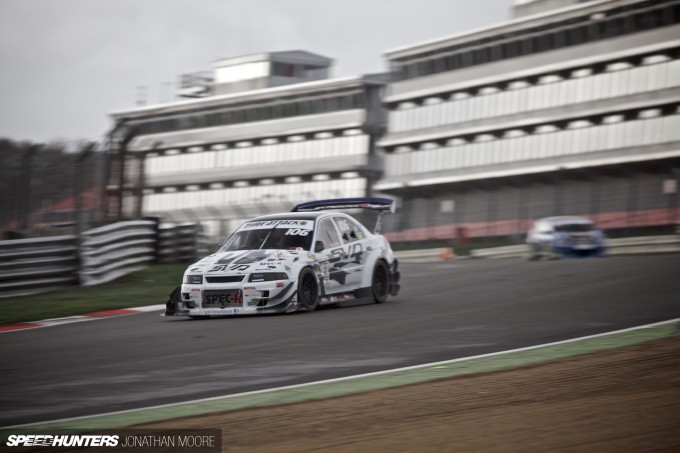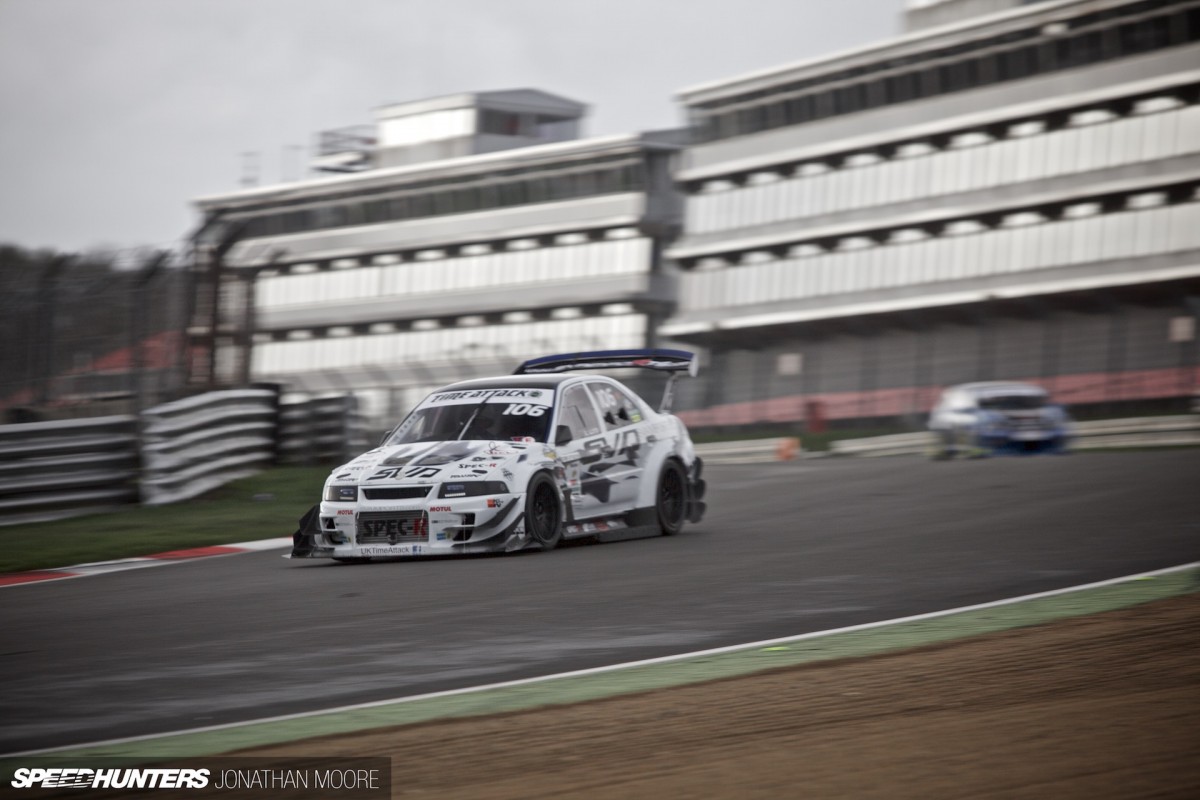 Actually, what was perfect was that the top three comprised the holy trinity of Japanese cars: the RCM Impreza, Marcus Webster's Skyline (seen in the opening shot) and SVA Import's staggering battlestar Evo VI driven by Gareth Lloyd. This car puts the Evo into evil: it's invariably been the fastest thing on track.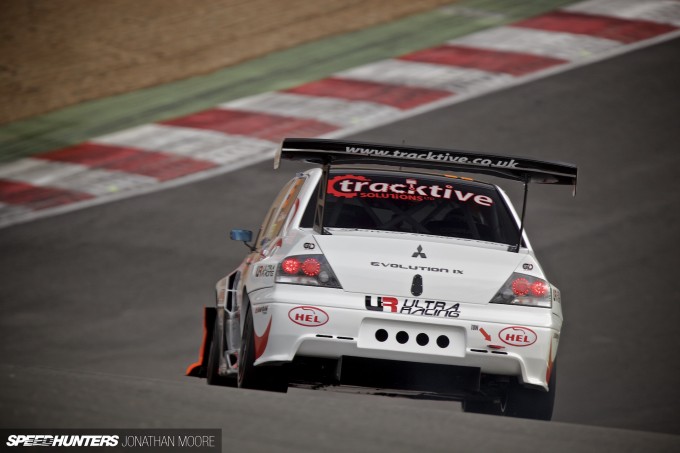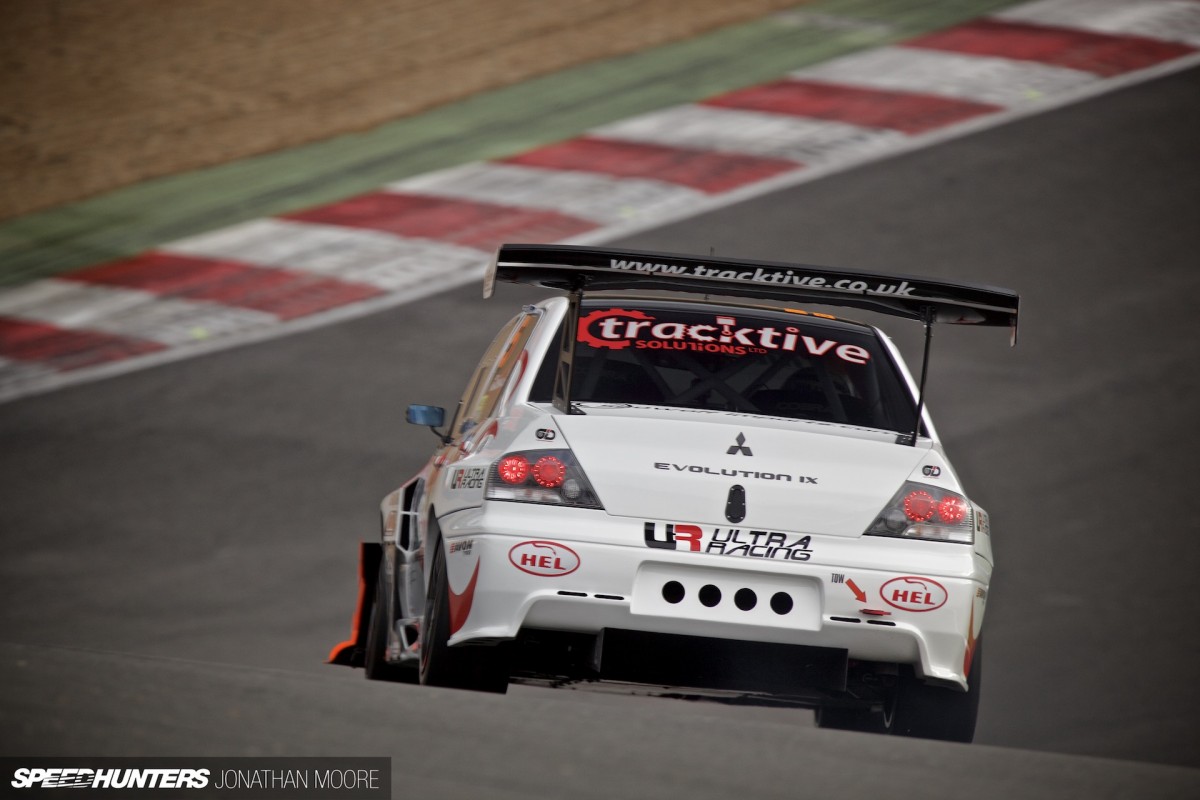 Evos and Scoobies are still evergreen choices for Time Attack, perfect for incremental revisions from stock to insane as you progress through classes. With the former, you could pretty much count to 10 with the various evolutions of Evolution on show.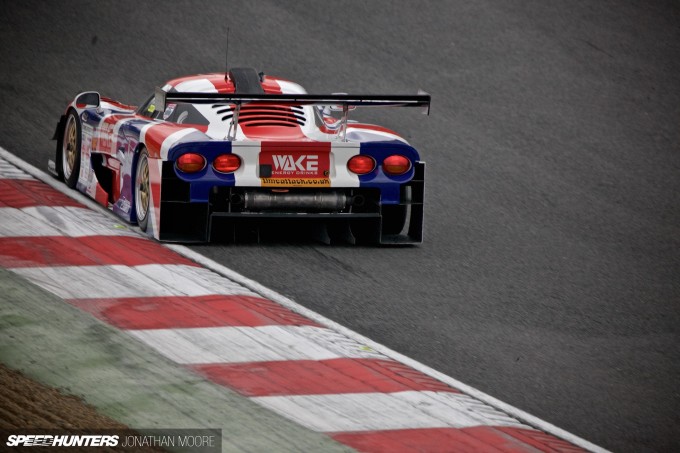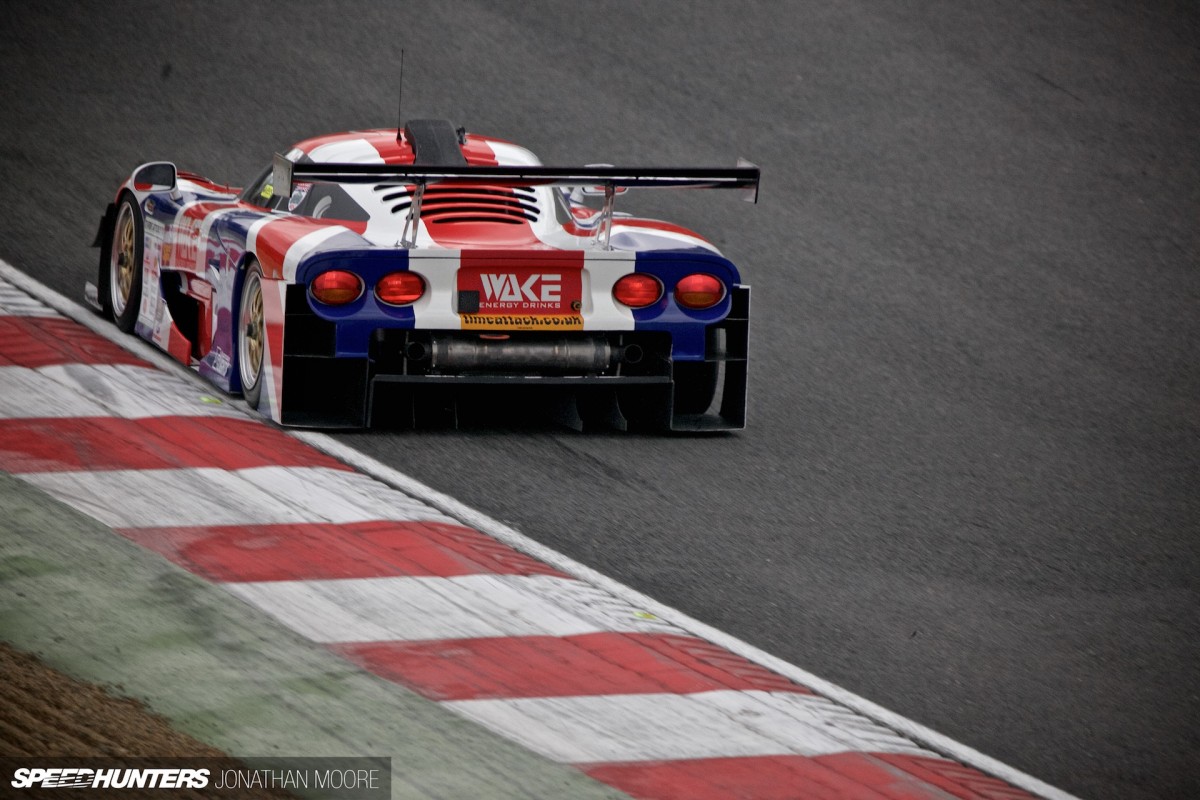 There was an interloper at Brands Hatch though: a thoroughbred racecar in this Super GT-spec Mosler entered in Pro Extreme as a One Hit Wonder. It did look epic, especially with the box-section rear which made it look like an old IMSA Corvette, and was predictably quick – up there with the TA specialists, but not faster.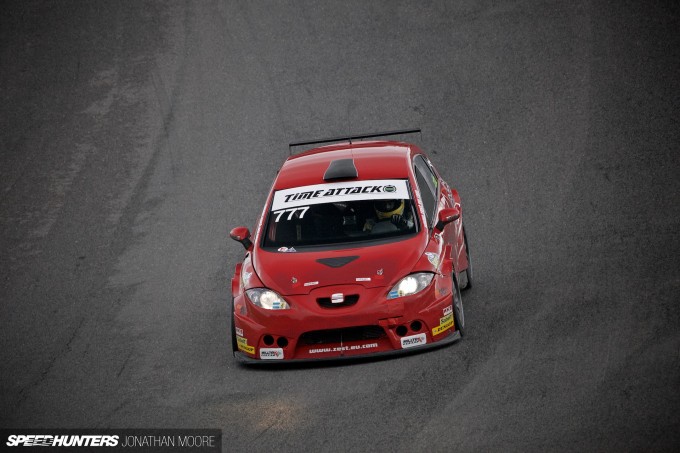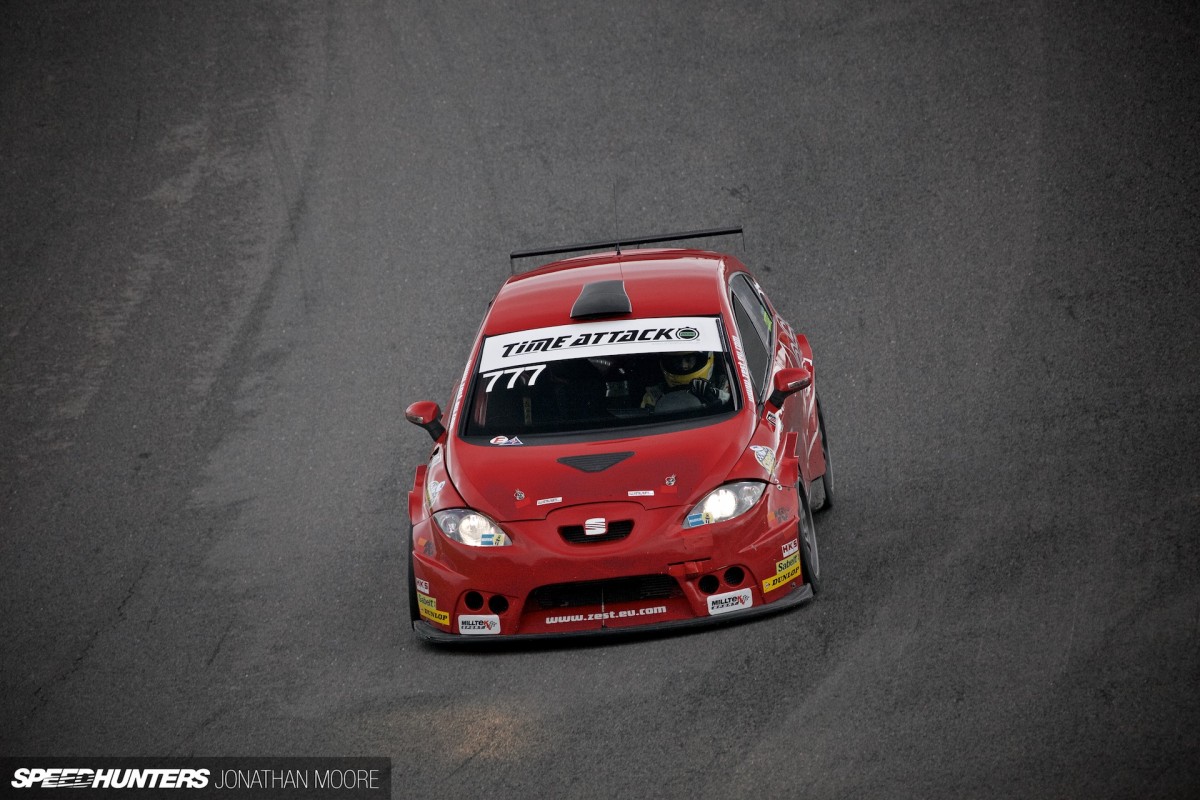 Rather than it being driver against track, at Brands Hatch the conditions became a second major factor. The chilly air and occasional rainfall meant led to teams taping up the fronts of their cars in an effort to retain heat and get some temperatures into their runs.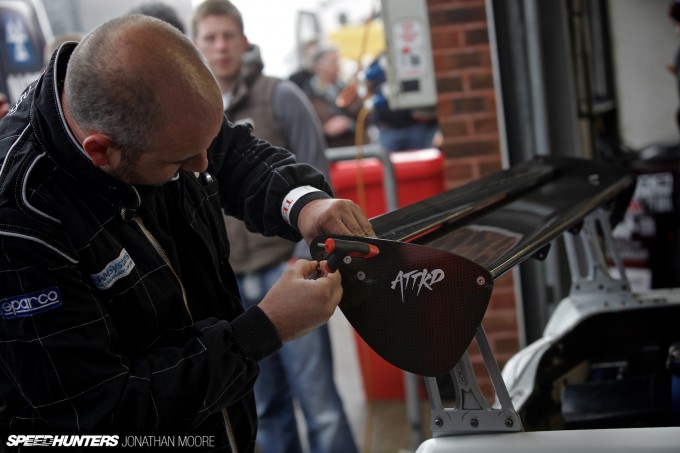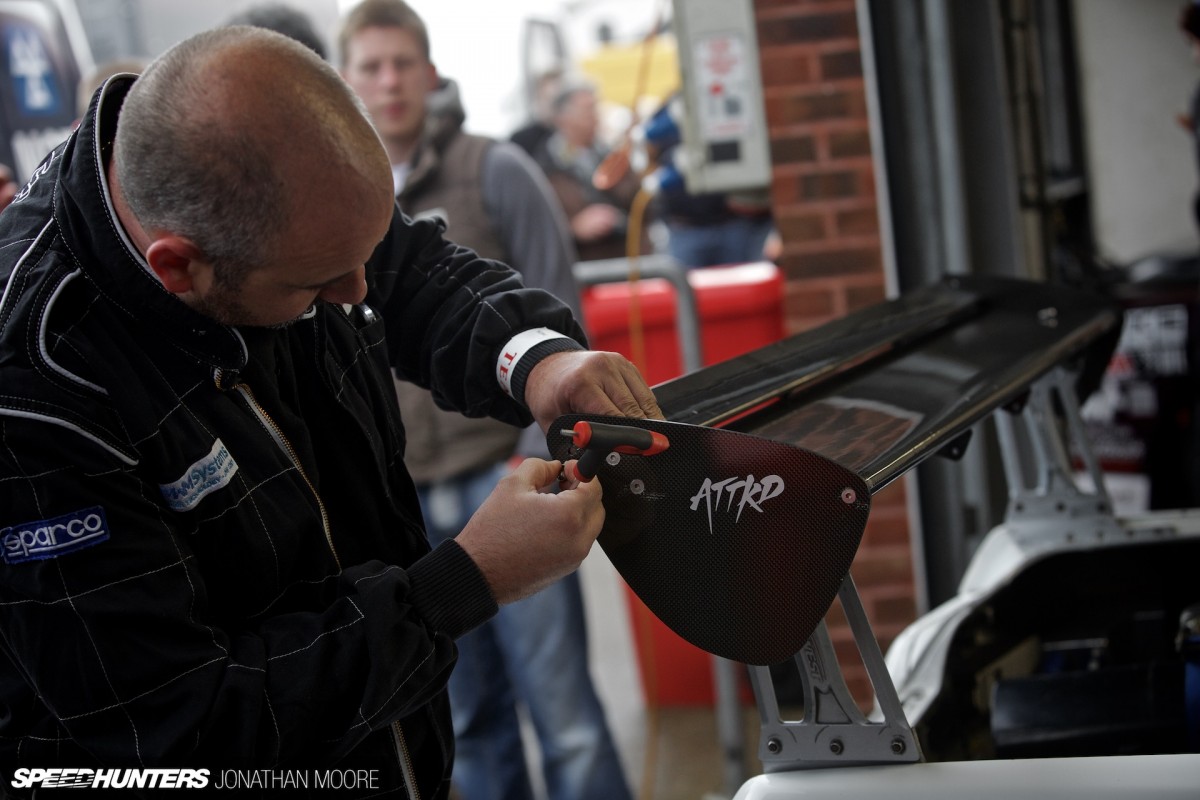 Downforce was definitely the order of the day, so piling on extra wing was standard operating procedure. With the daytime Time Attack sessions drawing to an end, I made a sprint for the surrounds of the track and the sprawls of car clubs.
Packed In The Paddock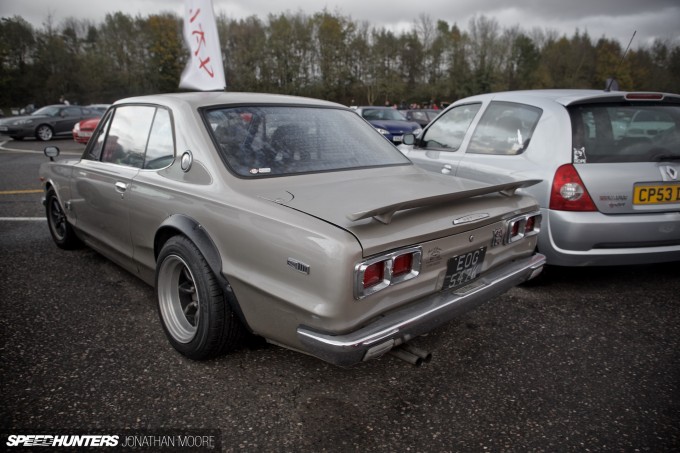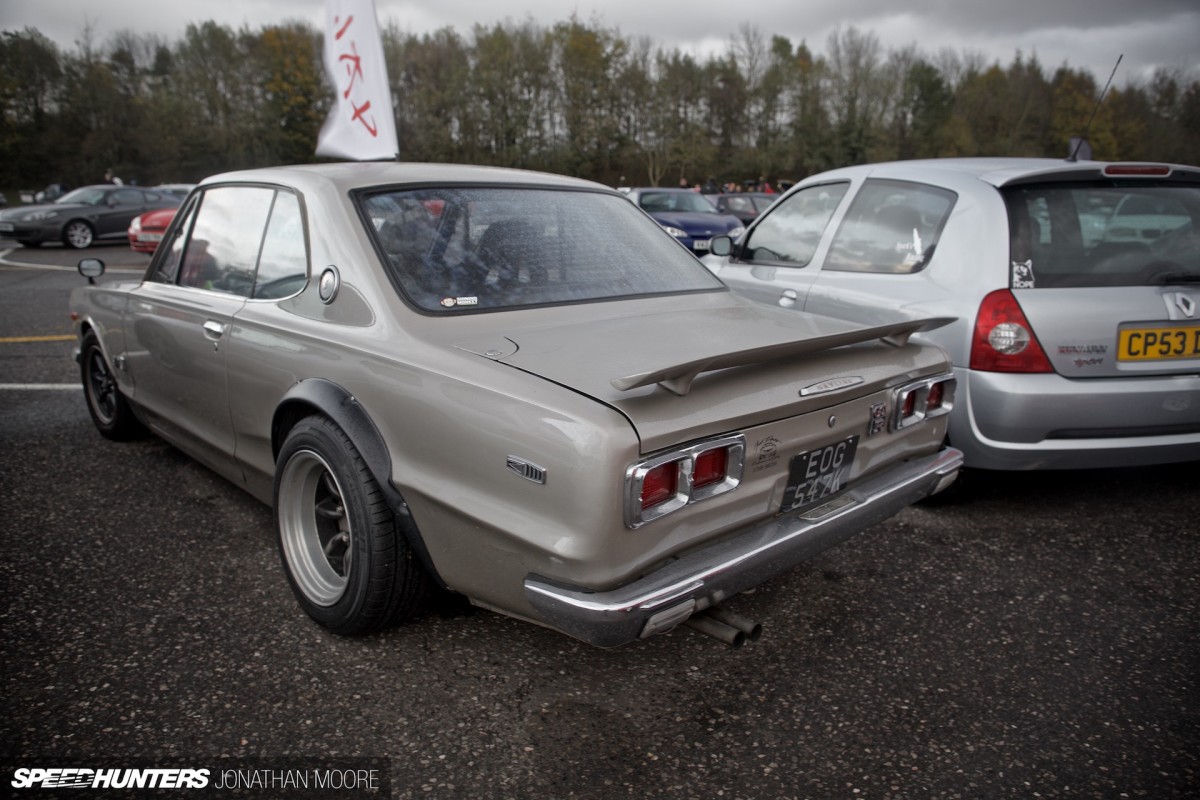 Modified Live saw the usual melting pot of clubs rocking up with everything and anything you could imagine. Tuned doesn't have to mean over the top, and modified doesn't preclude subtlety. Or even rocking up in a classic. And I mean the car on the left.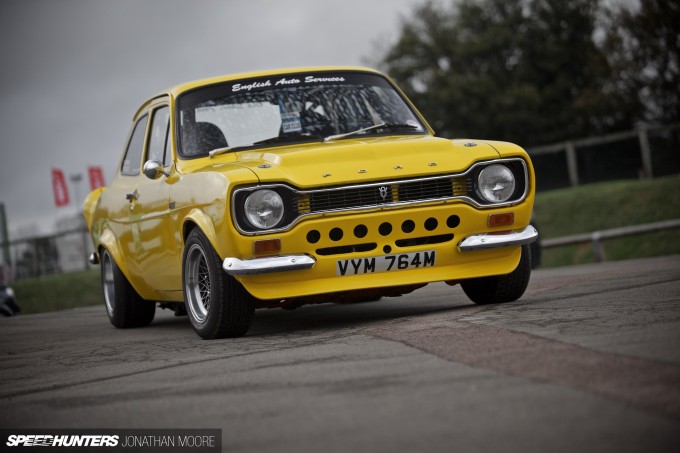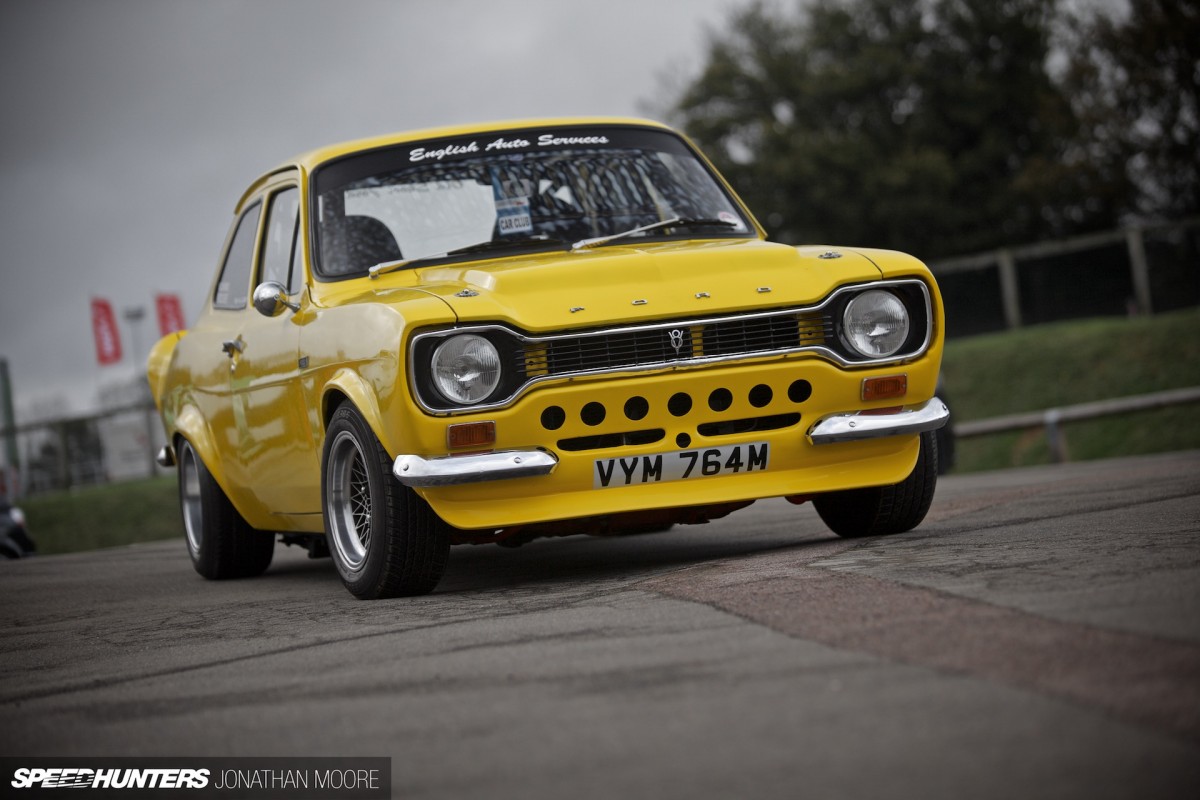 Personally I far prefer the less-is-more look, where you know something's changed but have to look twice. Although being bright yellow and sporting a big ducktail spoiler meant this Mk1 Escort got me at first glance!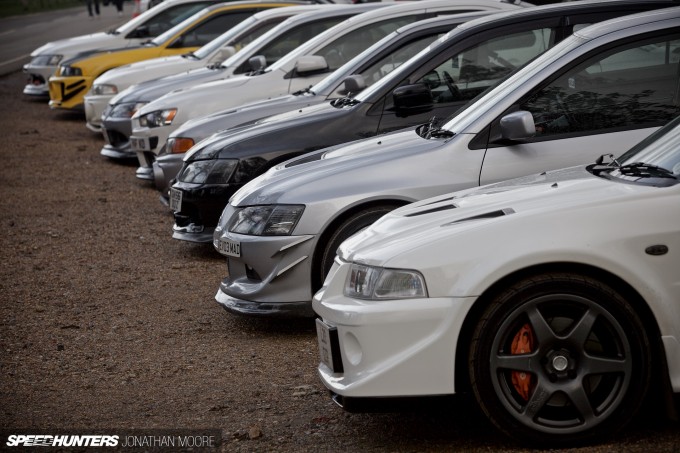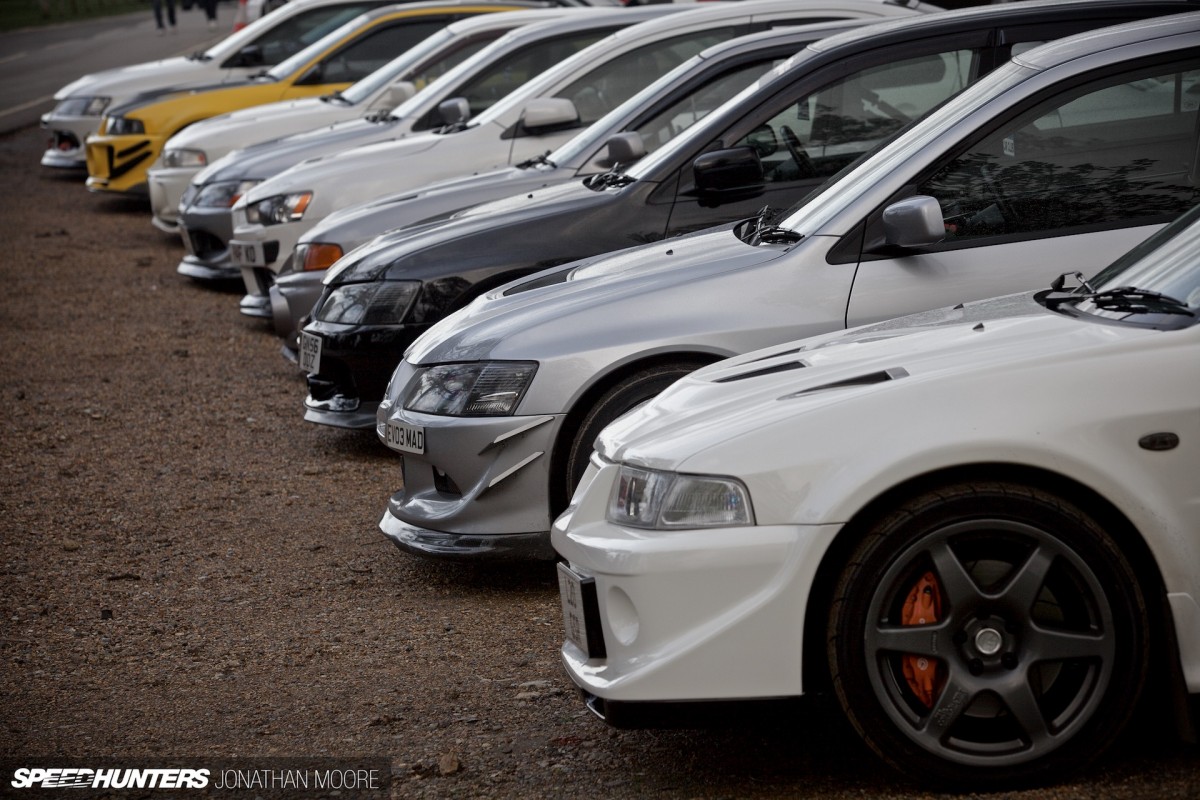 One-make clubs made up the majority of the displays around the top of the track, with the Mitsubishi owners putting on a particularly strong display, and further adding to the Evo-heavy theme of the day. Subaru vied for numbers, with a healthy smattering of various vintage GT-Rs as back-up.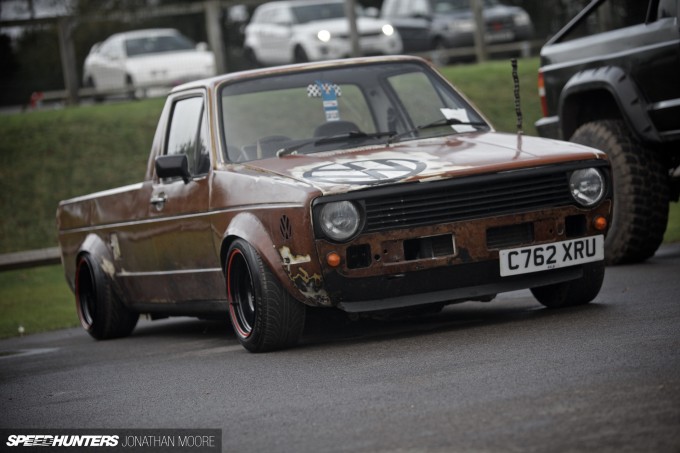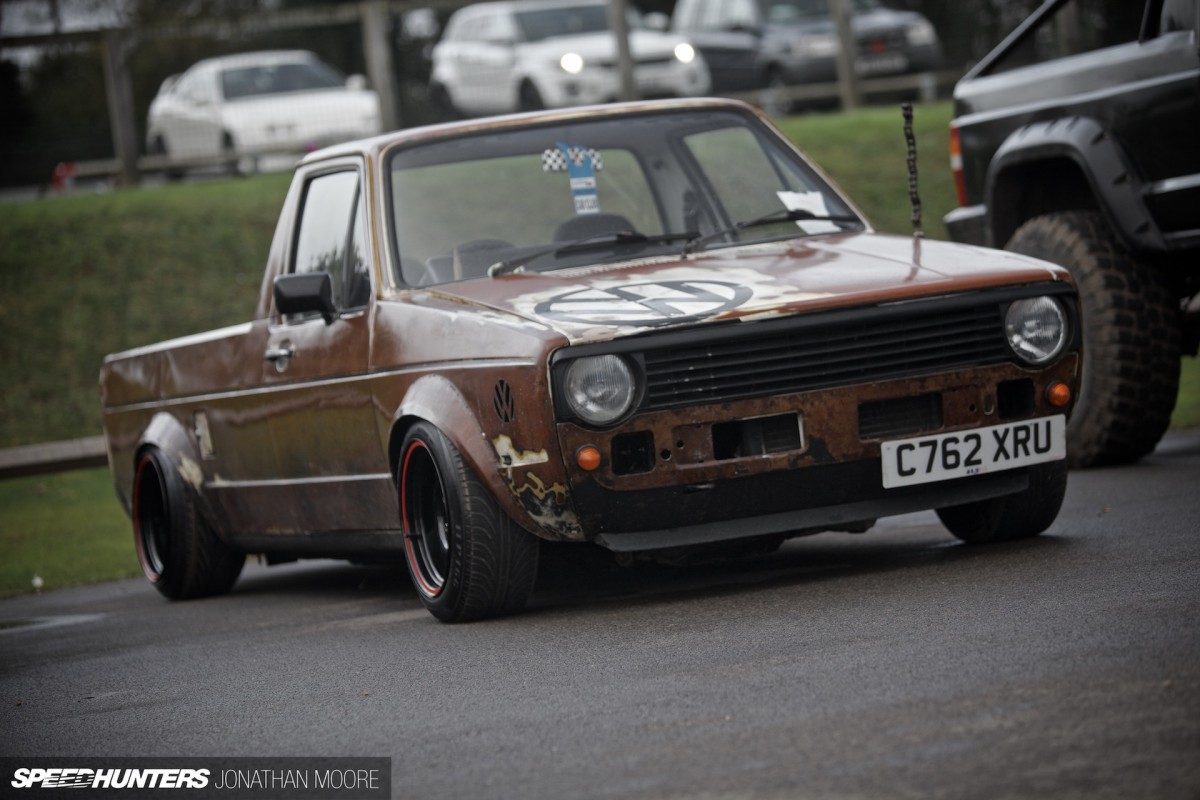 Out on the hard-stand behind the tribunes I came across some great machinery. A surprise at every corner, with cars of every style and scene parked up.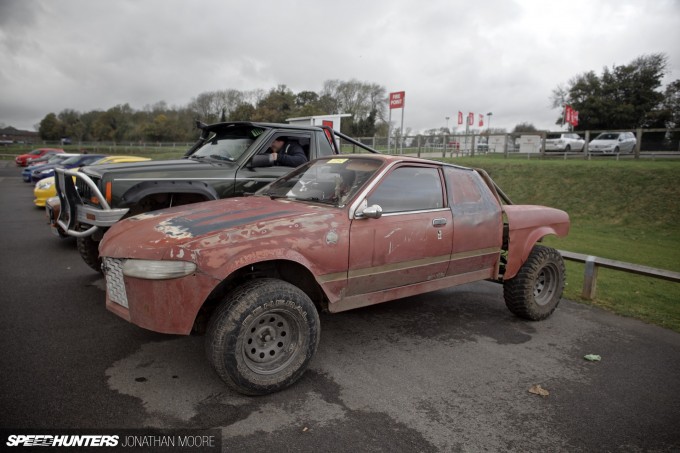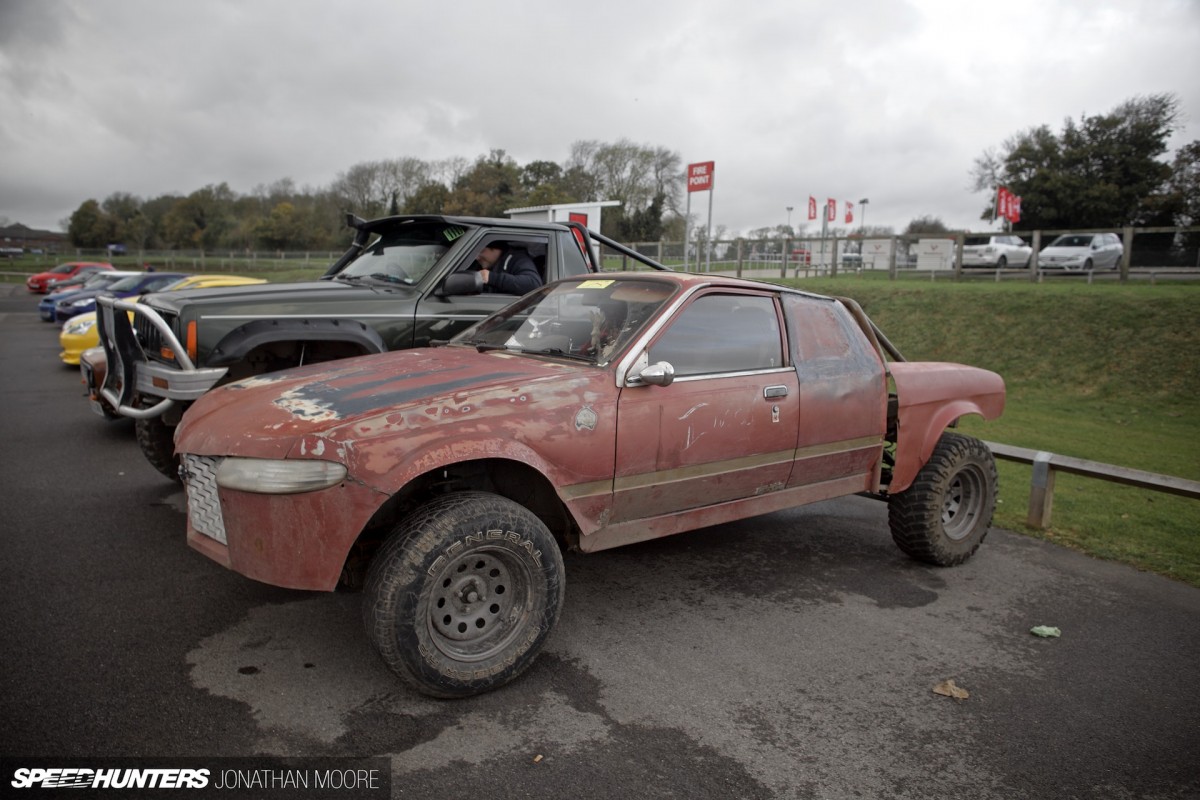 I seem to keep coming across this car! Bromley in the summer, then even driving near my house… It's mutated over time, now into a pickup, which seems fitting for this beast. Maybe not a beauty, but there's definitely a deliberate scrapyard, anti-style charm to it!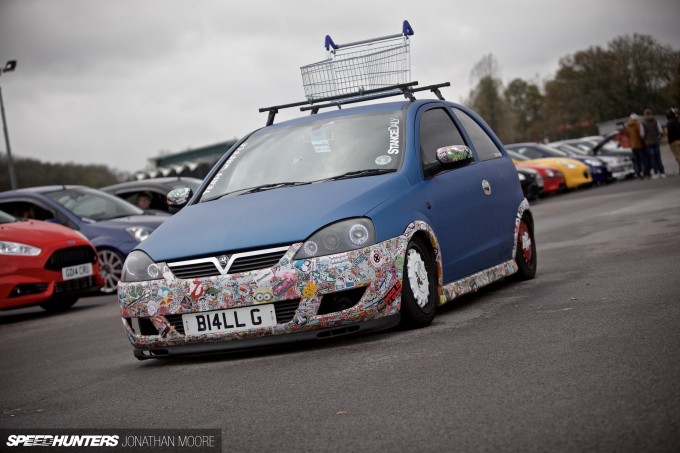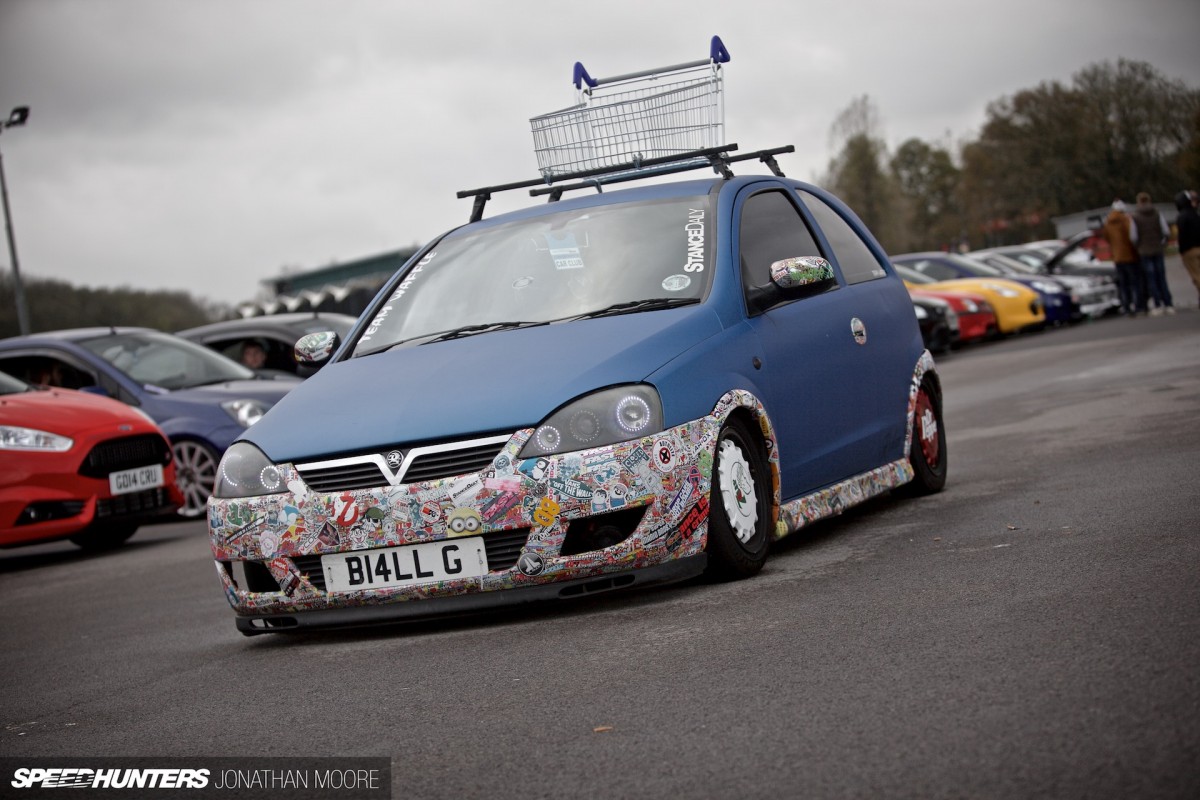 But sometimes you've just got to let your sense of fun win over. For instance, if you're going to modify a compact shopping car, don't try and hide it…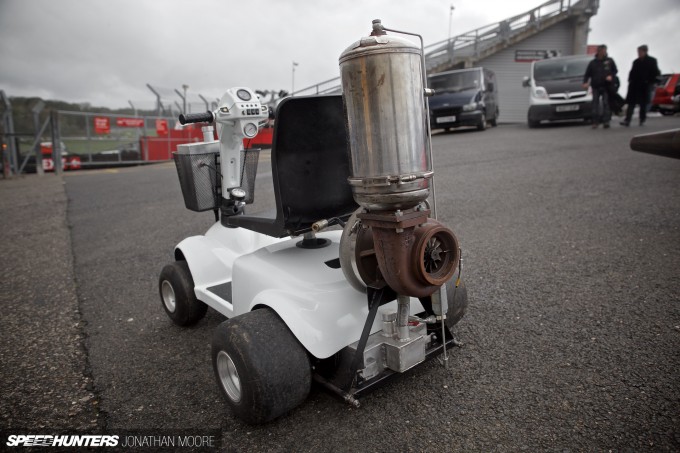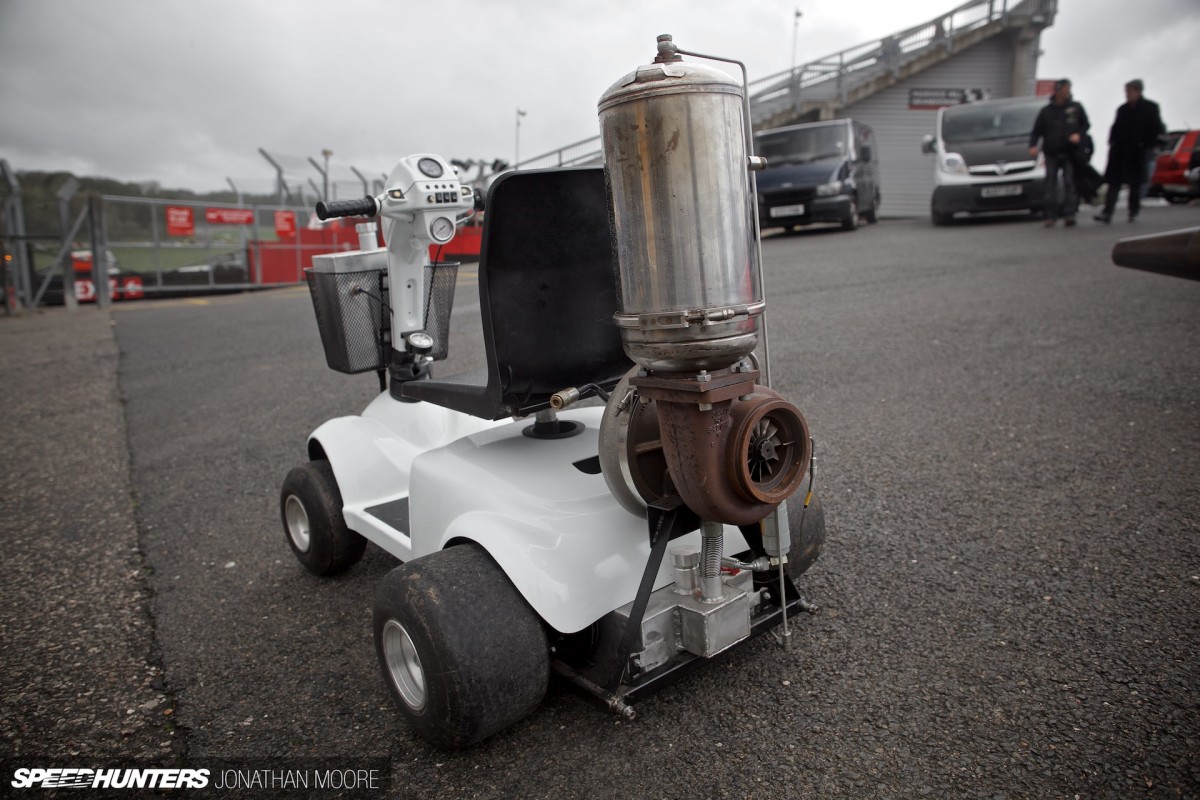 So what if you have a mobility scooter? Put a turbojet on it of course! Complete with afterburner. Seriously. This is a work in progress from the same warped mind that produced the twin-jet Mini shown earlier – and a jet powered, Perspex enclosed go-kart that was demonstrated down the main straight. Hearing two-stage ignition is not something I'll forget in a hurry.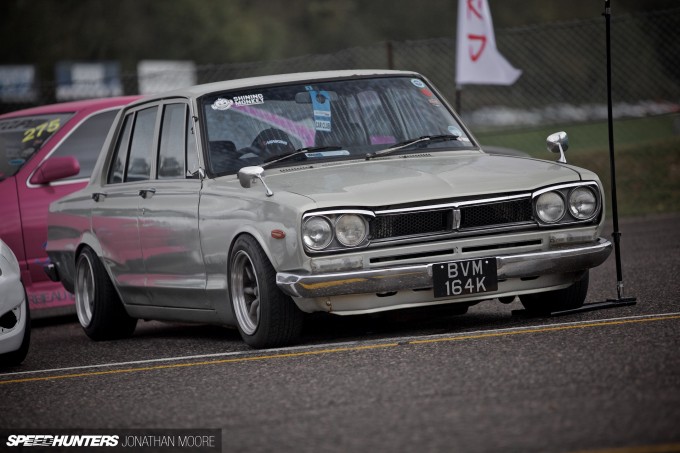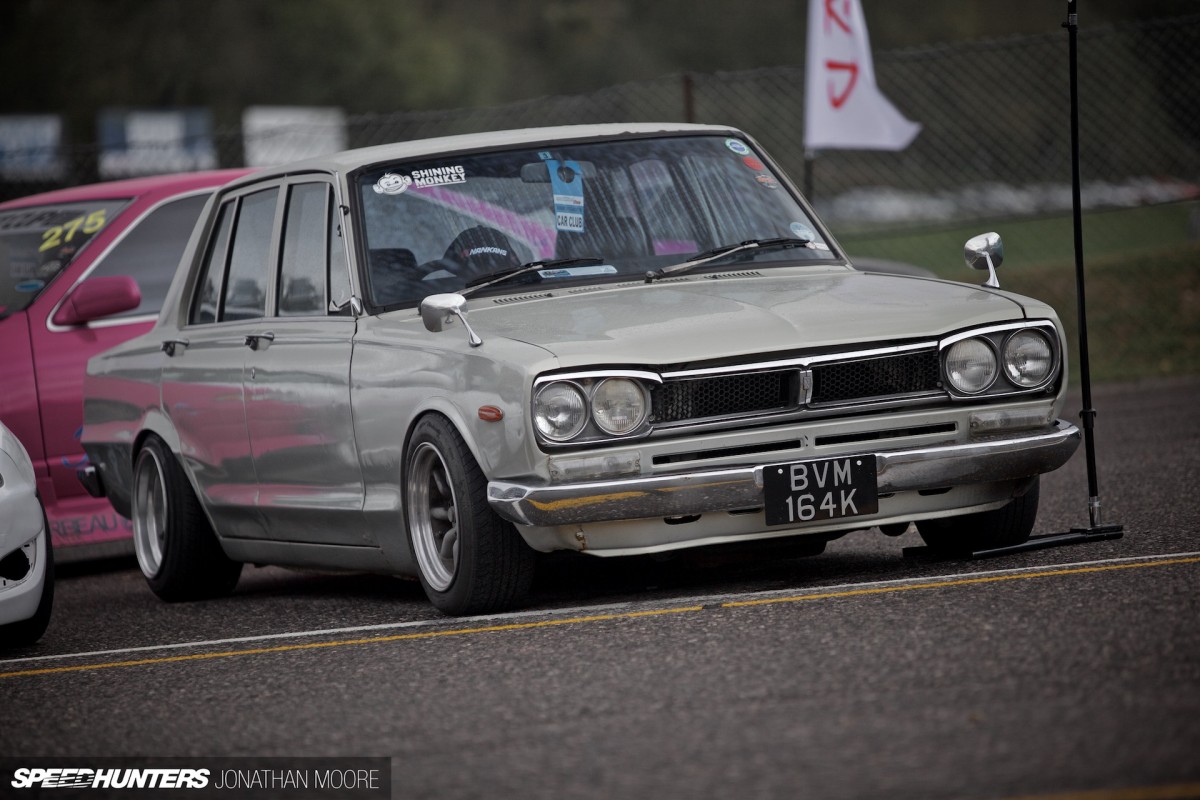 Seeing a four-door C10 Skyline is a rare occurrence in the UK – so spotting both this and the two-door coupé on the same stand was most pleasing.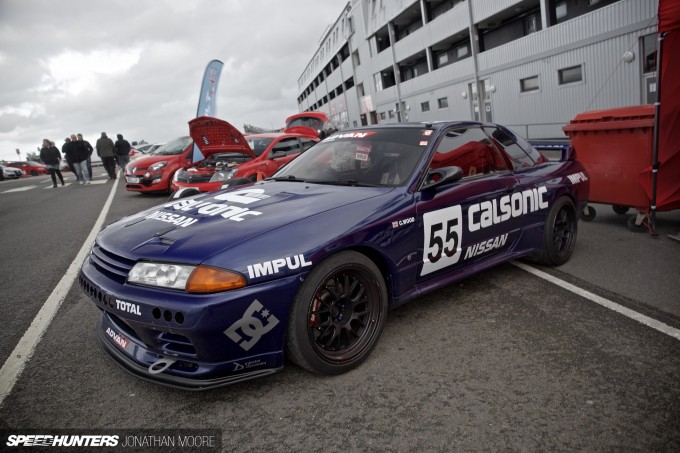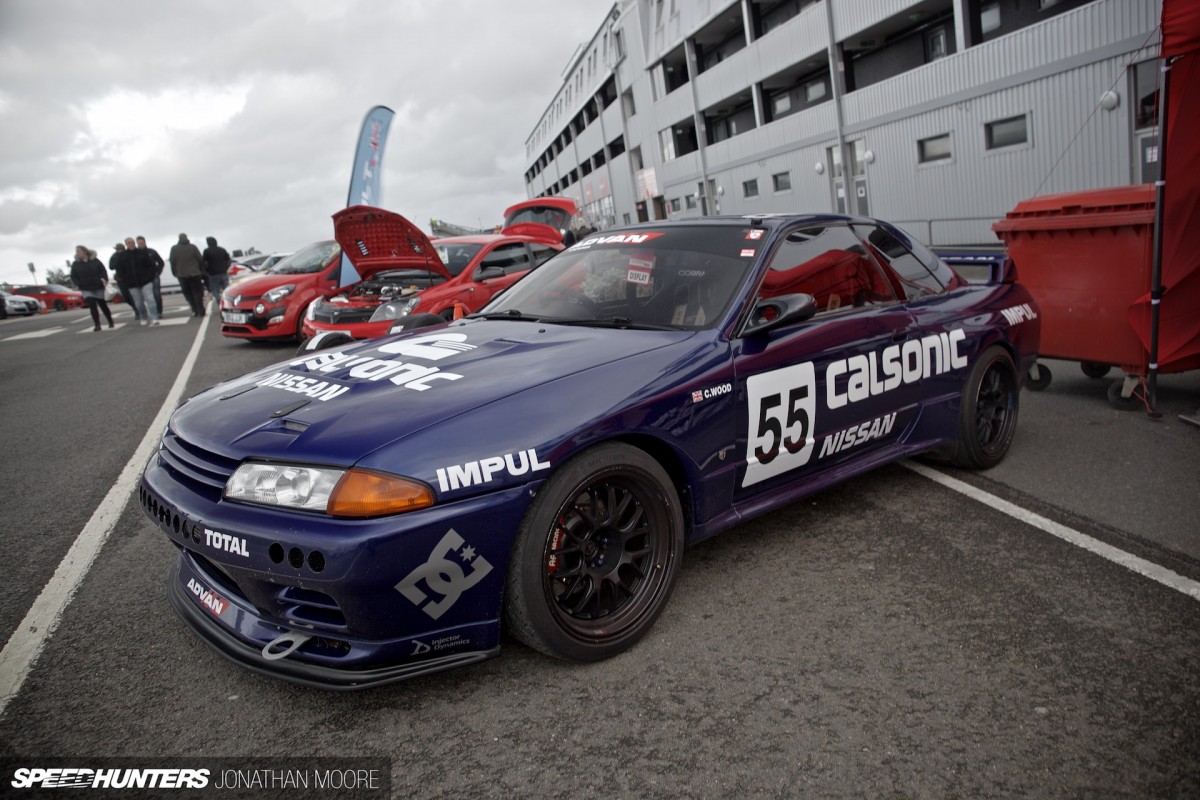 Continuing the Skyline theme, you can't really go wrong by adding legendary race stickers to an R32. This is a rare example where a race-style livery isn't too overwhelming.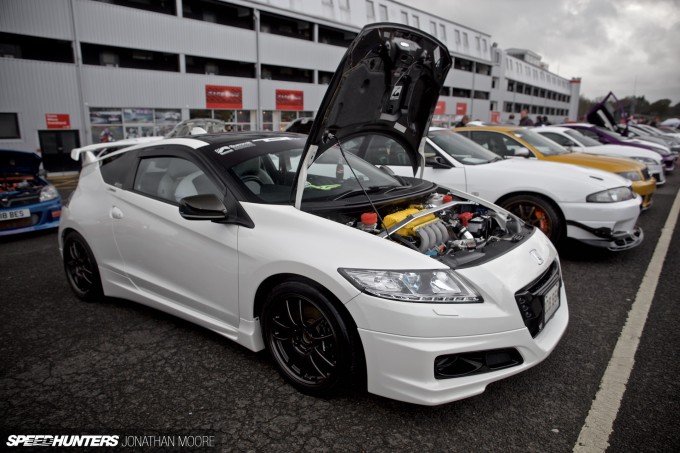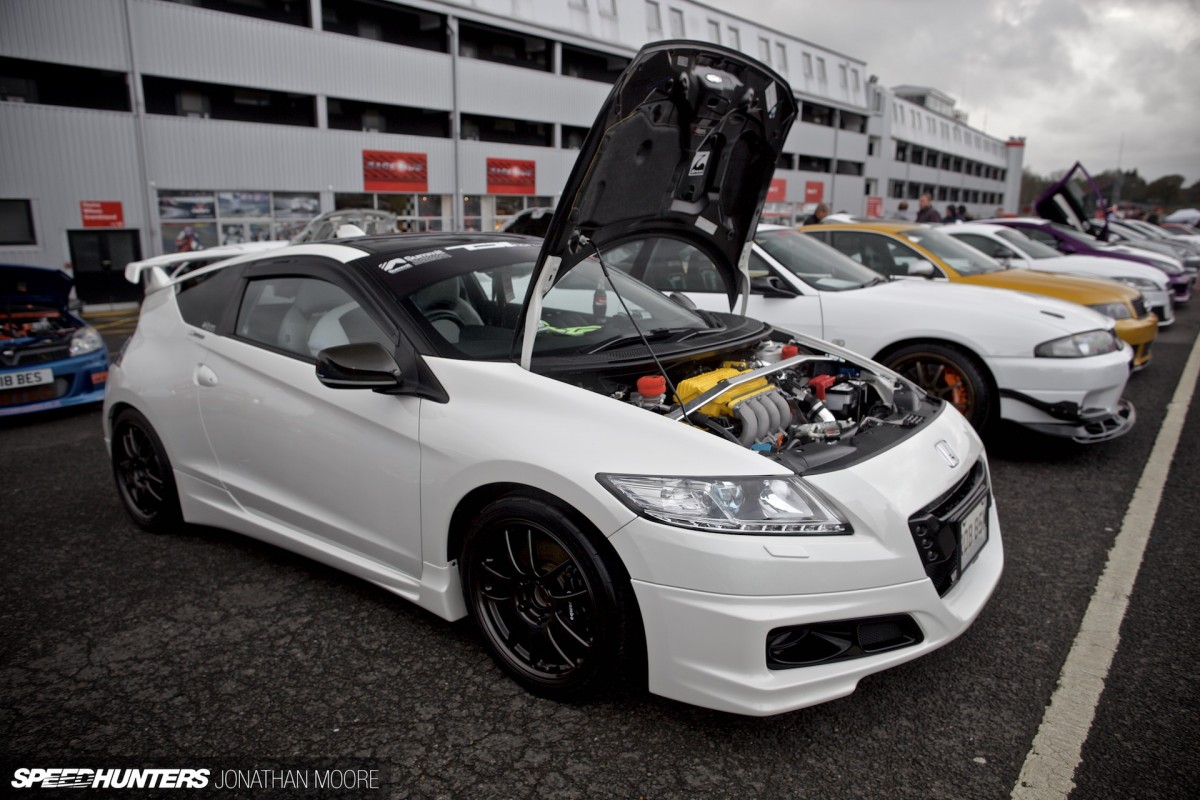 I'm strangely drawn to the new CR-Z, with its space-age interior and raked lines – and having a Spoon tuning and bracing kit meant it got plenty of attention.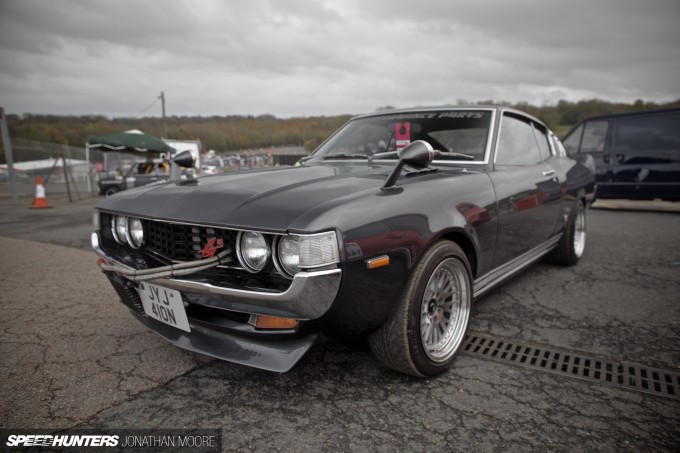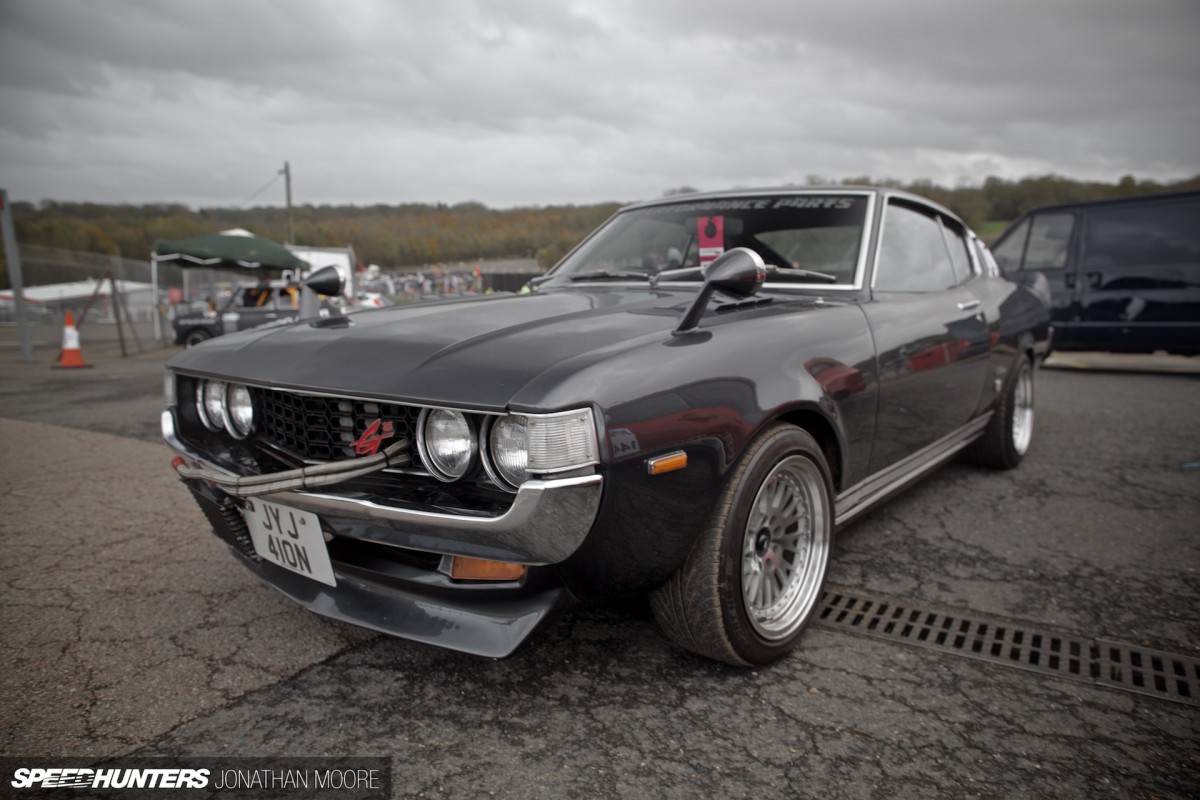 But then, show me an old Celica GT and I'll always gravitate to that first. This thing is beautiful as well as rare and carries a modern Beams 3S-GE four-cylinder transplant.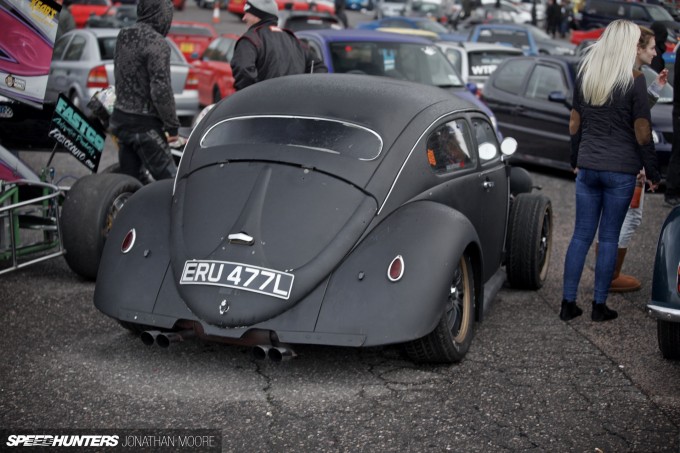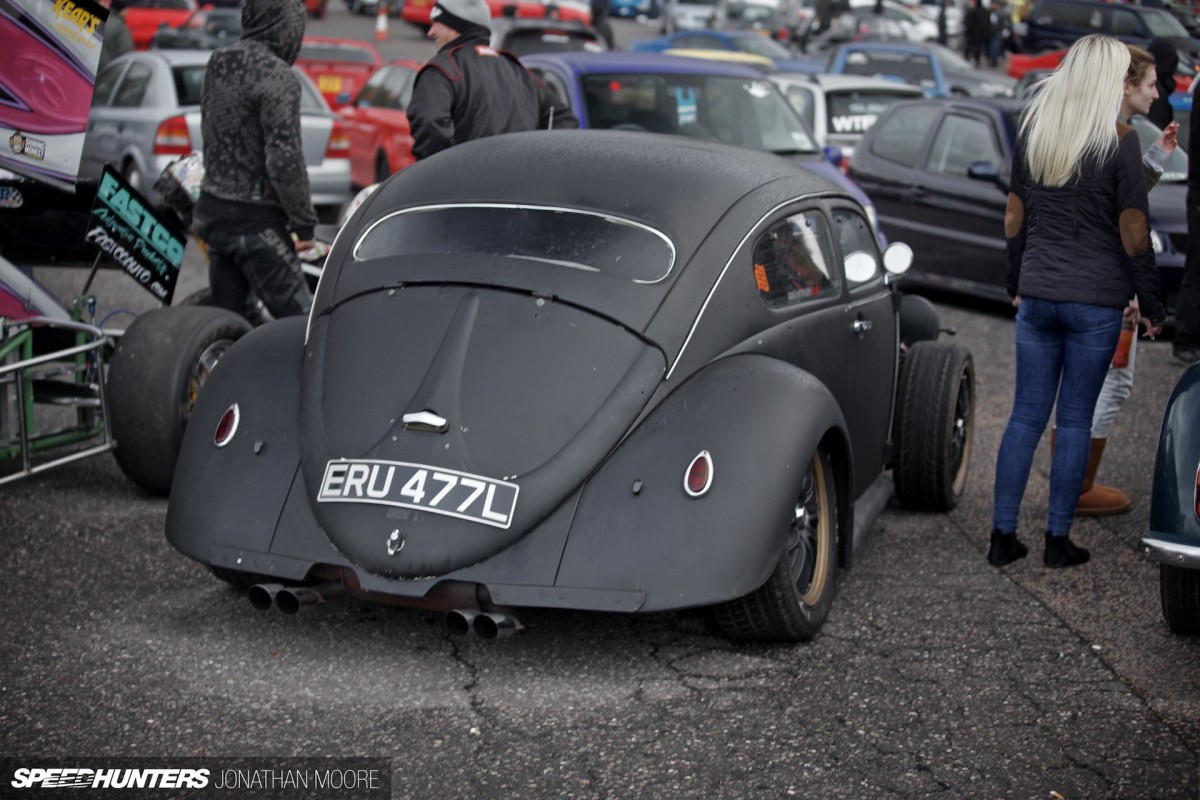 Finally, my Beetle love was allowed surface when I stumbled across this widened and chopped, shovel-nosed Bug. Stumbled almost literally, it was so low…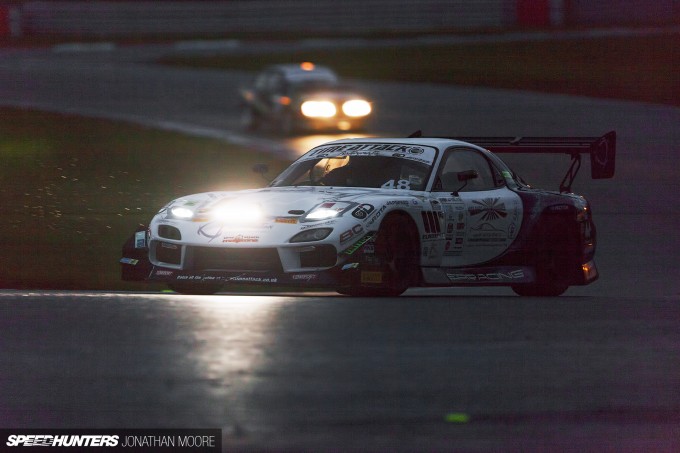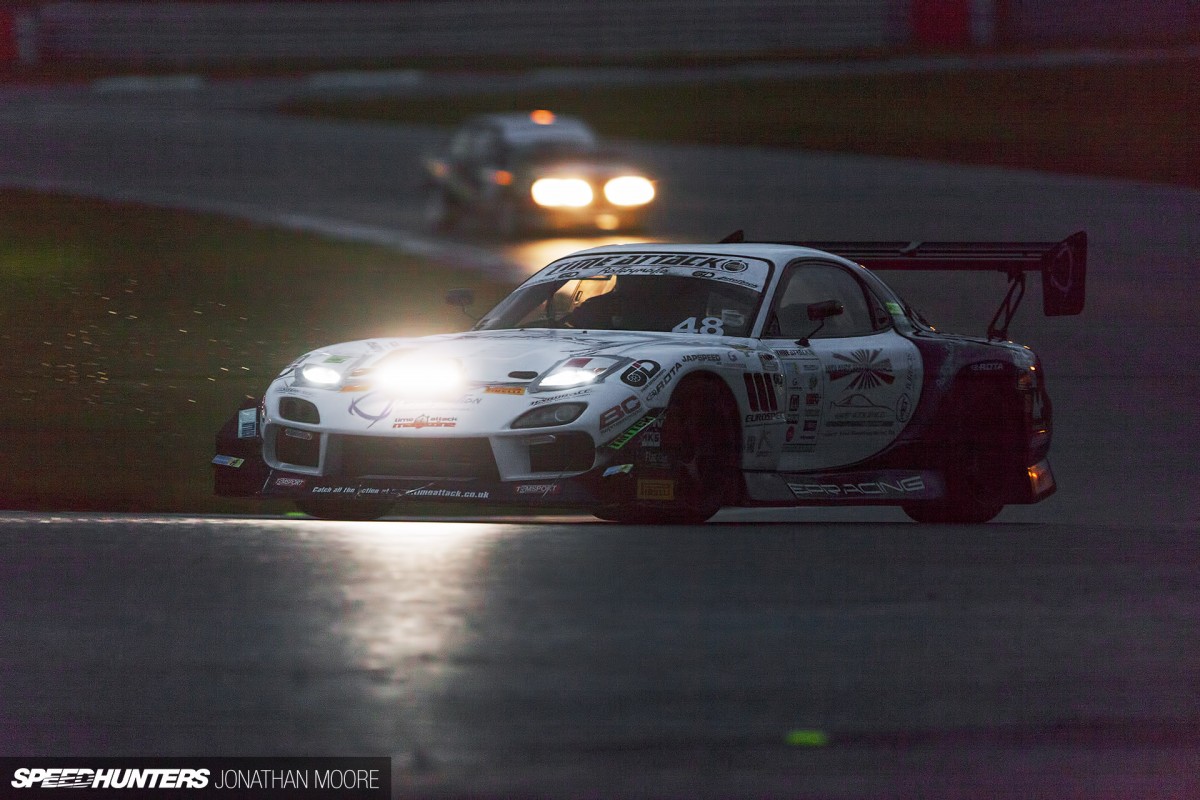 Out on track, the night Time Attack sessions were just starting: time to sprint back track-side.
Night Chills, Red Reflections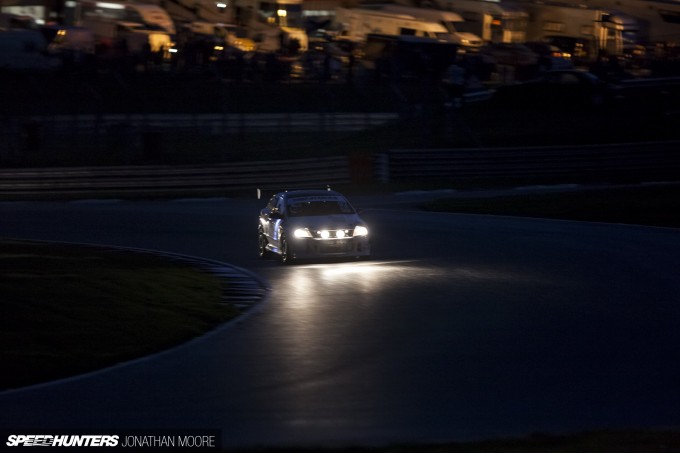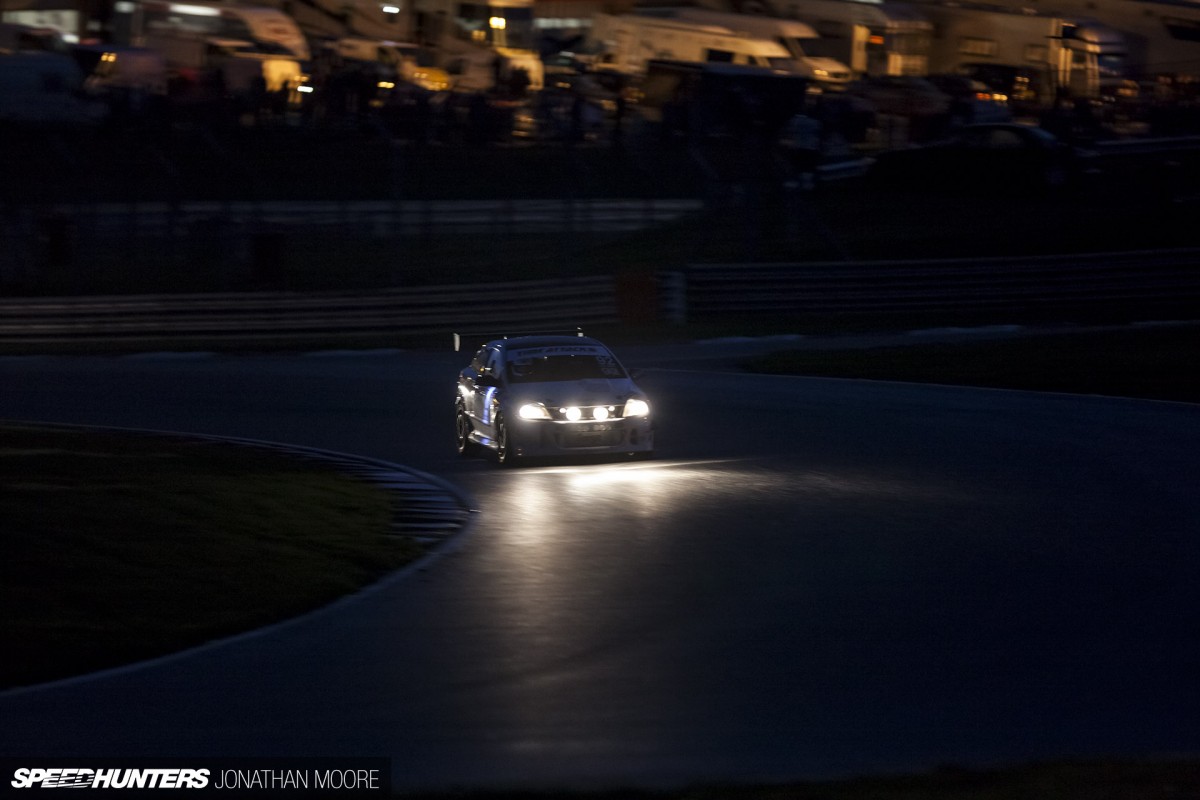 I looked down for a second, and when I glanced back up… the sun had been stolen.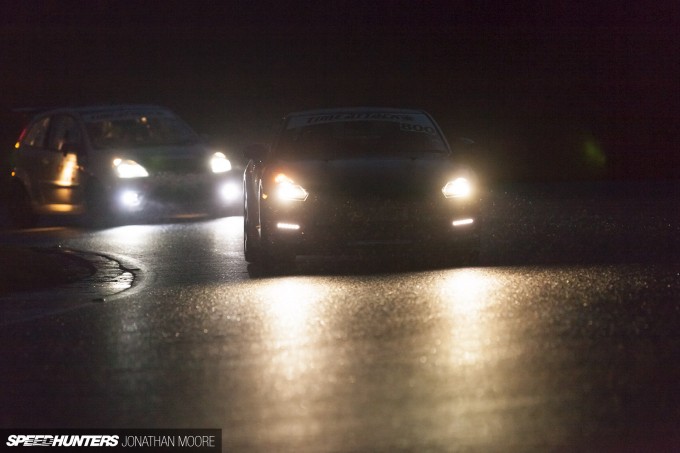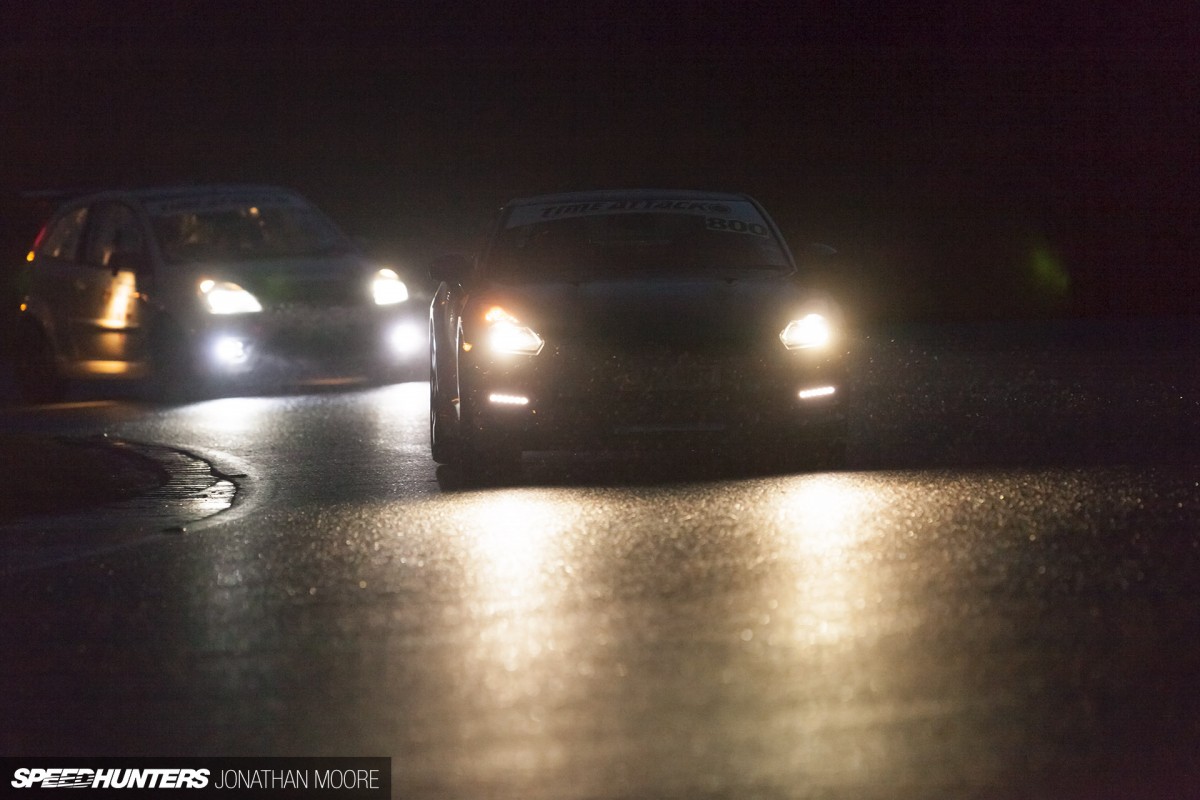 Brands Hatch is not a place that typically hosts night races, so once the light goes, that's it. Around the track are no floodlights, no corner markers, no reflectors. Just your headlights cutting through the dark, eyes desperately searching for braking points, turn-in references.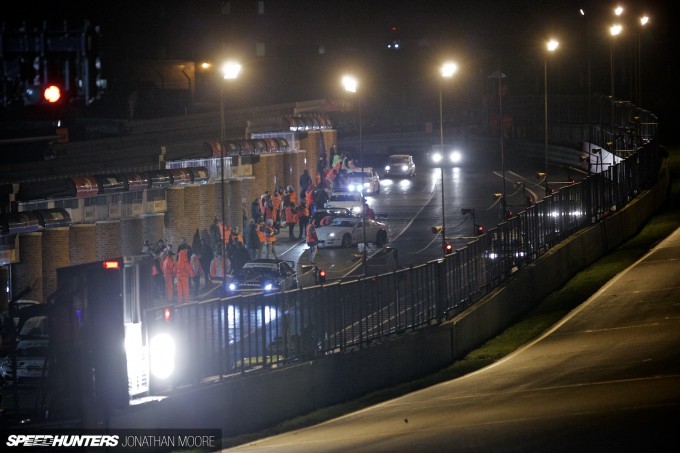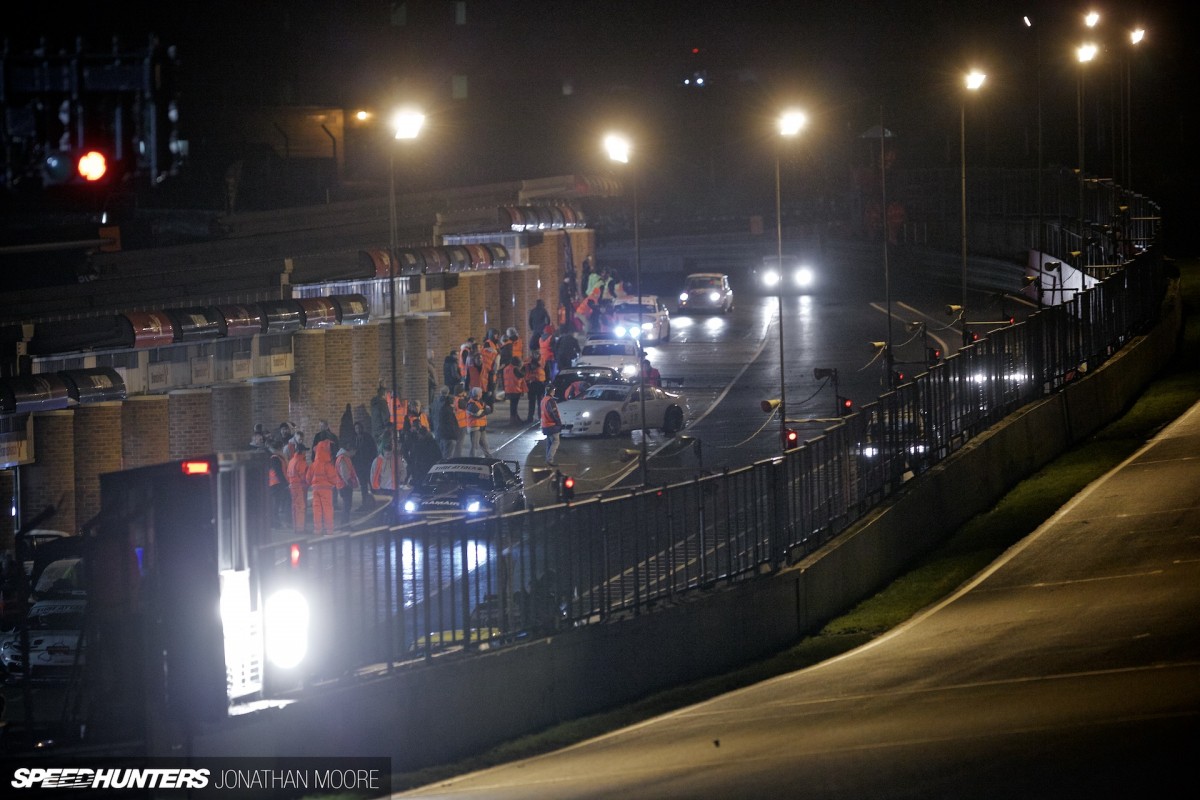 The pit-lane was like a floating beacon of light in the middle of a sea of darkness.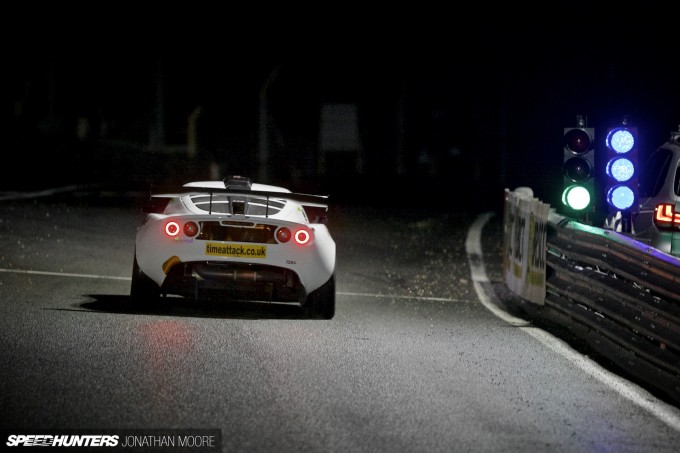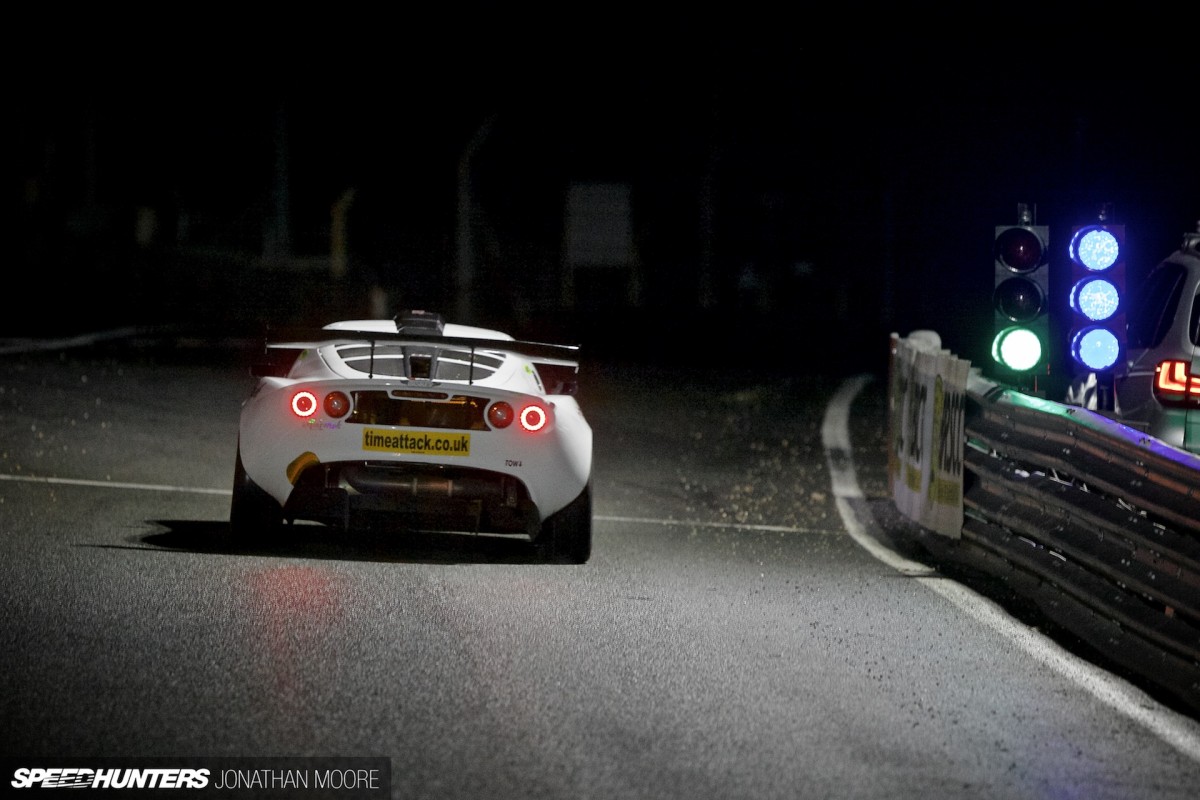 Seriously, you want to head out there? Into that? There's nothing out there but blackness!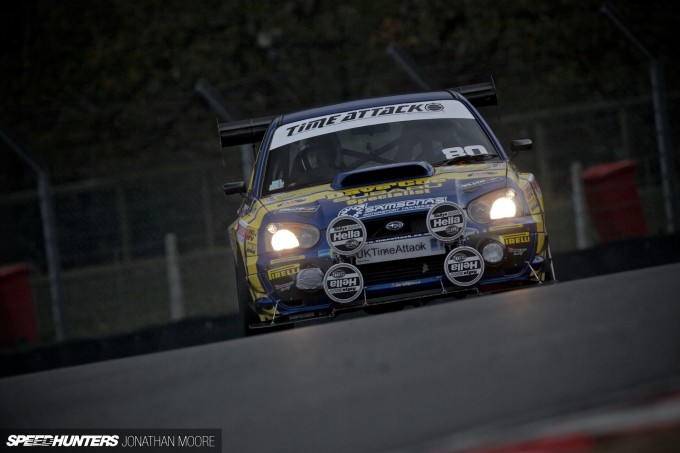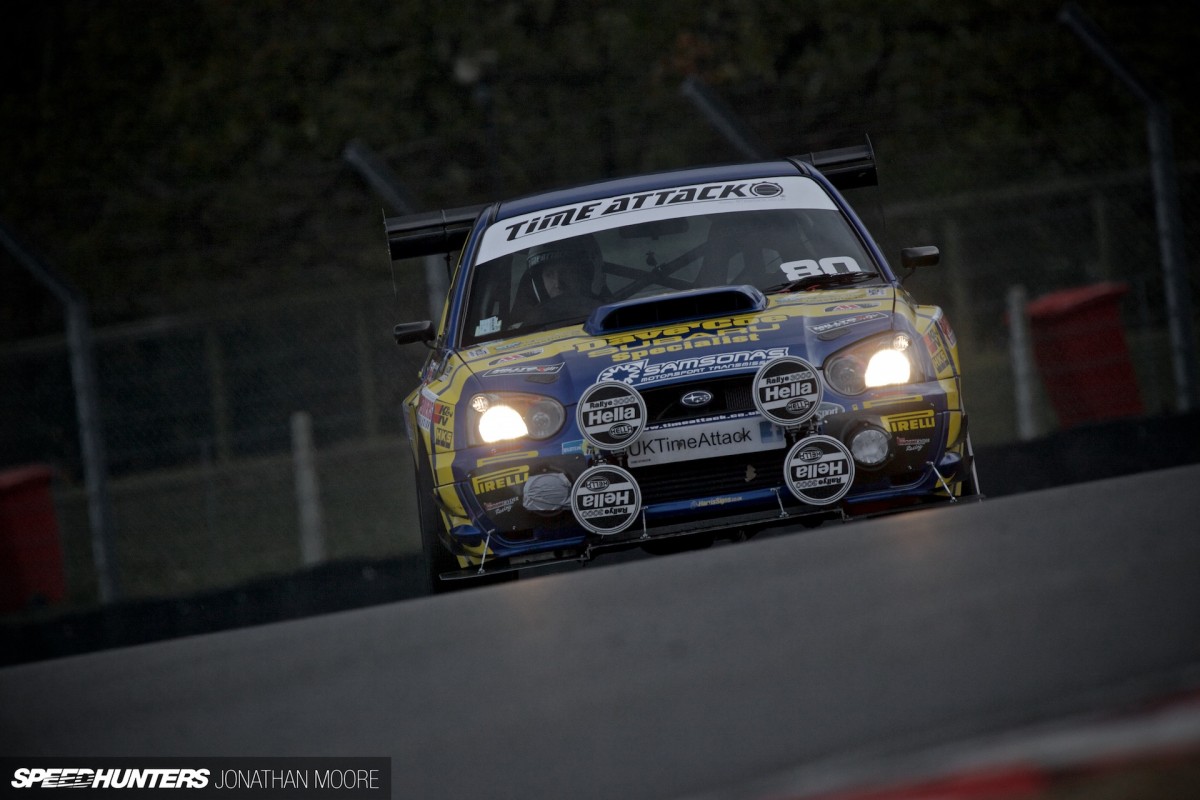 To counter that, a number of teams had already strapped on multiple unit, rally-style lighting packs. On the Impreza they just looked so right.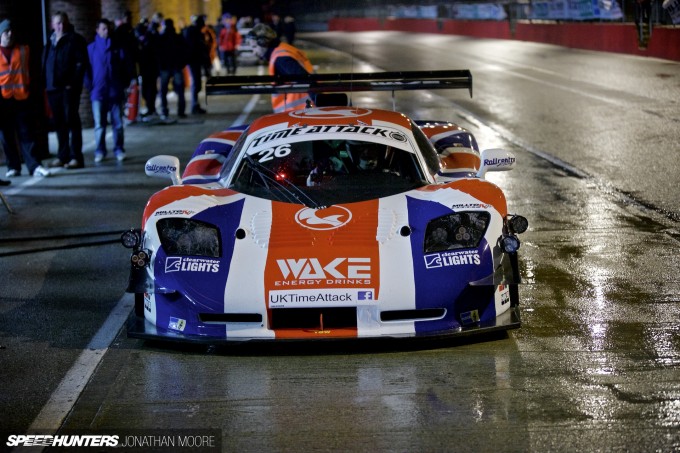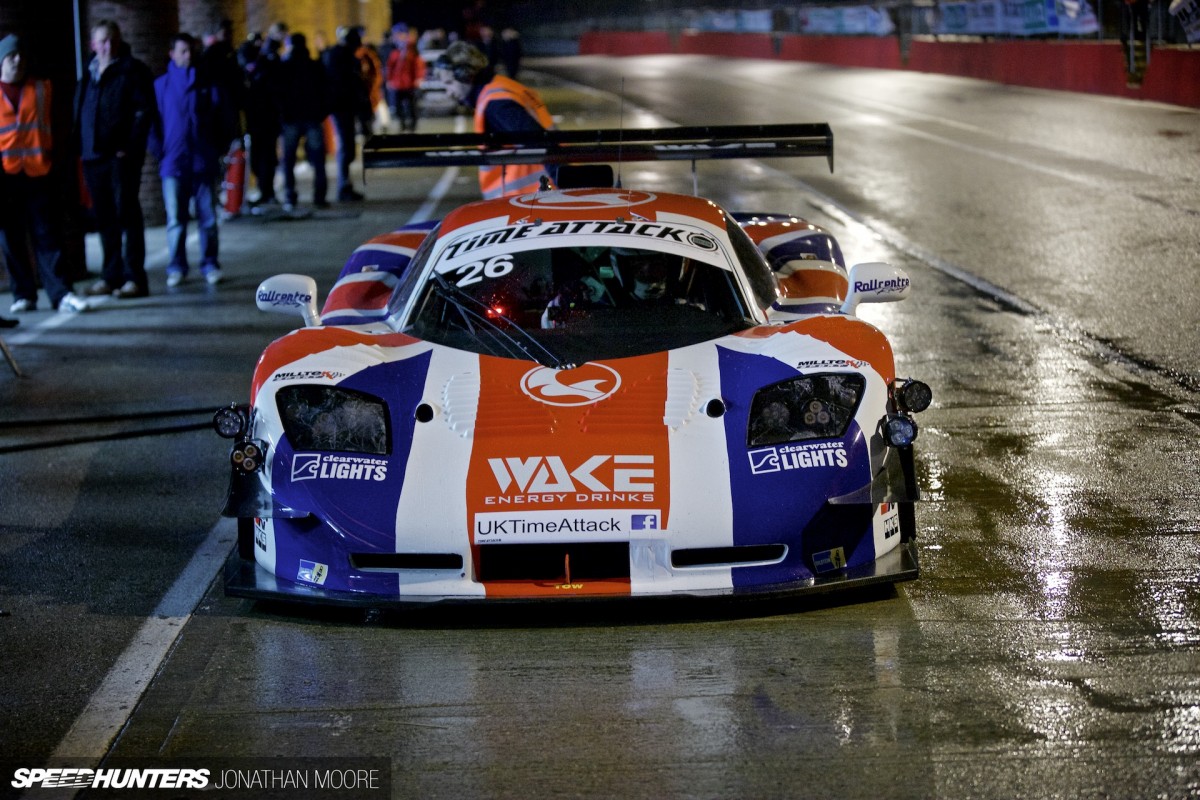 The Mosler crew went for pairs of high intensity LED spots on either wing – even more necessary once one of the headlights took a stone through the lens.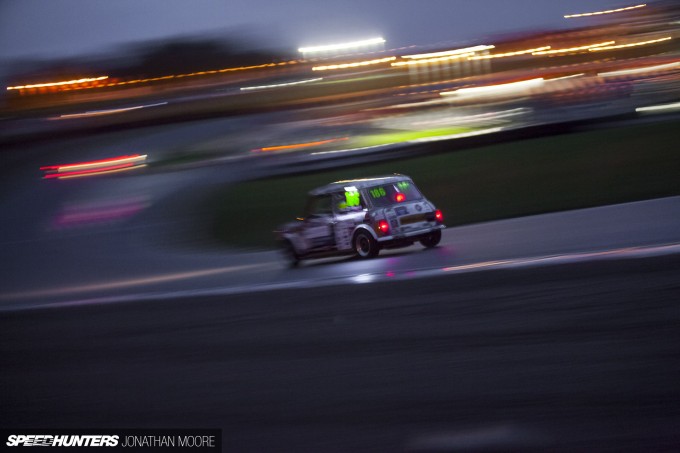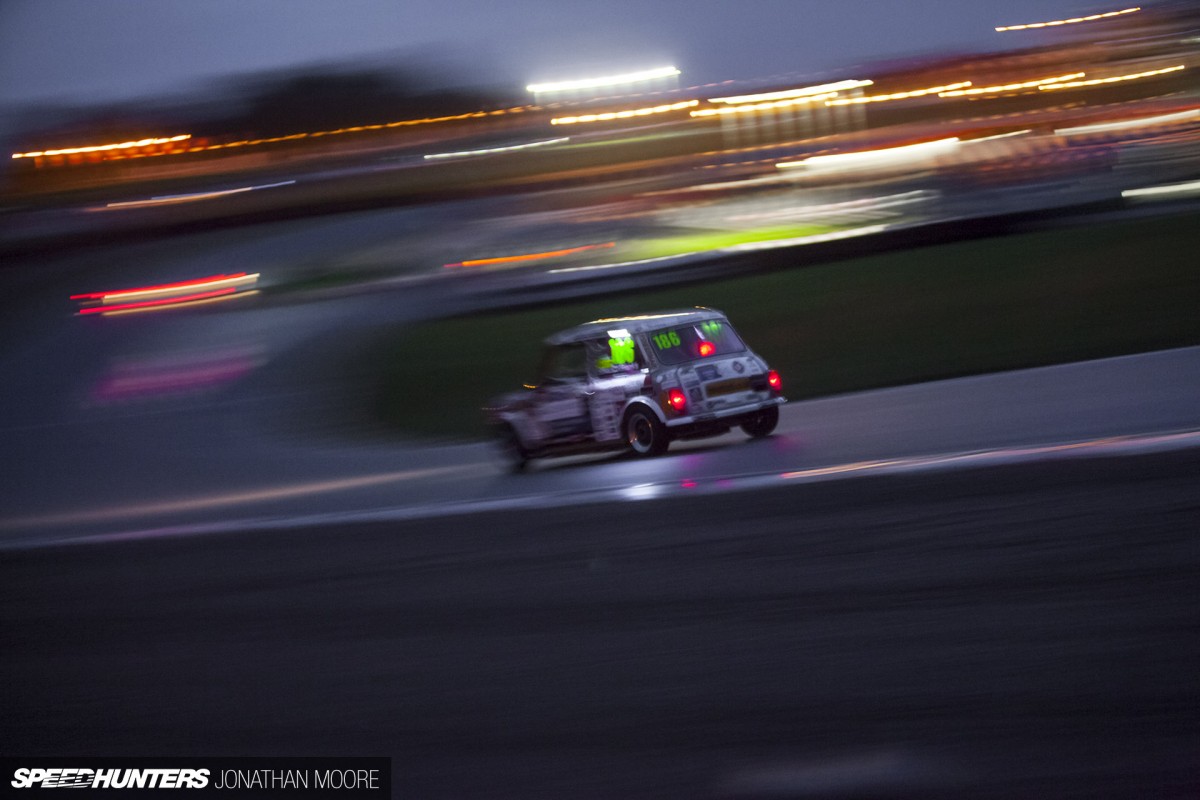 At first, things weren't so bad. The damp track had never really dried out from the day's intermittent rain, but it didn't seem terrible. And that little Mini looked to be revelling in the conditions.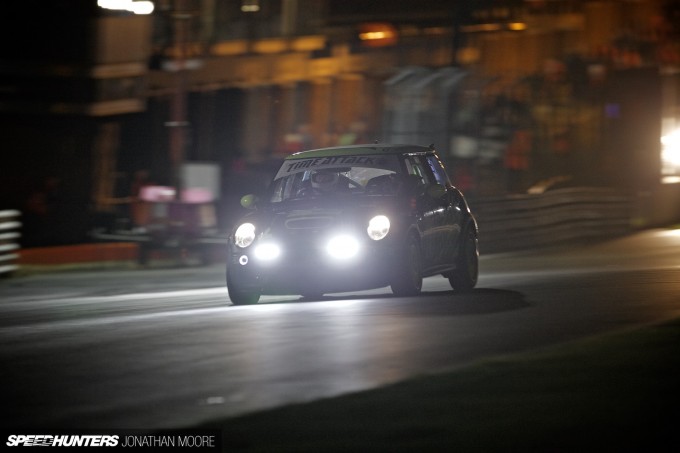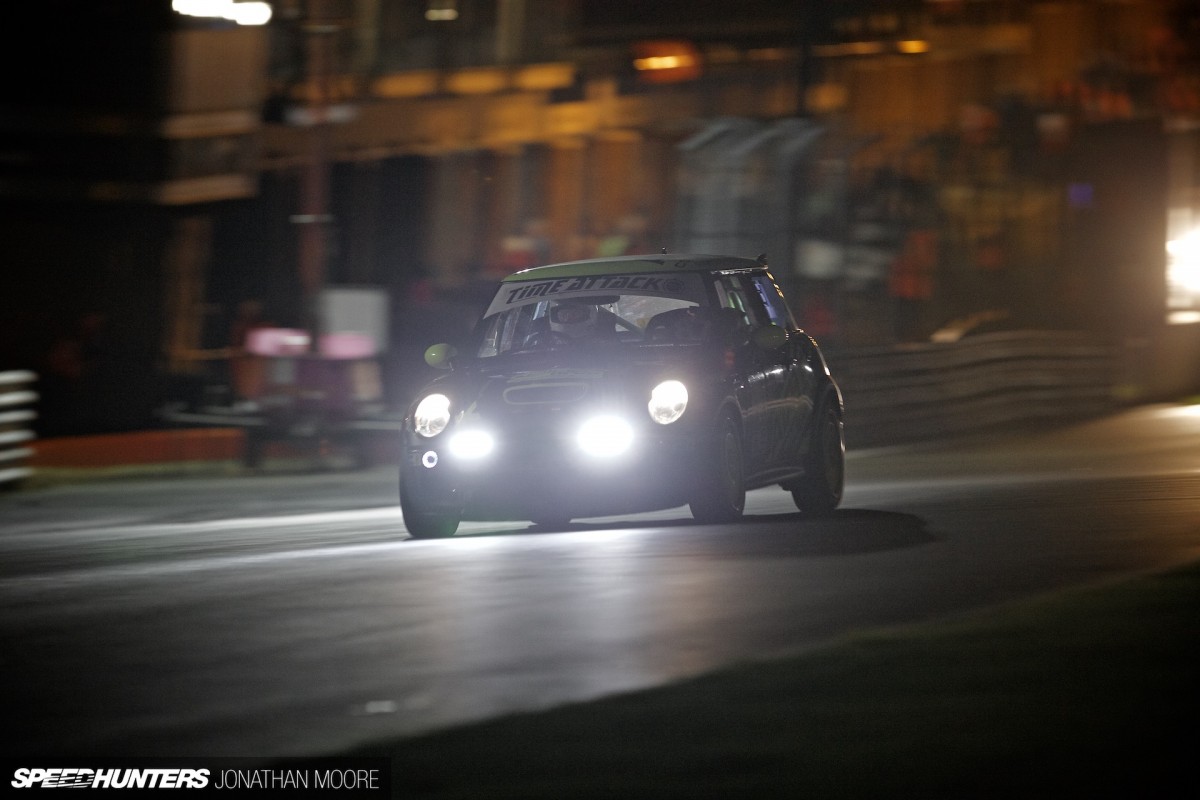 It's big brother was instantly recognisable even when coming straight on at you, blinded by the headlights, thanks to its supercharger whine cutting through the air.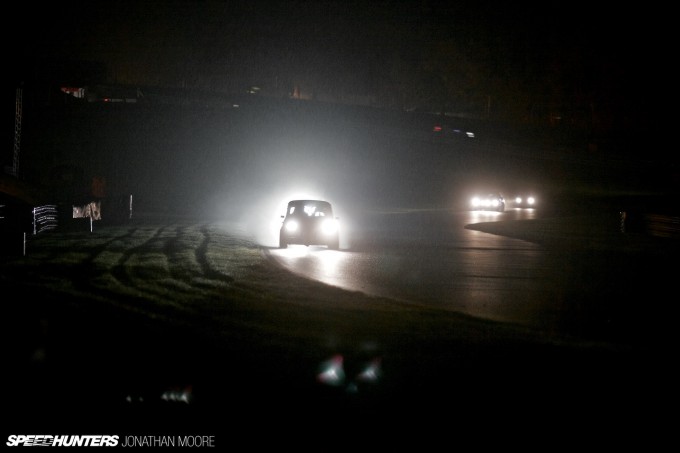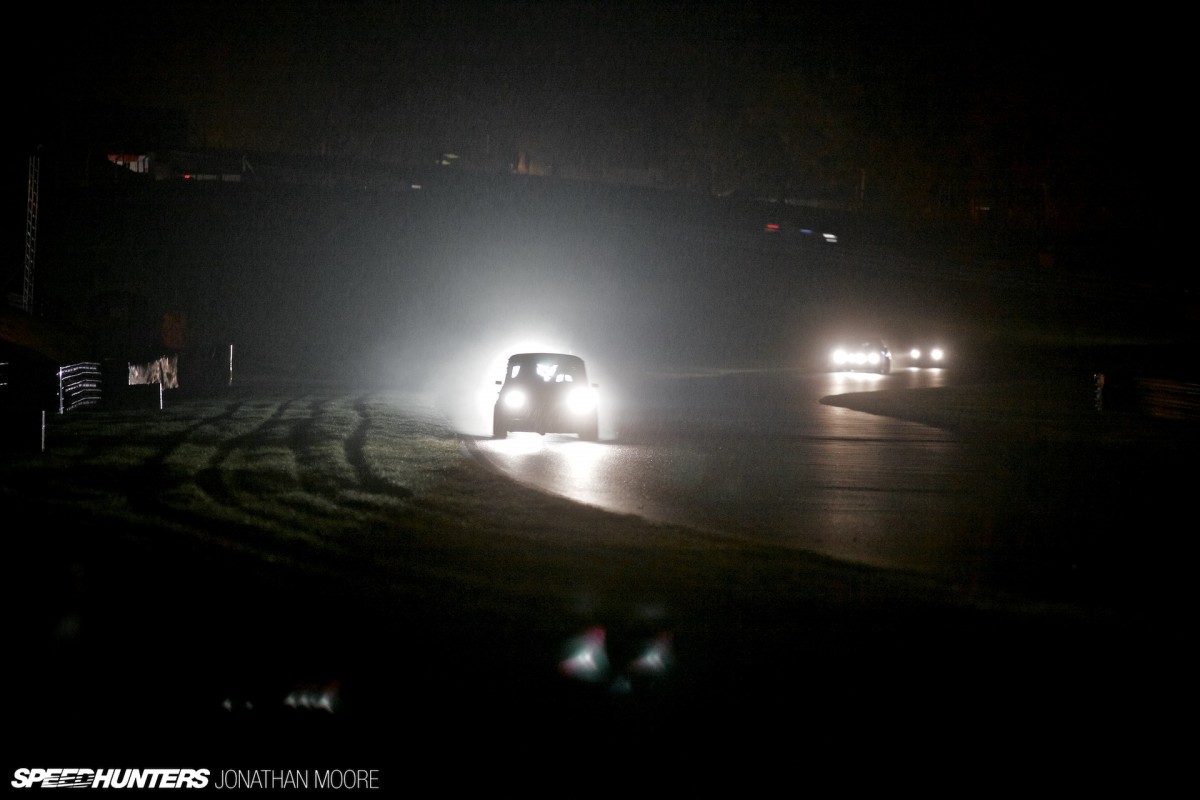 Out around the track, you'd have little chance of recognising what was coming at you through the dazzle of headlights until someone crossed the beams, creating a briefly recognisable silhouette. Ah, the Mini again!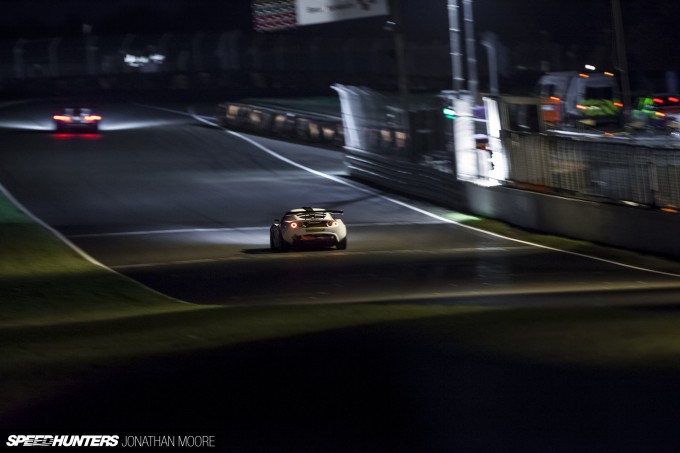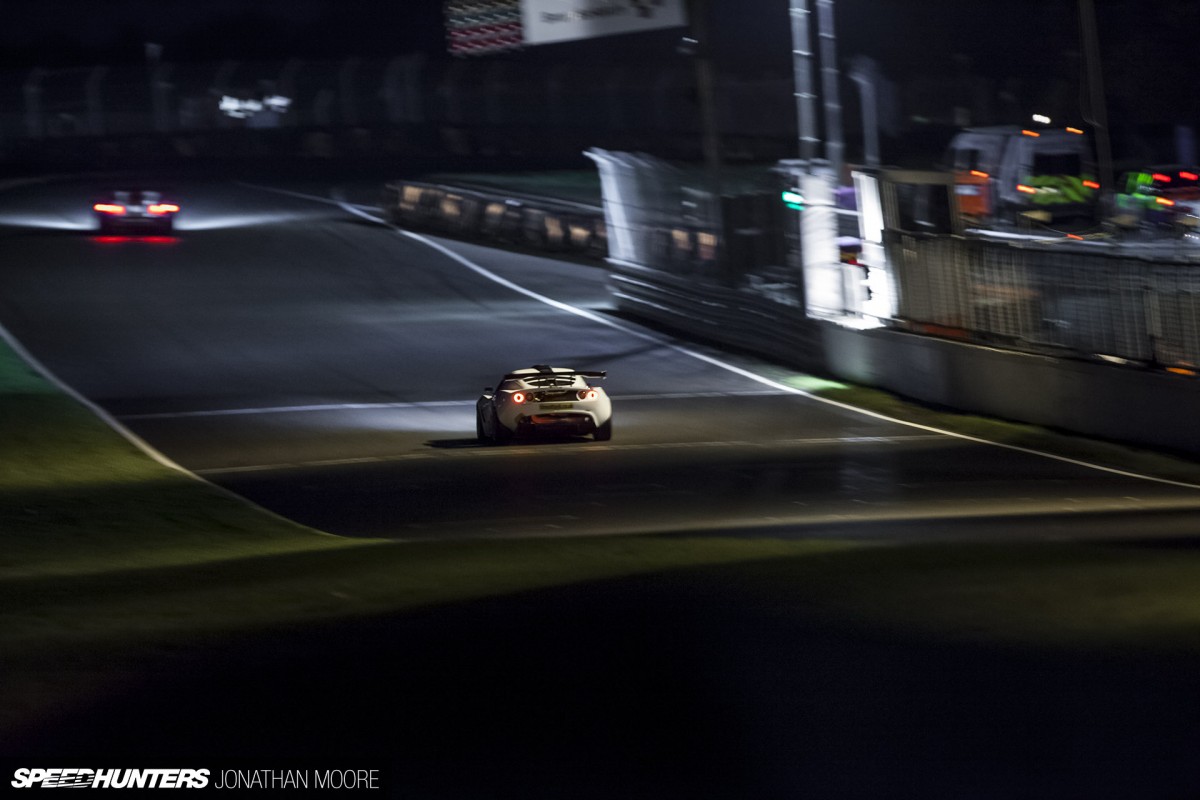 The two classes took turns with practice and two finals – not everyone who had competed during the day headed out, which was hardly surprising. Those that did put on a fine show though: there are few things as exhilarating as watching racing cars at night – probably except for driving one.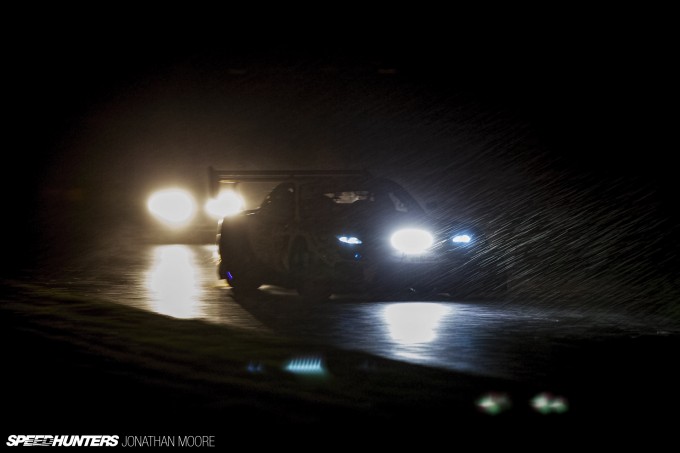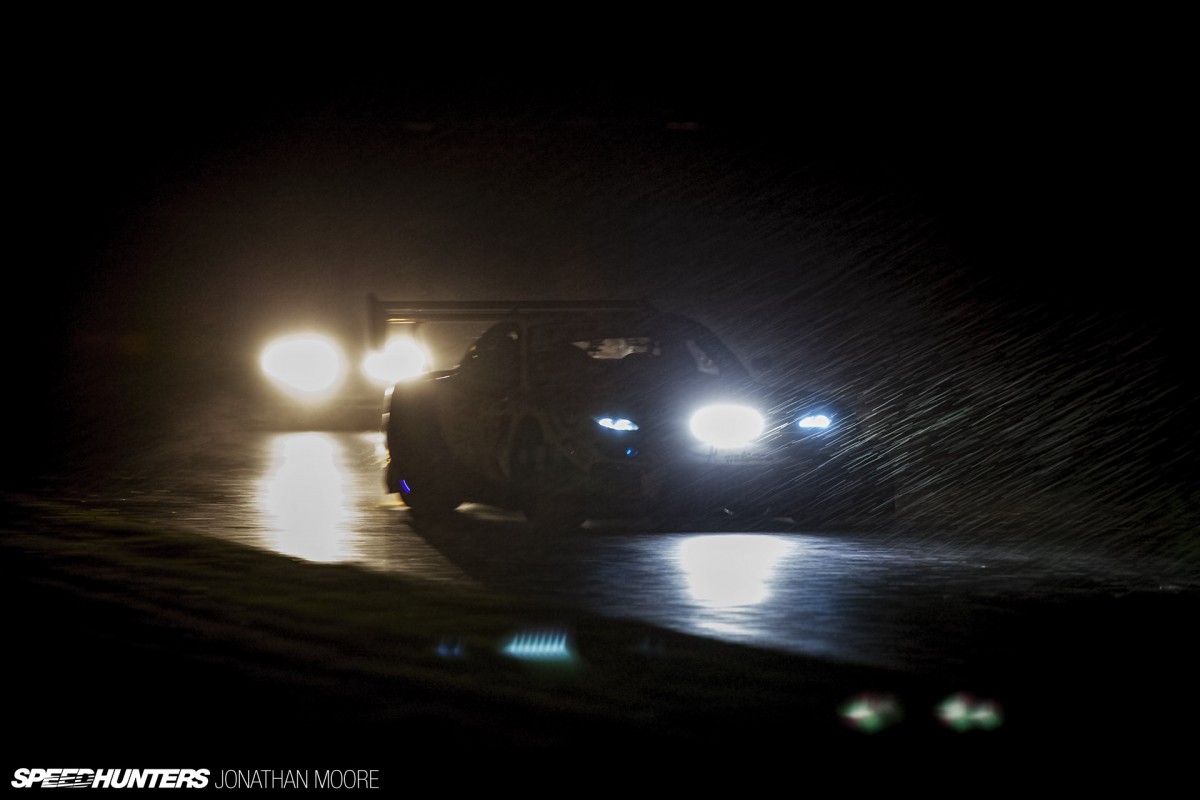 By this stage, who knew what was going on. There was just darkness and the rain, lashing down from all directions, which made it even more difficult to focus on cars. Having one of my cameras covered in mud didn't help matters. Earlier I had made a major miscalculation in camera stability whilst taking a long exposure…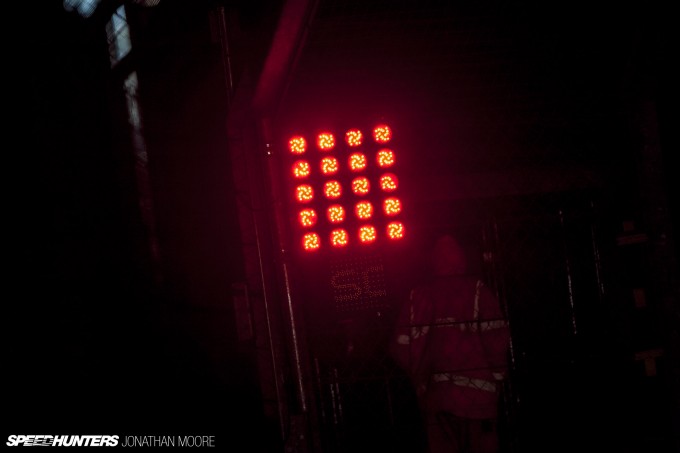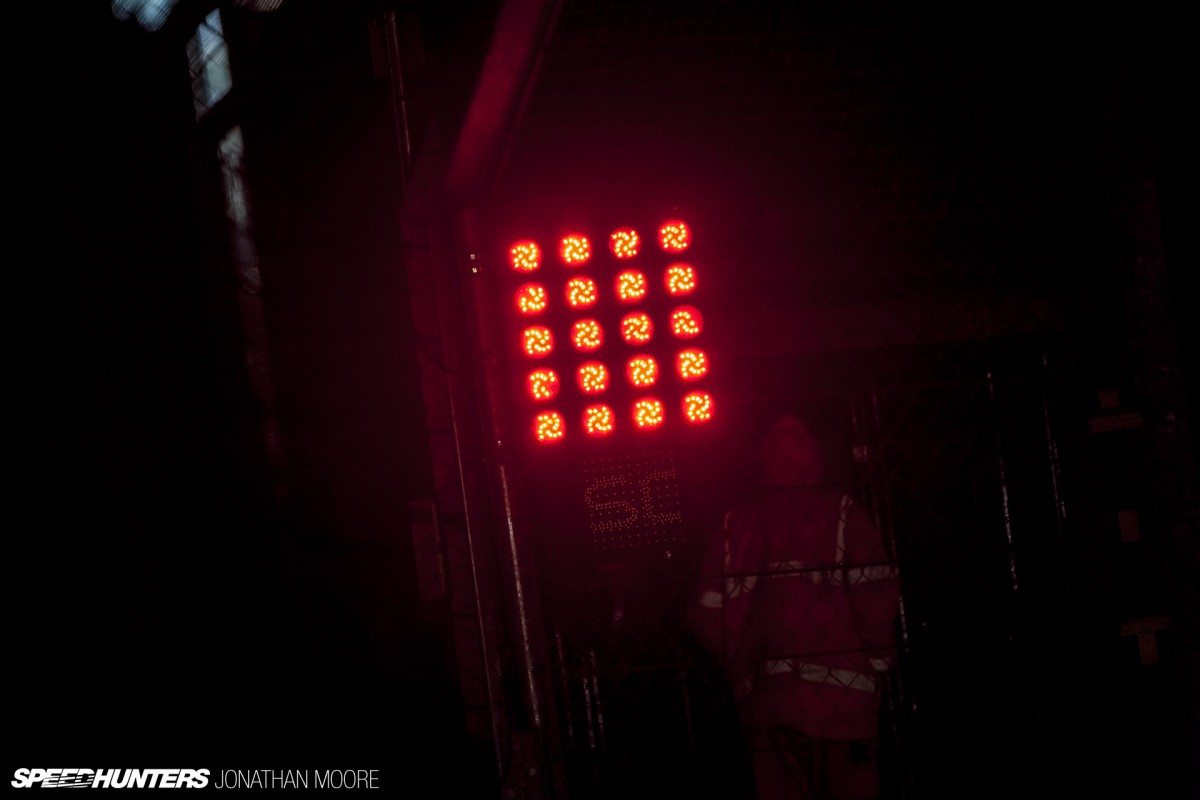 The narrow gaps between the armco and the banks, muddy and treacherous at the best of times, became lethal to traverse. If I thought I had it bad, then the guys on track weren't having it easy exactly. Red lights lit up the dark every so often as sessions were brought to a temporary halt and rescue crews scrambled to recover a spun car.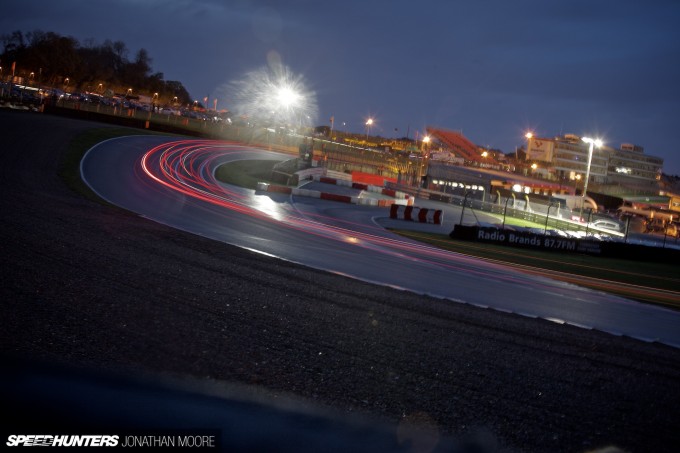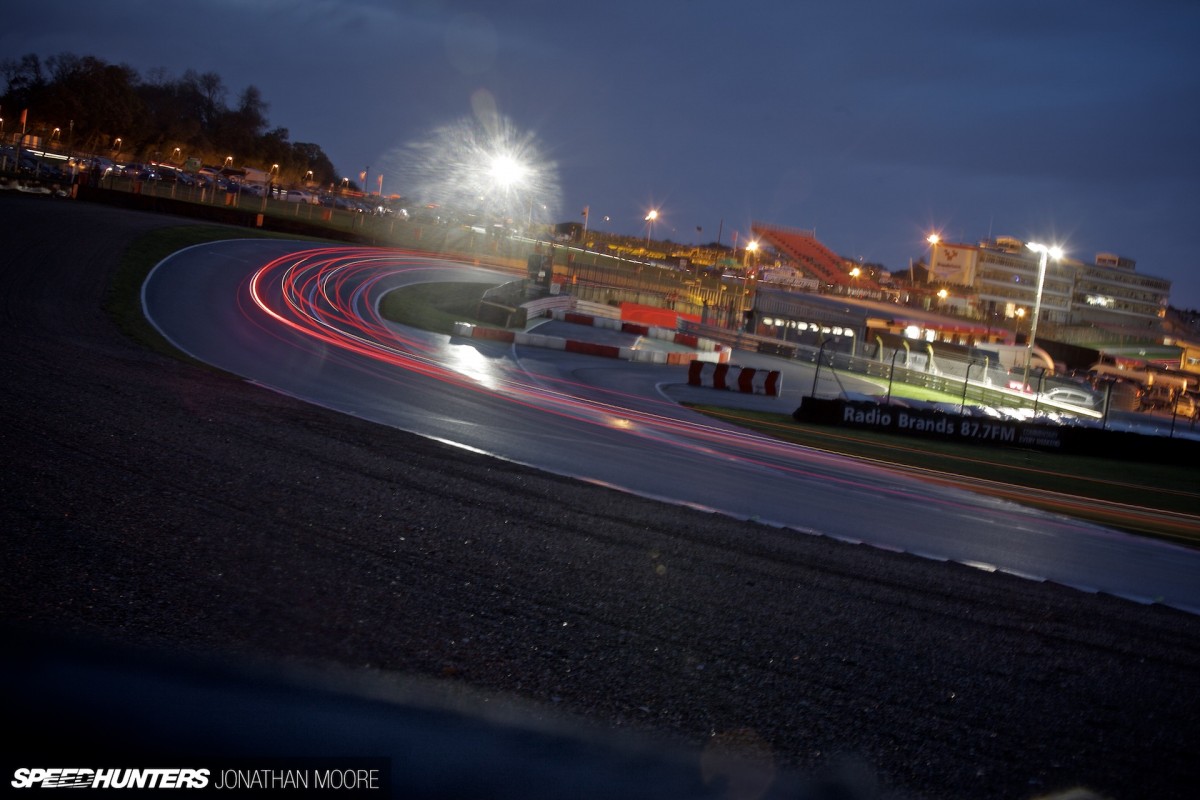 Tough it might have been, but what's the point of Time Attack without a challenge? All the drivers pushed hard and raved about the experience afterwards; knowing there was the winter ahead to sort out any major offs probably helped! So, Time Attack definitely worked for everyone – though perhaps you can hold it in the summer next time, eh?
Jonathan Moore
Instagram: speedhunters_jonathan
jonathan@speedhunters.com
Cutting Room Floor