Joy of Machine Overload
When we put out the word that we were looking to showcase some examples of cool fabrication and metal work, there was no way we could've been prepared for the extreme level of awesomeness we were about to receive in our inbox. With our The Creators theme currently taking place and our last #IAMTHESPEEDHUNTER story based mainly around style, this month we really wanted to get technical and give our more mechanically-minded readers a chance to show off their talents. We said we'd be showcasing 10 submissions, but after struggling to narrow them down to that number, we knew we had a problem. In the end we just couldn't chose only 10, so we've added an extra bonus chapter!
So let's cut to the chase here, because we've got a whole lot of fabrication goodness to get through. Starting with a mind-blowing Pontiac Firebird build from – you guessed it – Scandinavia…
Anders Jeppsson, Sweden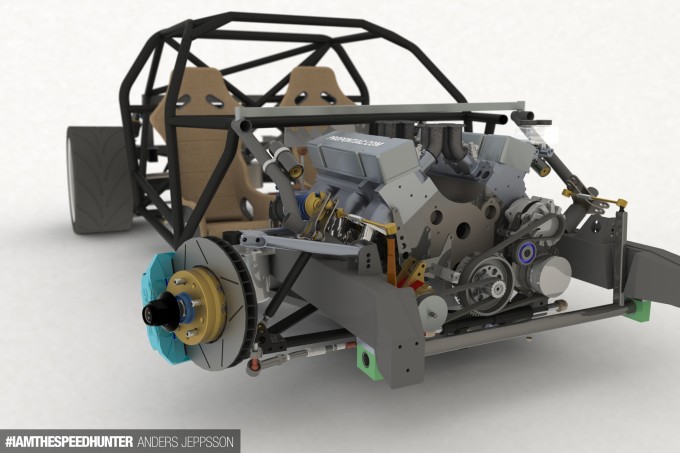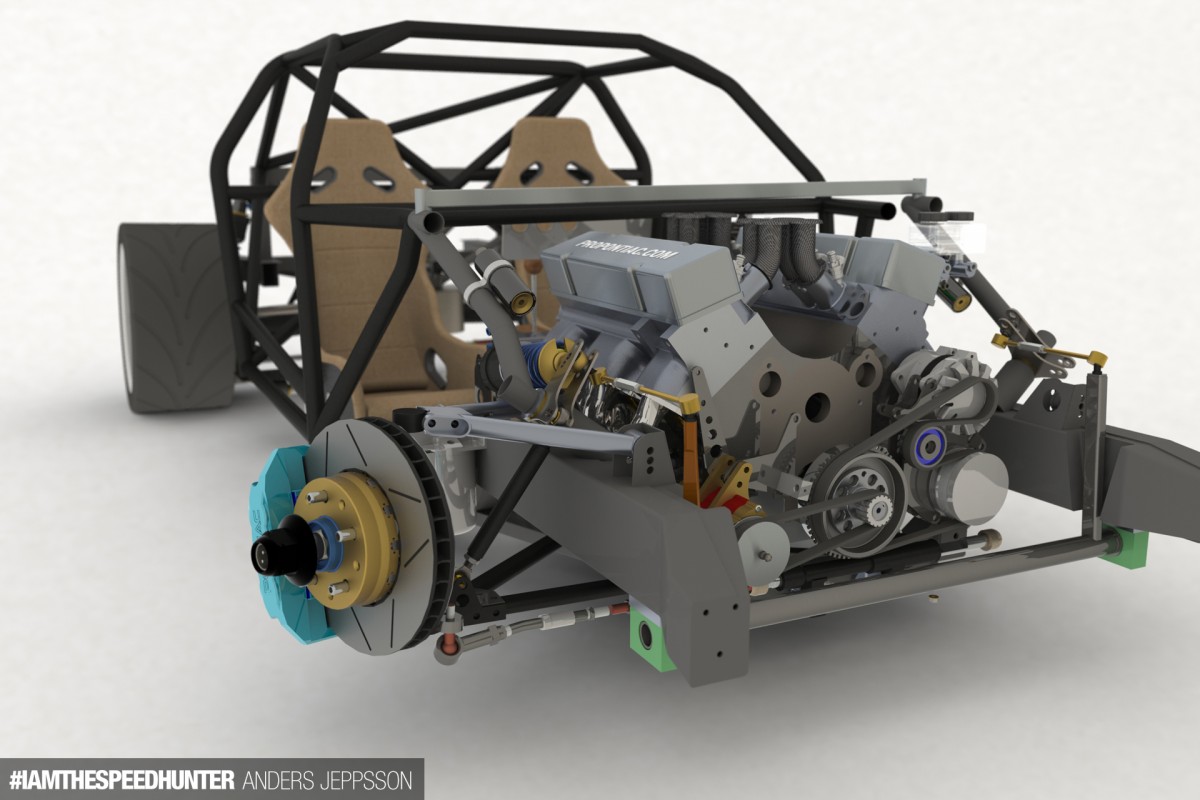 Anders Jeppsson submitted these images of his ongoing 1970 Firebird project, which in typical Scandinavian fashion is being completely rebuilt from the ground up with no detail spared. An engineer by trade, Anders began working on the Firebird back in 2009, and admits that he spent most of the first three years with the body on a rotisserie performing rust repairs.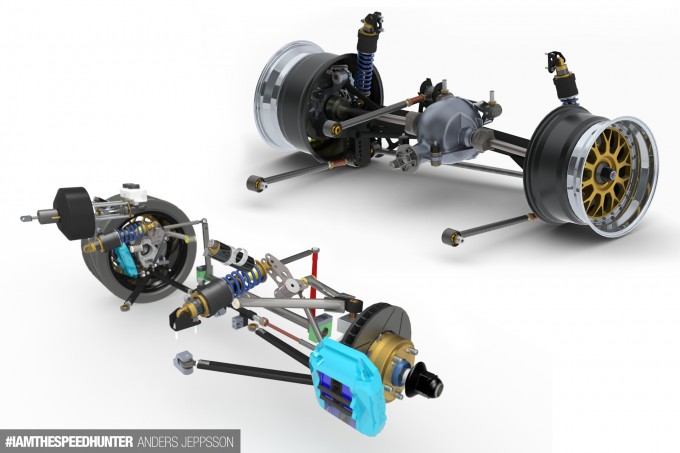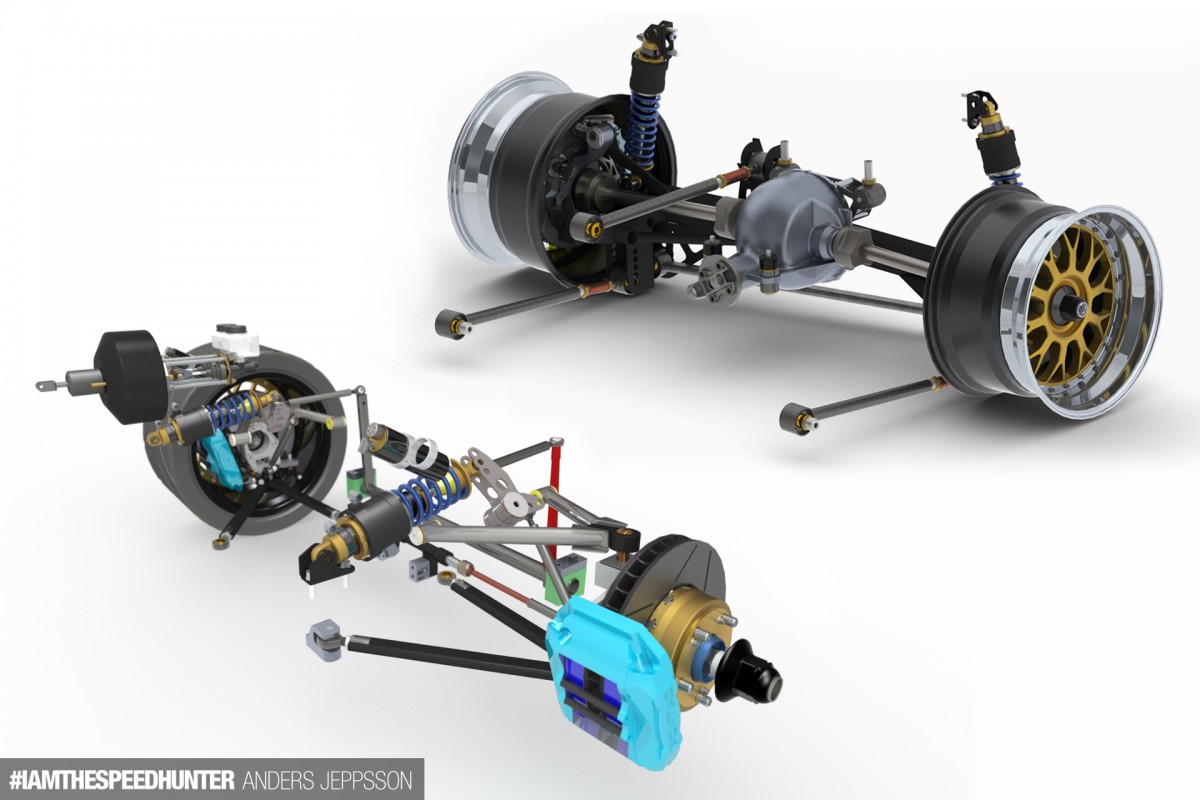 After the bare chassis was restored to pristine form, the real fun began. Having taken an interest in vehicle dynamics around 12 years ago, Anders has spent a lot of his spare time studying the subject and has formed a master plan of how to create his perfect track day weapon. Wanting performance on a budget, he's performed all the work on the Firebird himself. Above you'll see renders of the front and rear suspension layouts, which he has designed and developed using the CAD design software SolidWorks. Many hours have gone into weight optimisation, checking clearances and trying to compromise as little as possible. Anders tells us, "When it comes to building cars from scratch, CAD is unbeatable. Trying different solutions is much faster in CAD than in reality, and much less exhausting".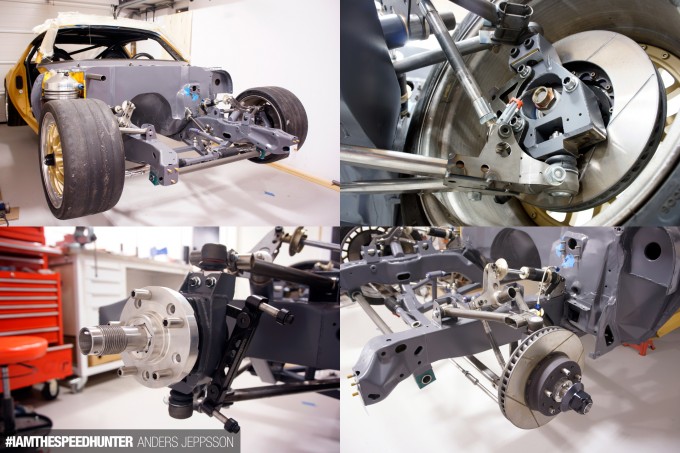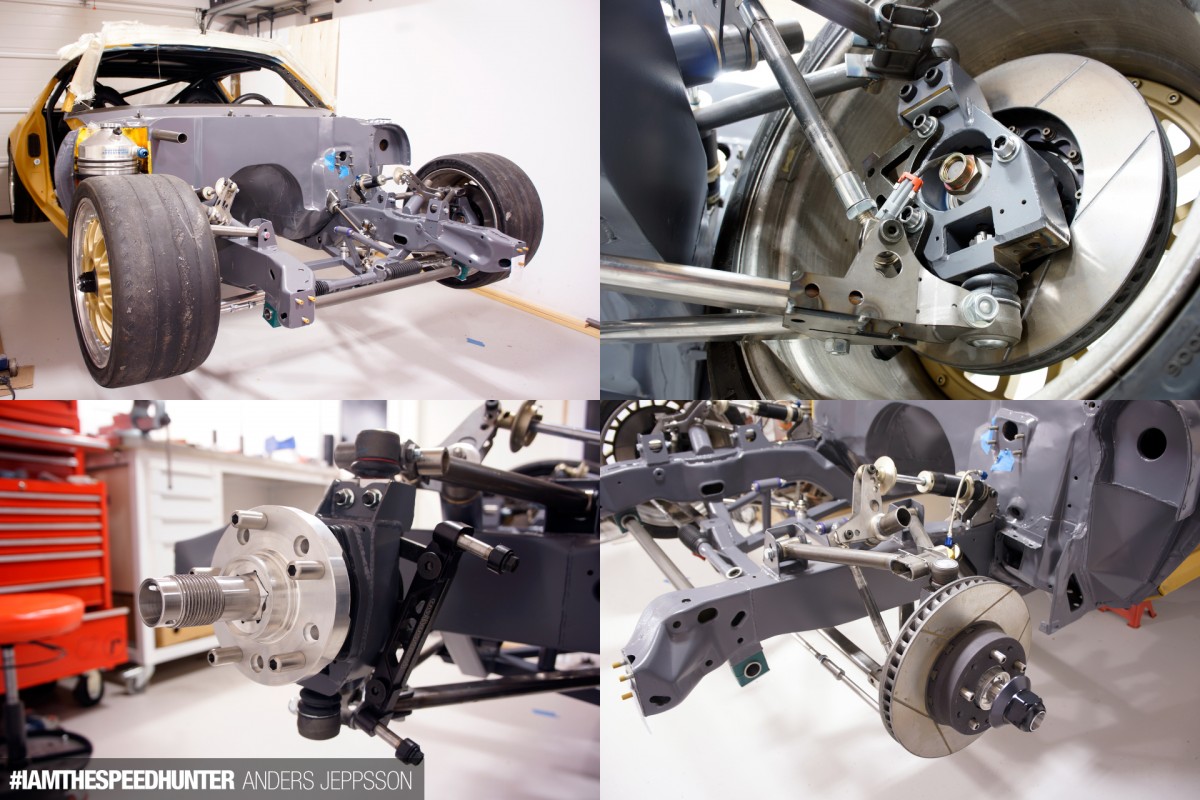 All the parts you see here have been created from scratch, fabricated in a manual lathe or a mill, with the exception of the sheet metal being laser cut. The rear de Dion suspension set up weighs only 17kg, (the old gear was 55kg) and the front suspension features double A-arms and a push rod system that has a wheel motion/damper shaft movement of 1:1. A Pontiac 6.8L V8 (with EFI, aluminium heads and a dry sump) and a 6-speed transmission will eventually get the car moving, and Anders' goal is to have the finished car weigh in at 1,100kg, but he says that 1,200kg is probably more realistic. With every possible way to save weight being considered, (even the bolt allen heads have been lightened a couple of grams!) we think he might he might stand a chance. We're dying to know more, but something tells us that a full feature might do Anders' Firebird better justice. We'll just have to be patient for now, but if you want to keep up with Anders' latest build progress you can follow his blog or Facebook page.
Jacob Rogers, Michigan, USA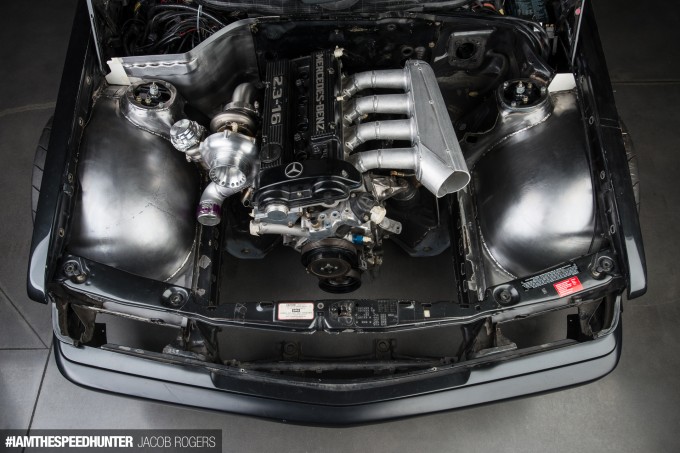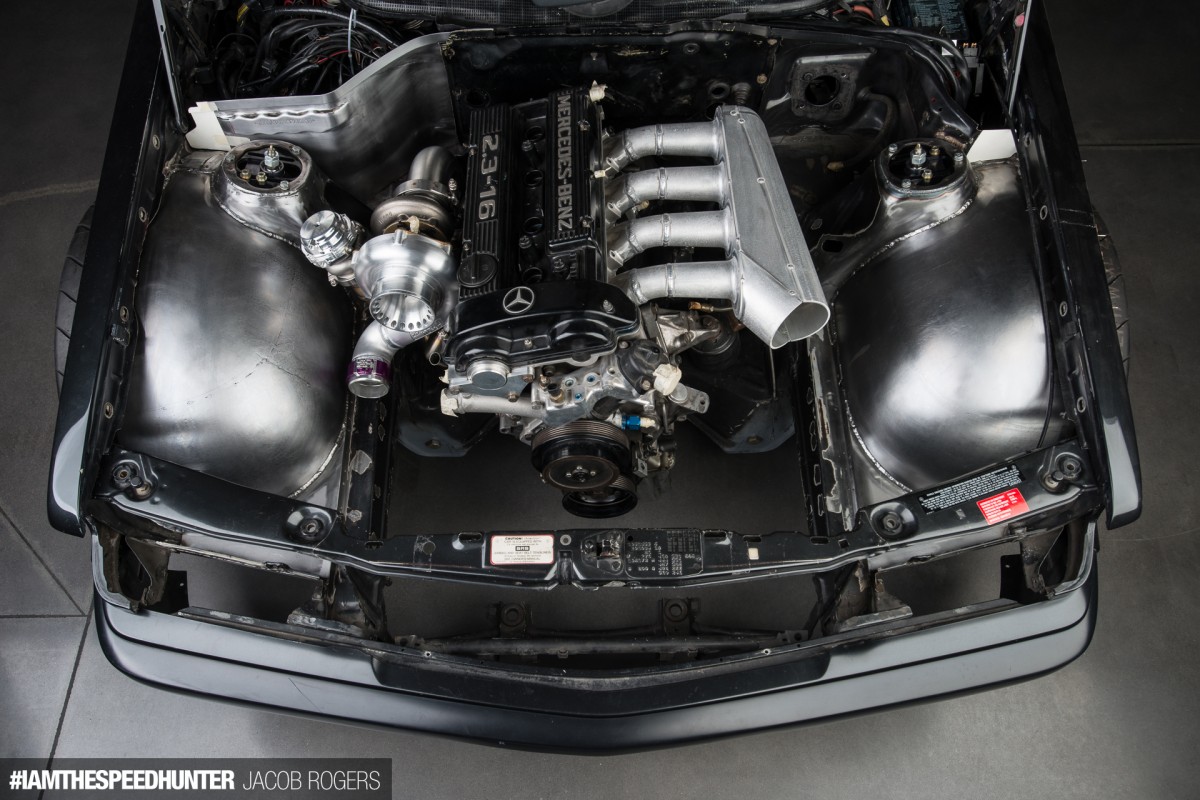 Describing himself as a 'die-hard fabricator', Jacob Rogers is currently working on a very special Mercedes 190E 2.3-16 Cosworth project that caught our eye. Being a rare car with such minimal aftermarket support available, Jacob has designed and built a lot of parts himself to meet his own requirements, and the results are nothing short of inspiring.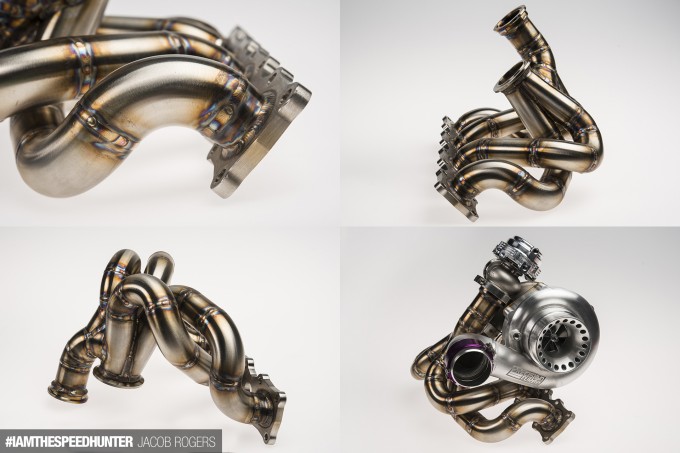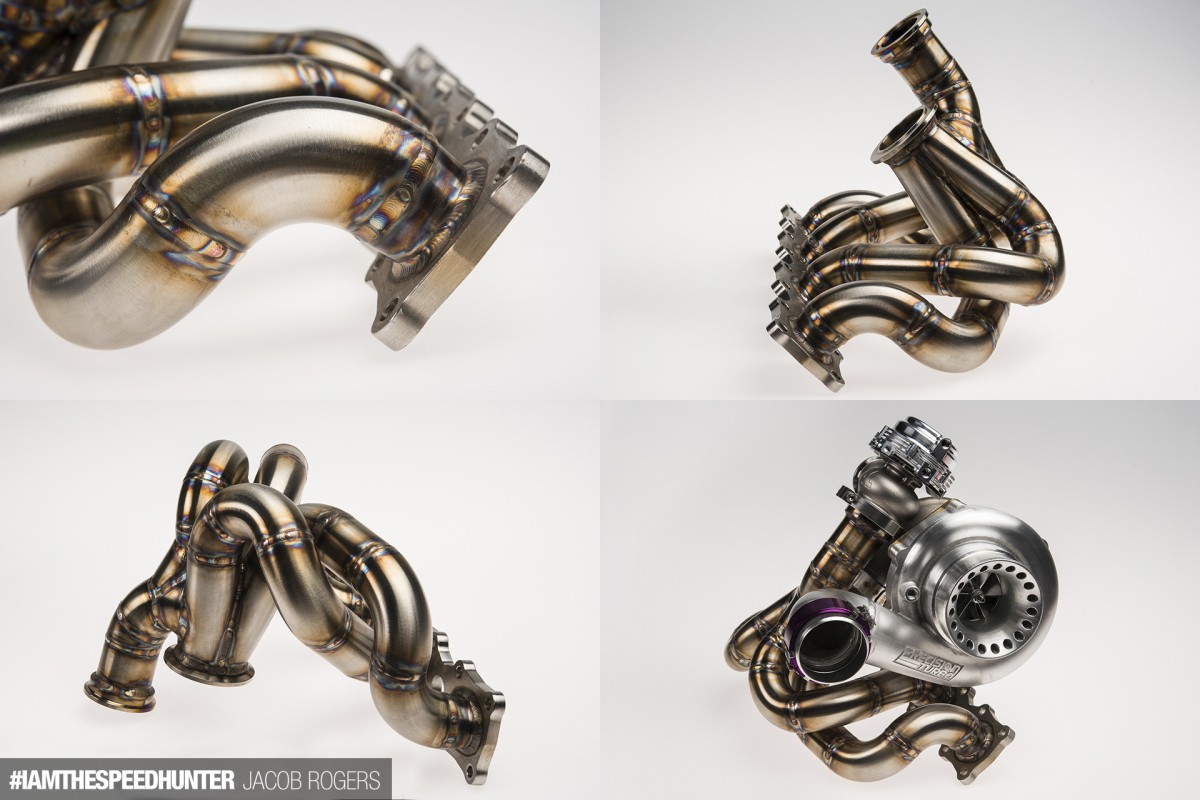 Like many great builds Jacob admires, the 190E has been one of constant progression. His latest revision has been significant though: version 4.0 of the turbo setup consists of a new turbo manifold, a Precision Turbo 5857 billet wheel turbo and a TiAL MVR wastegate. We're loving these professional shots he's taken of the new set-up – make sure to view these images in Presentation Mode to get a better look!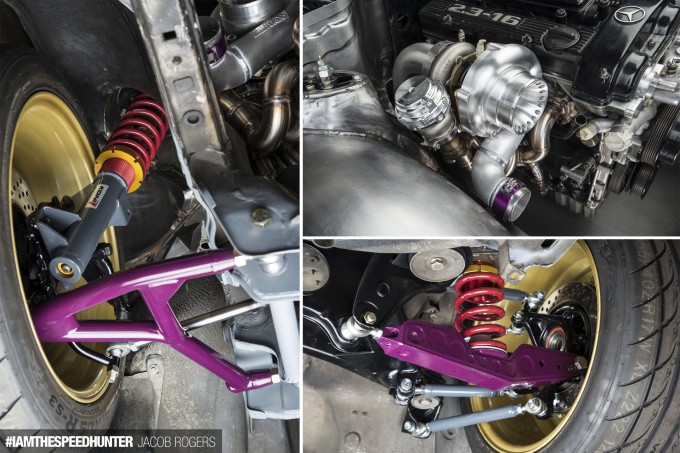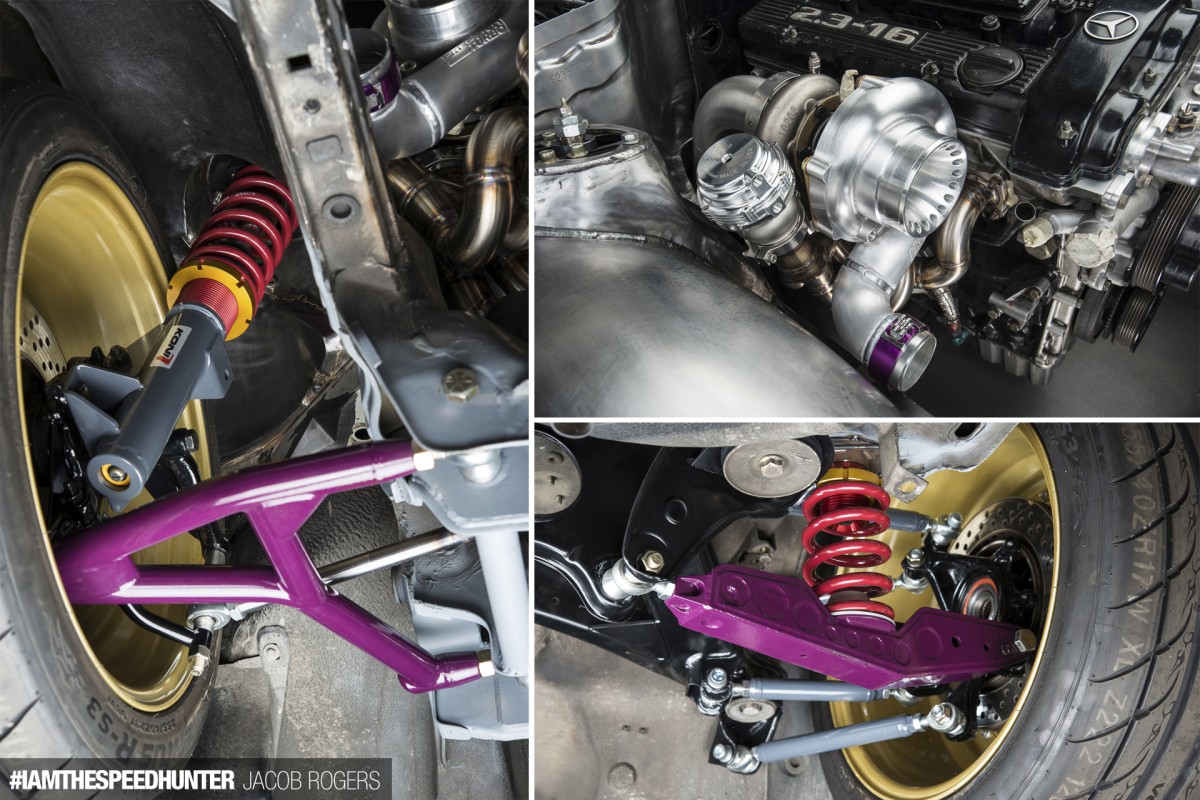 The right side of the Mercedes' firewall has also been rebuilt to accommodate the larger turbo setup, allowing for a more functional design while still retaining an OEM look. Extensive sheet metal work has gone into the front and rear wheel wells to fit the much-needed wider tires, and the suspension has been fully redesigned and fabricated to maintain a low ride height without making any compromises in terms of functionality. Above you can see the adjustable chromoly control arms residing front and rear, with custom strut housings in the front. It's clear that Jacob takes pride in every detail of his work, and we love where he's going with the direction of his 190E 2.3-16 build. We're looking forward to seeing photos of the finished car!
Princeton Wong, Houston, Texas, USA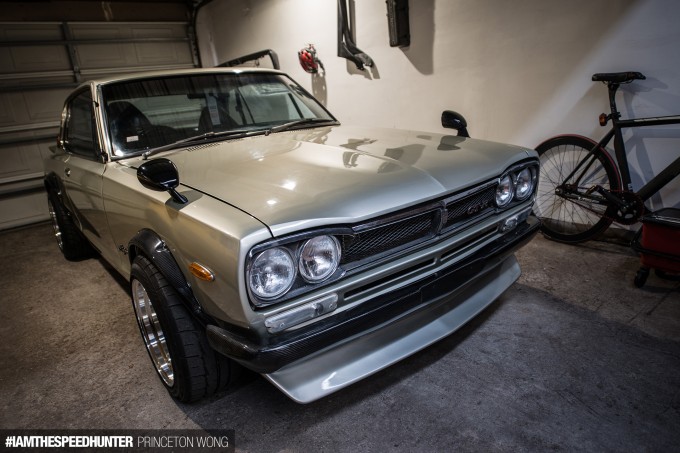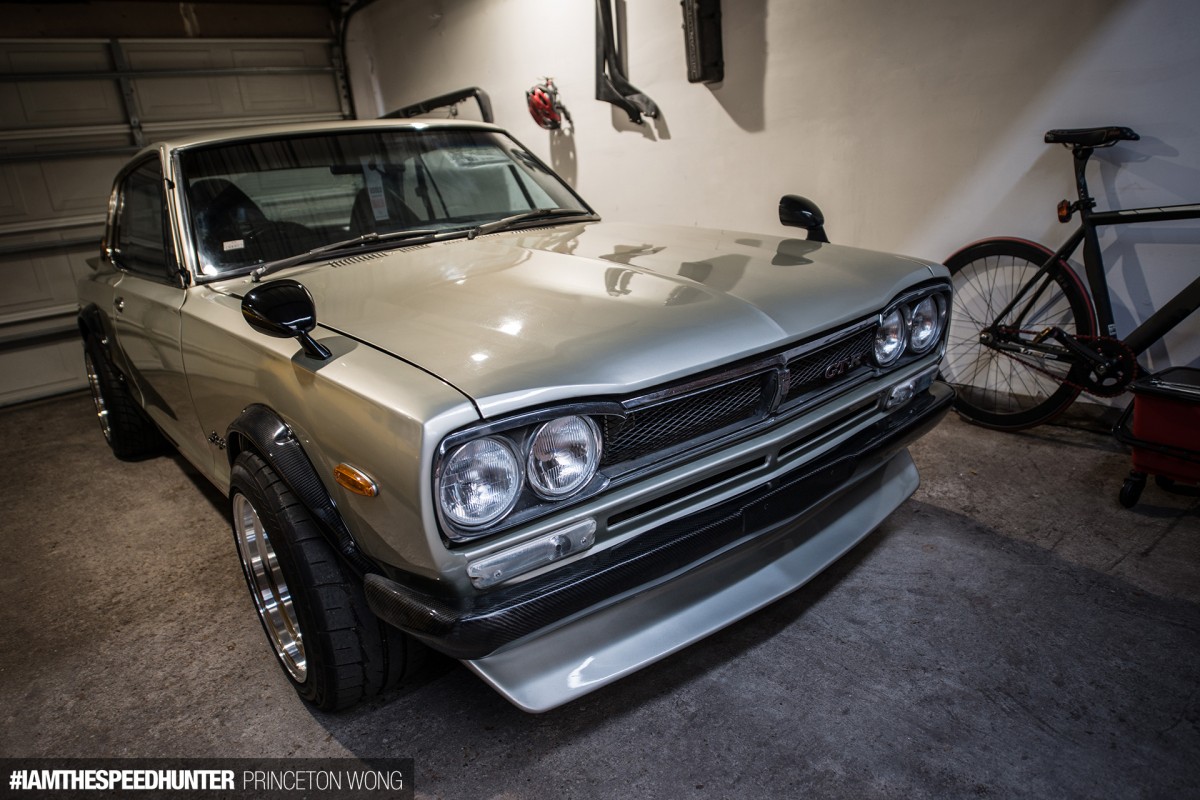 Moving onto something quite different now, Houston-based Princeton Wong is the lucky owner of this beautiful 1970 Nissan Skyline Hakosuka, which he purchased as a daily driver while living in Japan. During his two-year stint in the Land of the Rising Sun, Princeton began carrying out his vision of restomodding the 2000GT in an effort to retain its classy vintage feel. This process included adding dry carbon bucket seats and various subtle carbon fibre parts. But it's not so much a case of what he's done to this nostalgic beauty but rather a case of what he's done for it that we'll be focusing on here…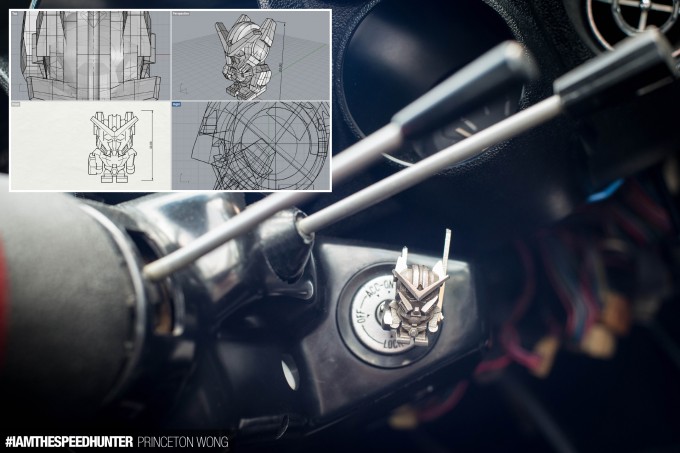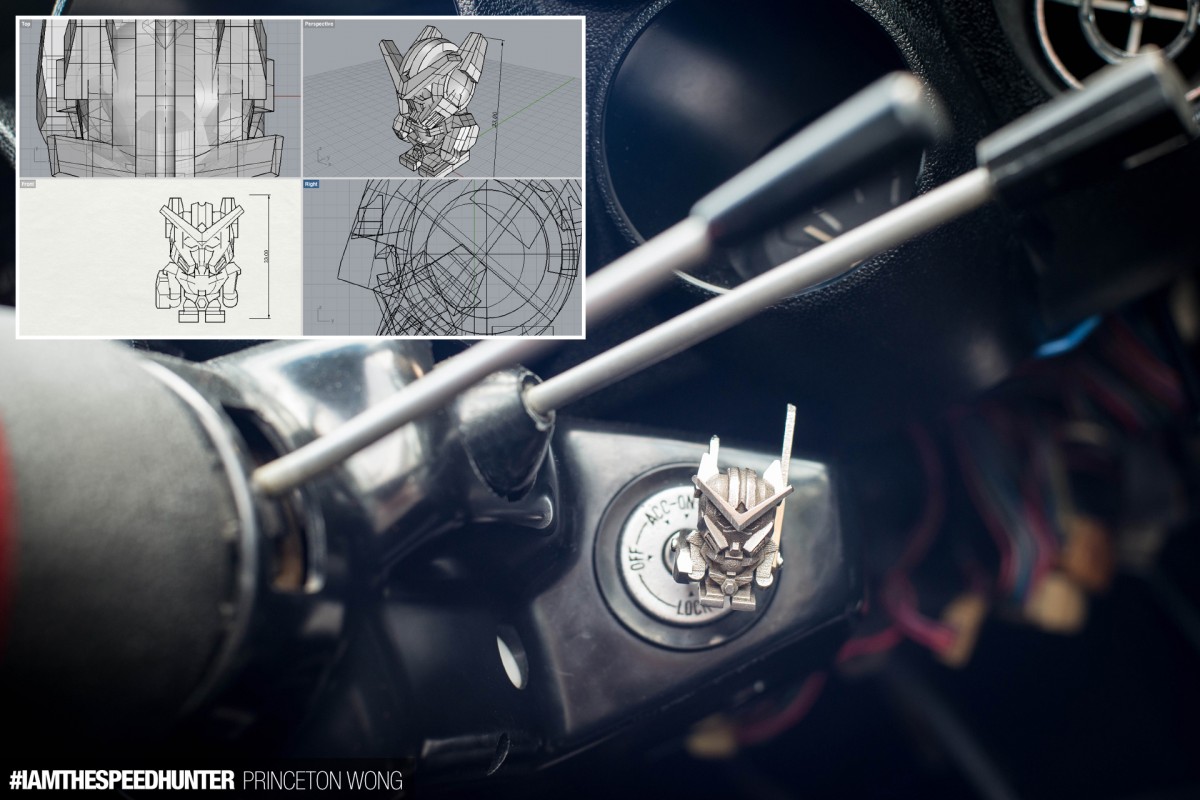 Princeton has used 3D printing to create a small, yet very cool collection of custom accessories for his Hakosuka, starting with this awesome Gundam Exia key holder. The idea began in CAD, with the file then being sent to the 3D printer to be rendered in stainless steel. Afterwards, the appropriate measurements are made and the printed object is machined on a CNC mill to perfect the tolerances and add some different surface finishes. The keys are then fitted and ready to use on the car. Check out this gif of how the keys flip in and out like the Gundam's swords.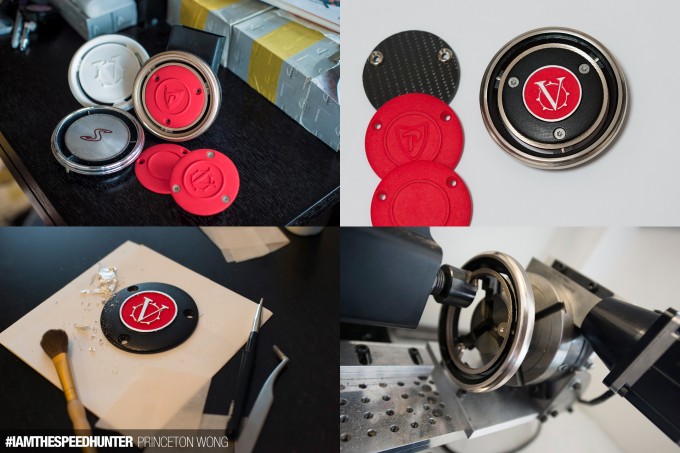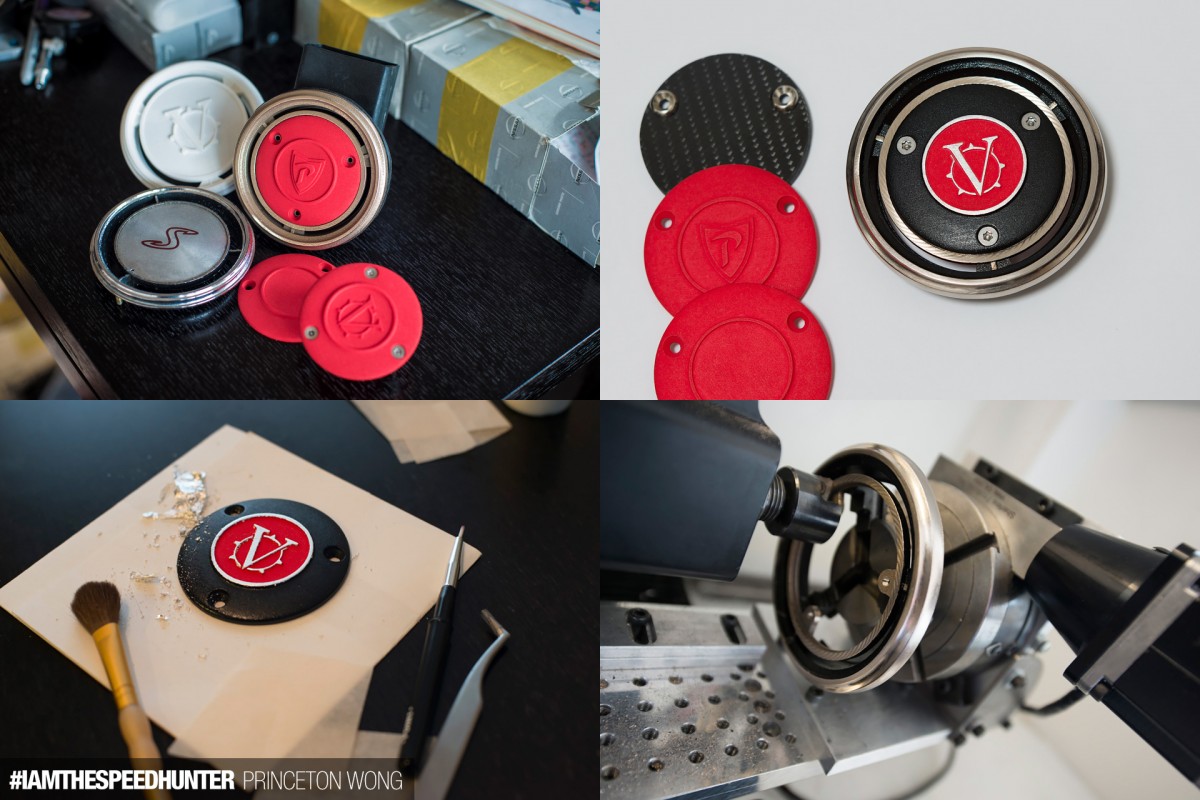 The second item is a modular replacement for the C pillar vents that always deteriorate on old Nissans. Princeton started out with a plastic 3D print to verify the fitment, before producing the vents in metal. For the exchangeable center caps, he tried some techniques like silver leafing to make them stand out, and the result is stunning. Here's another gif of the different looks with the vents mounted on the car.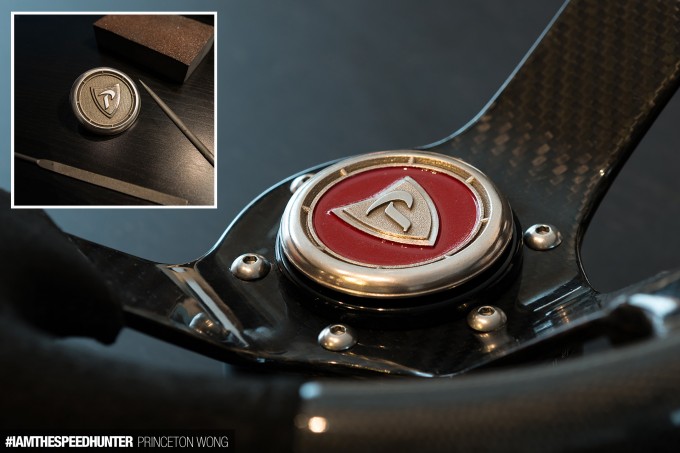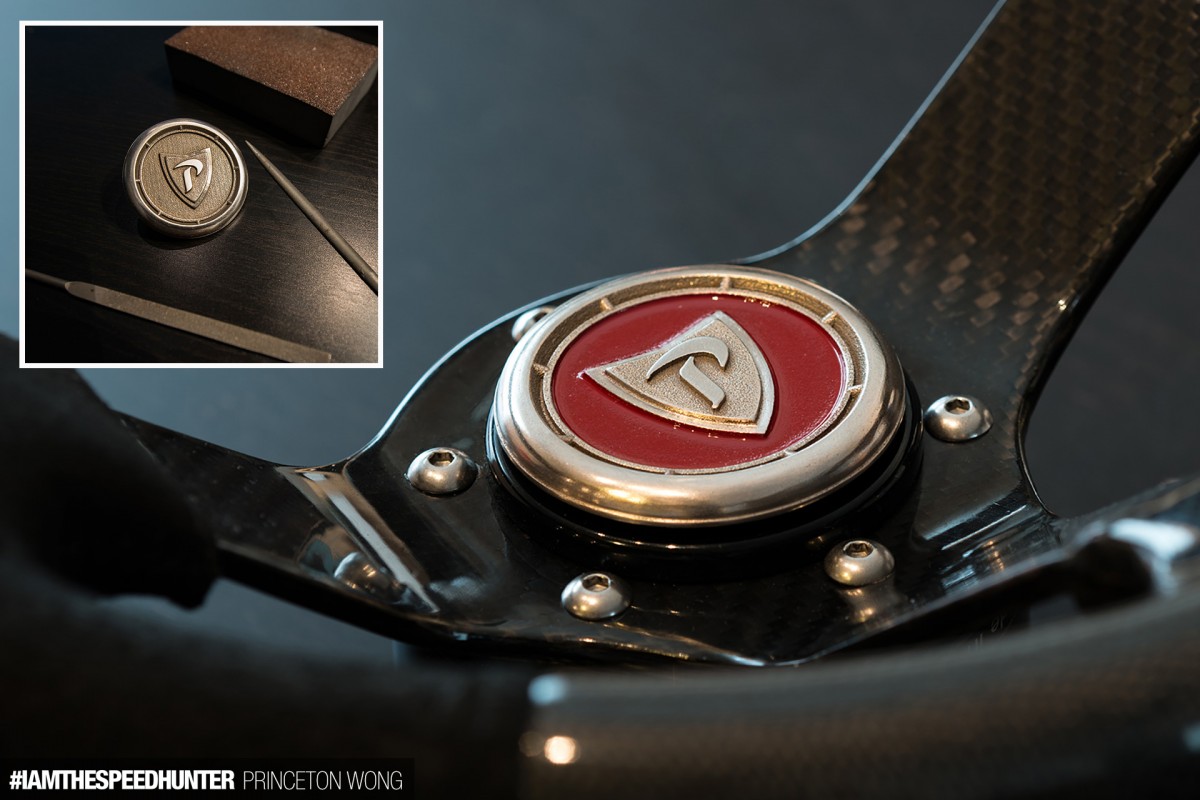 The final piece is a custom-printed horn button that has some polishing and lacquer. The Hakosuka Skyline was one of the last cars co-developed with Prince Motors before Nissan took over, so the Prince logo seems very fitting, don't you think? It's pretty cool that Princeton has gone to such an effort to customise his car with some very subtle, yet extremely well thought out accessories like this. Not only do they reflect his personality and pay homage to the car's heritage, but they keep within his ongoing 'improved classic' theme too.
Mitch Fries, Fresno CA, USA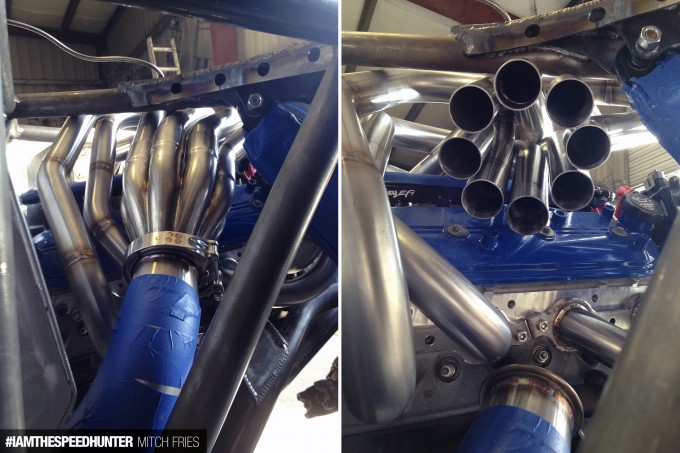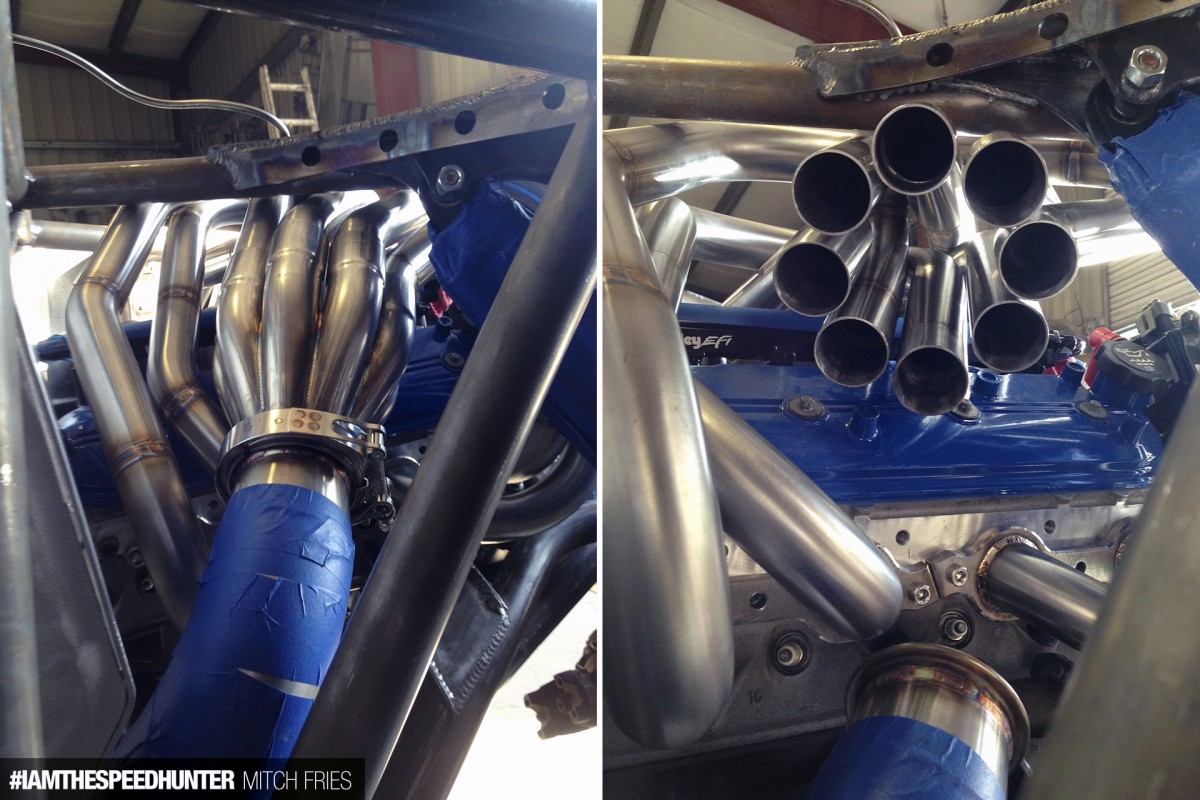 Next up, Mitch Fries has sent us some images of a very unique custom exhaust system featuring these 8-1 equal-length headers, built for an LQ9-based LS motor. Mitch works as the head fabricator for Hyper Pipes Engineering, located in Fresno, California, where building custom exhaust systems (consisting mainly of small production runs) for Lamborghinis, McLarens, Audis, Ferraris, and other exotic cars is all in a regular day's work. But Mitch says that he jumps at any opportunity to let loose and get creative with a custom header build, and he describes this as his most prized project yet.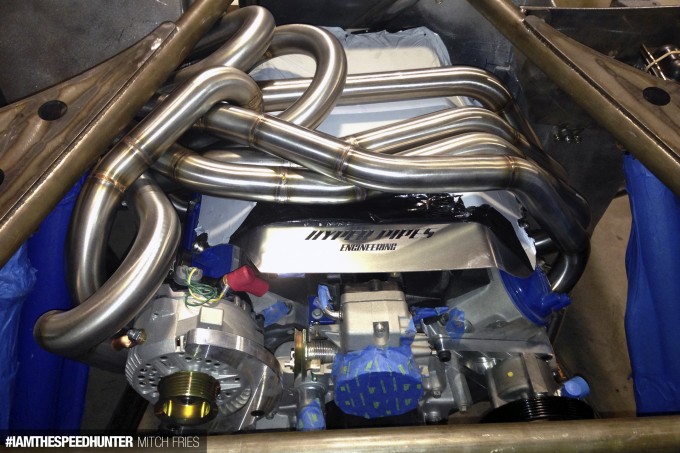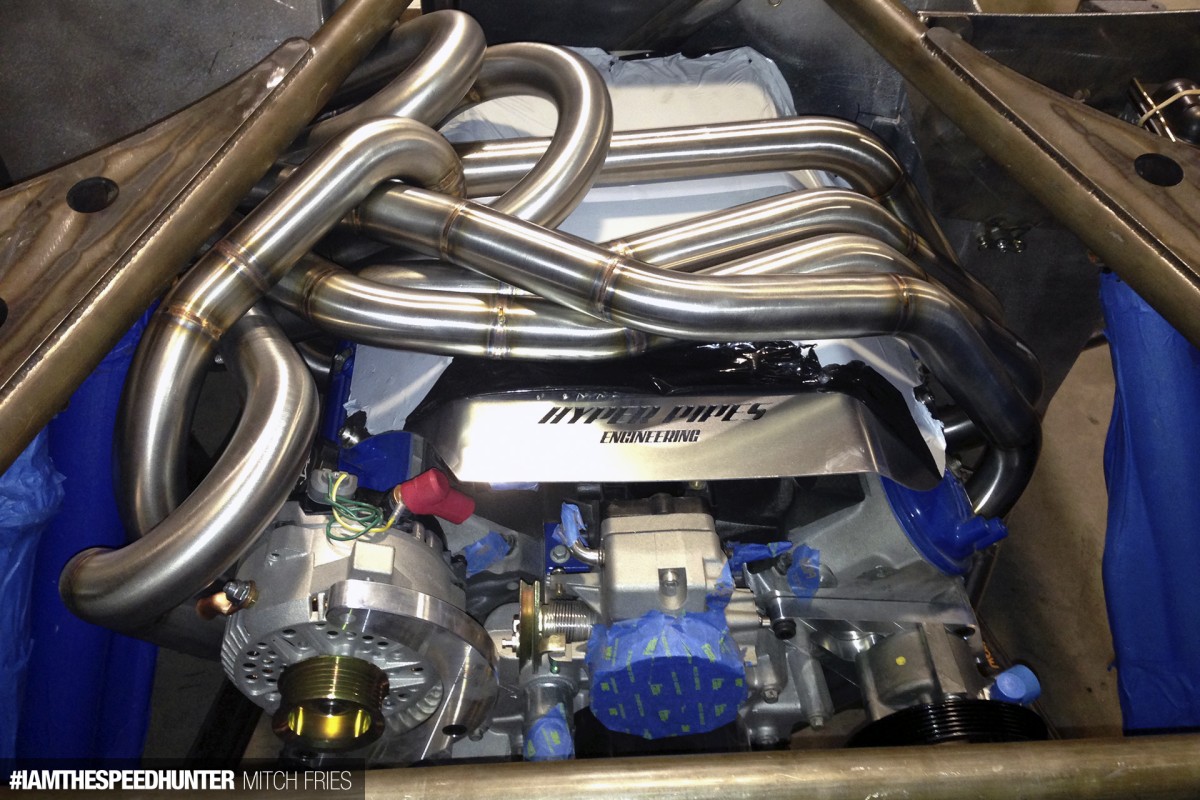 Hang on… the exhaust runs over the top of the motor? We asked Mitch to talk us though the process behind his creation. He explains, "The whole '8-1′ idea came around because we wanted this motor to sound amazing. Usually, a V8 has two 4-1 collectors that collect four cylinders from the same bank on each side. It's the firing order that gives a V8 engine its signature deep throaty grunt – on each side there are two cylinders that almost fire at the same time and two really far apart. With the 8-1 collector, the primaries are phased like a motor with an even firing order, (like most exotic cars) which allow it to pulse scavenge right after the other in the firing order of the motor. This gives it that real high pitched scream, like a Ferrari or a rotary engine."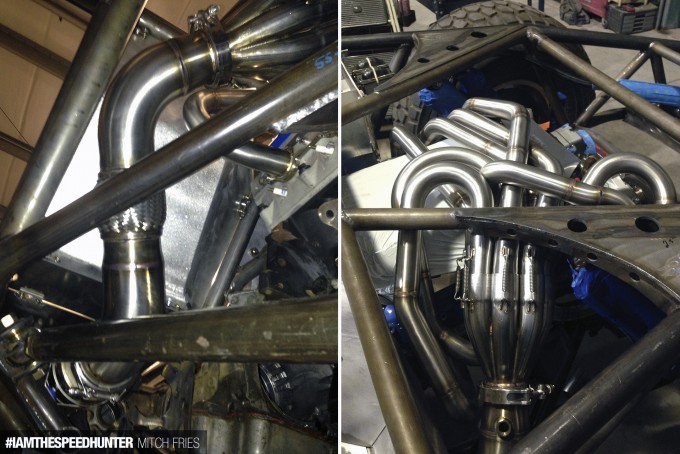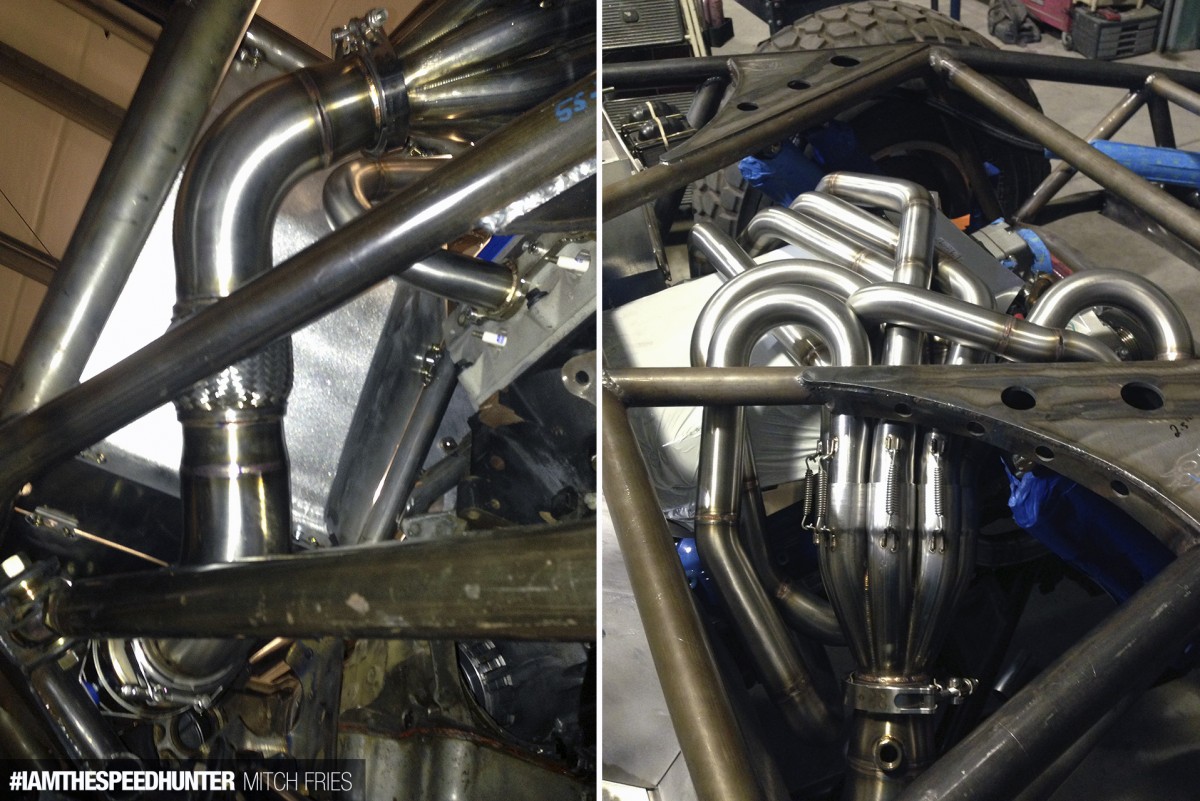 Mitch continues, "The car I was building this for also had very little room for an exhaust. People often sacrifice performance with their exhaust system because they don't have the room to stuff two collectors and pipes in the chassis. But these are 38 inches long, with the 1.75-inch primaries all equal in length. As you can imagine, one of the main challenges was being able to build each primary the same length as the other – this took a lot of brainstorming! I had to make sure I didn't block a primary on the collector where another is supposed to fit, and remember how much each bend and piece added to the total length of the primary. The result is worth it though, as it creates a negative pulse in each primary next to it when the exhaust valve is about to open, helping draw the exhaust out of the cylinder. You'll see I've also added an aluminium heat shield to keep the heat away from the fuel rails and intake manifold. This system looks like a nightmare to take on and off, but it's actually pretty easy if you know what you're doing. It only takes 15 minutes to remove." Apparently the off-road racer sounds like an 'extremely pissed-off rotary' and can be heard well above any other cars around it.
Leon Phillips, Tauranga, New Zealand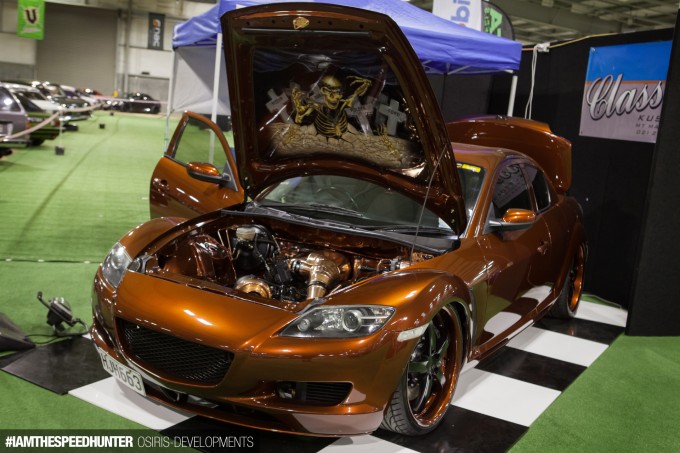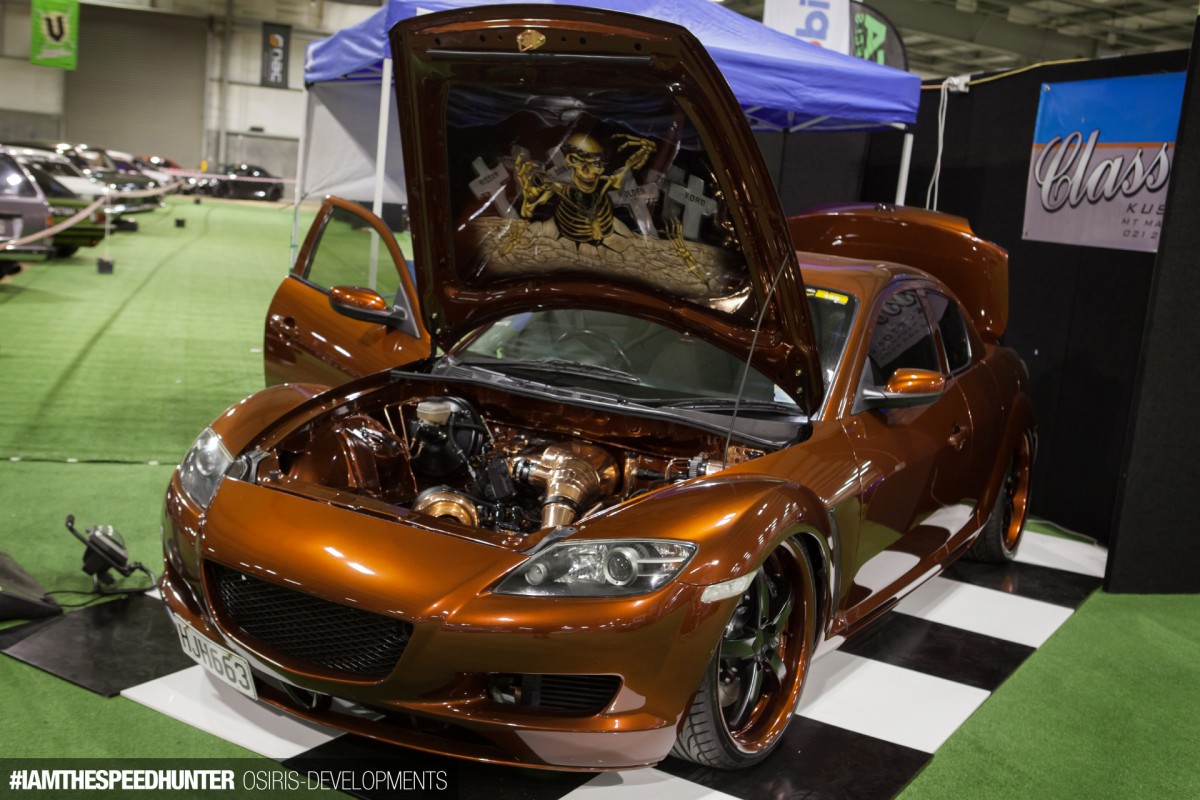 The brains and brawn behind Class A Kustoms, Leon Phillips has made quite a name for himself in the local Kiwi car scene, most recently due to the mouthwatering engine bay eye candy he has created for his big-power Mazda RX-8 show build. Leon has owned the SE3P RX-8 for over six years now but recently gave the car a full overhaul, which he debuted at the V 4 & Rotary Nationals show earlier this year. When it came to building a new engine, Leon tells us that he wanted something 'indestructible', and at the time he had a JC Cosmo block he'd been keeping out back in the garage that would be the perfect starting point. The 13B motor was rebuilt, bridge-ported, lightened and balanced and gifted with a beastly BorgWarner S300 turbo, all by rotary specialist Dean Hargreaves at Rotomax.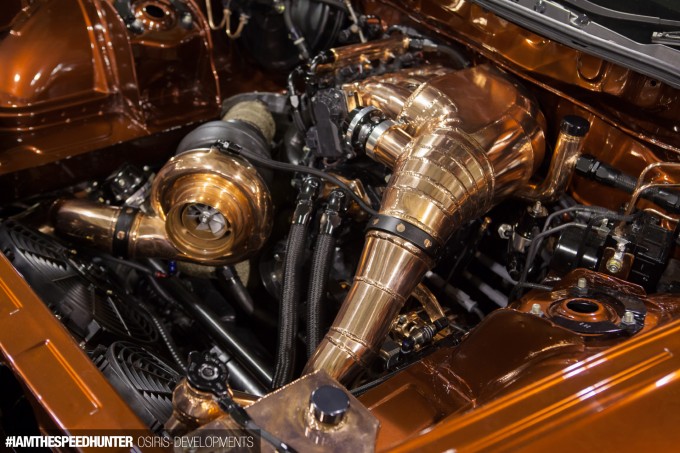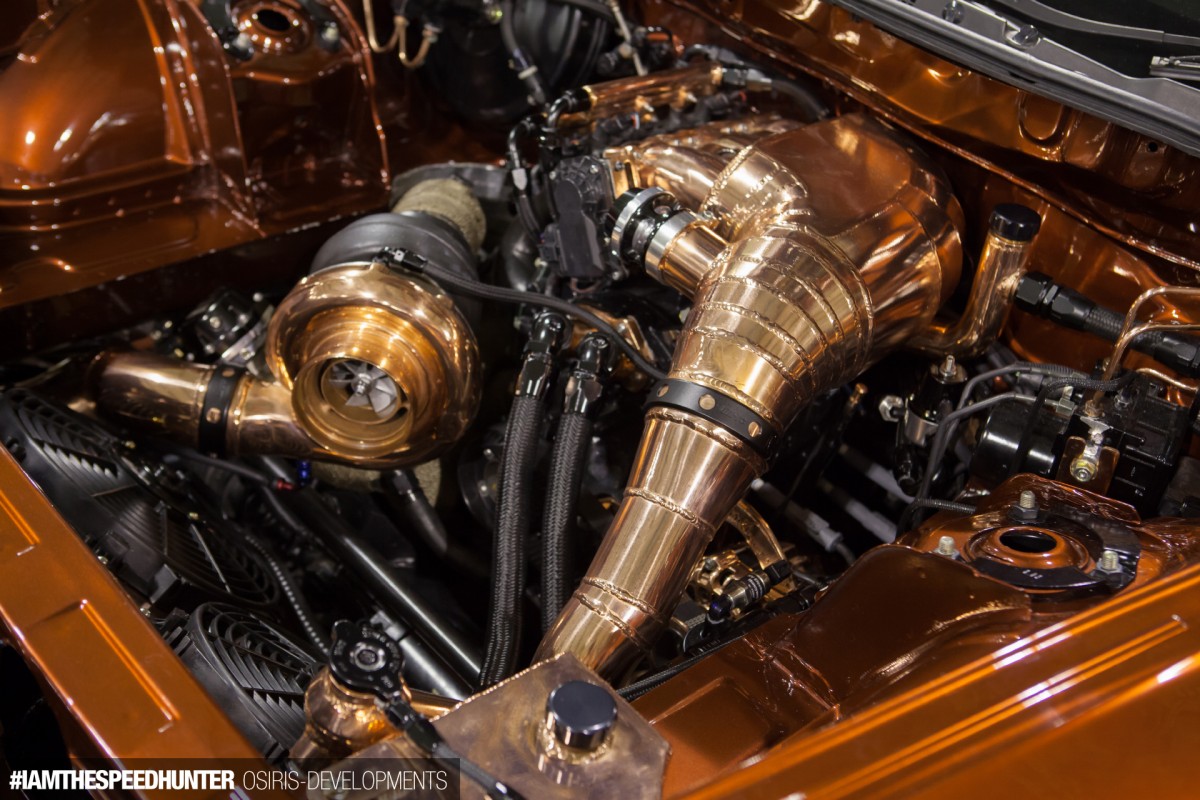 The most unique feature however, has to be Leon's generous use of copper plating, which he tells us was extremely time consuming and is ridiculously hard to keep clean! This plating is actually part of the chroming process – it's the second to last step before nickel and the final chrome coats are applied. Once the copper plating takes place, the parts all have to be hand polished to perfection before the final clear-coat is applied so that the finish doesn't tarnish. The custom plenum feeds into three individual 55mm throttle bodies running E-throttle, and then into a custom intake manifold. Leon mocked up some of these parts three or four times, purely to get them looking the exact way he wanted! We love the way the Tangerine Candy paint (a House Of Kolor hue) frames everything and ties it together as one glimmering orange masterpiece.
Check out the next chapter for a mental Swiss time-attacking Evo, some beautiful welding examples and more…
Feeling Inspired Yet?
Rodrigo Rüttimann, Switzerland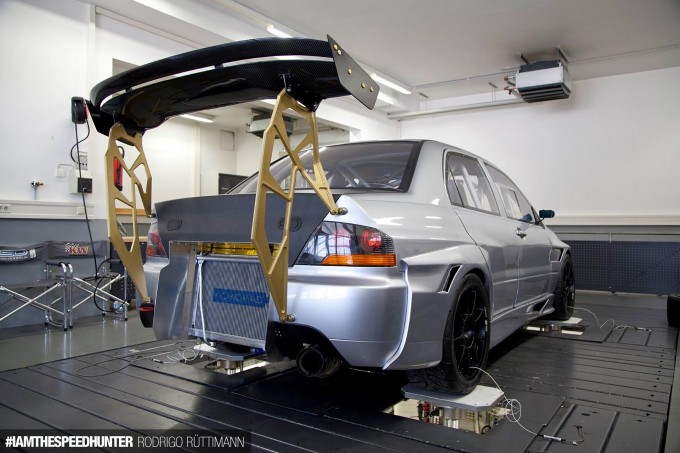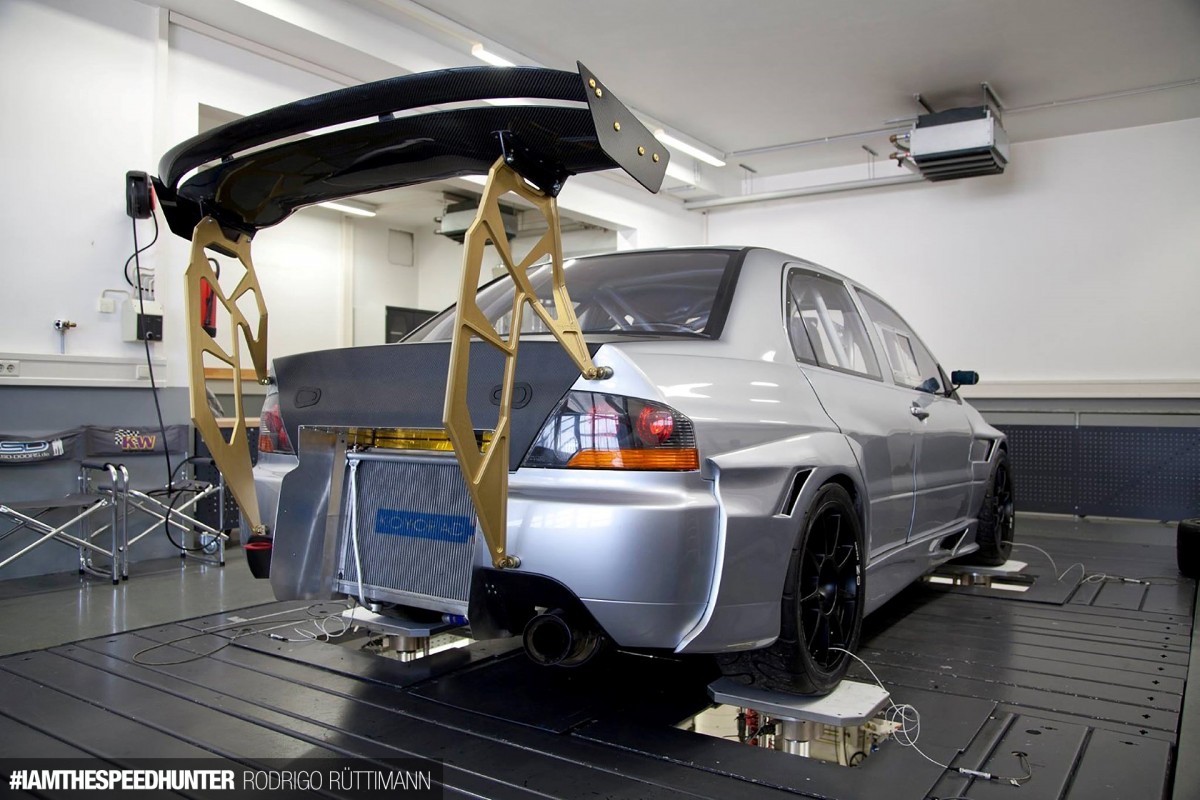 Would you like some car with your wing? With almost 30 years of experience in almost every fabrication field under his belt, Rodrigo Rüttimann from Switzerland is an extremely passionate motorsport fabrication expert who has recently finished building this extreme Mitsubishi Evolution VIII time attack build for a close friend of his. He's performed the majority of the fabrication work on the car himself, and he hasn't installed a single off-the-shelf kit without modifying it in some way.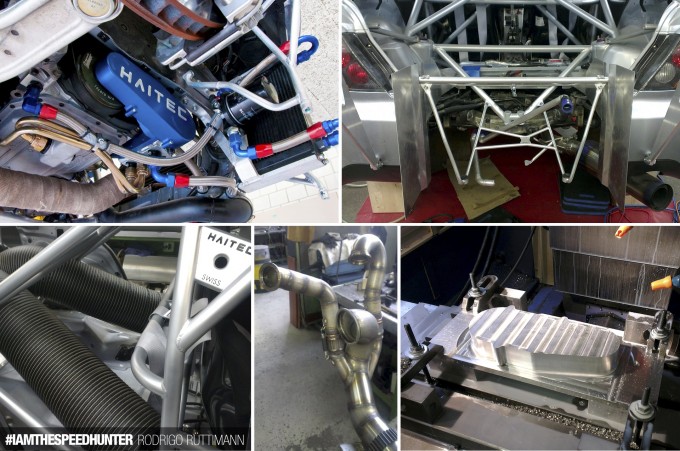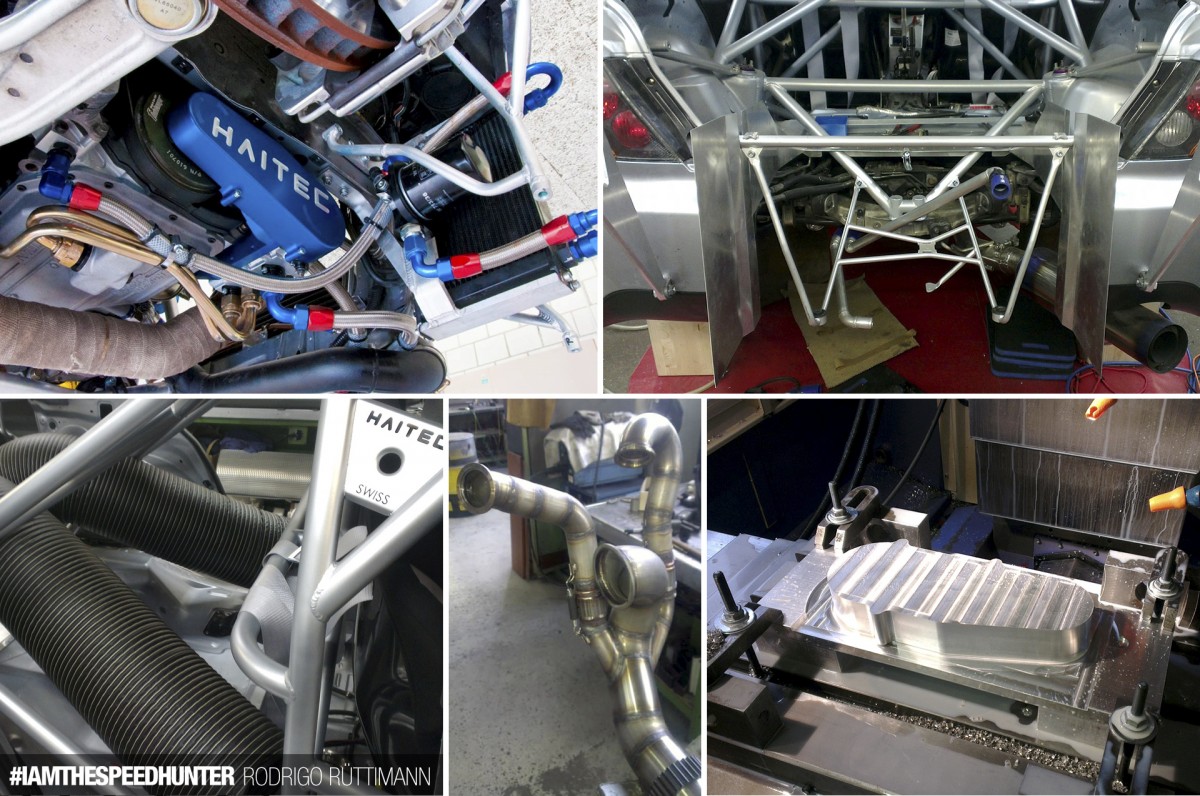 The first example of this is the dry sump system, which he purchased as a kit before quickly realising that it wasn't anywhere near good enough for his standards. He kept the oil pan, the pump itself and the engine side plate before throwing away everything else and starting fresh with a whole new layout in CAD. It now has a proper solid mounting plate, new pulleys and a stronger HTD belt, a tensioner and a protective cover. Everything has been CNC-milled out of 6061 aluminium and anodised in blue. The radiator has been swapped to the rear in an effort to improve balance, make the engine more accessible and to get heat out of the engine bay. Running a temperature-driven electrical pump, and with huge ducts in the rear doors feeding two 250mm diameter tubes, the Evo runs a sweet 95°C engine temp, even on hot summer days. Rodrigo also describes the downpipe delivered with the turbo kit as 'an absolute joke!', so instead he made up his own, providing smoother curves for optimal flow.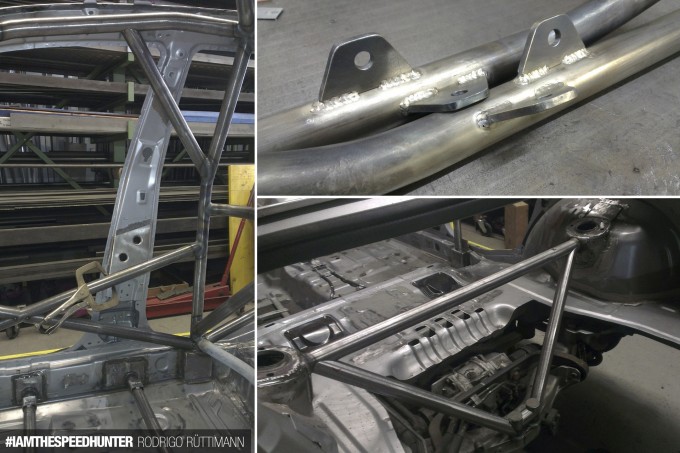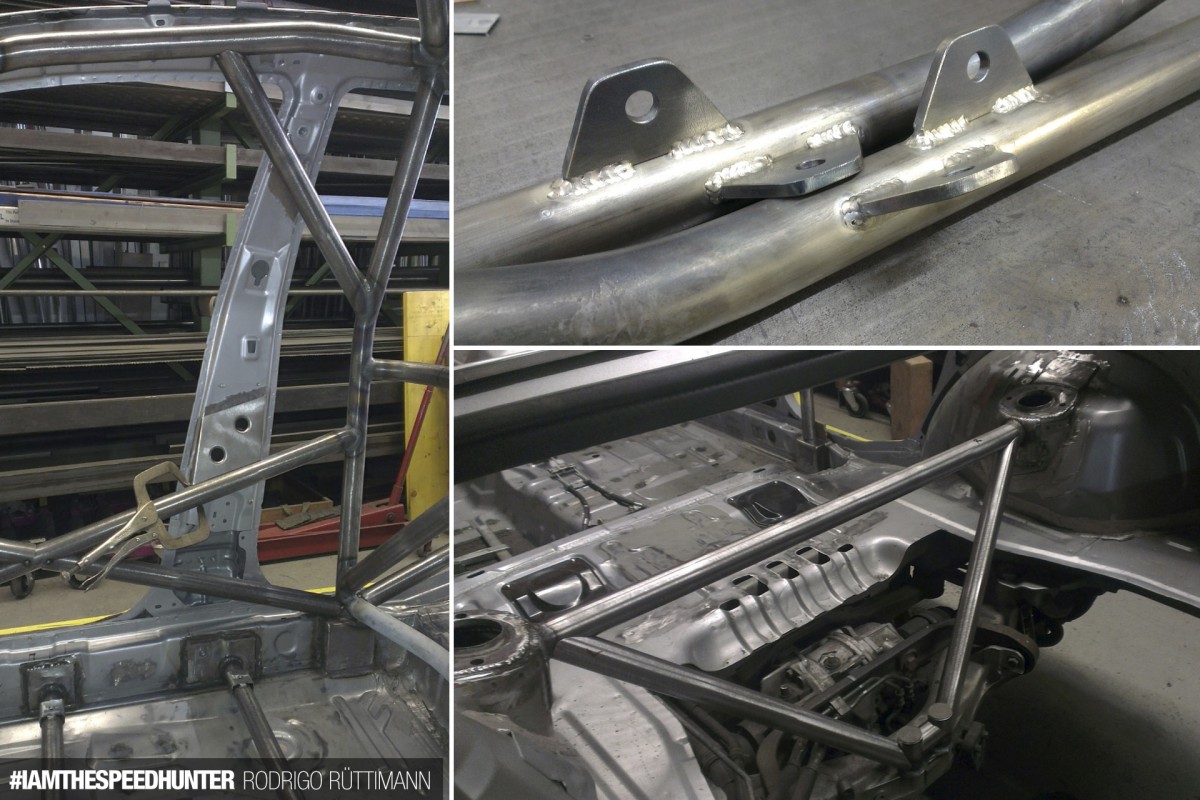 Here are a few detail shots of the TIG-welded chromoly cage, which connects both axles. Rodrigo proudly tells us that after having the car on the 7-post rig at KW Suspension, the engineer told him it was the most rigid Evo structure he'd ever come across.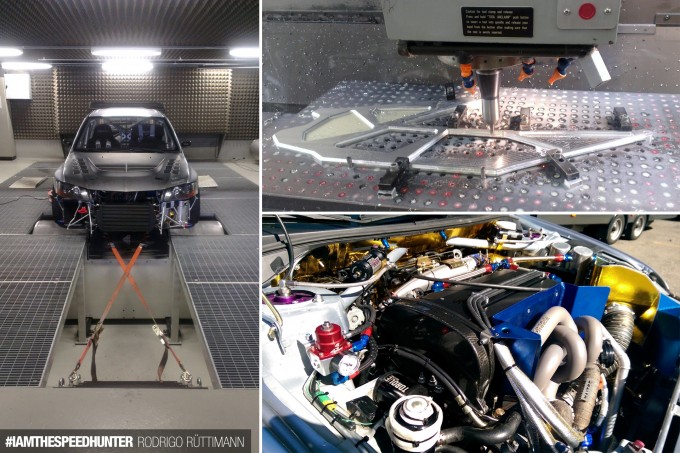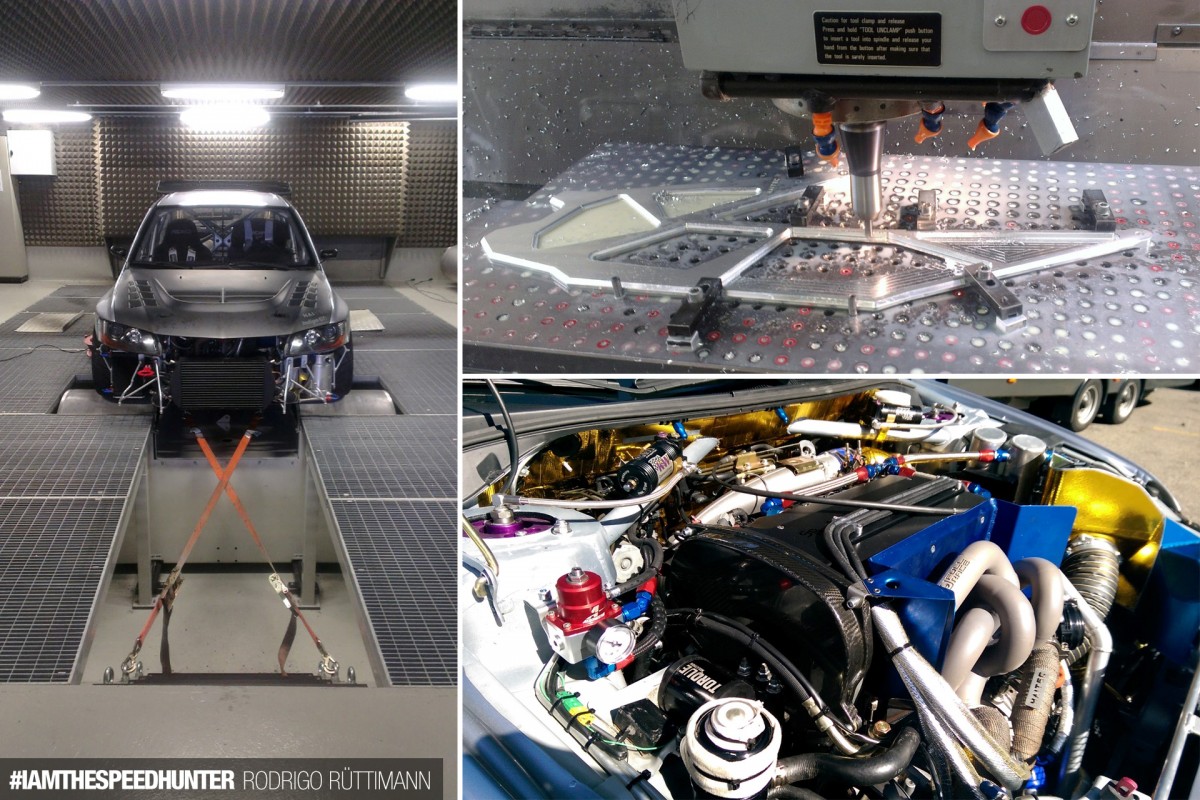 The idea with the rear wing was to position it as far back as possible to increase leverage, with the rear spaceframe structure providing the four mounting points. The inlet manifold has also been relocated to optimise the angle of the injectors. Seeing as we only have time to showcase a very small selection of the huge range of tasks Rodrigo has performed here, we think we might have to venture into the Swiss countryside sometime soon to pay his business, HAITEC, a visit!
Alex Lindner, Ohio, USA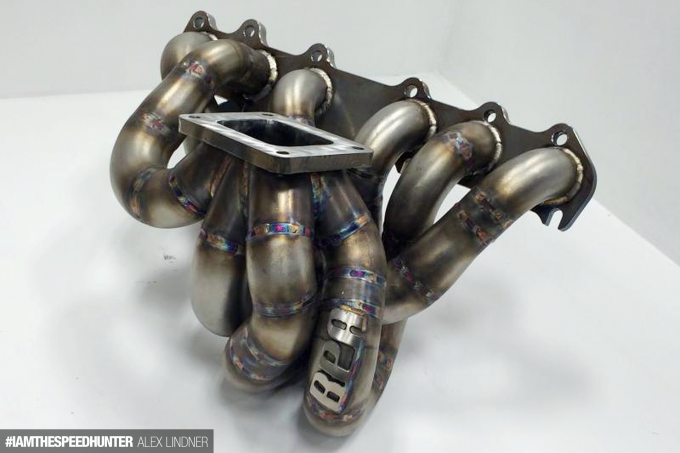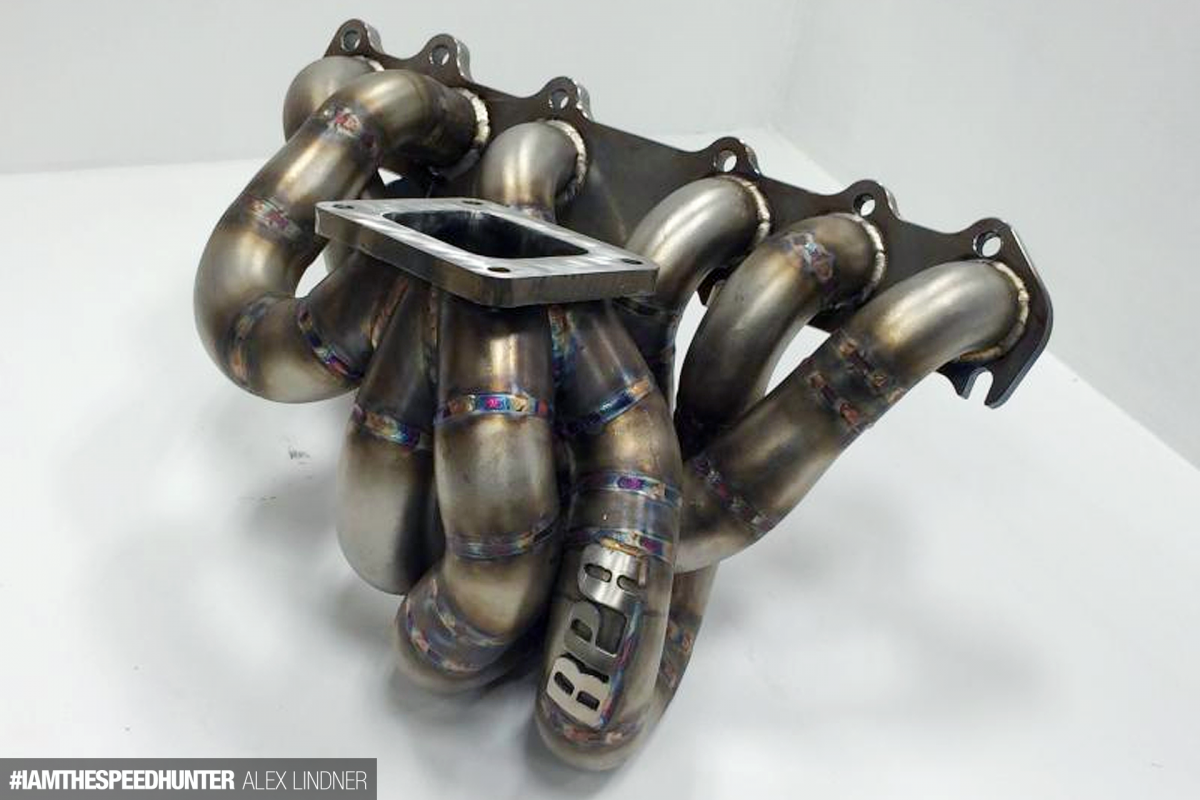 Next up, meet Alex Lindner. Alex runs a one-man welding/fabrication company called BP Autosports LLC out of Newark, Ohio, and specialises in titanium exhaust components and manifolds for 2JZ engines. A '99 per cent self-taught' TIG weldor and amateur drag racer, Alex has experience in building a variety of exhaust manifolds for different applications, creating high quality, hand-built products with a focus on performance and aesthetics.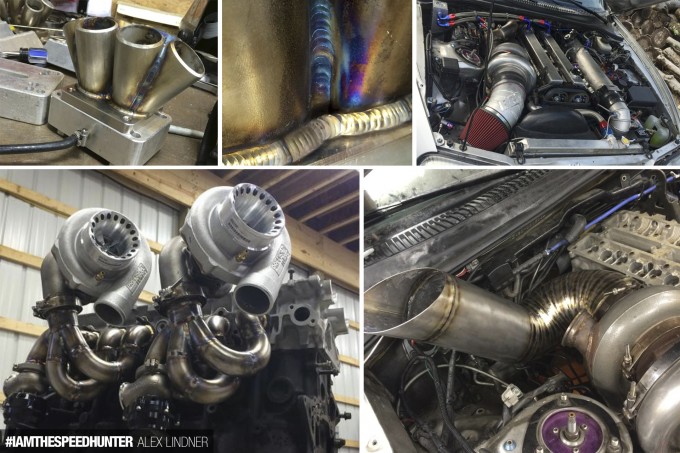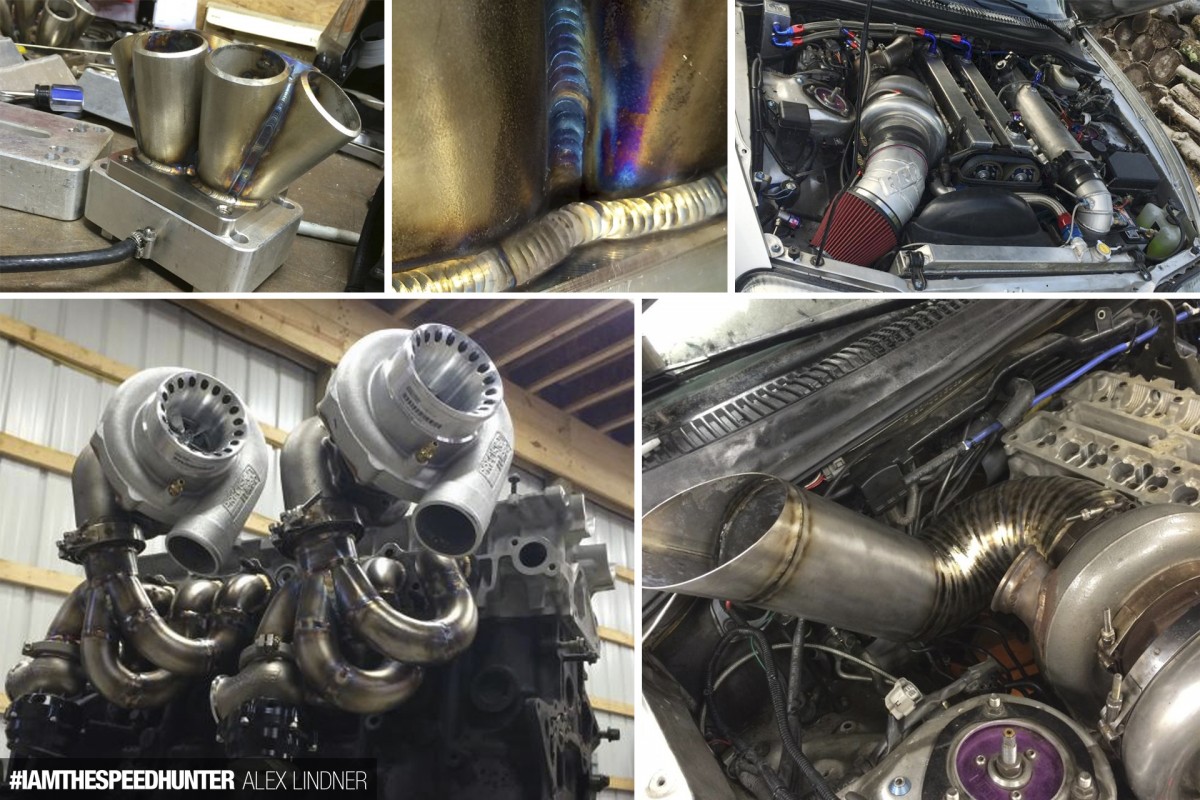 Of course, Alex's own project car (pictured top right) is a '94 Toyota Supra. Unfortunately the engine blew this past season so he's currently rebuilding it using his own proprietary exhaust manifold technology and a lot of titanium. The new setup features a 5-inch exhaust protruding straight up through the hood (pictured bottom right), and a 2.5-inch wastegate dump tube.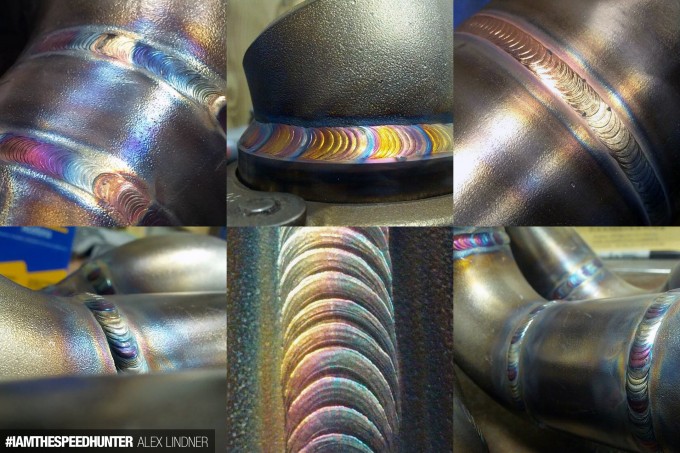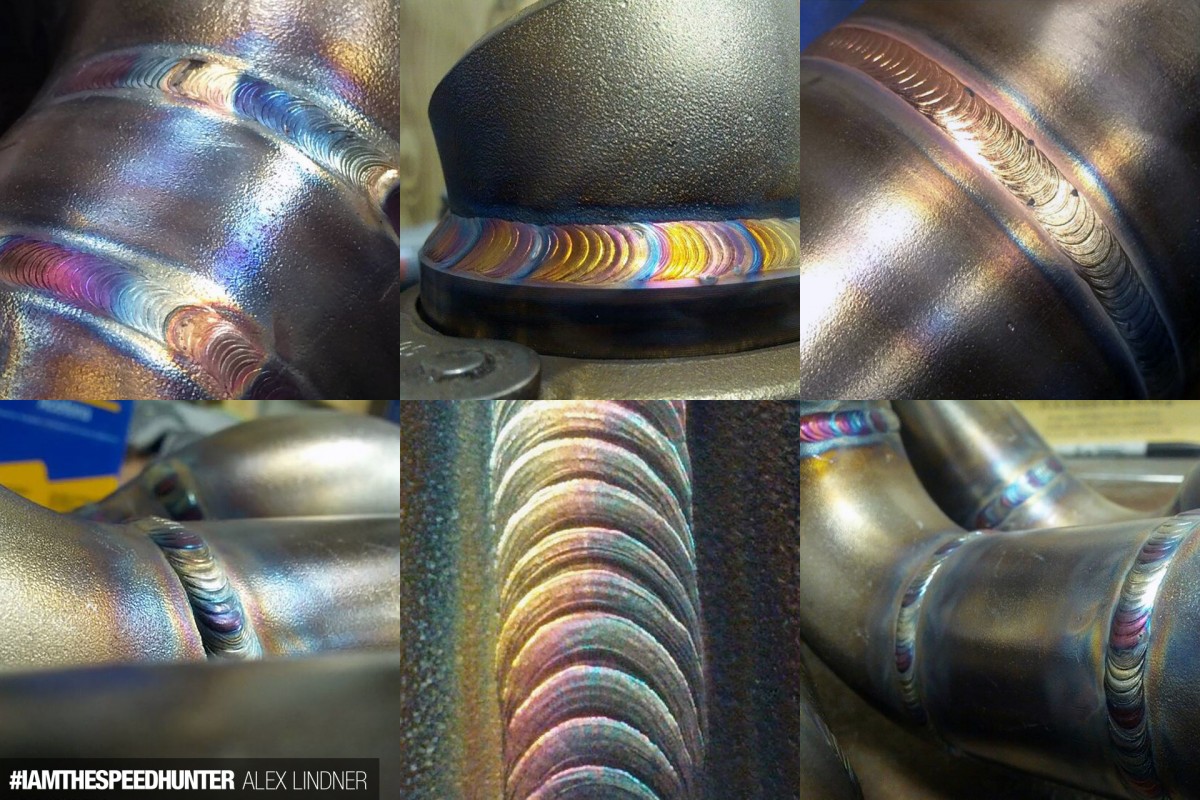 If you're into welding and fabrication, make sure to check out Alex's Instagram account for more drool-worthy imagery like this. One of Alex's favourite metals to work with is titanium, so for those of you that are interested, we thought we'd ask him about this. He explains, "Working with titanium is a very fun and rewarding experience. However, there are a few things that make it quite different to working with any other reactive metal. Titanium is extremely reactive, which makes gas coverage paramount to a proper weld. It also has a threshold temperature of 800°F, which means that the metal needs to be flooded with inert gas (typically argon) until the metal drops below this temperature to alleviate the possibility of oxidation. I've found that running many small beads as opposed to a few long ones is a good way to ensure a good weld. A good titanium weld should be silver or straw-coloured and flush, if not very slightly convex to the surface of the base material. Back purging, or creating an inert environment inside the tube by flooding it with argon, is absolutely necessary on titanium as well. Otherwise there's a substantial risk of the weld cracking and failing."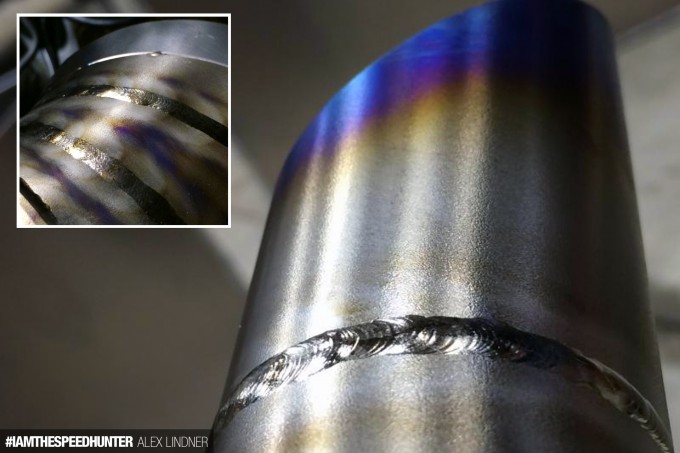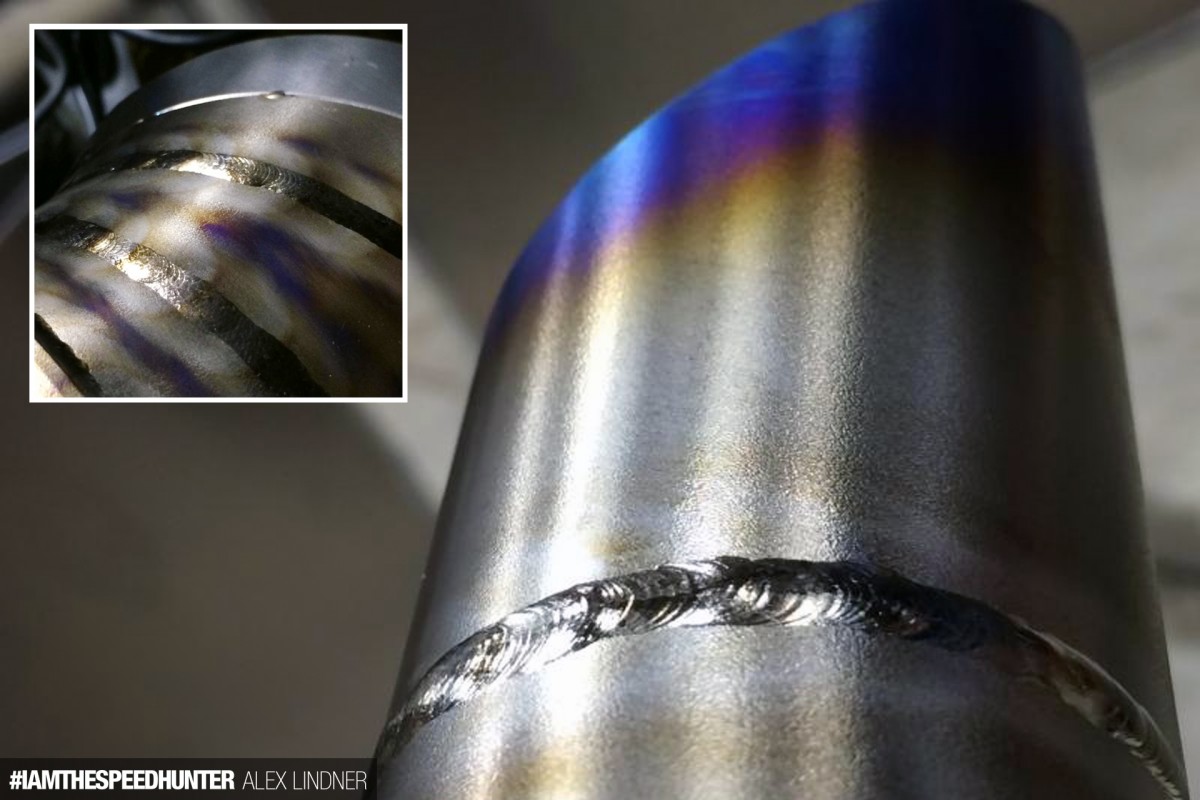 Alex continues, "In addition to titanium's increased gas coverage needs, its puddle characteristics are different from any other metal I've welded. The puddle wets out and flows very nicely which makes it a joyous experience provided one dynamic is taken into account: if the filler rod is not added in the right spot, the rod will stick like glue to the base metal, sometimes so badly that it's necessary to terminate the weld and fight the stuck filler rod off of the base metal. The best way to avoid this scenario is to add the filler rod into the middle of the puddle, rather than on the leading edge. This way, the rod is added to the hottest part of the puddle, and doesn't have the chance to freeze and stick. The best way to progress and succeed with it is to practice and get used to how the metal reacts. Keep the metal clean and take your time. Anyone can make beautiful titanium welds with enough practice!"
Dave Tucci, New York, USA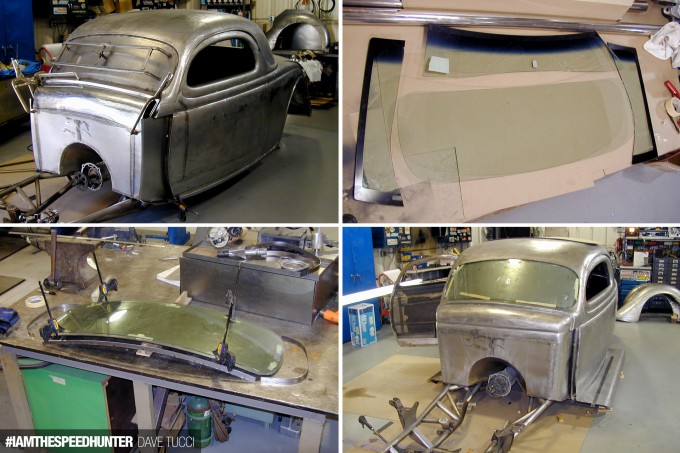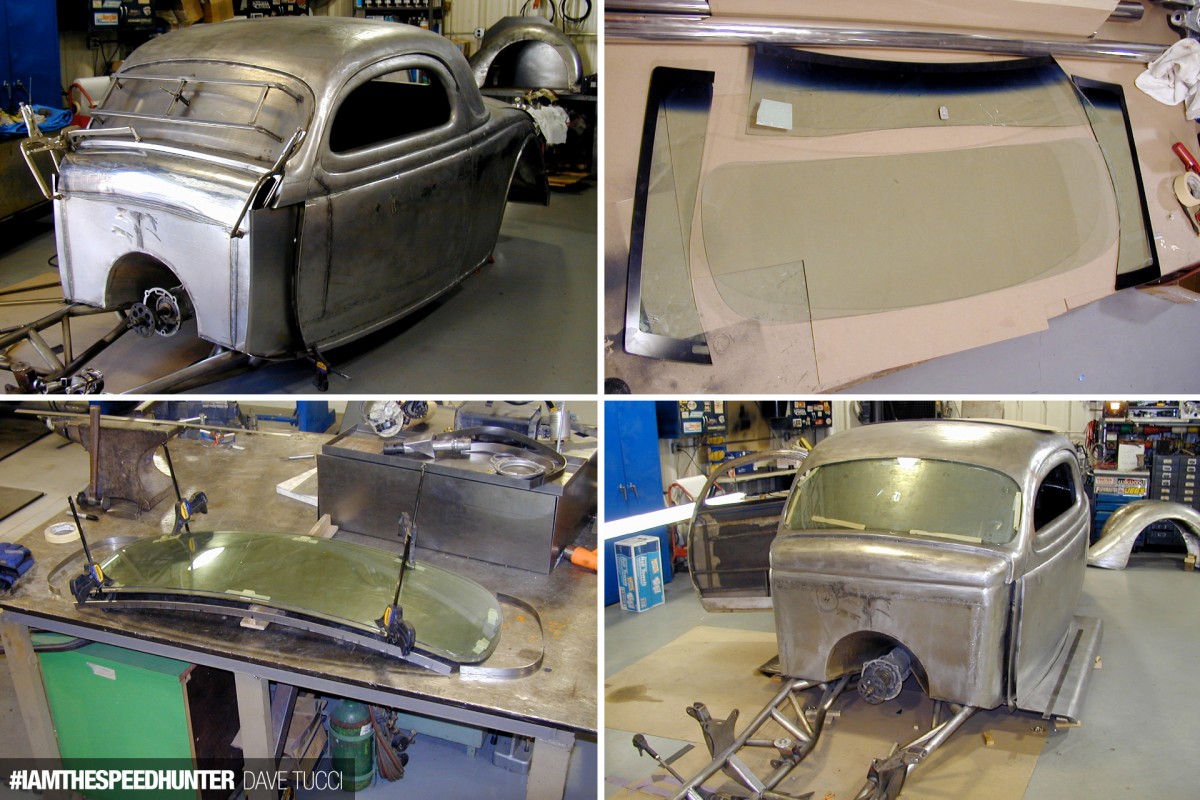 We received several emails from Dave Tucci Jr, owner of Tucci Hot Rods in Marcy, NY, and although we don't have the room to include the incredible build process of this 1935 Ford 3-window coupe from start to finish, we thought we showcase one of the interesting challenges that Dave came across along the way. These images are from the creation and installation of a curved windshield into a space that formerly held a flat glass screen. Dave started by sourcing a mid '90s Ford Ranger windshield, then fabricated a frame around the section he'd cut out. That frame was then installed into the location of the car that had the best line. Next up, the front of the roof section was shaped to match the new windshield and blend with the original roof. A-pillars were fabricated from scratch to tie in the new roof section and the new shape of the side of the windshield. The last step was to create a firewall that tied the rest of the car together. Tubular frame work welded to the solid metal section of the windshield was used to keep the section square during installation.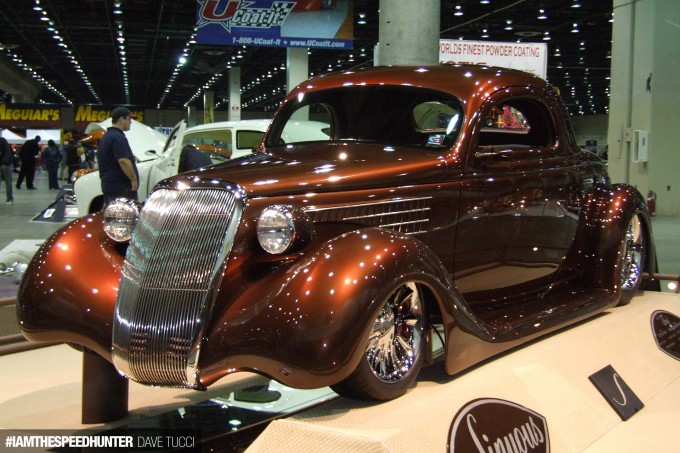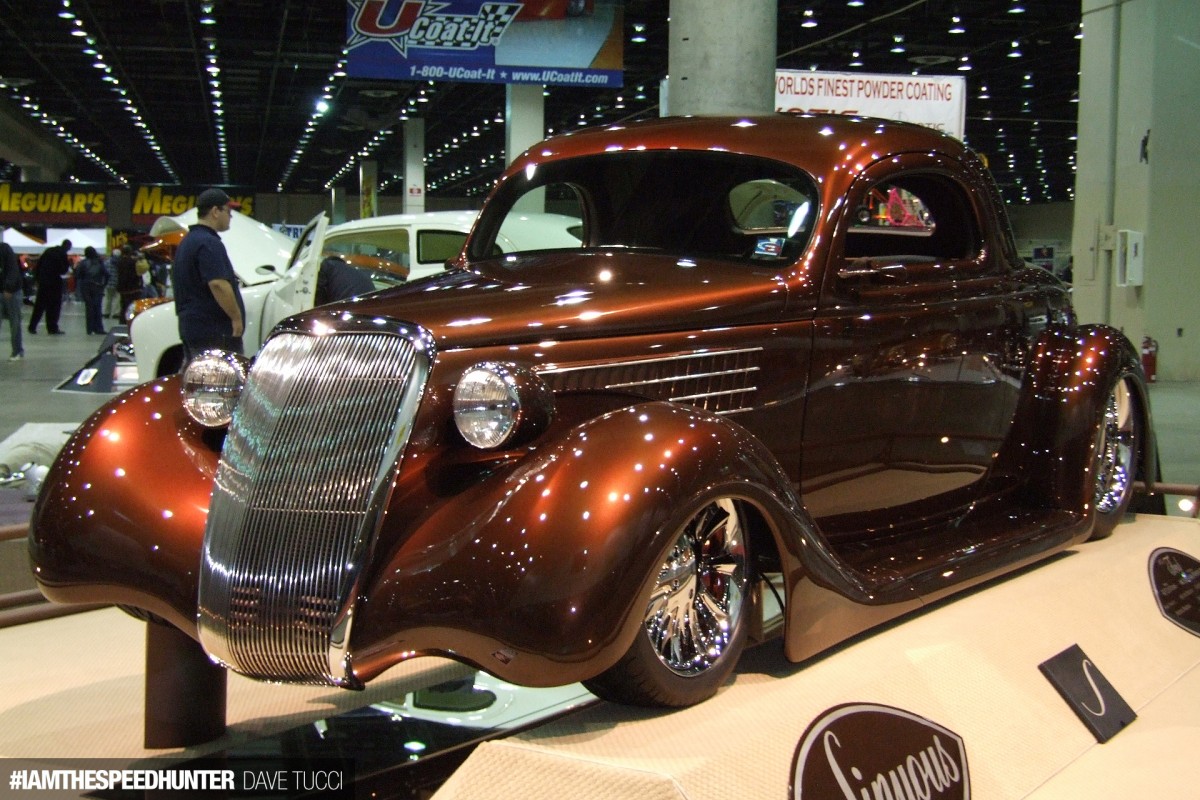 The amount of time and level of detail gone into this build is truly incredible. To give you some idea, approximately 250 hours went into creating the front grille and the surround area alone! This car was built for the Ridler Award show (which has been running since the '60s) where it was recognised with a 'Great 8′ award. Thank-you for sharing this with us, Dave!
Matthew Meza, Long Beach CA, USA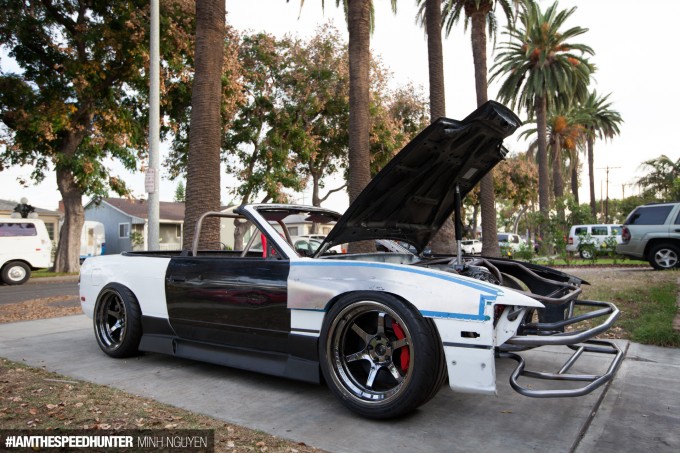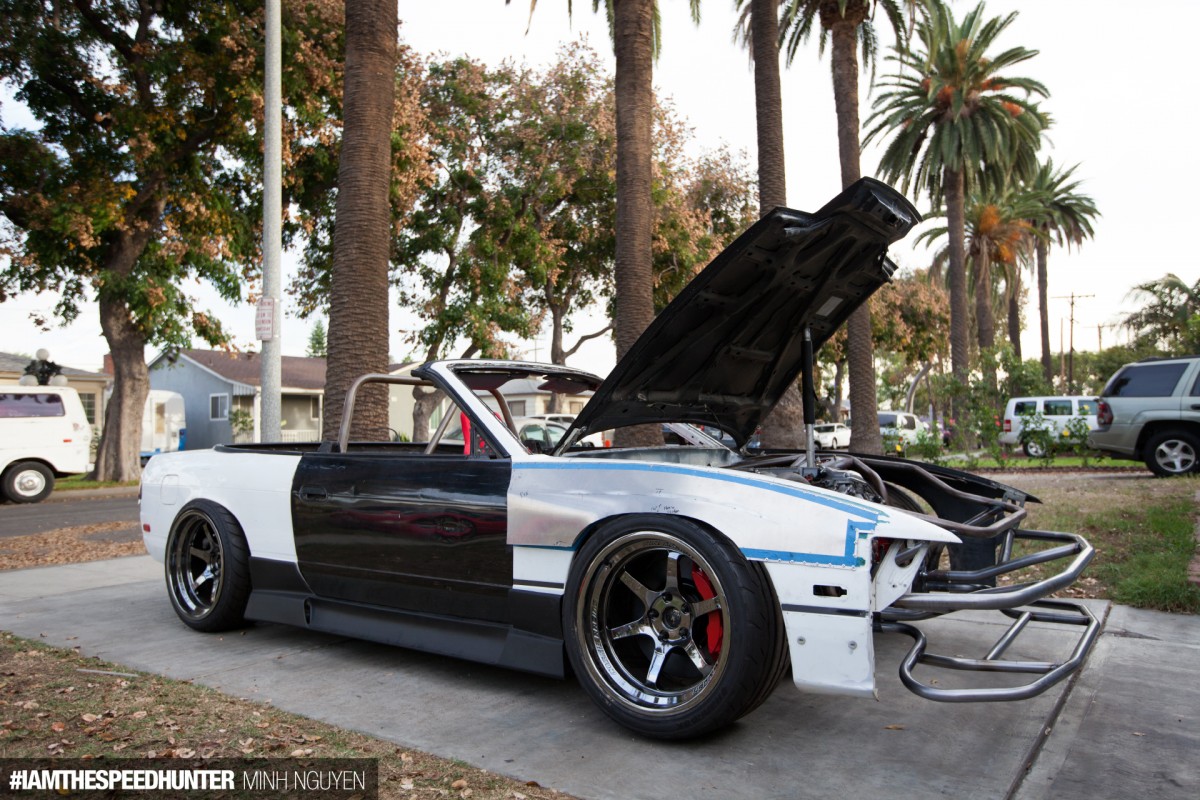 Long Beach local Matthew Meza has worked his absolute hardest to go above and beyond in his two-year TIG welding college courses, earning multiple welding certifications; the highest being the Honeywell Aerospace welding standard. The 22-year-old student has been imagining his dream Silvia build for years now, and this S13 vert will be his first major fabrication project. Matthew tells us, "I'm taking my time and learning as I go. Everything will be TIG welded, so fit-up and cleanliness will be important factors here."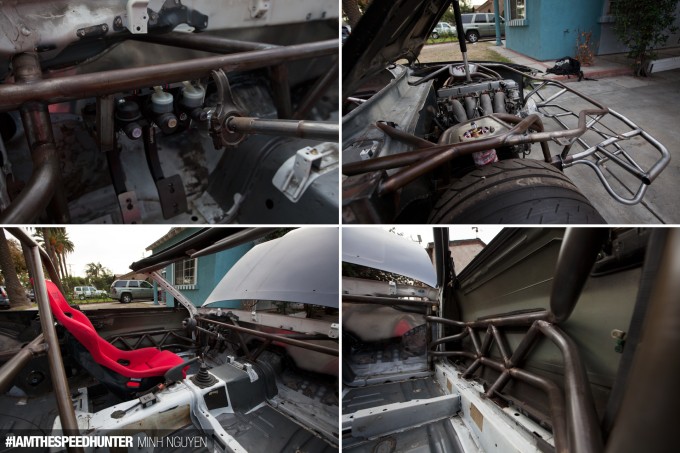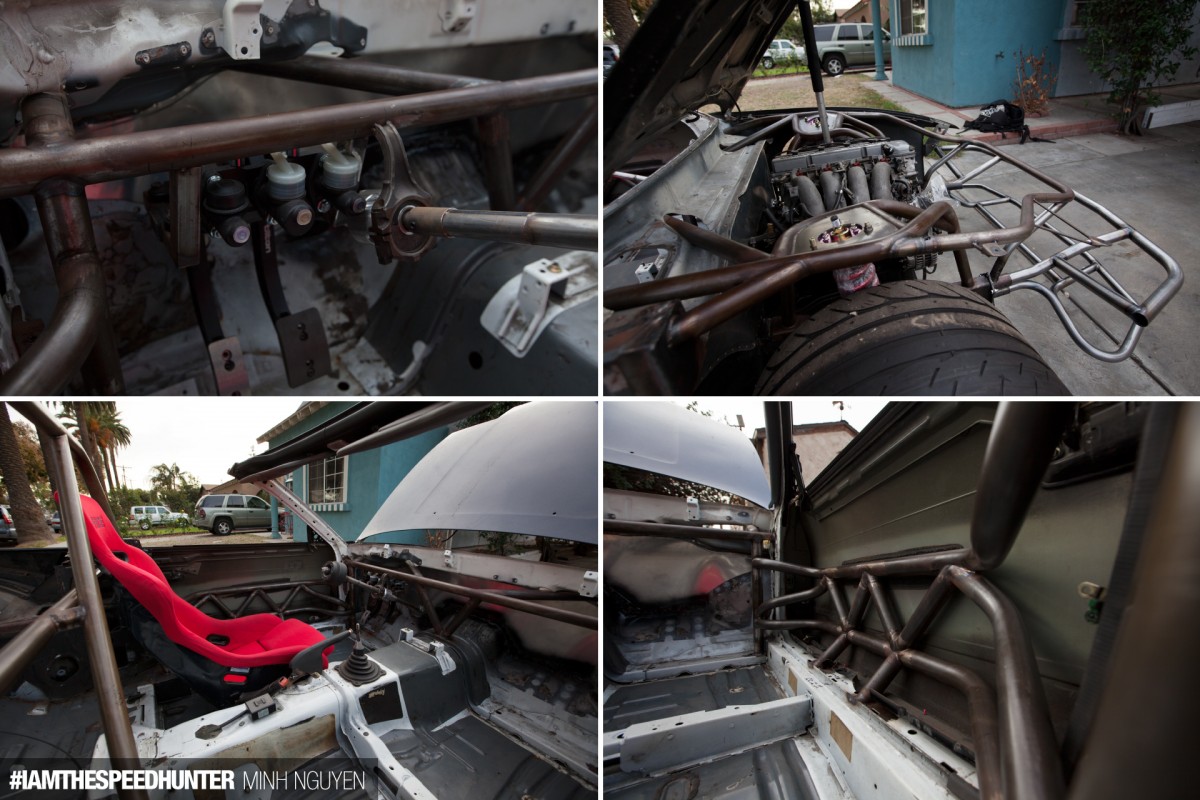 As you might've guessed, Matthew will be fabricating everything himself, from the chassis to the suspension links. He's already spent countless hours on the tube designs, "Obviously I want it to be functional, but I want it to look visually aggressive too." The build is still very much in-progress, but there's already plenty to look at. Here you can see the Tilton overhung manual pedal assembly and custom collapsible steering shaft, and the upper V-mount support which is easily removable via four non-interlocking tubing clamps. The dash bar layout ties into the structural bulk head of the A-pillars and triangulates into the factory structural bracing (unique to the convertibles) above the transmission tunnel, and the door bars which feature an intricate Warren Truss incorporated design for extra strength – all of the braces within the tube structure merge together in fact.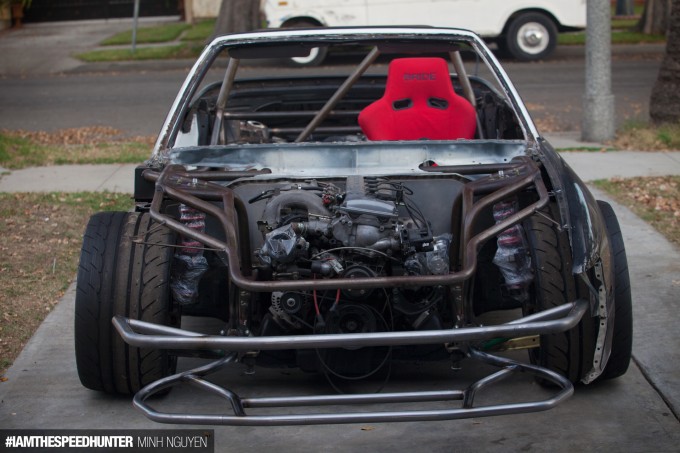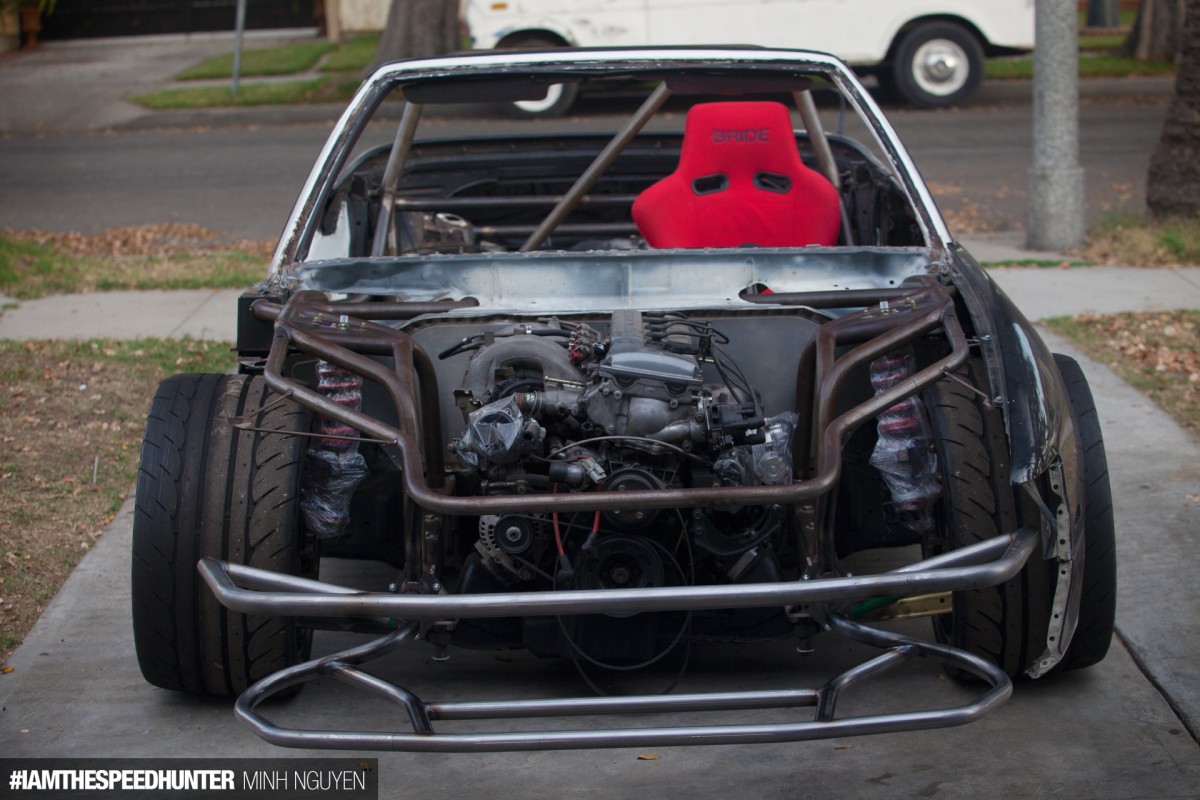 Inside the engine bay, the firewall has been swapped for a simple aluminium version which features a bead-rolled step around the border and is riveted into place, and the removable upper V-mount support is designed specifically to hold an intercooler at just the right height within the bay. The lower splitter support is made from an assembly of tubes, but if you look closely you'll notice that the main bordering tube is one piece that has been bent eight times and still slides into the snug fitting slip mounts on the frame rails. Matthew also came up with a removable slip-joint design for the mounting of the bash bar and lower splitter support. The rolling fortress already has a name too: it's been christened as 'the Spirit of Fortune'. The overall goal for the build is to have it ready to use as a drift and grip car by the end of 2014. You can follow Matthew's progress (and see more photos) on his build thread or Instagram account.
Matt Moran, Ontario, Canada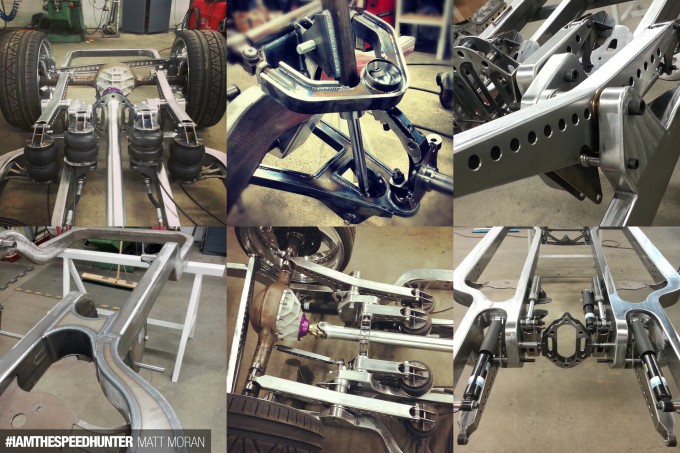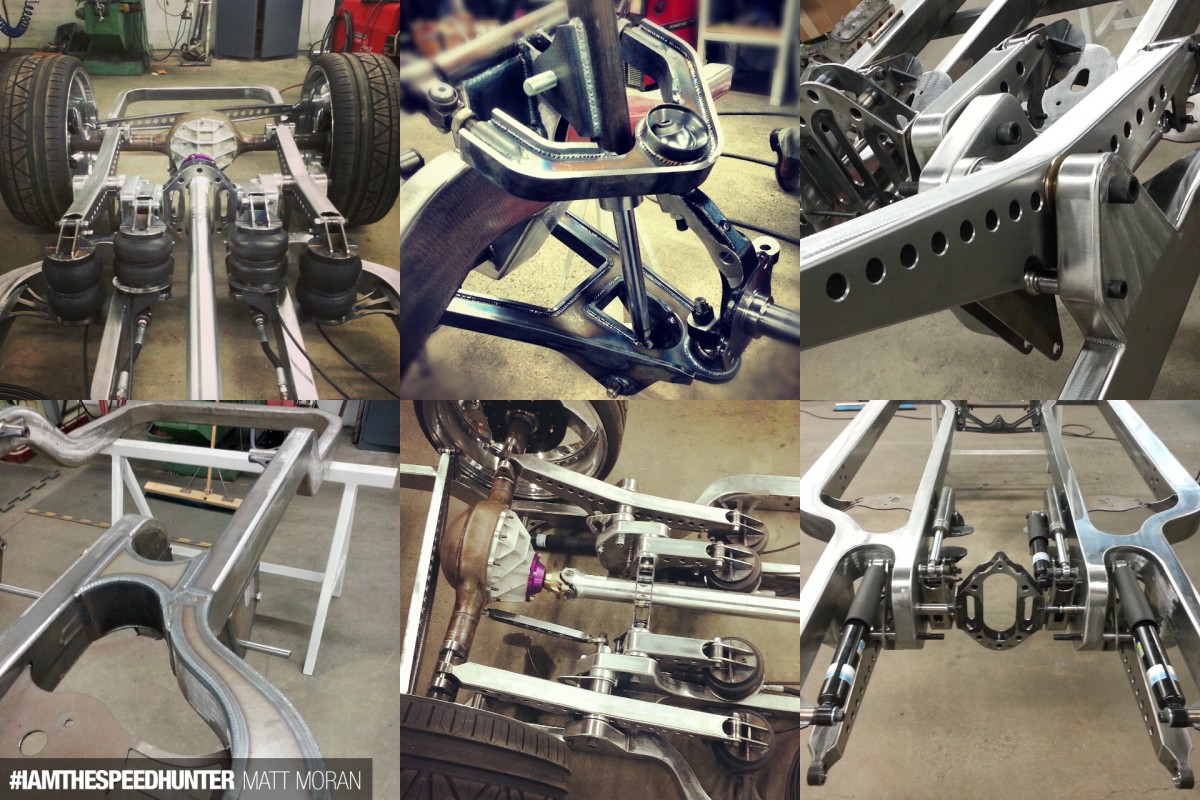 For our tenth submission, Matt Moran shared with us these images of an awesome custom chassis for an S10 pickup truck, which he built while working for Hitman Hotrods. Although Matt had very little part in the CAD phase of the build, in terms of fabrication, from start to finish this is all his own work. What's unique about this particular build, you ask? See how those four air bags are positioned in the rear? The two in the centre actually control the front suspension by pushing cantilever arms attached to hydraulic cylinders, which pump fluid to another set of cylinders up front and work in unison together. All four shocks are also mounted horizontal in the rear – how cool is that?
The creating doesn't stop here! Check out our Bonus Chapter for more…
Bonus Chapter
Lars Harlem, Norway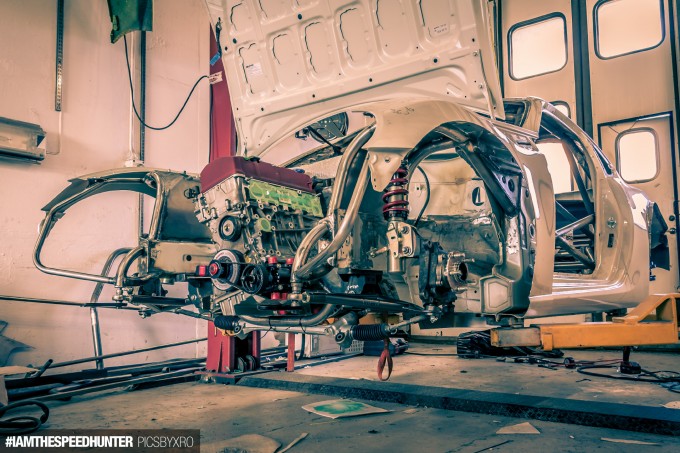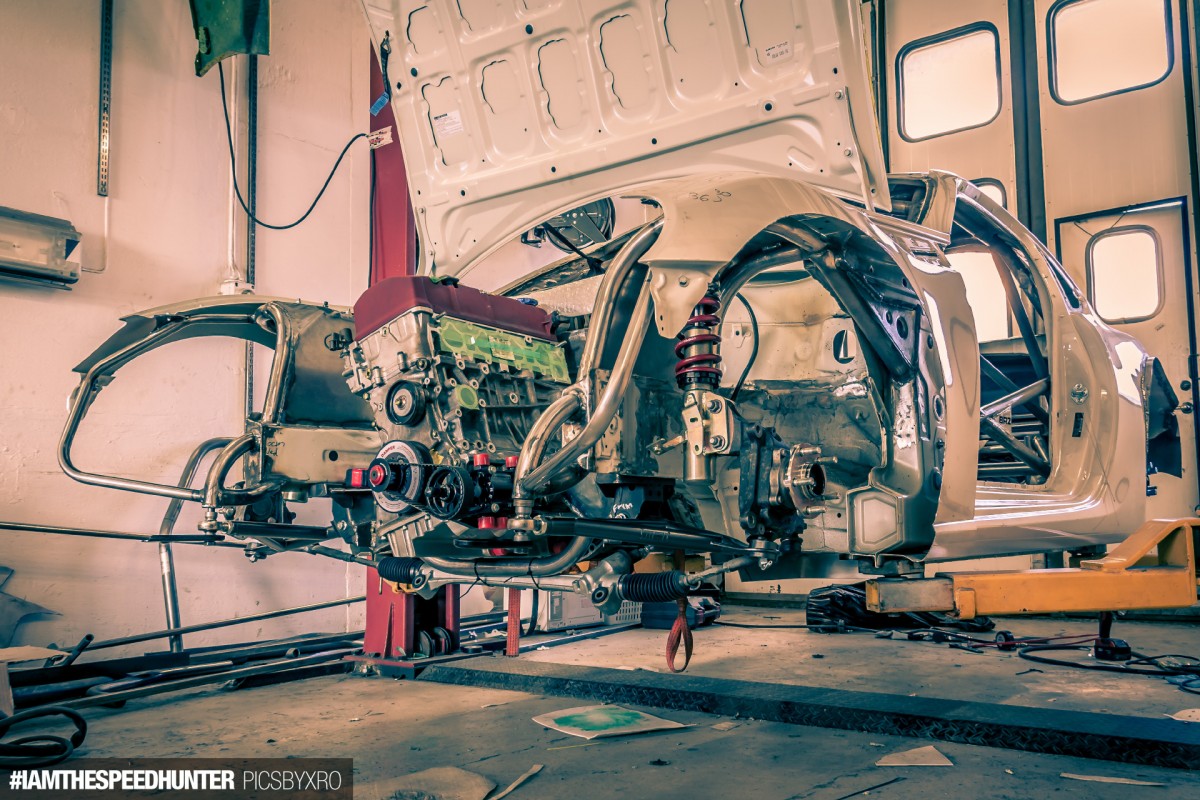 Here we have another time attack build, this time coming out of Rakkestad (near Rudskogen Motorsenter) in Norway. The owner, Lars Harlem, bought the Subaru BRZ RA Racing new out of Japan as has some rather extreme plans for it. As you might've noticed, the original boxer motor is long gone; in its place a JUN-built Honda S2000 engine mated to a Holinger sequential gearbox, OS Giken clutch and diff. Lars writes, "We got JUN Auto in Japan to put together a long block built for boost, and we hooked up with Turbo by Garrett, Turbosmart and PWR to supply us with all the turbo parts we needed. This car is being built for Time Attack and Gatebil Extreme events, so everything will be about speed. Lightweight and downforce are the keywords here – we're hoping to reach around the 700hp mark."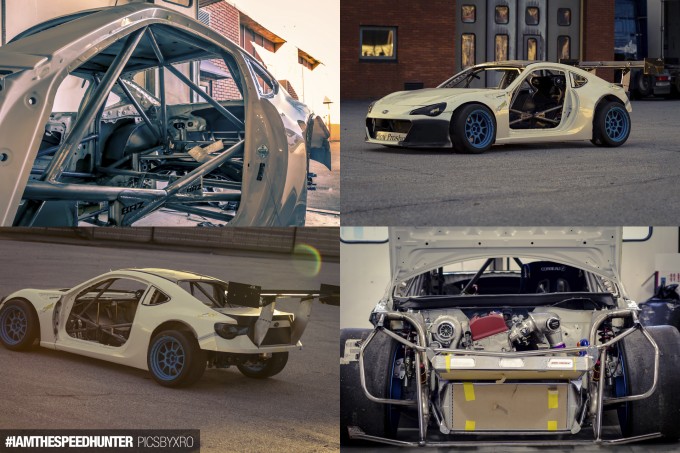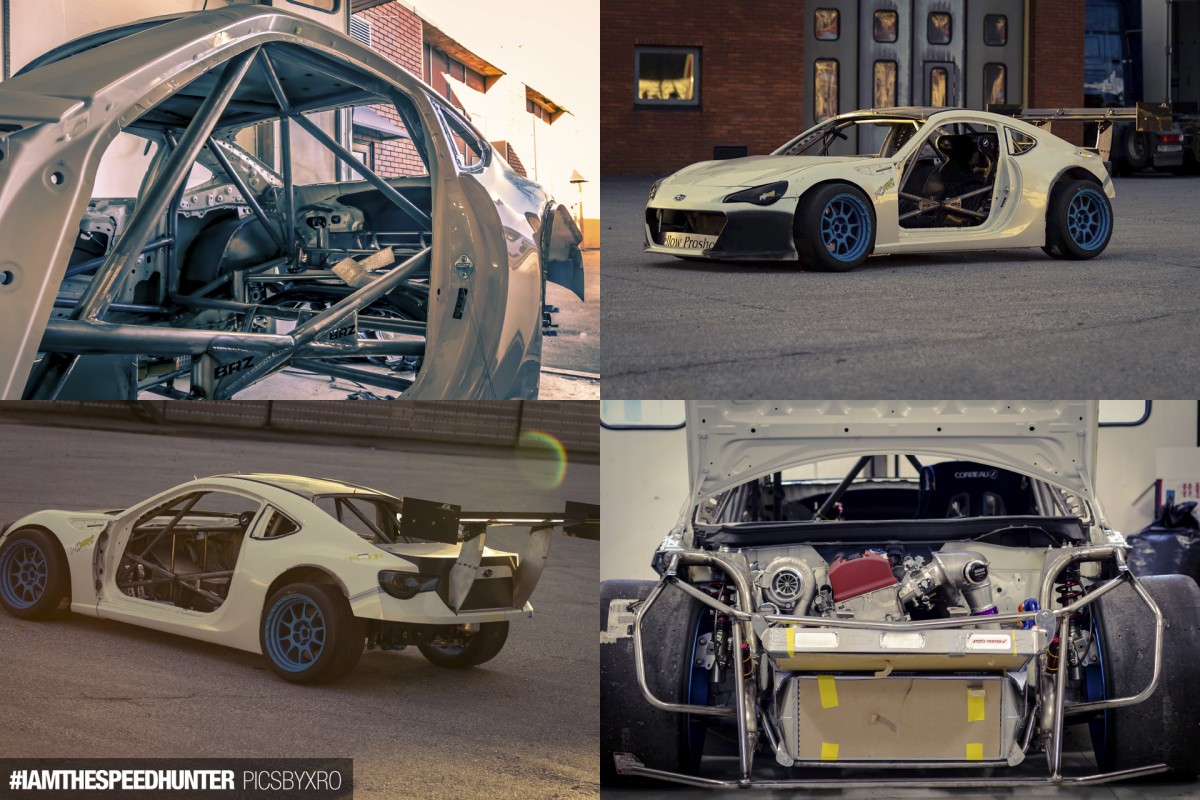 Lars explains that he wanted an aero design that would keep the car low and keep the suspension arms in optimal position, so he enlisted the help of industry expert Andrew Brilliant to keep the build on track – literally. The aero package he came up with required the floor to be flat, and since a new transmission tunnel was going to be required to fit the sequential gearbox anyway, they decided to cut out the entire floor and build a newer, flatter version, with the exhaust now exiting through the passenger side of the car. It doesn't stop there: rather than just lowering the chassis on coilovers, the entire body of the car has been dropped – 60mm up front and 100mm at the rear. The Subaru-Honda mash-up also features a custom-built front subframe, massive Brembo GT-R brakes, and an APR Performance GT-1000 rear wing. Lars tells us that it's already surpassing the numbers he's hoping for in terms of both weight reduction and downforce. Perhaps we'll be seeing it at the Gatebil Rudskogen festival in 2015? We hope so!
Ben Wootson III, Florida, USA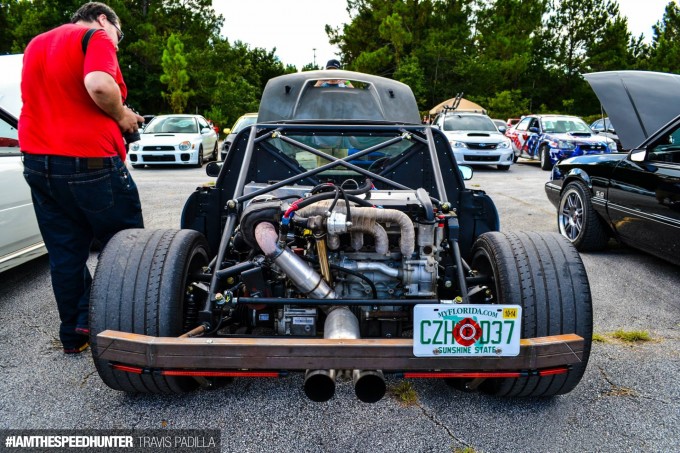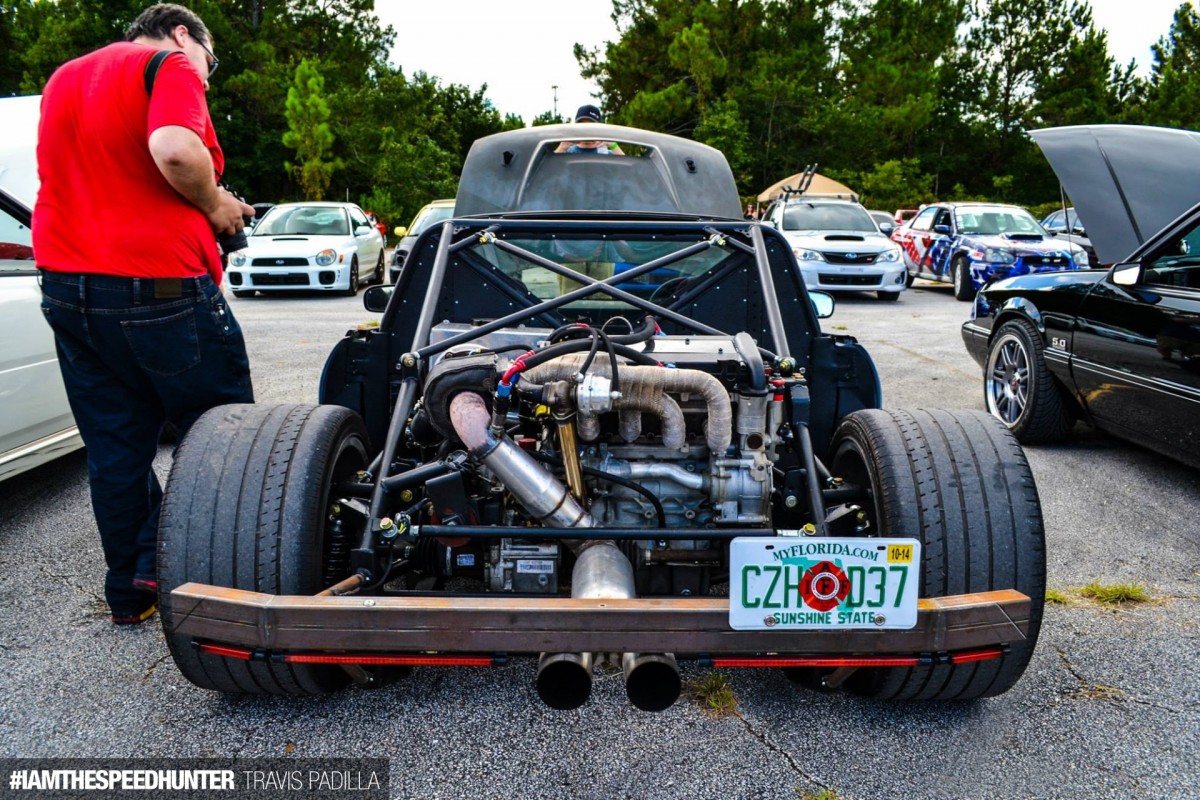 When we opened up an email to see this photo staring at us, we simply had to know more. What you're looking at here is a Chevy Z24 Cavalier convertible, or what's left of it at least! Owner Ben Wootson purchased the Chevy back in 2005 for strictly daily driving duties, but that didn't last long. Ben saw potential in the front-wheel drive Z24 chassis, and so the first of an extremely long list of modifications began…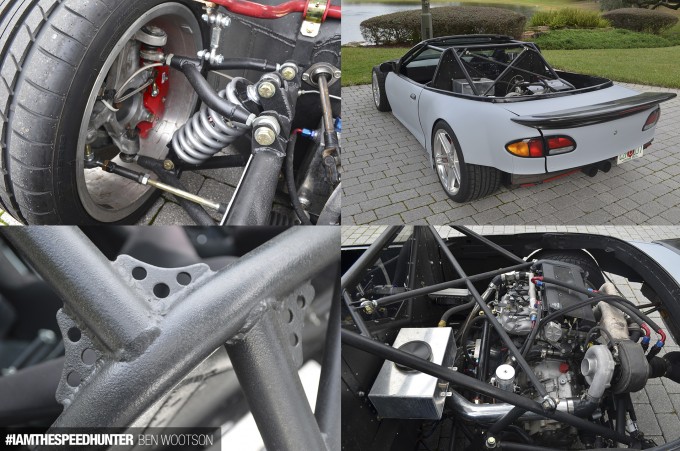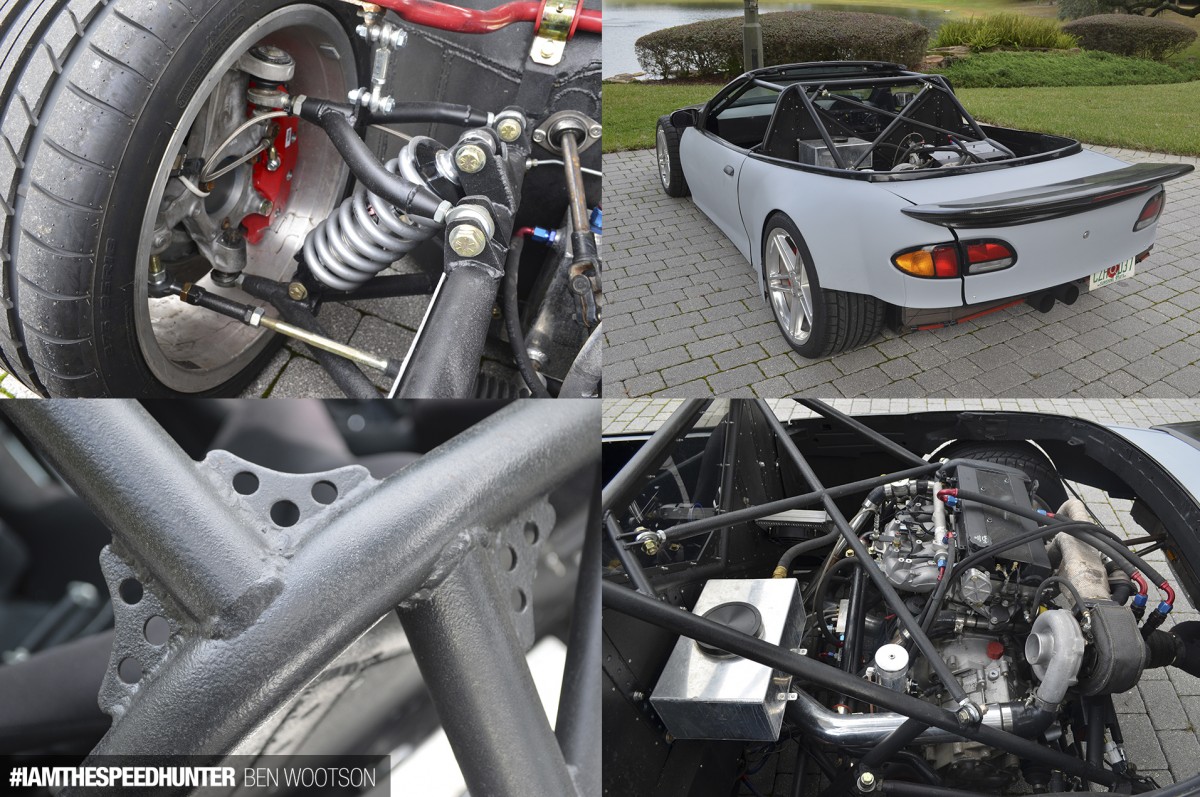 The old 2.4L cast iron engine has been binned and swapped with a newer 2.2L aluminium Ecotec platform mounted in a rear-mid position driving the rear wheels. Ben has designed his own tube chassis/cage and full suspension layout, and added upgraded wheels, brakes, hubs and spindles.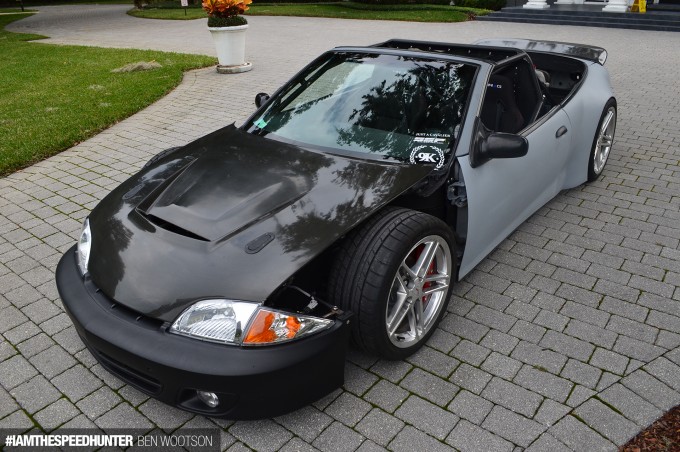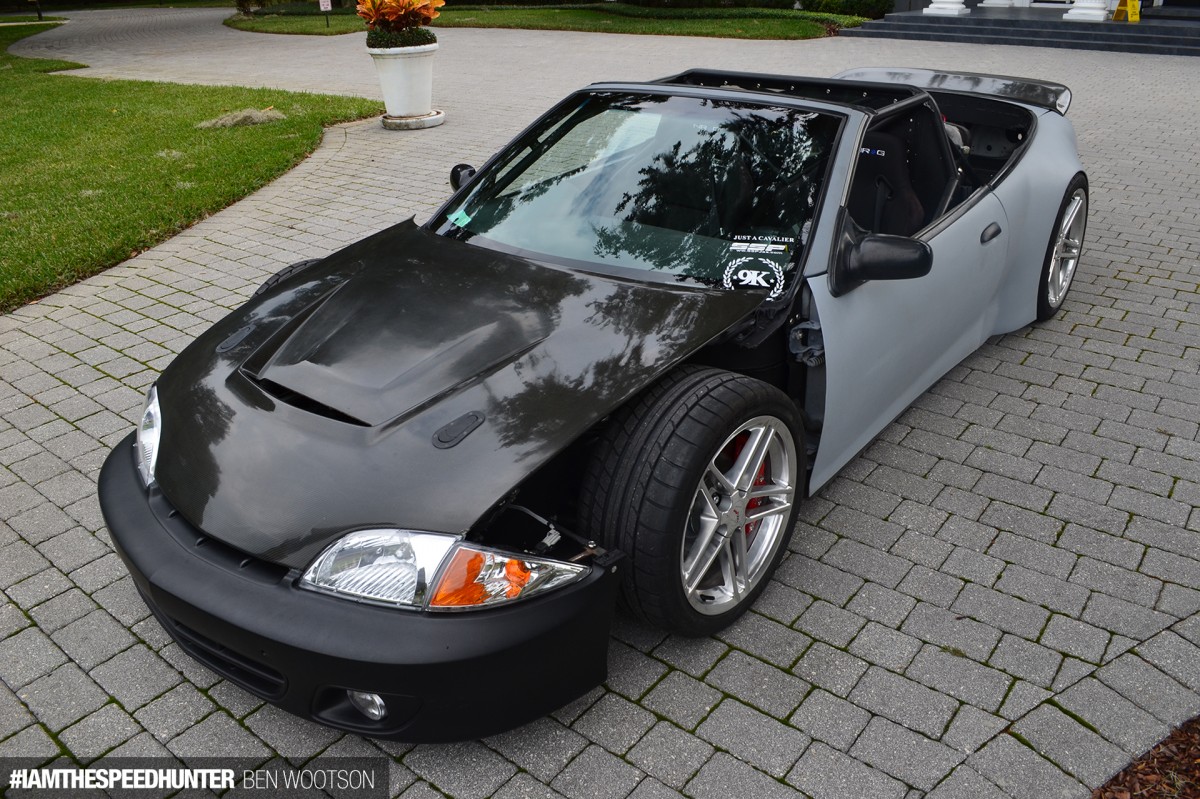 Custom front fender flares and a rear diffuser are also on the cards. With a recent dyno reading of 462hp, next Ben plans to rebuild the Ecotec motor with forged internals to reach his 500whp-plus goal. Ben sites others doubting him as his continued motivation for this project, and his determination to prove those people wrong has really worked in his favour. He's now a certified MIG/TIG weldor, and his project has received so much interest that he's been able to start his own BWC Fabrications brand. Just because other people don't share your vision, doesn't mean you're not onto something, right?
Oskar Klar, Sweden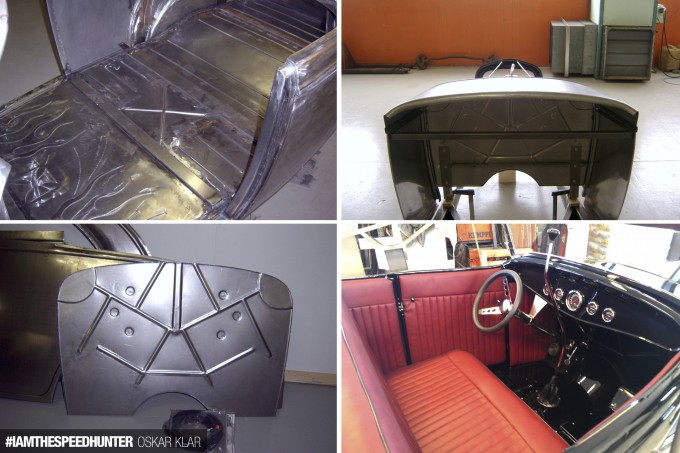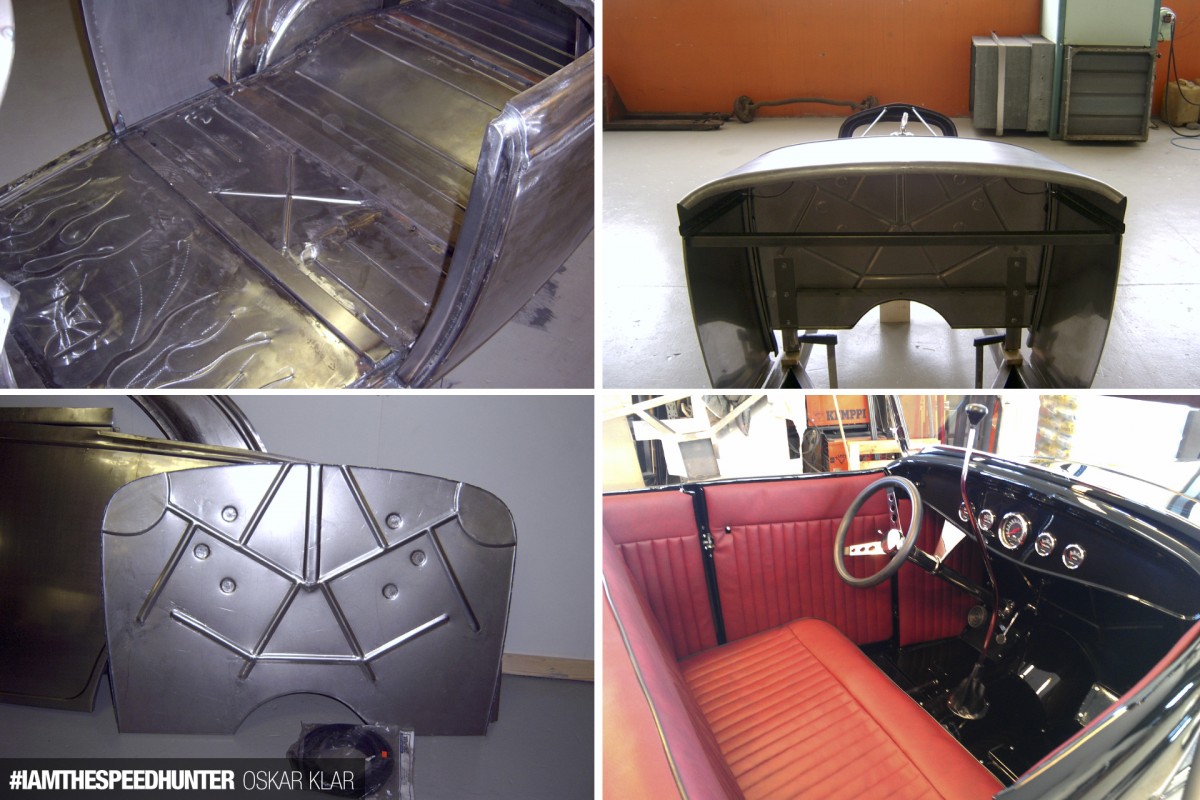 Oskar Klar from Sweden shared with us his beautiful handmade 1932 Ford Roadster. The coolest part about this build is that Oskar has made his own body from scratch using old school techniques, including an English wheel, bead roller and a shrinker and stretcher.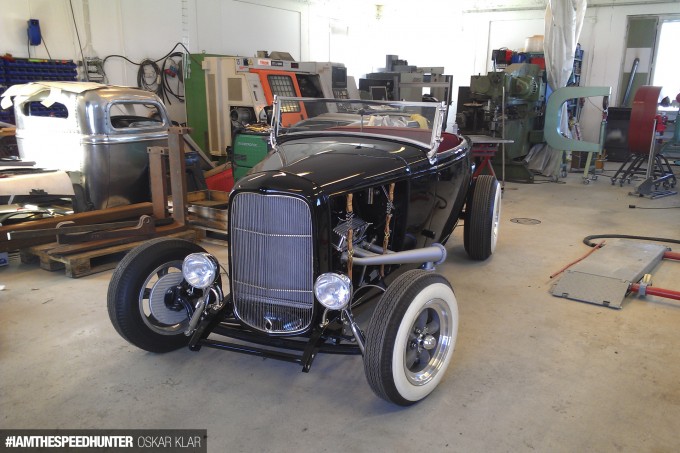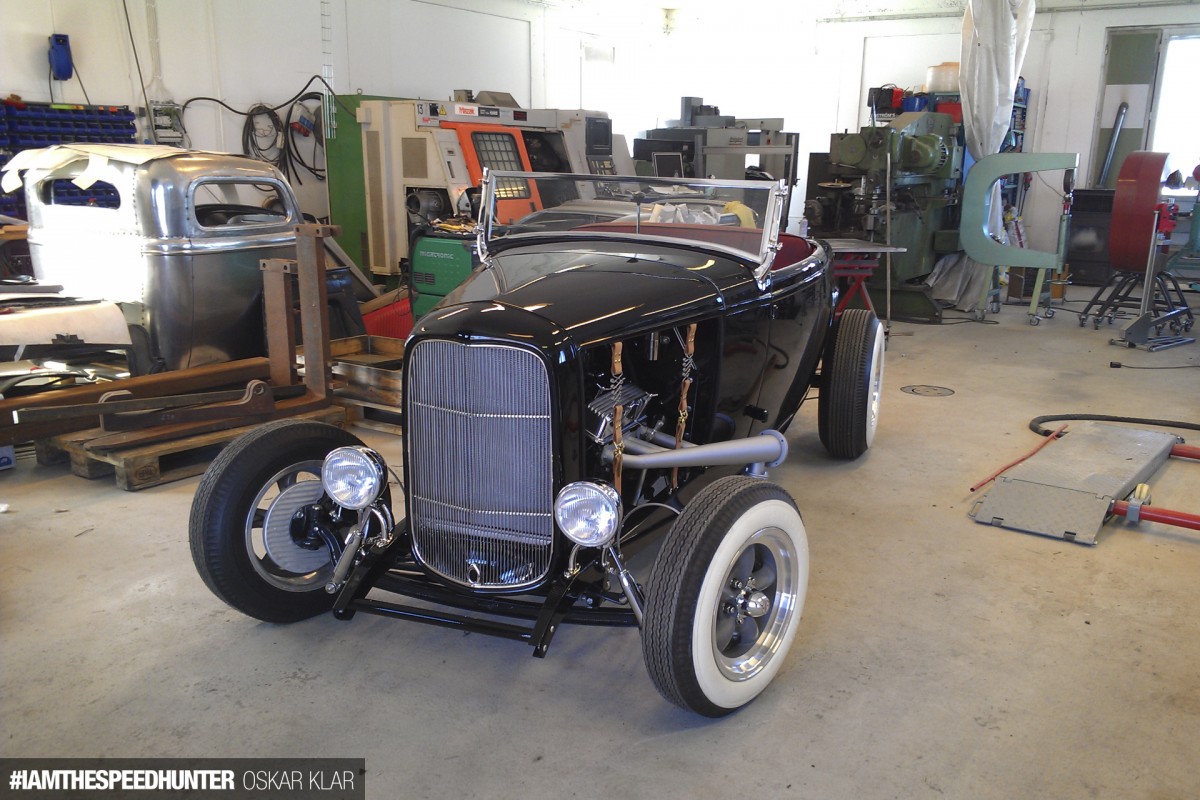 Some of these photos might not be high quality, but if you view this in Presentation Mode you'll be able to see some of the finer details and the level of finish we're talking about here. Everything down to the beautiful leather hood straps have been created by hand. We can only imagine how rewarding it must be for Oskar having this project finally coming together. Bring on the summer cruising!
Patrick Tilbury, Austin, Texas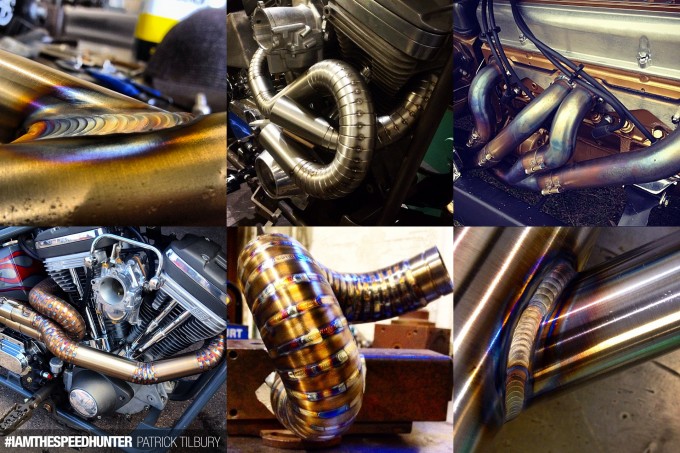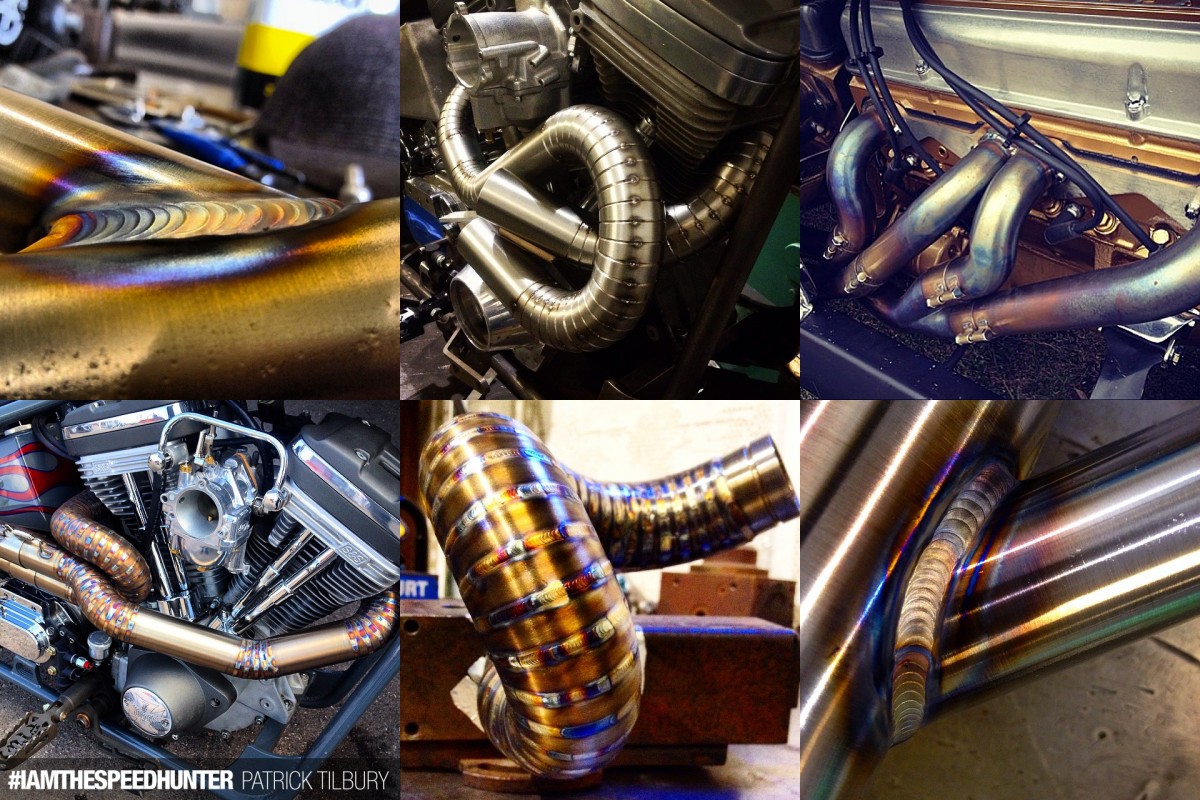 It's time to wrap things up now, and what better way to finish off our story than with some lust-worthy rainbow beading submitted by Patrick Tilbury. You can check out more on Patrick's Instagram account.
Stay tuned for our next #IAMTHESPEEDHUNTER announcement with details on how you can participate in next month's theme. We have to say that we've been simply blown away by both the high level of creativity and craftsmanship, and the intense passionate clearly possessed by everyone who submitted their work for this story!
On that note, we also bring to an end The Creators theme – which we hope you've enjoyed. To revisit all the stories we've run over the past couple of days, check them out here.
Story by Taryn Croucher
Instagram: taryncroucher
Twitter: @taryncroucher
taryn@speedhunters.com
About #IAMTHESPEEDHUNTER
We created #IAMTHESPEEDHUNTER to allow you the opportunity to share your skills and car culture experiences from around the globe with the rest of the Speedhunters audience.How do you get involved? It's simple…Instagram – Follow us on Instagram at @TheSpeedhunters and tag your own car culture images with #IAMTHESPEEDHUNTER
Twitter – Follow us on Twitter at @SPEEDHUNTERS and share your tweets with the #IAMTHESPEEDHUNTER hashtag.
Flickr – Join our #IAMTHESPEEDHUNTER Flickr Group and share your favourite photos with us and others.
E-Mail – If you've been to a cool event and captured some amazing images, be sure to e-mail them to us on iamthespeedhunter@speedhunters.com and tell us a little bit about the event.