Rotaries & Raw Muscle
Welcome back to #IAMTHESPEEDHUNTER! For this special feature, we'll be showcasing the interiors of some of our readers' rides from around the world. Earlier this month we put out the call for you to send us photos of your pride and joy, but not the whole car. What we were looking for was automotive inspiration from within – your pilot seat, your sanctuary.
We received some fantastic submissions, and it certainly took us a while to narrow it down to the selection we're going to share with you today. The cars we've chosen have plenty of variety and a few surprises too. So, let's get started…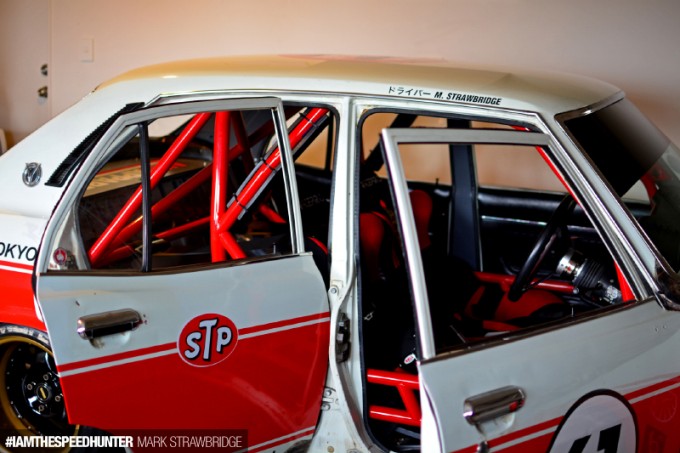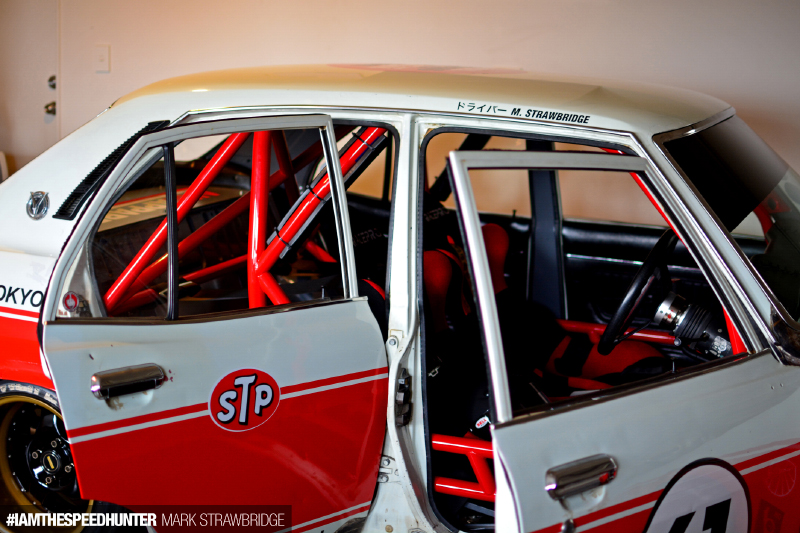 Our first submission comes to us from Auckland, New Zealand. Mark Strawbridge's rotary-powered Mazda 616 Capella has gone through many different looks over the last few years, and it looks like Mark has finally got around to paying some well overdue attention to the inside now too, continuing the retro race-inspired theme throughout the Mazda's interior.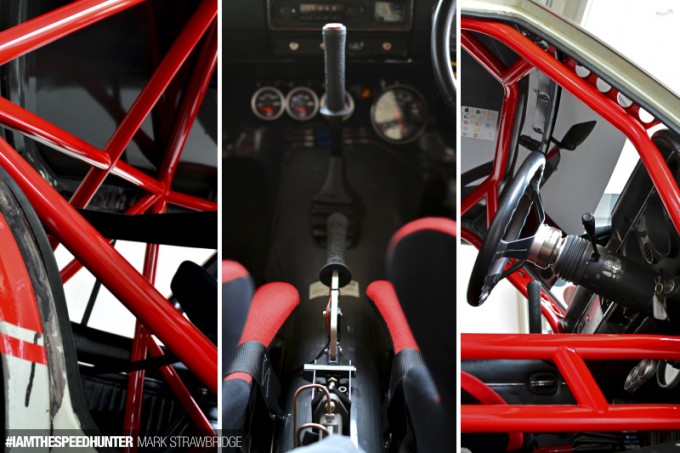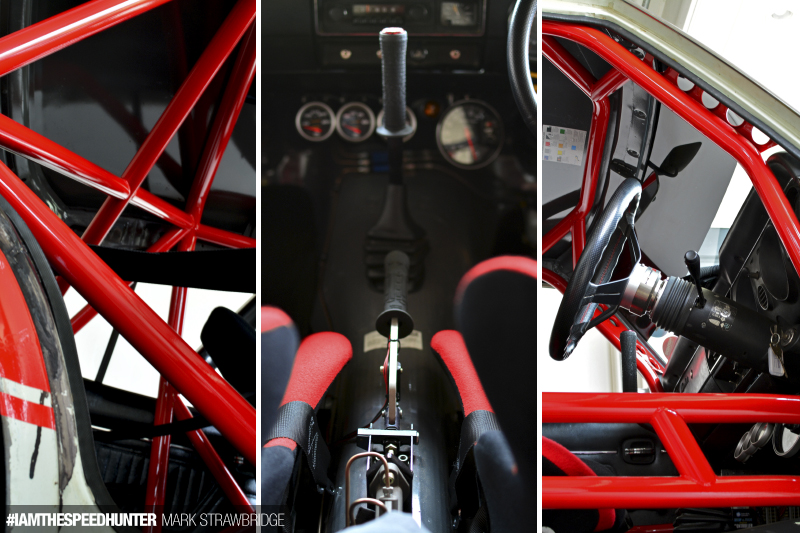 Our favourite feature has to be the custom 6-point cage, which Mark was inspired to have created after reading our story on the JTCC/IMSA Mazda RX-3 from earlier this year. Mark's cage isn't identical to the RX-3's, but features side intrusion bars in a similar fashion. The cockpit has many personalised touches too, like a gear shifter made only from old BMX handlebars and a BMX grip on the e-brake – which features an integrated launch control button in the top of it as well.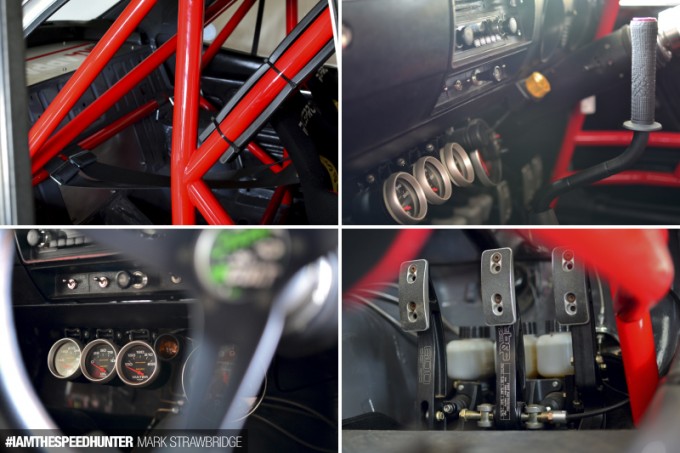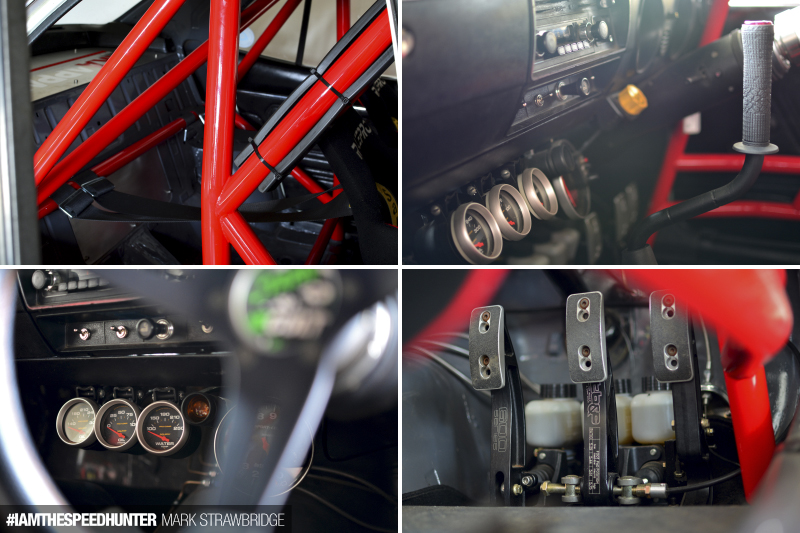 Quite a few of the Capella's original interior bits have been retained and even the original speedo still works, but Mark's also added all the racing essentials such as Auto Meter Pro-Comp gauges, fuel/launch control/log switches, a Nardi wheel on a lockable quick release and a Tilton floor-mounted pedal box. Mark has been tinkering with the old Mazda for over seven years now, and he tells us that it's one of those builds that will never be finished. He's taken it out to the local track a few times too, and says that when he's strapped into the RacePro seats it feels like an oversized go kart!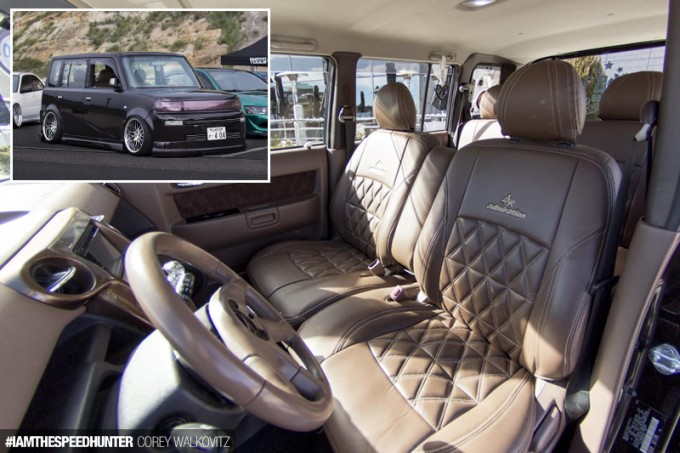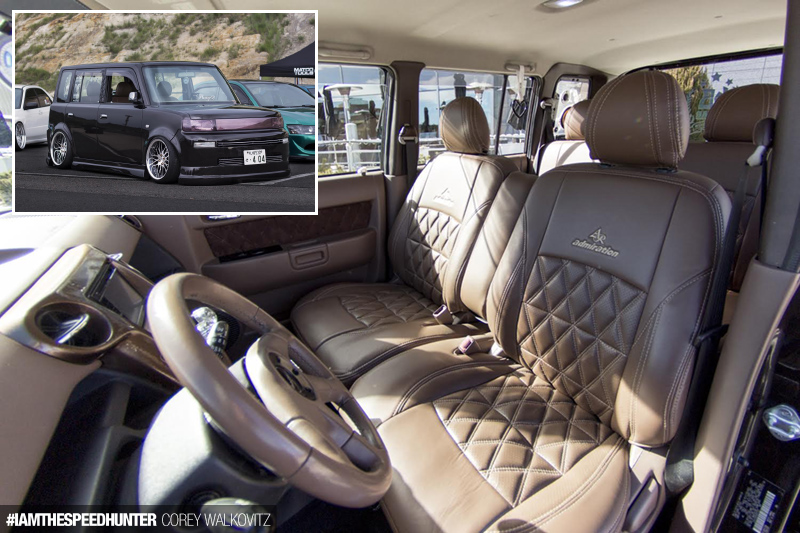 From vintage race-inspired to something a bit more luxurious now, Adam Jordan from Colorado sent us these photos of his JDM/VIP-inspired 2006 Scion xB. His xB's interior runs a full JDM Toyota bB swap and everything down to the floor mats has been changed. We love the plush new light brown leather look and the way the whole interior has been re-coloured to match the seats. Adam also tells us that he managed to hand-sew the suede door card inserts himself with the help of his mother, which we think is pretty cool.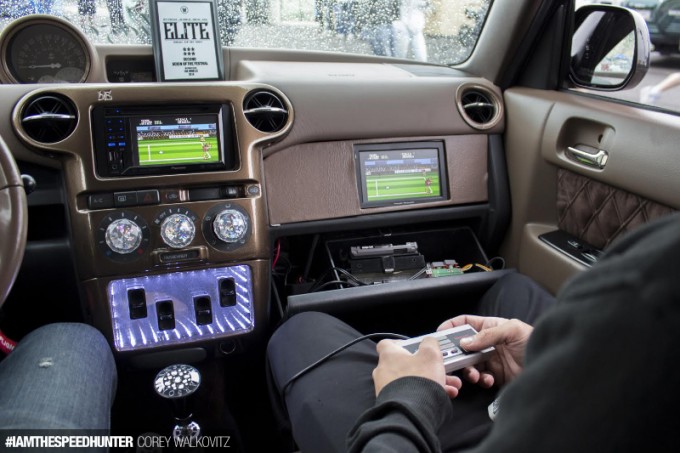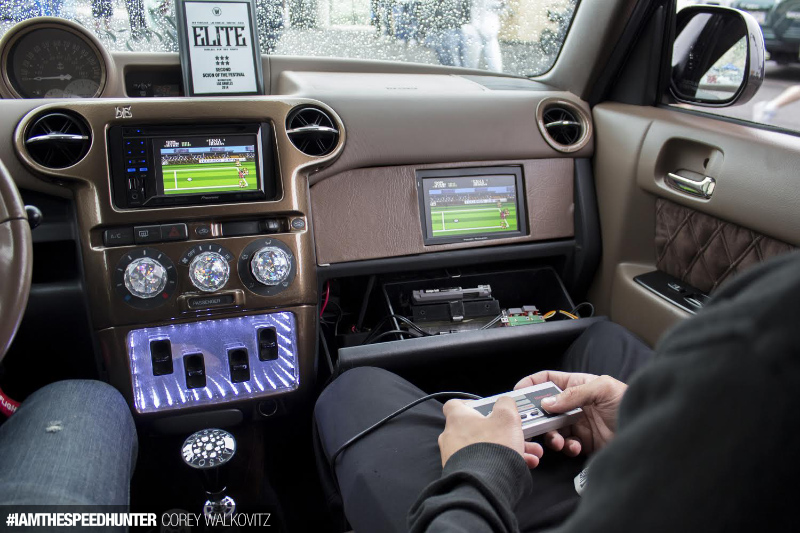 The xB features a Toyota centre console with custom handmade touches, Toyota Japan crystal A/C knobs and a Garson DAD crystal shift knob, bB chrome interior handles and a matching Italvolanti steering wheel. Our favourite part has to be the completely functional Nintendo NES system installed in the dash!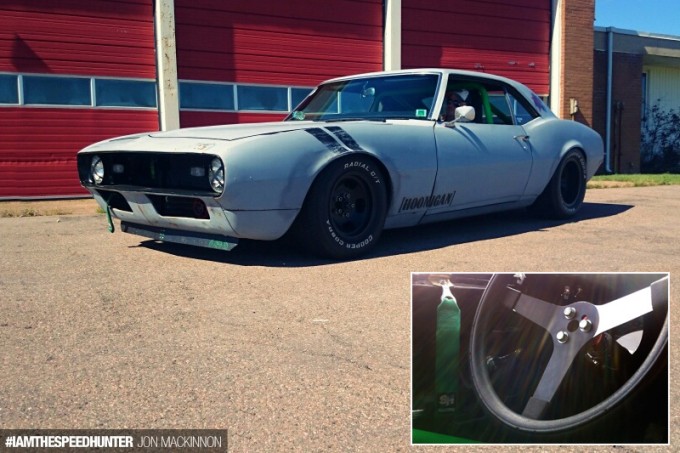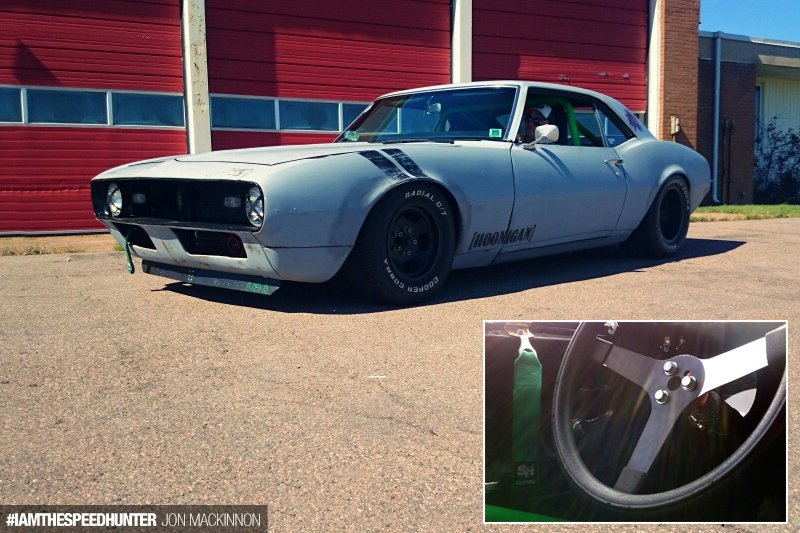 Next up, representing the American muscle side of things, we have Jon MacKinnon's LS1-swapped '68 Camaro from Prince Edward Island, Canada. Jon's car might look a bit rough around the edges, but it's been built to be driven hard – no frills or fancy stuff needed! No radio, no heater or A/C; some Dakota Digital gauges designed to work with the LS1 are the only modern feature on the dash. Jon has carried out extensive body work on the first gen Camaro, channeling it and fabricating a custom floor as well as bead rolling every panel himself.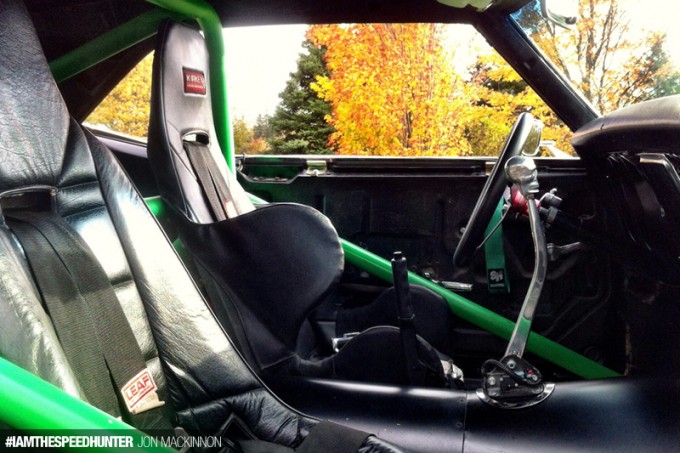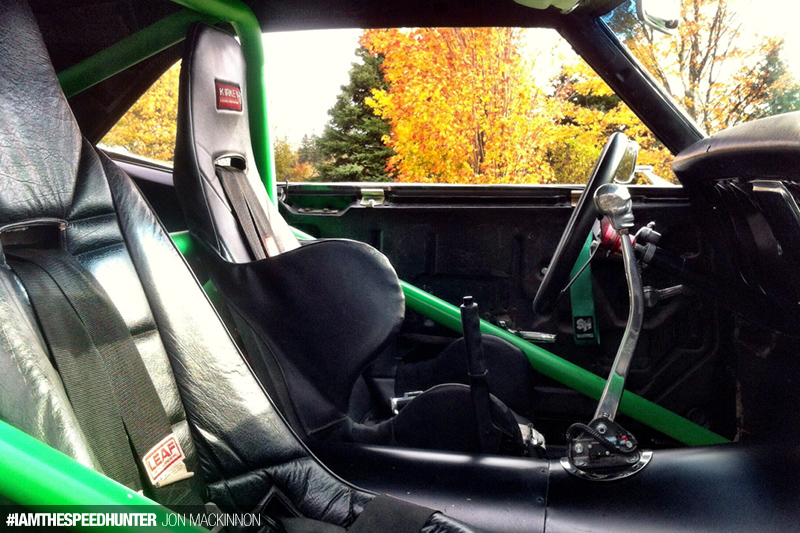 We love the raw exposed metal in the cabin too, and seeing as the doors have no inside panels, Jon has used one of our SpeedhuntersEDTN Takata tow straps for a grab handle to close the driver's door when he's strapped into his 5-point harness. The car is in a very raw unfinished state, but that's just the way Jon likes it. We think he's achieved that street driven race car vibe perfectly.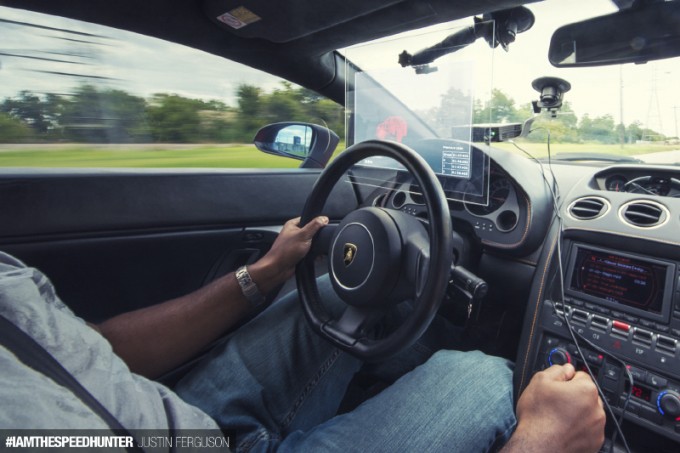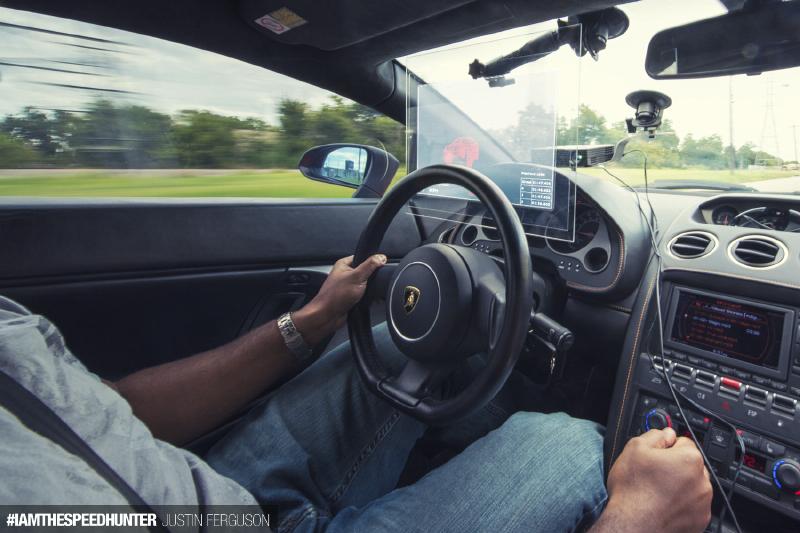 When we opened up an email containing these images from Justin Hayes – an HPDE instructor and club racer from Houston, Texas – we simply had to know more about what what going on here. Basically, Justin wanted a heads-up display for use at track events, so he built one himself. The HUD – called GhostDash – even has a ghost car built in like you see in most racing games and simulators.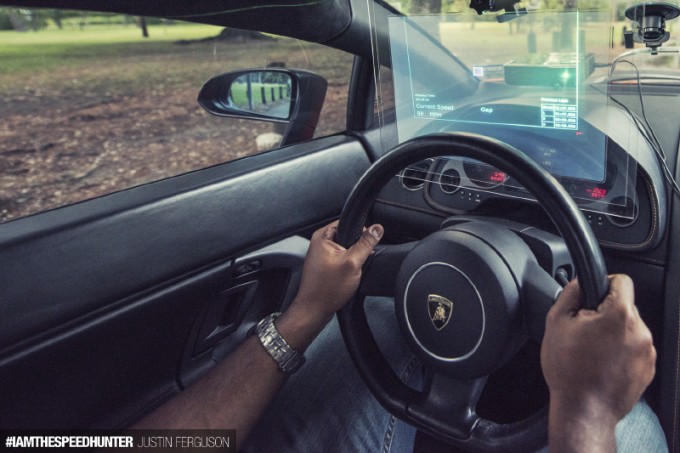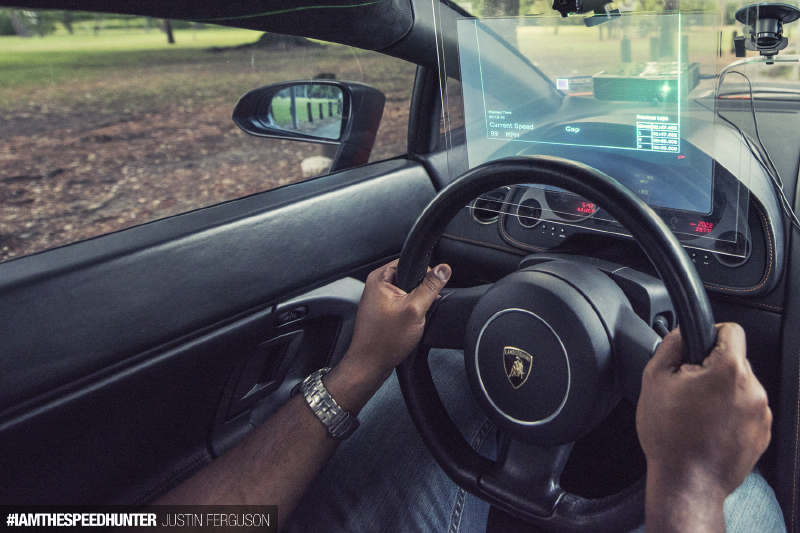 This is the development prototype of the HUD installed in Jason's 2WD-converted Lamborghini Gallardo. The screen is 98 per cent transparent and the projector is just a small mobile projector from a major manufacturer. We'd be interested to know just how much of a distraction the HUD screen causes, but what can we say – we already want one! You can read more about the GhostDash concept here.
Next up, we've got an extremely cool 370Z street car build from Cincinnati, Ohio…
Japanese & European Ingenuity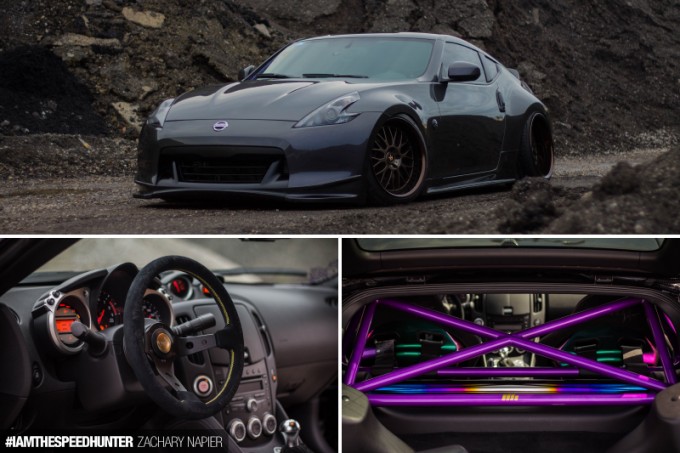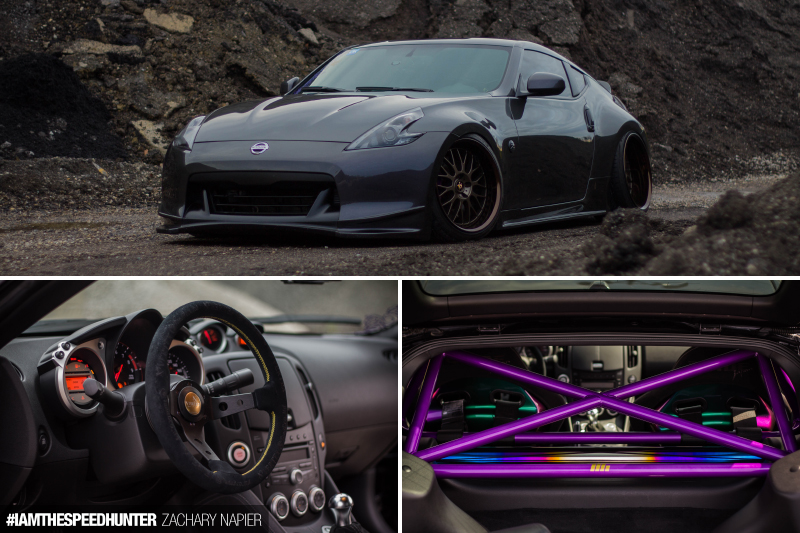 Steven Wiggins' 2010 Nissan 370Z is an all round tidy street build with a super-clean interior to match. The 40th Anniversary Edition Z has been built with top-of-the-line JDM parts, including every single Top Secret component made for the 370Z except its body kit. The stand-out feature of the interior has to be the Amuse titanium brace bar along with the custom-built cage from Endurance Motorsports, which has been powder-coated in an eye-popping shade of burgundy grape.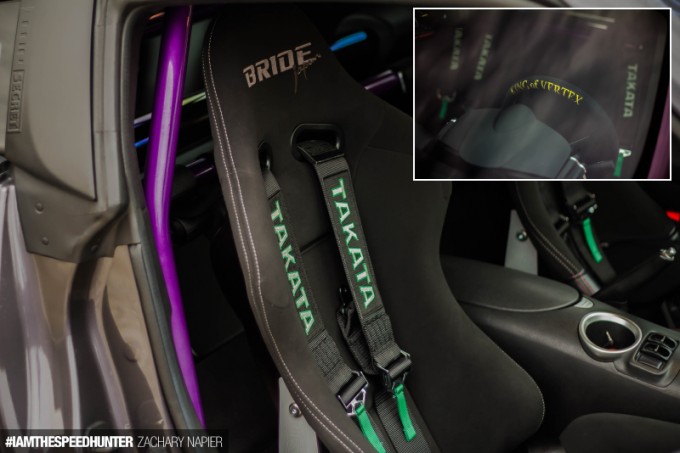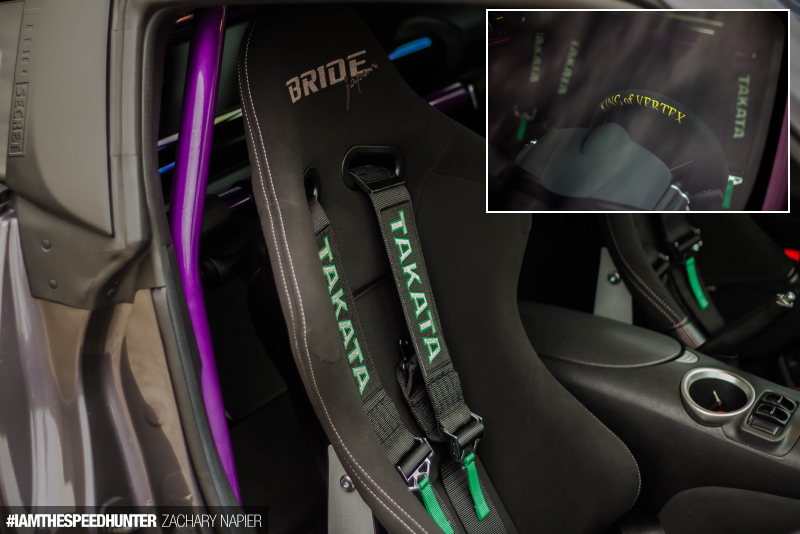 Open the passenger door and you'll find a pair of Bride Japan JDM Stradia II – Venus Edition bucket seats, along with Takata 4-point race harnesses to keep both driver and passenger strapped in safely. Other interior touches include a Tommy Kaira Hebi Bebi shift knob and a Vertex 'King' suede steering wheel mounted via a Works Bell JDM short hub. We love the attention to detail here and Steven's interior is a great example of how a few simple high quality items can make such a huge difference. The contrasting green, blue and purple pops of colour against the black interior look awesome too.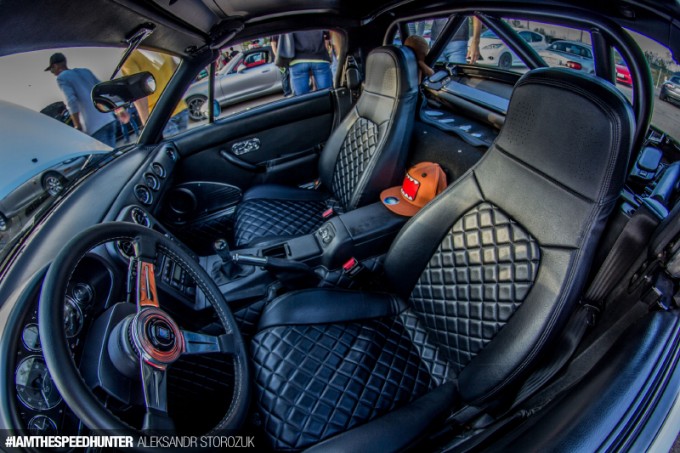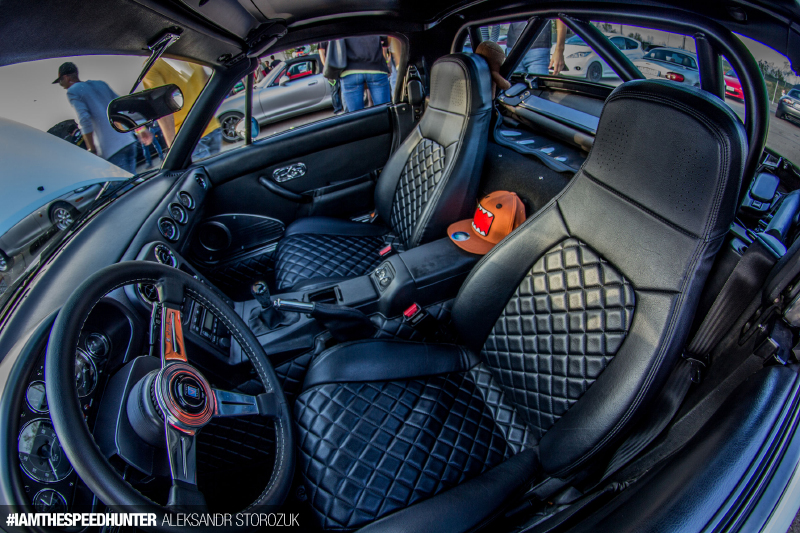 Speaking of JDM influences, the interior of Michele's Mazda '93 NA Mx-5 emits a nostalgic Japanese vibe with its quilted Nakamae leather trim and polished Nardi Classic steering wheel. Michele has spoiled his little Roadster with plenty goodies from KGworks, RS Products and Zoom Engineering. The result isn't complicated or over-the-top in any way – it's simple, classy and extremely comfortable looking.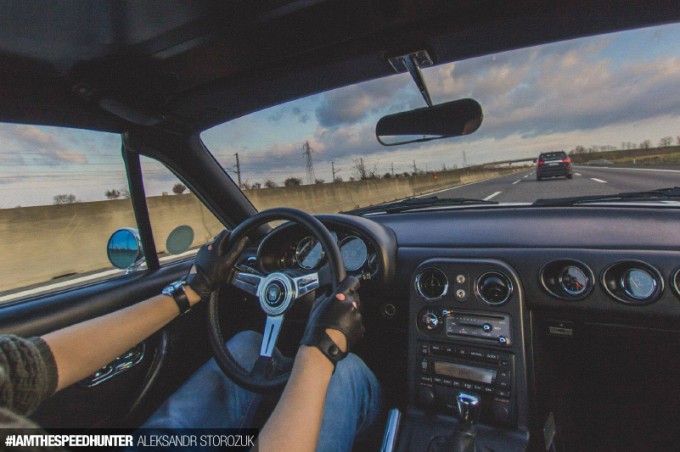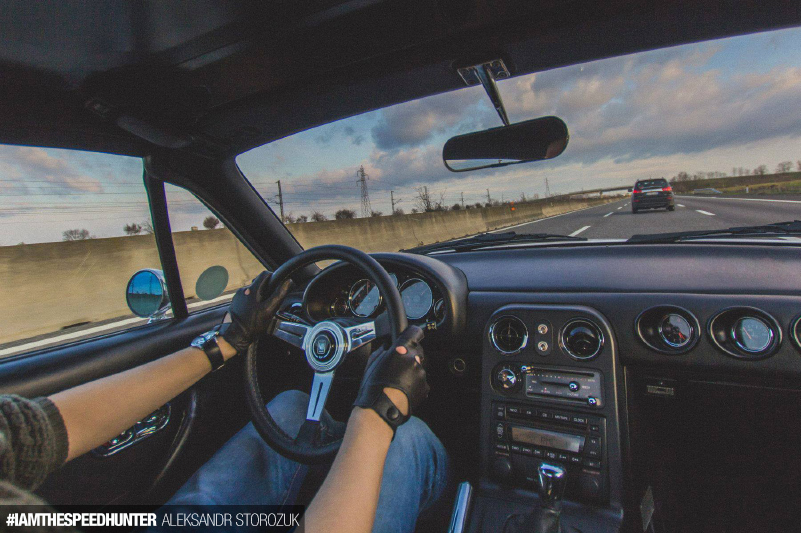 Michele hasn't built the car to drive competitively, instead preferring to spend plenty of time piloting the NA convertible around the scenic roads of his beautiful home country of Italy. If we lived halfway between Florence and Venice, we'd probably do the same!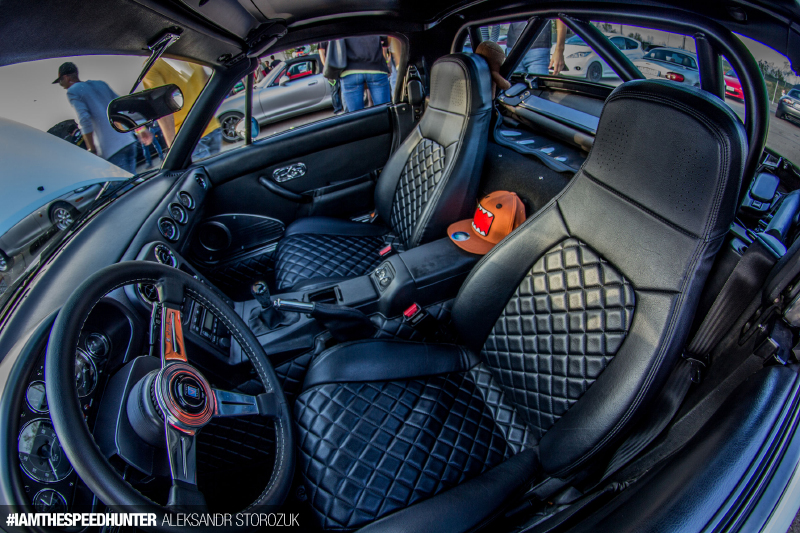 Anton Trekhonin sent us these pictures of the interior of his S15 Nissan Silvia – a competitive drift car he's built to compete in the Russian Drift Series and the East European Drift Championship, and also just for having fun at events such as Gatebil. The 480hp LS3-powered S-chassis features a Nardi wheel, Defi BF white gauges and a RacePack dash, Bride seats with Takata harnesses, a full competition-spec roll cage and an ASD handbrake.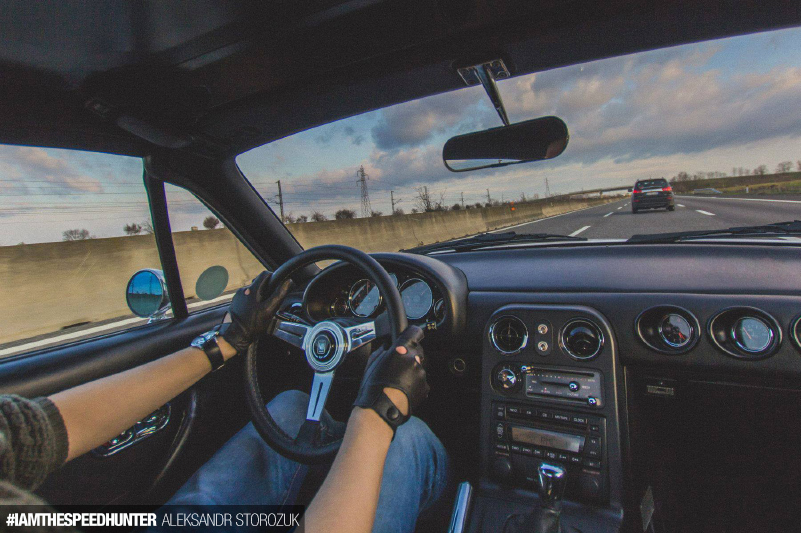 The feature we enjoy the most though is the use of Alcantara throughout the interior. Of course, it's an unnecessary addition, but we love how Anton has gone ahead and added it anyway. It's a nice touch of civility and class in an otherwise brutal track car. Anton also tells us that sometimes he drives the car around his Russian hometown at night – just for fun. Good man!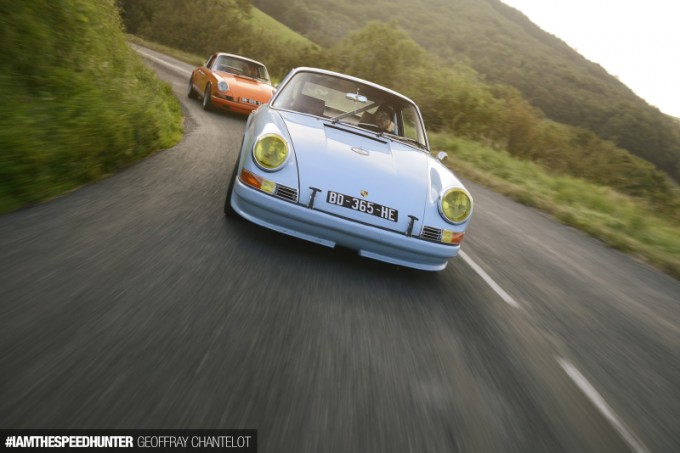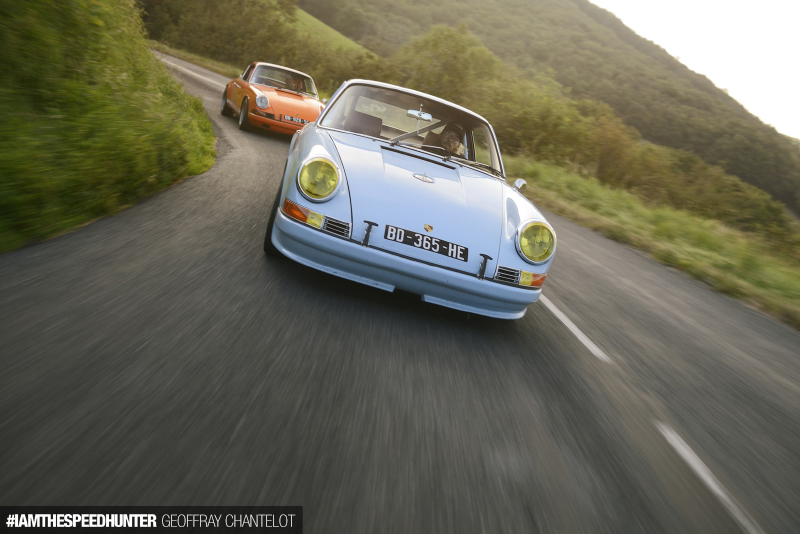 For our final interior feature, we have something quite unique: not one, but two interiors of a pair of 'sister' builds. Nicolas Quiles and his best friend Florent have together built these complementary 1985 Porsche 911 3.2 café racer spirit project cars. Nicholas and Florent came up with the simple idea of building matching classic Porsches in the iconic Gulf Oil powder blue with marigold orange colour scheme, to enjoy hooning around the French countryside in. We think a certain Urban Outlaw would approve of this.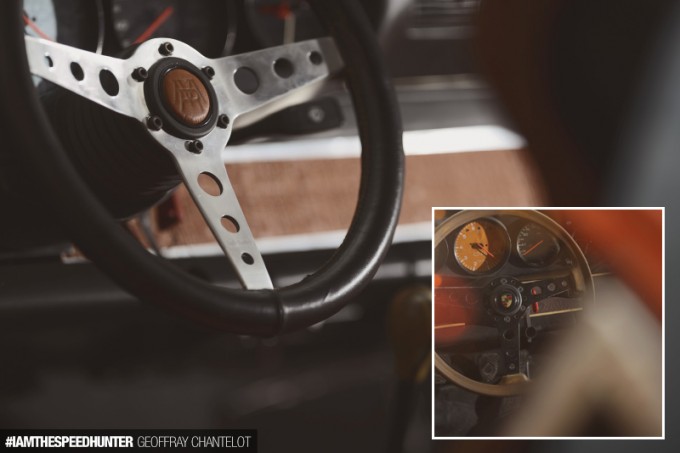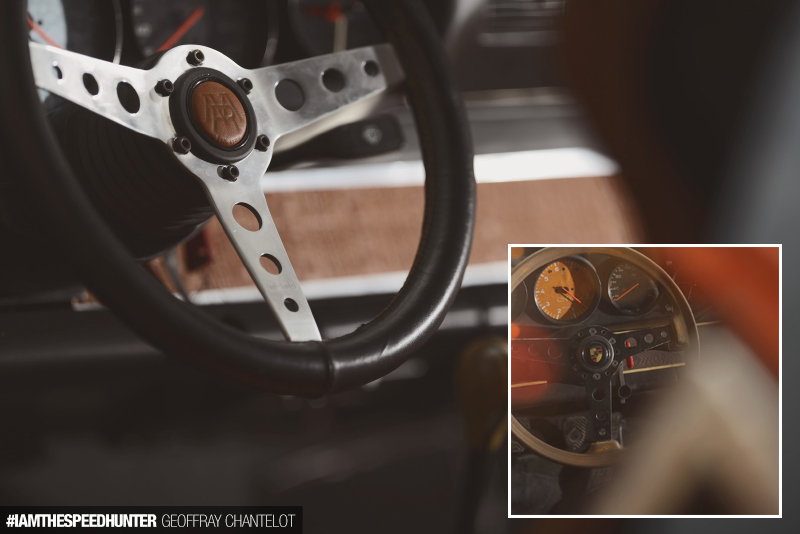 Concerning interiors, the approach used on each car is quite different, but always complementary. Everything has been handmade, customised or rebuild, from the dashboards to the carpets to the steering wheels.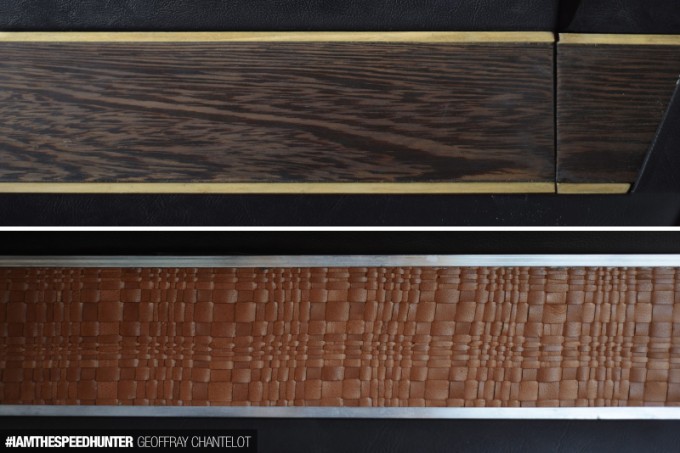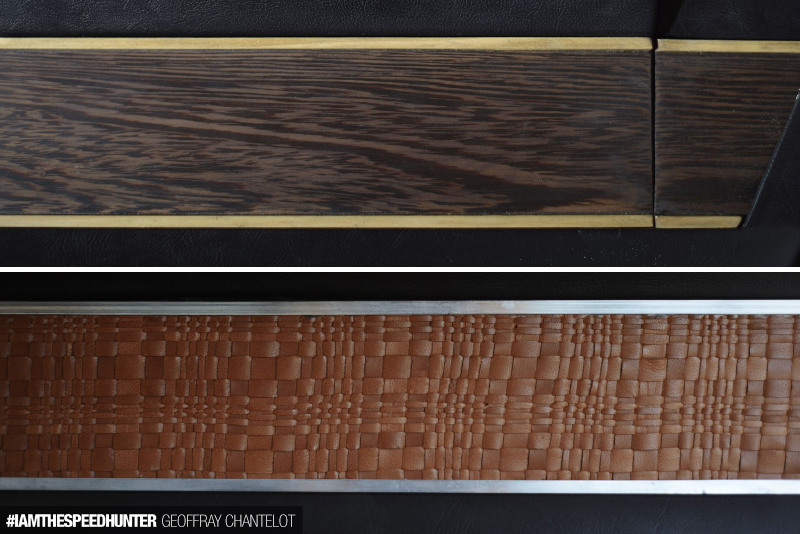 The orange Porsche has a black interior with soft brown accents, and features raw wood and black leather. The blue car echoes a similar look but with lighter blue leather on the rollcage and handmade squareweave leather seats.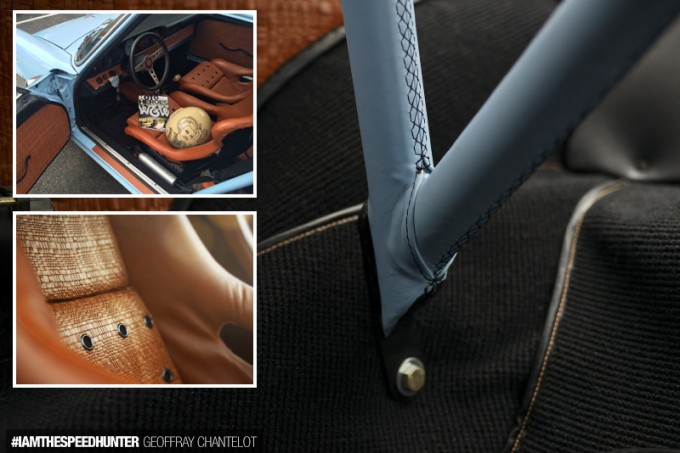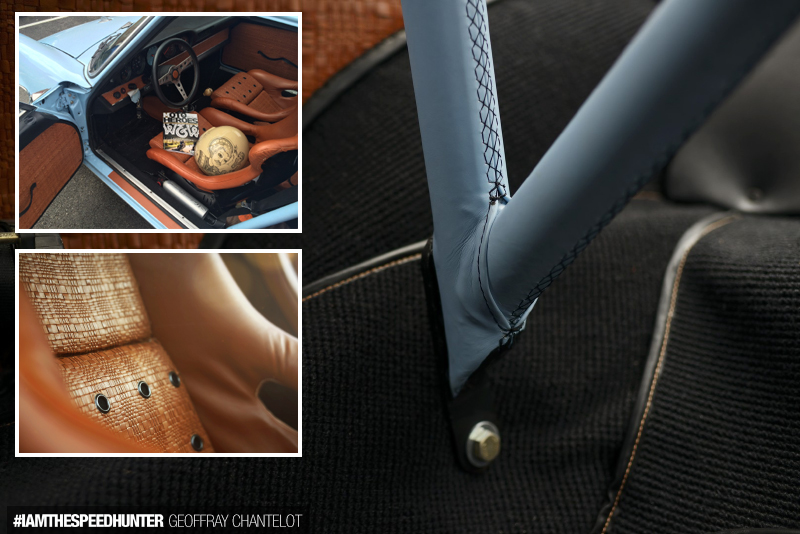 The creativity and attention to detail invested into these projects in simply fantastic, and what's even better is that that both Porsches are getting put to good use on the roads too. A big thank-you to Nicholas for sharing these with us! You can check out more about their projects here.
That's it for this #IAMTHESPEEDHUNTER interiors special, but stay tuned for our next announcement, as we'll be running an exciting new theme here on Speedhunters next month which we want you to be a part of.
Happy Speedhunting all!
Taryn Croucher
Instagram: taryncroucher
Twitter: @taryncroucher
taryn@speedhunters.com
About #IAMTHESPEEDHUNTER
We created #IAMTHESPEEDHUNTER to allow you the opportunity to share your skills and car culture experiences from around the globe with the rest of the Speedhunters audience.
How do you get involved? It's simple…
Instagram – Follow us on Instagram at @TheSpeedhunters and tag your own car culture images with #IAMTHESPEEDHUNTER
Twitter – Follow us on Twitter at @SPEEDHUNTERS and share your tweets with the #IAMTHESPEEDHUNTER hashtag.
Flickr – Join our #IAMTHESPEEDHUNTER Flickr Group and share your favourite photos with us and others.
E-Mail – If you've been to a cool event and captured some amazing images, be sure to e-mail them to us on iamthespeedhunter@speedhunters.com and tell us a little bit about the event.