A chance find
We've all heard the stories – the forgotten sports car, the abandoned barn, that truly once-in-a-lifetime find. If you're anything like me, the thought of stumbling across a [insert your most desirable classic make and model here] in a derelict farm building, is right up there with divvying first division lottery winnings before you've even purchased a ticket. Daydreaming is a pleasant way to pass the time for sure, but in reality, the chance of it ever actually happening are remote at best. Despite the odds, amazing finds do happen though, and here's the proof – a Mazda Savanna RX-3 thought lost for almost 30 years.
Intrigued? You need to read on then…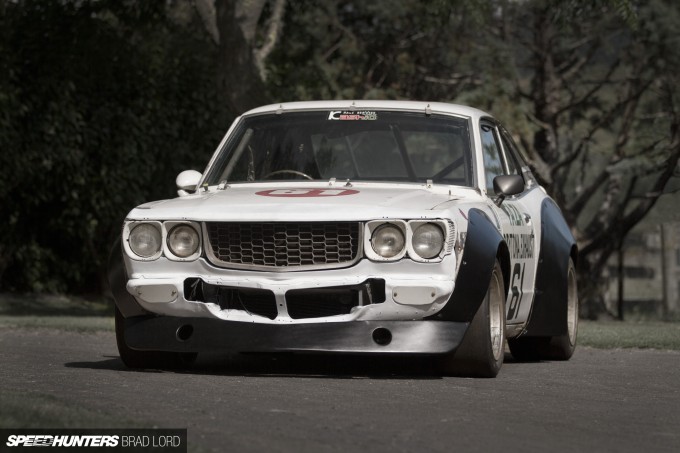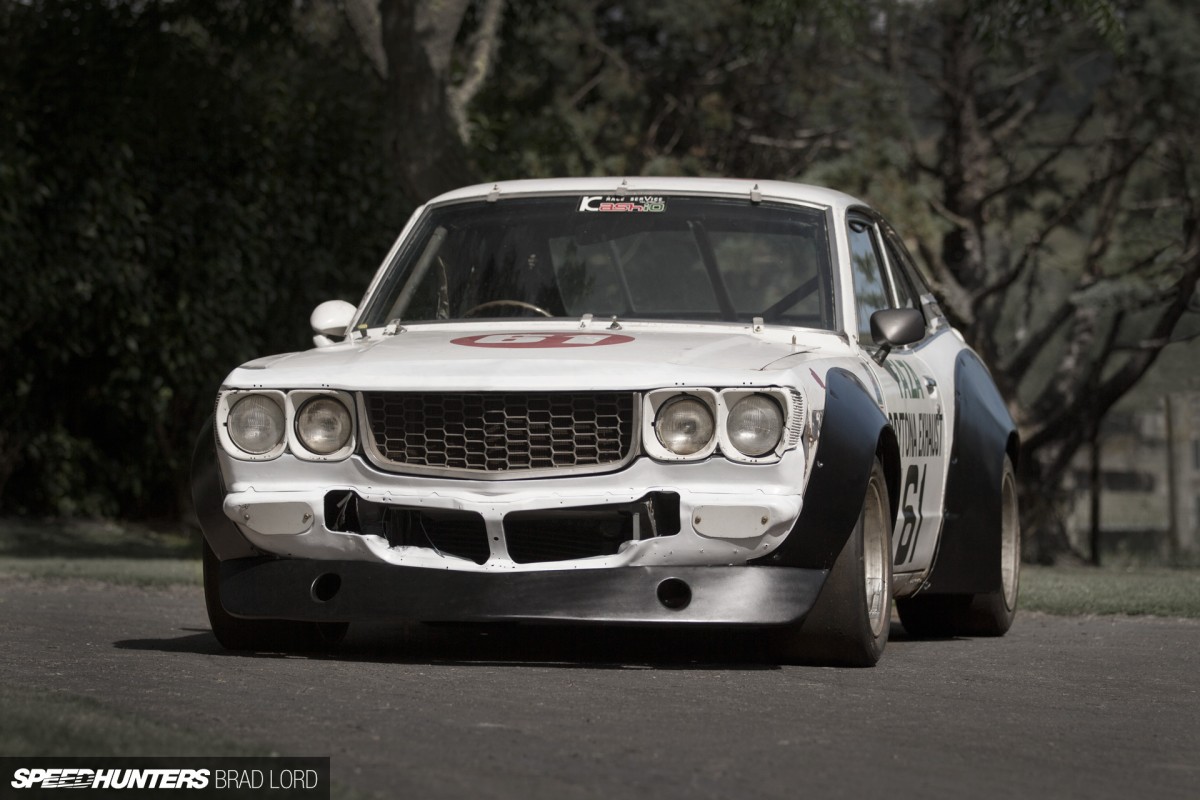 How this rotary-engined relic ended up in New Zealand via a residential basement garage in California is a bit of a story in itself – and I'll get to that in a moment. But first you need to know exactly what it is you're looking at, because this is no street car dressed up to look like a race car, but the absolute real deal from a bygone era of racing.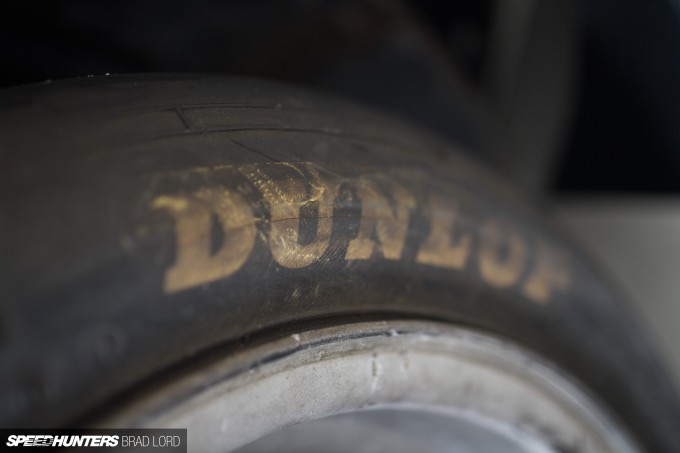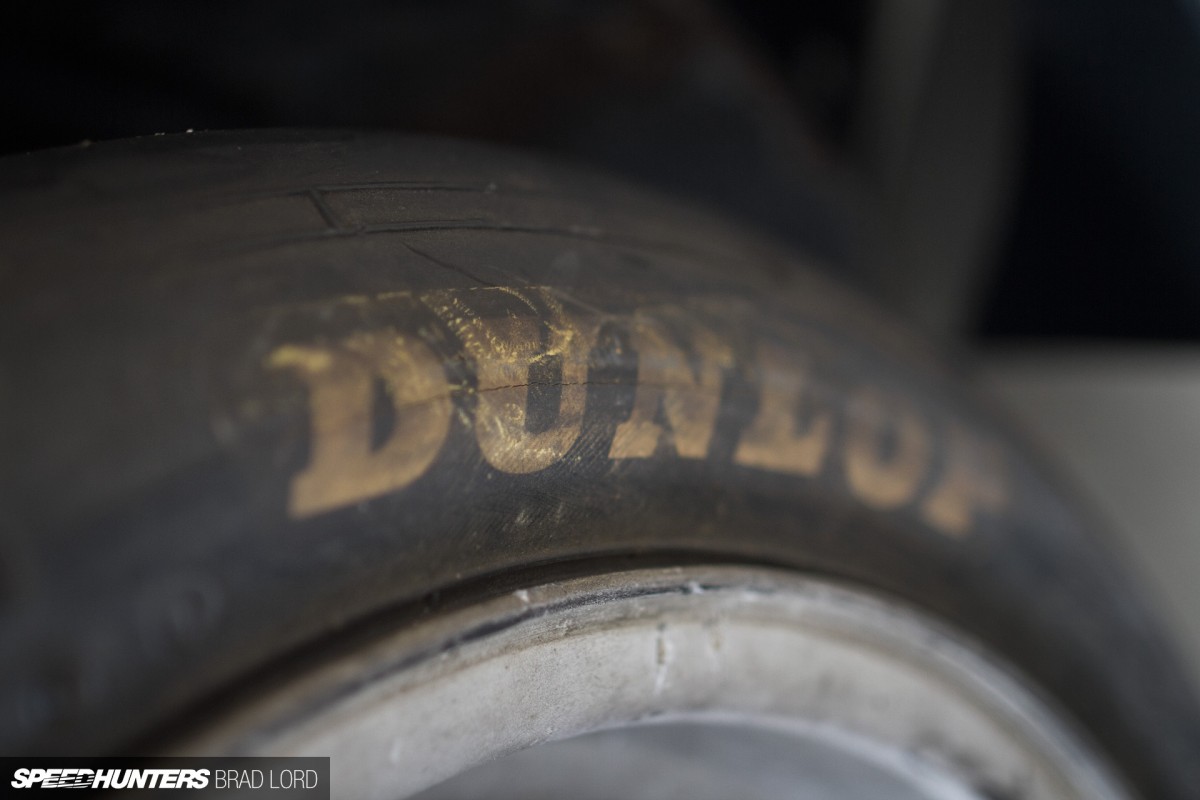 And when I say real, I talking about right down to the smallest details. The cracked and time-hardened Dunlop slicks that grace all four corners of the Mazda are the last tyres it raced on in the late '70s/early '80s, before being put into dry storage and all but forgotten about.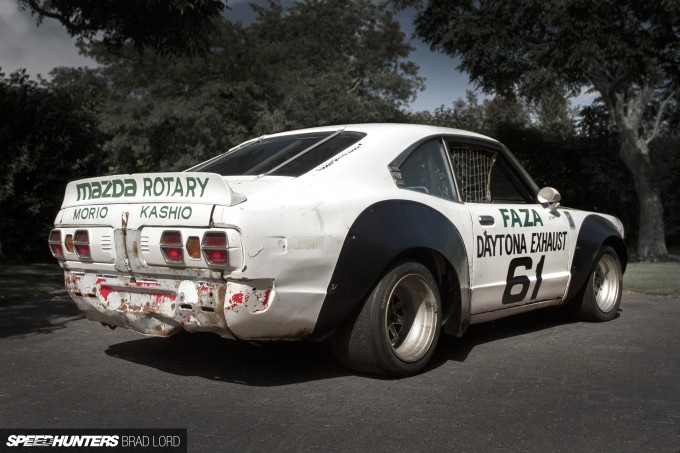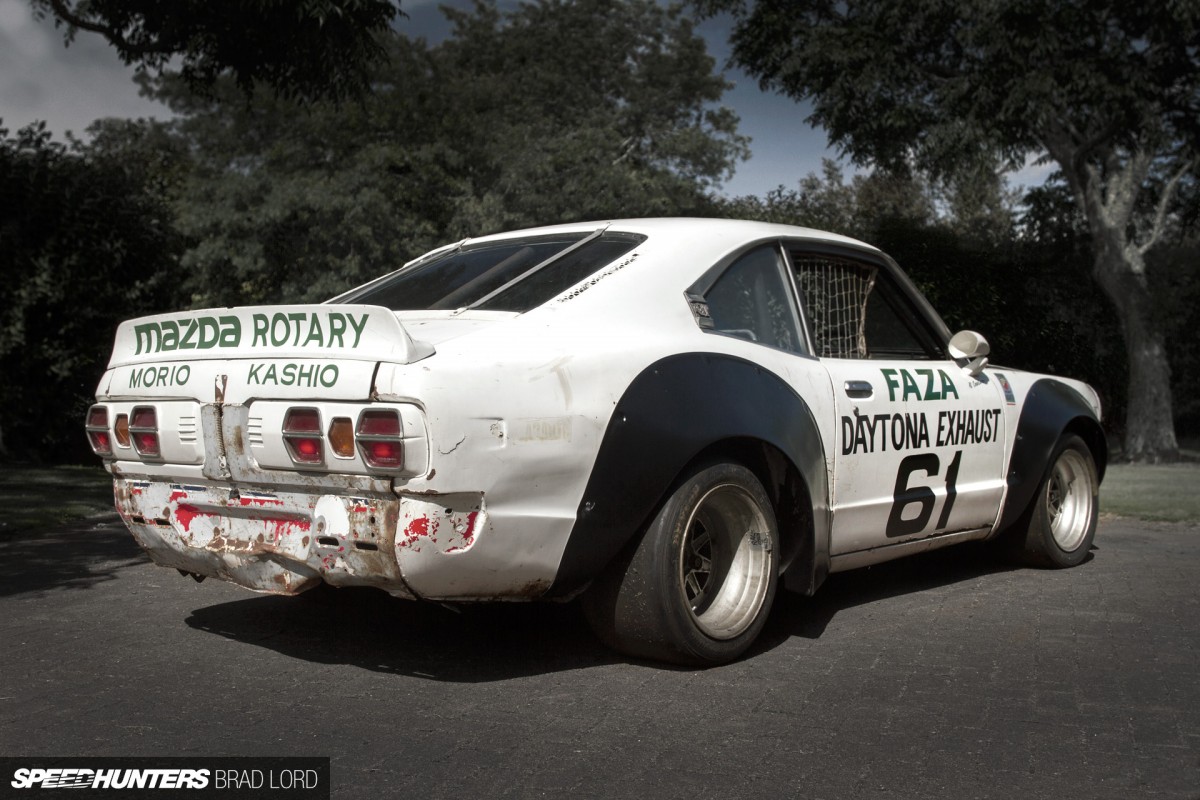 Those final door-to-door battles might have been contested in the US on the IMSA circuit, but prior to being exported stateside, the RX-3 had been built for, and raced within the ranks of the prestigious Japanese Touring Car Championship. Yes, the JTCC.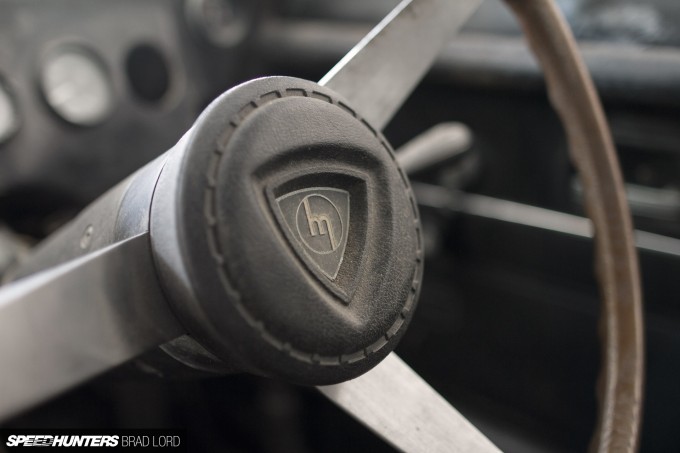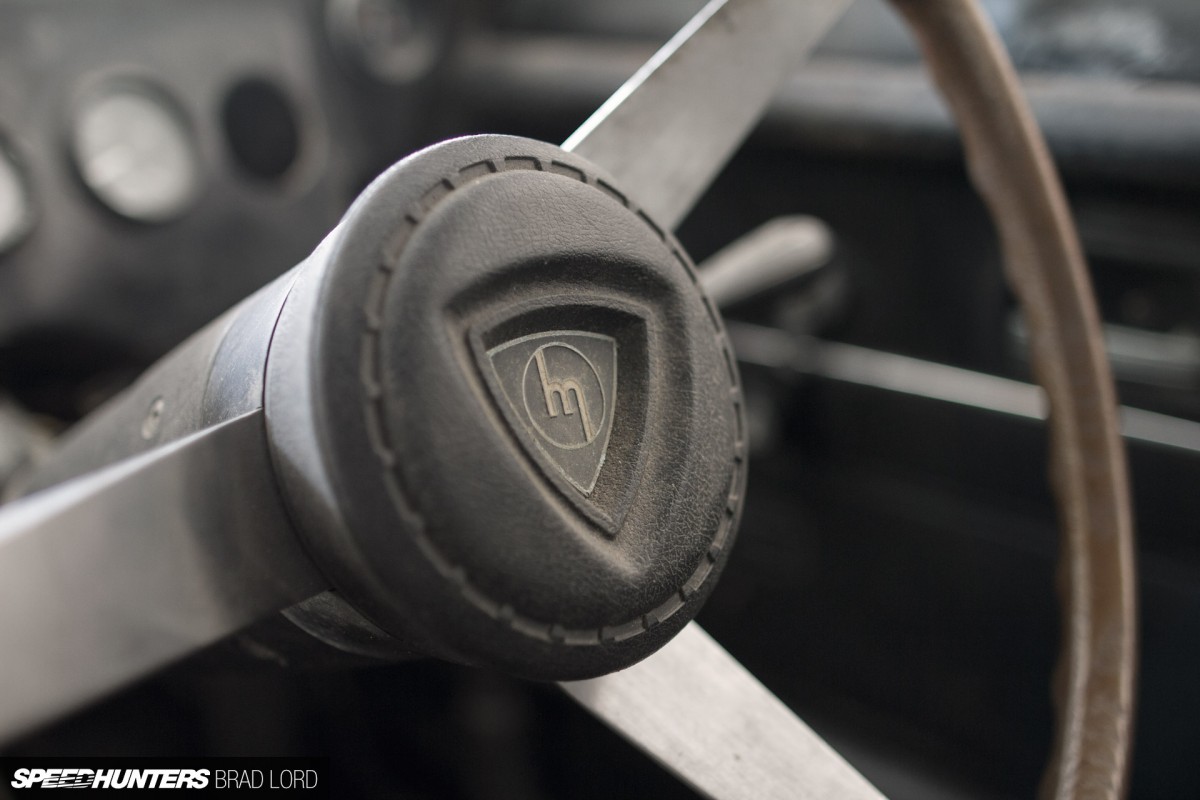 If this car could talk, imagine for a moment what stories it could tell… Tales of running flat out on FISCO's long forgotten 30° bank; memories of jostling for position with hakosuka Skyline GT-Rs.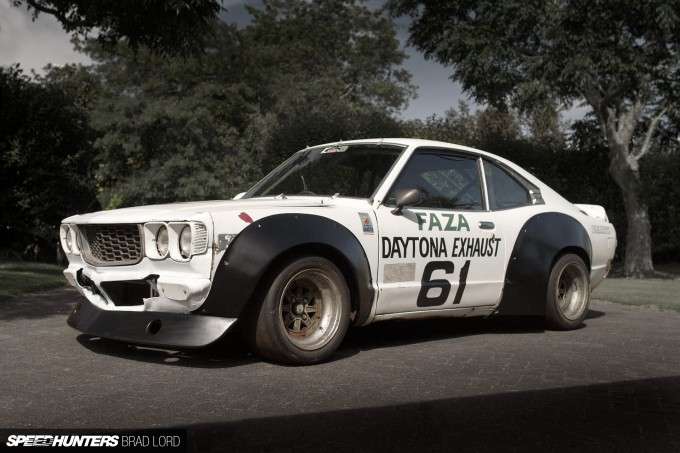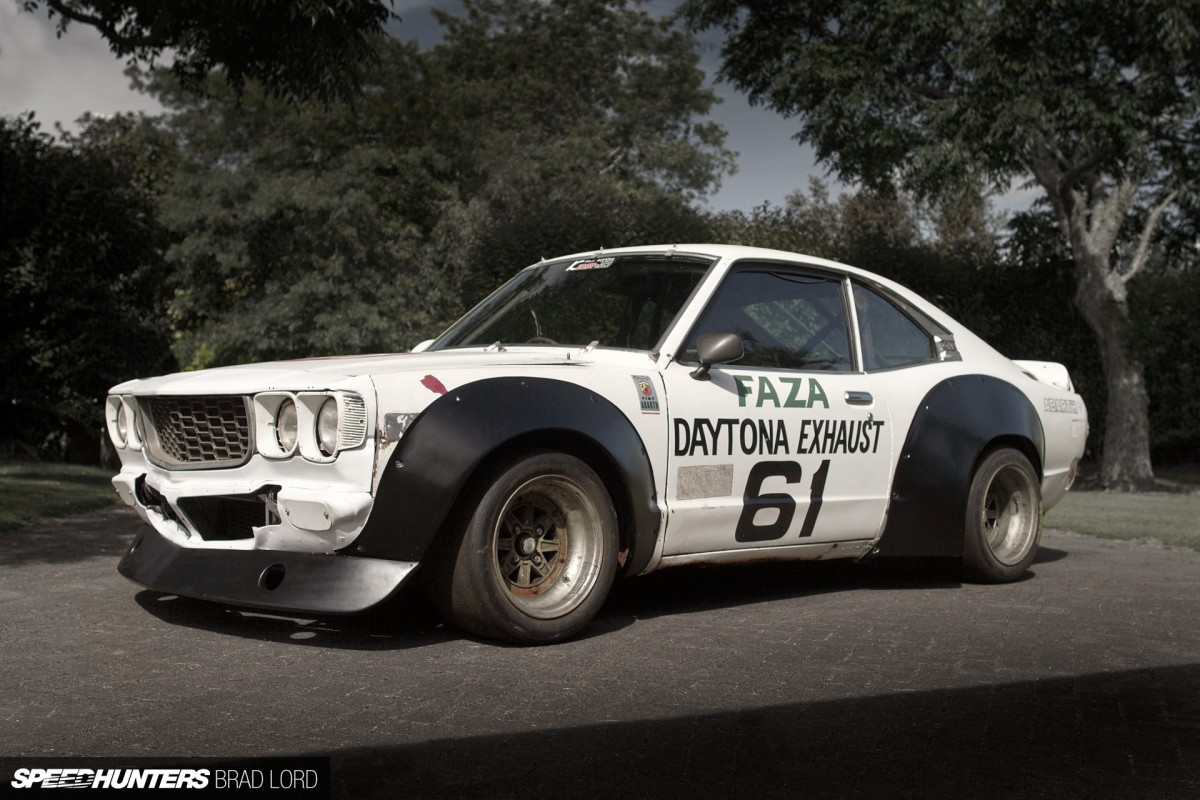 Prior to being invited to take a look at the car, I had heard murmurings about an old ex-IMSA RX-3 race car in New Zealand, and given the numbers of historically significant machines that have found their way to this country, I absolutely believed it to be true. But to be standing in front of this car, this time capsule from the JTCC's glory days, is really something else.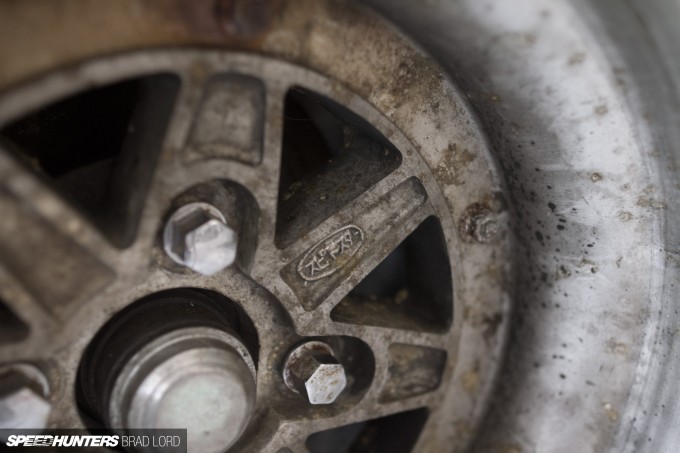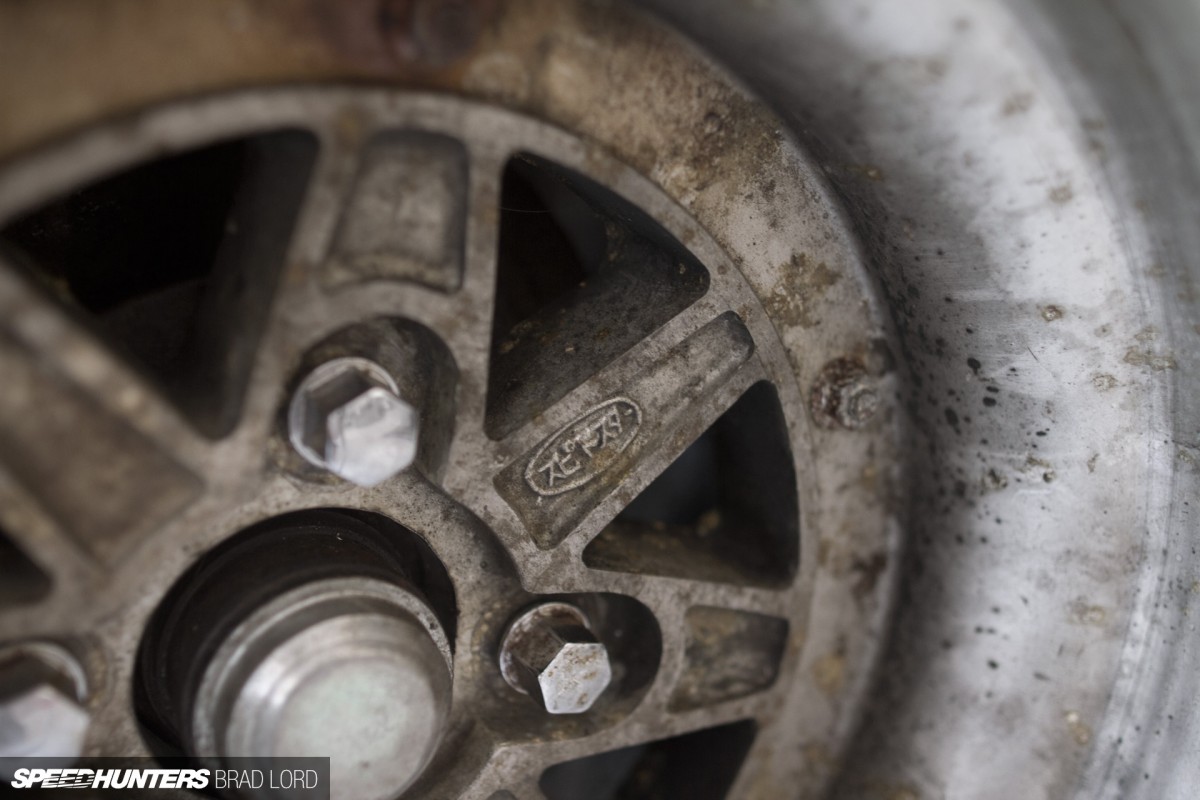 Right now, the only thing better would be switching the ignition, priming the fuel system and firing this great survivor into life. Given the time it's spent sitting idle, that's not going to happen today unfortunately, but when new custodian Gavin Hicks is finished with it, it'll not only run, but it'll be headed back to the circuit again. The ultimate goal is to return it to Japan for a JCCA racing meeting at Fuji Speedway.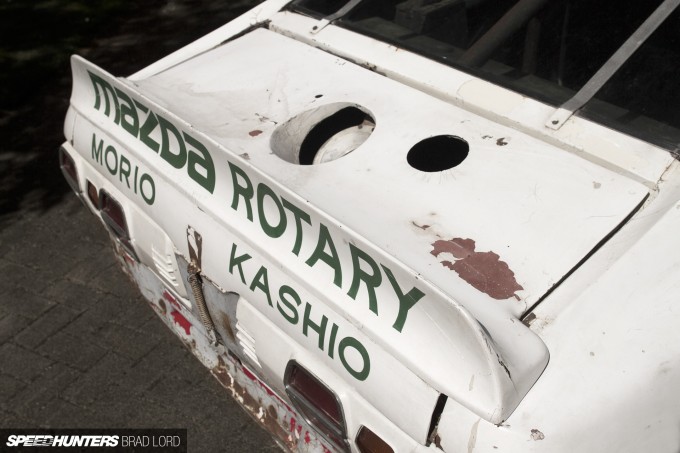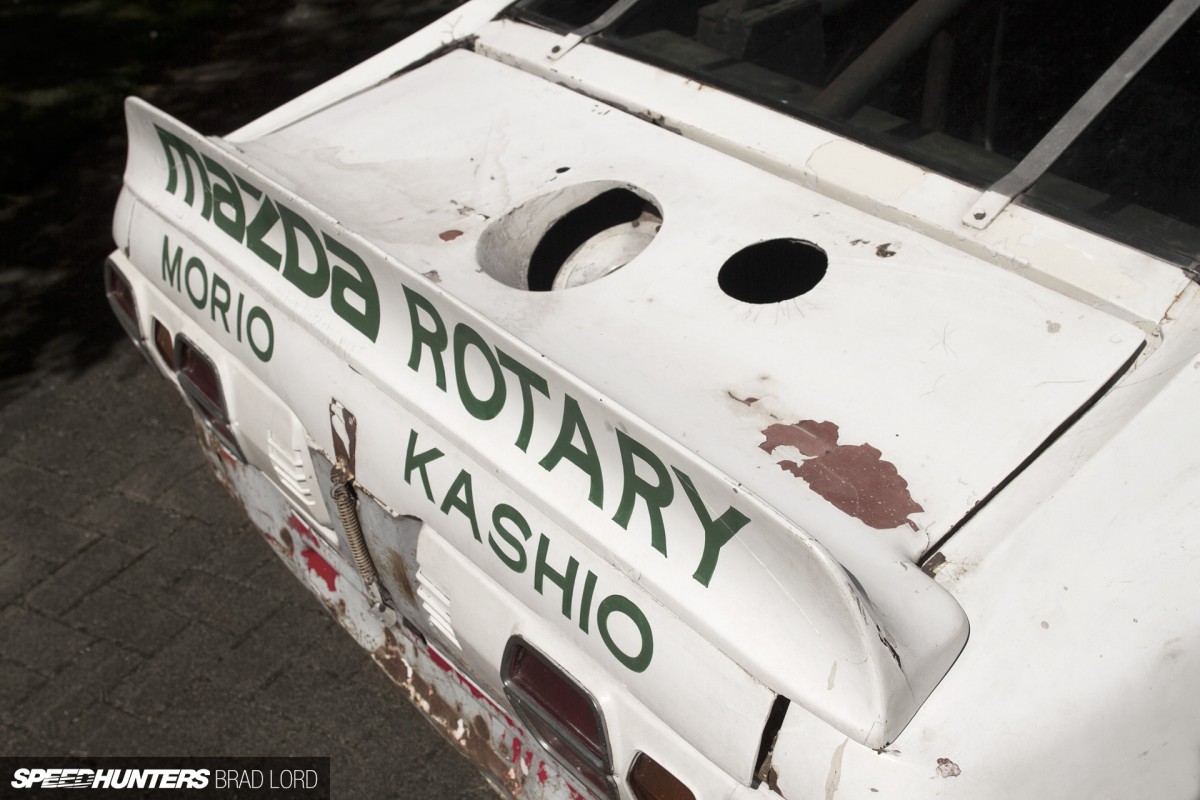 Looking at some of Gavin and his sons' previous restoration projects and the amazing collection of cars they've amassed in the process of returning classic race and road cars to their original glory – something perhaps worthy a story on its own – I really don't think this amazing slice of JTCC history could have gone to a better home.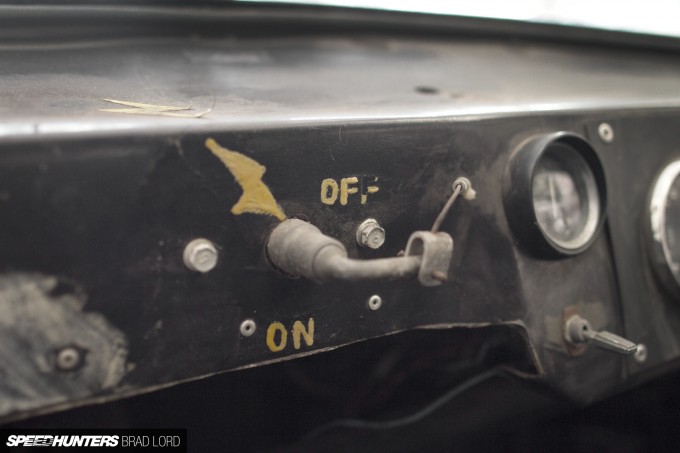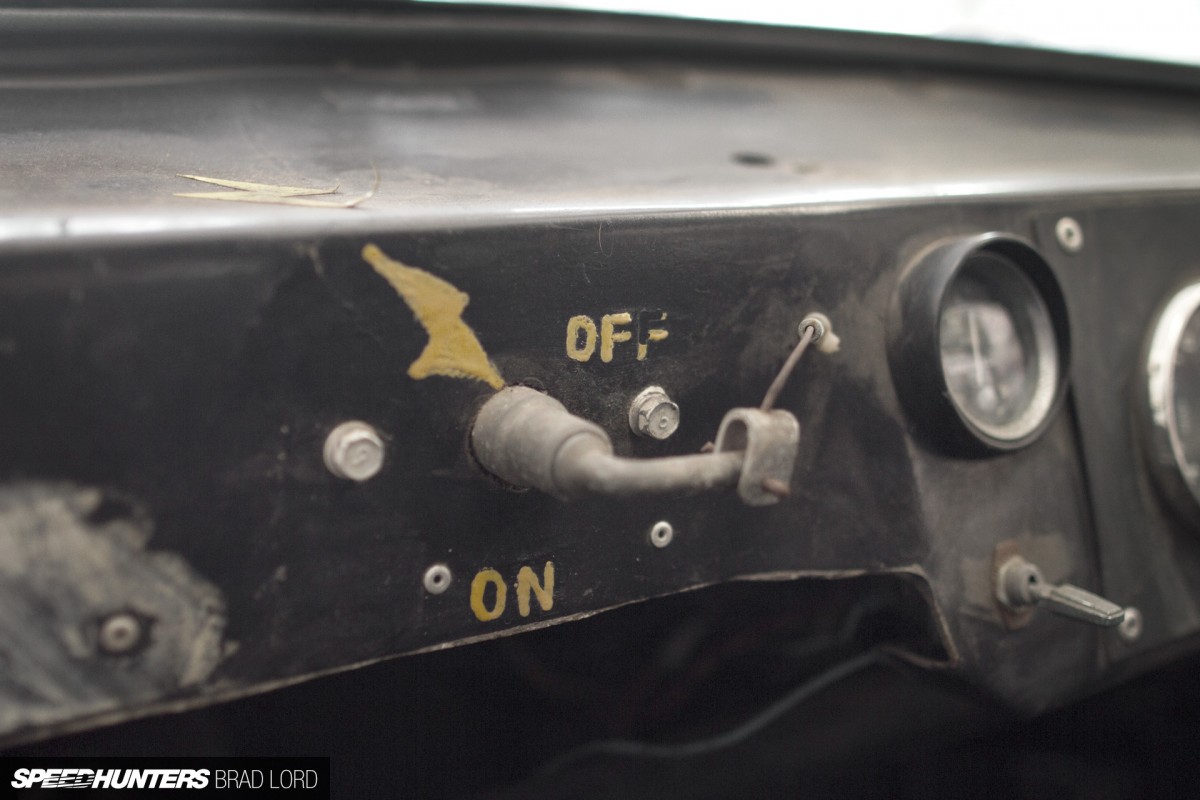 Not only is the RX-3 a great find though, but it's also a great mystery. Although the latter years of its racing life in the USA are largely accounted for, it's the five or so years before that – while the car was still in Japan – that Gavin would love to ascertain.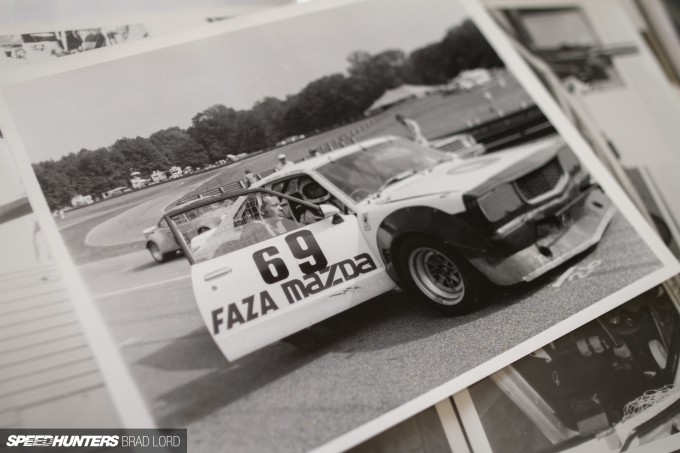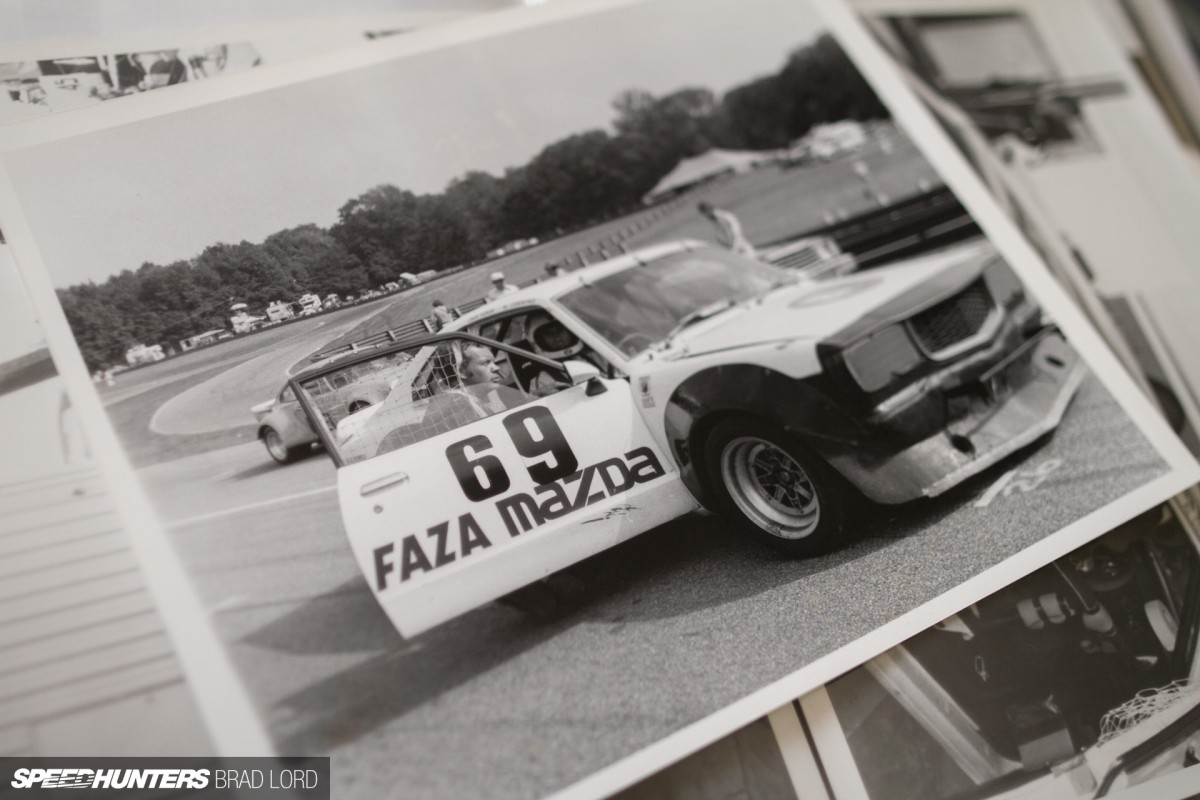 Before we delve into that though, we need to talk about the IMSA connection, which came about when the late American driver Al Cosentino ran the car in the 1978 24 Hours of Daytona event with Craig Fisher (USA) and Taku Akaike (Japan). Although the larger-than-life Cosentino's first passion was Italian metal – and specifically those born out of Fiat's Abarth tuning arm – dealings on both side of the Pacific Ocean during the 1970s ultimately led him down the rotary path. A connection at Mazda Japan arranged a test drive of a works RX-3 at FISCO (Fuji Speedway) in 1977, and although that particular car wasn't for sale, Cosentino eventually found what he was looking for in another ex-JTCC Savanna coupe.
Charting history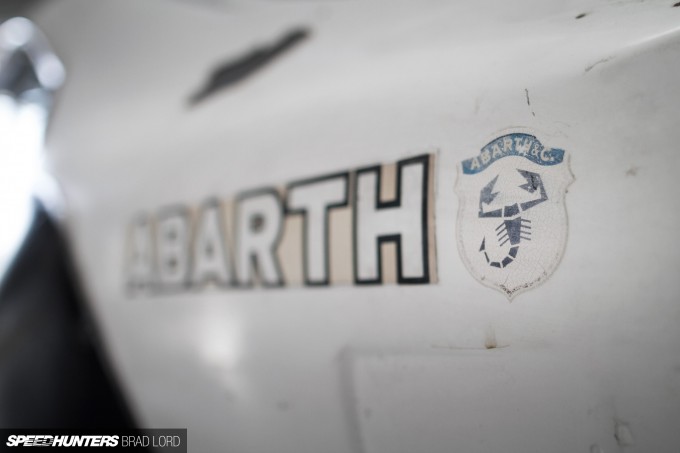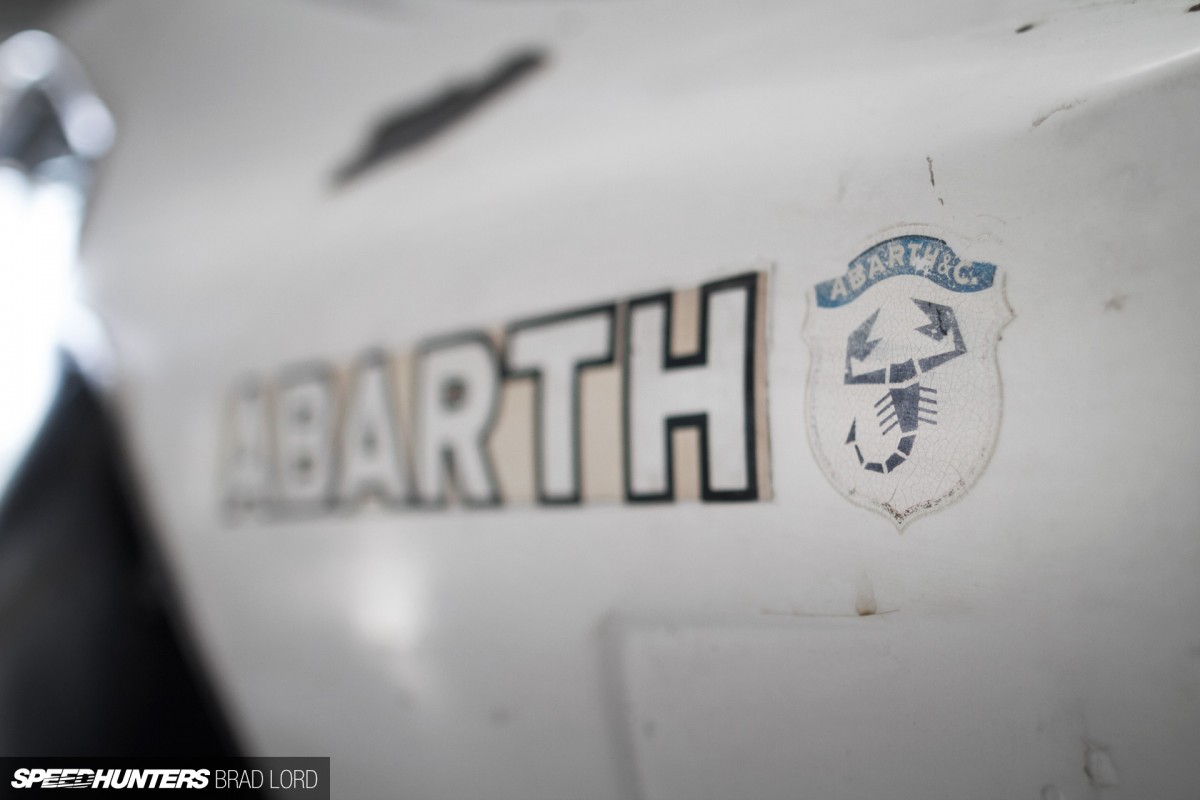 The RX-3 purchase – which was only finalised after Cosentino was able to test the car at the Daytona event – was made through Demon Company Ltd in Tokyo. It's not known if Demon was selling the Mazda directly, or simply just brokering the deal, but the latter seems more likely as its owner Shiro Kosaka was a prolific collector of Abarth cars too. Cosentino's Abarth-tuning prowess is what he's best remembered for, and given that's all his company FAZA was involved with, goes some way in explaining the out-of-place logos peppered all around the bodywork.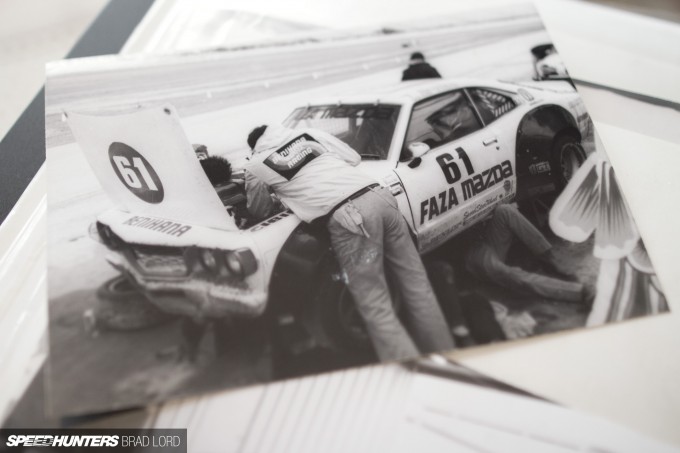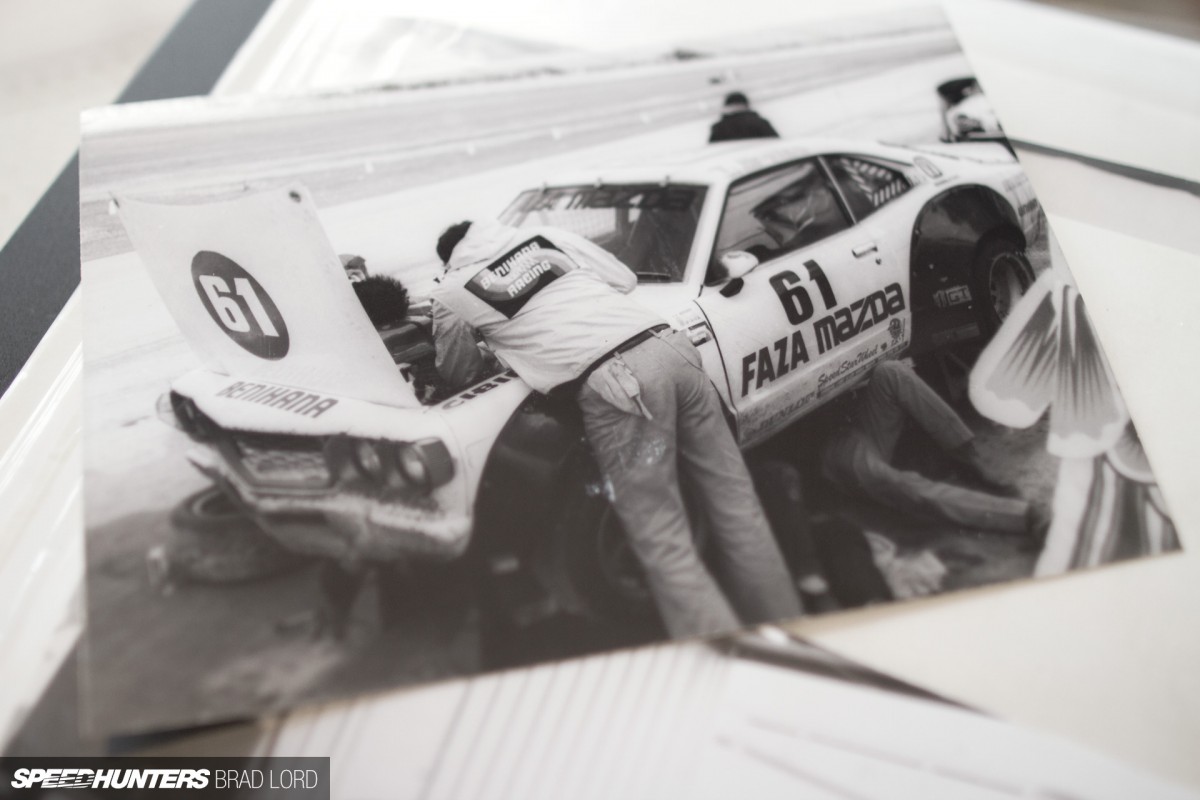 Along with the RX-3, Cosentino built and raced a brand new series one SA22C RX-7, so it's unclear just how many races the coupe competed in, how it fared, or exactly when it was retired to the basement in his house. It certainly wasn't any later than 1982 though. By all accounts, he was an interesting and intelligent, but somewhat eccentric man, but whether Cosentino just skipped around constant questions of the cars' whereabouts, or purposely led anyone who asked off the scent is not quite clear; before the cars were uncovered a few years ago, it was widely accepted that they were long gone and had most likely been sold off in parts. Amazingly, that wasn't the case though.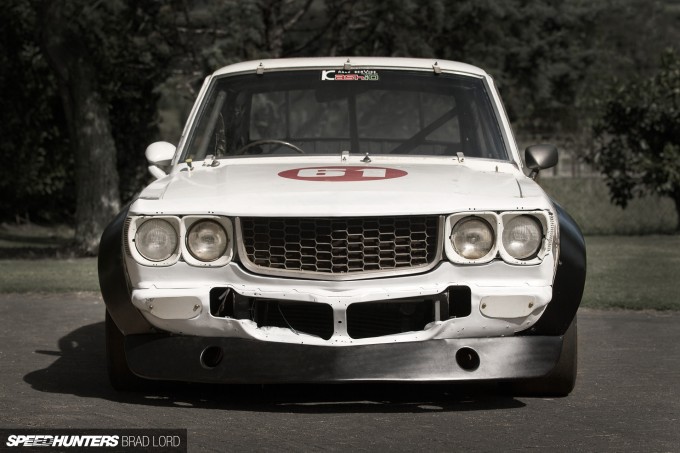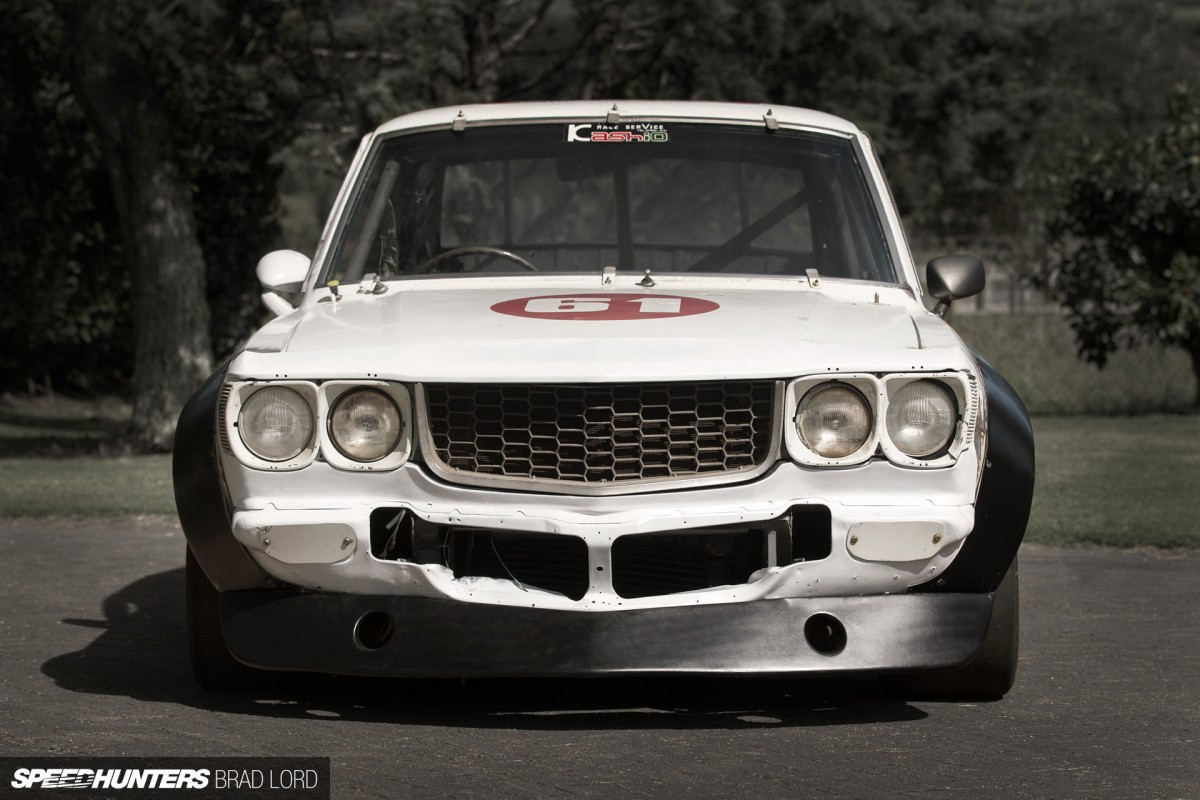 How the RX-3 (and the RX-7 for that matter) came to be in New Zealand as part of the Hicks collection was completely by chance too. While purchasing some 15×13-inch Campagnolo wheels for a Maserati restoration, Gavin found out that the broker at the centre of the negotiation had bought Cosentino's entire FAZA estate, and was in the process of selling off all the remaining stock and some of the cars in the collection. After researching the two Mazdas and their IMSA history, it was decided that the opportunity to purchase both of them was simply too good to pass up, and the deal was done.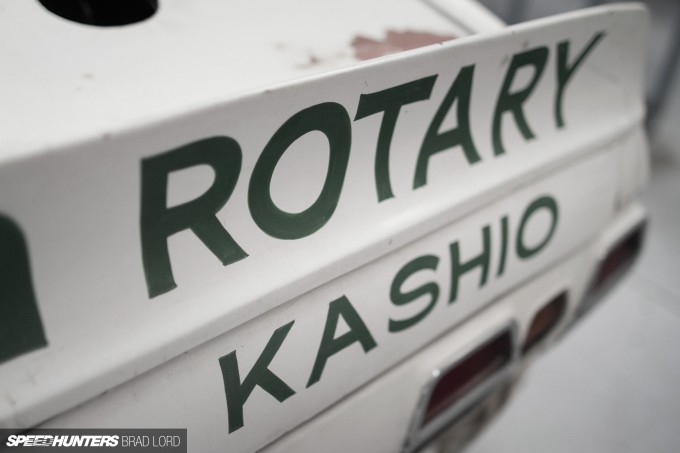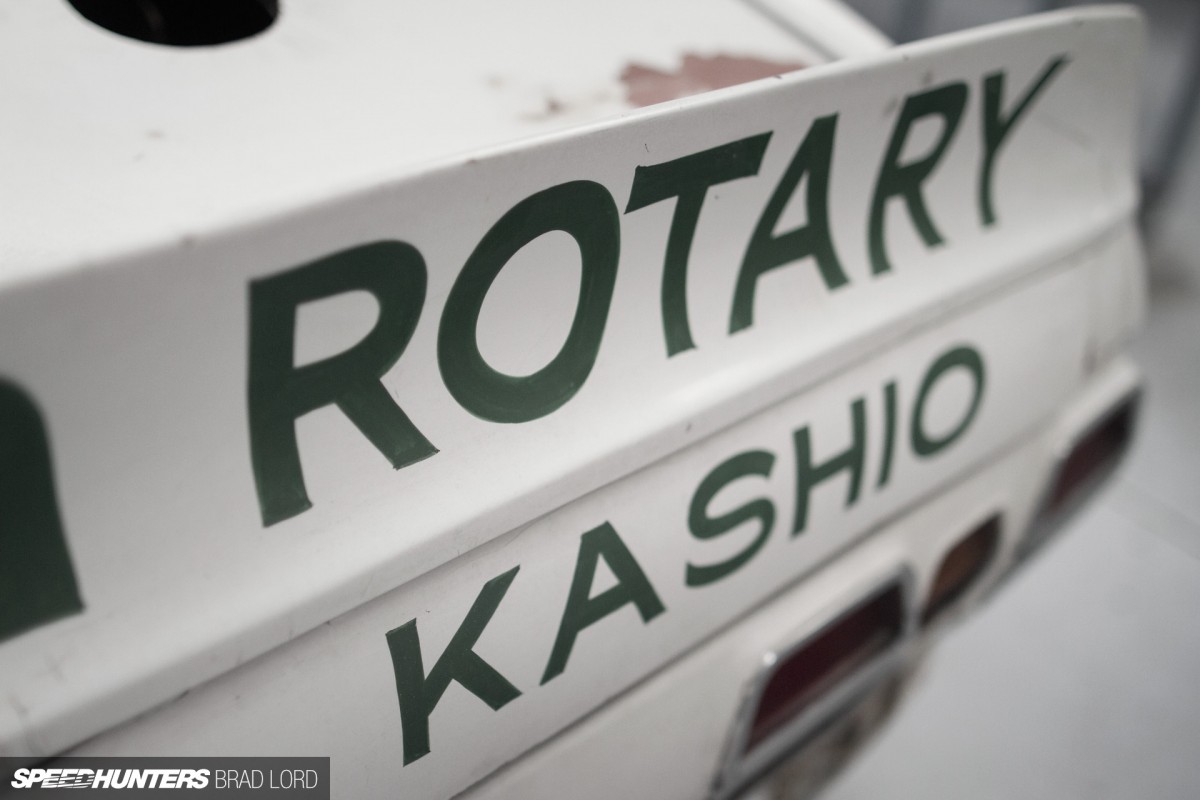 With multiple other restoration projects in the works, the RX-3 has been on the back burner since they acquired it a couple of years ago, but Gavin and his sons have used the time wisely, exhausting every avenue they could in the quest to find out exactly what they have, and how it should be restored.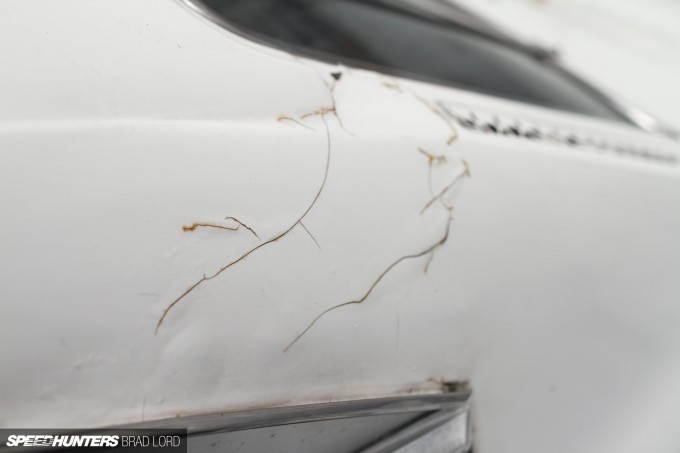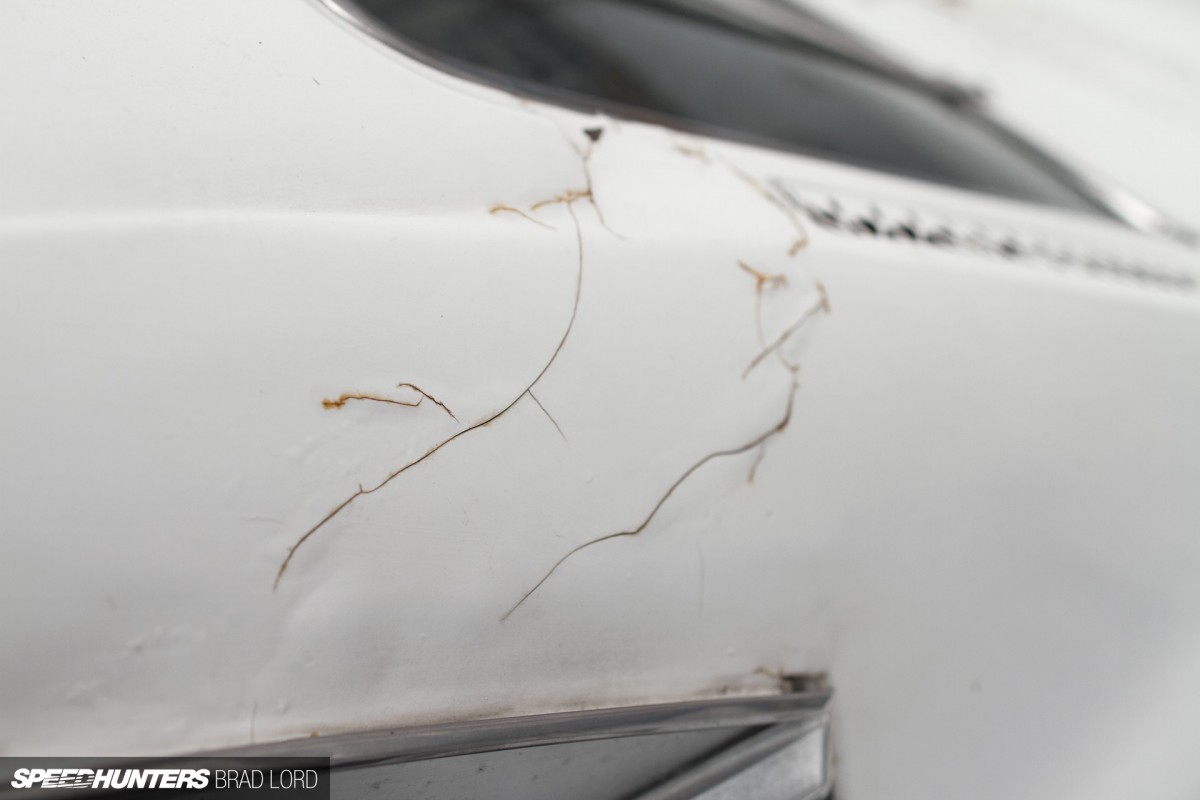 Considering how complete the Mazda is, and the hundreds of photos included in a dossier that came with it, reinstating the car to its former IMSA glory would be a straightforward proposition. But it's the RX-3's Japanese heritage that the family are most interested in uncovering before any decisions on the car's restoration fate are made.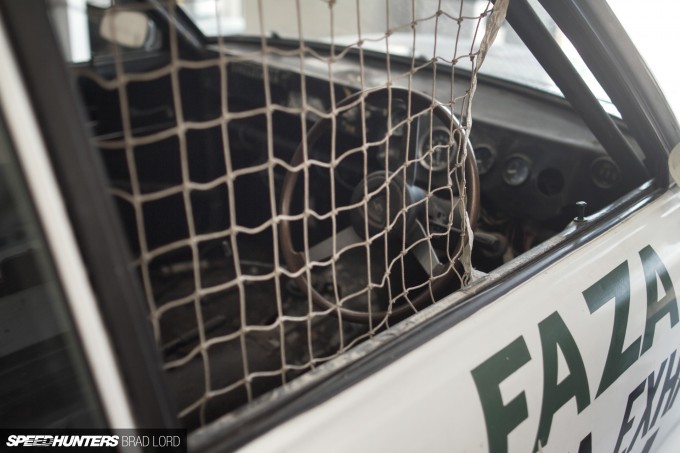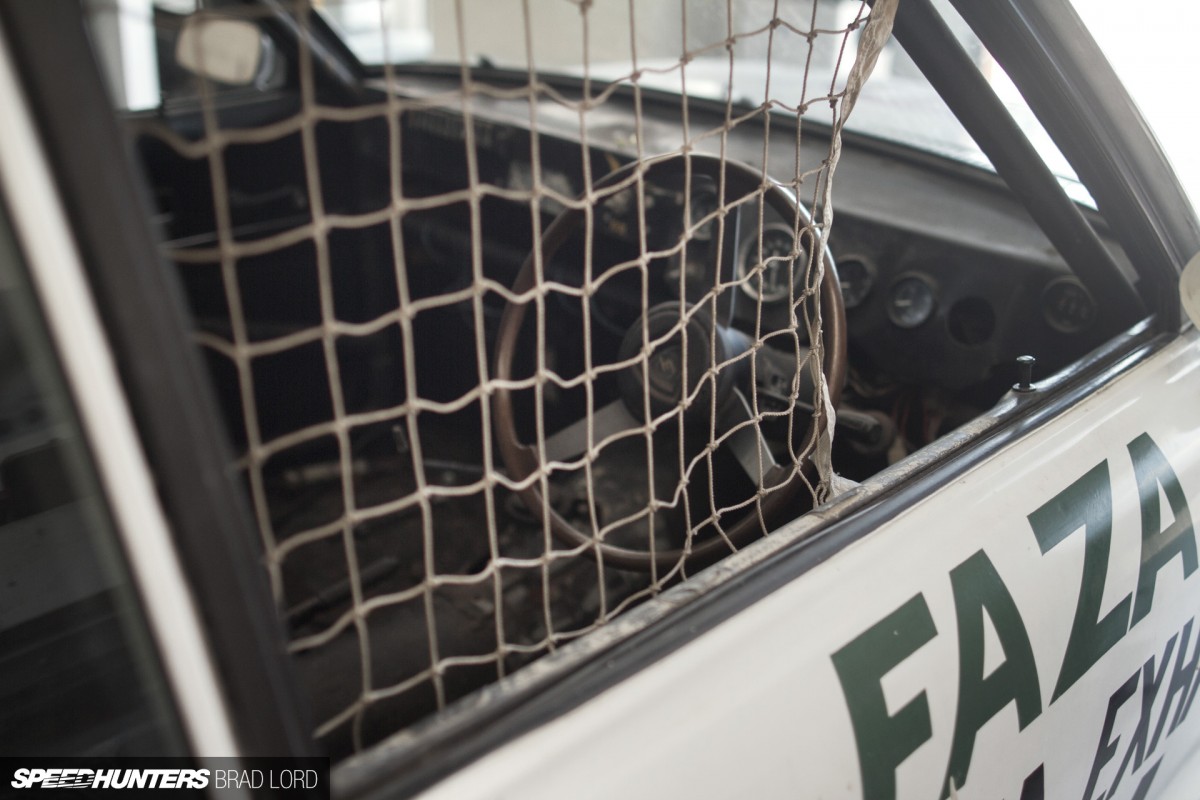 To date, that hasn't been an easy proposition though. A trip to Japan, the purchase of numerous Japanese racing magazines from the era and countless hours spent trawling the internet for leads have failed to turn up any concrete information on who originally built the car, who drove it, and exactly how it looked when it first raced. There are however, plenty of clues to its former life…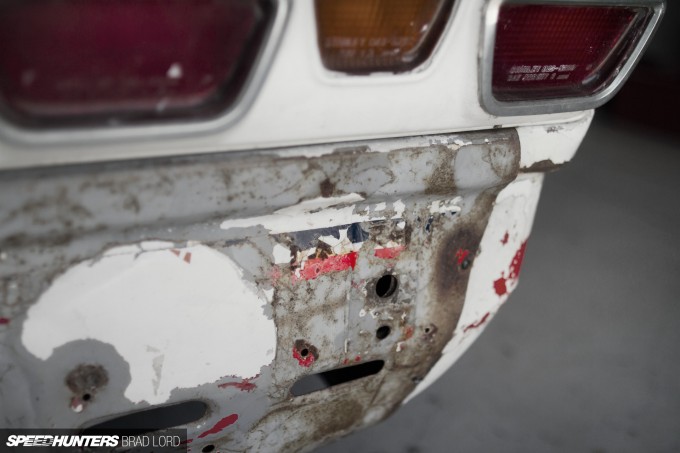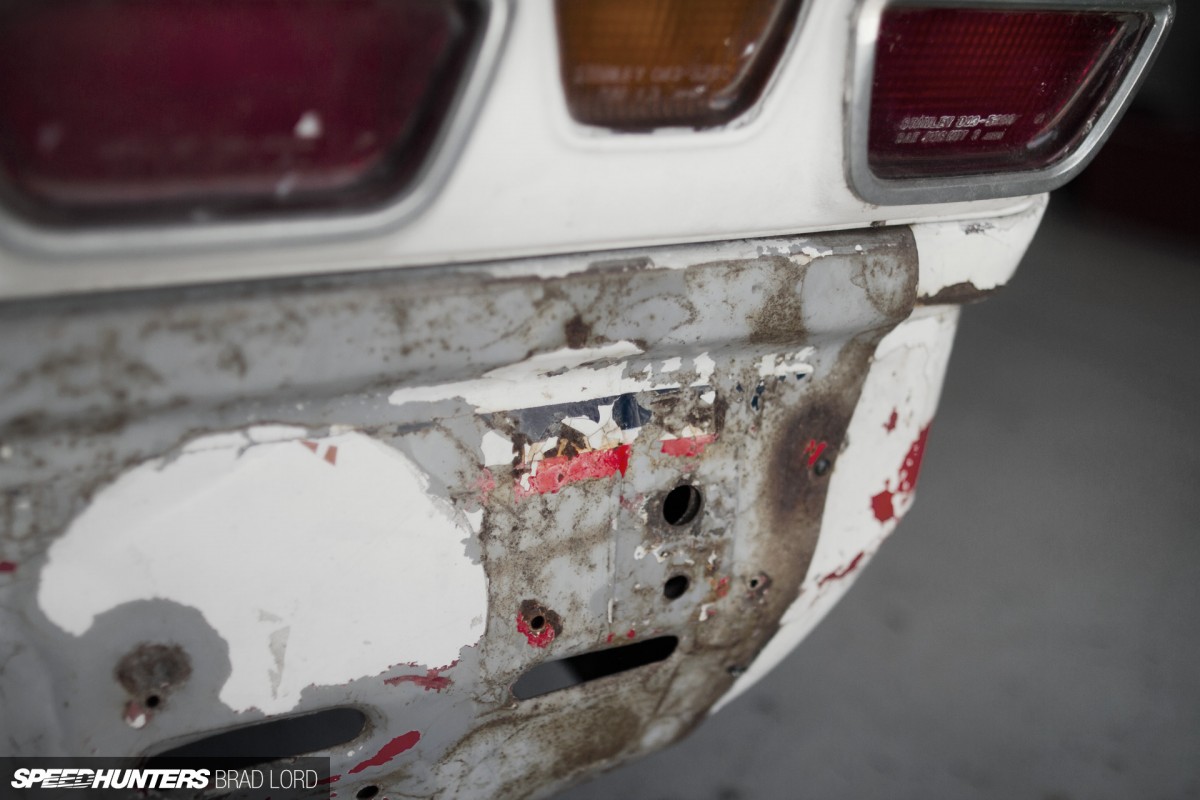 While the RX-3 might have only raced in the US with the same basic white and black scheme it's presented in today, there are hints of former livieries around the bodywork. The crudely attached rear lower valance for instance, shows signs of an off-white base – the factory colour perhaps – with a thick red band that runs to the bottom of the panel split by a thin blue stripe. Although the paint around the rest of the car has yet to be painstakingly wet sanded back layer-by-layer, it does appear as though the same scheme continues along the side of the Mazda's body.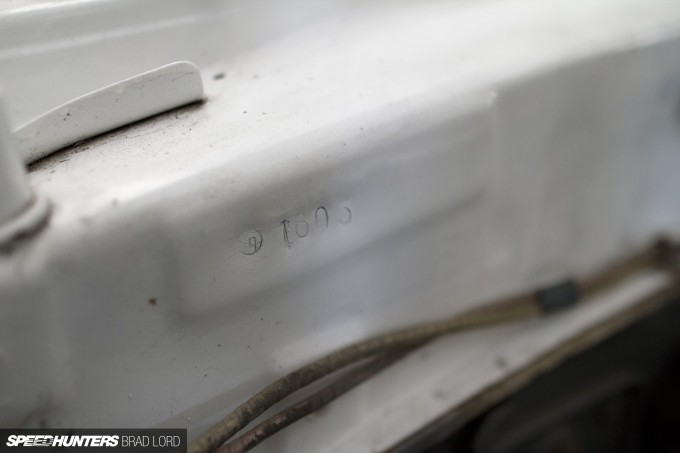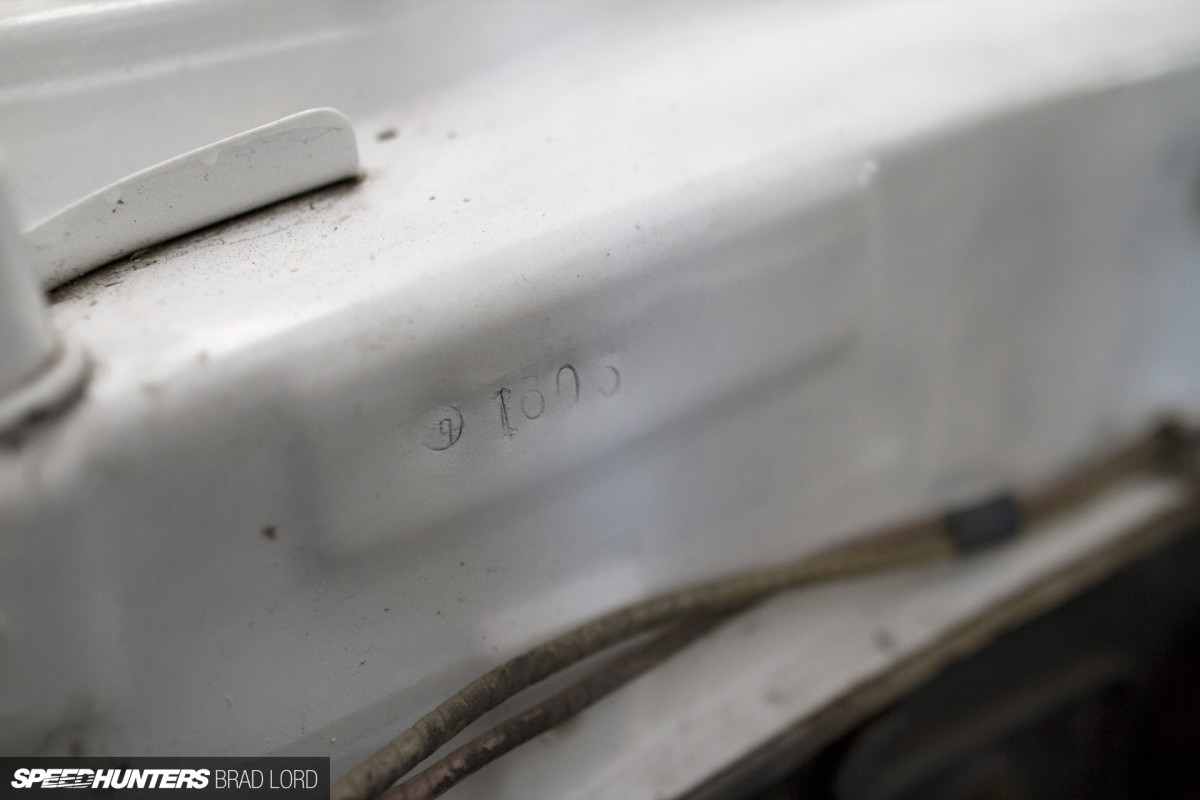 And then there's the chassis number. Depending on engine configuration, RX-3 coupes have prefix of S102A- or S124A- followed by their unique frame number. This car has a period Mazda 'M' logo stamp, followed by the numbers '1605'. Considering that the panel doesn't show signs of ever having been replaced or altered in any way, what does this code mean? The most likely scenario points to the car being a 'white body' model – a semi-complete white chassis plucked incomplete from the production line with the sole intention of being turned into a race car.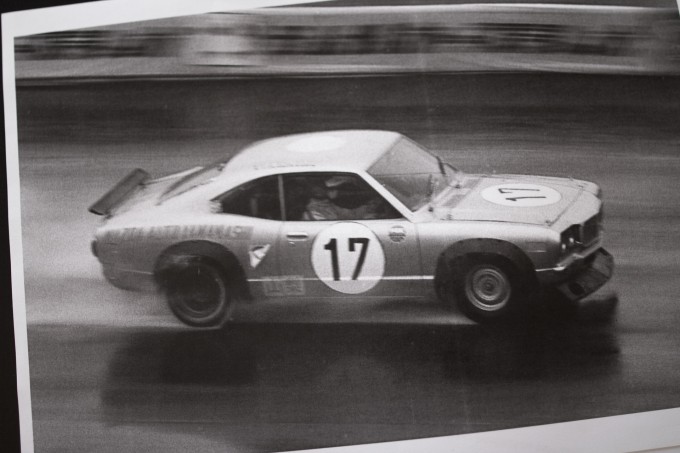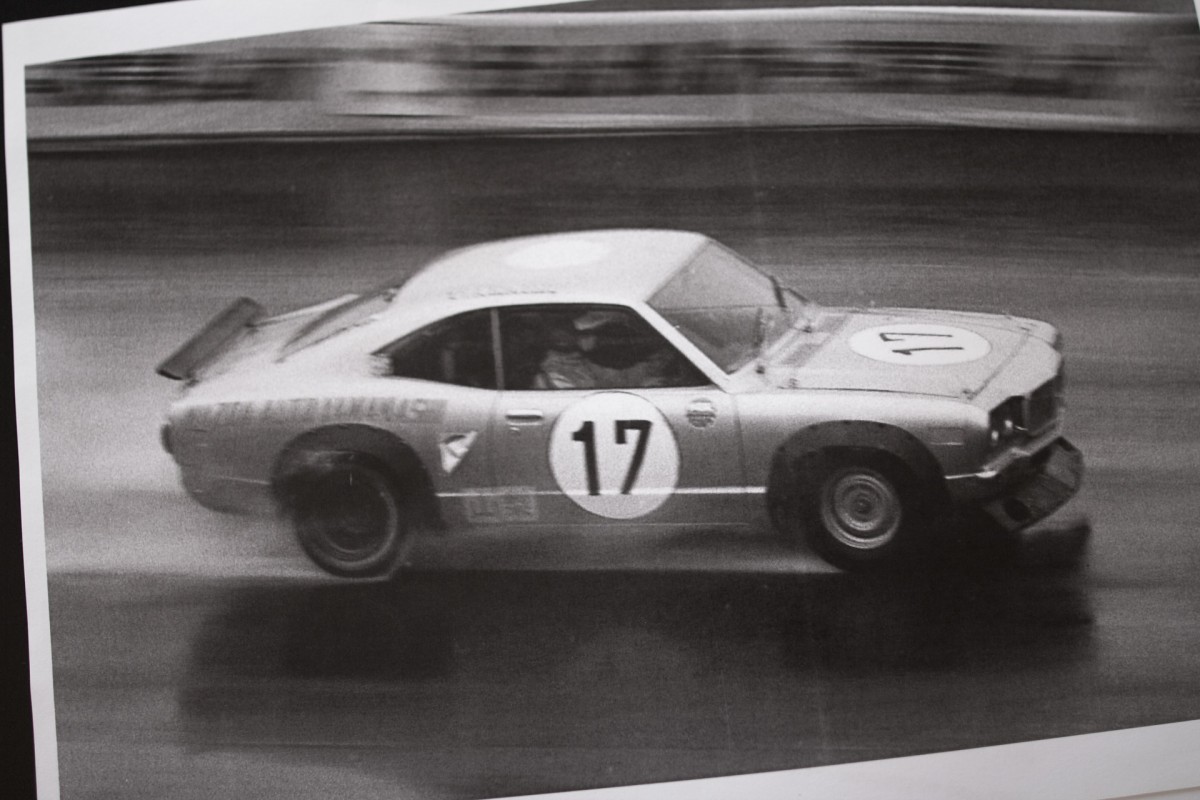 Perhaps the most crucial link to this story is the late Japanese racing driver Taku Akaike, whose name appeared on the roof edge above the driver's door when it arrived in the United States. JAF records reveal that Akaike raced all manner of machinery right up into the 1990s, including a 13B-powered Lola T280, and even a four-rotor 767B. Of most interest though is the S124A Savanna RX-3 from 1972 through to 1977, competing in numerous JTCC events at Fuji Speedway under the 'Mazda Auto Yamanashi' banner. What isn't known is whether or not he always used the same silver-coloured car as shown in a small handful of images that have been found so far, or whether there were multiple RX-3s involved. It's been suggested that he ran a race car preparation workshop – which perhaps had something to do with the Yamanashi dealership – so the latter is something that can't be discounted either.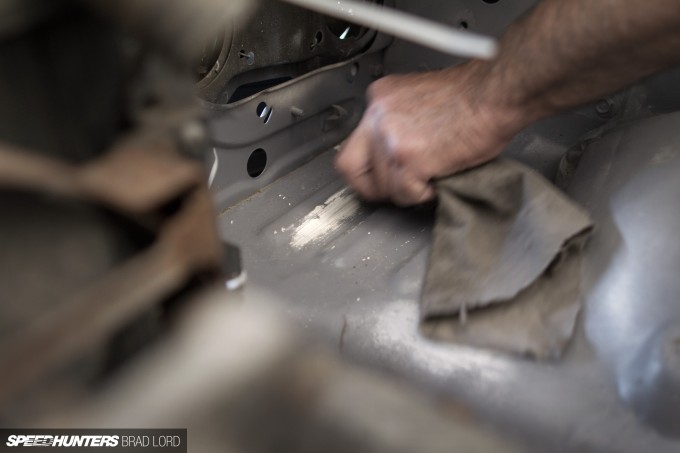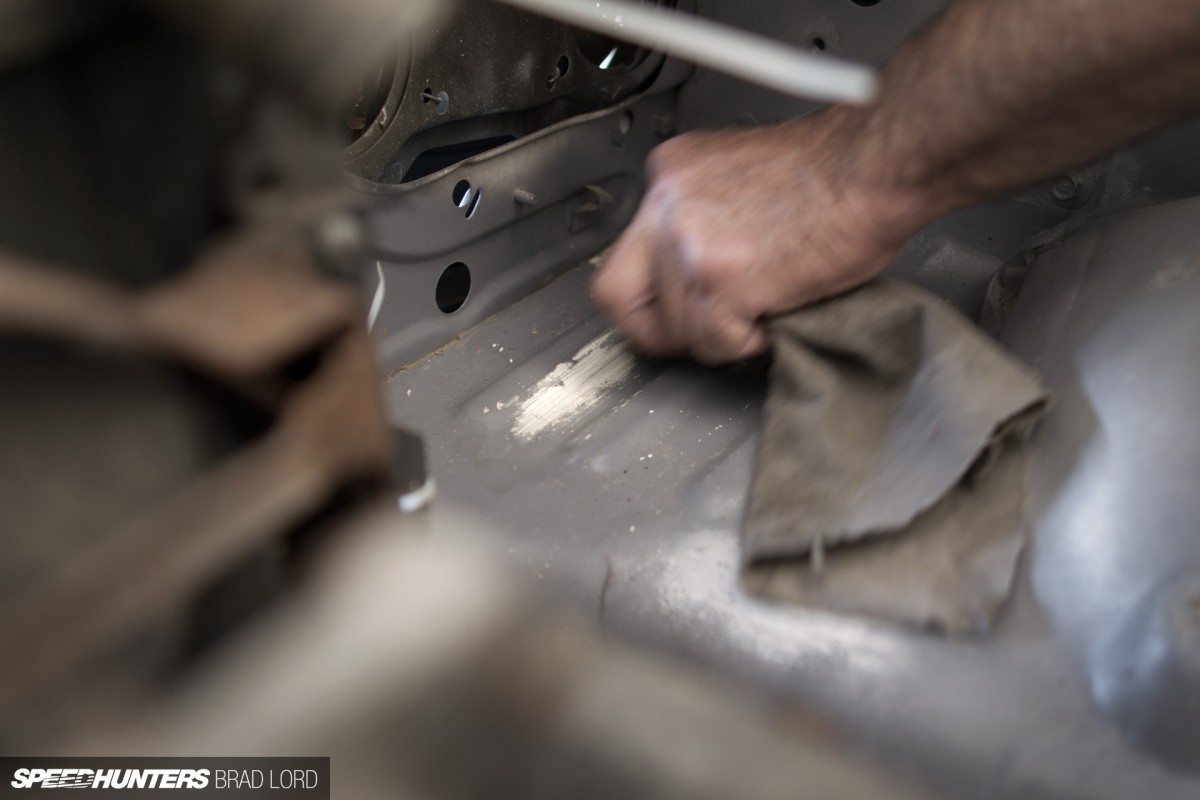 The topic of colour is an interesting one too, because wiping away a thin layer of can-sprayed flat grey in the engine bay reveals previous layers of paint. And along with the white base, this area of the car was sprayed silver at some point.
The right stuff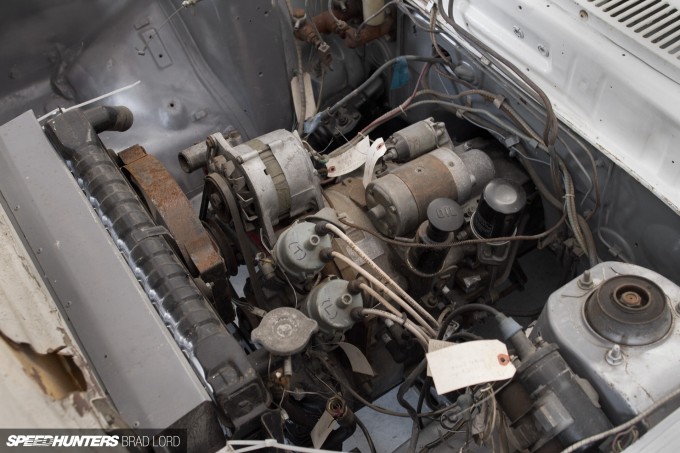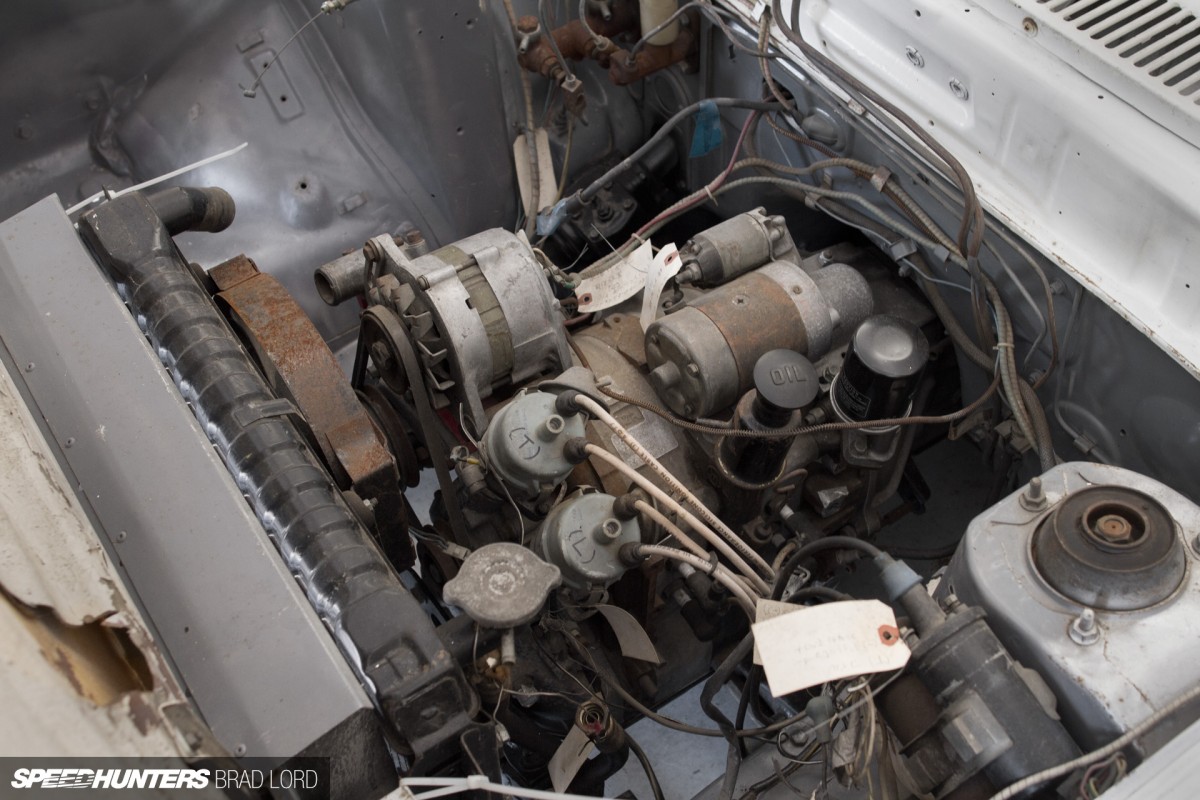 Prior to seeing the car I wasn't sure whether it would still have an engine with it. But not only does it have one, but it could well be the same 12A twin-rotor twin dizzy motor that powered the car when it was first built and raced.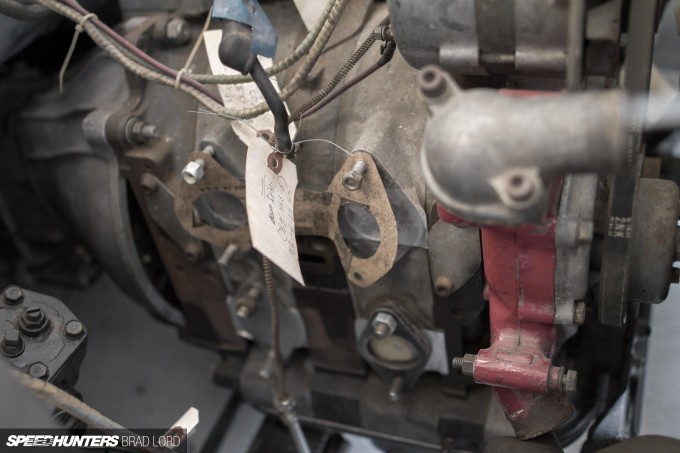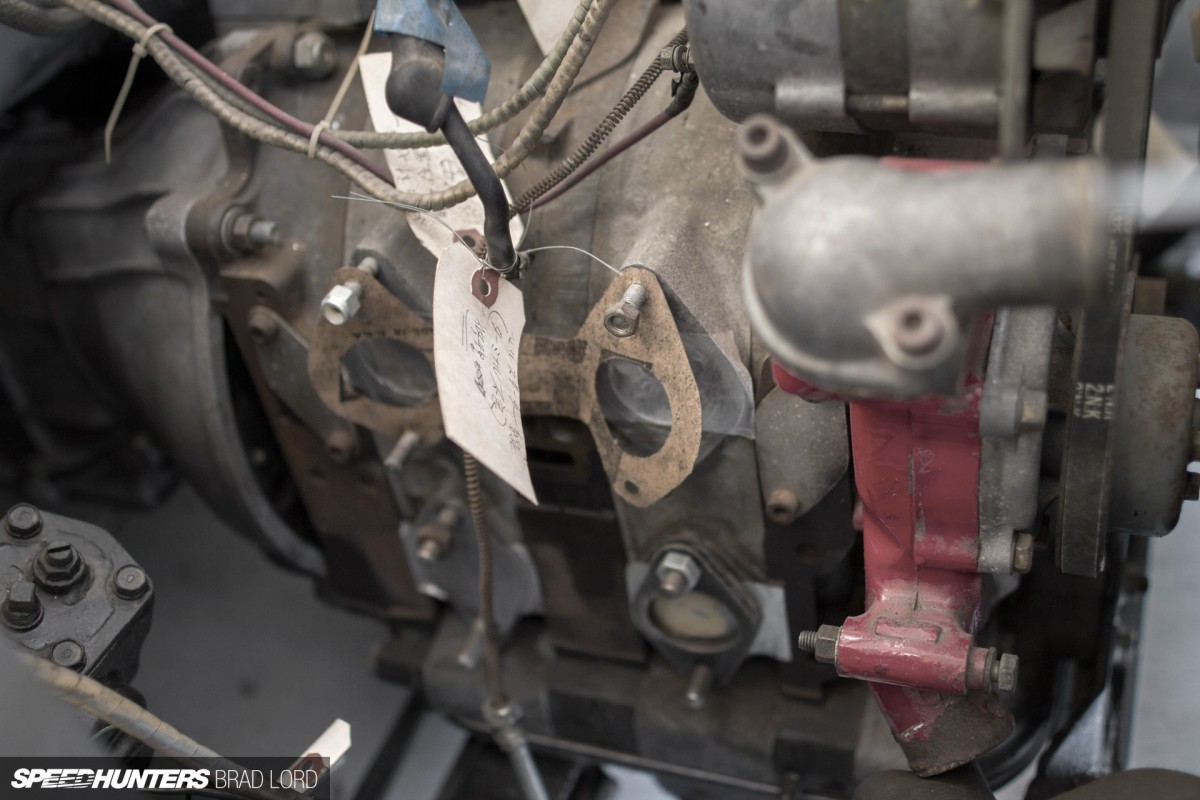 Of course, it's no ordinary 12A, but a proper racing engine featuring sand-cast MFR (Mazda Factory Race) peripheral port rotor housings. The setup uses a 48mm Weber IDA carburettor and a crazy megaphone exhaust system which were both came in an extensive inventory of spare parts that were included in the sale of the car, and according to associated paperwork, suggests it was good for 270 horsepower at 9,000rpm.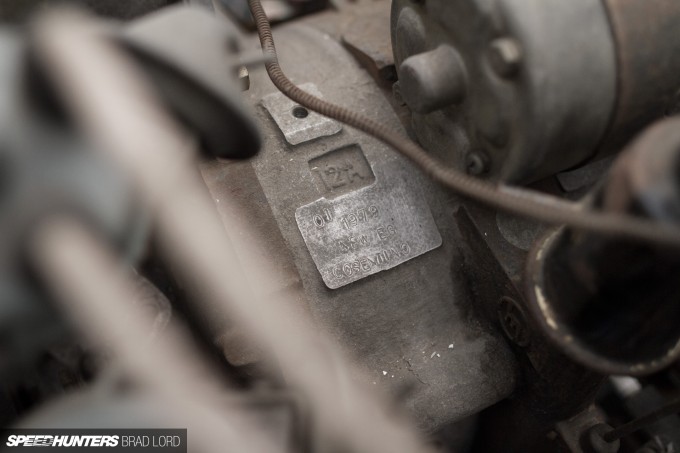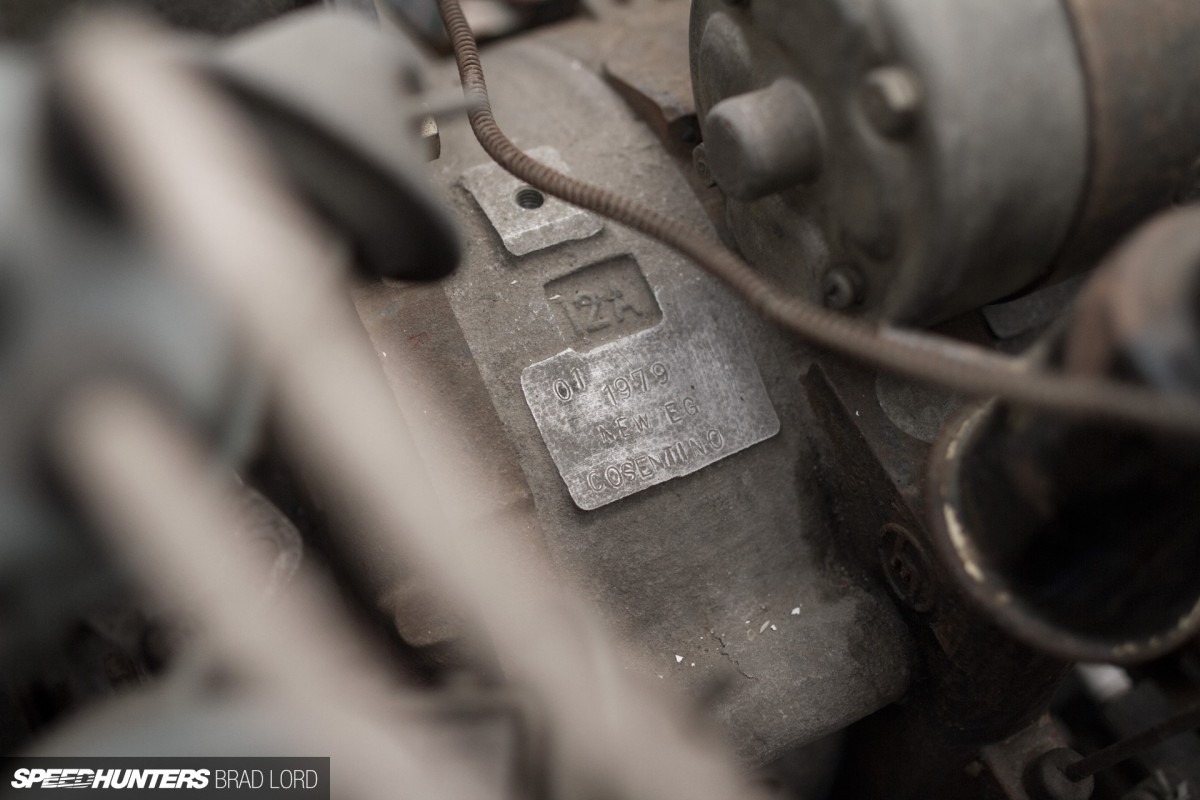 Because of their problematic apex seals and mediocre water seals, you generally won't find a 12A twin dizzy engine at the top of anyone's wish list, but considering this is essentially a factory race engine – and its probable long-time connection to the car – it's the right motor for the restoration. According to that stamping, this particular engine was refreshed for Cosentino in January 1979.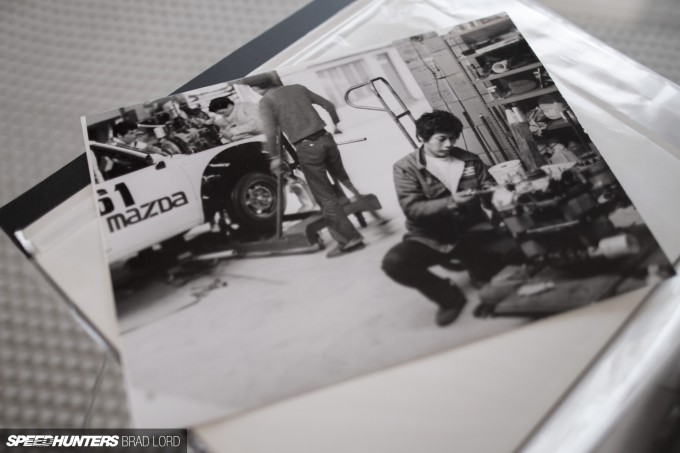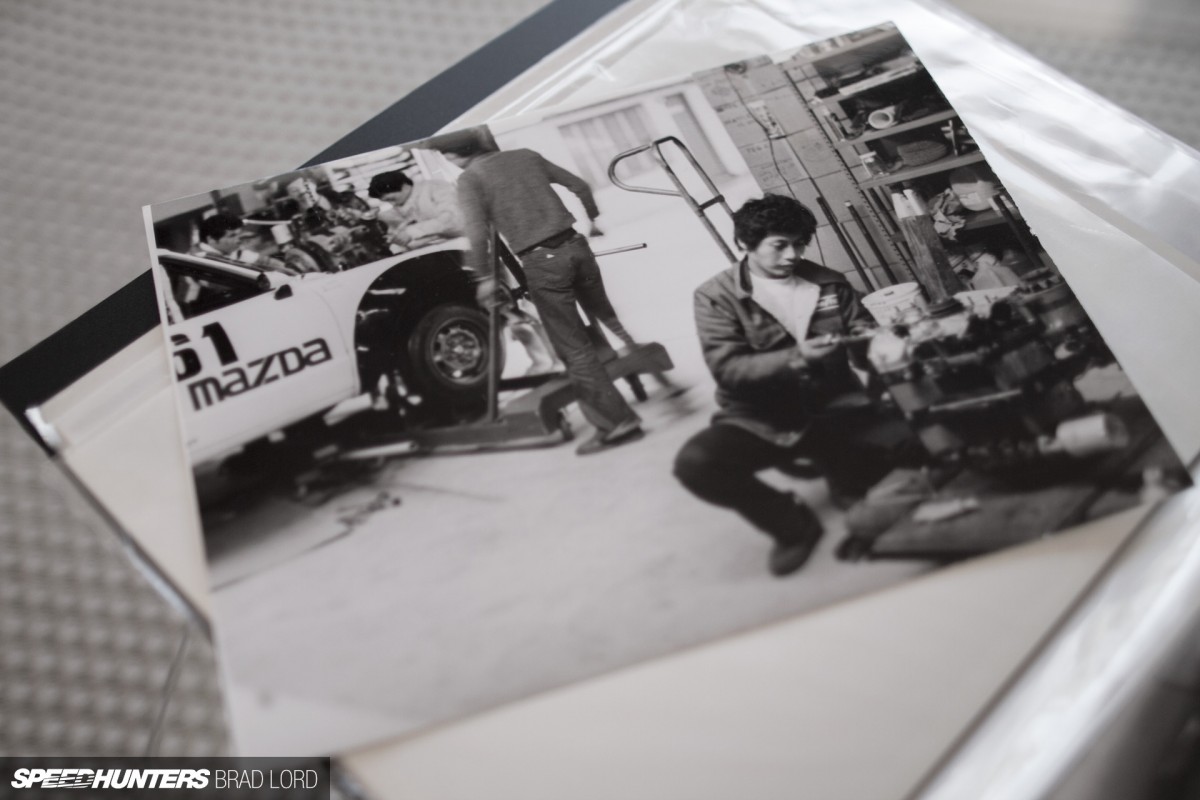 That's a job which was looked after by rotary engine specialist Morio Kashio, of Kashio Race Service. Although details are thin, it appears as though Cosentino would fly Morio and a small team of mechanics in from Japan especially for IMSA race weekends.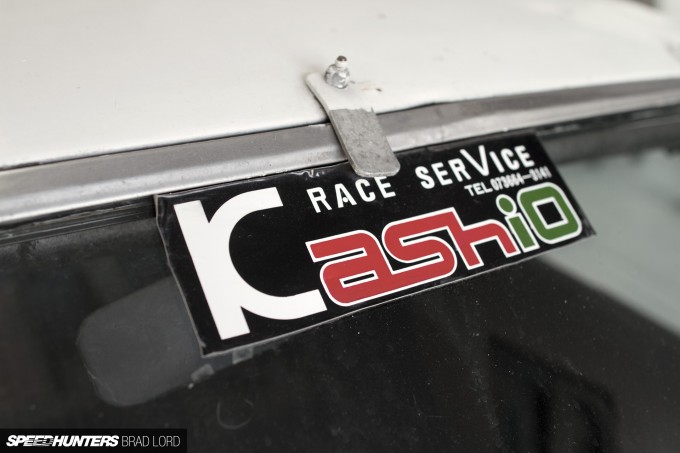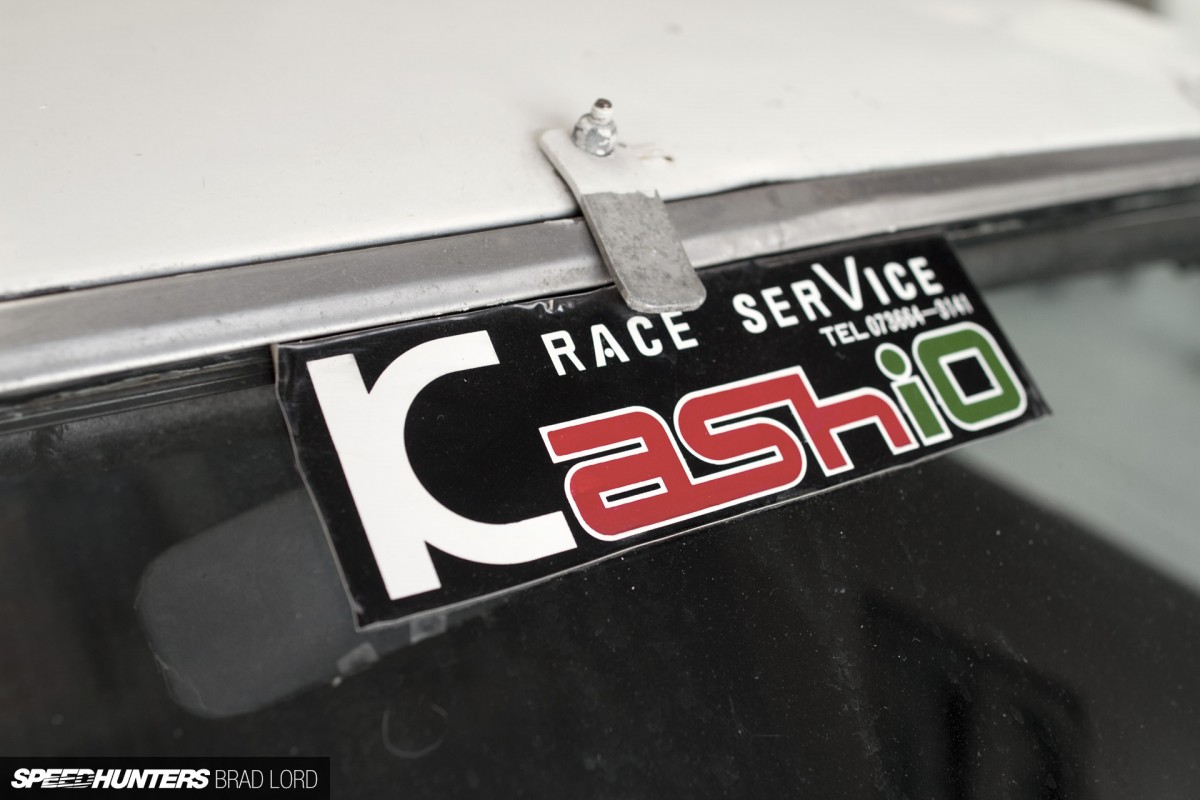 Not a lot is known about Kashio-san's workshop, which appears to have been based out of Wakayama in the Kansei region, nor the man himself, whose name remains emblazoned across the bottom of the boot lid. If his whereabouts were known, I'm sure he'd be able to fill in many of the missing pieces surrounding this car.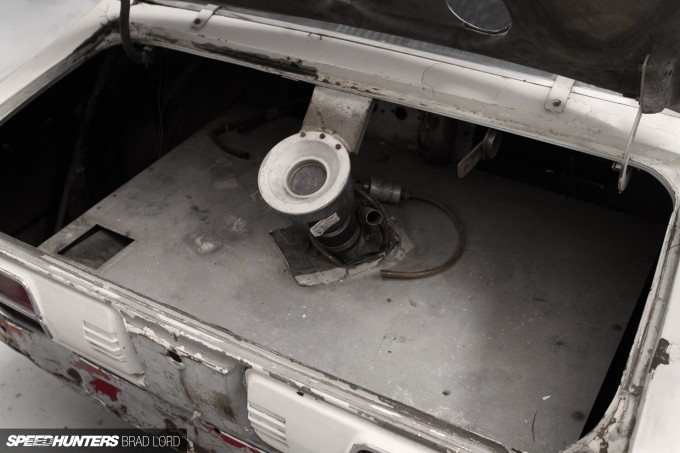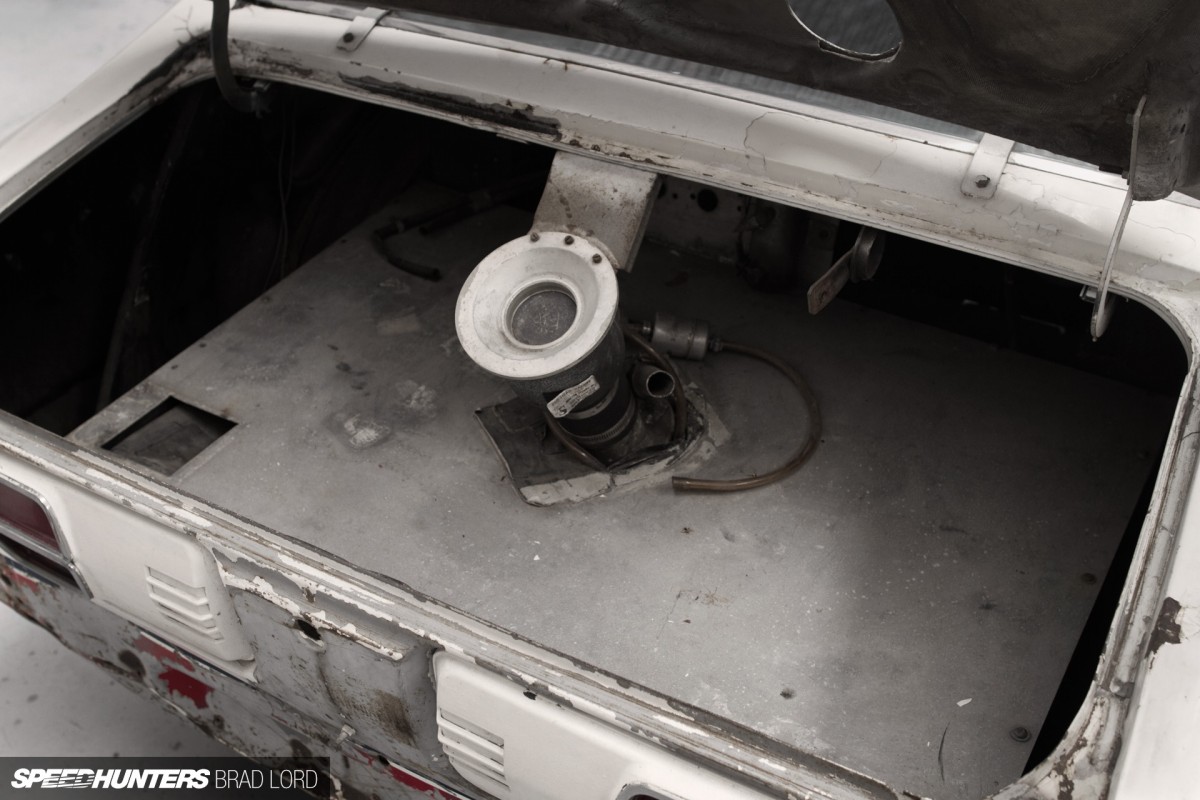 It seems as though the large-capacity fuel tank and dry break filler might have been installed in the US, but it's hard to tell given that the car competed in endurance events in Japan too. It's a neat addition all the same.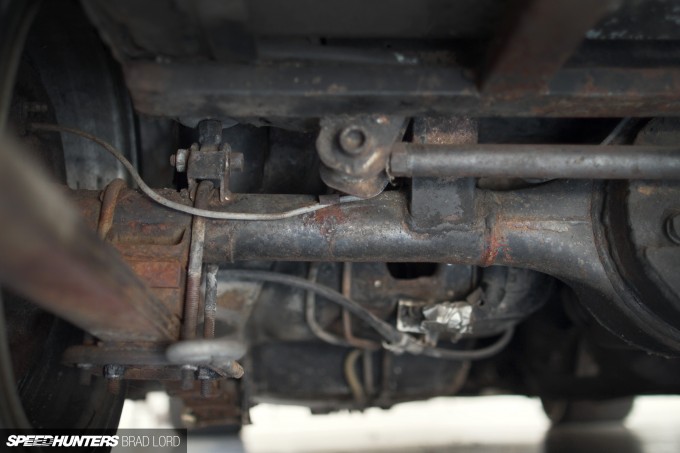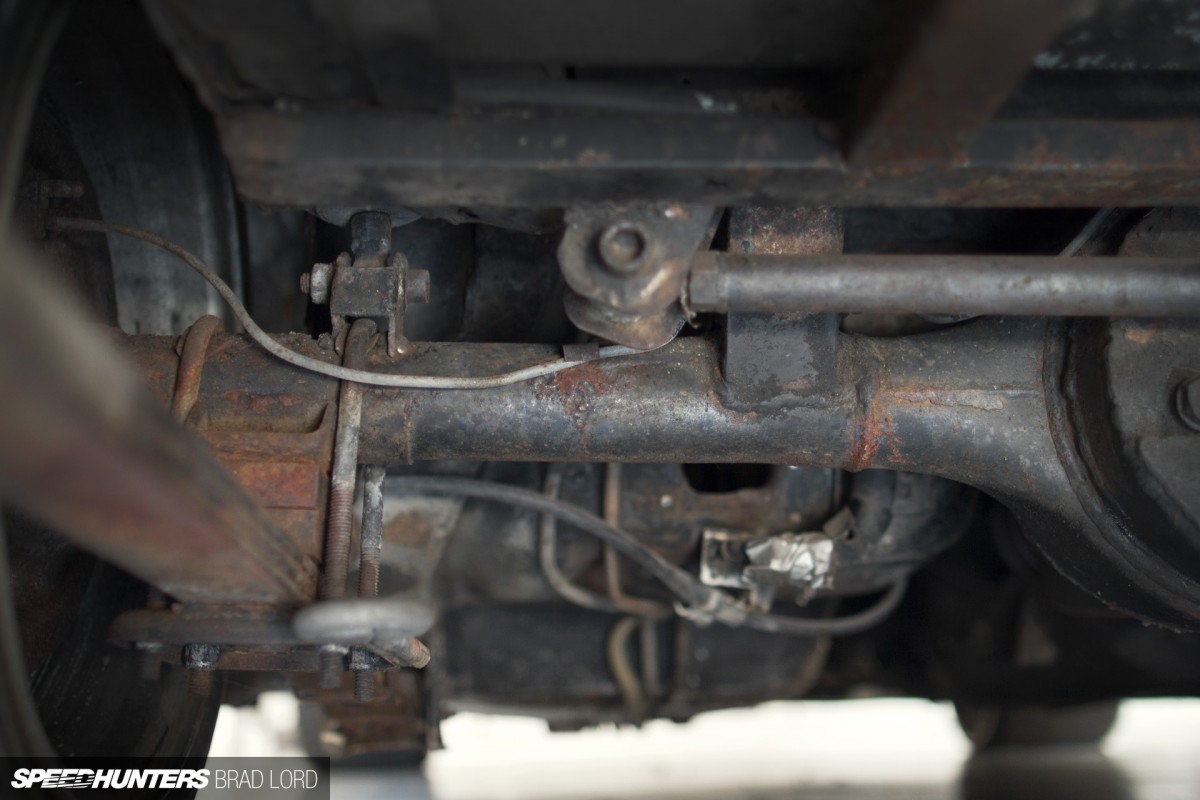 Likewise, beneath the car are a number of interesting and quite ingenious modifications that have been made to improve handling. Along with a four-link set-up, the diff has noticeable bends which would have had some bearing on rear wheel camber angle. As you can see, blocks are used to set the ride height lower too.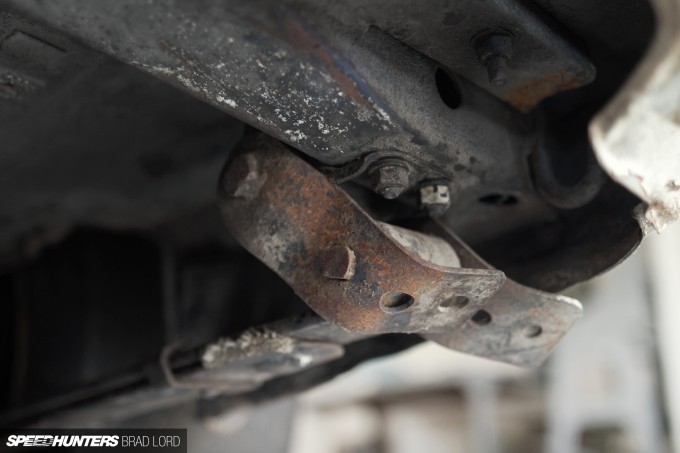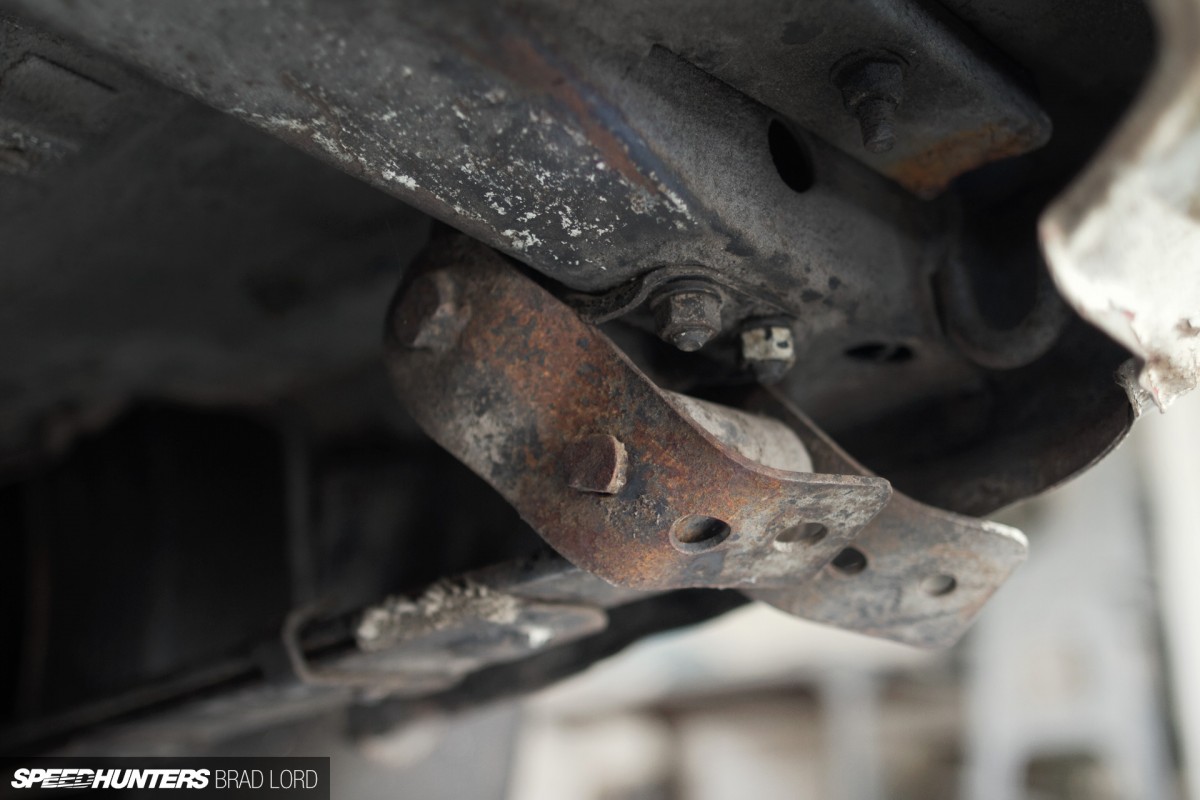 At the back end of the leaves the set-up is a little different, with brackets employed to allow easy adjustment of the spring angle. Not so much with it all bent up like that though.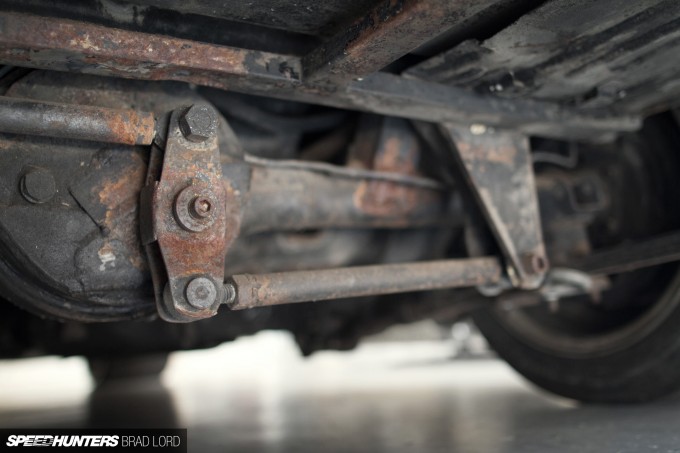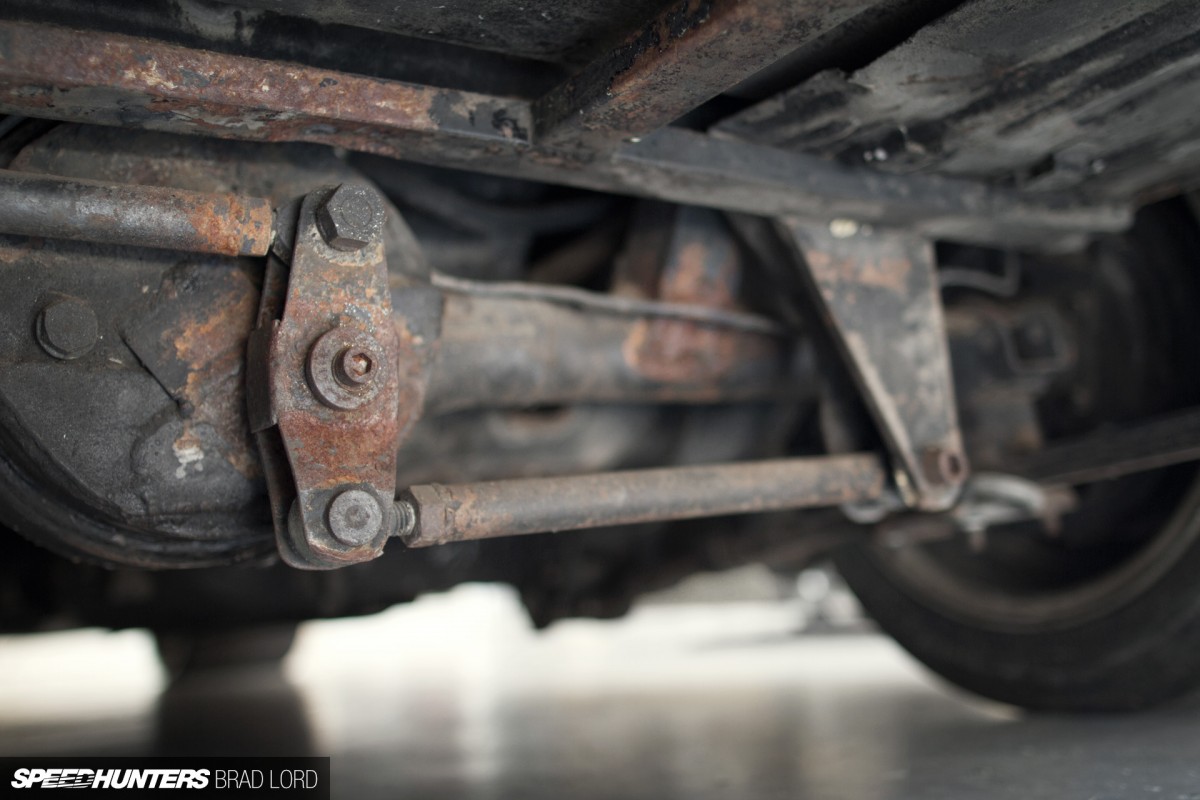 And to realign the rear axle after lowering, a Watts link with rose-jointed ends has been added. I've read that this was a modification that Mazda made to its factory-backed and works-built RX-3 race cars, but I assume privateer teams would have followed suit too. It does make you wonder though, doesn't it?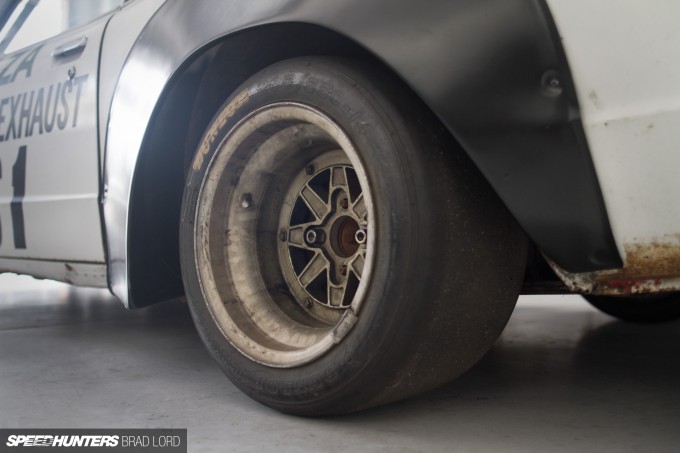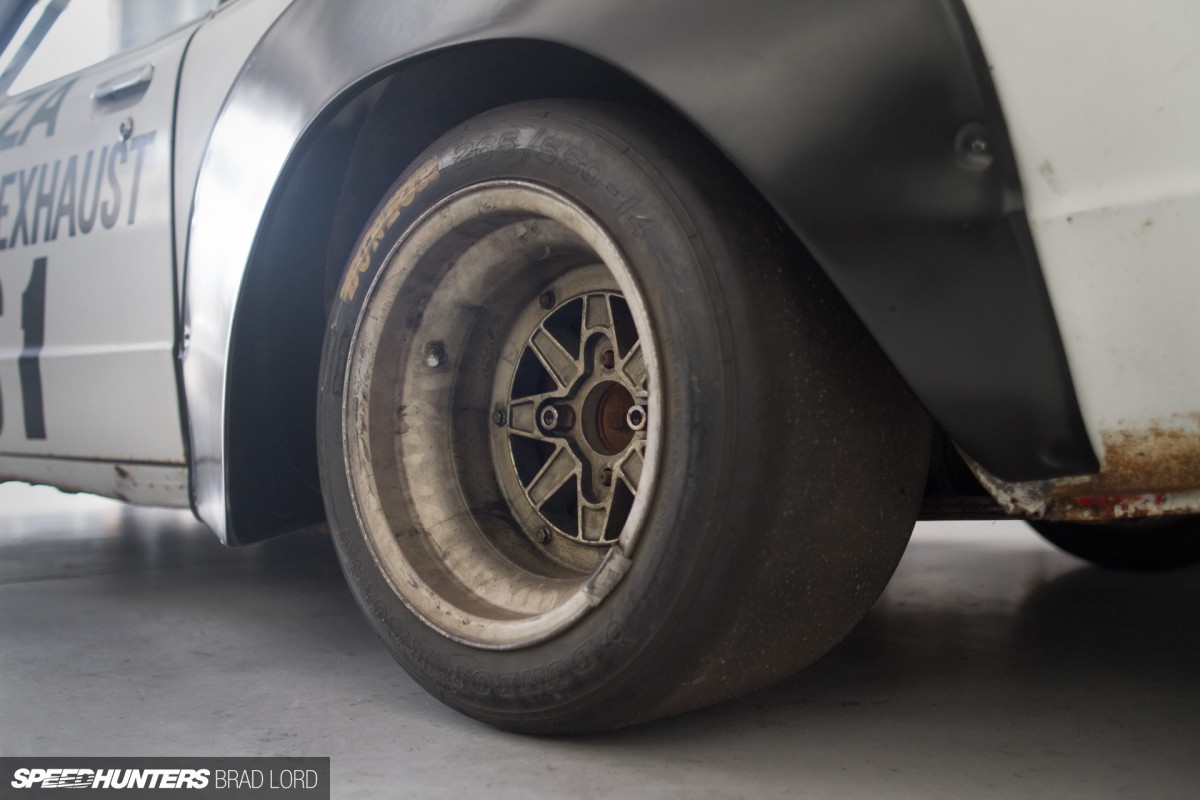 One of the defining features of the RX-3 are its wheels, and photos of the car when it first arrived in the US suggest that its former Japanese driver enjoyed some sort of sponsorship from Speed Star Racing. Not only are SSR MkIIIs one of my favourite vintage Japanese wheels, but measuring up at 14×9-inch on the front end, and 14×11-inch at the rear, they're some of the biggest I've ever seen. The Dunlop Racing tyres are the last ones the car raced on, so they're definitely period correct!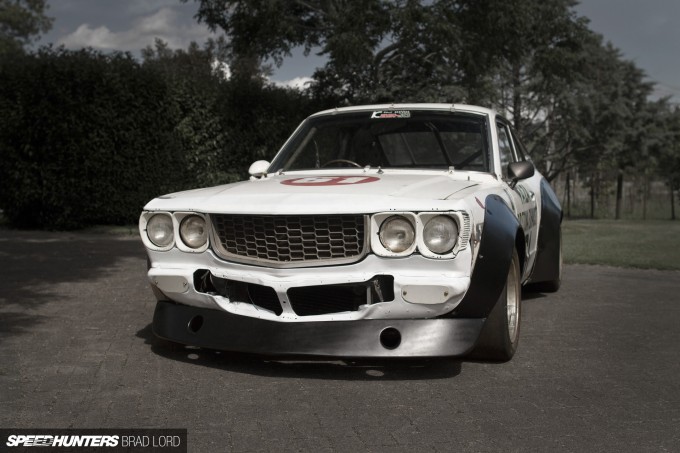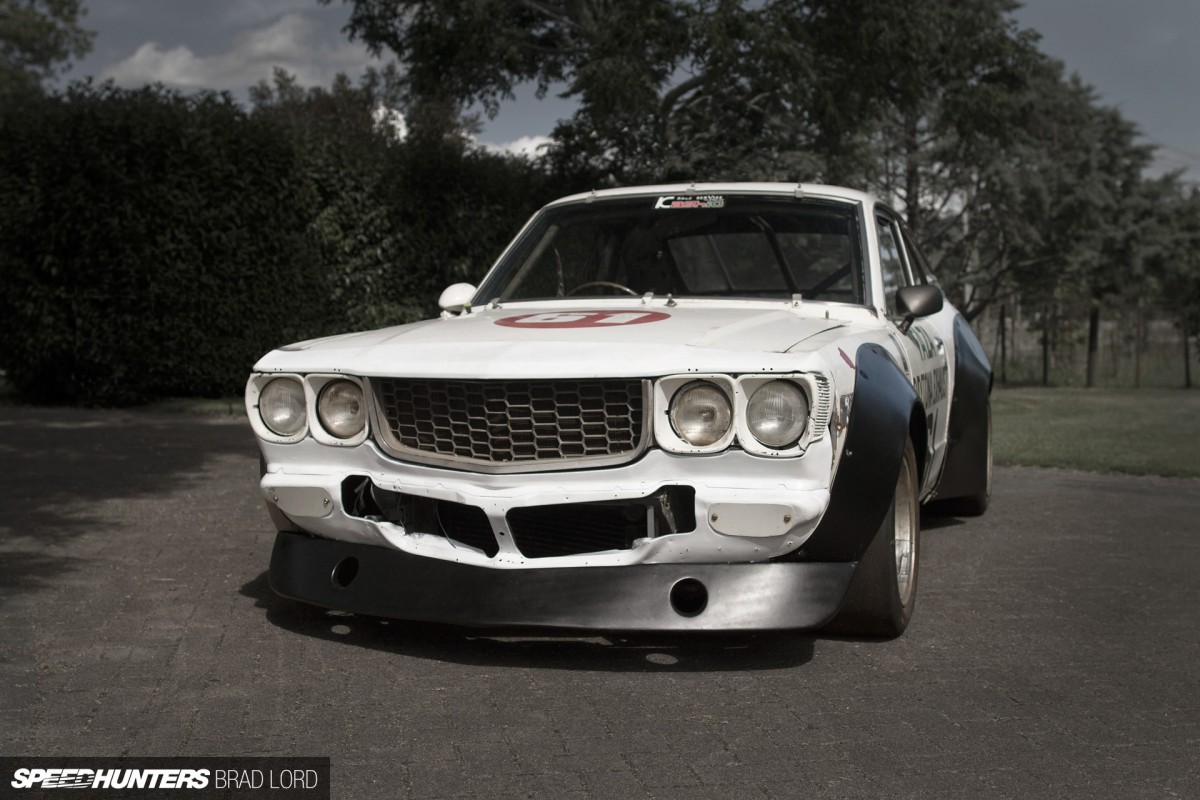 Wide wheels required wide wheel arches, and although the rear wells were tubbed for extra clearance in JTCC RX-3s, large over fenders were still required. When this car was found, all four bolt-on fender extensions and the front air dam were missing, so these items are faithful replicas which married up to the existing mount points exactly. And speaking of holes, there are another set on each corner, suggesting that smaller over fenders as seen on early RX-3 race cars were indeed fitted at some point.
Some answers, many more questions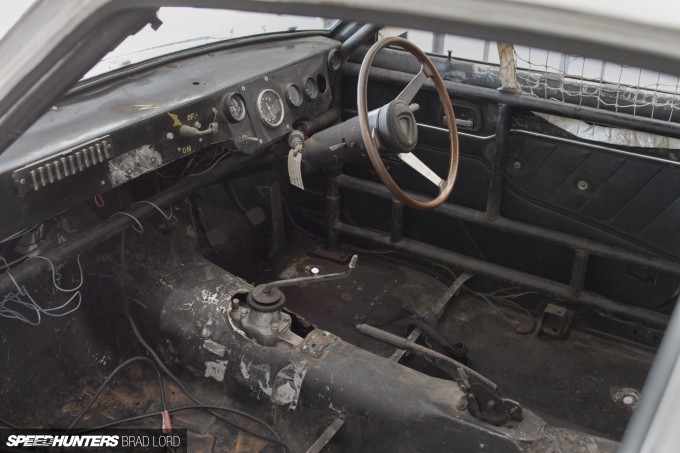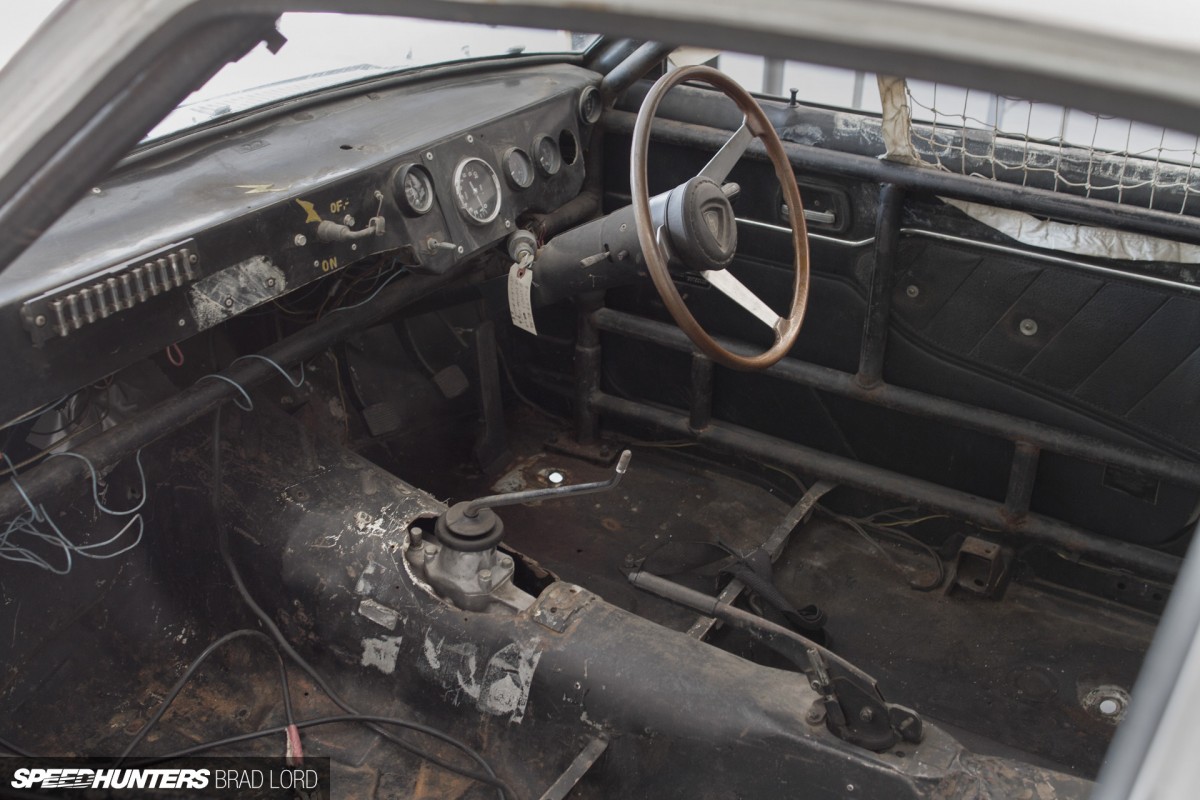 It's hard to get inside a car like this one and not imagine the action that was seen and experienced from the driver's seat. In this case it's a little harder, because that's one of only a few missing pieces that will need to be tracked down in due course.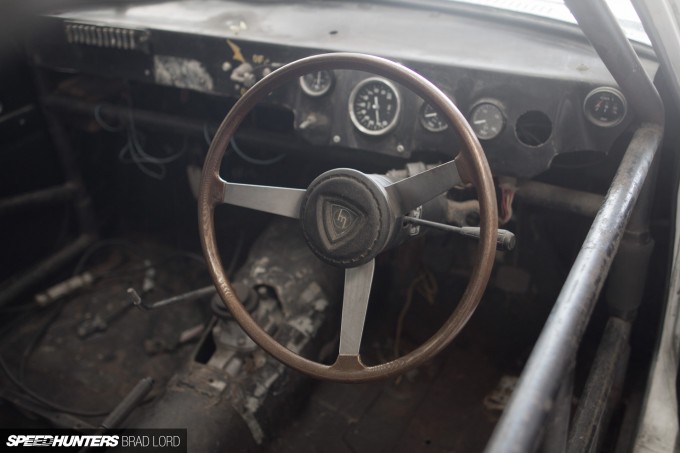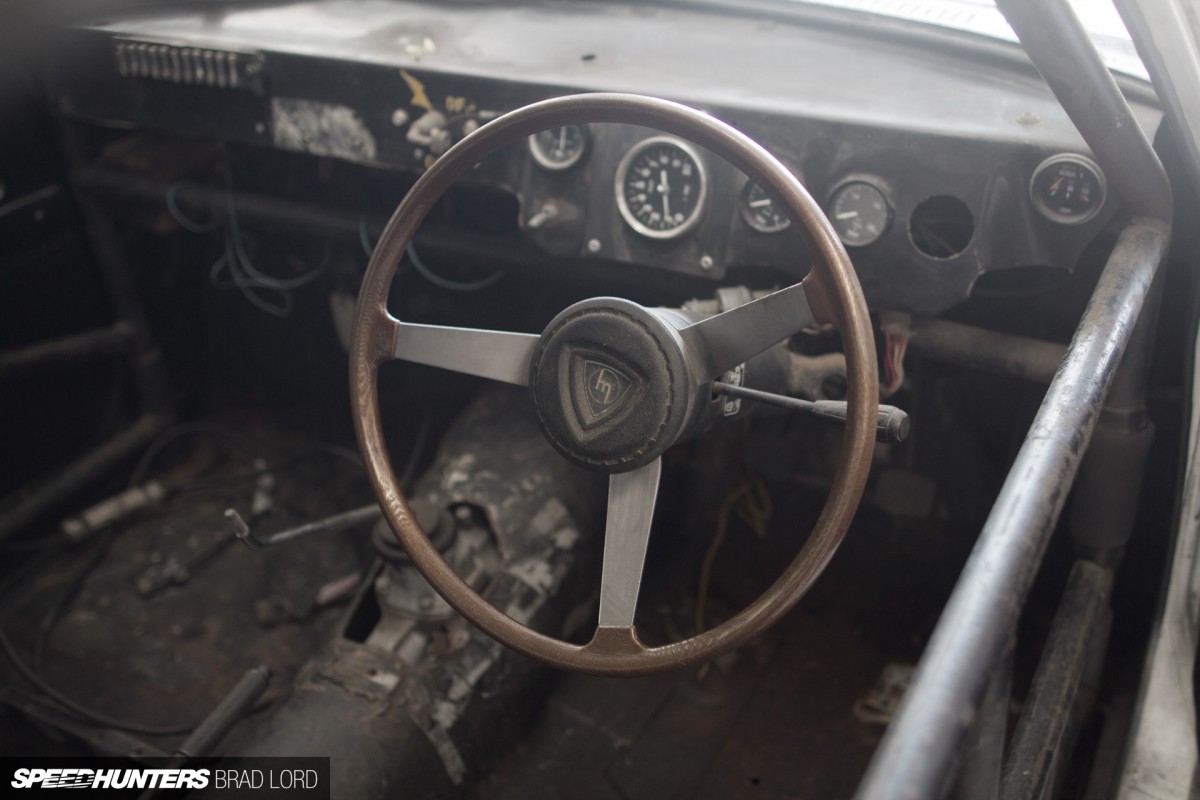 It's pretty cool to see the original steering wheel still intact though. When you look back at old photos of RX-3s racing in Japan, the thin wood rims of the factory wheel are almost always visible over the top of the dashboard. Coupled with vague feel and feedback, these cars must have been a handful and a half to drive at the limit.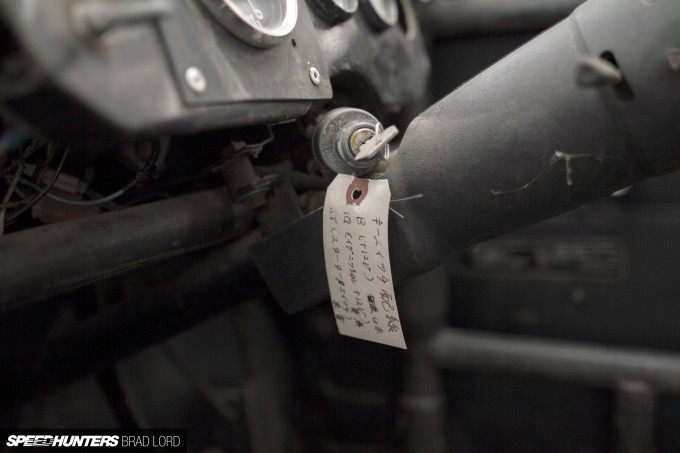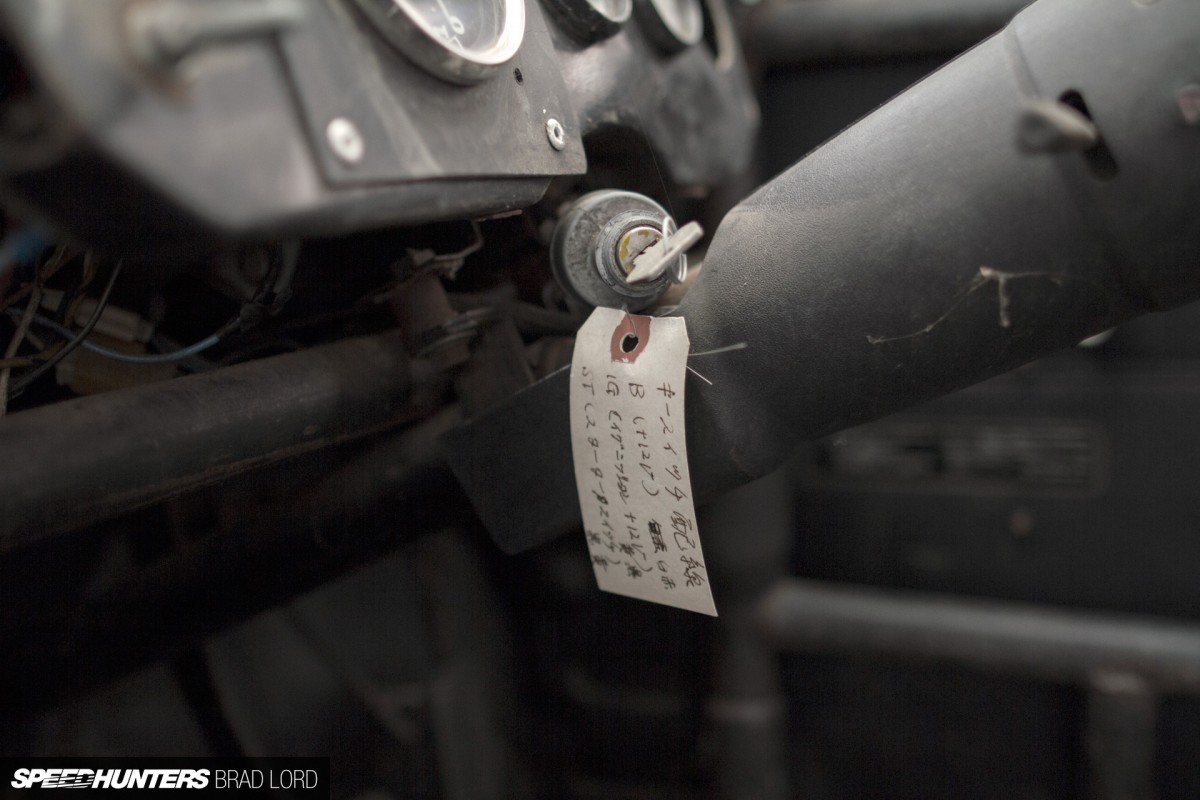 You might have noticed some little cardboard tags around the engine in the last chapter. They're all over the car and seem to explain little nuances. For whatever reason, this one talks about the four positions of the key.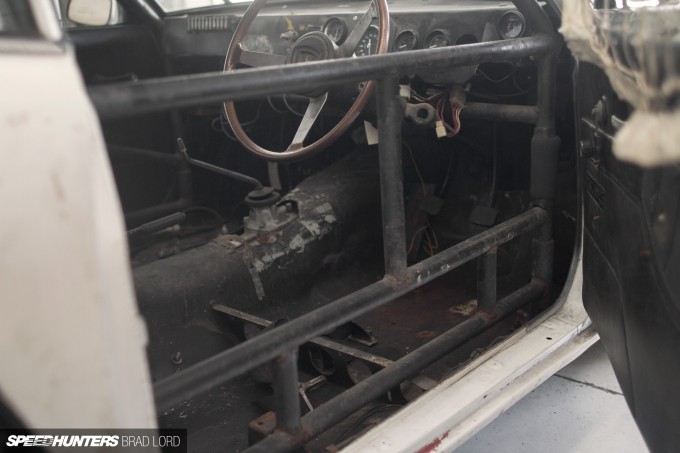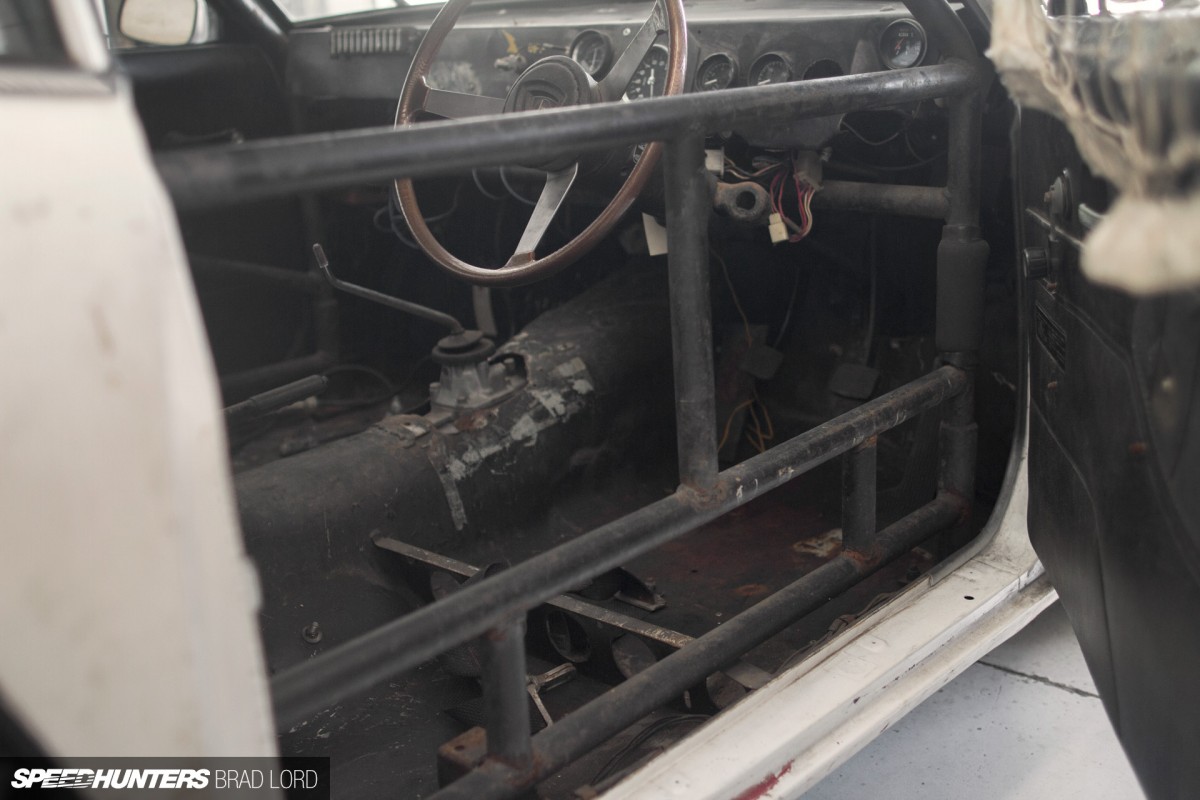 The folded fibreglass/metal dashboard features a couple of Omori Meter gauges, plus a few assumed to be later add-ons, including a Smiths 10,000rpm tachometer. Another non-original aspect are the extra roll cage bars behind the driver's door, which have IMSA written all over them. If the car is taken back to one of its JTCC guises, anything like this that shouldn't be there will be removed. Like previous restorations in the Hicks' garage, maximum authenticity will be the number one priority.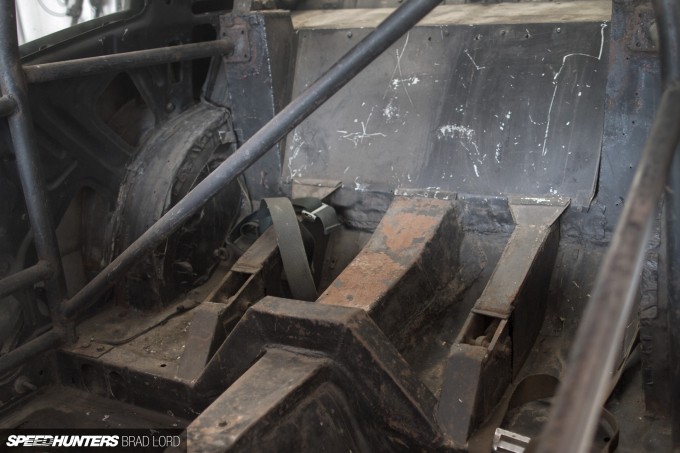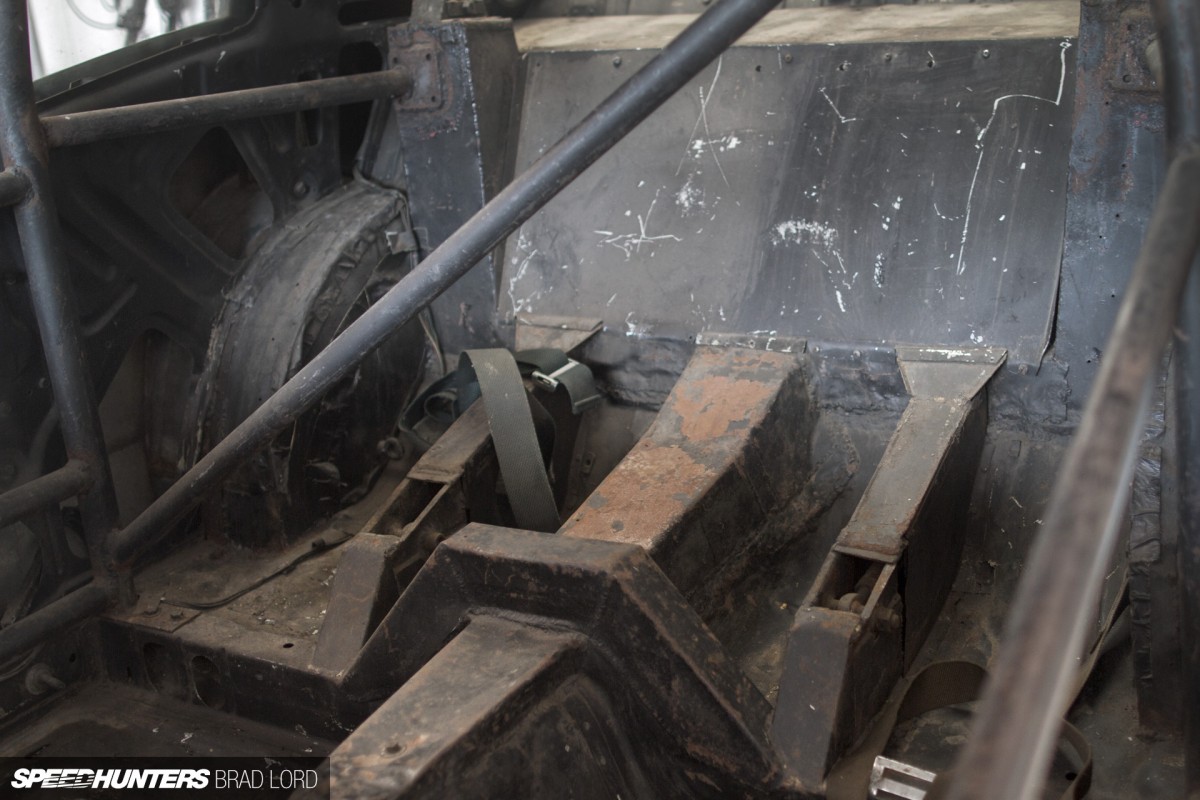 Looking back in the interior space reveals the extent of the chassis reinforcement, extra wide wheel tubs and the hand-formed frame work for the aforementioned four-link. Ten years' worth of racing and 30-odd years in storage has resulted in a fair amount of wear and tear, but right now it's all part of the charm. All of this custom work will be retained of course, just cleaned up after dipping, repaired where required, and then repainted black as it originally was.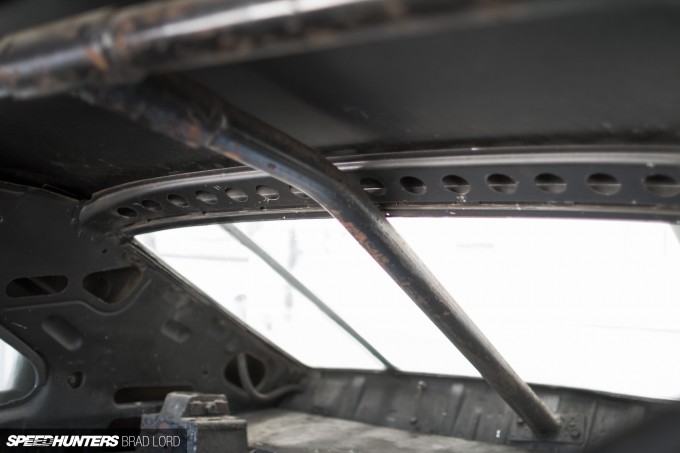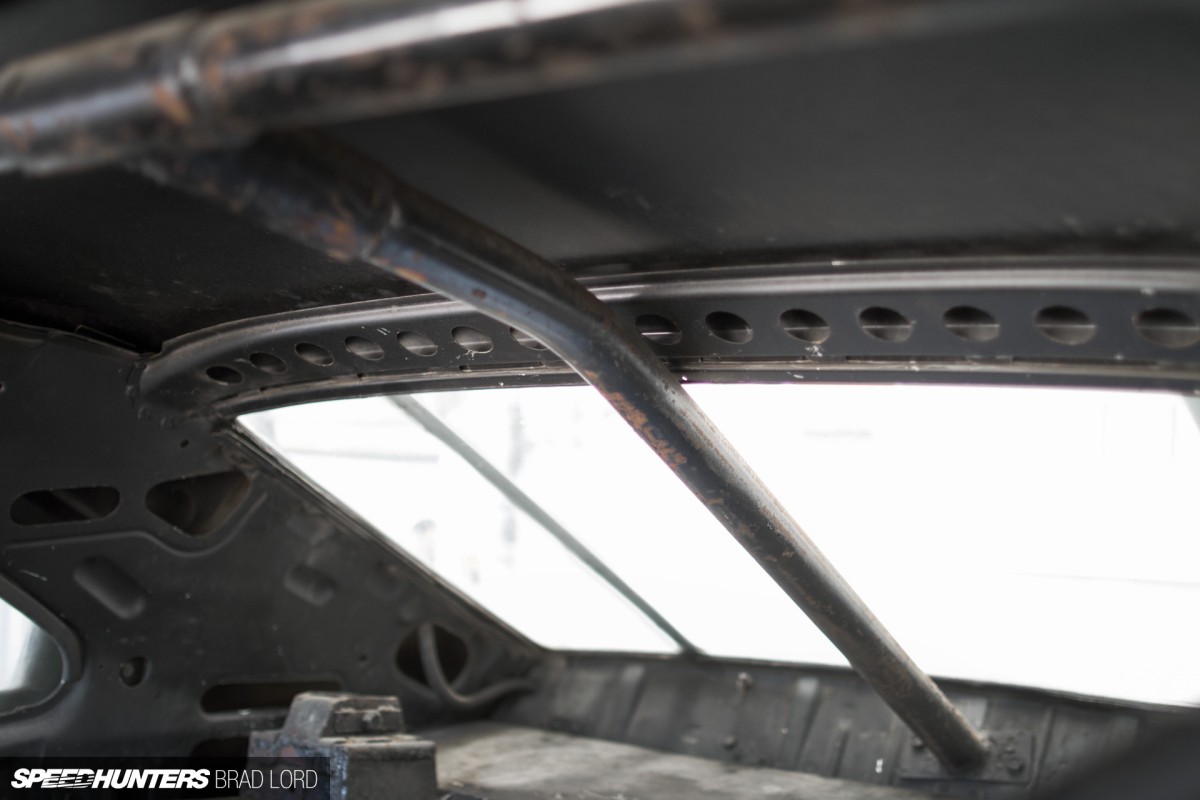 Throughout this post I've mentioned a few different details unique to the car that could possibly help with its identification. The roll cage – or more specifically – the single, central rear bar, is definitely another. Only early RX-3 race cars seemed to feature this style of roll cage and even then it wasn't very common. That also supports the notion that this car is of '72 or early '73 vintage, and was updated with the series two nose cone and larger flares once that model began hitting showroom floors in late 1973. That makes perfect sense too given that the car's naming right sponsor was a Mazda dealership, and therefore may have spent time on display and would need to look like the current model.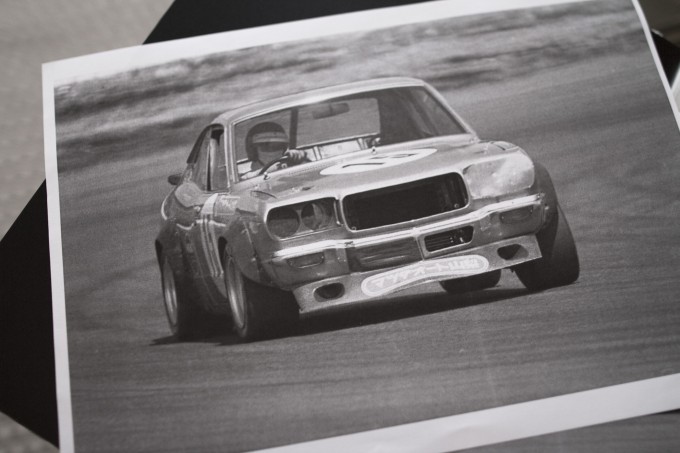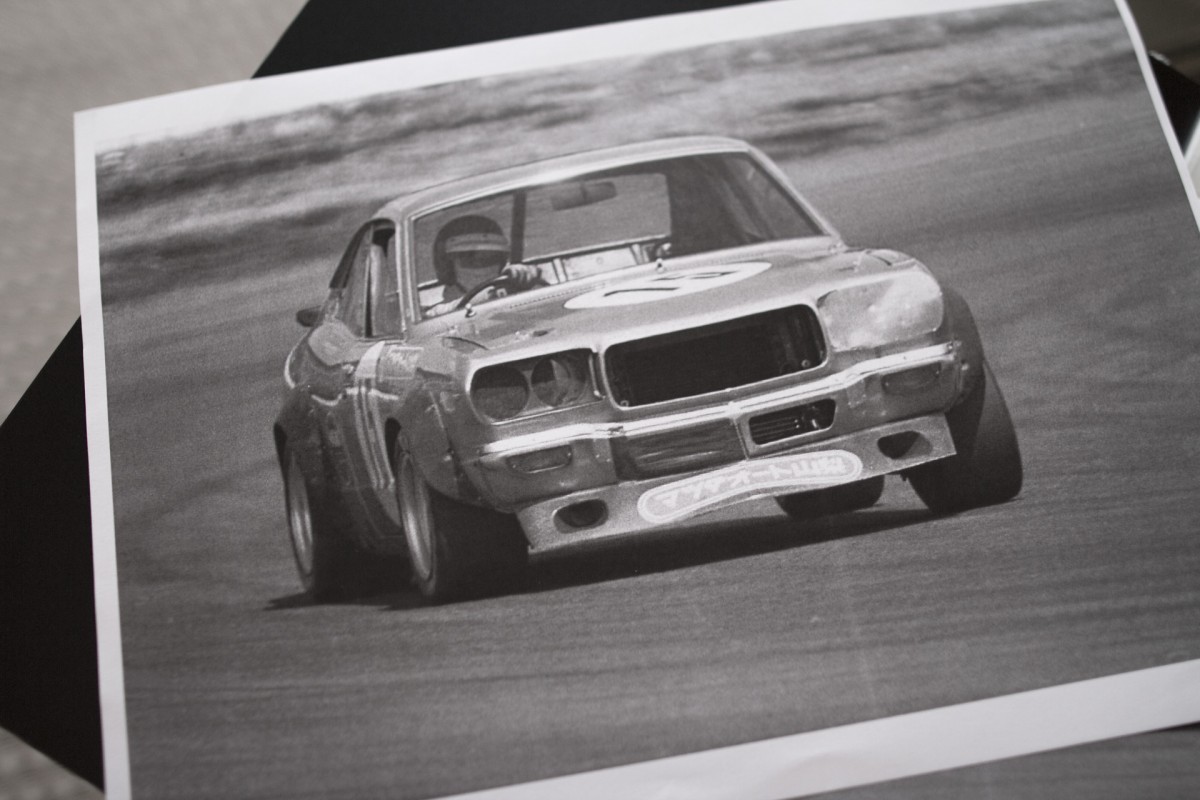 Here's another shot of Akaike-san racing that silver series one RX-3 in 1972. I'm sure you've noticed the single rear bar already. Purely coincidental perhaps, or are we looking at the same RX-3 sat in front of me? I know some people who would really love to know.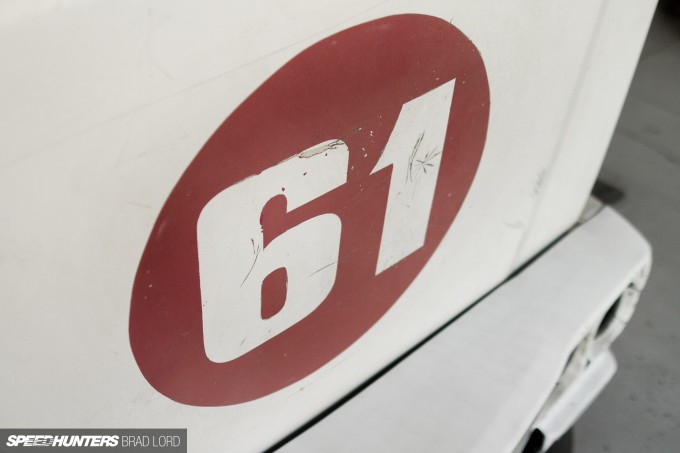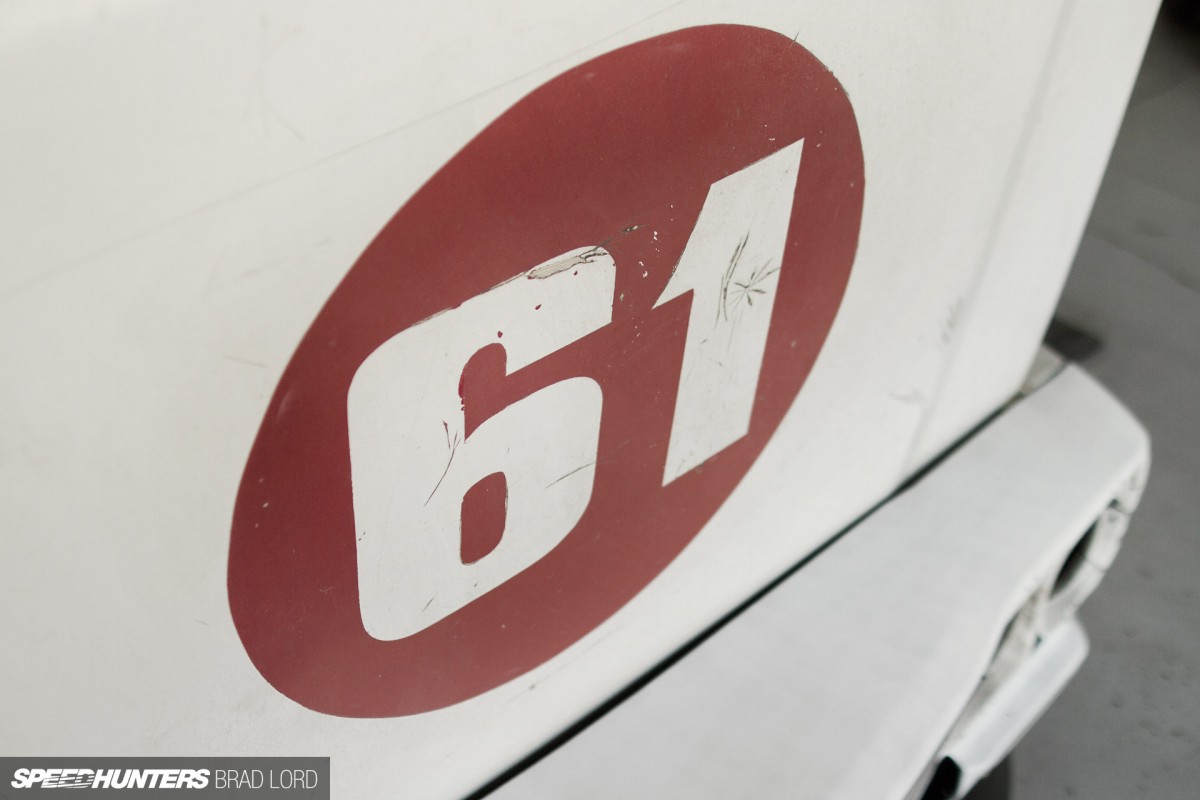 What is found out about its former Japanese life between now and when the restoration begins, will ultimately decide the fate of the Mazda. If the search proves fruitless, it'll be faithfully restored to the late '70s IMSA specification that Cosentino ran in race at Daytona, Sebring and Laguna Seca – hand-painted Benihana logo on the roof, #61 rising sun on the bonnet and all. Either way, I cannot wait to see the final result…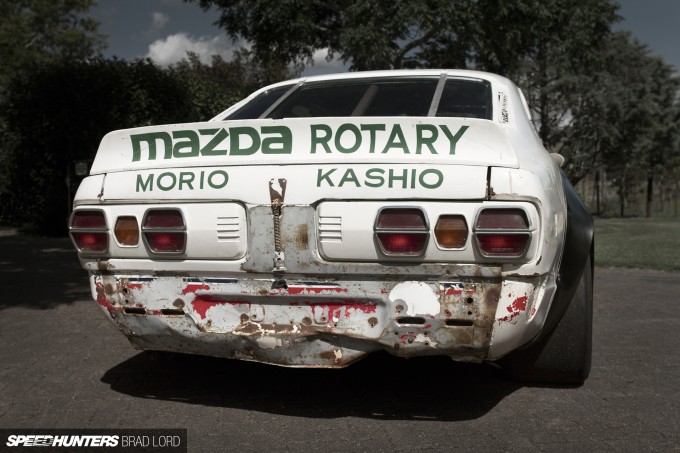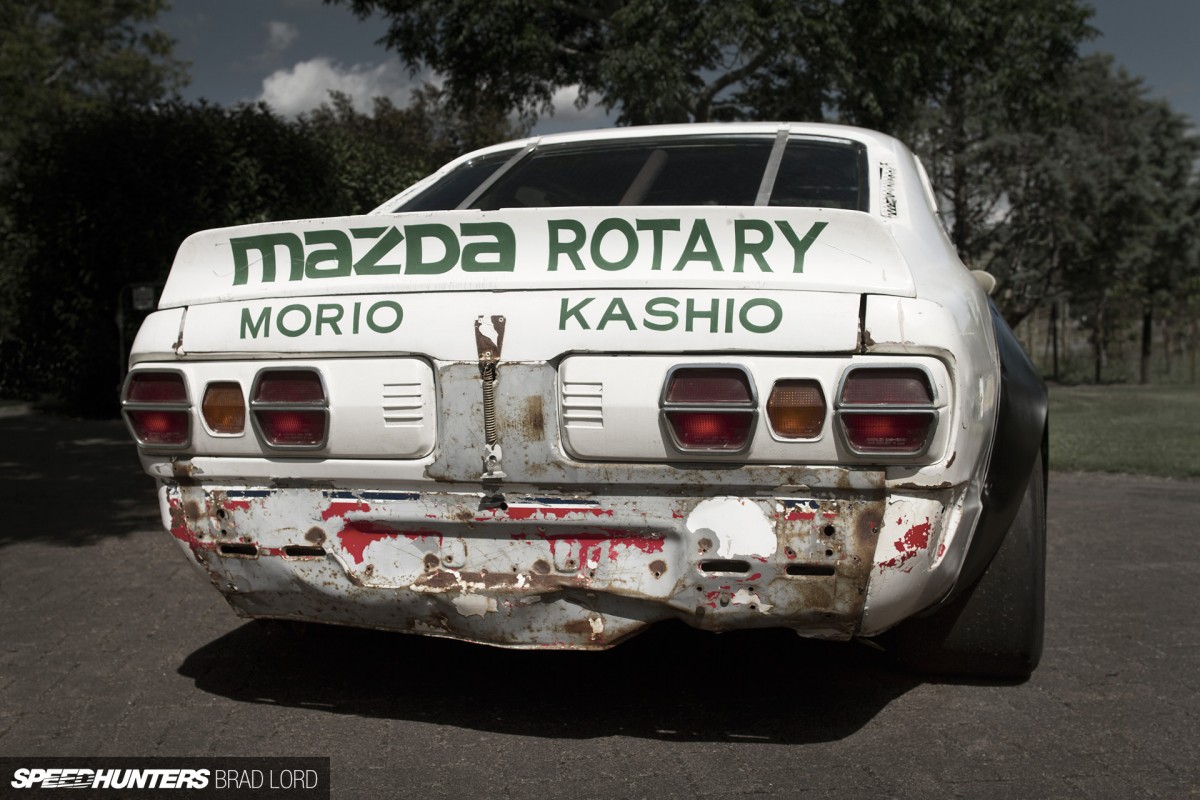 As I mentioned earlier, Gavin has all the information about the car when it ran in the US, and right down to telegrams back to Japan and the original 1978 sales receipt. Before then though, it's all blurry, so any leads that Speedhunters readers might be able to provide would be most appreciated and definitely followed up on. Someone out there must know something…
日本の読者の皆さんの中に、JTCCでレースしたこの車について何か情報をお持ちの方がいらっしゃいましたら、コメント欄にメッセージを残していただくか brad@speedhunters.comまでお知らせください。
Brad Lord
brad@speedhunters.com