The Choice To Wait
I couldn't help but chuckle at the responses we got on Speedhunters' Instagram channel after I posted a few pictures of the Weld Techniques Factory Scion FR-S earlier this week. The comments made me laugh because so many people assumed that this was another FR-S with a Rocket Bunny kit. But oh boy, that couldn't be further from the truth…
The way I see it, there are two approaches to this whole tuning thing. You have the shops that go out of their way to be the first at everything – they get the latest models and before you know it they have whipped out a full aero kit, slammed the car and outfitted it with some nice wheels ready to display at some big show. That's great and everything, but then there are others like Johnny at Weld.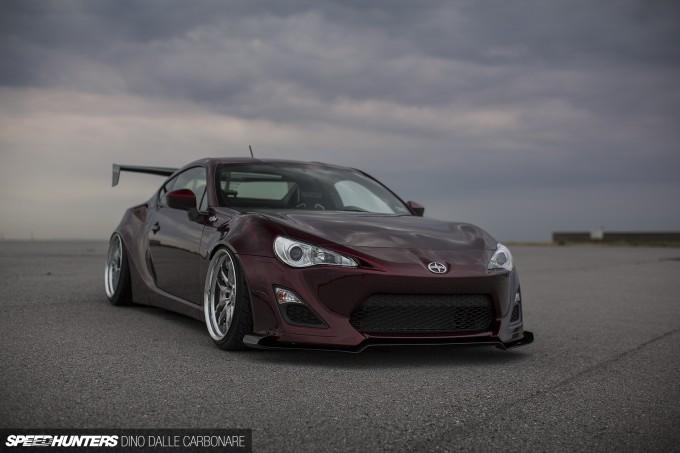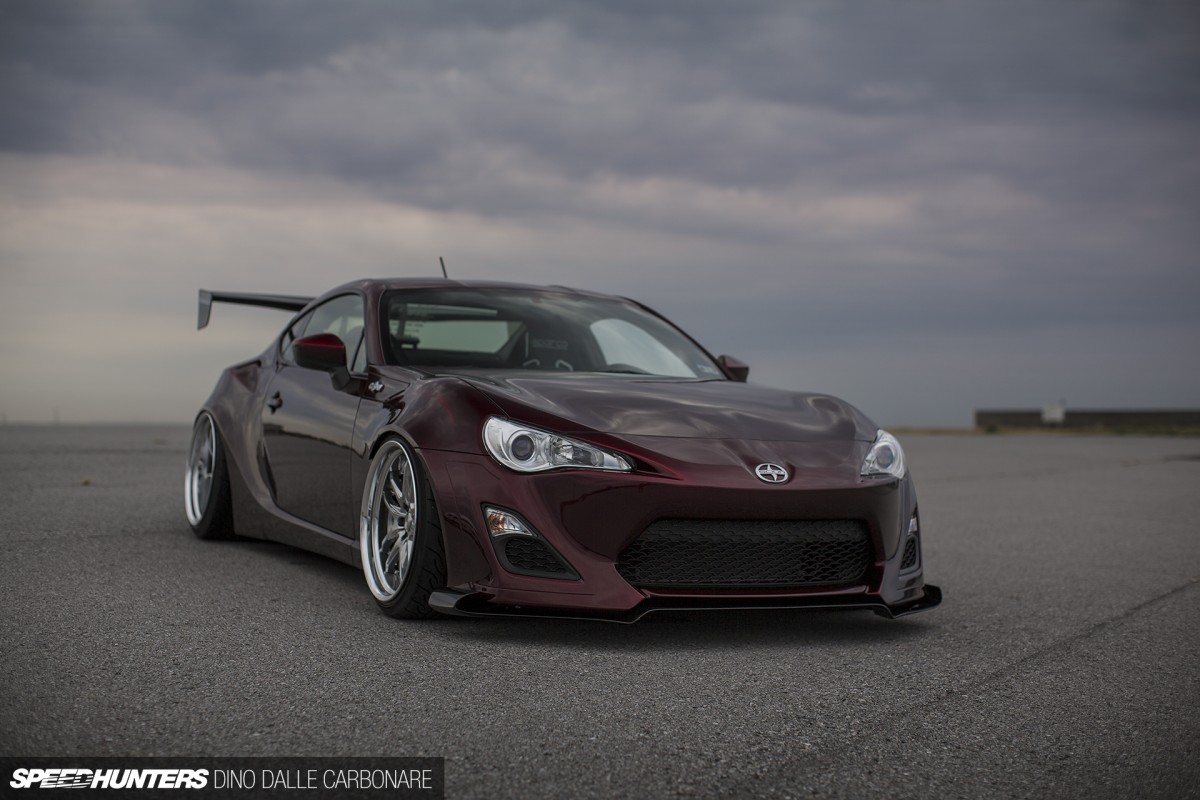 I've known this guy for years, and I've always been a great fan of his work. This is a man that settles for nothing less than utter perfection – time is irrelevant to Johnny. If a car is going to take a couple of years to put together, he'll just do it – that's how he's managed to build a reputation for himself. Weld has always meant top-level quality in my and many other people's eyes, and there's no cutting corners when you're trying to achieve this level of respect.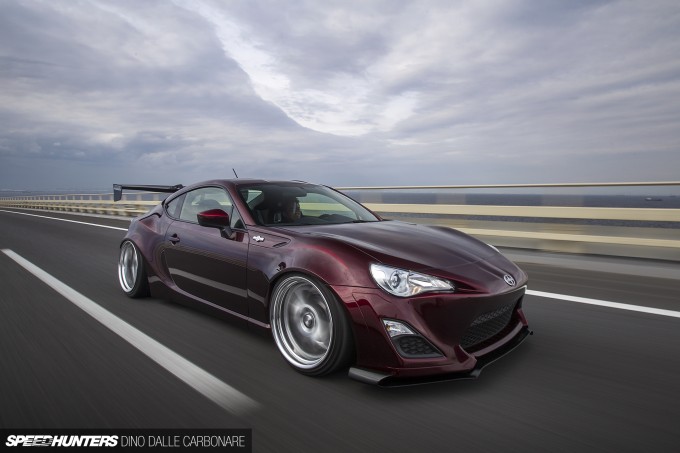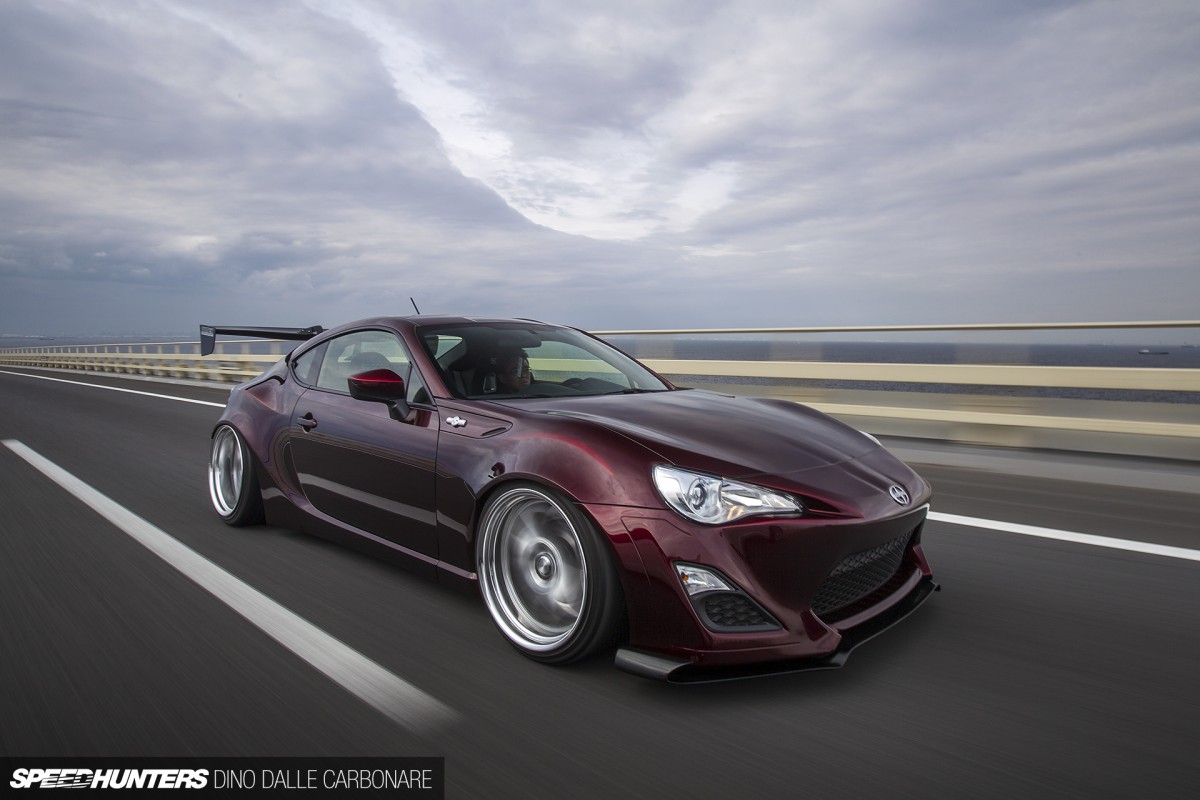 It took over one year to get this FR-S ready, and by ready I mean drivable. Much like Johnny, I too took my time with it. We saw it in all its detail at the Tokyo Auto Salon back in January, and I could have shot it after that. But I didn't. No way! Back then the car's engine was still being set up so it couldn't be started, let alone driven. Johnny told me it would be no problem to trailer the Scion to a location of my choice, but I said no. I knew I had to wait, because I wanted to see this thing roll up to the shoot under its own power.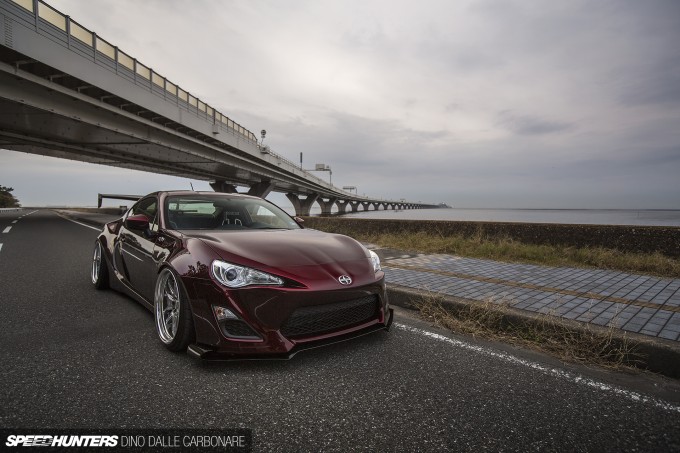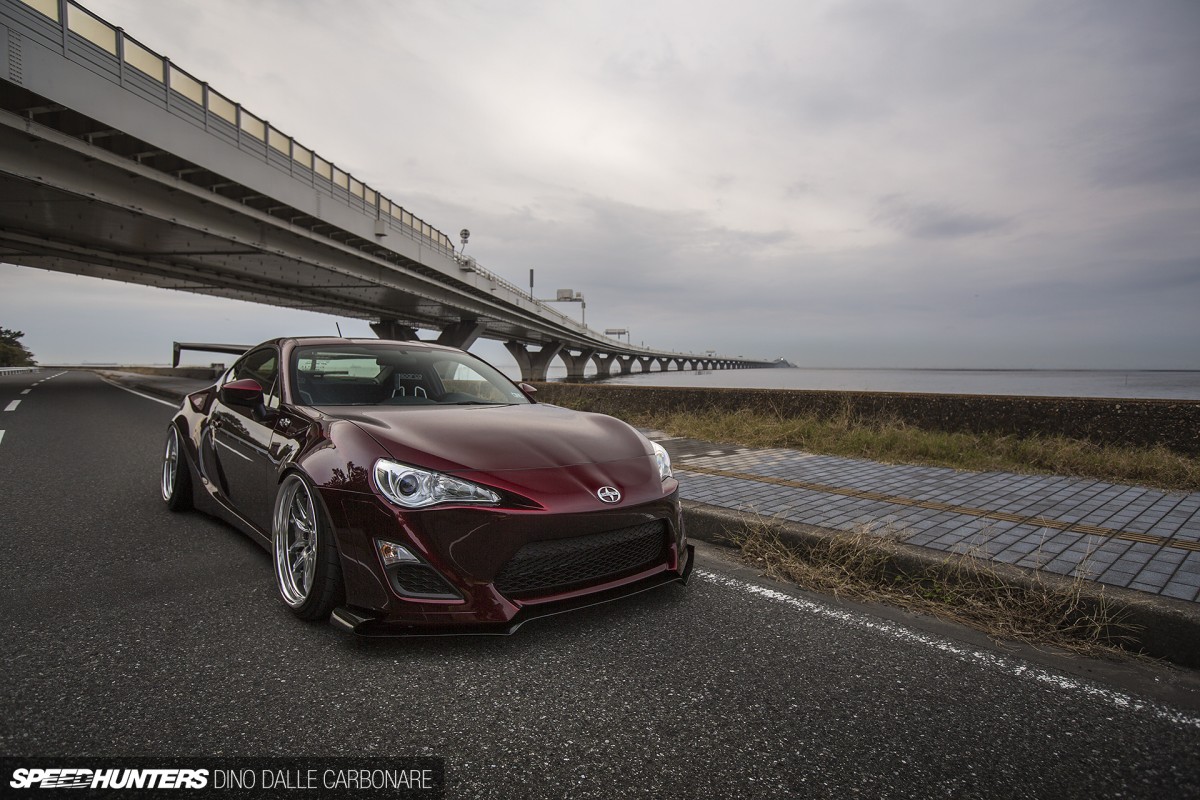 With the sheer time and effort that Johnny and his crew put into this build, the least I could do was put a proper feature together – and in my book at least, that means including rolling shots. I know you guys just wouldn't have been satisfied if I showed you a bunch of static images of the car either – this thing deserves the full treatment!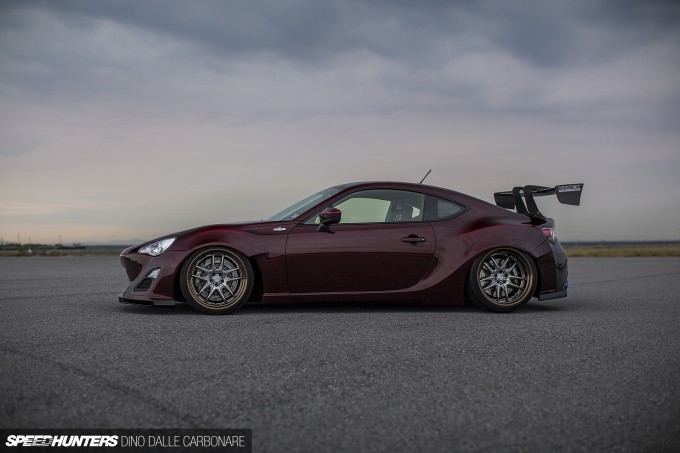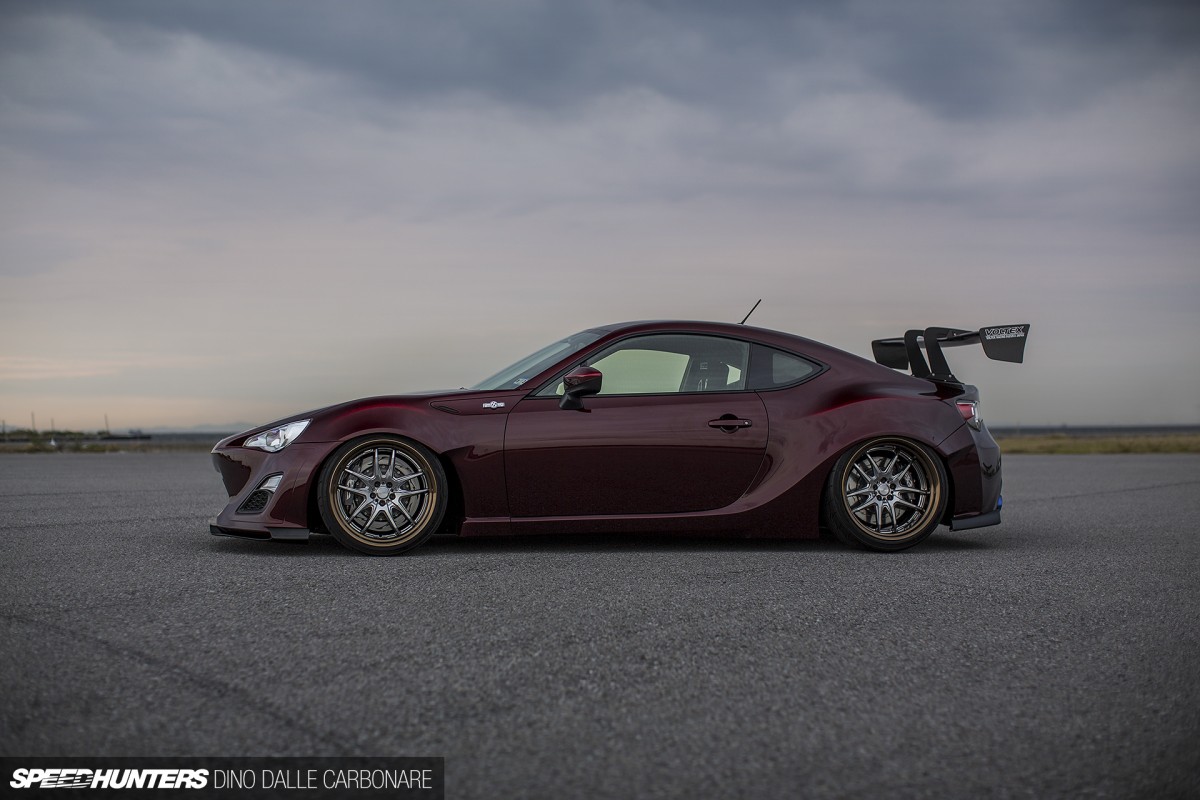 Patience is indeed a virtue, and I'm so glad I waited. Because earlier in the week I had a chance to meet with Johnny and dedicate a whole afternoon to his creation. This has to be – without a shred of a doubt – the ultimate and most meticulously-constructed ZN6 on the planet.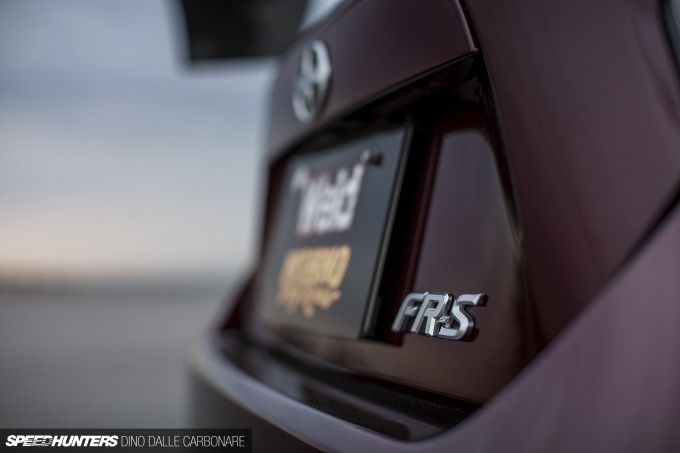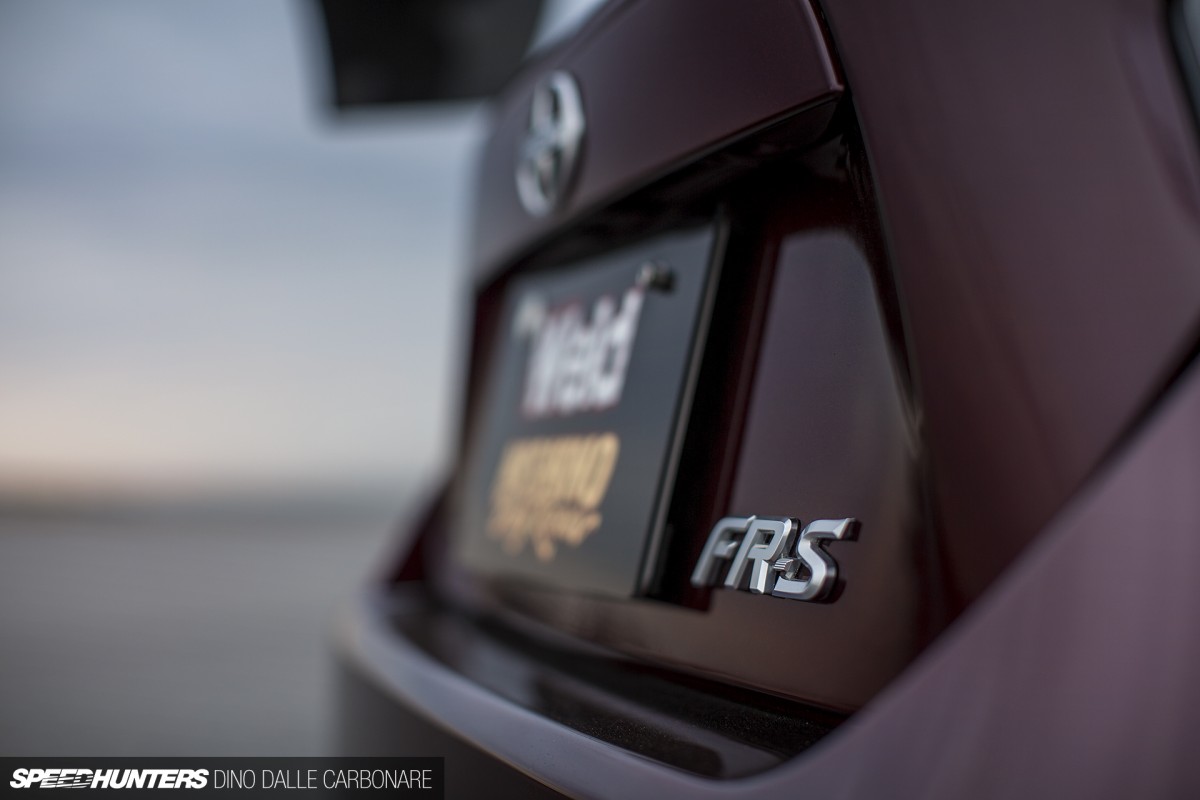 And to make the whole car even more special in Japan, Johnny based all of this work on a US-spec left-hand drive Scion, rather than a JDM Toyota.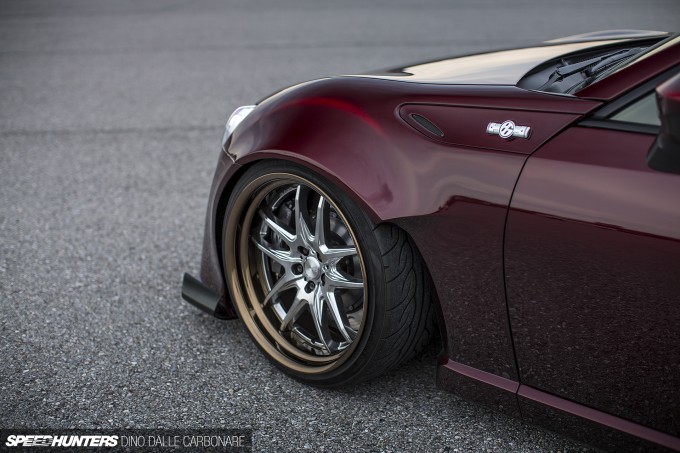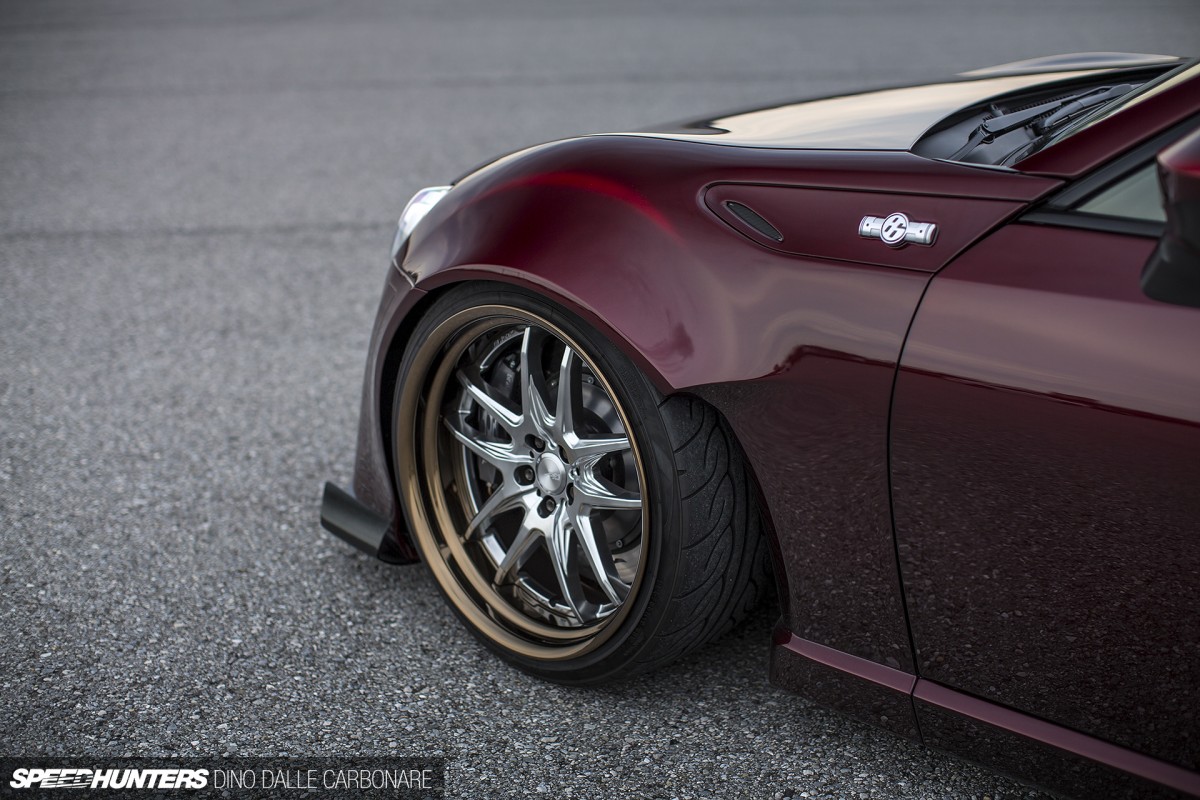 Cutting corners isn't part of Johnny's repertoire, so before anyone thinks it, what you are seeing here aren't FRP fenders moulded onto a stock body with putty. The entire fender sections are steel, and they've been crafted in the old fashioned way – cut out, shaped around a wire frame and slowly hand-beaten to follow the contours that were required.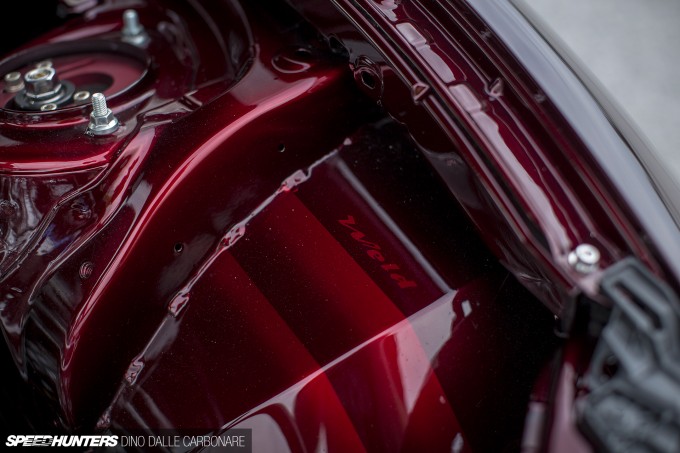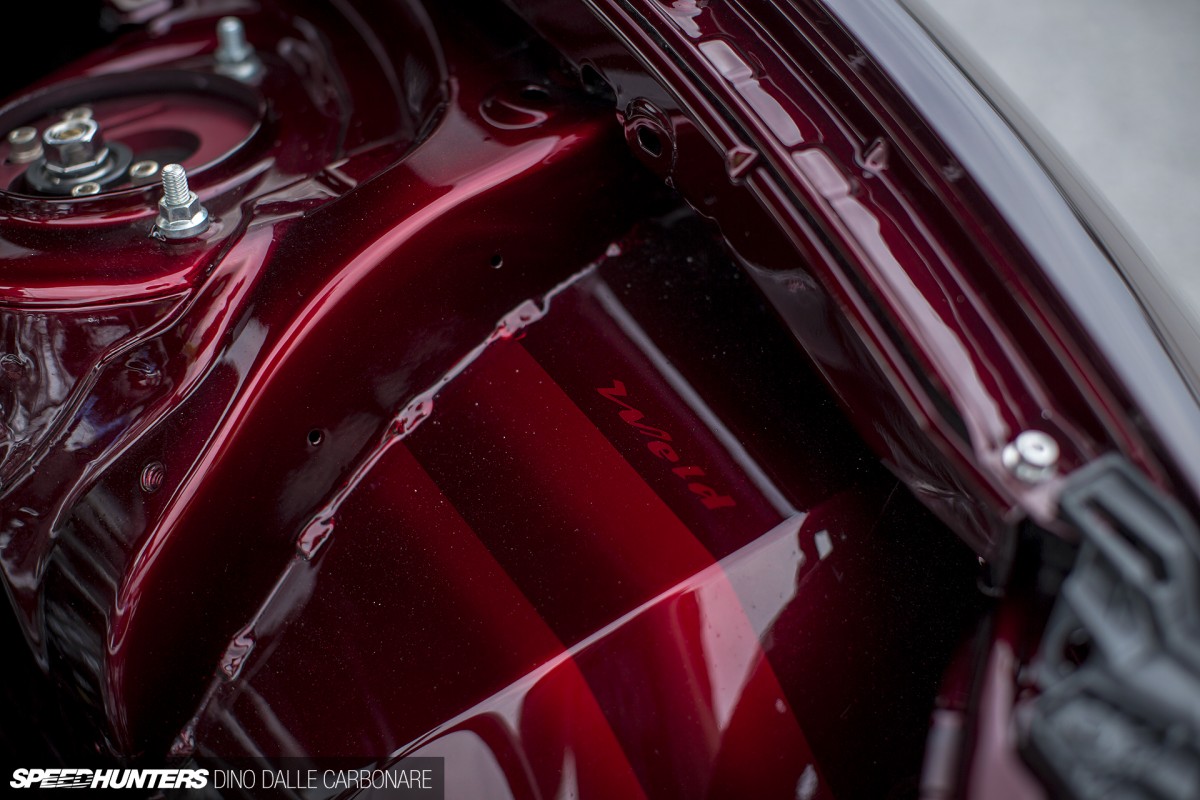 The bodywork side of the equation was actually a collaboration with Nishino Body Repair up in Ibaraki, where the car stayed for a good six months. Johnny actually taught the guys at Nishino how to go about the whole procedure – something he has done countless times in the past with previous builds. This meant lots of travel back and forth from his shop in Yokohama a couple of times a week to slowly shape the car.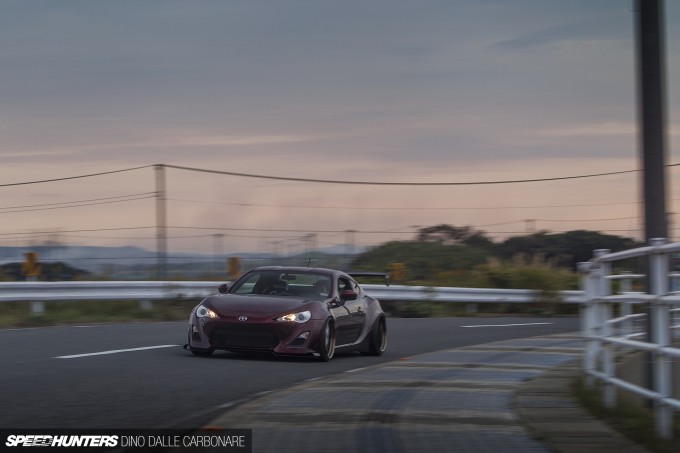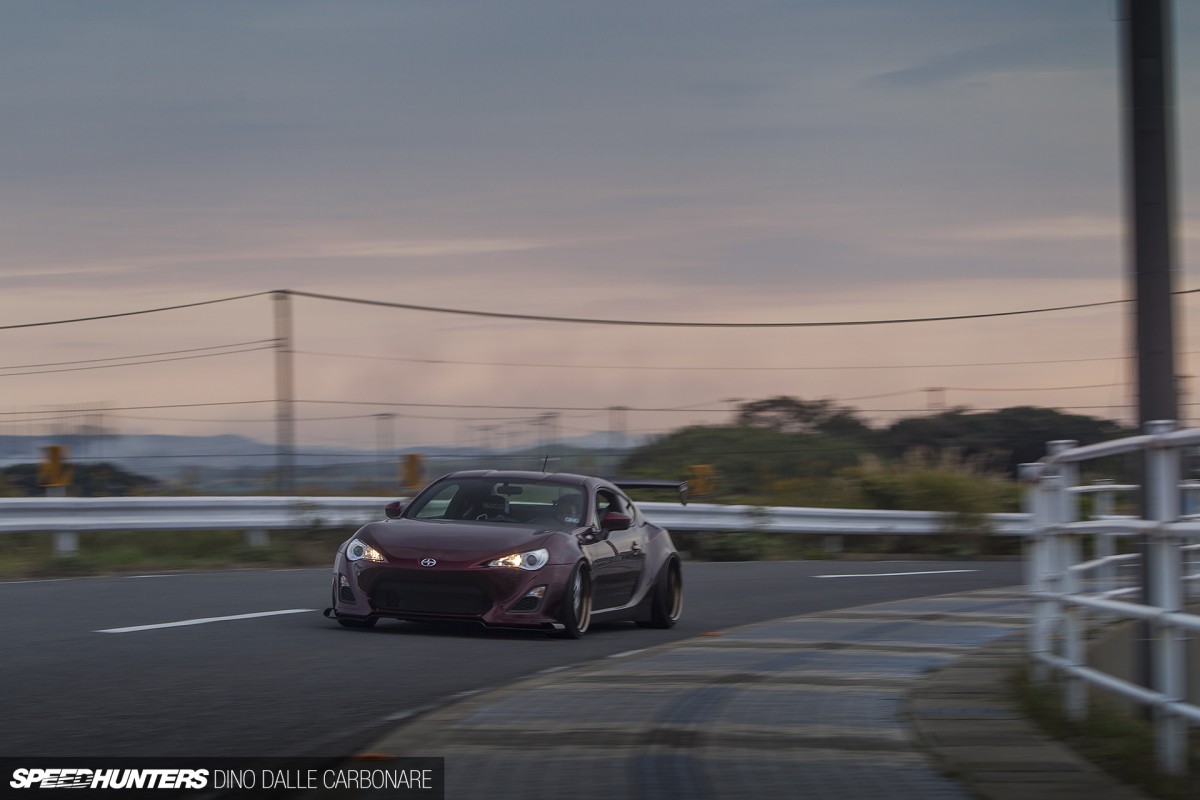 The goal was to create the ultimate FR-S street car – one that combined everything into a well-rounded package: looks, stance, comfort and performance. And you just can't rush something like this…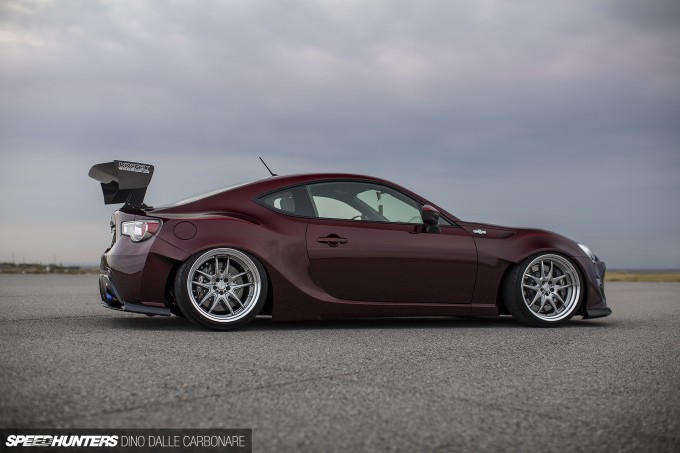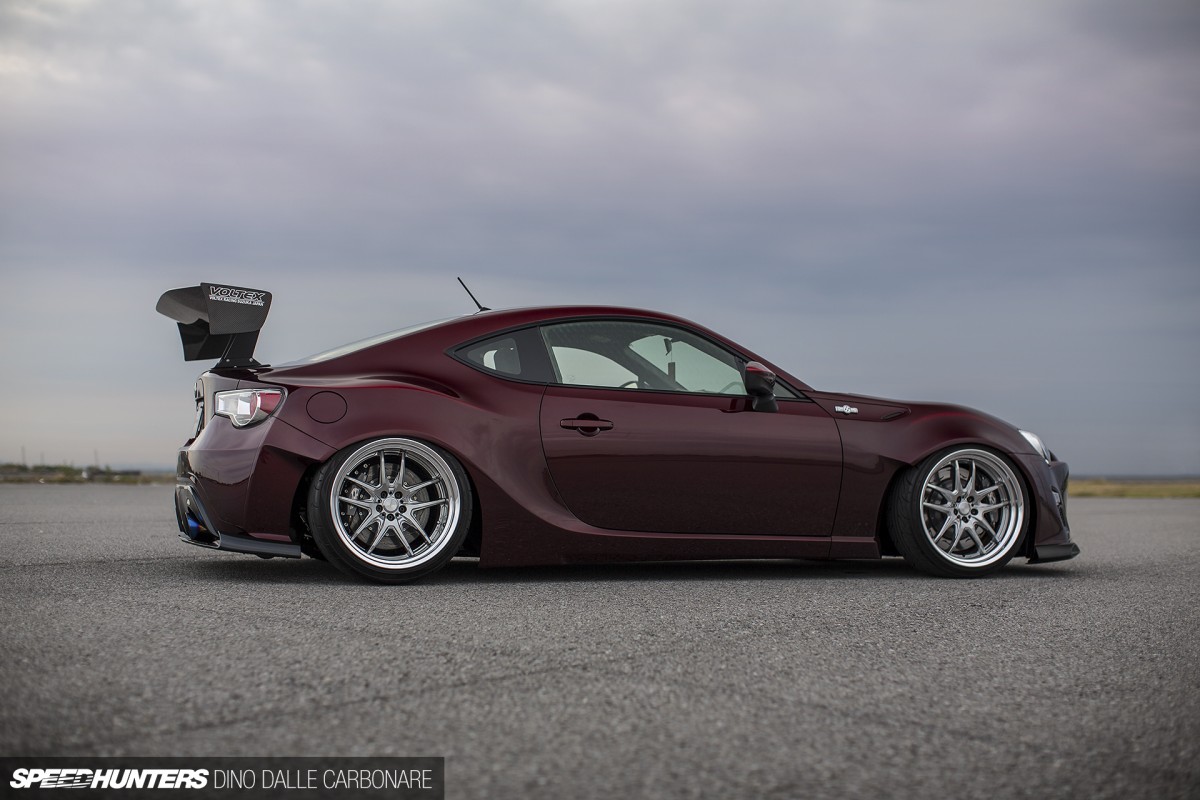 You need to take your time to fully take in all the custom work here, because like with a lot of things that just look 'good', the subtle details are the ones that took the longest to get right.
Metalwork: A Dying Art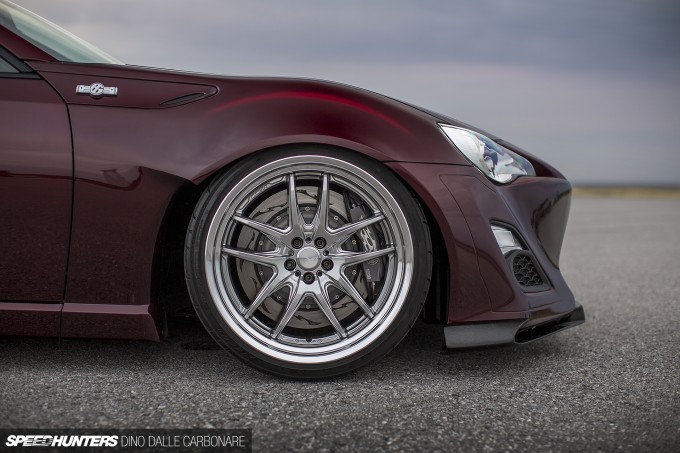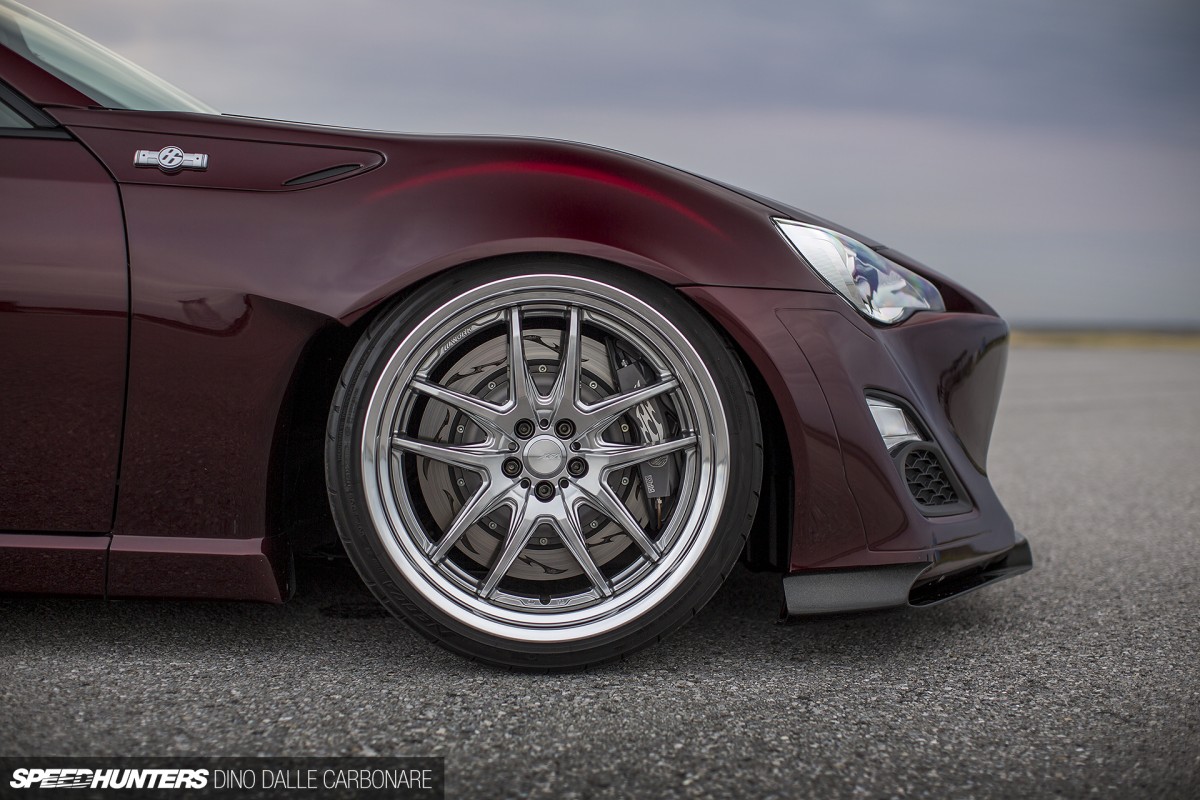 Back to the fenders… First up, they had to match the preset widening that was decided upon – something that starts off on the bumper, which was widened with the same plastic the OEM Toyota component is made of – no FRP here. A small indentation highlight was also pressed around the extremity of the line – another little custom touch to set things off. The metal work on the fender itself extends all the way down to the skirt section, which is integrated and again made out of metal. All of this was shaped around the 19-inch Work XSA 04C rims, a wheel that Johnny actually collaborated on with Work Wheels during the design and development process.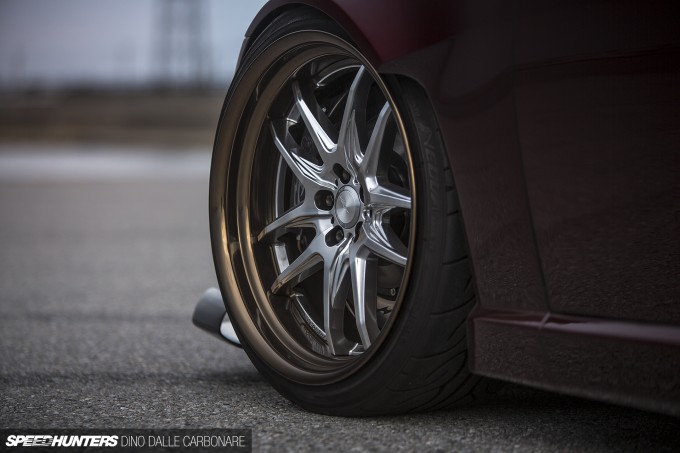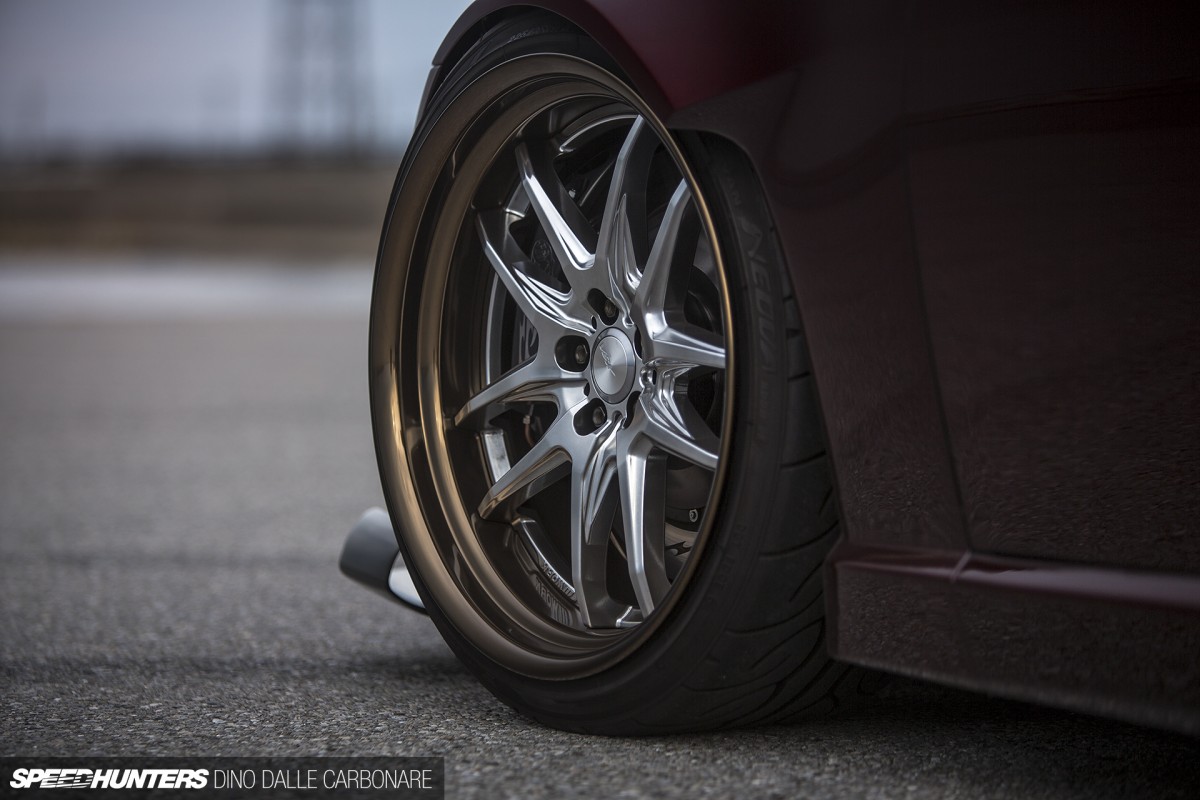 The driver's side of the car shows off the same model wheel, but with an anodized bronze rim section that adds even more contrast against the custom body colour.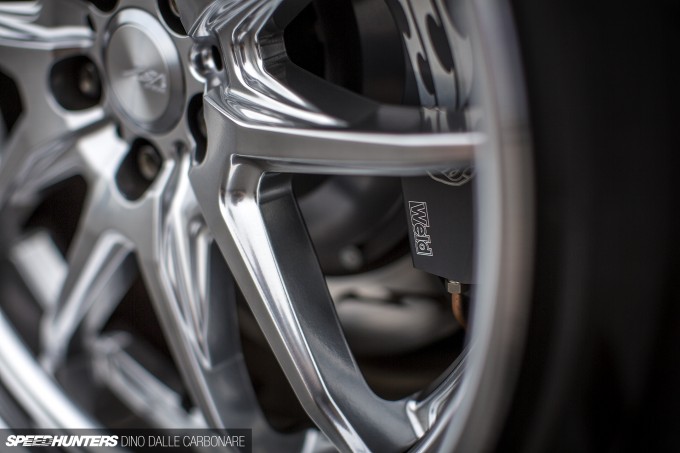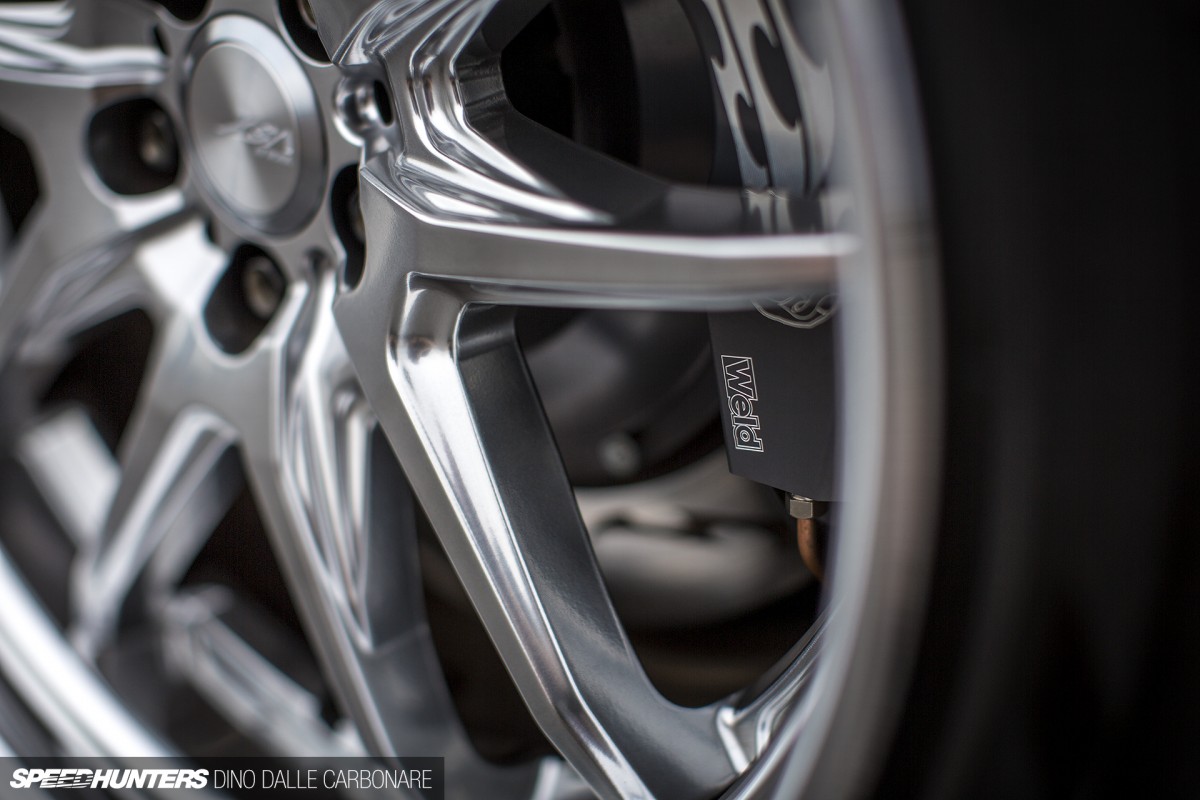 Hiding behind those mirror-like spokes are another important detail – the brakes. These are Project µ's first monoblock calipers, 6-pot items that have been etched with Weld's logo and signature tribal motif.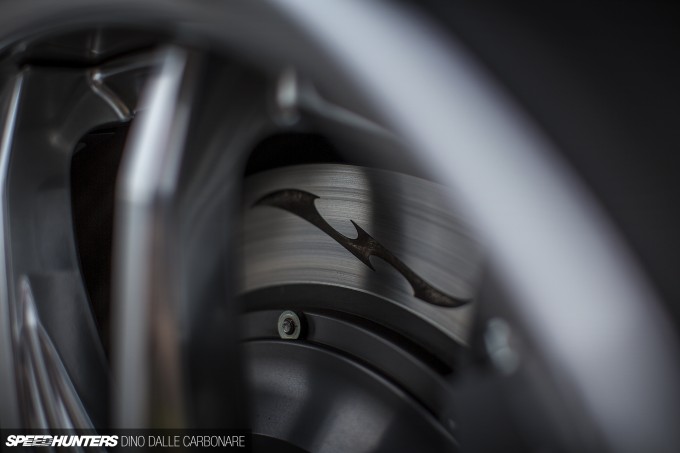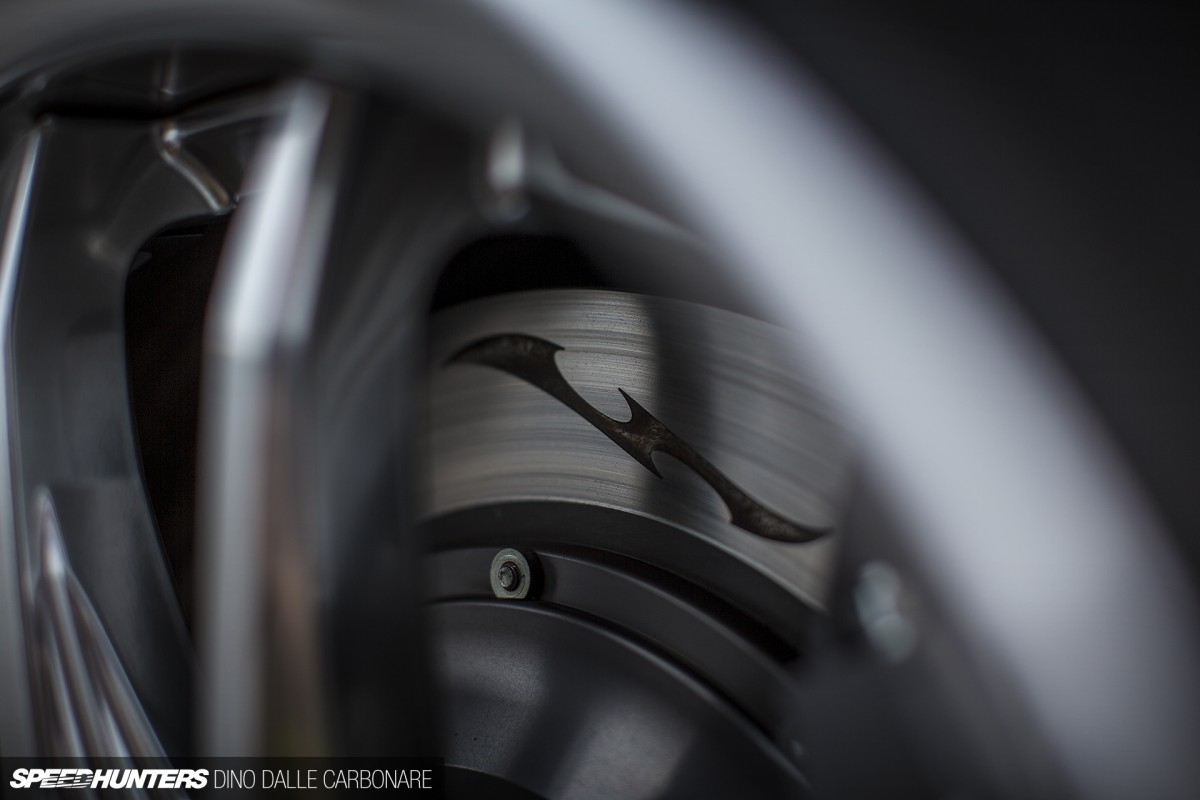 That same design is actually machined into the 380mm 2-piece rotors, where they act as slots to help keep the pads clean for optimal performance.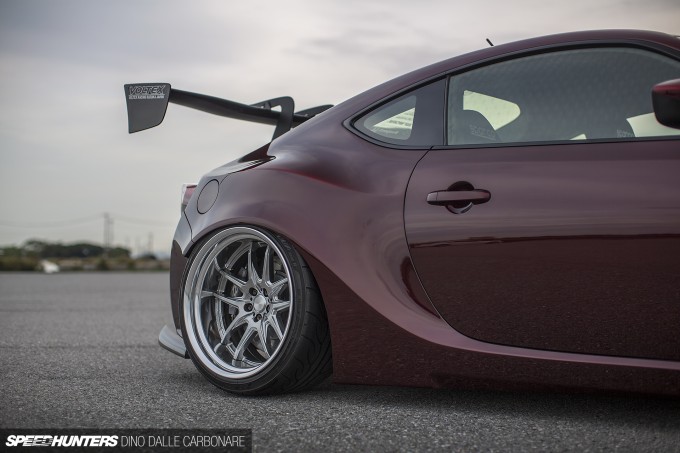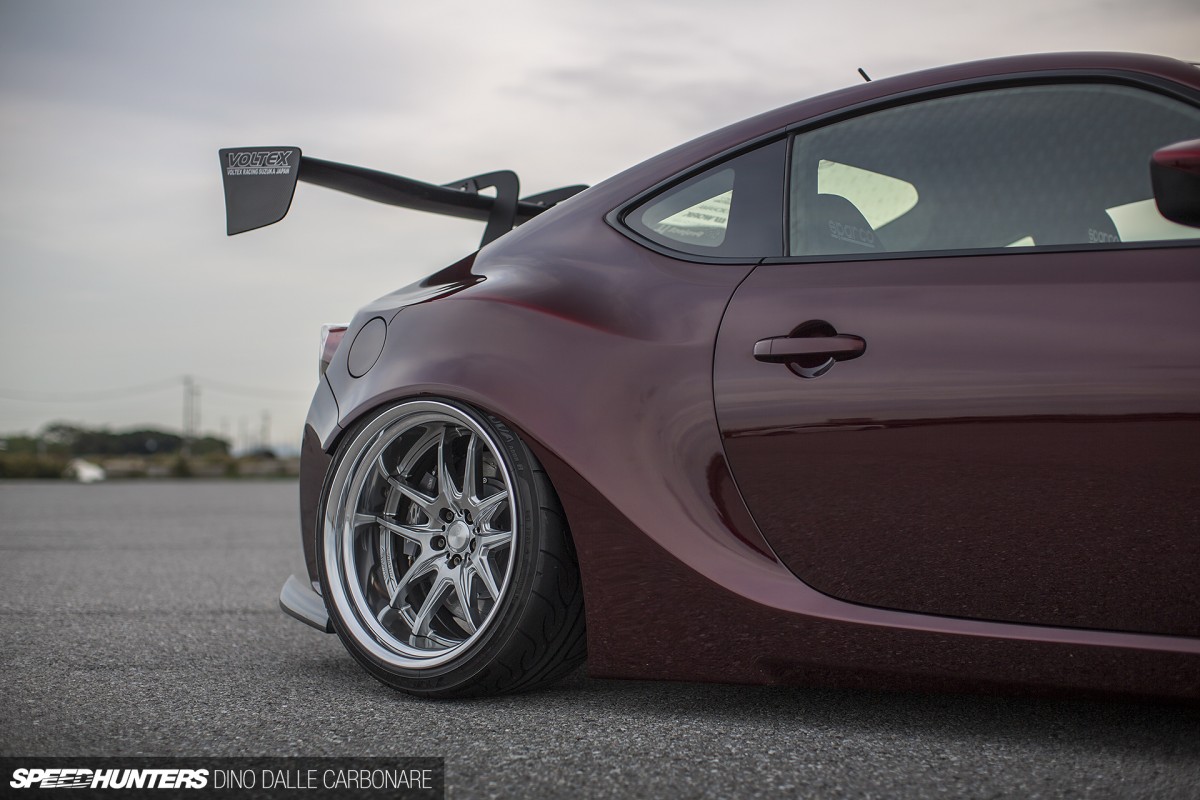 Then there is the rear section of the car, and this is where things get complicated. Look at the car in isolation and you might not even notice it, but parked next to a stock FR-S/86/BRZ/GT86 it doesn't take much to figure out that Johnny really went full-out to enhance the body's profile. Pretty much the entire stock rear fender was cut out and reshaped from scratch, taking that stock hip line crease above the wheel arch and making it more evident. Then a parallel curve was created, originating from the actual wheel arch curvature and extending all the way down into the side skirt. Everything you see is metal.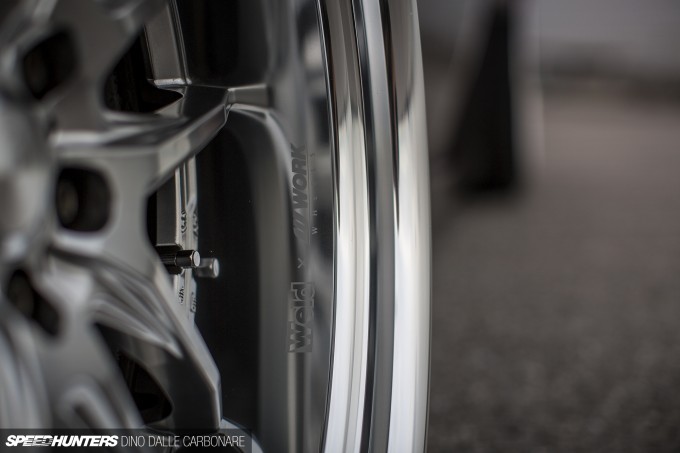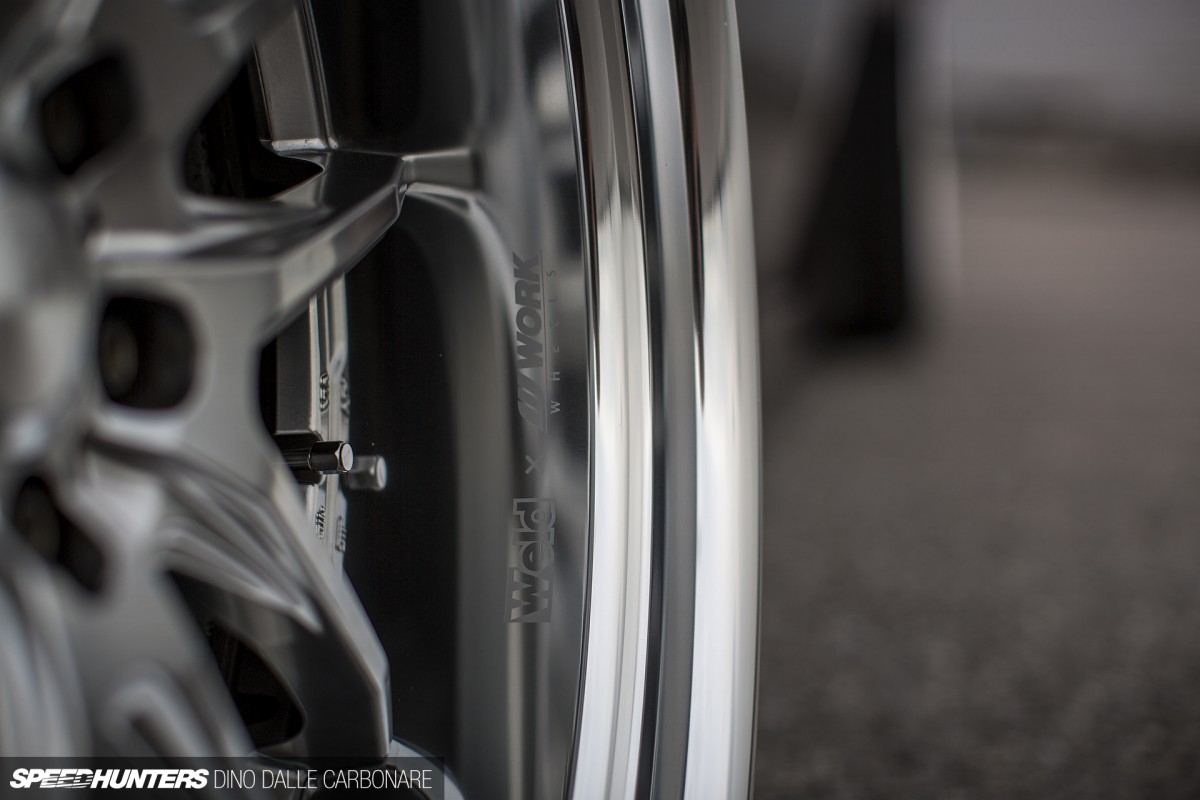 The widened rear fenders perfectly accommodate the 19×11.5-inch-25 offset XSA wheels, much in the same way the fronts where shaped around 19×10.5-inch -19 versions. Laser etching on the barrel is a giveaway that this isn't an 'out of the catalogue' wheel.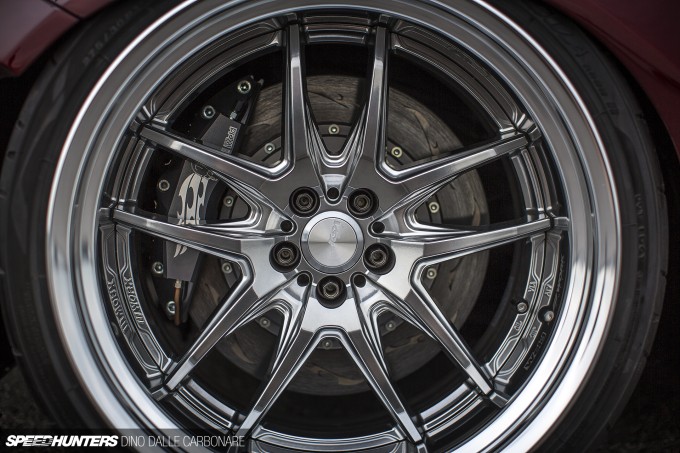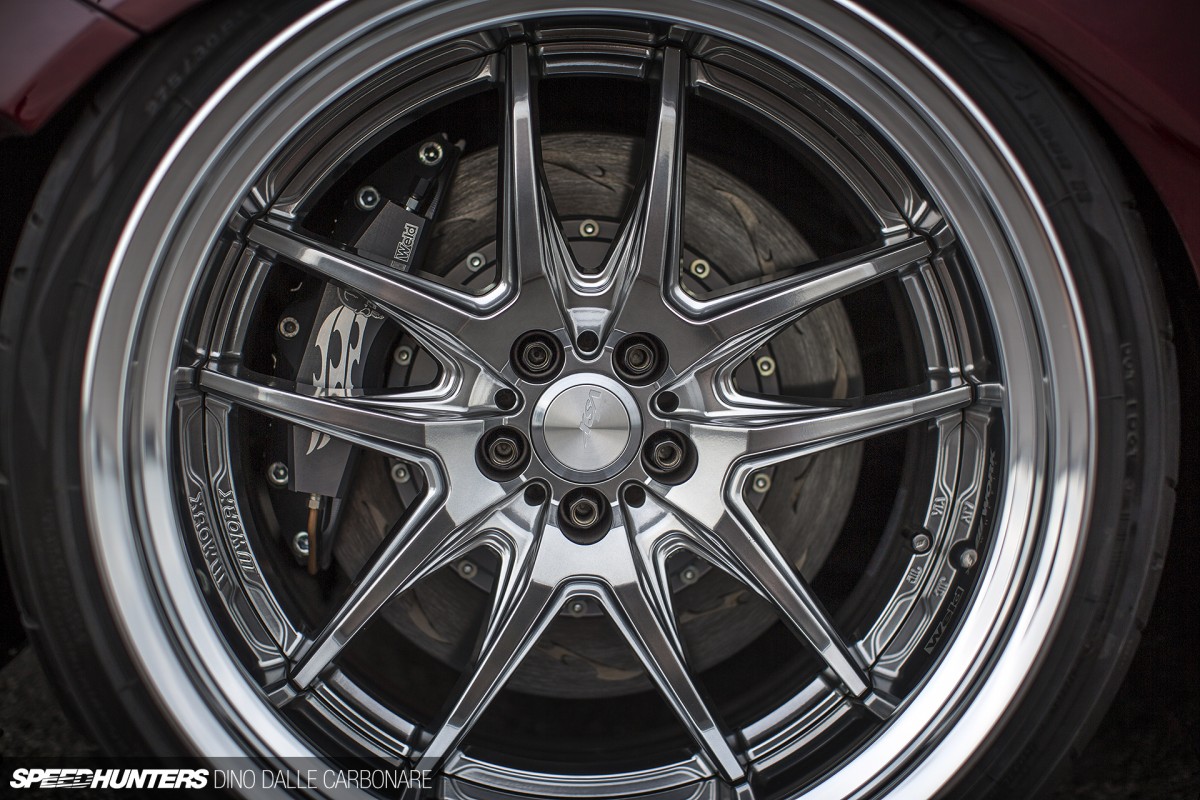 The rear gets some pretty serious brakes too. The stock, budget slide-type calipers the FR-S comes with have been replaced with Project µ 4-pot calipers and 355mm rotors with that recognisable Weld tribal grooved pattern again.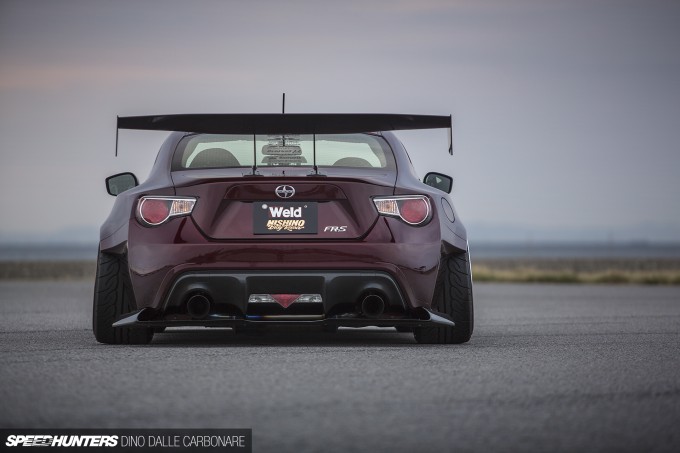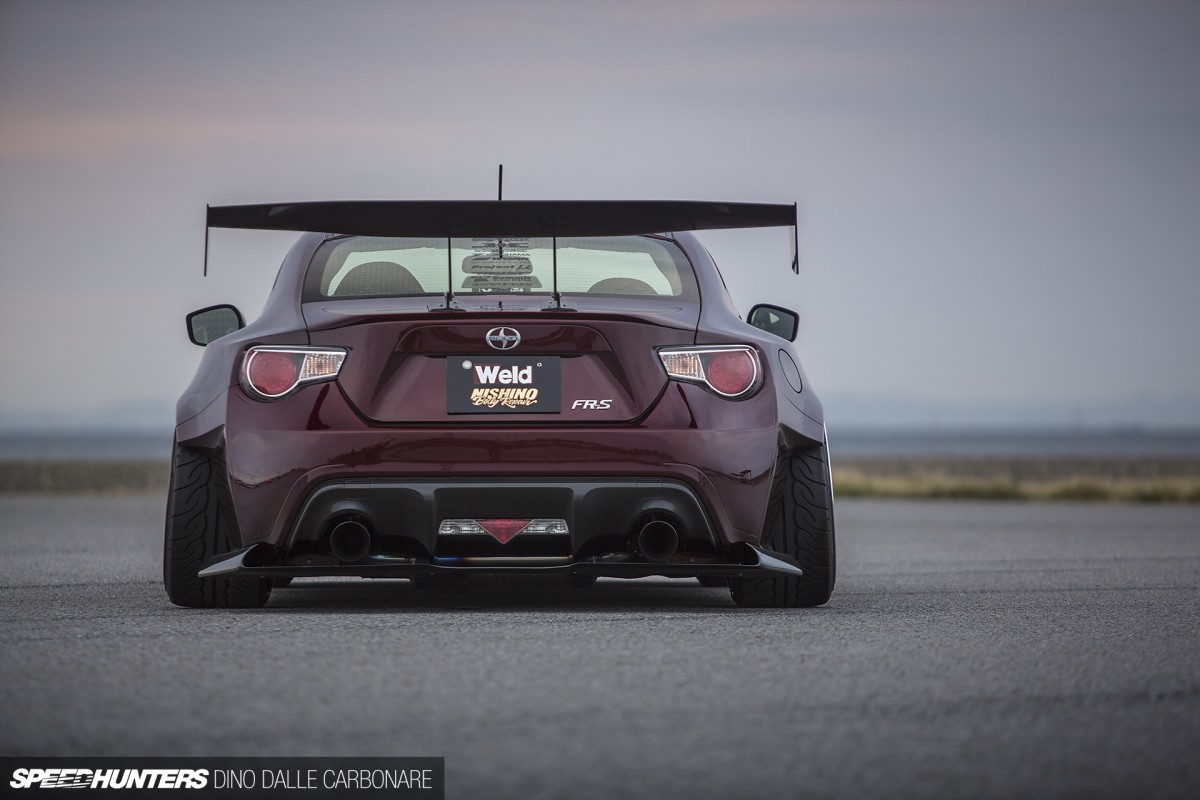 The car sits low – as low as anyone would want a street car to sit. Yet Johnny made sure it wouldn't end up with too much negative camber – rather just enough to balance looks and performance. Those of you that know your rubber will recognise the tyre of choice here: Yokohama ADVAN Neova AD08s with the 'R' compound for extra grip.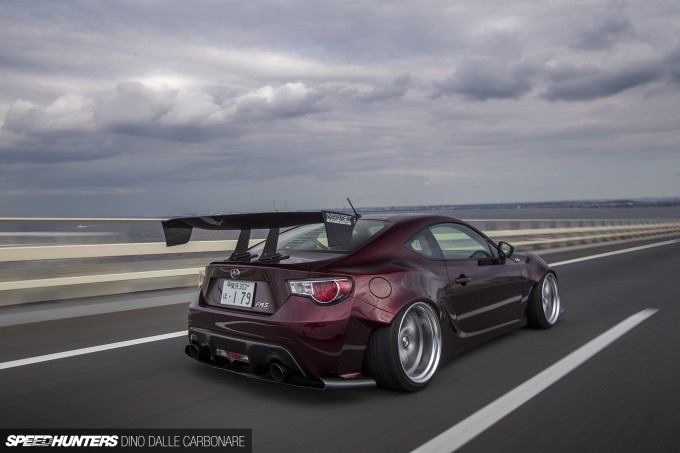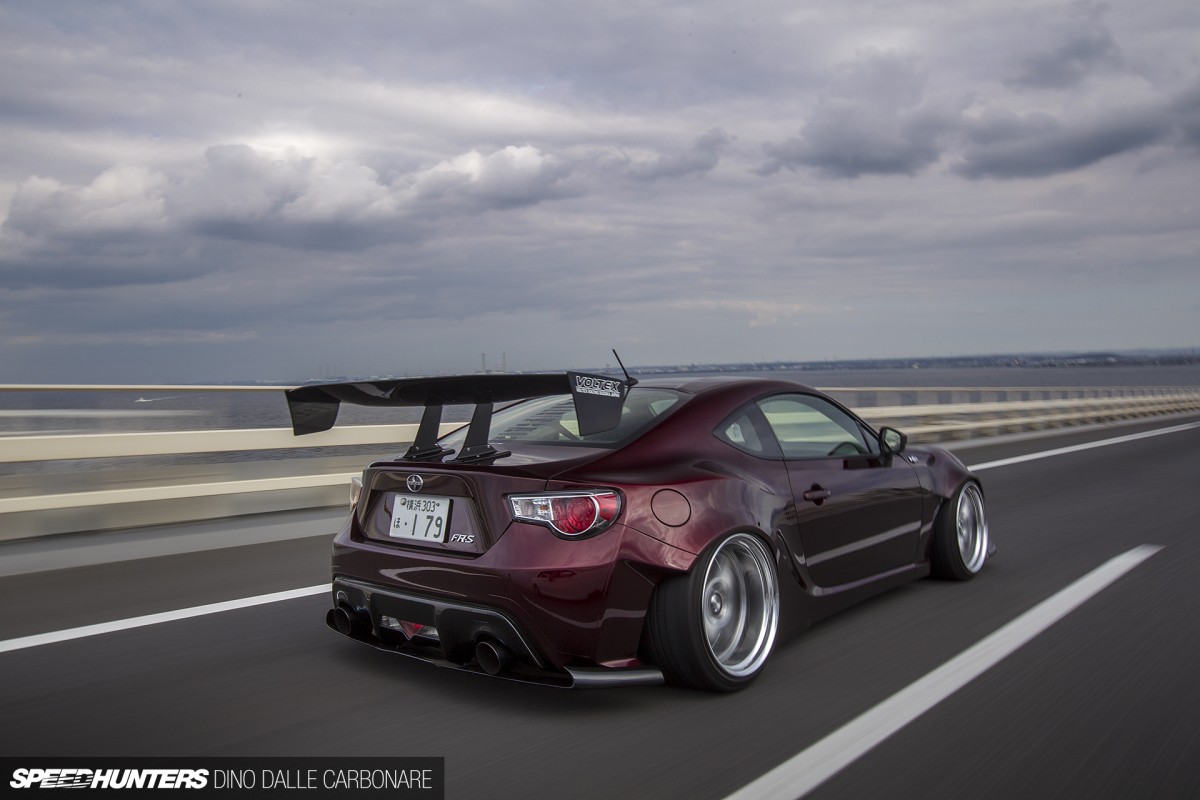 There is a lot of work that went into making sure the rear bumper had the right sort of look too – specifically the way it tucks in and matches up to the rear fender treatment, and the way it's finished off with a one-off under diffuser made by Nishino Body Repair. Then there's the colour of course – a House of Kolor Candy Apple over metallic silver highlights to really make it pop on the hand-sculpted fenders.
NA All The Way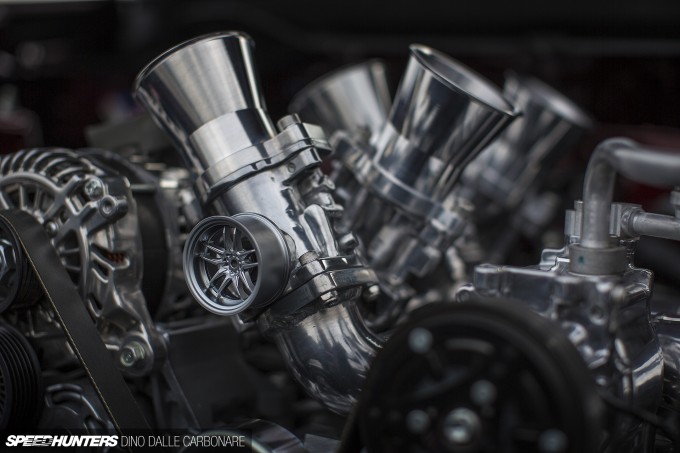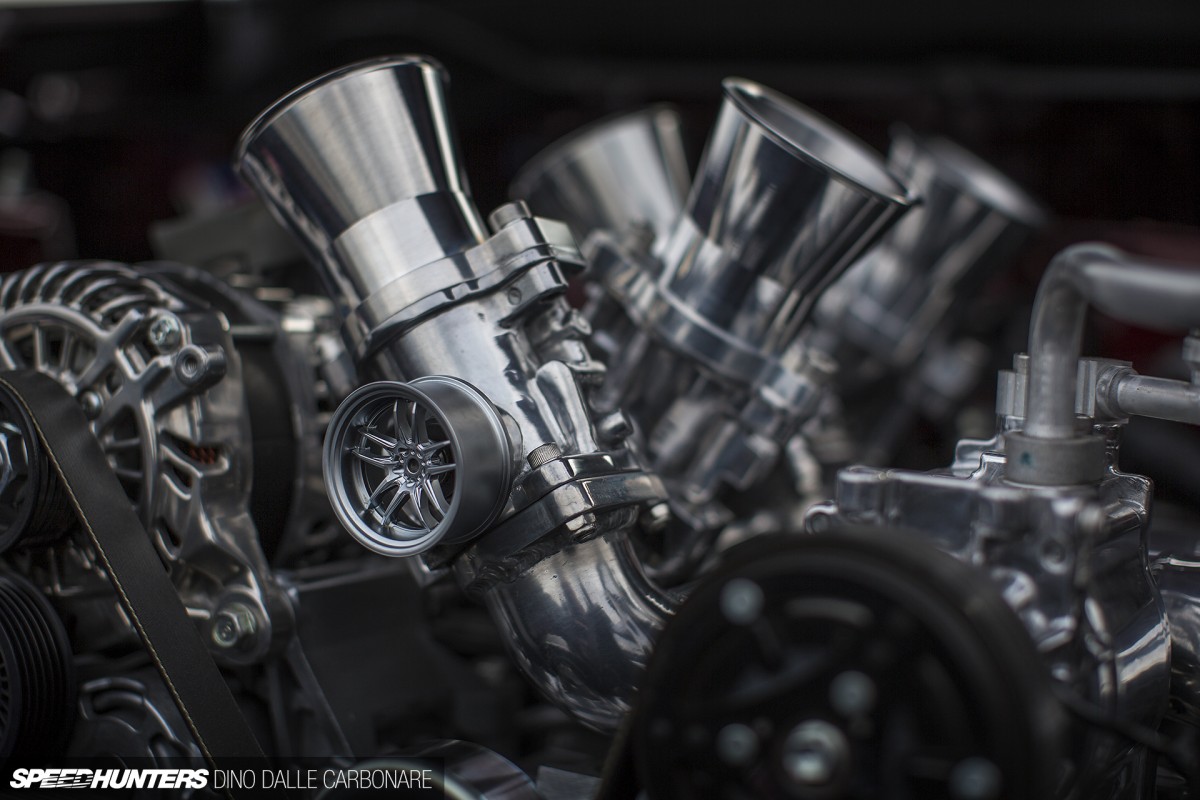 You can spend years on a car and make it look incredible, but if there is no substance to it – nothing mechanically special to make it really stand out – well, that would only be half the job done. Obviously there was no way Johnny was going to leave the FA20 stock, nor follow what seems to be the norm with these engines by bolting on a turbocharger or supercharger. In his mind the car came NA, so it should stay NA.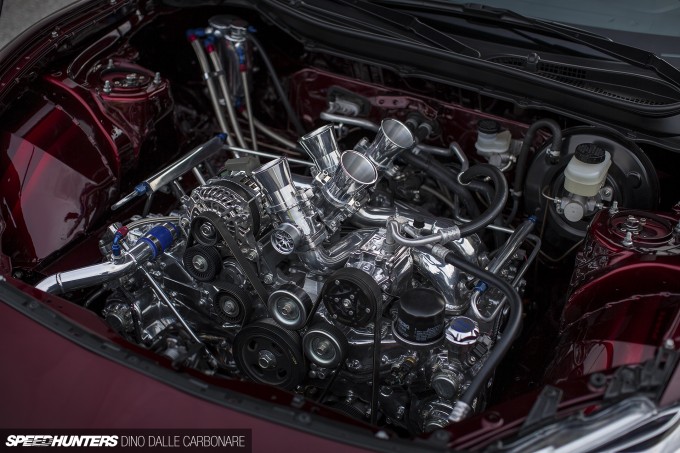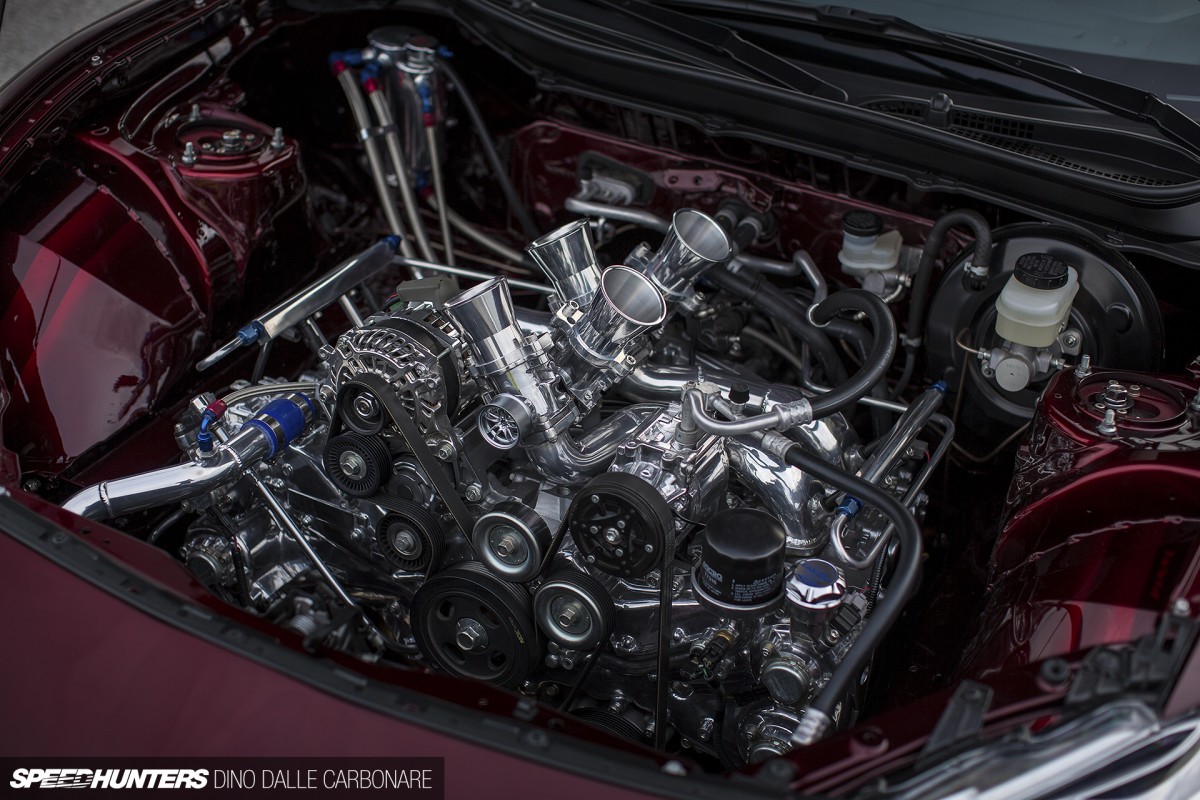 Well hats off to Johnny, because what he came up with is as commendable as you can get. The 2.0L boxer engine might not have all the power in the world, but what it lacks in numbers it makes up for in everything else!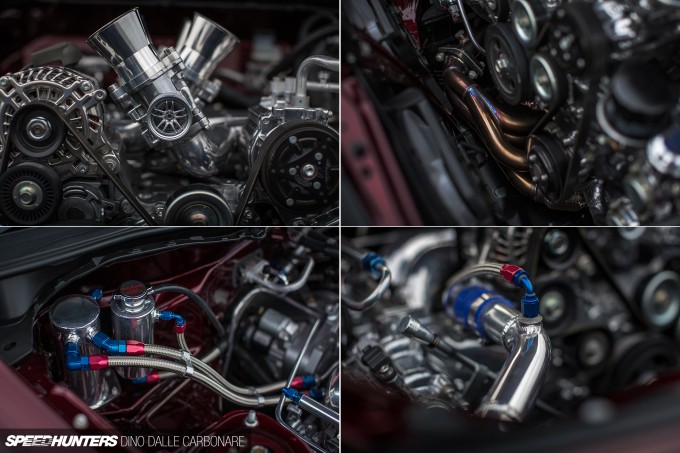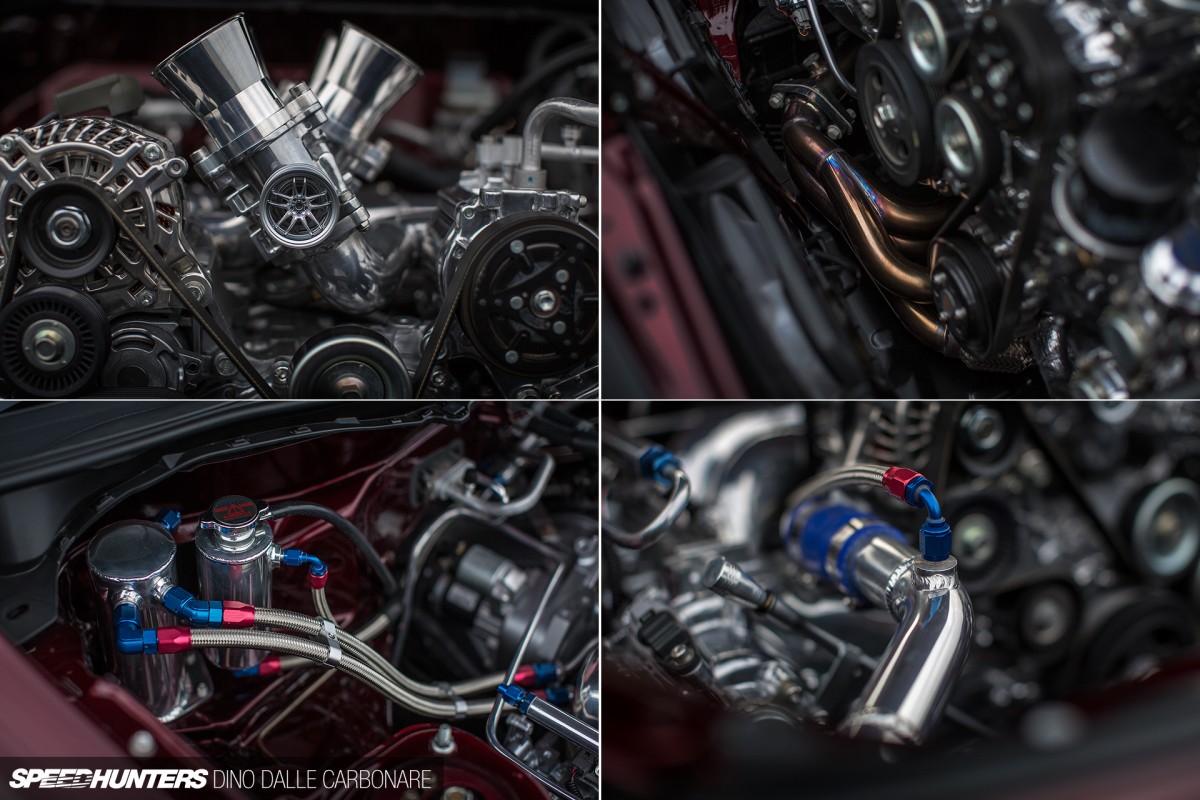 The work started when the heads were pulled off the block for a clean up. The first set of modifications are all about improving response – something an NA engine should have bucket loads of, but something that the stock FA20 doesn't really have due to modern day engine management and emission controls. So that meant throwing the cheap and nasty plastic intake manifold in the bin and fabricating a one-off crossed item from aluminium piping. Onto this Johnny bolted Toyota AE111 4A-GE mechanical throttle bodies with a set of billet velocity stacks. And check out the XSA RC wheel mounted onto the throttle shaft! 380cc/min injectors from a 1JZ were then mated to a pair of custom fuel rails. The whole set up is controlled by a Vi-Pec ECU, which Trust fitted and then tuned. This was actually the biggest headache of all, as the wiring and setting-up of the quad throttle conversion turned out to be a real nightmare. But Johnny and the guys got there in the end and the car sounds and feels impressive.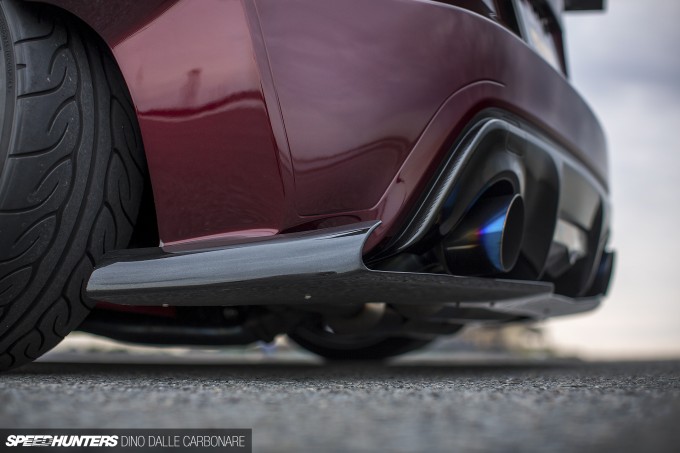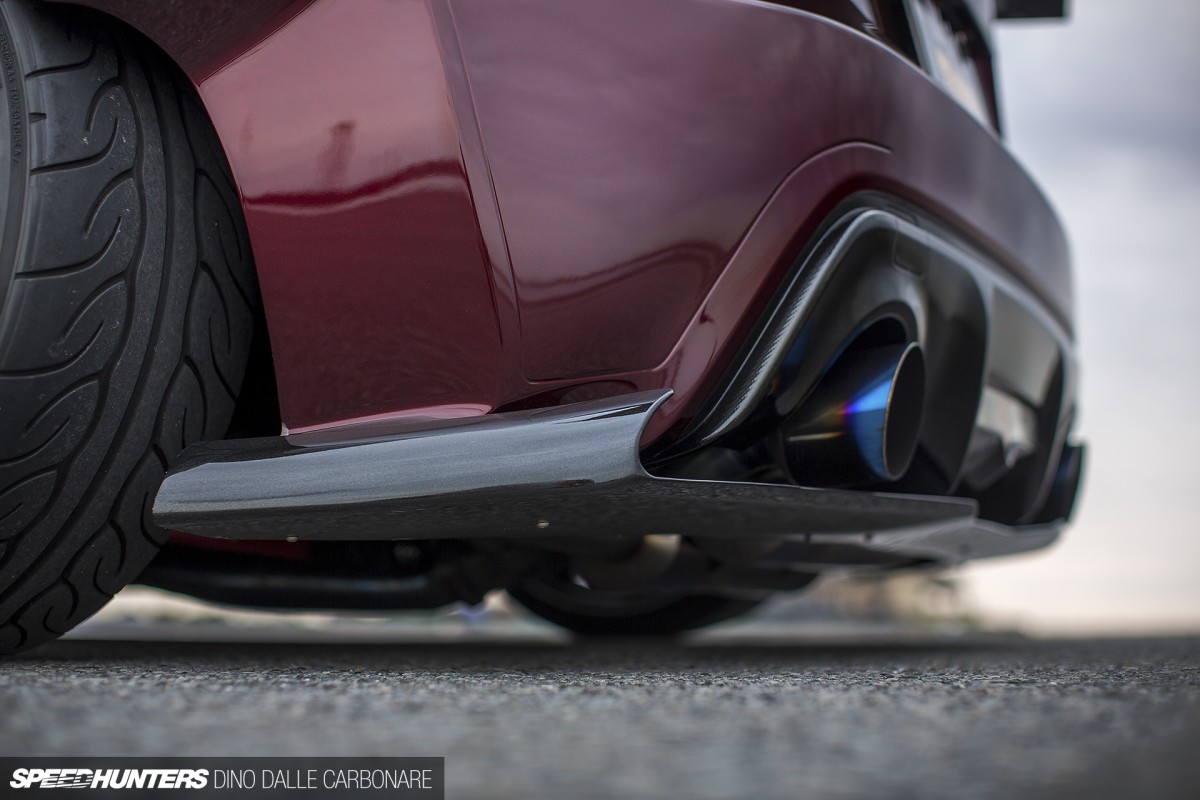 The engine dumps gasses into a Trust stainless steel manifold and then onto an Amuse twin-exit titanium exhaust, which enhances that new-found raspiness of the engine and combines it with a deep underlying tone.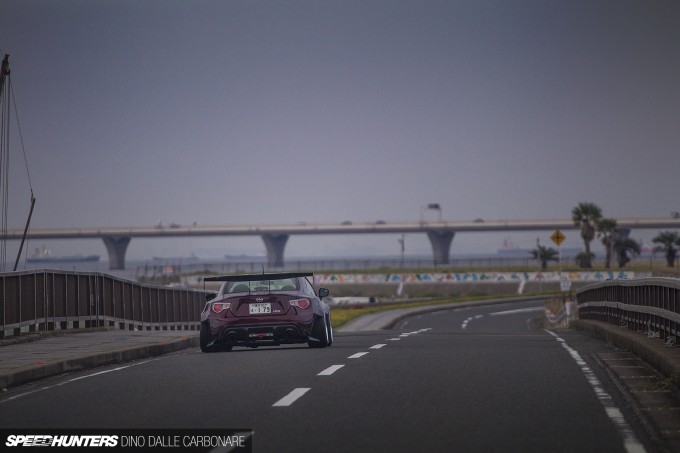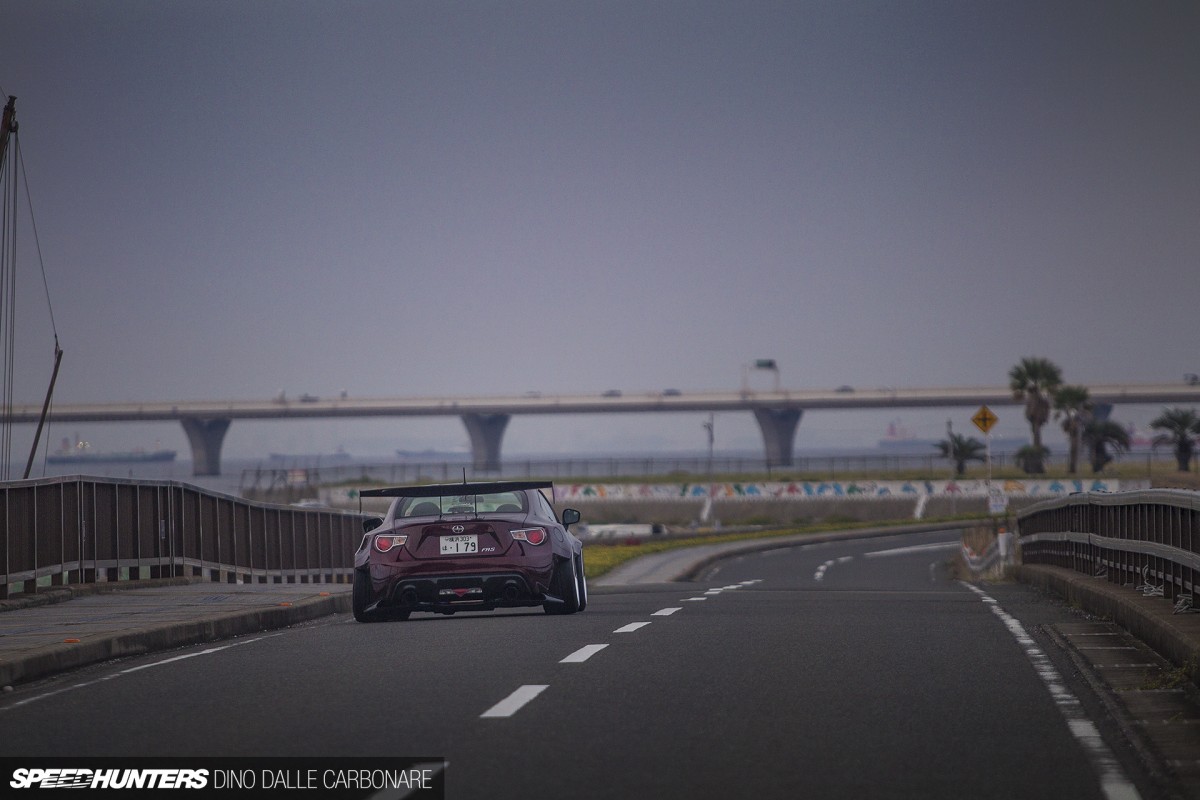 For the moment it all adds up to around 210hp, but there is much more to come in the future, like a bump in capacity, hot cams and some serious head work.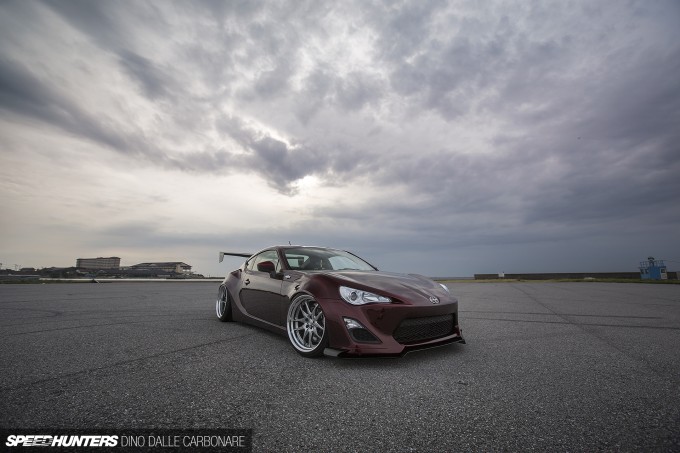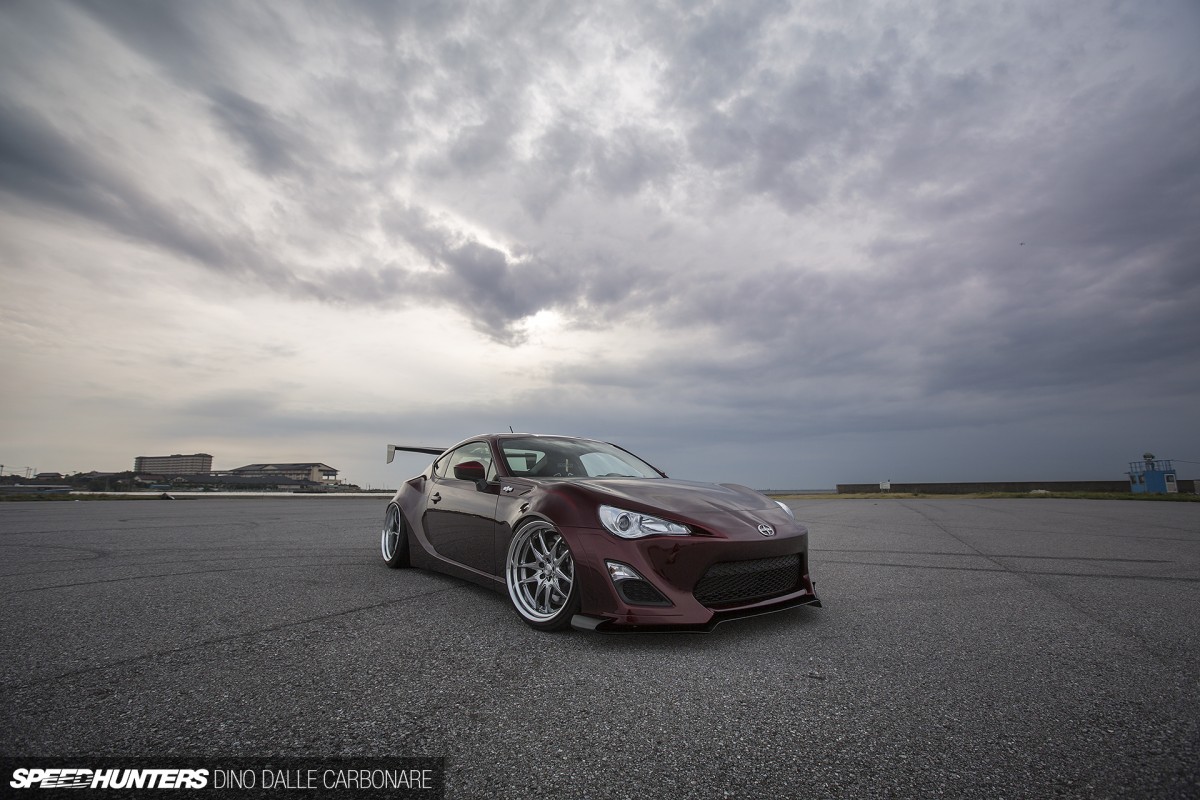 Like the rear, the front has received a subtle under spoiler with integrated down-turned winglets on each side to add a finishing touch to the car's presence.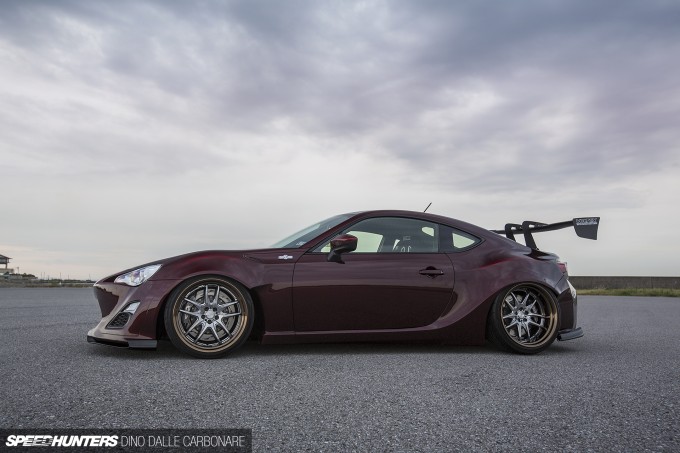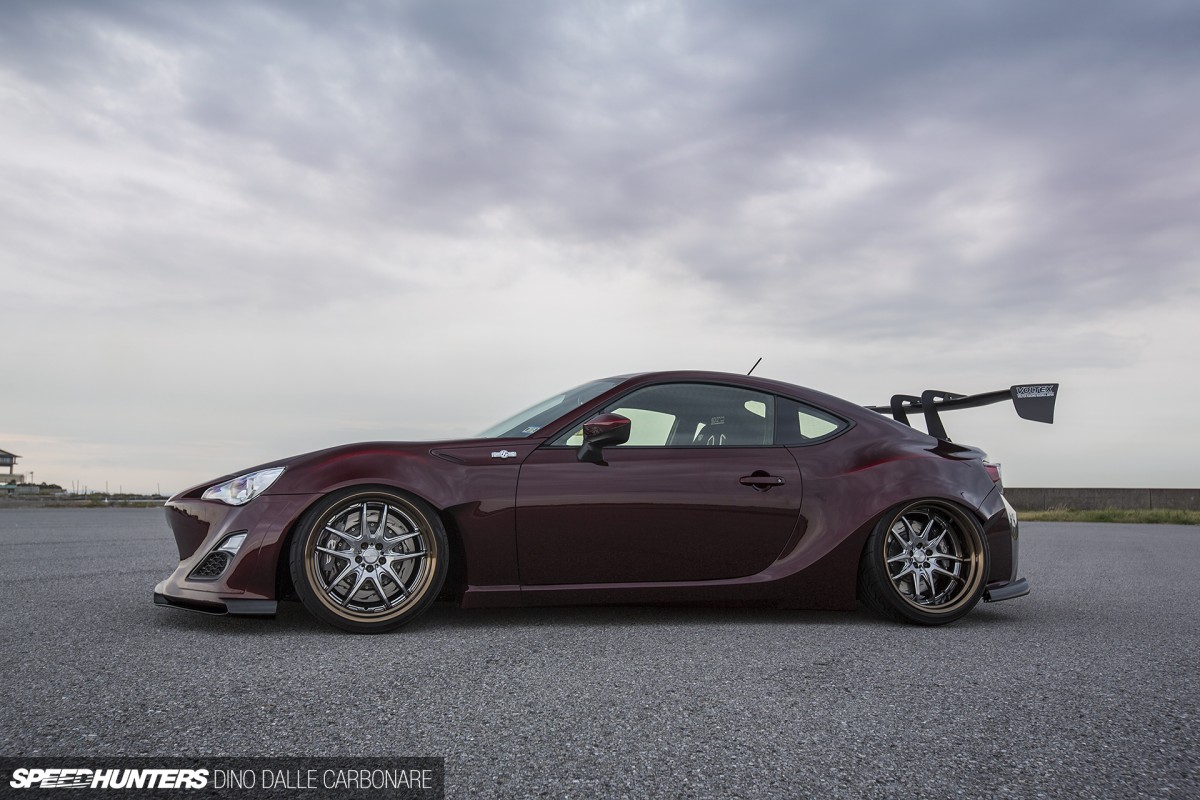 It's hard to pick which of the two colour combos work best on the Work wheels, but under the fading late afternoon light the bronze side certainly stood out more to me.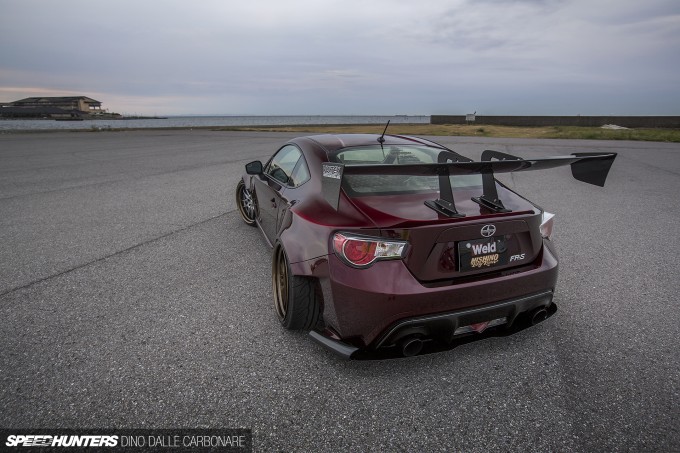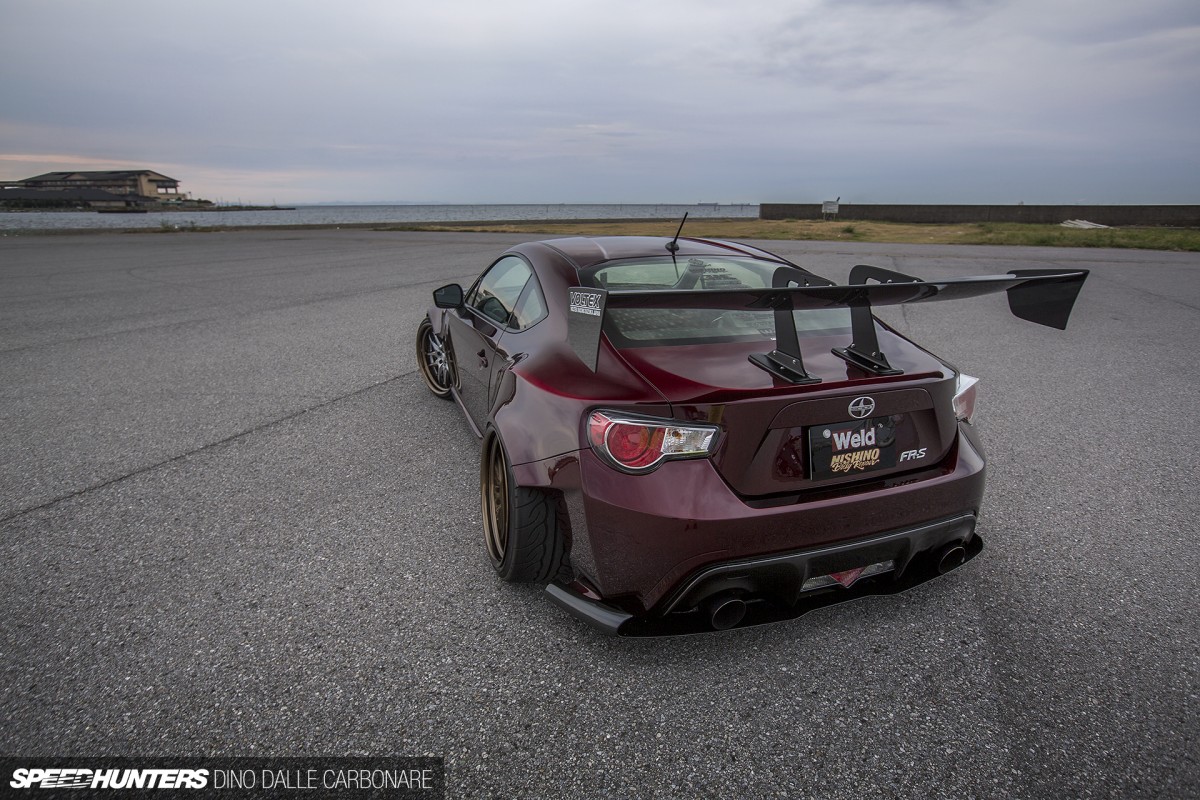 And how can I possibly not say anything about the Voltex carbon rear wing! The 'swan-neck' wing stays are something we will be seeing a lot more of in the future as aero makers continue to emulate what is happening in the racing world.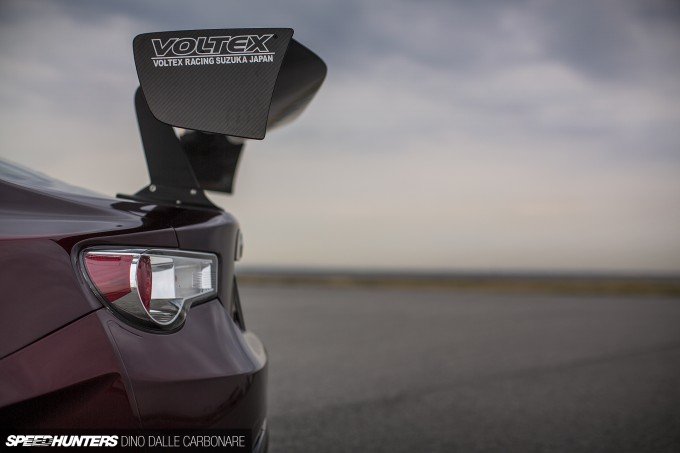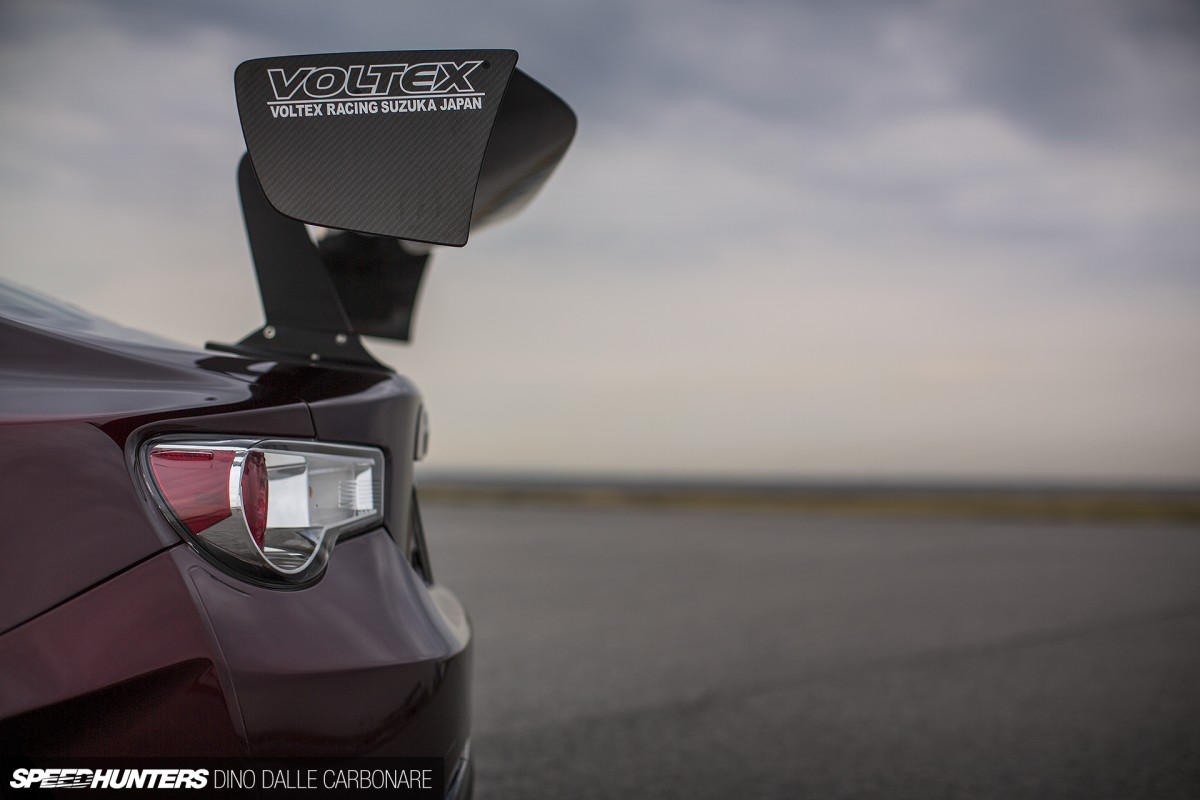 The design interferes less with the air flowing over and under the wing, which generates less turbulence and therefore boosts its efficiency.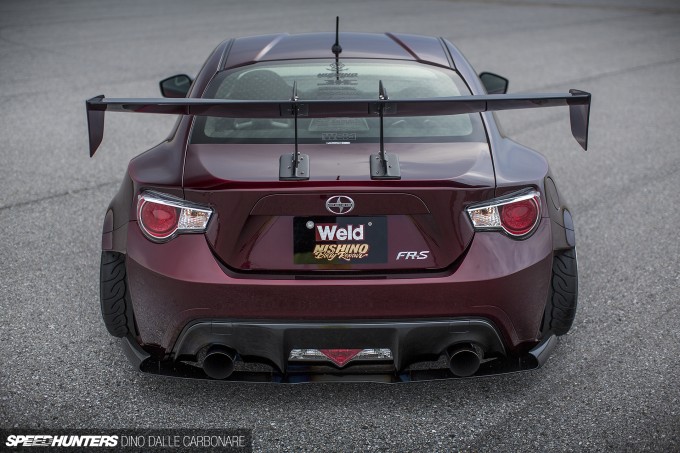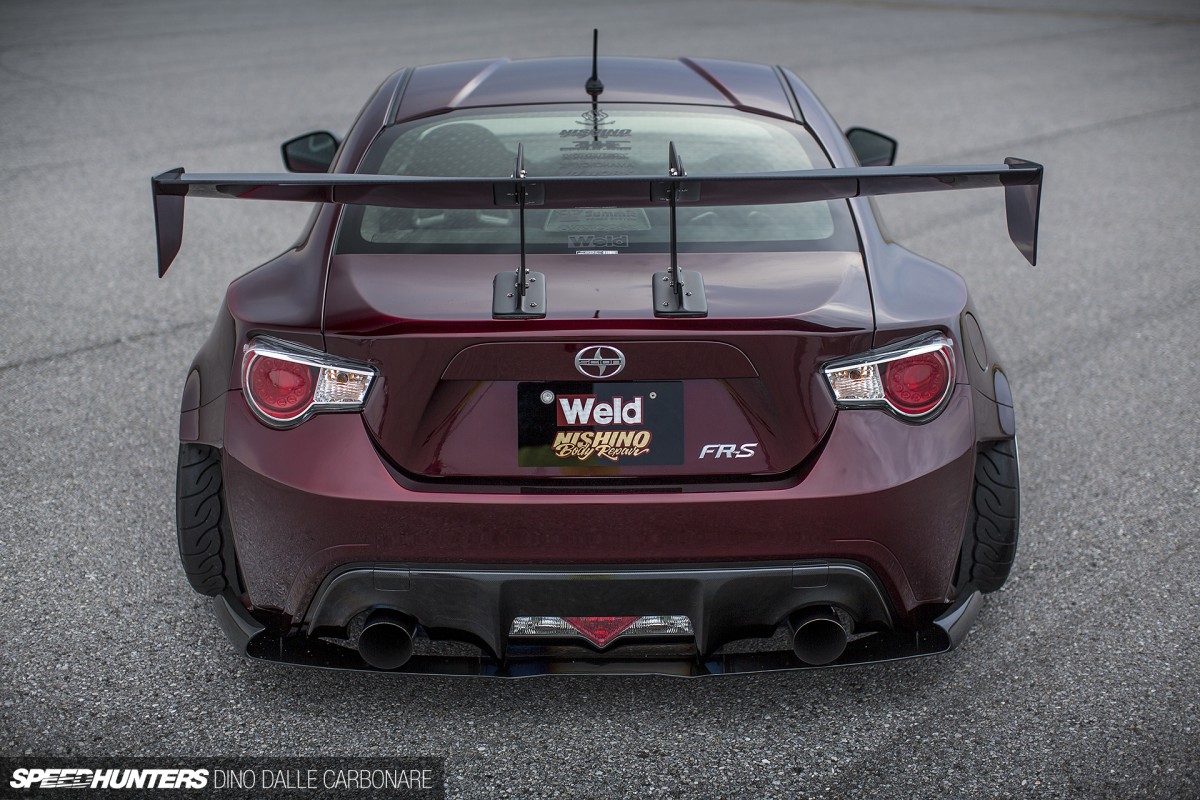 To stiffen the two mounting points on the stock trunk lid, Voltex created a moulded trim piece that prevents the lid from flexing – or even caving in- once the wing starts doing its job at speed.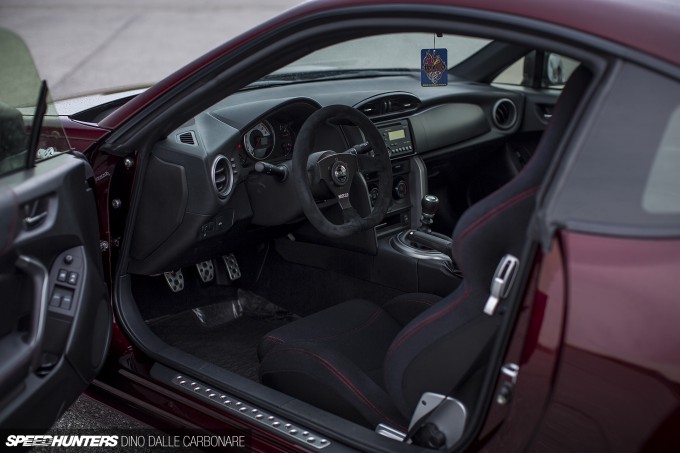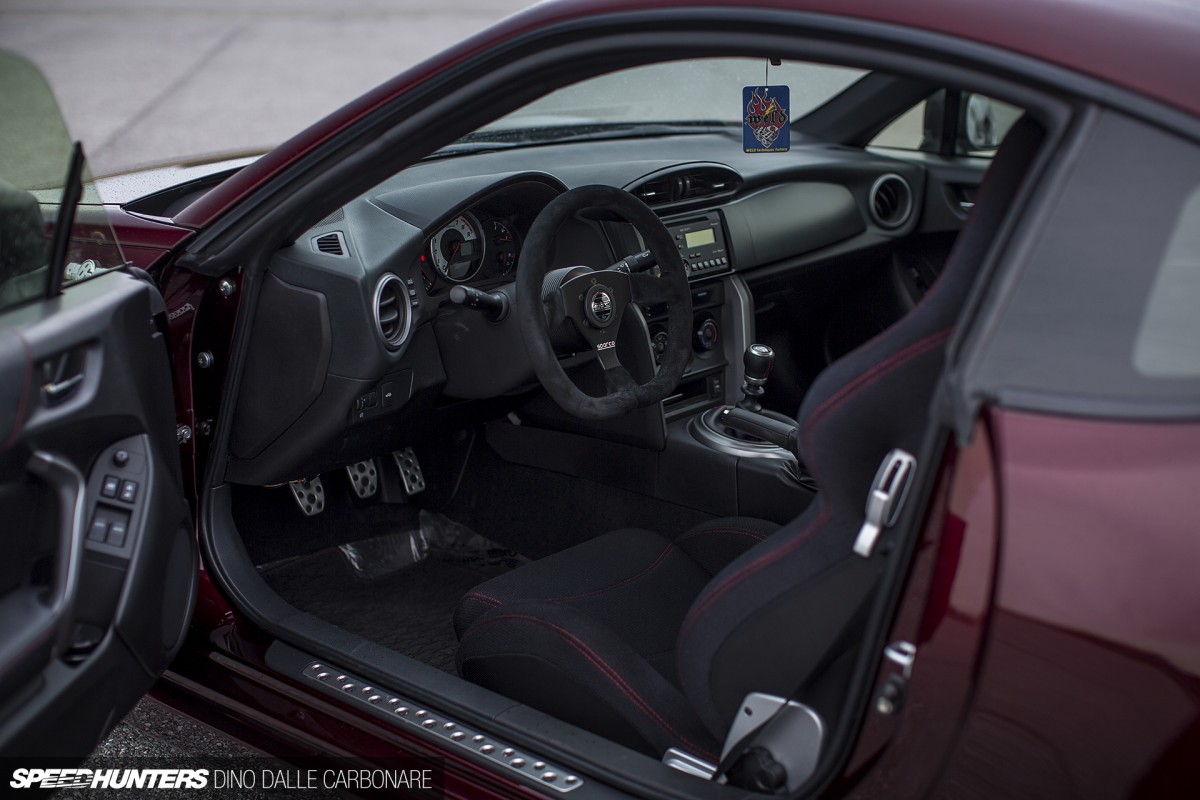 There is absolutely nothing wrong with the FR-S's cabin, which is precisely why Johnny only upgraded the essentials.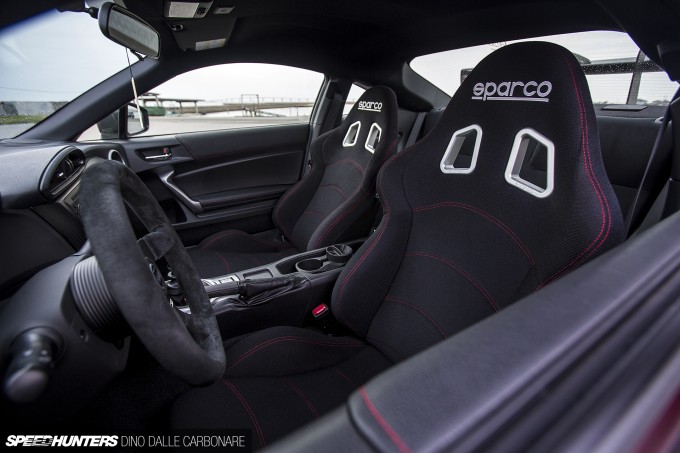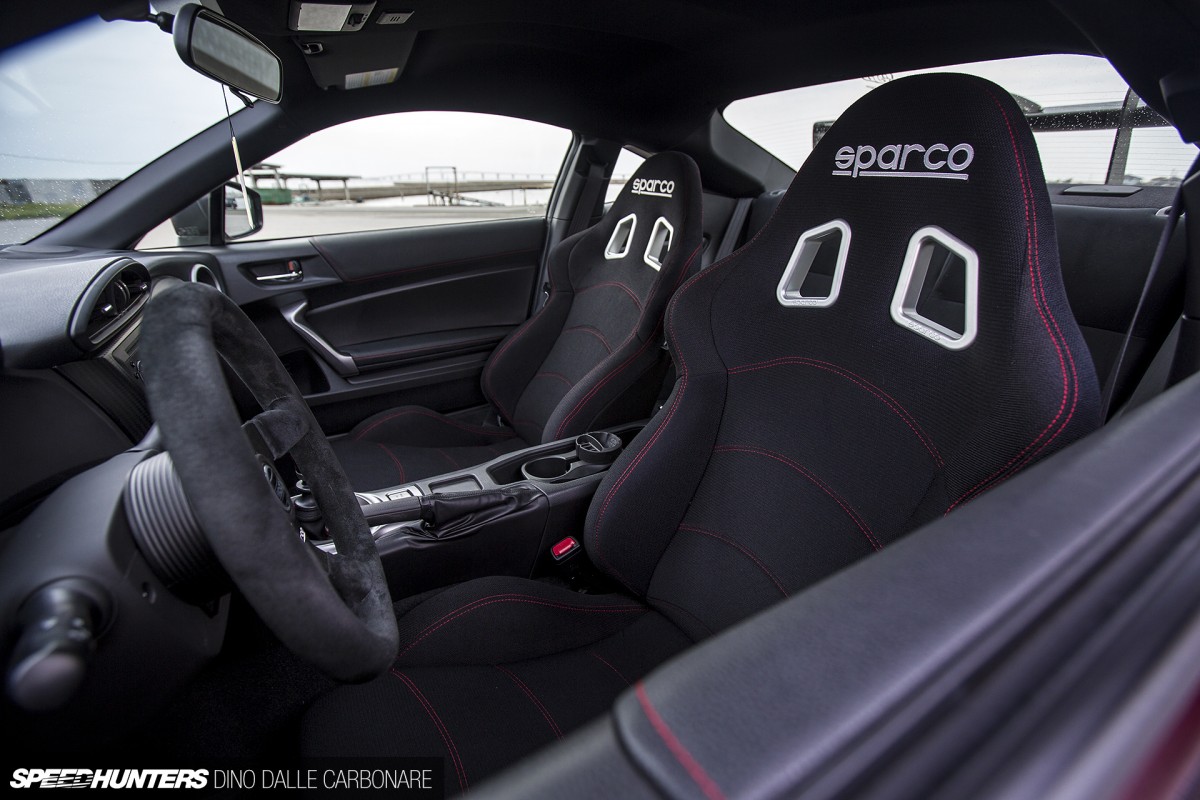 So joining the two Sparco seats – which feature red stitching to match the stock stitching around the interior – is a nice and chunky Sparco suede-wrapped steering wheel. Boom, job done!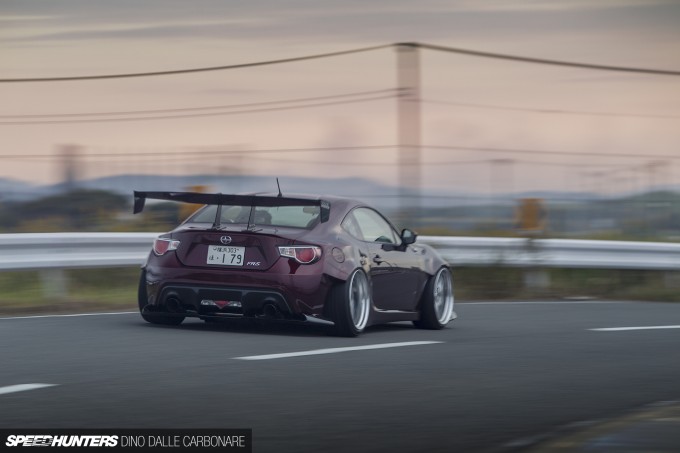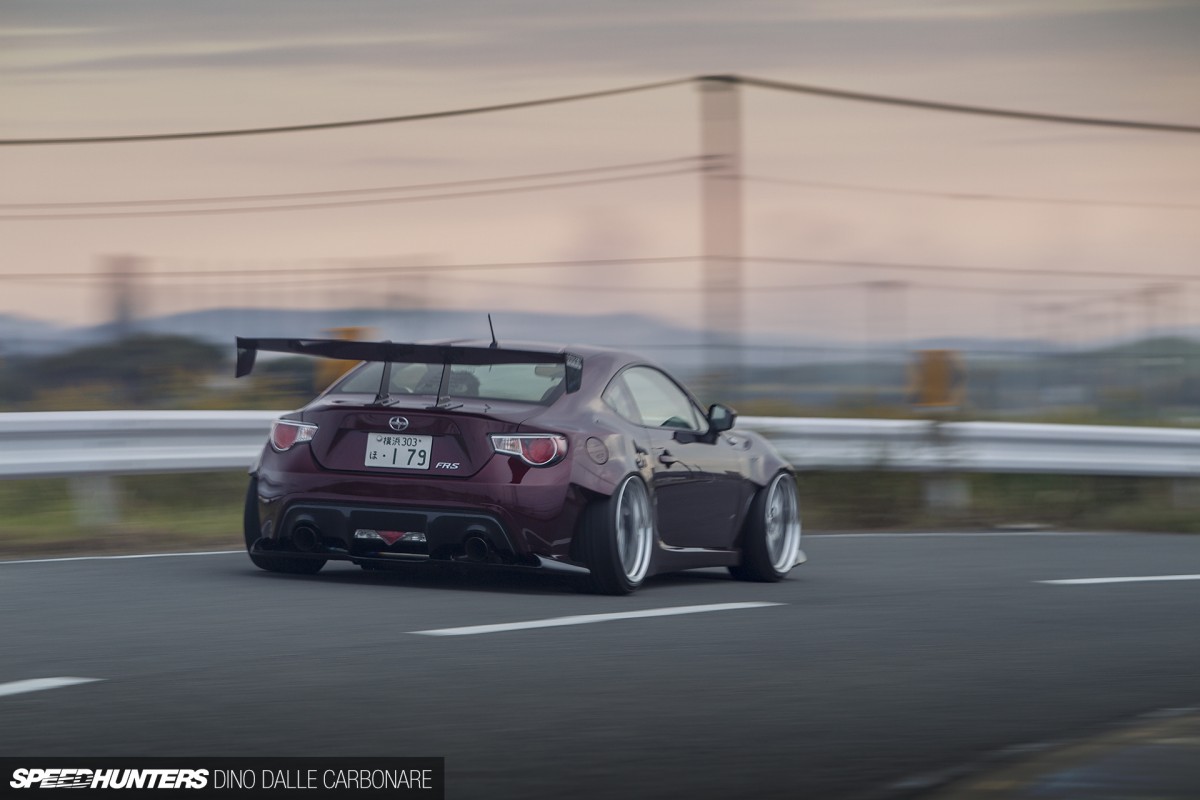 We have seen many ZN6s in a variety of flavours since the car's release a couple of years ago, but out all of them, this is the one that has made the greatest impression on me. That's probably because I respect substance the most – something the Weld Techniques FR-S has absolutely no shortage of!
Dino Dalle Carbonare
Instagram: speedhunters_dino
dino@speedhunters.com