Return Of The Bayline
A couple of short weeks ago, during my coverage of the BLOX Evolution event in San Francisco, I talked about some of the great car culture found in Northern California and the SF Bay Area.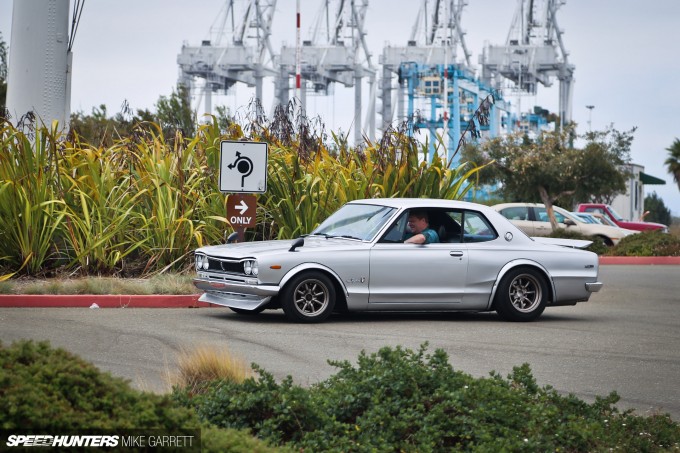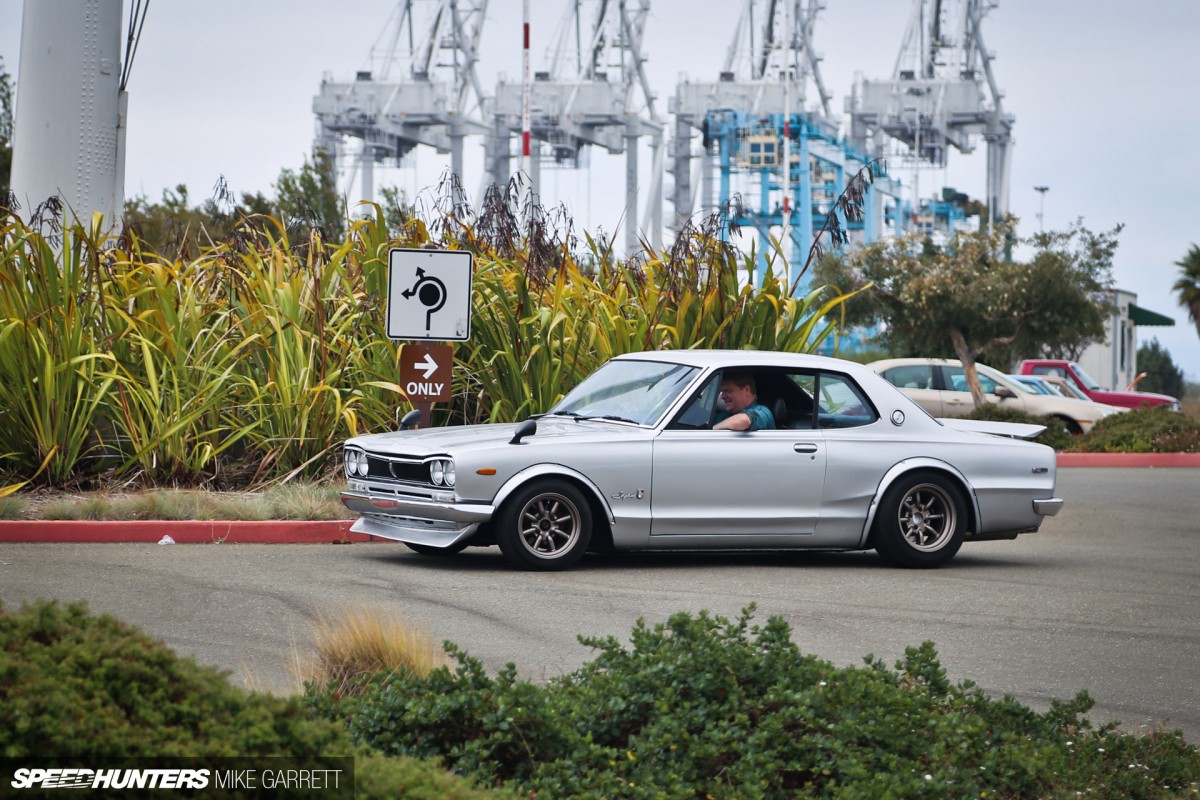 I had the chance to experience more of this on Saturday when I headed to the city of Oakland for the 2014 Bayline Gathering – the latest event from NorCal's Historic J organization.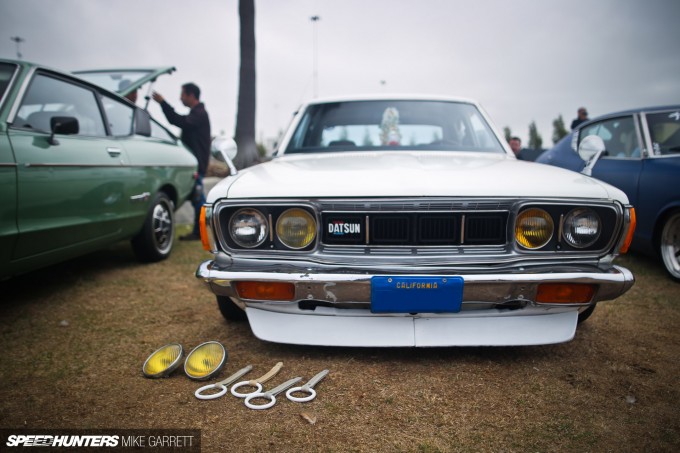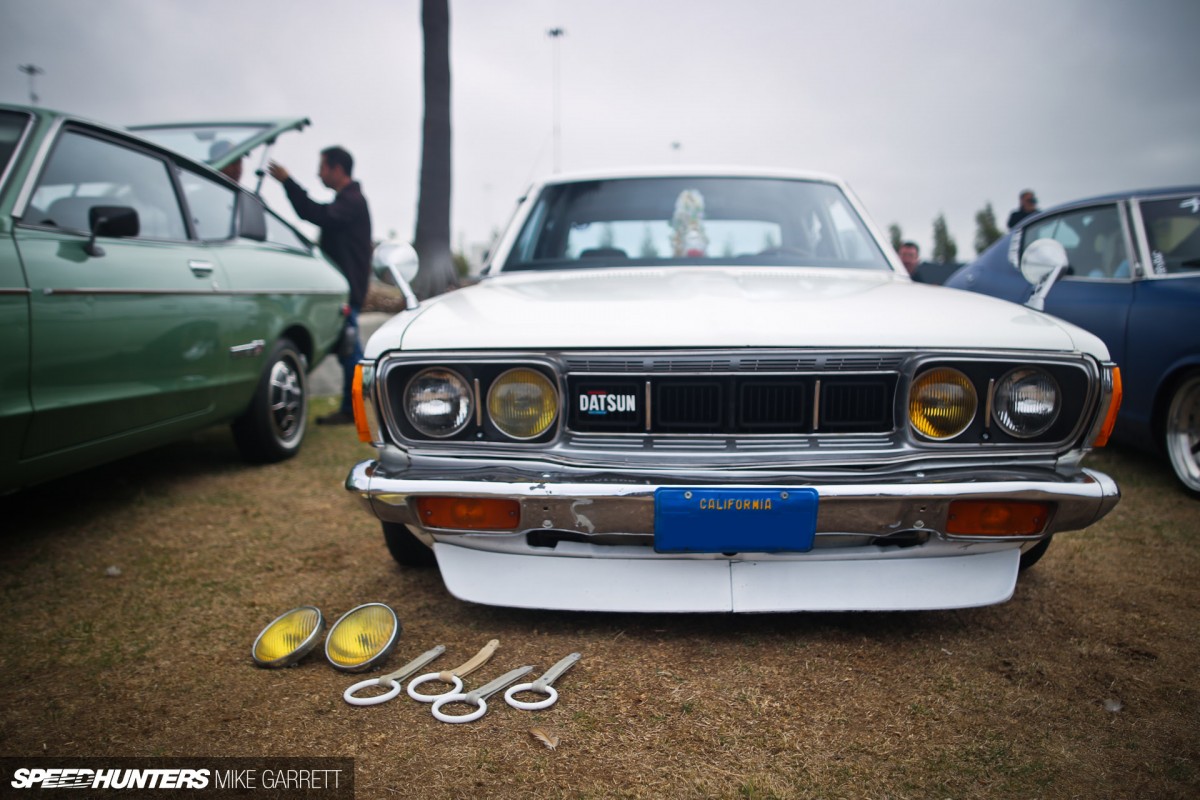 As the name suggests, this is an event for owners and fans of vintage Japanese cars –  a community which has always had a strong presence in this region of California.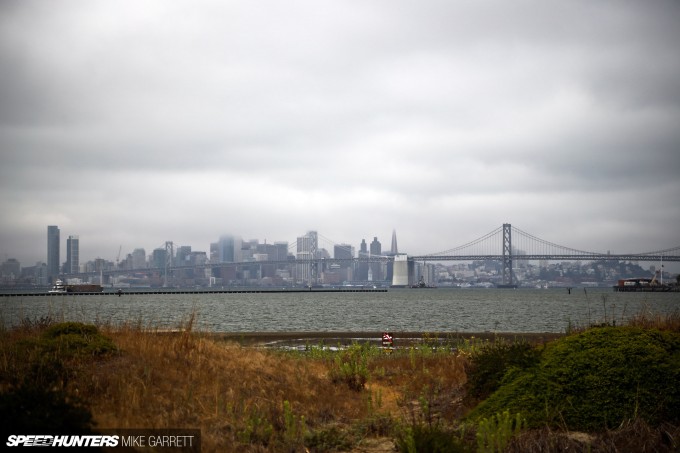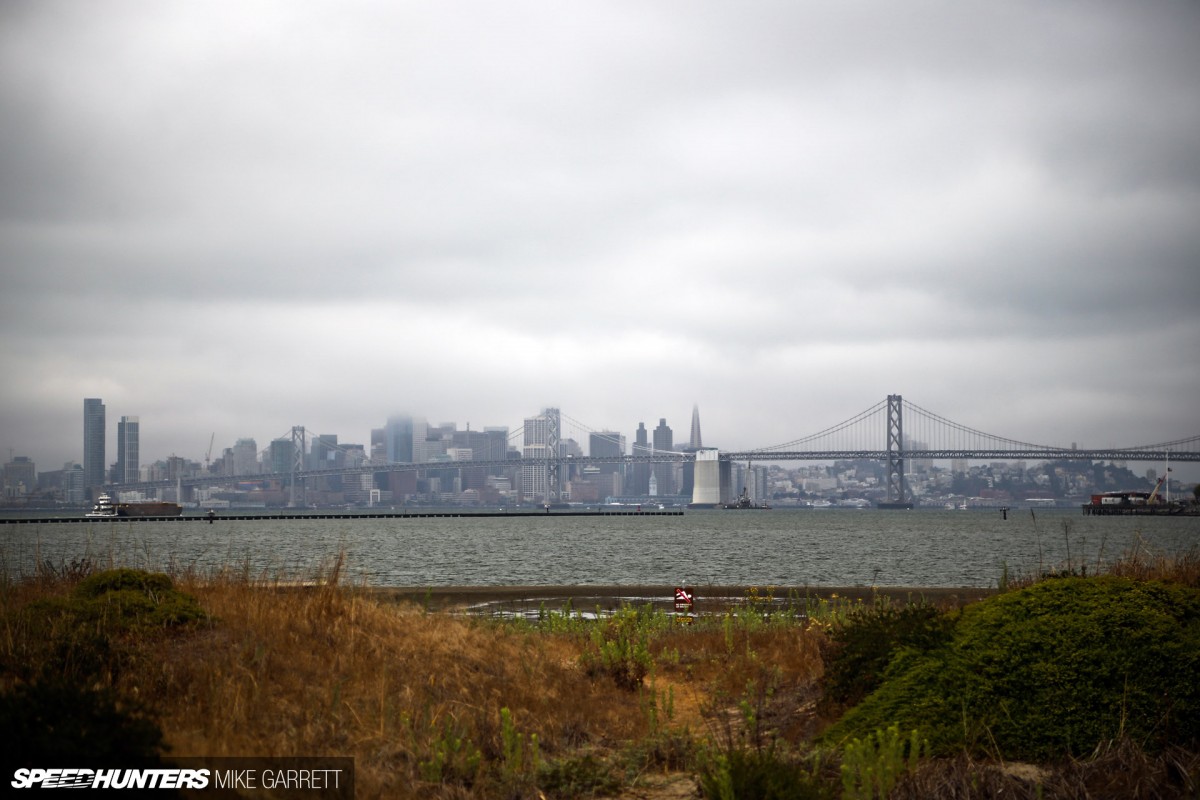 I always enjoy attending events at unique venues, and Historic J's choice of Oakland's Middle Harbor Shoreline Park was a good one. Not only was there plenty of grassy space for the cars, but you could look across the bay and spot the San Francisco Skyline peeking out through the summer time fog. It had all the makings of a great day.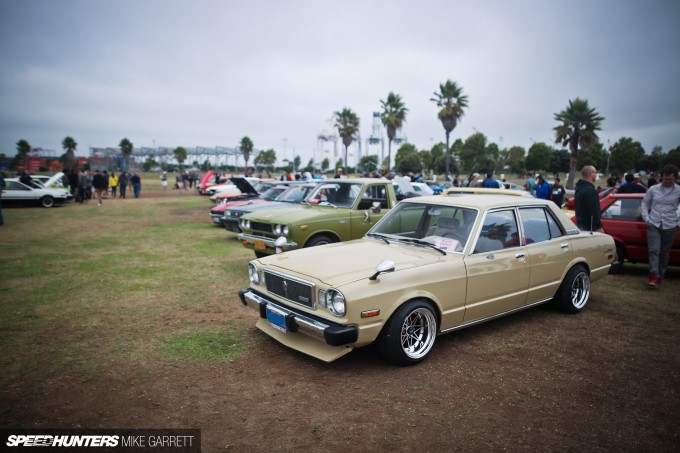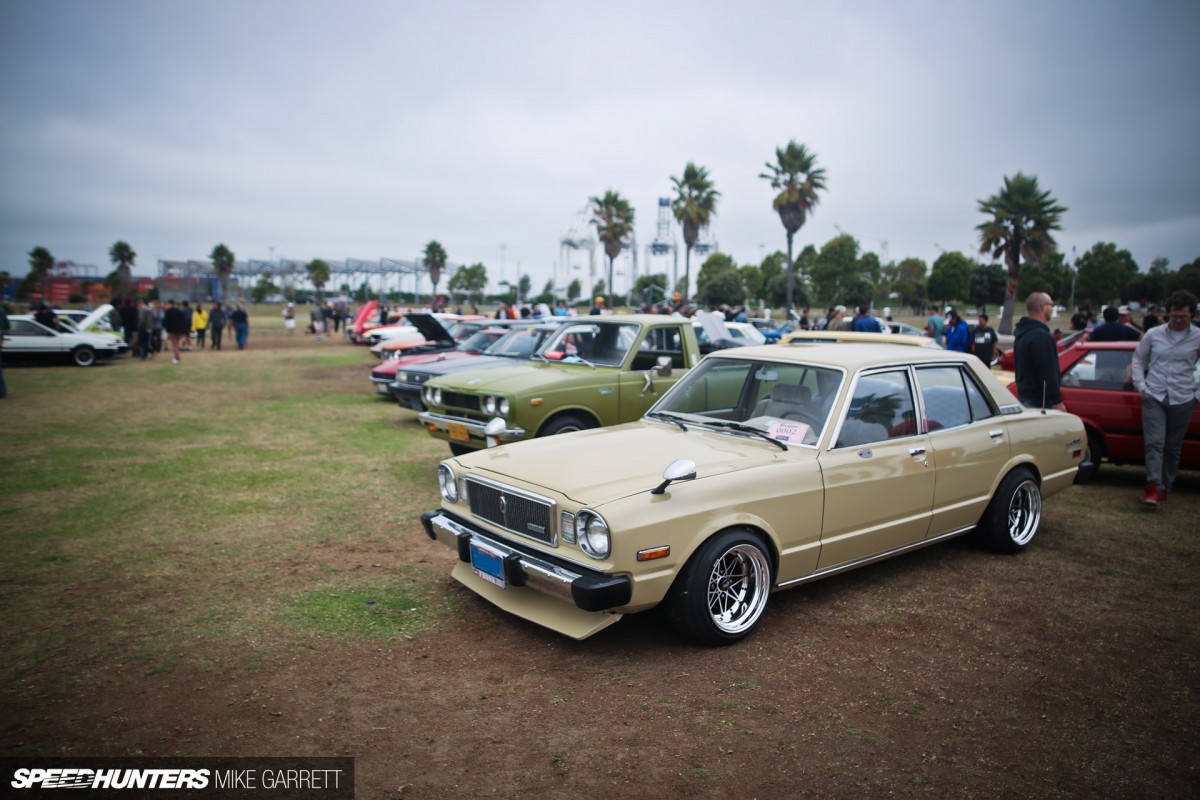 The only thing that was needed were some great cars, and with a combination of rare JDM machinery, classics with high horsepower engine swaps, unique rat rod style builds there was a lot to enjoy.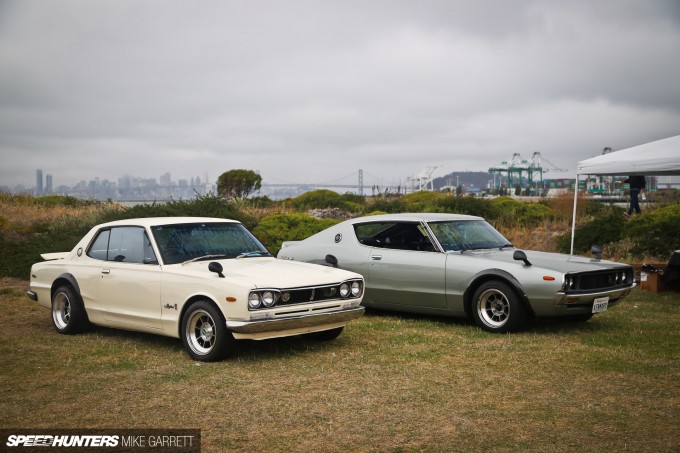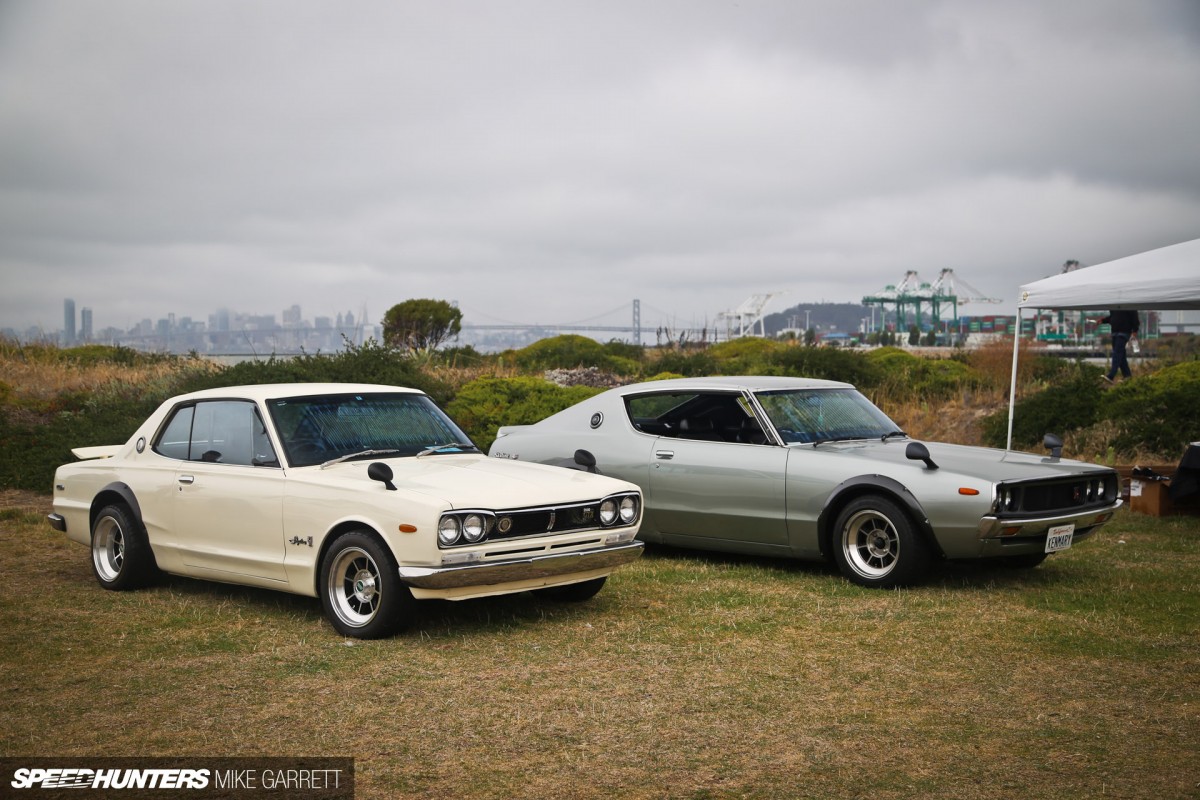 Let's begin with the Nissan Skyline – the car from which the Bayline meet takes it's name. Hakosuka and Kenmeri Skylines are appearing in increasing numbers on US shores, and there was a nice selection of them on hand for Saturday's event.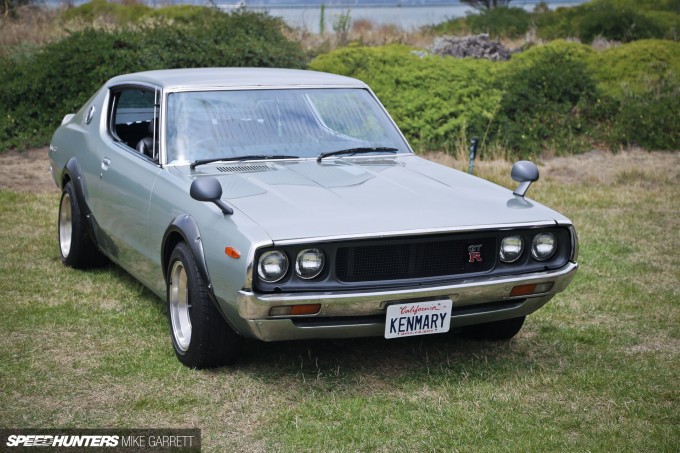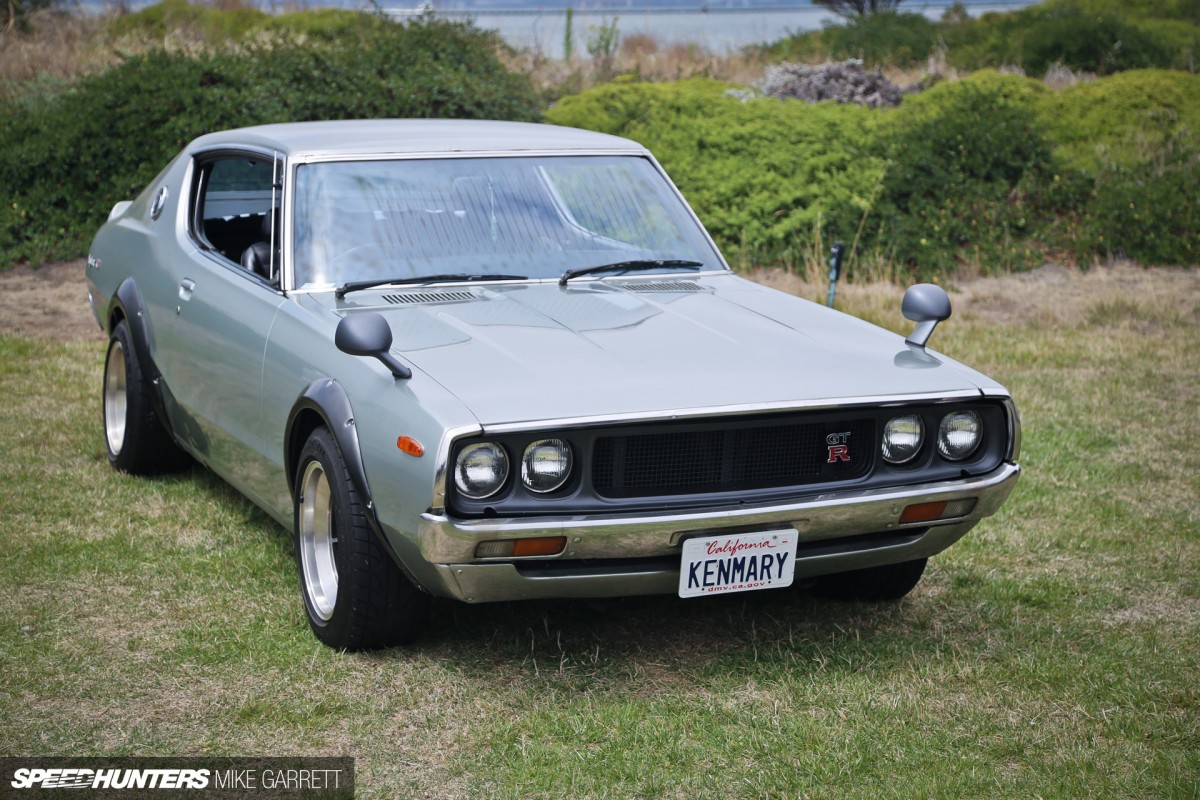 It's strange to imagine a time not too long ago when it was in incredible rarity to see any early Skyline in the US. Now they are being driven and enjoyed not just by Japanese car nerds, but by the general collector car world.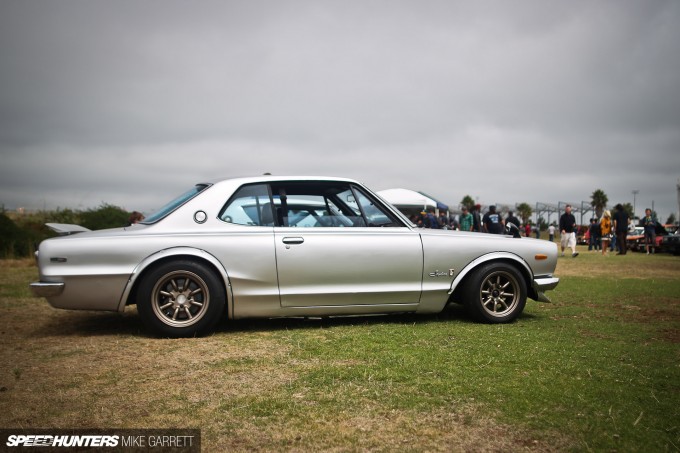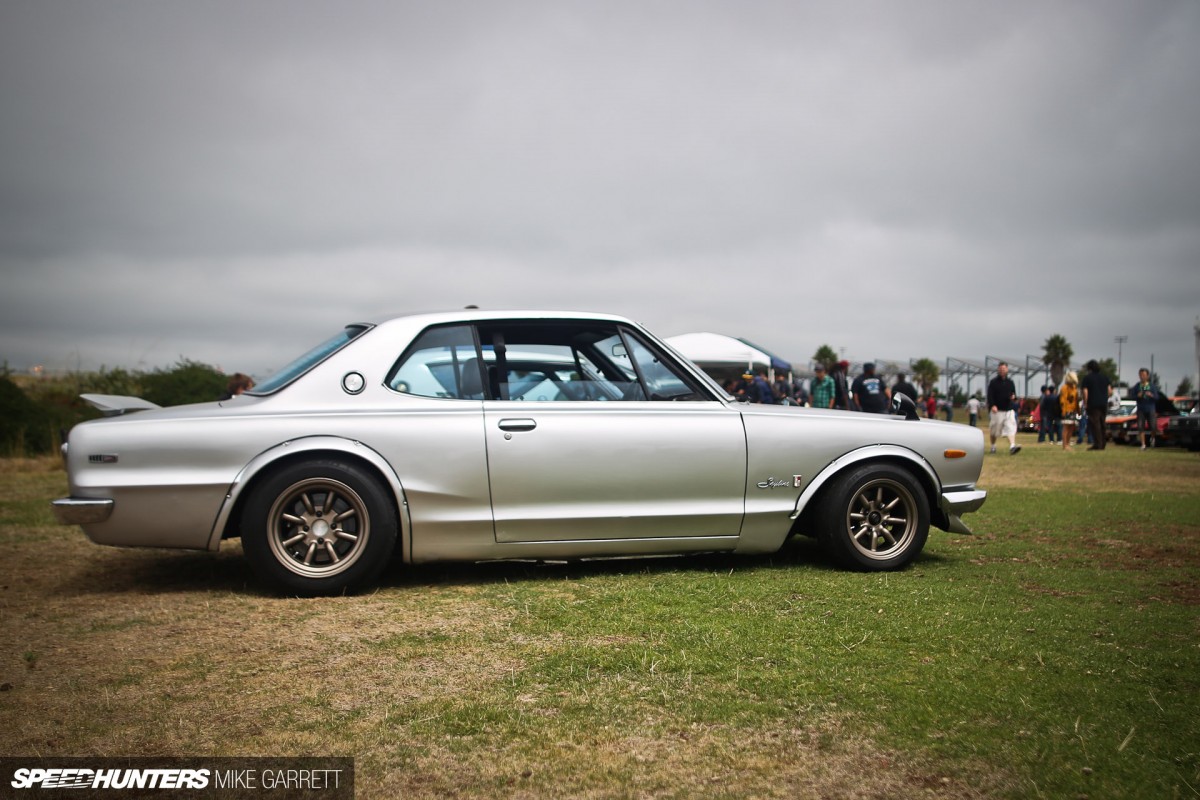 As pointed out in our recent feature of another US-based Hakosuka, most of the cars on American shores are modified with a more conservative style and there's nothing wrong with that. I mean, how can you argue with those lines?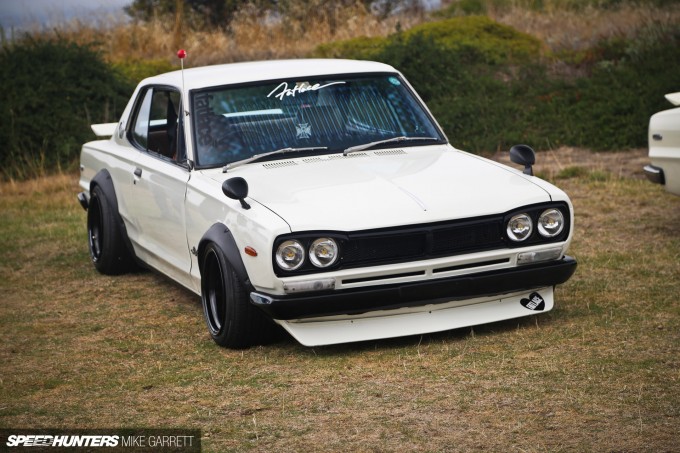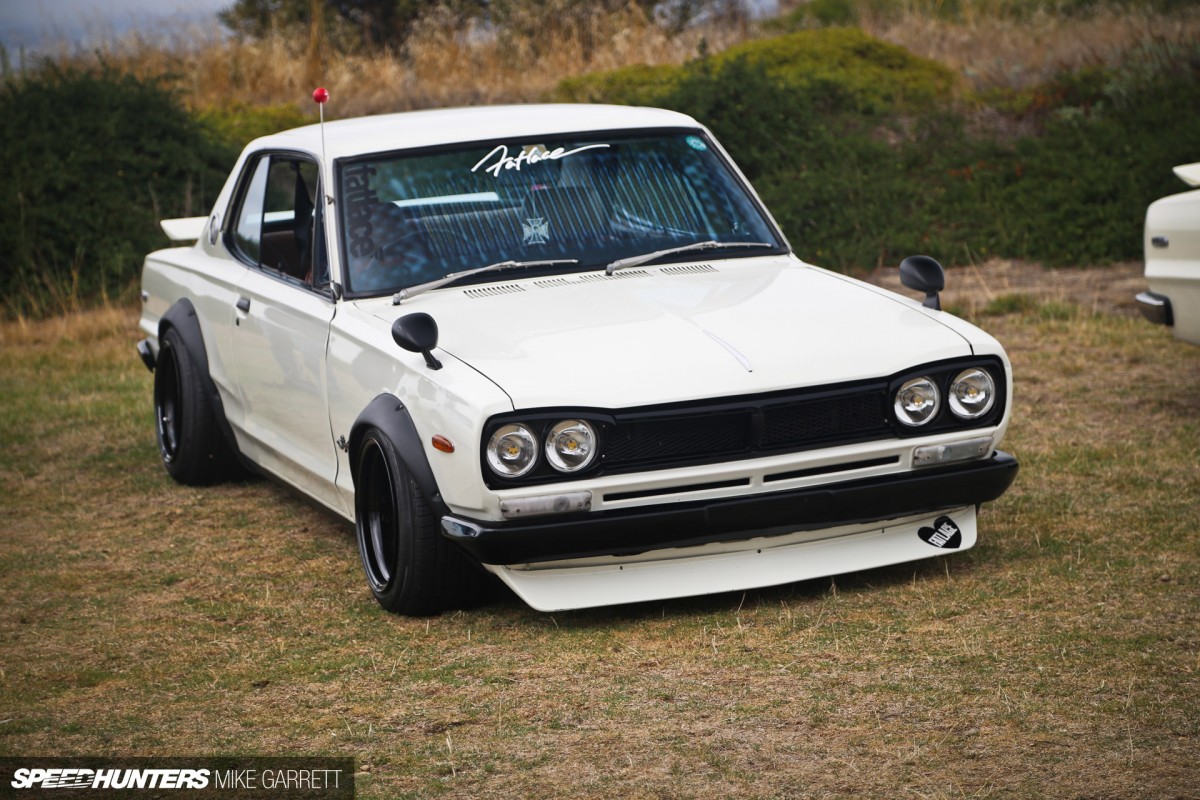 One of the more aggressive Skylines in attendance was Mark Arcenal's well known Hakosuka – slammed low and looking as good as ever.
Swaps Galore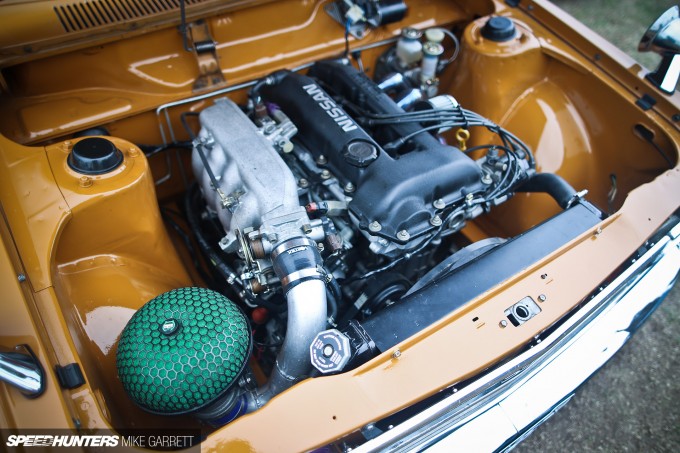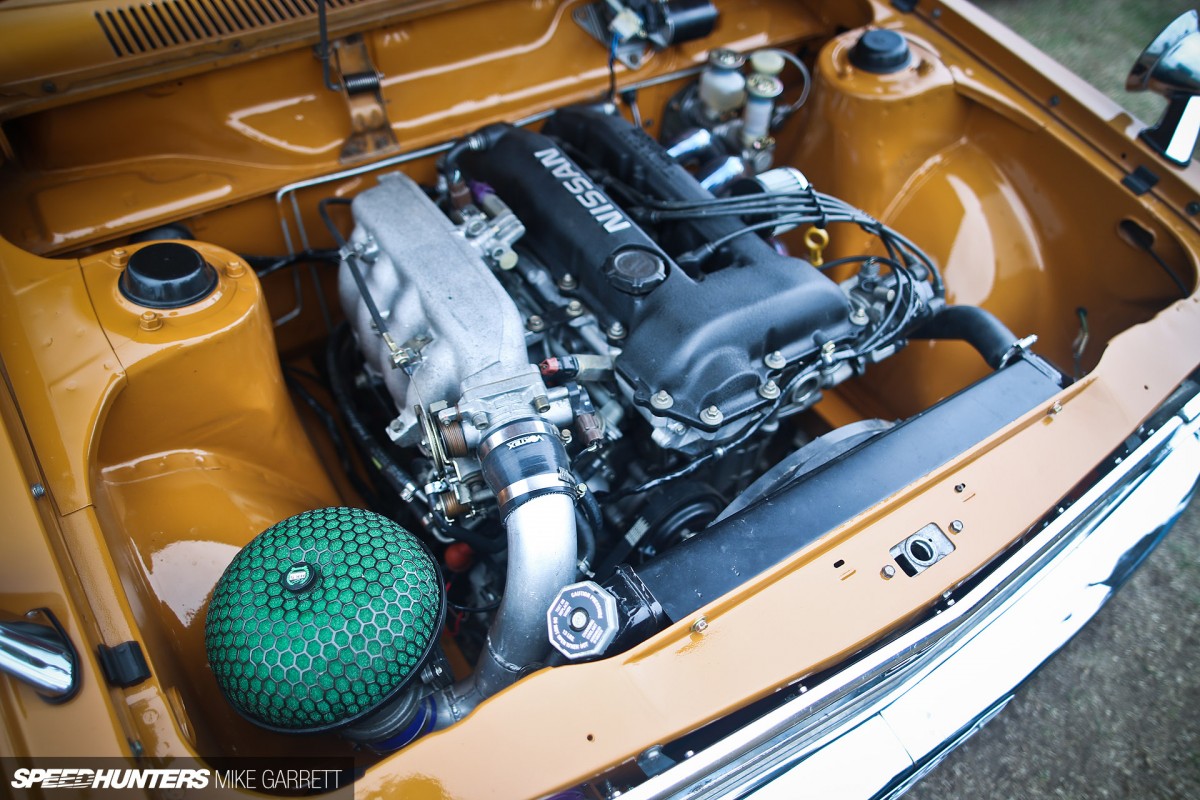 If there's one thing that might define Nor Cal's vintage Japanese car scene it's the engine swap. There was all sorts of converted machinery hanging around the park, many with traditional engine upgrades like an RB in a 240Z or an SR20 in a Datsun 510.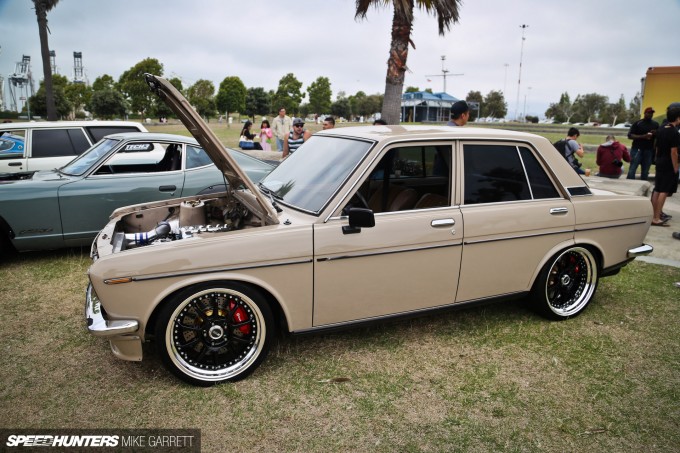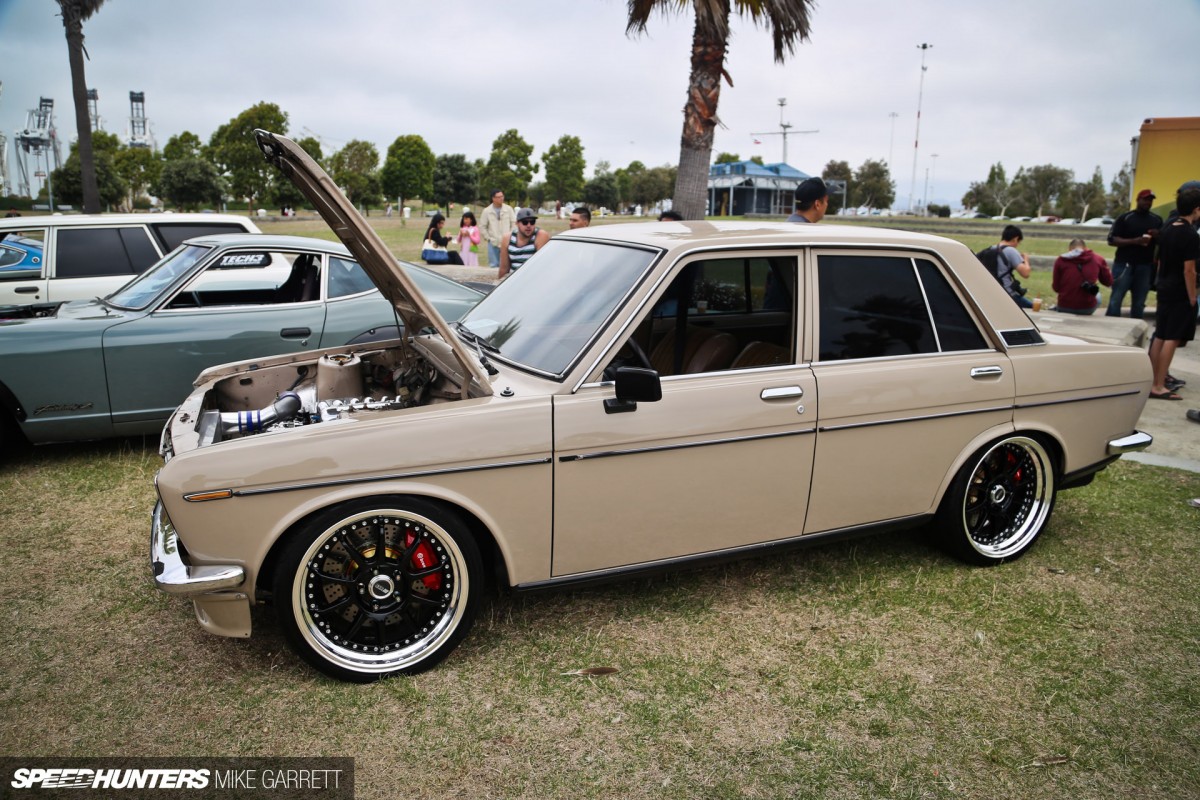 Others were a bit more extreme. Check out this 510 sedan for example. While its exterior is modest, the SSR wheels and oversized brakes hint at something more than the stock L-series beneath the bonnet.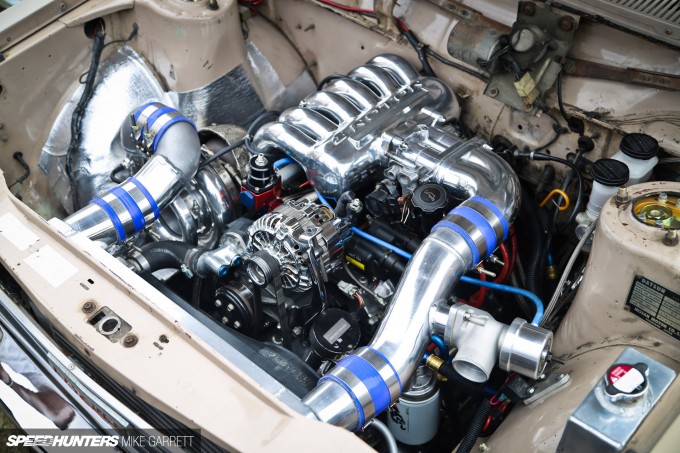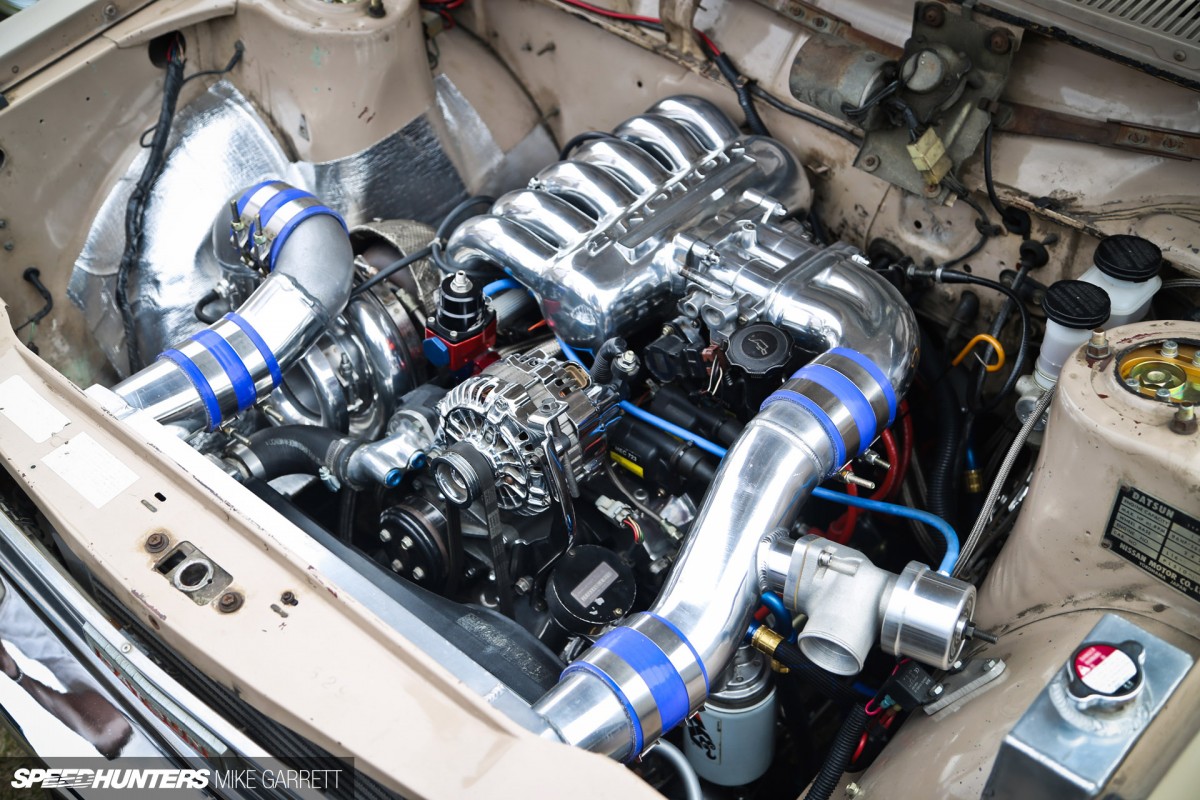 It's actually powered by Mazda 20B three rotor with a giant Turbonetics snail hanging low in the engine bay. This sort of swap might be common places like New Zealand or Australia, but it's relatively rare to see here in the US.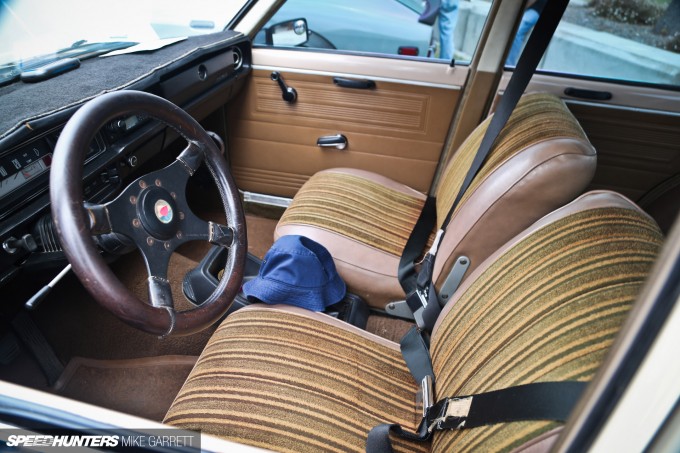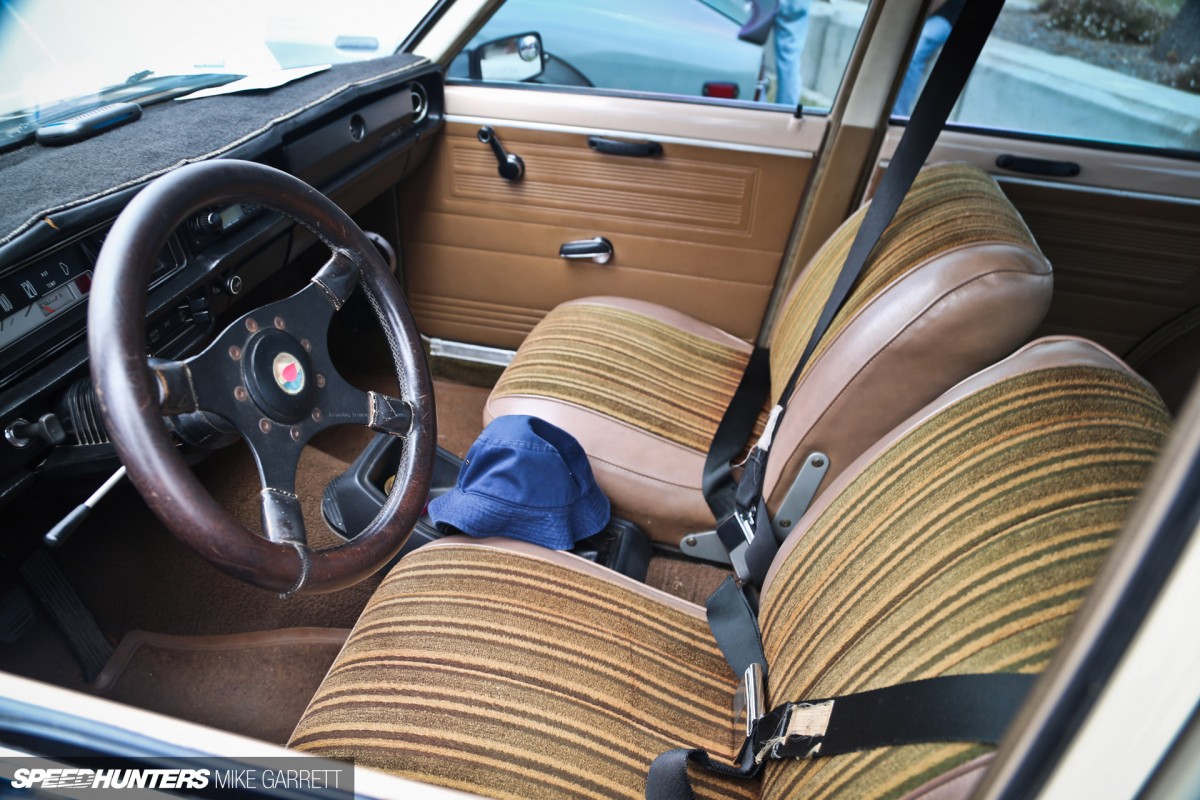 Rather than having aftermarket racing seats, I like how things were kept old school inside with custom upholstered factory buckets.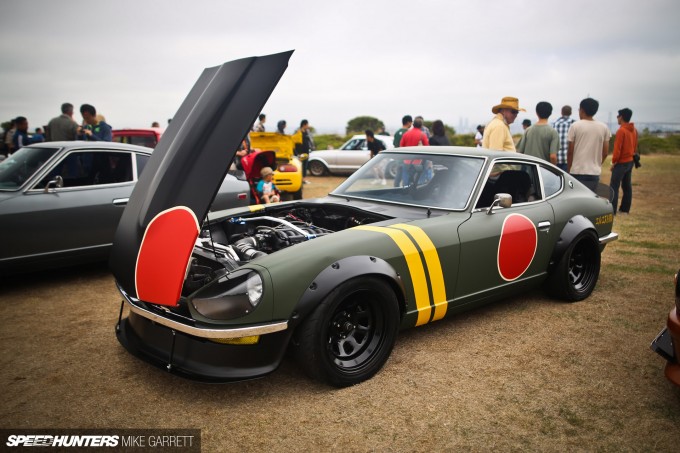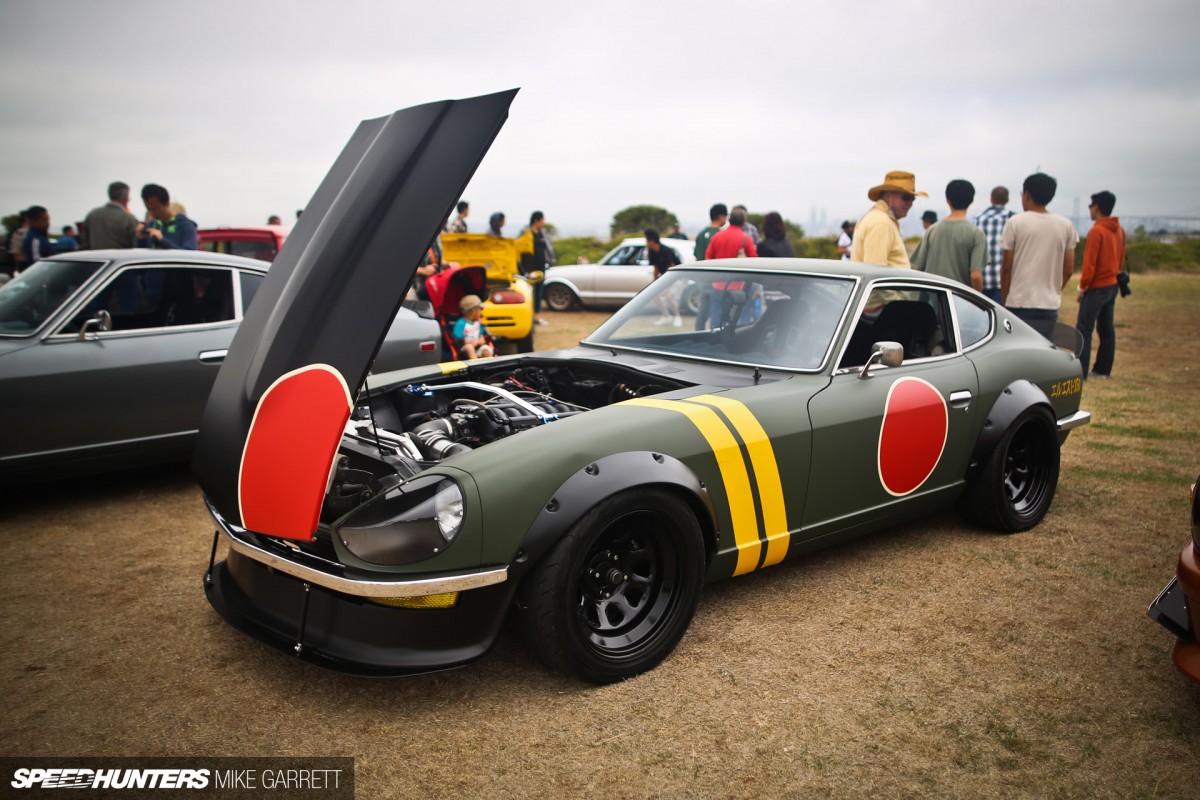 Now we move to another highlight from the meet – a 240Z painted to resemble a Japanese Zero fighter from World War Two.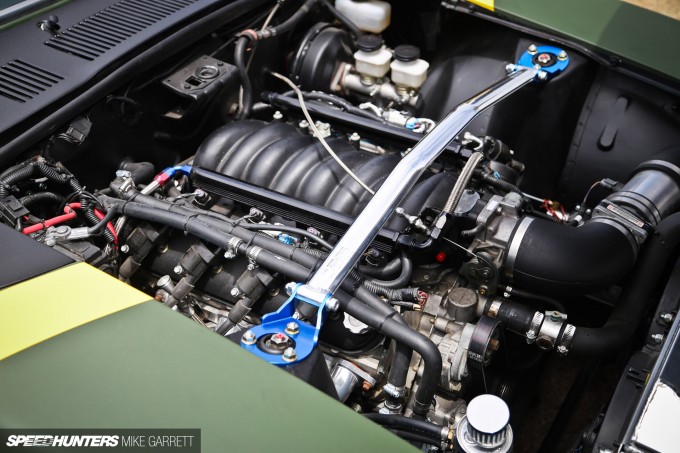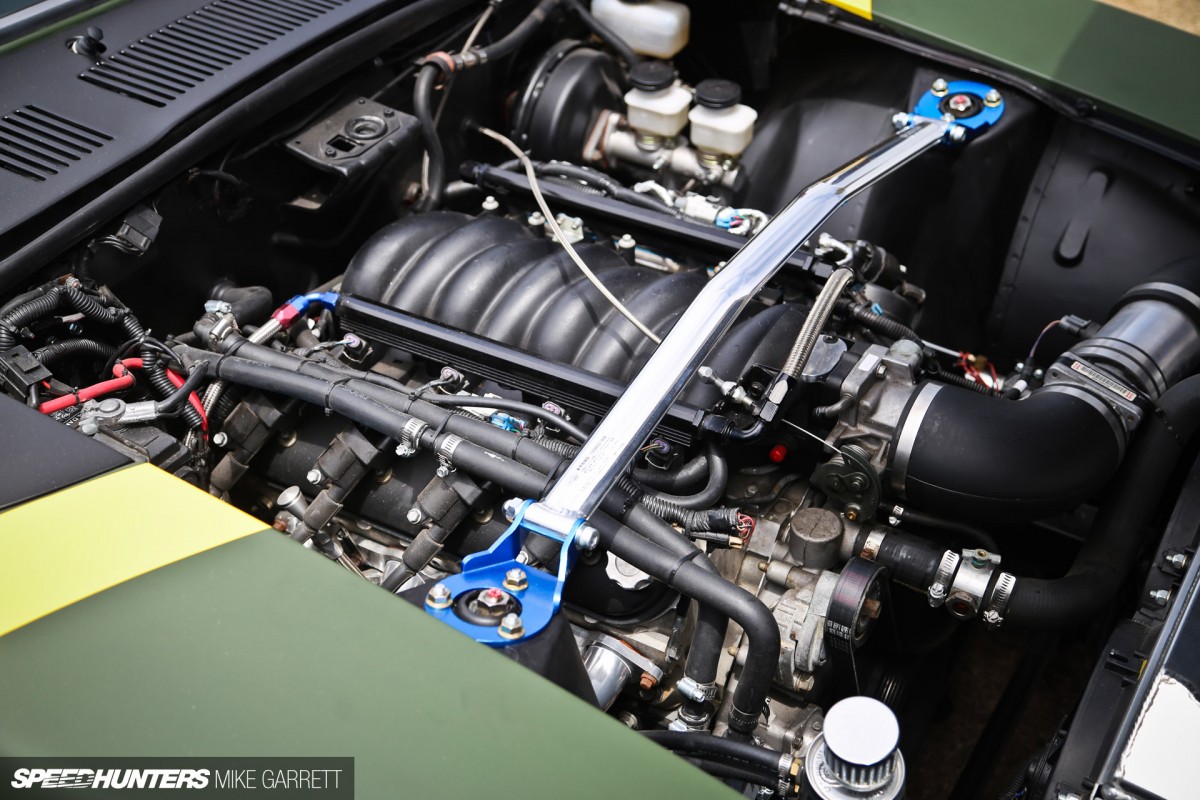 While the fighter plane motif takes it's inspiration directly from Japan, it's LS V8 swap is about as American as you can get.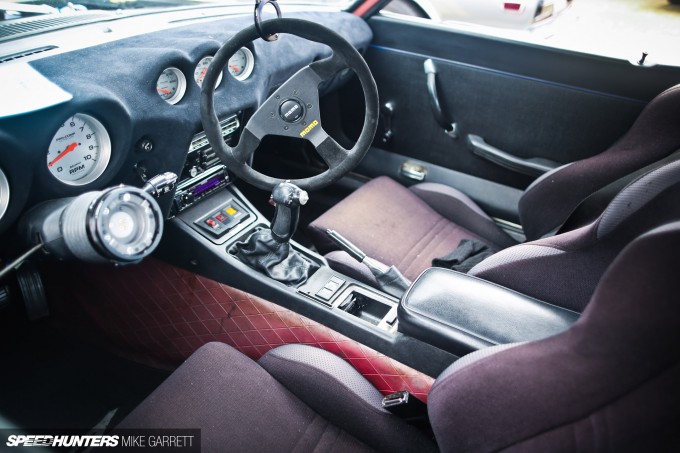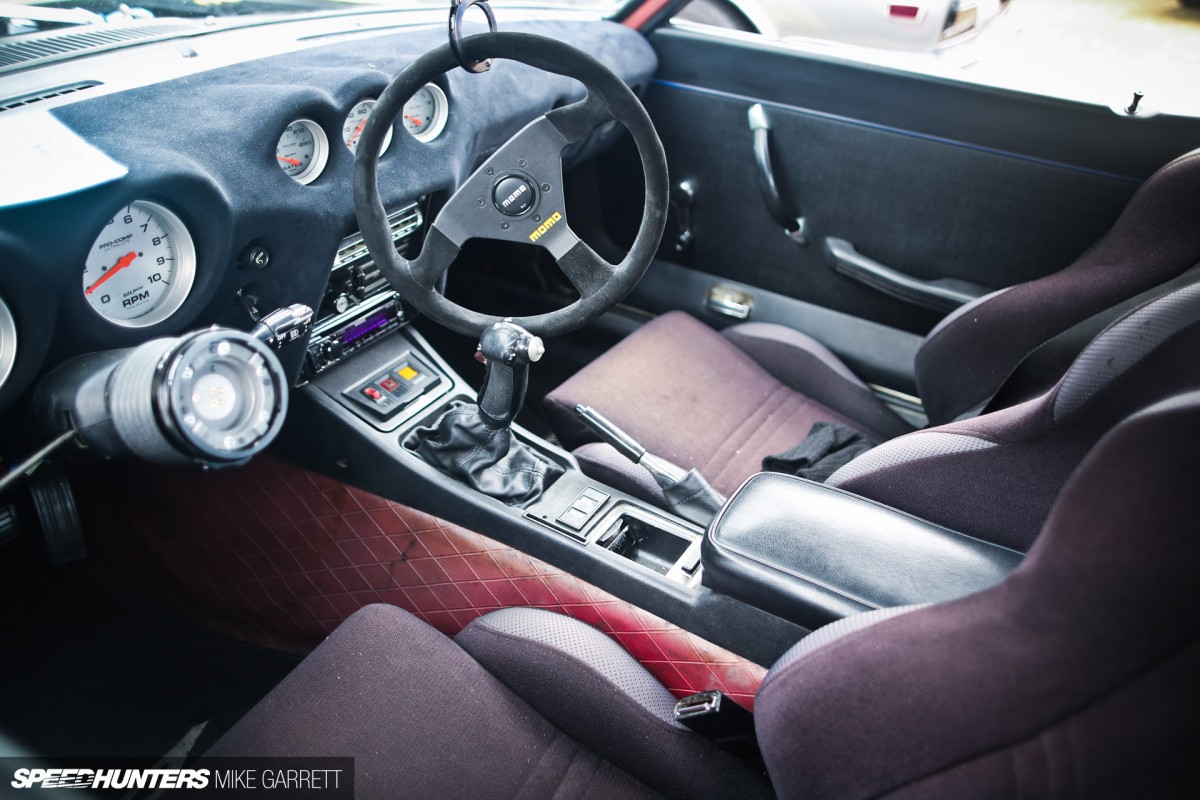 There were other cool touches too, like a shift knob made from a joystick. Too close for missiles, switching to guns!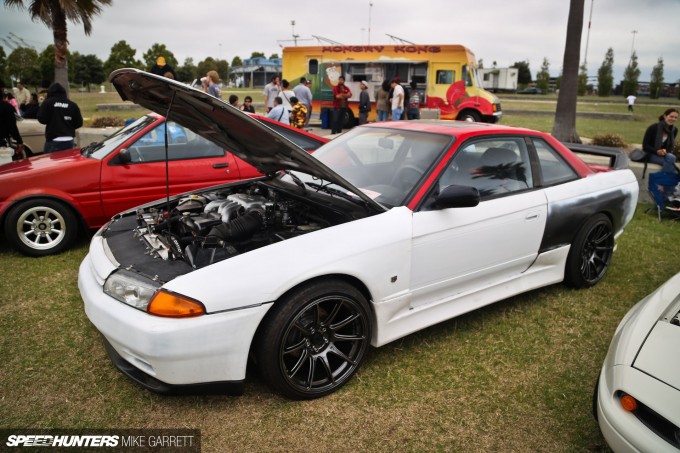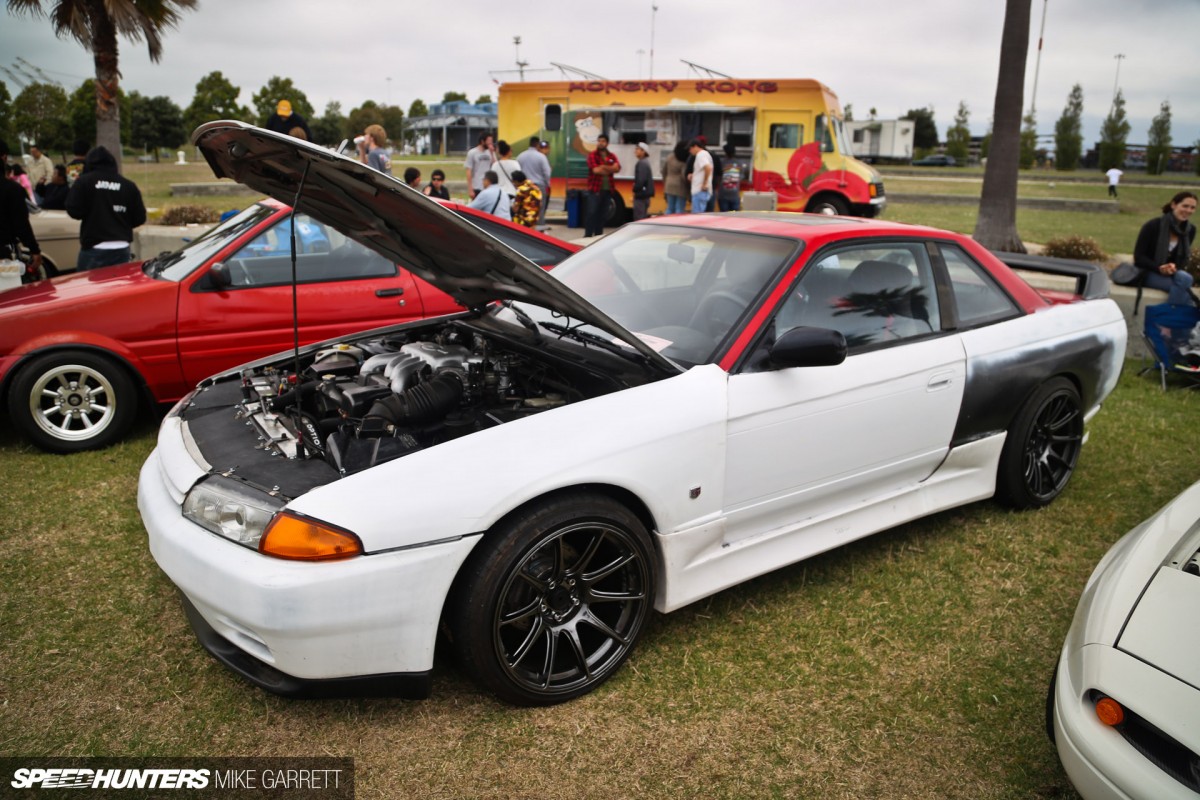 Now here's an unusual creation. It might look convincingly like an R32 Skyline but it's actually an S13 240SX coupe that's been given a full BNR32 GT-R conversion right down to the wide body panels.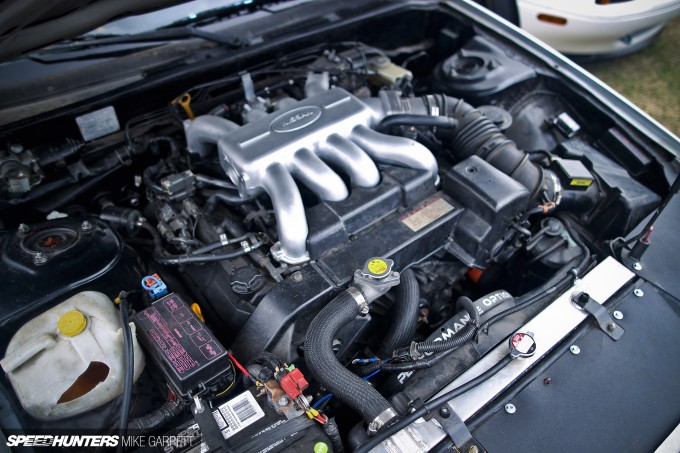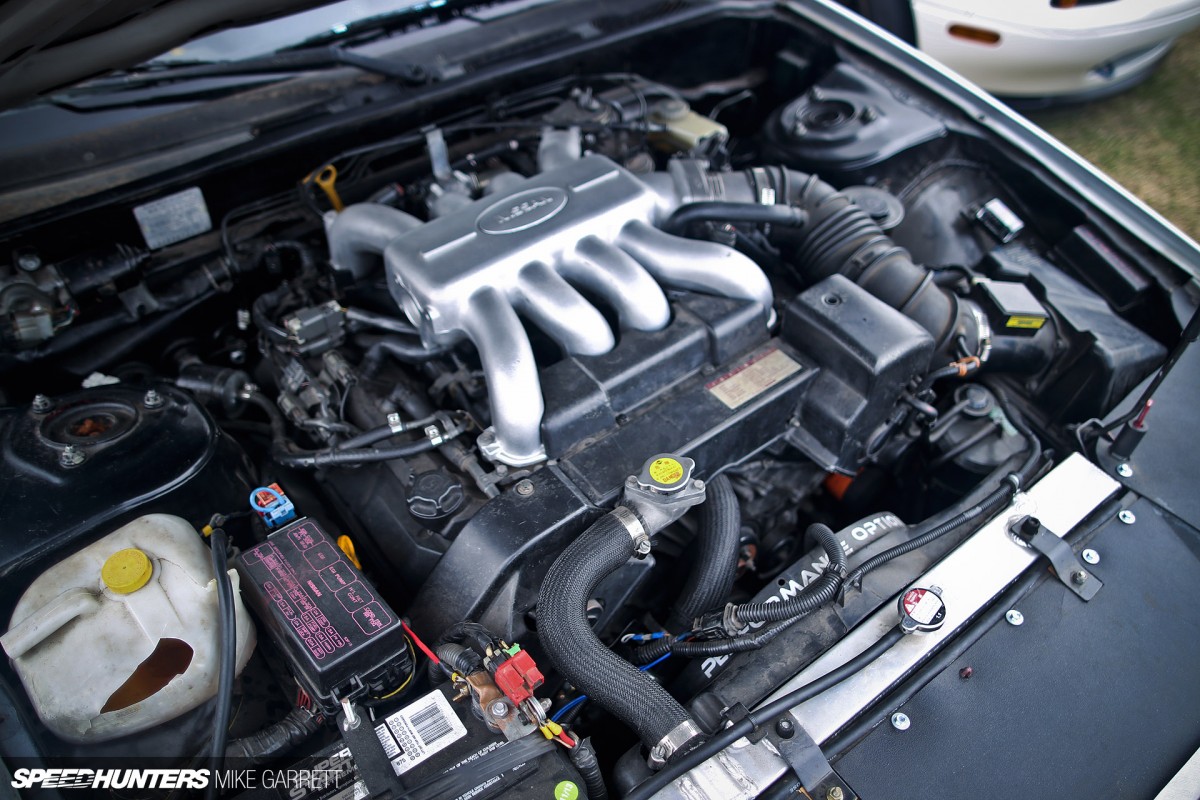 It gets even stranger under the hood, which is home not to a RB or SR20, but a VH45DE V8 from an Infiniti Q45.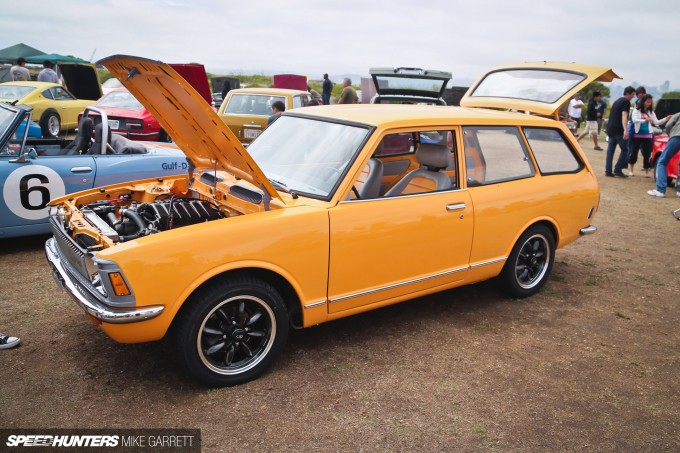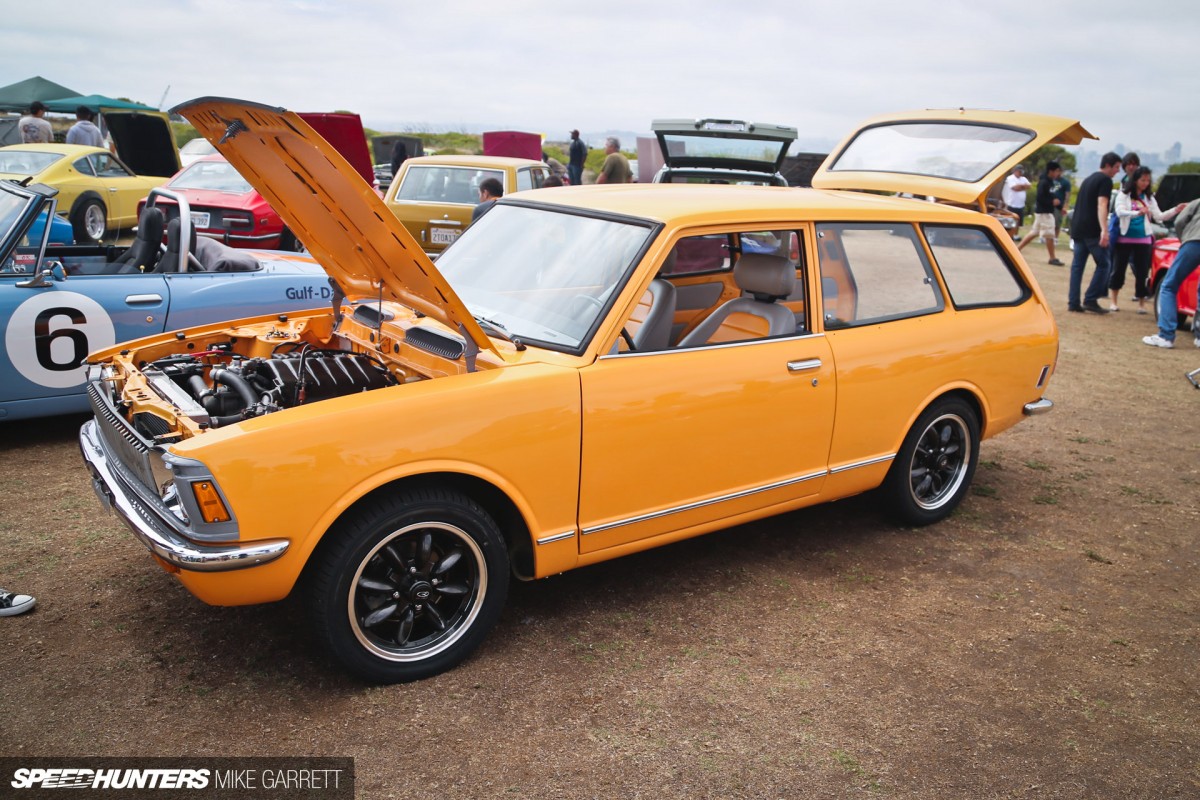 The most unusual engine swap of the day might have been found under the hood of this second generation Toyota Corolla wagon.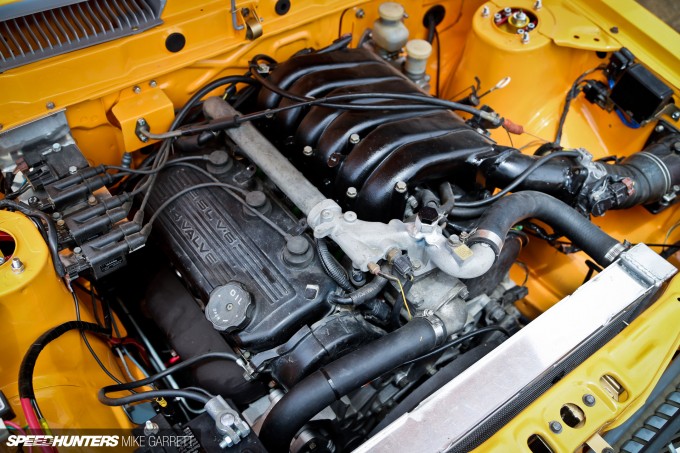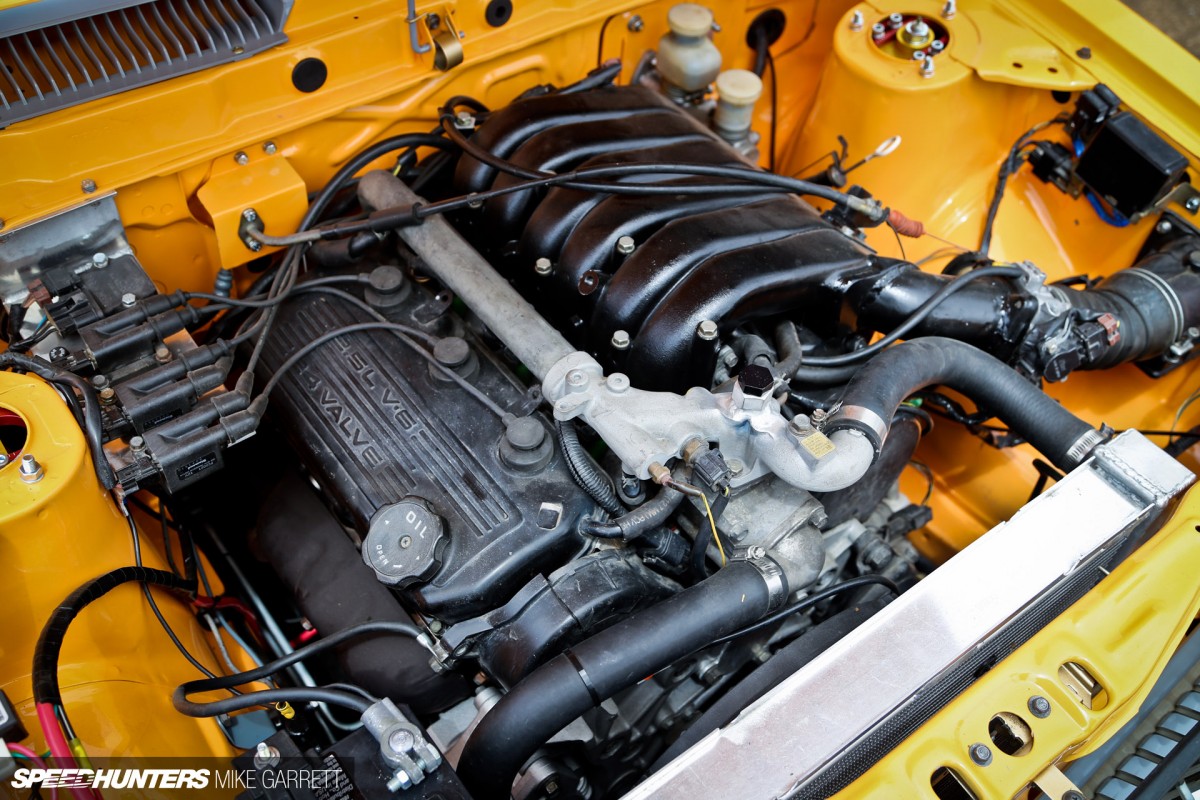 It wasn't powered by a 4A-GE, 3S-GE or a Toyota motor of any sort. That's a 2.5-liter Mitsubishi V6. I wasn't even sure what kind of engine I was looking at until I spoke with the owner.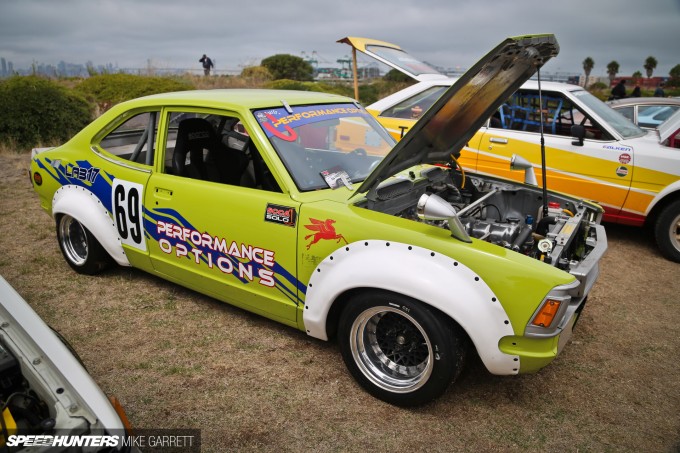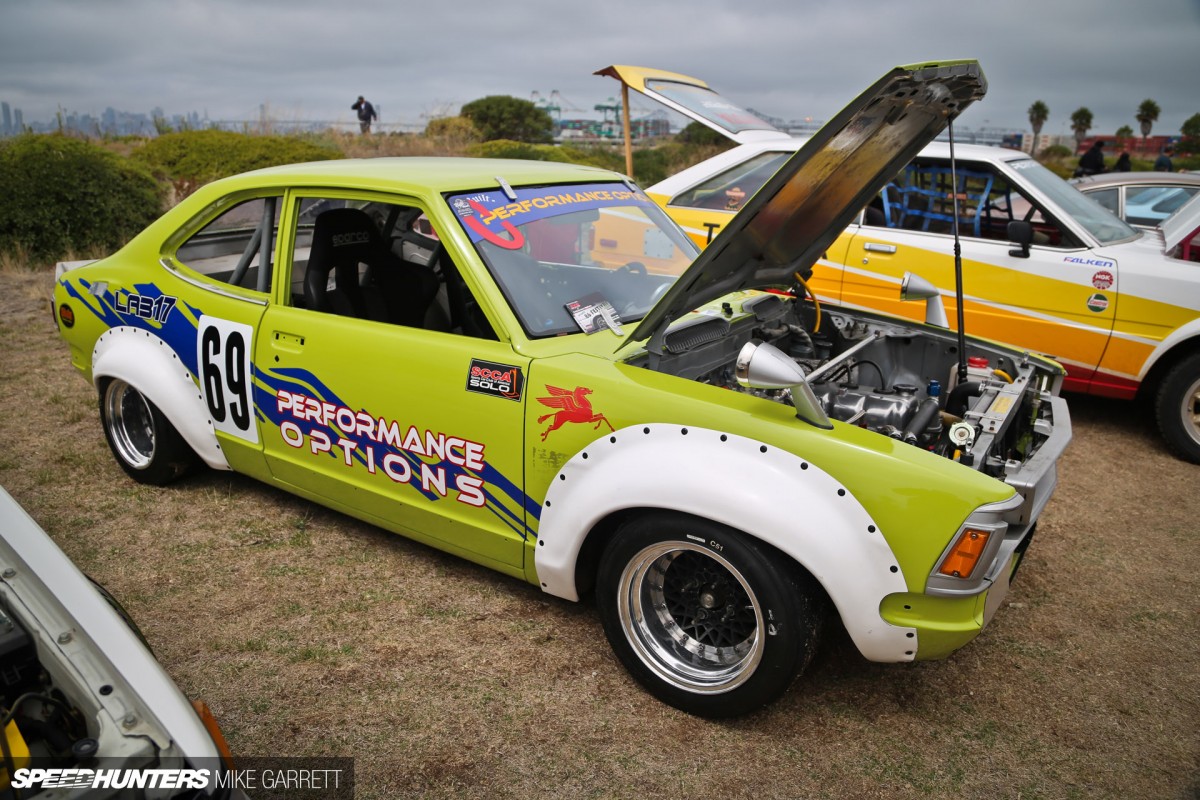 Speaking of engine retrofits, Oakland's own Performance Options is one of the Bay Area's best known swap specialists. The shop is so close to the park that Joey was able to drive over to the meet in his Corolla autocross machine.
Legends & Rarities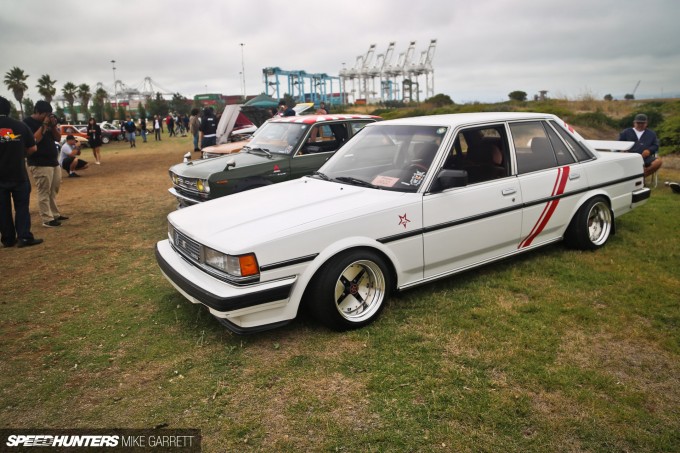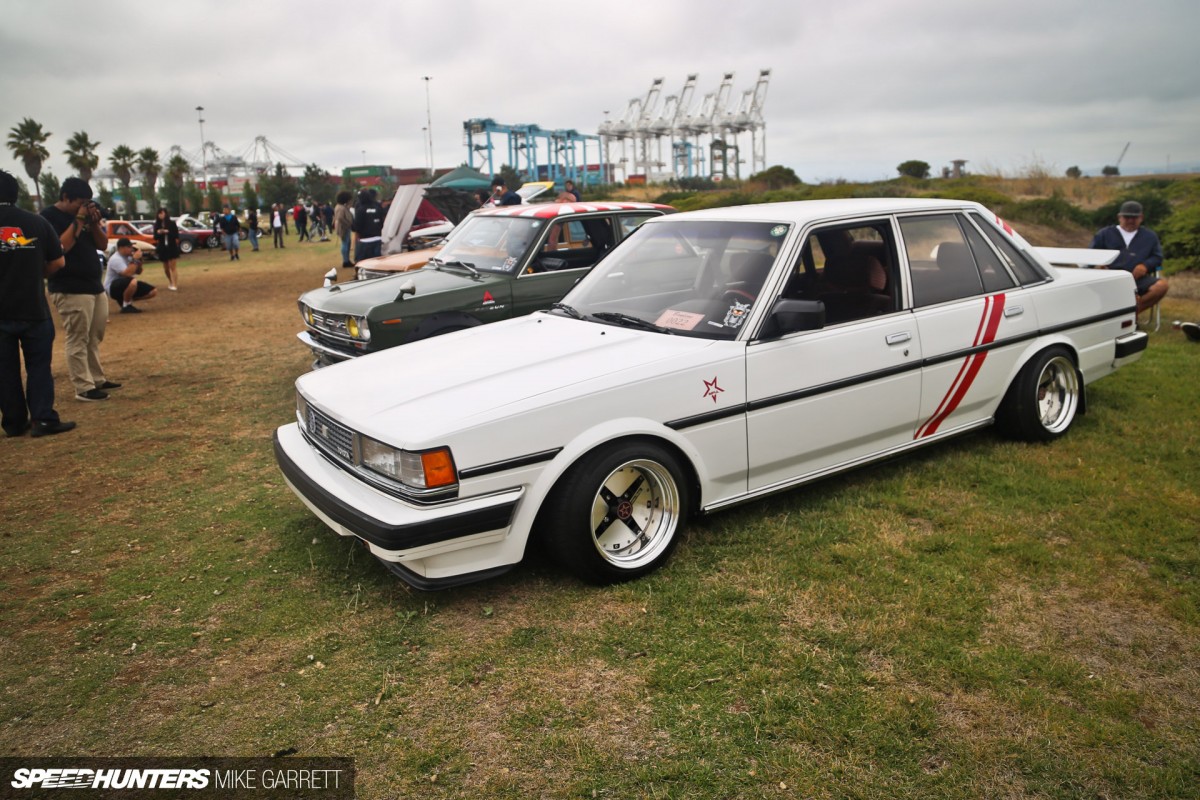 It seems that more and more people in the States are taking inspiration from Japanese kaido racers, and this MX73 Cressida very much looked the part.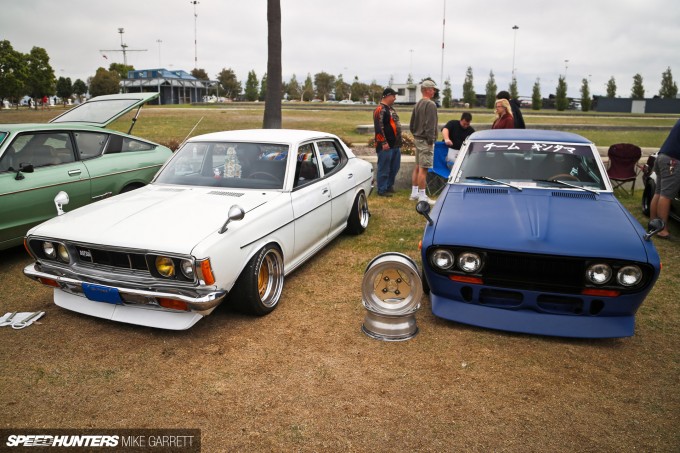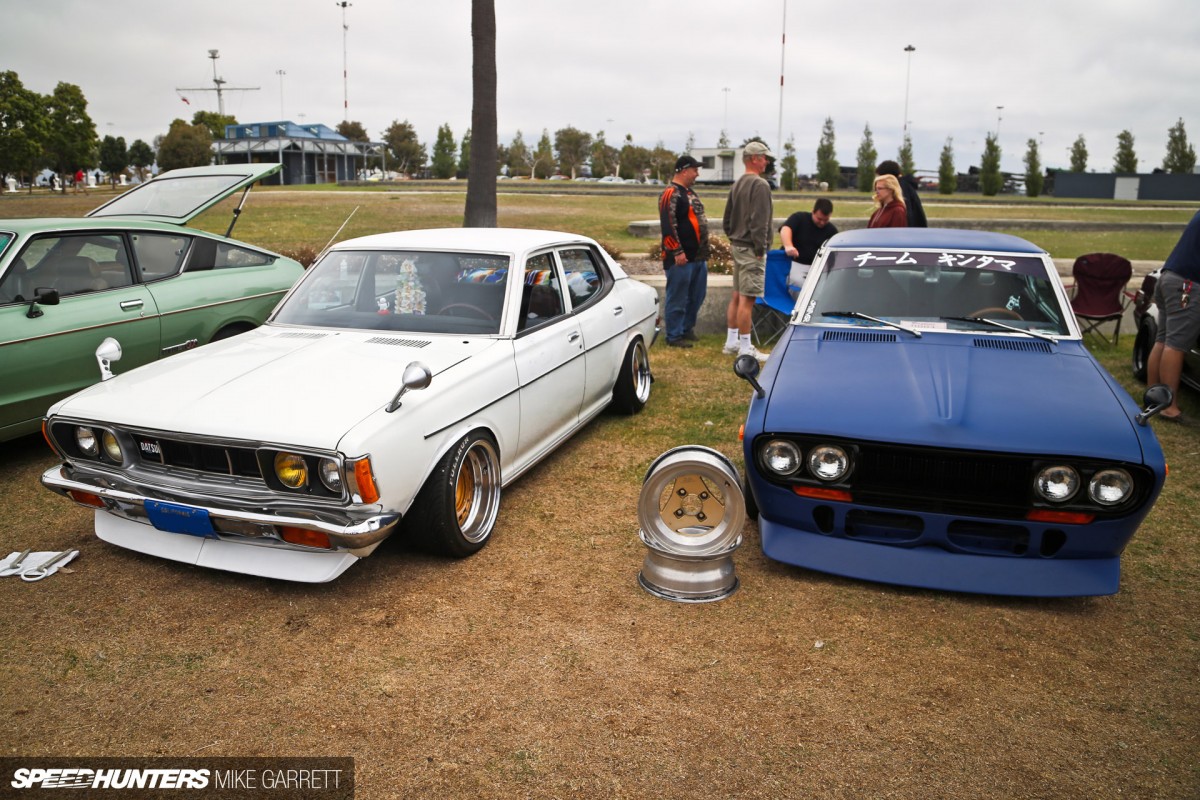 The same goes for this pair of uncommon Datsuns from the 1970s – a 710 coupe on the left and a 610 sedan on the right.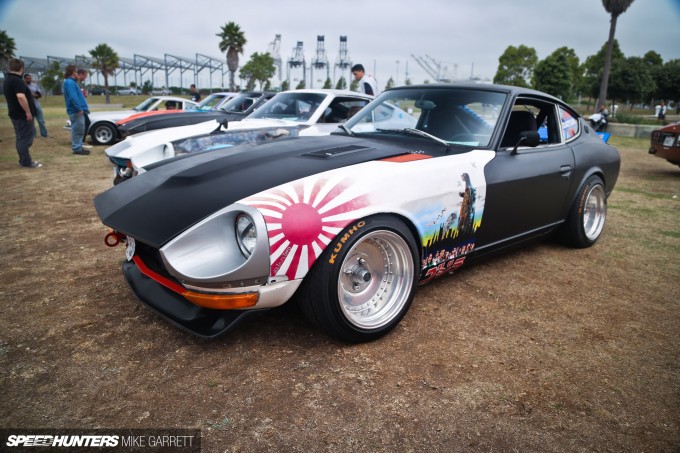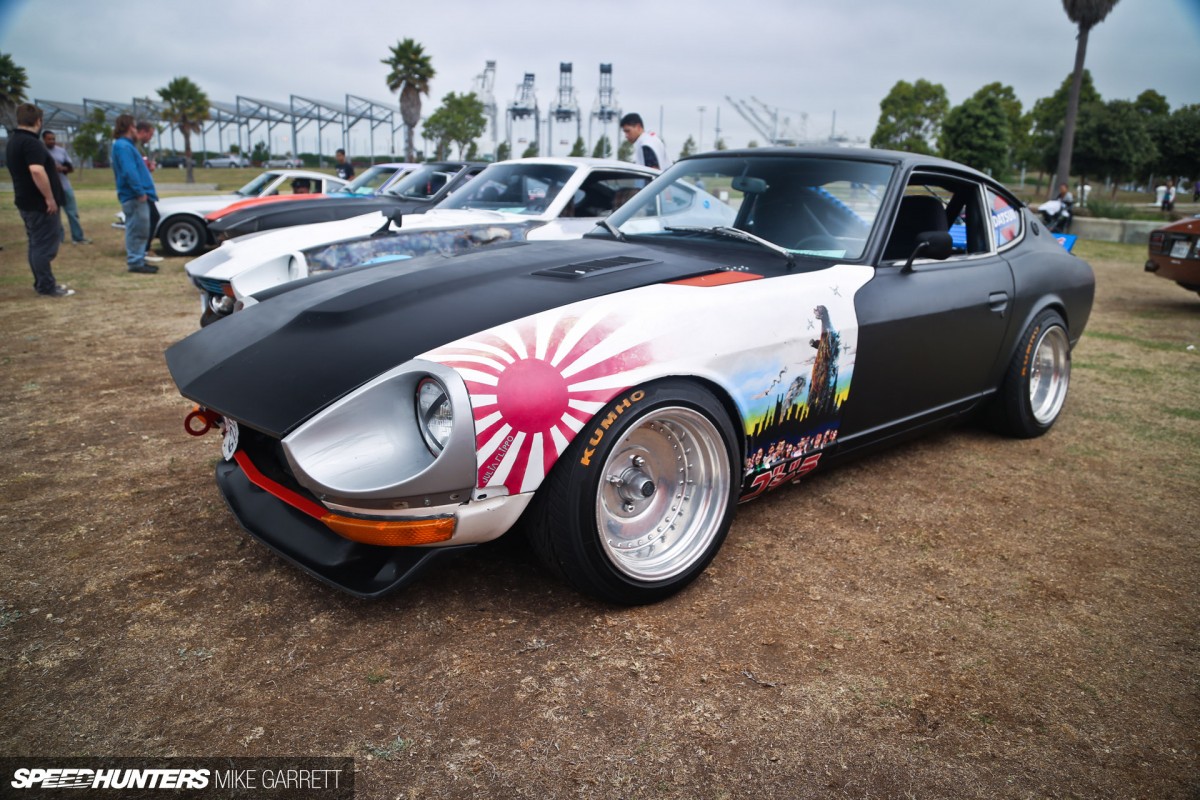 It's hard to understate the creativity that these Datsun owners have when it comes to creating interesting style on a low budget. Check this Z.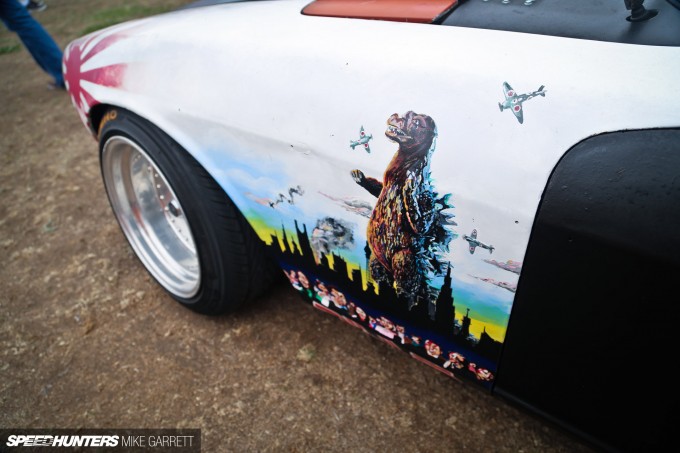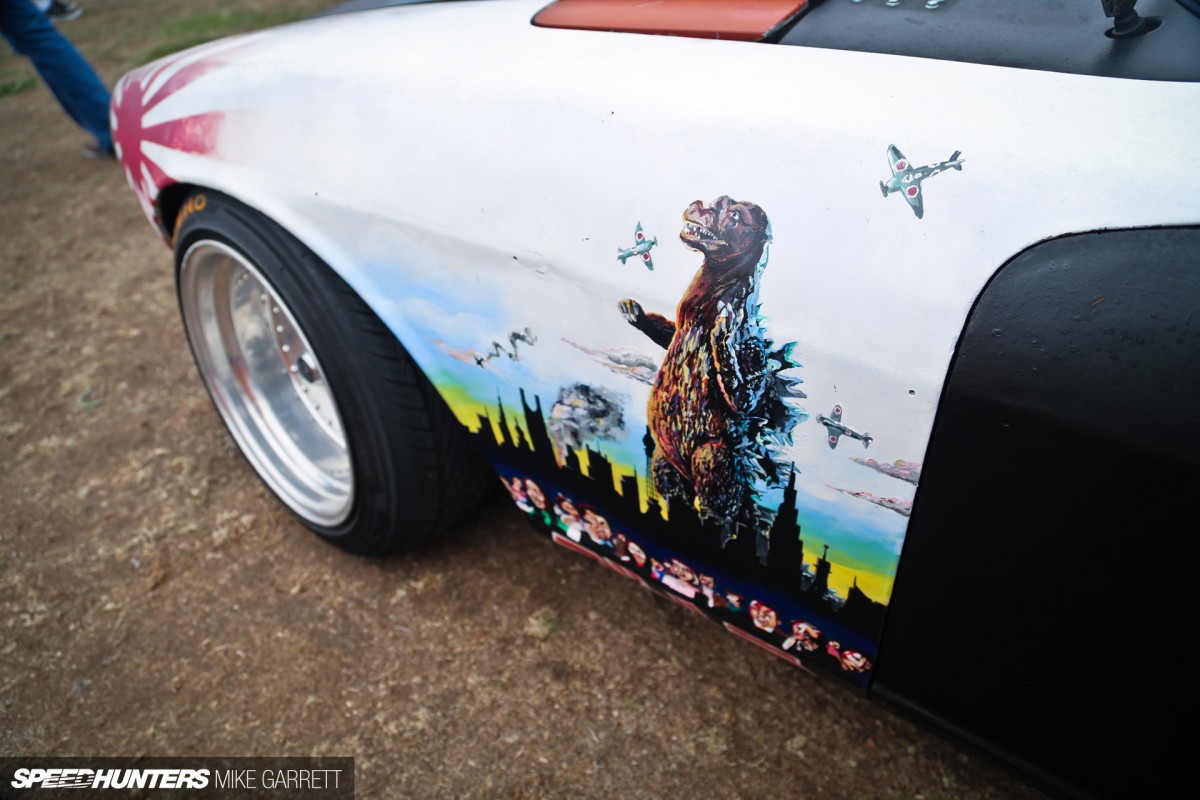 It actually has a full Godzilla movie poster hand-painted on its front fender. Its almost reminds me of the kind of art you'd see on vans during the '70s.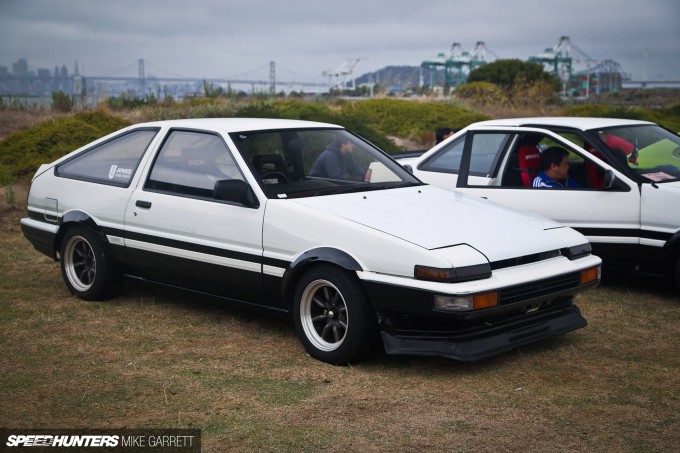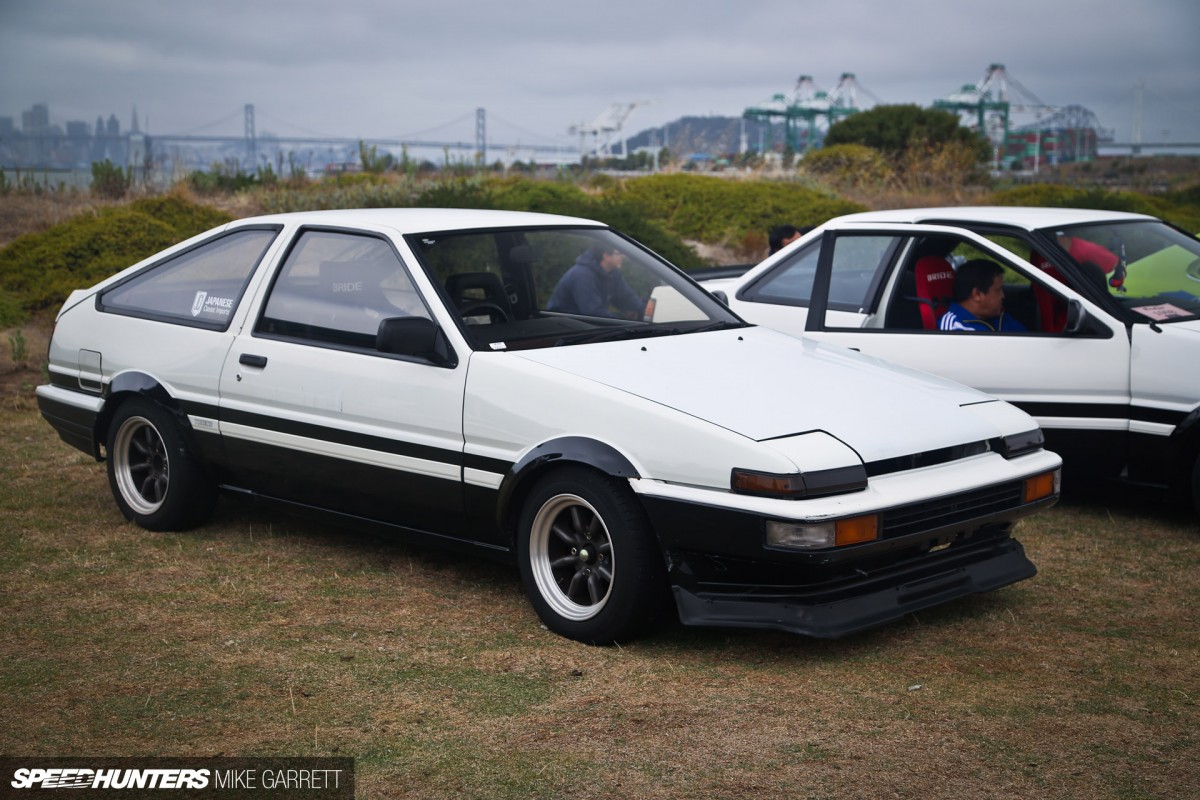 Aside from the group of Skylines I mentioned a moment ago, there were other Japanese market cars on hand – including a few right-hand drive AE86s. Thanks to their age, many of these cars are finding their way over to the US now.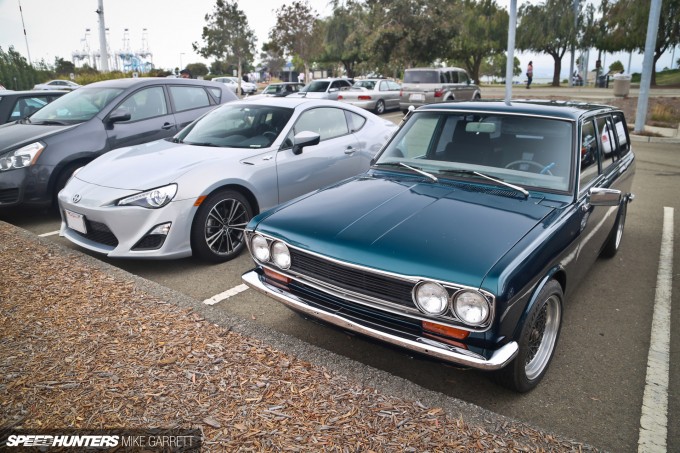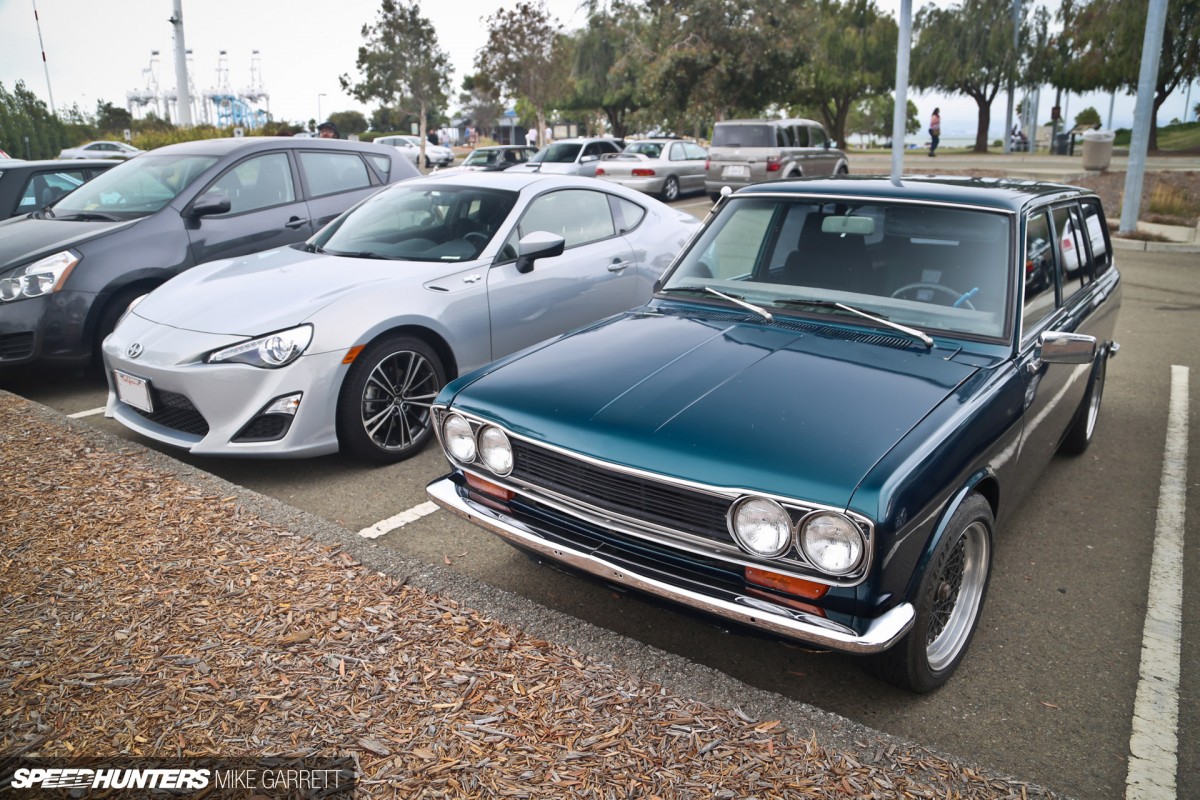 As is usually the case, there were also plenty of cool cars to be found in the parking lot – like this 510 wagon with a KA24DE swap lurking under the hood.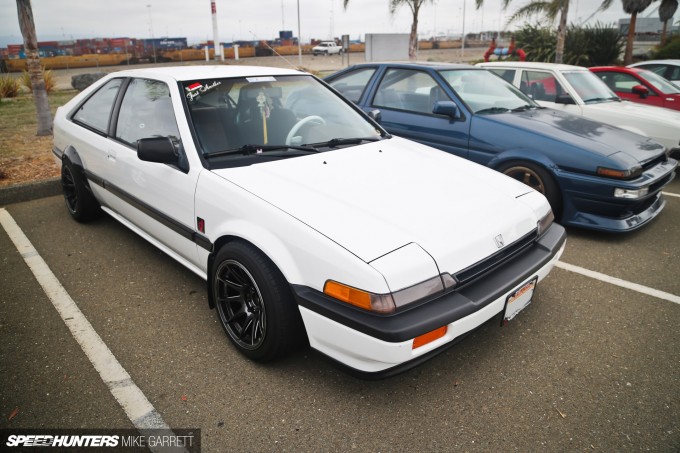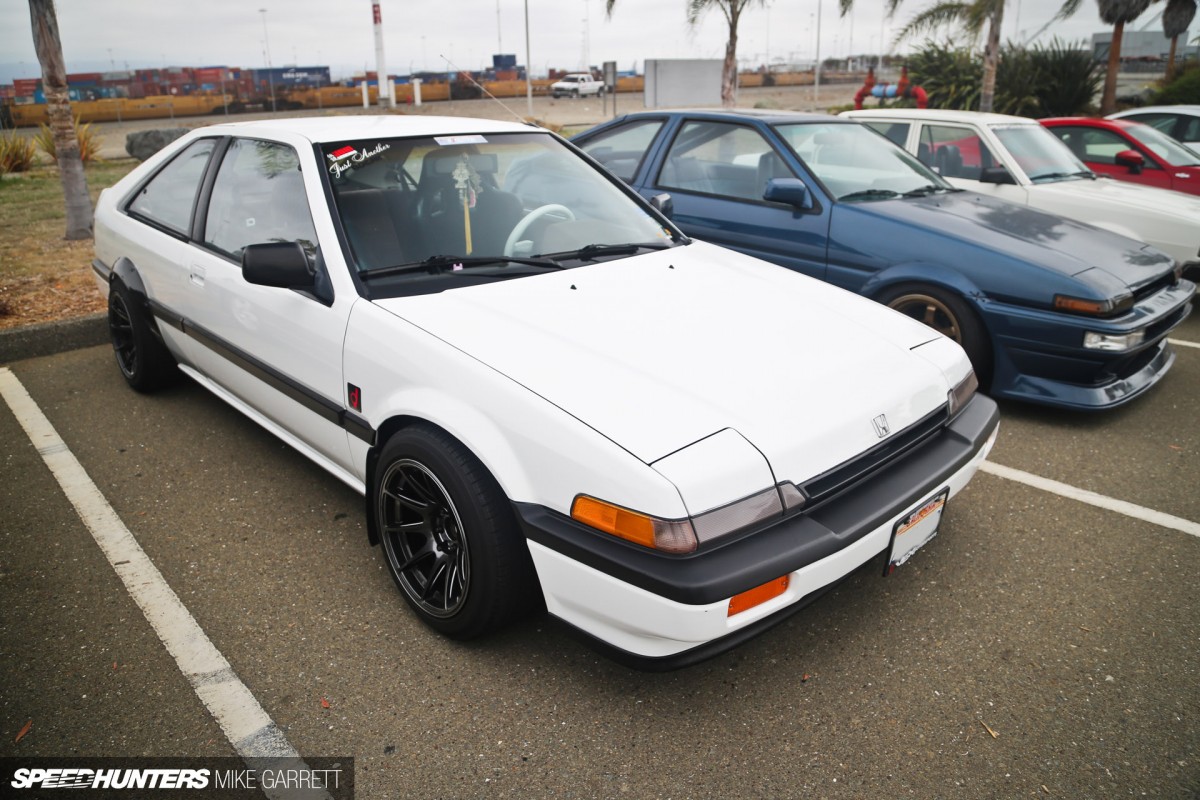 The parking lot is also where I found this very clean AE86. No I mean Nissan S12. Wait… it's actually a third generation Honda Accord hatchback.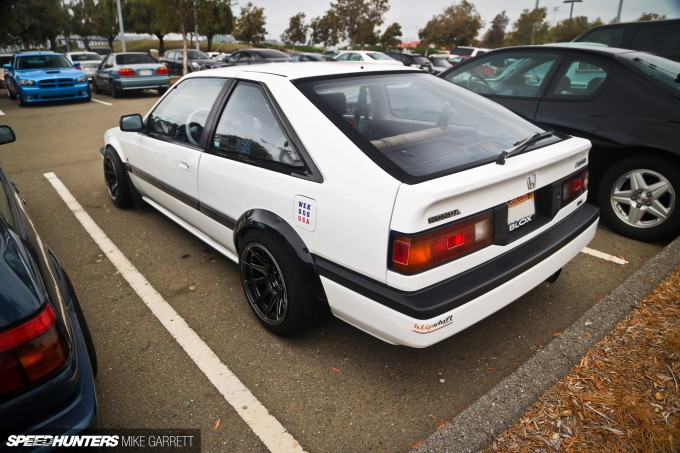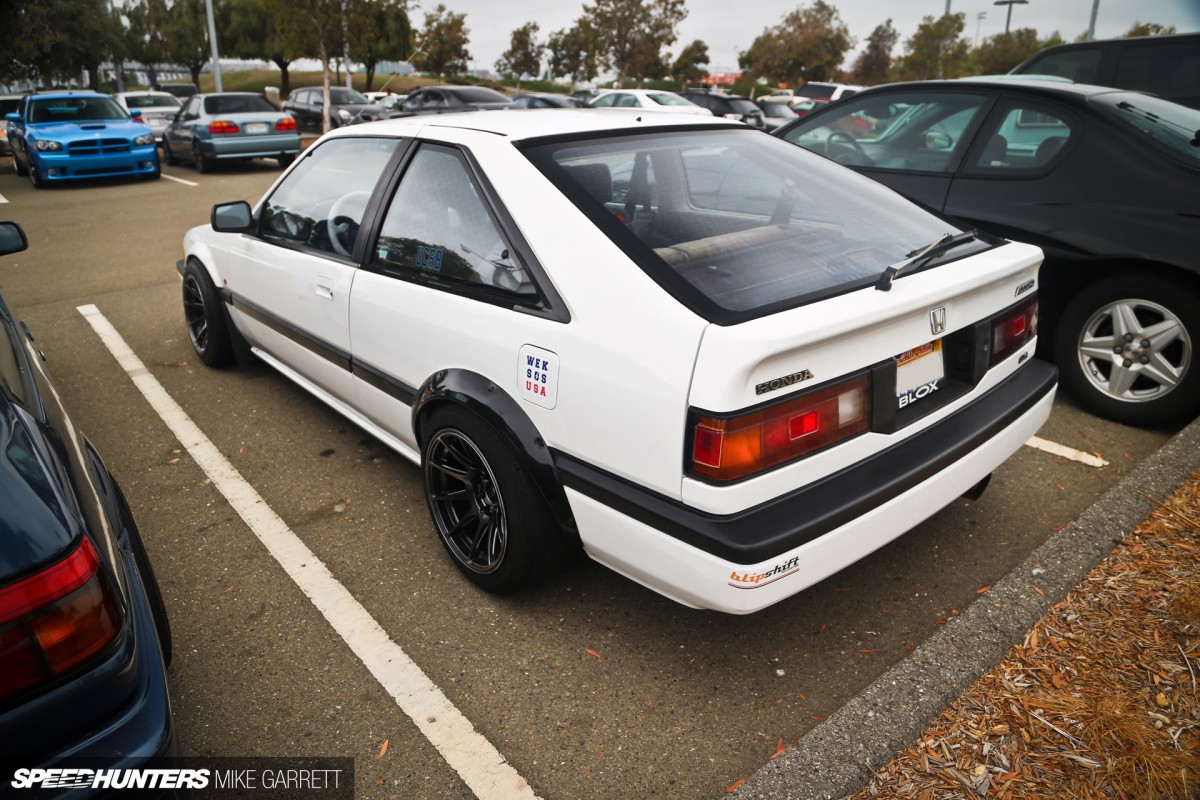 How awesome would it be to take one of these and undertake a rear-wheel drive conversion with an S2000 motor under the hood?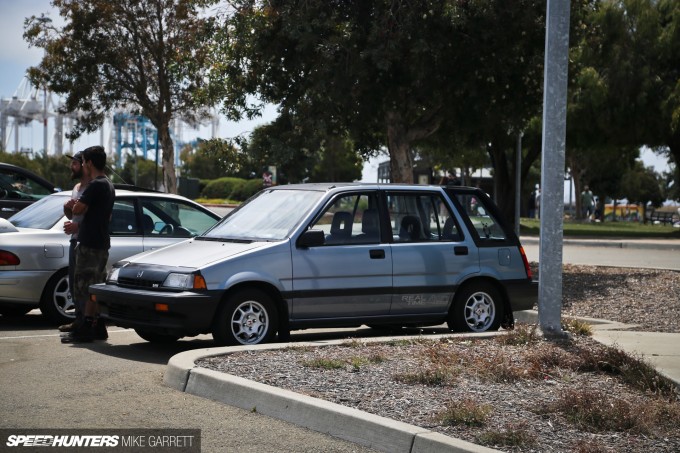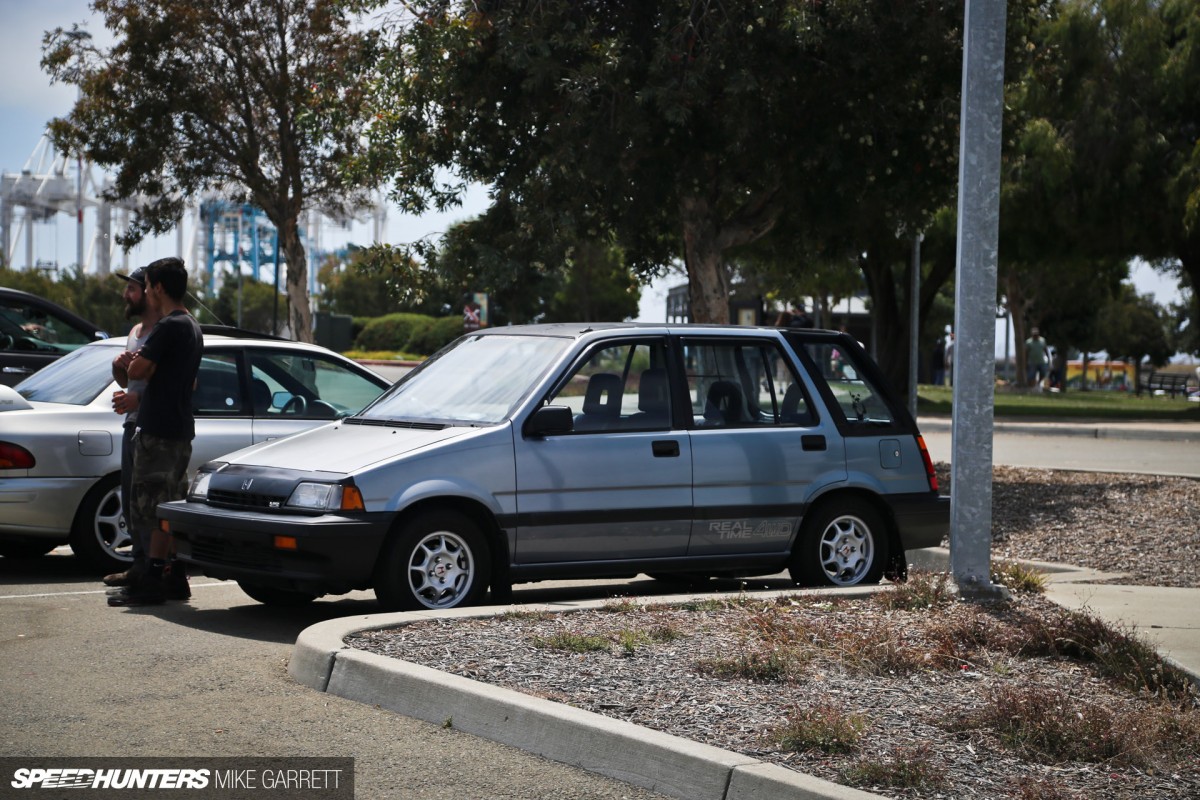 Speaking of Hondas from the 1980s, I also enjoyed seeing this four-wheel drive Civic Shuttle wagon. Headroom forever!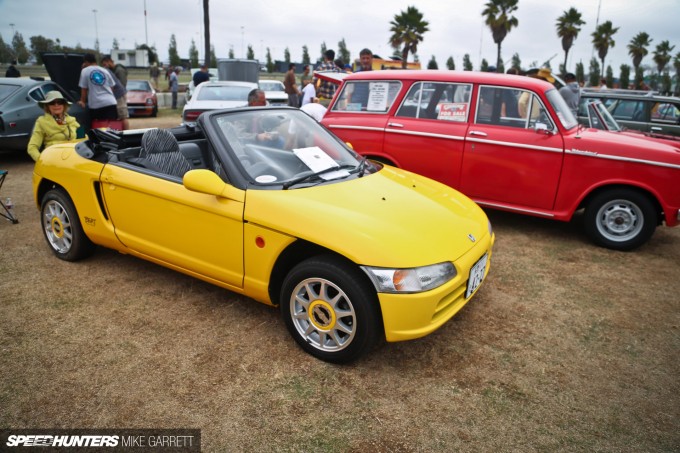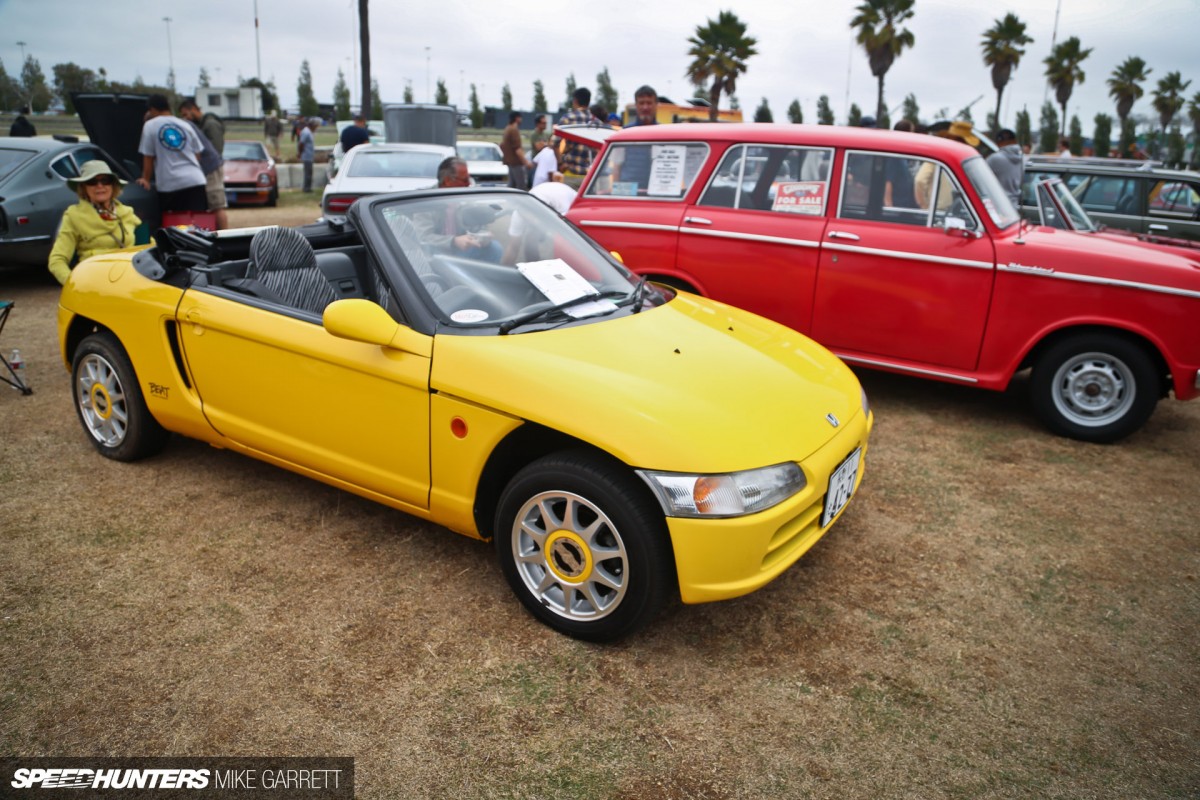 While I'm not sure how much success Honda would have had trying to sell the tiny little Beat in the US, the sight of one on American shores always makes for a big reaction. I love everything about these cars, including the zebra print seats.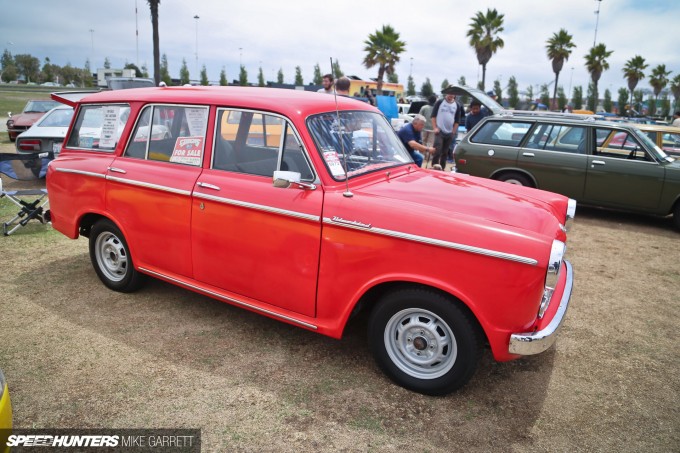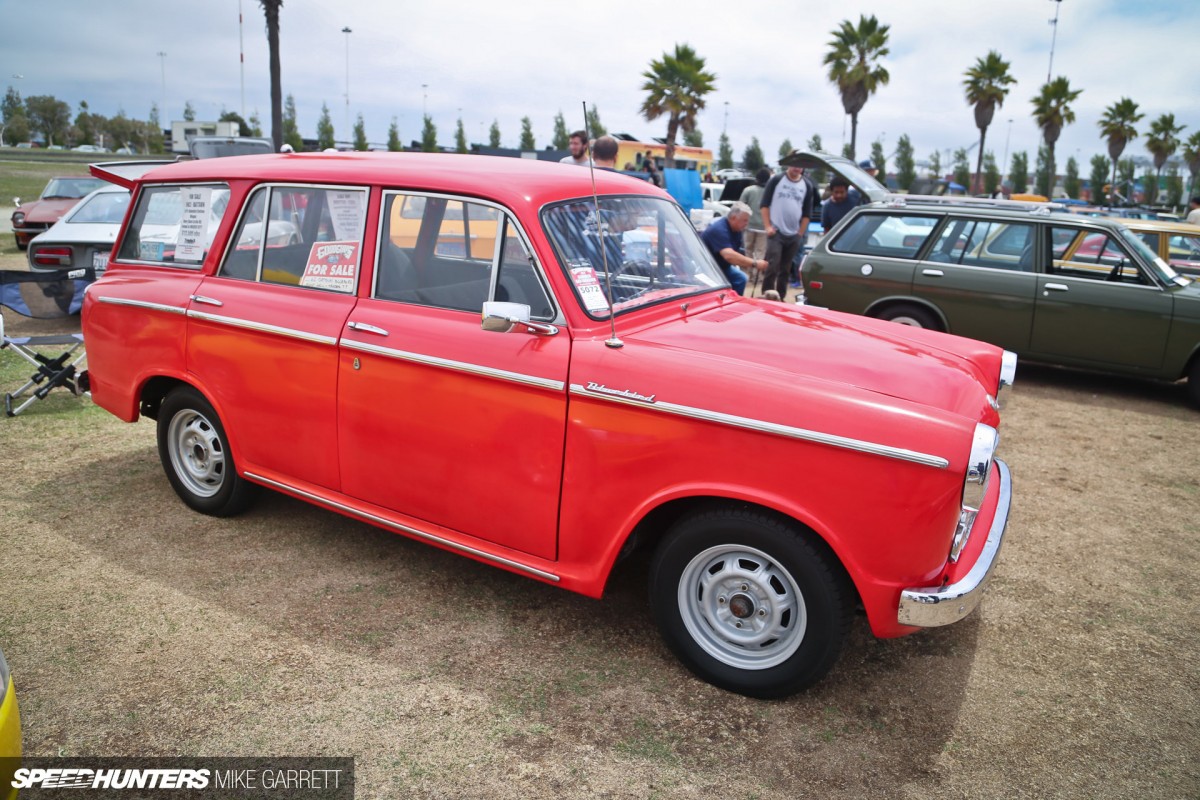 Here's a '62 PL311 Datsun Bluebird wagon that was found not in Japan but in Mexico City of all places. Talk about rare.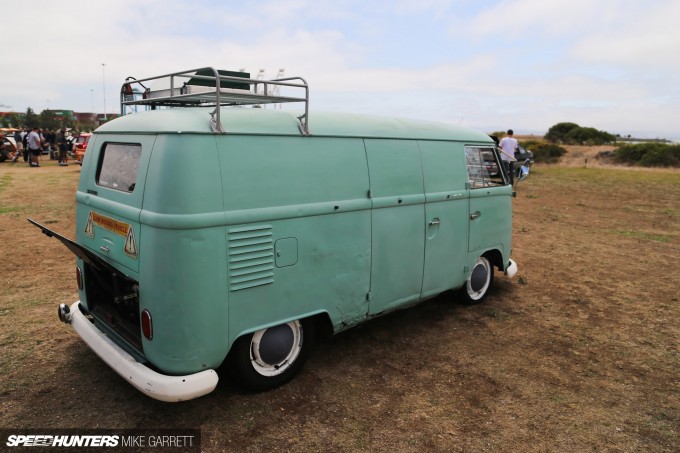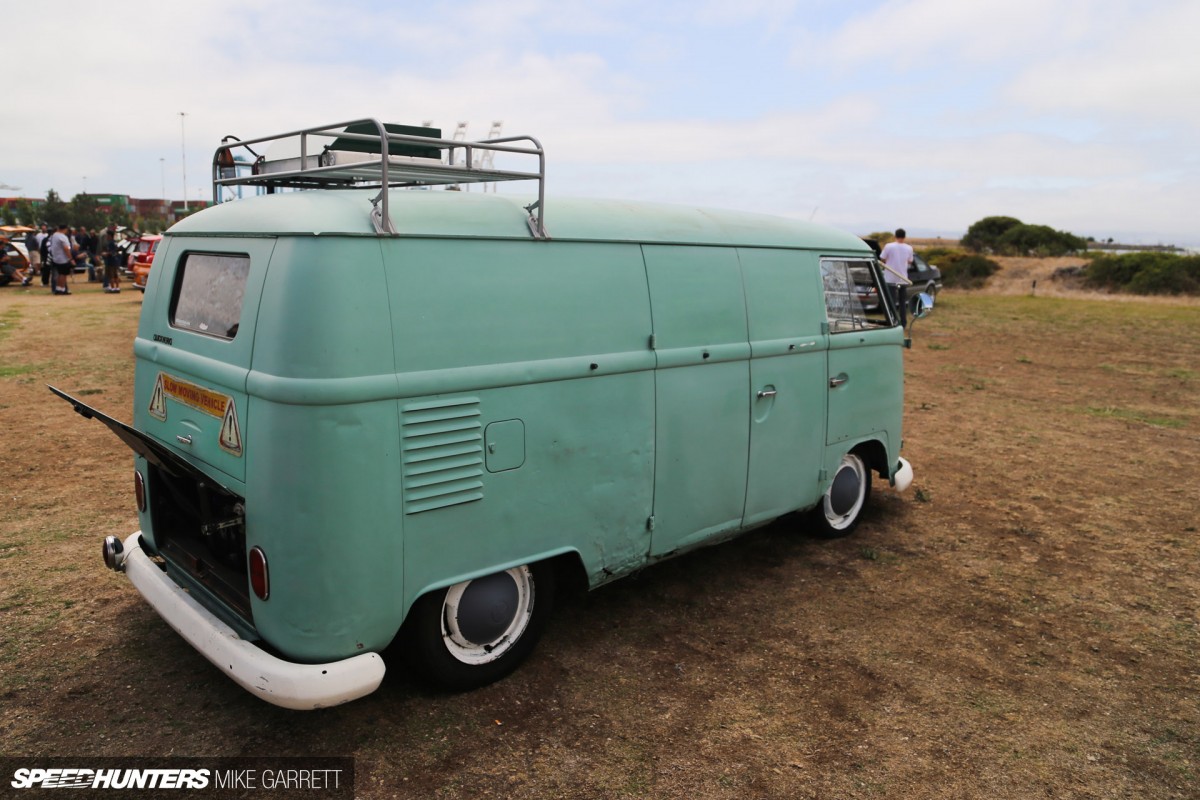 Wait a minute. What is this old Volkswagen Bus doing at a meet for classic Japanese cars?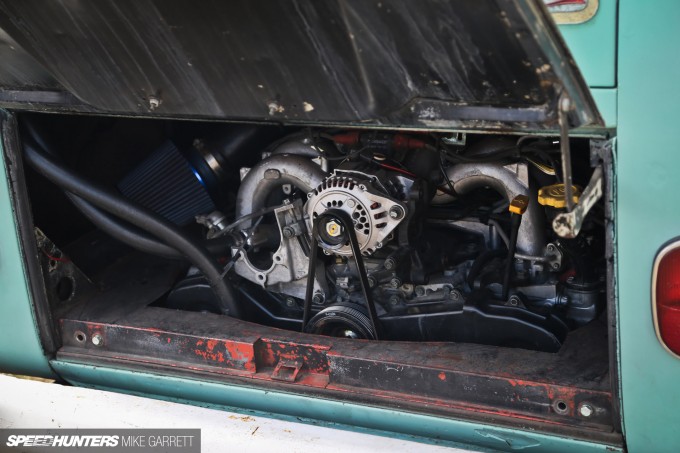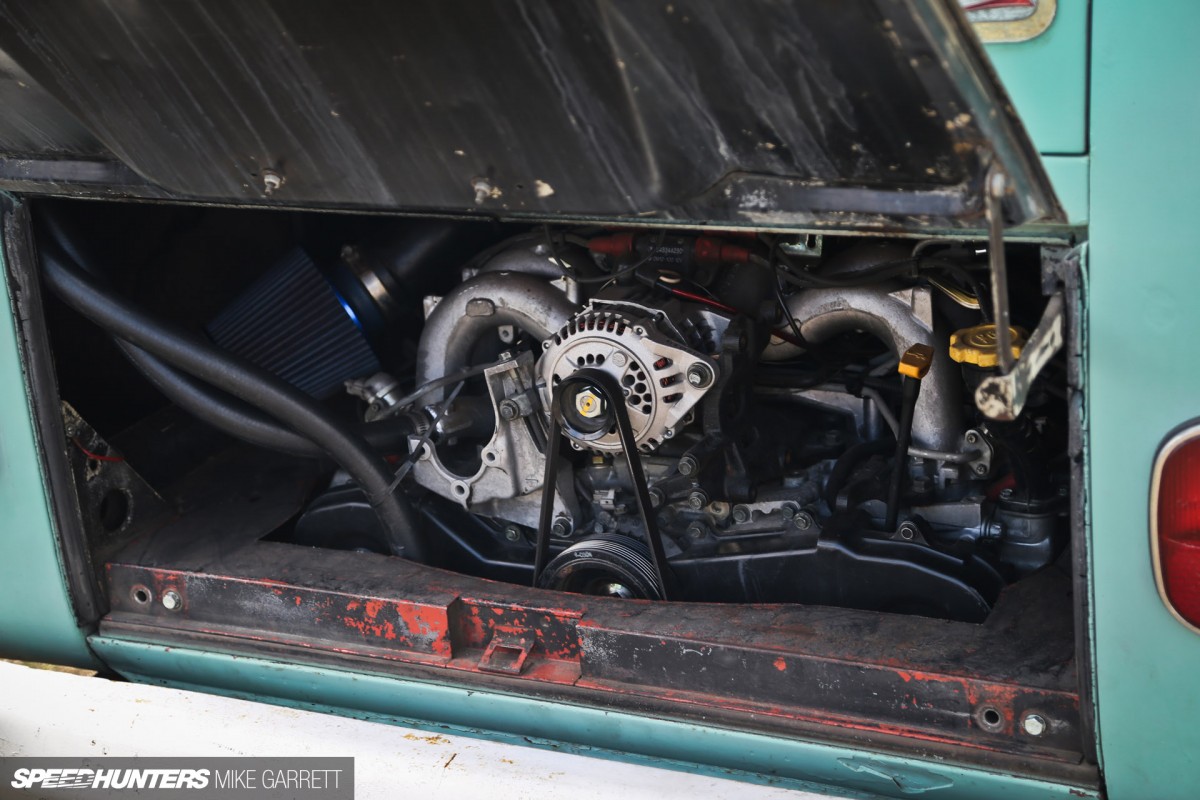 Ah, it's Subaru-powered – that explains it.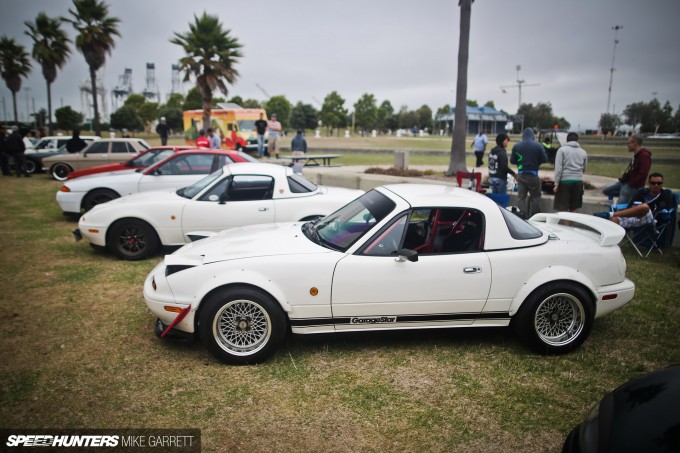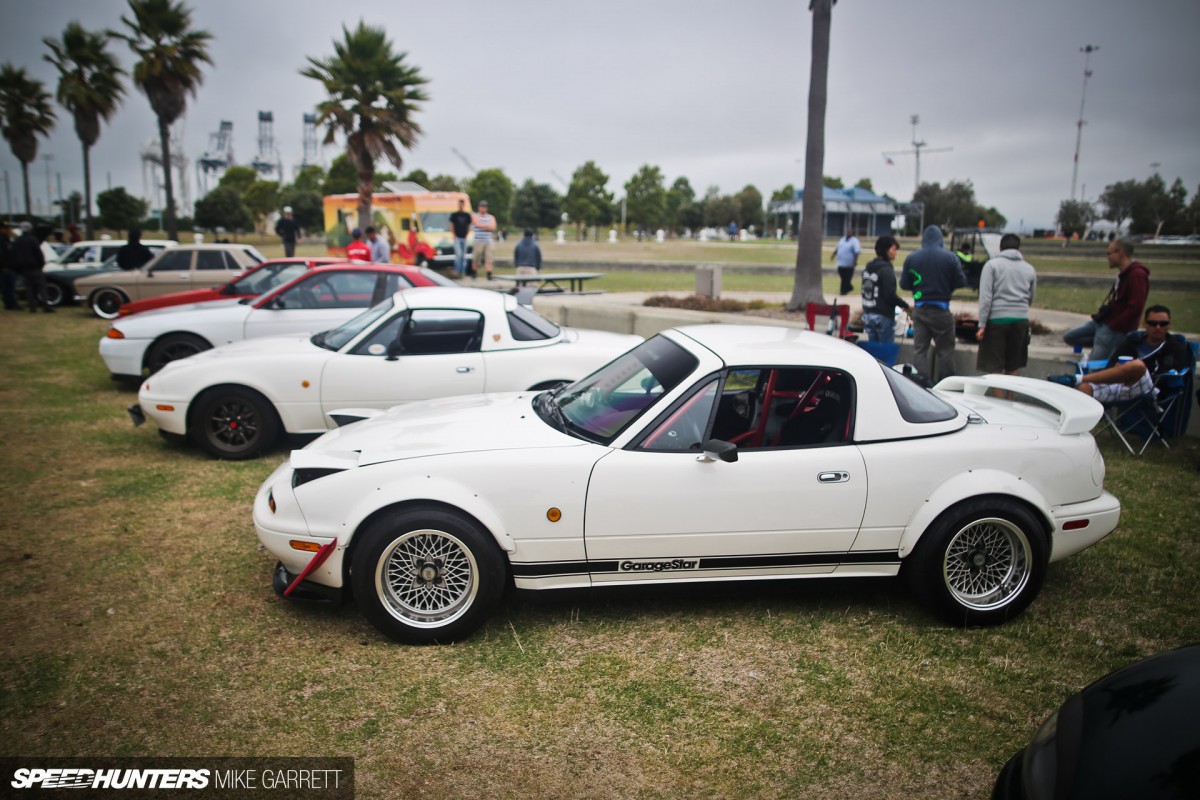 The first generation Mazda Miata is quickly becoming a classic in its own right, and several guys from Garage Star in Sacramento cruised over with their beautiful Roadsters.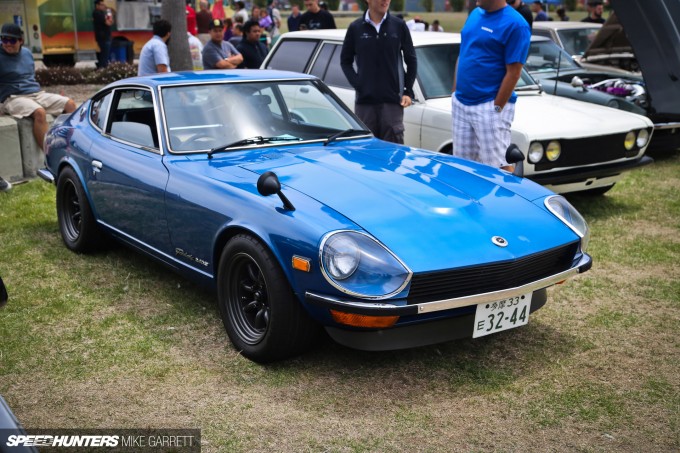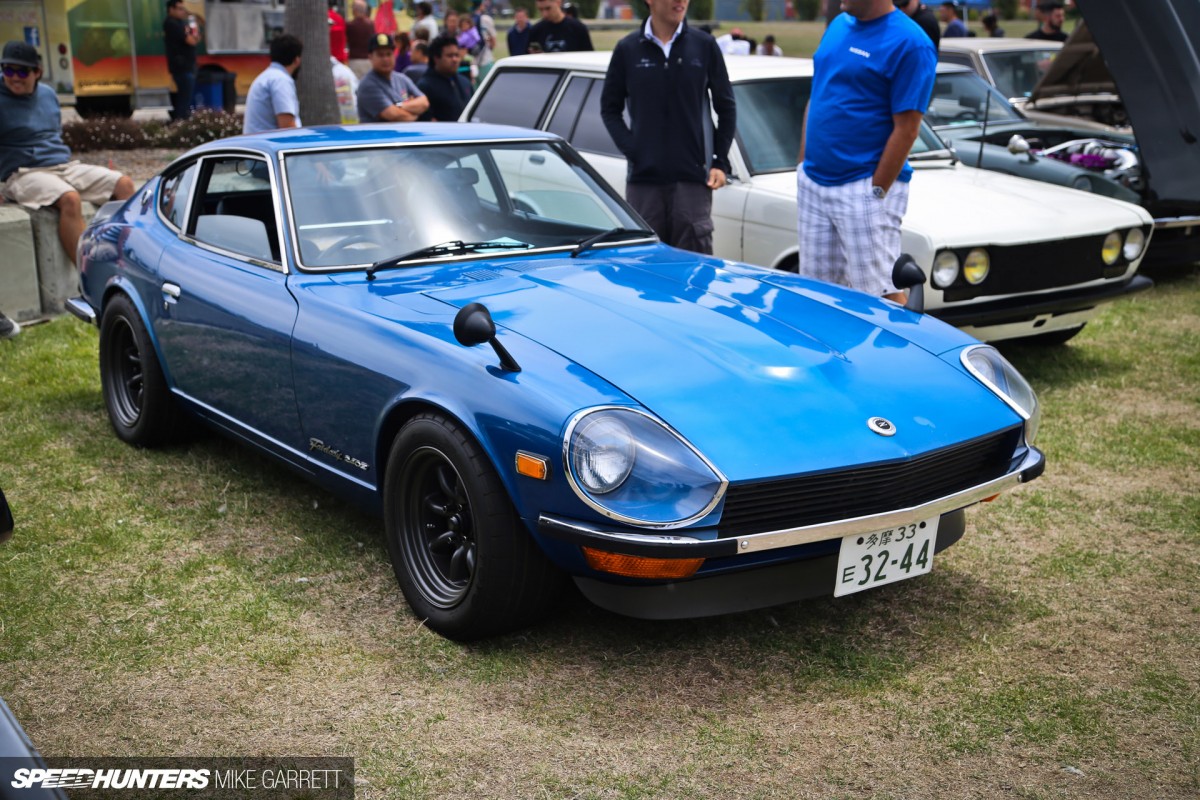 It was also nice to see some more traditional builds, like this right-hand drive S30 Fairlady. There's nothing outrageous about this car and that's what makes it so great.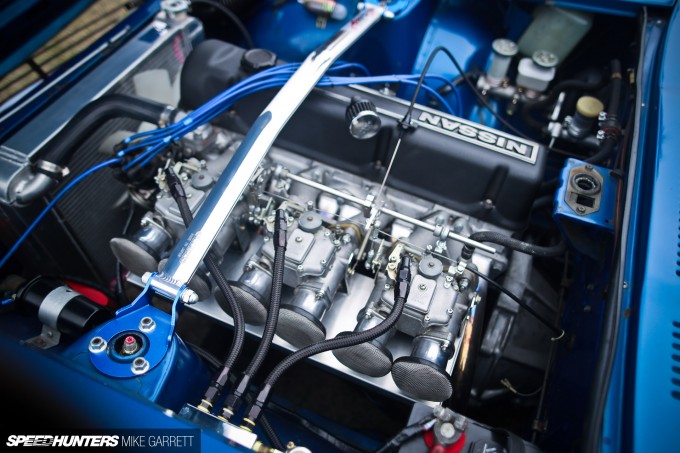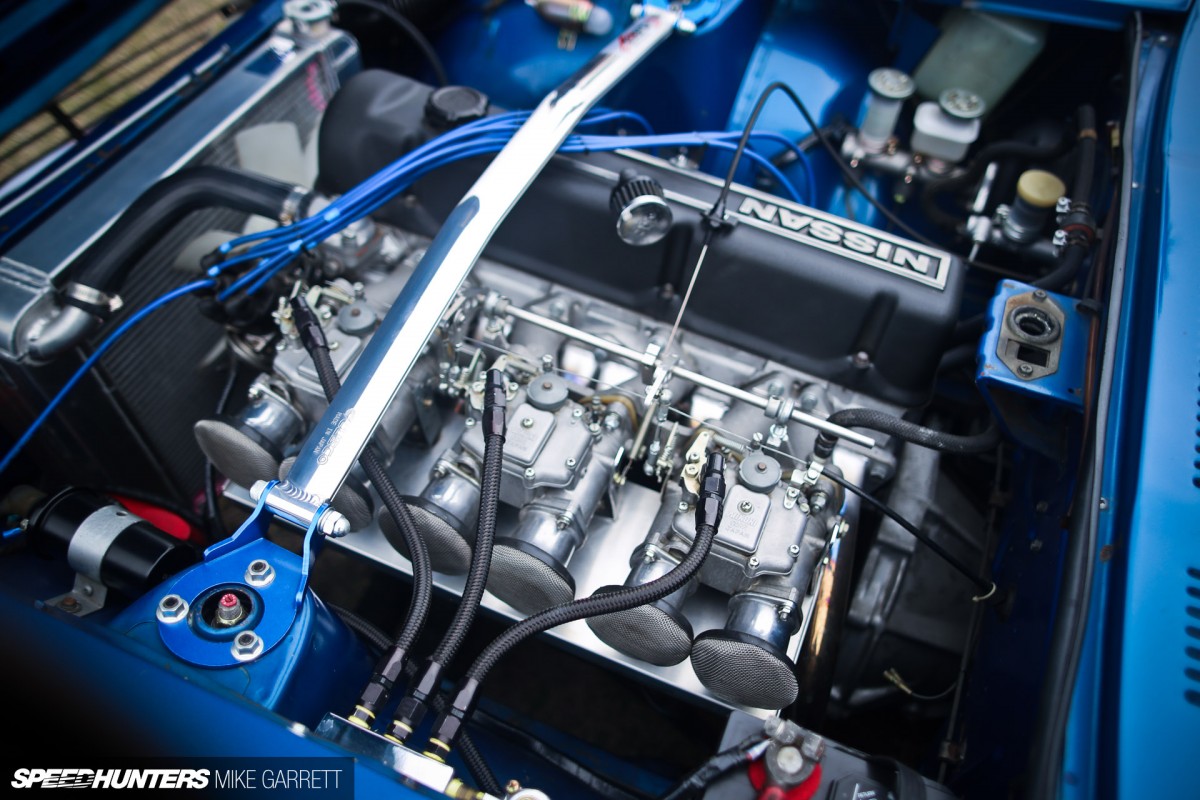 There are no flares or obnoxiously-wide wheels, and the engine bay is home to an old school L-series with a trio of Mikunis hanging off the side.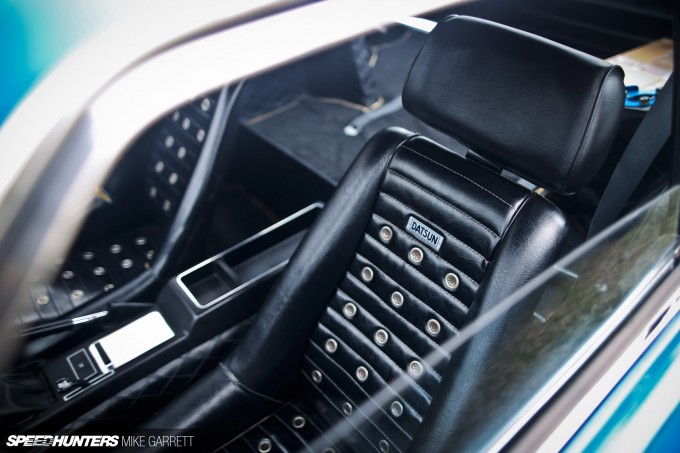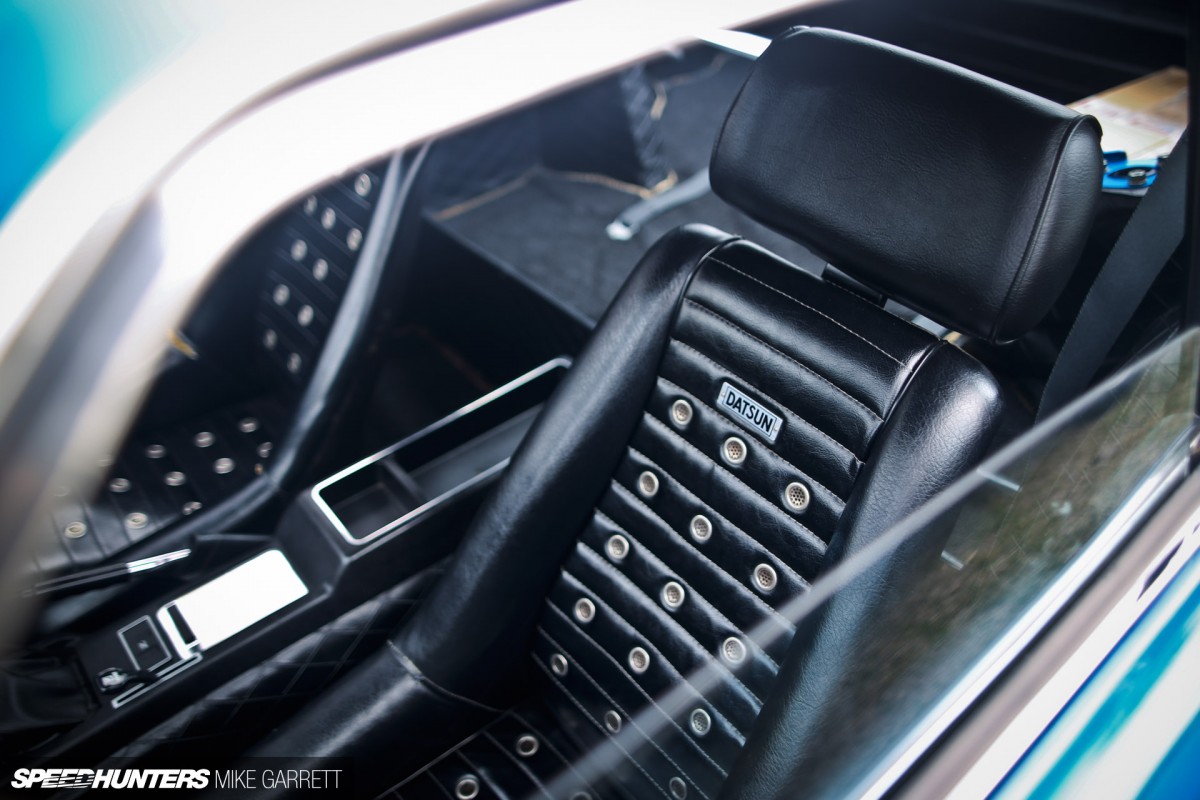 And how about those awesome bucket seats? If only you could smell the aroma of old upholstery that I experienced when I took this photo.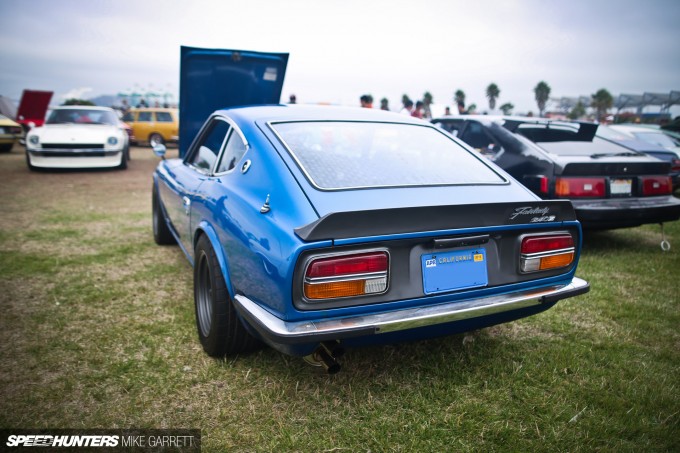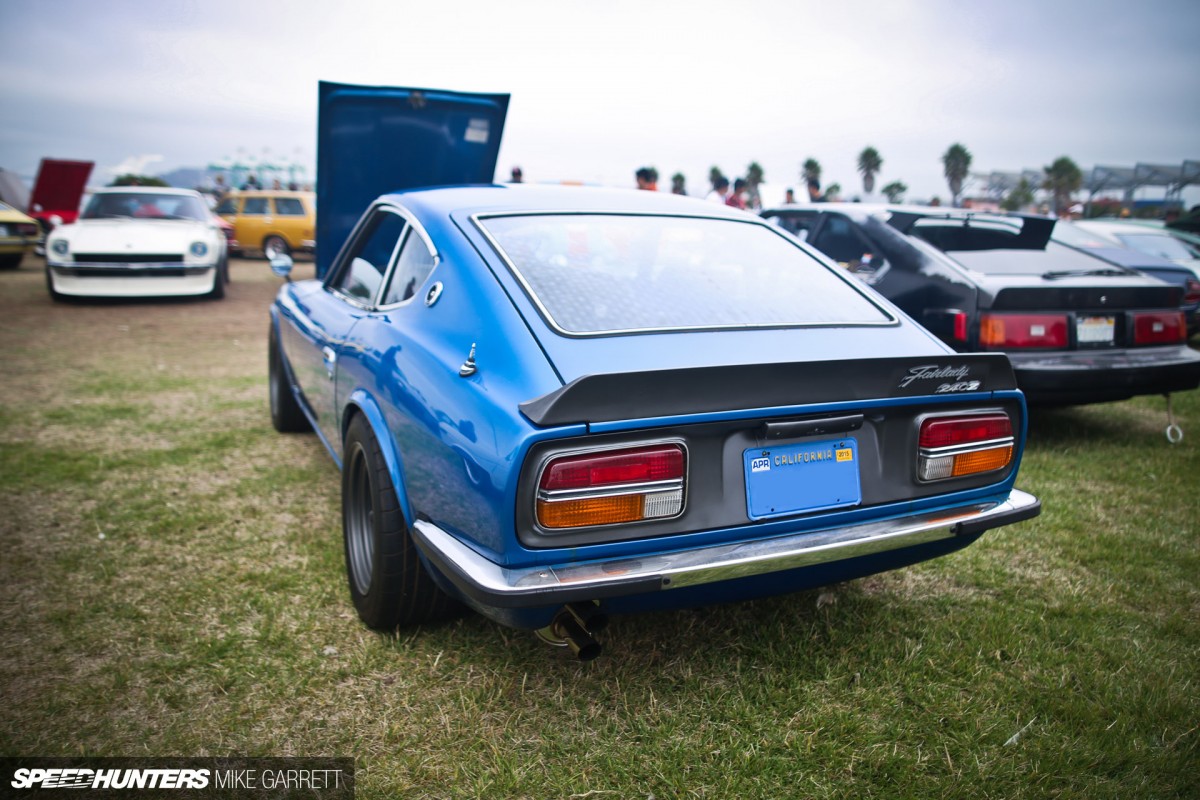 It's one off those timeless automobiles, and a perfect way to wrap up this look at a fun afternoon with some cool cars and great people on the San Francisco Bay.
Mike Garrett
Instagram: speedhunters_mike
mike@speedhunters.com
More Meet Stories on Speedhunters
Toyota & SoCal: Together Forever
Cutting Room Floor