Quad Power In The House
Imagine, if you will, your ultimate no holds barred race car. What would it be and what sort of numbers would it be making? Then imagine having the tenacity to actually make it happen in the real world and be able to watch it metamorphosis from a bare shell in front of your eyes. That's got to be cool, right? For Speedhunters own Mad Mike Whiddett, it's something he doesn't have to think about, because it's exactly what's happening right now in an immaculate industrial unit on Auckland's east side.
If you've been following the progress of Project RADBUL, you'll already know that Mike and his team are pulling out all the stops with this build; taking what they've collectively learnt from years of local New Zealand and international pro drift competition, to create what is destined to become one of the wildest pro drift machines ever seen.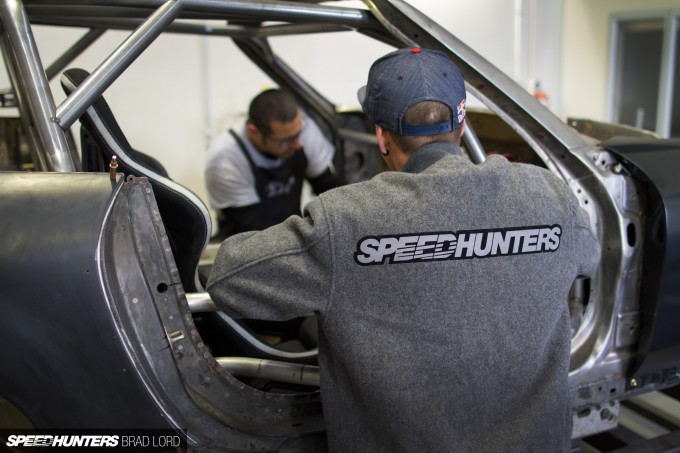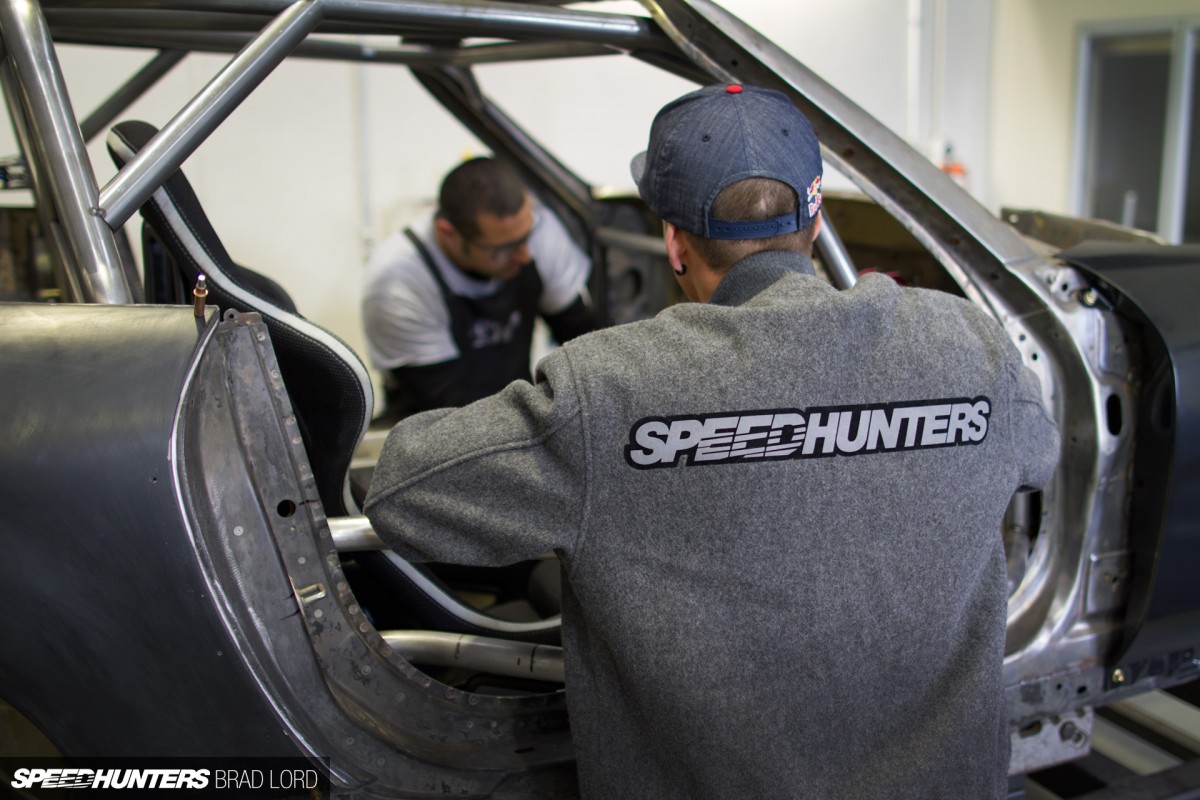 Since our last RADBUL update a few weeks ago, things have been moving very quickly in the Townsend Brotherz Racing (TBR) compound. In that time I've ventured out to the workshop a few times to catch up with Kaz – the project's technical lead – and Mike, and chart the progress. On each occasion the magnitude of this build has become even more evident. As I'm sure you've already figured out from the title of this post though, there's been a pretty major change to the grand plan – something that can now be revealed.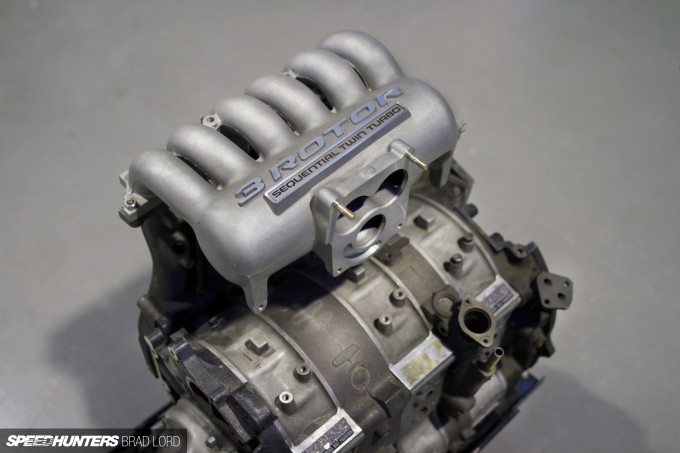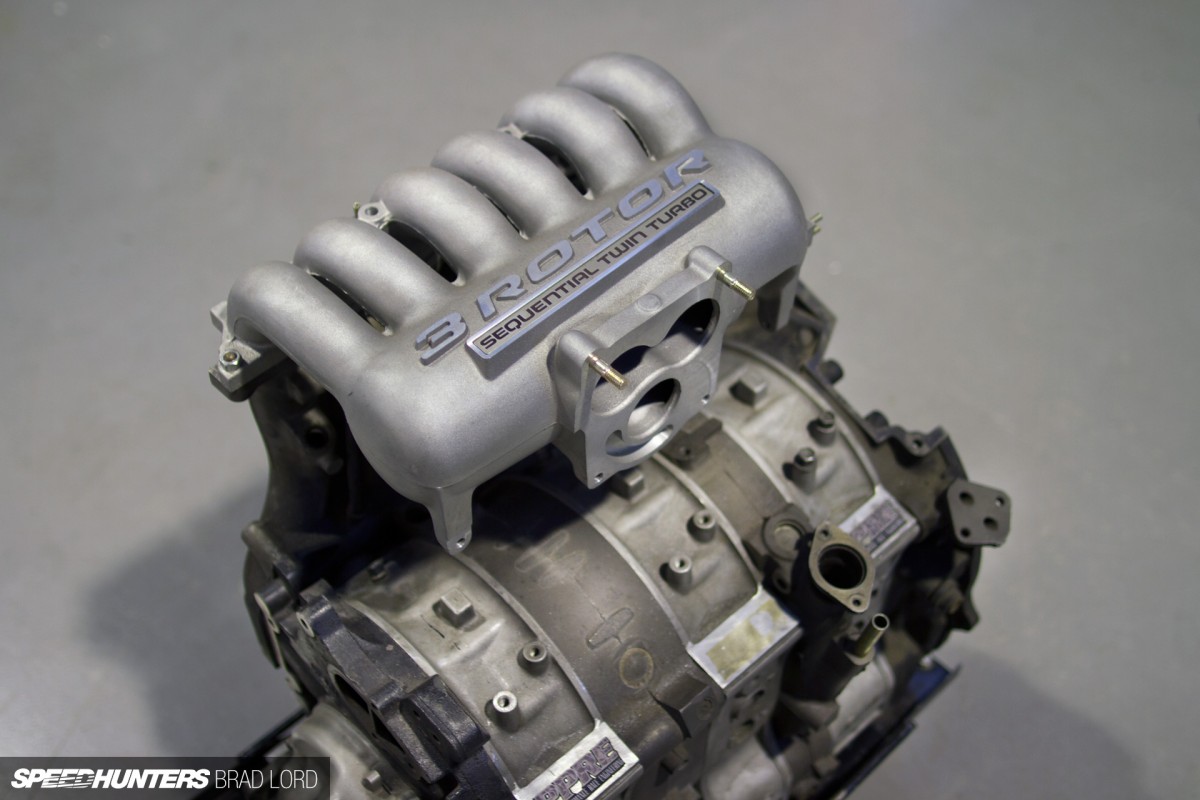 Right off the drawing board a 20B three-rotor motor similar in specification to the monster-bridgeported and Garrett GTX45 equipped engine that powers Mike's BADBUL Mazda RX-8 was slated for the new chassis. With a switch to E85 ethanol fuel and a few more power-producing upgrades, Kiwi rotary engine builder Pulse Performance Race Engineering (PPRE) was confident they'd reach four-figure output numbers. One thousand horsepower in an NC-chassis Mazda MX-5 that should tip the scales in race trim at 1,000kg – you don't even need to do the math to figure out how insane that would have been.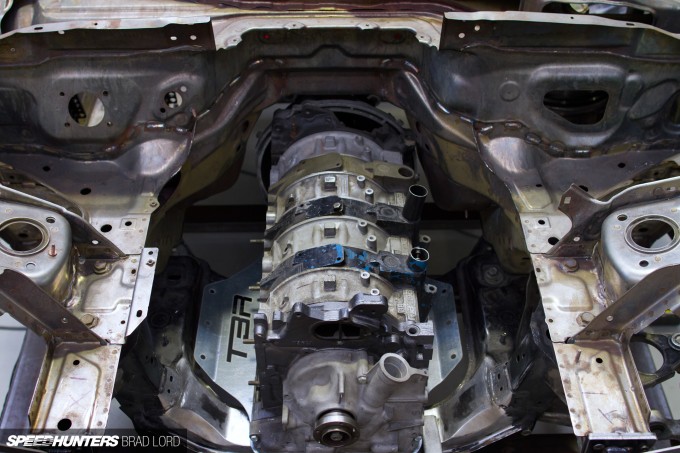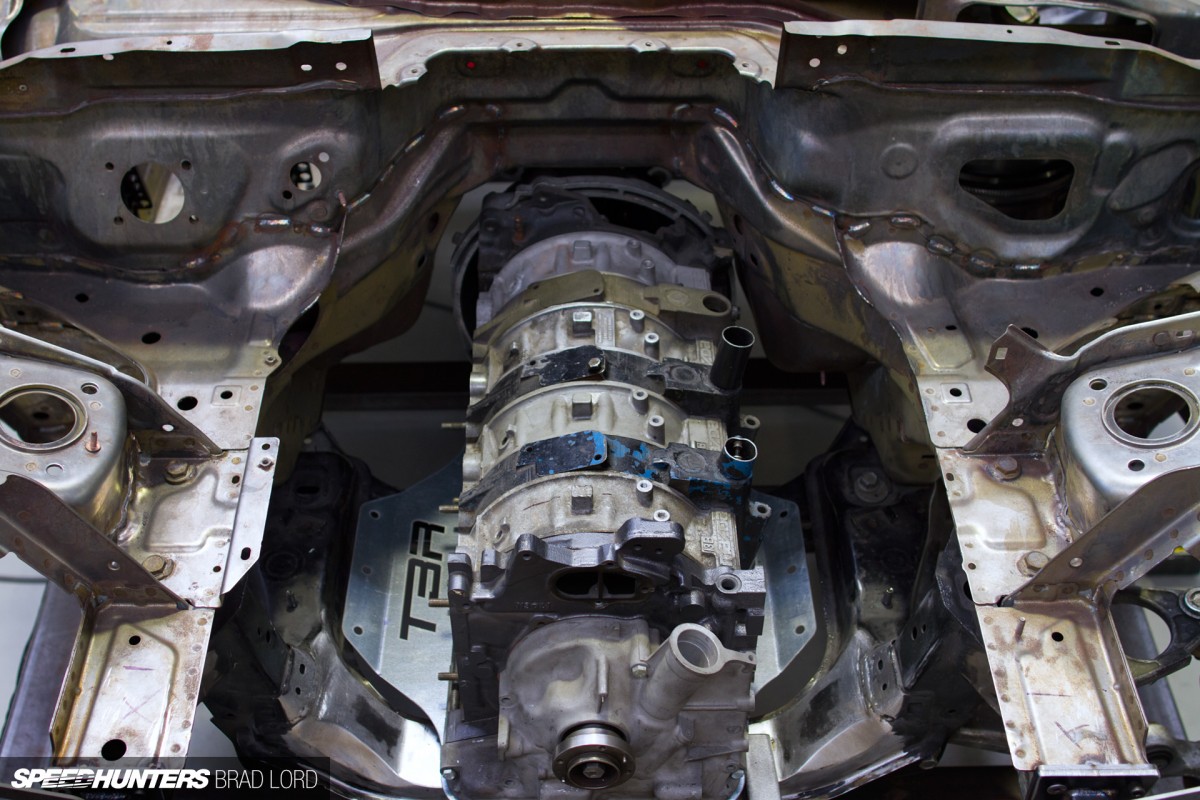 But the 20B is out the window. Count those rotor housings and you'll understand why… one, two, three, four. A dummy-block for test-fitting this might be, but yes – a custom-built PPRE 26B is headed RADBUL's way and it'll come packing not one, but two Turbo By Garrett turbochargers.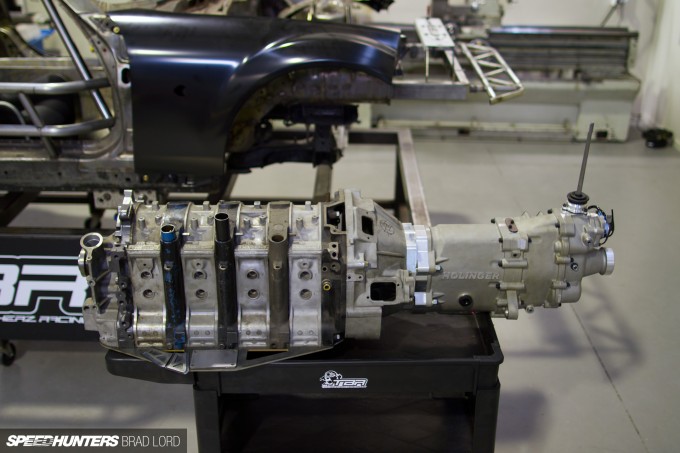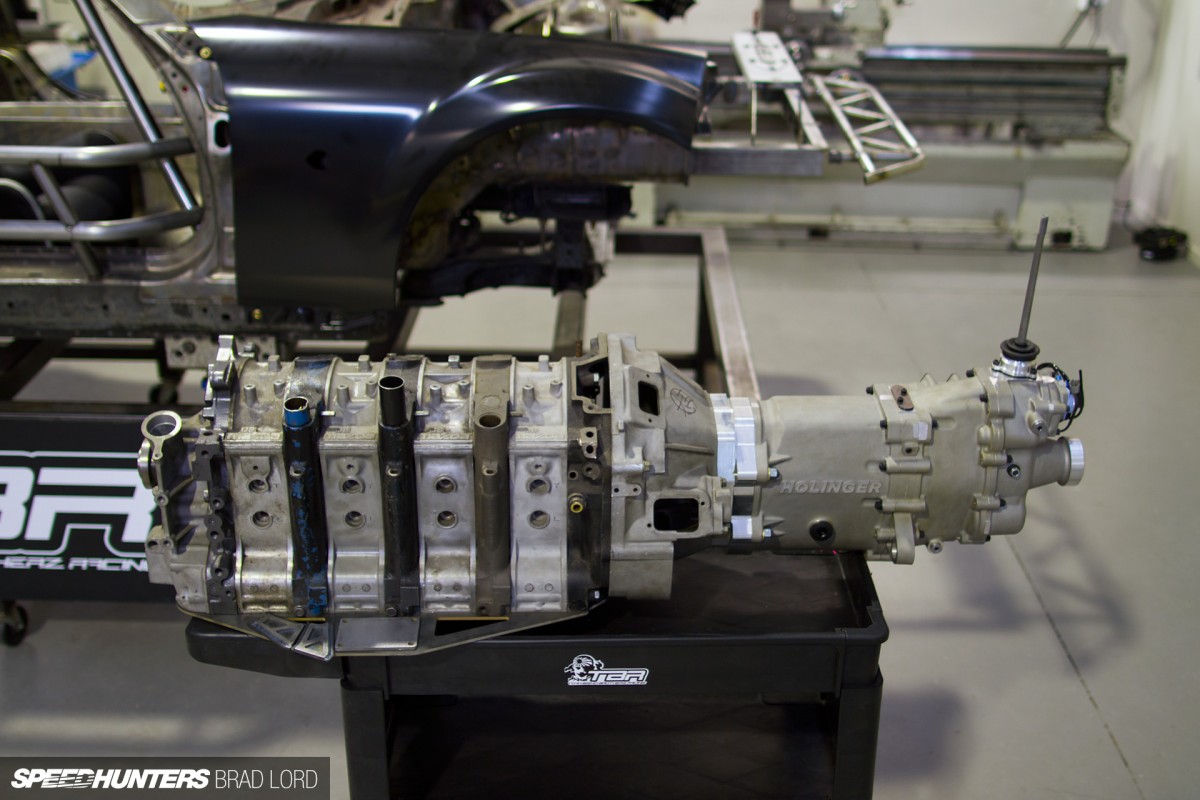 Mike puts the change of thinking down to his recent visit to the Goodwood Festival of Speed. MADBUL was one of stars of the show, and that's something that Mike largely attributes to its unique naturally aspirated four-rotor engine. Quite simply, for this ultimate build nothing else was going to cut it in RADBUL, and with Warren from PPRE crewing on the RX-7 in the UK, the decision was made then and there to shelve the planned 20B build and concentrate on a 26B package.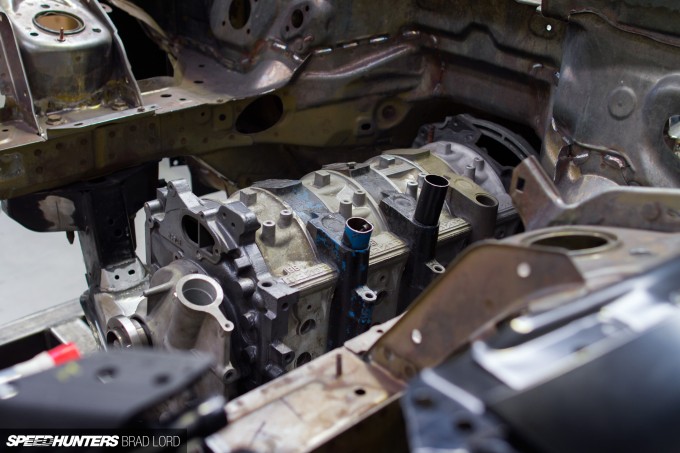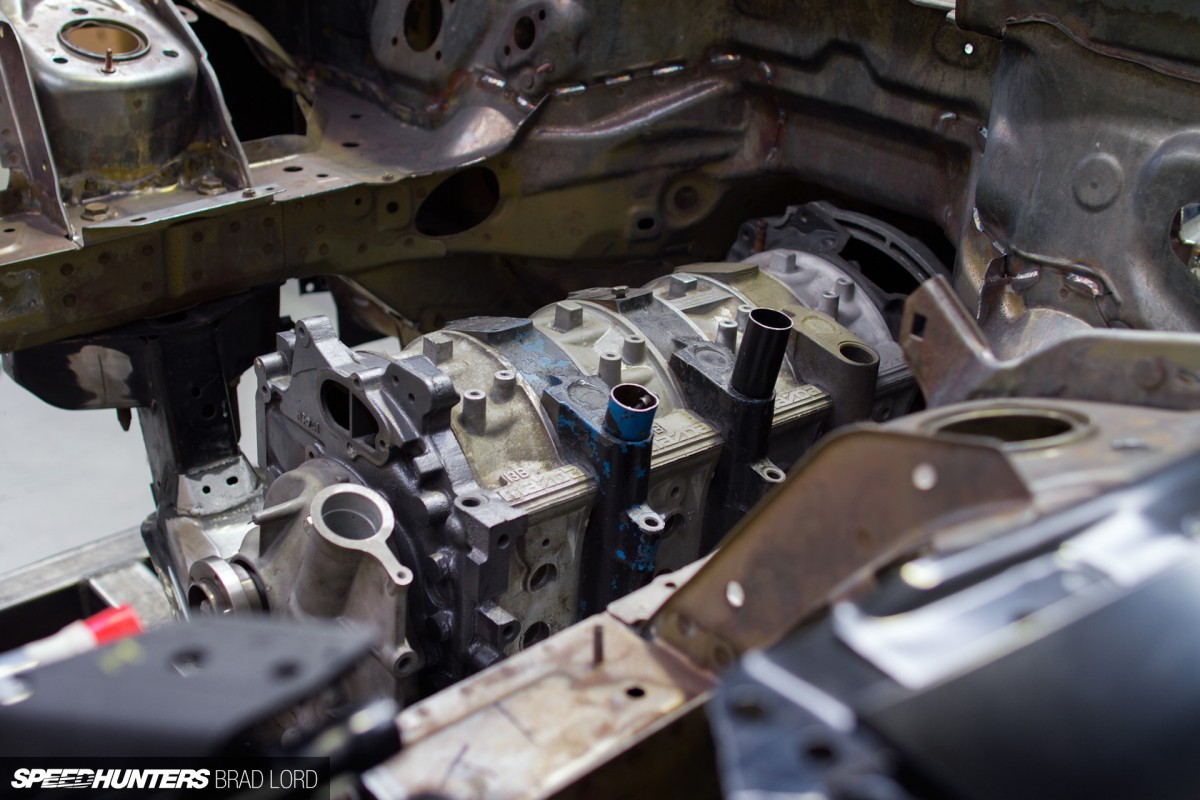 The only thing that was standing in the way of the idea was how well the longer engine would fit in the NC's engine bay. The limiting factor was the firewall, which to meet pro drifting regulations cannot be cut-out or shifted rearward, and therefore dictates where the engine can be positioned. The latter is a very important aspect when it comes to weight distribution in relation to handling, but as you can see here, there's not going to be any problems. In fact, by design of the MX-5's factory recessed firewall, the four-rotor 26B block will sit further back in this chassis than the three-rotor 20B does in the RX-8. You could almost consider it meant to be…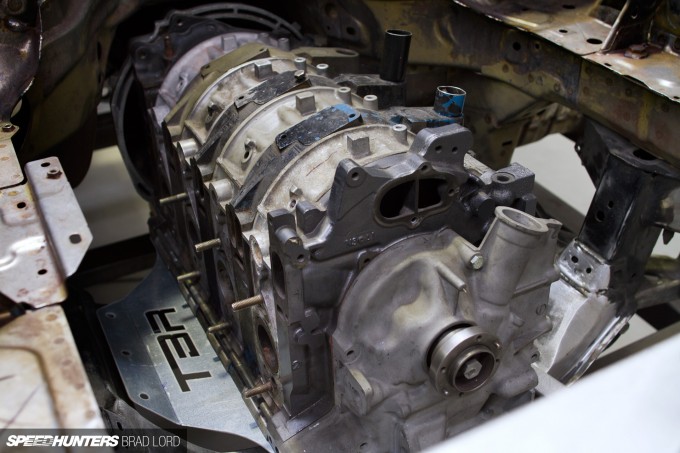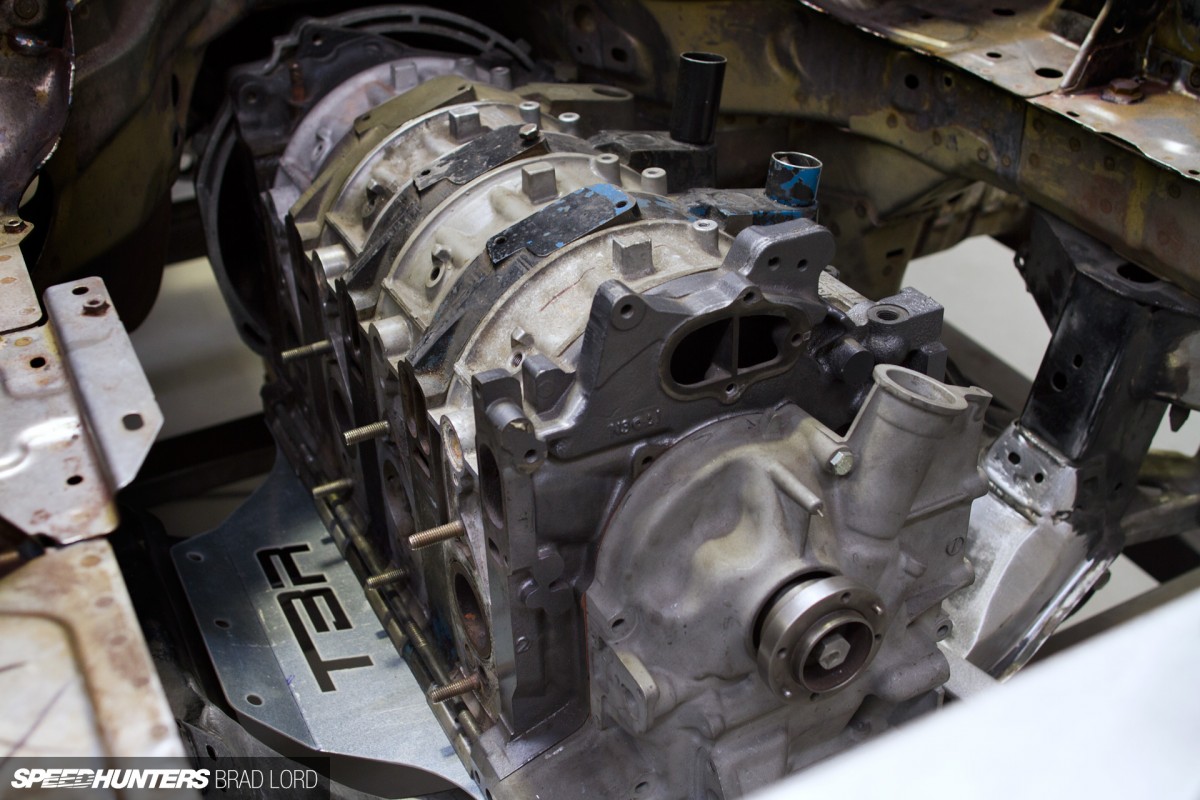 That said, space around the rear rotor housing is limited, something which will reflect in the design of the custom PPRE intake manifold. Kaz will be looking after the exhaust manifold and positioning of the Garrett twins and their boost-controlling Turbosmart ancillaries.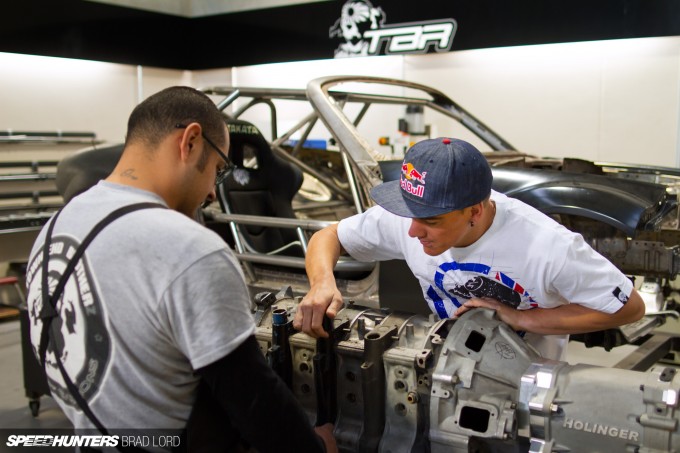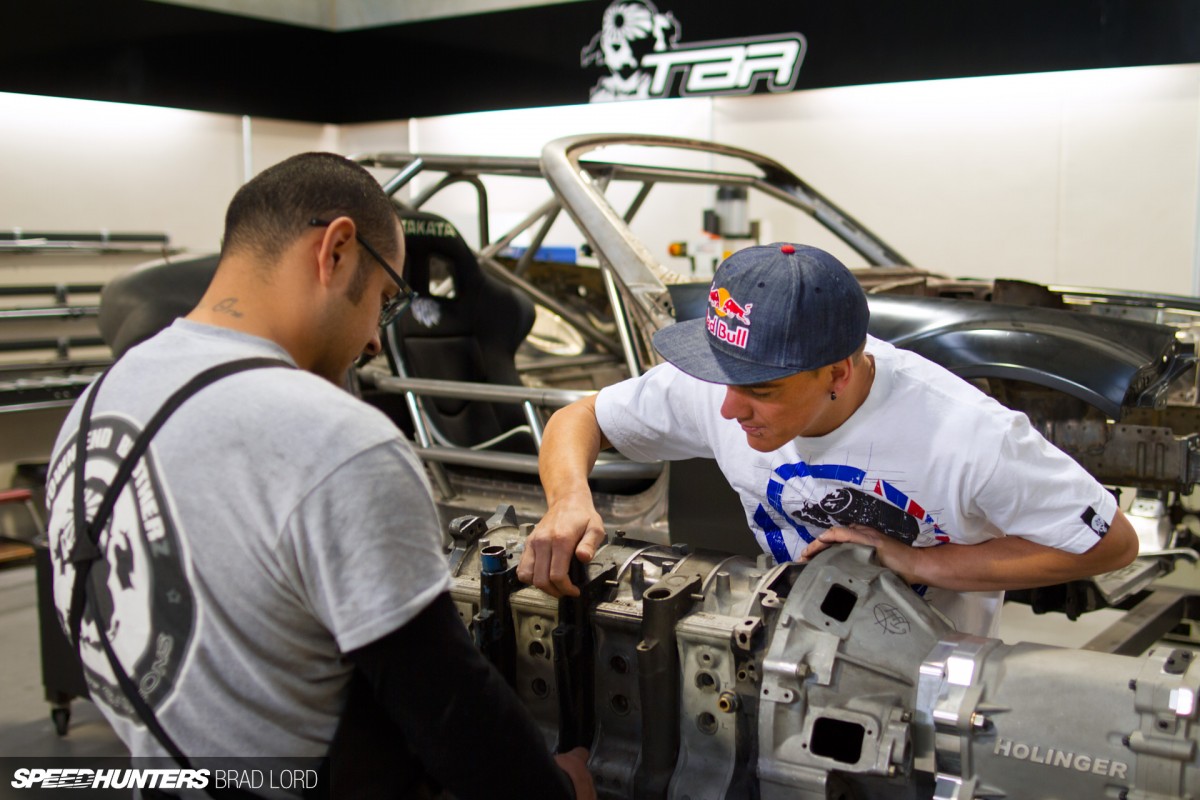 The 26B upgrade is not about needing more power, because a lack of performance was never in question. As I eluded to in the introduction to this project, 1,000hp/1,000kg provides the same power-to-weight ratio as the Peugeot 208 T16 that Sébastien Loeb destroyed the Pikes Peak International Hill Climb record with last year. And that was a machine built for outright acceleration and speed with drive running through all four wheels – not a little rear-wheel drive MX-5 built to slide. That said, Mike is just a little bit excited with the prospect of an engine that'll generate around 1,200hp on its low boost setting. This is all kinds of crazy.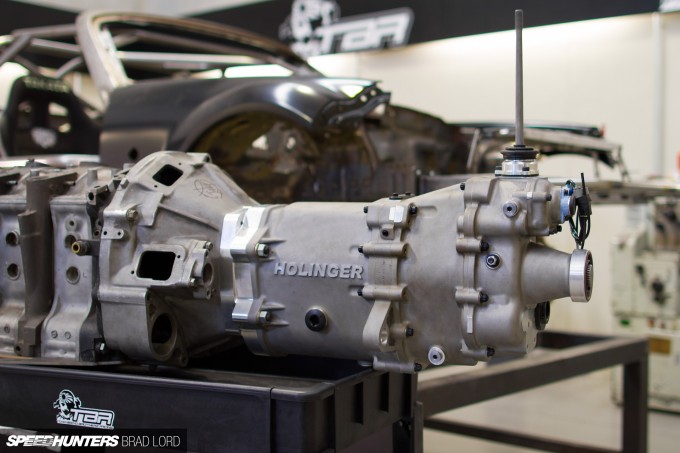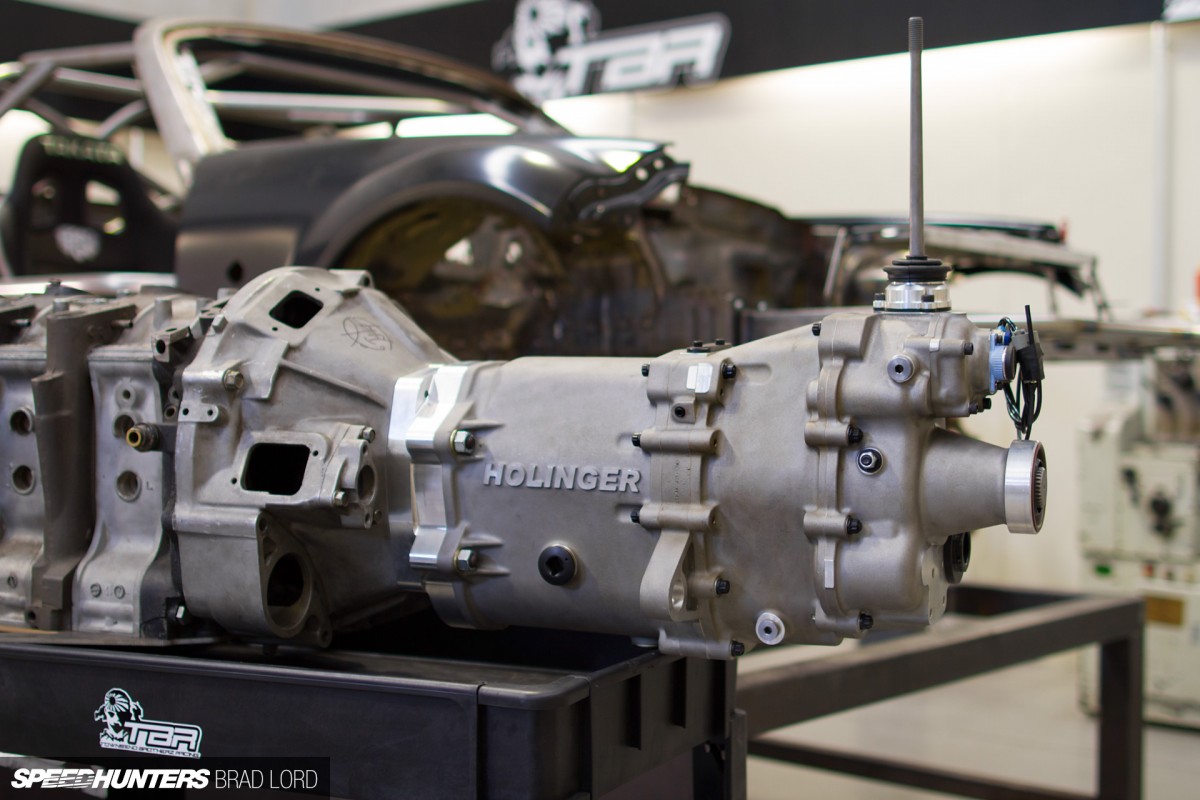 With those sort of numbers on the way, the strength and reliability of a driveline to support it is now more important than ever. But as the attached Holinger RD6 gearbox suggests, there was never going to be any concessions made in this department. The Australian-engineered six-speed sequential transmission is a proven piece of hardware and should have no problems standing up to all the abuse that the 26B and Mike can throw at it. With compact dimensions and a weight of just 39kg it's helping the handling cause too.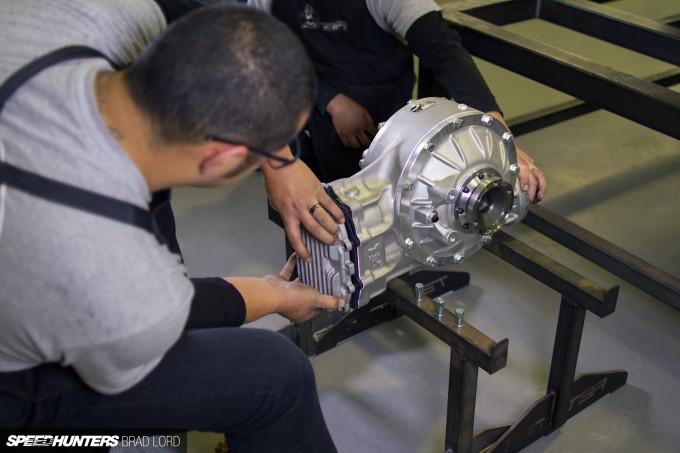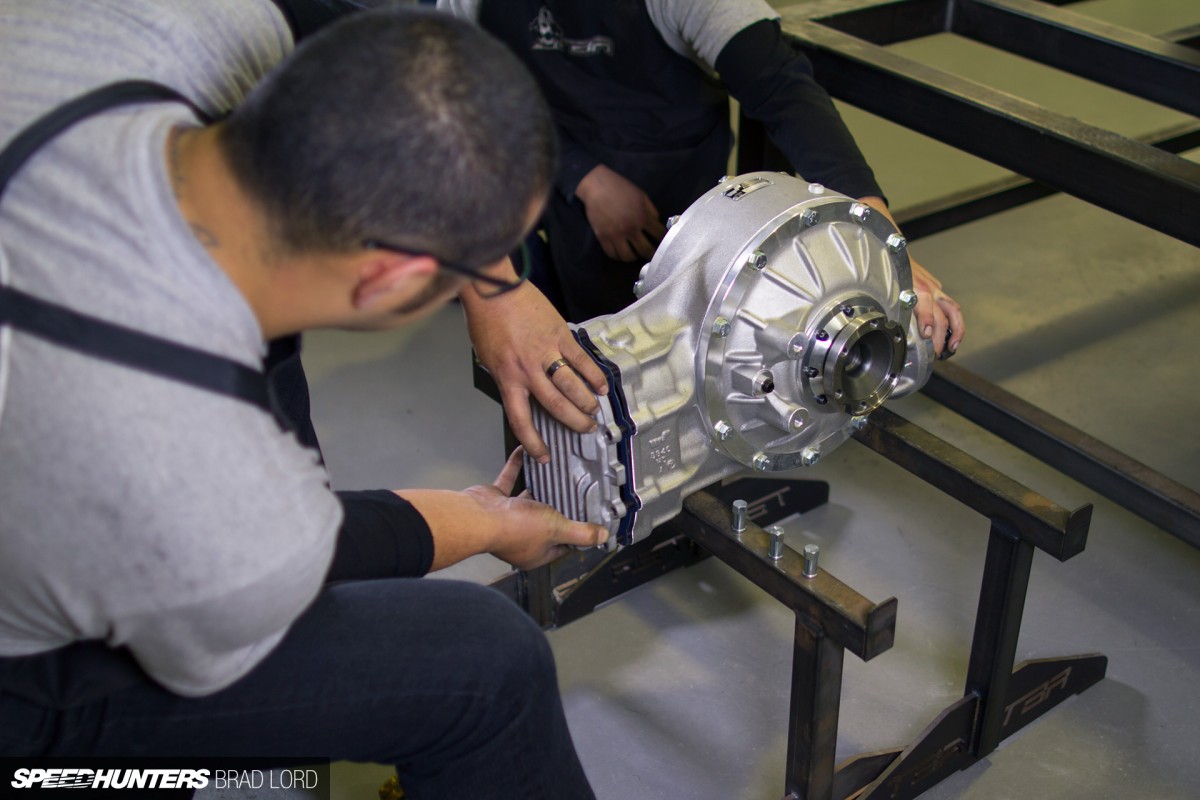 For the rear end it's a case of sticking with what they know and the same bulletproof Winters Performance differential that's used in the RX-8. And once again, Autosport Dynamics (ASD) in Charlotte, North Carolina were tasked with setting it up for the application. We'll take a closer look at this component in the next update after it's been adapted into the MX-5's rear subframe and had its custom-made, large-spline axles from The Driveshaft Shop (also out of North Carolina) fitted.
Serious Cooling Required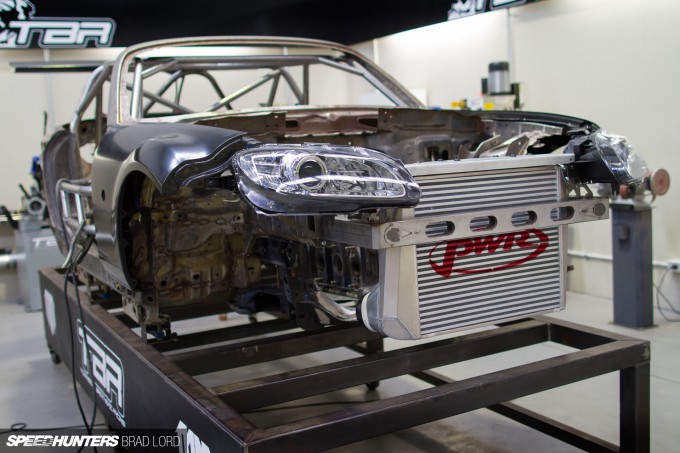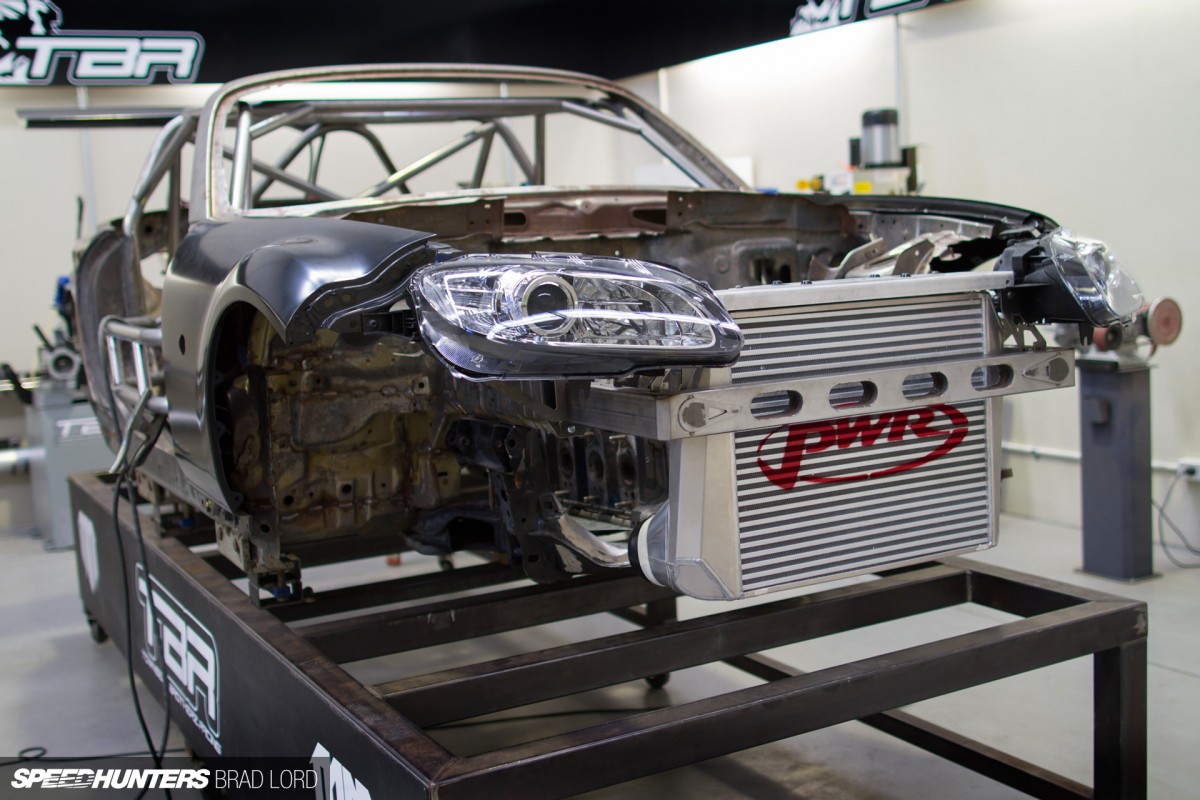 From a performance and reliability standpoint, another very important piece in this puzzle is the cooling system. Like Holinger, PWR is an Australian company that's recently come onboard with Mike and is lending its experience to Project RADBUL. Given its large dimensions, the custom designed and fabricated air-to-air intercooler that consumes the front end of the MX-5 should keep the intake charge nice and cool.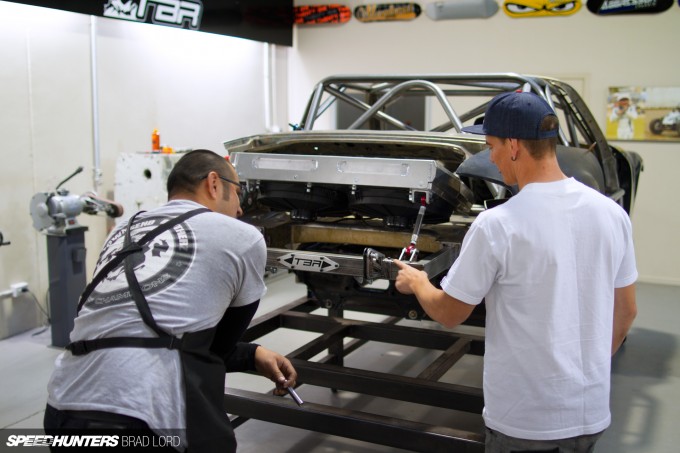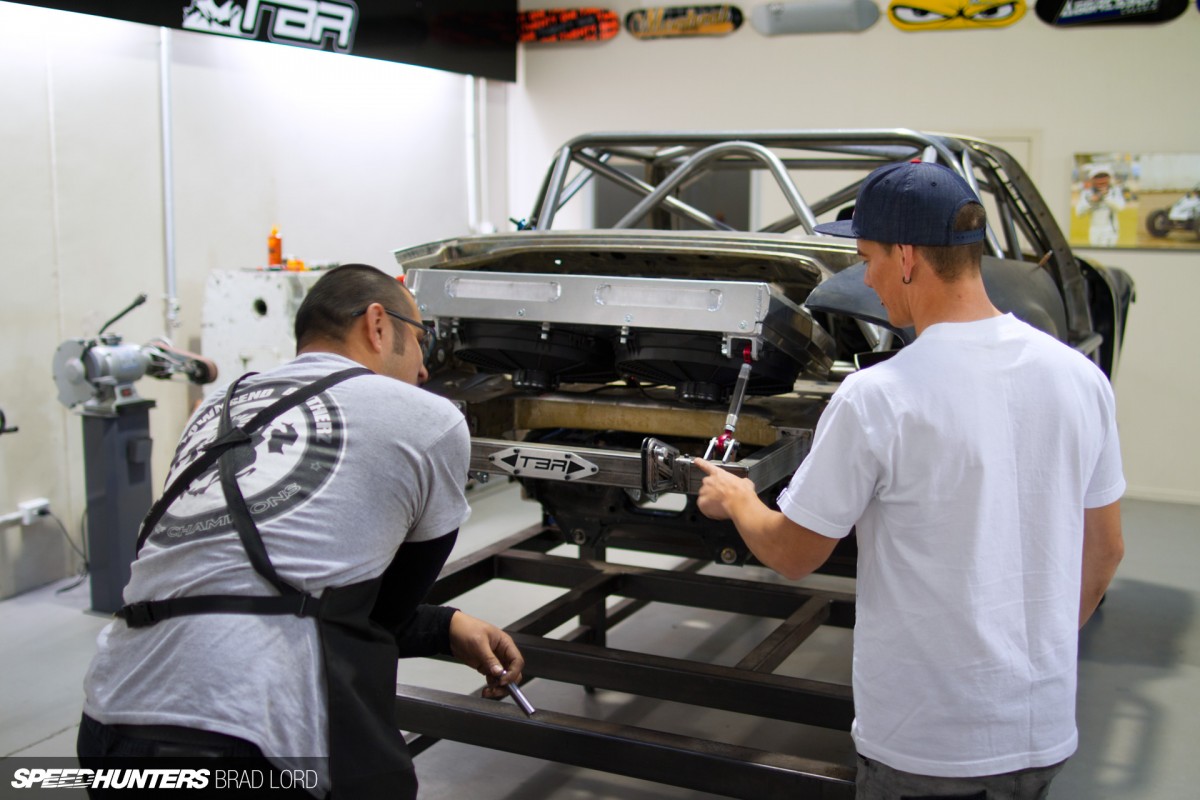 A big intercooler doesn't leave much space for anything else up front, but that's okay because the plan was always to relocate the radiator into the rear and shift some more weight over the rear axle anyway.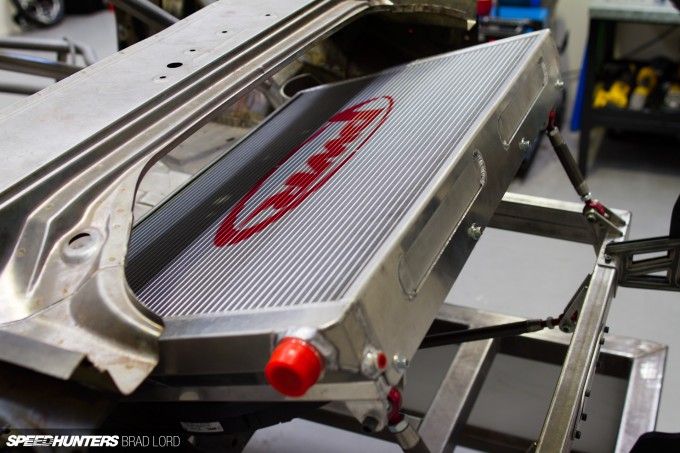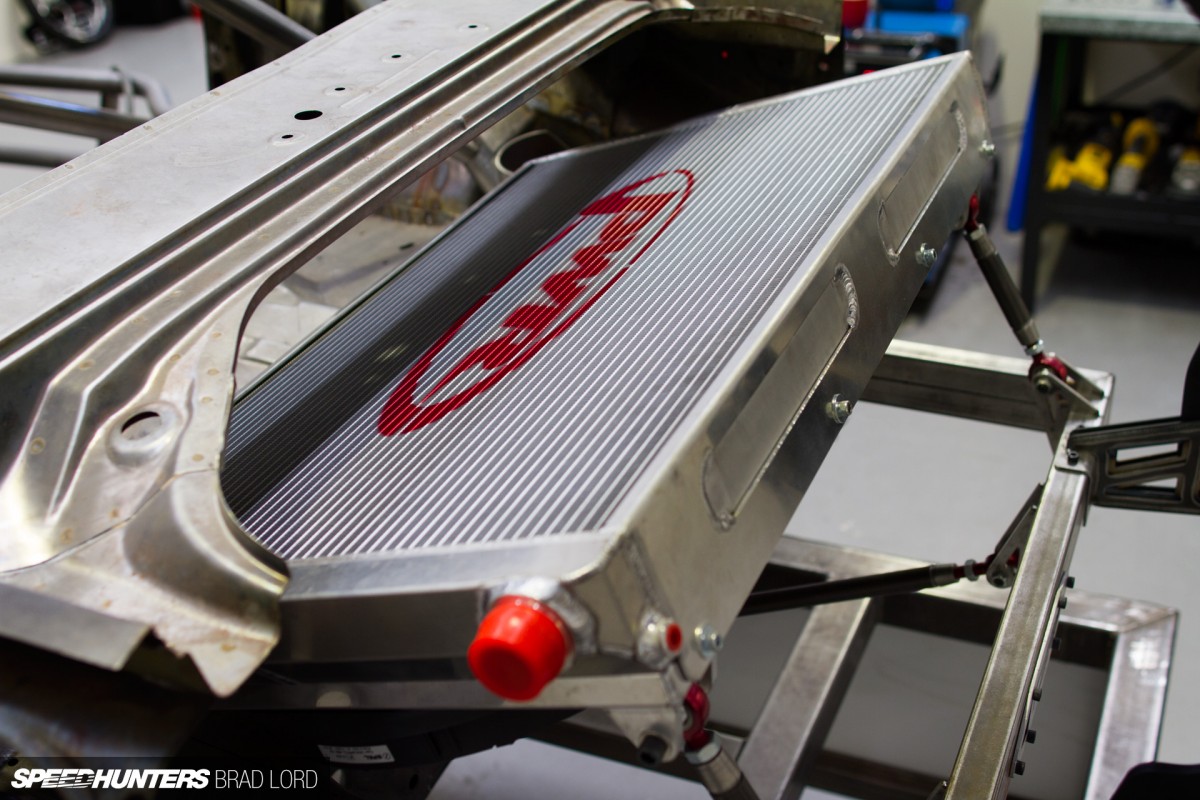 And that's exactly what's been done with the custom PWR unit that stretches across the entire breadth of the boot. Or where the boot once was, anyway.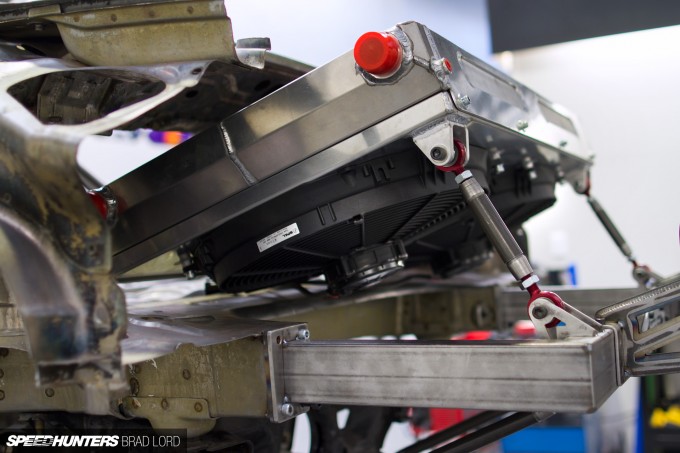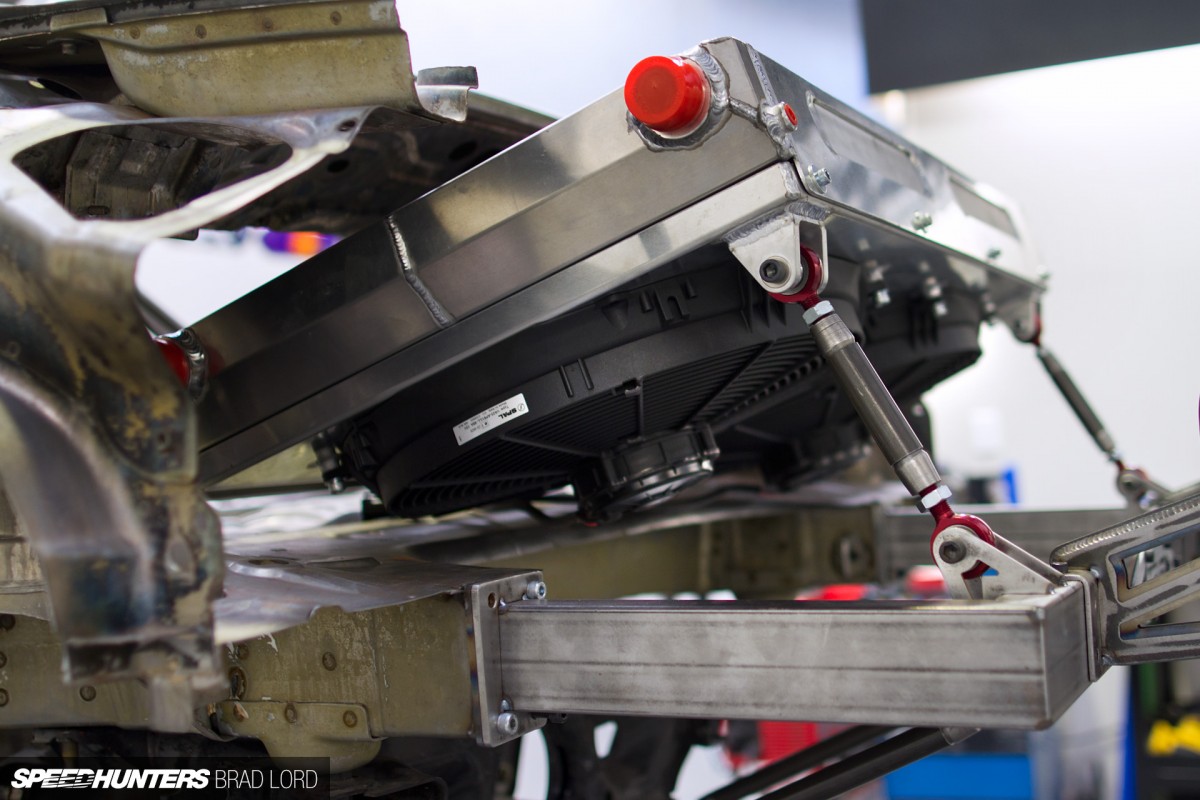 Bearing in mind that RADBUL will be mostly sideways when it's driven in anger, custom-designed ducts on both sides of the car will direct airflow across the radiator's expansive core, where a pair of SPAL fans on the underside will help draw it through. Using a hinge mounting system on the forward-facing side and mounting bars with rose-jointed ends at the rear, Kaz has made the rake angle that the radiator sits at totally adjustable too.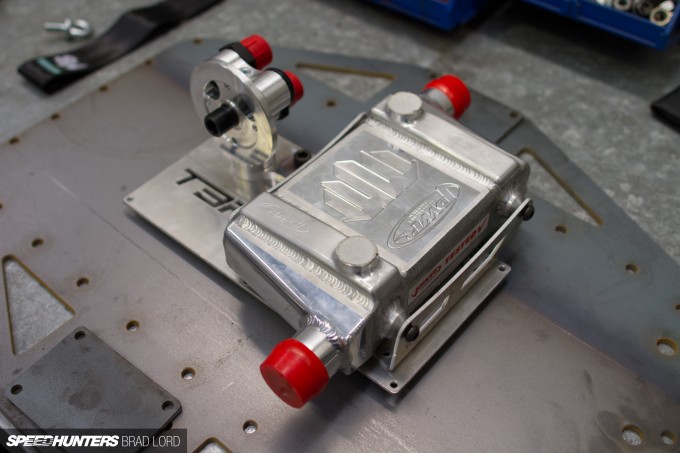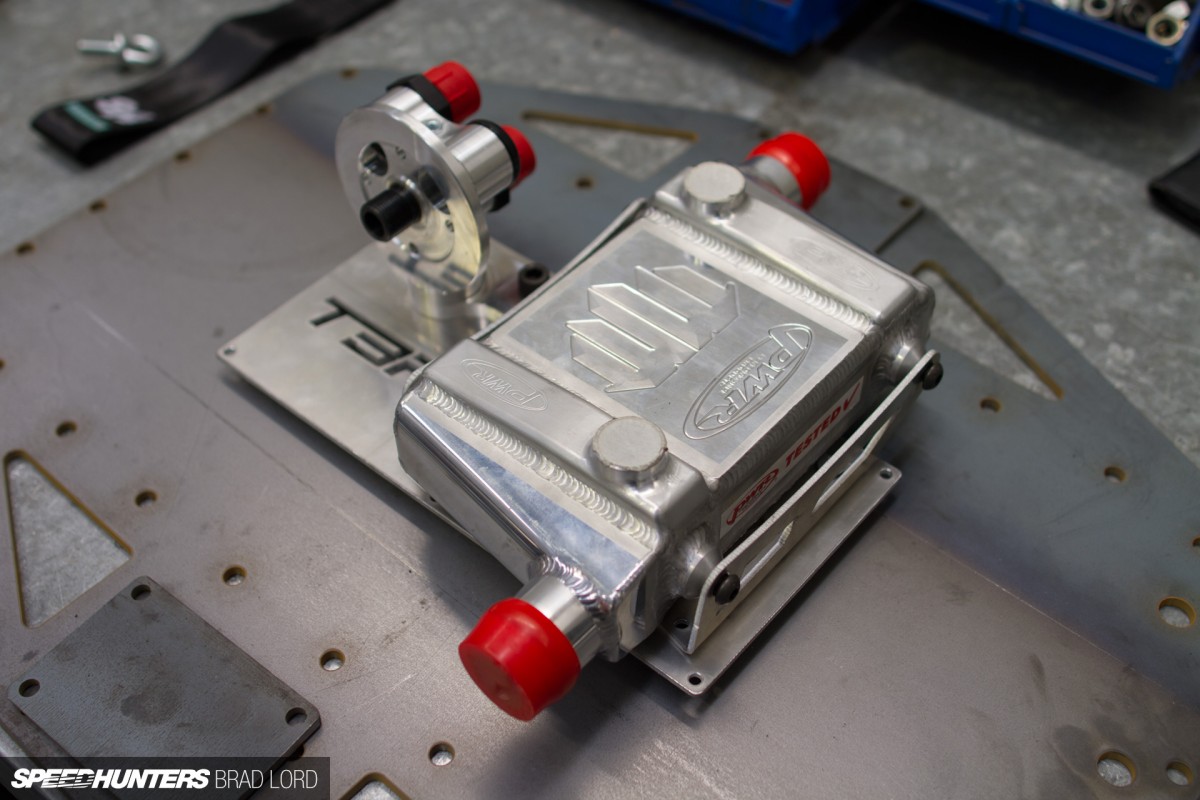 The other PWR cooling product being employed – this time straight out of the catalogue though – is the oil cooler. Unlike a common air-to-oil unit, this compact device is cooled by water and gets fitted inline between the engine and radiator. The result is high heat transfer with low pressure drop.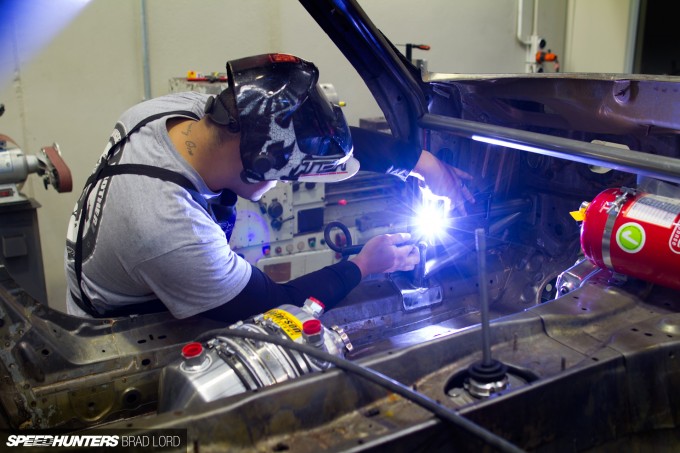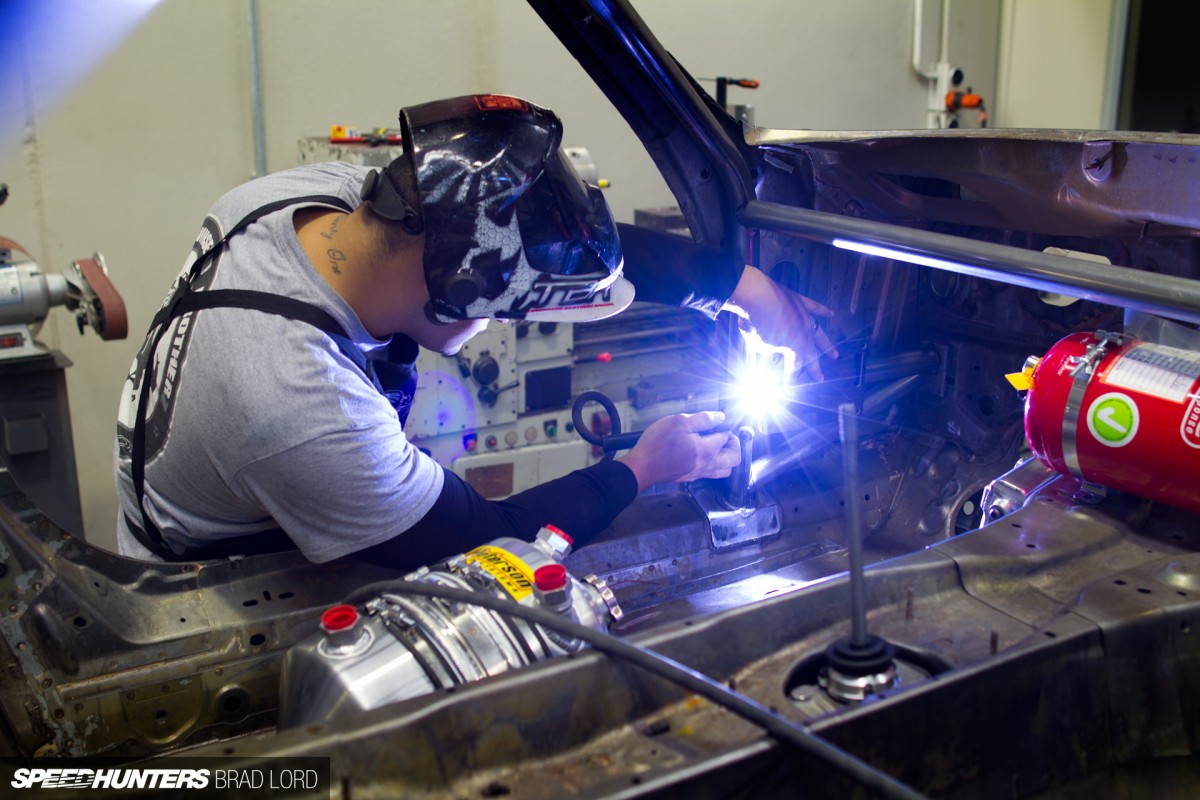 Because the cooler doesn't require air to flow over it, it can be fitted anywhere in the car. Given the nature of drifting it was a no-brainer to position it well out of harm's way.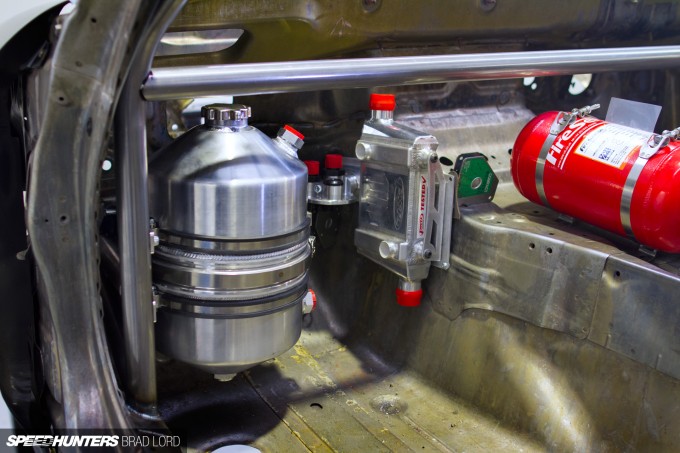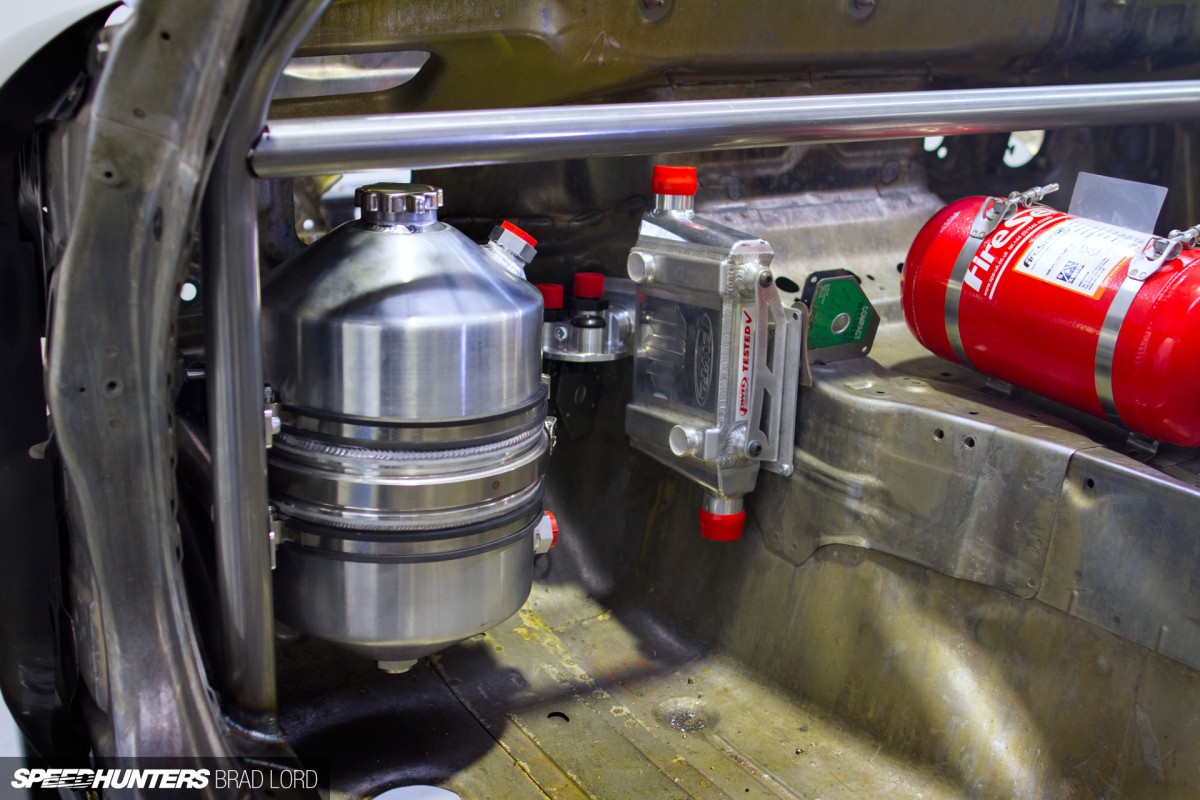 So for the oil cooler, the remote oil filter fitting and the reservoir tank for the engine's dry sump system, the passenger side front footwell was chosen as the ideal mounting location.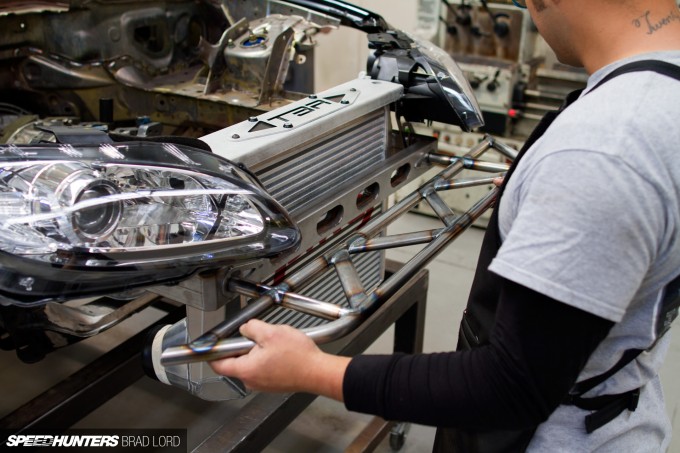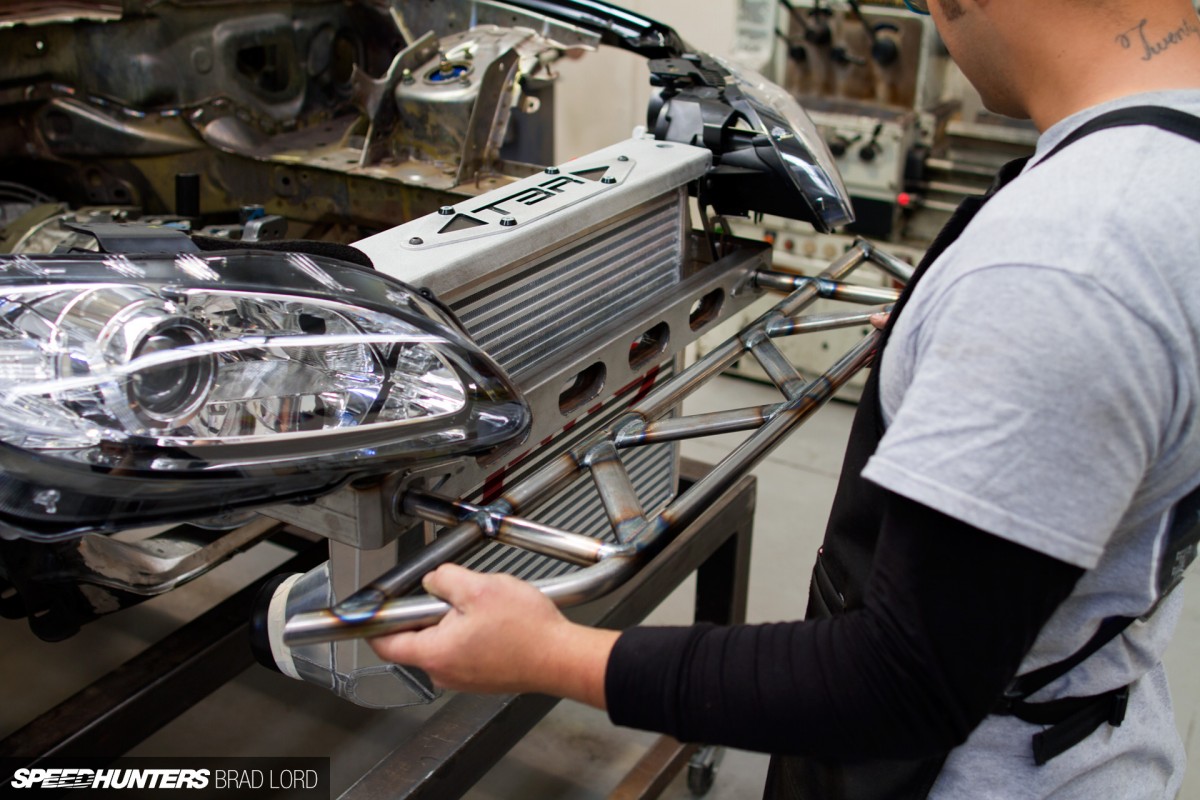 While the 26B block test fitting, driveline, and cooling system work has all being going on, Kaz has also found the time to tick a few more items off his long custom fabrication list. The front crash bar which he designed using CAD has come out looking really nice. But you didn't expect anything less from this guy, right?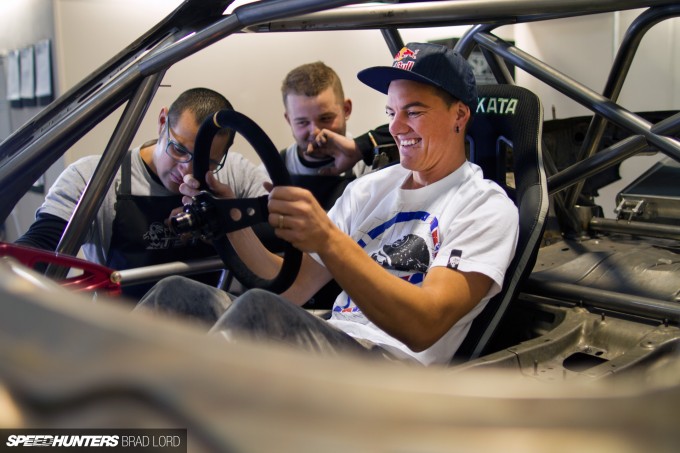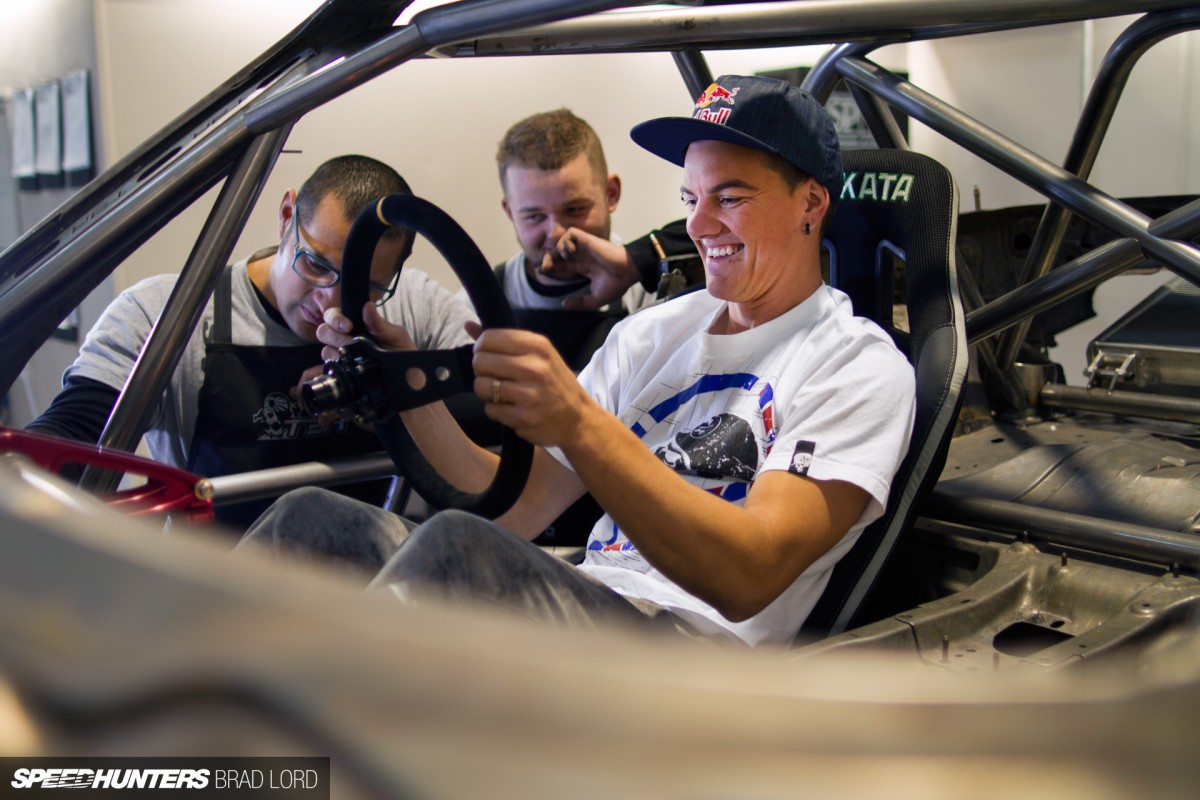 And other things, like finding the optimum position for the pedal box have been determined too.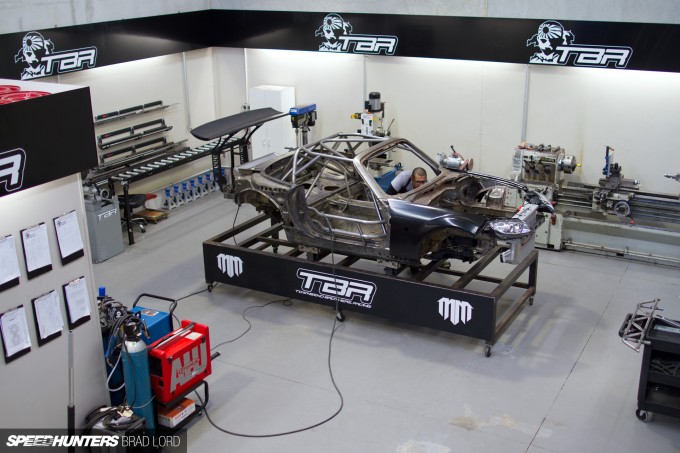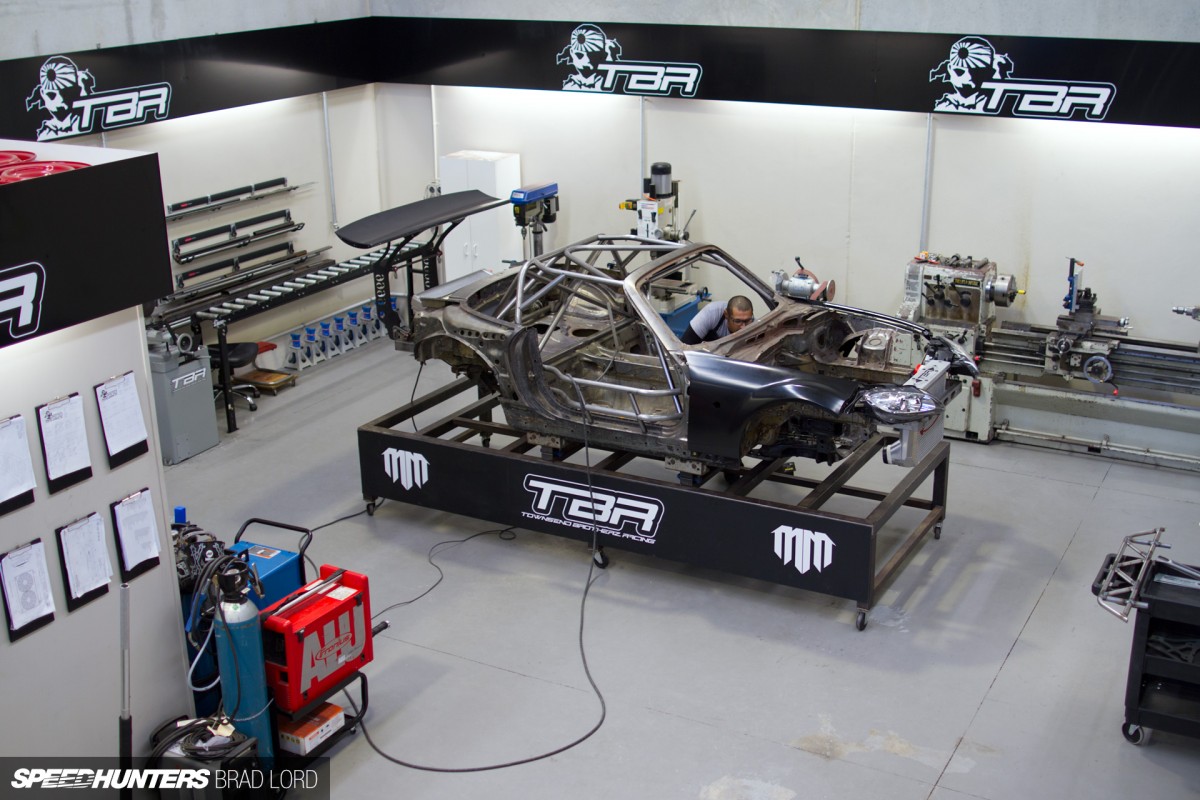 I'm already due back out at TBR to capture the next round of progress, and we'll be bringing you that update in the just a few weeks time. Work on the suspension and steering systems is now well underway, and with the arrival of a bunch more parts there'll be plenty to show you. In the meantime, we'll leave you with this final image of the Mazda – now sporting a rather large rear wing…
And a brand new The Making Of RADBUL clip from Red Bull.
Brad Lord
brad@speedhunters.com