The Ultimate Call Up
'Sup Speedhunters! It's nice to finally have my feet back on home terra firma in New Zealand after some long travels over the past four weeks.
When I got a call saying we had an official invite to come and perform a drift demo at the prestigious Goodwood Festival of Speed just out of London, I was super pumped. I couldn't wait to showcase the speed, the style, the angle, the sound, the smell, the smoke and the precision driving skill that is required in our epic sport of drifting to a totally different demographic of people. But it wasn't until I was sent the driver's entry list that it truly sunk in as to how big of a deal this event is. Sir Jackie Stewart, Emerson Fittipaldi, Al Unser Jr., Richard 'The King' Petty, Jenson Button, Lewis Hamilton, Damon Hill, and Sébastien Loeb to name a few – they were all there. Equally impressive was the line up of machinery: cars from the 1800s to Group B rally, and NASCAR to current F1s. I can tell you that seeing my '96 Mazda RX-7 listed amongst them sure looked out of place. We decided that this was the perfect event to unveil a fresh look for MADBUL.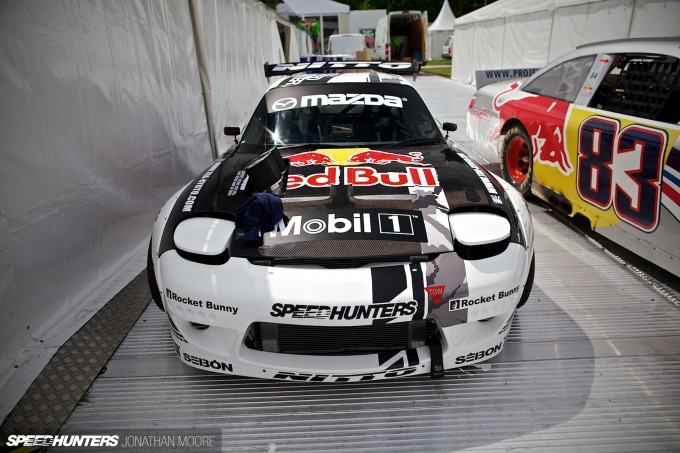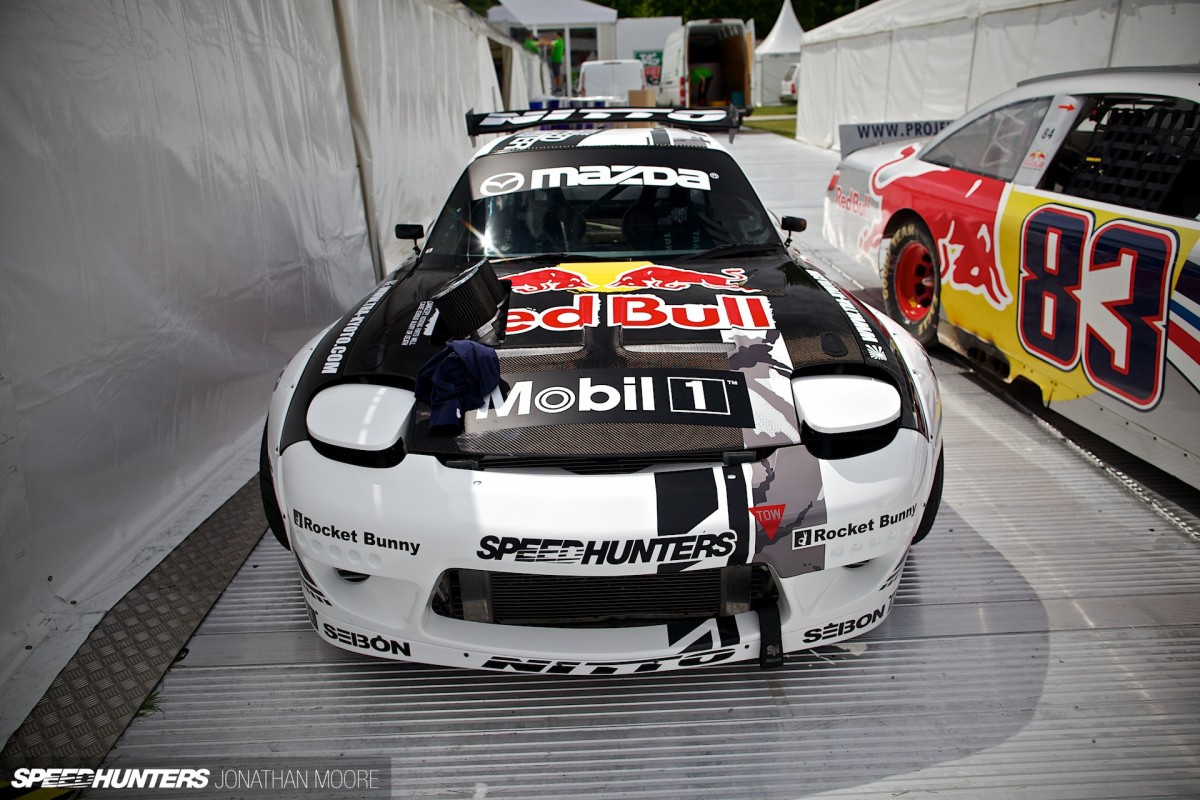 So with less than two weeks between the D1NZ Grand Final here in New Zealand and the flight which would take MADBUL to London, it was all hands on deck at MM HQ as we stripped and transformed the RX-7 from Generation 5 to Generation 6 guise. It was nice to see the fresh look complete as we started to set up the Red Bull Racing booth on the hallowed grounds of Goodwood House.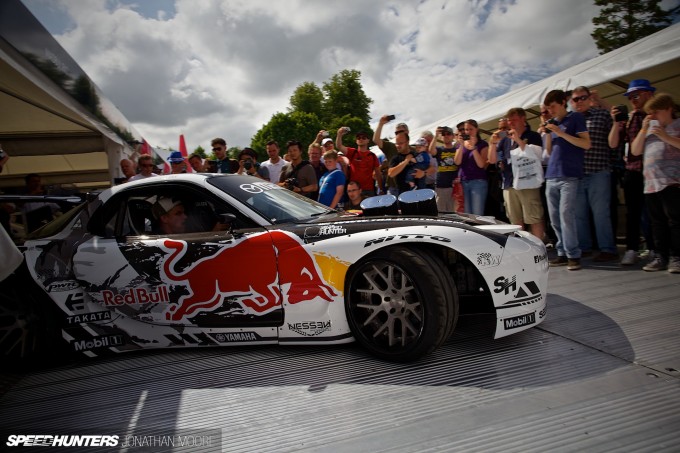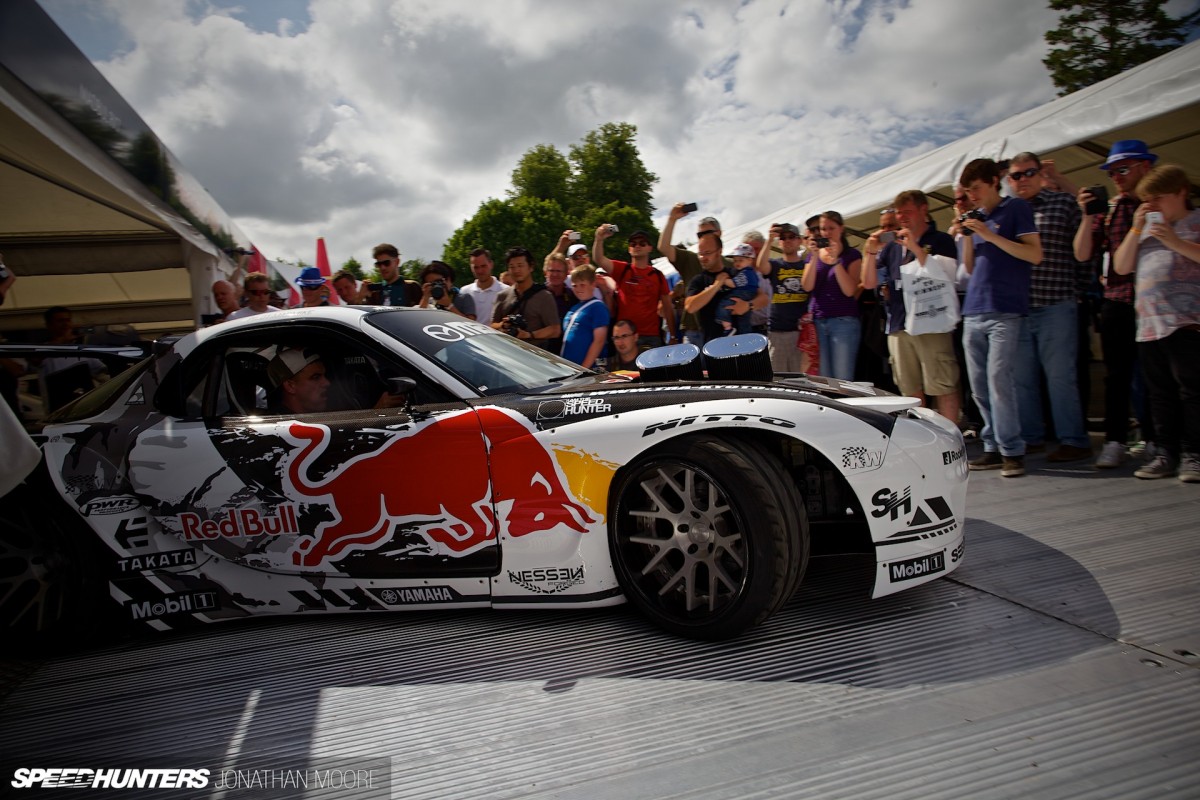 The number of fans and spectators that turned out was crazy – around 150,000 each day.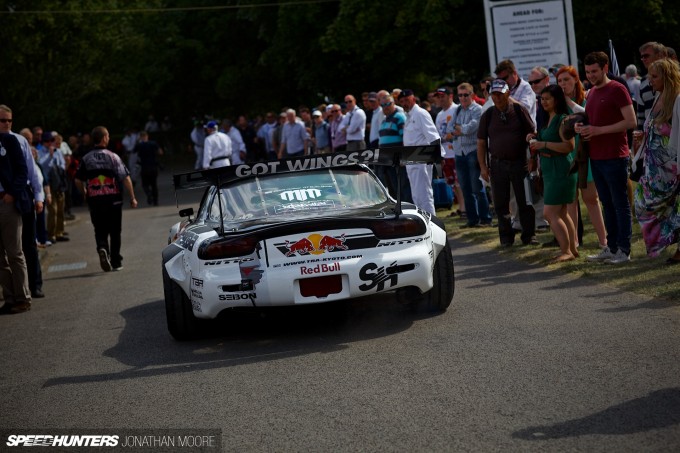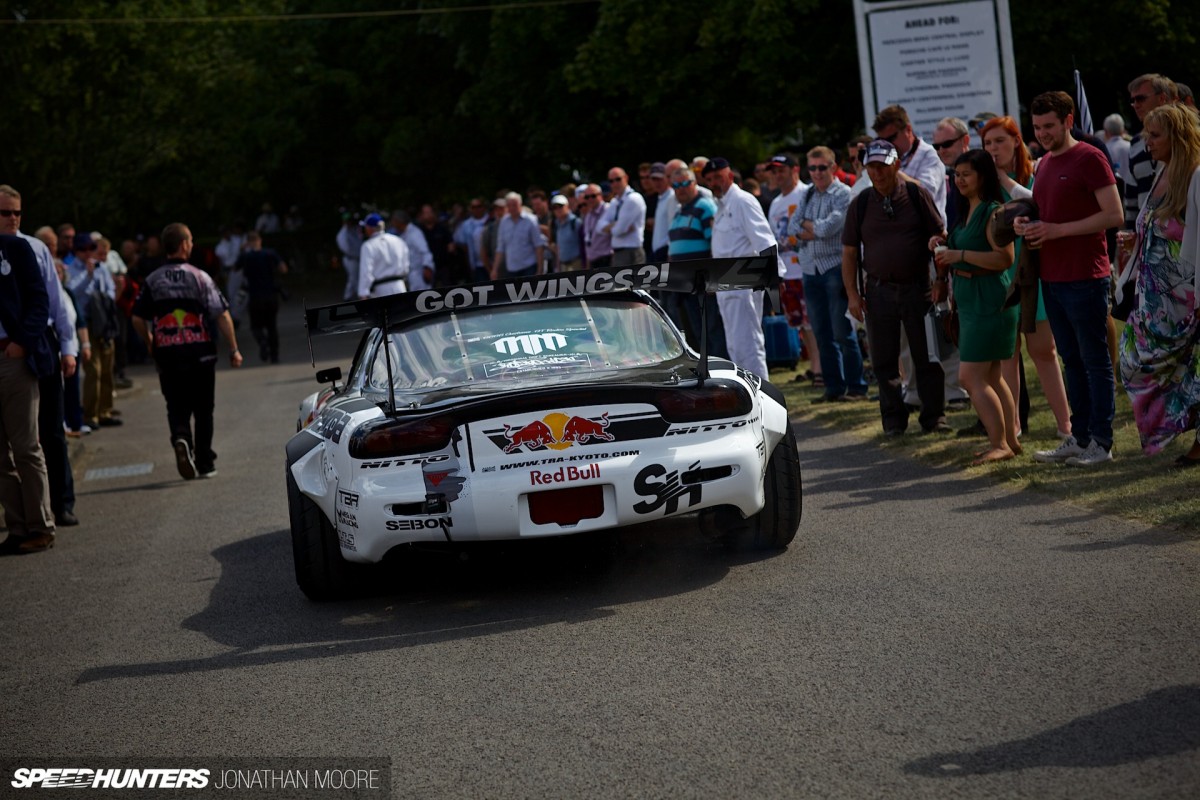 The weather was perfect too, so it had all the makings of an epic three days. I remember being asked by so many people before my first run where the best place to stand to see drift donuts would be. I would answer just stand wherever you can see the track, as you will soon see that pro drifting is far from rarking up some donuts.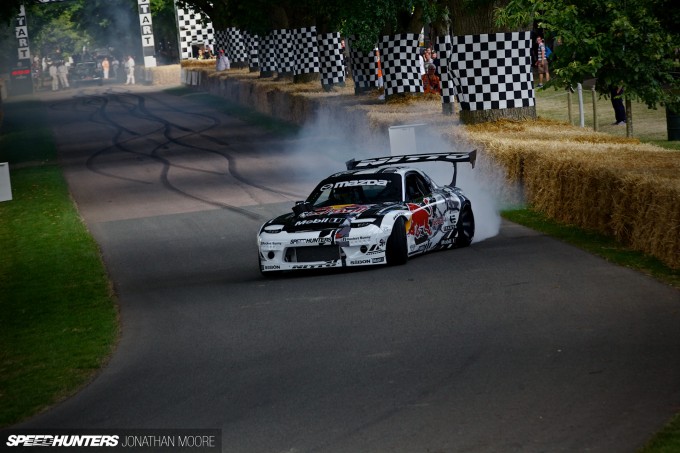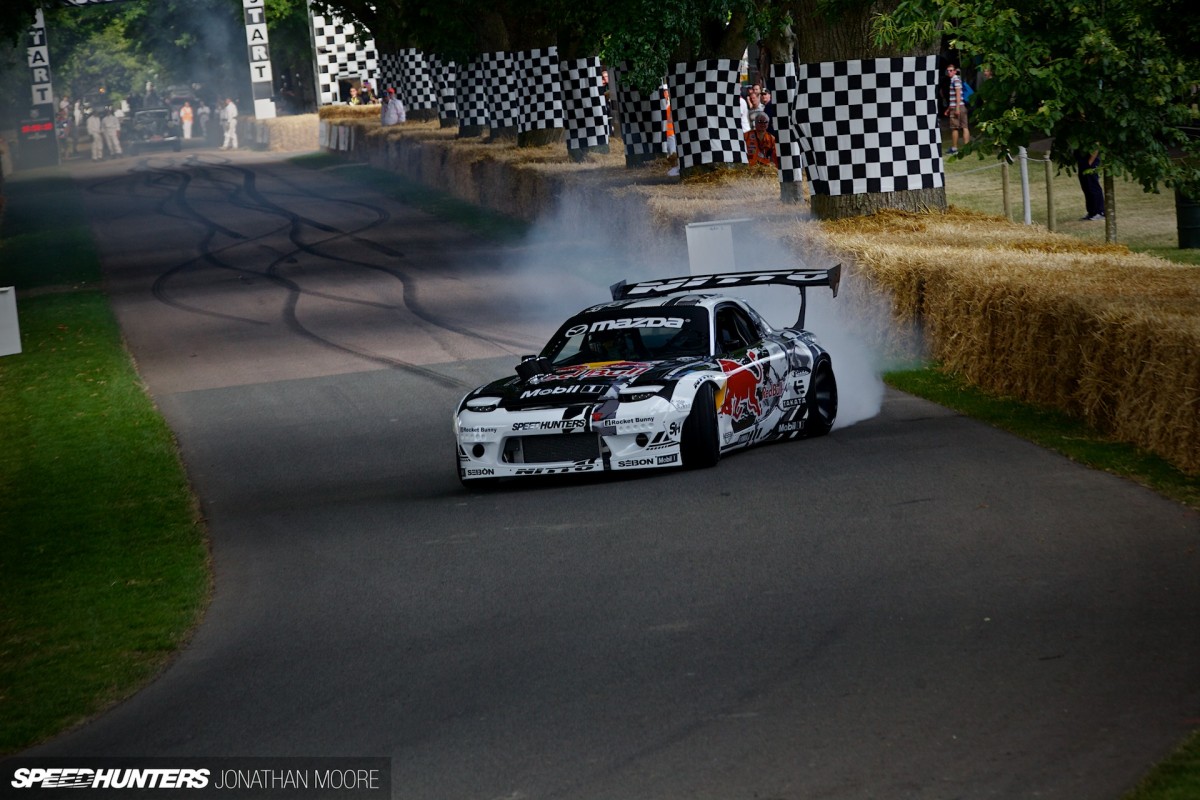 Nothing can describe the feeling of getting the green light at the start line, and all of my nerves and fears disappeared simultaneously. As you can see, there were many different ways to attack the first corner. Many would race as fast as they could to try and kill the record time to the top of the hill, while others would line-lock and just fill the air with burnt rubber. On my first run I approached it full #MaximumAttack!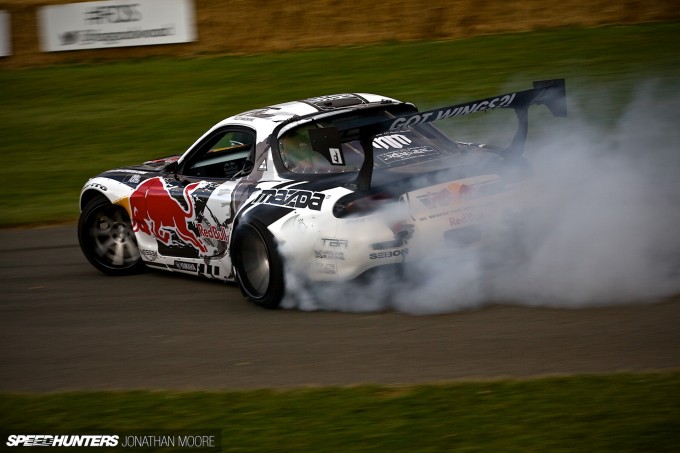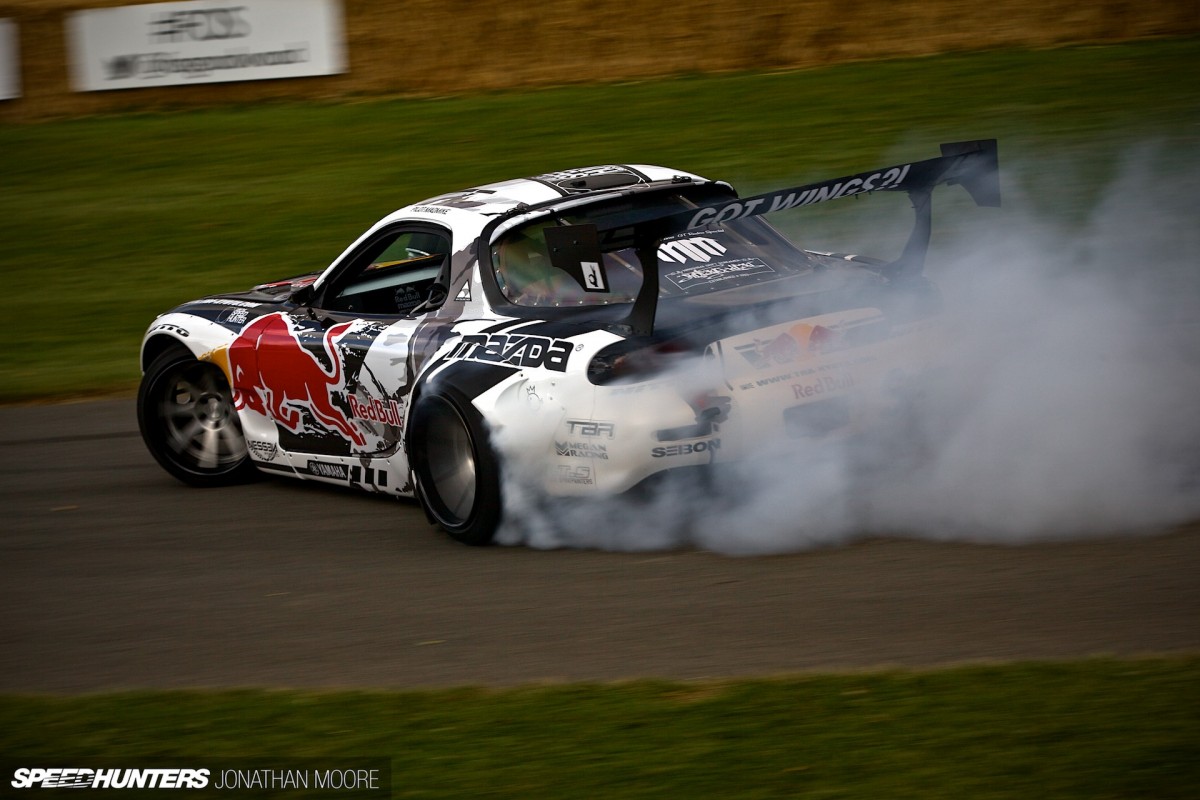 I had walked the track the day before and I could see that the course (actually a driveway) was not going to be easy to drift. Being high speed, very narrow and off-cambered with next to no run-off was all concerning, but more so were the hay bales that lined its sides at close range. I could only imagine the disaster if the flame-throwing 4-rotor in MADBUL set one alight!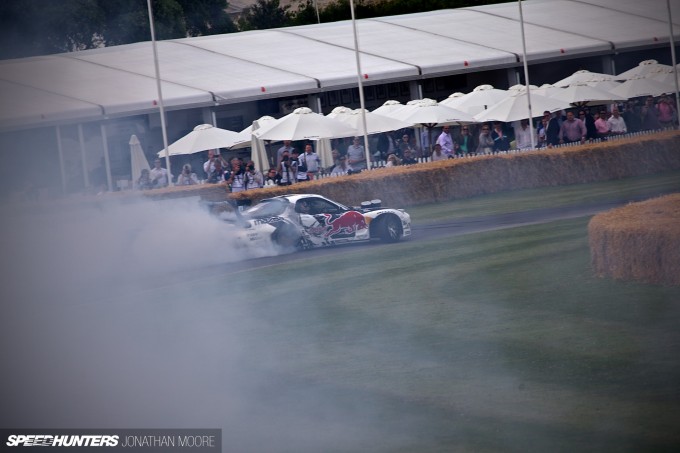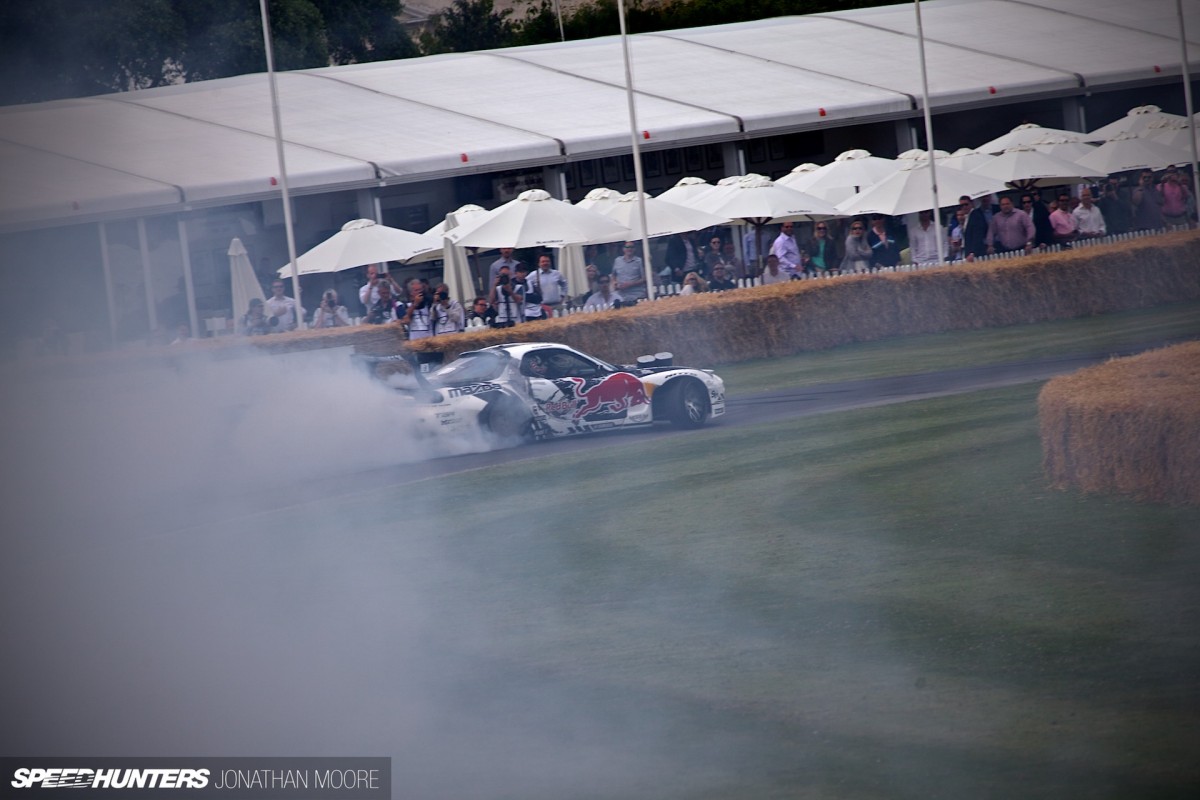 But this didn't stop me from pushing hard. With only two runs per day for each driver there was no way I was going to cruise up the driveway to 'feel it out' with 150,000 sets of eyes on the track. I was 100 per cent focused, and being behind the wheel of MADBUL I felt totally confident.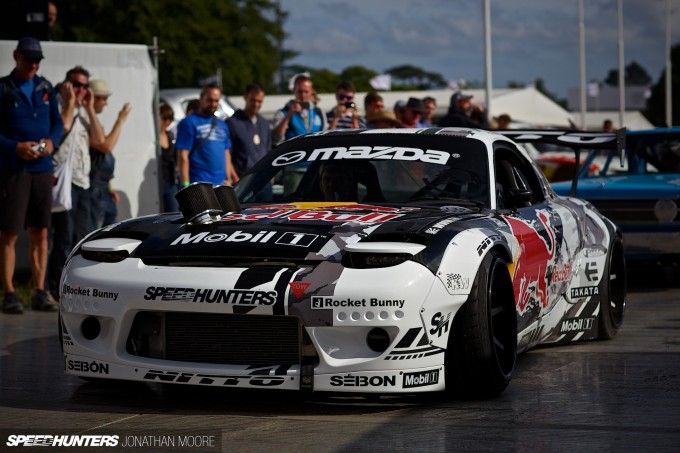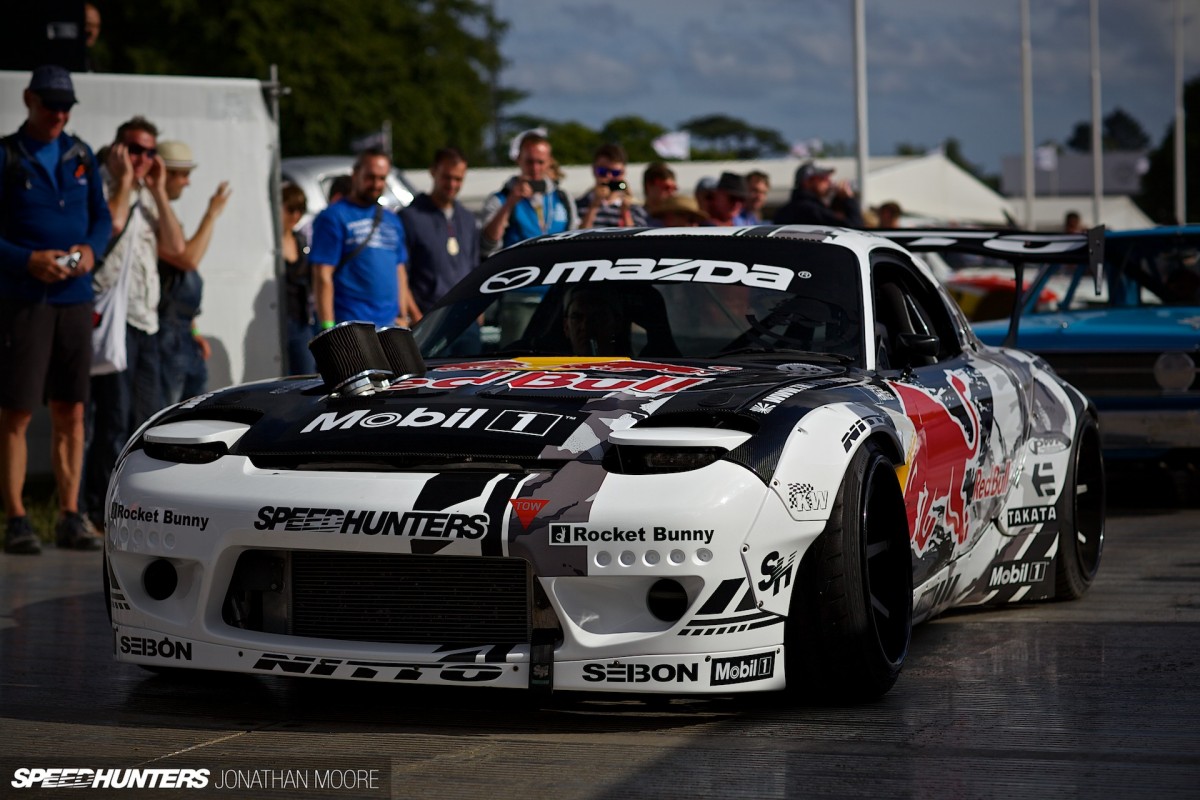 Tyres destroyed I rolled back to base – something which was repeated five more times over the course of the event.
Unmatched Atmosphere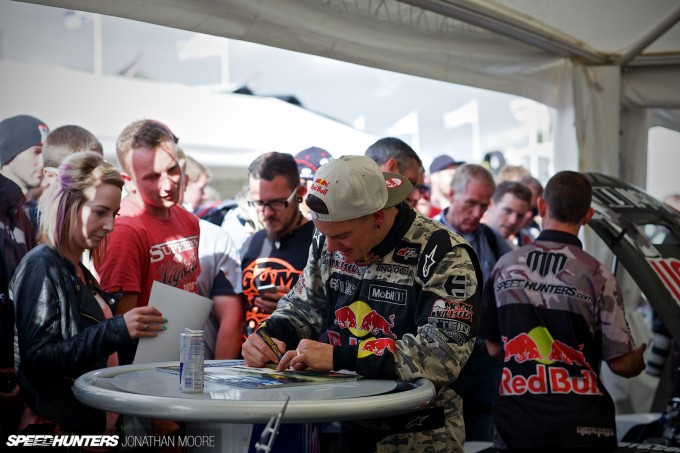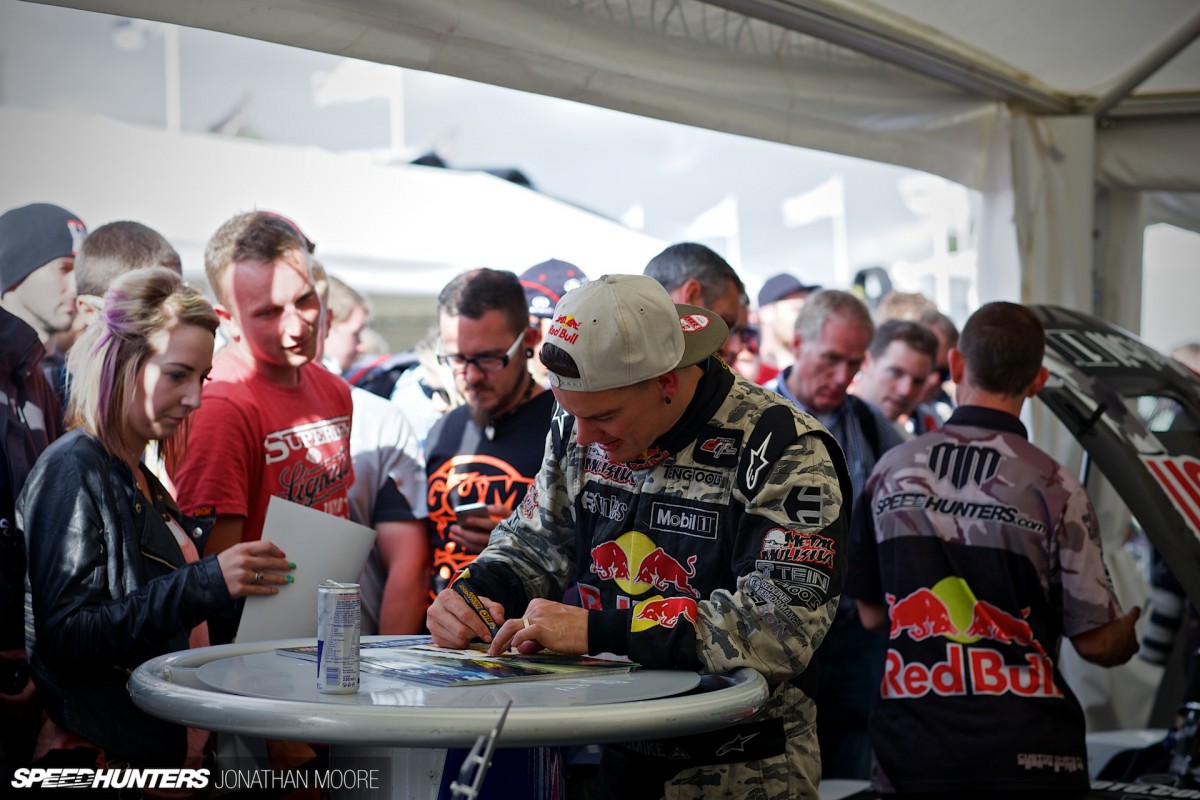 The response from the crowd after that first run was mind blowing. I was greeted by thousands that came by our booth, and I enjoyed spending hours on end signing and talking about our sport and cars to a wide variety of people.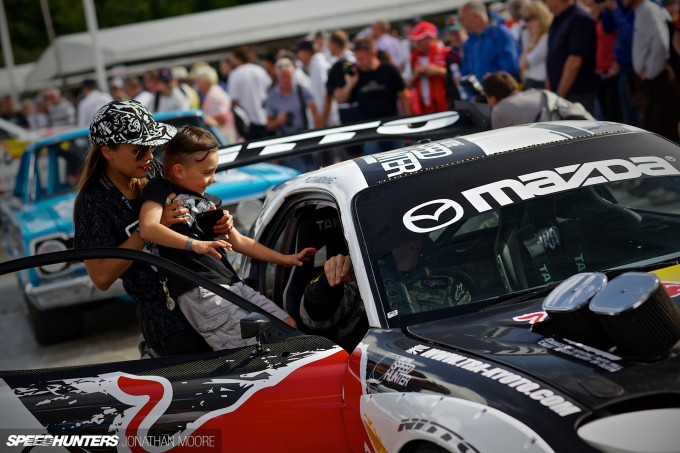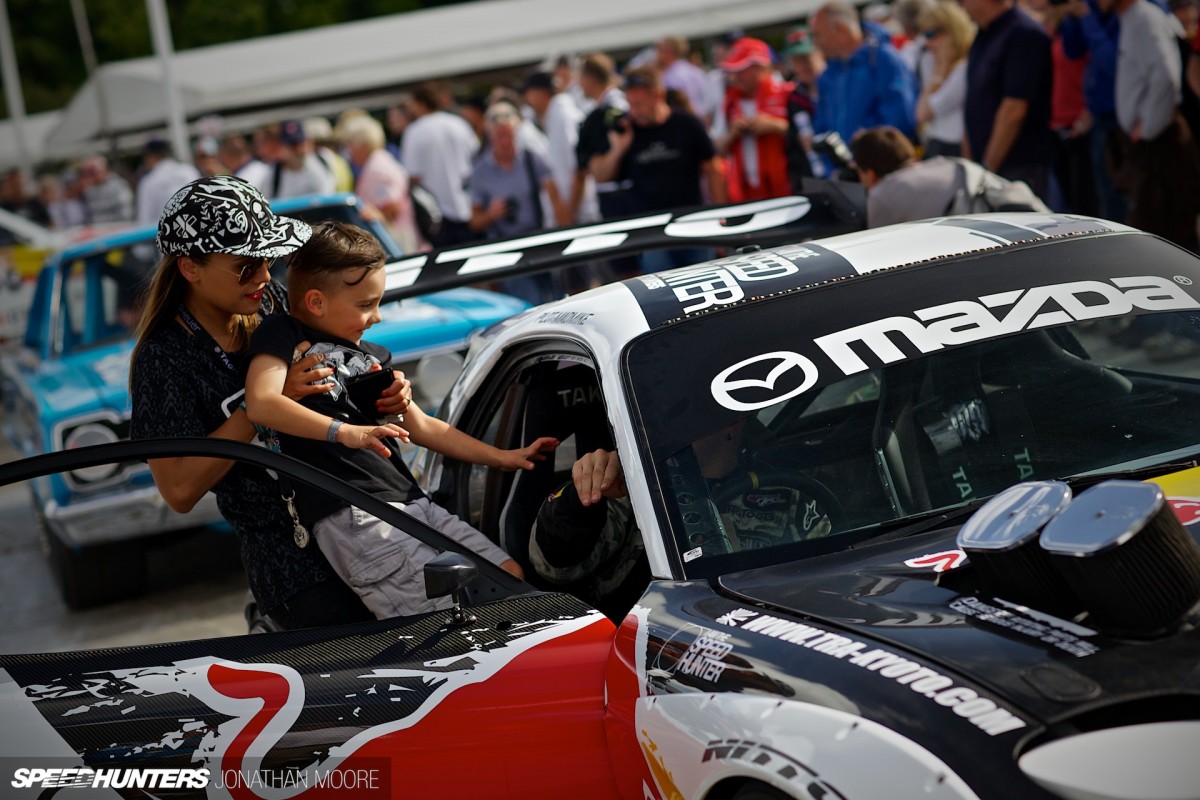 I am truly honoured to have such a rad job. Drifting takes me on travels around the world and I get to meet so many awesome people. But to be able to do this all with my family only drives me harder to push the limits of what we do. This here was a special moment, as the Plymouth Belvedere directly behind me was one of my son Linc's favourite – mostly because of its #43 connection to the movie Cars, and its legendary driver, Richard Petty. Thinking it was the Roadrunner from the movie, Linc actually went up to him and said, "Excuse me Mr. The King, but why did you take the big wing off Dinoco?" Afterwards he just had to jump in MADBUL to lead 'The King' back to the pits after watching me shred my way up the hill faster than Dinoco. Too cute.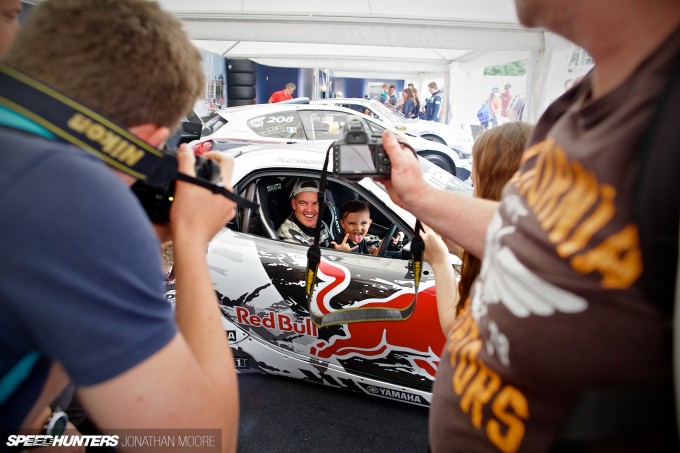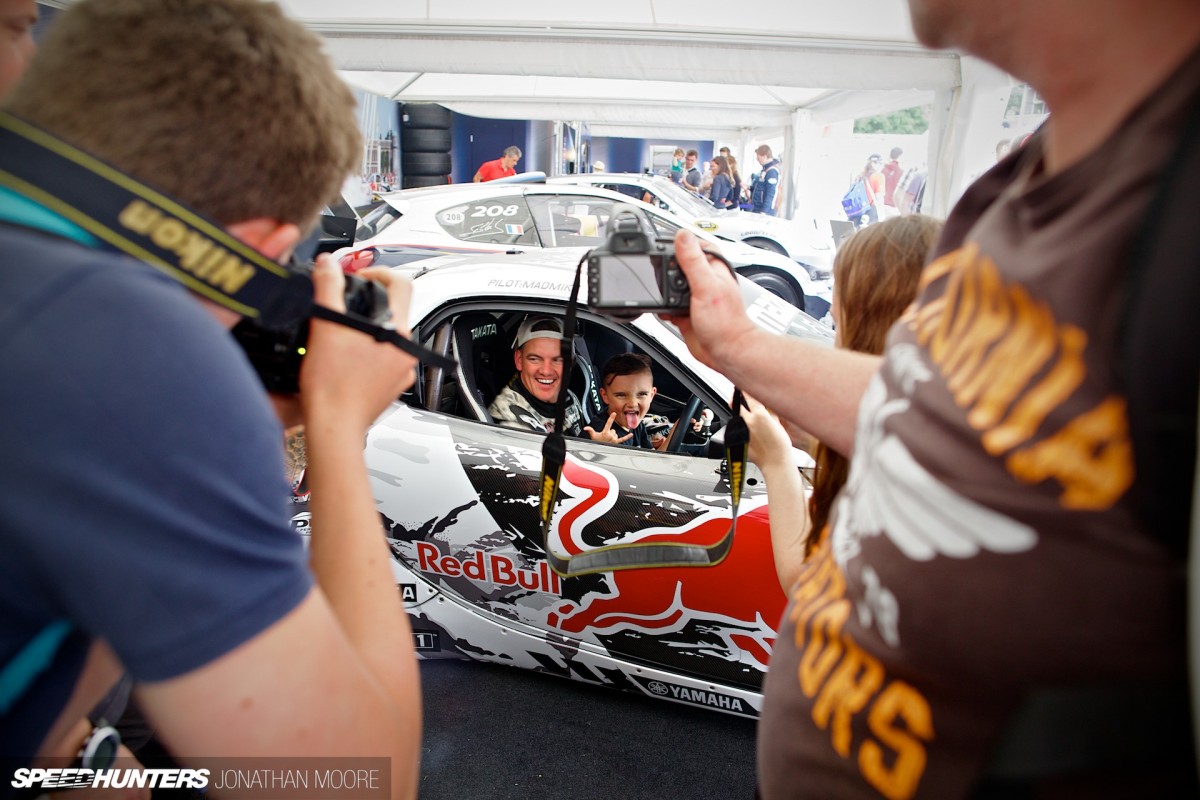 He also enjoys the cameras!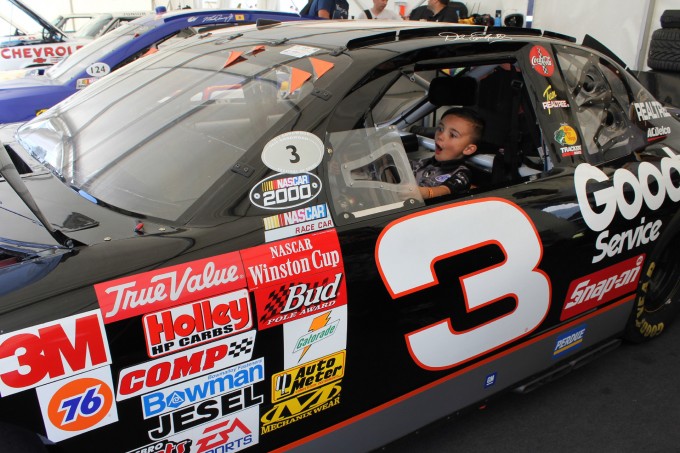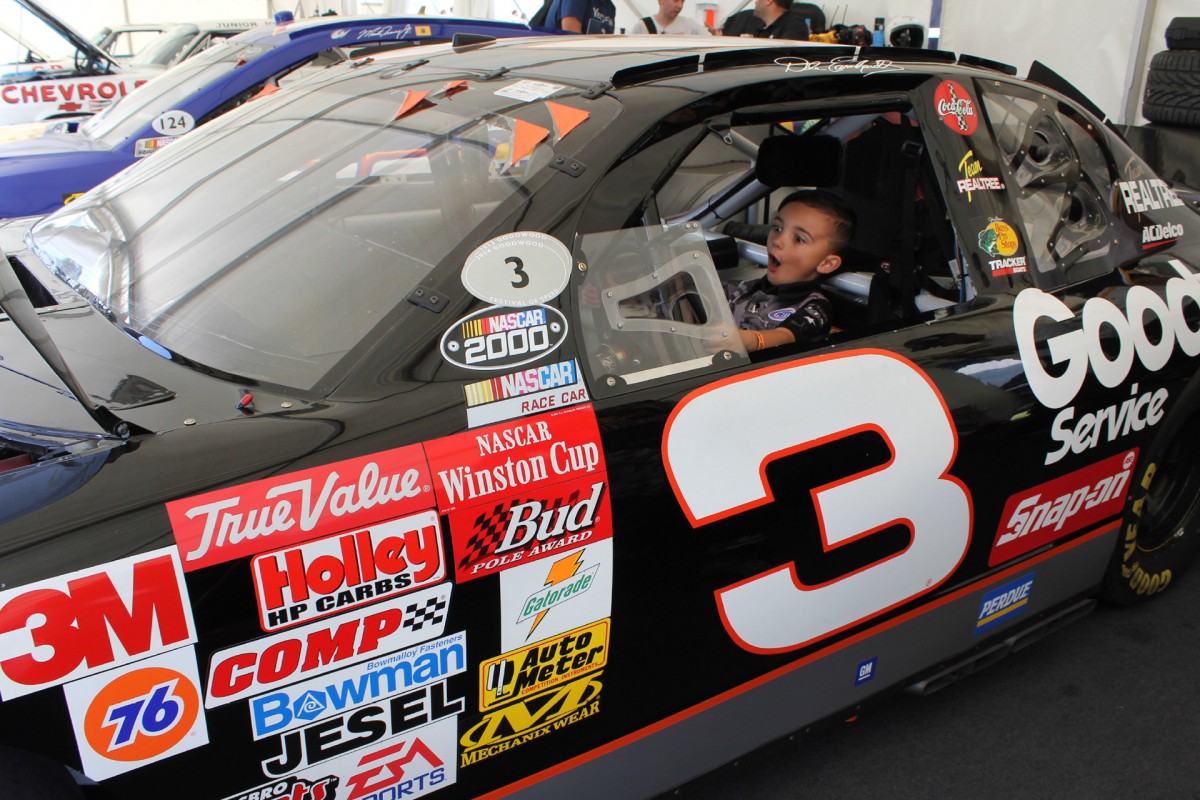 And something I don't think he'll ever forget, Linc got to sit in – and even fire up – many cars from the huge line up of famous machines.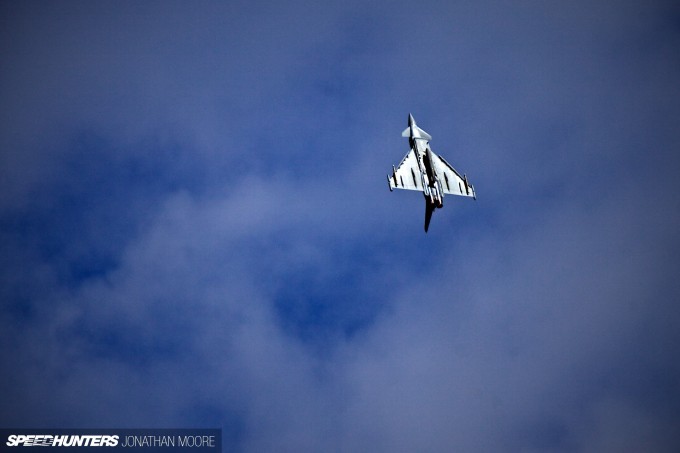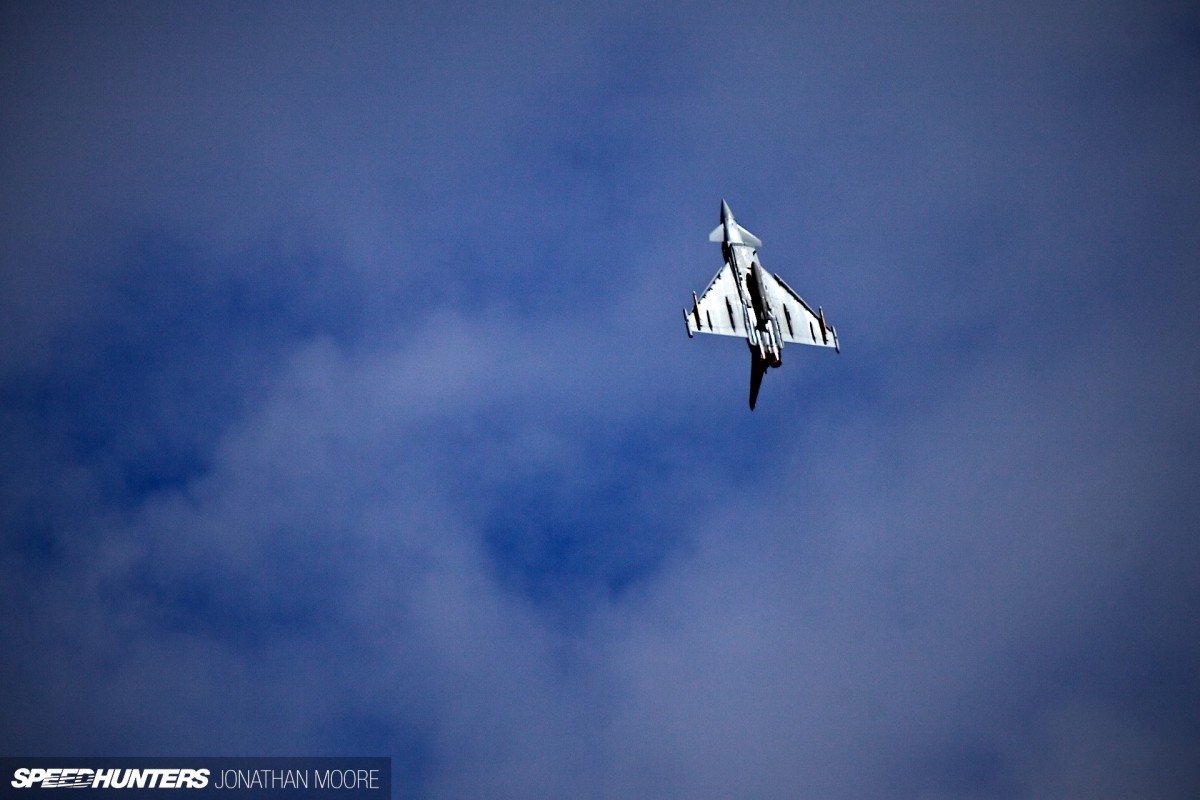 He even got to meet 'Cookie' – the pilot of the Typhoon Jet that was performing at lunch. Linc thought it was sweet that he wanted to swap a ride in the jet for a hotlap in MADBUL. Any day!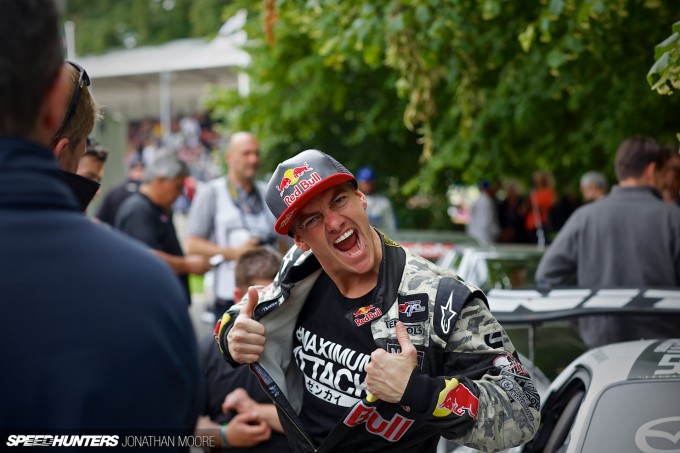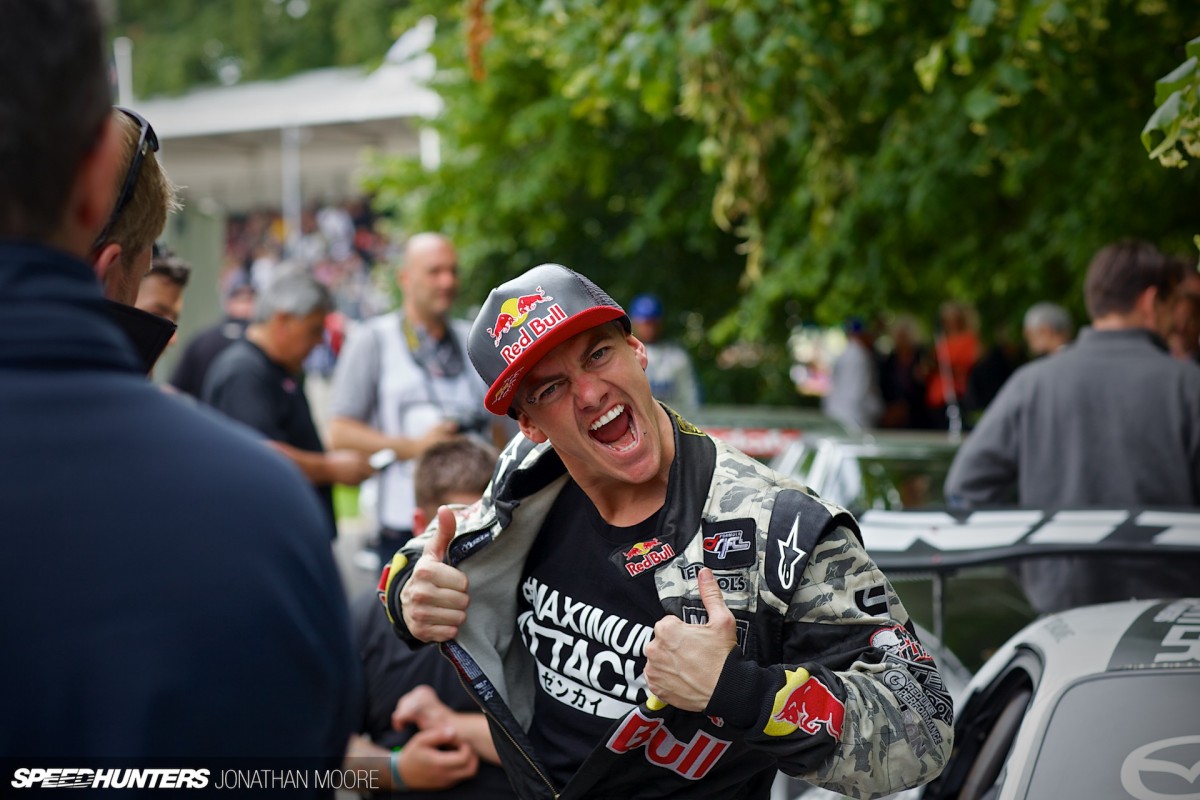 There is only one way: #MaximumAttack!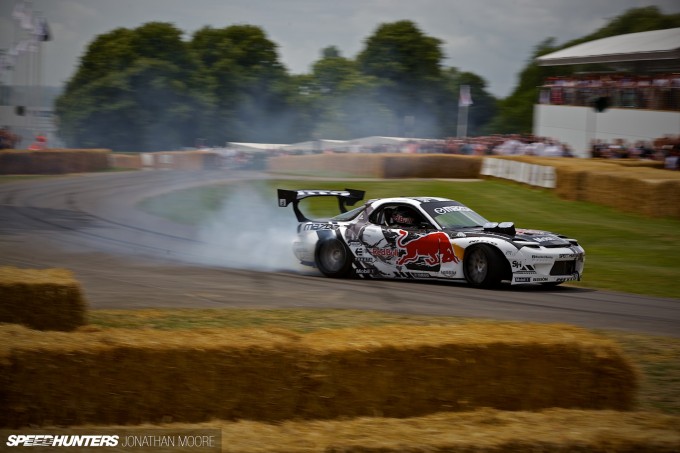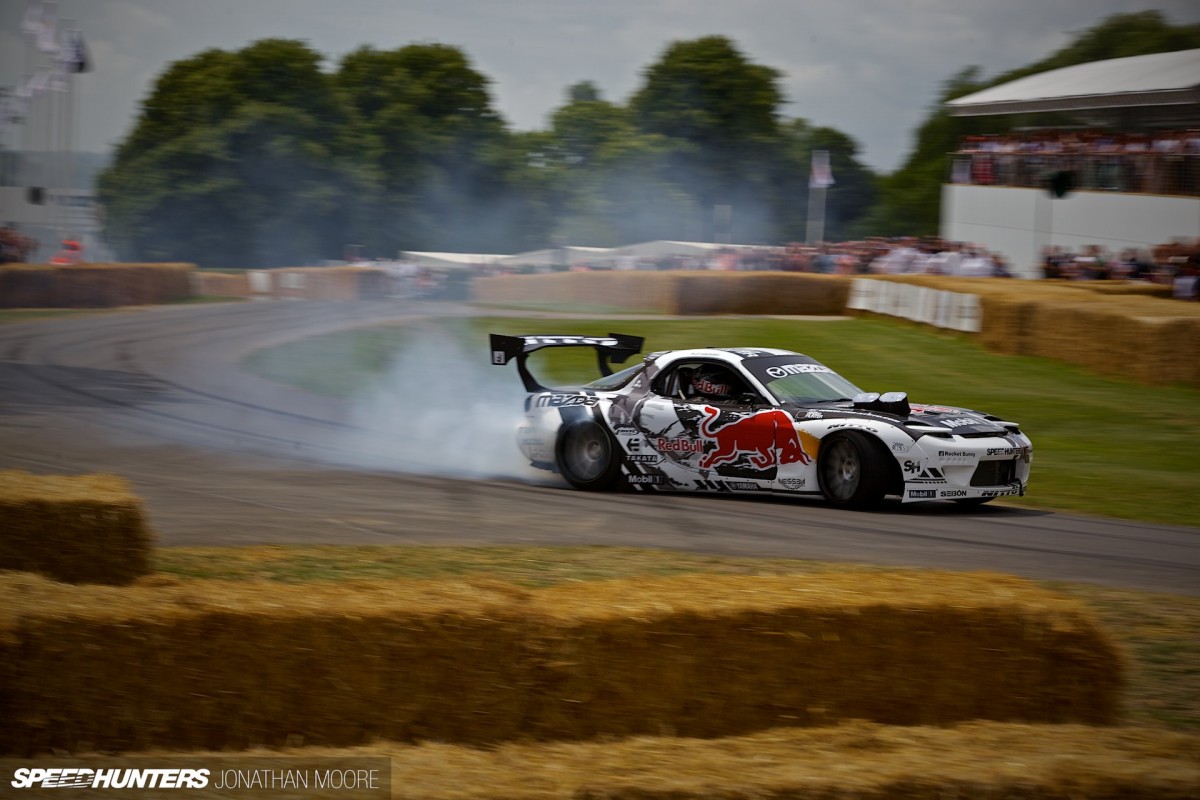 Now knowing the track I could start cutting loose. I laughed to myself on the first run when I saw the marshals at the Malcome corner jumping for cover over the bales. I'm guessing that none of them had ever seen anyone fly through there fully sideways!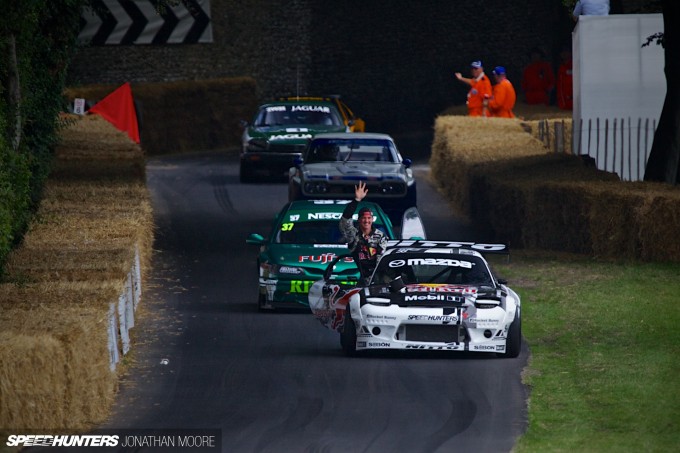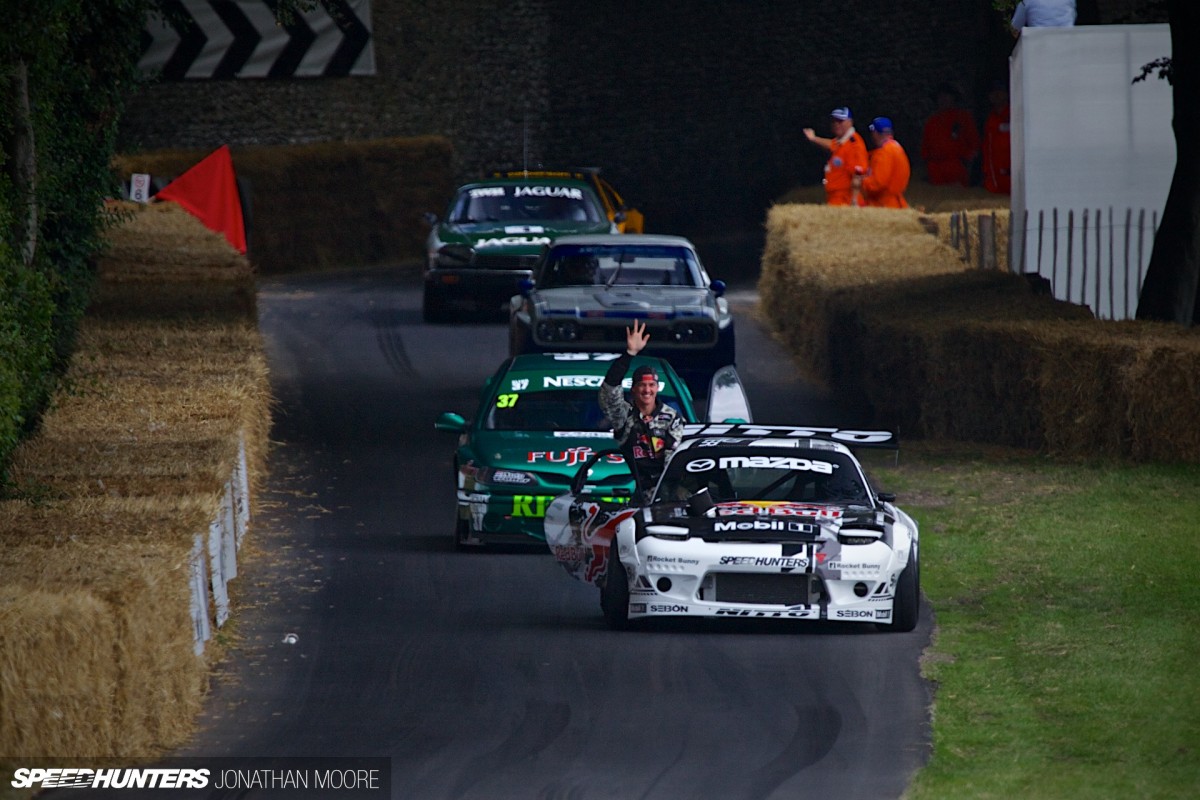 No hay bales alight – phew! Coming back down the hill, the cheers and applause from the crowd was incredible.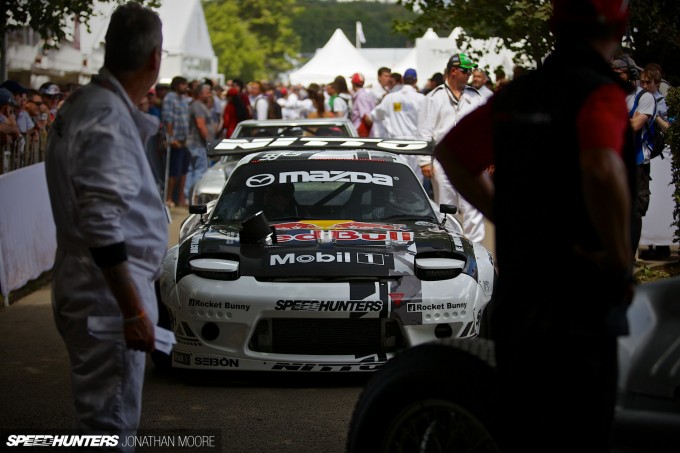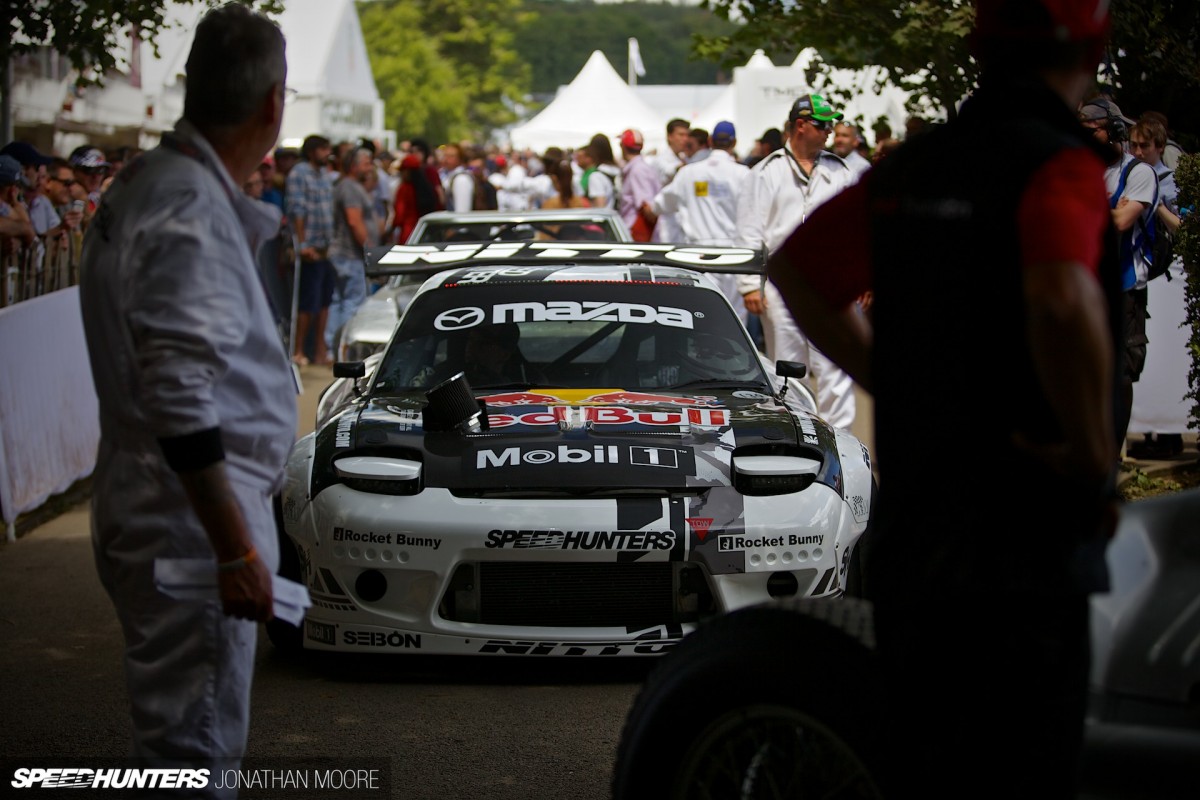 If only there was sound in this picture! The collective noise of a bunch of insane cars driving to the hot grid area, plus others being revved up and tuned in their pit bays, and at the same time a '90s-era F1 going full throttle up the hill was amazing.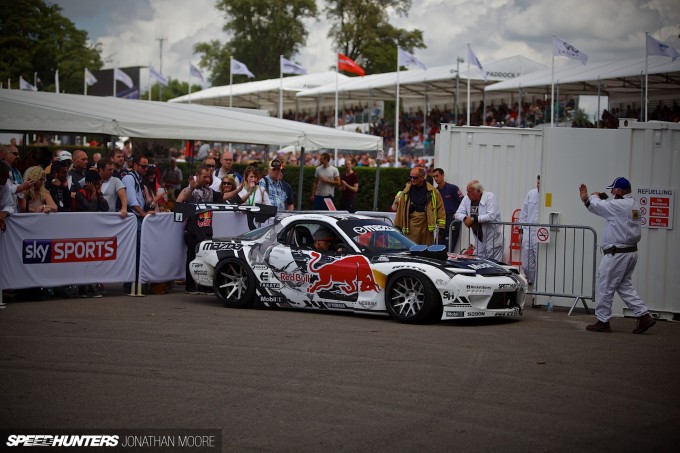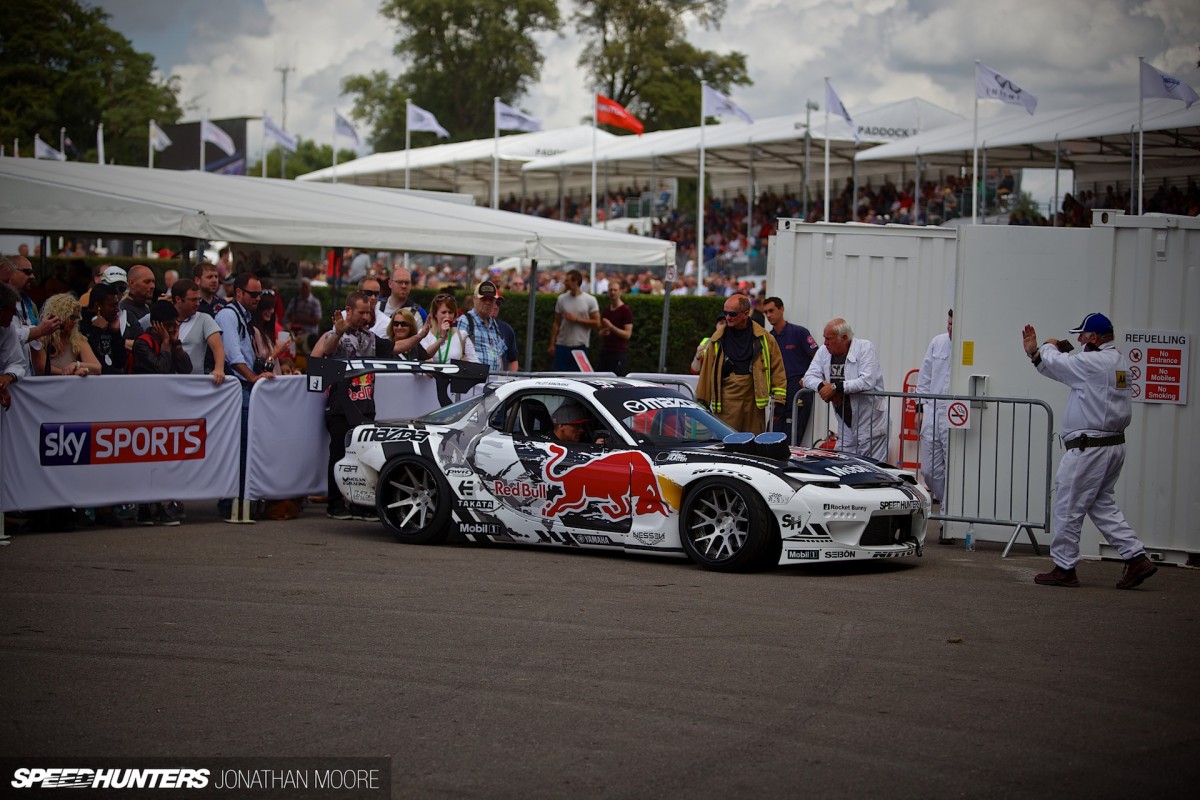 Of course, that included the naturally aspirated 26B 4-rotor chugging away on idle.
The Greatest Show On Earth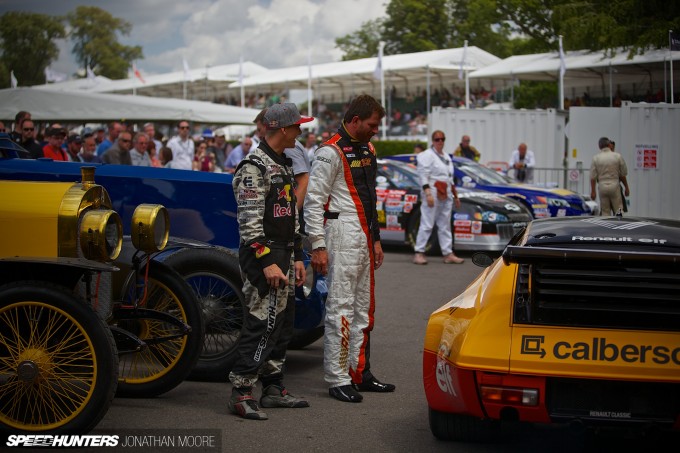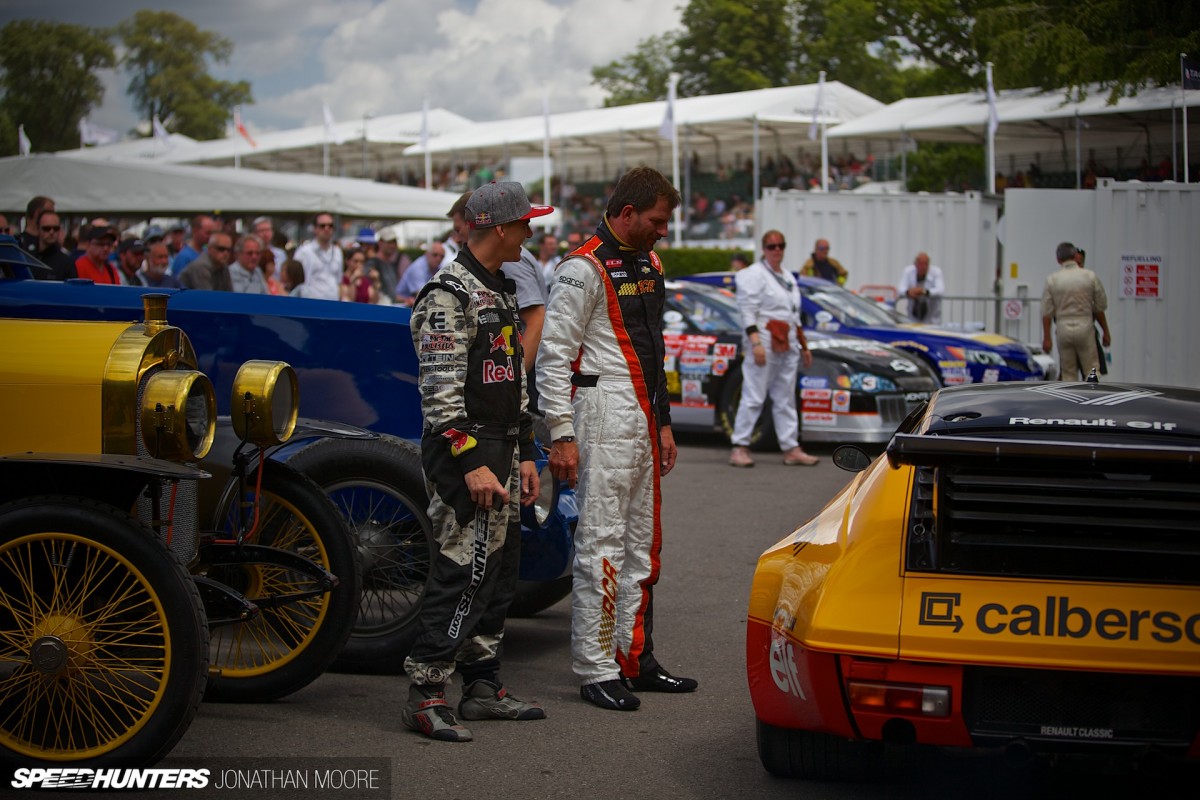 Only at the Goodwood Festival of Speed will you see and hear such a variety of racing heritage, and so many world champions of so many different genres of motosport from past and present. No event comes close to the atmosphere of this place.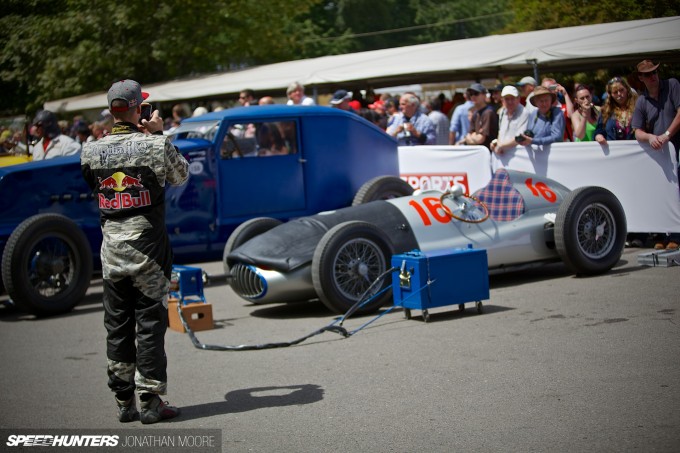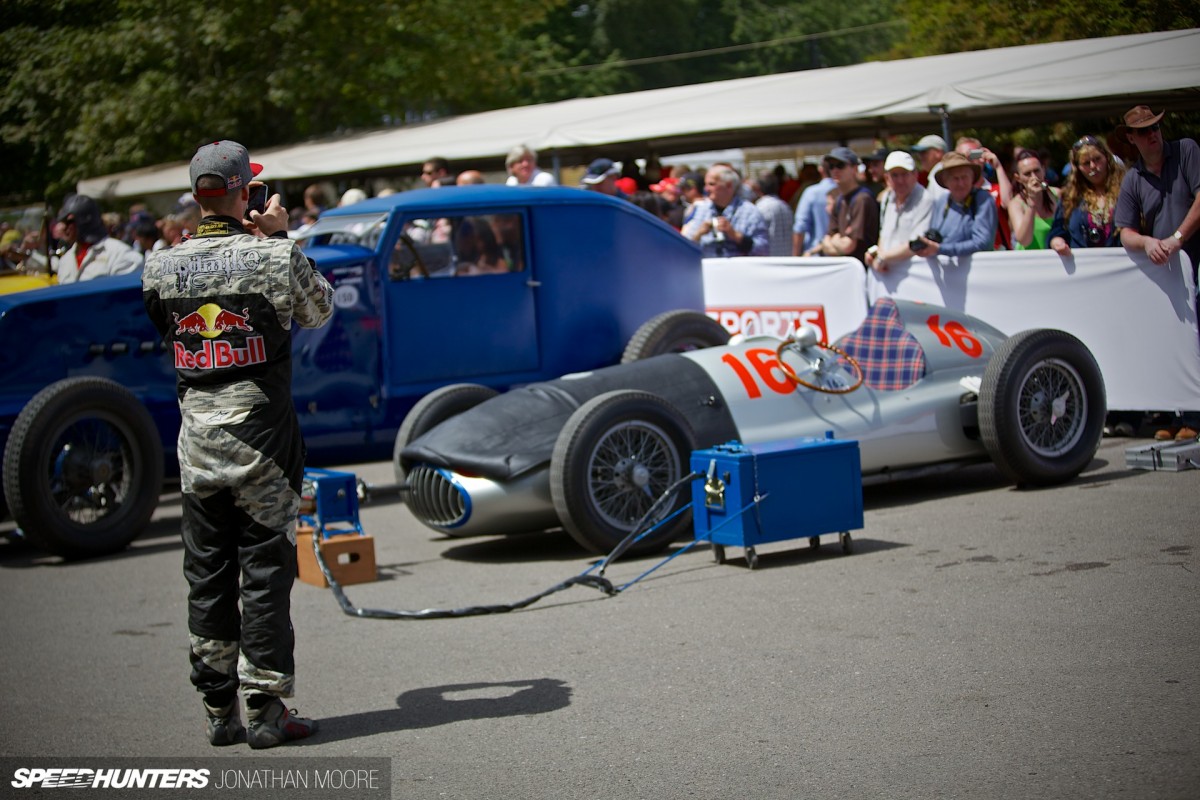 That there is 10.1 million dollars worth of automobile: a 1939 Mercedes-Benz W165 1.5-litre supercharged V8 about to be driven by none other than Sir Jackie Stewart.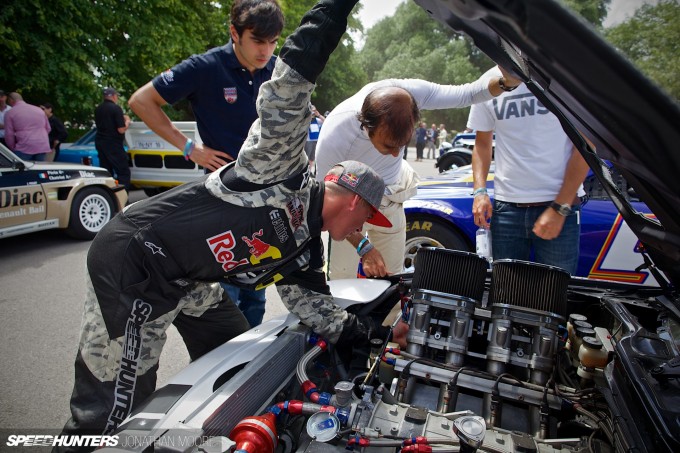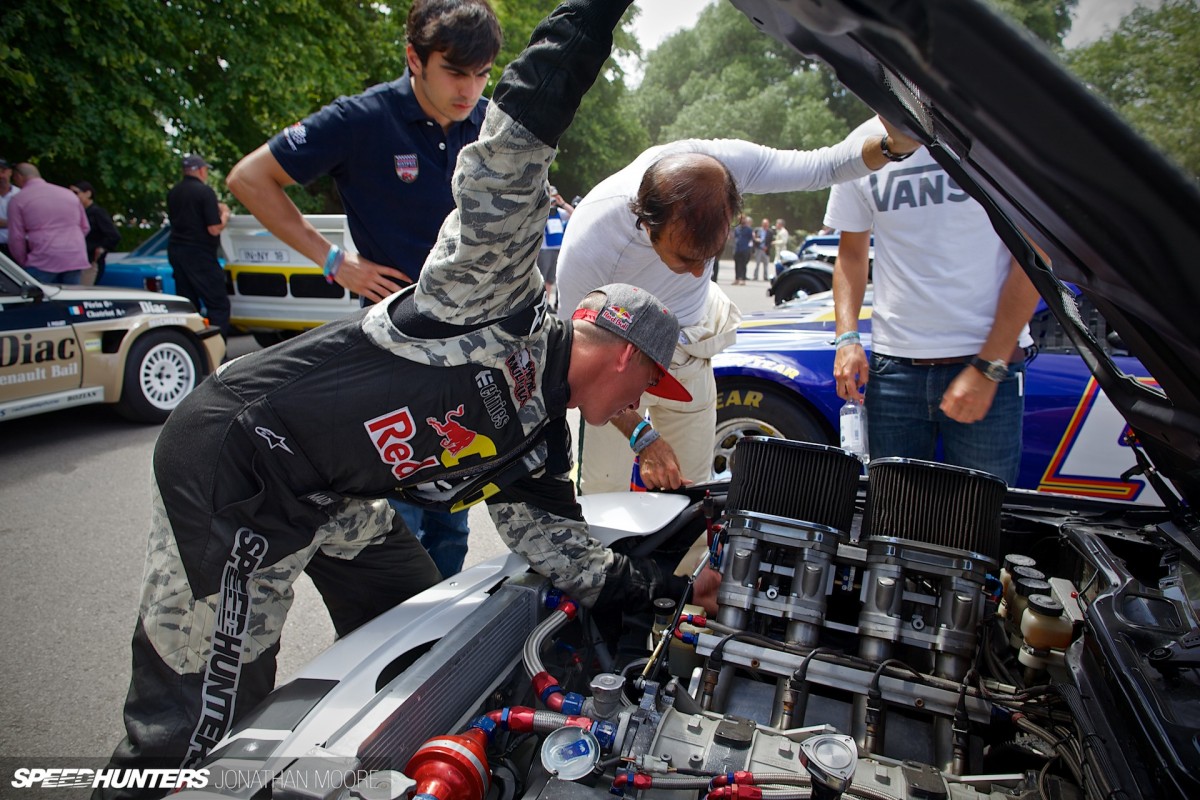 Here I wasn't only showing off MADBUL's Kiwi-style 26B rotary heart, but also how we create so much steering lock to be able to push ridiculous angles while drifting.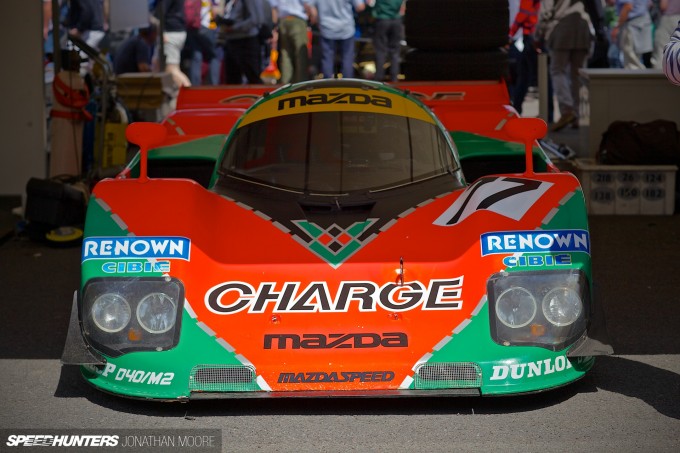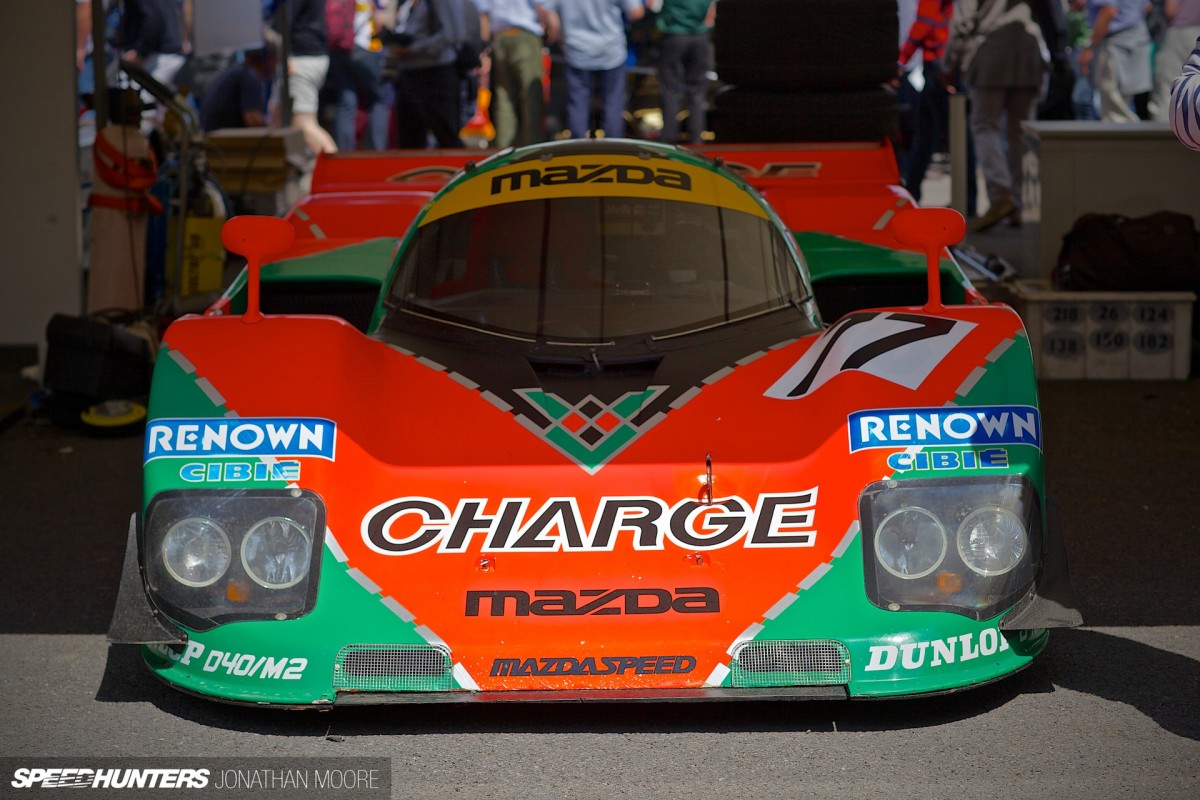 The Mazda 767B 13G 4-rotor – this is the 1989 version that took 7th in Le Mans that year. Mazda later won the Le Mans in 1991 with the 787B powered by the 26B 4-rotor engine. These cars have inspired me and fueled my passion for rotaries for so many years now. If I had to pick one car to drive up the Goodwood hill, this would have to be first on the list, if only by a narrow margin…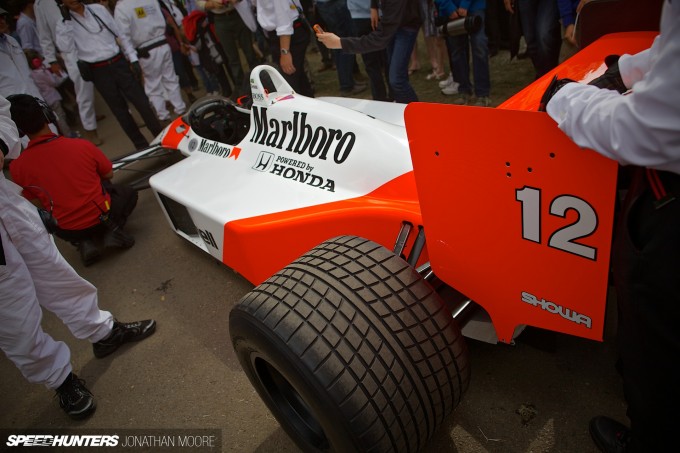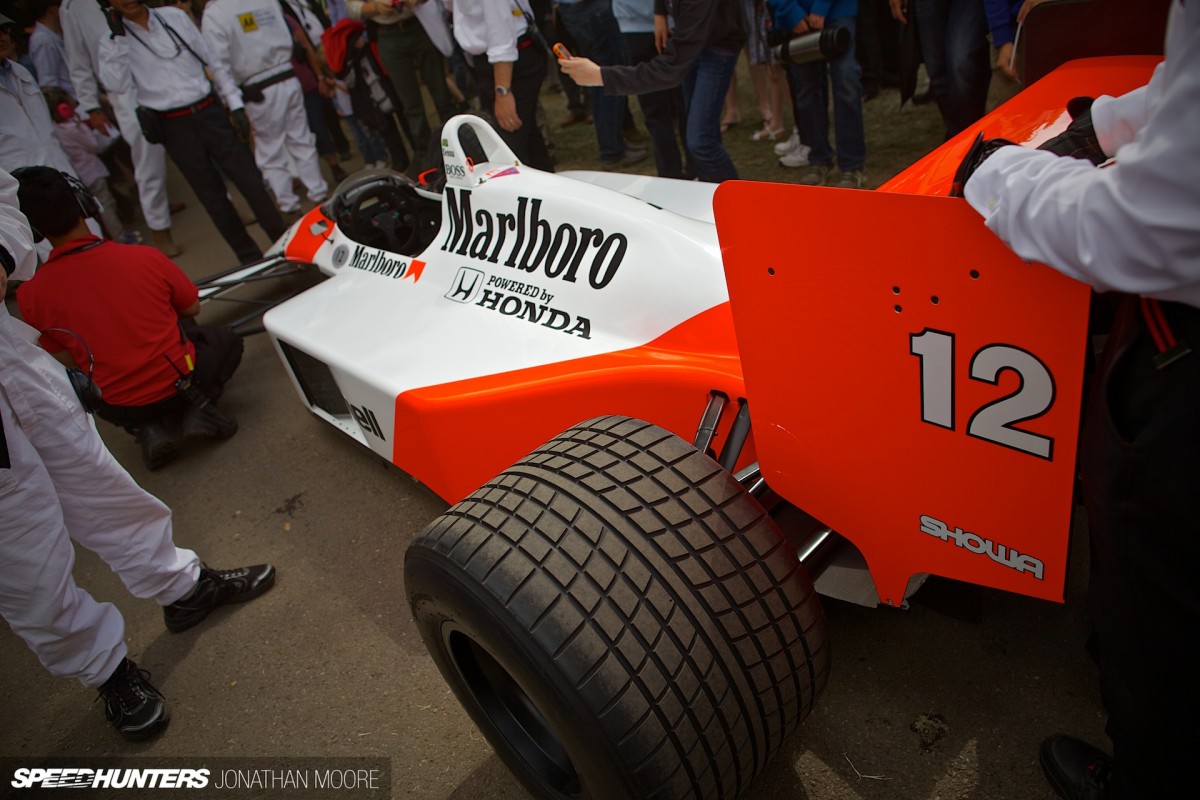 Being a true Ayrton Senna fan, I'd give anything to feel the raw power, response, speed and sound from the 1.5-litre turbocharged V6 of the McLaren MP4/4 that took Senna to his maiden F1 title in 1988.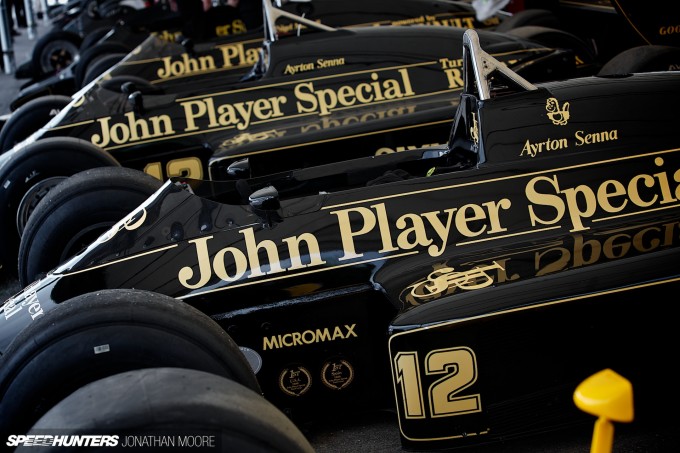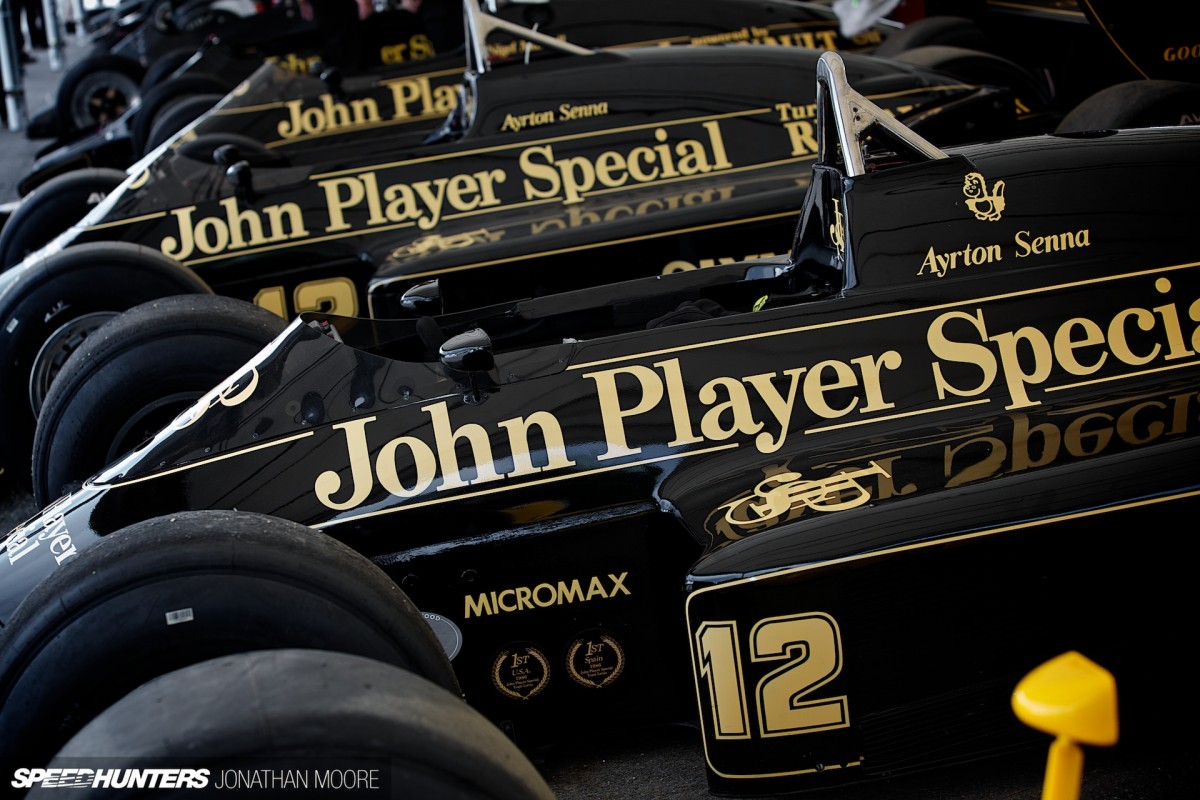 Another piloted by Senna – the Lotus-Renault 97, which was also powered by a 1.5-litre turbocharged V6. In 1985 he lapped the entire field in the wet at Estoril, Portugal. Legend!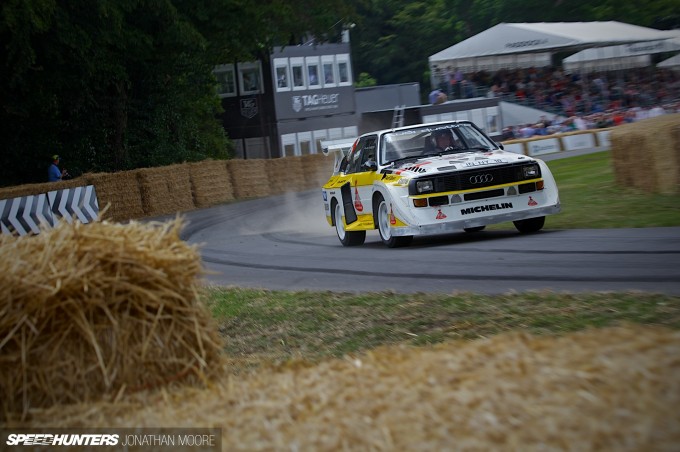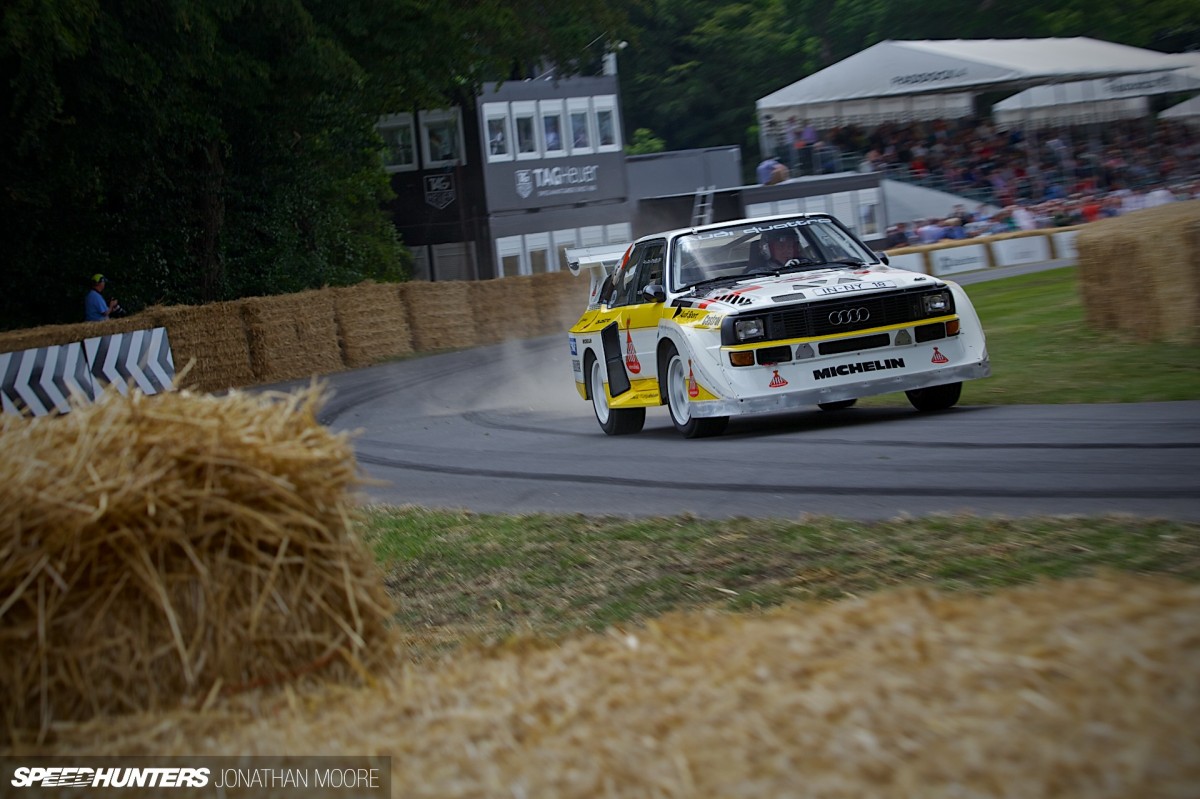 To a totally different discipline and one that I feel required the most balls-out and talented drivers of all time: Group B rally. The unlimited years brought mayhem but the most spectacular viewing of all motorsports. There are many cars from this catagory that I would love to pilot, however the Audi Quattro S1 is the one at the top of the rally list. In my opinion there is no better-sounding piston motor than these hard-boosted five-cylinder engines! It sure was epic to see this thing charge up the Goodwood property.
Looking at my list it seems the '80s era is my favourite – this was a raw and real time with insane driver talent and vehicles without limits. It's events like the Festival of Speed that allow us to get a taste of what it was all like through the eras that pushed the boundaries of motorsport to new extremes.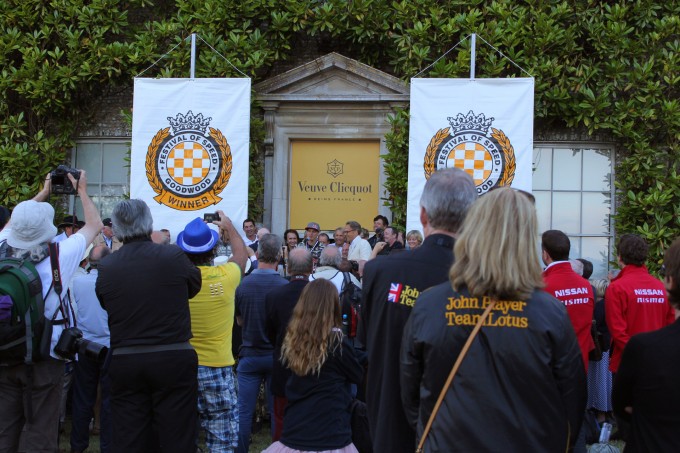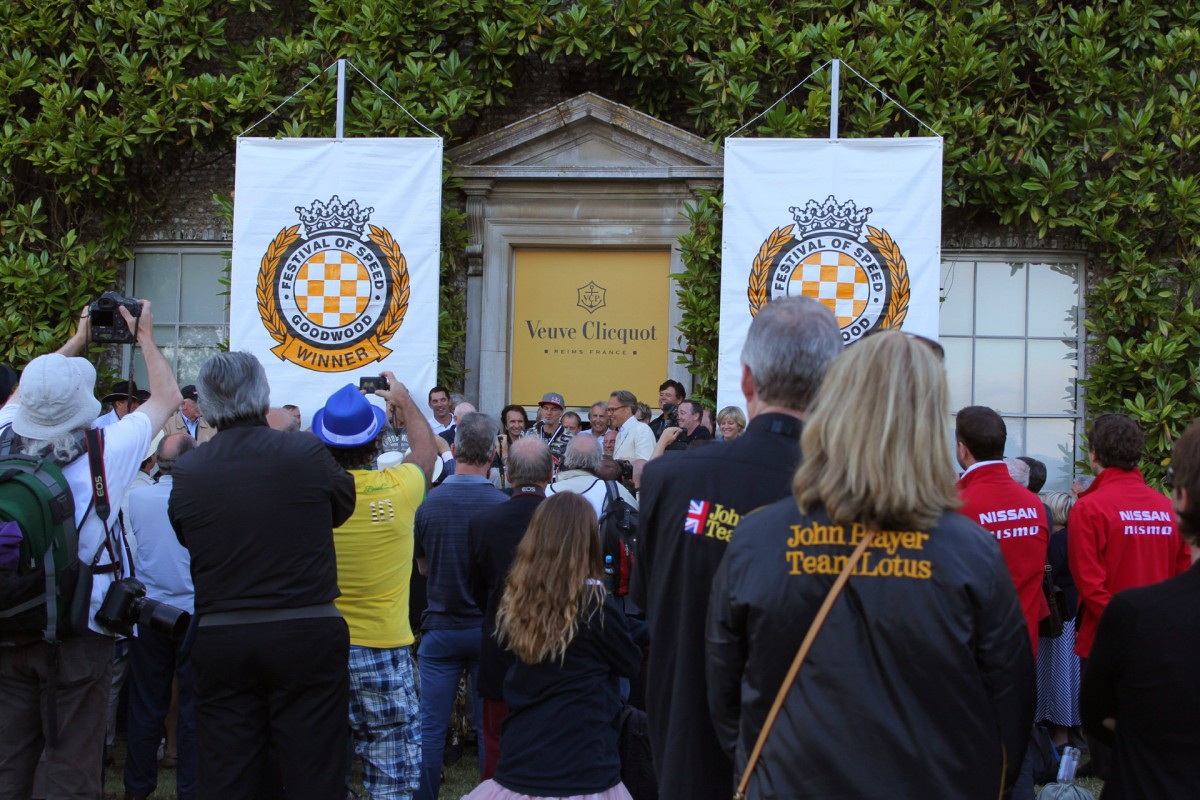 I enjoyed three incredible days of drifting the hill and completely immersing myself in motorsport heritage. I was probably near first to arrive and last to leave Goodwood every day! In the closing celebrations I was blown away to be presented an award from Lord March where the greats of motorsports stood lining the stage – making the best guard of honour. It was a surreal moment as they applauded my achievement. The award was for outstanding performance, car control and I was named as the revelation of the event.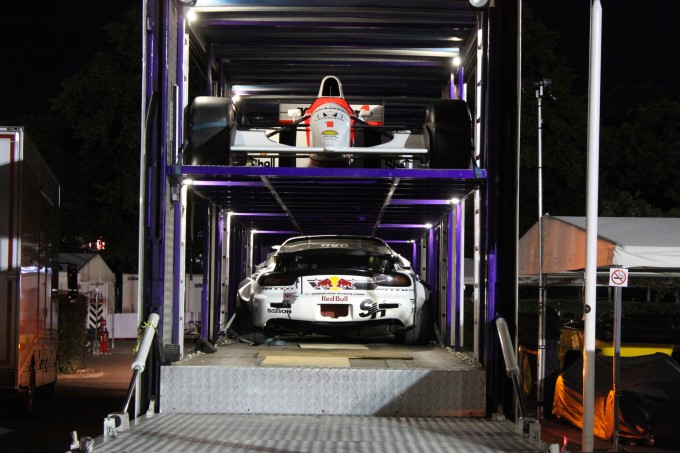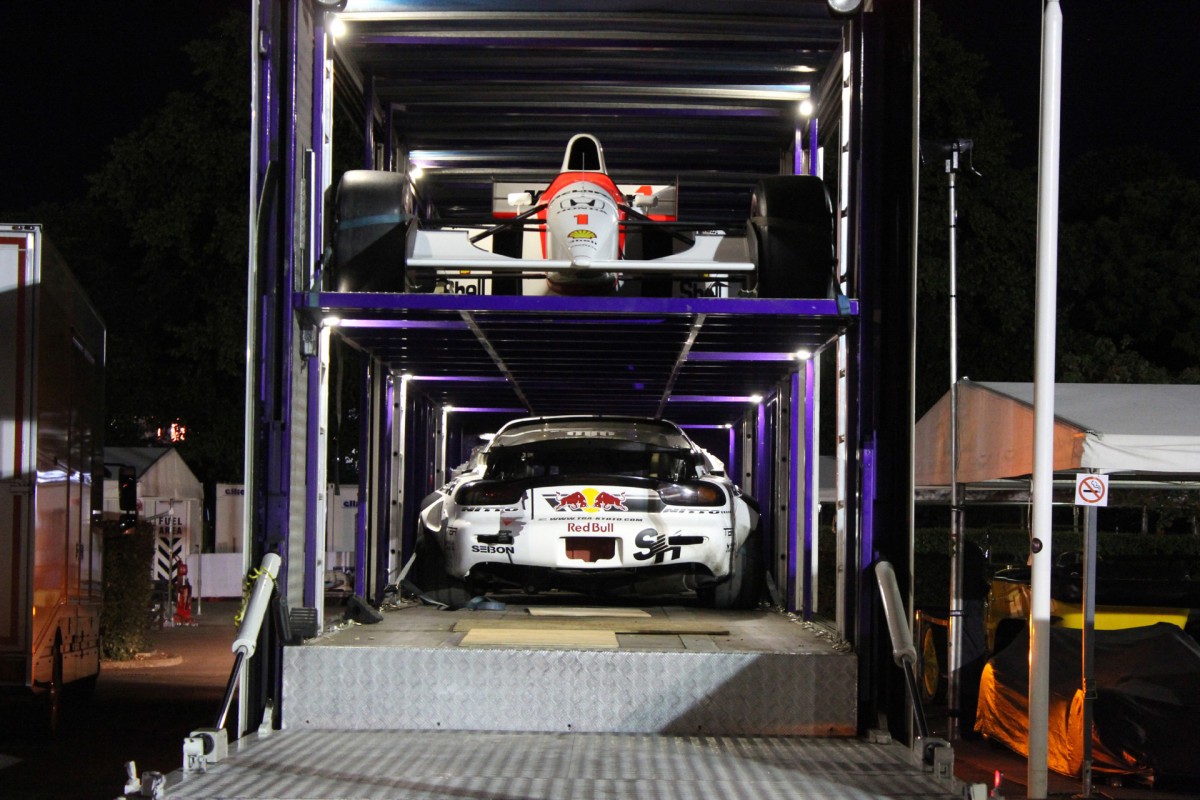 After a long wait, at approximately 11:30pm our transport driver finally arrived to pick up MADBUL and some very special company.
That's a fraction of my experience from the 2014 Festival of Speed, and for those of you that were there I hope you enjoyed my drifting display. If you are looking for one motorsport event to attend in the future, this has to be it. I must give a massive thanks to Red Bull UK and after just coming on board with Mazda I was stoked to see the huge presence they had at Goodwood. And thanks again Lord March for putting on such a kickass event!
MM
Facebook: Mad Mike Whiddett
Instagram: @madmike_drift
Photos by Jonathan Moore
Instagram: speedhunters_jonathan
jonathan@speedhunters.com
Additional Photos by Mad Mike & Toni Cook
Cutting Room Floor