Miniature Roughness
Car passion sure has ways of manifesting itself well away from the machines that we own and love. That's probably why a lot of us are into collectibles – be it the ever-evolving RC drift movement, 1/24th scale kitset build-ups, or the simpler hobby of collecting die cast models. But for some, that's not enough.
There are always those who need to have that little bit extra: perhaps the right sort of wheels on their favourite model car, or the perfect colour to mimic their own 1:1 scale pride and joy. No matter what it may be, customising in miniature is something we have been seeing a lot more of lately. What I have never seen though, is 1/64th scale modelling to the extent of what I'm about to show you…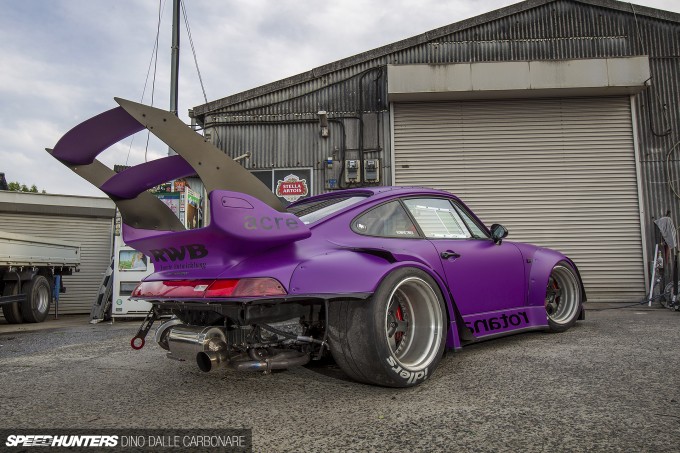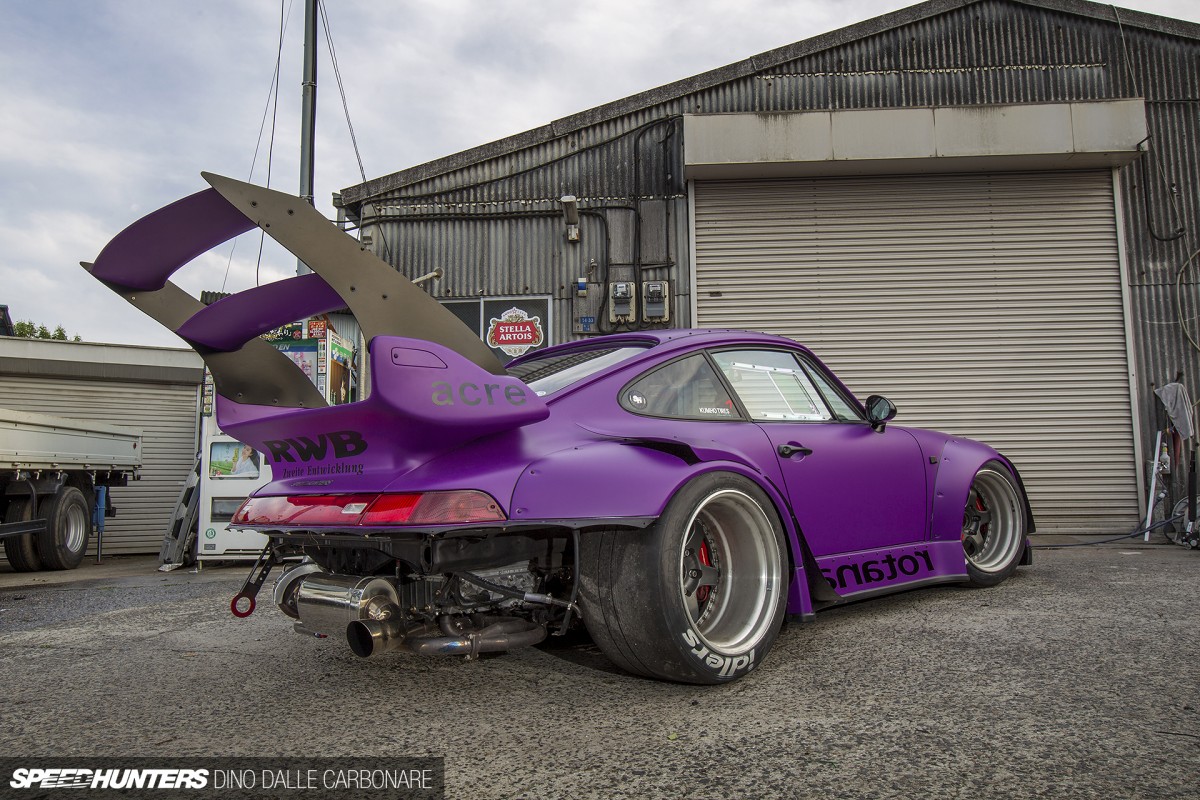 There I was sitting down for a little cool-down break at the Art of Speed show in Kuala Lumpur this past Sunday, when Rudy from Ultra Racing came up to me and introduced himself as a fan of the site. After a little chat he told me that he had built some custom die casts of RWB cars and asked whether or not I'd like to see them. Of course, my answer was yes!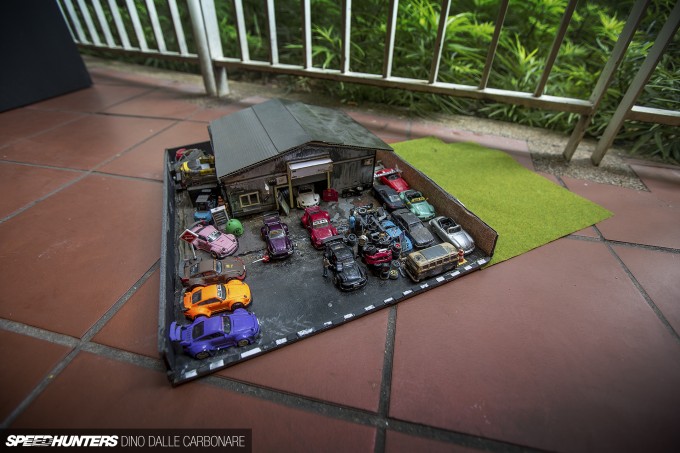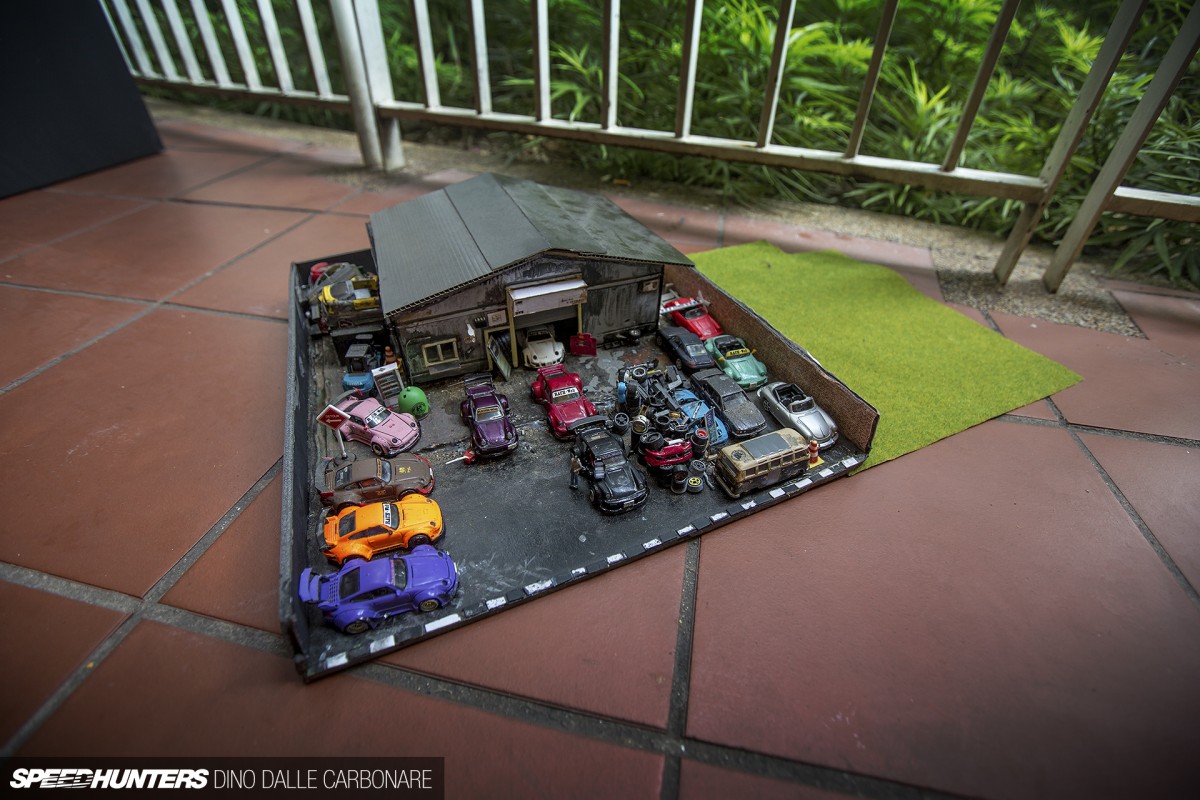 A little while later he showed up holding a recreation of Nakai-san's garage in Kashiwa. For a few seconds I didn't say anything – my mind had been totally blown.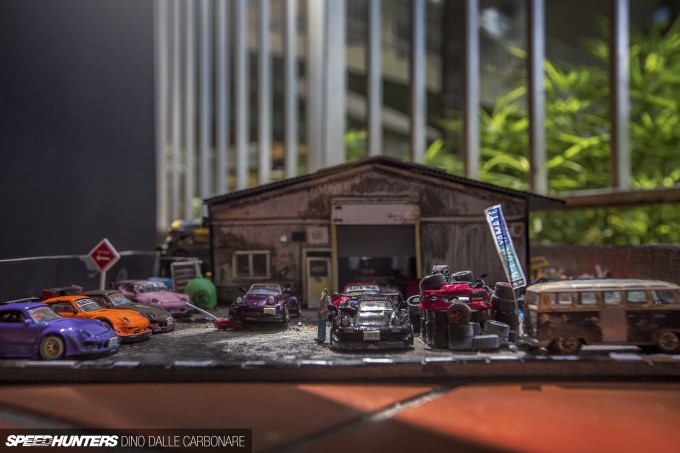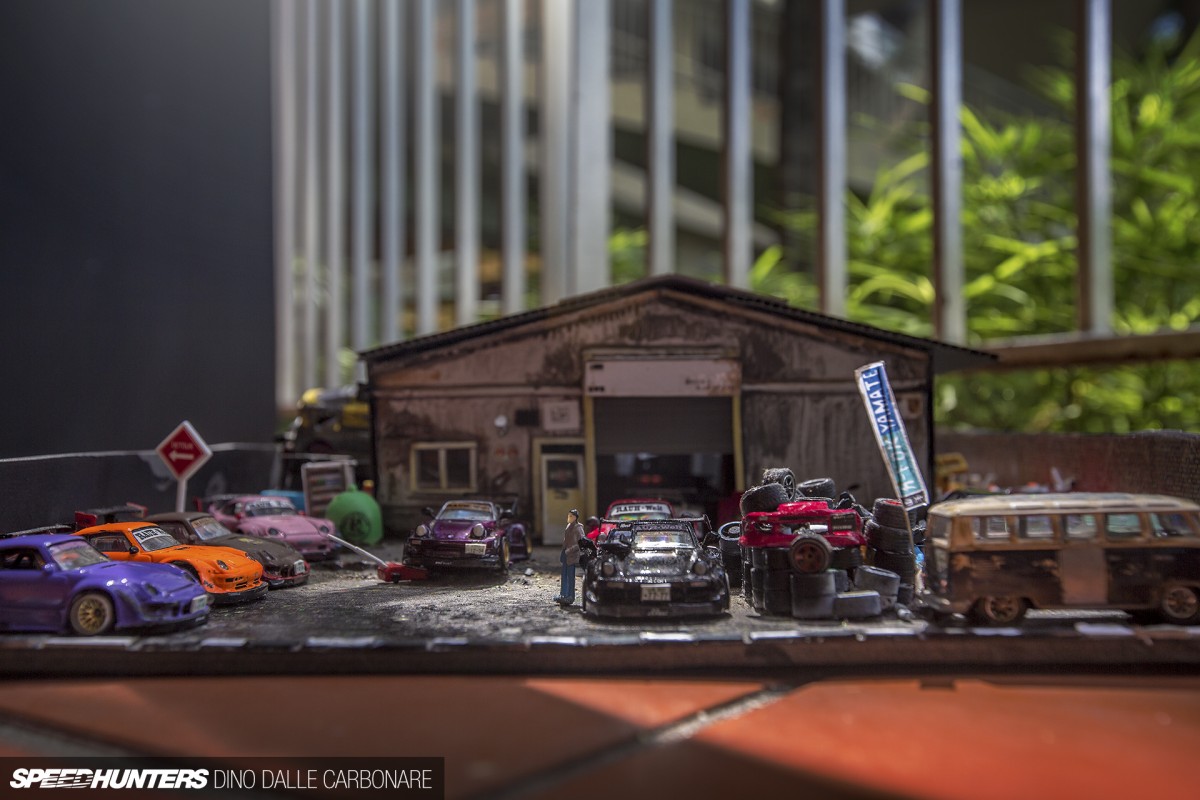 The crazy thing was, he had actually used my pictures from the numerous visits to the shop and subsequent posts on Speedhunters I've made over the years, to recreate it all with amazing authenticity. The diorama even included a few cars that have only very recently been built.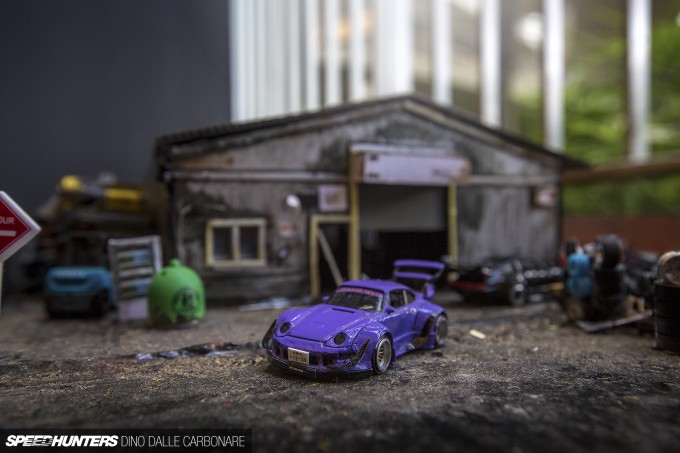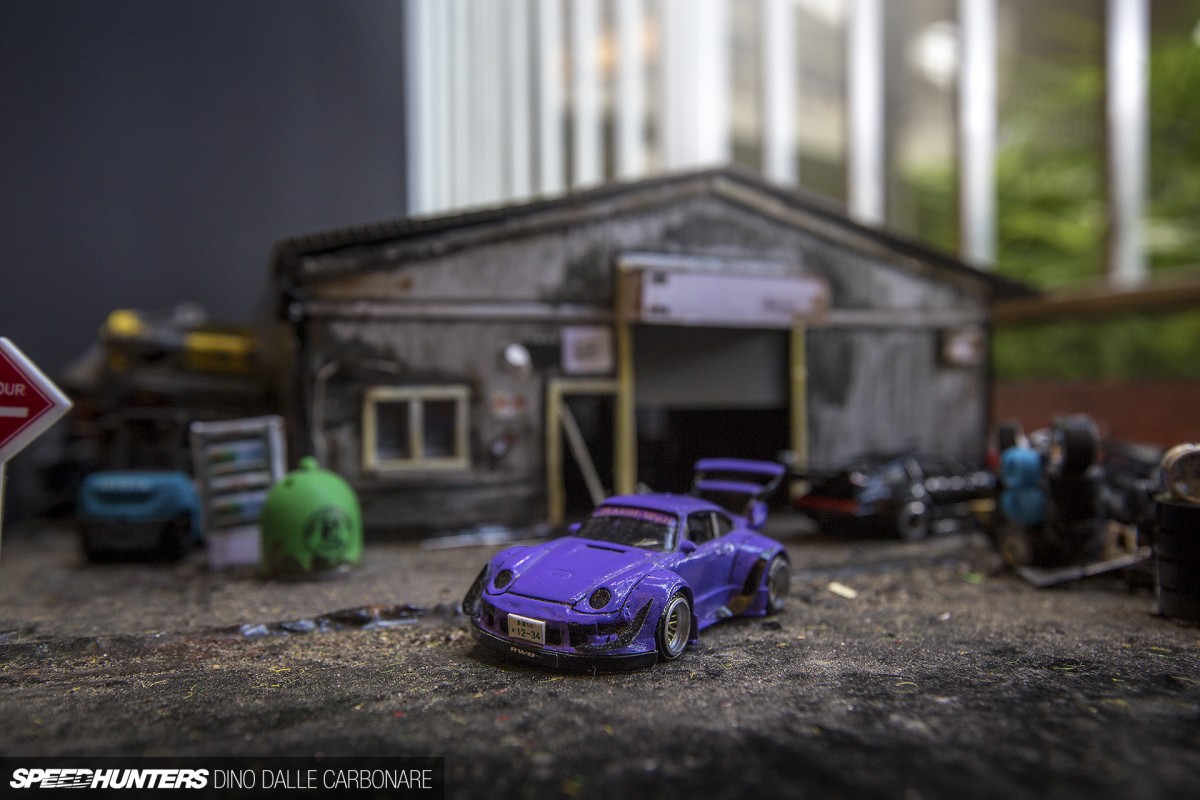 It was exactly one year ago that Nakai-san called me up to tell me that he was putting the finishing touches on an all-new track car that would be debuted at the idlers Games in Tsukuba that same month. That was the day that I raced over to his shop; honoured that he had once again given me first dibs at shooting it.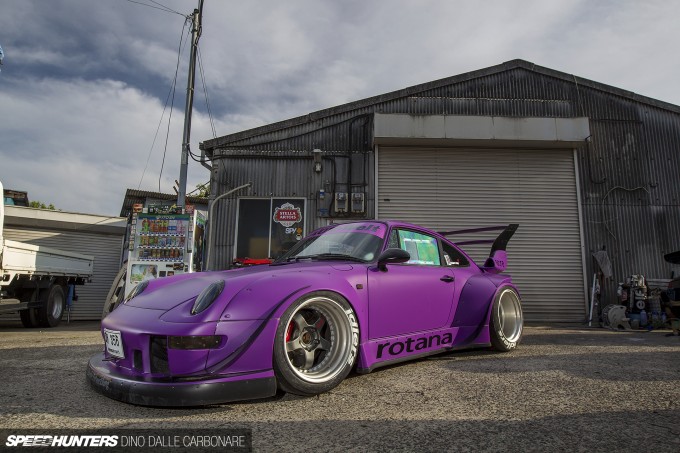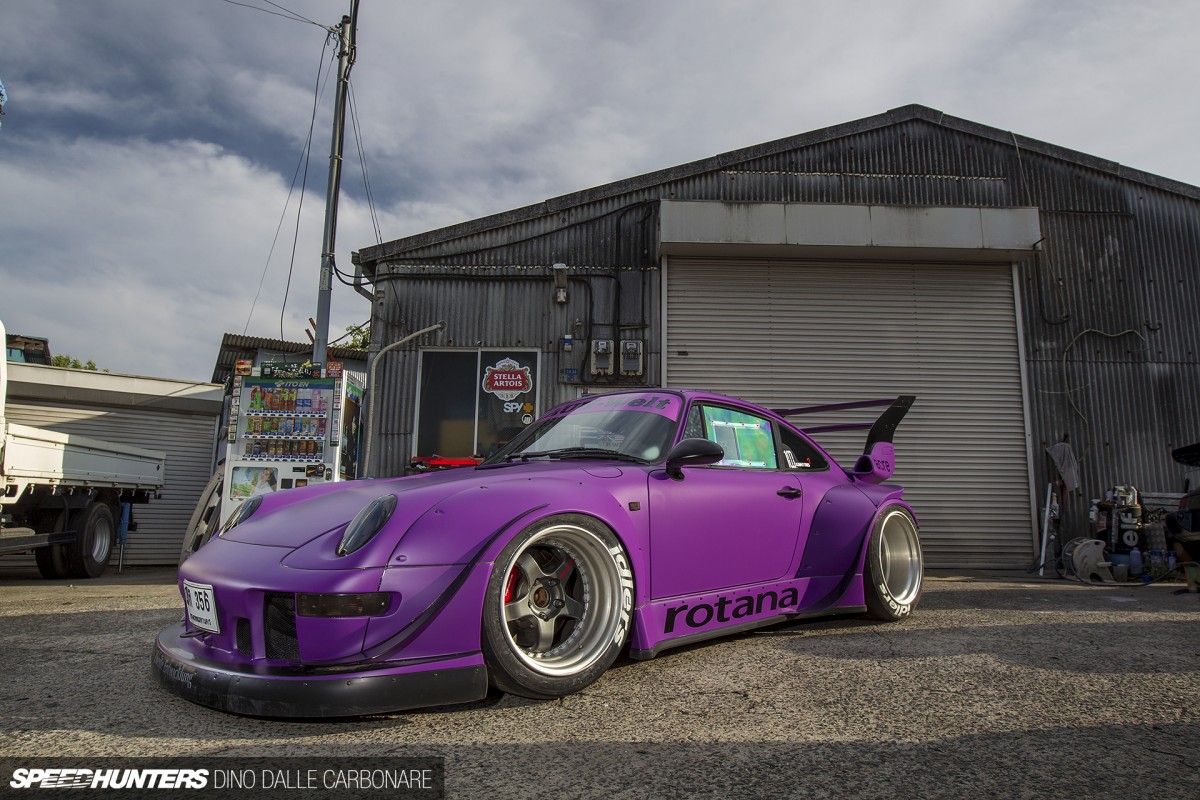 If you've got a taste for RWB creations then you'll probably recall the feature on the Rotana.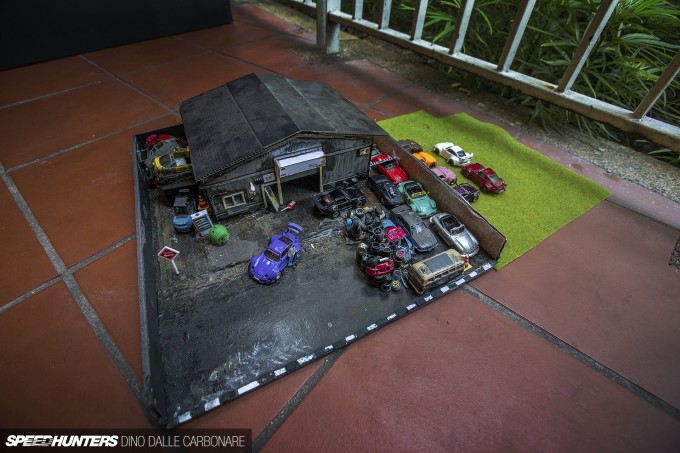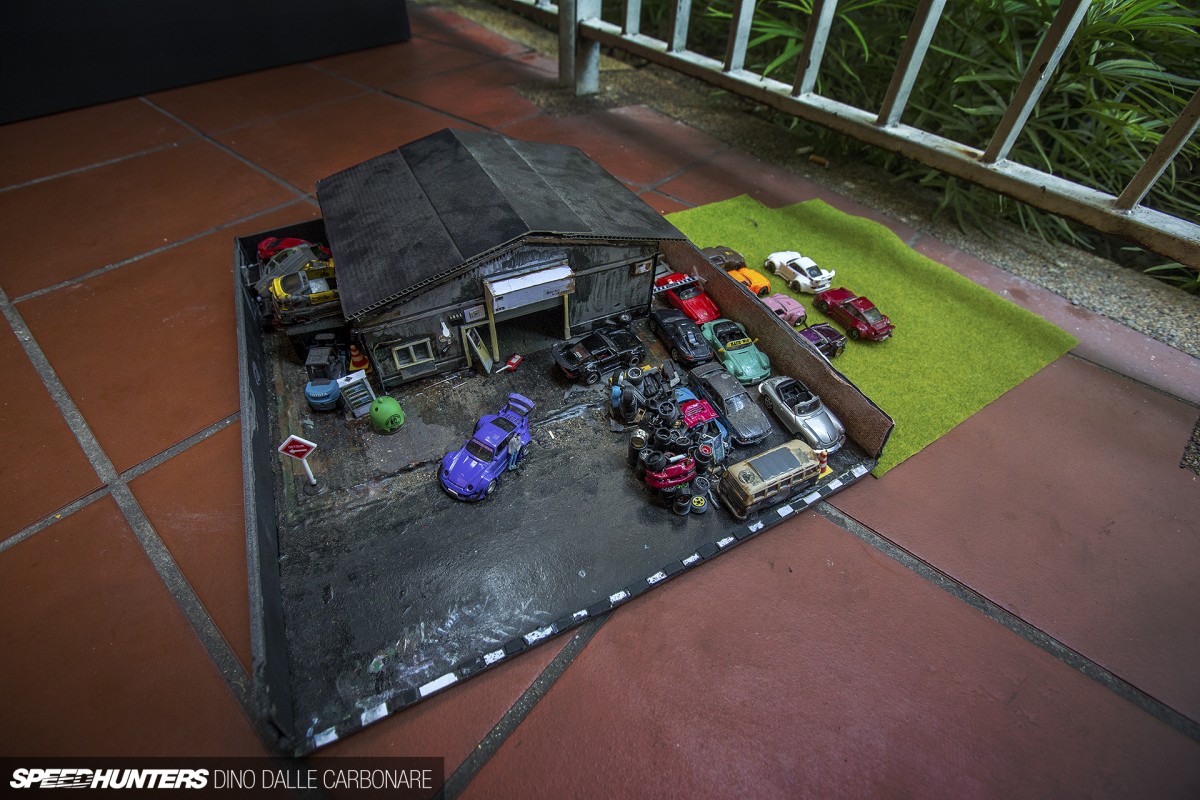 If you look closely, you will notice how even the stack of wheels and miscellaneous used parts have been accurately recreated in scale; right next to some old cars and an old van that I remember was sitting out the front for a long time.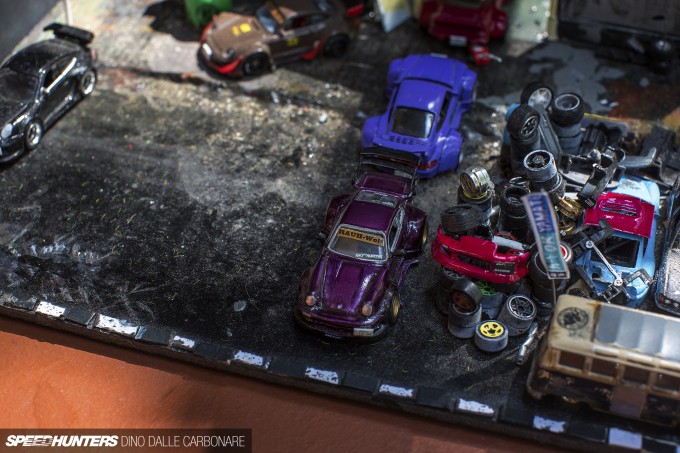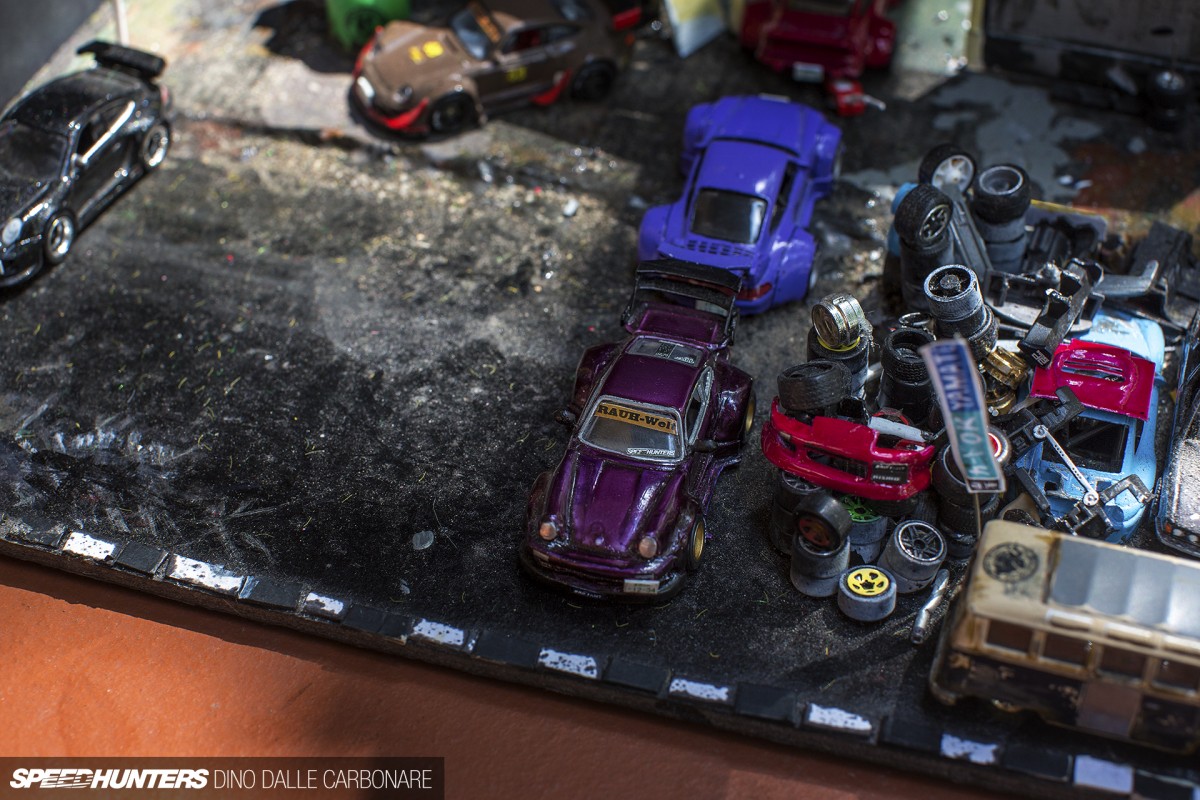 Here's a closer look. All of the bodies on the 911s have been hand customised with overfenders, wide wheels and paint; emulating real-deal RWB machines.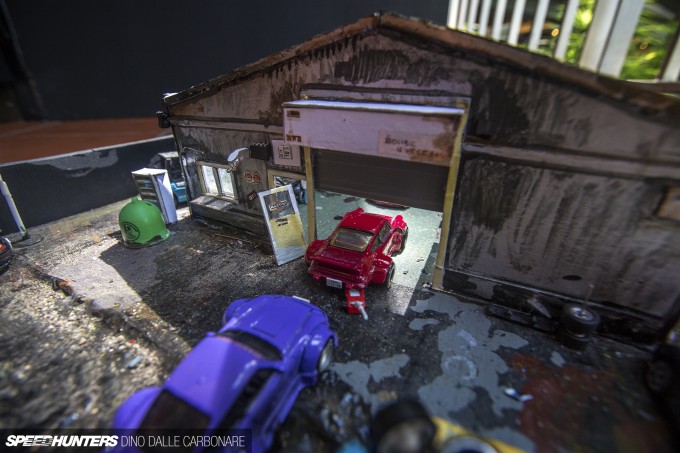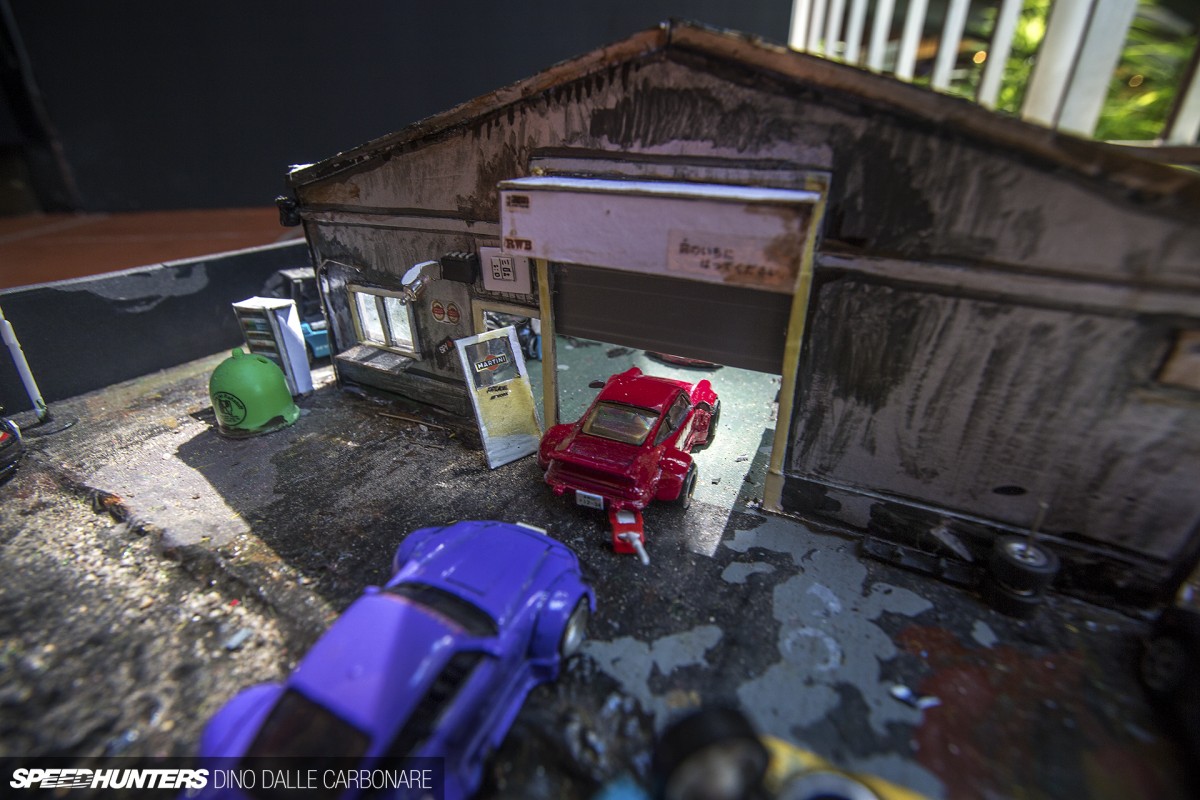 The detail of the shop is truly impressive; the rough uneven surface of the concrete driveway; the semi-abandoned look of the corrugated iron building itself; the Martini sticker on the door – and an actual working shutter!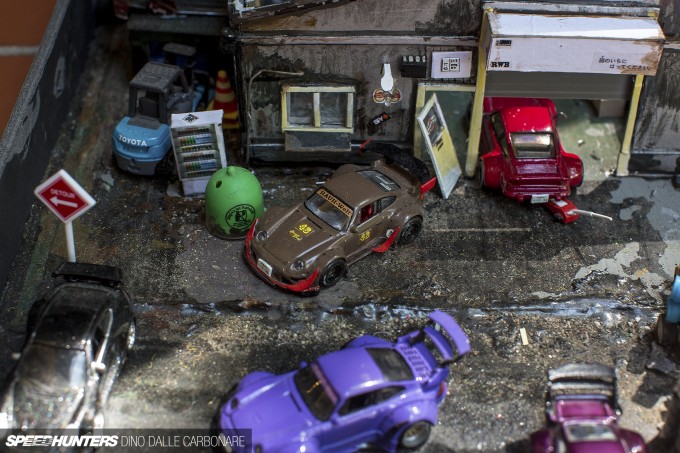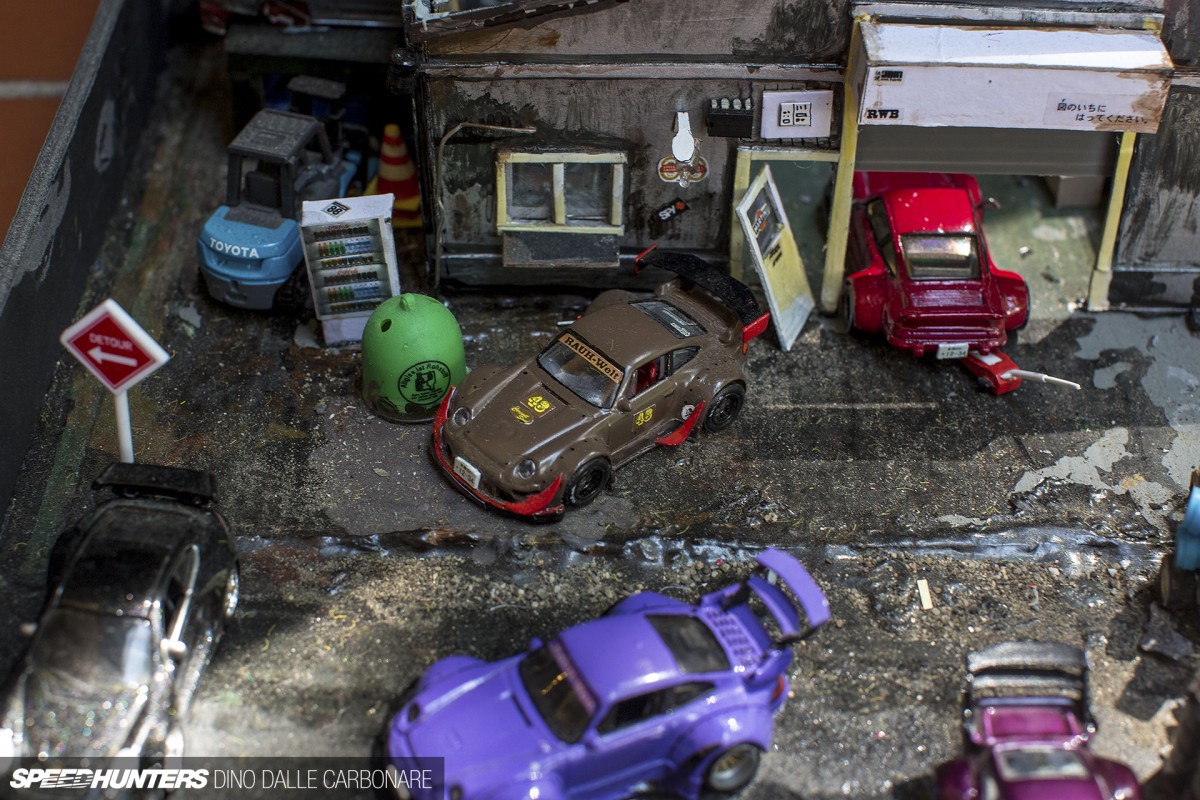 There's even a replica of the vending machine out front and the Toyota forklift that's owned by the shop next door.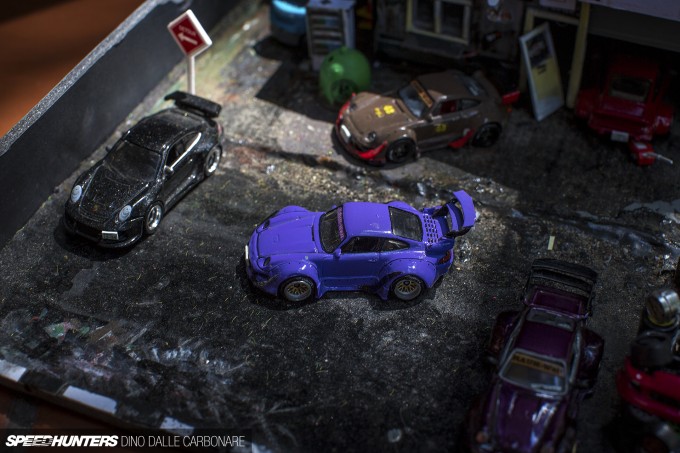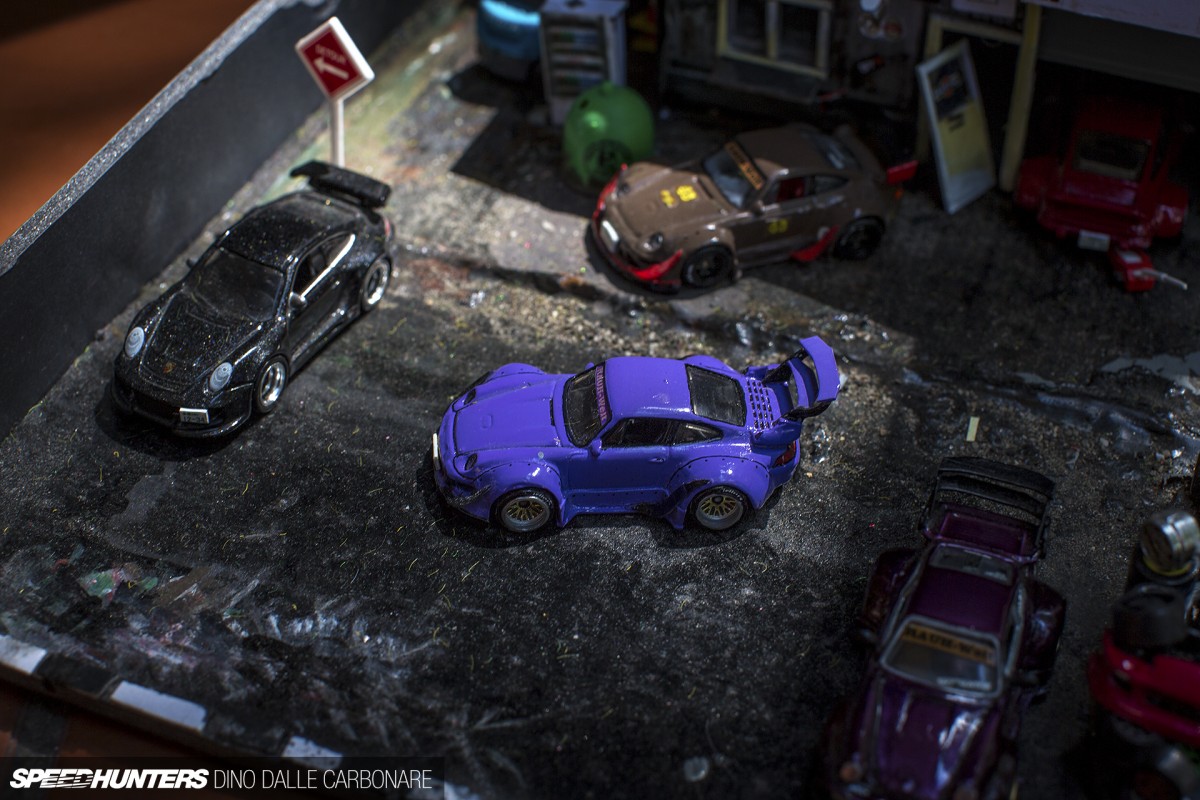 Seeing that black 997 GT3 to the side made me wonder when Nakai-san will work his magic on that generation of 911. I'd love to see what he'd come up with…
Take A Step Inside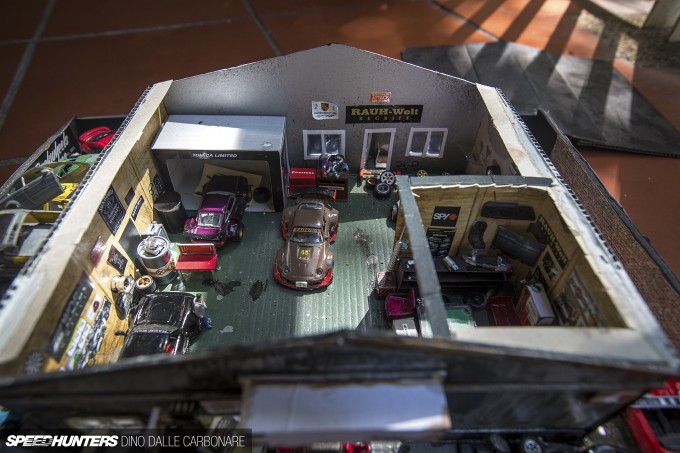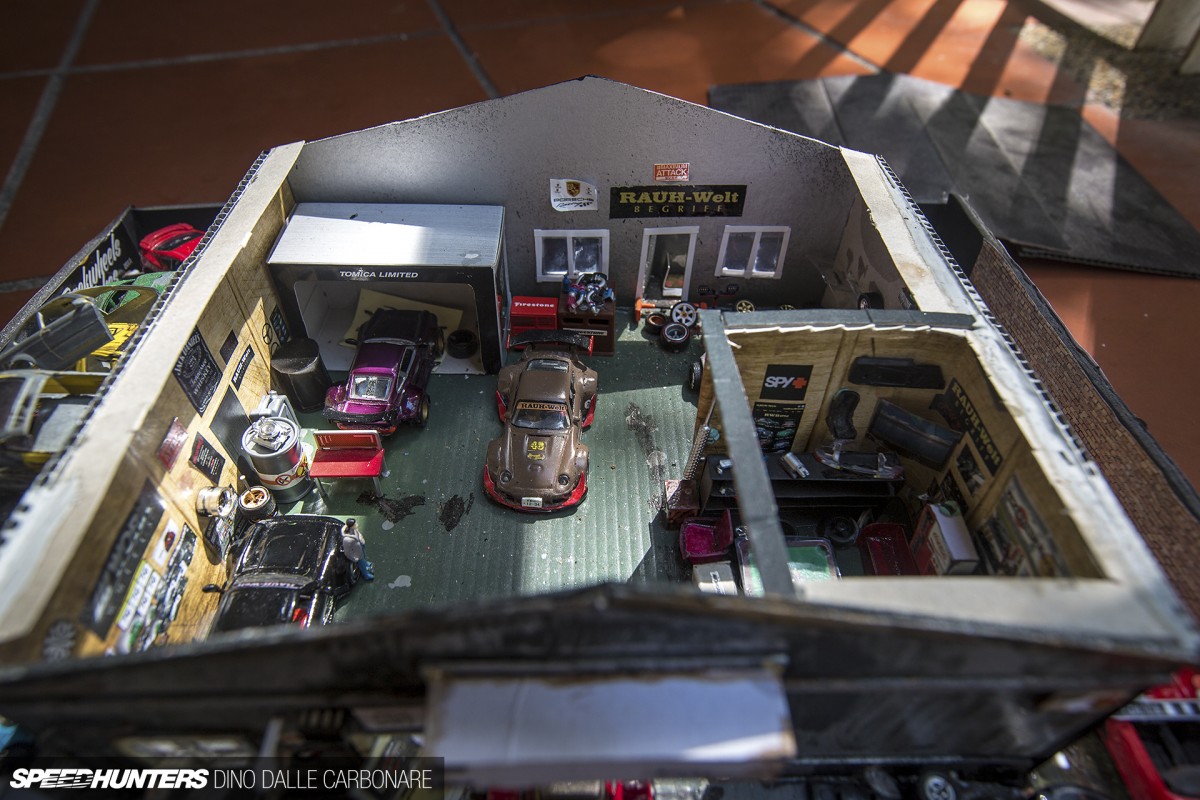 Yes, there is more! Lift up the roof and the interior of the shop is revealed. It was apparently hard for Rudy to judge the depth and overall scale and layout using photos alone, and that makes what's been achieved even more impressive.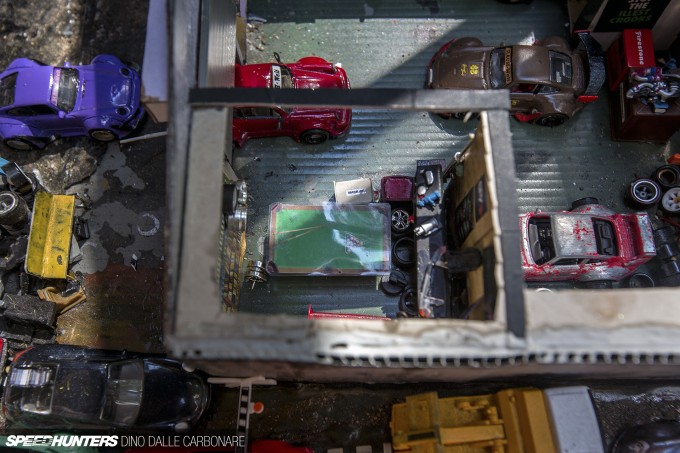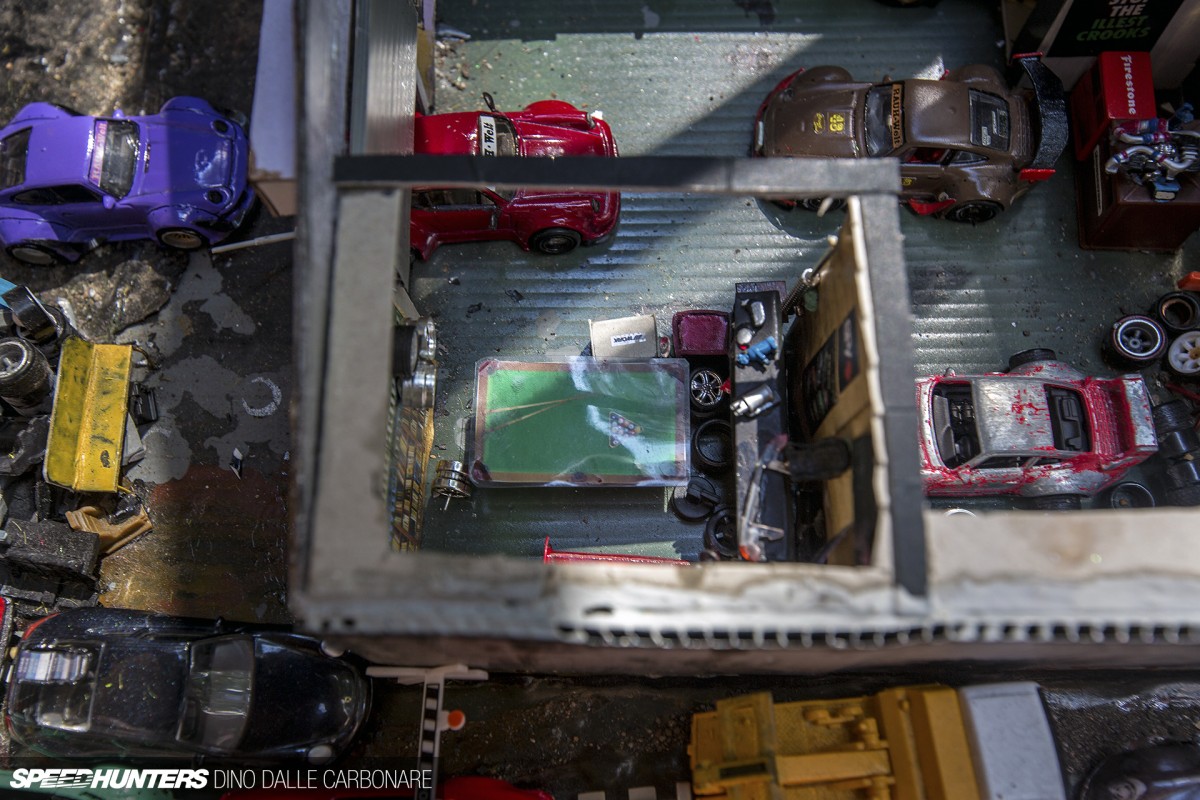 First up, the office/lounge section is right where it should be; the full-scale pool table taking center stage.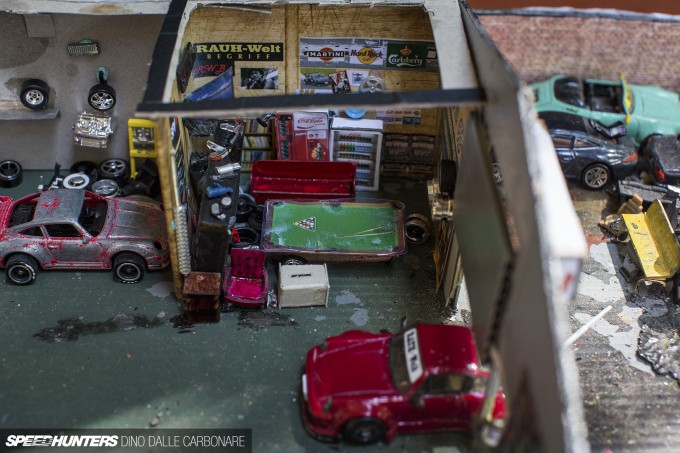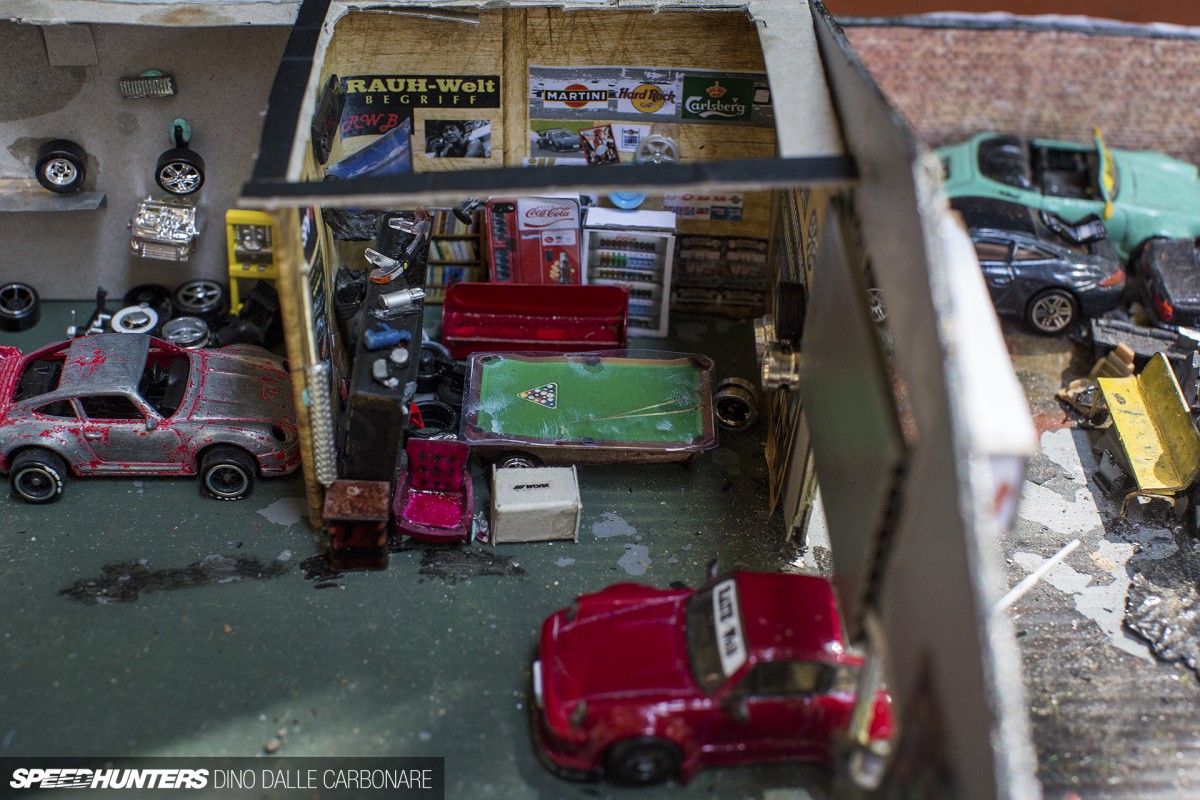 Look at it from another angle and you can see Nakai-san's famous leather lounge chair. Perhaps throne is a more fitting word…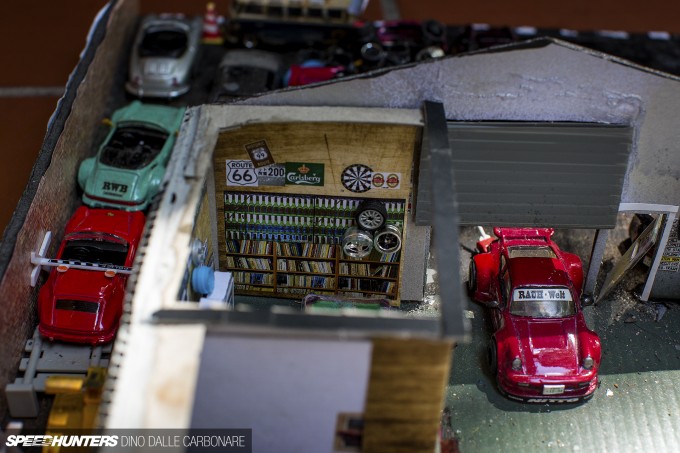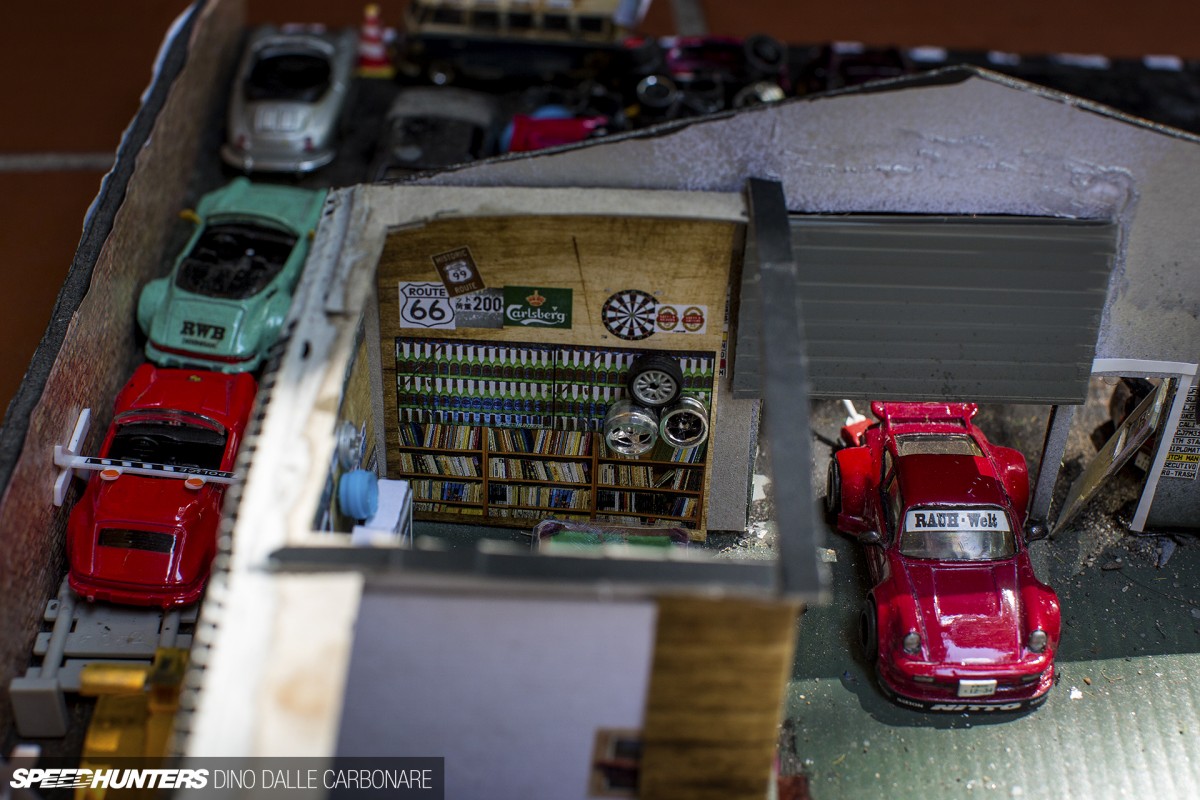 Shift your point of view another 90 degrees and you can even see the rows of Stella Artois beer bottles that Nakai has collected over the years right where they should be, along with the bookshelf underneath stacked full of various Porsche-related magazines and books.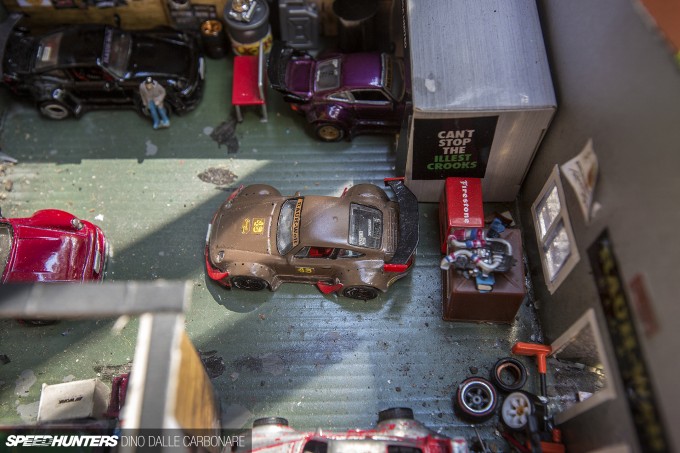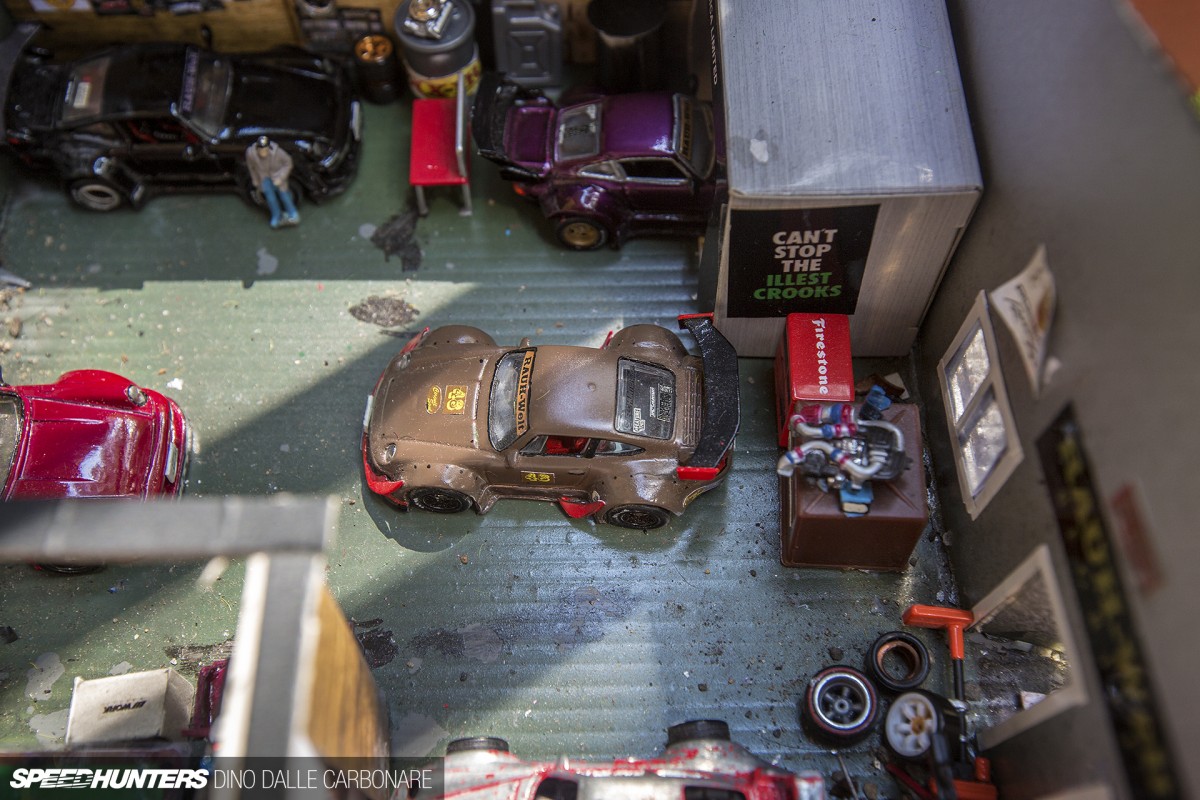 Behind that is the workshop area where Nakai-san does unthinkable things to 911 fenders with his trusty reciprocating saw, before bolting his signature widebody flares in place.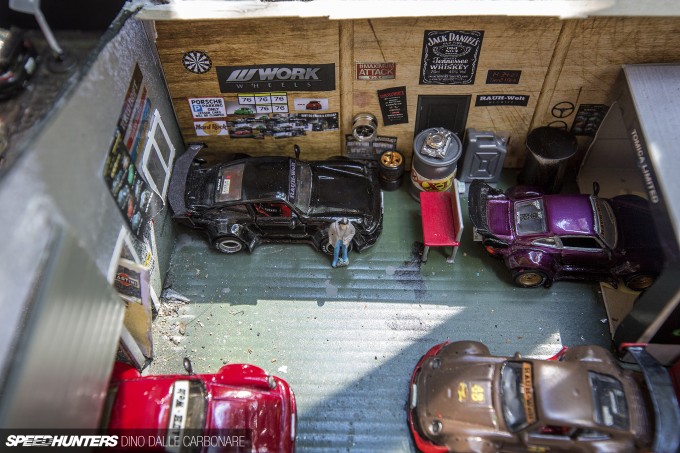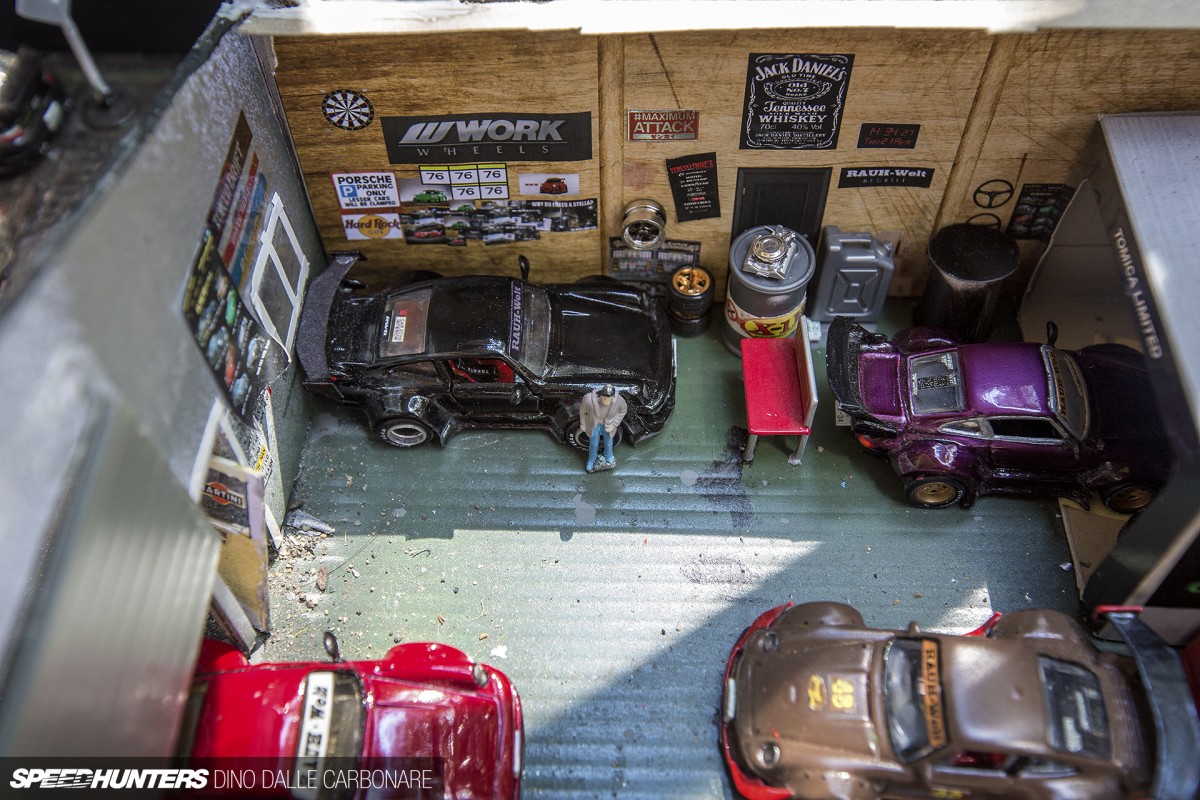 In fact, there is Nakai-san, standing next to his favorite car of them all: Stella Artois.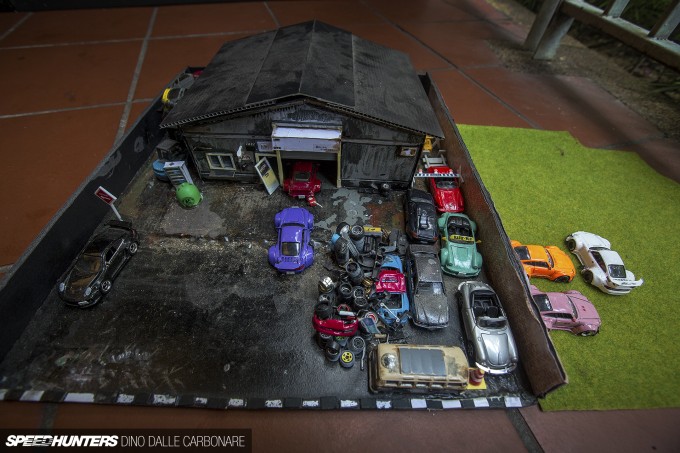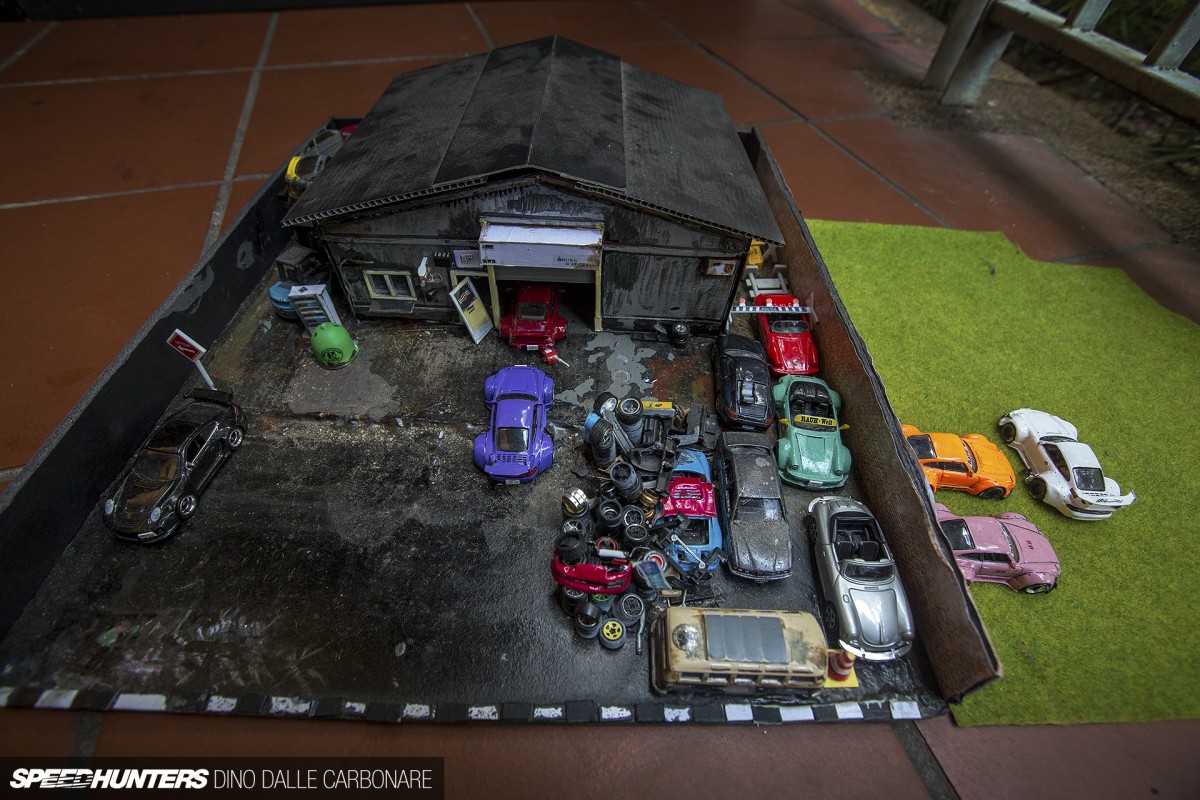 You may have noticed that right next to the shop is a green grass area.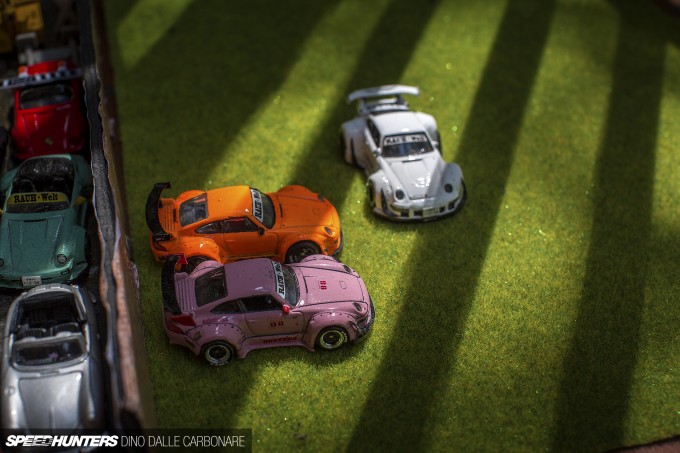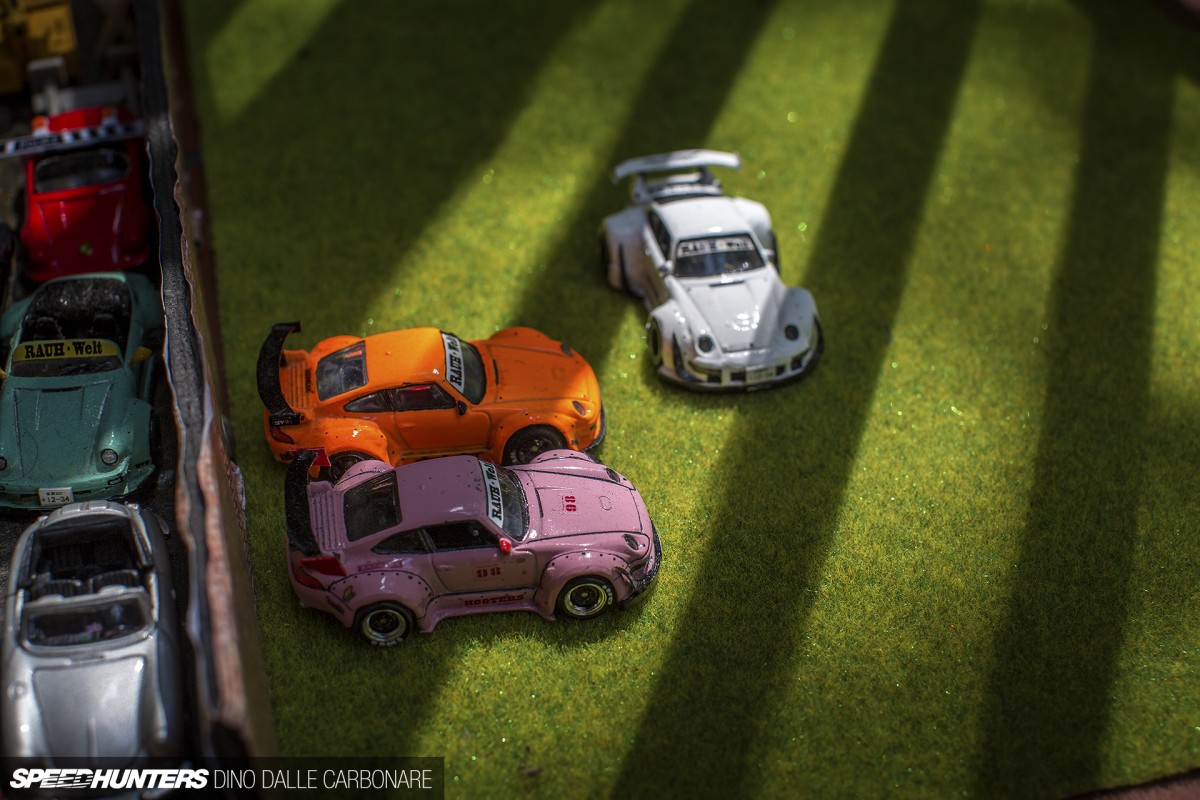 This is where Nakai-san keeps some of his demo cars and customer cars. While it's actually gravel in real life, the idea is there.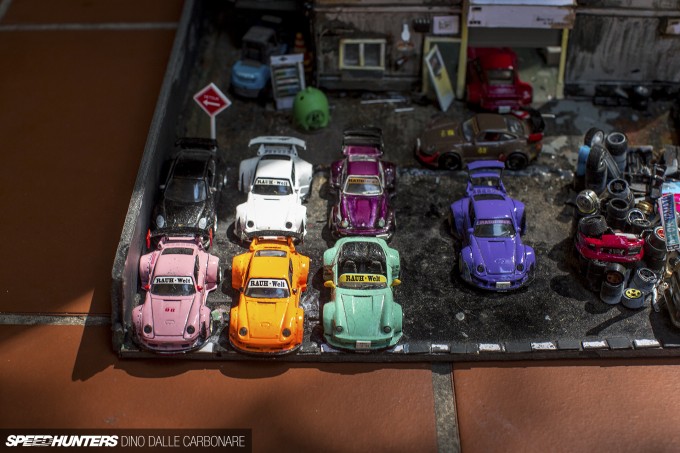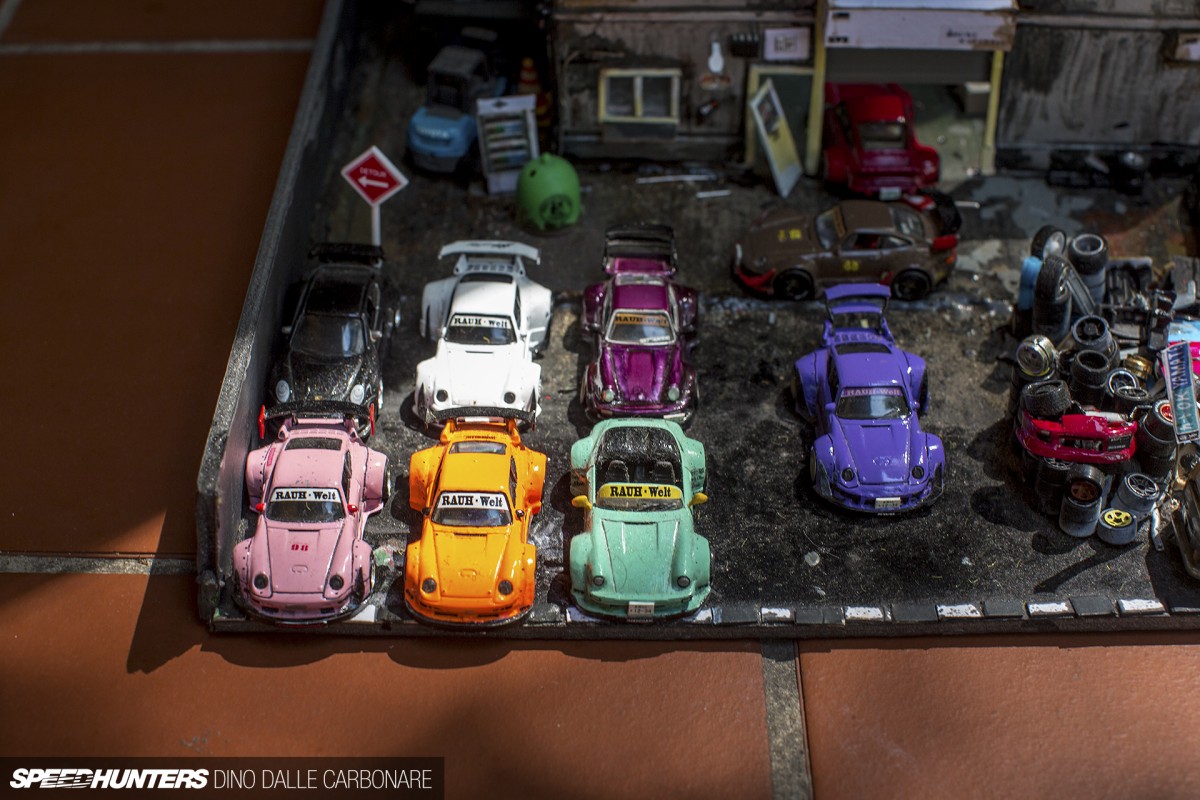 After seeing all the custom cars and the detail of the scale shop it really made me want to do something similar. I'm sure you'll understand what I'm talking about! A big thank you to Rudy for coming to find me and showing me this mind-blowing creation.
Dino Dalle Carbonare
Instagram: speedhunters_dino
dino@speedhunters.com
Art of Speed
Other collectables related posts on Speedhunters