A Memorable Tour Begins
I'm pretty sure that by the time you finish reading this rather special workshop tour, you will never look at Monster Tajima or Monster Sport the same way ever again. I'm serious. And I'm not trying to be overly enthusiastic here either, because while I knew that Tajima-san doesn't joke around when it comes to building his cars and developing his many prototypes, I had absolutely no idea just how much technology his company is hiding away inside its humble buildings just outside Hamamatsu City.
To make it all even more special, when I arrived the man himself was waiting in his office; ready to personally show us around the premises. Considering Tajima-san's busy schedule, this was a real honour, but at the same time his friendly and open nature made it all such a fun and enjoyable experience. We had already met in Tokyo a couple of times in the past, so that was the ice breaker, but within minutes we were just like any couple of car guys, chatting about the things that we love most. For Tajima-san that seems to be power – and lots of it – along with driving at the limit and pushing the boundaries of technology. It's obvious that he's extremely passionate about what he does, and that's directly reflected in Monster Sport the company, and the various departments within it.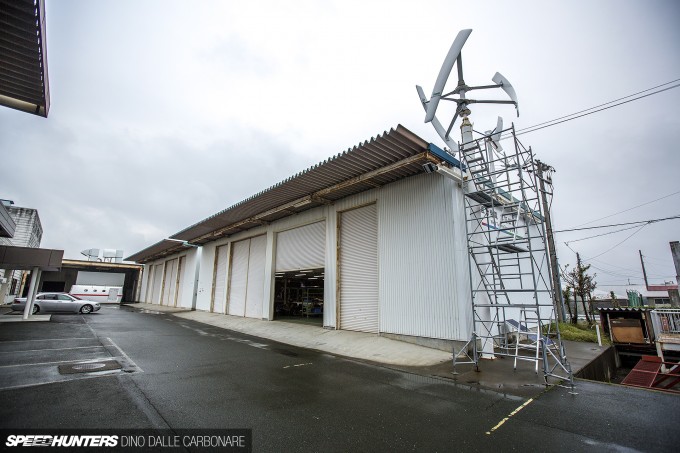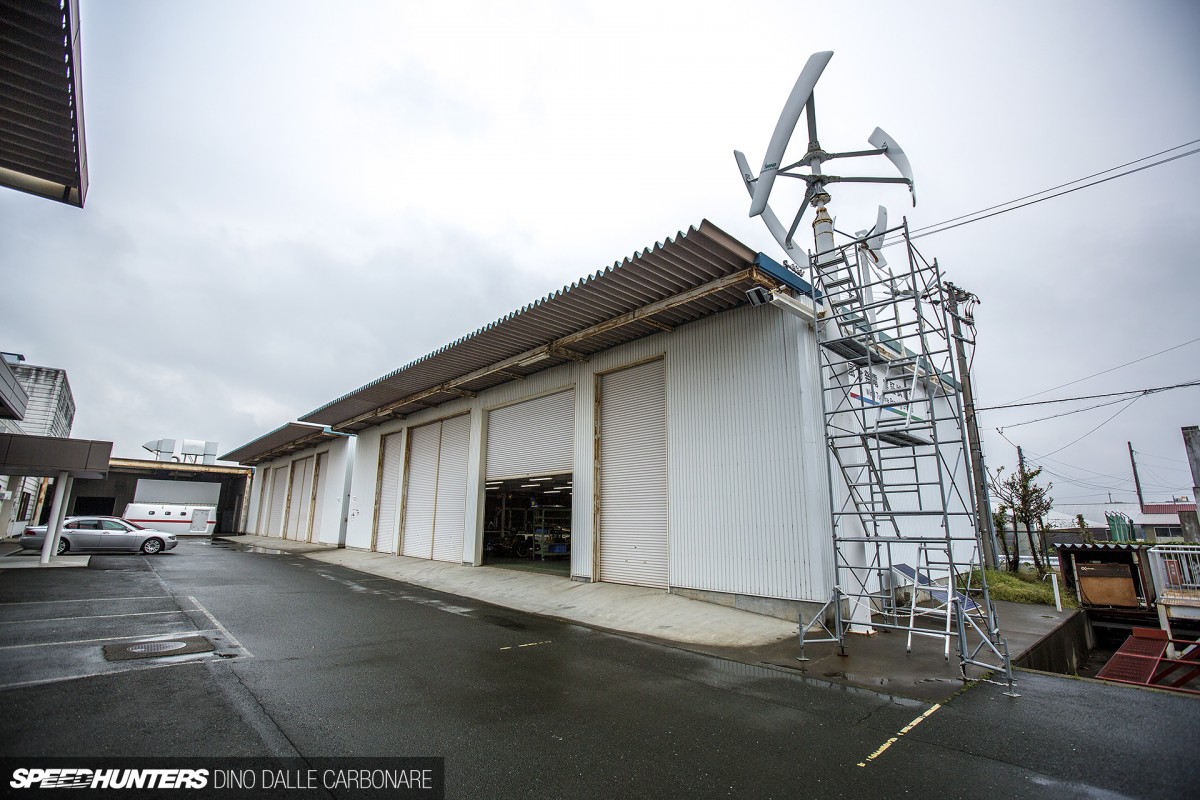 So without babbling away too much, let's get straight down to business. The tour begins right here, in front of the main garage that some of Tajima's most recognisable cars are kept in.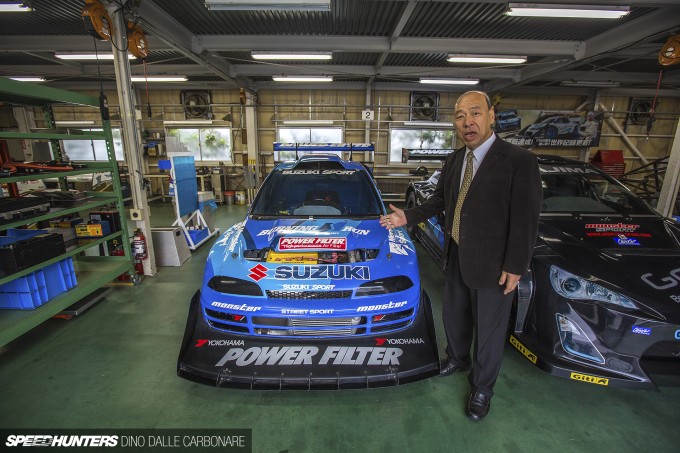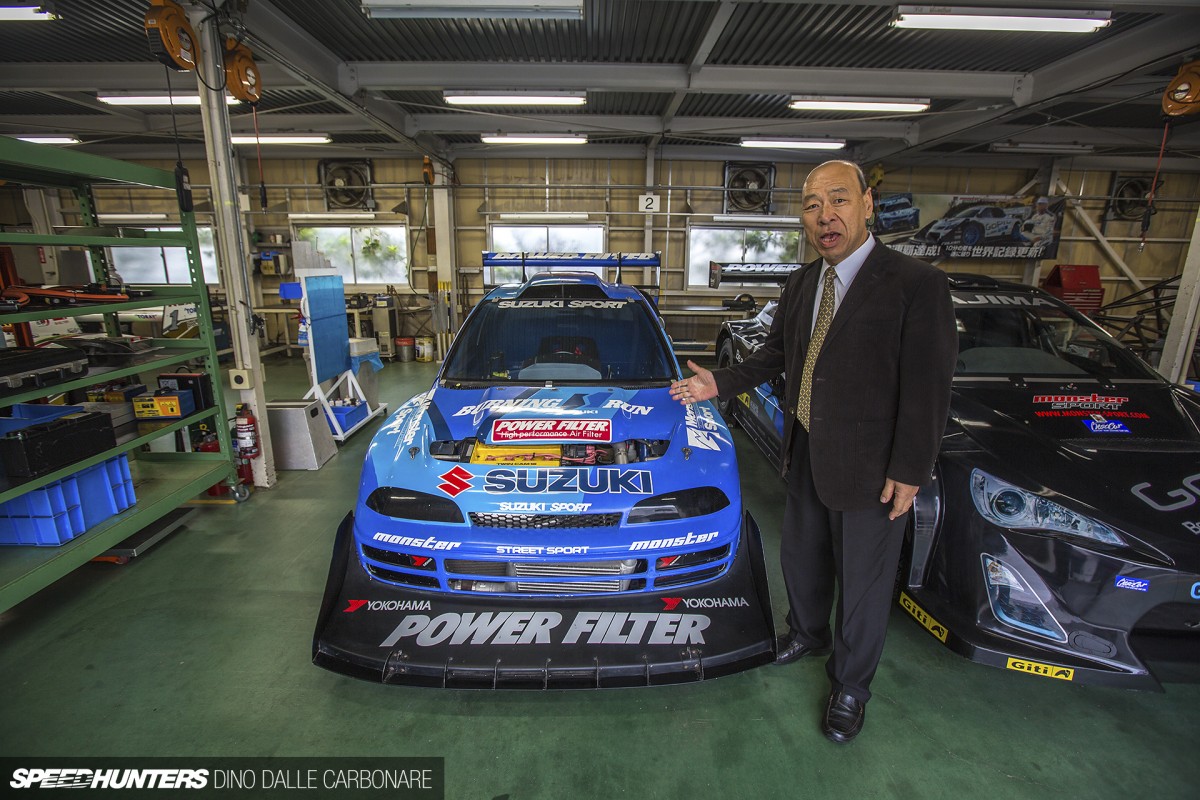 Lifting the shutters revealed the Super 86 that I featured earlier on this month, sitting alongside yet another wild Pikes Peak International Hill Climb blast from the past. The twin-engined Cultus was actually built before the Escudo, but still manages to look terrifyingly imposing; aero additions turning what was originally a pretty unsuspecting city car into a fierce hill climb racer. Tajima is obviously very proud of his first twin-engined creation, but if you are anything like me, you're probably wondering how he even managed to fit in the thing?!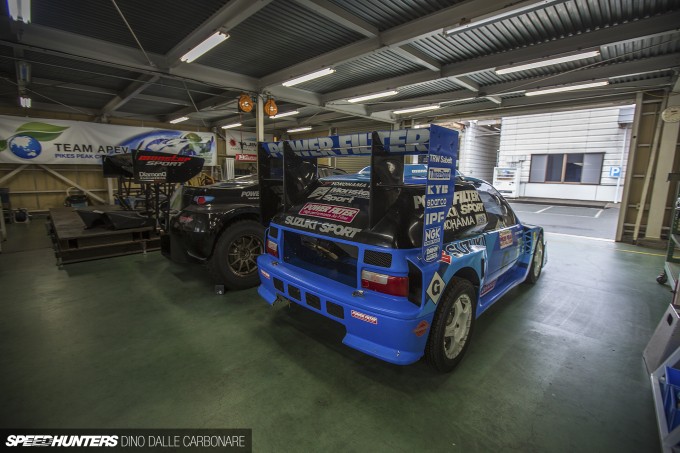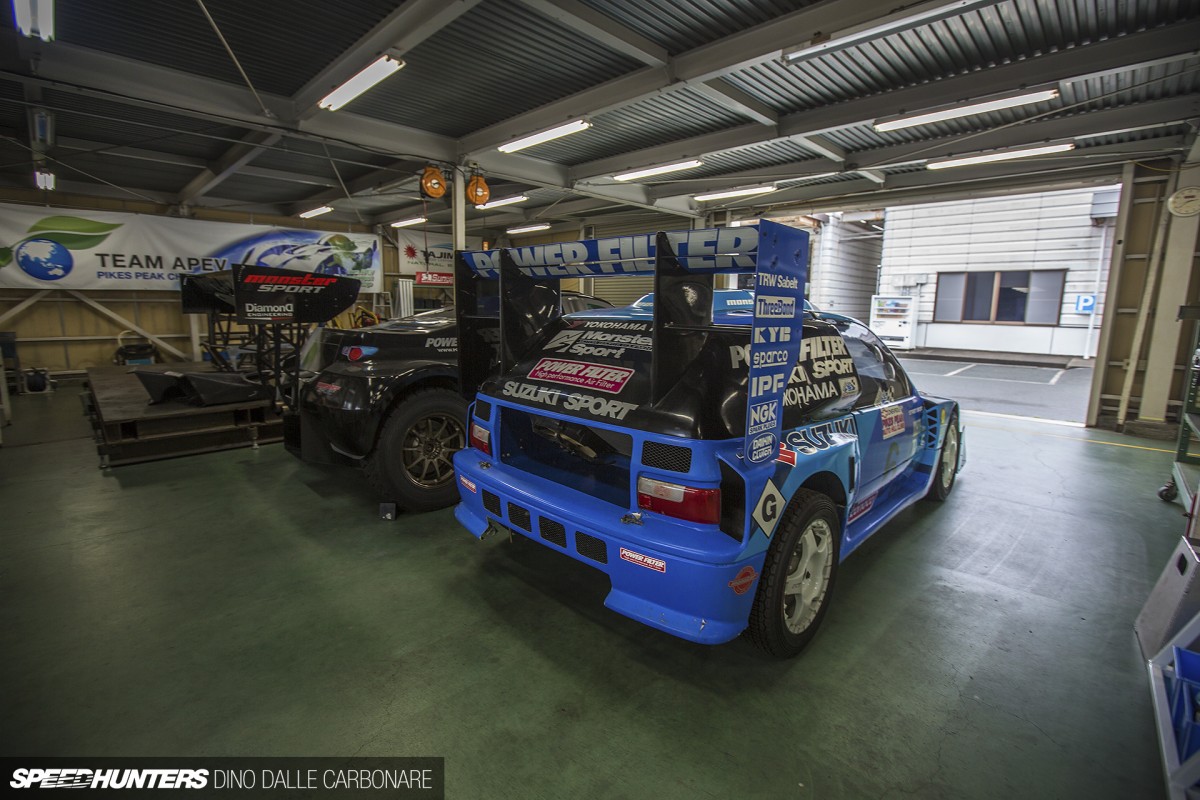 Check out that massive rear wing – perhaps the biggest we've ever seen fitted onto a hatchback.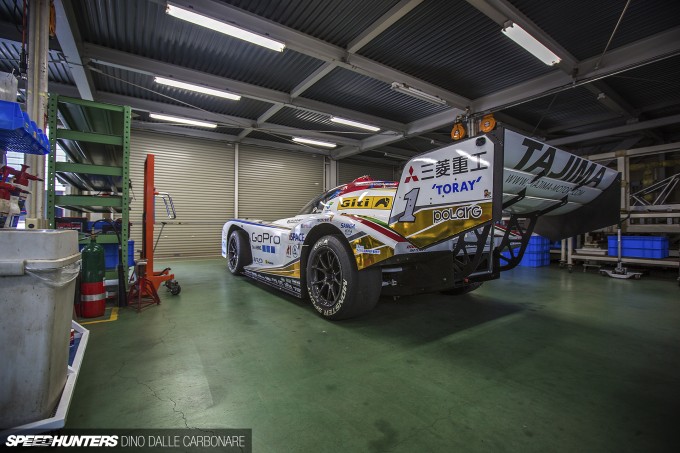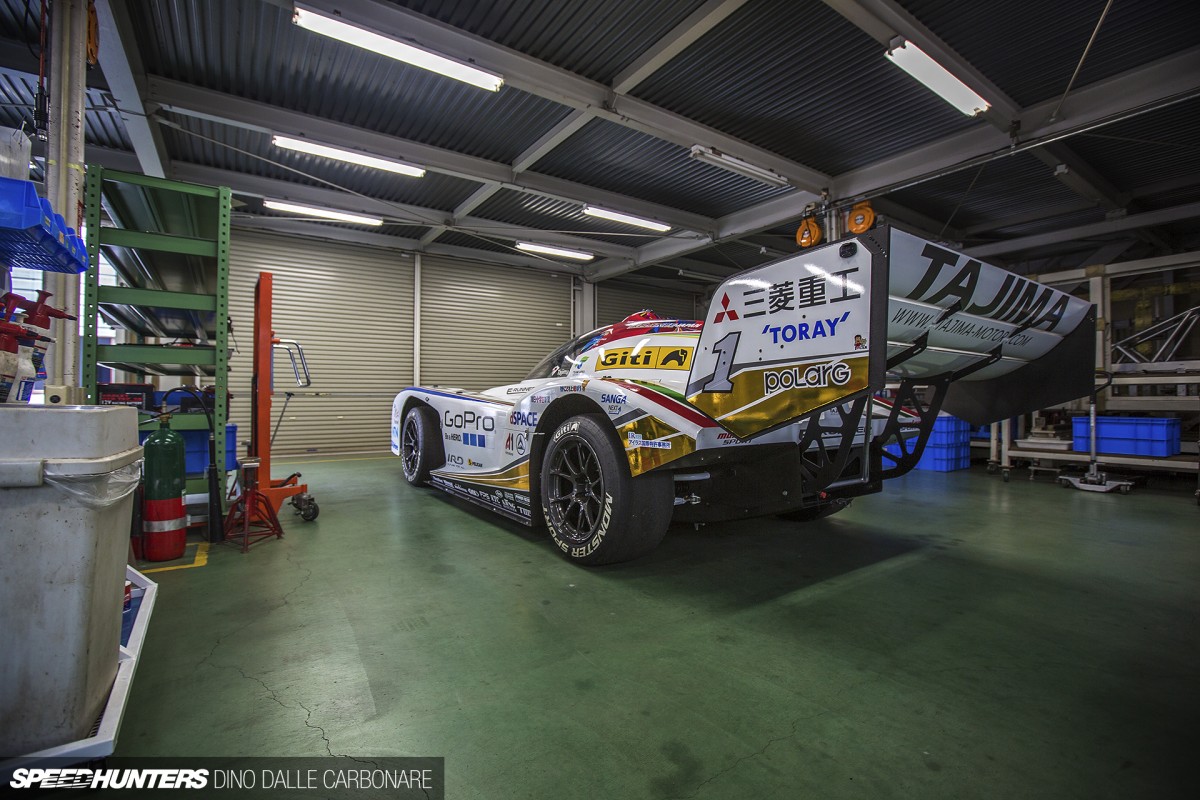 In the next pit along was the 2014 evolution of last year's Monster Sport e-Runner, which Tajima-san used to set the electric car record at Pikes Peak.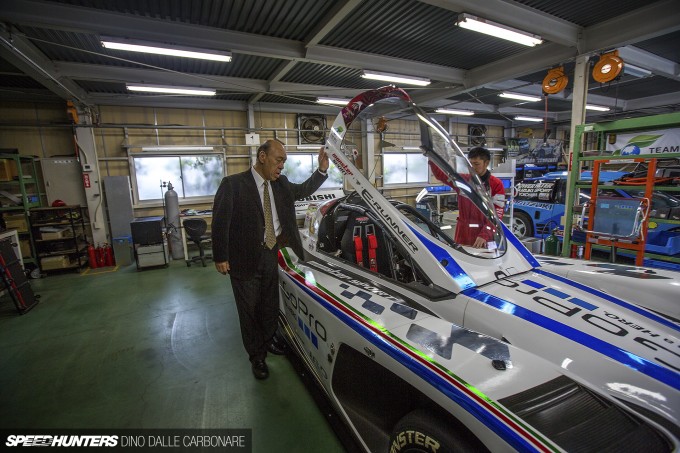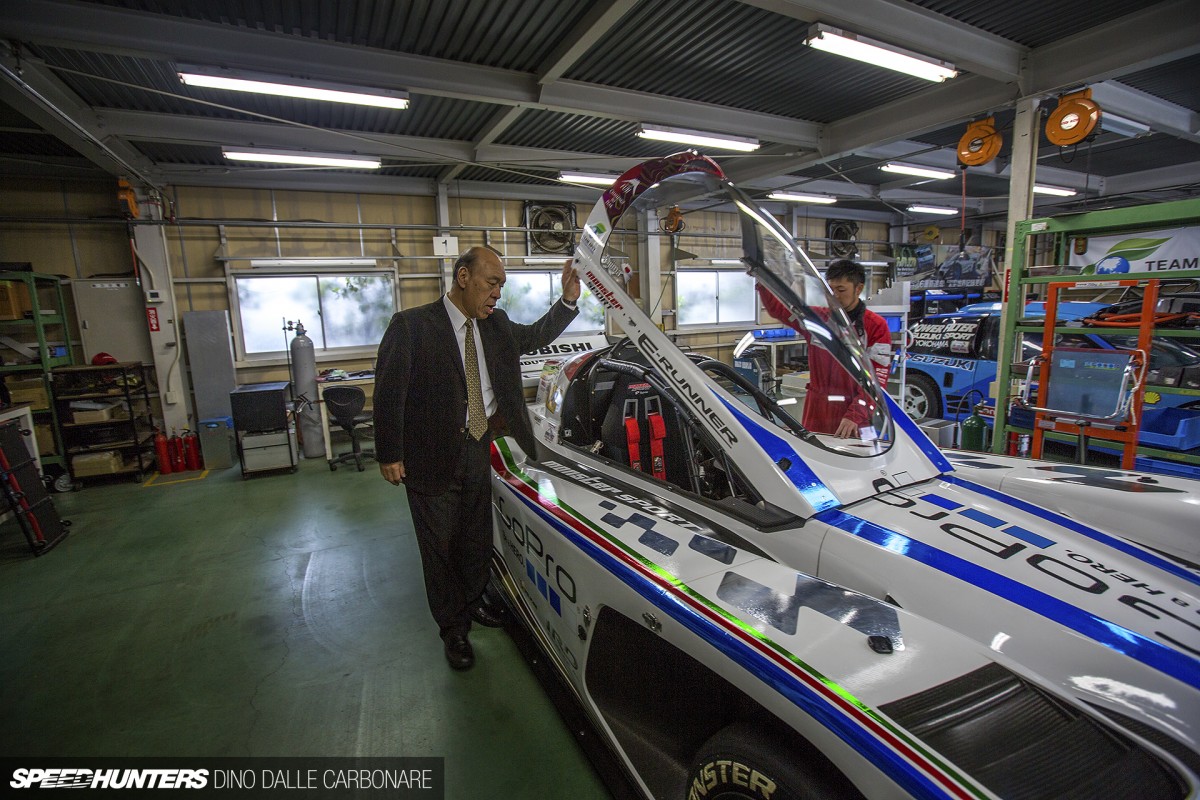 Bigger batteries and a few modifications have been carried out, enough – according to the calculations – to guarantee that a few precious seconds can shaved off the 2013 time. I'll be sure to show you all about this car in a full feature coming next month.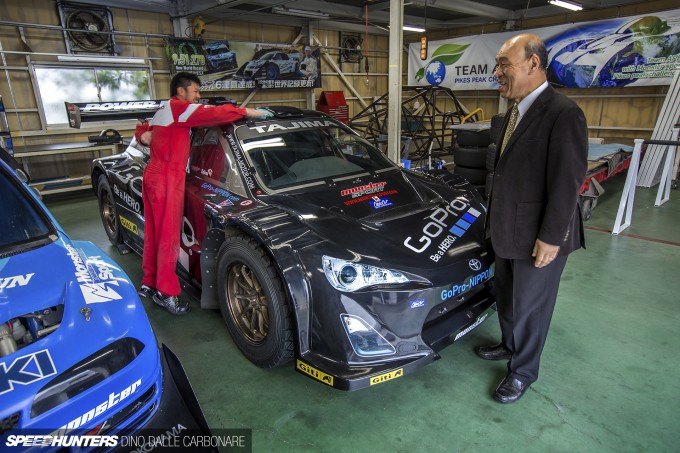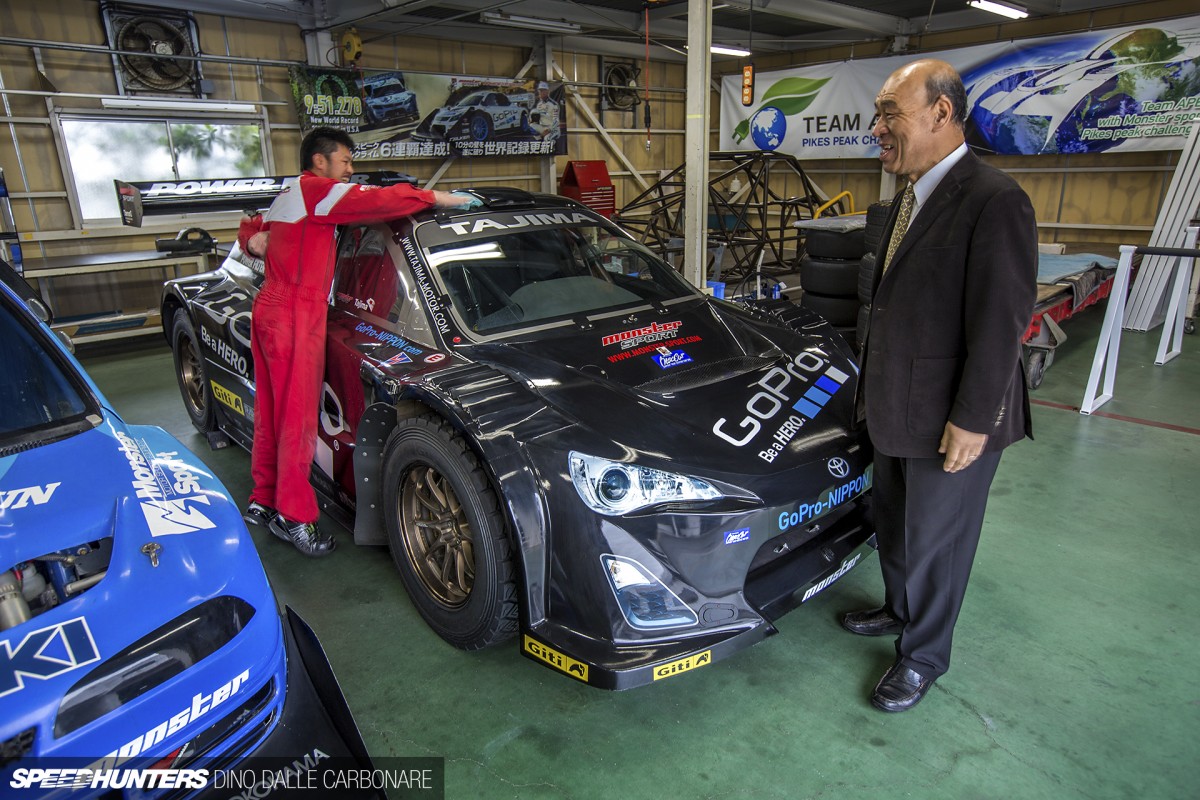 The Super 86, despite being built at the beginning of last year, hasn't really participated in any form of competition yet. But now that it's armed with a set of custom Giti off-road tyres, Tajima plans to ship it off to New Zealand to participate in an event there later this year.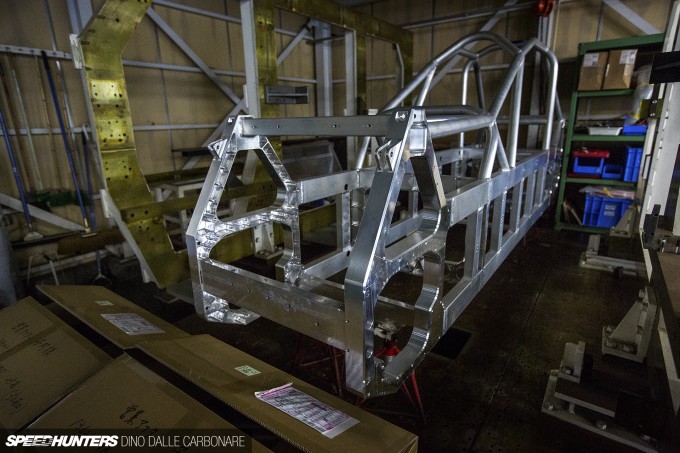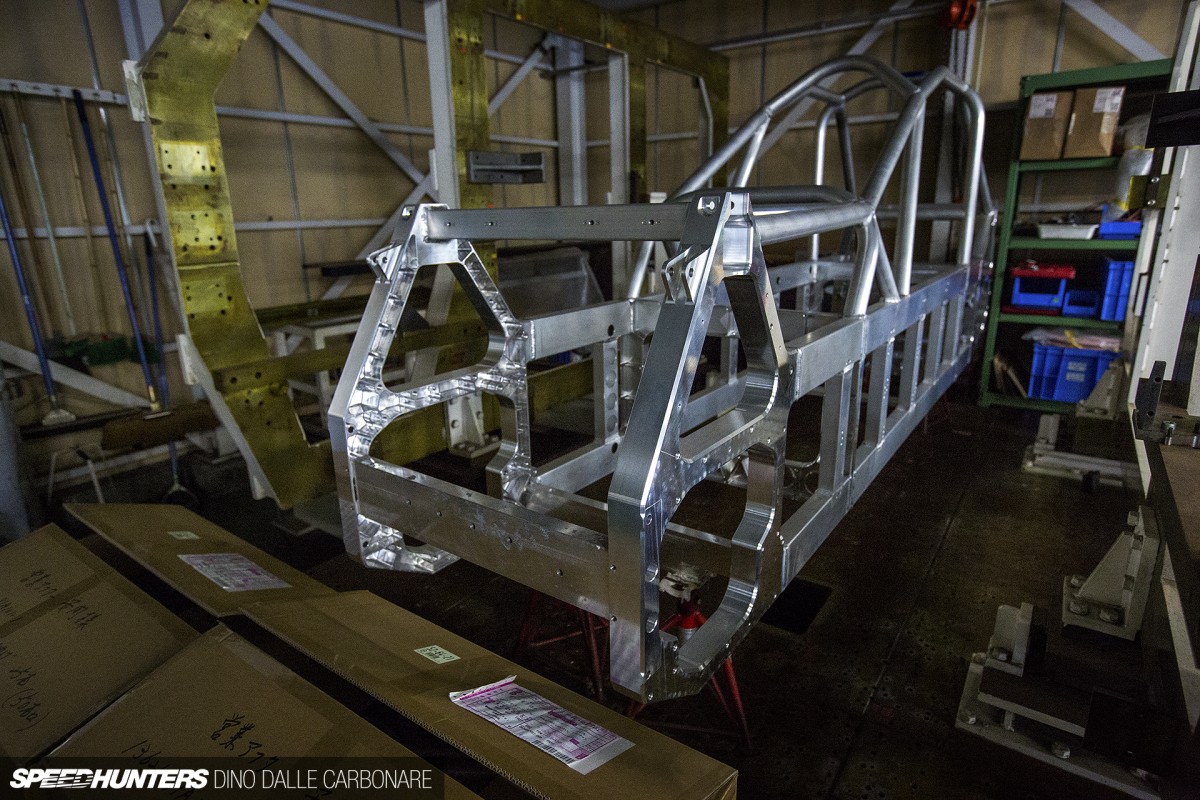 In the corner of this garage is a jig holding a custom-built billet aluminium frame – the chassis of yet another one of Tajima's electric race cars. For obvious reasons he couldn't tell me much about it, but you'd be surprised how light this thing actually is.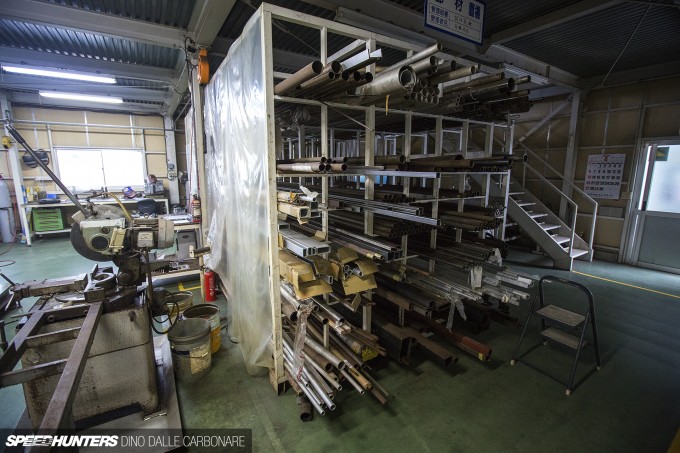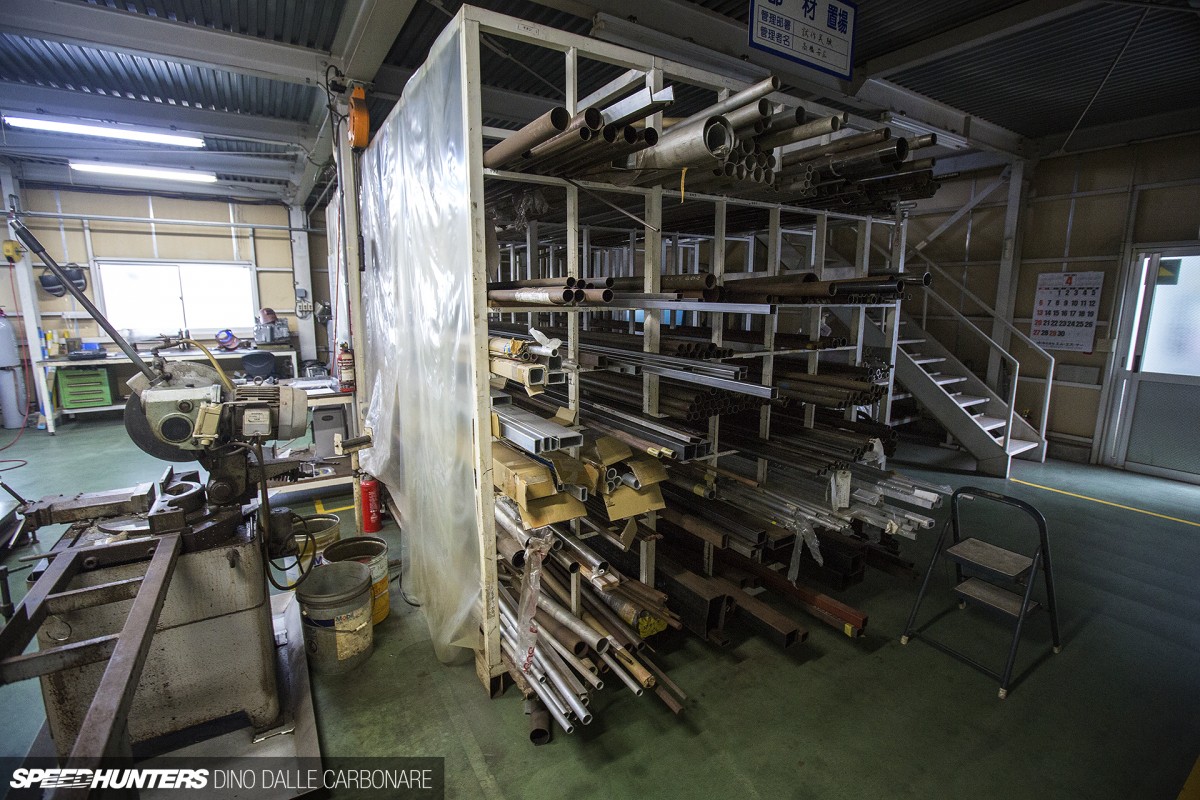 The next building over is a machine shop where chassis and frames are created. Here is a stack of raw material, including square aluminium tubing and round stainless steel piping.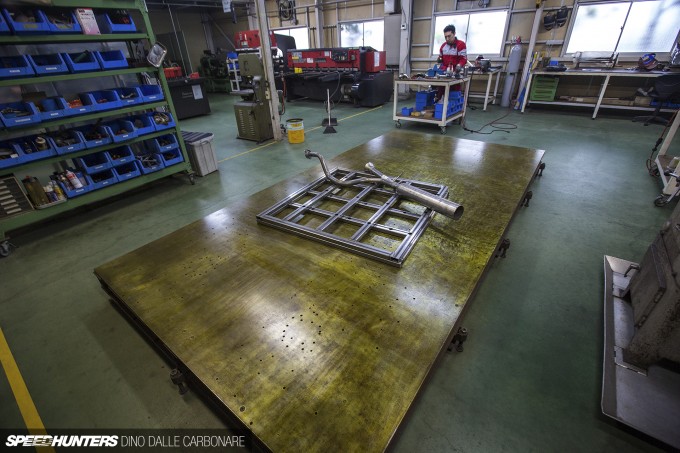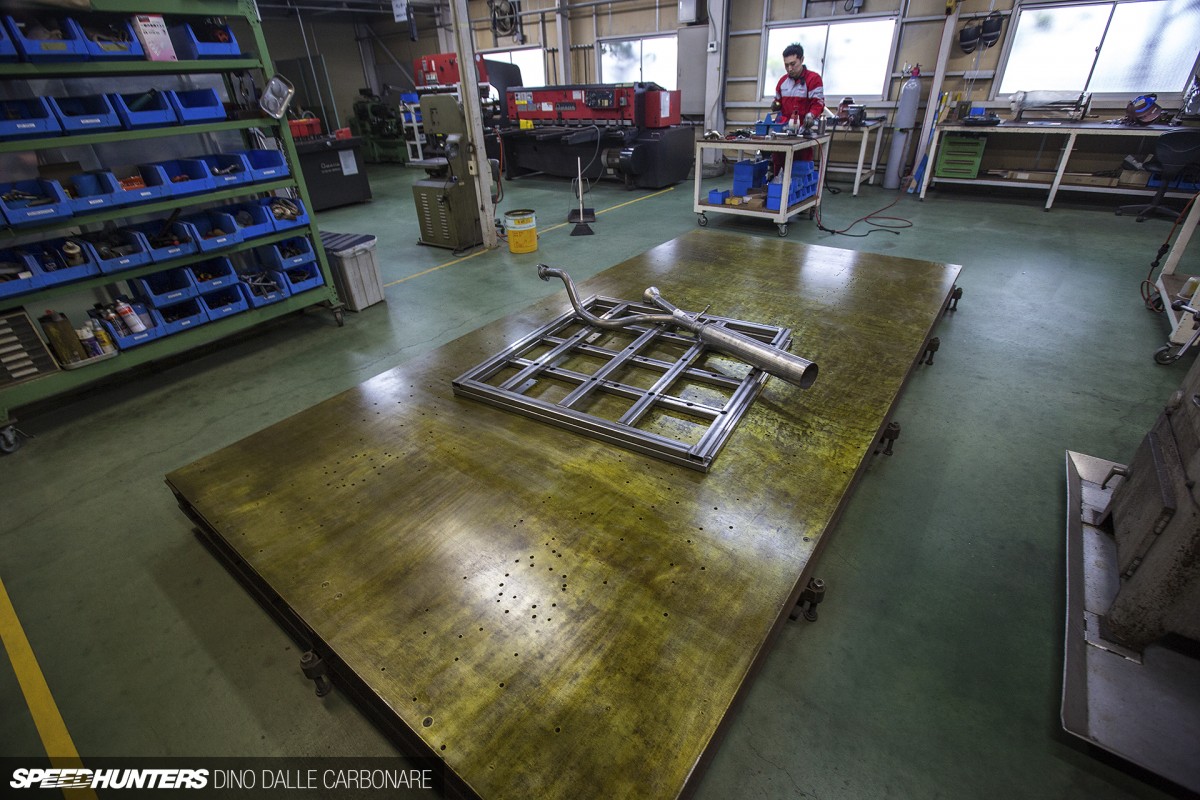 With so many projects on the go, the guys working in this department are kept very busy fabricating all sorts of things for both race car use and R&D purposes.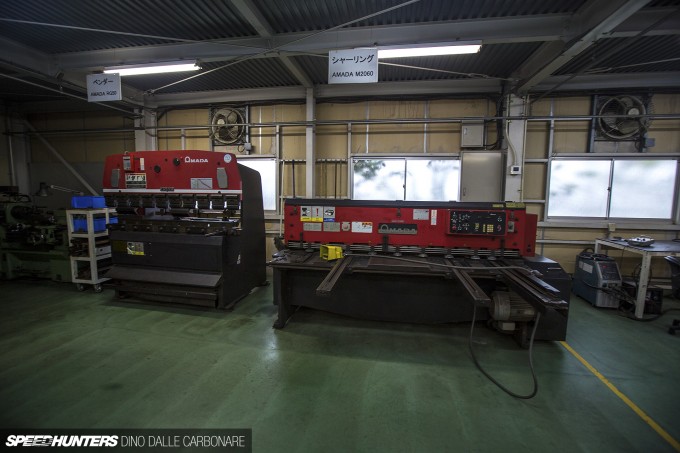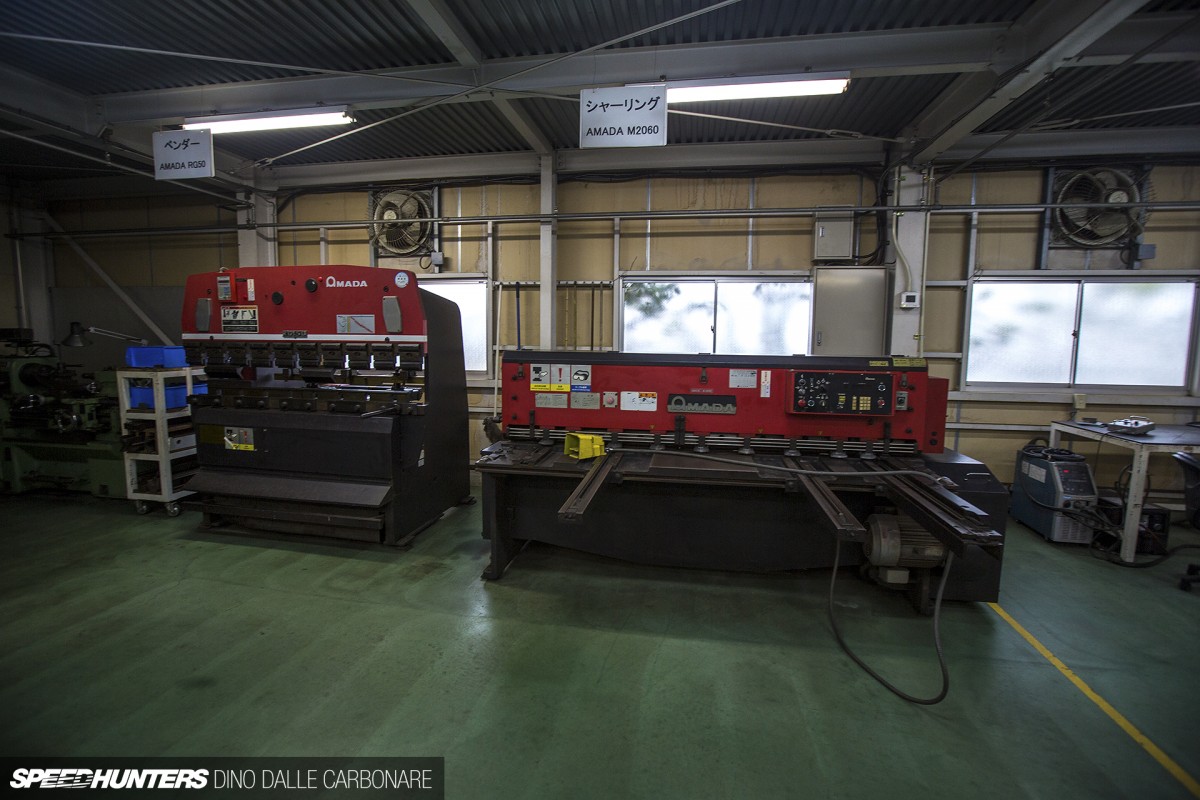 They have a variety of Amada machinery to play with too, from benders to shears – essentially everything to aid in the preparation of the material.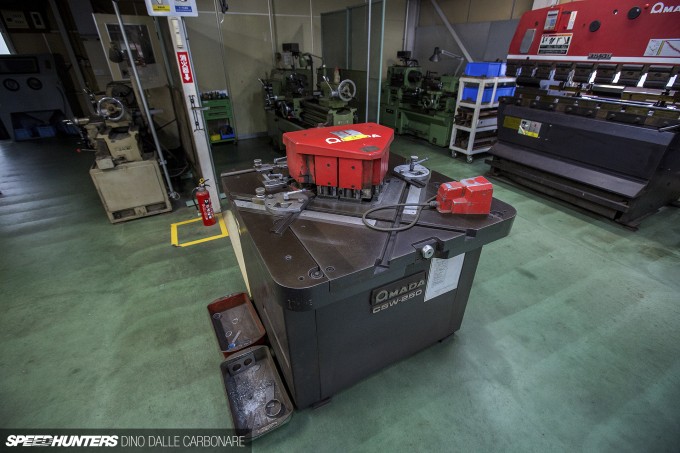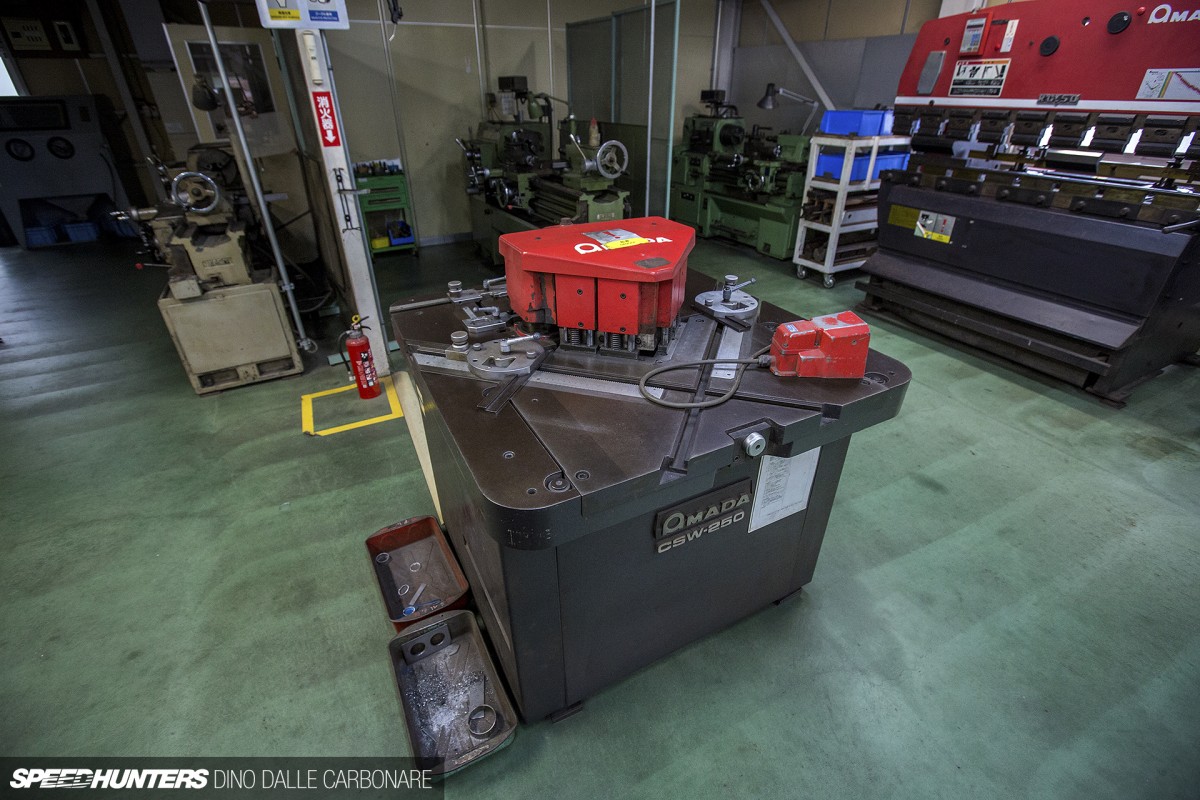 Here's a corner shear for those tough to execute cuts.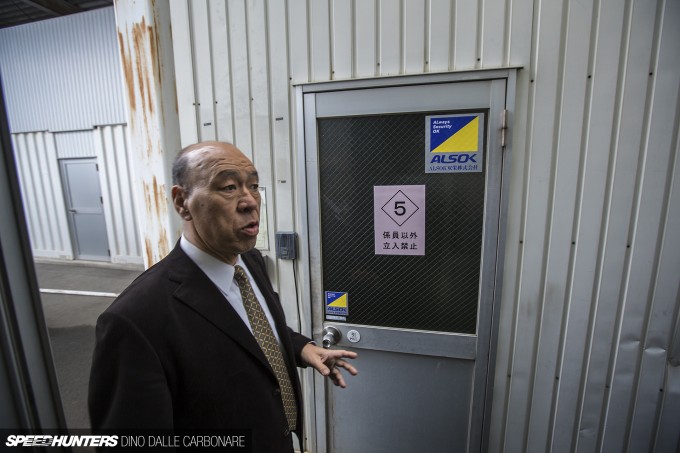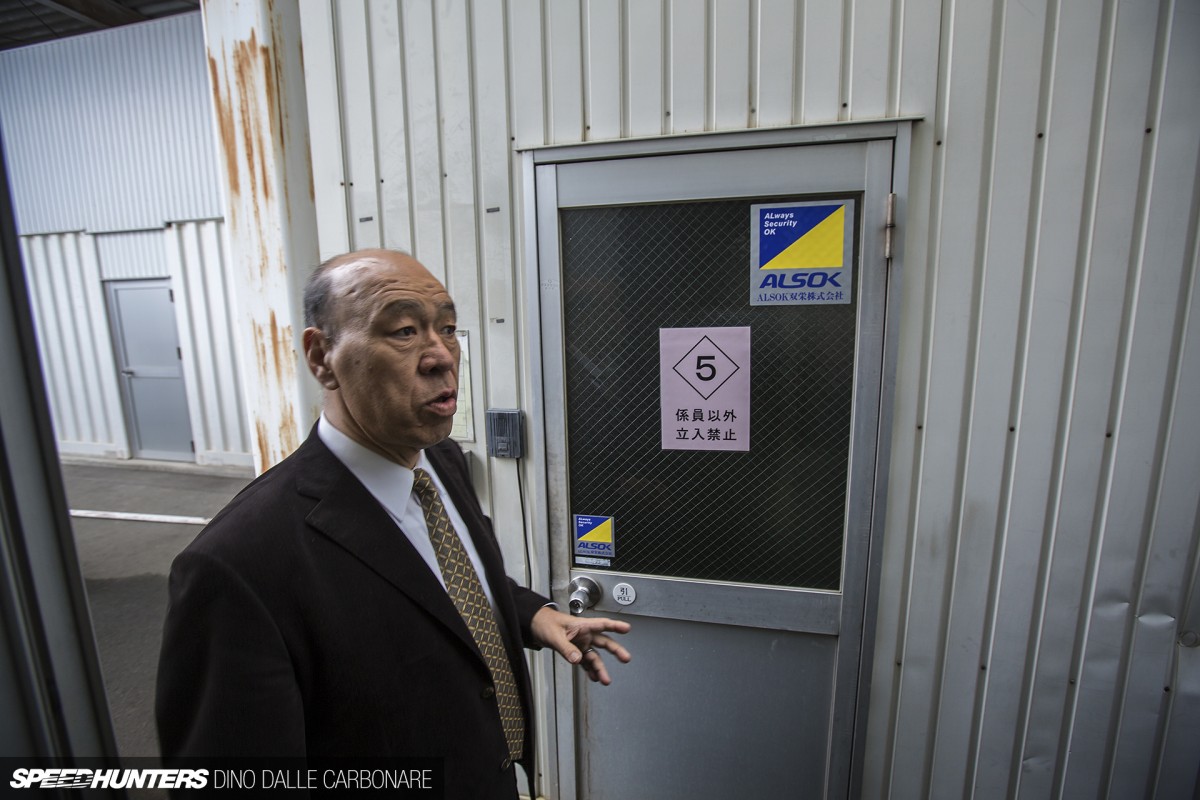 Tajima-san is not one to hang around, and this was without a doubt the quickest and most intense tour I have ever been on. With no time to waste, it was off to the next building – number 5 – where all sorts of exciting stuff happens…
Building Engines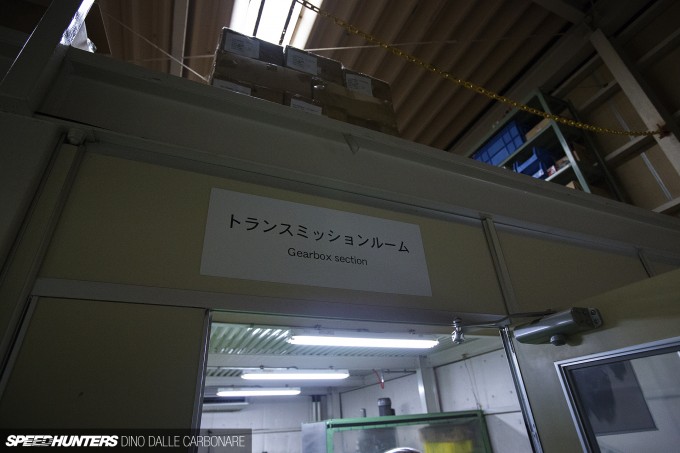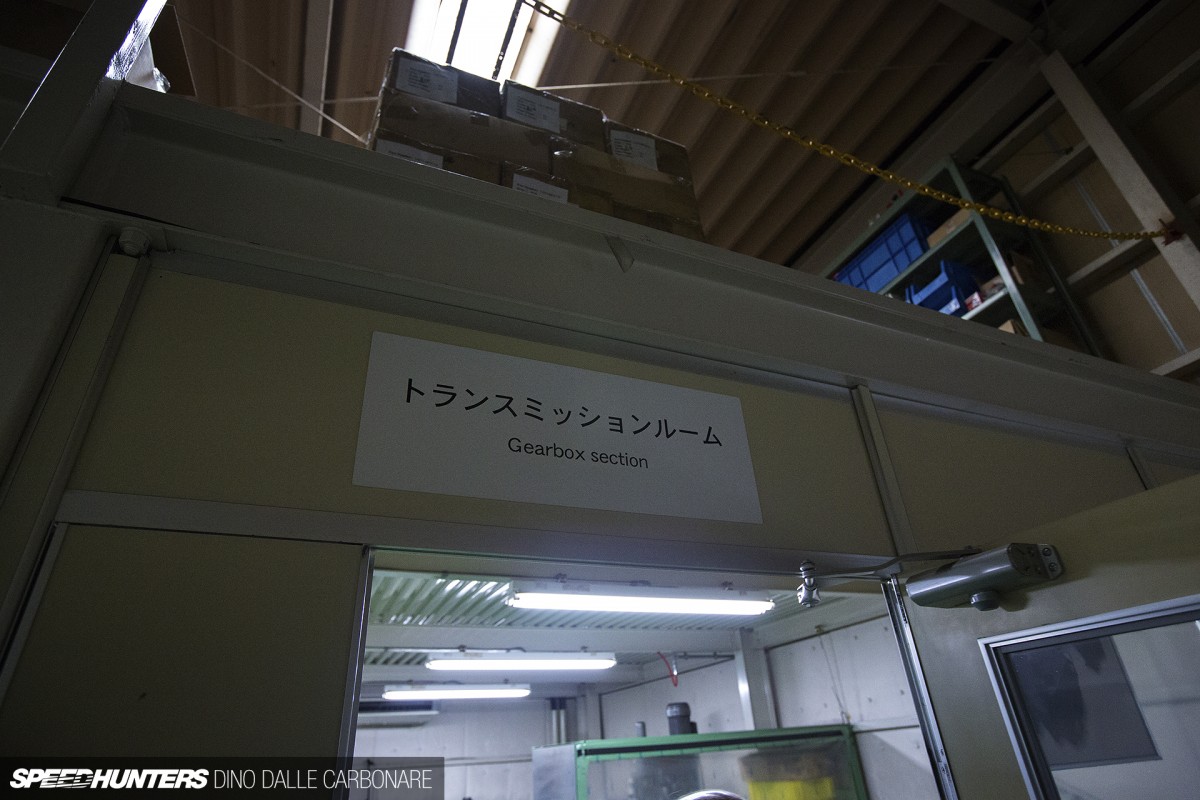 Essentially, this is where engines and transmissions are put together – either stock items opened up and modified or upgraded, or where components are custom designed and built. The latter especially is one area that Monster Sport specialises in; not only with the aftermarket tuning side of things, but through the one-off projects that Tajima embarks on.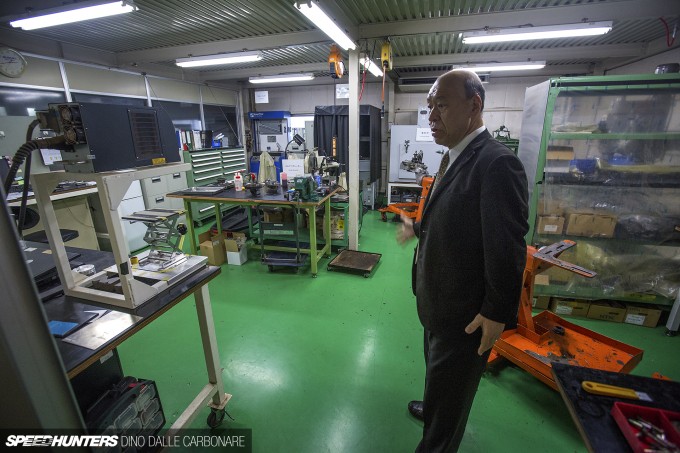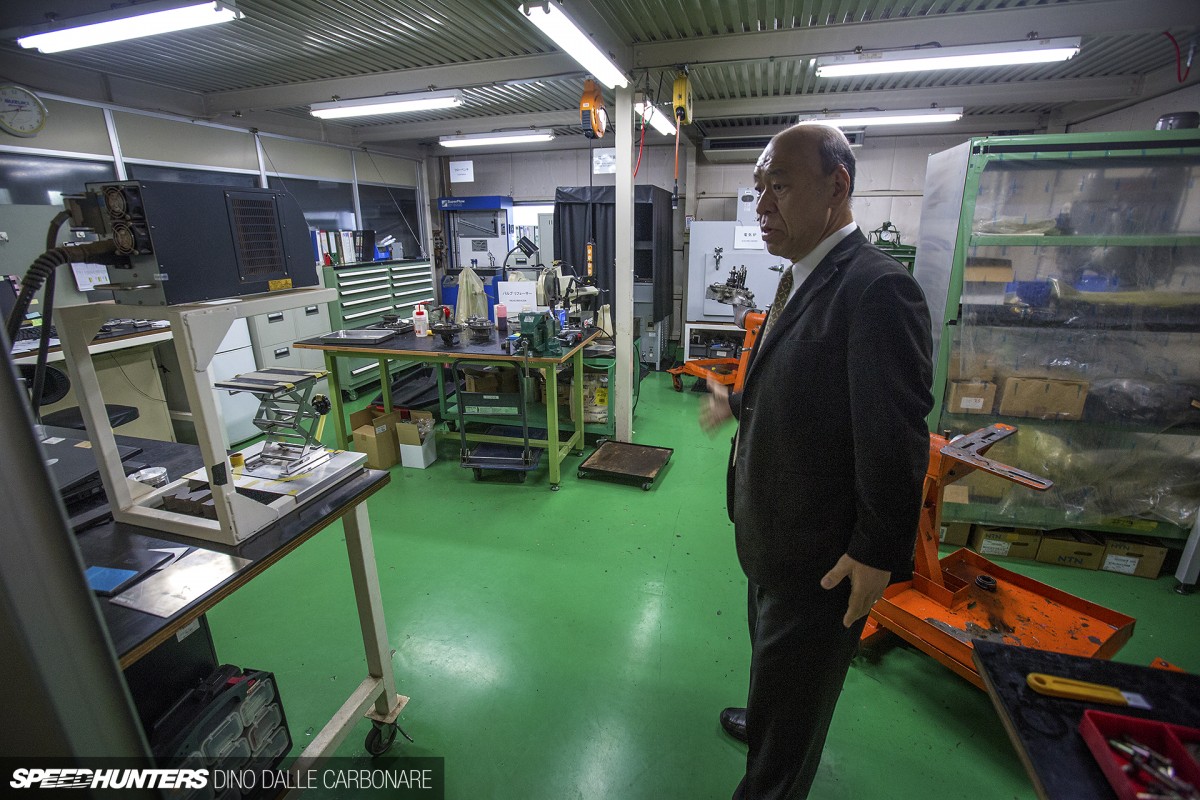 The next step was the main engine room, where motors are stripped down and readied for upgrade.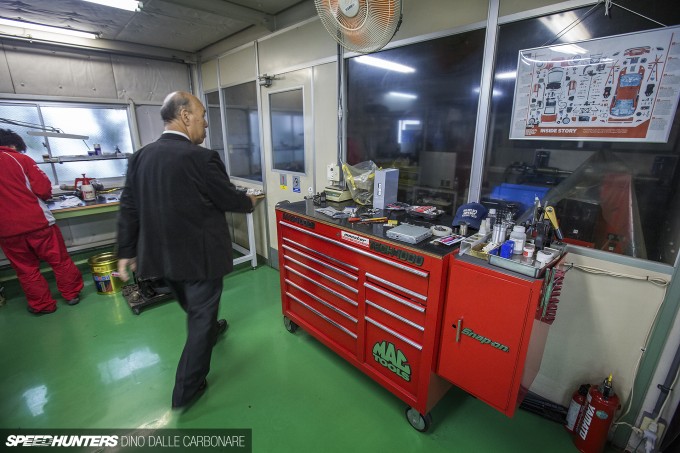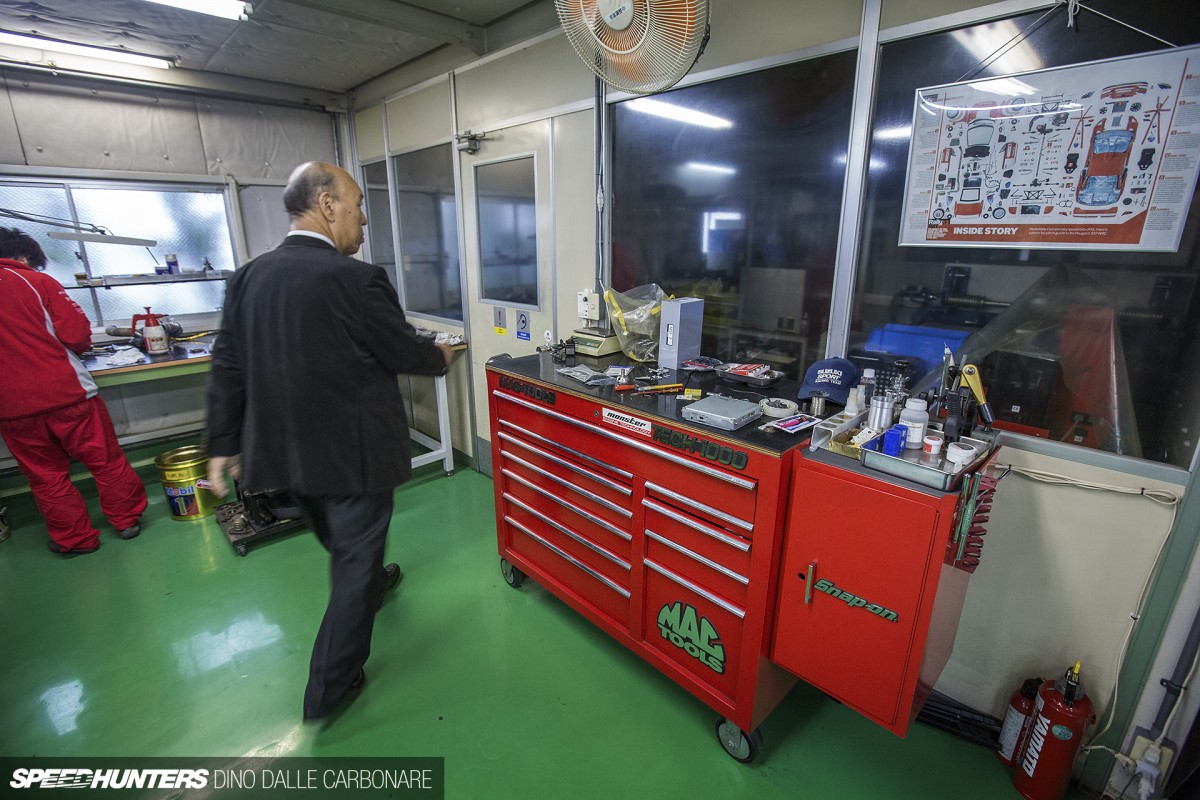 Assembly, however, is undertaken in a smaller, separate climate-controlled room off to the side.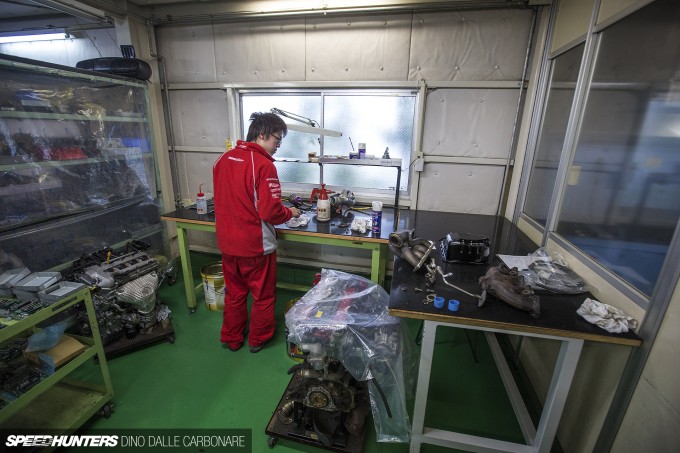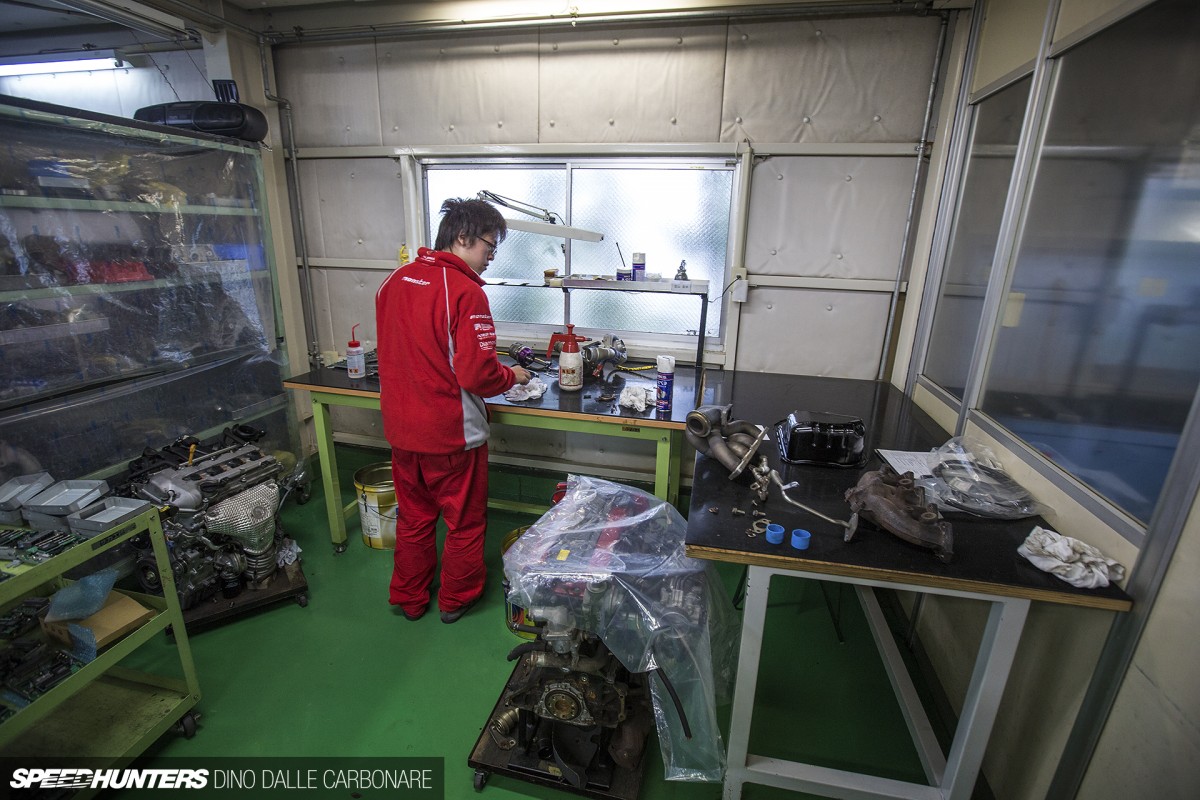 There were plenty of Suzuki and Mitsubishi engines lying around, but I am unable to show you exactly what the engineers were working on. As I'm sure you can appreciate, there is much secrecy to the bespoke projects that come out of Monster Sport.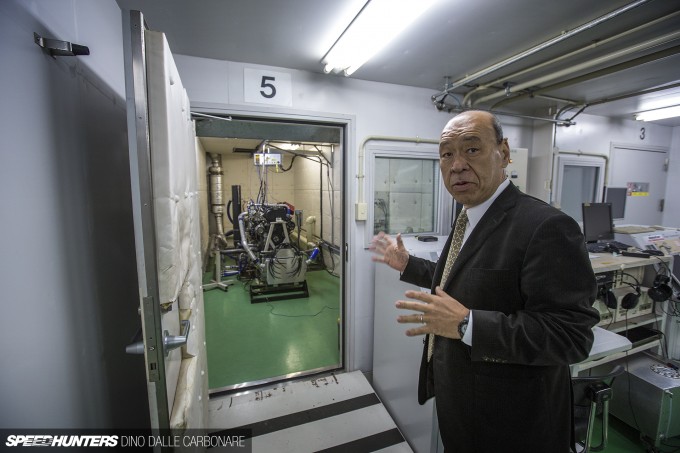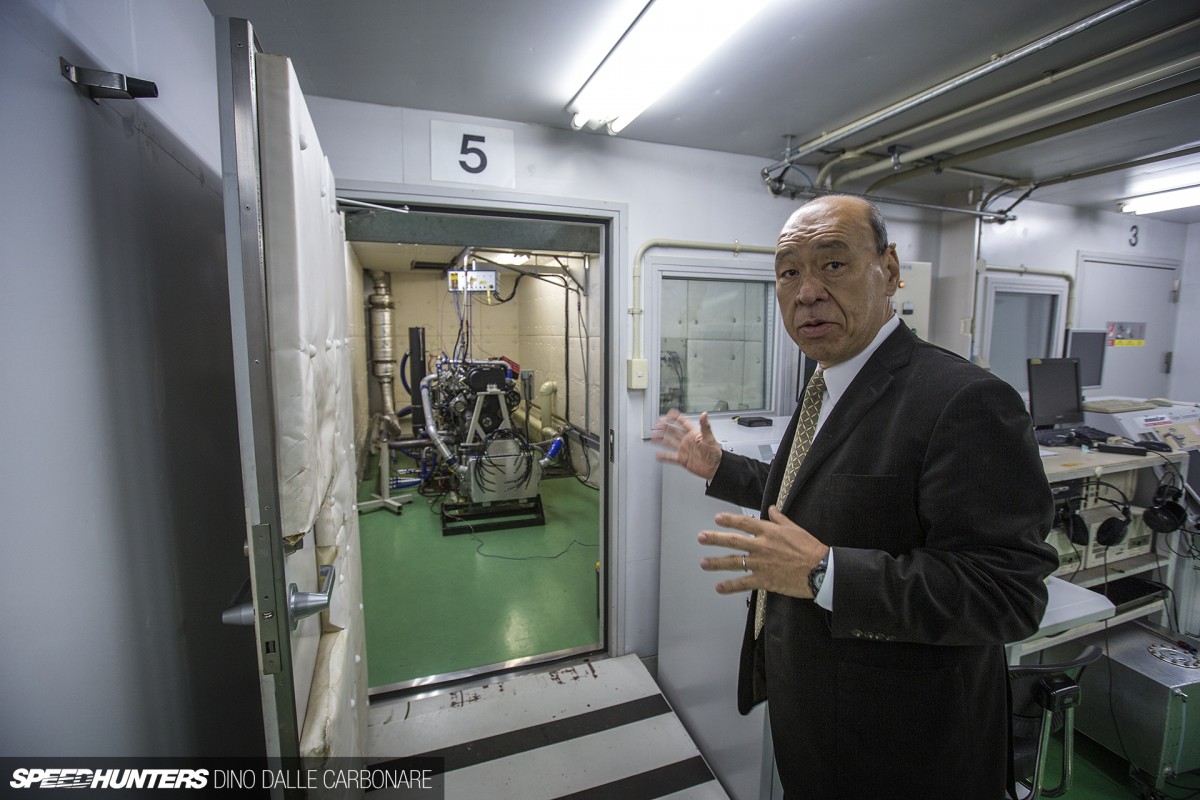 All engines that get modified or custom built here – much like the twin-turbo V6 motor powering the Super 86 – get run on one of five engine dynamometers. In dyno room 5 was a 4G63 that was just about ready to be run-in and tuned ahead of having its power and torque checked.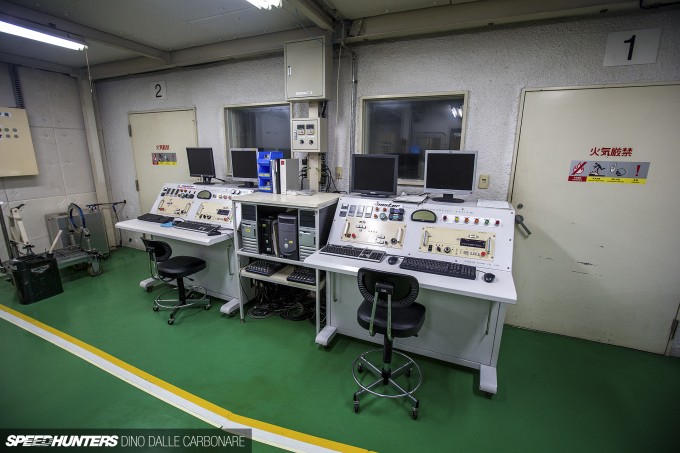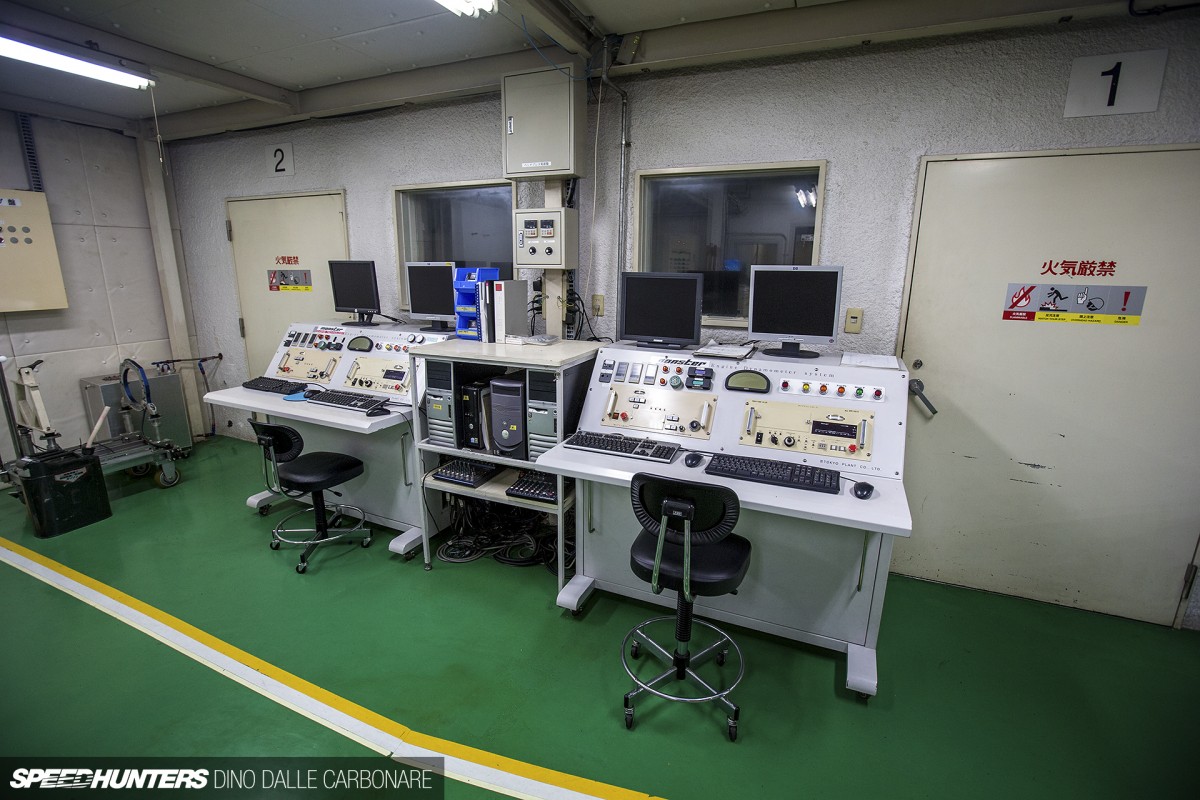 Each of sound-deadened rooms have their own control desk at which engineers run the test cycles on.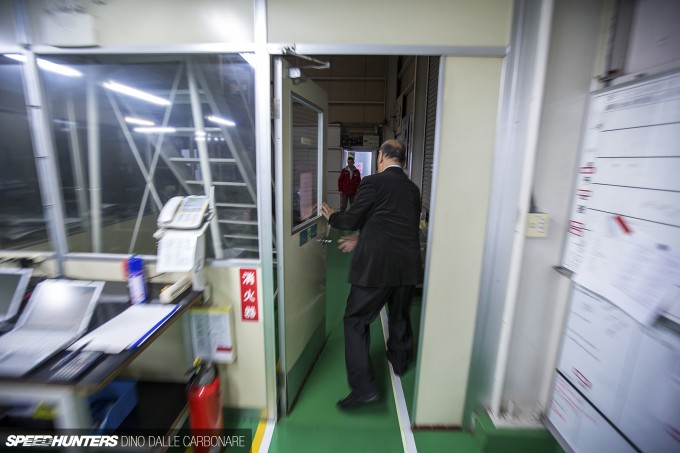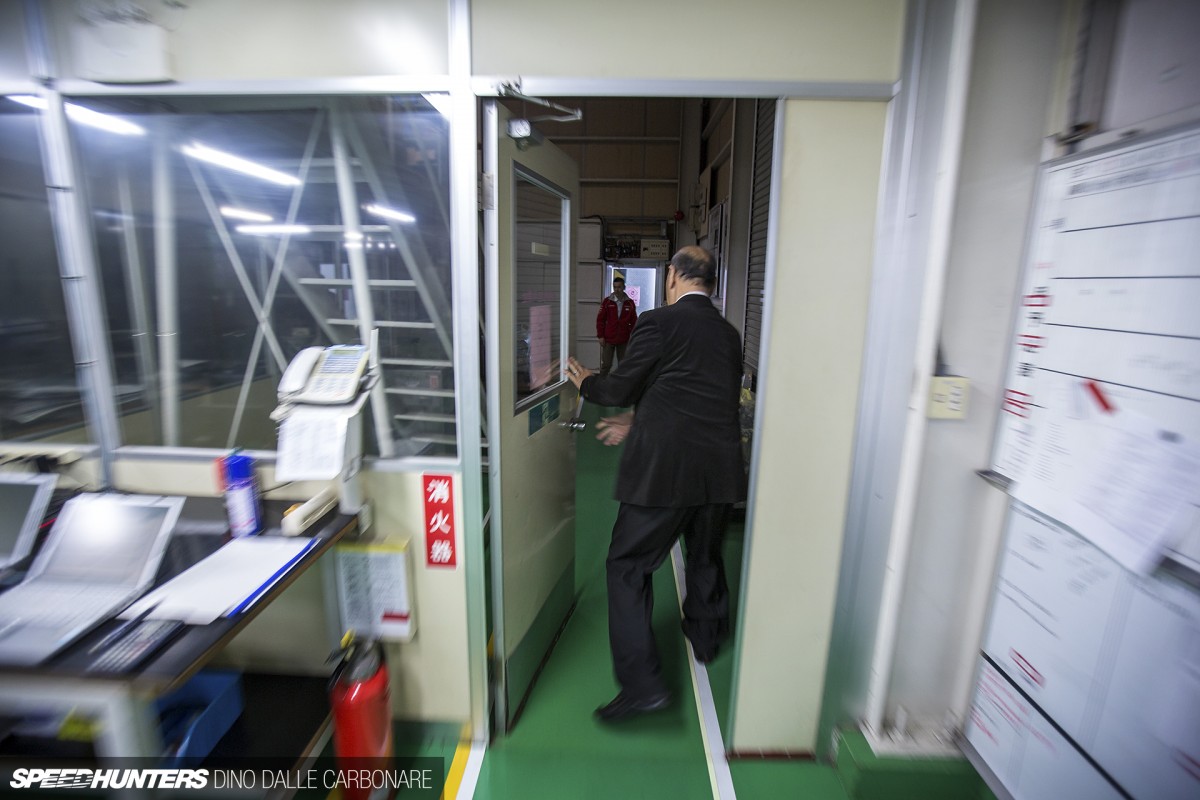 As quickly as we entered the building, it was time to move to the next area of the impressive Monster Sport premises.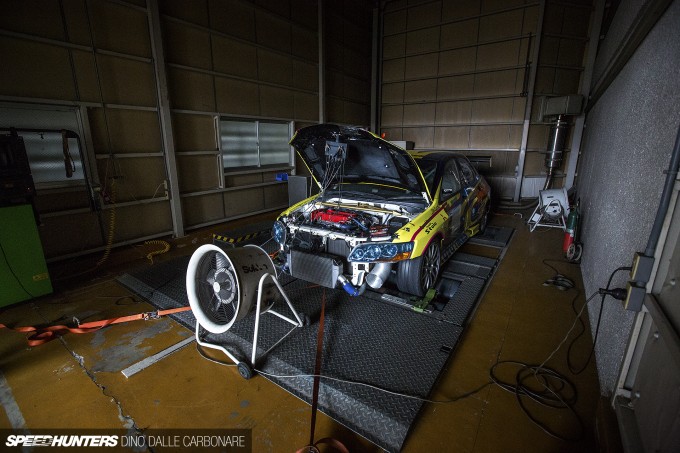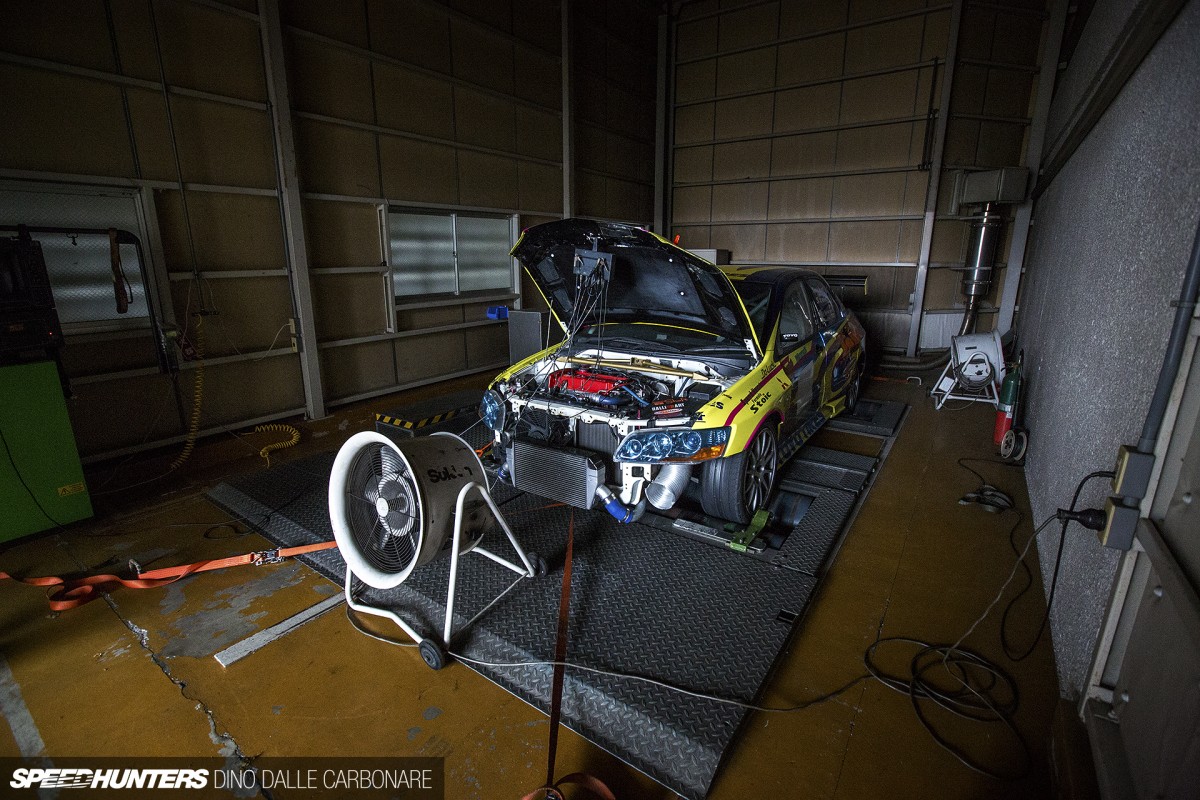 Along with the engine dynos there's also a Bosch rolling road where cars can be mapped on. This gymkhana-spec Lancer Evo VIII was being put through a series of tests and was pulling a nice and healthy 500hp on each run.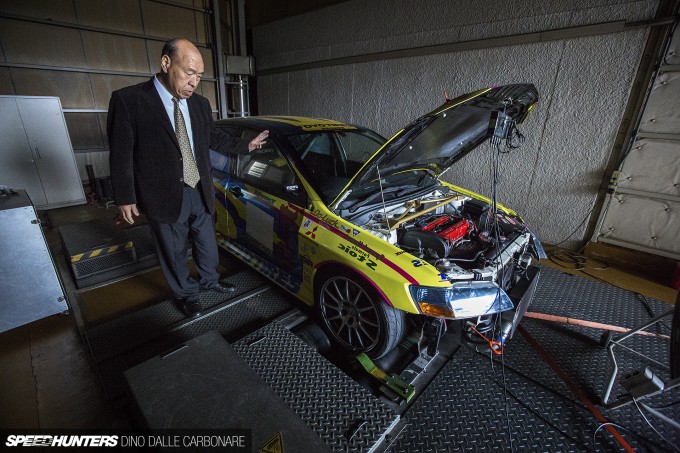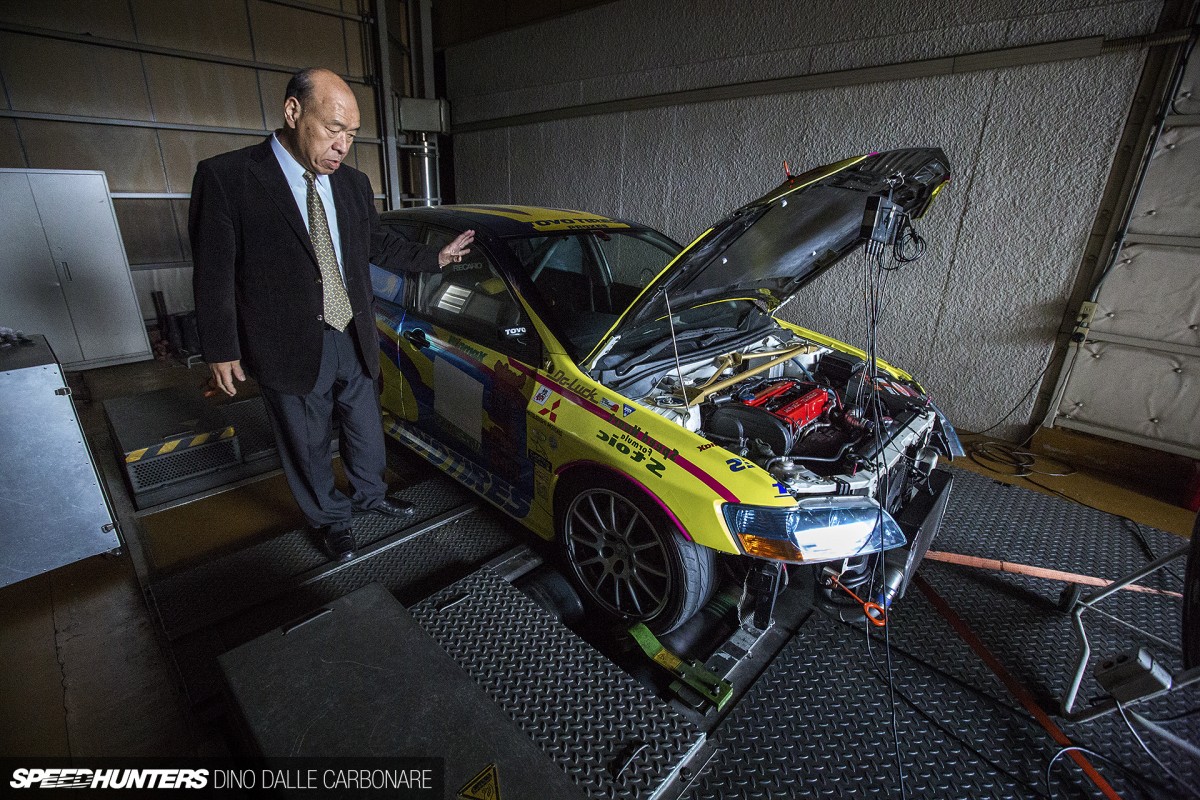 As Tajima-san told me, there is basically no type of work they are unable to do; something I was quickly realising myself. But by this point I hadn't even seen half of the stuff that goes on here…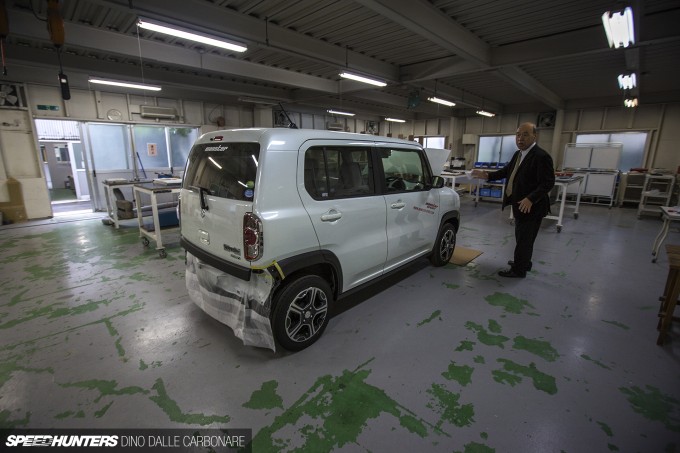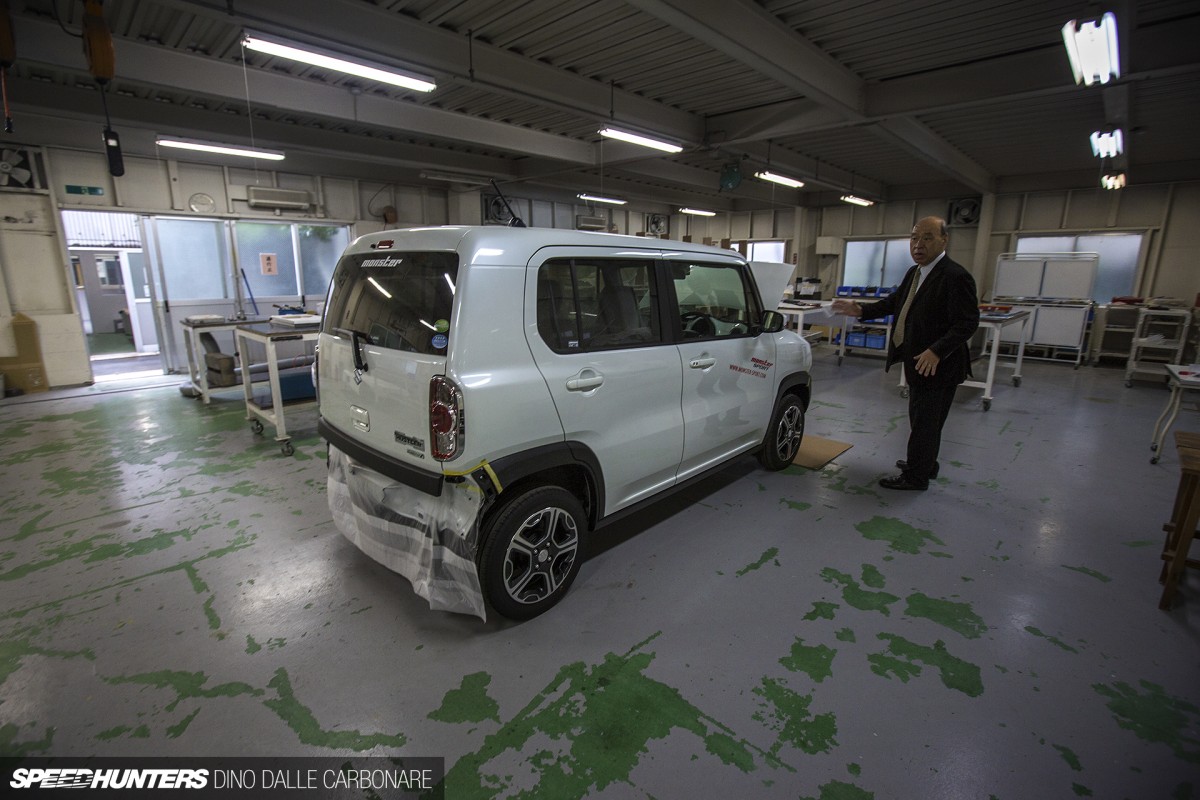 Since Tajima is now the owner of the Suzuki Sports brand, the facility is also the place where aero parts for regular Suzuki cars are developed. This is the courageously-named Suzuki Hustler kei van, and it was about to be fitted with some cool new bumpers.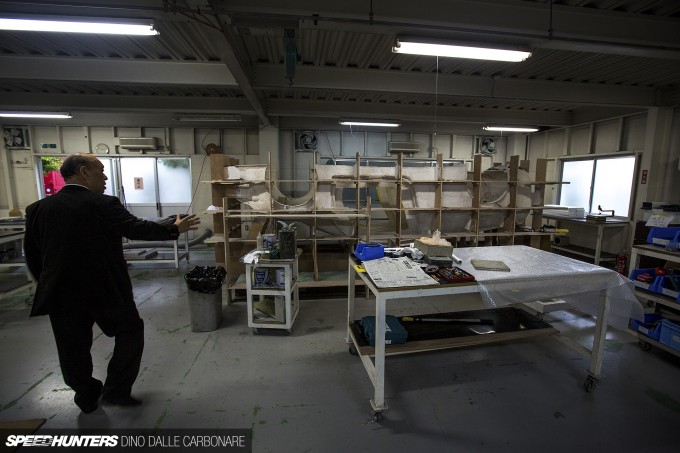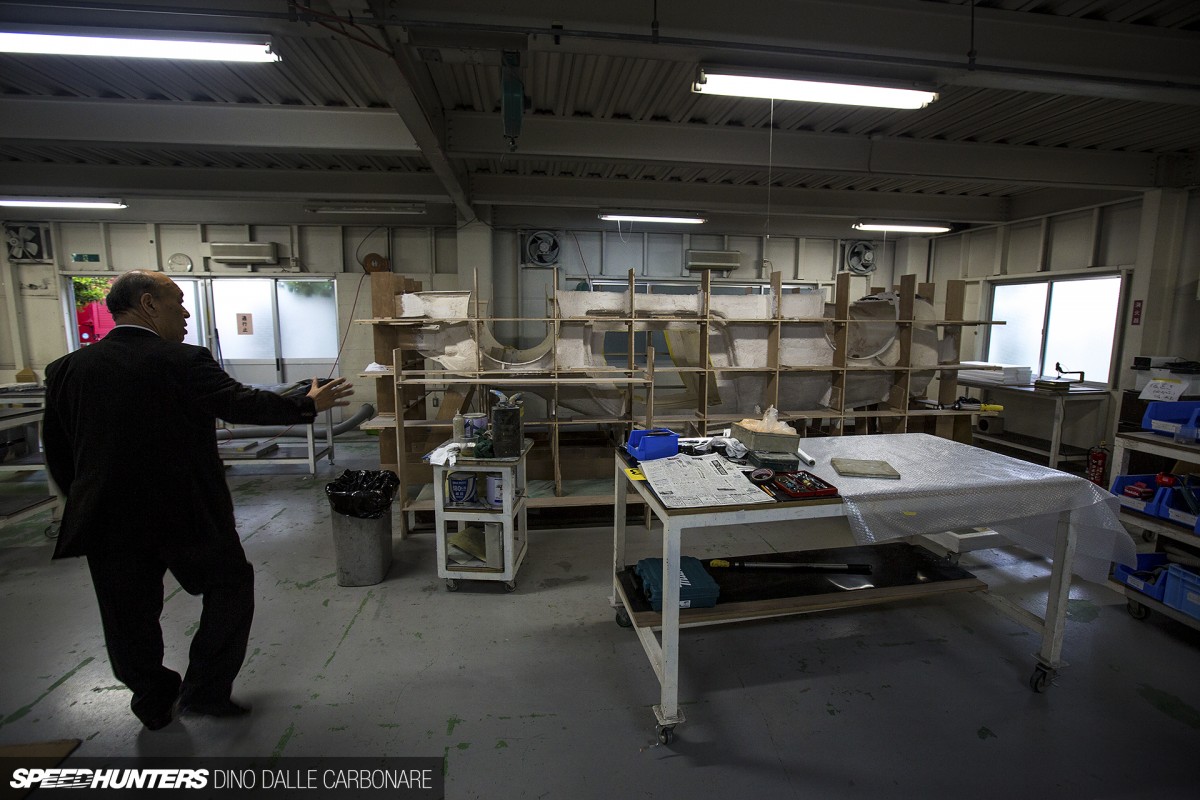 This building is also the place where Tajima's one-off race cars and test cars are shaped in full scale.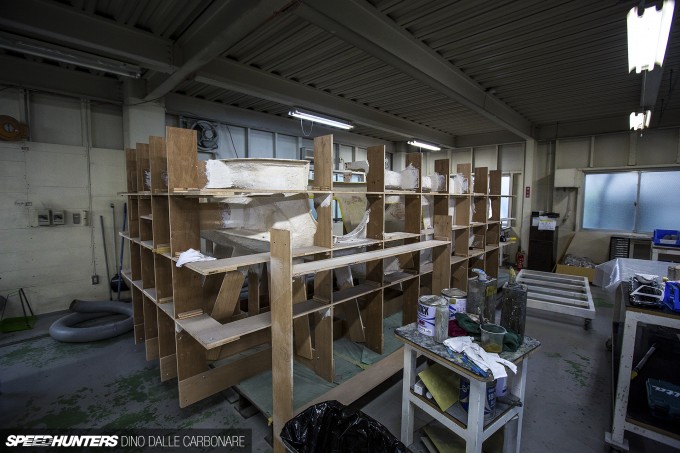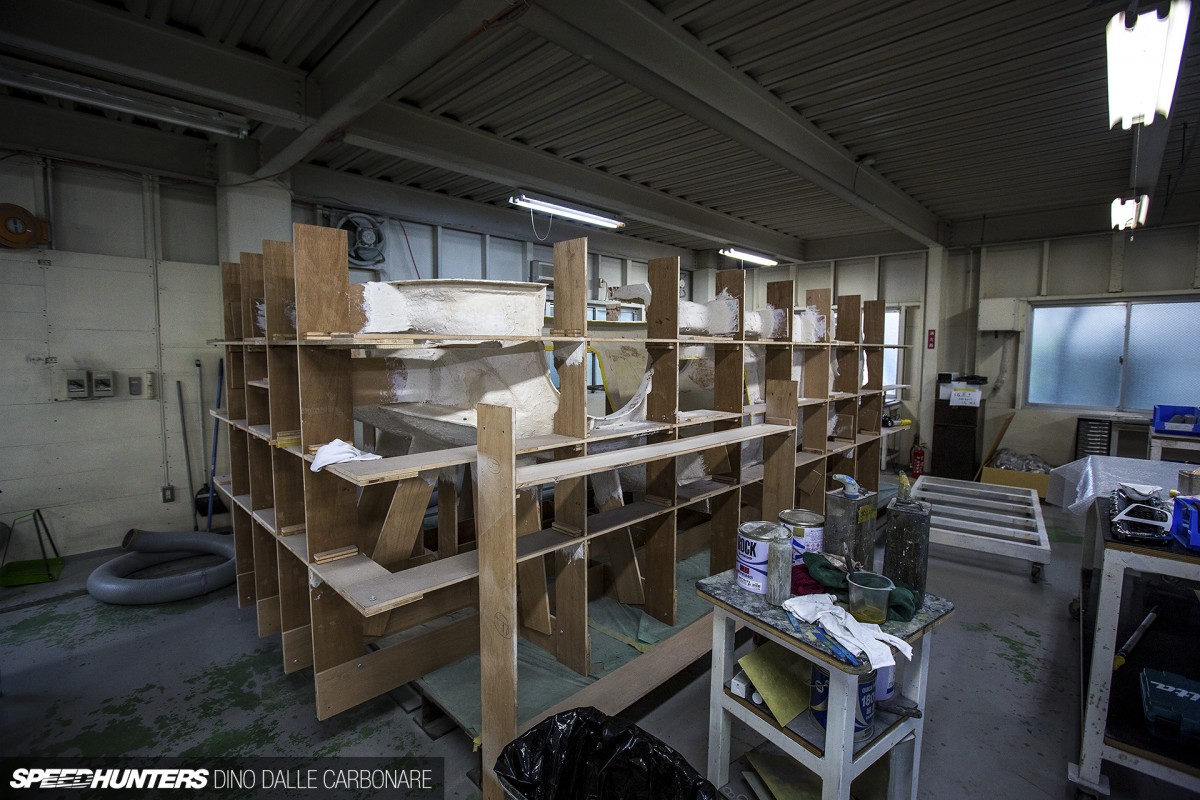 Despite this being quite a secret new car, Tajima-san allowed me to take a few shots of it as he said nobody will ever guess or know what it is. Fair enough!
Composites & The Wind Tunnel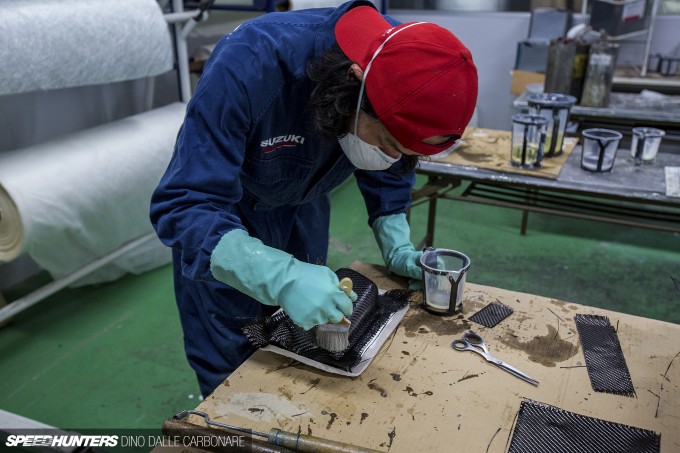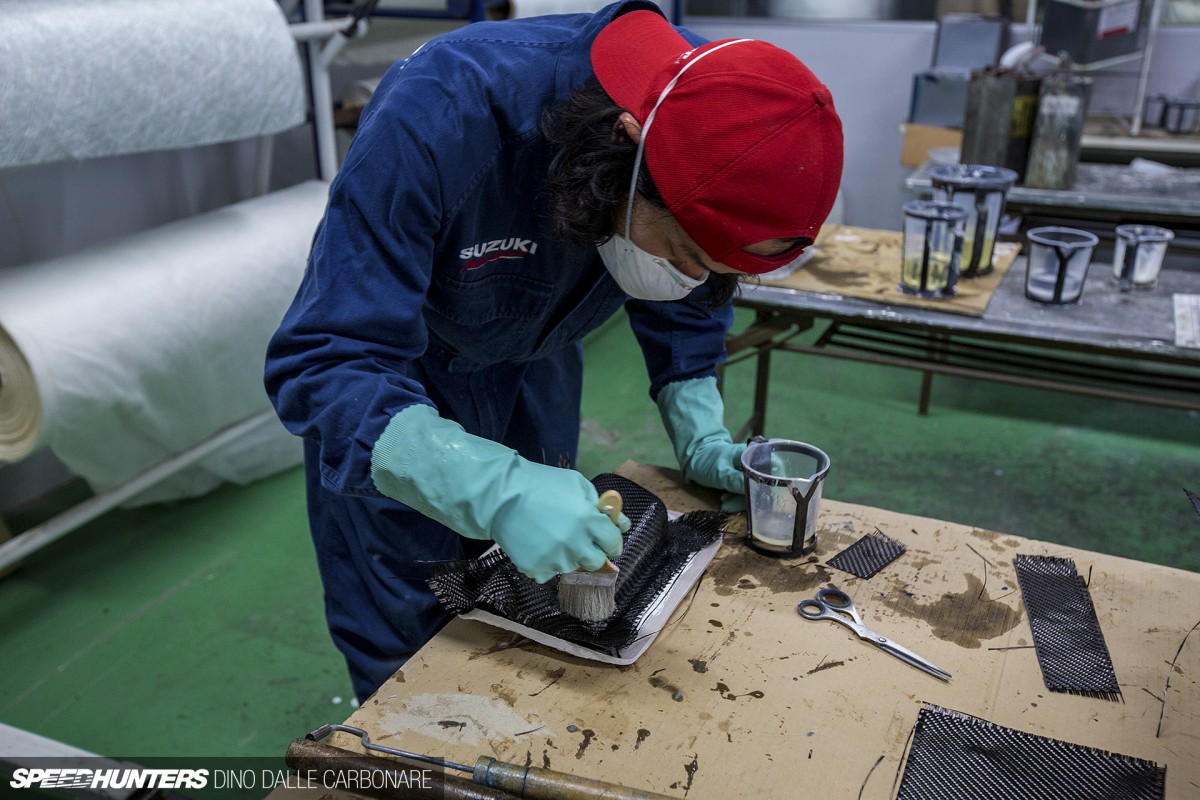 The next step over is dedicated to composites, where carbon fiber parts are meticulously prepared around their moulds. As we saw with the Escudo which was created back in the '90s, carbon fiber has been at the center of all of Monster Sport's race cars for a long time; keeping that weight off and allowing the technicians to create custom aerodynamic pieces and complex air intakes and shrouds.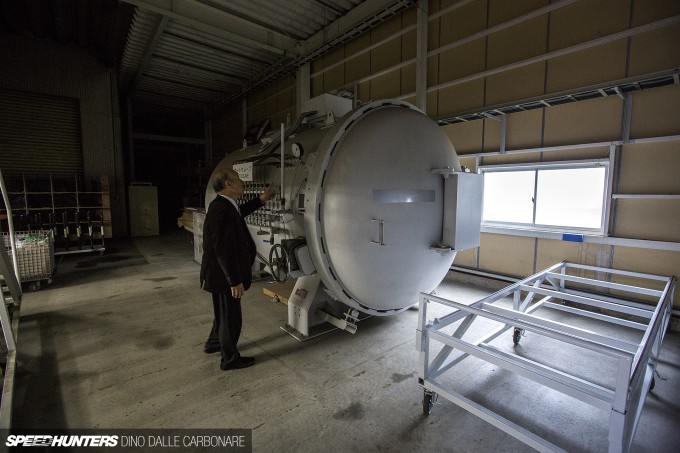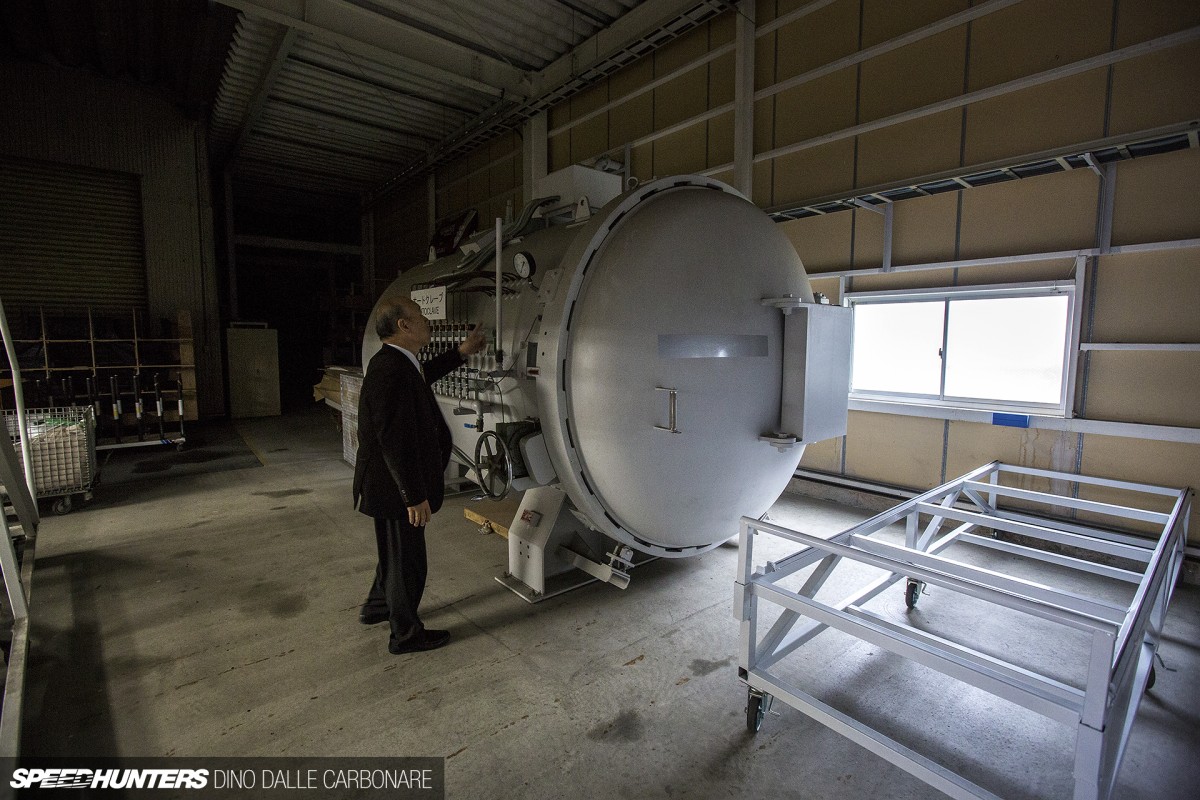 After all the pre-preg carbon is laid onto moulds it's vacuum sealed in special bags and pressure-cooked in one of the few on-site autoclaves.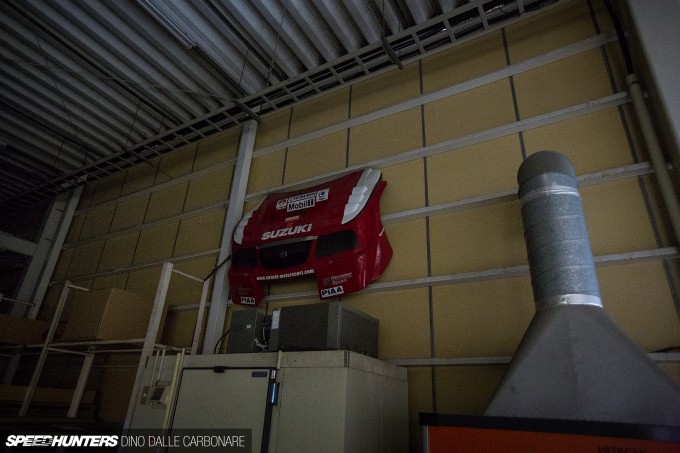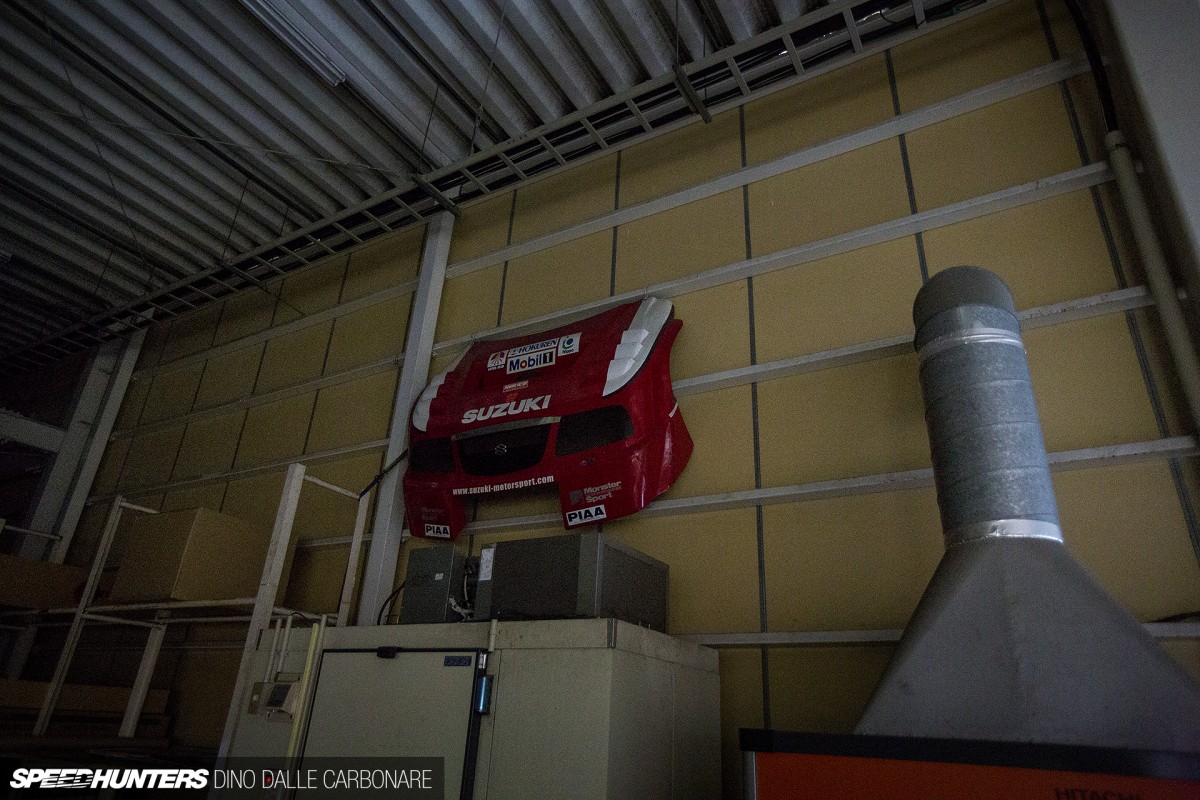 I spotted this most epic of front cowls sitting in the furthest side of the massive warehouse. Can you guys guess what this is from?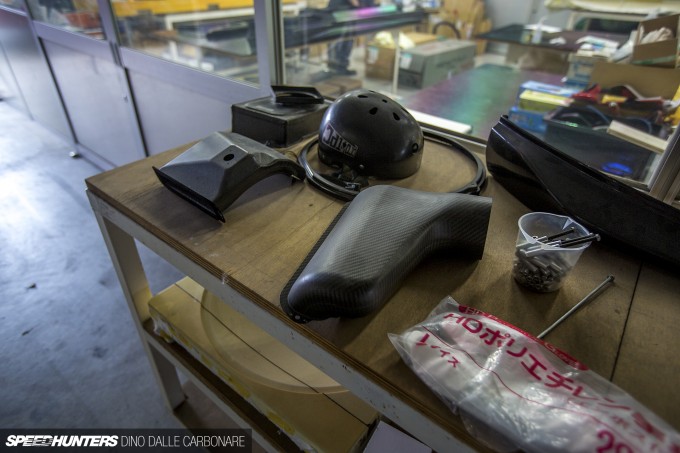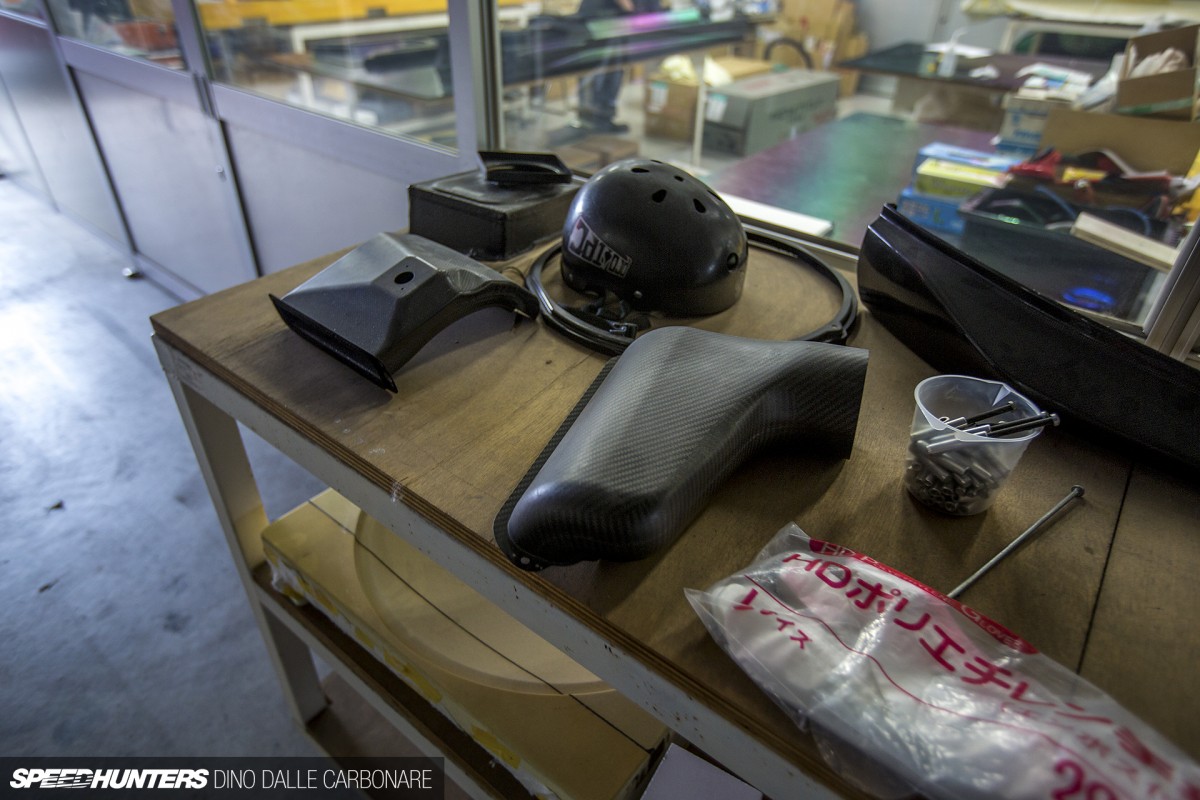 Even after the carbon has been cured and is formed, there is still much work that needs to be done, including removing the pieces from the bags and moulds, cleaning up joint lines, before smoothing and polishing surfaces and so on.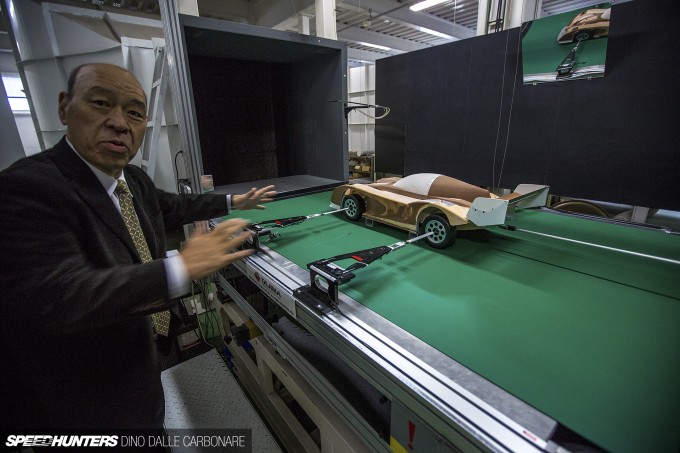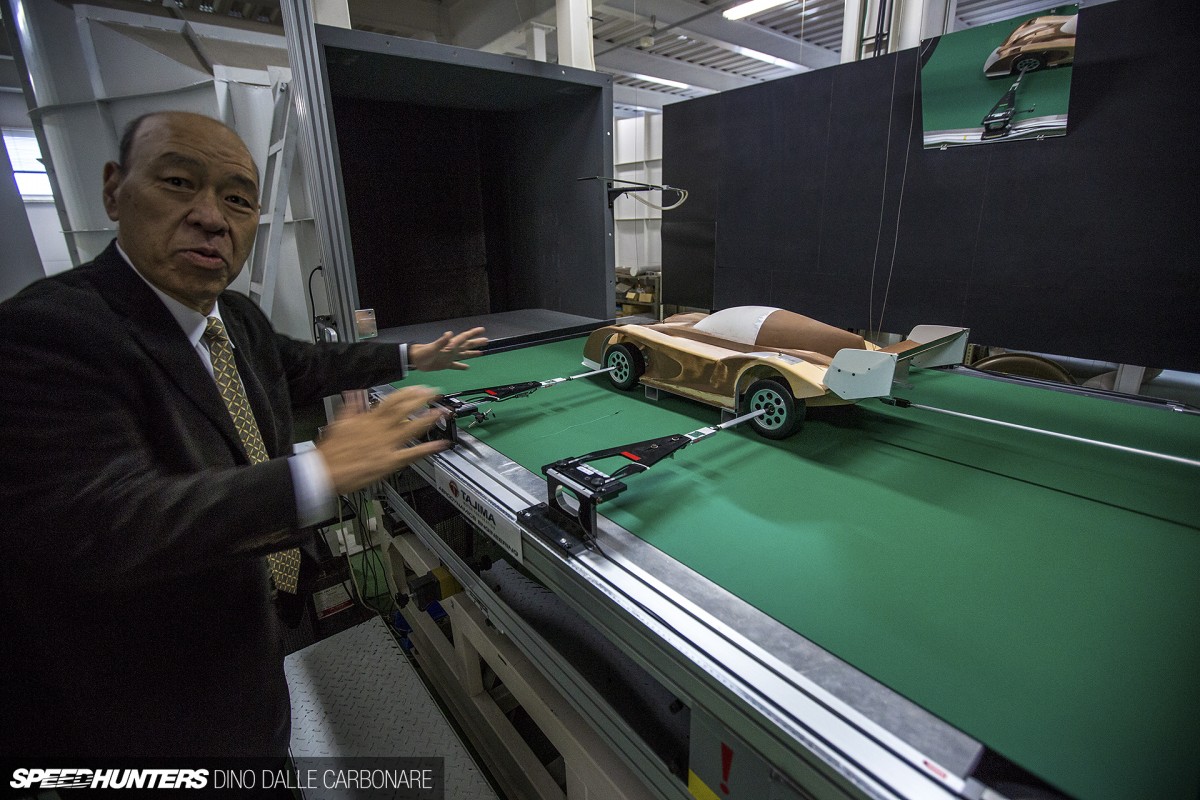 My mind was already blown, but then Tajima-san said, 'Follow me" and took me upstairs in one of the buildings. It turns out that all aero solutions and designs that Monster Sport churns out are developed and fine-tuned in a 1/4th scale wind tunnel.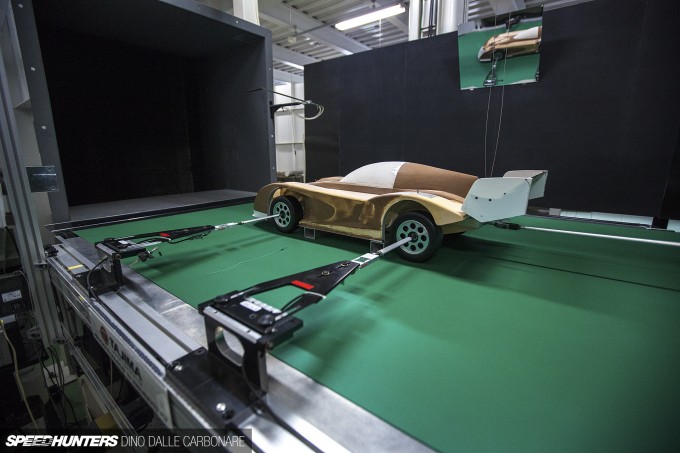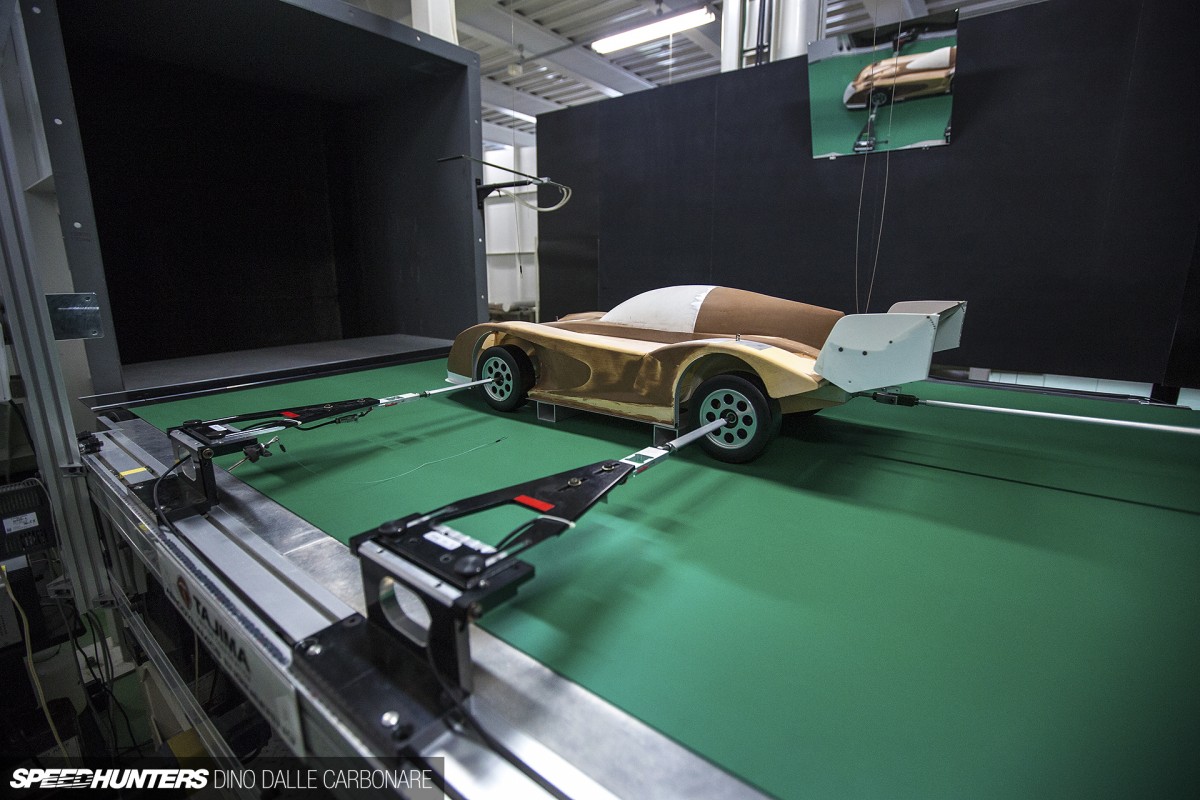 The scaled model is held in place on the movable belt, but what really makes this particular test bed quite unique is that it's able to rotate, meaning that airflow moving over the car when it's sideways can be analysed, and in theory used to some kind of benefit.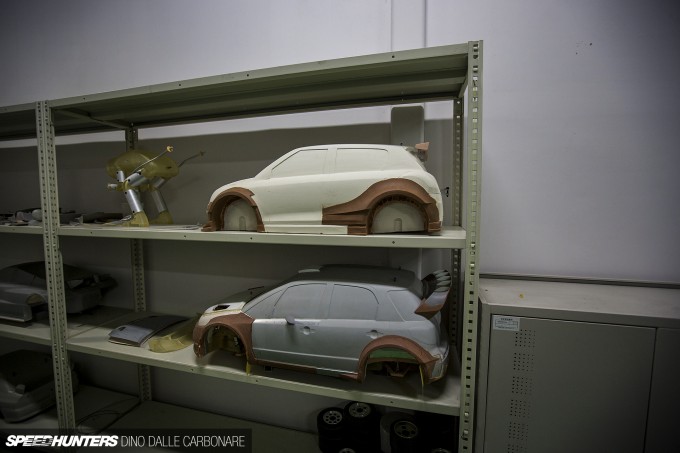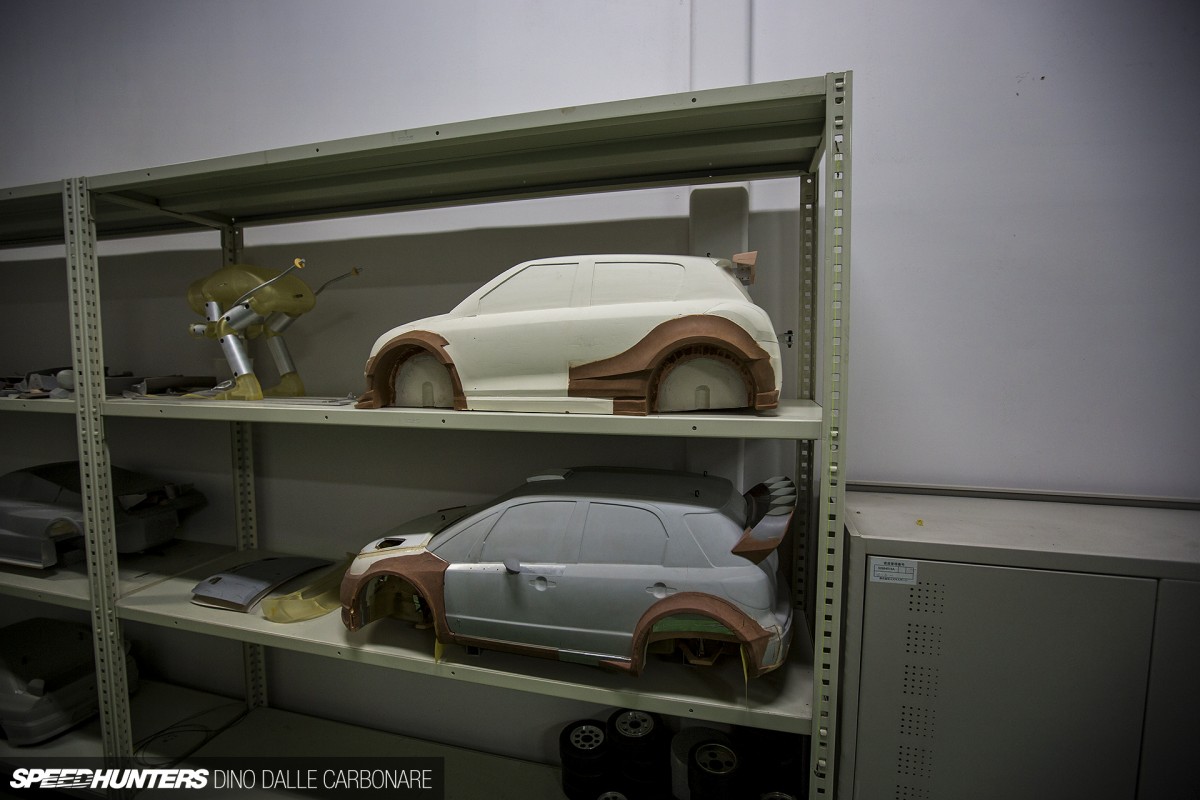 There were plenty of other models on the shelves, like these three and five-door Suzuki Swifts sporting some pretty cool widened fender and wings.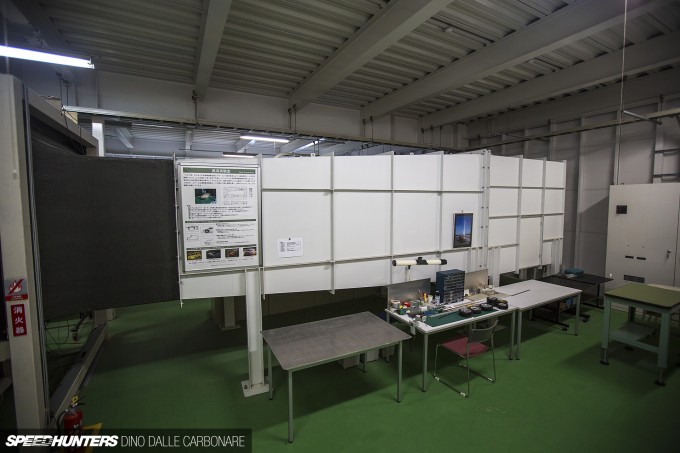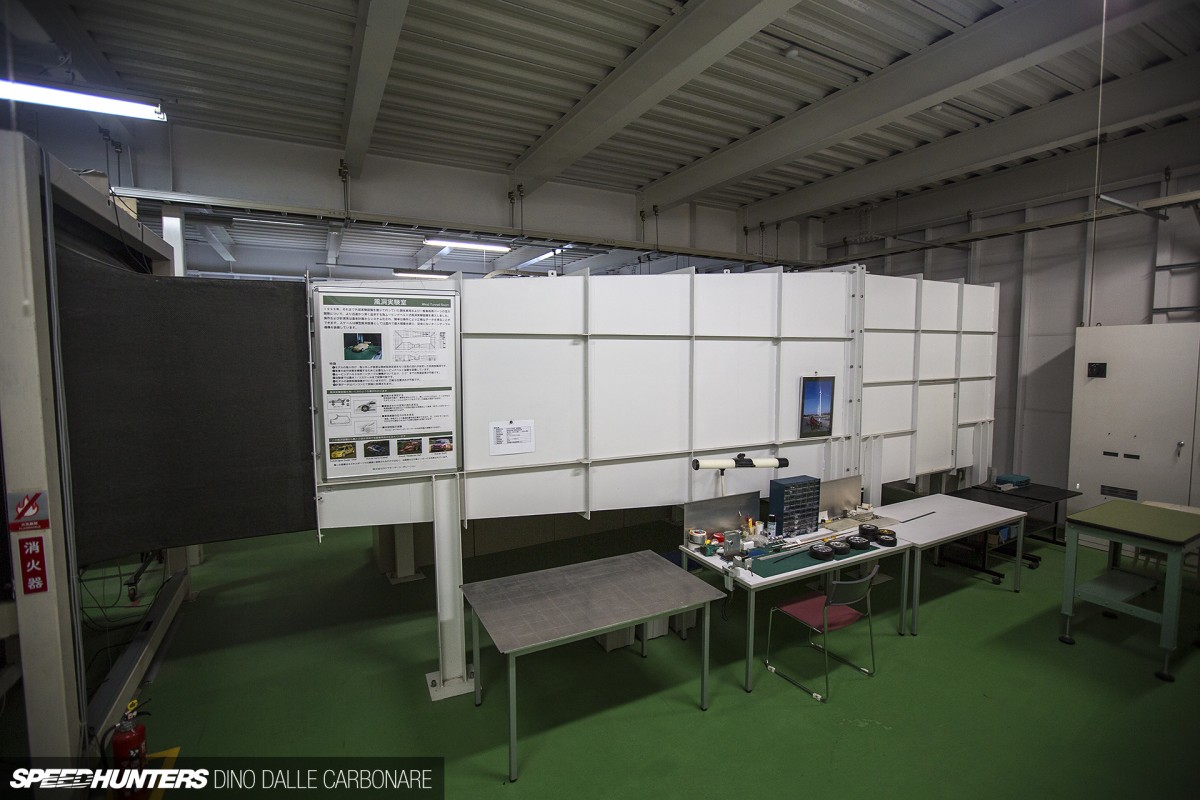 The air is accelerated around a big o-shaped loop that takes up the whole room. Impressed yet?
We Make Everything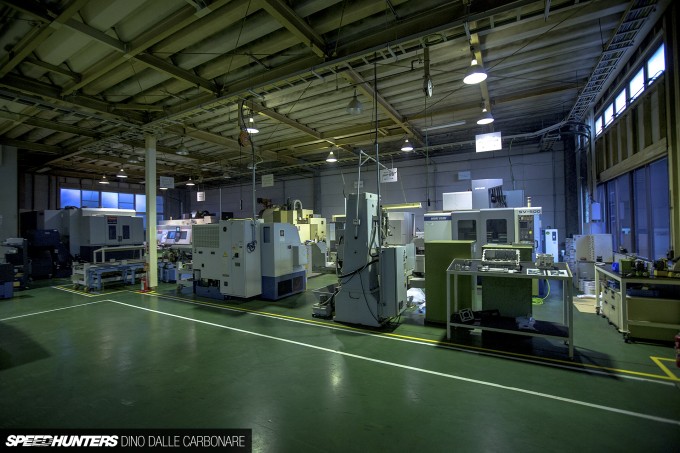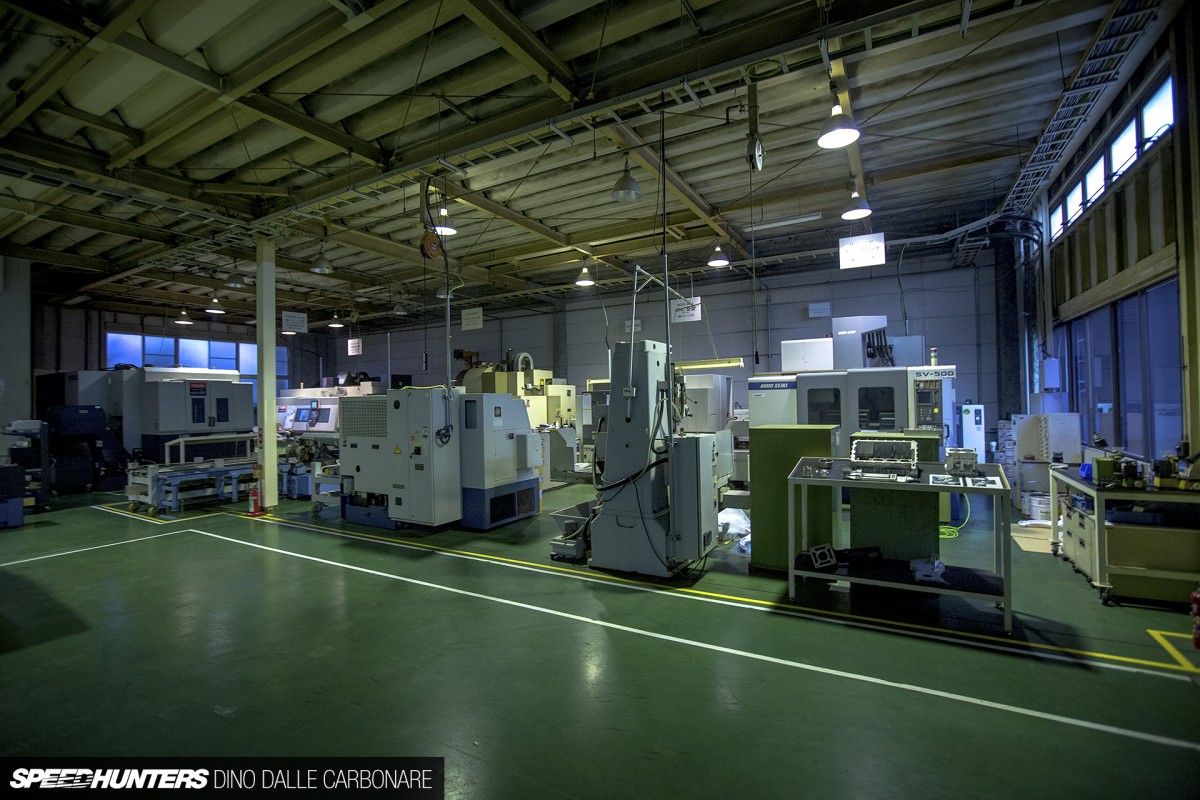 Next stop was the biggest workshop of them all – the machine room. Here, CNC milling machines of all types and sizes are working around the clock to sculpt away at different grades of billet aluminium.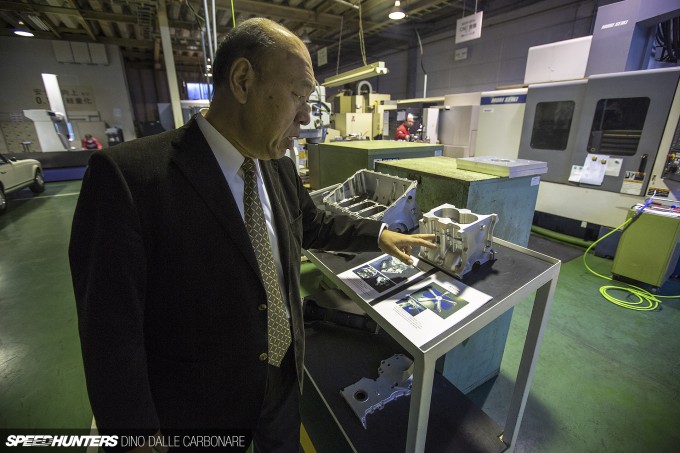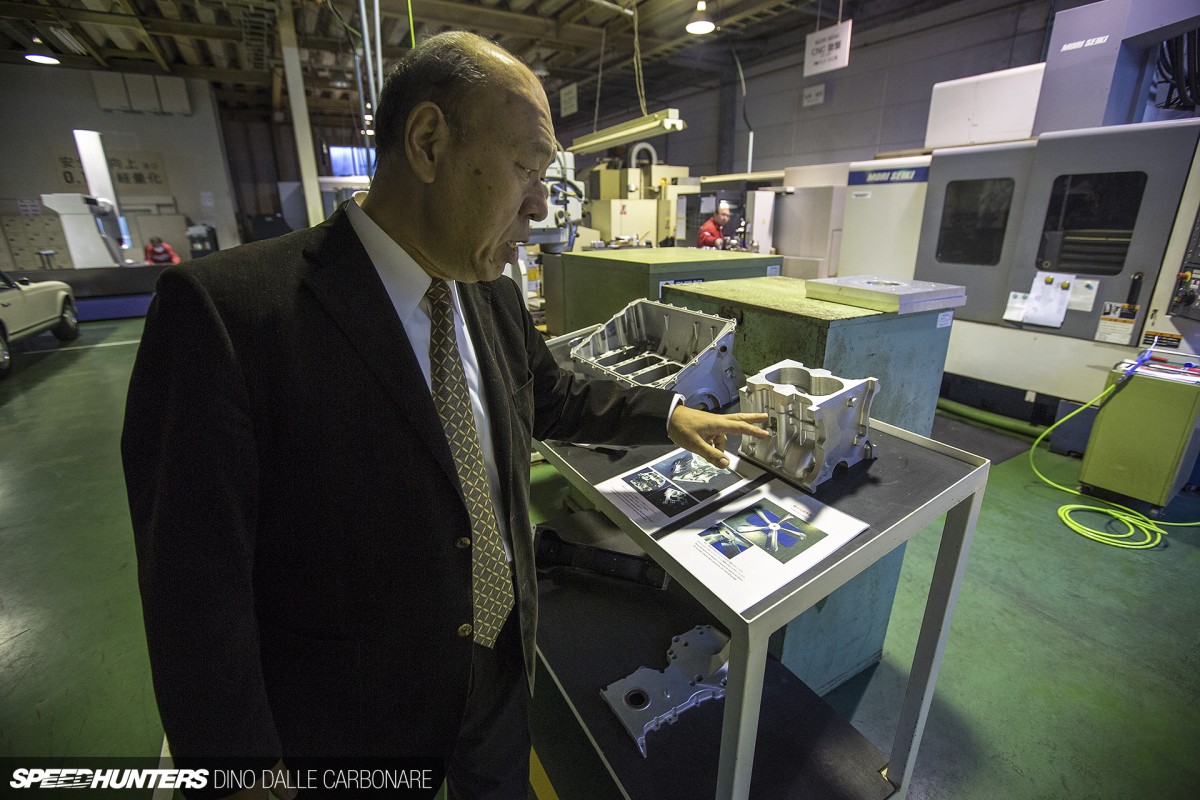 Tajima-san explained that aside from forging, they do every single other thing in-house, which significantly cuts down on development time.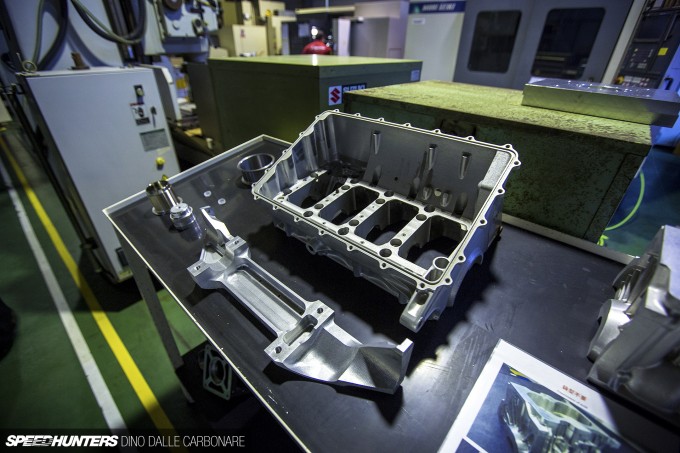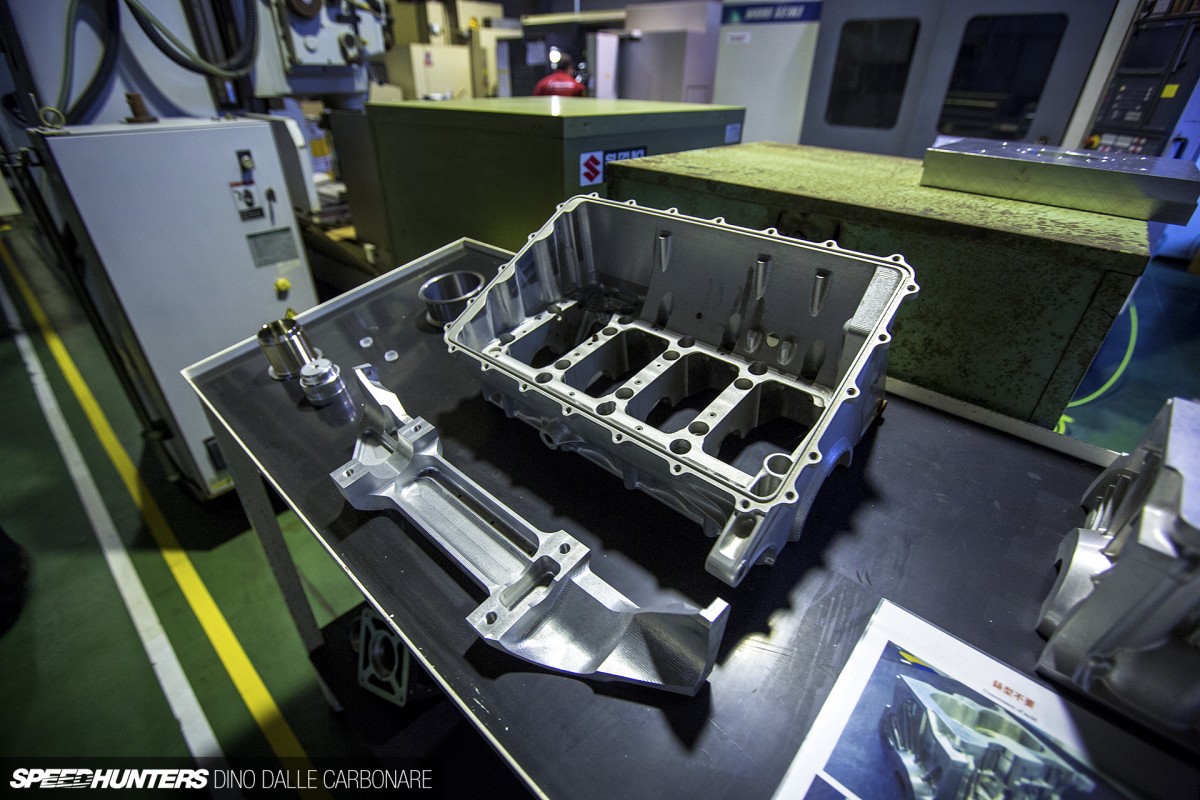 Here are some examples of the sort of things that can be produced – aluminium engine blocks to steering rack brackets and everything else in between.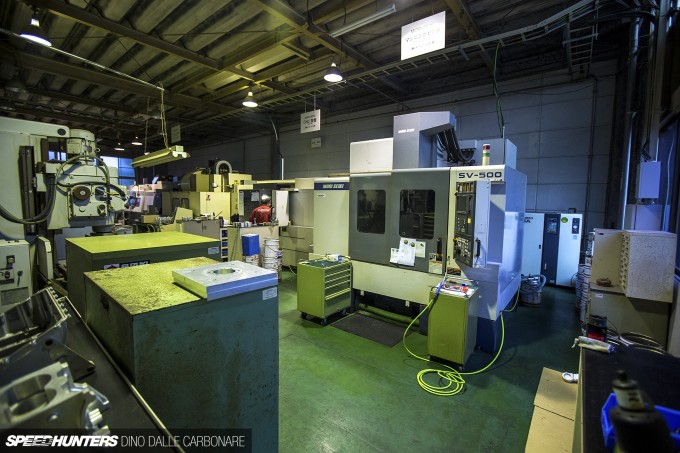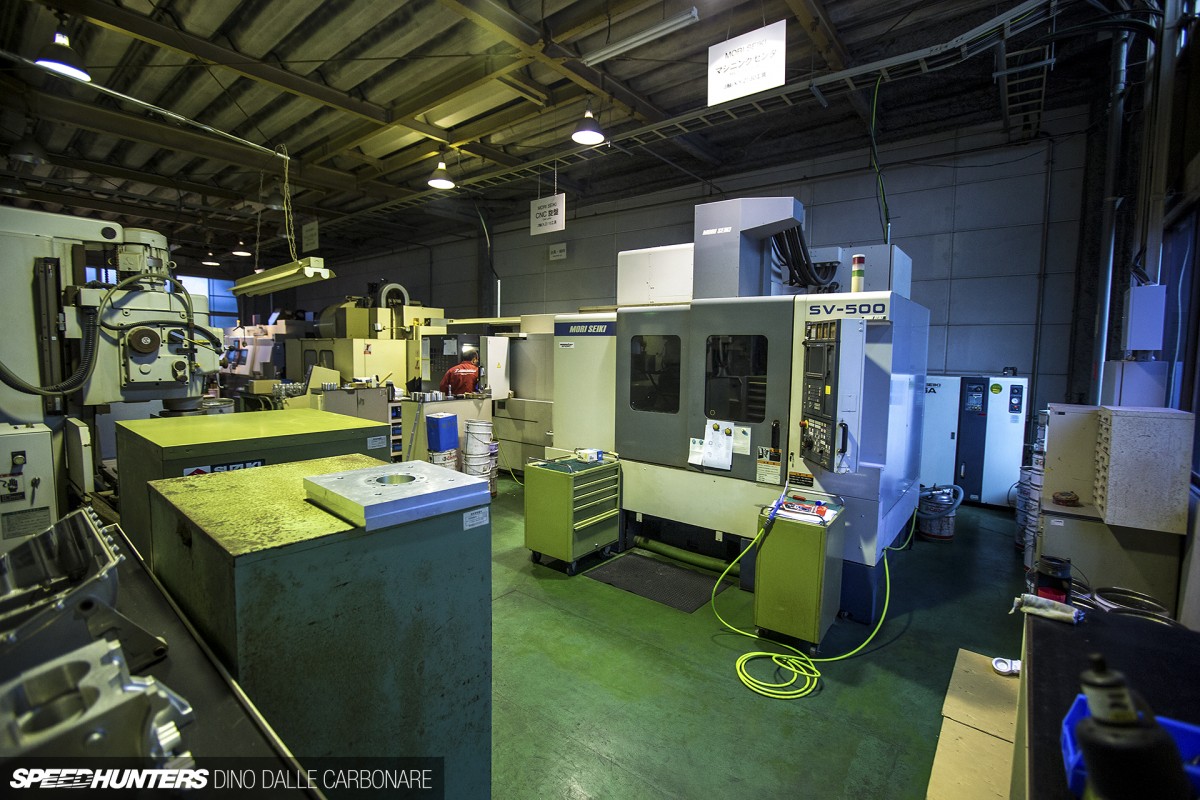 Regardless of the task, there seemed to be a machine for it.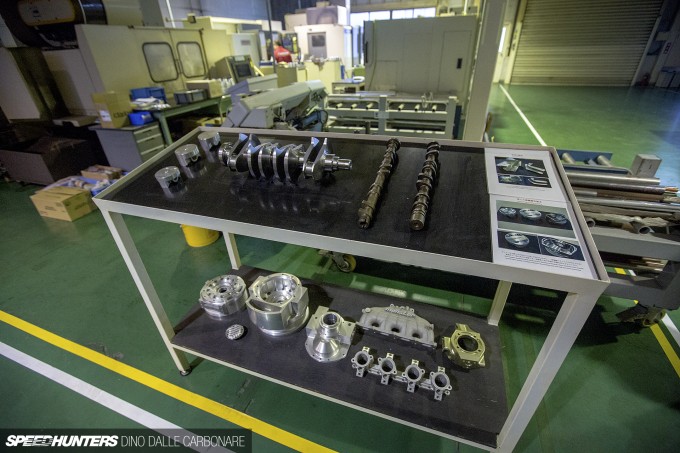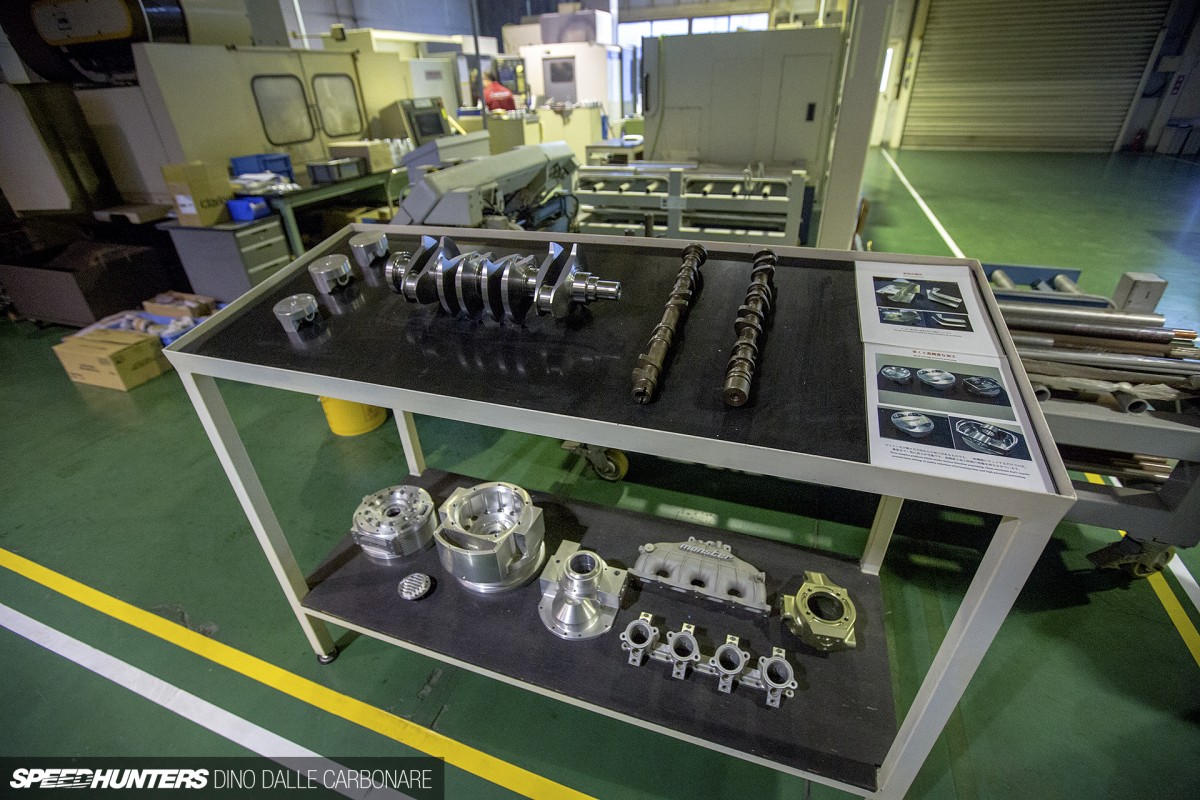 Everything you see on this tray has been manufactured in-house – except for the pistons. Those have been forged elsewhere but have actually been machined and finished up here.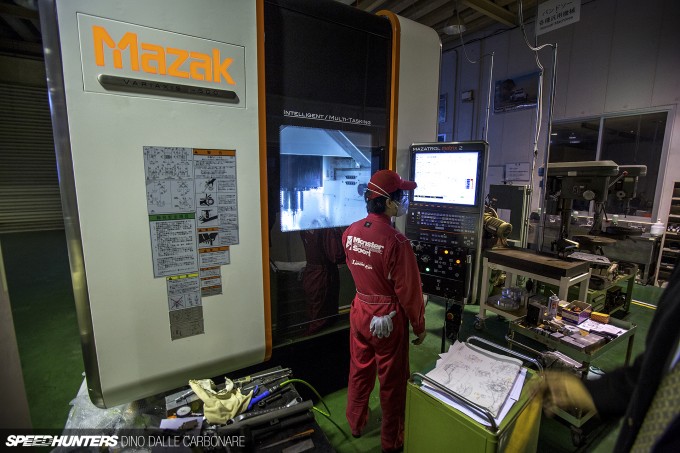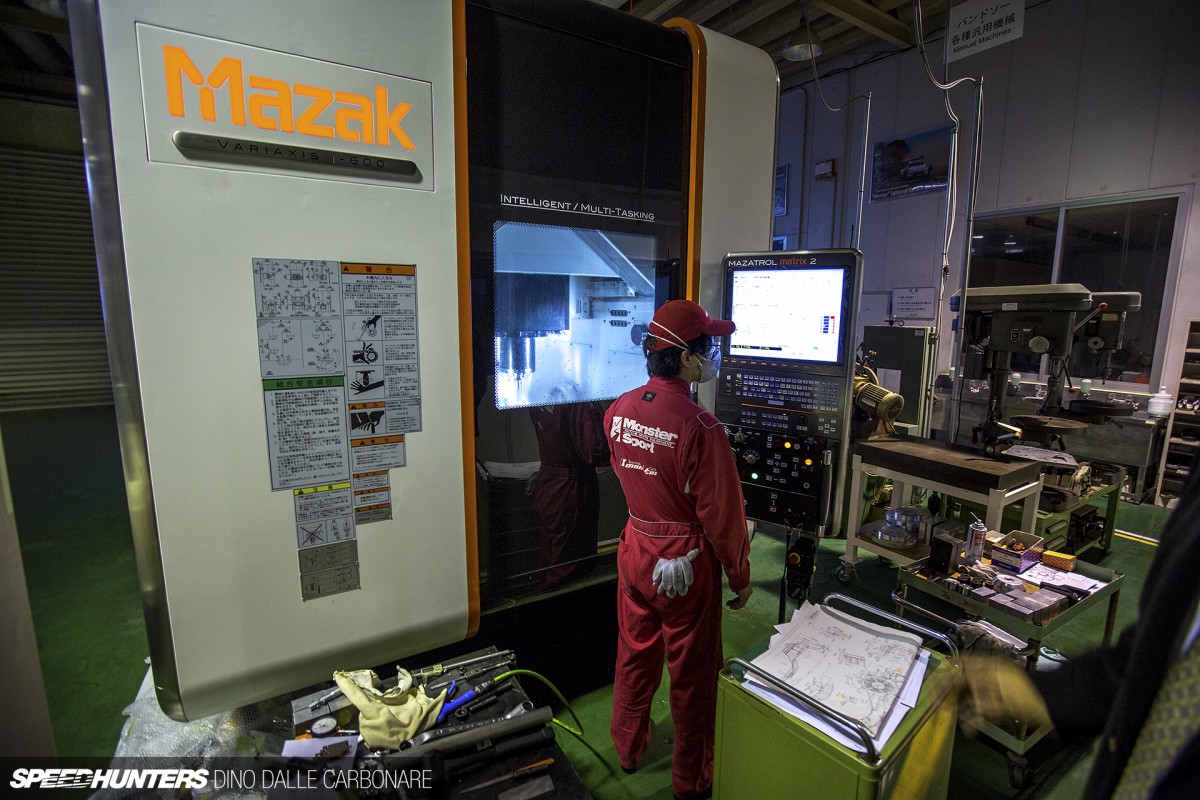 This Mazak five-axis machining beast was at the center of it all – one of many multi-tasking stations that are continuously churning out automotive parts. This is also where all the parts are made for Tajima Motor Corporation – Tajima-san's own car brand which specialises in electric technology.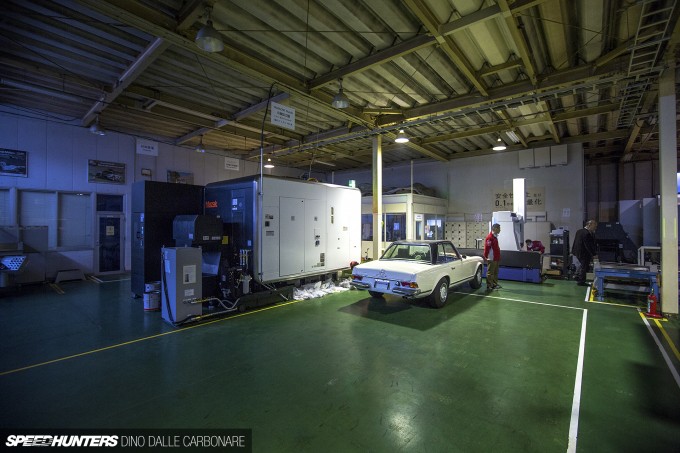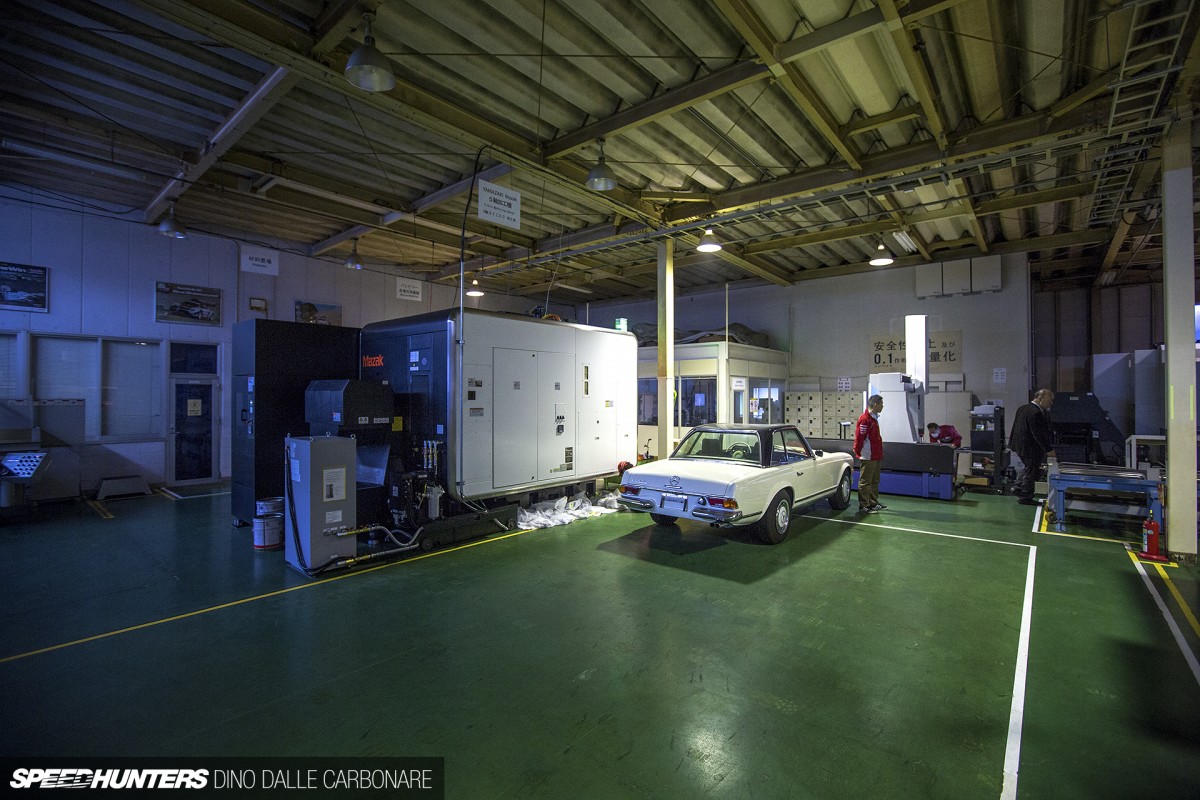 On our way out I also spotted one of many cool cars that Tajima-san personally owns. Maybe one of these days he'll show me his full private collection, which I've heard is home to an incredible array of cars.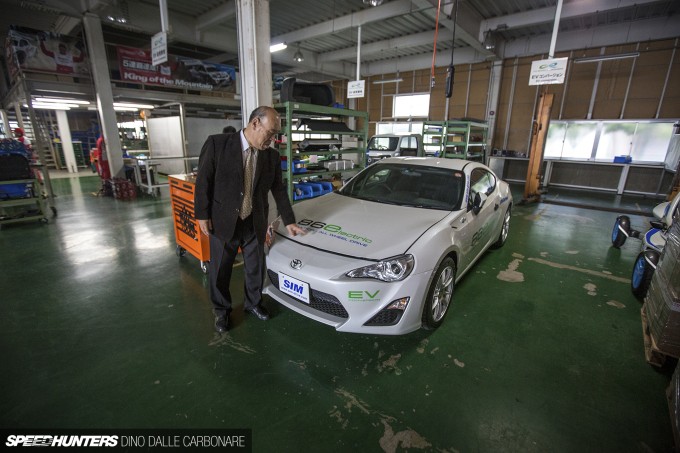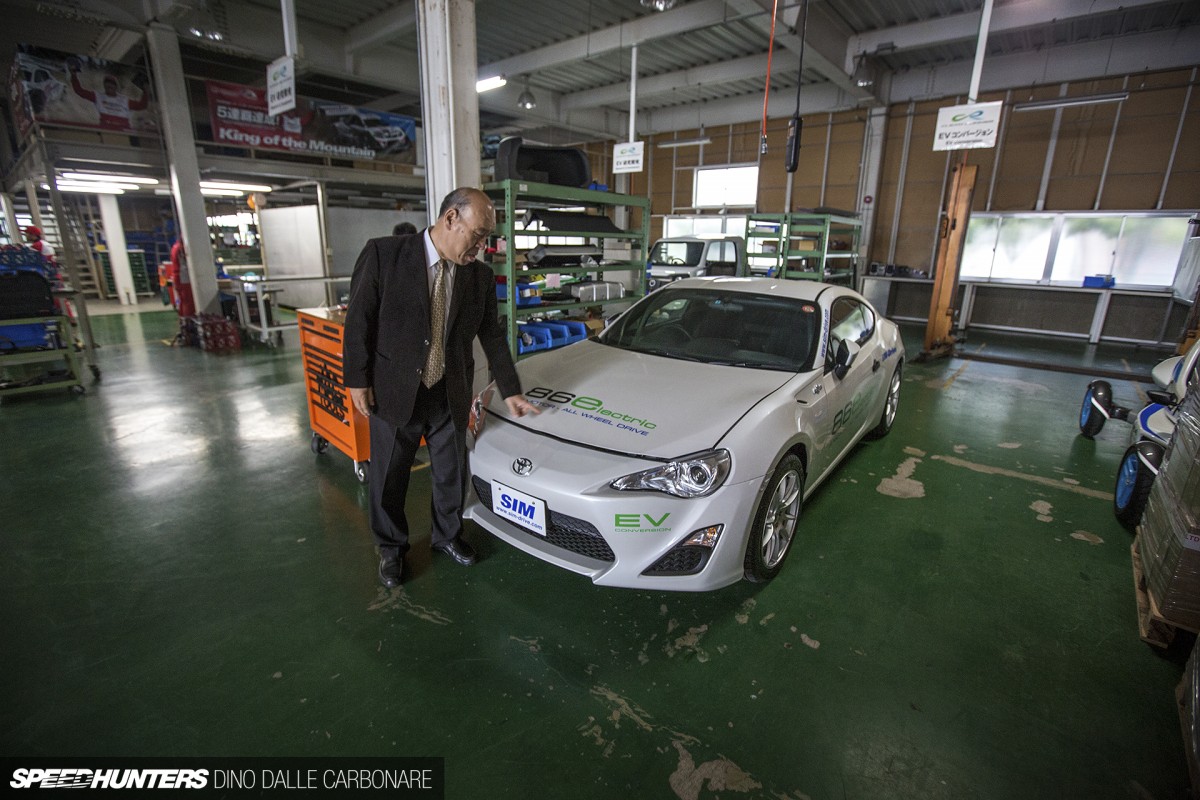 This Toyota 86 is now slightly different than the car that originally came off the production line. As you see from all the decals, it's actually electric-powered and uses in-wheel motors on all four corners. Yes, an AWD, EV, Toyota 86!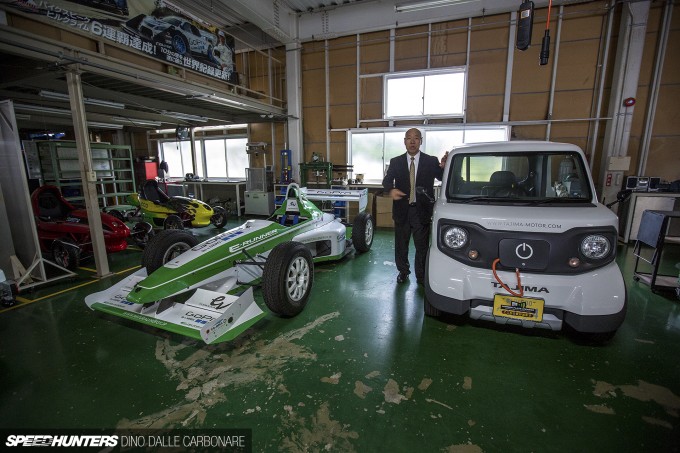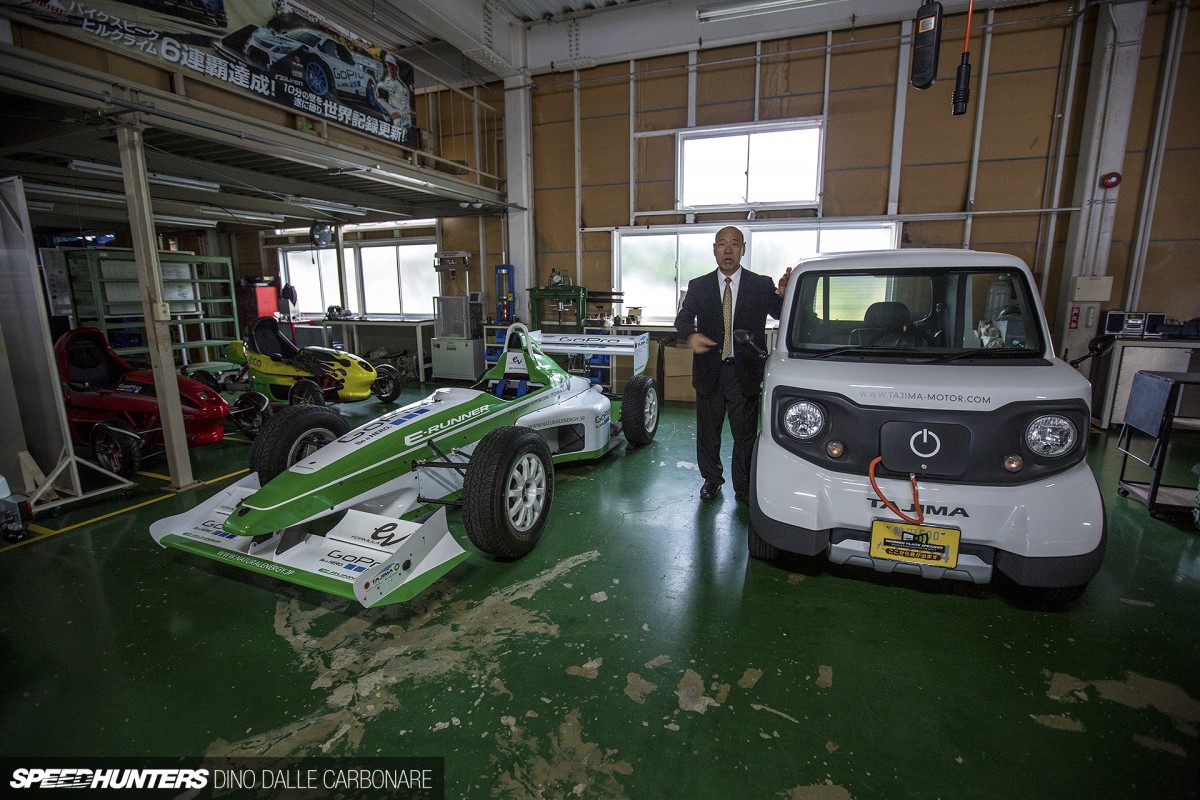 Tajima is currently developing all sorts of electric vehicles for both personal and commercial use, as well as racing.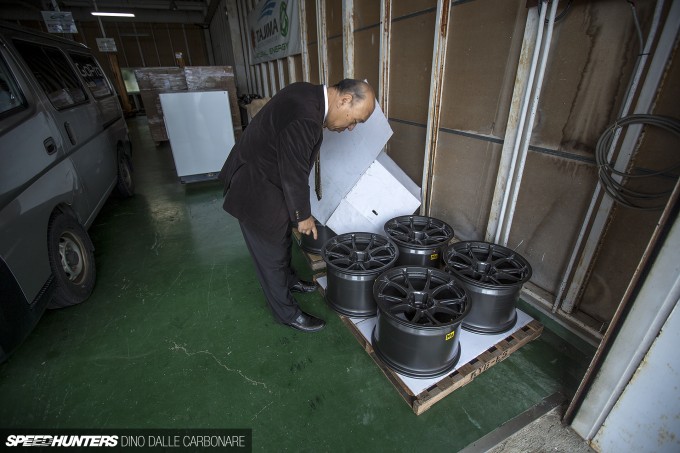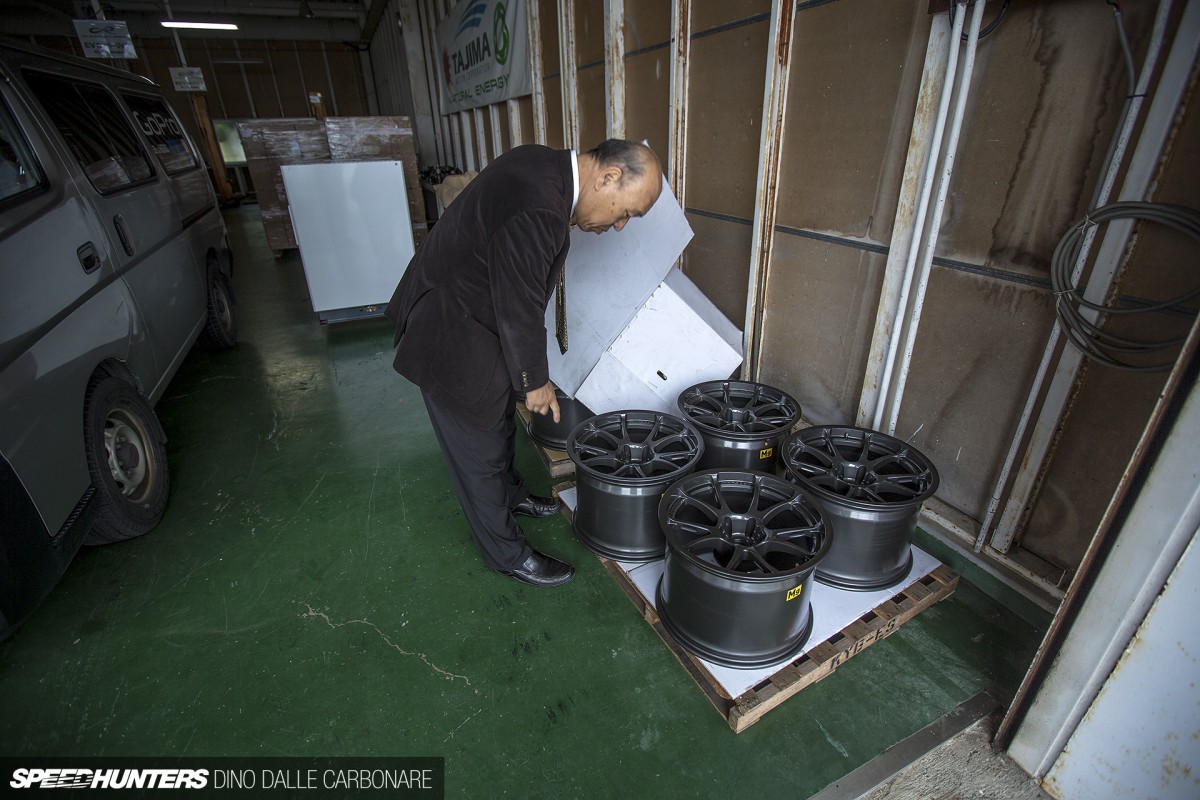 As we were leaving the EV area, Tajima quickly showed me a set of custom-made wheels that had just come in from TSW in Osaka. These are for the Pikes Peak e-Runner and sport some pretty monstrous sizes to get the biggest possible width of rubber on them. Grip is everything now that the road is paved all the way to the top.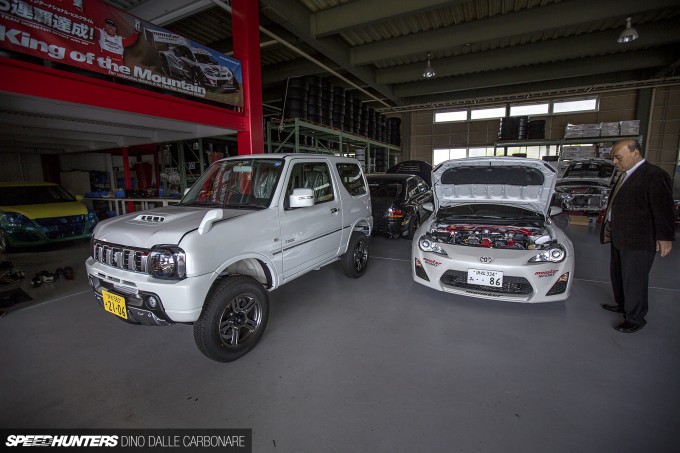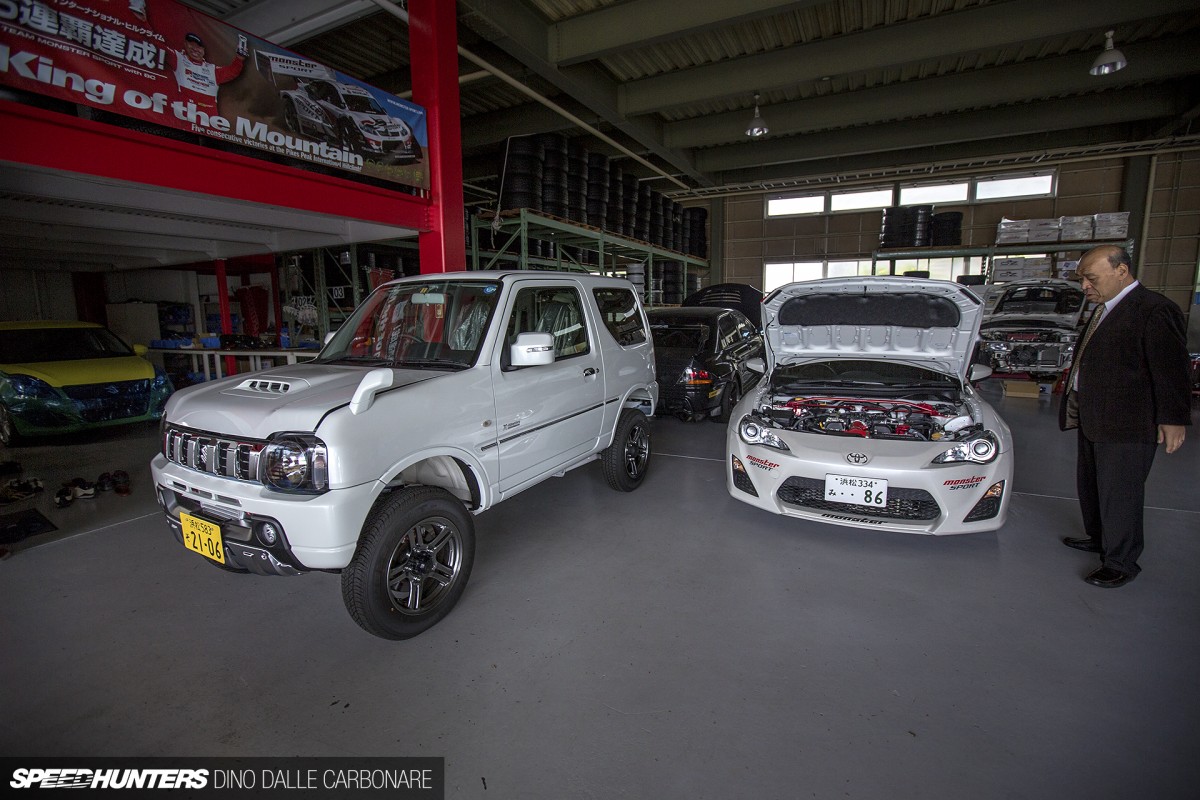 The last stop of the day was the Monster Sport workshop, where demo cars and customer cars are worked on.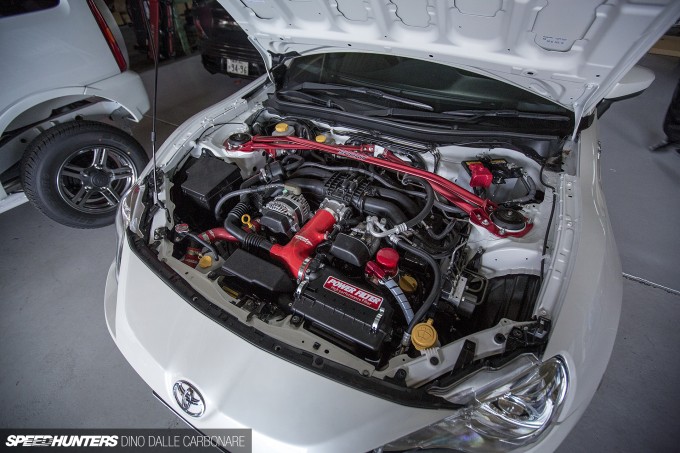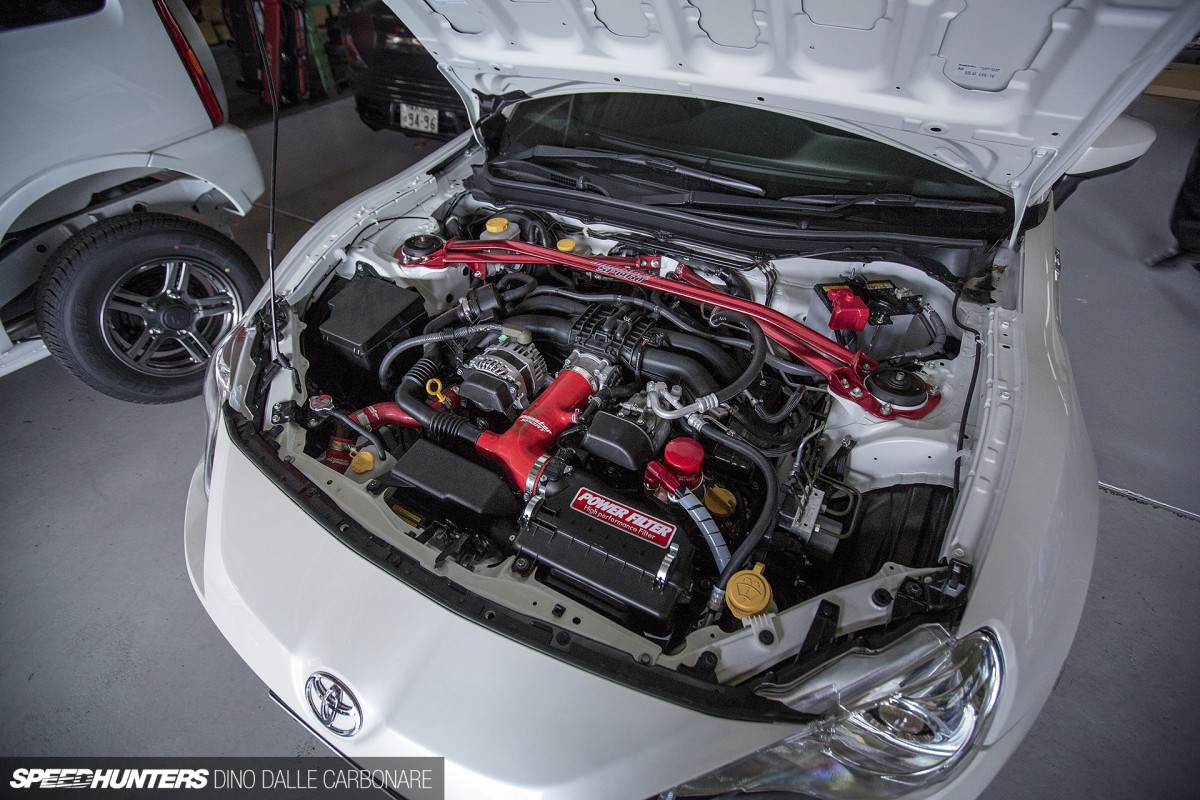 They have been doing a lot of work with the new ZN6 platform – mainly concentrating on handling and driveline improvements with things like shorter first and second gears, upgraded clutches and Öhlins-based damper upgrades.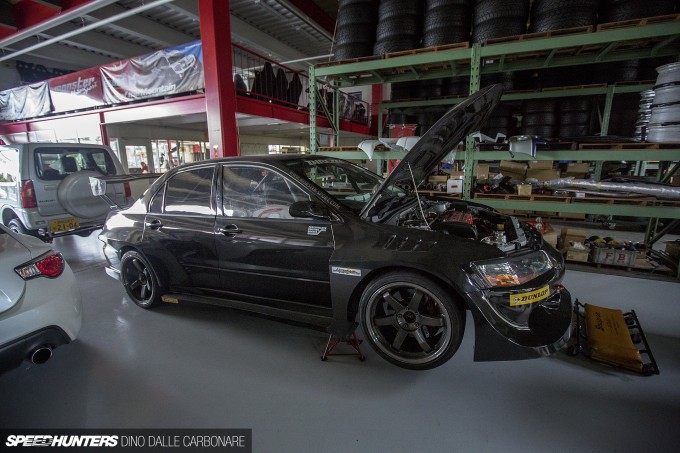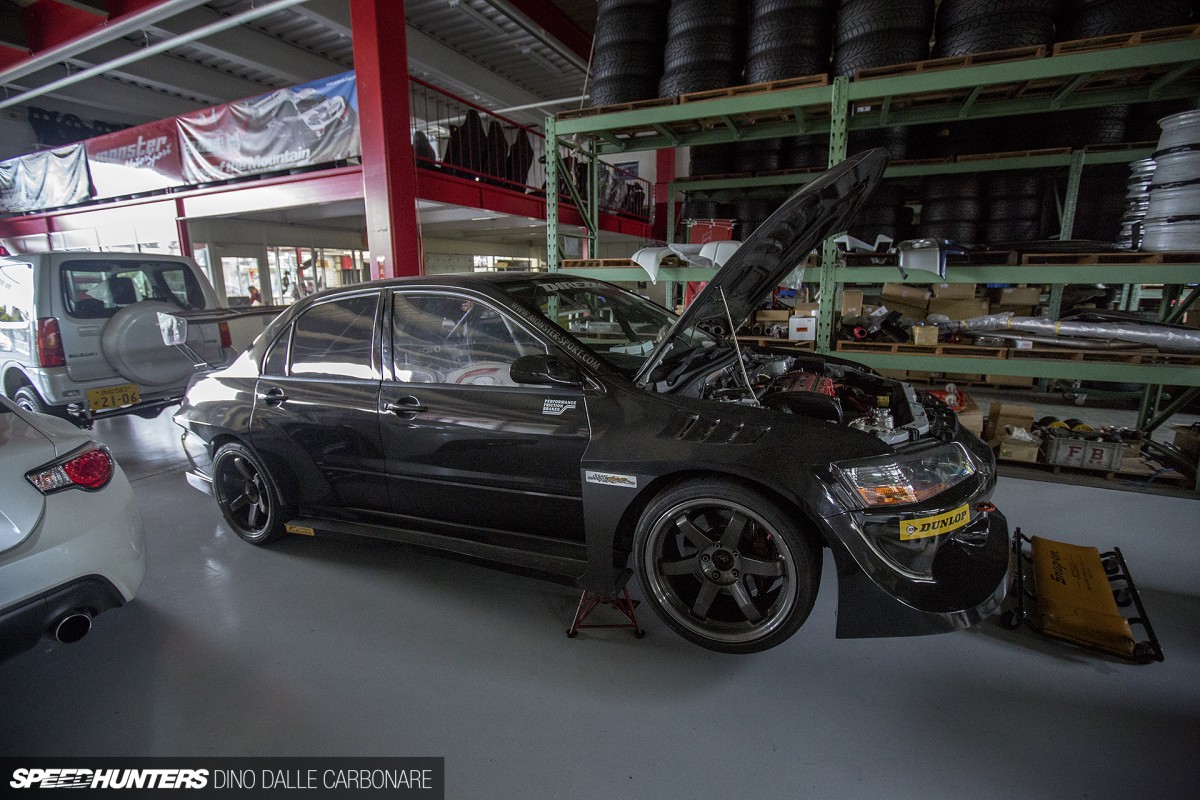 Next to the 86 I spotted another cool demo car – this pretty wild looking wide body Lancer Evo. I really think I should set up camp at Monster Sport to shoot all the cool cars they have!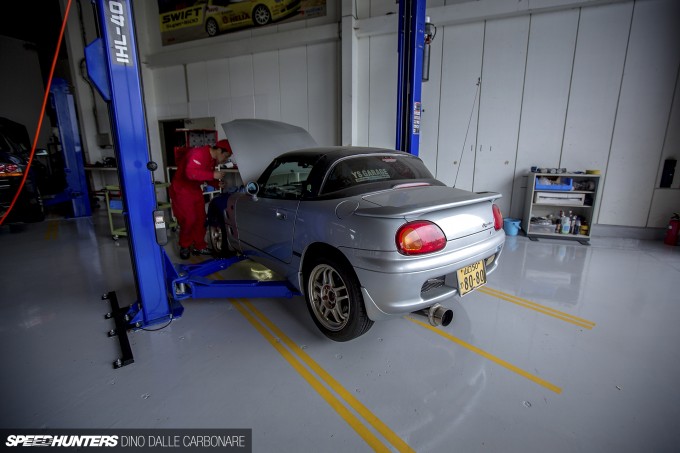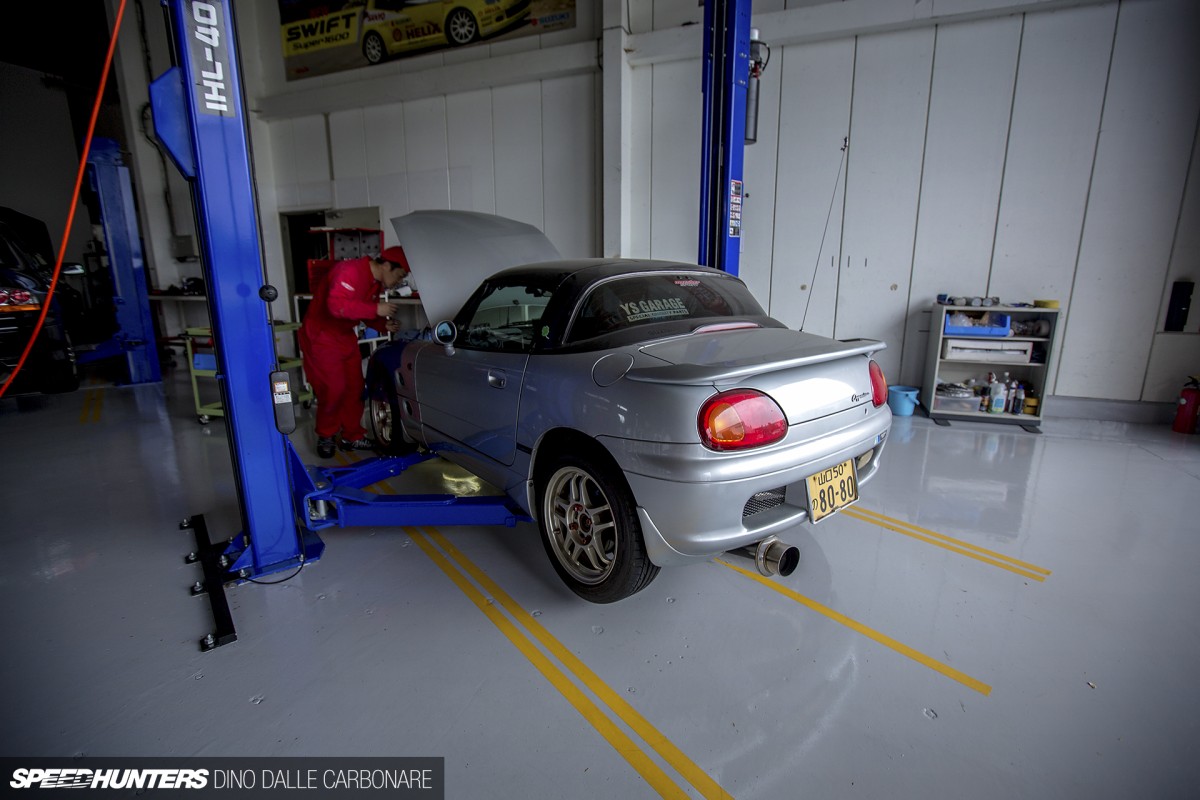 Of course, what would a JDM tuning shop be without the presence of at least one Japan-only model, in this case a Suzuki Cappuccino.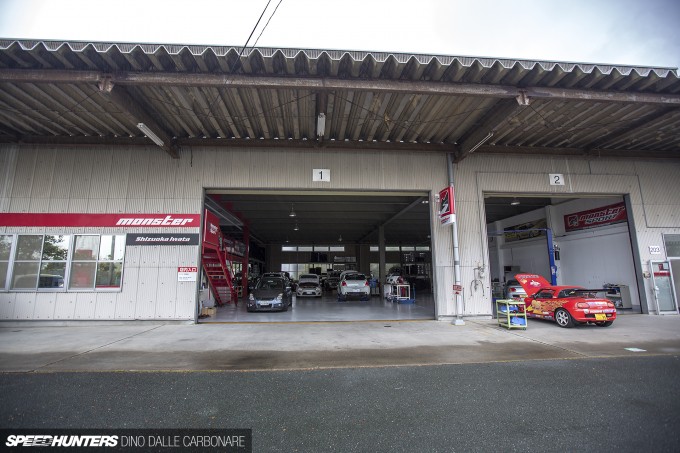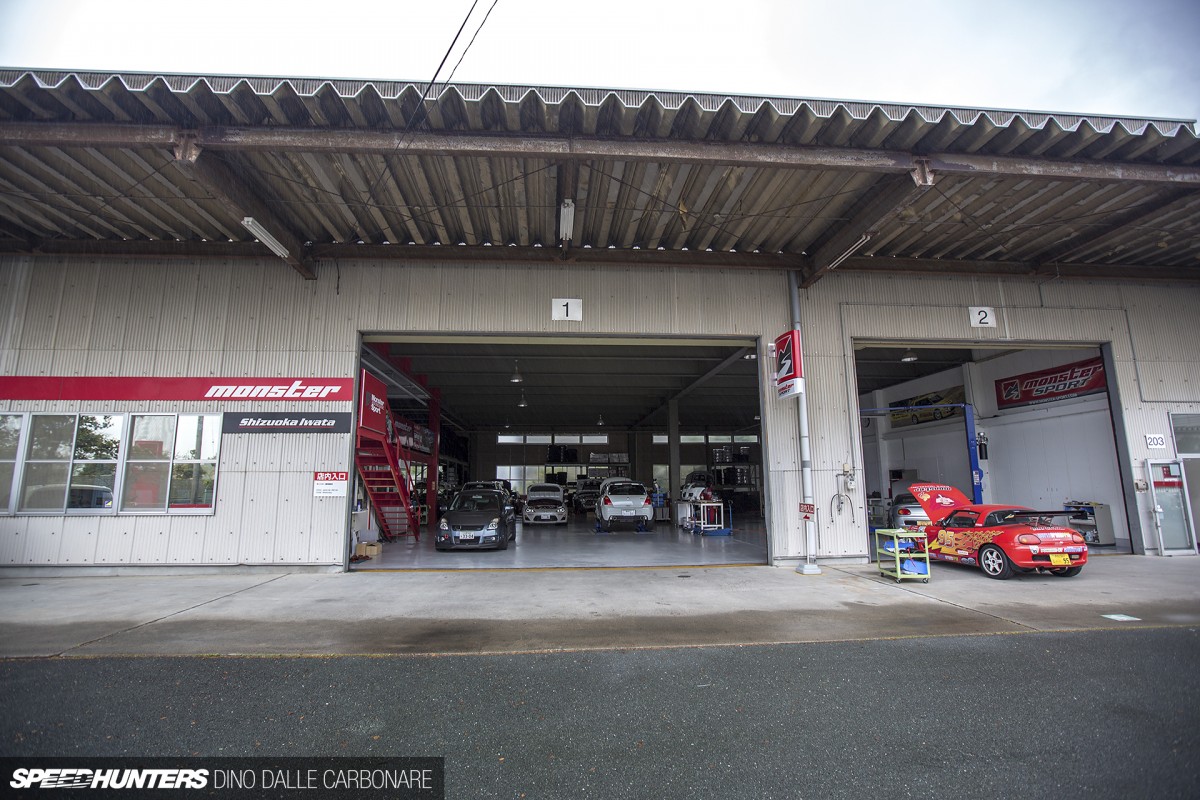 While this shop is the HQ, Monster Sport has another two shops located in the Tokyo area. Tajima-san also owns and manages Peugeot, Citroën and Suzuki dealerships around the country, as well as the most successful Porsche dealership in Japan, located in Nara.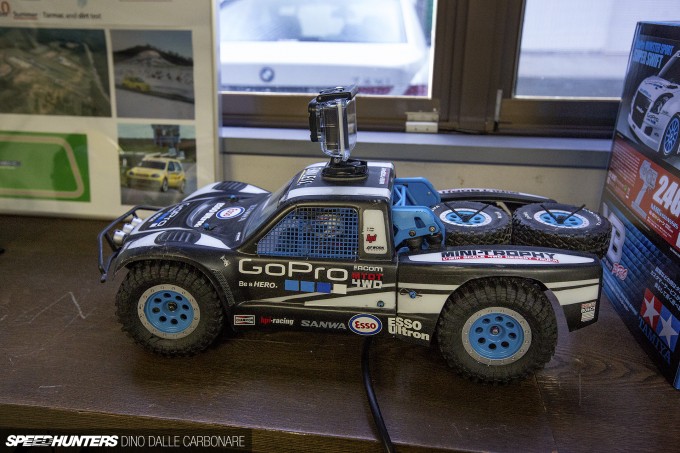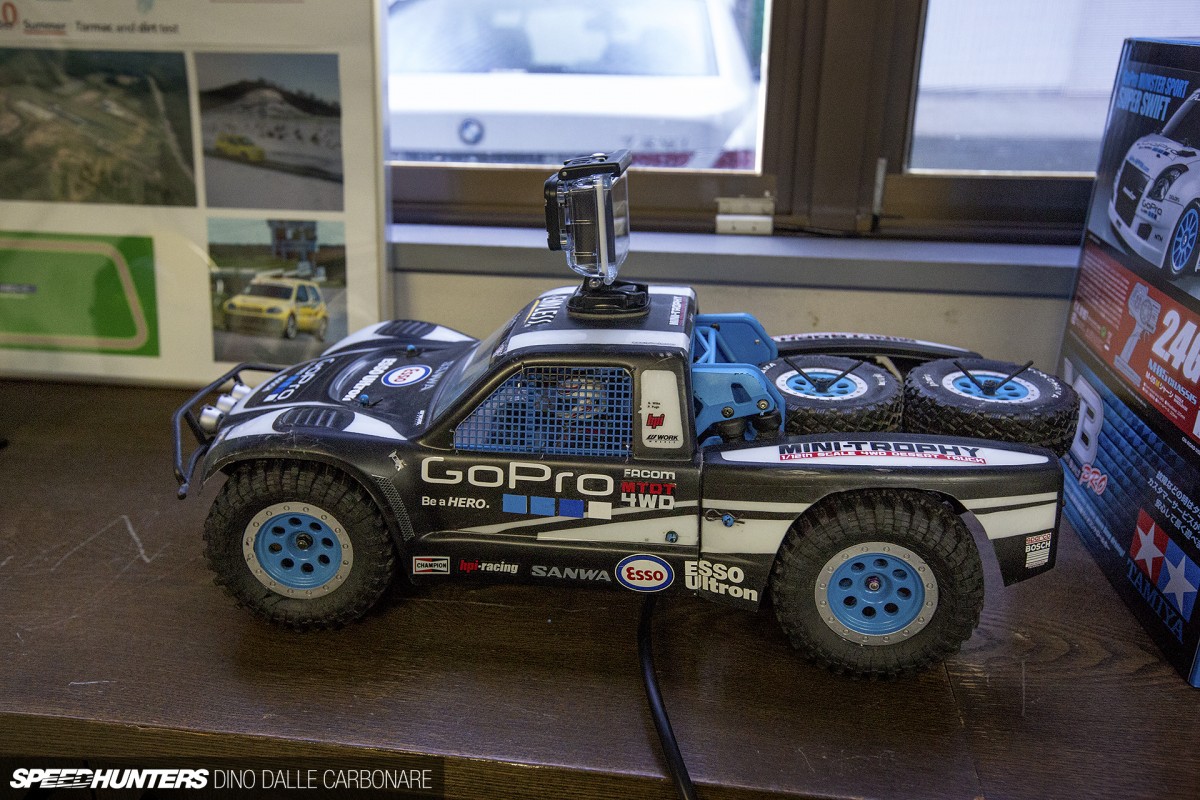 He is also the importer of GoPro cameras in Japan, which is why his office is dotted with cool RC cars like this one fitted with a little roof-mounted camera.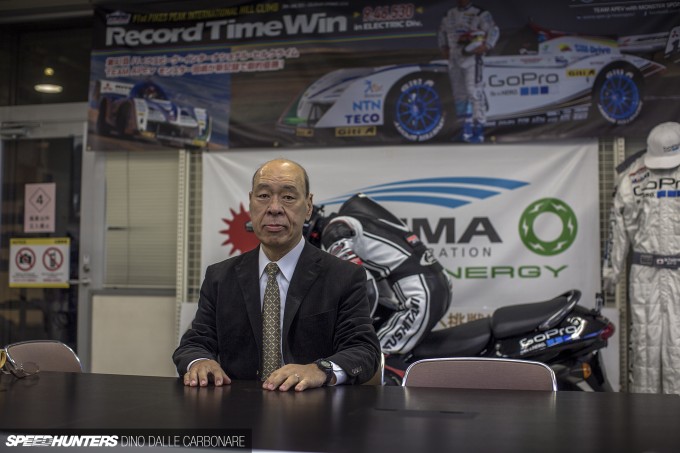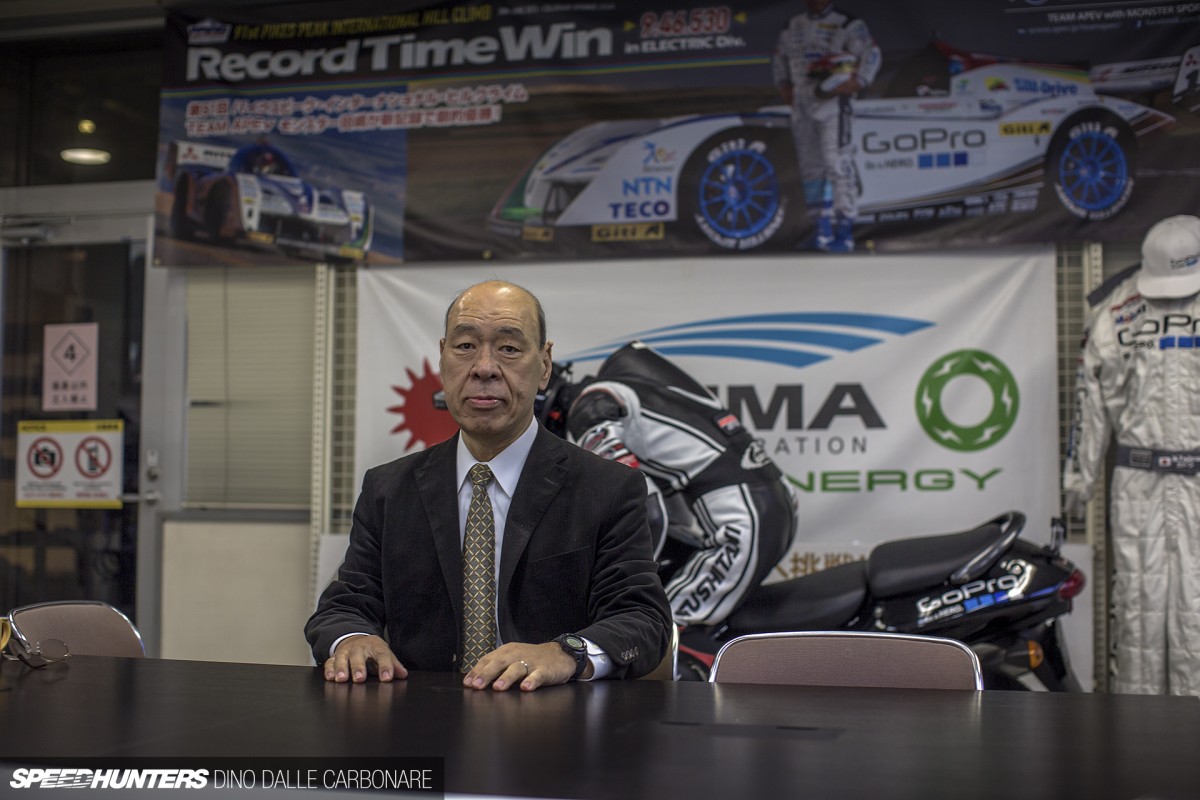 So there you have it – that's Tajima-san and the massive business he has sculpted around a lifetime of passion. It may only be a very brief look into what he has created, but hopefully you get the picture of what the Monster name really stands for. Many thanks to Tajima-san for taking time to show me around and allowing Speedhunters readers this unique look through Monster Sport, Tajima Motor Corporation and Tajima R&D.
Dino Dalle Carbonare
Instagram: speedhunters_dino
dino@speedhunters.com