Pushing boundaries
I've never been to Pikes Peak, but it doesn't take much to realise that the people who choose to race cars up the imposing climb are all a little bit insane. Insane in a good way of course, but perhaps even more so when the road was still not fully surfaced. Nobuhiro 'Monster' Tajima definitely falls into this category.
Not only was Monster the first Japanese driver to win the event overall, but he did so in a car that he designed and built himself. These were the thoughts that were going through my head as I watched the shutters to Tajima's private collection slowly rise up before my eyes. There is an insane amount of goodness stored in the garages located right behind the massive Monster Sport workshop, but today it was his 1995 Suzuki Escudo I would be spending some quality time with.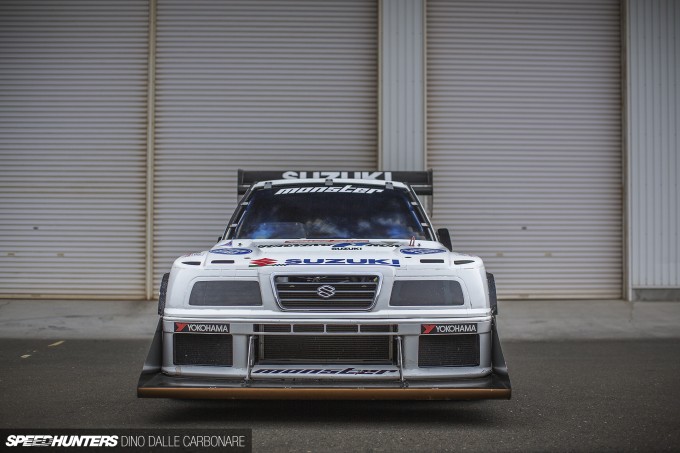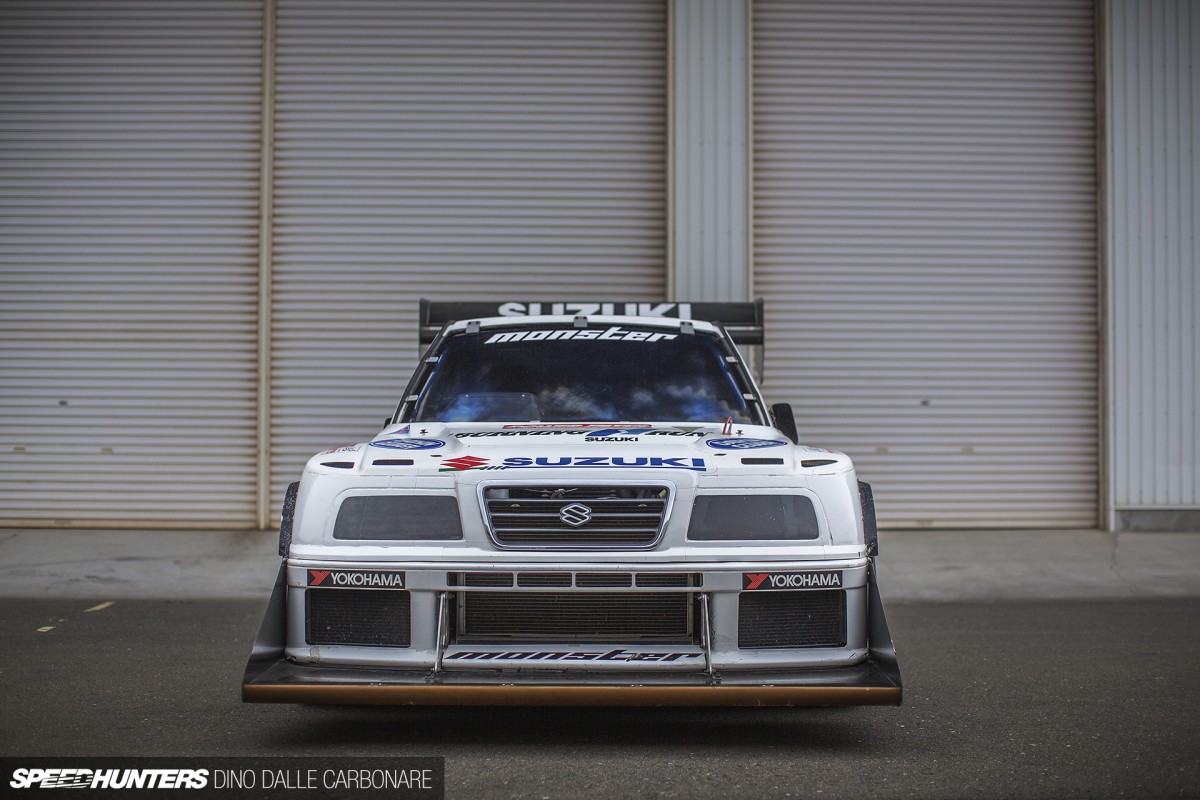 I always enjoy looking at cars like this. They're from an era where experimentation met danger and pretty much every single aspect of this hand-built beast seems to follow this general guideline.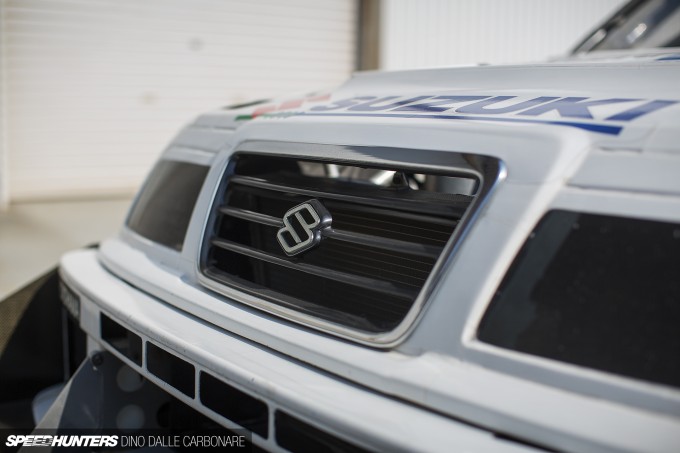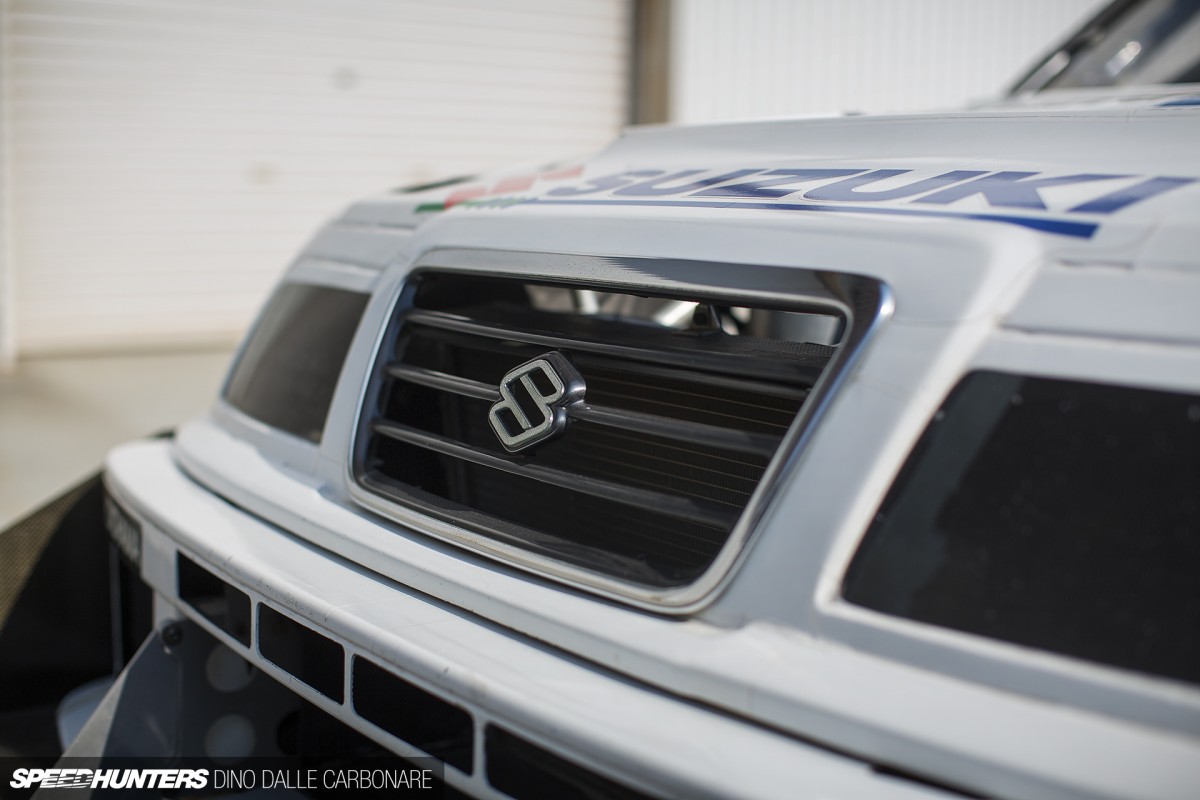 Tajima-san has been a long-time partner of Suzuki and the man behind the Suzuki Sports brand, so even back then it was only natural that he tackled the mountain in Colorado with an S-badged machine.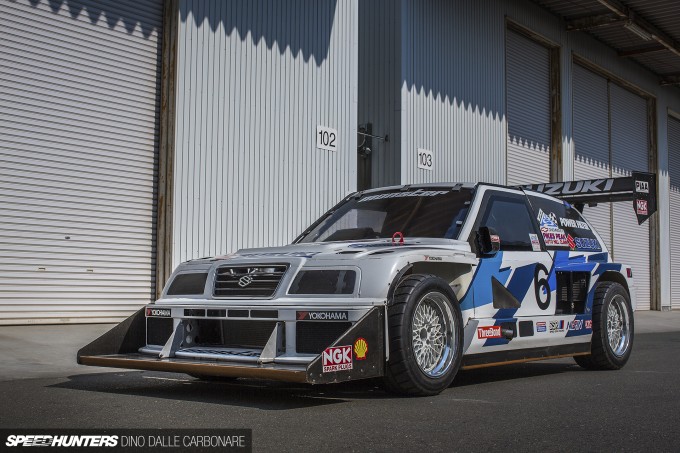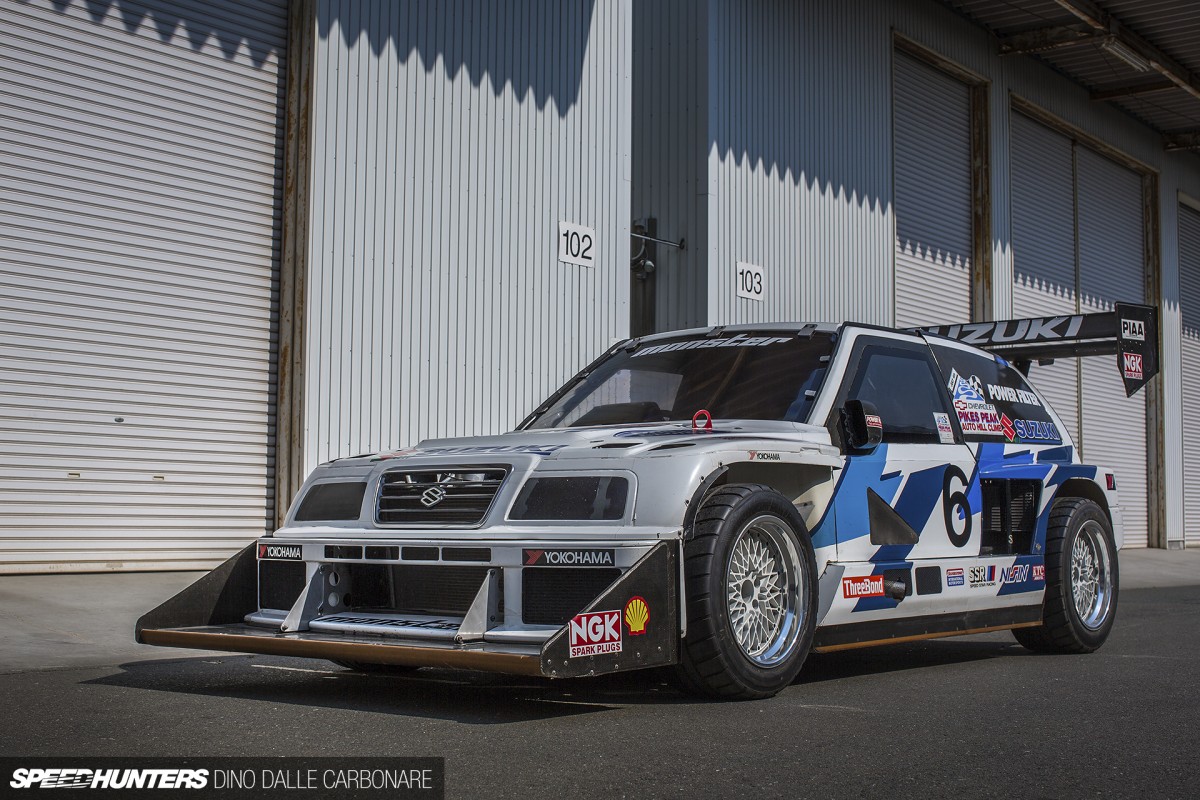 By the time he was done with it however, the only thing that was left from the Escudo base was a generalised shape and perhaps the grille. Everything else you see was custom made with absolute performance in mind. Getting to the top of Pikes Peak in the fastest time seems to be an easy enough objective on paper – but in reality it's the complete opposite. Back in 1995 when the Escudo was built, the highway was almost totally unsurfaced, so while half the job was to extract tons of power, the other – and more challenging aspect – was figuring out how to put all that power efficiently down to the ground.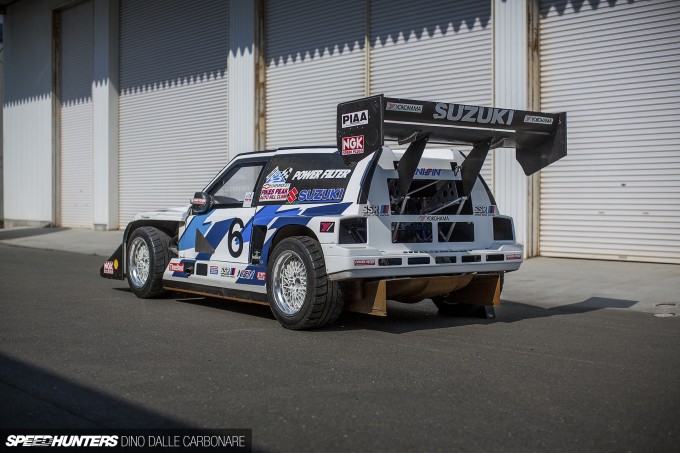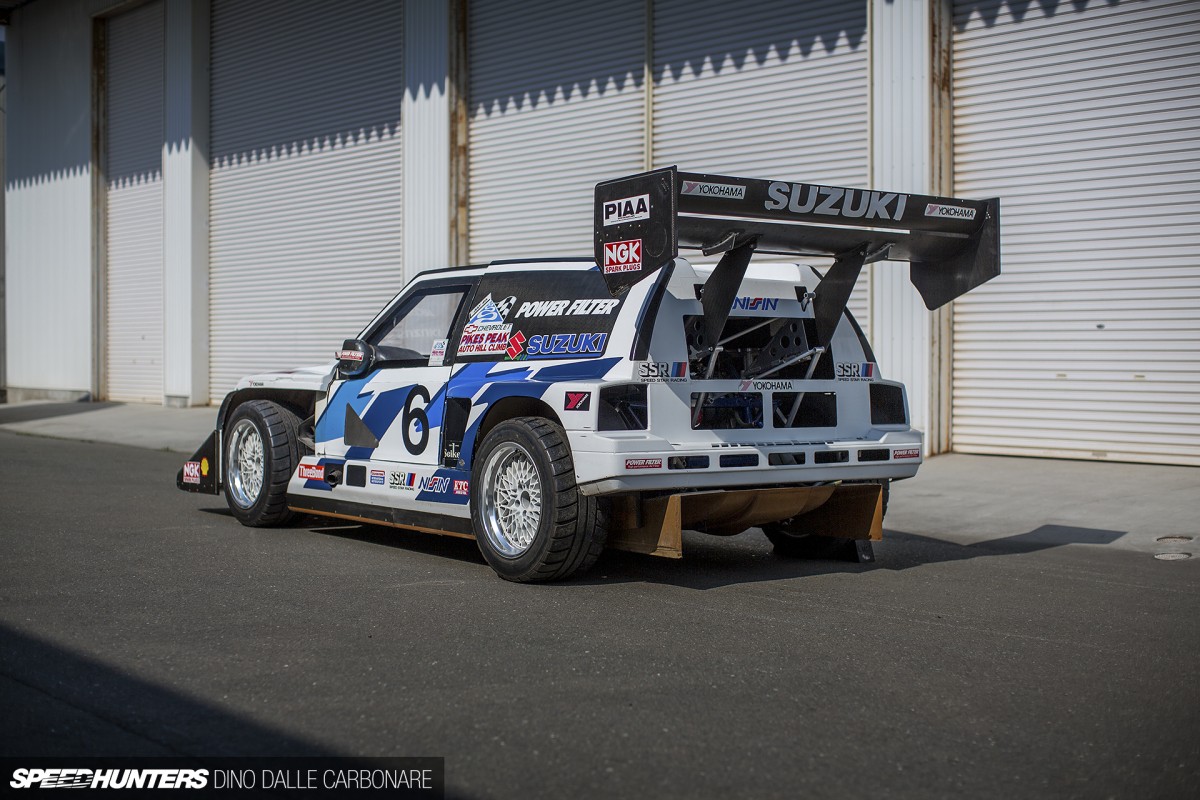 Tajima-san is very much a forward-thinker. Alongside his Monster Sport operation he owns a multitude of other businesses centering around research and development; nowadays doing a lot of work in electric car technology. He was among the first in Japan to really work on and experiment with aerodynamics. What he was doing then – 20 years ago – reminds me of what the whole time attack scene is in the midst of right now.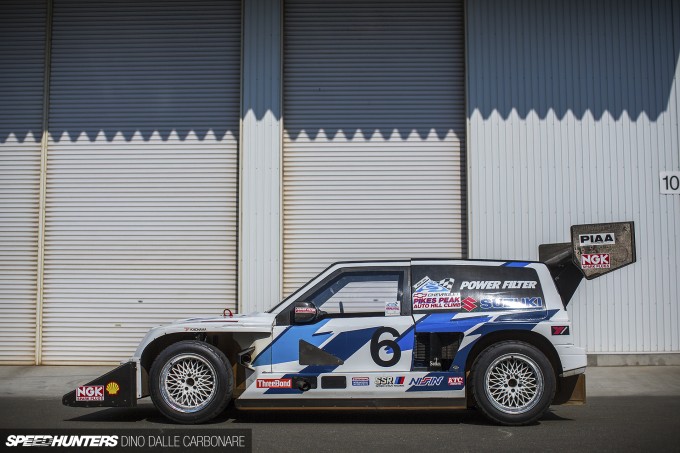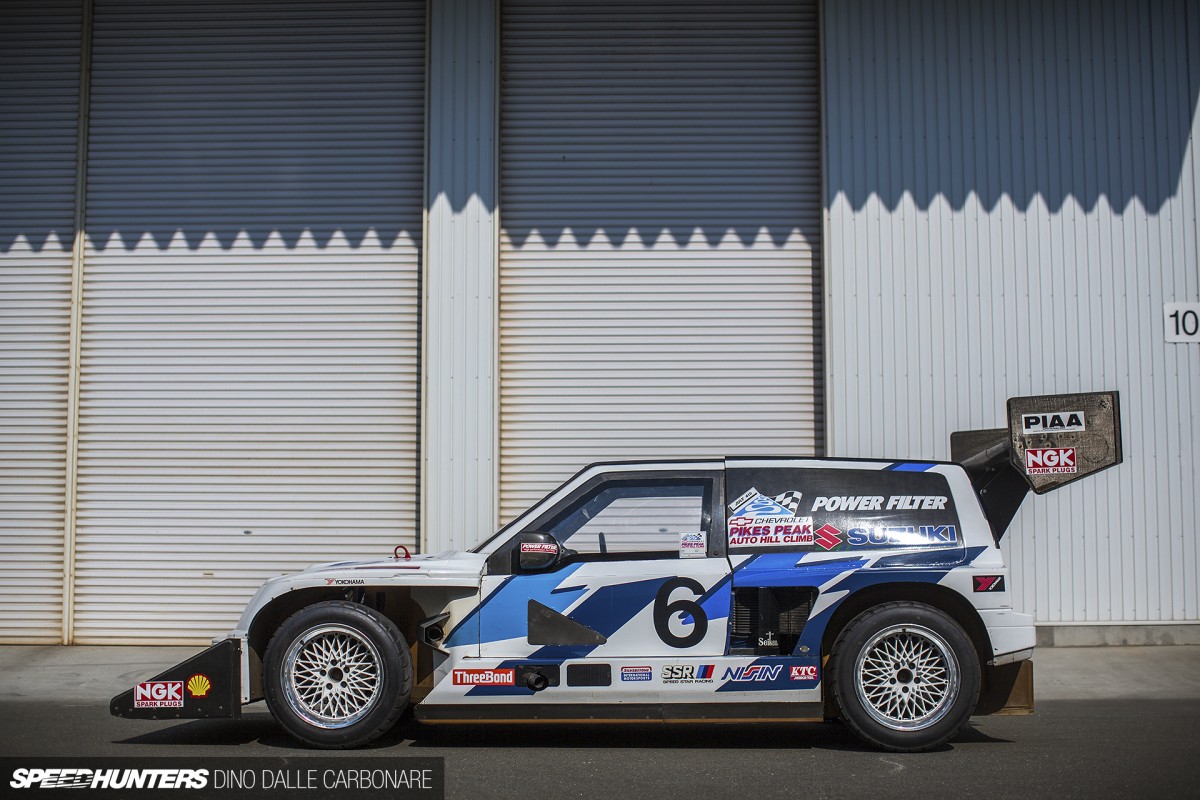 As raw as it looks, every surface on the Escudo is sculpted to generate as much downforce as possible.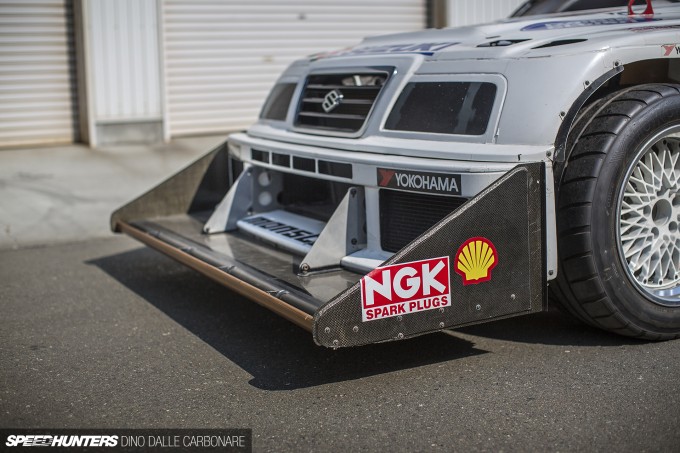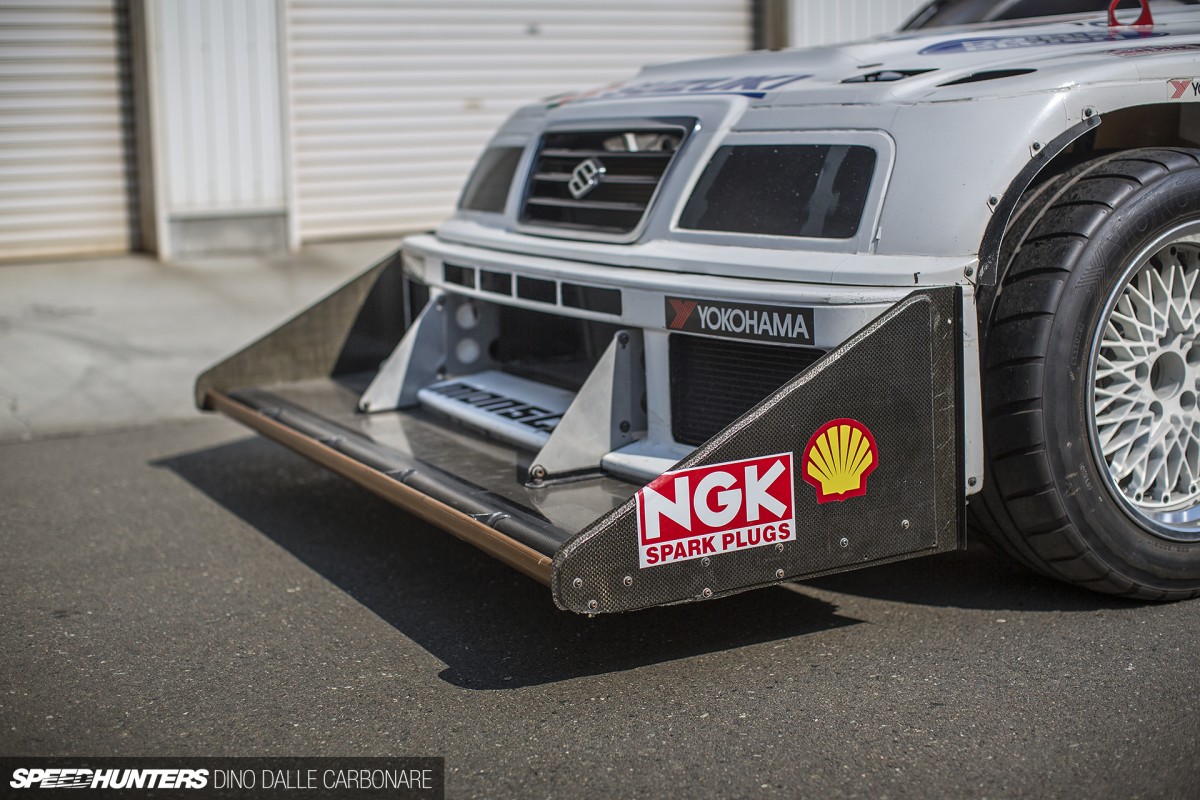 That snow plough/front spoiler/splitter section is what grabs your attention first. It's a no-nonsense addition that's there to do a job, while taking the abuse that stretch of dusty mountain road used to throw at these cars. It's obviously not there to smooth air flow though. The Escudo was wind tunnel tested at Monster Sport's facility as having a Cd of 0.9. That's substantial if you consider a Prius to have one in the low 0.2s.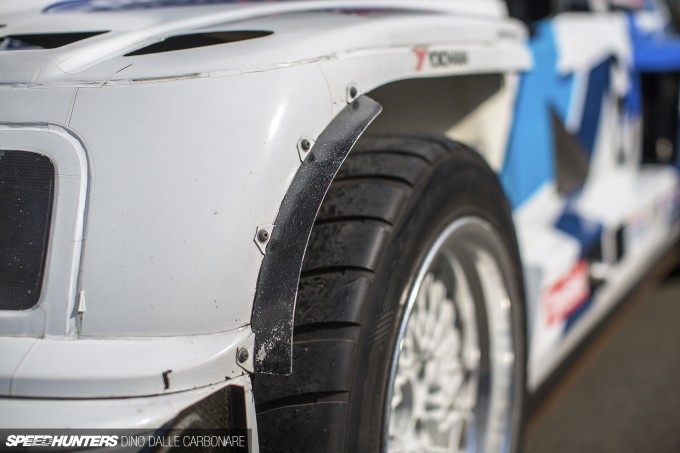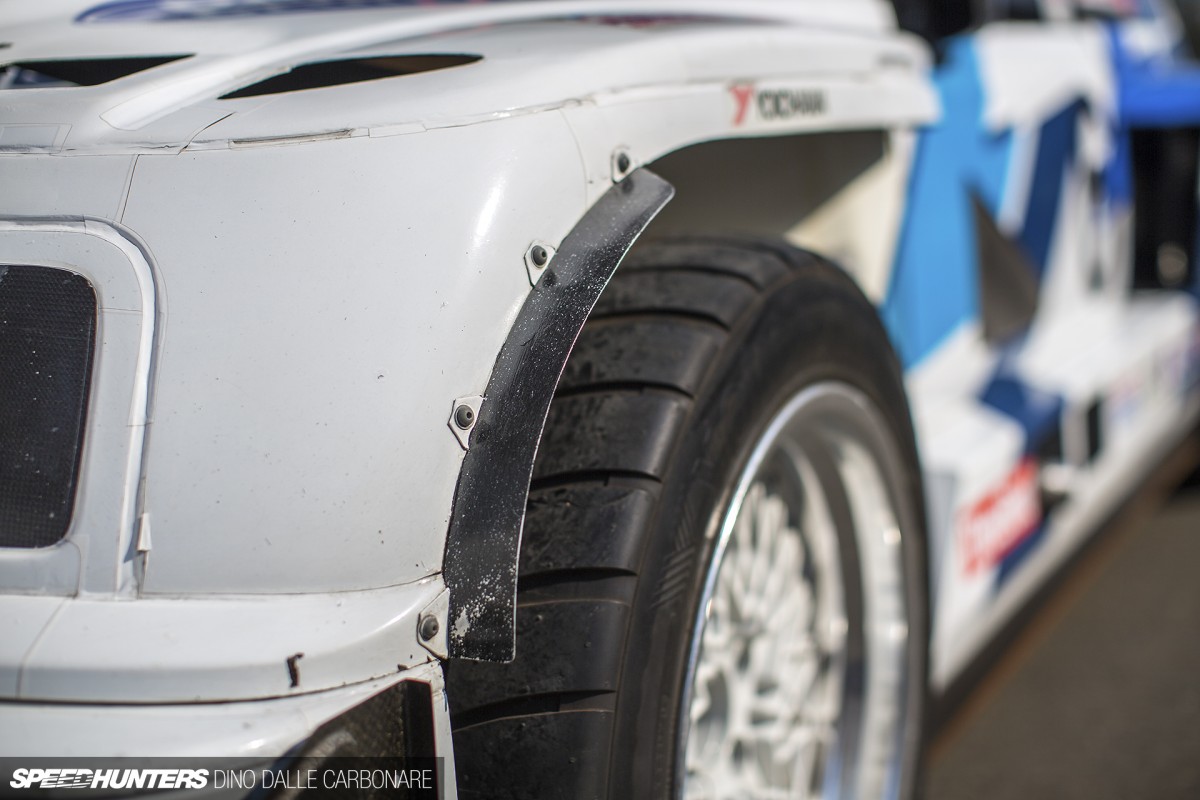 After seeing how aero design has refined over the last five years or so in Japanese and foreign time attack, it was really interesting to see touches that in some way or another we still see today. Things like this little flap riveted onto the first section of the front fender, attempting to redirect air over the protruding tyres.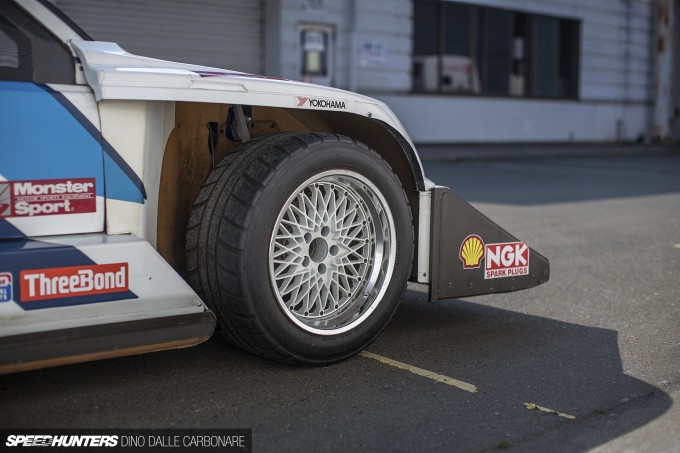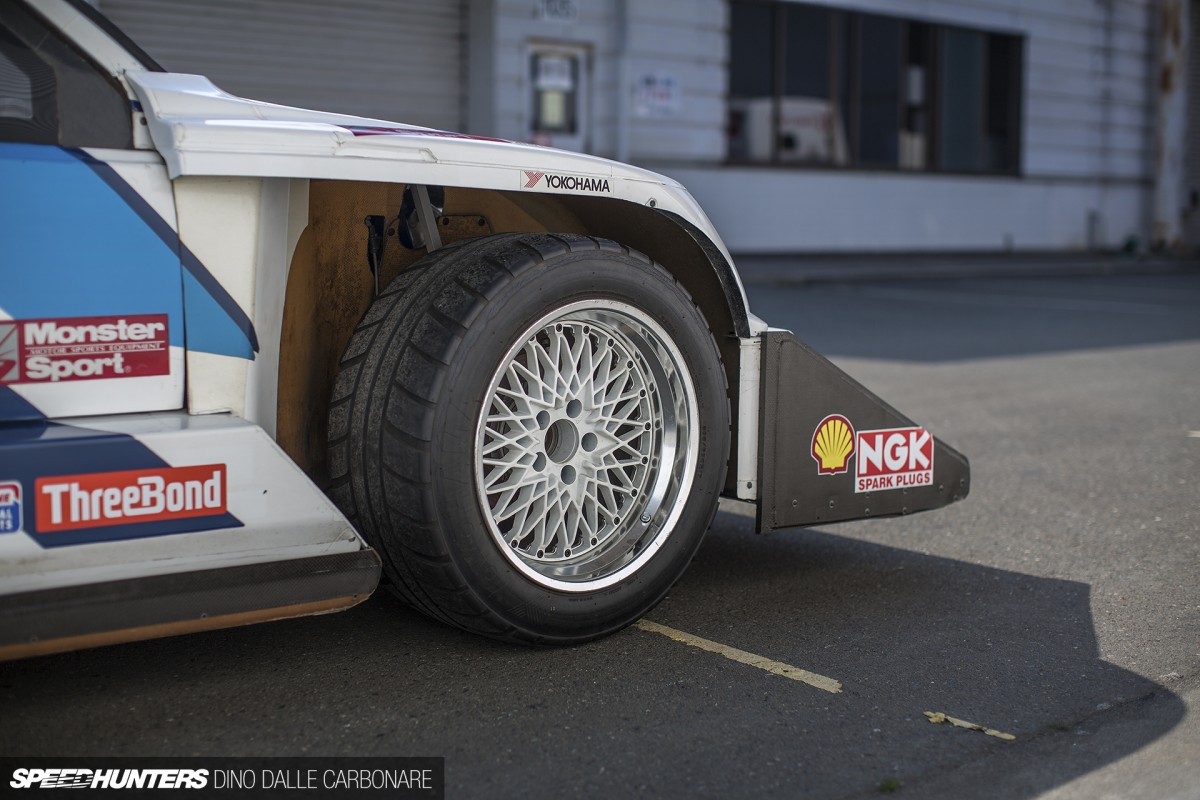 The entire rear section of the fender is open, helping air from underneath the car and inside the arch escape without creating drag, while allowing all the dust and gravel the tyres kick up to do the same. The Escudo sits on 17×10-inch SSR mesh rims fitted with special Yokohama rubber measuring 285/680 at each corner.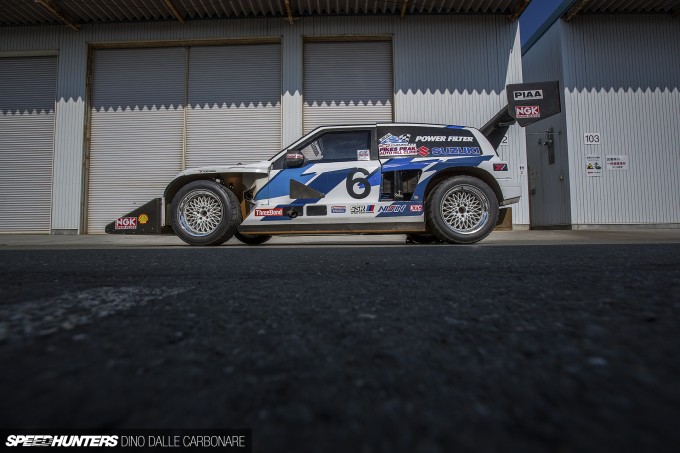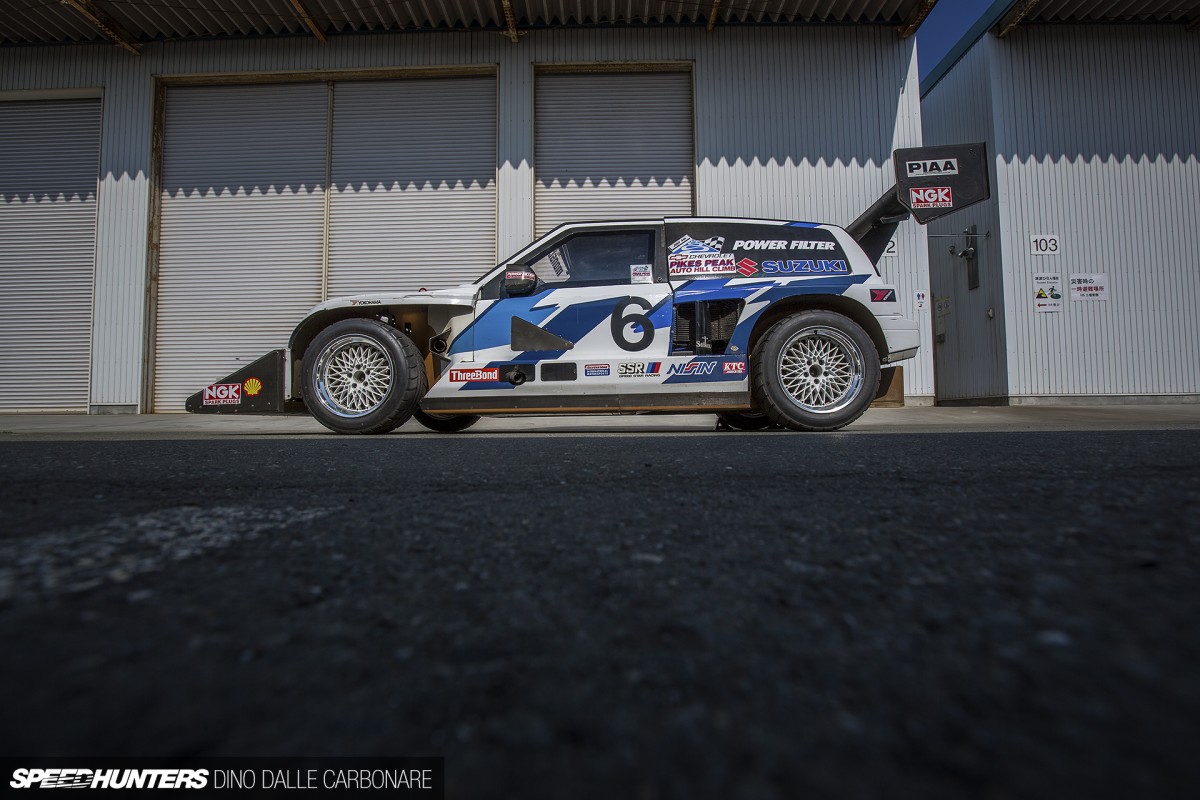 The wheels alone give an impossibly cool stance and look to this off-road beast. Every body panel is made out of extremely thin carbon fiber to keep weight down and where extra reinforcement is needed Kevlar was used. You can see evidence of this in the wheel wells as well as underneath the car.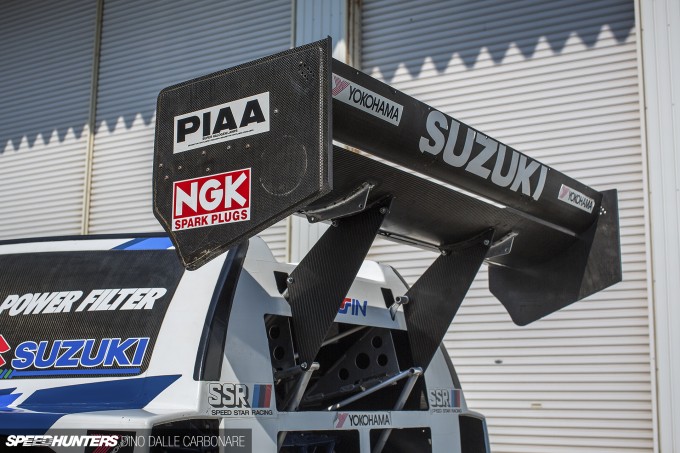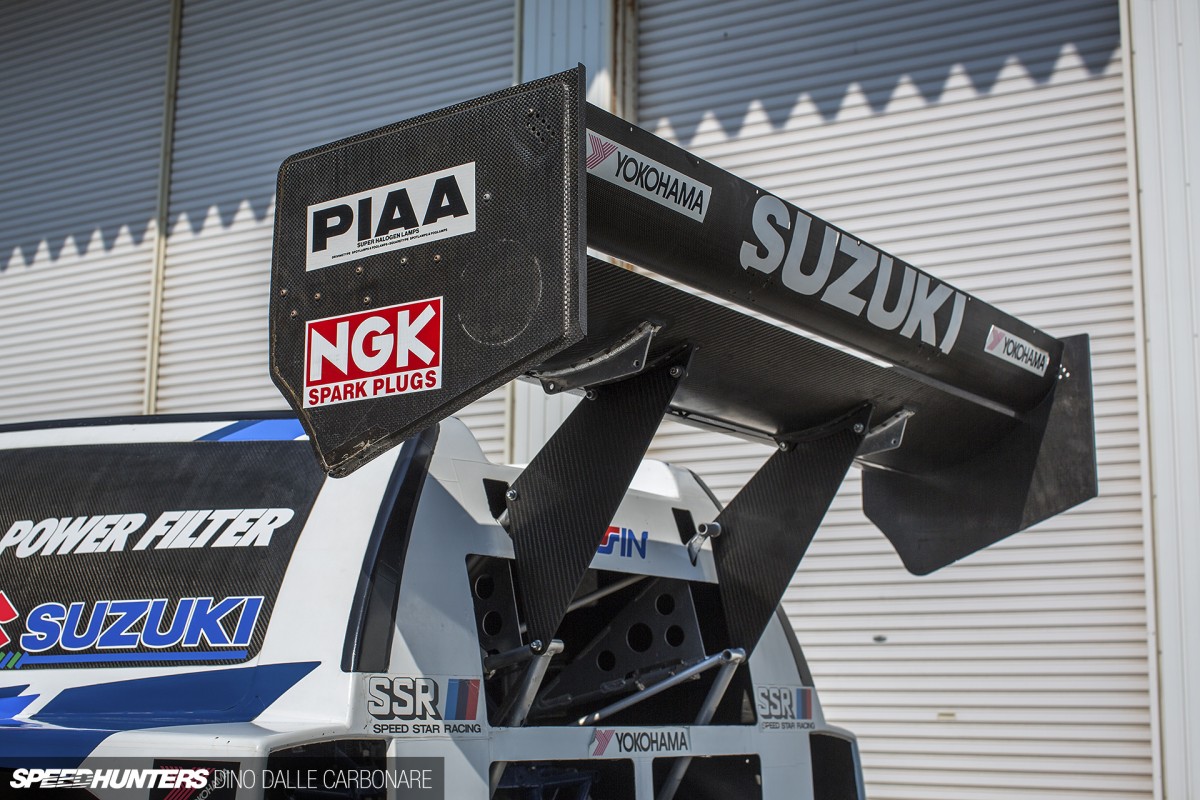 Aiding as much traction and stability as possible is the massive rear carbon bi-plane wing. It's held up by two carbon fiber stays, which themselves are affixed onto a secondary tubular structure that bolts directly onto the space frame that the whole vehicle is built around.
A deeper look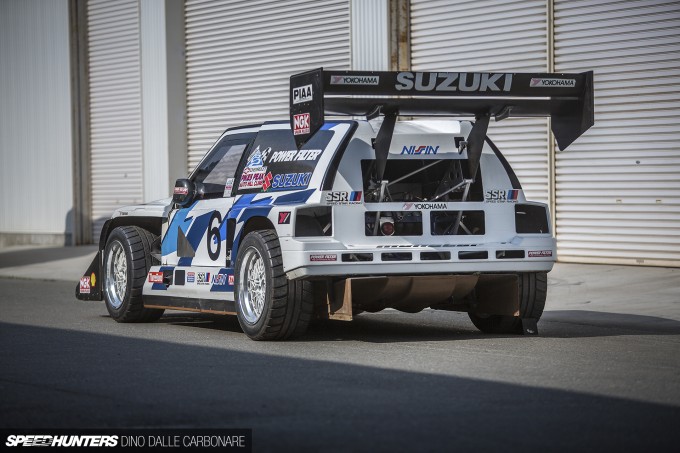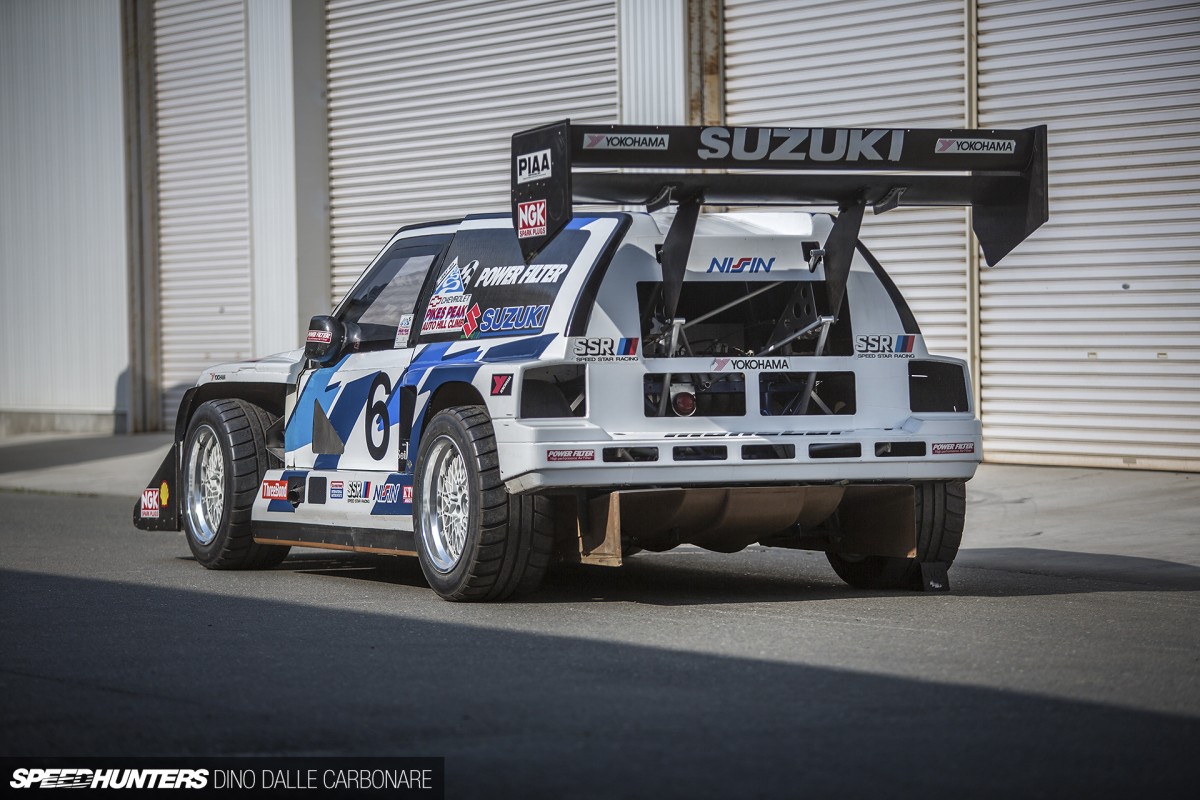 Further aiding aerodynamics is the partially flat floor and the rear diffuser section, which turned out to be a very important part in this 1995 car. The V6-powered Escudo that was used from 1996 had an even more exaggerated rear diffuser section with a twin-tunnel design to really take advantage of under-car air flow.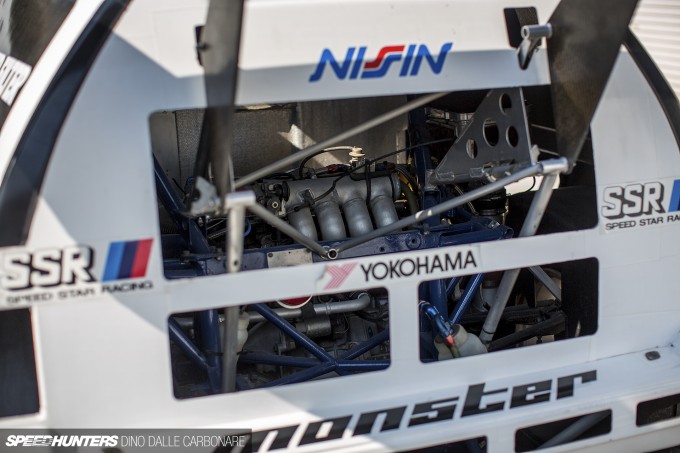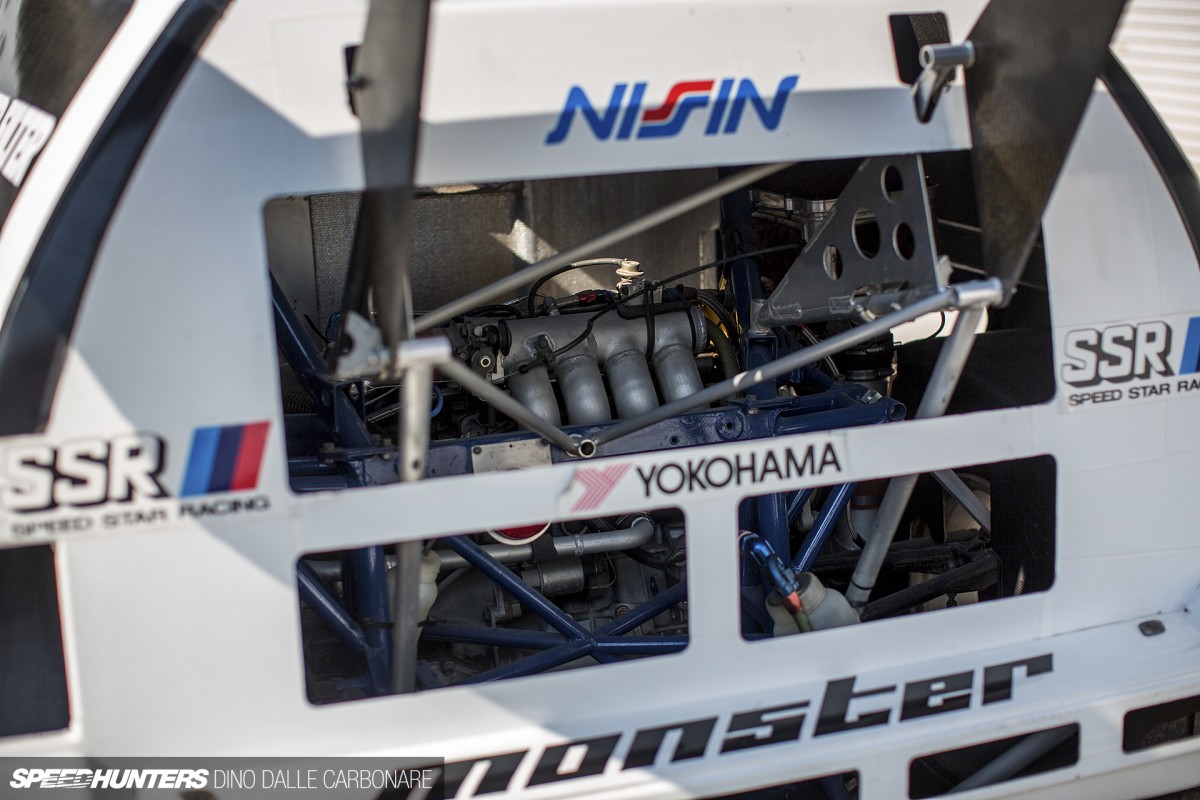 The reason most of the rear end is opened up is to let the custom-built turbocharged Suzuki G16A motor breathe as much as possible.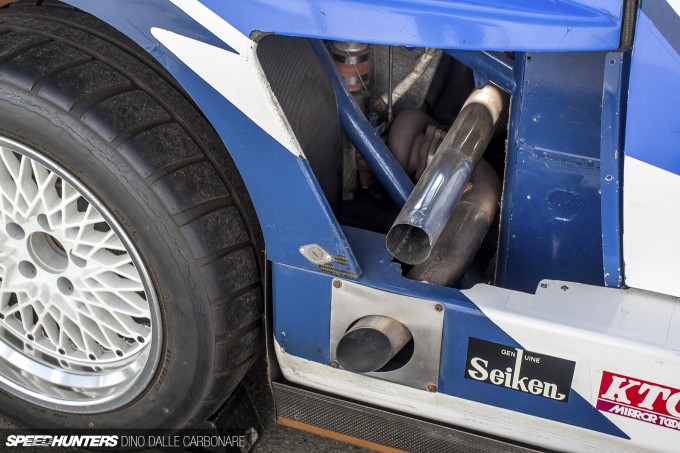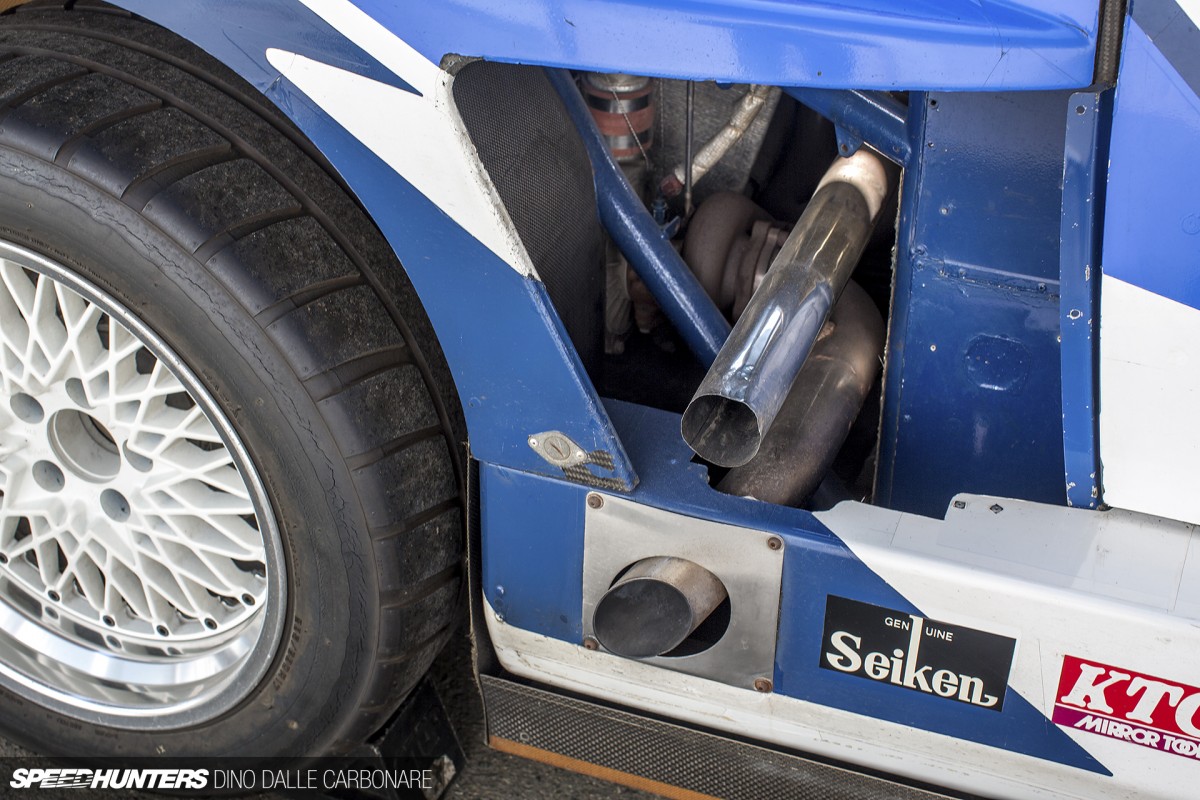 Just in front of the rear driver's side wheel is another opening where the turbocharger peeks through, and from where the short exhaust and wastegate screamer pipe dump their gasses from.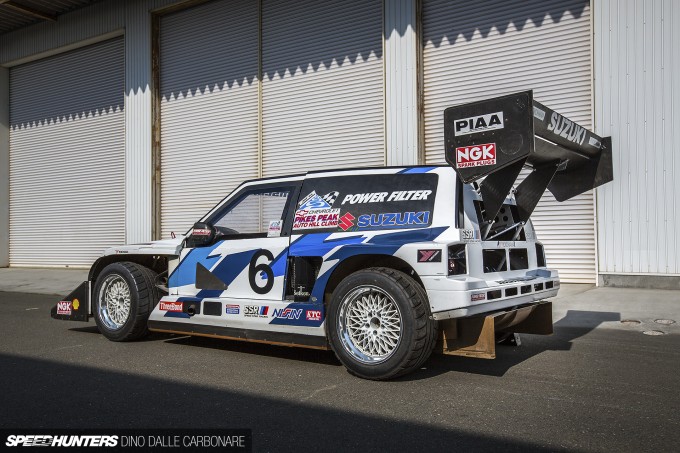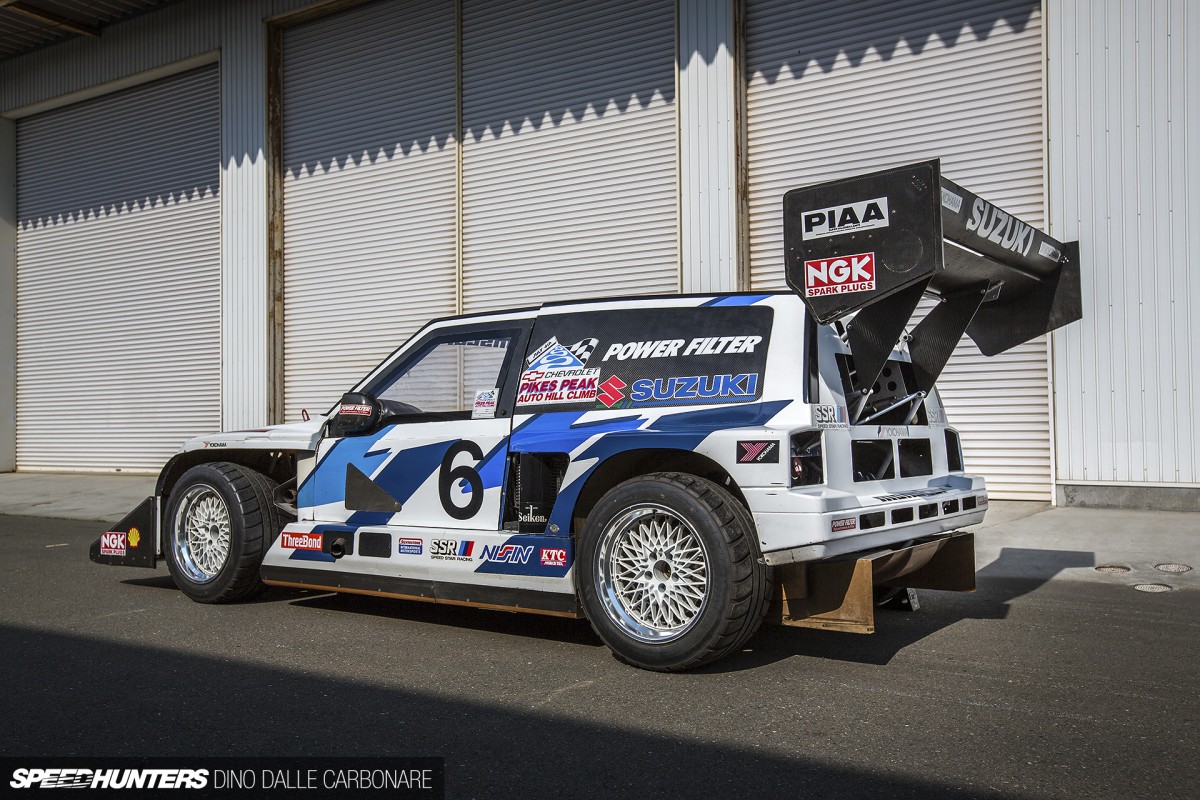 What caught my attention the most was how compact the whole thing seemed to be. Compared to the standard road version of the Escudo, this thing sits much lower and much wider and oozes functionality from every angle.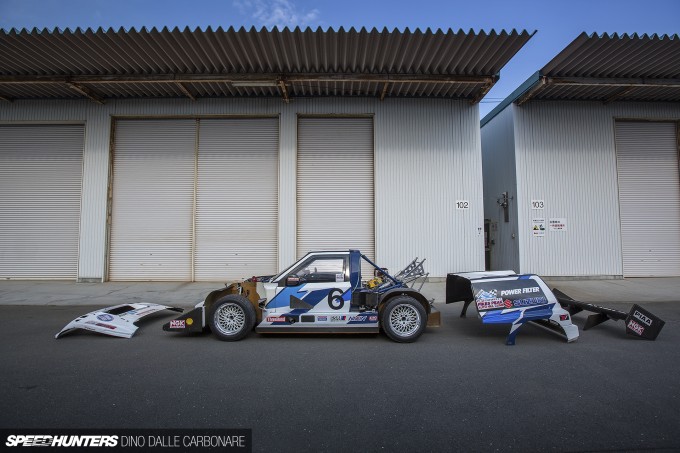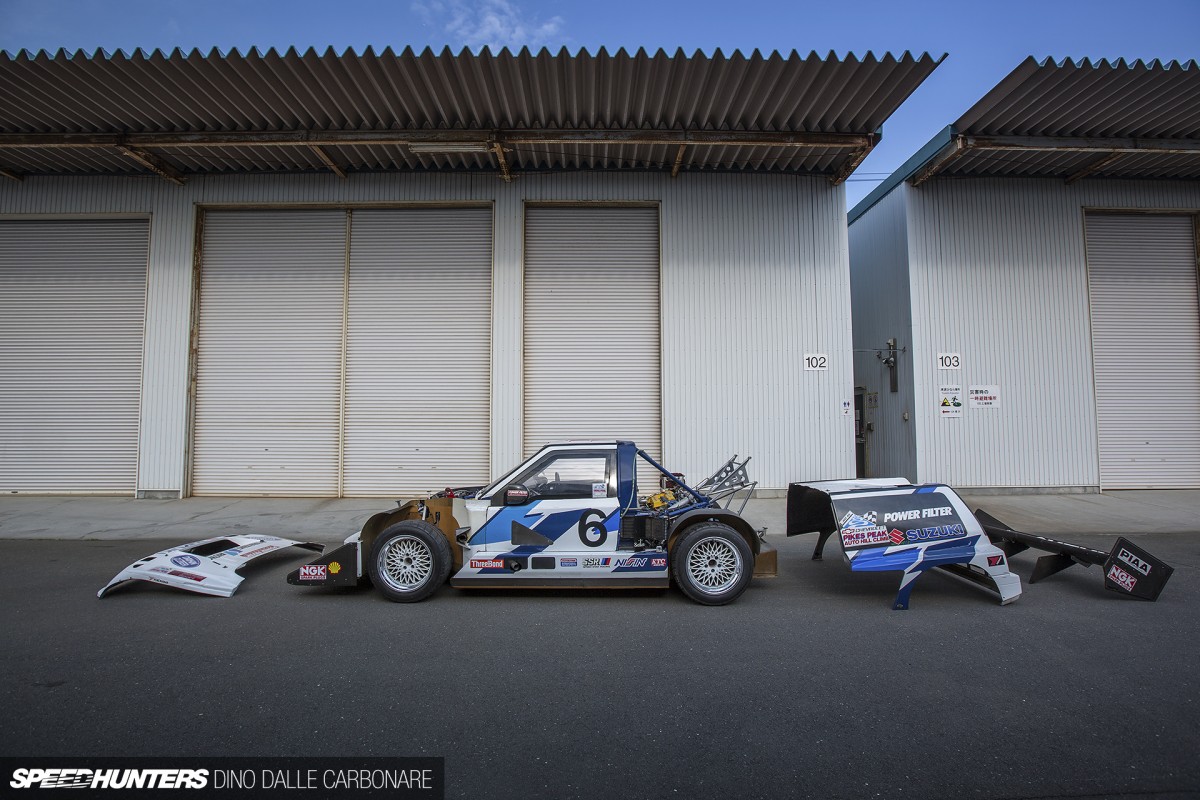 But of course, it isn't until you remove the actual carbon body pieces that you realise how small and how well-packaged it really is. In an era where modern Pikes Peak cars are multi-million dollar projects, it's impressive to see the level this car was at two decades ago, especially when you consider it was built on a fraction of that sort of budget.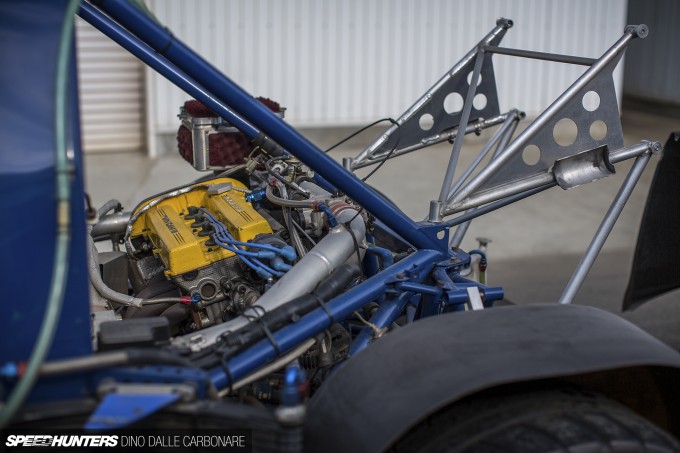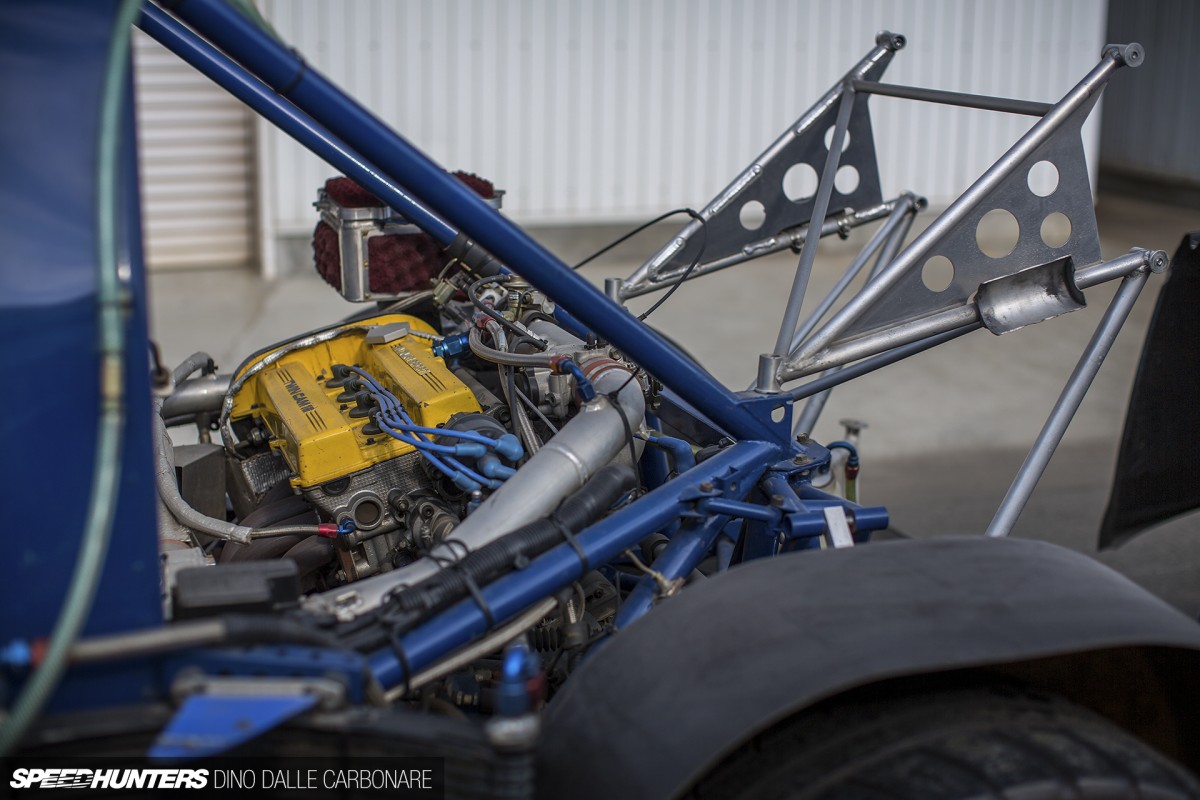 With the rear spoiler and cowl removed I could finally get a good look at the tiny 1,590cc engine that powers the Escudo. Thanks to a decent dose of boost, the four-cylinder mill is able to deliver a mighty 450PS. It's obviously not built for longevity and as long as it can function at its best for about 10 minutes, it has done its job well.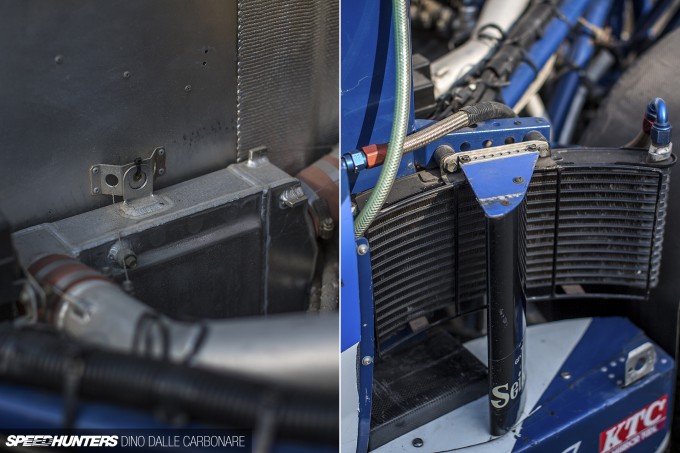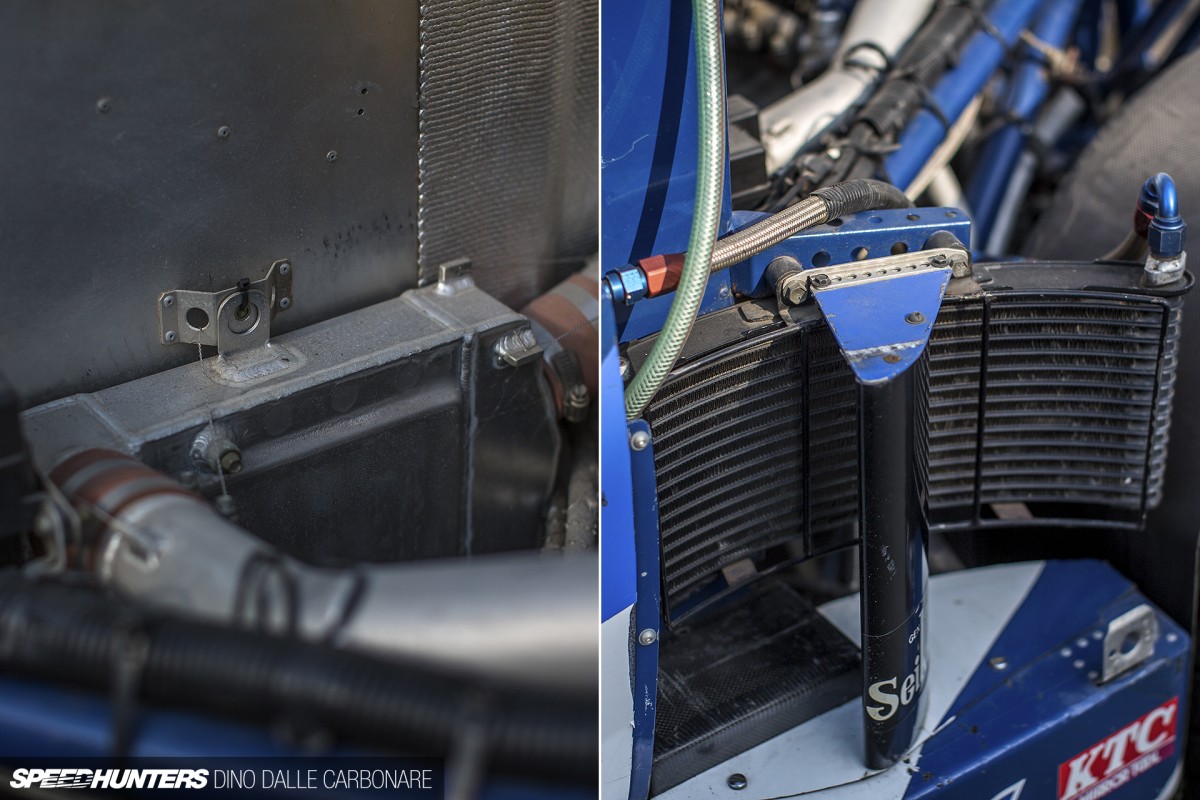 Because of the location, a normal air-to-air intercooler would have been hard to position and likely pelted with rocks and debris kicked up by the front tyres. A charge cooler does a far better job and helps guarantee low intake temperature all the way until the end of the run. On the passenger side a curved oil cooler was another addition needed to keep the engine running at optimum temperature.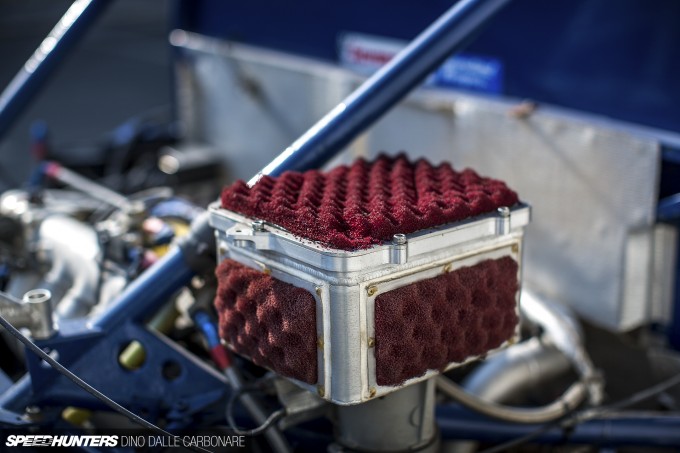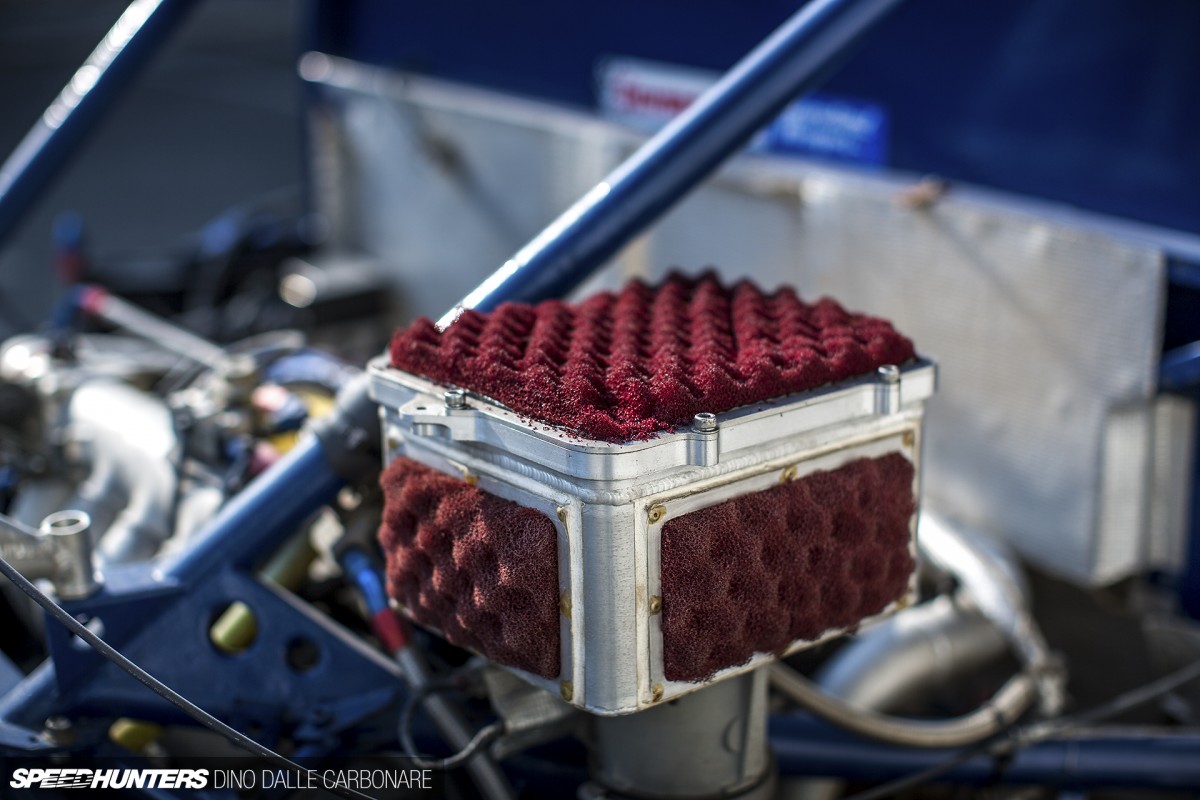 The turbocharger sucks air through this aluminium air box. The multitude of testing at Pikes Peak allowed Monster Sport to develop their own line up of 'Power Filter' air cleaners for a variety of Suzuki and Mitsubishi vehicles.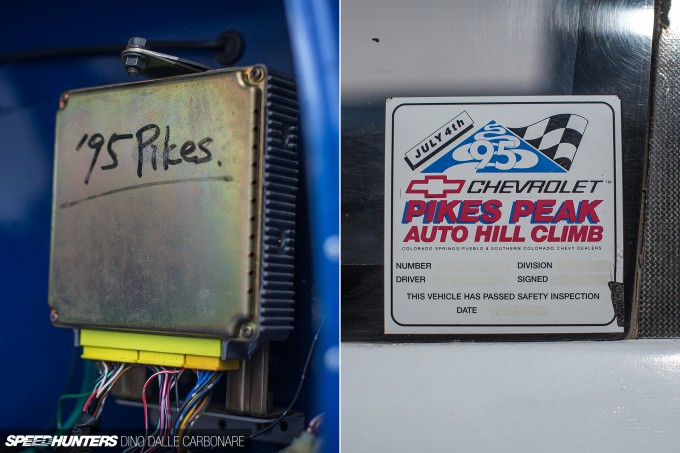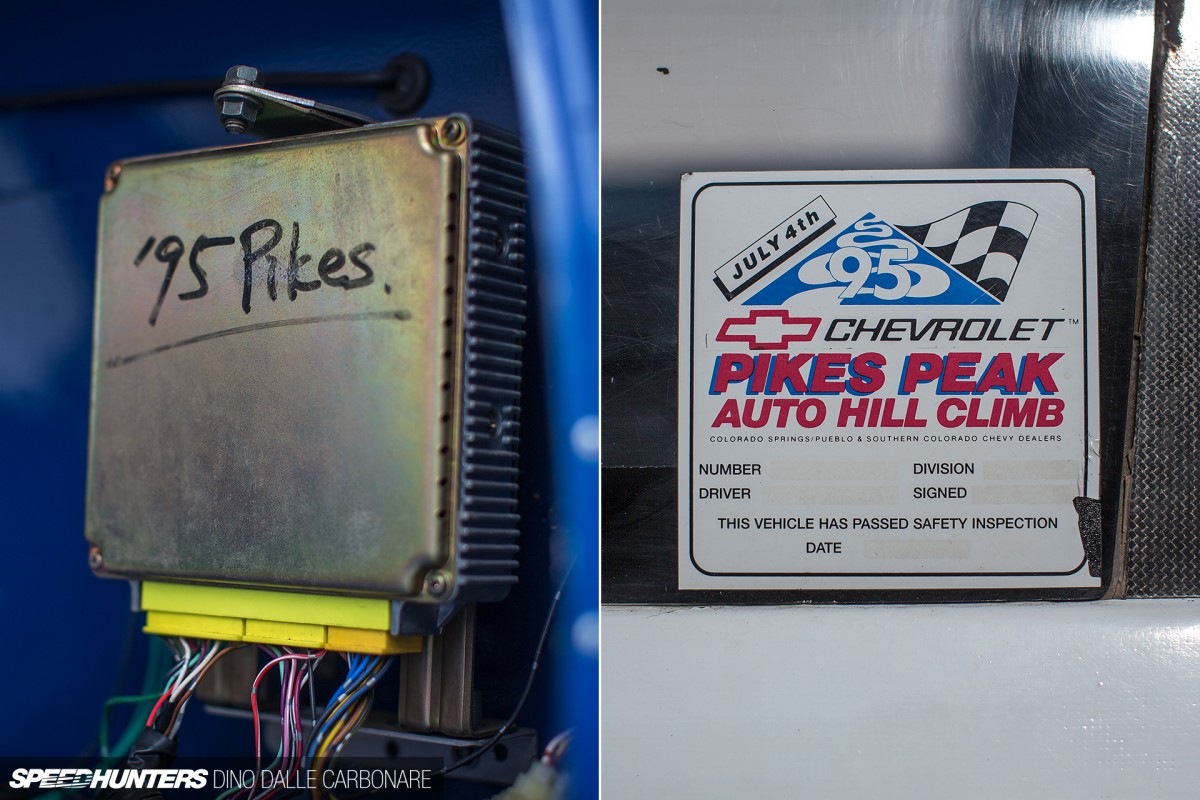 The car still wears the 1995 Pikes Peak entry sticker on the passenger side door and if you look inside the cabin you can see a '95 Pikes' marking written with a magic marker on the ECU.
Two engines was a must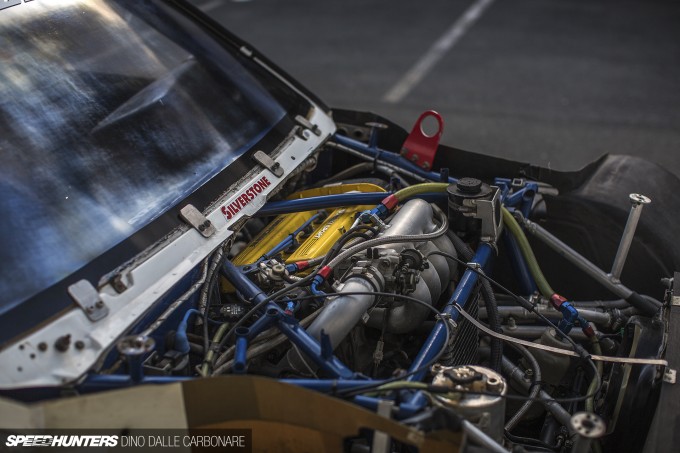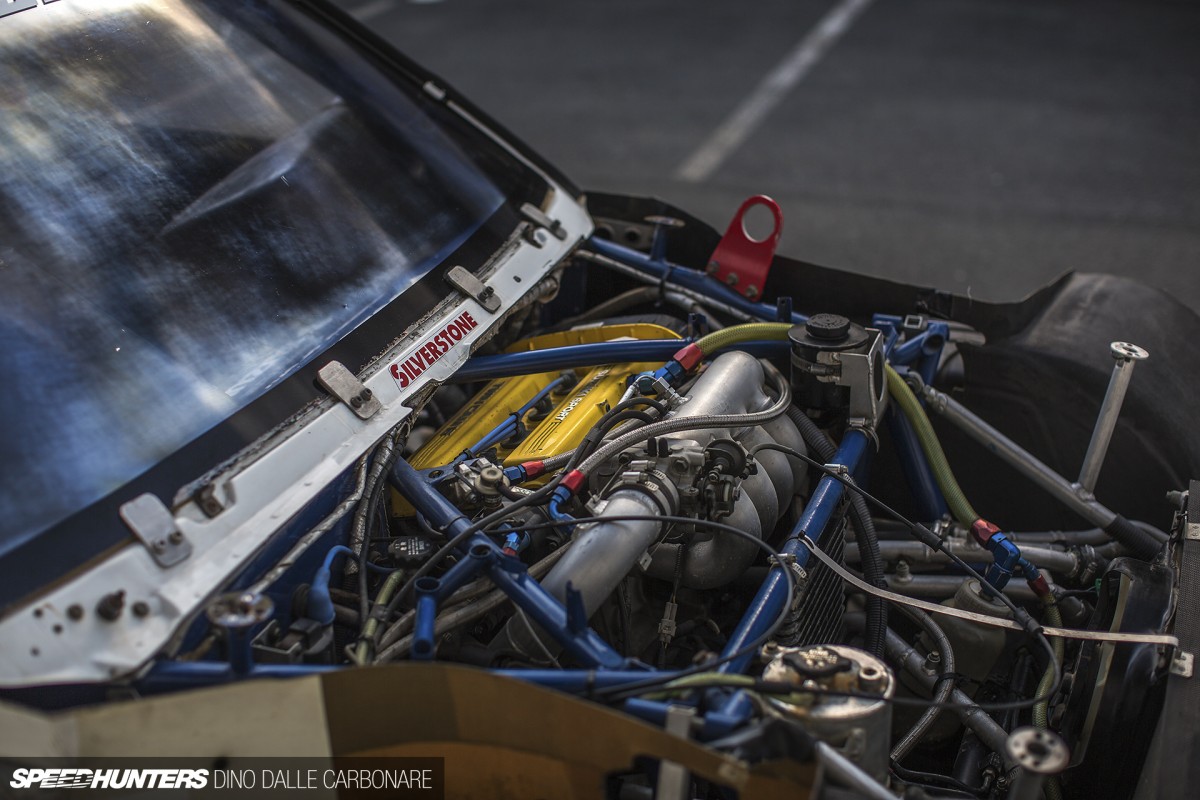 Of course, Monster Tajima wasn't really going to show up to Pikes Peak with a 450PS Escudo. Oh no. He needed at least 900 horses to get the job done, which is why there's another boosted G16A engine sitting up front! This motor runs the exact same specs as the rear one, and has been made to work in perfect synchronised harmony. It's a big feat pulling off something like this – especially making it all work to its best in a competitive environment. With a curb weight of 900kg, the Escudo boasts an impressive power-to-weight ratio of 1kg to 1PS. That's the same as the new Koenigsegg One:1.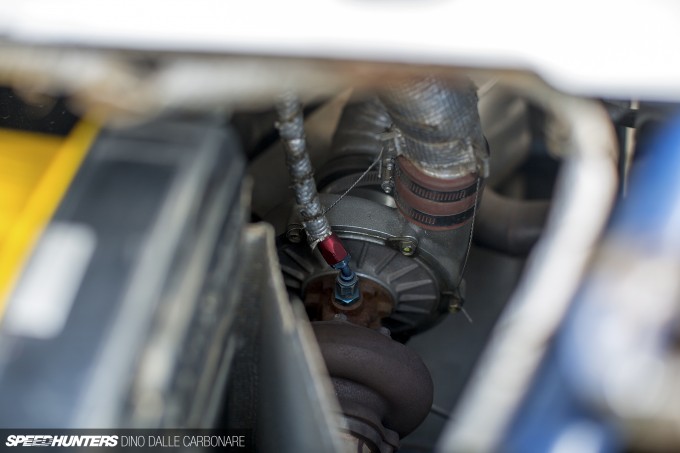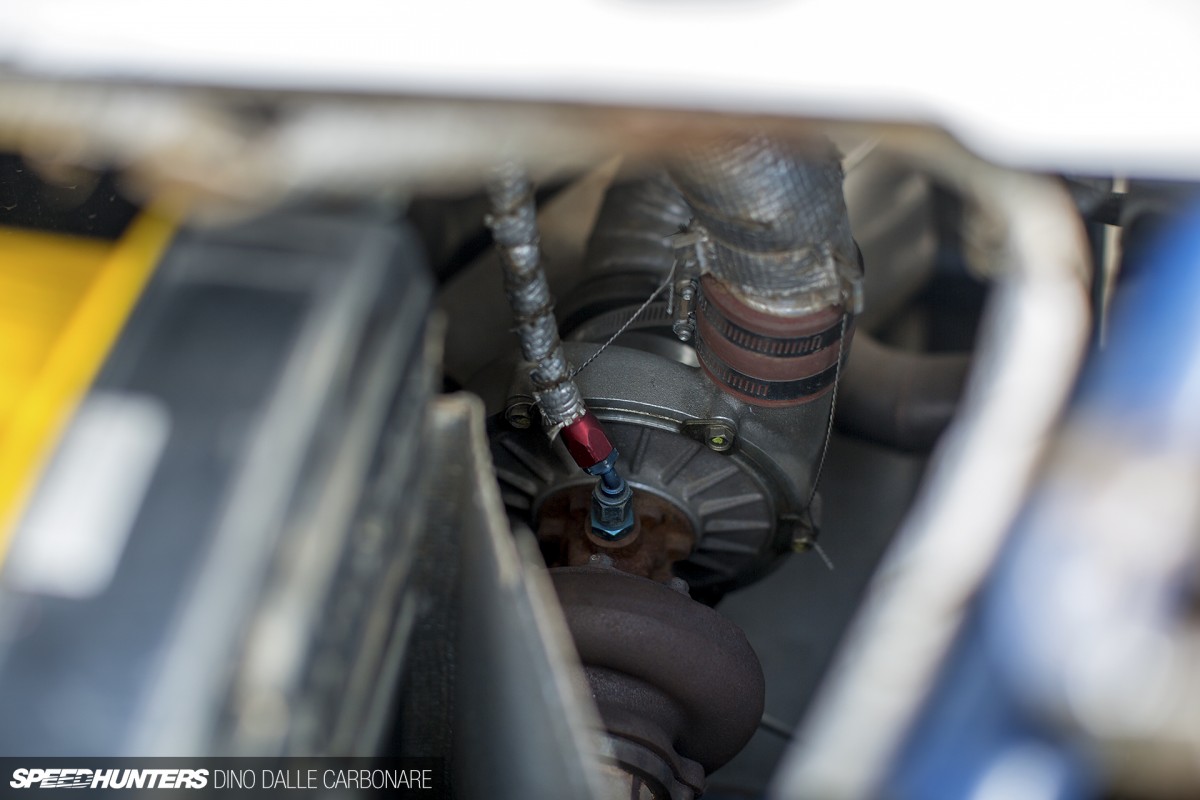 The front engine's turbocharger is pretty much located in the cabin where the passenger footwell would normally be in a road car.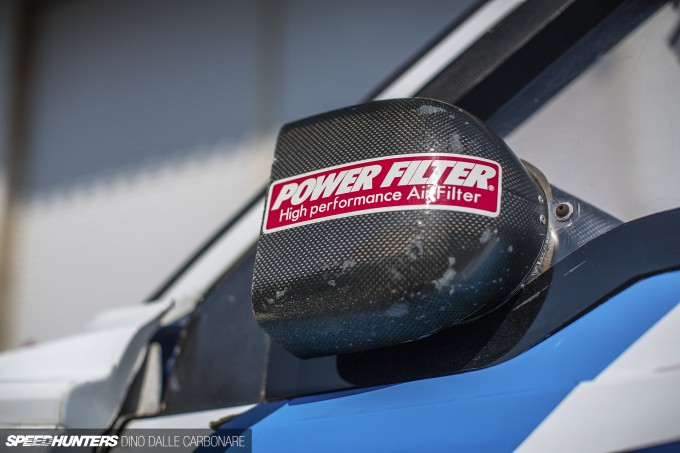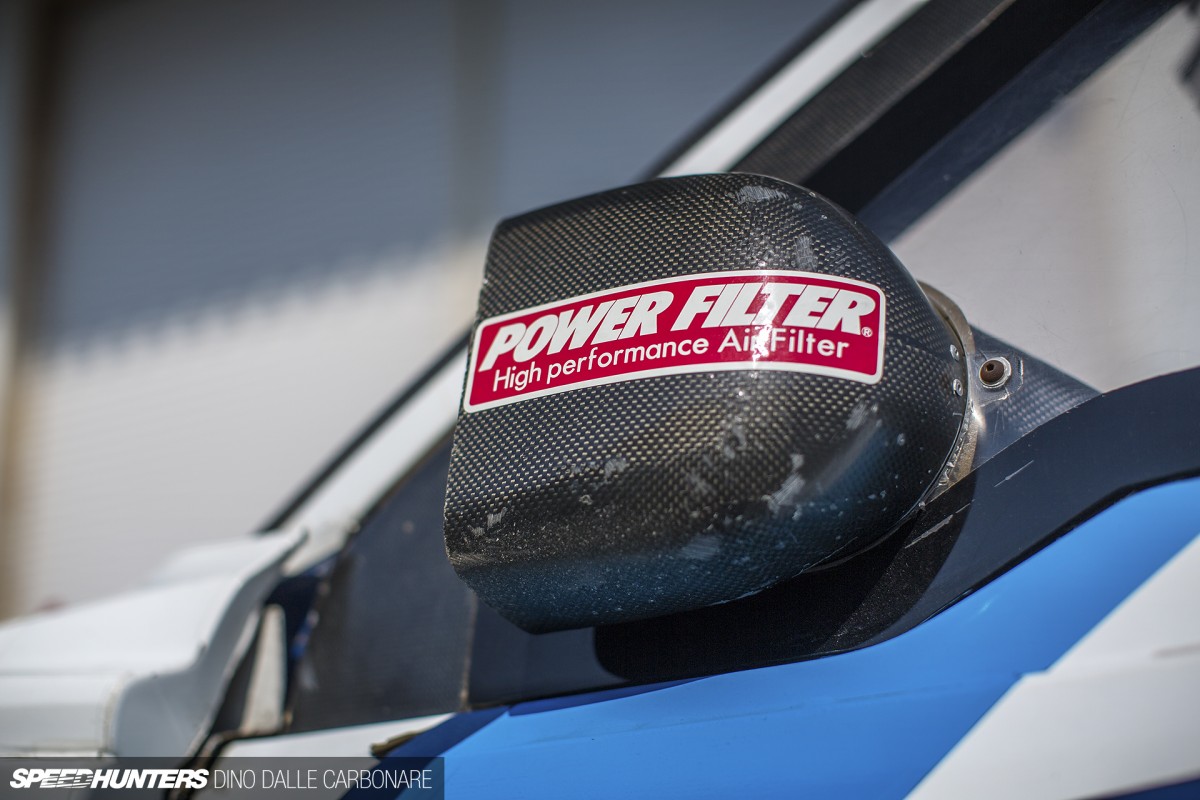 To feed it, air is scooped up by an intake that at first glance looks like a back-to-front side mirror.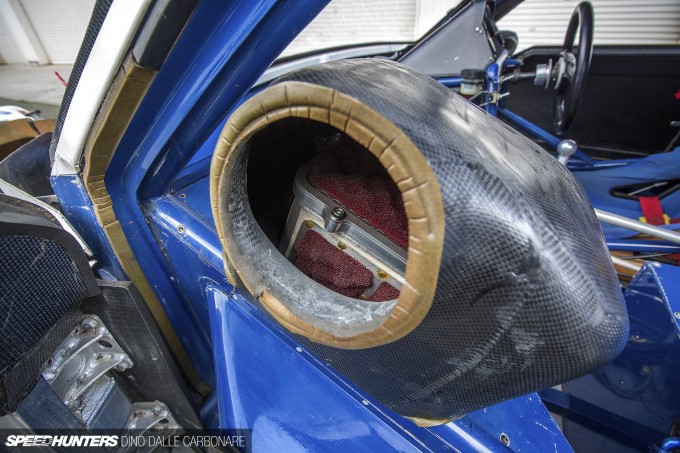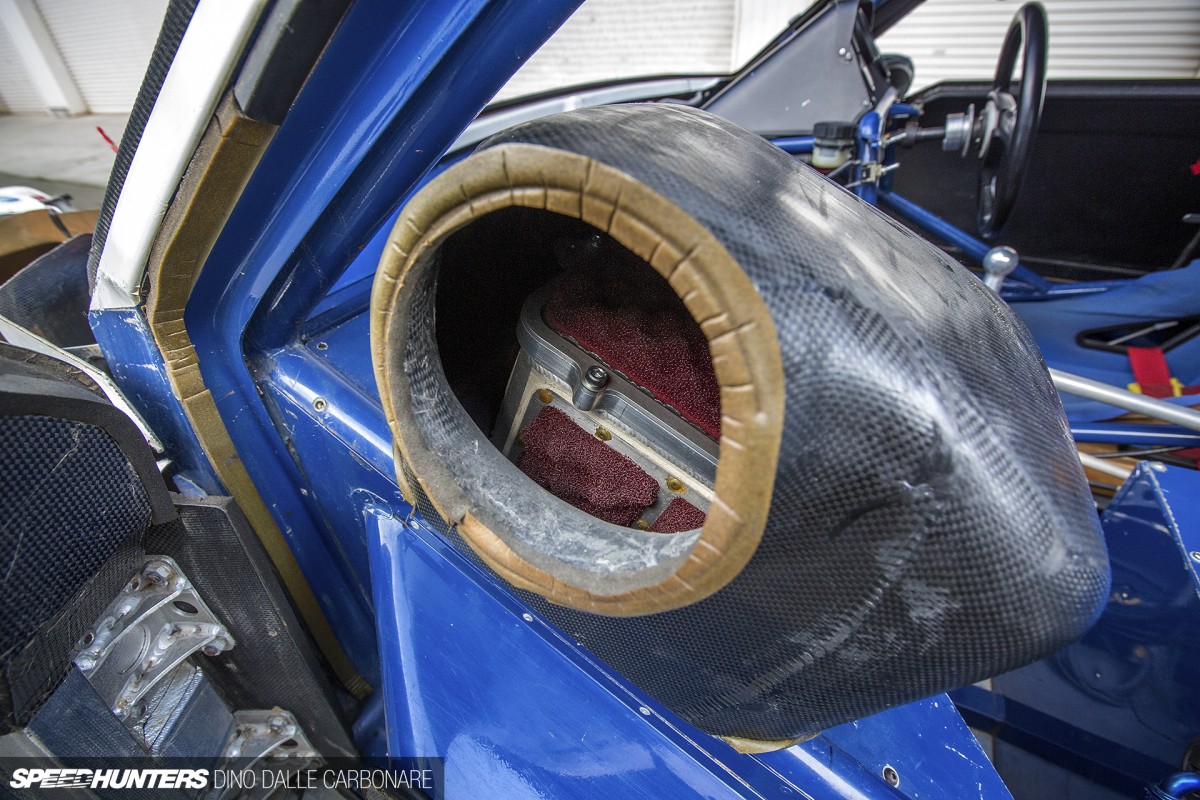 It's then directed into this carbon air box in which the same aluminium filter box we saw in the rear is found.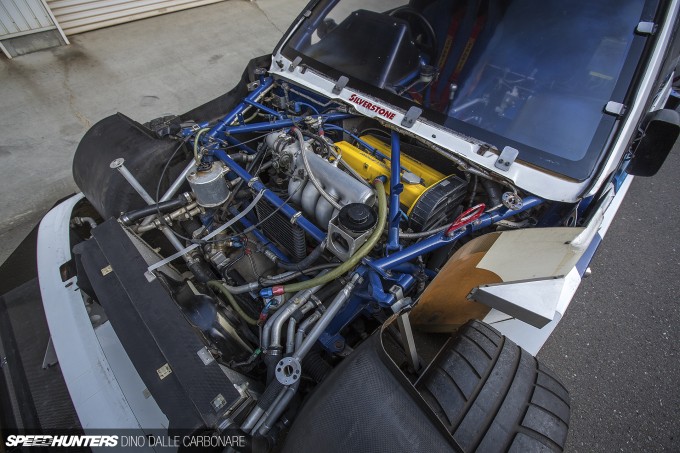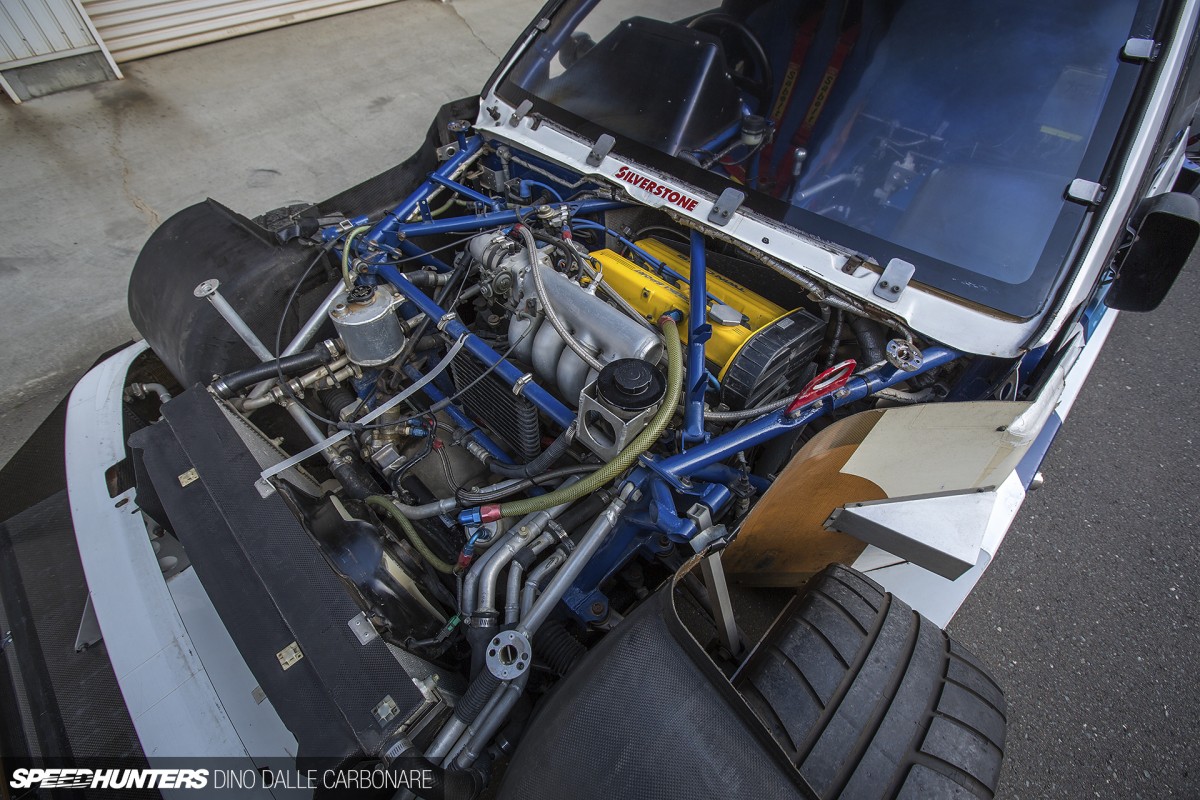 All of this fits inside the custom built Chrome Molybdenum steel space frame which supports all other componentry, from the steel and aluminium double wishbone suspension arms to the multitude of radiators needed to cool the engine and the 4WD driveline.
Hit play to the video above to see a quick walk around the Escudo – it probably adds a little more depth to the images you see here and it's something we're trying to bring you a lot more of in our features.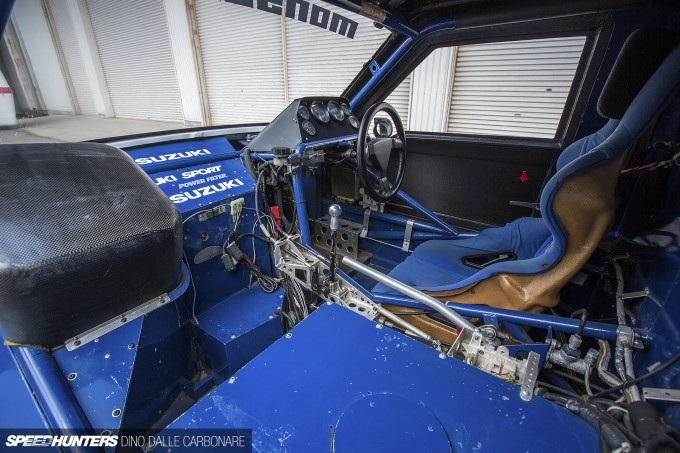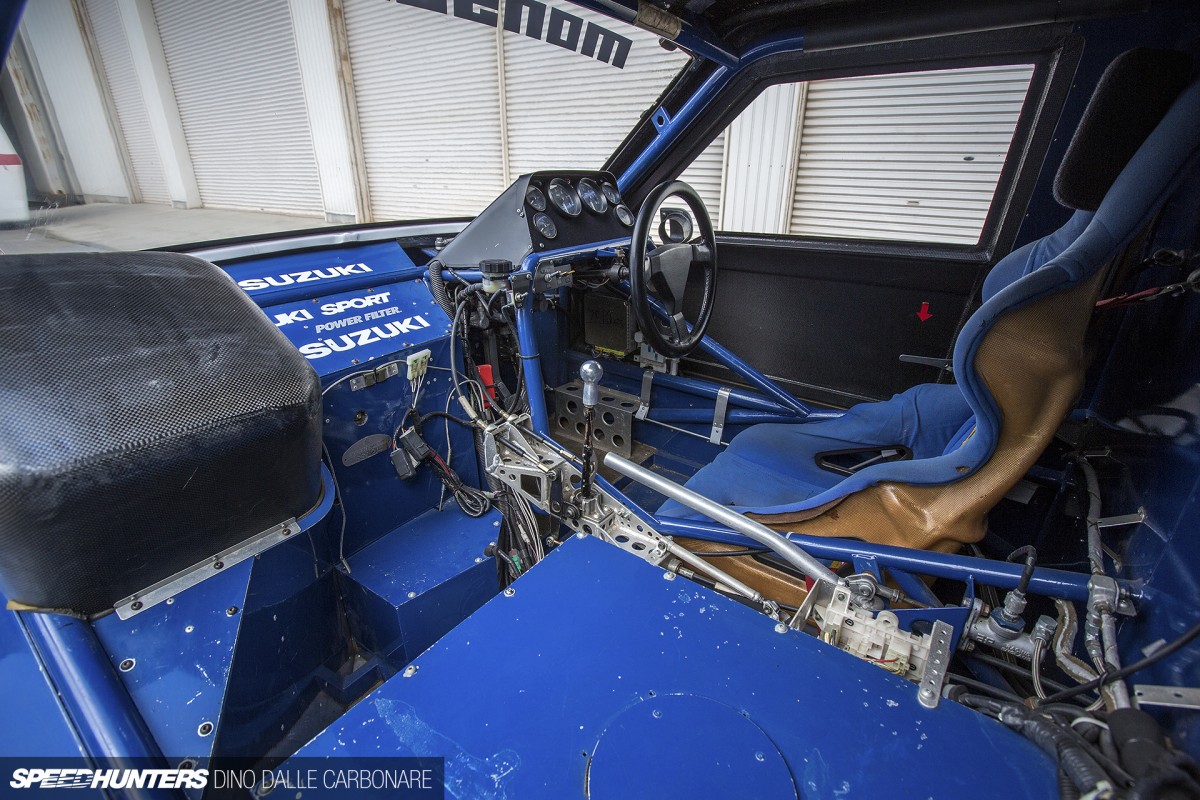 If you thought the exterior of the car was all about function, well let's just say Tajima-san obviously didn't care much for creature comforts. The whole interior is focused around the driver with a small instrument panel mounted on a small makeshift dash. Opposite the driver's seat is the massive fuel tank to get a nice and balanced weight distribution. And to further stiffen up the structure there are centrally-mounted steel pipes that are part of the 1995-spec cage. Roll cage design has certainly come a long way in 20 years!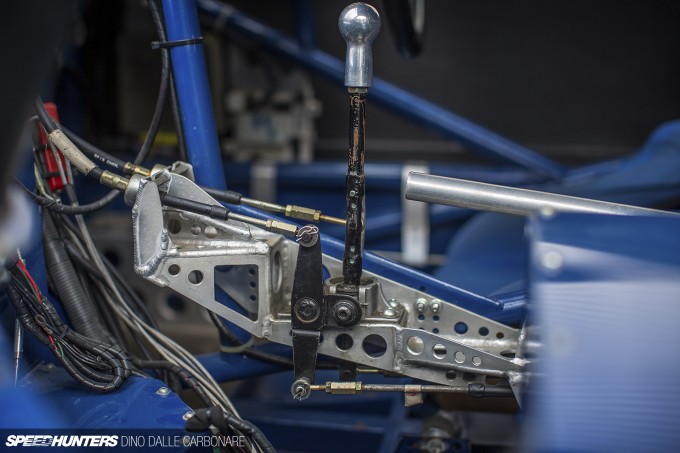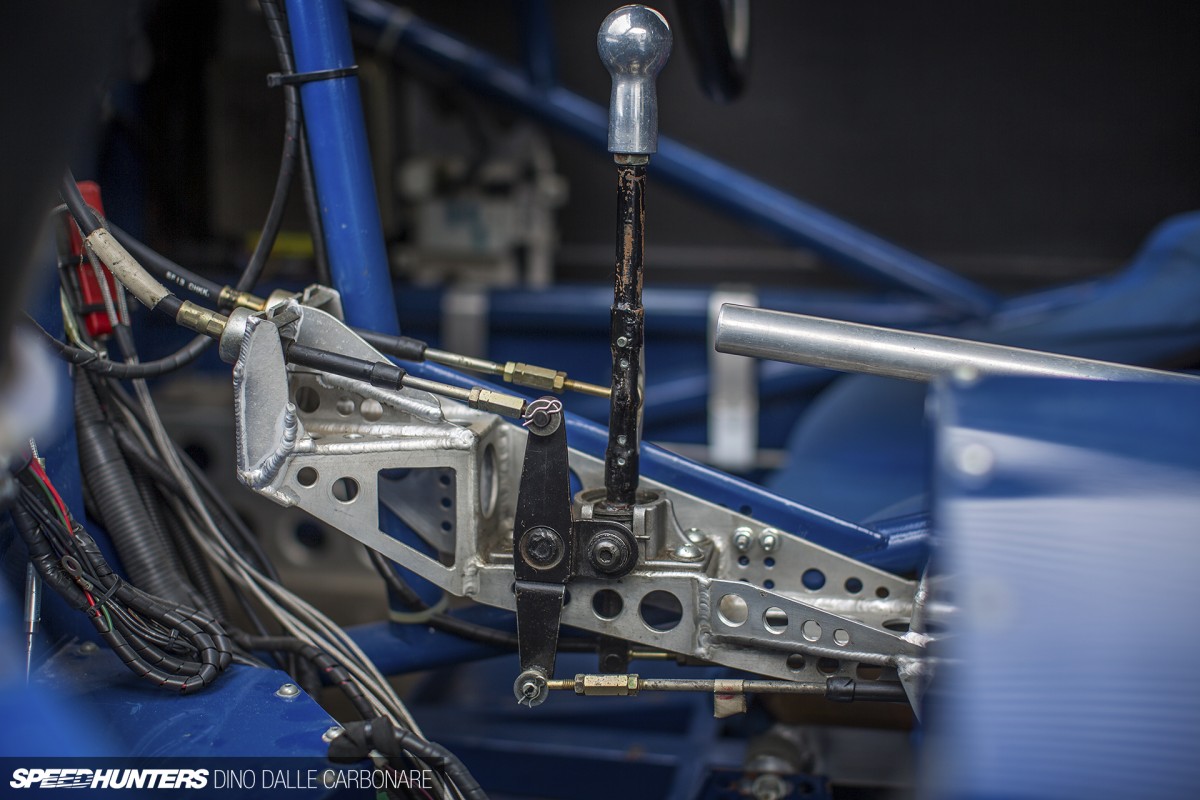 Of course, the most interesting things are the ones you don't really see easily – like the shifter assembly which actuates a carefully set-up series of linkages that are mounted on pivots, to simultaneously select the same gear on the two straight-cut transversely mounted gearboxes. An electro-magnetic controlled disc clutch center differential then figures out the rest and channels drive via two LSDs to all four wheels.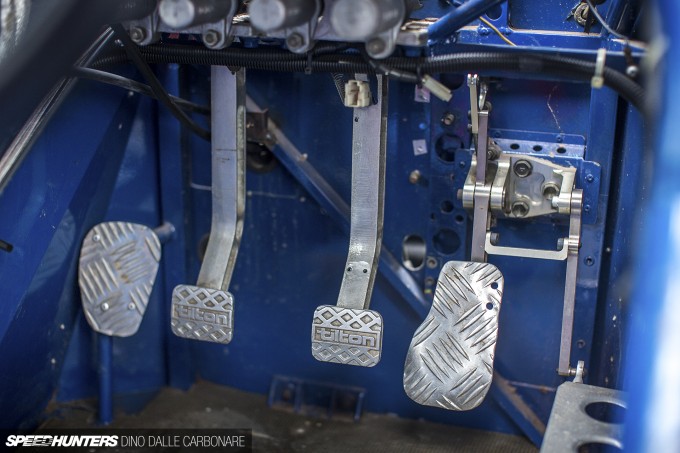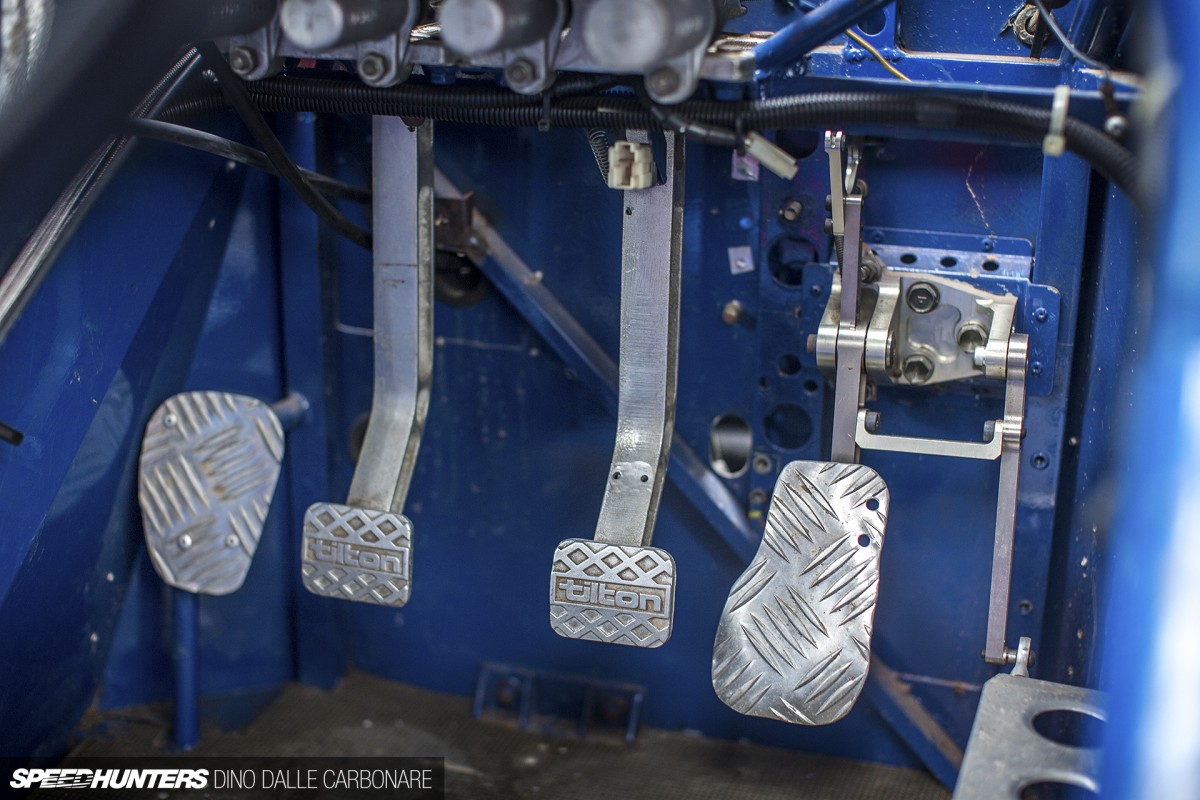 The throttle pedal is also mechanically linked to each of the two engines and mounted on a hinge that operates both throttles at the same time with the same progression. Sounds easy right? Well, it's not! The clutch pedal too has to operate the two multi-plate clutches at the same time.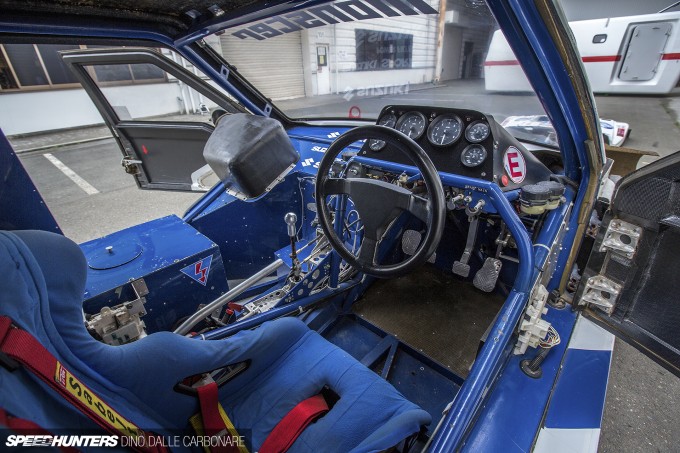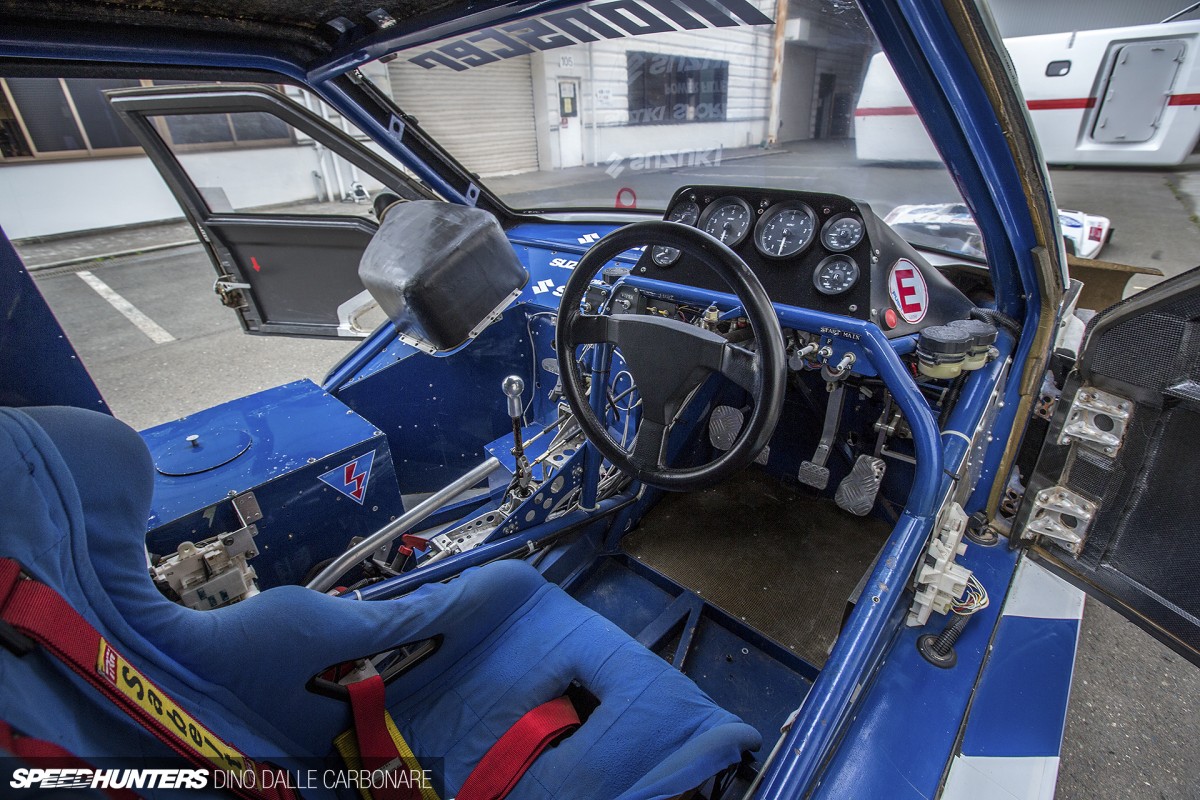 Amongst all this complexity I found the stock steering wheel almost comical and actually wondered if this was a later addition used only to move the car around the garage and workshop. As you might expect, instrumentation doubles up as well, with twin tachometers, twin oil temperature and twin boost gauges.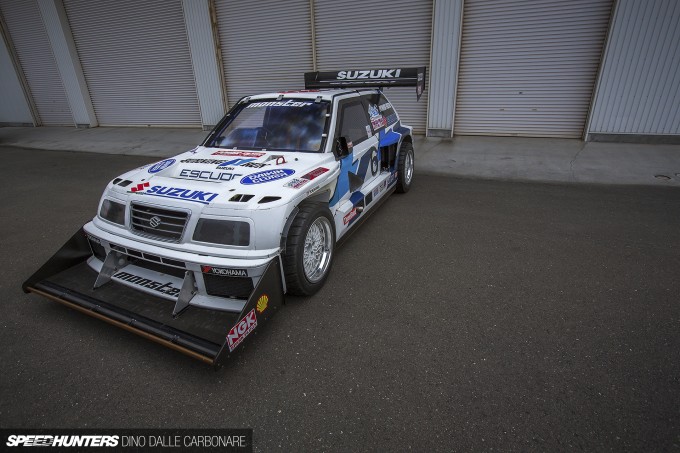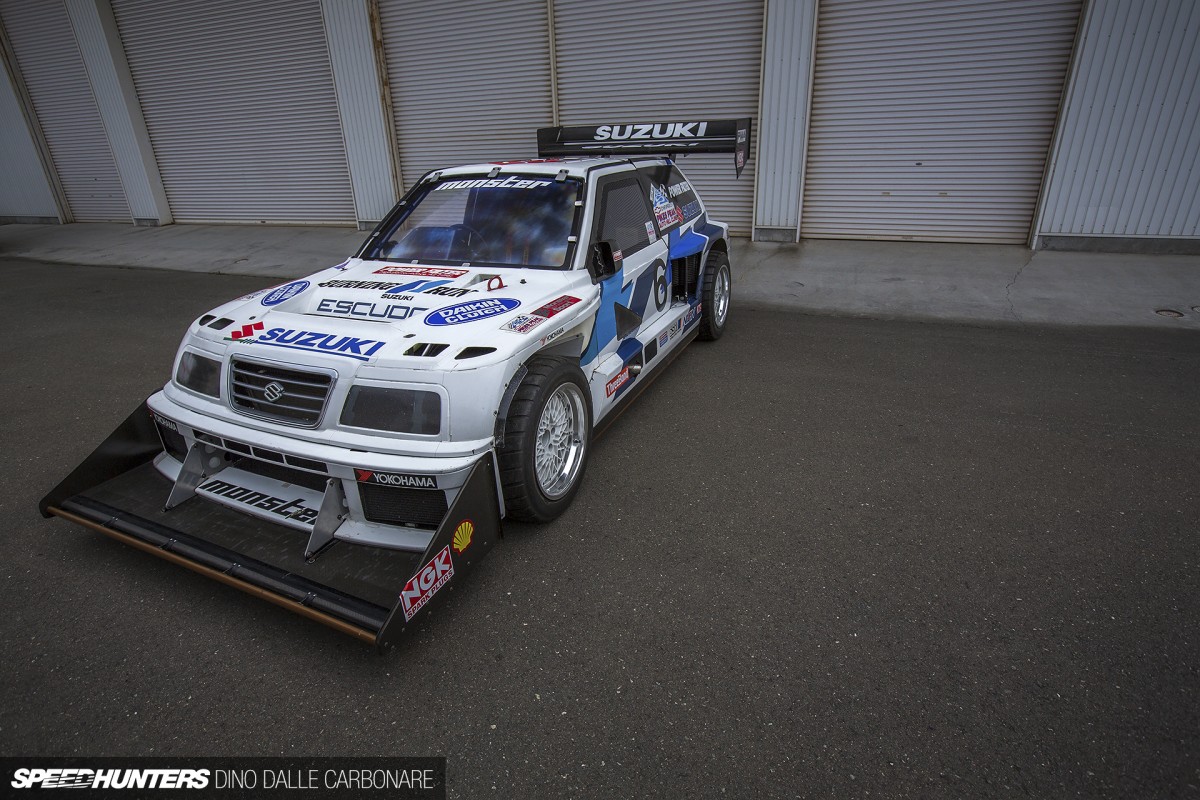 So there you have it, probably one of the craziest cars ever built in Japan and one that achieved a very important title for Monster Tajima and his team in 1995. The best thing of all is that Tajima-san, over the years, has never once stopped his unrelenting pace of research, design and experimentation – and we all know what he has achieved along the way. If looking at these cars brings as much joy to you as it does to me, then you'll be happy to hear that this isn't the last car you'll be seeing from the Japanese icon's private collection…
Dino Dalle Carbonare
Instagram: speedhunters_dino
dino@speedhunters.com