Confusion hits first
If you're like me you probably won't know what to make of the Monster Sport Super 86. We tend to do that when we are confronted with something different; something we know little about or maybe a car we aren't particularly attracted to. The cartoon-like resemblance to the Toyota 86 is just that – a passing similarity to sort of make Monster Tajima's project a little easier to digest for the regular car guy. But, as we have come to learn many times before, looks aren't everything…
That's especially true here – and anything wearing the Monster Sport branding for that matter – because it's a name synonymous with automotive craziness. Just look at the twin-engined Suzuki Escudo I featured last month!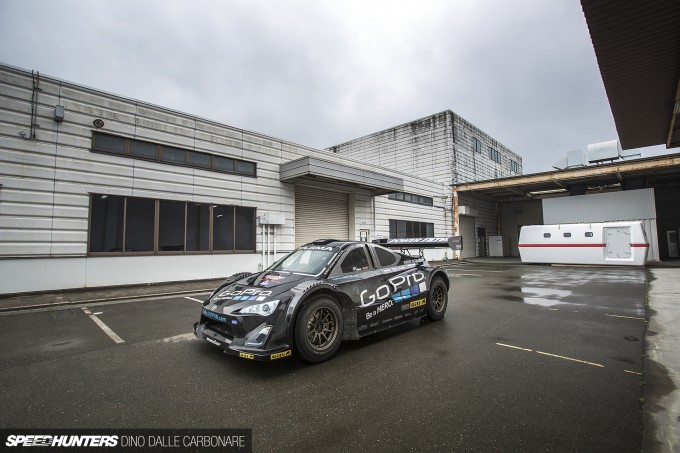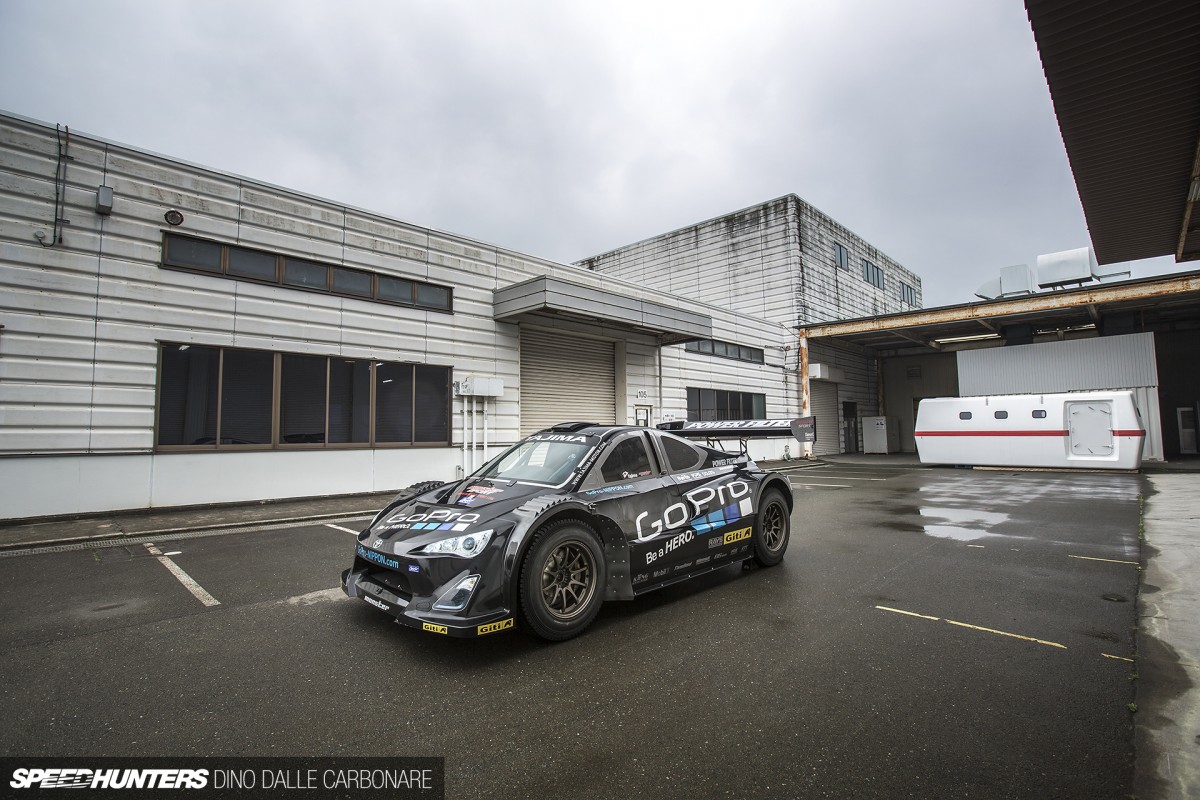 There is so much goodness hiding inside Tajima's garages that I just had to take that three-hour drive down south to Hamamatsu once again to shoot another couple of cars. And I'll be doing this same drive again very soon as I'm far from done! I'm pretty sure that most of you guys appreciate these sort of wild creations, so knowing they tickle your senses and satisfy on so many levels makes all the time it takes to put these stories together truly worthwhile.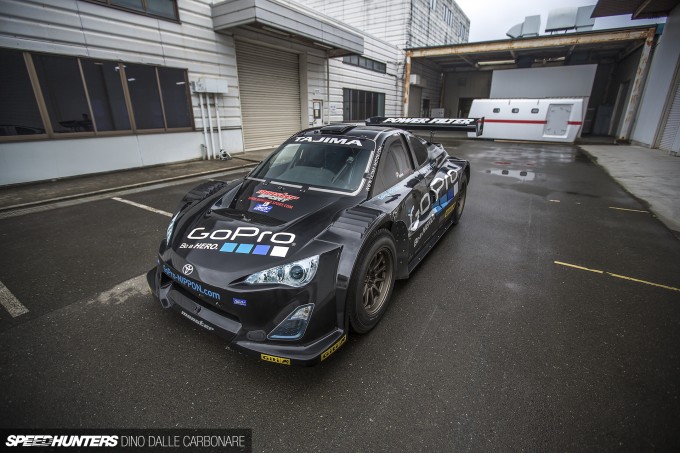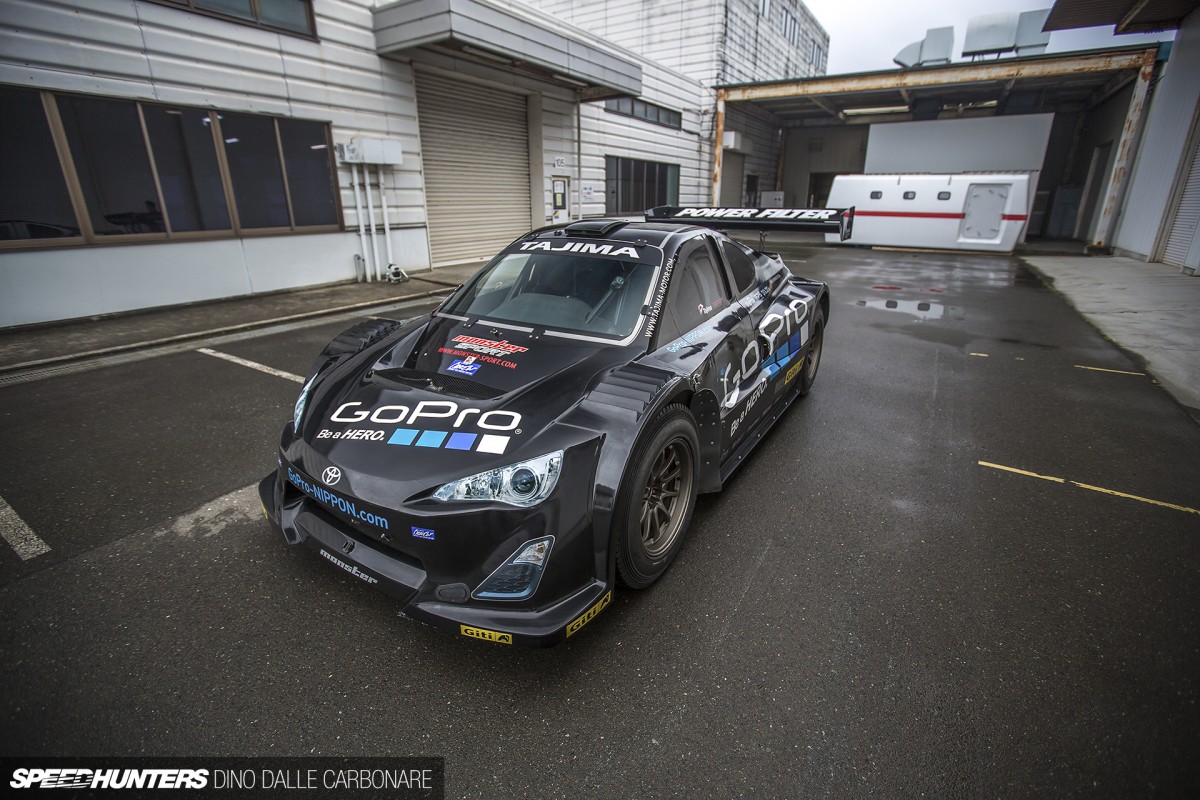 So let's get to it. What on earth is this thing? Well, think about it this way; if you had a passion for speed – and by passion I mean a disease-like addiction to everything performance-oriented – and at the same time had the means to do whatever you liked to quench this affliction – what would you do? The Super 86 is Tajima's answer. He built it up as a competitive rallycross car that he plans to take to some events around the world, starting off in New Zealand later this year. And when I say 'built' I mean it in the truest sense of the word, because this whole project was created from scratch. Pretty interesting, huh?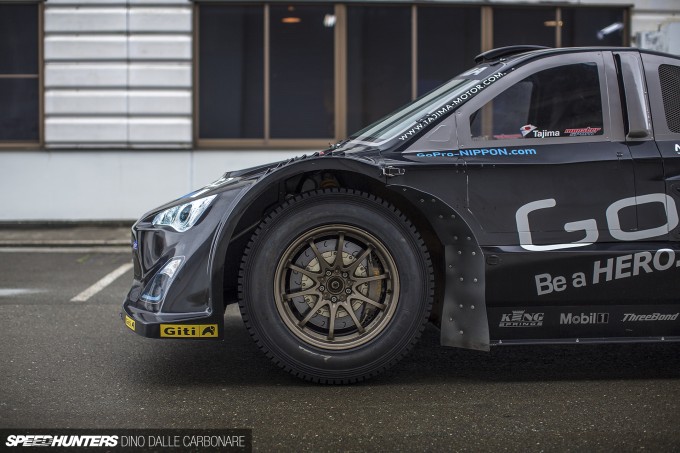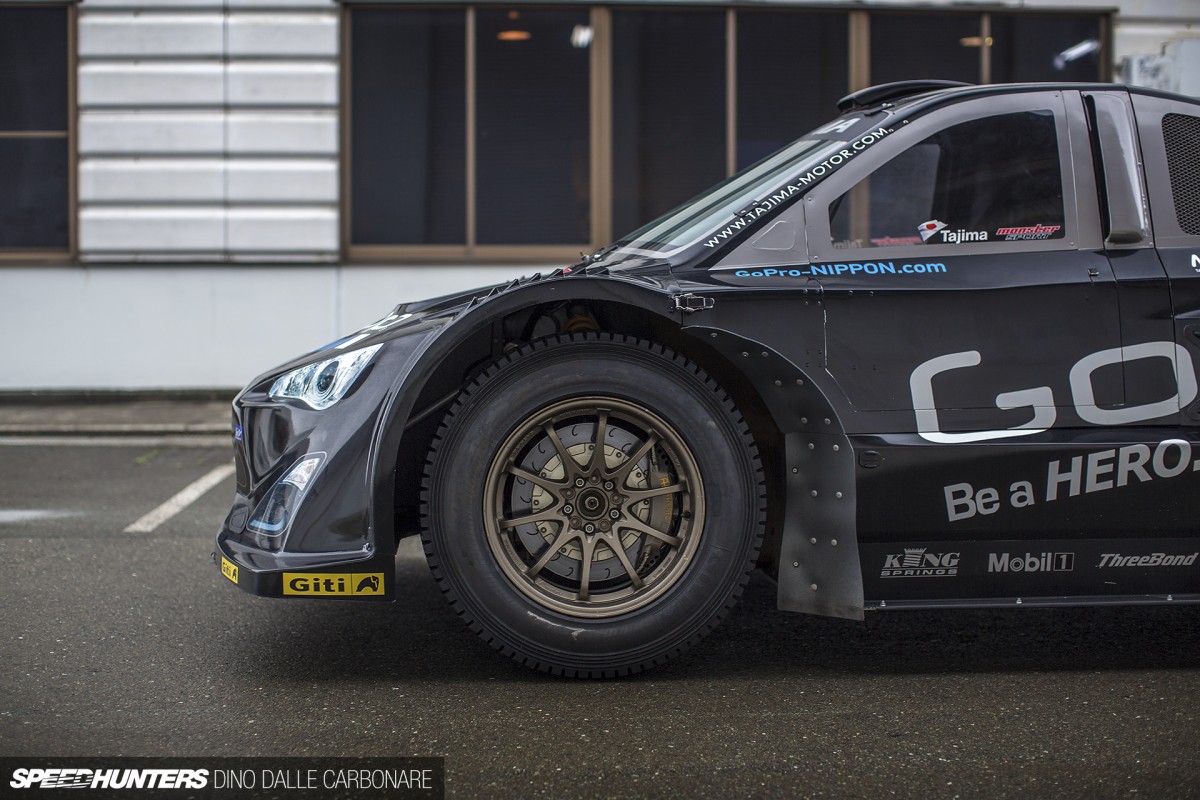 Along with a stance that screams 'I mean business', massive custom-designed Giti off-road tyres wrapped around RAYS Volk Racing CE28Ns give more than a hint at what this car was built to tackle. The idea was to create something nimble, powerful and at the same time able to put down its torque effectively. That's why Tajima designed his own tread pattern – something that after a couple of decades competing at Pikes Peak he's very knowledgeable about. Huge AP Racing 6-pot calipers just manage to clear the inside of the wheels and bite down on J-hook grooved floating rotors.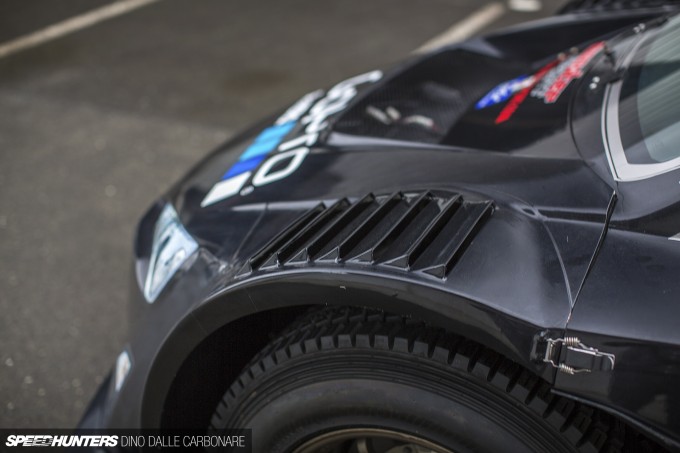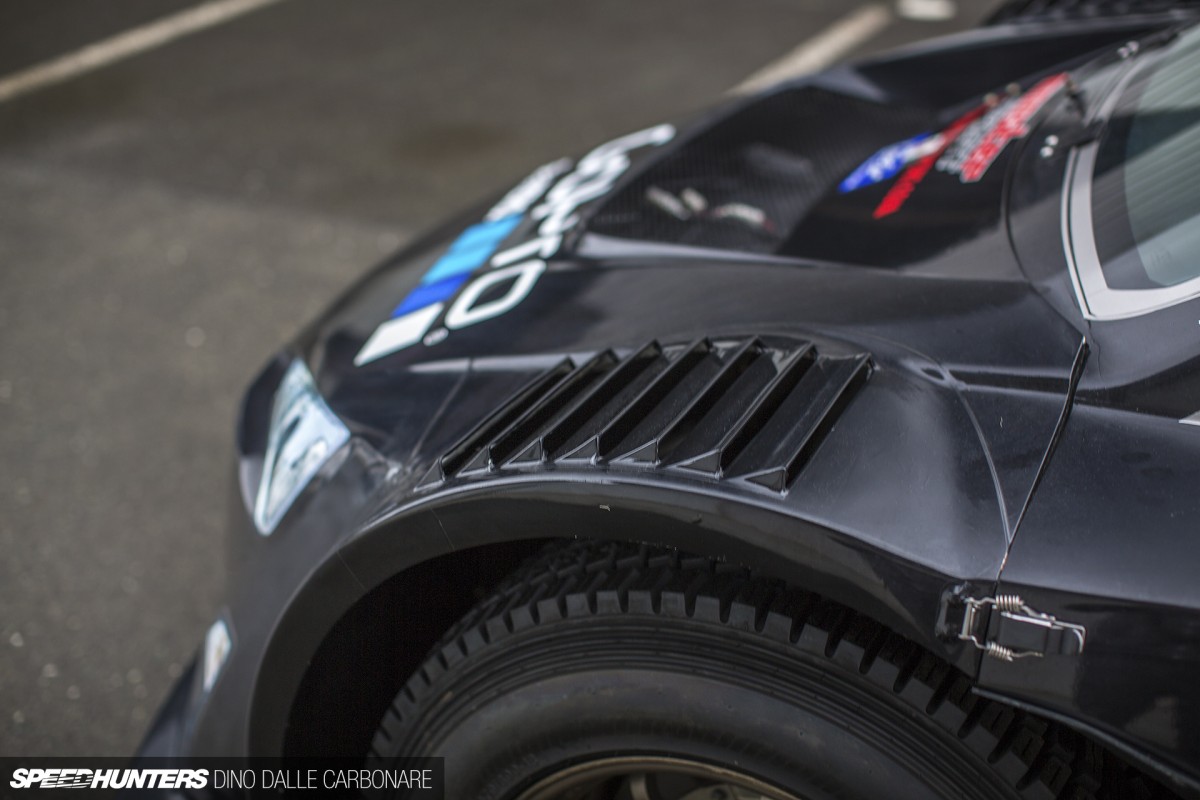 Seeing the Super 86 wasn't really built with the highest of top speeds in mind, aero doesn't come that much into play. But then again, there are some touches here and there that help make the most of the air flow.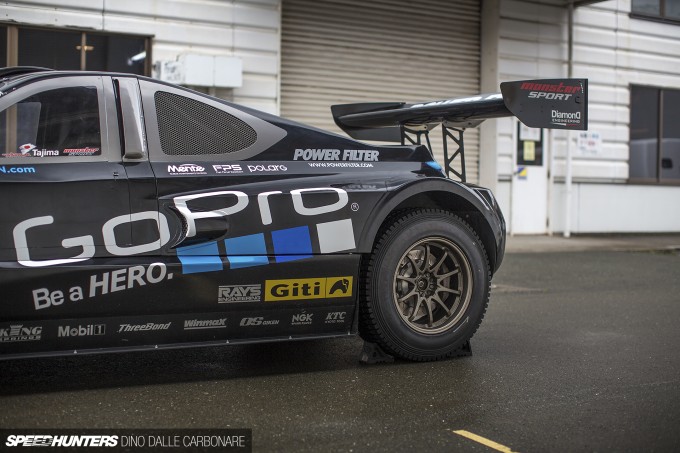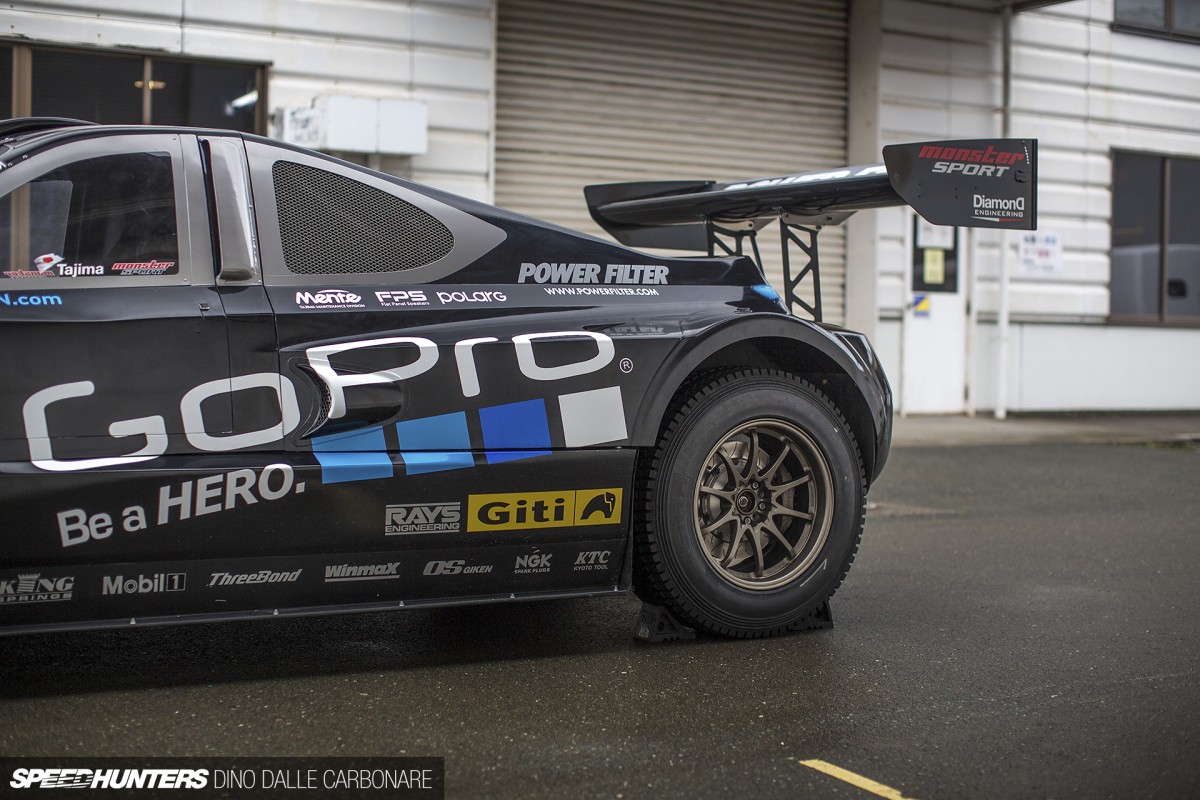 There are also absolutely no compromises – something you can only achieve when you plan and build a project from a white sheet of paper. This function over everything else approach has dictated the overall shape of the car and the center driving position that creates the cockpit hump which gently slopes rearwards.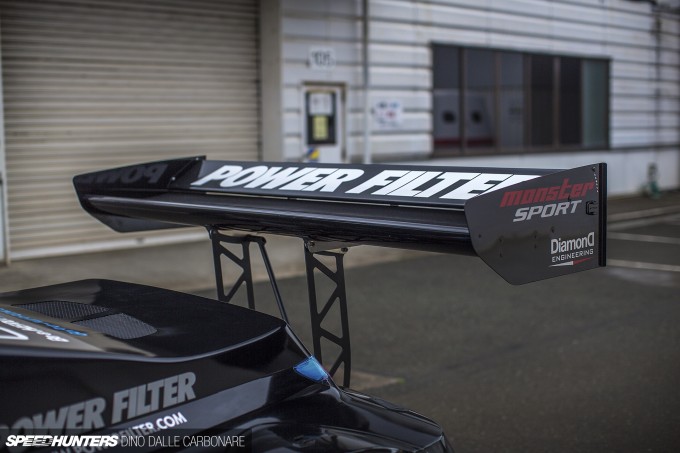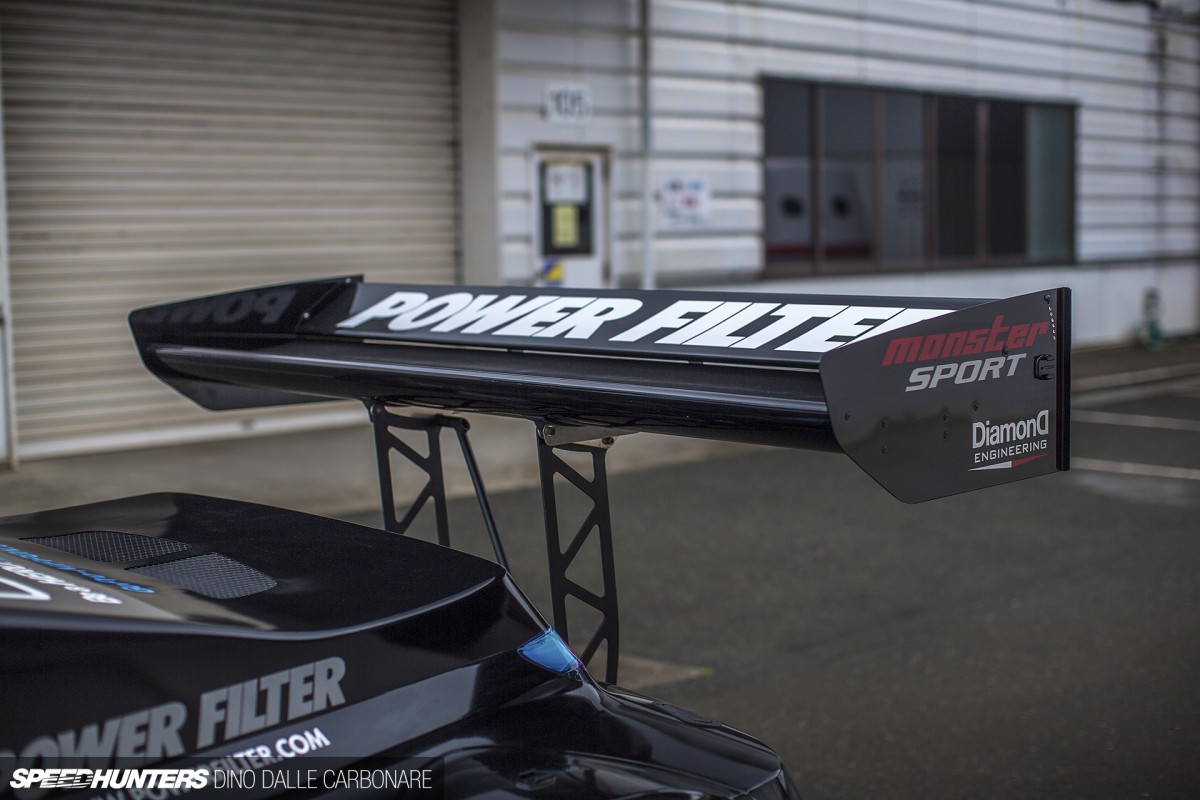 The bi-plane wing is where most attention was given with respect to downforce.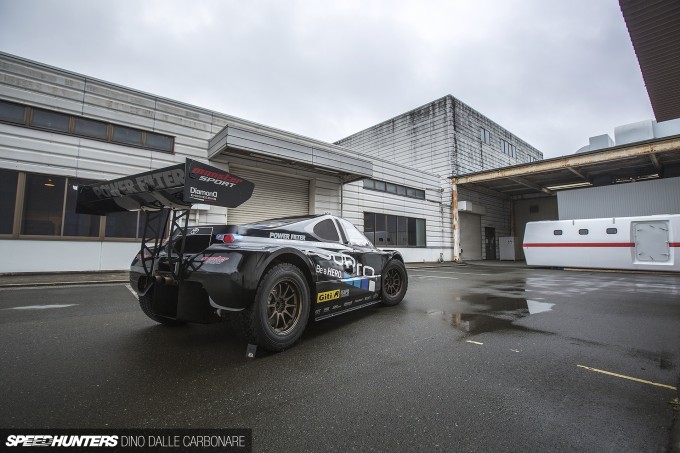 It's a menacing looking thing, don't you think? It might not have the most flowing design, but no matter what angle you view it from it lets you know the purpose it has been created for.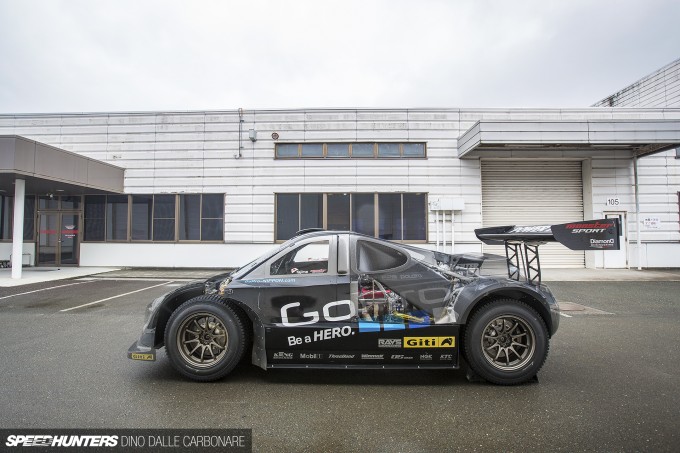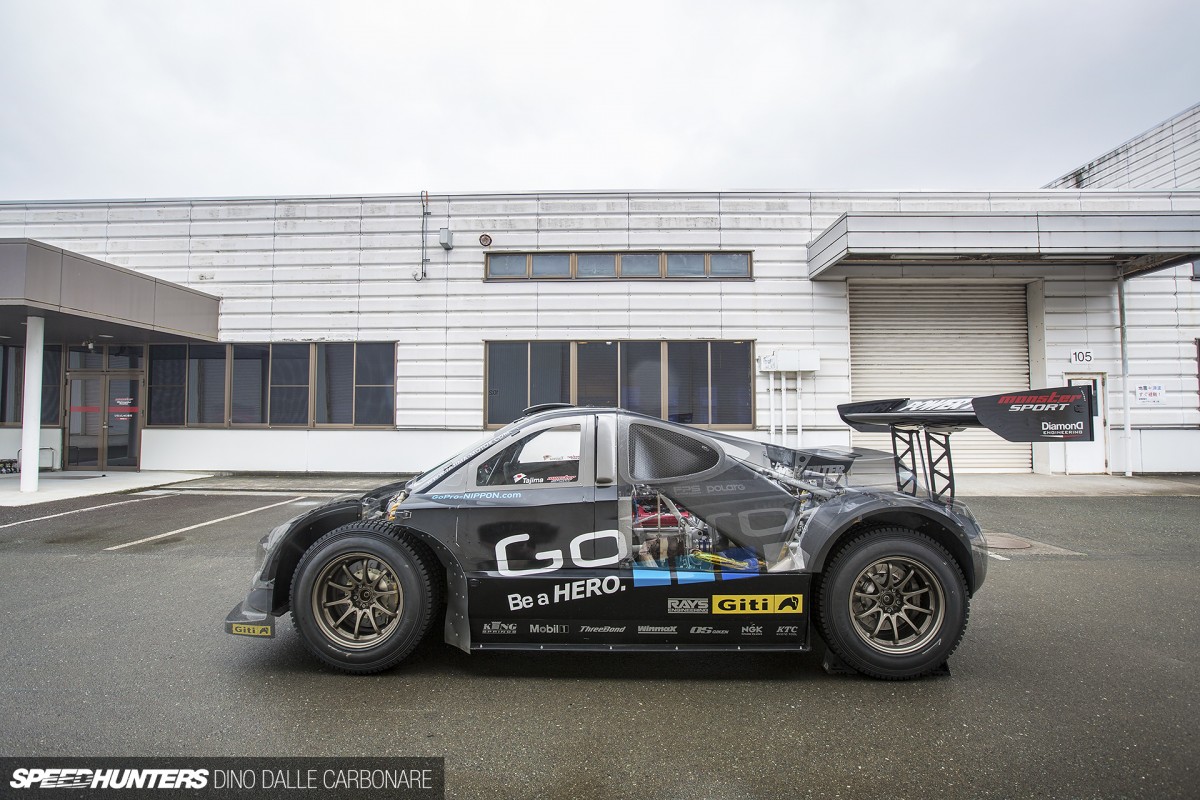 As you can imagine however, the really exciting and interesting stuff happens underneath that one-off carbon and Kevlar exterior.
Dropping its skin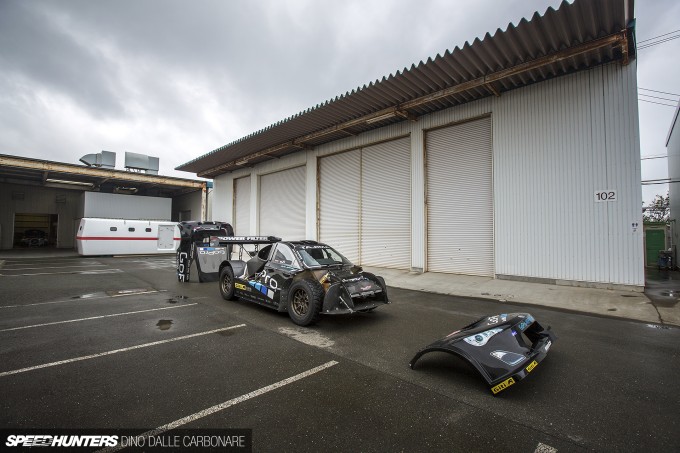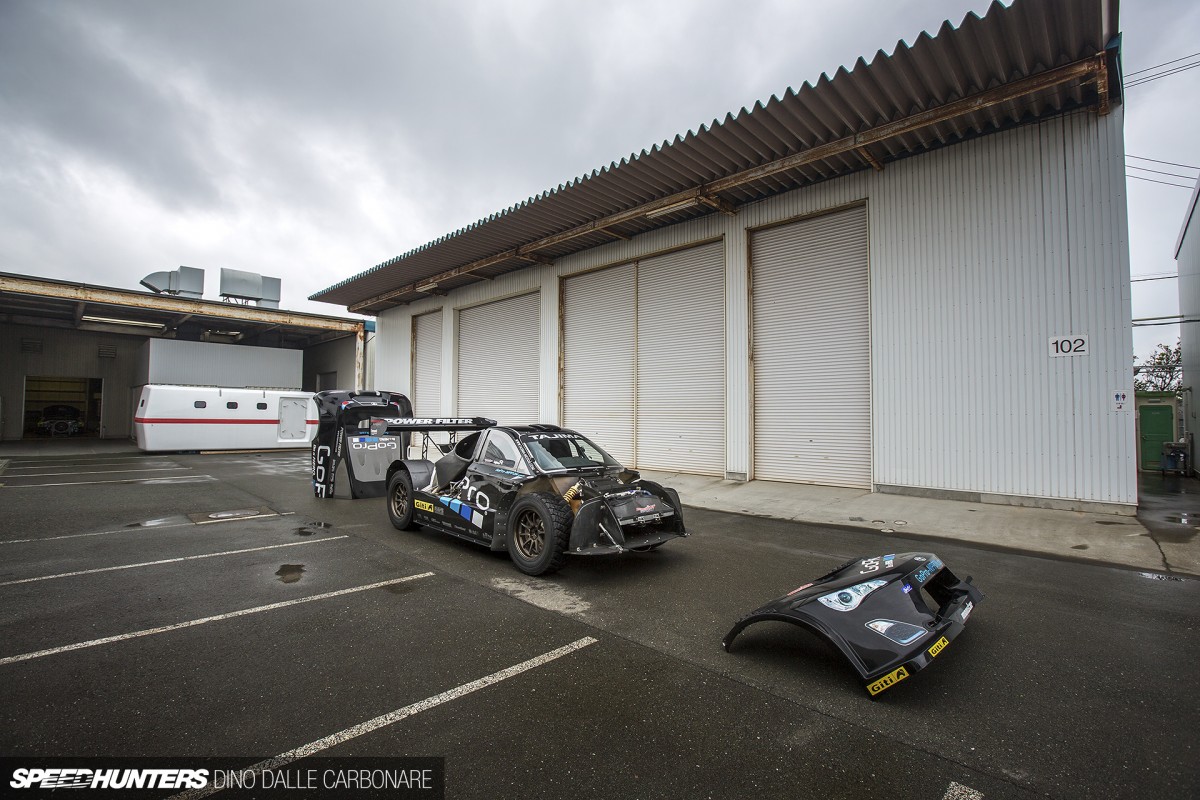 Removing the front and rear cowls is as easy as undoing a couple of quick-release clips and getting two guys to lift the lightweight covers off. Without its skin the Super 86 assumes a totally different persona – you see it more for what it is: one serious offroad beast.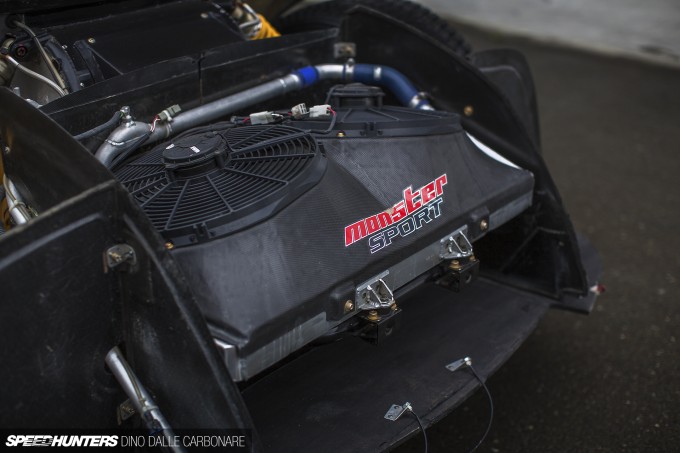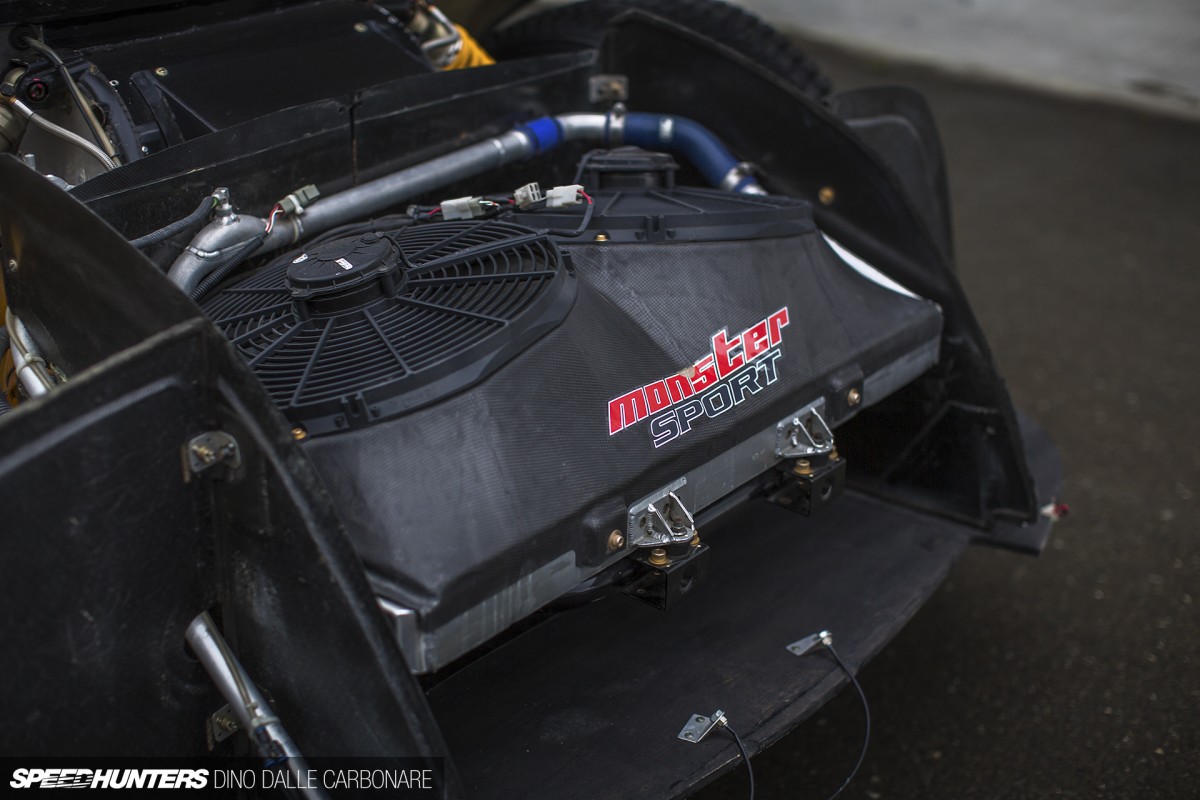 The entire front section houses the rather large horizontally-mounted radiator. Here, the air is scooped up from the front diffuser and extracted with the help of a carbon fiber shroud equipped with a pair of massive electric fans. For added effect, two little sprayers vaporise water onto the core when temperatures get high.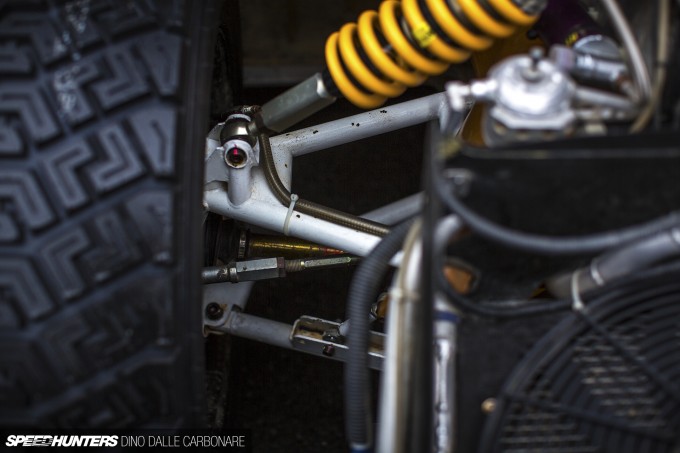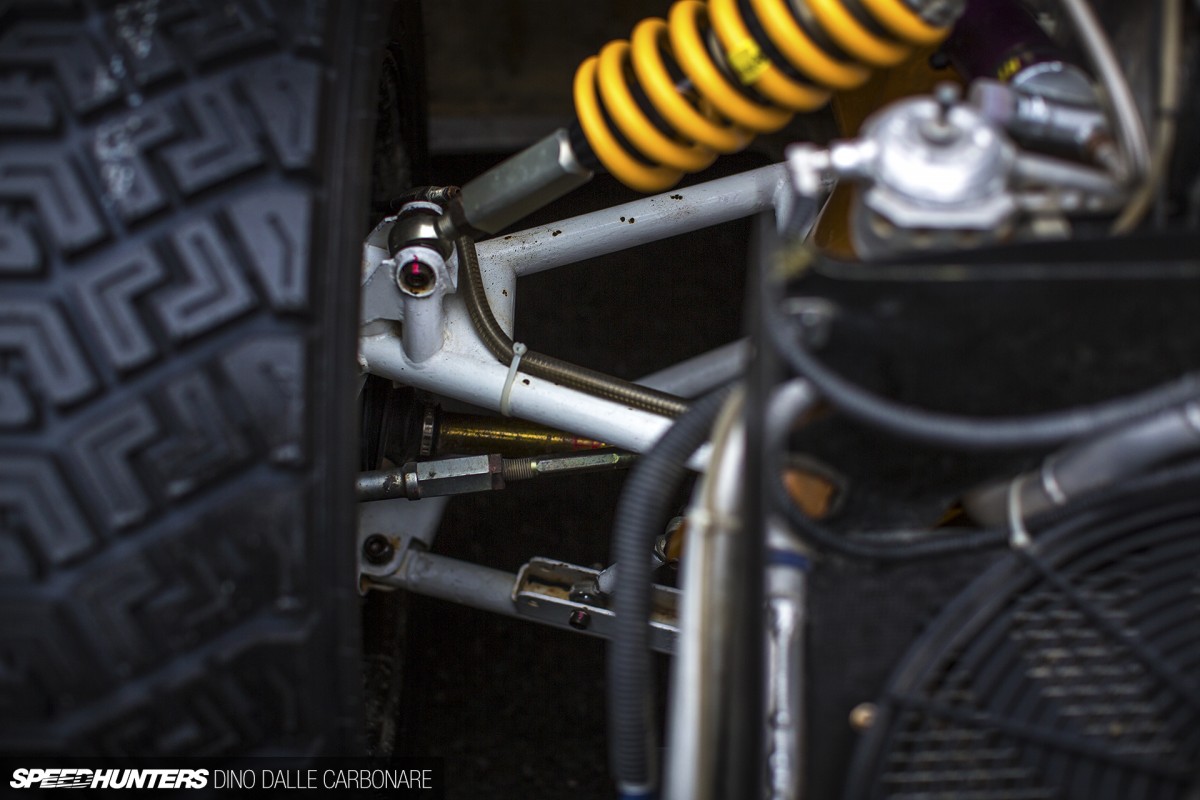 On either side you can see the custom double wishbone suspension layout, which was all designed and built in-house at Monster Sport and set up just as Tajima likes it. The rally-spec Öhlins dampers are modified and custom valved, and have been mated to remotely mount piggy-back tanks.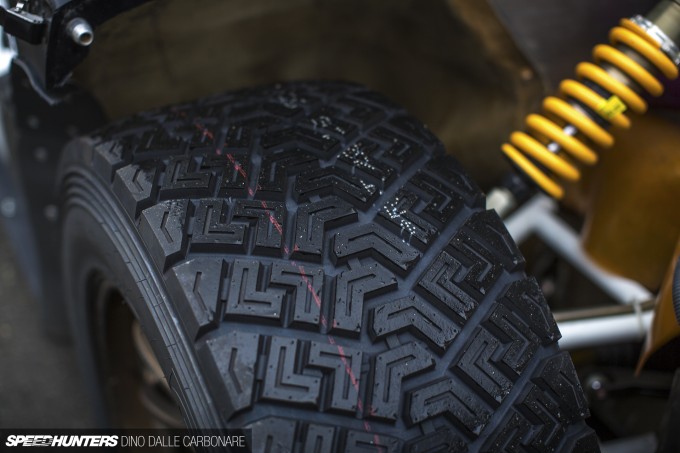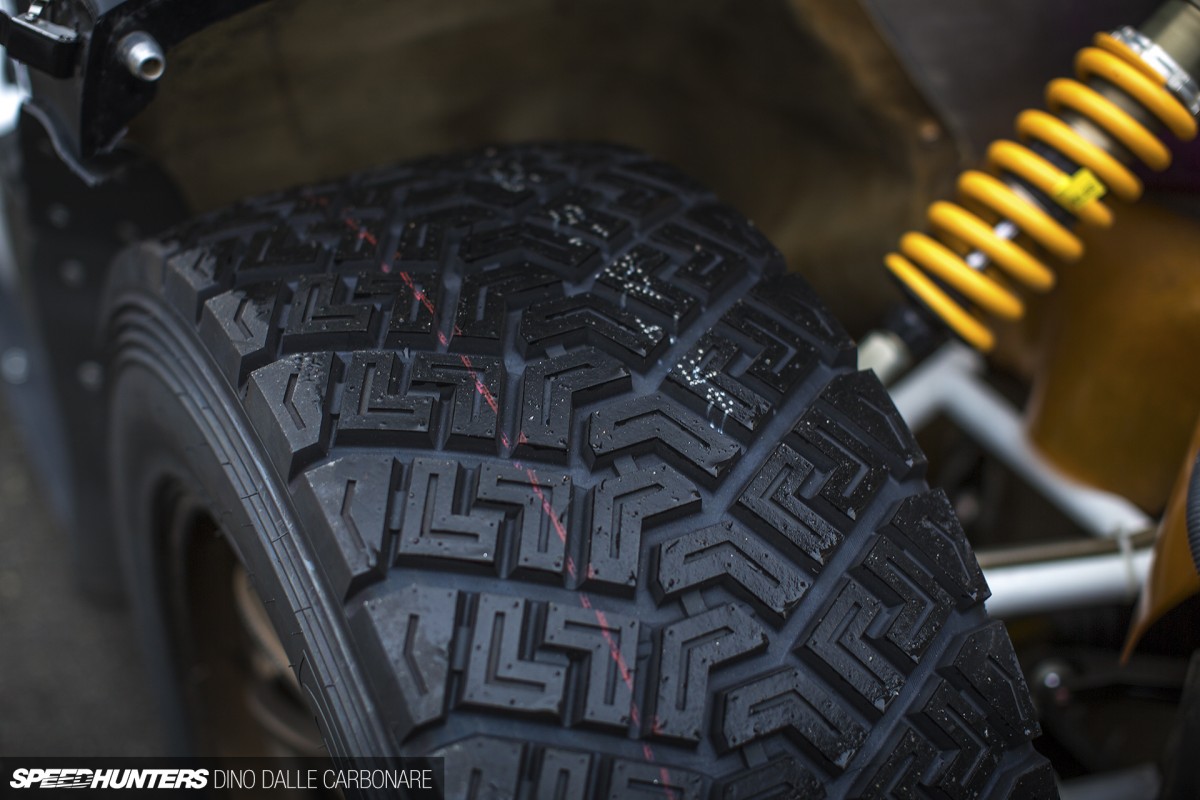 Here is a closer look at the Giti gravel rubber that Tajima had made for the Super 86. These measure 310/800-18 at each corner and are apparently impressive at digging down and finding grip on even the loosest and slipperiest type of surfaces.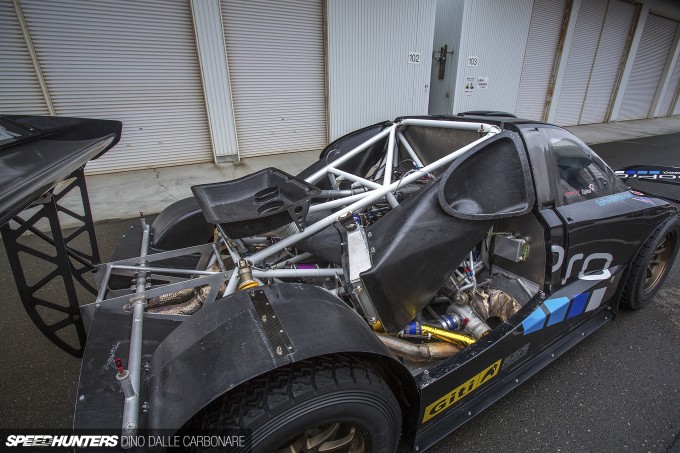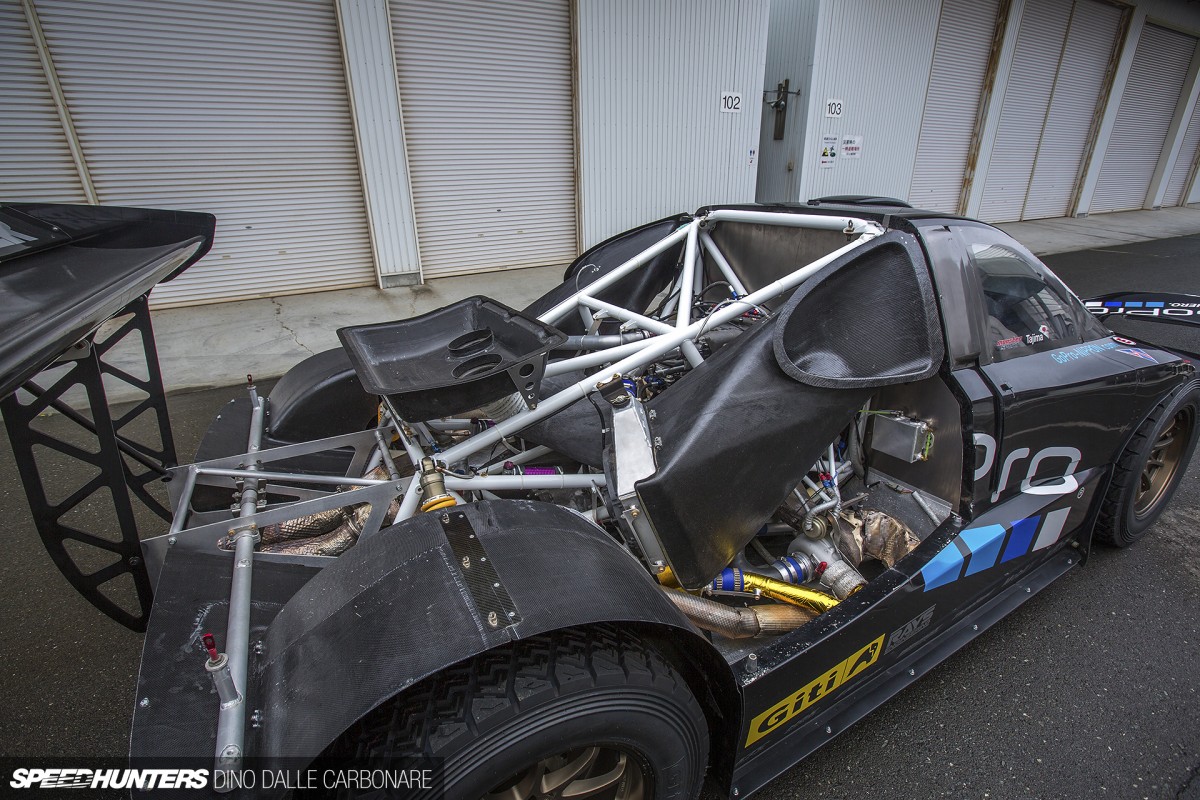 Let's move to the interesting bit – the rear. To say I was blown away when the Monster Sports mechanics removed the rear cowl is an absolute understatement. Before seeing the actual underpinnings of the car I really had no idea what to make of it, but it was pretty obvious this is as impressive as it gets.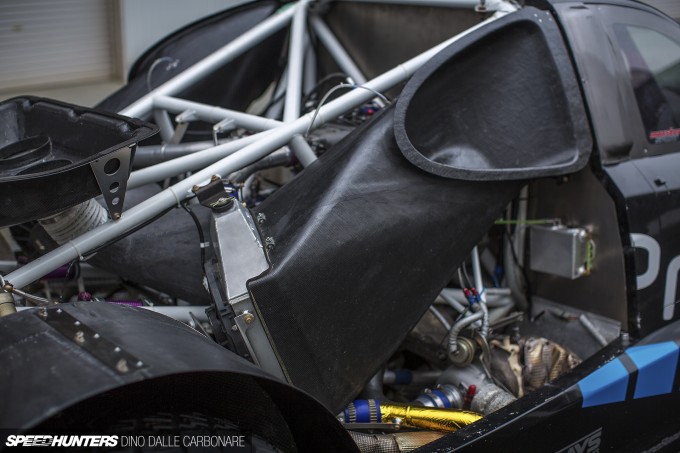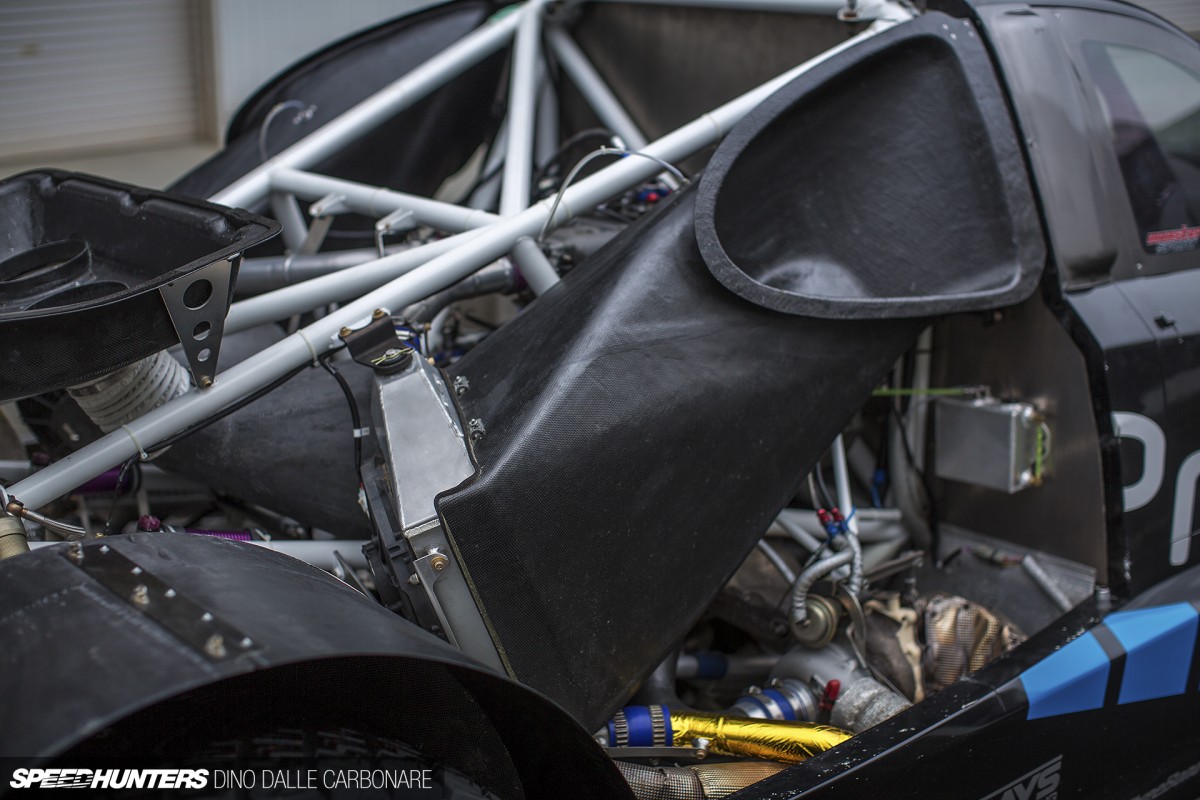 The first thing you notice are the large carbon side intakes which are designed to scoop air front the grilled side openings – or rear side 'windows' if you will – and direct it downwards onto the two custom intercoolers.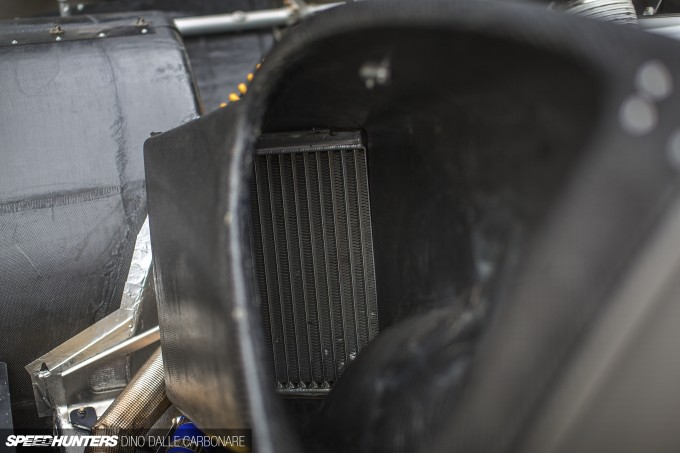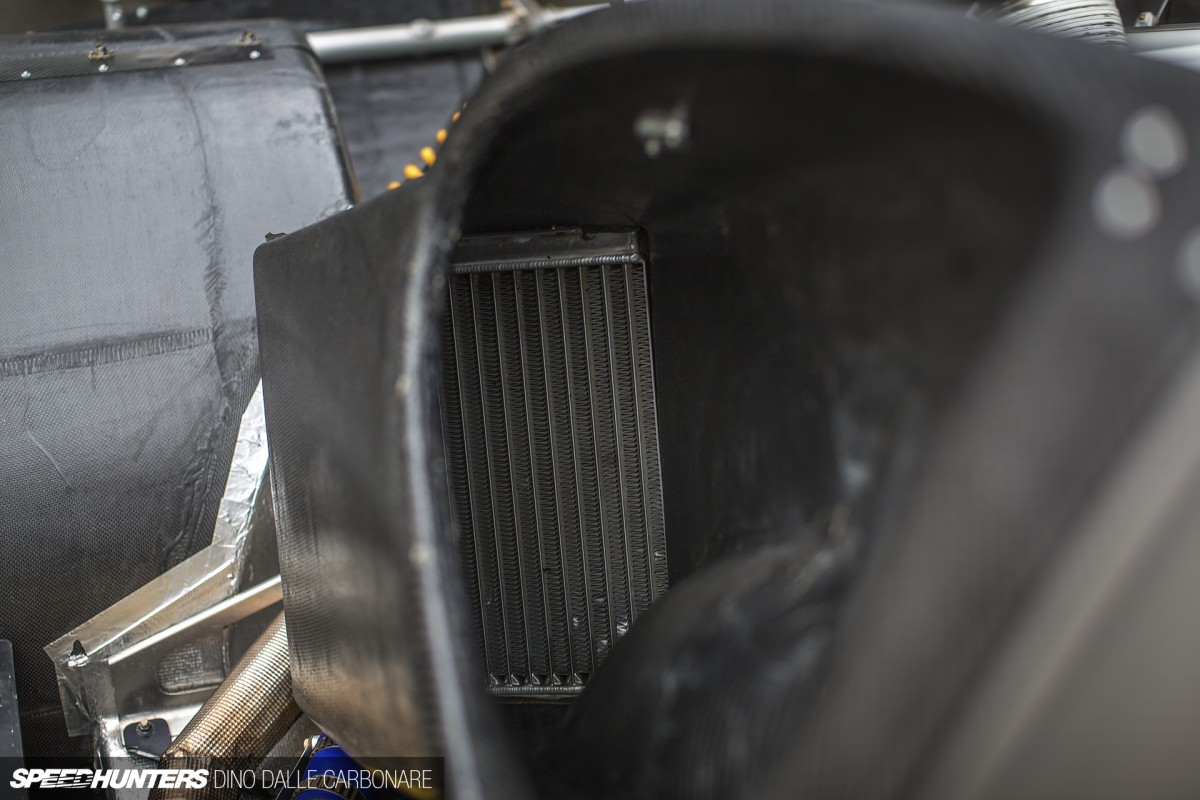 You can see one of them sitting snuggly inside the right-hand side intake. With everything designed to be taken apart in the shortest possible time for on-the-spot maintenance or repairs, removing the intakes is a piece of cake. Undo a couple of clips and they come right off. You can then get access to the centrally mounted, fully-custom twin-turbo V6 that powers the Super 86. With Tajima having pretty much every single machining or manufacturing process available to him at the Monster Sport facility it allowed him to design and manufacture the whole engine. That included milling the thick-walled block out of billet aluminium, and pretty much every other component as well. Things like the forged pistons and connecting rods are the exception to the rule and were manufactured under Monster Sport's original design elsewhere.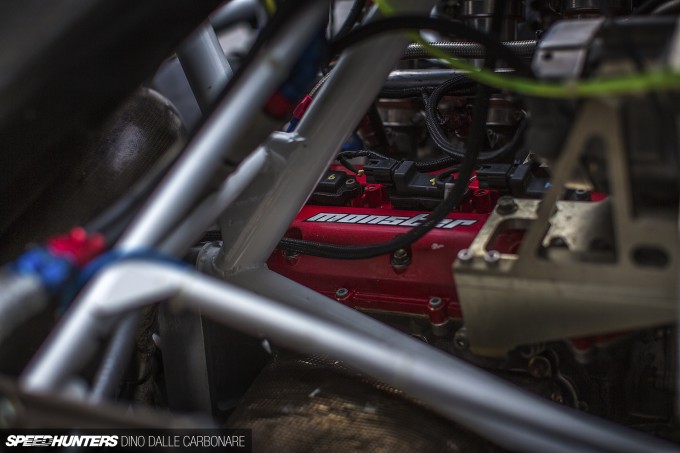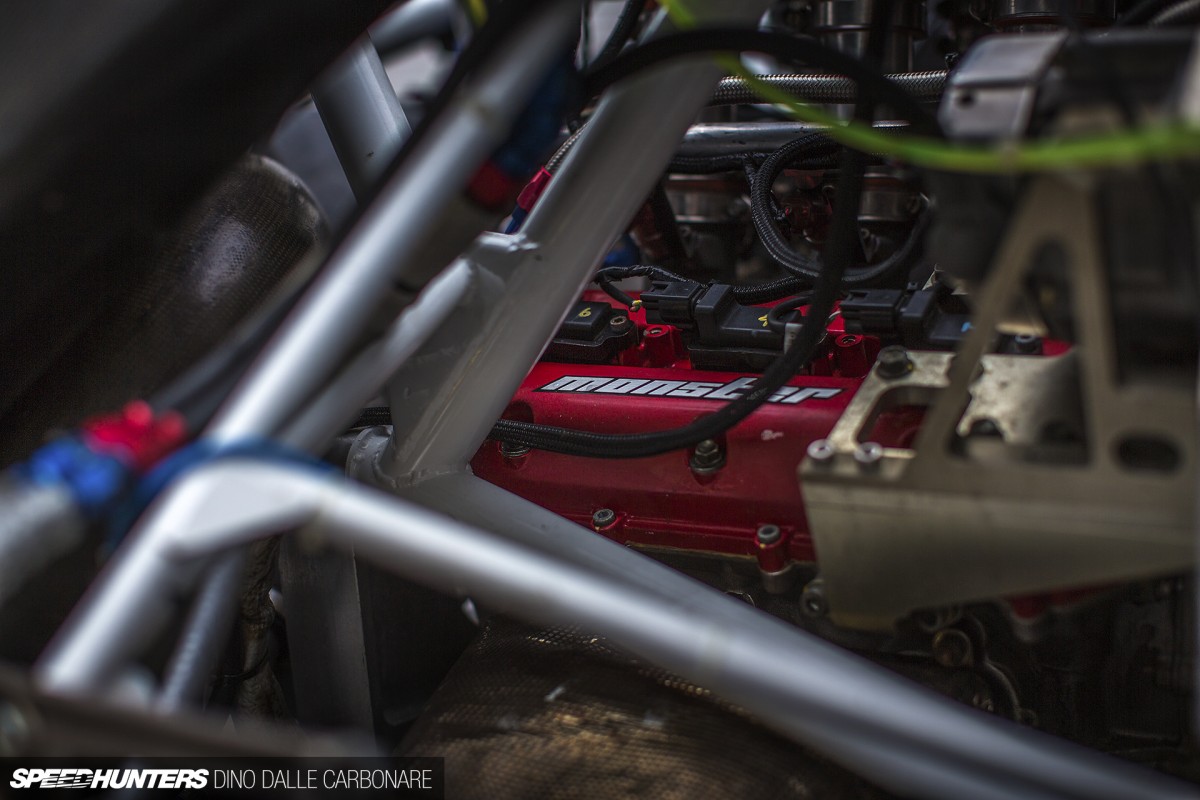 The DOHC six-cylinder engine displaces 2,977cc and thanks to dry-sump lubrication sits as low as it can possible go within the steel space frame chassis.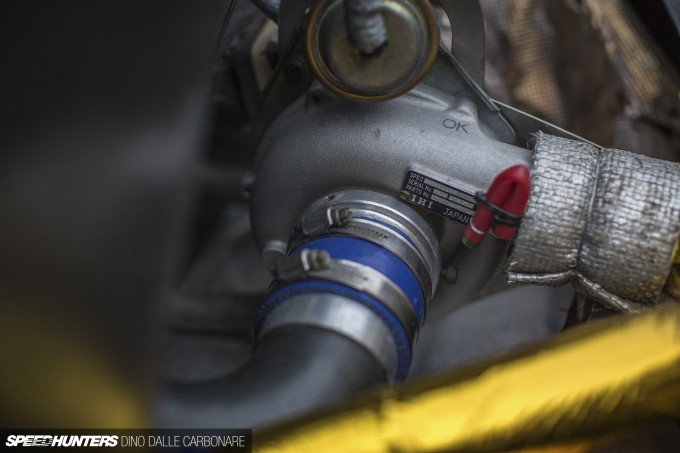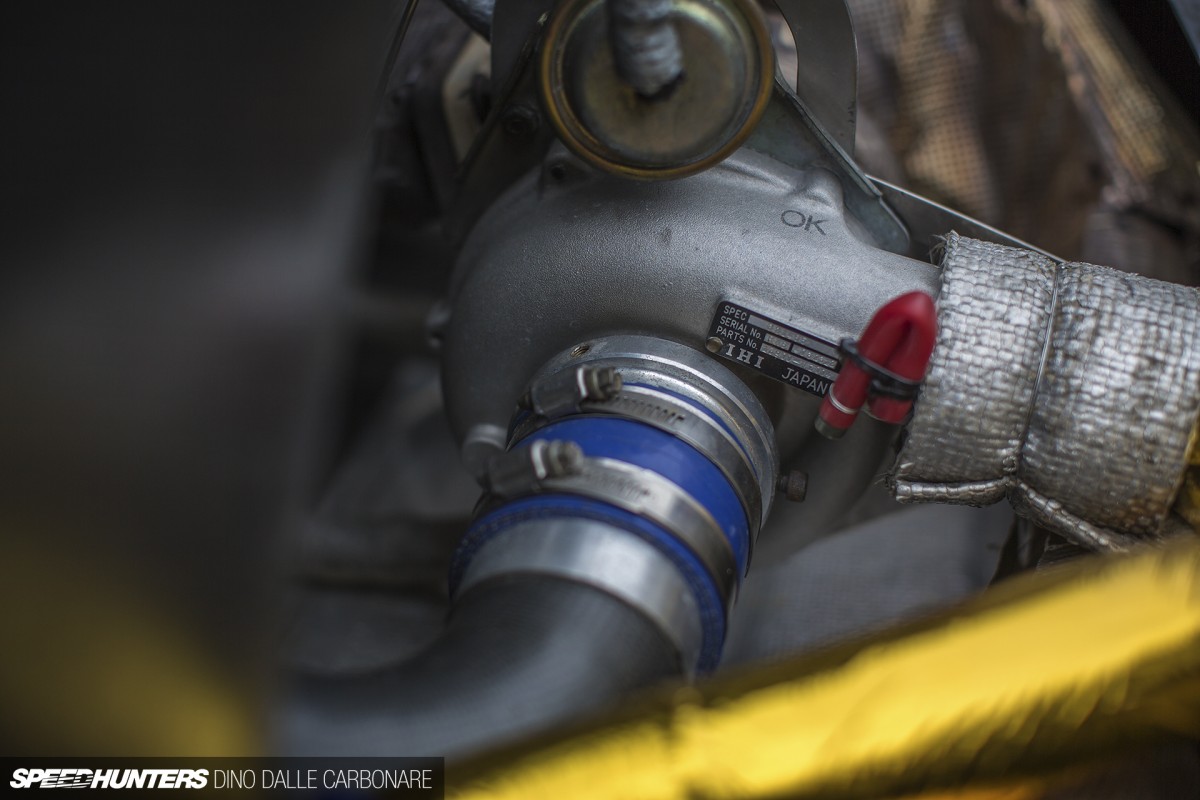 Helping it along are two internally-wastegated IHI turbochargers. They're quite small in dimension, but good enough to help the engine pump out a pretty healthy 670PS and – most importantly of all for a rally car – a very broad spread of torque which peaks at 5,000rpm with 809Nm of twist being developed. All of this is channeled via a six-speed sequential transmission to the two hydraulically-controlled limited slip differentials. I really liked the layout of the engine and its forced induction ancillaries. It instantly reminded me of an old Le Mans or prototype race car, where mid-mounted V6s, flat sixes or V8s would have the turbos mounted outboard. This of course, keeps heat away from the engine and the exhaust length extremely short. As you can see above, much thought has been given to heat management. The turbo housing and exhaust manifold have both been ceramic-coated and then wrapped in a heat-resistant metal wrap. It almost looks like some complex roast chicken that's ready to be dropped into the oven for a nice roasting! The gold-wrapped pipes that exit the compressors channel air to the intercoolers, while (very cool) carbon scoops connect the compressor intake to the air box.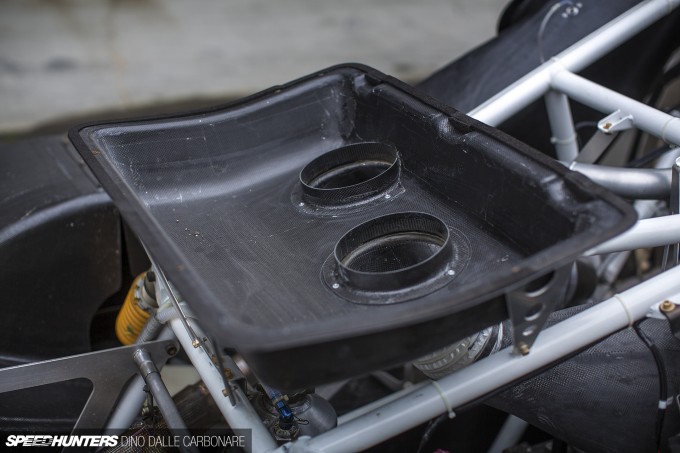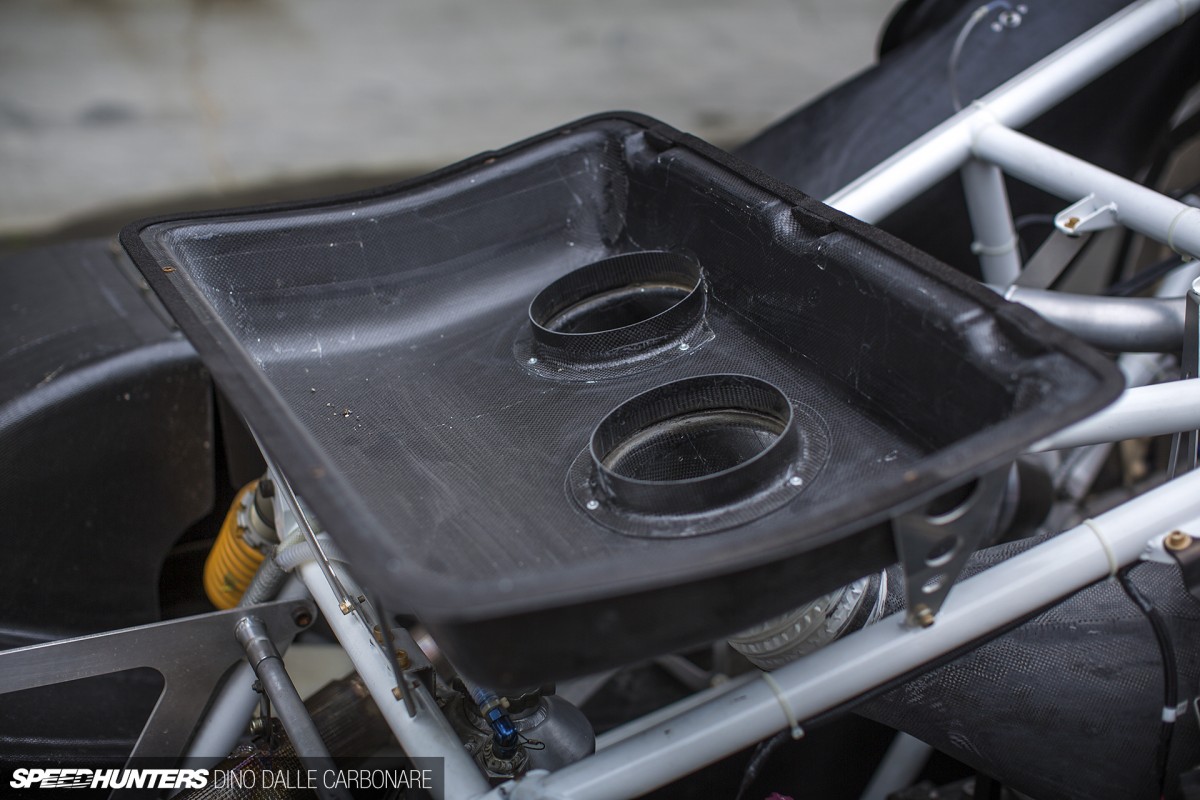 To make sure cold and non-dusty air is breathed in, the box is mounts up and seals against the rear cowl.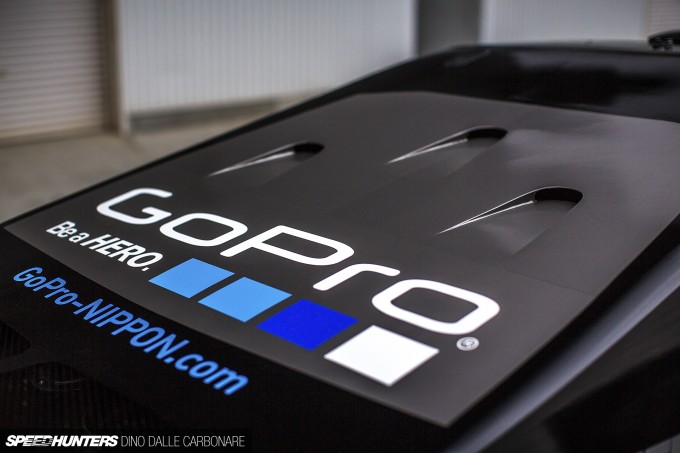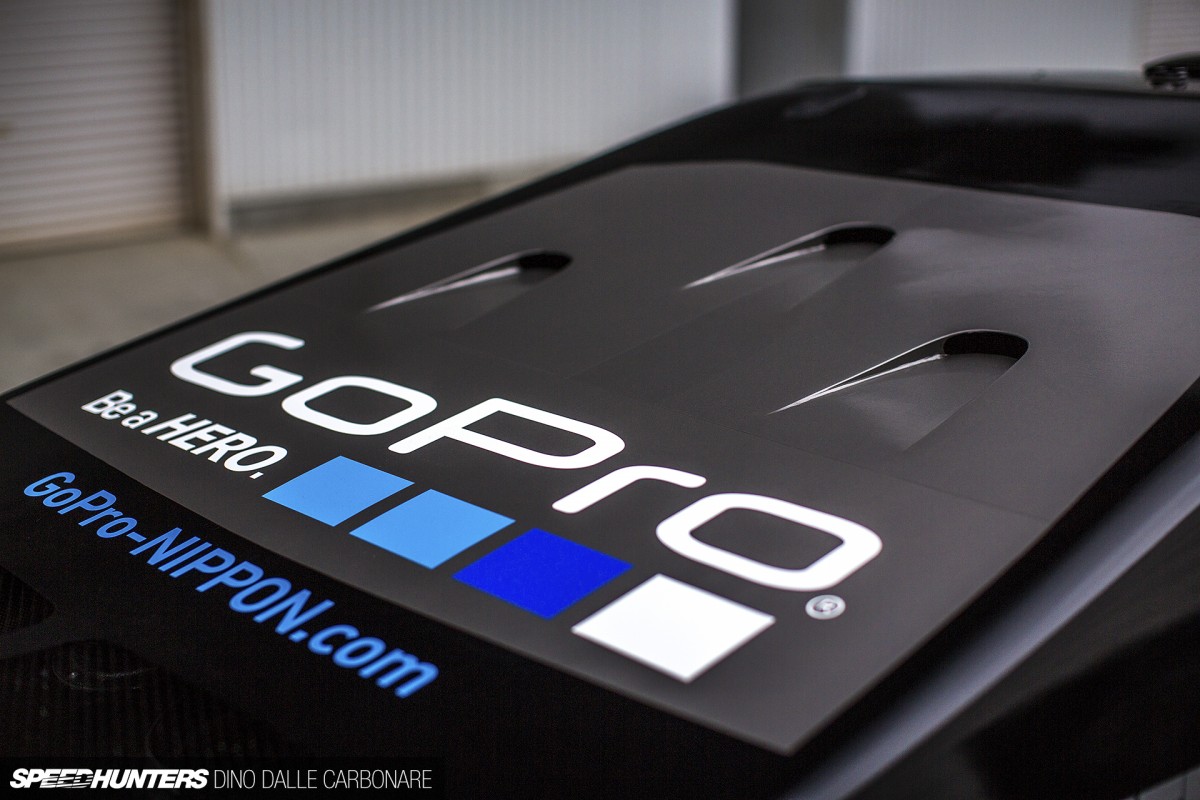 Additional openings help remove more heat out from around the engine. Oh, and the massive GoPro logo on the back of the Super 86 reminded me to get my little camera out and film the car while we were moving it around for the shoot.
Unlike the video I made for the Pikes Peaks Escudo, there is engine noise to accompany this particular short collection of clips. I hope it adds to the rest of the feature!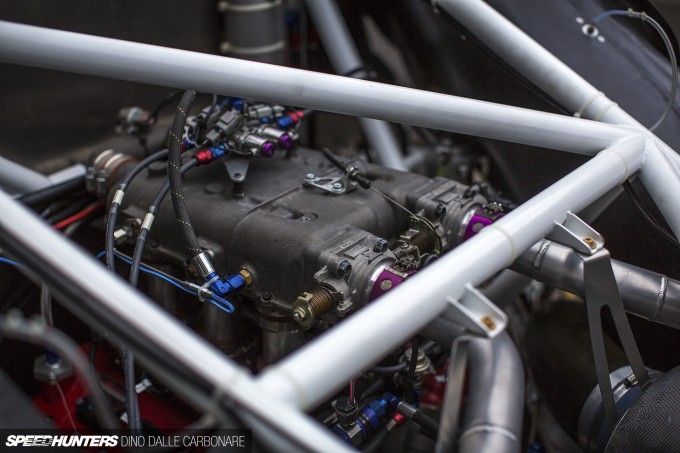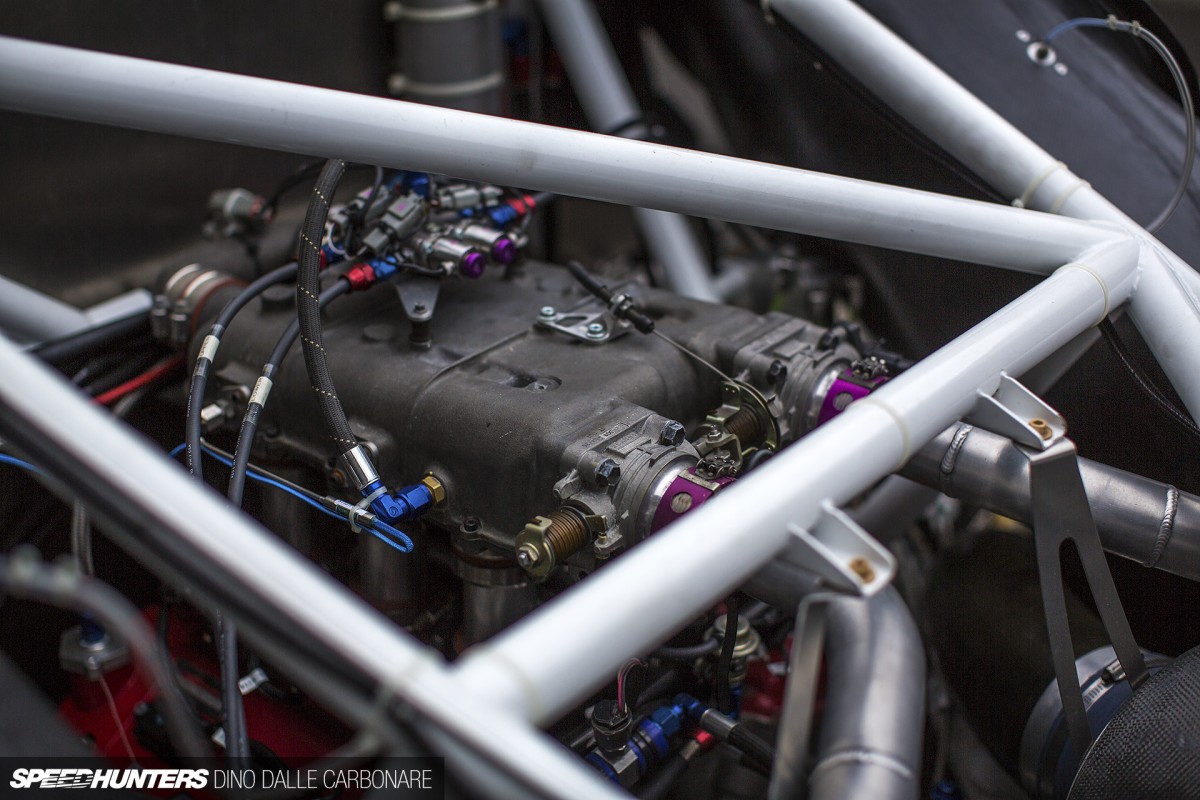 After getting cooled by the efficient intercooler set up, the intake charge is passed via a pair of mechanical throttles. Notice the Adel Wiggins clamps? Only the best equipment is used in feeding each of the cylinders via the rather large intake plenum and six long runners.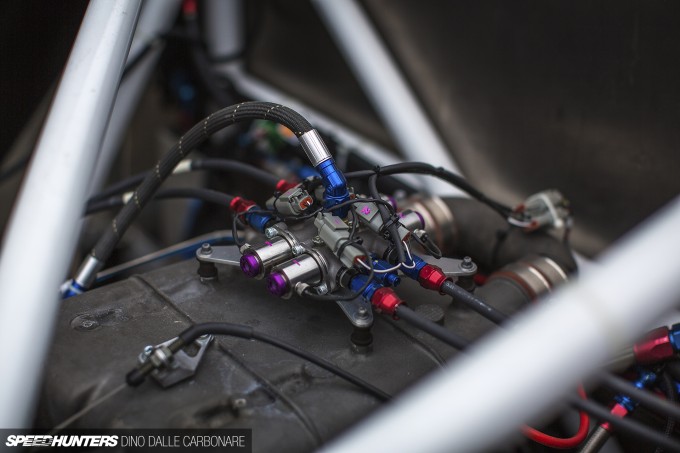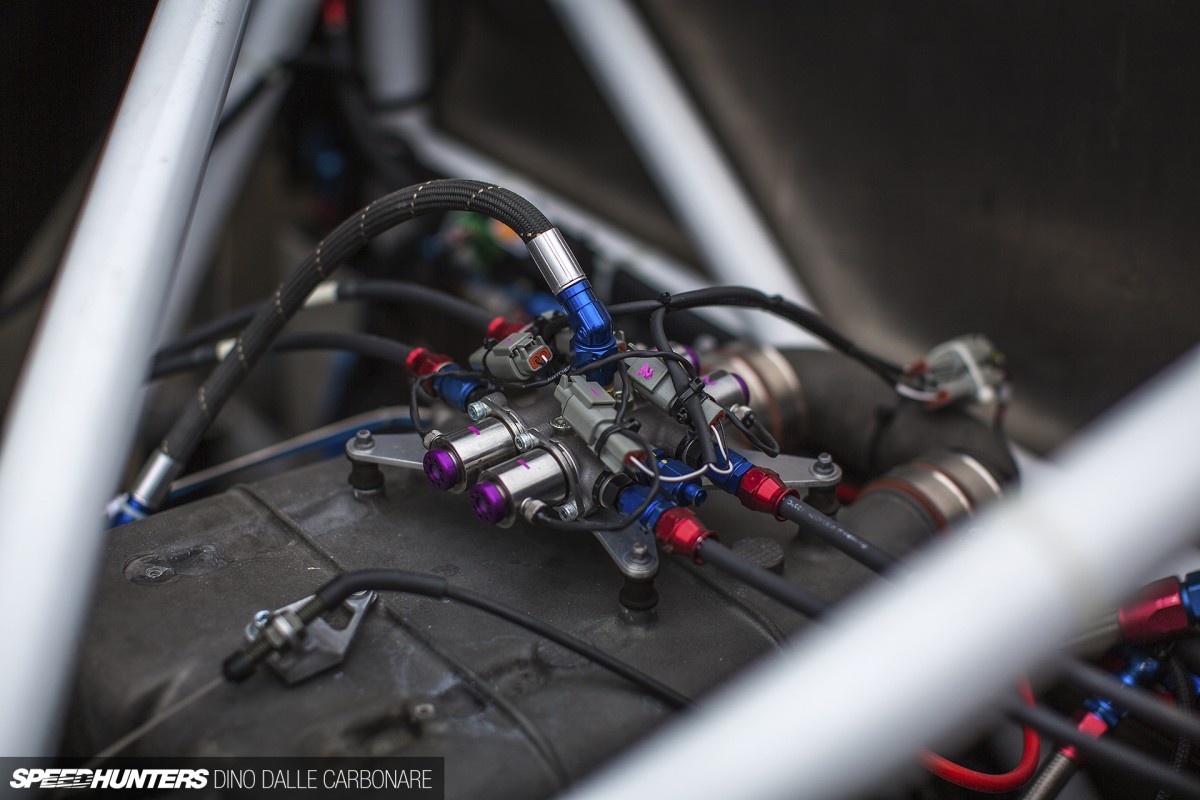 This strange bunch of solenoids, wires and hoses is what the MoTeC ECU uses to control boost and assist with traction in the lower gears.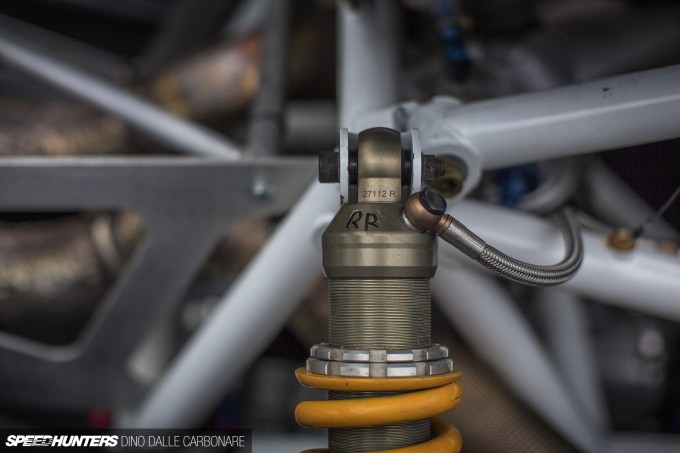 The chassis and the mass of complexity that is the engine and its twin turbo setup is truly an exercise in packaging, as is the suspension and its double-wishbone layout. Here's the rear right damper mounting point.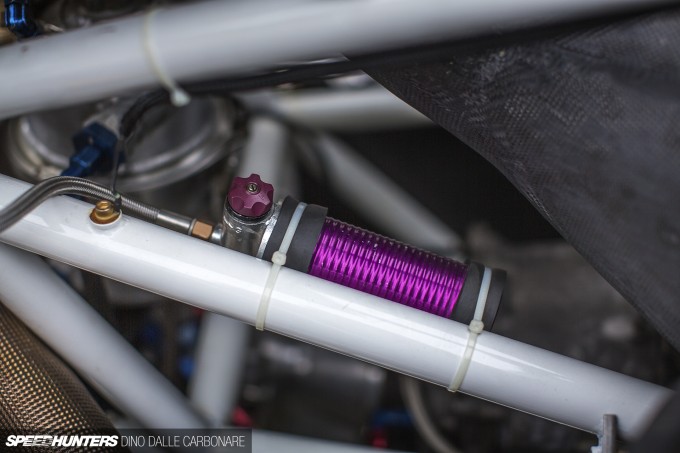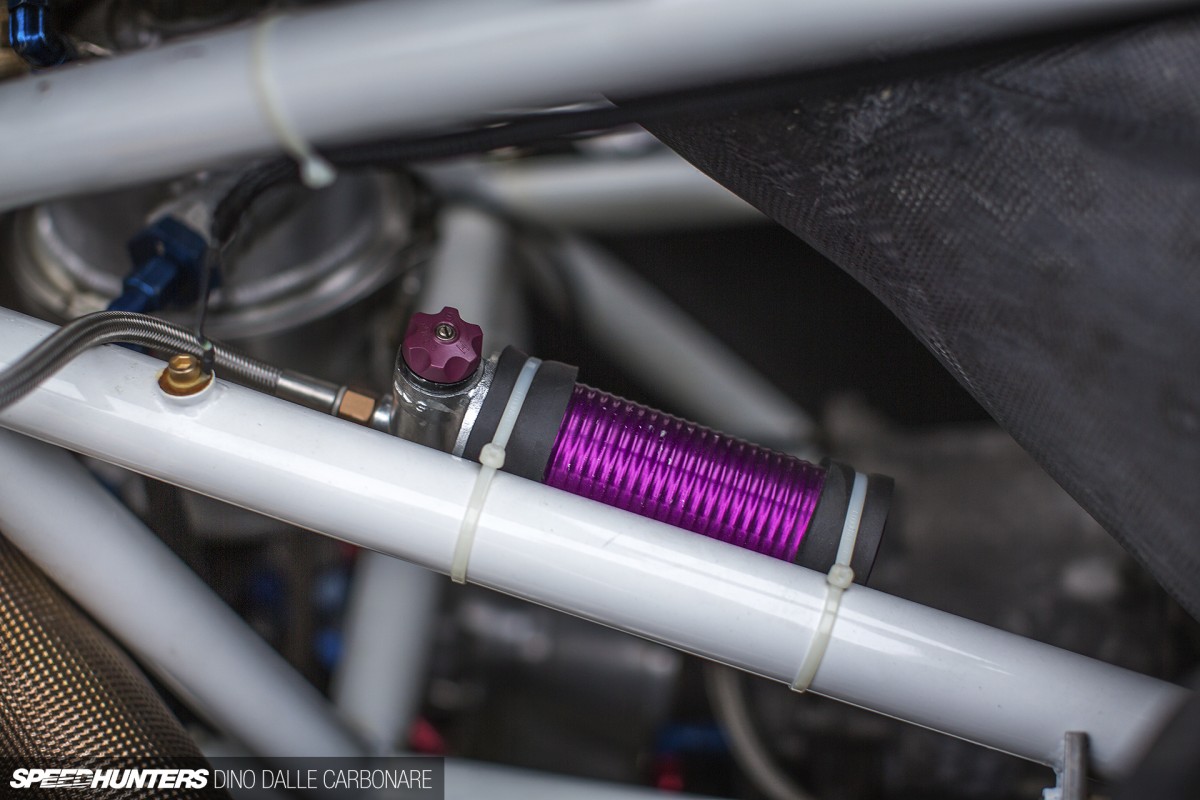 Follow the braided hose and eventually you will find this rather pretty purple anodized reservoir tank. It may be completely out of focus in the background, there but that centrally-mounted metal tank is for the dry sump oil lubrication system, which is positioned where it is for optimal weight balance.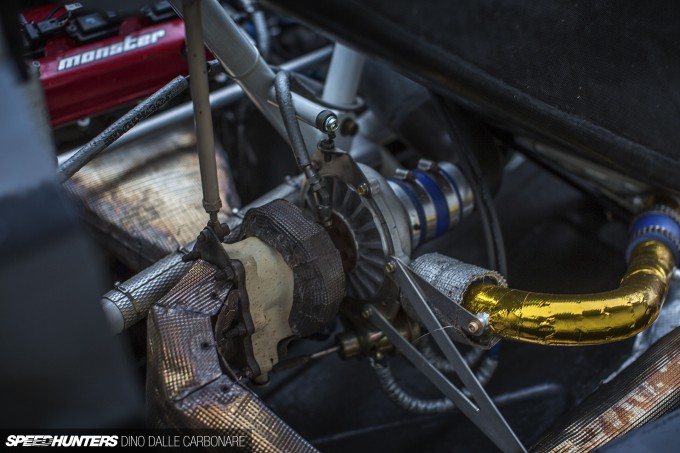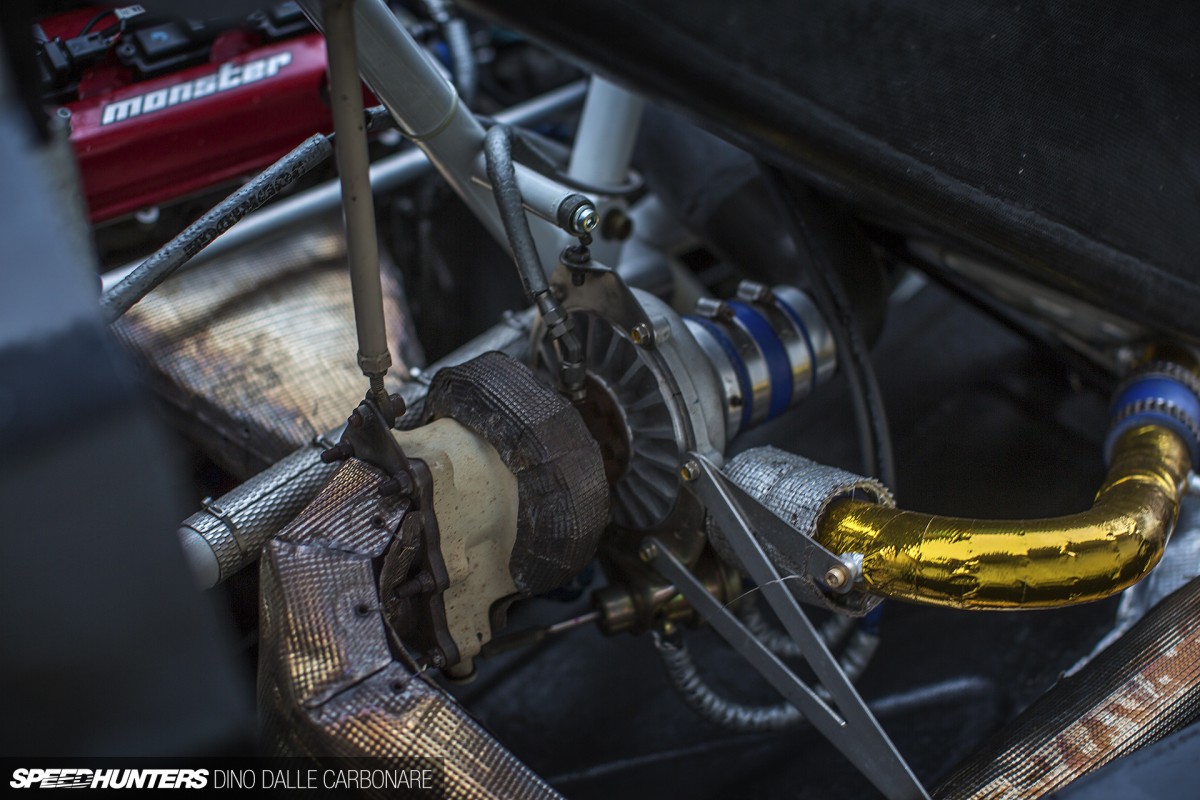 I thought I'd give you a look of the left-hand side turbo set up. It differs slightly from the right due to the asymmetrical compressors, and as you can see here the gold outlet pipe is on the bottom rather than the top like the other side. Maybe once Tajima-san discovers that you can now 3D-print turbines like Koenigsegg does, he will pick up one of those machines, too!
One man's vision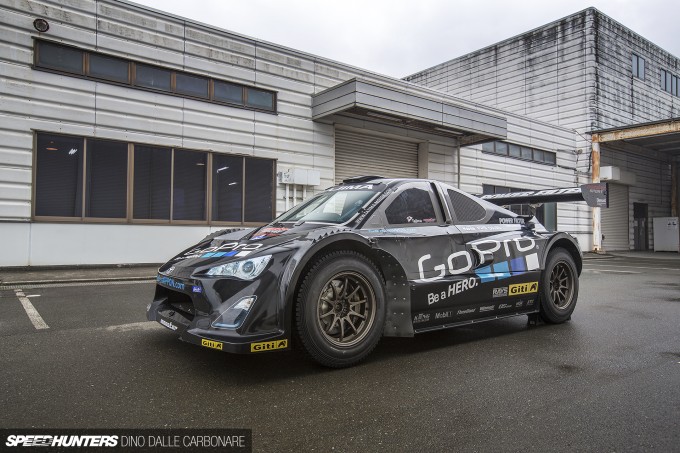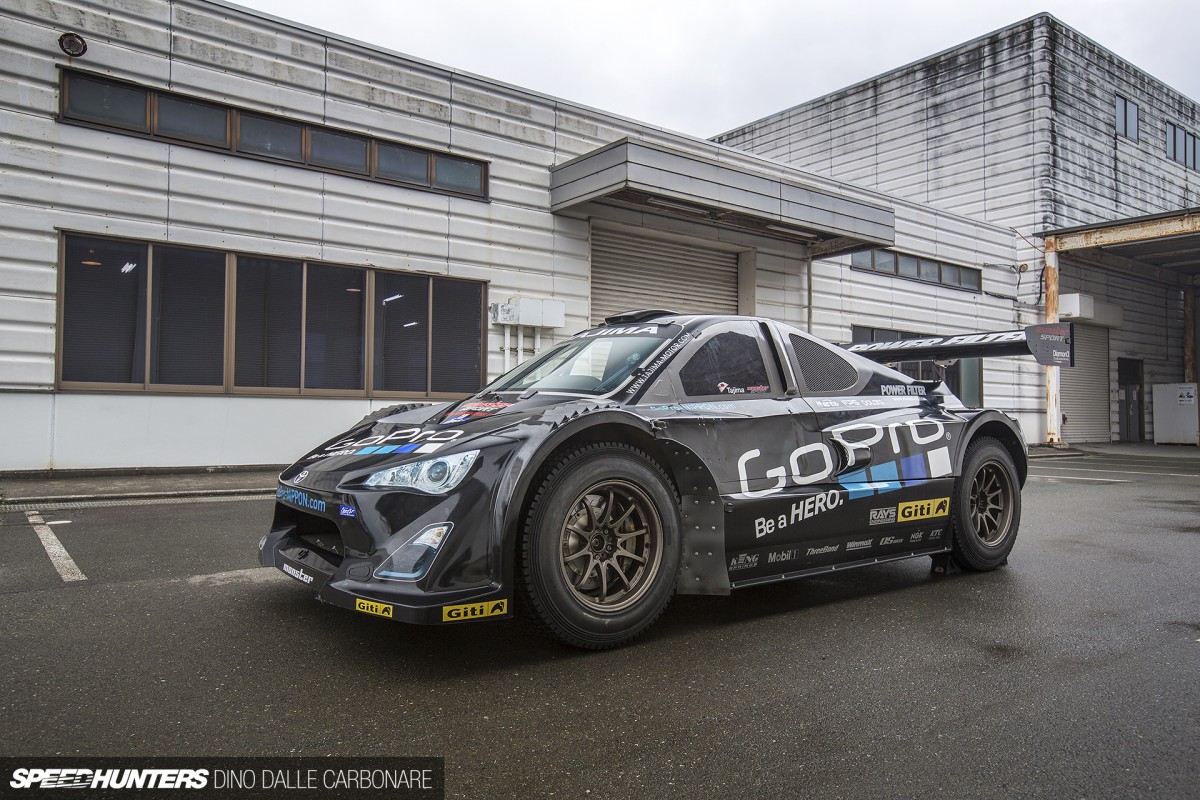 After drooling over the engine for way too long it was time to fit the cowls back on and indulge in that strange but functional exterior once again.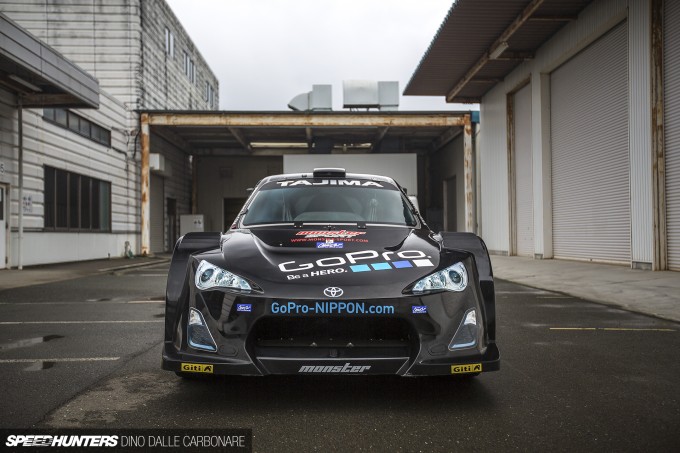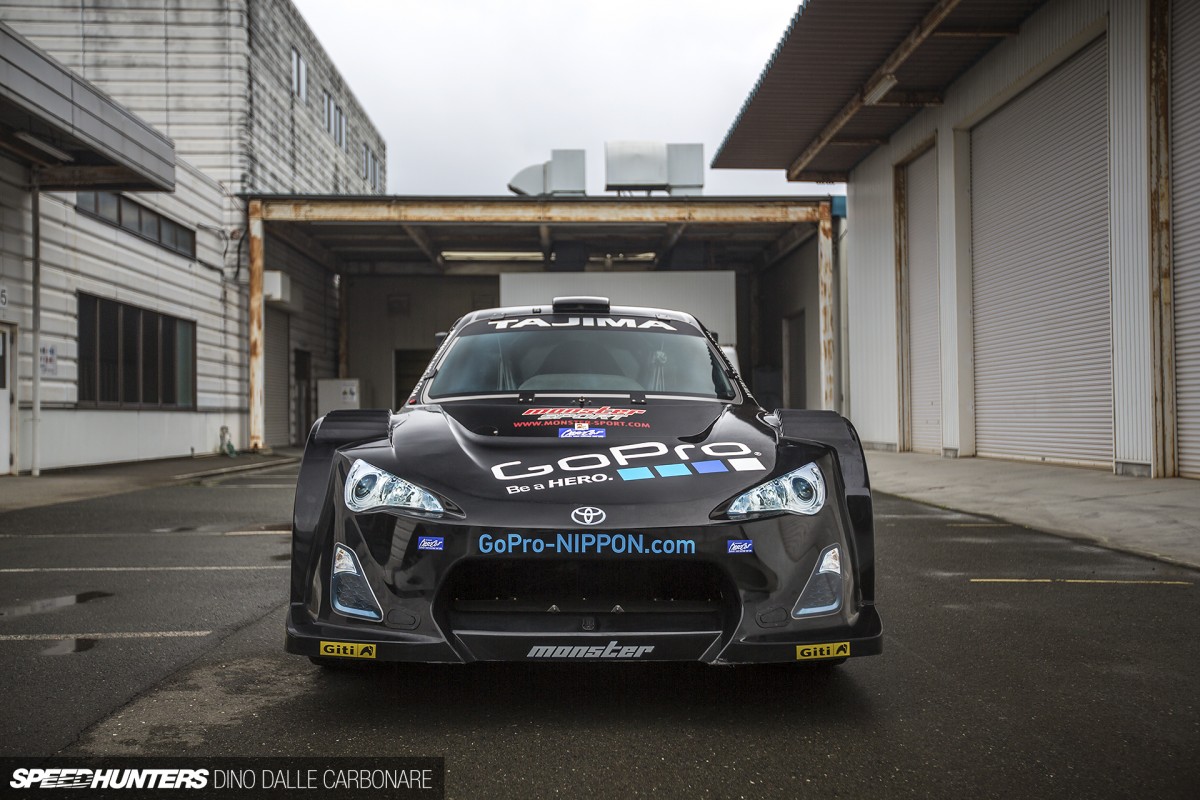 The front end is shaped to mimic the bumper and grill lines of the ZN6. If that isn't obvious enough they printed out some 86 headlights and side intake/fog lights stickers to get the look just right.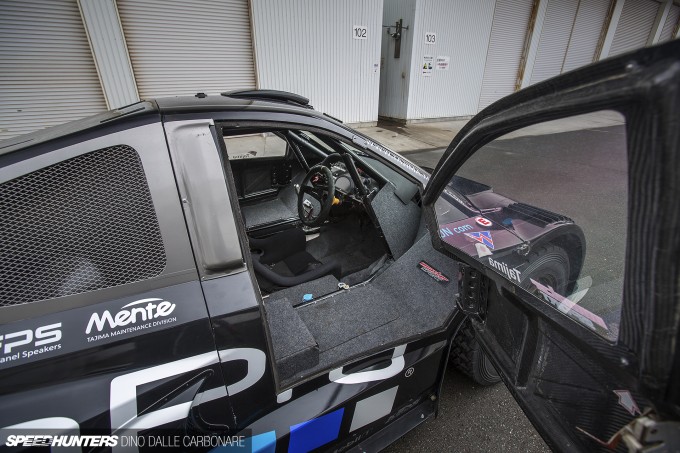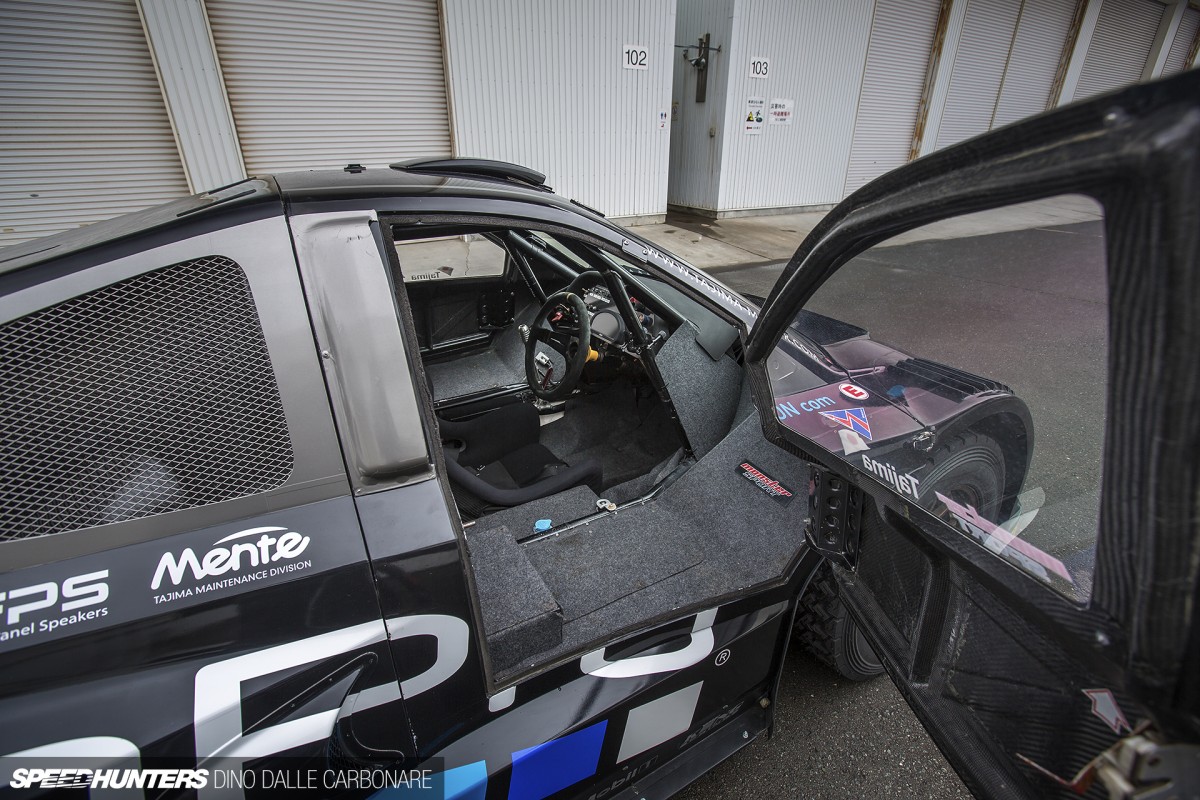 It doesn't matter which side you open, there is always a massive sill that you have to negotiate to find your way into the centrally-mounted driver's seat.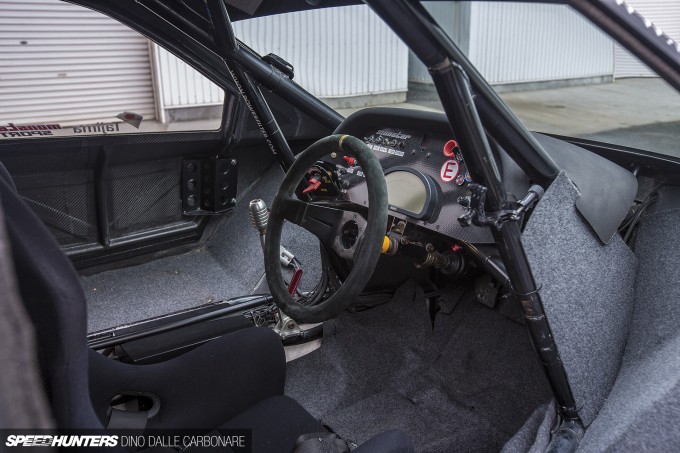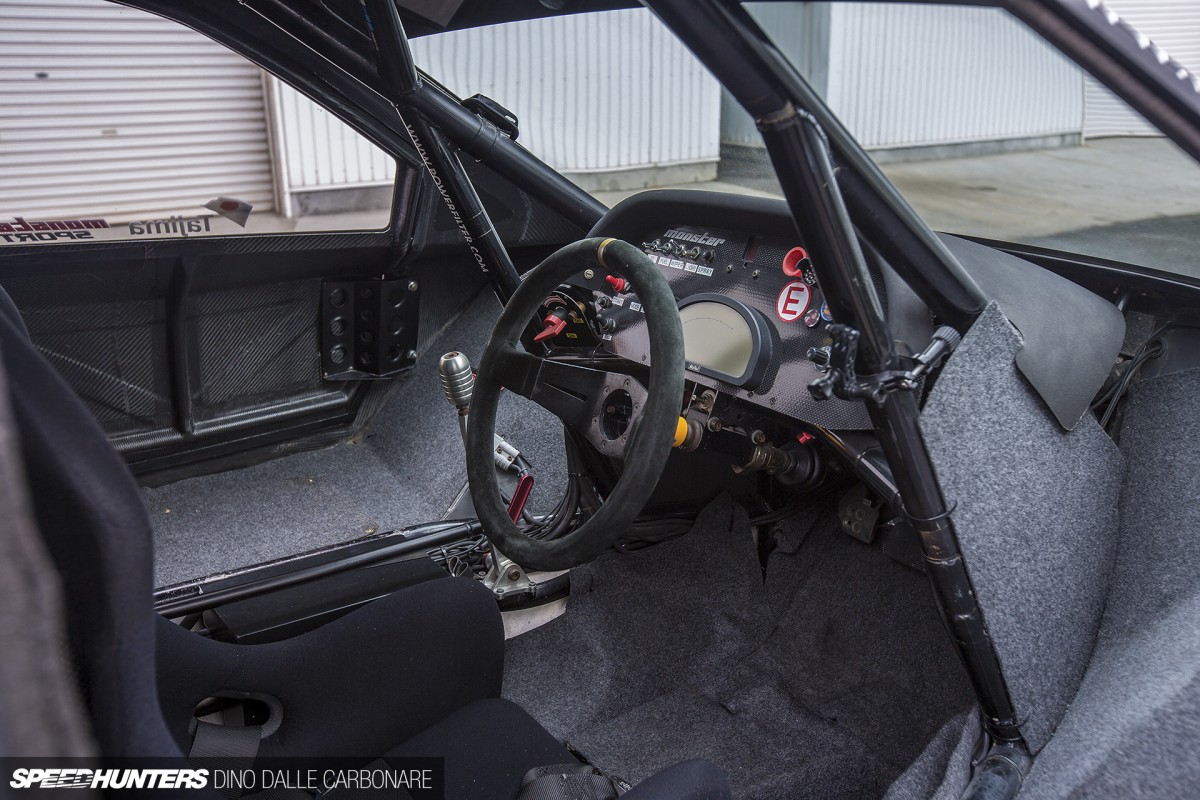 It must be pretty awkward to get in and out of, but once you are in, you have the best possible position to drive the car – McLaren F1 style!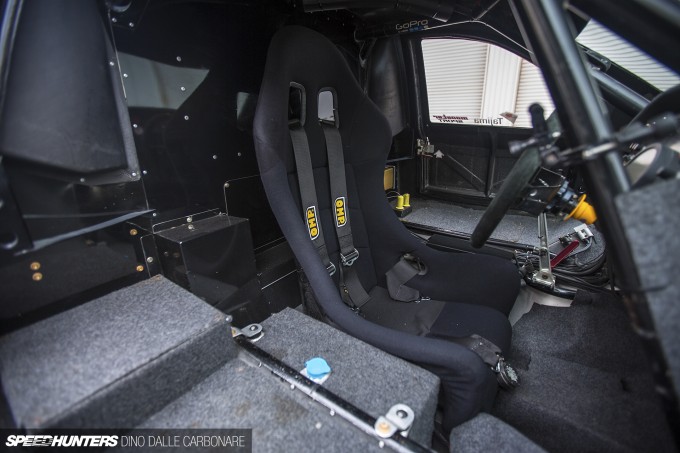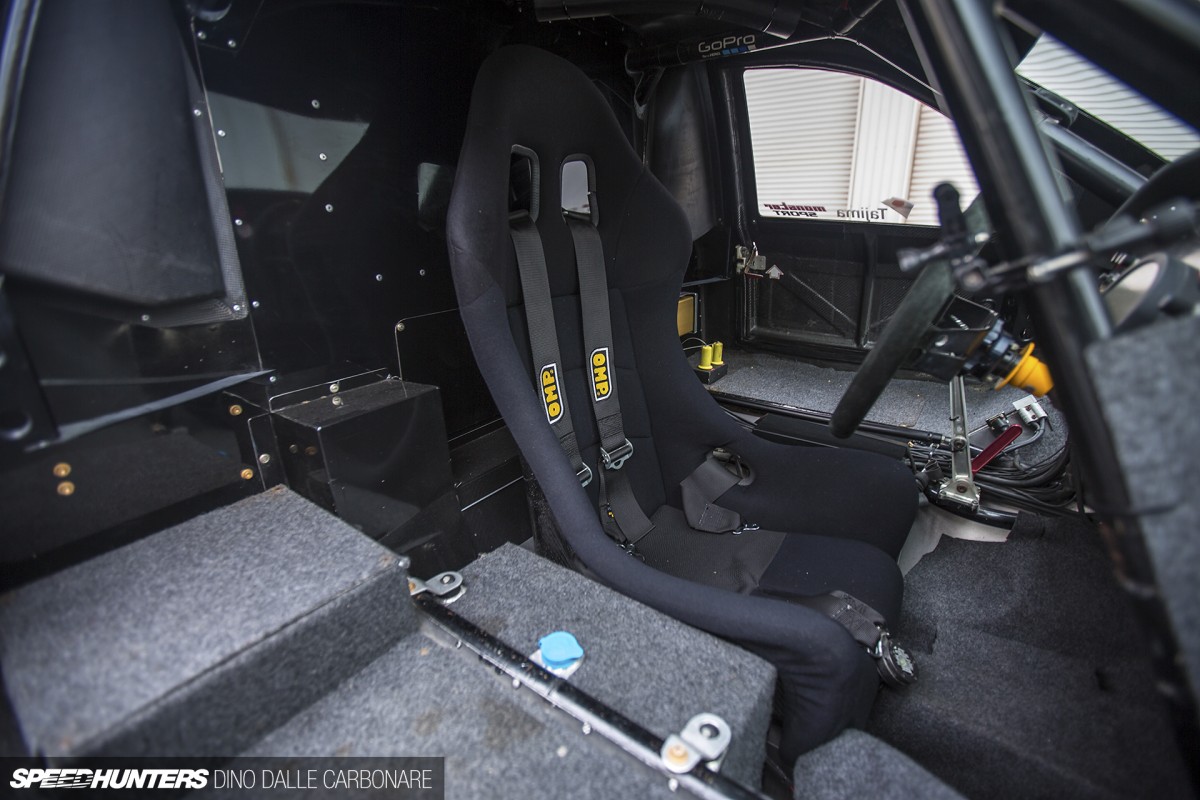 Of course, while the position is spot on, the main reason behind it all was weight distribution. Tajima has a tall frame, so making sure he would sit as low and as central as possible was priority right from the very beginning of the project.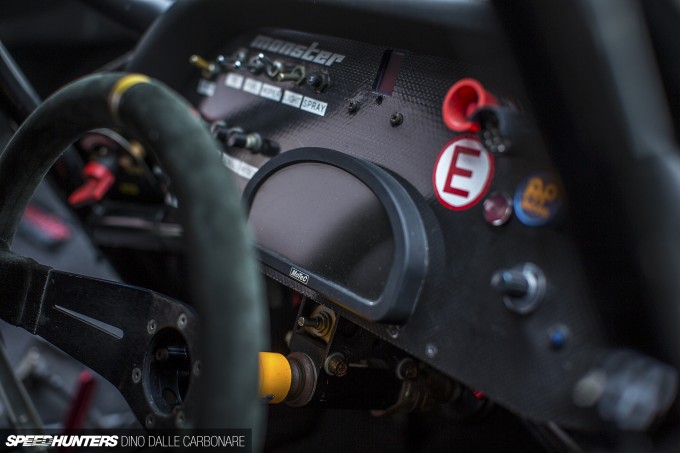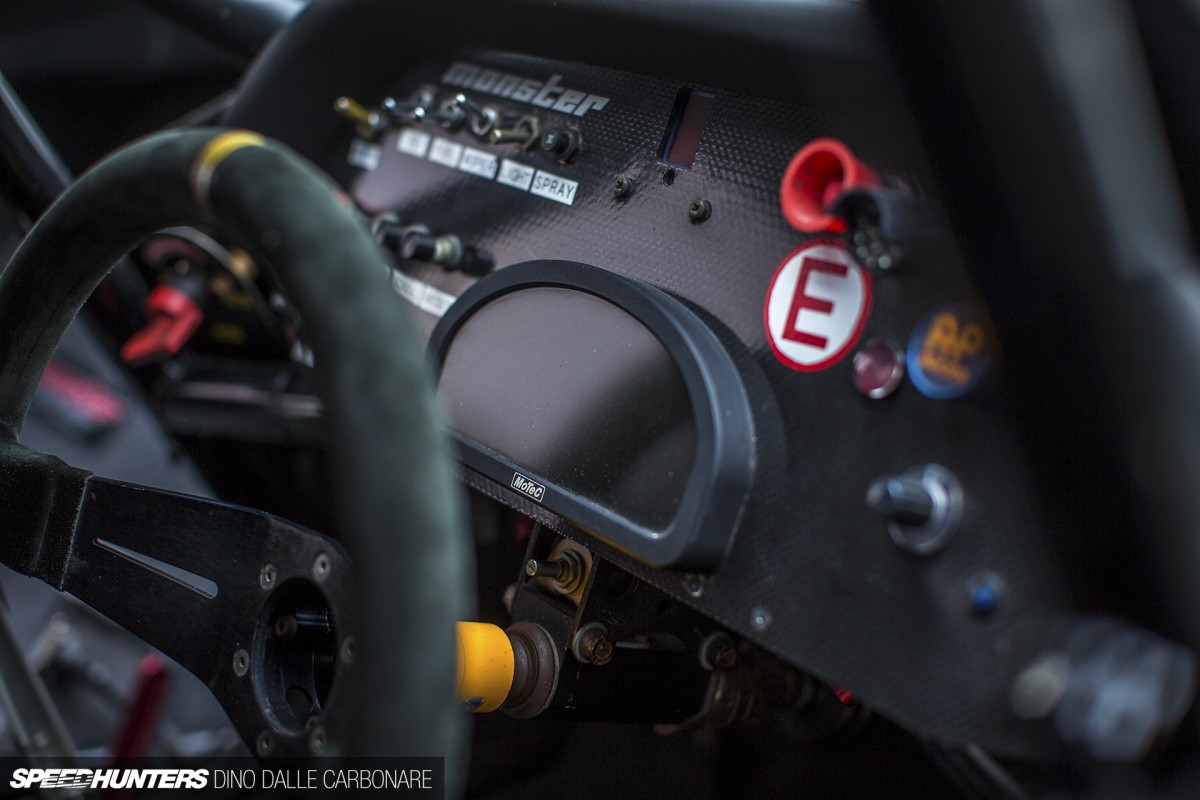 On the carbon fiber dash panel there isn't much to play with. Everything is laid out around the MoTeC LCD data logger and dash unit which along with RPM and gear position can display pretty much any other reading that the ECU processes.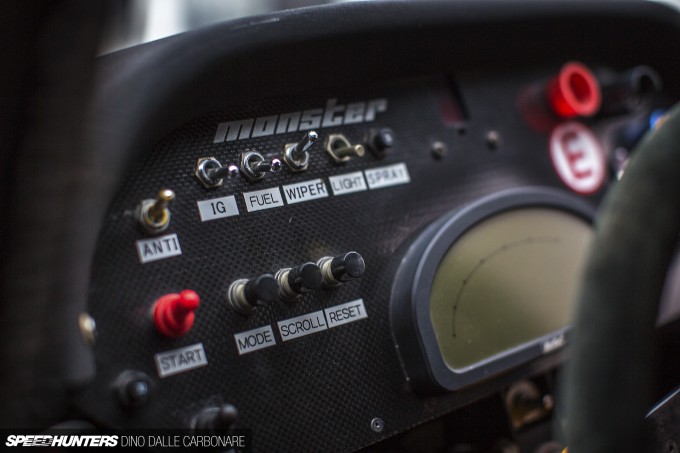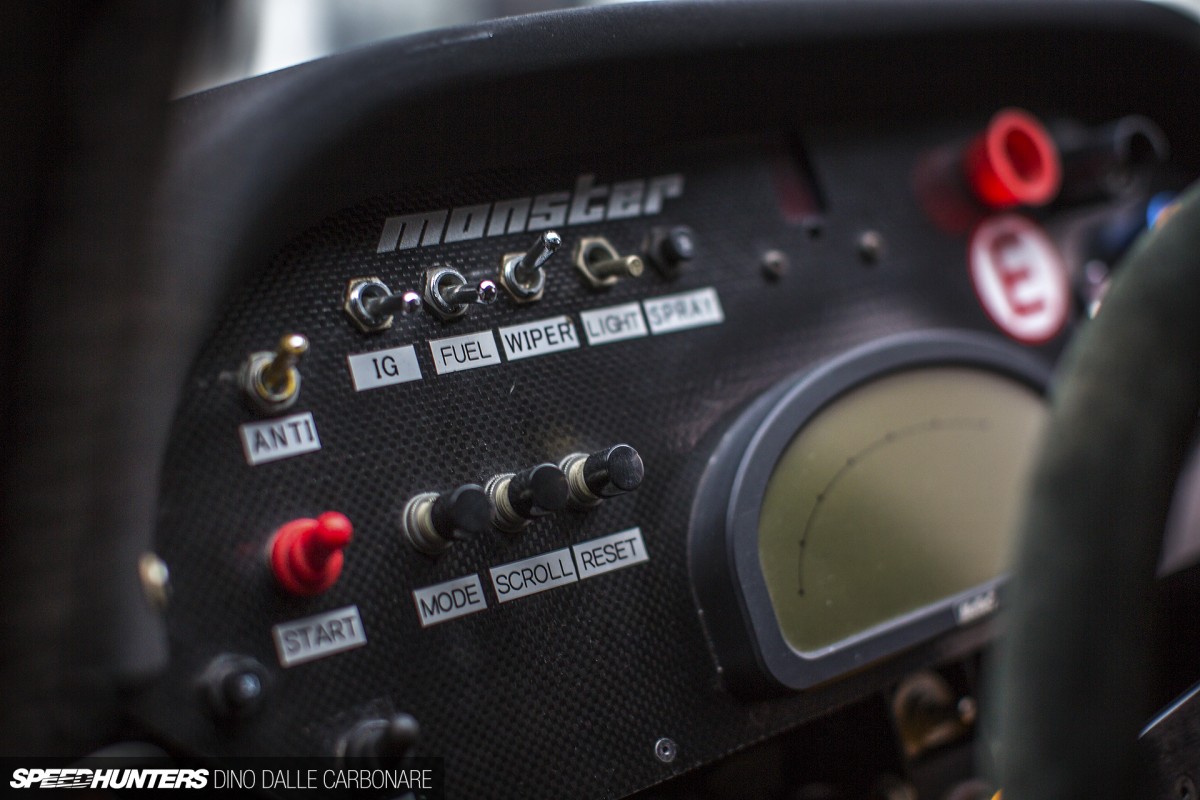 Alongside a shift light and kill switch for the electrics and the brake bias adjuster there's a little switch panel area which is pretty much self explanatory thanks to the labeling. My favorite switch is the ANTI one. Can you guess what that does?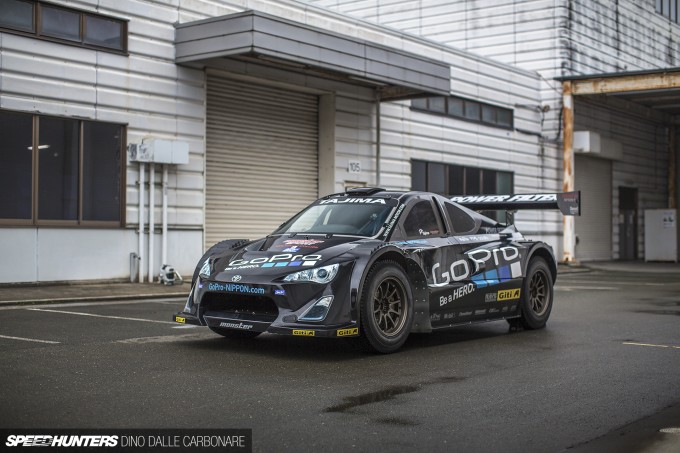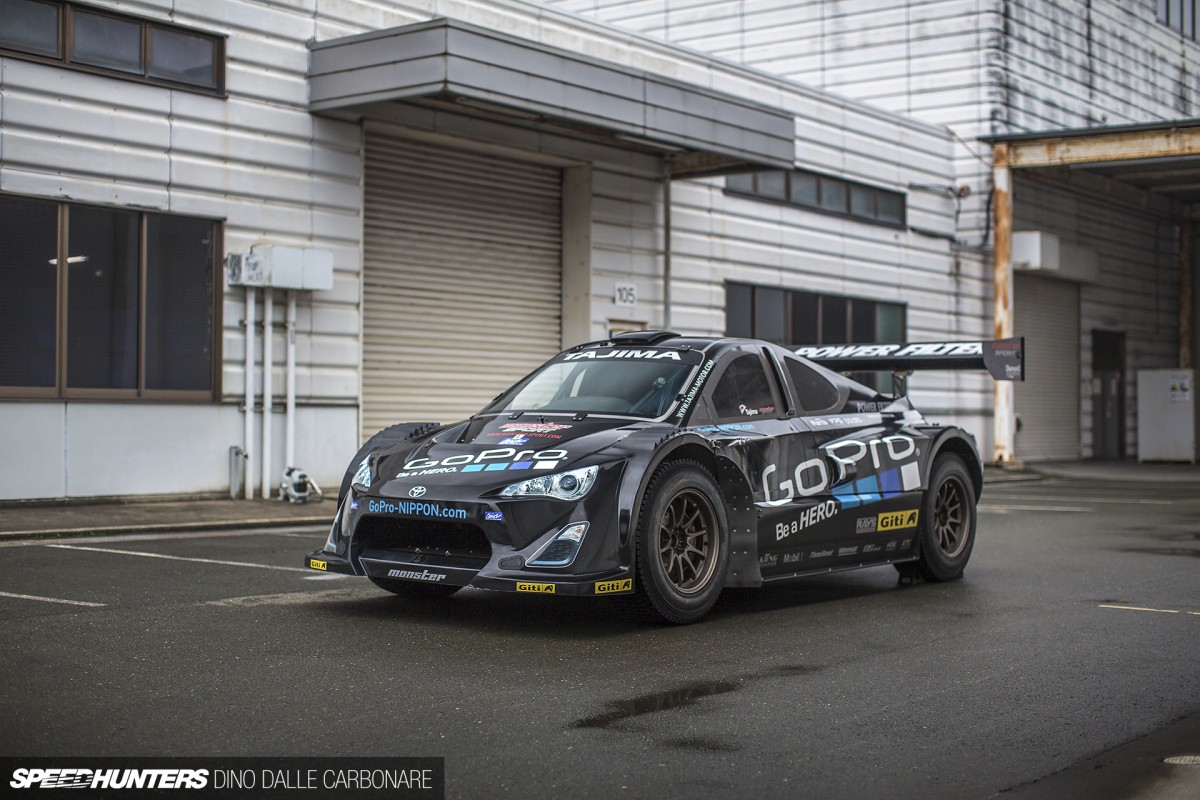 Tajima-san and the guys at Monster Sport certainly have put their collective know-how together and created one impressive – and at the same time very interesting – interpretation of a no-limits offroad machine.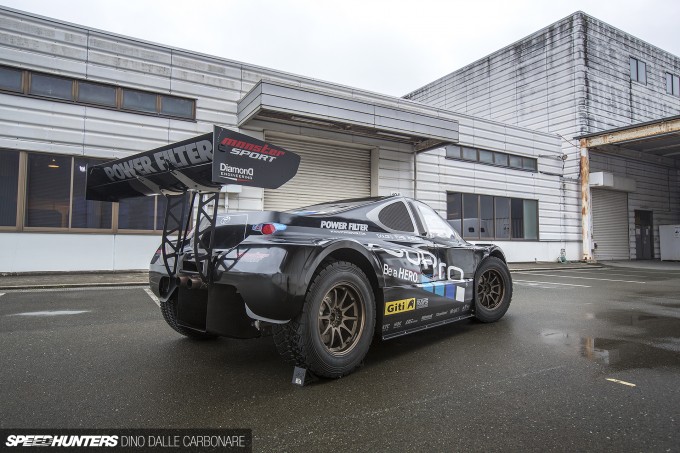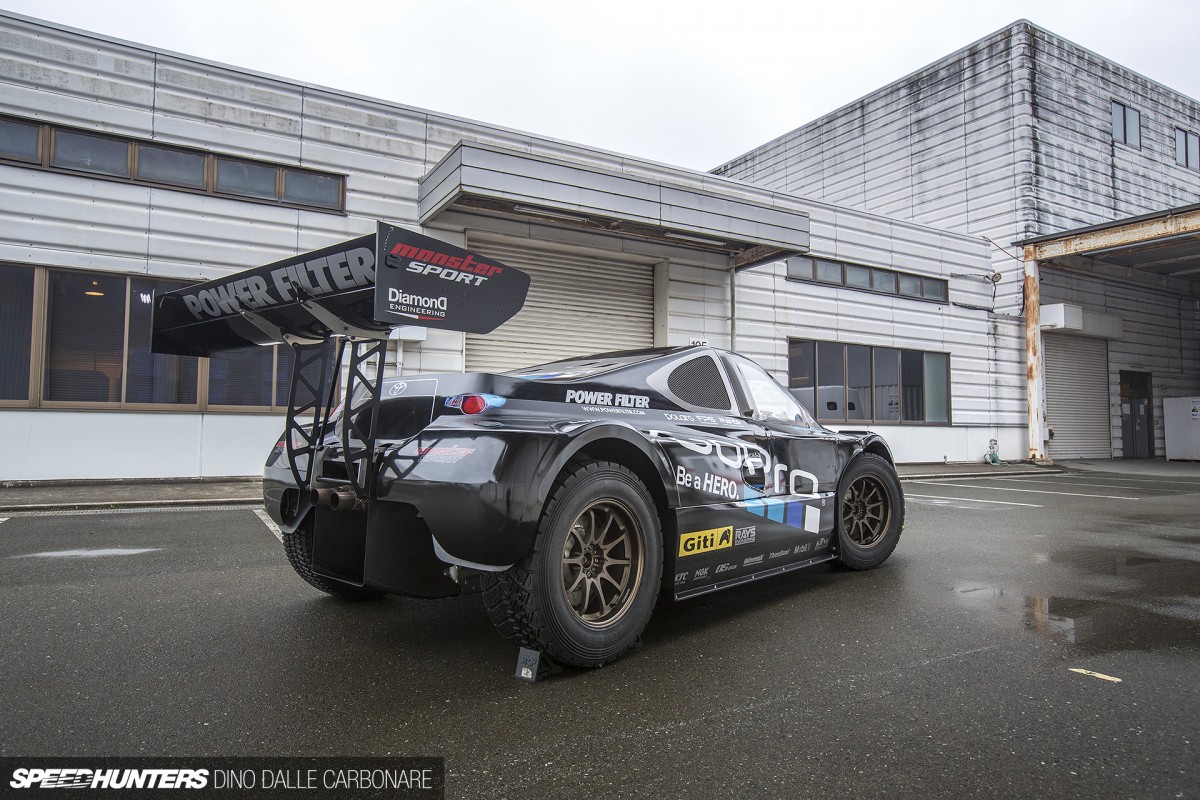 I don't know what stood out the most for me – the sheer ingenuity around it all, the almost comical looks, or the fact that they created the whole thing in-house. I think the latter is really what does it for me, and to show you all what goes on at Monster Sport, Tajima-san was kind enough to take me on a very quick tour of the facilities. You can expect that in an upcoming post…
Dino Dalle Carbonare
Instagram: speedhunters_dino
dino@speedhunters.com