Welcome To Hiroshima
Japanese hospitality is no joke. In fact, the whole concept of omotenashi helped earn Tokyo the 2020 Olympics – and it's not something just made up by the media. It seems that wherever I travel in the country I'm greeted by welcoming car enthusiasts who are happy to share their local scenes and show me what things are like from an inside prospective. I'm proud to call many of them friends.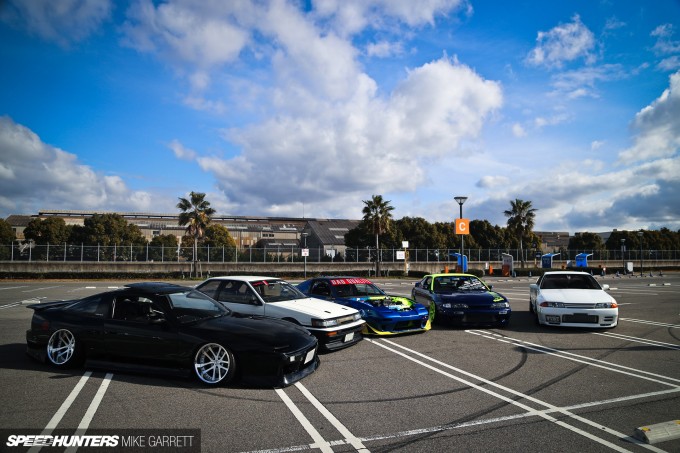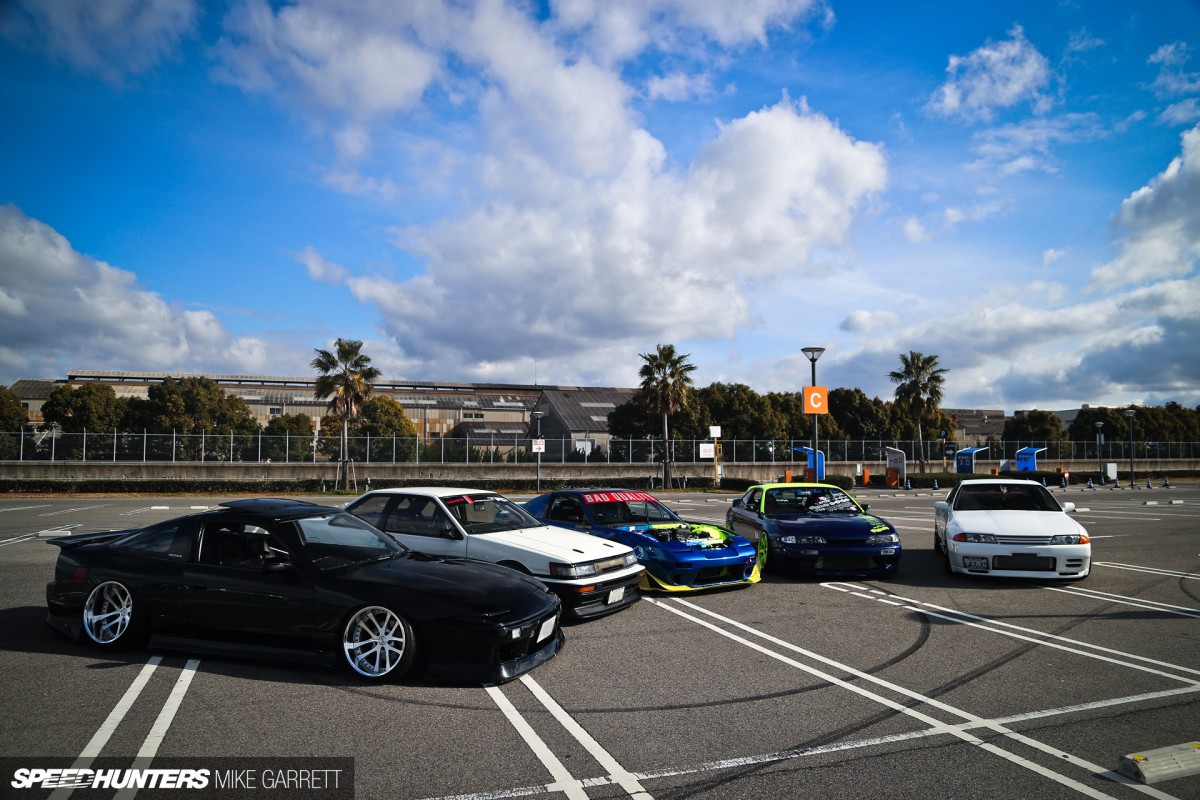 One such group hails from the fine city of Hiroshima, and during my most recent visit to Japan I was able to spend a couple days with them experiencing local car culture, eating some great food and even squeezing in a bit of old fashioned tourism.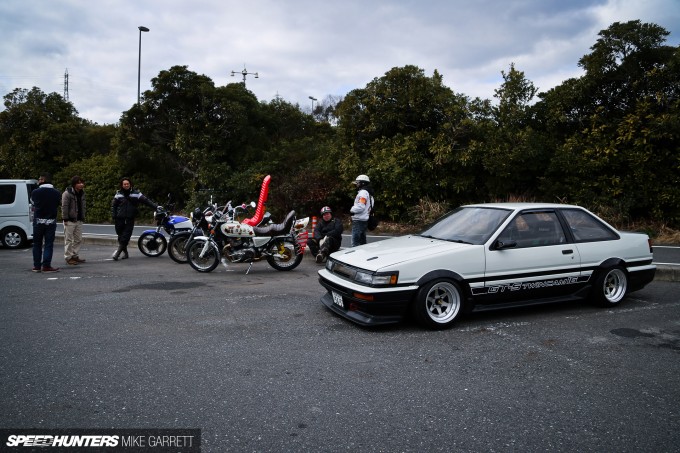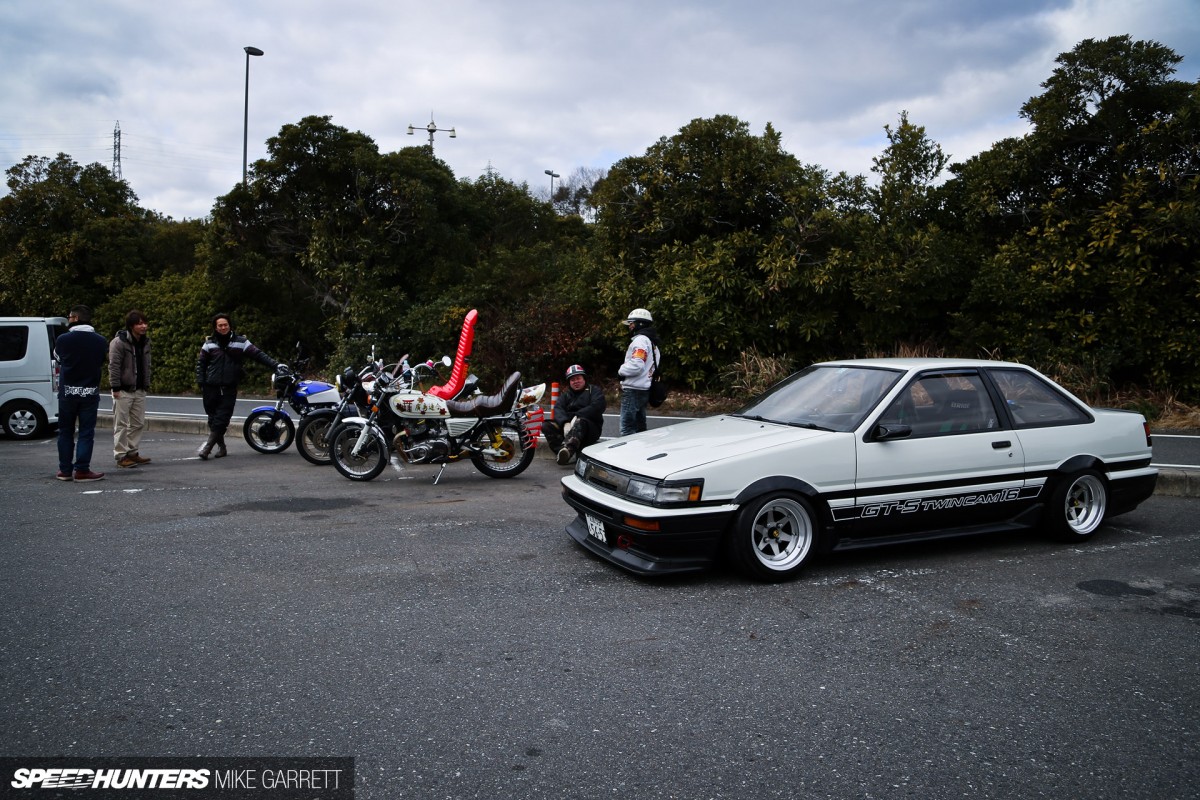 I'm talking about Team Bad Quality – Shuichi Nakagawa, Hirokazu Sato and a bunch of other guys that are crazy about low cars and drifting. I first met these guys a couple years ago in Osaka and ever since I'd been promising that I'd come visit their home turf to shoot some cars and have some fun. This year I made it happen, and though I only spent about 24 hours in the city, it was an experience I won't soon forget.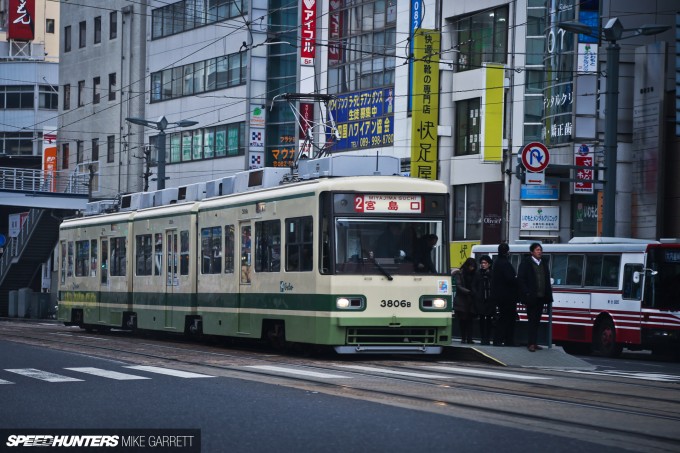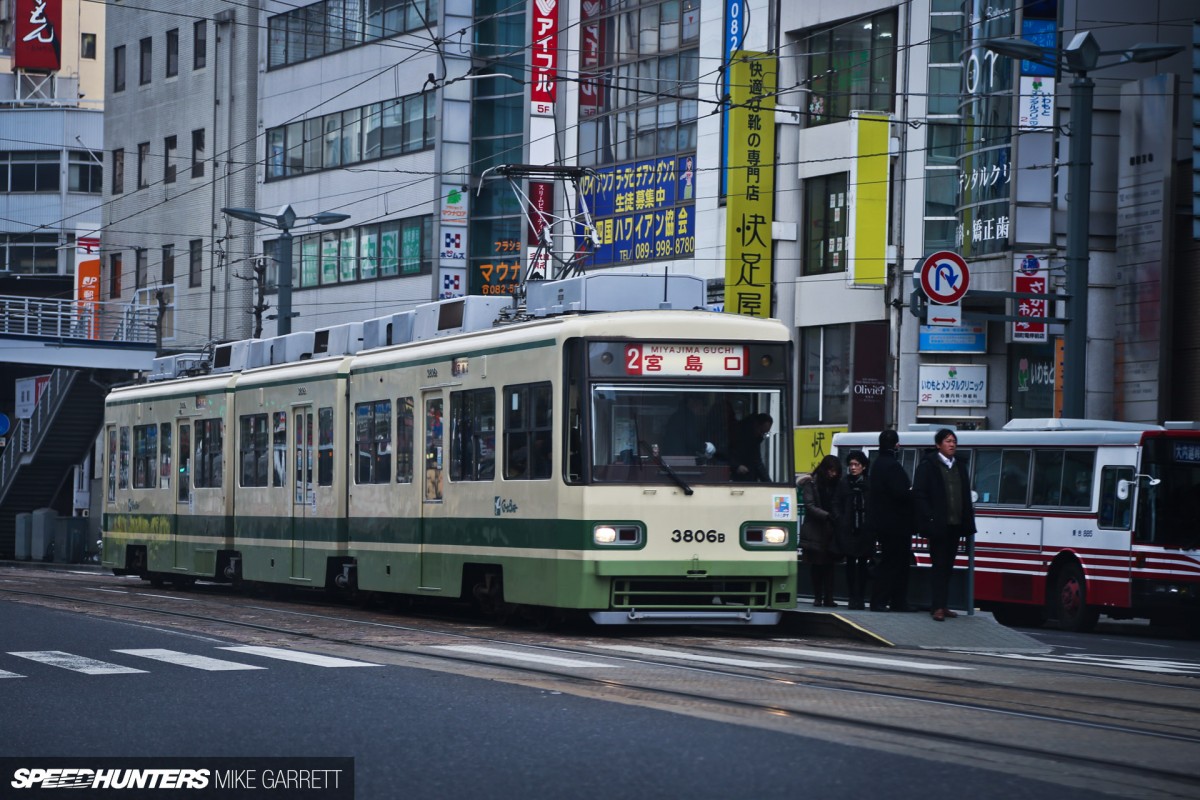 I've already shared some of the stuff from my visit to the city in earlier stories and there's more to come in the future, but this time I thought I'd do a travel blog of sorts to document my Hiroshima adventures, automotive and otherwise.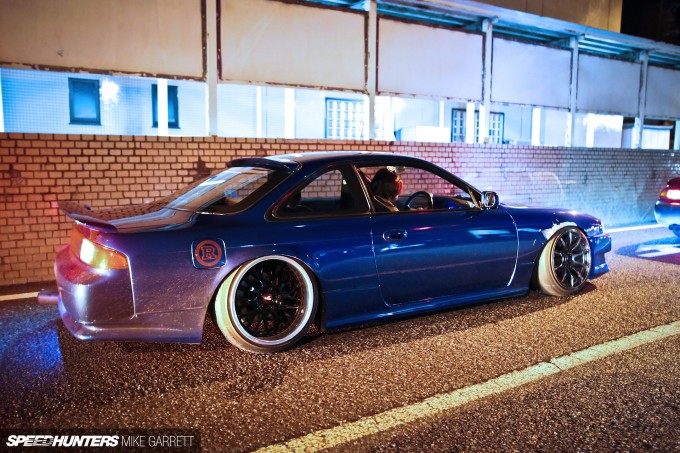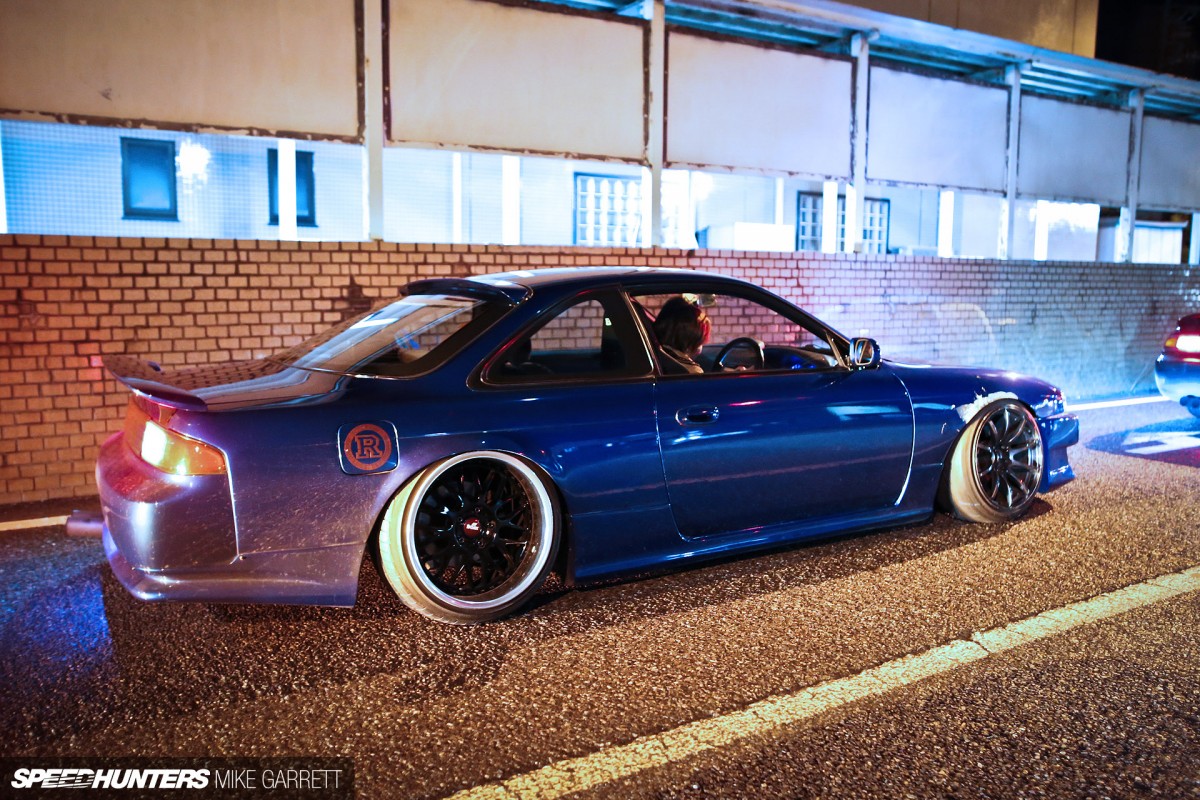 The story begins around 8:00pm on a Monday evening when Nakagawa-san and company arrived at my hotel a couple hours after I got into town. The plan for the night was to go grab some dinner and then head out to check out some of the local touge spots.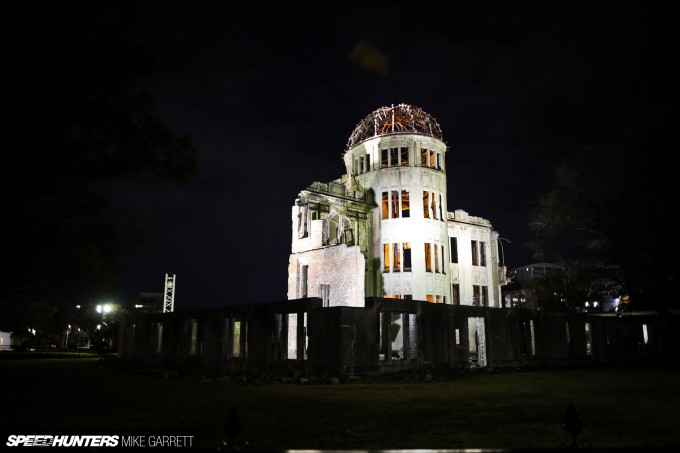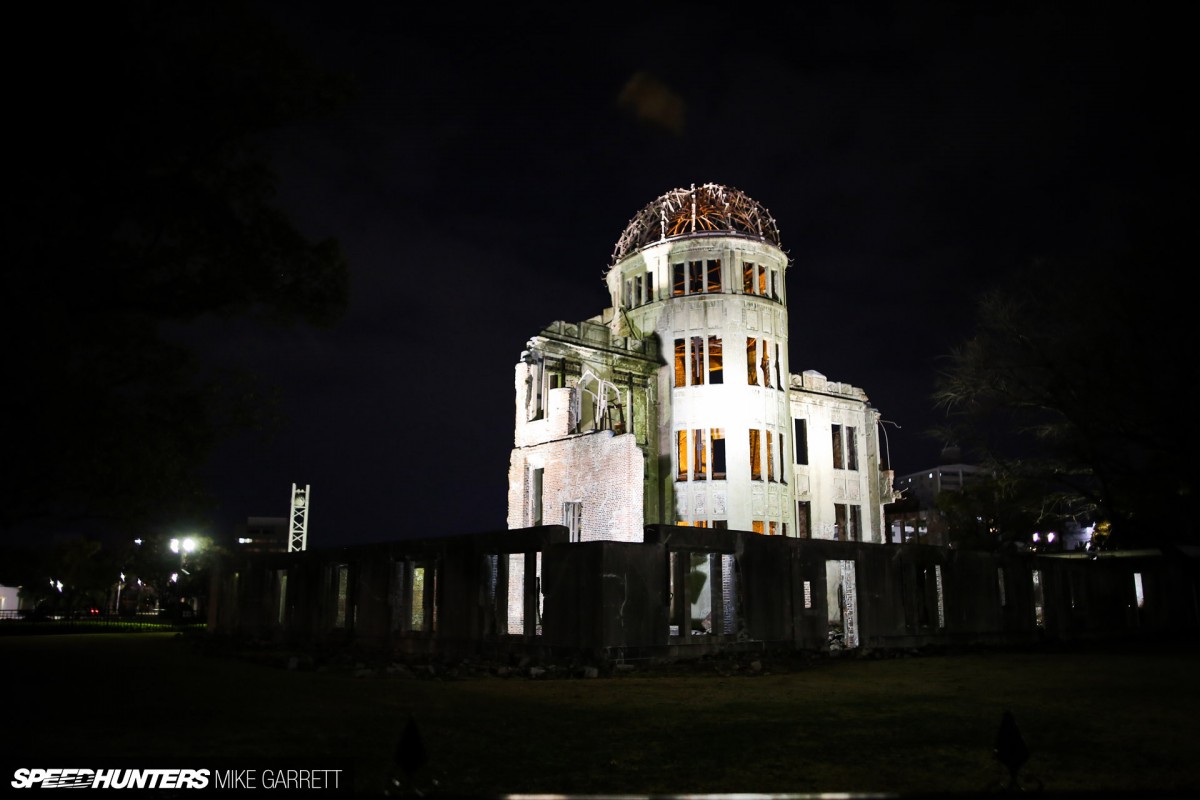 Along the way, we passed by the Hiroshima Peace Memorial and the historic Genbaku Dome which stands as monument to peace and a memorial to those lost in the 1945 atomic bombing. It's a powerful sight, and a must-visit for anyone traveling to Hiroshima.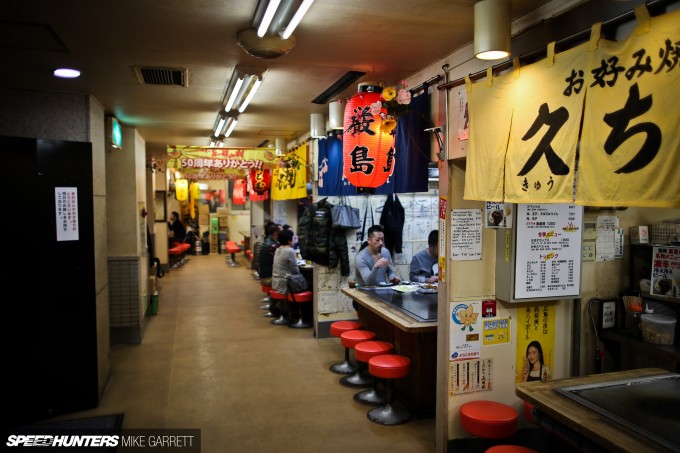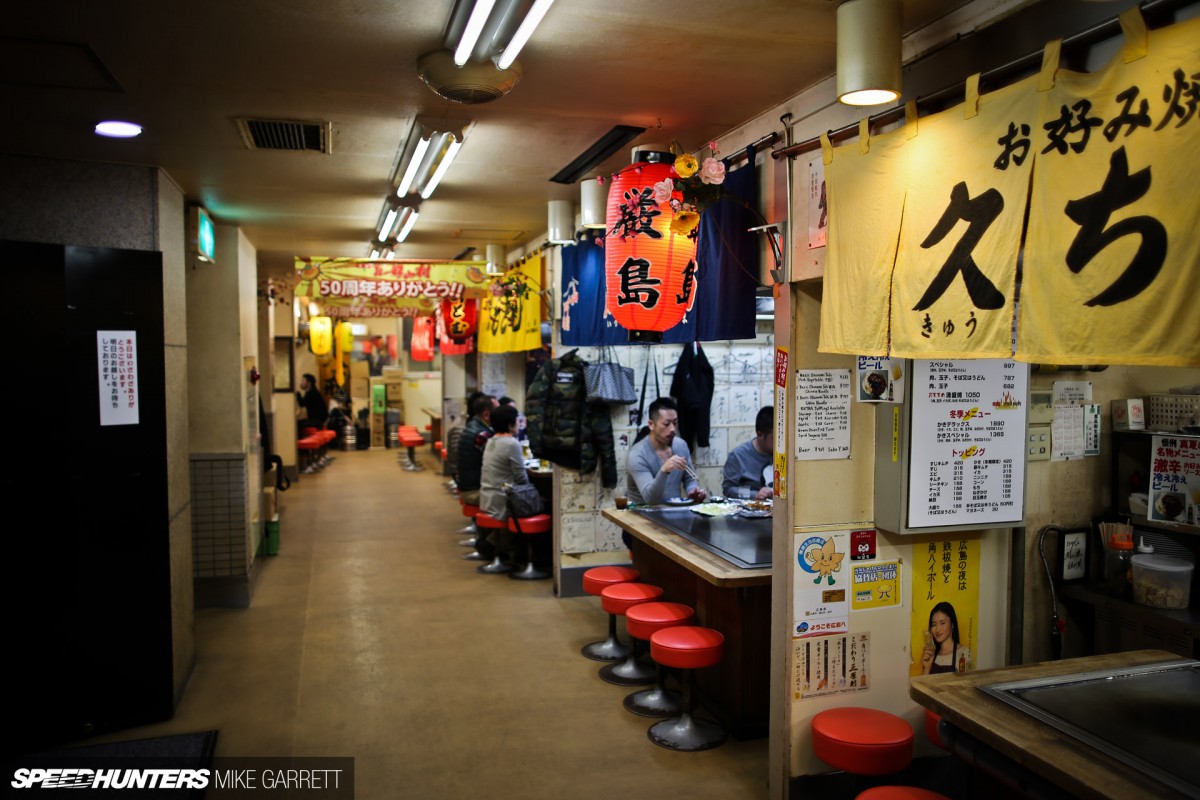 From there we headed into the center town for some Hiroshima-style okonomiyaki. It wasn't actually a restaurant that we went to, but an entire mall full of nothing but okonomiyaki stands all serving various styles of the popular Japanese comfort food.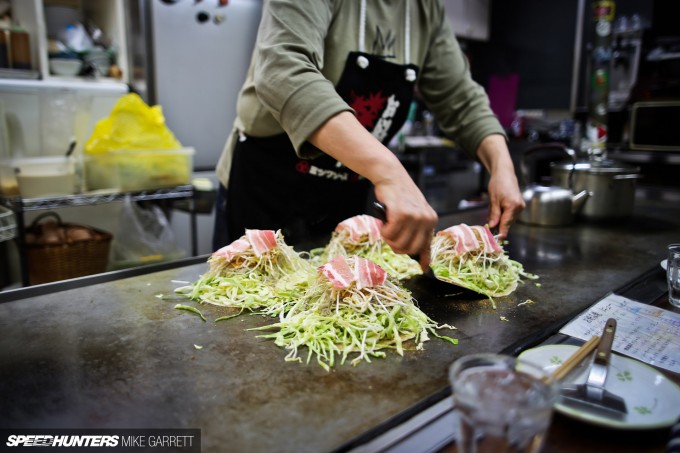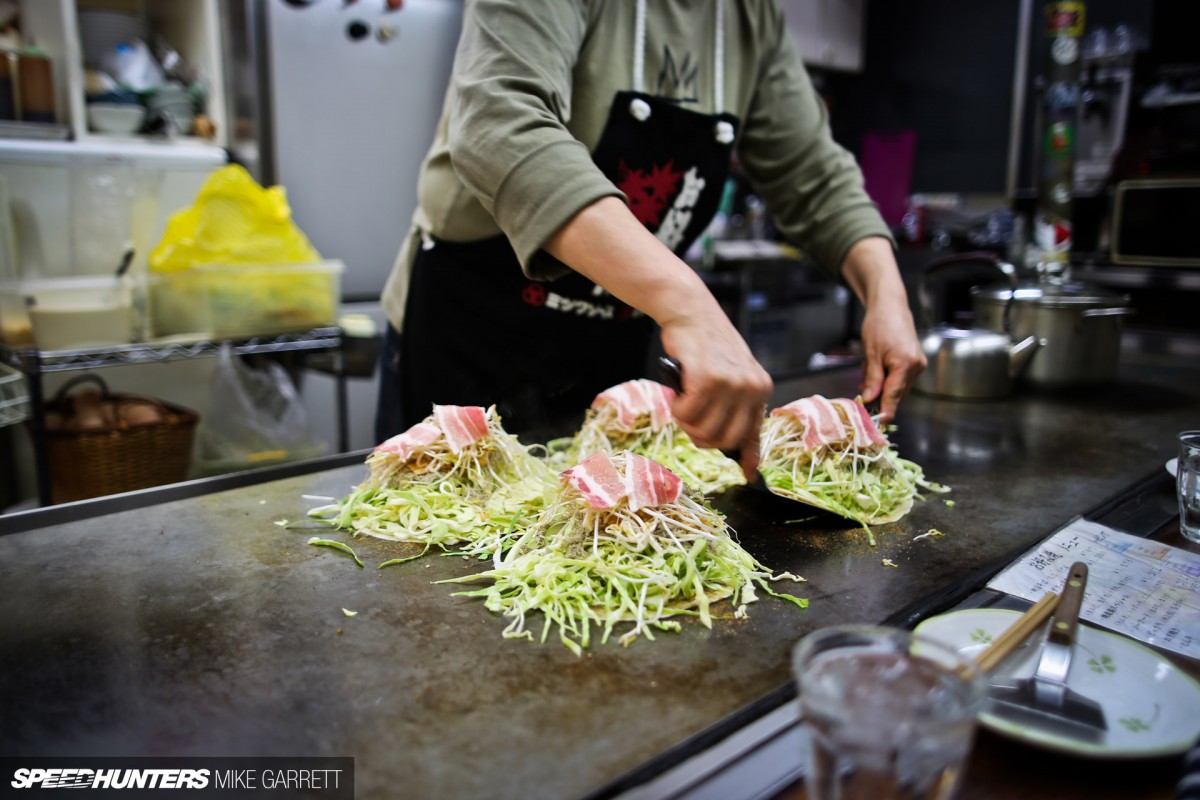 Of course, the thing that separates Hiroshima-style okonomiyaki from the standard stuff is the inclusion of noodles among the mix of batter, vegetables, meat and other ingredients. It was absolutely delicious and was the perfect fuel for what turned out to be a long night of automotive shenanigans.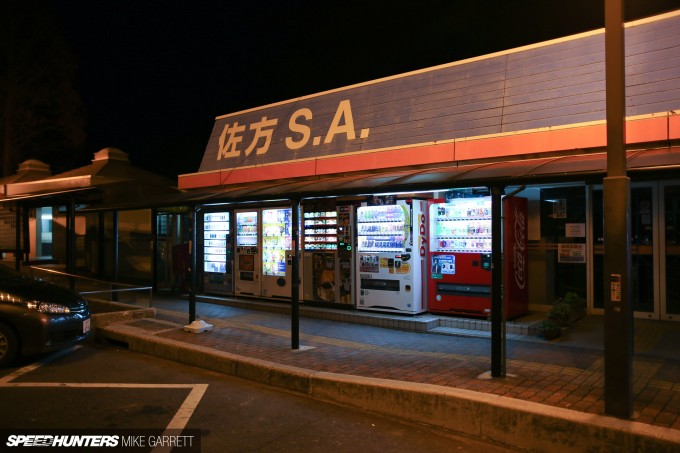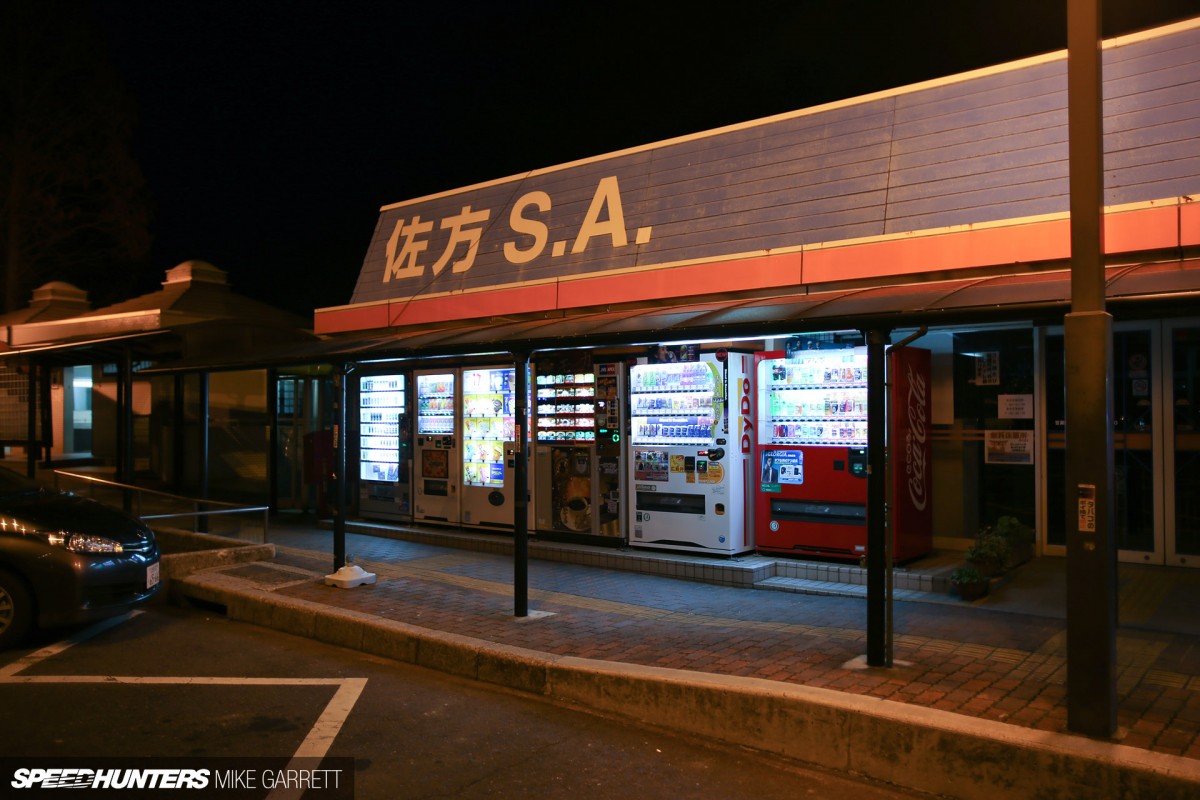 Around 10:00pm we headed out to the small Sagata Service Area, where we met up with more Bad Quality team members and other local drifters. Despite the fact it was a cold week night, several cars had come out for this private gathering.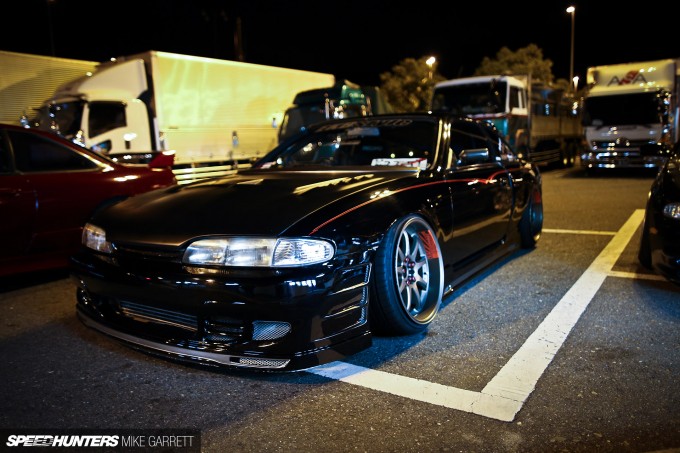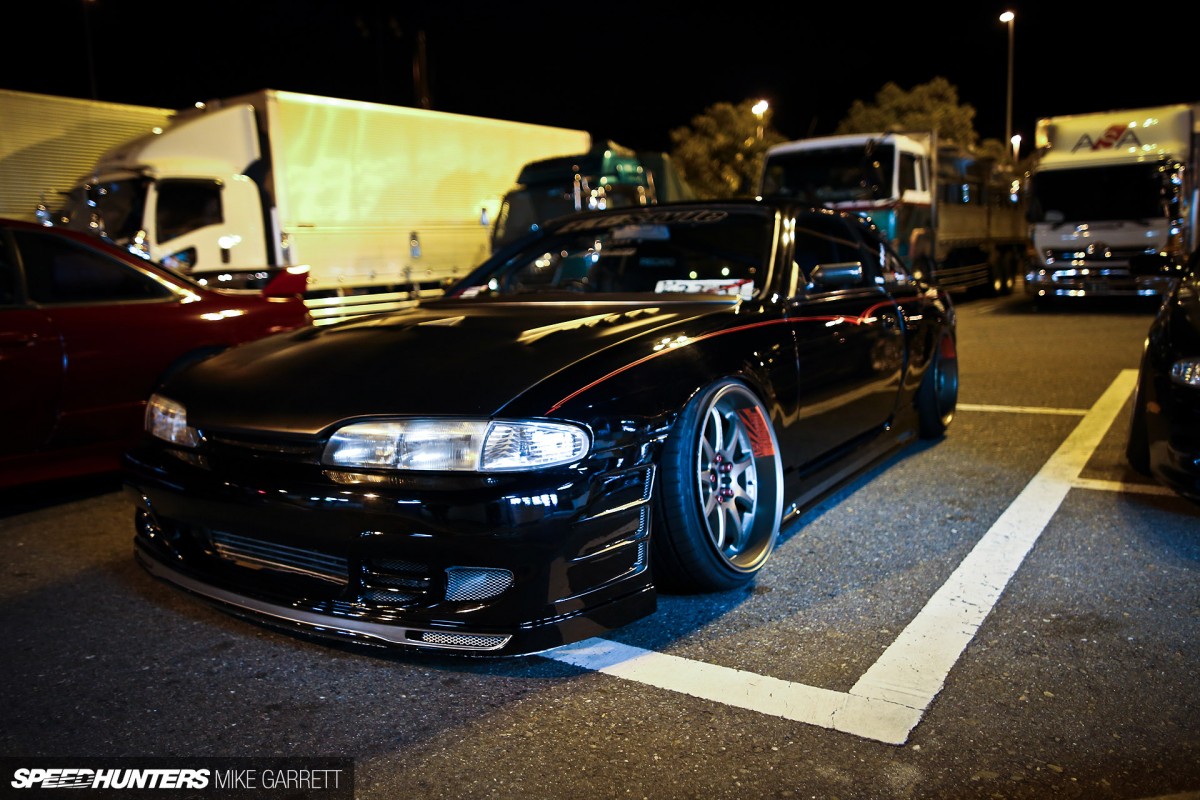 Yes, you know you are in Hiroshima when you start seeing 326 Power parts everywhere.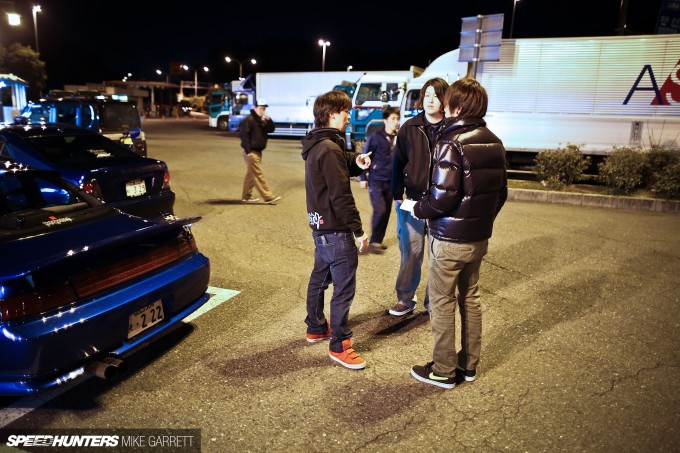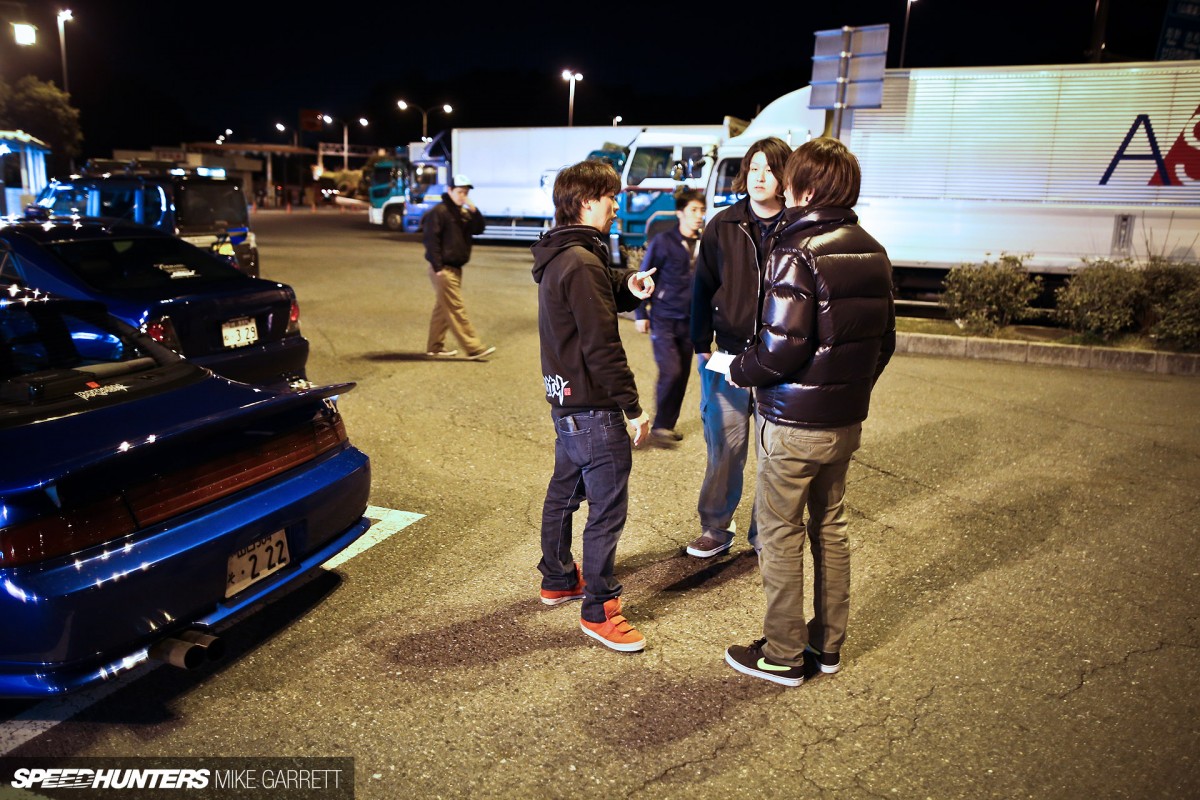 While Nakagawa and company planned out the rest of the evening, I took a look over the machinery that had assembled.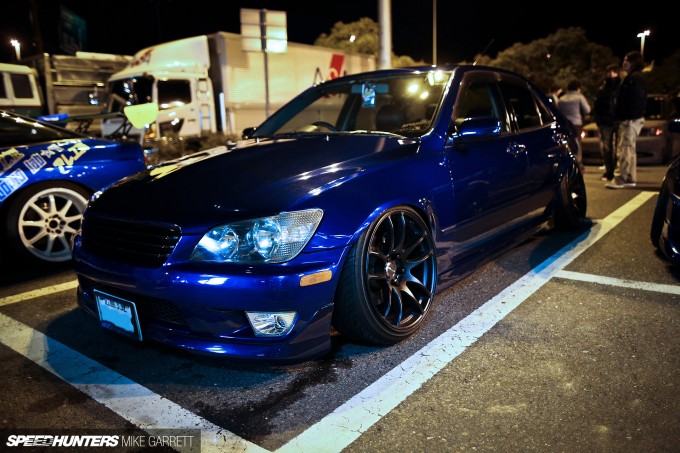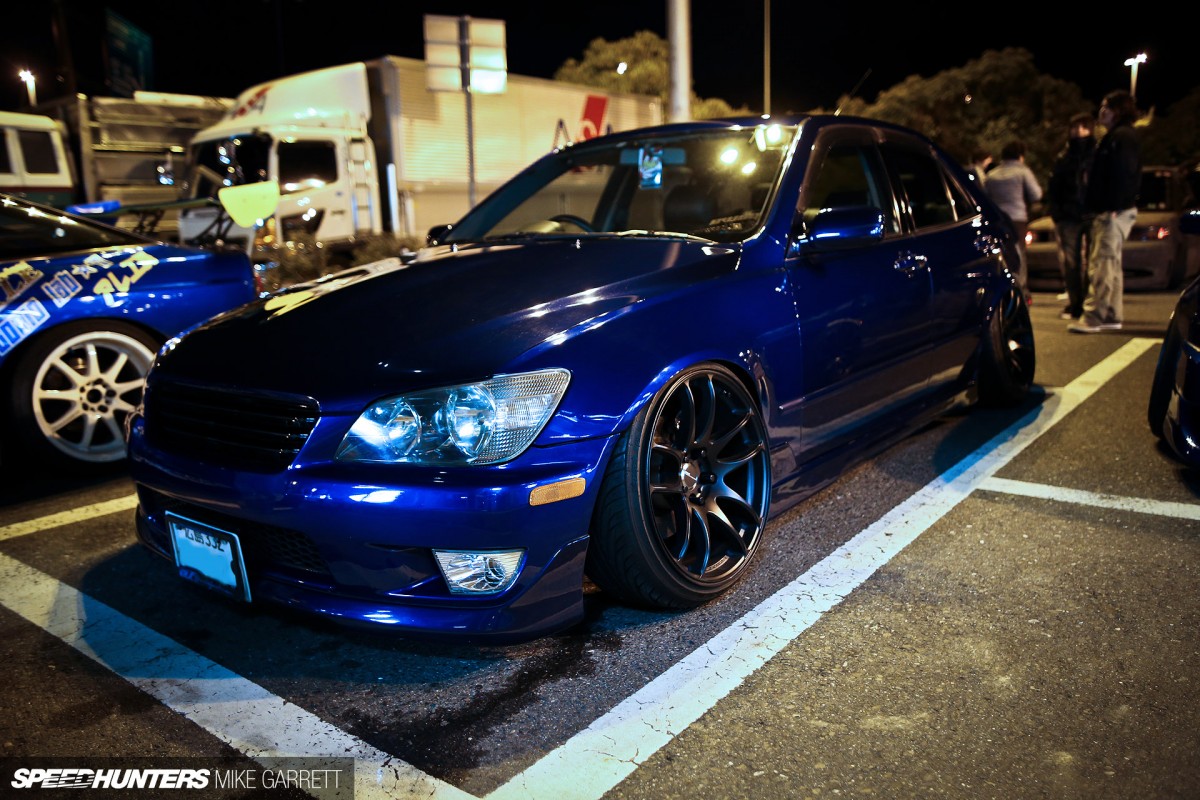 Some of the cars, like this Toyota Altezza, were very clearly street machines that were used for the occasional drift session.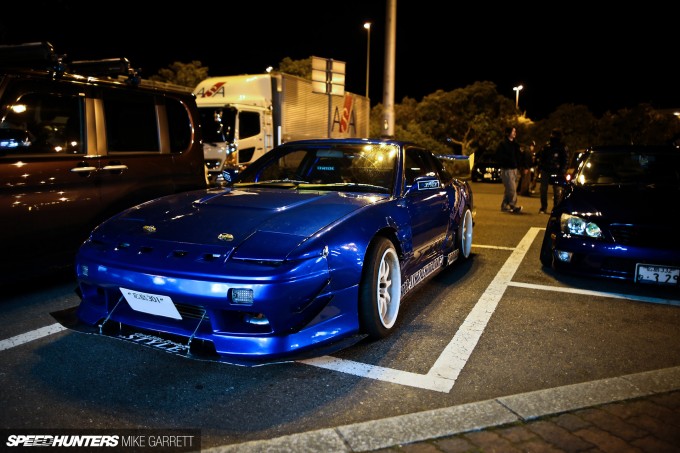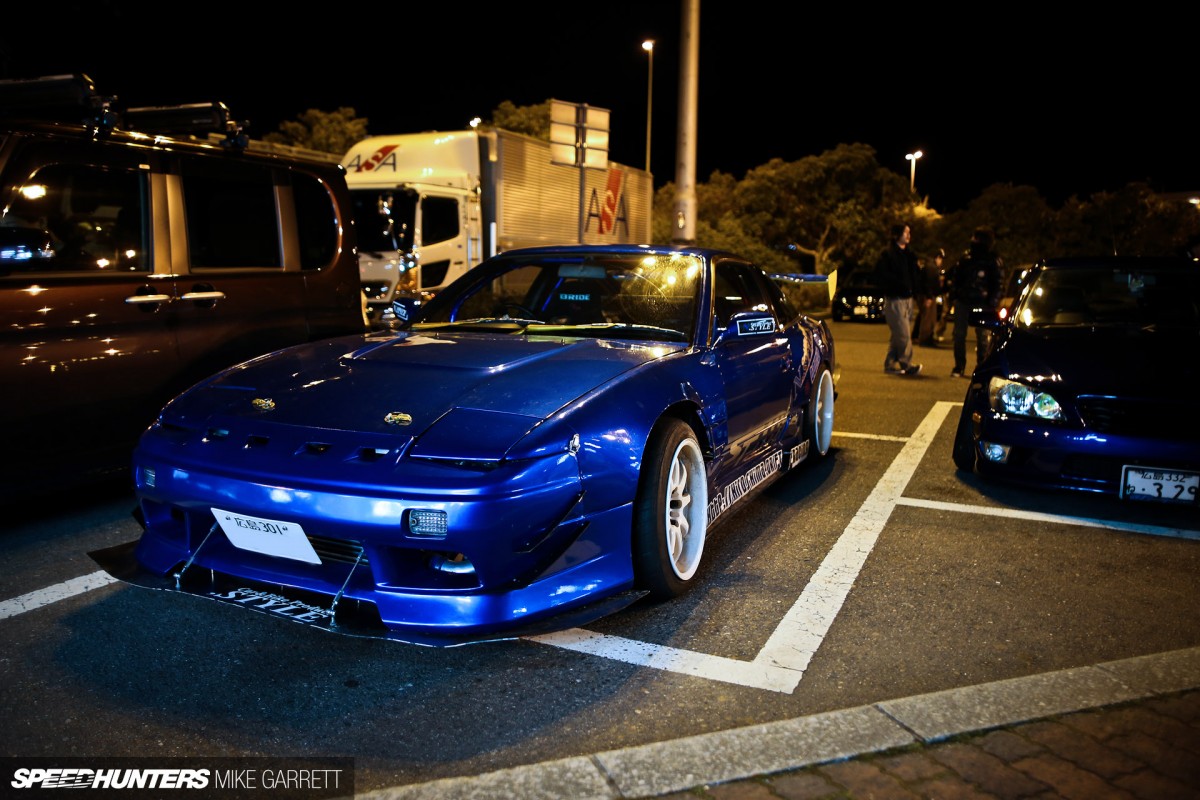 Others, like this 180SX, were built completely with drifting in mind even though they wore number plates. It looked very much like a car you might find at a D1 Street Legal event.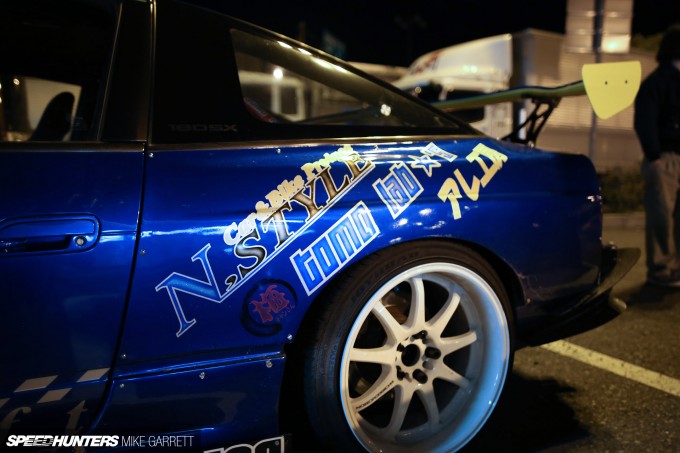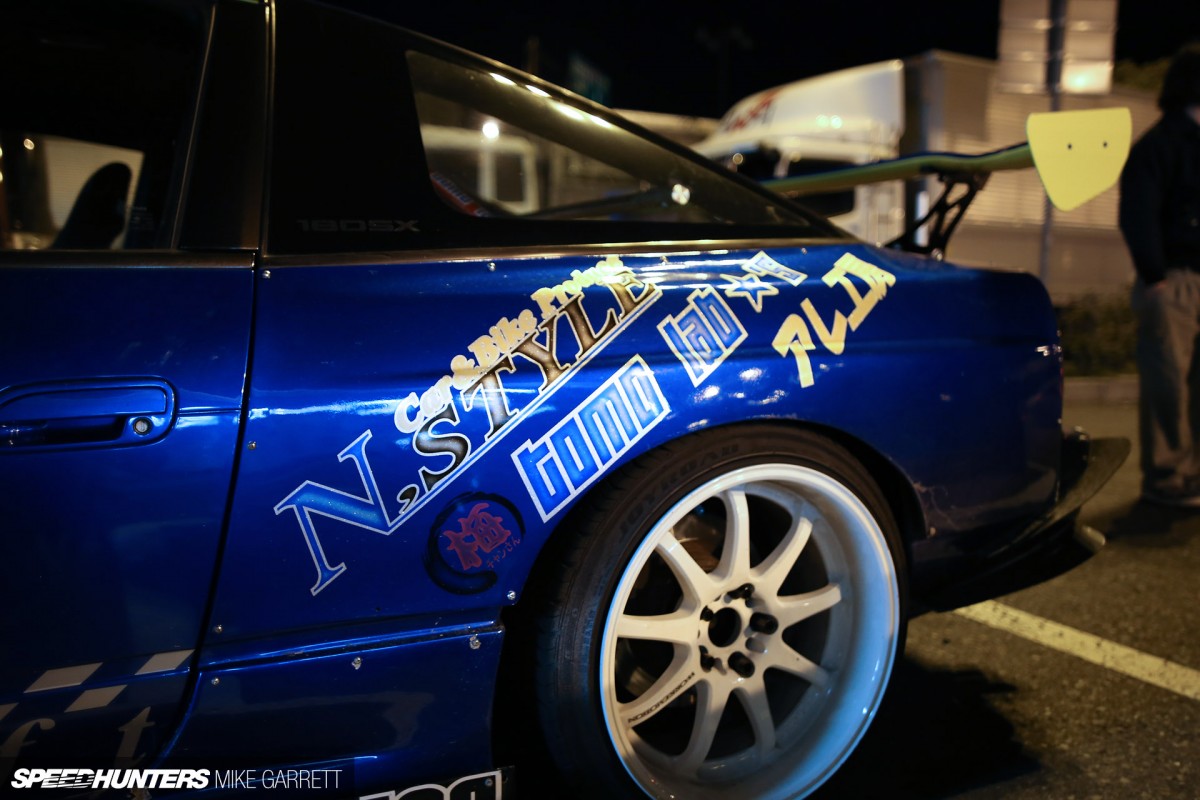 Check out the logos, which aren't vinyl decals but actual paint designs laced with a bunch of metal flake. Cool.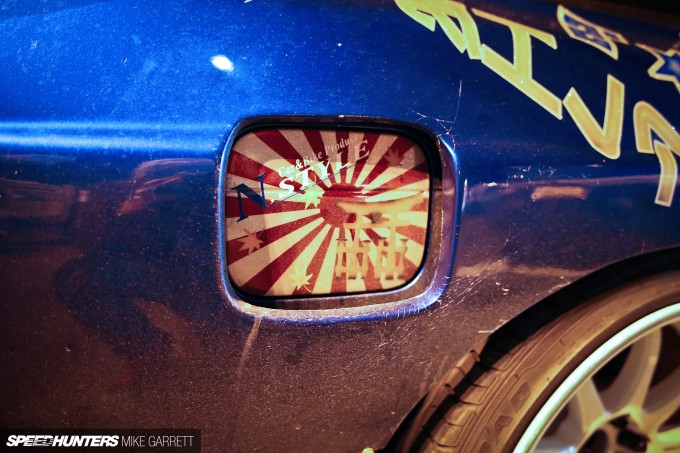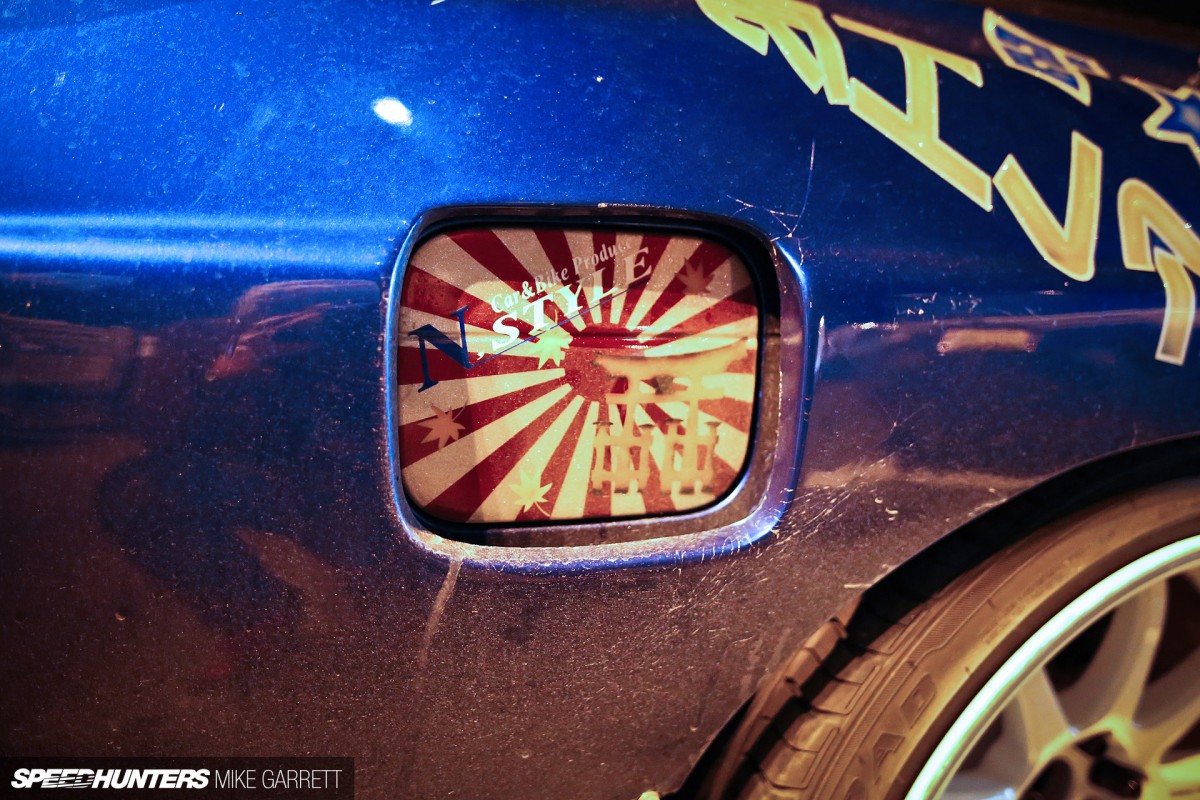 The fuel cap was showing some local pride with an image of Hiroshima's famous Miyajima shrine – something which I'll have more on in just a moment.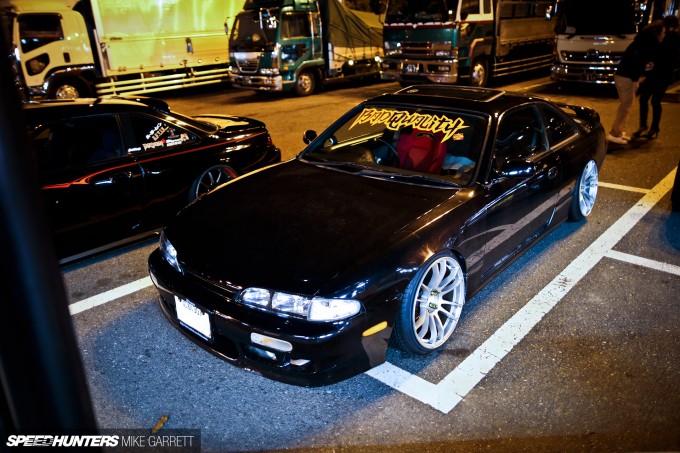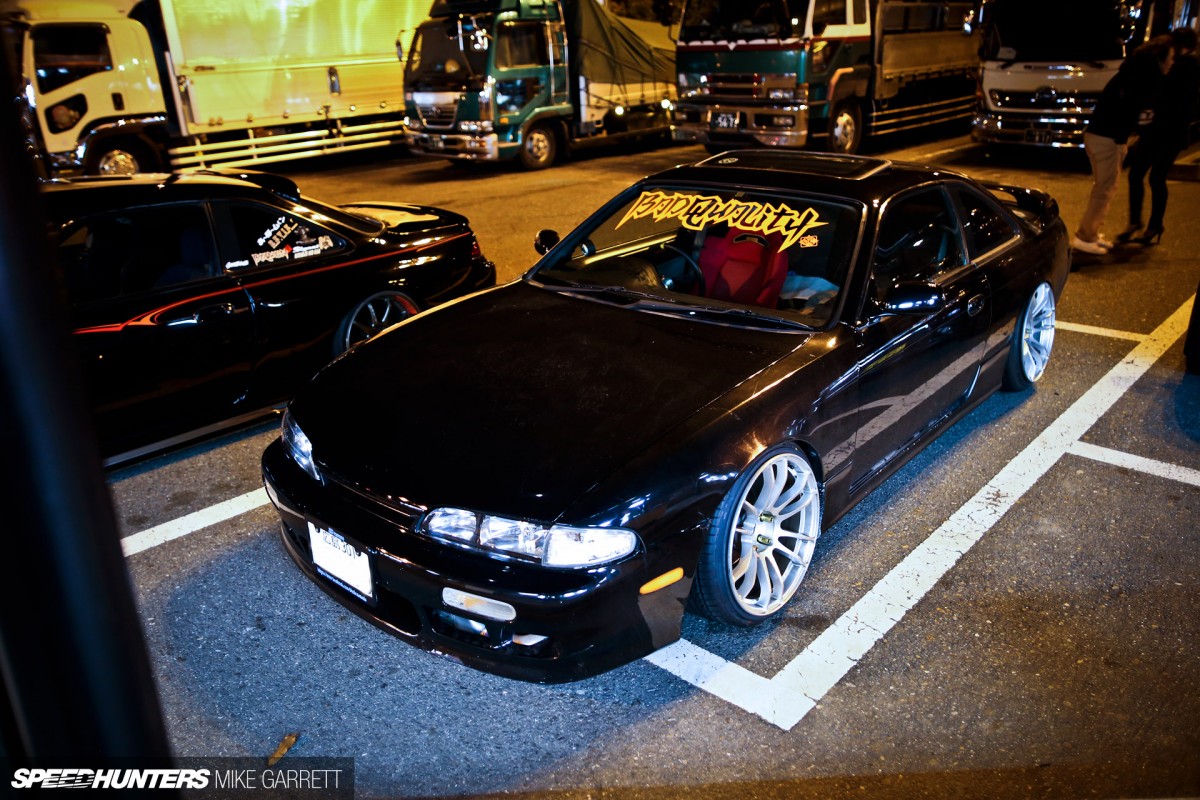 Simple and effective, that's how I'd describe this zenki S14 which also runs with the Bad Quality family.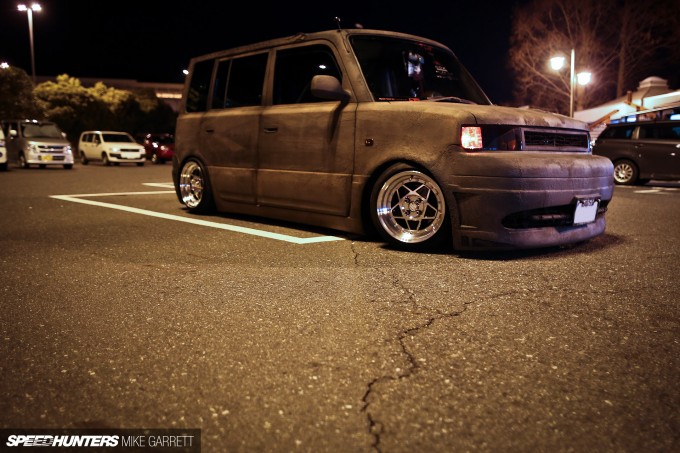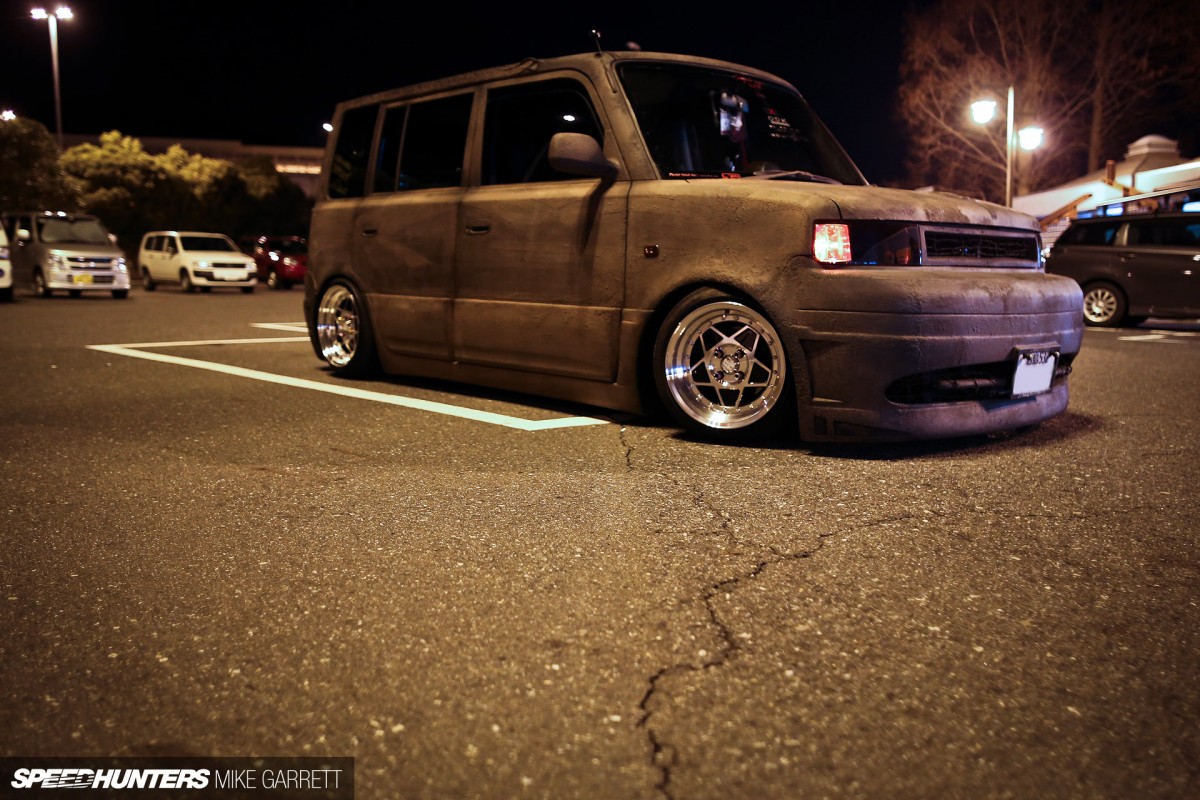 Also joining our little group was the concrete-covered Toyota bB of Takuto Urushidani – because a pack of screaming drift cars just doesn't attract enough attention on its own.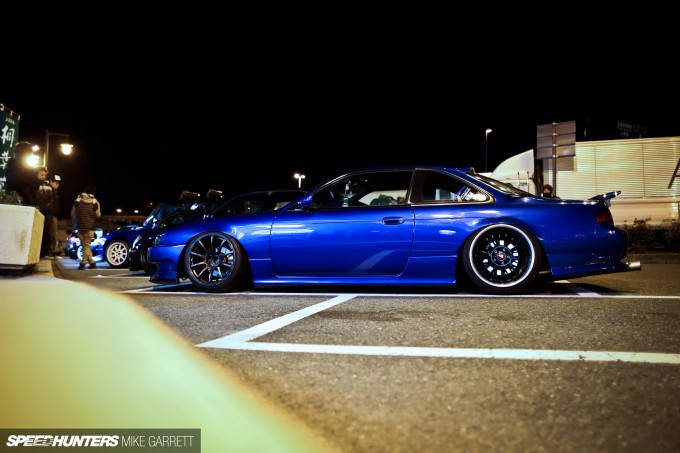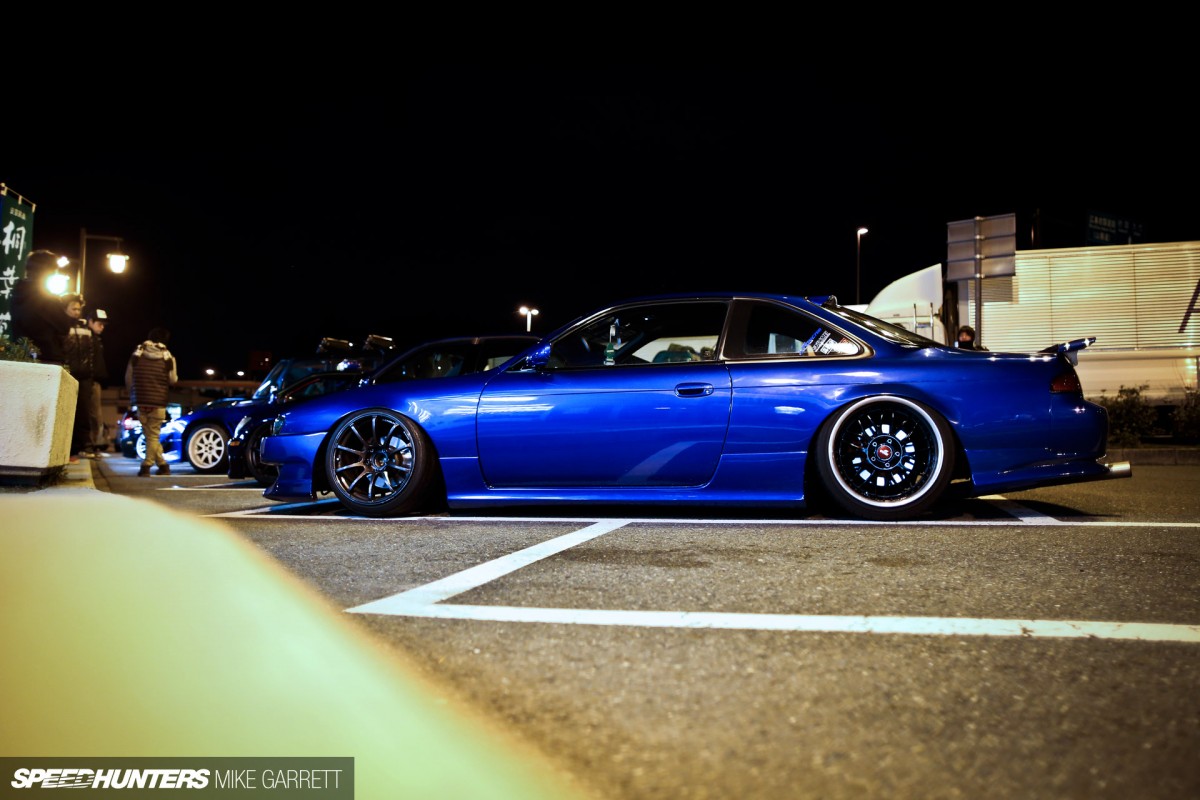 After a short time, all of the cars had gathered and it was time to head out in search of some touge roads.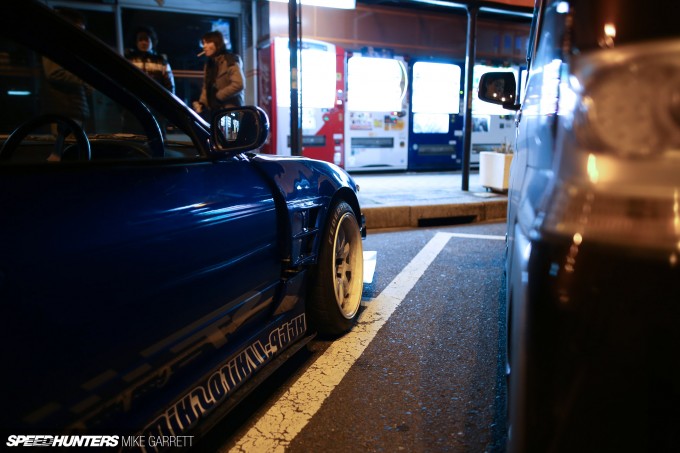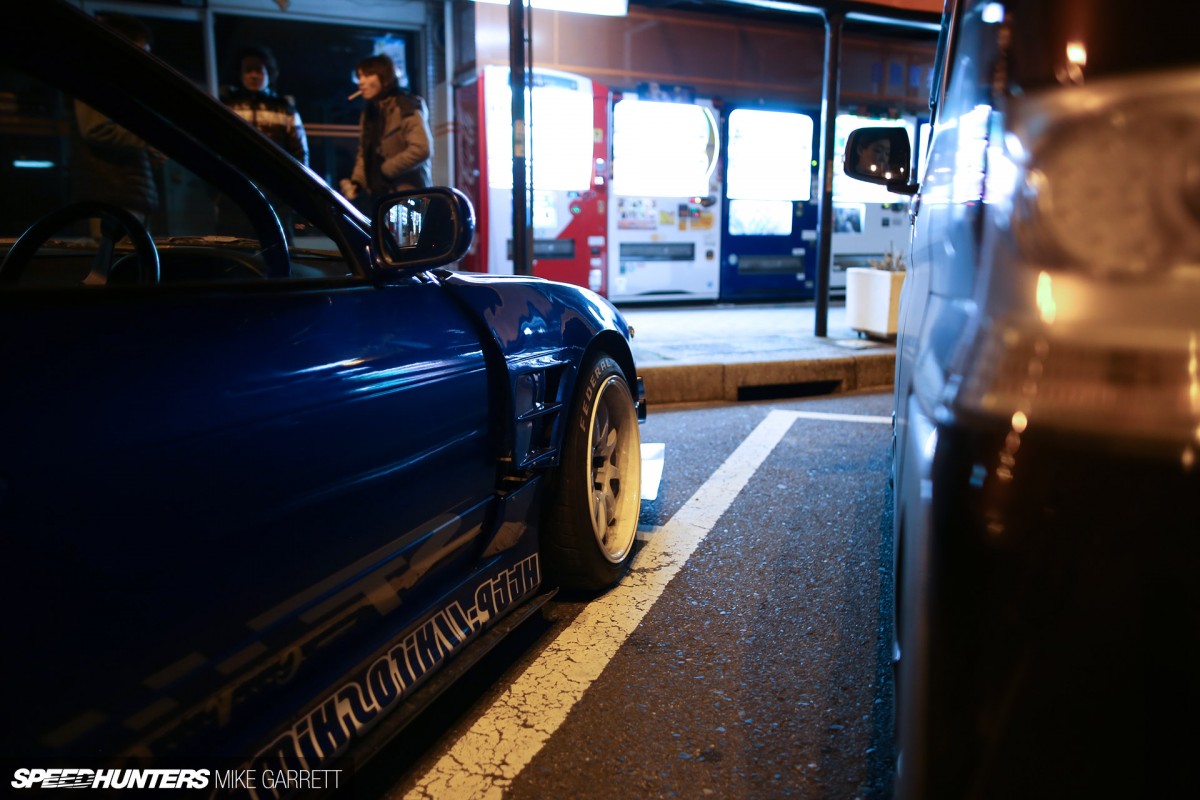 Soon the cold night air was filled with sounds of big exhaust and turbochargers as we left the quiet service area behind. The adrenaline was slowly ramping up…
Touge Time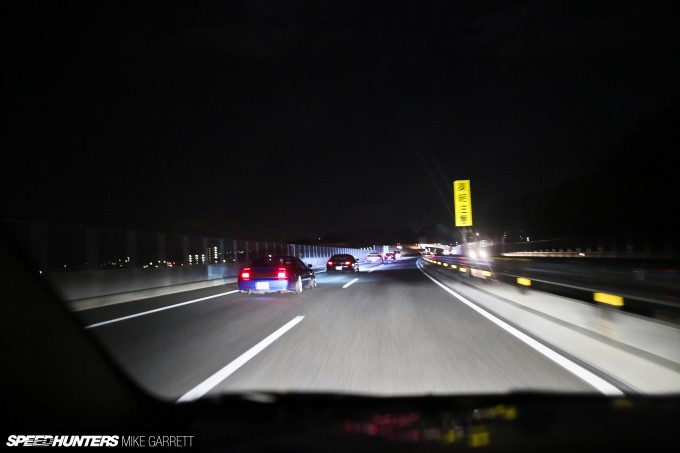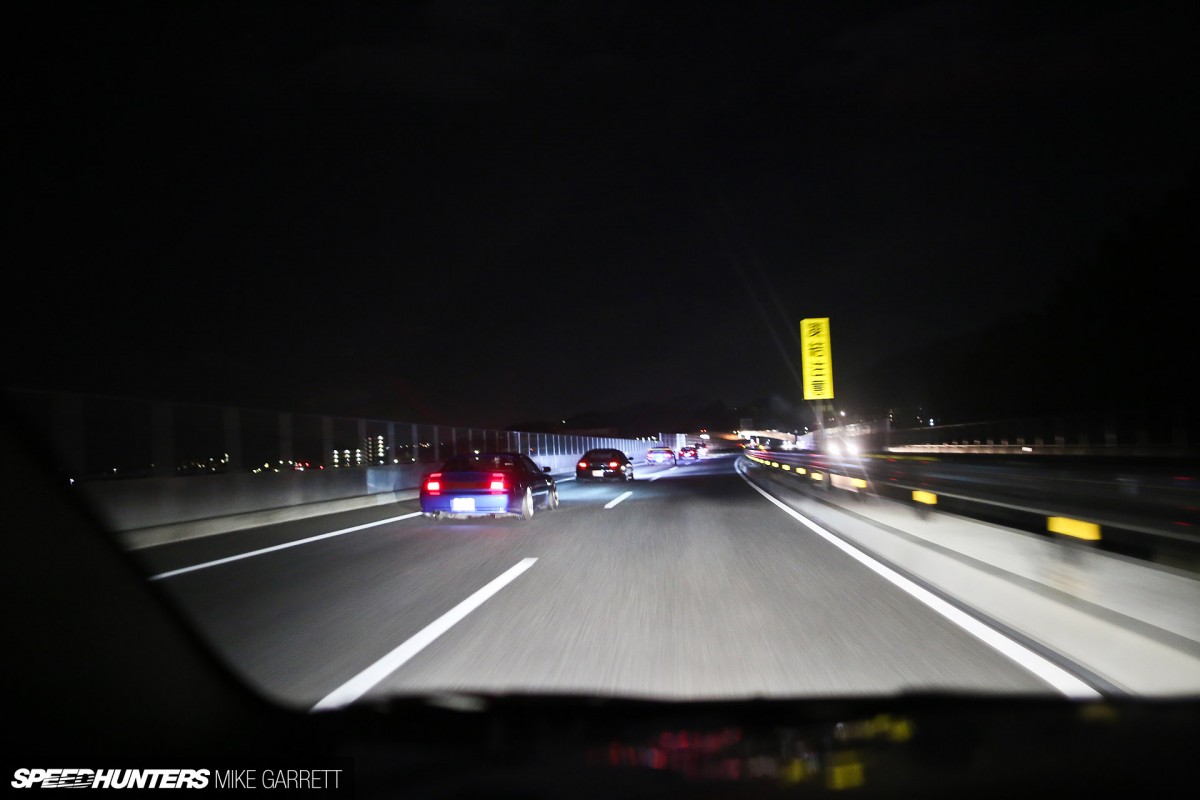 After a short drive down the highway we turned off and made our way towards our destination.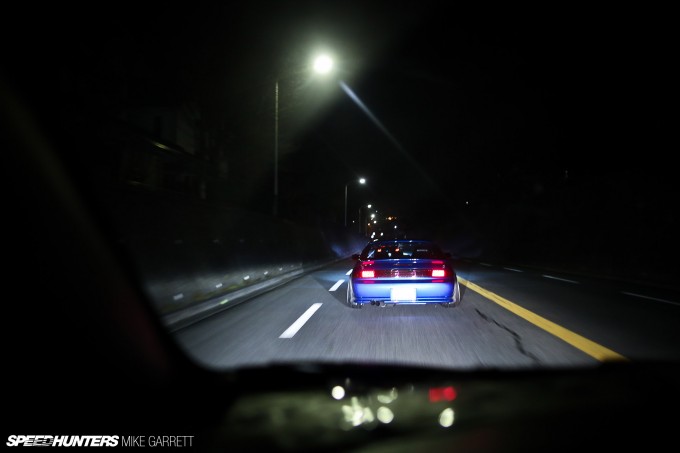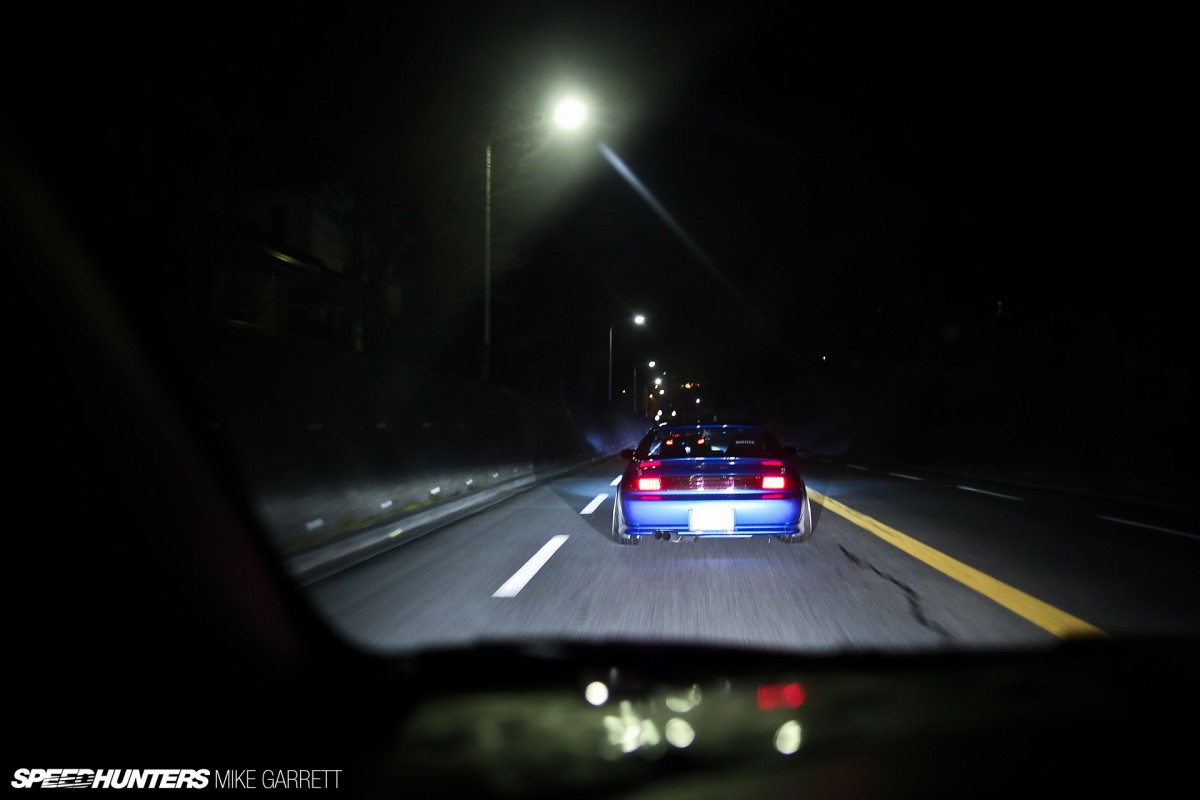 With the clock about to strike midnight, we left the lights of the city below and headed into the hills.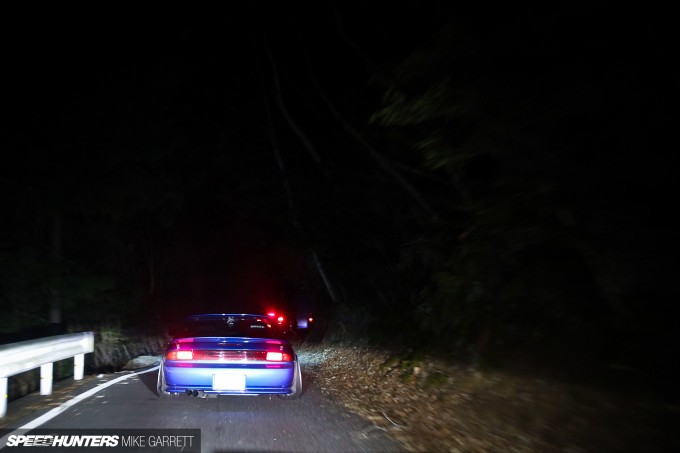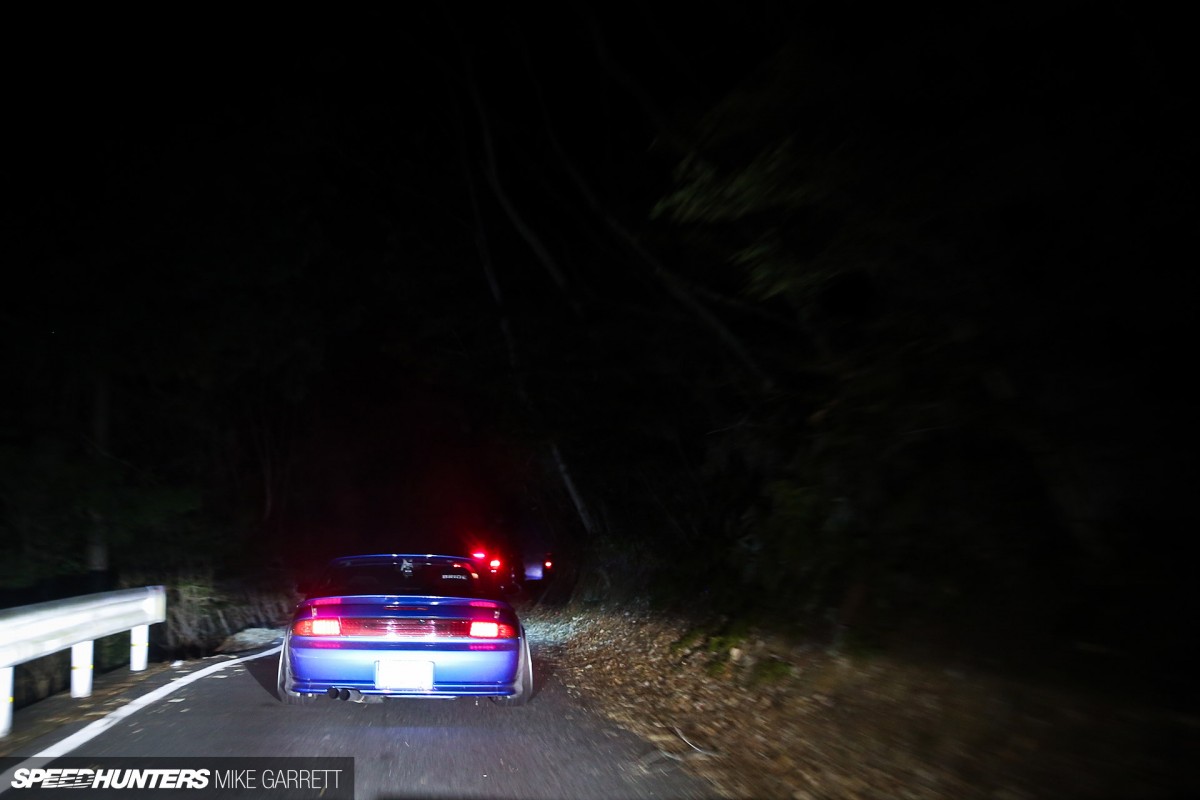 Eventually we were on a stretch of road that was so windy and narrow that it looked tight even for a single car. We had arrived.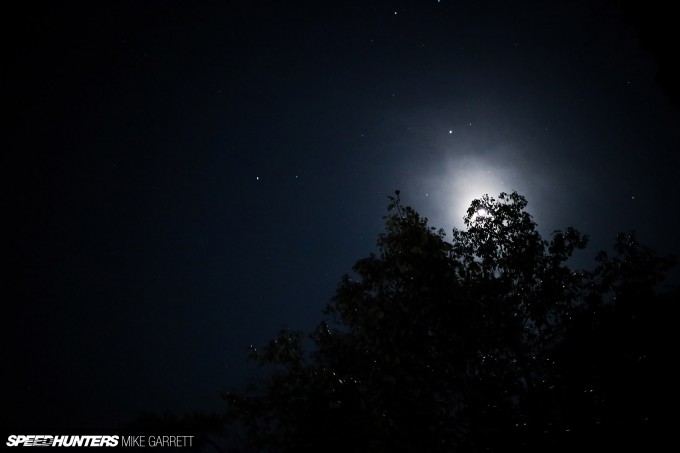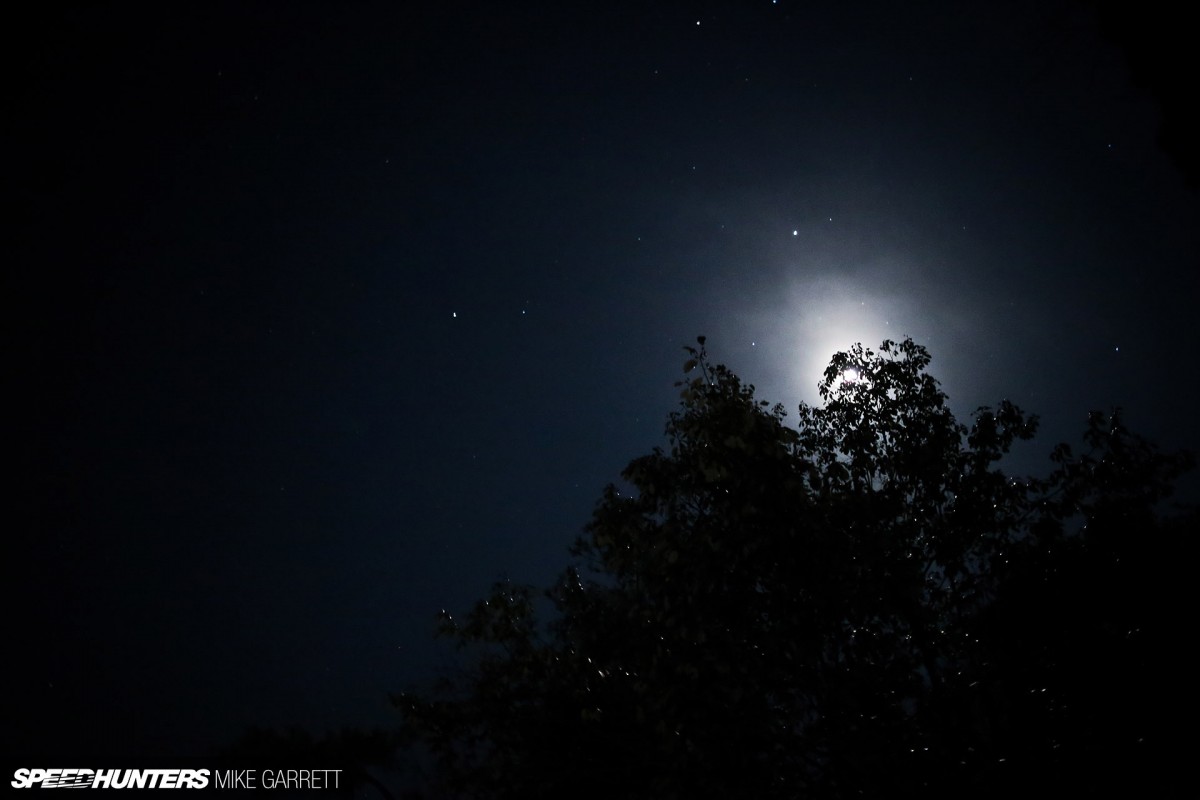 As it turns out, this is one of the area's most well-known driving spots and the very place where Hiroshima native NOB Taniguchi honed his skills long before he became a professional racing driver.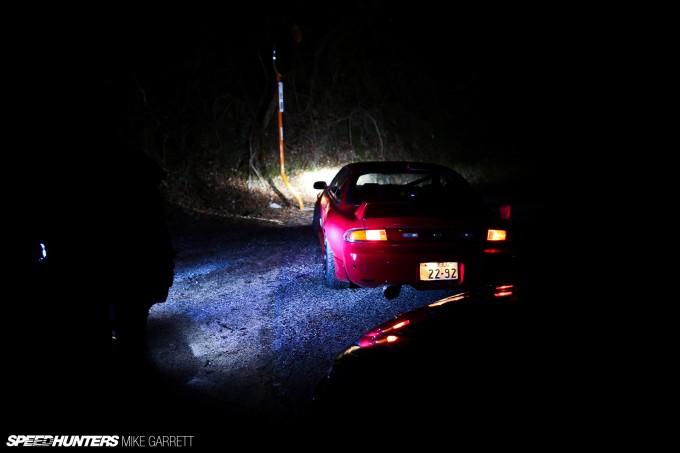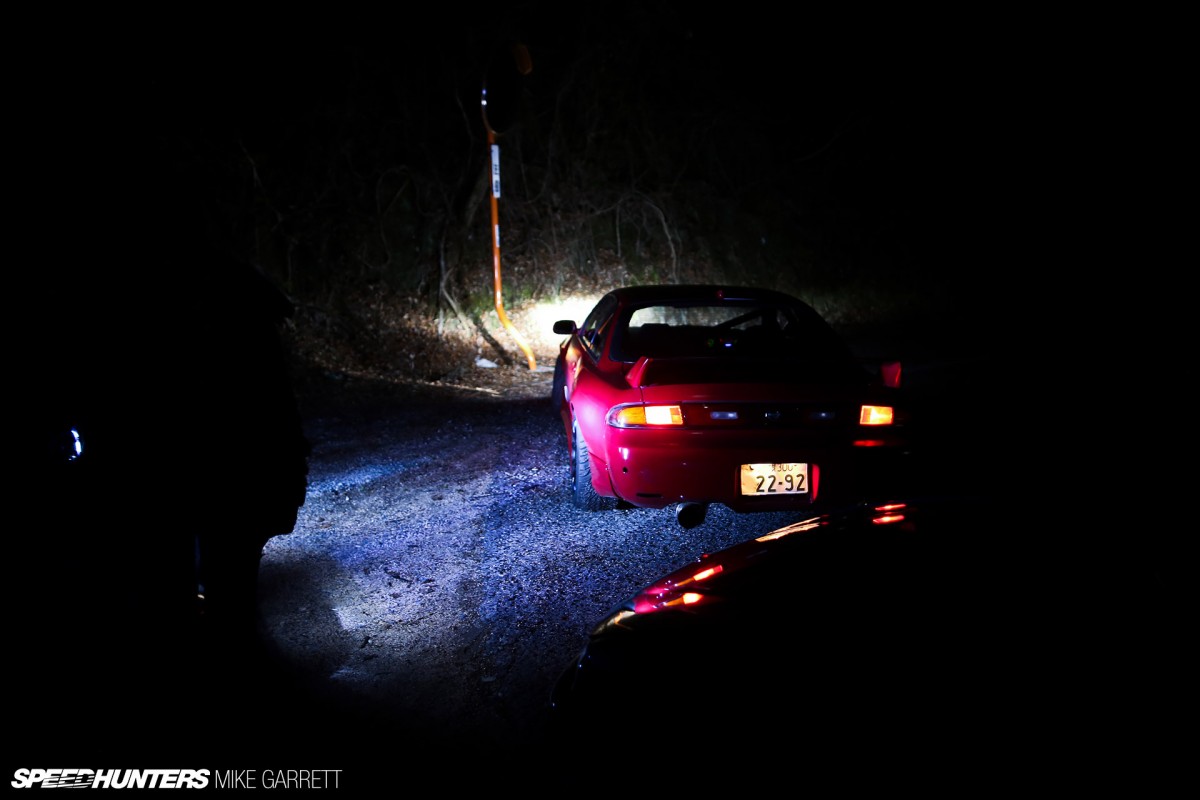 If the road looked narrow from afar, it was even narrower when looking out over the hood. It's these opportunities to experience hidden local spots that make me truly value the friendships that I've made as a Speedhunter.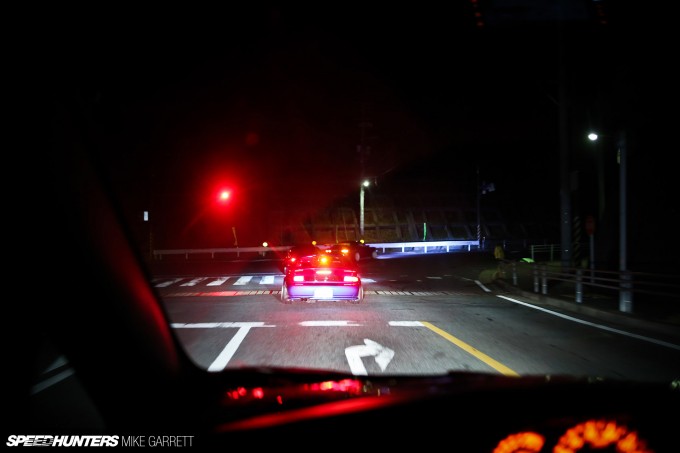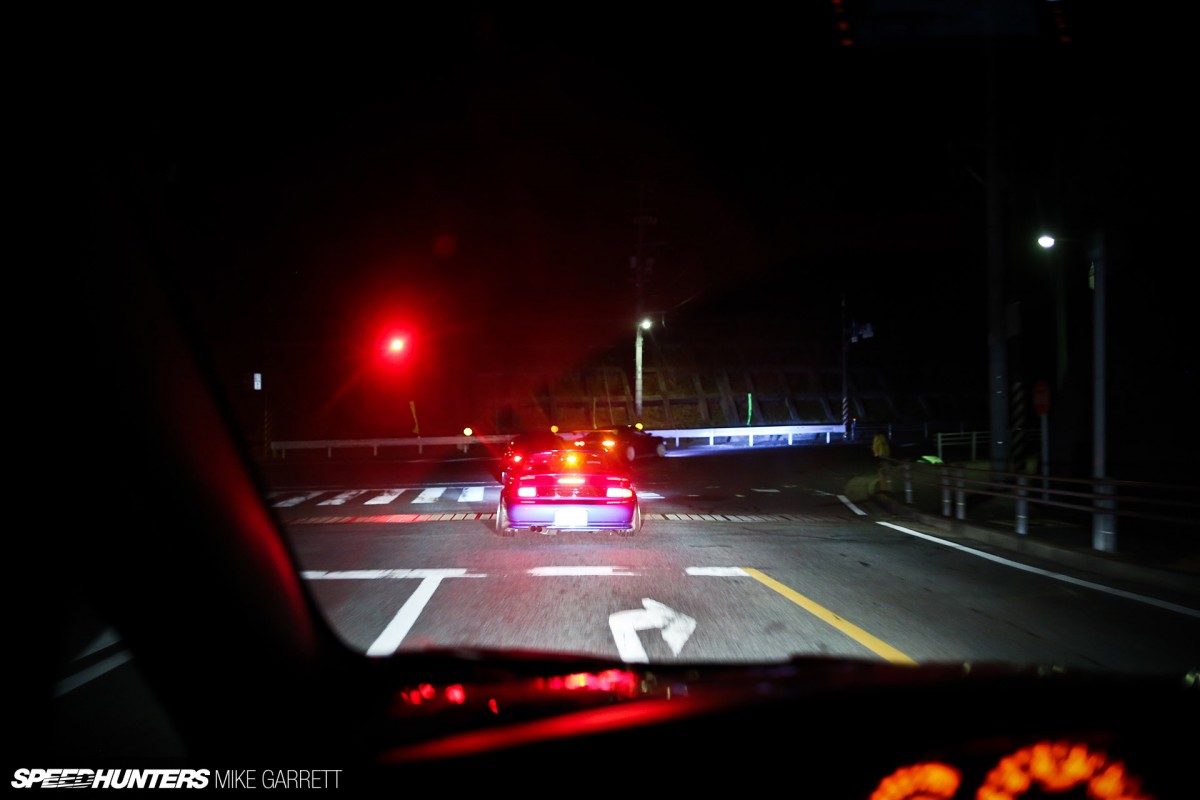 After a few trips up and down the hill  I was quite proud of myself for not spraying the aforementioned okonomiyaki all over the dashboard. It was close to 2:00am now. We had a full day of activity planned for Tuesday, so after spending a little more time at the touge we headed back into the city where the guys dropped me back off at the hotel.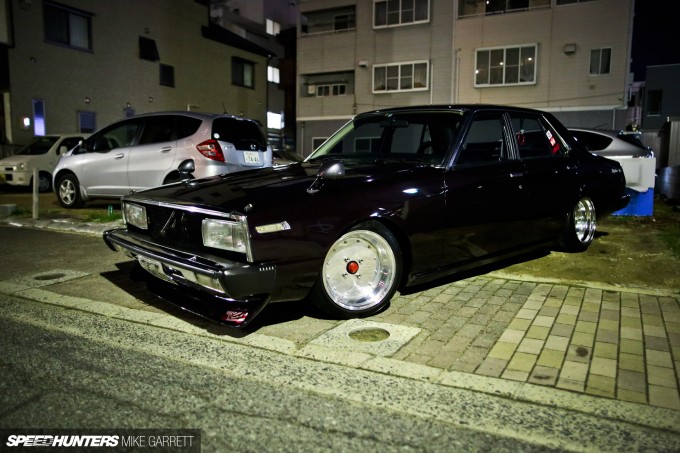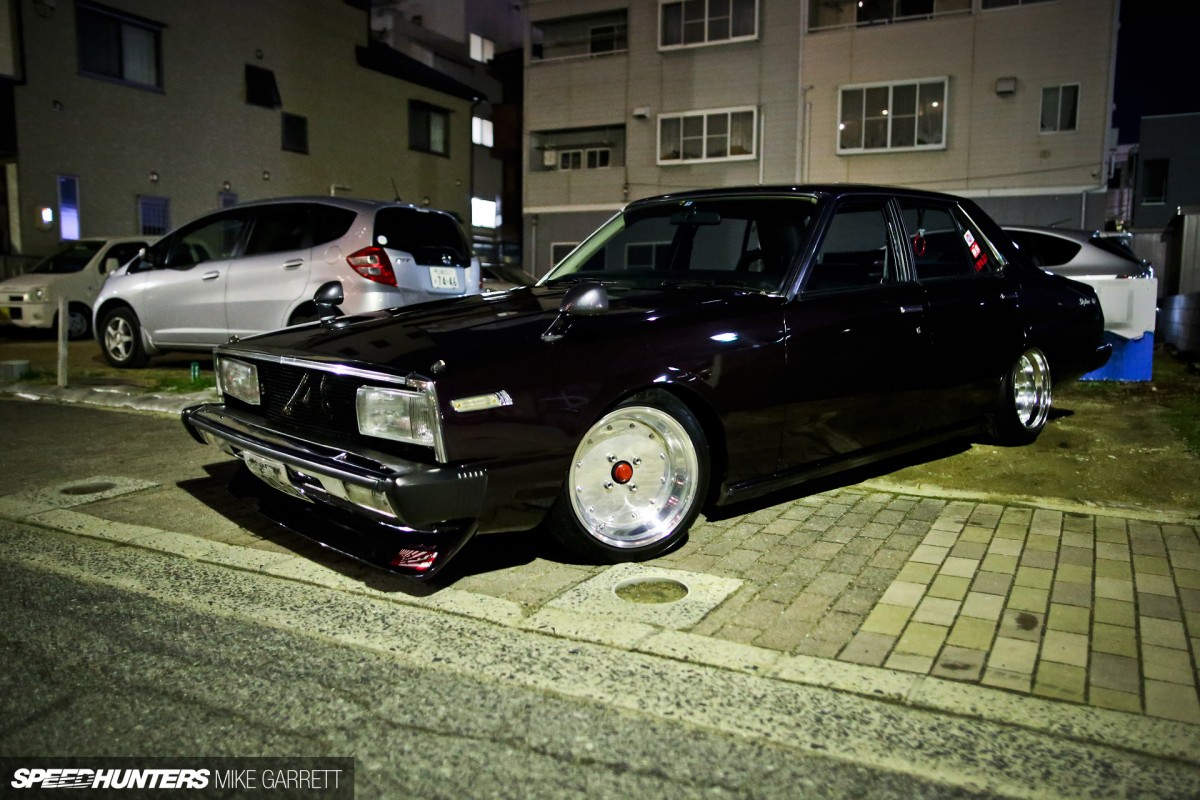 But before that, we met up with another one of Nakagawa's friends – a guy by the name of Matsuda who drives this absolutely bitchin' C210 Skyline Japan.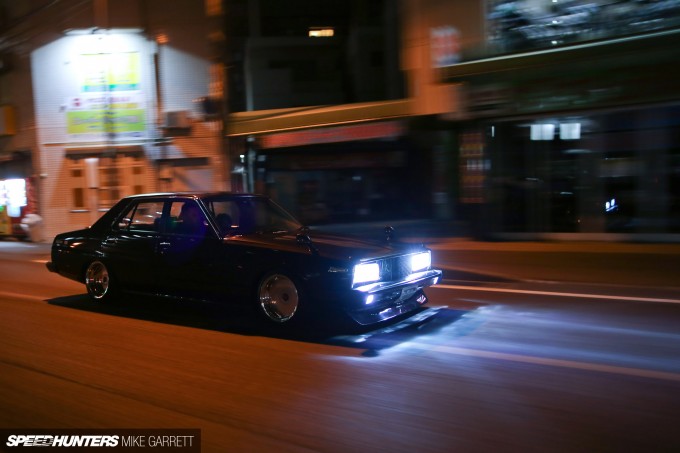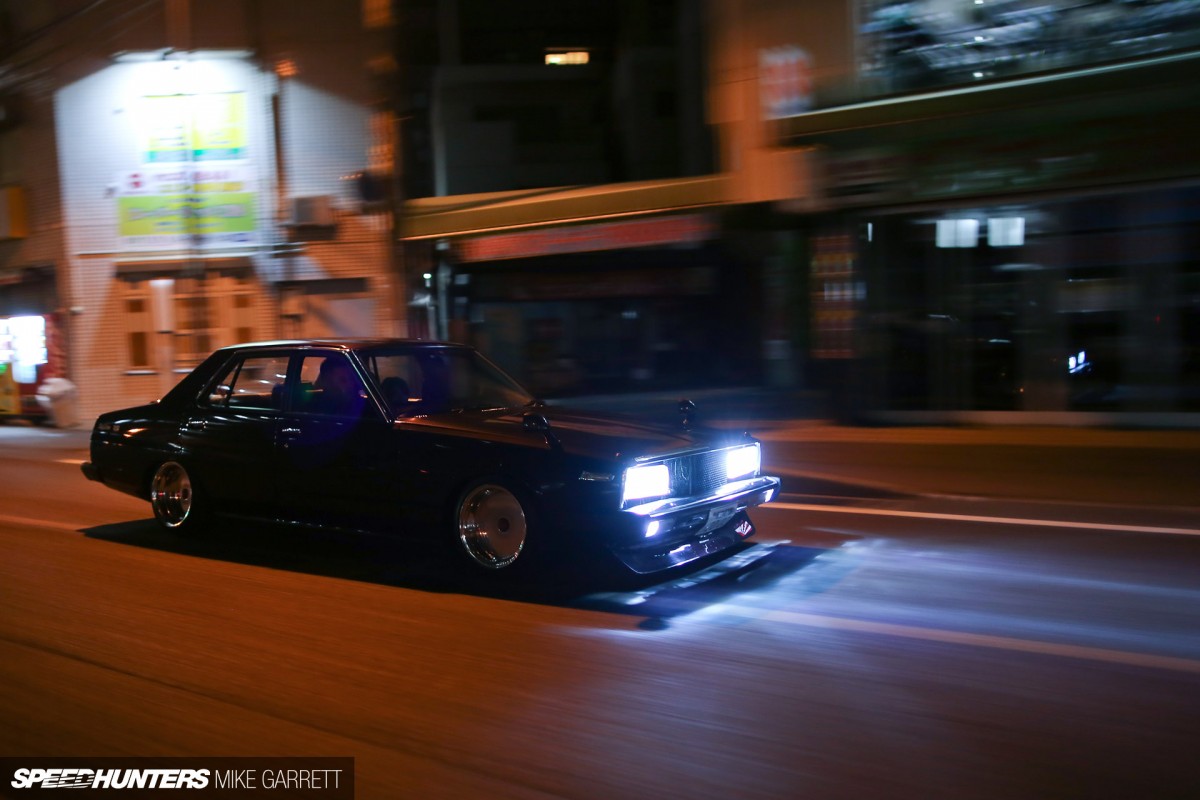 Nakagawa-san knew I fancied myself some kyusha, and cruising the streets with this legit shakotan machine was a fine way to close out my first day in Hiroshima.
Day Two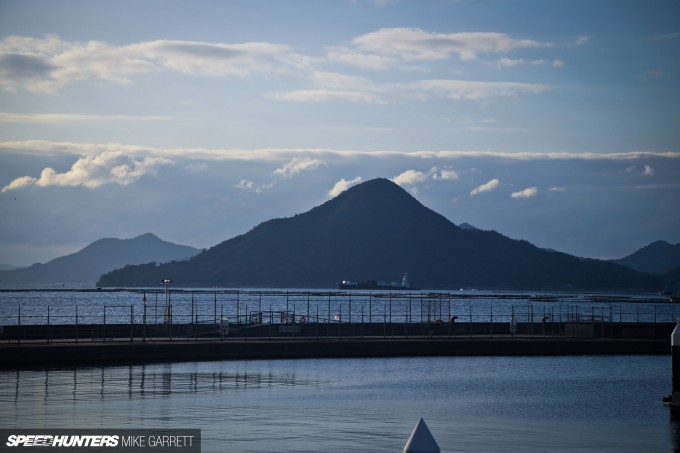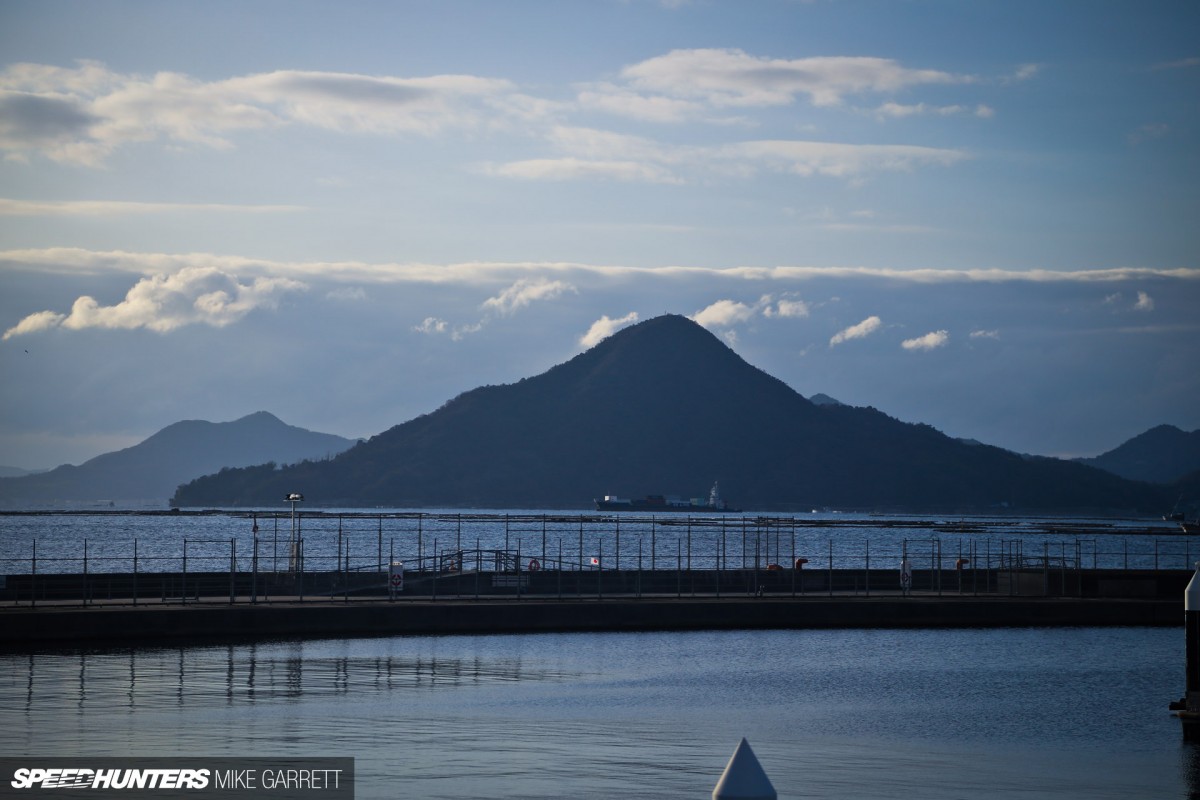 After returning to the hotel go grab a few hours of sleep, day two began with a 7:00am rendezvous with Team Bad Quality at an oceanfront shopping center and theme park called Marina Hop.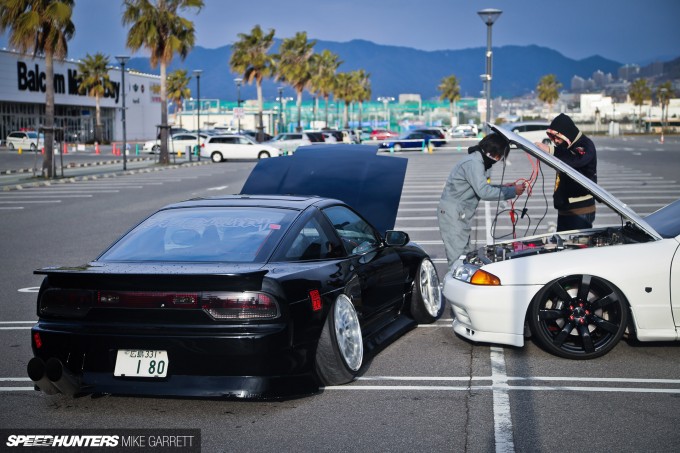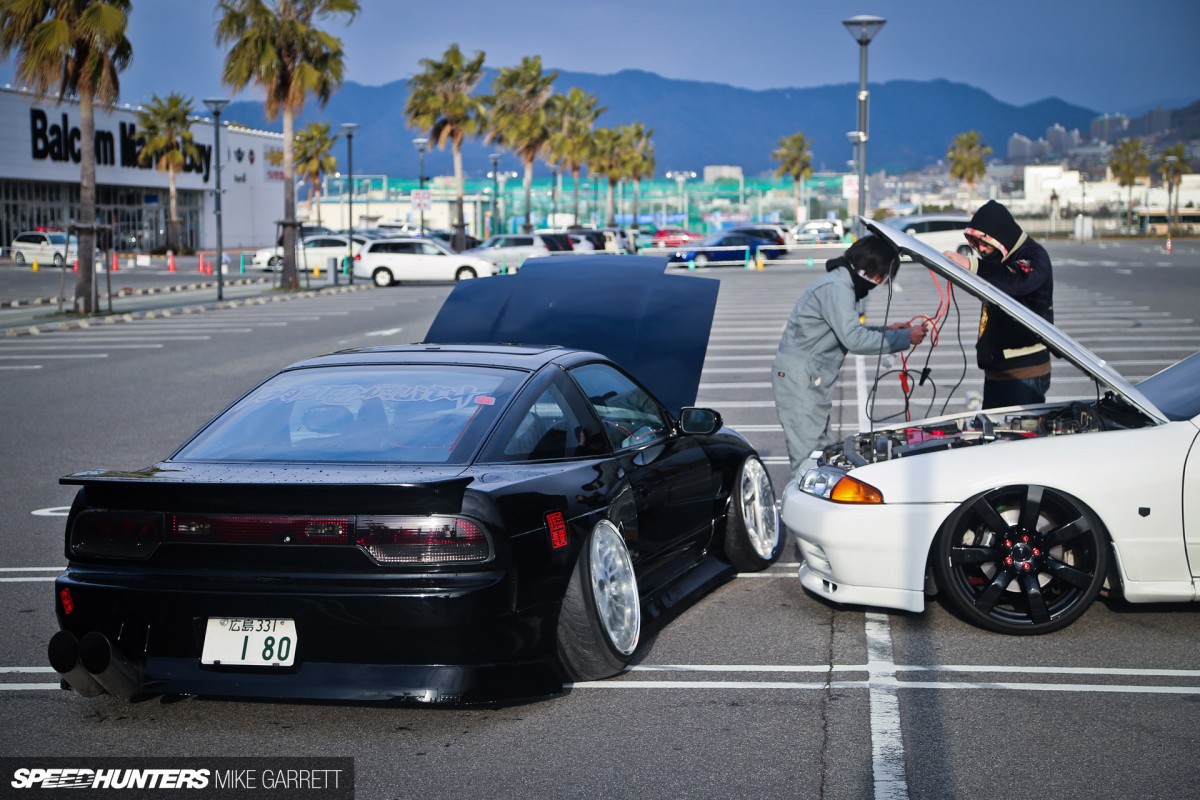 As it turns out, the guys had arranged access to the entire place to take some cool photos before it opened up for business.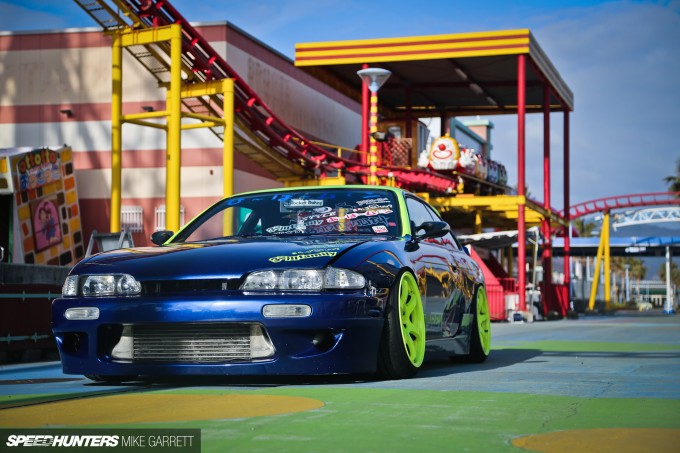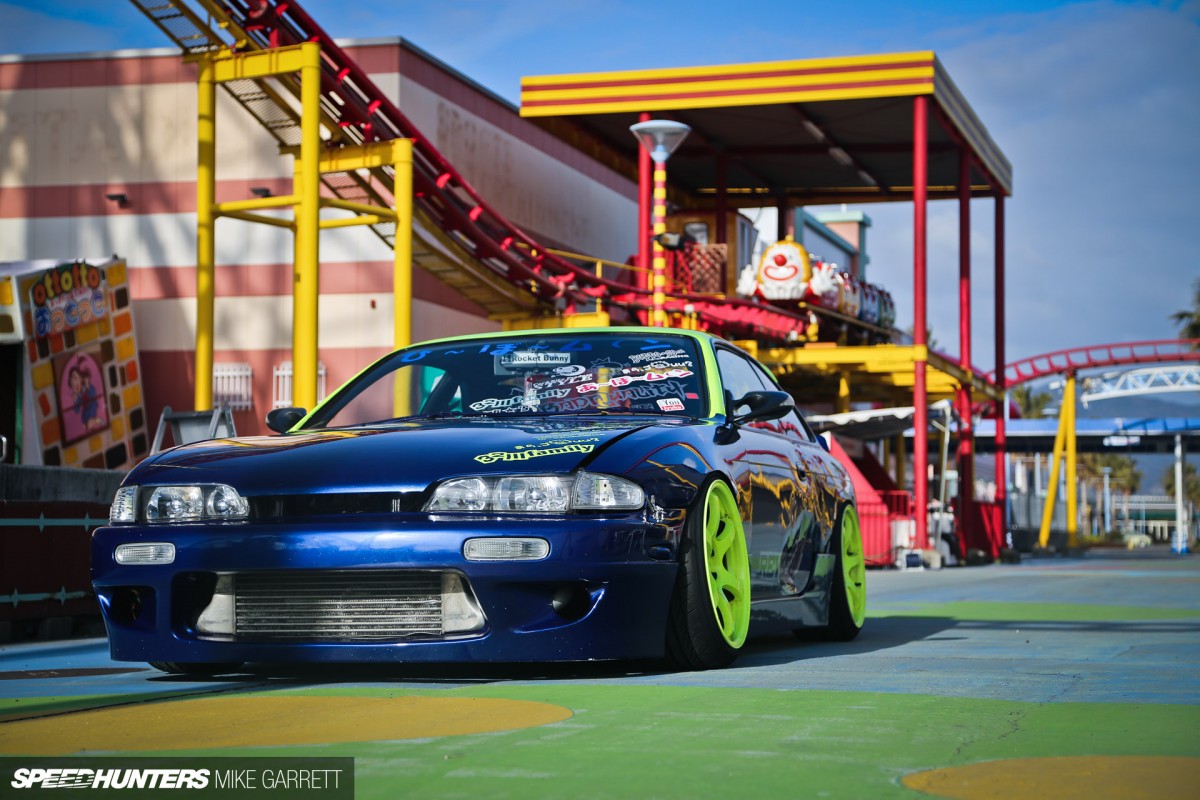 It was definitely one of the more interesting photoshoot locations I've been to, and I wasted no time grabbing shots of cars like Tomonori Idekawa's Rocket Bunny S14, Hirokazu Sato's AE86 and of course, Nakagawa's Sunoco 180SX.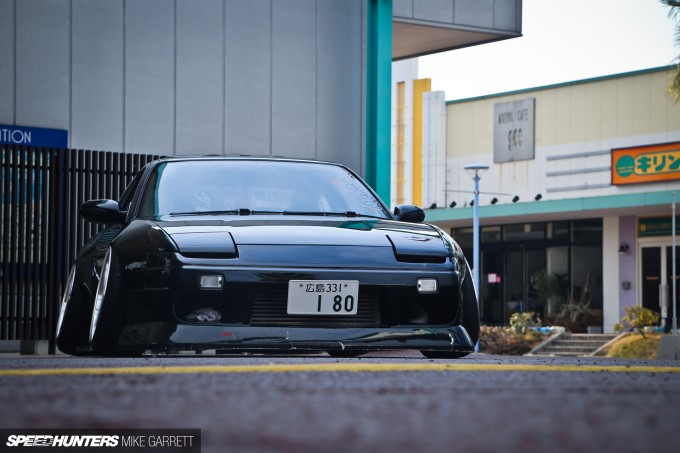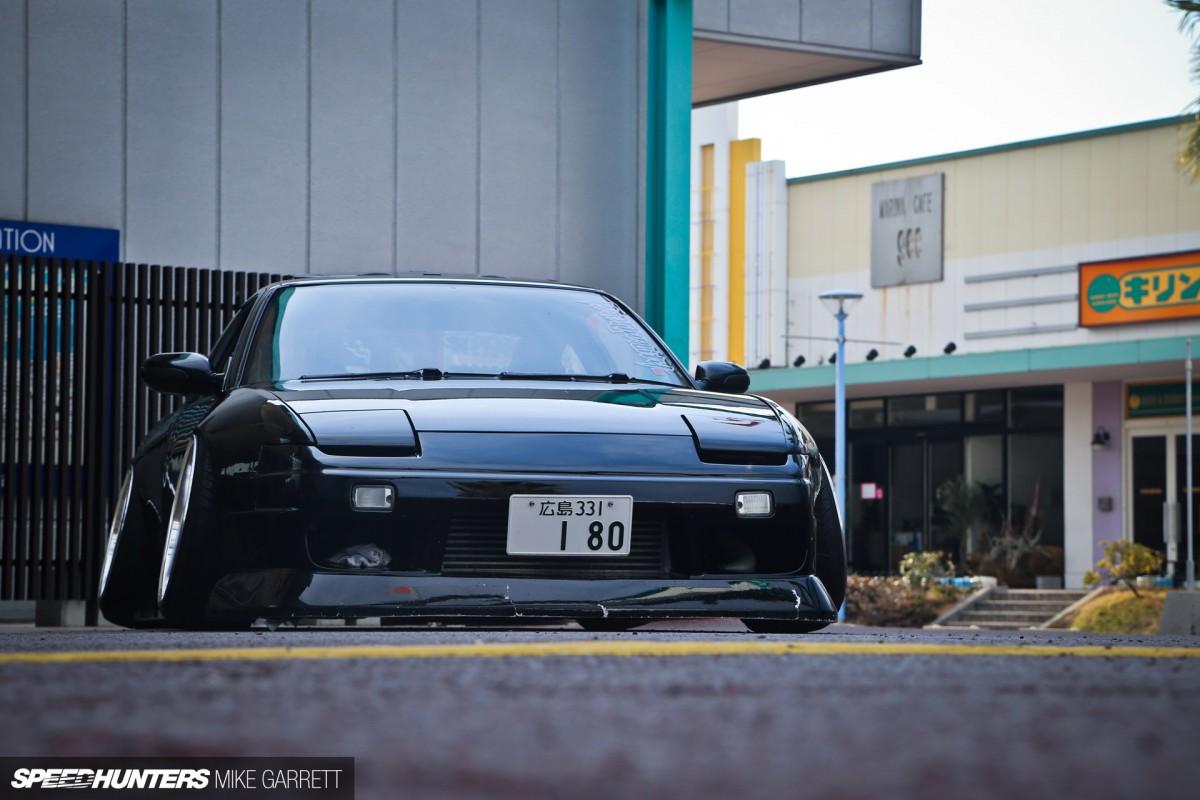 Also joining the fun was Naohiro Yamane's sinister-looking black 180SX – one the widest and lowest RPS13s I've ever seen.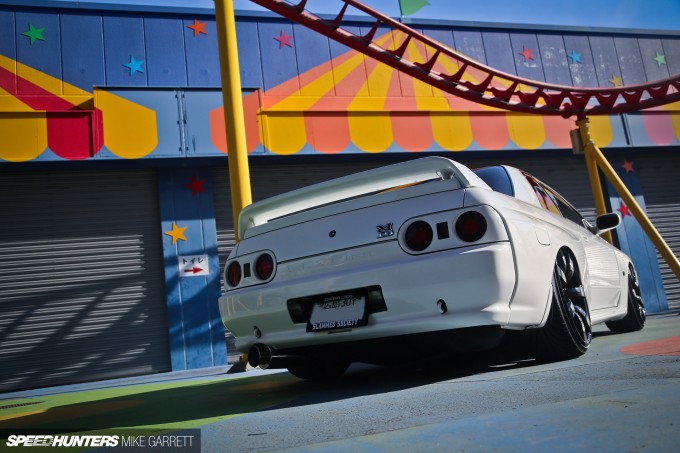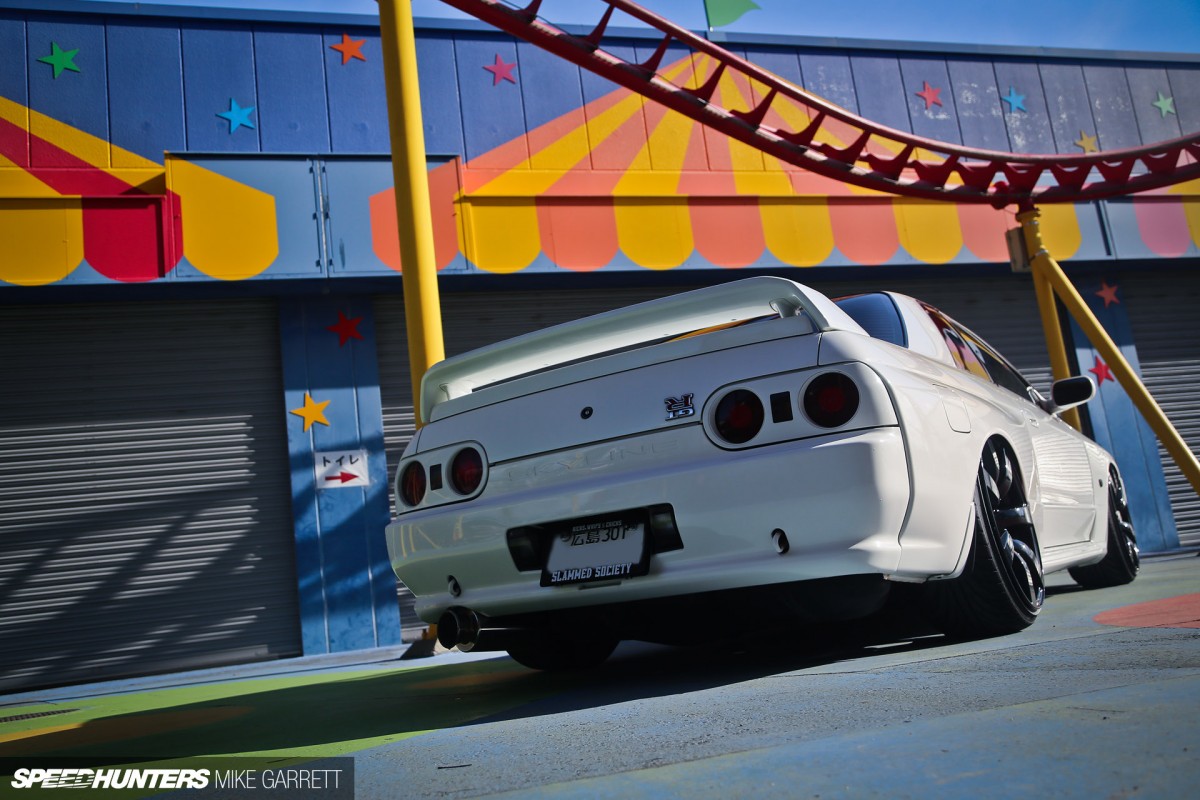 Or for something a little different, how about Kenji Ariki's air-bagged R32 Skyline GT-R? You can expect to see more on these cars in the coming weeks…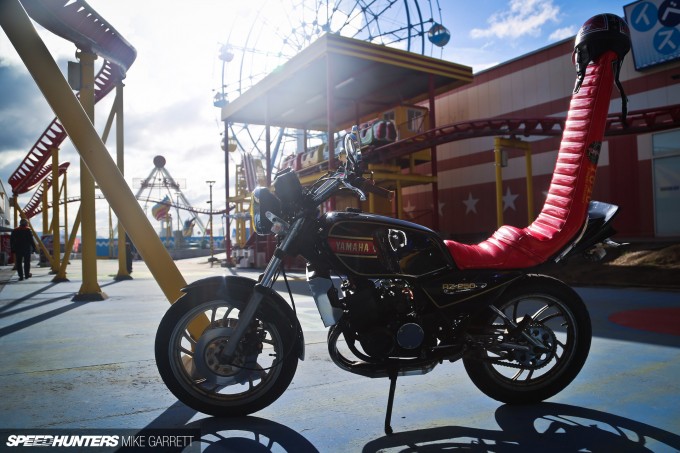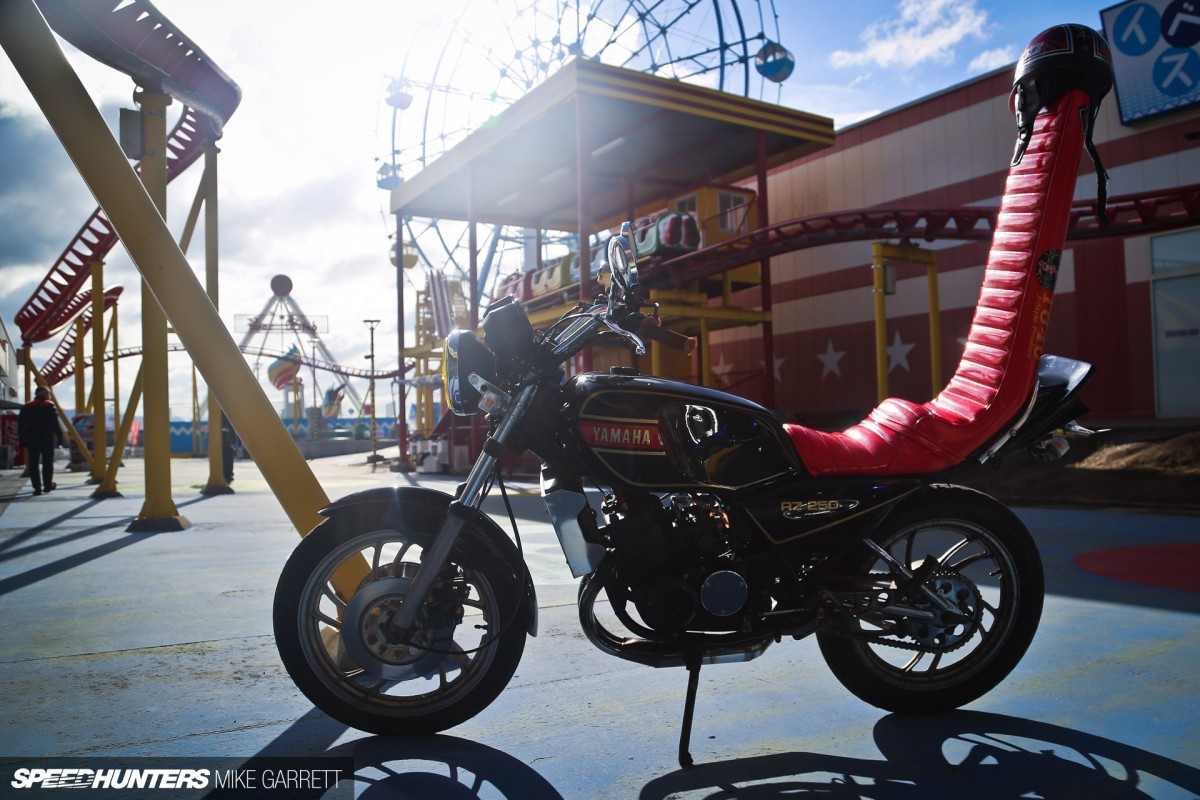 If that wasn't enough, we were also joined by a few members of a local bosozoku crew. The custom bikes fit right in among the carnival atmosphere.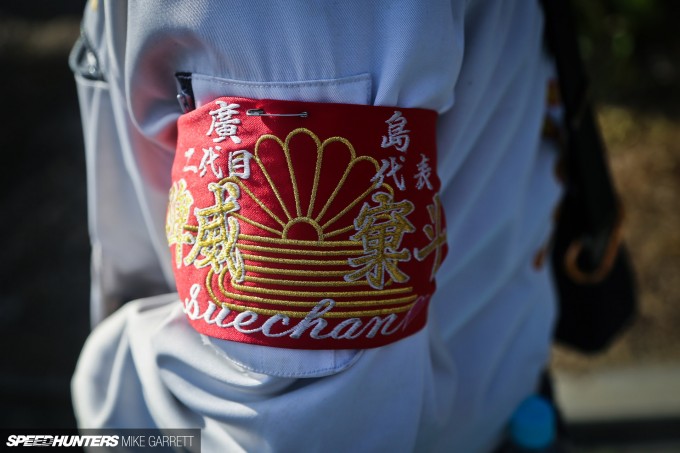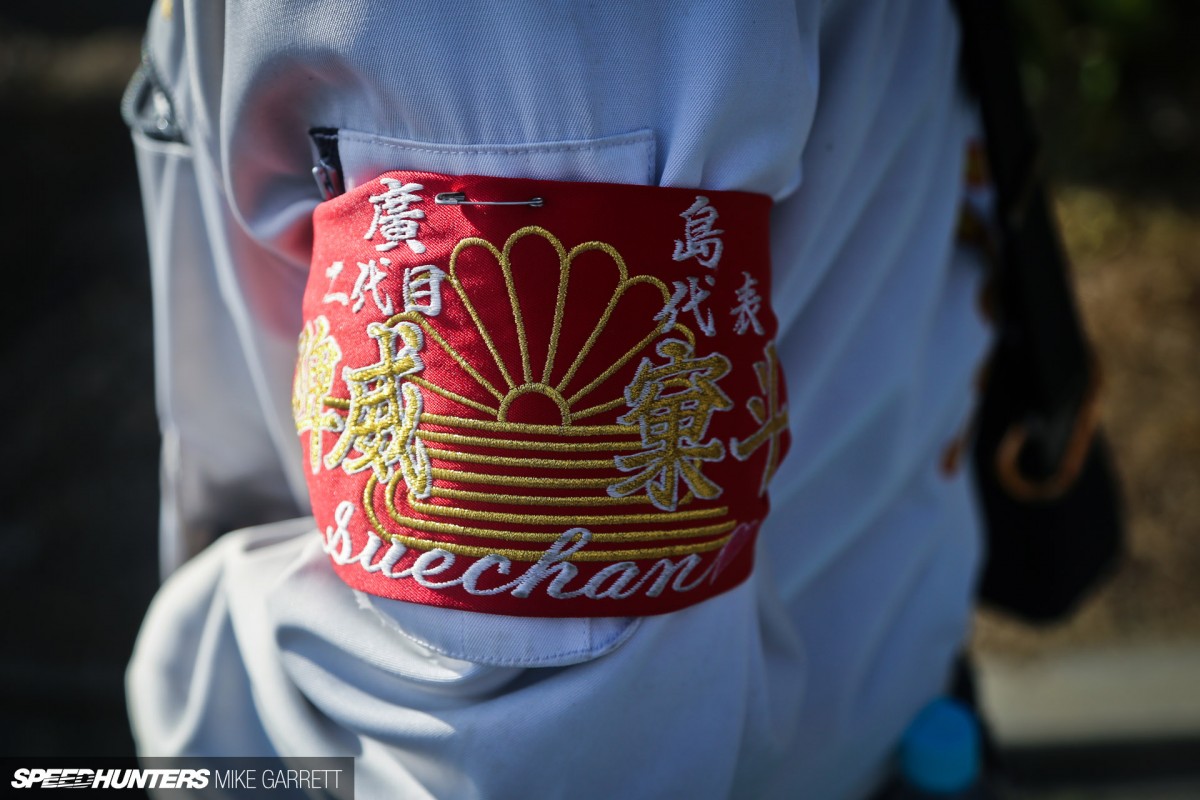 These guys were also friends of Nakagawa's, and if a group of screaming kyusha bikes fail to wake you up on a Tuesday morning, I don't think anything will.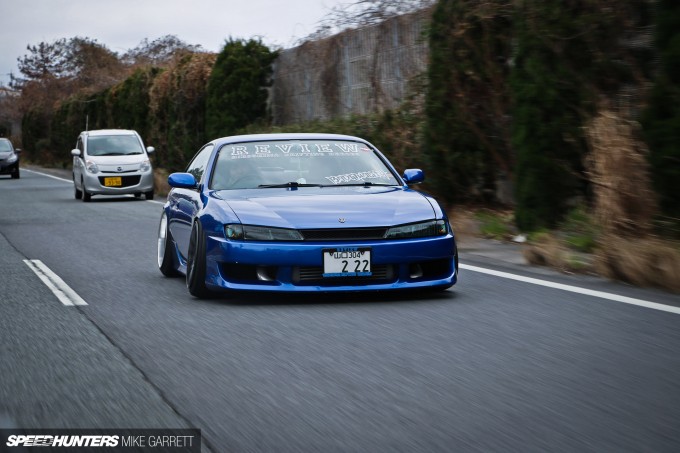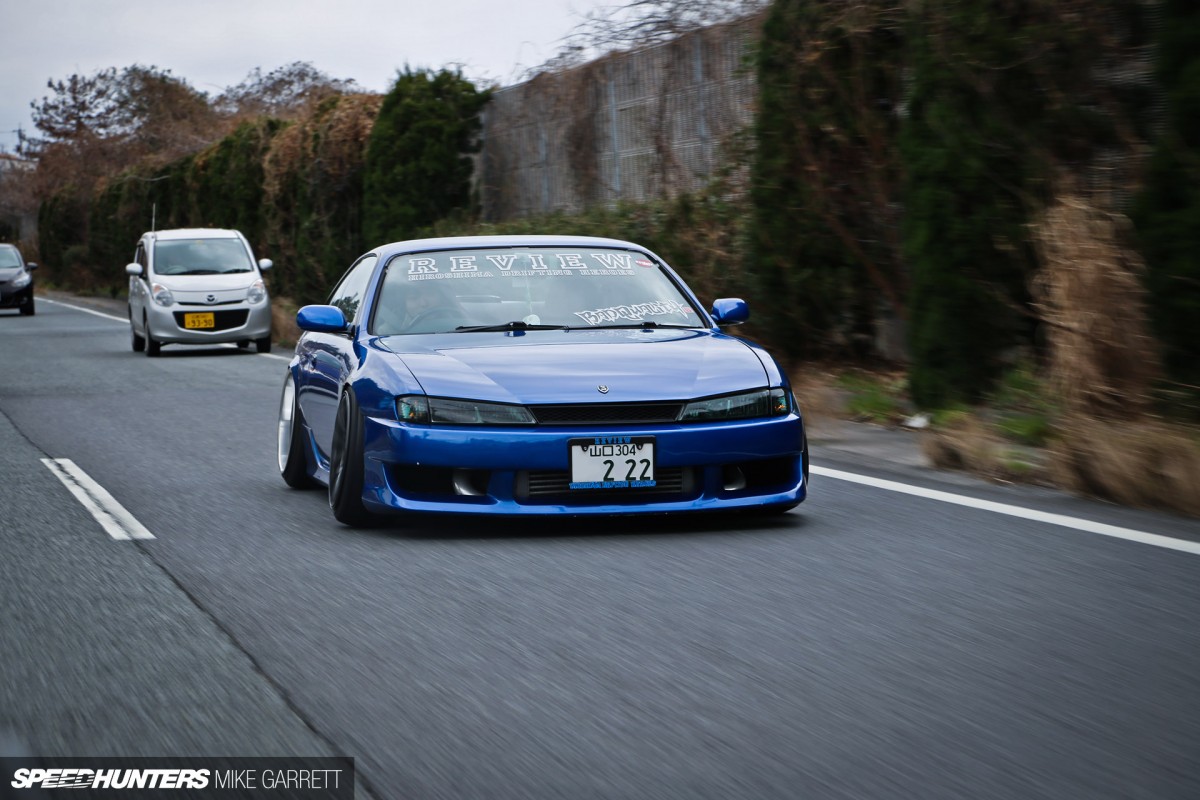 By 10:00am or so the photoshoots were complete, but the fun wasn't over yet. Our next stop would be Miyajima, one of Hiroshima's (and Japan's) most popular tourist destinations.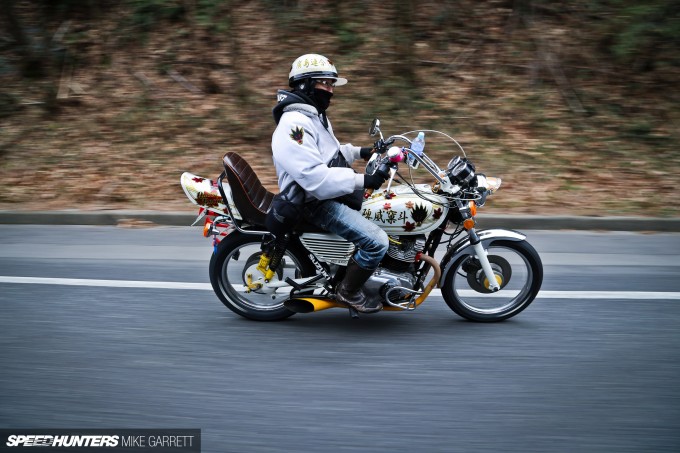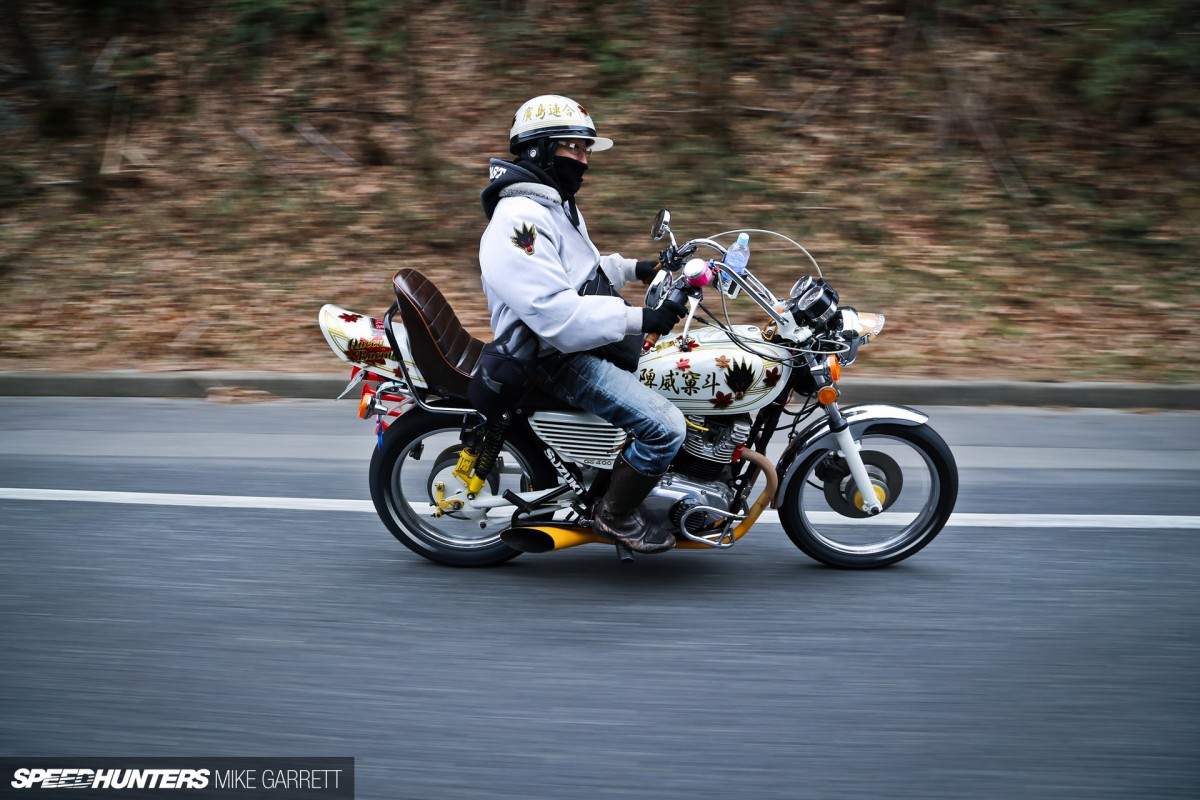 The bikers joined our little convoy for a time, demonstrating their incredible engine revving techniques the whole way.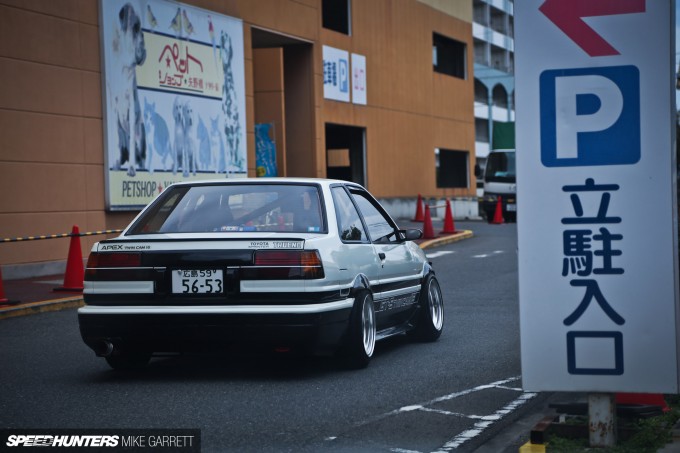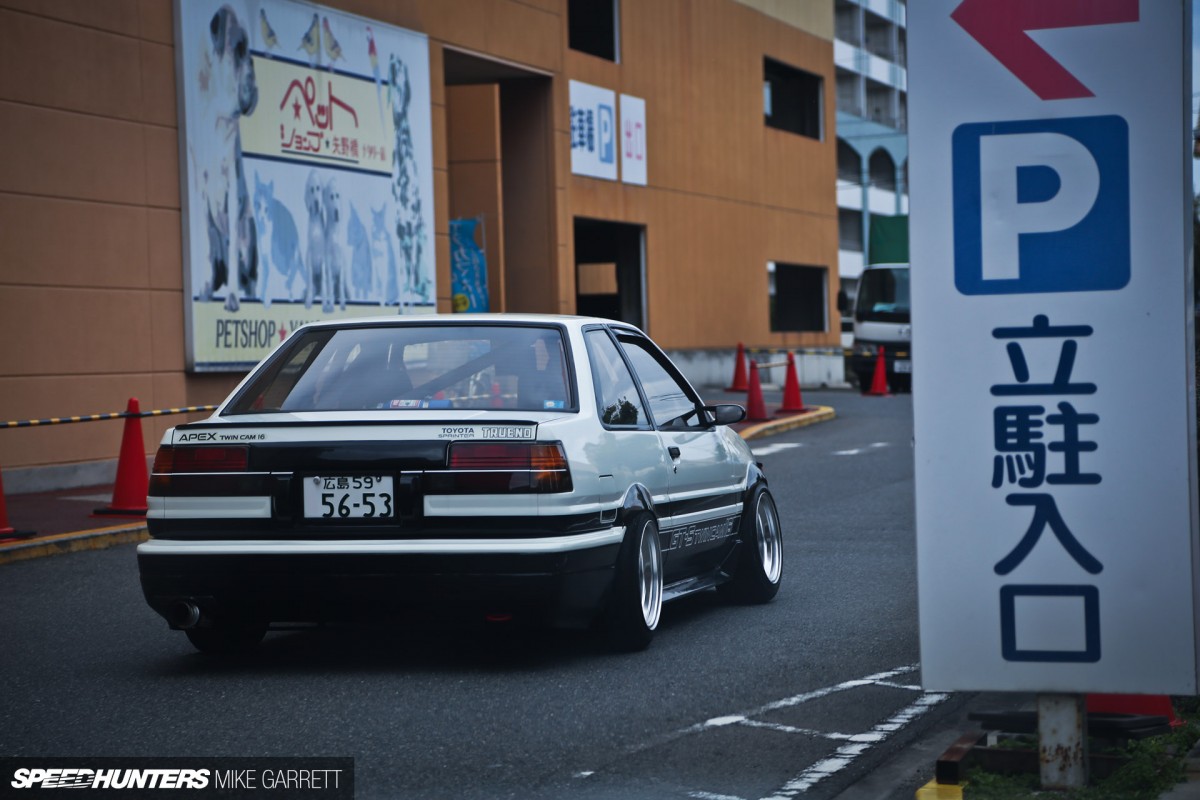 Sato-san also brought his Levin, but that's not at all surprising considering he goes everywhere with his AE86.
Hospitality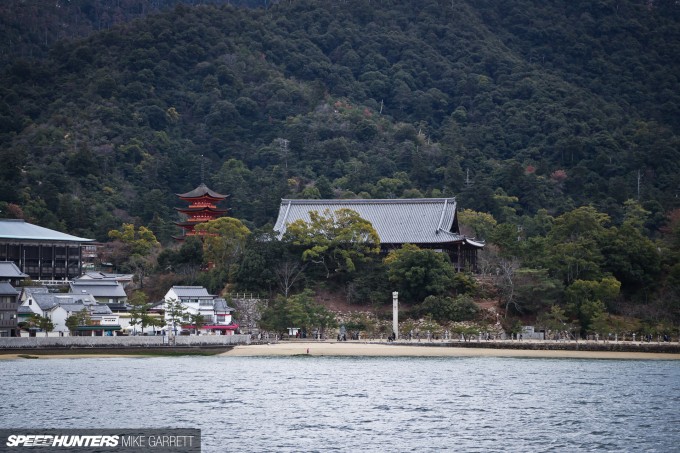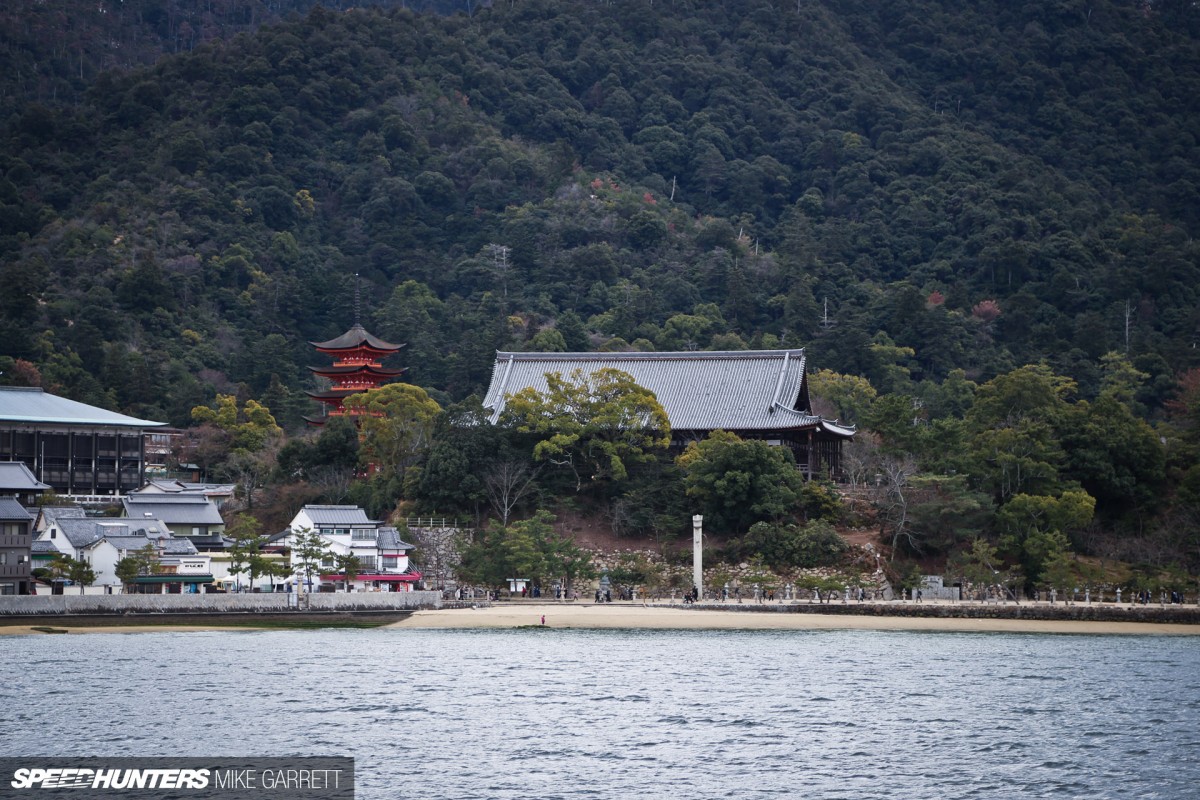 Eventually we arrived at the entrance to the historic Itsukushima Island.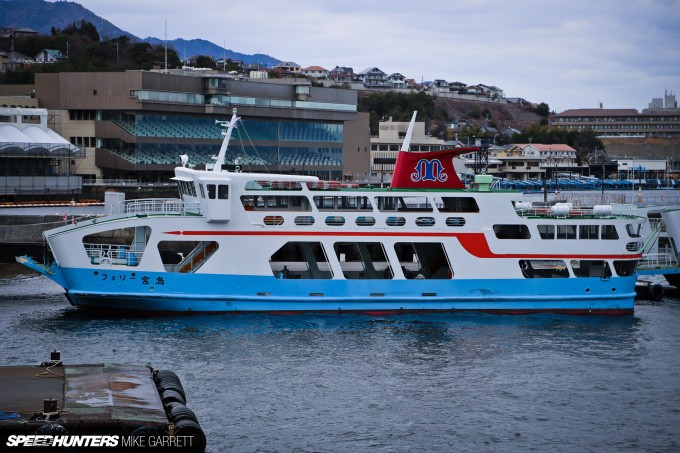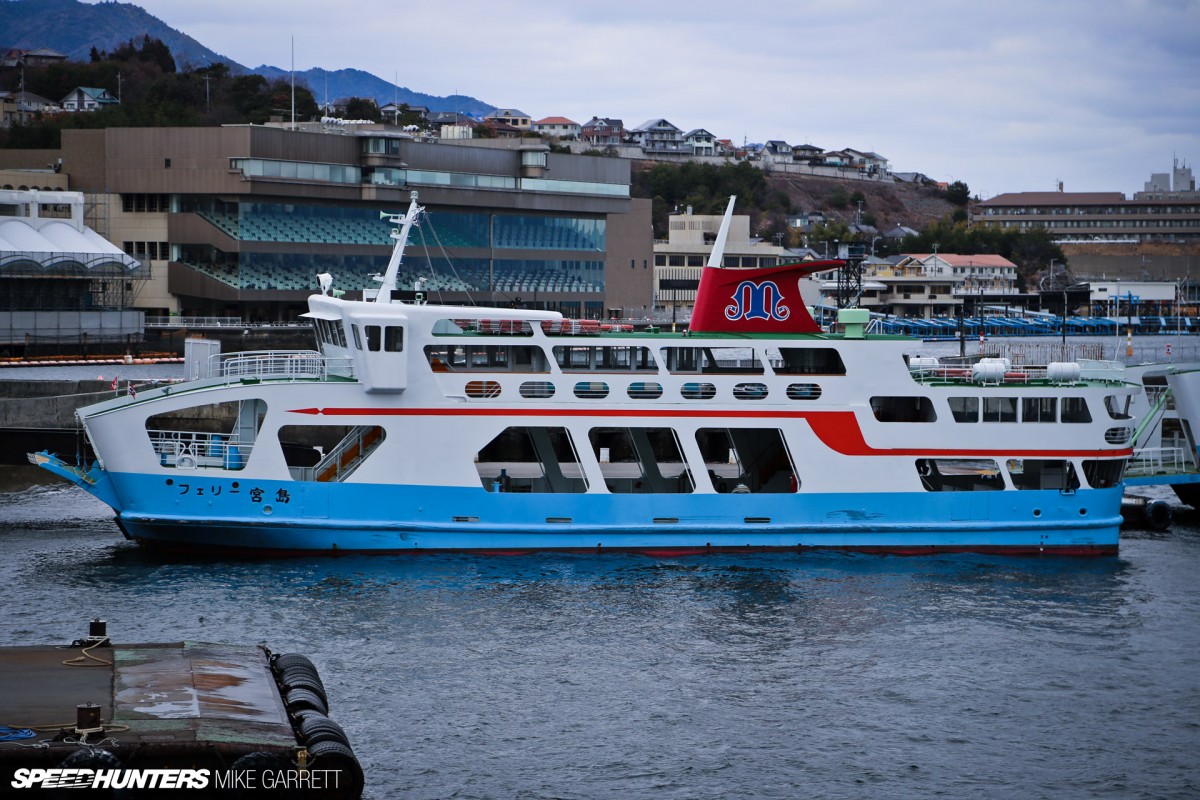 With no bridges connecting to the mainland, the only way to get on the island is via a short ferry ride.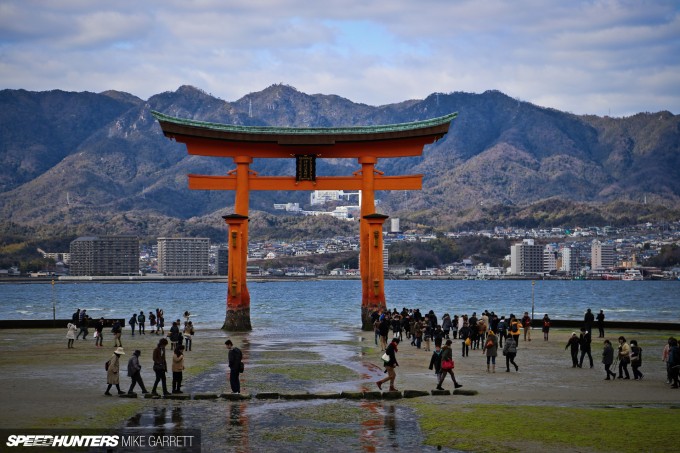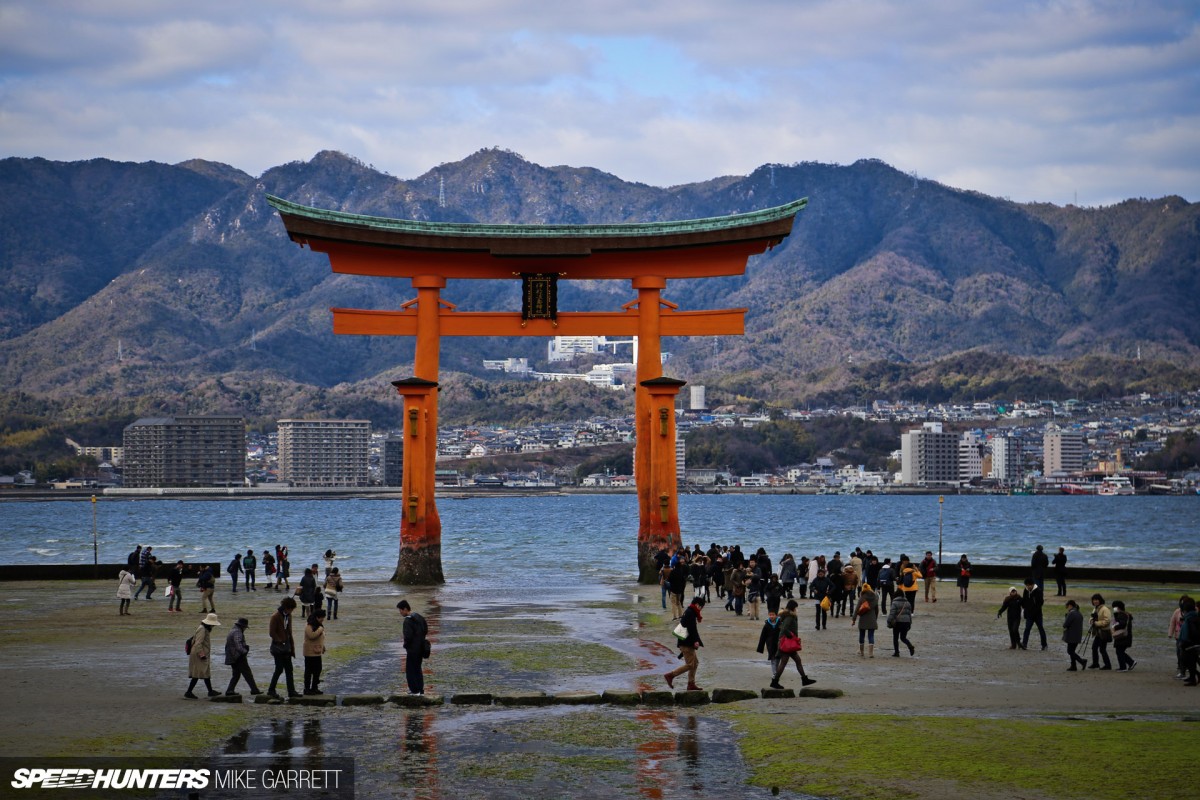 The Itsukushima Shrine is home to the famous floating torii gate, which you can actually walk right up to at low tide.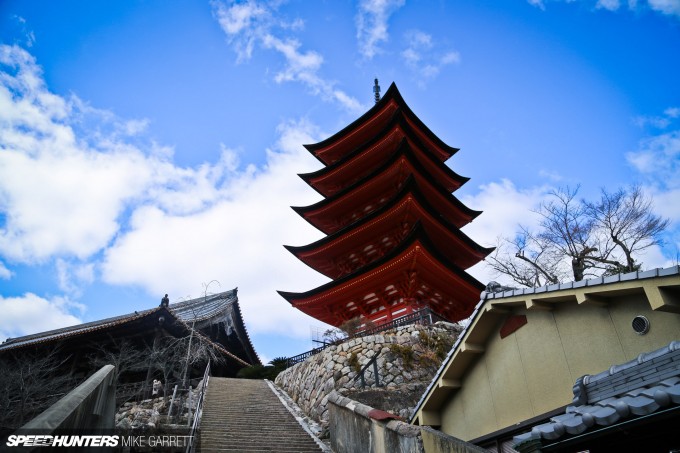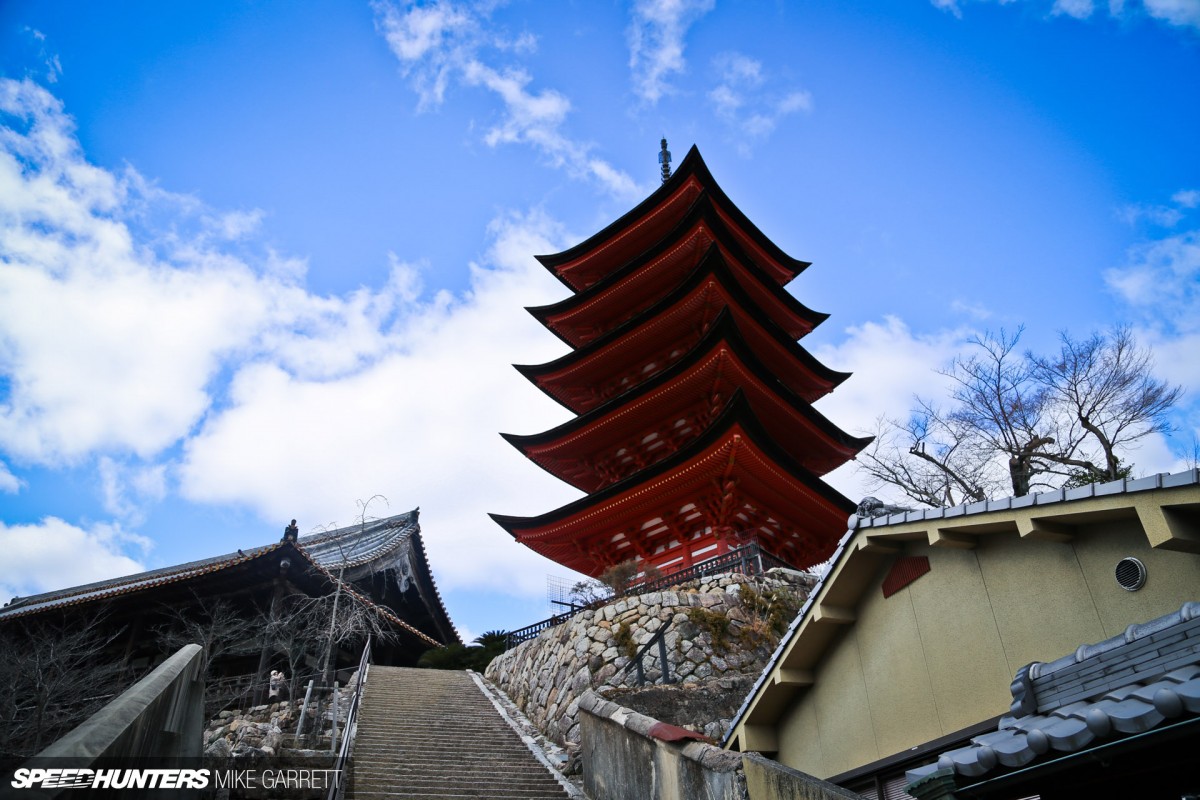 We ended up wandering around for a couple hours, and for a trip that was packed to the brim with photoshoots and other automotive activity it was nice to have an afternoon to take in some of Japan's cultural history. Even though it was a brisk winter's day, the scenery around the island was simply stunning.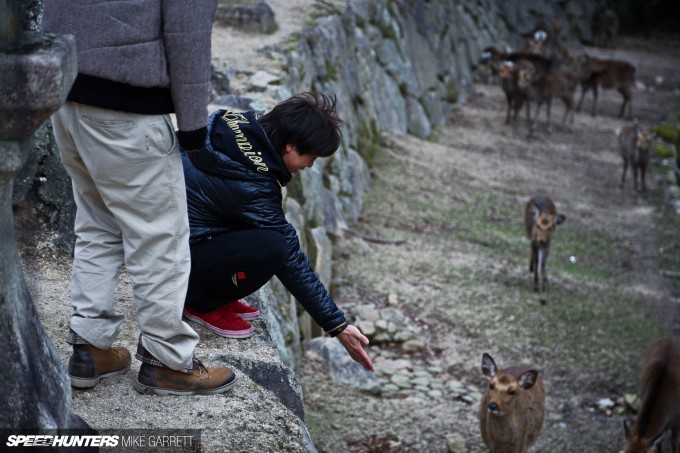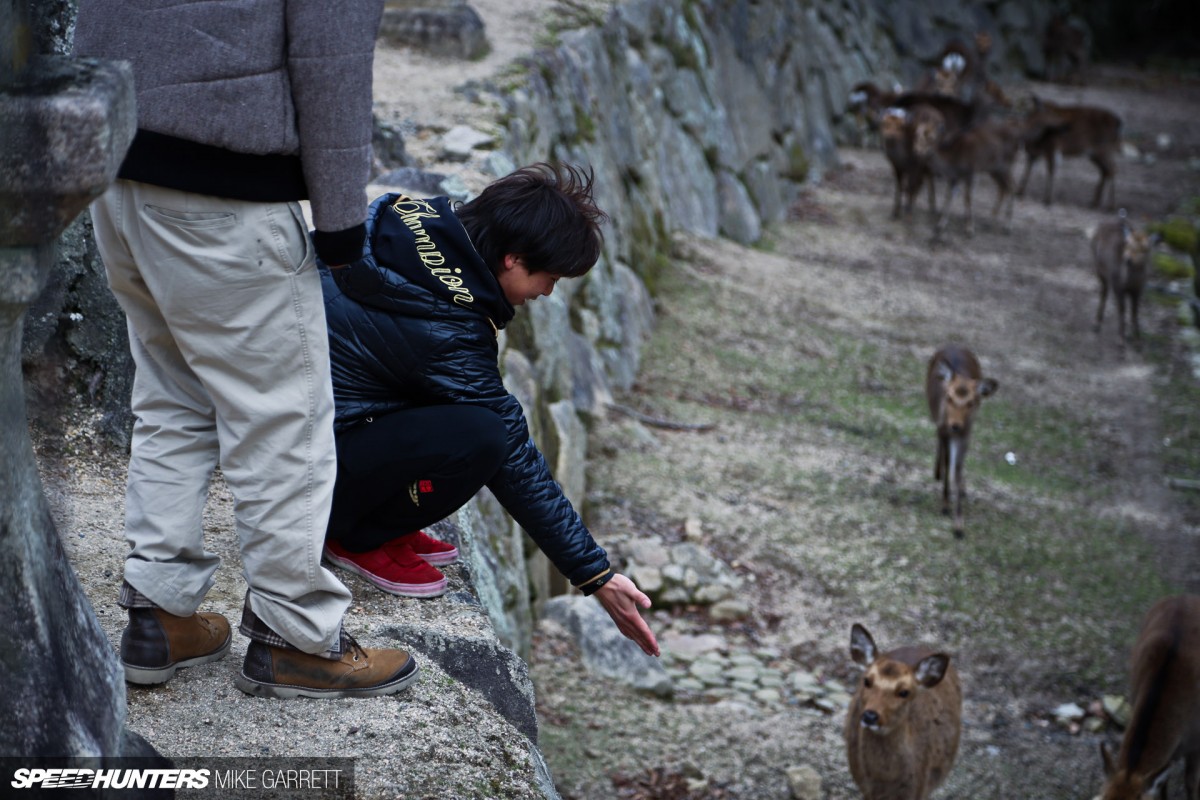 There's Nakagawa having some fun with some of the island's native deer. These things will seriously walk right up to you in search of food, kind of like tame dogs.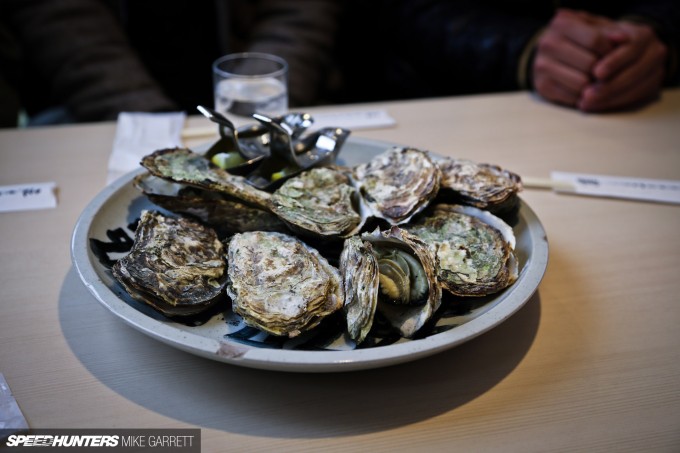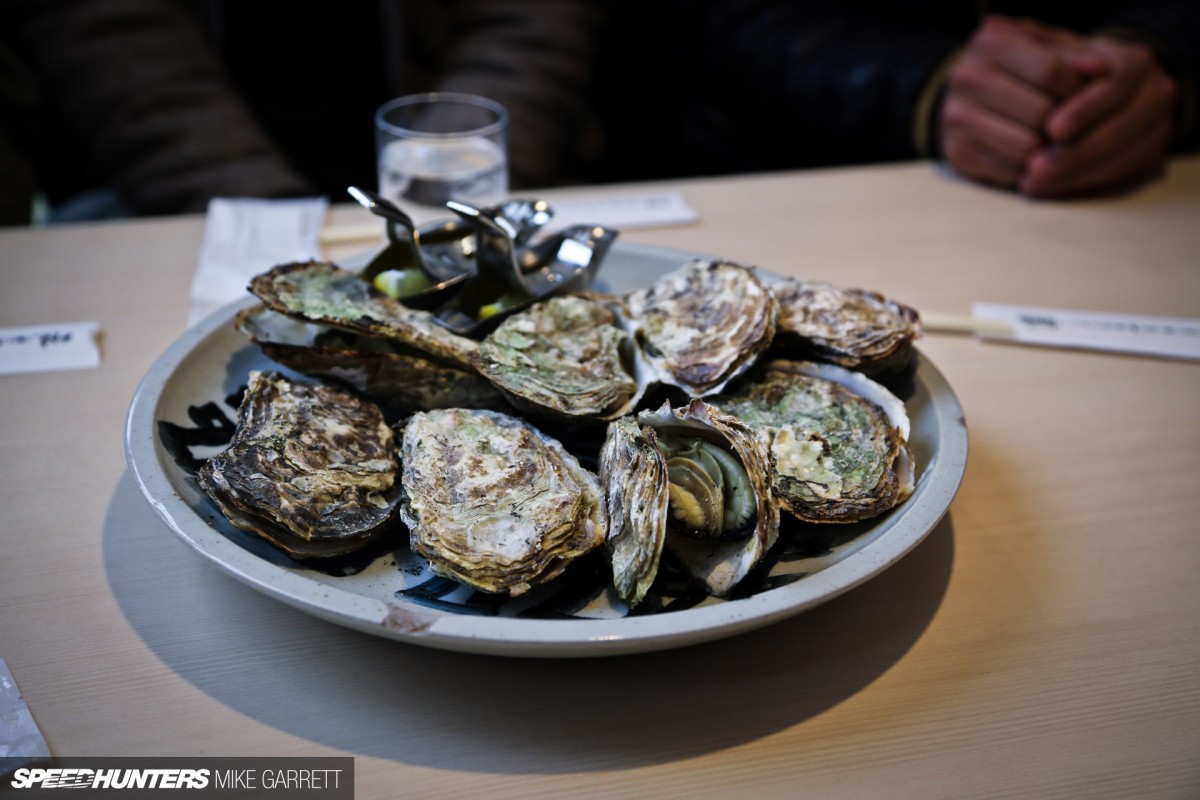 Speaking of food, we had to sample of the island's signature grilled oysters before we left. Japan: come for the cars – stay for the cuisine.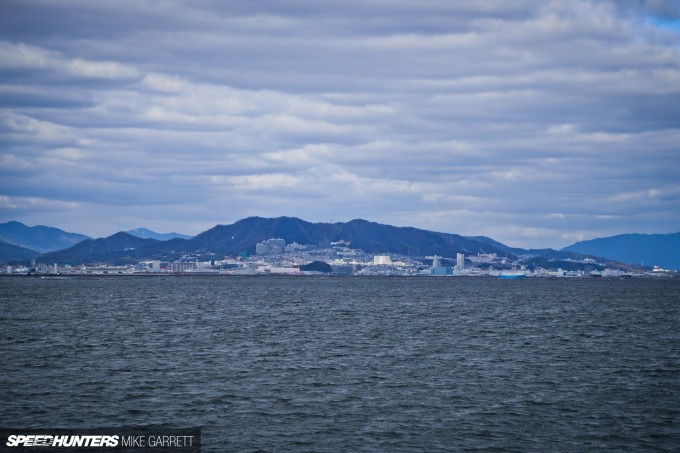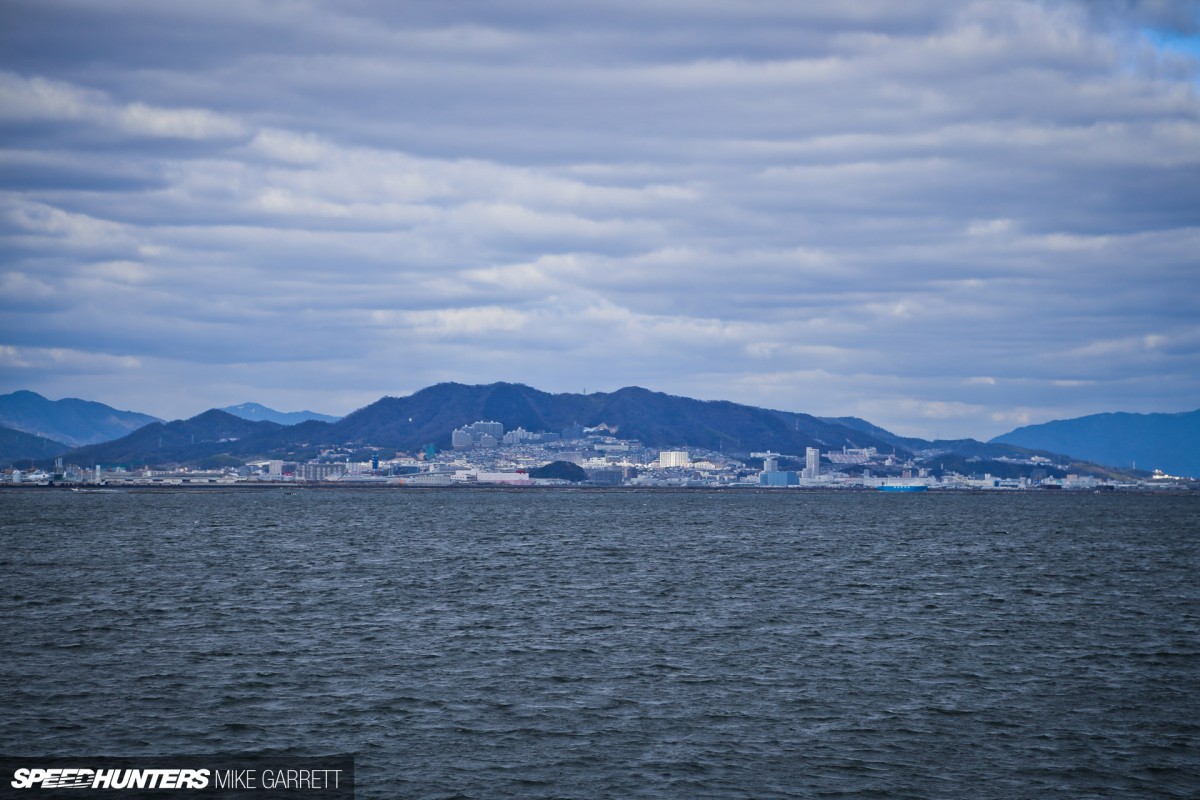 On the ferry back to the mainland, I grabbed this picture of Hiroshima City – one of my new favorite places in Japan.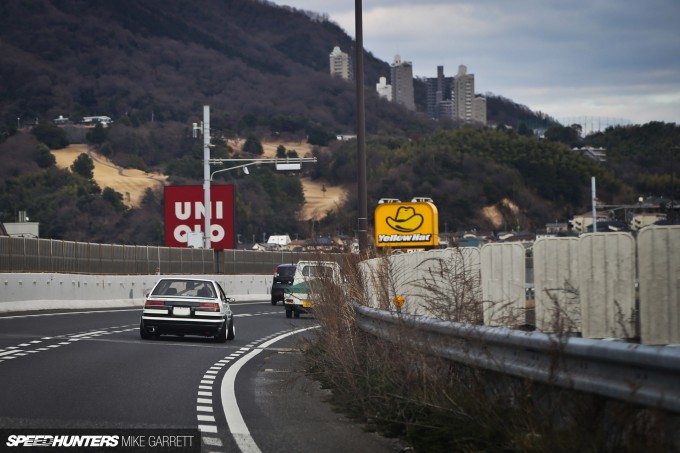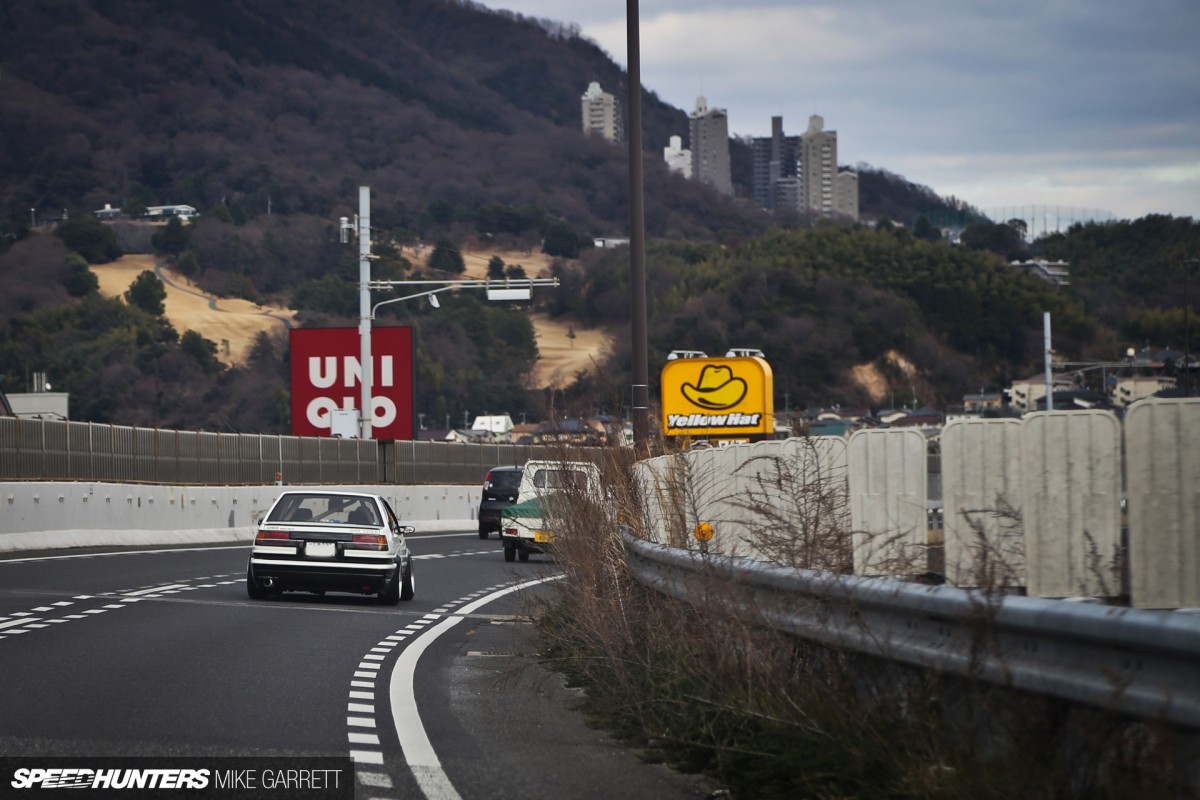 From there it was back down the highway to Hiroshima Station where I would part ways with my gracious hosts.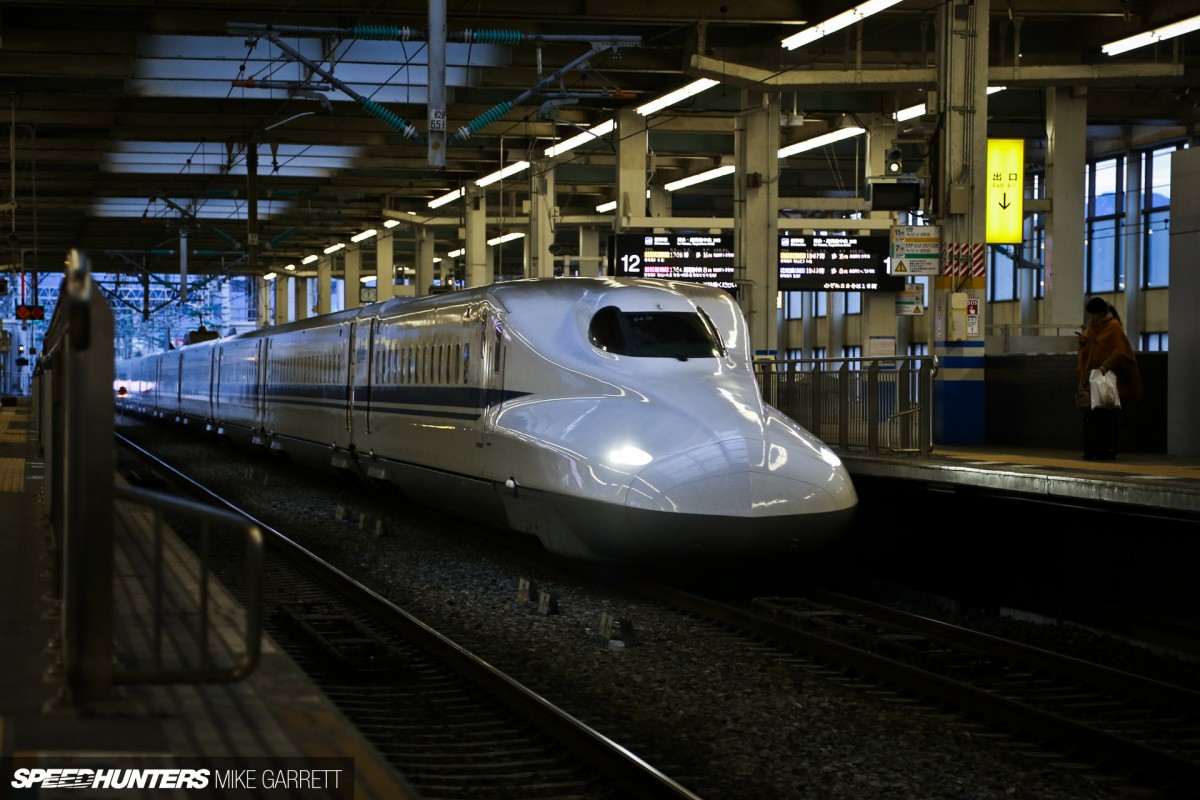 Around 5:00pm I found myself sitting on a bullet train almost exactly 24 hours after I arrived in town. I was now heading towards Osaka with some great content for Speedhunters and a whole lot of memories.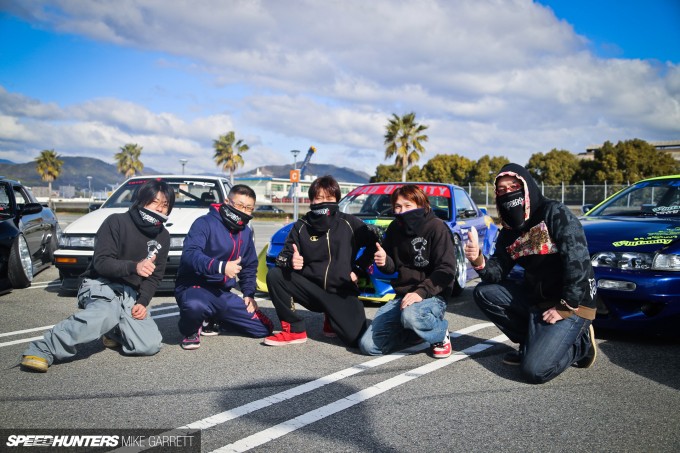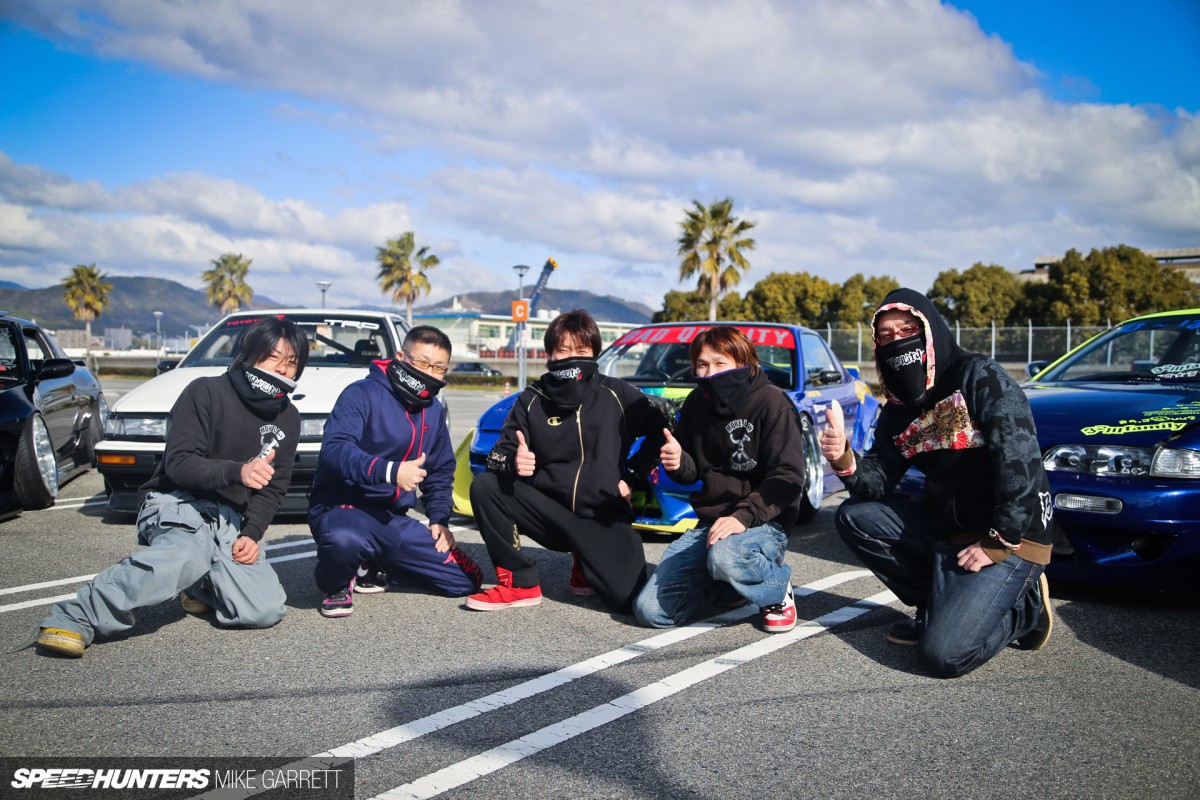 I'd like to sincerely thank Shuichi Nakagawa and the rest of the Bad Quality family for showing me such a great time in their hometown. I'm looking forward to catching up with them again, and hopefully will have a chance to return the favor should they ever visit California.
Mike Garrett
Instagram: speedhunters_mike
mike@speedhunters.com
Cutting Room Floor