Modern drift style
When you have a car as immensely popular as the Nissan S13 is, it can be pretty fascinating to take a look back and see exactly how that came to be. Sometimes cars made waves from the moment they hit showrooms. Other times it's taken years or even decades before enthusiasts realize the true potential of a car. As for the good old S13, its history also depends on what part of the world you're talking about.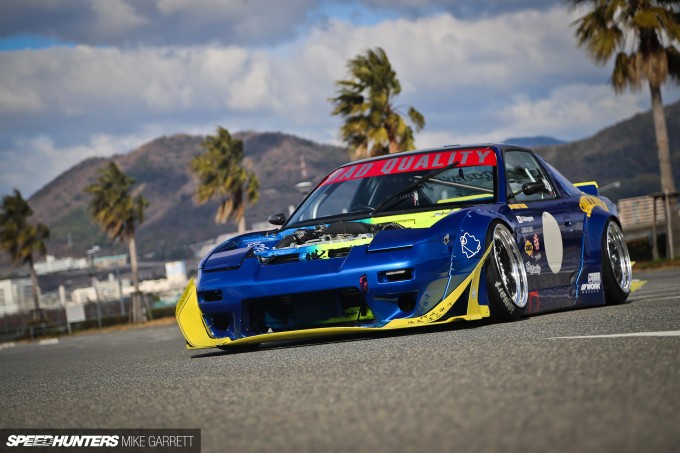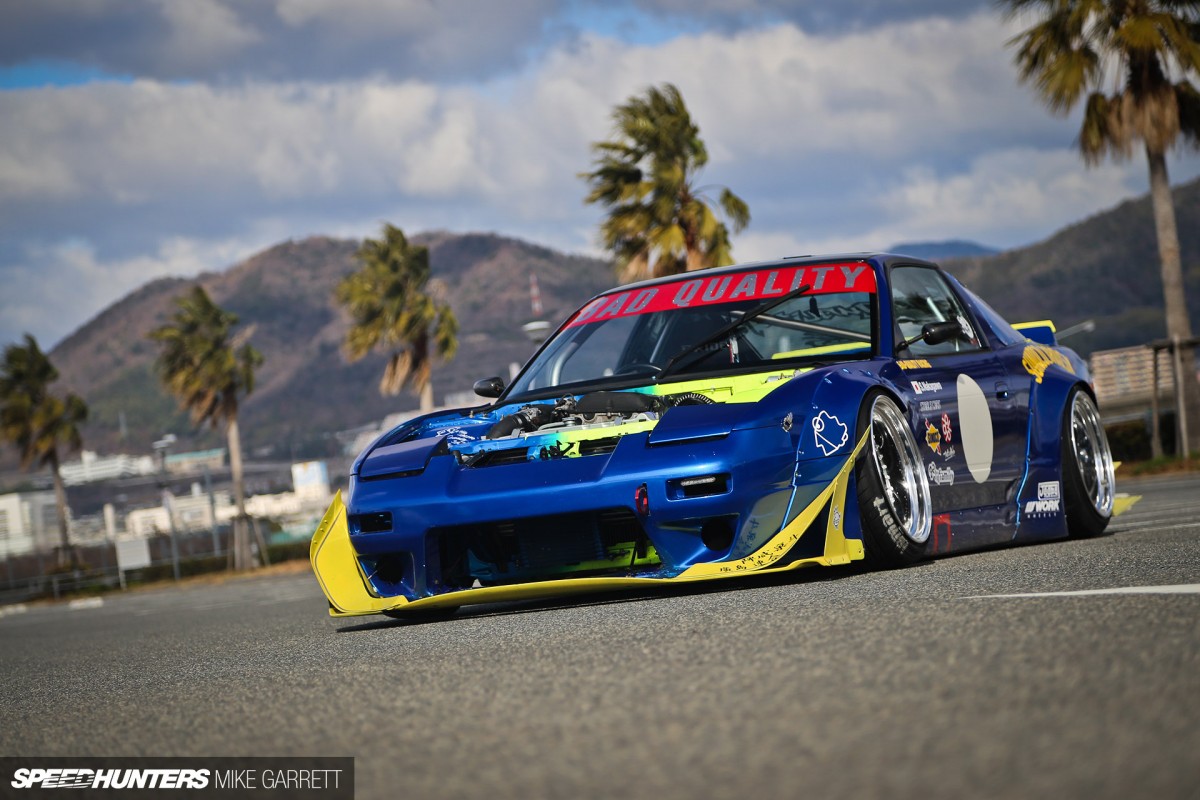 Here in the US for example, the Nissan 240SX lived a quiet, unassuming life for more than a decade after its introduction. It wasn't until the drift explosion of the early 2000s that enthusiasts and wannabe drifters starting buying S13s up by the dozen. Prior to that point, most of the 240s you'd see on the street were virgin examples driven by old ladies. After the drift boom, it's rare to see an S13 that isn't coated in multiple shades of primer with body panels barely hanging on.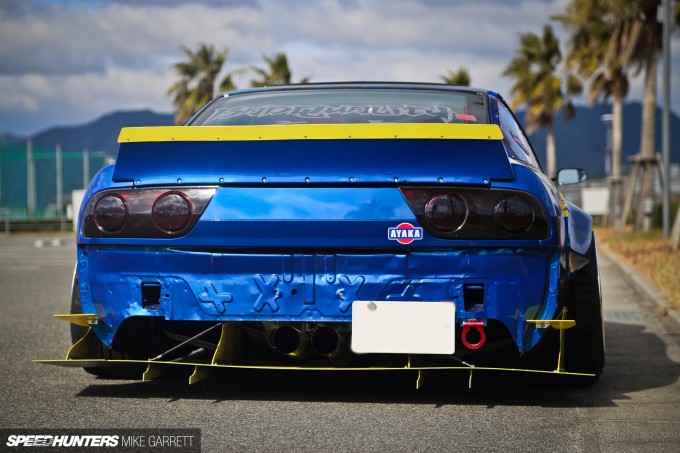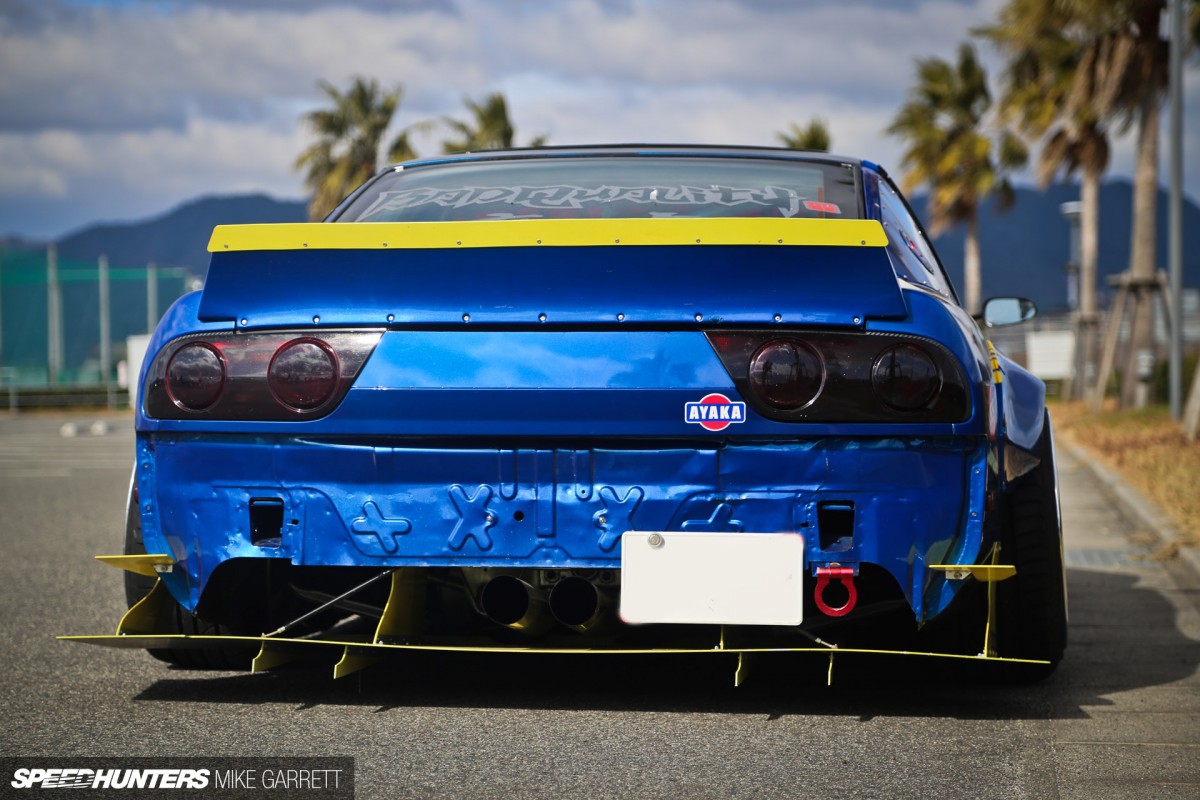 In Japan the story went a bit differently. There the Nissan Silvia and its cousin the 180SX were a big deal from the moment they were released. If you flip through the pages of a mid '90s Option magazine or pop in one of those great VHS tapes, it isn't uncommon to see Japanese guys out there drifting Silvias and 180s that were just a few years old at the time. As the drift movement in Japan continued to grow, the S13 would become the quintessential dorisha - a label which it's held to this day.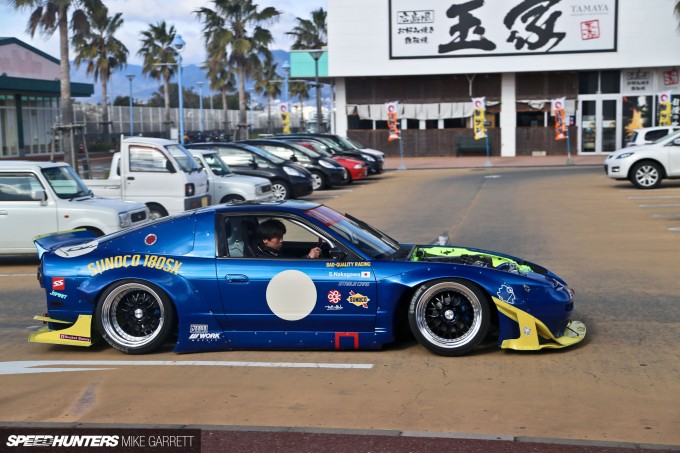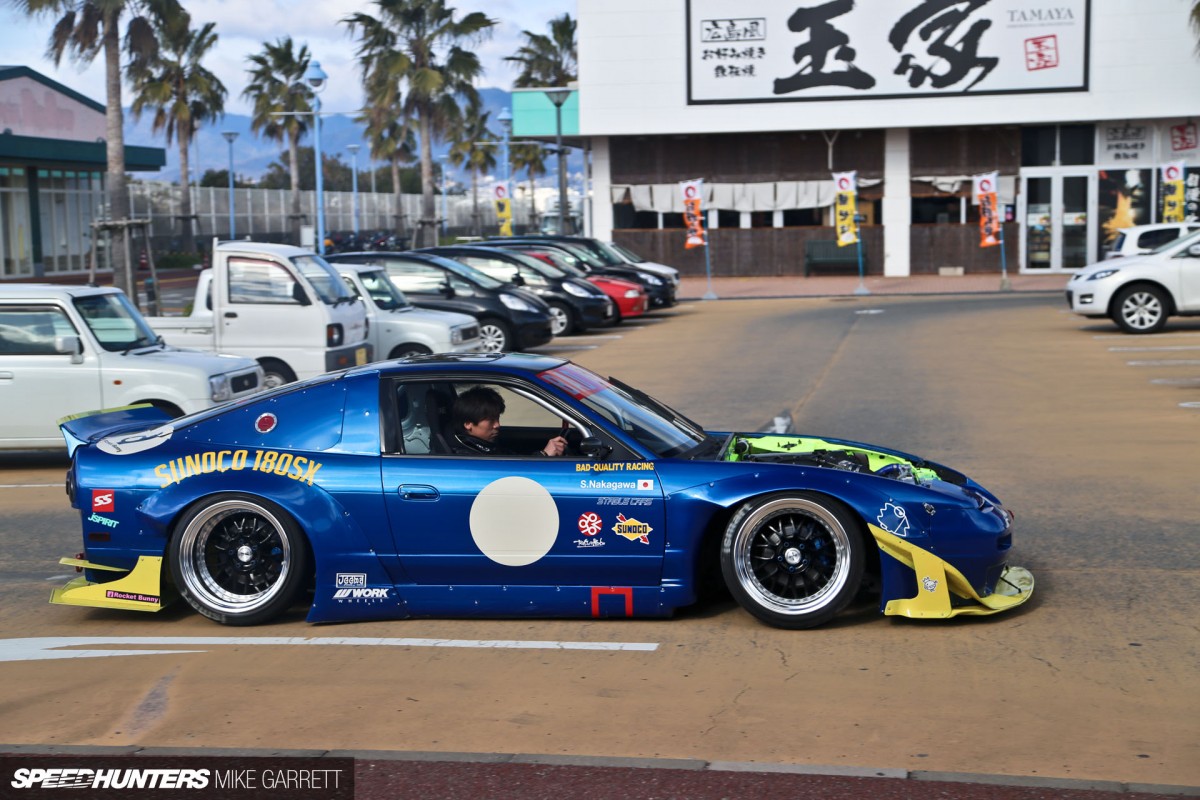 Head to a Japanese drift event some 20 years later and you'll find that the Silvia and 180SX are still the most popular cars by far. And in the past two decades, the cars have gone through many different styles. First there were stock bodies and 15 inch tires spun by nearly stock motors. Then came larger wheels, more horsepower, more aggressive body parts and well, more aggressive everything. The base cars might be the same, but today's style has evolved into something that those pioneering drifters might not even recognize.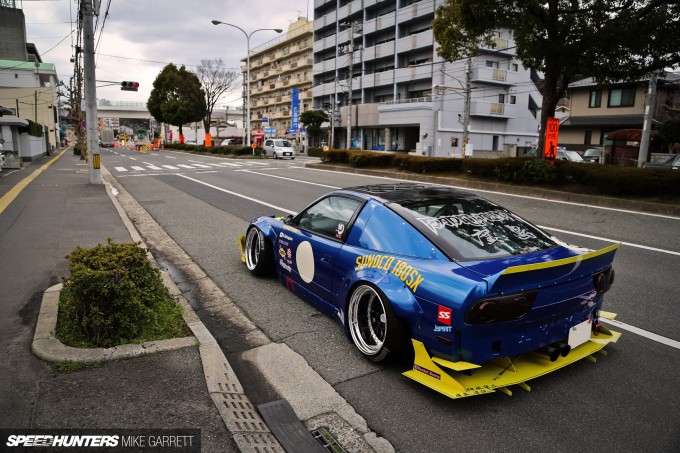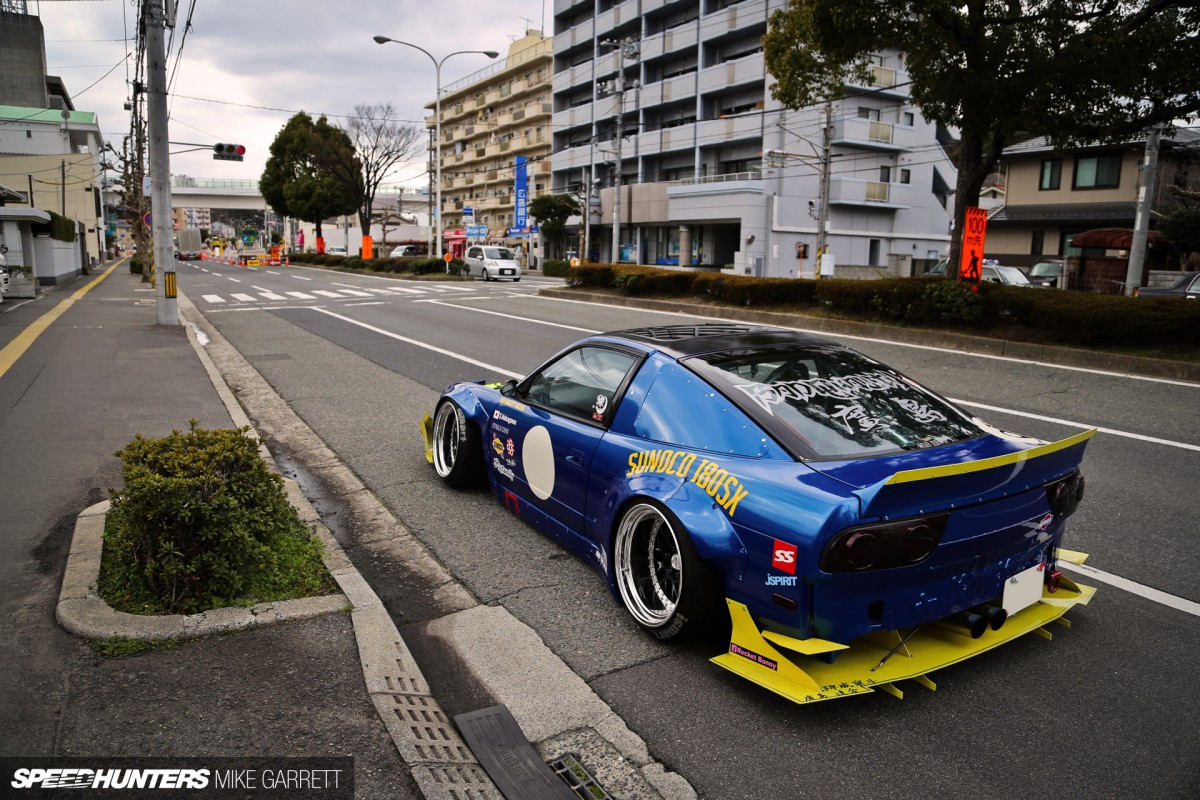 And when you want to see what Japanese drift car style is in 2014, it's hard to come up with a better example than the blue 180SX you see here. I'm guessing this isn't the first time you've seen this car. It's popped up at many different events over the last couple of years, and has spread across social media feeds and blog sites like a wildfire. At the moment, it just might be the internet's most well-known S13.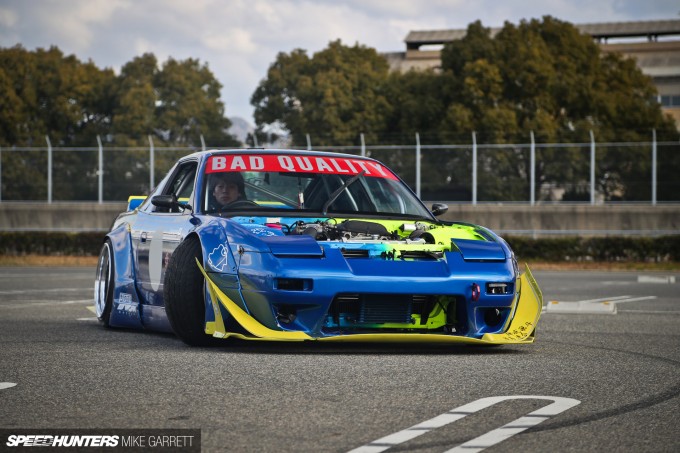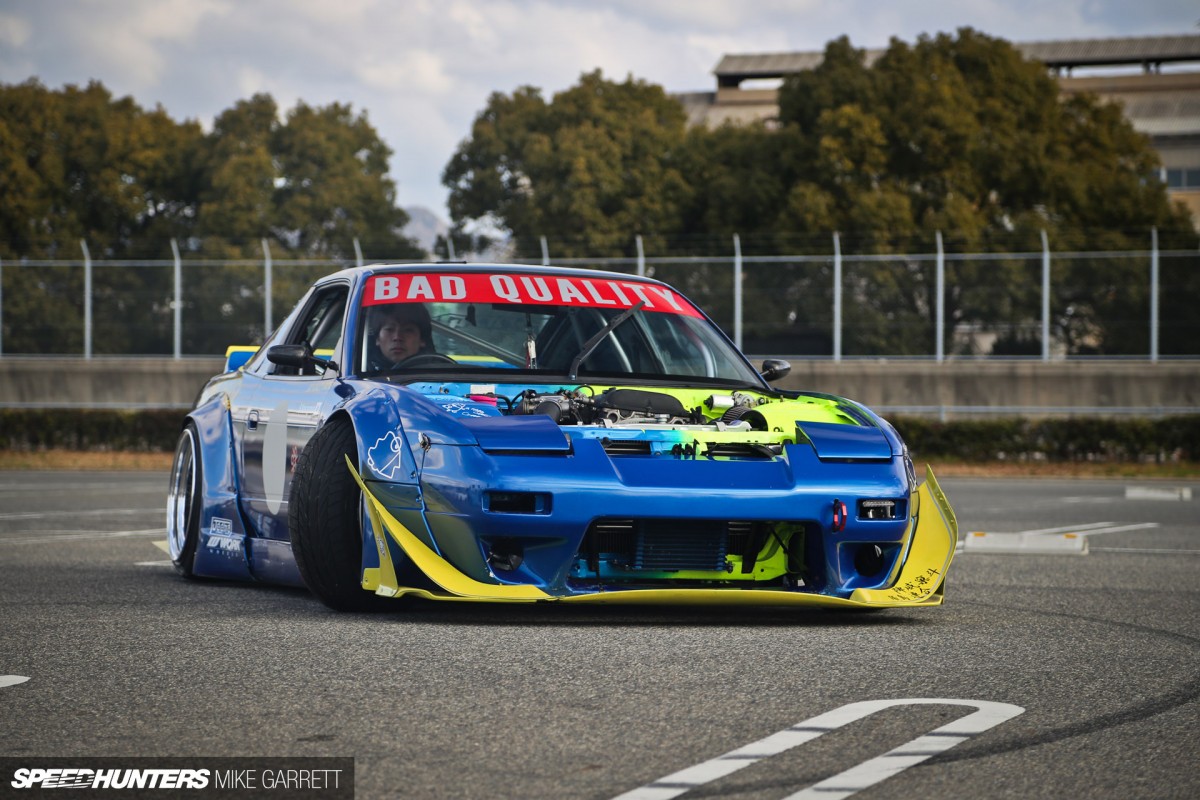 I personally first encountered this car and its owner, Mr. Shuichi Nakagawa, a couple of years ago at the M&L night meet in Osaka. Both he and his buddies from Team Review and Bad Quality hail from Hiroshima, and last month I finally had the chance to go to Hiroshima and hang out with these guys on their own turf.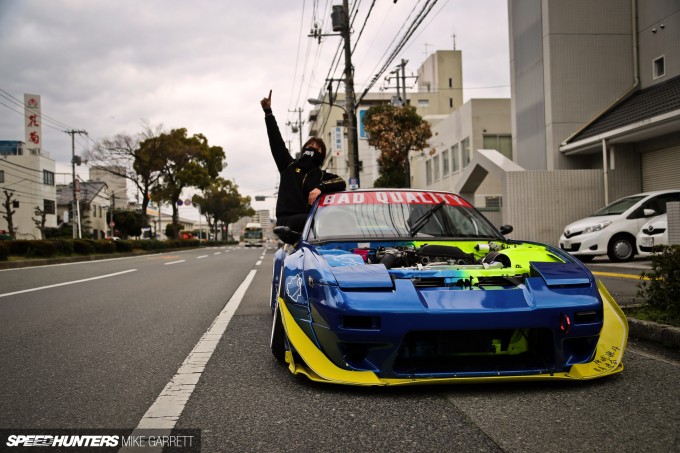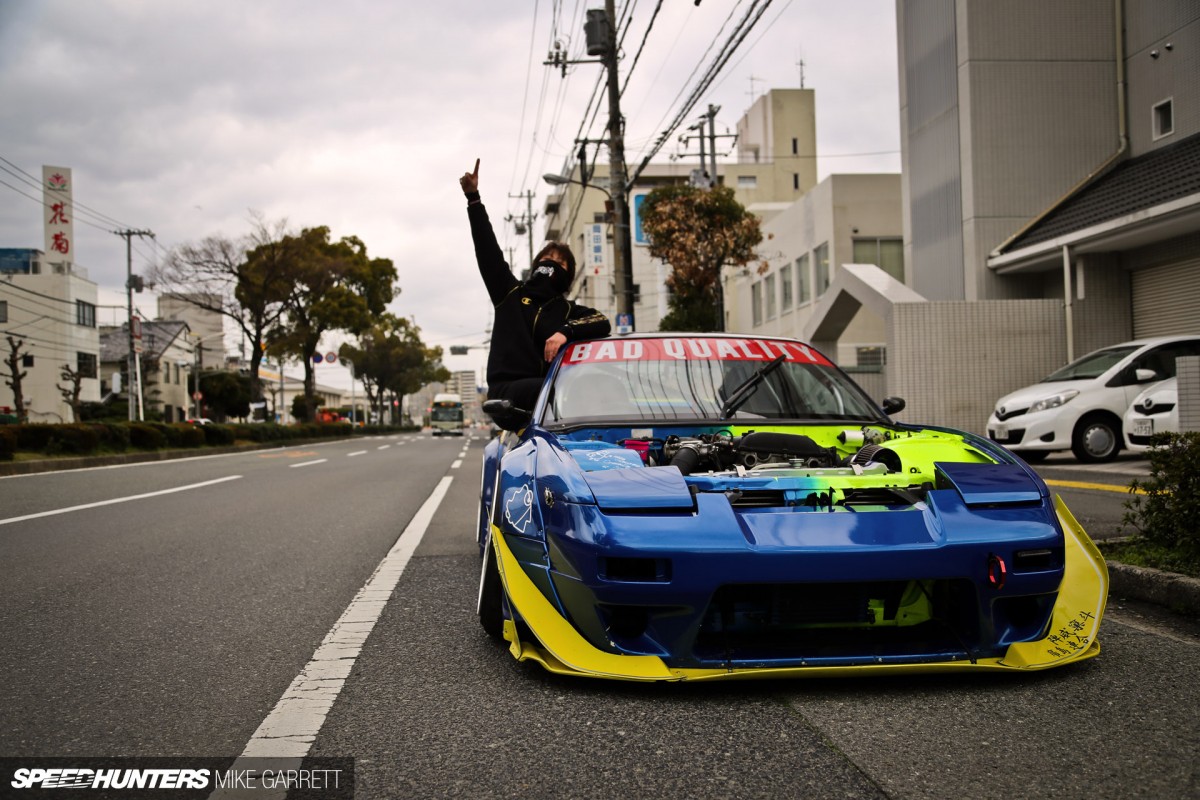 I'll have more later on my Hiroshima adventures, but for now let's stay focused on 'Nakkan's' radical 180SX. First things first – Nakagawa is not a car builder by trade. He's a true privateer, and when he's not drifting and fooling around with cars, he can be found at his day job as a metal worker. More specifically, he works at one of Hiroshima's massive shipbuilding facilities in the same area where the legendary Japanese battleship Yamato was constructed during the 1930s.
Master of low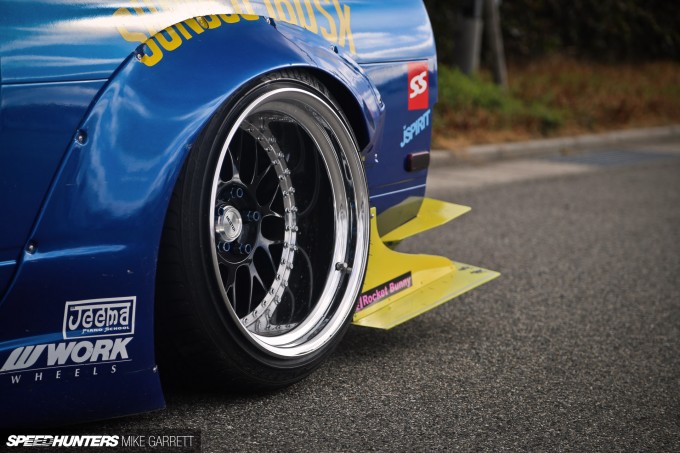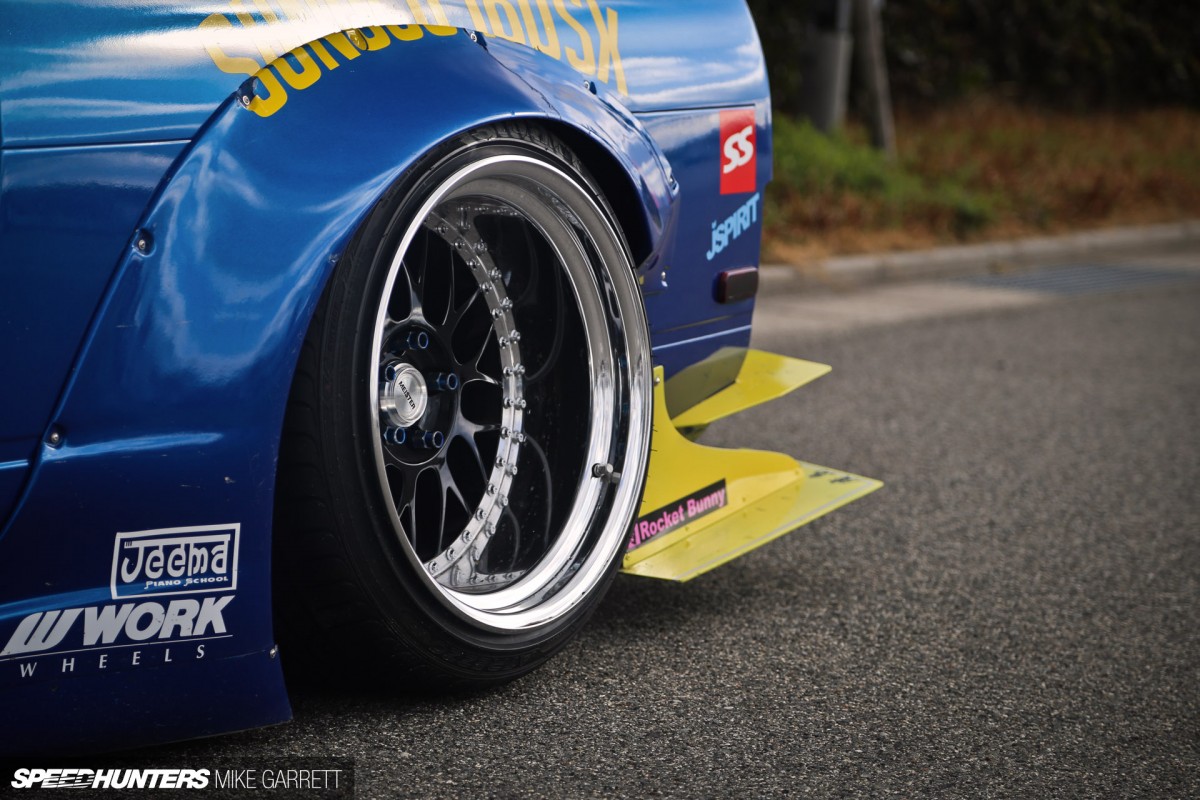 And speaking of metal work, it's largely thanks to some trick fabrication that this car has received has so much attention over the last year or so. While the 180 sits as low as they come and packs one of the most aggressive wheel set-ups we've ever seen on an S13, there was a lot more to it than just dialling the coilovers down and hoping for the best.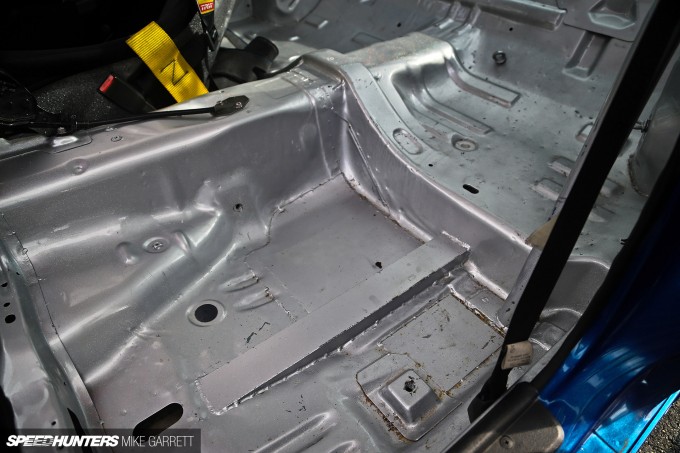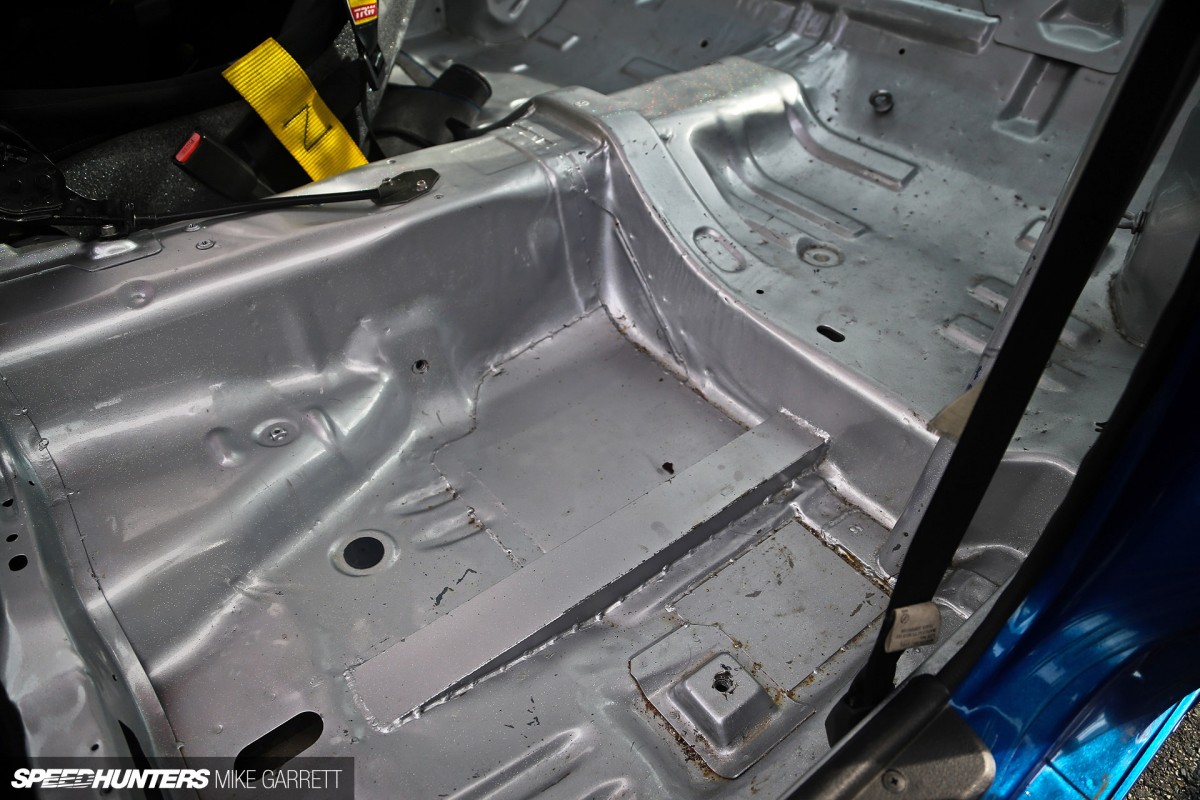 For starters the floorplan has been channeled and lifted by 20mm for extra clearance – yes, this might be a modern drift car but we're talking about some old school hot rodding techniques here. All this work allows Nakagawa to functionally drive and drift the car while it's sitting on the ground.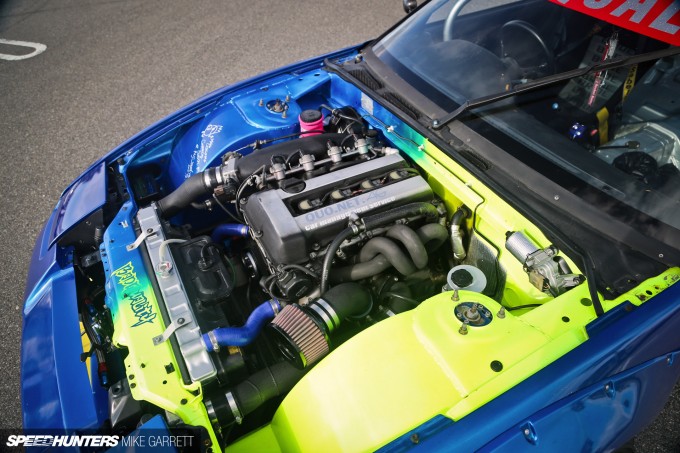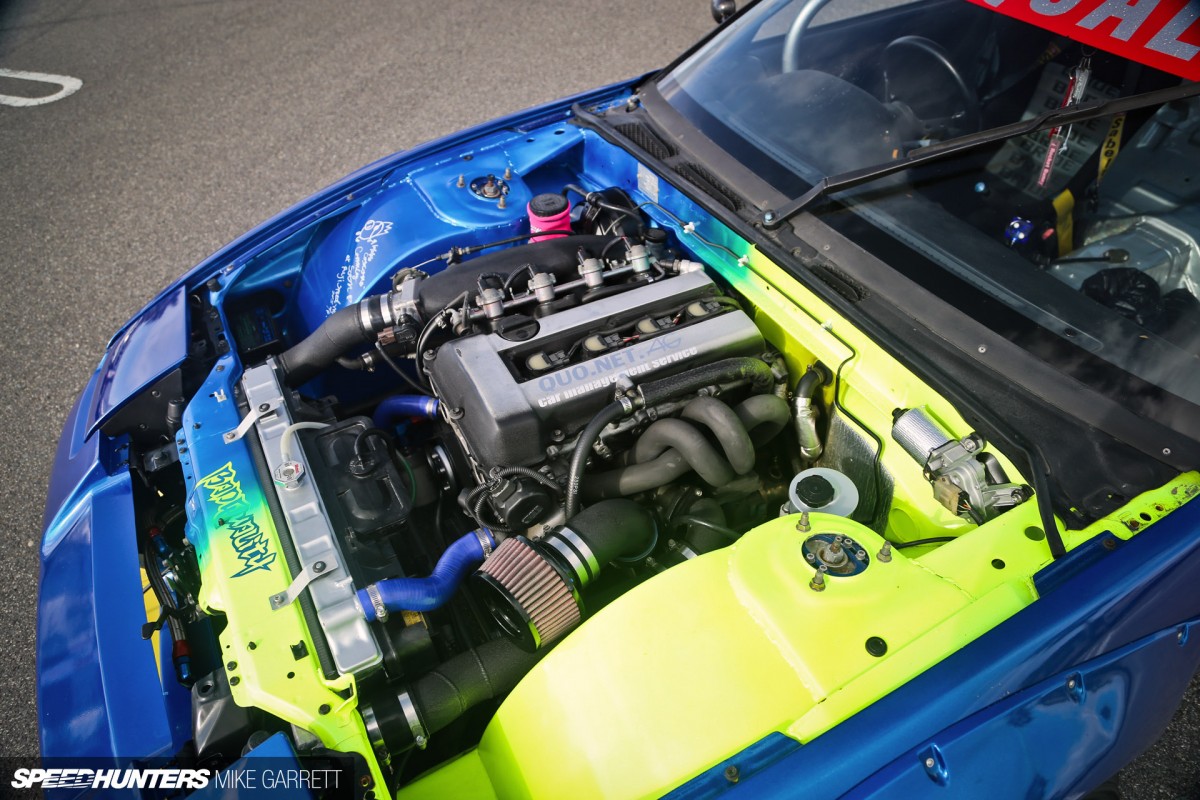 Up front the entire fender structure has been fabricated with a set of custom cycle fenders, as they are known in Japan. This provides more clearance at this lower ride height, and allows Nakagawa to fit some pretty radical wheels up there.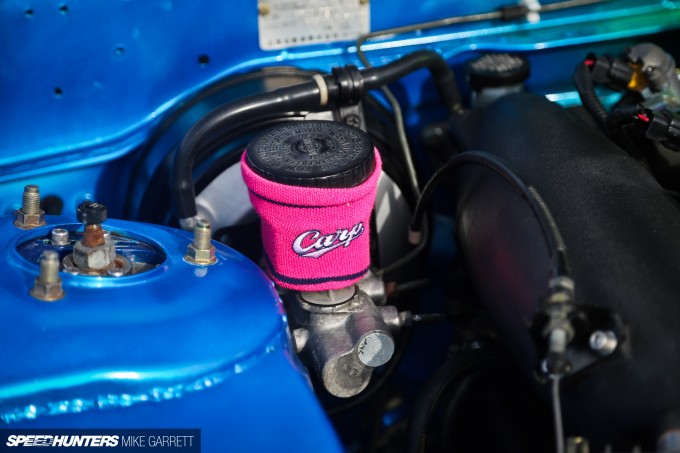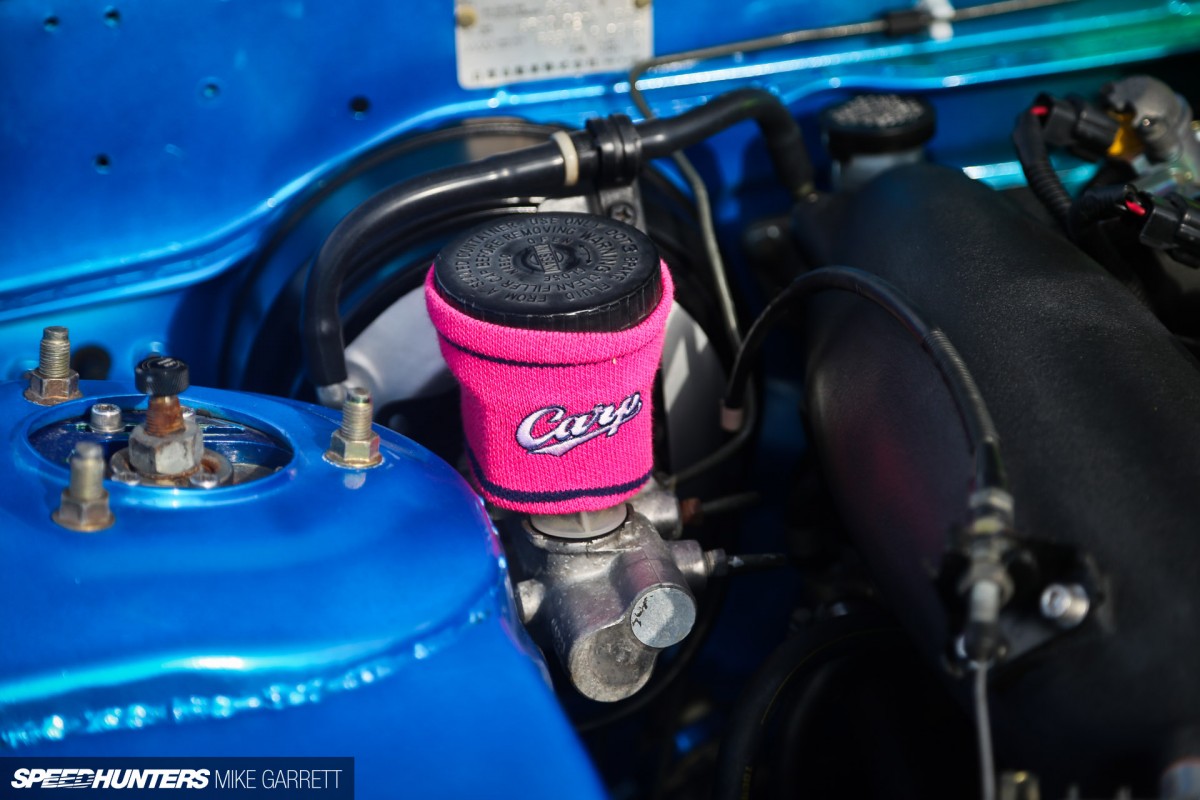 As for the suspension itself, the 180 is equipped with a set of 326 Power Chakuriki dampers with front and rear spring rates of 18kg/mm and 16kg/mm respectively. Considering that 326 Power is a Hiroshima institution, it's only natural that Nakagawa would show some hometown love. The same goes for the reservoir cover which flys the colors of the city's beloved Carp baseball team.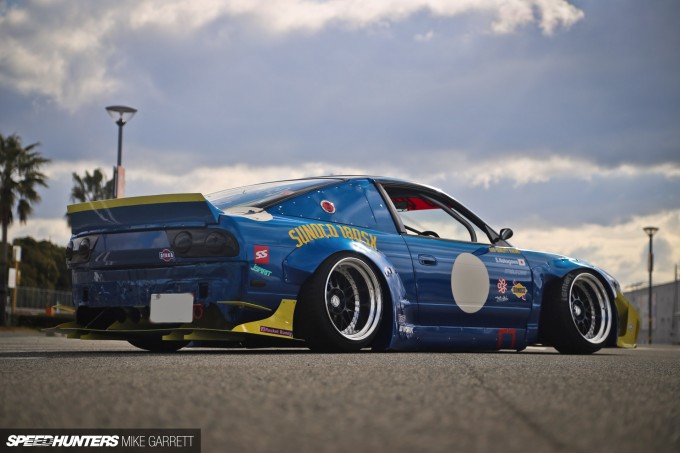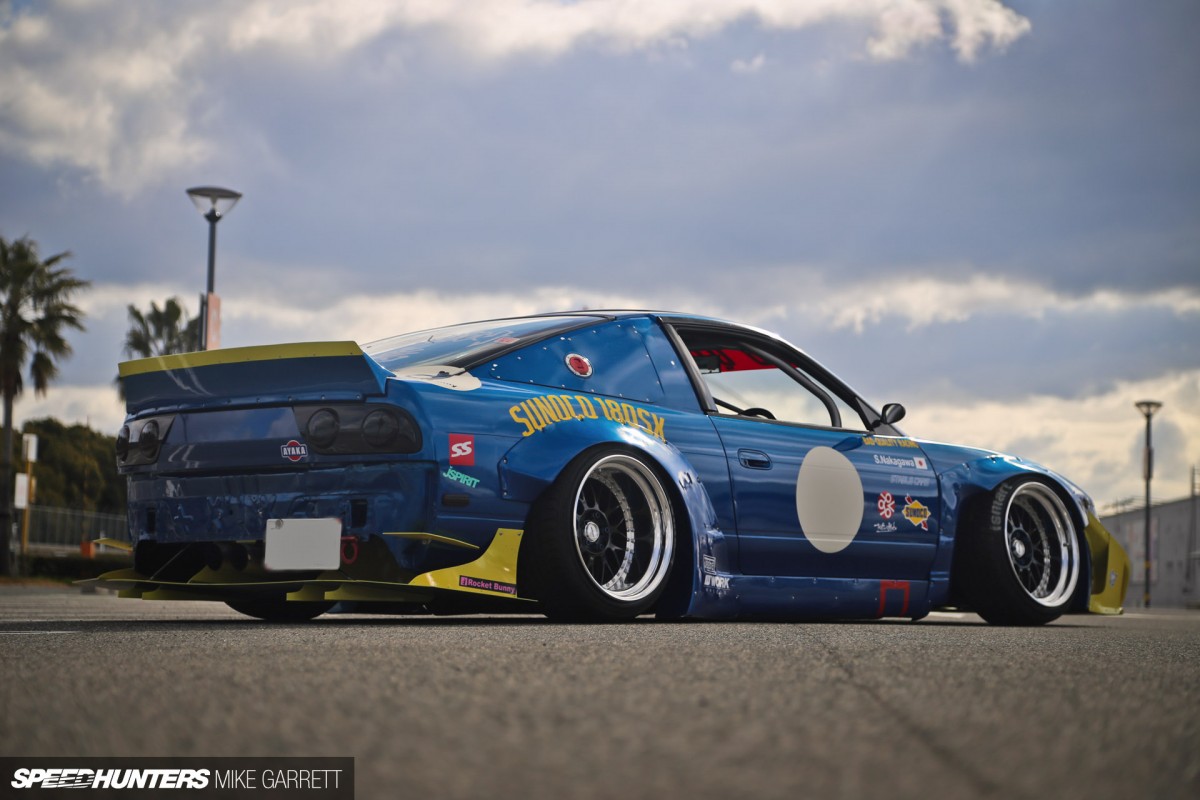 Along with the custom frame work and coilover set-up, the car is running a number of custom chassis and suspension modifications from QUO.NET, another local garage. The work includes modified front and rear subframes, along with one-off knuckles, sway bars and tension rods.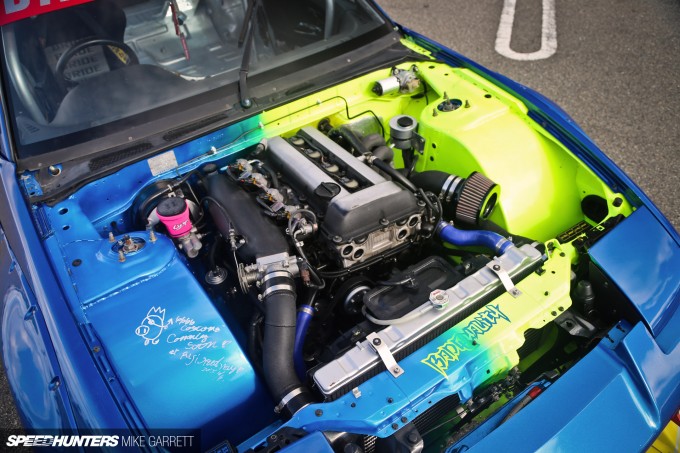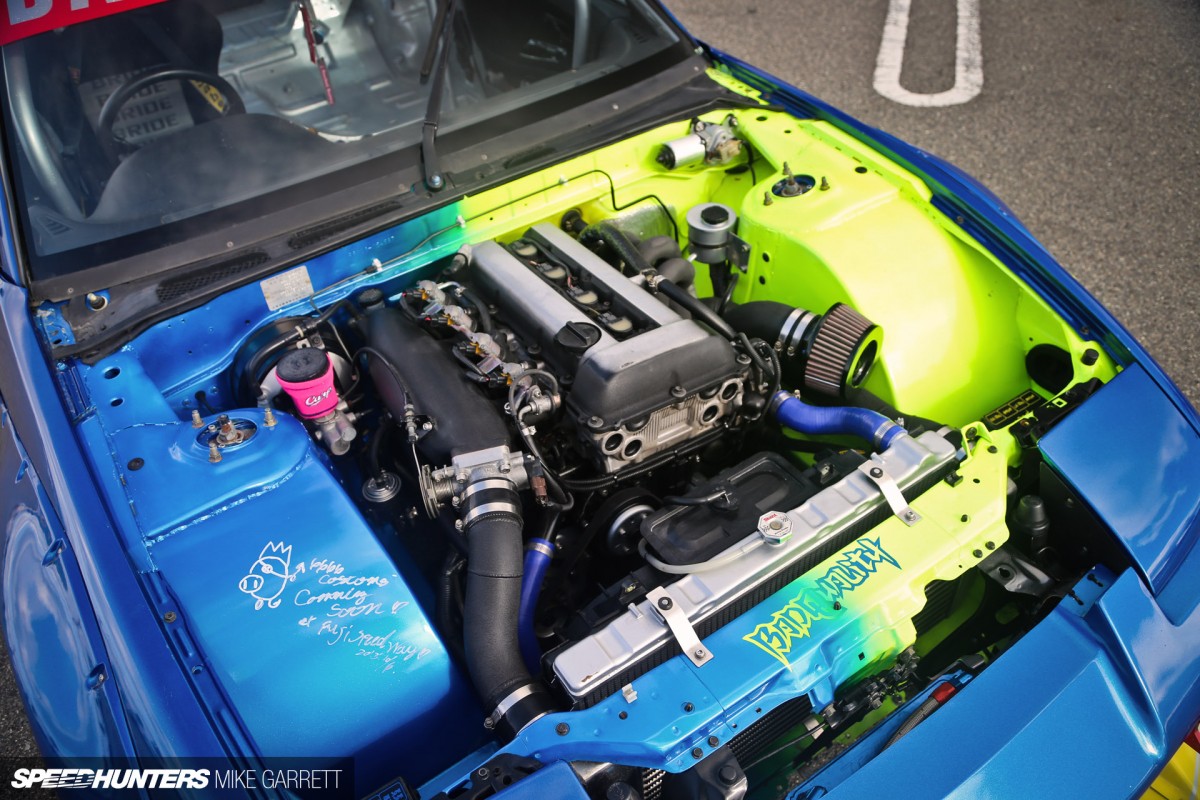 The engine itself is the tried and true SR20DET fitted with some choice upgrades like a modified CTS turbo, a GReddy intercooler set-up, a GReddy oil cooler and a one-off surge tank from QUO.NET.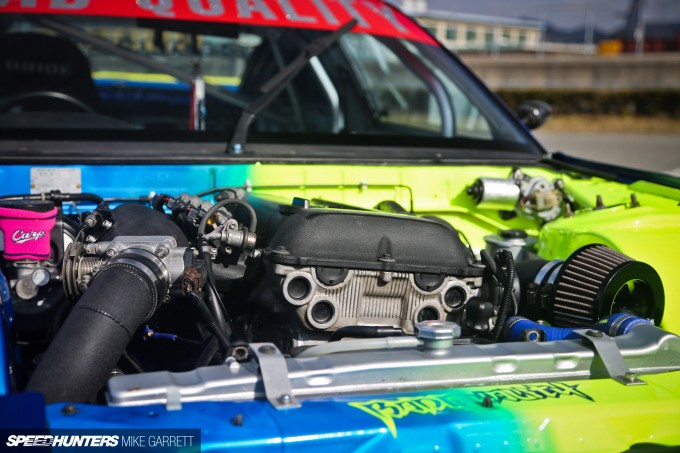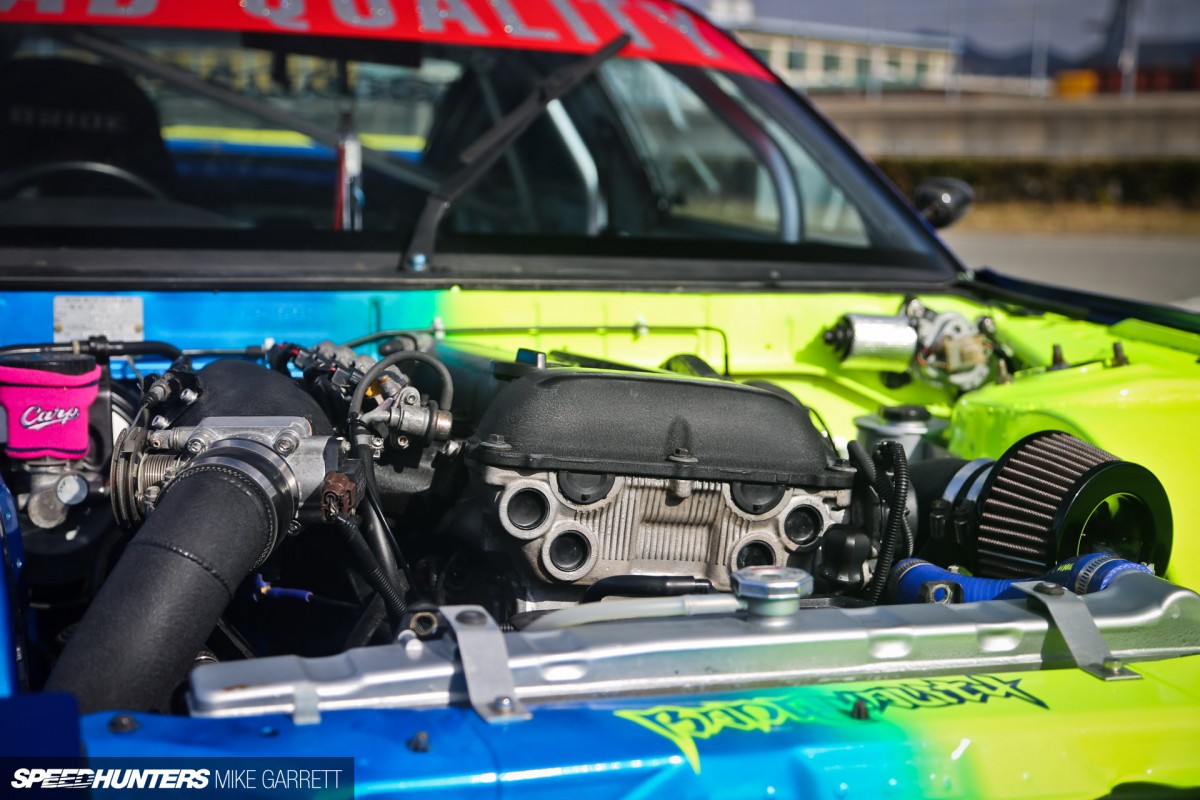 Power for the SR comes in around 350ps – which is typical of privateer drift cars in Japan. Not too much. Not too little. Just right.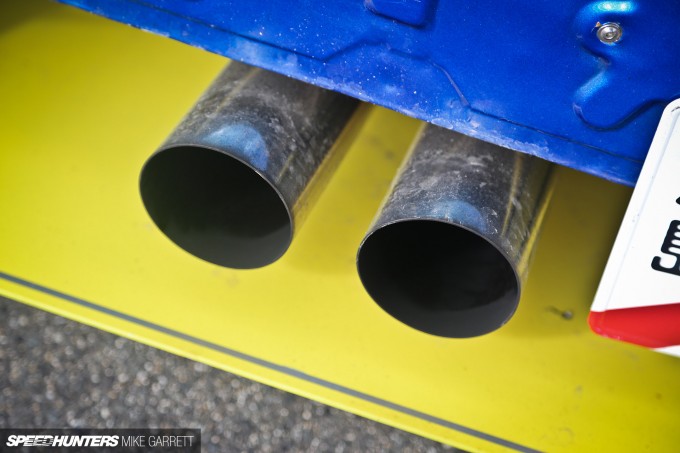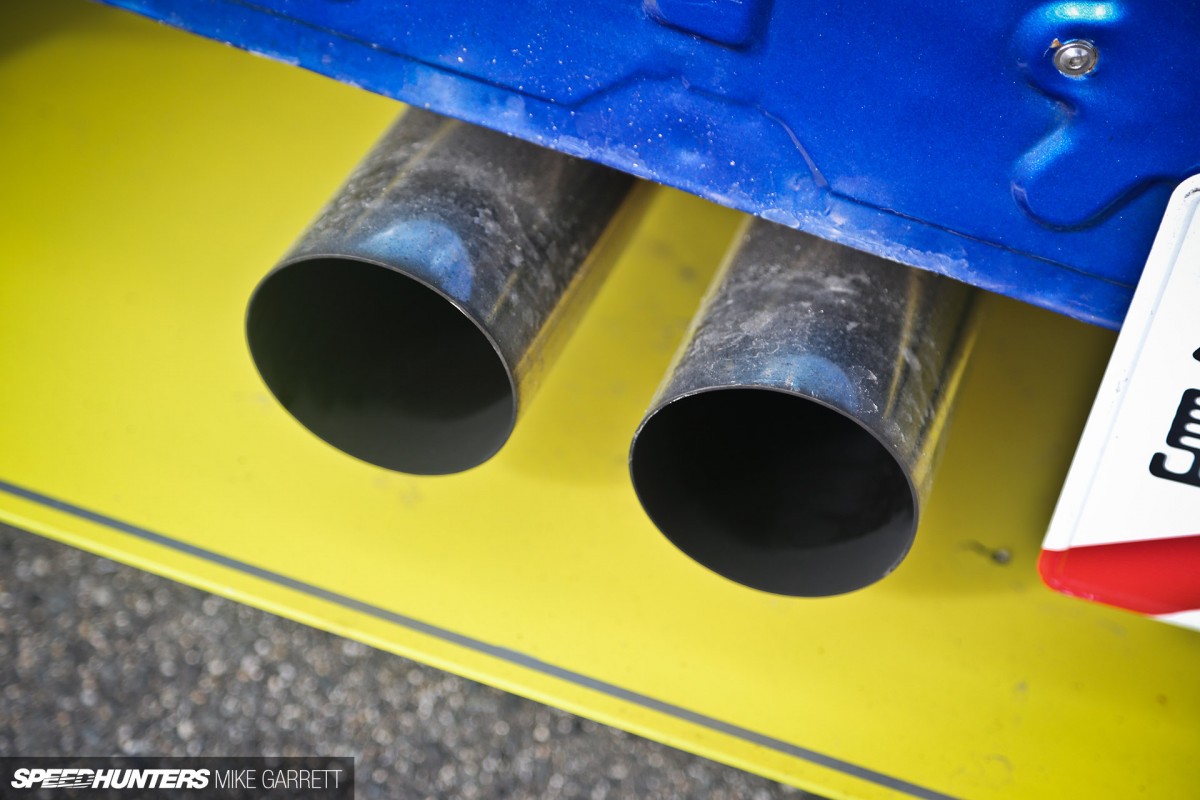 Let's not forget the one-off exhaust system which dumps out from the center of the car and brings to mind the Fairlady Z race machines of the '70s with its pair of large tips.
Crazy style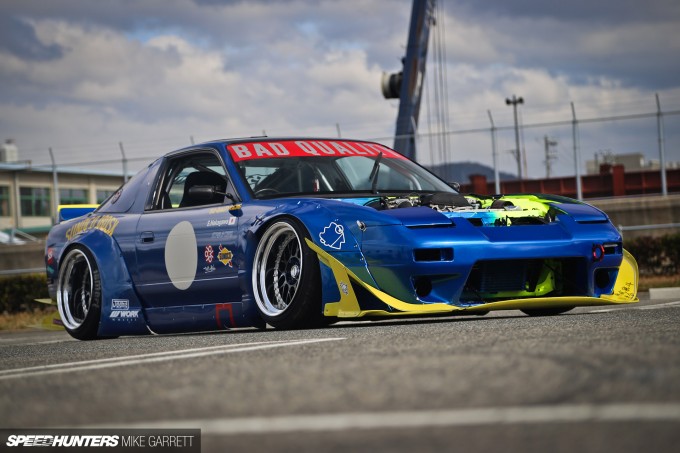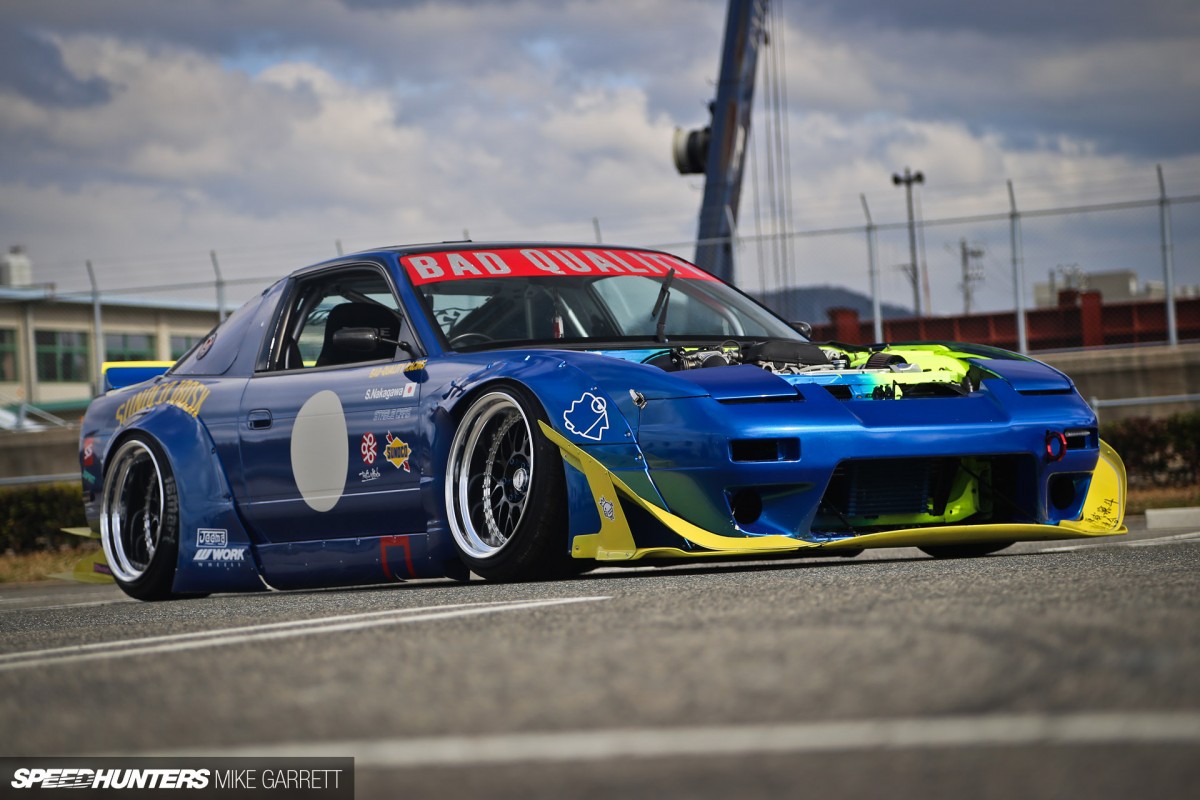 The retro style doesn't end there. In fact, you could say the car's Rocket Bunny widebody kit was equally inspired by the race cars of the 1970s.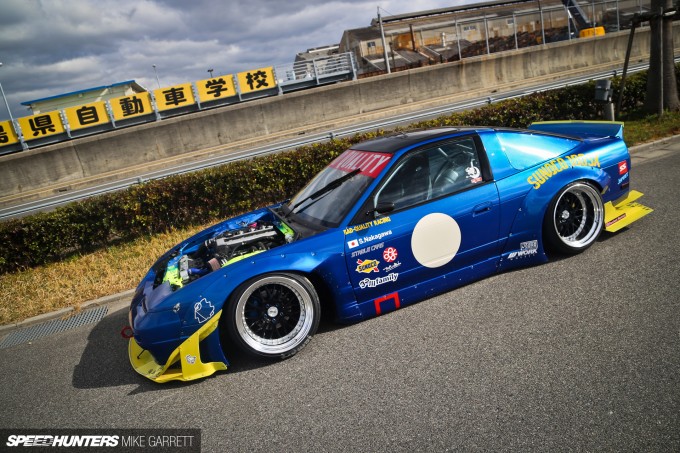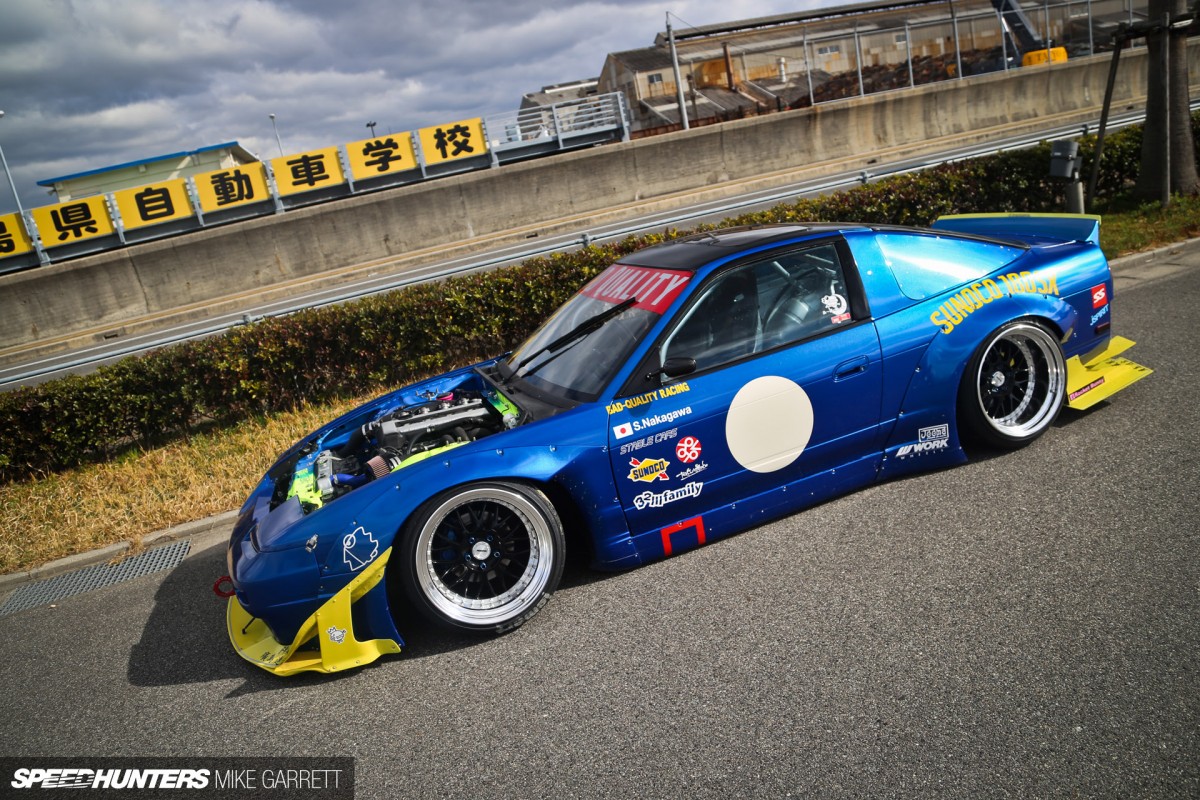 And when it comes to modeling Kei Miura's retro-inspired design, it's hard to get much better than this. Then again, this kit has also been tweaked slightly to fit with Nakagawa's vision for the car.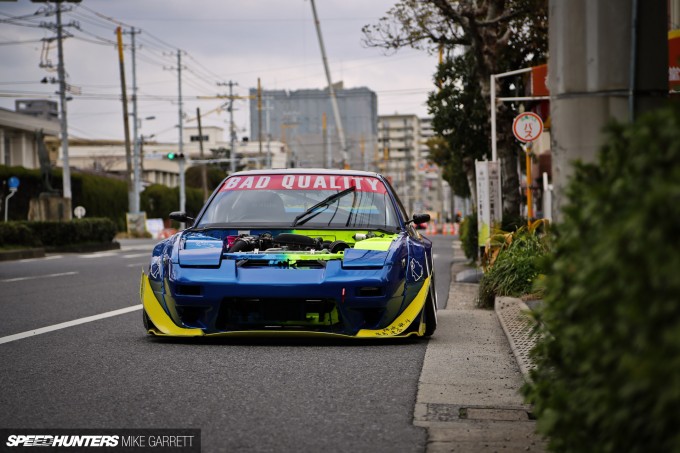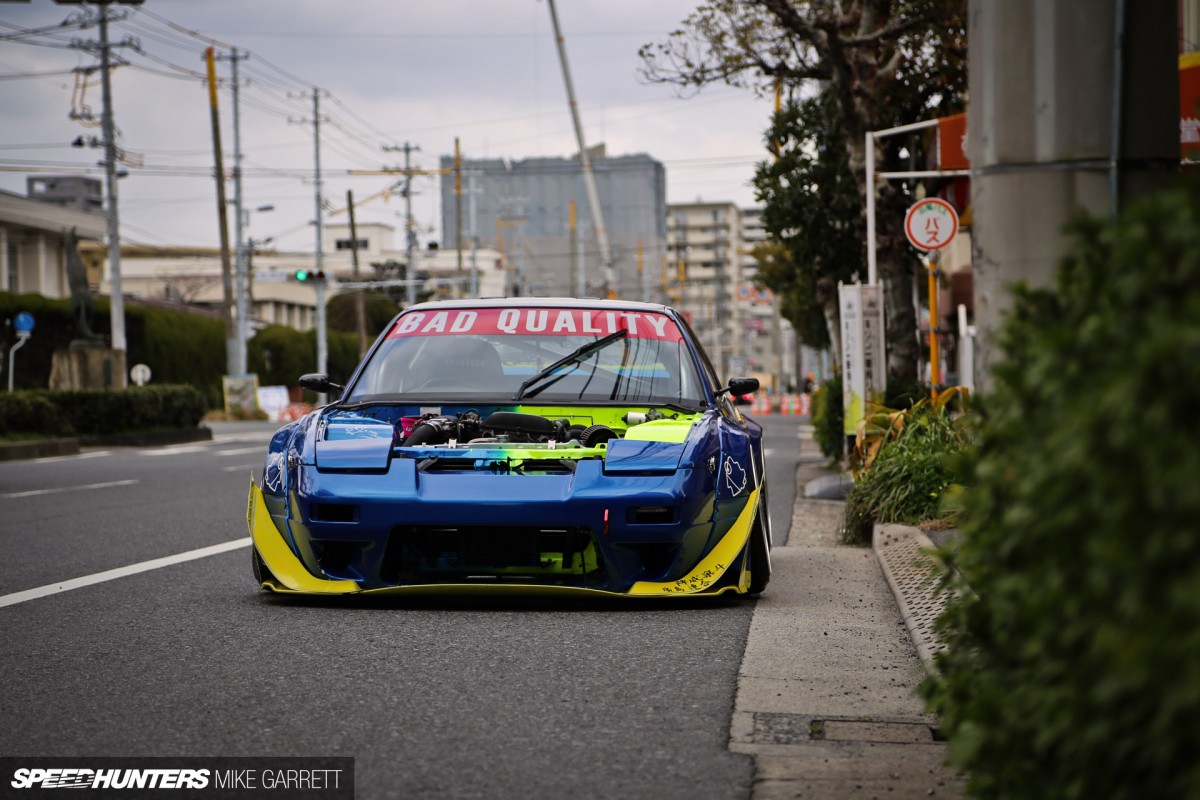 Namely, there are gigantic diffuser set-ups affixed to both the front and rear of the body, which take the car's raw competition-inspired vibe to the next level.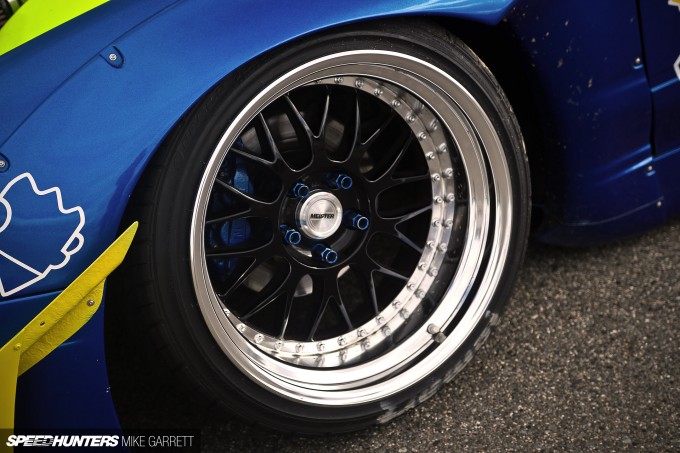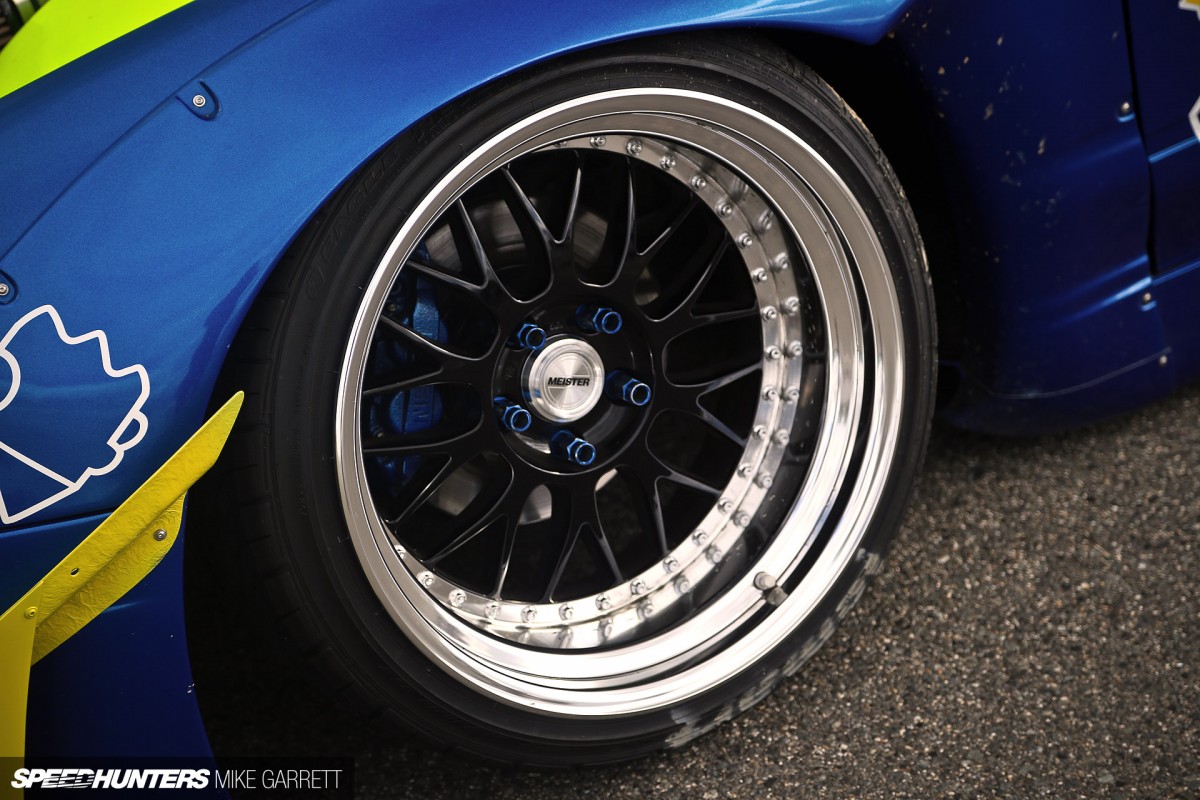 And how about the wheels? Well, Nakagawa has had several different sets as he's evolved the style of the car, but his current choice of black-centered Work Meister M1s might be the best combo yet.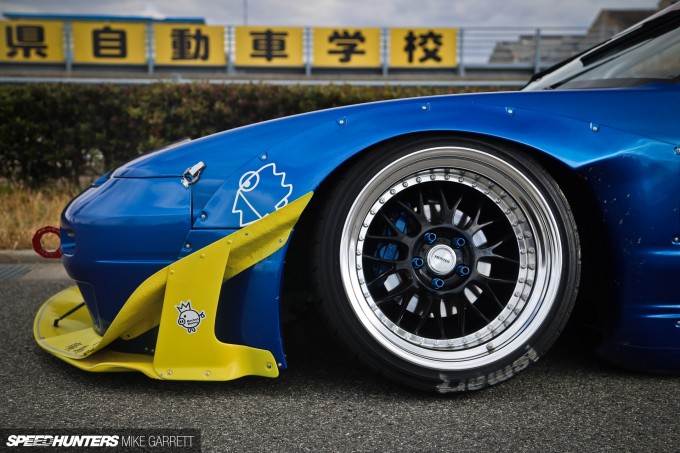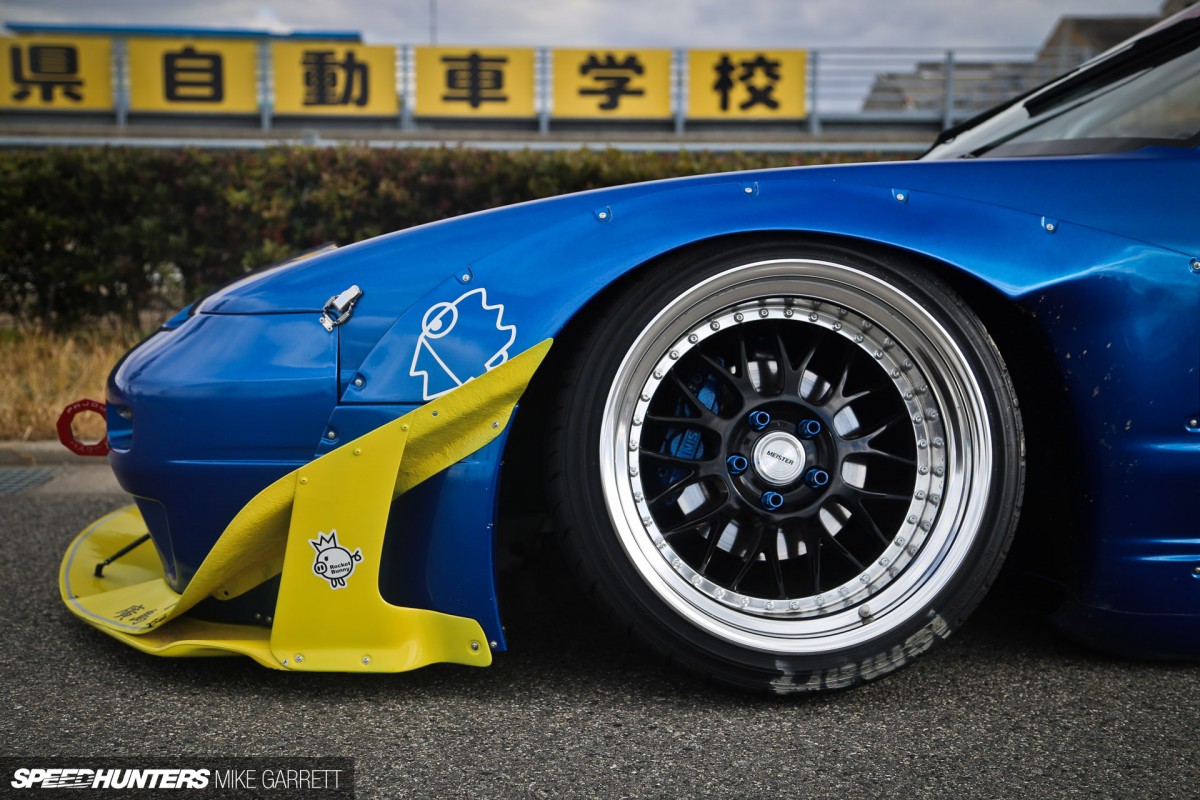 The Meisters measure 18×9.5 in the front and 18×11 in the rear with 215/40/18 and 245/35/18 tires respectively. The result is something that looks great and fills out those giant Rocket Bunny fenders with perfection.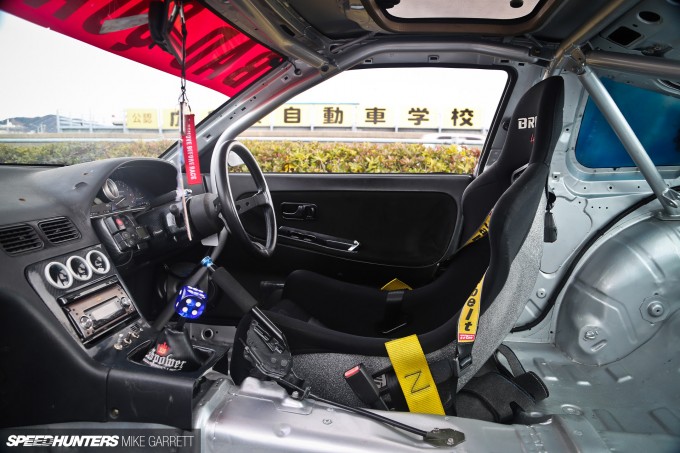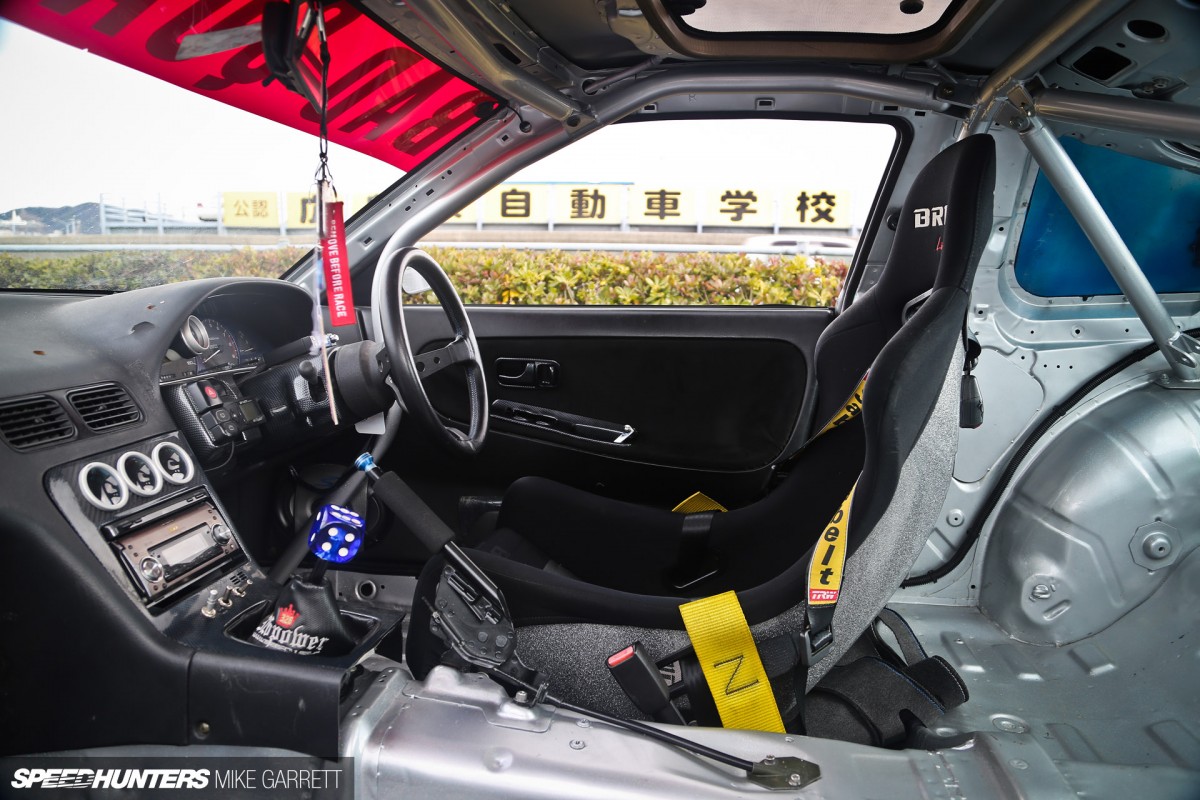 Climbing inside the 180SX, you'll find an interior that's very functional. There's a a full roll cage and just one seat – a Bride bucket with a Sabelt harness.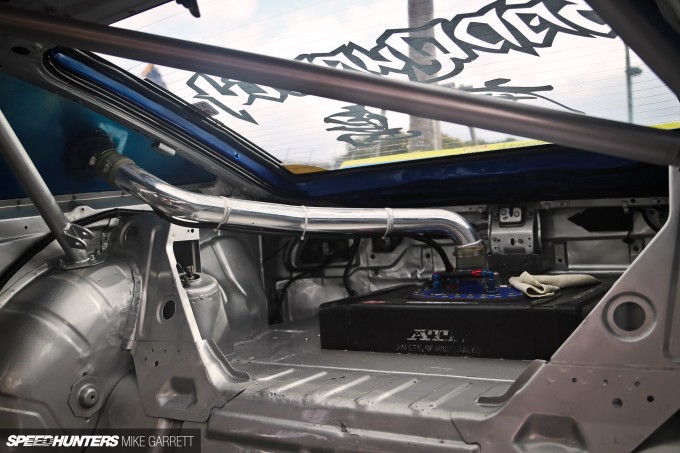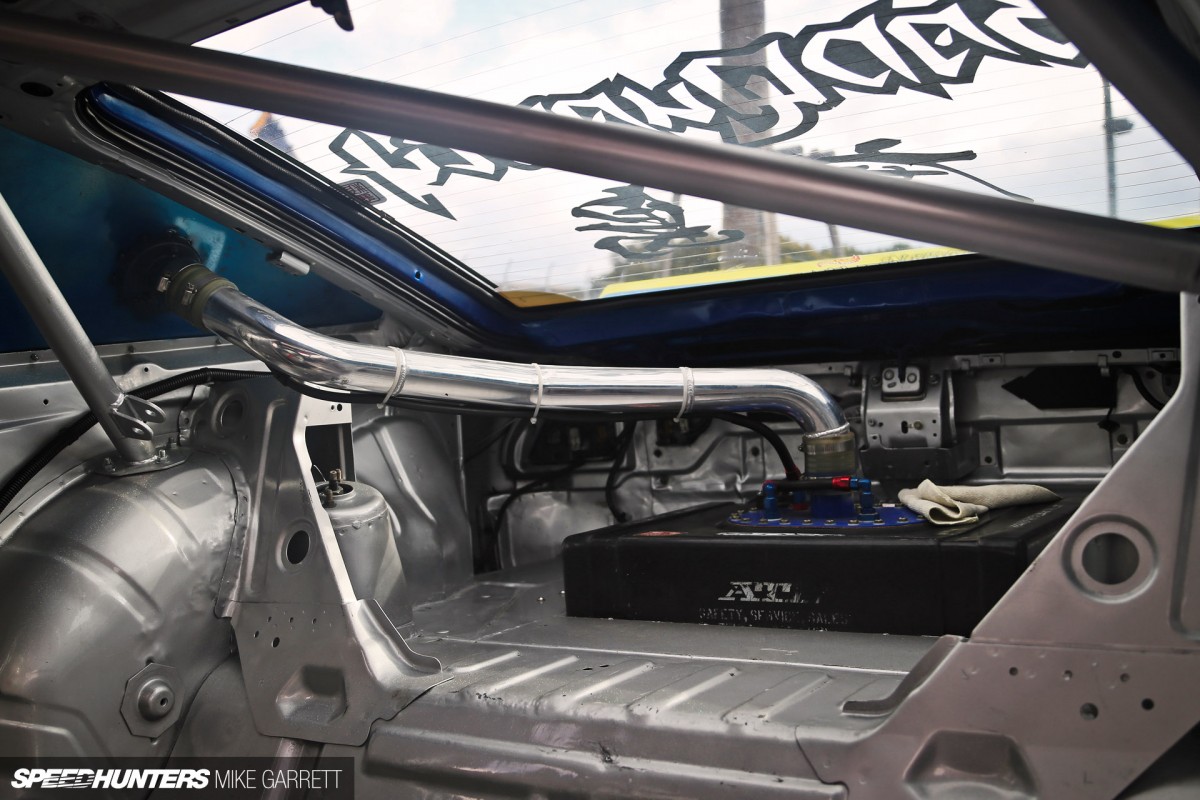 Looking into the hatch, you can see the ATL fuel cell which is fed through an opening in the quarter window panel.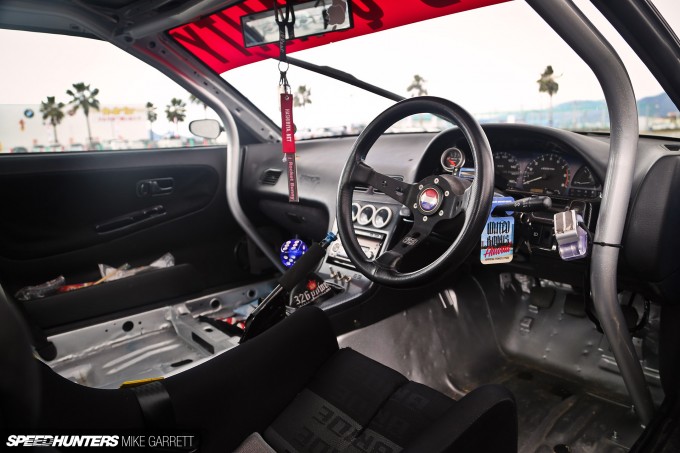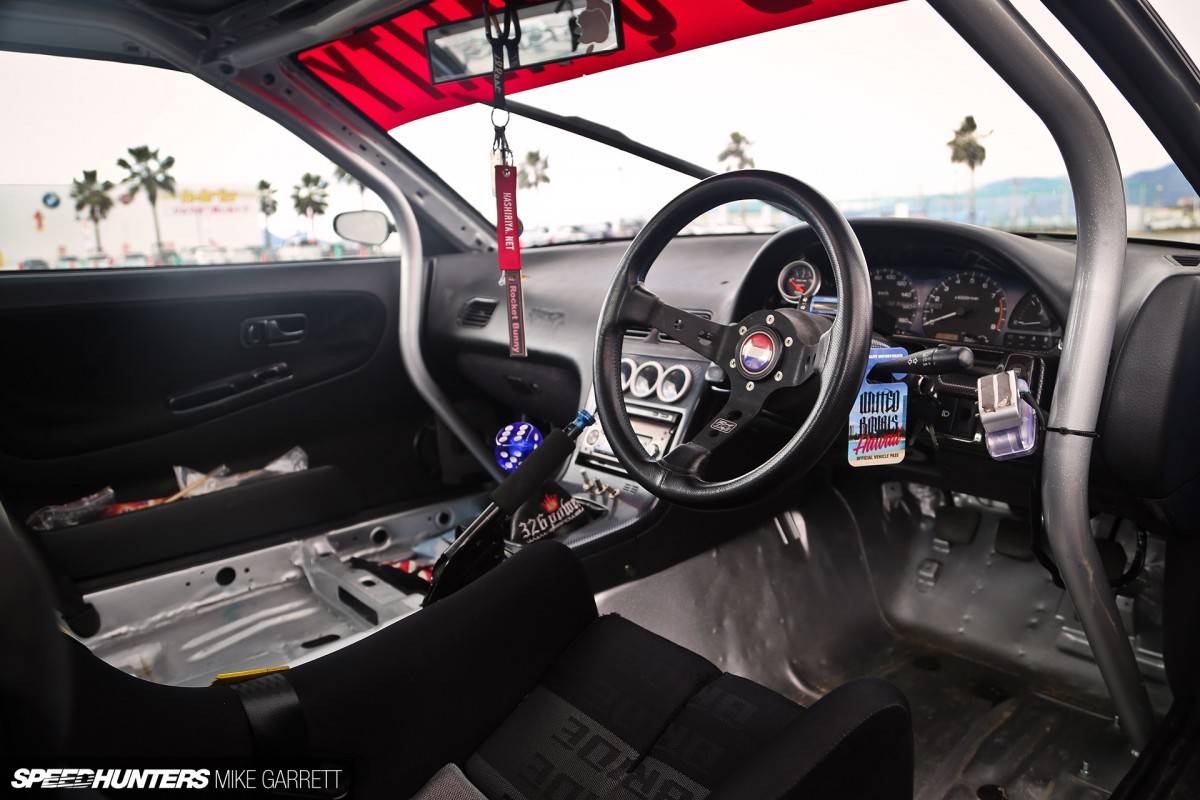 You'll also find other goodies like Autometer gauges, a Blitz boost controller and even a Carrozzeria double DIN stereo deck.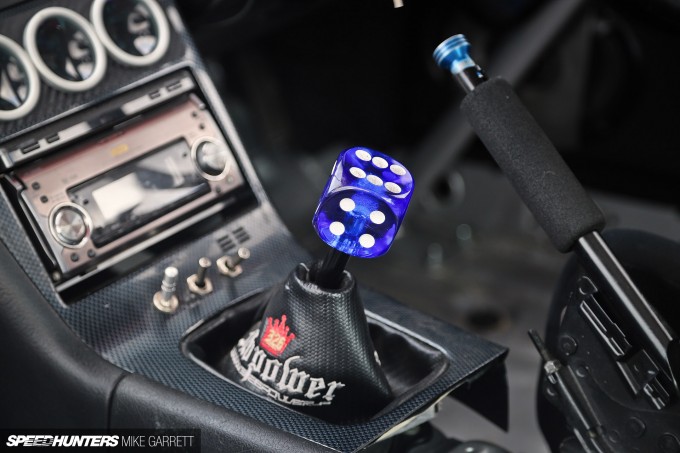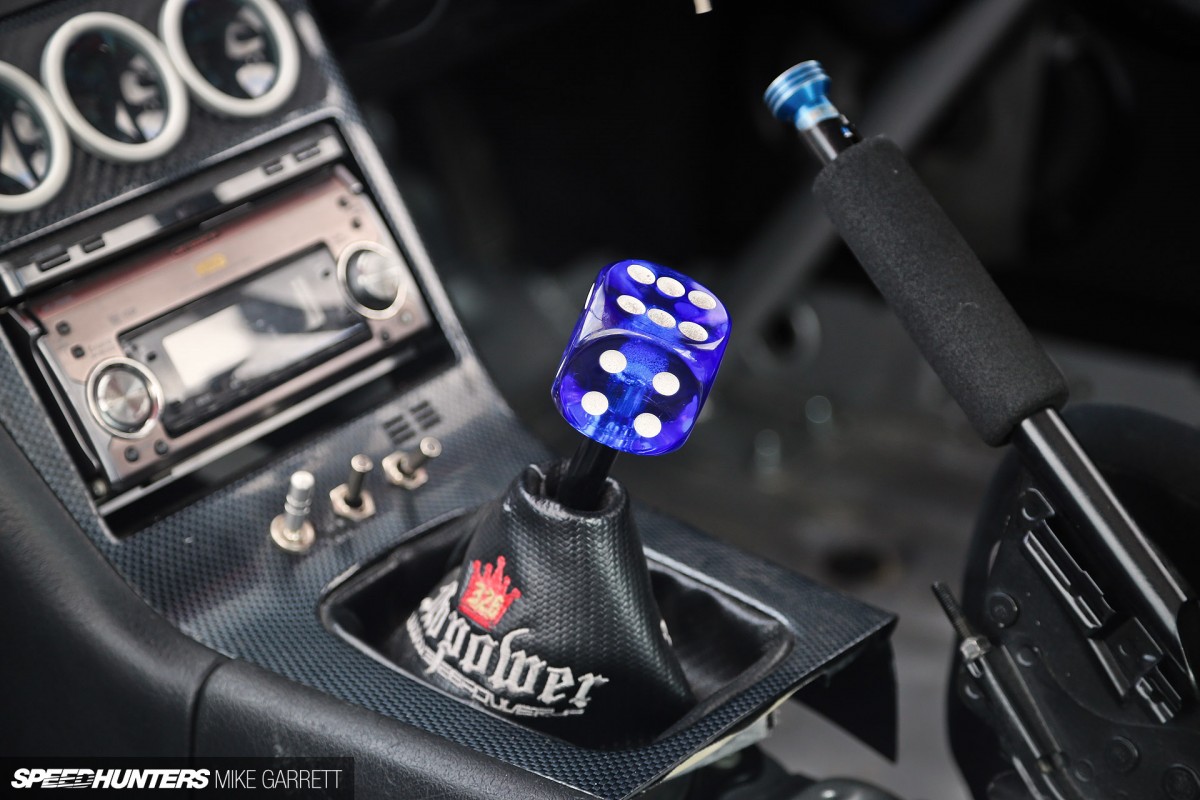 Let's not forget that cool shift knob either…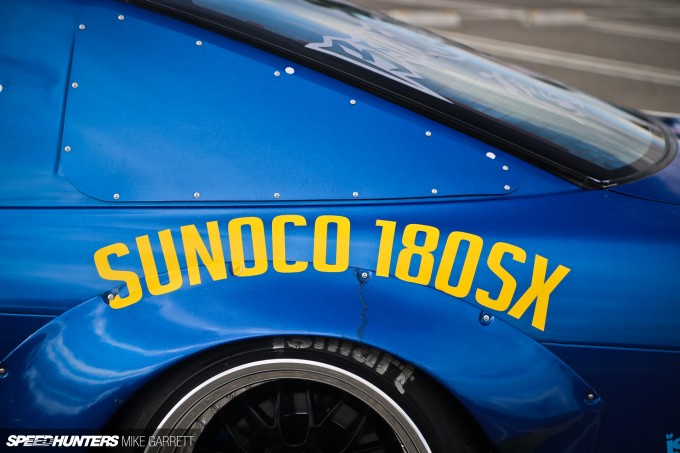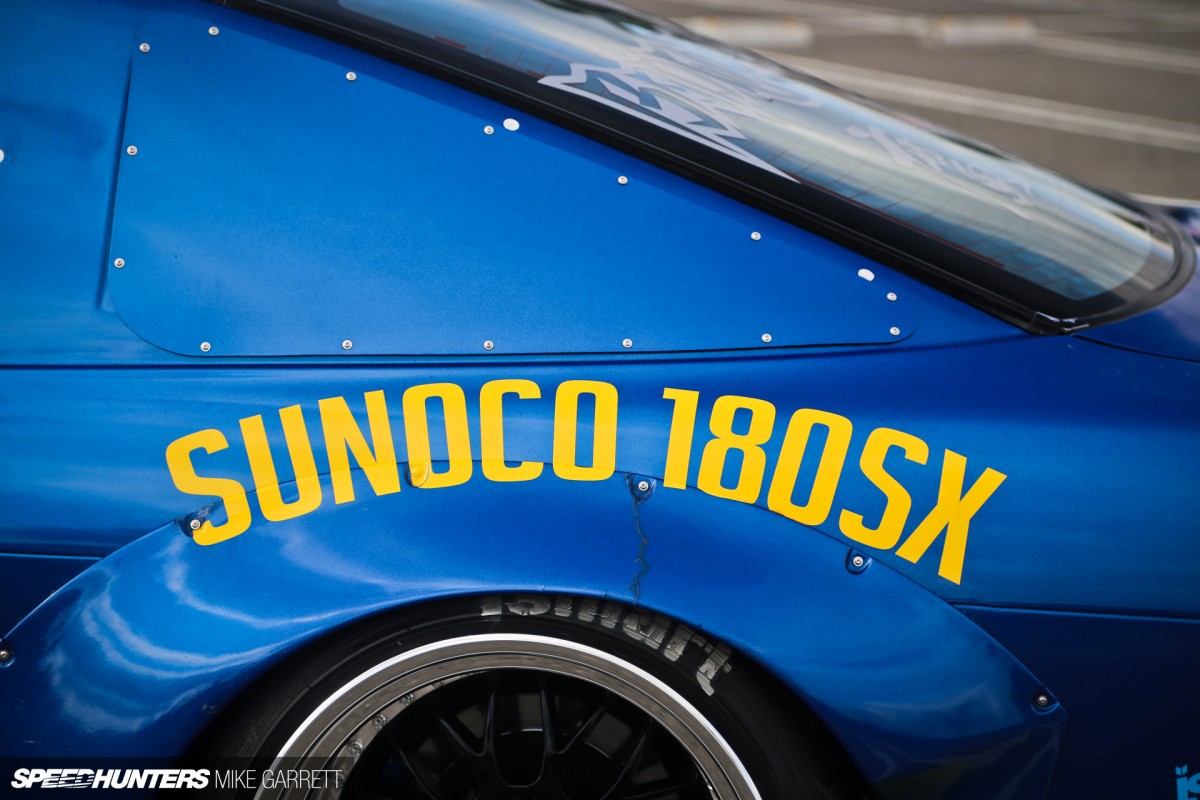 The Sunoco livery on the body is one of the more recent additions to the car and if you're like me, you might be wondering if Nakagawa had struck up a sponsorship deal with Sunoco Japan. The answer is no.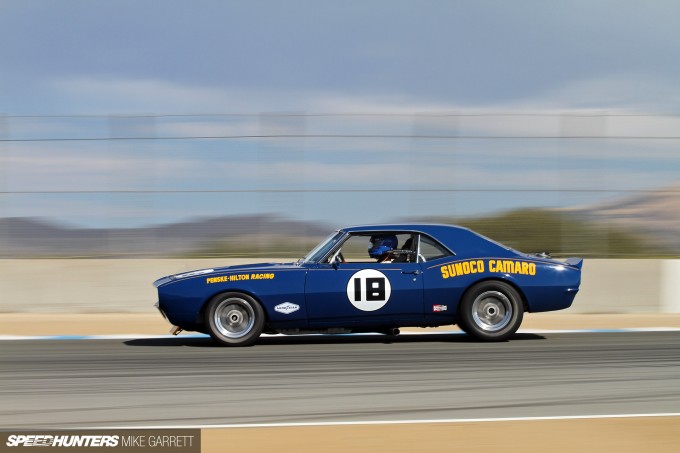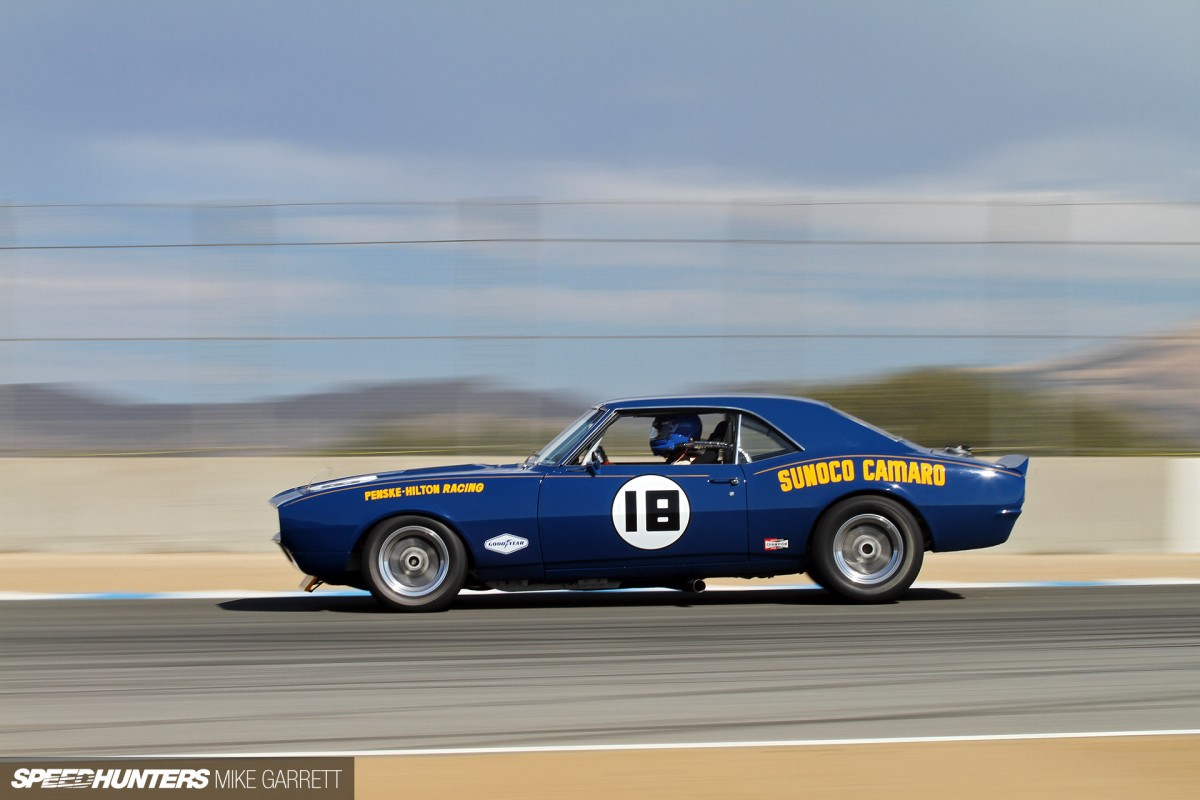 The truth is, he just loves the Sunoco-colored Camaro racers of the late 1960s and he wanted to bring a little of that classic spirit to his Nissan. Mission accomplished.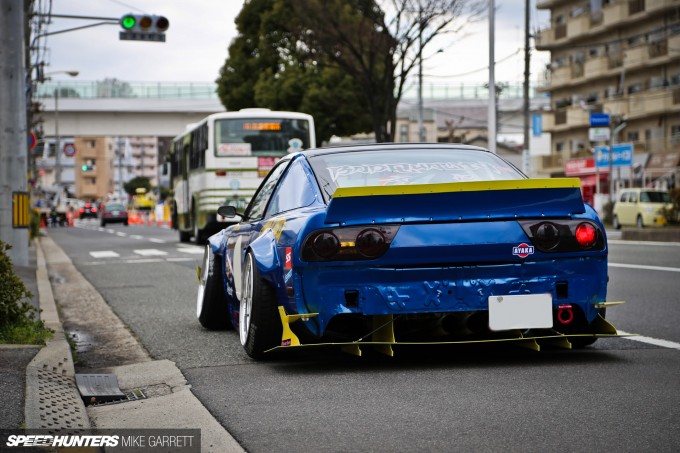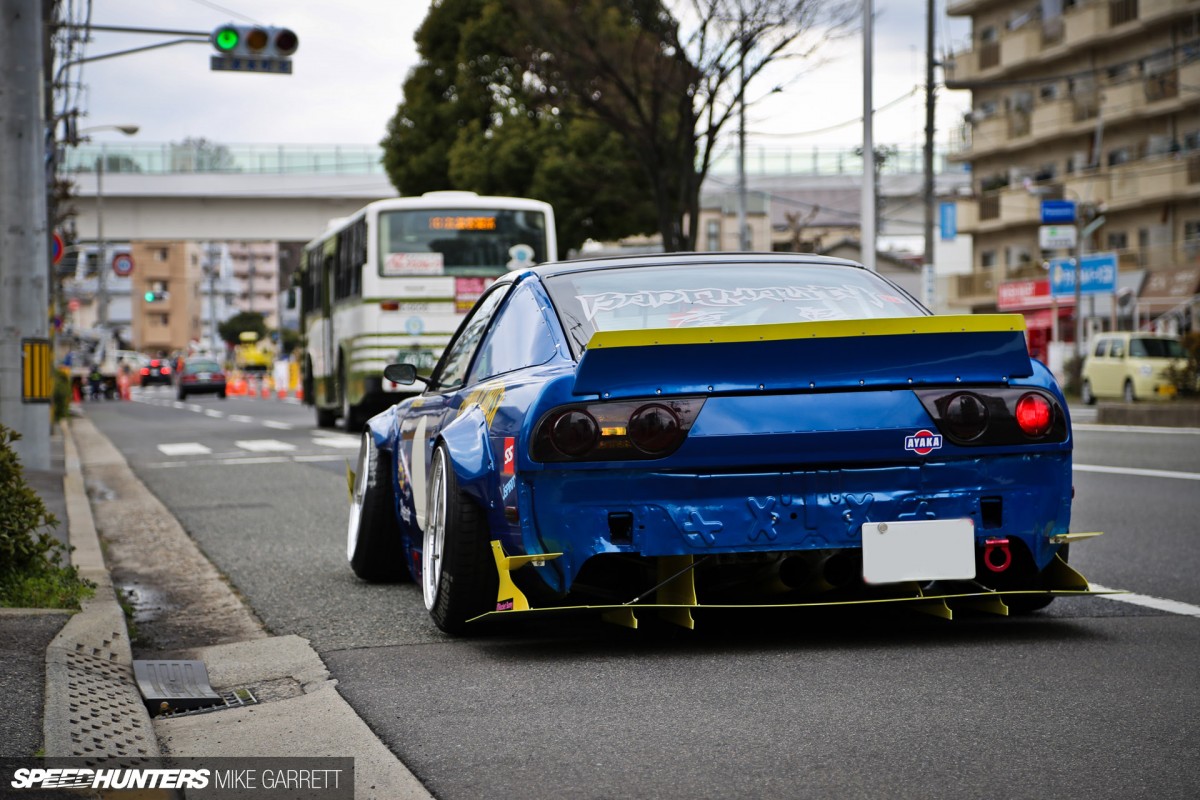 Since I'm someone with automotive tastes that shoot all over the place, I just love the idea of injecting some classic American motorsport style into a Japanese drift car. It's just one more example of the cool creative touches that often set Japanese builds apart.
What's next?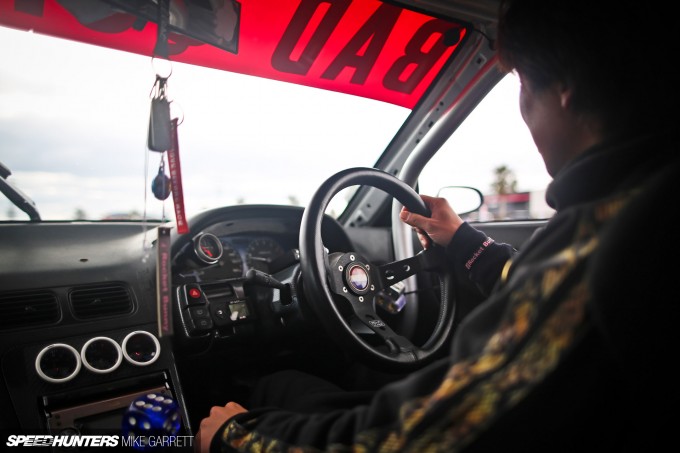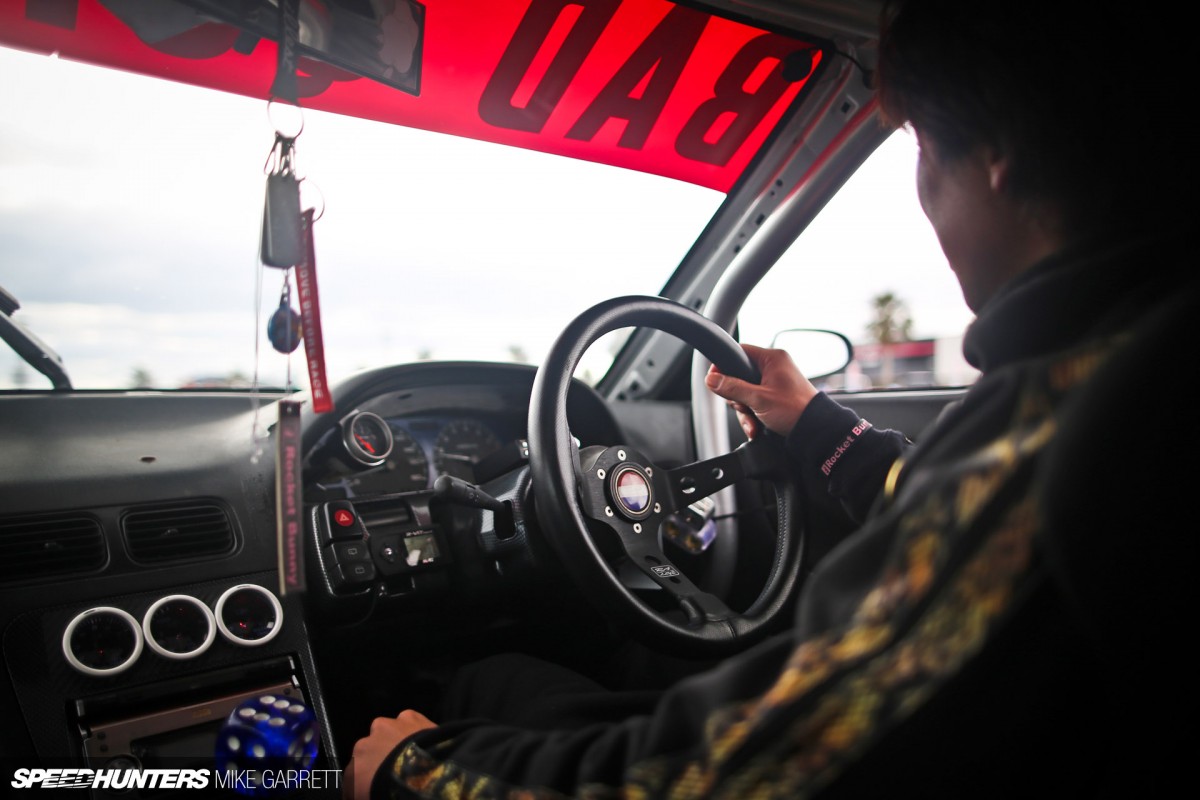 Even though he rarely drives the car on the street these days, the 180SX had no problem making the drive from Nakagawa's house to our photo shoot location. Yes, I sat on the floor – and despite the fact that I was almost literally sitting on the ground, it was bearable. Maybe not the safest thing in the world, but bearable.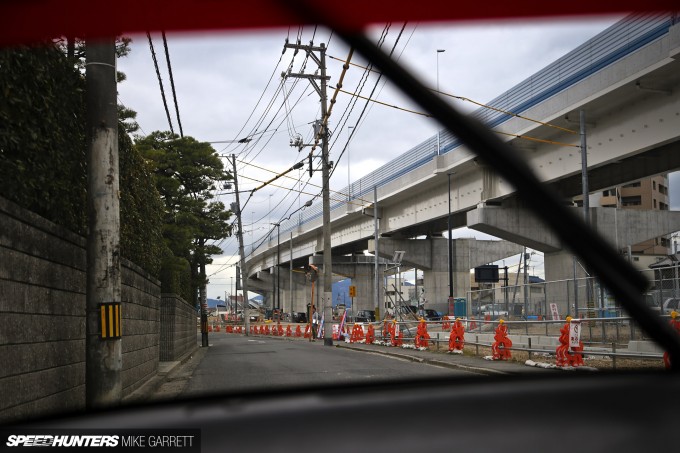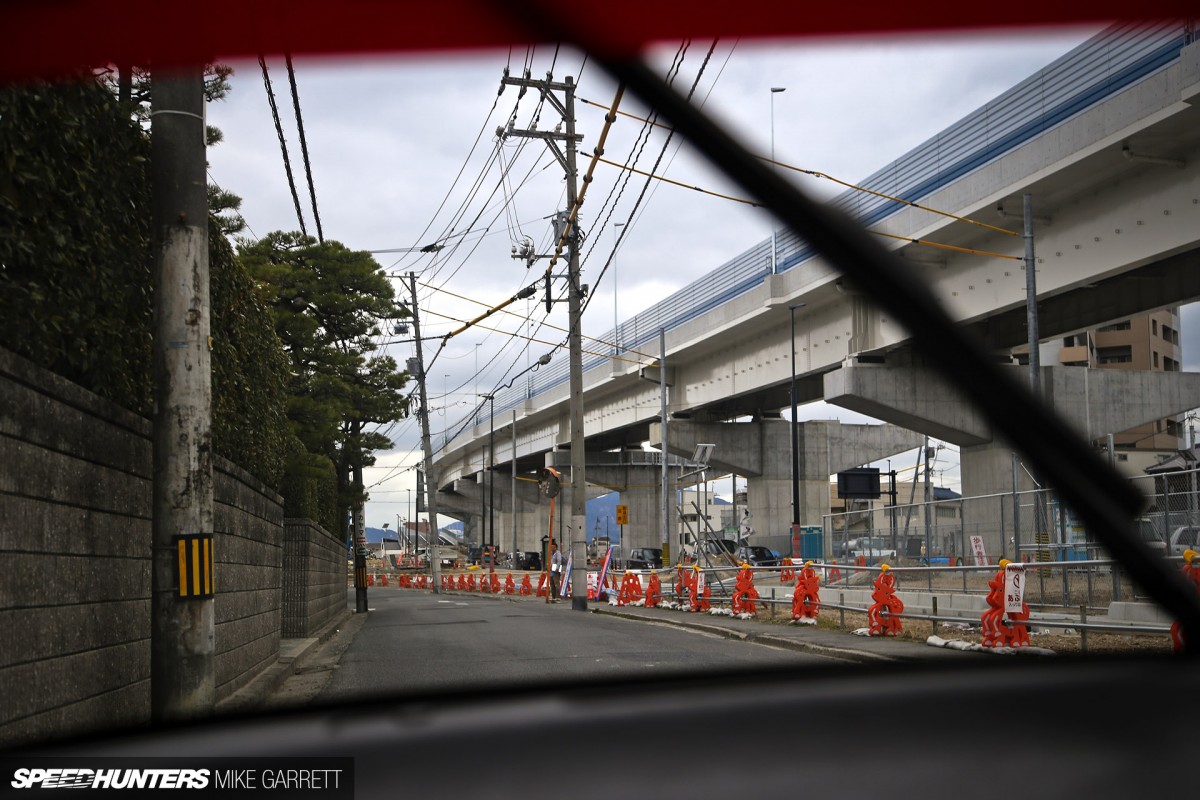 And while this is one of the world's lowest S13s, it rides surprisingly smooth down the streets of Hiroshima. Sure you can't avoid the occasional scrape, but there's nothing that makes the car undrivable.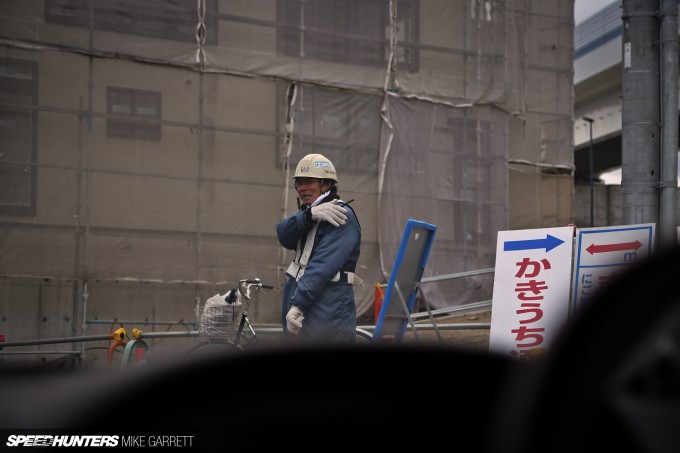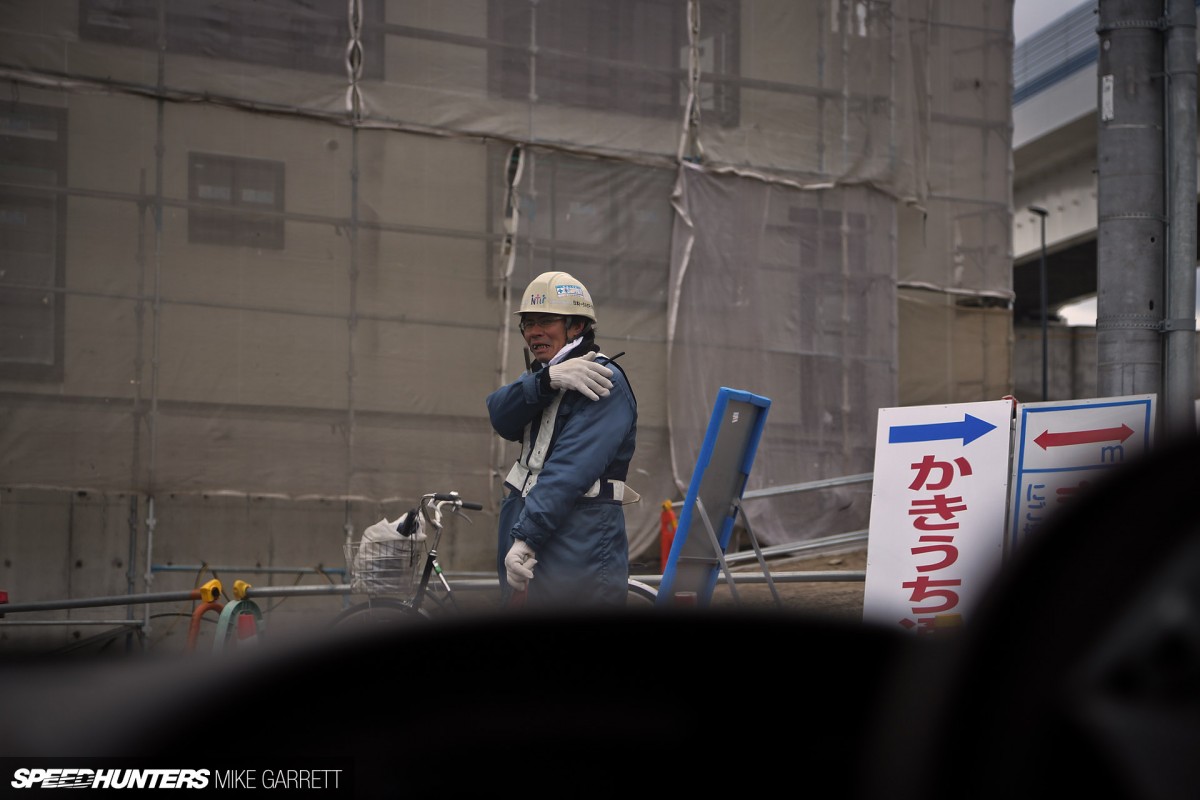 Then there's the reactions of other motorists and people on the street. Priceless.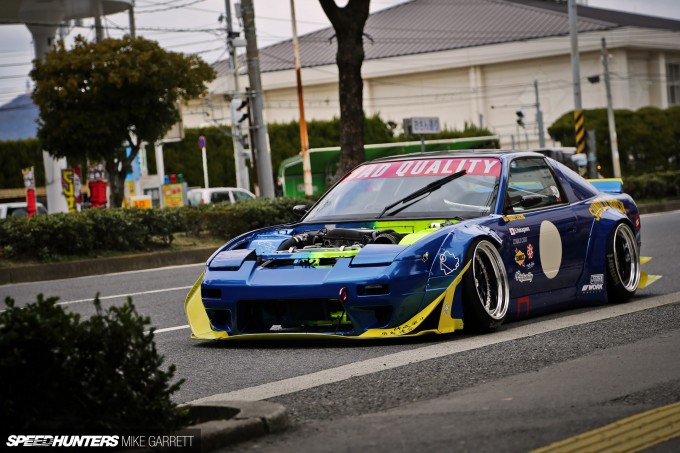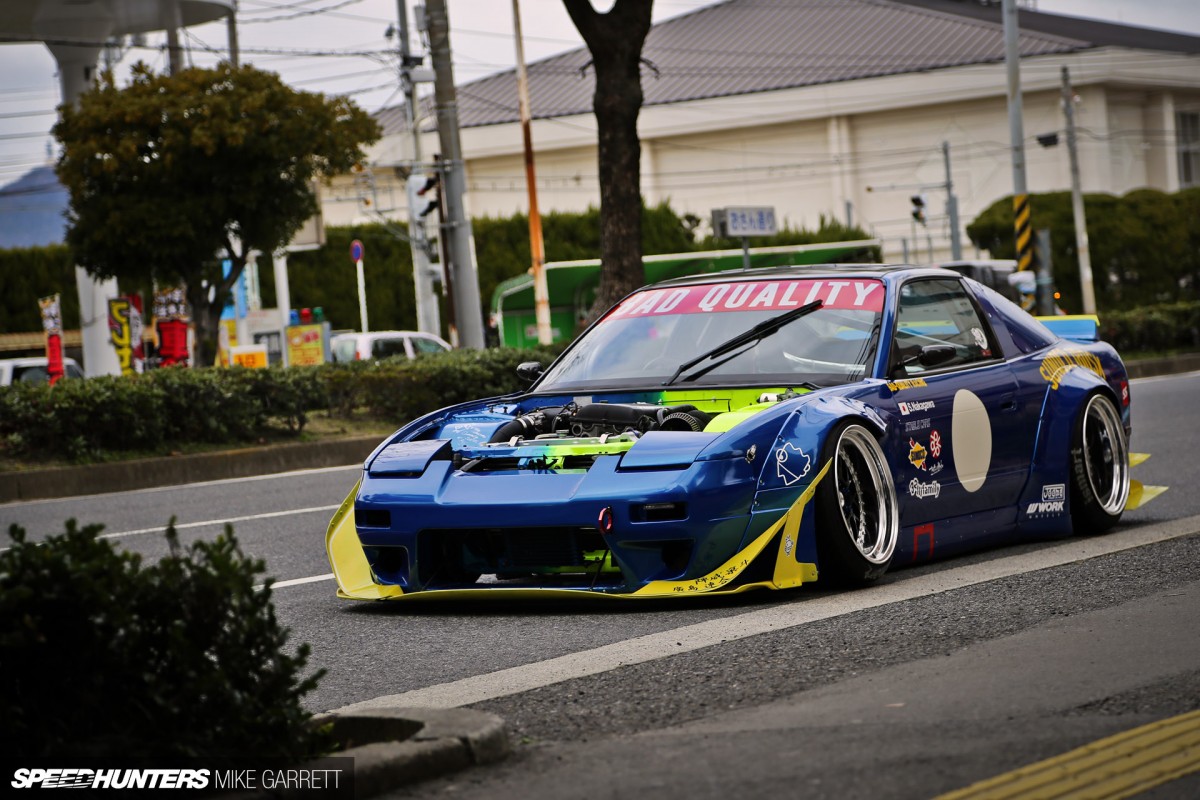 What's even more impressive is that in January, Nakagawa drove the car to Chiba for Tokyo Auto Salon, looking exactly as it does here and sitting millimeters off the ground. That's a 12-hour highway journey – even longer than it takes for me to fly from California from Japan.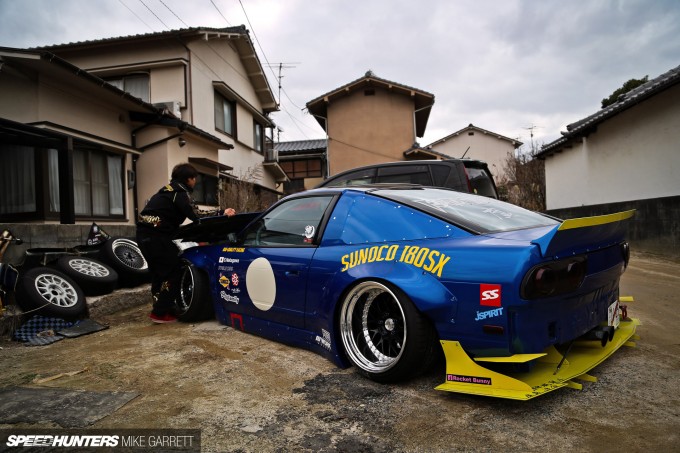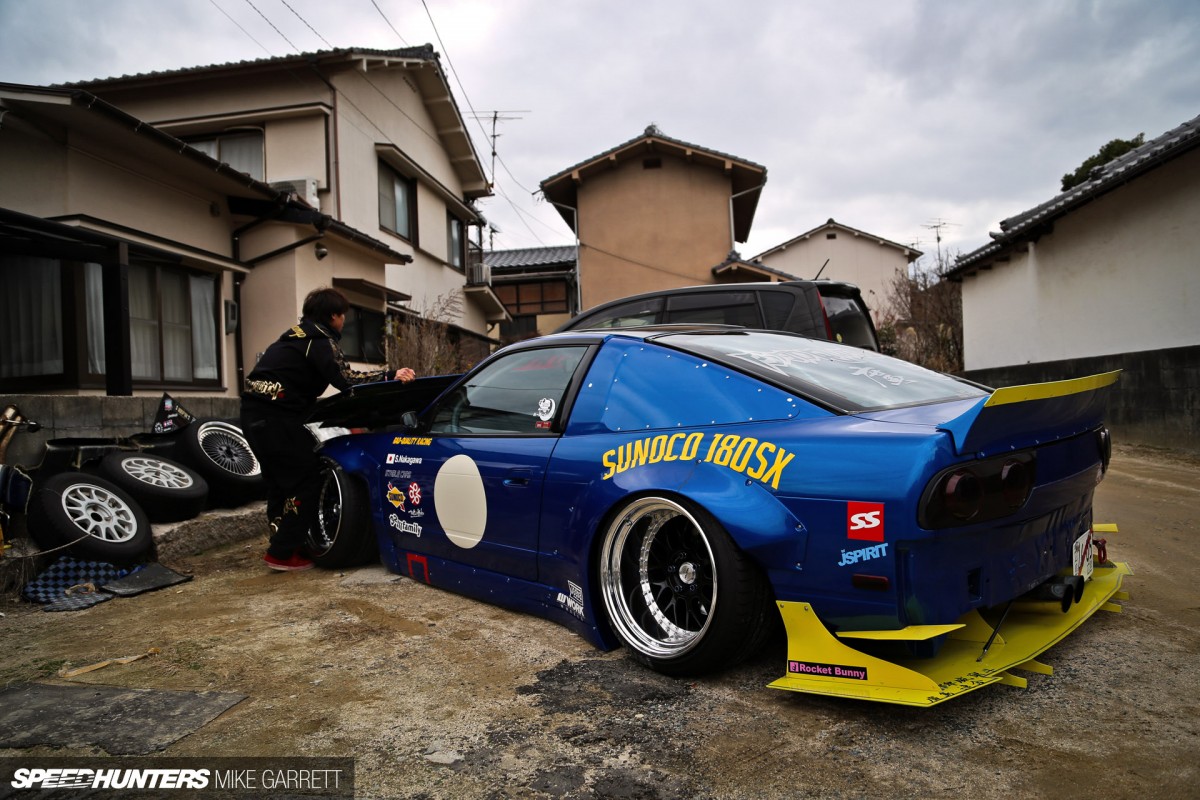 When I asked him what's next for the 180SX, Nakagawa actually told me he's thinking about selling the car. He's taken the S13 on quite a journey, and like lots of builders, he's beginning to feel the urge for a new project.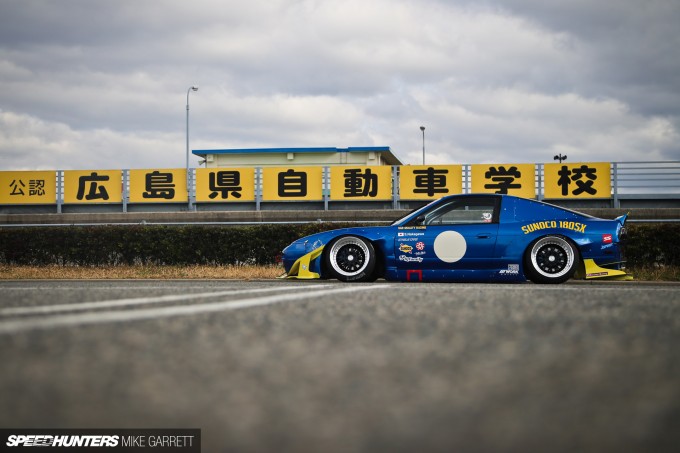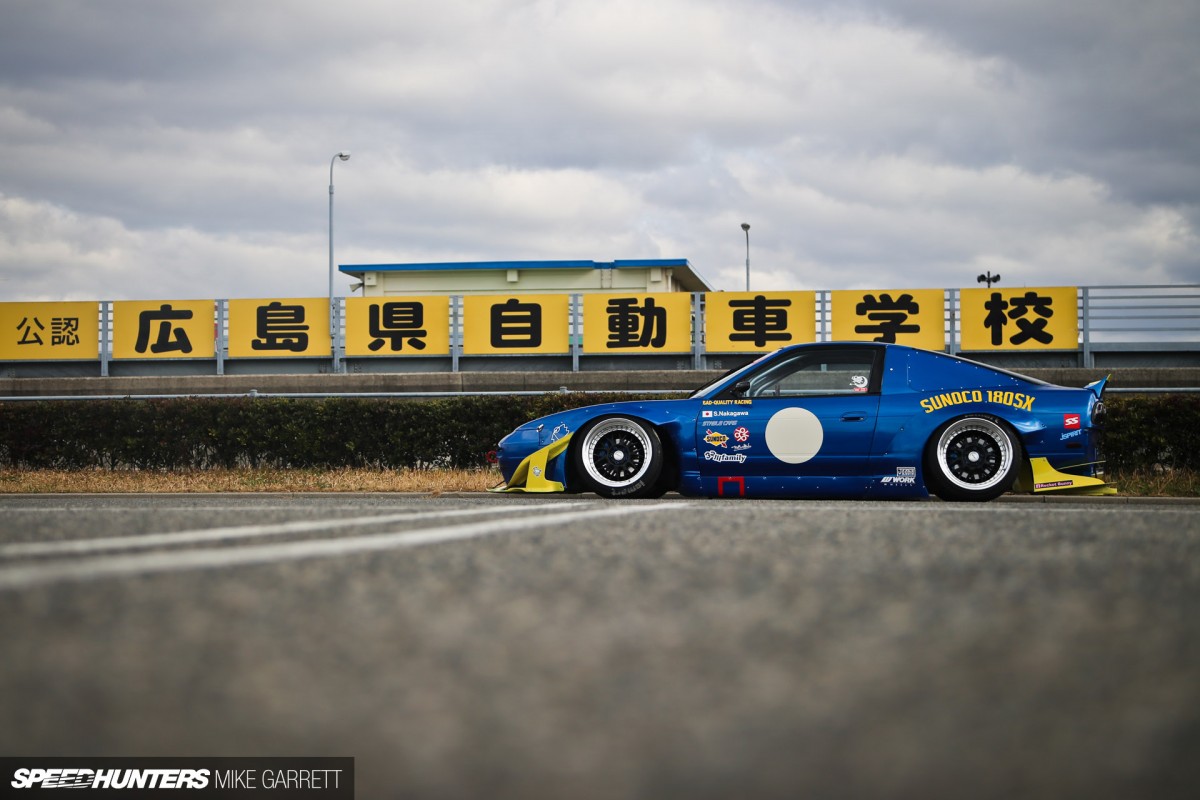 And what might that next project be? Well, he's still looking for possible candidates but the words NSX and Supra both came up in the discussion. If that next project is going to be anything like this car, it sounds like maybe I should start planning my next Hiroshima visit soon.
Mike Garrett
Instagram: speedhunters_mike
mike@speedhunters.com