The Creation of a Legend
This is story starts many years ago, when Gio, an Australian car enthusiast who moved to Japan in the early 2000s, was looking to begin the build of what would ultimately become his dream GT-R.
Much planning and an almost money-no-object approach went into the BNR34 Skyline project. We looked at the incredible journey of Gio's GT-R way back in August 2009 and drooled over the countless modifications that transformed his car from a more than capable sports car into a 1000hp Wangan warrior.
Here 's an old video where Gio's car was used for a high speed run on the Wangan against an RX-7.
Soon after original feature, we revisited the machine; this time charting a slight downsize in the turbo department and more emphasis being put into drivability and the GT-R's outward appearance. While Gio's original 'Competizione R' was eventually sold on to its current owner in the UK, there was no way he was going to throw in the towel. In fact, the decision to move away from the R34 platform was to begin creating something even more special, more powerful, and faster – but with uncompromising attention to detail at the center of it all.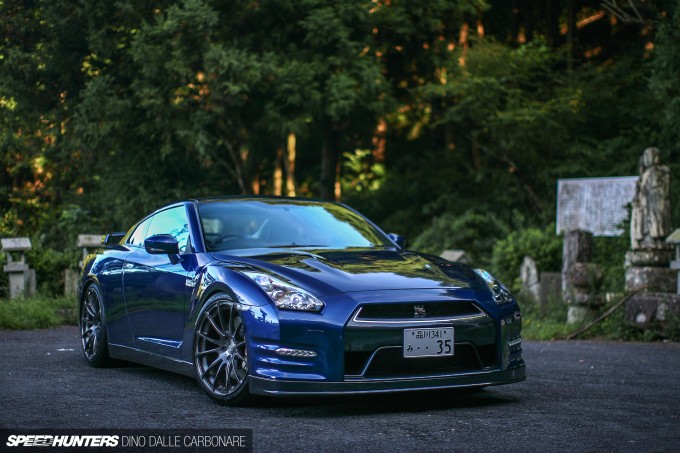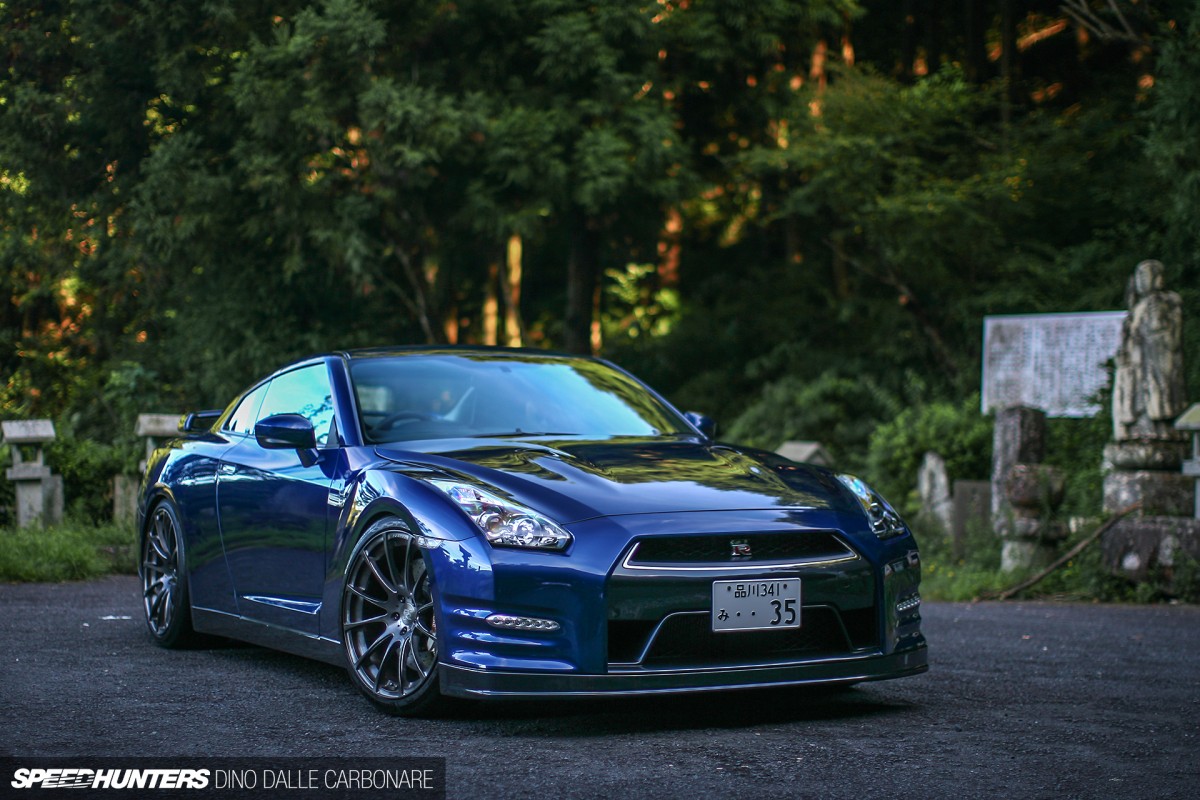 Gio did consider other cars, like a Lamborghini Gallardo and even the McLaren MP4-12C, but after much thought it was obvious that nothing else on the market would allow him to fully satisfy his addiction for speed and power like an R35 GT-R.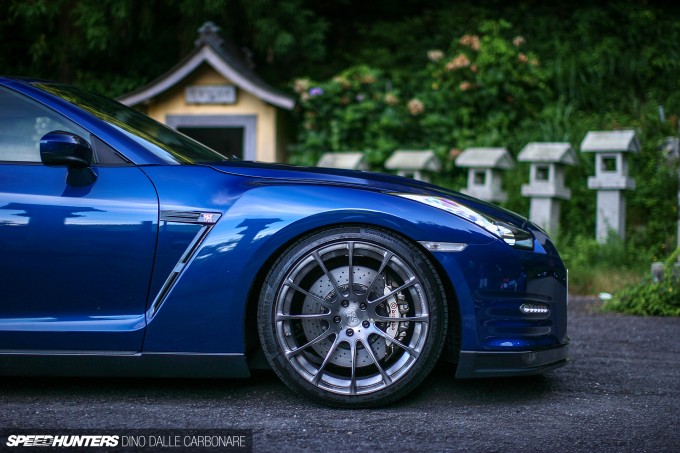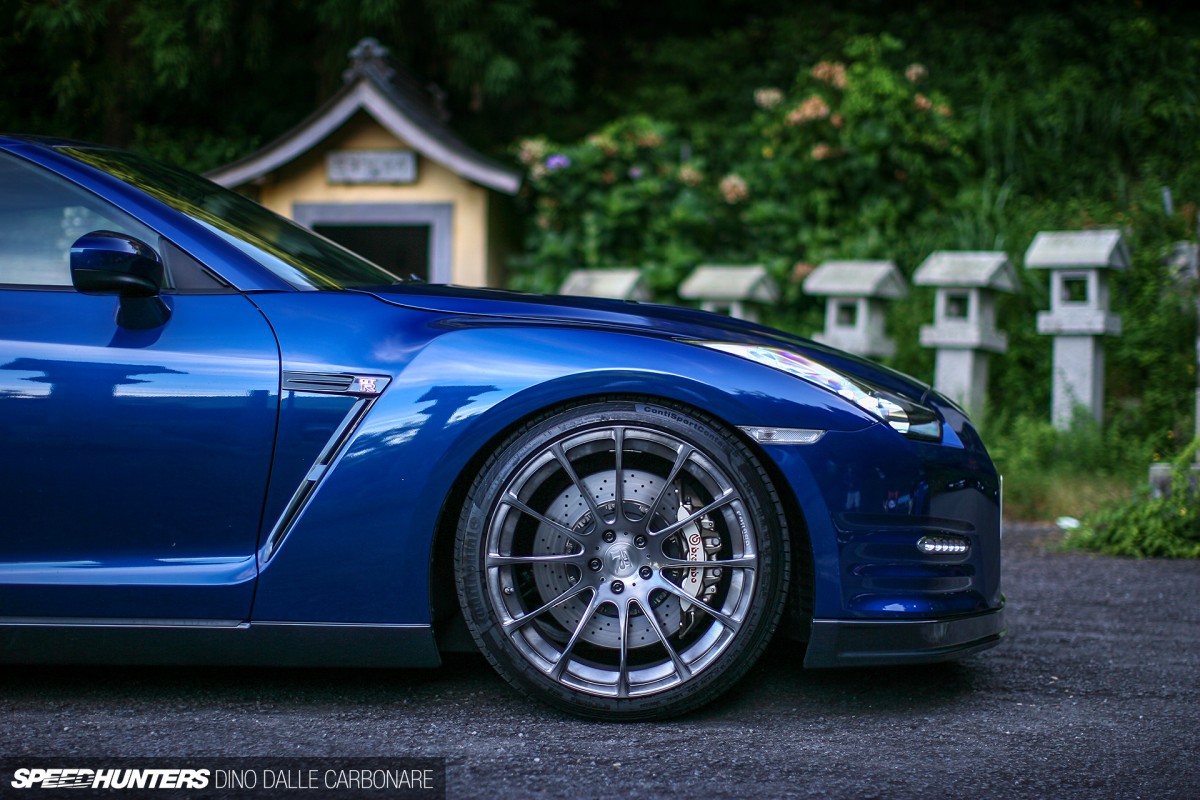 With the announcement of an important upgrade to the car back at the end of 2012, Gio knew it was the right time to make the move. This new refined version would not only tick that all important box of exclusivity, but the metallic Deep Blue Pearl color option that became available that year was also a big plus. And so, after picking up his brand spanking new san-go from the Nissan dealer, what did he do? Yup, he took it over to Nagata-san at Top Secret.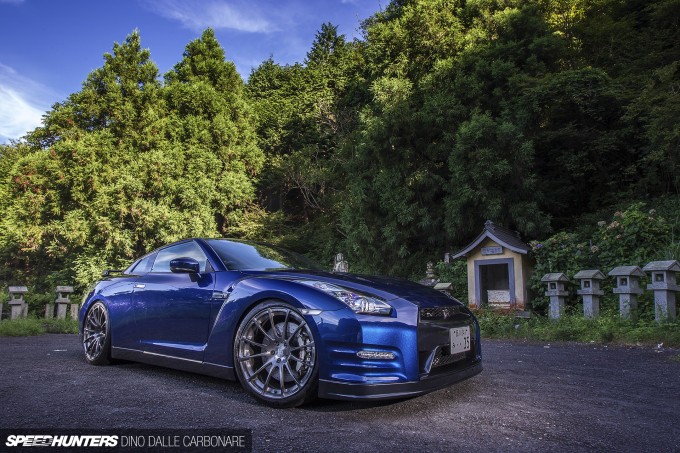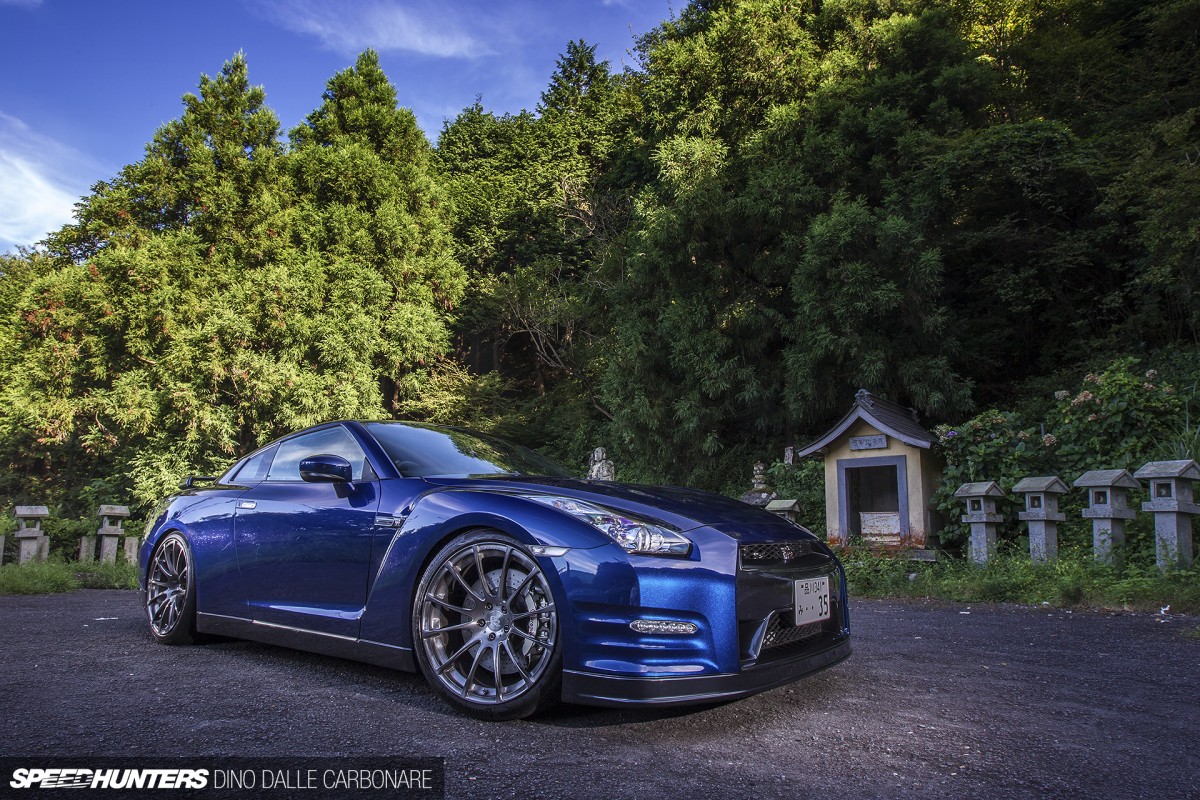 As we all know, the R35 responds mighty well to those first tuning touches Japanese tuners refer to as a 'boost up.' This is exactly what Gio wanted Smokey to take care of, along with getting the car to sit and look just right.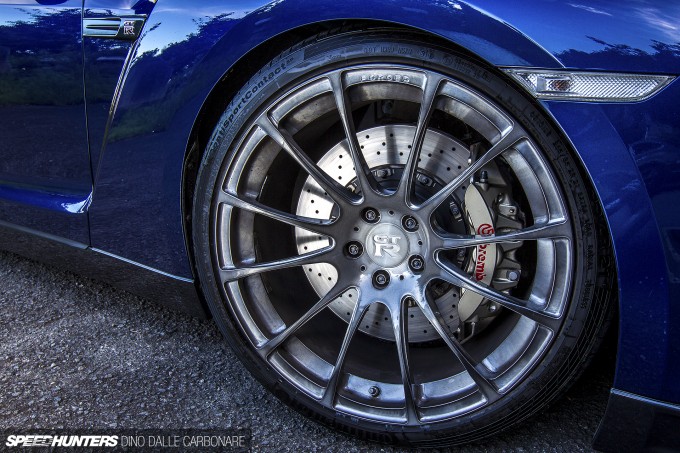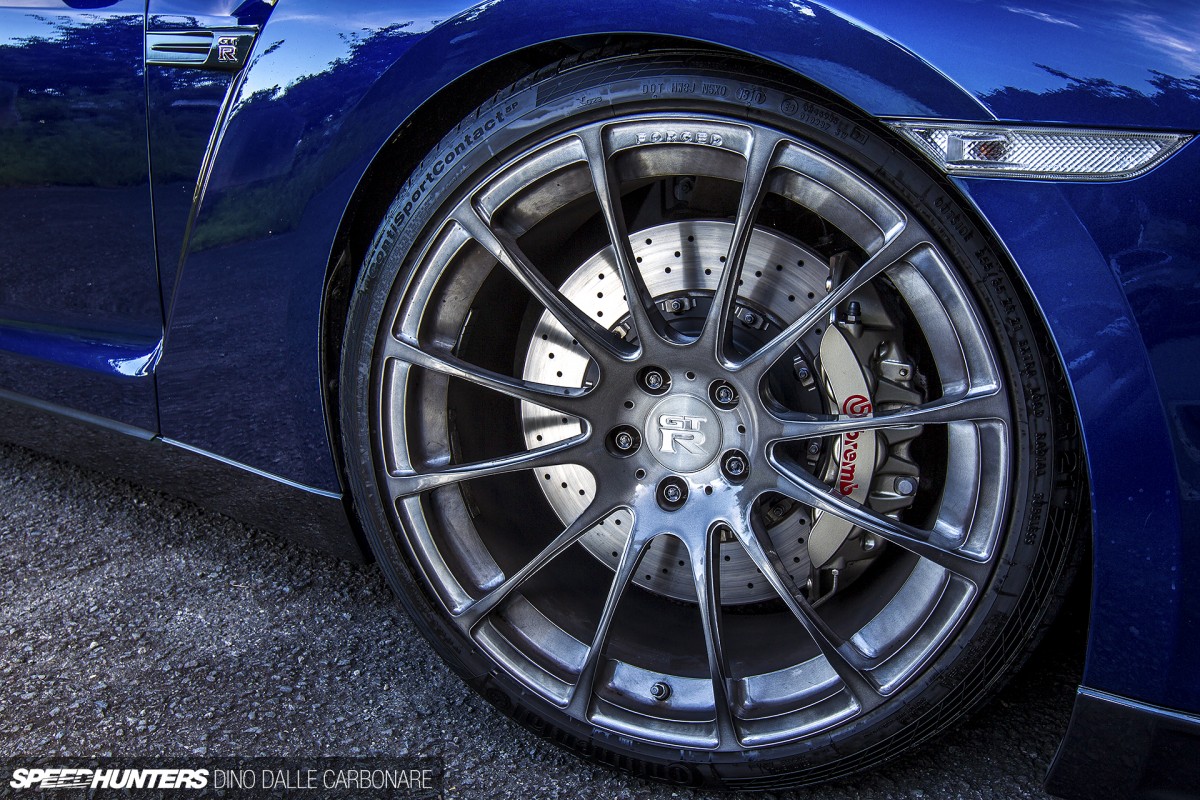 The idea here was to get it to 'Spec 0′, or if you will – how the car should have come from Nissan in the first place. It all began with the right set of wheels, and just like on his R34, a subtle bump in diameter had a positive effect on the way the car looked. Seeing as the R35 was already on 20s off the production line, Gio settled for a set of limited edition 21-inch COR Spec12 wheels.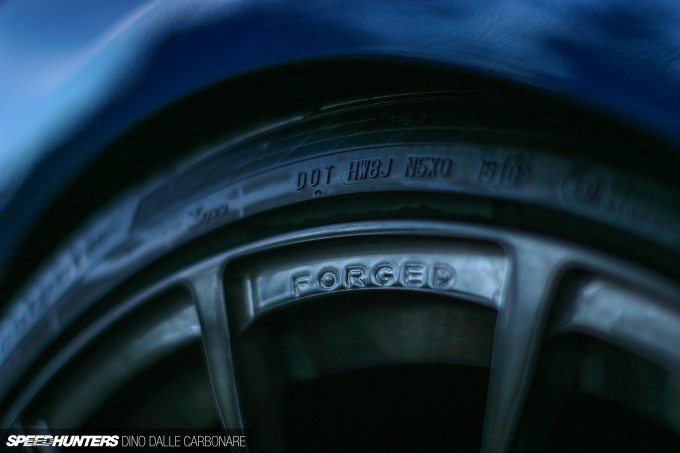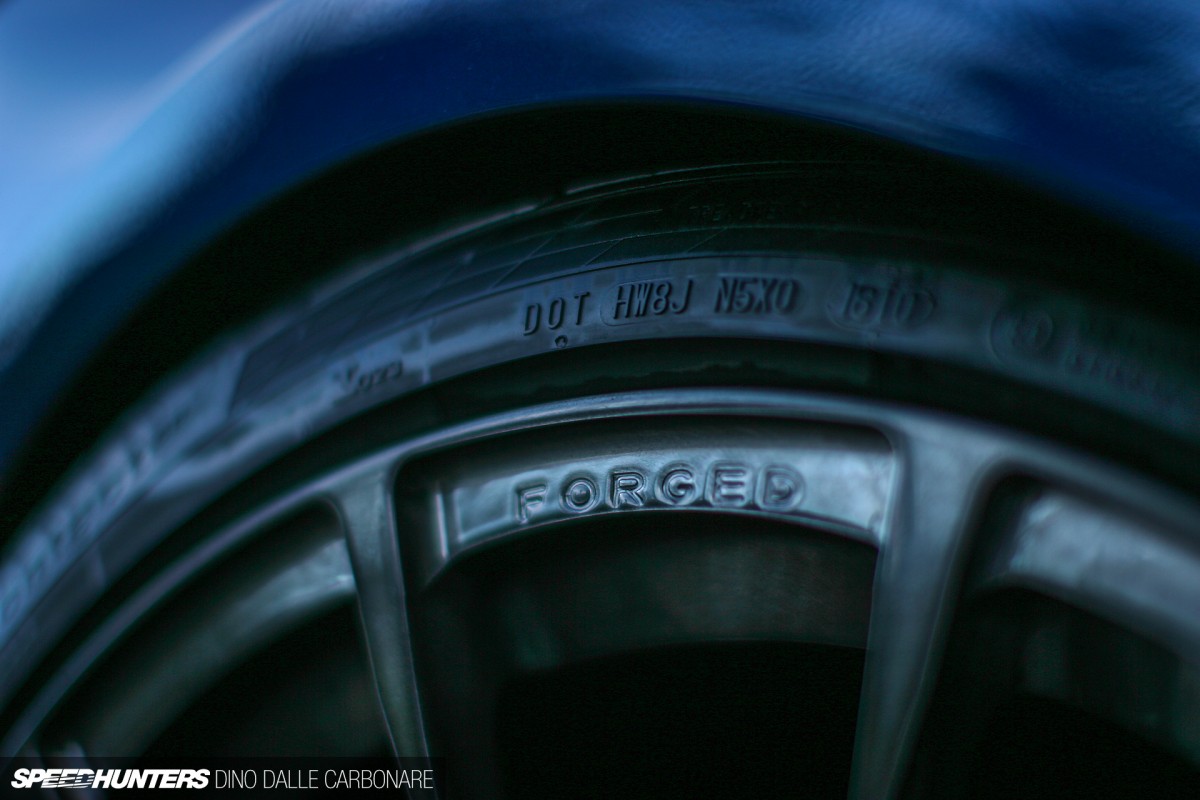 Their forged monoblock construction assured that weight would be kept in check, which was important to Gio as there's no point in increasing unsprung weight if performance is what you're chasing. The rims were finished off in a brushed, untreated finish which was then powder-coated clear to allow the natural finish of the aluminium to shine through. Gio even had custom GT-R center caps machined to complete the factory-fresh look. Providing the grip are Continental ContiSport tyres – 255/35R21s wrapped around the 10-inch wide front wheels and 285/30R21s wrapped on the 11-inch rears.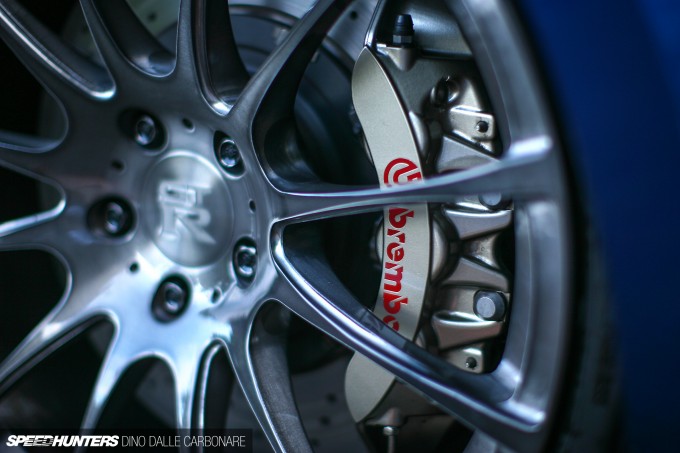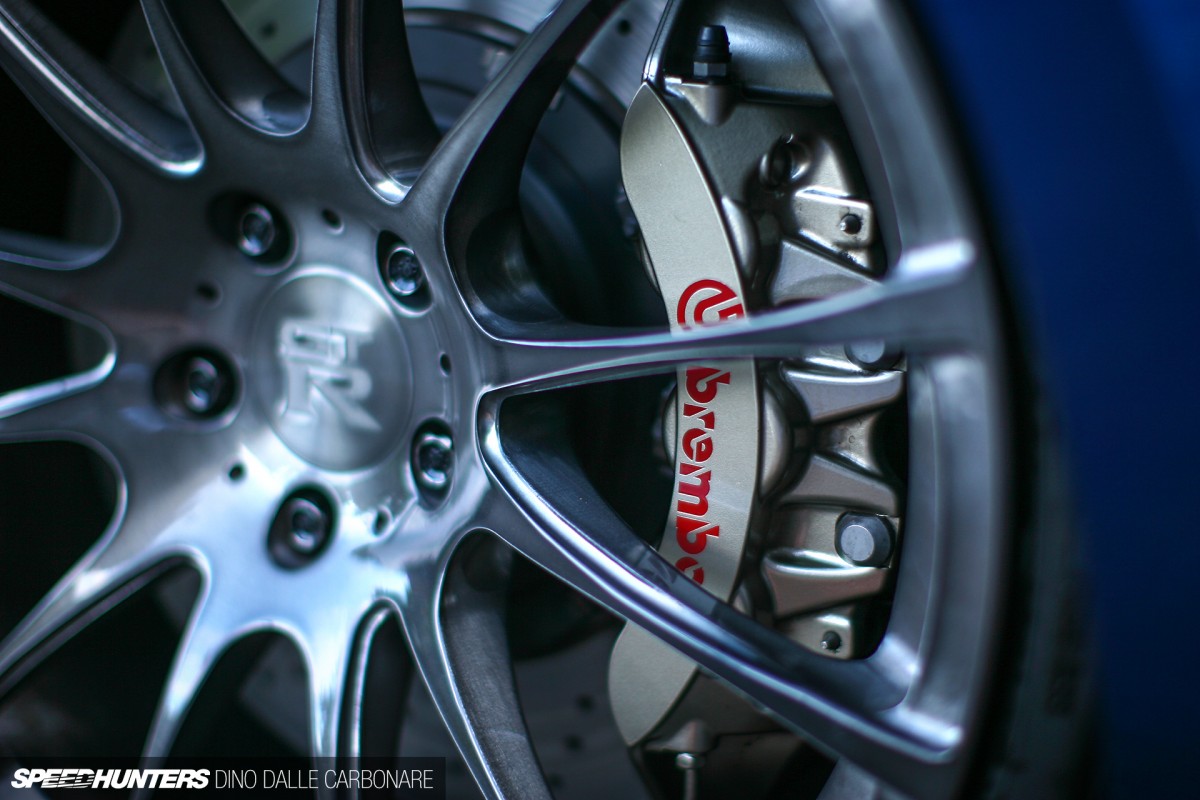 Top Secret II, Smokey's body shop, then took over; painting the long list of parts Gio specified. The gold Brembo brake calipers were just not going to cut it, so they were removed and sprayed in a metallic silver hue with red Brembo logos to finish them off.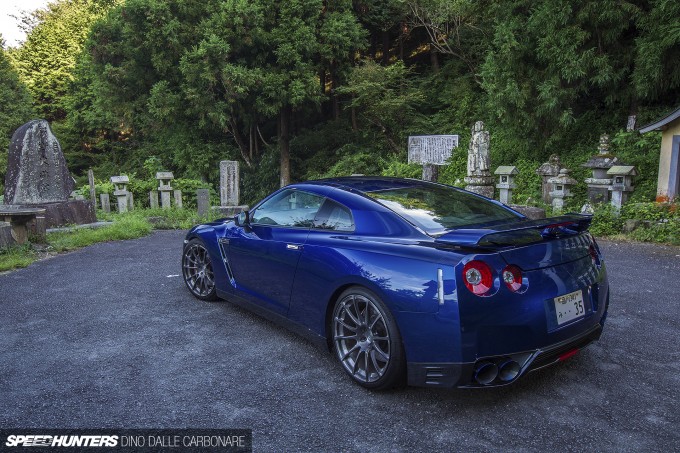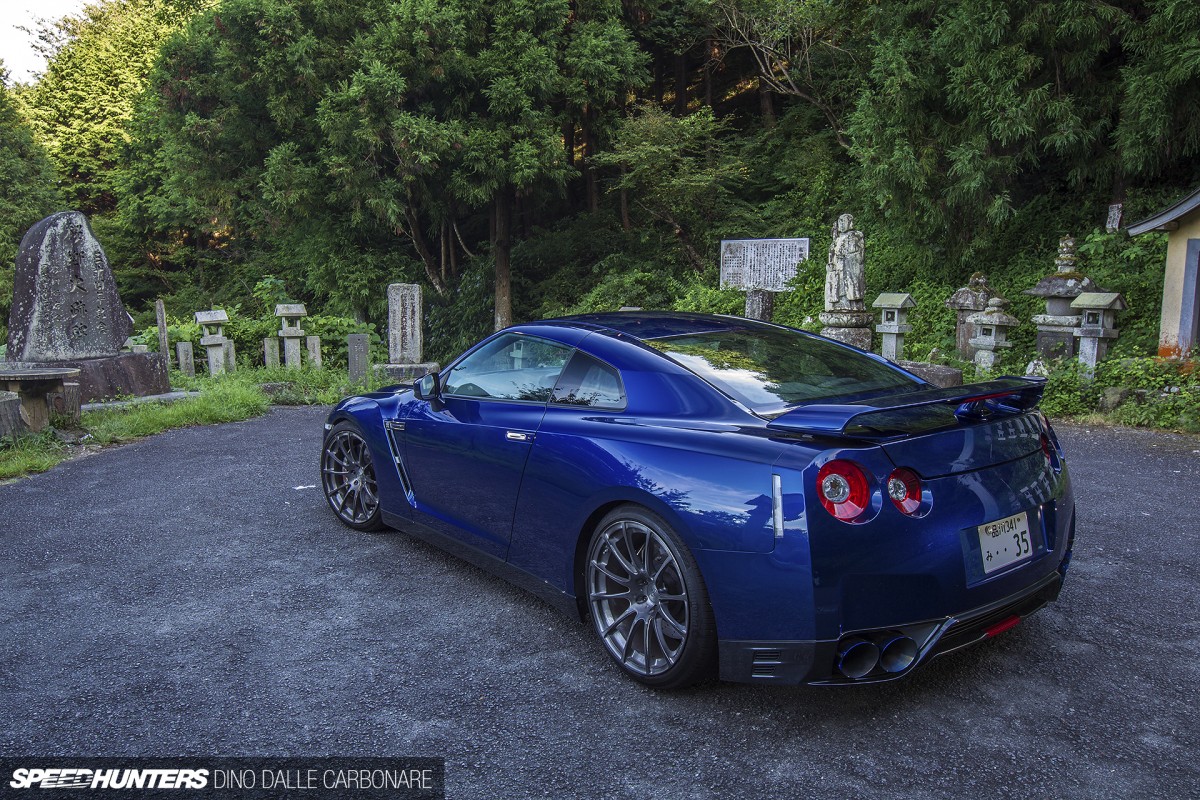 But, that was just the start. The whole lower trim – from the bumper, to the side skirts, to the rear diffuser trim section, and even the A-pillars – were all sprayed in custom-mixed dark metallic silver.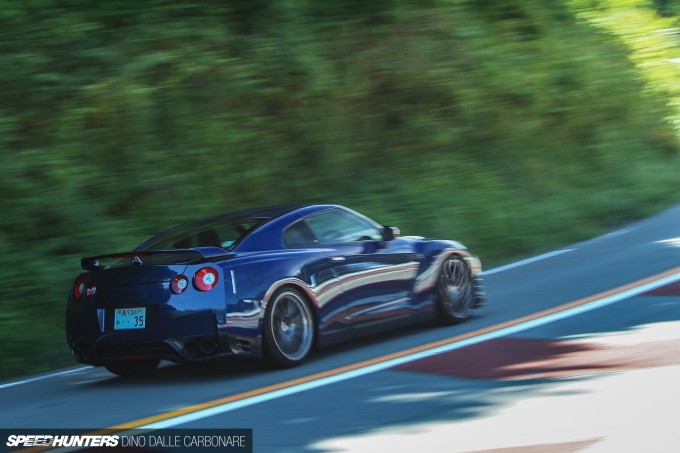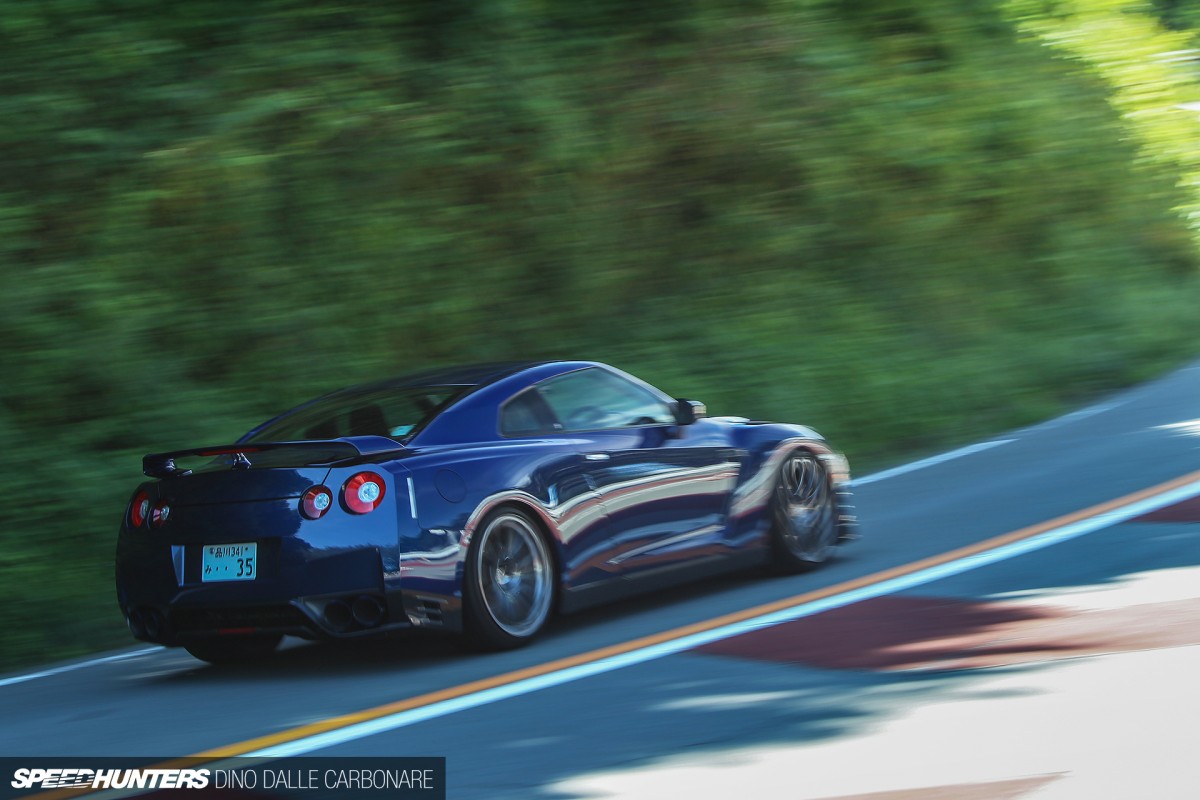 Having a one-of-a-kind machine always starts off with small touches; little things that only real GT-R otaku would actually notice.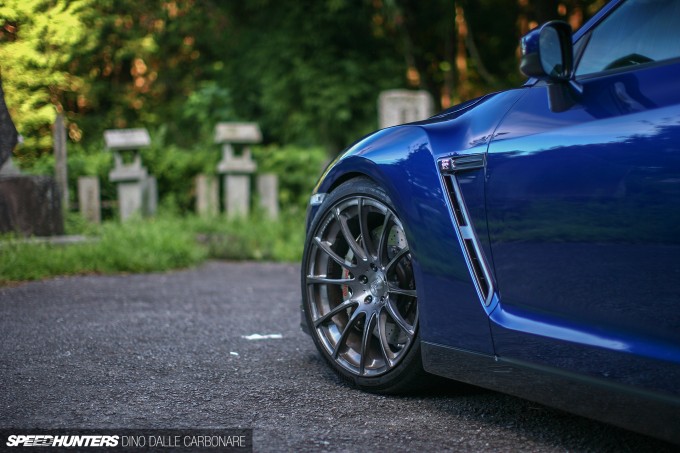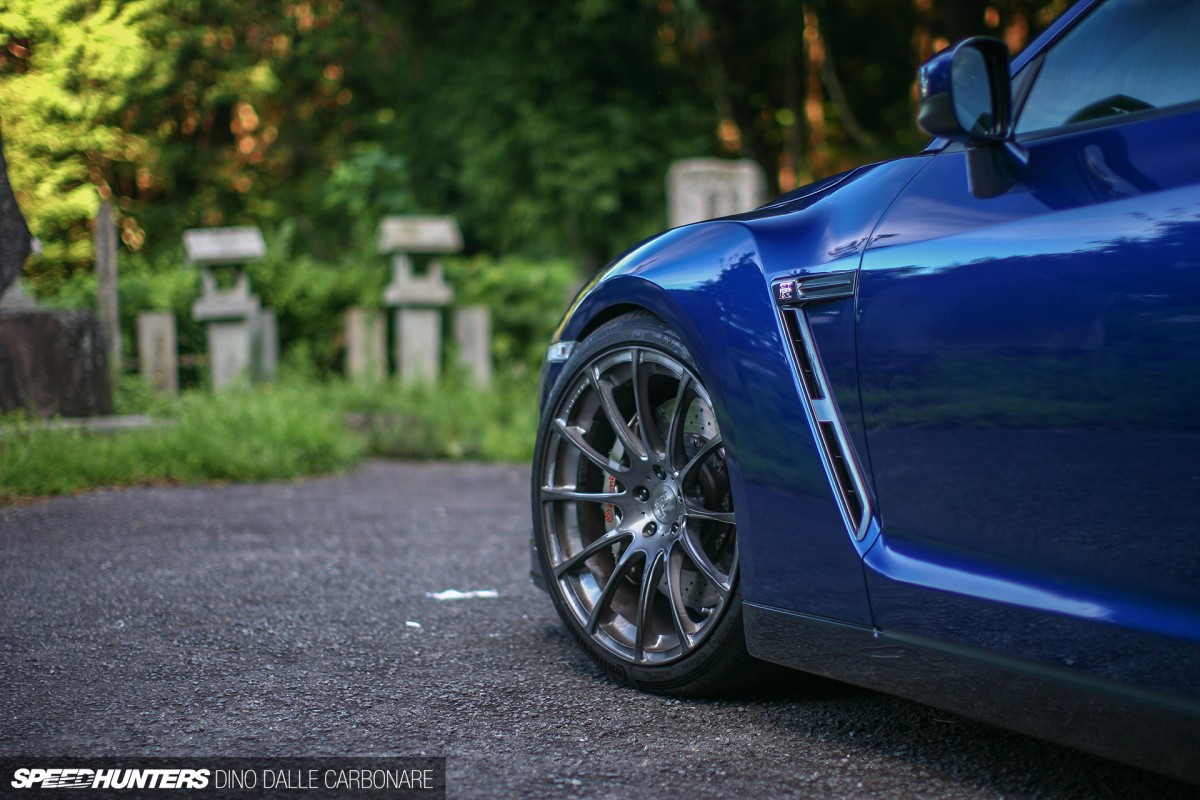 The custom paint was also applied onto the R35's fender vents where the little GT-R logos reside.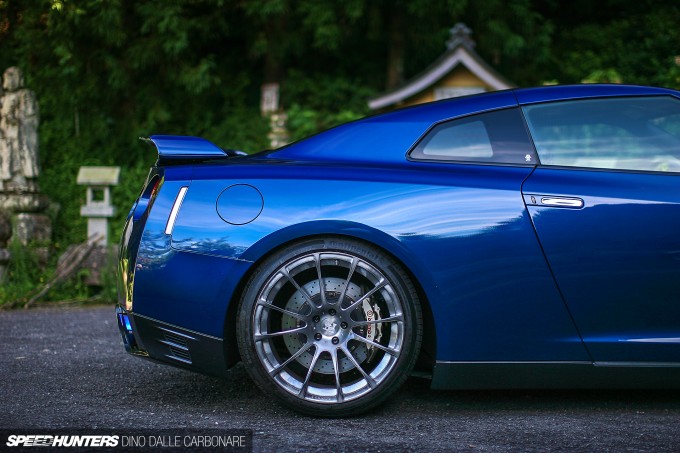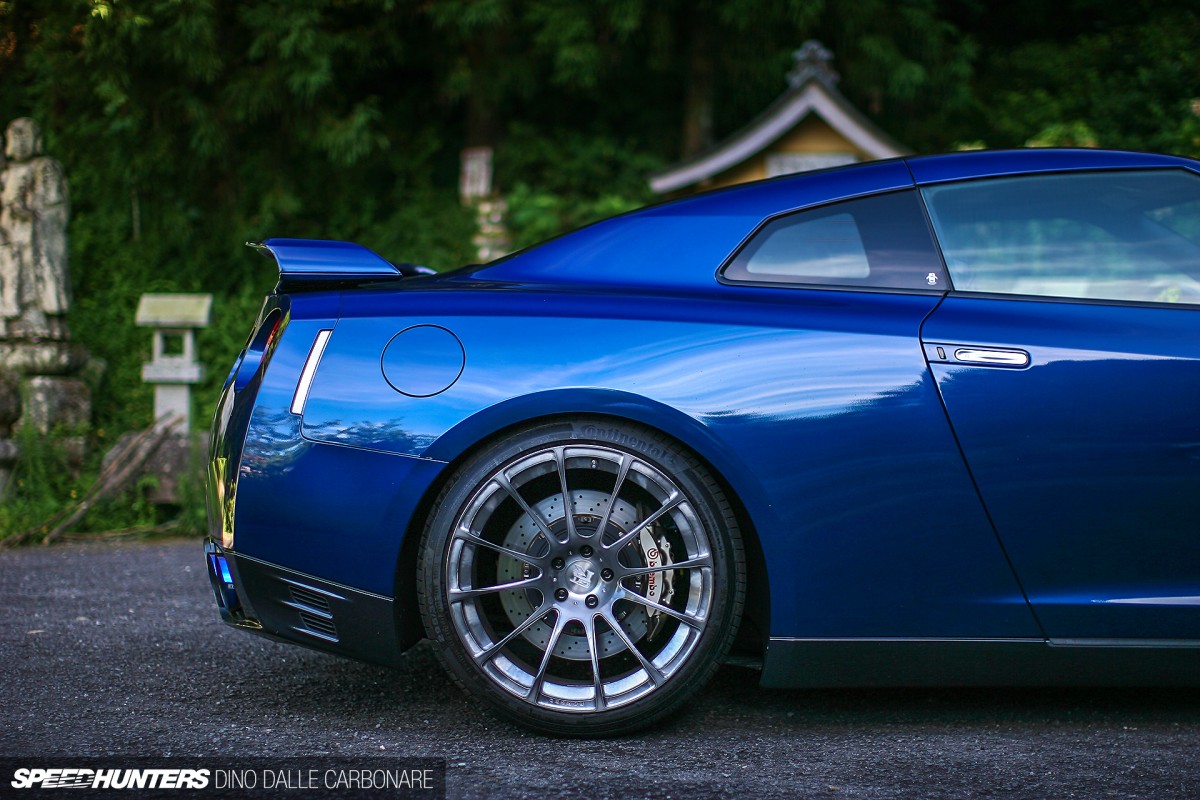 This first round of modifications was designed to let Gio to enjoy the car's everyday drivability around Tokyo – something his R34 was way too highly modified for. Of course, the R35's dual-clutch transmission and plush interior makes this every easy, so it was the suspension that was given the most thought. Since there was no need to go wild right away, Top Secret's height adjustable modification to the stock Bilstein dampers would suffice; keeping the adjustability through the console-mounted switches active. Stance-wise, the GT-R now sits a little lower; the offset of the Spec12 wheels adding just the right amount of aggression.
Smokey and the Stage 0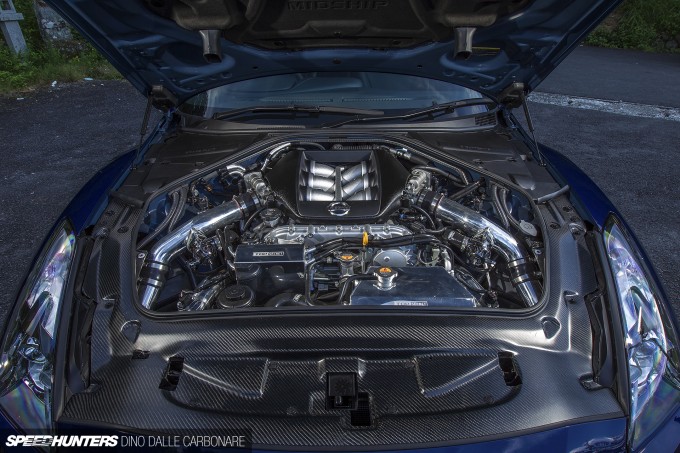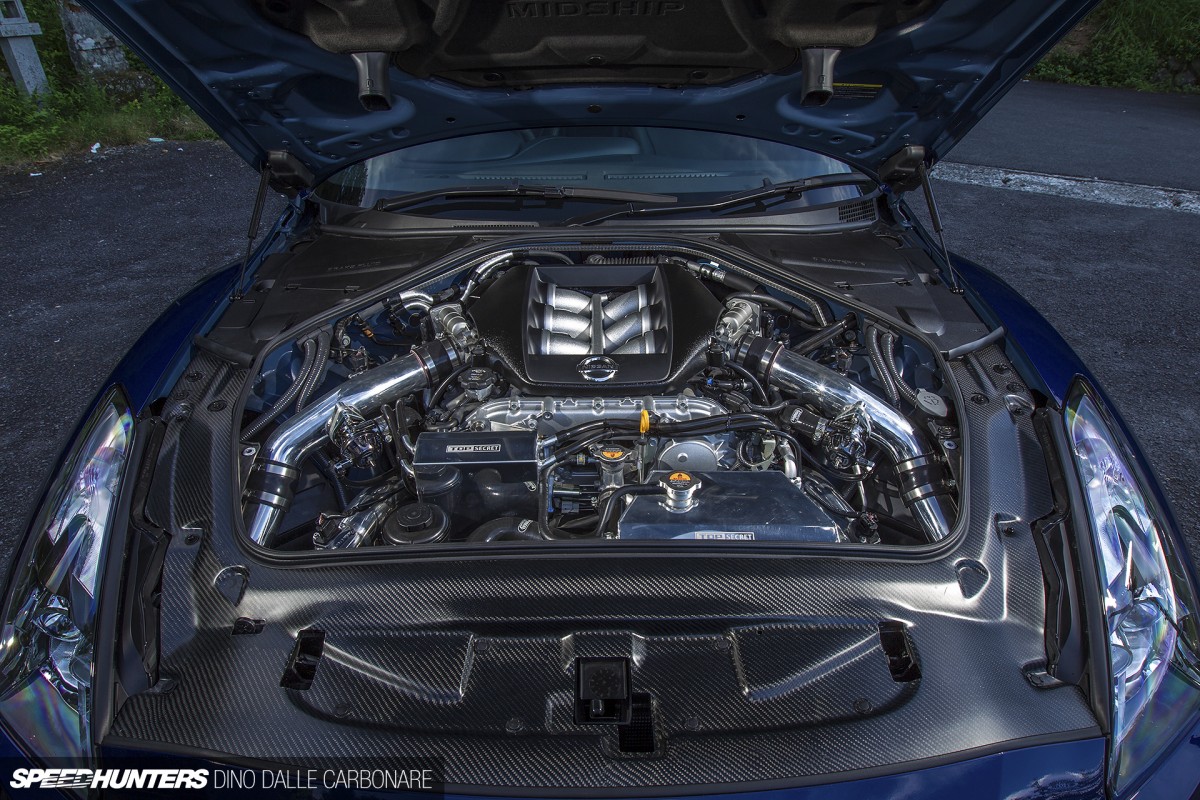 Then came the engine. Here Top Secret were instructed to maximise the stock engine's potential, which called for a few basic set of initial upgrades. First up, the factory air boxes were removed, along with the rough cast intake pipes and those cheap-looking silicone hoses that manufacturers seem to love to use. Top Secret replaced it all with their own polished aluminium piping kit and grille-mounted pod filters, of which each joint is held in place with black Samco hoses to match the rest of the black/polished metal theme. Even a SpecV plastic engine cover replaced the stock red one.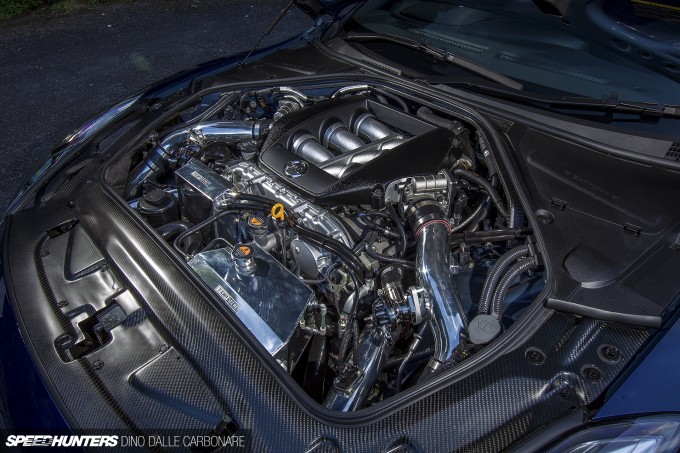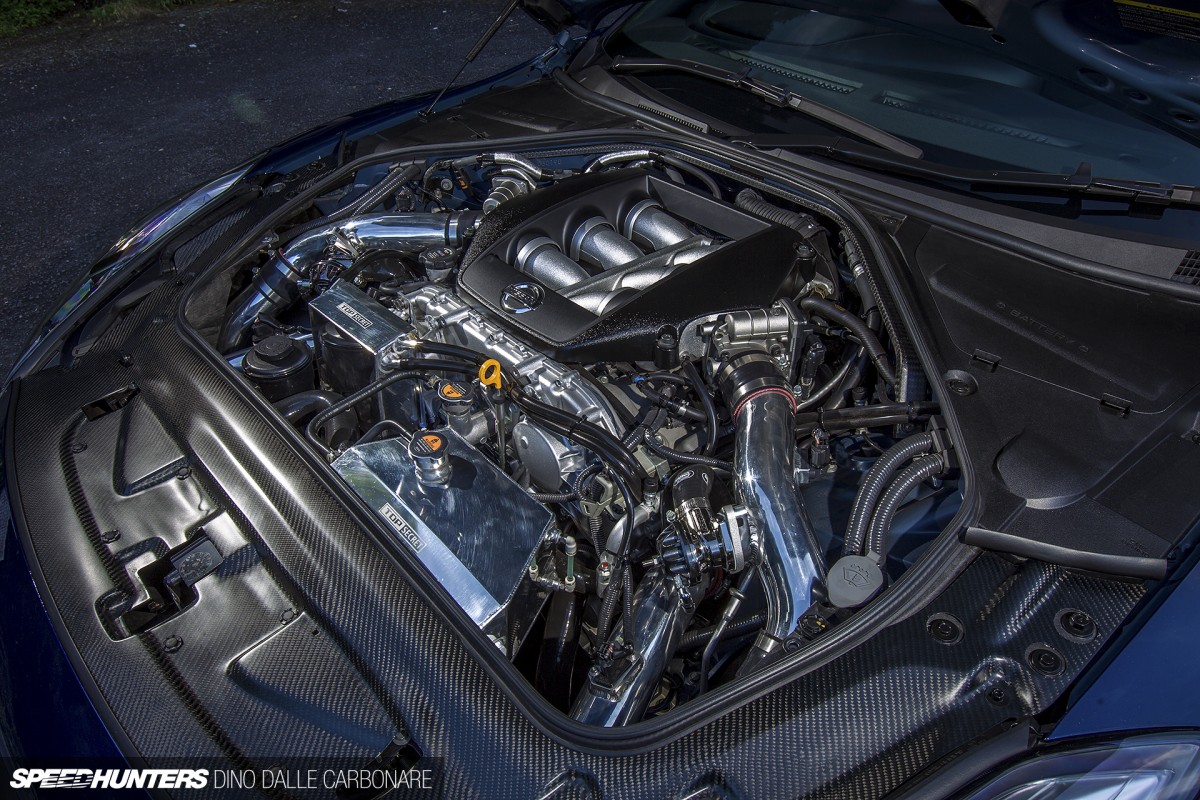 A Garage Defend carbon cooling panel replaces the budget plastic trim that surrounds the engine bay and injects a far more exotic feel to the presentation. Top Secret then went ahead and fitted their full TV-Pro V2 exhaust system which features valving to keep it quiet in the city and loud when it matters. However, what really gives the car a throaty sound is the SARD Racing Y-pipe complete with freer flowing cats. Smokey then threw that car on his trusty rolling road dyno and mapped the Top Secret Process R ECU; upping the boost slightly through an R35-specific HKS EVC boost controller. Over 600hp was achieved with a strong bump in midrange torque and response. While the factory-spec GR6 double-clutch transmission has no problems dealing with the extra power, a GReddy cooler was added for good measure; keeping those temperatures just where they need to be under any type of use.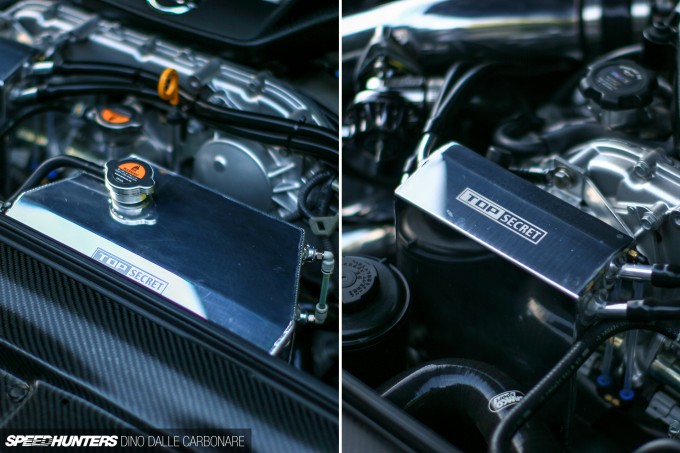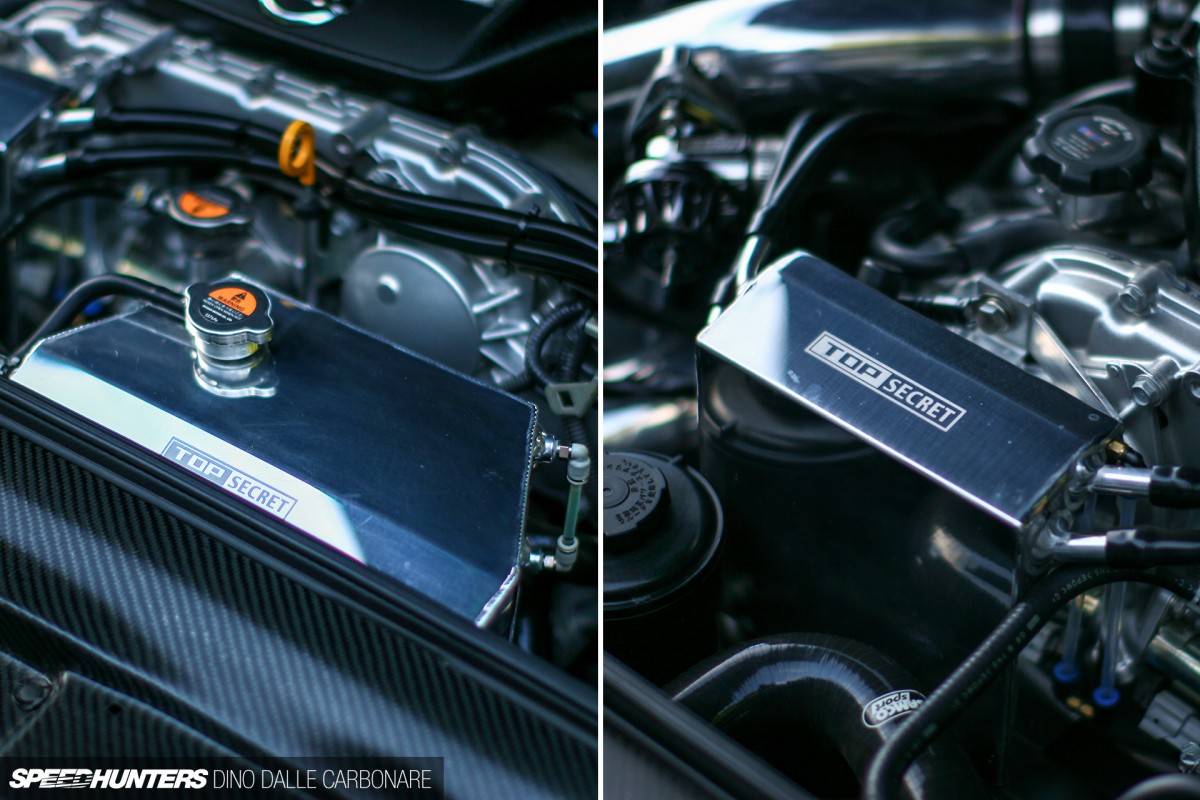 Top Secret's etched radiator overflow tank and oil catch can followed; again additions that help get rid of the cost-cutting solutions that Nissan had to take to keep the R35's price as low as possible.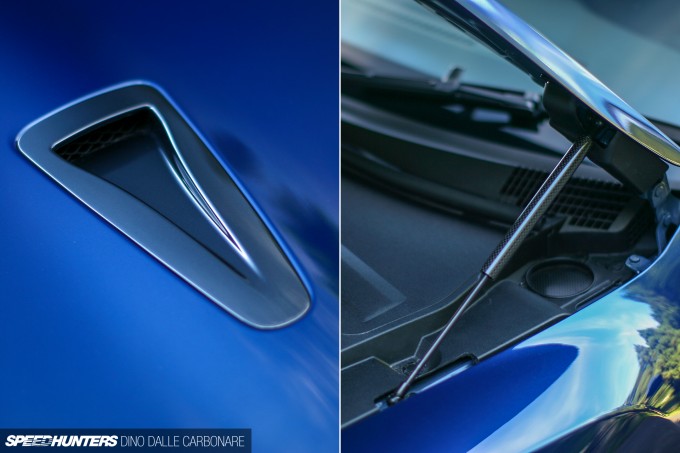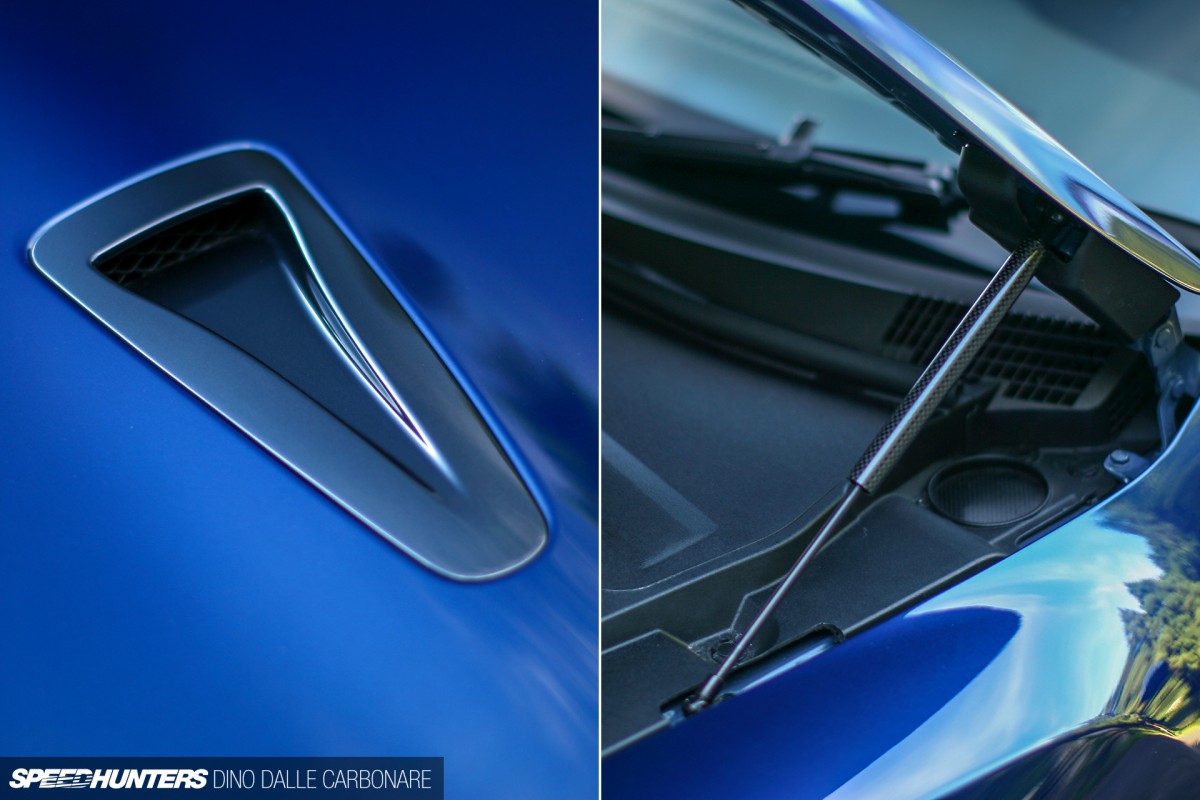 Even the bonnet vents were sprayed in that dark silver metallic paint, and Gio got rid of the archaic bonnet pole and replaced it with a pair of Top Secret's carbon gas struts.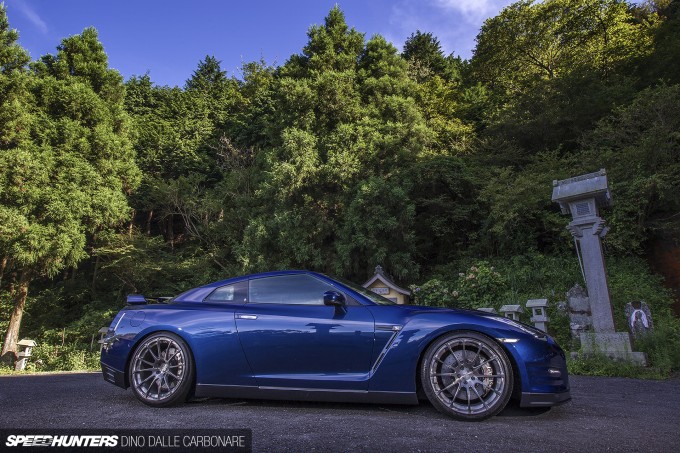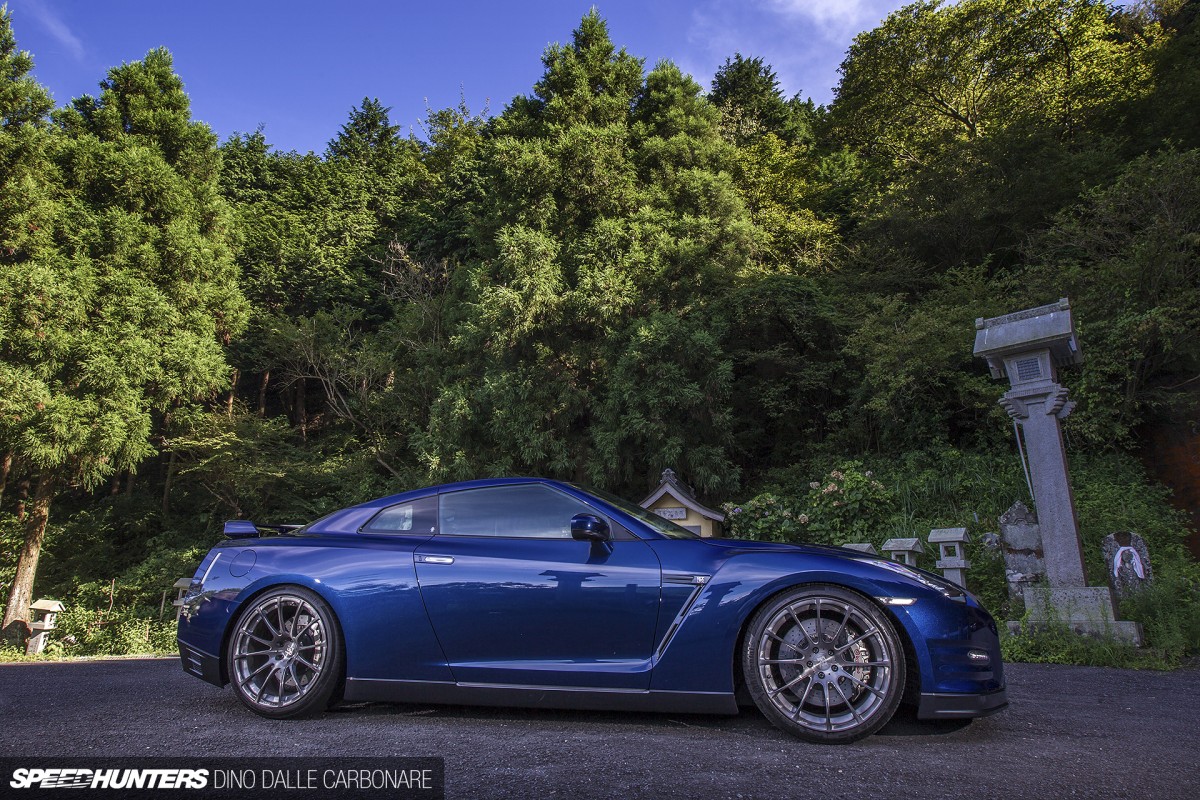 By now the Stage 0 Competizione R had really began to take shape, however there was one more area that needed to be addressed: the interior.
Every Detail Counts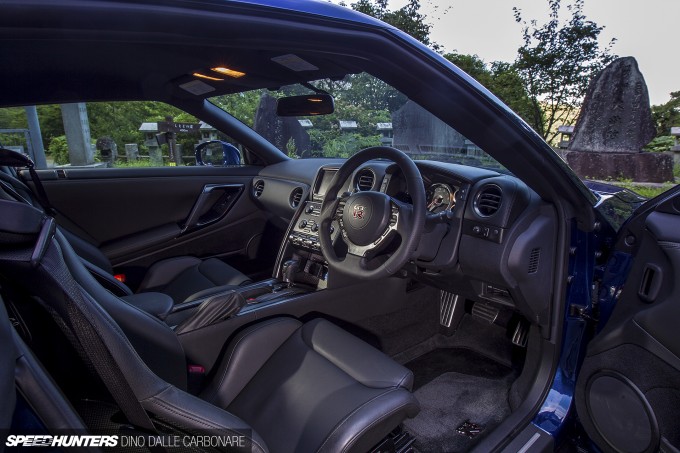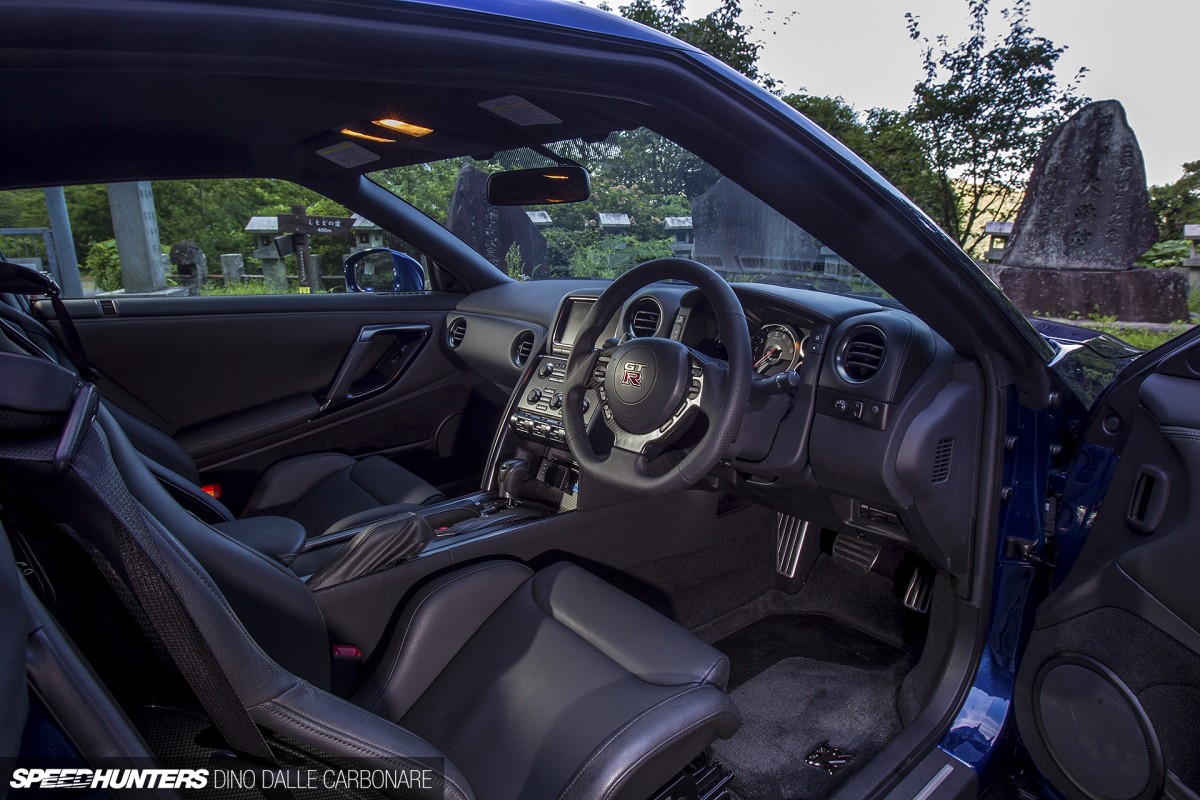 Gio didn't have many complaints for the cabin, however just like the exterior there were some little alterations that he wanted to do. These were mainly dictated by the fact that he is almost double the height of your average Japanese man!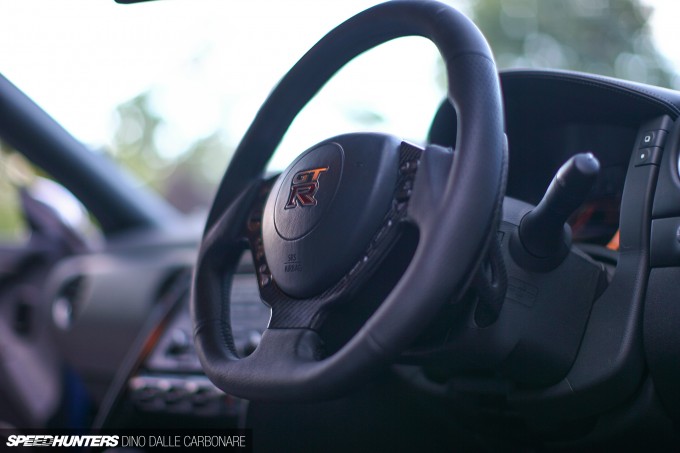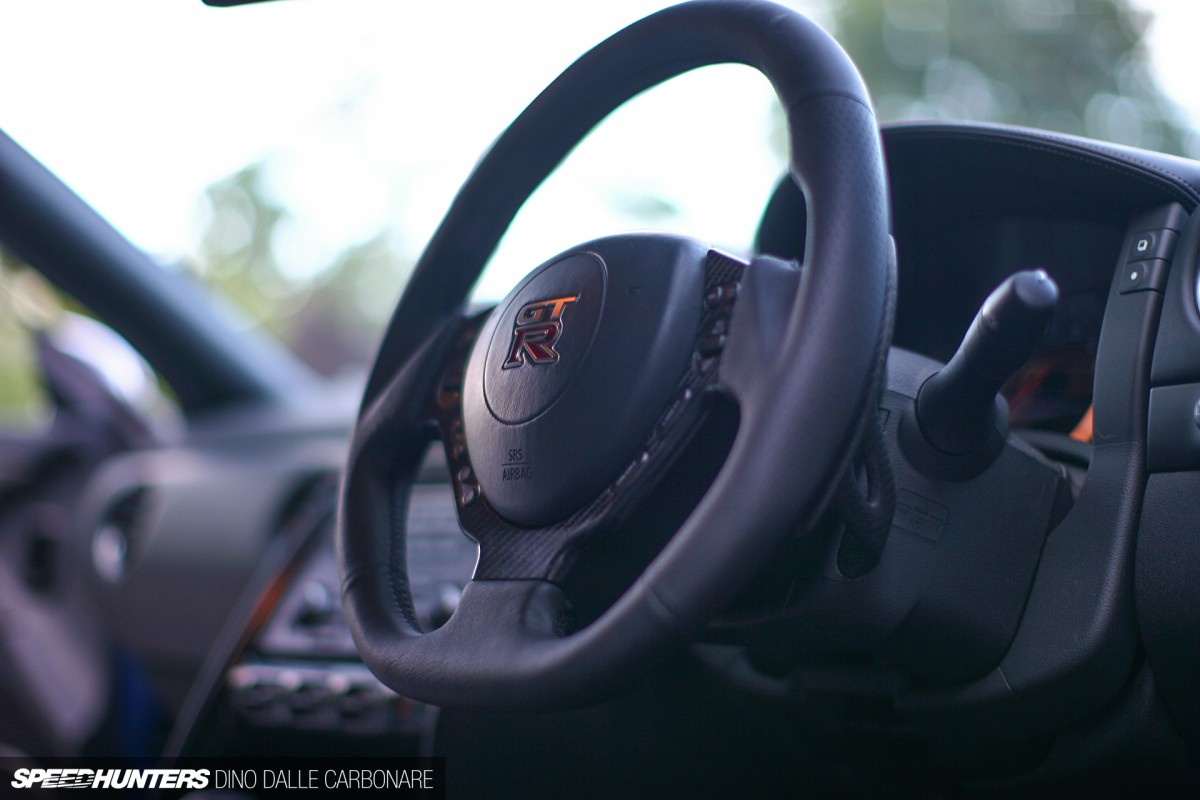 That's why the outer part of the steering wheel was modded with a Durement squared off rim, which instantly frees up some welcome legroom. A Nordring carbon fiber section for the center matches up to the rest of the carbon trim upgrades around the cabin, giving a continuity to an interior that Nissan obviously forgot about from factory.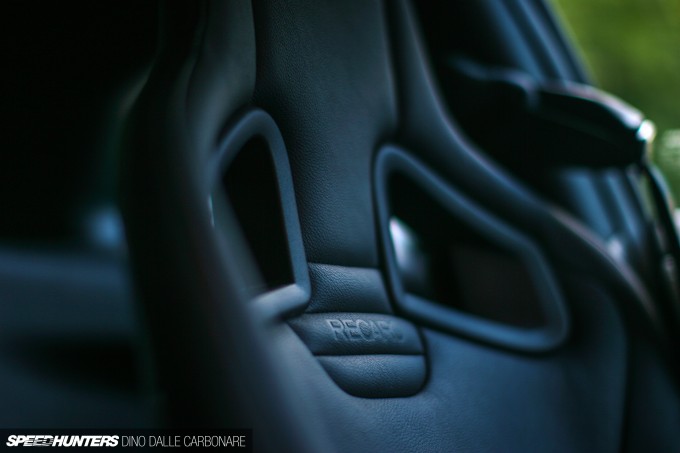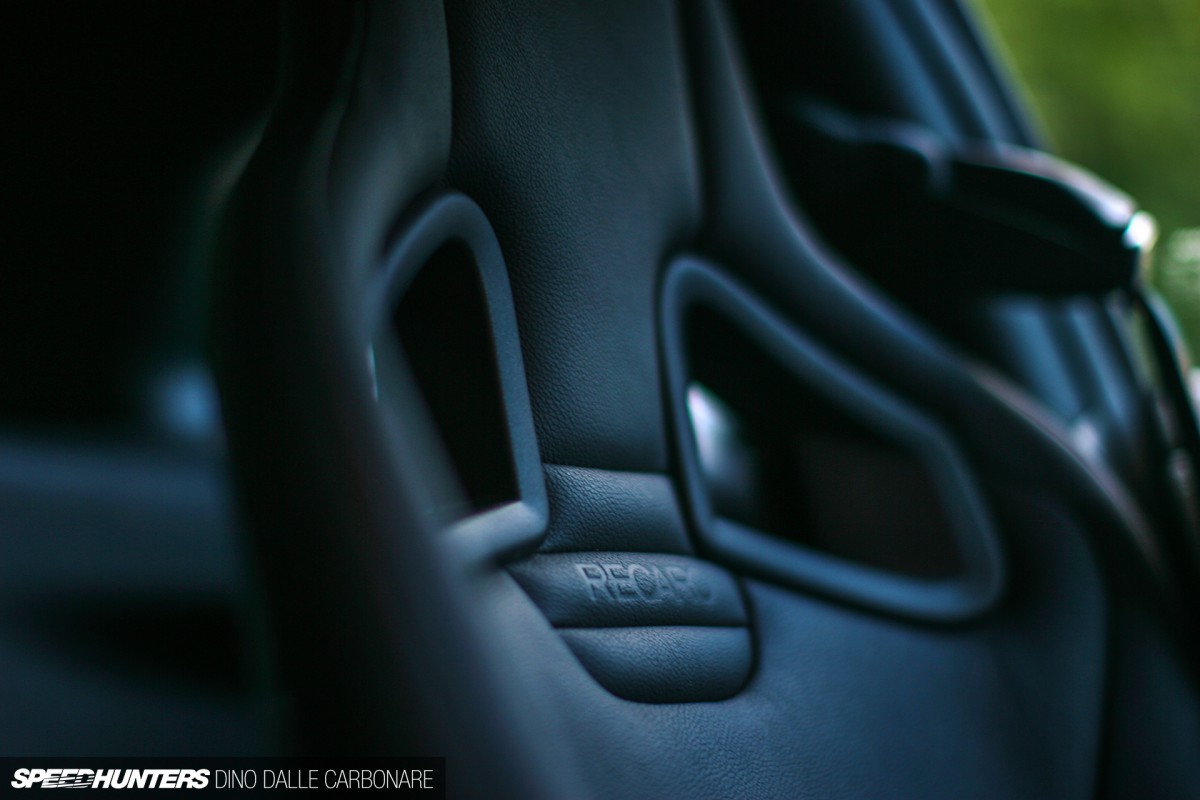 The seats followed, and seeing that the stock electrically adjustable ones were positioned too high for Gio's stature and not sporty enough for his liking, it was a case of out with the old (Nissan has been using the same seats in the R35 since its debut in late 2007) and in with the new. 'New' being a pair of limited edition carbon fiber Recaro Sportster CS equivalents, which although look like fixed-back buckets, are still reclinable to allow access to the rear.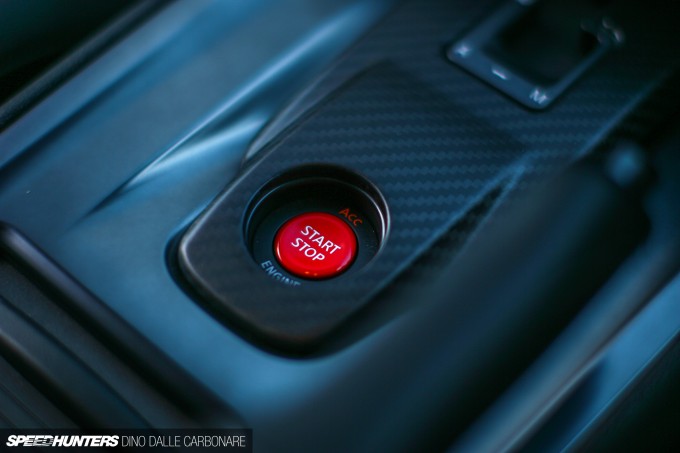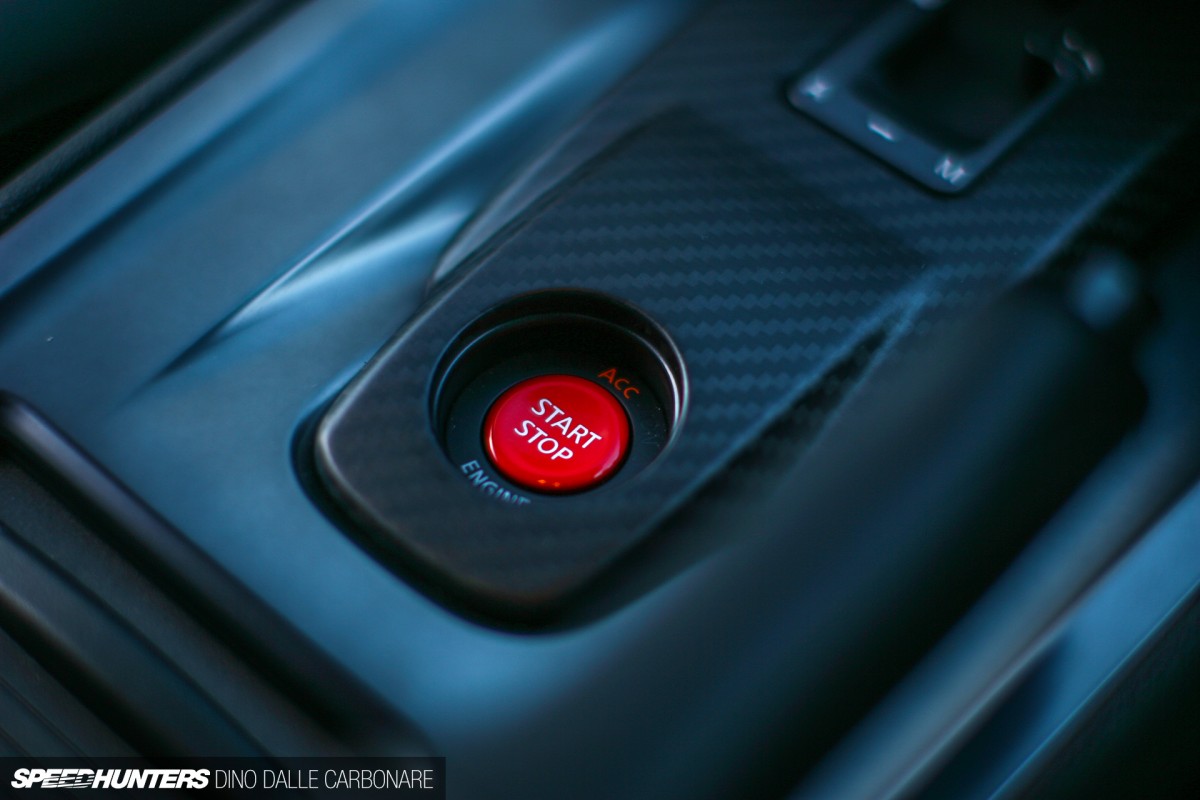 I really liked the almost-rough, matte finish to the Nordring carbon trim that has been fitted on the transmission tunnel. It's a great way to finish what is now a very nicely appointed cabin.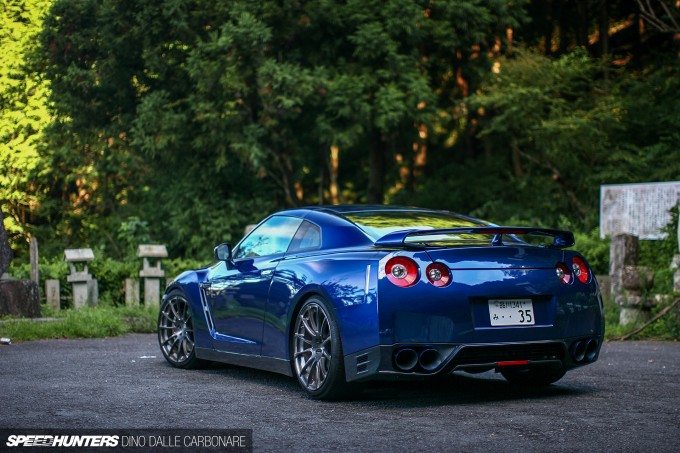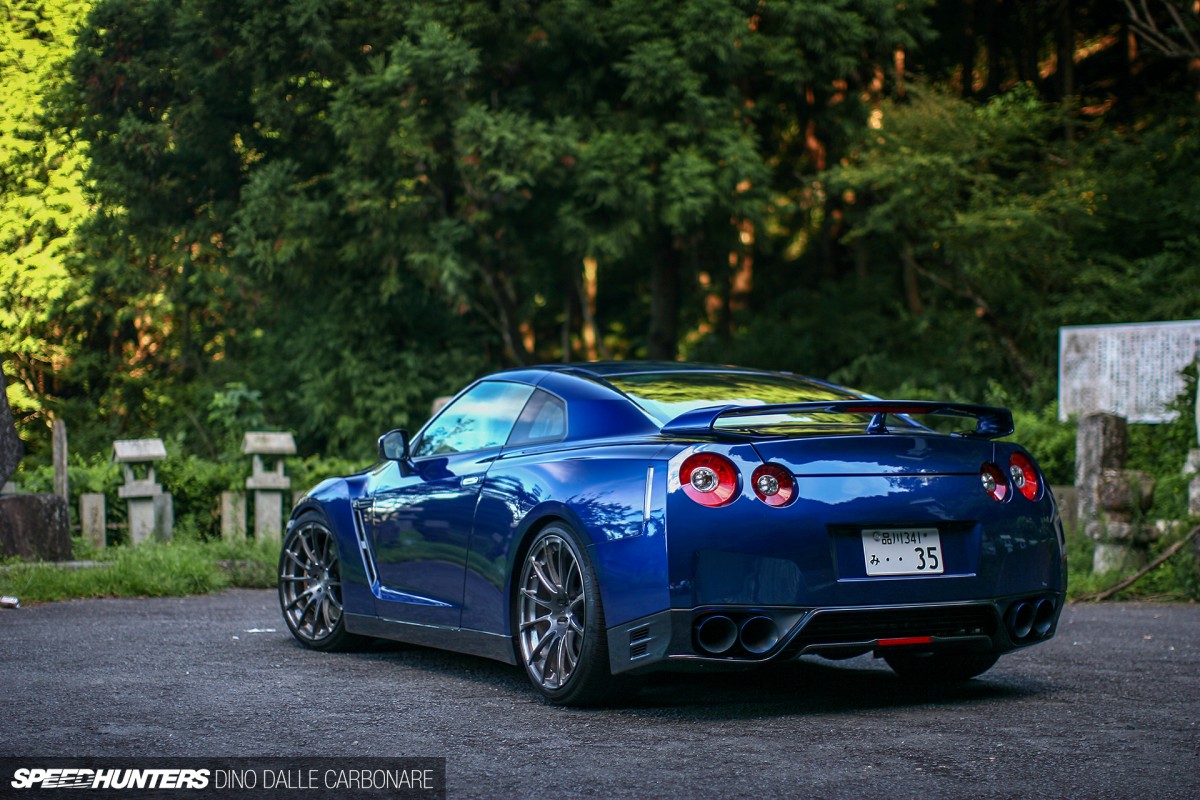 So there you have it, an exercise in subtlety executed to perfection. Gio's R35 Competizione R story however doesn't quite end there. After shooting these pictures the car was shipped off to Australia where Gio now lives again, and where it will soon be undergoing its next round of modifications at Croydon Racing Developments in Sydney – a workshop we're very familiar with.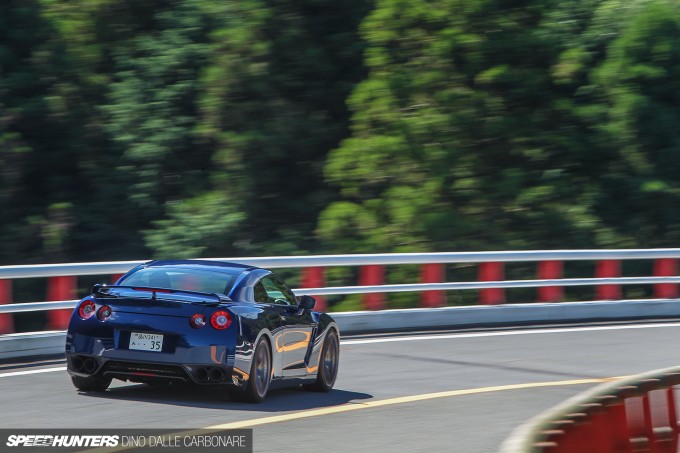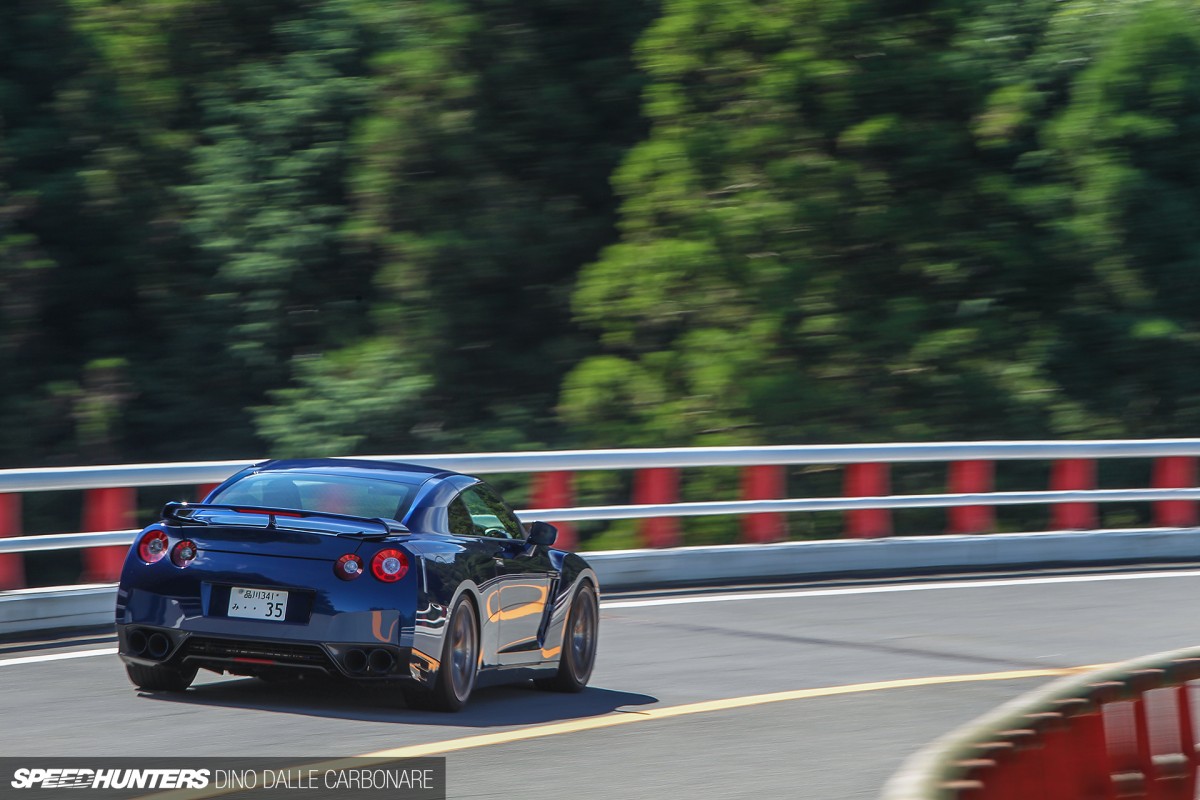 Who knows, maybe I'll even get to shoot the final iteration of Gio's R35 when it's completed. Last I heard, he was looking into turbo upgrades to push the engine well past that magical four figure power number that seems so easily achievable with the VR38DETT. It's been an interesting road for Gio and his GT-Rs, so I'm sure I'm not the only one excited to see what comes next…
Dino Dalle Carbonare
Instagram: speedhunters_dino
dino@speedhunters.com